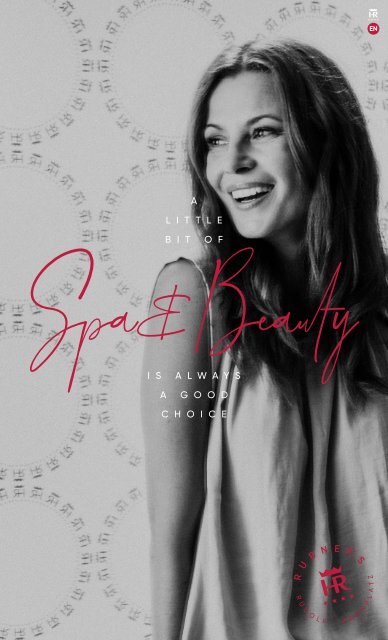 RU_SpaMenue_2022_180x297_E_WEB
Create successful ePaper yourself
Turn your PDF publications into a flip-book with our unique Google optimized e-Paper software.
EN

A

L I T T L E

B I T O F

Spa&Beauty

I S A L W A Y S

A G O O D

C H O I C E
---
Contents

NATURAL INTELLIGENCE 4

PHILIPPI METHOD 6

MASSAGES 8

PACKS & PEELINGS 14

MEN ONLY 15

FACE & BEAUTY 16

SPA FACTS 18

Y O U R

A B S O L U T E

favourites

Thank you for taking the time to read

through this brochure. Welcome to the

Spa of your Hotel Rudolf.

Maybe now is the right time for you to treat

yourself to something special. Take a break

from everyday life - with a soothing massage,

a relaxing body treatment or a beauty session

that makes you shine even more.

Unwind, let go and enjoy a little Rudolf.

Welcome home.

Y O U R T E A M O F E X P E R T S

N A N C Y , G Ü N T H E R & S A R A

We recommend booking appointments for

your treatments in advance, so we can meet

all your needs and wishes.

INFORMATION & APPOINTMENTS

at the reception or dialing nr. 9

T +39 0474 570 570

info@hotel-rudolf.com

OPENING HOURS WELLNESS & SPA

Crystal Family Wellness 7 am – 8 pm

Dolomit Adults Wellness 7 am – 8 pm

Sauna

Massages & Beauty

Rocky Fitness Club

2:30 pm – 8 pm

9 am – 12 noon

2 pm – 8 pm

7 am – 10 pm

Women

ONLY

Apple & Rosehip

Alpine massage (50 min.)

Personalized

facial care (80 min.)

Manicure or pedicure (50 min.)

180 min. € 225

Gentleman

ONLY

Power Lift Care (50 min.)

M2 massage (50 min.)

Back Ceremony (50 min.)

150 min. € 210

All in

MASSAGE

Arnica & St. John's wort

Alpine massage (50 min.)

Hot Stone massage (50 min.)

Reflexology massage (50 min.)

150 min. € 210

Balm

FOR MY SOUL

Intensive program to

strengthen and protect

health on all 3 levels:

soul - spirit - body

3 x 75 min.€ 264

DELAY & CANCELLATION

Please note that in case of delay on your

part, this will be deducted from the duration

of treatment. Your appointment must

be cancelled at least 24 hours before the

treatment. For later cancellations we have to

charge you the full price.

2

3
---
Natural

I N T E L L I G E N C E

VITALIS and TEAM DR JOSEPH are

highly technological natural cosmetics

from South Tyrol. Nature's ingredients

are refined in a highly technological

way for a maximum effect on your body

and facial care.

The exceptional ingredients combined with

the latest technologies from the high-tech

laboratory - our garden – give the products

a powerful impact. You will feel the immediate

effect. Your skin feels soft and firm, the ingredients

go deep and have a long-term effect.

Products from VITALIS and TEAM DR JOSEPH

are high-tech, highly effective, certified organic

and 100% natural from South Tyrol with a focus

on purity, quality and sustainable cultivation.

The cosmetic series TEAM DR JOSEPH is composed

of precious ingredients for applications

that show lasting results after just a short time.

The care and wellness series VITALIS includes

invigorating and uplifting products which pleasantly

enrich the Spa area at Hotel Rudolf with

their aromas and beneficial effects.

4 5
---
Philippi

M E T H O D

Bioenergetic Meditation

according to

Viktor Philippi

The Philippi Method protects and strengthens

health profoundly and sustainably. It extracts

negative information from all three levels, soul

- spirit – body, that make us suffer and render

life difficult.

This method is suitable for children and adults:

• to strengthen health

• to ease physical complaints of all kinds

• to help with fear, depression and inner

unrest

• to activate the immune system, metabolism

and nervous system

• to increase joy and well-being

• to recharge your batteries

75 minutes including health tips in the form of

healthy thinking € 110,–

Offer: 3 x Philippi Method € 264,–

Bioenergetic Massage

according to

Viktor Philippi

Nowadays, almost everyone is affected by

stress, fears and overload. In addition, the

inner drive to master life perfectly creates more

pressures and tensions. These permanent inner

tensions affect the body's muscles and result in

painful strains.

The bioenergetic massage strengthens the

back muscles and dedicates special attention

to the spine. With this:

• blockages are released by treating the

cause of tensions and discomfort in the

muscular area

• muscles are relaxed and relieved

• back pain subsides faster

• people come to more peace, serenity and

balance

• positive changes are noticeable throughout

the body, as even facial features

become looser and more relaxed

50 minutes € 84

6

7
---
M A S S A G E S

Alpine wellness massages

Enjoy the quintessence of active alpine ingredients,

modulated massages and traditional

cupping techniques. Depending on the condition

of your muscles, the massage has either an

activating, balancing or relaxing effect, and is

thus ideally suited for athletes, beginners and

experts. Moreover, natural oils enhance the

effects of the massage, making it invigorating

and soothing at the same time.

"ABSOLUTE MUSCLE FITNESS" –

WITH ST JOHN'S WORT & ARNICA

Particularly suited for relieving tensions after

sporting activities and for maximum support of

muscular regeneration. The perfect companion

for active people.

25 min. € 42

50 min. € 74

The classics

"NATURAL BALANCE" –

WITH MARIGOLD AND CHAMOMILE

The ideal care for sensitive skin. Treat yourself

to this skin-pampering beauty massage with

active ingredients of marigold and chamomile.

Soothing and regenerating at the same time.

25 min. € 44

50 min. € 74

"PEACEFUL RELEASE" –

WITH HAY EXTRACTS AND JUNIPER

Hay flowers and juniper extracts lift your body

relaxation and strength. Draw new strength

and energy.

25 min. € 44

50 min. € 74

"NATURALLY FRESH" –

WITH APPLE AND ROSEHIP

A special treatment for dry or mature skin. The

valuable ingredients of the apple and nourishing

properties of the rose hip provide extra

moisture and give your skin vitality and new

freshness.

25 min. € 44

50 min. € 74

CLASSIC FULL BODY MASSAGE

The classic massage, also called Swedish massage,

is the best-known and most widespread

form of massage. This treatment relieves body

tensions, loosens muscles, and stimulates blood

circulation. Your overall well-being will improve

noticeably.

50 min. € 69

CLASSIC PARTIAL BODY MASSAGE

Ideal for loosening parts of the body - either

the back or the legs.

25 min. € 39

8 9
---
M A S S A G E S

Special massages

BACK CEREMONY

This intensive back program by VITALIS consists

of highly effective, natural ingredients and

a massage tailored to your individual needs

to relieve tension in the back and strengthen

the dynamics in the spine. The use of various

techniques such as singing bowl massage,

cupping and the application of heat make this

massage a solemn ceremony for your back.

50 min. € 77

HONEY MASSAGE

In this treatment, health is boosted thanks to

the combination of targeted grips, the exquisite

honey ingredients and the stimulation of

different reflex zones on the back. The honey

is gently worked into the back using various

knocking and plucking techniques. Since

honey irritates the tissue, blood circulation will

be stimulated, pores will open so the skin can

breathe more freely, and oxygen and nutrients

can penetrate better. As a result, the honey

massage has a pain-relieving, calming and

disinfecting effect.

50 min. € 77

ANTI CELLULITE MASSAGE

An innovative & effective cellulite program.

The special feature of this massage is the use

of various massage techniques together with

high-quality natural products. A combination

of lymph stimulating massage grips, a cupping

glass treatment and a modulating manual

massage help to effectively reduce the signs of

cellulite. The program is completed with a final

holistic modulating singing bowl massage for

a deep-acting effect. For an optimized result,

ideally combined with a "Marine Algae Pack".

50 min. € 78

With algae pack: 80 min. € 102

LYMPH-DRAINING MASSAGE

The manual lymphatic massage by Dr. Vodder

has a draining, purifying, detoxifying and soothing

effect. Rhythmic pressure pulses promote

the discharge of deposits and water excess

from the tissue through the lymphatic and

venous systems. When used on the whole body,

in addition to the draining effect, the parasympathetic,

recreational part of the autonomic

nervous system is stimulated: for a deep state

of relaxation and recovery. Ideal for tired, heavy

legs or specifically where the lymphatic system

should be supported in its work.

25 min. € 44

50 min. € 78

STIMULATING REFLEXOLOGY

MASSAGE

The theory of reflexology assumes that our

organs and various parts of the body are

connected via nerve tracts to precisely defined

areas on the soles of the feet. The human body

is thus reflected on the foot, presenting itself

there like a small map. As a result, the body

can be entirely stimulated by targeted pressure

massages at specific points.

25 min. € 44

50 min. € 78

CHILD MASSAGE

The combination of selected massage oils and

harmonious massage grips invite you to feel

good and strengthen your own body awareness.

The massage has a relaxing, soothing

effect and will put a smile on your face.

20 Min. € 30

TEENIE MASSAGE

Gentle relaxation massage for teenagers aged

12-16 years. The constant demands of school

and leisure require balance through relaxation,

letting go, doing something good for oneself.

A combination of high-quality warm oils with

relaxing massage techniques help you to calm

down and strengthen your awareness of your

own body and body image.

40 min. € 49

MAMMA MIA

Massage attuned to mothers or mothers-tobe.

In this short break we take care of your

needs individually and exclusively. Whether with

a de-swelling massage for the legs or a full

relaxation massage from head to toe, this time

is dedicated to the wishes and needs of the

mom.

25 min. € 44

50 min. € 78

10

11
---
M A S S A G E S

Highlight massages

FULL BODY PEELING MASSAGE 4 IN 1

Various components make this massage a tangible

feel-good experience. Dead Sea salt ensures

the mechanical removal of dead skin cells

and allows the skin pores to breathe again. The

trace elements and minerals contained in the

salt can be easily absorbed. A combination of

high-quality sesame oil and rosemary essences

stimulates the microcirculation leaving a sensation

of lightness and relaxation of the muscles.

Precious almond oil provides a moisturizing

effect, for a lasting silky soft body feeling.

50 min. € 77

HERBAL COMPRESSES MASSAGE

NATURAL POWER OF HERBS

The roots of this technique go back over 2000

years. It is an effective full-body treatment

with valuable natural oils, selected ORGANIC

herb mixtures and unique active ingredient

synergies from VITALIS. The herbal compresses

are passed over the body with gentle pressure

and intense patting. This stimulating treatment

and the herbs used provide new vitality and an

energetic and balanced start into the day.

50 min. € 84

AROMA PURE RELAX MASSAGE

Massages with oils and fragrant creams were

renowned already in ancient Egypt and in the

thermal baths of ancient Rome. During the

aroma massage, specific warm fragrant oils are

used to support the effect of gentle massage

grips and massaging techniques. Whether balancing

and relaxing or activating and stimulating,

it is tailored to your needs, depending on

your mood and your wishes.

50 min. € 75

Aroma Pure Relaxing Ritual 80 min.

incl. 5 minutes of rest € 105

HOT STONE MASSAGE

This form of massage with warm stones has its

origin and inspiration in many cultures, healing

methods and customs from different countries

and continents. The body is massaged using

warm basalt stones. The stones are placed on

specific energy points to harmonize the energy

flow. Body, mind and soul achieve a state of

deep relaxation and a sense of holistic harmony

is created.

50 min. € 79

Hot Stone Ritual 80 min.

incl. 5 minutes rest time € 105

Short break

"LA ROSA"

RELAXING BEAUTY MASSAGE

FOR FACE AND NECK

The queen of flowers has always been a symbol

of beauty. Its flowery, soft and intense fragrance

has a harmonizing, balancing, stress-relieving

and relaxing effect. The effective blend of

moisturizing almond oil and precious essential

rose oil helps your skin to regenerate and reveals

your beauty.

25 min. € 45

HEAD, FACE AND NECK MASSAGE

Calm down, relax, enjoy. The head and neck

massage has a soothing effect, relieves tension

and stimulates blood circulation with a positive

effect on hair growth. The facial massage relieves

tension in the facial muscles and makes the

face appear softer and firmer again.

25 min. € 39

12

13
---
P A C K S & P E E L I N G S

Packs

Our health baths allow you to apply exquisite

ingredients directly onto your skin. Feel the

gentle sprinkle of small molecules with the

warm spray mist. Its pleasant warmth promotes

the blood circulation and increases the effectiveness

of the treatment.

Enhance the result by continuing with an individually

tailored relaxing, modulating or draining

massage.

ALPINE FANGO – POWER OF THE ALPS

Carefully selected alpine herbs not only give

this fango pack its wonderful alpine scent, but

also promote the invigorating, strengthening

abilities of the mineral mud. Perfectly eligible as

a beauty mask for various problem areas, as

well as for relaxation and tension release.

Fango pack & partial massage 50 min. € 75

Fango pack & full body massage 80 min. € 105

FANGO FROM THE DEAD SEA

The natural silt from the Dead Sea is rich in a

variety of valuable minerals, including calcium,

magnesium, potassium, iron and bicarbonates.

Ideal for stress reduction, deep cleansing and

purification.

Fango pack & partial massage 50 min. € 75

Fango pack & full body massage 80 min. € 105

ACTIVATING MARINE ENERGY:

MARINE ALGAE PACK

An efficient cellulite pack with high quality sea

algae. Thanks to the precious marine algae,

this body pack effectively strengthens the tissue

and optimizes skin hydration. The circulation-promoting

effect makes the skin appear

rosy and smooth.

Algae pack & partial massage 50 min. € 75

Algae pack & full body massage 80 min. € 105

TRADITIONAL SOUTH TYROLEAN HAY BATH

The farmers of South Tyrol discovered that

whenever they slept on fresh hay beds after

a physically hard and long day at work, they

would wake up the next morning feeling fresh

and recovered. Hay baths are recommended

for the regeneration of muscles and joints, and

provide deep relaxation and rest thanks to different

types of herbs and their essential oils.

Hay bath including partial massage

With Juniper & hay extracts 60 min. € 89

Peelings

FULL BODY PEELING WITH

APRICOT KERNELS & EXTRACTS OF HAY

This gentle and efficient organic body scrub

with hay flower extracts and ground apricot

kernels cleanses the skin pores deeply and makes

the skin appear clearer and more luminous.

25 min. € 43

FULL BODY PEELING WITH AROMATIC SALTS

This body peeling with aromatic oils and salt

from the Dead Sea supports the renewal of

your skin, promotes tissue metabolism and

makes your skin silky soft. For an intense pure

feeling.

25 min. € 43

All massage and beauty treatments are suitable

for both women and men. But the following

treatments are created exclusively for the men's

world. For relaxation, for activation and for a

well-groomed appearance.

MANAGER MASSAGE

HEAD FACE AND NECK MASSAGE

Particularly suitable after a long day at the

desk or after a long time spent working on your

computer. Or simply to relax your head and

neck. Tense facial muscles are smoothened,

mental tension is reduced, blood circulation

and hair growth are promoted. A highly effective

concentrate provides the energy boost for

your skin.

25 min. € 44

M2 MAN MASSAGE

Ideal for athletic men – relaxes your muscles in

the area of the neck and back as well as the

legs. For new strength and energy, especially

after sports activities.

50 min. € 75

POWER LIFT CARE

Powerful facial treatment for stressed men's skin

after the method TEAM DR JOSEPH for HIM.

Natural high-tech power for a dynamic and

well-groomed appearance.

Includes: lymph stimulating massage, steam

compresses, peeling, deep cleansing personalized

intensive serum, facial mask and daycare

tailored to your needs.

50 min. € 79

Men

O N L Y

THE SPECIAL ONE: POWER LIFT RELAX

"Powerlift Care", includes a head, neck

and face massage.

70 min. € 95

THE ADONIS

Depilation back or chest

€ 42

MANICURE

Shorten nails, file, remove cuticles, polish,

short hand massage.

50 min. € 59

PEDICURE

Shorten nails, file, remove cuticles, remove

cornea, foot massage

50 min. € 65

14

15
---
F A C E & B E A U T Y

Facial care Special facials Beauty á la carte

TEAM DR JOSEPH METHOD.

Based on both the needs of your skin and

scientific findings, the manual treatment method

of TEAM DR JOSEPH starts deep in the

tissue. Following the natural laws of function,

the skin's metabolism is brought into balance:

the nervous system is calmed, facial expressions

become relaxed, the flow is harmonized, and

micro-circulation is normalized; with the aim of

caring for and maintaining the holistic feel of

your skin, your health and your incomparable

beauty.

Experience to yourself the individual beauty

care offered by the method of TEAM DR

JOSEPH.

Our special facials include the following additional

treatment steps:

Skin analysis, cleansing milk, steam compresses,

peeling, manual deep cleansing, cleaning

with cupping glasses, tonifying pack, face and

décolleté massage, active ingredients serum,

skin-specific face mask followed by day care

and eye and lip care.

"HYDRA COMPACT"

For tired, stressed and dehydrated facial skin.

The skin is optimally supplied with moisture and

gains in elasticity and resilience. The intensively

hydrating algae mask ensures a fresh radiant

skin appearance.

80 min. € 115

"CLASSICAL FACIAL"

Personalized facial care program for you. Suitable

for every skin type and age. Our valuable

natural cosmetics are carefully adapted to the

wishes and needs of your skin.

80 min. € 110

"ANTI-AGE TREATMENT"

Luxury treatment for demanding and mature

skin with herbal hyaluronic acid and natural

antioxidants. Signs of skin aging are alleviated;

the loss of moisture is compensated, and collagen

production is stimulated at depth.

80 min. € 115

MANICURE

50 min. € 59

MANICURE WITH NAIL POLISH

55 min. € 69

PEDICURE

50 min. € 65

PEDICURE WITH NAIL POLISH

55 min. € 72

DEPILATION WITH WARM WAX

Lower legs € 29

Full legs € 45

Bikini € 25

Armpits € 19

Upper lip or chin € 12

Arms € 25

EXPRESSIVE EYES

Eyebrow shaping € 17

Eyebrow dyeing € 15

Eyelash dyeing € 20

Eyebrow & eyelash dyeing € 32

WORK

HARD

ENJOY

"PURENESS" FACE TREATMENT

In-depth cleansing face treatment. For a visibly

fresher complexion and vital radiance.

Includes: skin analysis, gentle massage stimulating

the lymphatic system, peeling, cleansing

with cupping glasses and deep cleansing, a

tonifying facial pack, a peel-off mask and the

daily care specific to your skin.

Ideal for impure skin or also as cleansing care

in between, so that the skin can breathe freely

again.

50 min. € 90

"INTENSE BIODYNAMIC LIFTING"

Intensive treatment combining a variety of different

facial massages and the power of flower

cushions. Unique beauty treatment with an

immediate effect.

110 min. € 152

HARD

T H E

G Y M W I T H

A L I T T L E

16

T H R I L L
---
S P A F A C T S

2 separate wellness areas for adults age

16+ and for families with children.

Our feel-good SPA water is gentle

for the eyes, gentle for the skin and

without any disturbing swimming pool

smell. Natural salt and highly effective

activated carbon are the key to our

perfect water quality and guarantee for

a unique bathing pleasure.

WITH LOUNGERS,

FOUR POSTER BEDS

5

AND RELAXING AREAS

Spa Facts

.

0

0

0

U

O

M

2

Y

R

G

O

A

F

N

D

R

E

In addition to a variety of high-quality treatments,

we offer a comprehensive relaxation

program that counts among finest ones in South

Tyrol. With hot and cold offers which we have divided

into "Adults only 16+" and "family areas" on

customer demand. True to the motto: "To each

their own".

16+

• 1 large outdoor pool 29 °C – 32 °C (15 x 5 m)

with indoor access, heated all year round.

• 1 outdoor hot tub 35 °C all year round, in the

fresh air, overlooking the outdoor pool, the garden

and the Plan de Corones.

• In summer, the outdoor pool and the outdoor

hot tub are also available for children.

• "Some like it hot": nude sauna area for adults

16+ with 4 saunas: large outdoor infusion sauna

(95 °C – 98 °C) with a sauna courtyard and outdoor

showers for vitality, classic Finnish sauna

(90 °C – 95 °C), aroma steam bath (45 °C – 50

°C), Tyrolean herbal sauna (45 °C – 50 °C).

• Daily changing infusions & scrubs with our sauna

masters.

• 1 panorama relaxation room with garden view,

cozy cuddly corners and comfortable single

and double loungers.

• 1 relaxation lounge with cool sofas and a

choice of magazines for chatting and reading.

• 1 relaxation room with floating loungers

• 1 relaxation area for parents with a direct view

of the family pool.

• 1 silent room with relaxing water beds for a

perfect deep relaxation.

• 1 VITALBAR with fresh spring water, herbal and

wellness tea, juices, fresh fruits, nuts and a cozy

sitting area.

OUR TIP: "EARLY BIRD BREAKFAST":

Breakfast for our morning swimmers, daily from

7 – 9 am at the VITALBAR in the spa area - with

NESPRESSO coffee & croissants, to enjoy the

morning sun by the pool!

COMMON AREA FOR ALL GUESTS

• 1 indoor pool 31 °C (10 x 5 m)

• 1 indoor hot tub 35 °C

• 2 family textile saunas with one bio sauna

(45 °C - 50 °C) and one aroma steam bath

(40 °C - 45 °C). Access in swimwear only.

• 1 VITALBAR with fresh spring water, herbal and

wellness tea, juices, fresh fruits and a cozy

sitting area.

• Separate lounging and cuddling are for families

• 5.000 m 2 of landscaped gardens surrounding

the outdoor pool with various seating areas,

sunbathing areas, relaxation areas, cuddly

sunbeds, umbrellas, four poster beds, garden

lounge furniture. Separate and quiet lounging

area for adults 16+ in the garden. (Summer)

• Attractive winter sun terrace with cozy loungers

(Winter)

• In SUMMER the outdoor pool and the hot tub

are also available for children. All quiet relaxing

areas around the outdoor pool are

however reserved exclusively for adults 16+.

• In WINTER however, the outdoor pool, the hot

tub and all relaxation areas are STRICTLY

RESERVED FOR ADULTS (+16 years).

SPA ETIQUETTE

Please respect the privacy of the other guests. A bathrobe and towels are included in the wellness bag in your room and made

available for the duration of your stay. If you need extra towels or slippers or have any special requests, do not hesitate to contact

our reception staff (phone number # 9). We kindly ask that you enter the family saunas in the CRYSTAL Family Wellness area with

swimwear only. The saunas in the DOLOMIT Adults Wellness are located in the nude area and may only be entered naked and with a

towel for hygienic reasons. This area as well as the relaxation areas are exclusively accessible to adults and teenagers from 16 years.

The relaxation areas in Dolomite Adults Wellness are reserved for adults. Please do not reserve any lounger! A large area with plenty

of loungers can be found indoors and outdoors. We ask that you refrain from using your mobile phone and other electronic devices

out of consideration for other guests. Smoking is prohibited throughout the SPA area. Thank you so much!

18

19
---
When

1000 details

arouse

one big

emotion

I T I S A

L I T T L E

HOTEL RUDOLF

Reischacher Str. 33, I-39031 Bruneck/Reischach

Tel. +39 0474 570 570

info@hotel-rudolf.com | www.hotel-rudolf.com

IMPRINT: Responsible for the content: Hotel Rudolf. Concept: www.sterntaler.at. Photos: Heldentheater, VITALIS, TEAM DR JOSEPH. Subject to typos and changes. As of June 2022.