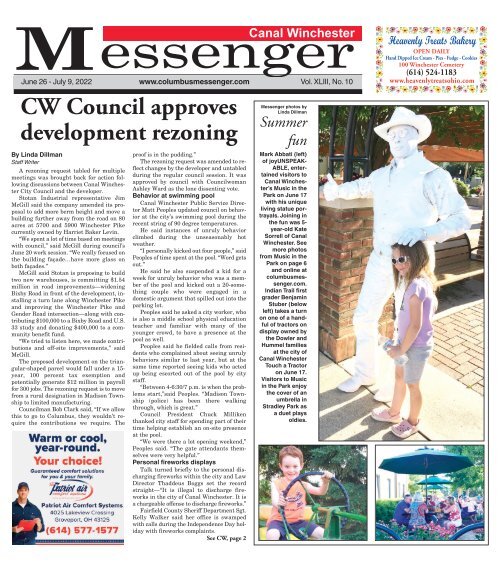 Canal Winchester Messenger - June 26th, 2022
Create successful ePaper yourself
Turn your PDF publications into a flip-book with our unique Google optimized e-Paper software.
Messenger

Canal Winchester

June 26 - July 9, 2022 www.columbusmessenger.com Vol. XLIII, No. 10

Heavenly Treats Bakery

OPEN DAILY

Hand Dipped Ice Cream - Pies - Fudge - Cookies

100 Winchester Cemetery

(614) 524-1183

www.heavenlytreatsohio.com

CW Council approves

development rezoning

By Linda Dillman

Staff Writer

A rezoning request tabled for multiple

meetings was brought back for action following

discussions between Canal Winchester

City Council and the developer.

Stotan Industrial representative Jim

McGill said the company amended its proposal

to add more berm height and move a

building further away from the road on 80

acres at 5700 and 5900 Winchester Pike

currently owned by Harriet Baker Levin.

"We spent a lot of time based on meetings

with council," said McGill during council's

June 20 work session. "We really focused on

the building façade…have more glass on

both façades."

McGill said Stotan is proposing to build

two new warehouses, is committing $1.54

million in road improvements–widening

Bixby Road in front of the development, installing

a turn lane along Winchester Pike

and improving the Winchester Pike and

Gender Road intersection–along with contributing

$100,000 to a Bixby Road and U.S.

33 study and donating $400,000 to a community

benefit fund.

"We tried to listen here, we made contributions

and off-site improvements," said

McGill.

The proposed development on the triangular-shaped

parcel would fall under a 15-

year, 100 percent tax exemption and

potentially generate $12 million in payroll

for 300 jobs. The rezoning request is to move

from a rural designation in Madison Township

to limited manufacturing.

Councilman Bob Clark said, "If we allow

this to go to Columbus, they wouldn't require

the contributions we require. The

proof is in the pudding."

The rezoning request was amended to reflect

changes by the developer and untabled

during the regular council session. It was

approved by council with Councilwoman

Ashley Ward as the lone dissenting vote.

Behavior at swimming pool

Canal Winchester Public Service Director

Matt Peoples updated council on behavior

at the city's swimming pool during the

recent string of 90 degree temperatures.

He said instances of unruly behavior

climbed during the unseasonably hot

weather.

"I personally kicked out four people," said

Peoples of time spent at the pool. "Word gets

out."

He said he also suspended a kid for a

week for unruly behavior who was a member

of the pool and kicked out a 20-something

couple who were engaged in a

domestic argument that spilled out into the

parking lot.

Peoples said he asked a city worker, who

is also a middle school physical education

teacher and familiar with many of the

younger crowd, to have a presence at the

pool as well.

Peoples said he fielded calls from residents

who complained about seeing unruly

behaviors similar to last year, but at the

same time reported seeing kids who acted

up being escorted out of the pool by city

staff.

"Between 4-6:30/7 p.m. is when the problems

start,"said Peoples. "Madison Township

(police) has been there walking

through, which is great."

Council President Chuck Milliken

thanked city staff for spending part of their

time helping establish an on-site presence

at the pool.

"We were there a lot opening weekend,"

Peoples said. "The gate attendants themselves

were very helpful."

Personal fireworks displays

Talk turned briefly to the personal discharging

fireworks within the city and Law

Director Thaddeus Boggs set the record

straight–"It is illegal to discharge fireworks

in the city of Canal Winchester. It is

a chargeable offense to discharge fireworks."

Fairfield County Sheriff Department Sgt.

Kelly Walker said her office is swamped

with calls during the Independence Day holiday

with fireworks complaints.

See CW, page 2

Messenger photos by

Linda Dillman

Summer

fun

Mark Abbati (left)

of joyUNSPEAK-

ABLE, entertained

visitors to

Canal Winchester's

Music in the

Park on June 17

with his unique

living statue portrayals.

Joining in

the fun was 5-

year-old Kate

Sorrell of Canal

Winchester. See

more photos

from Music in the

Park on page 6

and online at

columbusmessenger.com.

Indian Trail first

grader Benjamin

Stuber (below

left) takes a turn

on one of a handful

of tractors on

display owned by

the Dowler and

Hummel families

at the city of

Canal Winchester

Touch a Tractor

on June 17.

Visitors to Music

in the Park enjoy

the cover of an

umbrella in

Stradley Park as

a duet plays

oldies.
---
PAGE 2 - CANAL WINCHESTER MESSENGER - June 26, 2022

We are the BEST community newspaper!

Need advertising?

Call 614-272-5422.

www.columbusmessenger.com

Dr. Bender 5K Classic is July 16

The 15th annual Dr. Bender 5K Classic — which will

be conducted as a hybrid race - will be held July 16 at

Canal Winchester High School, 300 Washington St.

The in-person 5K race begins at 8:30 a.m. The 1-mile

Fun Run for children precedes the 5K and begins at 8

a.m. A virtual 5K event will also be available for those

who are not able or choose not to participate in the inperson

race.

A longstanding community 5K run and walk through

the streets of Canal Winchester, this year's hybrid race

continues the tradition of running for a good cause, despite

the fact that social distancing measures may still

be required for some. Proceeds from registration and

sponsorships from this year's races directly benefit the

boys and girls cross country teams at Canal Winchester

High School.

If choosing the virtual race, you will run your 5K

anywhere that you would like. Bike paths, neighborhood

routes, and the like are all options. The virtual

time frame is July 16-23 to participate in your 5K.

If you choose the traditional 5K Bender route, you

are encouraged to download the Race Joy app if you

plan to run or walk your route with your phone. This

app will track your time, alert you when you complete

the race, and also provides cheers and helpful tips along

the way as you race. Share your race photos on social

media with the hashtag #drbender5k.

Cost is: in-person race — $30; virtual race — $30; and

fun run — $10.

T-shirts with this year's race design are guaranteed

to participants who register for the race by midnight on

CW

Continued from page 1

Runners at the start of last year's Dr. Bender 5K

Classic.

July 7. Indicate your size in the registration process.

Shirts will be mailed to virtual race participants and

will be available on the day of the race for in-person participants.

Share your race photos on social media with the

hashtag #drbender5k.

There will be an Alumni/Team challenge competition

for the in-person race experience. Provide your team

name and members (minimum of four) to the race director

the morning of the 5K.

Register at www.drbender5k.com

Visit www.drbender5k.com for information.

Senior LifeStyles

Don't miss out on this opportunity to

appeal to the fastest growing segment of

the population.

200 Word Story With Your Ad.

Cost

Ad Size Ad Rate

1/8 Page

1/4 Page

1/2 Page

Full Page

$110.00

$165.00

$235.00

$425.00

Prices are per paper.

DEADLINE DATE: July 1 st

PUBLICATION DATE: July 10 th

Call or Email Doug Henry

Phone: (614) 272-5422

Email: doughenry@columbusmessenger.com

Messenger photo by Linda Dillman

Canal Winchester City Council members prepared for their first meeting in their new chambers in the new municipal

building on East Waterloo Street during their June 20 meeting. "It is a privilege to be here," said Councilman

Bob Clark. "I think everyone will find it's a lot nicer place."

Boggs said video evidence by a citizen of illegal fireworks,

without being observed by law enforcement, is

admissible in court. However, it must be clear where the

fireworks originated, the property, and date on which

the incident occurred.

"You have to have the ability to connect it to a property,"

said Boggs.
---
www.columbusmessenger.com June 26, 2022 - CANAL WINCHESTER MESSENGER - PAGE 3

Old churches reflect history of Canal Winchester

By Linda Dillman

Staff Writer

As Canal Winchester prepares to celebrate

the 100th anniversary of its Labor

Day Festival, a pair of churches has a rich

history in the city as well, with one dating

back over 200 years and the other tracing

its lineage back nearly as long.

Hope United Methodist Church

Hope United Methodist Church, 83 E.

Columbus St., began as a United Brethren

Class in 1815 in a log schoolhouse and home

owned by Ludwig Kramer. Shortly thereafter,

Kramer added a large frame room

onto his residence for meeting purposes.

When the house was later sold to Sam

Dietz, Kramer stipulated the room must

still be made available for church use. When

services became too noisy, Dietz bought out

the meeting room. A few of Hope's current

members are descendants of the founders of

the church and town.

Nearly two decades later, a frame meeting

house was erected on East Columbus

Street in 1833 and was the first of three

structures built on the present site. During

the early years, it was common for different

churches to share the same building. Hope

shared theirs with the Methodist Episcopal

Church from 1838-50.

In 1851, a brick building replaced the

frame one and in 1887, the present structure

was erected using many of the bricks, floor,

and joists salvaged from the old building. A

fellowship hall and kitchen were added in

1952 and an educational annex in 1960.

Not only is Hope Church the first of its

kind organized in Canal Winchester, it is

also responsible for many other religious

firsts in the life of the growing community.

It hosted the first Sunday School in the village

in 1833, its church bell first beckoned

parishioners in 1846, and the first organ in

the United Brethren Conference was installed

in 1865.

According to church secretary Linda

Fields, 30 years ago Hope was a vibrant

church with many children and young people

carrying on traditions established more

than 200 years ago. However, she said most

of the children grew up and moved away or

no longer attend church.

"I would say 85 percent of our church are

over 70," said Fields. "The younger generation

is also drawn to the big churches with

praise bands with which we can't compete.

I used to be the head of the youth group in

the 1980s and we travelled a lot with over

25 kids. Now there are only two of those

children who worship here with their families.

They are now in their 50s. Unless there

is an influx of people, we know our church

will not survive another 20 years. This is

sad for all of us."

According to Fields, the decline in population

has not gone without notice and over

the years parishioners discussed ways to

adapt to changing times. She said endeavors

have so far been unsuccessful. Sunday

School was cancelled, services are less formal,

meeting times were moved up so members

can get out earlier and the church is

Messenger photos by Linda Dillman

Hope United Methodist Church sits regally

along Columbus Street in Canal Winchester.

welcoming to a more diverse population.

However, none of the ideas resulted in

an uptick in membership lamented Fields.

"There are so many churches in Canal

Winchester that I believe anyone who wishes

to attend church has a wide open range to

pick from," she said. "Our church is traditional,

where we sing the old, known hymns,

we have a choir, we have prayer and a sermon

and we're done. If someone likes that

kind of worship, we are still here and would

love to have them join our Hope family."

Although membership is aging and declining,

those who attend Hope United

Methodist Church are, according to Fields,

very active–serving as volunteers and

board members–in community activities

such as the food pantry, historical society,

city council and the Labor Day committee.

"We have a children's clothing ministry

where people come once a month to get free

clothing," said Fields. "However, it has

turned into a children's clothing exchange,

where most people bring in their outgrown

clothing each time they come to get more.

This is a wonderful outreach, but has not

brought us any new attendees at church.

We also sell homemade buckeyes year

round. This, again, has brought many people

into the church to buy buckeyes but not

to attend church."

David's United Church of Christ

According to David's United Church of

Christ's Rev. James Semmelroth Darnell,

the church's beginnings date back to approximately

the same time period as Hope's,

circa 1816 or1817, when minister Rev.

George Weisz began preaching to German

Reformed people who settled in Canal Winchester,

Violet Township, and Lithopolis.

It was other members of the Dietz family–John

and Elizabeth Dietz–who were

instrumental in establishing the foundation

for the German Reformed and Lutheran

Churches in the area, which much later became

David's United Church of Christ, 80

W. Columbus St., and David Lutheran

Church, 300 Groveport Road. The couple

provided space on a rotating basis in their

log cabin at Winchester and Lithopolis

roads for the first services circa 1830.

David's (German) Reformed Church and

the David Lutheran Church built a shared

sanctuary at Washington and West streets

in 1839, where both met until 1875 when

doctrinal differences became more emphasized.

"Though our congregation had its beginnings

somewhat earlier, we have considered

1839 when our first building was built as

our establishment date," said Darnell.

"Each congregation then sought to build

their own building. The David's Reformed

Church bought out the Lutherans' share in

the first building."

The new David's Reformed Church building

opened in 1883 debt free. In 1904 the interior

of the church was renovated and in

1923, a new Sunday school wing was added.

In 1934 the church became known as

David's Evangelical and Reformed Church.

A pipe organ was installed in 1937 and

the first church phone was connected in

1945. The Congregational Christian

Churches and Evangelical and Reformed

Church merged in 1957 and became the

United Church of Christ in 1957, resulting

the name now familiar to the Canal Winchester

community of today.

See CHURCHES, page 4

For Appointment Information Call

(614) 837-7337

Meet Our Canal Winchester Physicians

Nicholas Stevens, MD

The history of David's United Church of

Christ on Columbus Street dates back to

1839 when the congregation shared their

building with David Lutheran Church.

H. Scott Tyson, MD

Shari Burns, MD Wendy Stevens, MD Aila Co, MD

7750 Diley Road, Suite A, Canal Winchester, OH 43110
---
PAGE 4 - CANAL WINCHESTER MESSENGER - June 26, 2022

CW Library Branch

The Canal Winchester Branch of the

Columbus Metropolitan Library, 115

Franklin St., is located in the rear portion

of the former school at 100 Washington St.

For information visit www.columbuslibrary.org

or call 614-645-2275.

Barber Museum

The National Barber Museum in Canal

Winchester is located at 135 Franklin St.

(behind the former CW High School building).

The museum, housed in approximately

5,000 square feet, showcases art, artifacts,

and memorabilia from decades of the barbering

profession. For information call(614)

837-8400.

Our Pictorial Past by Rick Palsgrove

www.columbusmessenger.com

DestinationOutlets.com

800-213-9083

8000 Factory Shops Blvd.

Jeffersonville, OH 43128

DOWNLOAD OUR

MEMBERSHIP APP

Photo courtesy of the Groveport Heritage Museum

Canal Winchester Bank

This is an ad from the 1950s for the Canal Winchester Bank, which was located in

downtown Canal Winchester on High Street. The ad's photo features members of the

Groveport Future Farmers of America and it mentions that the bank serves Canal

Winchester, Lockbourne Air Force Base, and Groveport.

CHURCHES

Continued from page 3

According to a history of Canal Winchester

written by Frances Steube and Lillian

Carroll, the neighboring Oley Speaks family

home was demolished in the early 1970s to

make way for a church addition including

an enlarged kitchen, dining room, offices,

parlor and a prayer chapel.

"Several decades ago, there were many

farming families in David's Church and

Canal Winchester at large," said Darnell.

"Today there are only two or three farming

families left in our congregation. This is reflected

in the wider community as Canal

Winchester has grown from a small town to

a burgeoning suburb. There was a time

when our congregation drew only from the

surrounding community. Today our congregation

members live not only in Canal Winchester,

but as far as Westerville and

Lancaster, as well as Pickerington, Groveport,

and Reynoldsburg."

Like many congregations, David's has a

sizeable senior citizen membership, but

there are also many younger families raising

their children in a progressive faith environment.

Darnell said the congregation

has changed as the community and its

needs change.

"Over the years we have spearheaded

ministries to meet these needs," said Darnell.

"The Canal Winchester Food Pantry

was founded and housed at David's Church,

until it became part of Canal Winchester

Human Services several years ago. David's

Way was begun by United Church Homes,

with leadership from our congregation, to

provide affordable senior housing in our

community. In the wake of the George Floyd

killing, we led weekly sit-ins in support of

Black Lives Matter on our church lawn."

Since 2012, David's established a policy

of being an "open and affirming" congregation,

in support of the full participation of

lesbian, gay, bisexual, and transgender persons

in its ministry. Church members have

hosted refugee families over the past several

decades, and are currently preparing to

welcome a new refugee family in the coming

year.

In looking to the future, one of the

biggest challenges Darnell sees for Canal

Winchester is the division between lifelong

Canal Winchester residents and others who

have settled here more recently. He said

there is a tension between the small town

feel of the community and the city's growing

suburban nature.

"Churches are one of the few places left

in any community where people of diverse

perspectives can come together for a common

cause," said Darnell. "David's Church

cares deeply about creating community beyond

any divisions. I think we have a

unique role in bringing people together for

the betterment of our community, no matter

our background or where we come from."
---
www.columbusmessenger.com June 26, 2022 - CANAL WINCHESTER MESSENGER - PAGE 5

Township rates "too cheap"

By Linda Dillman

Staff Writer

Madison Township is putting finishing

touches on a new Community Center rate

chart for 2023 and the trustees are considering

citizen suggestions to increase rental

fees for non-residents higher than first proposed

in May.

During the June 16 Madison Township

trustee meeting, Administrator Susan

Brobst said one resident felt the rates were

"too cheap" and another felt the rates could

easily be doubled for non-residents. Community

Center rental prices have not increased

in 12 years.

For township residents the cost is currently

$20 for the first four hours and then

$10 for each additional hour. For non-residents,

the cost is a flat $20 per hour fee.

There is no charge for non-profits, school

use, township businesses, employees and

activities like a funeral repast.

Prices for residents and local businesses

are lower than those for non-residents since

non-residents do not pay property taxes.

Brobst recommended the township eliminate

a free use policy and instead institute

a $20 flat cleaning fee.

She suggested raising the cost for residents

to $25 for the first four hours and

keep the $10 rate for each additional hour.

Non-residents would pay a flat $30 per

hour.

Based on 2019 figures before the pandemic

impacted reservations, Brobst said a

breakdown of average expenditures indicate

each event cost the township approximately

$116.

Other than non-profit organizations, the

administrator reported the average use

time is four hours.

If the trustees decide in July to eliminate

the free use policy for local non-profits,

Trustee John Pritchard asked if special

groups–such as the American Legion,

Groveport Madison Alumni Association and

scouts–could be eligible for township

grants to offset the cost.

"It is a value we would be giving to

them," said Pritchard, who also felt the rate

for non-residents is too low. "I would double

that. I don't think $100 for two hours is bad.

We need to make sure we take care of our

residents."

Brobst said she would bring the policy

back, along with any additional comments

submitted by citizens, in time to set rates at

the July 21 meeting.

Other Madison Township news

•Police Chief Gary York asked the

trustees to approve a Matrix agreement for

a new police records management system.

York said the system allows for better sharing

of information with outside departments

and multiple agencies are already contributing

to the Matrix database.

"This is something the (Franklin County)

sheriff's office is currently using," said York.

"At the end of the day, this is a win-win for

all of us."

•Brobst said a June 4 tire collection held

in partnership with Canal Winchester,

Franklin County Public Health and Columbus

Public Health brought in 860 used tires

from township residents.

"Public Health was overwhelmed," said

Brobst, who said while she hopes to partner

with the county, Columbus, and Canal Winchester

again next year. Madison Township

is also planning to hold their own collection

at Brobst Park sometime this fall.

•Groveport's "Fourth of July Celebration

and Parade" will be held July 4. The kids'

parade begins at 10:30 a.m.

The Main Street parade starts at 11 a.m.

There will be food vendors all day, kids' activities

from 1-6 p.m., and live music from

2-9:45 p.m.

Fireworks at dusk. For information call

614-836-3333.

PAID ADVERTISING

Lady A; Rick Springfield

headline Lancaster Festival

Lady A and Rick Springfield are this year's signature

acts appearing on the Wendel Concert Stage

at the Ohio University Lancaster Campus as part

of the Lancaster Festival, which takes place during

the last two weeks of July each summer. Tickets

are now on sale for these and other events taking

place during the 10-day celebration of music, art

and community.

The July 30 Grand Finale concert will feature

Lady A, with the Lancaster Festival Orchestra

opening the evening with selections that highlight

the 35th anniversary of the orchestra's creation. As

a Country-radio staple, the trio has amassed recordbreaking

success ushering in 10 No. One hits with

more than 18 million album units and 34 million

tracks sold and nearly 5 billion digital streams.

The July 23 concert will feature Rick Springfield

with the Lancaster Festival Orchestra. The

creator of some of the finest power-pop of the '80s,

a Grammy Award-winning singer, songwriter, and

musician who has sold 25 million albums and

scored 17 U.S. Top 40 hits. The Lancaster Festival

Orchestra will open the evening with Gershwin Favorites

with guest Cuban pianist Aldo Lopez Gavilan.

Other Festival highlights this year will include:

•July 25, Jazz takes center stage at the Monday

Night Jazz Concert with the incomparable Byron

Stripling and Friends

•Elton John tribute Elton Rohn will rock the

Wendel Concert Stage on Wednesday, July 27.

•The family concert, "A Musical Zoo," will take

place on Thursday, July 28.

A full schedule of is available at www.lancasterfestival.org.

CW City Council meetings

Canal Winchester City Council meetings

are held on the first and third Monday of

every month. Meetings begin at 7 p.m. The

meetings are open to the public.

Council meets in work session at 6 p.m.

prior to each city council meeting to discuss

legislative items and other issues of the city

prior to being included on a city council

agenda. The first work session of the month

Hann Farm's Market

COMING SOON

'SWEET CORN'

4600 Lockbourne Road, Columbus, Ohio

HOURS: Mon. - Sat. 10am-6pm Sun. Noon - 5pm

(614)-491-0812

hannfarmsmarket.com Hann-Farm-Market-LLC

Rick Spring

with the

Lancaster Festiva al Orchestra

TICKETS!

July

July 21–30, 2022

23

focuses on finance/economic development

items and the second work session focuses

on service/safety items.

CW school board meetings

The Canal Winchester Board of Education

meets on the third Monday of each

month at 7 p.m. in the Canal Winchester

Education Center, 100 Washington St. on

the second floor in room 204/206.

with the

TIV

AL

Lancaster

Festival

Or

chestra

July

30

www.Lancas

sterFestival.org
---
PAGE 6 - CANAL WINCHESTER MESSENGER - June 26, 2022

www.columbusmessenger.com

Messenger photos by Linda Dillman

Brothers Alex Haliter (left) and Max Haliter (right) took advantage of the opportunity to

create an original work of art at Canal Winchester's Music in the Park on June 17.

Canal Winchester musical duo Hot Rod Lincolns filled the air in Stradley Park on June

17 with familiar tunes played on the acoustic and electric guitars as park of they city's

Music in the Park series. The next Music in the Park is the third Friday in July.

REDEMPTION

CITY CHURCH

11573 Lithopolis Rd NW

Lithopolis, Ohio 43136

YOU'RE INVITED

Sundays at 10:30 a.m.

Wednesdays at 7:15 p.m.

redemptioncitycolumbus

www.redemptioncitycolumbus.com

@redemptioncitycolumbus

Please visit a

South/Canal Winchester

Church of your choice.

List your Worship

Services here.

For info. call 614-272-5422

Be a Part of Our Local Worship Guide

Our Worship Guide is geared toward celebrating faith and helping readers

connect with religious resources in our community. Make sure these readers

know how you can help with a presence in this very special section distributed to

more than 19,000 households in the South/Canal Winchester area.

Contact us today to secure your spot in our Worship Guide.

614.272.5422 • kathy@columbusmessenger.com

Messenger

South

Proud grandpa Jim Hummel restored the tractor his grandson, Bowen Hummel, 4, is taking

for a stationary spin during Canal Winchester's Music in the Park. The tractor was

bought by Hummel's uncle, Tom Hummel, in 1967 and Jim restored the working vehicle

for his son 20 years ago that will eventually be passed down to Bowen.
---
www.columbusmessenger.com June 26, 2022 - CANAL WINCHESTER MESSENGER - PAGE 7

Groveport's Fourth of July

celebration is back

By Rick Palsgrove

Managing Editor

Groveport really knows how to celebrate

the Fourth of July.

This year's celebration features the traditional

Main Street parade, music, food

vendors, kids' activities, and fireworks on

July 4.

"This year's celebration will be bigger

and better with the addition of more than

10 food vendors, four different musical acts,

and elevated kids activities," said Groveport

Community Affairs Department Executive

Assistant Kristiauna Trelay. "New this year

will be a video game truck that accommodates

16 to 20 people playing the latest

games individually or all at once."

The Main Street parade will start at 11

a.m. on July 4. Staging for the parade will

be at the Groveport Recreation Center. The

parade will start at Richardson Road and

travel west on Main Street, then turn right

onto Hendron Road and end at Glendening

Elementary.

Mayor Lance Westcamp announced this

year's parade grand marshal will be John

Hougland, a retired pharmacist who operated

the Groveport Pharmacy on Main

Street for many years and who also served

as a city councilman.

"John has been a big part of our community

for many years and he was especially

helpful during his time on city council," said

Westcamp. "He is well deserving of this

honor. He has done a lot for this community."

Added Trelay, "Former Councilman John

Hougland is well known in the community.

He's a former local business owner and a

very active resident."

The fireworks will be launched at dusk

on July 4 from Palm Pond in Heritage Park

on Wirt Road. Tune into radio frequency

88.3 to hear background music during the

fireworks.

"Groveport has one of the best fireworks

displays in the area," said Trelay.

Musical entertainment on July 4 begins

CW's Movies in the Park

Canal Winchester, in partnership with

Destination: Canal Winchester, will host

two free Movies in the Park this summer.

Family-friendly movies will be shown outdoors

at Hanners Park, 458 Groveport

Road, July 8 and Aug. 12 at about 9 p.m.

"The Little Rascals" (1994) Rated PG,

will be shown on July 8. The August film

will be selected via a poll on the city's Facebook

page. Followers can vote between two

movie titles with the winning title being

played on Aug. 12.

Families may enjoy the movie from the

comfort of their vehicle or bring a chair or

blanket to watch from the lawn. Free snacks

and activities will be available at 8 p.m.

Visit www.canalwinchesterohio.gov or

call 614-834-9915 for information.

on the main stage, located in the parking

lot of Crooked Alley KidSpace, with Krash

Landing from 2-3:30 p.m.; Whiskey Ridge

from 4-5:30 p.m.; Ryder Band from 6-7:30

p.m.; and Willie Nelson Mandela from 8-

9:45 p.m.

"All kids' activities will be set up in the

grassy area by the baseball fields off Wirt

Road," said Trelay.

Food vendors will also be located along

Wirt Road.

"Food vendors must be in place by 9 a.m.

and will be serving once they have set up in

the parking lot behind Birch Tavern," said

Trelay.

The kids' parade will take place July 4

with staging at 10 a.m. in the Middle School

Central parking lot. Kid can decorate their

bikes, wagons, and scooters in red, white,

and blue. The kids' parade begins at 10:30

a.m. at Middle School Central, 751 Main

St., then proceeds west on Main Street,

south on Oak Street to Crooked Alley Alley

KidSpace, 630 Wirt Road.

Per a city ordinance, no animals are permitted

in the festival event areas at any

time during the city's Fourth of July celebration.

CW's Music in the Park

The city of Canal Winchester invites families

with children of all ages and adults to

the city's 2022 Music in the Park free summer

event series at Stradley Park, 36 S.

High St.

The next event is July 15, the Gas Pump

Jockeys return for a record 15th season for

the annual Cruise-In Car Show, hosted by

C-Town Cruisers.

Additional hands-on activities and games

will be available throughout the park. Attendees

are encouraged to bring a lawn

chair and picnic, or carry-out from one of our

downtown restaurants. Alcohol is not permitted

within the park.

Visit www.canalwinchesterohio.gov for

information.

We're Open to

Brighten your Day!

Grace Noelle Florals

Angela Roehrenbeck - Owner/Designer

• Fresh Beautiful Flower Arrangements

• Creative Design

• Weddings

DEADLINE DATE: July 19th

PUBLICATION DATE: July 24th

Ad Size

1/8 Page

1/4 Page

1/2 Page

Full Page

*Prices are per paper.

200 Word Story With Your Ad.

Cost

Ad Rate

$125.00

$165.00

$235.00

$450.00

• Birthdays

• Sympathy

• Special Occasions

614-829-2860

gracenoelleflorals.com / angela@noelleflorals.com

Call or Email Doug Henry

Phone: (614) 272-5422

Email: doughenry@columbusmessenger.com
---
PAGE 8 - CANAL WINCHESTER MESSENGER - June 26, 2022

When "Toy Story" made its debut in

1995, some critics and movie snobs brushed

it off as "just another bland animated feature,

but this time with unwanted children's

toys at the center." It would eventually go

on to become one of the most critically

renowned and publicly beloved franchises in

the history of cinema.

What made the original and its subsequent

sequels so enduring was its terrific

ensemble of characters, each with their own

outlandish personalities and hidden vulnerabilities;

its relatable story of growing up

and casting aside "childish" things; and its

innate ability to make you peel over with

laugher one minute and then burst into

tears the next.

Although it has been a few years since

the latest film in the series was released and

while there are no current plans to make a

fifth "Toy Story," the positive public sentiment

remains strong as do the sales of the

toys found within this franchise.

Because Disney is always looking for

ways to milk some more cash out of their

property cows, they have found a loophole of

sorts to make a prequel story (of sorts) to

one of its most popular characters within

the sentient toy franchise.

Enter "Lightyear," a

film that has none of the

a l l - e n c o m p a s s i n g

warmth of the franchise

on which it is based but

nonetheless still feels

like being encompassed

by a nice blanket — albeit

one in which tiny

dollar signs copyrighted

by Disney are

sprinkled throughout.

To clear up some confusion that may be

lingering from the trailer: this film is not

about the toy character Buzz Lightyear

(originally voiced by Tim Allen), the vainglorious

astronaut action figure that replaces

Sheriff Woody (originally voiced by Tom

Hanks) as Andy Davis' favorite toy. Instead,

this film is about a film within that film that

inspired the creation of the toy Buzz

Lightyear. Basically, it's a "Toy Story-Inception,"

but without the awe-inspiring special

effects.

entertainment

www.columbusmessenger.com

"Lightyear" has moments of warmth and humor

The Reel Deal

Dedra

Cordle

In "Lightyear," the titular character (adequately

voiced by Chris Evans) is a real

human Space Ranger who accidentally maroons

an entire star fleet on an inhospitable

planet and spends the next 60 plus years

coming up with a solution to get them back

home. Due to some hyper-speed trickery, he

only ages a bit during his space jaunts but

his best friend and commander Alisha

Hawthorne (Uzo Aduba) lives out an entire

life. In the blink of an eye, he is alone on a

planet full of strangers, most not caring

about his ultimate goal to "bring them back

home."

Because Buzz Lightyear would not be

Buzz Lightyear without his missions, he begrudgingly

teams up with a group of inexperienced

Space Rangers who are in the battle

of their lives against a ruthless and powerful

emperor named Zurg (voiced by James

Brolin). To save his people — even the ones

do not personally care for him — to find a safe

way home, and to defeat the seemingly undefeatable

baddie, Lightyear must confront

his past and own up to some deeply hidden

vulnerabilities that remind him that not

everything can (or should) be done alone.

By voicing a character who is the apparent

inspiration behind the iconic astronaut

action figure in "Toy Story," Evans walks a

delicate line with his take on Buzz. Although

he draws from Allen's iteration of

the beloved side-kick Space Ranger, he doesn't

lean fully into the original take on the

character, playing his human self as much

cooler tempered while still bursting with

bravery, loyalty, and the occasional bout of

selfishness. While that development was a

good thing for this movie, what was not as

good was the lack of depth or attention

given to the side characters, especially the

character of Izzy (Keke Palmer) who shares

a connection with Buzz's late friend Alisha.

I think had more detail been fleshed out for

her character, the elder convict Darby (Dale

Soules) and the accident prone Mo (Taika

Waititi), this film would have packed more

of an emotional punch, especially when calling

back to the connective tissue that it

shares with the "Toy Story" universe.

Although there are moments of genuine

warmth and humor in "Lightyear," (the mechanical

companion cat voiced by Peter

Sohn is a real treasure) the thin story and

sometimes clunky dialogue will not make it

as popular or as enduring as the franchise

in which in falls into, but it does have something

sweet to offer for those looking for a

fun escapade "to infinity and beyond."

Grade: C+

Dedra Cordle is a Messenger staff writer

and columnist.

Messenger

Canal Winchester

BEST COMMUNITY NEWSPAPER in Canal Winchester

Pick-Up At These

Locations:

Walgreen's - Gender & Winchester Blvd.

BP Gas Station - Gender Rd. & Freeway

Aldi - Gender Rd. & Freeway (behind BP Station)

Kroger - Winchester Square

The Wigwam Restaurant - 4 South High St.

Shade on the Canal - 19 South High St.

Canal Winchester Library - 115 Franklin St.

CW City Hall and Community Center – 45 E. Waterloo Street

Canal Winchester School Adm. - 100 Washington St.

Harvest Moon - 7 N. High St.

Rex Barber Shop - 1 W. Waterloo

Sunoco Gas Station - 501 W. Waterloo St.

Panera - 685 W. Waterloo St.

Schirm Farm Apts. - 6340 Saddler Way

READ US ONLINE: www.columbusmessenger.com

CW summer events

•Movie in the Park — July 8 and Aug. 12.

Activities begin at 8 p.m., movie begins at

dusk in Hanners Park — 458 Groveport

Road, Canal Winchester. Come out for a free

family-friendly movie at Hanners Park.

Enjoy the film drive-in style from your car,

or bring a chair and blanket to watch from

the lawn. Free activities and treats will be

available prior to the start of the show. This

event is a partnership with Destination:

Canal Winchester.

•Music in the Park — July 17 from 6-9

p.m. in Stradley Park, historic downtown

Canal Winchester featuring live music from

The Gas Pump Jockeys. Come out for live

music and activities for kids and adults

alike! July's event will also feature the signature

Cruise-In Car Show, hosted by C-

Town Cruisers. Free registration and prizes

will be awarded. Limited to the first 50 cars.

•Blues & Ribfest — July 29-30. Hosted by

Destination: Canal Winchester in historic

downtown CW. A two-day summer street

eastside

Messenger

(Distribution: 6,500)

Rick Palsgrove........................Canal Winchester Editor

southeast@columbusmessenger.com

Published every other Sunday by

The Columbus Messenger Co.

3500 Sullivant Ave., Columbus, Ohio 43204-1887

(614) 272-5422

celebration featuring live blues music,

world-class ribs, a wide variety of quality

non-rib food options, children's activities,

fan-cooled dining areas, and a beer & wine

garden for our Blues/Rib-loving guests 21

and over. Visit www.bluesandribfest.com for

information.

•100th Annual Canal Winchester Labor

Day Festival — Sept. 3, 4, 5. Hosted by the

CW Labor Day Committee in historic downtown

CW. Enjoy three days of family fun at

the oldest and largest Labor Day Festival in

Ohio. Live music, midway rides, car show,

parade, and more. This year's Sunday headliner

is Uncle Kracker, a country pop artist

with a number of Billboard 100 hits. For information

visit www.cwlaborday.org.

Lithopolis Honeyfest

The Lithopolis Honeyfest will be held

Sept. 9 from 3-7 p.m. and Sept. 10 from 10

a.m. to 7 p.m. in downtown Lithopolis. Free

admission, parking, and shuttle service.

For information call 614-769-3824 or visit

lithopolishoneyfest.com.

Keep tabs on the news

in Canal Winchester

Look for CW Messenger on

Become a fan!
---
www.columbusmessenger.com June 26, 2022 - CANAL WINCHESTER MESSENGER - PAGE 9

The law also:

Mosquito management

•requires licensed retailers, manufacturers, and

wholesalers selling consumer grade fireworks to offer

Messenger

Canal Winchester

safety glasses for free or for a nominal fee and to provide

purchasers with a safety pamphlet;

•prohibits discharging fireworks while in possession

of or under the influence of alcohol or a controlled substance

or on someone's property without permission;

•allows the State Fire Marshal to suspend a fireworks

manufacturer or wholesaler if they have violated

the fireworks law or State Fire Marshal rules; prohibits

the State Fire Marshal from unreasonably withholding

a variance to allow hobbyists to manufacture, possess,

and use individual display grade and consumer grade

fireworks and requires cause for revocation of a hobbyist

variance; and

•requires hobbyists seeking variances to demonstrate

they can engage in the hobby safely and legally

and limits hobbyists to possession of five pounds of raw

materials and finished fireworks produced through the

hobby.

The city of Canal Winchester contracts with Franklin

County Public Health for mosquito control.

Franklin County Public Health takes a proactive,

concentrated approach to mosquito management. The

agency's Integrated Pest Management Program focuses

on prevention, education, and controlling pests at their

most vulnerable stage while minimizing hazards to the

environment.

Data about mosquito breeding locations, areas that

traditionally have high adult mosquito populations, and

the frequency and distribution of mosquito-borne diseases

throughout Franklin County is regularly monitored

and treatments are applied when appropriate.

The city's Urban Forestry Department will begin

routine random larval mosquito surveys in late May

2022, providing documentation of mosquito production

as a basis for treatment. Native fathead minnows may

be released by the City as an aquatic biological larval

control, possibly offering some decrease in local adult

mosquito populations.

Residents can help by reporting areas that they suspect

may be mosquito breeding grounds and by reporting

increases in adult mosquito activity to Franklin

County Public Health.

Mosquitoes breed easily in standing water. Check for

and drain any standing water around your home to help

control the mosquito population.

Common and easily overlooked mosquito habitats include:

tires, buckets, cans, bottles, and plastic containers;

bird baths (drain and refill every 3-4 days); wading

or kiddie pools (drain and refill frequently); pools and

hot tubs (keep chlorinated, covered, or keep completely

dry); pool covers that hold water; boats, boat covers, and

tarps; pet food containers and water dishes; clogged gutters

and downspouts; leaky outside faucets that create

puddles; rain barrels that are not properly screened or

treated; low areas that form puddles and hold water;

planters and pots, including saucers and catch trays;

trash cans (use tight fitting lids and keep them covered);

mature trees that have developed holes that hold water

— fill the voids with sand; anything that has the potential

to hold even small amounts of water.

Information about Franklin County Public Health's

mosquito management program and a form report an

area of concern is available online at

mosquito.myfcph.org or by calling Franklin County

Public Health's Mosquito Bite Line at (614)525-BITE

(2483).

New state fireworks law; local

governments can restrict

A new Ohio law, that goes into effect July 1, allows

individuals to possess consumer grade fireworks in

Ohio, eliminating a requirement that purchasers transport

consumer grade fireworks out of the state within

48 hours of purchase.

It also allows any person authorized to possess consumer

grade fireworks to discharge them on their own

property or on another person's property with permission

on the following days: New Year's Day; Chinese

New Year; Cinco de Mayo; Memorial Day weekend;

Juneteenth; July 3, 4, and 5 and the Fridays, Saturdays,

and Sundays preceding and following; Labor Day weekend;

Diwali; and New Year's Eve.

According to a statement from Governor Mike

DeWine, "The bill I signed limits the discharge of fireworks

to the more traditional holidays that Ohioans celebrate,

while recognizing our numerous culturally

diverse holidays."

The law permits local governments to restrict the

dates and times when individuals may discharge consumer

grade fireworks or to impose a complete ban on

the use of consumer grade fireworks.

Metro Parks wildlife advice

Spring is here and its the season for calls about orphaned

and abandoned animals. Metro Parks is unable

to rehabilitate wildlife, but there are steps you can take.

According to Metro Parks officials, if you find an animal

in a park that is orphaned, abandoned, or injured,

leave it alone and call the ranger cell number, posted on

bulletin boards and around the park.

Sometimes, babies are left alone while mom is looking

for food, and will return to the nest, other times they

will require care or monitoring. Do not take them out of

the park.

If you find an animal in your yard, leave it be. Call

the Ohio Wildlife Center 614-793-9453 and leave a message,

or visit their website at ohiowildlifecenter.org for

information on how to help.

CW swimming pool

The city of Canal Winchester invites you to cool off

this summer at the Canal Winchester Municipal Swimming

Pool. The pool season began May 26 at noon and

runs through Sept. 4. A complete listing of pool hours

can be found on the city's website.

Visit the pool with friends and family and take advantage

of the wading pool, the recreational pool with a

waterfall feature, or the competition pool including diving

boards and a climbing wall. Relax in one of the pool's

lounge chairs, or for extra shade, enjoy the sun-sail

area. Make your way to the concession stand for hot

dogs, pizza, nachos, drinks, candy, chips, frozen treats,

and more.

Seasonal memberships and a number of other pass

options are available. The pool is open to residents and

non-residents. If space is available, reduced-price membership

opportunities will open up after July 5. Details

on memberships and passes can be found on the city's

website.

All those wishing to visit the pool will be required to

have a pre-paid reservation, including those with free

admission. Reservations and payments must be made

online in advance; absolutely no walk-up reservations

will be permitted.

The pool is available to rent for parties on designated

Friday, Saturday, and Sunday evenings throughout the

season. Dates may be booked during the season on a

first come, first served basis, and must be booked two

weeks in advance.

Check the city's website for complete details, including

rental fees and available times.

Pool memberships and party sales are now available

to purchase on the city's website.

Visit www.canalwinchesterohio.gov for information.
---
PAGE 10 - CANAL WINCHESTER MESSENGER - June 26, 2022

www.columbusmessenger.com

CLASSIFIED ADS

Deadlines: Groveport and West editions, Wednesdays at 5 p.m., • South/Canal Winchester, Grove City, Madison editions, Tuesdays at 5 p.m.

All editions by phone, Tuesdays at 5 p.m. • Service Directory, Tuesdays at 5 p.m.

xEmployment

4353 Directors Blvd.

Groveport, OH 43125

(614) 836-5790

www.peerlesssaw.com

Production Worker 2nd & 3rd Shift – Entry Level

• Starting $18.15 for 2nd Shift or $18.97 for 3rd Shift (Includes shift premium)

• Medical/Dental/Vision/Profit Sharing/Employee Stock/401(k) with match.

• Employee-Owned w/average tenure over 12 years.

• Opportunity for overtime is available once trained.

• Training will occur on 1st shift

Full Job Description

Peerless Saw is a 100% employee-owned manufacturing company celebrating its 91st

year in business. We are searching for dependable & honest employees to collaborate

with us in our manufacturing facility. We are laser cutting, heat treating, surface grinding,

flattening, and machining steel in our Groveport, Ohio facility. Our primary product line

is circular saw plate used in industrial wood, metal, and plastic cutting industries. We are

currently hiring for positions to operate our surface grinding and deburring equipment

on 2nd and 3rd shift.

Why work with Peerless Saw? Here are a few reasons:

• Profit sharing + employee ownership; your effort makes a difference and increases your

income.

• Small company where you are an integral part of a team, not a number in a large firm.

• Excellent benefit package including medical insurance, dental insurance, 401(k) with

match, profit sharing, employee stock ownership.

• Opportunity to work overtime with time-and-a-half or double-time pay once fully

trained.

• Opportunity to earn more per hour within 2 months after successful completion of

training.

• Stable company with a proven history of success spanning back to 1931.

• Average employee tenure of over 12 years. Learn and grow with us.

Responsibilities

Desired candidate will be someone eager to be effective, dependable, honest,

and willing to do their part to continue our company's success.

• Ability to safely handle, lift, and move steel parts weighing 2 – 30 lbs

• Ability to stand for several hours at a time

• Have a solid grasp of basic math skills

• Ability to read and follow instructions

• Follow all company safety policies

ASSOCIATION ADS

The bathroom of your

dreams for as little as

$149/month! BCI Bath &

Shower. Many options

available. Quality

materials & professional

installation. Senior &

Military Discounts

Available. Limited Time

Offer - FREE virtual inhome

consultation now

and SAVE 15%! Call

Today! 1-877-540-2780

Directv Stream - Carries

the Most Local MLB

Games! CHOICE

Package, $89.99/mo for

12 months. Stream on 20

devices in your home at

once. HBOMax included

for 3 mos (w/CHOICE

Package or higher.) No

annual contract, no hidden

fees! Some restrictions

apply. Call IVS 1-866-629-

6086

Aloe Care Health, medical

alert system. The most

advanced medical alert

product on the market.

Voice-activated! No wi-fi

needed! Special offer-call

and mention offer code

CARE20 to get $20 off

Mobile Companion. Call

today-1-877-728-4065

Vivint Smart Security.

Professionally installed.

One connected system for

total peace of mind. Free

professional installation!

Four free months of

monitoring! Call to

customize your system. 1-

855-870-2073

Employment

Parkfield Insulation

is looking for Insulation

installers to join our crews.

We have openings for Cellulose, Fiberglass, and Spray

foam insulation installation.

We offer the top pay for insulation installers starting

at $16 an hour for untrained installers to piece rates

where installers have made over $1800 a week.

If you want to write your own future in the insulation

market please do not hesitate to reach out and see

how you can be a contributor to our success.

We offer full benefits such as Health insurance,

dental, vision, and 401K

614-285-2307

xAdult Care

Call us for an extra set

of hands with shopping,

cooking, chores,

laundry, gardening,

small repairs and so

much more.

ASSOCIATION ADS

DISH TV $64.99 FOR 190

Channels + $14.95 High

Speed Internet. Free Installation,

Smart HD DVR

Included, Free Voice Remote.

Some restrictions

apply. Promo expires

1/21/23. 1-866-479-1516

Protect your home w/home

security monitored by

ADT. Starting at $27.99/

mo. Get free equipment

bundle including keypad,

motion sensor, wireless

door & windows sensors.

833-719-1073

DO YOU NEED

SEASONAL EMPLOYEES?

Call KATHY to ADVERTISE

and reach over 35,000 homes in the

South/Canal Winchester & Groveport Messengers

614-272-5422

kathy@columbusmessenger.com

Like getting

a little help

from your friends ®

Adult Care

ASSOCIATION ADS

DISH TV $64.99 for 190

Channels + $14.95 high

speed internet. FREE installation,

Smart HD DVR

included. Free Voice Remote.

Some Restrictions

apply. Promo Expires

1/21/23. 1-866-590-5561

Prepare for power

outages today with a

GENERAC home standby

generator. $0 Down + Low

Monthly Pmt. Request a

free Quote. Call before the

next power outage: 1-855-

948-6176

Home & Heart

ASSOCIATION ADS

Attention Viagra users:

Generic 100 mg blue pills

or generic 20 mg yellow

pills. Get 45 plus 5 free +

S/H. Call Today 1-877-

707-5518

BATH & SHOWER UP-

DATES in as little as

ONE DAY! Affordable

prices - No payments for

18 months! Lifetime warranty

& professional installs.

Senior & Military

Discounts available. Call

855-761-1725
---
www.columbusmessenger.com

xCome & Get It!

June 26, 2022 - CANAL WINCHESTER MESSENGER - PAGE 11

xClassified Services

COME AND GET IT!

Need to Get Rid of Something Fast - Advertise It Here For FREE!

Deadlines are Mondays by 5 pm.

Call For Publication Schedule 614-272-5422

FREE Garden Straw for gardens or bedding. Call for appointment for pickup.

Circle S Farms, 9015 London-Groveport Road, Grove City, 43123

Grove City - 614-878-7980

.FREE - Downed Tree, needs cut into sections. Free for anyone that wants it.

CC - Obetz - 614-632-1013

. Come and Get It! is a bi-weekly column that offers readers an opportunity to pass

along surplus building materials, furniture, electronic equipment, crafts, supplies,

appliances, plants or household goods to anybody who will come and get them - as

long as they're FREE. NO PETS! Just send us a brief note describing what you want to

get rid of, along with your name, address and phone number. Nonprofit organizations

are welcome to submit requests for donations of items.

Send information to The Columbus Messenger, Attention: Come and Get It, 3500

Sullivant Ave., Columbus, OH43204. Deadline is Tuesdays by 5 pm for following

Mondays publication. Messenger Newspapers is not responsible for any

complications that may occur. Please contact us when items are gone. 272-5422

ASSOCIATION ADS

READER

ADVISORY

The National Trade Association

we belong to has

purchased the following

classifieds. Determining

the value of their service

or product is advised by

this publication. In order

to avoid misunderstandings,

some advertisers do

not offer "employment"

but rather supply the

readers with manuals, directories

and other materials

designed to help

their clients establish mail

order selling and other

businesses at home. Under

NO circumstance

should you send any

money in advance or give

the client your checking,

license ID or credit card

numbers. Also beware of

ads that claim to guarantee

loans regardless of

credit and note that if a

credit repair company

does business only over

the phone it's illegal to request

any money before

delivering its service. All

funds are based in US

dollars. Toll Free numbers

may or may not

reach Canada. Please

check with the Better

Business Bureau 614-

486-6336 or the Ohio Attorney

General's Consumer

Protection Section

614-466-4986 for more

information on the company

you are seeking to

do business with.

Safe Step. North

America's #1 Walk-in Tub.

Compreshensive lifetime

warranty. Top-of-the-line

installation and service.

Now featuring our FREE

shower package & $1600

off for a limited time!

Financing available. Call

Safe Step 1-833-356-1954

Donate Your Car To

Veterans Today! Help and

Support our Veterans.

Fast - FREE pick up.

100% tax deductible. Call

1-800-245-0398

Come & Get It!

ASSOCIATION ADS

Prepare for power outages

today with a GENERAC

home standby generator.

$0 Money Down + Low

Monthly Payment Options.

Request a FREEQuote--

Call now before the next

power outage. 1-855-465-

7624

NEED IRS RELIEF

$10K-$125K+ Get Fresh

Start or Forgiveness.

Call 1-844-431-4716

Monday through Friday

7am-5pm PST

The Generac PWRcell

solar plus battery storage

system. Save money,

reduce reliance on

grid, prepare for outages

& power your home. Full

installation services. $0

down financing option.

Request free no obligation

quote. Call 1-855-

270-3785

IMPORTANT

NOTICE

The following states: CA,

CT, FL, IA, IL, IN, KY,

LA, MD, ME, MI, MN,

NE, NC, NH, OH, OK,

SC, SD, TX, VT and WA

requires seller of certain

business opportunities to

register with each state

before selling. Call to

verify lawful registration

before you buy.

HELP WANTED

NOW HIRING!

KIDDY GROVE DAY CARE

With SIGN-UP BONUS!

614-402-8937

Licensed Barber Needed

to take over for retiring

barber. Full or Parttime.

located in Great Southern

Shopping Center. Call

Cindy for more info

614-239-1976

PT Helper Needed

for Lawn Care Service

3-4 Days a Week

Call 614-935-1466

WANT TO BUY

BUYING VINYL RECORDS.

LPs and 45s - 1950-80s

Rock, Pop, Jazz, Soul.

614-831-0383

WE BUY JUNK CARS

Call anytime 614-774-6797

ANTIQUES

WANTED

Victrolas, Watches,

Clocks, Bookcases

Antiques, Furn.

Jeff 614-262-0676

or 614-783-2629

We Buy Cars & Trucks

$300-$3000.614-308-2626

CASH PAID for Ohio

State and old sports

items, records, postcards,

old photos, jewelry & more

614-477-5590

We Buy Junk Cars &

Trucks. Highest Prices

Paid. 614-395-8775

MISC.

FOR SALE

Electric Wheelchair - If

interested, call 614-928-2352

Vintage Trains for Sale

Lionel & American Flyer.

Engines, misc. cars, track,

structures, parts, etc. Some

HO trains included. Located

Columbus westside near

Casino. All for $800 obo.

614-279-8535

Generator: elec. start,

12 volt battery,

8000 running watts.

Call to see 614-829-5522

TORO Power Mower,

Craftsman Weed Eater,

run good - $130 obo.

614-357-6204

RENTALS

WEST HALF DOUBLE

2BR, Rent $850 dep. $850

3BR, Rent $950, dep $950

Realtor 614-226-6767

USED VEHICLES

Thunderbird - $1500,

2004 Chevy Cavalier-

$3600. 740-973-3206

AIR CONDITIONING

AIR CONDITIONING

Complete System

Clean & Check

$49.95

Free Electronic Leak Testing

All Makes • All Models

46 Yrs. Exp. • Senior Discount

614-351-9025

BLACKTOP

SANTIAGO'S

Sealcoating & Services LLC

Quality Materials Used

SUMMER IS HERE!

Driveway Seal & Repair!

Top Seal Cracks!

Residential & Commercial

Mulching, Edging & Clean-ups

"Ask for whatever you need."

BBB Accredited-Fully Insured

Call or text for Free Est.

614-649-1200

AGM OHIO

ROOFING &

SEALCOATING

Free Estimates

Cell 614-512-1699

CARPET CLEANING

CARPET CLEANING

Any 5 areas ONLY $75

Home Powerwash $99-$300

614-805-1084

Specializing in Pet Odors

CARPET SALES

CARPET

Gray Saxony

270 sq.ft. w/6 lb Pad

$398.00

Other Carpet AvailableA

Phone or text Ray

740-927-3504

Delivery & Inst. avail.

CLEANING

7/3 A

BLACKTOP SEALING

Driveways & Parking Lots

614-875-7588

7/17

A/M

Looking for Mrs. Clean?

For excellent cleaning serv

at reas. rates w/great refs,

dependable. 10% Seniorr

Disc. Free Est. Also runs

Errands - Gwen 614-226-5229

CONCRETE

www.hastingsnsons.com

Driveways & Extensions

Patio & Walkways,

Porches & Steps,

Garage/Basement Floors

Hot Tub/Shed Pads,

Stamped/colored concrete

Sealing of new &

existing concrete.

FREE ESTIMATES

Contact Adam

614-756-1754

hastingsandsons.

columbus@gmail.com

6/5 e/se

CONCRETE

ALL-CITY CUSTOM

CONCRETE

All Types Concrete Work

New or Tear Out-Replace

40 Yrs. Exp.

(614) 207-5430

Owner is On The Job!

AJ's Concrete,

Masonry

Good Work - Fair Prices

Block Foundations

Driveways • Sidewalks

Epoxy/Overlay Floors

Bonded-Ins. • Free Ests.

614-419-9932

EDDIE MOORE

CONSTRUCTION

Quality Concrete Work

Lt. Hauling & Room Add.,

Block Work & Excavation

Stamp Patios,

Bsmt. Wall Restoration

36 Yrs Exp - Lic & Ins.

Free Ests. 614-871-3834

GUTTERS

Bates & Sons

GUTTER CLEANING

5 ★ Google Reviews

614-586-3417

HAULING

DEAN'S HAULING

614-276-1958

INFORMATION

ONLY

$50.00

For This Ad In Our

South/Canal Winchester

& Groveport

For Info Call

614-272-5422

HOME

IMPROVEMENTS

SINCE 1973

Phil Bolon Contr.

Windows & Siding

Decks, Kitchens, Baths

Room Additions,

Flooring, Roofing

Bsmt Waterproofing

Deal With Small Non-Pressure Co.

47 Yrs. Exp. - Refs. Avail.

Lic.-Bond-Ins.

7/3

A/M

Free Est. - Financing Avail.

Member BBB Of Cent. OH

O.C.I.E.B. ID #24273

614-419-3977

or 614-863-9912

KLAUSMAN HOME

IMPROVEMENT

Siding-Windows-

Doors-Roofing-Soffit-

Fascia-Gutters-Trim

Earn FREE Seamless

Gutters with Siding Over

1000 Sq. Ft.

FREE Shutters with

Soffit & Trim

EPA Certified

Member of BBB

Financing Available

Over 20 yrs exp. • Free Est.

Licensed-Bonded-Insured

Owner & Operator

James 614-419-7500

7/3 A

7/17 A

HOME

IMPROVEMENTS

C&JHandyman

Services LLC

Minor Plumbing

& Electric

Install Hot Water Tanks,

Dishwashers & Disposals

Also Fencing &

Interior/Exterior Painting

Free Est. ~ 18 Yrs. Exp.

CDC/EPA Approved Guidelines

614-284-2100

HOME

MAINTENANCE

SMALL HOME REPAIRS?

Call Sonny

380-209-3646-local #

HOME

REMODELING

AFFORDABLE SAMSTER

REMODELING

Flooring, Painting

Int. Trim, Roof Repairs

Decks, Concrete, Siding

Windows & More!

1 Yr. Warranty on Work

380-218-7139

MultiCraft Const.

& Handyman Services

All Types Handyman Services:

Decks, Fences

Kitchen/Baths

Window/doors installed

Interior Painting

Drywall Repairs

All Types of Flooring

Call/Text 614-774-2923

multicraftconstruction@gmail.com

Charlies Handyman

Service

Over 40 yrs. exp.

Hot Water Tanks

Door Locks

Kitchen Remodels

Roofing * Siding

Bathrooms and more!

614-319-6010

blantoncharles894@gmail.com

LANDSCAPING

A-1 QUALITY

TREE & LANDSCAPE

Family Owned

Serving Central Ohio

Since 2004

Bed & Yard Maint.

Weeding, Mulching, etc.

Hedge/Shrub Trimming

*Stump Removal

614-596-9504

Insured - Free Est.

LAWN CARE

LET US MAINTAIN

YOUR LAWN & GARDEN

FOR YOU

Summer, Spring,

Winter or Fall

WE DO IT ALL!!!!

Lawn Cuts, Edging,

Trees & Shrubs, Garden,

Mulching, Hauling,

Garden Pond &

Home Maint.

Free Ests. Low Rates

$20 & Up

Kevin - 614-905-3117

Classified Services

7/17 A

7/3 A

PEST

CONTROL

TERMITE &

PEST CONTROL

614-367-9000

TORCO®

TERMINATES

TERMITES

Locally Owned & Operated. Any Pest. Anytime.

$

50 00 OFF Service

Free Termite Inspection

LAWN CARE

The Lawn Barber

Cut, Trim, Blow away

Hedge Trimming, Edging

614-935-1466

MASONRY

R&L

MASONRY

* Stone * Brick

* Block

Masonry Repairs

614-917-8227

MOWER REPAIR

LAWN MOWER DR.

"House Calls Only"

Overall Checkups

Oil Change & Filter,

Spark Plug &

Blades Sharpened

MINOR REPAIR

John

7/17 A

614-395-7909

johnellis0333@sbcglobal.net

PAINTING

Painter Over 30 Yrs. Exp.

Free Est. Reas. Rates

Daniel - 614-226-4221

A Job Well Done Again

A lic. General Contractor

Some Skilled Services

Incl: Painting • Stucco,

Repair•Carpentry•Exterior

Drainage & Home Maint.

Call Today! 614-235-1819

PLUMBING

All About Drains & Plumb.

Will snake any sm drain

$145. 614-778-2584

CHRIS'

PLUMBING

"Plumbing & Drain Professional

That You Can Count On"

24 Hrs., 7 Days/Week

No Overtime Charges

24 Yrs. Exp. in Plumbing &

Drain Cleaning Field

Call For A Free Phone Estimate

$100.00 For Any Small Drain

614-622-4482

30% OFF with AD

7/17 A

7/17 A

PEST

CONTROL

PLASTERING

DRYW

YWALL &

PLASTER

7/3

A&M

REPAIR

Textured Ceilings

614-551-6963

Residential/Commercial

BIA

POWERWASHING

POWERWASHING

at Reasonable Rates

Gwen 614-226-5229

MRS. POWERWASH

Any house wash $149+tax

Single deck $69+tax

2 Tier deck $99+tax

Best Wash in Town

Over 45,000 washes

Ashley 614-771-3892

Bates & Sons

Soft Wash & Powerwash

5 ★ Google Reviews

614-586-3417

SEWING MACHINE

REPAIR

REPAIR all makes 24 hr.

service. Clean, oil, adjust

in your home. $49.95 all

work gtd. 614-890-5296

TREE SERVICES

A-1 QUALITY

TREE & LANDSCAPE

Family Owned

Serving Central Ohio

Since 2004

614-596-9504

Insured - Free Est.

Brewer & Sons Tree Service

• Tree Removal

• Tree Trimming 7/17

A&M

• Stump Grinding

• Bucket Truck Services

Best Prices • Same Day Service

614-878-2568

BURNS TREE SERVICE

Trimming, Removal &

Stump Grinding.

614-584-2164

7/3 A&M
---
PAGE 12 - CANAL WINCHESTER MESSENGER - June 26, 2022

Canal Winchester

Messenger

State safety training

In the wake of the mass shooting at a

Texas elementary school, Ohio Attorney

General Dave Yost is reminding Ohio school

officials that his office provides resources

designed to help prevent such violence before

it happens.

"Prevention training saves lives," Yost

said. "We help educate the men and women

who wear the badge to recognize and defuse

catastrophes before more families are devastated."

As part of ongoing efforts by the Attorney

General's Office to improve school safety,

the Ohio Peace Officer Training Academy

(OPOTA) has developed a course called Single

Officer Response to Active Threat

(SORAT), designed for school resource officers

and instructors from law enforcement

agencies.

The office also awards grants to schools

for use across an array of areas to enhance

student safety, including certification training

for school resource officers, activeshooter

or school safety training or

equipment, and training to identify and assist

students with mental health issues. The

school safety fund has about $5.4 million remaining.

More than 1,000 Ohio law enforcement

agencies and 100 schools have taken

advantage of the program.

In addition, the Attorney General's Ohio

School Threat Assessment Training Program

continues to teach law enforcement officers

and school officials how to recognize

and act on behavioral warning signs before

they lead to violence. Funding is still avail-

www.columbusmessenger.com

able for school resource and DARE officers

who wish to complete the training. Yost encourages

all law enforcement officers to

complete the training; to date, 2,200 officers

have done so.

Since 2020, the Attorney General's Office

has provided a combined $1 million in grant

funding for Ohio law enforcement for taking

Ohio School Threat Assessment Training

and conduct vulnerability assessments on

school buildings.

Visit ohioattorneygeneral.gov.

Pre-Engineering program

earns $20,000 scholarship

Thanks to the generosity of The Gene

Haas Foundation, the Pre-Engineering program

at Eastland Career Center will be able

to outfit students with basic tooling needs

next fall.

A $20,000 scholarship was awarded to

the program and will be used to benefit students

in the classes of 2022, 2023, and 2024.

Program instructor Ken Miller, said the

scholarship provided by the foundation is

meant to support students interested in a

manufacturing-based career and must be

used toward individual students, not the

program itself. With the gift that the program

has received, each of the 52 Pre-Engineering

students will receive two pieces of

standing measuring equipment and a machinist

reference book, which Miller states

are useful for anyone getting started in a

manufacturing and engineering career path.

Visit EastlandFairfield.com.