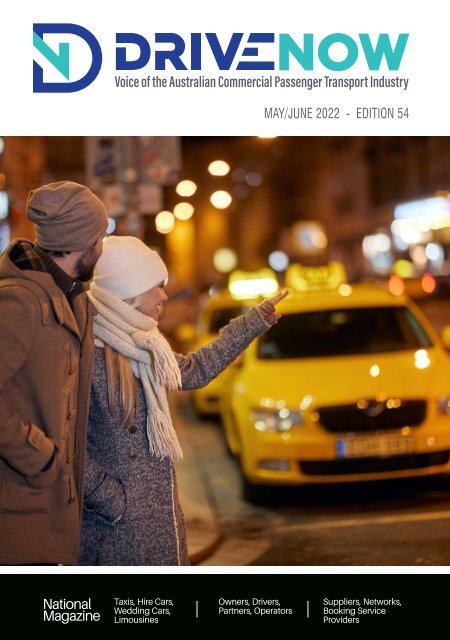 DRIVE NOW May/June 2022
*** SCROLL DOWN TO SELECT ALTERNATIVE MAGAZINE EDITIONS *** Australia's only Magazine for the Commercial Passenger Transport Industry. News and views for Drivers, Owners and Operators of Taxi, Hire Car, Limousine, Ride Share, Booked Hire Vehicles, Rank and Hail Cars.
*** SCROLL DOWN TO SELECT ALTERNATIVE MAGAZINE EDITIONS ***
Australia's only Magazine for the Commercial Passenger Transport Industry. News and views for Drivers, Owners and Operators of Taxi, Hire Car, Limousine, Ride Share, Booked Hire Vehicles, Rank and Hail Cars.
SHOW MORE
SHOW LESS
You also want an ePaper? Increase the reach of your titles
YUMPU automatically turns print PDFs into web optimized ePapers that Google loves.
MAY/JUNE 2022 - EDITION 54

National

Magazine

Taxis, Hire Cars,

Wedding Cars,

Limousines

Owners, Drivers,

Partners, Operators

Suppliers, Networks,

Booking Service

Providers
---
FOR ALMOST TWO DECADES, TIAIB

HAVE BEEN PROVIDING INNOVATIVE,

LOW COST PROTECTION SOLUTIONS

FOR TAXI DRIVERS AND OPERATORS

AUSTRALIA WIDE.

Throughout Australia, TAXI OPERATORS rely on insurance arranged by

TIAIB to protect their assets while they're on the road.

Our clients benefit from:

Experienced

staff

Choice of

coverage

Variable

excesses

Choice of

repairers

Agreed value

for Basis of

Settlement

All of the benefits and more are available to members through our unique

approach to covering taxis – the TIAIB Discretionary Trust.

IT ALL ADDS UP TO THE TIAIB DIFFERENCE.

CALL OUR TEAM TODAY TO DISCUSS WHAT

WE CAN ADD TO YOUR BUSINESS.

p: 1800 333 041 e: taxis@marsh.com w: www.tiaib.com.au

This advertisement contains general information and does not take into account your individual objectives, financial situation or needs.

For full details of the terms, conditions and limitations of the covers, refer to the specific policy wordings and/or Product Disclosure

Statements available from Marsh Advantage Insurance on request.

Marsh Advantage Insurance Pty Ltd (ABN 31 081 358 303, AFSL 238369) ("MAI") arranges the general insurance (ie. not the

Discretionary Trust Arrangement) and is not the insurer.

The Discretionary Trust Arrangement is issued by the Trustee, JLT Group Services Pty Ltd (ABN 26 004 485 214, AFSL 417964) ("JGS").

Any advice or dealing in relation to the Discretionary Trust Arrangement is provided by JLT Risk Solutions Pty Ltd (ABN 69 009 098

864, AFSL 226 827) ("JLT"). JGS and JLT are businesses of Marsh McLennan (MMC). The cover provided by the Discretionary Trust

Arrangement is subject to the Trustee's discretion and/or the relevant policy terms, conditions and exclusions.© 2021 Marsh Advantage

Insurance Pty Ltd. All rights reserved. LCPA 21/113. S21-0888
---
Transport Matters

It affects you, your family, your job,

your community, your safety and

your environment.

Your HELP is

needed to spread

the message...

Help Transport Matters Party advocate

for improved road safety, public transport

and a viable commercial passenger

vehicle industry by joining as a member

or gifting a donation.

We stand for fairness, for community and we

strive to deliver solutions to Victoria's biggest

transport issues.

Transport Matters Party's (TMP) success relies on the support

of Victorians residing everywhere. With your support we will

succeed in getting the word out that we are here to make a

difference and we will be a driving force for change.

For more information visit: www.transportmatters.org.au

www.drivenow-magazine.com.au

May/June 2022

3
---
drivenowmag drivenowmag

drivenowmagazine drivenowmagazine

Editor

Mrs Toni Peters

Production Team

Amy Peters, Antonella Kearns and

Isobel Sparrow

Media Pack

with advertisement sizes and costs, is

available on our website.

Deadlines

Artwork bookings by 20th of the month prior

to publication date.

Articles, editorials and final artwork due

25th of the month prior to publication date.

Enquiries

PRINTED COPIES

READERSHIP OF

PRINTED COPIES

CIRCULATION —

DIGITAL & PRINTED

FREQUENCY

contact@drivenow-magazine.com.au

Mrs Toni Peters — 0400 137 866

www.drivenow-magazine.com.au

4,000

7,000

29,000

1st week of each month

Home delivery

subscription

$45 for your copy of DRIVE NOW to be

mailed to you for one year.

Payment options

Direct Deposit to:

Trade Promotions Pty Ltd

BSB 033065 ACCOUNT 312786

REF your name

THE AUDIENCE

DISTRIBUTION

Drivers, Owners, Operators,

Providers, Suppliers, Booking

Services of Taxis, Hire Cars,

Rideshare, Wedding Cars &

Limos.

All Australian States and

Territories. Industry Member

Associations (TAA, NSW TC,

SATC), Major Taxi Depots,

Industry Suppliers, Vehicle

Sanitisation Stations, DRIVE

NOW Website, Social Media &

Subscribers.

Publisher - Trade Promotions Pty Ltd, 28 Vannam Drive, Ashwood Vic 3147 - Phone 0400 137 866. DRIVE NOW TM is wholly owned by Trade Promotions Pty Ltd. ©

Trade Promotions Pty Ltd 2021. All rights reserved. Copyright of articles and photographs in DRIVE NOW TM remains with the individual contributors and may not be

reproduced without permission.

Views expressed in any article in DRIVE NOW magazine are those of the individual contributor and not necessarily those of the publisher. The publisher cannot accept

any responsibility for any opinions, information, errors or omissions in this publication. To the extent permitted by law, the publisher will not be liable for any damages

including special, exemplary, punitive or consequential damages (including but not limited to economic loss or loss of profit or revenue or loss of opportunity) or

indirect loss or damage of any kind arising from the contract, tort or otherwise, even if advised of the possibility of such loss of profits or damage. Advertisements

must comply with the relevant provisions of the Competition and Consumer Act 2010. Responsibility for compliance with the Act rests with the person, company or

advertising agency submitting the advertisement.

4 May/June 2022
---
24

6

40

36

26

WHAT'S INSIDE

FEATURES

6

14

VICTORIA

10

BIG IDEA - Make self-driving cars that can go

anywhere!

Dumbing down a gold-standard taxi service is not

progressive.

26 Tribute to this magazine's founder - Stan F. White.

30 Industry statistics around Australia.

Rod Barton continues to fight for our

industry.

QUEENSLAND

18

Personalised Transport Reform is now

complete.

WEST AUSTRALIA

24 The Transport Levy has ended.

25 $1.5m boost for WAV taxi services.

NSW

32 Transporting Veterans on ANZAC Day 2022.

34 Farewell to Brian Wilkins.

36 Travelling with Assistance Animals.

OVERSEAS

46

47

48

EU backs ban on new fossil-fuel cars from

2035.

Traffic safety signs may be hazardous to

your health.

Tesla investigation deepens - >12 'Autopilot'

crashes.

www.drivenow-magazine.com.au

May/June 2022

5
---
Make self-

driving cars

that can go

anywhere!

The

mainstream

approach to

driverless

cars is slow

and difficult.

These

startups

think going

all-in on

AI will get

there faster.

Four years ago, Alex Kendall sat in

a car on a small road in the British

countryside and took his hands off

the wheel. The car, equipped with

a few cheap cameras and a massive

neural network, veered to the side.

When it did, Kendall grabbed the

wheel for a few seconds to correct

it. The car veered again; Kendall

corrected it. It took less than 20

minutes for the car to learn to stay

on the road by itself, he says.

This was the first time that

reinforcement learning—an AI

technique that trains a neural

network to perform a task via

trial and error—had been used to

teach a car to drive from scratch

on a real road. It was a small step

in a new direction—one that a new

generation of startups believes just

might be the breakthrough that

makes driverless cars an everyday

reality.

Reinforcement learning has had

enormous success producing

computer programs that can

play video games and Go with

superhuman skill; it has even been

used to control a nuclear fusion

reactor. But driving was thought

to be too complicated. "We were

laughed at," says Kendall, founder

and CEO of the UK-based driverlesscar

firm Wayve.

Wayve now trains its cars in rushhour

London. Last year, it showed

that it could take a car trained

on London streets and have it

drive in five different cities—

Cambridge (UK), Coventry, Leeds,

Liverpool, and Manchester—

without additional training. That's

something that industry leaders like

Cruise and Waymo have struggled

to do. This month Wayve announced

it is teaming up with Microsoft to

train its neural network on Azure,

the tech giant's cloud-based

supercomputer.

Investors have sunk more

than $100 billion into building

cars that can drive by

themselves. That's a third

of what NASA spent getting

humans to the moon.

Yet despite a decade and

a half of development and

untold miles of road testing,

driverless tech is stuck in the

6 May/June 2022
---
pilot phase. "We are seeing

extraordinary amounts of

spending to get very limited

results," says Kendall.

That's why Wayve and other

autonomous-vehicle startups like

Waabi and Ghost, both in the US,

and Autobrains, based in Israel,

are going all in on AI. Branding

themselves AV2.0, they're betting

that smarter, cheaper tech will

let them overtake current market

leaders.

HYPE MACHINES

Wayve says it wants to be the first

company to deploy driverless cars

in 100 cities. But is that yet more

hype from an industry that's been

getting high on its own supply for

years?

That mainstream approach dates

back at least to 2007 and the

DARPA Urban Challenge, when

six teams of researchers managed

to get their robotic vehicles to

navigate a small-town mock-up on

a disused US Air Force base.

Waymo and Cruise launched on

the back of that success, and

the robotics approach taken by

the winning teams stuck. That

approach treats perception,

decision-making, and vehicle

control as different problems,

with different modules for

each. But this can make the

overall system hard to build

and maintain, with errors in one

module bubbling over into others,

says Urtasun. "We need an AI

mindset, not a robotics mindset,"

she says.

Here's the new idea. Instead of

building a system with multiple

neural networks and wiring these

together by hand, Wayve, Waabi,

and others are each building one

large neural network that figures

out the details by itself.

Throw enough data at the

AI and it learns to convert

input (camera or lidar data

about the road ahead) into

output (turning the wheel

or hitting the brakes), much

like a kid learning to ride a

bike.

www.drivenow-magazine.com.au

May/June 2022

7
---
.../continued

Going straight from input to output

like this is known as end-to-end

learning, and it's what GPT-3 did for

natural-language processing and

AlphaZero did for Go and chess. "In

the last 10 years it's caused so many

seemingly insolvable problems to

get solved," says Kendall. "End-toend

learning pushed us forward to

superhuman capabilities. Driving

will be no different."

Like Wayve, Waabi is using end-toend

learning. It isn't (yet) using real

vehicles, however.

It is developing its AI almost fully

inside a super-realistic driving

simulation, itself controlled by

an AI driving instructor. Ghost

also adopts an AI-first approach,

building driverless tech that not

only navigates roads but learns to

react to other drivers.

200,000

SMALL

PROBLEMS

Autobrains is betting on an

end-to-end approach too, but

does something different with it.

Instead of training one large neural

network to handle everything a

car might encounter, it is training

many smaller networks—hundreds

of thousands, in fact—to handle a

very specific scenario each.

"We're translating the hard

AV problem into hundreds of

thousands of smaller AI problems,"

says Igal Raichelgauz, the

company's CEO. Using one large

model makes the problem more

complex than it actually is, he says:

"When I'm driving, I'm not trying to

understand every pixel on the road.

It's about extracting contextual

cues."

Autobrains takes the sensor data

from a car and runs it through an

AI that matches the scene to one

of many possible scenarios: rain,

pedestrian crossing, traffic light,

bicycle turning right, car behind,

and so on.

By watching a million miles

of driving data, Autobrains

says its AI has identified

around 200,000 unique

scenarios, and the company

is training individual neural

networks to handle each of

them.

The firm has been partnering

with car manufacturers to test its

technology and has just got hold of

a small fleet of its own vehicles.

Kendall thinks that what

Autobrains is doing might work

well for advanced driver-assist

systems, but he does not see it

having an advantage over his own

approach. "When tackling the full

self-driving problem, I'd expect that

they would be just as challenged

by the complexity faced in the real

world," he says.

CRUISE CONTROL

Either way, should we count on this

new wave of firms to chase down

the front-runners? Unsurprisingly,

Mo ElShenawy, executive vice

president of engineering at Cruise,

isn't convinced.

"There is way too much overselling in this field,"

says Raquel Urtasun, who led Uber's self-driving

team for four years before leaving to found

Waabi in 2021.

"There's also a lack of acknowledgment of how

difficult the task is in the first place. But I don't

believe that the mainstream approach to selfdriving

is going to get us to where we need to

be to deploy the technology safely."

Cruise is one of the most advanced

driverless-car firms in the world.

Since November it has been

running a live robotaxi service in

San Francisco. Its vehicles operate

in a limited area, but anyone can

now hail a car with the Cruise app

and have it pull up to the curb

with nobody inside. "We see a real

spectrum of reactions from our

customers," says ElShenawy. "It's

super exciting."

8 May/June 2022
---
Cruise has built a vast virtual

factory to support its software,

with hundreds of engineers

working on different parts of the

pipeline. ElShenawy argues that

the mainstream modular approach

is an advantage because it lets the

company swap in new tech as it

comes along.

But before Cruise drives in a new

city, it first has to map its streets

in centimeter-level detail. Most

driverless car companies use these

kinds of high-definition 3D maps.

They provide extra information

to the vehicle on top of the raw

sensor data it gets on the go,

typically including hints like the

location of lane boundaries and

traffic lights, or whether there are

curbs on a particular stretch of

street.

Many driverless-car companies use

HD maps created and maintained

by specialist firms, but Cruise

makes its own. "We can re-create

cities—all the driving conditions,

street layouts, and everything,"

says ElShenawy.

This gives Cruise an edge against

mainstream competitors, but

newcomers like Wayve and

Autobrains have ditched HD maps

entirely.

Wayve's cars have GPS, but they

otherwise learn to read the road

using sensor data alone. It may be

harder, but it means they are not

tied to a particular location.

For Kendall, this is the key to

making driverless cars widespread.

"We are going to be slower to get

into our first city," he says. "But

once we get to one city, we can just

scale everywhere."

For all the talk, there's a long way

to go. While Cruise's robotaxis are

driving paying customers around

San Francisco, Wayve—the most

advanced of the new crop—has

yet to test its cars without a safety

driver. Waabi doesn't even use real

cars.

"If everybody goes in the same direction

and it's the wrong direction, we're

not going to solve this problem," says

Raquel Urtasun. "We need a diversity of

approaches, because we haven't seen the

solution yet."

Still, these new AV2.0 firms have

recent history on their side: endto-end

learning rewrote the rules

of what's possible in computer

vision and natural-language

processing. So their confidence is

not misplaced.

By Will Douglas Heaven

We Are

HIRING

Drivers | Forklift Operators | Parcel Sorters | Sub-contractor (Drivers)

Why work with us?

Family owned business (to us you're a person, not a number)

Safety focus (your safety is at the centre of everything we do)

Role specific training provided

Development opportunities

Register your interest

1300 100 BEX

Select Option 3

Scan

www.drivenow-magazine.com.au

May/June 2022

9
---
VIC News

Rod Barton

continues to

FIGHT FOR OUR

INDUSTRY

The State Taxation and Treasury Legislation

Amendment Bill 2022 introduced a motor

vehicle exemption for wheelchair-accessible

commercial passenger vehicles, saving

operators $3,000 off their next vehicle as of July

1, 2022.

These vehicles are crucial in our community

and are relied upon by thousands of Victorians

living with a disability – making this transition a

big win for essential Wheelchair Accessible Taxi

(WAT) vehicles in our State.

Yes, these vehicles are costly and, in many

cases, financially nonviable; we know this

because taxi drivers and operators have been

begging for assistance to keep this essential

service on our roads. Unfortunately, the running

of this service has relied heavily on crosssubsidisation,

which means that an operator can

only provide a WAT service if subsidised by more

profitable work like a standard taxi sedan.

Rod Barton MLC

Leader, Transport Matters Party

This exemption is the result of me advocating

directly with the Treasurer. Not only does it

10 May/June 2022
---
VICTORIA news

I am still fighting for further transition

payments for licence holders, an

increase in taxi fares and reviewed

regulations that will ensure a sustainable

pathway forward and a true level playing

field within our industry.

acknowledge the importance

of our WATs and their essential

role in our community, but it

supports and provides value to the

passengers utilising them.

There are, however, requirements

for this exemption - the vehicles

must meet the requirements to

provide unbooked work and must

be less than two years old.

Rideshare Vehicle ID

A lack of identification

requirements for rideshare

vehicles has left the industry

wide open for predators to take

advantage.

We have seen this recently, with

a man sentenced this month after

pretending to be an Uber driver and

sexually assaulting a 17-year-old girl.

The only requirement for a

rideshare driver to identify their

vehicle is to have a small sticker

on the corner of their front

windscreen, which can be easily

copied and removed.

Yes, the app provides the vehicle

driving number plate, but this

solely relies on the passenger

ordering the rideshare to crosscheck

the number plate before

entering the vehicle. The reality

is many drunk and vulnerable

individuals will call a rideshare

vehicle and will simply not doublecheck

the number plate.

If the regulator thinks this

is enough to safeguard the

community, they're kidding

themselves.

This was not an issue before

the reforms of 2017 – taxis are

required to have permanent

branding on their vehicles where

passengers can easily identify

them, in addition to the tamperproof,

permanent camera in their

vehicle that police officials and the

regulator can only access.

A rideshare vehicle provides the

same service as a taxi, transports

passengers in return for payment

of a fare, so why are they not

forced to comply with the same

stringent safety regulations that

apply to taxi vehicles?

How many more sexual assaults

have to occur before the

regulators, Transport Safety

Victoria and Commercial

Passenger Vehicles Victoria take

action?

I have urged the Minister to instruct Transport

Safety Victoria to review the rideshare vehicle

identification requirements focussing strongly

on eliminating the ease of predators pretending

to be rideshare drivers – stay tuned for more.

Rod Barton MP

www.drivenow-magazine.com.au

May/June 2022

11
---
Rod Barton continues to fight for our industry .../continued

Recently, the New South Wales

government announced a new

toll rebate scheme to alleviate

the rising cost of living.

NSW Drivers will receive

a 40 per cent cash rebate

on charges over the $375

per annum threshold

with rebates capped at

$750 per annum.

In parliament, I asked the

Treasurer if the Andrews

government would follow in the

footsteps of NSW and alleviate

the cost of living and provide

some toll relief to Victorian

drivers. I am awaiting his reply.

Utes in Victoria are considered

light commercial vehicles and

charged a commercial rate for

toll road usage whereas Range

Rovers and 11-seat people

movers which are heavier and

larger, pay the same rate as a

standard car.

We know utes are popular

vehicles among families, tradies

and drivers who tow – I pleaded

that the government considers

advocating with Transurban to

bring Victoria in line with the

New South Wales tolling system,

to alleviate this unnecessary cost

to tens of thousands of families

who drive utes across the state.

I will provide further updates

on both matters once I have

received responses.

Powered by LIMOMATE

Drivers/Owner Drivers Required

Are you sick of pushing a cab around or doing lots of short

fares for Uber with little reward? Are you tired of delivering

dozens of parcels a day? Do you want to do 5-6 jobs a day

in comfort and leave all the hassles behind?

Earn $1,500+/week - all expenses paid by the Company.

Owner drivers earn $3,000+/week.

Permanent driving positions now available in the

south-eastern suburbs.

We'd love to hear from you.

Call 9462 8222 and say G'day.

12 May/June 2022
---
I know what it is like to have

your struggles, experiences

and opinions ignored. That

is why I came to Parliament

to fight for our community,

accountability, and fairness.

ROD BARTON MP

COMMUNITY DRIVEN, FAIRNESS FOCUSED

Phone: (03) 9850 8600

Email: rod.barton@parliament.vic.gov.au

www.rodbarton.com.au

www.drivenow-magazine.com.au

May/June 2022

RodBartonMP

13
---
POINT BY POINT

Dumbing down a

GOLD-STANDARD

TAXI SERVICE

IS NOT PROGRESSIVE

by Perry Richardson | taxi-point.co.uk

LONDON - A recent think tank report which called

for the Knowledge of London (KOL) to be scrapped

and minicabs to be allowed to pick up the public from

the streets plying-for-hire caused a brief kerfuffle

throughout the media and industry.

The new report called 'A Fare Shake: Reforming Taxis

for the 21st Century', was published by the Adam

Smith Institute (ASI). It argued that the Government

should move to overhaul current taxi legislation,

creating a more 'dynamic sector' to better serve the

requirements of the public.

In short, the report recommended SIX key policies.

These included:

• Remove duplication and regressive licensing

by creating a single, standard licensing regime,

enforced by a national licensing authority.

• Abolish the KOL tests which the report says have

become unnecessary due to GPS and digital

maps.

• Permit minicabs to be hailed from the pavement

and allow all licenced operators to use bus lanes.

• Support more Paratransit Light Vehicles. These

are higher capacity vehicles which run regular

services along high-demand routes and which can

be summoned by a customer.

• Allow drivers to claim the cost of passengerfacing

CCTV back against tax and encourage the

use of online safety kits to improve standards of

safety.

• Offer incentives for taxi and PHV drivers to switch

to greener vehicles.

Maxwell Marlow, report author and Development and

Research Officer at the Adam Smith Institute, said:

"Britain operates critical services on last millennium's

laws. It's time to put the brakes on special interests,

who inflate costs and gate-keep with the antiquated

and defunct 'Knowledge', and give consumers more

choice.

"We need to simplify our licensing system, making

it more fair and transparent, whilst ensuring that

our fleets are greener, safer, and more efficient than

before. The report contains a myriad of policies to

give Britons the freedom to travel that they deserve,

turbocharge the economy and relieve the cost-ofliving

crisis for many along the way."

14 May/June 2022
---
So, what was the response?

Given the media attention with headlines about

scrapping the KOL, many within the taxi industry

have had to go through all the reasons why two tierlicensing

works.

Steve McNamara, LTDA General Secretary, said in

TAXI Newspaper: "It goes without saying that the last

thing any of the big apps want is any more rules, regs'

or requirements and are doing all they can to bring

political pressure and gain support from politicians of

all parties and locations.

"Rather cleverly, their press releases referenced

'scrapping the Knowledge' which secured them some

great media coverage. I then spent the day doing

interviews, countering the ASI's calls for a race to the

bottom and championing the KOL, our safety record,

green credentials, and professionalism.

"The report is going nowhere."

POINT BY POINT

So, was the whole report a waste of time? Many

would say so, but there were some talking points that

are currently in the process of change or are still hotly

contested. Here we'll go through some of those in

more detail.

'Remove duplication and regressive licensing

by creating a single, standard licensing

regime, enforced by a national licencing

authority.'

The taxi and PHV sector has long argued for better

and more up to date Best Practice Guidance. That ball

is however rolling after the Government opened up a

12-week consultation to update guidance supplied to

local authorities to better cope with new digital ways

of working following the boom in ride-hailing services.

The Department for Transport (DfT) first issued best

practice guidance to licensing authorities in 2006 and

this was refreshed in 2010.

www.drivenow-magazine.com.au

May/June 2022

15
---
Dumbing down a gold-standard Taxi Service IS NOT PROGRESSIVE .../continued

It is recognised that much has changed in the industry

and the time has come to update the guidance

to ensure it reflects new ways of working, new

technology and feedback from interested parties.

Over 270 licensing authorities follow these guidelines.

Changes around window tinting, taxi identification,

vehicle age limits, enhanced driving tests and ending

topographical tests for PHV drivers are all likely to

feature heavily throughout the consolation.

'Abolish the KOL tests which the report says

has become unnecessary due to GPS and

digital maps.'

The report focuses heavily on London with regards

to scrapping the topographical testing, but this

argument could transfer to any licensing authority.

Any taxi driver will tell you, myself included, that

the KOL is vital if you want to provide the very best

service to passengers that you can. Surely there are

few jobs in the world where having less knowledge in

your profession is better for the customer after all.

GPS is a fantastic tool if you don't know a city. It will

get you from A-B in some form or another. Will it

however take you the best route? Will the journey be

safer with a driver constantly checking a small screen

rather than the road ahead?

GPS serves a purpose when looking for road closures,

but very rarely does it provide the quickest journey

in the experience of London cabbies where there are

multiple road options available. If you're heading east

to west through a city, then it's likely that everyone

following a sat-nav doing that same journey is looking

at that exact same route as you are. If everyone is

on that same route... how is it ever going to be the

quickest?

Knowing a city inside out, can mean taxi drivers can

react instinctively. Something technology has yet to

achieve.

When picking up passengers who hail taxis down

it's also important that you pick up and go.

Spending time keying in the destination on a satnav

whilst traffic forms behind isn't progressive, is

it? What if the internet connection is slow or nonexistent,

what does the driver do then with no road

knowledge?

London and other licensing authorities that hold

detailed topographical tests should be proud of

the level of professionalism and knowledge their

drivers offer visitors and residents. Dumbing down

is not progressive.

'Permit minicabs to be hailed from the

pavement and allow all licenced operators to

use bus lanes.'

A minicab must be pre-booked so they can prepare

for the journey. That might involve looking at a map

to work out a route, calling ahead to arrange a safe

pick-up area or offering a price based on the route

they plan to use.

With advanced knowledge of the area, taxi drivers

are trained and ready to be hailed down, know

the destination straight away and are off within

seconds. The public are guaranteed an expected

level of service based on the strict standards put on

taxi drivers and the vehicles they drive.

All taxis in the capital are wheelchair accessible

vehicles (WAV). This requires curb side access to

use the ramps and onboard those with disabilities

safely. There could be a glimmer of an argument

that minicab WAVs could also be afforded similar

access, but due to the pre-booking nature of their

work operators can communicate prior to pick-up

where a safe location away from bus lanes might

be. It's also worth noting that due to the cost of the

vehicles only 1% of PHV in the capital are registered

as WAVs.

16 May/June 2022
---
'Support more Paratransit Light Vehicles.

These are higher capacity vehicles which run

regular services along high-demand routes

and which can be summoned by a customer.'

This is a slightly odd inclusion within the report. These

on-demand bus services are neither a taxi or PHV and

have been trialled extensively already in London and

across the country. Sadly demand for these services

have been low and many pulled.

In 2018 Transport for London (TfL) helped fund and

promote the GoSutton 'on-demand' bus trial for

12- months. Using mobile and predictive technology,

GoSutton aimed to find out whether flexible demand

responsive transport services can play a role in

boosting public transport use. A year later the service

was scrapped.

'Offer incentives for taxi and PHV drivers to

switch to greener vehicles.'

The Department for Transport (DfT) recently

reaffirmed their Electric Vehicle (EV) support by

detailing the different grants available to help

businesses and taxi drivers shift to EV.

Taxi drivers can still claim up to £7,500 off the purchase

price of a new electric taxi, however the plug-in car

grant has now been dropped for the general motorist.

'Allow drivers to claim the cost of passengerfacing

CCTV back against tax and encourage

the use of online safety kits to improve

standards of safety.'

After a recent consultation in 2021 it was decided that

taxi and minicab owners can choose whether to install

in-vehicle CCTV in their vehicles.

In-vehicle CCTV does not include external/road facing

cameras such as dashcams. Research from 2021 shows

that in London, less than 10% of taxi and PHV drivers

have in-vehicle CCTV installed in their vehicle.

CCTV remains a choice as to whether individuals invest

in the equipment. This can already be claimed back as a

business expense.

THE FLU VACCINE

YOUR BEST SHOT

AT STOPPING

THE FLU IN 2022

FREE FOR EVERYONE

Until 30 June 2022 - QLD, VIC, NSW, SA & WA

Until 6 July - Tasmania

for Australian residents aged 6 months+

www.drivenow-magazine.com.au

May/June 2022

17
---
NEW SOUTH WALES news

QLD News

Personalised

Transport

Reform

IS NOW COMPLETE

Over the last five years,

Queensland's personalised

transport industry has undergone

a lot of change. In 2016,

Queensland's Personalised

Transport Horizon: Five Year

Plan for Personalised Transport

Services 2016-2021 introduced

major reforms which were

delivered over three stages and

aimed to:

• strengthen safety standards

• provide customers with

greater choice and flexibility

• drive innovation and improve

safety standards by reducing

red tape

• ensure accountability and

clearly defined obligations.

Stage 1 (Sept to Nov 2016)

Immediate reforms were

introduced, which legalised ridebooking

and provided the industry

with the flexibility to respond to

increased competition.

Stage 2 (Dec 2016 to Jan 2018)

The new framework was

introduced, involving

comprehensive changes to

primary legislation to introduce a

new licensing regime and chain of

responsibility for taxi and booked

hire services.

Stage 3 (Jan 2018 to 2021)

Monitoring, reviewing and

evaluation of the new framework.

Evaluation findings

The evaluation has identified that

the personalised transport reforms

have delivered significant benefits

in safety, choice and flexibility,

and provide a sound foundation

from which to respond to the new

challenges that have arisen for the

industry due to COVID-19.

The evaluation has also

identified opportunities for the

Department of Transport and

Main Roads (TMR) to review a

number of issues arising within

the framework to ensure that

it continues to deliver the best

outcomes for customers and

industry. These include:

• Investigating fatigue

management practices,

• Reviewing the taxi licence

framework to ensure it is

supporting the taxi industry

to compete effectively, in

response to concerns arising

about the impacts of the

reforms on taxi service licence

holders and on the long-term

viability of taxi services,

• Elements of vehicle

identification requirements,

such as misleading number

plates and the requirement to

display multiple booked hire

identification signs.

TMR says that it will deliver the

recommendations in the review

as well as continue to monitor the

personalised transport industry

framework as part of its ongoing

role as an industry regulator and

take steps when necessary to

address issues that arise.

18 May/June 2022
---
QUEENSLAND news

TMR believes that Queensland's personalised transport industry framework (PTIF) has adapted to technological

change and is delivering effective services for customers that achieve the objectives of the reforms. Therefore,

no significant changes to the PTIF are currently proposed. TMR will continue to monitor the PTIF and act where

necessary. In addition, a number of emerging issues have been identified, which will be reviewed to ensure the

PTIF continues to deliver safe and positive outcomes for customers, industry and the community. These include:

Safety standards

• Undertake chain of

responsibility audits to

ensure compliance with key

safety duties and gain further

insight into any areas of noncompliance.

• Complete a detailed review

of the evidence relating

to driver fatigue in the

personalised transport

industry to investigate the

effectiveness of the current

regulatory and operational

approaches and identify

whether it is necessary to

impose additional regulatory

requirements.

• Complete a review of the

Secure Rank Program to

assess whether it is effectively

delivering improved safety

outcomes that support the

delivery costs.

• Review the relevance of

the security camera risk

framework for limousines on

the basis of the insignificant

number of safety incidents

reported in limousines.

• Investigate concerns

about vehicle identification

requirements by considering

banning potentially

misleading number plates;

and engaging with industry

to consider issues with

displaying multiple booked

hire identification signs.

Choice and flexibility

• Continue to work with the

personalised transport

industry to respond to

COVID19;

• Review the taxi licensing

framework to ensure it is

supporting the taxi industry's

ability to compete effectively

within the personalised

transport industry as it

recovers from COVID-19.

• Consider the expansion of

the Taxi Subsidy Scheme

to include the provision of

services by personalised

transport operators other

than taxis.

Innovation and

customer service

• Engage with industry

stakeholders to understand

current plans to transition

towards lower emission

vehicles.

Industry engagement

• Establish a new personalised

transport industry reference

group to share best practice

and work collaboratively to

consider solutions to common

issues affecting the industry.

• Continue to monitor attitudes

to the personalised transport

framework through annual

industry and customer

surveys.

Online Australian

Training

Courses

www.drvrtraining.com.au

Limousine, Taxi, Hire Car, Ride Share

Fatigue Management

23 Lessons | $49.00

Limousine, Taxi, Hire Car, Ride Share

COVID-19 Hygiene Awareness

for Transport Drivers

22 Lessons | $ FREE

www.drivenow-magazine.com.au

May/June 2022

19
---
HEALTH NEWS

Cabbies give a shoulder

to cry on - but where's

their mental health

training?

By Yara Murray-Atfield

It's easy for Paul Brooks to tell if

the passenger jumping into the

back of his taxi is up for a chat.

The veteran driver starts by

offering different routes to get

to the destination, which he says

breaks the ice.

"That's when they tend to start

getting a bit chatty," he says.

Mr Brooks has been driving in

Melbourne for about 27 years,

almost always on the night shift.

"Once the sun goes down, and

the closer you get to midnight

and the alcohol's flowing, people

tend to turn out a bit differently

after a few beers," he says.

Often, the journeys end in a

funny story. There was the time

a young couple were discussing

chucking a sickie and skipping

work the next day, when Mr

Brooks realised he knew the

woman's boss and told her "you

probably should go to work

tomorrow".

If he had to put a figure on it,

he'd say about 20 per cent of his

passengers open up and share

parts of their lives from the back

seat.

"Sometimes when they get in,

they say 'just drive, get me out of

here'," he says.

"That normally leads to a longer

conversation."

Paul Brooks sits in the front of

his taxi. He jokingly dubs this

part of his work "free therapy".

But the 50-year-old says there's a

more confronting side to the job.

He's one of the drivers registered

to pick up people to remove

them from domestic violence

situations.

"And you'll take a single person

or a mother with a couple of kids,

and they'll try and get as much

Paul Brooks has been driving taxis

for more than half his life.

(photo supplied: Barry Mole)

of their luggage and belongings

in the boot, and you'll drive them

from one side of town to the

other, or somewhere else," he

says.

As someone who witnessed

domestic violence as a child, it

can sometimes hit close to home.

20 May/June 2022
---
He admits there have been times

he's left a job, driven around the

corner and shed a tear.

Like most drivers, Mr Brooks

has no formal training in mental

health first aid, or how to deal

with vicarious trauma. But

he often finds himself on the

frontline.

On a recent job, he picked up

a woman he believed was a

mother. He says they stopped

at a service station for her to

buy a bottle of water and it then

became clear she went to the

bathroom to use drugs.

"You pick up fares like that, and I

tend to think about it for the rest

of the night," he says.

As he talks, it's clear he often

finds himself thinking about

the barriers for people on the

margins of society to access

help.

"I don't know what the solution

is," he says.

Vicarious trauma is just

part of the job for some

workers

The Commonwealth's Australian

Institute of Health and

Welfare suggests about one

in five Australian adults has

experienced a mental disorder in

the past 12 months.

The data indicates about half

of Australians will experience

a mental disorder over their

lifetimes, with the institute

noting "a person does not need

to meet the criteria for a mental

illness or mental disorder to

be negatively affected by their

mental health".

Psychiatry professor Andrea

Phelps is the deputy director of

the Phoenix Australia Centre for

Post traumatic Mental Health at

the University of Melbourne.

The centre speaks to a range of

people for mental health training

and research. Many are involved

in traditionally frontline jobs like

defence or have experienced

natural disasters.

Others work in industries where

trauma may not be front of mind.

www.drivenow-magazine.com.au

May/June 2022

21
---
Professor Phelps says often,

those workers have never

thought about the impact

interacting with distressed,

traumatised or abusive people

at work was having on them.

"They've just accepted that

there are difficult calls that they

have to take sometimes, and

that kind of thing," Professor

Phelps says.

Exposure to other people

who are experiencing difficult

situations can cause vicarious or

second-hand trauma.

"We're not just talking about

feeling empathy for someone,

we're talking about people who

actually then suffer themselves,

as a result of having supported

someone else," Professor

Phelps says.

"And then that's obviously

something that we need to try

and avoid."

The 'three d***head

rule' and other coping

strategies

Professor Phelps says there are

broadly three ways vicarious

trauma can present — feelings

of psychological distress or

helplessness, intrusive thoughts

and/or physical symptoms like

tension and increased heart

rates.

Longer-term, people

experiencing vicarious trauma

can feel perpetually on edge,

have disturbed sleep and begin

to withdraw socially. Some

people use drugs or alcohol to

cope.

Paul Brooks has heard more

about the lives of strangers than

most, and thinks his colleagues

could have a bigger role to play

in providing help.

But for more training or even

flyers for referral services, he

says drivers would need to be

paid more. He is pragmatic

when he concedes higher pay is

"a whole other can of worms"

that is unlikely to happen.

"People know cab drivers are

there," he says.

"But it's really weird, they never

really take enough attention.

"If we trained our cab

drivers a little better

than we do, I personally

believe the streets

would be a hell of a lot

safer," says Paul.

Original article can be found at

www.abc.net.au

Family and

domestic

violence

support

services

Immediate Help

call emergency services

000

1800 Respect

National Helpline

1800 737 732

Women's Crisis Line

1800 811 811

Men's Referral Service

1300 766 491

Mensline

1300 789 978

Lifeline

131 114

22 May/June 2022
---
MAY/JUNE 2022 - EDITION 54

PICK UP YOUR OWN COPY

EVERY MONTH FROM THESE BUSINESSES

National

Magazine

VIC

Taxis, Hire Cars,

Wedding Cars,

Limousines

Ascot Vale

Westbourne

Motors

Ballarat

Ballarat Taxis,

Crown Cabs,

Transport Security

Cameras

Bendigo

Bendigo Taxis

Brunswick East

Platinum Taxis

Campbellfield

Taxi Hire Services

Clayton South

Schmidt Elec.

Labs

Clifton Hill

SilverComm

Coburg North

Silver North Taxi

Management

Collingwood

Silver Top Taxis

Doncaster

Rod Barton, MP

Fitzroy

Equity Transport

Group

Geelong North

Geelong Taxi

Network

Lara

Avalon Airport

Arrivals Terminal

Owners, Drivers,

Partners, Operators

Suppliers, Networks,

Booking Service

Providers

Mildura

Mildura Taxis,

Crown Cabs,

Transport Security

Cameras

Moorabbin

Eastmoor Taxis

North Melbourne

13cabs,

Alex Taxis,

Live Taxi

Oakleigh

13cabs

Port Melbourne

Oiii,

Netcabs

Reservoir

Exclusive Cab

Management

Shepparton

Shepparaton Taxis

Thomastown

13cabs,

Southern Cross

Chauffeurs

Tullamarine

Black & White

Cabs,

Crown Cabs,

Melrose Lounge

Cafe,

Taxi Hire Services,

Transport Security

Cameras

Vermont

Vermont Autogas

West Melbourne

Embassy Café

Wodonga

Wodonga Taxis

www.drivenow-magazine.com.au

QLD

Albion

Delta Taxi Management,

Taxicomms

Archerfield

Transport Security Cameras,

SLYYK Premium Transport

Service

Brisbane Airport

Black & White Cabs

Kelvin Grove

KG Taxi Management

Marcoola

Suncoast Cabs

Maryborough

Black & White Cabs

Mermaid Waters

13cabs Gold Coast

Southport

Black & White Cabs

Salisbury

Occhi's Business Class Taxis,

Crown Cabs

Toowoomba

Black & White Cabs

Virginia

QLD Limo Action Group,

Transport Security Cameras

Wooloongabba

13cabs Brisbane

SA

Adelaide Airport

13cabs - Adelaide

Mile End

Adelaide Independent

Taxis

Wayville

Equity Transport

Kilburn

Suburban Taxis

Mile End South

Taxi Council of SA

May/June 2022

WA

NSW

Alexandria

13cabs,

NSW Taxi Council

Arncliffe

Sanitisation

Station

Bankstown

Mikhael & Co

Mech Repairs

Cromer

Manly Warringah

Cabs

Granville

Premier Cabs

Dubbo

Dubbo Bus Lines

Kingsgrove

St George Cabs

Leumeah

Sanitisation

Station

Mascot

RSL Cabs,

GM Cabs

Victoria Park

Swan Taxis Pty Ltd

Belmont

Black & White Cabs

13cabs

Greenfields

Mandurah Taxis

Osborne Park

Nova Communications

Perth Airport

Perth Airport Taxi Rank

Wangara

Transport Security

Cameras

Mayfield West

13cabs

Newscastle

13cabs

North Parramatta

Sanitisation

Station

Padstow

Black & White

Cabs

Prestons

13cabs, Taxi Tech

Seven Hills

Sanitisation

Station

Tamworth

Sanitisation

Station

Wagga Wagga

Wagga Taxis

West Gosford

Central Coast

Taxis

Wolli Creek

Legion Cabs

Wollongong

lllawarra Taxis

ACT

Aerial Taxis

Canberra Cabs

Canberra Elite Taxis

TAS

131008 Hobart

Taxi Combined

Services

NT

13cabs Alice

Springs

Casuarina Blue Taxis

Darwin Radio Taxi

23
---
WA News

Transport Levy

HAS ENDED

The WA Government ended the

On-demand Passenger Transport

Levy (the Levy) on Wednesday 1

June 2022 – 11 months earlier than

planned.

The Levy began on 1 April 2019 and

was established to recover the

costs of the $120 million Taxi Plate

Buyback Scheme. A further $9

million was added to this amount in

April 2020 as part of COVID-19 relief

measures.

The exact amount recovered by the

Levy will not be known until all levy

returns have been submitted and

finalised later this year.

What does this mean for

ODBSs?

The repeal of the Levy will only

impact On-Demand Booking

Services (ODBSs) providing leviable

services in the Perth Metropolitan,

Murray and Peel districts.

Affected ODBSs need to ensure

their fare schedules, fare

calculation devices (meters),

and receipts are up to date – any

changes that were previously made

to accommodate the Levy are now

no longer required or lawful.

ODBSs are liable to pay Levy on

affected bookings taken on or

before Tuesday 31 May 2022, even if

the trip occurs after this date. Any

bookings taken after this date are

not subject to the Levy.

24 May/June 2022
---
$1.5M BOOST FOR

WESTERN AUSTRALIA news

WAV taxi services

Wheelchair Accessible Vehicle (WAV) taxi services

across Western Australia are set to expand, following

a $1.5 million McGowan Government investment in

the upcoming 2022-23 State Budget, including a new

Regional WAV Taxi Service Grant Scheme.

The scheme will provide financial support to

encourage the establishment of WAV taxi services

in regional towns such as Broome, Denmark and

Esperance and support WAV taxi services in other

towns to meet demand or ensure continuity of

service.

An annual allocation of $115,000 through the

scheme will increase the existing WAV Modification

Grants from $15,000 to $20,000 to support the

costs of installing wheelchair hoists and associated

modifications.

wheelchair-accessible taxis.

Transport Minister Rita Saffioti said, "We know taxi

services play an important role in providing a level

of independence to many in our community and are

aware that there is currently unmet demand in some

regions".

"This new scheme offers long-term grant incentives

to ease the cost burden for new operators to start

servicing the areas where they're needed the most,

as well as ensuring the viability of existing service

providers."

The Regional WAV Taxi Service Grant Scheme is a new

initiative offering two tiers of financial support from

an annual funding pool of $260,000.

Grants of $65,000 from the pool will support the

establishment of new WAV taxi services in towns

where none exist. Grants of $45,000 will support

existing WAV taxi service providers to replace an

ageing WAV taxi or purchase an additional WAV taxi to

meet demand.

The grants will offset costs, including vehicle

purchase, modification and fit-out, vehicle licensing,

inspections and on-demand transport authorisations.

In addition, the new scheme supports other accessible

transport initiatives, including the Taxi User Subsidy

Scheme, which provides co-payments to drivers of

www.drivenow-magazine.com.au

May/June 2022

25
---
26 May/June 2022
---
Tribute

to this magazine's

Founder

STAN F. WHITE

8 July 1935 - 5 June 2022

'Stan the Man' was the founder of Taxi Talk

magazine, a Bookie, and an entrepreneur. He was

bigger than life, loved to tell a tale, share a drink

and was a true gentleman right up until the end.

Stan White lived a very full life.

He could come across as quite

intimidating, loud and over

bearing – but deep down, he had

a big heart of gold. He strove for

perfection in everything he did –

he always said, "If a job is worth

doing at all – it is worth doing

well".

He was born in Quandialla, NSW

and then lived in Young, NSW for

his first twenty-ish years. Then,

he moved to Sydney to look for

that elusive "great job" and lived

in a small apartment alongside the

railway while working as a clerk

for a greyhound Bookie.

During the early 1960s, Stan

sold TVs and white-goods and

also designed and sold Menu

blackboards to pubs for their

Counter Meal menus. As well as

this he clerked for a Melbourne

Greyhound Bookie and attained

his Victorian Horse Racing

Bookmaker's Licence.

In 1965 Stan was working with

a printer and was approached

by Arrow Taxis to print their

newsletter, then along came

Regal Combined, who asked the

same thing. When Civic Taxis

asked for the same service, Stan

decided that he could do better

for the taxi depots, and himself,

by producing a magazine with

stories from depots around

Melbourne.

www.drivenow-magazine.com.au

May/June 2022

27
---
Tribute

to Stan F. White .../continued

So, in May 1966, he started TAXI

TALK magazine - A monthly

magazine for taxi men exclusively.

It was produced as an A5 black and

white 36-page magazine for the

first two years.

It was back in the day when 14"

tyres for Holden, Falcon and

Valiants were $11.50 each, and a

change-over engine for Holden FE

was $190.

In May 1968, it was 'upgraded'

to B5 size with a splash of colour

throughout, and its by-line on the

front cover was changed to The

Voice of the Taxi Industry. And

from there it has kept growing

and become more colourful every

year, and it is still going strong

today, albeit under the different

name of DRIVE NOW – Voice of the

Australian Commercial Passenger

Transport Industry.

Stan was thoroughly proud of what

he started way back in 1966 and

the fact that it is still printed today

and continued to be produced by

his family.

Throughout the years, he met just

about all of the Victorian Premiers,

Ministers for Transport and heads

of the taxi industry regulators. He

chatted with them on numerous

occasions and even had lunch and

drinks with a few.

He loved his Friday lunches with

mates from both the Racing and

Taxi industries, where he would tell

a joke, a story and have a drink, or

2 or 10.

Stan was also one of the largest

Rails Horse racing Bookies in

Victoria. He used to say that TAXI

TALK was his living and Bookieing

was just a hobby – bloody

expensive hobby, if you ask me.

Horse racing was a sport he

enjoyed - not just because of the

betting but for the sport itself.

He did say that Black Caviar was

the best racehorse he had ever

witnessed. Mohammad Ali was

his favourite boxer, and Ash Barty

his all-time favourite female tennis

icon. Aussie Rules football was

favoured too - and he barracked for

the Mighty Magpies!

Stan had a passion for fishing.

Whether it be from the pier, river

bank, or boats big and small - even

fish farms. There were fishing trips

in Cairns and Arnhem Land with

fellow Bookies and their wives

- everyone having a great time

fishing, drinking, eating and telling

stories. He even taught his children

and grand-children how to fish.

He was a self-taught handyman -

an amateur carpenter, plasterer,

plumber, electrician, gardener,

brickie – you name it, he learnt how

to do it…Stan hardly ever read a

manual as he said, "real men don't

need instructions" – and this got

him into some trouble over the

years!

He may have had variety in his

jobs, travelled far and wide, met

and made many friends, but there

was one constant for over 70 years

of his life – his wife, Isobel - they

were married for 60 years. Yet

in September 2021, Isobel's heart

and lungs wore out and she passed

away. This was extremely hard

for Stan to cope with – he often

said that when Isobel died, it was

like someone punched his chest

and ripped out his heart – he said

he had never felt so sad about

anything before.

Some years ago, Stan was

diagnosed with Lewy Body

Dementia. Come September 2021 it

was in a very advanced stage, and

the passing of Isobel just worsened

it. His ability to remember shortterm

events decreased and he was

moved into the Special Care Unit at

Nellie Melba Retirement Village.

In April 2022, just before Easter,

he fell and broke his hip. He had

28 May/June 2022
---
hip replacement surgery which was quite successful, but after the

surgery, he couldn't weight bear and therefore couldn't walk.

Eventually and reluctantly, he knew his time had come to join Isobel.

On Sunday 5 June 2022, Stan passed away peacefully and without

pain, knowing he was loved by his family and truly cherished.

With tears, we saw him suffer and we watched him fade away. Our

hearts were slowly breaking as he fought so hard to stay. He is now

at peace and this also brings, an end to his worry about forgetting

things.

Loving father of Toni Peters and Donna White, father-in-law to Marc

Peters, doting grandfather of Amy, Stuart & Eric Peters and Spencer

Petrie.

Stan was my Dad! My friend, my teacher and my inspiration. He will

be remembered and loved forever.

Toni Peters

Editor - DRIVE NOW

Reflections

Stan has always been a

passionate advocate for the

taxi industry and along with his

late wife, Isobel, they always

fought for a fair industry. I feel a

responsibility to them and for all

taxi families to continue the fight.

Rest in peace my friend.

Rod Barton MP

A great servant of the Melbourne

taxi industry over many years.

Rest in peace.

Graeme Ransom - Owner/Driver

He was a true gentleman. The

industry would simply not have

been the same without him.

Andrew Skelton - A2B Australia

I first met Stan 42 years ago

and always found him to be a

real gentleman to deal with.

He and Taxi Talk played a very

important role in what once

was a very proud and successful

Victorian taxi industry. He will

be sorely missed by all those

who remember his unique

contribution.

Gary Schmidt - Schmidt Electronic Labs

A true gentleman and a real

character of the taxi industry.

Can you image the stories that

will be relived once the old boys

reunite up there?

Happy times in Chinatown - Stanley F. White and his wife of 60 years, Isobel.

Steve Armstrong - Ballarat Taxis

www.drivenow-magazine.com.au

May/June 2022

29
---
STATS

INDUSTRY STATISTICS

AROUND AUSTRALIA

NSW

# of Metro & Non-Metro

LICENCE PLATES

as at 31 March 2022 NSW Taxi Licences

6,000

5,000

4,000

3,000

2,000

1,000

-

Taxi Licences Metro

Taxi Licences Non-Metro

Jan-18 5,399 913

Jan-19 5,576 1,210

Jan-20 5,587 1,425

Jan-21 4,492 1,432

Jan-22 5,217 1,446

Mar-22 5,203 1,444

May-22 5,189 1,445

VIC

# of Registered Commercial

Passenger VEHICLES

as at 31 March 2022

100,000

90,000

80,000

70,000

60,000

50,000

40,000

30,000

20,000

10,000

-

21,412

Victorian Total CP Vehicles

61,999

81,885

88,922

93,040 92,926 93,783

31-Dec-17 31-Jan-19 31-Jan-20 31-Jan-21 31-Jan-22 31-May-22 31-Mar-22

# of Passenger Transport (PT)

DRIVER LICENCES as at 31 March 2022

NSW Driver Licences

160,000

140,000

119,847 127,797 132,619 134,518 135,777

120,000

99,403

100,000

77,838

80,000

60,000

40,000

20,000

0

Jan 18 Jan 19 Jan 20 Jan 21 Dec 21 Mar 22 May 22

# of Registered CPV DRIVERS

as at 31 March VIC 2022 TOTAL CPV DRIVERS

140,000

120,000

100,000

80,000

60,000

40,000

20,000

-

65,543

92,479

109,142

113,659

118,300

118,319

118,156

117,112

01-Dec-17 01-Dec-18 01-Jan-20 31-Dec-20

31-Dec-21 31-Jan-22 31-Mar-22 31-May-22

30 May/June 2022
---
TAS

# of Registered Transport Services

VEHICLES

as at 31 March 2022

Tas vehicles

1,800

1,600

1,400

1,200

1,000

800

600

400

200

-

Taxis & Luxury Hire Cars Ride-sourcing

31-Dec-20 554 1,496

31-Dec-21 541 1,533

31-Mar-22 532 1,676

QLD

# of Registered Personalised

Transport LICENCES QLD Vehicles

as at 31 March 2022

20,000

18,000

16,000

14,000

12,000

10,000

8,000

6,000

4,000

2,000

-

Limousine Taxi Service Booked Hire Service

30-Jun-20 499 3,253 17,459

31-Dec-21 485 3,249 14,990

31-Mar-22 477 3,248 14,140

31-Dec-20 31-Dec-21 31-Mar-22

ACT

# of Registered PUBLIC VEHICLES

as at 31 March 2022 ACT VEHICLES

3,000

2,500

2,000

1,500

1,000

500

-

Hire Cars Taxis Rideshare

01-Dec-20 55 182 2,832

31-Dec-21 42 156 2,409

31-Mar-22 45 178 2,572

01-Dec-20 31-Dec-21 31-Mar-22

# of Registered PUBLIC VEHICLE

DRIVERS

as at 31 March 2022

act drivers

5,000

4,500

4,000

3,500

3,000

2,500

2,000

1,500

1,000

500

-

Hire Car Drivers Taxi Drivers Rideshare Drivers

01-Dec-20 602 2,679 4,137

31-Dec-21 633 2,558 4,644

31-Mar-22 654 2,538 4,673

NT

nt vehicles

# CP 800 VEHICLES as at 31 March 2022

700

600

500

400

300

200

100

-

Taxis

Multiple

Purpose

Taxis

Private Hire

Cars

Rideshare

01-Jul-21 187 48 14 681

31-Dec-21 181 46 8 692

31-Mar-22 178 44 8 642

# CP 1,600 DRIVERS as at 31 March 2022

1,400

1,200

1,000

800

600

400

200

-

nt drivers

Rideshare Taxi Private hire car

01-Jul-21 1,285 1,340 471

31-Dec-21 1,318 1,236 428

31-Mar-22 1340 1202 414

01-Dec-20 31-Dec-21 31-Mar-22

www.drivenow-magazine.com.au

May/June 2022

31
---
NEW SOUTH WALES news

NSW News

Transporting

Veterans

ANZAC DAY 2022

32 May/June 2022
---
NEW SOUTH WALES news

The NSW Taxi Council, in

partnership with RSL NSW,

worked with Member Taxi

Service Providers to ensure

that Veterans were given the

opportunity to attend the Anzac

Day march on Monday, 25th April

2022.

NSW Taxi Council Deputy

CEO said, "If it wasn't for the

generosity displayed by Taxi

Service Providers and their

Drivers, the opportunity would

not be possible to transport

Veterans who otherwise could

not participate in the march."

We also appreciate the support

provided by Representatives

from a range of agencies

including – NSW Police, RSL NSW,

Customer Journey & Planning

as well as the Department of

Premier and Cabinet for their

support and coordination in the

lead up to and during the event.

The NSW Police led two Taxi

convoys – one coming from the

RSL Lifehouse at Narrabeen

Village and the other from

Abercrombie Street, Sydney.

There were a total of 20 Taxis

participating in the march this

year.

Taxi Drivers were honoured

and privileged to transport

the Veterans, including a few

approaching the 100-year age

group.

For one Veteran, Gordon

Willoughby, aged 99 years,

attending the Anzac Day march

was an opportunity to remember

his mates. Gordon paid his

respects to two mates from the

same family who never made it

back. Gordon thanked the NSW

Taxi Council and the drivers for

transporting him to the march.

Gordon went on to say, "because

if it wasn't for the Taxis, I could

not be here. God bless the Taxi

Service".

For another Veteran, Guy

Griffiths, Anzac Day was an

opportunity to meet up with

a lot of Veterans he served

with, including WW2, Korea

and Vietnam. Guy reflected

on the service he received

from Taxis stating that it was

"Outstanding".

Betty Niblett, a Veteran who

joined in 1953, noted that Anzac

Day was an important time

to remember her father and

uncles. Betty went on to state

that in 1955 she was part of

the establishment of the first

Women's Military Police, a legacy

which continues on today.

Bill Chaffey, a World War 2

Veteran, reflected on Anzac

Day as a remembrance day –

remembering those who are here

and those who are not here. Bill

also stated that, "If it wasn't for

the NSW Taxi Council, the Drivers

and the Volunteers, he could

not take part in this magnificent

celebration of the lives of those

who are not here".

The NSW Taxi Council once again

thanks all those who played a

part in making the Anzac Day

commemorations a success,

particularly for those Veterans

who relied on our services to

take part.

Lest We Forget.

Martin Meters - Oz Cab Store

Phone: 03 9335 1551 sales@martinmeters.com.au www.ozcabstore.com.au

• 1TB Memory

• 1080P External Color Camera

• 720P Internal Color Camera

(1080P Option)

• Led Camera Status

• Active GPS

• Audio, 4G & WiFi option

(Where permitted by state)

THSVIC1 HD TAXI CAMERA SYSTEM

VIC & NSW APPROVED OTHERS PENDING

Priced from:

$1500+GST

Standard Vic Spec.

www.drivenow-magazine.com.au

May/June 2022

33
---
NEW SOUTH WALES news

Vale

Brian Wilkins

23 April 1938 – 13 June 2022

Brian contributed to the Taxi Industry immensely over

many decades and he will be greatly missed.

In 1954 Brian gained a Motor Mechanic

Apprenticeship. He completed his practical

component with Roxy Garage & Service Station. In

1957 he commenced his National Service Training

(Air force), in Wagga Wagga; Brian completed the

technical aspect of his apprenticeship with the Air

force.

Brian's first involvement with the Taxi Industry was in

1946, when the government issued his father a Taxi

Licence to incentivise ex-servicemen to get back into

the workplace after WWII.

In 1958 Brian began his career in the Taxi Industry

when he applied for and passed his Taxi Driver

examination. Brian considered himself a "Hotshot"

Taxi driver and applied to become a part-time Radio

Operator with Cumberland Cabs Co-operative. He

became the very first Radio Manager for Cumberland

Cabs.

industry and was heavily involved in merging some of

the smaller Taxi networks.

Brian became a Director on the NSW Taxi Industry

Association (TIA) Board in 1994. He went on to

become the President of the NSW TIA, whilst also

holding positions of Chairman of the NSW Taxi

Council, President of the Country Taxi Operators

Association (CTOA) and Director with the Australian

Taxi Industry Association (ATIA).

Brian's dedication to the Taxi Industry was recognised

and honoured at the NSW Taxi Industry State

Conference 2022 with a Lifetime Achievement Award

for his extraordinary contribution to the Taxi Industry

over the years.

Rest in peace, Brian.

Brian attended the Metropolitan Taxi Council

meetings as a junior member in 1962, purchasing his

own plate in 1963. The year 1964 saw Brian tender

his resignation to Cumberland to own and operate a

service station.

In 1967 he decided to come back into the Taxi Industry

full-time, driving his Taxi. Within weeks, he managed a

fleet of 30 cabs (Reliable Radio Cabs), and he held this

position for six years. Brian saw a lot of changes in the

34 May/June 2022
---
scan

me

See the world in colour.

Australia's largest taxi network

Free training

EFTPOS paid every day

A 4.8 star booking app on over

2 million phones

Around the clock support

Monitored alarm system

COVID support

Vehicle and insurance finance

available

Build regular clients with MyDriver

And that's just the start. To find out more, contact us today.

1800 546 687 join@13cabs.com.au

Get our app. Go your way.

www.drivenow-magazine.com.au

May/June 2022

35
---
NEW SOUTH WALES news

TRAVELLING WITH

Assistance

Animals

All Australian commercial

passenger transport vehicle

drivers (including taxi,

hire car, and rideshare

vehicle drivers) have a

legal obligation to accept

passengers travelling with an

assistance animal.

An assistance animal is a dog

or other animal specifically

trained to assist a person with a

disability. All over Australia, the

rule is the same.

These assistance animals are not

pets - they are trained animals

and are required to meet a

high standard of hygiene and

behaviour.

People travelling with an

assistance animal rely on their

assistance animal for help

every day, and they also rely on

taxi, hire vehicle and rideshare

drivers to get them where they

need to go.

Any driver providing passenger

services in a commercial

passenger transport vehicle

cannot refuse to transport a

passenger with an assistance

animal or an assistance animal in

training.

The NSW Disability Reference

Group (DRG), which the NSW

Taxi Council chairs, took a

proposal to the Point to Point

Transport Commission to assist

with developing an Assistance

Animal Toolkit. The toolkit

contains a range of user-friendly

and easily shared resources

to help service providers

and drivers understand their

legal obligations and role in

supporting people travelling

with a disability.

The resources in the toolkit

have been developed to help

taxi service providers, affiliated

providers, and booking service

providers in NSW inform and

remind drivers of their legal

obligations when providing

passenger services to people

travelling with an assistance

animal.

The NSW Taxi Council would

like to thank the industry's

stakeholders, including the

Disability Reference Group

(DRG) members and the Point

to Point Transport Commission,

for their contribution to the

development of the video and

toolkit.

For further information on

Assistance animals in the Point

to Point Transport Industry,

access the toolkit and watch

the videos, please visit - https://

www.pointtopoint.nsw.gov.

au/safety-and-compliance/yourassistance-means-world.

36 May/June 2022
---
NEW SOUTH WALES news

There are many types of assistance animals in NSW; however, most fall

into the following categories:

• Guide Dogs or Seeing Eye Dogs

• Hearing assistance dogs

• Physical assistance animals

• Psychiatric assistance animals

• Other assistance animals who are trained to assist people with

disabilities such as epilepsy and dementia.

Note: An animal other than a dog may also be an assistance animal.

How can a driver identify an assistance animal?

Most assistance animals wear some form of

identification, including vests, harnesses or collars.

Passengers may also carry evidence of their assistance

animal's accreditation.

What disabilities do people have who need

assistance animals?

While some people may travel with walking canes,

mobility aids, hearing aids or other physical aids, some

people may not have any visible signs of their disability.

This can include people suffering from PTSD, early

onset dementia, epilepsy, among others.

Can a driver refuse service to a passenger who

has an assistance animal?

No - not ever!

• Allergies are not an acceptable refusal reason.

Drivers who suffer from allergies must always be

prepared for any situations that may trigger their

symptoms.

• Religious or cultural reasons/beliefs are not an

acceptable refusal reason.

How should a driver interact with an assistance

animal?

• Please don't touch, talk, feed or otherwise distract

the assistance animal;

• Do not treat the animal as a pet, give it the respect

of a working animal;

• Do not speak to or give the animal any commands

unless the passenger asks you to;

• Speak to the handler, not their assistance animal.

Where in the vehicle should the assistance

animal sit?

Assistant animals usually sit in one of the footwells of

the vehicle.

Will drivers be fined if they refuse a passenger

with an assistance animal?

Yes.

www.drivenow-magazine.com.au

May/June 2022

37
---
ACCC TAKES

UBER TO COURT

by Bianca Healey

The Australian Competition and

Consumer Commission (ACCC)

has launched proceedings in the

Federal Court against global ride

sharing giant Uber over what

the consumer watchdog says

were 'misleading' and 'deceptive'

statements in cancellation

messages.

Uber has admitted it breached

Australian Consumer Law

through cancellation warning

messages and Uber Taxi fare

estimates, the commission said in

a statement.

The US-based platform

has agreed to make joint

submissions with the ACCC

to the Court for penalties

totalling $26 million.

Between around December 2017

and September 2021, the Uber

rideshare app showed warnings

to consumers who sought to

cancel a ride with words to the

effect of: 'You may be charged

a small fee since your driver is

already on their way'.

This was occurring even when

consumers were seeking to

cancel a ride within Uber's free

cancellation period, the ACCC

said.

Most Uber services, including the

UberX service, have a five minute

'free cancellation period' after

the driver has accepted the trip,

in which an Uber user can cancel

their ride without incurring a fee.

More than 2 million

Australian consumers were

shown the misleading

cancellation warning.

Newly appointed ACCC chair

Gina Cass-Gottlieb said Uber has

admitted it misled Australian

users for a number of years, and

"may have caused some of them

to decide not to cancel their ride

after receiving the cancellation

warning".

This likely occurred even though

customers were entitled to cancel

free of charge under Uber's own

policy, Cass-Gottlieb said.

In September 2021, Uber updated

its cancellation messaging for

Uber services across Australia.

The message was amended

to 'You won't be charged a

cancellation fee', in order to

accurately inform customers they

would not be charged during the

free cancellation window.

The ACCC also said that for

about two years, the Uber app

displayed an estimated fare

range for the 'Uber Taxi' ride

option which Uber admits misled

users about the estimated range

of the fare of a taxi booked

through that option.

The algorithm used to calculate

the estimated fare range inflated

these estimates so that the

actual taxi fare was almost

always lower than that range,

and consequently cheaper than

Uber's lowest estimate.

It has also conceded it did not

monitor the algorithm used to

generate these estimates to

ensure it was accurate.

Cass-Gottlieb said consumers

should be confident that they

can trust the accuracy of

information provided by apps

like that offered by Uber.

"The misleading information on

Uber's app deprived consumers

of a chance to make an informed

decision about whether or not

to choose the Uber Taxi option,"

she said.

"Digital platforms like Uber need

to take adequate measures to

monitor the accuracy of their

38 May/June 2022
---
The ACCC boss said Uber

admits its conduct misled

users about the likely cost

of the taxi option.

algorithms and the accuracy of statements they make,

which may affect what service consumers choose.

"This is particularly important as online businesses

often carefully design their user interfaces to

influence consumer behaviour," Cass-Gottlieb said.

The parties have agreed to jointly seek orders from the Federal Court, including declarations that Uber

contravened the Australian Consumer Law, and for Uber to pay $26 million in penalties.

The Federal Court will decide at a later date whether the orders sought, including the proposed penalties,

are appropriate.

www.drivenow-magazine.com.au

May/June 2022

39
---
BE SAFE

AT HOME AND ON

THE ROADS THIS

WINTER

According to the

Australian Bureau of

Meteorology, there were

more than 150 severe

weather events in Victoria

during 2021, including

extreme winds, rain, hail

and flooding.

Australia is currently in

the midst of a La Niña

weather phase, meaning

the odds of aboveaverage

winter rainfall will

increase again in 2022.

40 May/June 2022
---
Prepare your home,

office & surrounds

RACV General Manager Home

Portfolio, Darren Turner, said being

prepared for severe weather events

at home can save owners time,

money and prevent the risk of

serious injury.

However, it's often the simple things

that make the biggest difference

when it comes to avoiding severe

damage to your home and your

possessions in a severe weather

event.

"It's important to tend to any

maintenance required around the

home – particularly cleaning out

gutters – and check that loose items

such as outdoor settings, umbrellas

and trampolines are secured under

cover and away from trees," Mr

Turner said.

"Don't take any risks – stay indoors

and away from windows during

a storm and continue to monitor

weather warnings and forecasts

by the Bureau of Meteorology

website."

"Stay away from fallen powerlines

– you should always assume that a

powerline is live, with the potential

to cause very serious harm."

Sufficient Insurance

coverage

One of the most crucial aspects

of preparing for severe weather

is ensuring you have sufficient

insurance cover – urging people to

check that their policy is up to date

and covers extreme events, such as

floods.

The RACV website features a helpful

tool to assist homeowners in

calculating the rebuild cost of their

home.

Check your heaters

"Running a heater that isn't

working efficiently can impact the

health, safety and finances of your

household," Mr Turner said.

"A regular heater service by a

qualified professional before winter

can help improve air quality, reduce

running costs, maximise the life

span of your heater and greatly

reduce the risk of an electrical fault

and fire."

Safety on our Winter

roads

RACV Policy Lead - Safety, Elvira

Lazar, said there were several things

people could do to prepare for

extreme weather on the road.

"Whether it's a severe storm,

powerful winds or just light rain, a

change in conditions on the road

and home can have a significant

impact," Ms Lazar said.

"Weather conditions can change

very quickly, so it's important to

plan ahead wherever possible and

have safety at the forefront of your

mind."

RACV's Tips for heavy

rain and flash flooding

If driving conditions are dangerous,

increase the gap between you and

the car in front to give you more

time to react and, if necessary,

safely pull over.

If a road is flooded, find an

alternative route. Flood waters

can be deeper than you think and

sometimes powerful enough to

wash a car right off the road – it's

simply not worth the risk.
---
2022 Drive

Car of the

Year

KIA SPORTAGE

SOURCE: www.drive.com.au

If you think the Kia Sportage mid-size

SUV won the 2022 Drive Car of the

Year award because it shines brightly

in a few important areas, you'd be

wrong. The Sportage won because

it is the strongest performer across a

breadth of criteria, all of which matter

to Australian new car buyers.

Put simply, the Sportage won not

because it was the fastest or the most

efficient, nor because it was the most

practical or most dynamic. It won

because no other vehicle combines

all these capabilities into the one

package like the Sportage does.

Is the Kia Sportage more

fuel-efficient than the

Toyota RAV4 Hybrid?

Fuel efficiency is a hot topic right now,

and rightly so. Every litre of fuel a

vehicle consumes begins as crude oil.

So the less fuel we use the less oil that

needs to be extracted.

One of the most efficient mid-size

SUVs in Australia is the Toyota RAV4

Hybrid. This vehicle, which is roughly

the same size as the Sportage, has

a petrol engine combined with an

electric motor that delivers classleading

fuel efficiency.

Kia Australia is working on bringing

a Sportage with a hybrid powertrain

to Australia that eclipses the

Toyota in terms of technology and

performance.

If you can't wait for the Sportage

PHEV to get to Australia, Kia offers

a turbo-diesel Sportage right now

that consumes just 6.3L/100km while

producing 137kW and 416Nm. Those

outputs endow the Sportage with

effortless real-world performance,

and a fuel economy that costs less

than a bottle of wine more each

month to feed.

Should I buy a Kia Sportage

or an Audi Q5?

The Sportage's sweeping dashboardmounted

digital display which

incorporates two high-resolution 12.3-

inch screens really sets the scene.

This cutting-edge display combines

with an adaptive touch bar below

which adjusts its buttons to match

the infotainment screen mode,

giving the Sportage a control centre

to rival some of the best from Audi,

a company long considered the

benchmark for cabin fit and finish.

Both have eight airbags and a swag

of active safety systems, but only the

Kia comes standard with adaptive

cruise control, blind-spot active

assist, reversing collision mitigation,

speed zone reminder with road sign

recognition, and a fully automated

parking assist with remote control

and front-facing parking camera.

Inside, only the Sportage offers

heated and ventilated front seats,

front seat position memory, a sliding

second row, head-up display for

the driver, and rear-seat occupancy

warning.

Safety, practicality,

presentation, value - the

Sportage sets new benchmarks in

these areas for the price.

Powertrain performance,

efficiency, driving dynamics

and ride quality - the Sportage

is unquestionably the best vehicle in

its class.

And that is why it is, in our opinion,

the best mid-size SUV in Australia

right now.
---
e

ING

TRADE

DIRECTORY

ADVERTISE

HERE

We Are

HIRING

We Are

AND GET

YOUR

BUSINESS

NOTICED

HIRING

Drivers | Forklift Operators | Parcel Sorters | Sub-con

FOR FULL DETAILS VISIT

www.drivenow-magazine.com.au/2022-specials.html

Why work with us?

Family owned business (to us you're a person, not a number)

Safety focus (your safety is at the centre of everything we do)

ers | Forklift Operators Role specific | Parcel training Sorters | Sub-contractor provided (Drivers)

Drivers | Forklift Development Operators opportunities

| Parcel Sorters | Sub-contractor (Drivers)

with us?

owned business (to us you're a person, not a number)

focus (your Why safety work is at with the centre us? of everything we do)

Register your interest

ecific training provided Family owned business (to us you're a person, not a number)

Safety focus (your safety is at the centre of everything we do)

pment opportunities

Register your interest

Role specific training provided

1300 100 BEX

Development opportunities

Select Option 3 Scan

1300 100 BEX

Select Option 3 Scan

CAR

WASH

BEST

BURGERS

IN TOWN

Embassy

Cafe

547 Spencer Street

(Cnr Roden Street)

WEST MELBOURNE

FREE HOT DRINK

WITH EVERY AUTO CAR WASH

MELBOURNE AIRPORT UNIGAS

MELROSE DRIVE, TULLAMARINE

Hot drink available at Melrose Lounge - Taxi Holding Area

Collect voucher from Unigas Office

Regist

1300 10

Select Op

www.drivenow-magazine.com.au

May/June 2022

43
---
Driver JOBS

QUEENSLAND

COOLANGATTA/TWEED HEADS

Is it time to enjoy the great outdoors, beautiful weather

and laid-back lifestyle? Then the magnificent border

area of Tweed Heads / Coolangatta is the place for you.

Earn a few dollars while you are here by driving one

of our modern taxis. Plenty of shifts available. Phone

0439 769 259 now!

TOWNSVILLE 13CABS

Single car Owner /Operator looking for a motivated

driver who is flexible on shifts available, and wants

to get on with the business of making money. New to

town or looking to become a Taxi Driver, no problem, as

in-depth training can be provided to help reach your full

earning potential. Contact Darren 0407 597 908 to learn

more of what's on offer.

BRISBANE CROWN CABS

All shifts available – 7 days per week. Please phone Tuna

Guclu on 0419 484 666.

BLACK & WHITE

All shifts available. Home changeover available all over

Brisbane. Set Pay or 50/50 Commission. Limited Set pay

cars available. Albion Cab Centre. Call Ronnie today on

0411 864 392.

\

WESTERN AUSTRALIA

PERTH BLACK & WHITE CABS

Day shifts (5-7 days). Call Georgina on (08) 9230 0400.

CROWN CABS

Drivers wanted full-time or part-time in Morley and Perth.

Contact Tuna Guclu on 0419 484 666.

TAKE THE DRIVER'S SEAT IN BROOME'S

BEST TAXI FLEET

Airfares included to Broome and accommodation

provided. Drive for an established Taxi business and enjoy

the fantastic lifestyle of Broome. APPLY NOW to drive with

us in Broome. Email: Res@broometaxis.com.au

NEW SOUTH WALES

BYRON BAY

Taxi Driver Positions Available. Day and night shifts

available every day of the week. Send us your email

address and we will forward an information pack. Email

- operations@byronbaytaxis.com

SOUTH TAMWORTH

Existing positions available for Taxi drivers. Day and

night shift available. Phone 0456 441 538.

SALAMANDER BAY

Nelson Bay Taxis are looking for additional driver to

assist in the transport of passengers on the Tomaree

Peninsula and beyond.

New drivers will need to have held a full NSW Driver

Licence for a minimum of two years, have a clear

Criminal History and hold or are willing to obtain an

ABN that is registered for GST. A WWCC would also be

beneficial.

Please contact Nelson Bay Taxis on (02) 4984 7766

during office hours to register your interest.

WILEY PARK

Taxi Driver Wanted for 13cabs Toyota Camry Hybrid.

Taxi has Full Comprehensive Insurance, leather seats,

rubber mats and weather-shield. Very well maintained

taxis.

Change over in Punchbowl, Lakemba or Belmore. Day/

Night/Weekend or Weekly. Full Time, Part Time or Casual.

Immediate Start.

On Going Opportunity. Reasonable pay in. (You must have

13cabs Authority card. If you don't have, call 13CABS to get

one please). Phone or SMS 0418 612 692.

NELSON BAY

Nelson Bay Taxis are looking to hire additional drivers

in preparation for COVID restrictions easing. Drivers are

required to assist in the transport of passengers around

the Tomaree Peninsula to medical appointments, shopping

trips and social engagements.

You must have held a full NSW driver licence for at least

12 months and willing to get an ABN and be registered for

GST. Forward your resume to combinedlimos@gmail.com

or phone (02) 4984 6699.

44 May/June 2022
---
VICTORIA

SHEPPARTON

Lots of opportunities than Melbourne to operate

an INDEPENDENT taxi in Shepparton. No expensive

local network fees. Ralph 0473 189 190.

& DRIVERS

OWNERS, OPERATORS

ADVERTISE

HERE FREE

Send details (word limit=50) of your

DRIVER or JOB advertisement to

contact@drivenow-magazine.com.au

or sms 0400 137 866 and we will print

your advert here for 3 months.

SHEPPARTON

Shepparton Taxis Pty Ltd now has opportunities to

join our fleet as a taxi operator. A limited amount

of leases are available. If you are interested in

operating your own taxi, please contact (03) 5331

4367 or email stephen@shepptaxis.com.au.

ELSTERNWICK

Day shift or night shift MAXI taxi driver with

13cabs. Reliable and well maintained maxi taxi

with single private operator. Permanent bookings

available. Changeover in flexible locations. New

drivers welcome. Please call 0411 223 454

EAST DONCASTER

Driver wanted full time for Silver Top car. Please call

Harvey 0404 847 699.

EAST DONCASTER

Must be 25+ years old. At least 3 years experience.

East Doncaster changeover. Call or SMS Tony on

0413 393 594 or email tonysursock@gmail.com.

SOUTH AUSTRALIA

TRANMERE

Friday or Saturday Night Driver wanted. Immediate start. Call

0416 821 840.

DRIVER CAREERS

If you're thinking of a career as a taxi driver, come and join

Adelaide's largest taxi company. Great income potential

with all shifts available in all metro areas. Call ADELAIDE

INDEPENDENT TAXIS on (08) 8202 1200 to book your free

information session.

CANBERRA

OWN YOUR OWN BUSINESS - TAXI OPERATOR

Are you a taxi driver looking to become your own boss? If you are,

talk to us about leasing a taxi plate and working with Canberra's

biggest taxi fleet. We will help you through the process of

becoming an accredited taxi operator and starting your own

business. Contact fleet@aerialcg.com or call (02) 6126 1500.

FOR SALE

MACLEAY ISLAND TAXI SERVICE

Proven sound and enduring business operating for more than 30 years.

Independent of major taxi companies,

setting its own operation hours and

fare prices.

Bookings by mobile phone and fare

payments made by cash or EFTPOS.

Home-based business including:-

• 3 Hi Ace WAV Taxis including 1 x

NEW automatic Hi Ace with only

40,000kms.

• all necessary related equipment

and spare parts.

Detailed information and training is

available to genuine enquirers.

FOR MORE DETAILS

Ring 0468 428 873 or

Email daza9900@gmail.com

www.drivenow-magazine.com.au

May/June 2022

MACLEAY ISLAND

45
---
overseas news

EU backs ban on new

fossil-fuel cars from 2035

by Kate Abnett

BRUSSELS - European Parliament

lawmakers have voted to support

an effective EU ban on the sale

of new petrol and diesel cars

from 2035, rejecting attempts to

weaken the proposal to speed

Europe's shift to electric vehicles.

The vote upholds a key pillar of

the European Union's plans to

cut net planet-warming emissions

55% by 2030, from 1990 levels

- a target that requires faster

emissions reductions from

industry, energy and transport.

Lawmakers supported a

proposal, made by the European

Commission last year, to require

a 100% reduction in CO2 emissions

from new cars by 2035, which

would make it impossible to sell

fossil fuel-powered vehicles in the

EU from that date.

Attempts by some lawmakers to

weaken the target to a 90% CO2

cut by 2035 were rejected.

The aim is to speed Europe's shift

to electric vehicles and embolden

car makers to invest heavily in

electrification, aided by another

EU law that will require countries

to install millions of vehicle

chargers.

"Purchasing and driving zeroemission

cars will become

cheaper for consumers," said

Jan Huitema, parliament's lead

negotiator on the policy.

Car makers including Ford and

Volvo have publicly supported

the EU plan to stop combustion

engine car sales by 2035, while

others, including Volkswagen, aim

to stop selling combustion engine

cars in Europe by that date.

But emails seen by Reuters show

industry groups including German

auto association VDA lobbied

lawmakers to reject the 2035

target, which they said penalised

alternative low-carbon fuels and

was too early to commit to, given

the uncertain rollout of charging

infrastructure.

"Our positions are transparent.

It is our mission to develop the

best solutions with everyone

involved," a VDA spokesperson

said.

Electric cars and plug-in hybrid

vehicles made up 18% of new

passenger cars sold in the EU

last year, although overall car

sales dropped in the year amid

semiconductor shortages,

according to the European

Automobile Manufacturers'

Association.

46 May/June 2022
---
Traffic Safety Signs may be

hazardous to your health

by Paul Hsieh

Motorists are inundated with

roadside signs while driving. These

can include speed limit signs,

construction warnings, directions

to prominent landmarks, and

safety warnings (e.g., "Icy Road

Ahead").

In an interesting paper published

recently in Science, researchers

Hall and Madsen make a strong

case that certain roadside safety

warning signs can backfire and

actually increase — rather than

decrease — the risk of fatal

accidents.

As part of a roadside safety

campaign, the state of Texas

(like many US states) regularly

displays "dynamic message

signs" indicating the number of

recent traffic fatalities — e.g.,

"1669 DEATHS THIS YEAR ON

TEXAS ROADS." However, Texas

displays these signs one week

every month, providing a natural

www.drivenow-magazine.com.au

experiment as to how much those

signs reduced accidents.

To their surprise, Hall and Madsen

found that the signs did not

reduce the number of accidents,

but rather the opposite. Over

a period of several years, on

the weeks the messages were

displayed, car accidents rose by

4.5% on the stretches of road 10

kms after the signs. This translated

to 2,600 more accidents and

16 more deaths each year in

Texas, with an estimated annual

socioeconomic cost of $377

million.

The researchers also did extensive

analysis to control for other

confounding factors. For instance,

they checked fatality rates for

similar stretches of road upstream

of the signs, as well as checking

data on comparable weeks before

the public safety campaign began.

They also controlled for weather,

May/June 2022

holidays, and other factors.

Hall and Madsen argue that these

signs caused more accidents due

to a combination of increased

cognitive overload on the drivers

along with high "saliency"

(attention-grabbing effect) of a

starkly negative message.

Furthermore, the signs increased

the number of multi-vehicle

accidents but not single-vehicle

accidents.

The Texas Department of

Transportation clearly had good

intentions with their campaign,

with an explicit goal of reminding

motorists "that driving deserves

their full attention every time they

get behind the wheel."

Unfortunately, this particular

effort had the unintended

consequence of distracting drivers'

attention, sometimes fatally so.

47
---
overseas news

Tesla investigation deepens-

>12 US 'Autopilot' crashes

by Lauren Aratani

US federal regulators are

deepening their investigation

into Tesla's Autopilot function

after more than a dozen Tesla

cars crashed into parked firstresponder

vehicles over a period

of four years.

The National Highway Traffic

Safety Administration (NHTSA)

is upgrading its preliminary

investigation, which launched

last August, to an "engineering

analysis", which is taken before

the agency determines a recall.

The investigation covers all four

Tesla vehicles – Models Y, X, S and

3 – representing about 830,000

vehicles that have been sold in the

US.

The investigation is focused on

Tesla's Autopilot feature, which

is supposed to help drivers

navigate roads through artificial

intelligence, which detects other

vehicles. The company instructs

drivers to pay attention to the

road and keep their hands on

the steering wheel while using

Autopilot, though some drivers

have used Autopilot drunk or

sitting in the backseat of the car.

The 16 crashes at the base of the

investigation took place between

January 2018 and January 2022

and resulted in 15 injuries and one

death. In documents posted to

its website, NHTSA said forensic

data indicates that the majority of

the drivers had their hands on the

steering wheel before impact and

were complying with the system

as it was designed to be used.

The agency said this as the

investigation specifically looks

into whether the Autopilot

feature ultimately undermines

"the effectiveness of driver's

supervision".

In a letter to Musk last fall,

Jennifer Homendy, chair of the

National Transportation Safety

Board (NTSB) – a separate federal

agency that investigates crashes

and makes recommendations

to other agencies such as the

NHTSA – urged Musk to respond

to its safety recommendations

for Autopilot that it issued to

Tesla back in 2017. The NTSB

recommended that Tesla develop

safeguards that would not allow

drivers to use vehicles in ways

inconsistent with its design.

"If you are serious about putting

safety front and center in Tesla

vehicle design, I invite you to

complete action on the safety

recommendations we issued four

years ago," Homendy wrote in a

letter to Musk.

48 May/June 2022
---
Give Blood Today!

1 in 3 people in

Australia will need

donated blood in

their lifetime.

BOOK TODAY

www.lifeblood.com.au/blood
---
Only $ 35 for

50 words

Payment details are

listed on page 4

CPV Centre

ONE STOP SHOP FOR ALL YOUR CPV REQUIREMENTS

• Latest Taxi Camera Technology - 1080 1TB HD

• RIDESHARE Mini Internal Cameras

• Taxi Domes - Stickers - Tactile / Braille Numbering

• Independent Taxi SET-UP

• Cabcharge supply - installation - repairs

• 30 years Master Mechanic Equipment Installation

• Car Window Tinting

COMPETITIVE PRICES

www.cpvcentre.com.au - Call us on: 0434 423 423

Leases Wanted - Brisbane

We are expanding in Brisbane. We will pay $100 to lease

assignments. Call into our office in Salisbury & ask for Tuna

Guclu or call 0419 484 666 to discuss price & terms.

FOR SALE: Taxis Business - WA

Situated on the South coast of WA servicing two towns.

Very profitable business consists of two seven-seater

people movers and three sedans, also associated are two

further vehicles, an eight-seater people mover and a small

SUV. In the process of converting to computer dispatch and

reporting. Contact Ian on 0423 279 809.

Discount Taxi Equipment

Specialists

Everything you need for an Independent Taxi

• Rent or Buy - installments available for Approved

Customers

• Low Cost Taxi Cameras

• G5 Taximeters - protect your privacy and keep control of

your business

• Automated CPVV Booked Trip Reports

• Duress Alarm and Tracking

• EFTPOS and MPTP installations

• Roof Lights and Spot Lights

• Roof Racks

• 2 year warranty on all installations

• Decals and Tactile door numbers

• Professional Back-up Service

• More than 40 years experience fitting Taxis

Schmidt Electronic Laboratories Pty Ltd

907 Princes Highway, Springvale, Vic.

Ph: (03) 9546 6990 — Email: info@schmidt.com.au

Website: www.schmidt.com.au

FOR SALE: Taxi Business - VIC

Want a change of scenery? Want to work in a country town

with a wonderful community? Cohuna and Koondrook

Taxi Service is up For Sale. We have 2 taxi vehicles - 1 x

FG XR6 (100,000 kms) and 1 x FG XR6 (200,000 kms).

We do everything including DVA work and blood transfers

from Cohuna Hospital to Swan Hill, Echuca and Rochester.

Interested? Call Chris or Sue on 0427 562 974 to find out

more details.

Transport Security Cameras

Approved industry cameras

* Latest Technology MDVR, internal & external

* 1 Tb heavy duty Hard Drive

* Audio & video capable

* Warranty 100% on all parts & equipment

* Lowest installation fees

* Over 28 years experience in the Transport Industry

We will BEAT any Price

Book your next appointment on our website at

www.transportsecuritycameras.com.au or

phone/SMS: 0419484666.

FOR SALE: Taxi Business - QLD

Macleay Island Taxi Service. Proven sound and enduring

business operating 30+ years. Independent of major taxi

companies, setting its own hours and fares. Bookings by

mobile phone and fare payments are cash or EFTPOS.

Home-based business incl:- 3 Hi Ace WAV Taxis including

1 x NEW auto Hi Ace with only 40,000kms and all related

equipment and spare parts. Detailed information and

training available to genuine enquirers. Ring 0468428873

or email daza9900@gmail.com.
---
R U OK?Day is Thursday 8 September 2022

It's our national day of action when we remind Australians to ask, 'are you OK?' and start a

meaningful conversation whenever they spot the signs that someone they care about might be

struggling with life.

Join our virtual launch on Wednesday 13 July at 12pm (AEST) to learn about plans for 2022 and

to find out how you can get involved and start more life-changing conversations as part of R U

OK?Day.

We'll also be sharing resources, tips and

ideas to help you drive genuine change in

your workplace, school and community.

Thanks for supporting R U OK? and the

people in your world.

CLICK HERE TO SIGN UP FOR

THE LAUNCH EVENT

OR go to https://bit.ly/3boJmZv

Advertisers'

Directory

AMS Ivanhoe Lawyers.................. 37

Aust. Red Cross Lifeblood........... 49

Border Express........................... 9, 43

DRVR Training................................ 19

Embassy Cafe................................ 43

Flu Vaccine..................................... 17

Macleay Island Taxi Service........ 45

Martin Meters Oz Cabs Store...... 33

Melbourne Airport Car Wash....... 43

Melway............................................ 39

13cabs.......................................35, 52

R U OK?............................................ 51

Rod Barton MP............................... 13

Southern Cross Hire Cars............ 12

TIAIB....................................................2

Transport Matters Party..................3

www.drivenow-magazine.com.au

May/June 2022

51
---
Get a better deal

behind the wheel.

Drive with 13cabs and get

paid what you're worth.

Get the support of a great network

Build your own business

Get to work your own hours

13cabs.com.au

1800 546 687