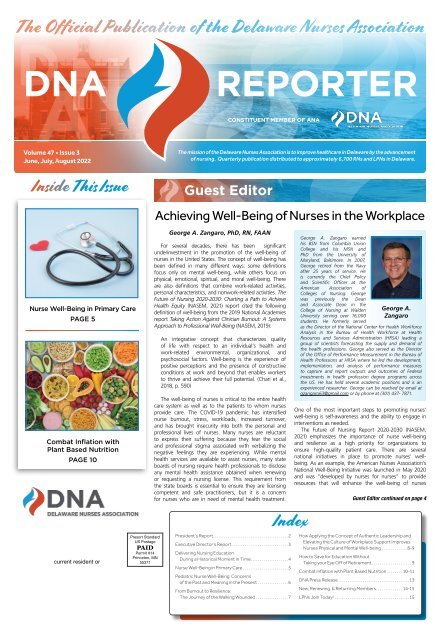 Create successful ePaper yourself
Turn your PDF publications into a flip-book with our unique Google optimized e-Paper software.
DNA

REPORTER

CONSTITUENT MEMBER OF ANA

Volume 47 • Issue 3

June, July, August 2022

Inside This Issue

The mission of the Delaware Nurses Association is to improve healthcare in Delaware by the advancement

of nursing. Quarterly publication distributed to approximately 6,700 RNs and LPNs in Delaware.

Guest Editor

Nurse Well-Being in Primary Care

PAGE 5

Combat Inflation with

Plant Based Nutrition

PAGE 10

current resident or

Presort Standard

US Postage

PAID

Permit #14

Princeton, MN

55371

Achieving Well-Being of Nurses in the Workplace

George A. Zangaro, PhD, RN, FAAN

For several decades, there has been significant

underinvestment in the promotion of the well-being of

nurses in the United States. The concept of well-being has

been defined in many different ways: some definitions

focus only on mental well-being, while others focus on

physical, emotional, spiritual, and moral well-being. There

are also definitions that combine work-related activities,

personal characteristics, and nonwork-related activities. The

Future of Nursing 2020-2030: Charting a Path to Achieve

Health Equity (NASEM, 2021) report cited the following

definition of well-being from the 2019 National Academies

report Taking Action Against Clinician Burnout: A Systems

Approach to Professional Well-Being (NASEM, 2019):

An integrative concept that characterizes quality

of life with respect to an individual's health and

work-related environmental, organizational, and

psychosocial factors. Well-being is the experience of

positive perceptions and the presence of constructive

conditions at work and beyond that enables workers

to thrive and achieve their full potential. (Chari et al.,

2018, p. 590)

The well-being of nurses is critical to the entire health

care system as well as to the patients to whom nurses

provide care. The COVID-19 pandemic has intensified

nurse burnout, stress, workloads, increased turnover,

and has brought insecurity into both the personal and

professional lives of nurses. Many nurses are reluctant

to express their suffering because they fear the social

and professional stigma associated with verbalizing the

negative feelings they are experiencing. While mental

health services are available to assist nurses, many state

boards of nursing require health professionals to disclose

any mental health assistance obtained when renewing

or requesting a nursing license. This requirement from

the state boards is essential to ensure they are licensing

competent and safe practitioners, but it is a concern

for nurses who are in need of mental health treatment.

Index

President's Report. . . . . . . . . . . . . . . . . . . . . . . . . . . . . . . . . . . . . . . . 2

Executive Director's Report ..............................3

Delivering Nursing Education

During a Historical Moment in Time ....................4

Nurse Well-Being in Primary Care ........................5

Pediatric Nurse Well-Being: Concerns

of the Past and Meaning in the Present ................6

From Burnout to Resilience:

The Journey of the Walking Wounded .................7

George A. Zangaro earned

his BSN from Columbia Union

College and his MSN and

PhD from the University of

Maryland, Baltimore. In 2007,

George retired from the Navy

after 25 years of service. He

is currently the Chief Policy

and Scientific Officer at the

American Association of

Colleges of Nursing. George

was previously the Dean

and Associate Dean in the

College of Nursing at Walden

University serving over 16,000

students. He formerly served

George A.

Zangaro

as the Director of the National Center for Health Workforce

Analysis in the Bureau of Health Workforce at Health

Resources and Services Administration (HRSA) leading a

group of scientists forecasting the supply and demand of

the health professions. George also served as the Director

of the Office of Performance Measurement in the Bureau of

Health Professions at HRSA where he led the development,

implementation, and analysis of performance measures

to capture and report outputs and outcomes of Federal

investments in health profession degree programs across

the US. He has held several academic positions and is an

experienced researcher. George can be reached by email at

gzangaro63@gmail.com or by phone at (301) 437- 7871.

One of the most important steps to promoting nurses'

well-being is self-awareness and the ability to engage in

interventions as needed.

The Future of Nursing Report 2020-2030 (NASEM,

2021) emphasizes the importance of nurse well-being

and resilience as a high priority for organizations to

ensure high-quality patient care. There are several

national initiatives in place to promote nurses' wellbeing.

As an example, the American Nurses Association's

National Well-Being Initiative was launched in May 2020

and was "developed by nurses for nurses" to provide

resources that will enhance the well-being of nurses

Guest Editor continued on page 4

How Applying the Concept of Authentic Leadership and

Elevating the Culture of Workplace Support Improves

Nurses Physical and Mental Well-being ..............8-9

How to Save for Education Without

Taking your Eye Off of Retirement .....................9

Combat Inflation with Plant Based Nutrition ........10-11

DNA Press Release ......................................13

New, Renewing, & Returning Members ..............14-15

LPNs Join Today! ........................................15
---
Page 2 • DNA Reporter June, July, August 2022

President's Report

Leslie Verucci, MSN, APRN, ANP-BC

President, Delaware Nurses Association,

2021-2022

I hope everyone is enjoying

the sun and warm weather. The

Delaware Nurses Association

has had a very busy spring

working on legislative issues and

Delaware Today Top Nurses 2022.

Delaware Today Top Nurses was

our big event and I want to take

this time to recognize the great

work all our nurses in the state

do but we had a few who were

Leslie Verucci

nominated by their peers as going

above and beyond. We also send a huge thank you out to

Delaware Today for working so hard to put this program

together each year. We had a great turnout and spent time

catching up with old friends and colleagues.

2022 Top Nurse Category Winners

• Academic Educator: Xiaopeng Ji, PhD, MSN, MA,

RN, University of Delaware

• Advanced Practice Registered Nurse: Erin Dwyer,

MSN, APRN, ACCNS-P, CCRN-K, Nemours Children's

Health

• Advancing & Leading the Profession: Kellie Kessler,

MSN, RN, CCRN, ChristianaCare

• Ambulatory Care Nursing: Stacey Strazzella, BSN, RN,

ChristianaCare

• Case/Utilization Management: Valerie Bica, BSN, RN,

Nemours Children's Health

• Clinical Educator: Karen Pickard, DNP, MSN, RN, CNE,

Beebe Healthcare

• Home Health/Hospice/Telehealth: Wendy

Strowhouer, RN, Compassionate Care Hospice, an

Amedisys Company

Career Opportunities

at Stockley Center

Georgetown, DE

Registered Nurses &

Licensed Practical Nurses

7-3, 3-11 & 11-7

Certified Nursing Assistants

6-2, 2-10 & 10-6

HIRING BONUS

(Must meet criteria)

Full Time w/ Benefits

Includes health, dental, life, paid sick and

vacation, holidays, pension plan, continuing

education classes, comprehensive orientation

and shift-differentials.

Interested Applicants Apply Online at

www.delawarestatejobs.com

Search Stockley Center

• Informatics: Dawn Robinson, MSN, RN,

MEDSURG-BC, ChristianaCare

• Inpatient/Acute Care Nursing: Emily Gear, BSN, RN,

ChristianaCare

• Licensed Practical Nurse: Kenyette Walters, LPN,

Moorings at Lewes

• Psychiatric & Mental Health Nursing: Bradley Why,

DNP, APRN, PMHNP-BC, Bancroft Behavioral

Health

• Quality, Safety & Risk Management: Deb

Friedman, MSN, RN, CPHON, Nemours Children's

Health

• Rehabilitation/Long-Term Care: Kathleen Brewer-

Smyth, PhD, MSN, RN, CRRN, FAAN, University of

Delaware

• Volunteerism & Service: Jennifer Korkosz, DNP,

APRN, WHNP-BC, University of Delaware

• Nursing Newcomer: Ingrid Hausner, BSN, RN,

PCCN, ChristianaCare

• Nursing Legend: Evelyn Hayes, PhD, MPH, APRN,

FNP-BC, University of Delaware

Congratulations to all the nominees and winners of

Delaware Today Top Nurses 2022. It's never too early to

begin thinking about who you could nominate for 2023

Delaware Today Top Nurse. Watch for updates from

the Delaware Nurses Association on how and when to

nominate for next year!

It has been a tough couple of years and as we move

through this year, we need to recognize and practice

the importance of self-care. Self-care is a skill that

many nurses neglect or defer. It is a set of practices

and activities nurses should engage in regularly to

help decrease stress levels and help nurses live longer,

healthier lives. Self-care reduces stress, replenishes

your capacity to provide compassion and empathy and

improves the quality of care offered. Nurses must take

care of themselves to do their jobs effectively and be the

best caregiver to their patients that they can be. Nurses

give so much of their physical and emotional being to

their patients and families. When it comes to themselves,

self-care is often left behind.

The American Nurses Association (ANA) notes that

nurses are the consummate caregivers, often sacrificing

their own health and wellness while taking care of

others. Self-care means choosing behaviors to counter

emotional and physical stress, from exercise and

nutritious eating to practicing self-centering activities.

Given the emotional stress and strains inherent in your

profession, it is important that you make self-care a

priority. It is vital to your well-being and enables you to

effectively continue your day-to-day practice of healing

and caring for others. The fifth provision of the ANA

Code of Ethics for Nurses states that the moral respect

that nurses extend to all human beings "extends to

oneself as well: the same duties that we owe to others

we owe to ourselves" (American Nurses Association

[ANA], 2015). These duties include the responsibility

to promote health and safety, preserve wholeness

of character and integrity, maintain competence and

continue personal and professional growth (ANA, 2015).

ANA is raising awareness for nurses to think about

themselves. The Healthy Nurse, Healthy Nation Grand

Challenge is a social movement to transform the health of

the nation by improving the health of the United States'

four million Registered Nurses. The program connects

and engages nurses, employers and organizations around

improving health in five areas: physical activity, nutrition,

rest, quality of life, and safety.

The Healthy Nurse, Healthy Nation Grand Challenge

is free to join and offers access to monthly challenges,

discussion forums, prize giveaways, periodic health

assessment surveys, and a commitment wall where

nurses can post progress updates and areas they want

to improve.

Join the challenge and use #healthynurse

on Facebook, Instagram, or Twitter to connect with

other nurses and support each other in the pursuit of

healthier lifestyles.

Reference

American Nurses Association (2015). Code of ethics for

nurses with interpretive statements. Silver Spring, MD:

Nursesbooks.org.

REPORTER

OFFICIAL PUBLICATION

of the

Delaware Nurses Association

4765 Ogletown-Stanton Road, Suite L10

Newark, DE 19713

Phone: 302-733-5880

Web: http://www.denurses.org

The DNA Reporter, (ISSN-0418-5412) is published quarterly every

March, June, September and December by the Arthur L. Davis

Publishing Agency, Inc., for the Delaware Nurses Association,

a constituent member association of the American Nurses

Association.

EXECUTIVE COMMITTEE

President: Leslie Verucci, , MSN, APRN, ANP-BC

President-Elect: Stephanie McClellan, MBA,

MSN, RN, CMSRN, NE-BC

Secretary: Jacqueline C. Armstrong, DNP,

MSN, APRN, FNP-BC, PMHNP-BC

Treasurer: George Zangaro, PhD, RN, FAAN

Director-at-Large, Clinical Nurse: Ramona Negron, BSN, RN

DIRECTORS

Membership Growth Directors

New Castle County: Kathy Neal, PhD, RN

Kent County: Sharon Mills-Wisneski, PhD, RN

Sussex County: Candace Hamner, MA, BA, RN

Professional Development Director

Sandra Nolan, PhD, RN, HN-BC

Advocacy Director

Annamarie Flick, MSN, RN-BC, NE-BC

Editorial Director

Karen Panunto, EdD, MSN, RN

EXECUTIVE DIRECTOR

Christopher E. Otto, MSN, RN, CHFN, PCCN, CCRN

executivedirector@denurses.org

ORGANIZATIONAL AFFILIATES

Delaware Organization of Nurse Leaders

www.delawareone.org

Delaware Emergency Nurses Association

www.de-ena.org

Delaware State Affiliate of the American College of Nurse-Midwives

http://delaware.midwife.org/

Delaware Coalition of Nurse Practitioners

https://dcnpweb.enpnetwork.com/

Subscription to the DNA Reporter may be purchased for $20 per year,

$30 per year for foreign addresses.

For advertising rates and information, please contact Arthur L.

Davis Publishing Agency, Inc., PO Box 216, Cedar Falls, Iowa 50613,

(800) 626-4081, sales@aldpub.com. DNA and the Arthur L. Davis

Publishing Agency, Inc. reserve the right to reject any advertisement.

Responsibility for errors in advertising is limited to corrections in the

next issue or refund of price of advertisement.

Acceptance of advertising does not imply endorsement or approval

by the Delaware Nurses Association of products advertised, the

advertisers, or the claims made. Rejection of an advertisement does

not imply a product offered for advertising is without merit, or that the

manufacturer lacks integrity, or that this association disapproves of the

product or its use. DNA and the Arthur L. Davis Publishing Agency, Inc.

shall not be held liable for any consequences resulting from purchase

or use of an advertiser's product. Articles appearing in this publication

express the opinions of the authors; they do not necessarily reflect

views of the staff, board, or membership of DNA or those of the

national or local associations.

Editorial Director

Karen L. Panunto, Ed.D, MSN, RN

The DNA Reporter welcomes unsolicited manuscripts by DNA

members. Articles are submitted for the exclusive use of The DNA

Reporter. All submitted articles must be original, not having been

published before, and not under consideration for publication

elsewhere. Submissions will be acknowledged by e-mail or a selfaddressed

stamped envelope provided by the author. All articles

require a cover letter requesting consideration for publication. Articles

can be submitted by e-mail to Christopher E. Otto, MSN, RN, CHFN,

PCCN, CCRN at executivedirector@denurses.org

Each article should be prefaced with the title, author(s) names,

educational degrees, certification or other licenses, current position,

and how the position or personal experiences relate to the topic of

the article. Include affiliations. Manuscripts should not exceed five (5)

typewritten pages and include APA format. Also include the author's

mailing address, telephone number where messages may be left,

and fax number. Authors are responsible for obtaining permission to

use any copyrighted material; in the case of an institution, permission

must be obtained from the administrator in writing before publication.

All articles will be peer-reviewed and edited as necessary for content,

style, clarity, grammar and spelling. While student submissions are

greatly sought and appreciated, no articles will be accepted for the sole

purpose of fulfilling any course requirements. It is the policy of DNA

Reporter not to provide monetary compensation for articles.
---
June, July, August 2022 DNA Reporter • Page 3

Executive Director's Report

Christopher E. Otto, MSN, RN, CHFN, PCCN, CCRN

Executive Director

executivedirector@denurses.org

or 302-733-5880

Supporting Delaware Nurse's Mental Health

and Overall Wellbeing

There are numerous opportunities faced by the current and

future nursing workforce, in Delaware, nationally and across

the globe. As ranked by Delaware's nurses, the top three

opportunities for us to address include safe staffing, mental

health and workplace violence. You may have read this, but

the Delaware Nurses Association was recently awarded a

significant grant from the State of Delaware to address one

of these. We were granted $500,000.00 from state American

Rescue Plan Act (ARPA) funds to address the mental health Christopher E. Otto

and overall wellbeing of the state's nursing workforce.

This is a huge win for Delaware's nursing workforce. It is a demonstration of the

recognition of and commitment to supporting Delaware's nurses. This project will

be co-led with the Delaware Action Coalition – the state coalition for the Center to

Champion Nursing in America, a collaboration of the American Association of Retired

Persons (AARP), AARP Foundation and Robert Wood Johnson Foundation. There will

be numerous other partners named as the advisory board and sub-committees are

established over the coming weeks. Based on our original application, I am happy to

share some additional insights of what is to come.

Based on the nursing process, we have assessed and diagnosed the problem, now

we are in the planning stage. Assessments of nurses' mental health and wellbeing

started in October 2021 at our confidential listening sessions. Dozens of nurses from

across Delaware joined and shared their experiences since the start of the coronavirus

disease 2019 (COVID-19) pandemic. We learned what they were facing from a

variety of practice settings as well as what was and wasn't working. Then, in April

and May of 2022, we conducted a statewide survey through our Delaware Nursing

Dialogue platform. We received approval and designed the survey based on the series

conducted by the American Nurses Foundation (ANF). We heard from almost 200

nurses about their experiences with mental health, trauma and how to move forward.

These results will be merged with the qualitative data from the listening sessions

and compared regionally and nationally with data from the ANF. A full report will be

released later this summer.

In the planning stage, our focus will be designing and building an integrated

electronic platform, accessible to all licensed Delaware nurses and nursing students

that promotes access to care, self-care resources, community connections and more.

Additionally, our work has a key focus – addressing the pervasive stigma around

mental health so that nurses can proactively address their needs and keep themselves

healthy and happy. As planning progresses, there are several sources of evidence

that will be synthesized to support this work. We are pulling resources and evidence

from the American Nurses Association, The Future of Nursing 2020-2030: Charting a

Path to Achieve Health Equity, the National Academy of Medicine's "National Plan for

Health Workforce Wellbeing," Dr. Lorna Breen Heroes' Foundation and so many more

sources.

A Call for Volunteers. If this work inspires you, if you have experience in this space

or if you just want to help, there will be opportunities for you! Please reach out to me

and let me know you would like to help. Share some information about yourself and

your practice so I can help match you to the best volunteer opportunity. My contact

information is above. I look forward to hearing from you!

work we need to hear from more Delaware nurses. We are building a repository of

nurses from across the state with varying experience and backgrounds. From neonatal

nursing to hospice nursing; from intensive care to public health; we need Delaware

nurses to lead statewide.

A call to Action for ALL Delaware Nurses. Whether the opportunity arises in two

months or two years, we want to be ready. We are compiling a repository of Delaware

nurses interested in serving on a statewide board or commission. Fill out the survey

with your contact information and experience/s. We will reach out to you when a

position opens and continue to support you in your service to Delaware. https://www.

surveymonkey.com/r/DEboardscommissions

Celebrating Delaware Nursing Accomplishments

Delaware nurses have been doing some incredible work! Please join us in

congratulating the following two announcements and the nurses that made it

possible!

ChristianaCare Receives $1.5 million grant from American Nurses Foundation

Congratulations to ChristianaCare and the nurses leading this landmark grant.

ChristianaCare is one of 10 grant recipients from the American Nurses Foundation

Reimagining Nursing (RN) Initiative. This grant will increase the utilization of

collaborative robots, or "cobots," that complete tasks that the bedside nurse normally

would do but don't have to. Instead, the cobot will complete the task and free up

the nurse to provide more direct patient care. "Nurses need the time and space to

deliver excellent care and patient education to the fullest extent of their training and

experience," said Ric Cuming, Ed.D., MSN, RN, NEA-BC, FAAN, chief nurse executive

and president, ChristianaCare HomeHealth.

Nemours Children's Hospital, Delaware Receives Third Magnet® Designation

Congratulations to Nemours Children's Hospital, Delaware on the recent

accomplishment of their third consecutive Magnet® designation. Magnet® is

the most prestigious distinction a health care organization can receive for nursing

excellence and quality patient outcomes. Delawareans are fortunate to have numerous

hospitals with this international distinction in our state. Nemours Children's Health

is an exceptional collaborator and supporter of the Delaware Nurses Association.

Please join us in congratulating their accomplishments and the significant volume of

Delaware nurses that made it possible!

Continuing Community Engagement

(Week 4 of National Nurses Month) Year-round

Week four of National Nurses Month focused on community engagement. This

was a call to action for nurses to build on the heightened visibility of our profession

and engage with community members from all sectors to strengthen partnerships and

improve outcomes. This is an ongoing focus and commitment of the Delaware Nurses

Association.

Nurses' Night at the Wilmington Blue Rocks

All Delaware nurses, save-the-date for a Nurses Night at the Blue Rocks on Friday,

September 9th at 6:35 pm. Discounted field box tickets will be available for purchase.

Join us for a night of community, celebration and fireworks!

Appointment of Delaware Nurses on State Boards and Commissions

One of DNA's functions is to ensure and support Delaware nurses leading across

the state. The State of Delaware has dozens of boards and commissions to oversee

and make decisions on various sectors and work. These boards and commissions are

established through legislation or executive orders from the Governor. They are given

varying levels of authority and comprised of subject matter experts and members

of the community. Some examples include the Delaware Health Care Commission,

Council on Services for Aging and Adults with Physical Disabilities, Behavioral Health

Planning and Advisory Council, Delaware Cancer Consortium and so many more.

We are the entity that ensures qualified nurses are placed and supported on

these boards and commissions when designed to have a nurse representative. We

are currently undertaking work to do a comprehensive review and ensure nurses

are members of all appropriate boards and commissions. To grow and sustain this
---
Page 4 • DNA Reporter June, July, August 2022

Delivering Nursing Education During a Historical Moment in Time

Karen L. Pickard, DNP, MSN, RN, CNE

Karen L. Pickard earned her diploma in nursing from Beebe

School of Nursing, her Bachelor's degree from Gettysburg

College, her MSN from Wesley College, a post-Master's

Certificate in Healthcare Administration from the University of

Delaware, and her DNP, specializing in Executive Leadership,

from American Sentinel University. She is a Certified Nurse

Educator through the NLN. Karen has worked for Beebe

Healthcare for twenty-one years, starting in the Progressive

Care Unit and then in Critical Care. In 2004 she transitioned to

the role of Nurse Educator for Beebe School of Nursing. Karen

is currently the Director for the Margaret H. Rollins School of

Nursing at Beebe Healthcare, and has been in that position

for seven years. She has also served as a peer evaluator and Karen L. Pickard

as a member of the Evaluation Review Panel for the ACEN

(Accreditation Commission for Education in Nursing) since 2010. Karen recently completed

her tenure as the President for the Delaware Organization for Nursing Leadership (DONL)

and she remains on the Executive Board as the immediate past president. Karen remains

active in the Delaware Nurses Action Coalition and is engaged in nursing workforce

development efforts across the state. She contributes to several advisory boards for higher

education and is a member of the Delaware Advisory Board for Career and Technical

Education, which is a position appointed by the Governor. Karen is currently the Director

of the Margaret H. Rollins School of Nursing and Beebe Healthcare's Clinical Professional

Development team. Karen can be reached by email at kpickard@beebehealthcare.org or by

phone at (302) 645-3251 ext. 5593.

Guest Editor continued from page 1

(ANA Enterprise, 2020). These resources include writing workshops to allow nurses to

express their thoughts and feelings, as well as online forums to allow nurses to share

their experiences with one another. ANA, as well as several other organizations and

initiatives, offer educational materials, mindfulness exercises, stress reduction techniques,

and a plethora of resources for nurses to increase their self-awareness toward a state of

well-being.

In this edition of the DNA Reporter, outstanding examples are provided of how

health care employers in Delaware are working to identify and implement interventions

to increase nurses' well-being. The initiatives identified demonstrate how the leadership

in Delaware's health care facilities are working to improve the work environment for

nurses and reduce burnout and stress while ensuring high-quality care is being provided

to all Delawareans.

In the first article "Delivering Nursing Education During a Historical Moment in Time"

Karen L. Pickard, DNP, MSN, RN, CNE discusses how nursing students, faculty, and

staff adjusted to a new culture during the pandemic. The development of academicpractice

partnerships allowed students to meet clinical requirements in the nursing

program and successfully transition into practice. In the second article "Nurse Well-Being

in Primary Care" Sandra Eggleston, MSN, APRN, FNP-C addresses provider burnout

and well-being for nurse leaders and staff in primary care settings. She also provides

tips for nursing leaders to promote the well-being of the staff to ensure high-quality

care is delivered. In the third article "Pediatric Nurse Well-Being: Concerns of the Past

and Meaning in the Present" Catherine Haut, DNP, CPNP, CCRN, FAANP, FAAN and

Christina Russell, BSN, RN, HTCP, HNB-BC, RYT-200 highlight several initiatives that have

been implemented at Nemours Children's Hospital to promote pediatric nurse wellbeing

as well as the well-being of the nursing leadership. In the fourth article "From

Burnout to Resilience: The Journey of the Walking Wounded" Karen Avino, EdD, RN,

AHN-BC, HWNC-BC describes self-development as a lifelong journey in finding meaning

to wholeness through personal growth experiences. She provides an overview of the

Nurse Coach Academy's Integrative Health & Wellness Assessment tool to aid individuals

in experiencing higher levels of health and wellness in their life. In the final article "How

Applying the Concept of Authentic Leadership and Elevating the Culture of Workplace

Support Improves Nurses Physical and Mental Well-Being" Theresa Latorre-Tegtmeier,

DNP, APRN, NP-C examines the concepts of authentic leadership and organizational

support as a means to increasing physical and mental well-being of nurses. She also

discusses several interventions that are in place at Bayhealth to enhance well-being.

The COVID-19 pandemic has raised awareness of the importance of the well-being

of nurses. There has been a significant increase in the development and implementation

of well-being initiatives and evidence-based interventions to support the well-being

of nurses. It is the responsibility of policymakers, educators, researchers, employers of

nurses, health care/nursing leaders, professional associations, and nurses themselves to

safeguard the well-being of the nursing workforce.

References

American Nurses Association Enterprise. (2020). Well-being initiative. Retrieved from:

https://www.nursingworld.org/news/news-releases/2020/american-nurses-foundationlaunches-national-well-being-initiative-for-nurses.

Accessed: April 22, 2022.

Chari, R, C-C. Chang, S. Sauter, E. Petrun Sayers, J. Cerully, P. Schulte, A. Schill, and L.

Uscher-Pines. (2018). Expanding the paradigm of occupational safety and health: A

new framework for worker well-being. Journal of Occupational Environmental Medicine

60(7), 589–593. doi:10.1097/JOM.0000000000001330

National Academies of Sciences, Engineering, and Medicine. (2019). Taking action against

clinician burnout: A systems approach to professional well-being. Washington, DC: The

National Academies Press. doi:10.17226/25521

National Academies of Sciences, Engineering, and Medicine. (2021). The future of nursing

2020-2030: Charting a path to achieve health equity. Washington, DC: The National

Academies Press. https://doi.org/10.17226/25982.

In March 2020, the world began to shut down. Children left school one day having

no idea they would not return to a classroom for over a year. People began setting up

home offices, trying to determine how they were going to balance the expectations of

their employer as well as take care of their families. After a brief period of optimism,

assuming a quick return to "normal," panic and fear started settling into every facet of

people's lives. Anxiety is provoked by the uncertainty of the future, and in the spring

of 2020, uncertainty was consuming every hour of every day.

As the world started shutting its doors and people withdrew to the safety of their

homes, healthcare professionals rallied. Nurses and all healthcare workers heard the

call for help, and they jumped into action. The immediate crisis was what they had

been trained for, right? Healthcare providers had experienced or studied previous

infectious disease outbreaks, such as Ebola in 2014. Hospitals went into emergency

preparedness mode, activated their Incident Command Centers, and rapidly began

testing community members for COVID-19, all while asking volunteer sewers to

provide cloth masks and simultaneously trying to communicate a calm presence to the

general population.

The sprint of 2020 has now turned into a marathon. Healthcare workers are

bruised from the battle and tired from the war. The light at the end of the tunnel is

gone. As a Director of a hospital-based nursing program, Margaret H. Rollins School

of Nursing, owned and operated by a community health care system, this School of

Nursing remained on the front lines. From April 2020 through today, nursing students

have worked side-by-side with our clinical nurses. They have, or will be entering, our

honorable profession during one of the most challenging times any nurse has ever

witnessed. These students have seen, done, and experienced the delivery of patient

care in a way none of us ever imagined. The average age of a nursing student in

this School of Nursing is 23 years. Some are as young as 19. This generation thrives

in a digital world where face-to-face communication does not come easy. They

live as avid consumers of a digital world, relying on technology for knowledge and

communication (Chicca & Shellenbarger, 2018). Therefore, assimilating them into

a stressful environment where communication is key presented its own challenges

completely irrelevant to COVID-19.

In a "normal" time, nursing students are stressed by the every day demands of

nursing school, such as exams, feeling unprepared for clinical practice, and the fear

of making mistakes (Keener et al., 2021). Suddenly, we were asking them to balance

academic stress coupled with the fear of illness and a lack of preparation for the

clinical experiences they were about to witness. As a School of Nursing assimilated

into the culture of a healthcare system, the students jumped in to help. Creating an

academic-clinical partnership where students could provide patient care during the

immediate crisis to fulfill their clinical requirements allowed students to graduate on

time, transition into nursing practice, and assist their peers and mentors during a time

where skilled clinical help was needed the most. For this School of Nursing, the clinical

partnership was a huge success for the students, the hospital, and our patients.

However, the graduates of 2020, 2021, and now the upcoming class of 2022

have not been immune to the burnout and moral distress experienced alongside

their clinical partners. As healthcare organizations begin to shed more light on the

realities of nurses' well-being and mental health, administrators in academia must

also keep their thumb on the pulse. The next generation of nurses has been tossed

into a historical time in healthcare and many of them are still very young. It became

very apparent during 2020 that this School of Nursing needed to ensure students had

access to mental health and wellness resources way beyond what was traditionally

available. As a department of the hospital, students were enrolled in all of the

employee benefits of the EAP (Employee Assistance Program). Faculty also created

private Facebook groups for the cohorts of students to use as a platform to facilitate

discussions among themselves, free from judgment and faculty oversight. These

resources became essential for the students as a means to stay connected with one

another and to share their common experiences.

Today, as we are learning to live in our "new normal," the School of Nursing

continues to look for ways to enhance the well-being resources for the students.

As healthcare system leaders focus on burnout and the well-being of staff, nurse

educators need to be focusing on the same strategies. Some of the best ways to

support clinicians is by creating a culture of teamwork with the delivery of quality care

and allowing employees time to disconnect with enough energy to still engage with

their families and their community (Sinsky et al., 2020). The challenge ahead will be to

ensure nurses' well-being remains at the forefront of strategic planning. Leaders must

work on making the individual clinicians more resilient by developing relationships

with employees, supporting engagement and a sense of community, and holding

people accountable (Pappas, 2021). Nurses and nursing students thrive if they feel

they are a part of a community of peers with shared values. Therefore, it is our job as

nurse leaders to nurture those relationships, ensure our students and employees have

the support and resources they need, and demonstrate by example the balance of

professional success and personal well-being.

References

Chicca, J., & Shellenbarger, T. (2018, September). Generation Z - approaches and teachinglearning

practices for nursing professional development practitioners. Journal

for Nurses in Professional Development, 34(5), 250-256. https://doi.org/10.1097/

NND.0000000000000478

Keener, T. , Hall, K. , Wang, K. , Hulsey, T. & Piamjariyakul, U. (2021). Quality of life, resilience,

and related factors of nursing students during the covid-19 pandemic. Nurse Educator, 46

(3), 143-148. doi: 10.1097/NNE.0000000000000969.

Pappas, S. (2021). The role of nurse leaders in the well-being of clinicians. JONA: The Journal of

Nursing Administration, 51 (7/8), 362-363. doi: 10.1097/NNA.0000000000001029.

Sinsky, C.A., Biddison, L.D., Mallick, A., Legreid Dopp, A., Perlo, J., Lynn, L., & Smith, C.D.

(2020, November 2). Organizational evidence-based and promising practices for improving

clinician well-being. NAM Perspectives. https://doi.org/10.31478/202011a
---
June, July, August 2022 DNA Reporter • Page 5

Nurse Well-Being in Primary Care

Sandra D. Eggleston, MSN, APRN, FNP-C

Sandra Eggleston earned her

ADN at Excelsior College, her

BSN at Wilmington University,

her MSN at Simmons College

(now University), and is currently

pursuing her DNP at Wilmington

University. She previously worked

in the acute care setting, medicalsurgical

nursing. Sandra is a

certified Family Nurse Practitioner

and currently works in the

primary care setting. She is a

member of the American Nurses

Association, Delaware Nurses

Association, and American

Sandra D.

Eggleston

Association of Nurse Practitioners. Sandra may be reached by

email at sandyeggs1@gmail.com.

In our nation's flawed health care system, primary

care providers (PCP) are responsible for managing

acute and chronic conditions, providing preventive

care services, and preventing patient hospitalizations

(Hsiung et al., 2021). Nurse practitioners (NP) have held

the role of a PCP, which has decreased the primary

care physician shortage need (Morgan et al., 2019).

According to Abraham et al. (2021), 69% of NPs

provide primary care services to patients; moreover,

since much of health care is delivered by providers in

primary care practices, it is essential to address provider

burnout in addition to promoting well-being for nurse

leaders and staff in primary care settings.

Hsiung et al. (2021) records that organizational

culture and climate are fundamental factors in

solidifying the primary care workforce and improving

the value of primary care. Organizational culture is

defined as "the norms, values, and basic assumptions

of a given organization, which drive both the quality

of work-life and the quality of care (Hsiung et al.

2021, p.487)." Organizational climate is defined

as "the collective perception of the organization's

culture and how it impacts personal well-being

and functioning" (Hsiung et al., 2021, p. 487).

They simultaneously create the atmosphere of an

organization; however, disorder, poor control, and

time pressures in the work environment have been

associated with undesirable outcomes including

provider burnout. Organizations that endorse

autonomy, encourage diversity, and facilitate

collaboration are associated with well-being.

The existing health care climate has created

challenges as the profession of nursing has undertaken

a substantial amount of pressure in more recent

years. The aging population with complex health

care needs, insurmountable staff shortages, role

expectations, and challenging work environments have

led to stress-related illness and burnout among nurses

(Brennan, 2017). Poor self-care, feelings of emotional

fatigue, depersonalization, and a lack of personal

accomplishment are indications of burnout (Abraham

et al., 2021). Additionally, the Covid-19 pandemic has

added extra demands on nurses to meet patient needs

while endeavoring to maintain quality care. However,

there was already a concern for the well-being of

nurses before the pandemic emerged (Rogers, 2021).

Due to the negative consequences of clinical burnout,

researchers have categorized it as a public health crisis

(Abraham et al., 2021). Nonetheless, many nurses

continue to render optimal health care and have

rewarding careers (Brennan, 2017).

In spite of the current healthcare challenges, it is

essential that nurses maintain their emotional, physical,

and psychological health. As leaders in healthcare,

nurse practitioners must be equipped to initiate

strategies to assist leaders and staff in maintaining

well-being.

Frederickson's theory, 2004 (as cited in Brennan,

2017), explored positive emotions such as joy,

happiness, interest, gratitude, and love and suggests

that these are essential features in optimal functioning.

The theory goes on to suggest that positivity can

stimulate resilience and equip people to build resources

to support well-being. Furthermore, social needs

such as belonging, understanding, control, selfdevelopment,

and trust must be satisfied in order for

individuals to be effective in their workplace setting

(Brennen, 2017).

Rogers (2021) outlined the benefits of promoting

well-being to include higher self-esteem, an increase

in productivity, and resilience to illness. Rogers argued

the importance of having procedures in place for staff

support in the workplace. When health and well-being

are not managed appropriately, patient care is at risk.

Therefore, investing in the well-being of individuals

results in job satisfaction, reduced illness, and patient

safety, which benefits the organization as a whole.

Nurse leaders can support staff by first recognizing and

understanding the signs of burnout and stress including

anxiety, irritability, and dietary changes and then

initiate a conversation (Rogers, 2021). It is important

that a healthy environment is established where voices

are heard and open communication exists between

leadership and staff in order to develop a sense of

community (Abraham et al., 2021). Further, reflection

and peer support can offer encouragement to nurses

who are managing complex situations (Brennan,

2017). Strategies that promote well-being are often

overlooked due to the pressures and time constraints of

daily practice; however, scheduling time for techniques

that promote well-being should be recognized as just

as significant as delivering optimal patient care (Rogers,

2021).

Several techniques have been recommended by

researchers to promote nurse well-being. Brennan

(2017) shared conclusions from focus groups that

highlighted social support as a method of managing

job stress in addition to exercising and family and

home-based activities. Similarly, holistic activities

such as stretching and meditation have been

associated with well-being. Brennan emphasized that

the role of nurse leaders is to model by example.

Supportive behaviors of leaders including honesty,

being welcoming and accessible, and promoting

cohesiveness among staff, has a positive effect on

well-being. Nurse leaders in the primary care setting

are in a unique position to promote well-being,

thereby reducing clinical burnout.

Clinical burnout has been identified as a public

health crisis due to its negative consequences

(Abraham et al., 2021). The promotion of well-being

for nurse leaders and staff is beneficial for patients,

nurses, and the organization, as it increases selfesteem,

productivity, and resilience to illness (Rogers,

2021). Organizational cultures that endorse autonomy,

diversity, and collaboration are associated with wellbeing

(Hsiung et al., 2021). Nurse leaders can lead

by example by exhibiting supportive behavior and

initiating strategies that promote well-being (Brennan,

2017). When nurse well-being is appreciated and

considered essential, then nurses can continue to

deliver quality care.

References

Abraham, C., Zheng, K., Norful, A., Ghaffari, A., Liu, J., &

Poghosyan, L. (2021). Primary care practice environment

and burnout among nurse practitioners. Journal

for Nurse Practitioners, 17(2), 157–162. https://doi.

org/10.1016/j.nurpra.2020.11.009

Brennan, E. (2017). Towards resilience and well-being in

nurses. British Journal of Nursing, 26(1), 43–47. https://

doi.org/10.12968/bjon.2017.26.1.43

Hsiung, K., Colditz, J., McGuier, E., Switzer, G., VonVille,

H., Folb, B., & Kolko, D. (2021). Measures of

organizational culture and climate in primary care: A

systematic review. JGIM: Journal of General Internal

Medicine, 36(2), 487–499. https://doi.org/10.1007/

s11606-020-06262-7

Rogers, A. (2021). Promoting health and well-being across

community nursing teams: Role of the specialist

practitioner district nurse. British Journal of Community

Nursing, 26(5), 224–227. https://doi.org/10.12968/

bjcn.2021.26.5.224

NursingALD.com

can point you right to that perfect

NURSING JOB!

Graduate Degrees in Healthcare

Compliance for non-lawyers

NursingALD.com

Free to Nurses

Privacy Assured

100% online

No GMAT or LSAT

required

Easy to Use

E-mailed Job Leads

delawarelaw.widener.edu/healthlaw
---
Page 6 • DNA Reporter June, July, August 2022

Pediatric Nurse Well-Being: Concerns of the Past and Meaning in the Present

Catherine Haut, DNP, CPNP, CCRN, FAANP, FAAN

Christina Russell, BSN, RN, HTCP, HNB-BC, RYT-200

Catherine Haut earned her BSN at Notre Dame of Maryland

University and her MS and DNP at the University of Maryland School

of Nursing. She is the Director of Nursing Research and Evidence

Based Practice at Nemours, Children's Hospital in Wilmington

Delaware. Catherine is also board certified as a pediatric nurse

practitioner in both primary and acute care. Her role at Nemours

includes leading and participating in research activities and

supporting nursing staff in designing and completing research

and quality improvement projects. Catherine has over 35 years of

pediatric experience as a nurse, educator, and practitioner and has

held leadership positions in several national nursing organizations,

currently serving as the President of the Foundation Board for

the National Association of Pediatric Nurse Practitioners. She has Catherine Haut

presented nationally on a variety of clinical and leadership topics,

authored many journal articles and was the co-editor of two textbooks for pediatric nurse

practitioners. Cathy can be reached at: Catherine.haut@nemours.org or phone: 302-651-5161.

Christina Russell earned her BSN from Wilmington University,

is currently pursuing her MS in Complementary and Integrative

Therapies at Drexel University, and is due to graduate December

2023. Christina has been a pediatric nurse for over 20 years. Prior

to becoming a nurse, she was a Hospital Corpsman in the U.S. Navy

and then worked as a nurse's aide while attending nursing school.

During her career, she has worked in a variety of roles including

medical/surgical, infusion/sedation, and nurse manager. In 2015, she

achieved her national Healing Touch Certified Practitioner (HTCP)

status, completed her 200-hr Yoga Teacher Training in March 2018,

and became a Board-Certified Holistic Nurse (HNB-BC) in 2019. She

transitioned to the Department of Integrative Medicine in 2018 and

is currently the Healing Touch Program Coordinator at Nemours

Children's Hospital-Delaware. Christina can be reached by email at

crussell@nemours.org or by phone at (302) 651-4325.

Christina Russell

Nursing has been rated the most trusted profession, earning high scores for

honesty and ethics, important characteristics of the largest group of health care

providers. Nurses are devoted clinicians who provide education, lead research,

engage in evidence-based practice, offer holistic care, and advance policy at

all levels. Portrayed as a "glamorous" profession and cited as "heroes," nurses

historically work in stressful and highly emotional environments. They experience

the effects of working long hours around the clock and face obstacles to

providing high-level patient care. Increasing patient complexity, rapidly changing

clinical environments, staffing shortages, and concern for illness exposure,

escalated through the Covid-19 pandemic, remain challenges.

Nurses are doing more with less, and workplace expectations have

heightened, without consistent opportunities for support. The American Nurses

Association (ANA), "Healthy Nurse/Healthy Nation (HNHN)," an interactive

initiative targeting healthy lifestyles for nurses, portrayed the overall health

of nurses as poor, and initial HNHN survey results indicated stress, workplace

violence, lack of work breaks and insufficient nutrition and exercise as health

and safety hazards identified by nurse respondents (Gould et al., 2022). Over

the past several decades, terms including traumatic stress, fatigue, moral

distress, burnout, and compassion fatigue have been described but not

completely addressed relating to the psychological effects of nursing practice.

Nurse burnout is documented to increase with a pandemic and the past two

years of Covid-19 are no exception (Sullivan et al., 2022). Nurses experienced

an environment of limited resources for a new illness, caring for critically ill

and dying patients with worry for passing illness to other patients, themselves,

and their families (Sullivan et al., 2022). In a recent American Association of

Critical Care Nurses (AACN) survey, 92% of 6500 critical care nurses believe the

pandemic has "depleted nurses," with 66% of respondents considering leaving

their nursing career (Munro and Hope, 2022). ANA data indicate that younger

nurses have more distress with nurses less than age 35 reporting anxiety and

depression at much higher rates than other age groups (Sherman, 2022).

The complexities of nursing increase the importance of maintaining self-care

and well-being, recognized and never more relevant to the care of patients and

viability of health care systems (Munro and Hope, 2022). Historically, attempts

to support well-being, including the AACN Healthy Work Environment in 2001,

identified six standards for successful nursing care that continue to be inherently

important (Munro and Hope, 2022). The ANA HNHN initiative offers nurses

online health guidance and opportunities to make lifestyle changes. To maintain

the reputation and engage the profession, nurses must be supported and their

well-being a concern of every health care organization.

The definition of well-being includes health and happiness, simple terms, but

extremely meaningful for the nursing profession. Well-being is a life balance that

takes into consideration aspects of physical and mental health, relationships, and

economic and spiritual constructs. Pediatric nurses have faced a roller-coaster of

activity over the past two years, with Children's hospitals experiencing decreased

volume in the initial months of the pandemic but rebounding with high census

and acuity. More patients to care for, higher than usual admission rates for

children with mental health problems, and nursing turnover and shortages

then ensued. Nemours Children's Hospital in Wilmington, Delaware, and their

extended health system continued to provide high-quality care for children, but

like other organizations, experienced staffing challenges. However, regard for

pediatric nurses' well-being remained a high priority.

Dr. Maureen "Mo" Leffler is the Nemours enterprise, Chief Well-Being

Officer, a physician charged with the mission of maintaining well-being

throughout the healthcare system. In addition to speaking to nurses at various

virtual meetings, Dr. Leffler provides routine updates regarding vaccination, CDC

guidelines and the health status of Nemours employees. Through a program

called "Your Health," employees are engaged in a holistic approach to health,

wellness, and fitness.

Nurses at Nemours are offered opportunities for peer or professional

counseling, and events that focus on healthy lifestyles, including fitness

challenges and nutrition coaching. There is an employee gym in the hospital

and online programs that address exercise, sleep, ergonomics, and financial

well-being. "Kudos," a program encouraging institution-wide peer recognition,

encourages nurses to be recognized for actions above and beyond. Recognition

is one area outlined by the AACN as important to a healthy environment for

nurses.

The Department of Integrative Medicine offers therapies for patients, families,

and employees, which include massage, Healing Touch, yoga, aromatherapy, and

guided meditation. Christina Russell, BSN, RN, HTCP, HNB-BC, co-author of this

article, is a holistic certified nurse who holds certifications in Healing Touch and

Yoga. She regularly provides individually based sessions for patients with the

goal of teaching self-care strategies and relaxation. During these sessions, she

reviews breathing techniques and uses guided meditation, but these services are

not only for patients. Christina facilitates virtual guided meditation for nurses

and other employees each week and offers Healing Touch opportunities. Prior

to pandemic restrictions, nurses week included a "Day of Caring" which offered

Healing Touch and massage for nurses. Hopefully, the future will allow this inperson

activity to occur again, but until then, virtual options are available. Links

for videos facilitated by Christina including yoga sessions, meditation, and selfcare

Healing Touch techniques are offered. Most recently, she created a virtual

wellness program that includes mindfulness strategies and yoga for anyone

across the hospital system. A program evaluation research project, approved by

the Institutional Review Board will include data collection to determine if these

offerings influence nurse and employee well-being. This wellness program is set

to begin in early May.

Unit-based and individually crafted opportunities for nursing wellness at

Nemours include the Neonatal Intensive Care Unit (NICU) "garden" events, an

escape to an outside area where nurses can talk, enjoy food, and/or socialize

outside the walls of the busy NICU. Maria Gaudino-Smith, BSN, RN, CCRN and

Ashley Wilhelm, BSN, RN, CCRN, nurses working in the Pediatric Intensive Care

Unit created a respite room offering staff time to regroup, unwind and de-stress

when high acuity and stressful situations present. Mindfulness and meditation

activities are available in this room.

A study completed by the Nursing Research Council, led by Virginia Conte,

MSN, RN, CPN, focused on the well-being of pediatric nurses during the

pandemic and explored activities nurses engaged in for well-being. Increased

awareness of life challenges, especially during the pandemic, assists in

addressing self-care, reminding nurses of life outside of work.

"JAVA" with Jane and friends is a monthly event for night shift staff to meet

with the chief nurse and the leadership team who visit with cookies and coffee.

Dr. Jane Mericle, Executive Vice President and Chief Nurse Executive completed a

project to identify stressors for nurse managers and determine opportunities for

increasing well-being among these leaders. She acknowledges that leadership

well-being is especially important in supporting nurses, the largest workforce in

the hospital.

Pediatric nurses have unique skills, requiring specialized training to care for

children and support families. Caring for pediatric patients has great rewards,

but also presents ongoing challenges putting nurses at risk of compassion

fatigue and burnout, areas not well studied (Forsyth, et al. 2022). Pediatric

nurses represent a small percentage of the total population of nurses, but

concern remains for the well-being of all nurses and the decision to stay in the

profession. Focus on nurse well-being and creative methods of support along

with research on these topics should be on the agenda of every health care

organization.

References

Forsyth, L. A., Lopez, S., & Lewis, K. A. (2022). Caring for sick kids: An integrative review of \

the evidence about the prevalence of compassion fatigue and effects on pediatric nurse

retention. Journal of pediatric nursing, 63, 9–19. https://doi.org/10.1016/j.pedn.2021.12.010

Gould, L., Carpenter, H., Farmer, D. R., Holland, D., & Dawson, J. M. (2019). Healthy

Nurse, Healthy Nation (HNHN): Background and first year results. Applied nursing

research: ANR, 49, 64–69. https://doi.org/10.1016/j.apnr.2019.04.001

Munro, C. L., & Hope, A. A. (2022). Improving nurse well-being: The need is urgent and

the time Is now. American journal of critical care: American Association of Critical-

Care Nurses, 31(1), 4–6. https://doi.org/10.4037/ajcc2022603

Sherman R.O. (2022). Focus on nurse well being. Nurse Leader. DOI: https://doi.

org/10/1016/j.mnl.2022.03.001

Sullivan, D., Sullivan, V., Weatherspoon, D., & Frazer, C. (2022). Comparison of nurse

burnout, before and during the COVID-19 pandemic. The Nursing Clinics of North

America, 57(1), 79–99. https://doi.org/10.1016/j.cnur.2021.11.006
---
June, July, August 2022 DNA Reporter • Page 7

From Burnout to Resilience: The Journey of the Walking Wounded

Karen Avino, EdD, RN, MSN, AHN-BC, HWNC-BC

Karen Avino earned a BSN,

MSN, and EdD from the

University of Delaware. Karen

taught Holistic Nursing and

Integrative Health for 20 years

in online and on campus classes

at the University of Delaware

where she received the Faculty

Senate Excellence in Academic

Advising and Mentoring Award.

Karen received the Delaware

Excellence in Nursing Practice

Award as Nurse Educator. She is Karen Avino

currently the Executive Director

of Education for the Integrative Nurse Coach Academy and

the International Nurse Coach Association providing online

and onsite continuing education programs for nurses. As

a consultant, she helps healthcare organizations create

optimal healing environments and integrate Holistic Nursing

and Nurse Coaching as a professional practice model of

care. She has 40+ years of experience in Maternal-Child

Health, Administration, Holistic Nursing, and Nurse Coach

practice, and as a COO and Director of Specialty Programs

in Community Health. Karen is a Reiki Master, Stress

Management Instructor, HeartMath, and Clinical Meditation

and Imagery Practitioner. Karen served as a Director-At-Large

board member of the American Holistic Nurses Association

and a founding leader of the Delaware Chapter. She is an

author and editor of Holistic Nursing: A Handbook for Practice

(2016, 2022) and Core Curriculum for Holistic Nursing (2014).

Karen is a Peer Reviewer for the Journal of Nursing Scholarship

and Holistic Nursing Practice journals. She is an international

and national speaker on holistic and integrative topics. Karen

can be reached by email at kavino@inursecoach.com.

With healthcare organizations scrambling to fill

vacant nursing positions, and nurses unhappy with

their present jobs, it is time to seriously examine

how to support the healing process of our wounded

nurses. Conti-O'Hare (2002) used the term the

Walking Wounded, originally from Greek mythology,

to describe the process or journey needed to develop

resilience. Self-Development is the journey required

to heal the pain and suffering and emerge as a

Wounded Healer. Resilience is defined as the ability

to face adverse situations, remain focused, and

continue to be optimistic about the future (Kester

& Wei, 2018). The journey to resilience includes

recognizing, transforming, and transcending the

traumatic pain experienced or anger, emotional

problems, substance abuse, job dissatisfaction, and

burnout will occur. The work environment will be

spoken of as a negative experience.

Going through the Self-Development process for

ourselves allows the Wounded Healer to be able to

empathetically sit with the suffering of others and

therapeutically use self as an instrument of healing. We

use the term burnout to describe the Walking Wounded

nurses that are depleted in body, mind, and spirit. What

the nurse may be experiencing and calling burnout may

be attributed to grief and loss as witnessed especially

during the pandemic. With grief and loss, or burnout,

comes attitudes of negativity towards the organizations

they work for and a lack of interest in being engaged

in new ideas and opportunities for positive change. Of

course, this also extends into a nurse's everyday life. One

nurse stated, "I told my manager that I thought I was

experiencing burnout, and she told me to go practice

self-care and get a manicure."

It is apparent that the concept of self-care is not

well understood. Self-Care is one component of

the Self-Development process that includes: Self-

Assessment, Self-Reflection, Self-Evaluation, and

Self-Care. The key is understanding that it is an

integral process, a journey that should begin early in

life, reinforced during nursing school, and supported

by employers. Self-Development is a lifelong journey

encompassing phases of woundedness, healing,

and seeking to find meaning to wholeness through

personal growth experiences. This directly relates to

the nurse's ability to offer a healing presence, hold the

sacred space, and reflect with clients to allow inner

wisdom and solutions to unfold. The diagram below

outlines resilience development through the Self-

Development process.

The Integrative Nurse Coach Academy's Integrative

Health & Wellness Assessment tool considers

eight dimensions of wholeness: Life Satisfaction,

Relationships, Spiritual, Mental, Emotional, Physical

(Nutrition, Exercise, Weight), Environmental, and

Health Responsibility. Jung and Hull (1980) said the

layers closest to our awareness become known; those

farthest away operate autonomously. The assessment

brings awareness of all the dimensions and increases

active participation in decision-making about our

daily choices. Without self-development and bringing

"together aspects of the body-mind-emotion-spiritenvironment

at deeper levels of knowing towards

integration and balance" …. healing cannot occur

(McElligott, 2015 as cited in Dossey et al., 2015, p.

407). Healing involves the processes of recovery, repair,

renewal, and transformation that increase wholeness,

order, and coherence (Southard et al., 2021). Ultimately,

discovering meaning, healing, and balance through

Self- Development is possible.

So how can we reenergize nursing practice and

create a transformational process to support selfdevelopment?

Overall well-being requires nurses to

take a deep dive into their own wholeness. A program

such as The Integrative Nurse Coach Certificate

Program, guides the journey into Self- Development

and provides coaching communication skills. Over a

six-month period, nurses are supported to envision a

higher level of lifestyle health and wellness, develop

coping skills, and envision a happier and healthier

life for themselves and others. Frey and Ratliff (2018)

reported on the Integrative Nurse Coach Certificate

Program graduates' personal and professional

experiences. Through interviews, four common

themes were identified: (1) development of self, (2)

enriched self-care, (3) a call to action for facilitating

the health care paradigm shift, and (4) incorporating

Integrative Nurse Coaching skills into practice.

Examples of comments included: 1) "it gave me a

renewed awareness of what I lost as a nurse with a

new focus of practicing prevention, wellness and wellbeing",

2) "It's raised my awareness about how much

nurses want and need this" and, 3) "It's energized

my perspective of healthcare." This transformational

process has reenergized nursing practice with first a

focus on mind, body, and spirit for self, and how it can

be applied to others. Nurse coaches promote health

and well-being and facilitate the growth and healing

of the whole person by using coaching principles and

integrative healing therapies that integrate bodymind-emotion-spirit-culture

and environment into

practice. Nurse Coaching is the framework for caring

communication skills and relationship-based care that

is missing in current healthcare settings. Relationshipbased

care improves the culture of health care by

focusing on three key relationships: relationships with

self, colleagues, and with patients/families. Having

reenergized nurses that can live, role-model, and walk

the talk of the philosophy of relationship-based care

as Wounded Healers is an essential component of a

healed healthcare system.

Qingqing and Zheng (2021) examined nurses'

stress levels when caring for COVID-19 patients in an

intensive care unit and found depression, anxiety,

and sleep disturbances. Solutions were suggested to

include:

• Freedom to feel your feelings

• Intentional adoption of a coping strategy*****

• Regular check-ins with nurses

• Breaks from news and social media

• Recall and strengthen the importance and

meaning of nurses' work. *****

*****Bringing new energy into the nurse's

work and intentional Self-Development work are

essential solutions. Integrative Nurse Coaching has

become a professional practice model for healthcare

organizations. Introducing concepts of Integrative

Nurse Coaching in orientation, having board-certified

nurse coaches on the hospital floors as preceptors

and managers will allow for mentoring to integrate

nurse coach skills into practice and, also encourage

self-development of the nurse to improve nurse

satisfaction, reduce attrition (especially at the 24-month

mark) and improve patient outcomes. The key elements

of a professional practice model are a theoretical

foundation, such as The Theory of Integrative Nurse

Coaching, and six common components: leadership;

nurses' independent and collaborative practice;

environment; nurse development and reward; research/

innovation; and patient outcomes (Slatyer et al., 2016).

Integrative Nurse Coaching supports the Magnet

journey, the ANCC Practice Transition Accreditation

Program with new nurse residencies and the RN &

APRN Fellowships to transition experienced nurses to

master new clinical skills programs. Aligning Integrative

Nurse Coach practice will create a shared purpose

and vision for health & wellness promotion across the

organization and heal our nursing profession.

References

Conti-O'Hare, M. (2002). The theory of the nurse as a

wounded healer: From trauma to transcendence.

Sudbury, MA: Jones and Bartlett Publishers.

Frey, L., & Ratliff, J. (2018). The personal and professional

experiences of integrative nurse coach certificate

program graduates. Journal of Holistic Nursing,

26(2),134–144.

McElligott, D. (2015). Nurse Coach Self- Development.

In B. Dossey, S. Luck, B. & Schaub. Nurse Coaching:

Integrative Approaches for Health & Well-being.

International Nurse Coach Association. North Miami, Fla:

www.inursecoach.com

Jung, C., & Hull, R.F.C. (1980). The archetypes and the

collective unconscious. Princeton, N.J.: Princeton

University Press.

Kester, K., Wei, H. (2018, June). Building nurse resilience.

Nursing Management, 49(6), 42-45 doi: 10.1097/01.

NUMA.0000533768.28005.36

Slatyer, S., Coventry, L.L., Twigg, D., & Davis, S. (2016).

Professional practice models for nursing: A review of

the literature and synthesis of key components. Journal

of Nursing Management, 24(2):139-50. doi: 10.1111/

jonm.12309.

Southard, ME., Dossey, B., Bark, L., & Schaub, B. The art

& science of nurse coaching: The provider's guide to

coaching scope & competencies. Silver Spring, MD:

American Nurses Association.

Qingqing L. & Zheng, Y. (2021). Nurses' emotional stress

levels when caring for COVID-19 patients in an

intensive care unit. Alternative Therapies, 27(5), 46-

50.
---
Page 8 • DNA Reporter June, July, August 2022

How Applying the Concept of Authentic Leadership and Elevating the Culture

of Workplace Support Improves Nurses Physical and Mental Well-being

Theresa Latorre-Tegtmeier, DNP, APRN, NP-C

Theresa Latorre-Tegtmeier is a

palliative care nurse practitioner

at Bayhealth Medical Center.

She earned her ASN from

Delaware Technical and

Community College, her MSN

from Drexel University, and her

BSN and DNP from Wilmington

University. Theresa has extensive

experience in management

having worked in book sales for

10 years prior to transitioning to

nursing. She started her nursing

career as a medical-surgical

nurse in 2008 on 1A where

Theresa Latorre-

Tegtmeier

she initiated a mentoring program for her unit. Theresa

then transitioned to informatics where she helped develop

the informatics nursing department at Bayhealth. After

graduating with her MSN she went on to start the palliative

care department at Bayhealth in 2015. Theresa's passion

for caring for patients with complex disease diagnoses and

uncontrolled symptoms is evident in the services that have

been provided to the population of Kent County. She has

helped grow the department from one APRN servicing

the Kent Campus to four APRN's, one physician and the

support of the hospital chaplains servicing both Kent and

Sussex Campus, as well as an outpatient clinic in Dover, DE.

In preparation for her doctorate, Theresa recognized a lack

of palliative care support for patients with advanced heart

failure (AdHF) and studied the benefits of early palliative

care intervention in patients with AdHF. She is the president

elect for the Delaware Quality of Life Coalition (DQOLC)

and vice president for the Delaware Ballet. Theresa can be

reached by email at ttegtmeier@gmail.com.

In December of 2019, a number of patients in

Wuhan, China began to experience shortness of

breath and fever due to a pneumonia of unknown

etiology. On January 7, 2020, Chinese authorities

identified a novel coronavirus as the causative agent

and the Centers for Disease Control and Prevention

established the 2019-nCoV Incident Management

Structure. On January 20, 2020, the first US confirmed

case was detected in Washington State, and on

March 11, 2020, the World Health Organization

declared COVID-19 a pandemic (CDC, 2022). In the

United States alone, over 80 million people have been

infected by the rapidly spreading COVID-19 virus,

resulting in more than 984,000 deaths (NYT, 2022).

The medical and scientific professionals were not

prepared to deal with the magnitude of this disease.

By the end of 2020, there were still no approved

vaccinations to prevent further spread or treatments

to lessen the impact once contracted (Um-e-Rubbab

et al., 2021).

Healthcare Challenges

Though the challenges to the healthcare system

have been substantial: surge volume preparedness,

pandemic protocol development, personal protective

equipment (PPE) availability, and novel staffing

strategies; the impact on the personal well-being

of healthcare personnel, especially nurses, has been

momentous (Raso et al., 2021). Clinician burnout,

stress, and anxiety were an epidemic in nursing

prior to the pandemic; COVID-19 simply exacerbated

the issue. According to Melnyk et al. (2021), of the

nurses who participated in their study, more than

50% reported worsening physical and/or mental

health due to the pandemic. In addition, the majority

did not meet best practice recommendations

regarding disease preventative lifestyle behaviors

such as eating a balanced diet, daily activity, and

obtaining adequate sleep. Nearly 54% stated that

the pandemic made their physical health worse

and 79% reported worsening mental health. 38%

reported increased alcohol consumption and only

about 35% reported sleeping seven or more hours

per night. Unfortunately, these trends not only affect

the clinician but impact the quality of care that

they provide to their patients. (Melnyk et al., 2021).

Research shows that targeted interventions that are

implemented by managers who exhibit authenticity in

their leadership approach results in positive outcomes

for the individual clinician as well as the organization

as a whole.

Authentic Leadership

Authentic leadership is believed to be a critical

tool and has proven to improve patient safety and

clinical outcomes, nurse staffing and retention, and

improve the overall well-being of nurses. Authentic

leaders influence their teams through skilled

communication, effective decision-making, true

collaboration, and meaningful recognition. When

effectively implemented, it results in the creation and

sustainability of a healthy work environment.

Authentic leaders demonstrate four distinct

components that promote psychological and ethical

climates. These four components are:

1. Self-awareness: the ability to understand one's

own strengths and weaknesses and how they

impact others, ability to read skills of one's self

in relation to the actions and feelings of others

2. Balanced processing: soliciting opinions and

viewpoints prior to making decisions, applying

the concepts of shared decision making

3. Relational transparency: forthcoming in sharing

information; openly admits mistakes

4. Internalized moral perspective: maintaining a

high standard of ethical and moral conduct;

used to self-regulate behavior (Frasier, 2019).

Nurse leaders play a significant role in nurses'

physical and mental well-being, as well as their

working environment and work-related well-being.

By utilizing the above components, the authentic

leader will successfully develop a positive work climate

that would allow their team to feel more secure and

confident in their actions. In addition, the positive

emotions shared by authentic leaders may become

infectious, contributing to the overall well-being of

their team (Nelson et al., 2014).

Workplace Wellness Culture

In addition to strong leadership, organizational

support also showed statistical significance in the

overall health and wellness of clinicians. Studies

found that nurses who perceived their workplace as

supportive of their health and well-being showed

improvement in their overall physical and mental

health. They were five times more likely to get seven

or more hours of sleep, 16 times more likely to eat

five or more servings of fruits/vegetables per day, and

less likely to report a negative impact of the pandemic

on healthy behaviors. System reviews indicated that

effective interventions proven to benefit one's mental

and physical health of physicians and nurses include:

practicing mindfulness; purposeful, deep abdominal

breathing; and gratitude (Melnyk et al., 2021).

Examples of these interventions are currently in practice

at Bayhealth:

1. Series of Mindfulness Workshops led by Dr. Jillian

Horton – these are one-hour webinars that lead

us through a practice of mindfulness and how

that benefits one personally and professionally

2. SKY Breath Meditation Courses – an empowering

technique that works as an instant stress reliever.

In as little as 10 minutes you will clear your mind

through calm breathing and guided meditation.

3. Code Lavender – rapid response to staff in

need of immediate support during a difficult

time/situation. Kits include a massage chair,

aromatherapy, adult coloring books, colored

pencils, relaxation techniques, and chocolate.

They are delivered to the person and left in place

for 24 hours to be used by anyone that needs to

take some time to decompress.

4. Weekly Faith, Spirituality, and Meditation Events

led by Rev. Carol Harris – Rev. Harris opens

with a short prayer and has a guest speaker

who presents on the topic of the week. It is

broadcasted through the Bayhealth Facebook

page for staff and the community.

5. Family Medicine Wellness Program led by Su

Chaffin, LPCMH

6. Pet Therapy Teams – Dogs and their trainers roam

the hospital providing short bursts of happiness
---
June, July, August 2022 DNA Reporter • Page 9

and time to destress for patients and staff

7. Reiki and Healing Touch – community

practitioners come to the hospital and provide

their services to the staff (Bayhealth, n.d.).

The COVID-19 pandemic has changed the landscape

of healthcare and has put immense pressure on the

clinicians caring for patients. Ensuring managers are

practicing authentic leadership and the organization is

providing a supportive work environment has shown to

improve the overall physical and mental well-being of

clinicians. As a bonus, patients benefit as well through

improved clinical outcomes.

References

Bayhealth. (n.d.). Bayhealth intranet.

Center for Disease Control and Prevention. (2022, January 5).

CDC museum COVID-19 timeline. https://www.cdc.gov/

museum/timeline/covid19.html

Frasier, N. (2019). Preparing nurse managers for authentic

leadership. The Journal of Nursing Administration, 49(2),

79-85.

Melnyk, B. M., Hsieh, A. P., Tan, A., Teall, A., Weberg, D.,

Jun, J., Gawlik, K., & Hoying, J. (2021). Association

among nurses' mental/physical health, lifestyle

behaviors, shift length, and workplace wellness support

during COVID-19: Important implications for health care

systems. Nursing Administration Quarterly, 46(1), 5-18.

Nelson, K., Boudrias, J-S., Brunet, L., Morin, D., De Civita, M.,

Savoie, A., & Alderson, M. (2014). Authentic leadership

and psychological well-being at work of nurses: The

mediating role of work climate at the individual level of

analysis. Burnout Research 1, 90-101.

New York Times. (2022, April 10). Coronavirus in the US:

Latest map and case count. https://www.nytimes.com/

interactive/2021/us/covid-cases.html

Raso, R., Fitzpatrick, J. J., Masick, K., Giordano-Mulligan, M.,

& Sweeney, C. D. (2021). Perceptions of authentic nurse

leadership and work environment and the pandemic

impact for nurse leaders and clinical nurses. The Journal

of Nursing Administration, 51(5), 257-263.

Um-e-Rubbab, Farid, T., Iqbal, S., Saeed, I., Irfan, S., &

Akhtar, T. (2021). Impact of supportive leadership

during COVID-19 on nurses' well-being: The mediating

role of psychological capital. Frontiers in Psychology,

doi:10.3389/fpsyg.2021.695091

American Lung Association's

"Zeroing in on Healthy Air" Report

Delaware's Data – Opportunities for our Nurses

Earlier this year, the American Lung Association

released the new "Zeroing in on Healthy Air"

report, which revealed that a transition to zeroemission,

electric vehicles would have a dramatic

impact on the air quality and health of Delaware

residents. In fact, a widespread transition to zeroemission

vehicles powered by clean, non-combustion

electricity would result in up to 462 avoided deaths

and $5.1 billion in public health benefits here in

Delaware over the next 30 years. On a national

level, this transition would result in 110,000 avoided

deaths, 2.79 million avoided asthma attacks, 13.4

million avoided lost workdays and $1.2 trillion in

public health benefits across the United States.

This report illustrates the potential health and

climate benefits if all new passenger vehicles sold

are zero-emission by 2035 and all new heavy-duty

vehicles (such as big rigs, school buses, and shorthaul

delivery vans) sold are zero-emission by 2040.

The report also projects that the nation's electric

grid will be powered by clean, non-combustion

renewable energy replacing dirty fossil fuels by 2035.

The transportation sector is a leading contributor

to air pollution and climate change, and too many

Delawareans suffer health impacts because of

vehicle emissions. Especially as Delaware faces the

impacts of climate change such as worsening air

quality and decreased access to clean drinking water,

transitioning to electric vehicles is a powerful and

practical opportunity to improve our health and our

future.

Despite decades of progress to clean the air,

more than four in ten of all Americans still live

in a community impacted by unhealthy levels of

air pollution. Those impacted by polluted air face

increased risk of a wide range of poor health

outcomes. Further, climate change poses risks to

everyone's health.

The combustion of fuels for electricity generation

and transportation also create significant disparities

in pollution burdens and poor health. Lower income

communities and communities of color are often the

most over-burdened by pollution sources today due

to decades of inequitable land use decisions and

systemic racism.

The transition away from combustion technologies

and toward zero-emission technologies in the

transportation and electricity generation sectors can

significantly reduce exposures to pollution, especially

in communities with nearby highways, ports,

warehouses, refineries or power plants.

Thankfully, the technologies and systems are in

place to make these benefits a reality.

Accelerating the shift to zero-emission

transportation and non-combustion electricity

generation will generate major reductions in

harmful pollutants. "Zeroing in on Healthy Air"

envisions widespread transitions to zero-emission

transportation and non-combustion electricity

generation over the coming decades, including 100

percent sales of zero-emission passenger cars by

2035 and of heavy-duty trucks by 2040, and shifting

to non-combustion electricity generation by 2035.

Strong investments and policies at the local, state

and federal levels are needed to reduce harmful

pollution and ensure all communities stand to

experience cleaner air.

Read the report at Lung.org/EV

How to Save for Education Without Taking your Eye Off of Retirement

It's no secret that many American parents want

to support their kids by paying for their college

education. According to recent research from Student

Loan Hero, 92 percent of parents today have already

paid for or plan to assist with these costs. Furthermore,

68 percent of parents say they would consider

withdrawing from their retirement savings, potentially

delaying retirement, to help their kids pay for college.

While the choice to delay retirement to pay tuition

is understandable and even admirable, the reality is

doing so may not be the wisest financial decision. If

you are considering how to balance saving for college

and retirement, read on for some perspective.

Prioritize college bills or retirement?

Although it may be hard to hear, saving for

retirement should take priority over college tuition. To

understand why, consider the following:

• You may not get to choose your

retirement date. Injury, caring for an aging

parent, or a layoff are among the factors that

could ultimately make the decision for you.

• You don't want to run out of money in

retirement. If your savings come up short, you

don't have the ability to apply for scholarships,

grants or financial aid to help bridge the gap.

(Your child has access to these options to help pay

for college.) Instead, your options are likely to be

working longer, finding other sources of income or

spending less on travel and other retirement dreams.

While it's imperative to focus on your own financial

security in retirement, funding higher education is still an

important goal for many parents. The key is striking the

right balance between saving for both goals. Consider the

following tips as a starting point:

1. Paying for college doesn't have to be all-ornothing.

Many parents choose to pay a percentage

of the total bill, cover certain expenses (e.g. tuition,

technology fees or room and board), pay for a set

number of years, or contribute as much as they are

able to save by the first day of school instead of

funding the full cost. Revising your college savings

goal in one of these ways could allow you to direct

more money to retirement.

2. If your child has sights on graduate school,

decide whether you will contribute to those

bills too. This decision is particularly important if

your child needs a graduate degree before entering

his or her field of choice. If you intend to provide

financial support, calculate how much the total cost

will be so you have a clear savings target in mind.

3. Discuss your intentions with your child.

No matter how much you contribute, talk

to your child (if and when your child is old

enough) about your financial commitment

so he or she knows what to expect. Discuss

how your contribution will look like at their

preferred colleges. For example, if you agree

to pay a set amount, perhaps this money will

fully cover community college, a substantial

amount at a state school, and leave a larger

portion of the bill outstanding at a private

college. Breaking down the costs for your

child can help him or her make an informed

decision about how much student debt (or

scholarships, grants, etc.) is needed to cover

the bill.

No matter your financial situation, know that

it is possible to make meaningful progress toward

both goals, particularly if you are intentional about

how to allocate your savings. Consult a financial

advisor and tax professional if you want help setting

specific savings goals and understanding the various

investing options available to you.

1 Student Loan Hero survey, 2021

Christopher Malmstrom, CRPC, APMA, is a Financial Advisor with Point to Point Wealth Planning a private wealth advisory practice of Ameriprise Financial Services, LLC in Wilmington,

DE. He specializes in fee-based financial planning and asset management strategies and has been in practice for 12 years. To contact him, visit his website www.ameripriseadvisors.com/

christopher.malmstrom or call 302-995-7526. His office is located at 5195 W Woodmill Drive, Suite 27, Wilmington, DE 19808-4067. Ameriprise Financial, Inc. and its affiliates do not

offer tax or legal advice. Consumers should consult with their tax advisor or attorney regarding their specific situation.

Investment advisory products and services are made available through Ameriprise Financial Services, LLC, a registered investment adviser.

Ameriprise Financial Services, LLC. Member FINRA and SIPC. | © 2021 Ameriprise Financial, Inc. All rights reserved.
---
Page 10 • DNA Reporter June, July, August 2022

Combat Inflation with Plant Based Nutrition

Stephanie Fronza, MSN, NPD-BC, RN, CCRN-K

Groceries tend to be a budget buster category – especially now with the huge

increase in food prices.

Wellness Benefits of Plant-Based Eating

Myth: Plant-Based Diets Are COSTLY.

A common misconception is that eating plant based is SO expensive. But, if you

recently purchased meat such as beef or chicken, then you know the prices are

outrageous!

Do yourself a favor. Check out the prices for grains, vegetables, and beans,

which are a fraction of the cost of animal products. And, they have not been

dreadfully affected by inflation.

Fact: Meat, Dairy, Prescriptions, and Missing Work ARE Costly

Ready to introduce plant-based foods into your diet?

Start by enhancing your current diet by adding more fruits, vegetables, and grains

to your routine. You can add a piece of fruit to your breakfast routine or find ways

to add vegetables to your current meals.

Weight Loss More Energy Reduced Meds Financial Wellness

Meatless Mondays

Start a tradition on Mondays to have meals without meat.

Substituting animal products with plant-based products can improve overall

wellness by reducing the risk for heart disease, cancer, diabetes, and many other

ailments.

The cost of animal products coupled with the health benefits of eating plant

based is a motivator for many to make some diet changes. Now is a great time to

switch to some plant-based options for your health and your pocket. Check out

these alarming statistics if you're still not convinced:

Burgers and Chicken and Fish…Oh My!

The cost of meat, poultry, fish, and eggs has increased 13% since 2021. (cnbc.

com, 2022). And, bacon ALONE has increased a whopping 40% since the start of

the pandemic! (Farm Journal AG Web, 2021)

Scary Dairy Rate

Cow's milk has increased 11.2% since 2021 (cnbc.com, 2022).

Medical-Bill Challenged

$1.3 trillion is spent annually on medical bills and hospital services (cms.gov, 2020).

Prescriptions-a-Plenty

Over $1 trillion globally is spent on prescriptions each year (Greger, 2015).

Missing Pay

It's no surprise – missing work and absenteeism due to an illness = lost or

decreased income.

Lentils

Replace beef on Taco Tuesdays! Check out our yummy recipe on Budget

JouRNey's IG.

Grain bowls

Use quinoa, bulger or other grain as base. Add veggies, tofu, or beans. Great to

prepare the night before and take as lunch or dinner to work.

Nice Cream

Use frozen bananas in a high-speed blender instead of buying expensive ice

cream!

Portobello Burger

Season with balsamic and crushed garlic and top with standard burger toppings like

lettuce, tomato, etc. I personally love to add avocado!

Burritos

Use a sweet potato and black bean mixture instead of chicken or beef (check out our

recipe on IG!).

Smoothies

Freeze fresh fruit before it goes bad to preserve and use in fruit smoothies!

Plant-Based Milk

Substitute cow's milk with Almond, Oat, Cashew, Coconut, and other alternatives.

Cook at Home

Eating out can be incredibly expensive! Leave restaurants for date nights and special

occasions.
---
June, July, August 2022 DNA Reporter • Page 11

Take Small Steps…

What small step can you make today?

Changing behaviors with nutrition and finances isn't easy. Taking small steps towards

your wellness will ensure you stick with habits. A mentor or coach can help guide you

through the process and provide support and motivation to help you on your wellness

jouRNey. Budget JouRNey is a company that embraces the power of plant-based

nutrition and welcomes introducing clients to plant-based eating without breaking the

budget as part of their wellness JouRNey!

You can find an abundance of recipes on Instagram or other social media sources. Here

are some resources to get you started:

• Forks over Knives

• Nutritionfacts.org

• PCRM: Nurses Nutrition Network https://www.pcrm.org/good-nutrition/nutritionfor-clinicians/nurses-nutrition-network

• App: Dr. Greger's Daily Dozen

• Lifestyle Medicine Primary Care Providers for Delaware residents: Progressive Health

of Delaware

Coaching Discount for DNA Members!

You take so much time taking care of others. A financial coach, like Budget JouRNey can

show you how you can reduce the financial stressors in your life. You deserve the time and

attention that Budget JouRNey can provide you. You will work with a Financial Wellness

RN who understands the unique needs of nurses. Budget JouRNey has partnered with the

Delaware Nurses Association to provide 50% off financial coaching services for all

DNA members. You can contact Budget JouRNey to schedule a free consultation to see if

the services are a right fit for your needs.

Bio

Stephanie Fronza, MSN, NPD-BC, RN, CCRN-K has worked as a nurse in Delaware

for over 16 years and is the Owner of Budget JouRNey, LLC. Budget JouRNey provides

financial wellness coaching for nurses across the United States. Stephanie's goal is to

reduce stress and improve the overall financial wellness for all nurses. She is a Master

Financial Coach and holds certifications in professional development and financial coaching.

Mybudgetjourney.com

stephanie@mybudgetjourney.com

IG: mybudget_journey

Rest, Relax, Laugh:

Spending Time with

Yourself

Dr. Phyllis Lawrence, DNP, RN, NEA-BC

Reprinted with permission from

Tennessee Nurse February 2022 issue

Rest and Relax

How many times have you been told that you need to get plenty of sleep

for good physical health? Sleep is also instrumental in maintaining sound mental

and emotional health. Rest is not only the act of sleeping, but you can rest your

body, mind, and tap into your spirit simply by feeling renewed. Waking up and

feeling that you have run a marathon is a sign of significant activity during your

rest period. Either the mind continues to cycle, or you may be suffering from a

sleep disorder. In either case, you are not at rest.

To rest the mind, you must relax. Relaxation is defined as the state of being

free from tension and anxiety (Google dictionary, 2022). The Cambridge

Dictionary defines relaxation as a pleasant activity that makes you become

calm and less worried. This definition supports the concept of complementary

and alternative interventions and modalities. Relaxation can really be a state of

mind. One of the most effective holistic modalities that promotes relaxation is

meditation. Meditation is reflected in many forms, including guided imaginary,

mindfulness, Zen meditation, Mantra meditation, Transcendental meditation,

and Yoga meditation, just to name a few. Mindfulness has become popular over

the last few years. Being mindful is the basic human ability to be fully present

in the moment, aware of your surroundings, feelings, and emotions. Try it, sit

still in a quiet place. Place your hands in your lap. Now close your eyes. What

do you hear? What do you smell? Breathe slow and steady while maintaining

the rhythm. Continue this practice for approximately 10-15 minutes. Notice the

change in your stress level or anxiety. This simple exercise can alleviate stress and

anxiety, and if engaged in regularly, lead to an optimistic outlook.

References

CMS.gov (2020). National Health Expenditures 2020 Highlights. https://www.cms.gov/Research-

Statistics-Data-and-Systems/Statistics-Trends-and-Reports/NationalHealthExpendData/

NationalHealthAccountsHistorical

CNBC.com (April 2022). Here's an item-by-item look at how much more expensive your groceries

are, due to inflation. https://www.cnbc.com/2022/04/05/how-much-more-expensive-groceriesare-due-to-inflation-item-by-item.html

Farm Journal AG Web (Nov 2021). Your Bacon Obsession Is Costing 40% More, But Pork Producers

Aren't the Ones Cashing In. https://www.agweb.com/news/livestock/pork/your-baconobsession-costing-40-more-pork-producers-arent-ones-cashing

Greger, Michael (2015). How Not to Die. Flatiron Books, New York

Laugh for a Healthier You

Have you noticed that when you laugh, you feel better? It is harder to cry

while you are laughing. Research has found that laughing triggers the release

of endorphins (nature's feel-good chemicals). It has also been reported that

laughter decreases stress hormones and increases immune cells. We have a

natural response to infection, which helps produce antibodies, improving our

resistance to disease and promoting our overall well-being. What makes you

laugh? Is it a funny commercial, your loved one(s), maybe your co-workers?

Laughter is the best medicine. In an article by Robinson, Smith, & Segal (July

2021), learn to create opportunities to laugh, watch a funny movie, TV show, or

YouTube video, check out a comedy club, read the funny pages, check out the

humor section in your bookstore, play with a pet, better yet host a game night

with friends.

I would like to share with you some of the things that make me laugh.

Watching my favorite comedy movies, even though I know the punch line,

dancing to my favorite 80's jam on YouTube, and serving with a grateful heart.

When I see someone smile, I smile! During hard times, laughter has been a

saving grace for many. Whitman (2017) A new study reveals how laughter

affects the brain, which may be an explanation why giggles play an important

role in social bonding.

When you take time for yourself, you validate your worthiness and value.

Make it a point to celebrate your life. Buy that neat sweater, go to the movies

with your spouse, family, or friends. Do something that you enjoy, and that

makes you feel good. How about butter pecan ice cream? Take care of yourself

so that you can take care of others. The first step to self-care is accepting that

you are worthy of that care. The care you require may need to come from a

professional source, and that's okay. There are services available through most

healthcare facilities and organizations. Sometimes you just might need to talk. It

may be a good time to phone a friend.

Take a moment and plan to rest, relax, and laugh. Try to include at least

one activity to cover each one of the components. Start with resting and

relaxing, then let the laughter begin. Remember, you are worthy, valuable, and

appreciated. Self-worth can only be measured by you. So make every moment

count, and be mindful of your value. I can sum it up in one word, priceless!!

References

L. Robinson, M. Smith & J. Segal (2021). Laughter is the Best Medicine.

https://www.helpguide.org/articles/mental-health/laughter-is-the-best-medicine.

htm

Mindful: healthy mind, healthy life (2022). https://www.mindful.org/

meditation/mindfulness-getting-started/

Whiteman, H. (2017). Laughter releases 'feel good hormones' to promote

social bonding. https://www.medicalnewstoday.com/articles/317756
---
Page 12 • DNA Reporter June, July, August 2022

Where Do I Go From Here?

Sharon Broscious, PhD, RN

Program Director South University RN-BSN

Online Program

Reprinted with permission from

Virginia Nurses Today, August 2021 issue

As the COVID-19 pandemic winds down, you

may be asking yourself questions about your

professional future. What's my next career step?

What does my professional future hold for me? The

stress of the COVID-19 pandemic may have created

these nagging questions for you, and you might

be unsure what steps you should take to answer

them. The physical, emotional, psychological, and

financial impact of the pandemic on nurses has

been well documented. A plethora of publications

in professional journals and on websites as well as

newspaper and television reports have discussed the

impact of the COVID-19 pandemic on nurses. Terms

such as burnout, compassion fatigue, moral injury,

PTSD, and healthcare worker exhaustion are used to

describe the physical and mental effects of COVID-19

on healthcare providers (Chan, 2021; ICN, 2021). In

an interview on NPR, the phrase "crushing stress" of

the COVID-19 pandemic was used (Fortier, 2020).

Not only did the nursing workload change –

increased number of patients per assignment,

increased number of shifts, increased length of

workday due to insufficient staff – but also other

factors compounded the stress on staff. Lack of

equipment such as PPE, the unknowns about the

disease itself with policies changing almost daily,

and perceived lack of support from leadership have

also contributed to the COVID effect (ICN, 2021)

on nurses. Some facilities attempted to prepare and

support staff for the pandemic surges, to varying

levels of successful impact. While providing meals to

nurses who could not take time for a meal break was

helpful, as the pandemic persisted, nurses needed

more support from their leadership teams.

The recent COVID-19 report released by the

International Council of Nurses (ICN) (2021) describes

the exacerbation of burnout and exhaustion of

nurses during 2020. National nursing associations

reported approximately 80% of their members

identified as feeling stressed. In a survey of

healthcare workers conducted by Mental Health

America (Lagasse, 2020), 93% indicated feeling

stressed, and 76% reported feeling burned out

with 55% questioning their career focus. Similar

results were found in a survey from Brexi (2020) with

84% of responding healthcare workers identifying

some burnout and 18% reporting total burnout. In

addition, almost half had considered quitting their

job, retiring, or changing their career focus. The

top five stressors that respondents identified, in

order, were "fear of getting COVID-19, long hours/

shifts, general state of the world, fear of spreading

COVID-19, and family responsibilities/issues" (Berxi,

2020, para 2). Additional stressors identified by

Shun (2021) include physical, emotional and moral

distress related to ethical issues faced by nurses such

as dealing with patient deaths, scarce resources, and

forced changes in practice.

The 2021 Frontline Nurse Mental Health and

Well Being Survey (Trusted Health, 2021) revealed

for nurses under age 40, 22% indicated they were

less committed to nursing. Ninety-five percent of

the nurses responding indicated their physical and

mental health were not a priority in their workplace

or the support received from leadership was

inadequate. Finally, 66% of respondents indicated

they were experiencing depression and a decline in

their physical health. A poll by the Washington Post-

Kaiser Family Foundation (2021) indicated 62% of

healthcare workers felt mentally stressed from the

pandemic with their greatest fears of them getting

infected, infecting their families, or other patients.

Another challenge identified was working while

wearing PPE (Kirzinger et al., 2021).

Prior to the pandemic, Shah, et al. (2021) reported

burnout was the third leading cause of nurses

leaving their jobs. However, the pandemic intensified

levels of stress and burnout. From the perspective

of Maslow's hierarchy, Virkstis (2021) described the

need for leadership to focus on basic needs of staff,

not high level self-actualization. The basic needs

were identified as: a safe working environment, clear

mission, time to reflect on what was happening, and

time to connect with peers.

Considering the factors identified here, it is no

surprise that you may be asking what is the next

step for you in handling stress, burnout, and career

questions.

Step 1 – Do I stay where I am?

You may be asking the following: Do I leave my job

as other nurses have? Do I want to, or can I continue

working where I am? Do I just need some time off?

The first step to take is self-reflection or selfevaluation.

If you are unsure about a change, pause

and take some time to think about it. Consider staying

where you are to determine how your workday has

changed after COVID-19 and whether factors such as

workload, staffing, and equipment, for example, have

improved. Remember wherever you go, everyone will

be rebuilding after the pandemic and trying to return

to a previous level of normalcy, or an improved level

based on lessons learned from the pandemic.

Before making a decision, reflect on your job prior

to the pandemic. Was this job a good fit for you? Were

you happy with your job? Answers to these questions

can guide you to remain in your current job to see if

those same positive feelings come back after the

pandemic. The area you work in may not be exactly

the same as it was, but it could be even better. Other

reasons leading you to consider a change may include

the work environment, the leadership of your current

unit, or lack of potential for growth in your current

position. This introspective evaluation provides time

to think about other opportunities or make plans for

change if that is your final decision.

Step 2 – Do I change my career path?

There are numerous websites that provide steps to

take when changing your specialty or your role, but the

first step should be:

1. Identify your passion. What makes you happy?

Self-reflection and serious thought can help

provide this answer.

Additional steps to consider include:

2. Complete a SWOT analysis. Guidelines for

completing a SWOT analysis can be found on the

internet.

• Identify your strengths: skills, experiences,

education, support from peers/family.

• Identify weaknesses: communication skills,

leadership skills, skills needed for a new path.

• Identify opportunities: What specialty areas

might be of interest? Do you want to be in a

hospital or in the community? Do you want

to move to administration or education and

have less direct patient contact? What works

for your family? The Johnson & Johnson

Campaign for Nursing's Future, provides

information about 96 nursing specialties; this

might be a good place to start looking for new

opportunities as it may present some potential

employment ideas you had not previously

considered. A list of more than 100 nursing

organizations is available at https://nurse.org/

orgs.shtml In addition, the Illinois Nursing

Workforce Center web page includes a list

of professional nursing organizations (http://

nursing.illinois.gov/nursingspeciality.asp).

• Identify threats. What barriers exist that might

keep you from making this change – family

responsibilities, work hours desired, access to

a new role in your geographic area, skills or

specific educational background needed. A

threat such as educational level may turn into

an opportunity to return to school.

3. What are your goals in five or ten years?

4. When you have decided on a new role – develop

an action plan or timeline to establish your

transition to the new role. What steps do you

need to take to make this change?

5. Refresh your resume. While you may consider

that a move from pediatrics to geriatrics would

not provide you with appropriate skills, there are

many skills you have that are transferable – your

assessment skills for example, understanding lab

results, providing care to someone who may be

unable to describe how they feel, or organization

skills.

6. Network. Talk to someone who currently works

in the specialty you are considering. If the

specialty has a professional organization, peruse

their website, attend a local meeting, or read

their journals and social media networks to help

you connect with nurses in the specialty you are

considering.

7. Draw on your support system and mentors to

overcome any barriers/challenges that may be

keeping you from making a change.

8. Resources on the VNA/ANA websites provide

information about available jobs, resume writing,

and interviewing. Scheduling a live meeting with

a career coach is also available.

9. After you have made a specialty change, give

yourself a chance to get acclimated to the new

path you have chosen.

10. Consider staying on good terms with your

current employer. A reference will be needed

when applying for a new position. Staying on

good terms may also be beneficial if the new

specialty or organization change does not work

out.

Step 3 – Do I leave nursing and change my

profession?

Your reflection may lead you to leaving the nursing

profession. Many of the steps in this process are the

same or similar to the steps above in changing your

career path.

1. Begin again with self-reflection/evaluation. What

makes you feel fulfilled? What would you like to

do? What are your interests?

2. Identify areas of interest. There are a number of

free aptitude tests available on the internet that

can guide you in identifying a new career or

attend a career fair. New careers could be with

pharmaceutical companies, insurance companies,

the government, or in education for example.

3. Complete a SWOT analysis

4. What are your goals?

5. Identify the skills/education needed for the new

career

6. Develop action plan

7. Network

8. Career counseling – obtain a career coach, see

the VNA/ANA websites

9. Connect with your support system

10. Keep your license current, you may decide at

some point in time you want to return to nursing.

The COVID-19 pandemic has likely changed you

personally and professionally, has certainly changed

healthcare, and has without a doubt changed the

world. What you do to fulfill your life is a priority, so

take time to carefully consider what you want to do

and where you want to be.
---
June, July, August 2022 DNA Reporter • Page 13

As Steve Jobs (2005) said, "Your work is going to fill

a large part of your life, and the only way to be truly

satisfied is to do what you believe is great work. And

the only way to do great work is to love what you do.

If you haven't found it yet, keep looking. Don't settle.

As with all matters of the heart, you'll know when you

find it."

References

Berxi. (December 8, 2020). State of healthcare

workers in 2020. Business Wire. https://www.

businesswire.com/news/home/20201208005303/en/

Chan, G.K., Bitton, J.R., Allgeyer, R.L., Elliott, D.,

Hudson, L.R., Moulton Burwell, P. (May 31, 2021)

The impact of COVID-19 on the nursing workforce: A

national overview OJIN: The Online Journal of Issues

in Nursing 26 (2), Manuscript 2. DOI:10.3912/OJIN.

Vol26No02Man02

Fortier, J. (December 16, 2020). ICU Workers are

quitting due to crushing stress from COVID-19 surge.

(Radio broadcast) Morning Edition – NPR.

International Council of Nurses. (January 13, 2021).

The COVID-19 Effect: World's nurses facing mass

trauma, an immediate danger to the profession and

future of our health systems.

ICN, https://www.icn.ch/news/covid-19-effectworlds-nurses-facing-mass-trauma-immediate-dangerprofession-and-future-our

Jobs, S. (June 12, 2005), Stanford Commencement

Address. https://news.stanford.edu/2005/06/14/jobs-

061505/

Kirzinger, A, Kearney, A, Hamel, L., & Brodie

M. (April 6, 2021). KFF/The Washington Post

Frontline Health Care Workers Survey. https://

www.kff.org/report-section/kff-the-washingtonpost-frontline-health-care-workers-survey-tollof-the-pandemic/?utm_campaign=KFF-2021-

polling-surveys&utm_medium=email&_hsmi=2&_

hsenc=p2ANqtz--iaCcoAuZ0CZUTZn7HHpdxV5L9Fu

ps2XQo2KMt8EYKKP_J3ppmXnSGWTPlbCKV22LE_

QkSI0MO__BEFpHKrtaZ9CXF8w&utm_

content=2&utm_source=hs_email

Lagasse, J. ed (December 8, 2020) Healthcare

workers experiencing burnout, stress due to COVID-19

pandemic. Healthcare Finance News https://www.

healthcarefinancenews.com/news/healthcare-

workers-experiencing-burnout-stress-due-covid-19-

pandemic

Shun, S.C. (2021). COVID-19 Pandemic: The

challenge to the professional identity or nurses and

nursing education. The Journal of Nursing Research

29(2), e138. doi: 10.1097/JNR.0000000000000431

Shah, M.K., Gandrakota, N., Cimiotti, J.P., Ghose,

N., Moore, M., & Ali, M. (2021). Prevalence of and

factors associated with nurse burnout in the US.

PRESS RELEASE

Leslie Verucci, MSN, APRN, ANP-BC

President

Christopher E. Otto, MSN, RN, CHFN, PCCN, CCRN

Executive Director

FOR IMMEDIATE RELEASE

302-733-5880

contactdna@denurses.org

Delaware Nurses Association Receives $500,000 in Delaware

ARPA Funds to Support Nurse Mental Health and Wellbeing

NEWARK, DE – May 11, 2022 – The Delaware Nurses Association (DNA) announced it will receive

$500,000.00 in state American Rescue Plan Act (ARPA) funds for a capital project to support nurse's

mental health and overall wellbeing. This project will be led by DNA and the Delaware Action Coalition.

The Delaware Action Coalition is co-led by Elizabeth "Beth" Mattey, MSN, RN, NCSN, FNASN and

Christopher E. Otto, MSN, RN, CHFN, PCCN, CCRN. The state coalition is an extension of the

Campaign for Action, an initiative of AARP Foundation, AARP and Robert Wood Johnson Foundation,

based on the Future of Nursing consensus study from the National Academy of Medicine. Additional

partners in this capital project will be announced as the project advances.

There are over 22,000 licensed nurses in Delaware, the largest of any licensed health profession in

Delaware. Delaware's nurses work in every setting health care is delivered, and for the last 20 years,

the public has ranked nursing as the profession with the highest honesty and ethical standards. These

funds will be utilized to provide free, easy to access, evidence-based and comprehensive tools and

programming to support Delaware's nurses. The COVID-19 pandemic caused significantly altered

workforce dynamics, a shifting social contract between the public and nurses, and strained work

environments have left Delaware's nurses exhausted and searching for support.

These funds will build and sustain capital technology and programming with an overarching theme of

post-traumatic recovery and growth, presented as Healthy Nurse Healthy Delaware. This model is

based on a national framework (American Nurses Association's Healthy Nurse Healthy Nation TM ) and

other state models, integrating evidence into practical solutions and practice.

Christopher E. Otto, MSN, RN, CHFN, PCCN, CCRN, Executive Director, stated, "These funds are

critical to supporting the largest sector of Delaware's health care workforce. This capital project will

advance existing and equip nurses with new knowledge, tools and support to advance their own health,

resulting in improved care and outcomes for those we serve. Delaware is a national leader for

demonstrating their commitment to the nursing workforce."

"Nurses, like all Delawareans, have been impacted by COVID-19 and many other issues in all settings

where they practice," stated Elizabeth "Beth" Mattey, MSN, RN, NCSN, FNASN. "With these capital

funds, we will be able to reach Delaware's nurses and let them know they are not alone. Their

colleagues are here to support their individual and collective recovery and growth. Together, we are

stronger than COVID-19."

Injury Attorneys

Rhoades & Morrow is Dedicated to Helping Nurses With Their Legal Needs

Handling Personal Injury & Workers' Compensation Matters

Serving All of Delaware With Offices In Wilmington, Bear, Milford and Lewes

www.rhoadeslegal.com • (302) 427-9500

Rhoades & Morrow is a Proud Supporter of The DAISY Award!
---
Page 14 • DNA Reporter June, July, August 2022

New, Renewing, & Returning Members

March 1, 2022 – May 31, 2022

New & Returning Members

Justina Adoh-Ojie

New Castle

Anne Anyanga

New Castle

Ellen Argo

Claymont

Angela Baker

Georgetown

Mary Beth Bradenburg

Wilmington

Michael Brooks

Newark

Lisa Burns

Newark

Rebecca Campbell

Wilmington

Michele Carney

Lewes

Aaron Carpenter

Wilmington

Sharia Chancey

New Castle

Kasey Cordell

Millsboro

Margaret Corrigan

Newark

Kelly Davis

Georgetown

Heiddy Digregorio

Middletown

Sherry Gardiner

Millsboro

Leslie Hayes

Lewes

Emily Heishman

Magnolia

Loretta Higgins

Lewes

Heidi Hildick

Hockessin

David Hoehn

Wilmington

Julia Jordan

Newark

Rebecca Kelly

Wilmington

Judith Lankford

Laurel

Amanda Larsen

Selbyville

Silvia Leake

Felton

Stacey Meek

Camden Wyoming

Sarah Murphy

Ocean View

Mary Newman

Veneline Olorife

Erika Opalecky

Amy Pajula

Lugeolyn Papa

Meagan Prime

Cassie Rocha

Thomas Rybicki

Gina Saunders

Regina Schilling

Jennifer Scott

Holly Sheltzer-Vucci

Evelyn Skinner

Monica Thomas

Judith Townsley

Nina Varughese

Crystal Vicidomini

Lisa Wallace

Andrew Weller

Zandra Whitney

Barbara Wilson

Renewing Members, 1-5 Years

Wilmington

New Castle

Camden-Wyoming

Dover

Dover

Townsend

Middletown

Middletown

Middletown

Camden

Milford

Middletown

Dover

Millville

Bear

Lewes

Dover

Wilmington

Bear

Seaford

Wilmington

Carol Abdill Newark 2

Kathleen Andersen Wilmington 5

Mary Baratelle Claymont 1

Diane Bell-Cornish Bear 1

Stephanie Bolden Dover 3

Angelique Boyce Newark 3

Kathleen Brady Wilmington 2

Valarie Brown Canton, GA 5

Amanda Bryden Wilmington 2

Stacey Buchanan Georgetown 2

Kenya Cannon Middletown 5

Elsie Chidester Bear 3

April Collins Wilmington 2

Faith Colwell-Dorio Milford 3

Lili Cooney Frankford 1

Caesar Cooper Wilmington 4

Ginger Cowell Punta Gorda, FL 4

Stacy Czajkowski Bear 1

TeMyra Davis Millsboro 1

Matilda Decker Smyrna 1

Debra Delaney Newark 1

Crystal Dennis-Jordan Clayton 2

Kelly Deputy Smyrna 1

Catherine Fernald Stroudsburg, PA 5

Rebecca Fleming Milford 2

Michelle Galloway Wilmington 1

Myckenzie Gillette Camden 4

Michele Gladney Wilmington 1

Stacey Graves Newark 4

Kristen Green Wilmington 1

Cynthia Griffin Middletown 5

Amos Grim Ogden, UT 4

Ellen Hall Newark 3

Janice Heinssen Wilmington 5

Erin Hurst Wilmington 4
---
June, July, August 2022 DNA Reporter • Page 15

New, Renewing, & Returning Members

March 1, 2022 – May 31, 2022

Nora Katurakes Newark 3

Kellie Kessler Carneys Point, NJ 3

Christopher King Dover 2

Susan Koch Wilmington 2

Emma Kupis Wilmington 3

Andrea Mable Middletown 2

Justice Mallard Smyrna 1

Cassima Marrast New Castle 5

Kasey Mathews Mullica Hill, NJ 3

Ayasha McGhee Middletown 1

Joni Miller Camden 4

Laurel Miller Newark 1

Margaret Mills Wilmington 1

Dana Minard Lewes 1

Erin Mitchell Saint Georges 3

Martona Moody Dover 2

Aisha Moore Newark 2

Amanda Newland Lewes 3

Oluwaseun Ogunyemi Mechanicsburg, PA 3

Gregory O'Neill Wilmington 4

Denise Owen-Fabricius Middletown 1

Yvonne Owens Wilmington 3

Taryn Pariag New Castle 1

Nancy Parsons New Castle 3

Karen Pickard Lewes 1

Deloris Porter Middletown 1

Mary Pratt Newark 4

Jordan Prieto Kennett Square, PA 4

April Prior Middletown 4

Kiernan Quay Georgetown 1

Chelsea Quinn Clayton 2

Tracey Reinbold Greenville 2

Richeille Ricketts Newark 3

Korrine Roach Magnolia 1

Kathleen Salati Middletown 5

Danielle Sarik Milton 1

Tara Schad Smyrna 2

Angela Scott Ocean View 1

Jennifer Shalk Townsend 1

Edith Stanford Camden 1

Mildred Steele New Castle 1

Frances Strauss Wilmington 2

Kelly Strunk Millsboro 2

Dreama Szutenbach Dover 1

Karen Tate Newark 1

Kelly Tibbitt Wilmington 2

Florence Tima Middletown 1

April Todd Townsend 1

Rebecca Trivits Seaford 3

Ronald Tyree Newark 1

Mallory Van Dyke Wilmington 1

Casey Velon Wilmington 5

Michelle Walls Seaford 2

Kathy Walton Georgetown 1

Erin Weaver Wilmington 3

Lora White-Green Bear 1

Kerri Wiggins Milton 4

Loraynne Wilmer Townsend 1

Shawntelle Winslow Dover 1

Theora Wisher Newark 5

Renewing Members, 6-10 Years

Mayumi Anthony Gubitosi Middletown 8

Catherine Anuma Claymont 7

Annette Barnes Seaford 7

Corrine Cauffman Lewes 6

Guirlene Clervoix New Castle 6

Lisa Drews New Castle 9

Dawne Estep Lincoln 6

Nancy Forsyth Lewes 8

Michele Gillespie Dover 10

Elena Hardin Newark 6

Jessica Heesh Butler Milford 8

Kimberly Holmes Dover 7

Cindy Horsman Greenwood 8

Patricia Hutkin Port Charlotte, FL 7

Rachel Jarrell Wilmington 7

Arlene Joyner Wilmington 6

Nicolette Kirwin Milton 8

Kyle Lambert Greenwood 8

Madalyn Marsh Newark 7

Misty May Lincoln 7

Lorie Meck Wilmington 9

Karen Merson Dover 7

Bethanne Mills Lewes 9

Noel Mucha Wilmington 8

Christopher Otto Wilmington 10

Amber Palo Lincoln 8

Denise Pecora Rehoboth Beach 6

Mary Podralski Claymont 8

Lisa Poore Harrington 8

Bernadette Porth Hockessin 9

Lois Powell Rehoboth Beach 9

JoAnne Reifsnyder Rehoboth Beach 9

Agnes Richardson Dover 9

Dianitza Runser Dover 6

Virginia Schlitt Middletown 7

Daneen Smith Newark 7

Jennifer Spencer Wilmington 7

Kara Streets Middletown 8

Theresa Tegtmeier Dover 8

Alicia Vogleson Bear 6

Patricia Wessell Townsend 9

Renewing Members, 11-20 Years

Eve Baldrich Milford 20

Donna Casey Middletown 17

Cindy Cunningham Dover 13

Smyrna Cyrille Bear 12

Jack Fraker Lewes 13

Kathleen Heacock Milton 12

Jessey Jennings Newark 14

Debra Kent Downingtown, PA 12

Gloria Lester Lewes 12

Helen Madukwe Dover 11

Deanna Neal-Ward Wilmington 12

Jennifer Pepper Milton 13

Vani Ramdoss Newark 11

Ludmila Santiago-Rotchford Dover 13

Trina Turner Smyrna 11

Rita Ward Lewes 13

Jeffrey Willey Seaford 13

Renewing Members, 21-29 Years

Michelle Leite Dover 22

Erlinda Wheeler Pocopson, PA 25

George Zangaro Lewes 21

Renewing Members, 30+ Years!

Ruth Banta Smyrna 31

Lucille Gambardella Lewes 31

MaryLou Hamilton Wilmington 31

Christine Parise Dover 30
---
Page 16 • DNA Reporter June, July, August 2022

To access electronic copies of the

DNA Reporter, please visit

http://www.NursingALD.com/publications

Nurse Practitioner/Physician Assistant

Sussex County, DE

From $95,000.00 per year

The NP/PA will treat and manage Nephrology patients in the local dialysis

units and chronic kidney disease patients in the office. It requires 100% travel.

There is no home office; however, this position is for the Sussex County area.

Qualifications:

- Master's Degree

- Able to perform in an autonomous environment

Benefits:

- No on-call during after hours or weekends

- Comprehensive medical, dental, life insurance

(individual and family plans available)

- CME reimbursement (time off and payments)

- Robust vacation package

- 401k (with company match; after 1 year)

- Profit Sharing Plan (after 1 year)

- Paid mileage

Send an email with CV/resume to

resumes@delawarekidney.com

LPNs AND RNs WANTED.

AND WELCOMED.

Ready for a change? Come be

a part of an innovative health

system with a family-like feel.

BAYHEALTH.ORG/JOIN

Banyan Treatment Centers, is currently recruiting

for full-time nursing professionals to join our team in

Milford, DE .

Schedules Available:

12 hours shifts, full-time and night shift availability is strongly preferred.

Banyan Treatment Centers is a leading National addiction and mental health

care organization with a full continuum of care, and is Joint Commission

Accredited (Gold Seal of Approval). Since our formation, we have grown to be

an authority and innovator in the areas of addiction care and mental health

treatment serving our communities in 14 locations throughout the United States.

The Staff Nurse completes assigned nursing related services for each client.

He/She is responsible for nursing assessments, providing routine nursing care,

review of medication logs and assisting in overseeing the medical and psychiatric

management of the patient in coordination with the attending physician.

Banyan Treatment Centers offers an environment for growth, not only for our

clients, but for our professionals, too. We provide:

• A fast-paced, collaborative work environment that encourages feedback and

creative input

• CPR Training

• CEUs

• Internal promotional opportunities

• Yearly merit increases

• Benefits: Medical, Vision Dental, Life Insurance,

Disability Insurance and PTO

• Eligible for sign on bonus after 6 months of full-time

employment.

For more information contact Chris Tomasetti,

302.315.0002 Ext. 258 • ctomasetti@banyancenters.com

www.banyantreatmentcenters.com

89069 Bayhealth Delaware DNA ad for June issue • 5" x 15" • 5/16/22