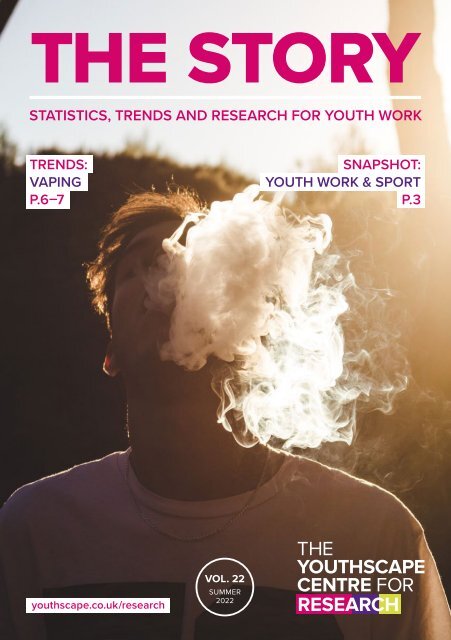 The Story Vol 22
Young people and vaping. Youth work and sport. Church youth work in the south west. The final printed edition of The Story!
Young people and vaping. Youth work and sport. Church youth work in the south west. The final printed edition of The Story!
SHOW MORE
SHOW LESS
Create successful ePaper yourself
Turn your PDF publications into a flip-book with our unique Google optimized e-Paper software.
THE STORY

STATISTICS, TRENDS AND RESEARCH FOR YOUTH WORK

TRENDS:

VAPING

P.6–7

SNAPSHOT:

YOUTH WORK & SPORT

P.3

youthscape.co.uk/research

VOL. 22

SUMMER

2022
---
WELCOME TO

THE STORY

To be notified about new issues

visit www.youthscape.co.uk/

research/the-story

Would you like the good news or the bad

news? As you wish…

IN THIS ISSUE:

The bad news is that this is the last printed

edition of The Story. After 22 volumes we have

conceded that (for now) research will need

to be delivered digitally in order to be costeffective.

Also, no one could re-fold the paper

version successfully – but that's by the by.

SNAPSHOT:

Youth Work & Sport

NEW RESEARCH:

Mapping the Landscape

P.3

P.4–5

The good news is that necessity is the mother

of invention. It's a bit pricey to deliver stats to

you in this format, so we are going back to the

drawing board to ask ourselves how research

can most effectively be shared with, and

shape, the youth ministry community. A weekly

email? An annual report? Videos? Performance

art? Your thoughts on this are very welcome

at research@youthscape.co.uk. While we take

time to consider these questions we will still

be producing one volume of The Story each

quarter – all of which will be available for free

at our website.

In this last printed edition you'll find new

evidence on young people and sport, the rise

(or not) of vaping, youth ministry in the South

West and a poster on young people and peer

evangelism. We hope you find it interesting.

Thanks for reading,

Lucie Shuker

Director of Research, Youthscape

TRENDS:

Vaping

YOUTH WORK DIAGRAMS:

Youth Workle

EVERYTHING YOU NEED

TO KNOW ABOUT…

PEER-TO-PEER EVANGELISM

Research News

P.6–7

P.8

REVERSE

This month the Centre is saying goodbye

to Gry Apeland, who has worked in the

team for the last three years. Gry has

provided invaluable support for all things

research-related, not least The Story, and

will be missed.

We have also published a new piece

of research called 'Influencers: peer

evangelism amongst young people in the

UK' which you can download for free at

our website.

P.2
---
SNAPSHOT: Youth Work & Sport

In May this year, the Youth

Sport Trust released a new

report looking at the latest

research on children and

young people's activity

levels. Here are a few

highlights…

The impact of exercise on school performance.

Sport has long been associated with improved

wellbeing, but research is also demonstrating the

long-term positive impact of physical activity on

academic attainment. 1 In particular, higher levels

of physical activity are positively associated with

attention in adolescents, which supports learning

in school. 2

Young people engage less in physical activities

since the pandemic.

Almost three quarters (73%) of school leaders

reported children returning to school with poor

levels of physical fitness following Covid-19

restrictions. 3 Overall, children's activity levels

have fallen by 13% compared to pre-pandemic

levels. 4

Barriers to engaging in physical activity.

Unfortunately, existing inequalities have widened

since the start of the pandemic. Young people

from the least affluent families remain the least

active and are falling further behind, and children

from Black and South Asian communities are

less active than the overall average. 5 In 2021,

37% of girls said that their periods stopped them

being active, an increase from 27% in 2018/19. 6

By their teenage years, 78% of girls understand

the importance of an active lifestyle but only 28%

really enjoy taking part in physical activity. 7

What might this mean for youth work?

For lots of young people PE is a main source

of exercise, and yet state secondary schools in

England taught 13% fewer hours of PE in 2021

than in 2011 and not all young people enjoy

these lessons. 8 Community and faith-based youth

work can offer exercise and sports activities in

a way that reflects their alternative value base.

For example, Women in Sport suggest eight

principles for success when inviting teenage

girls to participate in sport, that may help build

exercise-positive cultures beyond PE. These

include: no judgement, giving voice and choice,

clear emotional reward, invoke excitement and

expand image of what 'sporty' looks like.

1. Booth J, Leary S, Joinson C, Ness A, Tomporowski P, Boyle J & Reilly J (2014). Associations between objectively measured

physical activity and academic attainment in adolescents from a UK cohort. British Journal of Sports Medicine, 48, 265–270.

2. Booth, J. N., et al (2013) Associations between executive attention and objectively measured physical activity in

adolescence: Findings from ALSPAC, a UK cohort, Mental Health and Physical Activity, 6 (3), pp.212–219. 3. Youth Sport Trust.

2020. Returning to school after COVID-19. 4. Salway et al. IntJ Behav Nutr Phys Act. 2022. Accelerometer measured physical

activity and sedentary time among children and their parents in the UK before and after COVID 19 lockdowns: a natural

experiment. 5. Sport England. 2021. Active Lives Children and Young People Survey – Academic year 2020–21. 6. Youth

Sport Trust. Girls Active research 2021. 7. Women in Sport/Sport England. 2019. Reframing Sport for Teenage Girls: Building

Strong Foundations for Their Futures. 8. Statistics: school workforce – GOV. UK. 2021.

P.3
---
NEW RESEARCH: Mapping the Landscape

A snapshot of how churches and Christian

organisations are working with young people

across the South West of England.

South West Youth Ministries recently

published a report in which they

surveyed 972 churches and 48

organisations across the South West

of England on their engagement with

children and young people. We have

compared their main findings with

some of our findings from St Albans

Diocese in "Faith in Young People" to

see if there are similarities across the

two areas.

FINDING 1:

Where are the volunteers?

A lack of volunteers is the most significant

concern for churches working with young

people.

"Mapping the Landscape" found that 59% of

churches struggled with a lack of volunteers.

Smaller churches found it more challenging

to find volunteers than bigger churches. Small

churches and churches in more rural areas are

also less likely to employ someone to work

with children and young people than bigger

churches in urban areas. As such, the churches

most reliant on volunteers are also the ones

finding it hardest to find volunteers.

This reflects the findings from our research

"Faith in Young People" in 2020 in which

Church of England clergy in the Diocese of St

Albans described the recruitment and retention

of volunteers as the greatest challenge facing

their youth ministry.

FINDING 2:

Training and recruitment

Churches and organisations are facing

challenges in training, recruiting, and retaining

paid workers.

'As an organisation, we are struggling to recruit

well qualified and experienced youth workers.'

41% of those in employed roles working with

children and young people had been in post

less than three years.

A higher percentage of ministries that employ

people to work with young people are seeing

that ministry work with greater numbers on a

regular basis. "Faith in Young People" found no

difference between numbers of young people

engaged with in the church with an employed

youth leader compared to a volunteer youth

leader. However, our report did find that

churches with an employed youth leader

engaged with a higher number of young people

in the local community.

P.4
---
FINDING 3:

Reaching out together

Organisations are taking a lead in partnership

and outward focussed activity.

Mapping the landscape found that 65% of

churches in the South West of England work

in partnerships sometimes, often or always

– a similar figure to the 67% of churches in

St Albans Diocese. The clergy surveyed for

Faith in Young People found that churches

particularly valued being able to partner

with others to take young people away for

residentials or events outside the local area,

and benefitted from partnership with local youth

work charities that provided ongoing support.

When it comes to activities provided, the charts

below show that organisations in the South

West are much more likely than churches to be

running certain kinds of community outreach,

including in-school groups and detached work.

In contrast, 91% of churches surveyed in the

St Albans Diocese were engaged in schools

work – though much of this is likely to be

clergy taking assemblies or lessons, rather than

running groups.

Activities of churches & organisations (1)

Organisation Church

Activities of churches & organisations (2)

Organisation Church

Holiday Club

After School

Activity

Youth Club

School Lunch

Activity

Kids Club

Detached

Work

0% 10% 20% 30% 40% 50% 0% 10% 20% 30% 40% 50%

FINDING 4:

Family based future?

There is evidence of a move towards

intergenerational approaches to working with

young people.

The most common title for someone who had

been employed to work with young people

in the South West of England was Youth,

Children and Families Minister (19.9%). While

there are still quite a lot of 'Youth pastors' and

'Youth leaders' in the region, a lot of the roles

recruited for in churches or organisations in

the South West combine a variety of ages.

This reflects what we found in "Faith in Young

People" where 58% of youth leaders (volunteer

or employed) were also responsible for either

children, families, or both, suggesting this is a

national rather than a regional trend. There may

be multiple drivers for this, including economic

(the need to reduce the number of paid staff)

and theological/pastoral (a growing emphasis

on intergenerational ministry).

P.5
---
TRENDS: Vaping

Data has been collected annually on young

people's use of e-cigarettes and tobacco. The

2021 survey was filled out by 2513 11–18 year

olds, and is representative of young people in

Great Britain. 1

% USE OF E-CIGARETTES BY 11–17 YEAR OLDS

Have never used/unaware of e-cigarettes Have tried them once or twice Use them more than once a week

Previous e-cigarette user Use them less than weekly

2021

88.2

0.8

7.2

2

1.2

2020

85.4

1.7

8.1

2.4

1.7

2019

85.8

0.7

8

2.9

1.5

2018

85.7

0.6

10

1.6

1.5

2017

85.9

1.5

9

1.8

1.1

2016

89.9

7.7

1.2

0.8

2015

87.6

9.3

1.8

0.5

2014

92.8

5.6

0.8 0.6

2013

95.9

3.1

0.3 0.3

In 2021 11.2% of 11–17 year olds had tried vaping, compared to 13.9% in 2020. This is largely

unchanged from 2015 when 11.6% of 11–17 year olds had tried e-cigarettes.

% USE OF E-CIGARETTES BY AGE, 2021

I have never used them/unaware of e-cigarettes I have only tried an e-cigarette once or twice I use them

more than once a week I used e-cigarettes in the past but no longer do I use them less than weekly

18

3

3.4

6.1

17.6

68.7

16–17

1.6 2.4 3.5

15.6

76

11–15

0.50.8

1.4

3.8

93

Children under 16 are the least likely to try e-cigarettes. In 2021, only 6.5% of 11–15 year olds had

tried vaping, compared to 23.2% of 16–17 year olds. Just under a third of 18 year olds reported trying

an e-cigarette (30.1%)

P.6
---
% ORDER OF USE – TOBACCO, CIGARETTES AND E-CIGARETTES

Tried real cigarettes before first trying e-cigarette Tried e-cigarettes before first trying real cigarette

Have never smoked real cigarette but have tried e-cigarette

70.2 63.7

56.9

51.6

45.9

48.7

47.2

18.3

7.9

22.3

9

29

10.2

26.5

16.6

29.7

20.6

27.8

18.4

27.2

20.4

39.8

29.3

24.6

2014

2015 2016 2017 2018 2019 2020 2021

The percentage of 11–18 year olds who tried real cigarettes before vaping has almost halved since

2014 (39.8%), but is still higher than the number who tried vaping before smoking (24.6%). There has

been concern that the growing visibility of vaping would lead to an uptake in young people smoking

tobacco cigarettes, but recent studies have found that vaping is viewed differently from tobacco, so

attitudes towards smoking do not seem to have softened. 2

So What?

Young people's awareness

of e-cigarettes may well have

increased, and the likelihood of

trying or currently using e-cigarettes

also seems to increase with age

and smoking status. However, this

data doesn't seem to suggest any

significant increase in the use of

e-cigarettes among young people

since 2015. We are curious to see

if this trend changes in 2022, given

our experience locally of a sharp

increase in young people vaping.

Gemma Milligan,

Assistant Director of Youthscape Luton:

"Vaping is attractive to young people for many of the

same reasons that it provides challenges to youth

workers: it's illegal for under 18s, it can be done

discretely, there is no bad smell, and it fits neatly in a

pocket. So, many of those we work with on our youth

programmes are vaping in the toilets and then lying

about it, which is challenging when we are wanting

to build a culture of respect and trust. Rather than

banning vaping (which doesn't stop it) or banning those

who vape (who we want to support), we are currently

creating contexts where vaping can occur on our terms.

This helps maintain good relationships and allows us to

explore the reasons behind the behaviour."

1. Action on Smoking and Health (ASH). Use of e-cigarettes among young people in Great Britain. 2021. 2. Brown et al (2020).

A qualitative study of e-cigarette emergence and the potential for renormalisation of smoking in UK youth. International Journal

of Drug Policy (75)

P.7
---
YOUTH WORK

DIAGRAMS

YOUTH WORKLE

M

I

X

E

D

G

R

E

A

T

G

R

O

A

N

G

R

O

W

N

For more

#youthworkdiagrams

follow us on Twitter

@YWresearch

TWITTER POLL: In a word

Bute Mills, 74 Bute Street,

Luton, LU1 2EY

Which single wordle answer describes your youth ministry

right now? Thanks to all 35 of you who completed our

twitter poll, and enabled us to deliver this decisive result

hello@youthscape.co.uk

01582 877220

Registered charity no. 1081754.

Registered company no. 3939801

registered in England, a company

limited by guarantee.

Cover photo by Daniel Ramos on

Unsplash.

P.8

MIXED

GREAT

GROAN

GROWN

40%

11.4%

28.6%

20%