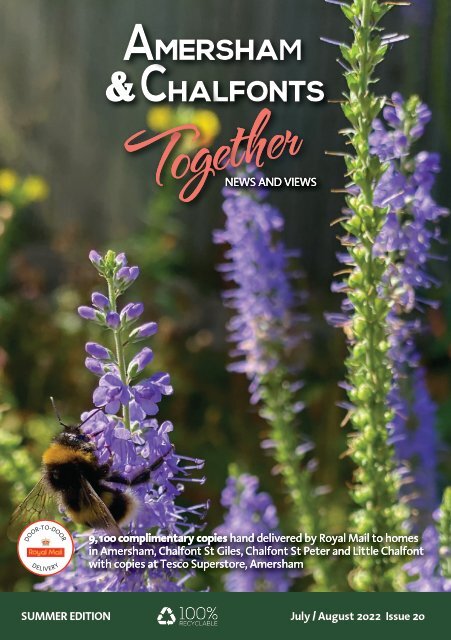 Amersham and Chalfont's Together July August 2022
#Community publication hand delivered to 9,000 homes and businesses via Royal Mail distribution in Amersham, Chalfont St Giles, Chalfont St Peter and Little Chalfont. News and views from non profit organisations, communities, charities, schools, with features on health, food, lifestyle, financial and much more. Please email us with latest news to: marketing@communitytogether.co.uk
#Community publication hand delivered to 9,000 homes and businesses via Royal Mail distribution in Amersham, Chalfont St Giles, Chalfont St Peter and Little Chalfont. News and views from non profit organisations, communities, charities, schools, with features on health, food, lifestyle, financial and much more. Please email us with latest news to: marketing@communitytogether.co.uk
SHOW MORE
SHOW LESS
You also want an ePaper? Increase the reach of your titles
YUMPU automatically turns print PDFs into web optimized ePapers that Google loves.
NEWS AND VIEWS

DOOR-TO-DOOR

DELIVERY

9,100 complimentary copies hand delivered by Royal Mail to homes

in Amersham, Chalfont St Giles, Chalfont St Peter and Little Chalfont

with copies at Tesco Superstore, Amersham

SUMMER EDITION July / August 2022 Issue 20
---
COMMUNITY NEWS

Summer's too short for

painting fences.

Choose 25 years maintenance free metal fencing*. Choose ColourFence.

Unique ColourFence GUARANTEE

◆ Virtually, maintenance FREE for 25 years*

◆ Won't warp, crack, shrink, rot or peel

◆ Withstands gusts up to 130mph

Why choose anything else?

◆ Metal fencing available in four colours

◆ Established in the UK for over 15 years

◆ Professional installation

25 YEAR guarantee

Brown Cream Blue Green

"We chose ColourFence 15 years

ago and it looks as good as new. "

Mr & Mrs P. Stringer

For a free, no-obligation quote, find out more via:

01494 711 400 | colourfencebucks.co.uk

*T&C's apply – see website for details

2 Amersham & Chalfonts Together is part of Community Together
---
Useful Numbers

Mental Help Helpline 24/7

t: 0800 783 0119 / 01865 904 997

National Domestic Abuse Helpline 24/7

t: 0808 2000 247

Chilterns Dial-a-ride for those with

mobility problems t: 01494 766 123

Alcoholics Anonymous

Call confidentially on: t: 0800 917 7650

Age UK's Befriending service matches older

people with volunteers who have similar interests.

t: 01296 431911e: age@ageukbucks.org.uk

Hello & welcome!

I hope you all had a fantastic Platinum Jubilee

celebration, it certainly seems like there were

many street parties and private gatherings taking

place and you all had some long-awaited fun and

laughter! See p24 & 25.

Our Young Journalists get writing despite the

busy exam period. Sanchi researches into making

your holiday more eco friendly, Tom gets the

opportunity to review Father Stu at Sony studios

and Tom shares some exciting news from

Amersham School. (p17-19)

The GX Fun Run made a record amount for 3

local charities (p10), Hearing Dogs for the Deaf

celebrate 40 years (p4), and much more news.

I hope you all have a fabulous summer and look

forward to catching up in the Autumn. If you have

any exciting positive community news to share

please email me by the end of July.

With love,

Therese

Next Copy Deadlines -

September / October 2022

Editorials: 3rd Aug

Advertisers: 4th Aug

Meet the Team

Publisher, Editor & Sales

Therese Cooklin - 07786 735 711

Magazine Designer

Mathew Peet, Digital Bear Design - 01949 839 206

Content is accurate to the best of our knowledge, however Amersham &

Chalfonts Together part of Abstract Niche Ltd cannot be held liable for

loss or damage, caused by errors or omissions. Inclusion of advertisers

does not indicate our endorsement of their products or services.

The opinions and findings expressed in articles submitted to this

publication are solely those of the authors and should not be assumed

to be those of Amersham Together or its affiliates.

t: 07786 735 711

e: therese@amershamtogether.co.uk

w: www.amershamtogether.co.uk

Get your business noticed

for as little as £36

Royal Mail door-to-door delivery and

drop-off sites to over 17,000 homes in

Beaconsfield, Amersham & Chalfonts

e: sales@communitytogether.co.uk
---
COMMUNITY NEWS

Celebrating

40 years!

Hearing Dogs for Deaf People trains

dogs to alert deaf children and adults

to important and life-saving sounds they

would otherwise miss, such as smoke

alarms, alarm clocks, oven timers and even

baby monitors and text message alerts.

A hearing dog also provides lots of love,

companionship and emotional support, which is

equally as important. The charity's clever canines

help deaf people to reconnect with life and leave

loneliness behind.

This year marks Hearing Dogs' 40th anniversary

and four decades of training amazing hearing

dogs. Since Hearing Dogs was founded in 1982,

where the first dog was trained in the living room

of long-standing staff member, Gill Lacey, the

charity's supporters have helped thousands of

deaf people, practically and emotionally.

This year, Hearing

Dogs will be

hosting several

events at its training

centre in Saunderton and virtually to celebrate its

40th anniversary with volunteers, supporters and

the public. Kicking off the celebrations is the Late

Summer Show on Sunday 11th September, which

is a great day of family fun with games, food and

drink stalls, rides and a fun dog show.

Anyone looking to celebrate Hearing Dogs' 40th

birthday and help a deaf person can donate to their

special Ruby Appeal. Cocker Spaniel puppy Ruby

has been named to celebrate 40 years of Hearing

Dogs. Her exciting journey is just beginning and

with your help, a deaf person's life will be changed

forever: www.hearingdogs.org.uk/ruby

Blue Badge

parking at

Co-op in CSP

A local resident brought it to our

attention that if you are a Blue

Badge holder, there have been

recent changes in parking conditions

in the Co-op Chalfont St Peter

car-park she wanted to make you

aware of..

If you park longer than the 1/2 hour free

parking allowance, you will get a ticket

regardless of showing a blue badge on your

car dashboard.

Please go into Co-op and tell a member of

staff of your vehicle registration and they

will input this onto the system to avoid being

fined. Or purchase a ticket via the ticket

machine and get reimbursement on checking

out at the till.

4 Amersham & Chalfonts Together is part of Community Together
---
To advertise please call 07786 735 711 or email marketing@amershamtogether.co.uk 5
---
COMMUNITY NEWS

Local Band

receives Queen's

Award

Amersham Band is delighted to

announce that it has been awarded

The Queen's Award for Voluntary

Service. This is the highest award a

local voluntary group can receive in

the UK and is equivalent to an MBE.

The band has been recognised for its amazing

volunteers who have helped to create a vibrant

band, bringing brass music and opportunities

to all within the heart of the community. Band

Chairman, Fred Harrison said "Over the last few

years, as we worked on our bandroom project,

and subsequently in developing new bands

and music opportunities, I have been amazed

by the number of enthusiastic volunteers who

stepped forward to help the band develop.

It is impossible to count everyone who has

supported our many fundraising events and

donated time, materials or money to help us

create a class-leading brass music facility. There

must be at least a thousand, and the award

is a well-deserved recognition for everyone

involved."

The Queen's Award for Voluntary Service

aims to recognise outstanding work by local

volunteer groups to benefit their communities.

It was created in 2002 to celebrate The Queen's

Golden Jubilee and recipients are announced

each year on 2nd June, the anniversary of The

Queen's Coronation. The band will receive an

award crystal and a certificate from Countess

Howe, Lord-Lieutenant of Buckinghamshire.

For more information about the band can be

found at www.amershamband.com Contact:

Fred Harrison tel: 07802 223595, email:

fredharrison@victorialodge.org

Group Singing for Wellbeing, Health and Fun!

Come and join our fun choir

No singing experience needed

Chesham United Football Club, 3pm, Wednesdays

Email jane@singyourpainaway.co.uk or call 07788 227654

6 Amersham & Chalfonts Together is part of Community Together
---
Counties Loft Ladders tradesmen, so our customers lead to more happy to pop round and

come in.

customers are assured happy customers is true give you a no obligation

of the best job.

and we work hard to quote BUSINESS so you NEWS too can

The company,

make that happen for make use of your loft!

based Home locally, offers Counties Integrity in that we Loft Ladders,

homeowners the will turn up at the time

Home Counties Loft

opportunity to maximise we say and make sure

their storage space Quality the house is spotless You Can Trust!

with

Ladders,

a loft ladder,

Quality when we leave, You and

These days most

watchwords are Quality, - that simply wouldn't every installation we

50sqft

homeowners

of boarding

suffer

and value in that we offer

from Integrity and Value. happen if we didn't carry out!'

a light Can

a lack - of all storage fully Trust! fitted space.

our

Quality

services

in the

at

materials

a price

adhere to our overriding

in So many precious items that we use for all our principles.

So, if you want to make

These

less than

days

a day

most

from people can afford.

homeowners suffer

just that £355! need But to be it's kept not installations and the fact

use of your loft space,

from a lack of storage space. So many

just – but the where affordability

Our business relies on

to store it that all our loft packages At the end of the day the call Jamie free on 0808

of all?

precious the That's package where

items that Home

that need referrals to be and kept we get a old adage that happy 301 9558 and he'll be

makes Counties – but Home where Loft Counties Ladders to store it huge

tradesmen, all? amount That's so where of our calls

our customers lead to more happy to pop round and

Loft come Home Ladders in. Counties stand

from

Loft Ladders customers

people

come are

who

assured

have

in.

happy customers is true give you a no obligation

out, as manager Jamie

been of the referred best job. to us by and leave, we and work value hard in to that we quote offer so our you services too can at a

The company, based locally, our offers existing homeowners customers

Oakley explains: 'Our

make price that people happen can afford. for Our make business use of your relies loft! on

based the opportunity locally, offers to maximise Integrity their storage in that space we referrals and we get a huge amount of our calls

homeowners with a loft ladder, the 50sqft of will boarding turn up and at the a light time - from people who have been referred to us by our

opportunity all fully fitted to in maximise less than a we day say from and just make £444! sure But existing customers - that simply wouldn't happen

their it's not storage just the space affordability the of the house package is spotless

Need more that if we didn't adhere to our overriding principles.

with makes a loft Home ladder, Counties Loft when Ladders we leave, stand and out, as

50sqft manager of boarding Jamie Oakley and explains: value in 'Our that watchwords

we offer At the end of the day the old adage that happy

are Quality, Integrity and Value. our services Quality at in a the price

storage in materials less than that a day we from use for all

people space?

customers lead to more happy customers is true

our installations

can afford.

and and we work hard to make that happen for every

just the fact £355! that But all it's our not loft packages

just the affordability

Our business are fitted relies by on time installation we carry out!'

served tradesmen, so our customers package that

referrals and are we assured get a

of INSTALL the best job. A LOFT LADDER

makes Home Counties

huge amount of our calls So, if you want to make use of your loft space,

Loft Ladders stand

from people who have call Jamie free on 0808 301 9558 and he'll be

Integrity in that we will turn

out, as manager Jamie

been up at referred the time to we us say by happy to pop round and give you a no obligation

and

AND

make sure

USE

the house is

YOUR

our spotless existing when customers we

LOFT!

quote so you too can make use of your loft!

Oakley explains: 'Our

STARTER PACKAGE: Aluminium loft

ladder, light plus 50 sqft boarding, fully

fitted in less than a day from £355

storage space?

• Loft Ladders • Hatches

• Boarding • Insulation

• Lights • Fully Guaranteed

CALL FREE: 0808 301 9558

: Aluminium loft

ladder, light plus 50 sqft boarding, fully

from £444

Loft Ladders Hatches

Boarding Insulation

Lights

CALL FREE: 0808 301 9558

To advertise please call 07786 735 711 or email marketing@amershamtogether.co.uk 7
---
Check availability

heybroadband.co.uk
---
Check availability

heybroadband.co.uk

Call Free

0808 168 1616
---
COMMUNITY NEWS

Running for

amazing charities

The long-awaited Gerrard's Cross

Fun Run took place on Sunday

22nd May. The sun shone and the

community came together to watch

and applaud friends and family run

5km round the streets of our pretty

village. For younger runners there

was a new 1km event, and for the

youngest the usual sprints.

The day kept up the traditional camaraderie

of this biennial event for the last twenty years.

New friends were made, and others renewed

on East Common, as the music played,

delicious food cooked by the awardwinning

Ginger Chef was enjoyed by

many; games were played, and children

and adults were entertained by the various

activities. It was a fabulous family fun day

enjoyed by all.

www.DavidMoorePhotography.co.uk

Congratulations to the Harwood family,

lucky winners of this year's top prize: an

annual family membership of Gerrards Cross

Lawn Tennis Club and to Donna, who bought

the playing card pledging Chris Wheeler's

services to cook a fantastic dinner for a party

of eight! (and do the washing up!) Maria

won a luxury retreat at Pinetum Gardens,

St Austell, Cornwall - an additional prize

this year.

All the planning, organisation, and hard

work of everyone involved and the support

of those who came, raised around £43,000!

The proceeds will be divided equally

between William's Fund, Liberty's

Legacy, and Hearing Dogs for the Deaf.

An amazing achievement!! We wish these

deserving organisations continued success

with their valuable work as they strive to

make a difference to people's lives.

The committee would like also to thank

again local professional photographer David

Moore, for his expertise in capturing great

memories of the day on film. Visit his website

https://www.davidmoorephotography.co.uk/

www.DavidMoorePhotography.co.uk

An enormous debt-of-thanks is owed to

the sponsors, who gave generously to

make this day happen. As a result, we

again had some fantastic prize-draws.

The next fun run will take place in May

2024 when we again look forward to

welcoming the Gerrard's Cross Community

on East Common.

10 Amersham & Chalfonts Together is part of Community Together
---
FUN FOR THE WHOLE

FAMILY

CHILTERN OPEN AIR MUSEUM

STEP BACK IN TIME!

Explore Chiltern Open Air

Museum this summer

Discover over 30 historic buildings

including a 1940s prefab, Victorian

tollhouse and working historic farm.

Pre-book

online and

save £1 per

ticket.

www.coam.org.uk

Special events this summer include:

Viking Raid, Garden's Day, Classic

Vehicle Show, Medieval Jousting,

plus family craft and activitiy days.

Chiltern Open Air Museum, Newland Park, Gorelands Lane, Chalfont St Giles, Bucks, HP8 4AB.

DOG FRIENDLY BUSINESS OF THE YEAR 2020 - 21

A family run business with over 25 years experience

providing re-roofing, roof restoration and roof repair

services, making us industry experts

• Roofing repairs and cleaning

• UPVC fascia boards and guttering

• Gutter repairs

• Flat roofing system repairs

• New roofs

• Repairs following weather damage

• Chimney maintenance & repairs

• Public liability insurance and site

safety qualified

Contact: William Smith

m: 07735 065 555 t: 0208 485 6402 e: buildrightconstruction365@gmail.com

www.buildrightconstructionuk.co.uk

To advertise please call 07786 735 711 or email marketing@amershamtogether.co.uk 11
---
LOCAL BUSINESS

How to make your

bathroom more

eco-friendly?

Did you know whilst 90% of packaging is

recycled within our kitchens, only 50% is

being recycled by consumers in the bathroom.

As a result, our recyclable bathroom waste

accounts for 30% – 40% of total landfill waste

(Chartered Institution of Waste Management).

What many people don't realise is that there are

excellent plastic free or reusable alternatives to

the single use plastic items we use daily. Below is a

summary of some of the great alternatives available:

Toothpaste tablets

A fantastic way to swap out plastic toothpaste tubes

is with a refillable glass jar of "toothpaste tabs".

These little tablets do everything that toothpaste

does but contain cleaner ingredients, pack a mintier

punch and are zero waste. All you do is chew for 3-5

seconds and brush as normal!

Reusable

deodorant sticks

There are some

great refillable

alternatives to

disposable plastic

deodorants which

also use all natural

ingredients. You

may wonder if

these work as

well but you'd be

surprised with how

good the results are and all whilst being toxin-free.

Reusable cotton swabs

An easy replacement to combat the billions of

single-use cotton swabs that are consumed every

day. There are reusable swabs available which are

high quality, super durable and easy to clean with

water and a little soap. And most importantly can be

used safely up to 1,000 times.

Reusable make up remover pads

No need to purchase single use pads over & over

again, reusable organic cotton pads are available.

They are plastic-free, super soft, washable and

biodegradable.

Nappies

"Eco nappies" are now widely available and replace

the majority of fossil-fuel based plastic components

with biodegradable materials such as bamboo and

corn starch. The other big benefit here is that these

are also free from nasty chemicals and are much

kinder to a baby's skin.

Eco-Homemaker, an online shopping platform, is

on a mission to make your life easier when it comes

to eco-friendly shopping for your family. All of the

above products are available on their website and

are tried and tested by the local owners and their

young family.

12 Amersham & Chalfonts Together is part of Community Together
---
DESIGN AND MARKETING FOR

MAXIMUM IMPACT

LOGOS, ILLUSTRATIONS, ADVERTISEMENT,

BUSINESS STATIONERY, SOCIAL MEDIA

ADVERTS, WEBSITES, LEAFLETS, car livery,

clothing designs

To advertise please call 07786 735 711 or email marketing@amershamtogether.co.uk 13
---
COMMUNITY NEWS

Displaced

Ukranian families

outreach

The Ukranian Outreach to support

local families providing temporary

accommodation to displaced

Ukranians is progressing well.

Two containers (donated by Charles Wilson

Engineers Plant Hire) have been sited in

Chalfont St Peter at St Joseph's Church and

the CSP Community Centre to receive clothing,

toys and toiletries for distribution to families

currently seeking refuge. The Hub in St Peter

has a Ukranian Drop-In- Café on Tuesday and

Thursday mornings, where English lessons are

well attended, and Misbourne Matins Rotary

Club have donated teaching materials and art

and colouring books to encourage Mindfulness

as a tool in helping reduce anxiety levels in

many of the traumatised young people.

Left to right: Karen, Vitalia, Olga, Artur, Olena, Vova Marlene,

Claire and Svetlana.

"Chalfont residents always step up when a

needs arise. We have been receiving donations

between 10.00 and 12.00am at the blue

container at the Community Centre on Mondays

and Wednesday, and people offer to help

whenever they can. There is still a need for

raincoats, wellies, trainers and light jackets as

the Ukranian families try to acclimatise the British

weather. Hoodies, gilets and waterproof kagools

are given out as soon as they come in", said

helper Karen Dickson.

If you are keen and able to assist the Displaced

Ukranian Families Outreach, please make contact

with Karen at kzdickson@thechalfonts.co.uk.

Alternatively, if you and your family are yourselves

in need, please make (confidential) contact and

the group will try to help where they can.

Experienced, Friendly

& Professional Internal

& External Decorators.

We have been

working in & around

Beaconsfield,

Gerrards Cross,

Amersham &

surrounding areas

since 1993.

Please call to discuss

your requirements.

Call Nigel:

01494 681 794 or 07771 521 263

www.ngilliedecoratingservices.co.uk

Amersham & Chalfonts

Chimney Sweep

Manual and Power Chimney Sweeping

Open Fires, Stoves and Gas Fires

Certificates Issued

Professional and Reliable

Pay by Card

Chimney Caps and Cowls

Call JOSH: 07549 422 465

Or Book Online Today:

www.TheLocalChimneySweep.co.uk

14 Amersham & Chalfonts Together is part of Community Together
---
New

Adult Learning

brochure out now

• Languages

• Creative Arts

• Health and Fitness

• Home Improvements and Gardening

• English, maths and digital skills

• Distance Learning

• Family Learning

Enrol today for 22/23 courses.

01296 382403

www.adultlearningbc.ac.uk

Community Together - 130mm x 90mm.indd 1 06/06/2022 13:20:42

Tuesday 12th & 26th July

(No sessions in August)

19:30 - 20:30 pm

Chalfont St Peter Community Centre

SL9 9QX

Drop ins welcome - no need to book

Contact:

odette@ukpranichealing.co.uk

To advertise please call 07786 735 711 or email marketing@amershamtogether.co.uk 15
---
COMMUNITY NEWS

Lindengate

Charity Awarded

Queens Award for

Voluntary Services

Every day, millions of people across

the UK are making a difference by

volunteering

Each year, outstanding examples of this work

are celebrated through the Queen's Award for

Voluntary Service (QAVS). Created in 2002 for

the Queen's Golden Jubilee, QAVS awards

have been shining a light on the fantastic work

of voluntary groups for many years.

Equivalent to an MBE, QAVS are the highest

awards given to local voluntary groups in the

UK, and they are awarded for life.

We are delighted to announce that

Lindengate has been awarded the Queens

Award for Voluntary Services for 2022.

Without our community of 200 volunteers,

this could not have been possible, making

Lindengate what it is today, one of

Buckinghamshire's most respected and

successful charities & shaping our future,

enabling many more people to benefit

from our pioneering work.

For more information on

Lindengate, our programmes,

events, volunteer opportunities

& opening times, go to:

www.lindengate.org.uk

APPLY

NOW

Join us as a TEACHING ASSISTANT

Immediate start

Term time only

33.75 hours per week

AMER AM

visit the website for more details

amershamschool.org.uk/vacancies

16 Amersham & Chalfonts Together is part of Community Together
---
ISSUE 9

THE YOUNG JOURNALIST

Students given

opportunity to gain

LCS qualification

The LCS (Lean Competency System) was

developed at Cardiff University and is an

internationally recognised workplace-based

qualification, offering a universal standard.

which supports organisations in achieving

accreditation for their in-house 'lean' and

continual improvement.

Lean and continuous improvement

investigates ways to minimise waste,

while maximising value, making the

processes more efficient. It is a globally

recognised qualification delivered

in-house by many well known bluechip

organisations.

Personal certification is usually only

accessible to individuals after they

have started a career in the commercial

sector. Recently however, Mr. Boswell

has given me and some of my fellow

students at Amersham School an amazing

opportunity to gain the first level: 1a.

Students at Amersham School will be the

first students in the world to be offered

the chance to gain this certification.

I was lucky to be part of a select group

of students, as part of a trial-run to see

if it could successfully be delivered in

school. Amersham School's training

course has just been accredited to

provide LCS certification and I had

recently just passed my Level 1a

exam, along with Kian Miller-Christie.

Three more students will have the

opportunity to join us by taking the exam

very soon: Charlie Klean, Orlando Doyle

and Ben Taylor.

The school has plans to introduce it

into sixth form, starting with the Student

Senior Leadership Team next year

and I hope, in future, to give all sixth

form students a chance to achieve the

qualification. I will now be starting a

project to review our processes for

keeping in touch with our Alumni.

Completion of this will enable me to

gain my level 1b certification, which

requires the knowledge I have gained

already to be put in to practice on

a real project.

It is a great benefit to anyone to

have an LCS certification, as it is a

sought-after credential by many

businesses today. Companies such

as HSBC, Lloyds, AVIA, Barclays, BBC,

PWC and the NHS actively look for

people with an LCS qualification. Not

only does the qualification help boost a

CV but it helps also developing your

own critical thinking and problem-solving

skills. For me, to have this qualification

at such a young age is also extremely

beneficial when it comes to UCAS

applications and job interviews. It

helps me stand out from the crowd.

Cyrus Hassan

Cyrus Hassan, Year 12 student,

Amersham School

To advertise please call 07786 735 711 or email marketing@amershamtogether.co.uk 17
---
ISSUE 9

THE YOUNG

Father Stu -

Film Review

I'd like to thank Kova PR, Sony Pictures and

Amersham & Chalfont's Together for inviting

me to an early press-screening of this film.

Although I didn't love the movie, I loved

the experience, and it has given me further

incentive to continue writing and watching

films.

The Tree of Life - one of my favourite films -

is a bold, brilliant, beautiful, explorative

of consciousness, existentialism and family -

very much a Christian film. Even as a

non-believer Christianity and Spirituality

can be one of the most touching, inspiring

subjects to explore in the medium of

film. That's not to say Father Stu is inherently

a bad film. There are many aspects that I find

to be genuinely worthy of praise, but it has

faults in crucial, vital places.

Father Stu opens in an explosive fashion -

introducing us to a barrage of sucker punches,

boxing gloves and screaming rednecks.

Blood is shed and bruises are born in the ring

where Stuart, our protagonist, fights. Over the

course of an eventful couple of weeks where

newborn dreams, newfound romances and

newly discovered passions are uncovered,

Stuart is the victim of a near-fatal motorbike

crash where he is plunged into a coma. When

he awakens from his deep sleep, his faith and

spirituality do so too. Thus begins the true-life

chronicle of an angst driven ex-boxer aspiring

to become a priest.

The constant supply of musical needle-drops,

interesting shots and great acting from Mark

Wahlberg and Mel Gibson attacked my senses

that I didn't really have time to feel bored.

But, unintentionally, these maximalist creative

decisions only prevented the clear themes of

forgiveness, ambition and faith from

becoming apparent thanks to the country

songs that would play at the end of every

scene and the brief two and a half minute

conversations that made up the two hour

runtime. The angry, hasty aesthetic of the film

worked in the first third, when our character

was a raging bull on the brink of a mid-life

crisis, but didn't work when our character was

learning to love, forgive and accept the God

he believes in into his heart. There are times

when I wish a film would go further - go

crazier - but this is not that time. Restraint,

subtlety and understanding is what I think

Father Stu needs to become truly great.

Father Stu opened in cinemas on May 17th.

Tom Boyd-Hall

Amersham School student by day, film lover at

every other waking moment. Tom has ambitions

to one day direct film. Until that time arrives, Tom

busies himself watching films, editing and writing.

Tom is currently honing his skills at GCSE, and

endeavouring to make his mark at A level within

the next few months.

Please note: the opinions and findings expressed in

this article are solely those of the author and should

not be assumed to be those of Amersham and

Chalfonts Together or its affiliates.

18 Amersham & Chalfonts Giving Together our is future part of the Community freedom of Together speech
---
JOURNALIST

Holidaying responsibly

Sitting at dinner with some climate-conscious

friends a few weeks ago, we discussed places

we have visited and loved.

As we listened to stories of the surreal

wilderness in Rajasthan and the charming

streets of Rome, the desire to pack our bags

and embark on an adventure was strong!

However, we understood that to love our

planet is to not only enjoy nature and culture,

but to preserve the biodiversity of earth

and protect it from the consequences of the

climate crisis.

In 2019 after the easing of COVID restrictions

more than 60 million holiday trips were taken

from Britain and these numbers will increase.

Travelling can be an amazing - we all deserve

a break - It is important to consider the impact

our travelling has on the places we visit.

News and social media paint a dark picture

of the climatic catastrophe we face. 8% of

emissions are the result of tourism. Some look

forward to sunny days on foreign beaches or

plan a relaxing staycation. Make decisions

that save money and have a lower impact

on the environment. Planes and cars have

a large carbon footprint. Rail travel, on the

other hand, is cheaper and better for the

environment. A person travelling from London

to Paris by plane would have a CO2 output of

122kg and 48kg if they drive, but only 15kg if

they travel by train!

It may not be convenient for everyone to

travel by train but there are other ways to

lessen our carbon footprint. If you are flying,

EasyJet do what they can to reduce carbon

emissions. Once you have reached your

destination, local public transport gives a

real flavour of the place rather than adding

a rented car to tourist traffic. Hiring a bike

to travel locally would also be cheaper and

healthier! Buy authentic food from weekly

grocery markets instead of supermarkets to

support local farmers. Consider your impact

on local cultures; tourism should not be at the

price of the area's peace and personality.

Still searching for a destination?

Visit The Guardian at

https://www.theguardian.com/travel/2022/

jan/01/22-sustainable-holiday-ideas-for-

2022-where-were-dreaming-of for sustainable

travel this summer. Many holiday destinations

also promote ecotourism, an environmentally

conscious approach to holidaying. You can

find out more about it at: https://www.holidaypirates.com/know-how/ecotourism.

Sanchi is a student in Little Chalfont.

The three things she loves most are

nature, people and writing. Uniting

these, she aims to create a brighter,

greener world!

Sanchi

To advertise please call 07786 735 711 or email marketing@amershamtogether.co.uk 19
---
COMMUNITY NEWS

A to Z of adventure

for Beavers

Over 820 Beaver Scouts (boys and girls

aged 6 to 8) had an adventurous day at

the Buckinghamshire Scouts Beaveree.

Abseiling, circus skills, climbing, face

painting, golf, inflatables, orienteering,

water rockets and zorbing were just some

of the activities the children enjoyed.

Lewis' mother Anneka said, "Beavers had been

good for Lewis. It's helped with his social skills

and he is learning about how to be independent.

He has made new friends and his confidence

has grown. Beavers has also given him the

opportunity of doing a wide range of activities

outside of school."

Adult volunteer Helena Brookes who became

a volunteer 18 months ago said, "I became a

volunteer with Scouts as I wanted to give my

daughter Alice, the same experiences I had as a

child." She said, "Being a volunteer has helped

me build relationship with the parents of children

in the Colony. I have engaged with people in

the community, and have learnt some first aid

skills." Helena added, "There is a need for more

volunteers so more children can have the types of

adventures that Alice is having."

If you are interested in becoming a volunteer with

Scouts, please visit www.scouts.org.uk

Volunteer for a few hours at the Phoenix Café

Contact Kate Lamb t: 01494 601 450 e: kate.lamb@epilepsysociety.org.uk

DOMESTIC & COMMERCIAL ELECTRICIANS

Family run business

Full and partial rewires

Safety electrical testing

Landlords reports (PRS)

Fuse board upgrades

Garden lighting

All electrical work undertaken

Adam: 077251 72878 Craig: 077305 75633

w: www.alconelectrical.co.uk

e: info@alconelectrical.co.uk

Find us on instagram: @alcon_electrical

20 Amersham & Chalfonts Together is part of Community Together
---
Calling all

Lionesses!

The King's Church Amersham Lionesses

have completed a memorable year

finishing with some highs with wins in

local tournaments, demonstrating some

amazing football that has been learned

throughout the year.

them, but parents and other spectators. They

are now looking forward to their end-of-season

awards ceremony.

The girls attended the woman's FA cup final at

Wembley, a fantastic experience for them. Even

a special meeting with Ex Paris Saint Germain

Goalkeeper and Director of woman's football at

N3XT SPORTS Arianna Criscione, who gave her

story and advice about getting into football,

inspired the girls that football really is not just a

male sport.

Progress in the first full year after the pandemic

has been a great joy to watch, not only for

The Lionesses offer places for girls from

under-8s to under-11s and currently have

almost 40 girls playing for them. They are

hoping to expand and offer more places

to local players, along with coaching

opportunities.

For further information please visit

www.kcafc.co.uk

j M garden retreats ltd

~ Bespoke Garden Rooms ~

A Space to Work,

or a Place to Unwind...

Home Office, Summer House, Art Studio,

Gymnasium, Music Room, Gaming Den...

The Choice is Yours!

Whatever you require extra space for, we can

help design and build a garden room tailored

to your needs. Functional as well as beautiful,

your new retreat will be fully insulated,

double glazed and fitted with energy efficient

heating and lighting to ensure its suitability

for use all year round.

Don Graham

www.jmgardenretreats.co.uk

Email: enquiries@jmgardenretreats.co.uk

To advertise please call 07786 735 711 or email marketing@amershamtogether.co.uk 21
---
OUT AND ABOUT

History of

Bernwood Forest

Fancy a stroll through time?

Why not take a trip to Bernwood

forest, OX33 1BJ.

It's one of several ancient forests across

England, meaning parts of the woodland

have attained great age without significant

disturbance and thereby exhibit unique

ecological features. Many of the trees you'll

see during the walk are over 700 years old.

Buck's very own time machine, the site was best

known as a hunting ground for the royals in the

10th century. It was thought to have been the

day out of choice for Anglo-Saxon kings when

they needed an escape from the palace at Brill.

Edward the Confessor, who was born locally in

Islip was believed to be a regular. In the 12th

Century King Henry II unknowingly provided

us with an invaluable tool in helping define the

forest's ancient boundaries, when he prepared

a map of the forest in order to divide up the

land amongst his nobles.

winter months so the best time to visit is in

spring and summer. With plenty of beautiful

butterflies to keep the children occupied and

the opulent history for the adults, the woods

make an ideal spot for the whole family. With

the cost of living at an all-time high and purse

strings tightening, we are pleased to confirm

that the woodland trails and parking are free

and mostly all buggy friendly.

Ancient trees are irreplaceable, witnessing

momentous historical events while providing

invaluable homes for wildlife. The older the

tree, the more vital to wildlife it becomes. We

need your help in protecting them! Not only

ancient trees but many of Buckinghamshire's

woodlands and green spaces are under threat.

At CPRE we believe that the countryside is

for everybody, and that a beautiful, thriving

countryside enriches all our lives.

We are a national charity with a network

of local groups in every county. We have

almost a century of experience in campaigning

for the countryside. The CPRE network has

played a central role in the creation of National

Parks and Green Belts. To find out more

about the work we are doing, please visit

www.cprebucks.org.uk.

If the rich history alone doesn't make this day

out appealing, the wood is also known as a

haven for butterflies. There is believed to

be around forty species living here, making

Bernwood one of the most important habitats

in Britain. Butterflies tend to hibernate in the

Christa McDermott, Office Support

22 Amersham & Chalfonts Together is part of Community Together
---
ENVIRONMENTAL

How to reduce heat loss from your

home - the' fabric first' approach

We all know that we are being asked to

do 'our bit' in being more eco-friendly.

How can we achieve this in our homes? A family

asked EcoTiffin to do just that and after enlisting

their help, they commented, "EcoTiffin saved us

37% in energy bills whilst increasing our square

footage by 35%, giving us a warm and welcoming

home."

Moisture in brickwork is the worst possible

ingredient to have in your property and every effort

should be made to prevent the ingress of moisture.

Moisture in the brickwork reduces the brick's thermal

capacity to retain heat and it has a chilling effect like

a fridge on your home. Solid brick walls are by far

the worst. Remember; wet walls are cold walls!

The fabric first approach is essential when improving

insulation to roofs, walls, floors and windows and are

just some of the ways of reducing heat-loss. The use

of thermography (thermal imaging) is an exciting

and relatively new application in the building world.

If you want to identify areas of excessive heat loss

in your home and create an eco-friendly building,

using thermographic equipment, is a good place

to start.

Robert Tiffin (descendant of the original family)

and highly respected building expert and Quantity

Surveyor, has seen a rise in the number of families

wanting to make their homes work more efficiently.

Evidence from thermograms help to provide much

of the data to substantiate Robert's bespoke reports

for each property in "seeing the unseen". To

the trained eye, the results can reveal important

information enabling a clear diagnosis. Home

owners look forward to maximising their comfort

to a warm, cosy and cost effective, healthier

environment for themselves and their families.

To advertise please call 07786 735 711 or email marketing@amershamtogether.co.uk 23
---
Platinum Jubilee Fun in Chalfont Heights

Platinum Jubilee street parties in

Amersham and Chalfonts

All around the UK, street parties

were held.

This was no exception in Amersham and Chalfonts

area. It was wonderful to see communities coming

together again for laughter, cheer and community

spirit! Here are some lovely photographs from

the long weekend. Thank you to everyone who

shared these photos.

Going all out with the Union Jack suit!

Chiltern Heights street party

24 Amersham & Chalfonts Together is part of Community Together

Chalfont St Peter Town Crier.

Chalfont St Giles Aerial

View Jubilee Party
---
Dressing up for the occasion!

Mike (head of trees) planting a Jubilee plum tree with the

help of his little friends. A plaque dedicating the tree to

the Queen was added.

Even four legged friends have fun at the CSP

street Party

Jubilee beacon on Gold Hill Common, CSP.

© www.DavidMoorePhotography.co.uk

Family fun at Chalfont St Peter

Local Chalfont St Peter police get involved in

CSP Street Party

Street party gathering

fun with all the

neighbours

To advertise please call 07786 735 711 or email marketing@amershamtogether.co.uk 25
---
LEGAL ADVICE

Why is it important to consider pensions

on relationship breakdown?

Pension rights are often the single largest asset in

marriages or civil partnerships. This is particularly the case

where a person has served as a police officer, a member

of the armed forces or in other public sector roles.

Despite this, a survey by Which? found that only 15 per cent of

divorcing couples include pensions in their financial settlement.

There could be many reasons for this, including that people often

underestimate the value of their pensions, given that the benefit to

them feels rather distant.

However, overlooking a pension can leave former spouses or civil

partners with insufficient income on retirement. There are a range of

options available when dealing with pensions.

So, what are they?

Pension offsetting

The value of a pension is offset against the value of other assets

held between the parties. The non-pension assets are distributed

more in favour of one party to take into account that the other

party will have a greater pension provision. This does not involve

the court making a pension order and the pension remains with the

pension member.

party to the other. This provides the recipient with a separate

pension fund of their own. However, not all pensions are capable

of being shared.

Pension attaching

This requires the pension member to pay a percentage of their

pension income to the other party when the pension becomes

payable. The recipient effectively "attaches" themself to the

pension, as opposed to the pension being divided into two

separate pension funds.

Where appropriate, we will suggest the use of pension experts (eg.

independent financial advisors and/or actuaries) to gather relevant

information about your pensions and consider the exercise of the

court's powers in your specific circumstances.

Once terms have been agreed between the parties, or determined

by the court at a Final Hearing, a financial remedy order should be

drafted and sealed by the court. This will include details of how

the pensions are to be dealt with, whether that be for the parties

to retain their own pensions, or for the pension to be shared or

attached.

Ultimately, it is important not to forget about

pensions when trying to reach a financial agreement,

and also to obtain legal advice when considering

your pensions, to ensure that you achieve the right

Pension sharing

An existing pension arrangement is divided between the parties.

outcome for your circumstances.

This requires a pension RS_BEACS_AM_CHAL_CMYK_130X90_OUT_1.pdf sharing order from the court, which will 1 04/10/2021 11:44

state how much of the pension should be transferred from one

Jessica Smith, Solicitor

C

M

Y

CM

MY

CY

CMY

K

26 Amersham & Chalfonts Together is part of Community Together
---
Delivering meals

to people in crisis

The Big Community Takeaway is a charity

based in Chesham and run by a group of

committed and passionate volunteers.

We deliver hot food to people in crisis and have

provided meals to approximately 15,000 people

in Chesham, Amersham and the surrounding

villages since May 2020. Not only that, but

we've also fed children during school holidays,

supported deliveries of food to people on

Christmas Day and donated food to refugee

charities. More recently, the team delivered a

pilot project to people in High Wycombe where,

again, demand for food was high.

The impact of our work cannot be underestimated.

Not only do we provide hot food to those who

are hungry, but we're there with a friendly smile

for those who are lonely. As one of our clients

said, "It has been a real help, reassurance and

comfort to know that this service was available to

me; especially in the present times of high, rising

household costs. As I have severe disabilities and

am on a low income, this help has been most

needed, a necessity and appreciated."

If you'd like to learn more, please visit our website:

www.bigcommunitytakeaway.org.uk

Providing about 120 meals each week is no mean

feat. Food is prepared and cooked by Lisa Walker,

before it is delivered by an army of volunteer

drivers, all managed by Mark Rosales and his

operations crew.

The Tracy Trust

Platinum Jubilee

Tea Party

Friday 3rd June 2022 saw one of the

highlights in the Hedgerley calendar of

Platinum Jubilee events: the Tracy Trust

Tea Party.

The Scout Hut was transformed into a patriotic

pageant of red, white and blue, as over sixty

Tracy Trust members and friends came together

to mark her Majesty the Queen's seventy years on

the throne. Elizabeth II was toasted at the start of

the proceedings and guests sung the National

Anthem. Then they were treated to a delicious

afternoon tea, courtesy of Ann Tennant. What

excitement when the Platinum Jubilee Pudding

itself was produced and all got to taste the

prize-winning recipe; Ann told us that the zest

and juice of twenty lemons went into its making.

Trustees Chris Woodwark & Jim Cannon with their wives

Geraldine and Sue, joined by Tracy Trust members Kathy

and Terry Smart.

Louise Goodridge provided tuneful entertainment

both as a soloist singer and conductor of the

Thursday morning Tracy Trust singing class,

members of which sung a medley from the

musicals. The communal singing proved to be

very popular as songs from the decades in which

the Queen has reigned were sung with gusto by

all and resounded out in the heart of Hedgerley.

To advertise please call 07786 735 711 or email marketing@amershamtogether.co.uk 27
---
Amersham & Chalfont Together

Brain Matter

WORDSEARCH

Can you find FLOWERS all of these words SALAD hidden in

the grid? They may run forwards or

backwards HAY in a FEVER straight line SAND which travels

either horizontally, HEAT vertically SHORTS or diagonally.

FLOWERSHOLIDAY

SALAD SOMBRERO

HAY FEVER JULY SAND SUNGLASSES

HEAT

SHORTS

HOLIDAY JUNE SOMBRERO TENT

JULY MOSQUITO SUNGLASSES WARMTH

JUNE

TENT

MOSQUITO PLAY WARMTHWASPS

PLAY ROSES WASPS WEATHER

ROSES WEATHER

Summer

Can you find all of these words hidden in the grid? They may run forwards or backwards in a

straight line which travels either horizontally, vertically or diagonally.

Salad Bowl

Y E G I S H O R T S E T R

A V T D E R A C Z Y V T E

L U N S C P R R A R C N T

P S E E A K E D O J U S H

T H T G E H I H U J Z U F

P F Z U T L T L T G Z N J

R L F A O D Y L M M X G H

T O E H A Y F E V E R L V

A W S C M V B D E O C A M

E E S E D O D N N A E S W

H R U V S R S A R A K S J

H S U P A P I R L L S E J

S O M B R E R O T A L S N

S P S A W Z T V H E S E Q

H Y O H O T I U Q S O M P

Can you fit all of these words into the grid, then rearrange the letters in the yellow squares to

SALAD BOWL

form another word; something you might also find in a salad?

4 letters RADISH

Can you PEAS fit all of these TOMATO words into the grid,

then rearrange the letters in the yellow

squares 5 letters to form another 7 letters word; something

you might CRESS also find in AVOCADO a salad?

4 letters HERBS CHICORY

7 letters

PEAS AVOCADOLETTUCE

5 letters 6 letters

CHICORY

LETTUCE

CRESSCARROT

8 letters

HERBS 8 letters

CELERY

DRESSING

DRESSING

6 letters CHIVES SHALLOTS SHALLOTS

CARROT

CELERY ENDIVE

9 letters

CHIVES FENNEL MUSHROOMS 9 letters

ENDIVE

FENNEL OLIVES MUSHROOMS

Answer:

OLIVES ONIONS

ONIONS

RADISH

TOMATO The word is: __________________________

The word is:___________________________

Y E G I S H O R T S E T R

A V T D E R A C Z Y V T E

L U N S C P R R A R C N T

P S E E A K E D O J U S H

T H T G E H I H U J Z U F

P F Z U T L T L T G Z N J

R L F A O D Y L M M X G H

T O E H A Y F E V E R L V

A W S C M V B D E O C A M

E E S E D O D N N A E S W

H R U V S R S A R A K S J

H S U P A P I R L L S E J

S O M B R E R O T A L S N

S P S A W Z T V H E S E Q

H Y O H O T (answers I U Q S Oon Mp30)

P

28 Amersham & Chalfonts Together is part of Community Together
---
Safe & gentle ear wax

removal at a clinic

near you

What is ear wax?

What is it, why do we have it in our ears and why does it sometimes cause hearing loss. Earwax, also known

as cerumen, is produced inside your ears to keep them clean and free of germs. It usually passes out of the

ears harmlessly, but sometimes too much can build up and block the ears.

It protects the skin of the human ear canal, assists in cleaning and lubrication, and also provides some

protection from bacteria, fungi, insects and water. In other words, ear wax is a good thing!

The amount of ear wax that the body produces differs from person to person, the amount that is retained

within the ear also differs for each of us - these differences are for a number of reasons; Age; Diet; Lifestyle;

Personal anatomy; Genetics; Ethnicity.

Many people will produce a small amount of wax their whole lives, which leaves the ear canal naturally, and

never have any problem with it. For others, their ear will produce a larger amount of wax, which will not

fully leave the ear canal and will become blocked, which leads to them having reduced hearing ability and also

a blocked feeling in the ear.

Are you experiencing any of the following?

• Pressure in the ears

• Blocked feeling in the ears

• Need to pop your ears but can't

• Sudden loss of hearing or muffles sound

• Hearing aids whistling

• Underperforming hearing aids

Call for more information on

Call: 07903 013 123 or 07535 603 744

Email: hearwego.beaconsfield@gmail.com

Web: www.hearwegohearingsolutions.co.uk

Consulting Suite, 19 London End Road, Beaconsfield, Buckinghamshire, HP9 2HN

Consulting Suite, The Studio, 37, Station Road, Beaconsfield, HP9 1QG

To advertise please call 07786 735 711 or email marketing@amershamtogether.co.uk 29
---
Together Trades Directory

- Amersham and Chalfonts

Share your recommendations with us at trades@communitytogether.co.uk

ELECTRICIANS

professional internal and external decorators.

Alcon Electrical Installations

t: 01494 681 794 / 07771 521 263

Family run business. All domestic and

w: www.ngilliedecoratingservices.co.uk

commercial Summer installations, full and partial rewires, Salad Bowl

garden lighting, safety electrical testing, fuse PROPERTY MAINTENANCE – EXTERIOR

se words board hidden upgrades. in the grid? All Can They electrical you may fit run all work of forwards these undertaken. words backwards into the grid, in Build a then Right rearrange Construction the letters in (Roofing) the yellow squares to

ine which t: travels 07725 either 172 horizontally, 878 or 07730 vertically 575 633 form diagonally. another word; something Established you might for over also find 25 years, in a salad? local roofing repairs &

e: info@alconelectrical.co.uk

cleaning, gutter repairs, new roofs, chimney repairs

w: www.alconelectrical.co.uk

t: 0208 485 6402 / 07735 065 555

SALAD

Y

4 letters

E G I S H

RADISH

O R T S E T R

PEAS

TOMATO w: www.buildrightconstructionuk.co.uk

SANDWilkinson Electrical A VLtdT D E R A C Z Y V T E

Domestic and commercial L U N Sinstallations, C P R Rlighting,

A R C NEco T Tiffin

SHORTS socket outlets, re-wires, 5 letters power circuits, 7 letters consumer Property restorations, refurbishments combining

units, safety checks P

CRESS and S Eperiodic E A Kinspections.

AVOCADO

E D O J U S H

SOMBRERO

a passion for energy saving and conservation.

t: 07813 205 628 THERBS

/ 07384 H T G892 E482

H CHICORY I H U J Z Ut: F01442 819 332 / 07768 005 885

SUNGLASSES e: wilkinsonelectricalltd@gmail.com

P F Z U T L LETTUCE T L T G Z Nw: Jwww.ecotiffin.co.uk

TENTGARDEN AND LANDSCAPING

R6 letters L F A O D Y L M M X G H

Colourfence

JM Garden Retreats Ltd

WARMTH

TCARROT

O E H A Y8 Fletters

E V E R L25 Vyear guaranteed fences that will stand strong

Bespoke garden

A

rooms CELERY W S

designed

C M V

to DRESSING B

your

D

needs.

E O C Athroughout M winter and any storm.

WASPS Functional and beautiful!

t: 01494 711 400

w: www.jmgardenretreats.co.uk

ECHIVES

E S E D O SHALLOTS D N N A E Sw: Wwww.colourfencebucks.co.uk

WEATHER e: enquiries@jmgardenretreats.co.uk

H

ENDIVE

R U V S R S A R A K S J

FENNEL 9 letters Taurus Secure Garage Doors

Precision Garden

H

Services

S U P A P I R L L S E J

OLIVES MUSHROOMS Quality insulated electric garage door

20 years experience S Oin green M B keeping R E R and O T A L Sinstallation. N

ONIONS

Made from strong and durable

complete lawn care. S PNVQ S A3 in Wsports Z T turf V H E S Etwin Q walled aluminum.

horticulture

t: 0800 047 8734 / 07842 330 001

t: 07745 499 981The H Yword O His: O__________________________

T I U Q S O M P

w: www.TaurusSecure.co.uk

e: dan@precisiongardenservices.co.uk

INTERIOR DESIGN, PAINTERS

AND DECORATORS

Gary Kent Tiling Company

Local, experienced, friendly tiler. Tiling in

bathrooms, kitchens, walls and floors.

t: 07865 071 286

e: garyc_kent@hotmail.com

N. Gillie Decorating Services

Established 1993. Experienced, friendly

PUZZLE

SOLUTIONS

PROPERTY MAINTENANCE – INTERIOR

Amersham & Chalfonts Chimney Sweep

Call Josh for professional chimney sweep and fire

services.

t: 07549 422 465

w: www.TheLocalChimneySweep.co.uk

Back to Life Cleaning Services

Carpet and upholstery cleaning services.

t: 0800 2118 387 (Freephone) / 07726 491 580

w: www.backtolifecleaningservices.co.uk

Answer: CUCUMBER

Y E G I S H O R T S E T R

H E R B S C E L E R Y

Answer:

A V T D E R A C Z Y V T E

N

H

L U N S C P R R A R C N T

D R E S S I N G M

P S E E A K E D O J U S H

I H C C U

T H T G E H I H U J Z U F

P F Z U T L T L T G Z N J

A V O C A D O H S

R L F A O D Y L M M X G H

L E L R A D I S H

T O E H A Y F E V E R L V

E C L Y V R

WORDSEARCH A W S C M V B D E O C A M

WORD FIT T O M A T O F E O

E E S E D O D N N A E S W

T R T P E A S O

H R U V S R S A R A K S J

U C R E S S N M

H S U P A P I R L L S E J

S O M B R E R O T A L S N

C O O N I O N S

S P S A W Z T V H E S E Q

E T E

30 H Y O H O T Amersham I U Q S O M& PChalfonts Together is part of Community O L ITogether

V E S
---
Chalfont Oven Cleaning

First class results every time. Ovens, hobs,

extractors, grills, stoves, microwaves, Aga cookers,

barbecue trays.

t: 01753 889 922 / 07939 539 058

w: www.chalfontovencleaning.co.uk

Home Counties Loft Ladders

Complete loft storage solutions.

t: 0808 301 9558

w: www.homecountiesloftladders.co.uk

RED KITE CRAFT MARKET

Saturday 12th July | 9am - 1pm

Saturday 9th August | 9am - 1pm

FREE ENTRY

www.facebook.com/redkitecraft

email : redkitemarket@gmail.com

Little Chalfont Village Hall, Little Chalfont,

HP8 4UD

Introducing Cygnets

Art School for

children

Cygnets is a fine art school for

children and we run local term time

and holiday classes for ages 5+.

We teach traditional drawing, painting and

sculpture, and students have the chance

to explore a variety of techniques and

mediums.

These popular art classes are running at St

Michael's Hall, Beaconsfield. Book term time

and/or holiday workshops. Our summer

term time theme is 'India' and our summer

workshop theme is 'Natural Britain'!

Contact Matthew Trice:

www.cygnetsartschool.com/beaconsfield

WWW.CYGNETSARTSCHOOL.COM/BEACONSFIELD

Now Booking for

Summer Term

2022

'India'

Ages 5-13

To advertise please call 07786 735 711 or email marketing@amershamtogether.co.uk

31
---
32 Amersham & Chalfonts Together is part of Community Together