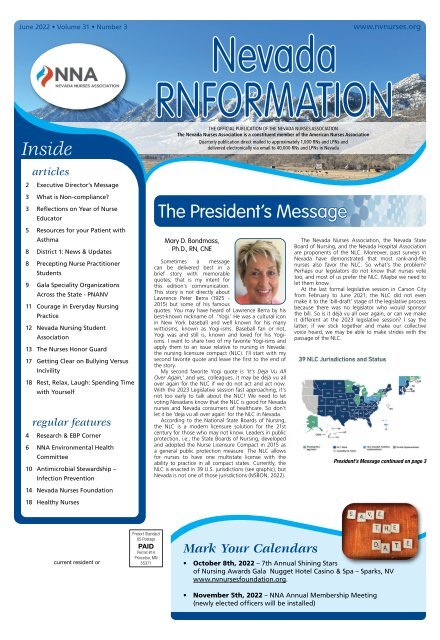 Create successful ePaper yourself
Turn your PDF publications into a flip-book with our unique Google optimized e-Paper software.
June 2022 • Volume 31 • Number 3

www.nvnurses.org

Nevada

RNFORMATION

Inside

articles

2 Executive Director's Message

3 What is Non-compliance?

3 Reflections on Year of Nurse

Educator

5 Resources for your Patient with

Asthma

8 District 1: News & Updates

8 Precepting Nurse Practitioner

Students

9 Gala Speciality Organizations

Across the State - PNANV

11 Courage in Everyday Nursing

Practice

12 Nevada Nursing Student

Association

13 The Nurses Honor Guard

17 Getting Clear on Bullying Versus

Incivility

18 Rest, Relax, Laugh: Spending Time

with Yourself

regular features

4 Research & EBP Corner

6 NNA Environmental Health

Committee

10 Antimicrobial Stewardship –

Infection Prevention

THE OFFICIAL PUBLICATION OF THE NEVADA NURSES ASSOCIATION

The Nevada Nurses Association is a constituent member of the American Nurses Association

Quarterly publication direct mailed to approximately 1,000 RNs and LPNs and

delivered electronically via email to 40,000 RNs and LPNs in Nevada

The President's Message

Mary D. Bondmass,

Ph.D., RN, CNE

Sometimes a message

can be delivered best in a

brief story with memorable

quotes; that is my intent for

this edition's communication.

This story is not directly about

Lawrence Peter Berra (1925 -

2015) but some of his famous

quotes. You may have heard of Lawrence Berra by his

best-known nickname of 'Yogi.' He was a cultural icon

in New York baseball and well known for his many

witticisms, known as Yogi-isms. Baseball fan or not,

Yogi was and still is, known and loved for his Yogiisms.

I want to share two of my favorite Yogi-isms and

apply them to an issue relative to nursing in Nevada:

the nursing licensure compact (NLC). I'll start with my

second favorite quote and leave the first to the end of

the story.

My second favorite Yogi quote is 'It's Deja Vu All

Over Again,' and yes, colleagues, it may be déjà vu all

over again for the NLC if we do not act and act now.

With the 2023 Legislative session fast approaching, it's

not too early to talk about the NLC! We need to let

voting Nevadans know that the NLC is good for Nevada

nurses and Nevada consumers of healthcare. So don't

let it be 'deja vu all over again' for the NLC in Nevada.

According to the National State Boards of Nursing,

the NLC is a modern licensure solution for the 21st

century for those who may not know. Leaders in public

protection, i.e., the State Boards of Nursing, developed

and adopted the Nurse Licensure Compact in 2015 as

a general public protection measure. The NLC allows

for nurses to have one multistate license with the

ability to practice in all compact states. Currently, the

NLC is enacted in 39 U.S. jurisdictions (see graphic), but

Nevada is not one of those jurisdictions (NSBON, 2022).

The Nevada Nurses Association, the Nevada State

Board of Nursing, and the Nevada Hospital Association

are proponents of the NLC. Moreover, past surveys in

Nevada have demonstrated that most rank-and-file

nurses also favor the NLC. So what's the problem?

Perhaps our legislators do not know that nurses vote

too, and most of us prefer the NLC. Maybe we need to

let them know.

At the last formal legislative session in Carson City

from February to June 2021, the NLC did not even

make it to the 'bill-draft' stage of the legislative process

because there was no legislator who would sponsor

the bill. So is it déjà vu all over again, or can we make

it different at the 2023 legislative session? I say the

latter; if we stick together and make our collective

voice heard, we may be able to make strides with the

passage of the NLC.

President's Message continued on page 3

14 Nevada Nurses Foundation

18 Healthy Nurses

current resident or

Presort Standard

US Postage

PAID

Permit #14

Princeton, MN

55371

Mark Your Calendars

• October 8th, 2022 – 7th Annual Shining Stars

of Nursing Awards Gala Nugget Hotel Casino & Spa – Sparks, NV

www.nvnursesfoundation.org.

• November 5th, 2022 – NNA Annual Membership Meeting

(newly elected officers will be installed)
---
2 6 5 $

L S - P A L S - A C L S

B

Page 2 • Nevada RNformation June, July, August 2022

NNA Mission Statement

The Nevada Nurses Association promotes professional nursing practice through

continuing education, community service, nursing leadership, and legislative

activities to advocate for improved health and high quality health care for citizens of

Nevada.

NNA State Board of Directors

Mary D. Bondmass, PhD, RN, CNE Mary.bondmass@unlv.edu ..............President

Nicki Aaker, MSN, MPH, RN, CNOR, PHCNS-BC naaker@aol.com .......Vice President

Glenn Hagerstrom, PhD, APRN, FNP-BC, CNE ghagersrom@unr.edu .........Treasurer

Veloma Wolfe, RN .............................................. Secretary

Arvin Operario, MBA, BSN, RN ..............................Director at Large

Michelle L. Bookout, RN, BSN, MSN, DNP .....................Director at Large

Norman Wright, RN, BSN, MS info@f441.com ...................Director at Large

Bernadette Longo, PhD, RN, FAAN .........................President, District 1

Margaret Covelli, DPN, RN Margaret.covelli@umcsn.com ..........President, District 3

Starla Gallagher, executivedirector@nvnurses.org .............Executive Director

Executive Director's Message

Starla Gallagher

Nevada Nurses Association is excited to announce that it is time for our Annual

Call to Serve. Every year we ask NNA members to make nominations for the

Nevada Nurses Association State and District Boards for any and all open positions.

To nominate someone or yourself, you must be a current NNA member, and the

individual being nominated must be as well. (Some positions require that you are a

member of ANA and NNA.) This year will bring a great deal of change for our NNA

State Board, and we would like to invite you to participate in choosing the future

leadership of NNA.

Please place your nominations via our NNA website at nvnurses.org, simply

log into your member profile and complete the appropriate form. If you are not

currently a member but you would like to become a member and participate, you

can do that by visiting our membership information page at nvnurses.org/Members/.

Thank you for considering the NNA Call to Serve.

Editorial Board

Managing Editor, Linda Bowman, RN, RNFormation@nvnurses.org

Mary D. Bondmass, PhD, RN, CNE

Starla Gallagher

Tracey Long PhD, APRN-BC

Bernadette Longo, PhD, RN, FAAN

Lisa Pacheco, MSN, RN

Vicki Walker DNP, BS RN

Are you interested in submitting an article for publication in RNFormation?

Please send it in a Word document to us at RNFormation@nvnurses.org. Our

Editorial Board will review the article and notify you whether it has been

accepted for publication.

If you wish to contact the author of an article published in RNFormation,

please email us and we will be happy to forward your comments.

The following positions are open for candidates for the 2022 Election:

State Level: seeking candidates for the positions of:

o President (2-yr term)

o Vice President (2-yr term)

o Treasurer (2-yr term)

o Director At Large (two positions, all 2-yr terms)

Northern Nevada & Rurals - District 1: seeking candidates for the

positions of:

o President-Elect (1-year term and then becomes President)

o Treasurer (2-yr term)

o Secretary (2-yr term)

o Directors (three positions, all 2-yr terms)

Southern Nevada - District 3: seeking candidates for the positions of:

o Treasurer (2-yr term)

o Secretary (2-yr term)

ANA Membership Assembly in Washington DC: seeking candidates for one

Representative & two alternates (1-yr terms). This position only serves in the summer

for the Assembly; expenses are covered. (You must be a member of ANA and NNA.)

Nominations Committee: three members (1-yr terms) - You must be a member

of ANA and NNA.

Please consider joining the NNA leadership team – you can make a difference.

www.nvnurses.org

Published by:

Arthur L. Davis

Publishing Agency, Inc.

NursingALD.com

can point you right to that perfect

NURSING JOB!

NursingALD.com

Free to Nurses

Privacy Assured

Easy to Use

E-mailed Job Leads
---
June, July, August 2022 Nevada RNformation • Page 3

What is

Non-compliance?

Robert J. Vadovic, RN, DNP,

APNc

If you are an APRN, when

was the last time you received a

report on a patient that started

with 'this is a non-compliant

patient'? The chances are that

this is a daily occurrence, if not

several times a week! But what

is non-compliance? Have you

ever considered what it means to call someone noncompliant?

According to the dictionary, non-compliance is the

failure to act in accordance with a wish or command.

In healthcare, non-compliance is so common that it

carries its own NANDA nursing diagnosis; although

NANDA removed the 'non' and now only uses the

word compliance, the meaning is the same i.e., the

patient's failure to act in accordance with a wish or

command. Yet is a patient ever really non-compliant?

As nurses and healthcare providers, our goal is

to improve health and wellness. We do this based

on our knowledge from research, experience, and

standards of care. When we develop a treatment

plan, we are always taught to be patient-centered and

individualized, but do we ever ask the patient what

they want?

Consider this scenario. You are treating a 75-yearold

female who just had a stroke. You know the patient

should be on a statin, an aspirin, and likely medications

to control blood pressure or other chronic diseases.

This regimen is a time-honored treatment plan, backed

by study after study and known as the best course of

action. You go through the plan with the patient, and

despite everything you tell them about the science and

the necessity for the drug, the patient refuses to take

the statin.

Two weeks after discharge, the patient is seen in the

office by their primary care provider, and a medication

reconciliation indicates that the patient is not taking the

statin. You inquire why the patient is not taking it, and

they state that they heard bad things about statins and

do not want to take it; no matter how much you say,

you can't get them to change their mind. Is this patient

non-compliant? How many of us would call this patient

non-compliant?

Remember the earlier definition of noncompliance,

failure to act in accordance with a wish or command.

When we developed the treatment plan for our

hypothetical patient, was there a discussion to see

what the patient wanted? As providers in this case, we

failed the patient by not considering what they wanted.

As a result, we failed to make the plan individualized

to the patient, based on the needs and wants of the

patient.

Prescribing the statin is the right thing to do;

encouraging the patient to take it and explaining why

they need it are also the right things to do. However,

is it the patient who is non-compliant because they

are not taking the drug, or have we failed to develop a

treatment plan that works for both the patient and us?

As healthcare providers, perhaps we should give the

patient the information we have, explain the risks and

benefits of treatments or the lack of treatment, and

then develop a treatment plan that works for both the

patient and us.

Moving forward in our practice, perhaps we should

not think of non-compliance as a patient's failing but

rather as an opportunity for us to discuss our patient's

wants and needs when we prescribe their medications.

Be the advocate that nurses are supposed to be and

support a patient's right to choose. Understand that

we may be the experts in nursing and medicine, but

we are not the experts in the lives and choices of our

patients.

Reflections on Year of Nurse Educator

Rochelle Walsh, DNP, RN,

PCCN

I talked to someone I

consider a friend recently, but

before she was a friend, she

was a mentor (informal) at

first, and then later formal –

as she became my chair and

shepherded me through my

thesis. She reminded me that it

was the year of the nurse educator and asked if I had

any reflections. I had received an email from someone,

but I hadn't reflected on what Nursing Education is

to me. One of Dr. Longo's statements, "teachers give

back to others," became the topic of my reflection for

this article.

Education is a big part of what nurses do. We teach

patients about their disease and teach them skills

like how to bathe their first baby and deal with the

complications of the disease. To be a nurse educator is

an extension of that role. Instead of teaching patients,

we now teach students how to become nurses, work

in hospitals to onboard nurses, and introduce new

procedures, policies, and technologies in the agency

setting to nurses who range from novice to expert. We

are not just giving them new knowledge but trying to

integrate it with current practice.

A lot of the role is instinctual and guided by our

initial nursing education, but to be that person who

can help nursing students change roles, to manage the

bridge from student to nurse, or help a knowledgeable

nurse obtain and keep their competency on lifesaving

technologies is guided by more than instinct. It takes

knowledge about how people learn, how to build

effective programs for various learners, someone

who can evaluate the program for success and

opportunities, and then reflect on the process. Nurse

educators don't limit their knowledge to nursing but

are also education experts.

President's Message continued from page 1

Nurses have done so much for health and healthcare

in Nevada, especially in the last few pandemic-laden

years; indeed, many think of us as heroes. It's now

time for Nevada to do something for nurses and pass

the NLC. While we didn't get our desired outcome in

2021, I remain a steadfast fan of Yogi-isms with my

first favorite quote from Lawrence Peter Berra: "It Ain't

Over, Till It's Over." Thanks, Yogi!

Respectfully yours.

Mary D. Bondmass, Ph.D. RN, CNE

President, Nevada Nurses Association

References:

NSBON, 2022. NLC: About, Stay Informed, Take Action.

https://www.nursecompact.com/index.htm

Be informed about the NLC; read more and decide

for yourself at https://www.ncsbn.org/nurse-licensurecompact.htm.

We are hiring Registered Nurses!

Healthcare facilities bordering the Navajo Nation

Gallup Indian Medical Center (Gallup, NM)

Tohatchi Health Care Center (Tohatchi, NM)

Med/Surg, OB/L&D, ICU, Ambulatory Care, ER, Peds,

Periop & other specialty positions available.

We offer:

Competitive Salaries

Relocation

Recruitment/Retention Incentives

Loan Repayment Site Eligible

Kudos to those in the trenches, working

with nursing students and our nursing force in

the community as they engage with the public,

interprofessional peers, and each other encouraging

them to look and respond to those teachable

moments. I will amend Dr. Longo's statement to

"Nurse educators give back to others."

Navajo Area Indian Health Service

Gallup Service Unit

Contact:

Deanna Mataya – Nurse Recruiter

505.409.9926 | deanna.mataya@ihs.gov

http://bit.ly/gsu-rn

I.H.S. is required by law to give absolute preference to qualified Indian applicants. Equal Opportunity Employer.
---
Page 4 • Nevada RNformation June, July, August 2022

Research & EBP Corner

Evaluation of an Advance Care Planning Workshop to

Improve the Self-Efficacy of Health Care Providers

Submitted by

Mary Bondmass, Ph.D., RN, CNE

This RNF feature presents abstracts of research and

evidence-based practice (EBP) projects completed or

spear-headed by nurses or student nurses in Nevada.

The focus is on new evidence (i.e., research) or on the

translation of evidence (i.e., EBP) in Practice, Education,

or Research. Submissions are welcome and will be

reviewed by the RNF editorial board for publication;

send your abstract submission in a similar format used

below to mary.bondmass@unlv.edu

Joy Patrick, DNP, APRN,

CCNS-AG, CCRN, graduated

with honors from UNLV in

May of 2022 with a Doctor of

Nursing Practice (DNP) degree.

She is currently a lecturer at

Nevada State College's School

of Nursing. As a Clinical Nurse

Specialist, Joy has experience in

"system level change" projects

such as staffing models,

palliative care programs, and

improving healthy work environments. Dr. Patrick's

research interests are critical care, nursing education,

APRN practice, and palliative medicine. Her most

recent scholarly work, presented as a poster at the

2022 Western Institute of Nursing (WIN) conference,

was related to improving the self-efficacy of health

care providers in facilitating advance care planning.

Joy also conducted several change projects such as

reducing barriers such as fear in nurses providing pain

management at the end of life. The project, "Pain

Management at the End of Life," utilized Bandura's

Self-Efficacy theory to improve nurses' clinical practice

caring for palliative care patients within an oncology

unit. In addition, she has collaborated on several

research and project initiatives and has experience

disseminating findings at national conferences.

Additionally, Joy has experience in academia, nursing

administration, and staff development.

Abstract

Evaluation of an Advance Care Planning Workshop to

Improve the Self-Efficacy of Health Care Providers

Background: Advance care planning (ACP) consists

of a discussion between an individual, their care

providers, and those close to them about future care.

Continually the barriers to advance care planning

are multifocal such as provider apprehension, lack

of time, and fear. Available evidence demonstrates

a broad range strategies to improve provider selfefficacy.

Interventions such as the use of role-playing,

simulation, trained persons, and even the use of

mnemonics have shown feasibility to utilize for my

phenomenon of interest.

Purpose: The purpose of this Doctor of Nursing

Practice (DNP) was to develop, implement, and evaluate

an online module related to improving healthcare

providers' knowledge and self-efficacy in ACP.

Methods: The project included a pre-and postsurvey

utilizing the Advance Care Planning Engagement

Survey (ACP-SE) and an asynchronous online education

introducing the PERSON mnemonic to aid in ACP

conversations. Inclusion criteria included being one

of the following: RN, APRN, Physician, PA, medical

students, or nursing student. A total of 83 participants

(N = 83) out of 114 respondents completed all surveys

and online education and were included in the project's

final analysis.

Results: The overall results demonstrated positive

gains in perceived self-efficacy, knowledge gain, and

positive evaluations of the online education training.

The ACP-SE pre-training M=49.7 as compared to posttraining,

M=60.5 (p=0.001). The pre-intervention

knowledge scores were M=50.8 as compared to postintervention,

M=57.2 (p=0.035). The participant's postevaluation

of the training was positive, 70% rated the

training favorably (agree/strongly agree).

Implications: The implications of this DNP project

showed there remains a need to educate and build

health care workers' self-efficacy as it relates to

advance care planning and goals of care discussions.

Addressing the barriers such as fear in facilitating ACP

and GOCD, supports patient-centered care through

improving communication between the healthcare

provider and their patients.

Keywords: advance care planning, providers, goals

of care, education, survey, end-of-life
---
June, July, August 2022 Nevada RNformation • Page 5

By Bernadette M. Longo,

PhD, RN, CNL, PHNA, FAAN

An estimated 9.4% of adults in Nevada report

current asthma (CDC, 2019 prevalence data). Nationally,

8.4% of children receive the diagnosis (Dharmage

et al., 2019). Today in Nevada, climate change is

impacting asthma maintenance with environmental

triggers that can prompt an acute exacerbation. Hotter

temperatures are leading to the formation of more

ground-level ozone and extending pollen seasons.

Intense rainfall events are causing flooding that can

prompt mold growth in homes. Drought conditions in

the West are contributing to a longer wildfire season

that produces toxic smoke and more days of poor air

quality. Therefore, the challenge is upon us as nurses to

best care for our patients with asthma.

Nurses across Nevada can provide some new

resources to their patients. By engaging in shared

decision making and personalized care, nurses can

support each patient's asthma journey towards

improved health outcomes and quality of life.

National Heart Lung and Blood Institute -

Resources

Website: https://www.nhlbi.nih.gov/

Resources for your Patient with Asthma

Check out the updated "Digital Toolkit" for

Asthma

- Tools and Resources for Professionals

NEW: 2020 Focused Updates to the Asthma

Management Guidelines

Use these resources to help guide treatment

decisions for your patients:

• Clinician's Guide

• At-a-glance Guide

• Professional Education Opportunities

• Clinical Decision Support Resources

- Fact Sheets

Use these to help your patients understand different

treatment options and asthma management:

• Asthma Management Guidelines and Your Care

• The Changing Role of Inhaled Corticosteroids in

Asthma Management

• Long-Acting Muscarinic Antagonists (LAMAs)

• Reducing Allergens in Your Home

- Asthma Action Plan

Use this updated worksheet with your patient to

personalize their plan to monitor their asthma and treat

changing symptoms or attacks:

• 2020 Asthma Action Plan

- Traditional and Social Media Resources

• Sample posts and graphics

- Learn More Breathe Better® Program

• Asthma Motion Graphics/GIFs

• Asthma Videos for patient education

The National Institute of Environmental Health

Sciences – Research

Website: https://www.niehs.nih.gov/research/index.

cfm

NIEHS conducts and supports asthma research from

basic laboratory studies to human clinical trials. This

research focuses on the complex relationships among

the environment and people's genetics and immune

system. Projects include:

• Development of sensors that measure personal

environmental triggers of asthma.

• Clinical trials that examine if reduced indoor air

pollution can improve asthma symptoms.

• Data science methods that combine

environmental data gathered across the United

States.

NIEHS-funded Study Examples:

- The Natural History of Asthma with Longitudinal

Environmental Sampling (NHALES) study is

helping to understand how bacteria and other

factors in the environment affect people who

have moderate to severe asthma.

- Asthma triggers in schools – A study of innercity

students linked airborne mouse allergens

in schools to increased asthma symptoms and

decreased lung function in children. The study

suggests schools can take steps to improve air

quality and help children who have asthma.

- Indoor air pollution makes asthma worse

– Obese inner-city children living in homes

with high levels of indoor air pollution may

have worse asthma symptoms if they are also

deficient in vitamin D.

- Outside triggers of asthma – Babies who

breathe high levels of traffic-related air pollution

were more likely to have persistent wheezing

during childhood, and children exposed to high

levels of traffic-related air pollution through age

7 were more likely to develop asthma.

- The genetics of asthma – Asthma patients

with a specific genetic makeup who live close

to a highway are more likely to have intense

symptoms.

The Allergy Asthma Network

Website: https://allergyasthmanetwork.org/

As an innovator in encouraging family participation

in treatment plans, the A & A Network (founded

in 1985) specializes in making accurate medical

information relevant and understandable to all while

promoting evidence-based standards of care.

Resources for healthcare professionals:

- Educational webinars for professionals and

patients

- Digital educational content on asthma, allergy,

atopic dermatitis and related conditions

• Asthma

• Allergy

• Anaphylaxis

• Atopic Dermatitis

• Related conditions

- Downloadable digital and print patient

education materials

- Shared Decision-Making resources

- Resources for healthcare professionals and for

your office, including our popular posters

- Annual Asthma Summit for healthcare

professionals

- Annual Allergy and Asthma Day on Capitol Hill

(AADCH)

Living Well with Asthma Virtual Event Series

for Patients – started in 2021

• A whole-body approach to managing asthma

and lung health

• Stress Relief and Meditation for Better Breathing

• The Best Yoga Poses for Better Breathing

References:

Centers for Disease Control and Prevention (2019). Most

Recent Asthma State or Territory Data. https://www.

cdc.gov/asthma/asthmadata.htm

Dharmage, S. C., Perret, J. L., & Custovic, A. (2019).

Epidemiology of asthma in children and adults.

Frontiers in Pediatrics, 7, 246.
---
Page 6 • Nevada RNformation June, July, August 2022

NNA Environmental Health Committee

Wildfire Smoke: Resources for Nurses and their Patients

The "smoke season" is lengthening as forest fires across the Western United

States are more frequent, last longer and have higher intensities. Wildfire smoke

is produced by the combustion of vegetation, or biomass. It is composed of

multiple pollutants that include CO2, CO, water vapor, particulate matter (PM),

hydrocarbons, together with thousands of other organic chemical compounds such

as acrolein, benzenes and aldehydes. If buildings or homes are consumed by the fire,

more toxic pollutants are added to the smoke.

The link between fine PM air pollution and cardiorespiratory effects in

populations has become clearer. Research has found associations between wildfire

smoke events and clinical presentations for dyspnea, cough, wheezing, SOB, chest

pain and eye irritation. Hospital admissions correlate with PM levels for respiratory

diseases (asthma with acute exacerbation, acute bronchitis, COPD exacerbation,

pneumonia, upper respiratory infections), as well as cardiovascular diseases (ischemic

heart disease, cardiac dysrhythmias, congestive heart failure, cerebrovascular

disease, and stroke).

Everyone is affected at some level, but some of our patients are at higher risk to

adverse health effects from exposure to the smoke. These patients may be children,

pregnant women, outdoor workers, elderly, or have obesity, a cardiorespiratory

disease, or have low socio-economic status without resources to reduce smoke

exposure in their residence and seek health care. Therefore, as nurses we need to

reach out and provide education and free tools for all our patients. These actions

can help reduce disparities and the inequities experienced from environmental

health hazards.

A New Dashboard of Resources

Nevada Nurses Association has created a user-friendly Wildfire Smoke

Information Dashboard that is available on NNA's website. This dashboard

provides links to resources and tools for you and your patients. For example, there

are alert notifications that you and your patient can sign up for that send texts or

emails when air quality is poor in the area. Also, there are links to free continuing

education courses for nurses and APRNs offered by the EPA and the Centers for

Disease Control and Prevention.

We are proud to help recognize

and support the accomplishments

of Nevada's shining stars – nurses.

Your strength, compassion,

courage and composure

are woven into the fabric of

your organizations and your

communities.

Join Our Team!

Looking for a change of pace?

Carson Valley Medical Center is undergoing

a multi-million dollar expansion. We're

recruiting for a variety of positions including

management level, clinical, ancillary and

support staff. In addition to competitive pay

and benefits, we offer a Clinical Ladder

Program and scholarship opportunities through

our designation as a HRSA/Nurse Corps site

*(conditions apply).

Visit our Career Page to view our generous sign-on/

retention bonus listing and apply today!

cvmhospital.org/careers

Figure 1. NNA's new Wildfire Smoke Information Dashboard

What interventions should I offer my Patients?

1. Guidance on Knowing the Air Quality: Knowledge of air quality will help

your patients make the best decisions for their health.

Have your patients

a. Use the Air Quality Index (AQI) developed by the EPA. The AQI is a tool

that uses color-coded categories about real-time air quality in the area,

advising which groups of people may be affected, and steps to take to

reduce exposure to air pollution. There are also "AQI forecasts" that can

help a patient plan ahead for the day.

b. Make AirNow for their residence as a "favorite" on their computer and

get the AirNow App on their iPhone or Android (Fig. 2).

c. Sign up for AQI text alerts: go to EnviroFlash (it's easy to set this up for

one or more locations like home and work)

d. Personal Exposure Monitoring: There are new small, low-cost, highly

portable air quality sensors that patients can wear while doing their

normal activities. This may be appropriate for patients with means who

live in highly polluted urban areas – not just for wildfire smoke events.

Most measure PM and ozone levels. (Information in EPA's Air Sensor

Toolbox)

2. Use the AirNow's Fire and Smoke Map: The Map available on the web

shows levels of fine particle pollution (PM2.5) from permanent monitors

(EPA), temporary monitors deployed for smoke events, and low-cost sensors

made by PurpleAir. The map shows air monitors in colors that reflect the

air quality (e.g., green is good), along with large fire incidents as fire icons,

satellite fire detections as small glowing points, and smoke plume locations as

grey polygons.

3. Behavioral Actions: There are handouts/fact sheets that you can give to

your patients on actions while indoors and outdoors. Advise your patients

on behavioral actions based on their individual health status. For example, a

patient with asthma in Nevada should have wildfire smoke events as part of

their Asthma Action Plan.

Interventions may include:

• Taking it easy during smoky times to reduce their smoke exposure. If

it looks or smells smoky outside, they should limit time outdoors and

certainly avoid strenuous activities such as mowing the lawn or going for

a run or bike ride.

• Wearing NIOSH N95 or P100 respirators when going outdoors.

Demonstrate how to use these masks properly. Offer a supply if possible.

Do not rely on dust masks, surgical masks, or bandanas.

• Reducing smoke in your vehicle by closing the windows and vents and

running the air conditioner in recirculate mode. Slow down when you

drive in smoky conditions.

• Staying inside with the doors and windows closed. Whether your

patient has a central air conditioning system or a room unit, they should

use high efficiency filters to capture

the smoke.

• Seeking shelter elsewhere if they

do not have an air conditioner and

it is too warm to stay inside with the

windows closed.

• Not adding to indoor air pollution.

They should not burn candles or use

gas, propane, wood-burning stoves,

fireplaces, or aerosol sprays. Do not

fry or broil meat, smoke tobacco

products, or vacuum.

• Using a portable air cleaner to

reduce indoor air pollution. Make sure

it is sized for the room and that it does

not make ozone, which is a harmful

air pollutant. Portable air cleaners can

be used along with central air systems

to maximize the reduction of indoor

particles.

• Creating a "clean room" in their

home. Choose a room with no

fireplace and as few windows and

doors as possible, such as a bedroom.

Use a portable air cleaner in the room.

Figure 2. AirNow App on

iPhone
---
June, July, August 2022 Nevada RNformation • Page 7

NNA Environmental Health Committee

• Refreshing the air in the home. Long-term smoke events usually

have periods when the air is better. When air quality improves, even

temporarily, air out the home to reduce indoor air pollution

• Having enough food and medication on hand to last several days

so you don't have to go out for supplies. If you must go out, avoid the

smokiest times of day. Check the AQI and the Fire and Smoke Map!

• Having a family plan in case of evacuation. Patients should know

how to get alerts and health warnings, public service announcements

(PSAs). Public advisories can provide important information such as

changing smoke conditions and evacuation notices. They should know

the evacuation routes, organize important items ahead of time, and know

where to go in case they must evacuate.

• Keeping pets safe. Resources from the CDC are available for small pets

and livestock.

4. Monitoring their Health Status: Encourage your patients to check their

health status and seek medical care as needed. They may take their blood

pressure more often. Remind them to carry any rescue medications (check

that they have a working inhaler – have them show it to you). Emphasize

the importance of taking their heart and BP medicines as prescribed. Keep

communication open with your outpatient clinic's team (RNs, doctor, or nurse

practitioner).

Examples of Resources on the Dashboard

• Fact Sheets: (CDC https://www.cdc.gov/disasters/wildfires/pdf/wildfiresfacts.

pdf and AirNow https://www.airnow.gov/wildfire-guide-factsheets/ )

• Web Cams: sites across Nevada and Northern

California

• Videos: How to Make Your Home and

Property Fire-Safe https://www.youtube.com/

watch?v=Ufi3rFFh1MM )

• Websites: Living with Fire (University of Nevada Reno,

Extension) https://www.livingwithfire.com/

• Evidence: current peer-reviewed research publications

Bernadette Longo, Ph.D., RN, PHNA-BC, CNL, FAAN

Chair, NNA's Environmental Health Committee

Figure 3. An enormous blanket of smoke across Nevada from the Dixie fire

and many others on August 6, 2021. Credit: GOES-17 satellite, NASA.

NOW HIRING

SCHOOL NURSES

Job Openings Available at:

https://www.ecsdnv.net

Elko County

School District

850 Elm Street

Elko, NV 89801

775-738-5196
---
Page 8 • Nevada RNformation June, July, August 2022

District 1: News & Updates

Year of the Nurse Educator - 2022

Nurse educators and their programs across District 1

have the primary responsibility for preparing nursing's

future workforce. These educators are tasked with teaching

the translation of ever advancing scientific knowledge

into evidence-based practice. Some educators are faculty

in schools of nursing, some teach clinical or simulation,

and some are frontline educators to practicing clinicians

in facilities. As leaders, they role model and represent

excellence in the role. As scholars, they continue the

development of nursing as a unique discipline and applied science. As colleagues,

they inspire each other to be the best team for the students.

Behind every Great Nurse is a Great Nurse Educator!

District 1 wishes to recognize and say "thank you" to each of those dedicated

nurses who choose to be teachers! Below are listed the teaching teams from schools

of nursing in the north. We also honor the many clinical nurse educators in facilities

across our district.

- Great Basin College's Nursing Program

Skyler Basanez, Julie Bracken, Dorothy Callander, Stacy Crouch, Brian

Dankowski, Madonna Doke, Amber Donnelli, Peggy Drussel, Jessica Dullum,

Diane Elmore, Melissa Gerber, Dawn Horton, Michelle Husbands, Gina

Johnson, Heidi Johnston, Jessica Lynch, Malia Keep, Tamara Mette, Rhonda

Miner, Suzanne Rowan, Staci Warnert

- Truckee Meadows Community College's Maxine S. Jacobs Nursing Program

Jody Covert, Tamera Allred, Connie Croysdill, Heidi Julius, Jacqueline

McDonald, Rachel Wooley, Itzel Woolpert

- Unitek College's Nursing Program

Victoria Squier, Paula Anderson, J'Amy Babb, Russell Esmenda, Aaron Fischer,

Dawn Johnson, Shana Kennon, Brian Lee, Elizabeth Melton, Cheryl Reed,

Vanessa Rojas, Freida Schoech, Lyndsy Walker, Michael Yazinka

- University of Nevada Reno's Orvis School of Nursing

Debera Thomas, Alma Yanez, Amy Khan, Amy Millsaps, Anna Smith, Aubree

Carlson, Bernadette Longo, Brandi French, Cameron Duncan, Carina Funk,

Carrie Hintz, Cassandra Padgett, Catherine Gonzalez, Cheryl Reed, Christina

Alsop, David Morgan, Deborah Arnow, Deborah Shindell, Denise Stahlbusch,

Elaine Cudnik, Emily McClure, Erin Tuttle, Ezra Holston, Fnu Alfandy, George

Rodway, Glenn Hagerstrom, Haley McNeil, Jacqueline Ferdowsali, Jasen

Brooks, Jeanette Smith, Josh Hamilton, Julie Sawyer, Karen Meskimen, Kim

Baxter, Kimberly Buell, Kimberly Marcus, Kris Gregor, Kristin Combs, Lisa

Thomas, Lisa Woodall, Lorraine Bonaldi, Maureen Barnes, Megan Pratt,

Michael Marinaccio, Molly Kokenge, Patricia Ozuna, Preston Peterson, Robyn

Chiasson, Rochelle Walsh, Roger Green, Salli Vannucci, Sally Miller, Sandy

Olguin, Sarah Murray, Setare Taabodi, Shannon Burleson, Shannon Richard,

Stacy Demitropoulos, Stephanie Deboor, Suchawadee Yimmee, Susan Ervin,

Teresa Serratt, Theresa Watts, Tiffany Broce, Val Wedler, Vania Carter-Strauss,

Wei-Chen Tung

- Carrington College's Nursing Program

Susan Drossulis, Christine Ballew, Jay Brownson, Katie Callahan, Patricia

Crepps, Sara DuBois, Shile Eguen, Peg Farrar, Stacie Ferrante, Elisa Giglio-

Siudzinski, Sherry Hynes, Angel Jackson, Vicky Lang-Catlin, Melody

Leiva, Julie Madden, Renee Mattovich, Laura Oki, Lori Porter, Katie Powell,

Geraldene Ralleca-Llaguno "Nica", Heidi Sabol, Nancy Smith, Karla Spesert,

Rosalyne Reynolds, Michelle Rudman, Amy Whalen, Alixandra White, Jayme

Yocom, Chelsea Zielinski

- Western Nevada College's Nursing Program

Debi Ingraffia-Strong, Stefanie Bischoff, Liz Carrasco, Robert Ciminski,

Kathryn Cocking, Lisa Dunkelberg, Edda Gibson, Sarina Gould, Kim Griffin,

Erika Holliday, Gay Lutz, Natalie Matley-Keeney, Chassity Mills, Kimbirli

Macchiaverna, Heather Reardon, Kendall Valdez

Precepting Nurse Practitioner Students

Susan S. VanBeuge,

DNP, APRN, FNP-BC,

FAANP, FAAN

Precepting is a term well

known in nursing. It is defined

as a teacher or tutor (Merriam-

Webster, 2022). From our

undergraduate education

through nurse practitioner

training, many professionals

served as preceptors to teach, guide, and mentor to

assist nurses in achieving their next level of education.

This role of the preceptor has many rewards.

Teaching others is a wonderful experience that

both fulfills and challenges simultaneously. As nurse

practitioners, this is part of our role in professional

development and obligation. Having been recipients

of those who shared their talent, time, expertise, and

patience with us as we trained obligates us to do the

same as we progress in our career along the way.

Some of the benefits of precepting students

are that we get a chance to help mold the next

generation of providers. This vital role of modeling

and teaching allows the passing of a baton to learners

on many levels. For example, as a preceptor, you can

demonstrate clinical knowledge, application of clinical

practice guidelines, evidence-based practice, and

practice management. These basics are second nature

to a seasoned provider and may seem daunting to a

newer nurse practitioner student just wondering how

they will develop a differential diagnosis!

In a study by Roberts et al. (2017), they reported

additional benefits or incentives to collaborate with

other faculty and preceptors. This collaboration builds

the network of different providers and professionals

whom a preceptor may work with in the future to

build up their scholarship. In addition, preceptors may

utilize the hours towards certification. In this study,

28% of respondents used this as a renewal method for

certification.

Taking on the role of the preceptor is an opportunity

to expand your practice and knowledge as an

educator. There are some considerations to starting the

experience with a student in preparation for the role.

First, it is crucial to establish the role and expectations

with the academic institution where the student is

enrolled. The expectations may require orientation and

training sessions, completing onboarding paperwork,

and evaluating the student. An evaluation may

include written forms, online or face-to-face meetings

with faculty members, and other means to measure

student progress. As a preceptor, it is essential to have

explicit knowledge of your role so no ambiguity exists

and reduces the burden in your role as the teacher

(Perryman, 2022).

The National Organization of Nurse Practitioner

Faculties (NONPF) has created a faculty and preceptor

checklist tool to help bridge the gap between faculty

and preceptors. This checklist, developed by leaders

in nurse practitioner practice and education, provides

a basic list for faculty and preceptors. In addition, the

website titled "Preceptor Portal Main" is a valuable

resource, including the checklist, resources, preceptor

manual, and videos for training in various situations

(NONPF, 2022).

As nurse practitioners and clinicians, it is essential

to our profession and role-development of students

to provide a strong foundation for practice. Modeling

practice standards, clinical skills, and management skills

will be part of the foundation to ensure the quality

of nurse practitioner education; if you are currently

precepting, bravo/brava! But, if you consider this vital

role in our professional development, go for it! The

rewards are rich, and the impact is significant in our

care community.

References:

Merriam-Webster. (n.d.). Preceptor. In Merriam-Webster.

com dictionary. Retrieved May 17, 2022, from https://

www.merriam-webster.com/dictionary/preceptor

Perryman, Ka'Shiris W. DNP, APRN, FNP-BC, CNE, LNC1

Nurse practitioner preceptor education to increase role

preparedness, Journal of the American Association of

Nurse Practitioners: May 2022 - Volume 34 - Issue 5 - p

763-768 doi: 10.1097/JXX.0000000000000702

Preceptor Portal Main (2022). Downloaded from The

National Organization of Nurse Practitioner Faculties

https://www.nonpf.org/page/PreceptorPortal_Main

Roberts, Mary Ellen DNP, RN, ANP-C, FAANP, FNAP, FAAN;

(Assistant Professor)*,1; Wheeler, Kathy J. PhD, RN,

APRN, FNP-C, FNAP, FAANP; (Assistant Professor)2;

Tyler, Diane O. PhD, RN, FNP-C, FNP-BC, FAAN, FAANP,

CAE; (Director)3; Padden, Diane L. PhD, RN, CRNP,

FAANP; (Vice President)4 Precepting nurse practitioner

students, Journal of the American Association of Nurse

Practitioners: August 2017 - Volume 29 - Issue 8 - p

484-491 doi: 10.1002/2327-6924.12482
---
June, July, August 2022 Nevada RNformation • Page 9

Gala Speciality Organizations Across the State - PNANV

The Philippine Nurses Association of Nevada celebrated their 30th anniversary

and held a Fundraising and Gala event on May 7, 2022 from 6:00-11:00 pm at the

Orleans Hotel and Casino in Las Vegas. Hundreds were in attendance and a good

time was had by all. Letters of support and congratulations were sent from the

Governor, the Mayor, our Senator, and the Board of Nursing. You can read the

event's souvenir journal at

30TH ANNIVERSARY GALA SOUVENIR JOURNAL | Pnanv

Watch more about the Gala on YouTube

TFC News Nevada, USA | PH nurses' group in Nevada marks 30th anniversary

(pnanv.org)

PNANV's President (2021-2023), Elizabeth de Leon-Gamboa, MSN Ed., RN,

CPHQ, CCM, CMCN, notes that to augment the fundraising at the Gala, the Filipino-

American Nurses here in Nevada through the Philippine Nurses Association of

Nevada's are having a fundraising campaign. The campaign was held throughout

May, but you can contribute anytime throughout the year. Your contributions help

support and promote diversity, equality, and inclusion among nursing students and

nursing professionals to achieve positive outcomes for all the patients in Nevada,

especially bridging the gaps in health care for the AAPI community. Go to https://

www.giveinmay.org/story/Qlm65f or Home | Pnanv and help support this 501c3

professional non-profit AAPI organization's mission to foster excellence in areas

of nursing practice, leadership through education of its constituents, to promote

professional growth and to help address the growing health care needs of the

public.

Entertainment and special dancing was part of the celebration

at the Pearls of Wisdom Gala
---
Page 10 • Nevada RNformation June, July, August 2022

Antimicrobial Stewardship – Infection Prevention

The Greatest Medical Experiment Ever Done – Part 4

Vaccinations, Disinformation, and Pandemic Fatigue

By Norman Wright, RN, BSN, MS -

Infection Preventionist

It is the middle of May 2022, and the official United

States death toll from COVID-19 now totals over one

million. We are more than two years into the pandemic.

Anyone over 16 could have been vaccinated for more

than a year. Treatments like Ritonavir-Boosted Nirmatrelvir

(Paxlovid) appear effective, while others like Ivermectin and

Hydroxychloroquine are not so, yet some continue to tout

otherwise.

Most medical experiments use only one variable, but our Sars-Cov-2 experiment

is more complicated and involves numerous variables. The primary question remains:

Do Vaccines Prevent Infection, hospitalization, and Death?

The answer is - yes!

Doing simple subtraction, in Nevada, 14.5% received just one dose, compared

with 8.2% in Oregon, 7.8% in Utah, and 11.5% in Arizona. Nevada's hospitalization

and death statistics for those who were boosted are not readily available. - It is my

hope this changes soon.

Moving on from vaccine efficacy, another variable, Deaths Per Million population

(DPM), compares Nevada's DPM, which was 3,514 on May 18, 2022, with Oregon's,

which was 1,794. This means Nevada's DPM almost doubles that of Oregon's and

more than doubles Utah's DPM of 1,485.

https://www.worldometers.info/coronavirus/country/us

https://www.azdhs.gov/covid19/documents/data/rates-of-cov-19-byvaccination.pdf?v=20220302

This table from the Arizona DHS shows that during the month of March 2022 -

a fully vaccinated person was 7.4% less likely to be hospitalized and 13 times less

likely to die than someone who is not fully vaccinated. The boosted results are more

dramatic. A boosted person is 13 times less likely to be hospitalized and 19 times

less likely to die.

Another bordering state, Oregon, gives the actual numbers displayed in this

chart, documenting that, since the vaccines became available, 3,979 people who

were not fully vaccinated died compared with just 195 who were fully vaccinated

and boosted. When you divide 3,979 by 195, an unvaccinated person in Oregon

was over 20 times more likely to die than someone who was fully vaccinated

and boosted.

https://www.oregon.gov/oha/covid19/Documents/DataReports/

Breakthrough-Case-Report.pdf

The term "not fully vaccinated" is emphasized because someone who has

received only one dose of Moderna or Pfizer, the two mRNA vaccines, is classified as

being unvaccinated even though they may have received some immunity from the

initial shot. Just one more variable to explore in the future, and questions regarding

the effectiveness of the J&J vaccine are another.

https://usafacts.org/visualizations/covid-vaccine-tracker-states/

This chart, accurate to May 15, 2022, establishes three cohorts. It documents 1)

the percentages of people who received only one dose, (2) the fully vaccinated, and

(3) the boosted.

Column 3 of this abridged Worldometer chart from May 18, 2022, lists states in

descending order of the total number of cases. Due to space limitations, active and

recovered cases, number of tests per million, etc., have been removed. Nevada is

35th, just behind Oregon's number of cases, which totals 745,723.

Arizona is not shown in this chart because Arizona has over 2 million cases and is

number 13. Please note Arizona's DPM was 4,157 - or 661 more than Nevada's, and

Arizona had the second-highest number of DPM in the US, just behind Mississippi,

which was number one.

Why this dramatic disparity?

Differing vaccination and boosting rates are factors, and there are numerous

other variables impacting DPM:

Does one state have a younger population? What are the ethnic disparities?

Does the quality of health care differ? Did the majority of deaths occur early in the

pandemic when there were no vaccines or treatments? Are there geographical

considerations? What restrictive infection prevention interventions were followed,

e.g., social distancing, masking, school closures, lockdowns, etc.?

The list goes on, but an April 12, 2022 editorial in the Las Vegas Review Journal

headlined with: "Utah offers lessons on restrictive virus response" cherry-picks data

and uses only one variable, "restrictive virus response," as the reason. Yes, Utah's

DPM was half of Nevada's, but the editorial page of the Review-Journal skews

statistics, and the truth is politicized and distorted, causing confusion and death.

https://www.reviewjournal.com/opinion/editorials/editorial-utah-offers-lessonson-coronavirus-response-2559892/

The facts are that when the DPM of Utah and Oregon, one a "red" and the other

a "blue" state, are compared, they both are in the bottom 10%, while Arizona, a

"red" state, had the second-highest DPM in the nation.

The Review-Journal editorial states, "The key takeaway is that more restrictive

government policies . . . did not result in noticeably better health outcomes and

often imposed devastating costs," which in part may be true. But blurring statistics

by neglecting the impact of the other variables does a disservice.

China has a "zero COVID policy" that recently resulted in truly draconian

lockdown restrictions that go way beyond what is necessary to control the spread.

https://www.bbc.com/news/59882774

In my opinion, a balance must be achieved, and this will only occur when we

work together to find a common source of facts. Fake News and editorials with a

political agenda that skew statistics do not serve us well.

The Genie is out of the bottle.

Two years ago, I would never have imagined that we would still be fighting this

virus, but it keeps attacking and morphing. Two years ago, I thought Sars-Cov-2

would have gone the way of Zica and Ebola, but Sars-Cov-2 is different.

We have experienced Alpha, Delta, and recently various Omicron strains that

are evolving beyond BA-2. Strains BA-3, 4, and 5 are here, strains that are more

contagious. Currently, breakthrough infections are increasing in Nevada and the

USA as a whole. If you are fully vaccinated, getting boosted is essential, and if you

are not yet fully vaccinated, get vaccinated. Yes, we are all tired of Sars-Cov-2, but,

unfortunately, the virus is not tired or done with us.

Two years ago, Dr. Deborah Brix was standing beside former President Trump

when he talked about drinking bleach and inserting ultra-violet lights into our

bodies as being a cure for COVID-19. In April 2022, Dr. Birx published a book, Silent

Invasion: The Untold Story of the Trump Administration, Covid-19, and Preventing

the Next Pandemic Before it's Too Late.
---
June, July, August 2022 Nevada RNformation • Page 11

Antimicrobial Stewardship – Infection Prevention

https://www.harpercollins.com/products/silentinvasion-deborah-birx?variant=40153410043938

I have not had an opportunity to fully review

Silent Invasion yet, but microbes are all around us.

COVID-19 continues, and the next pandemic will occur

sooner or later. In my opinion, we, as nurses, must

work together to find and promote truth regarding

infection prevention before we can defeat the

microbes.

Please do your own independent research and send

me any additional data, sources of information, or

opposing opinions that you may have. The only way we

will win the war against microbes is to have an open

and honest discussion. We are all still in this together,

something that has been forgotten in the last two

years.

This link takes you to a video, COVID Vaccines,

Ethical Considerations for Nurses, which presents the

ANA's position on the vaccines. Please review it.

https://www.youtube.com/watch?v=2wOpiPxXs08

Author's note, by the time you read this, Mary

Bondmass and I will have returned from Washington

DC, where we are representing the NNA at the annual

ANA convention. More to come.

Courage in Everyday Nursing Practice

Carol Dobos PhD, RN-BC, NEA-BC

Reprinted with permission from Arizona Nurse,

July 2021 issue

Courage is an important attribute in life and in

your nursing practice. As Helen Keller said,

"Security is mostly a superstition. It does not exist

in nature nor do the children of men as a whole

experience it. Avoiding danger is no safer in the long

run than outright exposure. Life is either a daring

adventure, or nothing."

Nursing is a noble profession that is not for the

faint of heart. Opportunities to choose courageous

acts present themselves on a regular basis because

risk is everywhere. You can attempt to minimize the

risks by playing it safe. However, there are risks to

yourself, your colleagues, your profession, and those

you serve when you don't take risks in showing up,

speaking up, or practicing according to the highest

standards of evidence-based practice.

Choosing to practice courageously, consistent

with your personal and professional values, will

cause some discomfort, bumps, and bruises to you

and your career. It will also bring professional and

personal fulfillment, strengthen the profession, and

improve patient outcomes. You will know that you

are making a difference in your daily practice and

throughout your nursing career.

One way to cultivate courageous behavior is

through personal risk-taking (PRT), but first you

need to understand the nature of risk and its related

concept, positive deviance.

What is Risk?

Risk is defined as the possibility of losing

something of value, which could be physical,

psychological, or economic. Common risks include

falling out of favor with others in authority, losing

support, or damaging essential relationships.

Any of these events could lead to losing status or

influence at work, or even losing one's position or

employment.

A related concept called "positive deviance" refers

to an intentional act of breaking the rules to serve

the greater good. Positive deviance is intentional and

honorable behavior that departs or differs from an

established norm. It contains elements of innovation,

creativity, adaptability, or a combination thereof; and

it involves risk for the nurse.

For most nurses, whether a particular action

is right or wrong will often be judged by others in

charge of rules enforcement. The decision to engage

in positive deviance, however, lies entirely with the

nurse.

Personal Risk-Taking

PRT is behavior that is consciously and freely

chosen among available alternatives, some of which

are known to incur less risk than the chosen action.

It is supported by the strength and belief of personal

convictions. Courageous action upholds principles.

Calculated inaction due to fear leaves one powerless,

with values compromised.

Nurses promote courageous action by sharing

courageous behavior, also called hero stories. This

can be done formally and informally, verbally and

in writing, one on one or in groups, during staff

meetings, during change of shift report, or rounds.

We create a culture based on what we talk about,

what we value, and what we support and reward.

Sometimes we stand alone, and sometimes we

influence others to follow our lead and take their

own personal risks. In one study, risk taking was

found to be one of the key elements in attaining

expert nursing practice, which supports effective

and quality-based healthcare outcomes. Risk taking

also was found to enhance clinical and professional

development.

Rather than sitting on the sidelines and hurling

judgment or advice at others (for example,

"Someone needs to do something about this."), we

must dare to show up and let ourselves be seen,

which can result in change. (See Success story.)

We pay a price when we shut down and

disengage, failing to take action. I have heard

nurses talk about "staying under the radar." In

doing so they pay a dear price. Their talents,

wisdom, knowledge, and values are not being

shared to positively influence care and support the

development of new nurse graduates and other

colleagues through courageous role modeling.

Vulnerability occurs in sharing an unpopular opinion,

standing up for oneself or others such as a colleague

who is being bullied, being accountable, asking for

help, trying something new, admitting uncertainty,

and asking for forgiveness. When courage and fear

meet, it often feels awkward and scary; however,

"being all in" is to be alive. To act in alignment

with your values is key to personal and professional

happiness.

Success story

When residents were not interacting appropriately

with pediatric patients, risking psychological harm, I

discussed this with the chief and arranged education.

I advised our team that in identifying this issue,

relationships might become strained, but we had an

obligation to our patients to address this problem. I

often used the mantra "I am doing the right thing

for the right reason" stating it over and over in my

head to help me stay the course and follow through

with my convictions. As feared, the residents and

even an attending physician demonstrated passive

aggressive behavior towards us. The care of the

children did improve, however, and we knew we had

made the right call.

PRT and Promoting Patient Safety

Failing to take risks and practice courageously

can lead to threats to patient safety. Focusing on

my obligation to "First do no harm," I made the

decision not to deploy a transport team until all

the team members demonstrated competency.

I was transparent in discussing my concern and

contingency plan to send another team with my

medical and administrative colleagues. I was told

that this was a "career-limiting move." I simply

stated, "I have to be able to sleep at night."

In another organization, I disagreed with a

plan to move critically ill patients multiple times

to accommodate unit renovation. I identified an

alternative that required only one move. Although

my plan was successfully implemented, my action

caused me to fall out of favor with the administrator

and eventually resulted in my having to move on to

another position. In both instances, I had to put my

patients first because when I became a member of

the nursing profession, I made a promise to protect

them.

Why We May Not Take Personal Risks

Understanding scarcity is key to understanding

why nurses may not take justified risks. The three

components of scarcity are shame, comparison, and

disengagement.

Shame is the fear of ridicule and belittling often

used to control people and to keep them in line.

Shame-based cultures are very unhealthy for nurses

and patients. The killer of innovation is shame. In

these cultures, covert or sometimes overt messages

are common, such as to dare not, you're not good

enough, who do you think you are, don't you dare

get too big for your britches." Shame becomes

fear, fear leads to risk aversion, and risk aversion

kills innovation and can lead to unsafe patient care.

Shame is the intensely painful feeling or experience

of believing that we are flawed and therefore

unworthy of belonging. Shame makes us feel

unworthy of connection. Resilience to shame occurs

when recognizing and speaking openly about shame,

practicing critical awareness, and reaching out to

others.

Healthy competition can be beneficial, but

constant overt or covert comparing and ranking

suffocates creativity and risk taking. If nurses are

held to one narrow standard, they may not question

the relevance of a course of action to a specific

situation and embrace evidence- based practice.

Disengagement occurs when people are afraid to

take risks and try new things. Too often it is easier

to stay quiet than to share stories, experiences, and

ideas. It is important to do what is right, not what

is easy. The best way through a difficult situation is

to address the situation directly with honesty and

integrity, sharing your story and asking for what you

need. An excellent resource for nurses is the book

Crucial Conversations. Often what we fear does not

happen, but even if it does, we have retained our

self-respect and commitment to professional values.

Courageous Practice

I hope you choose to practice courageously, doing

the right things for the right reasons. As Theodore

Roosevelt said,

"Far better it is to dare mighty things, to win

glorious triumphs, even though checkered by failure,

than to take rank with those poor spirits who neither

enjoy much nor suffer much, because they live in the

gray twilight that knows not victory nor defeat."

Selected references

Dobos C. Defining risk from the perspective of nurses in

clinical roles. J Adv Nur. 1992;17:1303-9.

Dobos C. Understanding personal risk taking among staff

nurses: critical information for nurse executives. J

Nurs Adm. 1997;27(1):1-2.

Gary JC, Exploring the concept and use of positive

deviance in nursing. Am J Nurs. 2013;113(8):26-

34. Haag-Heitman B. The development of expert

performance in nursing. J Nurses Staff Dev.

2008;24(5):203-11.

Brown B. Daring Greatly: How the Courage to be

Vulnerable Transforms the Way We Live, Love,

Parent, and Lead. Gotham Books; 2012.

Patterson K, Grenny J, McMillan R, et al. Crucial

Conversations: Tools for Talking When Stakes are

High, 2nd ed. New York, NY: McGraw-Hill; 2011.

Carol Dobos lives in Phoenix Arizona and is

the past-president of the Arizona Association

for Nursing Professional Development, a

state affiliate of the Association for Nursing

Professional Development.
---
Page 12 • Nevada RNformation June, July, August 2022

Janelle Willis, MSN, RN, FNP-C, CNE

Senior lecturer – UNLV School of Nursing and CEO for NVNSA

The Nevada Nursing Student Association (NVNSA) held it Annual Convention,

May 22, 2022. At this convention the new slate of officers were installed and the

organization's Reason for Being' was re-affirmed*. The following students began

their responsibilities as the 2022-2023 NVNSA Board of Directors.

• President – Nikole Taylor

• VP – Michelle Moriarty

• Treasurer – Alessandra Baldono

• Secretary – Marielle Cuenca

• Communications Director – Kate Katigbak

• Community Outreach – Lidia Gebersiassie

Nevada Nursing Student Association

Nurse Bliss Jazmyn Duncan MSN RN

Convention Speaker

Visit our website for more NVNSA information

Nevada Nursing Student Association (nvnsa.org)
---
June, July, August 2022 Nevada RNformation • Page 13

The Nurses Honor Guard

Tracey Long PhD, APRN-BC, CDCES, CCRN

Nursing is a life calling, a way of life, and it's a team

sport. Nurses need each other to work synergistically in

teamwork from lifting patients to crying on the shoulder of

another nurse who truly understands sorrow and pain. We

understand each other, in life, and in death. In life nurses

honor each other as we help with each other's patients

and in death through a very special tribute service known

as the Nurses Honor Guard. The Nurses Honor Guard is a

national nonprofit organization that nurses in many states

have created to pay tribute to nurses at the time of their

death. Similar to a military tribute, a Nurses Honor Guard

recognizes the men and women who have dedicated their

lives to the nursing profession and healing service of others. Their charge is to stand

guard in the traditional nursing white uniform at the nurse's casket, urn, or picture

and be a presence at the memorial service. A Nightingale light is lit in the nurse's

honor. The nurse's name is called with a request to report to duty with the sound of

a bell. When the nurse doesn't respond after three times ringing the bell, the lamp's

flame is extinguished, and the nurse is released from their nursing duty.

Some states request a nominal fee to help pay for the items that are gifted at the

funeral service including a white rose that is placed on the casket, a glass nurses' oil

lamp and the framed poem. The Nightingale Tribute is a formal poem to honor the

deceased nurse and read by the volunteer nurses. Beginning a Nurses Honor Guard

is not difficult or expensive but does require a group of dedicated volunteers to have

a few meetings on how to organize themselves, notify funeral directors of their

availability and offer their service to families of a nurse. Each nurse is responsible

to purchase their own white uniform and shoes and have a traditional blue nursing

cape made to match the group.

"This has been such a rewarding group to be a part of" said Luisa Echeverria

of the Utah Nightingales. The Utah group's Facebook page lists opportunities for

the group's volunteers so whoever can attend comes to help with the tribute. "The

services we have already done are some of the most rewarding things we have ever

done in our careers," said Joan Anderson from the Minnesota's Honor Guard. "The

families are so appreciative, and it's very moving for them and each of us." The

Honor Guard is open to nurses of all ages. "It means a lot that we can comfort the

families in some way and make them feel that their loved one did something very

honorable for their whole life," added Anita Hanson from the Twin Cities Nurses

Honor Guard.

"Name", we honor you this day and

give you a white rose to symbolize our

honor and appreciation for being our

colleague.

"Name" (ring triangle) "Name" (ring

triangle) "Name" (ring triangle) We

officially release you of your nursing

duties. (extinguish lamp and give to family

member with quiet condolences)

The state of Nevada currently does not

have a Nurses Honor Guard.

To learn more about how to start

a Nurses Honor Guard in Nevada

contact the Nurse Honor Guard at:

https://www.opeiunursescouncil.org/

NursesHonorGuard.aspx or Julie Murray at

jmury581@gmail.com

Photo by Paige Keiffer Sun Post

From left, Sally Schilling, Lori Winchell, Sharon Ellis, Nancy Labish, Dianne

Roth, Anita Hanson, Norma Stueland, Rae Ann Schmidt, Joan Anderson,

and Jeannette Belland of Twin Cities Nurses Honor Guard.

The Nightingale Tribute

Nursing is a calling, a lifestyle, a way of living. Nurses here today honor "Name"

and his/her life as a nurse.

"Name of the deceased" is not remembered by his/her years as a nurse, but by

the difference he/she made during those years by stepping into people's lives…. by

special moments:

"Name" Was There

When a calming, quiet presence was all that was needed,

"Name"- was there. (spoken in unison)

In the excitement and miracle of birth or in the mystery and loss of life,

"Name"- was there. (spoken in unison)

When a silent glance could uplift a patient, family member or friend,

"Name" -was there. (spoken in unison)

At those times when the unexplainable needed to be explained,

"Name" -was there. (spoken in unison)

When the situation demanded a swift foot and sharp mind,

"Name" -was there. (spoken in unison)

When a gentle touch, a firm push, or an encouraging word was needed,

"Name" -was there. (spoken in unison)

In choosing the best one from a family's "Thank You" box of chocolates,

"Name" - was there. (spoken in unison)

To witness humanity---its beauty, in good times and bad, without judgment,

"Name" - was there. (spoken in unison)

To embrace the woes of the world, willingly, and offer hope,

"Name" - was there. (spoken in unison)

And now, that it is time to be at the Greater One's side,

"Name"- IS there. (spoken in unison)

© Duane Jaeger, RN, MSN

Come join our team! Opportunities

available in our Winslow and Dilkon

locations. Our Winslow location is

just 45 minutes east of Flagstaff and

a few hours north of Phoenix. You

can go from Standing in the Corner

of Winslow, Arizona to hiking scenic

and majestic landscapes. Our new

Dilkon facility will be opening in

January 2023 and is 43 miles north

of Winslow, on the Navajo Nation.

To view our

open positions

visit us here:

WINSLOW INDIAN HEALTH CARE CENTER

Nursing opportunities and breathtaking

allure of Navajoland await committed

and highly motivated nurses.

• Great benefits

• Great incentives

• Nurse Residency Program

New graduate nurses are encouraged

to apply for Clinical Nurse positions in

Urgent Care and Ambulatory Care.

Apply online

www.wihcc.com

500 North Indiana Avenue

Winslow, Arizona 86047

(928) 289-4646
---
Page 14 • Nevada RNformation June, July, August 2022

Nevada Nurses Foundation EST 2014

Nicki Aaker & Brad Aaker

The Nevada Nurses Foundation (NNF), a federally recognized non-profit

organization since 2014 and the charitable and philanthropic arm of the Nevada

Nurses Association, hosted its 8th annual Big Hat "Kentucky Derby" High Tea on

Saturday, April 2, 2022 at the Nevada Governor's Mansion.

The 2022 Tea was sold out, again! Thank you to all our distinguished guests for

attending and creating such an uplifting afternoon!

Thank you, First Lady Kathy Sisolak, Sheriff Kenny Furlong, and Carson City

Mayor Lori Bagwell for attending and supporting the NNF. Previously, the Tea was

attended by Senator Bernice Mathews, Former Attorney General Adam Laxalt,

Carson City Mayor Bob Crowell. Thank you, Sheriff Kenny Furlong, for attending

every year since 2015!

BreAnna Connelly, First Lady Kathy Sisolak, & Alexx Echevarria

Guests enjoyed a delicious

raspberry tea, lunch, desserts,

entertainment, networking,

and multiple fundraising

activities. The beautiful

centerpiece decorations,

created by Dr. Caren Jaggers,

were an extraordinary

compliment to the "Kentucky

Derby" theme.

Thank you, David Gamble,

esq., a local attorney,

comedian, and former

Nevada Nurses Foundation

Advisory Board member, for

entertaining us with your quick

wit and gregarious personality

while serving as the 2022 Big

Hat "Kentucky Derby" Master

of Ceremonies.

Landen Flournoy, RN, is a

Michelle Garthe, LPN

gifted pianist with an amazing

ability to transform an upright piano into a Steinway! Mr. Flournoy has been

performing for the Nevada Nurses Foundation since winning Nurses Have Talent in

2017. The String Beans delighted guests with their whimsical notes dancing off the

reverberation of their strings.

Michelle Garthe, LPN, has been performing on stage since childhood. When she

sings, she lights up the room. Congratulations, Ms. Garthe, for continuing your

education and pursuing a RN.

We appreciate and value our very talented entertainers.

Thank you to our generous sponsors:

• Carson Tahoe Health

• Chamberlain College

• Nightingale College

• Northern Nevada Medical Center & Sierra Medical Center

• Unitek College

• University of Nevada, Las Vegas

• University of Nevada, Reno

David Gamble, Esq
---
June, July, August 2022 Nevada RNformation • Page 15

Nevada Nurses Foundation EST 2014

Congratulations to the 2022

Spring scholarship recipients! Thank

you for applying! On August 1,

2022, the scholarship application

reopens. The NNF awards eight NNF

funded scholarships twice a year. The

following scholarships are available in

the Spring and Fall each year.

1. CNA

2. CNA to RN

3. LPN

4. LPN to RN

5. Pre-licensure RN

6. RN to BSN

7. MSN

8. Doctorate

Carson Tahoe Health Team

Captured in this photo is First Lady

Kathy Sisolak with Cassidy Jost. Ms. Jost,

the 2016 Nevada Nurses Foundation

Jessie J. Valentine scholarship recipient,

accepted the plaque on behalf of Carson

Tahoe Health. Since 2016, Carson Tahoe

Health has been a loyal sponsor of the

Jessie J. Valentine scholarship. The legacy

scholarship is named after an extraordinary

CTH nurse who although is gone from

sight, lives in the hearts of those she

touched.

Scholarship Recipients

Congratulations to Elizabeth "Beth"

Melton, for winning the Dr. John

and Debra Scott endowed nursing

scholarship!

Thank you to our very kind and

generous silent auction donors:

Advanced Wellness Partners of Nevada,

Olivia Amos, Dr. Louis A. Bonaldi, Burger

Me, Carson City Health and Human

Services, Cantina Los Tres Hombres,

Carson Tahoe Health, Chick-fil-A,

Bree Creation by BreAnna Connelly,

Crumbl Cookie, Donut Shop, Du Barry

Fashions, Enchanted Cate Café, Farley

Photography, Dawn Heath, Forrest Hill,

Fortune Star, Huntsman Brewing, Dr.

Caren Jaggers, Sandy Kinser, Keith and

Vicky Lang Catlin, Lavish Lash & Skin

Studio, Alex Leader, Mario Portofino,

NDO Wellness, Nothing Bundt Cake,

Nothing To It, Nugget Casino, Denise

Ogletree McGuinn, Olguin Family,

Outback Steakhouse, Renew MD, Reno Ice Raiders, Roseman University, RevitaLife,

Ruby River Steakhouse, Sierra Donor Services, Larry Sickles, Squeeze In, Vania

Carter Strauss, Carol Swanson, Sweat Reno, Sweets Handmade Chocolates, Target,

Dee Tison, Two Chicks, Julie Wagner, and Val Wedler. We appreciate you and your

charitable gifts!

NNF continued on page 16

Because of the charitable

contributions from individuals

and organizations who create

legacy endowments and

scholarships, the NNF gets to

award additional scholarships.

Thank you to our scholarship

endowment sponsors:

• Eric Christopherson

Family & Friends

• Margaret & Ian Curley

• Lauren Delameter Family

& Friends

• Elizabeth de Leon

Gamboa

• Greg Peistrup Family & Friends

• Dr. John & Debra Scott
---
Page 16 • Nevada RNformation June, July, August 2022

Nevada Nurses Foundation EST 2014

NNF continued from page 15

Thank you to our wonderful

planning team & volunteers,

Nicki Aaker, Brad Aaker, Dr. Mary

Bondmass, Michael Cleaver,

BreAnna Connelly, Elizabeth de

Leon Gamboa, Alexx Echevarria,

Kristene Enloe, Kelly Farley, Dr.

Caren Jaggers, Cryssa Jaggers,

Emma Jaggers, Dr. Delos Jones,

Emily Koestner, Dr. Glenn

Hagerstrom, Dr. Vicky Lang Catlin,

Dr. Sherri Lindsey, Chris Lyons,

Rev. Dr. Denise Ogletree McGuinn,

Alyx Olguin, Bruce Olguin, Lyle

Pritchett, Larry Sickles, Dee Tison,

Sydney Treppiccione, and Julie

Wagner. You are the life force of

the NNF.

Please join us

next year, Spring

2023 for a Big

Hat "Mardi Gras"

High Tea @ the

Nevada Governor's

Mansion!

Margaret Curley Rural & Frontier Nursing

Symposium

Great Basin College & Virtual

*Friday, August 26, 2022, 5:00 PM - 8:00 PM

*Saturday, August 27, 2022, 8:00 AM - 12:30 PM

THE CAPACITY TO LEARN IS A GIFT; THE ABILITY TO

LEARN IS A SKILL; THE WILLINGNESS TO LEARN IS A

CHOICE. ~BRIAN HERBERT

Join us on August 26th and 27th at the Great Basin College in Elko,

Nevada in-person or virtually for a two-day symposium with seven nursing

continuing education units. Nevada Nurses Association members only pay

$35.00; non-members, $70.00; and nursing students, $15.00.

The wonderful speakers include:

• Brian Dankowski (NNF scholarship & grant recipient)

• Norah Lusk (NNF grant recipient)

• Jessica Lynch (NNF scholarship recipient)

• Dr. Joy Patrick (NNF grant recipient)

• Sherri Stofko (NNF scholarship recipient)

• Dr. Dawn Taylor (NNF scholarship & grant recipient)

• Dr. Wei-Chen Tung (NNF grant recipient)

• Dr. Evette M. Wilson

*This event helps fund the NNF Rural & Frontier Nursing Scholarship.

Scholarship applications are open in February & August each year and

awarded in April & October. The grant application is open from October to

February and awarded in the Spring.

For more information call 775-560-1118.

Defending Professional Licenses in Administrative Proceedings.

Offering legal services for all Nursing Board related matters, including

disciplinary defense and licensing issues.

KNOW YOUR RIGHTS!

Free Initial Consultation

Experienced • Tenacious • Diligent

Voted:

• 2021 Leaders in Law • 2020 Top Lawyers Administrative Agency Practice

• 2019 Top Administrative Law Attorneys • 2018 and 2017 Top Attorneys in Rising Star

• 2016 Best of the Bar, Administrative License Defense

• 2015 Top Attorney, Municipal and Government

• 2014 Best of the Bar, Administrative Law and Personal Injury

619.684.5073 (Phone) | 619.363.8091 (Fax)
---
June, July, August 2022 Nevada RNformation • Page 17

Nevada Nurses Foundation EST 2014

As the Baby Boomers age and health care needs

increase, the nursing shortage intensifies. Nursing

schools continue to feel the pressure to increase

enrollment despite experiencing a severe nursing

faculty shortage. We are also seeing a retention

problem with high turnover rates, retirement, and

nurses permanently leaving the profession.

The important work of growing and retaining nurses

has become the focus of many Nevada organizations.

To celebrate the nurses and student nurses who are

modeling advocacy, leadership, and community, and

are increasing access to quality healthcare in Nevada,

the Nevada Nurses Foundation will be holding its 7th

Annual Shining Stars of Nursing Awards Gala.

The Gala will be held October 8, 2022 at the

Celebrity Showroom inside the Nugget Casino and

Resort in Sparks, Nevada. The Gala will have a private

VIP reception starting at 5 p.m. with a one-hour

hosted cocktail party with live entertainment. General

admission reception begins at 6 p.m., dinner is served

at 6:30 p.m., and the program begins at 6:45 p.m.

Tickets are $100 for general admission, $150 for VIP

admission. Tickets may be purchased online at www.

nvnursesfoundation.org. Please call 775-560-1118 for

more information. Reserve your tickets today as there is

limited seating inside the Showroom.

Proceeds from the Shining Stars of Nursing in

Nevada Awards Gala will benefit the mission of the

Nevada Nurses Foundation, which is dedicated to

supporting the professional development of nurses and

increasing access to quality health care for Nevadans.

We are excited to celebrate exemplary nurses,

student nurses, and partnering organizations at this

fun statewide nursing awards gala. We appreciate the

generosity of individuals and organizations. We cannot

do what we do without our wonderful volunteers who

share their time, resources, and talent, make charitable

contributions, participate in fundraising, and promote

the Foundation.

The event features many prestigious awards.

Distinguished Nurse Leader with Lifetime

Achievement Award – This award is based on lifetime

achievement and service. The previous winners,

selected judges who live outside of Nevada, and Ian

Curley, on behalf of 2018's recipient Margaret Curley,

will evaluate the nominations. Please complete an

online nomination by July 1, 2022. Nominee

Acceptance Letters due August 1st, 2022.

People's Choice Chief Nursing Officer/Director of

Nursing/Dean of Nursing (CNO/DON/DON) of the

Year Award – Nominations are open online and public

voting ends on September 15, 2022. Visit our

Website form to nominate or vote for your favorite

CNO and DON.

Nevada Rising Stars: Student Nurse Leader

Awards – These student nurses are selected by their

respective schools, institutions, and organizations

based on their involvement in the nursing profession,

demonstration of leadership skills, effective

communication, and promoting quality care in their

community. Institutions will submit names to the

Stars@NVNursesFoundation.org by August 1,

2022, for inclusion in the program.

"50 Under and 50" Awards – Join us in recognizing

fifty nurses (RN/LPN/APRN) under 50 who have

demonstrated excellence in practice, advocacy, and

leadership. Nominations are accepted online until

July 1, 2022. Acceptance letters must be received

by August 1st, 2022.

Shooting Stars: Professional Progression Awards

– All nurses who have completed advanced degrees

and specialty certifications in 2021 and 2022 will be

honored. Submissions will be accepted through

August 1, 2022.

Nurses on Boards – All nurses who served

on governing or advisory boards representing the

nursing occupation or healthcare issues and concerns

during 2021 and 2022 will be honored. If you know

of a colleague who should be recognized for his/

her representation of or leadership in nursing, please

submit their name for consideration. Submissions are

accepted through August 1, 2022.

Forever Stars – All nursing stars who have recently

departed within the last year will be recognized in

memoriam in the souvenir program and slide show.

Please submit names of the nurse or nursing student

with a 100-word bio and picture by September 1,

2022, to Stars@NVNursesFoundation.org.

Recognition of Scholarship Recipients &

Sponsors – We honor individual and corporate donors

who have set aside funds from their charitable giving to

create a legacy scholarship. Sponsors may name their

scholarship and set the criteria.

Partnering Professional Nursing Organizations'

Stellar Nurses – We offer an opportunity for

Professional Organizations to select one stellar nurse

to be recognized at the Awards Gala. All stellar

nurses will be celebrated on stage and in the souvenir

program. The criteria and selection of the stellar

nurse are determined by each professional nursing

organization. We request organizations to submit

the following documentation by August 1, 2022: 1.

the name of the professional nursing organization, 2.

name of the nurse, 3. their credentials, 4. role within

the organization, 5. a professional photo, and 6. their

contact information to Stars@NVNursesFoundation.

org.

Nominate and vote for individuals at https://

NVNursesFoundation.

On September 15th visit our website and register

for the silent auction. As we accumulate gifts, we will

continue to post them in the online silent auction at

https://NVNursesFoundation.org/silentauction

If you

would like to donate a gift, advertise, attend, or be a

sponsor, please contact us at 775-560-1118 or Stars@

NVNursesFoundation.org

In 2022, Dr. Delos Jones, Assistant Dean at Roseman

University is dialing in on his role as the Shining Stars

of Nursing auctioneer for the LIVE auction held on

Saturday, October 8th!

All proceeds support the NNF mission to increase

access to quality health care for Nevada citizens by

promoting professional development of nursing

through recognition, grants, and scholarships.

Thank you and have great days,

Sandy Olguin

Sandy Olguin, DNP, MSN, RN

President, CEO

Nevada Nurses Foundation

Getting Clear on Bullying Versus Incivility

Renee Thompson, DNP, RN, CSP

Reprinted with permission from

The Florida Nurse February 2022 issue

Numerous studies show the

prevalence and devastating

impact disruptive behaviors

have on nurse retention and

satisfaction, patient safety

and the financial health of

an organization. Today, more

than ever, the unpredictable,

life-and-death nature of the

pandemic has created an

environment that is ripe for

an increase in workplace

bullying and incivility. Research

at the Healthy Workforce

Institute shows an uptick in

bad behavior and nurses are

Dr. Renee

Thompson

experiencing greater workplace incivility now more

than ever before. Additional studies show:

• 45.7% of nurses said they witnessed more

incivility than before the pandemic (El Ghaziri et

al., 2021).

• 14.3% of surgery patients had higher

complications with surgeons who had one

to three reports of unprofessional behaviors

compared to those surgeons who had no

reports of disruptive behaviors (Cooper et al.,

2019).

• 94% of individuals have worked with a toxic

person in the last five years; 51% of the targets

stated they are likely to quit as a result (Kusy,

2017).

Developing successful, targeted interventions to

reduce bullying and incivility among nurses will require

that leaders develop awareness and understanding of

nurses' unique experiences with disruptive behavior.

One of the biggest areas of confusion that makes

it difficult to address and eliminate bad behavior is

a misunderstanding about the differences between

bullying and incivility.

An important first step to educating yourself and

your employees is to get clear on those differences.

This will help you raise awareness, set expectations,

and develop appropriate strategies to eliminate each

type of disruptive behavior. Bullying should be a

NEVER event, but not everything is bullying and when

we call everything bullying, we lessen our chances of

identifying and addressing true bullying behavior.

BULLYING

For a behavior to be considered bullying, it must

include three things:

A Target-This target can be a single person or group

of people. Group targets can include the opposite

shift, new nurses, or nurses who have a particular

ethnic background.

Harmful-The behavior must be harmful in some way.

This harm can be to the target or harmful to a patient.

Repeated-The most important element of bullying.

The behavior can't be just a one-time event, it must be

repeated over time.

INCIVILITY

Incivility is different from bullying but tends to be

much more pervasive. While the behaviors can be

similar, they tend to be lower level. Incivility shows

up as your typical rude, unprofessional, inconsiderate

behaviors: eye-rolling, condescension, favoritism,

alienation, gossiping, mocking, cursing. Make no

mistake about it, incivility is a healthy and professional

workplace killer, and needs to be addressed.

The Bottom Line

Bullying and incivility can destroy work environments

and impact patients in a negative way. The key is to

get very clear on the behavior – is it bullying (target,

harmful, repeated) or incivility (low level, rude, and

unprofessional). We are hemorrhaging nurses due to

bad behavior and it's time we get educated on how to

recognize and address bullying and incivility so that we

can cultivate a more respectful and professional work

culture.

References

Cooper, W., Spain, D., Guillamondegui, O., et al. (2019,

June). Association of Coworker Reports About

Unprofessional Behavior by Surgeons with Surgical

Complications in Their Patients. JAMA Surgery, 154(9),

828–834. doi:10.1001/jamasurg.2019.1738

El Ghaziri, M., Johnson, S., Purpora, C., Simons, S. and

Taylor, R. (2021, July). Registered Nurses' Experiences

with Incivility During the Early Phase of COVID-19

Pandemic: Results of a Multi-State Survey. Workplace

Health & Safety. doi:10.1177/21650799211024867

Kusy, M. (2017). Why I don't work here anymore: A leader's

guide to offset the financial and emotional cost of toxic

employees. Boca Raton, FL: CRC Press

Bio:

As an international speaker and consultant, Dr.

Renee Thompson tackles the challenges facing

healthcare leaders today. With 30 years as a nurse,

Renee is an expert on creating healthy workforces by

eradicating bullying & incivility. She is in demand as a

keynote speaker and has authored several books on

bullying.
---
Page 18 • Nevada RNformation June, July, August 2022

Healthy Nurses

Is Healthcare Making You Sick?

Tracey Long PhD, MS, MSN,

RN, APRN-BC, CCRN, CNE

In the past two years during

the worldwide COVID-19

pandemic, nurses have not

only been in the spotlight

as healthcare heroes but

also in the dim light of their

own faltering mental health.

During the pandemic, nurses

have worked with more critically ill patients, with less

supplies including personal protective equipment,

shorter breaks between shifts, confusion of changing

protocols to fight the virus, and fear of exposing

themselves and their families to the mysterious and

often fatal virus with each patient interaction. Hospital

protocols changed often daily and as elective surgeries

were postponed during the height of COVID-19, OR

nurses were transferred to other units they were not

familiar with. The shift to using only surgical masks,

and often repeated use, contributed to nurses feeling

their own health and safety was not a priority to their

administration fostering a sense of mistrust. Nurses

acted as proxy for family at end-of-life moments as

family visitation privileges were suspended increasing

the emotional burden of nurses at the bedside. "When

the nurse walks into the hallway away from the

bedside, only tear-filled eyes of colleagues are there for

comfort" (Owens, 2020).

Shear physical and emotional exhaustion have

created another pandemic unique to nurses known as

compassion fatigue. And nurses are leaving nursing.

Thirty-two percent of surveyed registered nurses said

they are considering leaving bedside nursing since

the pandemic according to research conducted in

2021 (McKinsey and Company, 2022). The death of a

nurse by suicide has brought attention to the nursing

profession's mental health. Michael Odell, a travel

nurse at UCSF left mid-shift and was in crisis himself

(Chaterjee, 2022). He had a previous suicide attempt

and was waiting for a medication refill pending his

insurance. He cared deeply for his patient and shared

with his colleagues the heavy burden of watching so

many of his patients dying from COVID. In the days

while he was missing, his friends created a Facebook

page to help find him and found instead an outpouring

of empathy from fellow nurses who experienced

similar breakdowns, panic attacks, depression, and

suicidal ideation. Nurses are finally voicing requests for

employers to create less stressful environments, more

shift support, and resources for mental health. A study

revealed that more than 70% of health care workers

in the United States admitted to symptoms of anxiety

and depression, 38% have symptoms of post-traumatic

stress disorder, and 15% have had recent thoughts of

suicide or self-harm (Hendrickson, et al).

Nurses are recognizing they must create a safe

environment to express that they are not ok themselves

before they can safely care for others, and that requires

a change in our culture. "There's a feeling among

doctors and nurses that they are the ones who heal

others, not the ones who need to ask for help," says

nurse Paredes, a friend of nurse Michael Odell. Another

nurse, Warren, read of Odell's death and proactively

began a partnership to create more awareness of

mental health among nurses. The healthcare industry

already established a physician suicide hotline, but one

was not created specifically for nurses yet. Together

they have created a website, and colleague-supported

hot-line called "Don't Clock Out" inspired by the fact

that Odell left his shift under stress and never returned.

https://www.dontclockout.org/

The team wants nurses to know they are not alone.

Help is available by the very caregivers who really

understand you. They have received legal help to create

the organization and even guidance by a veteran's

group who believes frontline nurses and veterans are

similar in experiencing post-traumatic syndrome. Their

campaign includes proposals for more mental health

awareness and resources. Just as long-COVID has

become a real chronic condition, so too is the fragility

of mental health among nurses and healthcare workers

who are exhausted. Nursing friends of Odell recognize

his struggle with mental health must have been long

until he could no longer cope during a nursing shift.

The quest for improved support of mental health for

nurses will also be long. The campaign for stronger

mental health among nurses begins with each nurse

being aware of the behaviors and emotional coping

of each other and self-awareness of their own coping

abilities.

Reach out to each other, use or volunteer for hotlines,

and take time for yourself to rejuvenate the joy

Photo by https://www.shutterstock.com/imagephoto/depressed-crying-doctor-mask-havingmental-1709102854

of life. For more strategies about protecting your own

mental health go to: https://www.myamericannurse.

com/promoting-nurse-mental-health/

References

Chaterjee, R. (2022). A nurse's death raises the alarm

about the profession's mental health. Shots,

March 2022. https://www.npr.org/sections/healthshots/2022/03/31/1088672446/a-nurses-death-raisesthe-alarm-about-the-professions-mental-health-crisis

Hendrickson, R.C., Slevin, R.A., Hoerster, K.D. et al. The

Impact of the COVID-19 Pandemic on Mental Health,

Occupational Functioning, and Professional Retention

Among Health Care Workers and First Responders.

J GEN INTERN MED 37, 397–408 (2022). https://doi.

org/10.1007/s11606-021-07252-z

McKinsey and Company (2022). Nurses and other

healthcare professionals shed light on why they are

considering leaving, as well as what might make

them stay. https://www.mckinsey.com/industries/

healthcare-systems-and-services/our-insights/surveyednurses-consider-leaving-direct-patient-care-atelevated-rates#:~:text=Healthcare%20workers%20

and%20their%20organizations,according%20to%-

20McKinsey's%20latest%20research.

Owens, India T. MSN, RN, CEN, NE-BC, FAEN Supporting

nurses' mental health during the pandemic, Nursing:

October 2020 - Volume 50 - Issue 10 - p 54-57 doi:

10.1097/01.NURSE.0000697156.46992.b2

Rest, Relax, Laugh: Spending Time with Yourself

Dr. Phyllis Lawrence, DNP, RN, NEA-BC

Reprinted with permission from Tennessee Nurse

February 2022 issue

Rest and Relax

How many times have you been told that you need

to get plenty of sleep for good physical health? Sleep

is also instrumental in maintaining sound mental and

emotional health. Rest is not only the act of sleeping,

but you can rest your body, mind, and tap into your

spirit simply by feeling renewed. Waking up and feeling

that you have run a marathon is a sign of significant

activity during your rest period. Either the mind

continues to cycle, or you may be suffering from a

sleep disorder. In either case, you are not at rest.

To rest the mind, you must relax. Relaxation is

defined as the state of being free from tension and

anxiety (Google dictionary, 2022). The Cambridge

Dictionary defines relaxation as a pleasant activity

that makes you become calm and less worried. This

definition supports the concept of complementary

and alternative interventions and modalities.

Relaxation can really be a state of mind. One of

the most effective holistic modalities that promotes

relaxation is meditation. Meditation is reflected in

many forms, including guided imaginary, mindfulness,

Zen meditation, Mantra meditation, Transcendental

meditation, and Yoga meditation, just to name a

few. Mindfulness has become popular over the last

few years. Being mindful is the basic human ability

to be fully present in the moment, aware of your

surroundings, feelings, and emotions. Try it, sit still in

a quiet place. Place your hands in your lap. Now close

your eyes. What do you hear? What do you smell?

Breathe slow and steady while maintaining the rhythm.

Continue this practice for approximately 10-15 minutes.

Notice the change in your stress level or anxiety. This

simple exercise can alleviate stress and anxiety, and if

engaged in regularly, lead to an optimistic outlook.

Laugh for a Healthier You

Have you noticed that when you laugh, you feel

better? It is harder to cry while you are laughing.

Research has found that laughing triggers the release

of endorphins (nature's feel-good chemicals). It has also

been reported that laughter decreases stress hormones

and increases immune cells. We have a natural

response to infection, which helps produce antibodies,

improving our resistance to disease and promoting

our overall well-being. What makes you laugh? Is it a

funny commercial, your loved one(s), maybe your coworkers?

Laughter is the best medicine. In an article

by Robinson, Smith, & Segal (July 2021), learn to create

opportunities to laugh, watch a funny movie, TV show,

or YouTube video, check out a comedy club, read the

funny pages, check out the humor section in your

bookstore, play with a pet, better yet host a game

night with friends.

I would like to share with you some of the things

that make me laugh. Watching my favorite comedy

movies, even though I know the punch line, dancing

to my favorite 80's jam on YouTube, and serving

with a grateful heart. When I see someone smile, I

smile! During hard times, laughter has been a saving

grace for many. Whitman (2017) A new study reveals

how laughter affects the brain, which may be an

explanation why giggles play an important role in social

bonding.

When you take time for yourself, you validate your

worthiness and value. Make it a point to celebrate

your life. Buy that neat sweater, go to the movies with

your spouse, family, or friends. Do something that

you enjoy, and that makes you feel good. How about

butter pecan ice cream? Take care of yourself so that

you can take care of others. The first step to self-care

is accepting that you are worthy of that care. The care

you require may need to come from a professional

source, and that's okay. There are services available

through most healthcare facilities and organizations.

Sometimes you just might need to talk. It may be a

good time to phone a friend.

Take a moment and plan to rest, relax, and laugh.

Try to include at least one activity to cover each one of

the components. Start with resting and relaxing, then

let the laughter begin. Remember, you are worthy,

valuable, and appreciated. Self-worth can only be

measured by you. So make every moment count, and

be mindful of your value. I can sum it up in one word,

priceless!!

References

L. Robinson, M. Smith & J. Segal (2021). Laughter is the Best

Medicine. https://www.helpguide.org/articles/mentalhealth/laughter-is-the-best-medicine.htm

Mindful: healthy mind, healthy life (2022). https://www.

mindful.org/meditation/mindfulness-getting-started/

Whiteman, H. (2017). Laughter releases 'feel good

hormones' to promote social bonding. https://www.

medicalnewstoday.com/articles/317756
---
June, July, August 2022 Nevada RNformation • Page 19

Healthy Nurses

by Tracey Long

PhD, MS, MSN, APRN-BC

Health is defined as more

than the absence of disease.

Healthy nurses are not only

physically vibrant and able to

perform duties with energy, but

they are also mentally clear and

refreshed. Ideally. The reality

is that many nurses, especially

after COVID-19, are emotionally and physically

exhausted and have even begun to question continuing

in the nursing profession. Before giving up on the

nursing profession it may be time to rethink activities

you do outside of nursing. One category that can

bring a welcome change to your emotional and mental

energy is exploring a side hustle. A side hustle can

bring in extra income and often restore your energy

and enjoyment for life as you monetize an interest or

hobby.

Side Hustle for Nurses

• Making money on the side can be helpful for

nurses.

• Nurses have many skills and abilities apart from

patient care that can be profitable.

• Many resources and possibilities exist for nurses

to earn extra money in addition to their full-time

nursing job.

What Is a Side Hustle and Why Would You Want

one?

A side hustle is a part-time job or an income

producing activity that is done aside from a full-time

professional job. It's a job you control that brings in

extra income. Despite competitive wages for nurses,

extra money is always welcome. Many nurses are still

paying off debts from nursing or graduate school and

have more month than money at the end of their

budget. According to a national survey by the Penny

Hoarder, over 55% of those surveyed admitted they

don't keep a budget. Less than 30% of the adult

American population has a long-term financial savings

plan. It's no surprise why many people wonder why

their income doesn't match their expenses. 56% of

survey respondents admitted they don't know how

much they spent last month. Unfortunately, nurses

are no different than the general population in money

management and need more greenbacks. You can

either make more money or decrease your expenses.

Having a side hustle is another way to earn extra

money.

Advantages of a Side Hustle

There are many advantages to having a side hustle

and being a nurse entrepreneur. The most obvious

advantage is the ability to bring in more income

aside from a nursing job, which can help with budget

restraints. Earning extra money can help you save for a

special event such as a vacation or a large purchase like

a new car.

In addition to the added income, some nurses

like to create a side hustle to explore other interests

or hobbies and make money while doing it such

as teaching a yoga class or selling homemade art

and crafts. Optimizing a hobby into income can be

rewarding.

A side hustle doesn't have to be worked every

day, which allows more flexibility for you to be your

own boss. You can work the schedule you want

while fulfilling your full-time nursing job. It may mean

working in the mornings, evenings, or off-work days.

It may even become something that evolves into a fulltime

job by replacing your usual nursing income. An

example is a nurse who works on the side as a personal

health coach who begins to acquire so many clients

that creates such enjoyment the nurse trades bedside

nursing for full-time coaching and then works prn at

the hospital instead, making the hospital job the side

hustle.

Disadvantages of a Side Hustle

Before you hang up your scrubs, you need to

consider some realities and possible disadvantages of

being your own boss. Being a nurse entrepreneur has

the attraction of creating your own schedule and being

your own boss, however, unless you are self-motivated

and self-disciplined you may not get anything done

in your side job. There is risk involved if your side job

requires an investment of money eating up some of

your savings before you see any profit. It is estimated

that over half of all new businesses fail in the first year.

Financial freedom also means you are responsible for

filing your own taxable income without an employer

to perform those accounting duties. You will need to

budget, record your expenses and income and plan for

financial matters in your own business. If you create

a material object then you must inventory it, ship it,

manage it and sometimes store it.

Like any new job, success takes time, initiative, and

discipline. Those are the same qualities that helped

you earned your nursing degree so they can be used

towards the success of your own independent business.

You are only as successful as the level of the problem

you solve. You have unique skills and knowledge that

can benefit others and be monetized.

Side Hustle Ideas for Nurses

There are many side hustle ideas for the average

person such as house sitting, pet care, selling art

At McKenzie-Willamette Medical Center,

we take caring for people very personally.

Join our MWMC family today in the

beautiful Pacific NW!

We have RN positions available in our

Operating Room and Cath Lab.

on Esty or Pintrest, babysitting, mystery shopping,

becoming a notary, buying a small franchise such as

selling essential oils or products, being an Uber driver,

or a freelance photographer.

There are also many side hustles especially for nurses

that use your unique skills in different ways.

Here are a dozen ideas to jump-start your own

thinking if you're interested in earning extra cash in

exchange for your skills and knowledge unique to

being a nurse.

• Paid medical market research surveys

• Immunization worker

• Freelance health writer

• Telehealth nurse

• Online tutor

• Work as a standardized patient

• Work as adjunct nursing instructor

• Private duty nursing

• Teach BLS

• Sell your scrubs or extra gear

• Create an online course with your expert

knowledge

• Create a new product of design (wound care

pillow, etc)

• Become a medical transcriber in your own home

• Become a nurse health coach

• Moonlight as a per diem nurse

How to Begin Your Side Hustle

Deciding what you want to do is the first step.

Study what the market needs, brainstorm your ideas,

determine what action steps are needed, and then act.

S: Study the market for needs you can fill

I: Idea brainstorm to see what matches your

interests and talents

D: Determine action steps needed to make it

happen

E: Execute your plan

Marketing yourself includes letting people see you

on social media sites by making your profile public. Take

a professional profile picture, update your summary,

add your skills and certifications, and begin to network

with others by asking questions within online groups.

Create your business plan and budget and then begin to

advertise yourself through free resources first.

If you're not confident in selling your skills yet,

boost your knowledge by learning more through

online courses or even YouTube to learn about

marketing, finance, budgeting and even how to be an

entrepreneur. Having a side hustle can even help reenergize

you in your regular job as you have fun doing

something you love and begin to lessen the burden of

heavy finances. Doing something new and exciting to

you can even help reduce burn-out.

NAMI Nevada's mission is to

"The improvement of the quality of life for persons who are affected by

mental illnesses, by providing education, support, and advocacy. The

state organization supports and develops local affiliates and addresses

the needs of the membership."

Our main goal is to provide services and referrals for people

and their families living with a mental health condition. We

provide the overall service to help our members, affiliates,

and the citizens of this state to better understand how to

navigate the system in this state as well as understand what

sometimes seems to be the lack of a system in this state.

The goal for individuals and families is to reach recovery

and become self-sufficient. The goals of NAMI NV are to

advocate, educate and support people living with mental

health conditions and the families that love them.

The Cath, Hybrid, EP, and Operating Rooms are more than just

procedural areas at MWMC. While collaboratively working

to promote operational efficiency, fiscal responsibility, and

purposeful change, we strive to empower each individual with the

tools necessary to foster learning and growth while enhancing

patient, staff, and physician satisfaction.

Sign-on bonuses up to $20,000 available!

2022 ANNUAL EDUCATION CONFERENCE

In-person & Virtual EVENT

October 17th thru 20th, 2022

Change Nevada, Change the World

www.naminevada.org

Explore our Nursing Opportunities:

https://mckwebcareers.com/ 100 Arlington Avenue, Suite 360 | Reno, NV, 89501

Office: 775-470-5600 | Robin@naminevada.org
---
Seeking Cardiovascular RNs

Here is why you want to come work for us:

• Sign-on Bonus

• Tuition Reimbursement

• Career Growth Opportunities

• Great Benefits

• Also hiring Med/Surg, ER, BH, and OR

Jobs Hotline: 702-657-5551

Career Site: www.northvistahospital.com/careers

Scan to find your dream job:

EEO