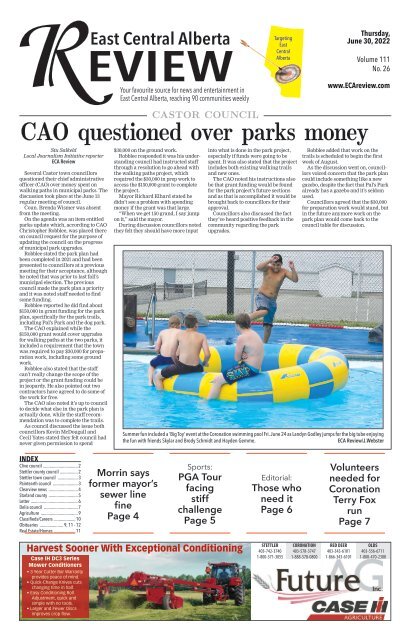 ECA Review 2022-06-30
ECA Review 2022-06-30
ECA Review 2022-06-30
SHOW MORE
SHOW LESS
Create successful ePaper yourself
Turn your PDF publications into a flip-book with our unique Google optimized e-Paper software.
R

R

R

72 pt

East Central R Alberta

60 pt

EVIEW

R

R

R

48 pt

36 pt

Your favourite source for news and entertainment in

East Central Alberta, reaching 90 communities weekly

30 pt

CASTOR COUNCIL

24 pt

Targeting

East

Central

Alberta

Thursday,

June 30, 2022

Volume 111

No. 26

www.ECAreview.com

CAO questioned over parks money

R

18 pt

Stu Salkeld

Local Journalism Initiative reporter

ECA Review

Several Castor town councillors

questioned their chief administrative

officer (CAO) over money spent on

walking paths in municipal parks. The

discussion took place at the June 13

regular meeting of council.

Coun. Brenda Wismer was absent

from the meeting.

On the agenda was an item entitled

parks update which, according to CAO

Christopher Robblee, was placed there

on council request for the purpose of

updating the council on the progress

of municipal park upgrades.

Robblee stated the park plan had

been completed in 2021 and had been

presented to councillors at a previous

meeting for their acceptance, although

he noted that was prior to last fall's

municipal election. The previous

council made the park plan a priority

and it was noted staff needed to find

some funding.

Robblee reported he did find about

$150,000 in grant funding for the park

plan, specifically for the park trails,

including Pal's Park and the dog park.

The CAO explained while the

$150,000 grant would cover upgrades

for walking paths at the two parks, it

included a requirement that the town

was required to pay $30,000 for preparation

work, including some ground

work.

Robblee also stated that the staff

can't really change the scope of the

project or the grant funding could be

in jeopardy. He also pointed out two

contractors have agreed to do some of

the work for free.

The CAO also noted it's up to council

to decide what else in the park plan is

actually done, while the staff recommendation

was to complete the trails.

As council discussed the issue both

councillors Kevin McDougall and

Cecil Yates stated they felt council had

never given permission to spend

$30,000 on the ground work.

Robblee responded it was his understanding

council had instructed staff

through a resolution to go ahead with

the walking paths project, which

required the $30,000 in prep work to

access the $150,000 grant to complete

the project.

Mayor Richard Elhard stated he

didn't see a problem with spending

money if the grant was that large.

"When we get 150 grand, I say jump

on it," said the mayor.

During discussion councillors noted

they felt they should have more input

into what is done in the park project,

especially if funds were going to be

spent. It was also stated that the project

includes both existing walking trails

and new ones.

The CAO noted his instructions also

be that grant funding would be found

for the park project's future sections

and as that is accomplished it would be

brought back to councillors for their

approval.

Councillors also discussed the fact

they've heard positive feedback in the

community regarding the park

upgrades.

Robblee added that work on the

trails is scheduled to begin the first

week of August.

As the discussion went on, councillors

voiced concern that the park plan

could include something like a new

gazebo, despite the fact that Pal's Park

already has a gazebo and it's seldom

used.

Councillors agreed that the $30,000

for preparation work would stand, but

in the future anymore work on the

park plan would come back to the

council table for discussion.

Summer fun included a 'Big Toy' event at the Coronation swimming pool Fri. June 24 as Landyn Godley jumps for the big tube enjoying

the fun with friends Skylar and Brody Schmidt and Hayden Gemme. ECA Review/J.Webster

INDEX

Clive council ............................... 2

Stettler county council ................ 2

Stettler town council .................. 3

Paintearth council ...................... 3

Clearview news .......................... 4

Starland county .......................... 5

Letter .......................................... 6

Delia council .............................. 7

Agriculture ................................. 9

Classifieds/Careers ................... 10

Obituaries ..................... 9, 11 - 12

Real Estate/Homes ................... 11

Morrin says

former mayor's

sewer line

fine

Page 4

Sports:

PGA Tour

facing

stiff

challenge

Page 5

Editorial:

Those who

need it

Page 6

Volunteers

needed for

Coronation

Terry Fox

run

Page 7

Harvest Sooner With Exceptional Conditioning

Case IH DC3 Series

Mower Conditioners

• 3 Year Cutter Bar Warranty

provides peace of mind.

• Quick-Change Knives cuts

changing time in half.

• Easy Conditioning Roll

Adjustment, quick and

simple with no tools.

• Larger and Fewer Discs

improves crop flow.

STETTLER

403-742-3740

1-800-371-3055

CORONATION

403-578-3747

1-888-578-0800

RED DEER

403-343-6101

1-866-343-6101

OLDS

403-556-6711

1-800-470-2388
---
2 J une 30'22 HANNA/CORONATION/STETTLER, AB. ECA REVIEW

WANTED

DEAD OR ALIVE

Canadian Prairie Pickers

Paying Cash For Coin Collections,

Silver & Gold Coins,

Royal Can. Mint Sets.

Also Buying Gold Jewelry

$$ $

CLIVE COUNCIL

Slight crime decrease: Blackfalds RCMP

Stu Salkeld

Local Journalism

Initiative reporter

ECA Review

The Village of Clive enjoyed a

slight drop in crime statistics

for the first quarter of the year

according to a report submitted

by Blackfalds RCMP. The report

was presented to village council

at their regular meeting June

13.

Councillors read the summary

for crime statistics from

January to May, 2022, as compared

to the same time last

year.

The report stated persons

crimes, which includes acts like

assault, were down 19 per cent

year over year, property crimes,

which includes things like theft,

were up three per cent and

other Criminal Code offences

were down by a whopping 25 per

cent.

Looking at specific types of

crimes in more depth, break

and enter was up quite a bit, 127

per cent, with 47 more instances

than a year ago.

Theft of a motor vehicle was

up 65 per cent with 24 more

instances and theft under $5,000

was down eight per cent with

eight fewer instances.

In a phone interview June 16

Chief Administrative Officer

(CAO) Carla Kenney stated

councillors were not overly concerned

with anything in the

report, and she also pointed out

the numbers of instances in

Clive tend to be small, so when

percentage increase is quoted it

are once again touring the area!

We purchase rolls, bags

or boxes of silver coins

PAYING HIGHEST PRICES

To arrange a free, discreet in-home visit

call Kellie at 1-778-257-9019

Bonded since 1967

can sometimes sound like a

very large jump when in fact it

may only represent a few

instances.

Animator course

Kenney provided a report to

council on Assistant CAO Abby

Notland's attendance at an "animator

course."

"Animator course is almost

completed, A. Notland has one

module left," stated Kenney's

report.

"The idea behind an animator

is to create a coalition to bring

awareness to rural mental

health. We are not here to fix

the problem we are here to talk

about rural mental health and

create awareness.

"This was a very in-depth

course about how to bring rural

STETTLER COUNTY COUNCIL

Sea can approved in

hamlet, reeve cites

aesthetic concerns

Stu Salkeld

Local Journalism Initiative reporter

ECA Review

Stettler County's Municipal Planning

Commission (MPC) approved the placement of a

sea can storage unit inside a hamlet, although

the reeve voiced aesthetic concerns. The decision

was made at the regular MPC meeting June 22.

The Stettler County MPC is comprised of members

of county council and chaired by Coun.

James Nibourg.

Development Officer Jacinta Donovan presented

an application from Robert de Vries to

place a storage unit at Lot 11 Block 4 Plan 8385T

4914 – 49 Street in the Hamlet of Botha.

"The applicant is proposing to place an 8' x 20'

sea can on Lot 11 Block 4 Plan 8385T within the

Hamlet of Botha," stated Donovan's report, who

pointed out the 8 x 20 size is correct and takes

precedence over the 8 x 12 and 8 x 40 both mentioned

in the meeting agenda.

Donovan stated a sea can, also sometimes

referred to as a CCAN or intermodel freight container,

is a discretionary use in the Stettler

County land use bylaw (LUB), which means the

MPC has sole discretion to approve a temporary

development permit.

She further explained "temporary" means the

permit is valid for up to five years and then

requires re-application.

Coun. Justin Stevens asked for clarification on

the development permit's term, and Donovan

answered the applicant didn't specifically

state how long the sea can will be

expected to stay on the property and

she assumed it's permanent.

Chair Nibourg clarified if the MPC

approves this application it will be

valid for five years and the applicant

will be expected to re-apply.

Reeve Larry Clarke asked if neighbouring

property owners had a chance

to comment on this proposal and

Donovan explained if the MPC

approves this application it's then subject

to a 21 day appeal which also

includes the neighbours.

Coun. Ernie Gendre asked if tin

garden sheds and similar buildings

are handled the same way sea cans

are. Donovan stated tin garden sheds

are approved uses in hamlet zoning so

they don't require a separate development

permit in the way a sea can does.

Reeve Clarke asked if there was any information

about the condition and appearance of the

sea can in question; Clarke stated some sea cans

are painted a variety of colours and have large

writing on them.

"They can look pretty rough," said Clarke, who

added that if the sea can is going to be there for

five years it should blend into the neighbourhood.

Donovan responded an additional condition

could be placed on the development permit that

requires the sea can be painted.

Nibourg noted that aesthetic requirements can

sometimes be subjective but that if the sea can

becomes controversial the issue can always come

back to the MPC.

Sea cans have sometimes

faced opposition over their

industrial appearance and

for some safety issues

including possibly acting as

an obstacle to firefighters.

Councillors eventually

voted by a 5 to 2 margin,

with Stevens and Coun.

Dave Grover opposed, to

approve the development

permit application for the de

Vries sea can with the added

requirement that it meet

county aesthetic requirements

as determined by the

development officer.

$$ $

Funeral Home

Proud to be part of Central Alberta

Family Funeral Services Ltd.

www.coronationfuneralhome.ca

403-578-2928

corofuneralhome@telus.net

Lawyer

Dr.McIver

Coronation Grad 2022

On behalf of the graduating class of 2022, we would

like to thank all the local businesses that helped us by

donating equipment for our party, food for our events

and being there to help us along the way.

These businesses include:

Rooster Rentals, SK Welding, M&N Construction,

League Projects, Golby Hardware, Bradley Goodbrand,

Family Foods, Petro Canada, Clothes 2 You by Jodi,

Brett Twa, Logo & Co

as well as all Highschool Parents.

We appreciate your kind

consideration and support. Thank You!

Professional Directory

E. Roger WANTED

Spady

Professional DEAD Corporation OR ALIVE

Barrister & Solicitor

Coronation Mall Coronation, AB

Office Hours: Tuesday to Paying Friday 9 Cash a.m. to 5 For p.m. Coin Collections,

Silver & Gold Coins,

Dentist Royal Can. Mint Sets.

Also Buying Gold Jewelry

We purchase rolls, bags

In Coronation (Located or in boxes Coronation of Mall) silver coins

MONDAYS 9 a.m. - 5 p.m.

Call Anytime

To arrange

for Appointments

a free, discreet in-home visit

403-578-3811

Chery Southoff

Optometrist

CORONATION VISION CLINIC

Dr. Ward ZoBell

Tues & Thurs 10 - 4

403-578-3221

HANNA VISION CENTRE

Eye Health, Glasses, Contacts

Dr. Dennis A. Heimdahl Dr. Ward ZoBell

Tues, Wed 9-4:30; Thurs, Fri 9-4

403-854-3003

Dentist

Our families serving yours!

Phone: 825-300-0049

Email: drballdental@gmail.com

Canadian Prairie Pickers

Location: St, Killam AB, T0B

403-578-3131

2L0

4913 50

are once again touring the area!

2L0 T0B AB, Killam 389, Box Mail:

$$ $

mental health to the forefront.

Sometimes just

talking about it gets people

thinking differently about

mental health.

"Just because you may

have a mental health issue

does not mean you have a

mental health illness."

Water system delay

Kenney reported that the

Hwy. #12/21 Water

Commission pipeline will

likely be delayed again. It

was estimated the pipeline

to Clive would be completed

by the end of June, but that

doesn't appear to be the

case.

The CAO stated the water

commission continues to

run into supply chain problems,

especially computer

components it needs for its

system.

Bylaw complaints

Kenney reported on the

various bylaw complaints

made to the village office.

"One unsightly complaint,

call made, and email sent to

homeowner and renter,"

PAYING HIGHEST PRICES

call Kellie at 1-778-257-9019

Bonded since 1967

$$ $

stated the memo.

"One fail to cut grass,

owner complied.

Complaints forwarded to

animal control – enforcement

(included) one dog

complaint of too many dogs,

one unregistered dog, one

failure to pick up dog defecation,

one keeping meat

rabbit and running at large

compliant."

Kenney stated it's not

unusual to see bylaw complaints

pick up when spring

arrives.

LUB review

Councillors agreed to

move ahead with the village's

land use bylaw

review, with a price tag of

$16,000.

The CAO noted this will

be a full review of how the

village handles land development

and will include

public consultation. She

estimated first reading of

the new bylaw will be on a

council agenda by the end of

2022, with final approval in

2023.

space available

for under $30
---
ECA REVIEW HANNA/CORONATION/STETTLER, AB June 30'22 3

STETTLER TOWN COUNCIL

Council hears crime rate drops in 2022

Stu Salkeld

Local Journalism

Initiative reporter

ECA Review

Stettler town council

heard crime rates in the

community have dropped in

2022, leaving this detachment

with the best stats in

the region. The presentation

was made to council at their

June 21 regular meeting.

S/Sgt. Bruce Holliday,

commander of the Stettler

RCMP detachment,

appeared before council to

give an update on crime in

the area, and submitted

reports on both provincial

and municipal crime

gauges.

Looking at the Stettler

provincial crime gauge total

Criminal Code offences

were down 34 per cent when

compared to January to

May of last year.

Persons crimes were

down four per cent, property

crime was down 39 per cent,

break and enter was down

45 per cent, theft of motor

vehicle was down by seven

fewer instances, theft under

$5,000 was down by one

instance and other Criminal

Code offences were down 50

per cent.

Taking a gander at the

municipal crime gauge total

Criminal Code offences

were down by 25 per cent

when compared to the same

time last year.

Persons crimes were

down five per cent, property

crimes were down 35 per

cent, break and enters were

down 38 per cent, theft of

motor vehicle was down 35

per cent, theft under $5,000

was down 42 per cent and

other Criminal Code

offences were down 12 per

cent year over year.

Holliday stated drug

enforcement in the area has

remained about the same as

last year while Mental

Health Act charges have

increased by about four per

cent; he noted it's an issue

regionally and provincially.

The commander noted the

RCMP is examining the use

of body worn cameras right

now in a pilot project. He

stated such cameras are

more commonly used in the

United States than Canada.

Coun. Scott Pfeiffer stated

he was happy to see crime

going down in the area, but

asked where the instances of

fraud are occurring.

Holliday responded they're

mostly phone-related with

the calls originating all over

the world and noted prosecution

is difficult because

the callers are usually based

in a foreign country.

There appears to be a

spike in these fraud calls in

the spring he added.

Coun. Wayne Smith asked

Holliday his opinion of body

worn cameras. Holliday

answered that he spoke

from his own experience

that the cameras would

ensure RCMP officers are

accountable and there's not

much better evidence than a

video and audio recording of an

incident.

However, he pointed out

Canada's cold climate could

affect how the cameras operate

which would be a challenge.

Mayor Sean Nolls asked if

Holliday had advice for

summer crime prevention.

Holliday stated a lot of crime is

spontaneous and opportunistic,

so people should lock their

vehicles.

Town Chief Administrative

Officer (CAO) Greg Switenky

asked about the detachment

staffing levels. The commander

stated one Stettler mountie

recently accepted a new job in

B.C., and one member is

reduced due to a health issue.

However, the S/Sgt. stated he

tries to plan ahead and fill gaps

as quickly as possible.

Holliday stated that the

Stettler detachment has the

best stats out of 23 detachments

in the region. Councillors

accepted the report for

information.

Dirt bike track

Councillors approved a

response to a request from the

Stettler Dirt Riders

Association; a spokesperson

appeared at a previous meeting

to ask the Town of Stettler for

support in the form of some

roadway materials and to help

mow grass n the property

infield.

After discussing the request

at a committee of the whole

meeting councillors passed a

resolution that the town would

provide excess roadway material

to help the dirt riders but

that the association would have

to continue cutting the infield

grass themselves.

This was contingent to the

dirt riders signing a new lease

with the town.

Emergency room closure

Councillors also approved by

resolution some strong words

regarding the closure of the

Stettler Hospital's emergency

room one day in both May and

June, 2022.

"CAO Switenky advised that

on June 9, 2022, the Town of

Stettler administration was

advised by Alberta Health

Services (AHS) that the Stettler

Hospital's emergency room

would not be staffed by a physician

for a 24-hour period due to

staffing challenges.

"Alberta Health Services

(AHS) own and operate the

Stettler Hospital complex

including the newly renovated

emergency room and to have it

closed due to doctor shortages

is unacceptable. It seems there

has been a serious deterioration

in accountability on behalf

of AHS or the Province of

Alberta to the residents of

Stettler and surrounding area."

The memo also stated Mayor

Nolls and Switenky had a

meeting planned with AHS for

June 22 to hear how these shutdowns

would be avoided in the

future.

PAINTEARTH

COUNCIL

Funding approved

for baseball teams

playing provincials

Daniel Gonzalez

ECA Review

Funding applications for

the U13 Baseball Coronation

Royals and the U15 AA Boys

Baseball Provincials were

sent to the council at the

June 21 County of

Paintearth meeting.

The U13 Coronation

Royals will be playing provincials

through June and

July 2022.

The U15 AA Boys Baseball

team will also be playing

provincials but only

through July 2022.

Both teams will receive

$500 in funding through the

County Policy AD 018

Recreation and Community

Service grants.

Road repairs

A resident has requested

road repairs on SE 19-37-13-

W4. The resident noted that

there is an excess build up of

water in the area and has

requested repairs to the

road in the area.

About 150 metres of road

will be repaired with plans

to add three culverts to

direct the flow of water.

Council moved to approve

development of the road.

Council will determine the

cost at a later date.

Administration will work

with the individual who

made the request. County of

Paintearth hopes to complete

the project by the end

of August or early

September.

Sign request

Parents have asked

council to install "Children

at Play" signs at RR161 and

TR382 out of concern for

their children due to the

amount of vehicles that

travel through the area.

Council has approved the

installation of the signs in

the area.

GET OUT AND ENJOY

FREE ENTERTAINMENT!

BRING A LAWN CHAIR

brought to you by the

Town of Stettler

Parks and Leisure Services

www.stettler.net
---
4 J une 30'22 HANNA/CORONATION/STETTLER, AB. ECA REVIEW

MORRIN COUNCIL

Morrin says former mayor's sewer

line works fine

Stu Salkeld

Local Journalism Initiative reporter

ECA Review

A former mayor of the Village of

Morrin who's battled the village over

sewer line issues won't be getting any

work done on that infrastructure in

the foreseeable future.

The topic was discussed at the June

15 regular meeting of council.

Councillors discussed the issue of

former mayor Howard Helton's sewer

lateral, along with Chief

Administrative Officer (CAO) Annette

Plachner and Public Works Foreman

Dave Benci.

Plachner reported Helton contacted

the village recently to ask if his sewer

lateral was going to be repaired.

Benci stated repairs to Helton's

sewer lateral were not in the village's

budget, plus a third party examined

the sewer lateral in question, including

both a camera and sewer snake, and

looked at it several times.

Benci stated the company in question,

TKNT Mechanical, felt that, after

examining the video footage, there is a

"dip" in Helton's sewer lateral but that

it does not prevent the lateral from

operating normally.

Their conclusion, noted the foreman,

was that Helton's lateral is not perfect

but it's functional.

The foreman noted he feels half the

sewers in Morrin have a dip and that it

would not be worth the $20,000 expense

to dig up Helton's lateral. If there is a

problem with Helton's lateral, stated

Benci, snaking it would be much

cheaper.

Benci added the village has

responded to Helton properly. "We've

done everything in our power to

accommodate him," said Benci.

Gas Plus property

Coun. Lorraine MacArthur asked

for an update on the status of the Gas

Plus property located across the street

from the village office. The property

has an unpaid tax bill and also an

underground contamination.

MacArthur asked if the village was

going to acquire the property through

the tax recovery process and Plachner

responded that decision was up to

council.

Mayor Chris Hall asked if someone

wants to rent the building, should the

village rent it out if it becomes village

property?

Benci stated that even if the village

takes the property over, the village is

not responsible for the contamination;

also, he added it could be useful for

Public Works storage.

Councillors asked how Benci knew

this and he noted he received that

information from the provincial government

in the past.

He also stated the contamination

hadn't been tested in about 20 years

and there were no plans to test it again.

Councillors decided the village

would get formal confirmation that the

village wouldn't be responsible for the

contamination and then make a decision

on the property in July.

Relationship status

Coun. MacArthur noted she recently

spoke to Starland County administration

about a mutual road issue and

MacArthur told her peers she got the

impression Starland is upset with

Morrin over a recent decision

regarding lots in the village.

MacArthur added it appears

Starland County has the impression

Morrin is unhappy with them and she

suggested a social meeting between

the two councils to get the relationship

back on track.

The issue in question revolved

around a private property owner

wishing to sell lots back to Starland;

the village balked at this as it would

remove those lots from the tax base.

MacArthur added that fire department

issues may also be on the agenda,

as Starland County pays most of the

fire department bills. CAO Plachner

stated that Morrin always pays its

share of fire department costs.

Councillors agreed to approach

Starland County about a social

Kevin Smook to seek

nomination for the UCP

Camrose Constituency

Representation matters. The role of

an MLA is to be a voice of the people, to

represent the grassroots and to

advance your interests.

The MLA's top concern is

WORKING FOR YOU.

The MLA needs to lead by

example - always - and

invest in our communities

through their service and

their actions.

Kevin and his wife Sheila

have been living in the area

for nearly 30 years.

This is where they raised

their family and launched

their real estate business. Smook

All four of their children

graduated from Tofield

School and two graduated from the

University of Alberta Augustana

Campus.

Kevin would like to work towards

creating more opportunities right here

in the Camrose region, so we can

retain and attract young people to our

area.

Kevin's political experience includes

three terms on Municipal Council, and

his community involvement includes

working with the Lions Club, Chamber

of Commerce, Ag Society and

Rotary Club.

Representation matters.

Your representative matters.

And your candidate for the

UCP matters.

Buy a UCP membership by

July 5th to ensure your eligibility

for the UCP nomination

meeting in the Camrose

Constituency.

And on nomination day, vote

KEVIN SMOOK, because he

knows your voice matters.

Contact Kevin at 780-995-9339 or

visit his website: kevinsmook.ca

Authorized by the

Kevin Smook campaign.

Village of Morrin Coun. Lorraine MacArthur asked for an update on the status of the Gas Plus

property located across the street from the village office. The property has an unpaid tax bill

and also an underground contamination.

ECA Review/S.Salkeld

meeting to discuss various issues.

Felonious felines

Coun. M'Liss Edwards brought forward

a resident complaint about cats

trespassing on private property.

The resident complained that cats

shouldn't be at large in the village and

noted dog owners have to pay a village

license while cat owners don't.

The CAO pointed out Morrin has a

cat bylaw which requires cat owners to

keep their pets on their own property;

if a trespassing cat can be identified,

the village bylaw officer can write a

ticket.

Plachner noted that cat complaints

should come to the village office.

Public Works report

Benci submitted his regular Public

Works report and noted he had met

with the Village of Delia to discuss collaboration

with Drumheller Public

Works.

It was noted that collaboration might

involve things like street cleaning and

sewer flushing; Benci added he's had

trouble trying to find a street sweeper.

Mayor Hall asked if purchasing one for

the village is an option, and Benci

responded the dust would still need to

be picked up and the vehicle would still

need to be stored.

The foreman reported the village's

spring cleanup went very well, and

added the contractor charged the village

$630, while a previous contractor

charged $3,000 to $4,000.

Benci reported he looked into getting

solar lights for the gazebo at about $20

each, but were only 20 lumens in

brightness and at that level probably

wouldn't be easily visible. He noted a

brighter system could cost up to $6,000.

Benci added that smaller lights would

probably also be a target for

vandalism.

He mentioned the gazebo's paint

scheme still has lettering from the

original steel grain bin material, and it

was agreed the village would ask the

Lions Club, who is responsible for the

gazebo, if the lettering could be painted

over along with solar lights added.

Clearview happy with

help on fuel costs

Clearview's Board of Trustees was

pleased to learn this week that the provincial

government will help with the

rising cost of fuel.

The province announced it will reinstate

the Fuel Contingency Program

where the monthly average diesel price

exceeds $1.25 per litre. Also, it

announced the program will be

enacted retroactively to March 2022

and remain in place for the 2022-23

school year.

Clearview uses about 400,000 litres

of fuel (gas and diesel) each school

year. Clearview's buses travel 7,551

km. daily and close to 1.3 million km.

per school year. Based on a $1.80 per

litre in expected fuel pricing, the new

source of funding will save approximately

$225,000 per school year in

Clearview.

Clearview's budget for fuel in the

2021-22 school year was $475,000. In

2022-23 the division expects to spend

an additional $200,000 for a total fuel

budget of $675,000.

22071SC0
---
ECA REVIEW HANNA/CORONATION/STETTLER, AB June 30'22 5

STARLAND COUNTY

Council reviews Code of Conduct

Daniel Gonzalez

ECA Review

Starland County council held

their legislated four year review

of Bylaw 1133, Councillor Code

of Conduct at the June 22

council meeting.

According to the bylaw, its

purpose is "to represent the

interests of Starland County." It

is also requires council to "consider

the welfare and interests

of Starland County as a whole

and interests of the county as a

whole supersedes the interests

of a particular division."

Outside of new wording,

changes include guidelines to

conflicts of interest and the

complaint system for Starland

County residents.

Councillors with conflicts of

interest will disclose them to

council while those who claim

to not must decide if the conflict

of interest is of concern before

proceeding.

If it is noted as a concern, the

member in question may choose

to abstain from discussion and

voting on the matter.

However, if the number of

councillors "would prevent

council from meeting quorum,

then they may not be excluded

and must fulfill their legislative

duties."

In addition, council members

cannot accept gifts valued more

than $250 and gifts over this

amount must be declared to the

chief administrative officer

(CAO) where it will be accepted

on behalf of the county.

However, this will not apply

to social obligations like dinners

and social functions given

to council as a group.

In terms of complaints, the

new system is made to prevent

"vexatious or frivolous complaints

intended to waste

council resources".

Residents or councillors who

suspect a breach in the bylaw by

a Starland County council

member will bring it to the

attention of the reeve in writing.

The complaint will be

brought to council and must

receive a "seconder" through

another council member.

Although a seconder is not

necessarily in agreement with

the complaint, it just acknowledges

that the complaint

warrants further investigation

and the reeve will decide the

need for investigation.

Council moved to approve the

changes and amended the

bylaw.

Ministry of

Seniors and Housing

Correspondence from Seniors

and Housing Minister

Josephine Pon presented more

information to the council

regarding their 10 year strategy

to provide affordable housing

for seniors in Alberta.

The aim of the ministry is to

reduce the number of Albertans

in core housing. They also hope

to provide 25,000 households

with housing support and bring

their total numbers over the

next 10 years to 82,000.

The correspondence also outlined

stricter guidelines for

selecting board members for the

housing management body

through the selection of knowledge,

skills, experience,

expertise or qualifications.

Long term tax strategy

A presentation regarding

long-term tax strategies by Tim

Duhamel from the Bloom

Centre for Municipal Education

was shown to council.

In his assessment he demonstrated

that Starland County

has the third highest residential

tax and highest non-residential

tax rates in the region.

Duhamel advises for tax elasticity,

which is the ability to

increase taxes to meet financial

needs and obligations.

This would be done through a

multi-level process that

requires significant public

engagement with the county to

ensure they understand what

they are paying for.

In addition, he outlined the

strengths and weaknesses of

the current revenue streams of

the county, gave suggestions on

different opportunities that

could generate additional

income and advises on strengthening

the tax base over relying

on the government grants.

In order to achieve this,

Duhamel presented nine different

long-term tax strategies

that vary in scale and length.

After the presentation and

discussing different opportunities

for the county, council will

take the information and use it

moving forward.

Central Alberta

Economic Partnership

Executive Director of the

Central Alberta Economic

Partnership (CAEP)

Kimberly Worthington and

council member Faye

MCGhee from Kneehill

County appeared before

council to introduce them to

the organization and the

Regional Economic

Development Alliances of

Alberta (REDA)

CAEP is one of the nine

economic development

groups that was formed in

1998 as a pilot project with

the Government of Alberta.

The aim of the REDAs is

to focus on "community and

regional economic development

as well as business

and investment attraction."

Membership for the organization

is based on

population at $0.70 per resident.

The cost for Starland

13

10

county is estimated to be

$1,400.

This would allow

Starland County to use the

resources of CAEP to better

serve the community

through the information

that they have available.

In addition to the membership,

CAEP offered the

council for Starland County

to be part of the Robust

Community Resource

Profile. Only one spot was

left and they came forward

with the proposal which

would cost $4,500 rather

than the usual $8,000 or

$10,000.

It will provide Starland

County with a document

that has all the necessary

information site selectors

would need for their

inquiries.

Council moved to be part

of the organization and take

part in the profile.

FROM THE BLEACHERS

PGA TOUR facing

stiff challenge

Free Camping

Donations for Edmonton

Veterans Food Bank

accepted at the gate

For more information contact Ellie 780-385-1469

sponsored in part by Kinsella Rec and Ag and Parrish & Heimbecker Viking

by Bruce Penton

The Professional Golfers

Association (PGA) Tour, which

has rolled along with nary a

serious hitch for nearly 100

years, has hit a huge pothole or,

more accurately, a gigantic

crevasse.

The PGA Tour,

which brags it has

provided $3 billion in

charitable donations

through the years,

suddenly faces competition

in the form of a

Saudi Arabian-based

golf entity with an

apparent bottomless

pit of money.

Funded by Saudi

Arabia's public investment

fund, which is

Penton

fuelled by oil revenues reported

to be $1 billion per day, the LIV

Tour has been trying to establish

a foothold by offering vast

sums of money to established

PGA Tour players. And it has

worked.

Phil Mickelson accepted $200

million to come on board; No. 15

in the world, Dustin Johnson,

signed on for $125 million.

Journeymen pros such as Kevin

Na, Patrick Reed, Bryson

DeChambeau, Charl

Schwartzel, Lee Westwood and

Ian Poulter have also jumped to

the LIV tour.

With eight tournaments

planned this year, four of them

in the U.S., the LIV tour features

48-player fields, 54-hole

tournaments (18 fewer than

standard PGA Tour

events) and shotgun

starts, where golfers

begin simultaneously,

but on a different hole.

Schwartzel won the

inaugural event June

11 in England, cashing

a cheque for $4 million,

the highest winner's

purse in the history of

golf.

The next event is

coming up in

Portland, Ore., starting June 30.

Critics say the LIV Tour is

merely an exercise in 'sportwashing'

— a term used to

describe efforts to sanitize a

country's image through sport.

Saudi Arabia's reputation for

human rights violations, censorship,

treatment of women,

etc., is less than stellar and

players who have taken the

money and joined LIV have had

to face media questions about

the morality involved.

PGA Tour commissioner Jay

Monahan said those who play

on the LiV Tour will be suspended

and unable to compete

in events such as the Ryder Cup,

or regular Tour events. Not

affected are the players' eligibility

for the four majors, which

are not run by the Tour.

It comes down to money vs.

legacy. The game's best young

players are, for now, staying

with the PGA Tour, hoping to

pile up victories they consider

more legitimate than those

offered by the LIV Tour, which

is seemingly a rest home for the

aging, over-the-hill players

more concerned with their

bank accounts than their historic

position in the game.

Still, playing golf for what

some call 'blood money' will

undoubtedly tarnish the image

of those involved.

Said Monahan: "I would ask

any player that has left, or any

player that would ever consider

leaving, 'Have you ever had to

apologize for being a member of

the PGA Tour?'"

This is a fluid situation. More

players will be lured by the fantastic

gobs of money. As a result,

the future of the PGA Tour

could be in real jeopardy.

WIN $250 Heart of Alberta Dollars

Make a purchase at a participating

Think Local, Shop Stettler business

Make

during

a purchase

the month

at a participating

of July and receive

Make Think a purchase Local, Shop at Stettler a participating business

Make during a purchase the

a Christmas

month at a of participating July

in

and

July

receive

postcard.

Think Local, Shop Stettler business

Think Local, a Complete Christmas Shop Stettler in the July business

postcard. by making a

during the month of July and receive

during the Complete month second the of July card purchase and by making receive at another a

a a Christmas Christmas second in July postcard.

participating in purchase July postcard. at another

business and submit

participating the business card by and

Complete the card making submit a

your by card making to a

your card to WIN! WIN!

second purchase at another at another

participating business Draw

and and to

submit

be submit

Draw

made

your your card card to WIN!

to to be WIN!

August 2

made

Draw

Draw

to

to

be

For full

be

made

August

contest

2made

details,

August 2

August visit shopstettler.ca 2

WIN $250 Heart of Alberta Dollars!

WIN $250 Heart of Alberta Dollars!

WIN $250 Heart of Alberta Dollars!

For full For contest full contest details,

visit shopstettler.ca

visit For full contest details,

visit shopstettler.ca
---
6 June 30'22 HANNA/CORONATION/STETTLER, AB. ECA REVIEW

OPINION

The opinions expressed are not necessarily

the opinions of this newspaper.

R

R

R

R

R

Published by

Coronation

Review

Limited

Subscriptions:

$52.50 in Canada; $98.70 in US;

$183.75 Overseas.

EDITORIAL

Those who need it

Brenda Schimke

ECA Review

The gasoline tax holiday is a winner

for drivers and very popular but who

doesn't like government handouts! Yet

all Albertans need to realize how

expensive this program actually is and

its ineffectiveness in delivering meaningful

help to struggling families.

According to Trevor Tombe,

University of Calgary much-quoted

economist, this tax holiday will reduce

the government's revenues by three

per cent or approximately $1.3 billion

every quarter. If the gasoline tax holiday

is extended through December,

the cost of this program would be

upwards of $3.9 billion.

Struggling families are those who

struggle to find

affordable

"

housing and, in

increasing numbers,

are

regulars at

charity food

banks.

Struggling families

are those

who can't afford

their tuition

debt, childcare

costs, utilities,

dental care and

prescription

medications for

themselves and

their children.

The multi-billion-dollar

gasoline tax holiday

advantages those who drive the

most. Lower income people tend to

purchase less fuel and use public

transportation hence benefit the least.

They also have little discretionary

income in which to alter their

spending during inflationary times.

Tombe's research concluded that

families with incomes less than $30,000

are expected to save around $70 from a

three-month gasoline tax holiday,

while households with incomes over

$150,000 can expect to save around

$220.

We are not all 'struggling families'

but we have committed to forego, by

the end of September, over $2.6 billion

in government revenues on the

assumption that we are.

Targeted help from the government

to struggling families through

enhanced income support programs,

cash rebates or direct support to food

banks would have been much less

expensive and much more effective for

those Premier Kenney's said he was

helping—struggling families.

A struggling family is not one who

may have had to forgo their

The multi-billiondollar

gasoline tax holiday

advantages those who

drive the most. Lower

income people tend to

purchase less fuel and use

public transportation

hence benefit the least.

motorhome trip to PEI and instead holiday

closer to home, or fill their

hummer to go back and forth to their

downtown law office.

The UCP government knew this, or

at least did, when they introduced their

childcare program targeting lowincome

families.

Current UCP leadership candidate

and former Children's Services

Minister Rebecca Schulz said at the

time, "These investments will make a

big difference for families but we know

that this targeted approach will also

actually make sure dollars go to parents

and kids who need it and really

have an impact on economic recovery."

Affordable housing is a significant

piece for struggling families, pre-inflation

and even more so now. People

living in precarious

housing

situations are an

economic drag on

the economy. Yet it

is chronically

underfunded by

both the federal

and provincial

governments.

The Alberta government

has

committed a mere

$250.4 million a

year for affordable

housing over five

years. Yet they are

wilfully throwing

away $1.3 billion

every three

months for a taxfree

holiday on a

targetless program helping anyone

who drives.

Governments are masters at buying

our votes but that doesn't make it right

or wise. Political leaders are elected as

stewards of the collective whole. In

Alberta the lost opportunity costs of

$2.6 billion, and likely much more,

could have been effectively targeted to

struggling families facing food and

housing insecurity.

But, that's not how an opportunist

politician or government thinks or

acts.

The UCP gasoline tax holiday to help

'struggling families' is akin to non-targeted

radiation treatment for cancer.

Scatter it everywhere and hope some of

it hits the cancer cells, versus pin-point

targeting to just attack the cells of

concern.

Too bad, everyone in the UCP government

had forgotten former

Minister Rebecca Schultz's words

when she announced the government's

childcare investment, "this targeted

approach will also actually make sure

dollars go to parents and kids who

need it."

- COPYRIGHT NOTICE -

All printed material, written, display advertising and photographs are the sole property of The ECA

Review. No reproduction of this material or layout including social media is permitted without written

consent of the Publisher. Call us for more info.

72 pt

East Central Alberta

EVIEW

60 pt

48 pt

36 pt

Website ECAreview.com

Office Hours Mon. - Fri. 9 am - 5 pm

R

30 pt

4921 - Victoria Avenue

Tel. (403) 578-4111

R

24 pt

Mail: Box 70, Coronation, AB Canada, T0C 1C0

"

LETTERS POLICY • Letters to the Editor are welcomed •

Must be signed and a phone number included so the writer's

identity can be verified. • ECA Review reserves the right to edit

letters for legal considerations, taste and brevity. Letters and

columns submitted are not necessarily the opinion of this

newspaper.

MEMBER OF:

Local Journalism Initiative is funded

by the Government of Canada.

MAIL BAG

Continue to respect the law

Dear Editor,

I am writing this letter to ask questions

and make comments that came to

mind while reading the editorial, 'Is

what we see working?', June 9 issue.

I think that Canada's firearms laws

are working just fine for the people

that obey the law. No changes necessary.

All we need to do is enforce these

laws just as they are. Empower the

police to get the job done.

The government taking aim at lawabiding

citizens is wrong, changing

laws for the purpose of incriminating

people that obey the law is wrong.

Empower the police to go after the

people that are breaking the law.

Lawbreakers that own firearms

without taking the necessary courses,

without having character references,

that carry firearms without any

licensing, gun smugglers and furthermore

people who steal property,

intimidate and kill people as well as

each other.

The lack of respect for human life is

astounding. They are the ones, go

after them. They are not going to obey

the new laws, they don't obey the ones

that are on the books now.

The general media these days contains

a lot of misinformation,

disinformation and improper definitions.

It began with the AR15 when

they thought that the AR stood for

'assault rifle' when it actually stands

for ArmaLite Rifle which is the

manufacturer.

Military weapon is a term that can

be used not only for a rifle or handgun

but anything from a tank to a grenade,

bayonet, cannon or a sword, and more.

The writer referred to her father's

firearm as a 'single action' which is a

term more often used when talking

about a revolver. Single shot is a term

more commonly used to describe a

rifle.

It was very common in the early to

mid 1900's for people to have military

firearms which may or may not have

been sporterized for everyday use

around the farm or for hunting and

usually in .303 which was a military

calibre.

JOYCE WEBSTER

Publisher/Editor

publisher@ECAreview.com

YVONNE THULIEN

Marketing/Digital 403-575-9474

digital@ECAreview.com

When we refer to firearms we should

get the terminology correct. Mistaken

information becomes disinformation

when we accept it as true and base

decisions and ideologies on that information.

The lethality of a firearm has

little if anything to do with its appearance,

or the material it is made from

because a firearm is made of plastic

and is black or cameo-coloured doesn't

make it more lethal.

Automatic firearms have been

illegal for decades, semi-automatic

firearms will only fire as fast as one

can acquire a target and squeeze the

trigger.

Larger calibers semi auto or

repeaters are restricted to five round

magazine with some holding only

three or four rounds. There is a broad

spectrum of firearms being used in the

war for the Ukraine right now. Some

might even look like grandpa's old

hunting rifle.

The one paragraph that bothered me

most was the one which stated that any

lawful firearms owner can become a

killer and I quote, "The problem with

citizens lawfully owning handguns

and military-style weapons is that a

'lawful' person can within seconds

turn into a killer, intentionally or

unintentionally." Is there any documented

research to back that

statement up? That is a very dismal

outlook on the 2.3 million Canadians

that are legal firearms owners.

Is what we see working? Why do we

continuously look to the U.S. to compare

Canada with. There are many

differences and we need not waste time

worrying about what Americans do

and focus on what it is that makes us

Canadian and make it work for all lawabiding

citizens.

To the legal firearms owners out

there, continue to respect the law,

enjoy hunting, shooting sports and collecting.

It is your privilege under the

provisions of the Canadian Firearms

Act.

Write letters to your representatives

to ensure that your privileges remain.

Gordon Grice

Castor, Alta.

BRENDA SCHIMKE

Editorial Writer

JUDY WALGENBACH

Marketing 403-740-2492

marketing@ECAreview.com

STU SALKELD

LJI Reporter 403-741-2615

reporter@ECAreview.com

SHEREE BAILLIE

Marketing 587-990-4818

contact@ECAreview.com

DANIEL GONZALEZ

Reporter 403-700-9460

news1@ECAreview.com

LISA MYERS-SORTLAND

Graphic Artist

R

18 pt
---
#

ECA REVIEW HANNA/CORONATION/STETTLER, AB June 30'22 7

Volunteers needed to

organize the Coronation

Terry Fox run

Hundreds of thousands of

people across Canada will

lace up to participate in the

annual Terry Fox Run on

Sept. 18, 2022 to raise funds

for cancer research.

Now in its 42nd year, the

event continues to stay true

to its roots with a non-competitive,

grassroots and

family-oriented spirit, with

communities all over

Canada joining together to

realize Terry Fox's vision of

a world without cancer.

We are currently seeking

Delia finalizes sale

of the Stagecoach

Daniel Gonzalez

ECA Review

The sale of the Stagecoach

Hotel in Delia has been

finalized and confirmed at

the June 20 Delia regular

council meeting.

The village took the property

title in January 2021 as

new volunteers to organize

the Coronation Terry Fox

Run. The roles of Run organizer

and event volunteers

are currently open.

Since 2005, Coronation

has hosted an annual Terry

Fox Run and contributed

over $26,569 to cancer

research.

The Terry Fox Foundation

will work closely with the

volunteer chair and provide

support, training, and materials

to ensure the success of

this year's run.

DELIA COUNCIL

a tax forfeiture, but it has

now been sold to Benjamin

Miskuski.

The offer for the property

was for the current

appraised value of $76,000.

Miskuski is scheduled to

take occupancy of the hotel

on July 5, 2022.

Innovation Strategy

We will be leaders and partners acting as catalysts for transformation

in order to meet the needs of those we serve.

Proud Canadian tradition

Catholic Leadership Strategy

We will leverage the legacy and strength of Catholic healthcare

Forty-two nationally and internationally years have to be of passed greater service. since

that cold April morning when Terry

Strategic Objectives

Fox set out on his Marathon of Hope

on the easternmost edge of our nation.

In the ensuing years, millions of

Canadians have followed in his footsteps

to forge a MISSION uniquely Canadian

event. We are called to continue

Our greatest the healing strength ministry of is Jesus the

by serving with compassion,

extraordinary team of Terry Fox volunteers

that

upholding the sacredness of

life in

span

all stages,

from

and

coast

caring

to coast,

a human chain for the linked whole person by a – common

purpose – to body, make mind a positive and soul. difference

in the fight against cancer. They also

share many of the attributes

Canadians hold most dear: they are

dedicated

Strategic

and

Objectives

driven, helpful and

humble and, above all, they are caring

Acute Care Optimization and Expansion Strategy

and compassionate.

We will transform and expand care and service in acute care to

If respond you are to growing an populations enthusiastic and changing and demographics. organized

individual who possesses

Community Care Integration and Expansion Strategy

We will expand our community care capacity to transform care

exceptional delivery, and address leadership gaps in service, skills growing and populations and

changing demographics.

wants to make a difference in the

world, please reach out to the regional

coordinator of your area to help organize

the Coronation Run and make a

difference.

Tired of

working at

Home Alone?

WEEKEND

ON-CALL HOURS

For medical emergencies and life-threatening

conditions, call 911.

July 2022

July 1, 2, 3 ........... Coronation Hospital

SERVE

July 9 & 10 ..................

We will strengthen our

Castor

mission and live our

Hospital

values to meet the needs of those we serve

July 16 & 17 ......... Coronation Hospital

through excellence in care, an engaged team,

and wise use of our resources.

July 23 & 24 ......... Coronation Hospital

VISION

July 30, 31, August 1 ... Castor Hospital

Inspired by our mission of

service, we will be leaders

CONTRIBUTE and partners in transforming

For Urgent Medical Problems call:

We will leverage our

health care and creating

legacy to maximize the

• 811 for health advice vibrant communities

strategic contribution of

from a registered

Catholic health care.

of health and

nurse 24/7

healing.

For Routine or Ongoing Medical Issues:

• Schedule an appointment system with and grow your through

family physician

communities, especially those

Important: Patients are most vulnerable. advised to

telephone the hospital on-call prior to going

there.

Coronation (403) 578-3803

Castor (403) 882-3434

Visit ahs.ca/knowyouroptions

Sept 2019

TRANSFORM

AND GROW

We will transform the health

integration, innovation, and

shared learnings to respond to

the strengths and needs of our

Single Offices to Rent in downtown Stettler

Main Street: 4830 - 50 St.

Four available, with one larger board room that could be made

available. Call 403-741-9355 or drop in.

Join our friendly co-renters and gain visibility!

#

Pe

W

em

in

Q

W

ac

Re

W

an

S

S

Se

W

to

th

Ad

W

m

co

Pa

W

of

Business Directory

space available

for under $30

Ask us about available

discounts.

Specializing in Commercial Glazing,

Automatic Entrances & Overhead Doors

Installation and Repair

780-753-6888

Bill's Waterwell

Services Ltd.

Well Drilling

Pumps & Repairs

403-747-2120

drillerbill@xplornet.com

53' Ground Load Services

Benson Van Hienen

403-741-5735

bvhtrucking@gmail.com

Big Country Construction

& Building Supplies

2018 Ltd.

• Custom New Homes • All Farm Buildings

• Renovations • Windows and Doors

• Overhead Doors & Service • Retail Sales

Quality Customer Care

403-854-3585

UNLIMITED

HIGH‐SPEED INTERNET

Now Serving:

Coronation, Veteran, Talbot, Brownfield,

Alliance, Fleet, Castor, Halkirk, Botha, &

Stettler areas. More to come!

Plans starting at $50/mo.

Packages from 7 to 50Mbps

403-578-4214

Toll Free 866.57.VITAL

L. Strom

Custom Corral Cleaning

and Manure Spreading

• available for stock piling

• equipped for big/small jobs: low sheds, confined areas

General Contracting

• Track skid steer with high flow; available for all types

of services including mulching, landscaping etc.

403 574 2222 / 741 9974

Scott Lourance

403-916-4600 Cell

403-742-2551 Home

53' Cattle Liner

53' Ground Load

Hay Trailer

CAN'T SEE OUT?

Option #1

Replace

the Foggy

Unit

Option #2

Replace

the

window

Financing Available

Anchor Glass

403-854-4414 • 1-800-463-3148

www.anchorglass.ab.ca

tim@anchorglass.ab.ca

McSteel

SALVAGE &

CLEAN-UP

LTD.

Wainwright, AB

We Buy

Scrap Metal

Call

780-842-8622

www.mcsteel.ca

• Specializing in Repairs to

ALL Makes & Models of RVs & Trailers

• Full selection of RV Parts & Accessories

• RV Storage

403 742 5667 generationsrv@gmail.com
---
8 J une 30'22 HANNA/CORONATION/STETTLER, AB. ECA REVIEW

Fleet Lots Available for Sale!

Lots 2-10 in the Fleet Railway Subdivision are now for sale. These lots are currently unserviced.

The County of Paintearth has set a price of $18,900 + gst for each lot sized approx. 1 acre +.

For general sale conditions, sale documents and zoning information, contact

Director of Community Services, Todd Pawsey, 403-882-3211 or

email tpawsey@countypaintearth.ca

Residential lots for sale in Coronation!

Prices start at $20,000. For sale info:

please contact local Real Estate Agent,

Shelly Creasy at

screasy@telusplanet.net, or call:

403-578-2255 or cell 403-578-7000

Residential Lots for Sale in Town of Castor! Located

in the South Side Subdivision. Lots priced at $19,710
---
ECA REVIEW HANNA/CORONATION/STETTLER, AB June 30'22 9

Carbon soil mapping aims reduce emissions

Submitted

A sweeping project co-led by

University of Alberta researchers will

provide the most comprehensive mapping

ever of how much carbon is being

stored in perennial grasslands across

Saskatchewan.

The resulting data from the $3.2-million

initiative will help cattle farmers

there — and eventually all across

Canada's prairies — manage their land

to keep as much harmful greenhouse

gas in the ground as possible.

Forged a long and well-respected

career in the oil industry

Ernest Alexander Angel

(Angelopoulos)

1933~2022

Ernest Alexander Angel

(Angelopoulos), passed away

peacefully in his sleep after

a long fight with cancer on

June 5, 2022 at 8 o'clock in

Hanna Long Term Care.

Ernest was a loving husband

to his wife Blanche

(who predeceased him in

January 2021); father to two

sons: Leslie S. Angel, and

Byron P. Angel;

grandson Ben

Angel; and his

extended family.

A strong, proud,

generous individual

who kept

"my problems" to

himself. Forever

loved and missed;

RIP and may you

Angel

join all family

members and

reunite.

Dad was born on May 1,

1933 in Canada, the

youngest son of Greek parents

who emigrated to

Canada from the

Peloponnese in his father's

case, and mother from

Corfu.

His family was large with

Dad being the youngest of

the latter two (Lillian and

Ernest); two additional

brothers and four sisters….

Johnny, Paul, Alice, Mary,

Sophie and Lillian.

Dad served in the

Canadian Navy as an Able

Seaman during the three

years of the Korean conflict,

leaving the navy in 1953. He

then forged a long and wellrespected

career in the oil

industry, first in Alberta,

then internationally, in

Trinidad from 1964 to 1966.

He went on to spend seven

years in Sarawak on

Borneo, working from

driller to rig superintendent

in the south China Sea for

Sedco, where he also stood

in for the area general manager

at the time.

This was a posting jealously

guarded by those

within, and as I (Les) was

later to learn in my own

career once I was posted to

the Middle East, not forgotten

by those posted there!

I was made to feel slightly

uncomfortable when

"We know that grasslands are

holding onto large amounts of carbon,

and this project is going to help us

quantify some of the contributions

from the beef industry in terms of

maintaining their land as grazing

land, which helps keep carbon in the

ground and not in the atmosphere,"

says U of A rangeland ecologist

Cameron Carlyle, one of the lead

researchers on the project.

Soil carbon also helps retain water,

which makes the prairie forage more

introduced to the Vice

President, Operations

Manager and upper management

in UAE and Qatar,

who had known and worked

with Dad, being directly

introduced as "one of the

Miri (Sarawak) crowd".

Such is life in "the patch!"

From Borneo we went on

to Scotland where he

worked as rig superintendent,

assistant manager and

manager, with one year

spent in Brazil in

Belem with one of

the company's

units, where more

"wild west" adventures

took place

(such as street

gunfights conducted

outside of

the Churrasqueira

(BBQ Restaurant)

where all staff

tumbled out into

the street to join

in, with machete's and

pistols.

He then returned to

Scotland in 1977 to 1980, a

slightly more docile living.

In 1980 – 1984, he went on

as construction manager for

three new build semi-submersible's

for Sedco, built

and commissioned in South

Korea, where he and Mom

made new friends for life,

including the owner of

Hyundai Heavy Industries,

before returning to Scotland

and managing one of the

new rigs, the 714 for the next

eight years.

This also "allowed" him

to become an "active smuggler"

feeding his love of good

wines, (forget it Capt. Jack

Sparrow…….!) when the rig

made a scheduled port call

in Cape Town during its

transition from S. Korea,

where he took the opportunity

to load her up with

cases of red and white

wines, from South Africa.

This was all during the

approaching end of the

Apartheid era in South

Africa when there were still

strict restrictions, sanctions

and embargos on the

country. This wasn't about

to stand in Dad's way!!!

After leaving Sedco in

1992, which was by now

owned by Schlumberger, as

Sedco/Forex, Dad went on to

OBITUARY

consult for several of the major oil

companies including Cairn Energy, in

various locations, from Georgia, in the

former Soviet Union, where he met the

President of Georgia, Eduard

Shevardnadze, during a period of

instability due to Russian-backed

rebels.

He related several stories of his time

to me, including one night returning

to his flat from his office, which was

across from the rail yards, when

rebels launched an attack on the facilities.

He said the streets were full of

troops and armoured vehicles and the

shooting lasted until 4 a.m. in the

morning. This was a relatively 'minor

situation', in comparison to some of

the ordeals he dealt with at the time.

He also worked in Libya, Dubai and

China, working for the Chinese

National Oil Corp. (CNOC) out of

Guangzhou and Macau. He spent some

time working in India and Bangladesh

too, before finally retiring for good.

Dad loved to travel and he and Mom

were fortunate to be able to visit, work

and see many parts of the world; South

Africa, Kenya, Greece, France,

Cyprus, Crete, U.S. (they loved Reno

and Vegas), the Caribbean, Borneo,

Singapore, Philippines, Thailand,

Hong Kong and Hawaii.

Dad and Mom were able to instil this

love for the diverse cultures they

encountered in both my brother and I.

He is sorely missed by both his sons

and his grandson, whom have been

unable to return to Canada to see him,

productive and nutritious for cattle, as

well as more resistant to drought, he

says.

The work, conducted with the

University of Saskatchewan, encompasses

eight million hectares of land

across the southern half of the province

and takes in several factors that

will ultimately help producers with

long-term decision-making, Carlyle

says.

"We want to be able to identify, for

example, whether there's any risk to

apart from a visit

last year by

myself, Byron. He

and Mom are

remembered

fondly by all who

knew them.

Together again.

RIP.

No formal

funeral service

will be held.

Ernest and his

wife Blanche will

be laid to rest at a

later date.

If desired donations

in memory

of Ernest can be

made directly to

the First United

Church, Box 940,

Hanna, Alta. T0J

1P0.

Call Mike

780-385-4664

Bin Anchors

Don't Let The Winds Bother You!

overall production, through a tradeoff

in managing for carbon."

The project results could also help

producers benefit from carbon offset

protocols, like one currently being

piloted in Canada, if at some point

such a program is implemented, notes

Carlyle.

"Our research could help establish

baseline values for carbon storage,

and help identify specific management

practices that would allow a producer

to put more carbon into the ground."

A database of information on many

different soil samples will also be

developed to help researchers estimate

carbon values at lower cost and with

less labour than current practices.

The full article can be accessed

here. To speak with Cameron Carlyle,

please contact: Debra Clark,

University of Alberta communications

associate, debra.clark@ualberta.ca.

Debra Clark

Communications Associate

University of Alberta

Ironman Scrap

Metal Recovery

. . . is picking up

scrap again!

Count On Us For

• farm machinery

• vehicles • industrial

We Pay

$$$ for

Scrap!

403.318.4346
---
10 J une 30'22 HANNA/CORONATION/STETTLER, AB. ECA REVIEW

Ph. 403-578-4111CLASSIFIEDS/CAREERSEmail: office@ECAreview.com

Classified Ad Rates

$13.85 + tax for 25

words or less + 20¢ a word

after 25 each week or 3

weeks for $38.55 + tax

(based on 25 words or less).

Reach 75,000 readers with

your classified. This

includes For Sale, For Rent,

Card of Thanks, Coming

Events, etc.

Payment Necessary

All Classified Ads are on a

Cash Only basis and must

be prepaid before running.

There will be a $5.00

service charge on every

classified not paid for prior

to publication.

We accept cash, cheque,

e-transfer, VISA or MC.

It is the responsibility of

the advertiser to check ad

the 1st week and call us if in

error. The Review is

responsible for their

mistakes the 1st week only.

Deadline For Ads

All classified ads must be

received by 5 pm on

Mondays preceding

publication. For Too Late To

Classifieds ad must be

received by 10 am Tuesday.

Ph. 578-4111. Mail to Box

70, Coronation, AB T0C

1C0.

REAL ESTATE

BEST HUNTING in

Saskatchewan right

by Sask River.

Excellent fishing and

very high Deer population.

Thick pine &

poplar bluffs, close

to water coulee. Old

yard site with old

power and water.

Revenue on crop

and hayland. East of

Prince Albert.

$248,000. Call Doug

306-716-2671.

MISC.

IRONMAN Metal

Recovery servicing

Alberta since 1995 is

picking up vehicles,

railroad, industrial

and farm equipment

(combines, tractors).

We pay $$$ for

scrap. 403-318-

4346.

INTEGRITY Post

Frame Buildings

since 2008 Built

With Concrete

Posts. Barns, Shops,

Riding Arenas,

Machine Sheds and

more, sales@integritybuilt.com

1-866-

974-7678 www.

integritybuilt.com.

WANTED

NUMISMATIST

PURCHASING Coin

Collections &

Accumulations!

Royal Canadian

Mint, Canada &

World Collections

Wanted. Also buying

9999 bullion, old

money, jewelry, nuggets,

sterling, gold,

silver, coins, bars,

monster

boxes+++Estates

Welcomed! Todd

250-864-3521.

WANTED Lodging

for 10 people, based

on double occupancy,

from mid-September

to mid-October

central to

Bashaw/Ferintosh.

Kitchen required.

Commercial or private

residence. You

take a nice holiday

or pay some bills.

Call David 403-589-

0840.

WANTED: 2

Waterfowl guides

and 4 scouts wanted

from mid-Sept to

mid-Oct. Some

experience

required. Call David

at 403-589-0840 for

details.

WANTED: Old

advertising dealership

signs, gas

pumps, globes, pop

machines, light ups.

White Rose, Red

Indian, Buffalo,

North Star, Case

Eagles, etc.

Collector paying

TOP PRICES. 306-

221-5908.

FEED AND SEED

ALBERTA FEED

Grain: Buying Oats,

Barley, Wheat,

Canola, Peas,

Screenings, Mixed

Grains. Dry, Wet,

Heated, or Spring

Thresh. Prompt

Payment. In House

Trucks, In House

Excreta Cleaning.

Vac Rental. 1-888-

483-8789.

WE BUY Damaged

Seed - Heated,

Mixed, Tough, Light,

Bugs, Spring

Thrashed....Barley,

Wheat, Oats, Peas,

Flax, Canola. "On

Farm Pickup".

Westcan Feed &

Grain 1-877-250-

5252.

LIVESTOCK

BLACK ANGUS

yearling bulls for

sale. Canadian

bloodlines, low to

moderate birth

weights, semen

tested. Contact

Roger Spady 780-

879-3941.

BULLS for sale:

Red Angus, Black

Angus, Polled

Herefords, yearling

& 2 Year Old.

Glenrose Polled

Herefords & Angus,

Ken Prichard 780-

608-6080.

REGISTERED

YEARLING

Simmental Bulls.

Fullblood Fleckvieh,

Horned & Polled,

A1 Bloodlines,

Performance

EPD's. Very Quiet.

Simmeron Ranch.

Martin 780-913-

7963. www.simmeronranch.ca.

CAREER

LOOKING FOR A

Rewarding Career?

Massage Therapy

offers many

options. Study full

time or in a distance

format.

Contact the Alberta

Institute of Massage

for details at www.

albertainstituteofmassage.com;

phone

403.346.1018.

HELP WANTED

ROCKY

MOUNTAIN

Equipment is Now

Hiring: Managers,

AG Equipment

Techs, Heavy

Equipment Techs -

Journeyman &

Apprentices, Parts

Techs. View Open

Roles & Apply:

www.rockymtn.com/

careers. Relocation

Offered.

COMING EVENTS

FIREARMS Wanted

For Augus 2022 Live

& Online Auction:

Rifles, Shotguns,

Handguns, Militaria.

Auction or Purchase:

Collections, Estates,

Individual items.

Contact Paul,

Switzer's Auction: Toll-

Free 1-800-694-2609,

sales@switzersauction.com

or www.switzersauction.com.

LEGAL NOTICE

TAKE NOTICE THAT:

Anyone with a prior,

equal, or superior right

or interest in/to/for/of

the NAME and property

of: ADAM WILLIAM

BARNES or BARNES,

ADAM WILLIAM

Estate or SARA MAY

BARNES or BARNES,

SARA MAY Estate in

any style or variation

thereof capable to

confuse, suspend or

clog said NAME or

Estate is hereby

WARRANTED to present

their said claim to

witness: Kayla

MacKinnon, 49

Westwood Crescent,

Sylvan Lake, AB T4S

1V8, Before expiration

of 28 day notice ending

July 11 , 2022.

Receptionist/Administrative Support

Stettler & District Family & Community Support Services

is looking for an energetic individual to join us in

providing community navigation and support. We are a

nonprofit organization providing preventative community

services to Stettler and surrounding area.

Qualifications:

The successful candidate will possess the following:

• Completion of Office Administration Certificate/Diploma

• Experience and success working with residents and

community organizations

• Familiarity with the community

• Effective communication both in person and in writing

• Ability to work well with a diverse group

• Excellent organizational skills

• Proficient in Microsoft Office

• Operate office equipment such as the fax machine,

photocopier, and computer scanning

equipment multi-line phone system

Resumes can be dropped off at the

FCSS office located at 4720-50 St.

or by email at info@stettlercsc.ca

County of Stettler No. 6

6602 - 44 Ave., Box 1270

Phone: 403-742-4441 Fax: 403-742-1277

www.stettlercounty.ca

Public Notice

Looking for an opportunity

to do something positive

for your community?

Become a Member-at-Large for

Stettler District Ambulance Association

Stettler District Ambulance is seeking a Member at Large.

You will help make positive decisions and provide valuable

input which will benefit

your community, from your

perspective as a County of

Stettler resident.

Please submit your interest

in joining this committee to:

info@stettlercounty.ca.

HEALTH

GET UP TO $50,000

from the Government

of Canada. Do you or

someone you know

have any of these

conditions: ADHD,

Anxiety, Arthritis,

Asthma, Cancer,

COPD, Depression,

Diabetes, Difficulty

Walking,

Fibromyalgia, Irritable

Bowels, Overweight,

Trouble Dressing...

and Hundreds more.

ALL Ages & Medical

Conditions qualify.

Call the benefits program

1-800-211-3550

or send a text message

with Name and

Mailing Address to

403-980-3605 for

your Free benefits

package.

HIP/KNEE

REPLACEMENT.

Other medical conditions

causing Trouble

Walking or Dressing?

The Disability Tax

Credit allows for

$3,000 yearly tax

credit and $30,000

lump sum refund.

Take advantage of

this offer. Apply

NOW; quickest

refund Nationwide:

Expert help. 1-844-

453-5372.

SERVICES

CRIMINAL

RECORD? Why suffer

employment/

licensing loss?

Travel/business

opportunities? Be

embarrassed? Think:

Criminal Pardon. US

entry waiver. Record

purge. File destruction.

Free consultation.

1-800-347-2540.

www.accesslegalmjf.

com.

GET BACK On

Track! Bad credit?

Bills? Unemployed?

Need Money? We

Lend! If you own

your own home - you

qualify. Pioneer

Acceptance Corp.

Member BBB. 1-877-

987-1420. www.pioneerwest.com.

PRIVATE

MORTGAGE Lender.

All real estate types

considered. No credit

checks done. Deal

direct with lender

and get quick

approval. Toll free

1-866-405-1228;

www.firstandsecondmortgages.ca.

Classifieds

work!

Call 403-578-4111

Serving

the east

central

Alberta

region

Jeff & Alison Southworth,

bringing 20 years of experience

• Water well drilling & servicing

• Well pump installation and servicing

• Pressure systems

• Backhoe services for water lines

• Water well Chlorination

• Ritchie waters • Pasture Wells

Emergency services • 24 hr on call

Legacy

Drilling Ltd

403-854-0172 • Hanna, AB

legacydrillingltd@outlook.com

403-396-2254 • Delburne, AB

County of Stettler No. 6

6602 - 44 Ave., Box 1270

Phone: 403-742-4441 Fax: 403-742-1277

www.stettlercounty.ca

Public Notice

Request for Proposal -

Mower Garage

The County is seeking to have a 26'd X 30'w X 10'h Mower Garage

constructed in the Public Works Yard located at 19561 Twp Rd 384,

County of Stettler, Alberta.

Proposal offers will be received up to 2:00 PM local time, Wednesday,

July-27, 2022 at the Administrative Office of the County of Stettler No.

6, 6602-44 Avenue, PO Box 1270, Stettler, AB T0C 2L0.

Offers must be received in a "sealed" envelope addressed: "The County

of Stettler No. 6 - Public Works Proposal 2022-10 - Mower Garage" and

return address for the proposal clearly identified on the outside of the

envelope.

The County desires the structure to be complete and ready for use by

the end of October 2022.The structure will be placed on an existing

concrete base that is being contracted separately for completion and

ready for use by end of August 2022. Offers for sale must be submitted

with GST tax and any additional costs clearly marked.

The following are the desired specifications:

* 26'd X 30'w X 10'h non-insulated structure

* Wood frame, steel, or fabric cover building (other options may be

proposed)

* Fully enclosed

* Turn-key construction on-site at the County Shop in the County

of Stettler

* warranty, if available (include details)

* One 9'w X 8'h overhead insulated steel door with locks and

handle.

* 1 - 3' Standard steel man door with dead bolt and lock and

handle hardware

* Minimum 2 roof vents

* Engineered structure - normal occupancy classification

Without limiting the generality of the description, the County may

consider any other factor besides price and capability to perform the

purpose that it deems in its sole discretion to be relevant to its decision

including, but not limited to:

* delivery date

* safety features or other standard features that will be a cost

benefit to the County

* warranty

* life cycle and suitability for the intended use

* Electrical work will not be required

The County reserves the right to accept or reject any and all offers

and to waive irregularities and informalities at its discretion. The

County reserves the right to accept an offer other than the lowest offer

without stating reasons. Offers are subject to final budget approval by

County of Stettler Council.

By the act of submitting an offer, the seller waives any right to contest

legal proceedings or actions for the right of the County to award

the purchase to any seller in its absolute discretion. If you have any

questions regarding the above, please contact Rick Green, Director of

Engineering & Public Works at (403) 742-4441, ext 143.
---
ECA REVIEW HANNA/CORONATION/STETTLER, AB June 30'22 11

REAL ESTATE/HOMES

OBITUARY

Cherished being a father and grandpa

Gerald Albert Campion

"Brass"

1951 - 2022

Gerald Albert Campion (commonly

known as Brass) beloved

husband, father, grandpa, son,

brother, uncle, cousin and

friend passed away at the Red

Deer Regional Hospital surrounded

by his family on June

11, 2022, at the age of 70 years.

Jerry was born on Dec. 19,

1951 in Edson, Alta. to George

Albert and Laura May

Campion. Jerry along with his

siblings Barbara, Patrick, Carol

and Valerie were raised in

Hanna, Alta.

Jerry married Linda

(Holoida) in Oyen on Dec. 15,

1973. They moved to Hanna

shortly after they got married

and still reside there today.

Jerry and Linda were

married 48 years.

They were blessed

with two children

Jennifer May (April

1978) and 10 years later

Cody Steve (September

1988).

Jerry's daughter

Jennifer (he called her

Jimmy) was the apple

of his eye and was Campion

always his little girl.

His son Cody was the

spitting image of Jerry. Jerry

gained a son-in-law when

Jennifer married Bill Cooper on

July 19, 2003. Bill and Jerry had

some great adventures together.

The only thing Jerry cherished

more than being a father,

was being a grandpa. Grandpa's

life changed forever when Kalli

was born in November 2007. He

became the proudest grandpa in

the world. However, he would

always remind Jennifer that she

was having his first grandchild

during hunting season and that

she should have planned that

better.

Kalli was his pride and joy.

Then Kalin came along in July

2009 and Grandpa's heart was

so full of love and pride for his

sweetheart Kalin. Grandpa

would come to see the girls all

the time for cuddles and hugs.

He was their number one supporter

in anything that the girls

did. He would phone them all

the time, drive them wherever

they needed to be, attend all

school events they were

involved in and he would drive

around the province to watch

them compete in dance, often

bringing other family members.

If anyone had grandpa

CROP LAND

2700 acres -

south of Veteran

4500 acres -

Chinook area

6000 acres -

Cereal area

2400 acres -

south of Hanna

SOLD

Call Dallas Ellerby

Your Farm & Ranch Specialist

403.578.8105

LAND FOR SALE

SOLD

SOLD

SOLD

www.greaterpropertygroup.com

GREATER PROPERTY GROUP

wrapped around their fingers, it

was Kalli and Kalin. His two

granddaughters were his whole

life.

Jerry finally got his grandson

when Diezel Campion was born

in December 2013. Grandpa

enjoyed taking Diezel for a quad

ride and sharing his love for the

Calgary Flames with him. His

other grandson Axton was born

in September 2018. Jerry was

looking forward to sharing

quad rides with Axton as well.

Jerry worked for the

Canadian National Railway on

the section crew in 1968 for one

year. He then went to work in

the oil patch for a while until he

found his full-time career as a

locomotive engineer with

Canadian National Railway

(C.N.R) from 1970-2008. His

total time on the railway was 39

years.

In 1990 when they

took the railway out

of Hanna, Jerry

decided that he

wanted to keep his

family in Hanna and

so he drove two to

three times a week to

Calgary so that his

family did not have

to move to the big

city.

He did this for 18

years until he retired in 2008.

He would have kept working

longer but they were taking the

railway out of Hanna and it was

important to Jerry to finish his

last run through his hometown

of Hanna on Nov. 20, 2008.

In October 2010, Jerry ran for

councillor and served almost 12

years as councillor for the Town

of Hanna. He was councillor for

the terms of 2010-2013, 2013-2016,

2016-2020 and 2020-until June

11, 2022. He sat on many committees

over the years.

Jerry was proud to call

Hanna his home and helped

with whatever he could to make

Hanna the best place to live.

Jerry was part of the Hanna

Elks Lodge for 26 years from

1979-2005. He sat on many committees

and volunteered with

numerous organizations in

Hanna such as the Hanna Food

Bank, Hanna Community

Garden, Hanna Dance

Association, Hanna Seals,

Hanna Cruisers, Hanna Rod

and Gun Club, The Community

Christmas Dinner and many

more.

Aside from family and work,

Jerry had many hobbies and

interests that filled his heart

GRASS LAND

24 quarters - south of Veteran

16 quarters - south of Veteran

90 quarters - Youngstown area

117 quarters - south of

Youngstown

18 quarters - at Esther

1/4 section of grass - south

of Veteran

cancow@

xplornet.com

and time with joy. He enjoyed

hunting, fishing, curling,

watching all sports especially

hockey, playing crib and

making pickles.

His favourite hobby was listening

and going to the

chuckwagon races. He would

watch them on TV and listen to

them on the radio. He would

always say, "shhhh I am listening

to the times." He would

have friends over for the

wagons and they would make

bets on who would win.

The day Jerry met his hero

Kelly Sutherland was a day that

changed his life. He became

great friends with the

Sutherland's, Kelly, Mark,

Brian and their families. They

became a second family to him.

One of the proudest moments of

dad's life was when he got to

sponsor Kelly in his last year of

chuckwagon racing at the

Bonnyville Stampede in 2017. It

was a dream to see his name on

the wagon tarp of his hero.

Jerry will be missed by so

many but mostly by his family.

He was a generous man who

would help anyone out when

needed. He would give you his

last dollar, even if that was the

only thing he had to give. His

kind heart and big personality

will live on in his family

forever.

Jerry is survived by his

loving wife Linda, his daughter

Jennifer (Bill) Cooper, son Cody

Campion (Rosy Knutson),

grandchildren Kalli and Kalin

Cooper, Diezel and Axton

Campion, siblings Carol Fabick

and Valerie (Glen) Scheck, stepsister

Cheryl (David) Andrews,

brother-in-law Reginald

Symesko and many aunts,

nieces, nephews and cousins.

Jerry is also survived by sisters-in-law

Marie (Michael)

Kulyk, Joanne Hanewich and

brother-in-law Mike Holoida

along with numerous nieces

and nephews.

He was predeceased by his

mother Laura Williams, stepfather

Archie Williams, father

George Campion, sister Barbara

Symesko, brother Patrick

Campion, nephew Stephen

Fabick, brothers-in-law Larry

Fabick and Dale Marek, in-laws

Steve and Katie Holoida and

numerous aunts and uncles.

A Celebration of Jerry's life

was held on Sat. June 25, 2022,

at the Hanna Community

Centre.

Donations may be made in

Jerry's memory to: Hanna

$229,000

Condo for Sale

#202 5402 - 50 Ave Stettler

2nd floor of Complex. 1 bedroom, den & heated

parking.1008 sq ft. All appliances, hardwood

flooring in living room. Many extras in complex

Call 403.740.3118

Hospital Ladies Auxiliary,

Box 23 Hanna, Alta. T0J 1P0

or the Hanna Dance

Association, Box 1989

Hanna, Alta. T0J 1P0.

County of Stettler No. 6

6602 - 44 Ave., Box 1270

Phone: 403-742-4441 Fax: 403-742-1277

www.stettlercounty.ca

Public Notice

Lots for Sale

HAMLET of Botha

Plan 0821859; Block 3; Lot 12

Section 70 (1) of the Municipal Government Act states if a

municipality proposes to transfer or grant an estate or interest

in land for less than its market value, the proposal must be

advertised.

The County of Stettler No. 6 has received and accepted an offer

for the purchase of the above parcel to be sold in the Hamlet of

Botha for $12,000.00 plus G.S.T.

The current market value of Plan 0821859; Block 3; Lot 12 -

$29,720.

The County of Stettler No. 6 makes no representation

and gives no warranty whatsoever as to the adequacy of

service, soil conditions, land use districting, building and

development conditions, absence or presence of environmental

contamination, or the development ability of the subject lands

for any intended use by the Purchaser.

Anyone wishing to comment on the proposed sale can either

write or email the undersigned.

Comments must be received by June 30, 2022.

County of Stettler No. 6

c/o Sharon Larsen

PO Box 1270 6602 - 44 Avenue Stettler AB T0C 2L0

Telephone 403-742-4441 ext 124

Email: slarsen@stettlercounty.ca

County of Stettler No. 6

6602 - 44 Ave., Box 1270

Phone: 403-742-4441 Fax: 403-742-1277

www.stettlercounty.ca

Public Notice

2022 PROPERTY

ASSESSMENT/TAX NOTICES

Notice is hereby given that the Combined Property Assessment

and Tax Notices for County of Stettler ratepayers have been

prepared and mailed to all property owners.

The assessment roll is open for inspection at the County

Administration Building, 66-2-44 Avenue Stettler, AB, during

regular hours of business (8:30 AM-4:30 PM Monday-Friday)

If you have not received your Notice by July 15, 2022 please

contact the County at 403-742-4441.

An assessed person wishing to make a complaint must be done

in accordance to the Municipal Government Act. The complaint

must be in writing and submitted on the prescribed forms at

the County Administration Building up to August 23, 2022 at

4:30 p.m., accompanied with a fee of $50.00 (Residential and

Farmland) or $100.00 (Non-Residential).

Please address the complaints to the attention of the Clerk of the

Assessment Review Board.

Tax Payments can be made by CASH, CHEQUE, INTERAC, Online

or at most Financial Institutions. For more information please

contact 403-742-4441 or email tax@stettlercounty.ca.

Dated this 16th day of June, 2022.

Hanna Funeral Services

Ltd. has been entrusted

with the care and arrangements,

403-854-5956, www.

hannafuneral.ca.

Yvette Cassidy, Chief Administrative Officer
---
12 J une 30'22 HANNA/CORONATION/STETTLER, AB. ECA REVIEW

OBITUARIES

Jack of all trades with many skills

Allan Charles Smith

May 30, 1960 – May 26, 2022

Allan Charles Smith was

born May 30, 1960 in Vulcan,

Alta. He grew up there and

later moved to Brownfield and

farmed with his brother, Brian.

This is when he met Mellissa

and they got married in May

1986. They had two children,

Ashley in 1992 and Geoffrey in

1995.

They made their home in

Coronation where Allan worked

for the town and through his

passion and dedication, he was

promoted to town foreman.

Many members of the community

got to know Al through his

hard work, commitment and

knowledge of just about

anything.

Allan was a very busy man as

you would never find him sitting

around. He always seemed

to have a thousand things on

the go. If he wasn't tinkering

with things at home, you could

find him around town cutting

grass, fishing at the dam or

crashing RC planes at the local

RC airfield.

His mowers would be worn

out after every season it

seemed.

Although very busy he

always found time to tend to his

family and enjoy camping and

Private service held

Doreen May Ritchey

(nee - Jeffrey)

Feb. 13, 1950 ~ June 18, 2022,

beloved wife of

William George Ritchey,

Together Forever.

Doreen leaves behind to

cherish her memories: daughters:

Corinne (Gary) Galarneau,

and Coralie (Ron) Cherewko;

grandchildren: Melinda (Kevin)

Hutton, Santana (Moe) Ritchey,

hanging out with them

regularly.

Flying RC planes was one of

Allan's most enjoyable and

expensive hobbies as they would

never come home in the same

shape they left. He tried multiple

different models of planes

– gas powered, electric powered,

twin engines, big, small and

even a realistic computer

simulator to help

improve his skills. His

son Geoff enjoyed

watching him attempt

to take off, fly and land

these planes as there

was always question

on how things would

go. From smashing

into the only pole in

Smith

site, to flying right into

the water, to crashing

into the fence before takeoff, it

was always an enjoyable time.

Fishing was another one of

Allan's hobbies. In the winter

months he would have 4 - 5 different

ice fishing shacks on the

go. It did not matter if it was -40

or +10, he was always committed

to an early start.

At times, his family would

question his safety as he had the

first shack on the ice and would

be the last to take his off. Once

it was unsafe for a full ice

fishing shack, he would still

Terri (Shawn) Galarneau,

Austin Cherewko,

and Shane

Galarneau; and

great grandchildren:

Nohl, Gradie,

Denton, Lucas and

Asa.

Doreen is also

survived by three

sisters and one

brother.

A private family Ritchey

find ways to enjoy his hobby

like placing sheets of plywood

down to get across the open

water.

Camping was one of Allan's

ways to spend time with his

family. He loved towing his kids

and their friends behind the

boat for hours, making bets to

see who can catch the most fish

and cooking the days

catch over the fire.

On one of the

Smiths annual

camping trips their

arrival was delayed by

several hours. Allan

blew a tire on the boat

trailer in the middle of

no where on a Sunday,

which caused them to

camp on the side of

the road.

After Mellissa and him travelled

around many miles in

various directions looking for

help, they found a replacement

and were able to continue their

journey. After this incident he

never drove another mile

without a spare tire.

Al went through a few different

boats over the years and

got his use and fun out of

everyone.

One camping trip he tied the

boat up to shore and went up to

the camper for lunch.

Every stitch just perfect

Arnice (Agnes) Matilda (Van

Kerchvoorde) Walton passed

peacefully on Mon. June 20,

2022 at the Hanna Extended

Care Unit at Hanna, Alta. It is

with sadness but also a relief

not only for mom, but her

family. The last few years

had not been a gift to her.

Mom was born Aug. 7,

1927 in Hanna to parents

Henry and Alice

(Cocquyt) Van

Kerchvoorde who had

immigrated from Ostend

Belgium and were homesteaders

in the Finnegan

Alberta district.

Mom and her sister

Mary spent their youth on

the farm and attending school.

Mom married Robert (Bob)

Nelson Walton of the Lonebutte

district on Oct. 19, 1927.

As with young farm couples,

working hard, continuing on

the Walton family homestead

and raising a family.

Mom helped with the farm

where needed, milking cows,

stooking bundles, gardening,

sewing clothes and caring for us

"kids."

Walton

Mom enjoyed community

activities at Dorothy and

Homestead Coulee and being a

Ladies Club member. Dad and

Mom really enjoyed floor disking

at Homestead Coulee and

at the Handhills Club House.

A move to a new

home in Hanna

was made in the

fall of 1985. There

she also enjoyed

activities and especially

bus trips to

Alaska, across

Canada and several

U.S. states.

Mom taught

herself to crochet.

Her afghans were

beautiful – every stitch just perfect.

Gifts for family, friends and

gift bar at the Hanna Hospital.

Mom is survived by: Bonnie

(Lee) Stringer, sons: Brian

(Patsy) Walton, and Ron (Kim)

Walton; grandchildren: Neil

(Kathy) Stringer, Crista (Scott)

Viste, Scott Walton, Jacquie

(Brian) Galster, Chad

(Christine) Walton, Kelly

Walton, Tyler (Dezarae) Walton,

and Ashley Walton.

She is also survived by sisterin-law

Grace Jones; nieces and

nephews; great grandchildren:

Faith and Lily Stringer,

Amanda, Callen and Graysie

Walton, Brandon and Brooke

Galster, Makana and Anela

Walton, Regan Walker, Carter

Mitchell, Jacob, Jaycee, Rhett

and Quaid Walton, Ernest and

Abigail Stahl.

Mom is predeceased by her

parents, Henry and Alice; husband

Bob; infant daughter

Diana Lynn; granddaughter

Carrie Lee Stringer; sister

Mary Mashon; sister-in-law

Alice Beaumont; brothers-inlaw:

Walter Mashon, Earl

Beaumont and Bill Jones.

A private family graveside

service will be held on July 30,

2022 at the Hanna Cemetery.

If desired donations in

memory of Agnes can be made

directly to the Hanna SPCA,

Box 2126, Hanna, Alta. T0J 1P0

or to a charity of your choice.

Hanna Funeral Services Ltd.

has been entrusted with the

care and arrangements, 403-

854-5956, www.hannafuneral.

ca.

service was held.

If desired donations in

memory of Doreen can be

made directly to the

Hanna SPCA, Box 2126,

Hanna, AB, T0J 1P0.

Hanna Funeral

Services entrusted with

the care and arrangements,

403-854-5956,

www.hannafuneral.ca.

As he headed back down

to the water for an afternoon

of fishing, he discovered his

boat was missing and afloat

unmanned in the middle of

the lake. He ran back to the

campsite yelling in disbelief

as his family all had a good

chuckle.

Lucky enough their neighbours

were willing to help

and gave Al a ride out to his

boat. Al always figured out

a way to solve problems no

matter the circumstance.

Mellissa will never forget

Allan's musical touch. He

loved to listen to music and

play the guitar or keyboard.

Now one might say there

wasn't much of a musical

bone in his body, but he took

lessons and was able get his

son into it as well. There

were many hours spent in

the basement "jamming"

making noise as the father

son duo.

Allan was a jack of all

trades with many skills and

talents. He has taught his

children many of these

traits and they will look up

to him forever.

Allan passed away in

Coronation, Alta. on May 26,

2022 at the age of 61 years.

He leaves to mourn his

passing, loving wife

Mellissa; daughter Ashley

(Jared) Fawcett; son

Geoffrey (Kelsey Rachar);

brother Brian (Mavis)

Smith; stepmom Betty

Smith; mother-in-law

Loretta Weinrauch; brotherin-law

Curtis (Leslie)

Weinrauch and their children

Amy and Brandon;

sister-in-law Charla (Nancy)

Weinrauch; numerous other

OBITUARY

family, step family and

many friends.

Allan was predeceased by

his parents Merle Smith and

Marie "Pat" Pickard;

brother Wayne Smith and

father-in-law John

Weinrauch.

A celebration of Allan's

life was held on Thurs. June

2, 2022, at the Coronation

Community Hall with

Pastor Clayton Grice

officiating.

Donations in memory are

gratefully accepted to the

Coronation Hospital

Foundation, S.T.A.R.S. or a

charity of the donor's choice.

To send condolences to the

family, please visit www.

parkviewfuneralchapels.

com

Parkview Funeral

Chapels & Crematorium

were entrusted with the

care and funeral arrangements,

403-578-3777.

Card of Thanks

On behalf of the Smith

family, they would like to

thank everyone who has

gave their condolences.

They have received countless

phone calls, emails,

texts, flowers, meals, visits,

thoughts and prayers. They

have been comforting

during this difficult time

and have been a reminder of

the impact that Allan had on

so many others.

The family would also like

to thank Dr. Steven

Akindipe and the nurses

and care givers at

Coronation hospital for their

support, compassion and

care given to Allan.

ANDERSON, John Donald

1937 – 2022

John Donald Anderson of Erskine,

Alberta passed away at the Stettler

Hospital on June 22, 2022, at the age of

84 years.

John will be lovingly remembered

by his wife of 59 years, Helen; his

daughters, Anita (Mike) Watson of

Calgary and Susan (Dave) Nicholson of Red Deer; his

grandchildren, Kaitlin (TJ) Berg of Calgary, Jesse

Watson of Calgary and John Nicholson of Red Deer; and

great grandsons, Wyatt and Barrett Berg (with baby

brother on the way). John is survived by his sister-in-law,

Toots "Gladys" Anderson of Stettler; as well as Helen's

sisters, Mary Barclay and Louise Robinson; and

numerous nieces and nephews.

Funeral Services were held at St. George's Anglican

Church, Stettler, Alberta on Thursday, June 30, 2022. A

Private Graveside was held in the Erskine Cemetery.

The Family would like to thank Dr. Bouwer and the

Stettler Health Care Center for their care and concern for

John.

If friends so desire memorial donation in John's name,

may be made directly to the Erskine Cemetery Fund, P.O.

Box 408, Erskine, Alberta T0C 1G0, Saving Grace Animal

Society, (Alix Animal Rescue), 4932 Main Street, Alix,

Alberta T0C 0B0 https://www.savinggracecanada.com/,

or a charity of the donor's choice.

Condolences may be made by visiting

www.wilsonsfuneralchapel.ca.