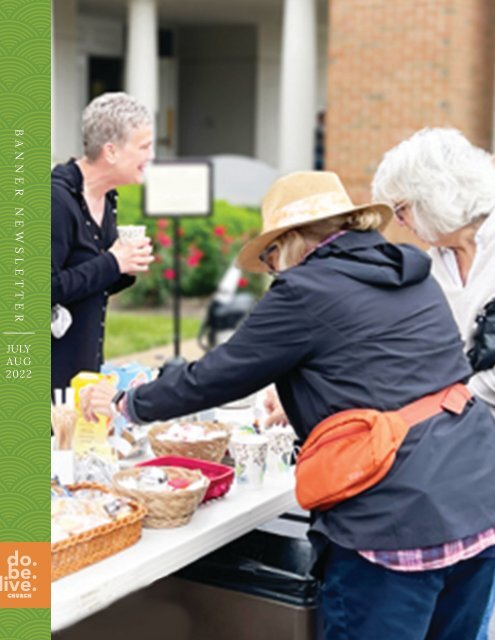 Banner Newsletter | July/August, 2022
You also want an ePaper? Increase the reach of your titles
YUMPU automatically turns print PDFs into web optimized ePapers that Google loves.
BANNER NEWSLETTER

JULY

AUG

2022
---
WORSHIP OPPORTUNITIES

Rev. Chris Winkler

Senior Pastor

cwinkler@barringtonumc.com

Rev. Matthew Johnson

Associate Pastor

mwhjohnson@barringtonumc.com

Rev. Wendy A. Witt

Senior Pastor

First UMC, West Dundee

wwitt@barringtonumc.com

Luis Vega

Lay Pastor

Comunidad Cristiana

lvega@barringtonumc.com

Patti Mangis

Director of Music & Worship Arts

pmangis@barringtonumc.com

Susan Acosta

Director of Family Ministries and

Noah's Ark Christian Academy

sbrown@barringtonumc.com

Ana Kelsey-Powell

Director of Youth Ministries

akelsey-powell@barringtonumc.com

Lou Ann Gordon

Director of Finance

lgordon@barringtonumc.com

Sharon Orr

Director of Campus and

Missions Ministries

sorr@barringtonumc.com

Becky Lemna

Director of Communications

blemna@barringtonumc.com

Sign up to receive our weekly

e-news through the sign-up

form on our website,

www.barringtonumc.com.

Barrington United Methodist Church

98 Algonquin Road, Barrington, IL 60010

(847) 836-5540

Summer Office Hours: Monday–Thursday, 9:00 a.m.–3:00 p.m., Friday, 9:00–noon

Worship online | Services are posted each week on Saturday

We offer an online wworship service through our Do.Be.Live channel on Vimeo

and our website, barringtonumc.com.

Sunday Worship | All are invited to bring chairs and enjoy our outdoor worship in

the parking lot at 9:00 a.m. this summer or in the sanctuary at 10:30 a.m.

Respecting the health and safety of all, masks are recommended in the church building.

Sunday School is available for children ages 3 through grade 5 during both worship

services. All students, grades 6 through 12, are invited for fun conversation and fellowship

at 10:30 a.m. in the youth room.

Comunidad Cristiana | Christian Community Worship

Sundays at 2:00 p.m. | Bilingual, in-person

Trinity Center

1647 Ravine Lane, Carpentersville IL 60110

You and your neighbors are invited to join this emerging worship. Experience Hispanicstyle

worship with a mix of traditional and contemporary worship elements. Communion

is celebrated on the first Sunday of every month.

Sunday School is available for children age 3 through grade 5 during worship!

First UMC of West Dundee

318 W. Main Street, West Dundee, IL 60118

Classic Worship, Sundays at 10:00 a.m. | Online and In-person

In-person, socially distanced worship is held in the sanctuary with audio of the service

available in the parking lot through FM radio.

Nursary Care and Sunday School are available during worship for children through grade 5.

My Dear Sisters and Brothers,

Summer is always a festive time of year. There are

joy-filled reasons to celebrate: proms, graduations,

engagements, and weddings, and all seem to occur in

abundance this time of year.

As many of you know, my parsonage is located

directly across from Grafelman Park in West Dundee.

My home office has a huge picture window that looks out over that park. So,

I have a front row seat for viewing many photo ops. I have seen proposals

occur in the gazebo or in front of the fountain. I have watched robed seniors

gather with their proud parents and families for graduation pictures. I

have seen couples come to take pictures before heading off to prom or

homecoming. And, I have the daily opportunity to watch children come to

the park and play. If I am feeling grumpy or glum all I have to do is open the

blinds on my office window or, better yet, leash up my dogs and head for a

stroll through the park. Even if we are the only ones there, the park fills me

with joy and relaxes me, allowing me to take a breath and reset my day.

As I reflected on that this morning, it occurred to me that our days are

punctuated with joy-filled moments that we can savor and celebrate. From

the smell of freshly brewing coffee in the morning and that first sip to

settling into our beds for a restorative night's sleep, we have a multitude

of things to celebrate and for which to give thanks. The problem is, if you

are like me, we can be too busy, too preoccupied, too caught up in our

own thoughts and heads to even notice the wonderful things happening all

around us.

Every week we have the opportunity to come together, whether in person

or remotely, to celebrate our faith and give thanks for the love and support

we receive from our one another and the many ways we are able to reach

out and share God's love with our neighbors. The community garden and

continued

1
---
continued from page 1

community meals are reasons to celebrate. Our support for missions is a

reason to celebrate. Our care for one another is a reason to celebrate. Sharing

in worship that is inspiring, uplifting, and challenging is a reason to celebrate.

Watching our youth grow in their faith is reason to celebrate. Seeing children

running and playing at church, feeling safe and loved is reason to celebrate. So

many reasons to celebrate!

This summer my goal is to slow down, to notice the beauty all around me, to

embrace the little, as well as the large moments, to celebrate this truly incredible

gift of life.

My hope and prayer for each of you is that you will take the time this summer to

slow down, breathe, soak in the beauty that is all around you, celebrate the big

but also the ordinary moments with those you love.

Have a blessed and joy filled summer!

Pr. Wendy

MISSIONS | BUMC Good Neighbor Team Launches

Imagine coming to a new country where you do not read or speak the language, are not

familiar with the customs and one in which you do not have any family or friends nearby

to explain things or help you . . . BUMC is working with World Relief and has formed a

Good Neighbor Team (GNT) to provide assistance to the Mulakhail family, refugees from

Afghanistan that arrived in the U.S. in late December 2021. Walajan and Uzma have seven

children and are expecting another in December.

HEBREWS 13:1-2 Let brotherly love continue. Be not forgetful to entertain strangers: for

thereby some have entertained angels unawares.

GNT Members (Gwen Bennett, George Gill, Tim (Team Leader) and Silvia Grabacki,

Julia Hooper, Nancy Middleton, Liz Penick, Mike Rapp and Sydney Whitley) have begun

building trust and a relationship with the family. Currently our GNT has begun providing

transportation for the family to medical appointments, taking the family grocery shopping

and helping them with household tasks like learning how to adjust and operate a lawnmower.

We make ourselves available to them as often as needed, using smiles, charades and tools like

Google Translate to help understand each other; their native tongue is Pashto which uses the

Arabic alphabet.

Our journey has just begun. As we become better acquainted with the Mulakhail family, we

will share with our BUMC friends and family what they need and how our congregation might

care for them. We ask for your prayers, may the family feel loved, supported, secure and may

the Good Neighbor Team have wisdom, patience and vision for how best to care for these

precious refugees who are living and navigating in unchartered territory.

If you are interested in joining the Good Neighbor Team, anyone on the team will be happy to

share information on the process (background check, training etc.) and we can add you to a

list to be contacted to receive more information.

PRAYER TEAM: We have a very active Prayer Team ministry here at FUMC. They

believe strongly in the power of prayer and meet on a regular basis to pray for

those in congregation and community that have requested prayer. If you have a

prayer request that you would like included please contact either Marcia Buchs,

mkbuchs@sbcglobal.net, or Pr. Wendy, wwitt@barringtonumc.com.

Thank you.

PRAYER REQUESTS at BUMC We believe in the power of prayer and have a

dedicated prayer team committed to praying your requests. If you have a

prayer request, please contact the church office, (847) 836-5540, Paula Gordon

(pgordon@barringtonumc.com), or Julia Hooper (2juliahooper@gmail.com). Please

2

also indicate if you would like your request to be printed in the Sunday bulletin.

3
---
MISSIONS | Backpacks & Supplies for Kids Above All!

Kids Above All

(formerly CHILDSERV) was

founded as the Methodist

Deaconess Orphanage in 1874 and serves children in the Chicago area with

many programs. Approximately 700 school-aged children receive supplies for

the new school year. Many families have difficulty affording school supplies

and your generosity ensures that those children have the necessary tools to be

successful in school and reach their potential.

Last year our church donated a car load of supplies and backpacks to children

in need and it was such a successful mission that we are going to collect again

this year.

If you would rather donate money instead of shopping for the items, your

check made out to BUMC with a note in the memo for Kids Above All

Backpacks would be gratefully received. An estimated cost for a full backpack

would be $40, but any amount would be acceptable. Contact Barbara Bond at

(847) 381-6117 or bbond32190@aol.com if you have any questions.

Please drop off donated items at the church by Sunday, August 14.

4 5
---
MISSIONS | Feeding our neighbors

FISH Food Pantry reports an influx of visitors due to the high price of gas and

groceries. But there's hope. Right now, over 4,000 plants are being grown in

the BUMC Congregational Garden to help supply food pantries with fresh,

nutritious vegetables this summer. Can you spare some time to help care for

our garden? Even if you have only a few hours, please join us! The garden team

works early on weekday mornings and after 10 a.m. on Saturdays. You can work

whenever you are available. Call or text Bill West to confirm what needs to be

done: (847) 323-0019.

¿Tendrias algo de tiempo para ayudar a cuidar nuestro jardín? Incluso si

solo tienes unas pocas horas, ¡únete a nosotros! El equipo del jardín trabaja

temprano en las mañanas de los días laborables y después de las 10 a.m. los

sábados. Podrias trabajar siempre que estés disponible. Hable con Lou Schairer

los domingos para obtener más información.

In response to the increased use of the FISH Food Pantry in Carpentersville,

the mission team of Barrington UMC gave a gift of $1,000. This gift is in

addition to the $1,440 in designated funds that Barrington UMC members

have donated to FISH and a $500 donation to the Northern Illinois Food

Bank. If you would like to help, you can give to FISH from our online giving

page or mark FISH in the memo line of your check to BUMC. And, thank you.

The BUMC Congregational Garden would like to thank Goebberts Farm and

Garden Center (40 W. Higgins Rd., South Barrington, IL, 60010) for their kind

donation of 3 flats of pepper plants. Our garden donates 24,000 pounds of fresh

produce to support 9 food pantries and our Carppentersville Community Meal

program. Thanks to Goebberts for their help to feed the hungry.

6 7
---
MISSIONS | Kids Hope Mentoring

We are recruiting new members for the Kids Hope USA team. We have

partnered with Lakewood Elementary in Carpentersville, Illinois to

mentor students. The mentor commits to meeting with the same student each

week for about 45 minutes during the day at Lakewood for the entire school

year. Prior to Covid we had a very successful program. The mentors gave atrisk

children the tools they needed to succeed in their lives. The goal of the

program is to build one-on-one relationships with the students. If you cannot

be a mentor, we also need prayer partners for each mentor. The prayer partner

and mentor commit to praying together each week for the

success of the students in the program. If you are interested

in becoming a part of the Kids Hope Team, please contact

Wendy Sibery at wslakewood@aol.com.

Supporting children in District 300

First UMC West Dundee will be supporting elementary kids in District 300 for the

2022-23 school year.

Over 250 K-12 students in District 300 are identified as homeless each year. Having

the necessary school supplies lessens the worries of parents and gives students the

confidence to do well in school. Sign up below for specific items or give $45 to cover

the cost of a backpack with supplies.

You can leave your items in the Fireside Room on a Sunday or

drop them on Marcia's porch by July 21.

We hope to support 60 kids this year. We plan to fill the

backpacks with supplies on July 23 - 24. If you, your children

or your grandchildren are interested in helping put backpacks

together, let Marcia know, mkbuchs@sbcglobal.net.

The kids and their families will thank you!

www.signupgenius.com/go/10c0d4faba723a1f58-school1

8 9
---
CARE MINISTRY | Care Notes

The Member Care team at BUMC has obtained printed Care Notes for those

in need of support. These little pamphlets, located on a rack by the Prayer

Request table just to the right of The Well and the Welcome table, give some

advice, ideas and support. Feel free to take them as you need or if you know of

anyone who may benefit from one.

Member Care is still in need of more Volunteers for the Tea parties. Tea parties

are held the 3rd Tuesday of the month. You meet at the church at 1:00 p.m, a

basket of tea bags, cookies, etc will be ready for you and a partner to go and

pay a visit to someone that would like a visit. You can join us on these visits as

you are available. Please call the church office or contact Elaine Anderson,

(847) 921-5356 or rneaa@comcast.net for more information.

Card Angels, Care Cards and Tea Parties

Hand-written notes can mean so much. In this hurried culture of text and email

communication, it is such a special feeling to receive a personal hand-written note

sent through the mail. Our BUMC Member Care team sends personalized notes every

month to those among us needing a word of encouragement and care.

Below are just a few notes of appreciation.

Traveling Tea Parties visit

those in our congregation who

cannot get out easily, bringing

fellowship and companionship

to their homes. Each group of two or three volunteers is provided with the name of

an individual and a basket with all of the supplies needed to serve tea and snack. We

would love to visit more in our congregation but we need help.

If you have some time each month and would like to help write/donate cards or

volunteer to make a Traveling Tea Party visit, please contact Elaine Anderson,

(847) 921-5356 or rneaa@comcast.net.

10 11
---
GET CONNECTED | YOUTH & CHILDREN'S MINISTRY

GET CONNECTED | FELLOWSHIP & FAITH DEVELLOPMENT

God's Squad Summer Mission Trip | July 20-23

We are so excited to announce the return of youth summer mission trips. This

year we will focus on providing support in our local communities. We will meet

at Barrington United Methodist Church at 2:45 on Wednesday, July 20, with a

departure time of 3:00 p.m. and return on Saturday, July 23, around 4:00 p.m.

Students will work with several local organizations, as well as focus on

friendship and fun. The cost for this trip is $50 per family; scholarships are

available. All youth going into grades 6th - 12th are welcome! For more details,

contact Ana Kelsey-Powell at akelsey-powell@barringtonumc.com.

Pictured (left to right) George Gill, Mike Lovejoy , Lou Schairer, Mike Rapp, Rich Gray

(via video from Colorado), Bill West, Phil Pardun, John Maxson, and Ralph Henrikson.

Practical Christianity for Men

Saturdays at 8:30 a.m. fellowship, 9:00–11:00 a.m. bible study and discussion,

both virtual and in-person in BUMC Room 111

Open to men of all ages, Practical Christianity for Men is a Saturday morning

study group that offers opportunities for faith development, meaningful

outreach and lasting fellowship. Contact John Maxson, jsmaxson@aol.com,

for more information.

Sunday School with a Twist! All children (ages 3 through grade 5) are

invited to Sunday School during either worship service! Our Summer theme is

"Summer Road Trip!"

Estudio Bíblico

Miércoles por la noche, 7-9 p.m. en Trinity Center

Usted está invitado a unirse al Pastor Luis para un estudio de 13 semanas del

Libro de Juan. Nuestra guía de estudio será 'Tres meses en la Escuela de Juan:

Estudios sobre el Evangelio de Juan escrito por el Dr. Justo L. González, un

ampliamente leído y respetado historiador y teólogo.,

Dr. González ha enseñado en el Seminario Evangélico de Puerto Rico y en

la Escuela de Teología Candler de la Universidad de Emory. Es el autor de

numerosas obras que incluyen tres volúmenes de su Historia del Pensamiento

Cristiano, la colección de Tres Meses en la Escuela de... (Mateo... Juan...

Patmos... Prisión... Espíritu), Breve Historia de las Doctrinas Cristianas y El

ministerio de la palabra escrita, todas publicadas por Abingdon Press.

Únase a nosotros los miércoles por la noche de 7 a 9 en Trinity Center. No te

pierdas esta oportunidad de aprender más sobre nuestra fe.

12 13
---
GET CONNECTED | FELLOWSHIP & FAITH DEVELLOPMENT

United Women in Faith (the new name of United Methodist Women) works to improve

the lives of women, children, and youth by acting boldly for justice. You are invited to

be part of the campaign to interrupt the school-to-prison pipeline. The "school-toprison

pipeline" is a term describing how children (some as young as pre-schoolers)

and youth of color are rerouted and funneled away from educational success toward

the criminal justice system when they are over-policed and punished in schools. To

successfully interrupt the school-to-prison pipeline, we must

resist efforts to criminalize children of color and move toward

comprehensive, community-rooted solutions that offer genuine

safety for all children.

You have an opportunity to easily take action in this initiative. The

Counseling Not Criminalization in Schools Act would shift federal

funding away from harmful, criminalizing approaches (police in schools). Instead, it

would make available a pool of federal funding to meet student needs and improve

school climate through evidence-based, age-appropriate, trauma-informed practice.

The Gospel calls us to interrupt the school-to-prison pipeline. Urge your

representative and senators to sign on as co-sponsors for the Counseling Not

Criminalization in Schools Act by simply going to this website:

Visit: https://p2a.co/A7PoQJZ

Enter your contact information, edit the message if you wish, and click "Send Email."

Your voice matters! Staffers know that for every person who takes the time to email,

there are more who feel the same way but don't make the contact.

A second bill is the "Ending Punitive, Unfair, School-based Harm" that is Overt

and Unresponsive to Trauma (PUSHOUT). The Ending PUSHOUT Act: creates a

$2.5 billion fund to incentivize schools and states to abandon unfair and

discriminatory disciplinary policies and practices that push children of color out of

the classroom; strengthens civil rights monitoring and enforcement; and establishes

a task force to address school pushout, with particular attention to the needs of girls

of color. Participating states and schools would be supported to invest in restorative

practices, trauma-informed care, counselors, social workers and mental health

professionals. Funds could not be used for police in schools. While this bill is not

a one-and-done fix, it would be a substantial step forward in the ongoing work of

interrupting the school-to-prison pipeline and ending school pushout.

Visit: https://p2a.co/lMYo6cz

Barrington United Methodist Women continues to meet via Zoom

Barrington United Methodist Women are still staying connected via weekly Zoom

meetings. Anyone who would like a chance to "visit" with old or new friends is welcome

to join. We "gather" at 10:00 on Thursday mornings. If you would like to join us, please

email Linda Osikowicz, Lmosikowicz@comcast.net, to receive the weekly meeting link.

Each weekly "chat" is a time to share and support one another as well as learn about

the mission and social action work of United Methodist Women — "the program" topic

bounces around! We would love to have you join us. Also, we continue to assemble

"Have a Heart" pillows for mastectomy patients at Good Shepherd Hospital; please let

Linda know if you would like to tie and/or stuff pillows.

Who Can We Be Together? Building Communities of Hope and Joy

Do you remember the song "This Little Light of Mine"? Is your light dimming? Is your

support system struggling? Join others on August 19-20 at Mission u 2022 — "Who Can

We Be Together?" Let's find that spark again as we gather in community across Northern

Illinois and beyond. During this time together we will learn ways to build communities

like Jesus created. With inter-generational learning around Jesus' work in Luke 13, we

can find hope and therefore joy. With one overall study theme we have studies for adults,

children (ages 5-11) and youth (ages 12-17). Mission u will be offered in person ($90) in

Buffalo Grove, Rockford, Downers Grove, and Morris and virtually ($35).

Being in community is God's desire for all of us! In recent history, our communities are

struggling to stay positive as they deal with loss, grief and fear. God's community is as

varied as we are: different abilities, ages, cultures, outlooks, races. What communities

do we find ourselves in and are we torn between them? Just as the fig tree (Luke 13) was

allowed another year to flourish, what can we do in our communities to empower them

and us to flourish this year?

For a paper registration form and more information, contact Linda Osikowicz,

Lmosikowicz@comcast.net. The easiest way to register is online:

https://mission-u-summer-2022-august-19-20.cheddarup.com

14 15
---
GET INVOLVED | THANK YOU!

We had a fantastic week at Rocky Railway VBS. Thank you to all

who shared their time, gifts and talents, enabling us to welcome

so many children from our church and community for a week of

faith and friendship!

16 17
---
NOAH'S ARK CHRISTIAN ACADEMY

Registration is open for the next school year and we would love to show you the

school. Schedule a tour today. For more information, don't hesitate to contact

Susan Acosta, sbrown@barringtonumc.com.

NACA students enjoying the Nature Explore Classroom this spring!

Are you a qualified teacher looking to work

part time? We offer the opportunity to teach in

a Christian, hands-on environment inclusive

of quality curriculum classrooms and a Nature

Explore outdoor classroom.

Please contact us for more information.

(847) 844-3738 or sacosta@barringtonumc.com

18 19
---
GET INVOLVED

The 88th Annual Rummage Sale is coming soon!

This year's sale is October 7 and 8. Save your donations which will be accepted

Sunday, October 2 through Wednesday noon, October 5. This can be your

summer of "tidying up" so that your treasures may find a new home and be

enjoyed by someone else! Proceeds from the sale go to missions benefiting

women, children, and youth. Again this year, we will only accept and sell

children's books (NO videos, CD's or other books). We also do not take

computers or electronics. New this year: we are not taking ANY furniture.

It takes a village to accomplish this annual event; each year we need almost

200 volunteers to help. Plan to volunteer some time during the Sale week

to help set up, work the Sale, or clean up, and bring a friend! Watch for our

Sign-Up Genius website coming soon. Questions? Contact Sydney Whitley,

sparkerwhitley@gmail.com, or Linda Osikowicz, Lmosikowicz@comcast.net.

CROP Hunger Walk

Have you heard the exciting news about the 2021 Barrington Area CROP Hunger

Walk? Barrington United Methodist Church ranked #30 out of over 5,000

churches! The Barrington Area CROP Hunger Walk ranked #28 out of over

500 Walks in the US (raising over $40,000)! Thanks to all the walkers and the

sponsors, we are so greatful! Church World Service is working to resettle Afghan

refugees and responding to the crisis in Ukraine. Please put the date for the

2022 CROP Hunger Walk on your calendar. The Walk will be Sunday, October 9,

at 1:00 at St. Anne Catholic Community in Barrington. The need will be great, we

hope you can help. Want to sign up early?

Visit: events.crophungerwalk.org/2022/team/barrington-united-methodist-church

20 21
---
98 Algonquin Road

Barrington, IL 60010-6145

barringtonumc.com

(847) 836-5540

Nonprofit Org.

U.S. POSTAGE

PAID

BARRINGTON, IL

60010

PERMIT NO. 27

First UMC West Dundee

318 W. Main Street, West Dundee, IL 60118

fumcwd.org

Save the date for our

end-of-summer

August 28 following the 10:30 Worship Service