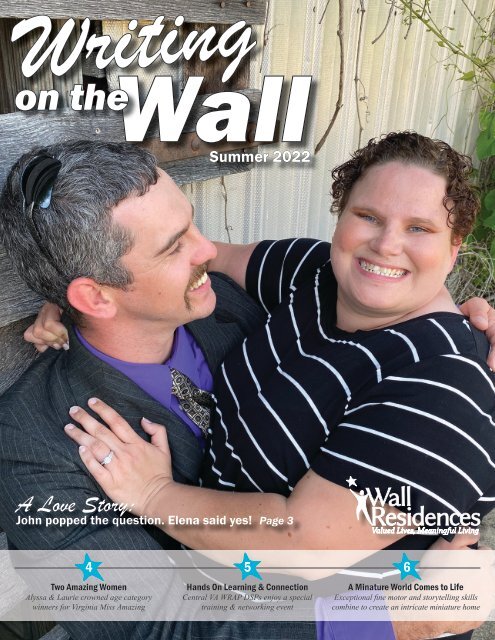 Writing on the Wall: Summer 2022
The quarterly newsletter of Wall Residences: a Virginia agency who provides services for individuals with intellectual or developmental disabilities. Services include sponsored residential, group homes, community engagement & community coaching, nursing, therapeutic consultation, and behavioral support. This issue highlights recent achievements of residents, providers, staff, and the agency as a whole during the second quarter of 2022.
The quarterly newsletter of Wall Residences: a Virginia agency who provides services for individuals with intellectual or developmental disabilities. Services include sponsored residential, group homes, community engagement & community coaching, nursing, therapeutic consultation, and behavioral support. This issue highlights recent achievements of residents, providers, staff, and the agency as a whole during the second quarter of 2022.
SHOW MORE
SHOW LESS
You also want an ePaper? Increase the reach of your titles
YUMPU automatically turns print PDFs into web optimized ePapers that Google loves.
ong>Writingong>

on the

Wall

Summer 2022

A Love Story:

John popped the question. Elena said yes! Page 3

4

Two Amazing Women

Alyssa & Laurie crowned age category

winners for Virginia Miss Amazing

5 6

Hands On Learning & Connection

Central VA WRAP DSPs enjoy a special

training & networking event

A Minature World Comes to Life

Exceptional fine motor and storytelling skills

combine to create an intricate miniature home
---
Director's Corner

John Weatherspoon

"It's so good to see you!" was the

greeting heard again and again, as the

past few months brought the precious

opportunity to gather safely. Since our

last newsletter, the state has opened

up for more in person interaction

of Sponsored Providers and staff.

Among these was our first Provider

Meeting in over two years! Held at

the end of April, it was an amazing

success. I want to thank everyone

who made the event a reality, from

the fantastic presenters to the staff

who pulled it all together. It was a

balm to be able to spend time with so

many dedicated, inspirational people.

The leadership team was so moved

by our experiences and interactions

at the Provider Meeting that we

immediately started making plans

for something similar with staff and

begun looking for locations to have

our next in person Provider gathering.

We have since followed up with small

in person meetings with Providers in

various regions of the state. If I have

not been to your area yet, keep a look

out for a notification that members of

the leadership team will be visiting to

hear your feedback. We have already

brought back what we learned from

the first of these listening sessions and

made changes to help us grow as an

agency.

While the ability to hold virtual meetings

has been necessary to ensure

safety and can be a convenient way to

connect quickly when needed, there is

nothing like the face-to-face time we

took for granted pre-pandemic. The

return of the opportunity to connect

in person has proven very meaningful

and we appreciate the flexibility

that is allowing it to happen. We look

forward to seeing you soon at the in

person regional gatherings.

Within this issue, you will find inspirational

stories of people living out

their dreams. You'll also read about

those who advocate for others and

provide the support to make those

dreams reality. When we invite people

from outside of our day-to-day operations

to meetings like the Provider

Meeting in April, I always hear how

they love to participate because it is

good for their soul. Their amazement

at what people (sponsors, group home

providers, individuals, staff, etc.) are

doing in their communities is another

common refrain. This is part of what

makes working here such a gift. I am

always inspired by you. Thank you!

Advocates for a Lifetime

Sheila and Fred Butler have only been

Wall Residences Providers for about a

year and half, but the couple has been

making a difference for others for

decades.

They were foster parents to multiple

children, eventually adopting their

son from the foster care system. Fred

is retired after 27 years of service

with the Coast Guard. Sheila, who

has served in various caregiving roles

her entire career, is a fierce advocate

who looks for solutions. For the man

they currently support, she secured

grant funding to access speech therapy

at Old Dominion University. When

told her program manager praised

her efforts to get him the extra help

needed, she shrugs it off. "I had to

do it if he was going to get the help."

While Sheila has a very nonchalant

attitude about all she does to fight for

the man they support, Fred makes it

2

clear. "If it isn't going right for him,"

Fred says, "For her, it's on!" That

advocacy and the support they provide

at home has made a big difference for

the individual they support, who has

blossomed under their care.

The Butlers became providers

after seeing the impact of Sponsored

Residential when Sheila worked in

a local Wall Residences service. It's

a decision both are glad they made.

They love being able to offer opportunities

to others and as Sheila says,

"He gives us back so much more than

we do for him."
---
Congratulations

John & Elena!

John and Elena met at work 13 years ago, quickly becoming

friends. After both left that job, a decade passed with

rare interactions. When life brought them back together,

John knew it was a forever love match and presented

Elena with a sparkly ring. "He was so excited, he forgot

to get down on one knee!" laughs Elena. That didn't stop

her from answering with a resounding YES! The two

share that he proposed a second time in front of her

family and this time he did get down on his knee. The

happy couple recently enjoyed an engagement portrait

session, where they absolutely glowed from just being

together. We wish you every happiness, John and Elena!
---
They're Amazing!

Top: Shooting Star Winner Laurie

Bottom: Junior Miss Winner Alyssa

Just call them amazing…

Miss Amazing, that is!

Alyssa and Laurie were

among the dozens of

women who competed in

the Virginia Miss Amazing

pageant, an event that

highlights the accomplishments

of women with

disabilities.

The event was held virtually

this year and each

contestant submitted videos

of their talent performance

and participated in

an online interview with

a panel of judges. Both

women chose to sing as

their talent performance,

with Laurie doing a beautiful

rendition of Cyndi

Lauper's Girls Just Wanna

Have Fun and Alyssa sharing a

gorgeous version of Let It Go

from Frozen. Both loved the talent

portion of the Miss Amazing

experience. Alyssa commented,

"Talent was the most fun!"

During an online awards

ceremony, Alyssa was crowned

Miss Amazing Junior Miss

Queen and Laurie was crowned

Miss Amazing Shooting Star.

The Virginia Miss Amazing

pageant crowns winners

in multiple age categories,

including the two that Laurie

and Alyssa won. Tiaras and

trophies were presented to all

the winners. Some age categories,

including Alyssa's,

are designated as "Queens"

and can go on to participate as their

state's representative at the national

Miss Amazing pageant!

The national Miss Amazing website

states, "Miss Amazing Queens are

disability advocates and community

leaders who are dedicated to making

the world a better place. This July,

over 150 Miss Amazing Queens will

meet each other in Nashville, Tennessee

to make connections, share

resources, and celebrate their achievements."

Alyssa is thrilled to have the

opportunity to travel to Nashville. For

the national pageant, she's preparing

a spoken introduction of her strengths

and interests, will sing Girl on Fire by

Alicia Keys, and is looking forward

to "meeting new people."

Alyssa is active in Special Olympics,

helps around the house, and was

considered trustworthy enough to

earn a job working in the restaurant

of the FBI side of the Marine Base in

Quantico, which required a security

clearance. She loves concerts and

is very excited for the upcoming

Big Time Rush reunion tour. Of

The Jonas Brothers, she says, "I'm

their biggest fan!"

For Laurie, the 2022 Virginia Miss

Amazing pageant was the first time

she had ever done anything like the

contest and provided a wonderful

opportunity to sing solo for a public

audience. Asked if it was fun, she

responds with an enthusiastic, "Yes!"

She is hoping to have more chances

to sing for others again in the future

and has a dream of going to a recording

studio.

Congratulations to Virginia Miss

Amazing Shooting Star Laurie and

Virginia Miss Amazing Junior Miss

Queen Alyssa!

~Angie Covington

4
---
WRAP Immersive Learning Event

In April, the Central Virginia WRAP

Team of Program Managers and DSPs

gathered at Riverside Park in Lynchburg

for a day of training, networking,

supervision, and fun. Since early

2020, our trainings for and with DSPs

have been held mostly individually,

virtually, or during supervisions which

had left many field staff feeling disconnected

and like they are sometimes

working extremely independently. We

wanted to celebrate the opportunity

to come together in-person, allowing

DSPs to engage with their counterparts

and to introduce new faces. It

was a hit!

WRAP DSPs and participants enjoyed a day of fun. Above: DSPs

Densie Bateman, Concetta Barksdale, and Rennie Covington.

Left: Brandy with DSP Colby Riley

Our goal was to create an experience

for DSPs to train on poignant topics

that avoided a lecture style of learning

and instead allowed each to participate

in immersive learning!

We developed

different stations

with art activities

that they could do

while interacting

with a PM who was

training on a specific

topic. We covered

items like documentation,

MARs/

Medications during

WRAP, community

networking, and

more. Our gathering

was a floating

event where DSPs

could come, bring the individuals they

support (who also participated in the

activities), learn more about our training

topics, have snacks, and engage

with their larger team as they were

available throughout the day.

We had so much fun! It was great to

see so many smiling and connected

faces throughout the day. Many plants

were planted, pots and canvases painted,

swag was collected, and finally a

raffle was held for all the DSPs who

attended for a gas gift card! Congratulations

to DSP Michelle Hughes who

was the raffle winner.

Our CVA Program Management team

is thankful for the effort, flexibility,

and joy that our DSPs have shown

us continually. We hope that we were

able to shine a little bit of light on

them with this special event!

~Kira Appel

5
---
A Master Storyteller

conditioning unit of popsicle sticks

and drawer liner mesh keeps the

house cool, while the home's internet

wiring climbs up the chimney.

Scattered among purchased furniture

are hand-crafted pieces made of

popsicle sticks and toothpicks. The

attention to detail, down to linens in

the hope chest, is astonishing.

the place he lives appears. Before

moving in with the Turners, he lived

in rentals not properly maintained.

"There's lots of role playing (interacting

with the home and mannequins)

about growing up," Pam remarks.

There's a landlord from his early life

he often emulates, who didn't care for

properties to Dennis' standard. Taking

on that role with this miniature home

gives him the power to change the

narrative and act as he believes a good

landlord should. "He is able to work

through things in his past through this

storytelling," Pam explains.

When Dennis invites you into

his world, you enter a place

where stories reign supreme. A

master storyteller, he weaves

tales through spoken word and

thousands of tiny physical details

that add up to show you

the richness he creates in the

space he claims as his own.

Dennis also employs his skill

caring for physical spaces in

his job helping maintain the

Madison Heights office. His

caring nature finds another outlet

delivering Meals on Wheels

in his community. Everywhere

he goes, those twinkling eyes

"Watch out! She's gonna get you," he

exclaims, nodding over his shoulder

to the far corner of the room where

a nurse mannequin stands sentinel,

empty (needleless) syringe and tubing

dangling from her hand. "She gives

shots," he illuminates. "You gotta

watch out for her." His eyes twinkle

as he turns from her to the centerpiece

of the room, the astoundingly detailed

miniature house he has built.

Dennis gestures at the house proudly,

bending to show off each room in the

"beach house." A peek inside reveals

hand laid floors crafted from popsicle

sticks sanded down to make perfect

planks. Tongue depressors cut into

rectangles and laid in a pattern form a

contrasting floor in the kitchen. An air

Dennis explains the beach home

is a rental. As landlord, he has had

some very troublesome minature

tenants. Some caused rodent infestations

he bravely cleaned out one

by one. Worst was tenants who

caused a fire. "Smoke damage on

the ceiling… had to sheetrock…

put in new paneling… paint,"

Dennis remembers. "Whole lot

to fix it… Whew!" Every time a

tenant damages the home, Dennis

jumps into action and fixes it.

Maintaining the home beautifully

is very important to him.

Provider Pam Turner, who has

known Dennis since she was 13,

notes he has the most exceptional

fine motor skills of anyone she

has ever met. She says using those

skills caring for the dollhouse and the

rest of his surroundings gives Dennis

a needed sense of control over how

and bright smile go with him, promising

a tale worth hearing to all who

take time to listen.

~Angie Covington

6
---
HONOR ROLL

2022 Wall Residences Milestone Anniversaries

We could not do the work we do without the stellar efforts of individual

people. It gives us great pleasure to recognize providers and staff

members celebrating milestone anniversaries with Wall Residences

in 2022. Thank you for your dedication and for the difference

you have made and continue to make!

Valerie Braxton

Dawn Buchanan

Traci Burch

Tom Dunn

Michelle & Kent Gebetsberger

Brandelin Gibson

Jessica Hazelett

Cindy Herron

Rodney Lockhart

Debby & Jacob Beamer

Pamela Brooks

LaDonna Byrd

Karen & Matt Doyle

Tory Fitzgerald

Bonnie & Larry Golliday

Pamela & John Gough

Brieann & Jason Hale

Patsy Horton

Gayle Irby

Kay Adrian & Derf Vondy

Tammie Atwell

Marlene & Daryl Beckner

Tammie & Carrie Bryant

Linda Burks

Yolanda Chandler

Nancy & Keith Grubb

Bill & Nelda Hagerman

Lonnie & Victoria Hitchcock

Evelyn Distelhurst

Rhonda & Bruce Norconk

Karen & Larry Sprouse

PROVIDERS

Five Years

Ten Years

Fifteen Years

Twenty Years

Twenty-Five Years

Kimberly Mays

Ondrake & Chasity Nero

Larry & Pamela Ojibway

Brad Parnell & Sarah Chrosniak

Grace Rock

Rosita Usuah & Howard Dickerson

Brenda Wharton

Victoria Woody

Robin & Steve Lambert

Alice Parker

Erin Quinn

Linda Roach

Jeffrey & Patty Shawver

Cindy & Tony Taylor

Doug & Angela Taylor

Casey Thompson

Angela & Keith Tolbert

Kathy Wilkins

Annabelle Horton

Cora Martin

Jane & Walter McDaniel

Shellie & Wayne Moubray

Erica Myers

Grady & Wendy Preston

Michael Vercellino

Susan Waggy

Pamela White

Kevin & Nikki Hieatt

Hollis Yeatts

STAFF

Five Years

Kristen Adams

Cecily Almond

Gennile Barber

Ashley Brown

Tahara Bryant

Kevyn Burn

Katelyn Campbell

Stephanie Carr

Jennifer Cockerham

Robin Conner

Bobby Dalton

Caitlin Davis

Emily Doyle

Bobby Harris

Gwendolyn Howell

Michele Humphries

Molly Hunter-Sloan

Megan Ingram

Jennifer Jarrells

Millicent Jones

Erin Justis

Lana Landreth

Christina Leckie-Smith

Cassandra Light

Jessica Marshall

Kathryn Moats

Laura Beth Parnell

Nicolle Payne

Lisa Revely

Heather Reynolds

Heather Risener

Spring Rucker

Randall Sossamon

Archie Utt

Marshall Wallace

Amy Walters

Dorothy Watts

Nieka Whitt

Melissa Worrell

Ten Years

Bayley Alphin

Triona Bason

Lisa McDaniel

Angela Newman

Deanna Rennon

7
---
WOW Non-Profit Hosts Craft Fair

WOW (Wall Opportunities & Wishes)

Non-Profit hosted a craft fair at the Madison

Heights office. Individuals sold hand crafted

creations ranging from custom birdhouses to

crochet to wreaths. Happy customers found

carefully made unique goods and happy

salespeople made a nice profit. It was a

win win situation! Learn more about WOW at

www.wallopportunitiesandwishes.com or by

emailing wownonprofit@gmail.com.

Chris (left) and Amanda (above center) celebrate their first sales of the day.

Digital

Bonus

It's been a busy few months of doing

life together! Enjoy this digital bonus

slideshow of photos shared on our

social media channels in recent

months.

We invite you to follow us on

Facebook and/or Instagram for

frequent updates about the valued

lives and meaningful living happening

every day at Wall Residences!