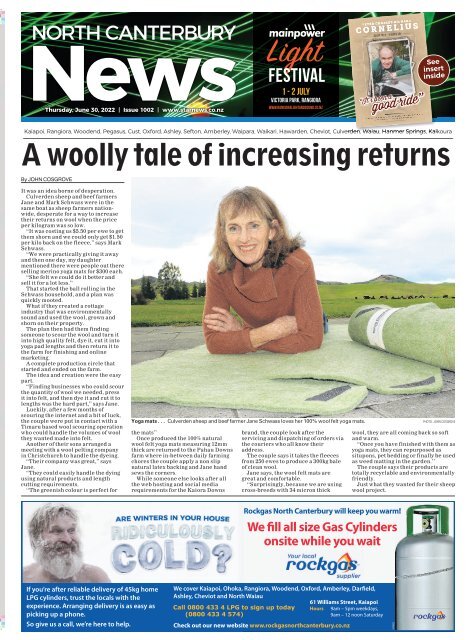 North Canterbury News: June 30, 2022
Create successful ePaper yourself
Turn your PDF publications into a flip-book with our unique Google optimized e-Paper software.
PETER CHARLES RICHARD

C O R N E L I U S

25.07.1935 - 01.07.2021

Thursday, June 30, 2022 | Issue 1002 | www.starnews.co.nz

FESTIVAL

1-2JULY

VICTORIA PARK, RANGIORA

WWW.RANGIORALIGHTANDSOUND.CO.NZ

"It'sbeena

good ride"

CHATTINGABOUTDAD, AND SHARINGWITHYOUALL

– OFFICIALLYCALLEDANOBITUARY.

See

insert

inside

Awoolly tale of increasing returns

By JOHN COSGROVE

It wasanidea borne of desperation.

Culverdensheepand beef farmers

Janeand Mark Schwasswere in the

sameboat as sheepfarmersnationwide,

desperatefor away to increase

their returns on wool whenthe price

per kilogram wassolow.

"It was costing us $5.50 per ewe to get

themshorn andwecouldonly get $1.50

per kilo back on the fleece," says Mark

Schwass.

"We were practically giving it away

and then oneday,mydaughter

mentioned therewere peopleout there

selling merinoyogamatsfor $300each.

"Shefelt we coulddoitbetter and

sellitfor alot less."

Thatstarted the ballrolling in the

Schwasshousehold, andaplanwas

quickly mooted.

Whatiftheycreatedacottage

industry that was environmentally

sound and used the wool, grown and

shorn on theirproperty.

The plan thenhad them finding

someonetoscourthe wooland turnit

intohighqualityfelt,dye it, cut it into

yogapad lengths andthen returnitto

the farmfor finishingand online

marketing.

Acomplete productioncircle that

startedand ended on the farm.

The idea and creationwere the easy

part.

"Finding businesses who could scour

the quantity of wool we needed,press

it intofelt, and then dyeitand cut it to

lengthswas thehard part,"says Jane.

Luckily, after afew months of

scouring theinternet and abit of luck,

the couplewereput in contactwitha

Timarubased woolscouring operation

who could handle thevolumesofwool

theywanted madeintofelt.

Another of theirsons arranged a

meeting with awool peltingcompany

in Christchurch to handle thedyeing.

"Theircompanywas great," says

Jane.

"They could easilyhandlethe dying

using natural products andlength

cutting requirements.

''The greenishcolourisperfect for

Yoga mats ... Culverden sheep and beef farmer Jane Schwass loves her 100% wool felt yoga mats.

themats''

Once produced the 100%natural

wool feltyogamats measuring 12mm

thickare returnedtothe Pahau Downs

farm wherein­between daily farming

chores thecouple apply anon slip

natural latexbackingand Janehand

sews thecorners.

Whilesomeoneelse looks after all

theweb hosting andsocial media

requirements forthe KaioraDowns

brand, the couplelookafterthe

servicing and dispatching of orders via

the couriers whoall knowtheir

address.

The couplesaysittakes thefleeces

from250 ewestoproducea300kg bale

of clean wool.

Janesays, thewool feltmatsare

great and comfortable.

''Surprisingly, because we are using

cross­breedswith34micron thick

PHOTO: JOHN COSGROVE

wool,theyare all comingbacksosoft

andwarm.

"Once you havefinished with them as

yoga mats, they can repurposed as

situpons, petbedding or finallybeused

as weedmattinginthe garden.''

Thecouple says theirproducts are

totally recyclable andenvironmentally

friendly.

Just whattheywanted for their sheep

wool project.

RockgasNorth Canterburywillkeep youwarm!

We fillall size GasCylinderss

onsitewhileyou wait

If you're afterreliable deliveryof45kghome

LPG cylinders, trust the localswith the

experience.Arranging deliveryisaseasy as

picking up aphone.

So give us acall, we'reheretohelp.

We coverKaiapoi, Ohoka, Rangiora, Woodend,Oxford, Amberley,Darfield,

Ashley, Cheviot and North Waiau

61 Williams Street,Kaiapoi

Hours 9am –5pm weekdays,

9am –12noon Saturday

Check out our newwebsite www.rockgasnorthcanterbury.co.nz

2479652
---
PETER CHARLES RICHARD

C O R N E L I U S

25.07.1935- 01.07.2021

Thursday, June 30, 2022 | Issue 1002 | www.starnews.co.nz

FESTIVAL

1-2JULY

VICTORIA PARK,RANGIORA

WWW.RANGIORALIGHTANDSOUND.CO.NZ

good ride"

"It'sbeena

CHATTINGABOUTDAD, AND SHARINGWITHYOUALL

– OFFICIALLYCALLEDANOBITUARY.

See

insert

inside

1–3 July 2022

Christchurch Arena

IN ASSOCIATION WITH

Be inspired with thousands of ideas under one roof!

1-3July 2022 • 10am -5pm • Christchurch Arena • www.starhomeshow.kiwi

Cut this out for

aFREE double

pass!

CHRISTCHURCH

CHRISTCHURCH HOMESHOW

HOMESHOW

ONLY

NZ OWNED

BRING THISINAS

1x FREE DOUBLEPASS

Attend theStarMedia

Home &LeisureShow, on us.

We'll see youthere.

ChristchurchArena, 1-3July2022
---
IN ASSOCIATION WITH

WIN THIS PRIZE HAMPER!

Ts &Csapply

CHRISTCHURCH

CHRISTCHURCH HOMESHOW

HOMESHOW

ONLY

NZ OWNED

A

B

I

D

E

F

G

H

C

All of these fabulous prizes have been kindly donated by:

A-The Hotel Sheet, 2x White Bath Sheets, RRP $200+, Stand 143

B-The Fudge Cottage, 8xFudge Bars, RRP $52, Stand T6

C-OhBubbles, Gift Pack, RRP $500, Stand 46

D-2WP, Ratchet Tree Loppers, RRP $180, Stand 144

E-Caffe Italiano, Gusto delicato, RRP $190, Stand 134

F-4Seasons, Weber Igrill, RRP $94.95, Stand 167

G-Sentinel Security, UA Device, RRP $99, Stand 146

H-Smiths City, The Bread Baker, RRP $299, Stand 176

I-V-Revive, Massage Gun, RRP $300, Stand 150

To go into the draw to win this hamper,

fill out this form and bring it to the show toenter!

Name _________________________________________________

Contact No. ____________________________________________

Email Address __________________________________________

Terms &Conditions

Iconfirm Iamover the age 18. Iunderstand that mycontact details and photo will be available for

marketing purposes byStar Media. Iunderstand the winner is tobedrawn at The Star Media Office

Christchurch on Tuesday 5July 2022 after the show. The winner will be contacted directly, and also

announced on@TheStarHomeAndLeisureShow Facebook page and mentioned inThe Star newspaper.

Once awinner has been drawn the decision is final and nocorrespondence will be entered into.

IN ASSOCIATION WITH
---
NEWS

2 The North Canterbury News, June 30, 2022

Grow

customers,

salesand

profits

with North

Canterbury's

bestread

newspaper

Readership: 51,000 weekly

Circulation: 30,150copiesdelivered

to EVERY farm, RD, lifestyle block

and home inWaimakariri, Hurunui

&Kaikoura every Thursday.

news

Robyn Bristow

Managing Editor

027 312 1581

robyn.bristow

@ncnews.co.nz

Reporters

David Hill, Shelley Topp.

advertising

DaynaBurton

Sales Manager

027 312 0089

dayna.burton

@ncnews.co.nz

AmandaKeys

Advertising

027 536 6224

amanda.keys

@ncnews.co.nz

JillianDickie

Advertising

022 024 3092

jillian.dickie

@ncnews.co.nz

getintouch

Editorial

info@ncnews.co.nz

Advertising

sales@ncnews.co.nz

Graphic Design

heather.hood@ncnews.co.nz

Distribution/Deliveries

03 314 8335

Rangiora: 03 313 2840 /03314 8335

14 Ashley St, Rangiora

Walking the talk at Northbrook

By DAVID HILL

Local Democracy Reporter

Waimakariri residents are being

encouraged to walk and tell stories.

Anew story walk was launched at

Northbrook Reserve in Rangiora on

Friday, June 24, and Waimakariri

district libraries staff hope it will be the

first of many.

The idea came out of the Covid­19

lockdown as librarystaff explored new

ways of connectingwith people,

Waimakariri District Libraries

community connections co­ordinator

Anna Paterson says.

Story walks have beencreatedin

other parts of New Zealand,including

the Gore, Hastings, and Napier

districts.

''We thought with Covid and people

getting out and going for walks and

enjoying their local parks,this was a

good way of connecting withpeople.

''We want people to havealovefor

books and readingand this is away of

doing that when the libraryisclosed.

And not everybody wants to do it

online.''

Library staff joined forces with

greenspace stafftocreate temporary

storyboards which have been

strategically placed around the reserve

walkway.

Each storyboardislike adifferent

page, tellingastory and linking to the

local environment,MsPaterson says.

The story The Little Kiwi'sMatariki by

Nikki Slade Robinson was chosen for

the first story walk to tie in with

Matariki, with permission obtained

from the author.

Peoplecan alsolearnabout the

birdlife and plantswhich are found in

the NorthbrookReserveand about the

history of site on the storyboards.

The temporary story walk has been

set up for atwo month trial and if it is

successful library staff hope to be able

to roll out permanent story walks at

different parks aroundthe district.

''It would be lovely to see this in every

park in the Waimakariri,'' Ms Paterson

Story walk ... Waimakariri Mayor Dan Gordon (left), Puke the Pukeko and Waimakariri

District Libraries community connections co­ordinator Anna Paterson celebrate the

opening of anew story walk at Northbrook Reserve in Rangiora on Friday.

PHOTO: DAVID HILL

says.

''If the boards are still in an OK

condition at the end of the trial we may

be able to take them to Kaiapoi and

share them alittle bit more.

''Temporary boardsare avery

affordable optionatthis point, but more

permanent boards would require some

fundingfrom the council.''

Waimakariri Mayor Dan Gordon says

he would support expanding the

initiativeand looksforward to a

fundingproposal coming fromcouncil

staff.

''I think it's agreat initiativefrom our

greenspaceand our libraries teams and

with the timing of Matariki,it's alovely

integration. It's great for the kids to

learn as they walkaround the reserve

and I'm learning too.''

Rangiora­AshleyCommunity Board

chairperson Jim Gerard joined Mr

Gordon on awalk around the new story

walk on Friday and says the board is

''allbehind the beautification of open

spaces'' in Rangiora. The cost of

creating, installing and later removal of

the storyboards is around $1500 and is

covered by existing greenspace and

library

budgets.

Public

Interest

Journalism

funded

throughNZOn

Air.

Menzshed opens doors to public

The AdviceKiwiMenzshed Pegasus

Woodend is opening its doors to the public

on Saturday.

It has been nine monthssince the new

shed at Gladstone Park was officially

opened in Octoberlast year andsecretary

John Burns says the men's shed is keen for

new recruits.

''Themembership hasgone up and

down since we opened, but it has settled at

around 20. Covidhasn't helped, but we are

starting to get our name out in

Ravenswood,Woodend and Pegasus.''

The open day is being held to coincide

with the Woodend RugbyClub's club day,

so Mr Burns is hoping it will draw agood

crowd.

''It'sachance for peopletopop in and

find out aboutwhat we do and talktothe

friendly guys at the shed.''

Coffeeand tea will be free and there will

be asausage sizzle for agold coin

donation.

The men's shed repair shop ''will be

open for business'' forthose who have

items they would liketoget repaired, he

says.

''We don'thave the range of skillsthat

the TV version of the RepairShop offers,

but we maybeable to help you out, or if

not,point you in theright direction.''

There willalso be itemsfor sale, made

by the members, to raise some funds

includingacouple of Macrocarpacoffee

tables, ayellow set of our corrugated

planters and acoupleofclassic wooden

garden barrows.

The men'sshed openday will be held at

Gladstone Park this Saturday, July 2, from

10amto1pm. For more informationfollow

the AdviceKiwiMenzshed Pegasus

Woodend on Facebook.

2486600

SAVE UP TO $799 ON SELECTED

FIRE AND FLUE PACKAGES*

•Save up to $799

on Jayline Packages

•Save up to $500

on Metro Packages

•Save up to $639

on Woodsman Packages

We specialise in offering

afull install service from

consent to installation.

Call or visit our showroom

to arrange afree, no

obligation quote

*Some exclusions apply.Terms and conditions apply.

Christchurch: 03 364 7460

www.starnews.co.nz

360 FlaxtonRoad, Rangiora|Ph03313 5563

www.kingsmowersheating.co.nz
---
Matariki lights up Nth Canty

By SHELLEY TOPP

Matariki was embracedwith

enthusiasm and variety in North

Canterbury.

The first public holiday to celebrate

Matariki, whichsignals the startofthe

Maori New Year, ended in the

Waimakariri lastFriday evening with a

spectacular fireworksdisplayatthe All

Together Kaiapoi's Celebrate Matariki

free public event.

Held in Raven Quay behind the

Kaiapoi Library, there was livemusic

from Kaiapoi's multi­award winning

entertainer Sharon Russell, and

members of her musicaldynasty

whanau, plus kapahaka performances,

ahula hoop performer, fire dancers,

food trucks and market stalls.

The memory of former community

leader, Chris Greengrass, who diedon

May 15, was in the heartsand mindsof

many people at the eventwhich was

attended by ahuge crowd,estimated by

some to be more than 5000 people.

Duringthe evening Sharonsang You

Are My Sunshine,inamoving tribute to

Chris,after tellingthe crowd events like

this would not be happening without

Chris's tireless work, vision and

passion for her community.

Chris's daughter, Linda Dunbar,a

memberofAll Together Kaiapoi,said it

was an emotionaltime without her

mother, but ''she would haveloved

this.''

Although All Together Kaiapoi faced

some criticism on social mediafor

holding fireworks at the event, Linda

said the hugecrowd attending it proved

''this is what the people wanted'' to

celebrate their Matariki Day.

Earlier in the day another large

crowd, of more than1500 people,

attended Matariki Day celebrations at

the Kaiapoi Food Forest. Therewas

family entertainment,ahangi,food and

market stalls,plus live musicfrom

Sharon and her grandson Josh Keating.

Matariki Day was abusy time for

Waimakariri Mayor Dan Gordon, who

attended Rangiora Library events in

the morning, then the Kaiapoi Food

Forest celebrations beforeheading to

Oxford for the Kids Craft Afternoon

organisedbyOxford Promotions NZ at

the Oxford Town Hall. Later he headed

back to Kaiapoi for the Celebrate

Matariki in Kaiapoi event.

''I lovehow our community has come

together with these special events to

celebrate Matariki,'' Mr Gordonsaid.

In Hurunui, Waipara'sBlack Estate

Winery, hosted aMatariki Truffle Hunt

and lunch,from 11am to 5pm on Friday,

whileinKaikoura, Hapuku School

hosted apopular Matariki Dawn

viewing and Breakfast on June 16.

View more photos on Page 23.

Spectacular ... Fireworks light up night sky at the All Together Kaiapoi's main Matariki

festival and fire works show held last Friday evening at Raven Quay in Kaiapoi.

NEWS

The North Canterbury News, June 30, 2022

The Widest

Music

Variety

3

Friday 6pm &

replayed at 12pm

Sunday

Tune in nowtolisten on

104.9 for North Canterbury

103.7 for Hanmer Springs

andKaikoura

Winter Style Essentials

LUMBERJACK

Stone, Black

L37-42

Leather

$169

Caring for North Canterbury

Dr John Dehn

Full Mole Checks

using Dermoscopy

Surgical Management

and Aftercare

Comprehensive, Affordable, Convenient

Ph 03 9204060

52 Pegasus Main Street, Pegasus 7612

www.pegasusmedicalcentre.co.nz

Southern Cross

Affiliated Provider

For selected services

1890742

StageOne SellingNow!

Sam Staite

Director of Industrial

FreeholdIndustrialLots

1,200sqm -1.35 ha Available

03 365 7887 |021 738245

sam.staite@colliers.com

Noel Gilchrist

Investment Sales Broker

03 365 7887 |021 335837

noel.gilchrist@colliers.com

SouthIsland Commercial Limited. Licensed under the REAA 2008.

ELLEY

Stone, Black

L37-42

Leather

$169

Don't miss out… More Styles in Store

Kaiapoi Mill, Ranfurly Street, Kaiapoi

Monday –Friday 9am –5pm

Saturday 10am –1pm

Closed Public Holidays &Long Weekends

Ph 03 327 0576

2486634
---
NEWS

4 The North Canterbury News, June 30, 2022

People urged

to submit

Artists impression ... The new CBD retail and office block being built in Rangiora.

New retail, office space for Rga

An eye­catching new building

providingaround900 squaremetres of

retail and office space is beingbuiltin

Rangiora's central business district.

The former premises of Halland Co

Funeral Directors,at12High Street,

has been almost completelyguttedin

preparation for the new two­storey

buildingbeing developed by TF

Properties Limited,whichisownedby

Christchurch builder DavidTaylor

and his family.

Mr Taylor, who also owns the

Rangiora­basedbuilding company,

Taylor Homes, says the HighStreet

project providesanopportunity to

''create afantasticretail space option

forbusinesses in the very busypart of

town, and also have an excellent

second level office spaceoption with

both retail and office areas''.

Thenew building will create options

forsmaller retailerstobeamong

bigger retailers, such as The

Warehouse and Briscoes,with high

quality space in amodern, attractive,

purpose­built building with onsite

parking.

Theexisting floor planofthe former

building will remain as asingle level

IMAGE: SUPPLIED

in the new building, while the new

section from the front of the former

building to the footpath will be two

storeys.

Earthworks for the new buildingare

abouttostart and Mr Taylor hopes to

have the newbuildingfinished by

Christmas for tenants.

TF Properties Limited also

redevelopedand own the old saddlery/

locksmith shoponthe cornerofEast

Belt and Kippenberger Avenuewhere

the Taylor Homes office is now based.

Hall and Co Funeral Directorshave

movedto18AlbertStreet,inRangiora.

Hurunui Mayor Marie Black wants

peopletolet the government know

about what they think of the first bill

which will formpart of the proposed

Three Waters Reform.

She says the bill has the potential

to change the fabric of local

government.

''ThereforeIurge you to voice

your democratic right and submit to

the select committee,'' says Mrs

Black.

''This is your one chance to inform

the governmentdirectly what you

thinkaboutthe future of New

Zealand's three waters.''

Public submissions are now open

for the Water ServicesEntities Bill,

and close on Friday, July 22.

She says the government is

interested in everyone's feedback

on the bill, whichisthe firstofa

suiteofbillstoreform New

Zealand's drinking­water,

wastewater and stormwater

services—the ''threewaters''

services.

The bill creates fourpublicly

ownedwaterservicesentities, each

entity takingresponsibilityfor

deliveringwater services to a

specific geographical area, from

July 1, 2024.

''Thebill sets out how the water

services entities would operate, and

how they would be accountable to

the public.''

Therewill be public meetings

around the Hurunui District in June

and July, wherepeoplecan attend

and learn how to makeapublic

submission. The meetings will be

advertised by the council.

SHOWHOME

OPEN

Mon–Sun

by appointment

LIVEWITHOUTLIMITS in theheart of Silverstream

Purpose-designed,resident-led, andharmoniouslyintegratedintothe

Silverstream community, TheSterling, Kaiapoiisaborderlessretirement

village withadifference.

STAGE3available now!

We're absolutely delightedwith The Sterling.

Nothingisaproblem here.Norates, no house

insurance,and we're mortgage-free... It'sagood life!

Stuart and Faye -Residents of TheSterling,Kaiapoi

EXTENDED INDEPENDENCE

Choose howyou spendyour

day. Be as private or engaged

as youdesire. At The Sterling,

you're free to live your life,

your way, in thesecurityand

convenienceofalike-minded

community.

DON'T DOWNSIZE, RIGHTSIZE!

TheSterling, Kaiapoihelps you

rightsizeyour lifestylewithout

thesacrifice. The Sterling's

modern andspaciousvillas

offer all theprivacy andcomfort

of home,withoutthe burden

of maintenanceorfinancial

uncertainty that comeswith

maintaining alargerhome.

VISIT us

6Camellia Lane,

Kaiapoi, 7630

TALK to us

0508 783 754

hello@thesterling.co.nz

LEARN more

thesterling.co.nz
---
Cutting the cakes ... Matt Doocey (left), and his father Tom Doocey, celebrate their

milestones.

PHOTO: SUPPLIED

Areal Doocey affair

Waimakariri MP Matt Doocey and his

father Tom, aworld­class rugbyrefereein

his day, both celebrated significant

milestones over the weekend.

Matt celebrated his 50th,whileTom

celebrated his 80th.

''It's not that often you get to celebrate

50th and 80th birthdays at the sametime so

we thought we would combine our

birthday parties,'' Matt says.

''My kids calleditthe130thparty.''

Tom Doocey was New Zealand's number

1rugbyrefereefor over adecade before

the gameturnedprofessional.

He was the first southern hemisphere

referee to refereeFive Nationsrugby in

the United Kingdom,and refereedover 30

international testsincluding the All

Blacks.

In 2010Tom was awarded aQueens

Honour, the CNZMCompanions of the

New ZealandOrderofMerit, for his

services to sport.

''My dad Tom has beenahuge

inspirationtomeover my life, so it was

reallyspecialtocelebrate his 80th

birthday and my 50thonthe sameday at a

sharedbirthday party with family,'' says

Matt. ''What was very special aboutthe day

was familyjoining us from around the

country including Tom'soldest sisterwho

is 92. Tom is the second youngestofeight

children.''

As an MP apolitical career could

sometimesbehard on his family, says Matt.

''My birthdaywas alovelyopportunity to

acknowledge the sacrificesmywife and

children make so Ican do the job Ilove. I

quite simply couldn't represent the

Waimakaririelectorate to the bestofmy

abilities without the supportand loveof

my family.''

NEWS

The North Canterbury News, June 30, 2022

Dan Gordon to stand

Dan Gordon is seeking asecond termas

Waimakariri Mayor.

He confirmed yesterdayheintends

standing for the roleagaininthe October

local bodyelections.

Mr Gordon saysthere are many issues to

focus on overthe coming years,including

the ongoingimpact of Covid­19,managing

developmentand growth in Waimakariri,

the Government's reform programme,

especially ThreeWaters,and managing

climate change and itseffects on the

Waimakariri District.

''This requires steady,knowledgeable

leadership, and experienced council

managementtoensure the bestoutcomes

for our community,'' Mr Gordon says.

He saysheenjoys working closely with

the local Waimakariricommunity,

representingit, andbeinganadvocate for

its viewsatlocal, regionaland national

level, and he will continue as astrong

advocate, along withthe council, for afterhours

careattheRangiora HealthHub,

and thereopeningand retentionof

servicesatOxford Hospital.

''Access to qualityhealthcare is

important to ourcommunities,'' he says.

Avibrantbusinesscommunity is keyin

agrowing district suchasWaimakariri,

saysMrGordon.

''The Council, togetherwithits

economic development agencyEnterprise

North Canterbury (ENC), continues to be

astrong advocate for attractingand

retaining business,''he says.

He willcontinuetofocusondelivering

LOST AND FOUND PROPERTY

5

the objectives of theWaimakaririDistrict

Councilslong­term plan,creating a

balance betweenprudent and realistic

costs forratepayers,and theneedto

continuetomaintaininfrastructureto

provide the best servicestogrow the

district.

''The communityisatthe centre of

everything we do at the council,'' saysMr

Gordon.

Standing for council

First term councillorPhilip Redmondhas

alsoconfirmedheisseekingre­electionto

the WaimakaririDistrictCouncil.

He is standing in the KaiapoiWoodend

Wardwherehetopped the pollin2019.

Aformer Kaiapoi­based lawyer, Cr

Redmond has found thathis legal

background, companydirectorships and

previous localgovernmentexperience

haveproved invaluabletohis councillor

role.

He was awarded the Queen's Service

Medal (QSM) for community service in

2019. As along­time member of the

Institute of Directors (IOD),hehas akeen

interestinlocal governance.

Mr Redmondisopposedtothe Three

Waters Reforms which he considersofno

benefittoWaimakaririDistrict

ratepayers.

He is afirmbeliever in retaininglocal

control of localassetsand of keeping

chlorine outofurban/residential water

supplies.

The following property has been reported to the police as lost in North Canterbury

–have you seen them?

Rosary beads in blue velvet pouch;Toyota car key +3other keys on ring; a

Samsung S20 in red case +black men's wallet; ablack leather wallet; aTommy

Hilfiger wallet.

Found property: Awhite Lapierre bike (Rangiora); ahearing aid (atSew Proud).

Hurunui WaiauUwha WaterZone

Braidedriver birds getfunding boost

Braided river birds on the Hurunui and WaiauUwha Rivershavebeen

prioritised through amonitoring,island creation and pest control project

overthe last fiveyears.

Environment Canterbury hasworkedwith the previous Hurunui WaiauUwha

WaterZone Committee, Kaikōuraand NgaiTūāhuriri Rūnanga, Hurunui District

Council,the Department of Conservation, community groups andlandownersto

monitor breeding ratesand control weedsand pests on both rivers.

The project aims to protect braided river birdnesting sites for the blackfronted

terns and black-billed gulls.

Afurther $50,000 from Environment Canterbury has recently

been announced, to continue the valuablework this project is

undertaking in the Hurunui WaiauUwha zone. There'splenty

of opportunities for the community to getinvolved.

Want to be apart of this mahi/work? Get in touch by email

at ecinfo.govt.nz or by calling 0800 324 636.

Image: supplied by Wildlife Management International Ltd

To find out more about Canterbury's water zone committees, go to

www.ecan.govt.nz/myzone E22/8968
---
OPINION

6 The North Canterbury News, June 30, 2022

Hurunui showcased

to many in June

The month of June has showcased many

of the wonderful things that often go

under the radar.

The Cheviot Licensing Trust hosted

the annual conference for all trustee's

from across New Zealand recently.

It was wonderful to play avery small

part in this, with my invitation to speak

to the delegates at the opening address.

Cheviot showcased the district with a

visit to Colin and Lynne Harrison's

beautiful garden, along with sampling a

range of locally produced treats.

Congratulations to Sue Harrison and

her team for co­ordinating and

executing agreat event.

Together Hurunui is anon­statutory

network of social services operating in

the Hurunui District and includes

community groups, schools, health

centers, NGO agencies, local and central

government.

Together Hurunui endeavours to

identify gaps in service provision, and

advocate for the right services to fill

these through regular network events

and communications.

Older Persons health was the focus at

the session held recently, with astrong

advocacy voice from Grey Power.

Another fabulous event hosted by

Together Hurunui was held in Culverden

with aBasketball tournament

culminating with the final

championship game and presentation of

awards.

The Filipino community are skilled at

the game and came together for the final,

with glorious food and aprize giving. It

was such awonderful opportunity to join

together and appreciate the diversity of

cultures within our district.

This week is World Wellbeing week

with the aim to provide our community

with the tools and knowledge to help

manage mental health. Simple things

McALPINES MITRE 10 MEGA RANGIORA -OCEAN WATCH

This

Week

Sun

Fishing

Guide

Moon

Wind

Thursday Friday Saturday Sunday Monday Tuesday Wednesday

Jun 30 Jul 1 Jul 2 Jul 3 Jul 4 Jul 5 Jul 6

Rise 8:02am

Set 5:03pm

Best 12:53am

Fair

Times 1:19pm

Rise 9:03am

Set 5:37pm

Moderate SW turning

S

Fair

Rise 8:02am

Set 5:04pm

Best

Times

1:44am

2:08pm

Rise 9:45am

Set 6:37pm

Gentle SW becoming

moderate SE

like being active, connecting with

others, taking notice and keeping

learning all support our wellbeing.

Matariki was celebrated with the first

time this year with the public holiday,

but at alocal level many schools and

preschools created their own

celebrations.

Iwas fortunate to attend the Amberley

Prep and Preschool celebration when

the tamariki performed to many parents

and grandparents. It was such alovely

gesture that all families received the

generous gift of vegetables to take home,

and produce a''hearty soup for the

soul''.

Iattended an event at Amberley

Primary School where again I

appreciated the performance of the

students showcasing Waiata, and craft,

along with adelicious hangi catering for

over 270 people.

Iamsoproud of all the events and the

amazing community folk who have

brought this all together.

From asporting perspective Iwatched

the Glenmark­Cheviot rugby team win

the Luisetti seeds Combined rugby

competition. It was afantastic spectacle

with two North Canterbury teams in the

final. It is wonderful to see so many

volunteers contributing to clubs across

the district.

And last but not least on Friday July 1,

Iwill be participating in the Big Splash

afundraising event to support the Stroke

Foundation and Rangiora St John.

Although Iamnot really excited to

jump into apool of ice water, Iam

delighted to support these wonderful

causes, and am thankful for generous

support through sponsorship.

Considering we are in the deepest of

winter, we have much to be grateful for

with awonderful place to work, live and

play.

WDC is looking at some changes to its gambling policy

The Waimakariri District Council is

considering changes to its gambling policy.

The policyallows for adistrict wide cap

of one gambling machine for every person

aged 18­years or older, which would allow

for afurther 133 class 4gaming machines

(pokies), giventhe present population.

Policy analyst Lynley Beckingsale says

four options are being considered,

including the statusquo, andthe council is

asking thecommunity to rankthe options

from mosttoleastpreferred. ''The council

plays an important roleinhelping to

managethe growthand minimise the

Fair

Rise 8:01am

Set 5:05pm

Best

Times

2:33am

2:56pm

Rise 10:19am

Set 7:41pm

Moderate SW

Fair

Rise 8:01am

Set 5:05pm

Best

Times

3:19am

3:42pm

Rise 10:48am

Set 8:46pm

Gentle SW becoming

moderate W

Fair

Rise 8:01am

Set 5:06pm

Best

Times

Okuku and Mt Grey

cell sites go live

TheRural Connectivity Group (RCG)

haslivened up their Okukuand Mt Grey

sites.

The two sites, in the Waimakariri

District,are delivering4Gwireless

broadband andvoicecalling services to

over 450localhomes, businesses, and

ruralroads acrossthe Loburn and

Whiterock areasofthe district.

The two sites were fundedunderthe

government's Rural Broadband

Initiative (RBI2)and Mobile BlackSpot

Fund (MBSF) programmes.

Liveningthese sitestakes the total

number of operational RCGsitesinthe

wider Canterbury regiontoforty­two

and includes abrand­new

telecommunicationsnetwork on The

Chatham Islands.

The forty­twolive sitesstretchacross

theten district council areas in the

Canterbury Region andare delivering

over 4000 Cantabrians reliablehigh

speed 4G wireless broadbandand voice

calling servicestotheir homesand

businesses and over 80kms of state

highway and sixtourist locations,

previouslywithpoorornonetwork

connectivity.Services are deliveredby

Spark,Vodafone and 2degrees.

''The livening of these twosites

marks asignificant milestone for us

across the Canterburyregion, with our

currentnetwork reaching over4000

Cantabrian homesand businesses.

''Our teamisbringingconnectivityto

remote places,enabling communities'

easieraccess to emergencyservices,

maintaining social connections,

operating businessesefficiently and

increasing access to healthand social

services.Bybridgingthe digital divide,

our network is helping peopleget

connected whenand where theywant

and need to,''saysRCG Chief Executive

John Proctor.

WaimakaririDistrict Mayor,Dan

Gordon, saysthe council has been

advocating for its rural communities

forsome time,engaging with providers

to ensureaccesstosustainable, fast,

reliablebroadband and mobile

services.

''Tohear thatthese two sites arelive

harm of gambling in our community,'' Ms

Beckingsalesays. The community is being

askedifthe currentratio is stil

appropriate, or if they preferan

alternative. The council willalso consider

whether to introduce a'relocationpolicy',

whichcould determine if gambling

4:04am

4:26pm

Rise 11:13am

Set 9:51pm

Moderate Weasing

to gentle SW

Fair

Rise 8:01am

Set 5:06pm

Best

Times

4:48am

5:09pm

Rise 11:35am

Set 10:57pm

Gentle Wturning

S

Fair

Rise 8:01am

Set 5:07pm

Best

Times

5:31am

5:52pm

Rise 11:55am

Gentle S

anddelivering servicesacross the

Loburn/Whiterock areaisgreatnews.

Access to reliable 4G wireless

broadbandand voice calling services

greatly boostsour ruralcommunities.

It'svitalfor productivity and the

wellbeing of local families, farmers

andbusinesses.''

Nowequipped withthe latestCAT­

M1 and NB­IoTtechnology, RCG's

network is giving crucialsupporttothe

farming communityacross the region.

''TheInternet of Thingsopens a

world of opportunity. By utilising this

essential technology to controlfarm

infrastructure,like central pivot

irrigatorsordigitally controlled

milkingsystems, RCG is playing a

critical partinhelping the farming

sector produce someofthe best

products worldwide.''

TheRCG hassixty­six sites

earmarkedfor theCanterbury Region;

the remaining twenty­four willbebuilt

and livened incrementally by

December2023. When all sitesare live,

over 4600homes and businesses, 150km

of state highway and18tourist

locations willhave accessto4G

wireless broadband andvoicecalling

services.

RCG is ajoint venture between

Spark,Vodafone and 2degreesand has

been contracted by Crown

Infrastructure Partners (CIP) to deliver

thegovernment'sRural Broadband

Initiative Phase 2(RBI2)and Mobile

Black Spots Fund(MBSF) programmes.

The RCG is responsiblefor building,

operating, and maintainingthis

essential rural network infrastructure.

The RCG cell sites are running the

latest 4G technology, andservices will

be available to customers of Spark,

Vodafone,2degrees and their

wholesale resellers.

Customersmay needtoupgradetheir

mobilephones to enable 4G voice

calling.

Informationisavailableonthe

websites for eachcompany, and anyone

unsure if theirdevice canreceive and

make calls over the 4G networkshould

contact their service provider.

machines (pokies) are allowedtobe

relocatedifavenue closed.

Formal submissionscan be made online

at Waimakariri.govt.nz/letstalk or

hardcopies are available from council

service centres.

SubmissionscloseonMonday, July11.

Swell

Pegasus Bay

Tide Chart

3

2

NE 0.9 m NE 0.9 m E1.0 m E0.9 m E0.7 m SE 0.7 m SE 0.8 m

3 6 9 NOON 3 6 9 3 6 9 NOON 3 6 9 3 6 9 NOON 3 6 9 3 6 9 NOON 3 6 9 3 6 9 NOON 3 6 9 3 6 9 NOON 3 6 9 3 6 9 NOON 3 6 9

1

0

Highs Lows Highs Lows Highs Lows Highs Lows Highs Lows Highs Lows Highs Lows

Waimakariri 5:29am 2.1 11:39am 0.7 6:13am 2.1 12:10am 0.7 6:57am 2.1 12:50am 0.7 7:41am 2.1 1:31am 0.7 8:25am 2.1 2:13am 0.7 9:08am 2.1 2:55am 0.7 9:52am 2.1 3:40am 0.7

Mouth

5:52pm 2.3

6:32pm 2.3 12:20pm 0.7 7:13pm 2.2 1:01pm 0.7 7:55pm 2.2 1:42pm 0.7 8:38pm 2.2 2:24pm 0.8 9:22pm 2.2 3:08pm 0.8 10:08pm 2.2 3:55pm 0.8

Amberley 5:29am 2.1 11:39am 0.7 6:13am 2.1 12:10am 0.7 6:57am 2.1 12:50am 0.7 7:41am 2.1 1:31am 0.7 8:25am 2.1 2:13am 0.7 9:08am 2.1 2:55am 0.7 9:52am 2.1 3:40am 0.7

Beach

5:52pm 2.3

6:32pm 2.3 12:20pm 0.7 7:13pm 2.2 1:01pm 0.7 7:55pm 2.2 1:42pm 0.7 8:38pm 2.2 2:24pm 0.8 9:22pm 2.2 3:08pm 0.8 10:08pm 2.2 3:55pm 0.8

5:38am 2.1 11:48am 0.7 6:22am 2.1 12:19am 0.7 7:06am 2.1 12:59am 0.7 7:50am 2.1 1:40am 0.7 8:34am 2.1 2:22am 0.7 9:17am 2.1 3:04am 0.7 10:01am 2.1 3:49am 0.7

Motunau 6:01pm 2.3

6:41pm 2.3 12:29pm 0.7 7:22pm 2.2 1:10pm 0.7 8:04pm 2.2 1:51pm 0.7 8:47pm 2.2 2:33pm 0.8 9:31pm 2.2 3:17pm 0.8 10:17pm 2.2 4:04pm 0.8

5:40am 2.1 11:50am 0.7 6:24am 2.1 12:21am 0.7 7:08am 2.1 1:01am 0.7 7:52am 2.1 1:42am 0.7 8:36am 2.1 2:24am 0.7 9:19am 2.1 3:06am 0.7 10:03am 2.1 3:51am 0.7

Gore Bay 6:03pm 2.3

6:43pm 2.3 12:31pm 0.7 7:24pm 2.2 1:12pm 0.7 8:06pm 2.2 1:53pm 0.7 8:49pm 2.2 2:35pm 0.8 9:33pm 2.2 3:19pm 0.8 10:19pm 2.2 4:06pm 0.8

5:39am 1.4 11:41am 0.4 6:22am 1.4 12:18am 0.4 7:05am 1.4 12:59am 0.4 7:49am 1.4 1:41am 0.4 8:32am 1.4 2:24am 0.4 9:15am 1.4 3:07am 0.4 10:00am 1.4 3:51am 0.4

Kaikoura 5:58pm 1.6

6:38pm 1.6 12:23pm 0.4 7:19pm 1.6 1:05pm 0.4 8:01pm 1.5 1:47pm 0.4 8:44pm 1.5 2:30pm 0.4 9:30pm 1.5 3:15pm 0.4 10:17pm 1.5 4:03pm 0.4

*Not for navigational purposes. Wind and swell are based on apoint off Gore Bay. Maori Fishing Guide by Bill Hohepa. www.ofu.co.nz www.tidespy.com Graphic supplied by OceanFun Publishing Ltd.

2118223
---
THE

ULTIMATE

ULTIMATE

MEASUREOFYOUR

S

UCCESS

there's nobetter waytomeasurehow you'retracking on

your tness&health journey than with a t3dbody scan

at stadium tness centre.

The state-of-the-artFIT3D scanner measures your body composition, posture,

balance,metabolic rate&moresoyou can see the results of all your hardwork,

exercise &healthylifestyle changes.

Make the most of this technology &SAVEUPTO33% by booking your scan on

one of thedates belowinJuly and September. Non-Members welcome.

SINGLE SCAN

Normally $40

Nowjust...

$30

DISCOUNTSCANDATES &TIMES...

•27 th ,28 th ,29 th July. 2-8pm

•14 th ,15 th ,16 th September.2-8pm

Bookings available every15minutes.

Scanstake approx 10 minutes.

ContactusNOW to book your scan...

Ph:03975 5560

E: stadiumfitness@sportstrust.org.nz

TWIN SCANS

Normally$60

Nowjust...

$40

www.sportstrust.org.nz

FITNESS FOR ALL

GENERATIONS

Whatever your age or fitness levelwehavea

rangeofgroup fitness classes to help keep you

activeandmobile forlife...

ACTIVE

Combining functional

movementwith an interactive

environmentPRAMA Activeaims

to improvecognitivefunction

and mobilitywhich areaffected

by natural ageing.

Exercises arechosen to improve

range of movementinmuscles

and joints,while also helping

promotebone density, balance

and coordination.

PRAMAActiveTimetable:

-Stadium Fitness Centre:

Tue&Thur 10:30am

Call us on 03 975 5560 to find

out moreorbook into aclass.

$5

per

per

class

class

To findout moreorcontactphone numbers to book your class,visit...

www.sportstrust.org.nz

Silver Fitness is agreat wayto

maintain your fitness,mobility

and independence. Our

popular instructors will take

youthrough adynamic routine

to help youget stronger and

moremobile through arange

of functional,low-impact

exercises in asupportivegroup

environment.

Silver Fitness Timetable:

-Stadium Fitness Centre:

Tue&Thur 10:30am

-RangioraFitness Centre:

Mon11:30am /Wed &Fri 11am

-Kaiapoi Fitness Centre:

Tue10:30am /Fri 11:15am

Stay afterclass for agreatcoffee at Stadium &RangioraFitness Centres

It's a SCHOOL HOLIDAY

Time: 9am - 3pm

Age:7-13yearolds

$45 per child per day ($5 discount perchildifbooking 3-4children from samefamily.)

Mon-Basketball, Dodgeball,PRAMA,5Bat

Tue-Archery, Hockey, Rounders

18th -22nd July 2022

Wed - Basketball, TouchRugby,PRAMA,Tennis

Thur - Archery, Football,Dodgeball

Fri -Volleyball,Speedball,Multi-Sports,Hunger Games

Run by the North

Cante terbury Primary School

Sport Coaches

www.sportstrust.org.nz/holiday-programme

Ph: 03 975 5560

O

SPORT

Book On-line NOW!*

Registrations close 5pm on day beforeeach session.

*Payment required toconfirm booking. Inthe event your child

is withdrawn afullrefund will only be given if the organisers are

notified before Friday 15th July.

-ACULARAR

Join the NorthCanterbury Sport &Recreation Trust's

School HolidayProgramme

at MainPower Stadium

try

try

prama

prama

super fun cross

A super fun cross

between fitness and

gaming

between fitness and

gaming

mainpowercoaches@sportstrust.org.nz
---
NEWS

8 The North Canterbury News, June 30, 2022

Praise for rate rise

By DAVID HILL

Waimakariri Mayor Dan Gordon has

hailed the efforts of staff after the

Waimakariri District Councilconfirmed

''oneofthe lowestratesrises in the

country''.

Councillorsvoted to adopt the 2022/23

annual planatacouncil meeting on

Tuesday (June28), withanaverage rates

rise of 4.5 percent.

''It's been alargepiece of work

because of the current economic

situation,'' Mr Gordon said.

He says the annual plan largely

follows on from last year's 2021/31 Long

Term Plan (LTP), with some

adjustments to reflect the challenging

economic environment.

Economicindicators suggestthe

Waimakariri district is performing well,

despite the impacts of Covid­19 and

global economic uncertainty.

The prospect of nearly900 new houses

beingbuilt this year provides some

optimism going forward, Mr Gordon

said.

''We wanted to ensure that we were

goingtobeable to deliver on everything

that we planned and to not endupwith

acaseofover promising and under

delivering.

''I'mvery confident that we can

provide the very high level of service

that our rate payersexpect, while

ensuring that we are not overspending

at this crucialtime.''

This year's annual planfeatures

upgrades to drinking waterplants,

increasedfunding for the proposed

mixeduse community hub in Kaiapoi,

upgrades to the Rangiora Airfieldand

funding to protectsignificant natural

areas.

Capital works are notforgotten, with

increased funding allocatedtowardsthe

Kaiapoistorm water and flooding

improvements and upgradestoroading

infrastructure.

Deputy Mayor Neville Atkinson said

this year's annualplan deliberations

had been ''the most honest we've ever

been with ourselves with what we can

and can'tdeliver''.

''We have change fromgovernment

coming, we have the non­supplyof

materials and we have inflation.

''Theearthquakes were adifficult

time,but it was prettyspecificto

Canterbury, but this (Covid­19) has

impactedonthe whole country.

''We areinfor an incredibly rough two

years, so Ithink this annual planisa

greatachievement.''

Cr Paul Williams raisedconcern that

the percentages of ratesfunding

allocated to roading appeared to be

lowerthan funding for the libraries,

parksand swimmingpools.

Mr Gordon said it was asubject which

needed further debate, but he noted the

feedback from residents indicatedthe

council was heading in theright

direction.

''We getconstantfeedback at how

much people value our libraries and

pools, so I'm comfortablewith the rates

resolution.''

Last year the council considered

climate change in the LTP for the first

time.MrGordonsays this year's annual

plan is underpinned by aconscious

effort to enhance wellbeing, the

environmentand sustainability in a

growing district.

''People told us theyare happy with

our advocacy around Three Waters and

our commitmenttobalancinggrowth

and optimism with economic

uncertainty.''

Artist's impression ... Kaikoura's Sudima Hotel is set to open on October 17.

PHOTO: SUPPLIED

Sudima opens in Oct

By DAVID HILL

CraigMacklehas welcomednews

Kaikoura's SudimaHotel will officially

open in October.

The Kaikoura Mayor says the official

opening of the 120 room SudimaKaikoura

on October17could be the start of abusy

summer for the tourist town.

''I can't wait to be honest.We'vebeen

waiting for along time,''MrMackle says.

''It's taken along timefor someoneto

bite the bullet andbuild ahotel and

hopefully someone else will follow suite.

''We've got afew smaller places, but this

should bring in awhole different

clientele.''

Sudima Kaikoura will be 4.5­starhotel

with 120 rooms and suites, bar, restaurant

and outdoor terrace making it ideal for

hosting conferences and corporateevents.

With the bordernow open to

international tourists andcruise ships

tentatively scheduledtoreturn to

Kaikoura, Mr Mackle is optimisticthe

summer of 2022/23could be the busiest yet.

The New Zealand Cruise Association

last month announced aproposed cruise

ship schedule,which included up to 15

visits to Kaikoura.

But the summer of 2019/20was set to

become the ''busiest summeryet'', with13

cruise visits scheduled to visit untilwet

weather and then Covid struck, Mr Mackle

says.

''We are definitelylookingforward to a

busy summer. We just need to avoid

another wet summer.

''Afterthe earthquakes and Covid,it's

our time to have aturn in the sun.''

1901

2023

In 2023, Ara joins TePūkenga

In January 2023, Ara Institute ofCanterbury

joins Te Pūkenga -New Zealand's Institute of

Skills and Technology. Ara's local flavour and

focus won't change, but your opportunities to

achieve your goals in life will beeven greater

-whether you want to improve yourself, your

job prospects, your community orthe world!

Araand Te Pūkenga–empowering

abrighter future.
---
FREE DELIVERYTOKAIKOURA -OVER300 CARSONLINE-WWW.MORRISONCARS.CO.NZ

$

12,984

$

17,394 $

13,494

$

18,494

$

10,383

2013 HONDAFIT HYBRID L

100,000kms, 1500cc, Reversing

Camera, Cruise Control, Great

Safety Package.

$

14,995

2017 SUZUKIIGNIS

HYBRIDMX

65,000kms,1200cc, I-Stop, Heated

Seats, Push Start, Very Popular.

$

9,494

2014 TOYOTA VITZ

1300cc, 5-doorauto,50,000km,

Reverse Camera, Push-button

Start, RebateAvailable.

$

14,494

2014 MAZDA AXELA

SPORT 15S

57,000kms, 1500cc, Bluetooth Audio,

Alloys.

$

19,394

2011 MAZDA DEMIO

13-SKYACTIVE

86,000kms, 1300cc,Reversing

Camera, Alloys. RebateAvailable!

$

20,994

2012 TOYOTA AQUA S

39,500kms,1500cc,FullElectrics,

PushStart, Alloys, Stunning

Colour. Rebate Available!

2016 NISSAN MARCH 12C

29,000kms, 1200cc,FullElectrics,

Keyless Entry,5Star Fuel Rating!

2017NISSANNOTE X

46,000kms, 1200cc, Push Start,

StabilityControl, RebateAvailable!

2017 NISSAN NOTEE

POWERX

44,000kms, 1200cc, Full Electrics,

GreatColour,Rebate Available!

2017 SUZUKI SWIFTHYBRID RS

45,000kms, 1200cc,Alloys,

ReversingCamera. Rebate

Available!

$

21,494

$

19,494

$

18,999

$

10,850

$

13,894

2015 HONDA HR-V VEZEL

HYBRID Z

93,000kms, 1500cc,Reverse

Camera, Cruise Control,Heated

Seats, Alloys,Push Button Start.

2013 SUBARU XV 4WD

2.0I-L EYESIGHT

61,000kms, 2000cc,Automatic,

Cruise Control, Paddle Shift, Push

Start, Reverse Camera.

2016 NISSAN JUKE

NZ New,HIGHSPEC,66,605km,

1598cc, Great SafetyRating!

2013 TOYOTA YARIS YR 1.3P

75,100kms,1298cc, Great Little

Run Around!

2016 HONDA FITHYBRID

82,000kms, 1500cc,Push Start,

Keyless Entry.

$

10,999

$

27,284

$

42,999

$

34,990

$

32,444

2008 FORD FALCON FG XR6

SEDANA

3984cc,Alloys,Towbar, Cruise

Control.

2016 MAZDA CX-5 20S

PROACTIVE

52,000kms,2000cc, RV/SUV,

CruiseControl,Full Electrics.

2019 HOLDEN COLORADO 2015 VW AMAROK DC 4M TL

LTZDCPU

1968cc, Manual, Diesel, 4WD,

95,115kms, 2776cc,Diesel, Alloys, Alloys,BullBars, Towbar,3Tonne

Towbar,Cruise Control,Reverse Towing Weight.

Camera.

All prices include on road costs, 12 month registration and new WOF

2017 TOYOTA C-HR HYBRID G

SPEC

62,000kms, 1800cc, Cruise

Control, Patrial Leather,Full

Electrics. Rebate Available!

*Safety ratings are from year of manufacture*

2486629
---
$

2 for

30

40

$

2 for

to theweekend

Everything youneed to entertain yourfriends andfamily in style.

Grab ahot deal andget ready forepic catchups. Cheerstothat!

THE NED or

CHURCH

ROAD

750ml

Exclusionsapply

Single bottle

prices vary

MADAM

SASS

CENTRAL

OTAGOPinot

Noir or Pinot

Noir Rosé

750ml

Single bottle

$21.99

HOT DEAL!

$

37 99

each

$

2 for

75

Single bottle

$41.99

HOT DEAL!

$

$84 99

42 99 $

59 99

HOT DEAL! HOT DEAL!

SMIRNOFF RED NO.21, GORDON'S Gin 1Litre GORDON'S DEWAR'S White CORUBA Original THE GLENLIVET THEBOTANIST

Premium Pink,Mediterranean Orange or Sicilian Lemon Label

1Litre

12YO

Gin

1Litre

Also available: Gold

Gin 700ml

700ml

700ml

classic brewS

Soda

so good

HEINEKEN

or PERONI

NASTRO

AZZURRO

12 x330ml

Bottles

$

24 99

each

lowcarb

SPEIGHT'S

$

SUMMIT ULTRA

24 99

each

LOWCARB

LAGER

$

42 99

each

24 x330ml Bottles SMIRNOFF SODARange

10 x330ml Cans, 5%

$

36 99 STEINLAGER PURE, STELLA ARTOIS

Includes Lime &Lemon, Peach &Lime,

Pineapple &Lime

or STEINLAGERCLASSIC

24 x330ml Bottles

AMBERLEY,ASHBURTON, BARRINGTON, BELFAST,BRIGHTON,BURNSIDE, COLOMBO ST,

EDGEWARE, ELMWOOD,FERRYMEAD,GERALDINE, HALSWELL, HANMER SPRINGS,

HORNBY, ILAM,KAIAPOI, LEESTON, LINCOLN, METHVEN, OXFORD, PAPANUI, PEGASUS,

SHOPLATESTDEALS at WWW.SUPERLIQUOR.CO.NZ

NATIONWIDE PICKUP &DELIVERYNOW AVAILABLE

RANGIORA, SEASIDE, TEMUKA,TIMARU,WAIMATE, WOODEND,WOOLSTON

Exclusionsmay applyonsome brands advertised. Offers end close of trade 10th July 2022,while stockslast.Available at participating stores only.Multi Deal only available in store. Varietals may

vary by store. Limits may apply.Wholesale (other liquor retailbanners) not supplied. Terms and conditions may apply.Available 27th June -10th July 2022 inclusive. Pleasesee www.superliquor.co.nz fordetails.
---
Seedlings nurtured at home

Rangiora's Charles Uphamvillage

residents have partnered with an

environmental charity to help

growand re­pot seedlings, for

planting in the earthquake red

zonesofChristchurch.

Glynis Whittaker and Yolande

Whitford,who liveinvillage

townhouses, weretwo of thefirst

to sign up with theCanterburybasedEco­Action

Nursery Trust,

whichisheaded by trust chairand

founder,DavidNewton.

The trust's objectives areto

involvepeople of allages,

including thoseinretirement

villages,and alsothe younger set,

in projects,MrNewton says.

''We arevery activeinthe

school'senvironment with many

school students helpingwith

planting days, so it is fantastic to

give the residents of Charles

Uphamthis opportunity.''

Asatellite nurseryhas been set

up,and residents to date have

helpedtransplant 300ormore

seedlings in to individualpots.

Village Manager David

Cartwrightsays it is verymuch

about makingitanenjoyable

activity rather thanatask. Village

involvementcould increase in the

2023 plantingseason, he adds.

Glynis and Yolande saythey

have longbeen gardeners, and

shiftedplants, including

strawberries, as theymoved

houses,and eventuallybrought

some to Charles Upham.

TheEco­Actionprojecthad

proved positive giventhe

disruptions of Covid­19, Yolande

says.

''We've bothfounditagood

relief actually,fromeverything.I

went over anddid afew yesterday

Keen gardeners ... Yolande and Glynis stand proud at the Charles Upham

village satellite nursery.

PHOTO: SUPPLIED

eventhoughitwas cold,''Yolande

says.

The pair love that the village has

plots forgardening, where they

can both raise theirown

vegetablesaswell as nurture

seedlings for the Eco­Action

project.

The early 2022 weather helped

the early manuka plantings.

''Wehad aglorious April, the

weatherwas justbeautiful.

Yolandeand Idid alot to begin

with,'' Glynissays.

Someofthe species of native

trees and grasses, includecarex

secta, kahikatea, totara,toitoi and

flax. Thehabitat willprovide food

and nectarfor bellbird and tui.

David Newton, whoteaches at

Christs College,says he wouldlike

to transferthe satellitenursery

projectintoothervillagesand

locations,and build theseedling

numbersoveramulti­year

timeframe.

''The moreplants that go into

the red zonethe better. There is

600­660hectares and 10,000 plants

per hectare. The benefitsofnative

speciesisthatonce they are

planted,theywill lead to an

increase in bird song, soil

regenerationand areductionin

environmentally harmingcarbonemissions.''

David saysatotal of 12,000

seedlings wereplanted in 2021,

withplans for 30,000 in 2022and

60,000 in 2023. The trust is working

withpartners, includingthe

Department of Correctionsand

Christchurch CityCouncilteams,

on theplantingplan.

NEWS

The North Canterbury News, June 30, 2022

11

Tsunami drill

successful

Emergencymanagement

agencies and Kaikoura

schoolsjoined forces fora

successfultsunami

evacuation drill last

Wednesday, June15.

Theexercise scenario was

aland­based earthquake on

the Hope Fault requiring a

quick and orderly

evacuation duetoa

potential riskoftsunami.

''Ourbeststrategy against

naturalhazardsistobe

prepared,'' Kaikoura

DistrictCouncil emergency

management officer Dean

Eadessays.

''Exerciseslike this help

keep thekey information

thatstudents and the wider

community willneedinan

emergencyfresh in their

minds.''

During theexercise, on

the agreed signal, students

were told to drop,cover and

holdintheir classroom until

teachersinstructed them it

was timetoevacuate.

Thestudents then

departed for their

evacuationassembly points

onhigher ground.

Forthe primary schools

this wasChurchillParkon

Deal Street, andfor thehigh

schoolandStJoseph's it was

anareajustoff Ludstone

Road.

''The students

rememberedeverythingthat

they needed to do to stay

safe,'' MrEades says.

''They didtheirdrop,

coverandholdinthe

classroom,and followed

theirteachers instructions

to evacuate inaquickand

orderlyfashiontotheir

assembly point. They alldid

great.

''Abig thankyou toall the

localemergencyservices

whoalso helpedonthe day.

It wasdefinitely asuccessful

exercise for everyone

involved.''

To prepare for atsunami,

CivilDefence encourages

people to know yourzoneby

checking outyour local

interactivetsunami risk

zonemap.

It showssafeareas and

areasatrisktohelp youcan

plan your quickest route to

safety.

Youcan findyourzone

mapatgetready.govt.nz/en/

emergency/tsunami/

tsunami­evacuation­zones.

Theschoolsexercise

coincideswiththe

installationofnew tsunami

evacuationsignsaround the

town bythe Kaikoura

DistrictCouncil.

Thesigns areaninitial

installationtohelpvisitors

andthe public to getquickly

andsafelytohigherground.

Do Good

Rangiora

PROPERTY

MANAGEMENT

104.9 Waimakariri

103.7 Hurunui

Proudly supporting the North CanterburyCommunity
---
AMBIENCE

RANGIORA

REQUIRED?

R FIND EVERYTHING FOR WINTER WARMTH IN-STORE

SORTED.
---
READYTOPLANT

FRUIT TREES?

SORTED.

EVERTHING YOU NEED IN-STORE

BRING SOME

COLOUR TO

THE GARDEN?

SORTED.

100% LOCALLY

OWNED &OPERATED.

RANGIORA
---
STADIUM CARS

14 The North Canterbury News, June 30, 2022

Stadium Cars are moving with the times

Stadium Carsisconsolidating its

business in Canterbury to deliver

quality service and valuebyinvesting

in its central hub in Christchurch and

enhancingits digital presence.

Its North Canterbury­based

Rangiora business will close on July 8

as the company adjusts to life afterthe

Covid pandemic and moves to offer

greater value to its customers.

The movefollows achange in

consumer behaviour and shopping

habits due to Covid­19,asmore

customers chosetostart theirbuying

journeyonline.

Stadium Carsowner Tony Gosling

seesinvestinginits Christchurch hub

as away of adding value,quality and

efficiencies to the business,inline

withthe way people arenow doing

business.

''All the team will be in one location,

where we can offeragreater level of

service,both online and in person.

Plus, passonsavings to our customers.

''The only thing thatwill changeis

the physical premises.

''Wewill still have hundredsof

quality vehicles available in

Christchurch and offer the same oneon­one

customer service,but we will

alsoinvestinour online journey,as

thisisthe way the market is shifting

following the pandemic,'' he says.

Rangiora team members Craig and

Lea will jointhe Christchurch

operation, so customers will still have

the same friendly facestodeal with as

theydid in Rangiora, and Jess will

transfertothe sister company

Stadium Finance.

Stadium Carswill also continue to

supportthe North Canterbury

community, such as North Canterbury

Riding forthe Disabled, Community

Wellbeing North Canterbury Trust,

and manysporting organisations.

''Supporting the communityisa

passion of Stadium Cars, and that good

sports ethos will remain.

''Weare passionate aboutproviding

top quality vehicles for every one of

our customers, and we are passionate

about giving back to the community.

''Wewill continue to offer the same

great service to our NorthCanterbury

customers, by the same greatteam

members but just 25 minutes down the

new motorway in Christchurch. The

new motorway hasdefinitely madethe

decision alot easier, says Mr Gosling.

Thisincludes Stadium Car owners

being able to gain benefits from having

their vehicles serviced,and

warrantedatthe Rangiora AA Auto

Centre,where their qualified

technicianscan serviceany make or

model of vehicle.

''It's important thatwecan stilloffer

our North Canterburycustomers local

after salessupport, so the benefits

theycan currently receiveatthe AA

AutoCentre in Rangiora willremain.

The Rangiora team ... Lea, Craig and Jess.

''We feel thatbyconsolidatingour

business into one hub, we will be able

to offer our customersfar greater

value, which simply can not be

achievedbyhavingapresenceon

everystreet corner.

''We love the Rangiora community

and its supportofStadium Cars,and

we know people are looking for agood

deal in the current market.

''We believe one central hub is how

we can continue to deliverthis,''Mr

Gosling says.

From July 9, you can find the

Rangiora team at theircentralhub in

Christchurch, locatedat564

Moorhouse Avenue. You can view

theirvast rangeofvehicles onlineat

www.stadiumcars.co.nz or visit the

hub and browse.

Stadium owner ... Tony Gosling and his

family at North Canterbury Riding for

Disabled.

PHOTOS:SUPPLIED

Put yourself in the drivers seat

with pre-approved finance for your

next vehicle, caravan or boat

Talk to Jess &the team at Stadium Finance

or apply online atstadiumfinance.co.nz

0508 588 522 | 206 Ferry Road, Christchurch

*Responsible lending criteria applies.
---
Product knowledge and passion drives the Orizen Rangiorateam

Orizen Tyres, which has opened its doorsin

Southbrook, is part ofagroup of independently

owned tyre stores offering an extensive range of

products to enhanceany vehicle.

Store manager JT Freeman says Orizen supplies and

installs everything underneath the car, including tyres,

wheelrims, brakes, shock absorbers, suspensionparts

and spring coils.

Wheel alignment puncture repairs, fittingand

balancing, and brakeinspections arealso offered.

JT comes to Rangioraafter working forthe past five

years at Orizen Tyresstore in FerryRoad, Christchurch,

where he wasworkshop manager fortwo years.

Orizen TyresRangioraisjust the second Orizen store

to open in the SouthIsland and the thirteenth store in

NZ. It is located at 343E Flaxton Road, in abrand new

building with all newequipment,including the latest

wheelalignment technology.

It has an impressiverange of tyre brandsforcars,utes,

vans, classic cars, American muscle cars and four-wheel

drivevehicles,which includes Continental, Maxxi,

Kenda, Pirelli and Toyo.

For those buying Continental and Maxxi tyres, there is a

road hazard warrantyof12,000km or 12 months, which

is exclusivetothe OrizenGroup.

''An impressiverange of alloyand steel wheels are

in stock, with different sizes and styleswhich canbe

customised toyour tastes''JTsays.

Orizen supplies parts fromShock Shop, and a

wide range of suspension parts are available from

factoryshock replacements to shockupgrades and

performancesuspension.

If youare looking to upgrade your work truck or your

four-wheel drive, OrizenTyreshas all the gear youneed

includingsnorkels, flares, light bars and bullbars.

Product knowledge and passion really drives the

OrizenRangiorateam, and if theydon't have your

requirements instore, theycan order it in to meet your

needs.

Financeisavailable forupto24months,withthe firstsix

monthsinterestfree, throughSmart Cover, Zippay and

Humm.

TheOrizen group wasestablished in Maylast year when

Cooper Tyres wasrebranded.

It is nowone of the fastest growingtyrestore networks

in NewZealand due to theexcellentoptions Orizen has

to offertobothcustomers and store owners alike.

For Orizen Tyres, Rangiora,the advantage ofbeing part

of the nationwide franchise is being able to offerawide

range of products.

''This definitely setsusapart and we'reproud to see the

growth in the SouthIsland,'' JT says.

WHEEL ALIGNMENT TYRES SUSPENSION

4X4ACCESSORIES LIFT KITS WHEELS

2488785b

343EFlaxtonRoad,Rangiora

Phone 03 424 1170

rangiora@orizen.co.nz

www.orizen.co.nz
---
STYLE & QUALITY

FOR LESS

HOT

DEALS

Flow

Buffet

WAS $1950

$

1750

12

Lending criteria,$50 Annual Account Fee, fees, Ts&Cs apply. Standard Interest Rate

(currently 25.99%p.a.) applies toany outstanding balance at end of interest free period.

Offer ends 31 December 2023. Min spendand exclusions may apply,

$55Establishment Feeor$35 Advance Feeapplies to Long Term Finance Purchases*.

DEAL

FROM

Green

Blue

Grey

$

559

Iris Sofa

Available in

3Seater $1059 $979

2Seater $889 $819

1Seater $599 $559

SALE

Orbit

Chair

Available in

Black

SALE

Ackley

Chair

SALE

Ash

Acacia

Birch

Ackley Dining Table

SALE

Rustic

Chair

SALE

Ferr

Barstool

WAS $129

$

99

WAS $139

$

119

WAS $549

$

499

WAS $249

$

229

Available in

Black,Cognac,

Brown

WAS $249

$

219

Available in

Black

DEAL

5Year Warranty

QUALITY

FURNITURE

A ff o r

d a b l e

Nova Bedroom

Collection

PRICE TAG

F R O M

$

729

Cloud Rest

Mattress

King Single $789 $729

Double $859 $789

Queen $979 $899

King $1079 $989

Super King$1169 $1079

Bedside $299 From $279

Bedframe $1009 From $939

Under Storage $199 From $189

6DrawerTallboy $949 $879

6DrawerLowboy $879 $799

FREE

CARPARKING

SOUTHCITY

BATH ST

WE ARE

HERE

255MOORHOUSE AVE

REBEL SPORT

COLOMBOST

WWW.AFFORDABLEFURNITURE.NZ

MON-FRI 9:30AM–5:00PM

SAT-SUN10AM–5:00PM

0800 268 264
---
NEWS

The North Canterbury News, June 30, 2022

17

ADRIEL HOUSE AND REST HOME ADVERTISING FEATURE

More planting ... Planting at Silverstream Reserve is ongoing.

Funding supports

zone biodiversity

Projects in the Hurunui Waiau Uwha and

Waimakariri zones havereceived more

than $200,000 in funding to support

protecting and enhancing waterquality,

biodiversity and mahinga kai outcomes.

Zone delivery projects are led by local

teamswhich support landowners,

community groups, Environment

Canterbury's (ECan)regionalteams, and

otherorganisations, to meetthe

Canterbury WaterManagement Strategy

targets.

Much of thisworkisthrough advice and

assistancetolandowners wantingto

increase the level of protection for

waterbodies on their property and working

with agencies and community groups to

extend funding and efforts.

Waimakariri and Hurunui Waiau Uwha

zone delivery leadMarco Cataloni saysthis

year's projects will havehad abig focus on

working collaboratively.

By supportinglandowners and the

community, better environmental

outcomes can be achieved, he says.

Funding has comefrom ECan'szone

priority project fund and the Me Uru

RakauProgramme.

''We're rapt to haveworked with arange

of other agencies such as the Hurunuiand

Waimakariri District Councils,

contractors, avariety of catchment groups

Kids Market returns

By BENJAMIN GRIFFITHS

The popular Rangiora Kids Market is

returning soon.

The Annual Rangiora KidsFest

Market is on again at Rangiora

Borough School on Friday, July 15.

Therewill be lots of stalls selling

cool stuff and all the stalls are run by

kids.

Hellers is giving Rangiora Borough

School ahelpinghand by sponsoring

the event and givingthe schoola

supply of sausages to helpfundraise.

Therewill be children's clothes,

toys,bake salesand creations children

have havemade duringthe school

holidays.

KidsFest runs fromJuly 9to24with

lots of school holiday fun.

Events are being heldin

Christchurch, Selwyn and

Waimakariri.

Elements is running ''Wild

Adventures'' at the Ashley Rakahuri

Regional Park on Monday, July 18,

from 9am to 3pm with lots of fun

activities suchasmaking huts,

climbingtrees,bug collecting, mud

and water play and more.

This is greatfor outdoor fun and

and of course, landowners,'' Mr Cataloni

says. ''Themajority of the fundingfocuses

on improving fencingalong waterways,

weed or pestcontroland planting –all

supporting areasfor native wildlifeand

peopletoco­existand enjoy the benefits of

nature.

''By taking this collaborative approach

the funding has gone along way. It's been

great to work together to increase

outcomes for the zone, and for local

communities.''

Anumber of different sites within the

Waimakariri and HurunuiWaiau Uwha

water zones have had significantactions

and funding committed.

Projects include planting days fundedby

Waimakariri District Council,with $55,000

from Me Uru Rakausupportingits

Arohatia Te Awa/Cherish the River

Programme.

The Silverstream loopmaintenance

work hasreceived $40,000 from zone

priority projectfunding, while the

Saltwater Creek Estuary nativeplanting

project has received $15,000. In the

Hurunui district, the Jed Rivercatchment

willowcontrol project has received

$35,000,while the Waipara River

catchment weed control,wetland

protection and planting initiative has

received $70,000.

childdevelopment.

The Hartley SchoolofPerforming

Arts is running the annualPerforming

Arts Winter Campfrom Monday to

Thursday, July 18 to 21, dailyfrom

10.30am to 4pm.

Each day consists of three sessions

including one eachofdance, singing

and acting.

Children can come along even if they

don'thave experience in performing

art.

This is great for kidsthat enjoyor

want to learn dance, singing and

acting.

Pool parties are being held at the

Dudley ParkAquatic Centre in

Rangiora on Thursday, July 14, and the

Kaiapoi AquaticCentre on Thursday,

July 21, both from1pm to 3pm.

Roller disco is backatthe Woodend

Community Centre on Tuesday, July

12, from 10.30am to 12pm.

Family quiz nights are being held in

the Oxford TownHall on Wednesday,

July 20, theKaiapoi Library on

Thursday, July 21, and the Rangiora

Library on Friday,July 22, with each

eveningevent from 7pm to 8.30pm.

Bookings are essential, for more

informationgotokidsfest.co.nz.

Australian visitors ... Elaine Mulholland, Adriel's clinical nurse manager, (left),

Mischeal McCormick, Adriel owner, with Jamie and Tamra from Goodwin Group, in

Canberra.

PHOTO:SUPPLIED

Adriel fosters quality

care and empathy

Life at AdrielHouse and Rest Homeis

returning to normal.

Residents are reconnectingwith their

community through outings, and family

and friends are returning to amore

regular visiting regimeasCovid­19

protocols ease.

Adriel's owner Mischeal McCormick

says asocial WinterWarmer Afternoon

is planned in July, with lotsofgood

warm winter comfort food, and the

opportunity for family and friendsto

join in and talkwith their loved ones

aboutthingsthey did during their lives

in the winter months.

Mischeal says the Spark of Life

programme run at the homecontinues

to have huge benefitsfor residents,with

Adriel once again beingconfirmed as a

SparkofLife Centre of Excellence.

It was the onlyhome in the world

holding the honour when it was

awarded in 2019.

Mischeal says it took six years to

become acentre of excellence through

planning, gathering data,and training

stafftoimplement and embrace the

SparkofLife philosophy at Adriel, which

caresfor thosewho have suffered

memory loss.

The focus of the programme is on the

qualityofthe connection betweencarers

and residents, and their families,and to

foster kindness, compassion, empathy,

and respect.

''Everyone has to be trained, and learn

the programme, and then it has to be put

intopractice. It is ahuge commitment,

but worth it because we care,'' Mischeal

says.

The home recently hosted two visitors

fromCanberra who made the journey to

Amberley, and Adriel, specificallytosee

the programmeinaction.

''They were blown away at how quiet

and settled our residents were,and that

Adriel was offering residents choices

about whatthey wanted to do, which

means alot to them as individuals,''says

Mischeal.

Mischeal says the visitors expected to

stayacoupleofhours,but ended up

staying all day,asthey noted how the

programme was makingsuch a

difference in people's lives,and how the

staff were also fully on board with it.

''They were full of enthusiasm,and

werekeen to get backhome to the

villages theyoperate and start the Spark

of Life programme,''she says.

The feedbackfrom them was

''awesome.

''Itgives us the confidence to continue

with Spark of Life,and to know thatwe

are makingadifference in people's

lives,'' she says.

Thinkabout thosewho have memory

lossand associated problems ...

•CountryHomeValueswithCommunitySpirit

•DayCare•Men'sClub•RespiteCare

•Relaxed,HomelyCottageGardens

(andevenafewanimals)

RESTHOME

Please callustoday tofind out howwecan care for your lovedones.

Phone: Clinical Nurse Manager Elaine Mulholland, (03) 314 8326 ex 1

36 Osborne Rd,Amberley

2374549
---
2458397

r

e

.

p

e

.

a

PAINTERS

RegTradesman • Interior,exterior.

North Canterbury Painters

specialising in decorating for

over 65.

Discounts

for Seniors

Experienced

Podiatrist;

Free quotes.

Covering North Canty,Oxford,

Kaiapoi, Rangiora, Amberley.

Ph Rob 03327 7899

or 027 432 3520

2423683

Now with more availability

022 1726 049

www.northcanterburypodiatry.co.nz

GOLDEN YEARS

18 North Canterbury News, June 30, 2022

Love Your Hearing, North Canterbury

Alifetime of creating artworks

By ROBYN BRISTOW

ShonaRobertsonloves creating.

At age 86, the gifted Amberley­based

artist continuestostrive for excellence,

although she does not do quiteasmuch

painting as in the past.

She enjoys the camaraderie of Amberley

Art Groupmembers,and passes on her

wisdom and knowledge to others, as many

over the years have shared theirwisdom

and knowledge withher.

Shonahas 12 of her works on display at

the Back Wall Gallery in Amberley's

Hurunui Library —avariety of buildings,

scenes, and landscapes.

She enjoys capturing old and historic

buildings, ensuring their survival on

canvas, several of which are in the

exhibition.

She has had aconstant companion along

the way —abook she treasures called The

Artists Way,byJulie Cameron, whichhas

offered her encouragement to continueto

strive and meet challenges in her works.

Shonahas lent it to others, and today

also sharesher own wisdom with other

artists to help them grow and develop.

Some of her paintings are in the United

Kingdom,Australia, South Africa and the

United States.

One, of Dean's Cottage in Riccarton, was

spottedbythe great, great, great, great

grandson of Jane Deans, who boughtit.

Some timelaterShonawas informed the

painting had been senttoAustralia as a

wedding present.

Todayshe enjoys the challenge of

differentmediums, but her favourites

remain pencil and water colours.

Shonaalso continues to enjoy learning

differentskills and looking at colour in a

new lighteveryday.

''Give me achallenge and Iwill find a

Vera Setz:

(03) 423 3158

Clinics in Rangiora,

Amberley, Cheviot,

Hanmer Springs

Potter's Cottage ... Awater colour, pen and wash artwork hanging in the Back Wall

Gallery in Amberley's Hurunui Library.

PHOTOS: ROBYN BRISTOW

way,''she says.

''A real challengeisawhitehorse.There

is more colourinawhite horse than you

think,'' Shonasays. Acrylic paint helped

her capture the colour of the white horse,

with water colour overthe top.

''It worked well,'' Shonasays.

Her interest in painting began in her

early years at the OhokaSchool, but it was

not until1982 she tookupart as a''hobby

or past time''.

''Withthe children grown up and leaving

home therewas time to indulge in what

has been avaried andinteresting time,''

she says.

Shona began at the AmberleyArt Group

in 1982. Shortly aftershe joined the

Rangiora Art Group/Society, and later the

Town and Country, of whichshe is now a

life member.She spent two years withthe

Artist's collectiveinChristchurch. Shona

loves nothing better than capturing

moments whendriving past, and from

memory, goes homeand paints it.

She also enjoys thegreat outdoors while

creating master pieces, althoughsome she

paintsfrom photographsorsketches.

Memories ... Ahat, handbag and gloves

—special items from Shona's past.

Charlotte Watson

Audiologust

MNZAS

Vera Setz

Audiologist

MNZAS

Alison Highman

Ear Nurse

RN

Ear Care:

020 4124 25 25

Clinics in Rangiora,

Amberley, Kaiapoi

Stuart Smith MP for Kaikōura

Supporting our senior citizens

Amberley 103A Carters Road, Amberley•03 3147441

Blenheim 22 Scott Street, Blenheim •03579 3204 or 0800 STUART

We're your local hearing

and ear health experts!

2453205

Funded by the Parliamentary Service. Authorised

by Stuart Smith, Parliament Buildings, Wellington.
---
Canterbury's Most Exciting NEW Retirement Village!

Introducing Amberley Country Estate

We are delighted tointroduce Amberley Country Estate, anexciting NEW 250 home Retirement Village,

coming toAmberley, the gateway tothe Hurunui District. Here, you'll find generously-sized, spaciously

spread out, energy-efficient Villas with fully maintained private space, lawns and landscaped gardens. Our

330m 2 Residents Centre will be available for the very first Residents. And, for your peace ofmind, we have

amodern hospital and care facilities coming too. If you're 65+ and seeking anactive lifestyle with laidbackcountry

estate living, find outmore today.Visit our website or call 0800 573573.

What makesAmberley Country EstateSoSpecial?

The Layout of Amberley Country Estate is

Very Different toMost Other Villages.

Instead oflines of similar homes inarow, we have awide range

of villas, witheachstreetset outinauniquely distinctive layout.

Shared right ofways gives amore intimate feel, like living ina

cul-de-sac. But, with rural-people inmind, some homes have

private driveways andextragenerously sizedyards.

As well as meaning the Village doesn't feel like all the homes

are the same, each yard isunique too. Streets are beautifully

landscaped with attractive colourful plantings. Paths meander

through the village and pocket-parks abound.

This extra "visual amenity" gives your home more individuality

and the streets more character, making the village feel more

special and upmarket.

So areour Amazing EnergyEfficient Villas!

Available from 94-182m 2, our stunning Architect-designed, 2and 3Bedroom Villas combine the highest

standards ofstyle, comfort, security and energy efficiency: thermally broken foundations, thicker walls with

more insulation and thermally-broken windows keep the cold outside and ducted central heating means

power bills are low and you're warm and comfortable year round. Less power useisbetter for the planet too!

Plus there's SO much more!

To find out ALL the many reasons why Amberley CountryEstate

should be your next move,visit our website or call 0800 573 573

today.You'll besoglad you did!

SHOWHOME OPEN JULY

10 Teviotview Place, Amberley ● www.amberleycountryestate.co.nz ● Call Free: 0800 573 573
---
NEWS

20 The North Canterbury News, June 30, 2022

Cycleway and footpath wanted

By SHELLEY TOPP

More than 100 people havesigneda

petition calling for asafe cycleway/foot

path to be installed from the Rangiora

Leigh HolidayPark corner to Loburn

School.

The petitionisincludedina

submission the school has made to the

WaimakaririDistrict Council calling

for the council to add the cycleway to

the list of others already prioritised

under its Walking and CyclingNetwork

Plan.

Loburn Schoolprincipal Stuart

Priddy saysthe busy sectionofroad

from the holiday parkcorner to Loburn

School is not safe for pupils to use.

''Ruralroadsrepresentasignificant

hazard to our pupils trying to get to

school,and parents tell me that they

have been put off letting their kidsbike

and walktoschool because of the

dangers,'' he says.

''We all enjoy the driving experience

of rural roads,but for some the journey

comes with extra risks. Our kids,along

with all road users,deserve asafe trip.

''What we need are dedicated

cycleway/paths to the school.''

''This issue is areal impediment to

promoting cycling skills in rural areas

and there are such greathealth

outcomes when kidscan get on abike

safely,'' he says.

The council's Walking and Cycling

Strategy was developedinpartnership

with the community and adopted in

2017.

It includes avision that Waimakariri

residents choose to walkand cycle and

that the environment is friendly, safe

and accessible for walkers and cyclists.

The council's senior engineering

adviserDon Young, saysacycleway to

Loburn Schoolhas not made it on to the

Dangerous journey ... Loburn School pupils face adangerous walk to and from their

school and now more than 100 people have signed apetition calling for acycleway/footpath

to be installed from the Rangiora Leigh Holiday Park corner to Loburn School to make their

journey safer.

PHOTO: STUART PRIDDY

council's priority list but that is only a

staff decision and all submissions will

be fully considered by the council.

''I am really interested in what

Loburn School does put in its

submission. ''We are very interested in

hearing fromthe community and

looking forward to seeing their

submissions and what they would like

us to think about.''

Submissionsfor the plan close at 5pm

today,ThursdayJune 30.

Upgrade

continues

Work is continuing on Kaiapoi's

''shovelready'' stormwater and

floodingproject.

Residents will have noticed workin

and aroundOtaki Street, whichshould

be completed by the end of August.

Thereare teams working in

Hodgson Avenue, Otaki Street,

Chapman Place and Wesley Street,

with all hands on deck to complete the

worksassoon as possible.

The work involves connectingan

undergroundpumping station in Otaki

Street with two branches of large

gravity pipes stretching east over to

Ashley Place and westtoWesley

Street.

AlongOtakiStreet, alarge pressure

main is being installedtoget the water

to the riverinlarge rainfall events.

To minimise disruption, the council

is taking the opportunity to replace the

Chapman Place wastewaterrising

main,and some watermains as well as

kerb and channelonOtaki Street and

Chapman Place.

To completethis stage the Fuller /

OtakiStreets intersection will be

closed to traffic while one of the

pipelines is installed.

The intersection will be closed for

around fourweeks and there willbe

traffic management and detours in

place. There will be achange to some

bus stop locations in the area too, with

temporarybus stops in place as the

busesuse the detour routes.

The major upgrade to the Kaiapoi

Stormwater Systemwill increase the

resilience of the stormwater network.

Need Heat Fast?

The Fastest, Warmest Indoor/Outdoor HeaterYou Will Ever Own!

Buy One Get One Free! *

+Plus

Free

Floor

Stand!*

worth

$199.99

• Heats Up Instantly

y

• Suitable efor Indoors orOutdoors

-InRain, Fog, Wind or Snow

• Carbon-Fibre Bulb BubTechnology

ogy

• Multi-Directional Stand

• Includes Remote Control

&Built-Int nTimer

• Motion Detection Function

1.8m High

• Commercial Grade

• Multi-Directional

• Easy Install

• Portable

• Indoors &Outdoors

*Call forTerms

&Conditions

CALL NOW! 0800 665 665
---
Light

Festival

Victoria park,

rangiora

Experience alight&soundwonderland. Afairyland of

laser lights, neon, disco lights, interactive lightingdisplays, glow

toys &more, food,UVdance floor, licensedbar, stalls, kid's

activities, roving entertainers,live music.

ENTRY: Just $,$ per family.

BIGGER,BETTER, BRIGHTER

Limited Numbers, Get Your Tickets Now

rangioralightandsound.co.nz

NORTHCANTERBURY

Waimakariri

Hurunui

News Kaikoura
---
MATARIKI

The North Canterbury News, June 30, 2022

23

Spinning hulas ... Sophie Chang, aka the strawberry fairy, spins her bright hula hoops at

the All Together Kaiapoi Matariki festival and fire works show held at Raven Quay in Kaiapoi

last Friday evening.

PHOTO:JOHN COSGROVE

Spinning poi. .. Shantelle Peters and her son Jireh (7) of Christchurch work their poi to

the music at the Matariki celebrations held last Friday evening at Raven Quay in Kaiapoi.

PHOTO: JOHN COSGROVE

Yummy earth oven ... Opening up the hangi during the Matariki Day celebrations at the

Kaiapoi Food Forest last Friday.

PHOTO: BRENT CAIRNS

Popular duo. .. Kaiapoi's Sharon Russell with her grandson, Josh Keating, performing live

music during the Matariki Day Celebrations at the Kaiapoi Food Forest.

PHOTO: BRENT CAIRNS

Matariki craftwork. .. Sonya Miller, of Oxford, with her children, Summer Miller (13), and

Carlos Miller (10), leaving the Oxford Town Hall after taking part in the Matariki Day Kids

Crafts afternoon.

PHOTO: SHELLEY TOPP

Bright sights. .. Multi­coloured fireworks light up the night sky at the All Together Kaiapoi's

Matariki festival and fire works show.

PHOTO: JOHN COSGROVE

Serving the thousands. .. Angus Watson (left) and Shirley Cairns from the All Together

Kaiapoi group man their stall at the Matariki festival and fire works show at Raven Quay

in Kaiapoi.

PHOTO: JOHN COSGROVE
---
NEWS

24 The North Canterbury News, June 30, 2022

Tasman Tykes head north

By DAVID HILL

North Loburn School has been

getting in behind its AgriKidsNZ

team.

The Tasman Tykes team of

Annabelle Birchler (12), PJ

Mackintosh (12) and Hamish

Webb (12) have been busy

preparing for the national finalin

Whangarei from July 7to9.

The team has been enjoying

good support from their school

and local community,teacher

Kim Birchler says.

''We're very excited about it

and the whole school is behind

them.''

The school held amufti day on

Friday, with the children

dressing up as farmers in support

of their teamand parading in the

schoolhall.

When actingdeputy principal

Kate Hassall asked who wantedto

be an agrikid one day, almostall

the children put their handsup.

Kim says the team has received

support throughsponsorship

from local family businesses and

local farmersofferingsome tips.

''We're grateful for our

sponsors because these are tough

times,but the community has

come together.''

Annabelle says the team spent

some time on her grandparent's

fruit and vegetable farm, picking

kale and leeks and learning about

seeds,planting out and fertiliser.

Hamishlives on adeer farm,

with pigs and chickens and helps

out with feeding the pigs and

movingthe break fencefor crops,

and enjoys building things.

PJ lives on asheep and beef

farm and enjoyshelping to move

In training ... North Loburn School's Tasman Tykes AgriKidsNZ team of

Hamish Webb (left, 12), PJ Mackintosh (12) and Annabelle Birchler (12)

have been busy preparing for next month's national final in Whangarei.

stock on horse back.

Annabelle lives on alifestyle

block with afew chooksand

sheep and enjoysspending time

on her grandparents' farm.

All three children have

experience with tractors and

motorbikesand knowhow to

check the oil.

''We all have different kinds of

farms that we come from, which is

good,'' Annabelle says.

Abee keeper was due to come

and visit the team, while adairy

farm visitwas being plannedto

help the children brush up before

the final.

''On the day it comesdown to

teamwork and thinking outside

the box and supporting each

other,'' Kim says.

North LoburnSchoolhas along

tradition of having teams

compete in the national

AgriKidsNZ final, withHamish's

olderbrother and PJ's big sister

competing in past agrikids teams.

The school entered four teams

in the Tasman regional final at

Springston in February, with the

Tihiraki Trio joining the Tasman

Tykesinthe final race­off.

Tasman Tykes won the final

race­off, before being placed

second overall behind Oxford

Area School'sDudesand Dudette.

Thereare 21 teams in the

national AgriKidsNZ final,

including three teams from each

region.

Tasman Tykes,the Oxford

Dudesand Dudetteand the Ward

Boundary Riders are

representingthe Tasman region.

Dudes and Dudette ... Oxford Area School's team of William

Shore (left, 12), Elizabeth Cooper (11) and Will Glassford (12) are

excited about competing in next month's national AgriKidsNZ final.

PHOTO: BENJAMIN GRIFFITHS

Off to nationals

By BENJAMIN GRIFFITHS

ThreeOxfordstudentsare off

to the AgriKidsNZ grand final

in Northland next month.

William Shore, Will Gassford

and Elizabeth Cooper are

excited about competing in the

finalinWhangarei from July 7

to 9.

The team, knownasthe

Dudesand Dudette, have been

practising hard for the four

weeksleadinguptothe final,

brushing up on their

knowledge and agriculture

skills.

The trio qualified for the

nationalfinal after winning the

Tasman AgrikidsNZ

competition at Springstonin

February.

AgriKidsNZ is ayoung

farmer competition for primary

students across New Zealand.

Childrencompete in teamsof

threetocomplete aseries of

modules on agricultural

related disciplines, with the top

teamsgoing head­to­head in a

race off.

The modules testthe

childrenondifferent things

such as knowing about bugs

and livestock, as well as doing

practical stuff like using farm

vehicles, machinery and

fencing.

The Oxfordchildren say each

bringdifferent strengthsand

must workasateam to win.

All three comefrom farming

backgroundsand want to be

farmers when they are older.

Both William and Willare

passionate about John Deere

tractors,while Elizabeth's

passion is beefcattle. Will and

Elizabeth are fromdairy

farming backgrounds, while

William's family farms sheep.

The Dudes and Dudetteare

beingsponsored by local

business for their trip north.

ADVERTISEMENT

How the Marvel Health scan investigates

the body for the hidden causes of diseases

Although thehuman bodycomprises severaldifferent

systems andorgans,itisawhole unitwiththe parts

workingtogethertokeepthe bodyhealthy. Adisease

afflicting an areaofthe bodycould have arisen from a

completelydifferentregionofthe body. And it could

also spread to anotherdistant part of thebody.

Forexample,adisease of thedigestive systemsuch

as InflammatoryBowel Syndrome couldcause

poor absorption of iron whichinturnleads to iron

deficiency anaemia. Anaemiareferstoalowerthan-average

concentrationofHaemoglobin, the

pigmentthattransportsoxygen to ourorgans.When

Haemoglobinislow,the heartmustworkharder

to supply theorgans with oxygen. The increased

pressure on theheart cancause an irregularheartbeat

andhighblood pressure.

The interrelatedness of our organs andsystems means

that examiningjustapartofthe bodywhenitis

diseased maynot correctlyidentifythe causeofthe

problem. Awhole-bodyexaminationiscrucial for

assessingthe body'sstate of health andaccurately

pinpointingthe causeofadisease.

Marvel Health offersaWhole-bodydiagnostic

scan that thoroughly examines all theorgans and

systems of thebodytouncover thehidden causes of

health problems. It detects microbes such as viruses

andbacteria, contaminants like lead andmercury,

nutrientdeficiencies, andfood allergies. It also

thoroughlyexamines thebrain,heart,liver,kidneys

andother organs forinflammation,likelydiseases

present andpossiblehealth complications.

After thescan, Marvel's internationaldoctors

andhealthcare specialistswill studythe report

andrecommend targeted science-based natural

treatments andlifestyle changestosupportthe

body'shealing.

Total Health MOT

Whole Body Diagnostic Scan,

Report, Consultation and Therapy

All included: • Detailed Examination of All Organs & Systems • Diseases Present and Complications

• Detection of Viruses, Bacteria & Fungi • Food Allergies & Sensitivities • Non-invasive Blood Test

• Detection of Lead, Mercury & other Environmental Toxins • Body Composition Analysis

Unit 13/6 Cone Street, Rangiora | 293 Durham Street, Awly Building, Christchurch

CALL TODAY 03 669 5410 www.marvel.health

Disclaimer: The inspection from the scan is not asubstitute for medical inspections. It is not designed to state the final diagnosis
---
Ready forthose cosynights in?

FREE DELIVERY

on sleepyhead Beds *1

In-stock and ready fordelivery now.

Queen, King, Super King. Sameprice.

Thisdealmay seem likequitethe eye-opener. Butonce you've made thepurchase,we

can assure you, it's areal eye-closer.Ifyou're prone to sleeplessnights,perhapsyou

need anew bed. Well, youdospendabout athird of your life in it. Maybe more,ifyou

like alie in.The Matrix LimitedEdition is packed with sleep-enhancing technology like

POWERBAND,ACTIVESENSE,FIBRE:WOOL and more, all forenhanced postural support,

alignmentand comfort. Something to ponder, in the weesmall hours.

Sleepyhead MatrixLimitedEditionBed

QUEEN, KING,SUPER KING

$2599

lessthan

$12

UP TO

66% off #

perweek for

60 months on

interest free*

9073111 /9073107 /9073112

FREE DELIVERY

on selected LG TVs *2

+BONUSPREZZY CARDS on selected models

Winter.Best enjoyedin4K.

Yes, it's TV watching season. So,you may as well makethe most of it withacrystal

clear picture, and audio to match. LG's new 2022 range of smart TVshaveall the

bells and whistles. All youneed is acomfyspot to sit,and wesellthose,too.

LG 50"4KQNED80 LED-LCD SmartTV

$2499

lessthan

$18

9072849

perweek for

36 months on

interest free*

BONUS

$100

Prezzy Card

Take couch-potatoing to the next level.

Don't be fooled by thesimple modern design of this leather suite. It's built forrelaxing.

Kick off

your dancingshoes andput your feet up.With poweredrecliners and

adjustable headrests,this winter youcan take couch-potatoing to thenextlevel.

TangoLeatherPowered ReclineSofa in Cigar

2Seater

$2589

Recliner

$1599

9064238

9064242

was

$

3699

was

$

2299

3Seater available to order - $3199

Valid until26th July 2022

30% off #

Can't stand the cold,

get into thekitchen

Beko85L Multifunction

Aeroperfect60cm Built-in

Oven with Pyro -BBO6851PDX

$1499

9069044

~ Via Redemption

lessthan

$11

perweek for

36 months on

interest free*

3

Designed foreating at. Unlikeyoursofa.

Lurethe family back around thetable,with thiselegant dining suite. With an industrial style

metal frameand stylish fabric back and seat,add abit of luxurytoany dining room. Youcan

fight over your favouritespot on thecouch afterwards.

Amble 5Piece Round Dining Suite

$799

lessthan

$7 perweekfor

36 months on

interest free*

9066934

was

$

1299

Introducingthe

Winterclean.

Radical,weknow

Miele Boost CX1Cat &Dog

CompactBagless

Vacuum Cleaner

$649

lessthan

$6

perweek for

36 months on

interestfree*

was

$

699

69% off #

SunbeamCopper Infused

Duraceramic Air Fryer in Black

-AFP4000BK

$99

was

$

329

9070824

9072404

Limited Stock

INTEREST FREE

on purchases

36MONTHS

$499 &over*

INTEREST FREE

60MONTHS

$999 &over*

on furnitureand beds

Offers valid until Tuesday 5th July 2022, while stocks last orunless otherwise stated. Some products on display inselected stores only —please call 0800 764 847 to check availability. *Apple, selected computers, game consoles, gift cards, clearance

itemsand some promotionalitems are notavailable in conjunctionwith interest free offers.Flooringavailable on amaximum of 18 monthsinterestfree. Exclusions,fees, terms,conditions andcreditcriteria apply. Equalinstalment amountsinclude oneoff

establishment fee of$45.00, amaintenance fee of $3.75per monthand exclude anyinsurance premium financed. Current interest rate of 23.95% applies toany unpaid minimum payments during the interest free period, andany balance after the

expiry of (any)interest freeperiod. See in-store or visit smithscity.co.nz/interest-free for details. **Weekly equalinstalments arebased on a52week financeperiodcommencing 7days from the date interest is first calculated.SettingupanAutomatic

Payment authority will help you to avoid missed payments and additional interest charges. Available in-store and online. Current interest rate of 23.95% applies. There are no set-up, annual, oraccount maintenance fees –a$19 notification fee may

applyincircumstancesofdefault.Terms, conditions,and credit criteria apply. Seein-storeorvisit smithscity.co.nz/easycardfor more detailsortoapplyfor your EasyCard.#Discount is offour full retail price. Notavailable in conjunctionwith anyother

offer. *3Offer valid 01/06/2022 to 31/07/2022. Receive uptoa$200 Prezzy Card via redemption on eligible Beko cooking appliances. T&Cs and exclusions apply. For full T&Cs and eligible models, visit https://www.beko.com/nz-en/cooking-cash-backpromotion.

*2 LG TVsfree delivery offer valid 10June –5July 2022 only. Free delivery terms, conditions, and exclusions apply. Applies todelivery addresses within 50km ofaSmiths City store. Also applies tolocal Auckland delivery addresses (from

Auckland CBDextendingtoAlbany, Henderson, Howick, andPapakura).See individual products on smithscity.co.nz for details. *1 Sleepyhead bedsfreedeliveryoffer valid15June–5July 2022only. Free deliveryterms,conditions,and exclusions apply.

Applies todelivery addresseswithin 30km of aSmiths City store. Also appliestolocal Auckland delivery addresses(from Auckland CBD extending toAlbany,Henderson, Howick, and Papakura). See individual products on smithscity.co.nz for details.
---
Intensivewinter grazing

SUPPORTING YOUWITH GOOD MANAGEMENT

This July, we'reconducting atrial flyoverinCanterbury –the first one

everfor intensivewinter grazing in our region. The trial will giveusan

understanding of current intensivewinter grazing practices and any

areaswherehelp,support or advice might be needed.

The trial will takeplace in the Waimakariri district only, in earlyto

mid-July, weather dependent.Wewill not be filming or taking photos.

What we arelooking for

During the flyovers,Environment Canterbury

staff will look at current intensivewinter

grazing and good management practices.

Theywill noteanyareaswhereimprovements

areneeded, such as wherewaterways are

being impacted by stock or dirt.

If these or other issues areidentified, we

will getintouchtoofferhelp,support and

education to help meet good management

practice. We'vepartnered with industry

groups to define our approach for the flyover.

Theywill also be availabletosupport you

throughout this process.

We will onlybeobserving current intensive

winter grazing practices, and new legislation

coming intoeffect in November this year is

not part of this trial.

Formoreinformation visit

ecan.govt.nz/flyovers or contact

Environment Canterbury on 0800 324 636.
---
Innovative approaches on farm

By GINA MCKENZIE

Innovative farming practices are helping

to make Roscoe Taggart's farm more

sustainable.

Investing in precision agriculture has

provided the Cust farmer with

environmental,social and financial

benefits that help to continuously improve

his family's 730­hectare arable and sheep

operation.

Mr Taggart is participating in asixmonthfarming

innovationproject,which

examineshowthenextgenerationof

farmers areusinginnovative approaches

to improve their farming practices.

The Waimakariri Landcare Trust and

Waimakariri IrrigationLimited(WIL)

have partneredwith theMinistryfor

Primary Industries (MPI) for the project,

withsupport from MPI's Sustainable Food

and Fibre Futures fundalong with

Environment Canterbury, Ballance, and

DairyNZ.

At the start of the project Mr Taggart

applied variable rate nitrogen fertiliser

❛You do have to invest more

upfront with new technology,

but it is well worth it when you

consider the long­term

benefits.❜

—RoscoeTaggart

RURAL LIFE

The North Canterbury News, June 30, 2022

2410273

2191656

27

ONLINE MEAT SALES

MEAT2U.NZ

HOME KILL

&WILD GAME

MEAT PROCESSING

313 0022

FENCING

• Post Driving

• Stock Fencing

• Stockyards

• Post and Rails

• Lifestyle etc

Ph Andy Horn

021 214 1201 or

(03) 314 9460

withnitrogen sensors attached to the roof

of his tractor.

This has proven to be agamechangerby

applyingthe precise amount of fertiliser

requiredforeach paddock.

Having experienced the benefits of

being abletoapply variable rate nitrogen

in real time, Mr Taggart introduced grid

sampling of his farm in blocksto improve

theefficiencyofspreadingfertiliser,while

reducing costsand environmental

impacts.

''Traditionally we havedoneastandard

soil test whichisatransect acrossa

paddock withabout fiveorsix samples.

''With gridsampling we are taking a

sample every hectare and after we put this

information intoour variable rate

spreader, wecan spreadour fertiliserina

much moreeducatedway.Thisis

especially important when you are doing

yourbaseapplication because if you get

thisright, youwillgetan evencrop, and

this has many flow­oneffects.''

Byapplyinghis fertiliser in such a

precise manner, Mr Taggart anticipates

growing crops that are more even which

willmakecropmanagementeasier over

the season.

''Youwillhaveeverythinghappening at

the same timeinterms of thegrowth

Sustainable ... Cust farmer Roscoe

Taggart invests in technology to create

environmental, financial, and social benefits

for his agricultural operation. PHOTO: GINA MCKENZIE

stagesand amoreevencrop when it is

time to harvest,'' he says.

''Financially you are better offtoo as it

makes your yield moreeven. Youdohave

to investmoreupfront with new

technology, but it is wellworth it when you

consider the long­term benefits.''

The environmental and social benefits

of applying the right amount of fertiliser at

the correct time are also important to Mr

Taggart.

''One of the biggest things we have got

going on now in agriculture is our inputs

and leaching. If we use science and

technology to applyonlywhatisneededto

eachpaddock,thenwearetickingboxes

alloverthe place.

''Above all else, it is the right thingtodo.

From my perspective we needto prove

that we meetthe requirementstokeepour

social licenceto operateanditis

importanttodo theright thing on farm for

our wider community.''

Record bull prices

By DAVID HILL

Record prices were paidatanannual

bull sale at Clarence Valley, north of

Kaikoura, last week.

Angusbull Woodbank 20021 topped

the sale, selling for $65,000 to Stern

AngusofPleasant Point in South

Canterbury.

It was highest priceever paid for a

bull from the WoodbankAngus stud,

whichwas founded in 1936.

The annual combined Matariki

Hereford/WoodbankAngus on­farm

bull sale, held on Tuesday, June 21,

produced several strong prices.

Five bulls in all sold for $30,000 or

more,with the day'ssecond highest

pricebeing$47,000for Matariki

Nautical,which was purchased by

Limehills HerefordsofCentralOtago.

Matariki stud owner JamesMurray

said semenrights for Nauticalhad

beensold to Australiaprior to the sale,

demonstrating the demand on both

sides of theTasman.

''Heprovides just what the industry

needs. He'sgot agood frame,good

EBVs (breeding values)and you can

get steers away at 300kg before the

winter.

''He's easy doing,soft and he's an

awesome bull.''

JamesMurray said bulls sold to

buyers fromGisborne, Auckland,

Hamilton,Nelson, Otago and

Southland, as wellas''a groupofvery

good local buyers and repeat buyers''.

Meanwhile, down the road at

Conway Flat, the Te Mania AngusStud

had asuccessful on­farmbull sale,

with the day's top price of $44,000.

Anew South Islandrecord was set

last week,when an Angusbull sold for

$92,000 at abull sale at Meadowslea

farm at Fairlie in South Canterbury.

?

Whatwillyou

discover when you

Explore Dunedin

this July?

Dunedin comes alive this Julywith international test rugby,

the magic ofthe MidwinterCarnival, andthe added

excitementofthe schoolholidays.Whatever brings you to

town, make sure youget your copy of ExploreDunedin to

help youplanthe perfect getaway.

Filledwithgreat tips on food, accommodation, shopping,

andmore, Explore Dunedin is the must-have guideto

enjoying the greatestlittle city in theworld.

Download or orderyour copy today at

www.exploredunedin.co.nz

Follow us

Scantoread

Explore Dunedin

online
---
RANGIORA MOTOR GROUP

Find your happy place

BIG VALUE. TINYPRICE.

$19,990 +orc*

The Mirage is awork of Art. It's packed with smart features including: 15 inch

machine finished alloywheels,7inch smartphone link display audio system,

reversing camera, forward collision mitigation, lane departure warning, 5Star

safety,economy ofjust 5.0L per 100km and our 10 year powertrain warranty*

$2,026

Eligible for

the Clean Car

Rebate of

NISSAN LEAF FROM

$150PER WEEK*

48 MONTH |15% DEPOSIT |60,000KM |NFV

The 100%

Electric Family Car

NISSAN

FUTURE

VALUE

*Finance offer available to approved applicants of Nissan Financial Services only and excludes lease and some fleet purchasers. Nissan LEAF 40kWh at aprice of$61,990 +ORC of $1050. Deposit of $9299, monthly

repayments of $674 financed overamaximum 48 months, and afinalballoon of $22,285equal to theNFV/guaranteed future valueofthe vehiclebased on 15,000kmallowanceper annum. Apayment of $8,625

(equal to expected rebate available under the NZ government Clean Car Programme) isrequired in the second month after purchase (whether ornot you have received the government rebate). Total amount

payable overthe term $64,961withafixedinterestrateof7.19% p.a. An establishment feeof$375,PPSRfee of $8.05and $6 permonth accountkeeping feeisincludedinthe above costs. If youchoose to return

your vehicle at the end of the loan term,Nissanwill pay the NFV (subject to meeting vehicle condition and servicing requirements and agreedkmallowance). Limitedstock available, offer ends 30th June 2022.

Offer cannot be used in conjunction with any other offer. Nissan reserves the right tovary, extend or cancel this offer. For more information onclean car programme, see https://www.nissan.co.nz/vehicles/

browse-range/leaf.html. BusinessCustomers -speak to youraccountantoraqualified tax professional about the treatment ofGST portion of your clean car rebate.

RANGIORA MOTORGROUP,

29 Southbrook Road,Rangiora | Ph: 03 941 3175

rangioramotorgroup.co.nz
---
SPORT

North Canterbury News, June 30, 2022

29

Ashley take Deans Shield home

RUGBY

By PETER WILLIAMS

Ohoka's turninthe spotlight proved to be

shortlived as it succumbed at thefirst

defence of theDeans Shield to an

efficientAshley side 22­39 on Saturday.

Meanwhile,atCheviot, Glenmark­

Cheviot was also broughtdown to earth

after itsvictory in theCombined Grand

Finallastweekend,when Kaiapoiheld

outthe fastfinishingnortherners fora

narrow 27­24victory.

The top fourteamshave opened up a

gaponthe rest of theteams inthe Luisetti

Seedscompetition.

Kaiapoi (19) leads with Ashley,

Glenmark­Cheviot andSaracensareboth

on 15, well clearofthenext teams —

Hurunui and Ohoka on 7.

Next Saturdaymostinterest will be at

Cheviot whereGlenmark­Cheviot,

undoubtedly smarting from thisweek's

defeat,will be seeking redemption

againstAshley.

It willbeasurprise if thechance to win

back their beloved Deans Shield doesn't

bringthe best outofthe Glenmark­

Cheviot side.

Ohoka vAshley

Ohoka settledinto thegame morequickly

andwas rewarded forits early territorial

dominance withapenalty kicked by Scott

Allin after just 7minutes.

When Ohoka's hard­workingnumber 8,

TomTaylorreceived ayellowcardafter

an altercation, his teammates lifted their

endeavours.

The opportunistic Ohoka centre,Blain

O'Loughlin, snaffledupaloose ball and

ranhalfthe lengthofthe fieldtoscore.

Ashley started to assert itsauthority.

WingerKorbyn Gray wasbusy,looking for

work.

Whenever he gotthe ball in hand, which

wasquite often,hecould be reliedonto

break atleast one tackle, oftenmore.

The industrious lock, JimmyThiele was

thefirst toscore for Ashley. Then aJack

Marshall penaltylevelled thescores.

Ashleywas starting to getthe better of

theterritorial battle, but Ohoka's Allin,

playing at first­five,showedthere was

muchmore to hiskicking gamethan just

hisgoal­kicking. Hehoisted some

prodigious punts which had the crowd

gaspingand frequently relievedthe

pressure thatwas starting to mount on the

holders.

Thenrightonthe cusp of half­time

came aplaythat reallyliftedOhoka's

spirits. Angus Gunn gathered an Ashley

kick well insideOhoka's territory putina

long 50­22 kick which gave Ohoka the

throwtoanattackinglineout.

Unusually,theAshleydefencewent

missing. Flanker Ben Gold claimedthe

ball attherearofthe lineout and crashed

overinaone­on­one tackle. Allin's

conversiongaveOhoka auseful15­8lead

at thebreak.

But it didn'ttake Ashley longtogain the

ascendancyinthe third quarter.The

wholeAshley pack was rolling up its

sleeves, ledbythe Duckworth brothers at

prop andNo.8Elijah Coulston.

Duringthis period they putonthree

unansweredtries, all converted by Jack

Marshall.Thiseffectively spelt Ohoka's

death knell. Skipper,LouisJames,scored

followingadominant drive from the

lineout. Before longBen Wicksteed and

Gray had alsogot onthe scoresheet.

Although Ohokakept tryinghard, and

George Wigginsnarrowed thegap with a

goodtry in the corner,the damagehad

been done anditwas lefttoJosh

Duckworthtoput the icingonan

outstanding individual game, by scoring

thefinaltry of thematch.

Ohoka 22 (BlainO'Loughlin,Ben Gold,

Ever­green ... Nordy Anderson scores atypical No 8's try for Hurunui against Woodend

at Culverden.

PHOTO: JOHN COSGROVE

George Wigginstries, ScottAllin 1

penalty, 2conversions) lost to Ashley 39

(Jimmy Thiele, LouisJames,Ben

Wicksteed, Korbyn Gray, Josh Duckworth,

tries,JackMarshall 2penalties,4

conversions).

Glenmark­Cheviot v

Kaiapoi

Despite playingathomeonGlenmark's

Club Dayand against theplaying­through

champions, this was always goingtobea

difficultassignment for Glenmark­

Cheviot after theexertions ofthree weeks

of gruelling finals rugby.

This was confirmed when apre­match

glance at theteam sheetrevealed that

backline lynchpins, MikeKeane and

JordyGray hadbeen named on thebench.

The decisiontogowithcomparatively

fresher legs seemed to havepaidoff when

Glenmark­Cheviot made aflying start to

thematch.

Nick Hyde, who has been scoring tries,

seemingly every Saturday,wasatitagain

when he dotted downafter alineout drive

andwingerEthan McDuff crossed on the

half hourtotakethe locals outtoatwelvepointlead.

But Kaiapoi is toogoodateam to be

shut outofthe gamecompletely.

It slowlystartedtoassert itselfand was

rewarded just before the break when

prop,Zac Andrews got thevisitors on the

board.

TaineJacobs­Lawson, who was starting

to directplayexpertly from thepivot

position, converted. This trywas the first

of 27 unansweredpoints scored by a

Kaiapoi teamthat wasgainingin

confidence.

With the experienced Matt Etheredge

to thefore and prop Kafu Misiuataalso

having ablinder, Kaiapoi made themost

of their opportunities.

At fullback, MattyTuatangaloa was

dangerous withevery touch. Bailey

Counihan and JaredGilmore scored the

second half tries for Kaiapoi, both from

lineout drives.

At 27­12, Kaiapoihad thematchinsafe

keeping butGlenmark­Cheviot certainly

didnotlie down.

Matt Jensen who played in the

unfamiliarwingposition was alwaysa

handful and Hamish Gibbdid some

yeoman workupfront. Replacements,

Sake Aca, who was outstandingonthe

wing in the secondhalf,and JordyGray,

both scoredlatertrieswhichatleast

secured two bonus points forthe hosts.

Although Glenmark­Cheviot scored

four triestothree, Kaiapoi deserved its

win.

Glenmark­Cheviot 27 (Nick Hyde, Ethan

McDuff,SakeAca andJordy Graytries,

Cogs Harnett,CalebBeck, 1conversion

each)lost to Kaiapoi 29 (Zac Andrews,

Bailey Counihan,Jared Gilmore tries,

Taine JacobsLawson 3conversions, 2

penalties).

Hurunui vWoodend

On Sponsors'dayatCulverden, Hurunui

played alot of rugby in the firsthalf

without scoring many points.Woodend

made anuisance of itselfatthe

breakdown, making Hurunui pay forany

isolated carries.

Hurunuidid manage twotries in the

firsthalf —one by hooker BenFunnell

andone to halfbackJono Schwass who

continued his strongform.

It took a14­0lead in to thebreak.

Early in thesecondhalf,Woodend

closed thegap whenJordySwainekicked

twopenalties, oneofthemaprodigious

effortfrom halfway. From that point on,

though, Hurunuiwas able to buildmore

phasesand eventually foundholesin

what had beenastoutWoodenddefence.

Nordy Anderson at No 8always carried

strongly forHurunuiand was rewarded

with two second halftrieswhile

replacement Josh Cavanagh also scored.

Kicker KyleMcKenzie was on target for

thehometeam,convertingallfive of

Hurunui'stries.

Hurunui35(Tries for BenFunnell, Jono

Schwass andNordy Anderson(2),Josh

Cavanagh, 1try, KyleMcKenzie 5

conversions) beat Woodend 6 (Jordy

Swaine 2penalties).

Oxford vSaracens

It's notoften that afather and son

combinationplay together in the same

team in aDivision 1match, but it

happenedlast Saturday when veteran

halfback, TevitaVea,answered thecallto

cover for aspateofrecent injuriesinthe

Saracens team.Whenhecame offthe

bench, hejoined his son Samson, a

flanker in the team.

Saracensdrewfirst blood when Johnny

Turnbullmadeabreak,interpassed with

winger LemuelHillthen fendedoff a

coupleofdefenderstoscore.Oxford soon

levelled upwhen Gus Mowat madea

break and scored.

Matt Roberts, playing in his 100th

Division match forOxford, kickedthe

conversion. Both teamsplayed ahigh

tempogame.George Prain andJireh

Vunibaka impressed forOxford butthis

wastobeOxford's only try. Saracens

made themostofits opportunities.

Kerran Jenkins scoredlaterinthe first

half to giveSaracensa14­7 lead, then,in

thesecond half, the versatileBrett

Hancox, whowas fillinginat hooker,

continued his excellent formfromrecent

weeksinscoring twice.

Oxford 7 (Gus Mowat try, Matt Roberts

conversion) lost to Saracens26(Triesfor

Johnny Turnbull, Kerran Jenkins and

BrettHancox(2), Ricky Allen 3

conversions.

NORTH CANTERBURYRUGBY

SUBUNION-2July 2022

Luisetti Seeds Combined Div 1

Glenmark Cheviot VAshley, 02:45 PM, Chev 1.

Hurunui VOhoka, 02:45 PM, Haw 1. Saracens V

Kaiapoi, 02:45 PM,Sbk1. WoodendVOxford ,02:45

PM, Wood 1.

Division 2-Ellesmere &North Canterbury

Div 2Championship -Glenmark Cheviot VKaik,

01:00 PM, Chev 1. Hurunui VOhoka, 01:00 PM

Haw 1. Kaiapoi GOLDS VSaracens, 01:00 PM,

KaiOv.

Division 2Reserve -Amberley VAshley,01:00 PM,

Amb 1. Woodend VOxford,01:00 PM, Wood 1.

Combined ColtsPlay-offs

Ashley VCeltic, 01:00 PM.KaiapoiVWaihora Black,

1.00 PM. West Melton VGlenmark Cheviot, 01:00

PM.

Womens - SeeWebsite

1st XV - Rangiora HS BYE.

Under 18

TBHS VHurunui, 01:00 PM. RHS VPrebbleton,

01:00 PM, RHS 2. Waihora VKaiapoi GOLD, 01:00

PM, TT:2.

Under 16

KHSVLincoln, 11:30 AM,Wood1.Celtic VHurunui,

01:00 PM,Celtic:1.MCRUVRHS, 01:00 PM,Hamp:

1. Rolleston VOxford,01:00PM, Foster:3.

Under 14.5

MCRUVRHSGreen, 01:00 PM.RHS Gold VLincoln,

01:00 PM,RHS 1. KaikVOxford, 01:00 PM, Kaik1.

Under13

Woodend VHurunui 10.00AM.Kaiapoi Gold VAshley

11.40AM. Saracens VOxford 11.40AM.

Under 12 –all games 11.30am

Glenmark Cheviot VAmberley. Hurunui VOhoka

Black. Kaikoura VOhoka Red. Saracens VOxford.

Ashley BYE.

Under 11 –all games 10.30am

Amberley VOhoka Red. Saracens Blue VSaracens

Red. OxfordVKaiapoi Gold. Hurunui VOhokaBlack.

Woodend VAshley.Kaiapoi Blue BYE.

Under 10 –all games 12.10pm

Ohoka Red VAmberley Blue. Kaikoura VAmberley

Black. Woodend VAshley Blue. Hurunui VOhoka

Black.Oxford VKaiapoiGold.

Under 9–all games 10.00am

Woodend VAshley Blue.GlenmarkCheviotVOhoka

Black. Hurunui VSaracens Red. Oxford VKaiapoi

Gold. Saracens Blue VOhoka Red. Ashley Green

BYE.

Under 8–all games 11.05am

Amberley VAshley Green.Woodend BlackVAshley

Blue. Glenmark Cheviot Black V Saracens Red.

Glenmark Cheviot Blue VOhoka Black. Oxford V

Kaiapoi Gold. Kaikoura Blue VKaikoura Red. Ohoka

RedVSaracens Blue. Hurunui BYE.

Under 7–all games 10.50am

Amberley VAshley Green.Woodend BlackVAshley

Blue. Glenmark Cheviot VOhoka Black. Woodend

Green VHurunui Black. Hurunui VSaracens Red.

Oxford Red VKaiapoi Blue. Oxford Black VKaiapoi

Gold.Saracens BlueVOhoka Red.

Under 6-all games10:00am

Amberley VAshley Green.Woodend Black VAshley

Blue. Amberley V Ashley Green. Kaiapoi Blue V

Ashley Gold. Glenmark Cheviot BlackVAshley White.

Glenmark Cheviot Blue VOhoka Black. Glenmark

Cheviot Gold VOhoka Green. Woodend White V

Hurunui Black.Oxford VKaiapoiGold.SaracensBlue

VOhokaRed. Woodend Green VSaracens Red.

Printed draw proudly supported by

Four Seasons Realty

Your home forlocal property

0800 7891011

Four Seasons Realty 2017 Ltd|Licensed Agent REAA 2008

For all draw information and updates

please keep up to date with

North Canterbury Rugby

2479631e
---
Rangiora Toyota

Percival St, Rangiora

(03) 313-8186

www.rangiora.toyota.co.nz

Proudly supportingsport

in North Canterbury

Rangiora Gold dominates Hornby Vampires

HOCKEY

RangioraGold Men's Division2

team put bottom of the table

HornbyVampires to the sword at

the latest roundofthe

Canterbury winter hockey

season.

Dominant fromstart to finish,

the teamkept attackingall game

and were rewarded with regular

goalstoseveral players.

Hornby createdsome quality

attackingchancesattimes, but

were unabletoconvertany till

laterinthe last quarter.

This resultsolidifies the teams

current numbertwo ranking.

Meanwhile Rangiora CBK

Women'sDivision team reversed

their result againstSouthern

Sapphiresfromjust two weeks

ago with agood 3­2 victory over

the Southerners. Their second

win of the season will be amoral

booster for the young team and

lifts them clear of the bottom of

the ladder however, they face

threehigher ranked teams

(including the current number

one and threeranked teams) in

the leaduptofinals so will be

hard pressed to hold their

seventh positionout of 10 teams

in the grade.

Four goalstoBen ''Ange''

Chorley helped Rangiora's

Securing position ... Rhys Severinsen of Rangiora Gold Men's Division 2

team evades Hornby Vampire defenders.

PHOTOS: SUPPLIED

Mighty Midweek Men overcome

astern challengefrombottomof

the table UC Wizards in MWO

Division1.The former NZ

Masters Hockeyrepresentative

had beenreasonablyquiet in

recentgames but, with the

absence of several keyplayers,

Chorley steppedupatthe right

timetosee his teamthrough.

The table is compressing in

the Women's Mid Week Open

Divisioncompetition with the

Rangiora Hurunui Hares

openingthe door for the chasing

pack throughitsr draw with

Avon lastweek. Meanwhile

RangioraPiwakawakasecured

its second win of the MWO

Women'sDivision 3competition

with another victory over UC

Athenians.

Results

Division 1women ­Rangiora

CBK3defeated Southern

Sapphires 2.

SSLPremiership women­

RangioraKorimako 1lost to

Taking aim ... Sam Flavell of the Rangiora Gold Men's Division 2

team just about to score another goal against Hornby Vampires.

Harewood 4.

MWO Women'sDivision 1­

Rangiora Hurunui Hares 1drew

with AvonAces1.

MWO Women'sDivision 3­

Rangiora Piwakawaka 6

defeated UC Athenians 4.

SSL Premiership men ­

Rangiora Gold 11 defeated

Hornby Vampires 1.

SSL Championship men ­

Rangiora Oddfellows 0lost to UC

Apache4.

MWO men Division 1­Rangiora

Mighty Midweek Men 6

defeated University

Wizards3.

MWO menDivision­

RangioraAllsorts 1lost

to MaristGooses 6.

PlatinumGrades

Girls ­Rangiora

Kakariki1lost to

Malvern 3

Boys ­RangioraJets 6

beat WaikirikiriFalcons

1, RangioraSnakes 0lost

to HornbyDragons 14.

Amberley wins Boyle Cup

SPORTS RESULTS

By ROBYN BRISTOW

The prestigious Boyle Cup is

tucked up in thetrophy cabinet at

the Amberley GolfClub.

Ateamofwomengolfers

travelledtoCharteris Bay

recently, and lifted thetrophy

fromthe clubwhichhad held it

since April, 2018.

Amberley lastheld the cup in

1990.

The Boyle Cup waspresentedto

the Christchurch Ladies Golf Club

in 1914, andisaCanterbury

interclubmatch play challenge

trophy.

It was the Charteris Bay Club's

21stdefence of the trophy,with

Amberley taking outthe challenge

3­2 in avery closeaffairwithtwo

matches going to the 17th and18th

holes.

Thewinningteam was Jan

Bishop,Lyn Robertson,SusieLee,

Barbara Pettigew and Kate Percy.

Barbara saystheytravelled to

Charteris Bay withcaddies on a

cold day, but thecourse was

beautifully prepared.

TheBoyleCup waspresentedto

theChristchurch Ladies'Golf

Club in 1914and is aCanterbury

Inter­clubchallengetrophy. It is

administered by theWomen's

Committee of theChristchurch

Golf Club.

TheAmberleyClubwillnow

request expressionsofinterest

among Canterbury Clubsto

challengefor the Cupand conduct

aballotofthoseinterested.

''It is difficult to getachallenge

duetothe interest,'' saysBarbara

Victorious team ... Jan Bishop,

Lyn Robertson, Susie Lee (back

row), Barbara Pettigrew, and Kate

Amberley Golf

June25: AGenet 67,PCumming 69,KGussette69, MNeale

70, GDemmocks71, DReardon73, RClifton74. WVan

Zuylen 74, GMcGeddie 74, DVan Turnhout74,

Women: LRobertson71, JAnderson­Bay 73, KPepper73,

BPettigrew 75.

MidWeek Men: DFlewellen37, RHornblow 37, IHolding

35, JWigley34, NReeves 34, BFitzgerald 34.

MidWeek Women:RLester70, BPettigrew75, SLee 75.

LongestPutt:DYates.

NineHolers: RHayward19points. DPatchett 17,GReid

17.

Waimakariri Gorge Women's Golf

Stableford: 18 Holes­ JPottinger 33, NWeavers 33, LScott

32, LSteele 31, KBush29, KBattersby 29, SMardon 28,W

Meretens 27.

Nineholes: JSmith 19, RBenny14, RRoy 12.

Proudly bringing

youupdates from

the region's

sporting events

If you'd like to help support our sports pages,

please email info@ncnews.co.nz
---
STOREWIDE SALE

FINAL WEEK –ENDS 04.07.22

HEAPSof HOTDEALS!

JENSEN RANGE

ON SALE

Corner Suite NOW $ 2199

Zest 7 Piece Dining Set – W180

WAS $ 1589

NOW

$

1249

SCANQRTOSHOP

2Seater NOW $ 879

3Seater NOW $ 999

Ramsey Single/Single

Bunk Bed

WAS $ 1299

Burano Queen Bed

–Grey

WAS $

999

EDEN HAINES RANGE –LIGHT GREY

ON ON SALE SALE

NOW

$

999

NOW

$

799

3Seater NOW $ 1199

2Seater NOW $ 799

Melve Buffet

WAS $

999

NOW

$

799

Tatum Desk – Natural

NOW $

249

Dante Barstool

NOW $

99

Watson

Dining Chair

– Charcoal

NOW $

125

Koko

Rocking Chair

–Blush

NOW $

479

Scantofindstore

250 Moorhouse Ave, Christchurch

0800 TARGET (0800 827438)

targetfurniture.co.nz

Offers and product prices advertised here expire

04/07/22. Sale Excludes Accessories.
---
THEHARCOURTS

difference

Youcan be confidentyou're workingwiththe best.

Whetheryou'rebuying,selling, renting or looking foraproperty manager,

it's thepeoplethatmakeall the difference. Whenyou work withHarcourts,

you're workingwithpeoplewho consistently deliver award-winning levels

of serviceyearafteryear.

10 5

years

years

No.1

VotedNZ'sMostTrusted

RealEstate Brand

Reader's Digest

QualityService Awardwinner

Toprealestatebrand in

Nielsen OnlineRatings

The differencethatisHarcourts

When it comestimetochoosearealestatecompany,you want aproven

performer.New Zealandershave votedHarcourtsthe MostTrusted

Real Estate Brand foraremarkable10years in arow andwe've won the

Reader's Digest QualityServiceAward five yearsinarow. It's atestament

to thequality of theserviceyou'llreceive andthe expertise of thepeople

you'll be entrusting with your property.You'llalso have industryleading

technology and NewZealand's mostvisitedrealestatecompany website,

harcourts.co.nz, behind you.

Real

2013-2022

Estate Agencies

2018-2022

2018-2022

Zealanders

New by

Voted

Voted •

★ ★ ★

2018-2022 ★ ★ ★★

• •

Real Estate Agencies

Contact us today

0800 7891011 | harcourtsfourseasons.co.nz

*More uniquevisits than anyother realestate group, Nielsen Online Ratings, October-December 2021

Harcourts GroupLtd Licensed REAA 2008
---
North Canterbury

Cheviot 630 Hundalee Road

Don't miss out!

Attention farmers, lifestyle buyers,hunters and fishermen. This veryversatile 201ha farm has asignificantamount of natural

bush including aQE2 covenantthatisfenced andhas an abundanceofnative birds. There is an eco-cottageinthe bushwhich

will appeal to tourists, as well as potential for farm-stay and farm tours. The property is just ten kilometresfrom the sea at

Oaro,withabundant fishingand diving options andKaikoura is just 30kmaway. The farm hasapproximately 17 blocks and

paddocks, with aconsiderableareabeingwheel tractor country,and is very well tracked. Thehome, built in 2005 is well

insulated and constructed of board andbattenwithaniron roof. Comprisingtwo double bedrooms plus asingle bedroom,

open planliving with largepantry as well as atongue andgroove feature ceiling. Heatedbyalog burner withwet back.

Outbuildings includeatwo stand raisedboard woolshed with coveredyard attached. There are sheep yards,cattleyards and a

two bay hayshed. Two baygarage plus carport. Currently carrying650 ewes,150 hoggets and finishing cattle and has

supported anumber of bee hives in the past.

3 1

Deadline Sale closes Thursday 14th July,2022 at 2.00pm, (unless

sold prior)

View By appointment

Web pb.co.nz/RR93343

Maurice Newell

M 027 240 1718

Hamish Anderson

M 027 678 8888

E mauricen@pb.co.nz

E hamisha@pb.co.nz

Your Rangiora

RuralTeam

Down to earth

real estate

Working together, Maurice Newell and Hamish Anderson,

have extensiverural experienceand values.

Specialising in rural and lifestyleproperties and backed by their

Sales Assistant, Kim Balcombe,you areguaranteed apowerful,

yetrefreshing, real estateexperience likenoother.

Contact one of the team todayfor allyour real estateneeds.

Maurice Newell

Rural/Lifestyle Sales Consultant

M 027 240 1718

P 03 313 8022

E mauricen@pb.co.nz

Hamish Anderson

Rural/Lifestyle Sales Consultant

M 027 678 8888

P 03 313 8022

E hamisha@pb.co.nz

PB060281

Property Brokers Ltd Licensed REAA 2008 |pb.co.nz

Proudtobehere
---
What's happening inyour

community…

Orange traffic light restrictions are in place -visit waimakariri.govt.nz for further information.

Kaiapoi Road Closures

Work is continuing in and around Otaki Street as

part of the Shovel Ready Kaiapoi Stormwater and

Flooding Improvements project, which should be

completed by the end of August.

There are teams working in Hodgson Avenue, Otaki

Street, Chapman Place and Wesley Street at the

moment with all hands on deck to complete the

works as soon aspossible.

The work involves connecting an underground

pumping station in Otaki Street with two branches

of large gravity pipes stretching east over to

Ashley Place and west to Wesley Street. Along

Otaki Street alarge pressure main is being

installed toget the water tothe river in large

rainfall events.

Tominimise disruption, we're taking the

opportunity to replace the Chapman Place

wastewater rising main, and some water mains

as well as kerb and channel on Otaki Street and

Chapman Place.

Tocomplete this stage we will be closing the

Fuller/Otaki Street intersection to traffic while one

of the pipelines is installed. The intersection will be

closed for around 4weeks and there will be traffic

management and detours in place.

There will be achange to some bus stop locations

in the area too, with temporary bus stops in place

as the buses use the detour routes.

Detour routes:

• Eastbound traffic will detour via Wesley Street,

Epworth Street, Whitefield Street, Ohoka Road,

Akaroa Street toFuller Street

• Westbound traffic will detour via Akaroa Street,

Broom Street, Otaki Street, Cressy Avenue,

Wesley Street to Fuller Street

Amap of detour routes is available at

waimakariri.govt.nz.

We appreciate there will be some disruption while

the works are under construction. We're grateful for

the patience of the residents who will be happy to

see this project complete in the next few months.

This is amajor upgrade to the Kaiapoi Stormwater

System which will increase the resilience of the

stormwater network across Kaiapoi and reduce the

likelihood of flooding in big storm events.

Changes to Speed Limits inCust

With safety improvement work complete, speed

limit changes have been rolled out in Cust with a

number of changes in and around the town.

These changes were agreed to by Council aer

consultation with the community last year.

"We know that the speed you are travelling at has

the biggest impact onthe outcome ofacrash,

which is why Police focus on speed enforcement.

I'd like to take this opportunity to remind people to

drive within the speed limit, and to the conditions

of the road. If it's wet or icy, slow down. It's always

better to take your time and arrive alive," says

Police Sergeant Colin Stewart.

The following road will reduce to 80km/h:

• Cust Road, 80 km/h sign to east of Tallots Road

The following roads will reduce to 50km/h:

• Earlys Road, Cust Road to 100 km/h sign

• Swamp Road, Cust Road to the northern side of

the one-lane bridge

• McKays Lane, entire length

• Mill Road, current 60 km/h zone

• Cust Road, eastern 60 km/h threshold to 1776

Cust Road

Big Splash

The annual Big Splash is happening on Friday 1

July at the Rangiora RSA.

The event raises awareness for the Stroke

Foundation and raises money for Rangiora Stroke

Club, St Johns Rangiora and Rangiora Promotions

(who organise the event).

Come along to the Rangiora RSA Club and watch

business people and members ofour community,

including Mayor Dan Gordon, who has been

jumping for the past three years, all take the

plunge in their themed outfits.

Book yourself atable and make anight of it as

we count down each jumper! Each participant will

need tonominate their own charity of choice and

should you win one of the top three 'Splash for

Cash' prizes by being one of the top three to raise

the most funds, Rangiora Promotions will donate

to your charity on your behalf. $500 –Winner |

$300 –Second Prize |$150 –Third Prize.

Come along and support this awesome event for a

great cause.

Need to report

an issue?

Use the free Snap Send Solve app to tell

Waimakariri District Council about it.

Visit our website to find out more

waimakariri.govt.nz

About reviewing the

Gambling Venue Policy.

The policy creates rules around numbers of

venues and gaming machines, their location

and growth within the District.

Do you think the policy should be updated?

Share your feedbackbefore 5pm on Monday 11 July

waimakariri.govt.nz/letstalk

Keep your

organics

loose.

Organics should be

loose in the bin, not in

bags. In these frosty

mornings your organics

can freeze -pop some

cardboard in the

bottom of the bin and

shake upcontent with

garden fork to make it

easier to empty.

—

Find out more

collection tips at

rethinkrubbish.co.nz

rethinkrubbish.co.nz
---
SpringstonTrophyturns 50

Springston Pony Club has the honourof

hosting the 50th Springston Trophy

competition at McLeansIslandon

October 6to9.

It also hostedthe first competition in

1972, which has goneonto becomethe

pinnacle event for South Island pony

club riders.

At one stageitwas the largestPony

Club eventinthe southern hemisphere.

Springston also had the honour of

hosting the 25th anniversary of the

competition in 1996.

There were 15 teams in the first event.

Just 25 years later 45 teams competed.

Covid­19forced the cancellation of the

annual event in 2020, pushingthe 50th

celebrations out until this year.

Numbers are falling from the halcyon

days, but it is still eagerly anticipatedby

many pony clubs throughout the South

Island.

As part of the celebration abook has

been compiled by Anne Atkins

celebrating those who founded the event

—Mary Dalley, Joan McCall and Don

Collett.

It also celebrates the guardians,

riders, officials,horses and ponies who

have participated over the years.

One chapter focusesonsome riders

who have gone on to achieve on the

national, and international stage,such

as Jonelle and Tim Price.

The bookisbeing presold, with orders

closingatthe end of August. The order

form is available on the Springston

Trophywebsite.

It is hoped to reach out to riders who

may have taken part in aSpringston

Trophycompetition, but now may live in

the NorthIsland.

Speedway talent ... Jack Brownlees races

number 23c.

PHOTO: TATIANAGIBBS

Public Notices

NEWS &CLASSIFIED

The North Canterbury News, June 30, 2022

Public Notices

35

Public submissionsare open,

Water ServicesEntities Bill.

TheChairofthe Finance andExpenditure Committee

is calling for public submissions on the Water

Services Entities Bill.

This bill isthe first of asuite ofbills toreform

New Zealand's drinking-water, wastewater and

stormwater services—the"three waters" services.

The bill would create four publicly owned water

services entities,each entity takingonresponsibility

for delivering water services to a specific

geographical area, from1July 2024.

The bill sets out how the water services entities

would operate,and how they would be accountable

to the public.

The committee is interested inunderstanding the

public's views onlocal government ownership of

waterservices and thegovernance structuresofthe

proposedwater servicesentities.

Submissions close at11.59pm onFriday, 22 July

2022.

Online: From the 'Related links' panel,

https://www.parliament.nz

Write: CommitteeSecretariat,Committee

Secretariat,

Finance and ExpenditureCommittee

Parliament Buildings, Wellington.

Phone: 04 817 9520

Email: fe@parliament.govt.nz

2493813

Bright career ahead

By TATIANA GIBBS

Racing a200cc openwheel vehicle,

while reaching speeds of 110km/h, is not

how most 12­year­olds spend their

weekends.

But for Swannanoa School pupil,Jack

Brownlees, apenchant for speed, and

South Islandcompetition success, has

won him aspot racing in Brisbane next

year with Bateman Motorsport

Australia.

He is aimingtocompete in at least

five Australian meetings, but for now he

is patiently waiting for next season's

race calendar to be released.

The young RuapunaSpeedwaytalent

scored plenty of silverware at the

recent annual awards night, claiming

three majorawards—the Canterbury

Championship, Top SeasonPoints, and

Most Consistent Driver for the youth

quarter midgetgrade.

Jack has also won multipleSouth

Island titles,takingout Nelson's Easter

Champs, Greymouth'sBest of the West,

the South Island Circle Track Racing

Association (CADRE) title, and all five

rounds of the South IslandQuarter

Midget Car Series.

Ruapuna Speedway president Rob

Roxburghsays Jackisone of the best

quarter midgetdriversinthe country,

with abright future in racing aheadof

him.

''He's got very good equipment,and

he certainly knows how to drive,'' he

says.

Jack also races go karts, grasskarts

and off­roaders,and in spiteofbeing

four years awayfrom gettinghis drivers

licence, he'sregularly on the podium

while racing quarter midgets, ayouth

open­wheel class suited for 8­15­yearolds

with a200cc engine limit.

Jack is especially good for his age,

and cleaning everyone else up, Rob

says.

Jack was only 11 for the majority of

the racingseason, beating teenagers

older than him, beforeturning 12 in

April.

The new challengewill see him

switch his 200cc quartermidget,for a

500ccmicro­sprintthat features atop

and front wing —afaster youth class

that is not available in New Zealand.

''It's going to be apretty cool

experience,''Jack says. ''I want to travel

the world in (racing) and makethe most

of it.''

His father, Jacob Brownlees, says

Jack is addicted to speedway,and

instead of cominghome from schoolto

play videogames,hewatches YouTube

videos of his favourite driversMichael

Pickens and Jack Lowe—successful

racers thatstartedout in quarter

midgets like Jack.

''If he was middle of the pack and only

turning up because Itold him to, we

wouldn'tdoit,'' Jacob says.

Jack's mum KerryBrownlees says no

matter whatride he jumps into, he

blowsthroughthe field.

''A lot has to do withthe car, but 80%

of it is the driver,''she says.

''That's whatsome people don'tget,''

Jack says. ''I'll go home (fromspeedway)

and straight away ask for videosofthe

days racingsoIcan look at what I

mucked up on, so Idon't do it againat

the nextrace meeting.''

Jack's proudest memory was being

crowned CanterburyChampionthis

season, atitle he achieved with a

broken thumb,after breaking it playing

basketball at school.

He didn't want acast on it, which

wouldput the brakes on racing.

Instead asteel plate was put over his

thumbtohold it steady,and wrapped,

so he could pull on his racing gloves.

Jack lost the firsttwo races, and was

very nervous before the feature race.

''Dadsaid it's either awin it or bin it,

so Iwent out thereand won it, and I

don'tknow how Idid it.''

''In my mind all Iwas thinking was

whiteflag pleasecome out, which

signals to drivers they're on their last

lap.''

Jack takes after his dad who started

racing whenhewas 15. Jacobsays Jack

has won more awards in two yearsthan

he did in his 20 year racing career.

• DOG FOOD

• BIRD FEEDERS

HALF PRICE

MEAT2U.NZ

313 0022

2490219

Terrible

Debt

a free and

For Sale

Kiwisaver

DO YOU SUFFER

from a sore back? Our

Inverter can help by

stretching out your back,

easing the discomfort

caused by compression. For

a free trial, please phone

027 313 3286.

teach

manage

the Waimakariri

or Hurunui

District

www.bsnc.org.nz

Supported by:

Registered Charity Number: CC10710

Wanted To Buy

CARAVAN / MOTOR-

HOME wanted, family

size, repairs okay. Phone 03

351 6696.

★★★

NZ PAINTINGS / ART...

Cash paid. Please phone 027

682 3222.

$$$

Amalgamated Scrap Metal

Ltd. Specialists in farm

machineryand farm clean

ups, old vehicles etc.

100% locally owned.

Ph 0800 030 712 or

027 695 0480.

2312759

other agencies

Sharon Grant

Find us on Facebook: (Budgeting Services North Canterbury)

MEADOW HAY, conventional

bales $10 per bale.

Dry and barn stored. Ph

Deb 021 289 9256.

Kaiapoi-Tuahiwi

Community Board

Vacancies

The Kaiapoi-Tuahiwi

Community Board

received two Board

vacancies in May 2022.

Section 117 (2) of the

Local Electoral Act

2001 enables avacancy

that occurs less than

12months before the

next triennial election can

remain unfilled. The next

Local Body election will

occur on 8October 2022.

Notice is hereby given,

under section 119 of the

Local Electoral Act 2001,

that at its meeting of 20

June 2022 the Kaiapoi-

Tuahiwi Community

Board resolved that the

two Board vacancies

created by the resignation

of Martin Pinkham

and the death of Chris

Greengrass will remain

vacant until the end of

the electoral term on 8

October 2022.

Jim Harland

Chief Executive

2494054

THE

INVISIBLE

MAN

The Rangiora Players

are presenting the "The

Invisible Man", a

retelling of the classic

HG Wells story,

adapted by Derek

Webb, directed by

Dimitri Gibara, for a

season beginning Saturday,

9th July at the

Rangiora Players Little

Theatre. Tickets and

more details are available

from the website

listed below

http://rp.nz

PUBLIC NOTICE OF

APPLICATION FOR

OFF LICENCE

SECTION 101, SALE

AND SUPPLY OF

ALCOHOL ACT 2012

Forthluck Ltd, 201 Davis

Rd, Cust, Canterbury

has made application

to the District Licensing

Committee at Rangiora for

the renewal of aOff-Licence

in respect of the premises

situated at 201 Davis Road,

Cust, Canterbury known as

Forthluck Ltd.

The general nature of the

business conducted (or to

be conducted) under the

licence is Remote sales of

alcohol –onlinesales.

The days on which and the

hours during which alcohol

is (or is intended to be) sold

under the licence are 7am

–11pm Monday to Sunday.

The application may be

inspected during ordinary

office hours at the office

of the Waimakairiri District

Licensing Committee at

215 High Street, Rangiora.

Any person who is entitled

to object and who wishes

to object to the issue of

the licence may, not later

than 15working days after

the date of the pubication

of this notice, file anotice

in writing ofthe objection

with the Secretary of

the Waimakariri District

Licensing Committee at

Private Bag 1005, Rangiora

7440 or email to records@

wmk.govt.nz.

No objection to the renewal

of alicence may be made

in relation to amatter other

than amatter specified in

section 131 of the Sale and

Supply of Alcohol Act 2012.

This is the first publication

of this notice.

2492869v1
---
CLASSIFIED

36 The North Canterbury News, June 30, 2022

Situations Vacant

SUPERVISOR WANTED

We are looking forawell organised personto

manage the distribution of advertising material

&local newspapers intohousehold letterboxes.

This is apart-time contract position where you can co-ordinate most of

your work from home, allowing the opportunity to continue or apply

for w

Theposition may include managing ateam of deliv This role could

suit an at home parent, retiree or someone returning tothe workforc

Youwill need asuitable van, mobile phone, computer with internet

access and be able to provide short-term undercover stor

Interested? Contact:

mark.kelly@mainlanddistribution.co.nz

DeliverersWanted!

Need some extracash??

Whynot get fit earningit!

Be part of adynamic team from areputable and

well-respectedcompanyand deliver advertising

material and newspapers to local homes.

Interested?

We requirehonest,reliable people,

aged 11 or over,inyour area NOW!

Forfurther details contact:

Martin Foley at Mainland Distribution

Email: martin.foley@mainlanddistribution.co.nz

Please include your

name, address and

contact details

CAREGIVER

PERMANENT/CASUAL

Applications invited for the above position

at our family friendly, privately owned and

operated Aged Care facility.

Must demonstrate a kind and caring

disposition, have strong interpersonal

skills, and experience working with seniors.

Preference to those holding industry

related qualifications L3, competence with

medication administration, and flexibility to

cover arange of shifts including weekends.

2493374

Expressions of interest with CV to

manager@bloomfieldcourt.co.nz

WANTED

FULL OR PART TIME WORK

Forenergetic mature person

relocating to Rangioraatend of June.

Qualified ApplianceService

Technician, alsoagreat DIYman.

Ph 021 978 348 (Ron)

will tackle anything.

HANDYMAN required to

install two container shelters

on farm outside

Amberley. (12mx8m).

Must have good welding

skills.

Email

ernestg@gladwines.com

Or ph Ernest 0275 881 442.

2475427

Livestock

HOME KILL

MEAT PROCESSING

MEAT2U.NZ

313 0022

2466978

OFFICE ADMINISTRATOR

Our wonderful office lady is

leaving the district.

We are abusy Kaiapoi garage

looking for ateam player with

acan do attitude. This is afull

time position.

In the first instance please

contact Brigitte on 027 249 1703

2493773

Entertainment

RANGIORA (N.C)

COUNTRY MUSIC

CLUB NIGHT

Monday 4 th July, 7pm

Rangiora Showgrounds,

Function centre,

156 Ashley Street.

New Singers and visitors

welcome

Enquiries Bob 021 111 5534

2492612

Gardening

A+ GARDEN hedges cut

to perfection. Tree &arbor

work. For a quote, phone

021 111 4322.

Pets

BICHON HOMESTAY

for smaller dogs. We look

after your dog in our home.

"No kennels". Phone today

03 314 6110.

Home Services

CARPET &UPHOLSTERY

CLEANING Commercial &

Residential. Servicing

North Canterbury. Ph Dave

at Christchurch Carpet

Cleaning 021-638-637

Motorcycles

WOF your motorcycle or

light trailer at South Pacific

Motorcycle Services, Mandeville.

Ph 03 312 0066

office@motorbiketours.co.nz.

Deaths

WEBB, Leslie Wayne (Les):

Passed away peacefully but unexpectedly on June

25 th 2022, at Christchurch Hospital surrounded by his

loving family. Dearly loved husband and friend of Lyn,

much loved dad and father-in-law toLarissa and Matt,

Janelle and Dan, Shaun and My. Beloved Grandad to

Luca and Isabelle, Frankie and Emmett.Much treasured

brother of Colleen Bevans and brother-in-law to Ash,

Norma, Neil, John, Sue, Kevin, Marlieta and the late

Robert.

Much thanks to Waipara Fire Brigade, Amberley St

Johnsand Christchurch HospitalICU staff.

In lieu of flowers, donations toStJohns may bemade

online@bit.ly/lwwebb2506

Acelebration of Les' life will be held at the Omihi

Community Hall, 9Reece's Road on Friday 1 st July at

11am for those unable to attend the livestream maybe

viewed viathe following link,

https://youtu.be/7EtU48GX25c

Private burial thereafter.

John RhindKaiapoi

2493704

Poultry

Cars Wanted

CASH 4CARS

and 4WD'S

Phone

Automotive

Parts

03 313 7216

FALCONS &

COMMODORES

WANTED

Suitable for

dismantling or repairs

Ph 313 7216

Trade&Services

BROWN SHAVER ABEL &Prestige Chimney

Pullets, POL, order now, Cleaning. Nth Cant owned

ready September, pick up & operated. Covering all

Clarkville $30. Please areas from Waimak to Hanmer.

phone 027 433 7720.

Professional, guaran-

teed, service. Firebox

repairs, carry most parts. Ph

Educational

0800 661 244.

ALL TREE SERVICES,

TUITION available. Primary

and secondary up to removal. Affordable &

arbour work, pruning, tree

NCEA level 3. In centre friendly service. Telephone

(Rangiora) or interactive 021 111 4322.

online from your home.

Each student on an individually

ARBORIST qualified.

tailored programme. Copper Beech Tree

Kip McGrath Rangiora has Services. Tree removal,

been serving the local community

for 30 +years. Give

pruning, height reduction,

hedge trimming, shaping,

us acall (03) 313 3638 or tree planting, firewood.

book your free assessment Free quotes. Contact Angus

online https://www. Edwards 027 259 6741

kipmcgrath.co.nz/rangiora. copperbeechtreeservices@gmail.com

2412522

CARS, vans, 4WD's

wanted for dismantling or

repair. Phone 027 258

8366.

Automotive Services

CARAVANS &

MOTORHOMES.

Interior &exterior repairs,

maintenance & upgrades,

based in North Canterbury.

Solar, satellite, awning

installations. Sheetmetal,

light engineering &welding

services. Professional

coach builder specializing

in the RV industry 25 years.

Call Darryl @ Advanced

Auto Homes 027 220 6566.

BRIAN'S Tree Services.

Tree felling, topping,

shaping, firewood cut, rubbish

removed, stump grinding,

branch chipping.

Affordable rates. Phone 03

327 5505 or 021 124 4894.

DIRTY TILES &Grout?

Professional tile cleaning,

tiled shower restoration,

mouldy silcone, shower

glass & we can even

recolour your old grout!

For all your tile and grout

issues call Grout Pro for a

free, no obligation quote.

Ph Darryl 0800 882 772.

www.theprogroup.co.nz/dpc9385.

Log Fires

Pellet Fires

Heat Pumps

Sales

Service

Installations

Free Quotes

03 343 1651

472 Blenheim Rd

www.heatstore.co.nz

HOMEKILL & Wild

Game meat processing. Ph

313 0022. www.meat2u.nz.

METAL WORX. Flashing,

Sheetmetal Fabrication,

Wrought Iron,

Welding, Custom Trailers,

General Metalwork. No job

too big or too small. Ph 021

265 5428 or 03 314 6908.

Find us on facebook/

Glenmark Metal Worx.

glenmarkmetalworx.ltd@gmail.com.

Pride &Quality Painting

&Decorating Services

20 yrs exp, fast and friendly

service. For all your painting

needs, phone: Martin 310

6187 or 021 128 9867

Trade &Services

EXCAVATION

SERVICES Small

Holdings Ag and Hire,

driveways, burn piles, rural

maintenance and more.

Phone Justin 021 045 0154.

KITCHEN,

renovations,

pergolas, fencing. Honest

reliable licenced builders.

Ph Don 027 727 9162.

PAINT & wallpaper

services. Wayne Bryant,

exterior, interior. Qualified

tradesman. Free quotes. Ph

313 5337 or 027 654 4568.

PAINTER & Decorator.

25 + years experience.

Interior /exterior, roofs &

waterblasting. For a free

quote, please ph Steve 03

314 4620 or 027 477 1930.

PAINTER. Qualified local

professional, Int / Ext,

roofs, wallpaper. Call or

text Corban 027 846 5035.

POWER TOOLS repairs,

parts &sales for over 40

years. All main brands serviced.

Grossman Trade

Tools, 23 Watts Road,

Christchurch. Ph 389 9230.

ANTHONY SYMONDS

Forall your painting &

plastering requirements

Local with 30 years

experience

All workmanship

Guaranteed.

Phone 021 344 023

2220615

PAINTERS

Reg Tradesman

Interior,exterior.

North Canterbury Painters

specialising in decorating for

over 65 at adiscount rate.

Free quotes.

Covering Nth Canty,Oxford,

Kaiapoi, Rangiora, Amberley.

Rob 03 327 7899

or 027 432 3520 2227597

REMOVALISTS

Movemen Ltd

2Men &agood sized truck.

From $169 plus GST per hour.

Kaiapoi based.

Call Gerard

027 668 3636

movemen.co.nz

2475397

SEPTIC TANK

CLEANING

Bill's Liquid

Waste

Blair Tavendale

Ph 03 314 9371

0275 379-694

2362002

You dump it...

Blair pumps it...

bathroom, SCREEN PRINTING.

decking, For all your printing

requirements. T-shirts,

Hoodies, Hi-Vis vests and

polos, Overalls, Caps etc.

Please phone Heather 03

313 0261 or email heather.

norstar@gmail.com.

027 216 0000

2225862

SHEARER. Hap's Farm &

Lifestyle Services. Shearing,

crutching, drenching,

tailing, feet trimming &

health check. — Ph. 03-

423-3713 or 021-267-4025.

CRAIGS Trees

(03) 327-4190

TREE REMOVALS

THINNING &PRUNING

STUMPGRINDING

FELLING &TOPPING

FULLYINSURED

QUALIFIED ARBORIST

Free Quotes

027 2299 454

craigstrees@xtra.co.nz

WINDOW TINTING

tintawindow

advanced film solutions

99% uv block

fade protection

heat control

reduce glare

25 Years Experience

privacy films

frosting designs

non-darkening films

Workmanship Guaranteed

Lifetime Warranties on Most Films

UV

block

Free Quotes Canterbury and Districts

03 365 3653 0800 368 468

2434390
---
Trusted Trades &

Professional Services

Guide

To book your spaceinthis guide,phoneAmanda Keys 313 2840 or email amanda.keys@ncnews.co.nz

Accountant

Automotive &Recovery

Builder

Butchery

Debra Jowsey &Karla Kilner

Ph 0276733330

We help with all Taxreturns for the

salary &wage earner,self employed, rental,

business,farm, GST, payday filing, rentalreturns

2469229

2070788

• WOF Cars &Trailers

• Vehicle Servicing &

Repairs

• Tyres &Punctures

• Jump Starts

•

Towing &Salvage

• Courtesy Car Available

Ph Aaron Rowlands

0272 588 366

13 Stone Eyre Place,

Swannanoa

Eftpos available Mon –Fri 8am –5pm, Sat 9am –1pm

• New Builds &Renovations

• Light Commercial /Re-strengthening

• Project Management

• Bathrooms

• Farm Buildings

• House Lifting Re-piling

• Shop Fit Outs

2408831

40+ years experience

027 222 5078

markw.hills@xtra.co.nz

OxfordButchery

Shane and Leanne Frahm

We cankill&process yourstock

FourGenerations of Frahms

since 1957

Ph 312 4205

Oxford

Number one

old-fashioned bacon

&ham curing.

A/H 312 4709

WE ARE OPEN, WEARE AESSENTIAL SERVICE

2227889v2

Carpentry

Cattle Problems

Computer Repairs

Construction &Concrete

2475070v2

Quality Workmanship •Friendly Service

New Builds, Renovations, Alterations, Decks, Pergolas,

JoineryInstallation (incl. Windows), Roofing

Ph: 027 390 3307 Email: jakec478@gmail.com

• Live Humane Capture

• Trucking

• Tagging

• Testing

• Sale of unruly, difficult, pesky

cattle

Profit share 50-50

Craig Flintoft 03 312 9432

craigflintoft@gmail.com

2459888

Bruce Evans

131 Ohoka Road

Kaiapoi

03 327 3111

021 293 6331

compucare@xtra.co.nz

www.compucare.co.nz

Computer Repairs &upgrades

Prompt professional services

2276525v2

Virus &malware removal

New &UsedPC's4Sale

All Construction & Concrete Work

•Driveways, patios &paths

•Bridges and Culverts

•Floors, foundations

•Sheds and buildings

•Dairy Sheds, Herd homes

•Silage pits, effluent ponds

•Excavation and cartage

•Precast concrete

•Insulated panels

Daryl Power

027 230 9401

concretepower@scorch.co.nz

www.concretepower.co.nz

2273277

DENTURE CLINIC

Ear Health

Electrician

Engineering

RANGIORA

DENTURE CLINIC

Garry WMechen

Registered Clinical DentalTechncian

Phone (03) 313-9192

38a Ashley Street, Rangiora

NEW N W DENTURES D ES

*RELINE * *REPAIRS

* I S

HOURS

8.30am -12noon

- Monday to Friday

FREE E CONSULTATION O

AND ADVICE

A V C

For a/h repairs

phone (03) 310-3044

For all your landscaping needs

All Landscaping, Retaining Walls (Engineered and

Non-Engineered), Timber Fences, Landscape Structures

and more...Lifestyle Block, Rural and Residential.

Phone Jeremy 021 169 9394

www.blackhill.co.nz

www.facebook.com/blackhillltd

2372616v2

Thursday,August 2, 2018 | Issue808 | www.ncnews.co.nz

Landscaping

HAVE YOU BEEN TO

OUR WEBSITE LATELY?

www.ncnews.co.nz

Visit now toview the paper online &more!

• Ear Health checks.

• Wax removal using Microsuction

• Removal of foreign bodies

• Basic hearing aid care

• ACC provider

• WarVeteran provider

• No medical referral

required

Clinics in Rangiora, Amberley and Kaiapoi

Rest homes/retirement villages, booking by prior arrangement.

Bookings: Online www.earcare.nz |Phone 020 4124 25 25

Email alison@earcare.nz | Ear Care Canterbury

2324849

HAVE YOU HAD

THE SNIP YET?

❖ Tree Topping ❖ Hedge/Shelter belt cutting

❖ Gorse Hedge &Under Pivot cutting

❖ Vegetation mulching

TAKING BOOKINGS NOW

Call Craig

027 222 1632

or 0800 SNIP IT

Email

craig@treesnip.co.nz

2MACHINES OPERATING CANTERBURY WIDE

2452097

Hedge Cutting /Tree Topping

www.treesnip.co.nz

Scrap Metal

CASH PAID FOR SCRAP

•Car Bodies •Scrap Steel•Specialists in Farm

Machinery•All non Ferrous

MAINLAND

METALS LTD

Ph (03)338 7000

Mike0274 818544 •Robbie 0274818 027

Locally owned and operated

1902273

A-GR8-SPARKYLTD

• All Commercial &Residential electrical work

• Fault finding and Test &tag

• Heat pumps, TV comms /Data

Daniel Parkin P 03 314 3706 |022 642 7078

Dirk Potgieter P 03 960 3798 |022 658 3344

E quicksill@gmail.com | W agr8sparky.co.nz

2130 Omihi Road, Greta Valley, 7483

Plumbing

For all

general

aspects of

plumbing

Discounts for over

65 years old

Fast friendly service

All work guaranteed

Aaron McCartney

Certifying Plumber

Cell 027 366 9091

A/H 03 310 2137

Free Call:

0508 44EVER

EMAIL:

plumber_27@yahoo.com

2172994

2464654

Seamless Spouting

Seamless Spouting

2269236

For your Engineering needs

187d Ohoka Road, Kaiapoi

Phone 03 327 5246 |027 495 2821

toppeng@xtra.co.nz

Supply and Install

of Seamless Gutters

10 year no leaks

guarantee

• Continuous spouting made on site,

large colour range available

• High grade and thicker material used

• Repair or replace any type of gutter

• Undertake all insurance work

• Independently owned and operated

• Competitive pricing

Servicing North CanterburyDistricts

Call Marvin 027 371 4179

spouting2u@gmail.com

2481421

Tools &Equipment

SALES

PARTS

SERVICE

ACCESSORIES

ON-FARM VISITS

Water Blasters, Log Splitters, Generators,

Air Compressors, Water Pumps, Air Tools, Spray

Equipment, Replacement Ag Seats, Small Motors.

Free local machinerydelivery.

Richard Black www.BLAX.nz

North Canterburyowned &operated

2435547v2

YOU

COULD

BE

HERE

Advertise

your business

in our Trades

and Services

Phone

Amanda Keys

on

03 313 2840

To book your spaceinthis guide,phone Amanda Keys 313 2840 or email amanda.keys@ncnews.co.nz
---
PASSENGER

RangioraToyota

2007Toyota BladeHatch

• 2.4L PetrolAuto, 7-Airbags

• Camera, Alloys, Half Leather

• 80,300kms

$

12,995

2007 Ford Fiesta

•1.6L PetrolManual

•5-door,Bluetooth,NZ-new

•Remote Central Locking

$

7,995

2015Toyota Ractis

•1.3LPetrolAuto, 45,550km

•CD/AUX/USB

Connectivity

WAS$14,995

$ NOW 13,995

2013Daihatsu Sirion

•1.3LPetrolAuto

•5-door,NZNew

•Only 42,936km

WAS$10,995

$ NOW 9,995

Signature

CLASS

2013LexusIS350 F-Sport

•3.5LPetrol, Leather,Camera,

•18" Alloys, Keyless,

•5-Star Safety, Satnav,

•Only 62,900kms $35,995

SUV

2017 Toyota C-HR Hybrid

•1.8L Hybrid Petrol

•Leather Interior, 5-Star Safety

•Satnav,Only 35,800kms

$

34,995

Signature

CLASS

2017 CorollaGLXHatch

•1.8L PetrolAuto, Alloys,

•Camera, FogLights

•Only 47,700km

$

23,995

2010 Toyota MarkXGS

•2.5LPetrol, Alloys,

•Camera, Rear Wheel Drive,

•Only 88,700kms

2019 Toyota C-HR Limited

•1.2LTurboAWD,Leather,

•5-Star Safety, Camera,

•Satnav,54,250kms

$

11,995 $

31,995

2018 Toyota HighlanderGXL

•3.5LPetrol

•Leather 7-seater,SAT/NAV

•Camera, only29,300km

$

53,995

2018 Rav4 GXL

•2.5LPetrolAWD

•Alloys, Camera, Satnav

•Keyless,DualZone Climate

$

29,995

2018 Toyota HighlanderGX

•3.5LPetrol, 8-Speed Auto

•7-Seater,Camera, Bluetooth

•84,700km

$

43,995

2019 Toyota Rav4 GX

•2.0L PetrolAuto2WD

•Alloys, Satnav,Camera

•Only 18,250kms

$

36,995 39,995

2017 Rav4 Limited

2.0L Petrol Auto

•2WD,Leather, Satnav

•Sunroof,5-Star Safety

•83,470kms

COMMERCIAL

$

30,995

2018 LandCruiser Prado

VX

•2.8L Turbo Diesel; NZ New, Leather

•7-Seater,Satnav,360 Camera,

•Only 52,800kms

$

75,995

2021 Toyota Fortuner

Limited

•150Kw 2.8LTurbo Diesel 4WD

•Black Leather,5-Star Safety

•Only 18,350kms

2014 Toyota Highlander GX

•3.5Lpetrol, 7- Seater

•Camera, Bluetooth

•Towbar

$

62,995 $

31,995

2016 HighlanderGXL

•3.5LPetrol, 7-Seater Leather

•Camera, Bluetooth

•Only 72,500kms

$

41,995

2017 HiluxSR2WD

•2.8L Turbo Diesel Auto

•Alloys, Bluetooth, Camera

•78,050km

$

39,995

2012Hilux2WD

•3.0L TurboDiesel Manual

•Bluetooth, Cruise Control

•Canopy,Towbar

$

26,995

2017 HiluxSR4WD

•2.8L Turbo Diesel Auto

•Canopy, Towbar

•Camera, Bluetooth

$

37,995

2015Ford RangerXLT

•3.2LTurbo Diesel Auto, 2WD

•Alloys, Bluetooth, Tonneau

•Rear Sensors

NOW

WAS$29,995

$

27,995

2022 Ex-Demo Hilux

SR5 Cruiser

2016 HiluxSR5 Limited 2021 Daihatsu HijetDump 2016 HiluxSR5 Ltd4WD 2017 HiluxSR4WD

2WD

Truck

•2.8L Turbo Diesel, TRDAlloys

•2.8L Turbo Diesel Auto

•2.8L Turbo Diesel, Leather,18"Alloys •650ccPetrolManual, 4WD

•Sports Lid&Bar,Leather

•Canopy, Towbar

$

•SportsBar

•Tipper Deck, DiffLocker, Hi-LoRatio •Satnav,Only83,800kms

•Camera, Bluetooth

•Tonneau.

•Only 100kms

74,995

$

42,995

$

31,995

$

49,995

$

39,995

Percival Street,Rangiora • Ph (03) 313-8186 any time • www.rangiora.toyota.co.nz

•150Kw2.8L Turbo Diesel, Auto

•Sports Bar &Lid,Leather

•5-Star Safety, Only 2,100kms

Signature

CLASS

2486635

FINANCE &INSURANCE AVAILABLE