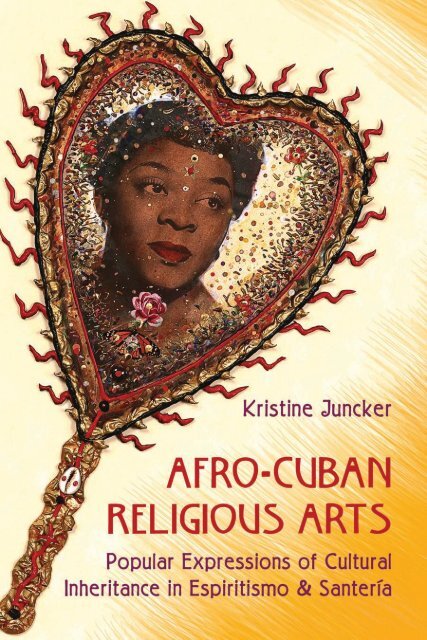 Afro-Cuban Religious Arts - Popular Expressions of Cultural Inheritance in Espiritismo and Santería
by Kristine Juncker
by Kristine Juncker
SHOW MORE
SHOW LESS
You also want an ePaper? Increase the reach of your titles
YUMPU automatically turns print PDFs into web optimized ePapers that Google loves.
Afro-Cuban Religious Arts

University Press of Florida

Florida A&M University, Tallahassee

Florida Atlantic University, Boca Raton

Florida Gulf Coast University, Ft. Myers

Florida International University, Miami

Florida State University, Tallahassee

New College of Florida, Sarasota

University of Central Florida, Orlando

University of Florida, Gainesville

University of North Florida, Jacksonville

University of South Florida, Tampa

University of West Florida, Pensacola
---
@

g

W

Afro-Cuban Religious Arts

Popular Expressions of Cultural

Inheritance in Espiritismo and Santería

Kristine Juncker

University Press of Florida

Gainesville · Tallahassee · Tampa · Boca Raton · Pensacola

Orlando · Miami · Jacksonville · Ft. Myers · Sarasota
---
Copyright 2014 by Kristine Juncker

All rights reserved

Printed in the United States of America on recycled, acid-free paper

This book may be available in an electronic edition.

19 18 17 16 15 14 6 5 4 3 2 1

Library of Congress Control Number: 2014934335

isbn 978-0-8130-4970-0

The University Press of Florida is the scholarly publishing agency for the State

University System of Florida, comprising Florida A&M University, Florida

Atlantic University, Florida Gulf Coast University, Florida International

University, Florida State University, New College of Florida, University of

Central Florida, University of Florida, University of North Florida, University

of South Florida, and University of West Florida.

University Press of Florida

15 Northwest 15th Street

Gainesville, FL 32611-2079

http://www.upf.com
---
This book is a part of the Latin American and Caribbean Arts and Culture

publication initiative, funded by a grant from the Andew W. Mellon Foundation.
---
To Samuel Aaron Shub
---
Contents

List of Plates

List of Figures

List of Tables

xi

xiii

xv

Acknowledgments

xvii

Note on Orthography and Naming xix

Introduction 1

1 Religious Pluralism and the Afro-Cuban Ritual-Arts

Movement, 1899–1969 12

2 Tiburcia and the Nested Spaces of Afro-Cuban Ritual

Arts, 1861–1938 41

3 Hortensia and Iluminada: Afro-Cuban Ritual Altars at

the Crossroads 69

4 Iluminada and Carmen: Arts of Historical Desire in 1950s

and 1960s Spanish Harlem 96

Conclusion: Afro-Atlantic Arts and the Popular Sublime 117

Appendix: Food for the Oricha 129

Notes 133

Bibliography 157

Index 169
---
Plates

Following page 108

1. Saint Anthony pendant, 18th century, Angola/Democratic

Republic of Congo

2. Wifredo Lam, The Chair, 1943

3. Cover of Bohemia magazine, September 1949

4. Permanent bóveda, 2003

5. Portrait altar, 2003

6. Temporary Espiritismo altar, 2003

7. Spirit-doll, 2003

8. Altar for La Caridad del Cobre, 2003

9. Detail of La Caridad del Cobre, 2003

10. Ex-votos in the Stove Street house collection

11. Temporary altar for San Lázaro, 2003

12. Tiburcia Sotolongo y Ugarte's figure of Eleguá, 1899

13. Cabinet altar for the oricha, Museo Municipal de Regla, Cuba,

1940s

14. Yoruba artist, Nigeria, Fan for Osun, ca. 1875–1925

15. Mensu, collected by Fernando Ortiz, ca. 1940

16. Centro altar belonging to Carmen Oramas Caballery, 2002

17. Detail of the Caballery Centro, 2002

xi
---
18. Francisca figure with two cups of coffee, 2002

19. Folkloric dance troupe and costumes representative of Vodú traditions

20. Beaded necklaces worn by priests of La Regla de Ocha

21. Altar for Francisca, 2002

22. Sopera for Oyá, purchased in 1969, photographed in 2002

23. Dress for Oyá, Bronx, New York, 1996

24. Sopera for Obba with interlocking bracelets, 2003

25. Betye Saar, Midnight Madonnas, ca. 1996

26. Ben Jones, Dinah Washington, Queen of the Blues, ca. 2003

27. Renée Stout, Hidden Room, 2010

28. Celebratory Espiritismo altar for the Virgin of Candelaria, Puerto

Rico, 2002

xii · Plates
---
Figures

2.1. Façade of the Stove Street house, Central Havana, 1920s 49

2.2. Plan of the Stove Street house with locations of permanent

altars 50

2.3. Plan of the Stove Street house with locations of temporary altars 51

2.4. Photographic portrait of Inés Izquierda, early 1900s 63

2.5. Axonometric drawing of the Stove Street house and altars 66

3.1. Photograph of temporary altar for La Caridad del Cobre, 1940s or

1950s 70

3.2. Photograph of temporary altar for La Caridad del Cobre, 1940s or

1950s 71

3.3. Photograph of Tiburcia Sotolongo y Ugarte, 1916 73

3.4. Photographic plate from La policía y sus misterios en Cuba, 1914 75

3.5. Photographic plate from La policía y sus misterios en Cuba, 1914 77

3.6. Photograph of temporary altar for La Caridad del Cobre, 1940s or

1950s 81

3.7. Photographic portrait of Hortensia Ferrer, ca. 1912 82

3.8. Photograph of temporary altar for La Caridad del Cobre, 1940s

or 1950s 85

3.9. Photograph of temporary altar for La Caridad del Cobre, 1940s

or 1950s 86

3.10. Photograph of temporary altar for La Caridad del Cobre, 1940s

or 1950s 87

xiii
---
3.11. Photograph of temporary altar for La Caridad del Cobre, 1940s or

1950s 88

3.12. Photograph of temporary altar for La Caridad del Cobre, 1940s or

1950s 91

3.13. Photograph of Hortensia Ferrer and her godson in front of a

temporary altar for the oricha, ca. 1992 94

4.1. Photographic portrait of Carmen Oramas Caballery, ca. 1980 98

5.1. John Jennings's drawing of trickster figure, The Hole: Consumer

Culture, 2008 127

xiv · Figures
---
Tables

1.1. Registered Espiritismo temples founded in the Province of

Holguín 16

1.2. Correspondences between African deities and Catholic saints in

Brazil, Cuba, and Haiti 20

1.3. Scale of intensity of New World Africanisms 22

n.1. La Regla de Ocha initiates in the period before and after the Cuban

Revolution 142

xv
---
Acknowledgments

The research for this study was done in New York, Puerto Rico, and Cuba.

A number of individuals made my research in these places possible, and I

owe them much gratitude. In particular, Z. S. Strother and Natalie Kampen

at Columbia University provided support for earlier drafts of this project.

The Research Centre on Cuba at the University of Nottingham, directed

by Antoni Kapcia, offered an interdisciplinary community in which to receive

feedback. Havana's Instituto Cubano de Investigación Cultural "Juan

Marinello" was the base for my research between 2002 and 2004 as well

as on return visits, and I am grateful to the research faculty there. Among

these knowledgeable scholars, I offer personal thanks to Marta Esquenazi

Pérez, Caridad Santos Gracia, and Denis Moreno for their advice and enthusiasm.

Starting in 2002 as a new archivist for the Instituto de Literatura y

Lingüística, Alina Cuadrado Castellejón had just inherited Fernando Ortiz's

extensive, and very loosely organized, files. I am grateful to Alina for her

sense of humor as we opened boxes together. I never met Mirta Ortega from

the Archbishop's Office in Havana in person, but we communicated by telephone,

e-mail, and post extensively. Some of the best materials cited herein

from institutions including the Archivo Nacional de Cuba, the Biblioteca

Nacional de Cuba "José Martí," and Jaruco's parish church come from my

collaboration with my archival research assistant, Roberto Gómez Reyes.

Roberto would call me at five in the morning to make sure we were the very

first researchers at any institution and that the archivist understood our goals

explicitly well in advance of our arrival. His enthusiasm for this project was

essential.

In many instances, objects or documents were in private collections, often

the collections of the individuals I interviewed. As an art historian, my

priority for this project has been the compilation of visual documentation in

order to trace Afro-Cuban art history. The irony of this study is that religious

xvii
---
art is often extremely personal and composed of ephemeral materials, and its

life span is almost always finite. I have endeavored to respect the wishes of

my collaborators, photographing and reproducing only what I was allowed

to by the current owner. In honoring the requests of these collaborators, I

have changed a few of the street names and names of individuals. I am particularly

grateful to the following individuals who graciously tolerated my

persistent visits, telephone calls, and e-mails throughout the research and

writing process: Elias Asef, Cheryl Bonaparte, Elsie Cabrera, Olga Calvo

Puig, Ángela Calvo Puig, Josefina Calvo Puig, Zenaida Calvo Puig, Nelson

Castellanos Tápanes, Carmen Celia, the late Berta Chacón, Anita Corona,

Radamés Corona, Manuel Delgado Almas, Jorge García, the late Zenaida

Justíz, Neida Lee Puig, Marlina Lescaille Taquechel, Francisca Lizzi, Diana

Mabry, Ophelia O'Neil, Carmen Oramas Caballery, Salvador Ortiz Jr., Anna

Ortiz, José Ortiz, Anthony Ortiz, Jonathan Ortiz, Adam Ortiz, Adrian Jesús

Ortiz, María Ortiz, Evangelista Ortiz, Minelba Ortiz, Esther Ortiz, Neggie

Osorio, Anna Pino, the late Joselito Quintero, Esteban Ramos, Luis Ramos,

Jaritza Rodríguez, and the late Hermes Varela.

This study has benefited from groundbreaking advances in art history

including the history of African diasporic art, as well as performance art,

architecture, installation art, and photography. I am especially grateful to

the scholars in these disciplines for their inspiration. My interactions with

the following individuals have been important for my own critical development:

Alexander Bortolot, Nichole Bridges, Sarah T. Brooks, Meredith

Davis, Pippa Hennessy, Elizabeth Hutchinson, Kate Isard, Susan Kart, Lucy

Maulsby, Steven Nelson, Esther Pasztory, John Peffer, David Rifkind, Ruth

Steinberg, Kate Webber, Kelley Wilder, and Siona Wilson. They all have provided

responses to different drafts, presentations, and portions of the text,

for which I am indebted. I am also very thankful for the work of anonymous

peer reviewers.

The support of my family was essential and boundless. I offer many

thanks to my mother, Jo Anne Juncker, and my siblings, Elizabeth Hagymasi

and Robert Juncker, as well as their families. My partner, Daniel E. Shub,

deserves much credit as he believed in me and this project at those critical

moments when written history is otherwise easily abandoned. This book is

dedicated to our son, Samuel Aaron Shub.

xviii · Acknowledgments
---
Note on Orthography and Naming

Hispanophone Afro-Caribbean ritual languages remain somewhat unstandardized.

The growth of written material by practitioners and scholars provides

some emerging norms, however. In my own prose and when I quote

from oral conversations, I attempt to use the most popular and respectful

Hispanophone-Caribbean spellings that I have encountered throughout my

twelve years of research on this material.

In my own writing, I standardize religious terms to make them accessible

to contemporary readers. However, in the extant written notes of the women

featured in this volume, the spelling of key terms varied greatly. These variations

occur for both Afro-Cuban ritual terms as well as late-nineteenth- and

early-twentieth-century Cuban Spanish words. In direct quotations, I chose

not to use "[sic]" to call attention to these variations because I believe that

these nuances help reveal the growth of the Afro-Caribbean ritual arts movement

during the period considered here.

In a similar vein, the names of Afro-Atlantic belief systems are highly variable,

tending toward regional, if not political, and even sometimes individual,

distinctions in expression. Throughout this volume I discuss different

Afro-Atlantic belief systems, including Espiritismo, La Regla de Ocha, and

Palo. Again, I have attempted to select the most popular, respectful terms

for these belief systems. I often use the term Espiritismo to refer to Afro-

Caribbean Spiritism practices. There are many types of Spiritism, and in

this text I engage black Atlantic Spiritist practices that are highly invested

in African diasporic identities. The practitioners with whom I have worked

do not label the different types of Espiritismo ritual practices they employ,

and as a result, neither do I. The term Santería remains popular among laymen,

but contemporary religious leaders involved in the celebration of the

oricha, or divinities derived historically from the folklore of West Africa,

prefer La Regla de Ocha. In my writing, I have used this formal appellation

xix
---
and not the nickname Ocha, because La Regla de Ocha is the term that best

encompasses all the different lines of practice in Cuba. At just a few points in

the text, I do amend "Palo Monte" to read simply "Palo." In this, I am following

Todd Ramón Ochoa's shorthand in his 2010 account of Congo-inspired

religious practices in Cuba, Society of the Dead. Palo is the common term

used among audiences in Cuba and better encompasses variations of the

practice, such as Palo Briyumba and Palo Monte. Truly, these terms reveal

the complex politics of these religious arts practices.

Most significantly, I found throughout my fieldwork that the names of

the four women whose work is studied here are by no means standardized.

Only one of Tiburcia Sotolongo y Ugarte's living relatives even knows Tiburcia's

full name. Some knew her as "Tiburcia Sotolongo," but all referred to

her simply as "Tiburcia." Likewise, Victoria Hortensia Ferrer was commonly

referred to as "Hortensia," or even "Chencha" or "Chenchita." Iluminada Ortiz

Sierra and Carmen Oramas Caballery also have a substantial number of

names and nicknames. This does not include the ritual names belonging to

the four women. Each also had a new name given to them during different

religious initiation ceremonies, which I mention in the appropriate chapters.

What is noteworthy is not the number of names given to them, but the

intimacy that these popular name forms reveal. In complete opposition to

the European-derived practice of formal prefixed titles or the insistence on

being called by the family's last name, these women consciously chose to

be known by their first names and thus as familiar, comfortable figures in

their communities. Furthermore, in the Caribbean following emancipation,

"family" surnames were still usually the names belonging to the former slave

owner. Therefore, the preference for the first, individual name is also a traditional

act of resistance. The women's chosen names speak volumes about

their form of leadership in the Afro-Caribbean ritual arts community. My

text therefore respects this approachability and I mostly use the women's

first names: Tiburcia, Hortensia, Iluminada, and Carmen.

xx · Note on Orthography and Naming
---
@

g

W

Introduction

In this book, I examine the religious art created by four

twentieth- century Afro-Caribbean women. The art featured here largely

pertains to two distinct belief systems, Espiritismo and La Regla de Ocha.

I argue that neither religious-arts practice can be understood in isolation,

since dialogue among religious leaders, as well as their various arts practices,

has been critical to the growth of the Afro-Caribbean religious movement. 1

Analysis of this dialogue permits a better understanding of Creole religious

arts and the way in which they reveal the critical interaction of disparate

cultures in the Americas. The women presented here—Tiburcia Sotolongo

y Ugarte, Hortensia Ferrer, Iluminada Sierra Ortiz, and Carmen Oramas

Caballery—represent four consecutive generations of leaders from one

Afro-Cuban religious family. Covering the years 1899 to 1969, their case

studies allow for a close examination of the larger social and political forces

that shaped the growth of Afro-Cuban belief systems in the early twentieth

century while also respecting the role of individual agency in the expression

of religious art. Through them, I seek to characterize a modern Afro-Cuban

religious-arts movement that has set the stage for the global expansion of

contemporary popular Afro-Atlantic arts.

It is important to note that this movement took shape through the creation

of new familial connections, or what Roger Bastide has termed "fictive

kinship." 2 To clarify, the four women discussed here are not blood relatives.

Rather, all four lost their immediate families due to circumstances common

to their respective generations and were forced to forge new family ties.

Tiburcia Sotolongo y Ugarte (1861–1938) lost her mother, Josefa, in 1868.

Documents pertaining to the plantation where Josefa and Tiburcia lived

indicate that the cause of Josefa's death was probably cholera, which was

common among enslaved men and women due to poor housing conditions. 3

Similarly, in Havana City, Hortensia Ferrer (1906–1992) lost her mother to

1
---
tuberculosis in 1912; she was later adopted by Tiburcia. The conditions of

Iluminada Sierra Ortiz (ca. 1918–1981) and her family are unknown, but

she left Mayagüez, Puerto Rico, as a teenager in the 1930s, traveling to San

Juan, Puerto Rico, and then Havana, Cuba, where she too became a part of

Hortensia's religious family. After leaving Havana for Spanish Harlem, New

York City, around 1957, Iluminada then befriended Carmen Oramas Caballery

(1933–present) and became her mentor. Like Iluminada, Carmen was

born in Mayagüez, Puerto Rico. Her mother had died from complications

of childbirth a few weeks after her birth. In Spanish Harlem in the 1950s

and 1960s Iluminada and Carmen shared much in common as they sought

to carve out livelihoods for themselves and to support their children. For

all four women, after the loss of immediate family connections, illness, or

financial difficulties at an early age, advice from community members led

them to the practice of Afro-Caribbean religion. The women did not simply

take up religious leadership roles based upon the expectations of their

friends and neighbors; they wielded those roles with strength and creativity.

Indeed, all four of the women studied here created new families through

the establishment of new traditions of Creole cultural expression—families

that provided a sense of identity and belonging amid the Afro-Caribbean

diaspora.

By examining the extant arts practices of these four women, I begin to

address what has been an acknowledged void in the history of Afro-Cuban

religions. Many scholars have noted the critical role women have played in

the shaping of Afro-Atlantic religious practices—specifically, the greater

level of religious participation by women and their pivotal organizing function.

4 Karen McCarthy Brown's innovative work, involving extensive oral

interviews, has effectively brought the roles of twentieth-century women in

Haitian Vodou to light, and it has had a tremendous influence on the development

of the present work. 5 In contrast to McCarthy Brown's use of

oral history, other scholars have relied regularly on archival materials that

mainly document the roles of men in Afro-Caribbean religions, overshadowing

women's contributions. The anthropologist Stephan Palmié has

lamented his "inability—conditioned by the data at my disposal—to adequately

address what . . . [literary scholar Rita Felski] calls the gendered

nature of modernity." 6 As Palmié's work shows, a great deal of the material

chronicling men's contributions to the history of Afro-Atlantic religious arts

is culled from police blotters or legal documents. Much like European and

North American artists of the avant-garde whose work challenged the laws

2 · Afro-Cuban Religious Arts
---
and accepted cultural norms of the modern period, the "criminal" acts of

Afro-Caribbean men also placed them within that art historical period of

rebellion. Moreover, such police attention brought the religious art created

by Afro-Caribbean men to greater prominence than that of the women.

Rita Felski argues that women's interpretations of modernity—not as categorically

disruptive as the work of men—is an underrecognized movement

globally. In particular, she finds that it was within the movement popularly

identified as "Spiritism" (which generally contains a variety of belief systems)

that a space emerged where women could explore their modern identities

and interpret their "historical consciousness," or experiences of temporality.

7 Just so, the work of the women featured here is built upon styles of expression

recorded in resources that are less sensationalized and that have received

less scholarly attention. According to Palmié, the scholarly ignorance

of Afro-Atlantic women's roles may have begun "in the nineteenth-century

male bourgeois imagination by the apparent feminization of modern mass

consumption." 8 Which is to say, much of the work created by women in the

modern period became too popular too quickly to be considered worthy of

interest.

The popularity of their work notwithstanding, the women presented here

emerge as important interpreters of the modern Afro-Atlantic religious-arts

movement. However, periodizing this movement is further complicated by

what Paul Gilroy has described as the "long history" of Atlantic modernity.

Gilroy places the start of modernity in the Americas in the colonial period,

when the New World economy was built upon the backs of black men and

women. 9 At the start of these human chattel practices, international traders

brought in black males in greater numbers. 10 However, in the face of

the nineteenth-century abolition movement, the importation of women

and children as a way to preserve the labor force became increasingly more

significant. 11 The economic separation of the sexes throughout this period

has had a tremendous impact on gender roles and cultural expression in the

Americas. The earliest tensions of slavery caused colonial anxiety and the

development of stereotypes concerning black men's resistance to slavery

practices. Black women, however, were considered to be far more acceptable

as teachers of black culture, since they were brought in to fulfill their role as

mothers. 12 Unfortunately, plantation culture provides specious documentary

material and very little archaeological evidence from the colonial period.

As a result, studies of Atlantic modernism have placed more emphasis

on the late nineteenth and early twentieth centuries, which yield better and

Introduction · 3
---
more comprehensive documentation of African cultural identity than exists

for the earlier period.

The unsteady endpoints for Atlantic modernity as they are loosely described

here appear to be those moments when the postmodern critique

confronts the discourse of modern historical identity. Gilroy sees postmodernism

as a reactionary movement, or double consciousness, as exemplified

in texts by authors such as Toni Morrison, or in music such as that of

James Brown and Fela Kuti, 13 all of whom offer highly critical assessments

of modern black Atlantic history. I place myself in a later generation of this

burgeoning movement of historical critique, and this book came about as a

result of invitations from a number of the younger family members of Carmen

Oramas Caballery, my youngest subject.

My interviews and discussions with the extended immediate and religious

families of all four women were always comfortable—but there was always a

tinge of concern about what I would write. In particular, my inclusion here

of the important historical role of Espiritismo in the women's religiosity is

somewhat contradictory to the strong La Regla de Ocha identity presented

by recent and current generations of this large religious family. However, this

critical version is one that these extended communities anticipate to enrich

their understanding of their past; they benefit by my adding a few names,

images and, perhaps, more of a narrative with which to engage their present

audiences. More specifically, here, the women's inheritance of a particularly

strong visual-arts practice comes to the fore. Throughout my fieldwork, it

became clear that for these four women and the numerous individuals they

have trained, there is a high regard for the role of visual arts in their religious

practices, even as other religious families have emphasized very different aspects

of ritual-arts practice, such as the study of ritual language and writing,

music, or dance. 14

Although I examined the histories of many other religious leaders, I chose

to write about this particular religious family because its members have had

a demonstrable impact on the visual arts within the larger Afro-Caribbean

religious movement. In La Regla de Ocha, most objects are destroyed upon

the death of the santera, or priest, and Espiritismo objects are rarely valuable

enough to even be passed on. 15 However, in the special circumstances of

this family, treasured items were photographed, stashed away, and otherwise

preserved, sometimes under difficult conditions. The preservation of such

art objects and documents across the span of the lives of these four women is

rare and attests to the impact they have had on their community and on the

4 · Afro-Cuban Religious Arts
---
itual arts. The arts employed by them for their work in Espiritismo and La

Regla de Ocha established ties that continue to align and nourish the thriving

religious families of their contemporary successors.

Two Belief Systems: Espiritismo and La Regla de Ocha

The close communities created by the women emerged in their Espiritismo

practices and were solidified through their involvement in La Regla

de Ocha. Afro-Caribbean Espiritismo, or Spiritism, is a popular belief system

that broadly celebrates the spirits of the dead through mediumship and

the construction of altars. 16 Afro-Caribbean Espiritismo usually involves

some mentorship, with espiritistas "crowning," or initiating, new mediums

as well as training these initiates in how to work with the dead, including

altar practices and the related use of traditional plants. Many of the spirits of

the dead that these women celebrate are not blood relations but ancestors

to Caribbean cultural history. Therefore, Espiritismo serves as a means to

learn about ancestors who share the very diverse backgrounds foundational

to Caribbean culture. In order to celebrate the dead and acknowledge their

distinctive histories, mediums, or espiritistas, frequently rely on imagery and

arts from Catholicism and other belief systems to attract spirits who share

many different religious backgrounds. Because of this interest in ancestors

and the study of related imagery, Caribbean Espiritismo has had a particularly

important relationship with other Afro-Caribbean religions.

Among these belief systems, Afro-Caribbean Espiritismo often makes

reference to the dead who celebrated La Regla de Ocha. Translated directly

as "The Rule of Ocha," La Regla de Ocha honors the oricha, or the divinities

who encompass a vast body of folklore that popular history describes

as originating from West African belief systems. The oricha are the avatars

of natural forces such as lakes, rivers, oceans, mountains, farmlands, forests,

stormy weather, and even the air. These divinities are characterized differently

from the popular saints of European Christianity, who are regarded

often with a solemn piety. Rather, the oricha comprise a wide variety of male

and female characters whose mythology includes trickster figures, warriors,

hunters, parental figures, aged and wise characters, highly sexualized figures,

asexual characters, teetotalers, drunks, witches, sorcerers, healers, and farmers.

Many practitioners embrace La Regla de Ocha because the oricha are

directly representative of the everyday characters with whom everyone must

interact. A person is often considered to be the "child" of the oricha whose

Introduction · 5
---
folkloric character she may resemble, and during ritual events diviners often

confirm such relationships. For example, a person who constantly changes

the times for scheduled meetings might be considered to be a trickster figure,

or a child of Eleguá. When initiated into La Regla de Ocha, santeros

receive ritual art objects that allow them to appeal directly to their oricha to

ask for help with issues related to an oricha's particular character trait. The

practice of La Regla de Ocha is thus dependent on a set of godparents—a

primary godmother or godfather, the madrina or padrino, as well as a secondary

godparent, the iyabuona, who train the initiate to work with her altar.

The four women in this study, however, are known to have advised their

followers to first approach the dead through Espiritismo before consulting

La Regla de Ocha's divinities about their concerns. Or, in the words of the

popular Afro-Caribbean proverb, "Sin los muertos, no hay santo" (Without

the dead, there is no saint—or, more accurately, no oricha). In one sense, the

proverb acknowledges the historical relationship of the dead who brought

the oricha to the Americas. More to the point, however, the proverb advises

that one should always turn to one's ancestors before asking a divinity for

intervention. It is generally believed that for the living practitioner, the dead

accessed through Espiritismo may be better able to appeal to divinities from

other religions, including La Regla de Ocha's oricha. During the lifetimes of

the four women in this study, from 1899 through the present day, Tiburcia

Sotolongo y Ugarte, Hortensia Ferrer, Iluminada Sierra Ortiz, and Carmen

Oramas Caballery are all known to have repeated this maxim to their families.

Each woman relied on both Espiritismo and La Regla de Ocha, developing

an intricate system of what could be described as "public" and "private"

religious work. 17 That is, the women and their religious successors have situated

their altars along distinct social and spatial axes: they maintained different

altars for distinct religions in separate spaces or in rooms that they could

rearrange depending on their varying types of audiences or clientele.

The art and altars of Espiritismo celebrate the dead, and they are generally

open to the public. That is, Espiritismo altars are accessible to a wide

spiritual clientele, both initiates and non-initiates of La Regla de Ocha. In

contrast, access to an altar for the oricha not only requires a special initiation

rite, but use of this altar is usually limited to a select group of individuals or

a particular religious family. The priest, or santera, typically supervises these

"private" interactions. She may allow a visitor to leave an offering in front

of her La Regla de Ocha altar, but only experienced priests of La Regla de

6 · Afro-Cuban Religious Arts
---
Ocha are ever allowed to see the altar's interior contents, and even then, the

santera almost always supervises any interaction with her altar.

This secrecy surrounding the arts practices of La Regla de Ocha and its

overt association with West Africa has always attracted a great deal of attention

from scholars. Most recently, as the history of Caribbean belief systems

has come under closer scrutiny, scholars have begun to pay much closer attention

to the origins of the Espiritismo movement there. The literature still

largely presents the movement as a direct descendant of the original Spiritism

movement that began in France with Allan Kardec (né Hippolyte Léon

Denizard Rivail, 1804–1869). Kardec's most important works were Le livre

des esprits (The Spirits' Book), published in 1857, and Le livre des médiums (The

Book on Mediums), published in 1861. By the late 1860s and 1870s, both had

been translated from the French into several languages, including English

and Spanish, and were beginning to have a tremendous influence on related

middle- and upper-class religious-arts practices in both Europe and North

America. 18

However, an examination of Kardec's written work demonstrates that

this form of Spiritism probably did not have a pervasive influence on late

nineteenth- and early twentieth-century Afro-Caribbean Espiritismo. For

instance, Tiburcia Sotolongo's practice of Espiritismo could not have followed

the Kardecian guidelines only then recently brought into Cuba; Tiburcia

was not literate. Some scholars now make a distinction between the

practice of Kardecian Spiritism and the Afro-Caribbean Espiritismo movement:

"Although [North American and European] Spiritism initially had

its greatest impact on the literate middle-class sectors in Cuba and Puerto

Rico, other classes began practicing their own variety of Creole Espiritismo

in a culture already prepared to absorb a doctrine that reinforced existing

spiritual beliefs." 19 Throughout this book I argue that in the late nineteenth

and early twentieth centuries, Kardec's work had only minimal influence on

modern Afro-Caribbean Espiritismo arts practices. Unlike Kardec's model,

which advocates little to no interest in the visual arts, Afro-Cuban Espiritismo

expresses an interest in altar construction and sculpture with the same

enthusiasm as other African diasporic religions.

Long before the introduction of Kardec's publications, many captives

brought to the Americas by the slave trade were already practicing a combination

of African folk Catholicism and spirit possession that involved

art and altar practices. Catholicism had spread throughout Central Africa

Introduction · 7
---
during the sixteenth and seventeenth centuries, well before Kardec's time. 20

Notably, this spread of Catholicism had occurred throughout much of Central

Africa without extensive European clerical supervision and had led to

many indigenous interpretations of Catholic beliefs. Following customs

in the region, Central African Christianity honored the spirits of the dead

to a much greater extent than did European practice. Also, evidence from

Central Africa points to the use of saint sculptures and crucifixes as critical

objects in these regional practices honoring the dead. Many of the extant

sculptures are small and therefore intended to be held and carried by an individual.

Museum collections of this imagery, such as the many figures of Saint

Anthony, point to this widespread practice. Other examples, such as the

well-worn Saint Anthony pendant in the Metropolitan Museum of Art, indicate

extensive use and handling (see plate 1). Importantly, Central African

Christianity arose in tandem with the American slave trade. The historian

John K. Thornton has argued that Catholicism in Central Africa intensified

in reaction against the Congo River Basin wars, also brought about by the

local slave trade. 21 It is likely that Central African Catholicism also became

fertile ground in the ongoing protest against slavery in Latin America. 22 The

art historian Judith Bettelheim corroborated this history by documenting

the contemporary connections between the imagery of Afro-Caribbean

Espiritismo and that of historic Central African belief systems. 23

Beyond the likely relationship between Central African mediumship

practices and modern Afro-Caribbean Espiritismo, there is the question of

the differences between Kardecian Spiritism and those two belief systems.

Kardec's writing indicates that the most powerful, and therefore the most

communicative, spirits are prominent individuals from recorded history, and

he offers as examples spirits who are in the service of major saints, famous

individuals, or deceased immediate family members. 24 Afro-Atlantic-related

spirits, however, are not necessarily famous individuals. Caribbean espiritistas

frequently work with a number of different, and usually unknown, spirits

of the dead whom the mediums recognize for their spiritual contributions

to Caribbean culture. In addition, Kardec's work does not anticipate the vast

cultural diversity that Caribbean espiritistas celebrate. This diversity should

not be underestimated, as espiritistas celebrate the spirits of the dead from

many cultures, including spirits from Asian, Arab, European, and African

nations.

No matter which cultural histories may have primed the Caribbean Espiritismo

movement, the earliest documentation we have on the practice

8 · Afro-Cuban Religious Arts
---
of Spiritism among the black population in Cuba is from the archives of

the Spanish colonial government and the Catholic Church. In the 1880s

and 1890s, all regular social gatherings were required to be recorded by the

provincial governments in a Registry of Associations. Registry documents

outlined organizations' bylaws, including information about each group's

purpose and a description of its meetings and the different leadership roles

held within any organization. Hundreds of groups are listed in the Registry

of Associations under the category "Espiritismo," and their documents

regularly make reference to such groups celebrating spirits with African

identities. These documents rarely cite Kardec, so it appears that Kardec's

writings only slowly permeated local practices. Moreover, the Kardecian

manuals predominantly in circulation in the Caribbean from the late 1880s

to the early 1900s were not Kardec's major theoretical texts, but variations

on the prayer books Kardec produced late in his career and collections of

his adapted prayers published posthumously. 25 Kardec's abbreviated Spiritist

manuals that have been used throughout the Caribbean are generally

compilations of extremely popular Catholic prayers, songs, and biblical

texts. Rather than use books produced by the Catholic Church for prayer,

Afro-Caribbean Espiritistas have preferred to consult these short, inexpensive

collections. The brevity of these manuals encouraged spontaneity rather

than adherence to a written plan. In fact, during misas espirituales, or spiritual

masses, audiences recited many of these prayers and songs from memory. 26

Today, Caribbean Espiritismo is extremely creative and variable, and very

few groups follow Kardec's guidelines to the letter. 27 Large volumes have

been written attempting to codify and define the many different types of

contemporary Espiritismo practices. 28 Such codification of Espiritismo is

complicated by the fact that many espiritistas—including the women studied

in this volume—regularly change their style to suit different audiences

and the requirements of different types of celebrations. After more than

eighteen months of fieldwork in Cuba, three months in Puerto Rico, several

years in New York City, and ongoing visits to the religious families described

herein since 1998, I have attended more than a hundred spiritual masses as

well as several dozen celebrations for La Regla de Ocha, and I can attest that

no ceremony is ever the same as any other. Creativity and variation are the

rules for any celebration, whether this is expressed through the visual arts,

music, dance, or some combination thereof.

Today, the most popular forms of Caribbean Espiritismo include Mesa

Blanca, or "White Table," Spiritism, which is particularly popular among

Introduction · 9
---
smaller congregations of people, and Espiritismo Cruzado, or "Crossed Spiritism,"

which is common for larger celebrations, especially in Cuba. Mesa

Blanca Spiritism is the simplest manifestation of Espiritismo and requires

very little altar preparation outside a table usually covered with a white cloth,

at least one container of holy water, and perhaps some flowers and perfume.

This simple organization allows for small private consultations or intimate

spiritual masses. The minimal requirements also permit Espiritistas to become

creative and expansive in their altar installations. 29 Crossed Spiritism,

which is practiced most popularly in Cuba, can be quite elaborate and relies

on art, music, and popular prayers from other religions in order to channel

ancestors from diverse backgrounds during its ceremonies. 30 The four

women in this study practiced a number of different styles, from spiritual

masses similar to contemporary Mesa Blanca to larger celebratory events

employing musicians and relying on large temporary altars. 31

It is not a coincidence that it was during the time when the religious art

and ritual of La Regla de Ocha became increasingly standardized that the

women here sought to channel ancestors and preserve their religious-arts

practices. 32 It is also not a coincidence that these four influential religious

artists are women. In the early twentieth century, Afro-Cuban male religious

practitioners, particularly those participating in the exclusive Abakuá men's

associations, came under suspicion for organizing politically. 33 Women,

notably, did not experience the worst of this early-twentieth-century discrimination

and were thus able to continue to work to enrich their public

religious-arts practices.

In the 1960s, political changes shattered the popular rise of women's leadership

roles in Espiritismo. Although the advent of socialist forms of government

is usually understood to have improved women's rights in Cuba

generally, that was not to be the case with respect to Espiritismo practices.

After the Cuban Revolution of 1959, the Cuban Socialist Party set out to promote

Cuba's African heritage as a way to differentiate itself from the previous

government. But it was not felt that women's use of the visual arts in their

practice of Espiritismo demonstrated a strong enough connection to Cuba's

African roots. Indeed, since it often engendered references to the Catholic

saints, Espiritismo and the related arts as practiced by female Afro-Cuban

religious leaders actually generated a certain distaste among academic,

social, and political leaders. In the early 1960s, the nascent Revolutionary

government accused the Catholic Church of organizing against it. Newspapers

of the period indicated that several churches had gathered arms. In

10 · Afro-Cuban Religious Arts
---
a somewhat haphazard response, the Revolutionary government then went

about seizing any vestige of Catholic imagery, including Espiritismo altars

and objects from private homes. Ultimately, it was the Revolutionary government's

early policies that were most responsible for the discrimination

that befell women's religious art and that discredited the role of many espiritistas

both in Cuba and in the broader Afro-Caribbean region. As to the four

women studied here, I argue that just before and even during this backlash

against Afro-Cuban women Spiritists, they were already incorporating vital

new cultural and gender imagery into their religious art, and that despite the

backlash, this new art served to attract new clients and practitioners to their

religious houses. Effectively, it was this new, Creolized imagery that actually

made the twentieth-century international explosion of Afro-Cuban ritual

arts possible.

y

It is important to define the terms Creole and Creolization, which are used

in a particular way in Caribbean studies. In 1996, Antonio Benitez-Rojo

wrote that the term Creole was originally used not only to describe a spoken

language but also to characterize the material culture and ideologies that

emerged in the Caribbean during and after the colonial period. 34 Today, the

use of the term Creole also includes a nod to contemporary scholarship on

transculturation. Which is to say, Creolization no longer connotes a Caribbean-based

minority culture adapting traits from a larger, supposedly dominant

group of people; rather, it describes an exchange between cultures, occurring

in various places and at varying times and resulting in the emergence

of a completely new cultural dynamic. 35 This process of transculturation,

particularly when emergent hybrid belief systems such as Afro-Caribbean

Espiritismo and La Regla de Ocha interact, is so dramatic that the resultant

cultural syntheses will continue to spread. The critical interchange among

the multiple ritual-arts practices employed in the work of Tiburcia Sotolongo

y Ugarte, Hortensia Ferrer, Iluminada Sierra Ortiz, and Carmen Oramas

Caballery exemplify this dynamic.

Introduction · 11
---
@ 1

W

Religious Pluralism and the

Afro-Cuban Ritual-Arts

Movement, 1899–1969

In this chapter, I examine the literature on Afro-Cuban religious

arts from 1899 to 1969. I do not offer an exhaustive survey, but a close

examination of the texts that I consider the most critical and descriptive of

the period in which my four subjects worked, including criminology treatises,

academic texts, the literature on historical avant-garde art movements,

and Cuban popular-culture magazines. These materials have had an impact

not only on the broader written representation of Afro-Cuban religious art,

but also on many individual practitioners and their belief systems (including

folk Catholicism, Espiritismo, La Regla de Ocha, Palo, Arará, the Abakuá

Society, and Vodú, a Cuban variation of Haitian Vodou). Rather than focusing

solely on the literature of a single religious practice, my aim here is to

consider the broadest discourse on modern Afro-Cuban ritual arts.

The reason for this expansive examination is that throughout the twentieth

century many women and men—and especially those working as religious

leaders—practiced more than one Afro-Cuban belief system. Likewise,

trends in the literature contributed to the development of religious-arts

practices across multiple Afro-Atlantic belief systems. The core authors

featured in this discussion, including Fernando Ortiz, Melville Herskovits,

Rómulo Lachatañeré, Lydia Cabrera, and William Bascom, as well as

popular-culture sources including the Cuban magazine Bohemia, recurrently

changed how they described artistic practices. These authors and

periodicals often attempted to identify the historical origins of popular religious

imagery broadly as either African or European, just as they located

the origins of other ritual art objects more precisely, pointing to specific

regions—especially areas of West or Central Africa. Such attributions led

12
---
to the demonization of certain Afro-Cuban ritual art objects and practices

while others were deemed exemplary, which I discuss shortly. As a result of

these highly variable characterizations, not just scholars, but religious leaders

and audiences came to treat the different structures maintained in Afro-

Caribbean ritual arts inconsistently. 1

Through this examination of the foundational literature on Afro-Cuban

religious arts, I find that early twentieth-century discourse caused significant

debate but did not come to terms with the creative characteristic of hybridity

and interaction upon which Afro-Caribbean belief systems thrive. Rather,

this overview demonstrates that these complex interactions exhibited by the

religious arts provoked scholarly intrigue, which caused some authors to express

a desire for the assimilation of Afro-Cuban belief systems into Western

religions. Other scholars revealed a bias toward the exclusive discourse of

only one belief system. Only recently have scholars begun to consider hybridity

and interreligious dialogue as vital to the expansion of the modern

Afro-Cuban religious-arts movement.

Fernando Ortiz, Part 1:

Los Negros Brujos, or The Black Sorcerers

The Cuban ethnologist Fernando Ortiz called attention to Afro-Cuban religious

studies in his first book, Los negros brujos, written between 1902 and

1905. Translated into English here as The Black Sorcerers, the work shaped

public policy and early-twentieth-century scholarship on Afro-Cuban religious

practices. 2 Ortiz wrote The Black Sorcerers while living in Spain and

Italy after finishing his degree at the University of Madrid in criminal ethnology—a

late-Victorian field of study that attempted to predict the criminal

dispositions of individuals by means of their race and culture. 3 Ortiz's

mentors had encouraged him to examine the criminal disposition of certain

members of Cuban society. 4 The resultant book was published in 1906 and

reissued for wider distribution in 1917. There have since been a number of reprints

of The Black Sorcerers. Containing forty-three images, largely drawings

of religious objects, altars, and costumes, Ortiz's collected evidence sought

to document the visual characteristics of Afro-Cuban criminality.

The Black Sorcerers' primary argument is that Afro-Cuban religions are

a mode of cultural "atavism," or a regression to African "primitive" culture.

Ortiz characterized this so-called regression by a tendency toward criminal

behavior that needed to be eliminated. During his research foray in Cuba in

Religious Pluralism and the Afro-Cuban Ritual-Arts Movement, 1899–1969 · 13
---
1902, Ortiz had no more than minimal contact with Afro-Cuban religious

practitioners. 5 He claims to have worked with a number of incarcerated

Afro-Cuban men and to have had access to their seized religious artifacts,

which are featured in the book's illustrations. In his text, Ortiz frequently

compares these seized objects to available descriptions of African art and

cultural practices. In particular, Ortiz compares Afro-Cuban sculptural elements

to art produced by a West African cultural group, known as the Yoruba,

that had been particularly amenable to ethnographic research in the

late nineteenth century. 6

By making these comparisons between Cuban and Yoruba arts, Ortiz

claimed to have originated the term "Afro-Cuban." 7 He described what he

called the "Afro-Cuban identity" by analyzing the common cultural constructs

between black Cubans and West Africans—looking not merely at

racial identity but also at the two groups' means of cultural expression, such

as religious practices. 8 His goal, Ortiz explained, was to define the crimes

and identifiable characteristics of the "criminal Afro-Cuban" religious practitioner.

9 Brujos were generally "old African men," not women. 10 The number

of men dedicated to sorcery was "much greater than that of women." 11 Ortiz

then went on to describe the practices and objects employed by these "criminal"

groups. His descriptions largely pertained to Palo, the Ñáñigo Society

(or Abakuá), 12 and La Regla de Ocha (whose rituals persist into the present

day), although he frequently grouped their practices together. An unfortunate

result of Ortiz's efforts in The Black Sorcerers was that recognizable religious

affiliates who celebrated African ancestry now came under suspicion.

Cuban police and politicians subscribed to Ortiz's typology of the Afro-

Cuban criminal male, and The Black Sorcerers spawned a number of other

treatises that duplicated Ortiz's prejudiced views. 13 In his 1908 book, La

policía y sus misterios en Cuba, for example, the police inspector Rafael Roche

y Monteagudo documented his efforts in pursuit of male Afro-Cuban religious

practitioners; such arrests were mainly concentrated among the Abakuá

men's associations. In the final, and most influential, chapter of The Black

Sorcerers, titled "The Future of Sorcery," Ortiz proposed converting Afro-

Cuban religious practitioners to Christianity. Execution or incarceration of

Afro-Cuban religious priests would not resolve cultural differences, Ortiz argued.

Rather, he advocated a more systematic approach to the eradication of

Afro-Cuban religion practice, including government acquisition of religious

art: "In all instances, even when the case does not result in a [prison] sentence,

one should decommission all of the idols, images, necklaces, fetishes,

14 · Afro-Cuban Religious Arts
---
altars, chumbas and other equipment and things from the sorcerers' temples.

Those items that are most characteristic, instead of being destroyed as they

have been until now, should go to the museum of anthropology of the national

university." 14 Roche y Monteagudo and others did attempt to preserve

the most overtly "African" examples of this religious art in museums in Havana

and abroad. 15 The police inspector also captured a number of posed

images of altars, as well as a few in situ, in black-and-white photographs. 16

In the end, The Black Sorcerers was influential not in destroying religious art

objects, but rather in preserving the history of Afro-Cuban ritual arts by

"freezing" these practices in museum displays.

The history of the Registro de Asociaciones in Cuba is an interesting one,

and Ortiz acknowledged that the Registro could play an important role in

controlling Afro-Cuban religious practice. 17 The Registro requirement extended

throughout Cuba; all mutual aid societies, civic organizations, and

social clubs, and particularly religious associations, were required to register

with the government and pay taxes. 18 From 1881 through the 1950s,

thousands of groups, many of them organized by Cuba's black population,

participated in the Registry. In their legal filing papers, some used the term

cabildo to indicate that they modeled their activities after the colonial-era

Afro-Cuban cabildos, or religious fraternities. In 1912, however, the cabildos

came under suspicion of organizing for political purposes. As a result, between

1912 and 1913 they were disbanded and their registered leaders, almost

entirely men, were placed on trial. 19 Again following Ortiz's lead in The Black

Sorcerers, in the 1920s the Cuban government implemented new restrictions

on Afro-Cuban religious practitioners, but this time focusing on religious

art objects. Ortiz had described a particular type of drum used in religious

celebrations, which the government now banned. The new ban on the use

of bembé drums directed police attention toward an entirely new cohort of

Afro-Cubans—musicians—also almost entirely male. 20

Ortiz further singled out a variety of practitioners that he grouped under

the label "quacks" (later he would come to see such practitioners as composed

largely of women 21 ): "In order to understand this . . . fight to destroy

brujería at its point of infection, one must not forget that one should consider

certain parasites not included in the class of brujos. . . . In the first place,

I am referring to the quacks who are abundant in number and have many

points of contact with the brujo, especially as they exploit the phenomena

of magnetism and hypnotism, and measure the skill of those inspired by the

spirits; and, in the second place, I am referring to the white diviners, who

Religious Pluralism and the Afro-Cuban Ritual-Arts Movement, 1899–1969 · 15
---
identify themselves with various names (numerologists, clairvoyants, palm

readers, tarot card readers, somnambulists, etc.)." 22 In this passage, Ortiz

begins to make an important connection between Afro-Cuban religions and

the Espiritismo movement, noting that, "in the first place," the most suspicious

spiritual workers are those in contact with the brujo (and therefore,

black) and thereby relegating "white diviners" to "second place" in his racial

hierarchy. Ortiz's central problem with the espiritistas, however, is that,

"in general, . . . they do not oppose the indomitable fanaticism of the Afro-

Cuban brujo." 23 In The Black Sorcerers, Ortiz argued that Spiritist leaders

affiliated with African religious expression should be detained and supervised

by the police, but he did not advocate that Espiritismo altars be seized.

Rather he advocated that spiritually based organizations should be monitored

and a census of their numbers maintained. And that's exactly what

the Cuban government did, as evidenced by the documents to be found in

Cuba's provincial archives. 24

It has been argued that Ortiz's early work in The Black Sorcerers and the

Cuban government's resultant policies with respect to the planned demise

of the cabildos were responsible for the tremendous surge in the practice of

Espiritismo that took place in the 1940s and 1950s. 25 Moreover, the governing

white upper class generally approved of Espiritismo. Many groups in the

Registry files are categorized as "Espiritismo" even though their licensing

papers evidence the groups' broader interest in celebrating African ancestors.

26 Ortiz believed that the Catholic imagery commonly found in the spiritual

altars of Afro-Cuban religious practitioners was a positive "dilution,"

or step away, from African-based practices. 27 To clarify this, in 1924, Ortiz

elaborated on this idea that Spiritism provided a structure to temper African

identity. 28 He hypothesized that because many Spiritist practices involved

Table 1.1. Registered Espiritismo temples founded in the Province of Holguín

Decade

Number of temples

1917–20 1

1921–30 6

1931–40 9

1941–50 31

1951–60 41

1961–70 18

Source: Córdova Martínez and Barzaga Sablón, El Espiritismo de Cordón, 203.

16 · Afro-Cuban Religious Arts
---
driving bad spirits away, the practice might provide a sort of rehabilitation

for Afro-Cuban religious practitioners. As a lawyer, and later as a government

representative, Ortiz frequently dispensed advice to Cuban government

officials on legislation regarding Afro-Cuban religions. Although his

earliest work vilified many different Afro-Cuban religious practitioners,

which subjected them to constant police persecution, indirectly, this early

scholarship helped preserve the Espiritismo movement, allowing the belief

system to thrive, especially among black women emerging as important religious

leaders of the period.

Melville Herskovits:

"Acculturation," "Syncretism," and "Africanisms"

Melville Herskovits, an anthropologist who founded the disciplines of African

studies and Afro-American studies during a period of intense racism

and segregation in the United States, paid little or no attention to the impact

of Espiritismo on black culture. This is curious, because his groundbreaking

research on Afro-Atlantic belief systems had a great influences among

scholars. Herskovits did read Ortiz's The Black Sorcerers, and he somewhat

erroneously relied on Ortiz's volume as a primary source. Despite the inconsistency

of his research, Herskovits's pioneering theoretical work is still

celebrated. 29 Herskovits formulated his most important theory, that of acculturation,

at the start of his career, in 1927. 30 He devoted much of his subsequent

research and writing to this hypothesis of cultural change, and he

created the terms syncretism and Africanisms to support this concept. Here, I

shall concern myself with Herskovits's use of Afro-Caribbean art to substantiate

the discourse on these terms.

Herskovits described acculturation as "the processes by which human

beings absorb the cultures to which they are exposed." 31 For decades, this

unilateral definition of acculturation dominated scholarship. 32 In 1936 Herskovits

began to write his definitively titled account, Acculturation. There,

he reviewed a large body of like-minded literature describing acculturative

processes around the world. In the conclusion to this survey of acculturation

studies, however, Herskovits recognized that anthropologists and their

readers were not as interested in adaptations to Western society so much as

in evidence of cultural resistances to Western culture. 33 Herskovits's theories

on syncretism and Africanisms were therefore an attempt to reinvigorate the

study of cultural contact and change.

Religious Pluralism and the Afro-Cuban Ritual-Arts Movement, 1899–1969 · 17
---
Syncretism

While still writing Acculturation, Herskovits published an article, "African

Gods and Catholic Saints in New World Negro Beliefs," in which he argued

that "native peoples who have had long contact with Catholicism . . . achieve

a syncretism between their aboriginal religious beliefs and the doctrines and

rituals of the Church." 34 Defining syncretism as a symbiotic relationship between

two religions, Herskovits underscored his sense that non-Western

religions could survive only by combining their practices with those of the

dominant Western religions. The theory of syncretism was meant to apply

generally to many cultures, and Herskovits relied on Ortiz's scholarship in

his discussion of Afro-Atlantic religions. Throughout the Caribbean region

and in Brazil, he explained, African religious art could be found in believers'

homes alongside Catholic imagery—particularly, chromolithographs of

Catholic saints. 35 Herskovits did not actually describe his evidence, relying

instead on a table to compare Afro-Atlantic deities and their Catholic saint

equivalents in Brazil, Cuba, and Haiti. 36

As table 1.2 shows, Herskovits tended to rely on his own field research

only as a secondary source. Among his primary sources, Herskovits relied

on both Fernando Ortiz and Raymundo Nina Rodrigues, a Brazilian ethnologist.

37 In their actual work, however, both Ortiz and Nina Rodrigues

used broad descriptive language that necessarily left room for interpretation,

rather than constructing the more concrete parallels later employed by

Herskovits. 38 The two scholars not only compared Catholic saints and Afro-

Atlantic avatars, but also included comparisons with ancient Greek and Roman

gods. 39 It seems, with so many and varied comparisons among different

deities and belief systems, that both Ortiz and Nina Rodrigues wrote with

at least one eye aimed at European readers. The abundance of references to

Greek and Roman gods also implies a sort of late-Victorian parlor game as a

means of study and memorization that compares cultures and religious beliefs.

In his famous table, Herskovits cleaned up these references to classical

mythology, thereby creating a much neater typology and more of a scientific

aura to the research. Moreover, in order to be able to absorb Ortiz's research

into his own theory of syncretism, Herskovits included in his table only the

best-known deities for which Ortiz had noted a Catholic saint counterpart.

In 1945, Herskovits introduced his concept of "psychological ease" into the

theory of syncretism: "The process of syncretism . . . [is] the tendency to identify

those elements in the new culture with similar elements in the old one,

enabling the persons experiencing the contact to move from one to the other,

18 · Afro-Cuban Religious Arts
---
and back again, with psychological ease." 40 Here, Herskovits was attempting

to place a positive spin on his theory syncretism as a means of transition into

a new culture. In chapter 2, I challenge this concept of "psychological ease." 41

There, I describe and analyze the intentionally complex religious displays of

the santera Tiburcia Sotolongo. Sotolongo's use of imagery did not put her

audience "at ease"; rather, it offered options and presented challenges to her

religious clientele and to religious-family members to create their own religious

practices. For Herskovits, the idea of "psychological comfort" was one

way to make his own leap from the theory of syncretism to his other, later

theories somewhat more "comfortable" as well.

Africanisms

By constantly revising his concept of syncretism, Herskovits was able to

use it as a springboard to advance his more broadly stated theory of acculturation

studies. In the preface to his most important book, The Myth

of the Negro Past, Herskovits reevaluated his concept, explaining that in actual

religious practice there are scales or variations of syncretism: "The very

use of the term 'syncretism' helped to sharpen my analyses, and led me to a

more precise formulation of problem and of theory. . . . For, . . . it seemed to

me that the syncretizing process really lay at one pole of a continuum that

stretched from situations where items from two or more cultures in contact

had been fully merged to those situations where there was the unchanged

retention of pre-existing ones." 42 This represents an important step back

from Herskovits's original argument. A table denoting simple one-to-one

relationships between specific African deities and specific Catholic saints

would no longer suffice; he had realized that there was more subtlety in these

relationships. As he explained, "The next essential step was to ascertain the

degree to which these reconciliations had actually been achieved." 43 To do

this, Herskovits now attempted to measure the degree of African influence

that had occurred in the Americas. 44

For his analysis of Africanisms, Herskovits revisited the cultural attributes

of the descendants of Africans across the tropical Americas, once again presenting

his conclusions in tabular form (see table 1.3). As with his earlier

table on syncretism, the results suggest that measurable data actually exists

for what is presented there. However, as Herskovits explains briefly in his

essay "Problem, Method, and Theory in Afroamerican Studies," an actual

examination of evidence would have to be performed by his students and

followers. 45

Religious Pluralism and the Afro-Cuban Ritual-Arts Movement, 1899–1969 · 19
---
Table 1.2. Correspondences between African deities and Catholic saints

in Brazil, Cuba, and Haiti, as originated by Herskovits in 1937

African deity

Corresponding Catholic saint by country

Brazil

Obatala

Obatala; Orisalá; Orixala (Oxalá)

Grande Mambo

Batala

Shango

Elegbara, Elegua, Alegua

Legba

(I)(N)(R) "Nosso Senhor de Bomfim" at Bahia; (N)

Saint Anne; (R) "Senhor do Bomfin" at Rio ("because

of influence of Bahia")

(I)(N)(R) Santa Barbara at Bahía; (R) St. Michael the

Archangel at Rio; (R) St. Jerome (the husband of Santa

Barbara) at Bahia (see the deity Yansan, below)

Esú

Ogun

Ogun Balandjo

Ogun Ferraille

Osun

(I)(N)(R) the Devil

(I)(R) St. George, at Rio; (N) St. Jerome; (I)(N)(R)

St. Anthony, at Bahia

(N) Virgin Mary; N. D. de Cándeias

Yemanjá (N) Virgin Mary; (R) N. S. de Rosario (at Bahia); N. D.

de Conceiçāo (at Rio)

Maitresse Erzulie; Erzilie; Erzilie

Freda Dahomey

Saponam

Osa-Osé (Oxóssi)

Ololu; Omolú

Agomme Tonnere

Ibeji (Brazil and Cuba); Marassa

(Haiti)

Father of the Marassa

Orumbila (Odumbila?)

Loco

Babayú-Ayí

Ifa

Yansan (wife of Shango)

(I) the Sacred Sacrament

(I)(N)(R) St. George, at Bahia; (R) St. Sebastian at Rio

(R) St. Bento

(R) Sts. Cosmas and Damien

(R) St. Francisco

(R) the Most Sacred Sacrament

(R) Santa Barbara (wife of St. Jerome)

Source: Excerpted and adapted from Herskovits, "African Gods and Catholic Saints in New World Negro

Belief," 327–28.

Notes: Initials before the names of the saints indicate the sources from which the correspondences have

been derived:
---
Cuba

Haiti

(O) Virgen de las Mercedes; the Most Sacred

Sacrament; Christ on the Cross

(M) Saint Anne

(O) Santa Barbara

(O) "Animas benditas del Purgatoria"; "Anima Sola"

(M)(H) St. Anthony; (W)(H?) St.

Peter

(O) St. Peter

(O) Virgin de la Caridad del Cobre

(O) Virgin de Regla

(M) St. James the Elder; (H) St. Joseph

(H) St. James

(M) (S) the Holy Virgin, especially the

Holy Virgin of the Nativity; (P) Santa

Barbara (?); (H) Mater Dolorosa

(O) St. Alberto; (occasionally) St. Hubert

(O) St. John the Baptist

(O) St. Francisco

(M) St. John the Baptist

(H) Sts. Cosmas and Damien

(H) St. Nicholas

(O) St. Lazarus

(H) Herskovits field data (see also Life in a Haitian Valley, chap. 14).

(I) Ignace, "Le fétichisme des nègres du Brésil."

(M) Price-Mars, Ainsi parla l'oncle . . . : Essais d'ethnographie.

(N) Nina Rodrigues, L'animisme fétichiste des nègres de Bahia.

(O) Ortiz, The Black Sorcerers.

(P) Parsons, "Spirit Cult in Hayti."

(R) Ramos, O negro brasileiro.

(S) Seabrook, The Magic Island.

(W) Wirkus and Dudley, The White King

of La Gonave.
---
Table 1.3. Scale of intensity of New World Africanisms, as originated by Herskovits

in 1945(only the greatest degree of retention is indicated for each group)

Technology Economic Social

Organization

Non-kinship

Institutions

Guiana (bush) b b a a

Guiana (Paramaribo) c c b c

Haiti (peasant) c b b c

Haiti (urban) e d c c

Brazil (Bahia, Recife) d d b d

Brazil (Porto Alegre) e e c d

Brazil (Maranhão, rural) c c b e

Brazil (Maranhão, urban) e d c e

Cuba e d c b

Jamaica (Maroons) c c b b

Jamaica (Morant Bay) e c b b

Jamaica (general) e c d d

Honduras (Black Caribs)* c c b b

Trinidad (Port of Spain) e d c b

Trinidad (Toco) e d c c

Mexico (Guerrero) d e b b

Colombia (Choco) d d c c

Virgin Islands e d c d

U.S. (Gullah Islands) c c c d

U.S. (rural South) d e c d

U.S. (urban North) e e c d

Source: Adapted from Herskovits, "Problem, Method, and Theory in Afroamerican Studies," 53.

Notes: a = very African; b = quite African; c = somewhat African; d = a little African; e = trace of African

customs or absent; ? = no report
---
Religion Magic Art Folklore Music Language

a a b a a b

a a e a a c

a a d a a c

b b e a a c

a a b a a a

a a e a a c

c b e b b d

a b e d a b

a a b b a a

b a e a a c

a a e a a a

b b e a b c

b a e b c e

a a e b a e

c b e b b d

c b e b ? e

c b e b e e

e b e b b d

c b e a b b

c b e b b e

c b e d b e

*Carib Indian influences are strong in this culture.
---
Herskovits's idea of Africanisms became popular in the academic literature,

but by 1990 the scholars V. Y. Mudimbe and Andrew Apter both expressed

concern about the stereotypes and generalizations that went into

determining what might constitute an Africanism. 46 How can one define any

element as representative of the cultural climate on a continent as large as

Africa? they asked. Furthermore, based on the elements in Herskovits's original

table, from "Social Organization" to "Language," students would have

been hard-pressed to explain this terminology and thus expand upon the

research. The table also revealed large variations, running the gamut from

"a" to "e," in the levels of Africanisms present from one country to another.

"Art" was one notable example, ranging from "b: quite African" to "e: trace

of African customs, or absent," depending upon the country. Cuban art was

deemed to be "b: quite African." 47

That Herskovits chose art as a cultural category should not come as a

surprise given the period in which he was working. By 1945, a number of

political and cultural events, including World War II and the avant-garde

arts movement that had originated in Europe, were having an impact in the

Americas. Major North American museums and collectors were rethinking

their interests, and significant investments were being made in Caribbean

art. World War II disrupted the interaction between scholars, artists, and

Afro-Cuban ritual-arts practitioners, so it is impossible to establish a precise

chronology for the evolving research into the Afro-Caribbean arts scene during

this time. For example, as Herskovits was presenting his theories on Cuban

art internationally, other artists and scholars—including Wifredo Lam,

Lydia Cabrera, Rómulo Lachatañeré, and Fernando Ortiz—were becoming

increasingly interested in the visual representation of African identities

in the Caribbean. These latter individuals began to investigate Afro-Cuban

religious practices much more closely, pursuing interviews with religious

leaders and longer-term fieldwork. Whereas Herskovits's work and the early

research of Fernando Ortiz had grouped many Afro-Caribbean religious

practices together, this next generation of scholarship began to at last recognize

the complexity and distinctions inherent in Afro-Atlantic religious art.

European Primitivism and World War II:

Wifredo Lam and Lydia Cabrera

The early twentieth-century avant-garde art movement was most prominently

represented in Europe by artists like Pablo Picasso (1881–1973) and

24 · Afro-Cuban Religious Arts
---
Paul Gauguin (1848–1903), but the movement also brought attention to the

Cuban Vanguard artists living in France in the 1930s. However, the Cuban

Vanguard found themselves in a peculiar situation in Europe, where the idea

of the "primitive" was increasingly in fashion. 48 The European tabloids of the

time, combined with the popularity of Hollywood "zombie" films, served

to cultivate collectors' interest in this theme. 49 Having spent their youth in

Cuba, the artists of the Cuban Vanguard already had significant firsthand life

experience of the so-called primitive lifestyle and environment. Most noteworthy

for our discussion here is the Vanguard artist Wifredo Lam and the

Cuban folklorist Lydia Cabrera, with whom Lam would later collaborate.

Lam's artwork regularly engaged Afro-Cuban religious imagery. 50 The

art historian Lowry Stokes Sims has described Lam's experience with La

Regla de Ocha in Cuba in the early 1900s. 51 Despite his close ties to Afro-

Cuban religions, Sims explains, in his youth Lam was somewhat reticent to

engage in religious practice. It was only after living abroad that his interest in

Afro-Cuban arts was piqued. In 1936, Lydia Cabrera published her first book,

Contes nègres de Cuba (Black tales from Cuba), which was representative of

and became an important vehicle for the primitivist movement in Paris. The

stories she wrote were a combination of tales she had heard during her youth

in Cuba and stories she invented herself, and for that reason they are no

longer considered historically accurate for the study of Afro-Cuban folklore.

Still, after Lam returned to Cuba following the war, he began a collaboration

with Cabrera, who had also returned to the island. 52

There, Lam created some of his most famous paintings, including works

that made reference to Afro-Cuban religious symbols. Cabrera was a frequent

collaborator, offering her own ideas for titles and content. 53 As David

H. Brown has noted, Lam is very learned in the symbols and imagery that he

cites from Afro-Cuban Abakuá religious practices. 54 Lam's abstract expressionist

work is a cacophony of shapes, angles, and lines and frequently incorporates

human and animal features. His paintings do not convey specific

mythological narratives, however. Rather, his fantastic creatures and body

parts mimic the complexity of Afro-Cuban belief systems as well as the interaction

between them.

In a number of his contemporary works, including The Chair (1942), one

of Lam's best-known paintings, he appears to be reconsidering the use of

leaves in certain Afro-Cuban religious altar practices (see plate 2). Among

examples in the arts of La Regla de Ocha, altars for the trickster Eleguá or for

the farmer divinity Oricha Oko are often installed in leafy environments and

Religious Pluralism and the Afro-Cuban Ritual-Arts Movement, 1899–1969 · 25
---
eceive collections of leaves as offerings. In Lam's painting, the image is full

of contrasts. In the center of the composition he depicts a chair with a vase

containing tobacco leaves. 55 The chair—a human-made object—is placed

within a forested environment, in juxtaposition to it. Whereas Lam's living

plants are a part of the natural background, the vase of tobacco leaves is more

significant: the leaves have literally been removed from the living plants by

human hands and have then been replaced in the wooded environment as

an offering. The chair seems set apart from the forest space and intimates

human interaction with nature. Upon this makeshift altar the tobacco leaves

reference Afro-Cuban and Afro-Amerindian religious practices, including

Espiritismo. Lam's reference to plants and leaves is reminiscent of Lydia Cabrera's

interest in Afro-Cuban traditional plants. At the time Lam painted

this work, Cabrera had already begun to investigate ritual herbal medicine

practices, and she would later work in Havana for more than a decade interviewing

priests of Afro-Cuban religions, leading to the publication in 1954 of

her most influential book, El Monte (The Forest).

Along with Wifredo Lam, Cabrera regularly appeared in the Cuban

press. 56 Her presence was noted at a number of social events, and she was

often mentioned in regard to her research on Afro-Cuban religion, in which

she was said to be making incredible strides in penetrating heretofore impenetrable

social barriers. Both Wifredo Lam's and Cabrera's pursuits brought

increased attention to the Afro-Cuban religious movement, suggesting that

the ritual arts merited far more consideration than they had previously been

shown.

Responses from the Afro-Cuban Community:

Lachatañeré and the Documentation Movement

In the late 1930s and throughout the 1940s, Lydia Cabrera's and Fernando

Ortiz's investigative presence within the Afro-Cuban community caused

an increasing stir as they collected diverse materials, conducted research,

and, in some instances, even photographed altars or acts of ritual practice.

Many members of the Afro-Cuban community—not all of them religious

practitioners—viewed the writers' work with trepidation, and the literature

published as a result of their investigations did little to quell police and government

persecution of Afro-Cuban men and women. In the 1930s, another

Cuban anthropologist, a mixed-race man named Rómulo Lachatañeré,

emerged onto the scene. Unlike Cabrera's work in Contes nègres de Cuba,

26 · Afro-Cuban Religious Arts
---
which was considered more fiction than nonfiction, Lachatañeré's work was

deemed more scholarly. 57 His first book, ¡Oh, mío Yemayá! (1938), consisted

of religious stories collected from his fieldwork in Havana. Rather than accept

the exoticizing and less-than-subtle observations of Afro-Cuban religious

culture in Ortiz's early work, Lachatañeré, whose scholarship arose

arguably from within the Afro-Cuban community, attempted to reclaim the

discourse on Afro-Cuban beliefs: he revised the negative vocabulary that

had previously been applied to Afro-Cuban traditions, and he encouraged

religious practitioners to record their practices themselves.

Lachatañeré reached the pinnacle of Cuban scholarship in 1939 when

Ortiz's academic journal, Estudios Afrocubanos, featured his critique of Ortiz's

1906 The Black Sorcerers. In this article, Lachatañeré laid the content of

The Black Sorcerers bare. Although expressing support for the best of Ortiz's

intentions, he nevertheless largely dismissed both the language and the

descriptive content of the book: "There was erroneous information in the

material or catalog of information derived from the incarcerated individuals

[in The Black Sorcerers]. . . . Perhaps this occurred because the informants at

times were very reserved and others had very bad intentions. On the other

hand, some material was compared with information coming from inexact

sources on Africa." 58 Lachatañeré went on to point to problems with the

way Ortiz had cataloged the different arts practices of Afro-Cuban religions.

Even more damning, Lachatañeré dismissed Ortiz's use of the term brujería,

or "sorcery," expressing his own preference for the term santería. Although

Ortiz ostensibly welcomed Lachatañeré's critique, characterizing it as providing

a springboard into his next phase of research, there are significant

clues that Ortiz and Lachatañeré held fundamentally different philosophies

on Afro-Cuban religions. By the late 1930s and early 1940s, Ortiz had already

cemented his reputation as a respected editor and scholar. Ortiz had even

played a role in facilitating the publication of Lachatañeré's early work. However,

important follow-up pieces by Lachatañeré remained unpublished, or

were accepted only by less prestigious presses. Lachatañeré subsequently

moved to New York and published through small U.S. presses. Around 1943,

Ortiz stopped citing Lachatañeré as a source altogether. 59

In this period, Lachatañeré achieved a number of scholarly coups that

probably drew Ortiz's ire. Lachatañeré's 1942 book, Manual de Santería,

claimed to be the first positive and authoritative introduction to Afro-Cuban

theological beliefs and public-ritual practices. Indeed, the book's very title

conveyed Lachatañeré's desire to write the most comprehensive guide on

Religious Pluralism and the Afro-Cuban Ritual-Arts Movement, 1899–1969 · 27
---
Santería to that time. Although the Manual was thorough, it pretty much

ignored the more recent theories that were being promoted by Ortiz at the

time, and it also incorporated scholarship that Ortiz increasingly and pointedly

shunned.

Lachatañeré's Manual was pivotal for the introduction, translation, and

acceptance of Herskovits's scholarship in Cuba, but he also used the Manual

to explain and reframe Herskovits's theories on acculturation and syncretism.

Notably, Lachatañeré reworked Herskovits's theories so as to be able

to apply them more effectively to Afro-Cuban ritual arts. For example, Lachatañeré

disputed Herskovits's claim that religious practices in Cuba were

static, noting that he had encountered a great deal of evidence that did not

fit into Herskovits's framework. In regard to Herskovits's original one-to-one

identification of specific saints with specific Afro-Cuban avatars, Lachatañeré

explained in his manual that an oricha might only "correspond to," or "be

identified with," a particular saint (my emphasis). 60 Such cross-references,

he argued, vary enormously and "one has to recognize that this practice is

the expression of a system of worship with local characteristics" (Lachatañeré's

emphasis). 61 Although Lachatañeré accepted Herskovits's table of saints and

oricha, he did so with significant reservations: in Lachatañeré's reconfiguration

of the table (reproduced in the appendix to the Manual) he included a

list of suggested art objects and offerings that might complement each divinity,

including short descriptions of beadwork designs, lithographs, and fabric

flags (banderas, or paños) using specific colors. 62 The listing of such objects

implies Lachatañeré's interest in creative practices that Herskovits had overlooked.

Thus, the Manual underscored the importance of creative and local

variations in Afro-Cuban religious practice, especially among practitioners

in Havana (where Lachatañeré worked), but also in Matanzas, Santiago de

Cuba, and Guantánamo.

Lachatañeré's Manual also presented new and pivotal information for the

period. By the early twentieth century, many Afro-Cuban religious families

were increasingly advising their initiates to maintain private libretas, or notebooks,

to keep a record of the rituals they led or in which they participated.

Practitioners were generally instructed not to make their notebooks public.

These notebooks might contain confidential information about the results

of divination; they might describe an individual's relationships with different

oricha; or they might relate relevant folklore. They could also contain

instructions on how to perform different rituals or divination and how to

create ritual arts. By discussing the public aspects of Afro-Cuban religious

28 · Afro-Cuban Religious Arts
---
practice and providing rich descriptive content, Lachatañeré made this information

accessible to a larger audience. 63

The Manual also made it clear that many santeros practiced more than

one Afro-Cuban religion. For example, throughout the Manual, Lachatañeré

shows that many Regla de Ocha ceremonies were complemented by both

church rituals and rituals originating in Espiritismo. Lachatañeré also noted

that the practices of Espiritismo, since its focus is on the imagery of different

ancestors and ancestral belief systems, served an important arbitration function

in the relationship between different religious practices. 64

Lachatañeré was not the only one to use the libretas in his research. In the

1940s, both Ortiz and Cabrera were also collecting the libretas of some of the

practitioners they interviewed. This rising interest in the personal notebooks

of practitioners marks an important trend. 65 For practitioners, the publication

of Lachatañeré's Manual showed a need for religious leaders to document

their practices for the growing community.

Fernando Ortiz, Part 2:

Contrapunteo cubano del tabaco y el azúcar

Lachatañeré's 1939 critique of The Black Sorcerers created an important window

that allowed Ortiz to escape his first book's negative language and theories.

By then, Ortiz had already completed his most important work, Contrapunteo

cubano del tabaco y el azúcar, which was published the following

year (1940) and translated into English as Cuban Counterpoint, Tobacco and

Sugar in 1947. With this volume, Ortiz completely shed his European training

in criminal ethnology. Cuban Counterpoint led to a new theoretical approach

to Cuban culture and stood as an important revision of his earlier

approach to Afro-Cuban religious arts.

In Cuban Counterpoint, Ortiz offered one of his few direct responses to

Melville Herskovits's early work, criticizing Herskovits's theory of "acculturation"

as particularly unsatisfactory in the Cuban context: "Acculturation

is used to describe the process of transition from one culture to another

. . . but transculturation is a more fitting term. I have chosen the word transculturation

to express the highly varied phenomena that have come about

in Cuba as a result of the extremely complex transmutations of culture that

have taken place here." 66 Ortiz thus rejected the one-sided cultural assimilation

that Herskovits originally championed. As he argued, Africans could

not evolve into Europeans in the New World. Rather, the contact between

Religious Pluralism and the Afro-Cuban Ritual-Arts Movement, 1899–1969 · 29
---
two traditionally distinct cultures, through transculturation, produced new

cultural forms that reflected aspects of the parent cultures, but that were new

and distinct. In his theory, however, Ortiz did not engage the debate about

Afro-Caribbean cultural change directly. Rather, he constructed a provocative

argument about the cultural impact of the two products for which Cuba

had become most famous—tobacco and sugar. Moreover, he argued, the

reverberations of this cultural change had been felt around the world.

This argument about the impact of tobacco and sugar on culture did not

immediately draw an audience from those interested in Afro-Cuban ritual

arts. Cuban Counterpoint primarily sought to correct Herskovits's broader

theory on acculturation, but Ortiz was very aware of its possible ramifications

for Afro-Cuban religious studies. 67 Unfortunately, during his lifetime

Cuban Counterpoint never became as influential as Ortiz had hoped. The

prejudice implicit in Ortiz's first publication, The Black Sorcerers, likely hampered

the overall success of Cuban Counterpoint among Spanish-speaking

scholars. Among English-speaking scholars, Herskovits's theory of acculturation,

published first, tended to take precedence over Ortiz's theory of

transculturation. Furthermore, Herskovits's idea of Africanisms better appealed

to the sensibilities of the Pan-African and Négritude movements,

as it made explicit a culturally expressive relationship with blacks' African

heritage. With an international reputation, Herskovits was also more willing

to wax poetic on his theories, repeating his ideas in new ways to reach a wider

audience.

Ortiz's theory, however, provoked a more in-depth effort to document

Cuban arts and culture in order to determine both its similarities to the parent

cultures and its creative differences. Given this nationalist point of view,

Cuban Counterpoint was widely accepted within Cuba. Ortiz published a

series of articles and volumes documenting the African cultural inheritance

of Cuban art forms and the histories of the artists who created them, also

noting how these objects were distinctly Cuban. 68

Bohemia—The Press Embraces Syncretism

as a Form of Cuban Nationalism

The articles Ortiz wrote for nationally produced encyclopedic volumes and

popular magazines helped set the stage for cultural change in Cuba. Ortiz

made scholarly debate on Afro-Cuban religions fashionable. In fact, his

project was so successful that even work with which he actually disagreed

30 · Afro-Cuban Religious Arts
---
ecame popular, including Herskovits's idea of syncretism. Beginning in

1949, Ortiz began a series of articles on "The Study of Cuba's Folkloric Music,"

which were later expanded into his oft-cited five-volume encyclopedic

Los instrumentos de la música afrocubana. This work features essays on more

than a hundred Afro-Cuban musical instruments, describing each instrument's

design and also including Ortiz's interviews with religious practitioners

and musicians. Ortiz suggests different regional African origins for

many of the instruments, based mainly on their sculptural elements, and

he also describes Cuban innovations. Musicians and scholars still rely on

this influential work to correlate Cuban musical practices with their African

origins.

Many of Ortiz's original articles on Cuban instruments were written for

the popular Cuban cultural and literary magazine Bohemia. Between 1949

and 1951, in the pages of Bohemia, Ortiz also broke with his earlier theory that

Espiritismo practices provided a bridge into European and North American

culture. Ortiz now presented case studies to show that Espiritismo provided

a means to experiment with many different forms of Cuban cultural heritage,

noting that many of the espiritistas with whom he worked also worked as

santeras or were affiliated with other Afro-Cuban religions. In his case studies,

he claimed to have documented different African influences as well as

possible vestiges of native Taíno cultural practices, both in art and in ritual

performance. 69 These Bohemia essays show little interest in possible Spanish

colonial influences. Effectively, the importance given to non-European

cultural influences signaled the start of a movement to divorce Cuba from

any lingering aspects of its Spanish heritage, especially in the island's cultural

practices and the religious arts.

Bohemia continued to explore the new Cuban nationalism as exhibited in

Ortiz's series on Espiritismo by publishing other series in the same vein. 70

The journalist Manuel Cuellar Vizcaino, for example, wrote on the different

folk Catholic saints celebrated throughout Cuba, in which the saints were

portrayed as a modern nationalist phenomenon. A Bohemia cover in 1949

actually featured the image of Nuestra Señora de la Caridad del Cobre (see

plate 3), literally transforming this "santo" into a popular cover girl. Our Lady

of Charity of the Church of El Cobre—a community in eastern Cuba—is

now best known simply as "the Caridad." The Caridad was not an actual saint

but one of Cuba's renditions of the Virgin Mary. She was so popular that the

Roman Catholic Church officially canonized the Caridad as a manifestation

of the Virgin Mary in 1916. Cuellar's Bohemia articles chronicled the practices

Religious Pluralism and the Afro-Cuban Ritual-Arts Movement, 1899–1969 · 31
---
of many different Cubans celebrating popular saints. Through short interviews

and photographs of household altars, these practitioners showed that

the images of Cuban saints were used as imagery reflective of the island's

multiple cultural histories to draw many different spirits of the dead. The

series thus indirectly revealed how pervasive Spiritist practices were in Cuba

by 1950. Cuellar's articles described different religious practices with marked

ease. In many of his articles, as well as in other journalists' work for Bohemia,

the text draws a one-on-one connection between a particular Catholic saint

and a particular oricha from La Regla de Ocha—for example, "Santa Barbara

(Shango)," or "Nuestra Señora de Merced (Obatala)." In this way, the

Bohemia series is reminiscent of Herskovits's charts, which also contained

one-on-one pairings of saints and oricha.

In this period, Herskovits's originally prescribed one-to-one syncretism

between Catholic saints and Afro-Cuban deities was more of a reality in

popular literature and academic scholarship than in actual practice, which

is borne out in my own interviews with religious leaders from the period. 71

In general, few of them, if any, treated saints and oricha as the same entity.

Importantly, though, a concrete syncretic relationship between saints and

oricha seems to have been embraced by some for political reasons. That is,

by presenting Afro-Cuban religions in this way, Bohemia was not only celebrating

the new nationalism, it was also showing its outright disdain for the

enduring government persecution of Afro-Cuban practitioners. 72 As culturally

diverse national symbols, the trendy, iconic images of the Catholic saints

even became a vehicle for product advertising. For example, one coffee company

held a raffle on the Day of the Caridad del Cobre each year, featuring

the saint in their print commercials, presumably to attract a larger buying

public. 73

Beyond the dozens of articles discussing different Afro-Cuban religious

practices, Bohemia also published short fiction on Afro-Cuban religions.

One of the more prominent examples is the 1950 piece by Gerardo Del Valle

entitled "Cuento cubano: Ella no creía en bilongos" (bilongos are packets of

prepared herbs and offerings that are often left at an altar). In this story, set

in the 1950s, Chela, a practitioner of Afro-Cuban religions, is in danger of losing

her husband to Candita, a woman who has renounced her Afro-Cuban

religious heritage. The title of the story, "She did not believe in Bilongo,"

refers to Candita's rejection of the religious preparations and art objects described

in the story. The illustrations that accompany the story depict Candita

and her lover as fashionable cosmopolitans—with Candita's hair and

32 · Afro-Cuban Religious Arts
---
dress resembling that of a Hollywood actress. This rejection of Cuban arts

and culture and the couple's flirtation with North American values damns

both Candita and her lover, and their close-knit religious community evicts

them. By calling the story a "cuento cubano," or "Cuban story," Bohemia underscores

the idea of "community" as a nationalist ideal. In Bohemia, at least,

Cuban literature and Cuban religious arts were representative of national

culture.

That Bohemia's readers could identify bilongo as well as other aspects

of the Afro-Cuban ritual arts marks an important turning point in the acceptance

of Afro-Cuban religions in Cuba. As "Ella no creía en bilongo" illustrates,

readers were familiar enough with the different ritual languages

and arts practices of Afro-Cuban religions that they could accept them in a

fictional narrative. Even more important, readers understood the tensions

that existed among the various Afro-Cuban religious arts. In the story, Chela

visits not only a priest of La Regla de Ocha but also a palero, or priest of Palo.

However, the story does not privilege one Afro-Cuban belief system over

any other. The narrative is a nationalist tale: it is most interested in showing

that the other woman, Candita, does not practice any Afro-Cuban religion

and is thus less a member of Cuban society.

Lydia Cabrera and William Bascom:

A New Focus on Afro-Cuban Religions

While Bohemia presented its case studies of Afro-Cuban religious practices

in a short format to a general audience, others, including Lydia Cabrera and

William Bascom, took a more comprehensive and scholarly approach. Both

Cabrera and Bascom conducted extensive interviews with practitioners who

had been trained in multiple religious practices. The publication of Bascom's

"The Focus of Cuban Santería" in 1950 and Cabrera's El Monte in 1954 set

important new precedents in African diaspora studies. Both Cabrera and

Bascom were interested in the natural elements that had been incorporated

into Afro-Cuban religious-art objects as a means to connect 1950s practices

to those originating in the African past.

Although the research for El Monte took more than a decade overall, Cabrera's

volume was clearly influenced by the new nationalist discourse in

Cuba. She expects a great deal of knowledge on the part of her readers. Her

title, El Monte (The Forest), refers to the extended metaphor she presents in

the text, which compares the grandeur and natural diversity of a forest with

Religious Pluralism and the Afro-Cuban Ritual-Arts Movement, 1899–1969 · 33
---
Cuba's cultural inheritance from Africa, especially with regard to religious

practices that make use of traditional plants: "Our blacks, in spirit, have not

permitted themselves to become less African. They have not been able to

renounce their beliefs nor forget the secret teachings of their elders. They

devotedly continue their old, magical practices, and all continue to return

to the forest. They are directed by the primitive, natural divinities that their

ancestors adored and which arrived intact, lodged in stones, in shells, or in

[tree] trunks and roots, and that which, like themselves, continue to speak

in African languages—in Yoruba, Ewe or in Bantu." 74 In this highly romanticized

fashion Cabrera's book presents several chapters of folklore. She also

provides an encyclopedia of traditional plants as well as different types of

wood and some minerals, discussing each one's properties and physical characteristics

as well as the oricha or multiple divinities to whom each element

belongs, its potential for healing, and its ritual use. Her documentation of

nearly five hundred different herbal elements is still an influential resource

among Afro-Cuban practitioners today.

The problem with this massive resource is that many of the priests that

Cabrera interviewed were trained in more than one belief system. Her notes

for these formal and informal interviews, done between 1939 and 1954, are

in the Cuban Heritage Collection at the University of Miami and consist

largely of small pads of paper and note cards with no names or dates recorded.

El Monte very rarely documents which of Cabrera's sources gave her

which information. Among her informants were religious practitioners who

were not only santeros, but espiritistas and paleros or members of the Abakuá.

At the same time, distinctions are often made by the same practitioner

in the actual ritual use of certain elements for separate belief systems, or

when applied to different arts and altars. However, Cabrera's often confusing

discussion of the natural elements in Afro-Cuban ritual practices indirectly

locates an important site of pluralist discourse—that is, her information

allows us to identify certain commonalities between and among separate

ritual-arts practices. The plants and natural elements Cabrera documents are

very meaningful across Afro-Cuban religious practices.

Many of the traditional plants that Cabrera documents are used in La

Regla de Ocha, Palo, and folk Catholic ritual practices, as well as Espiritismo.

For example, among the most visible, sunflowers are often used in La Regla

de Ocha to represent the divinity Ochún, but they are also popular in folk

Catholic altars to represent La Caridad del Cobre. For practitioners aware of

the reference, the presence of sunflowers in altars for La Caridad del Cobre

34 · Afro-Cuban Religious Arts
---
can also indicate Ochún's presence, even if the ritual practices are separate.

In La Regla de Ocha, specific natural elements invest agency in the ritual art

object, attributing social power to the object and pointing to the presence

of an actual divinity. When practitioners are attentive to such cues, these

same elements frequently reappear in the arts pertaining to other belief systems

and can indicate the presence of oricha or divinities from other Afro-

Caribbean practices, depending on the natural elements employed. However,

this does not mean that the folk Catholic altar featuring such natural

elements can be used for La Regla de Ocha practices. Practitioners familiar

with these connections often discuss them at length, particularly because

a critical means of training new priests involves imparting the historic religious

traditions orally. Cabrera's El Monte, alternately described by its readers

as "much-loved" or "maddening," shows how difficult it is to represent

this dialogic system in an encyclopedic format.

As does El Monte, William Bascom's pivotal article, "The Focus of Cuban

Santería," argues that these natural elements are the central, most important

feature of La Regla de Ocha altars. Bascom presents two important arguments.

First, he explains that the relationship between Catholic imagery and

Afro-Cuban ritual objects is not important in the actual ceremonial practices

of La Regla de Ocha: there is no required syncretism of, or reliance on, Catholic

imagery in La Regla de Ocha ritual performances. Unfortunately, Bascom

understates this point in his writing, intentionally avoiding any outright

critique of his teacher and ongoing mentor, Melville Herskovits. Second,

Bascom argues that further research on West African ritual practices, particularly

of the core natural elements, including "the blood, the stones and

the herbs," will reveal more commonality between African and Afro-Cuban

practices, and he therefore urges further comparative studies of African and

Afro-Cuban practices.

Both Bascom and Cabrera largely concentrated on La Regla de Ocha in

these works. Nonetheless, their research forced both of them to at least consider

the multiple religious systems that composed the Afro-Cuban ritualarts

movement. Over the course of his career, Bascom frequently lauded

Cabrera's work and noted that similarly extensive research across Africa was

essential to document the connections he felt existed. This interest in determining

these historical connections made Bascom's essay one of his most

widely read publications. 75

Cabrera fled to the United States shortly after the Cuban Revolution,

continuing to write largely about the Abakuá men's associations and Palo.

Religious Pluralism and the Afro-Cuban Ritual-Arts Movement, 1899–1969 · 35
---
William Bascom traveled to Cuba regularly. In partnership with his wife,

Berta, a Cuban exile, Bascom's later research frequently compared contemporary

practices among the West African Yoruba with practices in Cuba.

Bascom's interests included musical instruments and divination. This led

him to comparative discussions of ritual drums and drumming and studies

of divination practices in Nigeria and Cuba. 76 In his research into all of these

practices, Bascom's work emphasized the ritual roles of men—in particular,

those of the batá drummers and Ifá diviners, who had been persecuted by

the Cuban government for decades. Both Bascom and Cabrera chose to ignore

practices, such as Espiritismo, that were predominantly led by women

and that involved Catholic imagery, which was considered to have few ties

to Africa's history in this period.

The 1960s and the Decline of the Espiritismo

Movement in Cuba

Though in his eighties, in the 1960s Fernando Ortiz remained interested in

transculturation and continued to study Cuban religions and culture. Rising

scholars and the new Cuban Revolutionary government regularly requested

his guidance on the research of Afro-Cuban religions, but Ortiz refused to

accept visitors to his home. 77 Among the government activities that Ortiz

appears to have found disconcerting was a new movement against popular

Cuban belief systems, including Espiritismo. Ortiz had previously recognized

Espiritismo as vital to the rise of La Regla de Ocha practices as well as

the awareness of other Afro-Cuban religions.

In the 1960s, organized Catholicism, folk Catholicism, and Espiritismo

all came under attack by the Revolutionary government. In this period, Ortiz

regularly read the local press and preserved articles and cartoons from a

newspaper, Hoy, that reported on government actions taken against these

religious practices. 78 Among the articles in Ortiz's archives are stories that

describe the expulsion of a few dozen Catholic priests in Havana and across

the country. The Revolutionary government accused the Catholic Church

of gathering arms against it, claiming that the United States and Spain had

given money to the church for this purpose.

The actual details of these accounts, however, are dwarfed by the popular

reaction to this persecution, also presented in the Cuban media. An untold

number of Christian monuments were destroyed and many churches

closed. 79 Instances of popular iconoclasm against Catholic churches were

36 · Afro-Cuban Religious Arts
---
accompanied by the Revolutionary government's general mistrust of all religious

organizations that relied on Catholic imagery. Beginning in late 1961,

the provincial governments determined to close down the registered Espiritismo

centers—a process that took a number of years. In the Cuban National

Archives the files of the Registry of Associations for extant religious organizations

involving Catholicism and Espiritismo that existed in this period

are marked "Cancelado" on the front in red pencil. There are also a number

of inventories of objects seized by the Revolutionary government from

household religious centers. In 1964, a Cuban doctoral candidate, Amadeo

Sentí, spent a month touring Espiritismo centers in Cuba. 80 He intended to

conduct doctoral research on Espiritismo de Cordón, a particularly popular

form of Espiritismo that employed dance, song, and sometimes musicians.

Sentí, however, encountered a number of difficulties on his journey. Many

of the individuals he attempted to interview suspected he was a government

official, there to close down their religious centers. Most Espiritistas were

reluctant to speak with him. Furthermore, among the mediums he successfully

interviewed, many did not strictly practice Espiritismo, as they were

adapting to the prohibitions against Espiritismo practices.

As in Ortiz's articles of 1949 and 1950, many of the espiritistas whom Sentí

interviewed also practiced La Regla de Ocha or Palo or other Afro-Cuban

traditions. Espiritistas could not sustain a regular clientele, as attendance at

the strictly spiritual centers across Cuba rapidly decreased as a result of the

persecution. 81 Instead, the Cuban Revolutionary government showed more

lenience to the practices of those religions more popularly identified as Afro-

Cuban, particularly La Regla de Ocha, Palo, and the Abakuá fraternities. Although

Cuba's socialist government has generally frowned upon all religious

practices, because they enabled scholars to recast Cuban history, these three

Afro-Cuban religions were recognized and allowed to practice during this

period. 82

As a result, a new initiative for national folklore studies arose within a

number of Cuban institutions. For example, the government provided funds

to many Cuban universities for the study of Afro-Cuban folklore, which was

also promoted in public museums and by performing-arts groups. The Cuban

government also supported the study of Afro-Cuban religions and the

creation of several collections of African art that have become mainstays in

the discourse of comparative art history in Cuba. 83 A number of new museums

were established in this period (including the Museo de Regla, the

Museo de Guanabacoa, and the Casa de África, all of which have become

Religious Pluralism and the Afro-Cuban Ritual-Arts Movement, 1899–1969 · 37
---
popular tourist destinations), and Afro-Cuban folkloric history also received

increased interest from a number of international museums, which mounted

their own exhibits of Cuban culture. 84

All of these new venues tended to emphasize the display of Afro-Cuban

ritual arts, and specifically the objects that had a visual connection to Africa

with which audiences could easily identify. Such displays included cases of

objects celebrating La Regla de Ocha, the Abakuá fraternities, and Palo. Notably,

the collections that were developed in this period, such as that of the

Museo de Regla, only cursorily noted the shared relationships among the

different arts and altar types, and there was no mention of the Espiritismo

movement. 85

Conclusion: The Tensions

of Twentieth-Century Pluralism

The accepted literary canon discussing Afro-Caribbean ritual arts grew exponentially

following the Cuban Revolution. Driven by earlier diverging hypotheses

on the historical and cultural origins of Afro-Cuban religions, these

more recent studies had to confront the difficulties of studying a diasporic

culture. Some authors, including Robert Farris Thompson, David H. Brown,

and Ysamur Flores-Peña and Roberta J. Evanchuk, found that the origins of

culture are often as much an exploration of creativity as they are a question

of cultural inheritance. 86 Indeed, Judith Bettelheim, an art historian specializing

in Caribbean art, finds that there are many references to the Kingdom

of the Kongo (from the earliest period of the slave trade into the Americas)

among the cultural origins celebrated in Espiritismo. Similarly, Bettelheim

and Janet Berlo, in analyzing the work of José Bedia, show that historical Native

American arts appears throughout Afro-Cuban contemporary expression.

It is through such multiple cultural references that practitioners recall

the different cultural histories of resistance to colonialism. 87

My research presented here shows that Espiritismo, with its significant

emphasis on cultural hybridity in Afro-Cuban religious arts, has introduced

audiences to other Afro-Cuban belief systems, thereby allowing them to

compare and contrast religious art and imagery. This is an important construct.

Afro-Atlantic Espiritismo is a critical site of religious plurality because,

more than in any other belief system, the expression of different historical

religious beliefs is the means by which an espiritista can appeal to

many different spirits of the dead. Espiritismo has allowed audiences who

38 · Afro-Cuban Religious Arts
---
are not initiated into La Regla de Ocha, Palo, or the Abakuá fraternities to

experiment with imagery from across these belief systems.

Critics of studies of religious pluralism point to the "irenic" idealism of

the idea of coexisting faiths. 88 Throughout my research, I have found that

it has been difficult for leaders, practitioners, and scholars to navigate the

complex interactions among religions. In the writings of Diana Eck, a professor

of comparative religion at Harvard Divinity School, it is religious leaders

who act as mediators among different faiths, especially as these groups

interact in urban environments. 89 For her, these leaders hail from Hindu,

Buddhist, and Muslim belief systems as well as Christian groups. Eck's pluralism

only minimally engages the idea that religious leaders actually draw

upon practices from other faiths, however. As we shall see, in the creation of

a larger Afro-Caribbean religious and ritual-arts movement, the leaders of

the different Afro-Caribbean religions frequently practiced more than one

belief system, relying on multiple arts and altars.

Such hybridity poses important questions. John Hutnyk, a scholar in cultural

studies, argues that the concept of hybridity allows for a "hodge-podge"

of material that weakens any unified presentation of a cultural movement. 90

Further, he finds that by insisting upon a long list of differences, claims

to hybrid identities often make marginalized groups even more marginal.

However, the history that emerges in these pages shows how four women

have used hybridity to their advantage. Tiburcia, Hortensia, Iluminada,

and Carmen forged popular symbols that united their different communities.

Specifically, the imagery recreated by these women included the iconic

La Caridad del Cobre, the trickster figure Eleguá, and a representation of

the colonial-era woman, or madama. Moreover, the women standardized

through ritual practice the modes by which such imagery was revealed to

the public. Rather than simply carving out cultural difference, they mediated

certain symbols of hybridity and presented them to an extremely broad

audience. Today, even international audiences are increasingly aware of the

symbols the four women celebrated.

Unfortunately, perhaps because of the very nature of hybridity, the women's

authorship in this process has been erased with time. All of their efforts

appear to have propelled Afro-Caribbean religious arts as a whole more than

they advanced the women's personal agendas. Therefore, my particular focus

is on how the women relied on religious hybridity, or the articulation of pluralism,

in their arts practices. None of them forced a unanimous belief system

upon their religious family, nor was there a completely comfortable religious

Religious Pluralism and the Afro-Cuban Ritual-Arts Movement, 1899–1969 · 39
---
environment, with easy transitions, between their practices. A close analysis

of their altars and art practices reveals that Tiburcia, Hortensia, Iluminada,

and Carmen relied on the tension that existed between their different ritualarts

practices in order to draw diverse audiences, thus engaging the agency,

dynamism, and creativity that would be essential to pass on their beliefs.

40 · Afro-Cuban Religious Arts
---
@ 2

W

Tiburcia and the Nested Spaces

of Afro-Cuban Ritual Arts,

1861–1938

In the wake of the 1912 Negro Rebellion in eastern Cuba,

also known as the "Little Race War," 1 many leaders of the cabildos in Havana

were arrested and prosecuted. The leadership of these Afro-Cuban religious

fraternities was all male, and among those arrested were members of the organization

in which Tiburcia Sotolongo y Ugarte actively participated. However,

in this period the police seemed uninterested in persecuting women,

and so Tiburcia was able to continue her practice of Espiritismo, folk Catholicism,

and La Regla de Ocha with no untoward consequences. Tiburcia

created altars and conducted religious services in her private Central Havana

home. Her practice employed especially innovative ritual spaces and different

artistic media. These household installations captured wider audience

interest through visually compelling comparisons of different religious imagery.

Practices like Tiburcia's enabled the growth of multiple Afro-Cuban

religions in the midst of the volatile circumstances of early twentieth-century

Havana.

This case study emphasizes the changing roles of Afro-Cuban women

over the course of Tiburcia's lifetime, from 1861 until 1938. Tiburcia's story,

from the slave plantation where she was born and raised to her life in Havana

City, illustrates how social roles and the spaces relegated to women

dramatically changed in the late nineteenth and early twentieth centuries.

By the early 1880s, the Spanish colonial government had officially granted

Afro-Cuban religious groups the right to assemble. 2 After Cuba won its independence

from Spain in 1898, these laws remained in place. However, as

the threat of black political organization mounted, male Afro-Cuban religious

practitioners soon faced the brunt of police persecution. As a result,

41
---
Afro-Cuban women emerged as important religious leaders of the period.

Their religious work was largely practiced in their homes. And although the

Cuban government would attempt to repeal the rights of Afro-Cuban religious

groups to convene in the home, its efforts came too late. Throughout

the early twentieth century, the police could only selectively regulate the

thousands of new spaces that were developing for Afro-Cuban religious arts.

Uniquely sheltered in this way from police persecution, Tiburcia continued

to make ritual art that drew upon her hybrid religious practices. We

can conceptualize Tiburcia's household as a set of separate but interrelated

spaces for her distinctive ritual practices, much in the way that Michael Keith

and Malcolm Cross conceptualize the modern city as, "in part, a nested series

of overlapping locales through which the different processes and scales

of racialization are realized." 3 As Keith and Cross argue, the "nested" city acknowledges

the discomfort and ill-fitting nature of some overlapping social,

ethnic, and even religious systems in England and in the United States. They

recognize that by creatively taking commonalities, contradictions, and anxieties

into account, the urban environment successfully provides an outlet

for multiple races and identities. Just so, in this chapter I reconfigure Keith

and Cross's concept of "nested spaces" in order to analyze the various spaces

configured for the ritual arts in Tiburcia's own home in Central Havana. 4

Drawing on Espiritismo, folk Catholicism, and La Regla de Ocha, Tiburcia

interpreted separate strands within the constellation of Afro-Caribbean

belief systems in order to appeal to the different and varied concerns of her

clientele, especially women. The different "nested spaces" in Tiburcia's home

reflected the anxieties of Cuban blacks concerning identity that were critical

in the development of the Afro-Cuban religious movement.

Tiburcia's Background

Tiburcia Sotolongo y Ugarte was born on April 14, 1861, on San Miguel Plantation

in Jaruco Township, Havana Province. 5 Her known family members

were held as slaves on the plantation of Baltasar Sotolongo, then run by a

descendant, Maria Dolores Ugarte. San Miguel Plantation was not one of

the largest sugarcane plantations in the area, but the extensive documentation

compiled by the clergy of Jaruco's central church indicates that San

Miguel's enslaved black population had organized religious groups there. 6

Jaruco's church was at least ten kilometers distant from San Miguel and did

not permit blacks to participate in the regular daily mass. On major holidays,

42 · Afro-Cuban Religious Arts
---
however, San Miguel was among the plantations that sent their entire community

to the church's square for celebrations, including an annual parade

of the church's patron saint, Saint John the Baptist. Outside these large festivals,

religious meetings took place at San Miguel Plantation, for which San

Miguel's black community temporarily converted barns and living quarters

into spaces to hold unofficial masses. 7

Jaruco's clergymen referred to the religious practices on the plantations as

"Espiritismo." The label "Spiritism" appears to have been a form of dismissal

widely applied to Afro-Cuban Christian practices. Nineteenth-century

Spanish clergymen gave this name to many different Afro-Cuban religious

practices because enslaved black men and women conducted services without

trained officiants and offered Spanish Christian prayers in tribute to the

dead and their ancestors. 8 It is not known if the black community referred to

its own practices as Espiritismo, but under whatever rubric, it is known that

San Miguel's religious community was well established.

San Miguel Plantation was one of the most distant stops along the railway

line that brought plantation goods to Havana. Neighboring plantations and

their workers passed through San Miguel to access this station, and Tiburcia

lived less than two hundred meters from this important meeting point

for the laboring community. Among the people she encountered there was

Margarita Armenteros, a West African, Yoruba-born slave from the adjacent

Armenteros family plantation. The Armenteros plantation is not well

documented in the Jaruco archives, but a number of the enslaved laborers

brought there were described as "West African." This was not the case for

the San Miguel Plantation, which relied on primarily second- and third-generation

Afro-Cubans for its labor needs. 9 Following the collapse of slavery,

Margarita Armenteros would act as Tiburcia's godmother in La Regla de

Ocha religious practices in Havana City.

Unlike other parts of Cuba, in Jaruco the practice of slavery ended slowly.

Only in the 1880s did the Jaruco plantation communities give in to larger

social pressures from neighboring areas. Black Cubans were all given their

freedom in return for the black men's participation as soldiers in the ongoing

battles for independence from Spain, and more than three thousand men

from Jaruco died in the fighting. 10 Many of the black men who survived the

war, and even more of the black women, including Tiburcia and Margarita

Armenteros, moved into central Havana City. The black women who came

to Havana in large numbers, including Tiburcia, created the foundation for

the new Afro-Cuban religious community.

Tiburcia and the Nested Spaces of Afro-Cuban Ritual Arts, 1861–1938 · 43
---
Practicing Three Religions in Havana City

Tiburcia originally moved onto Broad Street, one of the main thoroughfares

of the city. 11 She married José Borroto, a man at least twenty years her senior,

and took care of him in their apartment. The community, near the University

of Havana, has been described as an important center for Cuban culture. 12

Referred to as Cayo Hueso, the neighborhood stood between the mansions

of Havana's wealthiest classes and the humble ghettos, or solares, of the poor.

Tiburcia's husband was extremely fortunate to be employed in Havana's

archives. The historian Rafael Fermoselle explains that in 1907 there was

a high rate of unemployment among Cuban black men, with at least 5,186

unemployed. Among black women, the figures were much higher, even

alarming, with 149,352 unemployed. 13 As one of these women struggling to

maintain her position in Havana's economic middle ground, Tiburcia faced

a significant challenge. She determined to etch out a career that capitalized

upon her unique training in religious practices. By this time, she had also

become an active member of the Nuestra Señora del Carmen Church, which

was racially integrated. Until her death in 1938, Tiburcia attended mass there

at least twice weekly.

The fact that racial integration existed in Havana's churches did not mean

that the church community intermingled easily. As a result, at the turn of the

century thousands of new clubs and societies were formed, many of them

religious organizations specifically intended for men and women of color. 14

All formal organizations in Cuba were required to register with the government,

and religious groups had to declare their denomination. A few groups

inscribed themselves as "mutual societies," and some added the historical

annotation cabildo, or African fraternity. The majority, however, accepted

the Cuban government's classification of their practices as "Espiritismo." 15

Almost all of these associations were based in private homes. And since

only the most organized groups—those capable of collecting dues and paying

government taxes—actually petitioned the government for recognition,

hundreds of these associations were never documented at all. Although Tiburcia

submitted no paperwork for her household practice, it was widely

known that her activities in the church turned into additional prayer and

spiritual sessions in her home. Such private practices served the needs of the

black community, particularly black women, and for Tiburcia they slowly

became her primary focus.

Tiburcia's surviving family members all insist that religious work was

44 · Afro-Cuban Religious Arts
---
Tiburcia's only real profession throughout her lifetime. 16 However, since she

had not been formally trained, Tiburcia's saw herself as a "spiritual worker."

Espiritista was not a title she gave herself, but one that gradually evolved, in

Havana and throughout the Caribbean, to describe those who conducted

spiritual masses, or séances, and practiced folk Catholicism by celebrating

saints in their homes. Tiburcia's intimate masses were informed by the Afro-

Cuban Christianity she had learned on San Miguel Plantation. She combined

Spanish prayers with the songs, rhythms, and mediumship practices

perhaps most identifiable with Central African Christianity and French Spiritist

theory—but certainly unique, following her own knowledge and design.

17 Tiburcia's family was unable to identify any cultural source of her style

of religious practice. Rather, Tiburcia's living adopted daughter explained

that Tiburcia modeled her work on the beliefs and practices of her ancestors

and teachers, including her godmother, Margarita Armenteros.

Scholars have attributed the rise of Espiritismo practices to the influence

of Allan Kardec's writings; however, it is important to note that like

many women of her time and circumstance, Tiburcia was not literate. She

did not directly use prayer books or the Kardecian Spiritism manuals that

were translated and well distributed throughout the Caribbean and Latin

America. Occasionally, she had her husband read passages to her. Later in

her life, she made sure that her four adopted children could read, and they

became instrumental assistants in her practice. Tiburcia's interest in mediumship

and the dead, and in historical religious beliefs, led her to study

African religious practices, an interest that was further fostered by Tiburcia's

dependence on oral communication rather than the written word. Her

consultations with Margarita Armenteros focused on West African religious

practices. Armenteros's identity as West African was critical to the emerging

organization of Afro-Cuban La Regla de Ocha. 18

Armenteros had initiated Tiburcia into La Regla de Ocha on September

8, 1899. 19 The ceremony transformed Armenteros and Tiburcia's relationship

into that of godmother and goddaughter. Living relatives could give only a

few details of Tiburcia's initiation. Family legend has it that it was on the day

of Tiburcia's itá, when divination is performed to consult the oricha about

the past, present, and future of an initiate in La Regla de Ocha, that Tiburcia's

multilayered religious role was officially established. Although most

initiated priests are given instructions solely as to their role in La Regla de

Ocha, Tiburcia's itá required that she practice more than one belief system

and that she maintain different altars in her home. 20

Tiburcia and the Nested Spaces of Afro-Cuban Ritual Arts, 1861–1938 · 45
---
Reading the outcome of sixteen cowry shells, a diviner discovered that

Tiburcia was to maintain her Christian and Espiritismo religious practices as

well as perform the duties of a priest of La Regla de Ocha. 21 As a new santera,

Tiburcia was told that she should keep a figure of the Virgin Mary—specifically,

the folk Catholic figure Nuestra Señora de la Caridad del Cobre—in

the frontmost room of her home. Tiburcia was to place her where the community

would be able to see her. However, her new altar for the Afro-Cuban

oricha, including a container for her patron, Ochún, should be kept in a back

room, out of public view. Early publications on Afro-Cuban religion argue

that folk Catholic and spiritual arts were employed as a screen to "hide" the

arts of La Regla de Ocha, thereby keeping the police at a distance to possible

persecution. 22 Tiburcia's life story directly contradicts such a reductive

model. In fact, in their practice of Afro-Cuban divination, practitioners are

urged to seek advice from other religious practices or professionals such as

doctors or lawyers in order to resolve their concerns. That Tiburcia was told

to continue to practice both Espiritismo and folk Catholicism along with

her new duties as a santera, or priest, of La Regla de Ocha was not unusual,

especially since she was seeking to advance her religious following in Havana.

Initiated into La Regla de Ocha and trained in multiple belief systems,

Tiburcia held an important advantage in attracting future clients.

Roles for Women in the Ritual Arts

Armenteros's initiation of Tiburcia into La Regla de Ocha lasted sixteen

days, and the ceremonies required help from other initiated santeros. These

assistants probably came from the membership of the Cabildo Africano

Lucumí: Sociedad de Santa Bárbara, an organization in which both Tiburcia

and Armenteros participated. The Cabildo Africano Lucumí was an official

reconstitution of one of Havana's historic Afro-Cuban religious societies

that had long participated in the parades and festivities held in Havana City

during the early colonial era. The headquarters of the organization, at 80 San

José Street, was not a public meeting hall, however, but a private residence.

Nonetheless, the organization had a large public following. 23

The association's name suggests that the group modeled its practices

primarily on those from West Africa. A number of the group's leaders were

Lucumí, a colonial-period Cuban term for the cultural group now popularly

identified as Yoruba. Among the leaders descended from the Yoruba were

Margarita Armenteros (called Ainá in Afro-Cuban ritual Lucumí language)

46 · Afro-Cuban Religious Arts
---
and the well-known babalao, or diviner, Ño Remigio Herrera (Adechina). 24

Other members, including Tiburcia (named Ochún Miguá in ritual Lucumí),

did not necessarily meet the organization's stated requirement for a direct

Lucumí ethnicity, but the practice of "fictive kinship" permitted the adoption

of outsiders. 25 Tiburcia's relationship as the goddaughter of Margarita

Armenteros provided the familial ties needed for membership.

It is clear from the Cabildo's 1900 regulation handbook that the group

sought to distinguish itself by recruiting both men and women. In light of

the fact that so many single black women were seeking employment and

support in postwar Havana, including women was a means of attracting

greater numbers of potential members. The handbook specifically states:

Article 1. This society will consist of individuals from both sexes that

belong to the African nationality known by the name as Lucumí. 26

The regulation book then spends several pages defining men's roles within

the organization. These include administering aid to the infirm and the collection

and expenditure of regular dues. Acceptance into the society was

determined by the highest-ranking men in the organization.

Notably, the Cabildo also established a separate "Ladies' Directive" to

organize women members. The existence of the Ladies' Directive indicates

their high level of participation in the association, as well as the need to establish

separate goals for women that would not conflict with the men's duties.

27 In 1900, Margarita Armenteros served as the first Councilor of the Ladies'

Directive of the Cabildo. The role of the Ladies' Directive was explicit:

Article 34. The attributes of the Ladies' Directive are: to promote meetings

of the Society to deal with subjects of the society, and to conserve

the good order and composure of the same society; to later give account

of the meeting to the President and the general membership. Thus also

charged to adorn the hall when it will be necessary and to also stimulate

in the Society the ideas of other members and those that are not members

of the society. 28

Women were given direct responsibility for presenting the mutual aid society

and its religious practices to the public. The regulation book explains that

the preparation of the hall for religious celebrations was a primary means

to attract the wider public, both initiates and non-initiates. Specifically, the

regulation book indicates that these preparations were largely related to the

presentation of altars:

Tiburcia and the Nested Spaces of Afro-Cuban Ritual Arts, 1861–1938 · 47
---
There will be a female steward that will take responsibility when necessary

to fix the altars and to gather offerings that will be used for the

celebration that will be celebrated in the days indicated according to

art. 6 of this Regulation book. 29

The 1900 handbook provided that the women of the Cabildo should create

these altar decorations for the December 4 celebration of the Day of Santa

Bárbara, the patron saint of the Cabildo. The altars would be available during

the course of three separate religious events: a misa espiritual (mass), "said

in requiem of the suffering of the souls of the late members with a response

at the end"; a separate mass held at the church; and an Afro-Cuban drum

celebration, or tambor, in the Cabildo's house. 30

In 1910, a new handwritten regulation book added the requirement to

celebrate two more saints' days. 31 The Cabildo then dedicated further ritual

services, on September 24 to Nuestra Señora de las Mercedes, and on September

8 to La Vírgen de la Caridad del Cobre, whose figure Tiburcia kept

in the front of her home. The additional celebrations point to the expanding

interests of the society and to the Ladies' Directive's increasing capabilities

to prepare for such events. These extraordinary manuals demonstrate that

altar-making had become a special purview for women in Cuba by the early

twentieth century. They also show that Tiburcia's practice was by no means

exceptional. For each of the celebrations described in the Cabildo's handbooks,

three separate rituals drawing on folk Catholicism, Espiritismo, and

La Regla de Ocha were performed. Although some members participated

only in portions of this ritual cycle, Tiburcia was known to be a dedicated

supervising member for all three events. 32 Tiburcia's family explains that she

encouraged participation in the church ceremonial visits and the spiritual

misas even after increased police interference, particularly in the 1910s and

1930s, made it impossible to celebrate the third event, the Afro-Cuban drumming.

During the decades when the Cuban government stepped up its persecution

of Afro-Cuban religious practices, Tiburcia held more of the events

in her new home on Stove Street, only a few blocks away from the Cabildo's

official quarters.

Tiburcia's untiring efforts to celebrate all three separate rituals indicate

that, for her, the events were not interchangeable. A misa espiritual could

not be substituted for the drumming for an oricha, or for the celebration of

a saint in the church. Instead, all three events complemented one another to

express her complex ancestral religious inheritance.

48 · Afro-Cuban Religious Arts
---
The House on Stove Street

Tiburcia's Stove Street house (see figure 2.1), which is still occupied by her

living adopted daughter, Olga Calvo Puig, 33 consists of six rooms with a

hallway leading to a small enclosed garden. The front living room provides

the only access to the street and holds most of Tiburcia's extant art objects,

including those conspicuously placed in folk Catholic or temporary Espiritismo

altars as well as one less-visible figurative sculpture celebrating an Afro-

Cuban oricha. The other rooms include a dining area, the two bedrooms for

Tiburcia's adopted children, the bathroom, and the makeshift kitchen—all

open to a small central patio. The dining room was partitioned off in order

to create the bedroom where Tiburcia slept and kept her larger altar for La

Regla de Ocha's oricha. 34

Before I proceed with my discussion of the religious objects found in Tiburcia's

home and their special placement, I should say a word about altars.

Among Afro-Caribbean religions, altars constitute a site for the observance

of ritual, and they are particularly important because they convert secular

space into sacred space. Altars not only contain imagery essential for the

ritual performance, they also feature materials related to the practitioner's

personal expression of religious art and beliefs. For Tiburcia and her contemporaries,

the practice of creating an altar was extremely important, as

ritual-art objects helped to convert the harsh conditions of the plantation

into a space offering brief periods of faith and respite. Notably, religious

objects and altars do not have to be permanent. Indeed, the floor plan of

Tiburcia's house shows the placement of both permanent and temporary

structures (see figures 2.2 and 2.3). 35 The plans also show that Tiburcia and

her religious family were concerned with both the creation of distinct works

Figure 2.1. Façade of the Stove Street house, Central Havana, 1920s. (Drawing by Carolyn

Yorke Yerkes and Kristine Juncker.)

Tiburcia and the Nested Spaces of Afro-Cuban Ritual Arts, 1861–1938 · 49
---
Figure 2.2. Plan of the Stove Street house with the locations of permanent altars. (Drawing

by Carolyn Yorke Yerkes and Kristine Juncker.)
---
The shaded rectangle is where

temporary spiritual bóvedas

are built near to the Caridad

del Cobre figure.

The dotted line indicates

the area where larger,

temporary celebration

thrones are built.

Figure 2.3. Plan of the Stove Street house with locations of temporary altars. (Drawing by

Carolyn Yorke Yerkes and Kristine Juncker.)

of religious art and the interaction of these separate art forms throughout the

organization of the house.

Tiburcia's religious objects and their organization in the Stove Street

house are described here in three parts. First, I describe Tiburcia's arrangement

of objects celebrating the dead, particularly altars for the ancestors, or

bóvedas, to which visitors can physically gain access. These altars illustrate

the importance of the dead in various Afro-Cuban belief systems. Related

to these altars, a spirit-doll was kept in the center of the living room. I begin

Tiburcia and the Nested Spaces of Afro-Cuban Ritual Arts, 1861–1938 · 51
---
with these religious-art objects because, theologically, the celebration of the

dead and historical religious practices are what unite Tiburcia's otherwise

distinct ritual arts. Second, I examine an altar for the Cuban Catholic figure

La Caridad del Cobre, which is also in the front room. Tiburcia intentionally

kept this figure of the Caridad near the spirit-doll, but in a separate, inaccessible

glass cabinet. Third, I analyze a number of other sculptural works and

pieces of furniture that were once parts of Tiburcia's altars for Afro-Cuban

oricha. Among these pieces are a wooden figurative sculpture of the avatar

Eleguá, which is still kept behind the front door of the living room, and the

locked cabinets for the oricha located in Tiburcia's bedroom. Together, the

objects and altars described here illustrate Tiburcia's ability to change the organization

of the house's religious artifacts to accommodate different ritual

events and the diverse interests of her clients. By investigating these items,

especially their imagery, their location, and their spatial relationships, we

can see that Tiburcia's home is a creatively organized center for a number of

belief systems formative of the Afro-Cuban religious movement.

Art and Altars for the Dead

It is important to understand that Tiburcia's practices with La Regla de

Ocha, Espiritismo, and folk Catholicism all honored the dead and ideas of

ancestral inheritance. However, these practices differed in the extent of ritual

performed. Catholicism and La Regla de Ocha treat the celebration of the

dead as only a small part of their overall practice. In a Cuban Catholic mass,

the names of the dead are recited quickly by officiants of the mass. In La

Regla de Ocha, a diviner only briefly visits the public altar to the eguns (the

dead) to ascertain their desires before conducting a longer divination session

elsewhere, to consult the oricha. If their clients and godchildren feel the

need to fulfill a larger ritual obligation to the dead, then La Regla de Ocha

priests direct them to an Espiritismo séance. The arts and objects for Espiritismo

are entirely concerned with mediumship of the dead.

Tiburcia used this common interest in the dead among her clients to organize

her religious art and altars into "nested spaces." A number of different

altars in the Stove Street house celebrate the dead. These are called bóvedas

(the term translates as "funerary crypt" in English). In the Caribbean,

the term bóveda means a working monument, or altar, for the dead. 36 It is

also important to note that today, Tiburcia's trained successors all maintain

two separate and permanent bóvedas: one for the dead, or eguns, honored

52 · Afro-Cuban Religious Arts
---
in La Regla de Ocha, and one for the dead celebrated in Espiritismo. Tiburcia

herself maintained only one permanent bóveda. Her altar for the eguns

was located in a public place and used by visitors from many different faiths

for prayers for the dead. Also, in the front of her house she would regularly

construct temporary Espiritismo altars where she kept an ancestral spiritdoll,

prepared through Espiritismo ritual practices, in order to celebrate the

dead. 37

The original permanent bóveda toward the back of the Stove Street house

is unassuming in its composition and location. This small bóveda is a collection

of specific objects representing different sensory traits and is kept in the

household's bathroom (plate 4). Tiburcia's daughter has explained that the

altar's components are meant to attract eguns, or in La Regla de Ocha ritual

language, "spirits of dead ancestors." Ritual Lucumí vocabulary is often used

to name the spirits in this altar, and this is where the santero can consult with

eguns through divination to determine the wishes of the dead. Most importantly,

this altar is located in a public space and is not restricted only to those

initiated into La Regla de Ocha. Tiburcia allowed clients to use this altar to

recite any type of prayer, whatever they knew best. Tiburcia's clients visited

her mostly for spiritual consultations, so this altar was probably used more

as a site for spiritual prayer. For Tiburcia, this permanent altar could be flexibly

used to celebrate the dead as a collectivity. Today, some type of general

bóveda honoring the dead is required by virtually all Afro-Cuban religions.

The usually very plain construction of a bóveda indicates that the cultural

identities of these ancestral spirits vary greatly. In the Stove Street example,

no portrait images are attached to this work, nor are there any sculptures or

figurines pointing to any one, specific cultural identity.

Tiburcia's permanent bóveda has a relatively straightforward structure,

as is typical in La Regla de Ocha. Because of this, scholars on the arts of La

Regla de Ocha rarely comment on the bóveda. Tiburcia's bóveda contains

two capped bottles of molasses, a tree branch, an offering of chocolate milk,

and a glass of holy water. Olga Calvo Puig and her natural sisters (from her

birth parents) have replaced these items over the years, but the ingredients

have remained the same. The molasses, sticky and tactile, is used to make the

spirits stick close by. Anyone praying to the altar may use the branch to strike

at the ground loudly and forcefully. Tiburcia's daughter explains that the

sweetness of the molasses and the sound of the branch also draw the attention

of the spirits to the altar. Food is an offering that is understood to draw

the spirits, and it is changed frequently. In this example, the chocolate milk

Tiburcia and the Nested Spaces of Afro-Cuban Ritual Arts, 1861–1938 · 53
---
is offered as a sweet item that attracts through taste. The food used could be

cake, coffee, candy, or any combination, although the sweet items are more

popular. Cigar or cigarette smoke is occasionally puffed into the bóveda. 38

Olga says the smoke is a tradition and that many ancestors share this craving.

Candles are also frequently burned in front of the bóveda. Olga insists that

the candles be tall and thin, as they burn longer. Perfumed candles are also

preferred, as they offer further sensory enhancement.

Tiburcia's bóveda for the eguns is still in a corner of the bathroom. The

small altar has always been kept there for a number of reasons. First, access

to water is paramount for the maintenance and use of a bóveda. Practitioners

of Afro-Cuban religions consider water to be the most essential conduit to

the spirits of the dead. Water, by its nature, is both ephemeral and cyclical: it

appears and disappears, like the human life cycle. 39 For a permanent bóveda,

some practitioners prefer holy water taken from a church while others rely

on their own private prayer to bless the water. Those who pray to Tiburcia's

altar regularly change the water or add an extra glass of water to the altar.

In addition to the bathroom's proximity to water, it is one of the few rooms

in the bustling Stove Street house that offers some modicum of privacy while

also remaining accessible to the visitor. Olga regularly invites guests to use

this small altar. Unlike the altars for Afro-Cuban oricha kept elsewhere in the

house, away from public traffic, this small bóveda can be engaged without

supervision and without extensive instruction. It is intended as a site for

personal prayer. Olga and her sisters acknowledge that this bóveda is not as

visually appealing as they would like, but they prefer to reserve their freshly

cut flowers for the ancestral altar at the front of the house.

This altar (see plate 5), dedicated to Tiburcia, was built after her death in

1938 and is used for special occasions. A portrait made during Tiburcia's lifetime

is the focus. The altar is located in the spot where Tiburcia frequently

held religious consultations and ceremonies for Espiritismo and folk Catholicism

and even drum celebrations for La Regla de Ocha. The area below the

portrait altar is also where household religious celebrations are held today.

The altar consists of a glass of water and two portraits. The larger, central

portrait is a head-and-shoulders rendition of Tiburcia Sotolongo y Ugarte.

The smaller, black-and-white photograph is of Tiburcia's eldest adopted

daughter and successor in ritual-arts practices, Hortensia Ferrer. The painted

portrait was commissioned by Tiburcia's husband, José Borroto, who passed

away in the late 1920s. 40

The painting was in its place in the front room of the Stove Street house

54 · Afro-Cuban Religious Arts
---
y the early 1920s, presiding over Tiburcia's household religious ceremonies

even in the two decades before her death. Tiburcia was fifty-five years old

when she sat for the original photograph taken on May 15, 1916. The painter

reinterpreted the image and added Tiburcia's signature white coral necklace

and earrings. Tiburcia wears this necklace in the same way Victorian women

wore pearls. The necklace also serves to underline the relationship between

Tiburcia's Cuban-Victorian lifestyle and the Afro-Cuban ritual arts, since the

coral necklace is repeated in the Caridad del Cobre altar that is described

later in this chapter.

In the years following Tiburcia's death in 1938, Olga and the family began

to place offerings to the portrait, treating it as a spiritual bóveda dedicated to

Tiburcia. The transformation of the portrait into an ancestral spirit altar was

seen as a natural progression among those living in the house because the

portrait was already hung close to where Tiburcia had held her consultations

and religious ceremonies. Not much needed to occur to transform the work

into a bóveda. Directly beneath the portrait there is now a shelf, painted

white to blend in with the wall. A glass of holy water stands on the shelf, as

does a vase for flowers and a small plate for food. Each week the water and

food are replaced. Flowers and burning candles are also placed on the altar,

and perfume is sprayed in the air around the space. The portrait altar and

its offerings are located at the front of the house near to where temporary

bóvedas are constructed, which is a reminder of Tiburcia's foundational relationship

with the practices that have occurred there for nearly a century.

The Calvo Puig sisters add special additional touches to the portrait altar

and temporary Espiritismo altars when a misa espiritual or a larger celebration

is held at the house. Following traditions established by Tiburcia, the

current owners of the Stove Street house make the temporary ritual altar as

attractive as possible in an effort to attract the spirits of the dead. An image

of a temporary spiritual bóveda from a small misa held in the Stove Street

house in 2003 shows a collection of fragrant flowers, herbs, perfume, cigars,

three glasses of water, a piece of white satin, and a mirror added to carry light

about the room (see plate 6; the altar's location is shown in figure 2.3). A

bowl of perfumed water filled with flower petals is placed just below. When

a misa is celebrated, the participants apply this perfumed water from the

altar to their bodies. Usually, participants dip their hands into the water and

make the sign of the cross across their bodies, but sometimes practitioners

apply the water to where they feel aches and pains, often sprinkling it over

their heads to clean their own spirit. Often, participants use leafy branches

Tiburcia and the Nested Spaces of Afro-Cuban Ritual Arts, 1861–1938 · 55
---
of herbs from the altar to spread the perfume water across the room or onto

the bodies of those present. Some smoke the cigars. The sensory elements

intended to attract the spirits are thus applied from the spirit altar to the

medium during the ritual. 41 These items are ephemeral. Once the ritual is

complete, the different elements of the temporary altar are usually distributed

to different parts of the house.

Apart from the portrait altar for Tiburcia, the only other element in the

front room related to the dead is a figure for Espiritismo practices. The Calvo

Puig sisters insist that Tiburcia always maintained a spirit-doll. Today, the

ancestral spirit-doll still sits, inconspicuously, just below eye level, on a chair

alongside the seats used by visitors. Since Tiburcia's time, the actual doll has

changed a number of times. The family notes that as a vessel for spirits of

the dead, the figure should always be attractive. The present doll has fallen

into some disrepair, as this particular figure has been in use since at least the

1960s (see plate 7). 42 However, the Calvo Puig sisters still regularly change

the spirit-doll's clothing in an attempt to make the figure attractive.

We can, however, draw certain conclusions about the home's practices of

celebrating the ancestors from the exterior visual characteristics of the doll

as well as its location. Although the doll was mass-produced to represent a

child, it has been reconfigured as an adult. The clothing is in the style of a

colonial-era woman: layers of fabric abound with ruffles, and the dress is

adorned with lace, a high neckline, and short capped sleeves. The body of

the figure has been repainted to change her race to black. The colonial-era

clothing and the figure's ethnicity identify this ancestor figure as either concurrent

with Tiburcia's time and circumstances or predating her. The doll sits

in the living room adjacent to the spirit-altar portrait of Tiburcia. This placement

provides a subtle contrast between the doll's relatively anonymous female

figure and the specificity of the portrait altar. 43

The position of the spirit-doll is pivotal, establishing its important relationship

with both the audience and with the other ritual objects in the

room. The doll is always sitting up and alert. By placing the doll in a chair in

the living room, Tiburcia devoted space to the unseen spirits of the dead that

are embodied by the doll, space that could otherwise have accommodated

her numerous living clients. 44 The presence of the ancestor figure deliberately

establishes the presence of the spirits of the dead alongside the actual

living people sitting in the room. The ancestor spirit is treated as if she were

still living, and by taking up this space in the living room, the spirits are portrayed

as still capable of action and interaction.

56 · Afro-Cuban Religious Arts
---
The ancestral spirit-doll sits at the heart of the household, and her static

presence serves as a contrast to the bustle of the different consultations and

ceremonies that occur in the house. Near to the spirit-doll, Tiburcia had

placed the altar for La Caridad del Cobre (see plates 8 and 9). The spiritdoll

is positioned beneath the altar and slightly to the right. Just as the living

audience in the room looks upward at the Caridad altar figure, so does the

doll. In contrast to the gold-and-yellow dress of the Caridad figure, which I

discuss in greater detail later, the spirit-doll is dressed in shades of blue and

white, with a red ribbon in her hair. The layers of blue and white are a reference

to the oricha Yemayá, a mother figure and the proprietor of the ocean.

The blue-and-white layers refer to Yemayá's waves, particularly when she is

engaged in ritual dance. The red ribbon is a reference to Yemayá's willful husband,

the oricha Changó, the owner of thunder and lightning and fire, and

one of Ochún's lovers. The doll thus represents the colonial-era celebrants

of Yemayá, and the household thereby establishes an important equilibrium

in the front room of the home. As a santera of Ochún, Tiburcia needed to

maintain a balanced relationship with the other oricha who often struggle

with Ochún. It was essential to acknowledge Yemayá and this complex religious

folklore in the space, not only to maintain peace between the different

religious practices but also to appeal to the audiences that also grapple with

such competition for affection in their own lives.

Tiburcia's organization of the space shows that the Caridad was intended

to be viewed not only by the public but also by the spirit-doll, who acts as

another member of the audience. This positioning, especially with respect

to the complex folklore of Afro-Cuban religions, appears to function as a

means to attract ancestor spirits to the doll. Moreover, Tiburcia's placement

of the spirit-doll facing the Caridad is a means to honor those individuals in

her spiritual genealogy who also honored the saint.

Although the altars and art I subsequently analyze are more impressive

visually, I cannot emphasize enough the relationship between this ancestor

doll and the other altars situated throughout the house. The spirit-doll

provides one of the most important links between these altars. Just as Tiburcia's

clientele in the 1920s and 1930s had to make choices regarding the belief

systems that they would work with, Tiburcia juxtaposed the colonial-period

spirit-doll with these audiences waiting in the living room. The doll is an acknowledgment

of that important period when women and men were caught

at a religious and cultural crossroads. The figure at the center of the living

room articulates the difficult balance and the tensions that existed among

Tiburcia and the Nested Spaces of Afro-Cuban Ritual Arts, 1861–1938 · 57
---
the different belief systems of that time and that are represented throughout

the Stove Street house (plate 7). Her presence also indicates Tiburcia's inheritance

of these tensions. Through the spirit-doll, which usually was representative

of one of the medium's guiding spirits, Tiburcia acknowledged that

she had inherited these challenges and that she needed the different spaces

of her house to articulate this complicated heritage.

The unassuming bóveda in the bathroom and the temporary spiritual

bóvedas honor the ancestors in a general sense. They are composed of elements

meant to attract all the ancestor spirits, regardless of the audience's

religious beliefs, and are available to all without intervention. In contrast,

the spirit-doll in the living room and Tiburcia's adjacent portrait together

reflect the difficult mediatory role of women in the late 1800s and early 1900s

and their varied household religious practices. Through the relationships articulated

in this display, Tiburcia is acknowledging the multiple and diverging

beliefs of her Afro-Cuban ancestors. Their different faiths are integrated

throughout the house, but they also maintain their distinctive personalities

across divided spaces.

Nuestra Señora de la Caridad del Cobre

Tiburcia's presentation of the Caridad figure is the most elaborate among the

permanent altars in the front room. Because of its placement at the front of

the house, which could be seen from the street, and its lavish ornamentation,

it is the single most pronounced altar in the house. To maintain her audiences'

constant interest in this altar, Tiburcia frequently changed the details

in its presentation. The imagery attached to the Caridad shared aspects of Tiburcia's

practice within folk Catholicism, and for knowledgeable audiences

it also included references to the other ritual arts and belief systems present

within the house. By examining the space utilized for this altar as well as the

art objects frequently applied to the Caridad, we can see that Tiburcia relied

on this figure in her construction of nested spaces for her religious audiences.

Here, layers of distinct imagery are particularly prominent.

Tiburcia had the front altar cabinet specifically built for her sculptural

image of the Caridad. The cabinet itself is not a simple piece of furniture. Although

the long historical precedence of cabinet altars housing saint sculptures

for Christian churches is relevant here, Tiburcia's handcrafted cabinet

shares characteristics with the vernacular altar traditions of the Americas.

The scholar Joseph Sciorra has studied the creation of culturally specific personal

shrines throughout the Americas as a means for migrants to claim their

58 · Afro-Cuban Religious Arts
---
own space, particularly in urban areas. 45 In his presentation of Italian American

shrines in New York City, Sciorra analyzes how, often, specific imagery

carved out detailed cultural references, even in the case of religious figures

that were celebrated by people from many different backgrounds. This is the

case with Tiburcia's cabinet altar.

The cabinet's construction features three panes of glass and open woodwork.

Most intricately, the four front corners display crosses carved out of

the wood. Four-cornered imagery holds much significance in the African diaspora;

it juxtaposed the philosophy of the "four moments of the sun" prevalent

in the historical Kingdom of the Kongo with the four stages of life. 46 In

the Kongo cosmography the movement of the sun is counterclockwise: in

its first position, the sun rises from the eastern horizon of its birth; second,

the sun moves to the highest point in its life cycle; third, the sun meets the

western horizon, representative of death; and fourth, below the horizon line,

the sun regenerates and returns. 47 The cabinet for the Caridad repeats this

cosmography, making it explicit that the altar is not only for the living visitors

in the room but also for the ancestral spirits who are present nearby.

The location of Tiburcia's altar for the Caridad is also significant, because

the figure faces the front window and door of the Stove Street house. In

the past, both the door and window were open for most of the day, which

permitted a view of the Caridad from the street. The open door and window

also helped keep the house warm: the Stove Street house is only 150 meters

from the Atlantic Ocean and it can be quite cool inside, even in the summer

months. This inviting atmosphere featuring the ancestor altar and the Caridad

was an enticement for community members to enter the house.

From the street the accoutrements of the figure grab a viewer's attention.

The Caridad is carved from wood, and her several layers of a warm brown

paint, lovingly applied over the generations, attest to her mixed-race, or

mulata, heritage. Her arms and legs are attached separately onto wooden

turning points, to permit movement and to aid in the ritual changing of her

clothing. No more than sixteen inches high, the Caridad nevertheless has a

powerful place in this household and in the Cuban community. Following

the traditions that Tiburcia established, her religious family constantly reinterprets

the elements used to adorn the figure, and practitioners, clients, and

local residents return to the house for holidays and religious celebrations

to visit the Caridad and see these changes. Since she is the virtual center of

the household, the Caridad's ever-changing adornments reference the other

ritual-arts practices celebrated by Tiburcia and her descendants.

Tiburcia and the Nested Spaces of Afro-Cuban Ritual Arts, 1861–1938 · 59
---
Beneath the Caridad are other objects and attributes that are frequently

rearranged. The figure sits on a tall porcelain pedestal. A separate porcelain

piece below the pedestal features the three fishermen who according to popular

Cuban folklore discovered the original sculpture of La Caridad del Cobre

off Cuba's shores and brought it to the town of El Cobre. 48 In general, the

miracle of the Caridad figure is in her survival and, in turn, in the prosperity

that she would bring to the town of El Cobre (famous for its copper mines).

However, for Cubans, the more significant message of the Caridad story has

to do with the racial characteristics of her three discoverers: a white man,

a black man, and a mulato. 49 It is this interpretation that Tiburcia chose to

represent in her altar. The pedestal and the three figures have been repainted

several times to maintain their original colors.

To this day the Caridad's clothing continues to occupy Tiburcia's religious

family, as well as visiting espiritistas, santeras, and the family's religious clientele.

Her clothes have been changed regularly on different holidays since

Tiburcia first began maintaining the figure. The original clothing is long lost.

Still, the figure is always dressed in yellow clothes, as yellow serves as an important

tribute to the Caridad. The color yellow is also one of the attributes

of the Afro-Cuban deity Ochún, who is celebrated in Tiburcia's separate altar

for La Regla de Ocha, maintained in her private bedroom. These separate

spaces for the two altars create a physical separation between the separate

ritual celebrations for the Espiritismo saints and for the oricha of La Regla

de Ocha.

A cape always covers the top of the Caridad's head and sweeps past her

back. The cape, or mantle—a piece of fabric cut into the shape of a circle—is

draped to extend behind the figure's body, creating a pyramid shape with her

head and crown at the top. In the Stove Street house, the mantle is changed

much more frequently than anything else. A comparison of different collected

images of the Stove Street Caridad shows that the yellow cape has

sometimes been exchanged for one made up of gold sequins or other luxury

fabrics. Family members note that the Caridad's cape is both visually and

ritually more significant than her other clothing. 50 This is because in a number

of different religious Afro-Cuban practices, the head serves as the seat of

the practitioner's spirit. 51 To emphasize the head and the cape further, the

Caridad also has a crown.

The connotation of royalty that the Caridad figure presents serves as an

important cross-reference between different religious and cultural traditions.

52 The necklace made of red coral 53 that Tiburcia added around the

60 · Afro-Cuban Religious Arts
---
figure's neck also has significance. For one thing, there was a long tradition

of owning coral among the West African kings, particularly the Edo kings, 54

a fact recognized by virtually all Afro-Cuban religious practitioners. Coral

also is important for La Regla de Ocha practices, as red coral is frequently

attributed to a number of different oricha—and particularly Ochún, Tiburcia's

patron avatar: Tiburcia and those of her family members who were also

santeras of Ochún usually wore coral necklaces. Finally, in Afro-Atlantic

Spiritist practices coral serves as a natural element and is sometimes recommended

for healing baths.

Other pieces of ornate antique jewelry have been appended to the Caridad's

clothing. There are two brooches: one is a jeweled cross that has been

placed into her outstretched right hand, and the other is a light blue glass

brooch in the shape of a bow. The brooches and pendants, originally intended

for human use, intentionally become enormous in relation to the

sixteen-inch figural sculpture, thus enriching the quality of her possessions.

The decoration of Tiburcia's Caridad figure is always in a state of change,

along with its references to other belief systems. The most permanent characteristic

is therefore the space in which Tiburcia established the altar and

the ritual role that the altar dictates. To control audiences' interaction with

the figure, Tiburcia always kept the Caridad's cabinet locked, unless there

was a mass celebrating the Caridad or a private consultation was occurring in

the house. Tiburcia understood that her clients would want to touch the figure

and leave offerings, so she added a quilted satin background just behind

the figure in the altar. The background provided a surface to which offerings

could be pinned, allowing them to be near to the Caridad but not directly on

the figure's treasured clothing.

In Tiburcia's time, during household masses or private consultations it

was popular to pin tiny ex-voto sculptures directly onto or nearby the figure

of a saint. The offerings varied in their manufacture and shape, but early

twentieth-century Cuban ex-votos usually depicted specific body parts,

from hearts and kidneys to ears and feet. Pared down to reflect the basic

shapes of these bodily organs or extremities, the ex-votos suggest that visitors

came to seek relief and healing from their pain or from health problems.

Notably, these ex-votos are body parts and were applied to the otherwise

whole-bodied Cuban Catholic saint; this contrast of the ailing part applied

in supplication to the entire healthy body of a holy figure appears to be essential

in seeking healing from pain and suffering. 55

The ex-voto tradition is highly variable, depending more upon individual

Tiburcia and the Nested Spaces of Afro-Cuban Ritual Arts, 1861–1938 · 61
---
practitioners making a request to a saint than on specific rules laid out by a

religious governing body. 56 In fact, although the church provided one outlet

for the application of ex-votos to saint sculptures, a number of people

throughout Havana City and Cuba maintained figures of saints in their

homes for community use. Some practitioners maintained multiple saint

sculptures. Tiburcia, however, concentrated her practice on the Caridad.

Beyond offerings of candles and flowers, Tiburcia's Caridad received a large

number of small tin representations of body parts, similar to those found in

the churches. Among the extant examples in the Stove Street house are exvotos

pertaining to the stomach or belly region (plate 10). One of the three

pictured in plate 10 has protrusions above, identifiable as female breasts.

Arguably, all three of the ex-votos show a distended belly and thus refer to

pregnancy or childbirth concerns.

A number of other religious groups from Tiburcia's era also had a primarily

female client base, and all shared pregnancy and childbirth as central

concerns. Havana City's midwifery organization was intricately tied

to household-based Spiritist practices in the early twentieth century. One

group, Mujeres Espiritistas, published a volume in 1944 that dealt directly

with the reproductive concerns of their members and with their midwifery

practices. 57 The extant ex-votos show that many of Tiburcia's clients consulted

her regularly regarding childbirth and the care of children.

Tiburcia's altar for the Caridad therefore draws attention, both visually

and metaphorically, to women's role in religious practice, and particularly

to the role in the Stove Street household. The altar not only telegraphs the

importance of the different religious derivations in Tiburcia's practice, its

prominent position highlights the importance of women and women's issues,

elevating their concerns beyond what was to be expected in typical

religious practices. No representations of men are displayed as prominently

or publicly in the Stove Street house. Tiburcia's display is a subtle reminder

of the new positions of leadership that black women enjoyed in Havana in

the early twentieth century.

Even though other, transient ritual events took place in the Stove Street

house, it is important to note that Tiburcia kept the Caridad figure central

to all her practices. During ceremonies held to celebrate other saints and

other ritual events, the Caridad altar was always decorated. One of Tiburcia's

goddaughters, Inés Izquierda (see figure 2.4), regularly held an Espiritismo

celebration for San Lázaro, a saint associated with health and healing. 58 For

these celebrations the Stove Street family constructed a temporary altar to

62 · Afro-Cuban Religious Arts
---
Figure 2.4. Photographic portrait

of Inés Izquierda, early 1900s. (By

permission of Ángela Calvo Puig,

La Habana, Cuba.)

attract the dead, and particularly those ancestors who had celebrated San

Lázaro. However, the altar, or celebration throne, would always be built in

front of and just below the Caridad's altar. As can be seen in a contemporary

altar from 2003, the San Lázaro figure is central to the altar, but the figure

of the Caridad still looms above the male saint (see plate 11). Throughout

Tiburcia's lifetime, and still today, ritual celebratory altars have usually been

constructed in front of and just below the figure of the house's patron saint,

La Caridad del Cobre. Through this careful positioning, Tiburcia established

important cross-references among her various religious-arts practices. Her

use of space and constructive design techniques allowed for a separation of

her different ritual ideas and practices and allowed her audiences to place a

critical distance between her separate practices as well.

Arts for the Oricha

The imagery applied to the Caridad frequently included references to La

Regla de Ocha. For those aware of these references, the Caridad's position

in the front room also created significant juxtapositions between these belief

systems. In the opposite corner of the living room from the Caridad,

behind the front door, Tiburcia kept a figure of the Afro-Cuban oricha Eleguá

(see plate 12). Her main altar for the Afro-Cuban oricha consisted of

two bedroom cabinets and was in the room directly behind the public room

that held the Caridad. By examining Tiburcia's extant ritual artwork for the

Tiburcia and the Nested Spaces of Afro-Cuban Ritual Arts, 1861–1938 · 63
---
oricha and its location within the household, it is possible to reach some

conclusions about how Tiburcia made important distinctions between the

two forms of imagery and their ritual use.

Like the Caridad sculpture, the figure for the Afro-Cuban oricha Eleguá

is also about sixteen inches tall. Otherwise, there are a number of stark

differences between them. First, Tiburcia's figure of Eleguá is male. 59 His

body is much more exposed, with his bare arms thrust forward through his

clothing. His clothes consist of basic shapes of oiled sackcloth. Unlike the

expensive Western jewelry that decorates the Caridad, the Eleguá figure has

cowry shells covering the front of his tunic and pants. The forms of wealth attached

to these two figures provide a sense of contrast: a Western European

standard of wealth, gold and jewelry, is tied to the Caridad, while the Eleguá

figure is covered with the historic African unit of wealth, cowry shells. In this

sense, the clothing of both figures reveals an attachment to the symbols of

high status, albeit from different cultures.

Tiburcia's placement of the Eleguá figure on a shelf behind the front door,

in the opposite corner from the Caridad, reveals important differences in

their ritual roles. Whereas the Caridad figure is positioned in plain view of

the street, it is the Eleguá figure that actually stands closest to the street. Eleguá

is associated with crossroads and guards the transition between spaces,

such as from the street into the home. While the Caridad figure—harmless,

inviting, and maternal—serves to attract passersby into the house, the

Eleguá figure, styled as a male warrior, appears to be actively protecting the

house. He looks out onto the street through the slight crack in the door, and

his gaze is set so as to watch over the people who enter the house. Because

he is an oricha known to be a trickster, the protection he offers as a warrior

is not necessarily physical or violent. Rather, according to the folklore of La

Regla de Ocha, he has the ability to dupe malicious individuals by tricking

them into cooperation. 60 The folklore surrounding the trickster figure stands

in contrast to the somber piety of the Caridad.

Tiburcia's placement of these two statues denotes a significant difference

in their roles. While the art and altars that celebrate the dead are easily accessible,

Tiburcia made the approach to La Regla de Ocha's oricha more

difficult, relying on the spaces within her home to mediate access to it. Although

one finds references to La Regla de Ocha and other ancestral practices

in Tiburcia's public displays, the actual approach to her works for La

Regla de Ocha is complicated. For example, the front door must be closed

to approach the Eleguá figure. The public is not permitted to touch this work

64 · Afro-Cuban Religious Arts
---
without Tiburcia's supervision, nor can the figure be addressed without instruction

on the proper forms of ritual address for different La Regla de

Ocha altars. To address the Eleguá sculpture, for example, the practitioner

should not kneel, as Afro-Cuban folklore explains that Eleguá is a youth and

he must be addressed as such. On the other hand, Tiburcia's other oricha

require other means of address.

In her role as mediator between her ritual audiences and the altar for her

other oricha, Tiburcia kept the altar inside two locked wooden cabinets in

her bedroom. Figures 2.2 and 2.5 show the location of these cabinets. In this

makeshift bedroom, which is an area partitioned off from the house's dining

room, Tiburcia's oricha were kept away from the usual traffic of the house;

the cabinets were unlocked only for members of her religious family. The

design of Tiburcia's bedroom also made access difficult. The door to the adjacent

bedroom was always left open so as to further block the entrance to

Tiburcia's room. This concern to protect the oricha is also expressed through

the observation of ritual. When Tiburcia passed away, her surviving family

members had the contents of the altar ritually destroyed, so it was impossible

to analyze its contents.

The Museum of Regla in Havana has a display of an early twentieth-century

canastillero, or cabinet altar (see plate 13). Although Tiburcia's altar was

different in that her cabinet doors were not made of glass but rather entirely

of wood, the organization of the museum's canastillero is otherwise thought

to be similar to Tiburcia's altar for La Regla de Ocha. In both instances, the

structure of the cabinets indicates that the santera would supervise the audiences'

approach to the oricha inside. The altar objects for the oricha are

separated onto different shelves. Tiburcia kept ritual objects in her cabinets

for the oricha Obatalá, Ochún, Oyá, Ogún, Ochosi, Changó, and Yemayá.

She displayed a number of covered soup tureens with the undisclosed attributes

of these avatars inside them. 61 Next to the tureens were percussion

instruments, including bells, maracas, and decorated dried seedpods used

as rattles, as well as small offerings. In the smaller, intimate space of her bedroom,

Tiburcia would impart information about which instrument provided

the correct sound to address the different deities inside the altar or how the

practitioner should position herself—kneeling, sitting, standing, or otherwise—in

order to address the divinity.

The collection of objects in an altar can be extremely personal, depending

on the santera's practices and her interpretations of the oricha's desires and

characters. Surviving family members cannot accurately recount what other

Tiburcia and the Nested Spaces of Afro-Cuban Ritual Arts, 1861–1938 · 65
---
Figure 2.5. Axonometric drawing of the Stove Street house and altars. (Drawing by

Carolyn Yorke Yerkes and Kristine Juncker.)

ritual-art objects Tiburcia may have kept in her cabinets. From the general

accounts of Tiburcia's practices—the rituals she celebrated and those most

popular among her descendants—one can say that she probably also had

ritual items for Babalú Ayé, Obba, and Oricha Oko. That Tiburcia did not

explicitly share this information with her family and that no one can now

recall what was in her collection of ritual arts for the oricha is important in

and of itself. Only Tiburcia had the appropriate knowledge; only she could

act as mediator between her audiences, even including her family, and her

La Regla de Ocha altar.

66 · Afro-Cuban Religious Arts
---
Nested Spaces on Stove Street

My investigation into how Tiburcia organized her space shows that she was

methodical in how she partitioned different spaces for different belief systems.

These nested spaces offered open access to some altars and more limited

access to others. In this way, Tiburcia could supervise her clientele's approach

to the altars, most especially to her Caridad altar and the altars for La

Regla de Ocha. Although there are recurrent cross-references to Tiburcia's

different altars and ritual objects, she never made these referents stable or

obvious. They served to attract interest in her displays, and they intentionally

provoked questions from her audiences as to the juxtaposition of her theologies.

Many of the natural and hand-made elements applied to these different

altars were similar, but the constant changes made to Tiburcia's ritual-arts

displays prevented any sort of static, predictable association between the

separate altar practices. My exploration of Tiburcia's work shows that one

finds important relationships but also decisive dead-ends in the imagery of

these works and in the physical walls and barriers of the spaces in which

they reside.

Presented together, Tiburcia's ritual works are not always comfortable

with one another. One example is the significant contrast between the Caridad

figure and Eleguá. Scholars of Afro-Caribbean religions have sometimes

been unwilling to accept the "intentional discomfort" that can exist within

the practice of multiple ritual arts. Herskovits's concept of "syncretism" was

one way to explain away this phenomenon by seeing it as nothing more than

the transition to a new culture. 62 However, other studies to explain the emergence

of La Caridad del Cobre as a popular figure see her as representing

the variable folkloric practices that have defined Cuban history. 63 Likewise,

scholars of Western European Catholicism acknowledge that the saints are

not well defined and that there has been a great variation in their popularity,

representation, and ritual treatment throughout European history. The anthropologist

Andrew Apter is equally ill-at-ease with how the African orisha

and ritual arts in the Caribbean have been reconfigured by early scholars

of that religion. For Apter, the overwhelming number of deities celebrated

throughout West Africa, and especially among the Yoruba, convincingly

show that each community celebrated different divinities depending on political

and regional alliances. 64

Tiburcia's "nested altars" suggest that competition for audiences still exists

among Afro-Cuban religious families in Havana. That is, this tremendous

Tiburcia and the Nested Spaces of Afro-Cuban Ritual Arts, 1861–1938 · 67
---
accumulation of material for different religious practices underscores Tiburcia's

own life story. She accumulated more and more religious art objects in

order to be able to appeal to various audiences. As far as performing ritualarts

ceremonies for oricha such as Babalu Ayé, Orisha Oko, and Obba, each

traditionally required its own separate initiation ceremony apart from the

santera's initial induction ceremony. While some santeras accept altar objects

for these oricha as a means to address an ailment or a personal predicament,

other career religious leaders undergo these separate initiations

in order to be able to conduct such ceremonies for their own godchildren.

A number of Tiburcia's successors, including Hortensia Ferrer, have sought

out initiations into the arts of many more oricha than Tiburcia did, in order

to cater to their growing communities.

Notably, Tiburcia's deployment of nested spaces in the Stove Street house

set a precedent for and acknowledged the diversity of religious audiences in

the history of Cuba, making cultural identity a central issue for her practice.

However, the more intricate the altar and the cultural references it held, the

more her clientele had to rely on Tiburcia's specific knowledge and supervision

in order to work with that aspect of the ritual art. Beyond acknowledging

this ancestral diversity, the nested spaces that Tiburcia created also

posed critical questions for her audiences: What will each client or godchild

choose to believe? What imagery will she take away? And with what images

will she learn to work?

The dispersal of altars in Tiburcia's house acknowledges that the majority

of her clientele will not practice all of the ritual arts contained in her home.

Tiburcia resolved the anxieties of her separate communities by not proposing

a blanket solution. She did not make or impose decisions on her clientele.

She did not insist on an exclusive religious affiliation. Instead, the nested

spaces of Tiburcia's ritual arts presented a range of options to her religious

audiences and to her successors.

68 · Afro-Cuban Religious Arts
---
@ 3

W

Hortensia and Iluminada

Afro-Cuban Ritual Altars

at the Crossroads

In 1938, Tiburcia's adopted daughter, Hortensia Ferrer, inherited

the Stove Street home and the family's religious-arts practices. In the 1940s

and 1950s, she had photographers document some of the temporary altars

she constructed there (see figures 3.1 and 3.2). Hortensia's decision to make

a photographic record of her altars was contrary to the secretive nature of

most Afro-Cuban religious practices at the time. In previous decades, government

officials and law enforcement had used photography as a tool to

bring charges against a number of different Afro-Cuban religious practices,

including practitioners of La Regla de Ocha, Palo, and the Abakuá men's

fraternity. One result of this persecution was that the majority of religious

leaders kept their altars and art objects hidden and refused to allow them to

be photographed. 1 Despite this history, Hortensia sought to have her dramatic

altar displays photographed and then also allowed visitors to consult

these photographic images for religious study.

In this chapter, I make three important and interrelated points about Hortensia's

altar photographs. First, she created her small photographic archive

so that audiences could know the religious history of her house, and particularly

its artistic work. Second, the images illustrate Hortensia's reliance on

the legal and public acceptance of Afro-Cuban Espiritismo arts, particularly

as she emerged as a leader within the movement to promote these religions.

And third, the photographs are evidence of Hortensia's conscious effort to

create a canon of Afro-Caribbean religious art.

Although most of these privately owned photographs have never been

published, they have provoked a dialogue among practitioners, and arguably

have thus contributed to the shaping of Afro-Cuban art history. As a

69
---
Figure 3.1. Photograph of a temporary altar for La Caridad del Cobre, 1940s or 1950s. (By

permission of Ángela Calvo Puig, La Habana, Cuba.)

source of information, Hortensia's collection of photographs has become

one of the most long-standing and influential products of her religious practice.

This is evidenced not only with respect to Hortensia's work as a leader

of the Afro-Cuban religious arts, beginning with her initiations in 1912 and

continuing until her death in 1992, but also in the continuing work of her

successors at the Stove Street house and in the larger religious community.

70 · Afro-Cuban Religious Arts
---
The photographs are presently in the possession of Hortensia's adopted sister

and goddaughter in La Regla de Ocha, Olga Calvo Puig, and Hortensia's

nephew, Radamés Corona, a babalao, or diviner. As a babalao, Corona works

with Ifá divinatory practices. This form of divination is associated with the

oricha Orula, a high priest figure understood to have knowledge of all of the

different oricha and their folklore. While many ritual events in La Regla de

Ocha do not require Ifá divination, communities that are particularly concerned

with maintaining a direct connection to West African historical religious

practices regularly employ a babalao. 2 A number of Corona's clients

visit the house daily, which was also the case for Hortensia and which remains

the case for her successors. Some of these guests are short-term clients

seeking consultations; others are regular visitors and include both initiates

seeking training and experienced leaders in need of community or advice.

The fact that there are many different visitors to the Stove Street house has

provoked endless discussion about the household's religious-art practices.

Figure 3.2. Photograph of a

temporary altar for La Caridad

del Cobre, 1940s or 1950s. (By

permission of Ángela Calvo

Puig, La Habana, Cuba.)

Hortensia and Iluminada: Afro-Cuban Ritual Altars at the Crossroads · 71
---
During my initial stay in Havana City (2002–4) and on my many visits thereafter,

on any given day I would observe about four or five visitors to the

house. In addition, at least once a month the family holds a large celebration

involving thirty or more people. With such an active practice, Hortensia's

family is well versed in the topic of religious history, so much so that at times

a certain professional ennui sets in, not unlike the case of an academic lecturer

who is tired of hearing his or her own voice. To relieve this, instead of

answering a client's question directly, Olga or Olga's son Radamés might

sometimes ask me, the visiting scholar, to respond, and then one or another

leader would further embellish upon my response. It was an entertaining

way for the family to ascertain whether I understood their position on any

number of controversial topics. Many of the people training to be religious

leaders with the family also regularly undergo such spontaneous oral examinations.

It was also clear that this mode of discourse has been common

within the Stove Street religious family for generations.

Nine Photographs

During these engaging conversations the family regularly brings out their

collection of the nine surviving altar photographs for viewing. The photos

have ragged edges and an occasional crease, discolored spot, or tear, which

attests to their extensive handling. In Photographs Objects Histories, the photographic

historians Elizabeth Edwards and Janice Hart have argued that the

materiality of a photograph points to its significance. 3 Just so, the yellowed

creases in these photographs corroborate the family's claims that Hortensia

routinely brought them out for people to study. Family members remember

that there were several additional altar photographs but that they were destroyed

on one or more of the occasions when the house flooded—a regular

occurrence since the residence is located near Havana's seawall. Hortensia

maintained a small library throughout her career that included these images

as well as notes on her practices, which was also made available to her

religious clientele. Although Hortensia had a college-level education, most

of her notes are now difficult to interpret since she notated African diasporic

ritual languages phonetically. 4 Neither do good dictionaries exist to provide

adequate translations of contemporary ritual-Yoruba language. Because of

this, the extant photographs are among the most legible documents of her

practices, and as a result, they continue to be extremely popular with the

house's audiences. Hortensia's decision to document her religious art is thus

72 · Afro-Cuban Religious Arts
---
Figure 3.3. Photograph of Tiburcia

Sotolongo y Ugarte, 1916. (By

permission of Ángela Calvo Puig,

La Habana, Cuba.)

very important for contemporary practitioners and researchers alike. These

are not photographs of ceremonies; rather, they document the elaborate

constructions of temporary altars that are particularly representative of her

religious practices and those of the practitioners she trained.

From the start of her career Hortensia used photographs to explain her

history as a religious leader to potential audiences. She often distributed

photographic portraits of Tiburcia Sotolongo, her adoptive mother and

mentor in Afro-Cuban religious practices, using these images to explain her

religious background (figure 3.3). When I visited some of the people Hortensia

had trained, they would often bring out at least one photograph of

Tiburcia that Hortensia had given them. In most instances, they had not

known Hortensia's mentor personally, but they have kept her photograph as

a reminder of how Tiburcia's personal history connects to the religious work

they do today.

In contrast to the portraits of Tiburcia, copies of Hortensia's altar photographs

were never distributed to anyone outside her home. As a religious

leader whose practice took place in her home, Hortensia felt she had to

Hortensia and Iluminada: Afro-Cuban Ritual Altars at the Crossroads · 73
---
maintain personal control of her altar images. Although Hortensia died in

1992, these images are still consulted regularly by audiences in her home.

Until 2004 the photographs were not kept in any sort of album and so were

becoming damaged from excessive handling. In part, this was because the

family could not afford to buy an album, but it is also true that locating a

photo album in the limited Havana marketplace would have been nearly

impossible. Although I presented an album to the family that year, visitors

still regularly remove the photographs from their display sleeves for closer

inspection.

Hortensia's images are key to how the Stove Street house is presented

as a professional site for religious practice. Some scholars have characterized

photographs like Hortensia's as "vernacular." According to one interdisciplinary

group of scholars, photographs may be said to be vernacular

when they are amateurish in quality, intended for a limited audience, and

not intended for any professional purpose. 5 While the quality of Hortensia's

altar images is irregular, they are more or less used as professional calling

cards and teaching tools, and, I would argue, this precludes any association

of them with amateurish inferiority. The images are undated, and there is

no writing on the back of the photographs—in short, nothing that would

point to a specific date or time. Thus, the photographs and the discourse

they provoke can be said to be timeless. They serve to promote the Stove

Street house and the practices that take place there as authoritative. When I

pressed Hortensia's sister to provide a date for the photographs, she guessed

that they might have been taken in the 1940s or 1950s, mostly because it was

during that period that Hortensia worked much more extensively within the

Espiritismo tradition, but also because the photos are in black and white. By

the 1970s, at least some of the family's photos were being taken in color.

In the 1940s and 1950s, black-and-white photography remained the standard

for research and evidentiary purposes, something with which Hortensia

was familiar, since her adoptive father, José Borroto, worked as an

archivist at Cuba's National Archive. Olga Calvo Puig has described how

as children she and her sister would wander about the cabinets and open

shelving in the archives. Both would watch as Borroto pulled out documents

for government officials to study, including police files on the 1912 trials of

the cabildos with which their adoptive mother had been associated. 6 As a

result, the two sisters were painfully aware of the history of racial politics and

religious expression in Cuba.

Some of the files included material similar to that contained in the 1908

74 · Afro-Cuban Religious Arts
---
ook La policía y sus misterios en Cuba. Compiled by the Cuban police inspector

Rafael Roche y Monteagudo, that volume featured black-and-white

photographs of Afro-Cuban religious practitioners, primarily men, along

with their art practices (see figure 3.4). Expanded in 1914, Roche y Monteagudo's

book also provided short descriptions of the men's "crimes." 7

Many of the "criminals" were black Cuban males shown in both frontal and

profile views—traditional mug shots. These images sought to establish a

certain criminal "type"; taken all together, they portray not only individuals

but also a group, one with characteristics that the police could study and

target. 8 Moreover, as one scholar has argued, the act of photography actually

converts each man into an official document by "mapping" his body.

The tight frame of the police photographs intentionally deletes context, so

that each man's body can be read as a specimen to be studied. Skin color,

eyes, hair, profile, and other details can be examined in order to identify

criminal tendencies. Such mug shots also include numbers and other identifying

notation that further transform the individual into a code. 9 In Roche

y Monteagudo's publication, the police file numbers have been effaced, but

Figure 3.4. Photographic plate from police inspector Rafael Roche y Monteagudo's

La policía y sus misterios en Cuba, 1914. The text reads: "Francisco Goire Savón,

black, condemned for fraud." Fraud was a common charge for priests of Afro-

Cuban religions.

Hortensia and Iluminada: Afro-Cuban Ritual Altars at the Crossroads · 75
---
the traces of this identification system linger upon the bodies as a form of

criminal branding.

These visual and criminal descriptors are not limited to the human body.

For instance, Roche y Monteagudo's photographs include images of religious

altars in situ, which maps them as suspicious terrain as well (see figure

3.5). Roche y Monteagudo was reputed to be a leader within an Abakuá fraternity,

and both David H. Brown and Ivor Miller have argued that the police

inspector published the altar images in order to sabotage the practices of

competing African diasporic religious organizations. 10 The images published

by Roche y Monteagudo do not show the interior, and most secretive, elements

of the altars—areas that should be seen only by initiates of the various

Afro-Cuban religions. Nevertheless, it is clear that Roche y Monteagudo and

his contemporaries used photography to highlight the "suspicious" qualities

of Afro-Atlantic religions. And it is also clear that Hortensia's altar photographs

appear to challenge the precedent he set.

Police photographers apparently used special tactics when photographing

these altars. For example, the police photograph from a raid on the meeting

house for the Society of the Caridad del Cobre shows an altar that has not

yet been prepared for ritual use. It is extremely dark. The candlesticks in the

altar do not have candles, nor are any lights projected onto the display. The

dishes appear empty. There are no live plants or flowers. This is a misleading

image, and certainly not one that Hortensia would have chosen to photograph.

Moreover, in this instance the main focus of the police photograph is

not even on the society's namesake figure. The altar figure of Nuestra Señora

de la Caridad is only barely distinguishable at the top of the image to the

right of center. This, despite the fact that the Caridad is actually a common

symbol throughout Cuba, particularly within the Catholic Church. Indeed,

in 1916 the Vatican canonized the Caridad as an official version of the Virgin

Mary. By casting the Caridad in an incoherent and suspicious light, Roche

y Monteagudo undermined features that would have revealed a structured

community focused on shared religious values.

In contrast to the photographs contained in La Policía y sus misterios en

Cuba, Hortensia's small archive, consisting of photographs and notes, reveals

her desire to put a positive interpretation on the religious beliefs and related

artistic heritage of her community. 11 Her photographs highlight her practice

of Afro-Cuban Espiritismo as a means of public outreach, documenting

her bold artistic approach to Espiritismo through the construction of large

temporary altars. The altars make reference to her other religious practices,

76 · Afro-Cuban Religious Arts
---
Figure 3.5. Photographic plate from police inspector Rafael Roche y Monteagudo's La

policía y sus misterios en Cuba, 1914.
---
since, like her mentor, Tiburcia Sotolongo, Hortensia was also a priest of La

Regla de Ocha as well as a trained palera, or priest, of Palo. 12 In contrast to

her Espiritismo altars, however, Hortensia's altars for La Regla de Ocha and

Palo were kept in separate parts of her home, away from public view and often

under lock and key. In the early part of the twentieth century, the government

had issued prohibitions on public events involving musical expression,

specifically naming La Regla de Ocha and Palo in some of this legislation. 13

However, music was allowed for Espiritismo celebrations, and Hortensia's

compelling altars appear to have set the stage for these types of events.

Hortensia used highly reflective surfaces in her altars, which were further

highlighted in her photographs by the use of abundant lighting, indicating

that these really are art photographs. The photographic historian Elizabeth

Edwards has argued that such photographs have sometimes been used to

"control" public discourse. Citing the conservation photographs of art objects

in museums and the publicity stills used to advertise them, she argues

that these images are very carefully manipulated to shape a specific response

from viewers. 14 Edwards's argument can be applied to Hortensia's small collection

of art photography. Here, the photographs are also used to encourage

a certain discourse from viewers. Both as part of a group of people viewing

the photos and as an individual who scanned and placed the original images

into an album, it became clear to me that they tend to initiate discussion,

usually along very specific lines. The photos embody a "repertoire," and they

tend to spark the same types of discourse. 15 Viewers of the photos are already

familiar with how they are expected to respond to such objects, and

although their comments may vary, most are aware that it is the photo that

is directing the ensuing dialogue. Hortensia's art photographs, then, guide

viewers into a repertoire of imagery indicative of her interest in Afro-Cuban

religious art.

Most importantly, Hortensia use of altar photography endeavored to introduce

something new into her religious practice. Under her supervision,

these complex altars were constructed annually by her religious family in

Hortensia's emerging "household-temple." 16 Hortensia's mentor, Tiburcia,

had spent nearly her entire career attempting to participate in the cabildos.

Once these fraternities were decentralized and their members dispersed

throughout Havana, she then spent the remaining time until her death in

promoting other religious houses, at the expense of her own work. Family

members estimate that in this way Tiburcia was able to introduce several

hundred individuals to folk Catholicism and Espiritismo, and to initiate a

78 · Afro-Cuban Religious Arts
---
few dozen santeros into La Regla de Ocha, or Santería. After she inherited

her mentor's home, Hortensia was able to create a considerably larger community

by concentrating solely on the development of the house's clientele.

Over her lifetime, from 1906 to 1992, it is likely that tens of thousands of individuals

came to participate in her Espiritismo masses and related religious

services in her home. From them, Hortensia was able to recruit and initiate

nearly two hundred santeros. With such large audiences coming through

her home on a regular basis, she needed tangible evidence to distinguish her

house from other religious sites, and a repertoire of discourse to highlight

this material.

Repertoire: The Canon of Afro-Cuban Ritual Art

Emerges from Discourse

Hortensia used her altar photographs to create a springboard for discussion

of Afro-Cuban religious arts, and that remains their use today. There is evidence

that, in combination, religious imagery and photographs are used in

a similar manner in other parts of the world. Christopher Pinney, for example,

found that Indian lithographs function much like photographs, as sites

where communities stage cultural debate and seek to produce cross-cultural

definitions. 17 Similarly, the explosion in Afro-Cuban religious imagery also

occurred during a period of radical social and political change in Cuba, and I

would argue that Hortensia's religious photographs were a part of this trend.

With this idea in mind, I will now turn to the actual photographs to analyze

their discursive repertoire. As was the case for the Indian lithographs

described by Pinney, Hortensia's photographs have provoked discussion on

many disjointed topics. Many of these themes reflect debates that were relevant

at different times over the course of their long use, and as a result the

discourse is intentionally messy: Hortensia and her family believe that the

photographs should prompt hours of discussion among audiences and repeat

visitors to their household-temple. As a result, this discursive material is not

wholly organizable. The different dynamics within the altar photographs

provoke discussion on a variety of topics, such as ethnicity, religious-family

members of the past or present, current national debates within Cuba, or

the significance of traditional curative practices. These types of concerns

are found across all Afro-Cuban belief systems, but Hortensia's references

in the altars here are especially integral to Espiritismo. The fact that Hortensia

carefully saved her photographs, using them to provoke discussion

Hortensia and Iluminada: Afro-Cuban Ritual Altars at the Crossroads · 79
---
on a broad range issues that would engage many communities, shows that

she wanted to establish her home as a prominent site for many audiences of

Afro-Caribbean ancestry.

Within this repertoire, the figure of the Caridad emerges most prominently

as the central focus of the altar photographs. In three photographs

of the same altar, multiple points of light refract from the luxurious fabrics

and metallic paints used in the display, making the photographs appear to

glow (see figures 3.1, 3.2, and 3.6). The richly dressed figure of the Caridad,

raised up on a series of pedestals, is at the heart of this shimmering installation.

Palm fronds, flowers, feathers, lace, and ribbons emanate upward and

outward from the Caridad. A cutout image of a sun extends rays of light

from behind the sculpture. The metallic threads swirling in the Caridad's

dark cape pick up the bright lamplight and draw further attention to her

presence at the heart of this display. Hortensia's representation of the Virgin

Mary as the Caridad is a mulata, or woman of mixed race. She is not the Caucasian

version of the Caridad found in the Church of Cobre, in eastern Cuba,

but a representation with African ancestry. The altar is not intended for a

white audience; rather, it is intended for those who seek their black religious

ancestry. The items surrounding this display confirm the Caridad's African

diasporic origins and further refine the figure's relationship to its audience.

In Espiritismo the altar is the centerpiece for ceremonies that are intended

to communicate with the spirits of the dead. Hortensia's altar also

highlights her relationship with Tiburcia Sotolongo, since the figure of the

Caridad was significant to both of them. Tiburcia was the original owner of

the sculptural figure in the altar, and Hortensia kept a portrait of her mentor

near the display (see plate 5). Although this portrait is not seen in the altar

photographs, Tiburcia's importance is acknowledged in the household's

religious discussions. The Caridad figure thus functions as a means to attract

spirits who are sympathetic to Tiburcia's life history—to her enormous

strength as she survived the end of slavery in Cuba, moved to Havana City,

and built a religious career that supported herself and generations of her

family.

Even more than Tiburcia's heroic life story, the figure of the Caridad recalls

her seemingly boundless empathy for the women and children in her

community. Between 1900 and 1922 Tiburcia had adopted four children from

the families of her clients, all of whom were troubled in some way. When,

around 1912, Tiburcia adopted the sickly, six-year-old Hortensia Ferrer, Hortensia's

natural father did not think the child would survive, as her mother

80 · Afro-Cuban Religious Arts
---
Figure 3.6. Photograph of a temporary altar for La Caridad del Cobre, 1940s or 1950s. (By

permission of Ángela Calvo Puig, La Habana, Cuba.)

had already died of tuberculosis. To protect her from illness, Tiburcia initiated

Hortensia into Espiritismo and La Regla de Ocha almost as soon as she

entered the household. Tiburcia commissioned a photographic portrait of

Hortensia just before these ceremonies to commemorate the transition (see

figure 3.7). 18 In 1937, having inherited Tiburcia's home, Hortensia used spiritual

celebrations of the Caridad to retain Tiburcia's followers and confirm

her status as Tiburcia's successor and a prominent local leader.

Hortensia's photographs show that her temporary altars for the Caridad

were quite large. Given their size, they were likely intended to last at least

seven days, an approximate average of the time a practitioner might maintain

such a large construction. Such an altar could be used as a public signpost

to announce the associated religious events that would be celebrated at the

house. The Caridad's official saint's day in the Catholic Church is September

8 and Tiburcia was initiated as a priest of La Regla de Ocha on that day in

1899. Each year, santeros traditionally celebrate their "birthday" (the day of

their initiation into Santería) with large altar constructions. In the wake of

Tiburcia's passing, Hortensia's construction of a large Espiritismo altar on

September 8 was not just to honor the Caridad, it was to honor Tiburcia. In

Afro-Caribbean religious practices, public Espiritismo celebrations are often

mounted in honor of the dead, and these public celebrations often precede

Hortensia and Iluminada: Afro-Cuban Ritual Altars at the Crossroads · 81
---
the more private ceremonies of La Regla de Ocha, since they are needed in

order to receive permission from the dead to practice an inherited religion. 19

Thus, a priest of La Regla de Ocha would first attend a public church service

and then lead a spiritual mass at home before finally holding a drum ceremony,

or tambor, for La Regla de Ocha's divinities. In the 1940s and 1950s,

Hortensia would always build such a trono, or throne, to recognize the Caridad's

official day, and also as a means to recognize Tiburcia's birthday in La

Regla de Ocha, since Tiburcia's altar for La Regla de Ocha had been ritually

destroyed upon her death. 20

Like many professional Afro-Caribbean religious leaders, Hortensia relied

on the public ceremonies of Espiritismo to draw in new clients who

might want to work with other Afro-Cuban religions. Today, this practice

is called Espiritismo Cruzado, or crossed spiritism. 21 In this practice, during

the ritual performance of Espiritismo, various other religions may be

Figure 3.7. Photographic

portrait of Hortensia

Ferrer, ca. 1912. (By permission

of Ángela Calvo

Puig, La Habana, Cuba.)

82 · Afro-Cuban Religious Arts
---
eferenced and a number of the spirits of the dead celebrated. In many public

Cuban Espiritismo celebrations, audiences are encouraged to listen to,

dance to, and sing along to music from other religions in order to improve

mediumship and attract the presence of spirits of the dead from different

backgrounds. 22 Hortensia's grand altars served as a focal point for these

ritual performances. Because of the altars' height, the figure of the Caridad

could be seen by everyone in the audience, which could range from several

dozen to several hundred spectators. Since public Espiritismo celebrations

featuring music draw larger crowds, these large audiences would sometimes

fill the house and spill out into the street. 23 Moreover, in her lifetime Hortensia

had strong ties to Havana's music scene through her association with

the professional singer Iluminada Sierra Ortiz. Iluminada, among the first

espiritistas and santeras initiated and trained by Hortensia, was known to be

influential in Hortensia's altar construction, with a special gift for theatrical

presentation. 24

The discourse surrounding Hortensia's altar photographs often revolves

around accounts of how Iluminada came to know Hortensia after migrating

to Cuba from Puerto Rico, and of Iluminada's influence in the expansion

of the house's religious-arts practices and successful audience outreach.

Around 1938, in her late teens or early twenties, Iluminada had left Mayagüez,

Puerto Rico, for Cuba. 25 She subsequently married a musician and moved to

Central Havana in order to and live with his family. 26 Iluminada intended to

become a professional singer and entertainer like her husband, but instead

she ended up working as a beautician, which apparently left her with unresolved

feelings of resentment. 27 In 1941, Iluminada's mother-in-law insisted

that she seek help. Iluminada consulted with Hortensia, who performed two

rituals. First, Hortensia "crowned" Iluminada in order to confirm her admission

into Espiritismo as a spirit medium. 28 Then, on October 24, 1941,

Hortensia initiated Iluminada into La Regla de Ocha as a priest of Obatalá,

an Afro-Cuban deity attributed with wisdom and calming powers. 29 Iluminada

quickly became an important assistant in Hortensia's religious practice.

With Iluminada's help, Hortensia would go on to initiate many more godchildren

in La Regla de Ocha. Iluminada's abilities in performance, staging,

and music particularly complemented Hortensia's interest in recording her

altar practices. 30

Given the performative and changing nature of Hortensia's religious practice,

the still photographs provide a record of Hortensia's work for presentday

audiences as well as researchers. Light is an important element in the

Hortensia and Iluminada: Afro-Cuban Ritual Altars at the Crossroads · 83
---
Afro-Caribbean ritual arts. 31 Catholic church services for the Caridad are

celebrated during the daytime, but celebrations for the Caridad in Espiritismo,

which is associated with deceased ancestors, take place at night. In

Hortensia's altars she contrasts this tension between daytime and nighttime

through repetition of the sun and the use of bright lighting. The numerous

lights in her installations show that they were designed for nighttime spiritual

celebrations where the Caridad would be visible both to the audience

in attendance and to passersby in the street throughout the night.

With respect to the lighting of Hortensia's altars, the photographs continue

to elicit discussion today—about new lighting technologies; about

the politics of the Cuban Revolution, including the cost of electricity; and

about the break between Hortensia and Iluminada. For example, two photographs

from the late 1940s or early 1950s show that Hortensia had begun

using fluorescent lights in her altars (see figures 3.8 and 3.9). This was a new

technological innovation at the time. Invented in 1938, fluorescent lighting

became ubiquitous in the United States and Europe during World War II.

In the same period, General Electric sought to promote fluorescent lighting

in the Caribbean and Latin America, but by the 1950s in Cuba, popular

periodicals like Bohemia were calling for protests and boycotts against the

high price of electricity. Despite this controversy, the photographs show that

Hortensia had adopted the new technology in her practice. By incorporating

new technology into her work, Hortensia made Espiritismo more current

for young audiences.

In the early 1950s, Hortensia became a supporter of a new political movement

brewing in Cuba. She was sympathetic to the demands of the young

political activist Fidel Castro, who was seeking to eliminate corruption in the

Batista government, which among other things was responsible for the exorbitant

cost of electricity in Cuba. According to Olga Calvo Puig, Hortensia

considered participating in the boycotts against the utility companies, which

would have meant some sacrifice in the comforts enjoyed by the household.

Notably, Iluminada and some others were adamant in their opposition to

the boycott, despite the tremendous support that the Revolutionary movement

enjoyed among fellow black Cubans. With the household debate ongoing,

and with concerns about the guerilla warfare that was intensifying

in Cuba's Sierra Maestra, Iluminada decided to leave Havana for New York

City, whereas Hortensia redoubled her commitment to Havana and to the

issues her community faced there. Iluminada was one of many Cubans who

decamped for the United States at this time, and Hortensia's photographs

84 · Afro-Cuban Religious Arts
---
from this period document her religious practices just as the diaspora out of

Cuba increased exponentially.

Although she remained in Cuba and actively supported the Cuban Revolutionary

movement of the 1950s, Hortensia never did join the electricity

boycott, primarily because electricity was intrinsic and beneficial to her

practice. Bright lighting was necessary to photographically document her

use of fresh flowers and foliage in her altars, which were instrumental in

highlighting elements of spiritual significance or long-standing religious tradition.

Hortensia's family members often bring out the photographs today

so as to scrutinize Hortensia's use of leaves and flowers as they plan their

Figure 3.8. Photograph

of a temporary

altar for La

Caridad del Cobre,

1940s or 1950s.

(By permission of

Ángela Calvo Puig,

La Habana, Cuba.)

Hortensia and Iluminada: Afro-Cuban Ritual Altars at the Crossroads · 85
---
Figure 3.9. Photograph of a temporary altar for La Caridad del Cobre, 1940s or 1950s. (By

permission of Ángela Calvo Puig, La Habana, Cuba.)

own, contemporary altars. In Espiritismo natural fragrances are particularly

important, although they are not easily recognized during religious practice

because the leaves are often crowded together in vases, shredded, or even

held against a human body as a curative practice. The scents may permeate

a room, but most audience members would not be able to identify them

accurately. Thus, training in Afro-Caribbean herbal practice is essential, and

the photographs have become a means of study. A variety of leaves are used

in order to attract different spirits. For example, albahaca (basil) is often seen

on either side of the Caridad (see figure 3.6) in Afro-Cuban ceremonies. Basil

being one of the most affordable plants, its leaves are often used to attract

many different spirits of the dead in Espiritismo. Somewhat less common,

however, are the large roses that are displayed at the highest points of an

altar (see figure 3.10). Their placement indicates the expense and high cultural

value ascribed to roses. These delicate flowers are particularly difficult

to grow in the Caribbean environment, and therefore costly. 32 In another

altar, Hortensia used young, unbroken banana leaves to envelop the sconce

holding up the Caridad figure (see figure 3.11). 33 Many priests use a single

banana leaf to wrap up ebo—offerings of herbal mixtures denoting La Regla

de Ocha's version of spiritual cleansing. In the photo, however, numerous

leaves are used to wrap the Caridad's throne, intimating that the altar also

provides offerings to the dead who celebrated La Regla de Ocha in the past.

86 · Afro-Cuban Religious Arts
---
Shown at a distance in the photographs, the masses of leaves and feathers

are a living display of Hortensia's extensive training in Afro-Atlantic belief

systems. Hortensia used the different traditional plants as a means to engage

both her colleagues and those of her clientele who were more experienced

in the religious arts. The overwhelming quantity and diversity of the foliage

is much more extensive than what is used in day-to-day ritual work. These

temporary constructions were thus designed to treat the needs and ills of a

much larger community, not the handful of clients that make up a priest's

daily routine. In this way, the temporary display also acted as an advertisement

for Hortensia's abilities, since such a large collection of foliage would

indicate that the practitioner was a knowledgeable and experienced leader

who knew how to work with complex material accurately.

The issue of the syncretism between the images of the Catholic saints

and those of the Afro-Cuban divinities is another topic evoked by the

Figure 3.10. Photograph of

a temporary altar for La

Caridad del Cobre, 1940s

or 1950s. (By permission

of Ángela Calvo Puig, La

Habana, Cuba.)

Hortensia and Iluminada: Afro-Cuban Ritual Altars at the Crossroads · 87
---
photographs. The religious studies scholar Peter van der Veer, who has studied

this phenomenon in India, finds that it has been used there to forge alliances

among different religious groups for common political ends, notably

in the campaign for human rights. But Van der Veer also finds that syncretism

can complicate ritual performance. 34 Hortensia's altars, as seen in the

photographs, do not appear to condemn the syncretism that was becoming

Figure 3.11. Photograph of a temporary altar for La Caridad del Cobre, 1940s or 1950s. (By

permission of Ángela Calvo Puig, La Habana, Cuba.)

88 · Afro-Cuban Religious Arts
---
so popular in Cuba in the 1940s and 1950s; rather they seemed designed to

provoke audiences to analyze its use. In her home Hortensia kept her altars

for La Regla de Ocha and Palo separate from her Espiritismo altars, and the

most important elements of her La Regla de Ocha and Palo altars were never

photographed. Hortensia's family insists that for Hortensia these remained

separate ritual practices. However, any discussion of syncretism, by its very

nature, is one that compares the arts and expressions of the various Afro-Cuban

belief systems. In Cuba, in the 1940s and 1950s, syncretism was a popular

theme for discussion, which in turn encouraged cross-fertilization among

the various Afro-Cuban religious groups. Hortensia used her imagery as a

tool to engage this popular interest in syncretism and the concomitant sociopolitical

interest it provoked with respect to African identity. She and her

family kept the photographs for study and clarification of her ideas.

Pan-Africanism is another of the references found in Hortensia's altar

photos. This movement, which encouraged the solidarity of people of African

descent worldwide, was founded at the beginning of the twentieth century,

and the ideology of Pan-Africanism was widely accepted in Cuba. After

World War II, European colonialism came under fire throughout Africa,

and Pan-Africanism was seen as one way for the African nations to perform

outreach and reclaim their independence. Similarly, in Cuba, the growing

opposition to Fulgencio Batista's leadership brought Pan-Africanist ideology

to the fore. 35 Hortensia's imagery referencing Africa was yet another way to

compel greater interest in her religious work, with the goal of creating stronger

communities for black Cubans. According to family members, Hortensia

never used the term Pan-African. Still, she was very politically engaged during

the period, and there are many syncretic references to Africa in the altar

photographs. These highlight the many cultural inheritances—from West

Africa, Spain, and Central Africa—that are present in Cuba. Moreover, particular

importance is placed on African folklore that privileges strength and

rebellion in the face of repressive politics.

It was Fernando Ortiz, in his 1905 treatise Los negro brujos, who first made

an extensive comparison between the practices of La Regla de Ocha and the

belief systems of the Yoruba people, which effectively extended the popularity

and the dynamism of West African cultural expression into the Americas.

36 Hortensia's photographs reflect this growing interest in the imagery

of Afro-Atlantic divinities in Cuba, and the reference to paddle fans is one

example of the use of a West African cultural icons. In a few of Hortensia's

photographs the altar consists of large wooden frames that are covered by a

Hortensia and Iluminada: Afro-Cuban Ritual Altars at the Crossroads · 89
---
material resembling satin (see figures 3.1 and 3.2). Pulled taut, the surface reflects

so much light that it resembles a brass fan. The fan analogy conjures up

references to La Regla de Ocha's Ochún, the oricha that both Hortensia and

Tiburcia Sotolongo considered as their primary divinity. Ochún, associated

with the sun, is the owner of brass and copper metals, just as the Caridad's

patron city, Cobre, is known for its copper-mining industry. Indeed, all of

the altars in Hortensia's photographs incorporate references to Ochún. The

shape of the Caridad's altar, from the top of the sun down to the base of the

pedestal, also resembles a paddle fan. In the ritual performance and folklore

of La Regla de Ocha, Ochún often dances flirtatiously with a fan, a characteristic

for which she is renowned in Cuba. Thus, the spiritual altar here plays

upon the form of the fan: in the center is the paddle fan, with a circle—here,

the cutout sun—held up by a handle. Paddle fans are found in many different

cultures worldwide, but they are especially common throughout Africa;

many examples of paddle fans made from brass are found in the West African

cultures that celebrate the divinity Osun and other avatars of natural

forces (see plate 14). Hortensia's representation of a round brass fan is in the

style of those found in popular museum collections of twentieth-century

African art. 37

These photographs also show a differently shaped fan in this altar, one

that references Spanish culture: the palm fronds forming the larger arch

that stems from the floor evoke Spanish-style folding fans, which are held

at the bottom. Such fans are often associated with Spanish "gypsies." The

Roma have a long history in Cuba, since during the colonial period the Spanish

government banished many Roma to Cuba as a form of punishment,

where many of them blended into Afro-Cuban society. Considered to be

among the progenitors of Spiritism practices in Spain, Roma cultural influences

are frequently seen in Espiritismo altars, as is evidenced in Hortensia's

photograph.

The reflectivity of the fabrics used in some of the altars also has cross-cultural

significance (see figure 3.12). Among the Afro-Cuban ritual arts, mirrors

and similarly reflective surfaces are utilized in Palo religious practices. 38

Mirrored power objects, or mensu, are common, and are sometimes distributed

to non-initiates. They are made by paleros, or priests of Palo, usually out

of a cow horn (see plate 15). In Central Africa, mirrors evoke a boundary or

doorway between the worlds of the living and the dead, and the substances

packed inside the mensu usually include dirt from graves or other substances

that refer to the dead synecdochically. 39 The priests create mensu for their

90 · Afro-Cuban Religious Arts
---
Figure 3.12. Photograph

of a temporary

altar for La

Caridad del Cobre,

1940s or 1950s.

(By permission of

Ángela Calvo Puig,

La Habana, Cuba.)

clients as a protective device: by drawing on the power of the dead, mensu

guard the recipient and improve his or her fate. By applying mirrors and

reflective surfaces to her large temporary Espiritismo altars, Hortensia referenced

this boundary between the living and the dead. According to Olga,

Hortensia often also included mirrors in her smaller spiritual altars as well.

In contrast to her Espiritismo altars, which she photographed and opened

to the public, Hortensia's Palo altars were shrouded in secrecy, since Palo was

the most powerful and most restrictive component of her practice. Today,

Hortensia's work as a palera is the aspect least discussed among surviving

members of her religious family. Of the several belief systems she practiced,

Palo was the one least prescribed for her clientele. Hortensia kept her altar

for Palo secluded in the backyard of her home, and she kept no known notes

on her Palo activities. Much of the power associated with Palo as a belief

system is based on the fact that its rituals are only performed for a small

audience. As a result, there is only a limited discourse on the practice of Palo

Hortensia and Iluminada: Afro-Cuban Ritual Altars at the Crossroads · 91
---
compared with other Afro-Cuban religious practices. Moreover, historically,

Palo's roots were in Central Africa, in the area associated with Joseph Conrad's

novel Heart of Darkness, and so it too has been seen as shrouded in

darkness.

The increasing interest in Palo that occurred in Cuba in the twentieth

century coincided with the end of colonialism in Central Africa and the

movement at home to overthrow the Batista regime. Paleros employ objects

that evoke the history of the Middle Passage and the hard labor of Caribbean

plantation life in their altars, assembling them into what art historians

call "accumulative sculpture." 40 These objects might include ironwork, such

as large cooking cauldrons, railroad spikes, machetes for cutting sugarcane,

and the components of slave shackles, plus any number of creative items

that practitioners might add. The altar items commemorate the strength and

survival of earlier generations and the ability of contemporary generations

to draw upon this power. Thus, the Central African practice of accumulative

sculpture in the collection of meaningful, and often metaphorical, items

within an altar environment in order to cause change reverberates in Palo

religious-arts practices. Hortensia's photographs and her public Espiritismo

displays draw on this dynamic: although her audiences cannot return to the

sites of their African heritage or to the slave plantations of Cuba, in her home

they can begin to access this lost history and share the heritage of their common

African birthright. Moreover, Hortensia sought to harness the power

of this history in order to improve circumstances for her religious family and

clients.

Hortensia's effort to document her temporary altars was unique. The current

growing proliferation of large temporary altars has been noted by scholars

of the history of African diasporic art, but there is little documentation of

the rise of this practice. Moreover, it was never a requirement that practitioners

create large, elaborate celebratory altars for the public to visit or study.

Hortensia's photographic record of her altar constructions and her collection

of notes thus constitute an important resource for both the followers of

these religions and for scholars. At the Stove Street house today, Hortensia's

religious successors continue to emphasize the visual arts in their practices,

utilizing Hortensia's archival record to study and recreate the imagery she

employed to promote and expand the practice of Afro-Cuban religions.

Were Hortensia's methods effective? Hortensia's priorities were not political

per se, but sociopolitical, as she sought to promote an Afro-Cuban

identity through her religious work. Almost two decades after her death,

92 · Afro-Cuban Religious Arts
---
the materials in her home are still being used and consulted, both by her

family and by present-day audiences. Hortensia's legacy became even more

significant after the 1959 Cuban Revolution. In the 1960s, the Revolutionary

government sought to rewrite Cuba's history, obscuring the Spanish colonial

past and portraying itself as the new arbiter of the nation's history. 41 Previous

governments had ignored the significant black population in Cuba and its

African heritage, but beginning in the 1960s Cuba's museums began to pay

more attention to Africa and the Afro-Cuban heritage and the government

devoted more resources to the study of Afro-Cuban culture as expressed

in Cuban literature and Cuban cinema. 42 There was also a new interest in

African diasporic cultural expression in the national theater, in dance, and

in music. 43 Already involved in celebrating African diasporic practices, Hortensia

and her family found this nationalistic turn appealing. In the 1960s

Hortensia began to display her altars for La Regla de Ocha at the front of her

home for the first time. Notably, Hortensia's public display of her work with

La Regla de Ocha occurred just as the new Cuban government was becoming

suspicious of Espiritismo.

Espiritismo reached its peak at about the time of the Cuban Revolution.

From the 1960s on, it was no longer as pervasive in Cuba, unlike in other

parts of the Americas, including Brazil and Puerto Rico, where Espiritismo

remains a mainstay of Afro-Atlantic religious expression. 44 In the wake of

Castro's socialist revolution, the Catholic Church attempted to organize

against the new government. The churches of Cuba were subsequently

shuttered, but the government discovered that many religious communities

then flocked to Cuba's home-based centers for Espiritismo. In response,

Espiritismo practices were also prohibited. Provincial government officials

sought to close every Espiritismo center then listed in the Registry of Associations.

45 The officials targeted Catholic imagery in particular as they itemized

and seized religious altarpieces and sculpture. Fortunately, Hortensia

was able to maintain the permanent altar for the Caridad that had belonged

to her mentor and the photographs of her altar constructions. In the wake of

this new persecution, however, a generational divide began to emerge. Those

of Hortensia's generation, particularly her surviving adopted sister and a few

elder relations, prefer to emphasize her work with Espiritismo. The younger

generations, however, tend to want to connect Hortensia's archival record

with her La Regla de Ocha practices.

Hortensia's public altar practices in Espiritismo led her to more artistic

approaches to her altars for La Regla de Ocha. Late in her life, Hortensia

Hortensia and Iluminada: Afro-Cuban Ritual Altars at the Crossroads · 93
---
Figure 3.13. Photograph of Hortensia Ferrer and her godson in front of a temporary altar

for the oricha, ca. 1992. (By permission of Ángela Calvo Puig, La Habana, Cuba.)
---
egan to allow some of her family's altar constructions for La Regla de Ocha

to be photographed. Figure 3.13 is a photograph taken shortly before her

death in 1992. In the photo Hortensia is sitting in front of a temporary installation

and is clearly honored to be the inspiration for this ritual display.

Ideas taken from her body of work stand out in her successor's construction.

Hortensia's godson has stacked one pedestal on top of another to make

the altar higher and to push the container for Obatalá high up inside of the

altar. Ornate fabrics are prominent, as are flowers and foliage. This image of

Hortensia and her godson-successor is now part of the Stove Street house's

historical archive. Many of the leaders that Hortensia trained now also arrange

for photographs to be taken of their religious altars and artwork. Just

as Hortensia recognized the importance of bringing the vast canon of her

ritual-arts practices together in her household archives, her successors now

seek to insert themselves into this developing history.

Hortensia and Iluminada: Afro-Cuban Ritual Altars at the Crossroads · 95
---
@ 4

W

Iluminada and Carmen

Arts of Historical Desire in

1950s and 1960s Spanish Harlem

In 1957, Iluminada Sierra Ortiz, having left Cuba for New York

City, joined a group of women practicing Espiritismo led by Carmen Oramas

Caballery in Spanish Harlem. Slightly more than a decade later, Iluminada

would initiate Carmen as a santera in La Regla de Ocha, thereby increasing

Carmen's collection of religious altars. In this chapter, I examine some of the

religious-art objects used by Iluminada and Carmen in their Espiritismo and

La Regla de Ocha practices, and I argue that their altar work in the 1950s and

1960s recreated and reconfigured the history of Afro-Caribbean women in

order to explore the poorly documented past both of the two women and of

their respective communities.

In my analysis, I use Caroline Rody's idea of "historiographic desire,"

which challenges the prevailing absence of black women's histories in the

written literature on the Americas. 1 The lack of information about black

women during the colonial period is particularly frustrating since it offers

no connections to the past for women struggling to create an identity in the

postcolonial era. This includes the Afro-Caribbean community in New York

City to which both Iluminada and Carmen belonged. Rody analyzed the

work of African American and Afro-Caribbean women writers of the late

twentieth century, including Maryse Condé's I, Tituba, Black Witch of Salem

and Jamaica Kincaid's The Autobiography of My Mother. These are novels that

feature colonial-era Caribbean women and the impact they have on their

families. The art featured in this chapter predates these two novels, but in

representing the historic legacy of Caribbean women it has something in

common with them. However, Iluminada and Carmen's practice was not

96
---
"fiction." Rather, their creation of art and altars relied on the women's mediumship

to generate a new interpretation of history. In this way, they reinterpreted

the lives of Afro-Caribbean women at the same time as they contributed

to the formal structuring of traditional Afro-Caribbean religious

practices; by making the art and ritual concrete, Iluminada and Carmen set

standards for their community's practices for generations to come.

Unlike the novels Rody analyzes, the artwork discussed here rarely references

epic or mythic types of narrative. There are no extended accounts

of Afro-Caribbean women's lives or descriptions of their heroic moments.

Although Iluminada and Carmen's altars frequently reference popular mythology

associated with both Christianity and La Regla de Ocha, they do

not aspire to convey a narrative about the history of Afro-Caribbean women,

since they believe that these histories have already been lost. Rather, Carmen

and Iluminada use specific, but fragmentary, visual clues to develop their

own hypothesis about this lost history.

In this chapter, I look for significance in these incomplete reconstructions—for

how these fragments have been used to establish contemporary

kinship ties and to reconnect a community with its past. In Rody's analysis,

the Afro-Caribbean woman of the colonial era is usually portrayed as powerful

and mysterious, an effort that highlights the need to rewrite her history.

In their art and altars Iluminada and Carmen use power and mystery in a different

manner, however—as a way to deny narrative for the Afro-Caribbean

women portrayed there. Their religious art overtly challenges the popular

construction of history.

Roland Barthes has argued that narrative "is present at all times, in all

places, in all societies; . . . all classes, all human groups, have their stories, and

very often those stories are enjoyed by men of different and even opposite

cultural backgrounds. . . . Like life itself, it is there, international, transhistorical,

transcultural." 2 Barthes understands narrative as ubiquitous and "enjoyed"

in all classes and societies. By refusing narrative, Iluminada, Carmen,

and their religious followers are expressing their grief for the discrimination

that Afro-Caribbean women endured and are seeking to salvage the very

best aspects of that history through the preservation of religious and cultural

fragments relevant to their lives. 3 The women described in this chapter

sought to mine and transform fragments of the past for their ritual-arts practices

and, in the process, they reconfigured historical materials in order to

shape their community.

Iluminada and Carmen: Arts of Historical Desire, 1950s and 1960s Spanish Harlem · 97
---
Carmen's Centro: La Fe de Samaritana

Like many members of her centro, Carmen Oramas and her husband, Salvador

Ortiz, were forced by poor economic prospects to relocate to New

York City. Carmen is the youngest of her father's sixteen children. Her father,

Francesco Oramas (1877–1973), worked as a majordomo, or chief manager,

of a citrus plantation in Mayagüez, Puerto Rico. Puerto Rico had outlawed

slavery in 1873; nonetheless, in the first half of the 1900s the island remained

Figure 4.1. Photographic portrait of Carmen Oramas Caballery, ca. 1980. (By permission of

Salvador Ortiz Jr., Bronx, New York.)

98 · Afro-Cuban Religious Arts
---
composed of immense agricultural estates. Numerous freed black Puerto

Ricans stayed on these new types of plantations as underpaid workers living

in rental properties. In the 1950s, the government of Puerto Rico began to

break these estates down into smaller properties, and many people left the

island for better opportunities elsewhere.

In 1956, Carmen created her Centro, La Fe de Samaritana, in New York

to appeal to a number of different groups of Caribbean origin then living

in Spanish Harlem. Although Carmen is Puerto Rican, her audiences consisted

not only of Puerto Ricans, but also Cubans, Dominicans, and Haitians.

Given this multinational clientele, Carmen sought out imagery and

ritual-arts treatments that would be familiar to them. However, even with

this attention to diverse cultural motifs, in its organization and in its altars

the Centro's main focus was directed primarily to an Afro-Caribbean female

clientele.

The design of Carmen's Centro communicated a general interest in helping

the people who visited there. From 1956 until 1964 the Centro was located

on the second floor of a storefront on Park Avenue between 109th and

110th Streets. 4 Initially, the Centro resembled a traditional twentieth-century

doctor's office. It consisted of two rooms: a waiting area with a desk and

chairs; and a second, larger room used for small consultations or regular

ceremonies. In order to accommodate different-sized groups, the chairs and

small benches in the larger room, as well as an altar table, were continually

rearranged. Carmen would wear primarily white clothing and wrap her head

with white scarves (see figure 4.1). She sometimes wore a doctor's white lab

coat, which accentuated the clinical appearance of the Centro. For regular

religious services, especially séances, all the altars would also be covered in

white tablecloths. The white tablecloth is standard issue for a number of Espiritismo

branches, particularly in Espiritismo Científico (Scientific Spiritism)

and in Mesa Blanca—literally, "White Table" Spiritism. 5

In the waiting room of the Centro, Carmen kept a number of poster-sized

images of female Catholic saints. In particular, various representations of

the Virgin Mary carrying the Christ Child were common, as were images

of Mary Magdalene. According to Carmen and her successors, the name of

the Centro, "La Fe de Samaritana" (The Faith of the Samaritan), celebrates

a number of women from the Bible. 6 John 4:4–42 tells the story of Christ

converting a Samaritan woman—a native of Samaria—who was originally

a prostitute and shunned by her people. In my conversations with Carmen's

immediate and religious family, it was clear that the group interprets this

Iluminada and Carmen: Arts of Historical Desire, 1950s and 1960s Spanish Harlem · 99
---
iblical story in more general terms, taking its concept of the "good Samaritan"

from the well-known parable of the same name. For them, a "Samaritan"

woman is one who does "good works"; they take Mary Magdalene, who fell

from grace and founded her own religious practice and foreign missions as

a means of salvation, as one of their examples. The term samaritana, in the

general sense of "good Samaritan," applies to Carmen and her clientele as

well.

Carmen creatively juxtaposed the images and the stories of these biblical

women with the Caribbean women and men who practiced Espiritismo in

Spanish Harlem. Iluminada became a regular visitor to Carmen's biweekly

misas espirituales, spiritual masses or séances. Carmen's clientele shared a

similar background—all had migrated to Spanish Harlem under the duress

of Caribbean political and economic policies. Carmen and Iluminada became

particularly close, as both women were originally from Mayagüez, on

the eastern shore of Puerto Rico, and both had also become self-supporting

in their teens. Both women had also lived in other parts of the Caribbean before

moving to Spanish Harlem. Iluminada had lived in Cuba for nearly two

decades; similarly, Carmen had lived in a number of different areas of Puerto

Rico. Both had a significant background in Afro-Caribbean religious arts.

Iluminada was crowned as a medium in Espiritismo and initiated as a santera

in La Regla de Ocha in Cuba in 1941, and Carmen's career as an espiritista

began during the 1940s in Puerto Rico. 7 Forced to support herself, Carmen

began to work as an espiritista in her early teens. People paid her to perform

misas espirituales and private spiritual consultations in their homes.

In Puerto Rico, Carmen was particularly known for her larger ceremonies

celebrating the saints and the dead because she frequently made use of her

older brothers, who were musicians. 8 By incorporating music into her practice—through

her brothers and, later, other musicians—Carmen became an

expert at conducting large groups. At a little more than five feet tall, she was

an impressive sight as she orchestrated both the musicians and the audience

in the call-and-response pattern traditional in folk choral singing.

Both the composition and imagery of the main altar in Carmen's Centro

invoke a female Afro-Caribbean religious leader who directs a diverse religious

group (plate 16). The horizontal structure of the altar table indicates

that it is a daily, working altar for Espiritismo, with multiple forms of imagery

on the same plane. In contrast, temporary Afro-Atlantic Espiritismo

celebratory altars, such as those analyzed in chapter 3, often follow the precedents

of La Regla de Ocha batá drum festivities, or bembé, and are vertical

100 · Afro-Cuban Religious Arts
---
in their presentation, in order to elevate the specific image that is the focus

of the ritual. 9 In this horizontal altar, the figures in the altar create a historical

scene. There are busts of historic Native Americans and a Christ figure as

well as various glasses filled with holy water that surround a ceramic figure

of a colonial-era Afro-Caribbean woman. 10

Carmen's Native American figures, often included in Espiritismo displays,

invite debate about their origins. 11 The Cuban ethnologist José Antonio García

Molina and his collaborators, Daisy Fariñas Gutiérrez and M. Garrido

Mazorra, have argued that Afro-Cuban spiritual dance styles, particularly

group dances that are performed in organized circles (cordones), have been

influenced by Native American styles of dance. 12 Carmen's figurines also

seem to reference Edward Curtis's photographs of late-nineteenth-century

Plains Indians. But the art historian Judith Bettelheim has made the case for

African origins, not Native American antecedents, for some Afro-Caribbean

religious-art objects. For example, she argues that the feathered headdresses

used in Cuban festivals since the colonial period derive not from Native

Americans but from Central Africa. 13 In both the Caribbean and Central

Africa, tightly gathered red-feather crowns are used in festivals and rituals,

and after the performances conclude, these crowns later appear in altars as

reminders of these significant events. Notably, other scholars have documented

that the tightly gathered red-feather crowns were used by chiefs and

other power figures in the former Kingdom of the Kongo, where particularly

aggressive enslavement practices led to a significant Central African presence

in the Americas. 14

In her conversations with me, Carmen took no position on the antecedents

of the Native American figures she used in her altars. In one instance,

she did tie a small green pouch containing herbs around the neck of a Native

American portrait bust. She told me that the dried plants were meant to attract

one of her specific Native American ancestral guides to the sculpture.

Carmen channels a number of Native American spirits, but she, like many

mediums, is unfamiliar with their historic background. As she and family

members explained, during séances mediums channeling Native American

ancestral spirits rarely speak, and if they do, the audience rarely understands

what they are saying since the spirits do not speak in a European language.

Instead of employing speech during a spiritual mass, the medium communicates

the actions and desires of the Native American spirit by using tobacco

smoke or branches from traditional plants to spiritually cleanse the bodies

of those in attendance.

Iluminada and Carmen: Arts of Historical Desire, 1950s and 1960s Spanish Harlem · 101
---
The Native American figures in the altar display are usually all male. This

is true for many spiritual altars, particularly those from the mid-twentieth

century. In Carmen's Espiritismo practice, this calls attention to the altar's

central figure, a woman. In Carmen's altar, the black female figure takes center

stage. A number of other female figures surround her, including the Virgin

of Candelaria, a variation of Mary holding the Christ Child, and two

more recently added spirit-dolls. One of these spirit-dolls is dressed as a

santera of Ochún with La Regla de Ocha beads, and the other is dressed in

white. These two dolls belong to Carmen's longtime partner, Eugenio. Eugenio

began attending Carmen's Centro in the 1960s, and they began seeing

one another in the 1970s after she and her husband separated.

Of the three female figures, the central ceramic figure is distinguished

by her stature and her manner of dress. She is not clothed in the manner of

the Virgin of Candelaria with classical, saintly robes. The madama (a Spanish

literal adaptation of the French word madame) is dressed in colonial-era

period clothing (see plate 17). 15 It is the clothing that denotes the figure's

importance. 16 The doll's long sleeves and white cuffs indicate that the figure

has high status, since short sleeves would be expected for performing heavy

labor in the hot Caribbean climate. 17 Her neat bright-red dress with an apron

cover, and her hair tied back, also convey the figure's high status. She also

has a rounded figure, which indicates a healthy diet, and her face is smiling

and possibly wrinkled, which shows that she has lived a relatively long life,

another indicator of high status.

Audiences in the 1950s and 1960s could not have failed to associate this

ceramic doll with the image of the "Mammy" figure. By the 1950s, the popular

Mammy figure, Aunt Jemima, was a mainstay in advertising, not only in

the continental United States but also in Puerto Rico and Cuba. The historian

Kenneth Goings has argued that the Mammy figure, and particularly her

jarring smile, provided a way for whites to reminisce fondly about slavery.

For them, Goings maintains, "Aunt Jemima . . . had never really wanted to be

free." 18 In our conversation, Carmen explained that she chose her Mammy

figure to represent the madama (a more positive role model than the Aunt

Jemima figure) and that it was the women of the Centro, in their arrangement

of this display, who had helped cast the figure in this completely different

light. 19 Carmen placed a set of rosary beads around the figure's body

as a necklace, which represented the madama's knowledge of Christianity.

Furthermore, Carmen laid a crucifix against her body, making the madama

the only figure in the altar to be supporting Christ on the cross. The madama

102 · Afro-Cuban Religious Arts
---
is not a Mammy; she is not a slave to her white patrons. She is, rather, her

own woman, at the center of the religious altar and centered in her own belief

system.

What this altar display does not do is as instructive as what it accomplishes.

The display is wholly unlike the poster images of the saints that are

associated with specific religious narratives or popular church altars that tell

the stories of the nativity or the crucifixion. Carmen's spiritual altar actually

prevents audiences from constructing a complex narrative of the scene. This

is not a scene taken from the Bible, nor is it taken from Allan Kardec's manuals

on Spiritism. The figures do seem to want to reproduce some aspects of

Afro-Caribbean women's history, but there is no clear narrative that tells that

story, nor is there an actual recorded moment from history represented in

this display. Carmen has suppressed narrative in the altar.

Carmen's spirit-doll, which I discuss shortly, is also a madama figure.

However, the women in the Centro refused to use the ceramic mold of the

Mammy figure for this specific spirit-doll. They felt that Francisca had been

too important to use a mass-produced item such as the ceramic described

earlier for her spirit. Rather, Carmen, Iluminada, and their community further

reappraised popular history by investing greater detail into the creation

and adornment of a doll for Francisca. Together, this community presents

a number of characteristics, including ideas about dress, jewelry, and the

wealth and status of one historic Afro-Caribbean woman, in order to force

audiences to interact with ideas of women in the past.

Francisca—Carmen's Spirit-Doll

In the late 1950s Carmen's mediumship practices concentrated on a number

of specific ancestor spirits. It was only after she and the women in the Centro

had become accustomed to these spirits that they felt ready to either select a

ready-made sculpture or make an original doll to embody one of these spirits

(see plate 18). Among the spirits Carmen channeled during her séances was

a guide named Francisca. Centro members note that during ceremonies, as

Carmen channeled her spirit and dispensed this ancestor's advice, Francisca

would sometimes speak in a combination of French and Spanish. Because

of this, Carmen and her audience identified the ancestral spirit as Haitian. 20

Because Francisca also spoke Spanish, Carmen and the Centro members

believed she was a Haitian slave who had escaped to a Spanish-speaking

country in the early 1800s.

Iluminada and Carmen: Arts of Historical Desire, 1950s and 1960s Spanish Harlem · 103
---
This was a common story in the early nineteenth century, in recorded

history and especially in popular folklore. One of the most notorious migrations

out of Haiti to other Caribbean islands occurred from the late 1700s

through the early 1800s during the Haitian Wars for Independence from

France. Since that time, there has been a significant Haitian presence in both

Cuba and Puerto Rico. Indeed, both San Juan (Puerto Rico) and Santiago

(Cuba) still support small communities of Haitian migrants. Moreover, in

a number of rural communities in Oriente Province, Cuba, and in the area

surrounding Guayama, Puerto Rico, Haitian identity and culture are dominant.

21 So the "almost-narrative" about Francisca is certainly plausible, but

audiences are left to determine her history on their own. There are clues in

the details of her adornment, particularly in her dress and jewelry, as well as

in the women's regular human interaction with the doll, that indicate how

Carmen, Iluminada, and their community sought to reshape the history of

Afro-Caribbean women through the doll.

A spirit-doll serves as both a representation of and a receptacle for a spirit

of the dead. The doll is where the spirit resides when the medium is not

channeling her through her own body during ceremonies involving ritual

possession. 22 Several members of the Centro helped to construct and baptize

the Francisca spirit-doll, and they described the process. The doll is

around eighteen inches high and has a black muslin exterior with white rags

as stuffing. Details were stitched onto the doll's body, including eyes, eyebrows,

nose, and red lips. Although the doll's original clothing has been lost,

many of the traditions about her have been maintained since she was first

constructed in the 1950s. 23

In particular, the doll's headscarf is important. In Afro-Caribbean ritual

practice the head is considered to be the seat of the spirit, and during spiritual

rituals participants keep their heads covered to protect themselves from

being overwhelmed by spirits. Here, the doll's headscarf works to protect the

ancestral figure, but Carmen points to another significance of the headwrap.

Before employing the doll in her altar displays, Carmen and the members

of her Centro baptized her to prepare the figure as a container for the ancestral

spirit. In Carmen's Centro, baptisms of spirit-dolls were a regular event,

incorporated into the misas espirituales, during which Carmen and Centro

members would pour holy water, frequently perfumed and infused with

herbs, on the doll's head. The headwrap thus surrounds Francisca's head in

order to keep the ancestral spirit inside. 24

The spirit figure's dresses are constructed in the same fabrics and colors

104 · Afro-Cuban Religious Arts
---
as the headscarf. These items are meant to evoke Caribbean clothing from

the late-colonial or early-Victorian periods. An examination of painted costumbrista

scenes of Afro-Cuban men and women, however, offers only a few

instances of Afro-Caribbean women in such brilliant colors and patterns. 25

Despite this historical inaccuracy, the women of the Centro invested the

figure of Francisca with exotic colors, which draw the audience's attention

to her. The brilliant fabric patterns in Francisca's dress point to the spirit's

important relationship with the Centro's increasingly multifaceted religious

interests. Her multicolored dresses with their deep pink and purple colors

are references to La Regla de Ocha colors used by priests to represent the

oricha Oyá. In the twentieth century, deep purple became an increasingly

common symbolic color for Oyá, the Afro-Cuban oricha who is popularly

known as the divinity who acts as a mediator between the living and the

dead.

In the 1950s, the women in the Centro La Fe de Samaritana began to emphasize

this correspondence between the ancestor figure of Francisca and

the Afro-Cuban oricha Oyá. This juxtaposition permitted mediums to gain

access to ancestors from different backgrounds and belief systems. The members

of the Centro did not at that time claim to practice La Regla de Ocha.

Carmen and the women of her Centro, through Iluminada and a number of

New York and Caribbean connections, were familiar with La Regla de Ocha

and its growing community in New York City, and their understanding of La

Regla de Ocha developed long before Iluminada officially initiated Carmen

as a santera in 1968. Beginning in the early 1950s, Carmen had developed a

reciprocal working relationship with the famed New York babalao Pancho

Mora. 26 When Mora's clients needed spiritual services, he sent them to Carmen

for consultation, and Carmen also performed the necessary spiritual

rituals for clients about to be initiated into La Regla de Ocha.

Throughout the 1950s and 1960s, Carmen wanted to become a santera.

She felt that her oricha should be Yemayá, described as a mother figure, who

was portrayed through blue colors and oceanic references. During this period,

Carmen gradually acquired all of the materials she would need for her

initiation, particularly the most costly items, including a dress for the initiation

ceremony's día del medio (the middle day) and accompanying articles,

but that initiation was not to be. 27 In spite of Carmen's interest in becoming

a priest of Yemayá, members of the Centro continued to clothe the Francisca

spirit-doll with Oyá's hues of pinks and purples.

The members of the Centro took great care with the clothing for the

Iluminada and Carmen: Arts of Historical Desire, 1950s and 1960s Spanish Harlem · 105
---
doll. When the fabrics started to look old, they were quickly replaced. 28 The

spirit-doll's dresses were always newly made, clean, and ironed—a contrast

to the popularly imagined state of dress of nineteenth-century Caribbean

women, particularly Haitian women, whose extreme poverty in postcolonial,

postslavery Haiti is documented and even stereotyped in the Americas.

Caribbean dance troupes in the 1950s, in creating representations of Haitian

women's historical clothing in the costuming for their dances, popularized

this style of dress and imbued it with specific cultural associations. 29 These

visual and cultural codes established by Caribbean folkloric dance groups

remain evident today in Afro-Caribbean folklore festivals and in Afro-Caribbean

ritual-arts practices. Plate 19, for example, shows one such group

performing an Afro-Cuban Vodú dance at one of Cuba's annual folklore celebrations.

30 The color and cut of the dancers' costumes identify this dance

as deriving from nineteenth-century Haitian Vodou practices. The wide variety

of colors used is one popular visual device that signifies Afro-Cuban

Vodú: the female dancer pairs a bright-yellow dress with a blue headwrap,

and the male dancer wears bright, contrasting color scraps sewn onto burlap.

Moreover, this dress associates poverty with the historic Haitian figure: the

hemline of the woman's costume is composed of large, ragged edges, and the

male dancer's costume is made up of shredded ribbons of material. Throughout

the Caribbean, such poverty in dress is often associated with Haiti. 31

In contrast, dressing the spirit-doll Francisca in new, clean clothing presents

an important hypothesis about her history as well as a subtle revision

of the actual history of Haitian women. Although audiences in the Centro

presumed that the ancestor had relocated from Haiti to somewhere in the

Spanish-speaking Caribbean, her history is reframed by the implication of

wealth that adheres to her clothing. Thus, the women of the Centro not only

believe that Francisca fled slavery and impoverishment in Haiti, they also

believe that she was able to build a better life elsewhere.

To bolster this point of view, the spirit figure wears an enormous amount

of jewelry, including earrings and bracelets, but most particularly necklaces.

It is through this adornment that the women establish her status. The earrings

are intricate gold hoops, indicating wealth. Rosary beads turned into

necklaces link the figure with Christianity. Her bracelet is made of nine pennies

forged together in a circle. The use of the coins indicates respect and the

hope of remaining in her good graces so as to possibly incur rewards in the

future. Nine is the number for Oyá in La Regla de Ocha, and practitioners

of Afro-Caribbean religions frequently make monetary offerings to both the

ancestral spirits and the Afro-Caribbean gods.

106 · Afro-Cuban Religious Arts
---
The spirit-doll's seed-bead necklaces indicate that she is a priest of Afro-

Caribbean religious practices, either as a santera of La Regla de Ocha or as a

Haitian mambo (a priest of Vodou), or both. The seed beads exhibit a number

of different color patterns. The variations are significant, since the color

patterns share much with the colors and patterns used in twentieth-century

La Regla de Ocha. 32 The Cuban archaeologist Lourdes Domínguez studied

the use of beaded necklaces in La Regla de Ocha. Domínguez found archaeological

evidence that linked the use of beads to Afro-Cuban ritual practices

in the 1800s, but she found few, if any, patterns or colors to link these artifacts

to existing Regla de Ocha necklaces. She therefore concluded that the patterns

and colors used in present-day Afro-Cuban seed-bead necklaces arose

in the early to mid-twentieth century. 33 Carmen's spirit-doll has one necklace

that consists of nine caramel-colored beads interspersed with nine hurricane,

or striped, beads. Its design is reminiscent of other twentieth-century

designs for the La Regla de Ocha deity Oyá. 34

The application of early twentieth-century ritual arts to a colonial-era

period figure is interesting. Mid-twentieth-century practitioners insist that

their ancestors did indeed initiate these traditions, even though there is no

surviving evidence of such specific bead practices from the 1800s. Commonly,

in the twentieth century a set of at least six necklaces, or elekes, are

employed by initiated santeras, including necklaces for the following oricha:

Eleguá, Yemayá, Changó, Ochún, Oyá, and Obatalá (see plate 20). 35 The

necklaces of the Francisca spirit-doll only partly comply with this standard

and so their historical origin is uncertain at best. Aside from one or two

strands that match the necklaces shown in plate 20, the Francisca spirit-doll

wears a very different mosaic of colors.

There is some evidence that Haitian Vodou practitioners employed beads

in the early twentieth century, possibly seed beads, but variation in the design

and display of such necklaces is common. 36 By referencing more than one

Afro-Caribbean religious practice in the presentation of the spirit-doll, the

women of the Centro attach a great deal of wisdom about Afro-Caribbean

religions to the ancestral spirit. This association with Vodou practices invests

the Francisca spirit-doll with more ritual knowledge than even the Centro's

leaders, including Carmen and Iluminada, possess. Furthermore, the fact

that she invokes more than one Afro-Caribbean religion denotes power, especially

in combination with her apparent roots in Haitian Vodou. Throughout

the Caribbean, Haitian Vodou is seen as more "powerful, authentic and

orthodox" than other Afro-Caribbean traditions. 37

Thus, although the women of the Centro have refused to weave a narrative

Iluminada and Carmen: Arts of Historical Desire, 1950s and 1960s Spanish Harlem · 107
---
around this ancestor figure, she nevertheless carries a wealth of individualizing

details that allude to important historical knowledge and contribute

to her truth-value for current audiences. 38 That is, these details make Francisca

applicable to the concerns of her contemporary audiences. Carmen frequently

channels Francisca during séances, but the spirit does not communicate

many personal details about her past. Rather, she gives advice about

the present to those in the audience. Nonetheless, within the community,

the details the women assign to the figure are thought to be accurate, even

though some of them were never revealed during Carmen's mediumship

practices with Francisca.

Domestic Roles

Any extended narrative applied to the Francisca figure would likely not be

credible since so much information about colonial Afro-Caribbean women's

history is lost. The mere fact of rescuing the figure of a colonial Afro-

Caribbean woman is already a daring act. As Hayden White has argued,

"Real life can never be truthfully represented as having the kind of formal

coherency met with in the conventional, fabulistic story." 39 In the case of

Francisca, these disparate historical details appear to act as particularly important

sources for the spiritual medium, since she appears not only at the

center of Carmen's altar, but also, as I discuss shortly, at the center of her

everyday life at home.

The truth-value attached to the Francisca figure is clear in her relationship

to Carmen and her family: they treat her as an authentic human being. The

madama spirit-doll is situated by the women in a daily, almost commonplace

position within the household so she can interact with and mediate between

the immediate world and other deceased ancestors. The irony here is that

the day-to-day presence of the Francisca spirit-doll within the household

is much more pervasive than séances involving her or the construction of

celebratory altars for her. Since the creation of the doll, Carmen and other

visitors have always provided coffee and food for the figure. A number of

visitors physically greet the figure by shaking her hand upon entering the

room. Currently, the figure is usually placed near where Carmen sits for most

of the day, in the front room of her home. When altars are built in the house,

there is always an additional altar for Francisca because members of the family

feel she should be recognized (see plate 21). Unlike the altar at the Centro,

discussed previously, in this home altar the ancestor figure is treated as a

member of Carmen's household, not just as an object used for ritual events.

108 · Afro-Cuban Religious Arts
---
Plate 1. Saint Anthony (Toni Malau)

pendant, 18th century, Angola/Democratic

Republic of Congo. (Metropolitan Museum

of Art, New York.)

Plate 2. Wifredo Lam,

The Chair, 1943. (Collection

Museo Nacional

de Bellas Artes, Havana.

Gift of A. Carpentier.

© Artists Rights Society

[ARS], New York/

ADAGP, Paris.)
---
Plate 3. Cover of Bohemia magazine, September 1949. (By permission of Bohemia, Havana,

Cuba.)
---
Plate 4. Permanent bóveda,

2003. (Photograph by

Kristine Juncker.)

Plate 5. Portrait altar, 2003.

(Photograph by Kristine

Juncker.)
---
Plate 6. Temporary Espiritismo altar, 2003. (Photograph by Kristine Juncker.)

Plate 7. Spirit-doll,

2003. (Photograph

by Kristine Juncker.)
---
Plate 8. Altar for La Caridad del Cobre, 2003. (Photograph by Kristine

Juncker.)
---
Plate 9. Detail of La Caridad del

Cobre, 2003. (Photograph by

Kristine Juncker.)

Plate 10. Ex-votos in the Stove

Street house collection. (Photograph

by Kristine Juncker.)
---
Plate 11. Temporary altar for San Lázaro installed in front of La

Caridad del Cobre, 2003. (Photograph by Kristine Juncker.)
---
Plate 12. Tiburcia Sotolongo y Ugarte's figure of Eleguá, created in

1899. (Photograph by Kristine Juncker.)
---
Plate 13. Cabinet altar for the oricha in the collection of the Museo Municipal de Regla,

Cuba, 1940s. This altar is said to have belonged to Josefa Herrera (d. 1947), a leader of

the Cabildo of Yemayá located in Havana City's neighborhood of Regla. (Photograph by

Kristine Juncker.)
---
Plate 14. Yoruba artist, Nigeria, Fan for Osun, brass, 14 × 8¾ in., ca. 1875–1925. (Gift of

Bernard and Patricia Wagner. By permission of the High Museum of Art, Atlanta, Ga.)
---
Plate 15. Mensu, collected by Fernando Ortiz, ca. 1940. In the Casa de África, Havana,

Cuba. For Palo practices, a mensu is a protective device made of a horn, with materials

impacted inside, and capped with a mirror. (Photograph by Kristine Juncker.)

Plate 16. Centro altar belonging to Carmen Oramas Caballery, 2002. (Photograph by

Kristine Juncker.)
---
Plate 17. Detail of the

Caballery Centro

altar with figures of the

madama and the Virgin

of Candelaria, 2002.

(Photograph by Kristine

Juncker.)

Plate 18. Francisca figure

with two cups of coffee,

2002. (Photograph by

Kristine Juncker.)
---
Plate 19. Folkloric dance troupe and costumes representative of Vodú

traditions in Cuba, 2002. (Photograph by Kristine Juncker.)

Plate 20. Santeros usually receive at least six beaded necklaces during

their initiation. This photograph features the popular seed-bead

patterns for the following oricha (left to right): Eleguá, Ochún, Oyá,

Changó, Yemayá, Obatalá, and Orula. The final necklace, for Orula, is

usually given during a different ceremony that precedes initiation into

La Regla de Ocha. The ceremony is called Kofa, and it determines the

future santero's parent oricha. (Photograph by Kristine Juncker.)
---
Plate 21. Altar for Francisca, 2002. (Photograph by Kristine Juncker.)

Plate 22. Sopera for Oyá, purchased in 1969 for Carmen Oramas Caballery. Carmen's

daughter María Ortiz repurposed the sopera when Carmen purchased a new tureen. Doll

and accessories added by María. (Photograph by Kristine Juncker, 2002.)
---
Plate 23. Dress for Oyá, Bronx, New York, created in 1996. (Photograph by Kristine

Juncker, 2012.)
---
Plate 24. Sopera for Obba with interlocking bracelets, 2003. Obba is

a female oricha often considered to be a counterpart to Ochún and

recognized for her leadership qualities. Here, Santero José Quintero

stores his bracelets for Obba linked around the top of the tureen.

(Photograph by Kristine Juncker.)
---
Plate 25. Betye Saar, Midnight Madonnas, ca. 1996. (By permission of Michael Rosenfeld

Gallery, New York.)
---
Plate 26. Ben Jones, Dinah Washington, Queen of the Blues, 11½ × 16 in., ca. 2003. (Sharon

Burton Turner and Lincoln Turner Collection. Photograph by Mansa Mussa. By permission

of Ben Jones, Jersey City, N.J.)
---
Plate 27. Renée Stout, Hidden Room (Ambivalence) with a nod to L. B., 2010. (By permission

of Hemphill Fine Arts, Washington, D.C.)
---
Plate 28. Celebratory Espiritismo altar for the Virgin of Candelaria, Puerto Rico, 2002.

(Photograph by Kristine Juncker.)
---
The domestic role of the ancestral figure reverberates in Carmen's and

her religious family's visual interpretation of the figure. Francisca appears to

be a household servant, not a plantation worker. The ancestor figure's dress

and jewelry communicate enough wealth and status that there is little association

of her with the historical reality of most early nineteenth-century

black women in the Caribbean. Historical and statistical evidence reveals

that household domestic servitude was more desirable, and possibly better

documented, than the other roles held by Caribbean women. Most Afro-

Caribbean women worked in the plantation fields under deplorable conditions.

40 Francisca's unknown history therefore serves more than one purpose.

On the one hand, she is a woman who survived a traumatic history

and attained a position of status as a domestic worker. Therefore, the Centro

channels Francisca's advice on how to achieve such success. On the other

hand, the Centro channels an Afro-Caribbean ancestor in order to rescue

her from an unknown past, one likely filled with turmoil, and does this by

placing her within the domestic space of a 1950s and 1960s Spanish Harlem

home. In my discussions with the members of the Centro, however, it is clear

that the community holds these two possibilities in tandem, neither preferring

one account over the other.

The absence of a narrative for the colonial-era period figure is even more

important when one compares past ideas of domesticity with those of the

present. As with the ancestor figure, it is unlikely that the women of the

Centro regard their daily lives as having a cohesive narrative. In this vein,

beginning in the 1950s, the women have relied on channeling Francisca's

spirit to provide meaning for their lives. Her presence close by Carmen at all

times—"living" in Carmen's home and transported to the Centro for ritual

work—places her in an important relationship with the group. Most of the

women in the Centro needed to support themselves and their families financially.

Many coped with absentee husbands. They all faced new roles as

Afro-Caribbean women in a postsegregationist, but prefeminist New York

City. Carmen's husband, a U.S. merchant marine, was rarely home. Similarly,

Iluminada's husband, a musician, was also frequently away. By 1963, Carmen

had nine children; in the 1970s she would move the Centro and her religious

consulting work back into her home in order to care for them. Iluminada,

desirous of children, adopted a son in the late 1950s and was also preoccupied

with her beauty salon in Spanish Harlem. Both women, like the other

women in their community, found employment largely based on their domestic

skills. That they celebrated an ancestral figure who was presented as

a model of successful domesticity is therefore unsurprising. The ancestor

Iluminada and Carmen: Arts of Historical Desire, 1950s and 1960s Spanish Harlem · 109
---
figure Francisca provided important lessons in strength and perseverance

for these mid-twentieth-century women.

Arts for La Regla de Ocha

As a way to help the members face different problems, initiations, or coronations,

into the practice of the spiritual arts and the creation of ancestral

spirit-dolls became a recurrent theme in the Centro. In 1968 Carmen was

initiated into La Regla de Ocha because of just such a course of traumatic

events. In the spring of that year, the police had arrested Carmen on gambling

and racketeering charges. For a number of years Carmen had run a

small lottery out of her Centro, awarding the proceeds to the poorer members

of the community. Two of Carmen's daughters, Minelba and Eva, had

unknowingly flirted with neighborhood undercover policemen, even discussing

the lottery operation and thereby incriminating their mother. When

the two policemen knocked on the door of the Centro, the two teenage girls

thought the gentlemen were there to ask them out on a date. Instead, their

mother was arrested. 41 After Iluminada bailed Carmen out of jail, she decided

to initiate Carmen into La Regla de Ocha in order to provide spiritual

protection to her from any further consequences. Carmen's legal problems

dissipated thereafter, with no jail time or fine, and Carmen feels that the

ceremony empowered her to avoid any further problems regarding this matter.

Relying on the traditional arts of La Regla de Ocha, Iluminada provided

Carmen with additional imagery reflective of the successful survival of colonial

period women and transferred this sense of power to Carmen.

During the rush of ceremonial events to prepare her for initiation into

La Regla de Ocha—including a divinatory reading with a babalao, a visit

to church, and a misa espiritual—the babalao found that Carmen was not

a daughter or priest of the oricha Yemayá, as she originally believed to be

the case. Instead, Iluminada initiated Carmen as a child of Oyá, the female

oricha who works with the dead and owns cemeteries and marketplaces.

The members of the spiritual center, already familiar with this divinity and

her imagery, were not surprised about this change in Carmen's "crowning"

oricha. 42 Carmen does not remember many details about her own initiation

ceremony into La Regla de Ocha. She compares her initiation to the several

hundred initiation ceremonies she has since assisted with and the several

dozen that she has organized as a godmother. 43 A number of scholars have

argued that initiation rituals for La Regla de Ocha have grown increasingly

110 · Afro-Cuban Religious Arts
---
more standardized, and this seems to be confirmed by views shared by

Carmen. 44

Descriptions of La Regla de Ocha initiation ceremonies, along with a

number of important variables, can be found in practitioners' notebooks

from the mid-twentieth century and the present day. 45 Most relevant to our

analysis of colonial women's imagery are descriptions of the first day of the

initiation, when santeros prepare the basic elements of the initiate's altar—

in particular, the contents of the initiate's soperas (literally, "soup tureens"),

used as containers for the oricha. Also relevant, on the middle day of the

weeklong ceremony, El día del medio, the religious house presents the initiate

to the public in her first set of clothing designed for her primary oricha.

During this presentation the new santera also wears the jewelry, including

necklaces and bracelets, that represent the oricha, which the priest received

during her own initiation. An examination of these items gives insight into

the legacy of Afro-Caribbean women from the colonial era and their influence

on contemporary kinship.

Over the course of their initiation, each sopera received by the initiate

is dedicated to a separate oricha. The elements of Carmen's altar have

significantly changed since her initiation: she has updated the containers

she uses for her oricha and now employs more-contemporary Chinese tureens

painted with gold. Carmen's daughter María presently uses one of her

mother's original soperas in her own La Regla de Ocha altar (see plate 22). 46

Carmen's original soperas were sparingly decorated. The sopera for Oyá was

light mauve in color with a darker brown around the edges. In lieu of rainbow

colors, mauve is often used to represent Oyá. The tureen was oval in

shape. Iluminada selected this sopera for Carmen in 1968 without sharing

her opinion on these matters. There is no other information known about

the origin of Carmen's tureens.

In his book Santería Enthroned, David H. Brown investigates the origins,

uses, and meanings of a small sample of early-twentieth-century soperas and

notes the tremendous cultural changes evident in their use. Brown argues for

the deliberate appropriation of these European goods as a means to claim social

class and status, both for the practitioner and for the religious movement

of La Regla de Ocha. Furthermore, the high status of china as an expensive

trade good is also representative of the high standing of the oricha contained

within each of the new santera's tureens. Brown's arguments concerning appropriation

are compelling, but the gendering of the soup tureens is also

particularly relevant. He notes that "In general, the female orichas and/or

Iluminada and Carmen: Arts of Historical Desire, 1950s and 1960s Spanish Harlem · 111
---
those of the domains of sky and water, such as Yemayá, Ochún, Oyá, Obá,

Inle, and Obatalá, have taken the soperas." 47 The containers for Afro-Cuban

male deities are made of contrasting materials, including wood, gourds, or

metals. 48 This connection of women and the female oricha to the tureens

bears further examination.

What is explicit about the ritual use of the soperas is the reference to the

care of such china by women. In particular, tureens are traditionally associated

with wealthy colonial plantation dining rooms, and it was the plantation's

female enslaved household laborer who would serve out of these tureens.

49 Throughout the twentieth century, priests of La Regla de Ocha have

revisited this colonial use of fine china. Cabinets are used by many twentieth-century

santeros to keep the soperas separate from general audiences. As

was the case for fine china on the plantation, only select individuals have access

to these goods or care for them. This reenactment of the mediatory role

of the Afro-Caribbean woman, now as a santera and intermediary between

Afro-Cuban deities and the public, remains essential to twentieth-century

practices in La Regla de Ocha.

The display of the tureens also indicates that food will be served. The multiple

soperas in an altar suggest a superabundance of food. Ritual food preparation

in La Regla de Ocha is still the role of women, and food is absolutely

essential for all celebrations in La Regla de Ocha and an integral part of the

maintenance of any altar. 50 Practitioners of most Afro-Cuban religions also

cite food preparation and display as a vital element in birthday or celebratory

altars. Placed at the front of the altar, the food appears to have spilled over

from the soperas of the orichas toward the audience. The popular name for

this space at the front of the altar, the plaza, recalls the space in front of European

churches and cathedrals where the public would traditionally gather

and trade goods. In the La Regla de Ocha altar, the plaza also indicates public

access. Initially, the food is an offering to the oricha, but at the end of a celebration

much of it is dispensed by the santeras to the public. 51

Both food preparation and display follow important traditions established

in different religious houses and make reference to taste as well as

appearance. Iluminada passed down a number of recipes for the oricha to

Carmen and her religious family. Contemporary practitioners also identify

Iluminada, who learned to cook these dishes in Central Havana from the

community on Stove Street, as the source of their recipes. The foods are

distinguished by their ingredients, textures, and even colors as characterizations

of the oricha. Honey, golden in color, is used for a specific oricha, such

112 · Afro-Cuban Religious Arts
---
as Ochún, whereas other divinities receive items cooked with coconut: the

white of the fruit is for Obatalá, for example (see the Appendix for some

recipes for the oricha, along with Iluminada's rules for their preparation).

Ritual cooks know that for every food prepared for the oricha a portion

must also be served to the eguns (the dead). This respect for the ancestors

through the offering of food also honors the women who once served them

in similar roles. The food is offered to the eguns at a separate altar for the

ancestors, away from the La Regla de Ocha altar for the oricha. References

to both the oricha and the dead therefore traverse important but undefined

boundaries, and the relationship between celebrations for the oricha and

celebrations for the ancestors who first implemented these traditions are

recognized.

As is the case for the soperas, the clothing worn by the santeras in ritual

performance also evokes certain historic relationships. The most ornate,

well-discussed, and important items of ritual clothing are the garments

worn for the middle day of a La Regla de Ocha initiation. 52 This clothing

uses imagery that is intended to attract and flatter the guardian oricha. The

initiation dress is so important that, if available, it is also used to clothe the

santera at the time of her burial. Unfortunately, Carmen's initiation dress was

destroyed by flooding from a hurricane in the 1970s. Nevertheless, certain

traditions surrounding the dress continue to be practiced by those who were

initiated by Carmen's family line.

I was able to examine the dress of one santera initiated as a priest of Oyá

in 1996 (see plate 23). The dress presents many contemporary rearticulations

of historical dress. The seamstress, for example, took pains to emulate the cut

of Victorian-period dress: the sleeves are puffy; the skirt is long, intended

to reach the wearer's feet; and the skirt is also made extremely wide, to accommodate

the thick layers of crinoline inside that push the skirt farther

out. When used in ritual-dance performance, the dress rests not only on the

crinolines but also on an intricate system of bloomers. Women often manipulate

the dress's skirt to accentuate different dance moves and to conjure

up complex systems of meaning.

As stated previously, the clothing of the spirit-dolls and sculptures permits

audiences to hypothesize about the histories of the Afro-Caribbean

women they represent. These are static representations. However, during

La Regla de Ocha ritual dance, the santera is able to work with the ritual

dress to create a more animated representation of the relationship between

Afro-Cuban religious mythology and the history of Afro-Caribbean women.

Iluminada and Carmen: Arts of Historical Desire, 1950s and 1960s Spanish Harlem · 113
---
Once possessed by her guardian oricha, during the drum ceremony, the

santera is then dressed for her patron deity by other priests. In this clothing,

the santera, as a manifestation of Oyá, for example, might perform twirling

movements by throwing her skirt in the air and forcing the fabric to fly

outward. This movement associates the oricha with the ferocious winds and

storms that are common in the mythology of Oyá's character. During larger

ritual celebrations, in which several different oricha are present through

ritual possession, the oricha often interact while dancing. In these heightened

moments of ritual song, drum, and dance performance, the different

divinities often communicate with one another in ways that recall popular

La Regla de Ocha religious mythology. For example, if Oyá and Changó

are both manifested at a drumming ceremony, their roles as husband and

wife, particularly Oyá as Changó's favorite wife, are often reflected in their

dance and gestures. Oyá and Changó show favoritism for one another by

performing specific dance steps and manipulating their accoutrements. Oyá

addresses her husband alternately with love or contempt by working with

her dress and her iruke, or decorated horsetail. Likewise, Changó performs

movements with his double-headed thunder axe. 53 Their brightly colored

and ornately designed clothing identifies the oricha and encourages the audience

to remember their related mythology. Notably, as in the case of the

madama's dress described earlier, the initiate receives a dress that is made

of much finer fabrics. This alludes to the wiping away of the poverty and

hardship of the past and the practice of Afro-Caribbean belief systems in

the present. Ties across the religious community occur through dress and,

by extension, through connections in mythology.

Carmen and Iluminada's religious-arts practices present a vital juxtaposition

between the extensive mythological narratives of the Afro-Cuban oricha

and the fragmentary details that are known about ancestral Afro-Caribbean

women. In ritual performance, the narratives available in Afro-Cuban religious

mythology provide a bridge to the past. The historical costuming implies

the long-standing influence of nineteenth-century priests on the contemporary

practice and knowledge of religious mythology. Furthermore,

the colonial-era period dress attributed to the oricha alludes to important

constructs within La Regla de Ocha. The history of Caribbean women, and

therefore the histories of specific families, are relatively unknown, but these

visual connections to the past help to supplement what historic notions of

the family do exist.

As Carmen's godmother, Iluminada was responsible for supervising and

114 · Afro-Cuban Religious Arts
---
guiding Carmen's religious work, especially her ritual arts. On a practical

level, the visual arts within La Regla de Ocha, since they are the most easily

observed, are the first works monitored by the godparent. Carmen's daughter,

Elsie Cabrera, recalls that after her mother's initiation, "Iluminada was

so strict," particularly about how her mother presented herself. Iluminada

enforced traditional forms of ritual dress for the first year following initiation

and thereafter during religious events. 54 Throughout the initiatory year,

Iluminada required the new santera to wear bloomers and shawls—items

that were not in popular use in the late 1960s and early 1970s. Indeed, these

items brought a lot of attention to the new santera on the street. Using a

shawl might not have been common, but the bloomers were a much more

intimate representation of historical dress. Iluminada's religious descendants

still insist that their initiates wear voluminous bloomers that reach to the

knee, and for the fanciest ritual-dress occasions, additional crinolines. This

emphasis on historic detail creates a more cohesive community and fuses

the past to the present.

In day-to-day La Regla de Ocha ritual practices, however, the past and

present are literally linked, through the bracelets worn by santeras. During

the initiation ceremony initiates receive necklaces for all of the requisite oricha

and bracelets for the female oricha, including Yemayá, Ochún, and Oyá,

as well as the gender-neutral Obatalá. Each bracelet is made of the metal

popularly attributed to the corresponding deity. 55 Carmen received five

copper bracelets for Ochún, seven silver bracelets for Yemayá, nine brass

bracelets for Oyá, and sixteen silver bracelets for Obatalá, an oricha who

appears in both male and female versions in the mythology. 56 The beaded

necklaces have become increasingly popular in the twentieth century, with

religious houses insisting that their initiates wear their beads. 57 In the 1950s

and 1960s, however, it was more common for santeras to wear these bracelets,

as they were slightly less conspicuous in public than the brightly patterned

necklaces.

The majority of practitioners, when not wearing the bracelets, store them

around their soperas (see plate 24), interlocking and encircling the soup tureens.

Both male and female initiates are given the bracelets, but only women

are required to regularly wear them—or, if not all, at least a few bracelets

suggestive of their larger collection stored in their altar. When worn, the

bracelets and jewelry visually identify the santera with her altar and with the

larger religious community. Subtle differences in the number of bracelets

worn, as well as their color and markings, provided a visual language for

Iluminada and Carmen: Arts of Historical Desire, 1950s and 1960s Spanish Harlem · 115
---
Carmen and her growing community to identify one another in New York

in the 1960s. The bracelets conveyed a subtle sense of community or family

for the women from the original Centro La Fe de Samaritana.

The clothing and jewelry used by the members of the Centro were an important

means of signifying membership in this group, and they also served

as an invitation to others to join. Through initiations into La Regla de Ocha

and the practice of fictive kinship, the core group of the women in the Centro

became godsisters. Many of these women have since initiated one another's

children or grandchildren into the group. This dynamic has produced

both a complex ritual family tree and a solid support system.

The references to colonial-era women through the arts of La Regla de

Ocha and Espiritismo strengthen contemporary community ties. In both

Espiritismo and La Regla de Ocha practices, it is common for participants

to begin religious ceremonies by listing the names of their known ancestors,

especially members of their immediate family and their religious family who

have passed away. 58 These recitations demonstrate that their predecessors

still maintain a substantial influence on the present. It also suggests that the

ritual's objects, even those that are new, maintain a vital relationship with

the past. Many of the new objects are designed to symbolize the past. The

association between ancestors and contemporary ritual performance casts

even the newest objects into a historic light.

Together, the practices of Espiritismo and La Regla de Ocha provide a

wide repository of materials for Afro-Cuban religious leaders and the audiences

for their ritual arts. The collection of ritual-art objects provides a

diverse archive for contemporary audiences. Although fragmented, the

collection of these items is significant. In a discussion of "sites of memory,"

Pierre Nora argues that despite the growth of national and local archives,

some groups are moving away from such grandiose collections of disparate

documents. As he says: "Every established group . . . has felt the need to go in

search of its own origins and identity. Indeed, there is hardly a family today

in which some member has not recently sought to document as accurately

as possible his or her ancestors' furtive existences." 59 By employing new avenues

of research through the combined archives of Espiritismo and La Regla

de Ocha, we have been able to uncover rich new historic details about these

women that permits a creative reinterpretation of the relationship between

the women's past and their present.

116 · Afro-Cuban Religious Arts
---
@

g

W

Conclusion

Afro-Atlantic Arts and

the Popular Sublime

Much of the religious art belonging to Tiburcia, Hortensia,

and Iluminada was ritually destroyed upon their deaths. Since 2005, Carmen

has been largely bedridden due to complications from diabetes. Because of

Carmen's protracted illness, visitors routinely leave food and flower offerings

in front of her different altars, thus calling attention to the most important

art objects in her collection, particularly the spirit-doll Francisca and the

container for Oyá. In Afro-Atlantic religions, when a religious leader dies,

only very select items from the leader's collection are preserved. This practice

of both destruction and preservation is important for two reasons. First,

the act of selective preservation not only is a gesture of mourning, but also

points to how meaning is created in the expression of Afro-Atlantic identity.

Only certain objects, and therefore the practices surrounding them, are significant

enough to continue as traditions. Second, the overall significance of

systematic "forgetting"—requiring the destruction of religious art—makes

Afro-Atlantic religious art especially pivotal in understanding the broader

practice of African diasporic art history. Afro-Caribbean religions involve

a strictly enforced curatorial practice in which religious leaders and their

followers very carefully choose what objects survive and define the community.

In turn, this practice of extreme limitation of the life span of cultural

materials requires that acknowledged leaders, particularly trained artists, assist

new audiences in accessing and interpreting the surviving imagery.

Precious few objects in La Regla de Ocha are passed down. During the

itutu, or cooling ceremony in honor of the death of a santera, divination determines

the final destination for the objects that constituted the santera's

altar. Most items are returned to their natural environment, which could

117
---
include rivers, the ocean, the base of a tree, a mountainside, and even a street

intersection. On very rare occasions, divination will show that some part of

an altar—for example, one of the oricha's soperas and its contents—should

stay with specific religious-family members. Tiburcia's figure of Eleguá is

one of these rare surviving items and it remains in its special place in the

Stove Street house.

Notably, art objects comprising Afro-Atlantic Espiritismo altars are not

ritually destroyed. The flowers and food offerings decay, the water evaporates,

and the candles burn away. As they age, many other sculptural works

in the Espiritismo altar may be thrown away. Only a few of the most meaningful

objects are passed down from generation to generation. The fact that

there are surviving artifacts underscores my argument about the important

role of Afro-Atlantic Espiritismo practices in the creation of Afro-Atlantic

art history. For example, Tiburcia's figure of the Caridad was passed down

to Hortensia Ferrer. Since Hortensia's death, Olga Calvo Puig and her family

have cared for the figure and celebrate her in different altars throughout

the year. This Caridad figure regularly appears in or near other temporary

celebratory altars in the Stove Street house as a means to celebrate Tiburcia's

legacy. The continuing use of such spiritual objects, even after Espiritismo

fell out of fashion, indicates that the recognition of ancestral inheritance remains

paramount.

The destruction and preservation of objects is an important strategy. The

purging of many religious-art objects no longer in use obfuscates many aspects

of Afro-Caribbean religious practice, making replicas impossible and

strictly enforcing individual agency. Surviving religious-family members are

held accountable for the representation of history to future generations. A

leader who is skilled in the public presentation of these inherited histories,

like Hortensia Ferrer with her photographic documentation and celebratory

altars, will be among the most successful in drawing in new audiences. Thus,

the systematic destruction and selection of remnants allows for the successful

creation of memories. 1 That is, the large-scale loss of memory empowers

select memories and the few remaining objects.

Such loss forces surviving memories and fragments to become more significant

and to appear reliable as evidence of the past. The philosopher Paul

Ricoeur explains, "The survival of images . . . deserves to be considered a

fundamental form of profound forgetting." 2 For Ricoeur, the individual's or

the community's choice to forget is an active, conscious decision, and the

physical and emotive consequences of the act of forgetting are profound.

118 · Afro-Cuban Religious Arts
---
The object selected for survival becomes meaningful not simply because

the work was deemed exceptional and worth saving. The visually pleasing

preserved art object indicates that what was lost is just as precious. Moreover,

if a precious object, such as the Stove Street house's Caridad sculpture,

survives, then the quality of this object attests to a high level of artistry over

the entire duration of the Stove Street house's practices and the work of its

descendants, including those practicing today. Through the ongoing discursive

repertoire in which audiences engage these historical works, such materials

set standards to which working religious artists aspire. To note, most

religious arts for any historical religion—including Christianity, Judaism,

Buddhism, and Islam—were not significant enough to survive for consideration

in art-historical accounts. However, the practice of art history within

African diasporic religious art identifies well-preserved, visually captivating,

and thought-provoking items as highly illustrative of ideals not only of the

period in which they are made, but of traditions that succeeding generations

deem as worthy of continuing. The prominence of these surviving works,

as discussed among religious families that have now exploded in number

internationally, demonstrates that art history is recorded not just by scholars

or institutions, but through popular discourse.

With popular discourse in mind, reproductions can be meaningful in African

diasporic religious arts. Select items emerge as particularly symbolic

among audiences and they are chosen for reproduction. On the one hand,

there is a sizable manufacturing community today based in China as well as

Mexico and Brazil and beyond that creates objects sold in botánicas or Afro-

Atlantic religious-arts shops globally. Manufacturers publish manuals, print

lithographs, package herbal preparations, and create ceramic-saint sculptures,

plastic flowers, fabric designs, ritual clothing, candles, beadwork, and

sculptural elements that are part of the popular inventory of ritual practice.

More often than not, scholars have dismissed these items as "kitsch," or disposable

culture. On the other hand, prominent Afro-Atlantic religious-arts

sellers, including the scholar-turned-art-dealer David H. Brown, provide a

platform that decries the wholesale dependence on industrially produced

items and encourages innovation among religious artists. 3 Notably, such

religious-arts venues market a combination of rare handcrafted items as well

as manufactured necessities. This business model attests to the pivotal interactions

of innovative art objects and manufactured items that sustain the

growing demands of audiences and practitioners. However, it is unlikely that

most of the industrially produced material will survive from one generation

Conclusion: Afro-Atlantic Arts and the Popular Sublime · 119
---
to the next. Despite this, manufactured reproductions are significant and

indicate the dynamic growth of Afro-Atlantic belief systems in the modern

period.

This dilemma of kitsch is particularly relevant for the wider practice of

African diasporic art. A number of authors, including Gerado Mosquera, Judith

Bettelheim, Luis Camnitzer, and Krista Thompson, tangle with the ongoing

disparagement of Afro-Atlantic art practices as largely mass-produced,

disposable goods. 4 Most note that art history has been mired in Clement

Greenberg's 1939 binary of high art and low art as definitive of the modern

period. 5 With his own prerogative to elevate the status of European avantgarde

art, Greenberg wholly rejects industrially produced cultural objects as

lacking quality and thought.

Greenberg's disgust for early-twentieth-century industrially produced

items continues to reverberate in the discourse of scholarly art history. However,

such distaste is now paradoxical, as institutions now widely acknowledge

the links between industrially produced items and the significance

of installation and display. Among prominent examples, New York City's

Museum of Modern Art (MoMA) keeps Jeff Koons's controversial Three

Ball 50/50 Tank on permanent exhibition. Koons's 1985 work features three

basketballs partially suspended in water at the midline of a fish tank. While

audiences may interrogate the manufacture of the basketballs (which, Koons

notes, the museum is welcome to change out when needed), the suspension

of the three spheres equally amid the air and water in the tank requires even

greater attention. 6 Further, occasional vibrations in the area also can cause

some movement and interaction among the basketballs. Koons's work invites

audiences contemplating the installation to consider their own experiences

of suspension and interaction in space.

What Koons actually constructed himself or purchased ready-made is

beside the point. The innovation is the provocation to thought. Further,

MoMA keeps Three Ball 50/50 Tank on permanent display because the work

generates a great deal of attention, not only to the display itself but to MoMA

as an institution that defines art and art history. Koons and MoMA should

challenge audiences and redefine art history. So, too, African diasporic religious

art challenges viewers to reconsider their beliefs and perceptions of

cultural history. Afro-Atlantic religious arts are cumulative in character and

require audiences to rely upon their critical gaze to interpret relationships

among the collected items. Audiences absolutely should consider whether

they recognize industrially produced items or handmade works; more often

120 · Afro-Cuban Religious Arts
---
than not, audiences will find both. In practice, industrially produced items

provoke viewers to consider the significance of the accumulated items

within a display and to determine values. Mass-produced objects for Afro-

Atlantic religious practices symbolize widely held cultural beliefs, whereas

handmade work may indicate the religious artist's area of specialization.

With such a close inspection of religious-arts practices, unique items, such

as the works presented in this book, absolutely defy the persistent attempts

to dismiss diasporic art as kitsch, and even validate the significance of manufactured

items.

Rather than define such accumulatory work as kitsch, both Paul Gilroy

and Rita Felski associate such dynamic forms of cultural expression with

the sublime, or, in Felski's terminology, the "popular sublime." 7 Gilroy's

discussion of the sublime explores cultural recovery from the point of view

of extreme trauma, and he compares the highly expressive movement of

black-Atlantic literature with literary and scholarly accounts of the Jewish

Holocaust and related anti-Semitism. 8 In his examination of the literary materials

reacting to these extreme periods of cultural oppression, the power

of Gilroy's analysis is in the emotive quality of the language he identifies

accompanied by fragments of historical detail. In a similar manner, Felski explains

the sublime as the indescribable, or the "transcendent," and pointedly

includes African diasporic religious arts as seeking to rely on such literary or

visual traces in order to propel audiences into new perspectives of temporal

understanding. 9

To clarify, the religious artist engages the popular sublime as she collects

disparate items of cultural significance reflective of different periods of history,

moving beyond dominant hegemonic accounts. Felski and Gilroy are

clear that the application of the term sublime only tangentially engages earlier

discourse associated with the European middle class and industrial elite;

however, in all instances of the sublime, whether it is the European Enlightenment

or changes in African diasporic consciousness, the sublime emerges

as a search for dramatic change through the collection of imagery or literary

devices. Further, the accumulation of materials and imagery in Afro-Atlantic

arts is meant to provoke audience involvement.

A number of scholars consider the reuse of historical visual culture as an

impetus for setting communities into action. In a recent critique, the former

research director of the Getty Museum, Michael S. Roth, argued for the ongoing

significance of the work of the founding art historian Aby Warburg. 10

Taking Warburg's 1923 lecture on the Hopi Indians as his example, Roth

Conclusion: Afro-Atlantic Arts and the Popular Sublime · 121
---
found that the reimagination of the historic Hopi snake dance and related

imagery led to powerful results on the reservation. Roth concluded that the

interaction between recently mass-produced items and historical high-art

objects in Warburg's study was especially important, as it commanded the

attention of viewers. Both Warburg and Roth found that the exciting reconstruction

of the Native American ritual dance was pivotal for conveying the

Hopi political identity to new audiences, including tourists. The display made

Hopi identity concrete for these audiences. As a result, this identity became

entrenched in the literature describing the Oraibi settlement and the larger

reservation area in Arizona. Moreover, this display of historically oriented

cultural force reduced mistreatment by U.S. government organizations.

As argued in David Freedberg's account of The Power of Images, the display

of art objects is often a call to action for artists and audiences. 11 I would

argue that this is especially the case when an artist invokes debate on cultural

history and its expression. Afro-Atlantic religious art relies upon specific references

to history to motivate audiences to attend to different causes. For

example, Hortensia Ferrer relied upon imagery evocative of anticolonial

cultural identity in Africa as she encouraged her community to support the

Cuban Revolution. In a similar fashion, in the 1950s and 1960s in Spanish

Harlem, during a time when women's labor rights were a particular concern,

Carmen Oramas Caballery and Iluminada Sierra Ortiz worked with colonial-era

representations of women. These representations called upon the

struggles of distant relations in Africa, as well as historical forbears, in order

to empower audiences to a course of action.

In an analysis of the general trends of art-history scholarship, however,

Krista Thompson finds that "contemporary practices of African diasporic art

history . . . are less preoccupied with reading manifestations of Africa in the

diaspora, and [are] more engaged in an interrogation of the broader ontology

of modern Western aesthetic and representational practices in making

visible conventions and constructions that are otherwise 'un-visible,' naturalized,

erased, and even universalized." 12 Here, Thompson rightly notes the

overwhelming success of contemporary black studio artists who forgo specific

citations of cultural inheritances and reimaginings of African heritage in

favor of broader historical critiques. In particular, Thompson investigates the

work of Kara Walker and Glenn Ligon, who are widely acclaimed studio artists

whose work appears in many museum collections. Nonetheless, as described

throughout this volume, in Afro-Atlantic religious art practices the

careful presentation of surviving art objects, combined with documentation,

122 · Afro-Cuban Religious Arts
---
calls into question where art history is created. Does the practice of art history

also occur outside the accepted museum, gallery, and scholarly publication

venues? If so, is this extremely selective practice of curating religious art

and display, in effect, the creation of art-historical methodologies that enable

Afro-Atlantic popular and religious artists to broadly engage audiences and

topics otherwise historically shunned by official institutions?

For a number of twentieth- and twenty-first-century Afro-Atlantic artists,

not only are their works found in the studio, but they also seek to engage audiences

who have largely been ignored by official art historical institutions.

These artists address new viewers by actively innovating upon African diasporic

religious identities through new expressive media. Betye Saar, Gloria

Rolando, Ben Jones, Renée Stout, and John Jennings represent some of the

artists who regularly incorporate historic Afro-Atlantic religious imagery

into their work. Notably, all of these individuals have carved out careers

that address international audiences and enforce popular understandings of

imagery regarding African diasporic history in the Americas. Again, here I

emphasize how these artists rely upon the popular sublime as they create

multimedia collections of visual materials in order to make critical aspects

of Afro-Atlantic history comprehensible to even unfamiliar audiences. Furthermore,

these artists present complex imagery that invites the audience's

close inspection and possible identification of specific historical and cultural

references. All compel their audiences to action through this confrontation

with under-recognized Afro-Atlantic history.

Betye Saar's work relies on assemblage techniques in the representation

of history. In Midnight Madonnas, from 1996, Saar pairs a late nineteenth- or

early twentieth-century black-and-white photographic portrait of a mother

and child with a painted image of a black Madonna and child (see plate 25).

The exterior frame of this work is small at 14 inches high by 11 inches wide

and only 1½ inches deep. The small assemblage engages the audience in an

act of intimate inspection, with the materials surrounding this mother and

child appearing as biographical elements. In particular, the items indicate

the importance of religion and spirituality for this family. Smaller items in

this assemblage include a ceramic hand holding a rosary; a small key alongside

the rosary's amulet; a collection of thick fabrics in the background; a

loose watch face and pressed flowers. All of these items are especially tactile.

Just as the viewer might hold the beads and perform prayers of the Hail

Mary for the rosary, the repetition of the Madonna stands out. This family's

Madonna is particularly captivating because she has scars on her cheeks.

Conclusion: Afro-Atlantic Arts and the Popular Sublime · 123
---
This appears to be a reference to Erzulie Dantor, a divinity celebrated in Haitian

Vodou who is, in character and mythology, often compared with the

Afro-Cuban oricha Yemayá. The scars make a number of important historical

references. For example, nineteenth-century colonial literature often attributed

such cultural markings to West African cultural practices. 13 Also, by

using a crescent-moon shape—an item also popularly attributed to Erzulie

Dantor—Saar not only invites contemplation of the possible biography of

the woman and child, but she also relies on these smaller assembled items to

invoke a number of details reflective of Afro-Atlantic mythology.

In the 2001 Raíces de mi corazón, the Cuban filmmaker Gloria Rolando

similarly invites close inspection of one family's history. The larger goal of

Rolando's film is to clarify the historical events surrounding Cuba's Little

Race War of 1912 and its long-term impact in Cuba. Rolando explains that

over the course of three months in 1912 the Cuban government killed at least

six thousand Afro-Cubans who protested for greater political representation.

Rolando argues that the result of the associated massacres was a tremendous

sense of fear and trepidation that muted any understanding of black Cuban

history for decades. Notably, Rolando creates a convincing narrative around

the act of remembering the Little Race War, even as the elements of historical

evidence remain highly fragmented.

At the start of the film and in transitions between scenes, as dramatic

music plays, Rolando's camera regularly pans across collections of old, unexplained

photographs featuring various generations of Afro-Cuban men and

women. The film's main character, Mercedes, is particularly discontented

with her work as a historical researcher, as she seeks a greater understanding

of her own family history and that of the wider Afro-Cuban community.

Mercedes' grandmother is unavailable and unwilling to share the history

of Mercedes' great-grandparents. Finally, Mercedes' mother, Ángela,

intercedes and procures a particularly captivating photographic portrait of

Mercedes' great-grandmother and great-grandfather, María Victoria and

José Julián. However, although Ángela shares what she knows about their

tragic history with respect to the Little Race War, Mercedes learns just as

much, if not more, through her dreams. In large part, it is the Afro-Cuban

oricha who guides Mercedes' dreams. Yemayá appears most regularly as

Mercedes' parent oricha. Not only does Mercedes share much in common

with Yemayá's character as a mother figure, but she is also a woman who

has experienced tumultuous relationships in love. Ultimately, Yemayá counsels

Mercedes through all of her struggles with history and contemporary

124 · Afro-Cuban Religious Arts
---
omance. Rolando's film teeters upon the melodramatic, with orchestrated

music and choreographed dances of divinities that are usually danced freestyle

in the actual performance of ritual. However, arguably, this is exactly

the type of melodrama that the literary scholar Rita Felski would identify as

especially exemplary of the gendered modernities that encompass the earlytwentieth-century

period that Rolando explores. 14

For a number of decades, the African-American artist Ben Jones has engaged

in regular correspondence with Rolando, although for most of his life

Jones has worked in Jersey City, New Jersey. Jersey City has a significant

Latin American population with a substantial Caribbean influence. Jones's

work has always sought to engage Jersey City's local audiences, especially his

students at Jersey City State University. Among examples of his work, Jones

created a series of fans, much like the paddle fans described in chapter 3. His

sculptural work Dinah Washington, Queen of the Blues, from around 2003,

displays a photographic image of Washington in the center of a heart-shaped

fan (see plate 26). Jones superimposes a cowry shell on the handle and motifs

of golden rays projecting outward from the heart shape, imitative of the

sun. Jones's interpretation of Washington as a manifestation of the divinity

Ochún calls attention to the singer and associates Washington's work with

the performative aspects of Afro-Atlantic religions, particularly Ochún and

her captivating use of the fan during dance. Jones does not claim that Washington

was a practitioner of Afro-Atlantic religions; rather, he celebrates the

near-deific strength of Washington's performance. As a collection, Jones's

fan series calls for greater attention to black history from his audiences. Further,

Jones notes the value of Afro-Atlantic religious-art history in order to

understand contemporary art.

Ben Jones's approach to African American history with respect to the

imagery of divinities of West African origin is becoming especially popular

among audiences. However, Renée Stout's oeuvre explores the more difficult,

and less popular, history of the Central African diaspora in vivid detail.

Stout is well known for her research and reinterpretation of Kongo minkisi. 15

These Central African power objects have long held the reputation for causal

change. That is, through the accumulation or subtraction of material, such

as nails or fragments of clothing, these sculptures were and often are still

considered to be agents capable of causing an individual's success or harm.

Stout's references to power objects in Central Africa and its diaspora in the

United States tap into a very volatile history. Few history books provide accounts

of the slave trade out of Central Africa beginning in the sixteenth

Conclusion: Afro-Atlantic Arts and the Popular Sublime · 125
---
century. Even fewer sources discuss twentieth-century movements of genocide

in Central Africa due to European and American industrial demand for

natural resources, including rubber, metals, and diamonds.

Stout creates art installations that call attention to such undocumented

relationships between Central Africa and Afro-Atlantic history. In particular,

Stout creates different altar constructions that incorporate power objects

and make reference to Hoodoo. An Afro-Atlantic religious practice historically

emerging within North America, Hoodoo is often considered to be the

southern United States' version of Haitian Vodou. Hoodoo has not received

the same amount of scholarly examination as Vodou or Afro-Cuban La

Regla de Ocha. Stout's work convincingly argues that prejudice has plagued

Hoodoo on an even wider scale than its Latin American counterparts. However,

with Stout's attention, audiences studying Afro-Atlantic religious arts

can locate the imagery and history Hoodoo shares with similar practices.

In her 2010 installation, Hidden Room, Stout converted a mirrored dressing

table into an altar with an accumulative sculptural object at the center, covered

by a decorative bell jar (see plate 27). To the right of the power object is

a display of perfumes. The mirror is reflective of the boundary between the

living and the dead. Further, the perfumed substances in the installation also

attract these spirits. However, combining to cast an eerie pink glow across

the installation, the red and blue neon words Desire and FEAR overwhelm

the scene. As much as Stout invites audiences to study the display, even leaving

one drawer of the table open for inspection, the uncomfortable blend of

the desires and fears may, quite literally, make understanding impossible.

John Jennings, a graphic artist from Mississippi, has collaborated with the

writer Damian Duffy on a series of cartoons that often draw upon Afro-Atlantic

religious imagery. Although Jennings is not initiated in Afro-Atlantic

religions, he expresses the regular contact that he has had with practitioners

and Afro-Atlantic religious arts throughout his lifetime. In one of their most

popular publications from 2008, The Hole: Consumer Culture, a Janus-faced

trickster character serves as the emcee of the graphic novel as the narrative

engages the failing economics of the time (see figure 5.1). 16 Jennings's design

directly recalls representations of Eleguá, or in Haitian Vodou, Elegba.

The trickster, although referencing black American history and survival, becomes

even more germane to the cartoon's characters as they attempt to surmount

their present-day economic difficulties. Jennings's popular graphic

series demonstrates that Afro-Atlantic religious art involves a significant

repertoire of discourse to which visual artists and leaders return, and with

which audiences are increasingly familiar.

126 · Afro-Cuban Religious Arts
---
Figure 5.1. John Jennings's drawing

of a trickster figure appearing in The

Hole: Consumer Culture, 2008. (By

permission of John Jennings, Buffalo,

New York.)

Beyond the contemporary studio arts, such allusions to historical Afro-

Atlantic religious-art practices remain critical in contemporary religious expression.

Afro-Atlantic religions require that succeeding generations study

and reinterpret the work of their predecessors. During a large Espiritismo

celebration in 2002 in Puerto Rico, a member of Carmen's religious community

invited me to photograph the tall celebratory spiritual altar (see

plate 28). The espiritista waved her hands around the altar and explained

that the altar was her own inspiration based upon what she had learned from

Carmen.

The altar featured the elements I have described throughout this volume.

Bright gold paper and yellow curtains adorn the back of the altar, which is

otherwise covered in yellow and white satin. Arrangements of flowers, including

many sunflowers, are spread along the steps of the altar. There are a

number of popular ceramic sculptural figures, including one for the siete potencias,

or seven African powers, the Catholic saints most often cited as representative

of African deities. However, at the top of the altar is the espiritista's

Conclusion: Afro-Atlantic Arts and the Popular Sublime · 127
---
figure for Our Lady of Candelaria, a ceramic work she has possessed since

working with Carmen in New York in the 1970s. In popular Afro-Atlantic

religious discourse, the Candelaria figure is not fixed to a specific divinity.

In Puerto Rico, the Candelaria is often compared with the oricha Ochún,

whereas in other regions, such as Cuba, she is compared to Oyá. The espiritista

emphasizes Ochún through the yellow-and-gold references, but her

inclusion of red grapes at the top of the altar is for Oyá. Following advice

from Carmen, where there are competing forces religious design should seek

to create a balance between them. However, the espiritista's emphasis on the

Candelaria figure is among the most significant references therein. As the

patron saint of the Canary Islands, the Candelaria figure is representative

of the very start of Afro-Atlantic history. It was in the early 1400s with the

invasion of the Canary Islands by the Portuguese that the enslavement of

black Africans began. 17 The reference to this traumatic moment through the

Candelaria figure sets the stage for the audience to call upon many generations

of the dead in their Espiritismo practices.

In response to this display, and in one of the last tremendous religious

performances of her career before her illness became problematic, Carmen

approached the altar and began to sing. The caja (wooden box) drummers

playing for the audience were overwhelmed by her voice. Dancing, the

crowd followed the rhythms of Carmen's song. As she sang, she pulled out

three sunflowers from the display and submerged them into a large bowl of

perfumed water. Across this large room she cast droplets of this water, raining

it down upon the audience, including the children who danced in front

of the altar. This performance and the artistry of the event is not likely to be

forgotten by those who were present. The interpretation of the imagery seen

there will continue to shape the art that younger generations will produce in

the creation of their own religious-arts practices.

Here and throughout this book I have argued that early-twentieth-century

women held innovative and expressive roles that that led to the international

expansion of Afro-Caribbean ritual arts. These women engaged a

broad audience consisting of a large number of temporary clientele. The

leaders they trained were all concerned with the tensions engendered by

multiple cultural backgrounds and faiths. Their art and altar practices

worked to unite disparate audiences. To do this, they relied on what they

knew of Afro-Caribbean religious imagery and folklore from the past, recasting

this material into innovative, popular, and sublime artistic productions

with which their audiences continue to identify.

128 · Afro-Cuban Religious Arts
---
Appendix

Food for the Oricha

In December 2004, Minelba Ortiz spent two days teaching me to cook popular

celebratory food offerings for the oricha. Iluminada Sierra Ortiz learned

the following recipes in Cuba in the 1940s and 1950s, and taught them to the

Ortiz family in Spanish Harlem in the late 1960s.

The recipes use specific ingredients, textures, colors, and tastes for each

oricha. For example, many of the sweet recipes are for oricha that are said to

have that characteristic. Other recipes reflect other traits: root vegetables are

used in some recipes to show the Oricha Oko's connection to the earth, and

the nine pieces of deep purple eggplant in another recipe are representative

of the number and color for the oricha Oyá.

There are also a number of rules that ritual cooks must follow. When creating

a throne for the oricha, there should be one prepared dish for each

oricha. For every dish made for the oricha, a serving must go to the separate

altar for the eguns. Showing this respect for the dead remains critical today.

All cooked foods should be allowed to cool before putting them in the

throne for the oricha or for the dead. Practitioners want to keep the oricha

and the eguns "cool," and hot food is seen as disturbing the ideal coolness of

the altar.

Cornmeal Cakes for Eleguá

Cornmeal

Honey

Slowly and sparingly combine the honey into the cornmeal. Between your

palms, roll the mixture into the shape of a ball (golf ball size). This can take a

lot of muscle to pound the cornmeal and honey together. Adding too much

honey will cause the ball to collapse. Make three cakes for Eleguá and one

for the eguns.

129
---
Cornmeal Cakes for Yemayá

Cornmeal

Sugarcane syrup

Mix enough syrup with cornmeal to roll into small balls (slightly smaller

than golf ball size). Sugarcane syrup is harder to work with than honey, so

add only small amounts. Make seven cakes for Yemayá and one for the eguns.

For Oyá

2 cups of sweet red beans (preferably the dried variety)

Pinch of cinnamon

1 tsp. vanilla

1 tsp. sugar

Cover the beans with water and soak overnight. Boil the sweet red beans

with cinnamon, vanilla, and sugar to taste. When thick, put on a plate for

Oyá. Allow to cool before placing in the altar. Also place a bit of this on a

plate for the eguns.

Custard for Obatalá

2 Tbsp. cornstarch

2½ cups whole milk

A few drops of vanilla

2 Tbsp. sugar

Combine the ingredients in a saucepan over medium heat. Whisk to keep

smooth. When thick, quickly place a bit of custard on a plate. When cool,

serve to Obatalá and the eguns.

Custard for Ochún

5 egg yolks

2 Tbsp. cornstarch

A few drops of vanilla

2 Tbsp. sugar

A touch of salt

Combine the ingredients in a saucepan and whisk well before placing on

the stovetop over medium heat. Cook until thick, and when cool, serve to

Ochún. Place a bit of the custard on a plate for the eguns.

130 · Appendix: Food for the Oricha
---
Cake for Ochún

Premade pound cake

Decorative sugar or sprinkles

For syrup:

1 cup honey

1 tsp. vanilla

A few tablespoons of water

Cut the pound cake horizontally into three slices. Boil the honey, vanilla,

and water until combined. Pour the syrup over each layer of the cake. Stack

the layers. Sprinkle sugar or sprinkles on top. Also place a bit of cake on a

plate for the eguns.

Custard for Oyá

2½ cups milk

Approx. 5 oz. bittersweet cooking chocolate

2 Tbsp. sugar

1 tsp. vanilla

Pinch of salt

Combine the ingredients in a saucepan and cook over medium heat on the

stovetop until thick. Whisk to keep smooth. Place on a plate for Oyá, as well

as a small portion for the eguns. When cool, place in the altars.

Custard for Changó

½ cup flour

2½ cups either coconut milk or regular milk (whole)

1 tsp. vanilla

3 Tbsp. sugar

Raisins (optional)

Because this is made with flour, it takes a bit longer to cook than the previous

custards. Bring the milk to a boil and add the flour. Whisk fast. (If you can't

whisk fast, don't boil—just simmer.) Add the vanilla and sugar. After 10 minutes,

you may want to add a little bit more flour. Place the custard on plates

for Changó and the eguns when thick. Changó will also take raisins in this.

Appendix: Food for the Oricha · 131
---
Eggplant for Oyá

2 eggplants (9 slices for Oyá, plus 1 for the eguns)

1 whole egg, whisked

Vegetable oil

Put the eggplants in the whisked-egg batter. Place the slices to fry in oil.

Brown lightly and place on towels to remove excess grease. When cool, serve

nine slices for Oyá and one slice for the eguns.

Ochinchin (Yemayá and Ochún)

5 eggs

Cooked spinach (1 bunch, or 1 frozen packet)

1 lb. cooked baby shrimp

1 Tbsp. adobo seasoning

Scramble the eggs. Add the cooked spinach and shrimp and season with

adobo. Place in the throne when cool. Be sure to serve a portion to the eguns.

Dish for Oricha Oko

Dried mixed beans

3 different root vegetables (any type—e.g., yam, yucca, potato, carrot)

"Oricha Oko keeps it simple. He does not usually like cooked food." Place

dried beans and three root vegetables on a plate. Serve to Oricha Oko and

give the eguns some dried beans.

132 · Appendix: Food for the Oricha
---
Notes

Introduction

1. In The Repeating Island Antonio Benítez-Rojo describes the cultural frameworks that

apply across the islands of the Caribbean. Similarly, in my work, I describe how this type

of dialogic exchange cuts across many Afro-Atlantic religious-arts practices. Although my

work is mainly confined to Espiritismo and La Regla de Ocha, this is not to say that other

Caribbean religions—including Palo, the Abakuá men's associations, Afro-Cuban Vodú,

and a number of others—do not also engage in this practice of exchange. Indeed, the

paradigm I present here applies across these belief systems as well.

2. Bastide, The African Religions of Brazil.

3. In the Jaruco church archives there is a death notice dating from when Tiburcia was

seven years old: "The parochial cemetery of Jaruco on the 18th of July, 1868, buried Josefa, a

creole slave belonging to María Dolores Ugarte. She died that morning of cerebral congestion

at the age of 26 years" (Libro IV de difunciones [1860–78], alt. 61, vt #300, Archivo de

la Parroquia San Juan Bautista).

4. Some of the scholars who have called for the study of the history of women in Afro-

Atlantic religious practices include David H. Brown (Santería Enthroned, 291); Flora María

González Mandri (Guarding Cultural Memory); Stephan Palmié (Wizards and Scientists,

35); and Johan Wedel (Santería Healing, 157).

5. See Karen McCarthy Brown, Mama Lola.

6. Palmié, Wizards and Scientists, 35.

7. Felski, The Gender of Modernity, 9.

8. Palmié, Wizards and Scientists, 348.

9. Gilroy, The Black Atlantic. See also Krista Thompson, "A Sidelong Glance"; and

Palmié, Wizards and Scientists, 7–56.

10. Claire Robertson, "Africa into the Americas?" 22.

11. Shepherd, Women in Caribbean History, 38–39.

12. Notably, as a form of resistance to chattel practices, many black women refused to

have children. A number of the religious leaders I have worked with claim that the abortive

herbal preparations that they have been trained to prepare date from the colonial period,

and perhaps from before the Atlantic passage. Barbara Bush had argued that slave owners

wanted black women to raise their own children so as to pass on their cultural values (see

Bush, Slave Women in Caribbean Society, 1).

133
---
13. Gilroy, The Black Atlantic, 199, 218–19.

14. Robert Farris Thompson, Flash of the Spirit, 1–101.

15. Following masculine and feminine orthography in Spanish, a santero is a male priest

of Santería, and a santera is a female priest.

16. Fernández Olmos and Paravisini-Gebert, Creole Religions of the Caribbean, 175. Some

scholars argue that Espiritismo is not a religion because the popular doctrines of Spiritism

do not support an organization with a hierarchy of leadership. Because this debate remains

unresolved, when describing Espiritismo I will frequently use the term belief system, rather

than religion.

17. I place these words within quotation marks because I want my readers to understand

that I am employing a loose, introductory description. I explain my use of these terms in

much greater detail in chapter 2, "Tiburcia and the Nested Spaces of Afro-Cuban Ritual

Arts, 1861–1938."

18. Many of the original Spanish translations of Kardec's works were published in

Spain—for example, El libro de los médiums. However, Spanish-language versions of some

of Kardec's works were also published in Mexico and Argentina, including the pamphlets

El espiritismo en su mas simple expression (Buenos Aires: Imp. del' Porvenir, 1885), and

Filosofía espiritualista: El espiritismo (Guanajuato, Mexico: Imp. de Encarnación Serrano,

1868). The English-language versions of Kardec's two most important works were published

as The Spirits' Book: The Principles of Spiritist Doctrine [Le livre des esprits] (1893),

and Experimental Spiritism. Book on Mediums; or, Guide for Mediums and Invocators . . . [Le

livre des médiums] (1874).

19. Fernández Olmos and Paravisini-Gebert, Creole Religions of the Caribbean, 177.

20. See Fu-Kiau, African Cosmology of the Bântu-Kôngo; Thompson and Cornet, The

Four Moments of the Sun; Thornton, "The Development of an African Catholic Church in

the Kingdom of Kongo"; Thornton, "On the Trail of Voodoo; and Thornton, Africa and

Africans in the Making of the Atlantic World.

21. Thornton, The Kongolese Saint Anthony, 204.

22. Thornton, Africa and Africans in the Making of the Atlantic World, 235–71.

23. Bettelheim, "Caribbean Espiritismo (Spiritist) Altars."

24. In his presentation of a "spirit-hierarchy," Kardec does not explicitly define who,

in death, becomes a spirit capable of communicating with the living, and who does not.

However, he does point to people who are popularly acknowledged as having had higher

moral standards in life as those who become more powerful spirits in the afterlife (see Kardec,

The Spirits' Book, 38–40, no. 100). In The Book on Mediums, Kardec does identify some

of the individuals invoked in Kardecian Spiritism practices, among them a spirit named

"Erastus" who served Saint Peter. Also mentioned is a religious group that channeled a

famous member of the French navy who was killed in battle, and another medium who

channeled her deceased brother (Kardec, Experimental Spiritism, 115, 82, 59).

25. Allan Kardec, El evangelio según el espiritismo.

26. Traditionally, during Caribbean Spiritist sessions songs were repeated and prayers

recited again and again. This ritual repetition was frequently combined with use of traditional

plants, tobacco smoke, and perfumed water, and led to ritual possession.

27. "Scientific Spiritism," or "Espiritismo Científico," is one of the Spiritist practices that

134 · Notes to Pages 4–9
---
does follow Kardec's guidelines stringently. Espiritismo Científico centers became popular

after the Cuban Revolution in the 1960s, after many of the centers that worked primarily

with Catholic imagery were closed by the Revolutionary government.

28. See Córdova Martínez and Barzaga Sablón, El Espiritismo de Cordón; and Millet, El

espiritismo.

29. For examples of creative interpretations seen in the Dominican Republic, see Bettelheim

and Berlo, Transcultural Pilgrim, 140–45.

30. Fernández Olmos and Paravisini-Gebert, Creole Religions of the Caribbean, 183–85.

31. Millet (in El espiritismo) and Córdova Martínez and Barzaga Sablón (in El Espiritismo

de Cordón) have described different types of Espiritismo, but I am not able to accurately

fit the practices of the women with whom I collaborated into these frameworks

since neither the women nor their religious families define either their own style of practice

or their predecessor's original style in a manner consistent with the styles described by

Millet and Córdova Martínez and Barzaga Sablón. I believe, therefore, that it is preferable

to characterize the work of Tiburcia Sotolongo, Hortensia Ferrer, Iluminada Sierra Ortiz,

and Carmen Oramas Caballery as important antecedents to the styles described by the

aforementioned researchers.

32. See David H. Brown, Santería Enthroned, 134–43.

33. David H. Brown, The Light Inside.

34. Benítez-Rojo, The Repeating Island, 43–47.

35. For more on the definition of "Creole" and "Creolization," see Fernández Olmos and

Paravisini-Gebert, Creole Religions of the Caribbean, 4–7.

Chapter 1. Religious Pluralism and the Afro-Cuban

Ritual-Arts Movement, 1899–1969

1. Among the authors addressing contemporary interpretations of this popular literature,

Todd Ramón Ochoa presents the pervasive stereotype that "Ocha/Santo does the

healing and Palo does the harming" (Ochoa, Society of the Dead, 10).

2. I have adopted David H. Brown's translation of the book's title as "The Black Sorcerers"

in order to call attention to the tenor of Ortiz's language. Scholars writing about the

early scholarship on Afro-Cuban religions have been reluctant to translate the extremely

nuanced Spanish term brujo into English. It is often translated as "witch," but that involves

even more prejudice than "sorcerer." Nonetheless, it is important that audiences who do

not speak Spanish understand the exoticizing overtones Ortiz intended for his first book.

Using the translation "The Black Sorcerers," which preceded the publication and wider

international reception of his book Contrapunteo cubano del tabaco y el azúcar, emphasizes

the dramatic transformation of Ortiz's scholarship in the 1940s. In Contrapunteo cubano,

Ortiz established a new positive tone about Afro-Cuban religions (see David H. Brown,

"The Afro-Cuban Festival 'Day of the Kings' ").

3. A few prominent criminologists already worked in Cuba, most notably including

one "Inspector Trujillo," the author of the book Los criminales de Cuba y d. José Trujillo,

completed in 1881 and published in 1882. In that work, Trujillo briefly describes criminals

Notes to Pages 9–13 · 135
---
in Cuba, pointing to Afro-Cuban religious practices, particularly among the all-male Abakuá

Society, as having incited illegal acts, including homicide.

4. For evidence of this prodding, see the letter from César Lombroso to Ortiz requesting

to see portions of the latter's study of brujería (in Fernando Ortiz, Los negros brujos, 1).

For more on César Lombroso, see Gibson, Born to Crime.

5. While in Cuba, Ortiz also took the official government exam to become a lawyer (see

Barreal, Introduction to Los negros brujos). One presumes that preparing for this exam was

a time-consuming endeavor.

6. See Ellis, The Yoruba-Speaking Peoples of the Slave Coast of West Africa. I was unable

to document the reproduction and distribution of Ellis's works in Cuba, but the original

text as well as the early-twentieth-century reprints are still available in a number of Cuban

libraries. I have also seen copies in various practitioners' homes.

7. In a later article Ortiz admitted his prejudices in The Black Sorcerers, but he claimed

that the book was essential for the introduction of the term Afrocubano (see Ortiz, "Por la

integración cubana de blancos y negros," 69–74).

8. Ortiz described his ideas on Afro-Cuban identity more eloquently in his subsequent

work (see Ortiz, "Brujos o santeros," Estudios Afrocubanos 3, no. 1–4 [1939]: 85–90; and

Ortiz, "Por la integración cubana de blancos y negros").

9. In The Black Sorcerers and a number of subsequent articles, Ortiz flirted with European

tabloid articles that were particularly popular in the years following Cuba's independence

from Spain in 1898. To clarify, European audiences welcomed inflammatory material

on Cuba after its independence. Ortiz, however, makes only guarded comparisons

between Afro-Cuban religious practices and cannibalism, or "Black Magic." Although

he cites these tabloid stories as sources, he is careful to state that he never directly encountered

any violence in Afro-Cuban religious practices. For the tabloid articles Ortiz

consulted, see chapter 8, titled "Notes from the Press about Sorcery," in Ortiz, Los negros

brujos, 151–79.

10. "Los brujos son, generalmente, viejos africanos" (Ortiz, Los negros brujos, 115). Note

that, here, African is the key word, not black. In the early 1900s, race remained a somewhat

divisive term for both Ortiz and the Cuban government since such categories were extremely

nuanced, involving several sources of ethnicity and thus making the act of categorizing

blacks an oppressive and relatively ineffective system (see Helg, Our Rightful Share).

11. According to Ortiz, black Cuban women were of little consequence, as early-twentieth-century

scholarship had already shown that they served in only a secondary position

("Las mujeres ocupan lugar secundario en la brujería, debido ante todo al carácter

sacerdotal de aquéllos, que les da en las sociedades salvajes de donde proceden y en Cuba

misma, una posición socialmente predominante; posición incompatible con la abyección

en que es tenida la mujer africana en la familia y en la tribu") (Ortiz, Los negros brujos, 114).

12. Ortiz used the pejorative term Ñáñigo throughout Los negros brujos. By 1954, Lydia

Cabrera would replace Ñáñigo Society, which had become a generally descriptive and

highly prejudiced label of black criminal activities, with Abakuá Society, thereby better acknowledging

the Society's West African cultural heritage (see David H. Brown, The Light

Inside, 14–12, 195–8; and Cabrera, El Monte, 195–220).

13. See, for example, Castellanos, La brujería y el ñañiguismo en Cuba, desde el punto de

vista médico-legal; Castellanos, Medicina legal y criminología afro-cubanas [sic]; and Enrique

136 · Notes to Pages 13–14
---
C. Henríquez, "Crímenes de la brujería: La sugestión criminal en los ignorantes fanáticos,"

Fernando Ortiz Papers. Israel Castellanos, a Cuban police detective, also published a

number of books cataloging the head shots of the Afro-Cuban men he arrested. In a later,

similar book on women, Castellanos, following Ortiz, largely dismissed the potential for

women to become criminals: "In Cuba the criminality of women is very inferior to that

of the masculine." Castellanos claimed that the "coefficient of feminine criminality [was]

0.001," compared to a "coefficient of masculine criminality [of] 0.053" (Castellanos, La

delicuencia femenina en Cuba, 2:96).

14. "En todo caso, aun cuando no se llegase a una condena, deberían decomisarse los

ídolos, imágenes, collares, fetiches, altars, chumbas y demás enseres y cachivaches de los

templos brujos, los cuales, al menos los más característicos, en vez de ser destruidos como

se ha hecho hasta ahora, debieran ser destinados al museo de antropología de la universidad

nacional" (Ortiz, Los negros brujos, 196).

15. Flikke, Cuban Museums and Afro-Cuban Heritage.

16. David H. Brown questions whether these objects were indeed originals or fakes

made to deceive the police (Brown, The Light Inside, 149).

17. Ortiz, Los negros brujos, 200. Spain originally enacted the Law of Associations in 1881,

which was revived and revamped following independence.

18. Indeed, the registries included groups that proclaimed an interest in any number of

subjects, including opera, architecture, and classical languages. Many of the groups that

tried to register were never able to obtain official governmental approval.

19. On this topic, see Rolando, Las raíces de mi corazón; and Helg, Our Rightful Share,

193–226. The Cuban National Archives houses many of the records of these legal proceedings

against the cabildos and their leaders, and archivists are working to publish these

fragile documents. For a sample, see Archivo Nacional de Cuba, "Galería de Imágenes:

Documentos del Partido Independiente de Color."

20. On the laws against Afro-Cuban drummers in the 1920s, see Moore, Nationalizing

Blackness, 229–32.

21. Ortiz wrote a series of articles for Bohemia in the 1940s and 1950s, including the essay

"Orígenes de los cordoneros del orilé," in which he described the much greater participation

and leadership of women in Espiritismo. Most of the Bohemia material I consulted

is from the scholarly consultation collection in the Biblioteca Nacional "José Martí" in

Havana. Please note that these well-used archival copies are often missing their covers,

so issue dates are sometimes also missing from my citations here, or in some cases I've

inferred the issue date.

22. Ortiz, Los negros brujos, 196.

23. Ibid., 197.

24. For example, dozens of police documents are filed under "Espiritismo" in the Archivo

Histórico Provincial de Santiago de Cuba. Most document instances of African musical

traditions and dance. But despite this evidence, the practice of Espiritismo remained

legal in the decades leading up to the Cuban Revolution. For an overview of these documents,

see Rebecca Calderón Berroa and María Caridad González, "Algunas consideraciones

del espiritismo en la religión oriental a través de documentos de archivos," ca. 2000,

Archivo Histórico Provincial de Santiago de Cuba.

25. Córdova Martínez and Barzaga Sablón, El Espiritismo de Cordón. The authors look

Notes to Pages 15–16 · 137
---
at the Registry numbers for official temples of Espiritismo in the Province of Holguín

and demonstrate a fairly gradual increase in the number of temples until the 1940s, followed

by a groundswell of new Espiritismo centers in the 1950s. In their discussion, Córdova

Martínez and Barzaga Sablón concentrate on one form of Espiritismo, known as

"Espiritismo de Cordón," but their statistical evidence, reproduced in table 1.1, is much

more generalized. In the Province of Havana, the Registry of Associations records an even

greater number of Espiritismo groups, in the several hundreds during the 1940s and 1950s.

The Cuban National Archive maintains thousands of files for the Province of Havana's

Registry of Associations. Unfortunately, since these are organized alphabetically by each

organization's name, a general survey of the organizations in Havana between 1881 and

1959 would demand several years of research. In contrast, the Registry for the Province

of Oriente, which is primarily housed in the Archivo Histórico Provincial de Santiago de

Cuba, had always been organized by the denomination of the group, allowing for better

statistical research on Espiritismo in eastern Cuba before 1959. Please note that the geographic

boundaries for historical provinces in Cuba are organized differently than those

for present-day provinces.

26. Many "Espiritismo" groups emphasized the influence of African and Afro-Cuban

culture on their spiritual practice. Among dozens of examples in the Registry for Havana

are a 1943 charter for recognition by the group Center of Psychic Anthropological Guidance

"El Carmelo" and a 1954 application for the Afro-Cuban Psychic Center "Elena

Lopez." The first group, "El Carmelo," cites their use of anthropological publications on

Africa to facilitate their study of their ancestors' histories. The regulatory handbook for

Centro Psíquico Afro Cubano "Elena Lopez" explains that "the association being formed

has for its objective to celebrate all of the religious festivities with accordance to the traditions

that have been brought to this country by the people who have migrated from the

African continent to this beautiful country" (see "Reglamento" of the Centro de Orientación

Psíquico Antropológico "El Carmelo," Registro de Asociaciones, 1943; and Dolores

Hernández Ponier, "Reglamento de la Asociación Centro Psíquico Afro Cubano 'Elena

Lopez,' " Article 1, Registro de Asociaciones, 1954).

27. "A medida que ha avanzado la civilización, se han ido diluyendo tales cofradías fetichistas"

(Ortiz, Los negros brujos, 86). Ortiz's view is in contradistinction to that of other

Catholics in the late 1920s, who saw the popularity of Espiritismo as a conflict for the

Catholic Church. One P. Manuel Gómez, for example, published a pamphlet against the

"plague" of Espiritismo, which he then distributed throughout Havana (see Gómez, Diálogos

catequísticos contra la plaga del espiritismo moderno).

28. Ortiz, La filosofía penal de los espiritistas.

29. See Baron, "Amalgams and Mosaics, Syncretisms and Reinterpretations"; and Jackson,

"Melville Herskovits and the Search for Afro-American Culture," 95.

30. Herskovits, "Acculturation and the American Negro."

31. Ibid., 211.

32. In the late twentieth century the anthropologists Charles Stewart and Rosalind

Shaw would argue that Herskovits's early understanding of acculturation was too strict

and that individuals are equally likely to reject or react to the new culture to which they

are exposed rather than accept a new culture unilaterally (Stewart and Shaw, Syncretism/

Anti-Syncretism, 6).

138 · Notes to Pages 16–17
---
33. In his suggestions for future research, Herskovits poses example questions for future

scholars, including: "What of aboriginal custom persists? What of Mohammedan practice

has been taken over? What amalgams of culture have resulted?" For Herskovits, all future

acculturation studies would conclude with a description of the "contra-acculturative

movements" (Herskovits, Acculturation: The Study of Culture Contact, 121–36).

34. Herskovits, "African Gods and Catholic Saints in New World Negro Belief," 321.

35. The use of chromolithographs of Catholic saints is more popular in Haiti (Herskovits,

"African Gods and Catholic Saints in New World Negro Belief," 321, 323).

36. I have included the footnote annotations and information from Herskovits's original

table. Since its original publication, the table has reappeared in many different versions,

and always without Herskovits's citations. The citations are important because some of

the works on which Herskovits relied have since been entirely discredited. For example,

Seabrook's The Magic Island and Wirkus and Dudley's The White King of La Gonave are

now seen as testaments to the racism and postcolonial backlash of their time, rather than

as fully accurate accounts. While no one discounts that Herskovits performed his own

fieldwork, his fieldwork rarely substantiated the scholarly evidence he often cited (see

Blier, "Melville J. Herskovits and the Arts of Ancient Dahomey"; Blier, "Field Days"; and

Price and Price, The Root of Roots, or, How Afro-American Anthropology Got Its Start).

37. Ironically, throughout The Black Sorcerers Ortiz also cites Nina Rodrigues's comparisons

of Afro-Cuban oricha with Catholic saints, elevating Nina Rodrigues's 1896

study as the most important antecedent to his own work. In the 1896 work, however, Nina

Rodrigues was primarily interested in making a late-Victorian-inspired comparison between

the classical gods and African diasporic divinities (see Nina Rodrigues, L'animisme

fétichiste des nègres de Bahia).

38. Ortiz began The Black Sorcerers with a disclaimer that, "apart from some clarifications

and observations with respect to their locality, the [original African] identity is not

always known" (Ortiz, Los negros brujos, 23). Ortiz also believed that some reidentification

and reinterpretation of his source materials was certainly a possibility in the future.

39. Nina Rodrigues and Ortiz relied on E. B. Ellis's popular account, The Yoruba-Speaking

Peoples of the Slave Coast of West Africa, which is also peppered with classical references

(see Nina Rodrigues, L'animisme fétichiste des nègres de Bahia; and Ortiz, Los negros brujos,

68–83).

40. Herskovits, "Problem, Method, and Theory in Afroamerican Studies," 57.

41. Erika Bourguignon, a psychological anthropologist who worked in Haiti in the

1940s, also challenged Herskovits on some of his concepts. She found that although Herskovits

proposed important theories on psychological anthropology, he did not follow

through with actual psychological studies (Bourguignon, "Relativism and Ambivalence

in the Work of M. J. Herskovits").

42. Herskovits, The Myth of the Negro Past, xxii.

43. Ibid., xxiii.

44. Herskovits, "The Contribution of Afroamerican Studies to Africanist Research," 19.

45. See Herskovits, "Problem, Method, and Theory in Afroamerican Studies," 52–54.

46. See Apter, "On African Origins," 252; and Mudimbe, "Which Idea of Africa? Herskovits's

Cultural Relativism."

47. Herskovits, "Problem, Method, and Theory in Afroamerican Studies," 53.

Notes to Pages 17–24 · 139
---
48. Martínez, Cuban Art and National Identity.

49. Halperin, White Zombie.

50. David H. Brown discusses the Abakuá symbols used by Lam in The Light Inside,

174–90.

51. Sims, Wifredo Lam and the International Avant-Garde, 34–36.

52. Bettelheim, "Wifredo Lam and the 1940s Paris Art Scene," 90.

53. In the late 1940s Lam's most famous work, La Jungla (1942–43), was purchased by

New York City's Museum of Modern Art (see Ortiz, "Wifredo Lam y su obra vista a través

de significados críticos").

54. Brown, The Light Inside, 174–90.

55. For the identification of the leaves, see Poupeye, Caribbean Art, 62.

56. See the society pages in Bohemia throughout the 1940s and early 1950s, in which

Cabrera and Lam intermittently appear.

57. In 1936 Lachatañeré published at least two articles, "La fiesta de Changó (Cuento

afrocubano)" and "La caída del casto Orisaoco (Cuento afrocubano)," in the academic

journal Polémica, which was printed in Havana. Both essays are reprinted in Lachatañeré,

El sistema religioso de los afrocubanos.

58. Lachatañeré, El sistema religioso de los afrocubanos, 197.

59. In the introduction to Lachatañeré's ¡Oh, Mío Yemayá!, Ortiz introduced Lachatañeré

as a criollo of mixed descent, talking about Lachatañeré's Haitian parents and their

migration to Cuba. This curious aside now appears to have been a way for Ortiz to lessen

the author's credibility as a man of Afro-Cuban ancestry. Ortiz was intimating that Lachatañeré

was no more of an authority on Afro-Cuban santería than himself (Ortiz, "Predisposición

al lector," xxvii–xxxvi).

60. In Lachatañeré's argument that the language on syncretism needed to be relaxed, as

evidenced by his reference to "correspondences," his discussion was a forerunner to that

of Michel Leiris (cf. Lachatañeré, "El culto a los 'santos' en Cuba," and Leiris, "Note sur

l'usage de chromolithographies catholiques par les vodousaints d'Haïti").

61. Lachatañeré, "Manual de Santería," 97–98.

62. Ibid., appendix table 1, 138–39.

63. Ibid., 140–45.

64. Ibid., 98.

65. In chapter 3 I discuss the mid-century work of the espiritista and santera Hortensia

Ferrer. Hortensia Ferrer would not publish her work, but she kept several books of personal

notes and a small library of photographs of her Espiritismo altars for the use of her

initiated godchildren and religious clientele.

66. Ortiz, Cuban Counterpoint, Tobacco and Sugar, 98.

67. "The concept of transculturation is fundamental and indispensable for an understanding

of the history of Cuba, and, for analogous reasons, of that of America in general.

But this is not the moment to go into this theme at length, which will be considered in

another work in progress dealing with the effects on Cuba of the transculturations of Indians,

whites, Negroes and Mongols" (Ortiz, Cuban Counterpoint, Tobacco and Sugar, 103).

68. Ortiz's vast output is difficult to catalog. One admirable bibliographic study is Jane

Gregory Rubin, Miscelanea II of Studies Dedicated to Fernando Ortiz.

140 · Notes to Pages 25–30
---
69. See Ortiz, "Lo que no hay en Guantánamo"; Ortiz, "Los espirituales 'Cordoneros

del Orile' "; Ortiz, "Buscando luz en Monte Oscuro"; Ortiz, "Una moderna secta espiritista

de Cuba"; Ortiz, "Los muertos sacaos"; Ortiz, "Una cubana 'danza de los muertos' "; and

Ortiz, "Orígenes de los cordoneros del orilé."

70. Among the articles published in Bohemia that discuss both the Cuban saints and

the Afro-Cuban oricha are Baeza Flores, "Visitando el Santuario del Cobre"; Costa, "Presencia

cubana de la Virgen de la Caridad"; Cuellar Vizcaino, "Ochún y Yemayá"; Cuellar

Vizcaino, "Babalu Aye y los altares"; Cuellar Vizcaino, "En el día de la Virgen de la Caridad";

Cuellar Vizcaino, "Nuestra Señora de la Merced"; and Pizzi de Porras, "Un santuario

a Santa Bárbara."

71. George Brandon also makes this argument; see Brandon, The Dead Sell Memories,

174–87.

72. José Anibal Maestri's "Los ritos africanos: El bembe" is another Bohemia article

that relies on direct comparisons between Catholic saints and Le Regla de Ocha oricha

to reproach the police for their continuing raids on the homes of Afro-Cuban religious

practitioners.

73. See the ad for Café Pilon titled "Concurso Monumental Café Pilon" in the Bohemia

issue for 11(?) September 1956.

74. "Nuestros negros, en espíritu, no han dejado de ser menos africanos. No han podido

renunciar a sus creencias ni olvidar las secretas enseñanzas de sus mayores. Continúan fielmente

sus viejas prácticas mágicas y para todo siguen recurriendo al monte, dirigiéndose a

las primitivas divinidades naturales que adoraron los antepasados y les legaron [sic] vivas,

alojadas en piedras, en caracoles o en troncos y raíces y a las que, como aquellos, siguen

hablándoles en africano, en yoruba, en ewe o en bantú" (Cabrera, El Monte, 13).

75. The essay was reproduced in a number of edited collections about Cuba (see, e.g.,

Smith, Background to Revolution: The Development of Modern Cuba). Its wide distribution

solidified Bascom's conclusions (and concomitantly, those of Lydia Cabrera), and they

became a part of Cuba's cultural revolution and nationalist discourse.

76. See Bascom, Sixteen Cowries; and Bascom, "Two Forms of Afro-Cuban Divination."

77. See Portell Vila, "Dos Epocas," 89, for evidence of Fernando Ortiz's reticence to

personally engage with younger scholars. Likewise, the unusual division of Ortiz's estate

after his death in 1969 into multiple institutions also indicates his uncommunicative stance

in the decade following the realization of the Cuban Revolution.

78. In my research in the Ortiz Papers at the Instituto de Literatura y Lingüística, I

found that Ortiz frequently clipped articles from Hoy and the supplement Hoy Domingo

but did not preserve the entire copy of the periodical. I am therefore unable to provide

complete citations for the newspaper clippings I discuss herein.

79. In the early 1960s many people rescued sculptures of the saints from the closed

churches, and it is now very common to see these figures displayed in homes throughout

Cuba (interview with Zenaida Justíz, Havana, 7 November 2002).

80. See Sentí, Diario del viaje. Sentí's study is available in Cuba's Biblioteca Nacional

"José Martí."

81. The peak in Espiritismo practices precedes the growth in Santería practitioners.

Between 1947 and 1970, in total, 643 women and 233 men were initiated into Santería in

Notes to Pages 31–37 · 141
---
Matanzas, the capital of Matanzas Province. The accompanying table reflects La Regla de

Ocha initiates in the period before and after the Cuban Revolution.

Table N.1. La Regla de Ocha initiates in the period before and after the Cuban

Revolution

Year No. of Initiates Year No. of Initiates Year No. of Initiates

Before the Cuban Revolution

1947 6 1948 32 1949 25

1950 22 1951 24 1952 21

1953 23 1954 23 1955 28

1956 36 1957 35 1958 34

After Cuban Revolution

1959 34 1960 47 1961 60

1962 99 1963 80 1964 68

1965 73 1966 48 1970 35

1971 43 1972 150 1973 139

Source: Argüelles Mederos and Hodge Limonta, Los llamados cultos sincreticos y el espiritismo, 157.

82. Nicola Miller, "The Absolution of History." For discussion of historical revision emphasizing

Afro-Cuban heritage, see David H. Brown, The Light Inside, 237–42. Katherine

Hagedorn's 2001 book, Divine Utterances, also discusses the emergence of the Conjunto

Folkórico Nacional (the National Folkloric Dance Troupe) in the 1960s as a means of

historical revision.

83. David H. Brown, The Light Inside, 211–36, 262–63; Flikke, "Cuban Museums and

Afro-Cuban Heritage."

84. In 1963 the "House of Cuban Culture" was established in the socialist state of

Czechoslovakia. The government there was attempting to loosen the reins of socialism in

order to foster more cultural production, and a museum that displayed Cuba's newfound

history appears to have been an example for the Czech people to recreate their own history

(see "Otro pedazo de Cuba en el corazón de Praga: La casa de la cultura cubana," Hoy

Domingo clipping, 1963, Fernando Ortiz Papers).

85. In March 2013 the Museo de Regla opened permanent exhibition space for the arts

of Espiritismo.

86. See Robert Farris Thompson, Flash of the Spirit; David H. Brown, Santería Enthroned,

238; and Flores-Peña and Evanchuk, Santería Garments and Altars.

87. Bettelheim, "Caribbean Espiritismo (Spiritist) Altars," 312–30; Bettelheim and

Berlo, Transcultural Pilgrim.

88. See Schmalz, review of "Encountering God: A Spiritual Journey from Bozeman to

Banaras," by Diana L. Eck, 593.

89. See Eck, A New Religious America.

90. John Hutnyk, "Adorno at Womad."

142 · Notes to Pages 37–39
---
Chapter 2. Tiburcia and the Nested Spaces of Afro-Cuban Ritual

Arts, 1861–1938

1. I discuss Gloria Rolando's breakthrough film on the Little Race War in the Conclusion.

For more on the war, see Castro Fernández, La masacre de los Independientes de

Color en 1912; Helg, Our Rightful Share, 193–226; Fermoselle, Política y color en Cuba; and

Rolando, Las raíces de mi corazón.

2. Howard, Changing History, 154–55.

3. By using the term racialization, Keith and Cross might initially appear to be addressing

racial difference—black versus white—but many of the essays in their collection deal

with cultural issues, such as the interaction between Puerto Ricans and Dominicans. As

they note, even in the same city block, important interactions can occur among the various

cultures residing there, and also between and among residents of differing economic

and social classes (see Keith and Cross, "Racism in the Postmodern City," 26).

4. I am also here following the methodological precedent of David H. Brown, who

analyzed the spatial configurations of different types of Afro-Atlantic religious altars in

1980s Union City, New Jersey (see Brown, "Altared Spaces").

5. Jaruco City and the Jaruco Municipality are located in contemporary Mayabeque

Province, which was once part of historical Havana Province (Libro IV de difunciones, alt.

61, vt #300, Archivo de la Parroquia San Juan Bautista).

6. Many other plantations in the Jaruco diocese had greater numbers of enslaved peoples

but did not permit their communities to hold religious services. Consequently, these

plantations were not well documented by the Church in this period.

7. Interview with Nelson Castellanos Tápanes (town historian) and Sergio Delgado (an

affiliate of the Museo Municipal de Jaruco), Jaruco City, 18 March 2004.

8. Interview with Nelson Castellanos Tápanes and Sergio Delgado, 18 March 2004. The

government also used the term Espiritismo to describe certain religious groups (see Havana

Registry of Associations, National Archive, Havana). Christine Ayorinde discusses

the government's forced application of specific terms to describe social groups in the Registry

beginning in the 1880s and continuing through the Cuban Revolution (Ayorinde,

Afro-Cuban Religiosity, Revolution, and National Identity, 37–38).

9. See "Bautizos de Jaruco, 1861, Libro 6," Archivo de la Parroquia San Juan Bautista.

10. Ferrer, Insurgent Cuba, 125. A monument in the Jaruco parish cemetery records that

3,272 men from Jaruco died during the War of Independence.

11. Broad Street (Calle Ancha de Norte) in Central Havana is now San Lazaro Street.

12. See Lobo Montalvo, Havana.

13. Fermoselle, Política y color en Cuba, 90.

14. See the Registro de Asociaciones, 1881–1976.

15. In this, the new Cuban government was heavily influenced by the U.S. government,

since the term "Spiritism," or "Spiritualism," was already in use among black North Americans

(Bermúdez, "Notas para la historia del espiritismo en Cuba").

16. Interviews with Olga Calvo Puig, Havana, 2002–4. My conversations with Olga

Calvo Puig formed an important part of my research from October 2002 through April

2004, and inevitably also included various members of her family (including Radamés Corona,

Ángela Calvo Puig, Zenaida Calvo Puig, Josefina Calvo Puig, and Neida Lee Puig),

Notes to Pages 41–45 · 143
---
with whom I remain in touch. Some of my more formal interviews, during which I took

substantial notes, took place on 6, 12, and 15 November 2002; 11 February, 25 March, 15

April, and 20, 24, 26, 27, 28, and 29 December 2003; and 11 January and 8 April 2004.

17. Central African theology originated in the areas surrounding the Congo River Basin.

A popular belief system, it emphasizes the role of dead spirits and their influence on

the living world. Historically, Central African Christianity involved the ritual practice of

possession by spirits of the dead, including Catholic saints. European Spiritism similarly

involves possession trance, in which the spirits of the dead are called forth by the recitation

of Christian songs and prayers. For more on this theology, see Fu-Kiau, African Cosmology

of the Bântu-Kôngo; Thornton, Africa and Africans in the Making of the Atlantic World;

Thornton, The Kongolese Saint Anthony; and Thompson and Cornet, The Four Moments of

the Sun.

18. For more on the standardization of La Regla de Ocha in the early twentieth century,

see David H. Brown, Santería Enthroned.

19. September 8 had been declared by the Vatican as the official Day of La Caridad

del Cobre, honoring the church near Santiago, Cuba, and the popular pilgrimages to the

site. Beginning in 1900, Tiburcia celebrated this day every year as her ritual birthday, constructing

a temporary, lavish, celebratory altar for her Caridad del Cobre figure. I discuss

Tiburcia's altar at length later in this chapter.

20. Interview with Olga Calvo Puig, 12 November 2002.

21. For more on the divination practices in La Regla de Ocha, see Bascom, Sixteen

Cowries.

22. In one chapter of Fernando Ortiz's Los negros brujos, titled "La brujería," he cites the

popular suspicion that Afro-Cubans "hid" their beliefs behind other religious presentations.

Ortiz did not originate this theory, however. In fact, in a different chapter, titled

"La brujería (continuación)," Ortiz dismisses this theory in order to argue that Catholic

imagery was evidence for the "evolution" of Afro-Cuban beliefs (see Ortiz, Los negros brujos,

66–67, 84–85).

23. See David H. Brown, Santería Enthroned, 70–72.

24. Ibid., 64.

25. The theory of "fictive kinship" is described at length in Van den Berghe, The Ethnic

Phenomenon. Berghe based some of his conclusions on Bastide, The African Religions of

Brazil.

26. Cabildo Africano Lucumí, Sociedad de Socorros Mútuos bajo la advocación de Santa

Bárbara Reglamento, 5.

27. Ibid., 8.

28. Ibid., 11–12.

29. Ibid., 12.

30. Ibid., 6.

31. In the 1910 handbook, Tiburcia's name was included in the core list of members of

the organization. The Ladies' Directive specified that women remained responsible for

the altar preparations and for presentation of the Cabildo to the larger society (Cabildo

Africano Lucumi, "Reglamento," 3, in Registro de Asociaciones, 1910).

32. Interview with Berta Chacón, Havana, 18 January 2004. Many contemporary La

144 · Notes to Pages 45–48
---
Regla de Ocha houses still require the celebration of all three rituals, including the church

celebration, the spiritual mass, and the tambor.

33. Olga has lived in Tiburcia's home in Central Havana since she was born in 1924.

Before Olga's birth, however, Olga's natural elder sisters, Josefina, Zenaida, and Ángela

Calvo Puig, were already regular visitors to the Stove Street house. Mercedes Puig, Olga's

natural mother, was a regular attendee of Tiburcia's misas espirituales. When Mercedes

discovered that she was pregnant with her fourth child—which she could not afford—

Tiburcia offered to care for Olga. Thereafter, Olga had the opportunity to maintain multiple

families in Havana, including Tiburcia, three other children adopted by Tiburcia,

and Tiburcia's religious family; Olga also maintained a close relationship with her natural

sisters born to Mercedes Puig. Under Tiburcia's guidance, Olga was initiated in the house

as a santera in 1933. Since that time, Olga has always assisted with religious work there.

In the fall of 2003, Havana's Yoruba Association acknowledged Olga as one of the oldest

known living santeras in Cuba. During my visits and conversations with this extended

family, including Olga's natural sisters, in 2002, 2003, and 2004, many proved to be helpful

collaborators. Radamés Corona, Olga's son, was also helpful, participating in a number of

our discussions. Other researchers have also spoken with Olga Calvo Puig (see David H.

Brown, Santería Enthroned, 102, 306).

34. Virtually all of Tiburcia's altar for the oricha was ritually destroyed after her death in

1938. Only the original cabinets and her figure of Eleguá remain.

35. I have relied on accounts from Tiburcia's religious family to provide the locations of

these altars in the floor plans.

36. Bilingual practitioners rarely translate bóveda, using the term for their discussions

of the altar in both English and Spanish. Many North American practitioners who do not

speak Spanish also use the term bóveda.

37. A few studies have included a cursory discussion of the elements that constitute a

bóveda for Espiritismo or La Regla de Ocha practices (see Córdova Martínez and Barzaga

Sablón, El Espiritismo de Cordón, 115; Ortiz, "Buscando luz en Monte Oscuro," 20–23,

113–15, 121; and Sentí, Diario de viaje). But it is the location of these altars and their spatial

relationship to the religious arts of other belief systems that is more essential, not their

contents.

38. Ortiz identifies this practice as originating with Native Americans (Ortiz, Cuban

Counterpoint, Tobacco and Sugar).

39. Olga Calvo Puig compared the water in the bóveda to holy water from a church,

noting that holy water is used to define a ritual space (interview with Olga Calvo Puig,

Havana, 12 November 2002).

40. Interviews with Ángela Calvo Puig, Havana, 20 November 2002 and 11 February

2003.

41. For more on ritual performance, see Strother, "From Performative Utterance to Performative

Object," 49–71.

42. The poor condition of the doll is in part because both Tiburcia's spirit-portrait and

her Caridad figure now take precedence in the front room, particularly for Olga and her

sisters, but also for community audiences.

43. Many practitioners name their spirit-dolls and identify any accompanying portraits,

Notes to Pages 49–56 · 145
---
and this information can provide details about some characteristics of that spirit. The

Stove Street doll is compelling in that the figure is anonymous.

44. For more on the significance of spirit-dolls, see Wexler, "Dolls and Healing in a

Santeria House."

45. Sciorra, "Yard Shrines and Sidewalk Altars of New York's Italian-Americans."

46. See Robert Farris Thompson, Flash of the Spirit; and Thompson and Cornet, The

Four Moments of the Sun.

47. Afro-Atlantic Espiritismo practices also involve "cleaning" the four corners of a

room in this counterclockwise fashion before starting a ritual. For the religious family

resident at the Stove Street house, this usually involves mopping the room with perfumed

holy water as well as burning sage in each corner (interview with Olga Calvo Puig, November

2002).

48. For more on the origins of La Caridad, see Zúñiga, La Virgen de la Caridad del Cobre.

49. The racial makeup of these three discoverers has long been debated among both

religious practitioners and academics in Cuba; see Zúñiga, La Virgen de la Caridad del

Cobre, 112–40.

50. Interview with José Quintero, Havana, 24 December 2003.

51. Lydia Cabrera has documented initiation ceremonies focusing around the head (see

Cabrera, El Monte). See also Lawal, "Ori: The Significance of the Head in Yoruba Sculpture,"

50–61.

52. For more on royal references in La Regla de Ocha practices, see Flores-Peña, " 'Fit

for a Queen.' "

53. On coral, see the entries for "Coralillo Blanco" and "Coralillo Rosado" in Cabrera,

El Monte, 410.

54. See Ben Amos, Art of Benin.

55. In 1946, one Cuban journalist interviewed pilgrims at the site of the Church of Regla.

The author approached visitors making offerings to the figure of the Virgin of Regla to ask,

"Why do they light a candle?" Here are some the answers he received: "From the mothers,

for their children. One mother, for her oldest son, who is on a ship, another because

'My daughter always had a cold, and it was awful for her, and so it came down to making

a token. I promised the Virgin of Regla a candle and two silver lungs if she could not have

the problem anymore. The token worked well' " (see Zell, "Cuando la Virgen de Regla vino

a la Habana," 64).

56. In his description of the creation of ex-votos in Puerto Rico, Teodoro Vidal emphasized

that both the creativity of the artist and the specific concerns of the individual

seeking treatment were necessary to design an ex-voto (see Vidal, Los milagros en metal y

en cera de Puerto Rico).

57. See Union de Mujeres Espiritistas, Habana memoria.

58. For more information on San Lázaro, see Zamora, El culto de San Lázaro en Cuba.

59. In Cuba, Eleguá can also be represented as a woman or as a Janus-faced figure (see

Moreno, Cuando los orichas se vistieron).

60. Gates, The Signifying Monkey, 3–23.

61. For a list of the popular attributes of the oricha, see Flores-Peña and Evanchuk,

Santería Garments and Altars, 8–11.

146 · Notes to Pages 56–65
---
62. Herskovits, "Problem, Method, and Theory in Afroamerican Studies," 57.

63. See Zúñiga, La Virgen de la Caridad del Cobre.

64. See Apter, "Herskovits's Heritage," 235–60.

Chapter 3. Hortensia and Iluminada

1. Cabrera, El Monte, 5–6.

2. Such an emphasis on the role of the babalao can seen in the documents establishing

Tiburcia Sotolongo's cabildo in the early 1900s, as described in chapter 2 (see Cabildo

Africano Lucumi, Sociedad de Socorros Mútuos bajo la advocación de Santa Bárbara Reglamento).

A significant proportion of the scholarly works that link religious practices in the

Americas to those in West Africa are about Ifá divination; see, for example, Bascom, Ifa

Divination.

3. Edwards and Hart, Photographs Objects Histories.

4. For information on linguistic reconstruction, see Wirtz, "Divining the Past."

5. See Batchen, "Vernacular Photographies."

6. For more on the trials, see Castro Fernández, La masacre de los Independientes de

Color en 1912; Helg, Our Rightful Share, 193–226; and Rolando, "Las raíces de mi corazón."

7. Other police publications that sought to criminalize Afro-Cuban religious practices

include Castellanos, La brujería y el ñañiguismo en Cuba; and Castellanos, Medicina legal y

criminología afro-cubanas [sic].

8. For more on the use of photography for political purposes, see Sekula, "The Body

and the Archive," 7.

9. For "mapping," see Tagg, The Burden of Representation, 167.

10. See David H. Brown, The Light Inside, 143; and Ivor Miller, Voice of the Leopard, 144.

11. Hortensia's appreciation of the value of historical artifacts is also shown by the fact

that her archive also contained a number of older religious objects from earlier generations

that under normal circumstances would have been destroyed.

12. Tiburcia Sotolongo is not known to have been initiated into Palo.

13. See Moore, Nationalizing Blackness, 229–32.

14. See Edwards, "Photographing Objects"; and Edwards, "Why Bother with Photographs?"

15. Diana Taylor has written about the way in which objects can spark repeat discursive

performances (see Taylor, The Archive and the Repertoire).

16. The term "house-temple" comes from González Huguet, "La casa-templo en la Regla

de Ocha."

17. Pinney, Photos of the Gods.

18. In the photo Hortensia has long hair arranged in gathered braids on each side. Because

Tiburcia cut Hortensia's hair for her initiation into Santería, family members believe

that the photo must have been taken before.

19. Depending on the religious house, a Palo ceremony for the dead may also be required

in advance.

20. After 1955 many churches changed the date for the official celebration of La Caridad

Notes to Pages 67–82 · 147
---
to September 12 so as to avoid scheduling conflicts with celebrations for the Virgin of

Regla, which were becoming especially popular in Havana.

21. For more on the many types of Cuban Espiritismo, see Millet, El espiritismo: Variantes

cubanas. I too have noted that espiritistas often practice more than one type of Espiritismo,

depending on the size of their audience or the type of consultation.

22. See Ortiz, "Lo que no hay en Guantánamo"; Ortiz, "Los espirituales 'Cordoneros

del Orile' "; Ortiz, "Buscando luz en Monte Oscuro"; Ortiz, "Una moderna secta espiritista

de Cuba"; Ortiz, "Los muertos sacaos"; Ortiz, "Una cubana 'danza de los muertos' "; and

Ortiz, "Orígenes de los cordoneros del orilé."

23. Interviews with Olga Calvo Puig, Ángela Calvo Puig, Zenaida Calvo Puig, Josefina

Calvo Puig, and Neida Lee Puig, Havana, Cuba, 15 November 2002 and 27 February 2003.

Of the five Calvo Puig sisters, only Olga is a santera. Her four sisters attend ceremonies,

however, and help with the public events that take place at the Stove Street house. All four

of Olga's sisters are active participant in Espiritismo celebrations.

24. Interviews with Olga Calvo Puig, Havana, Cuba, 20 November 2002 and 8 April

2003.

25. Iluminada Sierra Ortiz came from the Paris district of Mayagüez, Puerto Rico (interviews

with Carmen Celia, Arecibo, Puerto Rico, 25 September 2002 and 21 December

2004). Her migration from Puerto Rico to Cuba was not unique, but rather is representative

of important migration trends throughout the Caribbean. Unfortunately, there is little

scholarship that studies migration in the islands, particularly migration within the Greater

Antilles: Cuba, Haiti, the Dominican Republic, and Puerto Rico. What scholarship does

exist is largely preoccupied with the movement of Caribbean peoples into the United

States and Canada.

26. For more on Afro-Cuban musicians and the emergence of Afro-Cuban music in

the 1920s through the 1940s, see Moore, Nationalizing Blackness. Relatives report that Iluminada's

husband, Sancho, toured with a number of the pioneering music groups of the

day, which later helped him find work with several renowned musicians in New York City

(interview with Ángela Calvo Puig, Havana, Cuba, 15 November 2002).

27. Living members of the family maintain that Iluminada's jealousy of her husband's

success once caused her, in a fit of rage, to throw pieces of her household china at her

husband (interview with Ángela Calvo Puig and Olga Calvo Puig, 15 November 2002).

28. Not all branches of Espiritismo require such coronation ceremonies, and although

there are variations in the coronation ceremony in the different spiritual houses, the ceremonial

performance of a coronation with flowers and leaves to enable the body, and

particularly the head, to act as a conduit for ancestor spirits is not a practice described by

the founder of Spiritism, Allan Kardec. For this reason, Afro-Cuban Espiritismo coronation

rituals merit further scholarly attention.

29. Interviews with Olga Calvo Puig, Havana, 15 November 2002 and 17 February 2003.

As Hortensia's first goddaughter and a resident in the Stove Street house, Olga assisted in

Iluminada's initiation. She insists that only a few santeros were present during the sixteenday

event. During Iluminada's itá, when divination describes the past, present, and future

of the practitioner, Iluminada was given the ritual name Ofun Deí.

30. The introduction of the rumba and son music styles in the 1920s and 1930s had a

profound impact on the public acceptance of Afro-Cuban music in Cuba (see Moore,

148 · Notes to Pages 82–83
---
Nationalizing Blackness). And by the 1940s Afro-Cuban music and culture was also having

an effect on Afro-Cuban religious altars as theatrical design became more important to

religious expression (see David H. Brown, Santería Enthroned, 240).

31. David H. Brown, The Light Inside, 106–7; and Robert Farris Thompson, Flash of the

Spirit, xiii–xvii.

32. Lydia Cabrera notes that many espiritistas prescribe bathing in rose petals in order

to attract wealth (see Cabrera, El Monte, 538–39).

33. Older banana leaves are not useful for this purpose; they eventually separate at the

central rib, creating a highly segmented effect, similar to the leaf of the royal palm tree.

34. Van der Veer, Religious Nationalism.

35. Batista was in power from 1940 to 1944, and then again after a military coup, from

1952 to 1959. Many Cuban writers have characterized Batista's regime as a form of neocolonialism

(see Colás, "Of Creole Symptoms, Cuban Fantasies, and Other Latin American

Postcolonial Ideologies," 383).

36. Ortiz made liberal use of A. B. Ellis's 1894 work The Yoruba-Speaking Peoples of the

Slave Coast of West Africa. According to J.D.Y. Peel, the Yoruba people have been treated

most favorably, not only by historians, but by missionaries and government officials of

the colonial period, and that may be the reason why their practices were chosen for comparison

with those of La Regla de Ocha (see Peel, Religious Encounter and the Making of

the Yoruba).

37. See Sweeney, African Negro Art.

38. Palo imagery and practices stem from the former territories of the Kingdom of

Kongo in Central Africa (see MacGaffey, Kongo Political Culture, 206–7; and Cabrera,

Reglas de Congo).

39. In my conversations with working paleros, they confirmed that the synecdochal

reference to the dead was important in many of Palo's ritual arts. However, they explained

that the contents of the mensu differed from one palero to another. For more on the use of

grave dirt in Central African Kongo arts practices, see MacGaffey, Kongo Political Culture,

83–84; and Strother, "From Performative Utterance to Performative Object."

40. For more on accumulative sculpture, see Rubin and Pace Gallery, African Accumulative

Sculpture.

41. Nicola Miller, "The Absolution of History."

42. See Rodríguez-Feo Gallagher, "The Cimarron in Cuba."

43. See Hagedorn, Divine Utterances.

44. Amorim, Africanismo e espiritismo; Schmidt, "Meeting the Spirits."

45. Sentí, Diario del viaje.

Chapter 4. Iluminada and Carmen

1. See Rody, The Daughter's Return. Hirsch and Smith, in their essay "Feminism and

Cultural Memory," also write about women's revisions of history through literature and

the larger cultural impact of these accounts.

2. Barthes, "An Introduction to the Structural Analysis of Narrative," 237.

3. In his critique of the modes of historical reconstruction, Georg Iggers allows that art

Notes to Pages 84–97 · 149
---
and art-historical material may serve as important means of historical reinterpretation: "I

am well aware that [written works] are only one part of a broader culture in which historical

consciousness expresses itself in symbolic forms in art, monuments, festivals, etc."

(Iggers, "Historiography between Scholarship and Poetry," 388).

4. Unfortunately, no one can recall the precise address of the building, and family members

do not have records of the address either. In 1964 Carmen relocated to a storefront at

292 Brook Avenue in the Bronx, and in 1968 she moved to 303 Brook Avenue. In the 1970s

Carmen moved her Centro into her home at 799 Elmsmeer Place, and later she moved the

Centro again, into the basement of her home at 809 Elmsmeer Place in the Bronx (interviews

with Carmen Oramas Caballery, Toa Baja, Puerto Rico, 6, 10, 11, and 26 September

2002; María Ortiz, Toa Baja, Puerto Rico, 10, 11, and 26 September 2002; and Minelba

Ortiz, Toa Baja, Puerto Rico, 6 and 11 September 2002).

5. Of the dozens of Espiritismo misas I have attended in Cuba, about half have been in

the "Mesa Blanca" style, meaning they were dependent upon the mediums working at a

white fabric- or lace-covered altar. Notably, however, throughout the Caribbean, mediums

are not constrained in their styles, and many vary the type of service they offer depending

on the needs of their client. Flores-Peña describes "Mesa Blanca"–style Espiritismo as "the

official folk religion of Puerto Rico" (see Flores-Peña, " 'Candles, Flowers, and Perfume' ";

see also Bettelheim, "Caribbean Espiritismo (Spiritist) Altars").

6. Conversations with Carmen Oramas, María Ortiz, and Minelba Ortiz, Toa Baja,

Puerto Rico, 23 September 2002. In addition, I also interviewed Anna Pino (23 September

2002) and Carmen Celia (25 September 2002), two women who regularly attended misas

espirituales at La Fe de Samaritana.

7. Unlike Iluminada's formal introduction as a spiritual medium, Carmen's initiation

did not include her being officially "crowned," a practice that was only becoming the standard

among many different Espiritismo groups in the 1940s. Instead, Carmen remembers

visiting a secondary-school teacher after the regular school day for spiritual training that

led to her career as a medium (interview with Carmen Oramas, Toa Baja, Puerto Rico, 8

September 2002).

8. Carmen's brothers Enrique, Reynaldo, and Félix Alduén played primarily the bomba

and plena drums, but also a number of other drum types. Félix Alduén recorded a number

of albums which were widely available in Puerto Rico; he passed away in 2004. Carmen

incorporated a lot of singing and music into her séances, perhaps more than contemporary

spiritual mediums do today. Before her debilitating stroke in 2004, Carmen was a powerful

singer and her voice would frequently overwhelm even the percussion of the drummers

during spiritual and La Regla de Ocha events. After speaking with Carmen about her practices,

surveying her personal records, and attending a number of misas espirituales, it was

also clear that Carmen did not read out of Kardec's manuals directly during her ceremonies.

Instead, she would have others perform that task. Her services were made up primarily

of music and popularly memorized prayers—including recitations of "Padre Nuestro"

("Our Father") and "Ave María." These recitations of song and prayer would be used to

lead her clients into and, later, out of spirit possession. Her dynamic ritual performances

were undoubtedly a great attraction for her clientele (interview with Reynaldo and Félix

Alduén and Carmen Oramas Caballery, Mayagüez, Puerto Rico, 28 September 2002).

9. Judith Bettelheim discusses the significance of vertical and horizontal altars, including

150 · Notes to Pages 99–101
---
the Palo practice requiring that most ritual art objects be in contact with the ground (see

Bettelheim, "Caribbean Espiritismo [Spiritist] Altars," 314). To add to this point further,

in La Regla de Ocha, when all of a santera's oricha are being given food offerings during

ritual occasions, traditionally the containers for the oricha must also remain on the floor.

For a few divinities, such as the agricultural avatar Oricha Oko, a hole in the earth can be

necessary. The location of these food offerings is important and can distinguish which

belief system is being practiced at any one time.

10. This is a 2002 reconstruction of Carmen's altar in Spanish Harlem. Carmen returned

to Puerto Rico, outside San Juan, in the late 1970s, and although she could not bring all

the elements from her Centro back with her to Puerto Rico, she insists that this altar is

similar to the one she used there. The altar contains representations of Native and Caucasian

ancestral spirits alongside Carmen's Afro-Caribbean ancestors, but the madama

(the black female figure at the center), Carmen notes, is the original one from her practice

in Spanish Harlem (interview with Carmen Oramas Caballery, Toa Baja, Puerto Rico, 11

September 2002).

11. For two points of view, see Backer, "From Hatuey to Che"; and Forte, "Extinction."

12. García Molina, Garrido Mazorra, and Fariñas Gutiérrez, Huellas vivas del indocubano.

Most convincing among the arguments is a clarification of Fernando Ortiz's original

analysis of the use of tobacco during misas espirituales as a Native American practice (see

Ortiz, Cuban Counterpoint, Tobacco and Sugar, 197–99).

13. See Bettelheim, "Caribbean Espiritismo (Spiritist) Altars," 324.

14. See Curtin, The Atlantic Slave Trade; and Eltis and Richardson, Extending the Frontiers,

xv.

15. For brief discussions of clothing in nineteenth-century Europe and the Caribbean,

see Hughes, The Writer's Guide to Everyday Life in Regency and Victorian England; and

Glory Robertson, "Pictorial Sources for Nineteenth-Century Women's History."

16. Victorian clothing had a significant influence in Latin America until Queen Victoria's

death in 1901, especially in the British colonies and neighboring Spanish colonies

where trade was common. Lois Banner and Valerie Steele have described Victorian style

from the 1840s through the 1860s as relatively modest, covering up the body with large

volumes of fabric. This was a contrast with late-Victorian style, which often employed the

"bustle" to emphasize the curve of the woman's buttocks (see Banner, American Beauty;

and Steele, "Victorian Fashion"). In Afro-Cuban religious practice, it is the early Victorian

style that prevails.

17. On labor roles and dress in the Caribbean, see Glory Robertson, "Pictorial Sources

for Nineteenth-Century Women's History," 111–24.

18. Goings, Mammy and Uncle Mose, xvii, 31.

19. Carmen is not alone in her positive interpretation of the Mammy figure. In her

memoir, Faith Ringgold discusses her first story quilt, Who's Afraid of Aunt Jemima?, explaining:

"I was tired of hearing black people speak negatively about the image of Aunt

Jemima. I know they were referring to a big black woman and I took it personally. White

people had Betty Crocker but I had never heard any of them say hateful things about her.

I couldn't understand the black artists of the 1960s, who portrayed Aunt Jemima as a guntoting

revolutionary, or the white people's stereotyped portraits of her as a despicable

human being. . . . If you asked me, I'd say the Aunt Jemimas are the world's 'supermoms.'

Notes to Pages 101–102 · 151
---
I've admired women like Aunt Jemima for their tireless devotion to nurturing" (Ringgold,

We Flew over the Bridge, 250–51).

20. There is at least one community practicing Espiritismo in Puerto Rico that celebrates

a spirit-figure, named Francesita, who is said to be from French Martinque (see

Jorge, "La Madama Francesita").

21. See Bettelheim, "Caribbean Espiritismo (Spiritist) Altars," 312.

22. Even though Carmen left Spanish Harlem for Puerto Rico in late 1975, a number of

women in the Centro continue to channel this spirit and have created their own images of

Francisca (interview with Carmen Oramas Caballery, Toa Baja, Puerto Rico, 6 September

2002).

23. The women I interviewed could not remember who specifically made which portion

of the doll. They preferred to describe the creation of the doll as a group effort (interviews

with Carmen Oramas Caballery, Anna Pino, and Carmen Celia, Toa Baja, Puerto Rico, 23

September 2002; Carmen Oramas Caballery, Toa Baja, Puerto Rico, 23 and 24 September

2002; Anna Pino, Toa Baja, Puerto Rico, 23 September 2002; and Carmen Celia, Arecibo,

Puerto Rico, 25 September 2002).

24. There are a number of different traditions within Espiritismo for the consecration of

spirit-dolls. For more on this, see Wexler, "Dolls and Healing in a Santería House."

25. Landaluze, Víctor Patricio Landaluze, 1830–1889.

26. For more on Pancho Mora, see Moreno Vega, "The Yoruba Orisha Tradition Comes

to New York City."

27. Carmen later gave away all the materials she had acquired for her initiation as

Yemayá to her friend Carmen Celia, a regular member of the Centro and, later, "godsister,"

or sister, in La Regla de Ocha (interview with Carmen Oramas Caballery, Toa Baja,

Puerto Rico, 25 September 2002).

28. Since Carmen's heart attack in 2002, it is Carmen's daughters who commission new

dresses for their mother's spirit-doll. Thus, they are taking care of both their mother and

her ancestral spirit altars.

29. See Ramsey, "Vodou, Nationalism, and Performance."

30. Vodú is the variant of Haitian Vodou practiced in Cuba. For more on Vodú in Cuba,

see James Figarola, Millet, and Alarcón, El vodú en Cuba.

31. One exception in Cuban practices to the prevalent conflation of Haitians and poverty

would be the impoverished figure of San Lázaro, who is often compared with the

oricha Babalú Ayé in La Regla de Ocha (see Zamora, El Culto de San Lázaro en Cuba). The

origins of this perception in Cuba of Haiti as impoverished goes back to Cuba's Ten Years

War (1868–78). The historian Philippe Zacaïr has argued that white Cuban military officials

spread the notion of Haiti's poverty in order to protect Cuba's racialized social structure

and economic constructs. They encouraged the belief that Haitian independence in

the early years of the nineteenth century, with its attendant violent destruction of the

sugar plantations there, was the source of that country's impoverishment, and that any

such violence in Cuba would lead to the same result (see Zacaïr, "Haiti on His Mind," 57).

32. For a discussion of popular patterns in late-twentieth-century Afro-Cuban beadwork,

see Drewal and Mason, Beads, Body, and Soul.

33. Domínguez, Los collares en la santería cubana, 71–72. Domínguez also documented

a number of variations of seed-bead patterns for the Afro-Cuban oricha, although, as she

152 · Notes to Pages 103–107
---
notes, her study could not be exhaustive because there are frequent creative interpretations

of the colors and patterns attributed to the oricha.

34. Some variations of the necklaces belonging to Babalú Ayé also employ caramel and

hurricane beads, but as applied to the Francisca spirit-doll in Carmen's house, the references

are more emphatically to Oyá throughout.

35. Some houses include the oricha Agayú as well. Often, priests receive additional

initiations and receive beads for other deities during other ceremonies (Domínguez, Los

collares en la santería cubana).

36. Métraux, Voodoo in Haiti, 167–68, 211–12.

37. See Ortiz, "Del folklore antillano afrofrances," 37.

38. For an analysis of "truth-value" as proposed by Hayden White, see Erickson, Review

of "Figural Realism: Studies in the Mimesis Effect," by Hayden White.

39. White, The Content of the Form, ix. White has argued that narrative reinterpretations

of original materials are often treated as dubious because they cater to ideological

or political interests.

40. The historians Barbara Bush and Verene A. Shepherd have studied domestic slavery

in the Caribbean. Bush concludes that by 1800, 10–20 percent of all Afro-Caribbean

women worked in the home; Shepherd's figures for the year 1780 put that number at 25

percent. Both scholars agree that women found domestic work preferable to the much

more dangerous work in the fields (see Bush, Slave Women in Caribbean Society, 38; and

Shepherd, Women in Caribbean History, 56–57). Félix Matos-Rodríguez has argued that

throughout the nineteenth century, after the slaves had achieved their freedom, Afro-

Caribbean women turned their previous domestic experience to an advantage, creating

paying businesses including boarding houses and laundry services (Matos-Rodríguez,

"Street Vendors, Peddlers, Shop-Owners and Domestics").

41. Interview with Minelba Ortiz, Toa Baja, Puerto Rico, 6 September 2002.

42. Interview with Carmen Celia, Arecibo, Puerto Rico, 25 September 2002.

43. Carmen became Iluminada's first goddaughter in La Regla de Ocha practices after

twenty-seven years as a santera. Carmen recalled that she was initiated in an apartment

on the Upper East Side, in a building above a funeral parlor (interview with Carmen Oramas

Caballery, Toa Baja, Puerto Rico, 6 September 2002). It was possibly on 112th Street

(interview with Evangelista Ortiz, Toa Baja, Puerto Rico, 25 July 2004). Carmen's daughters

and goddaughters can list about eighty-four of Carmen's godchildren in La Regla de

Ocha. They are confident, however, that there are more individuals that they cannot remember

(interview with María Ortiz, Minelba Ortiz, and Esther Ortiz, Toa Baja, Puerto

Rico, 12 September 2002). Esther, the last santera Carmen initiated before her stroke, was

extremely helpful in creating this list.

44. Descriptions of La Regla de Ocha initiations are available in a number of sources,

including David H. Brown, "Garden in the Machine"; Hagedorn, Divine Utterances; Mason,

Living Santería; Moreno Vega, The Altar of My Soul; and González-Wippler, Santeria.

The literature provides a great deal of information about current practices in La Regla de

Ocha as a reconfiguration of African religions in the diaspora. However, the imagery of

La Regla de Ocha also reveals important ideas about colonial-era Afro-Caribbean women

and their impact on twentieth-century Afro-Caribbean religious movements.

45. For example, see "Libreta de Belén" [from 1950?], in Fernando Ortiz Papers.

Notes to Pages 107–111 · 153
---
46. María also employs dolls in her La Regla de Ocha altar. These figures of colonial-era

Afro-Caribbean women are not essential components to current-day La Regla de Ocha

altars, but they have become more popular since Espiritismo has fallen out of fashion.

47. David H. Brown, Santería Enthroned, 262.

48. Practitioners frequently adorn their altars and the spaces surrounding the tureens

with gendered objects. For example, in María Ortiz's altar she specifies the gender of many

of her female oricha by using dolls, including one for Changó, her guardian deity. María's

use of the doll emphasizes her gender even though she is a priest of a typically very male,

macho deity. For more on gender and the oricha, see Brandon, The Dead Sell Memories,

132; and Cabrera, El Monte, 53.

49. "In Havana, the porcelains of the Spanish and creole nobility and upper classes were

undoubtedly seen and handled by domestic slaves and later by domestic wageworkers

but were undoubtedly beyond the reach of their ownership" (David H. Brown, Santería

Enthroned, 255). Brown does make the association with servants, but does not identify

them as women.

50. For a survey of the ritual foods used in La Regla de Ocha, with an emphasis on mythology,

see Bolívar Aróstegui and González Díaz de Villegas, Afro-Cuban Cuisine.

51. According to Olga Calvo Puig, Hortensia Ferrer's sister and goddaughter in La Regla

de Ocha, the Afro-Atlantic practice of the dispersal of food-offering items in public spaces

such as street corners, urban parks, and even large garbage bins is intended as an outreach

to the poor. However, in the United States this is often controversial, as audiences do not

know how to interpret cooked food wrapped in packets and left in urban parks, or—even

more mystifying