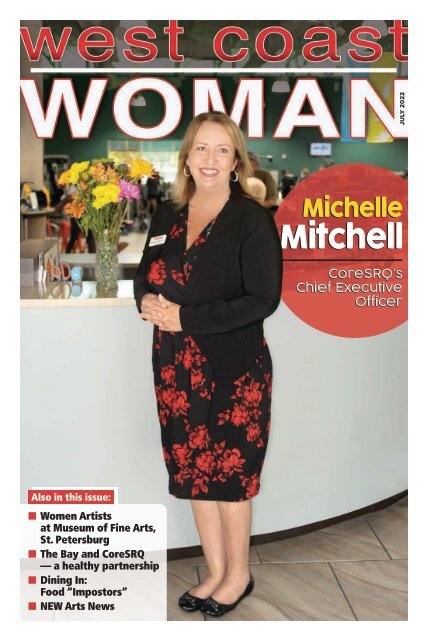 wcw JULY 2022
It's a feel good issue this month - we've got a feature on CoreSRQ which is experiencing great success. CoreSRQ used to the the Sarasota Family YMCA and in our feature on their new CEO Michelle Mitchell, you'll read how they did it and what they've got planned for the future. Don't miss our "Good News" feature on generous people helping our community. As for good fun, check out two fantastic exhibits at the MFA in St. Petersburg that are on women artists. Good food can be found in this month's eclectic recipes plus we have lots of arts news, our popular You're News and our extensive calendar of events.
It's a feel good issue this month - we've got a feature on CoreSRQ which is experiencing great success. CoreSRQ used to the the Sarasota Family YMCA and in our feature on their new CEO Michelle Mitchell, you'll read how they did it and what they've got planned for the future. Don't miss our "Good News" feature on generous people helping our community. As for good fun, check out two fantastic exhibits at the MFA in St. Petersburg that are on women artists. Good food can be found in this month's eclectic recipes plus we have lots of arts news, our popular You're News and our extensive calendar of events.
SHOW MORE
SHOW LESS
You also want an ePaper? Increase the reach of your titles
YUMPU automatically turns print PDFs into web optimized ePapers that Google loves.
JULY 2022

Michelle

Mitchell

CoreSRQ's

Chief Executive

Officer

Also in this issue:

■ Women Artists

at Museum of Fine Arts,

St. Petersburg

■ The Bay and CoreSRQ

— a healthy partnership

■ Dining In:

Food "Impostors"

■ NEW Arts News
---
2 WEST COAST WOMAN JULY 2022
---
JULY 2022

contents

Editor and Publisher

Louise M. Bruderle

Email: westcoastwoman@comcast.net

Contributing Writer

Carol Darling

Contributing Photographer

Evelyn England

Art Director/Graphic Designer

Kimberly Carmell

Assistant to the Publisher

Mimi Gato

West Coast Woman is published

monthly (12 times annually) by

LMB Media, Inc., Louise Bruderle,

President. All contents of this

publication are copyrighted and

may not be reproduced. No part

may be reproduced without the

written permission of the publisher.

Unsolicited manuscripts, photographs

and artwork are welcome, but return

cannot be guaranteed.

feature:

The Bay and Core SRQ -

a healthy partnership

To go along with our profile of Michelle Mitchell

of CoreSRQ, here's information on their fitness

offerings at The Bay.

The Bay Park Conservancy (BPC), in partnership

with CoreSRQ, now offers park visitors a series of

free, outdoor health and wellness classes taught

by CoreSRQ's certified trainers at The Bay Park.

p11

HOW TO REACH US:

Email: westcoastwoman@comcast.net

Here are our columns:

n Out & About: includes

fundraisers, concerts, art exhibits,

lectures, dance, poetry, shows &

performances, theatre, film,

seasonal events and more.

n You're News: job announcements,

appointments and promotions,

board news, business news and

real estate news.

need some good news?

Here's some from the Charles & Margery

Barancik Foundation and the $6.3 million

they've granted to area nonprofits.

Homelessness, food insecurity,

supporting minorities, foster children, the

arts - to name a few - are the recipients.

p20

FOLLOW US AT:

Facebook: https://www.facebook.com/

WCWmedia

WCW

34

YEARS

focus

on the arts

WCW Mailing Address:

P.O. Box 819

Sarasota, FL 34230

email:

westcoastwoman@comcast.net

website:

www.westcoastwoman.com

Two fantastic exhibits

are taking pace at the

Museum of Fine Arts in St.

Petersburg about, and by,

women. Read more on

p22

west coast

WOMAN

departments

4 editor's letter

7 Out & About: listings for things to do

9 healthier you: The Renewal Point -

hormone balancing

11 feature: The Bay and CoreSRQ -

a healthy partnership

12 arts news

15 happening this summer:

Events at Selby Gardens

16 west coast woman:

Michelle Mitchell, CoreSRQ's

Chief Executive Officer

18 travel news

20 good news department:

The Barancik Foundation

21 health feature: Craniosacral Therapy

22 focus on the arts: Gio Swaby exhibit

at MFA, St. Petersburg

23 focus on the arts:

Women Photographers at MFA,

St. Petersburg

25 healthier you: Nicotine's effect

on the brain

26 you're news

28 dining out: Try These Food

"Impostors" - clever substitutions on

classic recipes

30 healthier you: Food Delivery Safety

■ on the cover: Photo of West Coast Woman Michelle Mitchell, of CoreSRQ at the Berlin Branch on Euclid Ave, Sarasota. ■ Photo by Evelyn England.

JULY 2022 WEST COAST WOMAN 3
---
just some

thoughts

Louise Bruderle

Editor and Publisher

West Coast Woman Michelle Mitchell

Michelle Mitchell

Photo by Evelyn England

It's no longer the Y, but it's still very much a popular,

multi-generational fitness center, a diverse

meeting place and a way to keep your children

busy after school and in the summer. It's CoreS-

RQ now, and the new moniker was made back

in July, 2021. The then-YMCA's challenges were

well chronicled — lack of money and declining

membership. A group fought to keep the Y open

and Save Our Y became the interim name.

Then things started to change. They left

the YMCA fold and struck out on their own

and now, two years later, they're rebounding.

The word I used and the word their new CEO

Michelle Mitchell also used was that CoreSRQ "phoenixed." So this

month's WCW will provide more info — of a positive nature — about

that turnaround through my interview with Michelle who is now into

her third month in charge.

I read Michelle used to work at the Herald-Tribune

so we talked about her transition

from the for-profit to the not-for-profit world as

well as sharing a few memories of the "good old

days" of print media. I also shared that I have

been a member of the then-called Y for longer

than I've owned WCW — for almost 40 years.

Back then, the Euclid branch was changing,

too, from gender-segregated to co-ed and the tennis courts were always

booked. So yes, I'm a bit biased, I want them to succeed, but not just for my

convenience, but for the many ways CoreSRQ benefits the community.

My old membership card

The Bay and CoreSRQ

I had the opportunity to tour the Bay project going on along Sarasota Bay

and US 41. It's quite amazing and no, it's not a condo or anything to do

with building unless of course you consider adding greenspace building.

It's more like building open and accessible

space for all and for future generations.

It's a great partnership — exercise in the

open air and the price is right: free. The Bay

has a ways to go, but you can take classes

and walk along paths they have created

or go kayaking. More on the Bay in the fall

when they complete Phase1.

The Generosity Continues…

Each month we easily receive a dozen releases or so about large donations

going out to nonprofits. The Exchange, Barancik Foundation, Gulf

Coast Community Foundation — to name a few. Collectively they're

keeping dozens of organizations afloat at the least, or in a stronger

position to help more people who are suffering from the pandemic and

economic stress.

Just as important, but on a smaller scale, is the generosity of groups

like the women at Sunnyside Village who raised money for Ukraine.

In response to the invasion of Ukraine, Sunnyside Village residents

wanted to be proactive to provide aid.

Sunnyside Foundation helped the Villagers organize the Sunnyside

Ukraine Relief Fund. Sunnyside Foundation Director of Development Allison

Newhouse partnered with Mennonite Central Committee (MCC) to

provide a safe place where 100% of residents' donations would be used for

emergency relief for the people impacted by the Ukraine invasion. MCC

is a worldwide ministry of Anabaptist churches that has been serving in

this capacity for over 100 years.

The Villagers came together to raise $16,700 for the Sunnyside Ukraine

Relief Fund. In response to receiving the Sunnyside fundraising, Laura

Pauls-Thomas, Communications and Donor Relations Associate, reported,

"In Ukraine, MCC partners are already at work on the ground,

providing relief with food, medications, fuel, and other supplies. MCC is

also developing a response that is a longer-term scale up of existing relief

work. It will likely include psychosocial support and trauma healing,

temporary emergency housing, emergency distributions of locally purchased

emergency supplies such as blankets, and distribution of food

packages." More info at SunnysideVillage.org/. The Mennonite Central

Committee's home page is https://mcc.org/.

It's so easy to get

WCW Delivered

If you're reading a hard copy of WCW (perhaps

at CoreSRQ) consider getting your monthly

West Coast Woman online. It's free and you

can join the list by sending your email address

to wcwnewspaper@aol.com. The digital

version is identical to the print version, but

you have the advantage of being able to click

through the whole paper and easily get more

out of it. And, save trees and save gas.

Coming up this Fall at WCW

Fall? Well, that's a misnomer. Extended summer is more like it before

the heat breaks and the humidity lowers — aka winter. Here's what we

have coming up this extended summer:

• September - Florida Travel Issue

• October - Lifelong Learning Issue

• October - Women's Health Issue

Want more details? Email us at wcwnewspaper@aol.com and learn

about our great advertising offers.

Kudos to this WCW

We profiled Jenny Townsend in WCW

back in 2021. Here's an update via a press

release we received, "The third time's the

charm for music school Music Compound,

with the impending opening of a

long-awaited location in Manatee County.

'Music Compound MAN' (located at

4740 SR64, just west of I-75 in the Braden

River Business Park) will serve families

and adults in Parrish, Lakewood Ranch

and Bradenton.

They're launching an Introduction

to Music Summer Camp for elementary-school-age

students the last two weeks of July and then feature

lessons for kids, including Kidz Rock and Modern Band programs. Available

adult programs will include private and group lessons as well as jam

sessions for those wanting to play music while meeting new people.

Music Compound owner Jenny Townsend has been working on this

new location for two years. She first hoped to open a Lakewood Ranch

location in 2018, but that effort didn't pan out. She then prepared to make

the dream a reality in 2020 but, with the deal on a 10,000-square-foot

space – which would have required a significant build-out – scheduled to

close in March, the pandemic made such a huge investment too risky.

The expansion comes as Music Compound's SRQ (Cattlemen Road)

location is fully booked. Music Compound SRQ started with six studios

and now, even with the addition of "lots of walls" and growth to 13 studios,

programming is still at capacity.

"We have clients who have been asking for us to consider a location

in Manatee County for quite some time," Townsend says. "We have students

who have been commuting for years from Parrish and Lakewood

Ranch. And even with the addition of new studios at SRQ, we can't keep

up with demand!"

Congratulations and the hard work has paid off, Jenny! For information,

visit musiccompound.com or call 941-379-9100.

Music Compound owner Jenny Townsend at the

music school's new Manatee County location

Louise Bruderle | Editor and Publisher |

westcoastwoman@comcast.net

We welcome your thoughts and comments on this column and on other columns and features in this issue.

You can reach us at westcoastwoman@comcast.net. We're on the web at www.WestCoastWoman.com.

4 WEST COAST WOMAN JULY 2022
---
Enjoy Service

with Stellar Results

Cosmetic • Regenerative

& Restorative Gynecology

Painless In-Office Labiaplasty

BioTe® Hormone Pellet Therapy

O-Shot® & Ouchless PRP

Laser Vaginal Rejuvenation®

Clitoral Hood Reduction

Majoraplasty | Mons Lipo

ThermiVa® (non-surgical rejuvenation)

Effective treatments for:

Low Libido

Menopause Symptoms

Lichen Sclerosus

Urinary Incontinence

Personalized GYN Care

Our patients. Our reviews.

"Well cared for" | "Positive experience" | "Warm & friendly staff " | "Exceeded expectations"

"Really felt cared for" | "I can wear anything now" | "Listens closely" | "Expert in her field"

"No more discomfort" | "Restored to brand new"| "Thank you for giving me our love life back"

"I feel like I'm on my second honeymoon" | "Gifted, perfectionist, confidence"

"Results better than I even imagined" | "I am ready to start dating again"

"No longer self-conscious" | "Wonderful experience"

"Your work is a work of art" | "I enjoy sex more"

See Our Before & After Gallery at VisionaryCentreForWomen.com

Dr. Jennifer S. Hayes, DO, FACOOG

Board Certified in Gynecology | Specializing in Cosmetic Gynecology

25+ years vaginal surgery experience

Beverly Hills trademarked techniques

727.403.0573

MMunro@drjenniferhayes.com

941-373-6300

Sarasota Downtown

1727 2nd Street, Suite 1,

Sarasota

941-739-2400

Lakewood Ranch

8614 St. Rd 70E, Suite 102,

Bradenton

TimeSaverFitness.com

Offering a super-slow high intensity

strength training program twice a week,

20 minutes, amazing results!

Schedule your Complimentary

Introduction Session TODAY!

KEEP YOUR BODY FIT & STRONG

Eunice Okun

"93 Years Young and Feeling My Best"

"Within a few months of starting my two weekly twenty-minute

workouts, I could feel the difference. Each session gave me

a sense of true accomplishment. And, my trainers are always

encouraging, answering my questions and addressing areas of

concern. After three years at Time Saver Fitness, I've regained

strength, increased my coordination and am more toned than

I have been in years. And, now, at the age of 93, I'm enjoying a

healthy, active, independent lifestyle!"

— Eunice Okun

JULY 2022 WEST COAST WOMAN 5
---
Tummy Tucks — Breast Lift —

Breast Augmentation — Liposuction

OPTIMIZE

YOUR

RESULTS

Arm & Thigh Lifts — Fat Grafting —

Coolsculpting — Body Sculpting

Sovereign Plastic Surgery

Alissa M. Shulman, M.D., F.A.C.S.

Board Certified Plastic Surgeon

1950 Arlington Street • Suite 112 • Sarasota

941- 366-LIPO (5476)

www.sovereignps.com

SAVE $2 W/CODE WCW

DAILY TROLLEY TOURS

ENTERTAINING • INFORMATIVE

Find Your New Best Friend!

Open Daily | 2542 17th St, Sarasota, FL 34234 | (941) 366-2404 | www.catdepot.org

SUMMER SIGHTSEEING TOURS

Be a Tourist in Your Own Town!

• City Sightseeing

• Circus Secrets

• Haunted Sarasota

• Murder Mystery Trolley:

Who Killed The Circus Queen?

• Psychic Sundays

Air-Conditioned Comfort!

"My girlfriends and I had such a fabulous time!" *****

Tickets $44.99 - $49.99

Nighttime Tours Include FREE Beer/Wine

BOOK ONLINE

DiscoverSarasotaTours.com

941-260-9818

Visit The Trolley Cottage & Gift Shop | 1826 4th Street, Sarasota | FREE Parking!

6 WEST COAST WOMAN JULY 2022
---
out &about

Special Events

AJC has its Lunch & Learn series

that brings world-renowned speakers,

including national and global

AJC leaders, to Sarasota to inform and

inspire. Here's what's coming up:

• Rabbi Noam Marans, AJC Director,

Interreligious and Intergroup Relations

on Tuesday, July 19, 11:30 a.m.-1:30

p.m. at Michael's on East, Sarasota.

Cost: $39 and includes luncheon.

He'll speak on The Many Voices of

Christianity on Israel: Not One Size

Fits All. Christians worldwide, and

especially in the U.S., are not of one

mind regarding support for Israel

and diverse approaches for different

denominations are needed

Advance reservations required.

To RSVP, call AJC at 941-365-955 or

email sarasota@ajc.org.

t

St. Armands Circle's Sunset Yoga

is is on the inner circle, and will

run through the end of September.

Yoga enthusiasts can relax, stretch,

and gaze at a sunset while enjoying

a nice workout. Attendees should

bring their own yoga mat and block.

https://www.ajc.org/westcoastflorida

The class will be led by Liana Sheintal

Bryant. Breathe: A Sunset Yoga

Series will be held on July 24, August

28, and September 25 from 5 to 6 p.m.

and is free for the public. For directions,

more information, and to RSVP,

visit the Facebook event page, https://

www.facebook.com.

t

Suncoast Summer Fest runs to

June 24-July 10. The second annual

festival features a variety of events

including 4th of July bayfront fireworks

in downtown Sarasota, a

"Waves & Wheels" summer party,

"Blast On The Bay" boat fun run and

more. All proceeds benefit Suncoast

Charities for Children. Info: suncoastsummerfest.org.

t

At The Bishop

On exhibit: Illumination: Seeing

Beyond the Shell. A shell can be

many things: a mollusk's protection

against a predator, a piece of jewelry,

a makeshift spoon—it can even be a

calcium supplement or an alternative

to limestone mining to help fight

climate change. But what happens

when you take a closer look?

With Illumination: Seeing Beyond

the Shell, The Bishop continues the

celebration of its 75th Anniversary

Year of Light with the photography

of Scott Odell who is not only a local

photographer, but also a member of

the Museum's Staff.

This exhibition of macro photography

literally takes a closer look at the

shells in The Bishop's permanent collection,

showing what happens when

you take an object and view it in a

completely different way.

These images are the fortuitous

result of the Museum's temporary

closure during the Covid-19 pandemic.

Odell originally began his work

with the idea of having an online

exhibition where visitors to The Bishop's

website could continue to view

items from the permanent collection

The Bishop Museum of Science

and Nature, 201 10th St. West,

Bradenton. www.BishopScience.org.

t

UF/IFAS Extension

Sarasota County

Lectures

July 11—Wild Sarasota: Snakes

of Florida (webinar). Snakes eat rats,

mice and other undesirable pests,

and occasionally visit our home landscapes.

Learn which snakes you are

most likely to see and how to identify

venomous snakes.

Register for this event only at ufsarasotaext.eventbrite.com

rather than

any third party websites, as they are

not affiliated with their classes and

events. Instructor: Dr. Katherine Clements,

ecology and natural resources

educator, UF/IFAS Extension Sarasota

County.

• July12 and 19— Disaster Preparedness

(webinar). This class

will offer tips and ways to prepare

for unexpected disasters, such as

hurricanes. Learn how to assemble

an emergency supply kit and other

ways to prepare for emergencies.

Register for this event only at ufsarasotaext.eventbrite.com

rather than

any third-party websites, as they are

not affiliated with their classes and

events. Instructor: Dr. Maria Portelos-Rometo,

UF/IFAS Extension

Sarasota County family and consumer

sciences agent

• July 13—Green Living: Tips to Live

Sustainably This Summer (webinar).

This class will introduce ideas in the

categories of energy, water, waste,

transportation and food, help you prioritize

what will work best for you and

connect you with resources available

in the community to get you started.

Register for this event only at ufsarasotaext.eventbrite.com

rather than any

third party websites, as they're not affiliated

with their classes and events.

• July 13—It's a Buggy World: Identifying

Insects in the landscape. Join

in on a Zoom webinar for an engaging

conversation on identifying backyard

bugs, beneficial insects, and problem

pests. Register at ufsarasotaext.

eventbrite.com to save your seat and

receive notice of any changes.

Insects are pollinators, predators,

decomposers, and detritivores. While

most insects are 'good bugs', only 1

percent are truly problematic pests

that either cause us physical harm

(ant bites, wasp sting) or do damage to

the landscape. In this webinar, you'll

learn how to identify insects through

their feeding behaviors as well as understand

how using integrated pest

t

Sarasota Contemporary Dance is hosting a variety of dance intensives, workshops, and classes for students of all ages

during its summer 2022 programming. SCD is offering Summer Intensives, its annual Summer Sampler workshop, Kids

Camps, along with weekly class offerings—all happening at SCD's Home Studio in the Rosemary District.

management strategies can help support

a healthy ecosystem.

Instructor: Carol Wyatt-Evens,

UF/IFAS Extension Sarasota County

Chemicals in the Environment Agent.

Register: https://www.eventbrite.

com/e/332936350587/.

Sea Turtle Nesting

Season is Here

Sea turtle nesting season takes

place through Oct. 31 on Southwest

Florida beaches. Mote Marine coordinates

with county, state and federal

efforts to conserve sea turtles — particularly

loggerheads, since Sarasota

County hosts the highest density of

loggerhead nests in the Gulf of Mexico.

Data show that nesting by loggerhead

turtles declined and then rebounded

in recent years, while green

turtle nesting — although very low in

numbers — has increased.

On nesting beaches, light from

waterfront properties can disorient

nesting female turtles and their

young, which emerge at night and

use dim natural light to find the sea.

Also, beach furniture, trash and other

obstacles can impede sea turtles and

their young. While Mote documents

turtle nests, the best thing you can do

to help is to refrain from using artificial

light while on the beach.

t

Here are some "do and don't" tips to

keep beaches turtle-friendly:

• DO stay away from sea turtle nests

marked with yellow stakes and tape,

and seabird nesting zones that are

bounded by ropes.

• DO remain quiet and observe from

a distance if you encounter a nesting

sea turtle or hatchlings.

• DO shield or turn off outdoor lights

that are visible on the beach from

May through October.

• DO close drapes after dark and

stack beach furniture at the dune line

or, ideally, remove it from the beach

• DO fill in holes that may entrap

hatchlings on their way to the water.

• DON'T approach nesting turtles

or hatchlings, make noise, or shine

lights at turtles.

• DON'T use flashlights, head lamps

or fishing lamps on the beach.

• DON'T encourage a turtle to move

while nesting or pick up hatchlings

that have emerged and are heading

for the water.

• DON'T use fireworks on the beach.

• DON'T walk dogs on any Sarasota

County beach other than Brohard

Paw Park in Venice. There, dogs must

be leashed or under voice control, according

to county ordinances.

Report stranded sea turtles and marine

mammals. Mote Marine Laboratory's

Stranding Investigations Program

responds 24 hours a day seven

days a week to reports of sick, injured

and dead marine mammals and sea

turtles for animals in Sarasota and

Manatee County waters. Live animals

are brought back to Mote's Dolphin

and Whale Hospital or Sea Turtle Rehabilitation

Hospital for treatment

and the deceased animals undergo a

detailed post-mortem examination so

that we may learn more about the natural

history of these animals and evaluate

long-term trends in mortality.

Within Sarasota or Manatee County

waters, if you see a stranded or

dead dolphin, whale or sea turtle,

call Mote's Stranding Investigations

Program, a 24-hour response service,

at 888-345-2335.

If you see a stranded or dead manatee

anywhere in state waters or a

stranded or dead dolphin, whale or

sea turtle outside of Sarasota or Manatee

counties, call the FWC Wildlife

Alert hotline at 1-(888) 404-3922.

Sarasota Film

Festival Camps

Registration is open for summer

2022 film camps. Industry professionals

with years of experience will

teach the campers how to make short

films and online videos, with completed

projects screened every week for

friends and family. Kids learn screenwriting,

cinematography, directing,

acting, editing, VFX and make great

friendships while exercising their creativity.

For campers aged 8-1.

• July 11 - 15: Ultimate Movie Mashup.

This camp is for everyone who

loves creating in different genres.

Whether you love comedy, fantasy,

sci-hi, horror, buddy cop comedies,

road movies, romances or anything

in between, you will learn to combine

genres in this fun and innovative

film camp. Campers will learn

how to make short mashup films,

focusing on understanding genres,

screenwriting, cinematography, VFX,

t

directing, and acting, and producing.

Campers will learn how to use

the necessary filming equipment,

including cameras, lights and green

screens, as well as how to edit in industry-standard

Adobe Premiere.

Learn film history by watching and

analyzing clips from many great

genre movies. They'll showcase all

the films created in a screening on

the last day of camp.

Camps are at Southgate Community

Center, 3145 Southgate Cir,

Sarasota. The camps will take place

both inside as well as on the lovely

grounds of the center.

• July 20 - 24: Comedy. Love making

people laugh? Campers will learn

how to make short comedy films, focusing

on screenwriting, cinematography,

VFX, directing, and acting, and

producing. Learn how to use the necessary

filming equipment, including

cameras, lights and green screens, as

well as how to edit in industry-standard

Adobe Premiere. Learn much

film history, watching and analyzing

clips from many great comedy movies.

They'll showcase all the films

created in a screening on the last day

of camp. Info: https://www.sarasotafilmfestival.com/filmcamps/.

Summer Art Camps

Sarasota Contemporary Dance is

hosting a variety of dance intensives,

workshops, and classes for students

of all ages during its summer programming.

SCD is offering Summer

Intensives, its annual Summer Sampler

workshop, Kids Camps, along

with weekly class offerings—all happening

at SCD's Home Studio in the

Rosemary District.

SCD's week-long Summer Intensives

in July offer students a variety of

technique classes, including contemporary,

jazz, afro-modern, and repertory

classes where students will learn

original choreography from past SCD

works. Additionally, students have

the opportunity to perform at the end

of each Intensive week during the

"In the Round" showcase, featuring

original works by summer intensive

Rising Choreographers.

SCD's Annual Kids Camp will take

place July 25-29. The Little Groovers

Camp (ages 5-8) explores new ways

of moving through Contemporary,

Hip Hop, Acro, Afro-Modern, Jazz

and Creative Movement classes.

Each day will also include a variety

of games and crafts. Students taking

the Intermediate Movers Camp (ages

8 - 12) will learn actual works from

SCD's performance repertoire. Daily

classes include Contemporary, Hip

Hop, Afro-Modern Jazz, and Acro.

SCD Summer Intensive offerings:

• SCD July Intensive July 16-22.

Teaching Artists: Melissa Cobblah

Gutierrez and Sea Lee. Register:

https://www.sarasotacontemporarydance.org/summer-intensive

• SCD Kids Camp July 25-29. Little

Grovers (Ages 5-8): 9am-1pm.

Intermediate Movers (Ages 8-12):

9am-2pm. Register: https://www.

sarasotacontemporarydance.org/

kids-summer-program

SCD Summer Classes Schedule:

• SCD will continue to host weekly

classes during the summer. Check

the schedule at https://www.sarasota

contemporarydance.org/classes.

t

Art Center Sarasota offers Summer

Art Camp through August 5.

Each week campers will explore

t

continued on page 8

JULY 2022 WEST COAST WOMAN 7
---
out and about continued

their creativity, learn about art, and

make original masterpieces that will

be "exhibited" on Friday afternoons

for friends and family. Instructors

provide age appropriate activities

for campers in two groups: Creative

Kids for ages 6-10 and Emerging Artists

for ages 11-15.

Camp runs M-F, 9:30am-3pm.

Before and after care available.

Info: https://www.artsarasota.org/

summer-camp.

ArtCenter Manatee offers sprouting

artists, ages 4 to 6, an opportunity

to express their creativity. In Marvelous

Mondays, children ages 6-10 will

make drawings, paintings and prints.

In Thrilling Thursdays children will

have fun playing in clay. If they want

more, this age group can attend oneweek

KidsArt Camps from 9-3 Monday

through Friday.

Every week has a different theme,

from animals and aliens to artists

and super heroes. Emerging Artists,

ages 11-15, are challenged in

weekly half-day camps where they

can make clay sculptures and learn

on the potter's wheel, learn mosaics,

painting, drawing, fiber, collage and

more. Scholarships available. Location:

209 9th St., West, Bradenton.

Info: / 941-746-2862 / https://artcentermanatee.org/kidsart-overview/

t

At Mote Marine

Mote Aquarium has an exhibit

from National Geographic. SHARKS:

On Assignment with Brian Skerry

includes large-scale images that

highlight the work of National Geographic

Explorer and award-winning

photojournalist, Brian Skerry.

The exhibit runs through Aug. 7,

2022. The exhibition strives to raise

awareness about the status of sharks

around the world. Visitors can dive

into the ocean depths to swim alongside

tiger sharks, great whites, oceanic

whitetips and shortfin makos while

learning about each species' habitat

and threats they face. Additionally,

they'll get a glimpse into National Geographic's

ocean conservation efforts.

National Geographic Explorer and

award-winning photojournalist Skerry

has spent more than 10,000 hours

underwater exploring the world's

oceans with a camera to show why

sharks need to be protected and appreciated

as integral species within

the ecosystem. The exhibition will

include large-scale images and videos—all

highlighting Skerry's passion,

skill and life-long commitment

to conservation of the world's oceans.

t

■ Join Mote for some fun outdoor

exploration. Participants will use

dip nets to explore the nearshore seagrass

beds and learn about the plants

and animals that call the Bay home.

All ages. Fee: $15. Held 11:30 a.m.-

12:30 p.m. Next date: June 18.

Pre-registration (including parents/

guardians) is required. This is an outdoor

program and participants will

wade in water up to waist deep. Details

here: https://mote.org/experiences/details/kayaking-with-mote

■ Seashore SEAfari allows you to

explore a mangrove forest. Put on

your adventure hat and come along

as you tour a mangrove boardwalk,

use science tools to test water quality

and complete a seashore scavenger

hunt with one of the best views in

Sarasota. All ages. Fee: $15. Held 10

a.m.-11a.m.

June 18. re-registration

(including

parents/

guardians) is

required. This

is an outdoor

program (not

water-based)

that involves

walking. Details

here: https://

mote.org/

experiences/

details/kayaking-with-mote.

Elling

Eide

Center

Arboretum

Tours

and

Lectures

Join docent Norman Burr on a

90-minute trek through their historic

grounds. Walk through the arboretum

and learn about rare, interesting,

and exotic plants. Norman will discuss

the geologic history of Florida

and how plant life evolved. He will

also share the history of the inhabitants

of the Elling Eide Center from

pre-history to today.

Then, venture inside and see Elling

Eide's personal collection of Asian

art and artifacts. Arboretum Tours

are held every Tuesday/Thursday

of every week. Register at www.ellingoeide.org

for the Arboretum Tour

and their other events. Elling Eide

Center, 8000 South Tamiami Trail,

Sarasota. Admission: $5. Tour is 2

hours with 60 minutes of the tour is

outside and 30 minutes of the tour is

of the inside of the Eide Center.

t

Lots of Fun

Outdoor Events

The Palm Avenue First Friday

Walks in downtown Sarasota gives

art lovers a backdoor peek without

the hustle and bustle of the crowds

but with the cool breeze and moonlight

sky the evening brings. The

event is held the first Friday of every

month, running 6-9 p.m. The next

ones are on July 1 and August 5. Info:

https://palmave.com/

t

Start your Saturday with a sunrise

stretch at The Sarasota Farmers

Market. They've partnered with

Pineapple Yoga Studio to bring free,

weekly sunrise yoga to downtown

Sarasota. Participants meet at the

Mermaid Fountain in Paul Thorpe

Park, near the Intersection of Pineapple

and Lemon Avenues. Enjoy Artful

Movement with Bianca, a 45-minute

guided practice accompanied by a

playlist to match the intention.

Starting at 7 a.m., participants

will enjoy a gentle yoga flow suitable

for all ages and levels. The weekly

45-minute yoga practice will focus

on movements that foster inner and

outer balance.

For information, call 941-225-9256 or

visit sarasotafarmersmarket.org/yoga

t

t

At The Ringling: The world is just so small, now: Works on paper from The

Ringling's Collection of Modern and Contemporary Art.

Friday Fest is BACK! The Van

Wezel Friday Fest events are an outdoor

concert series that provides the

community with free events to September,

showcasing the best of local

bands from Sarasota and Bradenton.

Friday Fest brings together a wide

variety of talented artists along with

food trucks and drink stations on the

Van Wezel lawn along the beautiful

Sarasota Bayfront.

Our Friday Fest lineup includes:

• Kettle of Fish - July 15

• Big Night Out - August 12

• Jah Movement - September 16

Info: https://www.vanwezel.org/

boxoffice/friday-fest-2022/

Marie Selby

Botanical Gardens

Marie Selby Botanical Gardens

is one of 12 participating gardens

across 6 countries offering "Seeing

the Invisible" which features works

by more than a dozen international

artists such as Ai Weiwei, Refik

Anadol, El Anatsui, Isaac Julien CBE,

Mohammed Kazem, Sigalit Landau,

Sarah Meyohas, Pamela Rosenkranz,

and Timur Si-Qin—including several

artists' first work in AR.

Visitors will engage with "Seeing

the Invisible" via an app designed

for the exhibition downloadable to

smartphones and tablets. The exhibition

fosters collaboration between

institutions, artists, and audiences,

highlighting the power of art to connect

people around the world. "Seeing

the Invisible" runs to August 31

at the Historic Spanish Point campus.

Information: www.selby.org.

t

Art Exhibits

t

Sarasota Art Museum has Daniel

Lind-Ramos' Las Tres Marías runs

through August 7, 2022. Las Tres

Marías is comprised of two new

assemblage sculptures created

specifically by Lind-Ramos for

the Museum's exhibition, Baño de

María and María Guabancex, in

addition to his previously-made

work, María de los Sustentos.

Lind-Ramos creates assemblages

from found and reclaimed objects,

many of which were collected in

the aftermath of Hurricane Maria.

Through the combination of natural

and manufactured materials,

Lind-Ramos' sculptural assemblages

recall the

experiential

elements of the

hurricane—

wind, rain,

thunder, and

lightning—as

well as cultural

signifiers of

Puerto Rico,

specifically, the

city of Loíza,

where the artist

was born and

still resides.

Sarasota Art

Museum also

presents I M(O)

ther: Threads

of the Maternal

Figure, the

first U.S. solo

museum exhibition

of Jamaica-based

textile

and fiber

artist Katrina

Coombs, through October 2,

2022. This exhibition will feature 12

fiber artworks including large-scale

installations and intimate sculptures

that reference the artist's personal

experiences, as well as experiences of

other maternal figures in her life.

On view in the Museum's John &

Charlotte Suhler Gallery, I M(O)ther:

Threads of the Maternal Figure illuminates

the range of fiber arts techniques

Coombs uses in her practice,

including the laborious technique of

finger-knitting the works with various

fiber materials. Coombs' works

are inspired and guided by a quest to

deepen the spiritual, emotional, and

psychological understanding of the

numerous conflicting roles that have

been attributed to women in contemporary

society.

■ Sarasota Art Museum is at the

Ringling College Museum Campus,

1001 South Tamiami Trail, Sarasota.

https://www.sarasotaartmuseum.

org/visit/

Next up at Art Uptown Gallery

is "MOXIE by Rita Rust," with watercolors

by a longtime gallery artist.

In a pivot from Rita's usual subject

matter, these "action portraits" serve

to illuminate the capacity to find

joy even in the darkest times. These

paintings embody the exuberant

spirit, determination and courage

the girls in this series display —

their "moxie." MOXIE by Rita

Rust runs through July 30.

Art Uptown Gallery will be celebrating

its 42nd summer with "Summer

in the City," an exhibit of new

art by its 25 local artists.The mediums

included are paintings, photography,

sculpture, glass works, pottery and

jewelry. Meet some of the artists on

August 5 from 6-9 p.m. at the First

Friday public reception at the gallery

and Saturdays from 11 a.m. to 5 p.m.

The exhibit opens on July 30 and

runs through August 19.

■ Art Uptown Gallery is located at

1367 Main Street, Sarasota. Also view

art works by 28 local artists. Call 941-

955-5409 or visit www.artuptown.com.

t

Art Ovation Hotel has an ongoing

series of art displays by six international

artists and organizations

that will run through September 6,

2022. The six new exhibits include

Tribute to Andrés Valerio; Ana

t

Albertina Delgado: The Human

Mysteries and the Indifference of

the Universe; Alexander Solotzew:

Life in Colors; Peter Jacob Christ:

Disappearing Signs of Life; and The

Rainer Hildebrandt Collection:

Original Painted Slabs from the

Berlin Wall, as well as The Florida

Watercolor Society (FWS)'s 2021-

2022 Traveling Exhibition.

Visitors are invited to enjoy the

works at their own leisure or can request

a guided tour for a deeper understanding

of the artists and their works.

■ Located at 1255 North Palm

Avenue, Sarasota.

Art Center Sarasota has WCA

"Faces and Places" exhibit which

runs through August 6. The center

received submissions from 173 artists

from the Southeast region. Baril

says the work had to be inspired by or

reflect their surrounding community,

including faces, places, landscapes,

and societal experiences.

"We were deeply impressed with the

artistic quality of the submissions,"

says Baril, adding that the center's

annual regional exhibit "gives area

residents and visitors a chance to see

outstanding works by area-based artists—as

well as art by artists from outside

our tri-county region. By staging

this exhibition in the summer months,

we're able to create cultural opportunities

for tourists and year-round residents

during a time when there are

less arts and cultural events happening

in our area. Art Center Sarasota is

part of #SafeArtsSarasota.

■ Art Center Sarasota, 707 N. Tamiami

Trail, Sarasota. For information,

visit www.artsarasota.org or call

941-365-2032.

t

At The Ringling

On exhibit is "As long as there is

sun, as long as there is light." Selections

from the Bring Gift and The

Ringling Collection of Modern and

Contemporary Art. The exhibition

runs through Aug. 13, 2023, in the

museum's Searing Wing.

Highlights include minimalist

work by Anne Truitt and a monumental

work on canvas by Gene

Davis, both artists affiliated with

the Washington Color School, an art

movement during the 1950s to 1970s

in Washington D.C., made up of abstract

expressionist artists.

Additional work represent a generation

of prominent artists who

work, or have worked, in abstraction,

including Clement Meadmore, Jules

Olitski, Beverly Pepper, Rebecca Salter,

Kenneth Snelson, and Yuriko Yamaguchi,

among others. Also on view

are sculptures and paintings by African

American and Latin American

artists from The Ringling collection,

including William Edmondson, Eduardo

Mac Entyre, Omar Rayo, Baruj

Salinas, and Joyce de Guatemala.

The Ringling has Haitian-Canadian

artist Rhodnie Désir for the world

premiere of her first gallery installation,

Rhodnie Désir: Conversations

in the Ringling's Monda Gallery. In

her multidimensional choreographic

career, dancer/choreographer Rhodnie

Désir created BOW'T TRAIL, a

choreographic-documentary journey

in which she has conducted research

throughout the Americas since 2015.

Her work included visits to countries

such as Martinique, Brazil, Haïti,

Canada, Mexico, and the United

t

continued on page 10

8 WEST COAST WOMAN JULY 2022
---
healthier you

Let me help you get positioned for a

BEAR market and continued INFLATION

Let's take a look together and review

your portfolio for best the options.

Call 941-914-1560 for an appointment.

Amanda E. Stiff, MBA

Financial Advisor

Hormone Balancing

Made Simple

AccessAdvisorsLLC.com 941 914-1560 Astiff@AccessAdvisorsLLC.com

1800 Second Street Suite 895 Sarasota, FL 34236 1305 Langhorne Road Lynchburg, VA 24503

Securities are offered through Level Four Financial, LLC a registered broker dealer and member of FINRA/SIPC. Advisory Services are offered

through Level Four Advisory Services, LLC, an SEC-registered investment advisor. Level Four Financial, LLC, Level Four Advisory Services, LLC

and Access Advisors, LLC are independent entities. Neither Level Four Financial, LLC, Level Four Advisory Services, LLC nor Access Advisors,

LLC offer tax or legal advice.

Love, L inda

Music & Lyrics

Cole Porter

Book

Stevie Holland

with Gary William Firedman

Arrangements & additional musical

Gary William Firedman

"

Imiss the old me. I'm irritable,

tired, lots of brain fog…. having

trouble sleeping through the night…

and forget about sex," a patient told

me as she sat in my office. She had

recently moved to Sarasota and had been

on hormones prescribed from another

physician in her previous town for over a

year. She was taking them faithfully, but

still not feeling much better. She did say

that at least her hot flashes and vaginal

dryness had resolved… "I'm glad for

that," she said, "but I just want to feel like

myself again. I used to have energy, focus,

and a pretty good sex drive, but all that

seems to have changed with menopause."

When I asked to see labs that were

drawn prior to beginning hormone

therapy, and then after, to see if they had

balanced, I was surprised to hear that no

hormone lab tests had been run. "My

doctor just began me on an estrogen pill

in the morning and a progesterone pill

before bedtime. Later, we switched to an

estrogen patch and kept the same pill

at night," she added, "but…." and she

began to tear up.

When a series of blood and salivary

test results came back, we found her

answers. Her cortisol levels were low all

day long, relating to an adrenal fatigue

problem. Her estrone levels were high,

contributing to irritability and increasing

a tendency toward Estrogen Dominance.

Her testosterone levels were practically

non-existent, explaining her brain

fog and lack of libido. Blood tests also

revealed a persistent low progesterone

level, although she was faithfully taking

her nighttime dose of progesterone.

Through lab tests, we knew how to

correct the problem. After a few weeks,

she was sleeping through the night.

Within two months, her irritability had

calmed down. And within three months,

her libido was back where she wanted it.

While the only way to tell if you truly

need hormone replacement therapy

is through blood, saliva, and/or urine

testing, there are some symptoms in

both men and women that can provide

clues as to whether or not you might

be experiencing hormone imbalances.

These include…

j Fatigue

j Brain fog

j Low sex drive

j Mood swings

j Vaginal dryness

j Erectile dysfunction

j Depression/Anxiety

j Trouble sleeping

j Memory loss

j Irritability

j Weight gain

j Hot flashes

Most patients come to our practice

because they are experiencing one or

more of these symptoms. From there, we

determine which tests are most appropriate

to run. And, from there, we run these

tests every 6 months to make sure they

continue to stay on track.

From the inception of The Renewal

Point 20 years ago, one of our mottos

has been "Test and Correct". We continue

to practice this today because of

how important it is to personalize every

regimen we give to our patients.

If any of the above symptoms are

bothering you, we encourage you to

reach out to us. You can give us a call

at 941-926-4905, visit our website at

TheRenewalPoint.com, or email us

at info@therenewalpoint.com.

You CAN live the life you imagine!

—————————————————

With over 30 years of experience and numerous

board certifications and credentials,

Dr. Watts, MD, ND, MSNM and Lynne

Streitmatter, APRN, MS are experts in the

Science and Art of Integrative Medicine and

Bio-identical Hormone Balancing. Bio-identical

Hormone Balancing requires individualized

therapy and ongoing dosing changes

based not only on a patient's diagnostic lab

values, but also their

symptoms. Due to

the sensitive nature of

hormone balancing, it

is imperative that you

work in partnership

with an experienced

provider and program.

Dr. Dan Watts

MD, ND, MSMN

The Renewal Point FOUNDER/

DIRECTOR

4905 Clark Road, Sarasota

Phone: 941-926-4905

www.TheRenewalPoint.com

The timeless music and lyrics of Cole Porter weave through the compelling narrative of Linda

Lee Thomas, the Southern beauty who was the driving force behind the legendary songwriter

just

schmoozing!

LIVE

Come and meet fellow tribe members

for fun and laughs. Cash bar and

complimentary light nosh.

TUESDAY

JULY 26, 2022

4:00PM – 6:00PM

MICHAEL SAUNDERS & COMPANY

SPONSORED BY

Register now: JFEDSRQ.org/schmoozing

QUESTIONS? Contact Jeremy at

JeremyL@jfedsrq.org or 941.343.2113

Made possible by

the Arthur and Beatrice

Michaels Endowment

Fund for Adult Senior

Programs and Services.

7275 S. Tamiami Trail

Sarasota

REALTOR 941.951.6660

LICENSED REAL ESTATE BROKER

Visit us at JFEDSRQ.ORG/SCHMOOZING

PAID ADVERTORIAL

JULY 2022 WEST COAST WOMAN 9
---
out and about continued

States to immerse herself within the

African and afro descendant cultures

and rhythms generated from

the ingenuity of her ancestors since

the Slave Trade.

The Ringling also has Eleanor

Merritt: Remembrance, running

through Aug. 21. The exhibition celebrates

the life and artwork of Merritt

who was a volunteer at The Ringling

for many years as a docent and board

member. She also served as president

of the Venice Art Center and was

active in other arts organizations as

well. Eleanor died in 2019 leaving a

legacy of art and public service.

This exhibition is dedicated to her

spirit and creativity and represents a

small sample of a significant body of

work the artist created over her long career.

The exhibition highlights her creative

use of materials, movement between

figuration and abstraction, and

her commitment to women's rights.

Arriving in Sarasota in the 1980s,

Eleanor exhibited widely in Florida.

Her final exhibition in 2017 at the

Arts & Cultural Alliance celebrated

her 60 years of painting. In 2013, she

received national recognition with

an exhibition at the Houston Museum

of African American Culture.

And there's Ballroom Florida:

Deco & Desire in Japan's Jazz Age

on view to September 25. This exhibition

celebrates a recent gift of

six paintings from Mary and Robert

Levenson by Enomoto Chikatoshi

(1898–1973) and a photograph by Hamaya

Hiroshi (1915–1999) depicting

the women of the Florida and its chic

décor. The exhibition is augmented

with loans that elaborate on themes

that define this group of artworks:

Art Deco design, the exotic, and elegant

pleasures.

Metadata: Rethinking Photography

from the 21st Century is on

view until August 28. This exhibition

explores new paradigms for understanding

the ecology of the photographic

image. The term "metadata"

is used to describe the information

that travels with a digital image file

but is unseen within the image itself.

The Ringling also has "The world is

just so small, now: Works on paper

from The Ringling's Collection of

Modern and Contemporary Art" on

view through October 23.

The exhibition's title, The world is

just so small, now, is borrowed from

the first stanza of a poem by Brazilian

artist Abraão Batista. Bringing

together additional prints, watercolors,

and drawings by artists working

on paper, the exhibition highlights

the medium as fundamental to the

artists' practice.

Assembled from The Ringling's

collection of contemporary works

on paper, most of the pieces are on

display for the first time since their

recent acquisition through purchase

or donation. Shown along with these

are several rarely seen lithographs,

woodblocks, and a relief print on

glass acquired between the early

1960s and late 1990s.

This exhibition is located in the

Keith D. and Linda L. Monda Gallery

for Contemporary Art and features

the work of Abel Barroso, Abraão Batista,

Romare Bearden, Sandra Cinto,

Francesco Clemente, Elisabeth

Condon, Mary Beth Edelson, Leon

Hicks, Corita Kent, Hung Liu, Jason

Middlebrook, Ibrahim Miranda,

Duke Riley, John Scott, David Alfaro

Siqueiros, Cauleen Smith, Linda

Stein, Howie Tsui, and

William Villalongo

The John and Mable

Ringling Museum of

Art, 5401 Bay Shore Rd.,

Sarasota. Info: www.

ringling.org.

Theatre

At Urbanite Theatre:

ATHENA by Gracie

Gardner; directed by

Summer Wallace. Runs

to July 10. Mary Wallace

and Athena are brave

young fencers training

for the Junior Olympics.

They practice together,

they compete against

each other, they spend

their lives together.

They just wish they were

friends.

Urbanite is located

at 1487 2nd Street,

Sarasota. Tickets: (941)

321-1397 or visit https://

www.urbanitetheatre.

com/season.

t

Florida Studio Theatre

(FST) has its Summer Cabaret

Series.

Here's what's on:

• Rock & Roll Reignited With Not

Fade Away, is a new, high-energy

revue reinvigorating Rock & Roll

classics with sizzle, showmanship,

and style. Performed by Not Fade

Away, a live, four-piece band fresh

off their national tour, Rock & Roll

Reignited features almost two dozen

songs from the '50s and '60s, including

"It's So Easy," "Johnny B. Goode,"

and "A Little Less Conversation."

Playing in FST's Court Cabaret.

• Ring of Fire: The Music of Johnny

Cash. Cash was one of the most

revered storytellers in American

music. Now, his remarkable life

story is told through his iconic songbook—from

"I Walk the Line" and

"Folsom Prison Blues" to "Country

Boy" and "A Boy Named Sue."

• Maytag Virgin. A classic Southern

love story. When the unflappable

Jack Key moves in next door to the

endearingly neurotic Lizzy Nash,

sparks fly. Over time, neighborly

nagging softens, and a deeper connection

emerges between the two

forty-something high school teachers.

As the leaves turn yellow and

the months march on, kept secrets

shake loose and the pair find themselves

facing the same question: how

do you know when you're ready to

live, and love, again?

• Smoke & Mirrors Begins August

3. Hamilton Orr will stop at nothing

to get what he wants. A top Hollywood

director, Hamilton comes up

with a deadly scheme to gain control

over a multi-million-dollar film. He

just needs to persuade the movie's

screenwriter, Clark, to get onboard.

And make sure that Barbara, his

wife, plays her part. When his plot

doesn't go as planned, Hamilton

comes face-to-face with the wily

local sheriff, Leroy. Smoke & Mirrors

keeps the audience guessing

(and laughing) until the end.

• The Jersey Tenors - Part II begins

July 19. Back with a new show, this

opera/rock mash-up sensation

blends iconic opera classics with

Rock & Roll hits from artists like

t

Queen, Journey, and Elton John,

along with the songs from Jersey's

finest—Frankie Valli and The Four

Seasons and Bon Jovi. From Frank

Sinatra to Figaro, hear The Tenors'

original arrangements of songs celebrating

artists from the stage to

the screen, including "Walk Like

A Man," "Your Song," "That's Life,"

"Eye of the Tiger," "Bohemian Rhapsody,"

and many more.

• New York State of Mind: All the

Hits of Billy Joel With the Uptown

Boys. Begins August 9. With more

than 40 years of cumulative work

on some of Broadway's biggest hits,

The Uptown Boys use Billy Joel's rich

songbook as a way to share their stories

of life, love, and trying to make

it in New York City. Whether you're

a fan of Billy Joel's entire catalogue

or just a casual listener, The Uptown

Boys have something to satisfy

everyone. Featuring such hits as

"Only The Good Die Young," "For the

Longest Time," "Piano Man," and

many more you know and love.

Florida Studio Theatre | 1241 N.

Palm Avenue, Sarasota. (941) 366-

9000 | FloridaStudioTheatre.org

Farmer's Markets

The Sarasota Farmers Market

is open on Saturdays with normal

hours of 7 am-1 pm, rain or shine.

http://www.sarasotafarmersmarket.

org/ (941) 225-9256

t

Venice Farmers Market has more

than 40 vendors on Saturdays, many

based during the week in Venice,

Englewood and other areas of Sarasota

County. Held at Venice City Hall, 401

W. Venice Avenue, Venice. Call (941)

445-9209 or visit https://www.thevenicefarmersmarket.org/site/

t

The Newtown Farmer's Market is

open from 10 a.m. to 5 p.m. every Friday

and Saturday. The market is located

at Dr. Martin Luther King Jr. Park,

at the corner of Cocoanut Avenue and

Dr. Martin Luther King Jr. Way.

t

The Farmers Market at Lakewood

Ranch is now at Waterside Place. Their

Farmers Market currently has about

t

Florida Studio Theatre (FST)

has its Summer Cabaret Series.

Rock & Roll Reignited With

Not Fade Away, is a new, highenergy

revue reinvigorating

Rock & Roll classics with sizzle,

showmanship, and style.

60 vendors and went this

past summer from a seasonal

market to a yearround

event.When the

market transfers to Waterside

Place, taking up

space all along Lakefront

Boulevard and Kingfisher

Lake, more than 80 vendors

will line the street.

The Farmers Market will

stick to a 10 a.m. to 2 p.m.

time slot on Sundays.

At

Benderson

International Dragon

Boat Federation 13th

Club Crew World Championships

is on July

18-24. More about IDBF

at https://www.dragonboat.sport/

The Ronald A. Balducci

Playground is open

during regular park

hours (6 a.m.-8 p.m.), but

hour-long closures at 8

a.m., noon and 4 p.m. allow

crews to clean playground

equipment.

Only electric boat motors are authorized;

gas motors must be raised

to indicate they aren't in use. (This is

in accordance with Sarasota County

ordinances.)

Operating hours are 6 a.m.-8 p.m.

through Halloween, then 6 a.m.-6

p.m. through March 30, and variances

on closing time (such as for NBP's July

3 fireworks) are by permit. Follow the

park at NathanBendersonPark.org.

t

Art Around

the State

Orlando Museum of Art

has Jimm Roberts: Southernmost

Art and Literary Portraits

through July 17, 2022. This exhibition

presents a selection of portrait

photographs of 50 internationally

renowned artists and writers who

were living in Florida during the last

decades of the 20th century.

This extraordinary archive was created

by Orlando-based photographer

Jimm Roberts who embarked on a 20-

year mission to interview these exceptional

individuals and document

them in their studios and working

environments. The project provides

new insight into their artistic practices

and personalities, while also

recognizing an important chapter in

Florida's cultural history.

Current Exhibitions:

• Connoisseurship & Collecting:

Masterworks of European Painting

from the Muscarelle Museum of

Art at The College of William & Mary

• Cathedrals of Florida: Masterworks

by Clyde Butcher

• Heroes & Monsters: Jean-Michel

Basquiat, The Thaddeus Mumford,

Jr. Venice Collection

• Louis Dewis: An Artist's Life in

France

t

Florida CraftArt presents: What

is a Book? Beyond Words: Celebrating

Books as Art. The exhibit is

a juried exhibition showcasing fine

handcrafted work by 36 artists from

Florida, Georgia, and Tennessee. The

diversity of contemporary books as

art is highlighted by the 75 pieces on

exhibit at Florida CraftArt.

t

"Each book represents a personal

story, a reflection of cultural heritage

or international sensibilities," says

Bartosek. There are thought-provoking

pieces and conversation starters

around social justice and state of the

world issues. Some are pieces that

stretch the imagination or relate personal

joys and sorrow; others remind

us of the beauty and wonder of the

world around us and its peril. Others

take the book structure beyond everyday

expectations, challenging our

preconceptions of what a book is and

can be." Beyond Words: Celebrating

Books as Art, runs through July 30.

Showing in the exhibit are artists

Kathy Arrowood Oates, Kingsport,

Tenn., Robert Barancik, St.

Petersburg, Fla., Barbara Beyhl, St.

Petersburg, Fla., Kim Borowy, Tequesta,

Fla., Harry Bower, Dunedin,

Fla., Karen Brown, Tampa, Fla., Bonnie

Bruner, Lake Worth, Fla., Lisa Co,

Gainesville, Fla., June Colburn, Largo,

Fla., Mary Correa, Lakeland, Fla.,

Neverne Covington, St. Petersburg,

Fla., Liliana Crespi, Port St. Lucie,

Fla., Rima Day, Thompsons Station,

Tenn., Christine Di Staola, Clearwater,

Fla., Lauren Dykes, Tampa, Fla.,

Helen Ensign, East Point, Ga., Melissa

Fair and Emily Hashagen, Tampa,

Fla., Judy Flescher, Palm Beach Gardens,

Fla., Eric Folsom, Gulfport, Fla.,

Kristina Gintautiene, Holiday, Fla.,

Carla Golembe, Delray Beach, Fla.,

Mary Grieco, St. Petersburg, Fla.,

Kally Harvard, St. Petersburg, Fla.,

Andrea Huffman, Sunrise, Fla., Kianga

Jinaki, Riviera Beach, Fla., Jack

King, Tampa, Fla., Ryan Lutz, Cape

Coral, Fla., Elizabeth Neily, Gulfport,

Fla., Polly Perkins, St. Petersburg,

Fla., Rose Marie Prins, St. Petersburg,

Fla., Stephen Sidelinger, Venice, Fla.,

Rebecca Skelton, St. Petersburg, Fla.,

Shelly Steck-Reale, St. Petersburg,

Fla., Jacob Wan, Orlando, Fla., and

Kathy Wood, Port Charlotte, Fla.

Florida CraftArt is located at 501

Central Avenue in St. Petersburg. For

more information, visit www.Florida-

CraftArt.org or call (727) 821-7391.

Note:

Be sure to send season

schedules for 2022 to

westcoastwoman@comcast.net

t

West Coast Woman in

Sarasota is a monthly

publication on the west

coast of Florida. We have been

publishing since 1989. We are

ad-supported so that means our

publication is FREE and is located

at over 600 quality locations from

doctor's offices to fitness centers

to health food stores. In addition,

we are in newspaper boxes in

prime locations such as post

offices and busy streets.

Interested in Advertising?

CONTACT US:

email: westcoastwoman@

comcast.net

online:

WestCoastWoman.com

10 WEST COAST WOMAN JULY 2022
---
feature

TRY A THERAPY

THAT WORKS!

The Bay and Core SRQ -

a healthy partnership

Free fitness classes

are being offered at the park

T

o go along with our profile of

Michelle Mitchell of CoreSRQ,

here's information on their

fitness offerings at The Bay.

The Bay Park Conservancy (BPC), in

partnership with CoreSRQ, now offers park

visitors a series of free, outdoor health and

wellness classes taught by CoreSRQ's certified

trainers at The Bay Park.

Classes take place every weekday

morning at The Bay, Monday through

Thursday, and include a variety of offerings

for all ages and experience levels. All

programs are open and accessible, free

and welcoming to all.

The new partnership brings CoreSRQ's

fitness, health, and wellness programs to

The Bay's community of park goers, with

the overall objective of encouraging the

entire community to enjoy a healthier

and happier quality of life.

The 45-minute classes start at 8 a.m.

on The Bay's Civic Green (801 N. Tamiami

Trail Sarasota) and include:

• Bootcamp at The Bay: A workout

targeted at building muscle, reducing

body fat, and increasing cardiovascular

fitness using body weight exercises.

Classes are offered every Monday.

• Fit Kids at The Bay: An active and

fun workout for kids ages 6-13 incorporating

basic aerobic exercises and physical

activities to get their hearts pumping and

interests engaged while also having fun.

Classes are on every Tuesday.

• Tai Chi at The Bay: A low impact

class safe for all ages and fitness levels using

an ancient form of Chinese exercise

consisting of slow, beautiful, and relaxed

movements. Find your zen and get moving

with this low impact class putting

minimal stress on muscles and joints,

making it safe for all ages and fitness

levels. Offered Wednesdays.

• Moving Moms at The Bay:

A prenatal, pregnancy, or postpartum

workout that teaches how to prevent

pregnancy injuries and rehabilitate the

body back to balance. Moving Moms is a

45-minute, outdoor prenatal / pregnancy

/postpartum workout for any fitness level.

Workout with a professional prenatal

fitness training and a mama and get nutritional

advice to help keep mama and

baby healthy. Offered Tuesdays.

Register at www.thebaysarasota.org/

calendar/

• What is The Bay:

The Bay Park project is an initiative led by

The Bay Park Conservancy. The approved

Bay Park master plan will conserve 53

acres of city-owned land and create an

iconic public park along Sarasota Bay.

The park will cost about $100-150 million

and will take between 10-15 years, over

5 or more phases, to complete. Phase 1 will

include a restored coastal wetlands and

Mangrove Bayou Walkway, open lawns,

and a sunset boardwalk over the bay,

among other environmental and conservation

efforts to make a space that is open,

accessible, free, and welcoming to all.

The Bay Park Conservancy (BPC) now

has a community partnership with Ride

& Paddle to provide park visitors with

weekly kayak and paddle board rentals at

The Bay Park.

The program brings Ride & Paddle's

ACA-accredited kayak instructors and

naturalists to The Bay, providing the

community with a new way to explore

the flora and fauna of Sarasota's coastal

ecosystems. Offered every Thursday from

10 a.m. to 3 p.m.

Ride & Paddle will be located on-site,

equipped with a number of kayak and

paddleboard rentals. In addition, Ride &

Paddle offers free guided tours through

The Bay Park every Thursday from 8 a.m.

to 10 a.m.

Rentals and tours launch from The Bay

Park's newly added ADA-accessible kayak

and paddle launch, located at the southeast

edge of the bayou. The two-hour,

intermediate-level tour circles through

The Bay's restored mangroves and to the

north and south of the park, allowing

paddlers to explore Sarasota Bay and

learn more about The Bay Park from Ride

& Paddle's experienced guides.

Tours and rentals are recommended

for children 12 years and older. Due to a

high volume of interest, pre-registration

is encouraged for rentals and tours.

• Parking: If you're coming to visit The

Bay, use the main park entrance at the

10th Street roundabout. There is plenty

of parking available in the Van Wezel and

Arts and Culture District parking lots

RSVP online: https://

www.thebaysarasota.org/calendar

Immediate Relief Beginning

with the First Session:

Chronic Pain: Sciatic, Back, Neck and TMJ

Migraines, Foggy Brain and

Lack of Concentration

Sight and Eye Problems

Asthma, Bronchitis, COPD, Shallow Breathing

Digestive and Constipation Issues

Leaky gut and Autoimmune problems

Chronic Fatigue, Fibromyalgia and Depression

Concussions, Brain and Spinal Cord Health

Mobility and Energy Issues for Seniors

T. Grywinski specializes in difficult issues with great success

How Craniosacral Therapy Can Be Life Changing

"Doctors, physical therapists, massage therapists and chiros

gave me little relief. Terry relieved my pain, after all these years!

He has also helped four of my other friends. The man is an angel,

with a gift from God....thank you Terry!!"

"After 3 sessions, I had more range of motion and mobility in my

neck, shoulders and hips. I was getting to the point where walking

and moving was difficult. It feels like a weight has been lifted off my

shoulders, my voice is stronger and my energy is greatly increased.

I feel much calmer and more grounded!!"

"I no longer feel physically sick each morning. No gastroenterologist

or physician has ever properly diagnosed my mucus build up until

now. As well as bringing about healing in my gut, he released an

incredible amount of tension in my upper body."

"The question is where has he been all my life? Terry is a true healer

and if you are serious about being well, you are in luck.

He is effective and lovely."

advanced craniosacral therapy

Terrence B. Grywinski

B.A., B.Ed., LMT MA6049

25 Years of Experience

advcst.com

See full page explanation of Craniosacral Therapy and

how it can help you in another section of this issue

Downtown Sarasota • 941-321-8757

Google "Advanced Craniosacral Therapy Sarasota" for more info

JULY 2022 WEST COAST WOMAN 11
---
arts news

Editor's Note:

Here's a new column WCW will

publish periodically about local and

regional arts news. We received

so many news items over the past

few months that we decided to

include them here — in case you

might have missed them!

2

Bishop Parker

Foundation makes

$

1 million gift to

ArtCenter Manatee

ArtCenter Manatee has made a one million

dollar gift to the Center's building fund

by the Bishop Parker Foundation. The

Bishop Parker Foundation is committed to

Adell Erozer, Executive Director of the Bishop

Parker Foundation and Carla Nierman, Executive

Director of ArtCenter Manatee

supporting organizations and nonprofits in

Manatee County that are working to build

a better community.

ArtCenter Manatee, founded in 1937,

has received support from the Bishop

and Parker Foundations for its children's

education programs for over 10 years. this

lead gift that will advance the Center's

vision of building a new facility

Edward E. and Lillian H. Bishop and Mary

E. Parker dedicated their financial resources

and love for the arts, education, science

and animals for many years and their Foundation

continues to carry out their mission.

With this gift, and others, the ArtCenter

plans to break ground in late 2022 on a

new 28,000 SF facility which will be renamed

the Herrig Center for the Arts.

2

The Hermitage Artist

Retreat Announces

2022 Recipient of

the Hermitage Major

Theater Award

The Hermitage Major Theater Award

(HMTA) recognizes a playwright or theater

artist with a commission of $35,000 to

create an original work, in addition to providing

a residency at the Hermitage and an

inaugural workshop of the newly created

play, anticipated for the fall of 2023 in

Chicago, New York, or London.

12 WEST COAST WOMAN JULY 2022

"This award will alter the course of my

life; it is a true game changer."

—Shariffa Ali,

2022 Hermitage Major Theater Award Winner

2022 Hermitage Major

Theater Award (HMTA)

Recipient Shariffa Ali

(Photo Credit: Miguel Herrera)

Andy Sandberg,

Artistic

Director and

CEO of the

Hermitage

Artist Retreat,

announced

that accomplished

theater

artist and director

Shariffa

Ali has been

selected as the

2022 recipient

of the Hermitage

Major

Theater Award (HMTA).

This national jury-selected prize, newly

established by the Hermitage last

year with support from the Kutya

Major Foundation, offers one of the

largest non-profit theater commissions

in the country. Ali will receive

a cash prize of $35,000, as well as

a residency at the Hermitage and a

developmental workshop in a major

arts capital such as New York, Chicago,

or London in the fall of 2023.

Ali's past theatrical productions

as a director include Eclipsed, Detroit

'67, Intimate Apparel, We Are

Proud to Present, and the original

musical We Were Everywhere. She

has worked as an arts administrator

at The Public Theater and The New

Group, and she has taught at New

York University, Brooklyn College,

Yale University, and Princeton

University. She is the second recipient

of the HMTA, which was first

awarded in 2021 to playwright and

filmmaker Radha Blank.

2

Tampa Museum

of Art Announces

$

25 Million Gift to

Capital Campaign

The Tampa Museum of Art received a

donation from Dick Corbett towards their

Centennial Renovation and Expansion.

The historic $25 million lead gift towards

the $100 million Centennial Campaign will

Cornelia and Dick Corbett at the Tampa Museum of

Art during Pavilion XXXIII in 2018

Tampa Museum of Art expansion Centennial Renovation and Expansion rendering

allow the Museum to expand exhibition,

event, restaurant and retail spaces, as well

as complete their brand new Education

Center that serves 24,000 Hillsborough

County school students annually.

This gift from Dick Corbett makes history

in Florida's art community because it constitutes

the single largest private donation

ever made to a public art museum and art

education center in Florida. Although there

have been other large donations made to

museums in Florida, those have been in

the form of part cash-part collections of

art. This donation is a stand-alone cash

contribution to their capital campaign

The donation will allow the Museum

to grow their overall area from 69,000 to

120,000 square feet and expand exhibition

and collections space from 14,800 square

feet to 43,000 square feet. It will also more

than triple available event space, add

public restaurant and retail store space in

addition to the 10,000-square-foot Education

Center

Museum renovations are

already underway and their

expansion project is scheduled

to break ground in the next eight

to 10 months, according to

Dianne Jacob, President of the

Tampa Museum of Art Board of

Trustees.

Corbett has developed,

financed, and constructed more

than $1 billion in real estate

ventures as chief executive

officer and president of Concorde

Companies, a Tampa-based real

estate investment firm. His most

achievement was conceiving, developing,

and attracting funding

for Tampa International

Plaza and Bay Street

shopping center adjacent to the

Tampa International Airport.

2

Art Center

Sarasota

Announces

"Faces and Places"

Winners

Christina Baril, exhibitions coordinator

for Art Center Sarasota,

announced the winners for its

regional, juried exhibit, "Faces

and Places." Baril says the center

received submissions from 173 artists

from the Southeast region. Baril

says the work had to inspired by or

reflect their surrounding community,

including faces, places, landscapes,

and societal experiences. The juror for

the exhibition was Amanda Cooper, chief

curator at the Morean Arts Center in St.

Petersburg.

"We were deeply impressed with the artistic

quality of the submissions," says Baril,

adding that the center's annual regional

exhibit, "…gives area residents and visitors

a chance to see outstanding works by

area-based artists—as well as art by artists

from outside our tri-county region. By staging

this exhibition in the summer months,

we're able to create cultural opportunities

for tourists and year-round residents during

a time when there are less arts and cultural

events happening in our area."

"Faces and Places" Winners:

• 1st Place: Karla Pirona for "Southgate"

(2022)

• 2nd Place: Li Volk for "Shane" (2021)

• 3rd Place: David Fithian for "Quiet Pool"

(2021).

3rd Place: David Fithian for "Quiet Pool" (2021). Oil on

canvas; 36 x 42 in.

• Merit Award: Tony Reinemann for

"Danger on a Sutton Place Terrace" (2022)

• Merit Award: Gianna Santucci for

"Bottoms Up!" (2021)

• Honorable Mention: Brian Jones for

"Pink" (2021)

• Honorable Mention: Nika Zusin for

"Home" (2020)

• Honorable Mention: Tony Souza for

"Federal Style Living Room c. 1800" (2021)

• Honorable Mention: Alaina Pompa for

"Sunday Float at Siesta" (2022)

Art Center Sarasota is part of #SafeArts

Sarasota. They're located at Art Center

Sarasota, 707 N. Tamiami Trail, Sarasota.

For information, visit www.artsarasota.org

or call 941-365-2032. The exhibit runs

through August 6.

Gallery Hours: Monday-Friday: 10 a.m.-5

p.m.; Saturday: Noon-5 p.m.

2
---
arts news continued

The Legend of Bijan

and Manijeh" will

Premiere with Key

Chorale in 2024

Key Chorale will present the US premiere

of "The Legend of Bijan and Manijeh" by

Iranian composer Farhad Poupel for piano,

choir, and orchestra with pianist Jeffrey

Biegel in February, 2024. This evocative

work is based

on an ancient

Persian love

story taken

from the

Shahnameh

(The Book of

Kings), an epic

poem by Persian

poet Ferdowsi

written

between 977

and 1010 CE.

The friendship

between

Composer Farhad Poupel

artistic director

Joseph Caulkins

and pianist Jeffrey Biegel led to this opportunity

for Key Chorale. They have done

numerous projects together, including one

memorable performance of Beethoven's

"Choral Fantasy" in 2018 with the Chorale.

"In addition to the traditional repertoire

for piano, I have enjoyed exploring the

many possibilities to continue adding to the

repertoire by way of commissioning composers

to write new music for piano and

orchestra, as well as adding chorus," says

pianist Jeffrey Biegel. "This project with Farhad

Poupel is the first time I have created a

project with a composer outside of the US.

His music speaks a language of harmonies

and melodies reflecting his heritage, which

is precisely what I had proposed."

"Key Chorale is thrilled to present the US

premiere of this evocative and magisterial

setting of this ancient Persian love story,"

says Maestro Caulkins. "Poupel's music is

full of deep, rich orchestral colors with an

incredible sensitivity to how the voices and

piano interact with the orchestra. What a rare

opportunity to present a Persian story written

by an Iranian composer here in Sarasota."

• For more information about Poupel,

visit http://www.farhadpoupel.com

• For more information about Biegel,

visit: http://www.jeffreybiegel.com

• For more information about Key Chorale

and Maestro Caulkins, visit https://

keychorale.org.

2

Hermitage 2022 STARs

Announced;

Showcase on July 15

Five distinguished Florida public school arts

teachers have been selected as the winners

of the 2022 State Teachers Artist Residency

program (STARs) – now in its twelfth

year – presented by the Hermitage Artist

Retreat in partnership with the Florida Alliance

for Arts Education (FAAE).

This year's recipients were selected

from dozens of applicants, and the five

teachers selected from across the State

of Florida include three visual arts educators,

a band leader and music theory

teacher, and a dance instructor.

The five will receive a residency at the

Aerial View of an Outdoor Program on the Hermitage Beach (Provided by the Hermitage

Artist Retreat)

Hermitage Artist Retreat, where they can focus

on their own work and craft as creative

artists. These five teaching artists will present

a hands-on, family-friendly showcase of

their work on Friday, July 15 at 2pm. This

special event will be held outdoors at the

Hermitage's beachfront campus on Manasota

Key; entrance at 6660 Manasota Key

Road, Englewood. The program is presented

in partnership with Boys & Girls Clubs of

Sarasota and DeSoto Counties.

The program is free and open to the

public with a $5/person registration fee.

Due to capacity limitations and safety

protocols, registration is required at HermitageArtistRetreat.org.

2

Suncoast Black

Arts Collaborative

Receives Grant

(Left to right): Dr. Caryl J. Sheffield, president, Masala

Giving Circle; Michele D. Redwine, executive director,

Suncoast Black Arts Collaborative; Dr. Francine Brown,

board secretary, Suncoast Black Arts Collaborative.

Michéle Des Verney Redwine, the founder

of the Suncoast Black Arts Collaborative

(SBAC), announced that the nonprofit

was recently awarded a $10,000 grant

from the Masala Giving Circle for its "Art

in Black" initiative.

According to Redwine, the program was

created to help students of color at Booker

Middle and High schools explore their creative

talents. The program features artist

visits to the schools and exhibitions of the

students' works.

According to Redwine, "'Art in Black' was

created to spread this level of interest, advocacy,

and education to the next generation

in our public school systems. Due to the

Masala Giving Circle's belief in our work, we

will continue to build a stronger community

of students of color to engage in the arts

and demonstrate their creative talents."

Masala Giving Circle's mission is to

promote economic and personal empowerment

through financial support for programs

and initiatives that benefit African

American/Black communities in Sarasota

and Manatee counties. For more information,

visit www.masalagivingcircle.org.

For more information about the Suncoast

Black Arts Collaborative, visit www.

suncoastblackartscollaborative.org.

2

Hermitage to Expand

Core Team

Hermitage Artistic Director and CEO Andy

Sandberg announced that the Hermitage

is adding new staff positions and growing

its core team once again, with support from

Charles & Margery Barancik Foundation.

The Hermitage is the only major arts organization

in the Gulf Coast region exclusively

committed to supporting the development

and creation of new work across all artistic

disciplines. Since the start of the pandemic,

the Hermitage has offered more than 100

live outdoor artist programs, free and accessible

to the members of our community.

Over the past two seasons, the Hermitage

has expanded its community programming

while adding new positions to keep

pace with the

growth of the institution.

A recent

$300,000 capacity-building

grant

from Barancik

Foundation is

designed to help

support these

efforts, including

the Hermitage's

Artistic Director and

Chief Executive Offi-

growing community

outreach and

education initia-

cer Andy Sandberg

tives, enhancing this prestigious national

organization's support for its artists, and

broadening the organization's reach and

impact in schools and underserved

communities.

Artistic Director and CEO Andy

Sandberg took the helm at the

Hermitage in January of 2020.

Over the past two seasons, he

has been joined by Development

Director Amy Wallace, Operations

Director Elizabeth Power, Programs

Manager James Monaghan,

Executive Assistant/Residency

Coordinator Sydney Ladendecker,

and Grants Coordinator Whitney

Stone. The organization aims to

have 11 full-time employees by

the end of the year.

For information or to register for

upcoming community programs,

visit HermitageArtistRetreat.org.

2

Perlman Music

Program Suncoast

Receives $10,000

Grant

The Perlman Music Program Suncoast

(Perlman Suncoast) was awarded a

grant in the amount of $10,000 by The

Exchange at a ceremony held in June.

These funds will help support outreach

programs presented by Perlman Suncoast

throughout the 2022-2023 Season: PMP

Alumni: In Schools, PMP Alumni: Around

Town, Super Strings and the annual Celebration

Concert.

Each year, Perlman Suncoast presents

education outreach programs in Sarasota

and Manatee counties featuring graduates

of The Perlman Music Program (PMP). PMP

Alumni: In Schools brings alumni into

elementary, middle and high schools, as

well as special education schools and

after-school programs, to educate and

interact with students and teachers.

PMP Alumni: Around Town offers lowcost

performances and events in collaboration

with local community venues and

organizations. Super Strings provides

young string musicians, ages 8-18, from

across the state of Florida the opportunity

to perform with the PMP String Orchestra

during the PMP Winter Residency, under

the baton of Itzhak Perlman. The annual

Celebration Concert is the culmination

of the PMP Winter Residency, and

features, in concert, the PMP Chorus led

by Chorus Master Patrick Romano, and

the PMP String Orchestra conducted by

Itzhak Perlman.

For more information, visit Perlman

Suncoast.org.

2

St. Armands Circle

Summer Concert

Series

The St. Armands Circle Business Improvement

District (BID) has a Summer

Concert Series. On select Saturdays

throughout the summer from July to September,

residents and visitors are invited

to enjoy this free monthly series featuring

various jazz performers.

Families, friends, and guests are encouraged

to bring lawn chairs and blankets

for a family-friendly, jazzy trio of shows

featuring:

• Jazz on the Circle – Saturday, July 9,

11 a.m. to 2 p.m.

• JAC of All Trades - Saturday, Aug. 13,

11 a.m. to 2 p.m.

• Big Band Concert – Saturday, Sept. 17,

11 a.m. to 2 p.m.

The July 9th event kicks off the series

with Hot Tonic, a jazz ensemble that

specializes in original jazz arrangements of

popular songs.

August 13th features Jac of All Trades,

the high-energy former American Idol finalist,

Jonathan Cortez.

Closing out the series on Saturday, September

13th is the Sarasota Jazz Project,

a 17-piece jazz band featuring a conductor

and full horn section that evokes the swing

of the 1930's Jazz Era.

For information, visit https://starmandscircleassoc.com/events-happenings/.

JULY 2022 WEST COAST WOMAN 13
---
The suncoast's ONLY

BBQ restaurant with

CATERING in our DNA.

Lori Sax Photography

F

Olks stIll ask, "Do you cater?"

that's how I launched Nancy's

Bar-B-Q in 2004. today, we are

the number one independent BBQ

caterer across the suncoast.

Our menu showcases fresh smoked meats and fillet of salmon,

plus many vegetarian, gluten friendly and vegan choices to

accommodate all your guests.

From an intimate dinner for twelve to a church picnic for 700:

Our 18 years of experience assures your peace of mind and

a delicious and memorable occasion. In short, we are the

catering choice requiring no explanation.

YOU WIll RECEIVE MY PERsONal attENtION from initial

contact through pick up or delivery. It will be my pleasure

to talk with you! Call me at 941-955-3400, or email me at

NancysBarBQ@verizon.net.

nancy's

BAR-B-QTM

#1 Local Genuine BBQ since 2004

SM

Lakewood Ranch at Lorraine Corners

14475 SR 70 E at Lorraine Rd 34202

4 miles east of I-75 exit 217

941-999-2390

FULL BAR HAPPY HOUR 11AM-7PM MON-FRI

LIVE MUSIC FRI-SAT 6:30-9:30PM + 1st & 3rd SUNDAYS 3PM-7PM

OPEN 11AM 7 DAYS

CLOSE 9PM MON-THURS 10PM FRI-SAT 8PM SUN

LUNCH • DINNER • TAkE OUT • CURBSIDE PICk UP • CATERING

Go to NancysBarBQ.com for CATERING & DINING MENUS

Voted

BEST BBQ

10th

Consecutive

Year

14 WEST COAST WOMAN JULY 2022
---
happening this summer

SUMMER 2022 EVENTS AT

SELBY GARDENS

They have a selection of programs and

events at their two campuses

EXHIBITIONS

Flora Imaginaria: The

Flower in Contemporary

Photography is at the downtown

Sarasota campus and is on

view July 16 to September 25.

Co-developed in partnership with the

Foundation for the Exhibition of Photography,

this indoor/outdoor show will premiere

at Selby Gardens' Downtown Sarasota campus

this summer. Flora Imaginaria celebrates

the beauty and diversity of flowers, which

have long been appreciated aesthetically for

their colors and forms as well as for their

decorative potential and symbolic power.

The show features more than 70 diverse

works produced by nearly 50 different contemporary

artists from around the world over

the past three decades. Photographs will be

displayed inside the Museum of Botany & the

Arts as well as outside in the Gardens.

Seeing the Invisible: An Augmented

Reality Contemporary Art Exhibition is

at the Historic Spanish Point campus and is

on view through August 2023.

The most ambitious and expansive exhibition

to date of contemporary artworks created

with augmented reality (AR) technology

premiered at Selby Gardens' Historic Spanish

Point campus in September 2021 as one of 12

participating gardens across six countries.

Using a custom app downloaded to a

smartphone or tablet, visitors can interact

with more than a dozen AR works in carefully

curated locations throughout the 30-acre

preserve. The show features works by such

international luminaries as Ai Weiwei, El

Anatsui, and Refik Anadol.

SPECIAL EVENT

Fourth of July All-American Cookout

at the Downtown Sarasota campus is on

Monday, July 4, 5:30 to 9:30 p.m.

Enjoy all-American fare from the Michael's

on East Grill (available for purchase),

family-friendly games and activities, and a

spectacular view of the fireworks show over

Sarasota Bay.

Special all-inclusive tickets provide on-site

valet parking, buffet dinner and open bar, access

to the air-conditioned Event Center, and

prime fireworks viewing location. On-site

parking is limited due to construction, but

several satellite lots are available within a

short walk for general admission guests.

General admission (parking in off-site

lots only): Selby Gardens members $25 /

non-members $35 / children 12 and younger

$10 / children 3 and under free. All-inclusive

(limited capacity; includes on-site parking):

$200 / children 12 and younger $50 / children

3 and under free.

CLASSES

AND WORKSHOPS

Yoga in the Gardens is being offered

at the Downtown Sarasota campus on

Wednesdays, 10 to 11 a.m.

This class focuses on alignment, breathing

techniques, and relaxation. Open to all ages/

skill levels. Recommended supplies: water

bottle, sunscreen, sunglasses, comfortable

clothes, towel, or yoga mat. Fee per drop-in

class: $20.

Beach Walks & Bird Talks are held on

the last Saturday of the month, 7 to 9 a.m.

Join a local parks and rec expert naturalist on

a guided walking tour of Lido Beach. Learn

about the local flora, fauna, geology, and geography,

as well as seasonal migrations, blooms,

and natural history. Binoculars, comfortable

water shoes, hats, sunglasses, and sunscreen

are recommended. Cost: $45

TOURS

Savage Science: Carnivorous Plant

Tour is a new program at the Downtown

Sarasota campus. Dates/times flexible, but

reservations required. Must book tour two

weeks in advance.

Take a 'terrifying' tour of the Savage Garden

at Selby Gardens' Downtown Sarasota

campus. In this new program, guests can

learn about different species of carnivorous

plants and the shocking science behind

their abominable appetites, then take part in

their very own feeding frenzy through a live,

hands-on demonstration.

At the end of each tour, guests take home

their own carnivorous plant. Designed for

families and audiences of all ages. Cost:

$45. Reservations: 941-366-5731 ext. 243.

Set Sail With Selby Gardens Saturdays,

9:45 a.m. to 5 p.m. (advanced

reservations required). This full-day,

campus-to-campus boat-tour experience

includes a narrated, roundtrip cruise on

the Intracoastal Waterway between Selby

Gardens' Downtown Sarasota and Historic

Spanish Point campuses, access to both

campuses for self-touring, and lunch. Selby

Gardens members $115 / non-members $125

Details and online reservations can be

found at selby.org.

FREE LIVING WILL

WITH EVERY ESTATE PLAN

Simple Will ................................... $ 110

Revocable Living Trust:

Single ....................... $ 595

Married ................. $ 1,050

Power of Attorney ........................ $ 95

Health Care Surrogate .................. $ 85

No additional costs required other than filing fees if applicable.

www.gerlinglawgroup.com

Dana Laganella

Gerling, Esq.

Offices: Bradenton/

Lakewood Ranch

756-6600

The hiring of a lawyer is an important decision that should not be based solely upon advertisements. Before you decide,

ask us to send you free written information about our qualifications and experience.

Get West Coast Woman delivered FREE!

Subscribe

to our monthly

e-magazine

Read, click,

turn pages

— all at the

convenience

of your

laptop, smart

phone or

tablet.

Send your email addy to: westcoastwoman@comcast.net

DOES MORE

SARASOTA BRANCH

1075 S. Euclid Ave.

Sarasota, FL 34237

941-955-8194

PALMER RANCH BRANCH

8301 Potter Park Dr.

Sarasota, FL 34237

941-922-9622

JULY 2022 WEST COAST WOMAN 15
---
Michelle

Mitchell

S he's

CoreSRQ's

inaugural Chief

Executive Officer

who came on

board in April after

a long career with

newspapers including

the Sarasota Herald-

Tribune and the Tampa

Bay Times.

It's her first foray into

the nonprofit sector,

but having grown

up in Sarasota, her

business, marketing

and people skills

will go far to

keep CoreSRQ

on solid

footing.

16 WEST COAST WOMAN JULY 2022
---
CoreSRQ and its various,

previous iterations

has been in Sarasota

for more than 70

years, first as the

Sarasota YMCA

then as Save our Y, Our Y, and now as the

phoenixed CoreSRQ.

Most fitness centers, gyms, etc., are typically

all business — you get in, puff away at

your preferred equipment or classes, mop

your brow and head to your car.

CoreSRQ, formerly known as the

Sarasota YMCA, has always been much

more than that. Regulars greet each other,

many stay for coffee and conversation,

some play cards together. Generations have

seen their kids and later grandkids take

swimming lessons, gymnastics or basketball

classes.

So when the then-Y was in danger of

shutting down due to costs and waning

memberships, members were upset not just

that they were going to possibly lose their

favorite workout place, but also lose a part

of their social life — even their history.

This past spring, CoreSRQ hired its first

ever CEO who knows a lot about Sarasota

and especially how to promote, market and

create business plans. Michelle has had

a long career in newspapers back when

they were called just that and not media

groups. She grew up in Sarasota, lives here

and went to the University of South Florida,

earning a Business degree

Only a few months into the job, Michelle

says it's still about listening to staff and

members as we walk the spacious CoreSRQ

campus on Bahia Vista at Euclid Avenue

(CoreSRQ also owns and operates the

Palmer Ranch location in south Sarasota

County).

It's a busy Monday morning (the busiest

time there, she explains) with classes going

on in their largest classroom, the equipment

and weights area are filling up, the

pool is full of kids, racquetball courts are

mostly full and there's a steady stream of

people coming in and out of the entrance.

It's a far cry from a few years ago when

members like myself were told the facility

would be closing. Michelle heard about the

CEO position from a friend who spotted it

on the Poynter Institute website and forwarded

it to her.

In addition to listening, Michelle has

been reaching out to other nonprofits to

seek possible synergies while also promoting

CoreSRQ since many may not know

about the name change. Michelle's skillset

is solid in marketing having led advertising

sales in the media industry for over 30

years, starting her career with the Herald

Tribune Media Group (Sarasota Herald-Tribune)

in 1991.

She recalls the early '90s and how hard

it was to find a job during the recession

that was taking place then. Her family on

her dad's side had been in the newspaper

business and her grandmother even owned

a weekly here. Work was hard to find, but

her dad, a veteran newspaper man, told her,

"newspapers are always hiring."

So Michelle went to the Herald-Tribune's

offices (where the Publix south of

Sarasota Ford now stands) and found a job

in the classified dept. She successfully rose

through the advertising ranks at the HT

then went to work for the The Tampa Bay

Times (then the St. Petersburg Times) in a

senior leadership role for over 10 years and

then returned to the Sarasota Herald-Tribune

five years ago to become a Regional

VP of Advertising & Sales.

Michelle calls this position her "second

act" and says that even if she hadn't gotten

the job, she'd have helped CoreSRQ in some

capacity. After all, her children played basketball

and gymnastics at the former Y. Michelle

was a member and played racquetball

there, swam there— she even trained

for a marathon there.

Michelle has two children, a daughter

who graduated from Sarasota High School

and Florida State University; and a son, a

graduate of Pine View who is now attending

University of South Florida in Tampa.

Rehashing things briefly, The Sarasota

Family YMCA closed its two fitness centers,

Evalyn Sadlier Jones Branch at Potter Park

Drive and the Frank G. Berlin Sr. Branch on

South Euclid Avenue on Sept. 13, 2019 due

to financial issues. Before that reality had a

chance to sink in, a grassroots effort called

"Save our Y" was underway. Michelle notes

that 400 people showed up on a rainy night

to gather and formulate a plan for keeping

the Y open.

Two large donations came in from individuals

who contributed a half million

each and over a million more came in from

individuals in varying amounts to total $2.2

million. CoreSRQ owns their land and their

buildings. The name was chosen in part

because "cor" means heart in Latin as one

supporter noted, and CoreSRQ is adorned

with heart artwork throughout the building

including Michelle's office.

Since Michelle's arrival, CoreSRQ raised

over $10,000 during the 2022 Giving Challenge,

pushing them to over $100,000 in donations

this year. (You can support CoreS-

RQ via The Louis & Gloria Flanzer Philanthropic

Trust which is continuing their 1:1

matching challenge in 2022 to benefit local

nonprofits. All donations between $5 and

$500 will be 100% matched).

CoreSRQ has partnered with The Bay

Park Conservancy (BPC) to provide park

visitors with a series of free, outdoor health

and wellness classes taught by CoreSRQ's

certified trainers. Classes are offered every

weekday morning at The Bay (near the Van

Wezel) for all ages and experience levels.

(There's an article also in this issue that lists

the fitness classes that are being offered.)

Michelle did the Boot Camp and is planning

on taking the Tai Chi.

Michelle says her meet and greets "have

allowed me to hear so many wonderful

stories, positive feedback and identify

opportunities for us to continue to be the

Best Health Club in Sarasota and continue

to give back to our community." Giving

back is done through scholarships and

subsidized memberships for those "who

want to engage with our community, but

are means-constrained." Michelle is taking

CoreSRQ back to its roots as a community

place, but adding a business model the will

make the nonprofit stay on solid footing

And another thing that differentiates

CoreSRQ from other fitness centers is that

they offer educational seminars on topics

like stress reduction as well as babysitting

and lifeguard training, CPR certification,

child watch — even a safety class for realtors.

Pickleball is extremely popular as are

Tai Chi, Yoga, Zumba Dancetrance to name

a few. No wonder their hashtag is "more

than a gym."

Given the unique provenance of CoreSRQ

and its long history, Michelle calls CoreS-

RQ "a startup with a long legacy."Michelle

encourages the community to come in for a

visit and a tour and adds, "The future looks

bright."

STORY:

IMAGES:

Louise Bruderle

Evelyn England

JULY 2022 WEST COAST WOMAN 17
---
travel news

Epcot International

Food and Wine Festival

Epcot, one of Disney's four

theme parks within Walt

Disney World is home to the

annual Epcot International Food

and Wine Festival. Hosted by

Corkcircle, this festival draws one

of the biggest foodie crowds in the

world. It will take place July 14

through Nov. 19.

The Festival introduces food

and adult beverages from six continents.

You need an Epcot park

ticket to enter the festival where

you can take a tour around Epcot's

world showcase, visiting "countries" and

booths to try new things such as Mongolian

Beef Bau Bun from the China pavilion

or Red Sangria with Cabernet Sauvignon

from Italy.

Prepare your taste buds to go on an

epicurean journey and discover new

concepts and menu items at more than 25

Global Marketplaces located throughout

EPCOT. Returning favorites will include

The Swanky Saucy Swine, Appleseed Orchard,

Hops & Barley, Earth Eats hosted by

Impossible and Shimmering Sips hosted by

CORKCICLE.

Some Global Marketplaces will open a

few weeks later, as well, to keep the 129-day

event spicy. The Eat to the Beat Concert Series

returns this year with internationally

recognized artists as well as local

bands offering fun tunes on the

America Gardens Theatre stage.

In addition to the festival, discover

incredible new EPCOT experiences

during the Walt Disney

World Resort 50th Anniversary

celebration, including Remy's

Ratatouille Adventure, "Harmonious"

and the Spaceship Earth

Beacon of Magic.

For information, visit

TasteEPCOT.com.

Dirty French Steakhouse

opens in Miami

The original Dirty French, which

holds a Wine Spectator Best of Award

of Excellence, opened in 2014 in the

Ludlow Hotel on New York's Lower East

Side. There, chefs Mario Carbone and Rich

Torrisi brought haute-cuisine flair and

international flavors to classic bistro dishes

such as tuna tartare, cod Provençale and

côte de porc. Its opulent, steak-centered

spinoff, which still showcases some of the

original menu favorites, opened on April 28

in Miami's booming Brickell neighborhood.

The NYC wine list is 100 percent French,

but in Miami they're including American

wines because of the prominent steak

aspect of the restaurant and, to a lesser

extent, Spanish reds. Along with a raw bar,

shellfish tower and caviar service, starters

include grilled oysters bourguignon,

lobster ravioli and Dirty French's famous

mushroom mille-feuille with green curry

and peas. A selection of fish, duck, pork and

chicken and crêpes for two round out the

menu for diners who don't want steak.

For the restaurant's lavish design, Ken

Fulk created an energetic, 1980s-era atmosphere.

"We took inspiration from legendary

hot spots across the globe—El Morocco,

Indochine, Maxim's Paris—using elements

from these fabled nightclubs like animal

prints, jungle patterns, mashrabiya screens

and silk lanterns," Fulk said in a statement.

"The result is an utterly intoxicating atmosphere."—S.Z.

Floral artworks from Brooklyn-based

Marc Dennis give a local touch to the classic

elements of French bistro décor at Le Gratin.

Location: 1200 Brickell Ave., Miami.

Visit https://www.dirtyfrench.com/location/dirty-french-steakhouse

Philadelphia's

largest new restaurant

Liberty Point at Penn's Landing, Philadelphia's

largest restaurant, is now

open for business. Big as in it can seat

1,400 people. The restaurant wraps around

the entire backside of the Seaport Museum,

giving spectacular views of the Delaware

River and Ben Franklin Bridge.

The family-friendly spot has three levels

of food, drinks, and live entertainment.

The first level is dog friendly. The entire

restaurant is open air. The Ben Franklin

Bridge is to the north and the Walt Whitman

Bridge is in the distance to the south.

A recent survey by the Center City

District shows that tourism is recovering

Also in Philly:

Harry Potter: The Exhibition

in Philly. The survey showed foot traffic is

71% of what it was pre-pandemic, making

the opening of Liberty Point that much

more significant.

"This is the front end of the entire

Waterfront Redevelopment which is going

to overpass I-95 over time, so they're really

at the forefront of what's an amazing

destination to an extraordinary destination,"

Gregg Caren, with the Philadelphia

Convention & Visitors Bureau, said.

The decks of the restaurant are seasonal,

but there is an inside area for the colder

months. They also say they're going to have

coverings for rain.

Visit Philly has an overnight hotel

package that includes two tickets to

Harry Potter: The Exhibition at The

Franklin Institute. The perks-packed deal

includes two untimed tickets to Harry Potter

in addition to hotel parking. The offer is

available through September 11, 2022, while

supplies last.

Long known for its overnight hotel

parking, the Visit Philly Overnight Hotel

Package — booked more than 175,000 since

it launched in 2001 — includes perks valued

at up to $218 and is available at more than

a dozen hotels for one- or two-night stays.

Visitors can book the package at visitphilly.

com/overnight.

"Harry Potter: The Exhibition is the hottest

ticket in town this year, and the Visit

Philly Overnight Hotel Package is a great

way to see this raved-about show," said Jim

Werner, chief tourism officer, VISIT PHIL-

ADELPHIA.

Guests receive tickets upon hotel checkin.

They then present the tickets at The

Franklin Institute box office any time

during the exhibition's hours. Tickets include

general admission

to the museum.

• About the exhibit:

The most comprehensive

touring exhibition

about the Wizarding

World reveals the

artistry and craftsmanship

behind the

props, costumes and

environments from the

blockbuster films of the

Harry Potter series,

as well as Fantastic

Beasts. It is on view at

The Franklin Institute,

Philadelphia's iconic science museum.

The groundbreaking exhibition celebrates

the iconic moments, characters,

settings, and beasts as seen in the films and

stories of Harry Potter and the Wizarding

World using best-in-class immersive design

and technology. From the mysteries of Hogwarts

castle to the antics of its mischievous

yet brilliant students; from daring duels

to dragons and Dark Arts; from glittering

Gringotts to the magnificent Ministry of

Magic - the exhibition will bring magic to

life, connect visitors with the larger global

community of fans of the Wizarding World,

and reveal the artistry and craftsmanship

behind the blockbuster films.

Visitors will get an up-close look at authentic

props and original costumes from

the Harry Potter and Fantastic Beasts films

as they engage with innovative, awe-inspiring,

and magical environments and installations

in this: the most comprehensive

touring exhibition ever presented about the

Wizarding World. https://www.visitphilly.

com/features/visit-philly-overnight-hotel-package/

18 WEST COAST WOMAN JULY 2022
---
10%

OF MY COMMISSION

GOES TO

JoshProvides Epilepsy Assistance Foundation, Inc. offers HELP & HOPE to children,

families, individuals and caregivers who are living with Epilepsy or other seizure

disorder.

Veronica Brandon Miller

Your Florida HomeTeam with Preferred Shore

941.807.7321

www.yourfloridahometeam.com

THE CIRCUS ARTS CONSERVATORY & THE RINGLING

present

Trust our

Technology

elōs Plus

Vbeam

IPL

Schedule a skin analysis, we can:

Reduce redness Tighten wrinkles

Lighten pigment Brighten your look

Remove hair

Benefit from our Technician

Gwen DeBergalis

Call today for

your appointment!

Dermatology of Coastal Sarasota

5310 Clark Rd., Suite 201, Sarasota

941.925.3627

DOCSofSarasota.com

Incredible

Family Entertainment

The Ringling

5401 Bay Shore Rd

AT THE RINGLING

NOW – SAT AUG 13

TICKETS: ringling.org

941.360.7399

TUE – FRI 11 AM & 2 PM

SAT 2 PM & 5 PM

$

18

ADULT

$

12

CHILD

12 & UNDER

JULY 2022 WEST COAST WOMAN 19
---
good news department

Charles & Margery Barancik Foundation Board

Approves $ 6.3 Million In Grant Funding

N

eed some good news?

Here's some from the

Charles & Margery

Barancik Foundation and

the $6.3 million that they are granting

to area nonprofits. Homelessness,

food insecurity, supporting minorities,

foster children, the arts - to

name a few - are the recipients of this

far-reaching funding. This information

was supplied by the Charles &

Margery Barancik Foundation.

Recently approved grants from

Charles & Margery Barancik Foundation

will address areas such as hunger

and food insecurity, support affordable

housing opportunities, and promote

projects that enhance diversity,

equity, and civil rights in the region.

Addressing Food Insecurity

for Children

Investment: A $2,500,000 million

grant to All Faiths Food Bank to

expand food insecurity screening

programs in Sarasota and DeSoto

counties.

Why it matters: Health care

providers are an essential first line

of defense to combat child hunger.

All Faiths currently works with

10 health care providers to screen

children and families for food insecurity,

and these funds will help

them expand this work.

Removing Barriers to

Social Services

Investment: A $546,220 grant to

Mothers Helping Mothers to build

a suite of wrap-around services at

the organization's Sarasota drop-in

center. Funding for this initiative

will remove barriers to their

services, such as program costs,

limited transportation options, and

lack of childcare.

Why it matters: Time, or lack of

it, is a common and overwhelming

challenge for families living on the

economic edge. Many have tenuous

transportation that requires

them to spend long travel times

on bus routes or have unreliable

transportation, which causes them

to miss work, appointments, and

other opportunities. This funding

will help deliver more human services

at a single location, removing

the burden of having to visit

multiple locations for assistance.

Supporting Housing First Models

Investment: A $300,000 grant to

Second Heart Homes to purchase

additional homes to help address

homelessness.

Why it matters: The Housing

First approach to ending homelessness,

grounded in the underlying

principle that people are better

able to move forward with their

lives if they are first housed, has

helped many overcome homelessness

and has proven to deliver

effective mental health and addiction

recovery outcomes.

Keeping Teachers in the

Classroom

Investment: A $300,000 grant to

support Barancik Foundation's

Teacher Retention|Recruitment

initiative.

Context: Barancik Foundation

launched the Teacher R|R Initiative

in 2017 to examine issues affecting

All Faiths Food Bank to expand food insecurity screening programs.

teacher recruitment and retention.

These efforts have helped support

the development of a new local

teacher pipeline while also focusing

on existing teachers' wellness

and professional development.

Expanding Capacity to Enhance

Community Arts Impact

Investment: A $300,000 grant

to the Hermitage Artist Retreat

to help the organization grow its

capacity to deliver programming

focused on community impact,

education, and social justice.

Context: The Hermitage continues

to keep its programs free and accessible

to all members of our community,

reaffirming its commitment

to being one of the most inclusive

arts organizations in the nation.

Preventing Homelessness

with Flexible Funding

Investment: A $250,000 grant

to Suncoast Partnership to End

Homelessness to establish a flexible

housing fund.

What's happening: The grant will

allow the organization to bridge

the gap when lease renewals become

financially unattainable for

residents when all other available

funds and support in the community

have been exhausted.

Building Affordable Housing

Opportunities

Investment: A $250,000 grant to

Community Assisted & Supported

Living (CASL) to build and operate

affordable rental units.

Context: CASL is partnering with

Gracewater and Blue Sky Communities

to develop land in Sarasota

County that will provide about

370 affordable rental units (80 in

the first phase) and add access to

amenities such as a clinic and a

grocery store. Additional funding

will come via Low-Income Housing

Tax Credits (LIHTC) and the Florida

Housing Finance Corp.

Providing Programming

to Address Important

Community Issues

Investment: A $250,000 grant to

WEDU PBS to boost local programming

that focuses on diversity, equity,

community wellness, attainable

ALSO Youth

is relocating

their

Manatee

County

service

center.

housing, and civil rights.

What's happening: This funding

will act as seed money toward

producing local issue-focused

programs and help leverage other

philanthropic support. WEDU's

ability to expand and meet the

needs and interests of the growing

populations of Sarasota, Manatee,

and DeSoto counties.

Creating Health Equity

Investment: A $150,000 investment

into collaborative, community

efforts to combat diabetes and

obesity in underserved communities

and create a five-year health

equity plan in Sarasota County.

Why it matters: There are substantial

health disparities between

people of color and their white

counterparts because of structural

racism and a series of societal

failings. African American adults

are 60 percent more likely to be

diagnosed with diabetes than their

white counterparts. They also are

twice as likely to die from complications

related to the disease.

Supporting People with Vision

Loss and Their Families

Investment: A $132,141 grant to

Lighthouse Vision Loss Education

Center to support capacity expansion

to better serve blind and

visually impaired individuals.

Why it matters: Strong support

from family is crucial for an

individual experiencing vision loss.

When the family understands what

their loved one is going through,

it is much easier to be supportive.

The Lighthouse will be a resource

for families of loved ones struggling

with the diagnosis and be a place

for support and hope.

Supporting LGBTQ+ Students

Investment: A $130,000 grant to

ALSO Youth to assist the organization

in relocating their Manatee

County service center.

Context: The housing and office

space market is not only putting a

strain on residents and businesses

but also nonprofit organizations.

The grant will help them relocate

to a new space that allows for a

visible and continued presence in

Manatee County.

Southeastern Guide Dogs to support blind children &

teens program.

Supporting College Transfer

Students

Investment: A $103,341 grant

to New College Foundation to

improve equity by helping area

students aspire to and attain a

bachelor's degree.

What's happening: Funds will

be used to provide in-person

and online college essay writing

workshops, ease transfer students'

transition to the campus, and provide

targeted advising to first-time

college students.

Building Connections Between

Young Professionals of Color

and the Community

Investment: A $100,000 grant to

Emerge Sarasota to improve the

relationship between our community

at large and Black and

Indigenous young professionals.

What's happening: Emerge has

three programs through which

they help educate, support, uplift,

and shine a light on talented young

professionals of color in the region

— health and wellness, arts and culture,

and professional development.

These funds will help the emerging

organization expand its capacity.

Easing Economic Strains

Investment: A $100,000 grant to

purchase gas cards for clients of

human service agencies.

What's happening: We all know

rising inflation and gas prices are

putting a strain on those that help

those most in need in our community.

These funds will be used

to purchase gas cards that will be

distributed to clients of partner

agencies that provide assistance.

Addressing the Needs of Foster

Children

Investment: A $100,000 grant to

The Children's Guardian Fund to

provide unrestricted funding to

help respond to children's immediate

and ongoing needs when

they are removed from abusive or

neglectful homes.

Why it matters: Too many

children removed from chaotic

environments may have never had

a birthday cake, a book, or even

the calm, undivided attention of an

adult in their lives. This grant will

help fulfill the range of basic and

more profound needs of children

in foster care.

Expanding the Healthy

Ponds Initiative

Investment: A $100,000 grant

to Solutions to Avoid Red Tide

(START) to improve the quality

of our waterways by emphasizing

the reduction and flow of excess

nutrients out of our ponds.

Context: In 2021, Barancik Foundation

partnered with START to

launch a new collaborative aimed

at helping more neighborhoods upgrade

their ponds, more effectively

remove red-tide causing nutrients,

and cost-share the improvements.

These funds will help the organization

expand its efforts into Manatee

County in partnership with the

county government.

Investing in Local Arts Teachers

Investment: A $100,000 grant to

Sarasota County Schools to create

engaging Professional Learning

opportunities for K-12 art teachers.

What we learned: An increasing

number of prospective art teachers

come to our district with little

or no educational experience or

formal training. The grant will help

the Sarasota School District deliver

rich art and music-based professional

development for teachers.

Supporting Blind Children

and Teens

Investment: A $75,000 grant to

Southeastern Guide Dogs to support

its Children & Teens Program.

Context: In 2019, with Barancik

Foundation support, the organization

lowered its age limit and

expanded its children and teens

guide dog program, making it

available for teens ages 14-

17. SGD is the only guide school in

the country that offers guide dogs

to teenagers as young as 14. For a

child, losing sight can have lifelong

effects, putting them at risk for

failing in school, substance abuse,

and mental health disorders, such

as depression and anxiety.

Increasing Mentorship Opportunities

for At-risk Youth

Investment: A $60,000 grant

to Gulf Coast Sports Group to

support the "A Lions Reach" Youth

Mentoring Counselor/Ambassador

Program.

What's happening: The organization

is comprised of current

and former sports professionals

who provide mentoring opportunities

and student internships to

underserved students in Sarasota

and Manatee counties. Programs

include not only on-the-court experiences

but also related support

functions like video production,

sports management, and other

sports-related jobs.

An additional $500,000 was

awarded to support programs

and projects with partner

organizations.

About Charles & Margery

Barancik Foundation was established

in 2014 as a private, family

foundation located in Sarasota.

Barancik Foundation creates initiatives

and awards grants in

Sarasota and beyond in the areas

of education, humanitarian causes,

arts and culture, the environment,

and medical research. For more

information, visit www.barancikfoundation.org.

20 WEST COAST WOMAN JULY 2022
---
your healthier health you

Craniosacral Therapy Can Be Life Changing

CST treats the whole body physically, physiologically, mentally, emotionally and energetically

Clients come to me because they are in physical

pain such as neck, back, pain and TMJ as well as

for chronic headaches and migraines.

Pain and stress caused by

shortened Fascia

Fascia (strong connective tissue) encases all

our muscles, organs, brain and spinal cord.

Whenever fascia shortens any place in the

body, the entire network of fascia creates an

increased tension affecting the functioning

of our physical body as well as our organs,

our brain and spinal cord.

Our body is the history of every major

trauma we have experienced physically and

emotionally beginning with birth issues, falls,

head trauma, car accidents, childhood abuse

issues, death, divorce and other emotional

issues. Our body tries to minimize each trauma

by shortening fascia to isolate the energy

coming into the body from that trauma.

Shortened fascia results in pain, loss of mobility

and range of motion, organs becoming

less efficient and with parts of the brain and

spinal cord becoming stressed.

To keep the brain functioning, the body

transfers some of your functional work play

energy (7:00 AM-10:00 PM) to the brain resulting

in less energy to make it through each

day. As we age, the accumulation of all the

tightened fascia, from every major trauma

in life, begins to restrict every aspect of our

body's functions resulting in pain, loss of mobility,

mis-functioning organs, loss of energy,

as well as our brain losing some its sharpness.

How Craniosacral

Therapy Works

The Craniosacral Therapist creates a safe

place, with gentle holding techniques, that

engages your body's ability to self correct,

reorganize and heal itself with the release

of some of that tightened fascia during

each session. As the Craniosacral Therapist

engages your body, you will feel fascia releasing.

As the fascia releases, pain begins to

decrease, range of motion and mobility improve,

organs begin functioning better and

with less stress on the brain feels, it returns

the energy it borrowed at the time of each

trauma resulting in an immediate increase in

your energy levels. Rarely does anyone leave

from my first session not feeling better.

Short Leg Syndrome

Eighty-five percent of my clients have one

of their legs pulled up 1/2 to 1 by shortened

fascia. The tension from short leg syndrome

on the sacrum (5 fused vertebrae at bottom

of the spine) is transferred up the dural tube

that encases the spinal cord into the lower

and upper back, the neck, the cranium and

The physical stress in bodies caused by shortened

fascia (connective tissue) shuts down

energy flows to certain organs. Short leg syndrome

by ½ to 1 in (where one leg is pulled up

by shortened fascia) shuts down energy flow to

the spleen (an important part of your immune

system) and the small and large intestine. With

the release of that shortened fascia, energy returns

to these organs.

the brain. Headaches, migraines, TMJ and

neck problems can originate from the fascial

stress in the sacrum.

Releasing this sacral stress increases energy

in the bladder, sex organs, kidneys and

the chakras as well as releasing major stress

in the upper part of the body.

Cause of Shallow Breathing

A great majority of the clients who come to

me for various problems are also shallow

breathers. Fascial stress in the diaphragm

restricts the depth of breathing by restricting

energy flow to the lungs, the pericardium

and the heart. With the release of fascial diaphragm

restriction, the client immediately

starts breathing deeply and energy is restored

to the pericardium and the heart.

Shoulder blades that are cemented to the

body also restricts how much the rib cage can

open and thereby also restricting depth of

breath. Without proper breathing, your cells

do not get enough oxygen. Everyone, especially

people suffering from bronchitis, asthma

and COPD as well as shallow breathing can

benefit when the fascial stress is released.

Specialized Training

to work with Brain

Dysfunctions

Just as the body physically gets stressed from

physical and emotional trauma, the functioning

of the brain is also affected by fascial stress. For

our brains to remain healthy, we need dynamic

production of craniosacral fluid which performs

the important function of bringing nourishment

to all the cells in the brain and spinal

cord as well as cleansing all the metabolic

wastes given off by those same cells.

Once the craniosacral fluid cleanses these

metabolic wastes, efficient drainage of these

metabolic wastes into the lymph system is

absolutely necessary. Research has shown,

that at night, craniosacral fluid cleanses amyloid

plaques from the brain. If the drainage

is inefficient, then the brain is being bathed

in a toxic slurry. How does 15 or 20 years of

your brain being bathed in a toxic slurry

affect you: senile dementia, Parkinson's,

Alzheimer's and other brain dysfunctions?

A Craniosacral Therapist, who has received

training in working with the brain, can reverse

that stress on the brain that eventually can

result in those brain dysfunctions. As we all

know, the proper functioning of the body is

dependent on a healthy functioning brain.

Babies and Children can benefit

■ Our little boy Leo, four years of age, had a

difficult birth and at 7 months was put on antibiotics

for an ear infection and as a result developed

c-diff. His development came to a stop.

At 3 years, with the help of an OT, he started

to walk and talk. In spite of the improvements,

he was unable to answer questions and his

communication skills were very poor. Leo

had very poor muscle tone, a lot of stress in

his body and physical activities such walking,

jumping and climbing were difficult for him.

Beginning with the first session with Terry,

he began showing improvement and with each

following session. Everyone from his teachers

to his grandparents noticed an increase in his

■ "I was in awful pain and the

MRI showed 2 pinched nerves

and stenosis. I scheduled surgery.

My daughter suggested Craniosacral therapy.

After only 2 visits the pain was reduced to

advanced craniosacral about 80% and therapy I canceled the surgery. I went

for a 3rd visit and I am about 90% better."

■ "Simply Amazing! One visit was all it took for

Terry to relieve 85% of my year long, nagging

(sometimes severe) neck/shoulder tightness/

pain!! My breathing improved tremendously."

physical strength, as well as improvements in

comprehension, speech and communication

skills. For the first time, he started participating

in class lessons and interacting with his

classmates. Terry has made a huge impact on

getting Leo to a place a little boy should be at

age four. We cannot thank Terry enough.

■ Terry's treatment helped our 6 week old

baby boy from recent hospitalization into

the first series of healthy bowel movements

when seemingly nothing could help. Our son

was able to latch onto the breast and for the

first time completed his feeding. He was much

calmer after working with Terry.

■ "He was able to relieve tension that I have

been carrying around for 15 years or more.

I left his office table with more energy than I

have had in years."

■ "I began working with him because I was

dealing with anxieties, depression and lots of

emotional pain inside and out. You don't realized

how much stress can cause damage to

your body, mind and soul. I can say Terry was

a big help."

Terrence Grywinski

of Advanced

Craniosacral Therapy,

B.A., B.ED., LMT #MA 6049

Testimonials from Clients

SOURCE:

■ Terrence Grywinski of Advanced Craniosacral Therapy,

B.A., B.ED., LMT #MA 6049. Terry has specialized in Craniosacral

Therapy since 1994 when he began his training at the Upledger

Institute. Described by his teachers, clients and colleagues

as a "gifted healer", Terry's intuitive sense and healing energy

provides immediate and lasting relief from injury, pain, mobility

issues as well as dysfunctions of the body and the brain. Part

of Terry's ongoing education, he has completed 4 craniosacral

brain and peripheral nervous system classes which enables him

to work at a cellular

level and with brain

dysfunctions.

Call 941-321-8757

for more information,

Google Advanced

Craniosacral

Therapy.

■ "On a recent vacation to Siesta Key, I re-injured

my back. I found Terry online. I can say

with complete joy that was the best decision

I made in the history of my back pain. I have

sought many modalities and visit a CST regularly

and never have I had such a healing in

my entire body.

After 3 sessions, I made a 16-hour drive

home with no pain or discomfort in my entire

body. Unbelievable. My body has a sense of

moving freely and that is completely new. I'm

advanced craniosacral therapy

so grateful to Terry for his knowledge, for his

sensitivity to my needs and his kind generosity

in healing my body. I will see him when I return

next year."

■ "I am a snowbird who spends 7 months

in Sarasota. I have had back problems for 25

years. Terry's techniques have led to a great

deal of release and relief in areas that have

been problematic. I have been seeing him over

the years when my body says "it's time". Usually

after a few sessions, I can tell a huge difference."

PAID ADVERTORIAL

JULY 2022 WEST COAST WOMAN 21
---
focus on the arts

At The Museum of Fine Arts, St. Petersburg:

Multidisciplinary artist GIO SWABY explores the

intersections of Blackness and womanhood

Gio Swaby, My Hands Are Clean 4,

2017, Thread and fabric sewn

on canvas, 20 x 16 inches

Collection of Claire Oliver and Ian Rubinstein

T

he Museum of Fine

Arts, St. Petersburg

has the debut solo

museum exhibition of

multidisciplinary artist Gio

Swaby (b. 1991, Nassau, Bahamas),

whose work explores the intersections

of Blackness and womanhood. The

exhibition Gio Swaby: Fresh Up will

be on view at the MFA through October

9, 2022. The exhibition is co-organized

with the Art Institute of Chicago, where

it will open in 2023.

Swaby's art is grounded in the personal

connections forged between subject and

artist, and conversation is key to achieving

these portraits of beauty and power

that she calls "love letters to Black

women." Swaby's work has garnered

significant attention and acclaim in the

art world, following exhibitions at Claire

Oliver Gallery in New York City and at

other international venues.

Her work is included in the permanent

collection at the Museum of Fine Arts, St.

Petersburg, as well as other major public

institutions throughout the U.S., such

as the Museum of Fine Arts, Boston, Art

Institute of Chicago, Weisman Art Museum,

and the Minneapolis Institute of Art

(https://mfastpete.org/exh/gio-swaby/).

The exhibition features more than 40

works ranging from intimate portraits

to life-size textile panels fabricated from

sewn line drawing and quilting techniques.

Creating unique portraits through

a range of textile-based techniques,

Swaby's work is anchored in a desire

to celebrate the imperfect and complex

humanity of Black women.

In her interview with Nikole Hannah-Jones

for the exhibition catalogue

Gio Swaby: Fresh Up published by

Rizzoli Electa, Swaby states, "I would

describe my work first and foremost as

an act of love." She continues, "For me,

these physical pieces are not necessarily

the work itself. The work is more making

connections and growing love. Those

portraits are like a dedication to that

work, or a residue of that work."

The portraits begin with a photo shoot,

where the artist and subjects collaborate

on a cohesive story told via clothing and

poses and result in a snapshot of empowerment

and self-awareness. Swaby foregrounds

their personal style—seen in the

detailed renderings of jewelry, hair, and

clothing—creating space for self-definition

and unapologetic self-expression.

Growing up surrounded by the threads

and fabrics of her mother, a seamstress,

Swaby chooses to work in mediums traditionally

associated with domesticity

as a means to imbue her works with familiarity,

labor, and care. Swaby upends

tradition, however, and gives the sewing

medium a sense of monumentality with

the life-size series Pretty Pretty. The

subjects are intricately rendered in sewn

thread lines and shown on the reverse

side of the canvas so that the stitching

process—its knots and loose threads, so

often hidden—is visible.

Her work particularly showcases

the beauty of these imperfections and

individuality as a counterpoint to the often-politicized

Black body, so frequently

depicted in states of anger or trauma.

The works span 2017 through 2021, presenting

aspects of Black womanhood

which include joy, softness, and vulnerability

in addition to the strength that is so

often the focus of less multidimensional

representations.

The Museum of Fine Arts,

St. Petersburg is at 255 Beach Drive

NE. Visit https://mfastpete.org/

Gio Swaby

courtesy of Claire

Oliver Gallery

22 WEST COAST WOMAN JULY 2022
---
focus on the arts

ALSO AT THE MUSEUM OF FINE ARTS, ST. PETERSBURG

Women's Work A Survey Of Female Photographers

through September 11, 2022

T

he MFA in St. Petersburg is a wonderful

museum - inside and out.

They have two exhibits by women

artists and, combined, they make

for a visually beautiful and powerful

statement of the diversity of women and their work,

beliefs and interests.

Gio Swaby is contemporary while this exhibit

takes a generous overview of photography going

back to the 19th century up to contemporary artists

like Sally Mann.

More than any other visual medium, women have

played vital and sustained roles in the making and

advancement of photography since its invention. Unfortunately,

this contribution has been underemphasized.

With a broad interest growing in museums to

enlarge the canon to be more inclusive and reflective

of under-recognized contributors, this

Margaret exhibition seeks to do our part.

Bourke- The MFA photography collection is

White,

rich in examples of innovative, courageous,

and talented women photographers

Self

Portrait,

1931, Gelatin from the earliest days of the medium to contemporary

times.

silver print

Highlighting work by photographers like

Julia Margaret Cameron (1815–1879), Gertrude Käsebier

(1852–1934), Margaret Bourke-White (1904–1971), Diane

Arbus (1923–1971), Sally Mann (b. 1951), and Imogen Cunningham

(1883-1976), as well as lesser-known figures in the

field, this exhibition examines the rich visual testimony that

contributed to the emergence of women as a driving force

in modern photography.

Also of note, The MFA was founded by art collector and

philanthropist Margaret Acheson Stuart (1896–1980). As

its first president, Mrs. Stuart contributed significantly to

the construction of the building and provided endowment

funds through her estate to support annual operations and

to maintain the beauty of the grounds. She also provided

monies to acquire art and donated works from her collection.The

current Executive Director is Kristen A. Shepherd.

Shepherd is the youngest and the first female Executive

Director of the Museum.

Diane Arbus, Girl in a Shiny Dress, New York,

1967, Gelatin silver print

Imogen

Cunningham,

Water

Hyacinth,

1925 Gelatin

silver print

Museum of Fine Arts,

St. Petersburg

255 Beach Drive NE

Visit

https://mfastpete.org/

Julia Margaret Cameron, Blessing and

Blessed, 1865, Albumen print

Marion

Post

Wolcott,

American,

1910–

1990, Picnic

on Running

Board,

Sarasota,

Florida.

1941,

Gelatin

silver

print

Sally

Mann,

Leah

and Her

Father,

1985,

Gelatin

silver

print

JULY 2022 WEST COAST WOMAN 23
---
Is independence in your own home your goal?

Choose a trusted, professional nursing team to ensure the years ahead and your health

care path align with your wishes.

Take Care provides all levels of care—from

skilled nursing to helping with groceries

and companionship—for clients in any

home setting. We remain dedicated to

helping you and your loved ones.

Take Care is locally nurse and familyowned

with 27 years of experience meeting

your health care needs, from one hour of

care as needed up to around-the-clock

support, 24 hours a day, 7 days a week.

Personalized care in your own home has

never been more important.

Our Registered Nurse New Services team

is ready for your call.

Erika Wise Borland, MA, Vice President

Susanne S. Wise, RN, MBA, CEO & Owner

Courtney Wise Snyder, MSG, CMC, President

Celebrating Years of Caring

www.TakeCareHomeHealth.com

(941) 927-2292

info@takecarehomehealth.com

Lic. # HHA 21657096 | 299991405

27

Community Voted Best Home Health since 2012

24 WEST COAST WOMAN JULY 2022
---
healthier you

Nicotine's Effect

on the Brain

M

ark Twain once said

"quitting smoking

is easy. I should

know, I have done it

a thousand times."

Many tobacco users may be able to relate

to this statement as it often requires multiple

attempts to kick the habit for good.

There are several reasons quitting

smoking is challenging. First, it is legal

for adults to use tobacco products; therefore,

there is less legal risk with tobacco

than with other illegal substances. Second,

nicotine is available for purchase at

many convenient locations. The third

and most significant reason is due to

nicotine's effect on the brain. In fact,

research has shown that nicotine is as

addictive as alcohol, heroin, and cocaine

and is often more difficult to quit. 1

When an individual smokes a cigarette,

nicotine is delivered to the brain within

seven seconds. Once in the brain, nicotine

activates seven different neurotransmitters

– many of which are responsible

for pleasure, appetite suppression, reduction

of tension and anxiety and increased

focus. These outcomes can be perceived

as positive and rewarding which strengthens

the addiction to nicotine. It is important

that individuals find other ways to get

these same benefits without the tobacco

products when quitting. Quitting tobacco

involves "retraining" the brain's reward

pathway as nicotine levels are reduced

during the quit process.

The addiction to nicotine itself accounts

for the biological component of

addiction; however, addiction can happen

on the psychological and cultural

level as well. Tobacco can be used as a

coping mechanism during challenging

situations and as self-medication. Developing

a dependence on tobacco during

the tough times can make quitting even

harder. Tobacco may also be promoted as

part of social activities and norms.

Although quitting tobacco can be

challenging, it can be done! According

to the Center for Disease Control and

Prevention, more than three out of five

adults who have ever smoked cigarettes

have quit. It is important to seek out

support when quitting tobacco as those

that attempt to quit on their own have

a success rate of about 5-7%. Group sessions

through Gulfcoast South AHEC

and Tobacco Free Florida address all aspects

of nicotine addiction, in addition

to helping you develop a quit plan and

identify your quit date. Studies have

shown that group sessions plus the use

of Nicotine Replacement Therapy can

more than double your chances of quitting

and staying quit. 2

Quitting tobacco for good comes with

many benefits to your physical and psychological

health. These benefits are

numerous and will greatly improve the

quality of life for individuals who quit

for many years to come.

Help quitting tobacco is free! Gulfcoast

South Area Health Education

Center (GSAHEC), as part of the Group

Quit option of Tobacco Free Florida's

Quit Your Way program—offers free

group quit sessions to help someone

quit all forms of tobacco. These group

sessions held virtually and in-person,

provide information about the benefits

of quitting, managing stress and triggers,

and will assist you with developing your

own customized quit plan. Free nicotine

replacement therapy in the form of

patches, gum, or lozenges (if medically

appropriate and while supplies last) is

provided with the session. Attendees

will also receive a participant workbook,

quit kit materials, and follow up support

from a trained tobacco treatment specialist.

Contact us today at 866-534-7909

or visit www.tobacco freeflorida.

com/groupquitcalendar to schedule

a class or learn more about the program!

Reference:

1 https://www.cdc.gov/tobacco/data_statistics/fact_

sheets/cessation/smoking-cessation-fast-facts/index.html

2 Tools to Quit: Area Health Education Center

(AHEC) Cessation Program Participant Toolkit.

Area Health Education Centers. 2018.

QUIT TOBACCO

with GROUP QUIT

There's never been a more important time to quit.

Free expert-led sessions to help you quit all forms of tobacco.

2 . 6 LO G O LOCKUP S

1 .

2 .

Develop your

personalized

quit plan.

*(If medically 3 . appropriate for those 18 years of age or older)

CALL TODAY:

4 .

FREE nicotine

replacement patches,

gum, or lozenges. *

Learn more about all of Tobacco Free Florida's tools and services at

X

TFF.COM / FDOH LOCKUP

Virtual Group Sessions -OR- In-Person Group Sessions

Pre-registration is required.

The logo lockups were designed to contain both logos,

separated by a bar that is the same thickness as our

of our logo. We will maintain the clear space

established on page 6 between the bar and both logos.

Depending on the type of materials, we could use one

of the following lockups.

1. Full color Logo Lockup

More than

DOUBLES your

chances of success!

preferred, but it can ONLY be used in full color and

only against a white background. It cannot be placed

in a white box.

2. One-Color Logotype Lockup

The One-Color Logotype Lockup is the most commonly

used version. It can only be used against a white

background or as a Reverse White Logotype.

Sponsored by:

866-534-7909 AHEC

GULFCOAST SOUTH

AREA HEALTH

EDUCATION CENTER

3. Black and White Logotype Lockup

4. Reversed Logotype Lockup

The reversed logotype lockup can be used against a

black bacground or against the NEW TFF ADA BLUE

(HEX: #1074BB)

T F F

BRAND G U I D E

PAID ADVERTORIAL

JULY 2022 WEST COAST WOMAN 25
---
you're news

Appointments

■ G. Todd Yeomans and Yeomans

Work Architecture have

hired Emi Kopke as an Architecture

Associate.

Emi will

be contributing

to a

broad range

of custom

residential,

commercial,

cabinetry

and

furniture

Emi Kopke

design projects.

She is a recent graduate of

the University of Miami where she

was on the Provost's Honor Roll

& Dean's List and was awarded

numerous scholarships for design

and excellence.

An entrepreneur at heart, Emi

started her own company

SEASUNed Toys, LLC in 2020,

where she designed, prototyped,

and fabricated a unique modifiable

indoor wooden climbing

frame for children ages 6 months

to 6 years.

■ Sheila McLean has accepted

the assignment of Interim Chief

Financial Officer for Manatee

County Government. McLean

brings over three-and-a-half

decades of financial management

experience

to the role—

with nearly

a quarter-century

of that

locally in

Manatee

County.

Most

recently,

Sheila McLean

she was the

Deputy Director for Budget for

Manatee County Government. Of

her 24 years in local government

work, 16 were in the Finance

Department at the Manatee

County Clerk of Circuit Court,

and eight years have been in the

County's Financial Management

Department. She has been working

in accounting—both public

and private—for more than 35

years. She will be overseeing the

operating and capital improvement

budgets, infrastructure sales

tax revenues and financial analysis

for all county departments.

■ Sarasota Memorial Healthcare

Foundation announced that

Barbara and Gary Rodkin have

made a $2 million gift in support

of the Cornell Family Behavioral

Health Pavilion at Sarasota

Memorial. The Rodkins' $2 million

donation will be used to support

geriatric services at the Cornell

Family Behavioral Health Pavilion,

which is currently under construction

on Sarasota Memorial's

Barbara and Gary Rodkin

Sarasota Campus.

The new $71 million pavilion

is slated to open in 2023, replacing

Sarasota Memorial's Bayside

Center for Behavioral Health with

a facility that enhances, expands

and centralizes care for people

affected by mental and behavioral

health challenges.

The Rodkin's interest in the

geriatric services at the pavilion

arose from personal experience.

"In his 90s, my father had mental

and physical issues, and it was

extremely difficult to connect the

dots and get the right people to get

us the help that was needed," says

Gary. "There was no coordinated

care and it really pointed out how

much improvement the whole

geriatric system needed."

Barbara, who currently sits on

the Healthcare Foundation board,

gained interest in supporting the

project after learning that the

new facility would have a specific

geriatric inpatient unit with 16 private

rooms and services designed

specifically for geriatric patients.

In addition to their support of

the Cornell Family Behavioral

Health Pavilion, the Rodkins are

long-term supporters of the Community

Specialty Clinic at Sarasota

Memorial. The Clinic provides

specialty medical care and referral

services to local residents who are

uninsured or underinsured. To

learn more, visit smhf.org.

■ Gulf Coast Community

Foundation (Gulf Coast) has

announced the promotion of a

staff member, the addition of a

philanthropic trailblazer, and the

addition of an experienced donor

relations staff member.

Kelly Borgia joined Gulf Coast

in the summer

of 2018 after

having worked

10 years at

Asolo Repertory

Theatre

as their Production

Stage

Manager. Borgia

served as a

Philanthropic

Kelly Borgia

Coordinator

and Administrator in the Philanthropy

Services team at Gulf Coast,

and she has now been appointed

to Strategic Engagement Manager.

As a member of the Brand Strategy

team, Borgia will work with all

functional teams at Gulf Coast

to create and execute engagement

experiences. She is also

responsible for managing Gulf

Coast's Arts Appreciation and

sponsorship grant programs.

Sasha Hausman Pyatte,

CFRE, joins the Gulf Coast

team as a Philanthropic

Advisor, bringing experience

in leadership, communications,

donor

cultivation,

and stewardship.

Pyatte

most recently

served as

Director of

Advancement

& Strategic

Partnerships

at the

Sasha Hausman Pyatte Van Wezel

Foundation where she developed,

executed, and evaluated longterm

goals and strategies for the

foundation and the future Sarasota

Performing Arts Center.

Pyatte has also served as

Executive Director of the AdventHealth

Zephyrhills and Dade

City Foundation where she had

responsibilities for the direction

and development of two hospital

foundations. In the past, Pyatte

was the Director of Philanthropy

for Second Harvest Food Bank of

Central Florida for 10 years.

Priscilla Boward joins the

Gulf Coast team as Philanthropic

Administrator.

Boward hails

from Caledonia,

Michigan,

where

she worked

with many

nonprofits for

several years.

She brings

experience

Priscilla Boward

in donor

relations, volunteer coordination,

and communications. In her new

role, Boward will work with the

Philanthropy Services team to

assist donors in establishing relationships

with Gulf Coast. Learn

more at GulfCoastCF.org.

■ Hershorin Schiff Community

Day School (CDS) has welcomed

Rinat Heiman as its new Hebrew

and Judaic studies instructor.

Heiman had previously served in

this position at Temple Sinai from

1994 to 2013 and, more recently,

as a private bar and bat mitzvah

teacher.

Beginning as early as 14 months

old, all students at CDS are offered

classes in both Hebrew and cultural

Jewish studies. https://www.

communityday.org/

■ All Faiths Food Bank has recently

hired Daniela Malo ain the

newly-established role of associate

All Faiths Food Bank's

associate director

of development,

Daniela Malo

director of

development.

In this role,

Malo will play

an active role

in increasing

the organization's

capacity

through securing

significant

gifts to further

its mission.

The primary

objective of

this new position is to cultivate

and steward a portfolio of major

donors while also encouraging

existing supporters to consider

deeper engagement with the food

bank/hunger relief organization.

Prior to coming to All Faiths,

Malo spent nearly four years with

Make-A-Wish Southern Florida,

rising to her position as the

organization's regional director;

she was responsible for assisting

in developing the strategic plan,

leading all fundraising efforts - including

grants, corporate support,

major gifts, individual giving and

event management - and building

the organization's presence in

the region while maintaining a

strong fundraising base. Previous

employers included Feeding

Children Everywhere in Orlando,

Fla. and the White House Office of

Presidential Correspondence.

For more about All Faiths Food

Bank, visit allfaithsfoodbank.org.

Accolades

■ Charles & Margery Barancik

Foundation recognized five

Sarasota County teachers for

going above and beyond in their

profession.

Barancik Foundation named

five Ripple Effect Teacher Awards

winners in partnership with

Sarasota County Schools in

memory of Chuck Barancik. The

semi-annual prize acknowledges

five outstanding teachers on

Chuck's birthday in May and five

on Margie Barancik's birthday in

September. Each teacher recognized

for their positive impact on

their students' lives is awarded

$5,000 to spend on professional

development experiences,

material, and equipment for their

classrooms.

Chuck's spring semester

awardees are:

• Tessa Healy, Wilkinson

Elementary

• Megan Wink, Lakeview

Elementary

• Michelle Rivas, Gulf Gate

Elementary

• Dorothy Rieger, McIntosh

Middle

• Melissa Dweck, Sarasota High

The recipients were commended

for their innovative efforts in

building positive cultural changes

at their schools—among their

students and peers. All were recognized

for the lasting impact they

have on their students.

Launched in 2021, the award

was inspired by the late Barancik

couple's philosophy on their charitable

giving, often noting, "We

can't change the world, but we can

change little pieces of it and hope

for a ripple effect."

Facilitated by the School

District, each Sarasota County

principal nominated one teacher

to be considered for the award. A

committee made up of community

leaders then identified the top

candidates.

Previous winners have used the

funds for classroom improvement

projects, professional development

workshops across the

country, and items like musical

equipment and state-of-the-art

robots to help pique students'

interest in the classroom. Barancik

Foundation has made an ongoing

commitment to award the ten

$5,000 teacher grants each year.

For more information, visit

www.barancikfoundation.org.

Gulf Gate Elementary teacher Michelle Rivas receives Barancik Foundation's

Ripple Effect award in front of her class.

Send us your news!

Send to: westcoastwoman@comcast.net. You will also find more You're

News on our Facebook page West Coast Woman. We also publish this

page on our website (westcoastwoman.com) and in our monthly e-blast.

Want to subscribe to our e-blast?

Send us your email address. Send to westcoastwoman@comcast.net.

26 WEST COAST WOMAN JULY 2022
---
DENTAL

INSURANCE

Get the dental care you deserve.

If you've put off dental care, it's easy to get back on track. Call

Physicians Mutual Insurance Company now for inexpensive

dental insurance. Get help paying for the dental care you need.

Don't wait.

Helps cover

over 350

procedures

Preventive

care benefits

right away

Go to any

dentist, but save

more with one in

our network

No deductible,

no annual

maximum

Getting back to the dentist couldn't be easier!

CALL TODAY

1-855-637-6404

Dental50Plus.com/westcoast

Get your

FREE

Information Kit

Product not available in all states. Includes the Participating (in GA: Designated) Providers and Preventive Benefits Rider. Acceptance guaranteed for one

insurance policy/certificate of this type. Contact us for complete details about this insurance solicitation. This specific offer is not available in CO, NY; call

1-800-969-4781 or respond for similar offer. Certificate C250A (ID: C250E; PA: C250Q); Insurance Policy P150 (GA: P150GA; NY: P150NY; OK: P150OK; TN: P150TN).

Rider kinds: B438, B439 (GA: B439B).

6208-0721

COMING UP IN

West Coast Woman

E September: Florida Travel

E October: Lifelong Learning and

Women's Health issue

b

• Affordable Rates

• Targeted Readership

• Advertorials (articles) • Digital Ads

RESERVE YOUR AD SPACE TODAY

ADVERTISE - Print and Digital

Email: westcoastwoman@comcast.net

Call 941-928-2056

JULY 2022 WEST COAST WOMAN 27
---
dining in

Try making a plant- based entrée like

these veggie "meatballs", filled with the

goodness of beans, grains, vegetables, and

herbs. These crispy veggie balls are filled

with the earthy flavors of golden beets,

white beans, sage, and hazelnuts.

VEGGIE BALLS:

1 bunch fresh golden beets (about 5)

1 (15-oz) can cannellini beans, rinsed

drained (about 1 3/4 cups)

2 green onions, diced

2 cloves garlic, minced

1 cup mushrooms, finely chopped

1/2 cup fresh chopped parsley

1/2 cup finely chopped hazelnuts

1/4 cup ground flax seeds

1/2 cup whole wheat breadcrumbs

(or use gluten-free)

1 tsp. sage

1 tsp. tarragon

1 tsp. thyme

1/2 tsp. smoked paprika

1/4 tsp. black pepper

2 Tbsp. reduced-sodium soy sauce

2 Tbsp. tahini

Clever substitutions on classic recipes

F Golden Beet Veggie (not meat) Balls

VEGGIE BALLS: Trim beets and scrub outside surface, leaving peels on. Shred beets

with food processor or box grater.

Place beans in a mixing bowl and mash slightly with a potato masher to achieve a thick

mixture with some lumps.

Add beets, onions, garlic, mushrooms, parsley, hazelnuts, flax seeds, breadcrumbs,

sage, tarragon, thyme, smoked paprika, and black pepper. Toss together well.

Mix in soy sauce, tahini, and lemon juice—using hands to combine well.

Cover and refrigerate for 1 hour (or overnight).

Preheat oven to 375 degrees and spray a baking sheet with non-stick cooking spray.

Form 24 golf ball-sized balls out of the mixture and place evenly on baking sheet.

Bake veggie balls in top rack of oven for about 40 minutes, until golden brown.

Serve with Almond Sage Cranberry Crema.

F Avocado Deviled Eggs

12 eggs

2 medium avocados, chopped

1 medium tomato, chopped

2 Tbsp. red onion, finely chopped

1 clove garlic, minced

1 Tbsp. cilantro, finely chopped

1 Tbsp. fresh lime juice

1/4 tsp salt

Sprinkle of paprika

1/2 jalapeño pepper, minced (optional)

Try These Food "Impostors"

Avocado Deviled Eggs T

This delicious twist on deviled eggs is so creamy and satisfying, you'd never know it was

a healthier version of traditional deviled eggs. The addition of traditional guacamole ingredients—such

as lime, cilantro and tomato—added to the filling bring an extra punch

of flavor. Editor's Note: I tried this recipe and, across the board, everyone loved it. It's

super easy and you can add whatever you like and "hold the mayo" if you prefer.

Hard boil eggs by placing eggs in an even

layer in large pot covered by 2 inches of

cold water. Heat pan on high and bring

to rolling boil. Immediately turn off heat,

cover pot with lid and let eggs sit on hot burner for 10 minutes.

Transfer eggs to bowl of ice water to cool; peel eggs.

Slice eggs lengthwise and scoop out yolks; place yolks in large mixing bowl.

Add avocados to yolks and mash with fork until completely mixed.

Add remaining ingredients, except paprika. Stir to combine.

Carefully scoop about 1 Tbsp. of mixture into each egg white half.

Sprinkle with paprika to garnish.

Top with jalapeño, if using.

Note: Fresh eggs are more difficult to peel; to make it easy, buy eggs 1-2 weeks before

you plan to make this recipe.

Per serving: 130 calories, 10 g total fat (0 g trans fat), 185 mg cholesterol, 4 g

carbohydrates, 7 g protein

Golden Beet Veggie (not meat) Balls T

ALMOND SAGE CREMA:

1 cup peeled, slivered almonds

1/3 cup plain, unsweetened plant milk

1 Tbsp. lemon juice

1 clove garlic

1/4 tsp. freshly ground black pepper

1/2 tsp. ground sageSea salt (to taste,

optional)

1 Tbsp. fresh, chopped sage leaves

1/4 cup dried cranberries

ALMOND SAGE CREMA: Soak almonds in water for 2 hours (or overnight).

Drain the water and place soaked almonds in the container of a blender

or food processor.

Add plant milk, lemon juice, garlic, black pepper, and ground sage and

process to make a thick, creamy dip.

Transfer crema to a dish and stir in fresh sage, cranberries, and salt if

desired. May garnish with additional freshly ground black pepper and

fresh sage.

Note: You can use any plain unsweetened plant milk for this recipe (i.e.

soy, almond).

Makes 8 servings (2 1/2 Tbsp). Per serving: 280 calories, 15 g

total fat (1 g saturated fat, 0 g trans fat), 0 mg cholesterol, 28 g

carbohydrates, 12 g protein

F Smoky Chermoula with Spaghetti Squash

Smoky Chermoula with Spaghetti Squash T

Chermoula or charmoula is a marinade and relish used in Algerian, Libyan, Moroccan

and Tunisian cooking. It is traditionally used to flavor fish or seafood, but it can be

used on other meats or vegetables.

F Watermelon Cake

1 medium (approx. 4 pound) spaghetti

squash

3 tablespoons of slivered almonds

1/2 cup fresh cilantro leaves

1/4 cup olive oil (plus extra to drizzle)

1 teaspoon pressed garlic

2 teaspoons harissa powder or chili

powder

3 tablespoons lemon juice

1-1/2 teaspoons sea salt

1/2 teaspoon ground pepper

3/4 teaspoon smoked paprika

Lemon zest

Preheat oven to 375°. Prick the squash all over with the tines of a fork. Place foil on a

rimmed baking sheet, and place the squash on its side in the preheated oven. Bake for

about one hour, or until soft to the touch. Turn once mid-baking.

Remove squash from the oven. Let cool for about 10 minutes, then slice it horizontally,

and scoop out and discard the seeds and pulp. Separate strands with a fork and set aside.

Spread almonds in one layer on an ungreased, rimmed baking sheet and lower oven

temperature to 360°. Bake for 10 to 15 minutes, stirring occasionally, until golden

and set aside.

In a blender, add two tablespoons of the roasted almonds (set aside one tablespoon for

garnish), cilantro, oil, garlic, powder, lemon juice, salt, pepper and paprika and blend

until smooth. Taste and adjust if needed.

Serve one cup squash with 1/4 cup of the chermoula, massaged gently through squash.

Drizzle with olive oil, sprinkle with salt, pepper, the additional tablespoon of roasted

almonds and lemon zest and enjoy immediately.

Watermelon Cake T

Satisfy your sweet tooth with this fun no-bake "cake" the whole family will enjoy. Greek

yogurt, cream cheese, and a little whipped cream create a sweet and tangy frosting. Top

with seasonal berries for a cool and healthy dessert.

1/3 cup whipping cream

12 oz. non-fat plain Greek yogurt

2 Tbsp. reduced-fat cream cheese

2 Tbsp. granulated sugar

1 tsp. lemon juice

1 medium seedless watermelon, wellchilled

Blackberries, kiwi slices, red

raspberries, for garnish

Pour whipping cream in small mixing bowl

and chill in refrigerator for about 10 to 20

minutes. (Cream is easier to whip when cold.)

Meanwhile, in medium mixing bowl, mix

together yogurt and cream cheese.

When cream is chilled, add sugar to cream

and whip with whisk or electric mixer until

moderately stiff peaks form. (Be careful not to over beat, as too much whipping will turn

cream to butter.) Add whipped cream and lemon juice to yogurt/cheese mixture. Chill.

Slice off both ends to make a flat top and bottom on your melon. Set melon on one flat

end and carve rind off sides to make a round, cake-shaped melon.

Place melon cake on serving plate and frost top and sides with chilled icing. Decorate with

fruit on top and around the bottom. Keep well chilled until serving. Makes 10 servings.

Per serving: 150 calories, 4 g fat (2 g saturated fat), 26 g carbohydrate, 5 g protein

28 WEST COAST WOMAN JULY 2022
---
ARE YOU PLANNING TO

DOWNSIZE OR REDECORATE?

Designing Women Boutique is

happy to accept like-new home

furnishing and accessories on

consignment. We also offer

full concierge services for

estate sales. DWB turns your

consigned goods into grants

that support the arts and

human services organizations

in our community.

Since 2002, we have gifted more than $8 million to local non-profits.

Thank you for assisting us in helping others. Please call for more information.

Online Shopping: DesigningWomenSRQ.org

DESIGNING WOMEN BOUTIQUE

Upscale Resale & Estate Liquidation

Where Fashion Meets Philanthropy

1226 North Tamiami Trail, Sarasota

941.366.5293

A 501c3 Benefiting Local Arts

& Human Services Organizations

Our Mission

Our mission is to improve the lives of those living with and

affected by epilepsy or other seizure disorders.

Our Vision

JoshProvides, through our network of volunteers, donors,

partners, and other supporters, envisions a world where

epilepsy is eradicated. Until that time, success for

JoshProvides will be achieved when:

• The negative stigma associated with epilepsy has

been eliminated and those who suffer from seizures

are embraced by their communities.

• Treatment for those with epilepsy is readily available,

affordable, and effective.

• Transportation for those suffering from seizures is readily

available, safe, and affordable.

• There is a network of support and resources available

for those living with epilepsy and no one with a

seizure disorder feels alone or isolated.

• People are educated and trained and can respond

appropriately to help someone when they are

having a seizure.

For more information contact:

JoshProvides Epilepsy Assistance Foundation, Inc.

5428 Sundew Drive

Sarasota, FL 34238

Info@JoshProvides.org

(800) 706-2740

www.joshprovides.org

JULY 2022 WEST COAST WOMAN 29
---
healthier you

Be ready for spring with a beautiful new dress and handbag.

We have a delightful collection of flowing dresses and breezy resort

wear that is perfect for warmer weather. Shop now to view our new

and consigned fashions for spring.

DESIGNING WOMEN

BOUTIQUE

DesigningWomenSRQ.org

1226 North Tamiami Trail, Sarasota • 941.366.5293

A 501c3 Benefiting Local Arts & Human Services Organizations

Food Delivery Safety

Take extra care

due to hot summer weather

M

ail-order food, subscription

meal kits,

home-delivered groceries,

and restaurant

deliveries have become a way of life

for many of us. Make sure food safety

is part of the package, too. Home-delivered

food, like all food, must be handled

properly to prevent food poisoning.

Food shipped to your home needs to

stay at a safe temperature to prevent the

growth of germs that could make you

sick. This includes mail-order food and

subscription meal kits.

Before Ordering Food

for Delivery

Ask questions first. Research companies

and call customer service to ask about

food safety practices. Find out if the company

provides information with each

shipment or delivery on safe handling

and preparation of food, including cooking

temperatures.

Safe Food Delivery and

Receipt

Arrange for delivery when someone is at

home so perishable foods such as meat,

seafood, poultry, eggs, or dairy can be

quickly stored in the refrigerator or

freezer instead of being left outside until

someone is home. If you can't be there

in person, see if a neighbor can store the

food until you return.

Food should be delivered to a cool,

shaded, and secure location. Let the company

know where you would like them

to leave your box.

Examine the items and

packaging

Make sure the company used insulated

packaging and materials such as dry ice

or frozen gel packs to keep perishable

food cold in transit. Look for labels that

say "Keep Refrigerated" or "Keep Frozen"

if you ordered perishable food.

Use a food thermometer to check the

temperature of perishable food when it

arrives. Perishable food that has been

shipped should arrive frozen, partially frozen

with ice crystals still visible, or at least

as cold as it would be in a refrigerator (40°F

or below). Even if a perishable food product

is smoked, cured, vacuum-packed, or

fully cooked, it still must be kept cold.

Store it in the refrigerator or freezer as

soon as possible until you are ready to prepare

it. Notify the company if food arrives

above 40°F. If food arrives above 40°F,

don't eat it, or even taste it, to see if it is

safe. When in doubt, throw it out.

Local Grocery Deliveries

Milk, meat, cut fruit, and other perishable

foods delivered from a local

store or farm also need to stay at a

safe temperature. Hot food should

arrive hot, and cold food should arrive

cold. Food should not be kept at

room temperature for more than 2

hours, or 1 hour if the outside temperature

is 90°F or warmer.

Ordering Food From a

Local Grocery Store for

Delivery

Check the grocery store or delivery service

website to learn what they do to keep

food safe before and during deliveries.

Arrange for delivery when someone

is at home so perishable foods such as

meat, seafood, poultry, eggs, or dairy can

be quickly stored in the refrigerator or

freezer instead of being left outside until

someone is home. If you can't be there

in person, see if a neighbor can store the

food until you return.

If your delivery includes perishable

food, be aware of how long it's kept out

at room temperature. Perishable food

that has been sitting out for more than

2 hours, or 1 hour if it's 90°F or warmer

outside, can make you sick. Germs that

cause food poisoning multiply quickly

when food is in the "danger zone" between

40°F and 140°F.

Store perishable food at a safe temperature.

Refrigerate it at 40°F or below or put

it in the freezer as soon as possible.

Local Restaurant Deliveries

Be aware of delivery times. Cooked meals

can make you sick if they sit out for more

than 2 hours, or as little as 1 hour if it's

90°F or warmer outside. Delivered restaurant

meals should be eaten right away

or refrigerated if they contain a cooked

or cold product, such as a salad of fresh

cut fruit or a grain and vegetable bowl

with grilled chicken. Refrigerate leftovers

within 2 hours.

Safe Food Handling at Home

Wash your hands with soap and water for

at least 20 seconds before, during, and after

handling any food and before eating.

Wash your utensils, cutting boards, and

countertops with hot, soapy water after

using them. Rinse fresh fruits and vegetables

under running water.

Keep raw meat, chicken and other

poultry, seafood, and eggs away from

other foods. Use separate cutting boards,

plates, and utensils for these ingredients.

Use a food thermometer to ensure foods

are cooked to a safe internal temperature.

30 WEST COAST WOMAN JULY 2022
---
Windows and Patio Doors!

BUY ONE, GET ONE

40 % OFF1

AND

$

0 Money Down

$

0 Interest

$ 0 Monthly Payments

for 12 months 1

Interest accrues from the date of purchase but is waived if paid in full within 12 months. Minimum purchase of 4.

4.7 OUT OF 5 BASED ON 95,000+ REVIEWS

" My overall experience was great. I love the window, and from sales to scheduling, the experience was very good. The installers are highly skilled

professionals and I would recommend Renewal by Andersen to all my contacts." – LYNN F. | RENEWAL BY ANDERSEN CUSTOMER

KEEP THE HEAT IN AND THE COLD AIR OUT!

Solving your window problems and having a comfortable home is easy and enjoyable

when you choose Renewal by Andersen. With this great offer, you save money on your

window project – and you'll also save on high energy bills for years to come!

Call by May 31

for your FREE consultation.

877-710-0048

49%

MORE EFFICIENT 2

Keep the

heat in and

the cold out.

1

DETAILS OF OFFER: Offer expires 5/31/2022. Not valid with other offers or prior purchases. Buy one (1) window or entry/patio door, get one (1) window or entry/patio door 40% off, and 12 months $0 money down, $0 monthly payments, 0% interest when you purchase four (4) or more windows or entry/patio doors between 1/1/2022 and 5/31/2022. 40% off windows and entry/patio doors are

less than or equal to lowest cost window or entry/patio door in the order. Subject to credit approval. Interest is billed during the promotional period, but all interest is waived if the purchase amount is paid before the expiration of the promotional period. Financing for GreenSky® consumer loan programs is provided by federally insured, federal and state chartered financial institutions without

regard to age, race, color, religion, national origin, gender, or familial status. Savings comparison based on purchase of a single unit at list price. Available at participating locations and offer applies throughout the service area. See your local Renewal by Andersen location for details. License number available upon request. Some Renewal by Andersen locations are independently owned and

operated. 2Values are based on comparison of Renewal by Andersen® double-hung window U-Factor to the U-Factor for clear dual-pane glass non-metal frame default values from the 2006, 2009, 2012, 2015, and 2018 International Energy Conservation Code "Glazed Fenestration" Default Tables. "Renewal by Andersen" and all other marks where denoted are trademarks of Andersen Corporation.

© 2022 Andersen Corporation. All rights reserved. RBA12848 *Using U.S. and imported parts.

GET YOUR TICKETS NOW!

THE CIRCUS ARTS CONSERVATORY & THE RINGLING

present

TICKETS: ringling.org

941.360.7399

The Ringling | 5401 Bay Shore Rd

Incredible

Family Entertainment

AT THE RINGLING

NOW –

SAT AUG 13

TUE – FRI

SAT

$

18

11 AM & 2 PM

2 PM & 5 PM

ADULT

$

12

CHILD

12 & UNDER

JULY 2022 WEST COAST WOMAN 31
---
Renew Your

Health through

IV Therapy

at The Renewal Point

REASONS people participate in IV Therapy:

• Improve current state of heart and brain health

• Slow the effects of aging and disease processes

• Minimize the effects of colds or the flu

• Improve athletic performance

• Prepare for or recover from surgical procedures

• Remove toxic levels of heavy metals

and chemicals

• Better manage stress and its effects on health

• Greater absorption than the oral route

BENEFITS of IV Therapy at The Renewal Point:

• Baseline testing for optimal treatment protocols

• Highly experienced and attentive infusion staff

• Infusion room is designed for privacy and comfort

• Wi-Fi Connection in the infusion room

• Team approach ~ we enjoy working with patients'

other specialty providers

"At The Renewal Point, we believe you can spend the

rest of your life discovering new levels of vitality

and vigor – not simply trying to rescue what's left."

Dan Watts, MD, ND, MSMN

Board Certification:

American Board of Integrative Medicine

American College of Obstetrics and Gynecology

Post-doctoral Certification in Metabolic

Endocrinology

Post-doctoral Master's in Nutritional and

Metabolic Medicine

Fellowship: American Academy of Anti-Aging

Medicine: Anti-Aging, Regenerative, and

Functional Medicine

Fellowship: American College of Surgeons

Call today 941.926.4905

Lynne Streitmatter, APRN, MS, NP-C

Board Certified Advanced Registered Nurse Practitioner

Specialties Include:

Gynecology

Bio-identical Hormone Balancing

Weight Loss

IV Therapy

Family Medicine

Age Management | Men's Health | Gynecology | Bio-identical Hormone Balancing | Strength and Conditioning

Weight Loss | IV Therapy | Brain Health | Toxin Elimination | Digestive Health | Heart Health

4905 Clark Road, Sarasota, FL 34233 | 941.926.4905 | www.TheRenewalPoint.com

32 WEST COAST WOMAN JULY 2022