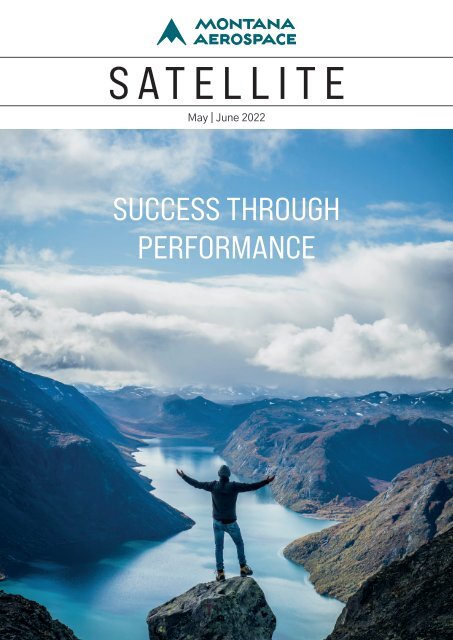 Create successful ePaper yourself
Turn your PDF publications into a flip-book with our unique Google optimized e-Paper software.
SATELLITE

May | June 2022

SUCCESS THROUGH

PERFORMANCE
---
Handover of Management responsibilities: left to right Herbert Roth, Kai Arndt, Silvia Buchinger, Michael Pistauer, Markus Nolte

Dear Montana Aerospace Family!

If there is one thing on which we can rely over

the past few years, it is being 'confronted' with

immense new challenges again and again. Generally

referred to as crises – Covid crisis, 737 Max crisis,

labor market crisis, supply chain crisis, gas crisis....

and Churchill's 'Never waste a good crisis' is

rightfully one of the most used quotes in recent

years.

The number and severity of the crises, especially the

pandemic and the unforeseeable consequences of

the Ukraine war, have required all of us to radically

rethink our professional and private lives.

I have no doubt that crises are of substantial

importance for the development of companies and

societies and are one of the most important drivers

of change for the better. Let us recognise challenges

as opportunities and make use of it!

"Sometimes unpleasant things need to happen

to remind us that it is time to make a change"

Source Unknown

These are eventful times in which Montana

Aerospace is reorganizing itself. As announced at

the beginning of May, with July 1st the company has

been organised into two areas – Aerostructures and

E-Mobility & Energy, led by new Co-CEOs Kai Arndt

and Michael Pistauer. Herbert Roth and I are leaving

the Management Board and Silvia Buchinger will

complete the new Management Board as CHRO.

Very exciting and fulfilling years lie behind us,

not only for Montana Aerospace, but also for me

personally. Brought on board by Michael Tojner

to build a small central team to let five individual

companies grow together to form a powerful overall

company. Although there was no blueprint, no

insurmountable difficulties emerged either. Building

on strong management teams and competent

specialists as well as an initiated massive

investment program, the foundations were laid for

the 'Montana Aerospace' growth story.

The economic prospects? Robust to magnificent.

There was nothing that gave us sleepless nights

during the course of 2019. The aviation industry

set new records due to strong growth in Asia; the

grounding of Boeing's 737 Max was seen as a rather

short-term problem; the automotive industry was

preparing for the introduction of electromobility

after years of new records; and the machine

construction ran 'like clockwork'.
---
MANAGEMENT MESSAGE

The rest is well known and already history. A

pandemic that paralyzed the entire economy

and personal lives for months, a never-ending

737 grounding, a 787-delivery stop, a fight for

employees and a supply crisis in which central

components such as semi-conductors became

globally scarce – like Coca-Cola in the former

Eastern block.

What has occupied me personally the most over

the past few years, and what has filled me with

pride? First and foremost, the highly committed

cooperation of our teams in Romania and Vietnam

with our customer spirit in the launch of the

Sunshine project. This was accompanied by months

of close coordination with Airbus to increase

our delivery share at 3rd Heavy Press as well as

restructuring of Alu Menziken, establishment of

a new management culture, acquisition of the

Belgian ASCO Group and, last but not least, the

important capital market measures with the IPO as

the highlight. These are important milestones in the

development of the still young Montana Aerospace,

which were only made possible by the commitment

of each individual and the close cooperation of the

entire team. 'The team is the star' – I am convinced

of this on a personal and on a managerial level.

I wish Kai Arndt and Michael Pistauer all the best

as the new Co-CEOs in further accelerating the

development of the company and in realizing its full

potential.

For Herbert Roth and me, new chapters in our

professional life have started with July 1st. As senior

advisors and members of various committees,

we will continue to support the Montana Group in

different strategic projects.

At this time I would like to sincerely thank you,

the entire Montana Aerospace team for the great

cooperation across the whole group, the inspiring

discussions, the joint successes, learning from our

failures, the willingness to break new ground – and

for the numerous new friendships we have made.

All the best for the future, One Montana Aerospace !

Yours, Markus Nolte

I'M MORE INTERESTED IN THE FUTURE

THAN IN THE PAST, BECAUSE

THE FUTURE IS WHERE I

INTENT DO LIVE.

ALBERT EINSTEIN

2
---
ONE YEAR SINCE OUR IPO

IT'S OUR

BIRTHDAY

Marc Vesely - Head of M&A und IR Montana Aerospace

With our IPO exactly 365 days ago, we initiated the next stage of growth for Montana Aerospace as the

gamechanger in the Aerospace industry.

The process from the initial IPO process-start to the final placement of our shares at the SIX stock exchange

at a valuation of EUR 1.2 bn took around 120 days, with more than 250 investors being approached during

that time.

Our highly ambitious IPO team invested many days (and nights) to achieve this result for the future of the

company and worked closely with our fantastic Bankers from Berenberg, who managed to get the books

covered at the upper price range in just a few hours. These efforts paid off as today we are very active on the

capital market and look into a bright future, where we have significant advantages over our competitors due

to our solid positioning.

However, the backbone of our success lies in the incredible motivation and drive all of you show every day,

creating impressive technological results in fascinating industries of tomorrow. Therefore, we want to thank

you - all of our more than 6.800 colleagues across the globe - and look forward to what´s yet to come.

3
---
WIN² CONFERENCE

RECRUITING

FROM THE

BEST

Elias Aruna - M&A Analyst Montana Aerospace

From June 11th – 13th , Montana Aerospace took part in this year's win² conference in the impressive

"Schloss Esterhazy", the place where back in the day Joseph Haydn wrote some of his most famous

compositions. Win² is the annual conference organized by Austrian student non-profit Uni-Management

Club to bring high-performing students and high potentials from different backgrounds together with

companies.

This year's conference took place under the light of the climate crisis and sustainability. The drastic

emission reduction our one-stop-shop concept brings to the aerospace supply chain combined with

our entrepreneurial and dynamic working culture clearly sparked the attention of the applicants to our

workshops, as we registered one of the highest number of applications next to brands such as McKinsey and

Porsche SE.

In our workshop, our 12 highly motivated participants worked on organic and in-organic hypothetical

business cases to further accelerate our growth. Additionally, our team came up with an out-of-the box

solution for the aircraft of the future.

We are glad that so many participants enjoyed our workshop and want to thank our motivated colleagues

from the Vienna office who organized the participation on site. Also, we want to thank our CHRO Silvia

Buchinger for enabling the participation in the program.

We hope to be back next year.

4
---
LEAN WORKSHOP

LEAN ACTIVITIES

GET A BOOST

AT THE UACE

AIRPORT FACILITY

Julia Zillies - Performance & Improvement Manager Montana Aerospace

The UACE Airport facility enters into the next phase as the Aerospace Industry starts growing again,

resulting in a steep ramp up of production rates. Delivering quality products on time is our continuing

challenge that can be greatly supported with the broad tool set of lean manufacturing. To boost our lean

transformation, we conducted a one-week workshop at the Airport facility with a multifunctional team.

With the external support of three experienced lean consultants the team has performed a "Go Look and

See Analysis" in the machining department with a strong focus on three specifically challenged machine

groups (Makino A61, Compact Cell 600, Chiron Mill). We took a deeper look in some specific lean methods

considered a great starting point for the lean journey.

Shopfloor Management Boards are already used to steer our work in the right direction and provide a clear

and transparent way to report directly to the entire team – where the value is added. During the workshop,

the team has focused on further developing the structure and the content of the boards. Information will be

given along the five dimensions Safety, Quality, Cost, Delivery and People. In the future, operators, foreman

and managers will collaboratively work with these boards for a quick daily status check and to report and

follow up on occurring issues.

SMED (Single Minute Exchange of Dies) is a powerful method to reduce equipment changeover time. The

ultimate goal is to handle set up times like a tire change of a formula 1 race car. We want to create quick

and easy solutions to optimize the way of using our equipment. The team took a very practical approach and

followed a complete example set up at three different machine groups. With the support of our own experts

and the consultants several solution approaches to reduce set up times have been identified. Ideas range

from changes to the organizational procedures and sequences of tasks, up to equipment upgrades and the

development of quick clamping solutions. >>

5
---
LEAN WORKSHOP

>> A deeper look into our processes was done by creating a rough Value Stream Map for a group of parts

and by deep diving our industrialization process. Value stream mapping is an important tool to visualize and

analyze all activities required to deliver value to the customer. In an ideal case all work is only value-added.

In the final day of the workshop the team got Engineering support to analyze the current industrialization

process in a brief section. The main "pain points" were highlighted during the session and it was generally

agreed that more effort will be invested to optimize this process. Excellent methods for industrializing parts

give great opportunities to deliver better processes and easier methods of manufacturing to the shop floor

and reduce risk of errors.

The team showed great enthusiasm during the three days, and many positive ideas have been discussed and

collected. Everyone involved could bring forward ideas and feedback, which made the exchange with the

consultants very valuable. Soon, you will be seeing more of our visual management tools on the shopfloor,

and you will most likely participate in one of the lean activities that take place. We are looking forward to

continuing our lean journey and excited to share our visible and measurable results.

6
---
ESG

CORPORATE

SUSTAINABILITY

ASSESSMENT 2022

Ashley Joy - Global Account Manager UAC-US

As with most things in our business lives, it's important to regularly check performance and benchmark

with others.

Our ESG initiative is no exception and regular external assessments will become a way of life.

We recently made our first submission to the S&P to begin to understand how to approach the task and start

a benchmarking process for the future with our closest peers in the aerospace industry.

The S&P assessment is made up of 65 questions that are answered with publicly disclosed documentary

evidence.

Our peer group in Aerospace and Defense group is 89 companies, that allows us see best practices and even

areas where we may lead.

As Montana Aerospace had not published our annual report, at the time of the assessment, it was difficult

for us to score in many of the questions, however, in summary, we placed in the 14th percentile of our peer

group and scored highly or well above the average in several questions, particularly in relation to:

- Workforce breakdown - Gender

- End of life cycle responsibility

- Coverage of Environment Policy

- Risk management

- Corporate Ownership

Next steps…

Given the point we are now at, we will be able to bring external consulting support for guidance on

improvement and further investor related assessments that will now come.

We know we also need to set targets now for each division and business to bring our scores even higher than

the status-quo will naturally deliver – we look forward to everyone's support to carry us further in care for

the Environment, Society and Governance at Montana Aerospace.

7
---
I AM CONVINCED THAT NOTHING

WE DO IS MORE IMPORTANT THAN

HIRING AND DEVELOPING PEOPLE.

AT THE END OF THE DAY, YOU BET ON

PEOPLE, NOT ON STRATEGIES

LAWRENCE BOSSIDY
---
HR CORNER

IT IS ABOUT

GIVING YOUR BEST

Silvia Buchinger - CHRO Montana Aerospace

Again we want to share with you some stories of colleagues who seem to be role models on developing

themselves and developing Montana Aerospace by living our values and showing our values.

As it is also shown on the Vienna Marathon, it is about giving your best. And if you team up with others, what

counts is to get result by doing what you are best in: long distance and continues engagement, sprint to

close at the end or maybe even keeping te engagement up by cheering and supporting.

Steffi has always been a role model on learning and sharing and contributing to get great results.

New with us is Mac, our new CEO in Vietnam. He will lead our operation in Vietnam by bringing new expertise

and experience and keeping what we are aleready doing well. This combination should help us becoming

even more successful.

''

In 2014 I had the opportunity to work as an intern in the

Controlling department of the former Montana Group. This

entry point allowed me to become a permanent part of the

Finance & Accounting team at Montana Tech Components

AG one year later. During this time, among other things, I

was responsible for looking after non-operational Group

companies and supporting the Board of Directors and the

management in processing various projects. This broad and

diverse range of tasks helped me expand my knowledge in

a wide variety of areas, which led to my move to Montana

Aerospace at the beginning of 2021. Here I was given the

unique opportunity to work on the IPO and the structural

development of the Group, and to be part of an outstanding

team.

Although I left Montana Aerospace in April 2022 to return

to the holding company and take up my new challenge as

Head of Finance at an affiliate, these experiences will always

support me.

11
---
HR CORNER

''

Choosing a new path in my career is a very important

decision and I would like to make it the best experience

I will have in my life. Among the organizations of choice

in VN, UACV stood out as the one that best fits my

professional and personal expectations. The plant is

the flagship in the High Tech Industrial Park in Da Nang

City, a beautiful city which is often named as the most

desired city in which to live in Vietnam.

Throughout the selection process, I had opportunities

to speak to different executives in UAC and Montana

Aerospace. Their professional background, experience,

knowledge and the way they expressed themselves

in the interviews indicated that the Montana

Aerospace and UAC leadership team is an executive

management team that will drive a company culture

with performance excellence, respect and a focus

on personal development. These are the values I am

seeking in an organization.

Although UAC is a demanding and fast paced work environment, it also provides excellent opportunities

for people to learn and grow. It is a place where people challenge each other to make better business

decisions, and all leave the room with smiles on their faces, believing they have worked together to

make the best possible decisions.

In addition to my work, I enjoy biking and helping my wife with housework, which I did not have many

opportunities to do in Da Nang, as my family is still in Ho Chi Minh City.

Silvia has asked me what my favorite place on earth is. Well, our planet has many beautiful places

and my career has taken me to beautiful cities in the world such as Toronto, Brisbane and Hamburg.

Ultimately however, I realize that there is no place more beautiful than the village or town from which

one comes. In my heart, the small city of Tra Vinh (Southern Vietnam) where I was born and spent most

of my childhood is my favorite place and the most beautiful city in the world.

12
---
VIENNA CITY MARATHON 2022

READY,

SET, GO!

Claudia Heger - Management Assistant Montana Aerospace

At this year's 39th Vienna City Marathon we were again able to welcome many Montana Aerospace

colleagues to Vienna.

At the traditional get-together in the Glacis Beisl restaurant on Saturday, not only starting numbers and

T-shirts were handed out but last-minute tips for the race were also exchanged.

It finally all started on Sunday morning. Among the 32,000 entrants were 92 runners from Montana Tech

Components. Of these, 9 Montana Aerospace teams started.

Afterwards we went back to the Glacis Beisl restaurant for refreshments and the award ceremony. Here,

awards were handed out to the fastest runners.

The AluFlexPack colleagues again won the title for the fastest relay with an overall time of 03:05:48!!

Even if no Montana Aerospace runners made it into the top 3, we are proud to have so many motivated and

athletic colleagues!

We are already looking forward to the next marathon, when it is time to say once again: Ready, Set, Go!

13
---
VIENNA CITY MARATHON 2022

14
---
ONE MONTANA AEROSPACE

OUR VALUES

I.

COLLABORATION AS ONE MONTANA AEROSPACE

The invisible force behind everything we do within

the Montana Aerospace Group across physical

boundaries is the culture shared among our

employees. We rely on our individual strengths

and experience while working towards a common

goal. This allows us to actively shape the future of

aviation, e-mobility and energy infrastructure.

II.

I.

III.

IV.

CUSTOMER FOCUS

We strive to be a trusted and reliable

partner by providing the highest

standards of quality and service to

our customers, always focusing on

their needs in order to ensure that

our innovations create added value

and form the basis for long-term

relationships.

III.

15
---
ONE MONTANA AEROSPACE

II.

RESPECT

The foundation of a successful working relationship is treating colleagues

with fairness and respect. We believe in the value of different backgrounds

and opinions at Montana Aerospace. We strive for open and transparent

communication and encourage all our employees to take the initiative and

share their ideas, regardless of hierarchy or position.

V.

V.

PROACTIVE OWNERSHIP -

TAKE OVER ACTIVE RESPONSIBILITY

The extraordinary development of the

Montana Aerospace Group is only made

possible through proactive thinking and the

actions of all our employees. We encourage

each and every one to take responsibility and

contribute his or her individual strengths to

achieve the best possible results.

IV.

SUSTAINABLE ENTREPRENEURSHIP

We are clearly committed to global climate goals and strive

to continuously reduce our environmental footprint through

sustainable entrepreneurship. This means that we promote

visionary and cross-functional thinking in our Group and

specifically seek to increase efficiency in all our business

processes.

16
---
ONE MONTANA AEROSPACE

''SUSTAINABLE ENTREPRENEURSHIP

Sustainable Entrepreneurship (SE), what is it?

When I was asked to write a few lines about SE, I was thinking, why do they ask me, what can I say

about it? But let me tell you what firstly came to my mind, what does it mean for me as an employee

and what I think it means for Montana Aerospace or AME-Group.

Sustainability nowadays is in everyone´s mouth and everybody is

connecting this buzz-word with a mainly positive association of

environmental protection. But SE seems to be more than that, it is not

only about how we can avoid pollution, or reduce over-exploitational

use of ecological resources. It's a management-responsibility of

how we manage a sustainable growth of our company. So, I mean

sustainability has a broader range of dimensions which affects our

daily business and the decisions we make.

For me it seems, that the focus of SE should be in general on the

usage of resources, regardless if it is natural-, human-, financial-,

organizational-, physical-, or technological resources. If one of

those aspects is not or insufficiently considered (e.g. by focusing too

much on only sustainability in natural resources - although it is an

important subarea), our company can never be competitive on the

global markets.

If Top-Management only had in mind to make as much money as

possible in a short time they would not have been willing to invest in

new plants or production lines. By making these investment which are

required to be successful in the mid- and longterm they have made a sustainable decision for growth.

Another example: a sustainable company needs to focus on their employees. That means, not

to overload the employees, to increase productivity, to challenge and encourage them and to buildup

a good partnership between employees and the company, where both can take a benefit out of it

The biggest challenge I think is, to use resources in the best operational and sustainable way in our

daily business, we can contribute to a positive impact to the company's success for a longer period.

By knowing that Montana has set-up SE as one of their main strategies the cornerstone for a

sustainable growth is made. I am happy and supportive to the further future success of the company.

DI Robert Stadler

Projectmanagement Alu Menziken Group

17
---
ONE MONTANA AEROSPACE

''

The focus is increasingly trending towards the topic of

sustainability. First and foremost, the goal is not only the

economic aspect, but to create added value that is recognized

both internally and externally. This does not always have to

be a high-tech solution, but many small, simple changes can

also contribute. We at ASTA therefore focus on including our

employees in the entire process and thus creating solutions

in combination with their ideas for a more sustainable future

together.

Ing. Pierre Prohaska

Head of Quality Management ASTA

''

To me, Sustainable Entrepreneurship encompasses:

Designing products with their lifespan and "end of

life" in mind. This can include designing components

to be easily repaired or recycled- or easy to be

disposed of in a way that is not harmful to the

environment.

Driving product offerings in a more environmentallyfriendly

direction by setting goals in terms of

sustainability metrics and engineering cutting-edge

products to meet these goals in a manner that is

profitable.

Dillan Cothran

Lab Metallurgical Engineer UAC-US

18
---
IMPRINT

Montana Aerospace AG

Alte Aarauerstraße 11

5734 Reinach, Switzerland

Contact: Claudia Heger

c.heger@montana-aerospace.com