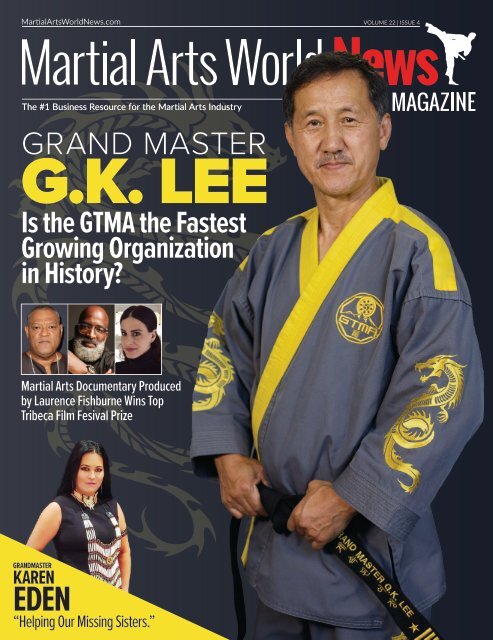 Martial Arts World News Magazine - Volume 22 | Issue 4
The #1 Business Resource for the Martial Arts Industry
The #1 Business Resource for the Martial Arts Industry
SHOW MORE
SHOW LESS
You also want an ePaper? Increase the reach of your titles
YUMPU automatically turns print PDFs into web optimized ePapers that Google loves.
MartialArtsWorldNews.com

VOLUME 22 | ISSUE 4

The #1 Business Resource for the Martial Arts Industry

GRAND MASTER

G.K. LEE

Is the GTMA the Fastest

Growing Organization

in History?

Martial Arts Documentary Produced

by Laurence Fishburne Wins Top

Tribeca Film Fesival Prize

GRANDMASTER

KAREN

EDEN

"Helping Our Missing Sisters."
---
WORK HARDER

SMARTER!

CUTTING-EDGE ATLAS SOFTWARE

+ LEAD GENERATING WEBSITE

+

ENGAGING SOCIAL MEDIA POSTS

PROVEN-SUCCESSFUL MARKETING TOOLS

DONE-FOR-YOU AFTER SCHOOL PROGRAM

INDUSTRY LEADING BUSINESS STRATEGIES

CALL

1-800-275-1600

TO SPEAK WITH A SCHOOL SPECIALIST

Get a FREE DEMO and $246.00 IN BONUS GIFTS

at AtlasMartialArtsSoftware.com
---
Shop From the Largest Supplier of

Taekwondo Equipment in the USA

myKick.com
---
CONTENTS

FEATURES

28 Helping Our Missing Sisters

34 An Outstanding Leader

Advancing Traditional Martial

Arts Globally

103 FREE Tool of the Month

DEPARTMENTS

14 Industry Insights

15 Birthdays

16 Industry Innovations

20 Social 411

54 School Profiles

65 Classified Ads

99 Advertiser Index

YOUR INPUT

50 Tell Us Your Story

77 Feature Your School,

Organization, Accomplishment,

or Event

COLUMNS

6 Editorial

Preparing for the Upcoming Economic "Hurricane"

Master Toby Milroy

8 Martial Arts World News Faculty

12 Ninja Business Tactics

A Dream Life Indeed

An-Shu Stephen Hayes

58 Teamwork

4 Tips to Boost Your Social Media

Hanshi Dave Kovar

60 Mind Mastery

Exploring the Subconscious Mind Pt. 1

Grandmaster Jessie Bowen

62 Growth Hacks

Social Media Marketing Is Here To Stay, But Are You

On Board?

Mr. Sean Lee

64 Next Level Strategy

Convenience Morality, Part 1

Shihan Allie Alberigo

66 Pillars of Success

What is a Healthy Lifestyle? Part 2

Grandmaster Y. K. Kim

70 The Way of the Samurai

Children and the Art of the Sword, Part 4

Shihan Dana Abbott

72 Extraordinary Marketing

Just Sell Something

Grandmaster Stephen Oliver

74 Mastering Modern BJJ

Teaching Child Students Jujitsu

Master Carlos Machado

78 Tactical Self-Defense

Less Can Be More! (Part 1)

Grandmaster Tom Patire

4 MARTIAL ARTS WORLD NEWS VOLUME 22 | ISSUE 4
---
STAFF

80 Complete Martial Arts Concepts

Teaching the Complex Art of Kung Fu, Part 3

Professor Willie "the Bam" Johnson

82 The Millionaire Smarts Coach

6 Ways To Deal With Setbacks

Ms. Lee Milteer

86 Budo Philosophy

"Educare" (Part 1)

Shidoshi Alfredo Tucci

88 Pro Shop Power

Get the 3 Keys to Running a Profitable Pro Shop

Mr. Sun Kang

90 Master the Basics

Master the Art of Operating Your School

Master Tina Bane

92 Instructional Excellence

The Value of Stress Training

Grandmaster Tim McCarthy

94 Business Buzz

9 Keys of Black Belt Leadership Charisma

Grandmaster Lawrence Arthur

96 Martial Arts Philosophy

A Diary of a Black Belt, Part 6

Sensei Gary Lee

98 Management Excellence

Why Struggle, When ATLAS Can Make Your School

Management Effortless?

Chief Master Kirk Pelt

100 The Warrior Way

The Persistence Factor, Part 2

Grandmaster Bill Clark

102 Staff Development

Mining for Instructors: Planting the Seed, Part 2

Master Zulfi Ahmed

104 Tools & Tactics

Remove Any Doubt That You're Only In It For The Money

Ms. Chris Lee

106 After School Excellence

Use Summer Camp to Promote After School

Chief Master Mike Bugg

VOLUME 22 | ISSUE 4

PUBLISHER

Master Toby Milroy

EDITOR-IN-CHIEF

Mr. Sean Lee

MANAGING EDITOR

Mr. Jeff Reulbach

ART DIRECTOR

Mr. Frank Meyer

GRAPHIC DESIGNER

Mr. Amen Blue

WEB DEVELOPER

Ms. Erin Pham

COLUMNISTS & CONTRIBUTORS

Hanshi Dave Kovar

Grandmaster Bill Clark

Mr. Sean Lee

Shihan Allie Alberigo

Grandmaster Y. K. Kim

Grandmaster Tim McCarthy

Chief Master Kirk Pelt

Grandmaster Stephen Oliver

Chief Master Mike Bugg

Professor Willie Johnson

Grandmaster Zulfi Ahmed

Ms. Chris Lee

Grandmaster Lawrence Arthur

Master Tina Bane

Mr. Sun Kang

Master Carlos Machado

Grandmaster Jessie Bowen

Shidoshi Alfredo Tucci

An-Shu Stephen Hayes

Ms. Lee Milteer

Sensei Gary Lee

Grandmaster Tom Patire

Shihan Dana Abbott

The mission of Martial Arts World

News Magazine is to be the definitive

source for information, news, education,

ethical business practices,

product reviews and innovative

developments in the world of martial

arts business.

Martial Arts World

News does not accept

any responsibility for

unsolicited submissions.

Our preferred method of

submission is by emailing

the editor at editor@

martialartsworldnews.

com. Paper manuscripts

and photos will

only be returned if

a self-addressed,

postage-paid envelope

is provided. All rights

for letters submitted

to the magazine

will be accepted as

unconditionally assigned

for publication and

copyright purposes,

with the stipulation

that editorial staff has

the right to edit and

comment.

Martial Arts World

News Magazine, its

owners, directors,

officers, employees,

subsidiaries,

successors, and assigns

are not responsible in

any way for any injury

that may occur by

reading or following

the recommendations

herein. As publisher,

Martial Arts World

News makes no

endorsements,

representations,

warranties, or

guarantees concerning

any products or services

advertised or otherwise

provided herein, and

we expressly disclaim

any and all liability

arising from or relating

to the manufacture,

sale, distribution, use,

misuse, or other act

of any party in regard

to said products or

services.

This magazine is a

copyrighted product

of Martial Arts World

News. All rights

reserved. Reproduction

in whole or in part is

expressly prohibited

without written

permission from the

publisher.

MARTIAL ARTS WORLD NEWS VOLUME 22 | ISSUE 4 5
---
EDITORIAL

Preparing for the Upcoming

Economic "Hurricane"

In a recent interview, Jamie Dimon, the CEO of JP Morgan Chase, stated that, even

though things look 'sunny' right now, with low unemployment, high demand for

skilled workers, robust consumer spending, and lower consumer debt, people and

businesses better brace themselves for the Economic Hurricane that's coming.

With inflation at decades highs, supply chain disruptions, energy

prices at historic levels, a war in Ukraine, and a Fed that was

slow to respond, we're facing a significant 'slow down' of some

type. Whether it's a mild recession, or something more dramatic is

yet to be seen, but either way, smart school owners

need to be preparing now!

Recession is nothing 'new'. We have short

term economic cycles, and we typically see a

recession or pull back of some type every 7 to

9 years or so. So, how is a school owner to

prepare for these types of disruptions?

First, it's VERY important to differentiate

the impact of the "Macro-Economic" situation,

from your specific school's "Micro-

Economic" situation. "We", my

fellow school operators, have NO

ability to impact the inflation rate,

unemployment rate, gas prices,

and other Macro factors they'll

be talking about on national

news over the next year.

These factors do have

some impact on general

consumer confidence, and

general consumer behavior,

but, we're very fortunate in

our business, that we have far

more flexibility and control over

our own destiny.

The 'key' factors to your success are 100% IN your control!

The "Micro" factors that mean FAR, FAR, FAR more to you in

your school are simple. Your ability, skill and execution of these

simple activities.

Your ability to 'drive traffic' into your lead funnel. The effectiveness

of that lead funnel for converting leads into intros. Your

ability to convert intros into enrollments. Your ability to deliver your

program so expertly, that students want to stay forever, upgrade/

renew their program, and want to refer all their friends.

"The 'key' factors to your success

are 100% IN your control!"

I'd challenge you to think about it this way. If you had an additional

100 new students in your school in the next 60/90 days, how

much more 'recession proof' would your school be? We need to be

focused on 'preparing' for difficult economic times NOW, and in my

view, the absolute best way to prepare is flooding the school with

new students, ramping UP your marketing activities (especially

lower cost, community marketing), and investing in the quality and

training of your staff.

NOW is the time for ACTION!

PREPARE NOW, and whatever downturn comes, you'll be in a

position to win!

If you need any help driving traffic into your school, or preparing

for the upcoming challenges, give my team a call at 1-800-275-1600,

and we'll be happy to help you!

MASTER TOBY MILROY is a 5th degree black belt. Known as "The Master Systemizer," Master Toby Milroy

has positively influenced more martial arts schools than anyone in our industry. He has built a successful multi-school

organization, led the national trade association for the martial arts industry, and coached some of the most successful

martial arts school operators in the world.

6 MARTIAL ARTS WORLD NEWS VOLUME 22 | ISSUE 4
---
CHECK OUT OUR

MARTIAL ARTS

BUSINESS

DISCUSSION GROUP

No Egos – No Politics – No Trolls

Just News, Tips, Strategies, and Tools to Help You Grow Your School!

facebook.com/groups/MartialArtsWorldNews
---
OUR EXPERT FACULTY

6

Master Toby Milroy

is a 5th degree Black Belt, the CEO and

Publisher of Martial Arts World News

Magazine, and the Executive Vice

President for AMS. In addition to building

a successful multi-school organization,

Master Milroy has positively influenced

more martial arts schools than virtually

anyone in our industry.

12

An-Shu Stephen Hayes

has authored more than 20 books,

worked as a bodyguard for the Dalai

Lama, supervised over 30 school locations

worldwide, and was named, "One of

the 10 Most Influential Living Martial Artists

in the World" by Black Belt Magazine.

60

Mr. Sean Lee

is the Executive Director of Sales and

Marketing for hundreds of martial arts

schools and specializes in online and social

media marketing using his extensive

professional experience in sports and

martial arts marketing, contract negotiation,

and investment.

64

Shihan Allie Alberigo

is a 7th degree black belt, the founder

of the L.I. Ninjutsu Centers, one of the

largest Ninjutsu schools on the planet,

the author of 4 books, and an entrepreneur

with one of the first online coaching

companies (TakingItToTheNextLevel.com).

58

Hanshi Dave Kovar

is an 9th degree black belt and recognized

as the "Trainer of Trainers." Hanshi

Kovar is an internationally acclaimed

instructor with black belt degrees in ten

different martial arts styles. His systems

have been implemented in hundreds of

schools around the US.

60

Grandmaster Jessie Bowen

is President of Karate International of Durham,

Inc., a member of the American Martial

Arts Association Sport Karate League

and Hall of Fame, and has been a member

of the Duke University PE Staff for over 25

years. He is the author of Zen Mind-Body

Mindfulness Meditation and Zen Mind-Body

Mindfulness Meditation for Martial Arts.

66

Grandmaster Y. K. Kim

is the most successful martial arts business

leader in the US, having written

over 30 books on martial arts, business,

leadership, and success. He has won

numerous public service awards and is

the founder of the leading martial arts

marketing and management company in

the US.

70

Shihan Dana Abbott

is a 7th degree black belt in Kenjutsu,

starting his 14-year education in Tokyo.

He has published five books and designed

a US Patent. Abbott has also

conducted seminars in over 30 countries

and obtained his black belt at the Hombu

dojo in Yokohama. He currently offers

online classes on LearntheSword.com.

8 MARTIAL ARTS WORLD NEWS VOLUME 22 | ISSUE 4
---
OUR EXPERT FACULTY

72

Grandmaster Stephen Oliver

is a 9th degree black belt and is the

founder and CEO of Mile High Karate

schools, and founder of the Martial Arts

Wealth Mastery Program.

74

Master Carlos Machado

is one of the pioneers of Brazilian Jiu

Jitsu in the United States of America.

Currently a Coral Belt, and promoted

to Black Belt by Carlos Gracie Junior,

Carlos Machado came to the USA in the

early 1990's with his brothers where they

formed the RCJ Machado Jiu Jitsu Association,

one of the strongest & growing

BJJ organizations in the world today.

78

Grandmaster Tom Patire

is known as "America's Leading Personal

Safety Expert" and has appeared on

Good Morning America, The CBS Morning

Show, The Colbert Report, Montel,

plus in mainstream publications such as

Family Circle, Redbook, Fortune Magazine,

and The Wall Street Journal.

80

Professor Willie "The BAM" Johnson

is a 7th degree black belt and seven-time

sport karate and Kung-Fu world champion.

He has appeared in four movies,

16 plays, and 11 television shows. He is

also the national spokesperson for the

Stronger than Drugs Foundation and the

Champions Against Drugs.

82

Ms. Lee Milteer

is an Intuitive Business Coach, awardwinning

professional speaker, and TV

personality who has counseled and

trained over a million people throughout

her career. Lee is Stephen Oliver's

Martial Arts Wealth Mastery's Millionaire

Smarts Coach and is also a best-selling

author of educational resources.

86

Shidoshi Alfredo Tucci

is the CEO and General Manager of the

Budo International Publishing Company,

a leading publisher in the martial arts

with over 35 years in the industry. He

is also author of several books: The

Immaterial Dimension, The Way of the

Warrior, and The Spirit. He currently lives

in Valencia, Spain.

88

Mr. Sun Kang

is the President of Vision Martial Arts

Supply who helps school owners all over

the US maximize their retail sales and

drive more revenue into their schools.

90

Master Tina Bane

is a 6th degree master instructor and

owner of a Top Ten martial arts school

with successful after school and summer

camp programs.

MARTIAL ARTS WORLD NEWS VOLUME 22 | ISSUE 4 9
---
OUR EXPERT FACULTY

92

Grandmaster Tim McCarthy

is a 9th degree black belt and is a martial

arts educator with a master's degree in

education. He has been instrumental

in developing two industry-changing

programs, and has directed and been

featured in hundreds of martial arts videos

and webinars.

94

Grandmaster Lawrence Arthur

is a martial artist specializing in Karate,

Kung Fu, Kenpo, Shoto-kan, and Gojurue,

with 40 Super Kick Karate locations,

and founder of AFKA. World champion

Lawrence also runs the Black Belt Success

Systems consulting firm, training

martial arts instructors on proper business

practices in schools all over the country.

96

Sensei Gary Lee

the American Samurai, is a 9th Dan black

belt, a USA Karate Federation gold medalist,

winner of five Super Grand National

Titles, a featured actor in the movie Sidekicks,

and is the founder of the National

Sport Karate Museum.

100

Grandmaster Bill Clark

is a 9th degree black belt and a former

PKA Fighter of the year. He is widely considered

one of the top experts in martial

arts business with over 40 years of

leadership and innovation, having been

inducted into almost every Hall of Fame

in the industry. He is one of the largest

multi-school owners in the world.

102

Grandmaster Zulfi Ahmed

has amassed acclaim as a world-class

competitor, martial arts educator, and is

most notably founder and designer of

the internationally renowned style, Bushi

Ban. With over 45 years of martial arts

experience and over 300 martial arts

awards, his schools include ten locations

across Texas.

104

Ms. Chris Lee

is a martial arts business development

consultant with a background in online

and social media marketing.

98

Chief Master Kirk Pelt

is an 8th degree black belt and is the

President of a multimillion-dollar, multischool

organization, has a 30-year track

record of success, and is currently on the

leading edge of martial arts curriculum

and business innovation.

106

Master Mike Bugg

is an 8th degree black belt and the

owner of a 1.5 million-per-year location,

with one of the largest after school and

summer camp programs in the country.

10 MARTIAL ARTS WORLD NEWS VOLUME 22 | ISSUE 4
---
Cutting-Edge Martial Arts

Websites

that Bring New Students into Your School...Fast

WHAT MAKES OUR MARTIAL ARTS WEBSITES SO AMAZING?

You Get a Beautiful, Mobile Responsive, Lead-Generating Website that Works for You 24/7/365

. Designed to ATTRACT

and CAPTURE Leads

. Mobile Responsive

Design

. User Editable Pages,

Posts, and Offers

. search engine

friendly

. Attention-Grabbing

Video Landing & Sales Pages

. Fully Customizable

Website Designs

AmazingMartialArtsWebsites.com

Friendly, Dedicated US-Based

Support Team - At Your Service!

(800) 275-6900
---
NINJA BUSINESS TACTICS

A Dream Life Indeed

by An-Shu Stephen Hayes

Going on 72, at this stage of my life and career, I am happy to say I am accomplishing

what was most motivating and stirring to me as a child.

I was driven by two quests. One – I wanted to know how to handle

cruel, brutal, and dangerous bullies and victimizers in order to

do my part to bring more peace, joy, and kindness into the world.

Two – I longed to understand the big beyond-understanding spiritual

questions that have haunted humanity since time immemorial

– what makes a life meaningful, why is there evil in the world,

where do we go after life?

I was so fortunate. Stepping stone by stepping stone, for over

50 years, I studied the martial arts and developed what for me

were the breakthrough answers for how to take down vicious and

hate filled enemies of peace, gentleness, and goodwill. Based on

the Togakure Ryu ninja Soto Tonko no Kata, the highest levels of

my To-Shin Do offer ways to approach dealing with violence in an

age when adversaries had reached new levels of cruelty,

and court judgements regarding self defense had

reached the extremes of abject nonsensicality.

I was so blessed. Chasing around the world

for over 50 years, I pursued the great spiritual

traditions of antiquity and found what for me

were the leads to grasping the answers to

the timeless questions of how to live a life

of depth and purpose. A strange amalgam

of truly understanding the point of Tibetan

Vajrakilaya practice and pursuit of the Japanese

approach of Shugendo brought me to an understanding

that half (or more?) of our troubles in

life come from the inside out.

At this point in my career

of searching for truth and

verifying it by teaching

others, I have attained

the "exciting peace"

of fulfillment, contentment,

and exhilaration.

That certainly does not

imply that I am done, that I have all the answers, that I have finished

my exploration. I am sure more tests and discoveries lie ahead of

me, both elevating and heartbreaking. But life has brought me to

a place of deep meaning and understanding. I have been on the

right 2-fold track for my entire adult life. I am doing what I set out to

do, so many decades ago.

At this stage, after so many battles won (and a few lost) I can

see the important value of having a mind that is open to everything

and attached to nothing. There are ever more new things to realize.

There are so many attachments to let go of. Newer bigger answers

will require a bigger mind to handle. Attachments – such as

the need to be right, the urgency to own something or someone,

to win at all costs, to be seen by others as superior – are chains

that pull us down.

This open mindedness can admittedly seem confusing to my

friends. They may expect me to be firmly definitive in how I run

my programs and seminars. They may assume I have figured it all

out, I've covered all the bases, and know exactly what and how to

present to folks. They may be frustrated that I ask more questions

of people than give answers. I want to know what people want to

know. You tell me.

I have had a great trip for my life. I am so lucky to be fulfilling

the dreams of my childhood. I can say I have never worked a day

in my life; I have enjoyed daily pursuing my passions. I have ended

up with the career of my dreams, the friends of my dreams, married

to my dream girl for 41 years, blessed by the children and grandchildren

of my dreams, lived in the house of my dreams, drove the

cars of my dreams, traveled to the places I once only dreamed of.

And certainly, granted, that could all be gone tomorrow. But I am

enjoying these things today.

Only one thing left now. How do I get a bigger audience of

people tuned in to enjoying this path alongside me?

How can I help more people help more people make the world

a more beautiful place?

You tell me.

AN-SHU STEPHEN HAYES has authored more than 20 books, worked as a body guard for the Dali

Lama, supervised over 30 school locations worldwide, and was named "A legend; one of the 10 most influential

living martial artists in the world" by Black Belt Magazine

12 MARTIAL ARTS WORLD NEWS VOLUME 22 | ISSUE 4
---
You Don't Need a Degree in

Education to Teach Children

all you need is one book!

Raising 4 Dimensional Children in a 2

Dimensional World is an informationpacked

resource for teachers of all levels

of experience. It takes the latest research

in developmental child psychology and

makes it easy to understand, explaining

how a child's brain develops, year by

year. Even the youngest members of your

staff will understand which activities are

appropriate for which age groups, which

activities are not, and why.

Take advantage of Grandmaster Tim McCarthy's research and experience, organized for you

with over 400 age-appropriate activities. It will be the best $5.00 you ever spent.

Order a copy today at 4d-2d.com and share it with your entire staff!
---
INDUSTRY INSIGHTS

Does Your School Need A TikTok

Platform Account?

If you do a quick Google search on social media trends for

2022 and beyond, the first trend that will pop up repeatedly

is the expected growth of TikTok. Currently,

Instagram holds the first spot for social marketers

and has been giving the highest return on investment,

but things are changing. This is sure to have

an impact on the martial arts industry as well.

According to Hootsuite, Instagram's active users in

2020 grew at a 6% rate, but in 2021 from January to September

TikTok grew from 689 million to over a billion

users which was a 45% increase. Also, Google search

trends show TikTok has gone up by 173%, but Instagram

reels have only climbed by 22% and Instagram stories

have declined by 33%.

In 2020-2021 TikTok presented business tools like

business profiles, ads, and a creator marketplace. To quote

Hootsuite, "If brands aren't flocking to TikTok yet, they will

be soon. We recommend being at the front of the wave rather

than behind it."

The 2022 Tribeca Film Festival

Awards An Inspirational

Martial Arts Film

film called "The Cave of Adullam"

won the best documen-

A

tary award. The film which was

produced by Laurence Fishburne

featured Detroit's Cave of Adullam

Transformational Training Academy

and its Instructor Jason Wilson's

efforts to help young students

build character for living in a tough

world. The Martial Arts School was

founded in 2008 and has a special

mission in the community.

Instructor Wison's teaching methods have not only inspired the

children in his community but also 3.2 million viewers of a video of

him teaching on Youtube. The video inspired the television show

"This Is Us" to create a similar scene in one of its episodes. At the

Tribeca Festival Wilson was described as "living by the mantra it's

easier to raise boys than to repair broken men."

Martial Arts World Magazine also gives Two Big Thumbs Up!

Here's the video: https://youtu.be/ooAOc9Fwg0U

From Humble Beginnings

to Iconic Status

W

henever the nunchaku is mentioned, martial artists usually

will recall fight scenes of Bruce Lee from any of his legendary

movies. The speed, accuracy, innovation, and charisma in

how he used nunchakus on the silver screen has inspired much

imitation over the years. Even though his use of the weapon may

have introduced it to the world and popularized it, the nunchaku

is a traditional Japanese weapon that is commonly said to have

been developed by humble farmers in Okinawa.

Although the true origin is unclear, the most popular story

told is that at a time when invading Japanese warlords banned

conventional weapons in Okinawa, the farmers converted their

tools into weapons to defend themselves. This tale suggests

the nunchaku came about from an agricultural flail used to strike

rice, wheat, and soy to remove husk from the grains. It was made

from two sticks, one longer stick and one shorter flatter stick

connected by a flexible joint, sometimes made of metal links.

Another story on the origin of the nunchaku is that it is based

on Okinawan clappers used by watchmen at night as warning signals

that disasters were impending. Regardless, of the enigmatic

and humble origins of the nunchaku, it's popularity as a weapon

for training and demonstrations along with those legendary movies

has made it an iconic weapon.

14 MARTIAL ARTS WORLD NEWS VOLUME 22 | ISSUE 4
---
Dave Kovar Promoted to 9th

Degree at ProMAC

International Conference

F

or the first time since COVID

hit 3 years ago, a ProMAC

International Conference was

held and it was truly memorable.

Attendance was great, speakers

were world class, and feature

guests were some of the top

Martial Arts industry leaders. In

addition, the event was highlighted

by Hanshi Dave Kovar

being promoted to 9th degree black belt, an honor well deserved.

While the event gave participants a renewed passion and new

tools to help take their schools to even higher levels, it was more

than the typical conference. On Friday night of the event, Hanshi

Kovar was presented with the promotion by Grandmaster Fred

Degerberg. That alone would be a great honor, but he was further

honored by it being witnessed by Grandmaster Ray Arquilla, Hanshi

Bruce Juchnik, Grandmaster Ernie Reyes Sr and Shihan Mikio

Nishiuchi, along with 340 of his closest friends.

Martial Arts World News Magazine also extends our congratulations

to Hanshi Kovar.

INDUSTRY INSIGHTS

Martial Arts

Celebrity Birthdays

July

July 3. ............................Bolo Yeung

July 24. ......................... Dan Inosanto

July 26. ........................Jason Statham

July 27. ...........................Donnie Yen

July 31. ........................ Wesley Snipes

August

August 3. ........................... Gary Lee

August 22. .......................... Bob Wall

August 23. .......................... Ray Park

MARTIAL ARTS WORLD NEWS VOLUME 22 | ISSUE 4 15
---
INDUSTRY INNOVATIONS

Secure Your Financial Future With

AMSkids After School Martial Arts

Since your martial arts school is your financial future, you need

proven tools to make sure that you secure it. AMSkids is a

longstanding after school martial arts program with a proven track

record that works like a GPS that will guide you to higher profits

and better students by providing you with the tools and resources

you need to reach your goals.

AMSkids provides you with a complete start-up kit that will take

you from A to Z with a step-by-step guide. Additionally, you'll have

access to minute-by-minute instructional guides and many powerful

support tools. Anyone who can follow simple instructions can easily

start this highly profitable business that has enabled many martial

arts school owners find peace of mind relative to their finances.

The program also includes a pre-planned character-building

curriculum, program director operational plans, parent and student

motivational newsletters, "Done for You" enrollment options, a

teens program called Leaders Edge, and so many other amazing

options to ensure success.

AMSkids after school martial arts offers you a clear roadmap to

success that will allow you to futureproof your martial arts school and

provide a better service so you can make a positive impact on the

lives of students who will become the leaders of tomorrow's world.

These resources and tools have proven to be effective and

were designed by martial arts school owners who understand

exactly what anyone needs to grow their own after school program

and take hold of financial success.

To learn more visit ourams.com/afterschool

16 MARTIAL ARTS WORLD NEWS VOLUME 22 | ISSUE 4
---
Our Goal is to Help Young Minds

GROW Stronger and EMPOWER

them through Stories that will:

• Inspire Their Imagination

• Develop Their Moral Compass

• Set Positive Examples Both Visually and Verbally

• Prepare Them for Life's Challenges

Sarah B. Tucker, Author of

The Adventures of Harry & Friends

Book Series

AdventuresOfHarryAndFriends.com
---
INDUSTRY INNOVATIONS

Learn The Sword: Brings Japanese

Swordsmanship Training

Into the 21st Century

Do you want to learn swordsmanship or add a program to your curriculum?

What's better than learning it from a master with over four decades of

experience! Shihan Dana Abbott, a Black Belt Hall of Famer and a renowned

expert in Japanese swordsmanship, is offering a unique and ideal opportunity

for sword training online. His Learn The Sword is an easy to use platform for

martial arts school owners or instructors to learn this skill and teach it to their

students.

With his online training courses, you can now learn Japanese

swordsmanship sitting anywhere in the world. It is a comprehensive

course designed to help anyone learn from basics to advanced

techniques.

Shihan Abbott uses both traditional and contemporary learning

methods in order to help anyone learn swordsmanship.

A great feature is that you will always have access to your

instructor and won't be left on your own to simply watch the

training videos. The instructor is there to help you throughout your

training and discuss any issue you can encounter during training

with him and to give you the guidance you need, when you

need it.

To learn more about this program visit

LearnTheSword.com and enroll yourself in.

Otomix Has Shoes and A Whole Lot MORE

Sometimes it gets difficult for you to find a high quality and

durable pair of martial arts training shoes, but Otmix has got

your feet covered. As a martial arts school owner or instructor, you

won't only find shoes, but you also will be able to find all sorts of

martial arts gear at the Otomix online store for school's needs.

There are plenty of exciting high quality products available

at affordable prices. When you visit Otomix.com you will see a

catalog of resources ranging from uniforms, sparring gear, belts,

carrying bags, workout pants, t-shirts, and of course shoes. There

are wholesale opportunities, a "wear now pay later" feature, and

deals of the day."

Otomix understands that martial arts training requires sturdy,

comfortable, and superior grip shoes. Therefore, it promises to provide

the best pair of shoes without compromising on quality.

The website's interface is very user-friendly and you will not

have any difficulty in finding the product of your choice.

Head to Otomix.com to see more of what they have to offer for

your martial arts business needs.

18 MARTIAL ARTS WORLD NEWS VOLUME 22 | ISSUE 4

Photograph by cynoclub (top left)
---
www.WhosWhoInTheMartialArts.com/nominate
---
SOCIAL 411

The Core Components of a Strong SEO

Strategy: Content

We continue with the SEO Core Components series and we

will be focusing on content. Content is the star of the show

because it's what people look for when they make a search, and

therefore is what Google (and other search engines) use to determine

how relevant your martial arts school site is to their query. It

is the information that will allow people to solve a problem or make

a choice.

Your martial arts school website contains content of different

formats, such as blog posts, videos, product recommendations,

paragraphs of text, headlines, images, navigation elements, pages,

listings, and much more. When it comes to SEO the content, the

structure of the content, the keywords used in the content, and how

'relevant' that content is to the person searching, are some of the

most important factors and it affects visibility greatly.

Find the Right Keywords

SEO is not just about bringing visitors to your website, it's about

attracting your target audience; the people who are most

interested in what you're offering, and who will make the best

customers. However, you can't possibly do that if your website

doesn't rank for the right keywords those people are using on their

queries.

If you want potential martial arts students to find your school,

you need to figure out what phrases your potential customers will

use in their searches.

That's where keyword research comes in, which is the process

of identifying the terms and topics that are relevant to your business.

Then, you can make keywords out of them and research to

find related terms that your potential customers would use. It's

clear, by our research, that key phrases like "Martial Arts in YOUR

CITY NAME", "Karate Lessons in YOUR CITY NAME", and similar

phrases are a great place to start. Once you have a list of keywords,

you have to work on optimization.

20 MARTIAL ARTS WORLD NEWS VOLUME 22 | ISSUE 4

Photographs by Be-Art (top) and Eugene Zvonkov (bottom)
---
The Latest Guide

All Martial Arts School Owners

NEED TO READ

Grandmaster Zulfi Ahmed's

newest book, "The Science & Secrets

of Becoming a Master Martial Arts

Instructor," is the latest must-have

industry guide for martial arts school

owners and instructors.

The world of martial arts is a very

complicated one, where you can soar

to the heights of the profession or

quickly hit rock bottom, all depending

on your mindset, discipline, and skills.

"The Science & Secrets of Becoming

a Master Martial Arts Instructor" is

designed to teach you everything

you'll need to know to avoid the pitfalls

and succeed as an instructor in the

modern era.

Featuring contributions from

some of the best martial arts minds,

including Grandmaster Ernie Reyes,

Grandmaster Stephen Hayes, and

Hanshi Dave Kovar, "The Science &

Secrets of Becoming a Master Martial

Arts Instructor" will no doubt help you

take your career to the next level!

To get your copy today for $29.95,

simply go to Lulu.com and search by author.
---
SOCIAL 411

Optimize Your Pages

On-page optimization or on-page SEO will allow search

engines to understand the topics and keywords of your

pages and then map them to relevant searches. To optimize your

pages, you need to take your keywords and use them strategically

throughout your pages.

That includes URLs, H1 tags, meta-title, meta-descriptions, page

text, image file names, and ALT tags. Of course, optimizing a page

is not just about placing the keywords throughout the page.

You also have to consider the length of your content, use

external and internal links that are relevant, and consider adding

multimedia elements such as diagrams, video, audio, and more.

The general rule is, to write your content to be easily consumed

and understood by human readers, but to always be conscious of

how search engines 'work'.

All of these elements will help you boost your martial arts marketing

and rank higher on search engine results. In the next article,

we will discuss links, which is another important SEO hotspot you

need to focus on!

The Importance of Content for Visibility

There are two reasons why content makes such a huge difference

in search visibility. First, it's what people want whenever

they look for something. The more, good quality, keyword rich

content you create for your website, the higher your chances of

ranking higher on the search engine.

Second, content is what search engines analyze to determine

how to rank your pages. The relevancy between your content and

search queries are essential. When the algorithm crawls a page, it

determines the topic and analyzes factors such as length and structure

to assess the quality of the content.

Based on that, it will match a page with the person's search. This

is why it's essential to optimize your content for SEO and the best

first step is always keyword research.

22 MARTIAL ARTS WORLD NEWS VOLUME 22 | ISSUE 4

Photographs by HYWARDS (top) and tumsasedgars (bottom)
---
THE #1 SOURCE FOR DAILY

MARTIAL ARTS

BUSINESS NEWS

• Instructor Tips and Tricks

• Class Management Skills

• Martial Arts Events

• Classified Marketplace

• Social Media Marketing Tactics

• Marketing Breakthroughs

• Industry News

• Martial Arts School Profiles

And MUCH More!

SUBSCRIBE FOR FREE!

MartialArtsWorldNews.com
---
LAWRENCE ARTHUR

FOUNDER & GRAND MASTER

It gives me great pleasure to invite you to the AFKA Martial Arts

Retreat. We are hosting this retreat to give our students, instructors

and colleagues the opportunity to train together in a friendly,

respectful atmosphere that will create a great experience and fond

memories.

106 Pheasant Ridge Rd.

Lynchburg, Virginia 24502

434-665-2497

Afkalawrence.arthur@

gmail.com

This retreat will have something for everyone to take your skills to the

next level. We have assembled the very best Master Instructors to

share their experience with you. With three tracks of training options

on Sport Karate, Self Defense and iKali, you will be able to earn your

certification and develop yourself as a martial artist.

Natural Bridge is a great vacation location in the Blue Ridge Mountains

full of history and great family entertainment with the Caverns, Zoo,

Safari Park, Hiking Trails and of course the Natural Bridge right next

to a beautiful newly renovated Hotel and Convention Center to

accommodate our event. You don't want to miss this opportunity to

meet new friends, expand your knowledge, and have fun with

your school teammates.

Be sure to get registered by June 15th. There will be no registration

at the door. This will ensure that we will have a well coordinated

and organized event. Please complete the application in this

brochure and mail it directly to AFKA Headquarters postmarked by

June 15th or online at AFKARetreat@MyUventex.com. You have

my 100% Money Back Guarantee.

Your presence will contribute to the success and prestige of

our Retreat. We sincerely look forward to seeing you there.

Best regards,

Grand Master Lawrence Arthur

Page 2
---
NATURAL BRIDGE HOTEL AND CONFERENCE CENTER 15 APPLEDORE LN,

NATURAL BRIDGE VA 24578 540-291-2121

JULY 27-31, 2022

SIGN UP TODAY!

AFKARetreat.MyUventex.com | www.AFKAMartialArts.com

SPORT KARATE

COMPETITION

SELF DEFENSE

1 2 3

Take your game to the top as

the present and past World

Champions share their secrets.

OVER 100 World Titles earned

by your Master Instructors! Be

the best by training with the

best!

Train with the Masters of Self

Defense in Firearms, Krav

Maga, Israeli Knife Fighting,

Defense Lab, Jujitsu, and

MORE! This is NOT your "Run

of the Mill" Self Defense course.

You will learn real world self

defense that will leave you with

new confidence and empower

you with new skills.

IKALI

Train with the Founder of

iKali, Tuhon Apolo Ladra,

the foremost authority on

the "Art of the Blade". Train

to earn your iKali Instructor

Certification.

PICK FROM COURSES ON THREE FULL TIME TRACKS OF SEMINARS

FOR ALL AGES TAUGHT BY WORLD CHAMPIONS AND EXPERTS.

NEVER STOP LEARNING. NOW IS THE TIME.
---
ANNOUNCING:

THE OFFICIAL,

Martial Arts World News Magazine

APP!

Get the

MARTIAL ARTS WORLD NEWS MAGAZINE APP!
---
Business News • Marketing Instructor Tools • Business Videos

Cool Stuff • Owner Profiles • Marketplace Events • and More!

Get it on

Google Play

Download on the

App Store
---
COMMUNITY

"Helping Our Missing Sisters."

By Karen Eden Herdman

Thousands of Native American and indigenous women from the U.S and Canada have

gone missing over the past several years. The ones who return do so in a body bag…

murdered. We're talking about girls as young as twelve years of age and women well

into their 30's.

My name is Karen Eden Herdman. I am of native descent myself,

and I also have 7 black belts. I am humbled to be a rare female

grandmaster of martial arts. My way of helping with this cause is

to personally go into tribal areas and teach native women how to

defend themselves.

It's unfortunate that Native Americans seem to remain so below

the radar when it comes to dealing with their horrific issues. How

can this be happening? Where do these women go? And why does

this country's officials care so little about it? I've pondered these

questions a thousand times.

There are rumors about an underground sex trade taking these

native sisters, but there's been no proof. With hundreds of miles of

vast land and only a handful of tribal law officers overseeing tribal

areas, it would be easy to take someone…anyone, and leave very

few clues. The database system for most of these areas are also

archaic and behind the times. Record keeping over the years has

proven to be a nightmare. It's as if no one deemed it important

enough to even make a decent report on these missing girls.

Last January I was speaking at a martial arts event in Las Vegas.

A Navajo woman came up to me and told me that her 17-yearold

sister has been missing for several years. No one knows a

thing, and no one has done

a thing to help. I could only

hug her and feel the burning

deep inside of me that was

screaming "Karen, you gotta

do more."

My skills and my cause

seems to be a match made

by divine intervention. Native

American people will more

easily accept one of their

own. And Native American

women would be intimidated

by a male instructor. Even

though I am not of the same

tribe as most of these native

sisters, I can relate to them

from my heart, because I am

one of them.

Grandmaster Eden Has a Deep Commitment to the Native American Community,

and Underprivileged Youths in Her Area

From Chemawa in the Pacific Northwest, to the Pawnee Nation

in the Midwest, to the Lumbee tribe on the east coast, I have found

myself educating native women on the basics of self-defense

across the nation. Like avoiding situations that will make you a

victim in the first place, and to not be so trusting. We then hold a

hands-on, basic…yet very effective 10-step self-defense class that I

designed specifically for this cause.

I also fly out to work with some of the top name instructors

in our business on how to get out of kidnappings, duct tape and

tie-wraps. Many of these U.S government instructors will volunteer

their time to teach me, so that I can teach effectively in tribal areas

and reservations.

In the end, I have my faith, my God. I pray for protection for

myself and these very worthy sisters of mine…and I ask you to do

the same. "Wado (Thank you.")

About the author: Karen Eden Herdman is a grandmaster in the art of

Tang Soo Do. She is also multi-ethnic, including Cherokee and American

Indian. Karen has written for every major martial arts magazine across

the globe. She is also a long-standing magazine columnist and has 4

books out. If you would like to book her for a speaking engagement in

regalia, you can contact her at kareneden@centurylink.net

28 MARTIAL ARTS WORLD NEWS VOLUME 22 | ISSUE 4
---
COMMUNITY

MARTIAL ARTS WORLD NEWS VOLUME 22 | ISSUE 4 29
---
Marketing

LET YOUR KRAV EVOLVE

Take your KraV to the

next level.

KRAV MAGA ONLINE TRAINING

Our online training course has

been specially designed to give

you EVERYTHING you need to be

successful as a student or a Warrior

Krav Maga instructor. From business

training to weekly technique videos,

marketing materials and more. It is the • Retain more

ultimate Krav Maga training course. students.

30 MARTIAL ARTS WORLD NEWS VOLUME 22 | ISSUE 4

Warrior Krav Maga Is A New

Online Krav Maga Training Course

That Will Teach You:

• To become a Krav Maga Instructor

• Boost your school's income.

WHAT ARE YOU WAITING FOR?

Warrior Defence Lab leads the industry

when it comes to helping people reach

their training and fitness goals.

Visit the Online Training Portal

Illustration by Varijanta

theevolutionofkrav.com
---
presenting

the Ninja

'Five Elements' system

Author Stephen K. Hayes presents the Ninja "Five Elements" system to explain fundamental aspects of self-defense.

According to Japanese Buddhist belief, human nature is connected to the natural world and is made up of five elements. By

understanding that connection, essential responses to any threat become clear:

EARTH—Remain grounded in your thinking and footing to repel attempts to distract or deceive you

WATER—Shift, angle and move fluidly to tactically confuse attackers and put them off balance

FIRE—See where a situation is going as it develops and intercept it at the critical moment

WIND—Stay light on your feet and move nimbly to evade and escape attempts to pin you down

VOID—Control a fight's direction by changing dynamics to confuse your attacker

"Ninja Fighting Techniques" explains how the five elements can

become automatic, unconscious responses for fighters who

train the Ninja way. Through study and practice they become

instinctive, effectively employed precisely when you need them

without thinking.

The advantage of Ninja teachings over other martial disciplines

is that, in addition to providing physical combat methods, they

teach you to develop a better understanding of human behavior

and psychology as well as "real-time" awareness of your

surroundings — invaluable in any combat and street fighting

situation.

With over 300 full-color photographs and detailed step-by-step

instructions, this book shows you how the ancient self-defense

techniques developed by the Ninja are still unsurpassed today!

Get The Book

@ Tuttlepublishing.com
---
Tom Patire's

®

Making America Safe Again

Personal Protection Tour

Soft-Handed

Control Tactics

®

Active Shooter "SURVIVE"

For Families

®

®

Martial Ops

The FINAL Level In

Personal Protection

TRAINING

FOR LIFE

®

Self-Escape Course For Women

Child Safety For Kids

Tom Patire and his team will come to your

school and teach his revenue generating

personal protection seminars. You choose

which seminars fit your demographic to

help keep your community safe!

For More Information - 888-238-7287

www.TomPatire.com
---
JOIN US!

FREE MARTIAL ARTS BUSINESS

WEBINAR

Sponsored by Martial Arts World Magazine

Join Us on the

2nd Tuesday

of every month at

1:00 P.M. Eastern

Join Us for Our Business Brainstorming Sessions with Master Toby Milroy!

UPCOMING DATES:

July 12th

August 9th

REGISTER FREE:

MartialArtsWorldNews.com/Webinar
---
AN OUTSTANDING LEADER

ADVANCING TRADITIONAL MARTIAL ARTS

GLOBALLY

GRAND MASTER

G.K. LEE

From 0 to More than 200 Schools in 18 Months, is the GTMA

the Fastest Growing Martial Arts Organization in History, and

What Are Their Keys to Success?

Grand Master Lee began his martial arts training when he was in the second

grade and by the time he was 12 years old he had earned his first black belt

in Tang Soo Do. He served his country in the military for 4 years in the Korean

Army where he also taught Taekwondo. When he was 26 years old left

South Korea to come to the United States. With many accomplishments for

his efforts, Grand Master Lee introduced Protech to the traditional Songahm

curriculum, became the 4th presiding president of the ATA organization,

and earned his 9th degree black. Now he has taken the lead once again

to present an exciting new organization for traditional martial arts called

Global Traditional Martial Arts which is on a mission to provide a place for

and pass along the old traditions while also moving into the future.
---
COVER STORY

MAWN: Thank you Grand Master GK Lee, Chief Master Kathy

Lee, and GTMA CEO Jeff Nodleman for sharing with our industry.

It's really been fascinating to watch what you guys have been

accomplishing over the last couple of years. It would be beneficial

for our readers in the Martial Arts industry to get a good sense of

what you've been building. Grand Master Lee, please tell us about

yourself and where you're from, and the direction the ship you're

steering is heading. Explain how you got started in the Martial Arts,

what your early life was like, where you are now and what brought

you to that place.

GL: I was originally born and raised in South Korea and resided

there for 26 years. My family has been involved with Tae Kwon

Do for a very long time. So from a young age I learned from my

family and my original instructor as well. At 26 I moved to the

United States and have been here ever since. I worked for the ATA

organization for a long time. In fact, I was also the fourth presiding

Grand Master in the organization. Eventually, to further advance

traditional Martial Arts, we had a separation and we began Global

Traditional Martial Arts (GTMA).

MAWN: A lot of the folks that we work with and we talk with

are first generation immigrants from Korea in the Tae Kwon Do

community. You were born during a time when Korea was emerging

from a post-war mentality and the culture was really disrupted

from all of that. You came from that environment to the US and

have accomplished so much since you've been here. How do you

think that that kind of childhood and your development in Korea

influenced the direction you took and where you're taking this new

organization?

GL: I learned from so many first generation Grand Masters.

These Grand Masters started during the invasion, when Japan

took over Korea for 36 years. During that time was when my

instructors learned, so we had a very hardcore type of training,

not like here in the US. You guys have it very easy because you

can easily get into a school by just paying money. Back then, we

learned in a totally different way. We had to be very loyal. It was not

about just having money and paying. My time was very different

than these days.

First, the school was very far away so I had to go very early in

the morning to learn, and then I had to go to my academic school.

Today, you guys have a nice mat, but in the old days we had a hard

floor that was hard wood. In the Winter time there was no insulation

underneath from the cold weather. Then in the Spring and

Summer, we almost never came out in the early morning. Normally,

we would do one hour of morning training, then go to school

riding on a public transportation bus and to go to school all day.

We would come home at 9:30 in the evening. Unlike kids today,

who come home around three o'clock, we had to stay there all

day. We had to take two lunchboxes. It was totally different. Even

instructors in the US have not had to go through much of that kind

of toughness.

Now these days, there is a more 'sport' like culture in some

martial arts. When I was learning, it was always about having

respect for our seniors. We could not hit our seniors, so we were

always controlling ourselves. These days they just hit each other,

but we had to be very respectful with our seniors and our juniors.

Today all we do is sports, but not at that time. We had to have a really

strong mental toughness, not just focus on physical things.The

mentality was totally different.

Grand Master G.K. Lee shares his wisdom, gained over more than 50 years in the Martial Arts through the New GTMA Organization.

36 MARTIAL ARTS WORLD NEWS VOLUME 22 | ISSUE 4
---
COVER STORY

Grand Master G.K. Lee welcomed to one of the many GTMA locations he's toured since the launch of the organization.

The first generation was very tough because they faced war all

the time. I was very lucky because I met so many good instructors

who were really knowledgeable. My seniors were a little bit different

because they had a very strong ego and were prideful. They

felt they had a special kind of Tae Kwon Do as the first generation

who learned from Japanese masters. That's why they felt they always

had to win, which comes from Japanese culture. It's why the

first generation always held back and never showed their feelings.

They lived in a time of war, so their history is so different from mine

because they were born on a battlefield. That's why many Korean

Masters are very, very tough guys. They are also very sad and

don't want to talk about their history or their pasts. This is why the

first generation teachers are tough guys and want to teach really

hard. It's really different from here and today.

JN: I would like to add some things about the G-Shim style of

Tae Kwon Do that GTMA is practicing now. We've created a very

modern curriculum, specifically tailored for today's market, for today's

students, and for the realities of today's culture. We have six

color belt poomse forms and there are also nine black belt forms.

Grand Master, put a little bit of that toughness into these forms.

Everybody that has seen or done them notices that they're very

different. There's also a difference that is an intangible thing you

can't see, taste, or touch, but you know it's there. The application

to some of the techniques are not just performance based. There

is real self defense and real strength in a lot of these poomses.

Which also makes them a lot more enjoyable to do for someone

that's got bad knees, bad hips, bad back, and falls down a lot. I

feel strong doing them personally as a martial artist and watching

martial artists that are actually good at these types of things. You

can see that there's an intent to every one of these types of strikes.

It's not about memorization or the performance. These are actual

quality techniques that are practical.

GL: I'm very lucky. My family is considered one of the top

Martial Arts families in the world. Also I have 54 years of time and

I have had many great instructors. So I've got about 50 years of

study and deep research which are put into GTMA. Most founders

in the early years of their life develop a Martial Art, but for me it's

after 50 years. I'm 65 and currently developing all the forms and

many other valuable things. We even begin with the basics like

your breathing and posture. I'm very proud of GTMA.

Anyone from five to ninety years old can do the same format.

It's a pretty friendly form for the whole body. It's very good for body

functions. I'm very fortunate to pass this on. My senior instructor

gave me so many great things, and finally I can put it into a package

to give to my juniors. That's why I'm very pleased, because it's

a great opportunity to give my juniors so they can learn forever.

I'm not changing the name, it's still Tae Kwon Do being passed

on and continuing to be a better product. It makes me very happy

because I can help people. I felt very humbled and had much

pain when I left my family, but God gave me a great opportunity

to give back and to pass this on. This makes me one of the most

fortunate people.

A lot of organizations, in the early days, got off track because

they became so closed off that they are not open to curriculum,

material, and learning things from outside of their own organization.

It's like a top down only leadership model that can be incredibly

bad, because it means all knowledge must flow through me.

You become the lid of the organization. But when you take the

lid off the jar, you are freed up to encourage people and build a

continued on page 40

MARTIAL ARTS WORLD NEWS VOLUME 22 | ISSUE 4 37
---
Finally A…

FinallCUTTING

EDGE,

All in One

Marketing & Management System.

CUTTING-EDGE

ATLAS

SOFTWARE

MARKETING & MANAGEMENT

AUTOMATION

SOFTWARE • WEBSITES • SOCIAL MEDIA CONTENT

CALL 1-800-275-1600

TO SPEAK WITH A SCHOOL SPECIALIST
---
LEAD GENERATING

WEBSITES

MOBILE RESPONSIVE

AFTER SCHOOL

PROGRAM

DONE FOR YOU

ENGAGING

SOCIAL MEDIA

BEAUTIFUL & IMPACTFUL

MARKETING

TOOLS

EVERYTHING YOU'LL NEED

• MARKETING TOOLS • AFTER SCHOOL PROGRAM

GET A FREE DEMO AT

TryAtlasSoftware.com
---
COVER STORY

Grand Master G.K. Lee addresses the Leaders of GTMA about the future and goals of the organization.

continued from page 37

culture that gets people to go find useful material, curriculum with

character enrichment, and integrate them rather than reject useful

things just because they didn't come from you or your organization.

So now G-Shim Tae Kwon Do is the curriculum. It's the style

we are now teaching inside the organization which is a rebuilt

curriculum from the ground up. As a result there are better benefits

for health and for students of different skill levels as opposed to

the old ways.

MAWN: Maybe if you could expand on that: Why would you

rebuild a curriculum like that? What were the objectives of that?

And where does that bring us today?

GL: Some other organizations and their practitioners are more

sports-oriented which also means more fighting. I have been

introducing this new curriculum because we don't want to go

back to 50 years ago. We are training the Do which means the

way of living. You are learning the Martial to be mentally in top

shape and you're killing other things besides a human opponent.

You are moving forward in a good way. At the same time, I'm sad

that some, primarily in non-traditional Martial Arts, are pushing

themselves in a negative direction because they only want to win

and beat up somebody, but they are not doing things in the Martial

Arts "way".

Martial arts means you are tough internally and not merely on

the outside. We don't want to be a bully, the aggressor, or someone

who goes to jail. We want to be developing the whole person

with the Martial Arts, not just teaching people how to fight. Martial

Arts offers so much more to a student than just physically defending

themselves, if they ever need to. I don't want to waste our

Martial Arts tradition by just going back to 50 years ago by trying

to prove how tough we are.

Mas Oyama, just like General Chae, would go out looking for a

fight, but that changed when he went to China and challenged 10

masters. From this he came to understand that Martial Arts is not

just for fighting, but for discipline. His thinking was changed to an

emphasis on how to be strong internally and how to take care of

people and self. So now a good Martial Art instructor is very successful

at teaching both adults and children. Also, they are good

at teaching how to have that enormous spirit so they never give up

and at passing on life skills. But those emphasizing only sport and

competition are not teaching that kind of life skill anymore.

People disrespect traditional Martial Arts and say they're useless.

I want to ask these people, How do you fight with a bear? Do

you do it with an empty hand? Of course not, we have guns and

other weapons. We don't go around fighting bulls, like Oyama did,

but every day we are fighting inside ourselves to be our best. So in

G-Shim Tae Kwon Do you train everything physically; empty hands

and weapons , but more importantly, we train the character, the

integrity, the spirit, and the wholeness of a person.

Which means we adjust our curriculum to the needs of the

student. Now, with G-Shim, you can train if you're over 50, or under

7! Times are changing and we have to stay current. We have to

think about the future, back in the former generation people would

die at 50 or 60, but now we often live into our 90's. This is why the

arts have to update a little bit. We have to update to be better for

the next generations to learn it.

You know it's funny that the Korean Martial Arts don't get any

credit. The Japanese say our punching and kicking copied them.

The Chinese say our weapons were taken from them. All of them

say we are copycats. As a result our juniors have no identity. But I

40 MARTIAL ARTS WORLD NEWS VOLUME 22 | ISSUE 4
---
COVER STORY

have a saying about my training - "I have many Japanese, Chinese

Masters and friends whom I have learned from and studied with."

Still I think about 70% of Martial Arts practiced in the United States

is based on Korean Martial Arts.

Bruce Lee had it right when he said to "Absorb what is useful".

It's about the modernization of the arts for where we are today.

You have to look at society and culture and build something based

on them and improve it.

JN: Grand Master specifically chose the name GTMA because

it's Global Traditional Martial Arts. It's plural because you are learning

from all different styles and funnel it all down into one system,

which ends up being the G-Shim. One of the innovations Grand

Master Lee has introduced into G-Shim is the multiple implementation

of the forms. They can be done either open handed or with a

weapon because they are designed that way. They can be done

in a multitude of different ways, depending on where you are and

what you're doing.

KL: As a practitioner myself, I appreciate the difference because

I've been there and I've had the opportunity to do it. So the more

modern technique is great. It's teacher friendly. It's user friendly. It's

real Martial Arts in a way that I could only have dreamed of wanting,

but didn't know. Being able to train with this modern approach

to curriculum, kicks and punches and more, is easier on my body

than I ever thought it could be. With this new approach to both

training and teaching, it is so much better because I can leave the

classroom without beating my body up. It's still effective in the real

world, and does the job that it needs to do, but it's just in a different

format that is far more user friendly and teaching friendly.

JN: I have known Grand Master for well over a decade. One

thing that was an epiphany for me is that this art was founded later

in a Grand Master's career. He built it as he grew, with a solid base

of knowledge and experience, and started it after 50 years. It's a

very interesting thing to hear and will be part of all our marketing

moving forward.

MAWN: That's pretty interesting. Now that we've underscored

what the art of G-Shim style is, let's talk about the organization in

general. That's been a big project, right? How do you execute it?

How do we bring this product to the masses? How do we get students

to enjoy this new concept? So when did GTMA start? What

are its principles and mission, and where are we at now?

KL: The 3 of us were in the school's office on January the 4th of

2020. It was a very special day going forward with the introduction

of Global Traditional Martial Arts. It was the new and great way that

we were going to leave our previous organization and become a

new organization by taking our seven schools that we had in that

direction. So that's when and how we started. Then it seemed like

it was the next day when we started asking who wanted to follow

Grand Master and they started coming out of the woodwork. They

were like, "We want to follow him in his direction."

JN: However we didn't even get to Grand Master until April 1st.

We very quickly started to realize that an organization could be

created. It's a group of martial artists that understand the needs of

the Martial Arts school owners. We are all martial artists, every one

of us from the CEO down to the Grand Master. Every one of us has

been on the mats.

It's set up because we all understand the challenges of being a

school owner. It's a very simple system. It's not like you have to get

a license in this. Then you have to certify in that. You have to pay to

be certified in this. And you have to sign up for this. All of that goes

out the window, because at the end of the day, people just want

to operate their schools. They want to be able to say, "Here's what

I need from an organization. I need to have this type of structure

and this type of curriculum and be able to purchase these types of

items. How do we do that?" So we started with the idea and it was

Chief Master Lee who said, "The journey continues".

That has been our mantra from day one. With any kind of skill

or lifestyle that you're learning, the journey is going to continue.

You start here, you move to here, you gain experiences, you move

Grand Master G.K. Lee demonstrates a weapons form from the new modern GShim curriculum.

MARTIAL ARTS WORLD NEWS VOLUME 22 | ISSUE 4 41
---
COVER STORY

Grand Master G. K. Lee takes pride in the dynamic, modern, new GTMA curriculum, built for student retention and longevity.

to there. So we're very excited and thrilled about where we all

were as martial artists, just as we're excited about where we're

all going to go and who we're gonna meet along the way. The

journey continues as a mantra, I think is really very special for us

as an organization because of who we've been meeting along the

way. Our mission statement is: Love The Art, Preserve The Craft,

Empower The Future.

That's our three step process of what we do first off. We all

love the art. Everyone is here because we love the art. It's not

about the monetization of how we can create a business. This is

the business we want to be in. Preserving the craft is that we have

a traditionalist that's guiding each and every one of us. It was his

genius that put it together in this G-Shim format. Empowering the

future is what we've done as an organization. We've got the best in

the fields of business, marketing, and finance that all have a Martial

Arts background to participate with GTMA. So we're doing it from

a position of a martial artist which is unlike any other organization.

Which is why I'm proud to say in our first fiscal year, which was

January to January, we averaged a new location every 1.9 days.

That's Starbucks numbers.

We got to 200 locations very recently and we're very excited

about it. We went from just a group of schools trying to figure out

what we wanted to do to this full functional, amazing organization

at fantastic speed. We're all so grateful and humbled by all

the support!

It was, and still is a family based organization. At our very first

globals, which was in July of last year, we were still in the middle of

the pandemic and we faced all of the same issues that everybody

else faced.

Well, our stuff is in containers in the middle of an ocean somewhere.

So we printed out over a thousand t-shirts and gave them

away to people that didn't have uniforms that said, "No Uniform,

No Problem. I'm here with my family." People competed in them.

People tested in them. Parents loved them because they really

express what it means to be part of GTMA. While it is a structured

military Martial Arts organization with respect towards our craft

and our seniors, there's also the understanding that we're all family

here and we all want each other to succeed.

MAWN: When we talked last, you described how you have

this almost binary model where you have the GTMA member

schools who are using the curriculum and to some degree all the

operational processes. Then you also have another part of the

model for affiliates, who maybe are not teaching the curriculum.

So describe how the organization is structured and how these

affiliate schools work?

JN: First, I'll explain about how we are as an organization. As a

Martial Arts organization, one of the things that we're very proud

about is that Grand Master directed us to not only get more modern

with the technique, but with the Martial Arts organization. I can

explain that by saying the biggest boom in Martial Arts history has

been what The Karate Kid, an entertainment property that everybody

saw, or every martial artist that's reading your magazine can

go back to. And said, "I want to be like Chuck Norris. I want to be

like Bruce Lee. That was something that I wanted to emulate." How

do we incorporate that? Typically as Martial Arts organizations,

they would glean onto a Mutant Ninja Turtles kind of thing, and go

to a theater and put out their tent and say, "Come train with us" or

get those kinds of things.

We wanted to take a step back as a Martial Arts organization.

While COVID was a horrible thing, it was a great opportunity for

all companies and organizations out there because it was like

Boggle. You had to reshape the board, and let everybody decide

how they're gonna run their operations and what they wanted to

be able to offer their people. So in addition to the curriculum that

we have, we've created programming like our Shadow Moogi Program,

which is a program for our elementary school kids. They've

got the dragons, the story behind them, and all that kind of stuff

that goes with it. That could be a comic book and it could be a

television show. We actually as an organization have a partnership

with a well known studio, which we can't talk about right now,

but at Globals will actually be airing a pilot television show. When

this magazine comes out, our people will be able to see a GTMA

co-branded television show. It will be on a subscription on demand

television network, where they could participate in.

42 MARTIAL ARTS WORLD NEWS VOLUME 22 | ISSUE 4
---
LEARN FROM

HIGHLY SUCCESSFUL

EXPERTS

Proven Effective

Courses teach PROVEN effective and

successful strategies for martial arts

school owners.

Easy To Learn

You'll gain new skills and knowledge

quickly with this easy-to-use online

learning system.

Flexible Schedule

Learn at your own pace with bite-sized

course segments built to fit your busy

schedule.

ENROLL TODAY!

MaBusinessInstitute.com

Martial Arts Business Institute

FREE COURSES

Available Now!
---
COVER STORY

Grand Master G.K. Lee at a special "family gathering" of GTMA students and leadership.

We've partnered with the Guinness Book of World Records.

We're doing a Guinness Book of World Records attempt at our

global event where all of our students are using the discipline

and the leadership skills that Grand Master was talking about to

raise money for our nonprofit, which is the H and L hope foundation.

It gives grants basically directly to school owners, schools,

or individuals that have either a physical or cognitive disability. So

if someone needs an OSHA compliant ramp, we will give them

a grant to get that done. If someone is working with a child with

down syndrome and needs special training, we'll give them a grant

so they can do that. So we're offering all these additional things.

In addition to the Martial Arts side of things,like the ability to buy

equipment at a better rate. Get uniforms at a better rate because

you're buying in bulk. The business training and all that other stuff,

we have the capability to do all of this.

So I explained that because we have three tiers. Our first tier

are the clubs that test under 50 students, every testing cycle. They

have the rights to the intellectual property, to use the trademarks

and participate in training. Once you go up to 51 students or more,

we consider you a school. Our goal is not to tax our people. Our

goal is to support them the best way we can.

So the other side of that is our affiliate program. This is what

we've opened up to the rest of the world. There are so many great

organizations out there that range from a handful of schools to a

big chunk of schools. They want to affiliate with a group that has

these types of options. They don't have the ability to create a television

show. They don't have the ability to buy in bulk or get other

benefits that an organization like our can provide.

Then there's our tournament circuit, which we're very excited

about has three different levels as well. We'll have our closed

tournament circuit, which is just going to be for the GTMA schools.

We'll have our invitational tournament circuit where we'll invite

schools that we're working with. One in particular is Carlos Machado

Jiu Jitsu. They are top notch and we are thrilled to be partnering

with them. We are actually the only organization whose patch

he allows to be placed on his uniforms. So we have a co-branded

Machado GTMA Jiu Jitsu uniform. They are our exclusive Jiu Jitsu

partners. So when we sell Jiu Jitsu in our schools, it's actually the

Machado program. So as a GTMA affiliate or member, you can run

the Carlos Machado program through your school at a lower rate

than if you came to it as an individual. Eventually we'll start hosting

open tournaments as well. So closed, invitational, and open.

Which is very exciting because some of the other organizations,

their strength is their Achilles Heel, is that they keep everything

so huddled and closed off that they don't have the opportunity to

branch out.

Like Grand Master said, Global Traditional Martial Arts, sees

all those great different arts and gives those opportunities for the

school owners. School owners come in every shape, size and

flavor. Some of them only want to do hardcore and sparring. Some

of them will only want to do the family friendly stuff. Some of them

want to do the kids. Some want to do Jiu Jitsu. Some want to do

Gum Do. So with GTMA as an organization, we can make all those

partnerships and make it easier for schools to come on board,

whether they want to teach the G-Shim curriculum, or they want to

keep their style that they've been doing.

GL: GTMA benefits from very famous people. Bruce Lee and

Jhoon Rhee, are all my seniors who had good names teaching and

a great life. So we got a benefit, but our juniors have no benefit. This

is why I got very upset and a little nervous. Maybe we're just done

traditionally. Everything is dominated by MMA. It used to be that

UFC and championship contests were no big deal to me, but when

they changed the name and called it a Martial Art. Then traditional

Martial Arts people have no place to go. Which means we are engaged

in a strong competition and the cultures are totally different.

The emphasis is just fighting. Traditional values are gone. As

a senior, I got so much benefit from my seniors. But now, I want to

be able to give my juniors something better than they are seeing in

MMA and other sport focused arts. That's why we need Traditional

Global Martial Arts, with Martial Arts instructors who love tradition

and want to change the world together. There are great competitions

and tournaments for sport oriented styles, but traditional

Masters, meaning individual independent Martial Arts have no

place to go. That's why we created this. The tournaments and competitions

we've created satisfy the more 'competitive' students,

but also help students explore and express their martial arts in a

warm, welcoming, supportive environment that's appropriate for

everyone. That's why we name it GTMA so we can pass it on to the

next generation because I owe it to my seniors. I owe my juniors.

I need to give them a good format with a solid tournament, so we

44 MARTIAL ARTS WORLD NEWS VOLUME 22 | ISSUE 4
---
Learn the skills that made the

NINJA LEGENDARY

With New Lessons Added Monthly!

Get Your

FREE!

FIRST

COURSE

Get Started Today

learning the skills of the legendary ninja!

NinjaSelfDefense.com
---
COVER STORY

can make heroes. Traditional Martial Arts is our life, so I want to see

this moving forward.

JN: Also, the idea that everyone comes together with a place for

traditional Martial Arts. That's why in July, our biggest event is called

Global Celebration. It's not a world championship, but rather people

coming together and celebrating the traditional Martial Arts.

MAWN: Let's talk about that event. What is it? Who can come,

who's invited, what's it all about, what are the objectives of the

event, what do people need to know about it?

JN: So it's our largest event that we have annually. This is the

second year that we're doing it. Last year we had it in Grapevine

Texas at the Gaylord Hotel. This year it will be in Orlando, Florida at

the Gaylord Palms Hotel.

We're setting a very high bar of quality for what the GTMA

events are. This one event is a culmination of a lot of different

things. Our licensees come and there's physical and business

training for them. Then our masters come to train together and

there's a master's class. There's a graduation and we have a master's

ceremony which we combine with a very big gala dinner right

afterwards.

The Master's Ceremony is all about family. It's about the intimate

thank you between the student and the instructor and the

bond that they have together. Our families are literally right there,

you can literally reach out and touch everyone. It's a beautiful

ceremony to be a part of and it's an open ceremony.

Then we have our tournaments. We have our international

testing this year. We got over 150 visas from folks coming in from

South America. We've got schools coming in from Europe. We just

partnered with several schools in South Africa. They're coming

from all over, which is great. That's kind of been the GTMA way. We

add a lot of fun back into these events.

One of the first things that I had the honor of doing was designing

our ceremonial uniforms. We wear these at black belt events,

testings, and tournaments. Grand Master's only direction that he

gave me was "I want to be able to kick in them. I want to be able to

move around in them." He didn't want something that was stuffy

because if a student came over and asked for his help, he wanted

to be able to give it to him. That's the mentality of this organization.

It's about not being on different levels, but all being there together

sharing and trading knowledge and joy of what being a Martial

Artist truly is. That's kind of the feeling and the tone, which is why

we went with celebration. This year obviously we've got a special

event. Plus, there's a theme park that's right across the street that

we may or may not be doing something fun in as well. It's not a bad

place to bring your family and it's a magical spot.

MAWN: Great. So next, what does the future look like? What's

the direction GTMA is heading? What does the future look like?

What are the goals? What are the objections?

JN: Right now at the time of this conversation, we're only 16

months old with 205 locations in 13 different countries and 33 different

states. So the future I see is incredibly bright. It's been really

exciting because we started very early on with schools wanting

to come to us for the reason that it was more personable. Now

very quickly people are noticing that we have a great product. We

have great leadership and the things that they're looking for. The

Grand Master G.K. Lee and a future GTMA Leader.

decision of why to join GTMA has switched to this is a better opportunity

for me as a martial artist. Is it an opportunity for me as a

business owner? There are other reasons to make the choice.

So the future is that's the reason people come to us as we continue

to grow, we are making partnerships with some of the best

in the industry. More importantly, we're making partnerships with

some of the best outside of the industry. We're looking outside

into a world where things that wouldn't necessarily be accessible

to school owners, now are through GTMA. So as we develop

these partnerships and start to do these kinds of wonderful things

and open up our doors, it's like when Willy Wonka opened up the

chocolate factory. We want people to be able to come on in and

enjoy being a martial artist again.

We say, love what you do again. People that come to our GTMA

events express, "This is just fun. Again, this is why I started in the

first place." Our focus is to keep passion for being a martial artist as

our core from the headquarter standpoint. So our future is just to

protect Grand Master's vision and get as many people in the world

to meet him.

So this is why the journey continues. It's not a disrespect to

where you were yesterday, but that's where you were yesterday.

You're living today. So if this is what you need now, that's great. As

GTMA, we want to be able to provide that for you. We also want to

provide it for you in the future, but if we can't, if there's something

else you need, there are no chains holding you to this as well. It's

an open door. We're all martial artists and this is what we're choos-

46 MARTIAL ARTS WORLD NEWS VOLUME 22 | ISSUE 4
---
ANNOUNCING:

THE OFFICIAL, MARTIAL ARTS WORLD NEWS MAGAZINE APP!

Get the

AppFree!

Business News • Marketing Instructor Tools • Business Videos

Cool Stuff • Owner Profiles • Marketplace Events • and More!

Get

MARTIAL ARTS WORLD NEWS

MAGAZINE APP!

Get it on

Google Play

Download on the

App Store

Free!
---
COVER STORY

Grandmaster G.K. Lee and some of the most talented, experienced leaders in the Martial Arts lead GTMA (Global Traditional Martial Arts)

The GTMA's motto - "the Journey Continues"

ing to do. I think it is a breathe of fresh air for the industry that I

hope catches on with other organizations.

It's about servant leadership. It's the organization that serves

the members, not the other way around. It seems intuitive to most

of us, but often these things get off track.

MAWN: Yes. That sounds pretty interesting. If you don't mind,

let's talk business for just a moment and let's extend the servant

leadership metaphor. So what do you think about this? How would

you help each individual school be more successful as a business

and how do you help them retain their students?

JN: There are some styles of Martial Art that are just really horrible

for student retention. And there are some styles of Martial Art

that are really bad for instructors to teach. There are some ways to

organize memberships or ways to organize business operations

that are very not productive to running a successful profitable

school. There are some strategies that are very useful and productive

for running successful profitable schools.

G-Shim was created at a point in his career where he already

knew what he was doing. It wasn't early on. Even though he was a

fantastic athlete, this is after decades and decades of experience.

We're only 16 months old, but as someone said, we are the most

established startup company in the history of Martial Arts. Our

core group, if you put together their years of school ownership,

would reach in 300 to 400 years of school operations.

So we're incorporating types of psychological things in our

individual backgrounds too. We are striving to create a brand focus

rather than a personality emphasis. For example, we want to avoid

the situation where you have an age group that has bonded with

an instructor. He's an 18 year old kid that the school owner has to

keep and hopes he doesn't go off to college. Because then you're

going to have to bring in another instructor or you're gonna lose a

student base because they like the instructor and not the style.

Instead, if we create a brand where everything around relates

to the brand. You'll have students enjoying who are anchored into

more than 'just' the training on the mat, but a more holistic solution

for students. It means we create an environment where they enjoy

their classes, but then go home and read a children's book that's

got great illustrations in it that reinforces the lesson of discipline

from class.

We read a story of Jun So, who is one of our Shadow Moogi

characters. Now that relationship is now made with Jun So. When

mom and dad give a kiss good night, and they turn off the lights.

48 MARTIAL ARTS WORLD NEWS VOLUME 22 | ISSUE 4
---
COVER STORY

The child may grab a stuffed animal to go to sleep to

protect them, but who can protect them? It can be

what they're learning, so they protect themselves

with the stuffed animal Jun So.

These kinds of ideas are built into everything

that we've done. We've created a simple system of

five programs. Everything is designed to integrate

into the classroom, then extend those lessons into the

home.

This helps a school owner that may be a better

martial artist than they are a business

person or the one that's a better business

person than they may be physically as a

martial artist. Each one can work within

this system and not only retain their

students, upgrade them into different

programs, and give them other opportunities.

It is a way to augment

the skills they have and expand

their creativity in their own school.

We have school owners that are

not GTMA and they're this or that

Martial Art, but they can teach

our stuff.

We don't force them to use

our logo. We want them all to

use our logo, but we'd like them

to get to the point where they

choose that our flag is more recognizable

and better for them as a business

owner than their own personal brand.

We have to prove that to them and that'll

come over time.

So what they're doing now is they're

saying, "I'm this brand of Martial Arts. I use

GTMA programming. I have access to all

this great content, and amazing resources

and I can utilize it, but I choose what I want

to do." We've created a system where you

can pick and choose. Some prefer everything

to be laid out in specific details, so we are

available for them too. Our license team works

with each school owner individually. It's really

whatever they want or wish to approach it with

GTMA. Then some go, "I want to be a part of

the GTMA."

Additionally, one of the things that we've

found with the Shadow Moogi program,

which is really interesting is you'll get parents

that come in and say, "My kid listens to you

better here than they listen to me at

home." So one of the things we do

in the Shadow Moogi program is we

deputize the parents. So there's a

book that they get which they have to get certain stars and

mechanisms to rank up. But the last star that they need

to graduate with the school, the school owner gives

to the parents and they're given a mission to do it at

home. The parent is the one that explains the lesson

supposed to be learned and when it is achieved.

If they get that star, they get to move on. So we're

creating that Martial Arts culture, that traditional core

of respect and getting the parents in on it as well. So

it becomes family. That's what is great about

Martial Arts, it's the only sport you can do as

a family at the same time.

JL: How we can help the licensees is

really what we focus on. We are constantly

focused on solutions for our members'

problems, and adding value to their

programs, because we are martial artists

for martial artists. We know what it's like

in the 'day to day', operating schools for

decades and being responsible for it,

making the bills, making sure employees

get paid, taking care of their

families, and living a good life. It's part

of our DNA, not an afterthought.

We can suggest, "This is difficult

here, do this, try this. We're sure you'll find

that this is very useful, helpful, and productive

in your business and you'll be successful."

All we want to do is make sure they're going

to be successful. Everything has the goal of

them having a productive life by enjoying the

Martial Arts again.

JN: It's all about showing respect for

what we do. You have to walk the walk and

it starts at the top. It starts with our Grand

Master. We are running the business like it's

been done outside of this industry. Organizations

this size don't typically do that

from my experience.

GL: The secret is having a passion in

my heart to motivate my instructors to have

the same thing. My job is to touch every

student in the same way. We are very open

at GTMA, I'm very proud that our students

and instructors always desire to come see

me and I welcome them. We spend time

together, work out together, and sweat together.

My desire is to pass on knowledge

and wisdom that I have gained from my

Masters and connect to future generations.

I learned from seniors, and always

want to pass on the great thing I learned

from them to my juniors. That's what

GTMA is all about.

MAWN: Thank you so much Grand

Master Lee.

MARTIAL ARTS WORLD NEWS VOLUME 22 | ISSUE 4 49
---
BE RECOGNIZED in future editions of

Martial Arts World News Magazine.

Our goal at Martial Arts World News Magazine is to

support our industry and help you grow your martial

arts school. It's incredibly useful for our readers to hear

about YOUR specific experiences and results.

You are part of a wonderful industry and community with

Martial Arts World News Magazine, and now, you'll be

able to share and contribute to that community in a more

rich and meaningful way than ever before!

Share Stories About:

• Achieving a New Rank

• Opening a New Location

• Winning an Award

• Discovering a Successful Marketing Strategy

• Building a Retention System that Works Well

• Tournament Results

• Anything else that our readers might find valuable!

MartialArtsWorldNews.com/Ureport

Or send your story ideas to Editor@MartialArtsWorldNews.com
---
www.ElitePublications.org
---
Slay the "Summer Slow

DISCOVER

THE PROVEN TACTICS

TO BREAK

ENROLLMENT,

RETENTION &

REVENUE RECORDS

During the Summer!

Dominate Every Summer

With This Powerful Blueprint for Summer Success
---
down" Permanently

$247.00 Value FREE!

In Depth Online Master Class

Step-by-Step Course Guides

School Growth Reports

TryAtlasSoftware.com/Summer
---
SCHOOL PROFILE

Sensei John Venson – A Traditional Stylist With a Successful Modern Business

Just For Kicks – A Chicago

Landmark and Measuring Stick

for Excellence

Just For Kicks—The Martial Arts University opened in September, 1970 by Sensei John

Venson Sr. Since opening, we've been honored to serve 4 generations of students in our

Shuri Ryu Karate-Do system!

Just For Kicks is an institution of self-improvement with Champions

in the arena and in life following a blueprint for successful living

through self-confidence, self-discipline, personal safety, focus

and perseverance.

MAWN: What is the major contribution(s) that your school is

bringing to its community?

JV: For over 50 years we have been teaching life skills. Over

this time we have also developed many leaders in the school and

in the community by teaching leadership skills. Additionally, we are

helping young people with building up their social skills so they

can be productive and have better interpersonal relationships.

MAWN: What are the most effective marketing systems you

use in your school to attract new leads?

JV: Our marketing is primarily done through two methods.

First, we get a number of leads and sign ups through our professional

school website. Secondly and hugely important, because it

demonstrates the satisfaction of our current students, is marketing

by word of mouth.

MAWN: Which of your programs are helping participants the

most and what are the benefits?

JV: Of course, urban life is not easy so to aid the adults in our program

we are seeing them gaining health & fitness along with stress

management skills. For our younger students, they are learning Bully-

Proof self-defense because this is a major issue for them, but they are

also gaining better fitness and life skills that help produce success.

MAWN: Do you have a lead generating website and what

about it has been most productive regarding leads?

JV: Yes our school does have a website designed to bring in

leads. The most productive and lead generating items on our

website are our lead capture offers available for each program

and the testimonials from our clients which strongly bear witness

to the benefits of our classes for current students and encourage

prospects to try them out.

MAWN: Do you use a management software and what features are

providing the best benefits for running your school more efficiently?

JV: Yes, we use ATLAS Martial Arts Software with AMS.

MAWN: What advice do you have for other martial arts school

owners for having success in business?

JV: Treat customers as you would wish to be treated if you

were the client. Don't get discouraged just because every lead

does not turn into a sign up. Provide truthful and informative data

on your website.

MAWN: Thanks for your tremendous long standing and outstanding

example.

54 MARTIAL ARTS WORLD NEWS VOLUME 22 | ISSUE 4
---
See

What You're

Missing

Every Month

Everything You'll Ever Need to

Market Your Martial Arts School!

MaBizAcademy.com

MA BIZ ACADEMY
---
SCHOOL PROFILE

Olympic Taekwondo Academy:

Educating Tomorrow's Leaders

Through Martial Arts

Master Sunmi Jung has been the head instructor of the Olympic Taekwondo

Academy which has had two branch locations in Connecticut since 2009. The

academy has a solid foundation of helping children develop strong character as a

partner in education and families building tight bonds through a traditional martial arts

curriculum over the last decade.

MAWN: What is the major contribution(s) that your

school is bringing to its community?

SJ: We provide Taekwondo classes to public elementary

schools to increase children's self-esteem and to

have a positive impact on schools, families, and society

by learning manners.

Our school has established and coached the competition

and Poomsae teams that foster the national

youth professional athletes to promote Taekwondo in

the CT area.

MAWN: What are the best producing marketing strategies

you use and what amount of leads are generated

from them monthly?

SJ: We primarily utilize all sorts of social media ads to

promote the school. Our efforts usually produce about

20 new lead prospects every month.

MAWN: What programs are having the most impact

for your school and what are the benefits to the participants?

SJ: We provide martial arts for kids, adults, families,

and our Little Tiger program with a goal of equal education

based on love. Since children are the light and future

of the world we have a great emphasis upon character

building for future leaders.

MAWN: Do you have a lead generating website and

what about it has been most productive regarding leads?

SJ: Yes, we utilize an Amazing Martial Arts website that is part

of the package deal with ATLAS Martial Arts Software.

MAWN: Do you use a management software and what features are

providing the best benefits for running your school more efficiently?

SJ: Again we have ATLAS, which makes things convenient to

link social media channels and websites, plus it is very convenient

for delivering information by rank through an automation system.

In addition to guidance, it's good at solving many of the necessary

parts of school management.

Master Sunmi Jung

MAWN: What advice do you have for other martial arts school

owners to have greater success in their businesses?

SJ: Professional business marketing and management are

not the only factors of success. We must also always be confident

in our beliefs as educators. "What we can do best is to teach students

physical training and mental training. And it is to train them

to exert a good influence on society." Therefore, I think I have what

customers need, and I see good results when I increase my selfesteem

by focusing on the fact that I am a Martial Artist.

56 MARTIAL ARTS WORLD NEWS VOLUME 22 | ISSUE 4
---
We provide integrity-based coaching and

community resources to busy martial arts

school owners that save you time and

grow your business.

MAKE AN APPOINTMENT TODAY

VISIT WWW.KOVARSYSTEMS.COM
---
TEAMWORK

4 Tips to Boost Your Social Media

by Hanshi Dave Kovar

It's fair to say a lot of us would rather be training or instructing on the mat than spending

time hunched over our computers on Facebook.

But of course with their popularity,

we can't ignore the potential for

growth using these ever evolving

social media platforms. No matter how

much some of us may try to avoid the

digital frontiers, the truth we face is

that in order to grow the attendance

at our martial arts schools we must

be willing to communicate where the

students and parents are

found most frequently.

Today we will

navigate just a short

distance into the

vast web that is

social media. Here are some tips to help you

venture into the world…

1. Make sure you have your profile

complete.

The more information you provide

to your viewers the easier it will be

for them to find you. Make sure

everything is filled out, you've

added your own pictures, and

all contact information is up-todate.

Just like your martial arts

school, you don't want things

to be half-presented. Think of

your online profiles as your

internet storefront.

2. Interact with your

social media networks.

Being active and engaging

is important. If a school that is

always closed, is a school that

will close—then a social media

network that is never social, will

never produce a return. Engage

the audience and reply to comments

and questions.

3. Have visually appealing

content.

Sometimes all it takes is the

same message in another format.

Not everyone responds to plain

text posts. Decide what messages

need extra attention, then

use more images, videos, or graphics to further drive the point you

want to make.

4. Be consistent with your brand.

Understand that wherever you are, you want to keep a professional

and consistent message just as you might at your school.

Think to yourself, "Would I want my students and/or parents to see

this profile?" You should always consider and be aware that your

audience could and should be your students. Likewise, for logos,

photos, and all content you share—keep to the same rules and

make sure it stays true to your brand and welcoming to anyone

you'd like to have as a student.

These are just a few tips to help ease you into your social

media marketing. If you can at least do 1 or 2 of these techniques,

you may be surprised at how this will launch you ahead of many

competitors already. However, the more time you put into these

platforms will directly impact the value of your returns. The more

time you spend, the more value you will see in new leads, developing

community, and local networking.

HANSHI DAVE KOVAR is an 9th degree black belt and recognized as the "Trainer of Trainers." Hanshi

Dave Kovar is an internationally acclaimed instructor with black belt degrees in ten different martial arts styles. His

systems have been implemented in hundreds of schools around the US.

58 MARTIAL ARTS WORLD NEWS VOLUME 22 | ISSUE 4

Photograph by stnazkul (top)
---
Do You Serve Martial Arts Professionals?

Share Your Message in Martial Arts World News Magazine

For Sponsorship

Options & Packages:

Visit: MartialArtsWorldNews.com

or Call Jeff @ 407-895-1996

SEEKING STORIES!

Martial Arts World News Magazine is the definitive source

for information, news, education, ethical business

practices, product reviews and innovative developments in

the world of martial arts business.

We are always on the lookout for notable, engaging and

valuable stories for our readers!

If you, your school, organization, event, product, or service

has a story that might be of value to our readers, we'd love to

hear about it!

MartialArtsWorldNews.com/Ureport

Contact us at: 407-895-1996

or Email Editor@MartialArtsWorldNews.com
---
MIND MASTERY

Exploring the Subconscious

Mind, Part 1

by Grandmaster Jessie Bowen

Why not explore your subconscious mind? We explore caves, dig for things from the

past, we even explore outer space trying to discover new planets or what's really out

there. So why not explore your own mind?

The brain is an organ, but the mind is not. The brain is the physical

place where the mind resides. ... The mind is the manifestation

of thought, perception, emotion, determination, memory, and

imagination that takes place within the brain. Mind is often used to

refer especially to the thought processes of reason.

The human brain is unique: Our remarkable cognitive capacity

has allowed us to invent the wheel, build the pyramids, and land on

the moon. In fact, scientists sometimes refer to the human brain as

the "crowning achievement of evolution."

To explore your mind is to learn about yourself, how you work

as a human being, how to get the most out of you as a

human being. For this purpose, we have to study the

subconscious mind.

The subconscious mind is the most powerful

inner force driving human behavior, reactions,

emotions, and synchronization. It defines all of

our reactions and automatic actions that occur

without us realizing unless we make an effort

to do so. It is not in focal awareness

but is in the background allowing

all human interaction and

actions to occur.

Your subconscious

mind regulates many of

the body's functions,

including your heartbeat,

breaths, and your nervous

system. When the

subconscious mind is

acting correctly, your body functions in complete harmony without

you thinking about it. Below is one exercise to access the subconscious

mind and explore it through relaxation techniques.

Spend Time in Quiet Places

Spending time with yourself is one of the best ways to get to

know and understand your subconscious mind. When you are

surrounded by distractions and other people, you are not thinking

about your subconscious mind as it is working for you. You are

focused on reacting to others rather than reflecting upon yourself.

By focusing on your breath and experiencing pure relaxation,

fears and worries from your subconscious mind will most likely

begin to appear. Rather than stressing about them and getting

caught up in your thoughts, this is the time to understand them and

begin to let them go.

This practice of relaxation allows you to dive deep into your

subconscious mind and understand the thoughts that you carry

in the back of your head throughout the day. As you practice this

relaxation more frequently, you will learn how to get rid of these

thoughts and shape them into positive ones.

GRANDMASTER JESSIE BOWEN is president of Karate International of Durham, Inc., a member of the

American Martial Arts Association Sport Karate League and Hall of Fame, and has been a member of the Duke University

PE Staff for over 25 years. He is the author of Zen Mind-Body Mindfulness Meditation and Zen Mind-Body Mindfulness

Meditation for Martial Arts, as well as several other books, programs, and audio CDs on meditation and success training.

60 MARTIAL ARTS WORLD NEWS VOLUME 22 | ISSUE 4

Photograph by agsandrew (top right)
---
All books are avaiable on www.Atouchofzen.com

or to place your order over the phone.
---
GROWTH HACKS

Social Media Marketing Is Here

To Stay, But Are You On Board?

by Sean Lee

There is no doubt that our world is crazy about Social Media! If you school doesn't

make use of it well, you're behind the times and in need of getting connected with

this powerful marketing channel for your school. Social Media Marketing is one form

of Internet marketing can give you a greater Web presence through participating in

various social media networks. Simply put, it is "networking" online.

Here are three reasons:

1. As our customers, and the public in general,

spend more and more of their time online, the

rise and impact of social media will continue

to expand. With a supercomputer in virtually

everyone's pocket, and the amount of time

we're spending on these devices expanding

at breakneck speed, social media

provides consumers with the social connections

they desire, and businesses with a

marketing platform to reach them.

2. It reduces marketing expenses. You

can save a lot of money on printing and

mailing costs because everything

is done electronically over the

Internet. Joining a social network

on the Internet doesn't

cost anything so it is one

of the best FREE forms of

marketing.

3. It increases enrollment

and income.

Through social media

you gain greater

exposure rapidly once you start. You can instantly reach unlimited

markets with the click of your computer's mouse. The

increased Internet presence leads to an awareness of your

school which leads to more enrollment and income.

Did you know that Pepsi dropped TV advertising for the

Super Bowl back in 2010 for the first time in 23 years to

invest $20 million in a social media campaign? Traditionally,

small business has spent the majority of their marketing dollars

offline. From 2010, small businesses increased their use

of email marketing and raised their budgets for social media.

Clearly, social media marketing has taken over for quite

some time, and it is the form of marketing that can help your

school reach the next level. But what if you don't know much

about social media? That's alright because I've been helping

hundreds of martial arts school owners over many years raise

their web presence and marketing impact with social media

automation.

You should not be out of the loop or ineffective with regard

to social media marketing when you can quickly and easily get

on track with a profitable social media campaign. Call me at

1.800.275.1600 or email Marketing@ourams.com to find out

more on taking the next step to elevate your school's enrollment

and income with social media marketing.

SEAN LEE is the Executive Director of Sales and Marketing for hundreds of martial arts schools

and specializes in online and social media marketing using his extensive professional experience in

sports and martial arts marketing, contract negotiation, and investment.

62 MARTIAL ARTS WORLD NEWS VOLUME 22 | ISSUE 4

Photograph by anyaberkut
---
We teach Character through Karate

Kickstart Kids is an award winning in-school

character development program that uses

karate to teach life-changing values to middle

school and high school students. The non-profit

organization was founded in 1990 by martial

artist, actor, and philanthropist Chuck Norris.

For employment opportunities or to find out

how you can help support this great cause, visit

kickstartkids.org

KickStartKids.org
---
NEXT LEVEL STRATEGY

Convenience Morality, Part 1

by Shihan Allie Alberigo

When I was a young man around the age of 20, one of my martial art teachers taught

me a very valuable lesson.

Actually the reality is he did it unintentionally by stealing from

me. Just recently another person that I thought was a friend of

mine and a high ranking Grandmaster did something similar by

showing me their true colors in a conversation we had, unveiling

he had been holding a grudge for many years and never truly

looked at me as a friend.

In the first story the teacher didn't technically reach into my

pocket and take my money or go into one of my bank accounts

and steal. We had entered into a business partnership together

and he went back on a series of promises resulting in a

huge amount of money lost for me and years of

time wasted. The deal was, I would work hard

and put in the time and make money through

a series of companies we started and we

would invest the profits into real estate, later

flipping the properties for a profit and keep

growing the business.

At one point he decided he was going

to live in the very house we invested in and

make it his permanent residence.

In turn I was going to lose out on

all the time, money, effort and

energy I had put into this first

deal. He justified his

actions 100 different

ways, skewing the

facts but the reality

was he was living in

a house I worked

hard to buy. This

was one of the most

valuable lessons I

ever learned.

Skip ahead 25 years, as a martial

art teacher running a rather

successful martial art school I deal with people on a daily basis interacting

with hundreds of people. While the majority of clients are

kind, honest, loving great people, I have seen a trend that supports

my theory, leading me to believe that a majority of people will do

what is right, expected and proper as long as it fits neatly into their

schedule. If it takes above and beyond effort to do what is correct

they may stop, making an excuse or finding a reason to walk away

and not do anything at all. I have come to one definitive conclusion

- society has adapted what I call "Convenience Morality."

In many situations people are frozen in the feeling of ease and

comfort. One of my mentors and self-help guru Tony Robbins

talks about the human desire to experience pleasure. I agree with

his statement. Sometimes though this quest for pleasure may be

short term and result in long term pain or at a minimum wasted

time - RE: drinking alcohol, smoking, drugs, stealing, cheating,

over eating or eating improperly etc. Another example that is less

drastic may be procrastination. Waiting till the last minute to study

for a test and then cramming. This person may pass the test but

they will forget the material just as quickly – resulting in wasted

time due to the lack of actual knowledge for time spent. The initial

desire to experience pleasure is destroyed by the long term result

of long lasting pleasure.

The same goes for Morality. What can I do today that is easy to

help people? There are a small percent of the population that will

go out of their way to help people if it doesn't fit into their comfort

zone or pleasure. For example, if we help someone and it makes us

feel good, and it is easy to do, we may do it. But if we know helping

someone may create pain for us, a larger group of the population

will avoid it. This again, is a matter of convenience or comfort.

I have proven this over and over again when I run charity events

in my martial art school. With the mass volume of students I have

in my school we could ban together and make a considerable difference.

Unfortunately, when I speak to my students, parents and

friends, they look me in the face and yes me to death. They don't

actually go out of their way to help.

SHIHAN ALLIE ALBERIGO is a 7th degree black belt, the founder of the L.I. Ninjutsu

Centers, one of the largest Ninjutsu schools on the planet, the author of 4 books, and an entrepreneur

with one of the first online coaching companies.

64 MARTIAL ARTS WORLD NEWS VOLUME 22 | ISSUE 4
---
CLASSIFIED

Browse the Martial Arts World News

COMMUNITY MARKETPLACE

Do You Have Items to Sell?

Is There Something You Need?

Selling Your School?

Looking to Buy a School?

Are You An Instructor Looking For a

Career in The Martial Arts?

Are You a School Owner

Looking to Hire Instructors?

MartialArtsWorldNews.com

MARTIAL ARTS WORLD NEWS VOLUME 22 | ISSUE 4 65
---
PILLARS OF SUCCESS

What is a healthy lifestyle?

(Part 2)

by Grandmaster Y. K. Kim

Do you want to lose weight?

Drink at least 7-8 cups of water a day. Eat limited amounts of

protein and vegetables as well as whole grain carbohydrates, such

as brown rice, and whole wheat bread, and vegetables. Avoid

sugar or fat. Do not mix fats and carbohydrates in one meal. Doing

so causes the body to store the extra calories.

Do you need a lot of energy for strenuous physical work? Eat

lots of good carbohydrates and drink water for energy.

Do you need concentration for a desk job? Eat fewer carbohydrates

and increase your intake of water, herbal tea, and natural

juice. Also eat protein and vegetables together for

mental power.

Do you want to have good time management?

Do not eat too much at one time,

because it can make you sleepy. Avoid

junk food because it can make you fatigued.

Drink water, herbal tea, and juice

to cleanse your internal body and gain

energy.

Do you want to develop a positive

attitude? Remember, you are what you eat

and drink. As a result, you should always eat

and drink wisely to be a better and wiser

person. Change junk food to healthy

food and change soda to water

to build a positive attitude.

Do you want to have a

productive life? Follow the

five finger system: the

thumb is bigger than any

other finger, so eat a big

breakfast for a productive

day; the second

finger is small, so have

a snack between breakfast

and lunch; the middle finger is longer, so have a good lunch for

a productive afternoon; the fourth finger is smaller than the middle

finger, so have a snack between lunch and dinner; the last finger is

the smallest among the five fingers, so have a light dinner for easy

digestion when you sleep. (Exception: if you work in the afternoon

or at night, adjust the timing of your 5 meals accordingly.)

Intentionally transform eating junk food into eating healthy

food. Your body will take care of you.

(2.) Exercise Daily to get in shape

Imagine that you wear dirty and stinky clothes, so you are uncomfortable

and tire easily. No one will want to stand close to you

because you smell like a dead fish. However, it's OK because you

can always wash your clothes and wear them again. If you've been

sweating in them for 6 months without washing them, they will be

rotten. You won't be able to wash them this time, because they

will shred into a million pieces. You may say, "Hey, Y. K. Kim, don't

worry. I will throw these rags away and buy new clothes because

I am rich." You are right. You can throw away your clothes and buy

brand new ones.

Likewise, if your body is dirty, you can clean it up. But if your

body rots, you can't throw it away. No matter how rich or powerful

you are, you can't replace it like you would an outfit.

Once you throw away your body, it will never come back again.

You need exercise to clean out your body, release your stress, expel

toxins, and energize yourself. Remember, 85 percent of modern

sickness -- like cancer, heart attack, and depression -- comes

from modern stress, and it causes some people to commit suicide.

Prevention is better than cure, and exercise is the best prevention

to build physical fitness.

GRANDMASTER Y. K. KIM is the most successful martial arts business leader in the US, having written

over 30 books on martial arts, business, leadership, and success. He has won numerous public service

awards and is the founder of the leading martial arts marketing and management company in the US.

66 MARTIAL ARTS WORLD NEWS VOLUME 22 | ISSUE 4

Photograph by Ridofranz (top right)
---
The Best Seller!

Transform your life and

create a successful future with

The 5 Pillars of True Success!

A NEW Paradigm for Modern Success!

1st Pillar: Fight for your body – practice the 4

wheels of physical fitness, so you can do anything

you set your mind to do.

2nd Pillar: Fight for your mind – earn mental fitness

through self-education and self-discipline, so you

can be whatever you want to be.

3rd Pillar: Fight for your heart – believe in yourself

to develop the moral fitness to turn obstacles into

stepping stones, so you can have a winning spirit.

4th Pillar: Fight for your finances – develop financial

fitness to create financial freedom, so you can have

everything you want to have.

Audio Book

5th Pillar: Fight for your life – develop the 7 kinds of

modern leadership to build life fitness, so you can

live the life you've always dreamed of.

Embrace The 5 Pillars of True Success to be

healthier, wiser, more confident, wealthier, and

happier. You will create a successful future.

E-Book

As a bonus, The 5 Powers of Self-Defense and The

Top 10 Successful Habits will change your life.

www.YKKIM.com

Modern Success is Your Choice!
---
Do LESS of This

Payments

S

t

Billing

Charge

Backs

n

late

Payments

u

u

o

u

NSF's

Collections

Declines

AMSBILLING

Tuition Management Services

OURAMS.COM

CALL 1-800-275-1600
---
& Do MORE of This!

Let AMSbilling Handle Your Business Headaches

While You Do What You Love: Teach!
---
THE WAY OF THE SAMURAI

Children and the Art of the

Sword, Part 4

by Shihan Dana Abbott

Ages 10 to 13

The 10 to 13 year olds are able to adjust all the strikes.

Their attention spans have increased, thus allowing longer practice

sessions on any one technique. This age range also seems to

enjoy one-on-one combat. It is a good time to introduce using two

weapons (one in each hand).

Simple games can include contests similar to "King of the Hill."

This game is conducted by having the students line up. The first

two students in line battle until the first strike occurs. The loser

gets zero points. The winner gets one point and continues on to

fight the next student in line. Again, the winner

gets one point, and the loser gets zero.

This continues until you reach the end of

the line. At the end, the student with the

most points wins.

In case of a tie,

the students with

the same number

of points then

battle until a winner

is determined.

Generally speaking,

at thirteen, students

are physically ready to

train more intensively,

however, it is important

to decide whether

they are mentally

ready for this

jump as well. The

instructor must judge

whether they are large

enough in stature and

mature enough in demeanor

to do so.

There are many other

examples of ways you can

incorporate the sword into

your program for younger

martial artists. Be

creative in coming up

with different games

or "drills" to reinforce

the techniques you

are teaching. The main

things to remember are

to avoid overstressing

young

bodies and

keep young

minds (and attention

spans) engaged. Most of all, keep it interesting, keep it simple and

keep it fun!

As stated in an earlier article, by starting with soft weaponry,

instructors don't need to worry about the inability of children to

handle bamboo or wood to teach basic sword strikes. Students

can also begin learning sword techniques earlier through the use

of games and simple exercises. In addition, the fear of injury that

we often see in students when they're concerned about being

struck by the Shinai or Bokuto is removed.

Adapted from Lin Conklin

Samurai Sports, Inc.

Children's Curriculum development

SHIHAN DANA ABBOTT Is a 7th degree black belt in Kenjutsu, starting his 14-year education

in Tokyo. He has published five books and designed a US Patent. Abbott has also conducted seminars in

over 30 countries and obtained his black belt at the Hombu dojo in Yokohama. He currently offers online

classes on LearntheSword.com, his unique swordsmanship academy.

70 MARTIAL ARTS WORLD NEWS VOLUME 22 | ISSUE 4

Photograph by master1305 (top right)
---
Join a Winning Team!

W Want a Truly Inspiring Career?

W Want to Join a Growing, Creative, Vibrant Organization?

W Want to Help Make the World a Better Place

by Expanding the Reach of the Martial Arts?

If So, We Want to Meet You!

We're Expanding Our Teams!

Seeking:

• Account Representatives

• Sales Professionals

• Administrative Professionals

• Marketing Representatives

• Data Entry Experts

• Graphic Designers

• Pre-Collection Agents

• Collections Professionals

• Web Designers

• Web Developers

• Software Engineers

• IT Professionals

Benefits:

• Competitive Pay

• Holiday Pay

• Paid Sick Time

• Paid Vacation

• Insurance Options

• 401K

• and More!

OurAMS.com/Careers
---
EXTRAORDINARY MARKETING

Just Sell Something

by Grandmaster Stephen Oliver

Peter Drucker said the purpose of a business is to create and

keep a customer. That's right. Our job is to find someone who'd

love to do what we do and get them enrolled. Once enrolled then

it's sweat blood to keep them engaged, happy, and training.

Strange how often I talk to owners who think there's more to it

than that. What should you go to bed thinking about and wake up

and immediately work on – to the exclusion of all else? How do I

get a new student? How do I keep the ones I have longer? (and,

how do I ratchet up my tuition) Really that's it. We're in an incredibly

simple business.

For years my life boiled down to I need 12 Intros and 6 enrollments

a day (across 6 schools) That was really it. Each month I

needed 240 Intros and 120 enrollments. Every day started with

thinking about marketing and student retention. Every day ended

thinking about – that's right – marketing and student

retention.

For a single school, you can gross

$100,000+ per month with 2 intros, 1 enrollment

each day. Each day you wake up

and figure out what you could do – today

– right now to generate at least 2 intros –

today. See, that's pretty simple.

And, certainly I'd rather it be set up

and create 252 appointments which turned

into close to 100 enrollments between

August and September 2018, like

Jan Lappin did during recent

"Back-To-School" – Orientation

Days. But, hell if

you need to, take a right

out the front door of your

school and start knocking

on doors. How many

would you have to knock

on to generate 2 intros?

Really, if it took 2 hours

let's say 1 yes and a BUNCH

of nos per hour. And that 2

hours turned into 1 enrollment

at $400 down and

$200 a month X 12 – that means that those two hours generated

$2,800 in contract amount and $400 cash right away. Let's see

that's $200 an hour for the labor of knocking on doors. Not bad,

right?

And, seriously I've rarely had my staff knocking on doors, or

"VIP'ing" however, it works just fine. And, let's see $200 an hour

X 40 hours X 4.2 = $33,600 a month from one person's labor.

Not bad.

Really, what's your excuse?

Just make sure that EVERY day you create a minimum of 2

Intros and that at least 1 end up enrolled. The most profitable

single school I've ever seen was running on that formula more or

less. It was 22 enrollments a month, each ultimately worth $5,000

each. Therefore $110,000 gross revenue per month. Way over

$50,000.00 a month NET profit. Not bad for one school?

The secret?

1 enrollment a day. Keep them A LONG time. Charge enough

to average $200+ per month per student. That's the formula. It's

enough to make you rich in the martial arts school business. Sadly,

for some it has nothing to do with XMA, Hyper, adding "cage-fit" or

Krav Maga to your traditional school.

Want to be very successful? Develop OCD (Obsessive Compulsive

Disorder) about 2 (and, only 2) things:

First: What am I doing RIGHT NOW, to create new students? Did

I create AT LEAST 2 intros today?

Second: What else can I do to keep students longer?

Oh, and by the way. The answer to the second question. Want

to know "THE SECRET?" Hire only NICE people. Train them how to

be nice to the students and the parents. Treat each student like a

cherished friend or family member.

From my perspective the easiest way to sell something is faceto-face….

Next in line on the phone. WAYYYY down the list is sending

them an email.

What you've got to do is move people from "suspect" to "prospect"

– in other words get them to "raise their hand" and express

interest in what you do. Interest is a big deal. You can shout all

day long to get the attention of someone who's not interested.

It's mostly a waste of time. However, moving them from a little bit

interested to a student is typically not all that hard over time and

through education.

GRANDMASTER STEPHEN OLIVER, is a 9th degree black belt and is the founder and CEO of

Mile High Karate schools, and founder of the Martial Arts Wealth Mastery Program.

72 MARTIAL ARTS WORLD NEWS VOLUME 22 | ISSUE 4
---
www.ExtraOrdinaryMarketing.com
---
MASTERING MODERN BJJ

Teaching Child Students Jujitsu

By Master Carlos Machado

I have this thought that less is more. Whether it's teaching kids or adults, you have

one technique.

The difference is that for kids I make the goals more attainable.

An adult can think it out and see things ahead, but kids

are in the moment. A lot of people have challenges in terms

of keeping the attention span of the kids, and that's one of

the challenges. Kids' classes are not about teaching; it's more

about show and tell and exciting them. It's not only about

entertaining, but there also comes a point that you have to

incorporate the discipline, the mindset with a mat chat and create

a structure.

I feel kids are visual and they don't as much sometimes because

their attention is not there. Sometimes a year difference

between a kid and another can be like a mountain to climb. It's

kind of funny because you put them all in the same

group. I believe you have to hit the endorphins,

so when I teach the kids are in constant motion

even when they're watching a technique.

As long as they are focused on their

body, it's easier for me to keep their minds

wherever I need them to be. If they're left

idle in terms of not moving and just listening,

it's really hard.

For instance, other martial arts

like Karate and Taekwondo have

a better experience in regards

to the teaching aspect,

because you do kicks in the

air and you can do all the

demonstration with the

mirror. The kids have

more things they can

focus attention on. But

in Jujitsu, you have the

instructor and another

training partner to

practice with. To help the kids, I use animals to illustrate different

characteristics that I want them to get.

If I wanted to grab and squeeze, for instance, you're going to

be like the anaconda or the big bear, whatever animal you want to

be. You start to pick the kid's imagination. You might ask, how do

we integrate this with the curriculum? The curriculum needs to be

streamlined. Have the list of the techniques, the lesson plan, the

warmups, how much you repeat, how many minutes you spend

on each drill, what intensity of sparring and all the rules of engagement;

every academy will nitpick what works best for them. Then

the key here is triggering the imagination because I feel that gives

them the most.

Here is an example of how we do the constant motion: if I teach

my kids how to do a Jujitsu guard pass, I break it down into two

groups: one half are the passers, the other half the finishers. I teach

them, first, how to be in their position. We do a little running around,

like musical chairs; they run around and you pick a spot on the mat.

If you don't do it, you do squats or push-ups; making a big deal in a

fun way out of it. Then, I teach them the rules of engagement.

They're having fun and understanding what is asked of them

at the same time. I think the challenge with kids is how clear the

instruction is for them to interpret. For all ages the language that

I'm explaining for an illustration is universal and I don't care what

degree they are or if they have a learning disability, they're going

to get it. We make a big deal when they know where to find

their spot, they know what's asked of them and perform what's

expected of them. We clap and tell the parents to get them

engaged too.

I like the parents to be on the same page, being enthusiastic,

giving little pats on the back or acknowledgement every

time there's a little detail that the kid gets through. For me, it is:

endorphins, imagination, and making sure you're clear about

what the expectations are for each of the things you want the

kids to do.

MASTER CARLOS MACHADO is one of the pioneers of Brazilian Jiu Jitsu in the United

States of America. Currently a Coral Belt, and promoted to Black Belt by Carlos Gracie Junior, Carlos

Machado came to the USA in the early 1990's with his brothers where they formed the RCJ Machado

Jiu Jitsu Association, one of the strongest & growing BJJ organizations in the world today.

74 MARTIAL ARTS WORLD NEWS VOLUME 22 | ISSUE 4
---
THE ONLY SOURCE FOR A TO Z SUPPORT FOR TRANSPORTED

AFTER SCHOOL PROGRAMS!

Take Advantage Of Our 30+Years Of Experience

GET COMPLETELY

DONE FOR YOU!

. TURN-KEY

START UP KIT

. 100% DONE FOR YOU

CURRICULUM

. QUIET TIME

LEARNING ACTIVITIES

. NEWSLETTERS

FOR STUDENTS & PARENTS

. STAFF TRAINING

AND OPERATION GUIDE

. THE INDUSTRY'S ONLY

TEEN'S PROGRAM

. GROW YOUR ENROLLMENT

with MAGNETIC MARKETING

. INNOVATIVE AND PROVEN

ADVICE FOR SUCCESS

AMSKIDS

After School & Summer Camp Programs

CALL 1-(800) 275-1600

See what You're Missing!

GET A FREE

SAMPLE KIT

OURAMS.COM/AFTERSCHOOL
---
Have Your School, Organization,

Accomplishment, or Event Featured in

As professional martial arts school

owners and instructors, it's important

that we stay up to date with the

latest tools, tactics, and strategies

for operating a successful martial

arts school or organization.

We here at Martial Arts World News

Magazine are on an unstoppable

mission to help our industry grow,

and one of the best ways to do that

is by sharing "what's working" and

what's not.

So, we want to feature schools,

school owners, instructors,

organizations, students, and industry

contributors that might have a story

our readers would find valuable!

No story is too small or too big for

consideration so long as there is

value to our readers.

MartialArtsWorldNews.com/Ureport

Send your Story Idea to us.

Email Editor@MartialArtsWorldNews.com

Or Contact us at: 407-895-1996

• One of your students

overcame great obstacles

to achieve their black belt?

Awesome!

• You've opened a new

location? We'd love to hear

about it!

• Your martial arts

association just set a new

record? Great! Send us

some information!
---
the

like a champ

experience

breaking

kicking

training

leadership

C H I P T O W N S E N D

14x ISKA World Champion, Multiple World Record Holder

"I knew Break Like a Champ could really help our school. We

had been doing several things incorrectly in regards to

breaking, with material selection and holding techniques.

BLAC has made such a huge difference in our school! In a few

months, we will have made back what we spent just by being

associated with BLAC! I really believe BLAC will add

tremendous value to any school!"

-Chance Burleson, owner Chance Legends Dojo

h a m p i o n p a c k a g e

c

1 Hour - Beginner Level Class

- Basic Kicks

- Basic Boxing

- Mat Chats

- Basic Grappling

1 Hour - Intermediate/Advance Level Class

- Flowing Kick Combos

- Basic Reverses/Spin Kicks

- Boxing/Kick Combos

1 Hour - Leadership Team & Instructor

Basic Training

l t i m a t e p a c k a g e

u

Champion Package, PLUS

2 Hour Business Review

- Marketing & Social Media

- Relationship Building in your community

- How to Build a Demo Team

- One 45 minute private lesson for Chief

Instructor

Message me for booking

or appearances

chip@teamchiptkd.com

"It doesn't matter the size of your school, the demographics or

ranks of your students, Chip Townsend helps with all aspects

of running a successful martial arts school!"

-Justin Cuellar, Owner of Atalla County Martial Arts
---
TACTICAL SELF-DEFENSE

Less Can Be More! (Part 1)

By Tom Patire

As the world changes public privacy becomes less private due to technology, namely

cameras. They are everywhere and anywhere, some seen - many unseen.

To make things even with all of the hi-tech camera phones

that the majority of people carry look how quick people video

events, especially alterations or racially charged situations, then in

seconds put them up on social media. Yet, a number of people in

our society seem to not care and do what they want, when

they want, and to who they want - thinking that they

will get away with it.

Situations that involve rioting, burning, looting,

hurting, and destroying private and public

property. Do these types of people really think

that these acts will go unpunished? Take it

from me as a private protector and a licensed

bodyguard by trade, I have been in many situations

where things have erupted, and chaos

took over. Situations like the LA and Bensonhurst

riots, and storming Capitol Hill. My teams and I

were in the heart of it with a major news

crew who were there to get

the minute-by-minute

scoop. I remember asking

a police captain after witnessing

buildings getting

destroyed "Why can't

this be stopped?" His

answer was direct and

unemotional, he said

"Today they break

the law, tomorrow

they answer for it.

We as law enforcement

have all the

time, resources,

and manpower to

find them one by one

and arrest them! From there it's up to the judicial system." He was

so right. Months later I saw on the news how many of them were

arrested for their actions with some crying and others hiding their

faces in disgrace as they were being escorted to the jail. The biggest

aid to finding them was all of the footage from cameras in and

on buildings, ATMs in the surrounding areas, as well as what was

posted on social media via cell phones.

So now to my point of why a seasoned martial artist such as myself

preaches, yes preaches, the concept that 'Less Can Be More'!

Do not get me wrong I will never say that using your skill set for defense

of yourself or a person that cannot defend themself is wrong.

It is one of the reasons why we train! But over doing it to the point

of no return could end up costing you more than you think. It may

go criminal, civil or both. You may end up in jail, on probation or being

sued. You may lose something or everything that you worked

so hard to achieve. Even if all points to you being 100% in the right

you may still have to go out of pocket and hire a lawyer to prove

your innocence and protect your assets. Remember this - even

bad guys, tough guys, or crazy guys, sue! It is the American Way!

GRANDMASTER TOM PATIRE, is known as "America's Leading Personal Safety Expert" and has appeared

on Good Morning America, The CBS Morning Show, The Colbert Report, Montel, plus in mainstream publications such as

Family Circle, Redbook, Fortune Magazine, and The Wall Street Journal. He has written several books and has personal

safety programs that can be incorporated into your martial arts school, available at TomPatire.com.

78 MARTIAL ARTS WORLD NEWS VOLUME 22 | ISSUE 4

Photography by Kiyoshi Tanno (top right)
---
CUTTING-EDGE

MARTIAL ARTS WEBSITES

That Bring New Students Into Your School–Fast

Finally, a Beautiful, High-Quality, Lead Generating Website for Your Martial Arts School

Visit AmazingMartialArtsWebsites.com or Call (800) 275-6900
---
COMPLETE MARTIAL ARTS CONCEPTS

Teaching The Complex Art Of

Kung Fu, Part 3

by Professor Willie "The Bam" Johnson

Key Points Of Teaching The Complex Art Of Kung Fu

Lead by example, show and ask, not tell- you should always

make sure you are carrying yourself in a positive manner and go

above and beyond the call of duty. Then others around you will do

the same.

Conduct yourself in a respectful positive manner in and outside

the school to the best of your ability – you can not lead two

lives, who you are is who you are in front of the student body as

well as behind closed doors. Don't be a fake leader.

Be human not superhuman by admitting your

shortcomings and mistakes – no one is perfect

and if you present yourself as not being perfect

but always striving for perfection you will be

looked up to and respected for your honesty.

Develop great people and then you will

have great champions- sometimes it is about

letting go and allowing others to become great in

order for you to move to a higher plateau.

Be prepared, on time, as

well as the first to arrive

and the last to leave –

always put your best foot

forward, the hard worker

will be rewarded without

even having to ask for it.

Give credit to a higher

being and teacher than

yourself – only spirituality

will take you above and

beyond all situations.

Stay in shape and

maintain a high standard

in your skill – practice

what you preach.

Pay due respect to your instructor – highlight and promote

others for a job well done because then they will be even more

willing to go above and beyond the call of duty.

Be involved in community service and charity – in order to

receive you must give, give, give it away first!

Discuss the painful process of learning with positive feedback

– praise, correct, praise – never allow anyone to feel that their best

was not good enough.

Keep class continually flowing with positive energy – give

more than 100% of what you have – this allows others to then give

100% in return not 80%.

Try to keep discussions along the line of the students level of

comprehension – do not talk over them, but to them.

Make sure you demonstrate all techniques with perfection –

keep your skill level sharp because after all your students will only

retain 80% of what you give them.

Give students high fives, thumbs up, head nods and smiles –

everyone wants to be praised, adults, teens and children alike.

Refer to each student with sir and mam – to get respect you

must first give respect.

PROFESSOR WILLIE "THE BAM" JOHNSON is a 7th degree black belt and seventime

sport karate and Kung-Fu world champion. He has appeared in four movies, 16 plays, and 11 television

shows. He is also the national spokesperson for the Stronger than Drugs Foundation and the Champions

Against Drugs.

80 MARTIAL ARTS WORLD NEWS VOLUME 22 | ISSUE 4

Photograph by Tuned_In (top right)
---
www.budointernational.com
---
THE MILLIONAIRE SMARTS COACH

6 Ways To Deal With Setbacks

By Lee Milteer

Adventurous soul that I am, I signed up for flying lessons a few years ago. The day of

my fourth lesson my instructor was letting me pilot the plane. It was very windy, and I

was having a heck of a time staying on course.

The Burning Question

To deal effectively with setbacks, you must question your current

perceptions. Your personal perceptions filter all your incoming

experiences of life. These perceptions are strongly held rules and

regulations in your mind that can blind you to creative solutions.

When you resist new ideas, you reject new ways of thinking before

you've even given them a chance.

It's only realistic to understand that there will be obstacles. But

there is a fine line sometimes between being realistic and pessimistic.

Keep trying to overcome setbacks by using more intelligent

data, systems, knowledge, and clear plans—as many

times as it takes.

Tips for Dealing with Failure:

1. Reframe your situation. No matter

how disappointed you are about a setback,

ask yourself, "What have I learned

here?" Force yourself to answer this

question till you find the answer. It

helps to remember things can always

be worse ("At least X didn't happen").

Your mindset is crucial

for success—whether you

think you can or think you

cannot, you are always

right! Control your internal

dialogue to focus on

solutions, not blame.

2. Analyze exactly

what went wrong. Who

dropped the ball,

what systems failed, or

worse—did you not have

a plan or system? Leverage what you learn to bring you one step

closer to your goals. Don't focus on "failing"—focus on what you

can do now to be successful.

3. Be flexible: It is important you become flexible in your view of

life. We should all learn to imitate the simplest laws of nature. Water,

for example, takes the path of least resistance on its journey to

the sea. When it comes to a rock, it simply flows around it. Making

smart adjustments and changing your course of action are just as

necessary to get you where you're going. Sometimes it's important

to know when to cut your losses and set another goal. However,

never abandon goals just because you've had a setback. Abandon

goals or projects only if they have lost meaning for you.

4. Always ask for feedback from others you trust. And don't think

of their feedback as criticism! Credible resources, such as your own

Team, your Coaches, & Mastermind support can provide fresh eyes

to help you succeed and move forward. People who have no skin in

your game can more easily separate emotions from facts, helping

you see exactly the adjustments needed to reach your goals.

5. Don't take score too soon. Unless you hear the fat lady singing,

don't make the mistake of judging yourself negatively just because

you have taken action that has failed. We are all works in progress.

6. Success is judged not on how quickly you succeed but how

quickly you recover. So pick yourself up, dust yourself off, and

keep going. The quicker you recover, the quicker you reach your

goals. As Confucius said, "Our greatest glory is not in never failing,

but in rising every time we fail." With every failure you gain more

knowledge and insight than you did before, as long as you learn

from your mistakes.

BEST,

Lee Milteer

Performance and Productivity Coach

Millionaire Smarts Coach

www.milteer.com

MS. LEE MILTEER is an Intuitive Business Coach, award-winning professional speaker, and TV personality

who has counseled and trained over a million people throughout her career. Lee is Stephen Oliver's Martial Arts

Wealth Mastery's Millionaire Smarts Coach and is also a best-selling author of educational resources.

82 MARTIAL ARTS WORLD NEWS VOLUME 22 | ISSUE 4

Photograph by Gajus
---
SEPTEMBER 9TH – 11TH, 2022

WARRIOR

CERTIFICATION

MAXIMIZE YOUR FULL POTENTIAL WITH THE WORLD'S FIRST PERSONAL GROWTH PROGRAM

Join Us! September 9th – 11th, 2022

Energize yourself and your

staff by training in this amazing

Gathering of Masters from all

over the world.

Grand Master Clark is hosting

this revolutionary training on the

physical, mental and business

side of martial arts.

register NoW! warriorkravmaga.com

or CALL 877-729-3951 1400 Millcoe Road,Jacksonville, FL
---
Bodybuilding Shoes

Weight-lifting

Boxing & Martial Arts Sneakers

Martial Arts Gear

1-800-597-5425

otomix.com
---
PointMMA.com
---
BUDO PHILOSOPHY

"Educare" Pt. 1

by Shidoshi Alfredo Tucci

Etymology tells us that to educate, from Latin "educare", means "to guide from the

outside", as well as "to take out what you have inside." Educating is the most noble

and elevated profession; like being a doctor, it's rather a priesthood than a simple job.

My grandfather was a master, and he was it in more ways than

one. He even helped me with Latin, which was then a matter that

we all had to study, although at that time it was depreciated as

being something useless; but strangely enough, it has been one of

the few things that have really helped me later in life (of course, infinitely

more than all that string of nonsense and uselessness that

they made me memorize). Having information doesn't

mean to know; knowing how to use the data is

what works, and using them wisely is what

counts.

In education, character is to be molded

with painstaking care, like if you were cultivating

a plant, trying to cut here and there

every possible "wrong direction" with great

care and affection, but mostly, irrigating and

fertilizing the ground so that growth occurs.

But "wrong direction", respect to what?

Every era, every culture has its taboo. Every

Master will err if he is not able to perceive

the confines of his ministry. A real good

Master is not only aware of his own

boundaries, but he also knows

that his first achievement will be

to not become, consciously or

unconsciously and for the sake

of his own defects, the castrator

of what the student may have

inside or give of himself.

However, the final goal is

not the accumulated data, not

even its functionality, because

in the end, it's not only the

results that counts in education;

perhaps this could be so in a world that lived outwardly,

however what usually happens is that we individuals live in both

directions, toward the outside and toward the inside, and certainly

you can reach a great social success while remaining an absolute

idiot, unhappy and hopeless. A Master should never forget that he

is treated to unforeseeable material.

It's obvious that for me, educating doesn't mean teaching data;

educating is teaching to live. The Master will part from the strands

that the pupil has, and his task is that of making these strands visible,

polishing them and leading them to the best of the proposals

so they can give birth. If the student later builds with them a chair

or a cruise ship, it's up to him; and not only because freedom is a

great thing, but especially because pretending to intervene otherwise

will inevitably end in disaster.

Transmitting our frustrations, pretending to cure ourselves in

somebody else's body, has always the same price: Our own and

others' misfortune. Therefore the Master, like a wise and loving

father (or a mother), should get involved to the same extent in

which he should practice detachment. Arduous task, indeed, but

not without satisfaction, because there is no pleasure like seeing

flourishing what you planted; and even in a selfish way for he who

loves knowledge and wisdom; as his magisterium suggests, teaching

is the best way to learn.

Speaking about that, they say that nothing teaches more than

personal examples. Well, this is false. Example doesn't teach by

itself, rather it's something from which we can learn. The Master

who believes this provision and tries to impose its reflection is

wrong, because the students will notice what the Master kindly

perceives, and they will interpret it according to their understanding

and inclinations,

and it's well known that what for some people is great, for

others can be horrific. The wise respect the difference, because

evolution only arises from it.

SHIDOSHI ALFREDO TUCCI is the CEO and General Manager of the Budo International Publishing

Company, a leading publisher in the martial arts with over 35 years in the industry. He is also author of several

books: The Immaterial Dimension, The Way of the Warrior, and The Spirit. He currently lives in Valencia, Spain.

86 MARTIAL ARTS WORLD NEWS VOLUME 22 | ISSUE 4
---
Reach THOUSANDS of

Martial Arts Professionals in

To See Sponsorship Options & Packages Visit:

MartialArtsWorldNews.com/Sponsors

Email Sponsors@MartialArtsWorldNews.com

or Call Jeff @ 407-895-1996
---
PRO SHOP POWER

Get the 3 Keys to Running a

Profitable Pro Shop

Surely you can use more revenue in your martial arts business! You can unlock the

doors to a profitable pro shop that generates $1,000 - $2,000 in additional income

every month, and it's easy to do when you use the three keys for pro shop success.

Key 1 – The Right Set-up

Your pro shop must have an appealing look to catch the eye

of your students and visitors. If you have a physical pro shop, it

needs to be clean, well organized, and perfectly located. Each of

these aspects presents a professional appearance and leads to

customer interest.

Sounds simple, right? But why are so

many martial arts pro shops dirty, disorganized,

and off in a corner? Face it,

you're really busy with many tasks,

so just enlist a little help from a staff

member to set up and maintain

your pro shop with these simple

traits -- they're not difficult.

In addition, if your pro shop is

online, the same aspects apply.

Your website and online pro shop

should look good (clean design),

be easy to search and find products

(organized), and simple to find

(location on your website).

Key 2 – The Right Supplies

Your pro shop supplies should be moving in and out

quickly (like a revolving door) rather than sitting and

collecting dust for weeks at a time. Turning the key

to the door for earning an extra $250 to $500 every

week is as simple as knowing what your students

need and want. You just have to have the right supplies

in stock or available online.

You make the curriculum that requires uniforms

and sparring equipment. You make the

rules that require special performance clothing and shoes for your

exhibition team. Also, you control the kind of promotions you run,

like camps and seminars that call for supplies from your pro shop.

Got the idea?

Key 3 – The Right System

Since you're not a manufacturer, you need to get connected

with a quality supplier, like Vision, USA. Partnering up with a reliable

vendor enables you to access quality supplies

that will be quickly delivered to your pro shop or

to your online customers. In addition, Vision's inexpensive

supplies make turning a good

profit simple.

Second, you need a powerful

software program with great pro

shop features. You'll be able to

quickly know your inventory, track

student purchases, and get various

financial reports. We recommend the

features in ATLAS Pro.

Just take these three keys to open the

doors for successful pro shop sales and greater profitability

in your school.

For more information on quality supplies and setting up a

profitable pro shop call 1.800.424.5425 to speak with a friendly

customer service agent at Vision, USA. It is one of the biggest and

most active supply companies in the industry, and the official and

exclusive sponsor of the USA Taekwondo Association. Its quality

products and on-time delivery are outstanding, with extremely

high levels of customer satisfaction.

Visit VisionMA.com for more information

MR. SUN KANG is the President of Vision Martial Arts Supply, Los Angeles Branch, who helps school owners all over

the US maximize their retail sales and drive more revenue into their schools.

88 MARTIAL ARTS WORLD NEWS VOLUME 22 | ISSUE 4
---
Learn the Sword

with Shihan Dana Abbott

Learn Samurai swordsmanship online with Shihan Dana Abbott!

For $1 a day, you can take advantage

of Danna Abbott's expertise in

Kenjutsu, known as Japanese

Swordsmanship, where he

holds the rank of Shihan 7th

Degree Black Belt.

Abbot has shared his expertise

from the Hombu Dojo in

Yokohama with thousands of

instructors worldwide – and

now he'd like to share it with you.

Samurai Program Online Training

You'll get unlimited access to videos and tutorials

detailing sword techniques and covering wood,

bamboo, synthetics, and steel for long sword!

Individual Courses & Self Study

Instruction is based on tried-and-true methods

taught in Japan for generations. Experience oneon-one

instruction with a simple, step-by-step,

methodical approach to mastering the sword.

Instructor Courses & Certification

Traditional and combative courses allow

students to grasp the basic dynamics of

traditional & combative sword techniques

and mindsets, making learning and achieving

certification easier!

For more information, head to LearnTheSword.com
---
MASTER THE BASICS

Master the Art of Operating

Your School

by Master Tina Bane

Suppose you were in need of a serious surgical procedure, but an expert with a

wrench instead of a scalpel was going to perform it. Would you knowingly subject

yourself to the hands of an inappropriate expert or less than the best with so much at

stake? Of course, not! You'd want the person with the right skills doing the job. How

about the operation of your school?

Surely you've heard the expression, "Jack of all trades, master

of none." As an experienced martial arts school owner or

one just starting out, you know or are finding out

how relevant that quote is in regard to running

your school. You know that operating a martial

arts school requires a multitude of tasks and

many of them you're not prepared for.

First, you must get paid because you have

chosen running a school as your profession.

Pro's get paid amateurs don't. Collecting

student tuition can be one of the most difficult

tasks for a school owner because

you go from being the teacher to a

bill collector. In addition, tuition

management requires keeping

accurate records like

an accountant. Are you

prepared for either of

these tasks?

Second, you

have to build up and

maintain your student

enrollment. Getting

students into your school calls for

good advertising and promotion.

You have to come up with ideas

that work each month. Do you know

how to design and write a simple flyer so it looks professional

and makes your school look better than your competitors? It's

likely, you don't do graphic design or write ad copy on a professional

level.

To keep up with your competition, you should also have an internet

presence. This means you need to have an attractive school

website that draws your community to your school. Do you know

how to design a website?

Third, you have to manage all aspects of the school professionally.

Handling telephone calls and visitors in a way that leads

them to enroll is very important. Are you equipped with sales

skills? Scheduling, training staff, and building maintenance are also

necessities and require management skills. Have you managed

others or a business before?

Think about it, if you just had to do the tasks mentioned on your

own it would require bill collecting, accounting, graphic design,

writing, advertising, promotion, web design, sales, and management

skills. This is just the tip of the iceberg and we haven't even

talked about the reason you opened your school which is to

instruct in the martial arts. To do all of this on your own is professional

suicide.

Maybe you're thinking, "I can hire individuals to do each of

those tasks." Unless you're already wealthy that may end up being

financial suicide. Just imagine the cost for an accountant or a web

designer alone. Even though this is true, the idea of getting some

help is the right track for mastering the operation of your school if it

could be done inexpensively.

MASTER TINA BANE is a 6th degree master instructor and owner of a Top Ten martial arts school

with successful after school and summer camp programs.

90 MARTIAL ARTS WORLD NEWS VOLUME 22 | ISSUE 4

Photograph by SerhiiBobyk
---
Lee Milteer is an Internationally known and celebrated

Entrepreneur, Visionary, Best Selling Author, Award winning

Professional Speaker, TV Personality, and Intuitive Business Mentor.

Lee provides business and success advice and resources to nearly

250,000 people around the world.

Reclaim the Magic

will evoke a consciousness

shift and an awakening

within you to manifest your

heart's true desires. is

book will give you the tools

and concepts to claim your

natural birthright power as

a manifestor.

Success is an

Inside Job

will empower

ANYONE to

achieve new levels

of self-clarity and

control over their

destiny.
---
INSTRUCTIONAL EXCELLENCE

The Value of Stress Training

by Grandmaster Tim McCarthy

Human beings behave differently in a hot state and a cold state.

In a cold state, you have full control of your mind – your

heart rhythms are consistent and you can think clearly and

logically. In a hot state your body has released hormones,

your heart rhythms are inconsistent, and your brain does not

function so logically. Perhaps you have experienced someone

insulting you, you got angry but couldn't think of anything to

say, and then five minutes later you thought of a couple of

great comebacks that you could have said. Under stress, you

did not react at your best.

Self-defense situations usually happen in a hot state. When

someone threatens you or your family, it's natural for your

adrenaline to start flowing. Although the adrenaline

sharpens your reactions and increases your

strength, it probably clouds your mind, so you

may become indecisive or even paralyzed with

fear. You may not react at your best.

When we teach self-defense in our

classes, if we always allow our students to

practice in a cold state, they may not react at

their best when confronted with real trouble.

We need to get them into a hot state during

class, so that they have practice reacting

under stress. We don't want to take them

out to get into bar fights, so we have

to do our best to create different

levels of stress in class. Here

are some ideas:

1. Yelling. Simply ki-haping

in class can help raise the heat

during practice.

2. Strikes. Use a fun noodle

or a paddle pad to strike

students during basics or

forms practice to help them

stay focused on the techniques

and to create an

emotional reaction.

3. Attention. Ask one or two students to stand up and demonstrate

a technique while everyone else sits and watches.

It builds their confidence as they learn to perform under

emotional stress.

4. Tests. Tip tests and belt tests create stress, especially if the

student knows his family and friends are in the audience watching.

They build confidence and provide practice at performing

under stress.

5. Demo. Allowing students to perform in demos adds the

possibility of public embarrassment if they make a mistake

on stage. They learn to perform under stress and to recover

from mistakes.

6. Contact. Occasionally, under strict supervision, allow a

little heavier contact (to safe areas) during one step or free

sparring so that the students feel a little fear and/or release

adrenaline, and learn how to act and react in the hot state.

If you have a grappling school, allow a little more pain in the

joint locks and throws, but obviously don't allow them to hurt

each other.

7. Aggression. During self-defense training, let students

practice slowly and gently while learning the technique, then increase

the speed and strength of the attack as the student gets

better at the technique. Toward the end, let partners practice

aggressive attacks with shouts, menacing faces, and aggressive

grabs or strikes to approximate a street attack.

8. Verbal Self-Defense. Teach students positive ways to

handle verbal aggression like insults and then practice insulting

each other. At first the insults may create a hot state of embarrassment

or anger, but with practice, students will learn not to

get upset over words.

Being able to remain calm during a stressful situation is a

powerful life skill you can teach your students. Being able to

react quickly and decisively in a violently aggressive situation

is a possibly life-saving skill you can teach your students in the

safety of your classroom. Help them develop the confidence

to handle any situation that comes up by training under controlled

stress.

GRANDMASTER TIM MCCARTHY is a 9th degree black belt and is a martial arts educator

with a master's degree in education. He has been instrumental in developing two industry-changing

programs, plus has directed and been featured in hundreds of martial arts videos and webinars.

92 MARTIAL ARTS WORLD NEWS VOLUME 22 | ISSUE 4

Photograph by NeilLockhart
---
Are Parents Allowing

Their Kids To Quit ?

LOCK THE BACK DOOR!

For Greater Retention

& Referrals...

• Age - Specific Character

Education Systems

• Bully Proof Program

• Parent's Night Out kits

• Social Media

• and much more...

Helping Young Minds Grow Stronger - Through The Power Of Martial Arts & Character Education! ©

Celebrating 12 Years

$12

Special

for your First month

$50 Off Monthly License

Coupon Code: 12Down

BlackBeltPrinciples.com
---
BUSINESS BUZZ

9 Keys of Black Belt

Leadership Charisma

1. To be believed, you have to be believable. Say what you

mean and mean what you say. Your behavior must be consistent

with what values you would like everyone to believe you live by.

Black Belt Excellence has to be on display in your school. No piles

of whatever behind the front desk, or in the corners of the room.

2. To be interesting, you must be interested. Talking is okay, but

listening is better. Create lasting relationships by asking questions.

Listen to their answers and ask questions about their answers.

You've heard the old saying, "You have two ears and one mouth

for a reason", learn to use them in proportion.

3. Give respect in order to receive it. Respect

is reflected. Giving respect to another person is

like opening a door to new opportunities. Be

first to bow, shake hands, smile, and speak.

4. Only real compliments are sincere.

Recognize the good in others and make it

personal. Be a good finder. "Any fool can

find something wrong and point it out,….and

most do". Stop using phrases like "Good Job"

or "Awesome" and instead, tell them exactly

what you noticed and are complimenting

them on.

5. Graciously accept

compliments. Never

refuse them. Deflecting

a compliment often

draws unwanted

attention and

belittles both you

and the person

who has offered

it. Just say,

"Thank you."

6. Say what you are for, not what you are against. Once you

voice your opposition, you become part of the problem. Once you

say how you can help, you become part of the solution.

7. Dress to impress, and always look your best. It is human

nature to judge appearances. You can be perceived positively or

negatively: the choice is yours.

8. Words are indelible-use them wisely. What you say, you can't

take back. Bad

words are like bad attitudes. They simply work against you.

9. Avoid "charisma crushers" by using proper tone of voice and

body language.

What you say and how you say it always tells what you

really mean.

GRANDMASTER LAWRENCE ARTHUR has been a martial artist, specializing

in Karate, Kung Fu, Kenpo, Shotokan, and Goju Ryu, since 1968. He owns 40 Super Kick Karate

locations and is founder of the American Freestyle Karate Association (AFKA). A world champion

and hall of famer, Lawrence also runs the Black Belt Success Systems consulting firm, which trains

martial arts instructors on proper business practices and is used by schools all over the country.

94 MARTIAL ARTS WORLD NEWS VOLUME 22 | ISSUE 4
---
Do You Serve Martial Arts Professionals?

Share Your Message in

For Sponsorship Options & Packages

Visit: MartialArtsWorldNews.com or Call Jeff @ 407-895-1996

MAmuseum.com
---
MARTIAL ARTS PHILOSOPHY

A Diary of a Black Belt, Part 6

By Sensei Gary Lee

One year later

2nd Brown

This test I was in charge of setting everything up. I spent the

night in the Dojo and helped bring in and host the special guest

Sensei Tanaka. I went to the lumber company and got the bricks

and boards for the Test, set the chairs, tables and made all the refreshments.

I had to get all the paperwork together, which was like

preparing for a huge storm that you know is coming. Can't believe

I'm testing for second Kyu Brown, what a ride it has been!!

Gotta go, Black Belts are arriving, I will write later if I survived!!

Well, I am at the hospital with four of us that got banged up today.

My finger is broken and I am the lucky one, the other guys got

knocked out by our special guest today at the Test and one guy is

not waking up. Everything was OK, until we got this guy in a corner,

bad mistake, he hit Charlie first, round kicked Bobby, did a picture

perfect jump spin back kick in the face on Kea and kicked my hand

when I grabbed him. He smiled as if he knew he had hurt me. We

were all going for second Kyu except Kea, he was going for Black,

maybe that's why he knocked him out.

Update ***I was in the back room and heard the

Black Belts talking, they said Kea was running his

mouth about the test and he was not going to be

stopped. Well I hope Kea wakes up. Heck I hope

we passed, so many people were hurt when we

left for the Hospital. I don't know, brutal test!!

Learned a lesson, never talk out loud before

a High Dan test and say your thoughts if you do

expect a world of hurt!, oss

Kea finally woke up. I didn't leave his side

though the night, scary night, man

that was a heck of a test, it wasn't

the toughest test, but it was

the one that made me the

most nervous.

Real Karate is a scary

adventure like a bad,

bad storm!, oss.

Passed.

Three years later

1st Kyu Brown

Bull in the ring, pure self defense and street application, kata, application

of kata, Bunkai precision movement of the Kata applied to

uki's attacking, this is what I have learned and I want my Black Belt.

I know I am a Black Belt now in my mind, heart, and body. I just

have to go through the hardest part of my life the next five hours

or so and show I am ready

to be a white belt all over

again and realize making

Black, if I do, is a whole

new beginning , just like

starting over with good

strong basics, oss.

Sensei has me fighting

and doing kata every

weekend at any event he

can put me in. Normally I

run Sepai or Ni Gi Shi Ho

or Teiki Kata. If I tie, I run Supra Empi, a Goju form I learned from

a Goju Student visiting Sensei Tanaka two years ago. It normally

wins Grand, but I don't use it except under extreme situations, oss.

This Test I am ready, I want Black Belt really bad!, oss.

It was what I expected and also learned a great lesson, never

quit. Always do the best you can and always help a friend in need.

Today, I sacrificed a situation and saved a friend, but I got stuck

pretty good for the decision. Afterwards, a couple of Black Belts

came up to me and said they would have done the same thing.

That made me feel pretty good, even though I got a bruised rib

and black eye, take care of your bras.

Passed.

Three Years Later

Shodan Black Belt

Protecting the History, One Warrior at a Time

www.sportkaratemuseumarchives.com

SENSEI GARY LEE, the American Samurai, is a 9th Dan black belt, a USA Karate

Federation gold medalist, winner of five Super Grand National Titles, a featured actor in

the movie Sidekicks, and is the founder of the National Sport Karate Museum.

96 MARTIAL ARTS WORLD NEWS VOLUME 22 | ISSUE 4

Photograph by Miljan Živković (top right)
---
Protecting the History, One Warrior at a Time

The History of

Traditional Karate Pioneers,

Legends and Champions

in the 20th Century.

www.SportKarateMuseumArchives.com
---
MANAGEMENT EXCELLENCE

Why Struggle, When ATLAS Can

Make Your School Management

Effortless?

by Kirk Pelt

Do you NEED a new software system customized for martial

arts schools, but are too confused with all of the different choices?

Or maybe you are old fashioned and think the new systems will

be too complicated? But, 'High Technology' usually proves to be

easy in performance. That's what ATLAS Martial Arts Software

is all about! ATLAS makes it so easy for you to run your Martial

Arts school. It is so incredible it can even do things while you are

teaching classes or even spending time with your family! Doesn't

that sound simply amazing? The software management system is

one of the best martial arts school management systems that you

can have. By utilizing the set it and forget it marketing system with

its automated features you could increase your income by

1000% with very little or virtually no extra effort!

ATLAS is an internet based system. There are

no discs to install or to order and wait to receive

in the mail. Simply go online and sign up, and

get started with a FREE Demo! Our system will

safely and securely keep your information free from

crashing, getting hacked into, or from the trouble of

synchronizing and reloading everything when you

upgrade your own computer system. We have it all safe

and sound for you, worry free!

The ATLAS system also gives you a

FREE Lead Generating Website to use

as your school's martial arts website.

You may integrate it with many other

applications that service ATLAS. The

website that you use with your school

has many features to use with other

system applications on the Internet.

You might want to put links to

other sites you may have such as

your Facebook or other social

media pages, or a blog page, and especially YouTube. One of the

best features of the website is it brings new leads into your school

through special offers and a contact generator. From that point on

you will have the contact information necessary to Turn Leads Into

Conversions! You don't have to do a thing! It is that easy!

The ATLAS technology may sound complicated, but this

High Tech makes it easy for you! It will even take your students' attendance

for you to make your life that much smoother! If a student

misses a class, the ATLAS management system will automatically

send an email to the student stating, "We missed you!" How

convenient is that? This helps with retention so much! It will also

help with keeping track with the belt testing and who is ready for

the next level. Everything is automated within the system as the

system is designed with Martial Arts schools in mind, yet diverse

enough to be used with any martial art style and your school.

ATLAS Software is your absolute one stop shop when it

comes to running your martial arts school to its ultimate level. It

can do your accounting for you. It can do your emailing for you. It

can evaluate and run your reports for you for whatever you need

to know. ATLAS gives you curricular ideas for your classrooms so

there is never a dull moment. Promotions that will increase your

profits and the software will give you so much more time to teach

all of those new students you will have! You will keep the students

you already have since you will always be doing so many more

fun and exciting things instead of sitting in your office counting

nickels. Now you will be collecting dollars and the software will be

computing it all to the exact penny for you! No more worries at all

and more time for you! Doesn't that sound like the best thing ever

made for a Martial Arts school owner? Save time and money and

make more money than you ever thought possible with the latest

and greatest martial arts software management system available!

Take a FREE Demo of ATLAS today!

Visit: TryAtlasSoftware.com

CHIEF MASTER KIRK PELT is an 8th degree black belt and is the President of a multimillion

dollar, multi-school organization, has a 30-year track record of success, and is currently on

the leading edge of martial arts curriculum and business innovation.

98 MARTIAL ARTS WORLD NEWS VOLUME 22 | ISSUE 4
---
ADVERTISER INDEX

A Touch of Zen

ATouchofZen.com .................................61

Atlas Martial Arts Software

AtlasMartialArtsSoftware.com ...............2, 38, 52

Action Hero Photos

ActionHeroPhotos.com ...........................97

Adventures of Harry & Friends

AdventuresOfHarryAndFriends.com ................17

AFKA Martial Arts Retreat

AFKAMartialArts.com .............................24

Amazing Martial Arts Websites

AmazingMartialArtsWebsites.com. . . . . . . . . . . . . . . 11, 79

American Martial Arts Alliance

WhosWhoInTheMartialArts.com ....................19

AMS Billing

OurAMS.com ................................ 68, 108

AMSkids

OurAMS.com/AfterSchool .........................75

Black Belt Principles

BlackBeltPrinciples.com ...........................93

Break Like a Champ

TeamChipTKD.com ............................... 77

Budo International Magazine

BudoInternational.com .............................81

Extraordinary Marketing

ExtraordinaryMarketing.com .......................73

Master Karen Eden

CenturyMartialArts.com ............................15

Grandmaster Jessie Bowen

ElitePublications.org ...............................51

Kick Start Kids

KickStartKids.org .................................63

Kids Point MMA

PointMMA.com ...................................85

Kovar Systems

KovarSystems.com ...............................57

Learn the Sword

LearnTheSword.com ..............................89

Lee Milteer

Milteer.com ........................................91

MA Biz Academy

MABizAcademy.com ..........................55, 101

Martial Arts Business Institute

MaBusinessInstitute.com ..................... 43, 105

Martial Arts History Museum

MAMuseum.com .................................95

Ninja Fighting Techniques

tuttlepublishing.com ...............................31

Otomix

Otomix.com ......................................84

Sport Karate Museum

SportKarateMuseumArchives.com .................97

An-Shu Stephen K. Hayes

NinjaSelfDefense.com ............................45

Grandmaster Tim McCarthy

4d-2d.com ........................................13

Grandmaster Tom Patire

TomPatire.com ...................................32

Vision

VisionMA.com ......................................3

Warrior Defence Lab

TheEvolutionOfKrav.com ..........................30

Grandmaster Y. K. Kim

YkKim.com ...................................67, 107

Grandmaster Zulfi Ahmed

Lulu.com ..........................................21

MARTIAL ARTS WORLD NEWS VOLUME 22 | ISSUE 4 99
---
THE WARRIOR WAY

The Persistence Factor, Part 2

by Grandmaster Bill Clark

I recently watched some episodes of "Million Dollar Ideas". Almost every single

success story had its share of MASSIVE CHALLENGES… the idea didn't sell at market,

the first orders after prototype approval were flawed on delivery.

Almost every one of the entrepreneurs had staked their life

savings on their idea coming to fruition, often to the tune of

hundreds of thousands of dollars… including their parent's life

savings. It was agonizing to watch! What did the successful have

in common? They climbed the obstacle, solved the problems

and... PERSISTED!

Persistence is the ingredient that truly separates those at the

top from the also-rans and wannabes.

Like all the other ingredients, it can be easily

learned, and all you have to do to put it into action

is decide to just do it! BUT… your goal has to be

important enough, or you will give up.

Out of the greatest disasters come the greatest

redemptions. As legendary radio commentator

Paul Harvey so aptly put it, "In times like

these, it pays to remember there have always

been times like these." The desire and

determination to succeed must

never waiver.

If you're not failing every

now and again, it's a

sign you're not doing

anything very innovative.

Woody Allen He

makes movies about

pessimistic introverts

who never

give up, and in the

end get the girl.

(Which obviously

must be the goal!)

Experience is what you get when you are looking for something

else. That's a quote by Mark Twain that was on the back of a

matchbox. I thought of it a lot – when anyone told me what a great

experience

something was, no matter how challenging, it never felt great! In

a nutshell, gaining experience is often very disappointing.

Just as Thomas Edison did in his thousands of failed attempts

to design a light bulb, they successfully demonstrated what

didn't work.AND…By eliminating ideas that didn't work, the path

to success became clearer. This is a classic example of positive

re-framing.

Almost all life's journeys – personal, family, professional - involve

a painful process of fixing problems. By eliminating problems

you finally find something that works.

So here's the BIG THING:

Do you know that most people give up not knowing how close

they actually were to success?

If you can learn to treat a setback as another way not to reach

your goals you'll never have to waste time doing things that way

again! Re-group and try a different approach, and know that by

doing this you are actually closer to your goal.

By genuinely learning from your experiences, you will start to

see how your setbacks are actually necessary steps on the path

to success.

I've helped thousands of people who are afraid they might

make a mistake with their training. And I tell them – Well, get over it

because you ARE going to make lots of mistakes! But they are not

really mistakes.

I have a saying: A mistake is only something you make when

you know better. Otherwise, it's a learning experience.

GRANDMASTER BILL CLARK is a 9th degree black belt and a former PKA Fighter of

the Year. He is widely considered one of the top experts in martial arts business with over 50 years

of leadership and innovation, having been inducted into almost every Hall of Fame in the industry. He

is one of the largest multi-school owners in the world.

100 MARTIAL ARTS WORLD NEWS VOLUME 22 | ISSUE 4
---
EVERYTHING You'll EVER Need

to Market Your Martial Arts School!

ONLINE AND OFFLINE

MaBizAcademy.com
---
STAFF DEVELOPMENT

Mining for Instructors: Planting

the Seed, Part 2

Here I will demonstrate in just seven easy steps how you can improve and grow

the instructor training and recruitment process in your school, providing yourself

and your school with highly skilled and dedicated instructors.

Plant Seeds As Early As You Can

The process of planting the seed of becoming an instructor

begins at the very first meeting with a new student. Upon conducting

the trial lesson, the instructors will communicate

two influencing ideas. The first is complimentary

of the student on their performance, suggesting

they may even possess the

talent required to one day

become a master instructor.

This statement is part

of their goal-setting and

future-planning objectives.

The second statement is

explaining that all of our

instructors were at one time

a beginner student just like them, and even you

began your own journey in a very similar fashion.

It's no secret that the majority of our instructors

come not from outside talent acquisition,

but are grown and nurtured within our

school from the very beginning. It's a

source of great pride for our instructors

who began their martial arts

journey with us from the beginning

and have now achieved the titles

of Instructor, Master Instructor,

or even School Owner/Director

themselves.

Use Visual Examples Throughout Your School

Having photos of instructors, master instructors, junior instructors,

and other student leaders from around the school and office

where you enroll students is valuable. Take a new prospect on

a school tour and point out the photographs of all the people in

leadership and teaching positions. Have a patch system displayed

in view of the students and prospects so they can

see what they'll earn and what they'll need to work

toward. Uniforms and special belts are allocated

only for instructors to wear. Framed articles and

letters of appreciation, which were written by parents

and other students in the application of your

instructors and awards or certifications they

received, are all part of promoting your staff

development system and culture.

School Literature Should Promote Instructor Training

Opportunities

Strategically placed suggestions and statements throughout

your literature, both digital and hardcopy, must have information

and recommendations of how they, too, can one day become an

instructor in your institution, and how your instructors are recognized

and supported. Your culture and training should encourage

one to become a master instructor and that it's a part of their training

requirements. All the literature that your black belt candidates

get should clearly outline the process and procedures of how one

is now required to teach and guide others, and how your system

encourages senior/junior mentorship and role modeling.

GRANDMASTER ZULFI AHMED has amassed acclaim as a world-class competitor, martial

arts educator, and is most notably founder and designer of the internationally renowned style, Bushi Ban.

With over 45 years of martial arts experience and over 300 martial arts awards, his schools include ten

locations across Texas.

102 MARTIAL ARTS WORLD NEWS VOLUME 22 | ISSUE 4

Photograph by Ljupco
---
TOOL

OF THE MONTH

School Supply Drive

The School Supply Drive is a

great way to partner with public

and private schools to promote

local education.

If you are looking for a way to

establish a relationship with your

local school system, this is it!

Get this FREE sample of the

creative events MA Biz Academy

members enjoy every month to

lock in student retention and

bring dozens of new students

into your school! Members

also receive a fully developed

promotion outline and other

support materials.

To receive this Special Gift, visit

MaBizAcademy.com/Gift
---
Tools & Tactics

Remove Any Doubt That You're

Only In It For The Money

by Chris Lee

Most of the martial arts masters I speak with on a daily basis became professional

instructors because they wanted to share with others the benefits they had received

from practicing the martial arts.

They remember the close bond they had with their own master,

and the impact he had on their lives. They hope they can earn that

kind of respect from their own students and have a similar effect

on their lives.

They did not open a martial arts school so that

they could chase after people for money. That

just wasn't part of the game plan.

Unfortunately, things happen. The

primary income of a martial arts school is

the tuition students pay for instruction,

and that tuition is usually paid over time,

in monthly payments. Not everyone will

remember to pay on time. Some people

will have accidents and other unforeseen

expenses, and will not want to

pay for a month or two. At that point,

what can you do?

Here's a little secret: the

right answer is NOT to become

the bill collector and ask the

students for the money they

owe you. The right answer is

also NOT to ask your wife or

a staff member to ask the student

for money. Both of these

solutions create more problems

than they solve because

they set up an adversarial

relationship between the

student and the school.

Fortunately, the right

answer is also just one easy step: hire a

professional tuition billing service

from the beginning to take all

those headaches away. You

can then take all the time

you and your staff currently

spend on sending late notices,

calling students on the phone, and

dealing with frustrated parents in

person, and use that time to

recruit new students. Every

hour you spend collecting

current tuition could

be invested in recruiting

new students who are worth

thousands in additional income.

When you try to handle your billing

in-house, you save a nickel and miss out

on making dollars. It's just not worth it.

Professional companies also provide additional professional

services, like accounting. Whenever you want to know who has

paid and who is late, you can get up-to-date reports online anytime.

In addition, the best companies offer other valuable services

like marketing materials, management assistance, and consulting.

If you or any member of your staff is wasting time and ruining

your reputation by chasing after students for money, I recommend

that you trade in your headaches for extra time to enroll new

students, and earn new income. Call the professionals at AMS at

1-800-275-1600 to preserve your dignity and the good reputation

of your school. AMS is your one-stop-shop for martial arts school

owners. We do it all, so you don't have to.

MS. CHRIS LEE is a martial arts business development consultant with a background in online and

social media marketing.

104 MARTIAL ARTS WORLD NEWS VOLUME 22 | ISSUE 4

Photograph by Liia Galimzianova (right)
---
LEARN FROM

HIGHLY

SUCCESSFUL

EXPERTS

Proven Effective

Courses teach PROVEN effective and successful

strategies for martial arts school owners.

Easy to Learn

You'll gain new skills and knowledge quickly

with this easy-to-use online learning system.

Flexible Schedule

Learn at your own pace with bite-sized

course segments built to fit your busy schedule.

Martial Arts Business Institute

FREE

COURSES

AVAILABLE

NOW!

ENROLL

MaBusinessInstitute.com

NOW!
---
AFTER SCHOOL EXCELLENCE

Use Summer Camp to Promote

After School

by Chief Master Mike Bugg

For most of the year, we're always discussing ways to promote for summer camp. Now

that summer camp is up and running, why not use it to promote after school?

I'm sure that's common sense and probably already in

your plans, but how are you executing it? Are you

openly discussing it and asking students during the

day? Do you plan on using promotional tools?

Do you have an after school brochure? Do you mention

it to any potential parent and student that

comes your way, whether at an exhibition,

demo, promotion, belt testing, etc.?

Sometimes we only get what we ask

for, and when it comes to martial arts

enrollments, you have to ask!

Some students are too shy to ask

about your school or too timid to

train in the way of the arts in front

of other people. By making a simple

gesture their way, you can create a

whirlwind of lifetime benefits for that

one person, including additional financial

benefits it could provide for you and your

school.

What makes summer camp promoting

for other programs an even

stronger asset is that your summer

camp likely has the largest group of

students that your school ever has

in one setting at any given time

throughout the entire year.

With this, your options are

various and your words easily

heard. On top of that, those

students that are enjoying

their time day in, day out at

summer camp will jump at the

chance to stay involved in your school into the school year,

especially if their friends are and they continue to strive for

higher ranks.

It's that kind of excitement that their parents won't be able to

deny when after school sign up opens.

All of these promoting techniques create a cycle of success. The

more you promote other programs during summer camp, the

more those programs will flourish.

Then you can promote other upcoming events and programs

during those times and create even more business and attention.

Each opportunity can help the next be even bigger.

Before you know it, you have a top martial arts school, and your

competition will be left in the dust.

For more information regarding summer camp and after school

programs, call a friendly AMSkids Marketing Consultant at

1-800-275-1600.

CHIEF MASTER MIKE BUGG is an 8th degree black belt and the owner of a $1.52 million-per-year

location, with one of the largest after school and summer camp programs in the country.

106 MARTIAL ARTS WORLD NEWS VOLUME 22 | ISSUE 4 Photograph by JackF (Right)
---
Transform Your School

Transform Your School

with Grandmaster Y. K. Kim

The most successful martial arts

business leader in the world

Y. K. Kim

• Author of a best seller

and 14 other books

• Producer, writer, director,

and star of the action

film Miami Connection

• Publisher of Martial Arts

World Magazine

• Motivational Speaker

• Recipient of Y. K. Kim

Day in Central Florida

• Founder of Martial Arts

World

• Chairman of a consulting

company on marketing

and software

Meet Modern Educator and

Contemporary Philosopher

Grandmaster Y. K. Kim

Motivate Your Students

• Unbreakable Student

Loyalty

• 100% Retention

• Enduring Pride in Your

School

Boost Your School

• Double your

Enrollment

• Double your Income

• Build the #1 School

in your town

I Love to Promote the Martial Arts -- I will not

charge even one penny. It is a small token of my

appreciation to the martial arts industry, and my

honor to pay back the debt of gratitude I owe to the

martial arts community.

Book Y. K. Kim at www.ykkim.com

1-800-275-1600
---
If Teaching Great Classes

is Important to You, You'll

Appreciate AMS Billing

AMSBILLING

Tuition Management Services

The Most Effective

Tuition Billing & Management

In The Martial Arts Industry!

VISIT OURAMS.COM CALL 1-800-275-1600