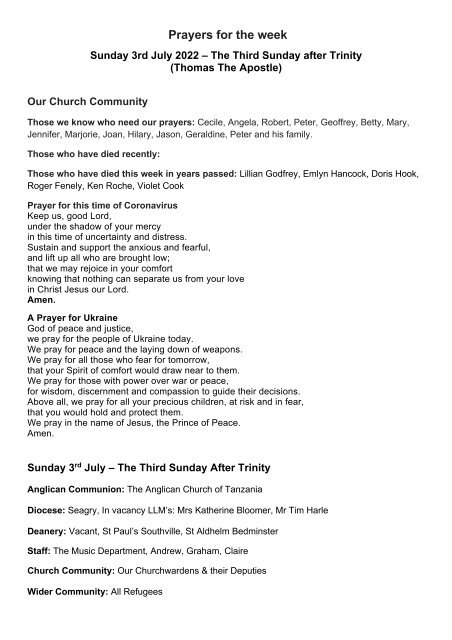 prayers for the week 2022 07 03
Create successful ePaper yourself
Turn your PDF publications into a flip-book with our unique Google optimized e-Paper software.
Prayers for the week

Sunday 3rd July 2022 – The Third Sunday after Trinity

(Thomas The Apostle)

Our Church Community

Those we know who need our prayers: Cecile, Angela, Robert, Peter, Geoffrey, Betty, Mary,

Jennifer, Marjorie, Joan, Hilary, Jason, Geraldine, Peter and his family.

Those who have died recently:

Those who have died this week in years passed: Lillian Godfrey, Emlyn Hancock, Doris Hook,

Roger Fenely, Ken Roche, Violet Cook

Prayer for this time of Coronavirus

Keep us, good Lord,

under the shadow of your mercy

in this time of uncertainty and distress.

Sustain and support the anxious and fearful,

and lift up all who are brought low;

that we may rejoice in your comfort

knowing that nothing can separate us from your love

in Christ Jesus our Lord.

Amen.

A Prayer for Ukraine

God of peace and justice,

we pray for the people of Ukraine today.

We pray for peace and the laying down of weapons.

We pray for all those who fear for tomorrow,

that your Spirit of comfort would draw near to them.

We pray for those with power over war or peace,

for wisdom, discernment and compassion to guide their decisions.

Above all, we pray for all your precious children, at risk and in fear,

that you would hold and protect them.

We pray in the name of Jesus, the Prince of Peace.

Amen.

Sunday 3 rd July – The Third Sunday After Trinity

Anglican Communion: The Anglican Church of Tanzania

Diocese: Seagry, In vacancy LLM's: Mrs Katherine Bloomer, Mr Tim Harle

Deanery: Vacant, St Paul's Southville, St Aldhelm Bedminster

Staff: The Music Department, Andrew, Graham, Claire

Church Community: Our Churchwardens & their Deputies

Wider Community: All Refugees
---
Monday 4 th July

Anglican Communion: The Diocese of Malindi – The Anglican Church of Kenya

Diocese: Sutton Benger, In vacancy LLM's: Mrs Katherine Bloomer, Mr Tim Harle

Deanery: Sam Sheppard, Christ Church Hengrove and St Augustine's Whitchurch

Staff; The Office, Sarah P, Rebecca, Heloise, Rhys, Sarra, Maria, James

Church community: Kat and her family

Wider local community: Those seeking employment

Tuesday 5 th July

Anglican Communion: Te Pihopatanga o Manawa o Te Wheke – The Anglican Church in

Aotearoa, New Zealand and Polynesia (Maori Tikanga)

Diocese: Tytherton Kellaways, In vacancy LLM's: Mrs Katherine Bloomer, Mr Tim Harle

Deanery: Neil Warwick, Archdeacon of Bristol,

Staff: The Outreach Department, David, Sarah J, Phil, Dionne, Andy

Church community: The Christian Meditation Group

Wider local community: All sufferers from Covid and Long Covid

Wednesday 6 th July

Anglican Communion: The Diocese of Manchester – The Church of England (York Province)

Diocese: Emmanuel BMO, Senior Leader: Revd Mike Cain,

Associate Minister: Revd Jim Walford, LLM: Mr Ed Shaw

Deanery: Christopher Bryan, Archdeacon of Malmesbury

Staff: The Ministry Team, Dan, Kat, Aggy, Anthony, Peter, Stephen, Simon, Becky

Church community: All at midweek Holy Communion

Wider local community: All who watch our streamed services

Thursday 7 th July

Anglican Communion: The Diocese of Mandalay – The Church of the Province of Myanmar
---
Diocese: Nursing and Care Home and Day Centres' Chaplaincy, Revd Canon Rod Cosh,

Revd Dr Anne-Louise Critchlow, Revd Ruth Gillings, Revd Jones Mutemwakwenda

Deanery: Aggy Palairet, Curate St Mary Redcliffe

Staff: The Vergers, Matthew, Judith, Paul, Sally

Church community: Parker's Adventure participants

Wider local community: Our Music Department and Choirs

Friday 8 th July

Anglican Communion: The Diocese of Manicaland – The Church of the Province of Central

Africa

Diocese: Prayer for the Lambeth Conference:

We give thanks for the Anglican Communion and all the Bishops who will gather for the Lambeth

Conference. May we know our unity in Christ and build up the Church to answer God's call in this

generation. Amen

Deanery: Tim Godden, St Peter's, Bishopsworth and St Oswald's, Bedminster Down

Staff: The Music Department, Andrew, Graham, Claire

Church community: Earth Church Together for Toddlers

Wider local community: The lonely

Saturday 9 th July

Anglican Communion: The Diocese of Maper – The Province of the Episcopal Church of South

Sudan (Eastern Bahr el Ghazal Province)

Diocese: Filton, Rector: Revd Lizzie Gregory

Deanery: Ian Garrett, St Cuthbert's and St Anne's, Brislington

Staff: The Office, Sarah P, Rebecca, Heloise, Rhys, Sarra, Maria, James

Church community: Our Stewards

Wider local community: All visitors to this church

Sunday 10 th July – The Fourth Sunday After Trinity

Anglican Communion: The Church of the Province of Uganda

Diocese: All Saints Winterbourne Down, Rector: Revd Malcolm Strange,

Associate Ministers: Revd Julia Chard, Revd Bob Conway, Revd Howard Smith,
---
Curates: Revd Joanne Hodge, Revd Dave Jones, Revd Wanda Morris, LLM's: Mrs Val Slade,

Mrs Joanna Strange

Deanery: Jaqui Keane, St Paul's Southville, St Aldhelm Bedminster

Staff: The Outreach Department, David, Sarah J, Phil, Dionne, Andy

Church Community: Junior Earth Church

Wider Community: Other churches in the neighbourhood