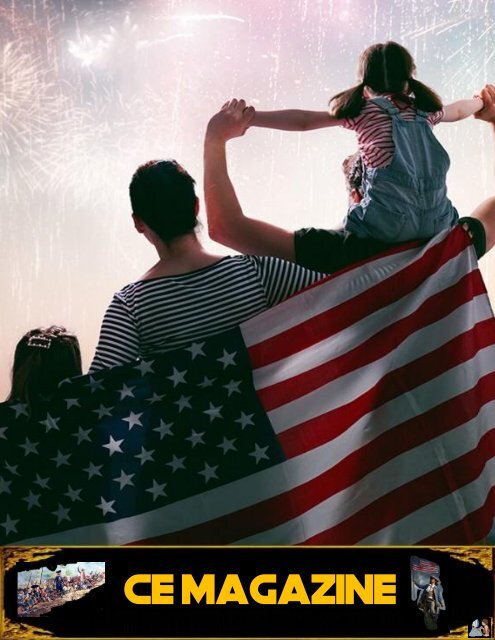 ce magazine july 2022 issue
Create successful ePaper yourself
Turn your PDF publications into a flip-book with our unique Google optimized e-Paper software.
Ce magazine

1
---
Thanks to all who contributed to CE

Magazine. Have an article you would like

contribute? You can mail it to:

CE, P.O. Box 8619

Michigan City In 46360

Or E-Mail it to

computerease@juno.com

CE Magazine® is part of OtherSide

Ministries © all rights reserved

Founder & Chief Editor

Peter Nadal

Editor

Pamela Kennoy

Our Writers

Rodrigo Esperanza / Nomar Shaw

Diane G / Big Poppa

In our Vol 4 July 2022 Issue 7

4 Peter's Desk

5 CE MAGAZINE LINKS TABLET

6 Biz Cards Board !! Hey its free

7 Hey Pete! ATF Bureau of

Alcohol, Tobacco,

Firearms and Explosives

10 Children's Books for the Fourth

of July

25 Last Page

Outside Sources On This Month issue

ATF / PBS KIDS

CE Magazine® is part of OtherSide Ministries © all rights reserved

Michigan City Indiana

Vol 4 July 2022 Issue 7

Front Cover:: Family celebrating 4 th July

God bless America

Art work by Peter Nadal..

Original Computer-Ease logo ©

2
---
3
---
Welcome to Peter's Desk and if this is your

1 st time reading CE Magazine we welcome

you aboard. We here at CE Magazine comb

the internet for those great articles that

remain in obscurity. We find them and bring

them back to the light once more for you,

our readers; hence we do your searching for

you.

Our virtual CE Magazine is free and if you

want to read more then click on the CE

Magazine in blue. You will have from 2017

1 st issue to 2022 our current issue.

With modern cell phone technology we do a

lot of things from selfies to amateur

photography, but, very few have hook up to

your computer via bluetooth and when you

get the hang of it you will have ball of fun!

Oh! If you have high end speakers and they

are hooked up to a computer via bluetooth

you will be surprised at the quality of the

sound from your cell phone …! Do

check it out. Hey Pete! How do you do that?

One of the articles is from the FAA -

Federal Aviation Administration on

safety when flying, read it and the links.

Very important on safety

We have started taking ads and if you

are interested drop us an email at:

computerease@juno.com or mail

us at CE, P.O. Box 8619, Michigan City

In 46360 and we will send you a flyer of

prices and sizes available

Enjoy our magazine and we hope you

find it very informative. Have a very

wonderful vacation, you and your

family!

Peter

4
---
CE MAGAZINE LINKS TABLET

By Nomar Shaw

what to do on 4th of

July

30 Things to Do on July 4th to

Celebrate Independence Day

25 Fun Things to Do on the Fourth

of July With the Whole Family

5
---
6
---
Something you need to know below..

Information on fireworks on safety and Security

Bureau of Alcohol, Tobacco, Firearms and

Explosives

Home » What We Do » Mission Areas » Explosives » Tools & Services for Explosives Industry » Fireworks

Fireworks Safety and Security

Federal explosives regulations promulgated by the Bureau

of Alcohol, Tobacco, Firearms and Explosives (ATF)

define two general categories of fireworks sold in the

United States: "display fireworks" and "consumer

fireworks."

Display fireworks are the large fireworks used in shows,

generally under the supervision of a trained

pyrotechnician. The regulations at 27 CFR, Part 555,

require that any person engaging in the business of

importing, manufacturing, dealing in, or otherwise receiving display fireworks must

first obtain a Federal explosives license or permit from ATF for the specific

activity.

Consumer fireworks are the small fireworks usually sold at stands around the

Fourth of July holiday. ATF does not regulate the importation, distribution, or

storage of completed consumer fireworks, but other federal, state, and local

agencies do regulate these items to a varying degree. Because consumer fireworks

contain pyrotechnic compositions classified by ATF as explosive materials, the

manufacturing of consumer fireworks requires a federal explosives license from

ATF.

7
---
Variances

Fireworks recordkeeping and marks of identification

Federal explosives regulations require that importers must keep records of and place

marks of identification on all fireworks imported for distribution. In 2008, the

American Pyrotechnics Association (APA) submitted a proposal to ATF regarding

alternative methods for recordkeeping and marks of identification. Under this

proposed alternative to the regulations, importers would mark all display fireworks

entering the United States with the name and address of the importer; the

manufacturer name and location of manufacturer; and the date and shift of

manufacture.

If industry members can show good cause for why they need a variance and meet

the standards for improved tracking, tracing, and accountability of display fireworks

as set out in ATF's response to the APA, ATF will consider requests for variances

from certain existing recordkeeping requirements. Read ATF's letter to the APA.

Requests for variances, exemptions, and determinations may either be submitted to

your local ATF Field Office or may be submitted to the Explosives Industry

Programs Branch.

Tables of Distances for Fireworks

The tables of distances are located in ATF P 5400.7.

The Tables of Distances and related information at 27 CFR, Sections 555.221

through 555.224, list the required distances:

For display fireworks, pyrotechnic compositions, and explosive materials used

in assembling fireworks or articles pyrotechnic;

Between fireworks process buildings and other specified areas;

Between fireworks process buildings and between fireworks process and

fireworks non-process buildings; and

For the storage of display fireworks except bulk salutes.

Illegal Explosives

Illegal explosives associated with the fireworks season are inherently dangerous

because of their composition and unpredictability. Homemade explosives can pose

8
---
a particular risk for injury because the people making them often lack knowledge

and experience in manufacturing fireworks.

Most law enforcement agencies consider devices such as M-80s, M-100s, quarter

sticks, cherry bombs, silver salutes, etc., to be illegal because they exceed the

Consumer Product Safety Commission's (CPSC) limits for consumer fireworks, in

addition to being banned by many states.

These devices meet no safety standards and often have a coating of dangerous

explosive dust. Friction, heat, or being bumped can cause these devices to detonate.

The U.S. Department of Transportation has classed these items as "forbidden

explosives" because they have not been submitted for appropriate testing and

evaluation.

Some indicators that a device may be an illegal explosive:

It resembles a roll of coins with a fuse.

It consists of a cardboard tube or oddly shaped item wrapped in brown paper and filled with an explosive

material.

It is red, silver, or brown in color

It may be 1 to 6 inches long and up to an inch or more in diameter.

It is sold on the street or out of the back of someone's vehicle.

Each year ATF investigates explosives accidents involving the manufacture of illegal explosives devices such

as these. These accidents often involve serious injury or death and extensive damage to property.

ATF asks that the public report the manufacture or sale of illegal fireworks or explosive devices to local law

enforcement or by calling the toll-free ATF hotline at 1-888-ATF-BOMB (1-888-283-2662).

Fireworks Q&As

Last Reviewed June 14, 2021

9
---
CEM NOTE: For more click on KIDS

Children's Books for the Fourth of July

Jul 2, 2018

Celebrate this Fourth of July with fireworks, flags and the

Founding Fathers! From the well-known George Washington and

John Adams, to Sybil Ludington's midnight ride, this collection of

books brings history and festivity to kids ages 0-12.

10
---
Can't You Make Them Behave, King George? (opens in new

window)

By Jean Fritz (author) and Margot Tomes (illustrator) Age: 7-9 Reading Level: Intermediate Reader

There are two sides to every story, and this book takes an interesting look at

England's King George III's side of the story during the American Revolution. It

travels across the Atlantic to teach readers about King George's upbringing and

explores how a king became a tyrant.

11
---
F is for Flag (opens in new window)

By Wendy Cheyette Lewison (author) and Barbara Duke (illustrator) Age: 3-5 Reading Level:

Pre-Reader

This endearing picture book looks at the American flag's many homes, from school

yards, to boats, to neighborhood houses. Easy to follow and easier to love.

12
---
Founding Mothers: Remembering the Ladies (opens in new window)

By Cokie Roberts (author) and Diane Goode (illustrator) Age: 7-12 Reading Level: Intermediate Reader

So often we only hear about the Founding Fathers, but this book takes a look at the

women behind the American Revolution. It shines the spotlight on heroines such as

Abigail Adams, Martha Washington, Mercy Otis Warren and more as they helped

build a new nation.

13
---
God Bless America (opens in new window)

By Irving Berlin (author) Lynn Munsinger (author and illustrator) Age: 3-6 Reading Level: Pre-Reader

America's music inspired a nation and this picture book explores the lyrics behind

one of America's most iconic tunes. Lynn Munsinger's adorable drawings join

Irving Berlin's lyrics to bring out the singer in everyone.

14
---
Hats Off for the Fourth of July (opens in new window)

By Harriet Ziefert (author) and Gustaf Miller (author and illustrator) Age: 3-6 Reading Level: Pre-Reader

This colorful picture book follows one town's parade, complete with jugglers, baton

twirlers, a marching band, and more. The story is simple but fun and the drawings

are as exciting and festive as fireworks.

15
---
John, Paul, George and Ben (opens in new window)

By Lane Smith Age: 6-9 Reading Level: Independent Reader

This story is a fun take on five of the more popular Founding Fathers. From George

Washington to Ben Franklin, these short tales on their beginnings and roles in the

American Revolution are accompanied by delightful illustrations. Follow them as

they grow up and team up to unite a nation.

16
---
Red, White, and Boom (opens in new window)

By Lee Wardlaw (author) and Huy Voun Lee (illustrator) Age: 3-7 Reading Level: Pre-Reader

This colorful book follows one town's celebration of Independence Day. Music,

sparks and balloons fill the pages and capture the spirit of this festive day.

17
---
Sybil Ludington's Midnight Ride (opens in new window)

By Marsha Amstel (author) and Ellen Beier (illustrator) Age: 7-9 Reading Level: Intermediate Reader

Paul Revere wasn't the only one who made a famous midnight run. Sybil Ludington

was only 16 when she answered her nation's call for heroes, and she and her horse

rode for miles to alert her countrymen about the approaching British soldiers. This

inspiring look at Sybil's life reminds us that anyone can change history with a little

courage.

18
---
The Flag We Love (opens in new window)

By Pam Muñoz Ryan (author) and Ralph Masiello (author and illustrator) Age: 6-9 Reading Level: Beginning Reader

No country is complete without its flag, and this book celebrates the stars

and stripes so commonly seen across our nation. It combines poetry and

history to explore the American flag's origins, design, and the inspiring

role it's played over the centuries.

19
---
The Fourth of July Story (opens in new window)

By Alice Dalgliesh (author) and Marie Nonnast (illustrator) Age: 4-8 Reading Level: Beginner Reader

Two-time Newbery Honor author Alice Dalgliesh's The Fourth of July Story

transports readers back to that historic day when colonists became Americans.

Enjoy a trip to Philadelphia and join the bells in celebrating the birth of a nation.

20
---
The Midnight Ride of Paul Revere (opens in new window)

By Henry W. Longfellow (author) and Jeffrey Thompson (illustrator) Age: 6-9 Reading Level: Intermediate Reader

This popular rhyme is accompanied by illustrations to immerse readers in the night

Paul Revere took his famous ride. The pages' designs include documents, coins,

and letters to give the book a historic feel.

21
---
They Called Her Molly Pitcher (opens in new window)

By Anne Rockwell (author) and Cynthia von Buhler (author and illustrator) Age: 6-9 Reading Level: Beginning Reader

Molly Pitcher followed her husband into the army behind the one and only George

Washington. She provided water to soldiers on the battlefield, but after her husband

was injured, she grabbed his cannon and continued to fight. Join this extraordinary

heroine as she explores the darker side of the Revolution.

22
---
This Land is Your Land (opens in new window)

By Woodie Guthrie (author) and Kathy Jakobsen (author and illustrator) Age: 0-3 Reading Level: Beginning Reader

This classic ballad is brought to life in a richly illustrated edition for the the whole

family to share. Woody Guthrie's powerful lyrics and Kathy Jakobsen's detailed

paintings invite readers on a journey across the country, creating an unforgettable

portrait of our diverse land and the people who live it.

23
---
Those Rebels, John and Tom (opens in new window)

By Barbara Kerley (author) and Edwin Fotheringham (illustrator) Age: 7-10 Reading Level: Intermediate Reader

John Adams and Thomas Jefferson didn't always agree, but this book explores their

teamwork in a colorful and creative look at their differences and similarities. Award

winners Barbara Kerley and Edwin Fotheringham researched the lives of these two

great men to deliver an accurate but witty biography to young children.

Author: PBS KIDS, the number one educational media brand for kids, offers children ages 2-8 the

opportunity to explore new ideas and new worlds through television, digital media and community-based

programs. PBS KIDS and local stations across the country support the entire ecosystem in which children learn,

including their teachers, parents and community.

24
---
The flag was shown then and shown today for all

who gave without remorse… Semper Fi

25