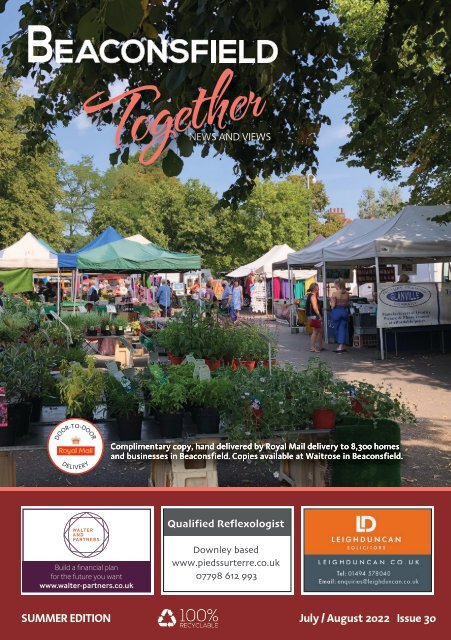 Beaconsfield Together July August 2022
A local #community magazine containing community, business and charitable editorial in the Beaconsfield, Knotty Green, Seer Green and Forty Green area. 8,300 copies printed and hand delivered by Royal Mail to residences and businesses in the HP9 -1 and HP9 -2 businesses in these areas. Copies available at Waitrose Supermarket in Beaconsfield
A local #community magazine containing community, business and charitable editorial in the Beaconsfield, Knotty Green, Seer Green and Forty Green area. 8,300 copies printed and hand delivered by Royal Mail to residences and businesses in the HP9 -1 and HP9 -2 businesses in these areas. Copies available at Waitrose Supermarket in Beaconsfield
SHOW MORE
SHOW LESS
Create successful ePaper yourself
Turn your PDF publications into a flip-book with our unique Google optimized e-Paper software.
Together

NEWS AND VIEWS

DOOR-TO-DOOR

DELIVERY

Complimentary copy, hand delivered by Royal Mail delivery to 8,300 homes

and businesses in Beaconsfield. Copies available at Waitrose in Beaconsfield.

Qualified Reflexologist

www.walter-partners.co.uk

Downley based

www.piedssurterre.co.uk

07798 612 993

SUMMER EDITION July / August 2022 Issue 30
---
Useful Numbers

Better Connected Beaconsfield

hello@betterconnectedbeaconsfield.org.uk

01494 919 232

The Christian Eye Foundation

support@thechristianeye.co.uk

07568 135 308

Alcoholics Anonymous

Call confidentially on: 0800 917 7650

The Beaconsfield Advisory Centre

t: 01494 672987

e: contact@beaconsfieldadvisorycentre.org.uk

Victim support line - help after a crime

t: 08 08 16 89 11

www.victimsupport.org.uk

Age UK's Befriending Service

matches older people with volunteers who

have similar interests. t: 01296 431911

e: age@ageukbucks.org.uk

Meet the Team

Deeply relaxing therapies

for the body and mind

clare reflexology

• Reflexology • Facial Reflexology

• Indian Head Massage • Zone Face Lift

07751 013698 clare@clarerefl exology.co.uk

www.clarereflexology.co.uk

at Emile De-Londres, 35 Station Road, Beaconsfield, HP9 1QG

Mobile appointments are also available.

Publisher, Editor & Sales

Therese Cooklin - 07786 735711

Magazine Designer

Mathew Peet, Digital Bear Design - 01949 839206

Content is accurate to the best of our knowledge, however Beaconsfield

Together part of Abstract Niche Ltd cannot be held liable for loss or

damage, caused by errors or omissions. Inclusion of advertisers does

not indicate our endorsement of their products or services.

Beaconsfield Market celebrate 40 years of trading

Hello & welcome!

Well done to Beaconsfield Town Council and

the Community and Safety committee who put

together the Platinum Jubilee celebrations for the

town to enjoy. The Beacon looked fabulous - not

something anyone could build and needed skilled

craftsmen - well done ! (see p20 to p23)

The next community event to enjoy is the Country

Fayre and super fun Stretcher Race (organised by

the Round Table) on 29th August - if any individual

or business would like to sponsor the event please

get in touch with Sylvia at: srlljones@aol.com

Some amazing stories of kindness in this issue

from Jak & Lisa's charity fundraiser (p38) and

families rallying around our new Ukrainian friends

(p6). Beaconsfield Market celebrate their 40th

Anniversary (p16 & 17) and the GX Fun Run raise

£43,000 for 3 local charities.

If you have any positive community story you want

to share please get in touch by the end of July.

Take care until then.

With love

Therese

Next Copy Deadlines -

August / September 2022

Editorials: 3rd Aug

Advertisers: 4th Aug

t: 07786 735 711

e: therese@beaconsfieldtogether.co.uk

w: www.beaconsfieldtogether.co.uk

Get your business noticed

for as little as £36

Royal Mail door-to-door delivery to

over 23,000 homes in Beaconsfield,

Amersham & the Chalfonts.

e: sales@communitytogether.co.uk
---
COMMUNITY NEWS

Wicket Women

of Beaconsfield

Six years ago, a group of mums, waiting

at the clubhouse for their children to finish

cricket training, decided to pick up a bat

and have a go at the sport themselves.

They started tentatively with a soft ball, but quickly

got into the swing, developing their new found

skills and initiating a whole new women and girls'

section at the club in the process. Fast-forward to

2022 and you will now find almost 150 women

and girls enjoying the sport at Beaconsfield CC,

one of the biggest female sections in the country.

The women's team has evolved and grown and, if

the start of this season is any indication, they have

become a force to be reckoned with.

This season began with a European tournament

in Spain, with Beaconsfield bringing home the

trophy after defeating Roma in a closely contested

final.

In May, they began their campaign in the Home

Counties Women's Cricket League Super 8s

Development competition, beating all comers on

the way to a spectacular win against Ampthill in

the final.

With two trophies already in the cabinet, the

team moves on to the 11 a-side Home Counties

competition. We wish them well!

4 Beaconsfield Together is part of Community Together
---
FUN FOR THE WHOLE

FAMILY

CHILTERN OPEN AIR MUSEUM

STEP BACK IN TIME!

Explore Chiltern Open Air

Museum this summer

Discover over 30 historic buildings

including a 1940s prefab, Victorian

tollhouse and working historic farm.

Pre-book

online and

save £1 per

ticket.

www.coam.org.uk

Special events this summer include:

Viking Raid, Garden's Day, Classic

Vehicle Show, Medieval Jousting,

plus family craft and activitiy days.

Chiltern Open Air Museum, Newland Park, Gorelands Lane, Chalfont St Giles, Bucks, HP8 4AB.

DOG FRIENDLY BUSINESS OF THE YEAR 2020 - 21

Shaun Guard

TV & WIFI SERVICES

■ Aerials - supplied & repaired also poor reception solved

■ Satellite - Sky Q dish upgrades, discreet dish installs

■ Internet / WiFi - blackspots cured, internal & external data cabling

■ TVs - wall mounted or set up & tuned

www.oxfordaerials.co.uk

shaun@oxfordaerials.co.uk

Call Beaconsfield 01628 439115

Our competition winners!

Katie Lambden wins the Tasting Meal

for 2 at Riwaz.

The correct answer was c) Grandmother.

Jo Postles & Amanda Green win the water

saving water planters.

The answer was c) 1 Billion litres of water

February 2020 Screenings

July 2022

Screenings

SATURDAY 9 TH

King Richard (12A)

USA 2021

SATURDAY 23 RD

Belfast (12A)

UK 2021

at the National Film

& Television School

Doors open 7:15pm • Film starts 8pm

Go online to view the full programme and details on

how to become a member. Guests are welcome.

beaconsfieldfilmsociety.com

To advertise please call 07786 735 711 or email marketing@beaconsfieldtogether.co.uk

5
---
COMMUNITY NEWS

Ukrainians

welcomed to

Beaconsfield

Dozens of families in Beaconsfield and the

surrounding area have opened their doors

to those fleeing war torn Ukraine - over 80

women and children are now staying in the

area. Children arriving from areas across

Ukraine have been offered places at schools

in Beaconsfield, Farnham Common and

Amersham.

Ruth Allchurch is hosting Alona and her two

children, all from Kiev, in her family home in

Burnham. Ruth said: "We have been sharing

our home for a week and it has honestly been

extraordinary, humbling and life affirming." Alona

said: "We have been treated like family since we

arrived. We are very grateful to our sponsors for

all they have done."

with, transport, signposting and advocacy.

Volunteers are organising weekly get-togethers

for Ukrainian guests at the Dove Café in St

Thomas's Church in Mayflower Way, Holtspur.

The charity's transport service matches volunteer

drivers with those needing important trips

which host families cannot accommodate, whilst

English language teaching is being co-ordinated

by former TEFL and teaching staff.

BCB Ukrainian

Support Project

Lead Reverend

Michael Johnson

said: "For the second

time in two years our

community is rallying

to support those

most affected by an

unforeseen global

crisis." Revd Johnson,

Team Vicar with the

Beaconsfield Anglican Cathy Lemon and her guest family

churches, based at

St Thomas' Holtspur added: "This time, many local

people are putting their own concerns on hold, in

order to welcome strangers into their own homes."

Employment workshop organised at Formative Content

offices in Beaconsfield

The Lemon family are also amongst those

offering space in their home to Ukrainian mothers

Romanna and her two children, and Myla and

her two young boys. They also have the boys'

grandmother, Tetiana, staying. "Our daughters

have left home and we had space, so my husband

and I were delighted to be able to help. They

already feel like part of the family - we are sharing

the cooking and there is never a dull moment,"

said Cathy Lemon, hosting with her husband,

Harry at their home in Farnham Common.

Better Connected Beaconsfield is supporting

Ukrainians with employment workshops along

Reverend Johnson has his own important personal

connection with Ukraine, as his wife Yulia Johnson

Fedorenko - also volunteering with BCB - is from

the country. "For me, Ukraine is my motherland,

it's a place where my family lives," said Yulia. "I

feel very grateful to British people, many of whom

opened their houses and hearts to strangers."

Local businesses including Emile de Londres, The

Shed, Haringtons, The Beech House, Amersham

Swimming Club, Sports Nut, Clare's Court School

and Formative Content have offered their support

to our Ukrainian visitors.

For their part, Cathy Lemon's guests are glad to

be settled here for the moment. But they just want

the war to be over so that they can return to their

homes and their family.

6 Beaconsfield Together is part of Community Together
---
Counties Loft Ladders tradesmen, so our customers lead to more happy to pop round and

come in.

customers are assured happy customers is true give you a no obligation

of the best job.

and we work hard to quote BUSINESS so you NEWS too can

The company,

make that happen for make use of your loft!

based Home locally, offers Counties Integrity in that we Loft Ladders,

homeowners the will turn up at the time

Home Counties Loft

opportunity to maximise we say and make sure

their storage space Quality the house is spotless You Can Trust!

with

Ladders,

a loft ladder,

Quality when we leave, You and

These days most

watchwords are Quality, - that simply wouldn't every installation we

50sqft

homeowners

of boarding

suffer

and value in that we offer

from Integrity and Value. happen if we didn't carry out!'

a light Can

a lack - of all storage fully Trust! fitted space.

our

Quality

services

in the

at

materials

a price

adhere to our overriding

in So many precious items that we use for all our principles.

So, if you want to make

These

less than

days

a day

most

from people can afford.

homeowners suffer

just that £355! need But to be it's kept not installations and the fact

use of your loft space,

from a lack of storage space. So many

just – but the where affordability

Our business relies on

to store it that all our loft packages At the end of the day the call Jamie free on 0808

of all?

precious the That's package where

items that Home

that need referrals to be and kept we get a old adage that happy 301 9558 and he'll be

makes Counties – but Home where Loft Counties Ladders to store it huge

tradesmen, all? amount That's so where of our calls

our customers lead to more happy to pop round and

Loft come Home Ladders in. Counties stand

from

Loft Ladders customers

people

come are

who

assured

have

in.

happy customers is true give you a no obligation

out, as manager Jamie

been of the referred best job. to us by and leave, we and work value hard in to that we quote offer so our you services too can at a

The company, based locally, our offers existing homeowners customers

Oakley explains: 'Our

make price that people happen can afford. for Our make business use of your relies loft! on

based the opportunity locally, offers to maximise Integrity their storage in that space we referrals and we get a huge amount of our calls

homeowners with a loft ladder, the 50sqft of will boarding turn up and at the a light time - from people who have been referred to us by our

opportunity all fully fitted to in maximise less than a we day say from and just make £444! sure But existing customers - that simply wouldn't happen

their it's not storage just the space affordability the of the house package is spotless

Need more that if we didn't adhere to our overriding principles.

with makes a loft Home ladder, Counties Loft when Ladders we leave, stand and out, as

50sqft manager of boarding Jamie Oakley and explains: value in 'Our that watchwords

we offer At the end of the day the old adage that happy

are Quality, Integrity and Value. our services Quality at in a the price

storage in materials less than that a day we from use for all

people space?

customers lead to more happy customers is true

our installations

can afford.

and and we work hard to make that happen for every

just the fact £355! that But all it's our not loft packages

just the affordability

Our business are fitted relies by on time installation we carry out!'

served tradesmen, so our customers package that

referrals and are we assured get a

of INSTALL the best job. A LOFT LADDER

makes Home Counties

huge amount of our calls So, if you want to make use of your loft space,

Loft Ladders stand

from people who have call Jamie free on 0808 301 9558 and he'll be

Integrity in that we will turn

out, as manager Jamie

been up at referred the time to we us say by happy to pop round and give you a no obligation

and

AND

make sure

USE

the house is

YOUR

our spotless existing when customers we

LOFT!

quote so you too can make use of your loft!

Oakley explains: 'Our

STARTER PACKAGE: Aluminium loft

ladder, light plus 50 sqft boarding, fully

fitted in less than a day from £355

storage space?

• Loft Ladders • Hatches

• Boarding • Insulation

• Lights • Fully Guaranteed

CALL FREE: 0808 301 9558

: Aluminium loft

ladder, light plus 50 sqft boarding, fully

from £444

Loft Ladders Hatches

Boarding Insulation

Lights

CALL FREE: 0808 301 9558

To advertise please call 07786 735 711 or email marketing@beaconsfieldtogether.co.uk

7
---
Holtspur

Scarecrow Trail

Once again there has been some strange

and magical things going on at the

Library in Holtspur School & Pre

School, the Books & Characters have

all come to life and are hiding all over

Holtspur waiting to be found.

From Saturday 30th July - Sunday 7th

August, you can purchase a map for

£2.50 from:

Thirst4Cofee, Holtspur Top Lane, HP9 1DN

Londis Newsagent, Mayflower Way, HP9 1UG

Beacon Centre, Holtspur Way, HP9 1RJ

All money raised

will be donated

to Holtspur

School PTA

Kindly

sponsored

by

Find all the Scarecrows and vote for your

favourites!

The Curzon Centre

Beaconsfield's premier community facility

Celebrate, fundraise, exercise or party.

This could be the place for you!

Versatile facilities include: Sports Hall with Stage,

one medium sized Hall and a smaller Hall/Meeting Room

with adjoining well-equipped kitchen.

All available at competitive rates.

For further information Tel: 01494 672891

www.curzoncentre.org.uk

8 Beaconsfield Together is part of Community Together
---
New

Adult Learning

brochure out now

• Languages

• Creative Arts

• Health and Fitness

• Home Improvements and Gardening

• English, maths and digital skills

• Distance Learning

• Family Learning

Enrol today for 22/23 courses.

01296 382403

www.adultlearningbc.ac.uk

Community Together - 130mm x 90mm.indd 1 06/06/2022 13:20:42

Experienced, Friendly

& Professional Internal

& External Decorators.

We have been

working in & around

Beaconsfield,

Gerrards Cross,

Amersham &

surrounding areas

since 1993.

Please call to discuss

your requirements.

Call Nigel:

01494 681 794 or 07771 521 263

www.ngilliedecoratingservices.co.uk

To advertise please call 07786 735 711 or email marketing@beaconsfieldtogether.co.uk

9
---
FINANCIAL NEWS

Investment Planning:

Don't let caution get

the better of you.

Until relatively recently, inflation wasn't a

serious concern.

The UK hadn't seen persistent price rises since

the 1970s. Today, there are reasons to be more

concerned. Supply shortages and bottlenecks,

higher energy costs, increases in wages to attract

staff in sectors finding it difficult to recruit and the

government unwinding covid support schemes are

pushing up prices. While central banks continue

to suggest that the rises are "transitory", many

economists are assuming inflation will settle at a

higher level than it has over the past few decades.

When inflation rises quickly, the Bank of England will

tackle it by raising interest rates. They work on the

principle that when borrowing is more expensive,

people will have less to spend, and prices will go down

in response. However, if inflation is caused by external

forces – such as the global squeeze on energy prices,

then raising interest rates may not solve the problem.

This may be an issue for investors. Even if inflation stays

in line with the Bank of England's targets, long-term

investors need their savings to grow by around 2% a year

just to ensure it maintains its purchasing power.

The most important rule for any long-term investor

is to avoid "reckless caution". Investors often don't

recognise that there is a risk associated with keeping

their long-term savings in cash because their capital

value stays the same, but their buying power will be

progressively less and less. One of fm's 7 principles

of investing is – don't just invest in cash. Every

investor does need emergency funds but for longer

term investment plans, other asset classes will

offer better prospects for capital growth and

potentially beat the perils of inflation.

Philip Harper, Financial Planner

phil@fmifa.com | 01494 817151

www.fmifa.com

fm

"Life's better now we have a plan"

30

YEARS

Independent Financial Advisers

Contact us: 01494 817151 | advice@fmifa.com | www.fmifa.com

Penn Barn, By the Pond, Elm Road, Penn, Bucks HP10 8LB

Financial Management is a trading title of Philip Harper LLP which is

authorised and regulated by the Financial Conduct Authority

10 Beaconsfield Together is part of Community Together
---
February 2020 Screenings

August 2022

Screenings

DESIGN AND MARKETING FOR

MAXIMUM IMPACT

SATURDAY 13 TH

Petite Maman (U)

France 2021 French with subtitles

SATURDAY 27 TH

The Last Duel (18)

US/UK 2021

at the National Film

& Television School

Doors open 7:15pm • Film starts 8pm

Go online to view the full programme and details on

how to become a member. Guests are welcome.

beaconsfieldfilmsociety.com

LOGOS, ILLUSTRATIONS, ADVERTISEMENT,

BUSINESS STATIONERY, SOCIAL MEDIA

ADVERTS, WEBSITES, LEAFLETS, car livery,

clothing designs

Save pounds with Essential Waitrose

Like everyone else, local people here

in Beaconsfield are dealing with the

increasingly high cost of living, with

fuel and energy costs reaching

unprecedented highs and food prices

increasing too.

One way to help stretch your food budget is to

try the Waitrose Essential range - great tasting,

great value food and drink for meals every day.

This range provides the quality expected from

Waitrose at prices that maybe are not. Kate

Gibbs, Brand Manager Essential Waitrose, says

'Essential products don't compromise on

quality, taste or functionality. For customers

who are looking for value for money but don't

want to skimp on quality or ethics - with

Essential they

don't have to'.

With hundreds

of products to

choose from,

the Essentials range covers fresh, ambient

and non foods - from frozen, dairy, bread,

meat, fish, fruit and vegetables to canned

and long life goods, baby and household

items - you can purchase a full weekly shop

from our Essentials range.

Beaconsfield Together article June 2022

Like everyone else, local people here in Beaconsfield are dealing with the increasingly high

cost of living, with fuel and energy costs reaching unprecedented highs and food prices

increasing too. One way to help stretch your food budget is to try the Waitrose Essential

range - great tasting, great value food and drink for meals every day. This range provides

the quality expected from Waitrose at prices that maybe are not.

Kate Gibbs, Brand Manager Essential Waitrose, says 'Essential products don't compromise

on quality, taste or functionality. For customers who are looking for value for money but don't

want to skimp on quality or ethics - with Essential they don't have to'.

With hundreds of products to choose from, the Essentials range covers fresh, ambient and

non foods - from frozen, dairy, bread, meat, fish, fruit and vegetables to canned and long life

goods, baby and household items - you can purchase a full weekly shop from our Essentials

range.

Why not give it a try?

Why not give it a try?

To advertise please call 07786 735 711 or email marketing@beaconsfieldtogether.co.uk

11
---
LOCAL BUSINESS

How to make your

bathroom more

eco-friendly?

Did you know whilst 90% of packaging is

recycled within our kitchens, only 50% is

being recycled by consumers in the bathroom.

As a result, our recyclable bathroom waste

accounts for 30% – 40% of total landfill waste

(Chartered Institution of Waste Management).

What many people don't realise is that there are

excellent plastic free or reusable alternatives to

the single use plastic items we use daily. Below is a

summary of some of the great alternatives available:

Toothpaste tablets

A fantastic way to swap out plastic toothpaste tubes

is with a refillable glass jar of "toothpaste tabs".

These little tablets do everything that toothpaste

does but contain cleaner ingredients, pack a mintier

punch and are zero waste. All you do is chew for 3-5

seconds and brush as normal!

Reusable

deodorant sticks

There are some

great refillable

alternatives to

disposable plastic

deodorants which

also use all natural

ingredients. You

may wonder if

these work as

well but you'd be

surprised with how

good the results are and all whilst being toxin-free.

Reusable cotton swabs

An easy replacement to combat the billions of

single-use cotton swabs that are consumed every

day. There are reusable swabs available which are

high quality, super durable and easy to clean with

water and a little soap. And most importantly can be

used safely up to 1,000 times.

Reusable make up remover pads

No need to purchase single use pads over & over

again, reusable organic cotton pads are available.

They are plastic-free, super soft, washable and

biodegradable.

Nappies

"Eco nappies" are now widely available and replace

the majority of fossil-fuel based plastic components

with biodegradable materials such as bamboo and

corn starch. The other big benefit here is that these

are also free from nasty chemicals and are much

kinder to a baby's skin.

Eco-Homemaker, an online shopping platform, is

on a mission to make your life easier when it comes

to eco-friendly shopping for your family. All of the

above products are available on their website and

are tried and tested by the local owners and their

young family.

12 Beaconsfield Together is part of Community Together
---
Kings Head House, 15 London End, Beaconsfield, HP9 2HN

www.conciergegroup.uk

To advertise please call 07786 735 711 or email marketing@beaconsfieldtogether.co.uk

13
---
EYE NEWS

Protect your eyes

from the sun

Do you take the same care of your eyes as you

do your skin?

Over 60 you are more likely to develop cataracts.

Wearing sunglasses helps to protect exposure to

UV. As we are living longer and travelling to hotter

climates it is advisable to start protecting our eyes

from a young age. There are numerous choices

of lenses, so ask your optician about the benefits

of each. Polarising lenses reduce glare. They stop

reflected light from wet roads and cars. They are

great for water sports, fishing, skiing and are often

described as restful when you wear them. I compare

them to HD TV as (to me) everything seems more

defined.

There are benefits to a graduated tint which is darker

at the top of the lens. The darker shading at the top

is good when the sun is high in the sky and if you

are out and about as you can still see where you are

stepping when you go inside . The tint colour is also

a consideration.

Brown makes the world look cheery and the red

and green of traffic lights and verges will stand out.

Brown hues are helpful for some eye conditions

where there are macular changes. Grey is a neutral

colour and good for light sensitivity whilst green is

good on a day with bright cloud cover. Ask your

optician to look at your current sunglasses. With time

the lens colour can change and the frame can warp

if left in direct heat. However 'cool' your sunglasses

look on the beach you should also have full coverage

and a good fit, especially important if they are to do

what's intended. Your optician can show you lens

options, explain lens categories and advise you on

your selection.

Then you can sit back and enjoy the sun assured that

your eyes are protected.

Helen Gilbert FBDO

Dispensing Optician

HARROLDS

opticians & audiologists

2 for 1

Kids & Teens

glasses

Prescription

sunglasses

£79

from

Including SV UV lenses. Polarised add £40 .Varifocals add £100.Conditions apply.

Make your digital world easier

... Ask about office lenses

The health of your eyes is as important as HARROLD your vision. OPTICIANS With renal photography as standard

Your vision...Our care

Eye tests are free for kids

* When you buy a frame for £18 or more. Excludes other offers. Assumes Free NHS eye test and NHS voucher subject to NHS guidelines. Ask for details.

9

and the opon of OCT , you can be assured you're doing the very best for your eyes. We have

office lenses to help with screens and tablets, lenses to protect from UV and lenses that

darken when you drive. Nicole and her team are ready to help and advise.

To book an appointment call 01494 672193

www.harroldopticians.co.uk 26 Gregories Rd Beaconsfield HP9 1HQ

14 Beaconsfield Together is part of Community Together
---
Find us at Beaconsfield Market

every Tuesday 8am until 2pm

We stock shrubs, perennials, spring bulbs,

seasonal baskets and bedding plants

Follow us on Facebook and Instagram

finest_plants

To advertise please call 07786 735 711 or email marketing@beaconsfieldtogether.co.uk

15
---
Beaconsfield

Market

celebrates its

40th anniversary

Beaconsfield Tuesday Market

celebrated its 40th anniversary in

April this year and invited guest,

The Right Honourable Jenefer

Farncombe shared some facts

about the origins of the market:

"The original charter for a weekly

Tuesday market was granted in 1255

by Henry III to his brother Richard,

Earl of Cornwall, who subsequently

endowed Burnham Abbey with the

rights.

"When our family bought Hall Barn in 1880,

Edward Levy Lawson, the first Baron Burnham,

acquired the title Lord of the Manor, with

the various duties and benefits that came

with it. This entitlement continued down the

generations of our family who lived at Hall

Barn. My father, the Fifth Baron Burnham,

decided to revive the Manor's right to hold a

Tuesday market in 1982, which proved very

successful with Old Town residents, for its

proximity."

The Abbess later obtained the Fair Charter as

well. In 1414, the Abbess of Burnham sought

confirmation for the benefits the royal ascent

to the market gave to the Abbey as Lord of the

Manor. This was granted, but the market was

held on various different days of the week, and

gradually petered out".

Roger Glanville, (father to Richard from

Glanville Framing) was one of the original

marketers back in April 1982. Richard also

joined the celebrations and recounts his

memories of the early days of trading 40

years ago …

"With dozens of market traders turning up

to a new weekly market in a quiet part of

Beaconsfield Old Town it was obvious that

locals would be apprehensive. Early morning

16 Beaconsfield Together is part of Community Together
---
40th

40th 40th

40th

40th

noise as stalls were set up were one of the

concerns, therefore strict rules were introduced

not to start setting up before 7.30 am."

"As time passed, the locals welcomed us, even

the previous complainants became customers.

The elderly found the market very convenient

and love to come and have a chat. On cold

winter days we were often supplied with hot

drinks and mince pies at Christmas, this made

it a very pleasant days work for the traders. The

site was originally gravel which made it very

dirty on wet days and dusty on dry days, It was

finally resurfaced with tarmac. Word soon got

round regarding the success of the market and

traders began turning up from far and wide.

Every available space was filled, contributing to

the success."

Please support this wonderful market, opens

every Tuesday from 8.30am (plant stall from

8am) until around 2pm. Follow on Facebook /

Beaconsfieldmarket. For stall-information

contact Andy (market manager) on: 07795 547

705 or see him on the household store.

Celebrating

40 years

trading at

Beaconsfield!

Mrs Farncombe attended the recent 40th

Anniversary celebration, with the Mayor of

Beaconsfield, Alastair Pike and his partner,

Varvara Neiman. Jenefer commented, "I am

delighted to say that the Tuesday market has

flourished since 1985 and has been of particular

benefit during the pandemic when the traders

kept going throughout, whenever permitted,

because people felt so much safer shopping

outdoors. It's also a colourful and beneficial

asset to Beaconsfield, upholding an ancient

tradition which adds to the charm of the town."

To advertise please call 07786 735 711 or email marketing@beaconsfieldtogether.co.uk

17
---
Check availability

heybroadband.co.uk
---
Check availability

heybroadband.co.uk

Call Free

0808 168 1616
---
COMMUNITY NEWS

What's been happening

at Beaconsfield Town

Council?

In May we hold the

Annual Town Council

meeting where the Chair

of the Council is elected

for the year. As

Beaconsfield is a town,

our Chair is the Mayor.

Queen's

Platinum

Jubilee

The town was decorated

with bunting for the Jubilee

ccelebrations. This is not

easy in Beaconsfield, where

the wide streets of the

old coaching town means

that it's too wide to hang

bunting across and there

are not many fixings on

buildings to attach to,

but we think the result

looked great and hope

you enjoyed it.

for a very pleasant afternoon.

This coincided with the

official opening of Cllr

Sandy Saunders' Heritage

Centre in the Town Hall.

He has been working

with volunteers from the

Beaconsfield Historic

Society over the last few

months to put it together

and it really is well worth a

visit. Contact the Town

Hall for details of future

opening times.

There was much activity

also at the Memorial

Garden in the Old Town,

where Cllr Alex Dunlop and

We held 3 events to

mark the Queen's Jubilee

starting off with the Town

Crier, Richard Smith,

making The Proclamation

on the Town Hall Green

on 2nd June. This was

followed by a speech

from the Mayor Cllr Pike,

who then introduced the

Burnham Concert Band

who entertained everyone

20 Beaconsfield Together is part of Community Together
---
his volunteers erected the

Brazier that Neil Thomson

had fabricated for the

Beacon Lighting ceremony.

It sat 3 metres high on a

sturdy oak beam donated

by TimberStore. It looked

spectacular! We had

entertainment from the

Beaconsfield Music and

Operatic Society, food

provided by The Beacon

Bisto, drinks from Eddie

at the London Mobile Bar

Company and sound and

lights from Andy Webb at

Out of this World.

It was a wonderful turnout

from the town who came

to see David Finlayson,

the Bagpiper perform

Diu Regnare, Kami Nagi

the Buglar play the fanfare,

Majesty and as the

beacon took like, BMOS

performed the Song for

the Commonwealth. The

crowd gave a spontaneous

rendition of the National

Anthem and enjoyed the

amazing atmosphere while

watching the flames against

the darkening sky. A truly

magical evening.

On Sunday morning, there

was a full civic service at

St Mary's attended by the

Hon Jenefer Farncombe

as our Deputy Lieutenant,

the Mayor Cllr Alastair

Pike and our MP Joy

Morrissey.

In the evening, there was

a community event at

St Mary's where Sean

Groombridge led an

orchestra and choir in

Beaconsfield Sings!

A rousing evening of

music and hymns from

around the Union and with

regional and international

performers.

Thank you all for

supporting all the events

that took place in the

town.

Well done Beaconsfield!

For more information:

www.beaconsfieldtowncouncil.gov.uk

To advertise please call 07786 735 711 or email marketing@beaconsfieldtogether.co.uk

21
---
ENVIRONMENTAL

The Beaconsfield

Beacon/Brazier

I was delighted to be asked by my

fellow Councillor Sandy Saunders if I

would join the Community and Safety

Committee a few months ago to help

arrange the local Platinum Jubilee

celebrations.

The first item discussed was the

construction of a brazier, which I took

on the responsibility for managing. The

useful guide published by the Palace

provided directions on how to build the

brazier. While we initially decided to build

it to the scale recommended, we soon

realised the beacon would be far too big

for the area we had planned to install it.

As a result, the size was ultimately reduced

by 50% but we managed to retain all its

grandeur nonetheless.

During the build I enlisted the help of Neil

Thomson, a skilled welder and fabricator

who lives in Holtspur and works in the Old

Town of Beaconsfield as well.

The first step involved sourcing the metal

to make the basket, which Neil

then worked on in his spare time and

weekends, cutting, grinding, and welding

the frame. We also enlisted the help of

MT Perry Engineering Ltd who supplied

the materials required and cut to size the

base which they welded together for us.

The wooden post and supports which

stood 3.5 meters high were kindly donated

from Timberstore Beaconsfield.

22 Beaconsfield Together is part of Community Together
---
The Beacon was erected on the green

space by St Mary & All Saints Church in

the earlymorning on Thursday 2nd June

with the help of six people as it was quite

a weight! In the evening as the sun set,

preparations to light the Beacon began

with Diu Regnare performed on Bagpipes,

followed by a fanfare (Majesty) to herald

the lighting. Finally, Beaconsfield

Operatic Society serenaded the lighting

of the Beacon at 9:45pm with A Song for

the Commonwealth.

I am delighted to say that the electronic

ignition worked perfectly (phew!) and the

beacon lighting ceremony was enjoyed by

the hundreds that turned out.

A huge thank you to all those who

supported our event and attended to

make it one of the best celebrations in

the area.

Councillor Alex Dunlop

Beaconsfield Town Council

Finance Officer

(Part-time)

Beaconsfield Town Council have a vacancy for a Finance Officer who will be responsible for

all aspects of the financial administration of the Town Council and work as part of our small

team based at the Town Hall.

The successful candidate will be a qualified or part qualified accountant, with experience of

producing regular Management Accounts and Year End Returns, VAT and PAYE returns, Budget

preparation, journal processing, understanding of management of reserves (Ring Fenced and

Ear-Marked) and production of Balance Sheet and Budget Reports as well as the day to day input

and processing of invoices and payments.

This is a half-time position and we are happy to be flexible about how those hours are achieved

across the week. The salary will be based on the NJC Scale Point 24-27 £29,174 - £31, 895

depending on relevant experience and will be pro-rata for 50% hours, ie half.

Please see the Job Description and Person Specification on our website

www.beaconsfieldtowncouncil.gov.uk under the News section.

To apply for this post, please email to Clerk@BeaconsfieldTownCouncil.gov.uk

To advertise please call 07786 735 711 or email marketing@beaconsfieldtogether.co.uk

23
---
COMMUNITY NEWS

Running for

amazing charities

The long-awaited Gerrard's Cross

Fun Run took place on Sunday

22nd May. The sun shone and the

community came together to watch

and applaud friends and family run

5km round the streets of our pretty

village. For younger runners there

was a new 1km event, and for the

youngest the usual sprints.

The day kept up the traditional camaraderie

of this biennial event for the last twenty years.

New friends were made, and others renewed

on East Common, as the music played,

delicious food cooked by the awardwinning

Ginger Chef was enjoyed by

many; games were played, and children

and adults were entertained by the various

activities. It was a fabulous family fun day

enjoyed by all.

www.DavidMoorePhotography.co.uk

Congratulations to the Harwood family,

lucky winners of this year's top prize: an

annual family membership of Gerrards Cross

Lawn Tennis Club and to Donna, who bought

the playing card pledging Chris Wheeler's

services to cook a fantastic dinner for a party

of eight! (and do the washing up!) Maria

won a luxury retreat at Pinetum Gardens,

St Austell, Cornwall - an additional prize

this year.

All the planning, organisation, and hard

work of everyone involved and the support

of those who came, raised around £43,000!

The proceeds will be divided equally

between William's Fund, Liberty's

Legacy, and Hearing Dogs for the Deaf.

An amazing achievement!! We wish these

deserving organisations continued success

with their valuable work as they strive to

make a difference to people's lives.

The committee would like also to thank

again local professional photographer David

Moore, for his expertise in capturing great

memories of the day on film. Visit his website

https://www.davidmoorephotography.co.uk/

www.DavidMoorePhotography.co.uk

An enormous debt-of-thanks is owed to

the sponsors, who gave generously to

make this day happen. As a result, we

again had some fantastic prize-draws.

The next fun run will take place in May

2024 when we again look forward to

welcoming the Gerrard's Cross Community

on East Common.

24 Beaconsfield Together is part of Community Together
---
OUT AND ABOUT

History of

Bernwood Forest

Fancy a stroll through time?

Why not take a trip to Bernwood

forest, OX33 1BJ.

It's one of several ancient forests across

England, meaning parts of the woodland

have attained great age without significant

disturbance and thereby exhibit unique

ecological features. Many of the trees you'll

see during the walk are over 700 years old.

Buck's very own time machine, the site was best

known as a hunting ground for the royals in the

10th century. It was thought to have been the

day out of choice for Anglo-Saxon kings when

they needed an escape from the palace at Brill.

Edward the Confessor, who was born locally in

Islip was believed to be a regular. In the 12th

Century King Henry II unknowingly provided

us with an invaluable tool in helping define the

forest's ancient boundaries, when he prepared

a map of the forest in order to divide up the

land amongst his nobles.

winter months so the best time to visit is in

spring and summer. With plenty of beautiful

butterflies to keep the children occupied and

the opulent history for the adults, the woods

make an ideal spot for the whole family. With

the cost of living at an all-time high and purse

strings tightening, we are pleased to confirm

that the woodland trails and parking are free

and mostly all buggy friendly.

Ancient trees are irreplaceable, witnessing

momentous historical events while providing

invaluable homes for wildlife. The older the

tree, the more vital to wildlife it becomes. We

need your help in protecting them! Not only

ancient trees but many of Buckinghamshire's

woodlands and green spaces are under threat.

At CPRE we believe that the countryside is

for everybody, and that a beautiful, thriving

countryside enriches all our lives.

We are a national charity with a network

of local groups in every county. We have

almost a century of experience in campaigning

for the countryside. The CPRE network has

played a central role in the creation of National

Parks and Green Belts. To find out more

about the work we are doing, please visit

www.cprebucks.org.uk.

If the rich history alone doesn't make this day

out appealing, the wood is also known as a

haven for butterflies. There is believed to

be around forty species living here, making

Bernwood one of the most important habitats

in Britain. Butterflies tend to hibernate in the

Christa McDermott, Office Support

To advertise please call 07786 735 711 or email marketing@beaconsfieldtogether.co.uk

25
---
ENVIRONMENTAL

How to reduce heat loss from your

home - the' fabric first' approach

We all know that we are being asked to

do 'our bit' in being more eco-friendly.

How can we achieve this in our homes? A family

asked EcoTiffin to do just that and after enlisting

their help, they commented, "EcoTiffin saved us

37% in energy bills whilst increasing our square

footage by 35%, giving us a warm and welcoming

home."

Moisture in brickwork is the worst possible

ingredient to have in your property and every effort

should be made to prevent the ingress of moisture.

Moisture in the brickwork reduces the brick's thermal

capacity to retain heat and it has a chilling effect like

a fridge on your home. Solid brick walls are by far

the worst. Remember; wet walls are cold walls!

The fabric first approach is essential when improving

insulation to roofs, walls, floors and windows and are

just some of the ways of reducing heat-loss. The use

of thermography (thermal imaging) is an exciting

and relatively new application in the building world.

If you want to identify areas of excessive heat loss

in your home and create an eco-friendly building,

using thermographic equipment, is a good place

to start.

Robert Tiffin (descendant of the original family)

and highly respected building expert and Quantity

Surveyor, has seen a rise in the number of families

wanting to make their homes work more efficiently.

Evidence from thermograms help to provide much

of the data to substantiate Robert's bespoke reports

for each property in "seeing the unseen". To

the trained eye, the results can reveal important

information enabling a clear diagnosis. Home

owners look forward to maximising their comfort

to a warm, cosy and cost effective, healthier

environment for themselves and their families.

26 Beaconsfield Together is part of Community Together
---
Summer's too short for

painting fences.

Choose 25 years maintenance free metal fencing*. Choose ColourFence.

Unique ColourFence GUARANTEE

◆ Virtually, maintenance FREE for 25 years*

◆ Won't warp, crack, shrink, rot or peel

◆ Withstands gusts up to 130mph

Why choose anything else?

◆ Metal fencing available in four colours

◆ Established in the UK for over 15 years

◆ Professional installation

25 YEAR guarantee

Brown Cream Blue Green

"We chose ColourFence 15 years

ago and it looks as good as new. "

Mr & Mrs P. Stringer

For a free, no-obligation quote, find out more via:

01494 711 400 | colourfencebucks.co.uk

*T&C's apply – see website for details

To advertise please call 07786 735 711 or email marketing@beaconsfieldtogether.co.uk

27
---
Platinum Jubilee

at Bekonscot

Bekonscot joined the Platinum Jubilee

celebrations by creating a commemorative

trail around the model village.

Seven new scenes (one for every decade of the

Queen's reign) show the Queen and the Duke

of Edinburgh in iconic locations connected

to the Royal Family. A magnificent miniature

version of the Royal Barge "Gloriana" was also

created to grace the main lake. The new scenes

will remain in place until the end of the summer

holidays, so pick up a trail guide from the ticket

office on your next visit.

Bekonscot plant a silver birch in commemoration of the Queen's

Platinum Jubilee.Left to right: Clive, Dick, Peter and Maura.

Summer holiday

activities

Every Tuesday, Wednesday and

Thursday, 26th July – 25th August

Make and Take craft activities in

the Education Centre

Greg Chapman will be performing

his unique brand of close hand magic

in the picnic area

Sat 27th – Mon 29th August

Birds of prey flying demonstrations

(weather permitting)

Please book online via our website

www.bekonscot.co.uk or contact

info@bekonscot.co.uk for further details.

For more information:

www.bekonscot.co.uk
---
Celebrating

40 years!

Hearing Dogs for Deaf People trains

dogs to alert deaf children and adults

to important and life-saving sounds they

would otherwise miss, such as smoke

alarms, alarm clocks, oven timers and even

baby monitors and text message alerts.

A hearing dog also provides lots of love,

companionship and emotional support, which is

equally as important. The charity's clever canines

help deaf people to reconnect with life and leave

loneliness behind.

This year marks Hearing Dogs' 40th anniversary

and four decades of training amazing hearing

dogs. Since Hearing Dogs was founded in 1982,

where the first dog was trained in the living room

of long-standing staff member, Gill Lacey, the

charity's supporters have helped thousands of

deaf people, practically and emotionally.

This year, Hearing

Dogs will be

hosting several

events at its training

centre in Saunderton and virtually to celebrate its

40th anniversary with volunteers, supporters and

the public. Kicking off the celebrations is the Late

Summer Show on Sunday 11th September, which

is a great day of family fun with games, food and

drink stalls, rides and a fun dog show.

Anyone looking to celebrate Hearing Dogs' 40th

birthday and help a deaf person can donate to their

special Ruby Appeal. Cocker Spaniel puppy Ruby

has been named to celebrate 40 years of Hearing

Dogs. Her exciting journey is just beginning and

with your help, a deaf person's life will be changed

forever: www.hearingdogs.org.uk/ruby

COMPANION DOG SHOW

AT

THE BEACONSFIELD

COUNTRY FAYRE ON

MONDAY AUGUST 29th 2022

SPONSORED BY STRAID VETERINARY CLINIC

CLASS CLAFICATION:

1. PEDIGREE:

A. Puppy (dog/bitch) 6 – 12 months

B. Any variety – sporting

C. Any variety – toy, working, pastoral, utility

D. Any variety open (dog or bitch)

2. NOVELTY:

A. Any variety puppy (dog/bitch) 6-12 months

B. Any variety 12 months and over

C. Any variety veteran dog -7 years or over

D. Any variety rescue dog

Please bring your dog to

register at 10.00am

Judging will start at 11am - 12noon

To advertise please call 07786 735 711 or email marketing@beaconsfieldtogether.co.uk

29
---
LEGAL ADVICE

Why is it important to consider pensions

on relationship breakdown?

Pension rights are often the single largest asset in

marriages or civil partnerships. This is particularly the case

where a person has served as a police officer, a member

of the armed forces or in other public sector roles.

Despite this, a survey by Which? found that only 15 per cent of

divorcing couples include pensions in their financial settlement.

There could be many reasons for this, including that people often

underestimate the value of their pensions, given that the benefit to

them feels rather distant.

However, overlooking a pension can leave former spouses or civil

partners with insufficient income on retirement. There are a range of

options available when dealing with pensions.

So, what are they?

Pension offsetting

The value of a pension is offset against the value of other assets

held between the parties. The non-pension assets are distributed

more in favour of one party to take into account that the other

party will have a greater pension provision. This does not involve

the court making a pension order and the pension remains with the

pension member.

party to the other. This provides the recipient with a separate

pension fund of their own. However, not all pensions are capable

of being shared.

Pension attaching

This requires the pension member to pay a percentage of their

pension income to the other party when the pension becomes

payable. The recipient effectively "attaches" themself to the

pension, as opposed to the pension being divided into two

separate pension funds.

Where appropriate, we will suggest the use of pension experts (eg.

independent financial advisors and/or actuaries) to gather relevant

information about your pensions and consider the exercise of the

court's powers in your specific circumstances.

Once terms have been agreed between the parties, or determined

by the court at a Final Hearing, a financial remedy order should be

drafted and sealed by the court. This will include details of how

the pensions are to be dealt with, whether that be for the parties

to retain their own pensions, or for the pension to be shared or

attached.

Ultimately, it is important not to forget about

pensions when trying to reach a financial agreement,

and also to obtain legal advice when considering

your pensions, to ensure that you achieve the right

Pension sharing

An existing pension arrangement is divided between the parties.

outcome for your circumstances.

This requires a pension RS_BEACS_AM_CHAL_CMYK_130X90_OUT_1.pdf sharing order from the court, which will 1 04/10/2021 11:44

state how much of the pension should be transferred from one

Jessica Smith, Solicitor

C

M

Y

CM

MY

CY

CMY

K

30 Beaconsfield Together is part of Community Together
---
WE WILL ALWAYS PUT YOU FIRST

LEIGHDUNCAN.CO.UK

Tel: 01494 578040

Email: enquiries@leighduncan.co.uk

Fun runs, school fees,

and planting trees

Following their marathon run for

Mental Health Foundation in 2021,

local financial planners Walter &

Partners were one of the proud

sponsors of the Gerrards Cross Fun Run.

The firm's CEO Ben Walter attended the event

and, along with cheering on the runners, was

able to speak with many people in the local

community about their financial planning matters

and running achievements.

Ben commented, "many of the people I spoke

to were interested in ways to plan for school and

university fees, while high inflation is eroding the

value of their savings. By planning ahead and

using tax-efficient investments, families can make

provisions for these costs".

While Ben didn't have plans to run any more

marathons in a hurry, after meeting with local

charity Liberty's Legacy (Liberty's Legacy is a

special fund of the Bone Cancer Research Trust

raising vital funds for

life-saving research into

Ewing sarcoma.), he has volunteered to run in the

Royal Parks Half Marathon to raise money for them

in October.

Asking Ben about their charity plans for 2022, he

explained, "This year, we wanted to do something

linked with building sustainable financial plans

and investing for the future. Working with the

Woodlands Trust, we will plant enough trees to

offset 5.5 tonnes of carbon emissions for every

new client we take on".

A study by the charity revealed 5.5 tonnes was the

amount of carbon emission the average person in

the UK is responsible for each year.

You can find out more about Walter & Partners

and get in touch at www.walter-partners.co.uk

To advertise please call 07786 735 711 or email marketing@beaconsfieldtogether.co.uk

31
---
COMMUNITY NEWS

WWW.CYGNETSARTSCHOOL.COM/BEACONSFIELD

Now Booking for

Summer Term

2022

'India'

Ages 5-13

Introducing Cygnets

Art School for children

We are delighted to introduce

Cygnets Art School Beaconsfield

www.cygnetsartschool.com/beaconsfield.

Cygnets is a fine art school for children and we run

local term time and holiday classes for ages 5+.

We teach traditional drawing, painting and

sculpture, and students have the chance to

explore a variety of techniques and mediums.

Cygnets Art School has been set up by local

resident Matthew Trice, a primary school teacher

with 20+ years teaching experience and a

background in fine art.

These popular art classes are running at St

Michael's Hall, Beaconsfield.

You can book into term time and/or holiday

workshops. Our summer term time theme is

'India' and our summer workshop theme is

'Natural Britain'!

We hope these classes will compliment the

vast array of things on offer to children in

Beaconsfield.

A to Z of adventure

for Beavers

Over 820 Beaver Scouts (boys and girls

aged 6 to 8) had an adventurous day at

the Buckinghamshire Scouts Beaveree.

Abseiling, circus skills, climbing, face

painting, golf, inflatables, orienteering,

water rockets and zorbing were just some

of the activities the children enjoyed.

Lewis' mother Anneka said, "Beavers had been

good for Lewis. It's helped with his social skills

and he is learning about how to be independent.

He has made new friends and his confidence

has grown. Beavers has also given him the

opportunity of doing a wide range of activities

outside of school."

Adult volunteer Helena Brookes who became

a volunteer 18 months ago said, "I became a

volunteer with Scouts as I wanted to give my

daughter Alice, the same experiences I had as a

child." She said, "Being a volunteer has helped

me build relationship with the parents of children

in the Colony. I have engaged with people in

the community, and have learnt some first aid

skills." Helena added, "There is a need for more

volunteers so more children can have the types of

adventures that Alice is having."

If you are interested in becoming a volunteer with

Scouts, please visit www.scouts.org.uk

32 Beaconsfield Together is part of Community Together
---
Beaconsfield

Chimney Sweep

Manual and Power Chimney Sweeping

Open Fires, Stoves and Gas Fires

Certificates Issued

Professional and Reliable

Pay by Card

Chimney Caps and Cowls

Call JOSH: 07549 422 465

Or Book Online Today:

www.TheLocalChimneySweep.co.uk

Calling 9-16 year

olds to help at Kew

Little Pigs Farm

Where: Kew Little Pigs Farm

When: 18th, 19th, 20th July and 25th,

26th, 27th July

What: Children's Pig-Keeper Day

Details: Spend a day at the KLP farm learning how to be a pig-keeper, getting stuck in

with farm tasks, and getting your hands mucky! End the day with piggy playtime, ice

cream, and a goodie bag! For ages 9-16 years. Please email info@kewlittlepigs.com for

details.

www.kewlittlepigs.com

Kew Little Pigs Farm Ltd, Old Amersham Farm, High Street, Old Amersham,

Bucks, HP7 0HR

To advertise please call 07786 735 711 or email marketing@beaconsfieldtogether.co.uk

33
---
Beaconsfield Together

Brain Matter

WORDSEARCH

Can you find FLOWERS all of these words SALAD hidden in

the grid? They may run forwards or

backwards HAY in a FEVER straight line SAND which travels

either horizontally, HEAT vertically SHORTS or diagonally.

FLOWERSHOLIDAY

SALAD SOMBRERO

HAY FEVER JULY SAND SUNGLASSES

HEAT

SHORTS

HOLIDAY JUNE SOMBRERO TENT

JULY MOSQUITO SUNGLASSES WARMTH

JUNE

TENT

MOSQUITO PLAY WARMTHWASPS

PLAY ROSES WASPS WEATHER

ROSES WEATHER

Summer

Can you find all of these words hidden in the grid? They may run forwards or backwards in a

straight line which travels either horizontally, vertically or diagonally.

Salad Bowl

Y E G I S H O R T S E T R

A V T D E R A C Z Y V T E

L U N S C P R R A R C N T

P S E E A K E D O J U S H

T H T G E H I H U J Z U F

P F Z U T L T L T G Z N J

R L F A O D Y L M M X G H

T O E H A Y F E V E R L V

A W S C M V B D E O C A M

E E S E D O D N N A E S W

H R U V S R S A R A K S J

H S U P A P I R L L S E J

S O M B R E R O T A L S N

S P S A W Z T V H E S E Q

H Y O H O T I U Q S O M P

Can you fit all of these words into the grid, then rearrange the letters in the yellow squares to

SALAD BOWL

form another word; something you might also find in a salad?

4 letters RADISH

Can you PEAS fit all of these TOMATO words into the grid,

then rearrange the letters in the yellow

squares 5 letters to form another 7 letters word; something

you might CRESS also find in AVOCADO a salad?

4 letters HERBS CHICORY

7 letters

PEAS AVOCADOLETTUCE

5 letters 6 letters

CHICORY

LETTUCE

CRESSCARROT

8 letters

HERBS 8 letters

CELERY

DRESSING

DRESSING

6 letters CHIVES SHALLOTS SHALLOTS

CARROT

CELERY ENDIVE

9 letters

CHIVES FENNEL MUSHROOMS 9 letters

ENDIVE

FENNEL OLIVES MUSHROOMS

Answer:

OLIVES ONIONS

ONIONS

RADISH

TOMATO The word is: __________________________

The word is:___________________________

Y E G I S H O R T S E T R

A V T D E R A C Z Y V T E

L U N S C P R R A R C N T

P S E E A K E D O J U S H

T H T G E H I H U J Z U F

P F Z U T L T L T G Z N J

R L F A O D Y L M M X G H

T O E H A Y F E V E R L V

A W S C M V B D E O C A M

E E S E D O D N N A E S W

H R U V S R S A R A K S J

H S U P A P I R L L S E J

S O M B R E R O T A L S N

S P S A W Z T V H E S E Q

H Y O H O T (answers I U Q S Oon Mp36)

P

34 Beaconsfield Together is part of Community Together
---
Safe & gentle ear wax

removal at a clinic

near you

What is ear wax?

What is it, why do we have it in our ears and why does it sometimes cause hearing loss. Earwax, also known

as cerumen, is produced inside your ears to keep them clean and free of germs. It usually passes out of the

ears harmlessly, but sometimes too much can build up and block the ears.

It protects the skin of the human ear canal, assists in cleaning and lubrication, and also provides some

protection from bacteria, fungi, insects and water. In other words, ear wax is a good thing!

The amount of ear wax that the body produces differs from person to person, the amount that is retained

within the ear also differs for each of us - these differences are for a number of reasons; Age; Diet; Lifestyle;

Personal anatomy; Genetics; Ethnicity.

Many people will produce a small amount of wax their whole lives, which leaves the ear canal naturally, and

never have any problem with it. For others, their ear will produce a larger amount of wax, which will not

fully leave the ear canal and will become blocked, which leads to them having reduced hearing ability and also

a blocked feeling in the ear.

Are you experiencing any of the following?

• Pressure in the ears

• Blocked feeling in the ears

• Need to pop your ears but can't

• Sudden loss of hearing or muffles sound

• Hearing aids whistling

• Underperforming hearing aids

Call for more information on

Call: 07903 013 123 or 07535 603 744

Email: hearwego.beaconsfield@gmail.com

Web: www.hearwegohearingsolutions.co.uk

Consulting Suite, 19 London End Road, Beaconsfield, Buckinghamshire, HP9 2HN

Consulting Suite, The Studio, 37, Station Road, Beaconsfield, HP9 1QG

To advertise please call 07786 735 711 or email marketing@beaconsfieldtogether.co.uk

35
---
Together Trades Directory - Beaconsfield

Share your recommendations with us at trades@communitytogether.co.uk

BUILDERS

Concierge Property Maintenance

Skilled craftsmen to carry out quality property building works

and maintenance. Part of Federation of Master Builders.

t: 01494 702 099

w: www.conciergegroup.uk

CAR SERVICES

Summer

Salad Bowl

se words hidden in the grid? Can They you may fit run all of forwards these words backwards into the grid, in a then rearrange the letters in the yellow squares to

A J Dunlop Car Servicing Ltd

Asset Roofing Specialists

ine which travels either horizontally, vertically form diagonally. another word; something you might also find in a salad?

We have provided friendly advice, quality servicing, All roofing repairs, guttering and chimney renovations.

repairs and MOTs since

SALAD

Y

4 letters 1985. Online booking,

E G I S H

RADISH t: 01494 257 595 / 07931 371 003

collection and delivery available. O R T S E Tw: Rwww.assetroofings.co.uk

PEAS

TOMATO

t: 01494 670 510

SAND

A V T D E R A C Z Y V T E

w: www.ajdunlop.co.uk

L U N S C P R R A R C N

Colourfence

T

Bucks

SHORTS

5 letters 7 letters 25 year guaranteed fences that will stand strong

PROPERTY MAINTENANCE P

CRESS

S E – EINTERIOR

A K

AVOCADO

E D O J U Swinds H throughout winter and any storm.

SOMBRERO T H T G E H I H U J Z Ut: 01494 F 711 400

HERBS CHICORY

SUNGLASSES

Beaconsfield Chimney Sweep

w: www.colourfencebucks.co.uk

P F Z U T L T L T G Z N J

Call Josh for professional chimney sweep and LETTUCE

TENTfire services. R6 letters L F A O D Y L M M X GJ.M HGarden Retreats Ltd

t: 07549 422 465

WARMTH

TCARROT

O E H A Y8 Fletters

E V E R LBeautiful V bespoke garden rooms tailored to

w: www.TheLocalChimneySweep.co.uk

ACELERY

your needs.

W S C M V DRESSING B D E O C A M

WASPS

t: 07855 484 944 (Jon) / 01494 583 260

Chalfont Oven Cleaning ECHIVES

E S E D O SHALLOTS D N N A E S(Evenings W Only)

WEATHER First class results every H

ENDIVE

Rtime.

U V S R S A R A K Se: enquiries@jmgardenretreats.co.uk

J

Ovens, hobs, extractors, FENNEL 9 letters www.jmgardenretreats.co.uk

grills, stoves, microwaves, H S U P A P I R L L S E J

OLIVES MUSHROOMS

Aga cookers, barbecue S Otrays.

M B R E R O T A L SN. Gillie N Decorating Services

t: 01753 889 922 / 07398 ONIONS 341 446

Experienced, friendly professional internal and

S P S A W Z T V H E S E Q

w: www.chalfontovencleaning.co.uk

external decorators who have been working in

The H Yword O His: O__________________________

T I U Q S O Mthe Parea since 1993.

Eco Tiffin

t: 01494 681 794 / 07771 521 263

Property restorations,

w: ngilliedecoratingservices.co.uk

refurbishments combining a

passion for energy saving and

Taurus Secure Garage Doors

conservation.

Quality insulated electric garage door installation.

t: 01442 819 332 / 07768 005 885

Made from strong and durable twin walled aluminum.

w: www.ecotiffin.co.uk

t: 0800 047 8734 / 07842 330 001

w: www.TaurusSecure.co.uk

Home Counties Loft Ladders

Complete loft storage solution.

t: 0808 301 9558

w: homecountiesloftladders.co.uk

Oxford Aerials

Local TV aerial and satellite

installation and repair services,

internet/Wifi blackspots fixed.

t: 01628 439 115

e: shaun@oxfordaerials.co.uk

w: www.oxfordaerials.co.uk

PROPERTY MAINTENANCE – EXTERIOR

Please mention Beaconsfield Together

when contacting any of these trades.

PUZZLE

SOLUTIONS

Answer: CUCUMBER

Y E G I S H O R T S E T R

H E R B S C E L E R Y

Answer:

A V T D E R A C Z Y V T E

N

H

L U N S C P R R A R C N T

D R E S S I N G M

P S E E A K E D O J U S H

I H C C U

T H T G E H I H U J Z U F

P F Z U T L T L T G Z N J

A V O C A D O H S

R L F A O D Y L M M X G H

L E L R A D I S H

T O E H A Y F E V E R L V

E C L Y V R

WORDSEARCH A W S C M V B D E O C A M

WORD FIT T O M A T O F E O

E E S E D O D N N A E S W

T R T P E A S O

H R U V S R S A R A K S J

U C R E S S N M

H S U P A P I R L L S E J

S O M B R E R O T A L S N

C O O N I O N S

S P S A W Z T V H E S E Q

E T E

36 H Y O H O T I U Q S O Beaconsfield M P

Together is part of Community O L ITogether

V E S
---
Beaconsfield

Library

July and August 2022

Library Events

Weekly schedule

Storytime

Tuesday 10.30 – 11.00am

Talking Café

Tuesday 11.00 – 12.30pm

Knit and Natter

Wednesday 10.30 – 12.30pm

LEGO for pre-school

Thursday 10.00am – 11.00am

Scrabble - Adults

Thursday 2.00 – 4.00pm

IT Help – Bookable sessions

Thursday 2.30pm – 4.00pm

Bounce and Rhyme

Friday 10.00 – 10.30am

Ukrainian Community Group

Friday 11.00 – 12.00 Noon

Ukrainian Community Group Chess

Saturday 2.00 – 3.30pm

Monthly Activities

Beaconsfield Conservative Councillors surgery

10.30 – 12.30pm | 1st Saturday of the month

LEGO

2.00 – 3.00pm | 2nd Saturday of the month

Reading group for adults

10.30 -11.30am | 3rd Saturday of the month

Special Events

Adult Craft – Embroidered pin cushion

10.00am – 12.00pm Thursday 21st July

Adult Craft – Dress to Impress (Card making)

10.00am – 12.00pm Thursday 18th August

Summer

Reading

Challenge -

Gadgeteers –

Science is all

around you!

Junior Craft - Book worm

1.30pm – 3.00pm Saturday 2nd July

Children's How to use a Hublet

2.30pm – 3.00pm Thursday 21st July

Superspies – Live Theatre Production

10.30am Thursday 28th July

Bekonscot Craft

1.30-2.15 (3-5yrs) 3.00pm -4.00pm (6-8yrs)

Thursday 4th August

Junior Craft – Book worm

1.30pm – 3.00pm Saturday 6th August

Bekonscot Craft

1.30-2.15 (3-5yrs) 3.00pm -4.00pm (6-8yrs)

Thursday 11th August

Dogs Trust Event

2.00pm – 3.00pm Thursday 18th August

Bekonscot Craft

1.30-2.15 (3-5yrs) 3.00pm -4.00pm (6-8yrs)

Thursday 25th August

Please look out for more details on our

website, Facebook Page and in the library.

Lib-bea@buckinghamshire.gov.uk

www.buckinghamshire.gov.uk/libraries

@BucksLibraries

To advertise please call 07786 735 711 or email marketing@beaconsfieldtogether.co.uk

37
---
CHARITY COMMUNITY NEWS NEWS

Fashion show

for Ukraine

Jak & Liza Independent Boutique

recently held a charity event in their

store in the heart of the New Town

in Beaconsfield.- "Fashion show for

Ukraine"

A great opportunity to dress up and enjoy

fashion and styling not to be missed by the

local ladies - and surprisingly - a few gents!

The models volunteered their time to shimmy

down the catwalk, refreshingly a mix of ages

and sizes to showcase the ageless trends that

Sam prides herself on in the shop's summer

collection.

The evening started with complementary

canapés from China Diner and Prosecco

from The Beech House. How lovely to have

such great support from both of these local

restaurants. After a difficult couple of years

for many businesses along the high street,

everyone came together in full support at

such a needy time. The chosen charity was

the Pokorova Orphanage in Zolochiv, Ukraine

(chosen by the lovely Nina who works at the

boutique and is Ukranian.)

Very much a

family affair with

the shop's owner

Sam Kenwright,

accompanied her

grown-up twins

Jake and Grace,

the staff, and

loyal customers.

Finally, there was a live auction and raffle

where many local businesses contributed

prizes for which 100% of the funds raised

went directly to the charity. The auction prizes

included a Pod for 8 People with food and

drink donated by The Lion of Beaconsfield.

Directors' box tickets and lounge passes for

an Everton game at Goodison next season.

Some fabulous art from Jennie Roberts and

Absolutely Hanging.

Complimentary gym membership from The

David Lloyd, and other prizes. The auction

and ticket sales managed to raise a whopping

£3200 for the charity.

The photographer Paul Mason at Beaconsfield

Studios did a great job in recording the event in

the evening!

38 Beaconsfield Together is part of Community Together
---
Local Specialists since 1984

Let us help you find your perfect kitchen, bedroom or home office.

www.ashfordkitchensandinteriors.co.uk

Farnham Common Showroom 1-2 The Parade, Farnham Common, Bucks SL2 3QJ 01753 642362

Ashford Showroom 85 Church Road, Ashford, Middlesex TW15 2PE 01784 245964

To advertise please call 07786 735 711 or email marketing@beaconsfieldtogether.co.uk

39