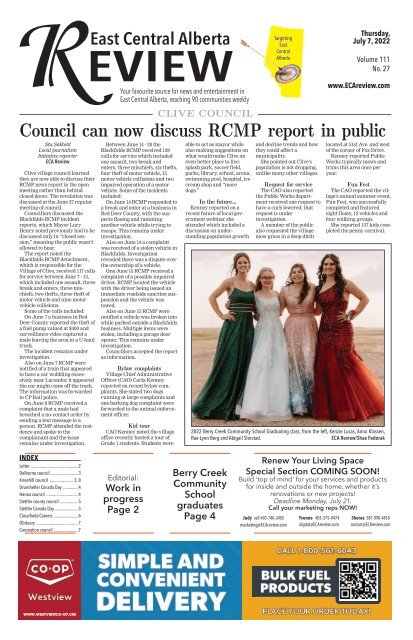 ECA Review - 2022-07-07
ECA Review - 2022-07-07
ECA Review - 2022-07-07
SHOW MORE
SHOW LESS
Create successful ePaper yourself
Turn your PDF publications into a flip-book with our unique Google optimized e-Paper software.
R

R

72 pt

East Central R Alberta

EVIEW

60 pt

R

48 pt

R

36 pt

Your favourite source for news and entertainment in

East Central Alberta, reaching 90 communities weekly

R

R

30 pt

24 pt

Targeting

East

Central

Alberta

Thursday,

July 7, 2022

Volume 111

No. 27

www.ECAreview.com

Council can now discuss RCMP report in public

R

18 pt

Stu Salkeld

Local journalism

Initiative reporter

ECA Review

Clive village council learned

they are now able to discuss their

RCMP news report in the open

meeting rather than behind

closed doors. The revelation was

discussed at the June 27 regular

meeting of council.

Councillors discussed the

Blackfalds RCMP incident

reports, which Mayor Lucy

Henry noted previously had to be

discussed only in "closed session,"

meaning the public wasn't

allowed to hear.

The report noted the

Blackfalds RCMP detachment,

which is responsible for the

Village of Clive, received 117 calls

for service between June 7 - 13,

which included one assault, three

break and enters, three mischiefs,

two thefts, three theft of

motor vehicle and nine motor

vehicle collisions.

Some of the calls included:

On June 7 a business in Red

Deer County reported the theft of

a fuel pump valued at $400 and

surveillance video captured a

male leaving the area in a U-haul

truck.

The incident remains under

investigation.

Also on June 7 RCMP were

notified of a train that appeared

to have a car wobbling excessively

near Lacombe; it appeared

the car might come off the track.

The information was forwarded

to CP Rail police.

On June 9 RCMP received a

complaint that a male had

breached a no-contact order by

sending a text message to a

person. RCMP attended the residence

and spoke to the

complainant and the issue

remains under investigation.

Between June 14 - 20 the

Blackfalds RCMP received 139

calls for service which included

one assault, two break and

enters, three mischiefs, six thefts,

four theft of motor vehicle, 15

motor vehicle collisions and two

impaired operation of a motor

vehicle. Some of the incidents

included:

On June 14 RCMP responded to

a break and enter at a business in

Red Deer County, with the suspects

fleeing and ramming

another vehicle while trying to

escape. This remains under

investigation.

Also on June 14 a complaint

was received of a stolen vehicle in

Blackfalds. Investigation

revealed there was a dispute over

the ownership of a vehicle.

One June 15 RCMP received a

complaint of a possible impaired

driver. RCMP located the vehicle

with the driver being issued an

immediate roadside sanction suspension

and the vehicle was

towed.

Also on June 15 RCMP were

notified a vehicle was broken into

while parked outside a Blackfalds

business. Multiple items were

stolen, including a garage door

opener. This remains under

investigation.

Councillors accepted the report

as information.

Bylaw complaints

Village Chief Administrative

Officer (CAO) Carla Kenney

reported on recent bylaw complaints.

She stated two dogs

running at large complaints and

one barking dog complaint were

forwarded to the animal enforcement

officer.

Kid tour

CAO Kenney noted the village

office recently hosted a tour of

Grade 1 students. Students were

CLIVE COUNCIL

able to act as mayor while

also making suggestions on

what would make Clive an

even better place to live:

splash park, soccer field,

parks, library, school, arena,

swimming pool, hospital, ice

cream shop and "more

dogs."

In the future...

Kenney reported on a

recent future of local government

webinar she

attended which included a

discussion on understanding

population growth

and decline trends and how

they could affect a

municipality.

She pointed out Clive's

population is not dropping,

unlike many other villages.

Request for service

The CAO also reported

the Public Works department

received one request to

have a curb lowered; that

request is under

investigation.

A member of the public

also requested the village

mow grass in a deep ditch

located at 51st Ave. and west

of the corner of Fox Drive.

Kenney reported Public

Works typically mows and

trims this area once per

year.

Fun Fest

The CAO reported the village's

annual summer event,

Fun Fest, was successfully

completed and featured

eight floats, 12 vehicles and

four walking groups.

She reported 137 kids completed

the penny carnival.

2022 Berry Creek Community School Graduating class, from the left, Kenzie Lucas, Anna Klassen,

Rae-Lynn Berg and Abigail Slorstad.

ECA Review/Shae Fedorak

INDEX

Letter .......................................... 2

Delburne council ........................ 3

Kneehill council ..................... 3, 8

Drumheller Canada Day ............. 4

Hanna council ............................ 4

Stettler county council ................ 5

Stettler Canada Day .................... 5

Classifieds/Careers ..................... 6

Obituary ..................................... 7

Coronation council ..................... 7

Editorial:

Work in

progress

Page 2

Berry Creek

Community

School

graduates

Page 4

Renew Your Living Space

Special Section COMING SOON!

Build 'top of mind' for your services and products

for inside and outside the home, whether it's

renovations or new projects!

Deadline Monday, July 21.

Call your marketing reps NOW!

Judy cell 403-740-2492

marketing@ECAreview.com

Yvonne 403-575-9474

digital@ECAreview.com

Sheree 587-990-4818

contact@ECAreview.com

WWW.WESTVIEWCO-OP.CRS
---
2 July 7'22 HANNA/CORONATION/STETTLER, AB. ECA REVIEW

OPINION

The opinions expressed are not necessarily

the opinions of this newspaper.

R

R

R

R

R

Published by

Coronation

Review

Limited

Subscriptions:

$52.50 in Canada; $98.70 in US;

$183.75 Overseas.

EDITORIAL

Work in progress

Brenda Schimke

ECA Review

Canada Day, a day we come together

to celebrate just how fortunate we are

to live in a country with strong democratic

principles and a high quality of

life. In fact, we are the envy of the

world.

The US News & World Report, annually

rank 78 participating countries as

to which is the best in the world. The

global communications company

VMLY&R and the Wharton School of

the University

of Pennsylvania

"

use both qualitative

and

quantitative

data in their

analysis.

In 2021,

Canada, for the

first time, was

ranked number

one with Japan

and Germany

at number two

and three

respectively.

For six consecutive years Canada

ranked number one in the Quality-of-

Life category which measures

economic stability, public safety,

affordability, income equity, a good job

market, well-distributed political

power, and well-developed public education

and public health systems.

Canada also took first place in the

Social Purpose category which considers

social justice, human and

animal rights, racial equity, gender

equality and religious freedom.

I suspect the government's recognition

and small steps towards

reconciliation with our First Peoples

was significant in pushing our world

ranking up. Very few countries,

Germany excepted, admit and try to

correct past shame.

The country also received high

marks in the Agility,

Entrepreneurship and Open for

Business categories. Agility refers to a

country that is modern, dynamic, progressive,

adaptable and responsive.

In the Open for Business category,

Canada ranked number three,

whereas the U.S. was number 45. The

countries considered the most business

friendly are those that are

perceived to have the best balance

between a stable business environment

and a reasonable cost of doing

business.

Multiculturalism is the bane of the

Alt Right, albeit, it is probably the

number one reason why Canada does

so well in the entrepreneurial and

business categories. The diversity of

students in our universities are great

for employers who are keen to hire

graduates that can bring a range of

diverse perspectives and languages to

their organizations. By accepting and

embracing people from around the

world, it makes Canada much more

agile on the global scene.

White Canadians stopped bearing

enough children to satisfy our work

force needs in the late 1960s making

immigration a

necessity for economic

growth.

But that doesn't

mean Canada is

perfect. We have a

long way to go

towards full reconciliation

with

our indigenous

peoples, stopping

racial profiling of

our black peoples,

the unprovoked

attacks against

people of other religions, and the

growing anger and feelings of alienation

by many white, rural,

Canadian-born citizens.

It will be to Canada's peril if the concerns

of rural Canadians aren't also

taken seriously.

The illegal blockade at the Coutts

border is a forewarning of what could

come if nothing is done. It was made up

of ordinary, usually law-abiding, citizens.

The anti-vax, anti-science,

anti-public health restrictions were not

the underlying cause of this unrest.

They just became the 'coming out'

issues.

Politicians on the left need to judge

less, stop demonizing, hear more, and

sit face to face with rural community

leaders. Strong leadership will always

find points of agreement and effective

compromise.

Politicians on the right need to stop

'Americanizing' and cease the inflammatory

rhetoric against our public

institutions and Canadian democracy.

Rather they should put all their efforts

into finding and delivering real solutions

to address the substantive

concerns of rural Canadians.

Canada is a great country, with as

many warts and problems as any other

country. It will always be a work in

progress. Yet, on the front lines are the

politicians and it will be their rhetoric,

actions and leadership that will significantly

determine Canada's future.

Canada is a

great country, with as

many warts and

problems as any

other country.

- COPYRIGHT NOTICE -

All printed material, written, display advertising and photographs are the sole property of

The ECA Review. No reproduction of this material or layout including social media is permitted

without written consent of the Publisher. Call us for more info.

72 pt

East Central Alberta

EVIEW

60 pt

48 pt

36 pt

Website ECAreview.com

Office Hours Mon. - Fri. 9 am - 5 pm

R

30 pt

4921 - Victoria Avenue

Tel. (403) 578-4111

R

24 pt

Mail: Box 70, Coronation, AB Canada, T0C 1C0

"

LETTERS POLICY • Letters to the Editor are welcomed •

Must be signed and a phone number included so the writer's

identity can be verified. • ECA Review reserves the right to edit

letters for legal considerations, taste and brevity. Letters and

columns submitted are not necessarily the opinion of this

newspaper.

MEMBER OF:

Local Journalism Initiative is funded

by the Government of Canada.

MAIL BAG

Living under 'spectre' of

another sewerage backup

Dear Editor,

Village of Morrin Mayor Chris Hall

states that he feels his main purpose as

mayor is to move the village forward

and always do what is in the best

interest of the village taxpayers.

With this in mind, Morrin council

knew that the sewer lateral (60 plus

years old) from our property belonging

to the village had major blockages,

solid, as well as a sag of some 20 feet

full of water and the sidewalk above

broken and settling. They were aware

of this Sept. 22, 2020.

Despite knowing this the village did

not let us know until repeated requests

from us to know the results of the Sept.

22, 2020 report.

We first requested the results of the

inspection report Oct. 19, 2020. When

we were informed of the blockages we

asked that the village clear their line.

This was March 17, 2021. They

refused, resulting in a sewerage

backup into our basement, May 8, 2020.

Council letter May 26, 2021 refused

to do anything about the blockages.

We notified council May 26, 2021 that

we would have to quit using the line for

disposal of any solids due to our concern

of another sewerage backup and

were renting a portable toilet (costs

incurred of $1811.25 - not including

costs for legal counsel) from May 26,

2021 until the council finally cleared

their line Feb. 7, 2022.

Council and Chief Administrative

Officer (CAO) Annette Plachner had

even related to their legal counsel that

we were not using a portable toilet.

Since Feb. 7, 2022 we only flush fecal

solids and dispose of soiled toilet paper

in a refuse container.

The village's 'go to' contractor for

sewer repairs, TKNT Mechanical, suggested

frequent flushes until repairs

can be made.

Picture this: The sagged line full of

water is about 50 feet from our toilet.

JOYCE WEBSTER

Publisher/Editor

publisher@ECAreview.com

YVONNE THULIEN

Marketing/Digital 403-575-9474

digital@ECAreview.com

As we have a 'low flow' toilet, that is

about 4.8 litres of water each flush.

How many flushes are required to

move solids along 50 feet of line to a

blockage of 20 feet of 3-inch line full of

water and through that into the main

line?

Be informed we have never benefitted

from work on our line as access

to the compromised village lateral is at

the curb.

Are we to do this indefinitely? What

is the 'wear and tear' on our toilet?

In the meantime, we continue to live

under the 'spectre' of another sewerage

backup.

Public Works Foreman Dave Benci

stated that this repair was not in the

village's budget (note: there have been

two budgets set since our problem),

that the 'dip' does not prevent the lateral

from operating normally. (Really!)

The lateral is not perfect but it's

functional. It would cost $20,000 to dig

up (note: the 2021 budget allowed

$5,000 each for four sewer repairs) and

snake is cheaper (snake before or after

backup?). Half the sewers in Morrin

have a dip. Is there evidence supporting

this and are any in as serious

disrepair as ours? and the village has

done everything in its power to accommodate

the Heltons.

As an aside, council implemented a

bylaw to allow new businesses tax

breaks.

We are, to say the least, disappointed

that council has taken this approach.

Council has full knowledge of all the

documentation related to our problem.

Foreman Benci and CAO Plachner are

recorded as making statements that

are inaccurate, misleading, irresponsible

and totally inappropriate.

We are surprised council would

allow this without challenging them.

Howard & Lynn Helton

Morrin, Alta.

BRENDA SCHIMKE

Editorial Writer

JUDY WALGENBACH

Marketing 403-740-2492

marketing@ECAreview.com

STU SALKELD

LJI Reporter 403-741-2615

reporter@ECAreview.com

SHEREE BAILLIE

Marketing 587-990-4818

contact@ECAreview.com

DANIEL GONZALEZ

Reporter 403-700-9460

news1@ECAreview.com

LISA MYERS-SORTLAND

Graphic Artist

R

18 pt
---
ECA REVIEW HANNA/CORONATION/STETTLER, AB July 7'22 3

Golf cart bylaw would not supersede provincial law

Brenda Schimke

ECA Review

A possible bylaw to allow golf

carts on village streets was

resolved at the regular

Delburne council meeting June

28, 2022.

Anthony Purgas, Delburne's

lawyer, was in attendance via

zoom and confirmed miniature

vehicles which includes golf

carts, are disallowed on municipal

streets under the Alberta

Traffic Safety Act and a bylaw

does not supersede provincial

legislation.

Further, Chief

Administrative Officer (CAO)

Karen Fegan reported that the

village's insurance company

advised that if Delburne had a

bylaw in place that allowed golf

carts on their streets, contrary

to provincial legislation and an

incident occurred, the village's

liability insurance would be

null and void.

CAO Fegan said such an eventuality

could bankrupt the

village.

In the best interests of the village,

council will not proceed

with a golf cart bylaw. On the

other hand, municipalities do

and can allow unregistered

miniature vehicles to operate

on municipal property.

Tax sale auction

An unanimous motion was

made to put Plan 4781BK, Block

16, Lot 24 up for tax sale auction

at the assessed value of $246,000.

CAEP

CAO Fegan presented a draft

policy and explained the village

has never had a policy setting

out parameters for choosing a

business representative for the

Central Alberta Economic

Partnership (CAEP) board.

Currently our representative

lives in the county.

In addition to Delburne residency,

council was keen for that

representative to be more

accountable by requiring regular

reporting to council. A

revised draft will be brought to

next month's meeting.

Pavilion in the park

Lots of people have been

calling the village office to book

the pavilion in the park.

There are also other issues

Condo for Sale

#202 5402 - 50 Ave Stettler

2nd floor of Complex. 1 bedroom, den & heated

parking.1008 sq ft. All appliances, hardwood

flooring in living room. Many extras in complex

Call 403.740.3118

such as noise, enforcement, etc.

that will need to be decided

upon. Council referred this discussion

to the Committee of the

Whole.

Abandoned buildings

Council was seeking clarification

from Anthony Purgas as to

whether a municipality had the

right to require insurance on

abandoned buildings. A query

that arose when an abandoned

building in Delburne burned

and caused damage to a neighbour's

property.

Purgas said that municipalities

have the power and

authority to regulate how

people maintain properties and

buildings, but how people protect

their property and the

property of others moves

beyond municipal authority.

Purgas will do further

research and will review

Delburne's nuisance bylaw to

strengthen it as much as

possible.

Private property cleanup

"We are losing money", said

Public Works Foreman, Gary

Rusaw. "The fees have been so

Patrols show vast majority

of people obey traffic rules

Stu Salkeld

Local Journalism Initiative reporter

ECA Review

Kneehill County councillors

accepted a Community Peace Officer

(CPO) report of patrols conducted

during road ban season that the vast

majority of motorists obeyed the

traffic rules. The report was presented

during the June 28 regular meeting of

council.

Debra Grosfield, manager protective

services, presented councillors with

several reports related to policing and

bylaw enforcement, including a

number of RCMP quarterly reports

and Kneehill County's public safety

updates.

"Kneehill County has five RCMP

detachments serving our area; Three

Hills, Innisfail, Drumheller, Beiseker

and Olds," stated Grosfield in her

memo to council.

"Four detachments provide quarterly

reports that they have based on

in relation to council's priorities for

our community. Innisfail provides

reporting however is not applicable to

Kneehill County as theirs is a very

small area. We have included Kneehill

County's public safety activities as

well."

Grosfield explained that Kneehill

County council previously provided

the various RCMP detachments with

priorities that councillors wanted

police to focus on within the

municipality.

"Kneehill County council's priorities

were set in January 2022 as rural

crime prevention – enforcement and

education, community safety through

programs and workshops, presence in

rural communities, building relationships

and partnerships, road safety

and working with Kneehill's community

peace officers in delivery of

enforcement and education," stated

Grosfield.

She noted the RCMP included in the

reports that they are participating in a

KNEEHILL COUNCIL

DELBURNE COUNCIL

body-worn camera project.

Grosfield also discussed the CPO

report that included enforcement

numbers from Jan. 1, 2022 to March 31,

2022 which included 32 stops under the

provincial Traffic Safety Act and of

those 27 were warnings, five were

actual tickets, eight emergency management

events and training, 10 bylaw

and internal department calls in

Kneehill County, 17 bylaw calls for

other municipalities (Acme, Carbon,

Linden, Trochu, Three Hills) and 20

school visits.

There were also nine road ban

exemption requests received with

seven permits issued, totalling about

80 loads.

It was reported that within the

school resource program Officer

Natalie Chubala has created a party

plan guide that includes working with

Alberta Addictions on school presentations.

The Acme bylaw enforcement

contract has changed to no longer

include dedicated weekly patrols, but

as a complaint driven basis.

In a chart submitted to councillors

was information on patrols conducted

from March 16 to May 16, road ban

season, which noted CPOs monitored

$229,000

over 500 vehicles

with just under

500 travelling at

or under the

posted speed

limit. Only about

50 were speeding.

Very small numbers

of motorists

ran a stop sign or

were hauling an

overload.

Councillors

unanimously

accepted the

report as

information.

Funeral Home

Proud to be part of Central Alberta

Family Funeral Services Ltd.

www.coronationfuneralhome.ca

403-578-2928

corofuneralhome@telus.net

Lawyer

E. Roger Spady

Professional Corporation

Barrister & Solicitor

Coronation Mall Coronation, AB

403-578-3131

Office Hours: Tuesday to Friday 9 a.m. to 5 p.m.

Dentist

Dr.McIver

In Coronation (Located in Coronation Mall)

MONDAYS 9 a.m. - 5 p.m.

Call Anytime for Appointments

403-578-3811

cheap that people are happy

to let the village staff do

their snow, weeds and

mowing."

A bylaw will be drafted

proposing an increased base

fee and more appropriate

fees for the use of village

equipment.

Electricity commitment

The village has signed up

for the Alberta

Municipalities Power+

which allows access to

energy pricing from the

CROP LAND

2700 acres -

south of Veteran

4500 acres -

Chinook area

6000 acres -

Cereal area

2400 acres -

south of Hanna

SOLD

Call Dallas Ellerby

Your Farm & Ranch Specialist

403.578.8105

LEGACY DRILLING LTD.

Professional Directory

Chery Southoff

source producer and eliminates

middleman costs. It

starts in 2023.

Solar lights for dog park

Administration will continue

to investigate possible

options as the two quotes

received appeared high.

It was noted ATCO could

be approached as they have

contributed to projects like

this in other communities.

The CAO will do additional

digging.

LAND FOR SALE

GRASS LAND

24 quarters - south of Veteran

16 quarters - south of Veteran

90 quarters - Youngstown area

117 quarters - south of

Youngstown

18 quarters - at Esther

SOLD

SOLD

SOLD

1/4 section of grass - south

of Veteran

www.greaterpropertygroup.com

GREATER PROPERTY GROUP

Water Wells

Pasture Wells

Drilling and Servicing

Jeff Southworth

Phone: 403-854-0172 • Hanna, AB

Phone: 403-396-2254 • Delburne, AB

E-Mail: legacydrillingltd@outlook.com

Emergency 24/hr On Call

Optometrist

CORONATION VISION CLINIC

Dr. Ward ZoBell

Tues & Thurs 10 - 4

403-578-3221

HANNA VISION CENTRE

Eye Health, Glasses, Contacts

Dr. Dennis A. Heimdahl Dr. Ward ZoBell

Tues, Wed 9-4:30; Thurs, Fri 9-4

403-854-3003

Dentist

Our families serving yours!

Phone: 825-300-0049

Email: drballdental@gmail.com

cancow@

xplornet.com

Location: 4913 50 St, Killam AB, T0B 2L0

Mail: Box 389, Killam AB, T0B 2L0

space available

for under $30
---
4 J uly 7'22 HANNA/CORONATION/STETTLER, AB. ECA REVIEW

13

10

A member of the Drumheller Fire Department handing out Canada flags to kids watching the Drumheller 'Uncover

Wonder' Parade that was held on Canada Day on July 1, 2022.

ECA Review/D.Gonzalez

HANNA COUNCIL

Looking to attract new

opportunities to Hanna

Daniel Gonzalez

ECA Review

Mark Nikota, economic development

manager of the Harvest

Sky Economic Development

Corporation, presented an

activity update about their campaigns

and projects to the

Hanna council at the June 29

meeting.

The first topic of the update

covered the marketing campaigns

highlighting the

advantages of moving to Hanna.

The biggest factors that draw

people to live in Hanna are the

low cost housing and the access

to high speed internet.

Nikota says that there are

plans to do a housing study to

see if they can further leverage

different opportunities outside

of affordable housing and the

Hanna Lodge.

Other campaigns to bring in

tourists include advertising the

golf course and tourist attractions,

and attending trade

shows to bring in new visitors.

Nikota also presented information

regarding investment

attraction opportunities that

can make new connections with

different industries.

One industry in particular

that Nikota brought up involved

bringing in cryptocurrency

farms and data mining facilities

into the area.

According to Nikota, the situation

with these systems could

be likened to the gold rush.

"Back in the gold rush days,

some miners made money, some

lost their shirts. But the guys

selling the pickaxes made

money. And that's what we are,"

said Nikota.

Facility business was discussed.

Working alongside the

Prairie Land School Division,

Harvest Sky is looking to make

a dorm facility for international

students that come to Hanna.

Chief Administrative Officer

(CAO) Kim Neill and Mayor

Povachuk discussed the possibility

of having the Hanna

Lodge serve as the dorm, but

logistical issues regarding dorm

supervision, food and other

items were brought up.

The final topic involved the

development of a commercial

kitchen. Nikota spoke with residents

who do catering and

commercial food production for

feedback.

The goal is to turn the Lions

Hall kitchen into a commercial

kitchen space.

There is no cost on this

project yet, but will move on to

drafting the space.

Signage

Council discussed the new

signage proposals that have

been presented and checked to

see if they had any feedback or

changes to the revised version.

The next step of the project

involves creating the tender

package to have the project officially

start.

There are plans to have three

entrance signs for about

$180,000, two gateways signs for

around $24,000 and 17 wayfinding

signs with additional

signage for buildings and parks

for $6,000 each.

The total cost is expected to

be between $400,000 and

$500,000.

Although CAO Neill mentioned

there is no money

budgeted, they intend to use

cost saving measures found

through the Western Economic

Diversification (WED) when the

project first started.

Council is expecting to hear

back the results from the application

in July in order to see

how to proceed with the project.

Input from WED may be taken

into consideration when proceeding

with the project.

If approved, council will need

to spend whatever funds they

receive before March 2023 or

funding will be taken back.

Council moved to proceed

with the concepts.

Additionally, solutions for the

broken LED sign located at the

entrance of Hanna were

discussed.

Turn to Alleyway, Pg 6

Free Camping

Donations for Edmonton

Veterans Food Bank

accepted at the gate

For more information contact Ellie 780-385-1469

sponsored in part by Kinsella Rec and Ag and Parrish & Heimbecker Viking

RURAL

High Speed Internet

Affordable, Anywhere, Any Size

Internet Solutions

Monthly $

55

Fee starting

from

Onsite & Online Tech Services remain available

AHS protocols in place for everyone's safety

Bringing The Future To you

Toll Free

1-800-542-7028

105-2nd Ave West Hanna AB www.netago.ca

Congratulations

GRADUATES

Hon. Nate Horner

MLA Drumheller-Stettler

587-774-0306 Office

Drumheller.Stettler@assembly.ab.ca

BERRY CREEK CLASS OF 2022

Quality

Personal service

Flexibility

Wireless

Fiber Optics

VoIP

Charge ahead,

do your best and take on

the next stage of life,

you have a whole

community behind you.

Special Areas

would like to extend their

congratulations

to the 2022

Special Areas Graduates.

Thank you to Carolside Ranching for their support of the Berry Creek Community School Graduates
---
ECA REVIEW HANNA/CORONATION/STETTLER, AB July 7'22 5

STETTLER COUNTY COUNCIL

MPC balks at summer village map error

Stu Salkeld

Local Journalism Initiative reporter

ECA Review

The County of Stettler Municipal

Planning Commission (MPC)

requested more information about a

proposed subdivision in a nearby

municipality after it seemed the wrong

map was included in the referral. The

matter was discussed at the June 22

MPC meeting.

The MPC is comprised of members

of county council and is chaired by

Coun. James Nibourg.

Development Officer Jacinta

Donovan presented councillors with a

referral for a subdivision within the

Summer Village of White Sands, and

Donovan noted that because of the

Buffalo Lake Intermunicipal

Development Plan (BLIDP) all member

municipalities must be notified of such

subdivisions.

Donovan pointed out the plan caps

the number of development units in

the summer village, and this became

an important point later in the

discussion.

"The BLIDP identified 492 existing

development units within the Summer

Village of White Sands upon adoption

of the updated document on Feb. 10,

2021," stated Donovan's report.

"Further, the BLIDP stipulates a maximum

amount of 505 development

units for the Summer Village of White

Sands."

A letter from the Summer Village of

White Sands signed by Planning and

Development Consultant Leann

Graham stated that the village

requested the county MPC's comments

on a plan to subdivide lot 8, block 7,

plan 0223414 to create three separate

parcels, "as identified on the attached

tentative subdivision plan."

That attached tentative subdivision

plan also became an issue as Donovan

stated Stettler county staff discovered

the map didn't match up with the legal

land description provided by the

summer village.

Parkland Community Planning

Services Planner Craig Teal was in

attendance and stated it appeared the

area marked on the map is not the area

described in the summer village's

letter and therefore it's not clear where

the lots are located.

Teal stated he couldn't answer

whether the letter or map was correct.

He also pointed out that there was no

information provided on how large

each individual parcel will be.

Donovan stated it was assumed the

parcels would be about two acres each.

Board chair Nibourg hesitated to

approve the referral.

"I'm hesitant on this one," said

Nibourg, adding that Stettler county

doesn't know if the summer village is

overbuilt or underbuilt.

He stated Stettler county recently

asked the Summer Village of White

Sands to confirm how many guest

suites they have and whether the

summer village has exceeded the

development unit cap.

Donovan stated Stettler county

hasn't received a response to that

request yet.

Nibourg noted if Stettler county

approves this referral without complete

information and it turns out the

summer village is overbuilt then it

means Stettler county approved that.

Reeve Larry Clarke noted the board

doesn't even know for certain which

parcel this request applies to.

Stettler MPC voted unanimously

in favour of sending

a letter back to the Summer

Village of White Sands

requesting the lot sizes,

legal address and an accurate

map be provided along

with a confirmation of the

summer village's number of

guest suites and development

units.

Board members also

unanimously passed a resolution

that Stettler county

staff report at a future

meeting on how dispute resolution

for BLIDP issues

such as this one may be

handled.

• Hearing Tests

• Medical Referrals

• Hearing Aid Fittings & Ongoing Support

• No Obligation Hearing Aid Trials

• Custom Ear Plugs

• All makes and models of Hearing Aids

• Batteries and Accessories

• Vendor for AADL, DVA

• Vendor for WCB AB and SK,Work Safe BC

• L.A.C.E – (Listening & Communication

Enhancement) training

413 Main Street Three Hills, Alberta

119 2nd Ave. West, Hanna, Alberta

(403) 443-2288

1 (888) 536-MAXX (6299)

hello@maximumhearing.ca

Stettler County complains about wrong map, with

artwork from council meeting in office internal, called

"WhiteSandsWrongMap" ECA Review/Submitted

Maxine Williams-Herbert,

Owner

Registered Hearing Aid Practitioner, BC HIS

HOURS:

THREE HILLS: M-W 9 am - 4:30 pm

HANNA: Th 9 am - 4:30 pm; F 9 am - 3 pm

www.maximumhearing.ca

Follow and like us on

Benton McPhee, centre, and Brandon McPhee helped the

antique baling demo at the Stettler Museum during Canada

Day festivities.

ECA Review/S.Salkeld

In Loving Memory of

Eunice Loreen Campion

March 6 1943 - July 10 2017

A page in a book of memory

silently turns today (July 10),

We remember you in silence

and make no outward show

But still we miss you dearly

As only you would know.

Loved with a love

beyond all feeling,

Missed with a grief beyond all tears.

Forever in our hearts

Husband: Jim

Daughters:

Renee (Lloyd) Greer & Family

Loreen Jones & Family

Andrea (Allan) Layden & Family

Her many relatives and friends.

Caring for you & your Smile!

Formerly Baird Caring Denture for you & Clinic your Smile!

Formerly Baird Denture Clinic

• Dentures • Implant Dentures

• Partials • Relines/Repairs

• Dentures • Implant Dentures

• Partials • Relines/Repairs

We offer out of office appointments to senior lodges

David Ho, DD

(owner/manager)

"Did you know, if you are

65 years or older you might

Over 10 Years experience

We offer out of office appointments be eligible to for senior up to lodges

Call now for your

FREE consultation!

David Ho, DD

100% coverage on a

new set of dentures?"

OFFICE HOURS: MONDAY TO TO THURSDAY 9 - 9 A.M. A.M. TO TO 45 P.M.

FRIDAY - 9 A.M. - TO NOON 3 P.M.

403.742.2351 • 5021-50 - 50 St. St. Stettler

After hours available by appointment only

(owner/manager)

Over 10 Years experience

*After hours available by appointment only at 587.736.0128*

Call now for your

FREE consultation!

"Did you know, if you are

65 years or older you migh

be eligible for up to

100% coverage on a

new set of dentures?"

OFFICE HOURS: MONDAY TO THURSDAY - 9 A.M. TO 5 P.M

FRIDAY - 9 A.M. TO 3 P.M.

403.742.2351 • 5021-50 St. Stettler

*After hours available by appointment only at 587.736.0128*
---
6 J uly 7'22 HANNA/CORONATION/STETTLER, AB. ECA REVIEW

Ph. 403-578-4111CLASSIFIEDS/CAREERSEmail: office@ECAreview.com

Classified Ad Rates

$13.85 + tax for 25

words or less + 20¢ a word

after 25 each week or 3

weeks for $38.55 + tax

(based on 25 words or less).

Reach 75,000 readers with

your classified. This

includes For Sale, For Rent,

Card of Thanks, Coming

Events, etc.

Payment Necessary

All Classified Ads are on a

Cash Only basis and must

be prepaid before running.

There will be a $5.00

service charge on every

classified not paid for prior

to publication.

We accept cash, cheque,

e-transfer, VISA or MC.

It is the responsibility of

the advertiser to check ad

the 1st week and call us if in

error. The Review is

responsible for their

mistakes the 1st week only.

Deadline For Ads

All classified ads must be

received by 5 pm on

Mondays preceding

publication. For Too Late To

Classifieds ad must be

received by 10 am Tuesday.

Ph. 578-4111. Mail to Box

70, Coronation, AB T0C

1C0.

REAL ESTATE

BEST HUNTING in

Saskatchewan right

by Sask River.

Excellent fishing and

very high Deer population.

Thick pine &

poplar bluffs, close

to water coulee. Old

yard site with old

power and water.

Revenue on crop

and hayland. East of

Prince Albert.

$248,000. Call Doug

306-716-2671.

check us out online

www.ECAreview.com

WANTED

NUMISMATIST

PURCHASING Coin

Collections &

Accumulations!

Royal Canadian

Mint, Canada &

World Collections

Wanted. Also buying

9999 bullion, old

money, jewelry, nuggets,

sterling, gold,

silver, coins, bars,

monster

boxes+++Estates

Welcome! Todd 250-

864-3521.

IRONMAN Metal

Recovery servicing

Alberta since 1995 is

picking up vehicles,

railroad, industrial

and farm equipment

(combines, tractors).

We pay $$$ for

scrap. 403-318-

4346.

WANTED: 2

Waterfowl guides

and 4 scouts wanted

from mid-Sept to

mid-Oct. Some

experience required.

Call David at 403-

589-0840 for details.

WANTED Lodging

for 10 people, based

on double occupancy,

from mid-September

to mid-October

central to

Bashaw/Ferintosh.

Kitchen required.

Commercial or private

residence. You

take a nice holiday

or pay some bills.

Call David 403-589-

0840.

FEED AND SEED

ALBERTA FEED

Grain: Buying Oats,

Barley, Wheat,

Canola, Peas,

Screenings, Mixed

Grains. Dry, Wet,

Heated, or Spring

Thresh. Prompt

Payment. In House

Trucks, In House

Excreta Cleaning.

Vac Rental. 1-888-

483-8789.

WE BUY Damaged

Grain - Heated,

Mixed, Tough, Light,

Bugs, Spring

Thrashed....Barley,

Wheat, Oats, Peas,

Flax, Canola. "On

Farm Pickup".

Westcan Feed &

Grain 1-877-250-

5252.

LIVESTOCK

REGISTERED

YEARLING Simmental

Bulls. Fullblood

Fleckvieh, Horned &

Polled, A1 Bloodlines,

Performance EPD's.

Very Quiet. Simmeron

Ranch. Martin 780-

913-7963. www.simmeronranch.ca.

BULLS for sale: Red

Angus, Black Angus,

Polled Herefords,

yearling & 2 Year Old.

Glenrose Polled

Herefords & Angus,

Ken Prichard 780-

608-6080.

BLACK ANGUS yearling

bulls for sale.

Canadian bloodlines,

low to moderate birth

weights, semen tested.

Contact Roger

Spady 780-879-3941.

HELP WANTED

ROCKY MOUNTAIN

Equipment is Now

Hiring: Managers, AG

Equipment Techs,

Heavy Equipment

Techs - Journeyman &

Apprentices, Parts

Techs. View Open

Roles & Apply: www.

rockymtn.com/

careers. Relocation

Offered.

AUCTIONS

WARD'S & BUD

HAYNES Firearms

Auction, Sat. August

20, Edmonton, Alta.

Hundreds of Lots in all

Classes. www.

WardsAuctions.com.

Call Brad 780-940-

8378; Linda 403-597-

1095 to consign.

Proudly sponsored by:

HEALTH

HIP/KNEE

Replacement. Other

medical conditions

causing Trouble

Walking or Dressing?

The Disability Tax

Credit allows for

$3,000 yearly tax

credit and $30,000

lump sum refund.

Take advantage of

this offer. Apply Now;

quickest refund

Nationwide: Expert

help. 1-844-453-5372.

SERVICES

CRIMINAL RECORD?

Why suffer employment/licensing

loss?

Travel/business

opportunities? Be

embarrassed? Think:

Criminal Pardon. US

entry waiver. Record

purge. File destruction.

Free consultation.

1-800-347-2540.

www.accesslegalmjf.

com.

GET BACK On Track!

Bad credit? Bills?

Unemployed? Need

Money? We Lend! If

you own your own

home - you qualify.

Pioneer Acceptance

Corp. Member BBB.

1-877-987-1420.

www.pioneerwest.

com.

Private Mortgage

Lender. All real estate

types considered. No

credit checks done.

Deal direct with lender

and get quick

approval. Toll free

1-866-405-1228;

www.firstandsecondmortgages.ca.

3" wide version vehicles.

Maria Lau is named Direct Energy's

2022 Volunteer Citizen of the Year.

The Volunteer Citizen of the Year Award is presented to an individual who has

made extraordinary contributions to their community. Lau will receive the $5,000

donation from Direct Energy to Rocky Mountain Adaptive.

Read more about Lau, Rocky Mountain Adaptive AND the four runners-up for 2022

directenergy.ca/volunteer-citizen-year-award | awna.com/vcoy

Alleyway speeding a concern

Cont'd from Pg 4

Proposed solutions include spending

$7,185 to repair the broken elements,

$68,700 to replace the sign or $94,142 to

upgrade the sign.

Coun. Sandra Bedouin proposed to

remove the sign completely as she was

against it.

Coun. Fred Crowle suggested that

spending $68,700 for a replacement sign

that would possibly fail seems like a

poor idea.

Mayor Danny Povachuk suggested

investing in the newer sign as opposed

to repairing or replacing the old sign

with the same model.

For now, council decided to find a

temporary solution while they figure

out how to resolve it in 2023.

Speeding concerns

Coun. Kyle Olsen has been

approached by a resident regarding

concerns of vehicles speeding in the

Shacker Crescent alleyway.

CAO Neill mentioned that it is a high

traffic area and that an individual has

suggested placing seasonal and removable

speed bumps.

He has also spoken with the RCMP in

regards to the situation and they intend

to monitor speeds

in the area.

Coun. Olsen

mentioned that

with the high

amount of foot

traffic in the

area, there are

instances where

pedestrians are

almost hit by

One major concern of the council is

the possibility of negative feedback

from the community by placing the

speed bumps.

Although this is an administrative

problem, CAO Neill wanted to bring

this to council's attention before

taking any actions.

Mayor Povachuck suggested waiting

for more information before making a

decision.

WANTED

DEAD OR ALIVE

Canadian Prairie Pickers

are once again touring the area!

Paying Cash For Coin Collections,

Silver & Gold Coins,

Royal Can. Mint Sets.

Also Buying Gold Jewelry

$$ $

We purchase rolls, bags

or boxes of silver coins

PAYING HIGHEST PRICES

To arrange a free, discreet in-home visit

call Kellie at 1-778-257-9019

Bonded since 1967

$$ $

Educational Assistant Position

with The Youngstown Kindergarten Association

2 days/week between September and May.

Further related opportunities may become available.

Compensation will be based on experience and qualifications.

We are currently looking for a responsible, hardworking individual to support

a deaf student in the classroom. Preference will be given to candidates who

have previous experience and have

• Proficiency in, or enthusiasm to learn, American Sign Language (ASL)

• Ability to facilitate communication between

deaf student and other students and staff

• Ability to facilitate the student's participation in the oral world around them.

• Reinforce the educational program by tutoring, adapting, or modifying

classroom materials to meet the specialized needs of the student.

Please submit resumes to youngstownkindergarten@yahoo.ca.

Inquiries can be directed to 403-854-6197.

Competition will remain open until a suitable candidate is found.

Business Directory

3.75" wide version

Bill's Waterwell

Services Ltd.

Well Drilling

Pumps & Repairs

403-747-2120

drillerbill@xplornet.com

53' Ground Load Services

Benson Van Hienen

403-741-5735

bvhtrucking@gmail.com

Big Country Construction

& Building Supplies

2018 Ltd.

• Custom New Homes • All Farm Buildings

• Renovations • Windows and Doors

• Overhead Doors & Service • Retail Sales

Quality Customer Care

403-854-3585

Proudly sponsored by:

UNLIMITED

HIGH‐SPEED INTERNET

Now Serving:

Coronation, Veteran, Talbot, Brownfield,

Alliance, Fleet, Castor, Halkirk, Botha, &

Stettler areas. More to come!

Plans starting at $50/mo.

Packages from 7 to 50Mbps

403-578-4214

Toll Free 866.57.VITAL

Specializing in Commercial Glazing,

Automatic Entrances & Overhead Doors

Installation and Repair

780-753-6888

space available

for under $30

Maria Lau is named Direct Energy's

2022 Volunteer Citizen of the Year.

The Volunteer Citizen of the Year Award is presented to an individual who has made extraordinary

contributions to their community. Lau will receive the $5,000 donation from Direct Energy to Rocky

Mountain Adaptive.

Read more about Lau, Rocky Mountain Adaptive AND the four runners-up for 2022

directenergy.ca/volunteer-citizen-year-award | awna.com/vcoy

Scott Lourance

403-916-4600 Cell

403-742-2551 Home

53' Cattle Liner

53' Ground Load

Hay Trailer

CAN'T SEE OUT?

Option #1

Replace

the Foggy

Unit

Option #2

Replace

the

window

Financing Available

Anchor Glass

403-854-4414 • 1-800-463-3148

www.anchorglass.ab.ca

tim@anchorglass.ab.ca

Ask us about available

discounts.

McSteel

SALVAGE &

CLEAN-UP

LTD.

Wainwright, AB

We Buy

Scrap Metal

Call

780-842-8622

www.mcsteel.ca

• Specializing in Repairs to

ALL Makes & Models of RVs & Trailers

• Full selection of RV Parts & Accessories

• RV Storage

403 742 5667 generationsrv@gmail.com
---
ECA REVIEW HANNA/CORONATION/STETTLER, AB July 7'22 7

Want to

start a

business?

Looking to

grow your

business?

We can

help!

WE OFFER FREE SERVICES FOCUSED ON

MAKING SURE YOU ARE SUPPORTED!

Battle River Innovation Centres are offering FREE 1-on-1 PROGRAMS

to support you in reaching your goals.

Contact us today to see how we can help!

Forestburg:

587-844-2111

cwilkes@breoc.com

OBITUARY

Sparkle in his eyes even though body was weary

William Lorne (Bill) Cummings was

born Jan. 31, 1922, to Shedden and

Mary Cummings at Scotfield, Alta.

He attended school in Scotfield until

Grade 11, when he quit to work for the

Department of Health poisoning

gophers. Bill then worked for the

Gordon family until 1945. In 1946 he

got a job at Special Areas where he

worked until he took over the family

farm in 1959.

Bill married Doris Hutchinson Jan.

12, 1947 and together they raised their

six children. Farm life had its ups and

downs with drought and hailstorms to

name few, but they were very fortunate

to have amazing neighbours that

stepped in to give a hand and Bill

always returned the favour.

Not a weekend went by without

having grandchildren at the farm. The

kids loved spending time with their

Papa and Grandma. Tractor and horse

rides, feeding the cows, lawn mower

races, harvesting the garden, working

in the quonset, playing with the dogs,

and non-stop pranks from Papa.

So many wonderful memories!

Bill had a strong work ethic. Broken

bones, broken hips, shattered heels

could not keep him down. He always

bounced back stronger than ever.

He was an active member of the community,

an Elks member, and served

on the Youngstown Cemetery Board

for years.

The family farm was sold in 2002

and they moved to Hanna. Now that

they were 'retired' they loved visiting

with close friends, having a 'few'

drinks and playing cards.

Bill missed the farm life, so he would

make the trip back to Youngstown as

often as he could to help Lenny on the

farm.

Following Doris' passing in 2006, he

kept the house until 2012 and then

moved into the Hanna Lodge.

In the spring of 2020, during the first

COVID-19 lock down, Bill was

admitted to the Hanna hospital with

severe back pain. From the hospital he

went into the assisted living area at

Hanna Long Term Care.

Shortly after celebrating his 100th

birthday, he was moved into the

extended care wing. Even though his

body was tired and weary you could

often see a sparkle in his eyes and

smile on his face.

Bill passed away peacefully on June

28, 2022.

CORONATION COUNCIL

Appointees needed

Daniel Gonzalez

ECA Review

Coronation council discussed the

appointment of members to the

Assessment Review Board at the June

27 regular meeting of council.

The board, which was established at

the June 13 meeting, will have up to 15

members that can be either appointed

by council or express a desire to join.

These members will serve one-year

terms to prevent stagnation. Members

can also be non-residents of

Coronation.

CAO Quinton Flint will take the

position as clerk since he has completed

the proper training for the

position. A representative from

council or someone with the proper

training will be required to sit on the

board.

A four-day course will be required

for the councillor who is appointed for

the position.

Coun. Mark Stannard will be

appointed as the selected councillor

and will also serve on the Composite

Assessment Review Board.

CAO Flint will inquire with former

councillor, Jackie Brigley to see if she

is interested in the position. Council

will also advertise with the public to

find new members.

Help from town requested

Council moved to approve the

request by the Coronation

Agricultural Society to have town

staff help with the setup of the bullarama

event.

A letter from the Coronation

Agricultural Society has requested

town staff support for the cleanup and

to deliver equipment to the rodeo

grounds.

In the correspondence, they have

asked if it were possible for the town

workers to help clean the bathrooms

in the curling rink. They also

requested help to bring bleachers,

sand and barricades for the event.

Town staff have assisted in the preparation

for the Coronation Fair and

previous bullarama events.

Water penalties

A resident has requested to council

to have the penalties on their water

bill waived.

The property experienced a major

water break with water fees costing

$5,000 alone.

The resident requested the penalties

for February, March, April and May

which cost $452.46 to be waived as they

do not have the financial means to pay

for the cost of the repairs.

Council moved to agree to waive the

penalties on the stipulation that the

resident continue to make payments

on the water fees.

ForallyourWELDINGneedsincluding:

• Portable or in Shop Welding • Oilfield

• Machine Shop • Pressure Pipe Fabrication

• Agricultural • Bolt & Metal Supplies

• ANDNOW Hydraulic Hose Fabrication

cell (780) 753-0929 • shop (780) 753-4749

4444-50th Ave. Provost, AB

24 hour service • East of old Provost Arena

Bill is survived by his children: Gail

Cummings (Jim) Kozak, Lenny

(Elaine) Cummings, Joan Rude, Judy

Cummings and Wendy Mainhood;

grandchildren: Vicki Miller, Sherry

(Ross) Satink, Laurie (Rob)

Palmer, Michael (Charissa)

Cummings, Tara Cummings,

Jennifer Rude, Travis Rude,

Megan (Barrett) Mahaffey,

Christopher Rude, Jessica

(Chris) Bonde, Dustin Greer,

Branden Greer and Brianna

(Jake) Bottomley.

Also survied by great grandchildren:

Ashley (Joel) Henry,

Nicole Miller, Brittney, Shayla

and Colby Satink, Brenden and

Sarah Palmer, Brielle

Cummings, Jackson Rude, Monroe,

McKay and Marlee Mahaffey and Lola

Bottomley; and great-great grandchildren:

Finley and Bauer Henry.

Bill was predeceased by his parents

Shedden and Mary Cummings; his

Ironman Scrap

Metal Recovery

. . . is picking up

scrap again!

Count On Us For

• farm machinery

• vehicles • industrial

Castor:

587-854-3233

asimpson@breoc.com

We Pay

$$$ for

Scrap!

403.318.4346

wife Doris of 59 years; his siblings: Lois

Monroe, Margaret MacKenzie, Lorna

Miller and Don Cummings; his son

Ronnie and son-in-law Robert Rude.

A private family service was held on

Sun. July 3, 2022, in the yard

of the original Cummings

Homestead.

Bill was taken by horse

and wagon from the

Cummings Homestead,

through his hometown

Youngstown and then to his

final resting placing at the

Youngstown Cemetery.

If desired donations in

Cummings memory of Bill can be made

directly to the Youngstown

Cemetery, Box 223,

Youngstown, Alta. T0J 3P0.

Hanna Funeral Services has been

entrusted with the care and arrangements,

403-854-5959, www.

hannafuneral.ca.

Annual General

Meeting of

Suffern Lake

REGIONAL PARK

AUTHORITY

Saturday, July 16, 2022

@ 2 pm - at Suffern Lake Hall

Suffern Lake Park, Sask.

Please join the Board for the AGM, coffee & doughnuts!

East Central Gas Co-op Ltd.

ACCEPTING TENDERS for a

2016 Dodge Ram 2500 4x4

Tenders accepted until 4:00pm

on Friday, August 5th, 2022

Tenders accepted in office, by mail, or by e-mail.

EAST CENTRAL GAS CO-OP LTD.

406 5th Street East Box 190 Hanna AB T0J 1P0

manager@eastcentgascoop.ca 403-854-4411
---
8 J uly 7'22 HANNA/CORONATION/STETTLER, AB. ECA REVIEW

Bin Anchors

KNEEHILL COUNCIL

Extra $135k for equipment, citing high vehicle prices

Stu Salkeld

Local Journalism

Initiative reporter

ECA Review

Kneehill County council

approved $135,000 of reserve

funds to cover the price of

three new vehicles that

came in much higher in

price than expected. The

decision was made at the

regular meeting of council

June 28.

Councillors heard a

report from Mike Ziehr,

director of infrastructure,

who was requesting an additional

$135,000 to purchase

three vehicles that were

included in the 2022 capital

budget but which came in

higher in cost than

expected.

"Kneehill County administration

had budgeted for

the replacement of one

motor grader and two

tandem axle trucks for

2022," stated Ziehr's memo

to council.

"After the capital budget

was approved in the spring,

quotes were received that

exceeded the amount budgeted.

Originally the

tandem trucks were budgeted

for $195,000 each and

the motor grader was budgeted

for $570,000."

According to the memo,

quoted prices came in at

$228,385 each for the tandem

trucks and $628,210 for the

motor grader.

"The unstable nature of

the current vehicle and

equipment purchasing environment

has led to

increased pricing on all

aspects of the operations

department, including the

replacement of equipment

and materials," said. Ziehr.

"Pricing increases of this

magnitude were not

expected and as such, not

budgeted for."

He recommended the

extra funds come from the

capital equipment plan

reserve intended for issues

such as this.

Coun. Wade Christie

asked if multiple dealers offered

trucks in response to the tender.

Ziehr stated there were multiple

options for the trucks and when

county staff inspected the vehicles

the ones included in the

agenda recommendation met

the specifications.

Ziehr noted he did investigate

why some other dealers didn't

respond to the tender at all, and

they explained they couldn't

meet Kneehill County's deadline,

adding that even these

vehicles included in the

recommendation probably

won't be delivered before 2023.

He also stated the quality of the

vehicles is fine.

Coun. Debbie Penner asked

how long Kneehill County

keeps vehicles like these in its

fleet. Ziehr answered that the

current grader has about 10,500

hours on it and that's exceeding

the comfortable level as it

appears 10,000 hours is the

threshold where mechanical

problems seem to crop up.

Both of the current trucks are

around 10 years old with about

360,000 kms on them; he stated

one of the boxes is rusted, one

truck has some electrical issues

and the other truck has been

out of service for work 29 times.

Reeve Jerry Wittstock joked

that if Kneehill County wants to

sell those trucks Ziehr better

stop describing their problems.

Councillors unanimously

approved transferring $135,000

from the capital equipment plan

reserve to purchase the grader

and trucks.

Call Mike

780-385-4664

Don't Let The Winds Bother You!

10 % off

storewide

Bring your

family

and have

lunch on us!

Bouncy castle

on site Friday

Sale Days July 15-16

OPEN

NOW!

100–19453 Highway 12

STETTLER

403-740-1430

Monday - Friday

7:30 to 5:30

Saturday

9:00 to 4:00