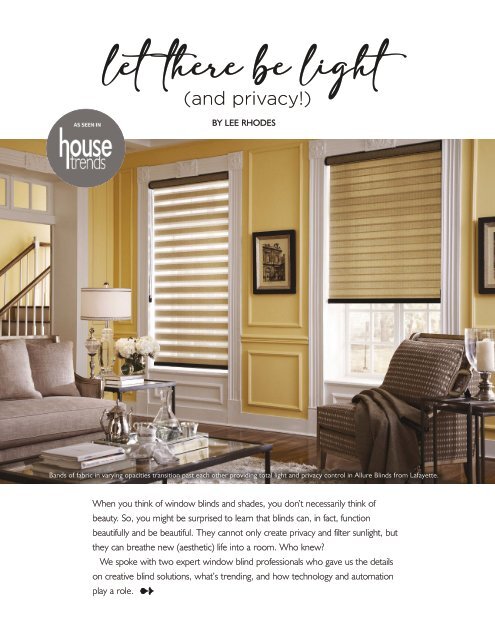 Slats Blind & Shutter Experts
Create successful ePaper yourself
Turn your PDF publications into a flip-book with our unique Google optimized e-Paper software.
let there be light

(and privacy!)

BY LEE RHODES

Bands of fabric in varying opacities transition past each other providing total light and privacy control in Allure Blinds from Lafayette.

When you think of window blinds and shades, you don't necessarily think of

beauty. So, you might be surprised to learn that blinds can, in fact, function

beautifully and be beautiful. They cannot only create privacy and filter sunlight, but

they can breathe new (aesthetic) life into a room. Who knew?

We spoke with two expert window blind professionals who gave us the details

on creative blind solutions, what's trending, and how technology and automation

play a role. ➻
---
FORM AND FUNCTION

Slats Blind and Shutter Experts in

Cincinnati has a transitional shade

known as Allure that is made of

bands of opaque fabric. The look of

transitional shades is not only clean,

but they require virtually no maintenance,

since dust doesn't fall or settle

on vertical surfaces. Slats co-owner

Rudy Forte, who started working at

his father's drapery business as a kid,

likes them so much that he has them

throughout his own home and his

vacation home.

Innovative yet surprisingly simple,

Allure sits snugly and completely

flush with the window and differs

from a traditional slatted blind, being

comprised of two panels of alternating

mesh and translucent fabric.

Manually, or with a motorized feature,

operated remotely or with an

app, homeowners can manipulate the

amount of light passing through the

fabric to allow a preferred amount of

sunlight to fill the space. This style

of shade gives new meaning to the

marriage of beauty and functionality.

Aerolux Blinds and Shades is a family-run

window covering manufacturer

in the Dayton area. They offer

a similar combo blind-shade known

as Shadow Glide. "The bright, clean,

minimalistic look of these blinds

completely transforms the look

and feel of a home," says Sushmita

Jain, owner of Aerolux. "They can

be adjusted to allow all the light in

or block it out—or any interval in

between." ➻

1 This versatile window covering can allow maximum sunlight to shine through or

act as a translucent blind. 2 Tucked above the headrail is a rechargeable tubular

motorized system that allows for remote operation. Both photos: Shadow Glide

Blind from Aerolux.

2 slatsblinds.com
---
1

2

3

4

3 Cellular shades create a layer of insulation which helps keep your home warmer

in the winter and cooler in the summer. 4 Motorized blinds can link to smart home

devices and be raised and lowered with your voice or phone. Both photos: Parasol

Cellular Shades from Lafayette.

slats blind & shutter experts 3
---
STILL-POPULAR STANDARDS

We'd be remiss not to mention the mainstays of the blind world, and the

following remain quite popular: sun-deflecting, energy-saving screen shades;

sleek roller shades; Roman shades with waterfall pleats; and elegant, enduring

plantation shutters, all customizable. Regarding the latter, "The louvres can

range from two inches to up to four-and-a-half inches, for a beachy look," says

Forte. "They also have them with hidden tilt rods [or no tilt rods] so there's no

vertical sight line and you don't have to dust around the rod."

Removing the need to dust may not sound terribly enterprising, but it's just

one of many modern conveniences in the blind world. It wasn't so long ago that

people who wanted motorized blinds had to have them installed as their home

was being built, with wires running up to the windows. Today, rechargeable

battery-operated motors allow homeowners to easily control their blinds, making

installation a cinch and cords non-existent, and smart technology means

you can adjust your blinds from a mobile device app or your voice. "You can be

in Tahiti and can make it look like you're home," explains Forte.

1

1 These transparent, outdoor blinds can withstand heavy wind and rain while giving

you clear visibility of any landscape. Monsoon Blinds from Aerolux. 2 These

shutters, made of sustainable wood, have no visible tilt rod, but use a built-in gear

system for precise light control. Normandy Shutters by Norman. 3 Roman or roller

shades can be custom designed from a collection of over 2,300 fabrics in the Interior

Masterpieces collection from Lafayette. 4 Roller shades are available in a variety

of shapes, patterns and styles. The opacity can be customized from 1% to 10% in

Genesis Shades from Lafayette.

4 slatsblinds.com
---
1 2

2

3 4

OUTDOOR OPTIONS

Lest you think blinds are relegated to indoors, consider Aerolux's outdoor weather solution, the Monsoon Blind. As

the name suggests, this solution, which grew out of a need in the resort areas of the Maldives, was designed to take on

Mother Nature.

"The challenge was to create something non-permanent that can be lowered when inclement weather comes, but goes

completely away when you don't need it, to give you an unobstructed view of your beautiful landscape," says Jain. "It's

made of clear PVC and pleats up like a Roman shade. It can completely close an area to block rain, wind, and in these

parts, snow, allowing homeowners to extend the use of their outdoor space." ➻

slats blind & shutter experts 5
---
1

2

ADAPTIVE SOLUTIONS

Also, in keeping with the times, are the

pandemic's effects on the industry—

yet some of these effects are, thankfully,

positive. First, people are finding

opportunities to invest in their homes,

including in window treatments, whether

incorporating new, creative solutions,

or finally getting around to fixing that

one pesky broken blind. And businesses

have changed the way they do business.

"We're measuring virtually and

designing virtually," explains Jain. "Over

Facetime, Zoom, or by phone, I meet my

client and can tour their home to get an

appreciation for their color palette and

preferred style, and even take measurements.

Customers love this option during

the pandemic."

Finally, if you're considering making

a change to your home's blinds or

shades and you want to make your dollars

stretch, she recommends that you

beautify the main living areas first (versus

areas such as garages, laundry rooms

and even kids' bedrooms, where they

often don't even open their blinds). In

any case, enjoy the aesthetic appeal—

and amazing functionality—of what

today's blinds have to offer.

1 Design Studio Roman Shades are paired with side-panel drapes in the Tree of Life

pattern. 2 Perfect for patios and sunrooms, Designer Screen Shades maintain outdoor

views while providing UV protection.

Both photos this page from Hunter Douglas.

RESOURCES

Slats Blind & Shutter Experts

aeroluxblindsandshades.com

hunterdouglas.com

lafvb.com

6 slatsblinds.com
---
These transitional shades offer solutions for diverse spaces, such as sheer shades that transition to full coverage,

creating two treatments in one. Allure Blinds from Lafayette.

slats blind & shutter experts 7
---
projectSP TLIGHT

WINDOWS

& WOODS

Contemporary great room in Hyde Park

plays with textures and light

BY PEGGY NACHTRAB | Photos by Ross Van Pelt

Lee Grammas found exactly what he was looking for—a space to design and call home

near his extended family and many business interests. The real estate developer and

restaurant owner loves the location, as it is just a short drive to his E+O Kitchen, a

popular Asian fusion eatery just off Hyde Park Square. ➻

8 slatsblinds.com
---
Lee managed to find amongst the stately, century-old

homes of the neighborhood, a hidden treasure where

he could create his modern version of a tranquil place

to unwind. "Construction on the home had just begun

when I bought the property," Lee explains, so he was able

to have creative control from practically the ground up.

The Cincinnatian wanted an environment with a sleek,

contemporary design that evoked a relaxed mood. "Most

importantly, I wanted it to feel like home," he adds.

Wall of light

Immediately upon entering the two-story brick home's

foyer, the natural light pouring in demands to be noticed.

The wall of floor-to-ceiling windows features Allure

Transitional Shades by Lafayette Interior Fashions. "These

particular shades fit Lee's design perfectly," explains Rudy

Forte, co-owner of Slats, a local blind and shutter company.

"They are lightweight, low maintenance and versatile,

giving Lee the flexibility to let in a lot of light and

enjoy privacy," the co-owner of the 25-year-old firm adds.

Making the homeowner's vision a reality is award winning

interior designer Renan Menninger, owner of RM

Interiors. Known for her imaginative, contemporary designs,

Menninger has been working with Lee for 18 months. "I

love creating a clean, crisp look," Menninger explains. Not

only has she collaborated with Lee on every inch of livable

space, including the kitchen and three bathrooms, she also

has furnished it with many one-of-a-kind pieces that all

help create the perfect space for Lee to relax and recharge.

slats blind & shutter experts 9
---
OPENING PHOTO American white

oak flooring with gray stonewash

is featured throughout the entire

home, adding to the airy, bright

ambience.

ABOVE Double windows provide

extra lighting in the kitchen corner.

The custom-made maple dining

table's forward positioning practically

invites guests to take a seat.

Overhead, ultra-thin lighting blends

seamlessly with horizontal cabinet

hardware and shade design.

RIGHT Cedar, maple and white oak

woods meet beneath the fireplace.

The floating custom maple hearth is

made from the same wood as the

dining table, subtly connecting the

rooms.

10 slatsblinds.com
---
projectSP TLIGHT

To no surprise, Lee's favorite spot in his home is the great room. A focal point is,

undeniably, the chic, linear gas fireplace, framed by possibly the most understated yet

dramatic room feature. Resting on the floating custom maple hearth is a 10-foot Shou

Sugi Ban treated cedar plank. This exotic, gator-textured wood adds a gorgeous accent

to this minimalist home. "I like to feature mixed materials throughout to add depth

and contrast," Menninger explains. The designer's creativity is nowhere more apparent

than where the cedar, maple and American white oak meet. These three custom woods,

all beautifully placed, help Lee realize his dream of a serene place to call home.

ABOVE The entire wall

of floor-to-ceiling windows

features Allure Transitional

Shades by Lafayette Interior

Fashions in anthracite gray.

The lightweight, versatile

blinds, shown here in the

closed position, require

no dusting and are the

perfect complement to

the home's design.

RESOURCES

Blinds Slats Blind & Shutter Experts; Interior design, furniture and accessories RM

Interiors; Sound system and security Legacy Custom Entertainment and Security

slats blind & shutter experts 11
---
SLATS

Blind & Shutter Experts

See why Cincinnati's finest homeowners choose

The

Story

After 13 years in the industry as installers,

business partners Tom Huber and Rudy Forte

founded on a "no frills" approach to

business. There are no pressure sales: just quality

products at competitive prices and a commitment

to trustworthy and reliable service. It is a basic

philosophy based on genuine customer service

that has served the company well.

Buy from and if you ever have a blind that

doesn't work properly, we'll fix it for free —for as

long as you live in your home! That is the

warranty!

• Free In-Home Consultation

• Lifetime warranty by Slats

(Motorized blinds 5 year warranty)

• Competitive Pricing

• Expert Installers

• Work with top builders and designers

• Local owners working together since 1994

• Servicing Greater Cincinnati, Dayton and the

Tri-State region.

11928 Montgomery Rd., Cincinnati 45249 « 513-616-9835 « www.SlatsBlinds.com

Showroom Hours

Monday, Wednesday & Friday from 11 am – 4 pm

Tuesday & Thursday by Appointment

Saturday from 11 am – 3 pm, Closed on Sunday

OJ2022.22103