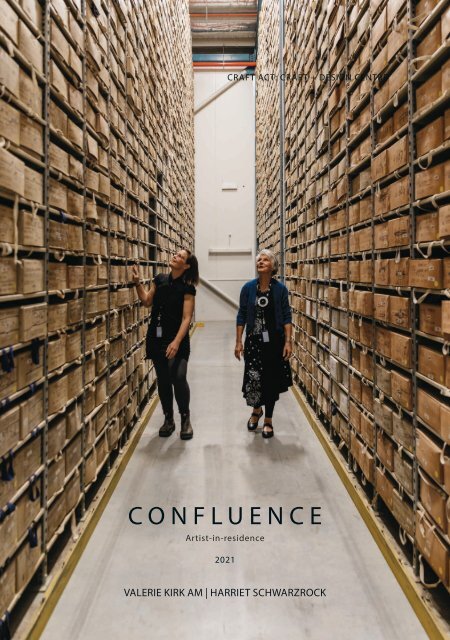 CONFLUENCE
The exhibition CONFLUENCE is the culmination of Craft ACT's 2021 Artist-in-Residence program showcasing the work of Valerie Kirk and Harriet Schwarzrock which is the results of their engagement in the two-part residency project - researching at Geoscience Australia and creating in Namadji National Park.
The exhibition CONFLUENCE is the culmination of Craft ACT's 2021 Artist-in-Residence program showcasing the work of Valerie Kirk and Harriet Schwarzrock which is the results of their engagement in the two-part residency project - researching at Geoscience Australia and creating in Namadji National Park.
SHOW MORE
SHOW LESS
Create successful ePaper yourself
Turn your PDF publications into a flip-book with our unique Google optimized e-Paper software.
CRAFT ACT: CRAFT + DESIGN CENTRE

CONFLUENCE

Artist-in-residence

2021

VALERIE KIRK AM | HARRIET SCHWARZROCK
---
CRAFT ACT

2021 ARTIST-IN-RESIDENCE

Valerie Kirk AM

Harriet Schwarzrock

LOCATIONS

Gudgenby Ready-Cut Cottage, Namadgi

National Park, Australian Capital Territory

Geoscience Australia

RESIDENCY PARTNER (SINCE 2006)

ACT Parks and Conservation Service

2021 RESEARCH PARTNER

Geoscience Australia

CRAFT ACT RESIDENCY TEAM

Jodie Cunningham (CEO + Artistic Director)

Meagan Jones (Assistant Director)

Welly McGarry (Gallery + Retail Manager)

PUBLIC PROGRAM

Gudgenby Ready-Cut Cottage open day

24 April 2021

EXHIBITION

CONFLUENCE

Craft ACT: Craft + Design Centre

7 July-27 August 2022

Craft ACT: Craft + Design Centre acknowledges the

Ngunnawal people as the traditional custodians of the

ACT and surrounding areas. We honour and respect

their ongoing cultural and spiritual connections to this

country and the contribution they make to the life of this

city and region. We also acknowledge other Aboriginal

and Torres Strait Islander peoples that have made

Canberra their home and we aim to respect cultural

heritage, customs and beliefs of all Indigenous peoples.

Craft ACT: Craft + Design Centre

Level 1 North Building

180 London Circuit, Canberra

www.craftact.org.au

T (02) 6262 9333

Craft ACT shop + gallery hours

Tuesday to Friday 10am–5pm

Saturday 12–4 pm

Publisher: Craft ACT: Craft + Design Centre

Graphic Design Template: Amy Cox

Printing: Bytes 'n Colours

ABN: 33 314 092 587

© Craft ACT: Craft + Design Centre 2022

Cover image: Harriet Schwarzrock and Valerie Kirk at

Geoscience Australia. Photo: 5 Foot Photography

2
---
CONTENTS

INTRODUCTION

Jodie Cunningham, CEO + Artistic Director,

Craft ACT: Craft + Design Centre

4-5

PATTERNS IN NATURE

Peter Cotsell, Regional Manager Southern Parks ACT,

ACT Parks & Conservation Service

8-9

ANCIENT ROCKS & LIFE

Steven Petkovski, Curator, National Mineral & Fossil Collection

Geoscience Australia

ESSAY: CONFLUENCE

Penny Caswell

12-13

18-22

ARTISTS' REFLECTIVE ESSAYS

Valerie Kirk AM

Harriet Schwarzrock

23-29

ARTISTS: STATEMENTS AND BIOGRAPHIES

Valerie Kirk AM

Harriet Schwarzrock

30-37

ACKNOWLEDGEMENTS

38-42

3
---
4
---
INTRODUCTION

Jodie Cunningham, CEO + Artistic Director, Craft

ACT: Craft + Design Centre

Confluence, the meeting of two - a place where

collaboration and innovation merge to create space to

honour and pursue creativity.

Craft ACT: Craft + Design Centre is delighted to

present the outcomes of another wonderful year of

our Artists-in-Residence program, a rich collaboration

with ACT Parks & Conservation and, our research

partner in 2021, Geo Science Australia. The strength

of the Artist-in-Residency program lies in the complex

collaboration between institutions, governing bodies,

artists, the landscape, craft and design. The threads

of interconnection and spirit of collaboration shape

innovation and provide value - contributing to

community wellbeing and identity.

invigorating their creative spirits and generating new

artistic direction.

My heartfelt thanks goes to our 2021 artists, Valerie

and Harriet, whose exhibition showcases the spirit of

the Artist-in-Residency program: a unique experience

building collaboration, fostering innovation, and

championing the intrinsic value of the arts. Their

significant contribution to the creative life of Canberra

and Australian culture, helps us to embed craft and

design at the centre of everyday life.

Thank you also to our freelance writer, Penny Craswell,

for her wonderful exhibition essay that give us an insight

into the process and works of art.

This year's program features the work of artists Valerie

Kirk and Harriet Schwarzrock who engaged in a two-part

project, involving research at Geo Science Australia

and reflection in Namadji National Park. After delving

into the hidden treasures of Geo Science's National

Mineral and Fossil Collection; Valerie and Harriet spent

time in Namadgi National Park's Gudgenby Ready-Cut

Cottage, exploring and making art; taking with them a

deeper understanding of the geological attributes of the

landscape, which engendered new ways of looking and

creatively engaging with the environment.

Our sincere gratitude to our Artist-in-Residency partners

Geo Science Australia and ACT Parks and Conservation,

particularly Dr. Steven Hill, Dr. James Johnson, Steven

Petkovski, Natalie Schroeder, Brett McNamara, Melissa

Barton, Peter Cotsell, and Wade Young.

And finally thank you to the incredible team at Craft ACT

- the board, staff, artist members and partners.

The resulting exhibition CONFLUENCE embodies the

essence of the Artist-in-Residency program showcasing

the profound impact of sustained immersion in

the collections of Geo Science Australia and the

environment of Namadgi National Park on the work of

both artists. Exploring new ideas, research, and material

the residency gave space and time for the artists to

experiment, explore, and develop a deeper relationship

with the landscape, their practice, and themselves –

Page 4-7: Open day at Ready-Cut Cottage, 2021.

Photos: 5 Foot Photography

5
---
6
---
7
---
PATTERNS IN NATURE

Peter Cotsell, Regional Manager Southern Parks

ACT, ACT Parks & Conservation Service

Residency partner since 2006

We are all custodians of the world's protected areas – but

are we clear about our roles, the decisions we can make

and what we can do to help protect them during the

short time we have here. Global leaders are setting goals

and targets to address climate change, green advocacy

groups are actively lobbying for change and local

champions are working in national parks and reserves,

installing solar panels, planting trees and simply turning

off lights and walking instead of driving to the local

shops. How do we know though that what we do

will directly help protect our streams, our corroboree

frogs, brush tail rock wallabies and the precious alpine

bogs that give life to small mammals and crustaceans,

and cleanse the water that makes our morning cup of

coffee taste so good! Simple answer is that we don't

know. We are navigating our way through a period of

mass transition where glaciers are melting faster than

ever and we are experiencing intense, unseasonal and

unprecedented weather events. We don't know what's

next! But locally, and right now we are experiencing a

landscape in full recovery. Science is telling us many of

our endemic species are recolonising areas experiencing

prolific growth and rejuvenation. The catchment is

at 100% saturation, the rivers are flowing and the

lyrebirds in the valleys and mimicking! So is it time for

us to rejoice? A few extra minutes in a hot shower, the

convenience of a car or the 15c plastic bag in Coles. No!

The decision you make today should be the one we

commit to the future - a commitment to remove one

small threat, a plastic bag or a ton of carbon, that will

give our protected areas the best chance of survival and

the ability to transition into naturally whatever comes

next.

Artists are custodians of the past, they bring us into

the moment and are conduits that bring medium to

meaning. What are your roles in helping us protect

Namadgi and the world's protected area network.

Page 9: Namadgi National Park, 2021. Photo: 5 Foot

Photography

Page 10-11: Harriet Schwarzrock, Jennifer Kemarre

Martiniello, Sharon Peoples and Valerie Kirk at open day,

2021. Photo: 5 Foot Photography

8
---
9
---
10
---
11
---
12
---
ANCIENT ROCKS & LIFE:

Steven Petkovski, Curator, National Mineral & Fossil

Collection

Geoscience Australia

2021 Craft ACT Research Partner

A science-oriented organisation like Geoscience

Australia may seem like an unlikely collaborator for Craft

ACT's artist-in-residence program. However, as scientists

we utilise physical and digital information to draw

conclusions on our history and significance to better

understand the past and through that, the future. In this

we have a shared purpose to artists, who translate and

give meaning to places and experiences across space

and time, helping us understand the world around us.

It was an absolute privilege to host and collaborate

with these two very talented artists and watch them be

inspired by our Earth science research and our National

Mineral and Fossil Collection – which hosts over 60,000

specimens dating back over the past 100 years.

Valerie and Harriet were excited to see and experience

our extensive collection of fossils, minerals, gemstones,

meteorites, rock samples and historical items. It was

a particular highlight taking them to explore the

Woolshed Creek A.C.T fossil site, where a 427 million

old, well-preserved and diverse fossilised animal

community now lies almost 600 metres above sea level.

Both artists also took advantage of our extensive rock

thin section collection to view wafer thin slivers of

rocks from Namadgi under the microscope up to 200x

magnification.

Valerie's interest in palaeobotany made it especially

wonderful to share with her some of the gorgeous plant

fossils amassed over the decades by researchers such

as Dr Mary White which demonstrate Australia's ancient

past when we were once part of the super-continent of

Gondwanaland. It was a real pleasure showing Harriet

our fluorescent minerals which explode into bright and

vivid colours under ultraviolet light – not unlike the

incredible colours in some of her works of art.

The team at Geoscience Australia have learnt so much

from watching Valerie and Harriet explore and interpret

our scientific work and collections with a fresh new

perspective. As a scientist it can be easy to forget the

way other people might respond to the mysteries of

geoscience, but Valerie and Harriet were able to show us

new ways to understand and appreciate the treasures

that we work with every day. Watching them take their

inspiration from our collection and turn that into works

of art has been an honour.

The future and value of geoscience can only be realised

if Australians know about and engage with the work that

we do. As the nations trusted advisor on the geology

and geography of Australia and the custodians of the

National Mineral and Fossil Collection, we strive to make

Earth Science available to all Australians. The artwork

produced by Valerie and Harriet through this program

transforms geoscience and natural history specimens

into accessible, tangible, and thought-provoking objects.

We thank them both for allowing us to see into their

worlds, and for entering ours with such grace and joy.

Page 12-16: Geoscience Australia. Photo: 5 Foot Photography

13
---
14
---
15
---
16
---
17
---
18
---
CONFLUENCE

An Essay By Penny Craswell

An artist's residency has a particular power that comes

from a confluence of different factors. There's the

location – often just being in a different place can

give you a new perspective. Then there's time – the

purposeful clearing of schedules can have a big impact

when it comes to the pursuit of creativity. Then there's

company – learning and inspiration can come from

interesting conversations with people you meet on a

residency. And the combination of these three factors

– a new location, time to think and work, and new

conversations – can have a fundamental change on an

artist's practice and work.

For textile artist Valerie Kirk and glass artist Harriet

Schwarzrock, the 2021 Craft ACT Artist-in-Residence

program gave them the opportunity to spend three

weeks at the Gudgenby Ready-Cut Cottage in Namadgi

National Park, bookended by time spent at Geoscience

Australia. The cottage was built in 1927 and has been

the site of the Craft ACT Artist-in-Residence program

since 2006. It is located within the stunning landscape

of the national park, about 30km south of the Namadgi

Visitor Centre. "I love being in the National Park," says

Valerie Kirk. "I've been there several times before, but I

realised there was a lot more I wanted to explore." Harriet

Schwarzrock says: "We had the luxury of the time and

space to walk in almost any direction. It felt like we were

very remote, which is, in itself, a treat."

with more than 80 per cent of the Namadgi National Park

burned and then two days of pouring rain doing even

more damage. It had a particularly fascinating effect on

the boulders, with the fire scorching and cracking the

granodiorite rock with such high temperatures that,

in some places, the rock has sheared off a layer like an

onion skin. "The fires created such destruction," says

Harriet. "It laid bare the landscape and you were made

aware of the geology because of the fires."

The three weeks that the two artists spent in a cottage

were productive and harmonious. After spending the

first couple of days walking and talking, the two artists

fell into a rhythm of walking and working alone during

the day and coming together in the evenings. They

took it in turn to cook dinner, while the other made

the fire, then they ate, talked and worked together in

the evenings. "We would both be working with some

conversation and exchange of ideas," says Valerie. "We

respected each other's space and had quiet times and

interaction."

In this part of Namadgi, granite outcrops and overhangs

are a significant geological presence in the landscape.

The 2019–2020 fires had a significant impact on the land,

Page 18: Valerie Kirk OAM, Rocks and Namadgi, 2022. Photo:

Fiona Bowring

19
---
As well as living together in the cottage, the time at

Geoscience Australia also had an important influence on

the work of both artists. There were two days of lectures

and talks at the beginning of the residency, then another

period of time when they could go anywhere they

liked, look at the collection and talk to staff. Both artists

were able to spend time looking through Geoscience's

extensive National Mineral and Fossil Collection. This

experience, both before and after the residency in

Namadgi, can be seen in the works that the artists

created on returning home.

Valerie Kirk has created four major tapestries, the largest

of which has a lower section depicting plant fossils and

specimens from the Mary White collection at Geoscience

Australia and her book, Australia's Fossil Plants. The

tapestry's middle section has plants in white on green,

which references vintage educational charts and a strip

at the top shows a panorama view from Gudgenby valley

to the hills and mountains on the horizon.

A second, vertical tapestry to the right continues this

panoramic view at the top, while the rest of the work is a

representation of rocks found in the park. "Usually when

preparing to weave, I would make a detailed drawing

then enlarge this to full scale as a digital print that sits

behind the warps as a guide for weaving, but this time,

there was nothing behind the warp – the rocks were

on the floor of the studio and I was weaving from them

directly, just trusting my intuition."

The last two, long thin vertical tapestries to the left of

the centrepiece are of the same landscape at night and

in the day. The tall narrow shape of the tapestries is

inspired by the core samples of rock that are found in the

Geoscience Australia collection.

Harriet Schwarzrock has created three works as a result

of the residency, one a series of drawings, one of small

copper sculptures and one of glass and mixed media.

The drawings were made on site at the cottage. One

rainy day, Harriet began mark making on large square

format paper using long free strokes of ink and then

putting these out in the rain to see how they weathered.

Video of the raindrops on paper show how the water

makes the ink bleed, while the sound they make is very

pleasing.

A second series of small copper sculptures was directly

inspired by the copper specimens at Geoscience.

Harriet brought to the cottage some reclaimed copper

wire mesh, which she pulled apart in her 'un-weaving'

pieces, works also inspired by the burnt landscape of

Namadgi. Her third body of work is a combination of

made and found pieces including neon text, reading

'Impermanence', 'Tenuous' and 'Transitory' in neon (made

by Steven Cole) and then combined with a variety of

materials in a box, prompted by the way the specimens

at Geoscience are boxed up.

Interestingly, both artists specialise in a form of art that

is difficult to transport on residencies – Valerie creates

tapestries using large looms, while Harriet is a glass artist

who needs specialised equipment to create work. This

meant that both artists were returned to the basics of

their art practice – to thinking, to conceptual work, to

drawing or mark-making, or working with materials, like

copper wire, that are more transportable.

In Valerie's work, this can be seen in the depth of

ideas that inspired the final work – the time that she

spent in research, reflection, drawing, note-taking and

cataloguing has all informed her final works. For Harriet,

the residency gave her the impetus and inspiration to

work in mediums other than glass art, including ink on

paper and metal sculpture, but also mixed media with

glass. In the end, both artists have created extraordinary

works drawing on the beauty of the bush and what they

learned about geology, but also on universal themes of

deep time and landscape as place.

Page 21: Harriet Schwarzrock, Impermanence, 2021. Photo:

Brenton McGeachie

20
---
21
---
22
---
VALERIE KIRK AM

REFLECTIVE ESSAY

The appeal of a residency is a deep immersion in a

new, stimulating environment to discover, learn and

completely focus on experiential learning and creative

development. Carving time away from everyday life frees

up thinking and making space. The usual lists, demands.

and commitments are left behind and each day of the

residency becomes more focussed as I concentrate on

the project. In this way the time as an Artist in Residence

is a precious gift and a great privilege.

In the first and final parts of the residency I explored

the collections at Geoscience Australia, learned about

the earth and its vast history through maps, satellite

photos, core samples, specimens, aerial and underwater

photography, artists' impressions, scientific illustration,

views through microscopes, the library, data collection

and analysis. The days were filled with introductions to

areas of the organisation and the people with specialised

skills and knowledge. From viewing macro bulk storage

(vast areas holding the collection) to seeing the thinsection

microscope slides, the experience was revealing

and so stimulating.

Behind a door with the sign, National Mineral and Fossil

Collection, lies a Wunderkammer of micro fossils, bones

from megafauna, Antarctic rock, silicon impressions,

plaster casts, 3 D printing and actual specimens.

Within the giant Compactus drawers the Gardner and

Bruce Barnes thumbnail gemstone collections were

immediately captivating – a world of minerals in pieces

no bigger than your thumb nail, carefully presented and

labelled, drawing the eye in to examine and wonder at

the shapes, colour, lustre, transparency and structures.

There I found my special place and in quiet times on

my own I selected rocks, gemstones and fossils to make

observation studies.

Through my interest in fossils we visited Woolshed Creek

with its exposed beds of ancient marine fossils in Middle

Silurian mudstone, part of the Canberra Formation.

The casual walker could easily miss the brachiopods,

trilobites, pelecypods, corals and bryozoan fossils, but

guided by Geoscience Australia experts and down on

hands and knees the ancient world from 427 – 433

million years ago was revealed.

In the first week at Namadgi National Park, I had the

dilemma of how best to spend the precious time there

– walking and exploring? Drawing and recording? Or

settling and making? By week 2 the days had developed

a rhythm of going out through the day, stopping to

draw and make notes, take in the long vistas and close

up details, eagles circling above, grasses and withering

plants in autumn below my feet.

With freedom to work spontaneously, I experimented

with Gelli prints using grasses and leaves, charcoal

rubbings from burnt tree trunks and immediate, playful

weaving of colour and land texture on a small frame.

In the evenings, with the fire providing warmth, I could

settle at a table covered with a small collection of rocks,

feathers, dried plants and art materials. I reflected in a

sketchbook on the day and speculated about possible

ideas and new works. Studying maps, books and objects

I worked on more detailed watercolour, pen and ink and

mixed media pieces.

Image: Valerie Kirk at Geoscience Australia. Photo: 5 Foot

Photography

Page 24-25: Valerie Kirk's photos at Geoscience Australia. Photos:

Courtesy of the artist

23
---
A special early morning ritual was sitting on the front

porch, rugged up with hot tea watching the valley come

to life as the sun came up over the mountains, kangaroos

grazing nearby and sometimes the dingos coming down

the slope on the other side of the creek. With pastels

and small strips of paper I quickly tried to capture the

changing light as the mist rolled away.

My favourite discovery was an area where Hospital and

Boboyan (Dry) creeks meet. Here two geological areas

meet with rocks that have been washed and tumbled

clearly showing the Granodiorite of one area and the

Sandstone, Slate, Chert, Limestone and Quartzite of

the adjacent area. Playfully I picked up and arranged

a sample of shapes, colours and sizes, thinking about

British sculptor Andy Goldsworthy and his ephemeral

works in the environment.

In the last days at Namadgi National Park ideas were

coming together and I raced against the clock to

complete wax resist and Indian ink drawings looking

from the back of the cottage towards Yankee Hat, do

larger rubbings of rock surfaces to draw plant fossils on

and notate the shapes of the dried out plants on the

ground. I worked quickly on collages and gathered the

information I needed to take back to the studio to start a

new body of work.

The residency combining time at Geoscience Australia

and Namadgi National Park provided the perfect match.

From the obvious links in rocks and geology, I discovered

more specific interests in the immense expanse of time

before us, the changing seasons, night and day – shifting

and changing land. Being present, aware and curious

gave me fresh inspiration, joy in discovery and the

rewards of creating new work.

As I sadly packed to leave and locked the gate to

Gudgenby Cottage I felt brimming full of possibility.

Through the heightened experience I took with me a

renewed sense of connection to our natural world and

the people who have lived on the land and travelled here

before us.

I felt again the freedom I had as a child in the Southern

Upland hills of Scotland – being able to roam, absorb

everything around me and reconnect with art, science

and nature. But this is a different land that I inhabit now

and I have so much more to learn. Like the Bogong moth,

I hope to keep returning.

24
---
25
---
HARRIET SCHWARZROCK

REFLECTIVE ESSAY

I wish to pay my deep respects to the traditional

custodians of this region, the Ngunnawal, Ngunawal

and Ngambri elders past and present, acknowledging

their connection to the land and waters. This artistresidency

holds a dream-like quality of in-between-ness,

overarched with a spirit of generosity. I am grateful to

the different rhythms afforded by with these varied

experiences.

I learnt more about light than I expected, and the

relationships between atmospheric conditions of how

matter is changed by physical processes. At Geoscience

I was able to experiment with UV light, revealing the

fluorescent minerals in the in the darkened collection

space. Witnessing the transformation from darkness

to an other-worldly glow. I had the properties of

polarisation and birefringence explained, so that I could

momentarily understand the magical characteristics that

I witnessed within the delicate slivers of stone. Where

sections of boulders from the Namadgi region, polished

into 'slides that contain a very thin section of a rock. The

section is approximately 30 µm thick, so thin that light

can pass through the rock when it is examined under a

microscope' . Set upon an illuminated background and

greatly magnified, their earthly kaleidoscopic beauty

held me enthralled. Imagine gazing through seemingly

solid material to see iridescent, delicate, and ephemeral

structures.

At Namadgi I walked upon that same material. After

driving through the fire ravaged landscape, where the

extremes in temperature split the boulders, cleaving

them asunder, their onion peel shards piercing the

earth, we arrived at the oasis around the cottage. I

was struck by how the Rangers spoke about fire as an

agent of change . That despite devastation, there is

transformation. Explaining that even the trees exhibit a

particular type of circular epicormic growth in response

to such catastrophic fire events.

Frederick Chapman and Irene Crespin .

At Namadgi I walked from dark, through fog into the

dawn, drinking in the solitude and the shifting light.

Early one morning I found myself undeniably yet

exquisitely lost in a bright white inescapable light. But

it was at the other end of the day that I worked to bring

glimpses of neon into the landscape, reflecting upon the

devastating fire damage this region suffered. I waited

till dusk, readying to take polaroids of searing neon

illuminating crevasses. Using a solar pack to illuminate

between the peeling rocks, surrounded by darkness, red

shadows and the eery not too distant howls of dingoes.

These experiences were distinct and detailed yet

overlaid with ephemeral atmospheric interactions. The

gleaning of information, unexpected conversations,

interactions with light, and transformation of matter. My

intention is that some of these dialogues are apparent in

the objects that I was able to produce.

1. Geoscience Australia holds a collection of petrographic thin sections

prepared from rock samples that have been collected over many decades.

These have been collected primarily from within Australia as part of our

work programs. …The collection currently contains over 50 000 catalogued

rock thin sections, with more continuing to be produced and catalogued.

The thin section collection is a valuable resource that can be used to study

rocks that have been sampled over a large geographic range.

Geoscience Australia, September 21, 2018. Commonwealth of Australia.

https://www.ga.gov.au/data-pubs/nmfc/about#heading-4.

2. Craft A.C.T. and Namadgi Open-Day 2021

3. The first two Australian Commonwealth Palaeontologists,

Frederick Chapman and Irene Crespin, worked and also published the

Palaeontological Bulletins between 1932 and 1938.

https://www.ga.gov.au/data-pubs/library/legacy-publications/bulletins

I recalled the evidence of fire damage at Geoscience too,

where charcoal and smoke damage rimmed the historic

cabinets held in the basement. Particularly that of the

historic collections of Australia's early palaeontologists

Image: Harriet Schwarzrock at Geoscience Australia. Photo: 5

Foot Photography

Page 28-29: Harriet Schwarzrock's photos at Geoscience

Australia. Photos: Courtesy of the artist

26
---
27
---
28
---
29
---
30
---
VALERIE KIRK AM

ARTIST STATEMENT

Time, Place, Evolution, Past Present and Future:

Central to Valerie Kirk's work is her investigation of time,

place and culture as a Scottish migrant to Australia. In

this body of work, fossils, seasons, night and day, texture

and details of the natural environment are used to

explore our place in a changing world.

The residency has allowed Kirk to change direction and

embrace new ways of working - incorporating found

objects, colour and texture – expressing the feeling of

a place and sense of time……… organic, illusive, the

experienced and the unknown.

As preliminary research for the residency, Kirk studied

Mary E White's books on Australian plant fossils

tracing the 400-million-year evolutionary history from

submerged life in water to our present plant diversity.

White said, "By entering the world of fossils, one gains a

new and humbling perspective". For Kirk the plant fossils

provide a tantalising view into the immensity of time

and a perspective on delicately balanced ecosystems and

their vulnerability to changing conditions in our present

time. Australia's Prehistoric Plants with its photographs

and illustration and viewing Mary E White's plant fossil

collection in the bulk storage area 17113 Bay 2 was an

inspiration and became a reference for drawings and

imagery in tapestry.

At Namadgi National Park, Kirk was drawn to the surfaces

of the Grandiorite seen in dramatic forms and weathered

boulders known as Tors. The rocks, exposed through

the process of uplift, are weathered and shaped by fire

and rain –solid but ever-changing. On the ground the

texture and colour of plant life withering in autumn, the

changing weather and light, rhythm of night and day

reflect the cycles of time passing. Exploratory drawings/

collage/tapestry were produced to distil the experience,

explore observations and experiment with visual forms.

Later in the studio decisions were made about ideas

to develop into the designs for tapestries. The graphic

compositions and colour schemes of vintage educational

charts from the 19th and 20th century were referenced.

They provided the format and visual style to tell the story

of deep time, the land under foot and the large scale

view into the distance – past present and future, here

and now, moving and changing. The collage designs

were scaled up and woven with selected plied fine yarns,

blending colour and using the material qualities of wool,

cotton and linen.

Image: Valerie Kirk in Studio. Photo: Fiona Bowring

31
---
32
---
VALERIE KIRK AM

BIOGRAPHY

Valerie Kirk AM is a Scottish born Australian artist who

explores ideas about moving between two countries,

identity, place and time. She completed a degree and

post graduate studies in art, design and woven tapestry

at Edinburgh College of Art, then came to Australia to

weave at the Australian Tapestry Workshop where she is

now a board member.

As a tapestry weaver and artist she has an international

profile and her work is held in many public and private

collections in Australia and overseas. Polka Dots and

Carp is in the National Gallery Australia collection, six

commissioned tapestries hang in ANU University House

and The Crimson Carpet, part of the project, To Furnish

a Future is at Government House, Sydney. Her work on

community tapestry projects resulted in major works

in the UK and Australia with the Canberra Centenary

Community Tapestry hanging in the Legislative Assembly

for the Australian Capital Territory.

While actively maintaining her practice as an artist she

presented work in the International Fiber Art Biennales,

China, World Textile Art Biennial, Mexico and The

Cordis Prize, Scotland. Her career highlights include

being awarded the HRH Prince Charles Award, the

Cite International des Arts Residency, Paris, Arts ACT

Fellowship, Australia Council Awards, and the Teitelbaum

Award for tapestry, USA.

Kirk is Emeritus Professor at the Australian National

University, Canberra, where she had a distinguished

career from 1990-2017 as a Senior Lecturer, Head of

Textiles and PhD Convenor directing international

projects, symposiums and exhibitions. Her curatorial

work and writing on contemporary and Australian

Indigenous textiles has been presented at international

conferences and published in catalogues, journals and

books.

She continues to make new work, teach and contribute

to Australian art, textiles and woven tapestry.

Images: Valerie Kirk Portrait in Studio. Photos: Fiona Bowring

33
---
34
---
HARRIET SCHWARZROCK

ARTIST STATEMENT

My inter-disciplinary artistic practice predominantly

traverses blowing glass and making responsive luminous

forms. Drawing upon the traditions of glassblowing

and the neon trade has offered me a way to activate

the interior of my glass forms, encasing a mesmerising

phenomena within. Referencing cycles of breathing and

circulation within my work locates me in the present

moment. I am fascinated by transmutation, flux, and

interconnectivity, in seeing materials, systems and

matter change in relation to energy, the atmosphere and

each other.

Image: Open day at Ready-Cut Cottage. Photo: 5 Foot

Photography

35
---
36
---
HARRIET SCHWARZROCK

BIOGRAPHY

Harriet Schwarzrock graduated from Sydney College of

the Arts in 1999 with Honours in Visual Arts, majoring

in glass, after transferring from a science degree. Prior

to graduating, Schwarzrock travelled through North

America visiting renowned workshops and studios,

assisting artists including Laura Donefer and Steven

Rolfe Powell. On her return to Australia, Schwarzrock

began assisting at Denizen Studio, Sydney, working with

many of Australia's best glassblowers, developing her

skill and technique and finding inspiration and influence

for her own work.Schwarzrock's practice is currently

based in her backyard, where she and her partner and

glass artist, Matthew Curtis, run a hot glass studio

together, tinting custom coloured glass.

Schwarzrock has exhibited extensively throughout

Australia and abroad. Her work is widely collected

nationally and international, and her piece, breathe, won

the sculpture prize in the Waterhouse Natural Science Art

Prize in 2014. Harriet Schwarzrock's work is inspired by

biology, she works with blown glass elements, neon and

metal fixtures, focusing on the exploration of balance

and inter-connectivity.

Images: Open day at Ready-Cut Cottage. Photos: 5 Foot

Photography

37
---
ACKNOWLEDGEMENTS

The artist-in-residence program is hosted in partnership

between Craft ACT: Craft + Design Centre and ACT Parks

& Conservation Services, with the Geoscience Australia

as our 2021 Research Partner.

We would like to thank ACT Parks & Conservation

Services for their support in producing this catalogue

and Geoscience Australia for their support of the artist

while undertaking the research component of the

residency.

CRAFT ACT WOULD LIKE TO THANK:

All the staff at the ACT Parks and Conservation Services,

with special mention:

Brett McNamara, Regional Manager

Mel Barton, Visitor Services

Peter Cotsell, Regional Manager

Our gratitude extends to the staff members of Craft ACT

who set up and managed the residency and offered

continued support.

Many thanks to Brett Mc Namara, ACT Parks and

Conservation Services for initiating the residency

programme and enabling it to continue and other

staff at Namadgi National Park that made our stay at

Gudgenby Ready Cut Cottage such an inspiring time.

Special thanks to Geoscience Australia staff who offered

mind altering, time bending, and astoundingly varied

insights, allowing us to glimpse the geological treasures

that describe our world. Particular thanks to:

Steven Petkovski, Museum Curator, GA, Natalie

Schroeder, Collection Manager, GA and Billie

Poignand, Collection Manager. Thankyou also to our

photographers: Fiona Bowring, Heather Kirk Harkin,

5foot Photography and Brenton Mc Geachie.

All the staff at Geoscience Australia,

with special mention:

Dr Rachel Przeslawski, Director, Discovery and

Engagement

Steven Petkovski, Curator – Team Lead

Chris Nelson, Manager, Research Support & Library

Leanne McMahon, Client & Visitor Services Manager

We also thank our family, friends and Craft ACT

supporters who travelled with us on the creative journey.

And each other for the shared experiences, adventures,

support, insights and encouragement.

Harriet Schwarzrock and Valerie Kirk AM

VALERIE KIRK AM AND HARRIET

SCHWARZROCK WOULD LIKE TO

THANK...

We acknowledge and pay our deepest respect to the

first inhabitants and traditional custodians of this region,

the Ngunnawal and Ngambri people, their elders past,

present and emerging.

Image: Geoscience Australia. Photo: 5 Foot Photography
---
Craft ACT: Craft + Design Centre is supported by

the ACT Government, the Visual Arts and Craft

Strategy - an initiative of the Australian, State and

Territory Governments, and the Australia Council

for the Arts - the Australian Government's arts

funding and advisory body.

Artist-in-residence Program Partner

2021 Research Partner

Craft ACT is supported by

Image: Geoscience Australia. Photo: 5 Foot Photography

Back cover: Geoscience Australia. Photo: 5 Foot Photography
---
42