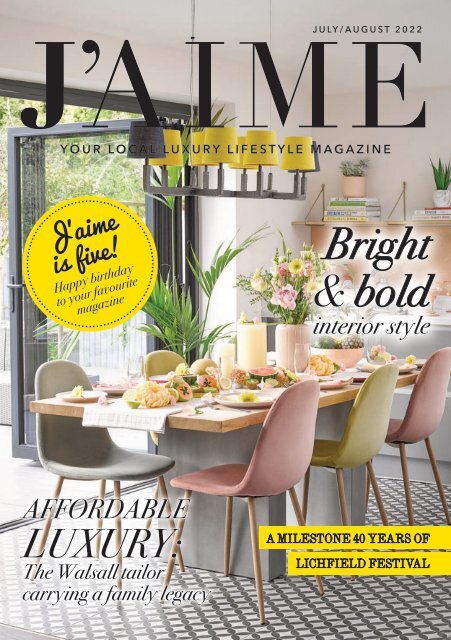 J'AIME JULY/AUGUST 2022
Your local luxury lifestyle magazine
Your local luxury lifestyle magazine
SHOW MORE
SHOW LESS
Create successful ePaper yourself
Turn your PDF publications into a flip-book with our unique Google optimized e-Paper software.
J'AIME

Y O U R L O C A L L U X U R Y L I F E S T Y L E M A G A Z I N E

J U LY / A U G U S T 2 0 2 2

J'aime

is five!

Happy birthday

to your favourite

magazine

Bright

& bold

interior style

AFFORDABLE

LUXURY:

The Walsall tailor

carrying a family legacy

A MILESTONE 40 YEARS OF

LICHFIELD FESTIVAL
---
"Excellent service,

fast communication

on all aspects of

sale, I would "

highly

recommend.

CALL US ON 0121 323 2525

Derek Cooper

Google Review

SCAN ME TO FIND

YOUR LOCAL OFFICE

IN FOUR OAKS

T I 0121 323 2525 E I sutton@davisons.law www.davisons.law

A I 254 Lichfield Road, Four Oaks, Sutton Coldfield, B74 2UH

500+ 5* STAR REVIEWS

OVER 300 5 STAR REVIEWS ON GOOGLE

COLMORE ROW I COTTERIDGE I EDGBASTON I FOUR OAKS I LEAMINGTON SPA I LICHFIELD I SOLIHULL

STAFFORD I STRATFORD-UPON-AVON I STREATHAM I WEOLEY CASTLE I WOLVERHAMPTON
---
Welcome to J'AIME

Exactly five years ago, the very first issue of J'AIME

was winging its way through the doors of homes in and

around Lichfield and Sutton Coldfield, the culmination

of a long year of planning and research, hard work and

a dash of luck - not to mention more than a couple of

nudges from the hands of fate.

With more than 50 combined years in the industry, my

co-founder Jan and I had seen the world of newspapers

and magazines change beyond all recognition, but we

believed there was still a desire for something quality,

something engaging - something J'AIME. And so we

decided to go it alone, armed only with a vision of what

we believed a great lifestyle magazine should offer, and

the support of some very loyal customers who decided to

back us from day one.

The pride we felt upon receiving the very first issue

from our wonderful printers KEP was incredible, as was

the response from readers and advertisers alike - only

dampened somewhat by the fact that we, along with a

small army of family and friends, had to hand deliver

all 15,000 copies ourselves! Thankfully, that was the

first and last time as we quickly welcomed on board our

fantastic distribution team.

The journey has seen many highs - a fabulous first year

capped off with a swanky soiree at Swinfen Hall, then

a fantastic three Midlands Media Awards nominations

at the first time of trying - as well as some devastating

lows, namely a pandemic which nearly stopped us in our

tracks (but not quite!) and the cost of living crisis we find

ourselves in currently. But, with the benefit of hindsight,

would we do it again? You bet!

So as we say 'happy birthday' to us, we'd like to thank

each and every reader and advertiser who has supported

us along the way, and taken time to experience what

J'AIME has to offer. Our heartfelt thanks to you all.

If you enjoy what you read in this issue, then why not

help us to spread the word? As well as being delivered

directly to homes in selected postcodes across the

area, you can pick J'AIME up free of charge in major

supermarkets around the Midlands, as well as read the

whole thing - and plenty more! - online at

www.jaimemagazine.com

EDITOR: AMY NORBURY

EDITOR@JAIMEMAGAZINE.COM

ADVERTISING: JAN ASHLEY

ADVERTISING@JAIMEMAGAZINE.COM

07388 335 931

DESIGN: DESIGN@JAIMEMAGAZINE.COM

CONTRIBUTORS: JASPREET SHERGILL,

JEAN LAMB, SANTOSH SHAH, DEBORAH

MITCHELL, RETO PETER

J'AIME IS PUBLISHED BY ASHBURY

PUBLICATIONS LIMITED.

Check us out online at:

WWW.JAIMEMAGAZINE.COM

Find us on

/JAIMEMAGAZINE

@JAIMEMAGAZINE

@JAIMEMAGAZINE

SPONSORED BY

3
---
CONTENTS

InsideJ'aime this month...

6 TILT Festival - Birmingham's unique

international circus skills celebration

10 RN Tailoring - Meet the fourth generation

Walsall tailor offering affordable luxury

14 Property - Property of the month

16 Property - A new appointment for Chosen

Home

18 Interiors - Bright and bold kitchens

22 Interiors - Outdoor living

28 Simi Bakes - How baking became a mental

health boost for Midlands baker Simi

32 Food and drink - Reviewing Dubberley

Delicious' summer barbeques

34 Food and drink - A delicious dish from

MasterChef's Santosh Shah

36 Food and drink - How a horsebox became a

bespoke events bar

38 Lichfield Festival - Celebrating 40 years of the

city's festival showcase

42 What's On - Events around the Midlands this

month

46 Wealth Matters - The world of finance with

Jean Lamb

48 Fashion - Holiday wardrobe essentials

50 Fashion - Stylish summer dressing

54 Beauty - Jetsetting beauty advice from

Deborah Mitchell

56 In the news - Richard Winterton's new jewellery

team

58 In the news - First class care in Sutton Coldfield

SPONSORED BY

4
---
kesseler birmingham

1 year anniversary

saturday 6th august

open day event 10am - 5pm

please contact showroom@kesselerbirmingham.CO.UK to rsvp and fOR Further information

LUXURY KITCHENS & INTERIORS

BUILT IN BRITAIN

LIFETIME WARRANTY

58 Thornhill Road, Streetly, Sutton Coldfield, B74 3EN

www.kesselerbirmingham.co.uk | tel: 0121 820 6995 | showroom@kesselerbirmingham.co.uk
---
FEATURE

Tilted generation

AN INTERNATIONAL FESTIVAL, A COMMONWEALTH GAMES CONTRIBUTION AND A VERY PERSONAL

EDINBURGH FESTIVAL SHOW MEANS IT'S SET TO BE A BUSY SUMMER FOR ROGUEPLAY THEATRE FOUNDER

KIM WILDBORNE. AMY NORBURY JOINED KIM FOR A HANDS-ON EXPERIENCE TO DISCOVER MORE

KIM WILL BE RUNNING PARENT AND

CHILD SESSIONS AT TILT

Suspended high in the air, upside down in a silk

hammock-like rope, I'm attempting to get to grips

with my first experience of aerial skills.

My daughter Ivy, not yet two, giggles as she watches

mummy sway and swing, hair and limbs flying. It

feels incredibly freeing.

Then it's her turn. Nestled safely in the silk

she swings and spins, laughing with glee before

attempting to wiggle out, landing squarely on the

huge, squishy mat below.

We're in Birmingham at the West Midlands

Circus and Creation Centre for a parent and child

workshop, run by expert aerialist Kim Wildborne.

The founder of circus skills-based physical theatre

company RoguePlay Theatre and mum-of-two, Kim

is a passionate advocate of what she terms 'risky'

play from a young age.

Risky play, says Kim, has endless benefits for children

and parents alike, challenging young ones to push

their limits, explore their bodies and take risks in a

safe environment.

"I was funded by the Arts Council to research the

benefits of risky play for the brain development of

children and young people," says Kim. "There's

a real demonstration of how playing with speed,

playing with heights and allowing children to take

risks really helps them in later life when it comes to

risk assessing; they become much better at problemsolving

and understanding risk and knowing their

limitations while not being afraid to push them a

bit."

Kim's parent and child sessions were developed when

her son Milo, now five, was born. From the age of six

months, Kim worked out ways to involve him in her

practice, rather than trying to distract him while she

carried on.

"I wanted to do something that was for the parent,

in particular, but that their child could enjoy their

first experience of flying as well," says Kim. "It was

about creating a workout for the parent, but in a safe,

accessible space for the children too.

"We've made the space as child-friendly as possible,

with the sandpit area, lots of toys and lots of things

to engage children so their parents and carers can

6 www.jaimemagazine.com
---
take some time to focus on themselves."

Anyone who wants to give it a go will get the

opportunity next month as TILT Festival gets

underway at RoguePlay Theatre's West Midlands

Circus and Creation Centre, in the heart of Digbeth.

TILT is the highlight of Rogueplay's calendar; a

unique celebration of circus arts and physical theatre

where a whole raft of international performers not

only showcase their skills, but are on hand to teach a

series of workshops aimed at all levels, from complete

beginner to seasoned aerialist.

"For us, it has always been and will always be

about generating an open, friendly, awesomesauce

environment in which everyone is welcome

and everyone can fly," says Kim. "Anyone from

grandparents to babies are welcome, beginners to

professionals, abled and differently abled, no matter

who or where you are, our doors are open to you.

Oh, and we have plenty of great coffee and cake!"

Kicking off on August 1, the first five days of the

festival focus on performances and masterclasses

with some of the best in the business. Experts in

disciplines from silk and hoops to straps, rope,

Chinese pole and more, will be

teaching workshops, culminating

in the TILTED Circus Night on

Friday, August 6 - a truly stunning

night of live circus physical theatre

performance from jaw dropping

performers from all over the world.

This night promises to be a corker,

with everything from five-minute

circus acts to new shows.

And for TILT22, the most ambitious

festival in its seven-year history,

the programme will be offered as a

hybrid between in-person and online

workshops and shows.

"We normally have renowned circus

artists from all over the world, but

because we're still dealing with

Covid-related travel issues, and also

Brexit, we're streaming those who

are from outside the UK for a hybrid

programme, so you can still train with

those people but they'll be Zoomed

in," explains Kim.

Saturday, August 6 sees the festival's

family day, with a whole host of family

events both indoors and outdoors.

From the colourful and acrobatic

retelling of Jules Verne's classic

Around the World in 80 Days which

sensitively introduces young audiences

to environmental issues, to the fabulous Fairy Dust

Party and family disco, as well as Kim's parent and

child aerial risky play sessions, there promises to be

something to engage and delight all members of the

family.

"On Sunday we'll be running our first aerial film

festival," says Kim. "Last year was the first time we

showed films as part of the festival, and that partly

came about because of Covid restrictions, but

actually there are a lot of people who have produced

film not only inspired by Covid but because that was

one of the ways an artistic outlet was happening

throughout Covid.

"We've had quite a few different submissions for the

film festival, and there will be prizes for the different

categories."

The second week of the festival sees Young

TILT, aimed at seven to 14-year-olds, where the

professional teachers offer classes and workshops for

a younger audience - in keeping with the festival's

family-oriented ethos.

WORKING ON AERIAL SKILLS

www.jaimemagazine.com

7
---
After the restrictions on last year's

festival due to the pandemic, Kim

is excited to be back to offering an

eclectic in-person programme.

"TILT Festival has a really nice

family feel, and because of the social

distancing and reduction in numbers

because of the restrictions last year,

it was much quieter than normal so

it will be really nice to have so many

people back in the space again," she

says.

"During the week we turn our bay

outside into a cafe space where we

serve food and coffee. It's a great place

to relax, and we put up hammocks so

people can come and chill out. It'll just be really nice

to be able to do that again."

It's set to be an exceptionally busy summer for Kim

and the RoguePlay team. As well as organising her

own major festival, Kim was approached to get

involved with Birmingham's Commonwealth Games.

As a result, you'll be able to catch Kim performing

to a global television audience during the Games'

opening ceremony.

"All of the circus elements you'll see in the opening

ceremony will be delivered by RoguePlay," says

Kim. "We were approached by the organisers to get

involved, and while I can't say anything about the

creative content yet, we'll be hanging around in lots

of different ways!"

The Commonwealth Games have meant that TILT

Festival has been pushed back from its usual July slot

to August.

"You'll be able to watch RoguePlay performing at

the Games, and then you'll be able to come along

and train with us at TILT," says Kim.

Kim will also be heading to the prestigious

THE ROGUEPLAY THEATRE STUDIO SPACE

WILL BE HOME TO TILT FESTIVAL

KIM PUTS AMY THROUGH HER

PACES WHILE IVY WATCHES

Edinburgh Festival from August 16 to 28 with

an intensely personal project which she has been

working on for several years.

A solo show, Mother Tree is a highly physical piece

combining theatre, aerial silk and spoken word about

the ecosystem created behind closed doors, and what

the forest can teach us about ourselves.

"It's about maternal mental health and the journey

through motherhood," says Kim. "The show was

originally called Sleepless; I wrote it when my son

was quite young and I was very sleep deprived.

But then as he grew up and I had another child, I

realised there's more to this motherhood lark than

just sleep deprivation!

"There's an expectation on women to just carry on

as you were before, and it might feel like the child is

a burden, not necessarily to the parent but in other

ways. Like if I take my kids with me to a workshop

it feels like I have to excuse it, but actually it needs

to become more the norm; this is me, I come with

kids."

Mother Tree finds connection between the amazing

cooperation, memory and healing of the oldest trees

and our own incredible journey

through motherhood.

"It's a very personal work," says Kim.

"I kept a diary when I was up at all

hours feeding my babies, and then as

my kids got older, and the show came

from that. It's my personal journey of

motherhood, but also universal."

TILT Festival runs from August

1 to 12 at the West Midlands

Circus and Creation Centre,

Minerva Works, Fazeley Street,

Digbeth, Birmingham, and

online at www.tiltfestival.com

8

www.jaimemagazine.com
---
We've been part of your

furniture for 75 years...

For three generations, Cookes have been offering quality

craftsmanship, expert advice and exceptional value.

Explore our extensive collections of Living, Dining, Beds and

Bedroom furniture in our impressive showrooms and online.

Cookes Furniture, 28 Goosemoor Lane, Birmingham B23 5PN

cookesfurniture.co.uk
---
FEATURE

The Savile Row tailor -

without the price tag

TAILORING RUNS IN RICHARD NEASHAM'S BLOOD. AS A FOURTH GENERATION

TAILOR RICHARD, FROM WALSALL, IS KEEPING HIS GREAT GRANDFATHER'S LEGACY

- AND THE NICHE CUSTOMWEAR MARKET - ALIVE BY OFFERING AFFORDABLE

LUXURY. JASPREET SHERGILL CAUGHT UP WITH HIM TO FIND OUT MORE

The world of tailoring isn't a place we'd often turn

to for our daily wear in this day and age. If there's a

special occasion or a wedding, we might explore the

idea of getting a custom piece made but otherwise

we tend to go straight to the high street - or even

online.

But maybe this doesn't have to be the case. Fourth

generation tailor Richard Neasham, who's shop RN

Tailoring opened in Sutton Coldfield last year, is

adamant that custom clothes don't always have to

be for those milestone moments, and that there is

a market for those that like the finer things in life -

without the price tag.

Patterns, sewing machines and hand-work

embroidery runs in Richard's blood but the only

question is that will this craft be around for much

longer?

Growing up, Richard was living and breathing

fabric, stitching and all things tailoring from a young

age. His great-grandad Leonard Neasham had

opened up his tailors' store in 1930, starting a family

legacy which would last for four generations and

counting.

After turning 16 years old, Richard decided to leave

school and follow in Leonard's footsteps, alongside

his grandad, Jack, and father, Roger.

"Before, when I was at school I used to go with

my dad to London to companies like Daks and

Aquascutum and I would stand there and watch

them do the buying so when I left school, I already

knew that was what I wanted to go into for work."

said Richard.

Leonard Neasham's first store was in Walsall and,

as time went on, the town became more expensive

and the shop needed to be refurbished. After some

thought Roger Neasham decided to retire, and it was

left to Richard to see what steps he wanted to take to

RICHARD MAKES CUSTOM SUITS

FOR ALL OCCASIONS

keep the Neasham legacy going.

"After my dad retired, I knew I still wanted to stick

to menswear and tailoring so instead of running

the shop I decided to go and work for Gieves and

Hawkes, the Savile Row tailor," Richard explains.

"I ended up being there for 16 years, then roughly

about eight years ago I set up on my own as a

travelling tailor, so I'll travel and go to businesses and

homes, I'll go with all my cloth books and measuring

tapes. Just after we came out of the COVID-19

10 www.jaimemagazine.com
---
WELCOME TO BAYLISS BATHROOMS,

THE LARGEST INDEPENDENT LUXURY

BATHROOM SPECIALIST IN THE REGION.

OUR UNRIVALLED ONE STOP PROJECT

MANAGED SERVICE, FROM DESIGN

THROUGH TO INSTALLATION, IS FOCUSED

ON TURNING YOUR DREAM BATHROOM

INTO REALITY.

WHATEVER YOUR REQUIREMENTS,

WE CAN PROVIDE YOUR BATHROOM

SOLUTION. WE WELCOME YOU TO VISIT

OUR NEW WEBSITE OR SHOWROOM TO

EXPLORE THE BAYLISS EXPERIENCE AND

ALL THE OPTIONS AVAILABLE TO YOU

We offer a complete 'One Stop' process to turn your bathroom dreams into reality, which includes:

• A bespoke 2,500 sq ft showroom with over 20 bathroom displays located in Sutton Coldfield

• A specialist design team to create designs to match your every need

• Expert knowledge of our partner brands giving you access to superb products and tiles.

• In-house installation teams working to the highest possible standards

• Management of all aspects of the Project, providing you with a single point of contact, every step of the way

• For those customers who require a Supply Only service, access to all leading brands at competitive cost.

BAYLISS BATHROOMS, 23 GATE LANE, BOLDMERE, SUTTON COLDFIELD B73 5TR

0121 362 1800 - www.baylissbathrooms.co.uk
---
lockdown I opened my little tailoring store in Sutton

Coldfield, so I have a base, but I still travel to go and

see clients because it's truly in my blood."

As a youngster, every Saturday would see Richard

going down to the family shop and learning from

his father and grandfather, the craft of creating and

putting together the perfect three-piece.

"Being able to travel with my dad, seeing London

and watch him work from a young age, I wanted to

be like him, and I didn't want to go to university or

college, I just wanted to do tailoring, it's my passion.

Knowing my great-grandad started this made me

want to carry on even more, I've got two boys and

they're on the fence whether they want to go into

tailoring and it's a bit upsetting, I'd like at least one

of them to carry it on, hopefully they will come

round." he added.

Although Richard learnt a lot of his skills from his

family in the West Midlands, there is one destination,

the ultimate dream land for tailors and fashion fans.

London's world-famous Savile Row is where Richard

went to train and develop his talents even more.

"My dad taught me from an early age how to

measure, cut and sew but I would go to Savile Row

and do courses there which was amazing, soon as

TAILOR RICHARD

NEASHAM

RICHARD'S STORE OPENED IN

SUTTON COLDFIELD LAST YEAR

you walk through the door in one of those stores

and just the vibe of the whole street it's just another

world and if you like tailoring it's incredible."

Unfortunately, there aren't as many tailors or

tailoring stores as there once was, the way in which

we shop has changed as the convenience of shopping

online has dominated the clothing industry, the rise

of social media has influenced fast fashion

and custom pieces for everyday wear isn't as

popular as it once was.

Richard said: "I like to do everything myself;

I think now finding people that have the

knowledge and skill can sometimes be

difficult because unfortunately tailoring is a

dying trade, it's a niche market and very few

people now wear tailored pieces every day,

it's more so for occasions when you want

something special. The ready-to-wear suits

you can get from your everyday stores, but

you're limited when it comes to choice but

if you want something more extravagant or

'wow' then you need to find a tailor."

There's a real personal element when

Richard brings his clients' visions to life. It

goes beyond walking into a store and leaving

with a beautiful garment; he says it should

be an experience from the moment you step

in.

"You can go online and type in your

measurements for a suit but I was always

taught from my family that it's meant to be

an experience for the client as soon as they

come into your store. They can have a glass

of wine or coffee, you sit with them, talk to

them about their event or pieces and a lot

12 www.jaimemagazine.com
---
of people don't realise the amount

of detail and customisation

we can do, the buttons, lining,

monograms, lapels etcetera there

is so much you can do and often

people are shocked by it because

you'd never see this in a normal

store, so it's all about creating that

experience."

The COVID-19 pandemic has

impacted Richard's trade as it

has for many others too; the

more casual approach and hybrid

working has meant less orders

for business-style suits and an

increased demand for wedding

garments.

"The majority of my work now is weddings;

unfortunately because of COVID-19 the business

customer has fallen away because we have all learnt

to be casual and not going into the office. But the

demand for wedding wear has gone up because so

many were put on hold and now it's about catching

up, there's some every day of the week."

He added: "I've seen an increase in catering for more

RICHARD'S GREAT-GRANDAD

LEONARD NEASHAM STARTED

THE FAMILY LEGAACY

RICHARD OFFERS SAVILE

ROW TAILORING - WITHOUT

THE PRICE TAG

LGBTQ+ weddings too, so I'll make suits for both

men and women which has taken off, it seems to be

popular because again, choices are limited in high

street stores but we small independent brands can

cater for this."

Richards says there are many things he loves about

his profession but there is one thing in particular that

sits above all the rest.

"One of the best things is being part of the journey

for my clients when it comes to some of the most

important events in their life and seeing their images

from the wedding day back, I love seeing that. I love

making bright tweeds and something a bit wacky too,

clients always send me their images from their day

out in their custom pieces and I get a real buzz from

it."

Looking ahead to the future, Richard would love to

open up a second store in Birmingham and says his

dream clients to work with would be David Beckham

or Daniel Craig.

"When people come in with pictures for inspiration

of a suit, they would like me to make, I would say a

lot of the time it'll be a picture of David Beckham or

someone from the James Bond films, and I have to

say they would definitely be people who I'd want to

make something for.

"I think over the last 10 years people have been

educated on Savile Row because of films and

I do get younger people coming in asking me

to make garments because of it and I think the

personalisation factor is a big part of it too. I'm a

Savile Row tailor but without the price tag."

For more details visit www.rntailoring.co.uk

or find Richard on Instagram

@rn_tailoring and Facebook www.facebook.

com/neashampersonaltailoring

www.jaimemagazine.com

13
---
PROPERTY

Property of the Month

EACH MONTH WE SHOWCASE ONE OF THE MOST LUXURIOUS PROPERTIES ON THE MARKET IN THE

MIDLANDS. THIS MONTH'S SELECTION IS A BEAUTIFULLY APPOINTED BARN CONVERSION OFFERING

SUPERB EQUESTRIAN FACILITIES IN THE STAFFORDSHIRE COUNTRYSIDE

The Lodge, Wilmore Lane, Rangemore, Burton-on-Trent: £1,500,000

On the market with Aston Knowles: 0121 362 7878

THE AGENT SAYS: The Lodge is a stunning barn

conversion extending to more than 2,800 sq ft with far

reaching views and comprehensive equestrian facilities set

in more than three acres. The Lodge has been converted

and extended to create a family home, with first-class,

flexible accommodation, surrounded by its own land with

open countryside beyond, and has the benefit of planning

consent for a one-bedroom annexe within the grounds.

The Lodge is located in a beautiful stretch of Staffordshire

countryside close to the renowned St George's Park, an

extensive sports centre serving the FA but also having

prestigious hotels, bar and restaurant, sports and leisure

facilities.

As you enter the property, you are welcomed into the

elegant reception hall with bold but beautiful design.

Fabulous blue stained-glass windows flank the entrance to

the living accommodation, creating a beautiful feature of

the reception hall.

The kitchen/breakfast room boasts traditional farmhouse

features with exposed beams and shaker wall and base

units surmounted by bespoke granite worktops. An island

in the centre provides additional storage with Belfast sink

and space for informal dining. Bi-folding doors connect

the kitchen to the dining area at the back of the property,

allowing the whole space to be opened up for receiving and

entertaining guests.

The master bedroom boasts a range of built-in wardrobes

and units with built-in dressing table, as well as exposed

beams and doors opening out into the garden. The master

en-suite has a shower with complementary tiles and

heated towel rail. Bedroom two is generously sized, again

with exposed beams and en-suite shower room. Bedroom

three has a suite of fitted wardrobes and bedroom four is

currently used as a study.

W E L O V E : T H E S T UNN ING D IN ING AND K I T C H E N

AR E A , P ER F EC T F O R E N T ER T A IN ING .

14 www.jaimemagazine.com
---
0121 362 7878

astonknowles.com

GUIDE PRICE £1,500,000

BROCKHURST FARM LINDRIDGE ROAD, SUTTON COLDFIELD

A beautiful traditional six-bedroom farmhouse including annexe, boasting traditional features, in a semi-rural location. The house with its

additional extensive outbuildings sits in a delightful plot in all approximately 1.72 acres. The vast accommodation offers flexible, diverse living

opportunities including possible alternative commercial uses for the outbuildings or, even total re-development (all subject to the usual planning

consents).

Approximate gross internal floor area for the main house including annexe:

4,020 sq. Ft (490 sq. m). External barns and garage/workshop: 4,519 sq. Ft.

In all approximately 1.72 acres

EPC Rating: E

THE DETAILS

4 BEDS

2 BATHS GATED

GUIDE PRICE £1,300,000

LYNN COTTAGE

A charming period property stylishly improved and set in an idyllic semi-rural location between the sought-after villages of Shenstone &

Stonnall.

Reception hall, dining room, living room, family room, kitchen/breakfast room, utility, shower room, cellar, three double bedrooms, family

bathroom, detached double garage with flexible accommodation above. Beautiful grounds featuring gardens, orchard and outdoor

entertaining area.

In all approximately 0.3 acres.

THE DETAILS

EPC Rating: F

ASTON KNOWLES 8 High Street, Sutton Coldfield B72 1XA 0121 362 7878 enquiries@astonknowles.com www.astonknowles.com

@astonknowles

LYNN LANE, LYNN

3 BEDS

2 BATHS GATED
---
PROPERTY

Building a dream team

SUTTON COLDFIELD ESTATE AGENCY CHOSEN HOME HAVE

WELCOMED ANOTHER NEW ADDITION TO THEIR STELLAR TEAM

Award winning estate agency Chosen Home has

continued its recruitment drive with the appointment

of an experienced sales consultant.

Gemma Hemming joins the business from Fine and

Country, bringing years of experience within the

Sutton Coldfield area.

The agency, which was launched in September 2020,

has moved from strength to strength, securing more

listings and enquiries throughout the Midlands, and

sought Gemma's support in helping the business

grow further as it approaches its second anniversary.

Nicki Ash, director of Chosen Home, said: "We have

been overwhelmed with the response from vendors

since we established ourselves, and with the property

market continuing to thrive, we are busier than ever.

"It was essential that we develop our sales team to

meet the demand within the region, and we had

Gemma in our sights because of her excellent

reputation within Sutton Coldfield. We're thrilled

that she's joined our Dream Team to help us drive

the agency forward,' she added.

Gemma said: "I've always been passionate about

sales, ever since I started a decade ago in the car

sales market selling Minis. I loved it, and made

CHOSEN HOME'S NEW SALES

CONSULTANT GEMMA HEMMING

DIRECTOR NICKI ASH

the transition from motors to houses. I'm a Sutton

Coldfield girl born and bred, having spent my whole

life here, and it's a wonderful place for property.

Having such a strong background in the town

has made selling homes here a real pleasure, it's

astonishing how many times I've known a vendor, a

potential buyer or their neighbours after spending so

many years here.

"I'm delighted to have joined Chosen Home. Since

the business launched within the area almost two

years ago, the brand has become extremely wellknown,

and its reputation for excellent customer

service and a model of not charging vendors to sell

their homes has been a big topic of conversation in

recent months.

"Property sales can be a very dog-eat-dog

environment with agents competing for listings and

commissions, but I've been blown away by the ethos

within the business, where everyone acts as a team,

providing so much support to one another. It's a very

happy place to work, and the happy clients are the

icing on the cake!" she added.

For more details on how to sell your home with

Chosen Home, visit www.chosenhome.com

16 www.jaimemagazine.com
---
HUGE FURNITURE SAVINGS FOR ONE DAY ONLY

THE

Warehouse

FURNITURE SALE

One of a kind event,

Peppermill's first ever

warehouse sale!

Amazing discounts

on end of line selected

furniture ranges.

Unmissable prices

starting from £25!

Ticket only event

For your free tickets to the event

please email:

marketingstaff@peppermillinteriors.com

sales@peppermillinteriors.com | 01543 375872 | www.peppermillinteriors.com

Showroom open as normal for non-sale furniture ranges

Showroom Address | Unit 6, Ring Road, Burntwood, WS7 3JQ

"Too good

to be true"?

At Chosen, our team of local experts will not only

sell your house for free, but they'll ensure you get

the very best price for your property.

Excellent

But don't just take our word for it – scan the QR

code above to hear it from the happy clients who

were glad they chose Chosen to sell their homes.

Call 0121 222 1180

chosenhome.com

Will sell your home for free.
---
INTERIORS

The great

outdoors

THE value of having your own outdoor space is more

appreciated than ever, and a picturesque garden where

you can retreat after a long day and share sunny

summer evenings with friends and family is top of many

homeowners' lists.

Why not invest in creating the perfect, personalised space

for you to soak up the sun, cook delicious food and make

memories with loved ones this summer? With a little time,

effort and good planning, you can transform your great

outdoors into a stylish sanctuary which serves as an openair

extension of your living, dining and entertaining space.

For smaller areas, the key is to prioritise how you're most

likely to use the space and shop accordingly; if it's dining

you're after, then room for a table and cooking station is a

must, while if it's a chill out zone the comfortable lounging

options come first.

If you're lucky enough to have a bigger space to play

with, consider creating distinct zones for different uses; an

outdoor kitchen, a place to relax and even an allotment

area can all add to the usability of your garden.

GARDEN TRADING RIVE DRIOTE BISTRO SET,

LARGE, £300. WW.GARDENTRADING.CO.UK

£49.99

ICON® KYOTO ROUND OUTDOOR

FOOTSTOOL, AZTEC PRINT,

BEANBAGBAZAAR.

WWW.BEANBAGBAZAAR.CO.UK

£6,000

CANE-LINE ANGLE THREE SEATER OUTDOOR

SOFA, NAKEN. WWW.NAKEN.CO.UK

ECOTOP UK PROPANE GAS FIREPIT BOWL

IN NATURAL, CHARLTON ISLAND.

WWW.CHARLTONISLAND.COM

£599.99

18 www.jaimemagazine.com
---
0121 362 7878

astonknowles.com

PENNS GATE, PENNS LANE

PRICES STARTING FROM £695,000

EXCLUSIVE DEVELOPMENT

IN SUTTON COLDFIELD

*AVAILABLE TO RESERVE OFF PLAN NOW! UNDER

CONSTRUCTION - DUE TO COMPLETE NOVEMBER 2022*

Penns Gate is an exclusive new collection of nine

executive family homes in the sought-after town of

Sutton Coldfield. Just 6.1 miles northeast of

Birmingham, this vibrant and diverse suburb offers the

very best of urban living.

With a thriving town centre home to high street shops,

bars and restaurants, Sutton Coldfield offers plenty of

choice when it comes to entertainment, family day

trips, keeping fit and healthy or simply enjoying the

great outdoors.

configured around your family's lifestyle, whether that's

socialising, home working or a calming retreat.

Externally, Penns Gate has plenty of kerb appeal too.

Detailing such as chalk-white rendering, mock Tudor

boarding, white timber porches, and green or grey front

doors ensures each home has its own individual

character.

If you're looking for a modern and characterful new

home in one of England's most desirable, vibrant and

well-connected Royal towns, then it's time to make your

move to Penns Gate.

Thoughtfully designed in a cul-de-sac style courtyard,

homes at Penns Gate are all four and five-bedroom

properties with beautiful rear gardens and private

parking. Featuring seven distinctive designs, including

some attractive 2.5 storey layouts, each home has a

flexible, open-plan interior that can be entirely

THE DETAILS

4/5 BEDS

2/3 BATHS

ASTON KNOWLES 8 High Street, Sutton Coldfield B72 1XA 0121 362 7878 enquiries@astonknowles.com www.astonknowles.com

@astonknowles
---
£4,950

£799

CHARLIE OVEN IN SAFFRON,

CHEEKY CHARLIE OVEN COMPANY.

WWW.CHARLIEOVEN.COM

SOCIAL PLASTIC NASSAU SIX SEATER

DINING SET, LIFESTYLE GARDEN.

WWW.LIFESTYLEGARDEN.CO.UK

£1,899

£389

CHEVRON ACACIA WOOD GARDEN

FURNITURE SET, LIME LACE.

WWW.LIMELACE.CO.UK

RYDE OUTDOOR DRINKS

TROLLEY, MODISH LIVING.

WWW.MODISHLIVING.CO.UK

OUTDOOR GARDEN LIGHTS, FROM

A SELECTION AT LIGHTS4FUN.

WWW.LIGHTS4FUN.CO.UK

KAMADO JOE CLASSIC JOE II MEAT

BUNDLE, £1,799, AVAILABLE FROM

PAVINGPLACE.CO.UK AND SELECTED

TIPPERS BRANCHES

20
---
ROMERO GREY FIRE PIT GARDEN

DINING TABLE, £1,349, DANETTI.

WWW.DANETTI.COM

WEBER SMOKEY JOE PREMIUM IN SPRING

GREEN, £85.49, AVAILABLE FROM

WWW.PAVINGPLACE.CO.UK AND

SELECTED TIPPERS BRANCHES

DRINKS STATION, SEATING AND

ACCESSORIES FROM A SELECTION

AVAILABLE AT WAYFAIR.

WWW.WAYFAIR.CO.UK

GEO PATTERN REVERSIBLE OUTDOOR

GARDEN RUG, £45, ROCKETT ST GEORGE.

WWW.ROCKETTSTGEORGE.CO.UK
---
I N T E R I O R S

Bright and

beautiful

THE kitchen is the heart of many a home; a place where

we nourish, entertain and yep, maybe even partake in a

kitchen disco or two. So we couldn't be happier to see all

things bright and beautiful coming to the fore of kitchen

design.

If yours is in need of an update, it's time to move away

from all things wood and neutral, and embrace a pop of

colour. While navy has been a popular choice for some

time now, a gorgeous sapphire blue could be the stylish

alternative to give your room that real 'wow' factor.

Feeling brave? There isn't a better colour than yellow for

injecting a touch of sunshine; opt for rich yellow cabinetry

for the ultimate fresh fix, or update your current space

with canary-inspired appliances to create a new talking

point. Yellow range cooker? We say yes!

If you're after a quicker - and less permanent - update,

go to town with bright accessories. A cohesive collection

of colourful additions can do wonders to change the vibe

of your space, so embrace the artists' palette and think

bright.

SET OF TWO FINN YELLOW BAR STOOLS,

£198, DANETTI. WWW.DANETTI.COM

IRIS 48 PIECE DINNER SET, MICUCCI INTERIORS.

WWW.MICUCCI.CO.UK

£980

£135

£116.40

DYNAMO 1 LIGHT PENDANT IN BLUE,

DAR LIGHTING GROUP.

WWW.DARLIGHTING.CO.UK

PHOENIX VELVET DINING CHAIRS, SET OF TWO,

PEPPERMILL INTERIORS, BURNTWOOD BUSINESS

PARK. WWW.PEPPERMILLINTERIORS.COM

22

www.jaimemagazine.com
---
FREE no obligation design service with our kitchen specialists

16 -18 Britannia Way Britannia Enterprise Park, Lichfield WS14 9UY • 01543 263340

info@lichfieldkitchensandbedrooms.com • www.lichfieldkitchensandbedrooms.com

Opening Hours: Mon - Fri 9:00 am - 5:00 pm Sat 9.30am - 12.30pm 12.30pm – 4.00pm by appointment only.
---
£POA

PENTABULOUS CHANDELIER, £295, WITH

STANLETTE PENDANTS, £37 EACH, POOKY.

WWW.POOKY.COM

ALDBURY SHAKER KITCHEN WITH OAK PAINTED

DOORS IN FARROW & BALL VERT DE TERRE,

KESSELER BIRMINGHAM.

WWW.KESSELERBIRMINGHAM.CO.UK

MEZZALUNA METAL PULL HANDLE IN

NEO MINT, DOWSING & REYNOLDS.

WWW.DOWSINGANDREYNOLDS.COM

£13.99

£16

£10.95

PASTEL MEASURING SPOONS, THE NORTHERN

LINE. WWW.THENORTHERNLINE.CO.UK

£150

SINGLE OVEN MITT IN WILD ROSE

STEM DANDELION, ORLA KIELY.

WWW.ORLAKIELY.COM

£POA

ROSETTE BUTTON BACK BAR STOOLS, SET OF

TWO, PEPPERMILL INTERIORS.

WWW.PEPPERMILLINTERIORS.COM

ALDBURY SHAKER KITCHEN WITH OAK PAINTED DOORS

IN FARROW & BALL PEIGNOIR, KESSELER BIRMINGHAM.

WWW.KESSELERBIRMINGHAM.CO.UK

ALDERLEY KITCHEN IN MALLARD GREEN BY BURBRIDGE

KITCHEN MAKERS, AVAILABLE FROM TIPPERS.

WWW.TIPPERS.COM

OLIVE & BARR SHAKER KITCHEN IN LITTLE GREENE

HICKS BLUE AND PALL MALL, FROM £10,000.

WWW.OLIVEANDBARR.COM
---
HOUSTON CHANDELIER, £320, WITH YELLOW

AND NAVY JUTE SHADES, £28 EACH, POOKY.

WWW.POOKY.COM

YELLOW EVERHOT 60 HEAT STORAGE ELECTRIC

RANGE COOKER, £5,930, QUINCE & COOK.

WWW.QUINCEANDCOOK.CO.UK

SYMPHONY ALTA KITCHEN IN ANTHRACITE AND

DUSTY PINK, AVAILABLE FROM TIPPERS.

WWW.TIPPERS.COM

26 www.jaimemagazine.com
---
From

£895

*

for a fully

fitted electric

garage door.

WAS £1,354 INCLUDING VAT.

Lichfield Soft Furnishings

Lichfield Soft Furnishings

Curtains | Blinds | Cushions | Shutters | Paint | Wallpaper

Curtains | Blinds | Cushions | Shutters | Paint | Wallpaper

Lichfield Soft Furnishings

Curtains

Curtains |

Blinds

Blinds |

Cushions

Cushions |

Shutters

Shutters |

Paint

Paint |

Wallpaper

Wallpaper

Top Brands

Lichfield Top Brands Showroom

Lichfield 3 yr Guarantee Showroom

3 Fitting yr Guarantee

Top Brands

Service

Fitting Top Brands Service

Lichfield

Lichfield

Showroom

Showroom

3

yr

yr

Guarantee

Guarantee

Fitting

Fitting

Service

Service

WHAT'S INCLUDED WITH EVERY DOOR:

• EXPERT MEASURING & FITTING

• 2 REMOTE CONTROLS

• ACOUSTIC & THERMAL INSULATION

• FREE DISPOSAL OF YOUR OLD DOOR

• AVAILABLE IN 21 COLOURS

Garolla garage doors are expertly made to

measure in our own UK factories, they're strong

and solidly built. The electric Garolla door rolls

up vertically, taking up only 8 inches inside

your garage, maximising valuable space.

Give us a call today and we'll come and

measure up completely FREE of charge.

CALL US TODAY ON:

01543 560 278

0121 369 0296

MOBILE:

07537 149 128

*Offer valid for openings up to 2.4m wide & including 2 remote controls, 55mm white slats, internal manual override.

Interior Choice, 1st Floor, Sure Store, WS13 6UY (free parking)

Interior Choice, 1st Floor, Sure Store, WS13 6UY (free parking)

By appointment: book in online or call

Interior

Interior

Choice,

Choice, www.interiorchoice.net By appointment: 1st

1st

Floor,

Floor,

Sure

Sure book Store,

Store, in | 01543 online WS13

WS13 406162 6UY

6UY or call (free

(free

parking)

parking) «««««

www.interiorchoice.net | 01543 406162 «««««

By

By

appointment:

appointment:

book

book

in

in

online

online

or

or

call

call

www.interiorchoice.net

www.interiorchoice.net |

01543

01543

406162

406162

«««««

Photo Me

Summer Sale 20% OFF.

EUROPA WAY, LICHFIELD, WS14 9TZ

01543 440000 TIPPERS.COM

MON-FRI

7:30AM - 5:00PM

SATURDAY

8:00AM - 2:00PM
---
F E AT U R E

More than just cake

JASPREET SHERGILL CAUGHT UP WITH MIDLAND'S BAKER SIMRIT KAUR BACHU

- AKA SIMI BAKES - ABOUT HOW BAKING HELPED HER MENTAL WELL-BEING -

NOT KNOWING HOW POPULAR HER CREATIONS WOULD BECOME

If there's one thing in life that is always a good idea,

it's cake. It might be difficult to agree on which

flavour is best, but one thing for certain is cake will

never let us down. West Midlands-based sales and

events executive by day and baker by night, Simrit

Kaur Bachu turned to baking to help her through a

challenging time in her life - unexpectedly developing

her passion into a sought-after business, Simi Bakes.

"Simi Bakes was created by accident, I had no

intention for it to become what it has," says Simi.

"Baking for me started during my childhood; at

school I'd make cookies, then me and my sister

would bake at home, it was something we always

loved doing but it followed through with me then as I

got older I would watch The Great British Bake Off

and Mary Berry or Paul Hollywood and thought I'd

try out their recipes because they'd look so tasty."

When Simi started facing some obstacles when it

came to her mental health, she began to broaden her

baking as a way to escape.

"It slowly became my therapy, I went through some

difficulty with my mental health and baking, for me,

gave me that escapism and it became my little happy

place, just me being able to bake," Simi says.

"Every time I used to bake, I would take cakes into

the office and my colleagues would say you should

post about it online and start an Instagram page,

then eventually in 2018 I started a page but it was

just a place where every time I would bake, I'd take a

picture and post it, it was nothing professional at all,

it was like an online scrapbook.

"Then in 2020 when the pandemic hit, I was put on

furlough and for a short while I did really struggle

with my mental health, after spending so much time

improving myself, it was a lot to take in.

"I had so much free time which I wasn't used to

because of my job so I decided to go back to baking.

Every week I'd make something new, it was either

cupcakes, or a pie, or a cheesecake and I would post

about it. Then one of my friends messaged me and

asked me to bake a cake for her and it started from

there. During the pandemic people couldn't access

BAKER SIMI WITH ONE

OF HER CREATIONS

cakes and bakes as much so they took to social media

to get them."

Baking had long provided a place of respite for Simi,

and working on her delicious bakes was her way of

helping her mental health.

"Having grown up with a lot of anxiety, I didn't

really tell anybody and the baking was an outlet for

me, the place where I was happy but without me

even knowing," she explains.

"It was more during my adult life, so my early 20s

where things came to the forefront and my mental

health did deteriorate a lot and I realised the only

place I found solace and escapism was when I

was baking. It just released so many feelings and

thoughts for me, I remember my therapist telling me

28 www.jaimemagazine.com
---
tatlowcarpets

& flooring

Quality flooring at affordable prices

Abingdon, Adam's, Associated Weavers, Axminster, Brintons, Brockways,

Cormar, Crucial Trading, Penthouse, Ulsters, Karndean & Project Floors

Free advice ✔ Free quotations ✔

Furniture moved ✔ Our own regular fitters ✔

Lichfield Garden Centre

Inspired Gardening

Cottage Garden Delights

Perennial Cottage Garden Plants provide

lots of interest during the summer months.

Dahlias, Achillea, Phlox &

Salvia as well as dozens of

other varieties all now

available.

Attract wildlife & beneficial

insects into your garden, and

enjoy the colour of these

traditional favourites

Hardy, easy to grow & trouble free, plant

these for colour right through to autumn.

ABINGDON CARPETS

STAINFREE TWIST RANGE

Selected colours on offer

Price per square metre - includes fitting

Was £28.95 - Now £21.95*

*Stairs and landing areas & orders under

15m2 will incur an extra fit charge.

Looking for inspiration for your

home, get the best advice from

the team at Tatlow's.

@Tatlowcarpets

@Tatlowcarpets

@Tatlowcarpets

Please see our website for further details

www.tatlowcarpets.co.uk

Tel: 01543 264766

Open to the public. Mon-Fri: 9.00am - 5.00pm. Sat: 10.00am - 4.00pm

Unit 4, Europa Way, Britannia Enterprise Park, Lichfield, Staffs, WS14 9TZ

Hanging Baskets and Patio Plants still available...

Fill any gaps in your displays with instant colour

Find us at Curborough Countryside Centre (off Eastern

Avenue),

Lichfield. Postcode for your Sat Nav : WS13 8ES.

Open 7 days a week, see website for latest times.

Telephone : 01543 254306

Website : www.lichfieldgardencentre.co.uk

E-mail info@lichfieldgardencentre.co.uk

Join us on a Coach

Trip in 2022

Travel direct from the Garden

Centre - leave your car with

us for the day free of charge!

RHS Gardens Bridgewater (Manchester)

Saturday 3rd September - £49

Malvern Autumn Show

Saturday 24th September - £55

Coming Soon : Christmas Days Out!

See our website in the coming weeks for

info...
---
to find something I enjoy, and baking became that

enjoyment of just being me and able to grow in my

own place.

"It took a while to admit there was a problem but

when you have that understanding that there is this

thing in your life and you're going to have days that

are good and days that are bad, you think about

discovering mechanisms that are going to help you.

"Whenever I do have those instances where I might

be having a not so good day my first thought is

to bake a cake because any negativity I can turn

into a positive through my baking. It's not a switch

where you can turn it on and off but it becomes a

coping mechanism; baking for me doesn't solve your

problems but it brings you back to Earth where you

can think more clearly."

Simi says she has one classic recipe which she loves

to bake and uplifts her, which also happens to be a

regular among her customers. She's also seen a shift

in catering for different dietary requirements - with

all recipes coming Simi-approved.

"My go-to recipe is my lemon drizzle cake, it's also

one of my popular bakes that people ask for," she

says.

"I create recipes from scratch, I cater for glutenfree,

vegan and vegetarian customers too and have

noticed a demand in these more recently; it's so

important that I can bake for everyone, so we are all

included.

GULAB JAMUN CUPCAKES

ARE A SIMI CREATION

"When I was creating bakes for certain dietary

requirements, I needed to make sure they were just

as tasty as my regular bakes, so I made loads of

batches to make sure it's perfect and I'd watch the

oven as they bake, thinking is it rising? Is it working?

Of course, me and my family would test them and

only when they're perfect, I will say yes, this is the

final recipe."

Some bakers like to stick to traditional recipes, some

take inspiration from different foods, travel or what

they've eaten in a restaurant but in Simi's case it was

during the time of Diwali, the festival of light, where

typically friends and family gift traditional Indian

sweets, it got her thinking and she decided to merge

two things together.

"I love experimenting, playing around with flavours

and you have your classics which you can't go wrong

with, but I like being a bit risky with some and

creating my own unique cakes," Simi says.

"During Diwali 2020, my parents were talking about

gift-giving for the festival and they wanted different

things, so I went into my own world and thought

about putting an Asian twist to my cupcakes. The

first person I spoke to about it was my boss at work

and his first comment was about the sweetness

because as you know Indian sweets are very sugary,

but I was going to experiment, so the flavours were

balanced but very much still there."

After hearing about the conversation between her

parents, it got Simi thinking about her own culture,

background and past experiences and she decided to

take this as inspiration to incorporate into developing

her very own cupcake recipes.

"For me it was about bringing the essence of the

flavour into the cupcake and incorporating the

30 www.jaimemagazine.com
---
Indian sweets, traditionally called 'mithai'. I went

to the drawing board and thought about traditional

flavours such as rose water, cardamom, saffron,

things that I grew up tasting in all types of food and

drink.

"Tea is a huge part of our culture, whenever you

go to someone's house there will be a lovely cup of

masala chai and a sweet treat waiting and I thought I

have to put tea in at least one of the cakes. I gauged

what flavours would work and then I developed the

recipes, I went through countless batches and when I

got the right one I decided to give them to my work

colleagues to test and try, from there, the new range

was born and it worked out really well."

Simi's three final flavours were Gulab Jaman (dough

balls in syrup) and Masala Chai, Gajar Ka Halwa

(sweet carrot pudding) and Cardamom, and the third

was a Jalebi (crispy, fried rounds in a sugar syrup)

with Coconut and Saffron.

"It was never my intention to make money from

cakes, it started off as my release point, then posting

pictures online, making cakes for family and friends

and developing into people getting in touch with me

to bake for their occasions," Simi adds.

"After the pandemic, I decided to take my baking

more seriously; there was a lot of demand and

I thought I could make something of this. I love

baking, it is a part of me, it's my happy place."

For more on Simi Bakes, visit her Instagram page

@simi_bakes

Recipe

Here, Simi shares one of her

favourite recipes for lemon

drizzle cake:

Ingredients

225g unsalted butter, softened

225g caster sugar

4 eggs

225g self-raising flour

1 lemon, zested

For the drizzle topping

1½ lemons, juiced

85g caster sugar

Line a loaf tin with greaseproof

paper and preheat the oven to gas

mark 4/180C.

Beat together your butter and

caster sugar until pale and creamy.

Add your eggs, one at a time,

slowly mixing through.

Sift in the self-raising flour, then

add the lemon zest and mix until

well combined.

Spoon the mixture into the tin and

level the top with a spoon.

Bake for 45-50 mins until a thin

skewer inserted into the centre of

the cake comes out clean.

While the cake is cooling in its tin,

mix together the lemon juice and

caster sugar to make the drizzle.

Prick the warm cake all over with a

skewer or fork, then pour over the

drizzle – the juice will sink in and

the sugar will form a lovely, crisp

topping.

www.jaimemagazine.com

31
---
F O O D & D R I N K

All fired up for fine dining

THERE'S A SUMMER OF FIRED UP FINE DINING AHEAD AS LICHFIELD'S DUBBERLEY DELICIOUS GET

SET TO SERVE UP BARBECUE - WITH THEIR SIGNATURE STYLE, AS AMY NORBURY DISCOVERS

Blazing sunshine one minute, downpours the next? It

can only mean one thing - the great British summer

time is upon us. And when it comes to dining

options, there's nothing which says summer better

than a good barbecue.

And barbecue means burgers, sausages and chicken

wings, right? Honestly, you couldn't be more wrong!

Barbecue has had a culinary makeover, so it's high

time you swap your sorry sausages for something

altogether more delicious.

Dubberley Delicious, in fact.

Nestled in a cosy cabin on the site of the Lichfield

garden centre The Plant Pot, Dubberley Delicious

are purveyors of the finest of dining, where only the

best produce and the freshest of nature's bounty goes

into creating a unique foodie experience.

With just one single table stationed in front of the

kitchen it means that not only is the entire place

yours, but you get to watch all the culinary action as

it unfolds. And with the option to create a bespoke

menu - or be surprised and delighted by what

chef Jack Dubberley comes up with - Dubberley

Delicious offers a chef 's table experience without the

restaurant.

While indoor dining is a one-table-only affair,

meaning dates get booked up exceedingly quickly,

there is another way to sample Dubberley Delicious'

mouth-watering culinary delights.

Throughout summer, Jack will be firing up the

Big Green Egg for a series of outdoor fine dining

barbecue events - pesky weather permitting, of

course. For those of you who don't know, the Big

Green Egg is pretty much the king of barbecues; a

ceramic-lined behemoth of outdoor cooking. And

Jack will be taking his kitchen outside to whip up an

array of tasty treats.

J'AIME was lucky enough to be invited along to the

first barbecue of the season - and after sampling

Jack's cooking on several occasions, we couldn't wait

to see him put his own spin on a summer staple.

As it was Father's Day, we had the two minis in tow

- meaning they too could enjoy some fine dining

in a more casual, kid-friendly setting than a formal

restaurant.

And family is at the heart of what Dubberley

Delicious do; while skilled chef Jack runs the show,

his sister Lucy can often be found helping out with

front of house duties, even roping in their parents for

an extra pair of hands or two when the occasion calls

for it.

The menu, while a more simple affair than Jack's

usual offerings, sounded utterly delicious. So much so

that there wasn't anything we didn't fancy. So one of

32 www.jaimemagazine.com
---
everything it was.

An array of light bites - or starters, as we liked to call

them! - included wild garlic focaccia, £4, BBQ king

prawns, £7, and chargrilled asparagus from local

suppliers New Farm, £8.

The bread was beautifully light and fluffy, the prawns

sweet and succulent, and served with a generous

dollop of Jack's homemade wild garlic mayonnaise.

Foraging is a passion of Jack's, and he uses his

foraged wild garlic across a number of dishes in

season, while preserving the remainder of his spoils

for later use.

Fresh asparagus in season is always a joy, and Jack's

fine dining twist saw beautifully chargrilled spears

topped with yuzu gel and aged parmesan custard;

the sharp, citrus kick of the yuzu perfectly balancing

the richness of the cheese.

Sweet and sour tomatoes are a firm favourite on the

Dubberley Delicious menu, and these made for a

wonderful barbecue treat, served with smoked ricotta

and puffed pearl barley, £7. These are tomatoes

and then some; sweet, tangy, juicy and incredibly

moreish, they were a winner with us all.

We already know and love Jack's signature wild garlic

popcorn, £3, and this proved a massive hit with our

seven-year-old too - so much so that he polished off

the lot and went back for more.

Spring lamb koftas, £8, rounded off the first selection

of dishes. Beautifully spiced, with a cooling mint

yoghurt, fresh cucumber ketchup and pickled

cucumber ribbons, it was a delicious showcase of

quality ingredients.

Now, when we said forget about burgers, we may

have been a little hasty - although Jack's three burger

options bear little resemblance to the fast food staple

we're all used to.

Slabs of melt-in-the-mouth finest quality Welsh

wagyu brisket glazed with soy and maple and

adorned with punchy black garlic mayonnaise, £15,

and tender wild garlic infused buttermilk chicken

breast with Cajun mayonnaise and gherkins, £12,

all served on soft brioche buns, made for seriously

impressive burger iterations.

But the biggest surprise was the vegetarian fayre

- beautifully barbecued halloumi with shiitake

mushrooms, charred baby gem lettuce and a glorious

tomato salsa, £10, was possibly my husband's

favourite of the lot. High praise indeed from a

dedicated meat eater.

A variety of side dishes included triple cooked

chips, red cabbage slaw - another of our son's top

picks - sweet Jersey Royals adorned with homemade

wild garlic pesto, sticky onions and an incredible

bacon jam, made for a veritable feast which offered

something for us all.

We could have happily called it a day there, but

there was no way the children were going to let us go

anywhere without sampling the sweet treats on offer.

And what treats they were. The New Farm

strawberry cheesecake with vanilla ice cream

and perfectly ripe strawberries, £6.50 was a

sophisticated take on a family favourite. But it was

the chocolate cremeux with salted caramel and

toasted marshmallow ice cream, £7, which proved

to be the collective winner. The slight hint of

dark chocolate bitterness and the toasty notes

ensured just the right amount of sweetness,

while the whole thing felt deliciously

decadent.

If you've not yet tried the Dubberley

Delicious experience, then summer's

barbecues are the perfect introduction - we

guarantee you'll be left wanting more.

For details of Dubberley Delicious' upcoming

barbecue events, visit

www.dubberleydelicious.co.uk or keep

an eye on the @dubberleydelicious pages

on Instagram and Facebook.

www.jaimemagazine.com

33
---
F O O D & D R I N K

A taste of Nepal

MASTERCHEF: THE PROFESSIONALS FINALIST SANTOSH SHAH ENJOYED A

RECENT POP UP IN LICHFIELD WITH SAUCE SUPPER CLUB. HERE, HE SHARES A

DELECTABLE RECIPE WHICH SHOWCASES HIS SIGNATURE NEPALESE FLAVOURS

Spiced monkfish

with sesame and

tomato sauce

INGREDIENTS - SERVES FOUR

500g boned monkfish fillet, taken from the

thick upper cut

125g plain flour

For the marinade:

2 tbsp ginger paste

1 tsp ground cumin

1 tbsp ground garam masala

50g fresh coriander, chopped

juice of 1/2 a lemon

1 tsp Kashmiri chilli powder or medium hot chilli

powder

1 tsp ground turmeric

12 tbsp natural Greek yoghurt

1 tbsp Bengali Kasundi mustard paste

Salt, to taste

For the sauce:

75g sesame seeds

2 tbsp vegetable oil

1/2 tsp fenugreek seeds

1 tsp Samagrah (Whole Spice Garam Masala)

1 tsp finely chopped fresh ginger

1 garlic clove, finely chopped

1 tsp Kashmiri chilli powder, or medium hot chilli

powder

1 tsp Nepali Barha Masala (Nepali Garam Masala)

1 tsp ground turmeric

50g salted butter

3 tomatoes, diced

Salt, to taste

A handful of fresh coriander, chopped

To serve:

Pyaj Ko Achar (red onion and chilli salad)

Cut the monkfish into four equal fillets or ask your

fishmonger to do this. In a large bowl, combine all the

ingredients of the fish marinade and mix well. Add the

monkfish fillets and delicately mix them in, making sure

they are well coated. Place in the refrigerator for 1–2

hours.

Prepare the sauce. First, dry roast the sesame seeds in a

non-stick frying pan, until golden all over. Remove from

the pan, set aside and leave to cool. Place in a pestle

and mortar and crush to a powder. Alternatively, use

a small electric spice grinder. Heat the oil in the frying

pan. Add the fenugreek seeds and whole garam masala,

and let them crackle. Add the ginger, garlic and green

chillies and cook for a couple of minutes until soft. Add

the ground spices and butter and cook for another few

minutes. Add the diced tomatoes and salt, and cook

until the tomatoes get soft and mushy.

Add the ground sesame seeds to the tomato mixture and

immediately remove from the heat. Add the coriander

and leave to cool slightly. Pour into a blender or a

thermomixer and blend until very smooth. Set aside and

keep warm.

Preheat the oven to 190°C (170°C fan /375°F/Gas 5).

Spread the flour on a plate. Remove the monkfish fillets

from the marinade. Coat each fillet with flour and place

on a baking sheet lined with baking parchment. Bake

for 15–20 minutes, until the fish is golden brown and

cooked through.

To serve, spoon some of the tomato sauce onto a plate

and place a monkfish fillet on top. Add a little of the

salad on the side.

34

www.jaimemagazine.com
---
LICHFIELD'S

BRUNCH CAFE

Beautiful breakfasts & brunches made fresh,

with locally sourced quality ingredients.

OPEN TUESDAY - SUNDAY 10AM - 4PM

AFTERNOON TEAS | SUNDAY ROASTS | POP UP EVENTS

AVAILABLE FOR PRIVATE HIRE | FULLY LICENSED

>> RECOMMENDED BY THE SUNDAY TIMES STYLE MAGAZINE
---
F O O D & D R I N K

Party with pizzazz

INSPIRED BY LOCKDOWN, VICKI KNIGHT SET ABOUT TRANSFORMING A BATTERED

HORSEBOX INTO A LUXURY BAR TO CREATE NEW VENTURE SHERGAR'S BAR AND EVENTS

For many, the events of the past two years have

caused us to take stock and reassess what's really

important in our lives. For Vicki Knight, it was

happening upon a battered horsebox during

lockdown which sowed the seed for a brave new

venture.

That vintage horsebox was lovingly transformed into

a stunning bar worthy of gracing any event. With a

beautiful deep blue exterior and sophisticated copper

interior, the horsebox bar is perfect for adding a

splash of glamour wherever it goes. And in keeping

with the horsebox theme, there could only be one

name; Shergar's.

With a background in sales and recruitment,

Vicki had set up her own recruitment business,

DataCareers Ltd, at the age of just 27. The business

grew to be a success and Vicki remained hands-on in

a part time capacity when her children Sophie, now

14, Georgia, 12, and seven-year-old Bertie arrived.

"But lockdown brought changes to my personal

life and made me reevaluate, like it did for many,"

says Vicki. "I decided I wanted to carve out a

new business for myself, which gave me some

flexibility around a busy home life and given I have

always been customer facing and service focussed

throughout my career, the idea of owning a mobile

bar and creating fun times for clients really appealed

to me."

With the help of fabricator Shaun Blakemore at

Restofab to create the interior, and Vicki's talented

brother Garry Lowe, who owns AutoTek in Lichfield

and who welded, fixed and sprayed the exterior, in

just two short months, Shergar's Bar was born.

The perfect solution for private parties, Shergar's

Bar will bring some additional pizzazz to luxurious

birthday bashes, weddings, corporate functions or

private celebrations across the whole of Staffordshire

and the Midlands. Tailor-made refreshments

packages are available, and Shergar's Bar can be

secured with a fee of just £295 to book your chosen

date, along with two experienced bar staff, recyclable

glassware and a temporary events notice. A choice of

cash or prepaid bar is then available, depending on

customers' requirements.

VICKI KNIGHT SET UP SHERGAR'S

BAR DURING LOCKDOWN

"I was incredibly grateful to be asked by the

team at Lichfield Cathedral to be a part of a

new refreshments offering outside the cathedral,

something that had never been done before," Vicki

says.

"We enjoyed a wonderful pitch for four months last

summer and met some fabulous people along the

way. We returned to offer hot drinks at Christmas

time to thousands of visitors every evening during

the Cathedral Illuminations."

This summer Shergar's Bar is back at the cathedral

from August 8 to September 3, offering refreshments,

including coffees, cakes and alcoholic tipples. They

will also be the only external drinks provider at

Lichfield's Fuse Festival from July 8 to 10, offering

wonderful variations of G&Ts and gin cocktails.

You'll also find Shergar's at the Whittington Fayre on

September 3 and The Lichfield Half Marathon on

September 18.

Vicki adds: "We are very committed to supporting

local businesses, and partner with locally brewed IPA

from Trinity, and locally distilled gin, The Apiarist,

among others. We do our own baking too; my

wonderful Mom and I make some pretty amazing

cakes and sweet treats ourselves, and were delighted

to have been awarded a five star food and hygiene

rating recently."

For more details visit

www.shergarsbarandevents.co.uk

36 www.jaimemagazine.com
---
POOL HOUSE

Professional advice with a personal approach

Pool House Group provides bespoke financial planning that is tailored to your individual needs.

We take our clients through the full financial planning journey from pension/savings accumulation,

all the way through to retirement. We use cash flow software that will demonstrate how your

objectives and future goals can come to life and how these will work for you in the future.

WOMEN'S WEALTH - LET'S CLOSE THE GAP

As a Chartered Financial Planning Practice, we have

started to see a change in a 'typical' client profile -

more women are now in senior roles, returning back

to work after having their children, closing the gap

between spouses/partners and in many circumstances

are the main household earners.

During the pandemic, investment platforms and

trading apps reported a new influx of female

investors - Pool House Advisers are passionate about

establishing long term relationships with investors to

ensure that our clients work towards and reach their

financial freedom regardless of gender.

Circumstances can change our financial freedom

which could be an employment change, death of a

loved one or a divorce, and Pool House are always

here to assist our clients in every stage of life and

every change of circumstances. We aim to establish a

long term relationship with our clients and are always

at the end of the phone to help with your needs.

• RETIREMENT PLANNING

• INVESTMENT ADVICE

• INHERITANCE TAX PLANNING

• FAMILY PROTECTION

• MORTGAGE ADVICE

'When starting off in the industry'

quotes Phoebe 'I was disappointed

to be one of only a few female

advisers and consequently this has

made me very passionate about

inspiring females to not only join

the industry but to get qualified to

financial adviser level. I understand

the pressures of juggling a career

alongside family life which can be

relatable in particular to female

clients. I am passionate about

women doing well in all sectors and

believe that my experience can

assist my clients with both financial

security and independence'.

Phoebe Kalsi DipPFS -

Director & Financial Adviser

We pride ourselves on our informal

but professional approach to

financial advice and we believe

that to generate a long-term

relationship, service is always key.

We are accessible and all of our

staff are trained to a high level.

You will always speak to the same

person twice. We promise our clients

that we will always be:

• TRUSTWORTHY

• RELIABLE

• KNOWLEDGEABLE

• FRIENDLY

'Women are instrumental at inspiring

other women' quotes Fiona 'and it

is important to support each other

through business. Being a full time

working mother myself, I know the

pressures of being a parent and

managing business responsibilities.

There shouldn't be any limitations

on the success of females and their

financial future'.

Fiona Haigh - Director

POOL HOUSE ARE ALSO PASSIONATE ABOUT SUPPORTING

YOUNG WOMEN OUTSIDE OF OUR INDUSTRY - WE ARE PROUD TO

SUPPORT A LOCAL CHARITY - SPARK BURNTWOOD WHICH WE ARE

ASSISTING IN PROVIDING FREE CHILDCARE TO ENABLE YOUNG

MOTHERS TO TAKE ON EDUCATIONAL PROGRAMMES

Pool House, Dam Street, Lichfield WS13 6AA • 01543 441644 • www.poolhousegroup.co.uk

*Pool House is a trading style of DRB Associates Ltd which is authorised and regulated by the Financial Conduct Authority
---
F E AT U R E

Lichfield Festival turns 40

LICHFIELD FESTIVAL IS BACK FROM JULY 7 TO 17, THIS YEAR CELEBRATING ITS MILESTONE

40TH ANNIVERSARY. WE TAKE A LOOK AT THE IMPRESSIVE PROGRAMME, AND SPEAK TO THE

FESTIVAL'S ASSOCIATE ARTIST, SINGER AND WRITER JESSICA WALKER, ABOUT HER FESTIVAL

CONCERT AND WHAT WE CAN EXPECT FROM THE SHOW

LICHFIELD CATHEDRAL

WILL BE THE SETTING

FOR A SERIES OF SHOWS.

PHOTO BY REDLOCK

PHOTOGRAPHY

July in Lichfield can mean only one thing - Lichfield

Festival. And this year's event, which runs from July 7

to 17, will be particularly special, not just because it's

the first unrestricted event since 2019 but it's also the

Festival's milestone 40th anniversary.

First, a quick rewind to summer 1982: a future

King was born, the Falklands War came to an end,

Navratilova and Connors were Wimbledon winners,

and Lichfield held its very first summer Festival

which, incidentally, included a then entirely unknown

Cambridge Footlights team of Stephen Fry, Hugh

Laurie and Emma Thompson (check the Festival's

website for a wonderful filmed message from Stephen

Fry).

Since that first event, Lichfield Festival has brought

a parade of wonderful artists and musicians, as well

as audiences national and local, to the beautiful

cathedral city. It's a chance to try something new,

enjoy a picnic on the cathedral lawn, entertain the

children, and generally soak up the atmosphere.

And, this year, the Festival Fireworks are back with a

bang after a 10-year absence to create a spectacular

grand finale to the festivities on the final Saturday.

"Since the first event in 1982, Lichfield Festival has

brought artists and musicians of the highest calibre,

and audiences local and national, to this beautiful

city," said Lichfield Festival Director, Damian

Thantrey. "Alongside fabulous established and upand-coming

artists, our 40th anniversary will feature

works from the first Festival, new commissions,

bespoke 1980s themed shows, music honouring the

150th anniversary of the composer Ralph Vaughan

Williams and the inaugural Midlands Choir of the

Year.

"As always, there will be dance, drama, comedy,

family fun, fireworks and free events – all the

hallmarks that have made Lichfield Festival a cultural

beacon for the last 40 years."

Pop icon Tony Hadley is opening the Lichfield

Festival's 40th anniversary celebrations this summer

with a stunning Lichfield Cathedral concert on

Thursday, July 7. The singer and Festival patron is

just one of the incredible headliners at this year's

event.

38 www.jaimemagazine.com
---
COMING SOON

TO THE LICHFIELD GARRICK

TUE 19 - SAT 23

JULY

TUE 19 - SAT 23

JULY

SAT 30 JULY

LICHFIELD GARRICK COMMUNITY MUSICAL

ROBIN HOOD

A BRAND NEW MUSICAL ADVENTURE

LICHFIELD PLAYERS PRESENT

MY FRIEND, MISS FLINT

BUDDY HOLLY & THE

CRICKETERS

FRI 5 AUG FRI 12 AUG FRI 2 SEPT

GO YOUR OWN WAY:

THE FLEETWOOD MAC LEGACY

BOOK

NOW

OUTDOOR THEATRE AT STOWE FIELDS

MUCH ADO ABOUT

NOTHING

LICHFIELDGARRICK.COM

01543 412121

OPERA BOYS

A NIGHT AT THE MUSICALS

Proud to be a family run business for over 35 years

Introducing

the Sudbury

woodburning

stove from

Clock

HOME IS WHERE THE WARMTH IS

Suppliers of: Contura, Clock, Jotul, Gazco, Scan, Town & Country Fires, ACR Heat Products and many more

Installers and suppliers of gas fires, bespoke limestone surrounds, and gas and woodburning stoves, since 1981.

1/7 High Street, Erdington B23 6RG Next to Highclare School

Telephone: 0121 384 5251 - www.abbeyfirecentre.co.uk

Open: Mon - Fri: 9am - 5pm (closed Wednesdays), Sat: 10am - 2pm

abbeyfirecentre @abbeyfirecentre abbeyfirecentreltd
---
The cathedral will act as the stunning

backdrop for Ballet Cymru's new production

called Dream, while singer-songwriter Ayanna

Witter-Johnson and folk band The Longest

Johns will also be performing in the stunning

space. The festival's inaugural Midlands Choir

of the Year Competition winners will be

chosen in a Cathedral showcase of the finest

Midlands-based amateur singing groups.

Other headliners include stand-up comedian

and host of the BBC2's Lightning and Live at

the Apollo Zoe Lyons, who will be performing

at The Hub.

Several works from the first festival in 1982,

and music honouring Vaughan Williams's

150th anniversary have been incorporated into

the classical music programme this year. The

BBC National Orchestra of Wales, will be playing

Vaughan Williams' Fantasia, alongside Britten

and Schumann, in what will be their fourth year

attending the festival.

There will be recitals by internationally renowned

cellist Steven Isserlis and celebrated guitarist Paul

Galbraith, both of which are regular visitors

to Lichfield in the festival's early days. Stephen

McNeff's chamber opera Beyond the Garden will

feature mezzo-soprano Susan Bickley, and wine

writer Oz Clarke is set to join Armonico Consort for

Gin and Phonic, while the Charles Court Opera will

perform Gilbert and Sullivan's Patience.

Among the Festival's new Associate Artists, classical

pianist Danny Driver will be making an appearance

both with the Brodsky Quartet and in a solo recital,

while baroque violinist Rachel Podger will perform

at the intimate, candle-lit, late-evening cathedral

concert.

If you're looking for something where you can get on

THE CROWDS WILL BE

BACK FOR THE FIRST

PROPER FESTIVAL SINCE

2019

LICHFIELD FESTIVAL ASSOCIATE

ARTIST JESSICA WALKER

those dancing shoes then Jessica Walker and Joseph

Atkins are going to revive the great 80s hit songs

from Dolly Parton to Annie Lennox and will feature

the music of Stephen Sondheim in bespoke festival

cabarets.

Singer and writer Jessica Walker is a familiar face

at Lichfield Festival having performed at previous

events, she is now an associate artist which means she

will be back for more.

"I have been a regular artist at the festival and just

before the pandemic I was an artist in residence

but now I'm an associate artist at the festival which

means for the next three years I'm committing to

do at least one concert there, so I've built up quite a

regular following now for people who are interested

to see what I'll do next," Jessica says.

As it's the celebration of 40 years for the festival,

the programme is packed with extra special

performances this year, fulfilling festival director

Damien Thantrey's vision of bringing the Eighties

back to life.

"Damian, the festival director, was pretty

specific about what he wanted me to do

because it's the 40th anniversary, he decided

to do a concert of Eighties music and I have

to say that was a bit of a challenge," says

Jessica.

"I've had to go through various kinds of pop

music from the 1980s and think, what can I

sing? I'm classically trained but I sing across

a lot of styles and types of music, but I rarely

sing pop music, if at all. So, he presented

me with a big challenge, but I think I've got

somewhere, and I've got a real mix of stuff

from Kate Bush to Leonard Cohen, and

we've even got some synth-pop in there, so I

40 www.jaimemagazine.com
---
think I've covered all bases."

Music director Joseph Atkins and Jessica have

worked together to prepare their own versions of

some classic hits, meaning there will be something

for everyone, every mood and feeling to enjoy in the

city of Lichfield.

"I work with a wonderful music director called

Joseph Atkins and we work together a lot; we are

quite often given challenging briefs by festivals, and

we do it in our own way," says Jessica.

"We are going to do a Queen song which we are

going to do in an operatic way, whereas other songs

we will strip right back and do in quite an intimate

way but none of them will sound like how the

original artists sang them."

A special tribute will be paid to music legend Steven

Sondheim who unfortunately, passed away during

the Covid-19 pandemic. The festival will honour him

and keep his memory alive with the concert.

Jessica adds: "We are doing a concert that was

delayed because of the pandemic, Damian had

always intended to do a 90th birthday concert for

Steven Sondheim who was one of the greatest

music writers of all time and when the pandemic

happened, Steven has passed away so now the

Sondheim concert is in honour of his death."

Jessica is looking forward to performing on stage as

a more normal way of living returns. After going

through such a difficult time during the pandemic,

she's happy to see the arts industry moving forward.

"I was singing the day after lockdown lifted, which

was last May 17 last year, wasn't it? It's been really

difficult, that year that we all lost," Jessica says.

"I made a couple of film projects with my

collaborator just to keep going but it was very hard. I

just kind of went straight back into it, I had festivals

lined up last summer and I haven't really stopped

since. I've just come back from Rotterdam because

I was doing a festival there which was exciting

COMEDIAN ZOE LYONS

WILL BE PERFORMING AT

THE HUB

POP ICON TONY HADLEY

KICKS OFF THE FESTIVAL

PROGRAMME

because I haven't been out of the country since the

pandemic.

"It really does make you value what you have. I have

to say, it's been a dreadful time for people in the live

arts, and it's wonderful to be up and running again,

but it still feels a little bit tenuous, a little bit fragile."

The Lichfield Festival does so much for the people

of the city and more, it attracts those from all walks

of life and Jessica focuses on the importance of

events like this and how everyone can get involved in

coming together for the city and each other.

"I think we've realised more than ever how

important festivals are because they do bring people

together," Jessica says.

"I'm not a local artist, but I know that Damian does

work with some local artists, which is fantastic, but

I think that sort of continuity and for people to feel

the sense of community is great because at Lichfield

Festival you have your wonderful hosts who put up

the artists as well and so they get involved in that way

and all the volunteers and I think it's really important

for people to feel like they're pulling together over

something. It's sociable and it's something that

everyone can enjoy together, there is something for

everyone and that is hugely important."

There will be events across the 10 days, from dance,

comedy, theatre and family events for everyone to

enjoy.

Jessica adds: "I would love for everyone to buy a

ticket for something on each day of the festival

because that's what the festival needs; it needs

everyone to step out and go and see things, we are

out of the habit of it and people are still nervous I

think about going for it."

For more details about the Lichfield Festival, visit

www.lichfieldfestival.org

www.jaimemagazine.com

41
---
W H AT ' S O N

A multimedia marvel

WORLD FAMOUS GUITAR LEGEND GORDON GILTRAP, COMPOSER PAUL WARD

AND AUTHOR NICHOLAS HOOPER ARE LAUNCHING THEIR AMAZING NEW

MULTIMEDIA PROJECT AT ARTIFEX GALLERY

Scattered Chapters is a dynamic multimedia project

created during lockdown, which takes the form of a

brand new Gordon Giltrap and Paul Ward album,

alongside a beautiful hard back book published by

Wymer publications.

The book features short stories written by world

famous award-winning composer, guitarist and

author Nicholas Hooper, a man who has composed

music for more than 250 films - the most well known

being scores for two Harry Potter films. Nick is also a

self-published author and was deeply inspired by the

back stories that inspired the music.

The book also contains individual artwork from

some of the most exciting artists working in the UK

today. Each of them was captivated by the project

and the end result is a stunning array of paintings,

ceramics, glass art and jewellery reflecting the stories

and the tunes, all faithfully reproduced in the book.

The CD, which will be released on Psychotron

Records, features 18 compositions; three are the

creations of Paul Ward and the remainder are by

SCATTERED CHAPTERS MIXED MEDIA

ON CANVAS BY DANNY O'CONNOR

GORDON GILTRAP

Gordon Giltrap. There is an orchestral version of an

early GG tune as well as a reworked Celtic flavoured

version of his classic Heartsong, featuring the pipes

and whistles of John Devine. Special guests on the

album are Jenny Hanley, spoken word, Ian Mosley

of Marillion, on drums, Rod Edwards on keyboard

arrangements and Nick Hooper on guitar.

A 25 minute documentary created by Mark and Jane

Day of FluidFox about the project will also find its

place on YouTube.

The project's launch will be taking place at Artifex

Gallery, at Mitchells Shopping in Sutton Coldfield,

on Saturday, July 23 from 11am to 4pm. Visitors will

have the chance to meet Gordon Giltrap, Paul Ward

and Nicholas Hooper alongside some of the artists

involved.

Gordon will be performing a short, intimate acoustic

set and, along with Paul and Nicholas, will be

signing the book. This will also be a unique chance

to purchase the original pieces from the book, which

are sure to become collectors' pieces. Refreshments

will be provided by Artifex.

An exhibition of the work will run for one month

from the launch date at Artifex, where all the original

artwork will be for sale.

For more details visit www.artifex.co.uk

42

www.jaimemagazine.com
---
Tamworth Arts & Events by arrangement with Tony Denton Promotions

TAMWORTH CASTLE GROUNDS

HOWARD

JONES

H

BELINDA

CARLISLE

H

THOMPSON TWINS'

TOM BAILEY

H

BONEY M H THE FIZZ

TOYAH H KATRINA OF THE WAVES

Tickets available from www.ticketmaster.co.uk

www.tamworthartsandevents.co.uk | Tel: 01827 709618

Tickets may be subject to booking fee. Promoter has the right to change the line-up.

Tamworth Castle Grounds, Holloway, Tamworth, Staffordshire, B79 7NA
---
W H AT ' S O N

What's On this summer

THERE'S A PACKED SCHEDULE OF ALL THINGS ENTERTAINMENT

TO BE FOUND AROUND THE MIDLANDS THIS SUMMER

WHAT: ROBIN HOOD - THE COMMUNITY MUSICAL

WHERE: LICHFIELD GARRICK

WHEN: JULY 19 TO 23

See the famous archer brought to life in a way you've

never seen before in this world premiere production of

Robin Hood. Join the team at the Garrick for this lively,

vibrant and heartfelt production brought to life by their

Community Musical Cast. Follow the journey from

disgraced nobleman to charming thief to leader of a

rebel group, as our titular protagonist learns that it's the

family you choose whom you need the most in this tale of

adventure, tragedy, and archery!

Jonny McClean, Associate Director at the Lichfield

Garrick and the show's director, says: "I am

overwhelmingly excited to welcome the local Lichfield and

Burntwood community to the theatre to join in with, what

is for us, a historic event. This is the first time we've ever

presented a musical written by the community, performed

by the community, for the community. To be hosting

a world premiere of a brand new musical has been a

massive opportunity for us, so we hope that you come and

join us as we create our own little slice of theatre history!"

For more details and to book tickets visit www.

lichfieldgarrick.com

WHAT: SOME MOTHERS DO 'AVE 'EM

WHERE: ALEXANDRA THEATRE, BIRMINGHAM

WHEN: JULY 19 TO 23

Betty has exciting news for Frank, but he's preoccupied

by possible newfound fame as a magician. With guests

arriving for dinner and crossed wires all round, priceless

misunderstandings are on the menu.

Hilarious mishaps and DIY disasters are bringing the house

down, quite literally, as Some Mothers Do 'Ave 'Em hits

the road with Joe Pasquale (New Faces, I'm a Celebrity,

Spamalot, The Producers) as the lovable accident-prone

Frank Spencer.

Susie Blake (Coronation Street, The Victoria Wood Show,

Blithe Spirit) stars as his disapproving Mother-in-Law and

Sarah Earnshaw as his long-suffering wife Betty.

Based on the 1970s classic TV comedy by Ray Allen and

directed by the award-winning Guy Unsworth, Some

Mothers Do 'Ave 'Em is the ultimate feel-good night out,

washed down with lashings of nostalgia and Mother's

prune wine. Quite Frank-ly, it's a hit!

For more details and to book tickets visit

www.atgtickets.com/birmingham

44

www.jaimemagazine.com
---
WHAT: BUGSY MALONE

WHERE: BIRMINGHAM REP

WHEN: JULY 27 TO AUGUST 14

Birmingham Rep, Theatre Royal Bath Productions and Kenny Wax present a brand new

production of Lyric Hammersmith Theatre's universally acclaimed revival of Bugsy Malone.

Packed with instantly recognisable songs from Oscar-winner Paul Williams including My Name

is Tallulah, You Give A Little Love and Fat Sam's Grand Slam, Bugsy Malone is a masterclass

of musical comedy with one of the most joyously uplifting finales in musical theatre.

Prohibition era, New York. A city full of mobsters, showgirl and dreamers. Rival gangster

bosses Fat Sam and Dandy Dan are at loggerheads. The custard pies are flying and Dandy

Dan's gang has gotten the upper hand since obtaining the new-fangled "splurge" gun. Now, Fat

Sam and his bumbling buffoons are in real trouble!

Enter Bugsy Malone, a penniless one-time boxer and all-round nice guy, thrust not-so-willingly

into the gangster limelight when he becomes the last resort for Fat Sam's hapless hoodlums. All

Bugsy really wants to do is spend time with his new love, Blousey, but that just isn't in the cards

for our hero.

For more detail and to book tickets visit www.birminham-rep.co.uk

WHAT: ME DANCE COMPANY PRESENTS CHAIN STORIES

WHERE: BUMBLE HOLE NATURE RESERVE, DUDLEY

WHEN: AUGUST 6 AND 7

Chain Stories is an exciting site-specific performance piece incorporating dance, live music

and narration, alongside an outdoor exhibition of original artworks and historic photographs.

It tells the stories of those who came into contact with the chains made in the Black Country

and how they linked the region to Commonwealth Countries. You will follow the chains on

their journey from the ground, to the forge, along the canals, across the sea to Ghana, Grenada

and back again. Along the journey, different people and stories are encountered, unveiling

links between us that we do not usually see. Through a different lens, these stories will be

recontextualised and re-imagined, displaying the journey that ushered us to the wonderfully

multicultural society we live in.

This educational and free to attend project is a part of Birmingham Festivals 2022 and

created in support of the British Council, Arts Council England, Canal and River Trust and

Black Country Touring. For more details visit www.medancecompany.co.uk. Tickets are

available from www.eventbrite.com

WHAT: LES MISÉRABLES

WHERE: BIRMINGHAM HIPPODROME

WHEN: AUGUST 9 TO 27

Returning by popular demand following a sell-out run, Cameron Mackintosh's acclaimed

production of Boublil and Schönberg's musical Les Misérables returns to Birmingham

Hippodrome in August.

This brilliant new staging has taken the world by storm and has been hailed "Les Mis for the 21st

Century". With scenery inspired by the paintings of Victor Hugo, the magnificent score of Les

Misérables includes the songs I Dreamed a Dream, On My Own, Bring Him Home, One Day

More, Master Of The House and many more. Seen by more than 120 million people worldwide

in 52 countries and in 22 languages, Les Misérables is undisputedly one of the world's most

popular musicals.

Storm the barricades for a ticket! For more details visit www.birminghamhippodrome.com

WHAT: LICHFIELD GARDEN CENTRE COACH TRIP

WHERE: RHS GARDENS AT BRIDGEWATER

WHEN: SEPTEMBER 3

Join Lichfield Garden Centre on one of their popular days out by coach to the new RHS

Gardens at Bridgewater. Departing on Saturday, September 3, they will be visiting the new

home of the Royal Horticultural Society in the north, located near Salford, Manchester. A

restored 156 acre site gives lots to look at – the day out includes a guided tour of the restored

Kitchen Garden, and you'll see many unusual plants and features too.

For more information visit www.lichfieldgardencentre.co.uk/coachtrips for full details,

or call 01543 254306 to book. *RHS Members get discounted rates on tickets.

www.jaimemagazine.com

45
---
F I N A N C E

ADVERTISING FEATURE

Wealth Matters

A MONTHLY REVIEW OF THE WORLD OF FINANCE FROM

LICHFIELD FINANCIAL ADVISER JEAN LAMB DipPFS

INVESTING – THE MYTHS AND THE

MYSTERIES

I thought it timely to put together some of my top tips to

aid successful investing.

DIVERSIFICATION – A KEY INGREDIENT

The discipline of diversification, in a financial sense, is one

of which investors are being increasingly reminded given

the volatile nature of global investment markets over the

past few months.

It is a brave - or more likely foolhardy - investor who

ignores the old saying "Don't put all your eggs in one

basket" and it's a timely warning.

It is so important that your investments are not

concentrated in one area, but are instead spread across a

range of assets from within the investment universe. This

can help reduce negative impact from changing market

conditions. Investors nowadays are able to access a much

wider range of asset classes than the traditional equities

(shares), fixed interest securities, property and cash, with

other 'alternative asset classes' now added to the mix.

DEALING WITH OUTSIDE FORCES

While diversifying stock selection can offer some

mitigation against risks, there will still be what are known

as systemic or market-wide risks that could have negative

implications. These include inflation, rising interest rates

or political instability – all three of which we are actually

seeing in 2022.

This is why it is wise to diversify across all asset classes,

as bonds, equities, property and alternative investments

generally react differently to the same market conditions.

Thus by spreading investments across different asset

classes we can mitigate against a variety of risks.

It is important to acknowledge that diversifying cannot

eliminate risk altogether. However, by combining asset

classes that do not move in perfect sync with each other,

diversification can help to promote reduced volatility and

smoother returns in a well-managed portfolio.

PUTTING THE BELIEF INTO PRACTICE

So, diversifying stock selection and asset classes is almost

a foregone conclusion. However, it shouldn't end there.

It is important to also diversify investment strategies and

fund managers themselves to provide the widest spread of

risk. In time, this can potentially smooth out volatility and

deliver more consistent performance.

SO WHY BOTHER AT ALL?

Ah for the simple life! Put it all in a savings account and

forget about it. Unfortunately, that option generally comes

at a cost and the current cost is your money not keeping

up with inflation (quite a hot topic at the moment). In

simple terms you need to make a return on your money

equal to inflation to simply stand still and retain your

money's buying power. Then, only a return above the rate

of inflation is actual profit. You don't need me to tell you

that is a tall order for savings accounts in today's world.

Conversely, investing has the potential to achieve this over

time for what I term "nest egg" money ie., money over

and above your emergency and short term savings, but

you do have to be prepared and able to take a degree of

risk and not take just a short term view.

Perhaps the first step is to see if reorganising your existing

investment portfolio and a discussion with your financial

adviser is called for to check if you have the spread of risk

and asset class that is suitable for you. For those who have

not invested yet, I suggest you seek out a financial adviser

that you feel you can work with and who has the necessary

knowledge and experience to take this forward with you.

The value of an investment with St. James's Place will be

directly linked to the performance of the funds you select

and the value can therefore go down as well as up. You

may get back less than you invested.

An investment in equities (funds) does not provide the

security of capital associated with a deposit account with a

bank or building society, as the value and income may fall

as well as rise.

Jean Lamb is Principal of Jean Lamb Wealth Consultancy

6A Market Street, Lichfield, WS13 6LH - Tel: 01543 417342

Email: jean.lamb@sjpp.co.uk - Website: www.jeanlamb.co.uk

Jean Lamb Wealth Consultancy is an Appointed Representative of and represents only St. James's Place Wealth Management Plc (which is

authorised and regulated by the Financial Conduct Authority) for the purpose of advising solely on the Group's wealth management products

and services, more details of which are set out on the Group's website www.sjp.co.uk/products.

46 www.jaimemagazine.com
---
Walsall Wood

✓ Friendly in-home service ✓ Options for every budget ✓ Price includes measuring & fitting

YOUR LOCAL BLINDS,

CURTAINS & SHUTTERS

SPECIALIST

• I provide expert advice on the

best window solutions

• Flexible appointment times

• Blinds & curtains tailor-made

here in the UK

"My local advisor helped me

find a blind to fit my budget.

The service was second to none".

Laura Jackson, customer

• Ask me about multi-blind

discounts

• I won't be beaten on price*

• Electric blinds available

ROLLERS | ROMANS | VERTICALS | VENETIANS | CURTAINS | SHUTTERS | WOODEN BLINDS

Call me for a free in-home appointment:

Michael Holdway 07949383322

*Based on the same spec, size & levels of service.

Refreshingly Different

Visit our Stylish Showroom

11 Belwell Lane, Sutton Coldfield, B74 4AA - Tel: 0800 996 1241

Visit our fantastic website www.jmiwindows.co.uk - enquiries@jmiwindows.co.uk

Windows | Doors | Bi-Fold Doors | Garage Doors | Conservatories | Orangeries | Secondary Glazing | Window Repairs
---
FA S H I O N

Stay or go?

WHETHER YOU'RE JETTING OFF OR HOLIDAYING AT HOME, THERE ARE A FEW WARDROBE

ESSENTIALS WHICH SHOULD BE ON YOUR SHOPPING LIST THIS SUMMER, SAYS AMY NORBURY

AS the summer season gets underway, thoughts are turning to those

all-important getaways - and the all-important holiday wardrobe to

go with them.

Staycations have been the order of the day for many of us since

Covid hit, but as the world is fully opening up to tourism once again,

those far-flung getaways of yesteryear are very much back on the

cards.

So with holidays at home and away to content with, it's time to

invest in a capsule wardrobe which will see you through summer -

wherever that may be.

Whether you're staying or going, there are a few holiday staples

which should always be first into the suitcase. Get these foundations

right and you'll be showing your sartorial credentials, whatever the

destination.

Elegant and easy-to-wear, the do-it-all dress brings casual strength to

your look, wherever you go. Throw it on for a day of shopping and

lunching on your city break, or dress it up for an evening in your

tropical paradise; this is one piece which will earn its place in your

capsule wardrobe over and over again.

Floaty maxis always ooze effortless elegance, while button-down

midi shirt dresses scream city chic. The bonus is both are equally

versatile for day-to-night dressing; you can even throw them on over

your swimwear for a super stylish beach cover-up.

For maximum outfit options, go for mix-and-match co-ords

in standout prints. We love the wide-legged trousers-and-shirt

combination, and once you've worn them together you can pair the

trousers with plain white camis or T-shirts, while the shirt will add

some serious style to your trusty denim shorts.

If you're planning a break with plenty of sight-seeing on the cards,

then cool yet comfortable footwear is a must. You can't go wrong

with a pair of classic, crisp white leather low-top trainers for top

casual cool marks - perfect for everything from day trips around the

city to bar-hopping around the beach.

For a more dressy vibe, opt for a pair of espadrilles in a neutral

leather; tan, white, or black all work equally well for giving a elegant

look without the effort of heels.

Add a stylish bag which is roomy enough for days at the beach but

structured enough for evenings out and your holiday wardrobe is

good to go. Time to get packing!

JOYFUL SUMMER DRESS, £50, JOE BROWNS.

WWW.JOEBROWNS.CO.UK

48 www.jaimemagazine.com
---
HANDMADE STRAW TOTE,

MARKS AND SPENCER.

WWW.MARKSANDSPENCER.COM

£45 £52

ROUND STRAW BAG, FATFACE.

WWW.FATFACE.COM

£59.50

£39.50

£70

COREY LINEAR BLOOM SUNDRESS

IN MID YELLOW, FATFACE.

WWW.FATFACE.COM

£22

LINNIE TAN SANDALS, DUNE LONDON.

WWW.DUNELONDON.COM

£450

£49.50

IVY SUNGLASSES, FATFACE.

WWW.FATFACE.COM

ALVA MIDI SHIRT DRESS IN TROPIC

NATURAL, DANCING LEOPARD.

WWW.DANCINGLEOPARD.CO.UK

LOEWE X PAULA'S IBIZA ANAGRAM

CANVAS ESPADRILLES, HARVEY NICHOLS.

WWW.HARVEYNICHOLS.COM

TILLY WHITE ESPADRILLE SANDALS,

FATFACE. WWW.FATFACE.COM

TASHA DENIM JACKET, £49.50, AND DANIELLE

STRIPE MAXI SUNDRESS, £65, FATFACE.

WWW.FATFACE.COM

FLIPPY LINEAR BLOOM SHORTS IN MID YELLOW, £35, AND

CLARA LINEAR BLOOM BLOUSE IN MID YELLOW, £42,

FATFACE. WWW.FATFACE.COM

49
---
FA S H I O N

A sharp and suited summer

AS THE TEMPERATURES RISE, IT DOESN'T MEAN YOU SHOULD LEAVE YOUR SARTORIAL

STYLE BEHIND. THERE'S MORE TO LOOKING SHARP IN THE SUMMER THAN SIMPLY RELYING

ON YOUR TRUSTY SHORTS AND T-SHIRTS. WE ASKED RETO PETER, CO-FOUNDER OF

LEADING MADE-TO-MEASURE TAILORS EDIT SUITS CO, TO SHARE HIS TIPS ON DRESSING

FOR WARMER WEATHER

The summer certainly calls for more

lightweight suits and it's true that there may

be a more relaxed feel in the boardroom over

the coming months. But having said that, I

don't believe that's an excuse to get sloppy

and look any less smart than you do during

the winter. Even as the temperatures soar,

dress codes still exist, so there's more of an

art to dressing smart while still trying to keep

your cool.

LOOK FOR A TAILORED SUIT IN A

BREATHABLE FABRIC

Leave the tweed, wool and cashmere hanging

in your wardrobe and opt for something a

little more lightweight and, ideally, unlined.

Cream, beige and white suits are ideal at

this time of the year as they are more likely

to be made from linen, which has a more

natural weave, or effortless cotton blends,

which have more structure and less creasing.

Silk is another option because it's extremely

lightweight, comfortable and surprisingly

durable.

PLAY AROUND WITH DIFFERENT

COLOUR SUITS

Navy suits are undoubtedly the go-to for

most men, but you can lighten the look

with a paler shade of blue for a more

contemporary style. Pair with a plain white

shirt and a linen tie, if the occasion calls

for one, for a summery twist. This pastel

palette makes a real statement and is perfect

for summer weddings, garden parties or big

summer events as it ticks both the smart

and casual boxes on the invite. Having said

that, it might be a bit much for those stuffy

CREAM SUITS ARE PERFECT

FOR SUMMER

50 www.jaimemagazine.com
---
アパート 夀 䔀 䄀 刀 匀 伀 䘀

䈀 䔀 匀 倀 伀 䬀 䔀 䘀 䤀 一 䔀 䨀 䔀 圀 䔀 䰀 䰀 䔀 刀 夀 ꀀ

Specialists in designing

and making, remodelling

and refurbishing

伀 渀 攀 漀 昀 琀 栀 攀 氀 愀 爀 最 攀 猀 琀 挀 漀 氀 氀 攀 挀 琀 椀 漀 渀 猀 漀 昀

挀 漀 渀 琀 攀 洀 瀀 漀 爀 愀 爀 礀 ǻ 渀 攀 樀 攀 眀 攀 氀 氀 攀 爀 礀 椀 渀 琀 栀 攀 唀 䬀

匀 瀀 攀 挀 椀 愀 氀 椀 猀 琀 猀 椀 渀 搀 攀 猀 椀 最 渀 椀 渀 最 愀 渀 搀 洀 愀 欀 椀 渀 最 Ⰰ

爀 攀 洀 漀 搀 攀 氀 氀 椀 渀 最 愀 渀 搀 爀 攀 昀 甀 爀 戀 椀 猀 栀 椀 渀 最 昀 漀 爀 アパート 礀 攀 愀 爀 猀

ALLEN 䄀 䰀 䰀 䔀 一 䈀 BROWN 刀 伀 圀 一 䨀 JEWELLERY

䔀 圀 䔀 䰀 䰀 䔀 刀 夀

䠀 Heart 攀 愀 爀 琀 漀 of 昀 吀 The 栀 攀 䌀 Country 漀 甀 渀 琀 爀 礀 匀 Shopping 栀 漀 瀀 瀀 椀 渀 最 Village 嘀 椀 氀 氀 愀 最 攀

匀 Swinfen, 眀 椀 渀 昀 攀 渀 Ⰰ Lichfield, 䰀 椀 挀 栀 ǻ 攀 氀 搀 Ⰰ

匀 Staffordshire 琀 愀 昀 昀 漀 爀 搀 猀 栀 椀 爀 攀 WS14 圀 匀 㐀 9QR 㤀 儀 刀

01543 㔀 㐀 アパート 㐀 481948 㠀 㤀 㐀 㠀

眀 www.allenbrownjewellery.co.uk

眀 眀 ⸀ 愀 氀 氀 攀 渀 戀 爀 漀 眀 渀 樀 攀 眀 攀 氀 氀 攀 爀 礀 ⸀ 挀 漀 ⸀ 甀 欀

昀 椀 琀

Friday 16th September Friday 7th October Friday 14th October

Available everyday between 1pm and 5pm.

Sandwiches: Honey-glazed ham

Mature Cheddar cheese | Cucumber

Oak smoked salmon |Truffle & egg mayonnaise

Homemade fruit and plain scone,

strawberry jam and clotted cream

Cakes: Chocolate cherry choux bun

Strawberries & cream trifle

Lemon meringue tart

Cheesecake macaron with prosecco shot

Sunday 30th October Saturday 5th November Friday 11th November

£23.50 Monday to Friday | £26 Saturday & Sunday

www.moorhallhotel.co.uk
---
usiness meetings, in which case I'd

recommend a light grey option. It'll

still look fresh and modern and pairs

easily with other colours and fabrics.

Green is having a real moment in

men's suiting and works just as well in

the summer as it does in the winter.

You can give it a more casual feel by

ditching the shirt and tie and instead

wearing a white T-shirt or, on those

chillier days (yes, this is the British

summer we're talking about), a pale,

lightweight knit. And don't shy away

from wearing trainers with your suit;

it's a real trend on the Continent and

still maintains a smart edge.

MAKE YOUR WARDROBE

WORK FOR YOU

You don't have to restrict yourself

to wearing just the full suit; you can

wear both the trousers and blazer as

separates to create many different

outfits – ideal if you're heading off

to sunnier climes. For example, wear

your jacket with jeans and trainers

on a night out, or wear the trousers

with a neutral coloured polo and smart loafers when

heading to the office on a dress down day. A grey

PAIR YOUR SUIT JACKET

WITH LEIGHTWEIGHT

TROUSERS OR JEANS

blazer with navy or black tailored chino is perfect for

smarter occasions.

THE RIGHT ACCESSORIES ARE KEY

When it comes to your shoes, choose brogues

or loafers. Feel free to ditch the socks or

choose a bright, playful pair that poke out

from underneath your trousers or tailored

chinos.

For your shirt choice, if in doubt always go

for classic white because this gives you more

flexibility in terms of other accessories like

ties and pocket squares. Avoid dark colours

at this time of the year as it has echoes of

winter dressing. I would recommend opting

for a linen, silk, or knit tie in a lighter colour,

or even a bold floral.

SWAP DARK SUITS FOR PASTEL

TONES FOR SUMMER STYLE

Edit Suits was founded in 2014 by Reto

Peter and Patrick Jungo offering madeto-measure

Savile Row suiting and

casual clothing without the hefty price

tag. The brand has recently launched

its first UK store outside London in

Birmingham's Mailbox. For more

details visit www.editsuits.com.

52 www.jaimemagazine.com
---
Your health

doesn't have

to wait

At Spire Little Aston Hospital you can get

fast access to diagnosis and treatment.

When you book an appointment with us,

you can be sure that you'll receive expert

care in a secure environment.

Fast access to diagnosis and treatment

You can see one of our specialists quickly,

because less waiting means less worrying.

Advanced technology

We use the latest technology and techniques

wherever possible to get the best outcome

for you.

Safety first

Our hospitals have thorough protection

measures in place to keep you safe.

Book to see an expert today

Search 'Spire Little Aston Hospital'

Call 0121 514 7034

Interest free finance – 0% representative APR available

Credit is subject to status. Spire Healthcare Limited is acting as a credit broker, Omni Capital Retail

Finance Ltd is the lender. All named parties are authorised and regulated by the Financial Conduct

Authority. Spire Healthcare's registered address is 3 Dorset Rise, London, EC4Y 8EN.
---
B E AU T Y

Arrive and glow!

TAKING TO THE SKIES THIS SUMMER? IT'S TIME TO THINK ABOUT YOUR SKIN. THE AIR CIRCULATED

THROUGH THE PLANE DURING YOUR TRAVELS CAUSES YOUR COMPLEXION TO FEEL DRY, DEHYDRATED

AND CONGESTED. WE ASKED DEBORAH MITCHELL, FOUNDER OF HEAVEN SKINCARE, TO SHARE HER

TIPS TO PROTECTING YOUR SKIN SO YOU ARRIVE AT YOUR DESTINATION LOOKING HOLIDAY READY

MAKE SURE YOU WASH

YOUR FACE

This one seems like a no-brainer,

but when you're travelling you

can easily forget – especially if

you're lost in the in-flight movie!

Avoid washing in hot water as this

can exacerbate the sensitive skin

on our face. Instead, use warm

or cool water to avoid harming

your skin; it'll close the pores too

for added protection. My minisize

Cleanse & Foam Wash

is the perfect travel companion

– it contains organic mandarin

essential oil to give you that fresh

glowing look, as well as your

daily dose of Vitamin C. For a

quick pick-me-up, carry a pack of

our Ella Jane Refresh Wipes

in your hand luggage. Organic

Peppermint immediately refreshes skin and puffiness

around the eyes is reduced.

INVEST IN A GOOD MOISTURISER

Using a moisturiser with anti-aging and other target

solutions will only keep your skin protected and

nourished for the

long haul. For me,

my Overnight

Success Cream

is my in-flight

staple. I always

take my travel size

with me onboard

ready for when I

need to apply and

reapply throughout

the flight because

of the air pressure,

air conditioning

and jet lag can

really impact on

my skin.

LOOK AFTER YOUR EYES

If you struggle to sleep during a flight you'll arrive

with puffiness around your eye because the skin here

is more delicate than on the rest of your face and

more prone to dryness. My Nettle Venom Eyes

contains my innovative NETTATOXIN to tackle

those tell-tale dark circles. It's light enough so that it

doesn't weigh down the area yet effective enough to

really make the eyes glow.

54 www.jaimemagazine.com
---
AN INSTANT BEAUTY BOOST

If you're feeling a bit run-down when you land,

reach for my new Collagen Drops. Each mini

dropper bottle contains potent anti-aging vitamins

and minerals – including marine collagen,

glucosamine, vitamin C, hyaluronic acid and Biotin.

Add a few drops to a glass of water or supercharge

your everyday moisturiser into a high-strength

collagen cream. Part of my Inner Beauty collection,

they instantly improve the skin's hydration and

elasticity, and boost energy too.

REVEAL YOU NATURAL

GLOW

Research shows that the higher

the altitude the blood flow to your

skin starts to drop and this can

make your complexion look dull.

Not great when you want to be

looking your holiday best. My Silk

Skin Bee Bee Cream is the only

all-day BB cream that contains

hyaluronic acid and my patented

ABEETOXIN® formula. It'll add

moisture to your skin, has an SPF20

and reacts to the colour of your skin

to give you a natural glow.

Heaven Skincare by Deborah

Mitchell is available at Heaven

Health & Beauty, 13a Market Place, Shifnal,

Shropshire. You can also shop online at

heavenskincare.com.

www.jaimemagazine.com 55
---
B U S I N E S S

Sparkling new additions

RICHARD WINTERTON AUCTIONEERS HAS ANNOUNCED NEW

APPOINTMENTS TO THE FAMILY FIRM'S JEWELLERY DEPARTMENT.

Gemmologists and jewellery specialists

Georgina Southam MIRV FGA DGA

BA(Hons) and Emma Testill FGA

DGA Cert GA CPAA join Lisa Spence,

Natalie Brandon and Louise Ludlam-

Snook as valuers for Richard Winterton

Auctioneers based at The Lichfield

Auction Centre and Tamworth Auction

Rooms.

The company is also proud to continue

its association with independent

jewellery valuer Heather Callaway

FGA DGA FIRV AMAE, who has

just been appointed chairman of The

National Association of Jewellers, of

which Richard Winterton Auctioneers is an associate

member.

Together with watch specialist Ben Winterton, the

expanded team forms a strong knowledge base to

cater for increased business in the jewellery field, said

auctioneer Richard Winterton.

"They have already been busily unlocking the

mysteries of all types of jewellery, watches,

gemstones, gold, silver, platinum and other precious

metals," Richard added.

"The beauty of auction is the ability to present

items to hundreds of interested buyers all at once,

maximising the potential for the best possible price.

"This combines with strong results from our

busy schedule of regular sales, providing a quick

THIS 19TH CENTURY SUITE OF JEWELLERY KNOWN AS

A PARURE WAS CRAFTED FROM MULTI-COLOURED AND

VARI-PATTERNED ROMAN GLASS. IT SOLD FOR £5,800

WITH RICHARD WINTERTON AUCTIONEERS

GEORGINA SOUTHAM AND EMMA TESTILL (PICTURED

SECOND RIGHT AND RIGHT) JOIN LISA SPENCE

AND NATALIE BRANDON (LEFT) IN THE JEWELLERY

DEPARTMENT AT RICHARD WINTERTON AUCTIONEERS

turnaround from valuation to auction, should the

client wish.

"So if you're wondering about a watch or baffled by

a bracelet, come and see us – that piece languishing

in a drawer could turn out to be a real treasure!"

Valuers were 'treading the boards' recently, with a

special valuation event at the Lichfield Garrick to

support the theatre's charity.

Regular, free 'pop-up' jewellery, watch, gold and

silver events are also planned in conjunction with the

firm's weekly in-house valuations.

The team will be at The Trinity Centre in Sutton

Coldfield on Mondays from 9.30am-11.30am,

starting Monday, July 4.

Free valuations continue at The Hub at St Mary's

in Lichfield city centre every Tuesday from 9.30am-

11am.

People can drop in for jewellery valuation at the

Tamworth Auction Rooms on Wednesdays from

9.30am-4pm.

And valuation appointments at The Lichfield

Auction Centre at Fradley Park can be booked

between 9.30am and 4pm on Thursdays.

Call 01543 251081 or email office@

richardwinterton.co.uk.

Visit www.richardwinterton.co.uk/valuationevents

to view the firm's range of options for free

valuations.

56 www.jaimemagazine.com
---
WE

REMAIN

Established

Established 1990

OPEN

1990

FOR NEW

COVID

RESIDENTS Rosemary Lodge Residential Lichfield Care Home

Lichfield FREE

191 Walsall Road, Lichfield, Staffordshire, WS13 8AQ

Please contact The perfect the Registered 'home Care from Manager home' Jane Evans

The perfect 'home from home'

Tel: 01543

at

415223

Rosemary

E-mail:

Lodge

contact@rosemarylodge.co.uk

Care Home

at Website: Rosemary www.rosemarylodge.co.uk

Lodge Care Home

Rosemary Lodge Care Home for elderly ladies and

Rosemary Lodge Care Home for elderly ladies and

gentlemen offers level of care, community and

gentlemen offers a level of care, community and

comfort that is second to none. Situated short way

Rosemary comfort Lodge that is Care second Home to fRosemary none. Lodge Situated Care Home a short for elderly way

from ladies and the gentlemen city centre offers of a level Lichfield of care, community and set in and landscaped

comfort that is

from second the

gardens, to none. city Situated centre

Rosemary a short of Lichfield

Lodge way from is the and

light, city set

spacious centre in landscaped

of Lichfield and and

set in gardens, landscaped Rosemary gardens, Rosemary Lodge Lodge is light, is spacious and and beautifully

decorated, beautifully offering decorated; residents just offering the right combination residents of just interest, the activity right and

relaxation. beautifully It is a decorated; place that encourages offering residents residents to retain just their the independence right

and

combination

individuality whilst

of

being

interest,

fully supported

activity

to

and

live a

relaxation.

fulfilled and enjoyable

It is combination of interest, activity and relaxation. It is alife.

place that encourages residents to retain their

place that encourages residents to retain their

independence and individuality whilst being fully

independence and individuality whilst being fully

supported to live fulfilled and enjoyable life.

supported to live a fulfilled and enjoyable life.

Rosemary Lodge Care Home is family run home and has

Rosemary Lodge Care Home is a family run home and has

been highly regarded part of the community for over 30

been a highly regarded part of the community for over 30

years. Offering 24 hour care, our fully trained staff work

years. Offering 24 hour care, our fully trained staff work

together to communicate with residents and ensure

together to communicate with residents and ensure

personal care needs are met in person centered

personal care needs are met in a person centered

approach, thus building an important relationship of trust

approach, thus building an important relationship of trust

and friendship.

and friendship.

All rooms are on-suite, and are designed to comfortably

All Rosemary rooms are Lodge on-suite, Care Hoe is and a family are run designed home and to has comfortably

been a highly

regarded part accommodate of the community individuals for over 30 years. and Offering couples. 24 hour care, our

fully trained accommodate staff work together individuals to communicate and with couples. residents and ensure

persoal There care is needs full Wi-Fi are met connectivity in a person centred throughout approach, thus to building allow an

There is

important

full Wi-Fi

relationship

connectivity

of trust

throughout

and friendship.

to allow

residents the opportunity of keeping in touch with family

residents the opportunity of keeping in touch with family

All rooms are en-suite, and friends and are designed with video to comfortably calls. accommodate

individuals and couples. and There friends is full with Wi-Fi video connectivity calls. throughout to allow

residents the opportunity of keeping in touch with family and friends with

Regular activities and entertainment video calls. are always available,

Regular activities and entertainment are always available,

with Regular activity activities timetables and entertainment distributed are always weekly, available but with activity privacy

timetables with activity

and peace distributed timetables

and weekly, quiet but distributed

is privacy also ensured and peace weekly, and in this quiet but

beautiful is also privacy ensured

and peace and quiet is also ensured in this beautiful

'home from home'.

'home from home'.

Our commitment to offering just the right amount of care

Our commitment to offering just the right amount of care

and support has led to an excellent reputation in the

and support has led to an excellent reputation in the

community and with the care professionals who work

community and with the care professionals who work

with us. We value our staff highly and recognise that their

with us. We value our staff highly and recognise that their

care and commitment are great part of our success.

care and commitment are a great part of our success.

We also offer respite care, holiday stay and limited day

We also offer respite care, holiday stay and limited day

care. To arrange visit or to learn more about us please

care. To arrange a visit or to learn more about us please

get in touch using the contact details below.

get in touch using the contact details below.

Michaels

Menswear

Lichfield

SALE

NOW

ON!

14 Market Street, Lichfield

01543 262 264

WE ARE A TRUSTED, LOCAL FAMILY, DEDICATED TO PROVIDING

A TRULY PERSONAL SERVICE FOR THOSE WHO NEED US

BURIALS, HORSE-DRAWN FUNERALS, BESPOKE FUNERAL

AND PRE-PAYMENT FUNERAL PLANS AVAILABLE

in this beautiful 'home from home'

Our commitment to offering just the right amount of care and support has led

to an excellent reputation in the community and with the care professionals

who work with us. We value our staff highly and recognise that their care and

commitment are a great part of our success.

We also offer respite care, holiday stay and limited day care. To arrange a visit

or to learn more about us please get in touch using the contact details below.

Rosemary Lodge Residential Care Home

Rosemary Lodge Residential Home

Rosemary 191 Walsall Lodge Road, Residential Lichfield. Staffs. WS13 Care 8AQ. Home

191 Walsall Road, Lichfield, Staffordshire, WS13 8AQ

In the 191 first Walsall instance Road, please Lichfield, contact Jane Staffordshire, Evans - Registered WS13 Care Manager 8AQ

Please contact or Shirley the Registered Kent - Administration Care Manager. Jane Evans

Please contact the Registered Care Manager Jane Evans

Tel: 01543 01543 415223 415223 E-mail: - Email: contact@rosemarylodge.co.uk

roselodgehome@aol.com

Tel: 01543 415223

Website: www.rosemarylodgecarehome.co.uk

E-mail: contact@rosemarylodge.co.uk

www.rosemarylodge.co.uk

Website: www.rosemarylodge.co.uk

CQC RATING GOOD

ALL-INCLUSIVE FUNERAL PACKAGES

FEES FOR CREMATORIUM, DOCTOR AND CELEBRANT INCLUDED

*DIRECT - £1,495 *SIMPLE - £2,300 *TRADITIONAL - £2,950

ALL NEEDS AND WISHES CATERED FOR.

PRE-PAYMENT FUNERAL PLANS AVAILABLE

OUR SECOND FUNERAL HOME IS NOW OPEN AT

152, CANNOCK ROAD, BURNTWOOD WS7 0BG

ALSO AT

16 - 20 NORTH STREET, CANNOCK, WS11 0BA

01543 529813 (ANYTIME)

VISIT OUR WEB AND FACEBOOK SITES TO SEE OUR REVIEWS

WWW.OMALLEYFUNERALS.CO.UK • FACEBOOK.COM/OMALLEYFUNERALS
---
B U S I N E S S

First Class Care at

Sutton Park Grange

WHEN IT COMES TO TOP QUALITY RESIDENTIAL CARE, CINNAMON

CARE'S SUTTON PARK GRANGE IS THE FULL PACKAGE

Everything about Sutton Park Grange

is designed to offer first class residential

and dementia care in magnificent

surroundings with the added

opportunity for short respite stays.

This purpose-built care home in Sutton

Coldfield brings an exceptional level of

care to the community and is a place

where residents can live life to the full

while being supported by a dedicated

team 24-hours a day.

Every aspect of care is tailored to the

individual and their specific needs. The

expert team gets to know the 'whole'

person to provide compassionate

support that is enriched with meaningful

activities to provide mental and physical

stimulation.

At Cinnamon Luxury Care they know looking after a

loved one can be tiring both mentally and physically.

Their respite care is a chance for families and carers to

take a well-earned break knowing their loved one is in a

safe and homely environment.

Short stays after an illness or a spell in hospital are an

opportunity for an individual to focus entirely on their

recovery, while the expert care team supports your

rehabilitation. A short 'taster stay' is also a chance to

trial the luxury care home before choosing to move in

permanently.

The talented team of chefs at Sutton Park Grange is

passionate about creating exciting,

varied menus using only the best fresh

seasonal produce. After consulting

with residents to discover their

preferences and dietary requirements,

they ensure that every meal served is

both nutritionally balanced and utterly

delicious to tickle the taste buds of

even the most discerning appetite.

There is always a delicious home bake

to tempt you in the café too.

To find out more about Sutton Park

Grange call the friendly team on

01217 564 849 or email sutton.

enquiries@cinnamoncc.com

For details of other Cinnamon homes

in the West Midlands visit www.

cinnamoncc.com/westmidlands

58 www.jaimemagazine.com
---
Discover that hidden gem today,

with the help of your local auctioneer

Established – Professional – Transparent - Trusted

The Winterton family name has been synonymous with

auctioneering in Staffordshire since 1864

Come and meet our new jewell ery team

FREE SPECIALIST VALUATIONS NEAR YOU

FOR ALL YOUR JEWELLERY • WATCHES • GOLD • SILVER

Lichfield

DROP IN

DROP IN

Probate and formal

valuations for inheritance

tax purposes

Our reliable and sympathetic

team can assist all executors

in the administration of

deceased estates

We handle everything

from jewellery and large

collections to cars, furniture

and household items

Comprehensive, bespoke

clearance service and

downsizing solutions

The clearance of an entire

estate, from houses,

bungalows and flats to offices

and all other buildings

Sutton Coldfield

Mondays

9.30am - 11.30am

The Trinity Centre

Sutton Coldfield, Church Hill,

Mill Street, B72 1TF

Tamworth

Wednesdays

9.30am - 4.00pm

Tamworth Auction Rooms

34-35 Church Street,

Tamworth, B79 7BX

DROP IN

BY APPOINTMENT

We specialise in:

Antique and modern jewellery

Watches and timepieces

Pens

Designer gear

Gemstones

Silverware

Coins, medals and militaria

Works of art

Ceramics and glass

Whisky, wine, port and cigars

Vintage toys and trains

Stamps and ephemera

Cameras and telescopes

Record collections

Hi-fi and audio technology

Scientific equipment

Antique and modern furniture

Video gaming and Pokémon

Musical instruments

FREE General Valuations of

pictures, antiques and collectables

are available by appointment

Tuesdays

9.30am - 11.00am

The Hub At St Mary's

Market Square, Lichfield

City Centre, WS13 6LG

Fradley

Thursdays

9.30am - 4.00pm

The Lichfield Auction

Centre Fradley Park,

Wood End Lane, WS13 8NF

Qualified

Members of our specialist

jewellery department are

certified gemmologists and

diamond graders

Record-breaking

international sales

More than 3,800 bidders from

all over the world join our

auctions online each month

Buy or sell with ease

Valuations, viewing and

consignments at our offices

by appointment - free home

visits for large collections,

digital estimates and

contactless pick-ups may

be arranged

The Lichfield Auction Centre

Wood End Lane, Fradley Park WS13 8NF

01543 251081

office@richardwinterton.co.uk

The Tamworth Auction Rooms

34-35 Church Street, Tamworth B79 7BX

01827 217746

tamworth@richardwinterton.co.uk

J'Aime Ad 190x280_June 2021.indd 11 15/06/2022 16:59