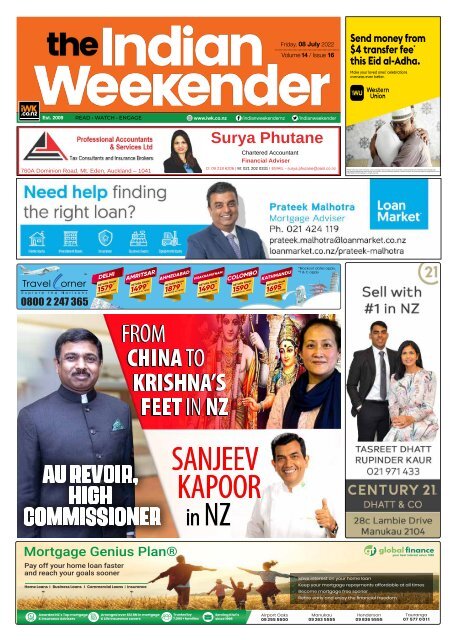 The Indian Weekender, Friday 8 July 2022
Create successful ePaper yourself
Turn your PDF publications into a flip-book with our unique Google optimized e-Paper software.
C

M

Y

CM

MY

CY

CMY

K

889798739 - 891983550 - Eid Al Adha Adaptation - ANZ - Price - 297x420mm - EN.pdf 4 5/13/22 8:50 AM

Friday, 08 July 2022

Volume 14 / Issue 16

Send money from

$4 transfer fee *

this Eid al-Adha.

Make your loved ones' celebrations

overseas even better.

760A Dominion Road, Mt. Eden, Auckland – 1041

www.iwk.co.nz /indianweekendernz /indianweekender

Surya Phutane

Chartered Accountant

Financial Adviser

O: 09 218 6206 | M: 021 202 0331 I EMAIL - surya.phutane@pasl.co.nz *Western Union also makes money from currency exchange. When choosing a money transmitter, carefully compare both transfer fees and exchange rates.

Fees, foreign exchange rates, and taxes may vary by brand, channel, and location based on a number of factors. Fees and rates subject to change without notice.

© 2022 Western Union Holdings, Inc. All rights reserved.

DELHI

RETURN FROM

1579 *

INCLUDING ALL TAXES

AMRITSAR

RETURN FROM

1499 *

INCLUDING ALL TAXES

AHMEDABAD

RETURN FROM

1879 *

INCLUDING ALL TAXES

VISAKHAPATNAM

RETURN FROM

1490 *

INCLUDING ALL TAXES

COLOMBO

RETURN FROM

1590 *

INCLUDING ALL TAXES

KATHMANDU

RETURN FROM

1695 *

INCLUDING ALL TAXES

FROM

CHINA TO

KRISHNA'S

FEET IN NZ

AU REVOIR,

HIGH

COMMISSIONER

SANJEEV

KAPOOR

in NZ
---
2

NEW ZEALAND

Friday, July 08, 2022

Read online www.iwk.co.nz

'I'm going back with a

DEV NADKARNI

Shri Muktesh Pardeshi, India's High

Commissioner to New Zealand over

the past three years leaves for India

next week at the completion of his threeyear

term. Shri Pardeshi has been among the

more approachable, friendly and popular High

Commissioners that has represented India in the

past couple of decades.

In his three-year stint, he saw through

the completion of the new Chancery

building in Wellington and

led his efficient team to

successfully navigate the

range of challenges that

the pandemic raised

across a major part of

his tenure. In his last

week in office, Shri

Pardeshi talked to

Indian Weekender's

Dev Nadkarni about

his time in NZ and

the future of India-NZ

relations.

On the new Indian

Chancery building:

This has been

in the making

since 2009. We

procured this

plot of land in

2009 and the

construction

started in 2016.

Unfortunately,

the construction company which was building it went

into receivership in August 2018. That complicated

the matter. So the whole project was kind of

abandoned for a year. When I arrived in July 2019,

one of the foremost task before me was to restart

the building, which commenced soon. And I'm happy

that in spite of all the challenges that we faced,

during the course of last two-and-a-half years in the

form of Covid-19, we have stood resilient, we faced

all these challenges. And finally we have a beautiful

product.

In the seven decades of our diplomatic relationship

with NZ, I think the construction of this building is

an important marker in our relationship. We started

in a modest manner in 1950 by setting up a trade

commission in NZ.

Within two years, this was upgraded to the level

of High Commission. But all these years we operated

from leased accommodations, which had limitations

on the activities. Now with this building that phase

is over, it shows there is abiding interest in NZ, we

have deep commitment to the welfare of our people,

people of Indian origin, who are now a significant

chunk of the population here. So with this building, a

dream has been fulfilled, to take our relationship with

NZ to a higher level.

On his three-year tenure in NZ:

The construction and completion of this building, I

would rate as one of the most visible achievements of

the last three years. In spite of Covid-19 challenges,

we could do significant things in terms of diplomatic

contacts. Some of our meetings were held virtually.

But the leadership of the two countries kept in

constant contact, led principally by the foreign

ministers of India, and NZ.

They have in the last six months met twice,

physically as well, once in Paris, and only last

month they met in Rwanda, on the side line

Commonwealth Summit. So there has been

desire to keep up with the pace of political

between the two sides.

So far as business interests are concer

could not have a participation in expositio

what we did with the help of several cham

commerce, and the India NZ Business Counc

Auckland, and Wellington, we had a series of w

and virtual buyer sellers meet.

The last three years also provided a

challenge. And when we had the outbreak of C

2020 onwards, we had 1000s of people stu

one of the one of the principal tasks before

days was to take them to India, and their flig

close they were no way to take them to Indi

ran what is called Vande Bharat – Air India ev

thousands of people from here, those flig

brought in New Zealanders who were stuck

So, these are some of the significant achie

or I would say our responses to challenges.

On how the new building will help in taking

NZ-India relations to the next level:

There are three aspects to it: First is

Internal management of the High Com

the way we sit in this building and

that becomes robust, and we become i

more efficient, space wise, and also f

wise. So that's an achievement for the

management of the team.

The external dimension is the building is

provide services to the people. We serve th

of people a year in terms of visa, OCI cards, p

restoration of birth visitation of deaths,

people for them, we can we can receive th

more comfortable and spacious setup.

In terms of provision of services to the
---
Read online www.iwk.co.nz Friday, July 08, 2022

NEW ZEALAND 3

great deal of satisfaction'

s of the

a keen

contact

ned, we

ns. But

bers of

il here in

ebinars

unique

ovid-19

ck here,

us those

hts had

a. So we

acuated

hts also

in India.

vements

internal.

mission,

operate,

nternally

unctions

internal

also to

ousands

assport,

we help

em in a

people,

and third layer of this is that the building provides

a stage, a new platform for cultural and community

activities.

Now, we have events every week – in less than

three weeks, we already had four events. We have

started yoga classes and also launched a special

yoga session, every Saturday, for diplomats and

their spouses. But for this facility, I could not

have done this.

Through your channel, I would like to reach out to

any person of Indian origin anywhere in NZ.

If they are coming to Wellington, and they have

some time, please come present your paper, give

your talk at the premises of the High Commission of

India, we'd like to collaborate with you not only on

the cultural area, we would be delighted to work with

you and provide a platform at the High Commission.

On Indian High Commission in Wellington now

being accredited to four other Pacific countries:

NZ has a significant presence. It's a Pacific country,

it has significant connections and projects in the

Pacific region.

And then in terms of connectivity, both air and

otherwise our mission in Wellington is better placed

to look after relations with some of the Pacific Island

countries.

So when I joined I was responsible for covering two

more countries, Samoa and Niue. And in the course

of my tenure, two more countries have been added

the Cook Islands, and Vanuatu, it will become easier

for the High Commissioner based in Wellington to

travel to these countries.

These countries also have diplomatic missions

here. So it becomes easier working with them.

On Vande Bharat mission and the possibility of

direct India-NZ flights:

I'm optimistic it should be happening one day as

you are aware that during when Vande Bharat flights

were mooted in the beginning, we were not sure

whether we'll be able to cover the long distance

between Delhi and an Auckland. But direct India

flights have proven that. Both sides are keen to

improve on connectivity. There is some revision going

on to the Air Services Agreement signed in 2016 and

both sides have given inputs on it. Now when things

are resuming and people are going for international

travel, at some point of time, the airlines will take a

commercial decision to operate in this sector. I think

it should be coming in a few years.

On NZ-India trade and what role

diaspora can play:

There is no free trade agreement. But

then trade growth has not been so visible as

we would like to see. During last two years from our

side exports have jumped from India to NZ, from NZ

side, because of service exports, no students were

coming and tourism got hit. So the contribution of

service sector has been affected from the NZ side.

In some years, our bilateral trade reached up to

around 3bn NZD but due to difficulties during the

Covid-19.

It's around 2bn, but I'm sure it will pick up. We

have to create familiarisation about NZ and Indian

products. We would like to encourage Indian business

people to come to NZ and see for themselves both

exports as well as investment opportunities here.

Similarly, for NZ business people in India provides a

huge market, but they should not be looking at India

only in the export market.

• Continued on Page 4

CALL NOW

for no obligation

FREE CONSULTATION

0800 66 77 92

Oliver Pereira

Financial Adviser

Mob: 021 66 77 92

Email: oliver.pereira@opminsurance.co.nz

For further information about us, please refer to https://www.opminsurance.co.nz

OPM Insurance Services Limited (FSP117285), trading as OPM Insurance Services Limited

holds a licence issued by the Financial Markets Authority (FMA) to provide financial advice.
---
4

NEW ZEALAND

A role model for

hijab-wearing

Friday, July 08, 2022

Read online www.iwk.co.nz

muslim women

VENU MENON IN

WELLINGTON

The Christchurch mosque

shooting of March 2019,

which claimed 51 lives,

left Aotearoa's multicultural

fabric blood-stained.

But the message of hate still

resonates, according to rights

activist Anjum Rahman.

There are government

initiatives that are under way,

such as hate crime reporting

by the New Zealand Police, the

social cohesion framework put

in place by the Ministry of Social

Development, the strategic

framework for preventing and

countering violent extremism,

and other measures.

Even so, "we now have an

environment where there

is a lot of malinformation,

the spreading of hate, the

denigration of science and fact

checking, the messaging around

women politicians or activists,"

Rahman said.

Hate directed against one

community impacted all

communities because it made

hate acceptable, she noted.

"The Christchurch mosque

attacks were the ultimate act

of hate."

But every day there were

small acts that made the

environment hostile for

particular groups, Rahman

added, citing the recent arson

attack on the Rainbow Youth

Centre in Tauranga, which

followed the vandalism of a

'pink' church in Greymouth.

"People are feeling bold

enough to commit these kinds

of acts," Rahman observed.

Rahman said there were still

acts that were making the

Muslim community feel unsafe.

The stereotyping that hijabwearing

women like herself

face is still ongoing. Access

to housing and employment

remains problematic.

"All of this was happening

well before the Christchurch

attacks," Rahman pointed out.

"And they are still happening."

Yet Muslim women who

wear the hijab have been

active within their families,

communities and professions,

Rahman stressed. "But their

work is seldom noticed."

"That's also part of the

stereotyping that when we are

doing good work, it is never

seen or talked about," Rahman

lamented.

"The question is always

around how we must always be

victims, rather than what our

achievements are."

Rahman was scathing on the

portrayal of Muslim women

in the media. Ethnicities or

religion tended to be identified

whenever the portrayal was

negative.

"But when it was something

positive being spoken about,

then this was a New Zealander

who had done something really

well. Then the identity of that

person was left out."

She cited research to show

that the more media a person

consumed in Aotearoa New

Zealand, "the more negative

the perception they would have

of Muslims."

Rahman had experienced this

first hand.

"I did an interview on the AM

show on TV 3. I highlighted a

nice, positive story. They put

it up on their Facebook page.

Within 24 hours, they took it

down because the comments

were so bad," she recalled.

Rahman's experience would

suggest there was no audience

for the positive stories put

forward by Muslim women.

"The story that is usually

told and that everyone wants

to hear is what discrimination

Muslim women face," she

noted. "Yes, we want to

make people aware of

the discrimination

we face, but that's

not the only story

about us."

Rahman wanted

the rights upheld

that are "already

enshrined in law"

– the rights that

other communities

take for granted, such as

the freedom of association,

freedom to practise one's

faith, the right to safety,

employment, education and

housing.

As the Co-Chair of the

Christchurch Call Advisory

Network, formed in the

aftermath of the mosque

shooting, her role is to deal

with the

"terrorist

environment and extremist

content" online.

It is particularly focused on

things like the viral video that

the shooter involved in that

attack had run, and which a

few had followed. The recent

Buffalo, New York, attack

video showing the shooting in

a supermarket was reportedly

sent to the victims of the

Christchurch attack.

"The Christchurch victims

were being targeted with that

video. These people were being

targeted again and again, and

"But

when it was

something positive

being spoken about,

then this was a New

Zealander who had done

something really well.

Then the identity of

that person was

left out."

Anjum Rahman

deliberately so.

It's all pert of the

environment of

hate."

But Rahman is mindful

of painting everybody with the

same brush.

"I honestly don't believe the

majority of the community

would support any of this. They

either don't see it, or they

don't understand it or they feel

powerless to do anything about

it," she said.

In 2013, Rahman made an

unsuccessful bid for Council. It

inspired Muslim women to step

up and be leaders.

Currently, her energies are

focused on leading her pet

project – Inclusive Aotearoa

Collective Tahono – that aims

to bring communities together

around a common platform. In

2020, the Collective visited

46 towns and cities and "just

talked to people."

But were hijab-wearing Muslim

women fighting a wider battle

within their own community

against male orthodoxy?

"It's an interesting question,"

Rahman conceded. "I don't

think it's any different from

women in other communities."

But the struggle for gender

equality within the Muslim

community was more nuanced.

"One of the concerns that

we have as Muslim women

is that if we raise any of our

issues publicly, it adds to the

stereotyping and the hate

campaign that says Muslim

women are oppressed and are

second class citizens," Rahman

explained.

"People will use it to attack

us rather than looking inward at

what is happening in their own

communities, or rather than

asking what can we do to help

or support. This dissuades you

from speaking publicly."

But in the eyes of many across

communities, Anjum Rahman is

a role model for hijab-wearing

Muslim women across Aotearoa

and beyond.

Chef Sanjeev Kapoor to be in NZ to judge Tapas competition

IWK BUREAU

Renowned Indian chef

Sanjeev Kapoor

is coming to New

Zealand where he will be one

of the judges at the fourth

Australasia Tapas Competition,

to be held on August 22 at

Ignite Colleges.

Sanjeev Kapoor is a

household name in Indian

kitchens all over the globe.

The first chef in the world to

launch his own food channel,

he's on the Forbes India

Celebrity 100 List, the Reader's

Digest list of '100 of India's

most trusted persons' and has

been named 'Best Chef of India'

by the Indian government.

A multi-award-winning chef

extraordinaire, Padma Shri

Sanjeev Kapoor is India's

brightest gastronomic star.

This is the fourth year the

Australasia Tapas Competition

has been held in NZ.

Jasbir (former Ignite

Colleges General Manager

and current Vice President of

NZ Chefs Association) first

launched the championship

in 2018, after working at

Barcelona's Disfrutar and

competing in the World Tapas

Competition herself in 2017.

"This is an incredible

opportunity for New Zealand

and Australian chefs.

"Not only does it give them

something to work towards

and look forward to, but

it's a chance to make their

mark as chefs not just here,

but internationally too."

Competitors will be judged

on originality, flavour,

presentation, and business

potential by a distinguished

panel of chefs and foodies,

including multi-awardwinning

Indian celebrity

chef Sanjeev Kapoor.

Tapas experts direct from

Spain will also be among the

judging line-up.

Event sponsors include

E-Spain, Ignite Colleges,

Great Taste NZ, UNOX,

Nestle, and Hospitality

Training Trust (HTT).

If you are a Chef, this is

your chance to participate,

show off your skills and

impress the best of the best.

Chefs have until

August 1 to enter.

Enter now via https://tinyurl.

com/2022-tapas-competition.

Find out more by emailing

amoreton@e-spain.eu
---
Read online www.iwk.co.nz Friday, July 08, 2022

NEW ZEALAND 5

NAVDEEP KAUR MARWAH

An online petition to extend the

fuel tax cut is under way, with

300 signatures as of now.

The petition, called 'Extend tax-cut on

fuel until the end of 2022 "and started

by Matthew Small, who works with

the Hamilton-based Supported Living

Facilitator- Disability & Mental Health

Support, seeks to extend the petrol

excise tax cut beyond its August – end

deadline.

Small says that low to middle-income

families will struggle the most if the

government puts the 25-cent tax cut

back on in August.

"Working as a Supported Living

Facilitator, most of the people I support

are on the lowest incomes.

"I see the effects of the cost-of-living

crisis daily at work, and the tax increase

will hurt them the most.

"I urge the government to extend

the tax cut until the end of the

year," Small said.

Currently, the average per litre price

for 91 octane at New Zealand stations

stands at $3.09 (according to prices

listed on the price-tracking app, Gaspy,

on Tuesday 05 July).

The government's current 25c per

litre excise tax cut (announced in

March for three months) has provided

some relief for New Zealanders

reeling under the cost of living crisis

marked by skyrocketing fuel, grocery

and housing prices.

In its May budget, the government

announced the duration of the

Megan Woods

three-month fuel tax cut would be

extended by two months, meaning,

Extend the fuel tax cut, Minister

the petrol excise duty discount will be

dropped in August.

Josh Garwitch, a signatory, wrote:

"Petrol is expensive enough. We don't

need to pay even more tax for our

petrol. We need petrol to get to our jobs

to pay our other taxes."

Heyden, another signatory, echoes

this sentiment.

"Fuel prices are through the roof.

Everything is getting tight, and for

families living day to day, week to week,

it's a cost that's out of control. Fuel

prices need to come down and fast."

The transport industry also weighed in

on the issue.

"On behalf of the transport industry,

we wrote to the Minister of Transport

last week and requested that both

the fuel excise and road user charge

Fuel prices are

through the roof.

Everything is getting

tight, and for families

living day to day, week

to week, it's a cost that's

out of control. Fuel

prices need to come

down and fast."

discounts be extended indefinitely.

We also requested that public

transport discounts be continued,"

said Nick Leggett, Transporting

New Zealand chief executive.

Leggett added the present situation

was bad for businesses and families and

the government needed to keep the

discounts in place.

However, a spokesman for Energy and

Resources Minister Megan Woods said:

"There is a watching brief on fuel prices,

but no decisions have been made."

For the uninitiated, a watching brief

is an act of watching the actions of a

person or organisation to make sure

nothing illegal or wrong is being done.

HEAD TO AOTEA SQUARE FOR SOME WINTER FUN!

FREE *

Join us for art, The Snugs, DJs,

Aotea Square Ice Rink & Ice Slide & much more

Thu 14 — Sun 31 July

aucklandlive.co.nz

*The Snugs and the Aotea Square Ice Rink are paid activities

20220705_Elemental_IndianWeekender.indd 1

5/07/22 12:08 PM
---
6

NEW ZEALAND

Friday, July 08, 2022

Journey starts in China and ends

at Krishna's feet in Aotearoa

Read online www.iwk.co.nz

VENU MENON

When Lu wling left her

home in the coastal

Shandong province of

China to study in New Zealand,

she had no idea that she would

one day wake up an ardent

devotee of Lord Krishna.

Twenty-two years on,

Manisha, as she is now known

at the ISKCON Centre in

Newlands, Wellington, is a

full-fledged Krishna sevak

weaving floral garlands and

helping with chores, along

with other volunteers.

This setting marks the end

of a long spiritual quest that

took Manisha from her early

Buddhist influence under her Tai

Chi instructor father through

her years as a church-going

Christian before finally ending

up in Krishna consciousness.

But Manisha, the name given

by her mother-in-law after she

married an Indian whom she

met while at the University of

Canterbury in Christchurch, is

yet to be initiated as a Hare

Krishna bhakta.

Manisha must wait for a

spiritual master or guru to

bestow a name after initiation,

which takes several years of

temple service to Lord Krishna.

"I have a spiritual master in

mind," Manisha says. "But he is

in Malaysia. I am waiting in line

for the day he will initiate me."

To qualify for initiation,

a volunteer must be

recommended by the president

of the ISKCON Centre.

The prospective candidate

for initiation must, among

other things, be proficient and

steadfast in the daily chanting

of the Lord's name with beads.

Manisha describes the

chanting ritual as "easy

and hard."

"You need to focus your mind

on chanting the mantra for 16

rounds each day. You can't

miss a day," Manisha explains.

For how long must the

chanting exercise go on before

a volunteer qualifies to be

initiated? "Forever," Manisha

replies, hyperbolically.

Clearly, the process of initiation

into the Hare Krishna fold is

long drawn and strenuous.

Before she met her

husband Mahesh, Manisha

was a regular churchgoer.

"My experience with the

church was very good.

Christians were very helpful,"

she reminisces.

I come every

Saturday to

this temple to

do garland seva for

Krishna, as well as

on other days if I am

needed. In return for

this small service,

Krishna bestows his

blessing, which I feel

deep within myself."

But when the time came to

be baptised, she backed out.

"There were too

many

unanswered

questions in my heart."

A fundamental question

that troubled her was the

Christian belief that "you

either went to heaven or to

hell after you died."

Manisha was not convinced

by that belief.

When she and Mahesh

attended "kirtan" sessions

organised by Hare Krishna

devotees in Christchurch,

Manisha had her moment of

spiritual awakening.

"From that day, I became a

fulltime volunteer at the Hare

Krishna temple in Christchurch.

"Krishna has brought so

much peace into my life,"

Manisha says.

"I come every Saturday to

this temple to do garland seva

for Krishna, as well as on other

days if I am needed. In return

for this small service, Krishna

bestows his blessing, which I

feel deep within myself."

For Manisha and Mahesh,

Krishna consciousness

translates into a simple code

of living that involves "keeping

Krishna at the centre of

everything you do."

"Things you can't say to

Krishna, things you can't

do to Krishna, you can't

say or do to another."

For Manisha, the Krishna

temple is her home.

"Every day, I come to the

temple with only one prayer to

Lord Krishna: Please keep me

always in your service."

The journey that began

on the shores of China

over two decades ago has

ended at the feet of Lord

Krishna in Aotearoa.

• Continued on Page 3

So, now, when the travel has

resumed I invite NZ business

people to come to India

see for themselves the new

opportunities that India is

offering under the concept

of Atmanirbhar Bharat,

which is not in any way

protectionist policy.

Some of the Indian

community have been very

successful, and can contribute

through investing in India

in certain sectors, whether

it's the hospitality sector

or restaurants or in agriprocessing.

I have been told that

geographical conditions

in the Northeast of

India is very suitable for

cultivation of say kiwifruit.

The other day I was speaking

to Zespri that they should go

and see the Northeast whether

kiwifruit could be introducing

them region. These are the

new opportunities.

On the way forward for India-

NZ trade relations:

I'm very happy that after a

gap of more than 10 years,

for the first time a joint trade

committee has met in New

Delhi in the last week of June.

The joint trade committee was

formed some 30 years ago,

during the visit of the Prime

Minister, Shri Rajiv Gandhi, so

there was a trade agreement

signed between and to

implement the objectives of the

trade agreement, a joint trade

committee was set up, how

does it work, the committee

looks at complementarities,

looks at regulatory framework

of each other, and also market

access issues.

So they have met recently in

Delhi, and I'm sure they would

have discussed roadmap,

how to take our business

partnership forward.

It is true that RCEP

did not happen for India,

we did not participate.

But India has signed up a

bilateral economic cooperation

agreement with Australia,

there are some FTA signed

I think the

contribution of the

people of Indian origin

in the development

of India NZ relations

is commendable. We

have seen during last

two, three decades,

and that's also part

of diaspora policy

to create synergy

with the diaspora,

and work towards

furtherance of

interests and values

of India.

with UAE.

It is possible that such a deal

might happen with NZ. If it was

not possible, it would not have

happened with Australia.

Now what had happened

with Australia provides a

template for study by both

sides. So if there are economic

think tanks here.

This should be an important

task for INZBC to study what

has happened between India

and Australia, take ideas from

there, and at least pretend

to the government that the

complementary aspects in our

business partnership. So a lot

of work has to be done.

While officials remain

engaged, the business

community at the same

time should give ideas

after studying the India,

Australia, partnership.

On his experience in NZ:

NZ is a beautiful country and

people are so friendly and nice.

We never had any sense of

friction at either the level of

diplomatic relations or even

the people to people level.

So working and living in a

country like NZ is always a

pleasant experience.

So we are going back with

happy memories but twothree

things which we'll

always remember: I think the

contribution of the people of

Indian origin in the development

of India NZ relations is

commendable. We have seen

during last two, three decades,

and that's also part of diaspora

policy to create synergy with

the diaspora, and work towards

furtherance of interests and

values of India.

In NZ, our community

is well integrated,

they are law abiding.

And I find many examples

of success, they are

contributing to national GDP.

And we did a common study,

where it had been shown

that the people of Indian

origin are contributing $10

billion to the economy.

So their contributions will

always remain in the back of our

mind. And during the Covid-19.

The High Commission team

struggled a lot.

While they were several

lockdowns in the country, we

did not slow down even for a

single day.

So I'm going back with a great

sense of personal satisfaction,

that in spite of all these

challenges, our team remains

resolute and united to deliver

something like the president,

the high commission, so I will

always have a very happy

memory of the fact that we

could create this against the

backdrop of the Covid-19.
---
Read online www.iwk.co.nz Friday, July 08, 2022

NEW ZEALAND 7

Onshore temporary migrants separated

from overseas partners miffed as govt

invites families of new work visa applicants

SANDEEP SINGH

Many onshore temporary

migrants who remain

separated from their

overseas-based partners even

after living in the country

for years are miffed with the

government's invitation to the

families of potential new work

visa applicants.

The Minister of Immigration

Michael Wood recently

announced the opening of the

Accredited Employer Work Visa

(AEWV) on Monday, July 4,

and simultaneously extended

the invite for partners and

dependents of the new work

visa applicants.

"Opening visa applications

for partners and dependents

of workers who are applying

for work visas will make it

easier for migrant workers to

bring their families with them

to New Zealand, making us an

attractive place to live and

work," Minister Wood said.

This announcement has

left many temporary migrant

workers currently onshore and

experiencing forced separation

from their overseas-based

partners because of the Covidrelated

border closure and the

bizarre emphasis on the "living

together" requirement for

the partnership visa under NZ

immigration rules frustrated.

Meherzad D Patel, a 29-yearold

chef who has been living

in the country for the last six

years and has been married for

nearly three years (November

2019) is irked that his wife's

partnership visa has been

recently declined while the

government is luring potential

new work visa applicants to

bring their families along in the

country.

The letter from the

immigration officer addressed

In 2016 your

supporting partner

moved to NZ.

You got married on

November 28, 2019,

and spent around

two months together

before your supporting

partner

returned to NZ."

to Meherzad's overseas-based

partner Mahafrin Buhariwala

said, "In your case, we note

that you stated that you first

met your partner in 2014.

"In 2016 your supporting

partner moved to NZ. You

got married on November

28, 2019, and spent around

two months together before

your supporting partner

returned to NZ."

"You do not meet the living

together requirements to be

granted a partnership visa."

Speaking with the Indian

Weekender, Meherzad said,

"This is very frustrating

outcome of our application

after more than two years

of patient wait for border

reopening and restart of visa

processing for the families of

temporary migrants."

Meherzad is currently on a

work-to-residence visa as a

professional chef after having

first arrived in the country

in 2016 as an international

student studying a hospitality

course and has gone back

to India to get married in

November 2019.

Subsequently, they filed for

his wife's partnership visa in

February 2020, which had to

be suspended due to Covid

inflicted border closure in March

2020 and was only recently

reopened for processing, raising

the expectation of a couple of

eventual reunion only to be

dismayed.

"It is really frustrating to see

that the government is ready

to roll out a welcome to the

new work visa applicants to

bring their families, while the

temporary migrant workers

like me who have experienced

the biggest impact of the

government's Covid response

border closure are being left

out in lurch," Meherzad said.

Onshore temporary migrant

workers have experienced

the biggest brunt of forced

separation with their respective

partners due to border closure

as they largely remained

outside of the ambit of the

government's highly restrictive

approval for the partnershipbased

visas allowing only

citizens and residents to bring

their overseas families.

• Continued: Page 13

Have you been struggling to find the

right career in New Zealand for many years?

Career

Clinic

Get help for navigating

your career journey

in the right direction.

EXPRESS YOUR INTEREST:

www.migrantcareers.org.nz

ORGANISED BY:

FUNDED BY:
---
8

NEW ZEALAND

Friday, July 08, 2022

Read online www.iwk.co.nz

'Be the change you wish to see

in the world': Dr Sunita Gautam

Dr Sunita Gautam wears a lot of hats

MAHESH KUMAR

She is an educationist,

local community board

member, business mentor,

Justice of the Peace, Marriage &

Civil Union Celebrant and mom

of two teenagers. Dr Gautam

takes great satisfaction in each

of her positions and is working

hard to change Christchurch's

ethnic makeup by promoting

inclusiveness and diversity.

Dr Gautam has recently been

named a finalist for the Women

in Governance Awards 2022.

Women on Boards New

Zealand, in partnership with

Governance New Zealand,

presents the award each year to

women and organisations who

have contributed significantly

to gender diversity on boards,

including governance leaders,

directors, change-makers, and

rising stars.

Dr Gautam was born in Uttar

Pradesh, and with her father

who worked at NTPC, the

family moved to various places

in UP and MP. In her small-town

family, where women were not

allowed to study beyond a

certain point, Dr Gautam had to

fight with her father to pursue

her Master's degree.

She not only got her

Master's degree but also

followed it up with an MBA.

She says that she has always

felt a moral responsibility

to pursue education, land a

good profession, and dispel

gender norms in order to set

an example for other family

women to follow.

Early on she understood

that education is the route to

independence and making her

own decisions. She promised

to herself that she would get

the highest possible degree

and sure enough she called

her father to tell him that her

daughter is now a doctor after

she got her PhD.

After a typical Indian arranged

marriage, she relocated to

Christchurch.

Dr Gautam started her work

life in Christchurch as a casual

worker in the Warehouse in the

year 2006.

She decided to pursue an early

childhood teacher certification

after being rejected for several

full-time jobs and receiving

numerous rejection letters

stating she is overqualified.

With her astute business sense,

she rapidly advanced to a

managerial position and worked

in the ECE industry for more

than seven years.

Following her passion for

business and management,

she then joined a college to

teach business management,

communication, marketing,

leadership etc. While teaching,

she also interacted with a

large number of international

students. It gave her

tremendous pleasure to

guide the young students,

who sometimes feel lost in a

foreign country.

Guiding and mentoring have

become a source of immense

satisfaction for Dr Gautam

as she also mentors local

Christchurch business owners.

This entails assisting them

not only with professional

challenges like marketing

and finance, but also with

personal issues.

She enrolled in a doctoral

programme at the University

of Canterbury because she

wanted to learn more about

the perspectives of immigrant

business owners.

As a part of her doctorate

study, she set to deconstruct

the government policy

framework on migrant business

owners and compare them with

today's ground realities as the

motivations of setting up a

business and the challenges

have changed since the policies

were formed in the 1990s.

For this Dr Gautam spoke

to 100 migrant business

owners. She says, "While the

process was gruelling, it gave

me tremendous insights of

immigrant entrepreneurs, their

motivations, challenges and

thought process."

She drafted a framework

documenting the typical journey

of a migrant, the reasons for the

setting up business and factors

that impact their environment.

She did this by challenging a

number of long-held notions

that served as the foundation

for government policy.

"The general perception of

Indians only owning dairies

or driving taxies is thankfully

changing with high visibility of

some of the migrant business

owners," Dr Gautam says.

Taking note of her research,

the Labour government

invited her to be involved in

policy design. This was her

first brush with active politics

and her work impressed the

ministry so much that they

encouraged Dr Gautam to get

more involved and run for the

local body elections.

With a strong conviction

that the community needs to

have a seat on the table where

decisions are made that affect

us, she contested from Central

ward to represent Linwood-

Central-Heathcote community.

She lost the election

by 100 votes.

She got another opportunity

in 2020 to contest for byelections

and this time Dr

Gautam won by 600 votes.

She was the first Indian

woman to be on community

board member in New Zealand.

"It was a great privilege to

represent the community and

to act as an advocate for the

interests of our people. Through

the role, I have been able to

contribute to a wide range of

Dr Sunita Gautam

causes," Dr Gautam says.

Dr Gautam is an optimist, and

she feels the next generation of

migrants will herald a new era

of New Zealand where diversity

will be normal.

She also feels that having

diversity on the community

board will represent the real

New Zealand and this is why

she is actively motivating and

encouraging more brown faces

to be on the board.

Besides the Local board

responsibilities and full-time

job at university, she also

finds time to be involved in

various community initiatives.

She is particularly passionate

in assisting women who have

been the victims of domestic

violence. She collaborates with

organisations and the police to

help these victims get back on

their feet.

According to Dr Gautam, our

culture is a strength and should

guide us forward.

Additionally, we should

promote our Indian heritage

beyond just cuisine and

Bollywood dance.

One-in-four NZ preschoolers developmentally delayed - study

RADIO NEW ZEALAND

A

new study has found onein-four

pre-school children

are developmentally delayed

when it comes to early learning and

health - including things like early

literacy, emotional knowledge, and

fine motor skills. Researchers behind

the Growing Up in New Zealand longterm

study also looked at the acute and

chronic health problems experienced by

the more than 6000 children who took

part. They found large socio-economic

and ethnic inequities in children's

developmental health status before they

reached school age - children from poorer

families, whose parents spoke English

as a second language, Māori and Pacific

children, and those who had difficulty

accessing healthcare were more likely to

be disadvantaged.

Lead researcher Dr Jin Russell said the

study expanded understanding of how

poverty shaped children's lives.

"Where families were experiencing

Where families were

experiencing more socioeconomic

disadvantages

and more hardship, it

was much more likely for

children to be experiencing

suboptimal development and

health at age four-and-ahalf."

more socio-economic disadvantages

and more hardship, it was much more

likely for children to be experiencing

suboptimal development and health at

age four-and-a-half."

Russell said about 3 percent of

children had multiple problems with their

development, and about 5 percent had

chronic ill-health.

"But then we also found this group

of about 20 percent of children who

were just lagging behind other kids in

terms of their early learning skills, and

that's concerning because that's a lot of

children."

She said the findings showed the

more socio-economic disadvantages

mothers reported before the child was

born, the more likely the child was to be

developmentally delayed.

The findings showed reading to young

children made it more likely for them to

have flourishing developmental health,

Russell said.
---
Read online www.iwk.co.nz Friday, July 08, 2022

NEW ZEALAND 9

For the love of

Hindi poetry

NAVDEEP KAUR MARWAH

Kiwi Indian Sunita Sharma

is doing her bit to keep

Hindi poetry alive.

She has recently authored

a book named Ancchue

Sparsh, a collection of poems

on a vast array of subjects

from love, sacrifice, and

regrets, to injustice towards

women and nature.

It is her third published book.

Her previous work, the poetry

collection "Main Gandhari Nahin"

(I am not Gandhari) and the

story collection "Jagruti" (The

Awakening), were published in

India almost two decades ago.

Here are excerpts of our

interview in which she talks

about the book, her journey in

NZ, and much more.

What inspired you to write

this book?

I have been writing poems

and prose since my younger

years, finding inspiration in the

tales we grew up listening to

and contextualising those tales

and themes in today's society,

and imagining events from

the present unfolding in older,

much simpler times.

My book Ancchue Sparsh is an

attempt to give voice to tales,

incidents, and stories that have

touched my heart over the

years, some fictional and some

inspired by real-life events.

I started penning my thoughts

again a few years ago after a

long break from writing, with

no intention of publishing. But

during the covid lockdowns, I

found more time to write, and

my family encouraged me to

publish this third book.

What subject(s) does the

book deal with?

The title of the book

Ancchue Sparsh translates to

"Untouched touch" in English.

It is a collection of poems on a

vast array of subjects.

It includes poems that are

themed around love, sacrifice,

regret, injustice towards

women, parents and nature, to

name a few. There is something

in it for everyone.

What languages is the book

available in, and from where

can one buy it?

It is published in Hindi and is

available on all digital platforms,

including Amazon, Google

Books, Flipkart and Kindle.

What has been

your journey

from India to

New Zealand?

Our family

migrated to

New Zealand

21 years

ago, and

like many immigrants from

the subcontinent, I too got

requalified here whilst working.

I work in Early Childcare

Education and have been

in the education industry

for well over 35 years now

across India and NZ.

We are trying very

hard with the NZ

government to

make Hindi ways that

Hindi can be taught

and added to the

school curriculum. We

are not too far from

our goal.

In all the years you have

stayed in NZ, how have you

seen the Hindi poetry scene

in NZ?

I am associated with the Hindi

Sunita Sharma

Literary (Sahitya) Group in NZ.

We are working to promote

Hindi, especially among the

young generation, in various

ways, including teaching,

organising seminars, and

encouraging them to converse

in Hindi.

"We are trying very hard with

the NZ government to make

Hindi ways that Hindi can be

taught and added to the school

curriculum. We are not too far

from our goal.

What are your plans

for writing?

There are a couple of things

in the pipeline currently. Chir

Pratikshit is my upcoming

publication, a collection of

poems like Ancchue Sparsh. I

am also working on a project

that involves writing rhymes for

younger kids.

*

E COMMERCE BASIC

WEBSITE DESIGN

START

YOUR OWN BUSINESS

FROM

$1599*

*

BLACK & WHITE A4 80 GSM PAPER UNFOLD

GRAPHIC DESIGN

SOCIAL MEDIA MARKETING

500

BUISNESS CARDS

$59 +GST

CALL US

022 4891076

SALES@WEBTIGERS.NZ
---
10

NEW ZEALAND

Friday, July 08, 2022

Read online www.iwk.co.nz

Analysis: New Zealand – India

trade talks cause no buzz in Delhi

VENU MENON

India and New Zealand

have resumed trade

talks after a hiatus.

Joint Trade Committee

talks were held between

the two sides on June 24 in

New Delhi, India.

Mark Sinclair, Deputy

Secretary, Americas and Asia

Group, Ministry of Foreign

Affairs and Trade (MFAT) led

the New Zealand delegation.

India's delegation was led

by Rachna Shah, Additional

Secretary, Department

of Commerce, Ministry of

Commerce and Industry,

Government of India.

Joint Trade Committee talks

were preceded by Foreign

Ministry Consultations the

previous day, where officials

reiterated New Zealand

and India's commitment to

"deepening bilateral ties

and engagement across

a range of areas including

trade and investment,

defence and security and

people-to-people ties."

A similar diplomatic ritual

played out a little over a year

ago when the two countries held

Foreign Office Consultations

virtually, with Mark Sinclair

leading the New Zealand

side and Riva Ganguly Das,

Secretary (East ), Ministry of

External Affairs (MEA), leading

the Indian delegation.

The just concluded talks

in Delhi covered broadly the

same areas of cooperation and

bilateral engagement.

But this time around,

officials from both countries

also "shared views on the

global trading environment

and discussed opportunities to

further develop New Zealand

and India's bilateral trade

partnership," according to a

spokesperson for MFAT.

The focus areas from the

NZ standpoint remains to

"reduce market access barriers,

and strengthen economic

cooperation in agriculture,

renewable energy and the Indo-

Pacific Economic Framework."

Noticeably, this round of

trade talks between the two

countries appears to have

caused hardly a ripple in the

Indian capital, Delhi. Local

media were conspicuously inert

to the event.

The timing of the talks,

coming in the wake of the Free

Trade Agreement between

New Zealand and the European

Union as well as the Economic

Cooperation and Trade

Agreement (ECTA) signed

between India and Australia,

would appear to indicate the

impetus came from Wellington.

Significantly, the MFAT

statement makes no reference

to the inconclusive bid launched

during the John Key era of

2016 to forge an elusive FTA

between India and New Zealand.

Prime Minister Jacinda Ardern

has since shown little appetite

to take her predecessor's

commitment forward. Her

attention is prioritised on

working out FTAs with the UK

and the EU instead.

India is lukewarm on the

issue and is yet to commit on

reducing market access barriers

for NZ businesses as a prelude

to signing an FTA with New

Zealand in the future.

NZ businesses eye India's vast

market for consumer products

and services, particularly

the investment opportunity

presented by a burgeoning

middle class.

Currently, NZ exporters are

keen to gain a foothold in the

Indian market but are daunted

by the high tariffs.

Agriculture remains a key

sticking point of bilateral

negotiations for NZ.

But the Indo-Pacific Economic

Framework, a regional

strategy launched by the

US which involves the four

Quad countries (India, the US,

Japan and Australia), as well

as New Zealand and South

Korea, underlines the strategic

importance given by the US

administration to India as an

emerging power.

The inclusion of this on the

agenda of the trade talks held

in Delhi signals Wellington's

endorsement of India's growing

international stature.

However, with the tightening

of immigration rules in the

post-Covid scenario, the goal

to attract and keep skilled

migrants from India who can

contribute to NZ's economy has

become an area of contention

between the two countries.

How trade negotiations

get past this hurdle

remains to be seen.

Local business owner disappointed with police's inaction after break-in

MUKESH KUMAR

Numerous robberies

and break-ins continue

to plague small and

medium business owners all

over the country.

The latest to have

experienced the trauma is

Christchurch's renowned

community figure and business

owner Hitesh Sharma. Sharma

is the owner of Maia Foods, a

Trust Saffron Finance for

expert Mortgage/ Insurance

advice backed by years

of experience

Mortgages:

• Home loans

• Commercial Property loans

• Business Loans

• Top up & Debt consolidation

• Re-Finance and Refixing

• Investment Property loans

• Restructuring of loan

• Construction & Renovation

Nimish Parikh

Registered Financial Adviser

M. 021 236 7070

nimish@saffronfinance.co.nz

Risk Insurances:

• Life & Trauma

• Key Person Cover

• Medical / Health

• TPD and Income Protection

• Mortgage Repayment cover

• New to Business &

• Business Continuity Cover

• Redundancy Cover

Contact for

free assessment

18B Kirby Street, Glendene,

Auckland 0602

P O Box - 69263 , Glendene,

Auckland 0645

www.saffronfinance.co.nz

popular Indian grocery retailer

and wholesaler at Cashel Street

in Christchurch.

In the early hours of July

7, three intruders broke the

window and entered the

shop. At the time, Hitesh was

away in Wellington.

His wife and store manager

rushed to the store. When

police were summoned, they

went to the scene and told

they would return the next

morning to collect fingerprints.

Sharma has been waiting for

about two days now, but at

the time of writing this story,

no one from the police has

visited the store to obtain

fingerprints or conduct any

additional investigation.

While there was nothing much

that could be stolen as the

store does not sell cigarettes

or alcohol, such incidents cause

stress, repair costs and the

harassment of going through

Insurance.

Hitesh told Indian Weekender,

"There have been incidents

of break-ins earlier also in my

store, but I chose not to make

too much noise, but this time I

felt completely let down by the

police's inaction and decided to

put it on my social media.

Sharma shared on his Social

media, "It's heart-breaking to

see our hard work put into ruins

by a bunch of thieves!

"The most devastating part,

break-ins at our store were

done by same bunch of people

three times in last six weeks,

third time was last night!"

He expresses his

disappointment with the police,

"Even after three official

complaints no action has been

taken so far. We were promised

that there will be someone

arriving this morning to take

fingerprints, but as usual, no

one showed up. With time,

those fingerprints will fade

away!"

It is regrettable that reports

of break-ins and ram-raids

have become so frequent and

common in recent years that

the community no longer feel

outraged by the news but such

incidents continue to cause

unnecessary stress, anxiety and

financial loss for the business

owners who have to deal with

these dreadful situations.

Sharma further mentions

that despite the fact that the

perpetrators' faces, some of

whom are small children, are

visible in the CCTV video clips,

police are not making sufficient

efforts to identify them or carry

out further investigation.

Sharma's views are shared by

other business owners who have

experienced similar trauma and

find police actions lacking. They

strongly believe that police's

lack of action encourages and

emboldens criminals.

There have been

incidents of breakins

earlier also in

my store, but I chose

not to make too much

noise, but this time

I felt completely let

down by the police's

inaction and decided

to put it on my social

media.
---
Read online www.iwk.co.nz Friday, July 08, 2022

NEW ZEALAND 11

Get set for a

first-of-its-kind

musical treat

NAVDEEP KAUR MARWAH

Aucklanders are soon

going to witness a

musical extravaganza.

The first-ever Bollywood

Concert in New Zealand with

a live symphony orchestra,

featuring 45 musicians, will take

place in Auckland next month.

NZ's best artistes who play

for Hollywood movies and

albums will be playing for the

concert that will be paying

tribute to the terrific musical

trio – Shankar-Ehsaan-Loy

(Shankar Mahadevan, Ehsaan

Noorani and Loy Mendonsa).

"It is a dream come true to

have been able to organise NZ's

first-ever Bollywood concert

which will have a live symphony

orchestra performing.

The event will have

amazing Western musicians

playing Bollywood music

alongside the best Indian

musicians and singers," says

Ashish Ramakrishnan, director

of the show, as well as one of

the singers.

Other singers include Rachit

Bhatia, Ritika Badakere and

Ankita Ghatani.

The event will feature

musicians from St Matthew's

Chamber Orchestra (an

ensemble of musicians from NZ

Symphony Orchestra, Auckland

Philharmonia Orchestra and

Manukau Symphony Orchestra),

Indo-Kiwi band Sargam Fusion

and Auckland's finest musicians.

The audience will enjoy popular

songs from Shankar-Ehsaan-

Loy movies such as Dil Chahta

Hai, Kal Ho Na Ho, Lakshya,

Zindagi Na Milegi Dobara, Bunty

Aur Babli, My Name is Khan and

Kabhi Alvida Naa Kehna, among

others.

The tickets are selling like hot

cakes for this event, brought

to you by Aariaa Events and

Bendith Media, and directed by

Zee TV Saregama winner Ashish

Ramakrishnan. So, do grab

yours soonest.

As Ramakrishnan puts it, "I

request everyone to buy the

tickets at the earliest from

TicketBazaar if you want to

enjoy a terrific musical night

else, you will regret it."

Even Aucklanders are looking

forward to the show. Jhanvi

Parashar says, "I love the music

of Shankar, Ehsaan and Loy. It

will be awesome to hear their

songs with Live Symphony

Orchestra. Can't wait for the

show."

The show will take place on

27th August at 7 PM at the

Victory Convention Centre (98

Beaumont Street, Freemans

Bay, Auckland) and has Indian

Weekender as its media partner.

Tickets available

at TicketBazaar or

contact: Ashish Ramakrishnan

on 02108385100, Basant

Madhur on 0210357954, Dinesh

Raniga on 02170988
---
QUOTE OF THE WEEK

India's digital infrastructure is rapidly improving. From education to healthcare,

it has positively impacted lives across sectors. Technology has played

a vital role in fighting the once in a century COVID-19 pandemic. Thanks to

technology, the pace of India's vaccination received a great impetus.

– Indian PM Narendra Modi

Editorial

New Immigration

Minister must fix 'living

together' mess

The new Immigration Minister, Michael Wood, will do a great service to both

– the migrant communities and New Zealand by fixing the "living together"

mess within the partnership visa – a mess that is largely created under the

previous term of this Labour government.

That there is a mess within NZ's immigration rules for partnership visas is beyond

any doubt and best depicted on numerous rejection letters sent by immigration

officers where it acknowledges that "a relationship exists" yet it is not considered a

"partnership" for a partnership visa as per immigration instructions.

Ideally, once an immigration officer is convinced beyond any doubt that a conjugal

relationship exists between the two individuals, then there should not be any

constraint preventing them from issuing an entry visa.

However, if the immigration officers are constrained by the immigration instructions

to deny entry to individuals whose relationship with a New Zealand-based person is

proven beyond any doubt, then the obvious question arises about the nature of

immigration instructions received by the department.

This is the question being raised consistently by different key stakeholders,

including this newspaper, which has been leading the advocacy for the complete

abrogation of the "living together" requirement for partnership visa, purely because

it does not reflect the modern multicultural New Zealand that we have become in the

last two or three decades.

"Living together" before a ritualistic conjugal union is not an option in many

cultures. Therefore, NZ's current immigration rules for partnership visa places an

unrealistic and unfair requirement on many individuals to produce evidence of "living

together" to be allowed entry into NZ and a union with their respective partners.

NZ's well-intentioned immigration officers do understand the messy situation

where even after being convinced that a relationship exists are not able to issue a

partnership visa. Over the years, an ad hoc system has emerged where immigration

case officers were issuing an "exception" and granting a "General Visitor Visa (GVV)"

based on relationships on a case-by-case basis and allowing people to enter the

country and live together with their partners and meet the conditions of Partnership

Visitor Visa (PVV) or Partnership Work Visa (PWV).

However, that system was disturbed in mid-2019 when Immigration NZ's then

Mumbai office arbitrarily decided to stop giving "exceptions" whereby refusing to

consider applicants as couples for visa purposes despite having social and cultural

approval of the same.

Clearly, it smacked arrogance by NZ's immigration rules to not consider the

otherwise genuinely socially and culturally approved couples as a partner for the

visa purpose. Following a community outrage and persistent media attention, the

previous Immigration Ministers have made some cosmetic changes in the partnership

visa system. One of the measures then introduced was to expand the ambit of

Culturally Arranged Marriage (CAM) visas which allowed people to come to NZ after

getting married overseas (with NZ's citizens and residents).

However, despite the government's boisterous claims, entry under a Culturally

Arranged Marriage visa remains minuscule as a significant majority of people fail to

fall within the highly restrictive definition of culturally arranged marriages.

In the absence of direction and empathy from previous immigration ministers on

this pressing issue affecting largely the migrant communities, the partnership visa

system has gradually slipped back to the old ad hoc system where immigration

officers arbitrarily approve entry via an exception and issue General Visitor Visa.

Yet there is no accountability when an immigration officer chooses to grant an

exception and issue a general Visitor Visa (GVV) and when they outrightly decline a

partnership visa application despite being convinced that a relationship exists.

The new Immigration Minister, Michael Wood, can fix this anomaly once and for all.

With a stroke of a pen, the minister can issue an immigration instruction that can

remove the culturally inappropriate requirement of "living together" for the purpose

of a partnership visa.

And this would not compromise NZ's immigration system in any manner as the

immigration officers are anyway acknowledging that a genuine socially approved

relationship exists.

It's only that NZ's immigration rules are less reflective of cultural diversity and

demand a one-size-fits-all outcome.

It is widely assumed and accepted that Minister Wood is deeply empathetic and

considerate towards the ethnic migrant minority communities and hopefully aware

of the cultural diversity in defining a conjugal relationship.

It's time for Minister Wood to shine as the new Minister of Immigration and remove a

bottleneck that is affecting both – brand-NZ and the migrant communities adversely.

If it makes it easier and politically more palatable, all political parties, including the

National Party, Green Party and Act Party, have officially said that there was no need

for a law change, and instead, the Minister of Immigration can issue an instruction to

fix this living together mess in NZ's partnership visa system.

IN FOCUS : Picture of the week

This week in New Zealand's history

July 9 1986

Homosexual Law Reform Bill passed

Indian Weekender : Volume 14 Issue16

On her first visit

to the UK since

the COVID-19 pandemic,

New Zealand Prime

Minister Jacinda

Ardern met with British

Prime Minister Boris

Johnson at Downing

Street in London for a

bilateral meeting – and

to confirm an extension

to the reciprocal Working

Holiday/Youth Mobility

Scheme that NZ currently

has with the UK.

Wellington Central MP Fran Wilde's private member's bill, which removed criminal

sanctions against consensual male homosexual practices, was passed by 49

votes to 44.

July 10 1967

New Zealand adopts decimal currency

Pounds, shillings and pence were replaced by dollars and cents − 27 million new

banknotes and 165 million new coins. The new money was valued at $120 million

(more than $2.2 billion in today's money) and weighed more than 700 tonnes.

July 11 1877

First woman graduates from a New Zealand university

Kate Edger became the first woman in New Zealand to gain a university degree

and the first woman in the British Empire to earn a Bachelor of Arts (BA)

July 11 1983

Lorraine Downes crowned Miss Universe

Lorraine Downes became a household name overnight and spent the next 12

months travelling the world accompanied by a chaperone, carrying out the duties

of Miss Universe.

July 12 1889

First women's trade union formed

The first women's trade union in New Zealand emerged in the late 19th century in

response to poor working conditions in the clothing industry.

July 14 1853

New Zealand's first general election begins

For such a symbolic moment, the events of 14 July offered little drama – the

first member of New Zealand's inaugural Parliament, Hugh Carleton, was elected

unopposed at Russell in the Bay of Islands.

Publisher: Kiwi Media Publishing Limited

Editor: Dev Nadkarni | dev@indianweekender.co.nz

Graphic Designer: Yashmin Chand | design@indianweekender.co.nz

Multimedia Specialist: Karan Bhasin | 022 0772 156 | karan@indianweekender.co.nz

Accounts and Admin.: 09-2173623 | accounts@indianweekender.co.nz

Auckland Reporter: Navdeep Kaur Marwah: | 021 952 246 | navdeep@indianweekender.co.nz

Waikato Reporter: Sandeep Singh | 021 952 245 | sandeep@indianweekender.co.nz

Wellington Reporter: Venu Menon | 021 538 356 | venu@indianweekender.co.nz

Christchurch Reporter: Mahesh Kumar | 021 952 218 | mahesh@indianweekender.co.nz

Views expressed in the publication are not necessarily of the publisher and the publisher

is not responsible for advertisers' claims as appearing in the publication

Views expressed in the articles are solely of the authors and do not in any way represent

the views of the team at the Indian Weekender

Kiwi Media Publishing Limited - 133A, Level 1, Onehunga Mall, Onehunga, Auckland.

Printed at Horton Media, Auckland

Copyright ® 2022. Kiwi Media Publishing Limited. All Rights Reserved.

Send your suggestions and feedback to editor@indianweekender.co.nz
---
Read online www.iwk.co.nz Friday, July 08, 2022

NEW ZEALAND 13

Telling the Tamil tales

NAVDEEP KAUR MARWAH

Czech Professor Dr Kamil

V. Zvelebil once said,

"There is no doubt

that the culture of the Tamils

belongs to the great and

immortal treasures of the

world's civilisation."

And the Kiwi-Tamil diaspora

in New Zealand has been

doing its bit to preserve

the rich Tamil culture and

heritage in Aotearoa.

And that explains that there

are various Tamil associations

across NZ in cities such as

Auckland, Wellington, Hamilton,

Christchurch, Dunedin, Taranaki

and Blenheim.

There are more than 15

associations that cater to

around 5000 strong Tamil

community members in NZ.

In this fifteenth part of

our series on Indian cultural

associations in NZ, we look at

Tamil Society Waikato (TSW)

- a nonprofit organisation

founded in 1989 to

promote the Tamil language,

culture and literature.

Giving details about the

association, which has

been in existence for over

three decades, its president

Srinivasan Jaganathan says,

"It was started with just nine

families in 1989 and had

been relentlessly working

to promote Tamil language,

culture and literature.

Today, we have over

200 members. And

nearly 500 people attend

our bigger events."

TSW is also working with

multicultural associations and

has recently started initiatives

to bring the Maori community

and Tamil community for

better understanding of each

other's cultural values to bring

harmony to society.

Explaining TSW's body of

work, Jaganathan says, "We run

weekly Tamil language classes

during the weekends. We also

endeavour to promote music

and celebrate Tamil cultural

festivals like Pongal, Tamil New

year, and arts festivals. We also

promote Tamil ethnic foods

from Tamil Nadu, Sri Lanka,

Malaysia, and Singapore. We

want our new generations to

know our roots and respect

other cultures."

TSW did a Kari Virunthu (Food

festival) last year where more

than 500 people were served at

the table.

They also did Deepavali Arts

and Food festival in Hamilton

Gardens in 2020, where

many Indian associations

in Hamilton participated.

TSW is a member association

of the Aotearoa New Zealand

Federation of Tamil Sangams

(ANTS) and celebrated Pongal

in the parliament.

TSW actively participated in

the Covid vaccination program,

along with the Ministry of

Health, for translating Covid

information into the Tamil

language and brought doctors

to advise the people in Tamil on

how to survive.

And last week, ANTS

and member association

took part in Tamil

Maori hui in Rotorua.

On a parting note, Jaganathan

revealed that they intend

to build a strong network to

help the Tamil community

to achieve well in business,

technology, and sports and do

more in physical and mental

health and wellbeing.

"We would like to work with

the Government and other

cultural organisations for

the betterment of Tamil and

New Zealand communities,"

he signs off.

We would like

to work with

the Government

and other cultural

organisations for the

betterment of Tamil

and New Zealand

communities,"

he signs off.

• From Page 7

To make it worse, a large

chunk of the Kiwi-Indians

and ethnic minority

migrants who did not meet the

"living together" requirement

under NZ's immigration

rules because of the cultural

inappropriateness of living

together before actual marital

knots are tied in the ritualistic

ceremony have struggled to

be united with their overseasbased

partners in the last two

years. While many citizens and

residents, who could otherwise

re-enter NZ's closed borders,

had resigned from their jobs

and left the country to live

with their overseas partners

for many months, only to fulfil

the immigration rules of "living

together" for partnership

visa, were able to bring their

partners in the country during

the last two years.

Temporary migrant workers

in the country did not have any

such luxury for the last two

years of border closure as they

were not eligible to re-enter

the country if they left shores

during the closed border regime.

They were expecting that the

government would offer some

relief and pathways for them

to bring their overseas-based

spouses in priority.

It seems that even when the

partnership visa processing has

restarted for their overseas

partners, they still are unable

to meet the "living together"

requirement under current

partnership visa rules.

THE 2022 LOCAL ELECTIONS

Your enrolment

pack is on its way.

Check it to make sure

you're enrolled and ready to

vote in the local elections.

0800 36 76 56

vote.nz
---
14

NEW ZEALAND

Friday, July 08, 2022

Read online www.iwk.co.nz

Christchurch Stadium consultations

receive highest number of submissions;

strong support for the project to go ahead

MAHESH KUMAR

In response to the public consultation

regarding the fate of the Te Kaha

stadium, Christchurch City Council

has received 29,000 submissions

which is the largest number on a

public consultation in a decade. 4,000

of the submissions were received

on just the last day.

The exercise was undertaken after

the Council announced a $150 million

price increase for Te Kaha, citing

supply chain problems, inflation,

and a labour shortage.

The hike means that the projected

price tag for the multi-use arena is now

$683 million.

The submissions revealed there is

strong support for the project to go

ahead despite the increased budget.

Christchurch City Council confirmed

77 per cent of the submissions received

are in support of the extra $150 million

being spent.

Council Research Analyst Aimee Martin

says 8 per cent of the submissions

wanted the project paused and reevaluated,

while 15 per cent say they

want it stopped altogether.

While speaking to some members of

the Indian community, it was evident

that a vast majority wanted the project

to go ahead.

Vishal, who is a keen sports lover, said

it would be great to have a modern stateof-the-art

multi-use arena in the city.

This will promote sports and establish

Christchurch as a hub for sporting action

in South Island.

Rajeswar who is the president of

Telugu Badminton Club of Canterbury

said having the venue will help attract

more international events and concerts,

leading to a steady flow of tourists to

the city.

He feels in the long-run the project

makes a lot of economic sense.

Narinder Singh points out the stadium

will also boost the local economy, small

and medium-sized businesses and

overall hospitality sector in the region,

who will benefit from increased tourists

and spectators.

Various other community members

that Indian Weekender spoke with also

reiterated that the city is sure to reap

Vishal, who is a keen sports

lover, said it would be great

to have a modern state-ofthe-art

multi-use arena in

the city. This will promote

sports and establish

Christchurch as a hub for

sporting action in South

Island.

the rewards of having the world-cass

stadium in the coming decades.

The stadium will have a seating

capacity of 30,000 for sports events and

will hold a minimum 36,000 spectators

for large music events.

The Council will now analyse the

submissions in more detail over the

coming days, and make a decision on

July 14.

BOOK ADS IN

NEWSPAPER

The most widely circulated WEEKLY

publication for Kiwi-Indians and the most

popular news platform with a strong

online, social media, and print. We deal

with all major advertising: Digital, Social

Media and Newspaper Print advertising.

PROPERTY

AUTOMOBILE

EDUCATION

Call us for a customised advertising

solution with Indian Weekender

www.indianweekender.co.nz

IMMIGRATION

MORTGAGE

EVENTS

021 952 216

Email sales@indianweekender.co.nz /

leena@indianweekender.co.nz

NEW ZEALAND

Over a ton of colour to be used at

Krishna Holi 2021 event in Kumeu

The Indian Weekender Friday, February 12, 2021 11

RIZWAN MOHAMMAD

T

he biggest Holi event in the country

on Sunday, February 14 at ISKCON

Temple in Kumeu will put over one

ton of colours for 10,000 visitors to play with

celebrating the annual Hindu festival.

Holi is one of the most popular and widely

celebrated festivals for the Indian community

after Diwali that is celebrated by the diaspora

and the adjoining communities across the globe.

The annual festival of colour falls on March

28-29 this year, and the religious element of the

festival signifies the triumph of good over evil.

It is observed a the end of winter and advent of

spring month (in the Indian subcontinent), and

spiritual part of the festival starts with Holika

Dahan (burning demon Holika) also known as

Chhoti Holi and the following day as Holi.

In its 9th year, Krishna Holi event at the

iconic Hare Krishna Temple in Kumeu, West

Auckland attracts thousands of people from all

walks of life, different ethnicities and faiths to

be a part of a colourful and joyous event.

Speaking with the Indian Weekender,

Krishna Chandra from the temple said they are

excited to see the festive season of Holi back

after a gloomy year of Covid-19 in the country.

"Holi at the Krishna Temple is one of the

most vibrant events in our calendar- we see

families dressed white clothing visi the temple

and then dance and drench in dry and wet

colours from noon till early evening," Krishna

Chandra, secretary and spokesperson of Hare

Krishna Temple said.

The temple spread over 100 acres start the

free event at 11 a.m. and will have stalls that

distribute at least ten to 12 colours, and there

will also be watercolours for the visitors.

A giant LED screen is also installed on the

stage with a DJ and live music for the attendees

to dance and have fun.

"It's a family-friendly- tobacco and alcoholfree

event. People of all ages can have fun as

there will be colour stalls, water stations, food

stalls, changing rooms, showering stations for

people drenched in colour," Mr Chandra said.

He added tha the temple stocks colours to be

used at the festival at least 2-3 years at a time.

The temple will be used over a ton of colour at

the event both in its dry form and with water.

"We have given 200 kgs of colour to fire

brigade who will mix it in their water tank

and then splash it on the visitors at different

intervals.

"Since this year's event coincides with

Valentine's Day, we have kept valentine theme

gifts and gift station too at the venue for the

public to celebrate the occasion there," Mr

Chandra added.

Mr Chandra says all arrangements in

terms of Covid QR Code scanning and hand

sanitisers are in place for people, arrangements

for children activities, so that everyone gets to

enjoy the even to its fullest.

"We have volunteers, security to usher

vehicles to park in the appropriate places,

manage the oncoming and returning traffic,

and make sure visitors feel comfortable at the

event," Mr Chandra added.

The event organisers have appealed the

visitors to come in white dress as colours tend event like previous years will be high octane,

to exhibit its vibrancy on white clothing, get full of energy and good vibes," Mr Chandra

spare clothing to change after playing with added.

colour and food and water arrangements have ISKCON Temple is located on 1229

been made a the venue.

Coatesville-Riverhead Highway, Kumeu, West

"Holi is always a fun event and Krishna Holi Auckland, and the event starts at noon to 5 p.m.

Hare Krishna temple to host 'Saatvik food festival'

RIZWAN MOHAMMAD

T

he Hare Krishna Temple in Kumeu, West Auckland

is hosting its annual food festival event on Saturday,

February 13, for the community.

More than 3000 people are expected to attend the event

where they will be served saatvik vegetarian food, tour the

temple premises and have a relaxing family-fun day.

"Our Hare Krishna Food Festival is very popular amongs the

wider Kiwi community in Auckland, people from all faiths and

ethnicities come to the temple, take a tour of the place knowing

about the deities, the ISKCON establishment, its works for the

community and have snacks and food during the day," Krishna

Chandra, secretary and spokesperson for Hare Krishna temple

told the Indian Weekender.

The event is said to be quiet, and exhibit a relaxing

environment where people get to meet new people, make

friends, experience the calmness being with nature, have

Saatvik (pure) vegetarian food and have good family day.

"This event is happening just one day before our most

popular Krishna Holi event which is will be loud, full of energy,

playfulness, music and dance," Mr Chandra added.

The events will start at 2 p.m. and end at seven in the evening.

Besides the food festival, Krishna Temple organises lunch

event every Sunday at its premises where 300-400 people

come, chant mantras, meditate, spend some time with nature

and dine with the community members.

"It is a soothing atmosphere at the temple, chanting mantras

with the community, knowing more about the religion, what

can they do a the temple and how can they make a difference in

the community by serving others and the less privileged.

"There are also children's activities

organised so that they engage themselves

and also have a good time at the temple," Mr

Chandra said.
---
Read online www.iwk.co.nz Friday, July 08, 2022

NEW ZEALAND 15

Three years of making headlines

High Commissioner Muktesh Pardeshi in the news
---
16

INDIA

sector: CoWin chief

CoWIN platform chief and

CEO of the National Health

Authority, Dr RS Sharma

hailed the country's progress in

the digital infrastructure sector

and said that no other country

has been able to achieve what

India has in this sphere.

In an exclusive conversation

with Dr Sharma said, "India,

during the last decade or so

has created a number of digital

public infrastructures.

The beauty of these public

goods is that the more you

use them, the better it is. We

have done a number of them at "Last August, PM announced

a scale which no other country E-Rupi, basically a prepaid

has done."

Stating a few successful

voucher, which is given for

a purpose, so it's basically

digital products made available

by the government to the

public, Dr Sharma said, "There

are multiple products on top

of Aadhaar, which is the digital

direct benefit transfer with a

purpose," he said.

"We have performed well in

digital public infrastructure and

we will continue to do more as

locker - electronic consent, we are bringing out new public

eSign, electronic KYC etc." goods like Ayushman Bharat

The top National Health Digital Mission, Open Network

Authority official also went on for Digital Commerce...We

to mention E-Rupi-- the digital

payment solution launched by

PM Modi in August 2021.

have gone from a platform to

a network-centric digital public

infrastructure," Dr RS Sharma

Friday, July 08, 2022

India has performed 'well' in

digital public infrastructure

We have performed

well in digital public

infrastructure and

we will continue to

do more as we are

bringing out new

public goods like

Ayushman Bharat

Digital Mission, Open

Network for Digital

Commerce...We have

gone from a platform

to a networkcentric

digital public

infrastructure."

said.

On July 4, Prime Minister

Narendra Modi asserted that

India is leading the world in

the digital revolution as the

government's commitment to

the use of digital technology

in welfare programmes and

services delivery is changing

the lives of the people of the

country.

PM Modi launched multiple

digital portals at the ongoing

Digital India Week 2022,

including single sign-in portal

Meri Pehchaan, Digital India

Bhashini, Digital India Genesis

and Chips to Startup (C2S),

during an event held in

Gandhinagar in his native State

of Gujarat.

Since 2014, more than Rs 23

lakh crore has been transferred

to beneficiaries through

Direct Benefit Transfers or

DBT, the Prime Minister said.

He emphasised the need to

adopt technology or else

remain backward as was the

case during the third industrial

revolution when the country

remained behind other nations.

India, China funnel $24bn to Putin in buying

oil, gas, coal: Report

Russia has pocketed

$24 billion from selling

energy to China and India

in just three months following

its invasion of Ukraine, showing

how higher global prices are

limiting efforts by the US and

Europe to punish President

Vladimir Putin.

China spent $18.9 billion on

Russian oil, gas and coal in the

three months to the end of

May, almost double the amount

a year earlier, latest customs

data show.

Meanwhile, India shelled out

$5.1 billion in the same period,

more than five times the value

of a year ago. That's an extra

$13 billion in revenue from

Bharatiya Janata Party (BJP) MP

Ravi Shankar Prasad said that

Prime Minister Narendra Modi

advised the party workers to learn from

the mistakes of other political parties

which were in power in the country in

the past but now are in "decline".

"PM Modi spoke about various parties

that are fighting for their existence &

that neither we should laugh at them

nor mock them. Instead, we should learn

from them and refrain from committing

such acts that they have committed,"

Prasad said. BJP MP Ravi Shankar Prasad

was addressing a press conference

during the BJP's National Executive

both countries compared to

the same months in 2021.

The higher spending is

helping make up for decreased

purchases from the US and

some other nations that have

halted or slowed buying to

punish Russia for the war.

The bans have sent prices

for alternative supplies soaring

and spurred crippling inflation

that threatens to send major

economies into recession.

"China is already buying

essentially everything that

Russia can export via pipelines

and Pacific ports," said Lauri

Myllyvirta, lead analyst at the

Centre for Research on Energy

and Clean Air, who has been

Committee meeting in Hyderabad.

"PM Modi noted the rapid expansion of

the BJP over the years in the country

(during the BJP's National Executive

Committee meeting in Hyderabad). He

very proudly conveyed his profound

appreciation of courage of all party

workers in states like Telangana, WB,

Kerala," said Prasad.

PM Modi asserted on Sunday that the

party's goal should be "fulfilment of all"

as against the opposition's politics of

appeasement.

"In states where they (party workers)

are suffering enormous hardship and yet

remain firm to ideology... PM Modi stated

tracking Russian energy flows

since the war broke out. "India

has been the main buyer of

the cargoes out of the Atlantic

that Europe doesn't want

anymore."

That spree is unlikely to end

anytime soon, with energy

prices much higher than they

were at this time last year,

even accounting for the steep

discounts to global benchmarks

Russia is offering to entice

purchasers.

On a volume basis, China's

imports continued a slow

uptick in June, while India

may have incentive to boost

purchases even further in the

coming months as a European

Union ban on Russian oil takes

effect, Myllyvirta said.

that our aim should be to make it clear

that our thought process should be from

appeasement to fulfilment," he added.

He also conveyed that PM Modi said

that Hyderabad is Bhagyanagar and

said, "PM Modi said that Hyderabad is

Bhagyanagar which is significant for all

of us. Sardar Patel kept the foundation

of a unified India and now it's BJP's

responsibility to carry it further."

"Since ancient times, land of

Maa Bhagyalaxmi has been called

Bhagyanagar. Fate of Bhagyanagar is

about to change, to improve. Telangana

is calling for BJP," BJP leader Dinesh

Sharma said after day 2 of BJP's national

Read online www.iwk.co.nz

India is

leading

Industrial

Revolution

4.0: PM

Modi

With an aim to enhance

the accessibility

of technology,

streamline service delivery to

ensure ease of living and give

a boost to startups, Prime

Minister Narendra Modi launched

numerous digital portals and

said that India's leading the

fourth industrial revolution.

"All programmes launched

today are going to strengthen

Ease of Doing Business and Ease

of Living. They'll give a fillip to

India's startup ecosystem.

"India can proudly say that

India is not just part of the

Industry 4.0 Revolution but

is actually leading it," said PM

Modi. Prime Minister Narendra

Modi launched multiple digital

portals at the ongoing Digital

India Week 2022 including

a single sign-in portal Meri

Pehchaan, Digital India Bhashini,

Digital India Genesis, Chips to

Startup (C2S) programme.

"All programmes launched

today are going to strengthen

Ease of Doing Business and

Ease of Living.

"They'll give a fillip to India's

startup ecosystem... India

can proudly say that India is

not just part of the Industry

4.0 Revolution but is actually

leading it," PM Modi added.

India is now working on digital

mapping of rural properties

using drones and other such

devices.

"In the last 8 years,

more than Rs 23 lakh crore

have been transferred to

beneficiaries through Direct

Benefit Transfers. With this

technology, around Rs 2.23

lakh crore, which went to the

wrong hands, got saved," he

added.

PM Modi emphasized that with

the robust use of technology in

national governance, the queue

system has been reduced to

minimum in Gujarat with the

digitisation of the services.

PM Modi advises workers to learn from mistakes of parties which are in decline

executive meeting at Hyderabad

convention centre.

The two-day Bharatiya Janata Party

(BJP) National Executive meeting

started in Hyderabad on Saturday. The

meeting was attended by BJP's top

brass including Prime Minister Narendra

Modi, national president JP Nadda, Chief

Ministers of 19 states and other BJP

senior leaders at Hyderabad International

Convention Centre.

The BJP's initiative comes at a time

when Telangana is heading for Assembly

polls in 2023 and the BJP sees a huge

prospect of bringing down the ruling

Telangana Rashtra Samithi government.
---
Read online www.iwk.co.nz Friday, July 08, 2022

FEATURES 17

Crispy tikki chola chaat

TAMARIND

INGREDIENTS:

• 1cup - tamarind ( tightly

packed imli )

• 3cups - water

• 1tsp - cumin seeds

• 1/3tsp - ginger powder (

saunth )

• 1pinch - asafoetida (hing)

• 1/2tsp - red chilli powder

• 1/2cup - chopped jaggery

or as required – adjust as per

your taste

• 1tbsp - oil

• 1tsp - rock salt

METHOD:

• Soak tamarind in water

overnight or for 4 to 5 hours

in a medium size bowl.

• Squeeze the pulp out from

the tamarind with your hand.

Strain the pulp and set aside.

• Heat oil in the heavy base

saucepan over medium

flame.

• Add cumin seeds; when

they start to splatter add

tamarind pulp, mix well.

• Add ginger powder,

asafoetida and red chilli

powder, stir.

MINT CHUTNEY

INGREDIENTS:

• 2cups - coriander leaves

• 1cup - mint leaves

• 4-6 - green chilies

• 1tsp - cumin seeds

• 3 - garlic cloves

• 1inch - ginger

• 2 - lemons

• 1tsp - salt or according to

taste

METHOD:

• Blend washed coriander and

mint leaves in a blender.

• Add washed green chillies,

cumin seeds, garlic cloves

and ginger.

• Squeeze lemon; add salt

and water; blend everything

together into a fine paste.

• Transfer into a bowl, cover

and set aside for later use.

• TIP:

CHANA CHAAT

INGREDIENTS:

• 1cup - boiled chana with tea

bags and salt

• 1/2cup - red onion, chopped

• 2 - tomatoes, chopped

• 3 - green chillies

• 1 - potato, large and boiled

• 1/4tsp - red chilli powder

• 1tsp - cumin powder

• 1tsp - chaat masala powder

• 1tsp - salt

• 2tbsp - chopped coriander

• 2tbsp - tamarind chutney

METHOD;

• Place boiled chana in a large

bowl along with onions,

tomatoes and green chillies.

• Crush potatoes with your

hand and add them to the

chana.

• Add chopped jaggery and

salt, mix well; cover and let

cook for 4-5 minutes (the

mixture should become

thick).

• Remove from the flame and

transfer it into a bowl set

aside for later use and let it

get to a room temperature

(when cooled, store the imli

chutney in an air-tight dry

jar or container. Refrigerate

and serve whenever required

with chaat or snacks).

• Mint chutney can be kept for

a week in the fridge and for 1

month in the freezer.

• If you are using pot for

making chana's; cook them

for 30 minutes.

• Samosa's ( 8-10 ) can be

replaced for tikkies.

• Add red chilli powder, cumin

powder, chaat masala

powder, salt, coriander

and tamarind chutney, mix

everything together with the

spatula.

• Serves - 4

INGREDIENTS FOR TIKKI:

• 5 - potatoes, large

• 1/2tsp - red chilli powder

• 1/2tsp garam masala powder

• 1tsp - coriander powder

• 1tsp dry mango powder

• 1/2tsp – cumin powder

• 2tbsp - bread crumbs

• 2tbsp - rice flour

• 2tbsp - fresh coriander

chopped

• 1/2tsp - salt or according to

taste

• 1cup - oil for frying or as per

required

INGREDIENTS FOR CHOLA:

• 1cup - whole chickpeas

• 3cups - water

• 2 - tea bags

• 1inch - cinnamon stick

• 2 - bay leaves

• 4 - green cardamom

• 1tsp - salt

• 1tbsp - oil

FOR TEMPERING:

• 2 - onions, medium

size

• 1tsp - ginger paste

• 1tsp - garlic paste

• 1tsp - chana masala

powder

• 1/2tsp - red chilli

powder

• 1/2tsp - cumin powder

• 1/2tsp garam masala

powder

• 2 - tomatoes

• 2tbsp - oil

TO ASSEMBLE:

• Tamarind chutney

• Mint chutney

• 2cups - plain yoghurt

• 1 - red onion

• 2tbsp - fresh coriander

chopped

• Sev to sprinkle

• Chaat masala to sprinkle

• 2tbsp - pomegranate arils

METHOD FOR TIKKI:

• Place unpeeled potatoes in

a large saucepan, fill with

water, and place it over high

flame.

• Bring to a boil; cook until

potatoes are soft and tender

(check with a knife or fork

to see if the potatoes are

cooked well. The knife

should be able to slid easily

if the potatoes are cooked

properly).

• Drain, cool, and peel

potatoes. Set aside.

• Add potatoes to a large size

bowl.

• Add red chilli powder, garam

masala powder, mango

powder, cumin powder and

salt to the mashed potatoes,

mix well with your hand or by

using the fork.

• Add breadcrumbs, rice flour

and chopped coriander, mix

well again.

• Rub oil on your palms; take

a hand full of potato mixture

and shape it into flat cutlets

by rolling it gently and then

slightly pressing it between

your hands; make it into

about 2 or 3 inches in

diameter and 1 inch thick.

• Repeat until the whole

mixture is used and place

them onto a plate.

• Spread breadcrumbs in a

separate

plate.

• Add corn flour into a bowl

along with half cup of water

and mix well. Set aside.

• Dip each cutlet in the

cornflour then coat each

cutlet lightly in bread

crumbs, and place them

onto a plate.

• Heat about 2 tablespoons oil

in a large heavy base skillet

over medium flame.

• Fry cutlets in batches until

golden brown and crisp on

both sides; gently flipping it

over with spatula (Between

batches, add oil as needed).

• Transfer them onto a kitchen

towel paper for the extra oil

to be absorbed. Set aside.

METHOD FOR CHOLA:

• Rinse chickpeas under

running water until the water

runs clear then transfer

them into medium size bowl;

add 3 cups of water; cover

and leave it overnight or for

at least 6 hours.

• Add chickpeas to a pressure

cooker along with its water.

• Add tea bags, cinnamon

stick, bay leaves, green

cardamom, salt and oil.

• Pressure cook chickpeas

on medium flame for 3-4

whistles; remove the led and

check if the chickpeas are

done ( you should be able

to press the chickpeas easily

with your fingers if they are

done other wise cook them

for some more time ).

• Discard whole spices and

tea bags and set chickpeas

along with its water, aside.

• Heat oil in a heavy base

saucepan over medium

flame.

• Peel, wash and

chop onions; add

to them to the oil

and fry until brown in

colour.

• Add ginger paste,

sauté, add garlic paste and

sauté for 2-3 minutes.

• Lower the flame and add

chana masala powder, red

chilli powder, cumin powder

and garam masala powder

with a splash of water, mix

well.

• Add washed and chopped

tomatoes and sauté until oil

separates.

• Add chickpeas along with its

water to the masala and mix

well.

• Cover and let simmer for 4-5

minutes on medium flame,

stirring in between (the

gravy should be medium

thick).

• Season with salt (do

remember that salt has been

added in the chickpeas while

boiling them).

• Remove chickpeas from the

flame and set aside.

TO ASSEMBLE THE CHAAT

• Place 2 tikkies in a serving

plate.

• Spread some chana masala

on top.

• Whisk yoghurt and then

spread 1 tablespoon on top

of the chana.

• Spread 1 teaspoon of each

tamarind chutney and mint

chutney.

• Peel wash and chop onion

and spread some on top of

chutneys.

• Sprinkle sev and chaat

masala in the end.

• Garnish with pomegranate

arils.

• Serve fresh immediately.

• Serves - 6-8
---
18

ENTERTAINMENT

Friday, July 08, 2022

Mimi director Laxman Utekar: I

don't think any actor can beat Kriti

Sanon's performance that year

With her flawless performance

in the comedy-drama Mimi,

scheduled for release in 2021,

Kriti Sanon astounded everyone. While

both audiences and reviewers have

always praised the actress for her solo

lead performance, she received a major

compliment this year when she won her

first Best Actor (Female) award, and that

too at IIFA.

Kriti's triumph with Mimi has continued

to reverberate even now, almost a year

after the film's premiere. In response to a

question regarding Kriti's IIFA Best Actor

(Female) triumph, Laxman Utekar, the

director of Mimi, said that he had previously

promised Kriti and Sai Tamhankar that

they would be walking away with awards

for their fantastic performances when

they were filming for Mimi.

No actor, in his opinion, will ever surpass film Mimi, a young woman who decides

Kriti's performance from that year. to become a surrogate mother for an

Sincerely, he believes she deserves every international couple.

accolade for her efforts and performance. With a movie she carried on her

Kriti portrayed Mimi Rathore in the shoulders, the actor achieved enormous

Rakul Preet: I am a secure yet a greedy actor for

my own growth not to be in a number chart

Actor Rakul Preet Singh

is never worried about

how many co-stars she

will have in a project, because

she is a secure artiste, and

knows no one can take her

contribution away.

"I am a greedy actor, not an

insecure actor. I am very secure

as a person. I'm greedy for

more work for my own growth,

not for any other reason, and

not to be telling anybody, or

not to be in a number chart,"

Singh tells us.

The 31-year-old continues,

"All that subsequently happens,

but that's not what I'm chasing.

I'm chasing my growth and

chasing opportunities".

Here, she asserts that she is

never satisfied when it comes

to her career. "I'm happy but

not satisfied, because there's

Actor Rajkummar Rao has opened

up about nepotism in the film

industry saying that it 'will always

be there'. In a new interview, Rajkummar

also said that though nepotism exists

there are also many opportunities in

the industry. He spoke about his friends

and classmates like Jaideep Ahlawat and

Pratik Gandhi, who are getting

recognition on OTT platforms.

Rajkummar made his acting debut with

Love Sex Aur Dhokha (2010) but gained

recognition with supporting roles in

Gangs of Wasseypur-Part 2 and Talaash:

The Answer Lies Within (2012). He also

featured in Kai Po Che, Shahid, Queen,

Bareilly Ki Barfi, Aligarh, Ludo, Newton,

The White Tiger and Stree among

others. Rajkummar won the National

Film Award for Shahid. Rajkummar said,

always more that you want.

Your fire should always be

burning, because I'm someone

who craves for more. I'm very

grateful for the films that I

have… I am a greedy actor. I

want people to give me more

opportunities," she says.

The actor, who was last seen

in Runway 34, feels this sense

of security comes from self

"Nepotism will always be there, but now

there are many opportunities. I have

friends who were my classmates but

are getting recognition now, thanks to

OTT platforms. "Like Jaideep (Ahlawat)

who did so well in Pataal Lok and Pratik

(Gandhi) in Scam 1992. Nepotism will

be there, but your work and talent will

speak."

He also spoke about hit films and the

kind of movies he prefers.

"No one knows the formula of a hit film,

you have to keep trying and then leave it

to destiny. I haven't really thought about

why South films are doing well, maybe

because they are good films, the hard

work shows. But I believe cinema goes

through phases, at one point we were

shooting songs in Switzerland, then we

started telling small-town stories, and

belief. "I know that it can't be

shaken. When I started out, say

10 years back, when I moved

from Delhi to Mumbai, the only

thing I had was confidence.

And that remains unshaken.

Even if there are two actors or

three actors in a film, (I am not

fretting about it)... Nobody can

take away your contribution

from the film.

Every actor has their

own space, so any sort of

insecurities will actually spoil

your own headspace. Nobody

else gets affected."

For her, attaining this

headspace is not tough. "It is

how you are tuned and you

have to actively consciously

make that effort. Of course,

I have low days. Like, this

year, I have six releases,"

she says, adding.

success that completely changed the

course of her career.

She demonstrated a wide range in

her performance, playing everything

from a young girl with enormous

hopes to a wise mother.

She had also gained 15 kg to play the

character more convincingly.

Earlier, while talking about her weight

gain, Kriti had told ANI that she had to

gain 15 kg in just two months, and she

couldn't start reducing weight until the

movie was over.

Since the actor wanted to reduce the

weight before beginning any other project,

it made more sense to put off starting any

other project throughout the shoot and

even for a few months after.

During that time, she also gave up a lot

of award show appearances since dancing

helps her lose weight quickly.

With huge projects like Adipurush,

Shehzada, and others on her schedule,

Kriti is having an extremely busy time in

her career.

now it is time for larger-than-life cinema

that the South offers.

But, as an actor, I rather do films

I can be proud of not, not necessarily

something that is working. As long as

my producers don't lose money, I can

keep telling stories. I would rather do

films I will be proud of. I don't want to be

part of a herd. It is okay if my films don't

make ₹100 crore at the box office," he

added.

Read online www.iwk.co.nz

Bobby Deol on 25 years of Gupt: My

leg was broken, which led to my now

famous 'Bobby Deol dance'

25 years already for a

film that surprised every

viewer when it released,

minted money, cemented it's

lead cast's popularity… Gupt

remains special to Bobby Deol

for more reasons than one.

His co-star Kajol was the

villain in the film, and it is still

remembered because of this

surprise which nobody saw

coming.

Ask Deol if he was

apprehensive in the least

knowing she will walk away with

most attention, and he quips, "I

don't think so.

"When people see the work,

music, I was dancing so much

for the first time, the action

was amazing. These kind of

subjects were never made."

The songs, especially Duniya

Haseenon Ka Mela and Gupt

Rajkummar Rao says 'nepotism will always be there'

in film industry 'but your work and talent will speak'

"No one knows the formula of a hit

film, you have to keep trying and then

leave it to destiny. I haven't really

thought about why South films are

doing well, maybe because they are

good films, the hard work shows. "

When Madhuri said

she would never

marry Anil: 'He is

hypersensitive, I'd like

my husband to be cool'

Actor Madhuri Dixit made her

acting debut in the 1984 film

Abodh and went to to work

with several popular celebrities of

the industry, including Anil Kapoor.

Talking about him, she once

said that she would never marry

him if given a chance and called

him 'hypersensitive.' She also

described how she would like her

husband to be.

Madhuri and Anil Kapoor first

worked together in director Prayag

Raj's film Hifazat. Later they

appeared in several hit movies such

as Tezaab, Beta, Khel, Parinda and

more.

In 1989, when Madhuri was asked

if she would marry her co-star Anil

Kapoor, she told the magazine

Movie, "No! I wouldn't marry

someone like him. For one thing,

he is too hypersensitive, I would

like my husband to be cool. As for

Anil, I have done so many films with

him, so I am comfortable with him.

I can even joke with him about our

supposed affair."

Gupt were a rage. And the

makers didn't leave any stone

unturned to capitalise on it.

Deol reveals that director Rajiv

Rai came up with a promotional

strategy which no one before

him, and after Gupt, has

emulated.

"He booked a music channel

for a day, and for 24 hours there

would be no other commercial

or film's ads, besides Gupt.

Only Gupt's songs would keep

playing. Can you believe that? It

was amazing how he promoted

the film, because it had so much

material," beams the actor.
---
Make winter

a little better

WITH COMPREHENSIVE HEALTH COVER AND A FREE nib BETTER HEALTH BOX

Private health insurance helps protect you

and your family from the unexpected. It can

give you more control over who treats you

and when. Without it, private treatment could

be unaffordable or make a significant impact

on your hard-earned savings and lifestyle.

Our purpose is your better health, when you

sign up to any new nib policy through your

adviser, you'll receive a FREE nib better

health box worth over $100. So wrap up

and get covered this winter.

With the better health box, you'll receive a

curated mix of wellness products, first aid kit,

rapid antigen tests and even more to help you

get through this winter.

Working with:

not

Examples

CMYK & RGB – JPEG, PNG, EPS, PDF

SO TALK TO YOUR ADVISER TODAY FOR ALL THE DETAILS.

One box per policy, terms and conditions apply. Offer only for new applications submitted between 2 May

and 29 July 2022, with a policy commencement date no later than 14 August 2022.
---
3 1 2 35 Richard Farrell Ave, Remuera

Lot 1 & Lot 6/21 Craigbank Ave, New Lynn

Lot 5-8/418 Richardson Road, Mt Roskill

4 3 1 1 3

Brand New and Owner wants It SOLD

BRAND SPANKING NEW houses designed to deliver modern,

comfortable yet practical living, express your interest

without delay. Lots available to choose from Freehold, No

Body corp ,4 bedroom, 3 bathroom (1 en suites), Insulation

and Double Glazing for latest healthy homes standard, Single

internal access garage, Large open plan living/dining Area.

Call Nick on 021 186 6969 to book private viewings.

3 1 1 1 4

Brand New Development in Mt Roskill

Set in a new development of luxurious townhouses, the

quality and style of these fabulous houses sets a new

benchmark for newly build. Centrally located with motorway

access in close proximity, these houses are also in-zone for

Mt Roskill Intermediate and Lynfield College. Each lot is on a

freehold title and there are no body corp fees. Call Nick on

021 186 6969 to book private viewings.

Nick Kochhar

021 186 6969