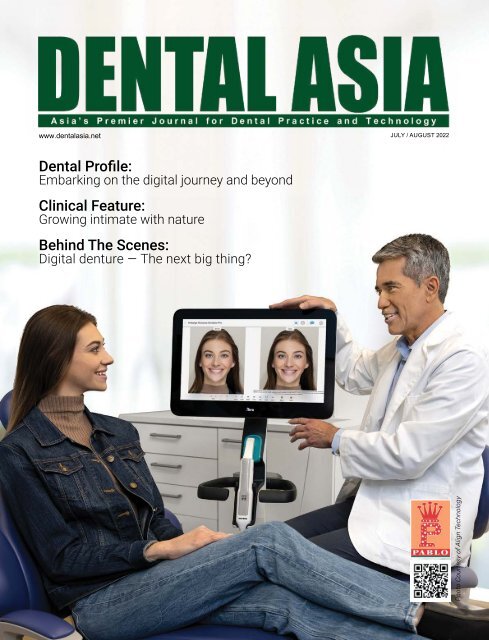 Dental Asia July/August 2022
For more than two decades, Dental Asia is the premium journal in linking dental innovators and manufacturers to its rightful audience. We devote ourselves in showcasing the latest dental technology and share evidence-based clinical philosophies to serve as an educational platform to dental professionals. Our combined portfolio of print and digital media also allows us to reach a wider market and secure our position as the leading dental media in the Asia Pacific region while facilitating global interactions among our readers.
For more than two decades, Dental Asia is the premium journal in linking dental innovators and manufacturers to its rightful audience. We devote ourselves in showcasing the latest dental technology and share evidence-based clinical philosophies to serve as an educational platform to dental professionals. Our combined portfolio of print and digital media also allows us to reach a wider market and secure our position as the leading dental media in the Asia Pacific region while facilitating global interactions among our readers.

SHOW MORE
SHOW LESS
Create successful ePaper yourself
Turn your PDF publications into a flip-book with our unique Google optimized e-Paper software.
www.dentalasia.net

JULY / AUGUST 2022

Dental Profile:

Embarking on the digital journey and beyond

Clinical Feature:

Growing intimate with nature

Behind The Scenes:

Digital denture — The next big thing?

Photo Courtesy of Align Technology
---
16

26

34

CONTENTS

TRENDS

16 Connecting patients closer to

their clinics

18 NSK harnesses green power

UNDER THE SPOTLIGHT

19 Integration of guided surgery

into practice

DENTAL PROFILE

20 ZimVie opens doors to

integrated solutions

24 Embarking on the digital

journey and beyond

CLINICAL FEATURE

26 Immediate implant placement

in the aesthetic zone

30 Orthodontic space closure:

Midline diastema related to

mesiodens

34 Growing intimate with nature

42

48

USER REPORT

39 Dental-specific solution for 3D

model printing

40 Centripetal layered build-up of

posterior direct composite resin

42 Digital aesthetic smile

reconstruction

46 Same-day visit implant treatment

BEHIND THE SCENES

48 Bringing 3D printing to the next

level for sustainable healing

50 Digital denture – The next big

thing?

52 The bridge between virtual

platform and reality

IN DEPTH WITH

54 Practice transformation with

Invisalign Outcome Simulator Pro

55 Celebrating the anniversary of

Zolid zirconia

SHOW REVIEW

63 GC's centennial anniversary

celebrations continue at GC

International

SHOW PREVIEW

64 Dentsply Sirona announces

the return off DS World 2022

65 DentalForum APAC 2022: A

networking hub for regional

dental professionals

REGULARS

4 Editor's Note

6 Dental Updates

56 Product Highlights

66 Giving Back to Society

67 Events Calendar

68 Advertisers' Index

54

2

DENTAL ASIA JULY / AUGUST 2022
---
Dental Updates

Whatever tomorrow holds, we're ready. Our support is continually being

developed and enhanced to ensure that your protection is future-proof.

• A wide range of protection beyond claims

• Advice for any eventuality your career may face

• Fast to respond to unexpected situations

• Support today, tomorrow and yesterday

Always there for you

dentalprotection.org

Dental Protection Limited is registered in England (No. 2374160) and is a wholly owned subsidiary of The Medical Protection Society Limited ("MPS") which is registered in England (No. 00036142).

Both companies use 'Dental Protection' as a trading name and have their registered office at Level 19, The Shard, 32 London Bridge Street, London, SE1 9SG. Dental Protection Limited serves and

supports the dental members of MPS with access to the full range of benefits of membership, which are all discretionary, and set out in MPS's Memorandum and Articles of Association. MPS is not

an insurance company. Dental Protection® is a registered trademark of MPS.

2205233575 06/22

DENTAL ASIA JULY / AUGUST 2022 3
---
EDITOR'S NOTE

The world is digital

PABLO SINGAPORE

Publisher

William Pang

williampang@pabloasia.com

Digital technologies have transformed the

way we live and work. Almost everything

can be done within a click at our fingertips,

bringing us so much convenience

and efficiency as we ease through our

everyday.

For the dental industry, the impact of

digitalisation goes way beyond

streamlining treatment procedures – it

elevates patient care and effectively

improves treatment outcomes. As

emphasised by an implantologist, Dr

Jonathan Loa, digital implant planning

makes implant placement more

predictable as it allows greater precision

(pp. 19).

Marie-Laure Pochon, CEO and president

of 3Disc, also highlighted that embracing

digital dentistry can allow practitioners

to improve their treatment process. An

intraoral scanner, for instance, brings more

accuracy in the fabrication of prostheses,

better comfort for the patients and allows

a shorter turnaround time of dental

treatment (pp. 24).

On the laboratory side, 3D printing

continues to benefit the manufacturing of

regenerative implants. Dr Lim Jing, CTO of

Osteopore, shared that this technological

advantage has enabled them to create

a microstructure that is representative

of native bone while meeting the gross

geometrical needs of the reconstruction

area (pp. 48).

However, Dr Naren Rajan, who presented

a digital protocol for ceramic restoration,

stressed: "Simply having technology is

not enough. Using it thoughtfully is how

we realise the true promise of digital

dentistry (pp. 42)."

Hence, as suggested by Maik Walther,

general manager of ZimVie Dental

Asia-Pacific, now is the time for

manufacturers to focus on integrated

solutions to better help dental

professionals use new products and

technologies (pp. 20).

This issue highlights that the dental

landscape is continually growing and

evolving to redefine and innovate

oral healthcare. Tapping into modern

solutions allows practitioners to offer a

wider range of treatments to ultimately

transform their patients' smiles.

Czarmaine Masigla

Assistant Editor

Publications Director

Senior Editor

Assistant Editor

Graphic Designer

Circulation Manager

PABLO BEIJING

General Manager

PABLO SHANGHAI

Senior Editor

Jamie Tan

jamietan@pabloasia.com

Josephine Tan

josephine@pabloasia.com

Czarmaine Masigla

czarmaine@pabloasia.com

Jolin Tan

jolintan@pabloasia.com

Shu Ai Ling

circulation@pabloasia.com

Ellen Gao

pablobeijing@163.com

Daisy Wang

pabloshanghai@163.net

HEAD OFFICE

PABLO PUBLISHING &

EXHIBITION PTE LTD

3 Ang Mo Kio Street 62 #01-23

Link@AMK, Singapore 569139

Tel: (65) 62665512

Email: info@pabloasia.com

Website: www.dentalasia.net

Company Registration No.: 200001473N

Singapore MICA (P) No. 104/12/2021

Malaysia KDN: PPS1528/07/2013 (022978)

REGIONAL OFFICES

PABLO BEIJING

Tel: +86-10-6509-7728

Email: pablobeijing@163.com

PABLO SHANGHAI

Tel: +86-21-52389737

Email: pabloshanghai@163.net

ADVISORY BOARD

Dr William Cheung

Dr Choo Teck Chuan

Dr Chung Kong Mun

Dr George Freedman

Dr Fay Goldstep

Dr Clarence Tam

Prof Nigel M. King

Dr Anand Narvekar

Dr Kevin Ng

Dr William O'Reilly

A DENTAL ASIA JULY / AUGUST 2022

Dr Wong Li Beng

Dr Adrian U J Yap

Dr Christopher Ho

Dr How Kim Chuan

Dr Derek Mahony

Prof Alex Mersel
---
DENTAL UPDATES

Envista to acquire Osteogenics Biomedical Business

Envista Holdings Corporation has entered into

a definitive agreement to acquire Osteogenics

Biomedical, Allotech and OBI Biologics

(together "Osteogenics"). The transaction is

expected to close in the third quarter.

regenerative therapies are often a critical

step in implant-based tooth replacements.

By improving bone stability, regenerative

solutions support better clinical outcomes for

more patients.

Osteogenics is a developer of regenerative

solutions for periodontists, oral and

maxillofacial surgeons, and clinicians involved

in implant dentistry throughout the world.

Primarily sold under the Cytoplast brand

name, Osteogenics offers a complete line of

bone grafting products. Bone grafting and

Amir Aghdae, CEO of Envista, said: "Increasing

our capabilities in regenerative solutions

is consistent with our intention to digitise,

personalise, and democratise oral care.

Osteogenics is a recognised pioneer in

membrane technologies used in dental bone

grafting procedures. They are a trusted brand

and have a proven track record of growth. We

are excited to welcome the Osteogenics team

to Envista." ■

Dentsply Sirona launches DS Core in collaboration with Google Cloud

Dentsply Sirona has unveiled the DS Core, a

new and open platform that integrates the

whole workflow of digital dentistry in a virtual

event, along with other services and solutions.

Developed in collaboration with Google Cloud,

DS Core allows dentists to focus on their

patients and create ways to collaboratively

work with laboratories, partners, and

specialists.

It connects to Dentsply Sirona equipment and

is accessible across multiple devices. Hence,

dentists can maximise the productivity of their

practice by simplifying workflows and easily

adding and integrating new ones.

Furthermore, practitioners can use DS Core

to store different types of patient files and

making them accessible from multiple

locations, while collaborating with partners

and colleagues outside their practice. DS

Core supports GDPR and HIPAA-compliant

file sharing and cloud storage for patient case

files.

Cord Staehler, CTO at Dentsply Sirona, said:

"We are very proud that we are now ready

to take the next step in our mission to make

digital dentistry easy to integrate into dental

offices. In line with our recently launched

collaboration with Google Cloud, this enables

seamless workflows and the highest level of

connectivity with the ultimate goal in mind: the

best treatment outcome for patients."

Dentsply Sirona has also revealed two new

services: the DS Core Create and DS Core Care.

With the DS Core Create, dental practitioners

can access designs that are tailored for each

patient's needs across a range of indications

without having to use the software themselves.

It can be integrated with Dentsply Sirona's

new Primeprint Solution and will grow in the

future. On the other hand, the DS Core Care is

an equipment service and support solution that

helps to increase equipment uptime.

Staehler concluded: "By launching this digital

universe with DS Core at its centre and services

like DS Core Create and DS Core Care, as well

as solutions like Primeprint, we are positioning

Dentsply Sirona at the forefront of digital

dentistry. Most importantly, we help dental

practitioners to unlock the full potential of their

work so that they can focus on what matters

most: treating patients and giving them healthy

smiles." ■

6 DENTAL ASIA JULY / AUGUST 2022
---
DENTAL UPDATES

DENTAL ASIA JULY / AUGUST 2022 7
---
DENTAL UPDATES

exocad Asia moves to Seoul

exocad has relocated its Asia headquarters

to Seoul, South Korea. The company will

coordinate all services and operations

for the Asia region from this new office,

located in Seoul's historic centre.

"We look forward to strengthening our

strategic partnerships in the region and

to benefitting from the robust, high-tech

infrastructure that Seoul offers," said

Novica Savic, CCO of exocad. "exocad

has been working with a growing number

of South Korean manufacturers for many

years. With the relocation of our Asia

HQ, we want to be closer to our strategic

partners and users from South Korea."

South Korea's digital dentistry market is well

developed and world renowned, making it an

ideal location for exocad's Asian hub.

"Many global manufacturers and dental

collaborators are already located near exocad's

new headquarters," said Kim Gunwoo, exocad's

sales representative in Asia. "The regional

headquarters will allow exocad to deepen its

relationships with these strategic partners

and provide even more comprehensive

services to customers in Asia." ■

Dr Wolff debuts its biomimetic oral care range

The Dr Wolff Group, a family-owned

pharmaceutical and cosmetic company,

has launched its Bioniq Repair Toothpaste

in Singapore. For more than a decade,

the Germany-based company, has led in

the research and development of modern

dental care products to cater to growing

pains of consumers.

Its dental care product, Bioniq Repair-

Toothpaste's main active ingredient

is the biomimetic tooth enamel called

hydroxyapatite (HAP), which remineralises

the teeth and forms a protective layer

against enamel erosion. This ingredient

alone is known to remineralise the deeper

layers of the teeth effectively, as compared

to other common remineralising agents

used in oral care.

Eduard R. Dörrenberg, managing director, Dr

Wolff, said: "For years, the team at Dr Wolff

has dedicated its research to developing

dental care products with hydroxyapatite as

the main active ingredient, recognising its

benefits for users. We're excited to finally

bring our product to Asia, with Singapore as

the first stop. We hope to raise awareness

on the importance of protecting teeth

enamel with HAP and to plug the gap in the

market with a product that caters to the

dental care needs of Singaporeans, who

predominantly suffer from issues linked to

sensitive teeth and gums. HAP is a mineral

from the calcium phosphate family and is a

proven and effective way of remineralising

our tooth enamel. Good oral health enriches

your quality of life, and oral care can be as

simple as using HAP-based products to keep

oral health issues caused by dental cavities,

sensitive teeth or gingivitis at bay."

The Bioniq Repair-Toothpaste and Bioniq

Repair-Toothpaste PLUS are the only

toothpastes from Germany to contain 20%

HAP.

Singapore is the first country that the

product has been made available in Asia.

Dr Wolff's Bioniq Repair Toothpaste is

currently available in Germany and Austria,

with over two million units sold last year in

Germany alone. Alongside the latest launch

in Singapore, Dr Wolff has plans to launch

its biomimetic oral care range in Switzerland

and US soon. ■

8 DENTAL ASIA JULY / AUGUST 2022
---
DENTAL UPDATES

FDI President addresses the

challenges and opportunities in Africa

for optimal oral health

PERFECTION IN

BONE SURGERY

FDI President, Prof Ihsane Ben Yahya, was invited by the African

Society of Dentistry and Implantology (ASDI) and the African

Journal of Dentistry and Implantology (AJDI) to take part in a

webinar, where she discussed "Optimal Oral Health: challenges

and opportunities for Africa".

The event took place online and was moderated by Dr Abdellah

Squalli, president of ASDI, and Prof Fethi Maatouk, president

of Conférence des Doyens des Facultés de Médecine Dentaire

d'Afrique.

→ YOUR SURGICAL

APPROACH WILL CHANGE -

THE PIEZOSURGERY® touch

→ best cutting efficiency

→ optimal intraoperative control

→ perfect ergonomics

→ made in Italy

Prof Ben Yahya outlined the epidemiological situation in Africa

and stressed that to this day, millions of people in the region do

not have access to oral healthcare. This is especially concerning

as poor oral health can lead to absenteeism at school and work,

and an overall poor quality of life. She then highlighted some of

the major challenges and the most prevalent pathologies in the

region, which must be tackled to achieve optimal oral health.

Some of the recent positive developments in the oral health

landscape were also shared and she put the spotlight on the

landmark WHO resolution on oral health that was approved

by members states in 2021, as an important indication of the

commitment to the issue at the global policy level.

Prof Ben Yahya also advised that the subsequent WHO oral

health strategy is in line with FDI's own Vision 2030 report.

She also noted that WHO AFRO's regional oral health strategy

is currently ongoing and reminded webinar attendees of its

five targets for monitoring and evaluation, emphasising that

strategies to improve oral health must be adopted in regional and

national contexts.

Prof Ben Yahya stressed that while there is still much work to

do, the challenges that confront dentistry can be turned into

opportunities. It was important, now more than ever, to continue

to show resilience and work to effectively prevent and manage

oral diseases so that everyone can enjoy a good oral health, and

thus a good quality of life. ■

→ www.mectron.com

DENTAL ASIA JULY / AUGUST 2022 9

ad_PStouch_dental_asia_95x250_en_211214.indd 1 14.12.21 15:38
---
DENTAL UPDATES

Oral-B and Straumann partner on a landmark alliance for scientific education

Oral-B and Straumann have announced a new

global alliance to elevate the importance of

prevention in periodontal and peri-implant

health. The alliance will set new standards

in quality scientific education for dental

professionals and help their patients achieve

better long-term outcomes.

The Oral-B Straumann alliance has a longterm

goal of delivering a holistic programme

of scientific events, professional courses,

webinars and publications, co-created with

and delivered by the experts and thought

leaders in dentistry.

The alliance was launched on 17 Jun 2022

with a Sponsored Scientific Session at

EuroPerio10 Copenhagen – dental congress in

periodontology and implant dentistry – where

both companies also presented their recent

innovations for periodontal and peri-implant

patients.

"As patients around the world invest in dental

implants, they need to recognise that self-care

around implants is just as important as around

their natural teeth. The Oral-B Straumann

Alliance will play an important role in enabling

ongoing dialogue between dental professionals

and their patients so both understand the most

up to date science on prevention of implantrelated

diseases and promotion of periodontal

health," said J. Leslie Winston, vice-president,

global health care R&D, Procter & Gamble.

Arik Zucker, vice-president, global head of

biomaterials, Straumann Group, added:

"Prevention of tooth or implant loss is for

many years an important topic for us in the

Straumann Group. As one of the world's

leading dental implant companies, we work

closely with experts from the research and

clinical fields to address the issues caused by

peri-implantitis and periodontitis. The Alliance

with Oral-B complements our efforts and

offers a solid ground for further scientific and

educational activities that will enable more

dental professionals to improve their patients'

lives." ■

Henry Schein launches NextDent Ortho Flex resin in Singapore in partnership

with expatdental

Medical supplier Henry Schein has launched the

NextDent Ortho Flex in Singapore, a resin that

offers accuracy, break resistance and flexibility

to produce dental appliances in the right

measurements.

Certified by Singapore's Health Sciences

Authority, the NextDent Ortho Flex resin

smooths key road bump in patients' dental

journey by providing comfortable dental

appliances in a significantly reduced lead

time in its manufacture for use in restorative

dentistry services.

"At Henry Schein, it is enshrined in our DNA to

stay abreast of the digital advancements and

bring this innovation to dental clinics and labs

around the world. We are thrilled to announce

this partnership with expatdental to enable

in-house manufacturing of splints using 3D

printing technology and recently launched

NextDent Ortho Flex resin. It is also a testimony

of expatdental's commitment to continuously

advance their clinical procedures and improve

patients' experience by embracing the latest

available technology," said Kateryna Iakovenko,

regional sales manager of Henry Schein

ConnectDental, SEA.

The NextDent Ortho Flex resin makes its

Singapore debut at expatdental, a premium

proposition from Oracare Group, elevating

its in-house lab capabilities to facilitate

the printing of dental splints for bruxism

treatments. The NextDent Ortho Flex is used in

tandem with the NextDent 5100 3D Printer.

Users can now receive their temporary crowns

and splints in the same week, significantly

faster than the traditional three to four weeks

interval. Offering a broad range of services

including cosmetic dentistry, implant surgery

and bruxism solutions, expatdental's expertise

lies in providing a seamless, comfortable and

effective experience to all patients through

advanced technologies and dental equipment,

alongside a dedicated, experienced team

focused on dental excellence and quality.

"Our priority at expatdental has always been to

provide efficient, premium and timely services

to all our patients, with their utmost comfort

and convenience in mind. In today's age of

digital dentistry, the NextDent Ortho Flex resin

presents a new dawn for the future of dentistry,

paving the way for 3D printing innovation, dental

technologies and dental care industries—a

natural acquisition on our end to meet the

unwavering promise of exceptional patient

comfort," said Dr Shaun Thompson, managing

director of expatdental. ■

10 DENTAL ASIA JULY / AUGUST 2022
---
Torq Control®

DENTAL UPDATES

Universal Torque

Wrench

Torq Control® is the Anthogyr universal

torque wrench offering the guarantee of

tightening precision, whatever the type

of implant connection or the difficulties of

access.

Precise tightening is a key factor to secure

implant treatment success. Torq Control®

has been specially designed by Anthogyr

to meet these requirements for all

prosthetic manipulations, in all safety

thanks to automatic declutching.

A must-have, especially for full-arch

restorations.

DENTAL ASIA JULY / AUGUST 2022 11
---
DENTAL UPDATES

Medit and Panthera reveal integrated digital workflow for provision of dental

sleep devices

Panthera Dental, a provider of CAD/

CAM implant solutions and dental sleep

appliances, has partnered with Medit to

provide patients custom-made sleep apnoea

devices from Panthera Dental that are

integrated within the Medit software.

After scanning the patient's arches and

registering the bite, Medit users can open the

Panthera App from Medit Link, complete the

prescription, and send everything to Panthera

Dental. Within eight days, the D-SAD Classic

or X3 will be designed and manufactured by

Panthera Dental using its CAD/CAM process.

The appliance will then be shipped to the

dentist via express courier so the patient can

begin treatment in as little as 10 days.

"It is our great pleasure to announce a

successful collaboration with Panthera

Dental," said Inhaeng Cho, CSO of Medit.

"With a company that has long been a

companion of Medit, we have developed

another level of partnership, and we are

eager to provide a seamless workflow to

our users. This integration will provide both

convenience and efficiency for our clinic

users as well as our lab users."

The scanning process is comfortable and

quick, and the D-SADs are made from

100% medical-grade biocompatible type-12

polyamide nylon, a durable material that is

resistant to bruxism.

A range of plateaus and bands are available,

allowing for over 300 design combinations

to maximise comfort and tongue space,

and minimise side effects, regardless of

the complexity of the patient's morphology.

D-SADs are also simple for the patient to

adjust and care for at home.

"We are excited to collaborate with a

company that shares our values and vision

for digital dentistry," said Beatrice Robichaud,

co-founder and vice-president of marketing

and customer experience at Panthera Dental.

"Medit has created a workflow that is perfectly

streamlined. There is no need to leave the

Medit app to provide everything we need to

make a great appliance for that customer. It

represents a truly seamless and efficient user

experience that we know customers will love."

Both Panthera Dental's D-SADs, the Classic

and X3, have FDA 510(k) clearance for snoring

and obstructive sleep apnoea, bear the CE

mark, and comply with the Canadian Medical

Devices Regulations. ■

National Dental Centre Singapore held its first international symposium on

oral health research

National Dental Centre Singapore (NDCS) has

collaborated with oral health experts from

Sweden, Australia, Hong Kong and Japan

to hold its first International Oral Health

Symposium conducted virtually.

materials research by a young scientist.

Five scientists from each participating

institute presented their novel innovations

and studies that will contribute to the

advancement of oral health.

The two-day symposium comprised of topics

that have impact on the oral health industry

such as regenerative medicine in the area

of tissue engineering, digital transformation

in oral health, oral health policies, precision

medicine and the study of the oral

microbiome.

The symposium, themed "Innovation,

Strategy and Future Perspectives" aimed

to foster stronger collaborations and

exchanges, share research, innovation and

developments in the field of oral health,

and be a learning platform for aspiring

researchers.

The symposium hosted an award

ceremony for the Early Career Investigator

Award, which recognises outstanding,

interdisciplinary scientific work in

"This is an exciting platform for the oral

health research community to gather,

discuss and work together. Beyond

fostering greater collaboration, we

hope it will inspire our researchers and

clinical professionals to continually push

the boundaries for innovative benchto-bedside

solutions," shared Clinical

Associate Professor Goh Bee Tin, deputy

CEO (Research), NDCS. ■

12 DENTAL ASIA JULY / AUGUST 2022
---
DENTAL UPDATES

Ivoclar commits to energy

sustainable future

Ivoclar North America has announced a major investment in solar

energy to power its corporate headquarters located in Amherst,

New York transitioning from fossil fuel dependent to renewable

energy as part of the company's continued global commitment to a

safer, healthier environment.

PERFECTLY SHAPED.

NATURALLY.

The nearly US$1 million clean energy project started in 2020

and completed in December 2021 is projected to supply the

100,000-square-foot facility with 750MWh of energy per year

with any unused energy returned to the grid for the benefit of the

community. The project included the installation of 1,640 solar

panels by locally owned Buffalo Solar and benefits the environment

by saving the emissions of approximately 532 metric tons CO2

yearly into the air, the equivalent of planting approximately 8,789

trees per year. The company estimates that 65% of its annual

energy requirement will be generated by this project.

As an international company, the Ivoclar Group is a global

manufacturer of dental products, with an ongoing commitment

to supporting people, communities and the environment. The

company aims to sustainably improve the health and quality of

the life of people all over the world. In addition to manufacturing

high-quality products, Ivoclar Group wishes to make an active

contribution to sustainable development as defined by the United

Nations in its Sustainable Development Goals (SDG) and in

accordance with the requirements of the Global Reporting Initiative

(GRI).

The power facility at the headquarters in Schaan, Liechtenstein

which began operating in 2018, supplies the company headquarters

with electricity, warm and cold water, as well as with compressed

air and reduces its consumption of natural gas. Heat recovery

technology is further helping the company's efforts to reduce

its need for natural gas. In the course of the project 'Global

greenhouse gas balance of the Ivoclar Group", CO2 emissions have

been reduced globally. Moreover, the Ivoclar Group increases its

use of photovoltaics – not only at the NY corporate headquarters in

Amherst, New York.

In addition to the solar panel project, Ivoclar North America has

created an internal task force to explore and evaluate a cleaner and

more sustainable business operation. Some of these initiatives

include new packaging and transportation solutions, utilisation of

hybrid vehicles and reducing plastic water bottle usage.

Now available in

28 VITA SYSTEM 3D-MASTER® shades!

VITAPAN EXCELL®

True to life – in shape and color

• Natural esthetics through layering,

texture and brilliance

• Excellent abrasion durability using MRP

composite material

"We are moving deliberately forward to reduce our carbon emission

footprint in our locality and worldwide as part of Ivoclar's global

commitment to improving the environment and addressing climate

change," said Christian Brutzer, president, Ivoclar North America. ■

DENTAL ASIA JULY / AUGUST 2022 13

3603EN_VITAPAN EXCELL_AZ_95x250.indd 1 15.06.2022 16:14:53
---
DENTAL UPDATES

Septodont releases new version of Biodentine

Since its launch a decade ago, Biodentine,

based on Septodont's Active Biosilicate

Technology platform, has proven successful in

replacing dentin in the crown and in the root.

Sold in more than 60 countries and with more

than 1,000 worldwide publications, Biodentine

has saved more than five million teeth.

With this success, Septodont has launched

a new version of Biodentine: Biodentine XP,

which includes all the science of Biodentine

embedded in an upgraded system, designed

to provide practitioners an optimal daily

experience from crown to root with nine

indications.

Due to its unique features, Biodentine has

become a gold standard in preserving tooth

structure by offering high bioactivity with

complete dentin bridge formation and sealing

properties. The clinical benefits promote vital

pulp therapy and help save teeth from root

canal treatment and possible extraction.

Biodentine XP ensures a consistent and

perfect mix thanks to its proprietary mixer

and easy delivery directly into the tooth with

the Biodentine applicator gun. The all-in-one

cartridges are available in two formats, XP

200 and XP 500, depending on the procedure

and volume of material needed.

The Biodentine XP Starter Pack contains the

mixer, applicator gun, and packages of XP 200

and XP500 cartridges. Biodentine XP is also

available in boxes of 10 refill cartridges. ■

Formlabs launches Dental Academy

Formlabs, a 3D printing company, has launched

Formlabs Dental Academy, a new educational

platform dedicated to advancing 3D printing in

dentistry with online and in-person courses, step-bystep

guides, webinars, and more.

The platform includes free and paid courses

designed to enable dental professionals, such as

dental lab technicians, orthodontists, and clinicians

to learn and successfully implement 3D printing

technology in their businesses. Dental Academy

courses are available online and in-person.

Implementing 3D printing into a dental treatment

plan benefits practitioners by enabling more

efficient workflows and less downtime while giving

patients access to personalised yet affordable

solutions such as custom dental models, crowns,

dentures, implants, and more.

To address this skills gap, Formlabs created

Dental Academy as a free resource for dental

professionals to unlock these benefits with

comprehensive training and educational

content on 3D printing's uses and benefits,

dental applications, and materials to deliver

the best clinical outcomes, user satisfaction,

and improved performance and print results.

Focus areas will include an introduction to

stereolithography (SLA) 3D printing and its use

for orthodontic and restorative applications,

digital dentistry benefits, training on technology

basics, materials, and implementation strategies

within the clinic and lab, and more. At launch,

courses will be available in English, Spanish,

Swedish and German.

Formlabs Dental, a division of Formlabs, has worked

closely with key stakeholders and leaders within

the dental industry to deliver accessible 3D printing

solutions and materials. While Formlabs users have

printed more than 25 million dental parts ranging

from models to surgical guides, Formlabs Dental

identified a gap in 3D printing education in the field,

slowing further adoption of the technology.

The platform includes a variety of courses with

subject-matter to suit a range of participants'

knowledge, providing both online and inperson

instruction in Formlabs Boston, Berlin,

and Budapest offices as well as trusted private

educational centres. Dental Academy will

continue to evolve as new content becomes

available.

"The Swedish organisation for Computer Aided

Digital Dentistry is honoured to be part of the

Formlabs Dental Academy. Formlabs has long

been in the forefront of additive manufacturing in

dentistry and now they have a great educational

portal for everyone," Dr Michael Braian, DDS, CDT,

PhD, founder of SWECADD and Formlabs Dental

key opinion leader. ■

14 DENTAL ASIA JULY / AUGUST 2022
---
DENTAL UPDATES

ZimVie introduces two next-generation dental solutions in the US

ZimVie, a global life sciences company

in the dental and spine markets, has

announced the joint launch of the new,

FDA-cleared T3 PRO Tapered Implant and

Encode Emergence Healing Abutment in

the US.

The T3 PRO is the newest addition to

ZimVie's family of dental implants and

builds on the proven solutions of the T3

Tapered Implant. The Encode Emergence

Healing Abutment builds upon ZimVie's

3-in-1 Encode Impression System which

provides clear intraoral scans and

aesthetics, and is designed for patient

comfort and healing.

Both the T3 PRO and the Encode

Emergence reflect significant innovation

to ZimVie's previous products and promise

an optimised implant experience for both

dentists and patients. ZimVie will begin

commercial rollout of these solutions

in the US, with an intention to expand to

additional countries pending necessary

regulatory approvals.

"We are excited to launch the next

evolution in our T3 family of implants

and Encode impression system, which

has been used in more than two million

implant restoration procedures to date,"

said Indraneel Kanaglekar, senior vicepresident

and president of ZimVie Dental.

"ZimVie is committed to providing innovative

treatment options to improve patient care

while partnering with dental professionals

globally to advance dental technology and

end-to-end workflow solutions." ■

US study analysing tooth survival after root canal reveals the factors impacting

longevity of treated teeth

Teeth survive about 11 years after a root canal,

according to new research from Regenstrief

Institute and Indiana University School of

Dentistry, US. This study is the first to analyse

records from community dental practices,

where most Americans receive dental care.

"The findings of this study give deeper insight

into the longevity of dental procedures

because it provides real-world data on a wider

range of patients, not just those receiving

care in large health systems or those who

are insured," said first author Thankam

Thyvalikakath, DMD, MDS, PhD, director of

the Regenstrief-IU School of Dentistry dental

informatics programme. "This information

can be used to inform dental practice, and

help patients and dentists make better care

decisions."

Root canals are an important treatment

to maintain natural teeth affected by

disease. However, over time, the treated

tooth eventually becomes brittle and dies.

Understanding the outcomes of the procedure

is essential to improving dental treatments.

For this study, the research team gathered

deidentified electronic dental records from

the National Dental Practice-Based Research

Network, consisting of 99 small group and

solo dentistry practices from around the

country. The data covered more than 46,000

patients who received root canals.

BREAKING DOWN THE ROOT CANAL

DATA

Data analysis revealed that the median

survival time of a tooth after a root canal

is 11.1 years. However, several factors can

impact that, including follow-up treatments.

•Teeth that receive a root canal, and a

subsequent filling and crown last about

20 years

• Teeth that receive either a filling or a

crown after a root canal last around 11

years

• Teeth that receive no restorative work

after a root canal only last about 6.5 years

There were also wide disparities in longevity

among geographic regions.

• Northeast – 20.5 years

• Midwest – 11.2 years

• Southwest – 11.2 years

• South Atlantic – 9.1 years

• South Central – 9.0 years

• Western – 8.7 years

Insurance status also played a significant

role in tooth survival time.

"This data could also inform dental

insurance coverage by demonstrating the

value of crowns and permanent restoration

options," said Dr Thyvalikakath. "Oral health

is a public health issue that significantly

affects people's overall health. Leveraging

dental records can help us better

understand ways to improve treatment,

identify causal relationships and maintain

the health of teeth and gums."

This study provides more representative

data of the overall population than

previous studies. It also demonstrates that

meaningful insights can be gained through

analysis of existing data from routine

dental care. ■

DENTAL ASIA JULY / AUGUST 2022 15
---
TRENDS

Connecting patients

closer to their clinics

As a provider of cloud-based mobile and online customer-tech

solutions, Ouch enables the connection between brands and their

consumers. Czarmaine Masigla speaks with Anil Kumar, co-founder

of Ouch, to elaborate on the company's perspective as a service

provider to the dental industry and beyond.

Technology has become an integral

part of the lives of many around the

world, transforming the way people

live and work. In the healthcare sector,

particularly in dentistry, digitalisation

in this space has raised the bar in

patient care and improved operational

efficiency, thus enhancing the overall

experience for both patients and

medical professionals, Anil Kumar,

co-founder of Ouch, suggested.

There are several automated solutions

available in dentistry, one of which

is automated recalls using a preprogrammed

customer management

system (CMS) and another is the use

of digital scanners. The use of digital

scanners allows dental practitioners

to reduce the need to take physical

impressions, which, in turn, minimises

the need to manually cast and send

models to the labs.

He told Dental Asia: "During the pandemic,

with borders closed and tight social

distancing regulations, many clinicians

in Singapore found their income streams

from both foreign and domestic patients

had dropped significantly. However, they

need to continue to pay for ongoing

operating costs, among which rental

expenses proved to be significant.

"Telemedicine, which offered an

alternative option for some practices,

unfortunately, was not a viable option for

dentistry."

THE OUCH APP

Living digitally employs more than

just technologies and tools. This led

Kumar to develop Ouch, a healthcare

app dedicated to providing access to

healthcare services to users. Combining

advanced functions with

an intuitive design

philosophy to

provide the public

with better access

to healthcare, the

Ouch app allows

users to

However, such technologies can be

rather costly and hence the slow

adoption rate, despite the need to

reduce manual courier services

during the COVID-19 pandemic to

help minimise the delivery time of

appliances. That said, Kumar pointed

out that the adoption rate for medicallyrelated

solutions in Asia-Pacific has

generally been lukewarm until the

emergence of the pandemic.

16 DENTAL ASIA JULY / AUGUST 2022
---
TRENDS

schedule appointments across

multiple specialities such as general

practitioners, dental, veterinary and even

traditional Chinese medicine clinics.

With the Ouch app, several workflows

can be automated. For instance,

appointment registration can be done

via QR code scanning, and payment can

be automatically deducted via the app

after the consultation. The appointment

details – including invoice and medical

certificates – are all consolidated in the

patient's Ouch app and patients can

conveniently retrieve the information

they need via the app.

Ouch has also planned to introduce two

new modules – the queue management

system (QMS) where walk-in patients

can first request a queue number

virtually before making their way to the

clinic, and group medicine purchase

(GMP) which will enable clinical

practitioners to take advantage of betterpriced

medicine made available when

making bulk purchases by joining other

Ouch clinics.

And in the face of an ageing population,

Ouch has planned to roll out different

languages to the app as well as voice

activation functions in the near future

to help the older generation adapt and

adopt Ouch with ease. Kumar further

stressed the importance for the family

to be able to reach their elderly timely

during emergencies. As such, Ouch

introduced an SOS function, whereby

tapping on the button will trigger a text

message to be sent to the user's next of

kin, informing them that the user is in an

emergency.

ENDLESS POSSIBILITIES

Looking ahead, Kumar foresees collective

patient empowerment that comes along

with advances in technology noting that

the pandemic has become the catalyst

for the adoption of technology across

different age groups. He explained:

"During the past two years,

awareness, adoption

and proficiency of

technology usage have been greatly

enhanced among the public across

different age groups, from the young to

the old. Healthcare providers should tap

on technology platforms that focus on

the medical care sector to reach out to

more people."

And where cybersecurity is concerned,

Kumar acknowledged the importance

of data privacy as theft or leakage of

personal information can put individuals

at risk for fraud, identity theft and

cyberattacks. He emphasised that Ouch

has measures in place to protect the

confidentiality of the patients, including

the collection of only information that

is required and storing and using this

information securely and responsibly.

He concluded: "We aim to digitally

transform clinics, offering software-asa-service

(SaaS) solutions for clinic's

backend system and connecting them

effectively and smartly with their patients

via the Ouch mobile app.

"There are numerous advantages to

adopting SaaS as opposed to traditional

customary business software or

hardware installation models, including

cost-effectiveness, swift configuration

and deployment, seamless updates,

better accessibility and forward

adaptability and scalability. This will be

the starting point and beyond this, the

possibilities are unlimited." DA

DENTAL ASIA JULY / AUGUST 2022 17
---
TRENDS

NSK harnesses green power

Switching the electricity used at their headquarters and A1 Factory in Japan

entirely to renewable energy including photovoltaic power, NSK paves their

path to zero CO2 manufacturing.

Addressing global warming, which is

accompanied by severe climate change, has

become an urgent problem and international

efforts such as the Paris Agreement and the

United Nations Sustainable Development

Goals (SDGs) are becoming more active.

In October 2020, the Japanese government

announced its policy of achieving carbon

neutrality by 2050 and the trend towards

decarbonisation has accelerated in the

country.

Since acquiring the ISO 14001 environmental

management system in 1999, Nakanishi

(NSK), a manufacturer of dental, surgical

and general industrial products, has been

reducing energy consumption by maintaining

environmental conservation at headquarters

and production sites, introducing photovoltaic

power, groundwater recycling air conditioning

systems and automatic air conditioning

control systems.

As a global company, NSK has switched all

energy consumed in domestic production

activities to green power from photovoltaic

power as a further measure to play a more

active role in realising a sustainable society.

NSK has entered into an electric power

purchase contract with EneresPower

Marketing, an electric power retail company,

and has started using its service. Greenhouse

gas (GHG) emissions will be calculated every

physical year and third-party verification

will be conducted to ensure the validity

of emissions while promoting zero CO2

manufacturing.

Looking ahead to acquiring the Environmental

Initiative in the future, NSK is committed to

actively reduce GHG emissions throughout

its business activities in its entire supply

chain and fulfil its social responsibility as a

company in the dental and medical equipment

industry promoting decarbonisation in the

society.

EFFORTS TO REDUCE GHG

EMISSIONS IN ITS SUPPLY CHAIN

Based on GHG Protocol , an international

standard for calculating GHG emissions,

and Basic Guidelines for Calculating GHG

Emissions through the Supply Chain from the

Japanese Ministry of the Environment, NSK will

calculate and reduce emissions from business

activities (Scope 1 and Scope 2) and indirect

emissions outside the scope of its business

activities (Scope 3).

Furthermore, NSK has planned to switch the

energy used in its production activities in Scope 2

to renewable energy-based electricity and reduce

GHG emissions to zero. And under Scope 3, the

company will measure GHG emissions during the

procurement of raw materials and the use and

disposal of products by its customers. Moreover,

NSK will address reducing emissions by

promoting its products that consume less power,

are smaller and lighter, and by reviewing logistics.

NSK believes that the creation of environmentally

conscious products also leads to more

business opportunities, so it intends to

actively work towards the realisation of carbon

neutrality by considering the promotion of its

business strategy and its efforts to tackle the

environmental problem in an integrated manner

with an eye to active participation in climate

protection projects. DA

18 DENTAL ASIA JULY / AUGUST 2022
---
UNDER THE SPOTLIGHT

Integration of guided surgery

into practice

Digital workflow combined with usability and performance – there is no better

time than now to embrace digital implant technology as Czarmaine Masigla

writes more.

Breakthrough in dental technology has

empowered dentists to be more confident in

carrying out treatment procedures for their

patients. And patients can ultimately benefit

from more treatment options available and

have procedures performed with higher

accuracy and less discomfort.

In the area of digital implant dentistry,

advancement in treatment planning software,

surgical guides and digital scanning

technology allows for greater precision and

implant reliability. This is particularly true for

Dr Jonathan Loa, a Belgian implantologist,

who believed that implants will more often

be placed in a guided manner and the

developments in implant platforms have

enabled more dentists to integrate dental

implant procedures into their practices.

"Surgical guides are more accessible and

affordable nowadays which is a good thing,"

he noted. "Digital planning makes the implant

placement more predictable and therefore

I expect more general dentists to place

implants."

For Dr Loa, his first step into digital dentistry

started with the acquisition of an intraoral

scanner in 2020. He was also introduced to

exoplan by a dental technician he works with

who was passionate about digital dentistry.

He shared: "exoplan gives me peace of mind

when placing implants because I know for

sure that the position will be as planned."

The exoplan from exocad is an implant

planning and surgical guide design software

that allows dental labs, dentists, implant

specialists and surgeons to either plan and

produce surgical guides in-house or outsource

the planning, design and manufacturing.

Besides supporting prosthetic-driven planning,

exoplan offers a comprehensive selection

of validated and tested implant, drill and drill

sleeves libraries.

When using exoplan, Dr Loa valued the wizard

mode which takes the user to the surgical

guide production process, thus making the

software user-friendly. He also favoured the

virtual extraction tool as the cases he performs

are immediate placements after extractions.

He continued: "I like to fact that exoplan is an

open system which, on top of that, is the same

ecosystem my dental technicians work in. This

comes in handy when they need to fabricate

immediate provisional restorations based on

my implant planning."

STEP AHEAD

Moving forward, Dr Loa remains positive on

the outlook on technological innovations

in the dental industry. One of which is the

advancements in artificial intelligence (AI)

which might leave different degrees of

impact across different fields in dentistry.

He highlighted that AI will not only improve

dentists' workflows but also enhance the

quality of the work they do.

And in embracing digital dentistry, his advice

to fellow dentists was to keep an eye on the

horizon. "Surround yourself with

passionate people, also

on social media. A

lot of information

can be found on

several social media

platforms, which

can serve as an

inspiration to discover

new techniques or

improve on existing

ones. Of course, you

have to be careful and

critical towards all

this information

but there are a

lot of people

who like to

share their

knowledge,"

he concluded.

DA

DENTAL ASIA JULY / AUGUST 2022 19
---
DENTAL PROFILE

ZimVie opens doors to

integrated solutions

Zimmer Biomet reaches a new milestone following the completion

of its spinoff, ZimVie. As the former dental and spine business of

Zimmer Biomet, ZimVie is poised to unleash new opportunities in

the dental industry. Czarmaine Masigla speaks with Maik Walther,

general manager of ZimVie Dental Asia-Pacific, about this move

and his plans in driving growth in the dental market.

Moving from a dental solutions

provider to now a medical device

company, what are some of the key

takeaways you have brought along

with you and how will they help shape

the strategies you have developed for

ZimVie Dental?

Maik Walther: First, I would say that our

customers – the dental professionals

— are looking for the best patient

outcome based on treatment plans,

and this is true across all segments of

the dental industry. So, no matter what

the company's focus is, one should

keep this in mind. This is the meaning

of being customer-centric from my

point of view, and at ZimVie our vision

is totally in line with it.

The second takeaway for me is that the

dental space, whether it is the industry

or the providers, is currently challenged

by new technologies. Many call it

digital technology, but I would argue

that it is not so much about digital,

but using those new technologies,

like software for design, planning and

guided surgery, 3D printing hardware

and CAM, new materials for digital

technologies, training and education

using digital technologies, advanced

technical service and support to enable

dentists to improve patient outcome

in a quality-assured, repeatable and

integrated way that benefits both their

patients and their practice.

20 DENTAL ASIA JULY / AUGUST 2022
---
DENTAL PROFILE

With ZimVie Dental, traditionally our

focus is on a very specific application

– implants. But our company as well

as our competitors are shifting from

being a medical parts manufacturer

to an integrated total solutions

provider. My background in a broader

scope of dental products provides

me with a holistic view of customer

needs and enables me to put implant

treatment in the bigger picture of oral

healthcare. With my knowledge and

experience, I am confident in leading

ZimVie Asia-Pacific to become the

next leader in integrated solutions.

Can you elaborate more on the debut

of ZimVie, and how can this spinoff

better serve the dental industry?

Walther: With the spinoff, there is the

opportunity for us to combine the

best of two worlds. Number one, with

our background and history where

we are coming from out of Zimmer

Biomet, we have a strong history of

innovation and providing best-in-class

patient outcomes. We have products

which are proven with clinical studies,

clinical outcomes, and more. We

also have built a loyal customer base

and a strong footprint in the implant

industry globally, including Asia-

Pacific.

Number two is that with that spinoff,

we are a large part of a smaller

company, similar to a start-up

but with established brands and

products. We will be able to use our

entrepreneurial spirit to advance

what we are doing and be able to

focus on our core business, to create

resources by growing our business

so that we can have innovations to

support our dental professionals, our

customers, and ultimately the patient.

We will also be able to think outside

the box, be curious and authentic,

and eventually be accountable for

our outcome with a strong growth

mindset.

spinoff, we will focus on patient

outcomes and provide solutions

that dental professionals are looking

for. We will be able to tap into that

growth in the area here in Asia-Pacific

and deliver what the community is

expecting from us, which are new

products, new technologies, new

integrated workflow solutions for the

best possible clinical outcomes and

of course, patient satisfaction.

I think with a focus on speed,

connectivity and reducing complexity,

we can be more focused on

employees and our customers – two

of our most important assets.

How will digital dentistry transform

the dental landscape, and more

crucially, how can embracing this

concept ultimately benefit both

dental practitioners and their

patients?

Walther: Digital dentistry is

transforming the dental landscape.

This is correct, but I would again see

it more holistically.

The world is already digital. The

key is how can we embed digital

technologies into current workflows

to improve patient outcomes, as well

as the needs and expectations of

dental professionals. Those needs

and expectations can be several:

reduced chair time, fewer patient

visits and reduced margins of

error resulting from the process of

software data capturing to design to

production. The more you can bring

this together, the better.

A smoother workflow not only

improves outcomes and reduces

stress, but also improves staff

retention and satisfaction at the

clinic. To achieve this, the new

technologies need to be validated,

easy to use, integrated and serviced –

ideally out of one provider.

is up to the dental professionals to

decide whether they want to still have

a manual workflow, a fully digital

workflow, or a hybrid of both. And

many parties need to collaborate to

make this happen.

Thus, the better, we as the industry

can help and support the integration

of workflows, new materials and

software with training, education, and

service into the needs of the specific

environment of the healthcare

professionals, the more satisfied our

customers and the patients will be.

This is our purpose, a job we do

because ultimately, we want to enable

our customers to have the benefits

and outcomes they expect. With that,

the dental professionals provide the

patients with what they ultimately

want – a happy and healthy smile.

This is what I believe makes a spinoff

like this exciting and also beneficial

for the dental community. With the

Therefore, I believe that the focus

needs to be on the integration of

automated workflows. Of course, it

DENTAL ASIA JULY / AUGUST 2022 21
---
DENTAL PROFILE

In your opinion, how will new

technologies drive growth in the

dentistry market in the Asia-Pacific

region?

Walther: The dental landscape in

Asia-Pacific is poised for growth not

only based on demographics but also

on global developments which are

changing the world order and shifting

growth, innovation and scale towards

this region. Therefore, the adoption

of new technologies, new business

models for sustainable healthcare

outcomes and healthcare economics

will be accelerated by this vibrant,

fast-paced, solution-oriented, and very

diverse landscape in Asia-Pacific.

I see the growth opportunities in a few

areas: restorations solutions based

on integrated digital technologies that

drive patient outcomes and efficiency;

higher adoption rates of biomaterials

in implant surgeries which lead to

predictability and long-term success;

new implant surfaces and macro

design that drive upgrades from older

products; and lastly, more accessible

medical education that increases the

penetration rate of implant treatment,

especially in emerging markets.

What other trends do you see taking

place that will have a sustained impact

on the Asia-Pacific dental industry,

and how does ZimVie envision the next

milestone in dentistry?

Walther: We are in the middle of

finishing a milestone a few years from

now. And that is to fully integrate new

technologies to create a dental solution

that improves patient outcomes. There

are new emerging technologies like 3D

printing that will open up possibilities

for new materials and platforms for

producing dental parts.

Our job as a manufacturer is not only

to develop new technologies but also

to do a better job of helping our dental

professionals use new technologies

and new products — this is where

an integrated solution comes in. Our

industry is pursuing solutions with

products that help patients heal faster

by using new surfaces on implants,

combining them with biomaterials,

and then using digital technologies for

a more efficient surgery and healing

process.

Oral health drives the overall health

of the patient, and if you look at

healthcare in a holistic view, dental

health requires a lot of out-of-pocket

money for the patients. But we all

know that oral health will impact your

whole body, whether it is your spine

or whether you will have infections or

not that cause a lot of diseases. So

better outcomes, fewer complications

and shorter chair times at the dental

office will contribute to overall health

economics and also help governments

move forward in addressing the issues

they have with increasing costs for

healthcare.

I believe that like other industries

where new technologies drive

innovation, which then helps our world

to be greener, to overcome the current

threats we have to our environment

and ultimately to mankind, the same

will happen in the dental industry. And

I think Asia-Pacific, with the diversity

we have, will drive this trend. DA

22 DENTAL ASIA JULY / AUGUST 2022
---
Easy

application

into the

sulcus

THE CORD FROM THE CAPSULE

• Thin cannula with flexible tip – easy and pinpoint

application into the sulcus

• Viscosity Change – paste consistency varies during

application and sulcus widening

• Good visibility – contrasty to the gingiva

• A clean product – quick and easy to spray off

VOCO Retraction

Paste

NEW

VOCO GmbH · Anton-Flettner-Straße 1-3 · 27472 Cuxhaven · Germany · Tel. +49 4721 719-0 · www.voco.dental
---
DENTAL PROFILE

Embarking on the digital

journey and beyond

From its headquarters in the US and France, 3Disc sets its sight to

pioneer the digital dentistry landscape of tomorrow. Founded in

2010, the company now has R&D divisions located in the US, France

and South Korea to better support clinicians in bringing the highest

quality treatment to their patients, as Czarmaine Masigla finds out

more from Marie-Laure Pochon, CEO and president of 3Disc.

The digital revolution in the dental

industry is unyielding. Not only has it

accelerated equipment innovation, but

embracing new technologies has also

helped streamline dental procedures,

thus enhancing how dentistry is

performed today.

Suggesting digital adoption as the

driving force in the dental market, Marie-

Laure Pochon, CEO and president of

3Disc, explained that embracing digital

dentistry allows dentists to offer a wider

range and more predictable treatments

to their patients. She told Dental Asia:

"The dentists' practice relies on very

delicate manual processes with high

technology devices and reliability. This

blend is unique in healthcare and at each

point in time, the question is, therefore,

how to maximise the quality and

reliability of the clinical processes and

the time spent.

"Technology should improve both

the quality of care and the efficiency

of the dentists. This fine balance is

a daily challenge and that is why the

relationship between dentists and their

distributor is so important."

In Pochon's perspective, the invention

of the intraoral scanner (IOS) is central

in this transition to a digital dental

landscape as it streamlines dental

practitioners' workflows. Describing

IOS as the starting point of many

treatments, she explained that IOS

is the first step of the digitalisation

of the dental practices, bringing

more accuracy in the fabrication

of prostheses, better comfort for

the patients and allows a shorter

turnaround time of dental treatment.

"It is interesting to notice that when

a dentist starts to use an IOS, they

would never consider going

back and realise that it has

brought more changes and

advantages than they initially

expected," she added.

"Today, only a minority of

general or family dentists

are equipped and we see

that the new generation of

IOS, which is more userfriendly

and intuitive,

will help speed up the

adoption. This shift is

happening and doctors

no longer have questions

about precision and returnon-investment

but focus on

how to apply it to all areas

of their daily practice."

24 DENTAL ASIA JULY / AUGUST 2022
---
DENTAL PROFILE

3DISC HERON IOS

In an attempt to bring simplicity into

dental practitioners' workflows, 3Disc

developed the Heron IOS, an ergonomic

and compact digital 3D imaging solution.

Weighing just 150g, the Heron IOS can

be operated with all CAD/CAM systems

available for clinicians and laboratories.

And when paired with the HeronClinic

software, dental practitioners can

navigate the intuitive interface to meet

their restorative, orthodontic and implant

needs. From case creation, scanning or

case integration, the Heron IOS with a

cloud sharing platform enables dental

practitioners to create and browse

patient cases, scan and share with

labs.

restricted among hyper-specialists and

digital-friendly dentists.

"Our vision is supported by the fact we are

offering an alternative in the marketplace

and continuously developing new features

and open systems that are capable of

driving customised integration with other

systems employed in the dental clinics,"

she added.

THE FUTURE IS DIGITAL

A study by iData Research revealed that

the Asia-Pacific digital dentistry market is

expected to reach US$1.1 billion by 2027.

This is fuelled by the emergence of 3D

printers, IOS and CAD/CAM technologies

which will lead to an increase in digital

dentistry procedures moving forward.

She concluded: "We think that the

digitalisation will improve immensely

the way patients are followed by their

dentists in the long run with treatments

and prostheses which will be more

accurate and last longer. The second

benefit will rely on the improved

efficiency of the dentists which will

more than probably allow more patients

to have access to dental care, while

today we know it is less than 40% of the

population who is regularly treated." DA

The mission of 3Disc has always

been focused on the creation

of an IOS for all dental offices

through a philosophy of

being easy and intuitive,

thereby allowing general

dentists to use it daily,

Pochon emphasised. This

vision, she recalled, was

driven by a realisation

that the first generation

of IOS devices was

complex, hence usage was

Commenting on the Asia-Pacific dentistry

market, Pochon described this region as

an "exciting market" because of the high

professionalism of the dentists combined

with their technology-driven mentality

and a strong will to be more efficient,

accelerating the region's entry into the

digital world. Furthermore, dental

labs have led the transition to

digital over the years and are

now supporting and driving the

adoption of new technologies in dental

clinics to offer new types of prosthetics.

DENTAL ASIA JULY / AUGUST 2022 25
---
CLINICAL FEATURE

Immediate implant placement

in the aesthetic zone

In treating a fractured tooth with external root resorption on upper left central

incisor, Dr Eirik Aasland Salvesen and Dr Ida Koll-Frafjord perform a successful

treatment using Straumann's BLX implant system, XenoFlex and immediate

chairside manufactured provisional crown.

Many factors can be related to apical root

resorption and roundening, ranging from

orthodontic movement to occlusal trauma.

In severe cases, the tooth can even become

mobile.

In normal situations, a fractured tooth

above the gingival margin can be restored

with conventional dentistry with the use

of an intra radicular post and prosthetic

crown. However, in cases where the root

length is no longer optimal to be used as

a retentive element for an intra radicular

post, alternative options must be planned,

which can go from removable partial

prosthesis to a fixed three-unit bridge or

dental implants.

Fig. 1 Fig. 2

Fig. 3

Fig. 4

One of the main benefits of an implant that

is placed and provisionalised immediately

is the potential for aesthetic outcomes

preserving the existing bone morphology

and gingival architecture. To enable this

type of treatment, adequate primary

stability is a prerequisite and the choice

of implant design is directly linked to

the expected outcome. Straumann BLX

implants combine all properties to match

the clinical situations from the surgical to

the restorative perspective.

INITIAL SITUATION

A 53-year-old female patient presented

to the office with a fractured left central

incisor tooth (tooth 21) which had been

repeatedly bonded to a ceramic crown

Fig 1: Initial situation – extraoral view

Fig. 2: Initial situation – intraoral view

Fig. 3: Preoperative periapical radiograph

Fig. 4: Preoperative CBCT scan

(Figs. 1-2). After anamnesis and examination,

we recorded good systemic and oral health

conditions with well-balanced occlusion and

no smoking habits.

Cone beam computed tomography (CBCT)

and periapical x-ray showed external root

resorption with a very small insertion in

the alveolar bone not allowing adequate

conventional intra radicular post (Figs. 3-4).

Considering the fractured tooth was in an

aesthetic zone, the patient requested to have

the tooth restored in the safest and fastest

way possible.

TREATMENT PLANNING

Given the clinical and radiographic

situation with the roots positioned towards

the buccal wall and sufficient apical bone,

extraction followed by immediate implant

placement and immediate restoration was

chosen as the treatment option.

The procedure will be carried out by

placement of a Straumann BLX Roxolid,

SLActive ø4.0x14mm implant with

immediate temporary abutment and

chairside tooth shell pickup technique as

provisional restoration.

26 DENTAL ASIA JULY / AUGUST 2022
---
CLINICAL FEATURE

Fig. 5

Fig. 6 Fig. 7

Fig. 8 Fig. 9 Fig. 10

Fig. 11 Fig. 12 Fig. 13

Fig. 14

Fig. 15

Fig. 5: Initial osteotomy with needle drill

Fig. 6: Osteotomy with Ø2.2mm drill

Fig. 7: Tri-dimensional confirmation with Ø2.2

alignment pin

Fig. 8: Osteotomy with Ø3.2mm drill

Fig. 9: Implant pickup

Fig. 10: Implant placement with a surgical handle

Fig. 11: Implant final position assessment

Fig. 12: Implant final position assessment about

HHHgingival margins

Fig. 13: Healing abutment to protect the connection

Figs. 14-15: Straumann Xenoflex application in the

buccal gap

SURGICAL PROCEDURE

Intra sulcular incisions were performed to

release the marginal gingival fibres, allowing

a minimally invasive extraction. The socket

was carefully cleaned to remove ligament

and debris left. Special attention was given

to assessing the integrity of alveolar walls. A

distance of 3mm was observed between the

gingival margin and the buccal wall margin.

Implant bed preparation is considered a

medium density bone workflow starting

with the use of the needle drill aiming at the

palatal wall, creating an entry point for the

next drills with an osteotomy that allows for

a greater area of implant engagement (Fig. 5).

The Ø2.2mm pilot drill was used to the

respective implant length planned followed

by the use of an alignment pin to check

the tri-dimensional orientation (Figs. 6-7).

The drills Ø2.8mm and Ø3.2mm were used

to finalise the osteotomy (Fig. 8). The site

was then probed to assess for possible wall

perforation.

Straumann BLX Ø4.0x14mm implant

was placed starting with the surgical

handle engaging the apical part of the

implant following the same orientation

of the needle drill, correcting the implant

direction as it moves inside the osteotomy

(Figs. 9-10).

A 45Ncm primary stability was achieved

at the final position. After placement, the

implant position was verified horizontally

with an occlusal mirror, and vertically with

the use of surgical probe. At this moment,

the abutment gingival height was also

selected (Figs. 11-12).

A healing abutment was placed onto the

implant (Fig. 13) to protect the connection.

With this, a granular bone substitute

(Xenoflex) could be applied in the gap

between the implant and buccal wall,

which was gently compacted in with the

2.8mm side of the surgical probe (Figs.

14-16). Collacone was used to hold the bone

DENTAL ASIA JULY / AUGUST 2022 27
---
CLINICAL FEATURE

granules distant from the gingival margins,

avoiding the possibility of soft tissue

fenestration and protecting them from

fibroblastic infiltration (Figs. 17-18).

PROSTHETIC PROCEDURE

A Ø4mm with 2.5mm gingival height

temporary abutment was placed onto the

implant and it showed no crestal bone

interference allowing for the appropriate

creation of emergence profile (Fig. 19). The

tooth shell that was designed and milled in

PMMA before the procedure (Figs. 20-21)

was tested to make sure the contours and

retention wings were appropriate without

interference (Figs. 22-23).

The palatal side including a small portion

of the incisal edge to allow screw channel

access was opened (Figs. 24-25). The

lateral wings of the tooth shell allow the

provisional temporary crown to stay

immobile during the pickup procedure,

which is a common problem clinicians face

when performing the immediate pickup

technique.

Fig. 16 Fig. 17

Fig. 18

Fig. 20

Fig. 19

The tooth shell was bonded to the

temporary abutment with the use of

flowable light-curing composite and a slim

emergence profile was created for the

subgingival portion using the same material

(Fig. 26). At this moment the retention

wings have been removed.

With no compression to the soft tissue,

the provisional crown was seated and the

incisal edge adjusted to make sure the

antagonist teeth were not touching it in

excursive movements. The provisional

crown was torqued to 25Ncm and the screw

access was properly closed and polished

(Fig. 27). The patient was again seen seven

days after for post-operative and periapical

radiographic control (Figs. 28-29).

The final prosthesis was designed using

Straumann CARES Visual with digital

workflow. During the designing step, it

was possible to see that the screw access

would stay completely to the palatal side

with no interference in the aesthetics of the

restoration.

Fig. 21

Fig. 22

Fig. 23 Fig. 24

Fig. 16: Granules condensation with the surgical probe

Fig. 17: Application of Straumann collacone

Fig. 18: Biomaterials application finalised

Fig. 19: Periapical radiograph to confirm temporary abutment gingival height

Fig. 20: Temporary crown designed in CoDiagnotiX

Fig. 21: Temporary crown milled in PMMA

Figs. 22-23: Fitting assessment of provisional tooth shell

Fig. 24: Screw access open

28 DENTAL ASIA JULY / AUGUST 2022
---
CLINICAL FEATURE

Fig. 25 Fig. 26

A monolithic ceramic (Zirconiam Prettau)

crown with a facial cutback and layering

technique was milled and cemented

extraorally to RB/WB Variobase with

1,5mm gingival height corresponding to

the remodelling of the bone architecture

as it heals (Fig. 30). The restoration was

seated and screwed to a torque of 25Ncm

after occlusion, contact points and

excursive movements have been checked

(Figs. 31-33).

Fig. 27 Fig. 28

Fig. 30

TREATMENT OUTCOME

The patient works as a dental nurse

herself in a dental practice and has

direct interaction with many patients

during her working shifts. For her, it was

extremely gratifying that she was able

to leave the dental chair knowing the

compromised tooth had been extracted

and the implant placed and restored

immediately. The final crown matched

the texture and shade of the adjacent

teeth bringing harmony to the smile.

The patient refers the final crown as "the

cherry on the cake". DA

ABOUT THE AUTHORS

Fig. 29

Fig. 32

Fig. 25: Temporary provisional tooth shell in

position for pick up

Fig. 26: Temporary provisional tooth shell after

pick up and emergence profile

Fig. 27: Temporary crown seated and polished

Fig. 28: Temporary crown one-week post

operative

Fig. 29: Periapical radiograph one-week post

operative

Fig. 30: Monolithic ceramic crown cemented to

RB/WB Variobase abutment

Fig. 31: Final result smile

Fig. 32: Final result close up

Fig. 33: Final result radiograph

Fig. 31

Fig. 33

Dr Eirik Aasland

Salvesen

graduated as a

Doctor in Dental

Surgery from

the University

of Bergen and

specialised in Periodontology. He is

the co-founder of Oris Dental, a dental

service organisation in Stavanger,

Norway, and the executive director of

Oris Academy. He is a long time ITI

fellow and a proponent of immediate

treatment protocols.

Dr Ida Koll-Frafjord is

a general practitioner

at Oris Dental.

DENTAL ASIA JULY / AUGUST 2022 29
---
CLINICAL FEATURE

Orthodontic space closure: Midline

diastema related to mesiodens

A comprehensive treatment approach to address severe midline diastema

associated with mesiodens and malocclusion by Dr Emil Angelo Santos.

A 10-year-old male patient was

referred to our private office (Figs.

1a-c). His chief complaint was the

presence of a large midline gap

accompanied by an unidentified

structure in between the upper

central incisors. His medical history

was uneventful.

Fig. 1a Fig. 1b Fig. 1c

Previous dental history revealed

that the patient has never visited a

dentist before due to poor socioeconomic

status.

Intraoral examination, in the

correlation of his panoramic

radiograph, showed that the patient

was in the mixed dentition stage

with the permanent maxillary central

incisors and first molars erupted

(Fig. 2). A 6mm midline diastema due

to an erupted mesiodens along with

anterior crossbite associated with

crowding was noted. The molars

on the right side were in Class I

relationship, whereas on the left side

were in Class II (Figs. 3a-c).

Fig. 2

The panoramic radiograph also

revealed that there is an impacted

mesiodens in addition to the one

that is clinically visible.

Fig. 3a Fig. 3b Fig. 3c

The postero-anterior radiograph

was unremarkable (Fig. 4), but the

cephalometric radiograph indicated

that the patient has an orthognathic

maxilla and a retrognathic mandible,

leading to a Class II malocclusion

(Fig. 5).

Fig. 4

Fig. 5

30 DENTAL ASIA JULY / AUGUST 2022
---
CLINICAL FEATURE

Fig. 6a

Fig. 6b

Fig. 6c

Fig. 7a

Fig. 7b

Fig. 7c

Fig. 8a

Fig. 8b

Fig. 8c

Treatment options were

outlined including removal of

the infected primary teeth,

surgery of the mesiodens,

and finally the orthodontic

treatment to address the spaces

and locked lateral incisors.

Aesthetic restorative composite

treatment was also suggested to

close the diastema, but further

on decided that orthodontic

treatment would be a better

choice to address the patient's

malocclusion at the same time.

TREATMENT

The first step in interceptive

treatment was to inform the

patient and his parents of the

need for extraction of the

infected primary tooth and

the surgical removal of the

erupted and impacted mesiodens

in between the upper central

incisors to reestablish the normal

dental occlusion and tooth

position.

Surgical removal of the mesiodens

was then performed and comanaged

with the oral surgeon,

and after two weeks, orthodontic

treatment was introduced to

the patient through the use of

standard edgewise brackets (Figs.

6a-c).

The first stage of orthodontic

treatment was done through

an initial 2x2 appliance bracket

system in the upper arch and a 2x4

fixed appliance in the lower with

both having 0.016 stainless steel

wires as the initial wires.

A month after the orthodontic

treatment was started, 1mm

spontaneous closure on the

diastema was noted. Central

incisors observed a more levelled

position than the initial position.

At this stage, space closure was

initiated on the space left by the

mesiodens, before starting to

align the upper lateral incisors.

A 0.016x0.016 square stainlesssteel

wires were placed on both

upper and lower arches, followed

by initial space closure of upper

diastema (Figs. 7a-c).

Total space closure was almost

2mm during this stage. After

three months of treatment,

space closure was almost done,

therefore allowing space to be

DENTAL ASIA JULY / AUGUST 2022 31
---
CLINICAL FEATURE

Fig. 9a

Fig. 9b

Fig. 9c

Fig. 10a

Fig. 10b

Fig. 10c

Fig. 11a

Fig. 11b

Fig. 11c

regained in the area of the upper

lateral incisors (Figs. 8a-c).

Four months of treatment led

to complete space closure of

the upper incisors, and brackets

are now placed on teeth 12 and

22 to initiate their levelling and

alignment. At this time, both the

upper and lower arches were now

in a 2x4 fixed appliance set-up

as a part of the first phase of

orthodontic treatment (Figs. 9a-d).

Overlay 0.014 nickel-titanium

wires were used to align the lateral

incisors. Replacement of the 0.014

thermal nickel-titanium wires

for the piggyback technique was

done after a month with an 0.016

thermal nickel-titanium wire.

An additional two months were

spent bringing teeth 12 and 22 into

the arch alignment. The final wire

that was used was a 0.017x0.025

stainless steel wire where bends

were incorporated for detailing

the occlusion for the first phase of

orthodontic treatment (Figs. 10a-c).

The analysis of the final

photographs showed the

reestablishment of normal dental

development, highlighting the

efficiency and effectiveness

of the treatment (Figs. 11a-c).

Furthermore, due to the aesthetic

improvement of the smile, the

patient reported a higher level of

self-confidence and was generally

happier than in the original

situation.

A re-evaluation of the case will

be done once all the permanent

teeth have erupted to determine

the need for a complete fixed

appliance in the future.

DISCUSSION

In the course of dental

development, the interaction

of different factors can cause

malocclusion. This case involved

the interaction of two major

factors: two mesiodens, one visible

clinically and the other needs

surgical removal. This has led to a

6mm midline diastema and a lack

of space for the lateral incisors to

erupt properly.

Prompt detection of large midline

diastemas and erupted mesiodens

32 DENTAL ASIA JULY / AUGUST 2022
---
CLINICAL FEATURE

is more common because they are

located in the maxillary anterior

region and are easily noticed by

parents or general practitioners or

even the patient himself.

This case, however, does not ratify

this idea because the patient was

only referred to the orthodontist at

the age of 10 years and two months,

although his parents reported that

they noticed it when the patient

was still seven years old.

Before

Along with this problem, the

maxillary lateral incisors were

misaligned and did not erupt at

the expected age, which is seven

to eight years old. This is due to

the presence of the mesiodens and

diastema, blocking the space for

the lateral eruption.

A simple space regaining could

encourage the spontaneous

eruption of lateral incisors, which

is a more logical and conservative

approach similar to the case

presented.

Older literature also supports

the cause-and-effect connection

between the mesiodens and the

midline diastema as described in

this clinical case. Therefore, there

was a call for closing the diastema

related to the mesiodens present.

For the patient's chief complaint,

the clinical option was the surgical

removal of the mesiodens followed

by the orthodontic space closure of

the remaining space in the midline.

A month after the mesiodens

removal, there was a 1.5mm

reduction in the diastema due

to the immediate availability

of the space which allowed

the teeth to move with a fixed

appliance. Although there is a

biological tendency to initiate

the unconstrained closure of the

After

midline diastema, this case showed

that an orthodontic intervention

was necessary to facilitate the

alignment of the maxillary lateral

incisors.

With a straightforward and rapid

method of using an orthodontic

fixed appliance and 2x4 appliance,

the treatment objective was

successfully achieved in six months,

showing the effectiveness and

coherence of the procedure. DA

REFERENCES

1.

Edwards JG. Soft tissue surgery to

alleviate orthodontic relapse. Dent Clin

North Am. 1993 Apr;37(2):205–225.

2.

Beckar A. The median diastema. Dent

Clin Nirth Am. 1978 Oct;22(4):685–710.

3.

Bishara SE. Management of diastema

in orthodontics. Am J Orthod. 1972

Jan;61(1):55–63.

4.

Steigman S, Weissberg Y. Spaced

dentition. An Epidemiologic Study.

Angle Orthod.1985;55(2):167–176.

doi:10.1043/0003-

3219(1985)0552.0.CO;2

5.

Andrews LF. The six keys to normal

occlusion. Am J Orthod. 1972;62(3):296–

309.

ABOUT THE AUTHOR

Dr Emil Angelo

Santos graduated

with a degree of

Doctor of Dental

Medicine in 2015

and Masters

of Science in

Clinical Dentistry

major in Orthodontics in 2018 from

the University of the East, College

and Graduate School of Dentistry,

respectively. He is a lecturer at De

Ocampo Memorial College, a clinical

consultant at the Graduate School of

Orthodontics, Manila Central University,

and a core trainer at UY Dental Clinic

Group. Dr Santos is also the owner and

head dentist of the Dayanghirang Dental

Clinic Manila branch.

DENTAL ASIA JULY / AUGUST 2022 33
---
CLINICAL FEATURE

Growing intimate with nature

An increase in social media applications and online video conferencing has

created a surge in patient demand for smile enhancements. With their high

expectations, Dr Anand Narvekar discusses a treatment technique that enables

a clinician to achieve the right balance of aesthetics, function and longevity to

satisfy their patients.

As dentists, we often play the role of an

oral architect as we constantly strive to

reproduce and replicate natural aesthetics

and function while meeting our patient's

needs. We have the responsibility to not

only meet the patient's ever-growing

demands but to also adopt a minimally

invasive treatment approach that could

deliver predictable outcomes with long-term

treatment success.

Another area of dentistry that has gained

popularity among young adults is cosmetic

orthodontic treatment with the quest to

enhance smiles. I have been seeing more

patients with relapse after orthodontic

treatment in my practice recently mainly due

to poor treatment planning, cosmetic-driven

orthodontic treatment without the use of

post ortho retainers, and poor oral hygiene

maintenance leading to caries.

The clinical case showcased below is a classic

case of post orthodontic relapse where the

spacing between the upper front teeth had

occurred affecting the patient's smile.

CASE STUDY

A 36-year-old female patient visited the

dental office with a chief complaint of

spacing between her upper front teeth.

The patient presented with a history of

orthodontic treatment a couple of years

ago to close the gap between her teeth.

This appeared to be a typical case of relapse

possibly caused by infrequent wearing or

complete lack of retention plates in the posttreatment

maintenance phase.

Initial photographic documentation revealed

prominent diastemas between the central

incisors and minor spacings in the laterals.

In terms of morphology, the teeth have no

prominent line angles, hence appearing flat

and squarish. Both centrals were different

in size and anatomical form, with the distal

part of tooth 21 appearing straighter than

tooth 11. There were no signs of traumatic

occlusion such as abfraction or loss of canine

tips and no history of parafunctional habits.

The smile line was average with a thick and

healthy gingival tissue type (Figs. 1-2).

Upon further observation and detailed

communication with the ceramist, we

decided to proceed with indirect lithium

disilicate ceramic laminates (Shofu Vintage

LD) for teeth 12, 11, 21 and 22. The canines

were not included as the teeth showed

healthy morphology with no signs of

structural loss. The treatment plan was

completely briefed to the patient and was

finalised.

INDIRECT AESTHETIC SIMULATION

The essential photographic and clinical

findings were noted down and all the

information was sent to the laboratory

for the ceramist to proceed with the wax

mockup. The mockup was done on the cast

without any teeth preparation in line with

the minimally invasive treatment approach

adopted to preserve as much enamel as

possible. A very thin layer of wax was layered,

taking perfect care of the morphology, and

few textures and contours were created on

the labial surface (Figs. 3a-b).

Fig. 1

Fig. 2

Fig. 1: Patient smile before treatment

Fig. 2: Intraoral view of the patient smile before

treatment

SIMULATION IN THE PATIENT'S MOUTH

The first impression from the wax mockup

was made with putty to create an index, which

aided in transferring the idealised aesthetic

and functional outcome intraorally without any

tooth preparation. The same index was also

used to fabricate the temporary restorations,

which were placed in the patient's mouth to

simulate the final form and function of the

restorations. The index was cut back following

the garland-shaped gingival line to ensure easy

excess removal.

PREPARATION CONTROL

Two impressions were made with putty, the

34 DENTAL ASIA JULY / AUGUST 2022
---
CLINICAL FEATURE

first one was for the incisal edge and the

second one for maintaining the labial

surface in three planes (cervical, middle and

incisal).

MOCKUP TRANSFER AND

TEMPORISATION

Luxatemp (DMG) was dispensed into the

first putty index labially and was placed over

the upper arch with mild to firm pressure

both labially and incisally. The excess was

removed in the semi-hard phase along the

gingival margin (approximately after two

minutes), guided by the garland-shaped

cut-back. The wax-up was then transferred

to the aesthetic zone from teeth 12 to 22.

Fig. 3a Fig. 3b

Fig. 4

Fig. 4a

Fig. 5

This procedure was carried out without

any local anaesthesia and lip controls were

checked with the thickness of the material.

The Aesthetic Pre-Evaluative Temporary

(APT), a term coined by author Gürel in

2003, helps the patient to experience

the outcome in terms of tooth form,

function, and phonetics without any tooth

preparation. This technique provides the

clinician with the opportunity to make

minor adjustments and address any patient

concerns before tooth preparation. In

this case, we decided to follow the more

feminine tooth anatomy where the line

angles and incisal edges were slightly

rounded (Fig. 4).

Fig. 6 Fig. 7

After the patient approved the APT, we

proceeded with minimal preparation using

a 0.5mm depth cutting diamond bur (Shofu).

The diamond bur was moved in horizontal

directions in sections cervical, middle and

incisal third. These horizontal depths were

marked by pencil. The residual mockup was

removed with a scaler and probe (Figs. 5-6).

Surfaces that needed to be reduced during

the tooth preparation remained within the

imprint of the pencil mark.

For the incisal edge, a 1mm depth cutting

diamond bur was used to create the butt

joint (Fig. 7). As planned, we increased

the length of the incisor by 0.75mm to

compensate width to the height ratio.

The butt joint on the palatal surface was

Fig. 8

Figs. 3a-b: Non-prep wax mockup created by the ceramist with surface texture and contours

Fig. 4: Temporisation using the putty index to simulate the outcome

Fig. 5: Minimal tooth preparation using 0.5mm depth cutting diamond bur (Shofu)

Fig. 6: The horizontal depths were marked, and residual temporary material was removed with a scaler

and probe

Fig. 7: 1mm depth cutting diamond bur was used to create the butt joint at the incisal edge

Fig. 8: The labial and incisal edge preparation was checked with the putty index

selected instead of the step design for the

flush and smooth interface of ceramic and

the natural tooth. In case of a step, a very

thin layer of ceramic is created that may

lead to chipping over time.

A selective preparation was performed

on the labial surface ensuring sufficient

thickness for the all-ceramic restoration

which will provide harmony in the alignment.

The labial and incisal edge preparation were

checked with the putty index (Fig. 8).

This was followed by creating a smooth

chamfer on the enamel surface to establish

a reliable bond. The cervical preparation was

then extended into the interproximal areas

keeping all enamel intact. The prepared

DENTAL ASIA JULY / AUGUST 2022 35
---
CLINICAL FEATURE

tooth surfaces of all four teeth were

smoothened with a fine diamond bur and a

Super-Snap Purple polishing disk (Shofu).

Retraction cord #000 was placed gently

inside the sulcus and impressions were

made with a one-step technique using heavy

and light body impression material (Fig. 9).

Temporary restorations were placed with

the same putty index using the spot etching

technique.

Fig. 9

Fig. 10

Finishing of the temporary restorations was

performed with a finely tapered diamond

bur and Super-Snap X-Treme polishing disks

without touching the soft tissues. To achieve

a smooth and shiny surface, a coat of glazing

agent was applied to the temporaries to

avoid plaque accumulation.

Fig. 11 Fig. 12

INDIRECT LAMINATE VENEER

FABRICATION PROCESS

Lithium disilicate laminates with Shofu

Vintage LD pressable system were created

by Ceramist Madan Soman. Below is an

explanation of the fabrication steps followed

to create the life-like restorations.

• No prep mockups were created paying

attention to the incisal plane and diastema

to facilitate temporisation using the APT

technique.

• The mockup was then transferred to

the patient's mouth and was thoroughly

checked and examined before tooth

preparation.

• The final impressions were made and the

master casts were retrieved using die

stone.

• Dies were made and additional casts were

poured for checking the fit in all possible

angles.

• Wax-up was done followed by investing

and pressing of the Shofu Vintage LD

lithium disilicate ingots under the

recommended parameters.

• Devesting was done followed by fitting

and finishing, further cutback was carried

out using Shofu Dura green DIA WH6 and

TC4 abrasives.

• The incisal third build-up was done using

Shofu Vintage LD opal 58 porcelain and

fired as per the recommended firing

schedule.

Fig. 13 Fig. 14

Fig. 9: Placement of retraction cords #000

Fig. 10: Indirect lithium disilicate laminates with Vintage LD Press system for try-in

Fig. 11: Final indirect lithium disilicate laminate veneers with Vintage LD Press system ready for placement

Fig. 12: Preparation of teeth with split rubber dam technique and adjacent teeth protected from etching

and air abrasion procedure using Teflon tape

Fig. 13: Final adjustments in the margins using the Compomaster diamond impregnated polishers

Fig. 14: Recall visit after three to four months showing good tissue response

• Upon successful firing, the laminates were

sent to the clinic for try-in.

• After try-in and confirmation by the

clinician the laminates were sent back

to the lab for a final check and surface

detailing.

• Final glazing and staining were carried

out using Vintage ART LF stains AS and

GP and firing were done under the

recommended protocols.

• Upon satisfactory final firing, the

laminates were delivered to the clinic.

The indirect laminates created by the

ceramist using pressable lithium disilicate

Shofu Vintage LD were received from the

laboratory for try-in. Upon confirmation,

the glazed laminate veneers were endorsed

for final delivery and cementation (Figs.

10-11).

CEMENTATION PROTOCOL

The veneers were tried-in using glycerine

gel to simulate the outcome. When the fit

and shade results were satisfactory for the

clinician and the patient, the restorations

were sent back to the lab for final glazing.

Upon receipt of the final laminate veneer

restorations from the lab, we proceeded

with the veneer cementation.

The veneers were cleaned using

ultrasonic cleaner and later etched with

5% hydrofluoric acid for 60 seconds,

which was then cleaned and checked for

frosty appearance. They were further

conditioned for 20 seconds with 37%

phosphoric acid. After a thorough

cleaning, a silane coupling agent was

applied and the veneers were covered

under the lid.

36 DENTAL ASIA JULY / AUGUST 2022
---
CLINICAL FEATURE

DENTAL ASIA JULY / AUGUST 2022 37
---
CLINICAL FEATURE

instructed to wear twice weekly during the

night. The patient was recalled after three

to four months to check tissue response and

hygiene maintenance (Figs. 14-17).

Fig. 15 Fig. 16

CONCLUSION

When the treatment plan involves an

indirect restoration, working closely with the

ceramist and identifying the most suitable

type of restoration to meet the patient's

expectations while preserving sound tooth

structure is crucial. Today, lithium disilicate

laminate veneers are considered one of the

most widely accepted indirect restorations

that are precise and reliable for transforming

smiles with laminate veneers.

Fig. 17

For the preparation of teeth before bonding

veneers, the split rubber dam technique

was used. Adjacent teeth (canines) were

protected from etching and air abrasion

procedures using Teflon tape (Fig. 12).

Air abrasion was done on all the prepared

teeth using 50-micron aluminium oxide

powder for 5-10 seconds each, which

removed all temporary residues and biofilm.

After this step, all the prepared teeth were

cleaned thoroughly with water and dried and

37% phosphoric acid was applied entirely on

the labial surface and the incisal edges.

After 15 seconds, the teeth were cleaned with

water for approximately 10 seconds. The

prepared teeth were air dried with highvacuum

suction before uniformly applying

the sixth-generation bonding agent (Shofu

FL Bond II) to all the prepared teeth. The

excess was removed using a dry applicator

tip, ensuring an equal amount of bonding

agent on the entire surface. For luting,

Beautifil Injectable X (Inc shade) was selected.

Figs. 15-16: Before and after images of the

patient smile

Fig. 17: Close-up view of the final restorations

showcasing natural like-like aesthetics

This shade does not interfere with the final

colour of the restorations after bonding. In

addition, its high compressive strength can

contribute to the longevity of the restoration

inside the patient's mouth.

The veneers were manually placed all

together, gently adding pressure with the

thumb and forefinger, from the incisal to

the cervical surface. Once the restorations

were finally seated, we light-cured each

veneer from all sides for only two seconds

(tack-cure). Removal of the excess cured

gelatinous luting cement was done using a

periodontal sickle or a curve probe. The final

cure was performed on each veneer for 40

seconds from each side. Any further excess

material was removed using a no. 12 blade.

Final adjustments in the marginal areas were

carried out using the Shofu Compomaster

diamond impregnated polishers (Fig. 13).

Bite adjustment was then checked using a

40-micron and 8-micron foil followed by a

negative fremitus test. Finally, the pathway

motion (dynamic occlusion) was checked

using 200-micron horseshoe paper. A soft

night guard was given to the patient for the

initial phase till she got acquainted with her

new restorations. An impression was made

for an ortho clear retainer which she was

Shofu Vintage LD press system offers

natural aesthetics and predictability for

long-lasting restorations as showcased in

this clinical case. It is equally important to

pay attention to detail when bonding the

indirect restoration as following the bonding

protocols plays an essential role in the

longevity of the restoration. DA

REFERENCES:

• Minimally invasive veneers. Galip Gürel

• Gürel G (2003) Predictable, precise, and

repeatable tooth preparation for porcelain laminate

veneers. Pract Proced Aesthet Dent 15:17-24

• Gürel G (2007) Porcelain laminate veneers:

Minimal tooth preparation by design. Dent Clin

North Am 51: 419-431

• Piemjai M, Arksornnukit M (2007) Compressive

fracture resistance of porcelain laminates bonded

to enamel or dentin with four adhesive systems. J

Prosthodont 16: 457-464

• Magne P, Belser UC (2004) Novel porcelain

laminate preparation approach driven by diagnostic

mockup. J Esthet Restor Dent 16: 7-16

ABOUT THE AUTHOR

Dr Anand Narvekar

is an adjunct

faculty at various

private dental

institutes and is a

clinical trainer for

Minimally Invasive Cosmetic Dentistry

(MiCD). He is a key opinion leader and

advisor for many global manufacturers

and routinely conducts courses on

various aesthetic and occlusion-related

techniques in India and internationally.

38 DENTAL ASIA JULY / AUGUST 2022
---
USER REPORT

Dental-specific

solution for 3D model

printing

Consistency and accuracy – an example of how

Prof Shen Yung-Kang embraces technology

advancements by deploying Renfert's Simplex 3D

filament printer to streamline model production.

Integrating modern technology into

everyday dental practice enables dental

clinicians to provide more precise and,

perhaps, more economical, treatment

options to their patients. In the planning

stage of treatment, for example, the

process can be simulated and optimised in

the virtual world made possible by today's

advances in digital dentistry.

The preparation required prior to

treatment can be broken into several

aspects and, depending on the treatment

plan, might involve digital model

production. To better support the

practitioners in fabricating dental models,

Renfert developed Simplex, a dentalspecific

all-in-one 3D filament printer

system.

A user of Simplex is Prof Shen Yung-Kang,

a professor at the School of Dental

Technology at Taipei Medical University

(TMU) and a member of the TMU Research

Centre of Biomedical Devices, who has

deployed the system for the production

of oral guide plates. Highlighting speed

as one of the features he favoured about

Simplex, Prof Shen elaborated on other

aspects a 3D printer should be equipped

with, one of which is printing orientation

as it impacts the quality, accuracy and

surface finish of the final product.

"It is crucial to have reproducible and

reliable results in using a 3D printer to

ensure consistent product quality every

time. For clinics, 3D printers can help

technicians deepen their knowledge about

this industry," he shared.

Renfert's Simplex consists of a modified

filament printer, slicer software with

parameters that are already stored, and

high-quality special filaments. Designed

with a plug-and-play concept, Simplex

offers a spectrum of orthodontic model

fabrication and pre-installed pre-sets

for various models. Once the print bed

has been loaded virtually, the optimised

slicer software will select the appropriate

parameters for the user to carry out 3D

filament printing of diagnostic, working or

aligner models.

Particularly, Simplex is designed with four

filaments with their high layer and print bed

adhesion, as well as constant dimensional

accuracy with improved mechanical and

physical printing properties. The four

filaments are the Simplex study model,

a white bio-filament with a high level of

detail reproduction suitable for producing

planning and diagnostic models; Simplex

working model, a viridian green bio-filament

for accurate fitting working models; Simplex

aligner model, a white special filament

that is designed for the special needs of

aligner production and thermoforming

technology and Simplex multi-use

model, a white bio-filament with a

high hard gypsum content for a natural

surface effect.

Featuring a dimensional accuracy of

≥50µm, Simplex boost a low-noise

production process of 47-48dB and is

packed with the Filament Monitoring

System function that allows the user to

receive a precise, reproducible result.

It also features intuitive touchscreen

navigation and a closed

building chamber with

a lockable door and

removable cover

with a fan integrated,

making the unit a

"convenient and safe

companion" for daily

model production. DA

DENTAL ASIA JULY / AUGUST 2022 39
---
USER REPORT

Centripetal layered build-up of

posterior direct composite resin

To achieve better marginal adaptation to the gingival floor and long-term

aesthetic of posterior composite restoration, Dr Christopher Ho presents a novel

technique which replaces the lost tooth structure by layering from the periphery

towards the centre of the cavity.

There has been the emergence of nanohybrid

composite resins that enable

dentists to provide strong, life-like aesthetic

restorations. They promise better polish,

the longevity of lustre, better handling and

high strength. All composite resins when

polymerised shrink from 1.6-5% which

can lead to marginal openings, internal

debonding, cuspal flexure and microfracture.

This polymerisation shrinkage can further

lead to microleakage and marginal staining,

caries, post-operative sensitivity, and pulpal

problems.

The nanohybrid-filled composites, such

as Harmonise, contain much smaller filler

particles of 0.02 microns compared to 0.4-1

microns with the hybrids. With the smaller

particle size, there is a subsequent higher

filler loading, which enables considerably less

shrinkage and also allows better polish and

gloss retention.

In considering the restoration of teeth,

layering of composite resin is carried out to:

• Minimise polymerisation stresses,

• Increase polymerisation depth,

• Achieve good anatomic contour, and

• Obtain the best aesthetic result.

Implementation of different incremental

layering techniques is used to achieve the

best aesthetic result but also to minimise

the stresses that are encountered with a

direct composite restoration. There are

many different layering techniques used

for posterior teeth from the horizontal and

vertical build-up to oblique layering and

successive cusp build-up techniques.

No clear advantage for any technique has been

evidenced from the literature, but a thorough

understanding of composite shrinkage and

how to combat the stresses induced to a tooth

are the responsibility of every clinician that

places direct resin restorations.

RESTORATIVE SEQUENCE

Shade Selection (Fig. 1): Selection should be

made at the start of the appointment and

before rubber dam placement to prevent

incorrect matching due to dehydration and

the subsequent increase in value.

Rubber dam placement (Fig. 2): After the

administration of local anaesthesia, the teeth

were isolated with a rubber dam to achieve

adequate isolation. This allows protection

from contaminants like blood, saliva and

crevicular fluid.

Preparation (Fig. 3): Removal of amalgam and

caries were done using a rotary instrument,

which included carious dentin and residual

amalgam staining. The preparation only

involved affected tooth structure, and the

adhesive preparation allowed maximum

preservation of tooth structure.

Etching (Fig. 4): The Selective Etch technique

was performed with 37% phosphoric acid

on enamel only. The tooth was then washed

thoroughly with water spray. Optibond

Versa (Kerr) was applied with a disposable

Fig. 1

Fig. 2

Fig. 3

Fig. 4

40 DENTAL ASIA JULY / AUGUST 2022
---
USER REPORT

applicator for 20 seconds. This was done with

a scrubbing motion and left the dentin glossy,

demonstrating good resin impregnation. The

bond was light cured.

Internal adaptation (Fig. 5): A layer of

flowable composite resin was used as the

first increment. Due to its lower viscosity,

it is self-adapting and enables an intimate

contact with the dentin. This was first placed

at the gingival margin and cured followed by

another very thin layer at the pulpal floor.

Flowable composite resin has also been

discussed to have a stress-absorbing property

with it having a high modulus of elasticity,

which allows it to bend and stretch more, and

absorb stress from polymerisation shrinkage.

Fig. 5

Fig. 6

Incremental layering: Layering the

restoration reduces polymerisation

shrinkage and enhances the aesthetics of the

restoration.

Fig. 7 Fig. 8

Building the proximal contact (Fig. 6): A

sectional matrix was used with a Lucidwedge

(Hawe-Neos). The proximal contact was

then built up with Harmonise composite to

simulate the enamel in this area. This cavity

form has become a simple Class I restoration.

Fig. 9 Fig. 10

Building the artificial dentin (Fig. 7): The

artificial dentin layer was built up with an

incremental technique. Each layer was built

up in diagonal increments of less than 2mm.

Opposing walls were not contacted by the

same increment to minimise wall-to-wall

shrinkage and cuspal deflection. The shade

used was an A3 body shade of composite. This

layer of artificial dentin was stopped short of

where the anatomic layer of enamel begins

and was approximately 1mm short of the final

anatomic contour.

Building the artificial enamel layer (Fig. 8): It

has been stated by Muia that the colour of a

tooth comes from the dentin with the enamel

acting like a fibreoptic rod transmitting the

light. Therefore, the final enamel layer was

translucent. Any warming effects like yellow

tints or opacities like white spots can be

added before this final layer of translucent

goes on. These tints are built up internally

giving them a real depth to them. A layer

of enamel composite was built up and the

surface was invaginated with an instrument

while still soft. This layer is contoured with

its associated fissures and cusps and light

cured.

Addition of occlusal staining (Fig. 9):

This can be achieved with a number 10

endodontic file or a probe with some brown

or ochre tint (Kerr Kolor Plus). The tint was

run into the fissures and the excess was

removed with a disposable micro brush.

This final layer was cured.

Finishing and polishing (Fig. 10): This was

performed to reproduce the shape, contour

and lustre of the natural dentition. Initial

contouring was done with multi-fluted

finishing burs and finishing discs for the

proximal contours. All areas of the

restoration were polished and checked for

occlusal interferences. Polishing was carried

out with rubber silicone points and the

Optishine (Hawe-Neos), which maintained

the surface texture and anatomy. DA

ABOUT THE AUTHOR

Dr Christopher

Ho is a specialist

prosthodontist

who completed

postgraduate

studies in Masters of

Clinical Dentistry in

Prosthodontics from

the University of London, and a Doctorate in

Clinical Dentistry in Prosthodontics from the

University of Sydney. He is a fellow of the

Pierre Fauchard Academy, American College

of Dentists, and a special field member of

the Royal Australasian College of Dental

Surgeons in Prosthodontics.

DENTAL ASIA JULY / AUGUST 2022 41
---
USER REPORT

Digital aesthetic smile

reconstruction

A digital protocol was adopted for an eight-unit ceramic restoration

utilising 3Shape clinical and laboratory workflows as Dr Naren Rajan

elaborates more.

The patient was a 53-year-old

female in good overall health

with a non-contributory medical

history. She wanted to have

a natural-looking upgrade to

her teeth without the result of

looking too white and was not

interested in treating the lower

teeth.

Fig. 1 Fig. 2

Upon clinical examination, the

patient presented with an edgeto-edge

bite with asymmetric

wear on the upper anterior as

well as two existing laminates

on the upper right cuspid and

lateral.

The treatment plan included

a referral for pre-prosthetic

orthodontic therapy followed by

restoration of the upper eight

anterior teeth with layered

ceramic restorations.

The intended outcome was to

restore symmetry, form, function

and aesthetics to the patient's

smile without significantly

altering her overall appearance.

TREATMENT

The patient was first referred to

the orthodontist to address her

edge-to-edge occlusion prior to

any restorative treatment. The

goals of orthodontic treatment

Fig. 3

Figs. 1-2: Post ortho presentation

Fig. 3: TRIOS Smile Design – proposed outcome

Fig. 4: Dental System digital waxup

were to level the gingival

margins, align the teeth and to

re-establish correct overjet and

overbite.

We utilised TRIOS Smile Design at

the time of orthodontic referral

to communicate our treatment

goals to the orthodontist as

well as share our vision of the

potential results with the patient.

When orthodontic treatment was

completed, the patient returned

for updated records that included

new photography and postorthodontic

TRIOS scans (Visit 1).

Fig. 4

The TRIOS scans were brought

into Dental System and a digital

waxup was created using the Temp

on Prepared Model workflow. The

digital waxup was output as a

stereolithography (STL) model and

printed using a desktop 3D printer.

A Dental Desktop order was created

for crowns on teeth 14, 13, 12, 22, 23

and 24, and veneers on teeth 11 and

21. The Pre-Preparation scan was

enabled.

On the day of preparation (Visit

2), a putty matrix was made and

used to create a biscaryl intraoral

42 DENTAL ASIA JULY / AUGUST 2022
---
USER REPORT

mockup prior to beginning tooth

preparations. While waiting for

anaesthesia, we scanned the

upper arch with a mockup applied

as a Pre-Preparation, the lower

opposing arch and two-bite

registrations. After marking the

teeth as directed, we carefully

trimmed away the clinical crowns

of the teeth being treated to

maintain as many attached tissues

to allow for easily scannable areas

while capturing the preparations.

Fig. 5

The initial depth cuts were made

directly through the bisacryl

mockup to ensure conservative

tooth reduction in additive design

areas. After the preparations

were completed and refined, we

placed dual retraction cords and

allowed them to remain in place

for 10-15 minutes. The top cord

was then removed and all eight

preparations were scanned to

complete the necessary records.

The case was post-processed and

evaluated to ensure all areas were

adequately recorded.

Fig. 6a Fig. 6b Fig. 6c

Fig. 7a

Fig. 7b

Provisional restorations were

fabricated with a bisacryl shrink

wrap technique using the same

putty matrix from the mockup.

The provisionals were trimmed

and polished, and the patient was

dismissed.

Fig. 7c

Fig. 5: Bisacryl mockup applied before preparation

Figs. 6a-6c: Preparation

Figs. 7a-d: Final outcome

Fig. 7d

We saw the patient after a week

from post-op (Visit 3) at which

time we evaluated the

provisionals and made minor

occlusal adjustments in

excursions. Once both the patient

and clinician were satisfied,

we obtained a TRIOS scan of

the provisionals. It was only at

this time that we instructed

the laboratory to proceed

with manufacturing the final

restorations copied as close

as possible to the approved

provisionals.

Approximately three weeks later,

the patient returned for her delivery

visit (Visit 4). The provisionals were

removed and the restorations were

tried in. The restorations required

only one minor contact adjustment

between teeth 22 and 23 where we

felt the contact was slightly tight.

Otherwise, the units fit impeccably

well and satisfied the patient's initial

treatment goals.

The units were isolated and bonded

with resin cement and the patient

was seen another week later for a

post insertion visit (Visit 5) where

we checked the occlusion and took

postoperative photographs. A posttreatment

TRIOS scan was also taken

in centric relation (CR) to be used for

the fabrication of an occlusal guard.

DIGITAL ECOSYSTEM

The long-term benefit of using

3Shape digital workflows is being

able to implement and grow

digital skills over time at your

own pace. Being a TRIOS user

DENTAL ASIA JULY / AUGUST 2022 43
---
USER REPORT

since 2015, I began by scanning

and outsourcing design and

manufacturing. I started with

routine cases and slowly moved

into more complex cases as my

skills developed and I gained

confidence with my laboratory

partners.

Fig. 8

As we mastered scanning

techniques, we added more

components to our digital

ecosystem. We began with the

3Shape excitement apps built into

Dental Desktop then added 3D

printing and more recently 3Shape

Dental System lab software.

Fig. 9 Fig. 10

In this case, we combined TRIOS,

TRIOS Smile Design and TRIOS

Patient Monitoring as well as

Dental System to complete the

treatment. The initial smile design

not only engaged the patient about

the potential result, but it helped

to guide the orthodontist as to

our restorative end goals. The

smile design was then also used

in Dental System in the RealView

engine to help interpret the design

into a 3D waxup model.

After the provisionals were made

and TRIOS scans taken at critical

milestones, we were able to align

the preoperative, mockup and

provisional scans in TRIOS Patient

Monitoring to ensure that the

original design was respected and

transferred to the patient before

having the final restorations

fabricated. The TRIOS scan of the

final ceramics was also aligned

to evaluate if the results were

accomplished in harmony with the

initial design.

The benefits to the patient were

being able to have substantive

engagement in the entire process

from inception to execution.

She was able to contribute her

wishes and envision the scope

of treatment and was also able

to have the treatment completed

without a single physical

impression taken in her mouth.

As a clinician, utilising the entire

3Shape digital ecosystem allows

me to offer precision with more

predictability and less stress

than ever before in my 18 years of

practice. Being able to accomplish

the digital waxup myself ensures

the case is designed according

to my vision and my lab partners

simply need to copy my

provisionals. Using the ecosystem

in this manner has essentially

helped me to undertake more

comprehensive treatments with

confidence in my practice that I

was previously hesitant to treat.

Simply having technology is not

enough. Using it thoughtfully is

how we realise the true promise of

digital dentistry. DA

Fig. 11

Fig. 8: TRIOS Patient Monitoring of planned digital waxup vs. executed provisionals

Figs. 9-10: Comparison of pre-op – mockup – provisionals

Fig. 11: TRIOS Patient Monitoring of final restorations vs provisionals

ABOUT THE AUTHOR

Dr Naren Rajan

has over 18 years

of experience

as a full-time

general practice

in Mendham,

New Jersey,

and focuses on

restorative, implant and aesthetic

dentistry. He graduated from Rutgers

School of Dental Medicine with

honours, followed by a general

practice residency at Jersey Shore

University Medical Centre. Dr Rajan

was inducted into OKU, the national

dental honour society and received

his fellowship in the AGD. He is

actively involved in dental education

serving as assistant director of

digital dentistry at the Touro College

of Dental Medicine and a founding

member at CADPro Academy in

Woodbury, New York.

44 DENTAL ASIA JULY / AUGUST 2022
---
The perfect duo

USER REPORT

BRILLIANT EverGlow ® &

ONE COAT 7 UNIVERSAL

BRILLIANT EverGlow is a universal submicron hybrid

composite of the latest generation and a true all-round

material. It has been developed with special focus on high,

long-lasting gloss and shade aesthetics and handling

convenience. Meeting highest requirements for "brilliant"

anterior and posterior restorations, it is the ideal modern

filling material.

ONE COAT 7 UNIVERSAL is a light-cured,

one component bonding agent used

effortlessly, for all adhesive restoration

techniques. The outstanding shear bond

strength ensures excellent adhesion to

enamel and dentine.

More information about

BRILLIANT EverGlow

More information about

ONE COAT 7 UNIVERSAL

COLTENE.AsiaPacific

007439 05.22

DENTAL ASIA JULY / AUGUST 2022 45
---
USER REPORT

Same-day visit implant treatment

What does an immediate implant procedure entail? As a user of the Anthogyr

Axiom PX implant system, Dr Sebrina Abdul Malik expounds and highlights its

advantages over delayed loading.

A 42-year-old anxious healthy

male patient presented with a

fractured grossly decayed tooth

on his upper left lateral incisor

(Tooth 22). Clinically, he had

completely lost his crown due to

untreated caries, leaving no ferrule

for restoration, therefore it had

to be extracted. He is an irregular

attender to the dental office, very

anxious with a dentist, a nonsmoker

who has a moderate oral

hygiene.

Pre-operative panoramic radiograph Fractured tooth 22

There was insufficient ferrule to

restore the tooth as it would need

crown lengthening, a root canal

with a post and core, therefore the

prognosis was guarded. Treatment

options were explained to the

patient and he asked for the tooth

extraction and the immediate

implant placement. He was more

comfortable with this treatment

option which he considered more

suitable for him. The panoramic

radiograph showed a generalised

healthy periodontium.

Treatment options for the implant

procedure and technique were

discussed in detail including

whether a delayed or an immediate

approach has to be done. In this

case, both immediate or delayed

implant placement approaches

are equally successful. Since the

patient is asymptomatic, with no

existing acute periapical lesion or

Socket of extracted tooth 22 Extracted tooth 22

infection, he is considered suitable and pain as well as reduces the need

for an immediate implant procedure. for suturing. Most patients would be

inclined towards this technique due

What does an immediate implant to the above advantages.

procedure require? This procedure

first involves a flapless extraction TREATMENT

of the tooth followed by an implant A flapless atraumatic extraction of

insertion into the socket during the broken upper left lateral incisor

the same surgery. Since there is was carried out with coupland

no surgical incision nor buccal flap elevators and upper incisor forceps.

raised, this results in less surgical The empty socket was irrigated

trauma, shorter surgical time,

with a saline solution and curetted,

reduction in post-operative swelling leaving only a healthy surrounding

46 DENTAL ASIA JULY / AUGUST 2022
---
USER REPORT

alveolar bone. Then, an Axiom

PX (Anthogyr) 4.0x14.0mm was

optimally positioned, and a great

primary stability of 40Ncm is

obtained.

Since the 'jumping gap' is bigger

than 2.0mm, a Xenogeneic bone

graft – Bio Oss 0.25gram was

packed and compressed into the

socket. A healing abutment was

used to maintain the gingival

emergence profile and favour the

healing of the soft tissue for the

future prosthetic crown. Implant

positioning was controlled by

a post operative-panoramic

radiograph.

One-stage surgery with healing screw

Post-operative x-ray

Four months later, a closed tray

impression technique was carried

out and a cement retained zirconia

crown was successfully placed.

Three months review

Final restoration

CONCLUSION

This case has changed the patient

perception of a dentist and that

gave him the motivation to care

for his dental health. He has

other carious teeth as well which

are undergoing treatment with

dental restorations and he is now

much more motivated to care for

his dentition after the implant

placement. He has now become

more comfortable at the dental

office and no longer anxious to

attend for treatments.

A high-quality dental implant

and crown treatment have

been devered in only one visit

with minimal surgical trauma, a

reduced post-operative swelling

and pain. The Axiom PX (Anthogyr)

dental implant is designed to

engage well in the socket for

immediate implantation with great

stability. Studies have shown the

success rate of immediate implant

technique is nearly as successful

to delayed approach if done the

correct way. DA

Closed tray techniques

Crown received from the lab

ACKNOWLEDGEMENT

The author would like to extend her

appreciation to Patrick Lab for their

prosthetic work.

Radiograph to verify fully seated restoration

ABOUT THE AUTHOR

Dr Sebrina Abdul Malik

graduated from the

Trinity College Dublin,

University of Ireland,

with a Bachelor of

Dental Science in

2009 and has been

practising general dentistry since then.

With an interest in dental implants and

dentoalveolar surgery, she co-founded

Azure Dental in Singapore where she

currently works. A certified implant dentist,

she is also a fellow of the International

Congress of Oral Implantologist and

an active member of the International

Team of Implantology and Academy of

Osseointegration.

DENTAL ASIA JULY / AUGUST 2022 47
---
BEHIND THE SCENES

Bringing 3D printing to the

next level for sustainable healing

What can 3D printing bring forth to the manufacturing of regenerative implants?

Dr Lim Jing, CTO of Osteopore, elaborates more.

Three dimensional or 3D printing is an

additive manufacturing process that has

been around for a while now – but is

still guaranteed to attract attention. It

produces a physical object from a digital

design and has been creating a buzz in the

healthcare industry since the 1990s when

dental implants and custom prosthetics

took off.

While there are many different types of

3D printing available, Osteopore has been

embracing the technological advantage

that 3D printing has over traditional

manufacturing techniques. This has

enabled us to create a microstructure

that is representative of native bone while

meeting the gross geometrical needs of

the reconstruction area and facilitating

technology differentiation from other

medical implant providers.

It involves harnessing the body's

regenerative capacity to rebuild lost

tissues and the bioresorbable materials

in Osteopore's implants leverage

the combined technologies of tissue

engineering, regenerative medicine and 3D

printing techniques.

3D printing technology allows us to

make regenerative implants. Osteopore's

bioresorbable implant is the first of its

kind to be successfully developed and

commercialised for surgical use, and this

technology paves the way for the future

of healthcare. When used appropriately,

the solutions created with 3D printing

regularly outperform traditional implant

methods in terms of design and associated

long-term healthcare costs. 3D printing

allows the creation of complex geometries

that copy the shape and function of natural

bone and allows efficient productisation,

particularly in customised implants.

Given the complex nature of bone

microarchitecture, 3D printing enables

production at a cost-effective scale.

Pairing advancements in technology

and automation enables the production

of implants around the clock and even

remotely, bringing forth a compelling

commercial industrial business case for

the technology alongside the medical

rationale of what is possible.

But most importantly, 3D printing is

reshaping what implants can do, and how

patients can be treated – often patient

comfort and experience during recovery

are improved.

Additive manufacturing's role in the medical

field continues to develop and mature,

and while in some medical specialities the

hype of 3D printing has gone down – the

value that 3D printing can provide to this

field will be recognised once the industry

understands and accepts the technology

and its benefits.

The compelling argument for the technology

is that it has the combination of being able

to produce something as specific as the

biomimetic architecture at Osteopore,

as well as its scalability at the same time.

Besides being consistent and reproducible,

3D printing allows Osteopore to

manufacture products at scale and produce

them in a way that meets quality standards.

48 DENTAL ASIA JULY / AUGUST 2022
---
BEHIND THE SCENES

What is the largest implant Osteopore has

printed?

The largest implant Osteopore has

produced is 36cm in length and was

implanted in an Australian patient in

Queensland for a shin bone reconstruction

surgery. He has since recovered well and

can ambulate without crutches.

Osteopore honeycomb microstructure

BREAKDOWN OF 3D PRINTING

Choice of 3D Printing

Osteopore utilises Fused Deposition

Modelling, or Fused Filament Fabrication

as it has been more recently called. This

method of 3D printing is so far one of the

most reliable and reproducible among other

techniques and hence is suited to producing

parts and design.

In addition, the microstructure that is

incorporated into Osteopore products

can be consistently reproduced in good

quality using this method. Also, the physical

properties of parts produced by this method

of 3D printing fit well with the needs of the

application area.

What are the available products?

Osteopore's product portfolio includes

Osteomesh, Osteoplug and Osteoplug-C

in various sizes. These are available offthe-shelf

to allow surgeons quick access

to products so that they can treat patients

as soon as possible. In addition, Osteopore

provides customised implants designed based

on the patient's and surgeon's treatment plan.

What are bone graft substitutes?

Traditionally, bone graft substitutes are

derived from animal, cadaveric, or synthetic

sources.

Osteomesh

Guided Bone

Regeneration

They are used to fill bone voids in the

skeletal system. Although their particulate

nature allows them to fill irregularly sized

bone voids easily, they do not provide

structural support to the skeletal system.

As a result, they are mostly used in smaller

areas of bone loss, or areas of lower stress

activation.

Why is porosity necessary?

Porosity is a basic requirement for bone

ingrowth and blood vessel ingrowth. It is

also representative of the natural structure

of bone: a highly porous and interconnected

pore system. Without an interconnected

pore system, bone tissue may consequently

grow around the implant rather than

through the implant – this may not lead

to the intended outcomes of bridging and

providing support to the skeletal system.

Are bone graft substitutes porous?

They are in a way, but there is a substantial

amount of variability depending on how

they are packed into the bone void. If they

are packed too tightly, the pores become

compressed or are isolated, making them

unamenable to the ingrowth of tissue. If

they are packed too loosely, it may not be

ideal for bone formation.

How does 3D printing create consistent

porosity?

3D printing with Osteopore's microstructure

allows us to define the pore spaces and

reproduce them consistently. In this

way, the consistency of providing open

channels for bone and vessel ingrowth is

ensured.

How does 3D printing enable the implant

to work?

The pillars of tissue engineering include

scaffolds, cells and growth factors.

Osteopore's technology provides a scaffold

that is bioresorbable and designed to allow

cells and growth factors to be incorporated

at the point of surgery. In our off-the-shelf

products, cells and growth factors can grow

into the scaffold structure due to the open

pore system.

How does the Osteopore design facilitate

bio-stimulation?

The combination of our choice of material,

3D printing technique, and pore design

allows the scaffold to withstand some level

of compression forces. This is important as

it allows these forces to be transmitted to

cells for them to experience appropriate

levels of mechanical stimulation to aid in

bone repair and growth. DA

ABOUT THE AUTHOR

Dr Lim Jing holds a

PhD from Nanyang

Technological University,

Singapore. Prior to

joining Osteopore,

Dr Lim researched

biomaterials for tissue

engineering and regenerative medicine and

developed material fabrication platforms.

He published 14 articles in internationally

peer-reviewed journals during that time.

Dr Lim joined Osteopore in December

2014 and has led Osteopore to important

regulatory and quality milestones,

expanded product and therapy portfolio

and contributed to the improvement in

manufacturing efficiency.

DENTAL ASIA JULY / AUGUST 2022 49
---
BEHIND THE SCENES

Digital denture –

The next big thing?

An insight into his everyday practice, Michael Wiernek, CEO and

founder of Tandprotetikeren Aarhus Laboratory, shares his personal

yet holistic view of digital dentures.

There is hardly an area of life that

has not yet been affected by the

far-reaching technical change in

recent years: Digitalisation is on

everybody's mind and, of course,

dentists and dental technicians and

their day-to-day practice have not

been left untouched.

This also holds for digital dentures,

according to Michael Wiernek, CEO

and founder of Tandprotetikeren

Aarhus Laboratory. From his base

in Denmark, Wiernek has over 22

years of work experience and is

also a denturist himself. Here, he

elaborates on the opportunities

and challenges in the area of digital

dentures.

hours. In the beginning, we couldn't

believe it ourselves, but it is true.

Did you go through a big learning

process for digital manufacturing

or was it easy and intuitive for

you?

Wiernek: For me, going digital has

been a unique yet tough journey,

which I started in March 2018.

The following six months involved

truly hard work because no one in

Denmark knew how to do it. After

the summer of 2018, I acquired a

lot of know-how, but still, I could

not do everything I wanted to. So,

I went outside Denmark to the US,

Holland and Germany to network and

exchange knowledge with experts in

the field. It took me many evenings

and nights trying to figure things

out at home, but after a year I fully

committed to it and it paid off. I

know almost everything about digital

dentures now and even when I do not,

I always find a way to make it work.

What convinced you to manufacture

your dentures with Ivotion, and what

difference do you see compared with

Do you only work digitally or do

you also manufacture conventional

dentures?

Michael Wiernek: We work only

digitally; never with conventional

dentures. I consider us to be an

almost completely digital laboratory.

My colleagues and I were one of

the first dental technician teams in

Scandinavia to use digital dentures.

As a result, we have created a

laboratory that almost eliminates

the need for gypsum for producing

dentures. With the digital denture

method, we have reduced 10 hours

of lab work to approximately 1.5

Michael Wiernek, CEO and founder of Tandprotetikeren Aarhus Laboratory

50 DENTAL ASIA JULY / AUGUST 2022
---
BEHIND THE SCENES

Upper and lower jaw dentures milled in

a PrograMill PM7

Wiernek designing an Ivotion denture in the 3Shape Dental System

how conventional dentures are

fabricated?

Wiernek: For me, the most

convincing argument was the fact

that with Ivotion, you have a full

denture plate in one, which no

one else can provide. In addition,

speed is an enormous advantage,

since you do not have to glue the

denture base and teeth together.

The biggest difference between

a conventional denture and

a digital denture is that I can

significantly reduce patient

visits by working with the

Ivotion Denture System. We

can cut them down from five to

six visits to two to three visits

per denture, and we are fully

done with satisfied and smiling

patients.

What was the feedback you have

received from your patients?

Wiernek: The feedback is

great because patients only

have to come for one or two

appointments before the denture

fits. The patients are much more

satisfied than in the past. They

have also become much more

relaxed since I can assure them

that the result will fit them

perfectly.

With Ivotion, they no longer have

the same pain level as with the

conventional method, since it is

not only much better and faster

but also fits them perfectly. In

addition, the reproducibility of

the created prosthesis is simple.

Digital dentures are an absolute

win from the patient's point of

view.

Did you invest directly in the

entire system or did you do it

in stages? You also purchased

a PrograMill PM7. How did you

feel when you made the decision

to purchase it and how would

you evaluate the situation

today?

Wiernek: In the beginning, I

started by using the scanner and

the 3Shape dental system. At a

very early stage, I also decided

to only implement and follow the

respective Ivoclar Digital Denture

workflow and take it step by step.

Ivotion Denture System helps Wiernek

deliver ideal results for his patients

Seven months later I made the next

move and got the lab scanner and

then the 3D printer.

About the PrograMill PM7, I thought

about it for two years, because of the

high investment amount. However,

I knew I could not resist because

the PM7 is a very capacious mill for

high productivity. If I am investing

in something new, I am going to

go with the best. I knew that in the

long run, I would invest in the PM7

anyway, knowing that if I wanted

to hire more denturists or increase

my production, the PM7 would be

the right one. I have never regretted

it, as for me it is the best available

machine. And it has paid off. DA

DENTAL ASIA JULY / AUGUST 2022 51
---
BEHIND THE SCENES

The bridge between virtual

platform and reality

With Dicom to Print (D2P) and Geomagic Freeform software,

practitioners can work interactively with patient-specific virtual models

to simulate surgical procedures and improve the planning process.

As a reseller of Oqton software

solutions, Chennai-headquartered

Graft3D Healthcare Solutions

provides design and metal 3D

printing of patient-specific

implants (PSIs). With its team of

PSI design engineers and medical

professionals including surgeons,

Graft3D can create individualised

implants for complex surgical

procedures using 3D solutions.

Rebuilding any anatomical defect

is a difficult skill that involves

surgeons manually shaping

modeling, and placing bone

cement, bone grafts, or titanium

meshes. Surgeons can use PSIs

to correct complex, symmetrical

anatomical defects and develop

healthcare treatment for greater

accuracy and shorter rehabilitation

times. Dental work is a prime

candidate for PSIs.

For example, a 50-year-old female

patient was having difficulty

chewing due to the loss of her

posterior teeth. Subperiosteal

implants are ideal for cases such

as atrophic maxilla and mandible

ridges. Using Oqton's D2P software

and Geomagic Freeform organic

3D design software, as well as

3D printing for the anatomical

model and implants, Graft3D

restored her edentulous jaw

Fig. 1: Conversion of DICOM to STL file in D2P software

with a subperiosteal implant

Image processing with D2P

and minimally-invasive surgery Dr Preetha referred the patient for

while improving results. Surgical a cone beam computed tomography

planning facilitated the precise

(CBCT) scan of both maxilla and

design of the implant and screw mandible with less than 0.6mm

position, which reduced repetitive slicing thickness. She rendered

drills during surgery.

the image in digital imaging and

communication in medicine (DICOM)

SURGICAL PLANNING

and converted it into an STL file

Graft3D CEO V. Iraimudi, BE,

using D2P software from Oqton,

MS (by research) designed and

which provides information including

analysed the patient-specific

bone density and soft tissues. The

implant. Dental surgeon Dr C.

D2P software has received a US FDA

Viha Preetha, BDS, processed the 510(k) device clearance, European

images and planned the surgery Economic Area (EEA) CE mark and

virtually with the maxillofacial

Israeli AMAR for medical use. Using

surgeon, Dr B. Karthick, MDS.

D2P, she extracted the exact amount

52 DENTAL ASIA JULY / AUGUST 2022
---
BEHIND THE SCENES

of bone exposed during CBCT

radiation to perform an accurate and

minimally invasive osteotomy (Fig. 1).

Plan and design with Geomagic

Freeform

Next, Iraimudi virtually planned and

designed customised subperiosteal

implants for every step of the

procedure using Oqton's Geomagic

Freeform software and a Touch haptic

device.

Fig. 2 Fig. 3

He imported the converted STL file

into Geomagic Freeform as an exact

virtual replica of the patient's jaw.

He then used Geomagic Freeform

and a Touch haptic device to design

the implant framework for location,

length, depth, and angle using the

interocclusal distance to position the

abutment length and angulation for

the prosthetic replacement

(Fig. 2).

By superimposing the pre-operative

impression over the mandibular

STL file in Geomagic Freeform, he

designed a custom implant and saved

time by assessing the procedure

50–60% faster, avoiding clinical

obstacles, and eliminating multiple

post-operative impressions and

patient appointments.

3D printing anatomical models and

implants with plastic and metal AM

Next, Iraimudi used the mandibular

STL file to 3D print an anatomical

model of the patient's jaw and

customised implants for the surgical

procedure with a combination

of plastic and metal additive

manufacturing (AM) technologies

(Fig. 3).

He had the anatomical model of the

patient's jaw 3D printed on a plastic

3D printer with fused deposition

modelling (FDM) technology using

PLA. He had the customised implants

3D printed on a metal 3D printer

using medical-grade titanium

Fig. 4 Fig. 5

Fig. 2: Customised implants and anatomical model designed in Geomagic Freeform

Fig. 3: 3D-printed plastic anatomical model of patient's jaw with customised metal implants

Fig. 4: Modified Ginwalla incision and elevated buccal flap

Fig. 5: Post-operative orthopantomogram

Ti6Al4V (Ti-64), which is compatible

with human anatomy.

SURGICAL PROCEDURE

The prosthetic replacement operation

was comprised of three steps that took

place over one week. The surgeon

informed the patient of each step

before surgery.

Dr Karthick diagnosed the patient

with a posterior edentulous mandible

and administered local anaesthesia

(inferior alveolar nerve block) to each

side of the mandible. Then, an alveolar

incision was performed in the middle

third of the premolar region (modified

Ginwalla incision) and the buccal flap

was elevated, relieving the underlying

periosteum (Fig. 4).

A customised subperiosteal implant

was placed on the edentulous ridge, on

each side of the mandible. Dr Karthick

also placed the screws and adjusted

the implants accordingly with minimal

bone scraping and closed the buccal

flap with simple suturing. Finally, a

post-operative radiograph was taken

(Fig. 5).

OUTCOME

Periodontal disease is the main cause

of edentulous conditions. Bone loss

occurs in infectious conditions, which

can lead to standard dental implant

failure. Clinicians can avoid such

outcomes by customising minimallyinvasive,

patient-specific subperiosteal

implants through surgical planning.

Using Oqton's D2P and Geomagic

Freeform software, clinicians can work

interactively with patient-specific

virtual models to simulate surgical

procedures and improve the planning

process. 3D-printed patient-specific

implants are the bridge between a

virtual platform and reality. DA

DENTAL ASIA JULY / AUGUST 2022 53
---
IN DEPTH WITH

Practice transformation with

Invisalign Outcome Simulator Pro

Align Technology introduces the next generation of its advanced patient

communication tool.

Invisalign Outcome Simulator Pro enables

doctors to show patients their potential new

smile after Invisalign treatment, using in-face

visualisation or 3D dentition view, all done

chairside in minutes.

It is available on iTero Element Plus Series

scanners and imaging systems, and expands

Align's existing Invisalign Outcome Simulator

technology. It adds the benefits of the

ClinCheck 'In-Face' Visualisation tool that

combines a photo of a patient's face with

their 3D treatment simulation, creating a

personalised view of how their new smile

could look.

"The Invisalign Outcome Simulator Pro

with in-face visualisation has completely

transformed my consultation process. It's

been a real game changer in driving case

acceptance as the emotional impact from

a patient seeing their smile transformation

in their own face is incredibly powerful,"

said Dr Johnathan Fitzpatrick, an aesthetic

and restorative dentist based in Glasgow,

Scotland, who participated in the limited

market release of the Invisalign Outcome

Simulator Pro. "I recently had a patient who

came in for a hygiene appointment and

ended up accepting an Invisalign treatment

after seeing the in-face visualisation of their

potential future smile."

Invisalign Outcome Simulator Pro supports

a more streamlined workflow and overall

consultation, making the most of patient

chair time. Patient photos are easily captured

on a mobile device using the Invisalign

Practice App and the scan is taken on

the iTero Element Plus series scanner.

With those digital patient images, the

Invisalign Outcome Simulator Pro starts

automatically in the background, enabling

doctors to continue the consultation

using other iTero tools in their chairside

discussions with their patients while

the Invisalign treatment simulation is

generated.

"The new Invisalign Outcome Simulator

Pro tool is a demonstration of our

continued commitment to bringing

greater efficiency and more value

to doctors through innovation and

simplified workflows via the iTero

Element portfolio," said Yuval Shaked,

executive vice-president, iTero scanners

and services business. "It is an exciting

new development that furthers Align's

vision of an integrated platform of digital

products and services, providing a

seamless solution for doctors to efficiently

and effectively treat their patients with

Invisalign clear aligners and to build their

practices through a holistic, end-to-end

digital treatment experience."

"Invisalign Outcome Simulator Pro is

another example of our drive to empower

doctors with the latest advances in dental

science and technology via the Align

Digital platform to help doctors transform

smiles and change lives with Invisalign

treatment," said Raj Pudipeddi, chief

product and marketing officer, executive

vice-president and managing director,

Asia-Pacific.

Invisalign Outcome Simulator Pro is

currently in limited market release and

will be available on all iTero Element Plus

Series scanners and imaging systems

starting in H2 2022. DA

54 DENTAL ASIA JULY / AUGUST 2022
---
IN DEPTH WITH

Celebrating the anniversary of

Zolid zirconia

This year, Amann Girrbach celebrates two anniversaries at once: 15 years of

zirconia production at the Austrian site and 10 years of Zolid.

Amann Girrbach, a manufacturer in

the field of zirconia, is celebrating two

anniversaries this year: 15 years ago, the

company produced zirconia blocks for

the fabrication of dentures for the first

time, and exactly 10 years ago, the Zolid

brand was launched. Customers will

therefore receive a 10-year warranty

on all Zolid materials as of immediate.

At the same time, Amann Girrbach will

be hosting various webinars on zirconia

throughout the year under the hashtag

#nosurprisezirconia.

Amann Girrbach was one of the first

companies to start manufacturing

zirconia for dentures 15 years ago. Due

to the rising demand for increasingly

aesthetic zirconias and the desire

for increased cost-effectiveness and

process reliability, the manufacturer

introduced the Zolid brand five

years later. With Zolid, computeraided

design (CAD)/computer-aided

manufacturing (CAM) blanks that

achieved high aesthetics without

requiring complex veneering processes

were available to users.

Since then, the company has

been continuously developing the

corresponding materials and processing

methods. Meanwhile, blanks such as

the Zolid Gen-X allow for life-like

restorations with integrated colour

gradients in 16 Vita shades. Amann

Girrbach reported that in the context

of quality assurance, only the best

raw materials are processed using the

strictest test methods and certified

processes. To give an example, it is

one of the first dental companies to be

certified by the new Medical Device

Regulation (MDR), thus supporting users

in complying with MDR obligations.

"This year we are celebrating two

special anniversaries that once again

demonstrate that we at Amann Girrbach

are constantly driving the boundaries

of technical possibilities forwards.

At the same time, we are taking this

opportunity to underline our quality

promise with a 10-year warranty

on all Zolid materials," said Melanie

Röschmann, director of global business

unit — consumables at Amann Girrbach.

"We view ourselves as a holistic system

provider and support our customers

along the entire customer journey. With

this in mind, we will also be focusing

more on training and education in the

coming years about zirconia. This year,

we will be kicking off with a series of

webinars on the subject of working with

zirconia." DA

DENTAL ASIA JULY / AUGUST 2022 55
---
PRODUCT HIGHLIGHTS

Mectron

Next-generation ultrasonics

Mectron has developed Micropiezo,

a piezoelectric scaler designed to

simplify day-to-day clinical practice.

Micropiezo helps to minimise

patients' discomfort when

undergoing a treatment, which, in

turn, increases the quality of care for

both the patient and the clinician.

The compact, ergonomic and

minimalistic MICROPIEZO device is

the ideal solution for meeting the

needs of hygienists and their patients.

Supporting the needs of hygienists

and their patients, the compact and

ergonomic Micropiezo is packed

with a ultra-slim ultrasonic handpiece

with circular LED light for optimal

illumination surrounding the treatment

area at all times and a multifunctional

touch keyboard with colour coding

according to the clinical indication

selected.

Micropiezo features three functions

with 12 dedicated power settings:

scaling and perio, endodontic and

prosthetics.

The Soft Mode ensures ultra-gentle

scaling for sensitive patients. This

function avoids excessive ultrasound

oscillation, allowing a gentle and

efficient insert movement. ■

Kerr Dental

Power obturation with no strings attached

Obturation is a critical step in root canal

procedure as it helps to prevent leakage,

entomb remaining bacteria and reduce the

chance of reinfection.

The elements IC obturation system from

Kerr Dental is designed to be used with

the Continuous Wave warm vertical

condensation technique. The new extended

battery life and inductive charging base

makes the elements IC the latest technology

for 3D endodontic obturation without cords

or wires getting in the way.

With elements IC, users can get excellent,

predictable results faster and easier, and

rely on its longer lasting battery, inductive

charging, and a comfortable, ergonomic

design.

The downpack device provides fast heating

of the heat plugger with precisely controlled

temperature and timing, making it suitable

for single-motion downpack obturation of the

apical portion of the root canal. It features an

adjustable heating range from 140-400°C and

heats to 200°C in less than 0.5 seconds.

The ergonomic backfill device features

a motorised extruder system for precise

temperature and speed control for a 3D

obturation of the root canal system, utilising

single-use gutta percha cartridges.

"I really liked elements IC. Thanks to the

developments, it is faster and more efficient

to work with, than elements Free. I like that

I can check the gutta percha level on the

backfill unit. Easier to keep it clean thanks

to the new induction charger. My assistant

loves it. Thanks to the ring button on the

backfill unit more comfortable to use under

microscope," said Dr Janos Zoltan from Nagy,

Hungary. ■

56 DENTAL ASIA JULY / AUGUST 2022
---
PRODUCT HIGHLIGHTS

DENTAL ASIA MAY / JUNE 2022 57
---
PRODUCT HIGHLIGHTS

VITA

The system solution for zirconia reconstructions

Vita YZ Solutions makes it possible to

have a precise and accurate shade

production of fully or partially veneered

and monolithic restorations.

It is a coordinated material system made

from ZrO2 blanks and accompanying

system components, such as liquids and

stains, and available as non-coloured,

monochromatic and multichromatic

versions in up to four translucency levels

(T/HT/ST/XT).

Vita YZ Solutions reproduces tooth shades

usinga material system with ideally matched

components and create highly accurate

restorations with material blanks with edge

stability, homogeneous microstructures and

tested sintering properties.

Users are able to achieve efficient, solid and

aesthetic results thanks to tooth-shaded

pre-coloured (multi)colour blanks with good

shades matching to the Vita classical A1–D4

shade guide. ■

Ultradent

LED curing light suited for all photocurable dental materials

Equipped with a lens that is 50% larger

than other lights, the VALO Grand Curing

Light has all the features of the VALO

Curing Light family. The 12mm lens is

designed to easily adapt to 10mm size

molars for fast and effective curing. The

second operation button at the bottom

allows for more intuitive operation.

VALO Grand Lights use custom multiwavelength

LEDs required to produce

high-intensity light from 385-515nm

to polymerise all photocurable dental

materials. With this strength, it can

penetrate even ceramic materials and

harden the base resin cement, similar

to high-quality halogen light.

All VALO Grand Hardened Light

products start from solid rods of highgrade

aerospace-reinforced aluminium

that are precision-machined in

Ultradent, Utah, US. The one-piece

construction ensures durability

and provides improved

heat dissipation.

With an ergonomic and streamlined

design, the VALO Grand Light can easily

reach all treatment areas. Aluminium

rods, machined components and

tempered glass lenses create the most

durable hardened light.

VALO Grand Wired Curing Lights

have a medical grade, internationally

approved power supply and are suitable

for 100-240V electrical outlets. These

handpieces can be fitted into standard

dental unit brackets or custom mounted

using the brackets included in the kit.

The VALO Grand Wireless Curing

Light is powered by two rechargeable

lithium iron phosphate batteries that

consistently provide the high-energy

power required by the VALO light. ■

58 DENTAL ASIA JULY / AUGUST 2022
---
PRODUCT HIGHLIGHTS

GC Asia Dental

Force-absorbing hybrid ceramic CAD/CAM block

GC Dental's CERASMART270 is developed

using the full-coverage silane coating

(FSC) technology, a filler treatment

method for homogeneous filler dispersion,

having a great impact on physical

properties.

A stronger bond between the filler and

matrix is achieved, together with an

increase in filler load, resulting in a

stronger material with improved aesthetic

properties.

With its improved strength and wear

resistance, the surface of CERASMART270

remains smooth and glossy over time,

which is not only beneficial for the

aesthetic appearance, but also limits the

wear of the opposing dentition.

The improved breaking energy

and flexibility of the material are

contributing to buffer the masticatory

forces. This makes the material suitable

for treatment of the worn dentition.

The milling of CERASMART270 is fast

and efficient, making it possible to

create restorations with precise, fine

margins and an optimal fit in a very

short time.

Additionally, it can easily be polished,

saving time and money. When higher

aesthetics outcome is desired, the

material can easily be glazed and

characterised using the wear resistant

coating OPTIGLAZE colour.

The flexibility of CERASMART270 also

lies in its ability to be either sandblasted

or etched before luting, so that it adapts

to every practice. ■

DENTAL ASIA JULY / AUGUST 2022 59
---
PRODUCT HIGHLIGHTS

Neoss

Scan with precision

As part of Neoss' milestone celebration,

delegates at the Neoss Integrate 2022

congress in Gothenburg, Sweden were

given the first access to the NeoScan

1000 intraoral scanner which is set for full

commercial launch in September 2022.

The NeoScan 1000 is an intraoral scanner

that supports a flexible workflow with

open and compatible output.

"The NeoScan 1000 is a superfast,

lightweight, and easy-to-use scanner. I

had the pleasure of being part of early

testing and have used the scanner for

several digital impression indications at

my clinic with excellent results. Digital

dentistry is in need of more cost-efficient

solutions so that clinicians can use it to

its full potential. The NeoScan 1000 has

the potential to do just this," said Dr

Marcus Dagnelid, DDS, board-certified

prosthodontist.

With a simplified cable connection,

full-touch screen support, and without

the need for powder or pre-heating, the

NeoScan 1000 delivers the practice's

need at a competitive price. Its motioncapture

feature and buttons on the

handpiece allows users to complete the

entire process of scanning, optimising,

and exporting without touching the

computer.

Moreover, thanks to high-resolution

and true-colour images, it allows users

to distinguish tooth structure and soft

tissues, so that margin lines and undercut

areas can be easily identified.

"I am excited to introduce the NeoScan 1000

into our range of intuitive dental solutions.

The performance of the scanner is beyond

my expectations with clear competitive

advantages. The scanner will allow Neoss' to

significantly expand its proprietary digital

dental offering," said Dr Robert Gottlander,

CEO and president of Neoss Group. ■

W&H

Innovative tools for excellent preparation results

The Synea dental turbine line from W&H

comprises two key handpieces - Synea

Fusion and Synea Vision - that can be

adopted for daily clinical needs.

Synea Vision is the instrument line in

the Synea series. It features two head

sizes and delivers a quiet operation due

to ceramic ball bearings and the gearing

technology, WK-99/WK-93.

Synea Vision has a comprehensive

protection and long-term value

retention with the new surface coating.

Grip and ergonomics are enhanced with

optimised shank profile and monobloc

design.

The compact glass rod allows for

illumination of the treatment site paired

with durable instrument construction

with stainless-steel external parts that

can be disinfected with thermo washer

and is sterilisable. It also has an integrated

maintenance-free spray filter for top water

quality.

On the other hand, Synea Fusion assures

clinicians with proven Synea quality at an

outstanding price. It has long lifespan and

quiet running with ceramic ball bearings

for model WG-99. It has optimum access,

offering best view due to small head-size.

Synea Fusion features safe cooling with

Quattro Spray (four port spray) for model

WG-99 and monobloc design for optimum

hygiene and ergonomics. ■

60 DENTAL ASIA JULY / AUGUST 2022
---
PRODUCT HIGHLIGHTS

DÜrr Dental

Compressed air meeting the

highest demands

→ DISCOVER PERFECTION

IN PROPHYLAXIS -

THE NEW COMBI touch

As a member of the Dürr Dental portfolio, the Tornado

series of compressors are said to consume less energy

while boosting increased efficiency to help users

reduce their practice's operating costs and protect the

environment at the same time.

→ ultra-gentle prophylaxis

→ ergonomic handling

→ made in Italy

→ 40 years experience

The Tornado series of compressors is equipped with a

membrane drying unit that ensures the power of the

compressor is always available. Furthermore, it also

enables a continuous supply of dry compressed air even

in continuous operation.

In terms of audibility, the compressor unit ensures quiet

operation for both the practitioner and the patient at

just 56dbA made possible via the aerodynamic, soundabsorbing

housing.

All compressor components are designed to operate for

10,000 hours, which is equivalent to about 20 years of

service life, Dürr Dental claimed. However, the filters are

recommended to be changed regularly.

The Tornado range comes in three designs: one-cylinder

unit and 20-litre tank for one user, two-cylinder and

20-litre tank for two users, and four-cylinder compressor

with 50-litre tank to cater four users in the operatory. ■

→ www.mectron.com

DENTAL ASIA JULY / AUGUST 2022 61
---
PRODUCT HIGHLIGHTS

BUSCH

Filigree all-ceramic cutters

From Busch is a new range of Kera cutters of

ceramic materials for rotary instruments. The

ceramic material is 25% up to 60% lighter,

according to Busch, offering a different

cutting experience and milling behaviour for

both patient and user. These ceramic tools

can also be fully disinfected and sterilised.

Application advantages are evident in terms

of processing acrylics and zirconia blanks. Its

ceramic white surface brings sophistication,

making it ideal for chairside use when

processing splints or plastic prostheses in

the treatment room.

The medium (X) and fine X-cut (FX) are

used for shaping and precision milling, the

effective GQSR cut guarantees excellent

results when processing non-hardening

acrylics. ■

All-ceramic cutters, one per cut type and

application

Carestream Dental

Making CBCT even more intuitive

Carestream Dental has launched the Neo Edition

of the CS 8200 3D family. The Neo Edition is

an evolution of the CS 8200 3D, and optional

Scan Ceph module, that improves ease of use,

contributes to a better clinical experience, and

leads to more successful outcomes for patients.

As with the original CS 8200 3D family, the

Neo Edition includes 2D panoramic imaging,

CBCT imaging, 3D object scanning and optional

cephalometric imaging. Up to nine selectable

fields of view (FOV), from 4x4cm to 12x10cm,

cover both daily clinical applications and more

advanced treatments.

To reassure doctors that they are seeing the full

picture, and to reduce dose for full arch scans

on smaller patients, the Neo Edition features

additional FOV including 10x5cm and 10x10cm.

For endodontists focusing on even the smallest

details of root and canal morphology, the

EndoHD mode delivers high-resolution scans

(75µm); the system can even capture full arch

images at the highest resolution for endodontic

scans, making it ideal for cases involving multiple

quadrants and teeth.

Doctors who introduce CBCT to their practices

are often looking to expand their treatment

capabilities, like placing implants or designing

surgical guides. So, the new 5x8cm FOV of

the CS 8200 3D enables doctors to easily

capture opposing teeth to better manage

occlusion for implant cases. Optional add-on

software, and modules like Prosthetic-Driven

Implant Planning and Swissmeda, integrate

with the CS Imaging software suite to help

doctors create more comprehensive implant

treatment plans, or design and order surgical

guides.

To facilitate proper patient positioning, a

low-dose scout image lets users control

the imaging area prior the examination to

reduce the need for retakes. Follow-up exams

are also faster and easier to compare over

time since the unit memorises the scanning

parameters used for each.

Plus, the system's new user interface makes

it easier, faster and more intuitive to set up

the unit for exams—meaning fewer clicks and

more confidence. And since panoramic image

remains the foundation of most treatment

plans, the system comes with a new low dose

panoramic programme, reducing dose to 50%.

Once CBCT is adopted into their practice,

doctors will want to ensure they are gaining

the most from their investment. The optional

CS UpStream, an advanced equipment

monitoring service, leads to faster, more

responsive service while reducing equipment

downtime through automated diagnostic

feedback to Carestream Dental. CS UpStream

is available as an add-on to the CS Advantage

programme. ■

62 DENTAL ASIA JULY / AUGUST 2022
---
SHOW REVIEW

GC's centennial anniversary

celebrations continue at

GC International

Having unveiled a new company

motto "100 years of Quality in Dental"

last February, GC hosted numerous

celebratory events globally to mark

its centennial anniversary. The latest

celebration, hosted by GC International,

took place at the Grand Casino Luzern

in Switzerland on 25 Apr 2022.

Over 250 attendees were at the event

where they had a glimpse into GC's

plans for the next decade. Among

the guests were Prof Ihsane Ben

Yahya, president of the FDI World

Dental Federation; Kojiro Shiraishi,

ambassador of Japan to Switzerland;

and Prof Dr Christian Schwarzenegger,

vice-president of the University of

Zurich.

The opening remarks were delivered

by Dr Kiyotaka Nakao, president

and CEO of GC Corporation and GC

International. He expressed gratitude

to all stakeholders and highlighted the

advancements in dentistry as well as

the growth and evolution of GC going

forward.

GC International was established in

the Swiss city in 2013 to facilitate

GC's internationalisation, promote

new product development on a global

scale and manage other multinational

business operations. As GC's global

headquarters, GC International leads the

organisation towards its Vision 2021

strategy, which is to become the leading

dental company committed to realising

a healthy and long-living society.

Prior to the celebration in Luzern, GC

hosted the fifth International Dental

Symposium at the Tokyo International

Forum from 16-17 Apr 2022. This

educational event gathered over 100

lecturers across the globe, united around

the symposium's theme of "Smile for

the World – Beyond the Century".

The symposium held a total of 28

educational sessions where attendees

gained insights into dentistry and had a

hands-on experience with the latest GC

products and equipment. DA

GC Chairman Makoto Nakao

DENTAL ASIA JULY / AUGUST 2022 63
---
SHOW PREVIEW

Dentsply Sirona

announces the return off

DS World 2022

Dentsply Sirona World 2022 will once

again bring together the ultimate

experience in digital dentistry with

a line-up of clinicians, industry

professionals and speakers as well as

multiple networking opportunities.

Taking place from 15-17 Sep 2022

at the Caesars Forum in Las Vegas,

DS World 2022 will be hosted by

Dr Sameer Puri, vice-president of

education at CDOCS, who said: "This

event offers an opportunity to engage

with dental experts, gain access

to the latest education course and

innovation in dentistry and earn CE

credits.

"It allows dental professionals to

be the first to experience the latest

systems and equipment, get hands-on

with the most cutting-edge technology

in the dental industry and discover

how to apply these learnings to grow

their practice."

One highlight at DS World 2022 will

be the live surgery component where

Dr Farhad Boltchi, a periodontist and

CDOCS resident faculty member, will

perform simulcasted dental surgery

live. Attendees will be able to follow

the entire implant surgery process

and witness how digital technology

can help achieve desired outcomes.

Full practices are encouraged

to attend with a new Bring your

Team offer to enable all dental

professionals to meet and learn

from each other.

Besides educational activities, DS

World 2022 will also provide

entertainment with performances

from rock band Journey and

comedian David Spade.

And as part of Dentsply Sirona's

commitment to transforming

dentistry to improve oral health and

engaging dental professionals all over

the world, the company has extended

this experience in digital dentistry

beyond the US. Local DS World events

will also be held in Madrid, Spain, from

16-17 Sep 2022 , and in Fethiye, Turkey,

from 27-29 Oct 2022. DA

Dr Sameer Puri, vice-president of

education at CDOCS, will be the host for

DS World 2022, which is scheduled to

take place from 15-17 Sep 2022 at the

Caesars Forum in Las Vegas

64 DENTAL ASIA JULY / AUGUST 2022
---
SHOW PREVIEW

DentalForum APAC 2022:

A networking hub for regional

dental professionals

The Asia-Pacific dental industry

will be coming together to discuss

topics such as artificial intelligence

(AI) in dentistry, procurement trends

and the effects of the Dental Service

Organisation (DSO) model on the

sector at DentalForum APAC 2022.

Industry professionals will be joined

by a range of international suppliers

and solutions providers to explore the

future of dentistry in Asia, Australia

and New Zealand.

Several senior dentists, practice

owners and clinical directors from

Singapore, Malaysia, Indonesia,

Vietnam and Australia have confirmed

their attendance, which will not only

see presentations from industry

innovators but also the return of

DentalForum's one-on-one meetings

between dental groups and suppliers.

The keynote speech will be delivered

by Dr Vimal Arora, CCO of Clove Dental,

who will examine the DSO model's

effect on the industry landscape.

DentalMonitoring will be investigating

the future of AI in dentistry, and there

will be a presentation of the findings of

Group Dentistry Now's global survey on

procurement.

With such rapid changes in the

industry, DentalForum APAC 2022

offers an opportunity for industry

peers to meet, reflect and share best

practices. Attendees will also be able

to network, develop and grow their

practice.

Organised by OpenRoom Events,

this will be the second iteration of

DentalForum APAC and will mark

a return to the region after a threeyear

hiatus due to the pandemic.

It adds to OpenRoom's portfolio

of DentalForum events, which are

already crucial fixtures in the US, UK

and European dental industry. Next

year, DentalForum will also expand

into the Middle East and North Africa

(MENA) region.

DentalForum APAC 2022 will take

place from 15-16 Aug 2022 at the

Shangri-La Hotel in Singapore. DA

DENTAL ASIA JULY / AUGUST 2022 65
---
GIVING BACK TO SOCIETY

FDI and Toothy Tigers team up

Led by Prof Peter Mossey, FDI's Oral Health

in Comprehensive Cleft Care Task Team

has teamed up with the Dundee University

Dental School students, called "Toothy

Tigers", to produce age-specific leaflets

for people born with cleft as well as their

families and caregivers.

A total of five leaflets have been developed

for age groups ranging from 0 to above

18 that provide tips on preventing oral

diseases such as reducing the frequency

and amount of sugar consumed and visiting

the dentist regularly. They also offer advice

on cultivating good oral hygiene habits from

a young age such as brushing teeth twice

daily, using a toothpaste with fluoride, and

flossing everyday.

Recently Toothy Tigers, whose aim is to

educate children about the value of their

oral health, were selected to present

posters showcasing their contribution to

the cleft care leaflets during two events,

including at the National Education for

Scotland virtual conference in April 2022.

They also provided children with guidance

on how to maintain good oral hygiene as

well as dietary tips, during educational oral

health workshops.

TWO ORGANISATIONS WITH A

COMBINED GOAL

FDI and Toothy Tigers believe it is crucial

to educate, guide and encourage children

to adopt positive habits from their

youngest years to reduce dental fear and

set in motion good oral health practices for

life. FDI encourages everyone to use the

leaflets to either learn about cleft care or to

educate patients with cleft, their families and

caregivers about the importance of taking care

of their mouth to live with a healthy smile.■

exocad supports National Association of Dental Laboratories Disaster

Relief Fund for US lab industry

exocad has donated €10,000 to the USbased

National Association of Dental

Laboratories (NADL) Disaster Relief Fund,

a portion of which included proceeds

made from a charitable t-shirt campaign at

International Dental Show (IDS).

"On behalf of the National Association of

Dental Laboratories we are grateful for

the significant contribution by exocad to

NADL's Disaster Relief Fund," said Tad

Friess, president of NADL. "The Relief Fund

was established by NADL in 2005 after

Hurricane Katrina. Since the fund was

launched, the Relief Fund has provided

emergency assistance to hundreds of

dental laboratory professionals who have

been personally or professionally impacted

due to damage stemming from hurricanes,

tornadoes, wildfires, floods and other

natural disasters. exocad's contribution will

ensure NADL is able to continue to provide

emergency assistance to those impacted."

exocad contributes this effort to provide

financial assistance to dental laboratory

professionals affected by natural disasters.

"The impact of natural disasters touches

everyone," said Tillmann Steinbrecher, CEO

of exocad. "We are glad we can help support

people in the dental lab industry who are

facing hardships."

NADL is a trade organisation representing

nearly 1,000 commercial laboratories in

the US. ■

66

DENTAL ASIA JULY / AUGUST 2022
---
EVENTS CALENDAR

AUGUST

4 – 7 Malaysia International Dental Exhibition and

Conference 2022

Kuala Lumpur, Malaysia

Venue: Kuala Lumpur Convention Centre

https://web.mda.org.my/midec2022

11 – 13 The International Vietnam Dental Equipment

and Materials Exhibition

Ho Chi Minh City, Vietnam

Venue: SECC – 799 Nguyen Van Linh Str., Dist 7

http://vietnamdental.com.vn

15 – 16 DentalForum APAC 2022

Singapore

Venue: Shangri-La, Singapore

https://openroomevents.com/dentalforum-

apac-2022.php

18 – 20 NZDA Conference and Expo 2022

Christchurch, New Zealand

Venue: Te Pae

https://www.nzdaconference.org.nz

20 – 21 Interdental Indonesia 2022

Jakarta, Indonesia

Venue: Pullman Hotel Jakarta Central Park

https://www.asa-exhibitions.com/interdental

24 – 26 The 5th Medical Philippines 2022

Manila, Philippines

Venue: SMX Exhibition and Convention Center

http://www.philmedical.com

25 – 27 Indo Healthcare Expo

Jakarta, Indonesia

Venue: Jakarta International Expo

https://indohealthcareexpo.com

27 – 28 Famdent Hyperabad

Hyperabad, India

Venue: Hitex Exhbition Centre

https://www.famdent.com/famdent-hyderabad

SEPTEMBER

13 – 16 China Dental Show 2022

Shanghai, China

Venue: National Exhibition and Convention Center

http://www.chinadentalshow.com/en

15 – 17 Dentsply Sirona World 2022

Las Vegas, NV, US

Venue: Caesars Forum

https://www.dentsplysirona.com/en-us/ds-world.html

26 – 29 Dental Expo 2022 – The 52nd Moscow

International dental forum and exhibition

OCTOBER

Moscow, Russia

Venue: Crocus Expo Fairgrounds

https://en.dental-expo.com/dental-expo-en

7 – 9 International Dental Exhibition and

Meeting 2022

Singapore

Venue: Marina Bay Sands, Singapore

https://www.idem-singapore.com

13 – 15 Central Asia Dental Expo 2022 (CADEX) -

6th International Dental Exhibition

Almaty, Kazakhstan

Venue: ATAKENT Expo 11th Pavilion Timiryazev Str

https://cadex.kz/en

13 – 15 Dental World 2022

Budapest, Hungary

Venue: HUNGEXPO Budapest Fair Center

https://dentalworld.hu/dental-world-2022-en

With the evolving COVID-19 situation, kindly check with

organisers for updates on the related events. Please refer to the

local airports' websites for the latest travel advisories too.

DENTAL ASIA JULY / AUGUST 2022 67
---
ADVERTISERS' INDEX

COMPANY

PAGE

3Shape A/S

Inside Front Cover

3Shape A/S 1

Align Technology 5

Anthogyr France 11

Carestream Dental 7

Coltene 45

Dentsply Sirona

Outside Back Cover

exocad GmbH

Inside Back Cover

IDEM Singapore 57

Mectron 61

Mectron 9

Medical Protection Society 3

Rolence 59

For information, visit us at www.dentalasia.net or

contact us at sales@pabloasia.com

Shofu Dental Asia-Pacific 37

VITA 13

@dentalasia

VOCO 23

Company Registration No: 200001473N

All rights reserved. Views of writers do not necessarily reflect the views of the Publisher. No part of this publication may be reproduced in any form or by any means, without

prior permission in writing from the Publisher and copyright owner. Whilst every care is taken to ensure accuracy of the information in this publication, the Publisher accepts no

liability for damages caused by misinterpretation of information, expressed or implied, within the pages of the magazine. All advertisements are accepted on the understanding

that the Advertiser is authorised to publish the contents of the advertisements, and in this respect, the Advertiser shall indemnify the Publisher against all claims or suits for

libel, violation of right of privacy and copyright infringements. Dental Asia is a controlled-circulation bi-monthly magazine. It is mailed free-of-charge to readers who meet a set

of criteria. Paid subscription is available to those who do not fit our terms of control. Please refer to subscription form provided in the publication for more details.

Printed by Times Printers Pte Ltd

68

DENTAL ASIA JULY / AUGUST 2022
---
LEARN.

CONNECT.

ENJOY.

October 3–4

SECURE

YOUR

TICKET

Secure your ticket to Insights 2022!

Join exocad on the sun-soaked island of Mallorca for this year's premier digital dentistry

event. Enjoy our exciting program of software demos, partner lectures and international

guest speakers. Then unwind to live music at our fabulous welcome party.

Don't miss out. Book today!

exocad.com/insights2022
---
Only

makes it happen

Digital solutions for

Chairside Dentistry

Learn more about

www.dentsplysirona.com/CEREC

CEREC SpeedFire

CEREC Primemill

CEREC Primescan