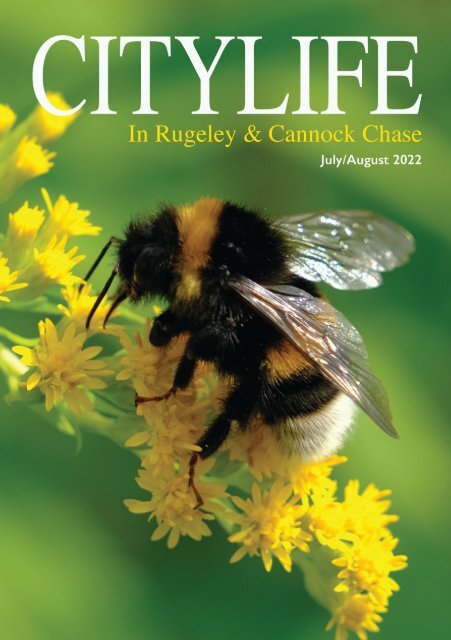 Citylife in Rugeley and Cannock Chase July August 2022
We're looking forward to those lovely Summer Nights in our July and August magazine! Long sunny days (hopefully!), friends and family round for a barbecue, long, tall, cool drinks in the beer garden, or wonderful walks through the glorious Staffordshire countryside - what a way to spend the summer! We have our usual mix of recipes, local news, history features, top tips on the best places to eat and drink and more. So, step out in to the garden, pour yourself a chilled glass of orange juice (or something stronger!), put the sunshades on and have a read of our super-summery July and August magazine - and enjoy!
We're looking forward to those lovely Summer Nights in our July and August magazine! Long sunny days (hopefully!), friends and family round for a barbecue, long, tall, cool drinks in the beer garden, or wonderful walks through the glorious Staffordshire countryside - what a way to spend the summer!
We have our usual mix of recipes, local news, history features, top tips on the best places to eat and drink and more. So, step out in to the garden, pour yourself a chilled glass of orange juice (or something stronger!), put the sunshades on and have a read of our super-summery July and August magazine - and enjoy!
SHOW MORE
SHOW LESS
Create successful ePaper yourself
Turn your PDF publications into a flip-book with our unique Google optimized e-Paper software.
3
---
Welcome to

CITYLIFE

Welcome to CITYLIFE in Rugeley & Cannock

Chase, a bi-monthly magazine bringing you our pick

of the area's news, events and stories. Every other

month CITYLIFE in Rugeley & Cannock Chase is

delivered to businesses and homes in Rugeley,

Cannock Chase, Heath Hayes, Ravenhill,

Etchinghill, Slitting Mill, Armitage, Handsacre,

Colton, Hamstall Ridware, completely free of

charge; bringing you the best that the area has

to offer.

Each issue features heritage stories exploring the

rich history of our area, plus competitions,

interviews and the latest in fashion and style.

Got a story or charity event you want to share with

our readership? Think you've snapped an image that

captures the spirit of the region? We want to hear

from you!

CITYLIFE Contacts

Editor - Kristen Lackajis 07885 380632

kristencitylife@gmail.com

Features - Jono Oates 07785 757201

jonocitylife@gmail.com

Advertising -

Steve Brown 07740 166497

stevebrowncitylife@gmail.com

Rebecca Hill 07970 513144

rebeccahillcitylife@gmail.com

Mike James 07900 982456

mikejamescitylife@gmail.com

Design - Helen Smith 07967 154187

helencitylife@gmail.com

Citylife In Lichfield Ltd

PO Box 7126 LICHFIELD WS14 4JS

CITYLIFE in Lichfield and CITYLIFE in Rugeley and

Cannock Chase magazines are not connected to any

other publication or publisher, and are wholly owned

by CITYLIFE in Lichfield Ltd.

Inside...

6 Local News

What's been happening in

and around the area

14 A Walking Wonderland

Alison Thornhill tells us

more about the Trent Valley

Way

20 A Window on the Past

The Landor (local history)

Society takes us back in time

25 Contemporary

Countryside Dining

We taste the delights on

offer at The Deer Park

32 How Does Your Garden

Grow?

Gardening tips from Piper

Nurseries

Citylife In Lichfield

@citylifelichfield

@lichfieldcity

www.citylifeinlichfieldltd.co.uk

Citylife in Lichfield Ltd does not endorse any

business or organisation appearing in these

pages, and the publication of any

advertisement, editorial, event listing or

advertising editorial does not constitute an

endorsement by Citylife in Lichfield Ltd.

4
---
5
---
LOCAL NEWS

6

New Safety

Campaign for

Women

A new campaign addressing

women's safety has launched

across the district as part of

Cannock Chase Council's

ongoing safeguarding work.

The new campaign, named 'Get

Home Safe,' aims to prompt

women and girls to think about

how they will get themselves

home on a night out and

provides useful tools for women

and young girls to get home

after a night out.

Local pubs and taxi drivers

across the district have signed

up to the campaign and

promotional messages are being

advertised in venues and

vehicles. These include window

stickers, bar wobblers, beer

mats, posters, and table cards.

Visit

www.cannockchasedc.gov.uk/ge

thomesafe.

...........................................................

LHCRT Tree

Dedication

Lichfield and Hatherton Canals

Restoration Trust (LHCRT)

attended a very special

dedication of a memorial tree.

A 2.5m rowan stands tall on the

route of the Lichfield Canal near

the footpath linking Longbridge

Road to Tamworth Road and is

dedicated to Margaret Cross,

who died of motor neurone

disease, by her family.

About 30 friends and family

from all over the UK and the

world attended, and tributes

were made to Margaret's

commitments to community

projects.

...........................................................

Dual Stream

Service

Launched

New blue bags to recycle paper

and cardboard have made their

way to residents as part of the

dual stream recycling service.

This new service gives residents

additional recycling capacity and

also results in better quality

recycling by avoiding

contamination.

The Council's contract for the

sorting of dry mixed recycling

came to an end earlier this year.

The new contract includes the

requirement for paper and card

to be collected separately to all

other dry recycling materials.

If the Council were to continue

to recycle as it were it would

have seen a fourfold cost

increase per ton to Cannock

Chase taxpayers. Therefore, the

dual stream collection service is

saving those costs.

...........................................................

Sleep Out to

Kit Out!

Members of Cannock

Soroptimists, Jackie Prince, Val

Jones, Adrienne Hewitt and

Olivia Lyons-Hughes, joined

Rotary and Cannock & Stafford

League of Friends recently in a

'Sleep Out to Kit Out' event,

held at Cannock College.

This involved spending the night

in a cardboard box 'bed' to raise

awareness for the homeless and

what they must endure.

The event raised over £6,000

which will be placed in a fund

which any organisation or

charity can apply to help the

homeless or someone move

from hostel accommodation to

their own home.

The ladies were presented with

certificates and letters of thanks

from Rotary and the League of

Friends.

Find out more about SI Cannock

at www.sigbi.org/cannock-anddistrict.
---
Here at Just Granite Ltd, we pride ourselves on being the experts for any worktop needs

you may have. Be it a beautiful bespoke and unique kitchen worktop, a bar, bathroom or

even a barbecue area, we have an extensive in-house range ready to be chosen by you! We

stock a varied range, in a variety of materials, such as our own competitively priced quartz,

granite, marble and porcelain, as well as all the top brands from around the world.

There really is no reason to go anywhere else!

Win a Granite Chopping Board

If you require our services please do not

hesitate to call us on 01785 711096 or email

your quote request to stef@justgranite.ltd.uk

With the largest variety of natural stones in

the Midlands, the solid slabs are kept on-site and

are available for a virtual viewing from 9am-5pm

on Monday to Friday. Located at The Stone

Works, Pillaton Hall Farm, Penkridge, ST19 5RZ.

We've got a bespoke Chopping Board (in

the colour of your choice) to give away!

To be in with a chance of winning this

magnificent prize, simply answer the

following question correctly:

Where does the supply

of granite come from?

a) Spain

b) Italy

c) Germany

To enter, just send your name, contact details and

answer to Just Granite Competition at

competitioncitylife@gmail.com or post your entry to

Citylife in Lichfield Ltd, PO Box 7126, Lichfield WS14

4JS by the closing date of 30th August 2022. One entry

per household. Multiple entries will be disqualified. No cash

equivalent. Please note you must be 18 or over to enter. All

entrants' information is processed in line with GDPR Data

Protection Regulations and our Privacy Policy (available at

citylifeinlichfieldltd.co.uk).

Full t&cs on page 34.

7
---
LOCAL NEWS

New Chair for

LHCRT

Lichfield and

Hatherton

C a n a l s

Restoration

Trust (LHCRT)

has a new chair

after Christine

Bull, who has held the role for

five years, handed over the reins

to Carole Mills.

Carole became a member of the

Trust during lockdown, having

enjoyed walking the many and

varied heritage canal trails. She

soon became part of the green

and grounds team, then joined

the Board as an advisor and was

subsequently co-opted as a

trustee. She has a wealth of

experience as a former local

authority CEO and finance

director, having worked at five

large unitary councils, in the

NHS, and housing and financial

services sectors.

...........................................................

Queen's Baton

to Visit Area

The Birmingham 2022 Queen's

Baton Relay is confirmed to visit

Cannock Chase District on

Saturday 23rd July.

The schedule of activity includes:

•Arrives Wolseley Road, Rugeley

at 3.14pm - ends at Horsefair,

Rugeley at 3.30pm

•Arrives Hednesford Park,

Hednesford at 3.51pm - ends in

Hednesford town centre at

4.37pm

•Arrives Church Street,

Cannock at 4.47pm - ends at

Park Road, Cannock at 5.22pm

8

Members of the

public are

encouraged to get

involved with the

celebrations and

embrace the arrival

of the Baton. The

Birmingham 2022

website will be

updated with information over

the coming months, with detail

on the events and where to line

the route.

For more information, visit

www.birmingham2022.com/qbr.

...........................................................

New Plants for

Stadium Site

Local councillors & representatives

with children from Moorhill Primary

School

Cannock Chase Council in

partnership with Inspiring

Healthy Lifestyles, the

Community Lottery funded,

Chase Up team, and The Friends

of Cannock Stadium, has planted

seasonal bedding plants at the

Stadium Site on Pye Green

Road.

The planting project was

approved in March 2020, when

Cannock Chase Council's

Cabinet approved to spend

£25,000, to improve the site.

The design for the planting beds

came from consultation events

held at local schools and

community groups. Children

from Year 3 at Moorhill Primary

School helped with the planting

which includes plants of nine

different colours, representing

the official colours of the

Commonwealth Games 2022,

due to commence across the

region and on Cannock Chase.

...........................................................

Lichfield

Solicitor Walks

for Hospice

Alexa Holgate (centre) & colleagues

from Pickerings Solicitors.

A Lichfield solicitor took part in

her first-ever St Giles Hospice

Solstice Walk on Saturday 18th

June.

Alexa Holgate, together with a

team of 20 colleagues from

Pickerings Solicitors in

Tamworth, joined the hospice's

Enchanted Solstice Walk, which

made a return to the city's

streets following a two-year

absence due to Covid-19.

Alexa, who lives in Lichfield,

took part alongside her niece

Sophia Farmer, whose

grandfather Brian was

supported by St Giles in 2021.

Visit

www.stgileshospice.com/solstic

ewalk for more information

about the St Giles Hospice

Solstice Walk.
---
PLEASE

MENTION

CITYLIFE WHEN

CALLING

9
---
Local & Community Groups

Etchinghill

WI

By Kathy Baxter

In June, the meeting coincided

with Etchinghill WI 75th birthday.

We had two visitors, Karen

and Robbie, who we hope to

welcome as future members, and

Margaret Devey welcomed our

guest speaker Abdul Jalil whose

talk was The Raj 1919 to

Birmingham 2019.

This took us through a brief

history of what it was like for his

family during the turbulent times

of the partition period. Life was

hard and to enable them to

provide a better life for their

children his parents took

advantage of a UK Visa

immigration system as workers

from abroad were encouraged to

assist with the rebuilding of the

country's infrastructure after

WW2. The family initially settled

in Leeds, sharing a house with

other families, however the

family eventually ended up in

Birmingham.

We enjoyed birthday cupcakes

and a glass of wine and the

evening finished with a quiz from

Ann Ingleby based on the 1950s.

The group meets on the

second Wednesday of each

month.

Email

etchinghillwistaffs@gmail.com

for more.

GOT A STORY?

THEN CONTACT

KRISTENCITYLIFE@

GMAIL.COM

The Landor

(local history)

Society

By Glenys Richards

On the first outing for over

three years members of the

Society met at Sinai Park House,

Shobnall and were welcomed by

owner, Kate Murphy.

Kate pointed out the moat, a

scheduled ancient monument,

which had been there during the

13th Century when there was a

stone manor on the site. The

monks of Burton Abbey used

Sinai as a rest and recuperation

retreat after bloodletting. For

accommodation, they erected

two timber framed buildings in

1400 to make the northeast

wing. This practice is possibly the

origin of the expression 'to up

sticks'.

During the reformation Henry

VIII gifted Sinai to the Pagets

who used it for a hunting lodge

as it is located in a deer park.

The group was then invited

inside the eastern wing,

purchased in

1995 by Kate and subsequently

renovated. In the dining hall

there is a stone fireplace which

dates back to the 1300. Members

were invited to walk around the

remainder of the house followed

by light refreshments.

Cannock &

District Men's

Probus

By Peter Arnold

In June, the Club was treated

to a presentation by Tim Burgin

on the Battle of Waterloo.

Opposing the French under

Bonaparte were the armies of

Briton/Netherlands/Germany led

by the Duke of Wellington and of

Prussia/Germany under Marshall

Blucher. Tim brought the five

phases of the conflict to life with

the aid of maps and pictures.

We were fascinated to learn

how the French artillery was

thwarted by heavy rain which

caused their cannon balls to stick

in the mud instead of bouncing.

He described the valiant efforts

of both sides' artillery, infantry

and cavalry and the appalling

casualties suffered both by man

and horse. A turning point

towards the end of the conflict

arose from the severe losses

incurred by the French cavalry

due to the effectiveness of the

British infantry formation of

defensive squares.

Tim is returning in September

to present Waterloo - The

Aftermath. For details, contact

Barry on 01543 503320, email

bg.dowell@icloud.com or visit

www.cannockprobus.co.uk.

10
---
11
---
Local & Community Groups

Cannock

Chase

Ladies'

Probus

By Pat Preece

Cannock Chase Ladies' Probus

Club held their May lunch

meeting at The Barns in

Cannock.

Chairman, Lynne Moseley,

welcomed the ladies and their

guests and inducted two new

members, Margaret Davenport

and Barbara Pendleton.

The guest speaker for the

afternoon was Michael Taylor

who told the ladies about the

Lamprey Pie which he designed

and made for the Queen's

Coronation in June 1953.

Having finished his bakery

training in readiness to join the

family business of Taylor's Bakery

in Cannock Michael was instead

called up to serve his National

Service in the RAF where he was

transferred to the Bakery

Department.

A call was received to design

and make a Lamprey Pie - a

tradition which had taken place

at Coronations for many years.

The Lampreys, usually found in

Gloucester, were scarce so eels

had to be used instead and it was

decorated with a Gloucester

coat of arms before being

transported to London and

presented to Her Majesty.

Michael received an award for his

efforts.

For membership enquiries call

01543 504030.

Rugeley WI

By Margaret Bennett

Rugeley WI members have had

a busy and enjoyable month

attending various activities and

outings.

The walking group had a great

morning out with their visit to

Blithfield. The sun shone and the

group wandered through

woodland and fields strewn with

beautiful meadow flowers,

eventually walking around part of

the reservoir. To finish a very

pleasant morning members

stopped for lunch at Antlers

Coffee House in Abbots

Bromley.

The WI's annual summer

outing took them to

Curborough Countryside

Centre. Members thoroughly

enjoyed browsing around a

variety of different craft shops.

After their busy shop WI

members enjoyed afternoon tea

of sandwiches, cakes and scones.

If you would like to join our

WI group or come along for a

'taster', the group meets every

last Wednesday in the month at

St Paul's Community Hall,

Rugeley at 7:30pm. For further

details contact Barbara Johnson

on 01889 586855 or Barbara

Coppard on 01889 804889.

Rugeley &

District

Lions Club

By Peter Fielding

After much fun at the Jubilee

concert, the Lions provided the

free Jubilee food at a Tea Party

organised by the Victory Church.

90 people attended and were

able to watch the screening of

the Trooping the Colour.

Members attended on the day

and helped wait on tables, not to

mention most of the washing up!

For the lighting of the Beacon

on the evening of 2nd June, Lion

Jane Pallister performed Town

Crier duties wearing the official

Town Crier uniform from the

late Ken Knowles who was the

Town Crier from Lichfield. We

were touched that his partner,

Marilyn, attended to witness Jane

do her bit and hear Ken's bell

ring again

This year we would like to

increase our membership - if you

think you would enjoy giving

time to help the local community,

come along and see what we do.

We can be contacted on

Facebook or email at

randdlions@hotmail.com.

GOT A STORY?

THEN CONTACT

KRISTENCITYLIFE@

GMAIL.COM

12
---
13
---
A Walking

Wonderland

By Alison Thornhill

Who doesn't like walking along a

river? We know that walking has

lots of benefits over and above

simple enjoyment: it boosts the immune

system, improves joint flexibility and helps

lower blood pressure. Even better, walking in

the outdoors amongst nature has been proven

to boost our mood and improve our mental

wellbeing.

With this in mind, the Trent Rivers Trust (TRT)

is working with partners throughout the Trent

Valley to bring about the Trent Valley Way (TVW),

a way-marked walking route, extending 170 miles

from its source near Stoke-on-Trent to the

Humber estuary.

The TVW passes cities, towns and villages. It's

rich with wildlife and places of interest. It links

communities, attracts visitors and contributes to

the local economy. It connects the cities and

towns which have built their business, industry

and heritage on the River Trent or within its

floodplain.

It is already established for 84 miles through

Nottinghamshire and Lincolnshire passing through

Nottingham, Newark, Gainsborough and

Scunthorpe.

The length upstream of Rugeley in Staffordshire

is just a provisional line on a map at the moment.

Trent Rivers Trust is currently completing a new

32 mile-long section between Rugeley and

Shardlow. This work is being partly funded by The

National Lottery Heritage Fund as part of the

Transforming the Trent Valley Landscape

Partnership scheme (TTTV) and Tarmac. Work is

underway to waymark the route and upgrade

stiles, steps and paths. It's hoped this work will be

completed by October 2022. There will be

circular walks along parts of the path and

interpretation points at various locations along

the route.

You're invited to a weekend celebration of

walking Join us to help us celebrate the launch

of the footpath this September during our

weekend of walks. We're running guided walks

on Saturday 24 and Sunday 25.

We'll also be running a walk along the 51km

stretch of the TVW on Saturday 1 October.

Email or call me to register your interest

alison@trentriverstrust.org /07887 720214.

For more information, visit

www.trentriverstrust.org/trent-valley-way and to find

out more about the wider Transforming the Trent

Valley project, visit https://www.thetrentvalley.org.uk.

14
---
15
---
WIN Ice Cream!

What's not to love about ice cream? When Citylife was

invited to try out the Daltons range of ice cream at

Purely Chocolates in Rugeley on a sunny day, we

obviously said yes!

We opted for a salted caramel cone and were certainly not

disappointed with this creamy delight – absolutely delicious and perfect

for the warmer weather.

Fresh coffees & milkshakes are also now available!

We've teamed up with Purely Chocolates to offer ice cream for four

people! To win this fantastic prize, simply correctly answer the following

question and send it with your details.

What is the ice cream brand that Purely

Chocolates stocks?

A) Carte D'Or

B) Daltons

C) Häagen-Dazs

To enter, send your name, contact details &

answer to Purely Chocolates at

competitioncitylife@gmail.com or to Citylife in

Lichfield Ltd, PO Box 7126, Lichfield WS14 4JS

by closing date of 19th August 2022. One entry

per household. Multiple entries disqualified. No

cash equivalent. Entrants 18 or over. All

information in line with GDPR Data Protection

Regulations & Privacy Policy (available at

citylifeinlichfieldltd.co.uk). Full t&cs on page 34.

16
---
17
---
Jubilee

Round-Up

TThe nation joined forces to

enjoy the Queen's

Platinum Jubilee on 4th

June 2022, which saw Her

Majesty celebrating 70 years on

the throne. Here's just a few of

your Jubilee pictures!

Dressed in pretty frocks, the Cannock To celebrate the Queen's Platinum

WI ladies celebrated by planting a maple Jubilee, Rugeley WI joined with other

tree as part of The Queen's Green Canopy store holders to attend the Artisan

campaign, as well as installing a bench at Market with their book and plant store.

the Community Garden.

The Ridwares WI group enjoyed a

delicious afternoon tea on 2nd June, and

then decorated the village hall ahead of

the big Jubilee Fun Day on 4th June.

Etchinghill WI celebrated with a party.

Bridie Heath & Heather Turner are seen

here cutting the cake.

To get the Platinum Jubilee weekend off

to a flying start, Rugeley & District Lions

Club presented a Jubilee Concert, in

partnership with St. Augustine's Church,

with local vocalist Becca Gee and guests

organist Stephen Carleston and vocalist

Jane Bond.

Over 150 people joined in the

celebrations at St. Augustine's with

popular songs from the 70 year

reign of the Queen and much flag

waving, finished with renditions of

Land of Hope and Glory and the

National Anthem.

Beautiful Jubilee flower arrangements

courtesy of The Ridwares WI group.

X Photo Dance Group celebrates at the

Armitage & Handsacre Jubilee Day

Cannock Soroptimists and their

families met at the home of one of

their club members, and were lucky

enough to enjoy the sunshine and

the garden!

18
---
19
---
A Window on the Past

Hodgeley

In the mediaeval period the town of

Rugeley was surrounded by the common

meadows along the Trent and by the three

great common arable fields - Upfield,

Churchfield and Hodgeley. Hodgeley lay to

the east of the town. It extended from

Mossley to Lichfield Street and then along

River Lane (the modern Forge Road and

Leathermill Lane) from Brewery Street to

the Trent.

In 1558, when Elizabeth I came to the throne,

there were only about 68 houses in the town

itself. This was a prosperous age and the number

of houses in the town doubled during the next

100 years.

Now, most of Hodgeley Field has been built

on - Heron Street, Queen Street, King Street,

and the name has been forgotten, although the

area was still known as Hodgeley right up until

the 1950s.

1. Heron Street in the early twentieth century.

The Roman Catholic church is on the extreme

left. The building near the centre with a bell

tower is the original Catholic School, later the

Guild Room.

2. The un-named lane leading from Lichfield

Street to Heron Street and commonly known as

'School Lane.' Taken in the mid-1980s.

3. Queen Street looking towards Forge Road

and the gasworks. The Victoria Inn is the first

building on the left. Taken in 1974 when the

street was being demolished.

4. King Street looking towards Heron Street

and Keystone Lane. Also taken in 1974.

5. The wharf on the Trent and Mersey canal,

from under the Love Lane bridge, in 1974.

6. The Forward Works in Mill Lane, c. 1925-

1929, when it was occupied by Fowell & Jones,

cork sock manufacturers. Previously it had been

a steam corn mill.

The Landor (local history) Society is a focus for

those who wish to learn more about the history

of Rugeley and its surrounding parishes. It was

founded in 1953 and was named in honour of

Walter Noble Landor, local and county

historian, who became the Society's first

President. More information is available at

www.landorsocietyrugeley.uk

20

Continued on page 22
---
21
---
Continued

1 2

3

4

5 6

22
---
As whisky matures and develops

its complex and satisfying

flavours, some of the liquid

disappears, seemingly

mysteriously, but in reality,

through evaporation. Distillers

romantically call the missing

whisky 'the angels' share'.

Jez Roney and Oz Horrocks,

under the banner of Mercia

Whisky, are interested in angels'

shares of a more tangible nature.

With a passion for bourbon, they

have already launched a limited

edition Mercia Rye and are now

forging plans to build their own

distillery by 2023. They are also

offering a unique investment

opportunity.

You have the chance to buy one

or more 50l casks of whisky which

are held in bond as they mature.

In three years' time, when the

whisky is ready for bottling,

Mercia buy it back from you at 8%

p.a. compound interest. This

means you have a great ROI and

you are on the launch team of a

fine and rare English whisky!

Ready to be an angel and share

in this exciting venture? Find

out more at

www.merciawhisky.co, drop Jez

an email on

jez@merciawhisky.co or call

01889 52 92 91.

23
---
Hednesford Park

Summer Festival

Saturday 13th August

Tastes of the Season

By Simon Smith

Recipe from Down

Under!

Pork Cutlet with Chickpea and Parmesan

4 x pork cutlets

1 x 400gm tin chickpeas

75gms frozen peas

50gms grated Parmesan

1 x tsp grain mustard

50gms vegetable oil

3 x sage leaves

Salt and pepper to taste

Hednesford in Partnerships free Summer

Festival returns on Saturday 13th

August, running from 11am to 4pm at

Hednesford Park. This year's festival will be

bigger and better than ever and will

showcase the new Feel-Good Zone,

delivered by Everyone Health.

The Hednesford Summer Festival is set to be

the highlight of this year's calendar and will offer

something for all the family. You will find the

much-loved Scrufts dog show, funfair, transport

show, market stalls, kids' zone, find the fruit trail,

along with a food and drink zone. What's more,

it's FREE for everyone!

Come and join all the fun family activities as it's

set to be a day not to miss!

For more information, and to keep up to

date, follow @EHStaffordshire and

@HednesfordinPartnershipHiP on Facebook.

Method

Fire the barbecue up until hot. Brush the pork

cutlet with a little oil and seasoning and seal, then

put onto a gentler part and cook slowly.

To make the chickpea paste, put all the

ingredients together into a food processor and

whizz together (this can be done a day or two

before). Once the pork cutlet is cooked, spoon on

the top and allow to warm through whilst the

pork finishes cooking. Alternatively glaze with a

blow torch if you have one.

Carrot and celeriac salad as garnish, Equal

quantities of carrot and celeriac. Chopped

coriander, a touch of lime juice, salt and

mayonnaise to bind together.

Coconut Yoghurt

1 x 800 gm coconut

yoghurt

1 x punnet strawberries

200gms toasted almonds

100gms runny honey of

your choice

1tbsp toasted desiccated

coconut

24
---
Contemporary

Countryside Dining

By Kristen Lackajis

It was my pleasure to visit The Linhay at The Deer

Park, located deep in the heart of the

Staffordshire countryside and once part of the

Hoar Cross Hall Estate, and I was given a seat with

a view across the beautiful land.

The Linhay may be referred to as a 'café' but don't

be fooled - what you find here is anything but your

standard café food! Under the careful guidance of

talented Head Chef, Craig, the eatery offers a variety

of classic dishes with an elegant contemporary twist.

My task was to try out the new summer menu - a

difficult decision when faced with so many tantalising

choices present. With help from the knowledgeable

and friendly restaurant staff, I finally opted for fish the

roasted salmon and scallops.

Wonderfully moist and delightfully light, the salmon

flaked beautifully whilst the scallops remained slightly

firm to the bite and were packed with flavour.

Much thought had gone into the styling of the plate

and a goodly portion the fish was artfully stacked atop

a garlic potato

cake, buttered

spinach and

grilled spring

onion, and had

been lovingly

drizzled with a

lemon butter

sauce and wild

garlic oil. It was

finished off with

a crisp of parma

ham and

colourful

dressings which

elevated this

dish to another

level entirely.

Impressively, the food was also adorned with fresh

seasonal greens that were picked by Chef from the onsite

garden, bringing a wonderful home-grown element

to the dining experience.

The Linhay is open for breakfast, lunch and

afternoon tea, from Tuesday to Sunday, 8.30am-5pm

(last table at 4pm). Find out more at

www.deerpark.farm or call 01283 384477 to book a

table.

25
---
Garlic and

Herb Tear and

Share

By Ruth Redgate

Making the Dough

1. Mix the yeast with the milk and water until it

has dissolved using your hand.

2. Place all remaining ingredients in a mixing bowl.

Pour the yeast mixture into the dry mix.

3. Mix using your hand until it comes together.

4. Tip the rough dough on to the table and using

the heel of your hand knead until a smooth dough

forms, this takes around 10 mins. You are looking

for the windowpane effect.

5. Cover the dough and leave to rise for about 2

hours or until doubled in size.

6. Tip the dough out of the bowl onto a floured

surface and fold using the plating action - i.e. left

corner into the middle, right corner into the

middle, the next left side into the middle, right

side into the middle

This month's recipe is a tear and share perfect for

those family gatherings whether it's a picnic or a

BBQ. This one is garlic and herb but you can make

any bread into a tear and share - it's all on the

shaping at the end before the final proving and

baking.

Ingredients

*Makes 1 loaf

500g white bread flour

200g milk

135g water

40g dried herbs of choice

20g oil

20g fresh yeast

4g salt

For the Topping

75g butter

Garlic to suit taste (2 cloves as a guide)

40g fresh parsley

1 x 20cm round cake tin

7. Melt the butter in a pan and then add the garlic

and parsley. Leave to cool slightly.

8. Divide the dough into eight pieces and roll into

balls. Dip each ball in the garlic butter and then

arrange in the cake tin.

9. Cover if needed but only loosely with clean tea

towel/bowl and leave to rise for about 1 hr.

10. Preheat oven to 200°C and place a container

in the bottom with water.

11. If there is any garlic butter left pour this

carefully over the bread just before you place in

the oven. Bake for 15 mins, then remove the

water, turn, and bake for a further 10 minutes or

until golden brown and when tapped the bottom

sounds hollow.

Ruth Redgate is the owner of

Hunnypot Cottage Bakery. Visit

www.hunnypotcottagebakery.co.uk for

more information.

26
---
Texas Rocks The Chase!

It may not have been bright sunshine on

Thursday 9th June, but Sharleen Spiteri

certainly shone brightly on stage as lead

singer and 'frontman' of Scottish band, Texas,

as they made their Cannock Chase debut for

the first of the Forest Live events!

To begin with, the audience was treated to a set

by the UK's Eurovision contestant for 2022, Sam

Ryder, who came second in the annual

competition with his song "Spaceman."

Sprawled on deckchairs and blankets, the crowd

soon took to their feet as lead singer, Sharleen

Spiteri, sung the opening bars of 1989 hit "I Don't

Want a Lover," and it wasn't long before the

crowds were congregating towards the front of

the stage in the hopes of catching a glimpse of the

acclaimed Glaswegian musician up close.

What followed was 90 minutes of hits such as

"Say What You Want," "When we are Together," "In

Demand," and "Inner Smile" which spanned the

band's glorious three-decade-long career.

Having performed

at huge festivals such

as Glastonbury and

V Festival over the

years, the Cannock

Chase Forest

surrounds were a

very different setting

for the Glaswegianborn

artist, and it

certainly made for a

very intimate

concert. As the sun set over the trees, even

Sharleen herself remarked on what a beautiful

place we all lived in!

Ever the show woman, Sharleen, who had

donned a velvet suit for the occasion, engaged

with the crowd and got us all singing, clapping,

cheering, dancing and, most importantly of all,

rocking!

Stay up to date with Forest Live events at

www.forestryengland.uk/music.

27
---
28

Cannock Chase

Volunteers

Awarded

Support Staffordshire

held the prestigious

Support Staffordshire

Volunteer Star Awards

in June, recognising the

work of many

outstanding individuals

and businesses who

Five Ways Ramblers & Strollers

have given their time

freely during what has been the most challenging

of years.

The awards aim to publicly recognise and celebrate

the outstanding achievements and commitment of

volunteers and organisations who go the extra mile to

support local communities.

The Cannock Chase District event, held at Beau

Desert Golf Club on Tuesday 14th June, was an

overwhelming success with guests saying how inspiring

the volunteers' stories are.

There were 10 awards presented during the

evening.

Award Winners for Cannock Chase District

were:

Volunteer of the Year – Jackie Hicklin, Bethany Baptist

Church

Lifetime Achievement – Irene Hodges, The

Chasewater Swans Support group

Personal Achievement – Dawn Force, West

Chadsmoor Family Centre

New Volunteer Team of the Year – Five Ways Strollers

and Ramblers

Volunteer Team of the Year – Penk Moneywise

Support for Over 65's – Maureen Garbett, Norton

Canes Watercolour Club

Support for Young People – Fireworks

Young Volunteer of the Year – James Downs, Friends

of Hednesford Park

Business Contribution to Communities Award –

Potteries Mechanical Services Ltd

Trustee of the Year – Nicole Walker, Bailey Bridge

My Month in

Parliament

By Amanda Milling MP

Since my last column, we

have marked The

Queen's Platinum Jubilee. It

was brilliant to see the

country come together to

celebrate the Queen's

service to our country.

In recent weeks, I have been enjoying

getting out and about in the constituency -

visiting local businesses and meeting with

organisations.

It was great to meet local Canal and River

Trust team members Martin, Carl, James, and

the Chief Executive Richard Parry, to chat

about the canals in Rugeley and the

improvements that have taken place recently.

The upgrades to the tow path make it a lot

easier for everyone to use, whether you are

walking your dog, going for a cycle or out for

a jog.

I heard about the work of a small group of

local volunteers who help keep the area clean,

and the efforts of this group to help nature

thrive.

Like many of you, I am very excited about

the upcoming Birmingham Commonwealth

Games which will begin at the end of July. Best

of all, the mountain biking event will be taking

place in Cannock Chase Forest giving us all a

brilliant chance to watch a world class

sporting event right here on our doorsteps.

As we build up to the opening ceremony, I

am delighted that Cannock, Rugeley and

Hednesford will welcome the Queen's Baton

Relay on 23rd July. I would encourage local

residents to come along to this exciting

event!

As ever, if you have any issues at all that

you need my help with, email me at

amanda.milling.mp@parliament.uk, call 01543

877142 or visit

www.amandamilling.com/contact.
---
29
---
Summer Through

Thailand

Cookery Course

Fancy something a bit different? Then read on!

We sent our director, Helen, on a fantastic

cooking course at Perry's Field to Fork - an

artisan butchery and cookery school based in the

historic market town of Eccleshall. She tells us

more!

On arrival we were greeted by Debbie Hill who

owns the cookery school which is set in a lovely

purpose-built building and surrounded by beautiful

gardens. We were made to feel welcome straight away

and, after a quick brew we all introduced ourselves.

Running the course was Chef Meek and she guided

each of us through her recipes. First off, we prepped

our Kao Soy by making a paste in the pestle and

mortar, and then we added all our ingredients to the

pan, including our chicken, and left if to simmer away.

The delicious aromas soon flooded the kitchen and

the smell of coconut and spices was irresistible - this

dish was going to be eaten for our lunch and I couldn't

wait!

We then moved onto our marinade for Moo Yang

(grilled pork). We each had a lovely thick pork chop

and so set about making a paste that we could use to

barbecue it at home the day after. This consisted of

oyster sauce, soy sauce, sugar, milk, pepper, sesame oil,

coriander and garlic.

As our class was all open to trying various foods,

Chef Meek added a few extra ones for us to taste! The

salsa which accompanies some foods, and which I had

the day after with the BBQ pork chop, was quite

simply to die for! Made from chilli, fish sauce, sugar,

coriander, red onion, spring onion, ground rice and

lime, it's a pretty simple recipe and one which I will be

making on a regular basis from now on!

She also had us try some fried liver and kidneys to

dip in this salsa too, which was absolutely delicious,

with top ingredients from the on-site artisan butchers

(which I highly recommend you to visit as it is out of

this world!)

Our lunch was now ready, with fresh noodles, sliced

pickled cabbage, chilli oil, fried noodles, spring onion,

coriander and a slice of lime - not only did this

colourful dish taste amazing but it also looked like a

work of art and would defiantly provide the 'wow'

factor at any dinner party.

After lunch we went onto make dessert. Thong

Muan Sod (fresh coconut crepe) is the perfect end to

any Thai meal and, now full of food and knowledge, I

couldn't wait to get home and try out these dishes

again. Not only did I taste some incredible food, I

learned a lot and also had some great laughs with the

others on my course too.

The courses are run over a full day, from 9.30am till

3.30pm. They are relaxed, fun and very informative and

I will definitely be booking another one soon! Perry's

runs a variety of courses, including bread making,

Indian cooking, Italian cooking, butchery, and piemaking,

with new ones being added all the time. They

make the perfect gift for a loved one, a corporate

teambuilding event, special occasion or just to treat

yourself and learn some new skills. Gift vouchers for

all special occasions are also available.

Find out more on the website at

www.perrysfieldtofork.co.uk or visit at Perry's

Field to Fork, The Old Cookery School, 23

Stafford Street, Eccleshall, ST21 6BL. Tel: 01785

851911.

30
---
31
---
How Does

Your Garden

Grow?

By Piper Nurseries

Summer is in full swing and, with July and

August being the hottest months of the

year, there's lots to be getting on with in

your garden.

Keep on top of deadheading bedding plants and

repeat-flowering perennials to ensure continuous

new growth and tend to your roses to encourage a

late summer bloom. You can also cut back hanging

basket growth to ensure they stay looking good for

as long as possible.

Now is a good time to take cuttings from your

favourite tender plants for overwintering indoors.

Cuttings can also still be taken from shrubs and

border perennials.

You can start harvesting some of your vegetables,

such as sweetcorn, as and when they become ready

and remember to prune your summer fruits too to

ensure they keep on producing.

Don't forget to keep everything hydrated - water

at dusk to reduce evaporation and use mulch

around plants to retain moisture. Water around the

plants rather than on the foliage and make 'pools'

for individual plants so that the water is directed

straight to the root where it's needed. Try to use

grey water or stored water wherever possible,

especially if butts are running low from the dry

weather.

You'll now be regularly mowing your lawn to keep

it looking good, but it's also advisable to give it a

good feed with a quick-acting summer feed solution,

especially if you didn't do this in spring. This will

ensure that it looks lush throughout the rest of the

season. Don't forget, your lawn enjoys a good

watering too!

Piper Nurseries is situated on Watling Street (A5)

at Gailey, near Penkridge, ST19 5PR.

32
---
33
---
Competition & Prize Draw - Terms & Conditions

1.Entrant's details will be securely held and processed in line with Citylife in Lichfield Ltd's Privacy Policy, which

adheres to GDPR Data Protection legislation. For a copy, email kristencitylife@gmail.com.

2.By entering the competition, you agree to the terms and conditions stated.

3.The closing date is stated on each individual competition.

4.Entrants' details will never be shared with any third party. The exception is the name and address of winners

that will be communicated to the competition partner to allow winners to claim their prize. The initial and surname

of winners will be printed in our magazines.

6.By entering the competition, entrants agree to Citylife in Lichfield Ltd using or publishing materials provided in

any of their publications and online.

7.Citylife in Lichfield Ltd accepts no responsibility for any breach of copyright or breach of any other legislation

entailed by entrants in their creation or submission of materials.

8.Only one entry per prize competition, per reader. Open to UK residents aged 18 plus (unless otherwise stated).

No purchase necessary.

9.Except in the case of cash prizes, no cash equivalent will be offered and the prize is non-transferable.

10.All prizes are subject to availability and the prize suppliers' terms and conditions.

11.Competitions may not be entered by any employee, agent or third party of Citylife in Lichfield Ltd.

12.Winners will be selected at random, or by an independent judge in the case of photographic/art competitions,

from all entries received.

13.Winners will be notified up to 28 days after the closing date of the competition by the contact details provided.

Winners have 28 days to respond. If no response is forthcoming, Citylife in Lichfield reserves the right to redraw.

14.A list of the surnames of the winners will be available by writing to Citylife in Lichfield Ltd no earlier than six

weeks after the competition closing date.

15.Citylife in Lichfield Ltd's decision is final and no correspondence will be entered into.

16.Citylife in Lichfield Ltd accepts no responsibility for the prize being lost, damaged or delayed. When the prize

is provided by a third party, Citylife in Lichfield Ltd accepts no responsibility for any change to the prize, or for

quality of prize provided.

17.Competitions may be amended or withdrawn at any time.

18.By submitting entries you agree that you own these photos, text or artworks, that it is your original work to

which you own all rights, and that your entry is accurate and legal.

34