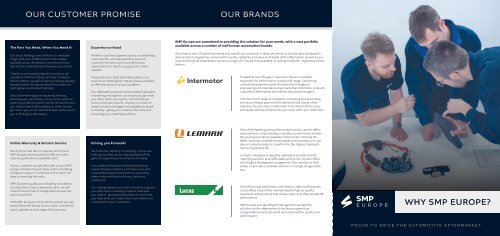 Create successful ePaper yourself
Turn your PDF publications into a flip-book with our unique Google optimized e-Paper software.
OUR CUSTOMER PROMISE

OUR BRANDS

The Part You Need, When You Need It!

Expertise on Hand

SMP Europe are committed to providing the solution for your needs, with a vast portfolio

available across a number of well known automotive brands.

Our stock holding covers 95% of our available

range, with over 9,500 product lines readily

available at our distribution centres to ensure

fast and accurate delivery whenever you need it.

Thanks to our leading logistics solutions, we

are able to fulfil UK orders next day if ordered

before 5:30pm, as well as having industry leading

dispatch times for export orders from both our

Nottingham and Poland facilities.

Should something go wrong along the way,

we'll keep you up to date - so you know when to

expect your delivery, and if we don't have the part

you need in stock we'll advise you when we can

get one to you, or our technical team will support

you in finding an alternative.

Whether you have a generic query, or something

more specific, we have experts across our

customer services, technical and finance

departments on hand to support you when

needed.

Along with your dedicated sales advisor, our

team at our Nottingham HQ are always available

to offer the solution to your problem.

Our dedicated customer services team specialise

in ordering and logistics, to ensure you get what

you need, when you need it, and should you

have a more part specific request, our team of

expert product managers are available to speak

to directly - giving you access to the tools and

knowledge you need fast and free.

We've learnt over 50 years how varied and specific our customer's needs are, which is why we have developed a

diverse brand programme, renowned for quality, reliability and value at all levels of the aftermarket. As well as our

main three brands listed below, we have a range of in-house lines available, including FuelParts., HighVolt and Kerr

Nelson.

Trusted for over 50 years, Intermotor has an unrivalled

reputation for performance, quality and range. Combining

unmatched experience with the latest technologies in

engineering and manufacturing means that Intermotor products

outperform aftermarket alternatives time and time again.

The Intermotor range is constantly innovating and expanding

to ensure it keeps pace with the demands and trends of the

industry. You can rely on Intermotor to be ahead of the curve

and ready with the components you need, when you need them.

Online Warranty & Returns Service

We all know that returns happen and here at

SMP Europe we are excited to offer an online

returns system that is available 24/7.

If your customer cancels the order on you SMP

Europe will take the part back with no handling

charge as long as it is claimed online within 30

days of receiving the order.

SMP Europe's quality and reliability is excellent,

but should you have a warranty claim, we will

collect the part free of charge and process it as

soon as possible.

With SMP Europe's online returns portal you can

easily follow the status of your claim, and we will

email updates at each stage of the process.

Driving you Forwards

We know the industry is changing, and we are

making sure that we are staying ahead of the

game to support your business to be ready.

Our product development teams are always

researching the market to introduce new and

improved products and solutions, providing

better value and service for you, and your

customers.

Our marketing team are also on hand to support

you with direct marketing support whenever

you need it - giving you the peace of mind that

you have what you need to be more visible and

connected to your customers.

One of the fastest growing Aftermarket brands, Lemark offers

value without compromising on quality. Lemark boxes contain

the very best products available in the market. Utilising the

latest, and best, available technologies and processes you can

rely on Lemark products to perform to the highest standards

over a long service life.

Lemark's catalogue is regularly updated to provide and OE

matching solution at an affordable price point. Lemark offers

a full Engine Management programme, from sensors to EGR

valves, to provide a complete solution in a single recognisable

box.

One of the most well known, and historic, aftermarket brands,

Lucas offers value whilst maintaining the highest quality

standards with products that always meet, and often exceed OE

performance.

SMP Europe provides Engine Management and Ignition

solutions to the aftermarket in the famous green box,

recognisable around the world and renowned for quality and

performance.

WHY SMP EUROPE?

PROUD TO DRIVE THE AUTOMOTIVE AFTERMARKET
---
ENGINEERING SPECIALISTS ABOUT SMP EUROPE RANGE STATISTICS

Our Engineering Centre of Excellence, based at our Nottingham HQ is at the forefront of

the industry. Composed of experts across a number of specialist fields, our team leads the

aftermarket in product development. Working from a combination of VIO data, Vehicle testing

and existing OE component exploration, our engineers utilise the latest technologies (including

CAD, 3D Scanning and 3D printing) to develop prototypes faster than previously possible.

Once a product has reached the prototype phase, it follows an extensive test and development

programme until it reaches the high standards we require to release it to the market as a final

product.

A Family Owned Business

Established in 1968 as Intermotor,

SMP Europe has flourished in a fast

paced and rapidly evolving aftermarket

through investment in Engineering and

Manufacturing, with a strong focus on

the technology of tomorrow.

Future of SMP Europe

Always preparing for the future, to

ensure that we can continue to support a

thriving industry for many years to come,

we have already begun developments

into future technologies including Hybrid

and EV.

9,500+ product lines stocked

UK & EU distribution

Investment into the latest 3D scanning

and printing technologies, combined

with on vehicle inspection, reverse

engineering and testing of existing

components has rapidly sped up our

research and design processes.

By utilizing state of the art machinery

we are able to bring a digital concept to

working prototype very quickly, allowing

us to test and make developments faster.

This means SMP Europe has industry

leading concept to validation times

without compromising on the quality

and performance of a product.

Strategic expansion of our product

portfolio has enabled us to grow into a

global leader in Engine Management and

Ignition.

Significant investment in recent

years has consolidated our position

as a technical expert in the design

and manufacturing of high quality

aftermarket alternatives to OE.

Nottingham Headquarters

In 2021 we opened a specialist garage

facility at our Nottingham HQ, to enable

our engineers to look deeper into

Electric Vehicle components and identify

components that can readily be adapted

and improved for aftermarket repairs.

Following our high calibre research and

design processes, we have the capability

to quickly introduce these parts to range

when ready.

Poland Site Info

In-house developed electronics

Over 50 Years engineering and

manufacturing experience and expertise

Tested to meet or exceed O.E.

specification at our in-house, bespoke

test facility.

New to range updates 4 times per

annum

All manufactured products must go through our

extensive quality validation processes before being

signed off for production release. This includes

testing on bespoke equipment, designed, built and

maintained by SMP Europe. The conditions and

variables are bespoke to the product requirements,

but a typical process includes; Thermal Shock,

Durability, Vibration and Electronic function testing.

Further tests such as salt mist, impact and pressure

seal testing are administered where appropriate also.

A 'no fault forward' approach is taken, where product

failure means it returns for further research and

development.

All manufactured products also go through end

of line testing on further bespoke equipment, Air

Mass Meters and EGR Valves are given a unique pass

certificate for peace of mind.

Based in Annesley, just off the M1, this

facility houses our Engineering Centre

of Excellence along with our Sales,

Product Management, Marketing,

Customer Services, Finance and Quality

Assurance departments.

It also houses our validation laboratory,

featuring a suite of technologically

advanced equipment for testing and

evaluation.

The facility has a modern, 1670m2

warehouse and distribution centre,

enabling next day delivery to UK

customers.

Opened in 2018, our new additional

manufacturing facility in Torun, Poland

has a production area of 1642m2. This

has allowed us to expand our capacity to

meet ever growing demand.

Torun is an ideal location to service

European customers quicker, enabling

accelerated expansion across the

continent and faster distribution to our

export customers.

The relocation of some manufacturing

capabilities from the UK to Poland,

has allowed us to expand our technical

research centre based in Nottingham.

Catalogued on 3rd party systems such as

TechDoc and Autocat+

Extensive coverage for all makes and

models