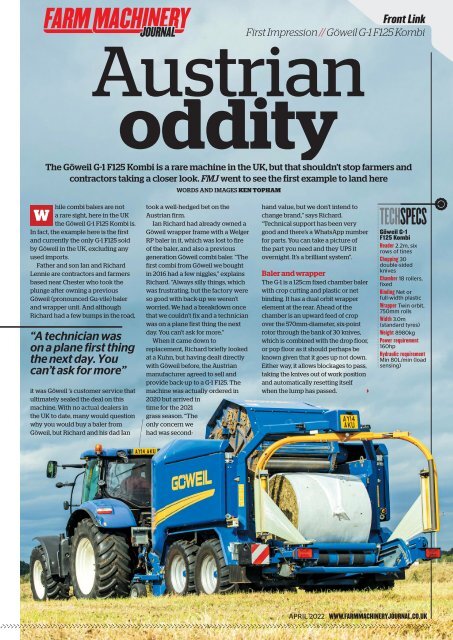 Farm Machinery Journal - G-1F125 Kombi
The Farm Machinery Journal from England, pays a visit to one of our customers and talks to them about their GÖWEIL G-1 F125 Combi
The Farm Machinery Journal from England, pays a visit to one of our customers and talks to them about their GÖWEIL G-1 F125 Combi
SHOW MORE
SHOW LESS
You also want an ePaper? Increase the reach of your titles
YUMPU automatically turns print PDFs into web optimized ePapers that Google loves.
Front Link

First Impression // Göweil G-1 F125 Kombi

Austrian

oddity

The Göweil G-1 F125 Kombi is a rare machine in the UK, but that shouldn't stop farmers and

contractors taking a closer look. FMJ went to see the first example to land here

WORDS AND IMAGES KEN TOPHAM

hile combi balers are not

a rare sight, here in the UK

W

the Göweil G-1 F125 Kombi is.

In fact, the example here is the first

and currently the only G-1 F125 sold

by Göweil in the UK, excluding any

used imports.

Father and son Ian and Richard

Lennie are contractors and farmers

based near Chester who took the

plunge after owning a previous

Göweil (pronounced Gu-vile) baler

and wrapper unit. And although

Richard had a few bumps in the road,

"A technician was

on a plane first thing

the next day. You

can't ask for more"

it was Göweil 's customer service that

ultimately sealed the deal on this

machine. With no actual dealers in

the UK to date, many would question

why you would buy a baler from

Göweil, but Richard and his dad Ian

took a well-hedged bet on the

Austrian firm.

Ian Richard had already owned a

Göweil wrapper frame with a Welger

RP baler in it, which was lost to fire

of the baler, and also a previous

generation Göweil combi baler. "The

first combi from Göweil we bought

in 2016 had a few niggles," explains

Richard. "Always silly things, which

was frustrating, but the factory were

so good with back-up we weren't

worried. We had a breakdown once

that we couldn't fix and a technician

was on a plane first thing the next

day. You can't ask for more."

When it came down to

replacement, Richard briefly looked

at a Kuhn, but having dealt directly

with Göweil before, the Austrian

manufacturer agreed to sell and

provide back-up to a G-1 F125. The

machine was actually ordered in

2020 but arrived in

time for the 2021

grass season. "The

only concern we

had was secondhand

value, but we don't intend to

change brand," says Richard.

"Technical support has been very

good and there's a WhatsApp number

for parts. You can take a picture of

the part you need and they UPS it

overnight. It's a brilliant system".

Baler and wrapper

The G-1 is a 125cm fixed chamber baler

with crop cutting and plastic or net

binding. It has a dual orbit wrapper

element at the rear. Ahead of the

chamber is an upward feed of crop

over the 570mm-diameter, six-point

rotor through the bank of 30 knives,

which is combined with the drop floor,

or pop floor as it should perhaps be

known given that it goes up not down.

Either way, it allows blockages to pass,

taking the knives out of work position

and automatically resetting itself

when the lump has passed.

TECHSPECS

Göweil G-1

F125 Kombi

Header 2.2m, six

rows of tines

Chopping 30

double-sided

knives

Chamber 18 rollers,

fixed

Binding Net or

full-width plastic

Wrapper Twin orbit,

750mm rolls

Width 3.0m

(standard tyres)

Weight 8980kg

Power requirement

160hp

Hydraulic requirement

Min 80L/min (load

sensing)

APRIL 2022 WWW.FARMMACHINERYJOURNAL.CO.UK
---
Left: A monitor

and two cameras

are standard on

the Göweil baler

Right: The Göweil

features plastic bands

and six rows of tines,

so should give a clean

and quiet sweep

Left: The G-1 is

ISObus controlled

and a stand-alone

screen is available

if your tractor is

not compatible

Right: Two crop

press rollers and a

hydraulically driven

feed roller give a good

feed with little room

for bridging

The knives are below the binding

system and can be changed without

tools or opening the chamber, or

crawling around underneath. The

knives are reversible and give a

35mm theoretical chop length.

Richard gives those on his baler a

touch-up every 1000 bales so they

don't dull easily. The crop flow would

see the knives working in the top of

the swath, as it's lifted by the pick-up

rather than the bottom, so soil or

stone contamination may play a

factor in how long the edge lasts.

Before the rotor is the 2.2m header,

which looks well engineered and has

a pendulum action to follow the

ground. This allows each

wheel to lift by 150mm

without causing the

opposite wheel to lift off.

The jockey wheel arms

wouldn't look out of

place on a plough. The

roller crop press is equally

well built with sealed

bearings at either end of the

double roller press. Behind that is

a hydraulically driven feed roller and

short augers to push crop in from the

sides of the header. It's all tightly

arranged and Richard says the feed is

good even in shorter crops, as there

is little space for bridging.

Above inset:

Owner-operator

Richard Lennie

quickly dismissed

more established

brands in favour

of another Göweil

The pick-up is an area where

Richard has seen great

improvement. "With our old

baler we did some work with

Göweil on the tines. We did

have some trouble with

breaking tines and

experimented with different

angles, but we have only broken

a handful on the new machine," he

says. Also Göweil adopted a plastic

tine band that has worked very well.

"We do have some meadowland that

has some sharp undulations, and if

you're not careful it can cause the

pick-up to bottom out. This would

bend steel bands but the plastics just

"It'll make a good bale in

pretty much any crop"

WWW.FARMMACHINERYJOURNAL.CO.UK APRIL 2022
---
Front Link

First Impression // Göweil G-1 F125 Kombi

pop back. It's also much quieter and

easier if you need to replace a tine,

as they flex out of the way easily."

Inside the 18-roller chamber is a

starter roller and above it a cleaner

roller with a scraper. Richard doesn't

report any slippage in straw so the

cleaner roller surface must keep it

moving, the only drawback being

that when working in straw the

baler will roll the bale for a number

of revolutions when the net is cut.

"It's not long, but all day it adds up,"

Richard explains. "We're hoping they

can change the preset as it seems too

long to me, but it's only a minor thing

really.

Above and above

right: The wrapping

element is well

proven, available as a

frame for other balers

as well as being part

of development for

another manufacturer

Left: The Göweil can

be fitted with any

hitch. Adjustment for

setting the drawbar

to get the baler level

is straightforward

Above: Reloading the

wrapper is a convenient

job, done without lifting

anything much above

waist height

Above centre: The chamber has a

starter roller behind the rotor to

get the bale turning and cleaner

roller above to keep debris from

clogging the other rollers

"Bale density is good," he continues.

"It'll make a good bale in pretty much

any crop. We've made some plastic

on plastic-bound bales for customers

who wanted to see what they were

like and the feedback has been very

good." Richard's own bales have been

very good, which has given him and

Ian the confidence to recommend

plastic binding to customers.

Pay attention

One of the few niggles Richard has

found with the G-1 has been using

plastic to bind the bale in dry crop.

"You just have to pay attention when

the film goes in," he says. "Every now

and then it won't catch the bale and

you end up not tying, which means

digging the bale out if you miss it,"

he continues, explaining that you

can see the plastic going into the

chamber on the camera and if the

auto-tie misses and you spot it you

can manually re-tie the bale. But, he

adds, you have to be quick as the

binding gets wrapped on a chamber

roller. It's not a common occurrence

but in very dry grass it can happen.

The wrapping element is well

polished, Göweil having developed

bale transfer and wrapping units for

their own frame that houses other

manufacturers' balers. They have

also developed the system used by

another major manufacturer who

offers a combi baler in this format.

APRIL 2022 WWW.FARMMACHINERYJOURNAL.CO.UK
---
Front Link

First Impression // Göweil G-1 F125 Kombi

Richard says in optimal conditions

a rate of 60 bales per hour is a good

output.

Plastic consumption with six layers

provides 40 bales per pair of 750mm

rolls, and binding plastic sees around

140 bales per roll. "It's a pound per

bale more for plastic binding,"

clarifies Richard. "With net you can

bind twice as many bales per roll."

The storage on the Göweil is well

laid out with seven rolls of wrap

each side and space for a roll

of net wrap or plastic in

each store. The binding

plastic has adjustment

for stretch but Richard

says he's not tested the

idea of applying less

wrap on bales that are

bound with plastic. "In

theory you could apply

less, but we wanted to see

how customers liked the

plastic binding before we got

too clever, and how the bales

stored too." Silage quality is the

main reason for plastic binding,

but recycling is also easier as the

products can be processed together.

Clever connection

The drawbar on the G-1 has a forage

wagon-like look about it. An optional

extra sees hydraulic cylinders fitted

to the pivot point, the aim being

easier entry into steep gateways,

enabling the operator to raise or

lower the front to stop the tail or

pick-up grounding out. It's a useful

feature for this format of combi

baler, as they are inherently low

to the ground.

The control interface is ISObus

connected and Richard runs his

through the New Holland T7

IntelliView IV screen. It controls the

G-1 and displays progress information

for the wrapper and baler status.

Above: The header

wheels are

substantially mounted

and each wheel can

rise by 150mm via the

pendulum movement

of the header

Above: The T7.185 is a good match

for the G-1 F125 and the

AutoCommand transmission

makes the day go by a little easier

Left inset: External controls for

opening the wrap store also

allow manual control of the

wrapper system

Right: These cylinders allow the

operator to lift or lower the front

of the baler, with threaded

adjusters for correct working

height

As with most balers, running is

autonomous, only needing to stop

for the chamber to open. The camera

monitor supplied with the baler has

two standard cameras looking at

the binding material entering the

chamber and the wrapper to monitor

transfer and wrapping.

Richard and Ian completed their

first season by making over 7000

bales with the G-1 F125 and are

pleased with its performance and

communication with the factory.

Having had no warranty calls, the

Göweil baler was cleaned down

and parked for winter after a season

without needing any technical

support. Soon it'll be getting ready

for another busy season.

The Austrian-built machine is a

rare sight on UK shores, however as

the south-east-based Cooney Furlong

Machinery Company is handling the

brand in Ireland, perhaps Göweil has

gone straight for the combi baler

jugular before we see a UK dealer,

which we're told is on the horizon.

"We wanted to see how

customers liked the

plastic binding before

we got too clever"

WWW.FARMMACHINERYJOURNAL.CO.UK APRIL 2022