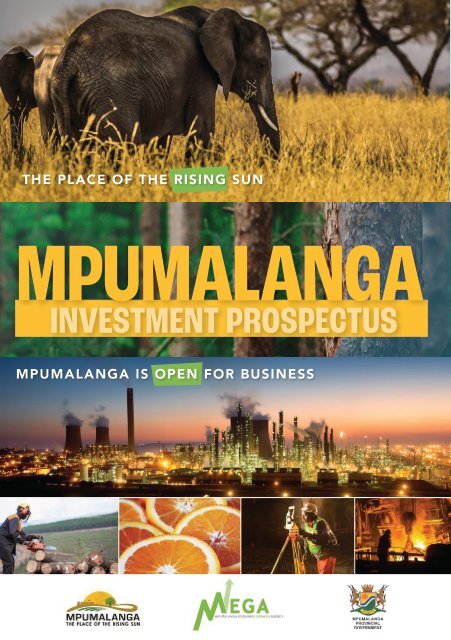 Mpumalanga Investment Prospectus 2022
Companies in a wide range of sectors are already invested in Mpumalanga – and are ramping up the commitments with new investments. The 2022 Mpumalanga Investment Prospectus presents exciting opportunities for investment in Mpumalanga, including information about key sectors of the economy, business opportunities, government policies and programmes, and private sector success stories. The Mpumalanga Economic Growth Agency (MEGA) is the official Economic Development Agency for the Mpumalanga Provincial Government and is committed to making the process of investing in Mpumalanga or starting a business in the province easy.
Companies in a wide range of sectors are already invested in Mpumalanga – and are ramping up the commitments with new investments. The 2022 Mpumalanga Investment Prospectus presents exciting opportunities for investment in Mpumalanga, including information about key sectors of the economy, business opportunities, government policies and programmes, and private sector success stories. The Mpumalanga Economic Growth Agency (MEGA) is the official Economic Development Agency for the Mpumalanga Provincial Government and is committed to making the process of investing in Mpumalanga or starting a business in the province easy.
SHOW MORE
SHOW LESS
You also want an ePaper? Increase the reach of your titles
YUMPU automatically turns print PDFs into web optimized ePapers that Google loves.
THE PLACE OF THE RISING SUN

MPUMALANGA

INVESTMENT PROSPECTUS

MPUMALANGA IS OPEN FOR BUSINESS
---
WHY INVEST IN MPUMALANGA?

Companies in a wide range of sectors are already

invested in Mpumalanga – and are ramping up

the commitments with new investments

Mpumalanga's diverse and resource-rich economy

makes it one of the most attractive trade and

investment destinations in South East Africa.

A large, growing domestic market and excellent

access, supported by world-class infrastructure,

to the East African and Indian Ocean markets

through Maputo Port makes Mpumalanga an

ideal investment location for export-driven

manufacturing and production.

Mpumalanga is one of South Africa's most

productive and important agricultural regions and

through strategic investments in the Mpumalanga

International Fresh Produce Market (MIFPM) and

the Nkomazi Special Economic Zone (NSEZ) the

province is set to become a major force in food

production and distribution.

Mpumalanga's sophisticated and well-segmented

tourism and hospitality sector in a post-Covid

world is ripe for investment and expansion.

Mpumalanga

68% of land area in the province

is used by agriculture

3

UNIQUE SELLING PROPOSITION

• Abundant resources: minerals and agricultural produce

• Established manufacturing infrastructure: smelters,

petrochemicals, food processing, paper, sugar

• Strategic location and access to regional and

global markets

• Tourism hotspots: the iconic Kruger National Park, worldclass

reserves, adventure tourism and new UNESCO

World Heritage Site

• Mpumalanga International Fresh Produce Market (MIFPM)

• Nkomazi Special Economic Zone (NSEZ)

• Newly established University of Mpumalanga

• Support for Green Economy research and investment

Mpumalanga's three

biggest sectors are

manufacturing,

mining &

agriculture.
---
Mpumalanga's STRATEGIC LOCATION makes it a valuable transport and logistics hub

A province in eastern South Africa, bordering

the nations of Swaziland and Mozambique

• Maputo Development Corridor

enhances logistics

• Preferential access to lucrative

EU market

• Proximity to South Africa's

economic heartland

• Access to regional SADC

market: 360-million population

• Access to deepwater

Port of Maputo

Capital City

Mbombela (Nelspruit)

Main major towns

Ermelo

eMalahleni

Middelburg

Secunda

Airport

Kruger Mpumalanga

International Airport

Population

4.5-million people

MAPUTO DEVELOPMENT CORRIDOR

The Maputo Development Corridor is South road, rail, Special Economic Zone, border

Africa's leading Spatial Development Initiative posts, port and terminal facilities. The corridor

(SDI), linking Mpumalanga Province, Gauteng runs through the most highly industrialised

Province and the Nkomazi Special Economic and productive regions of Southern Africa.

Zone with the deepwater Port of Maputo in The Corridor has been extensively upgraded

Mozambique. This efficient corridor provides to international standards and links the

investors and exporters with good access industrial heartland of South Africa to its

to the export markets of South East Africa, nearest port in Maputo, Mozambique, which

the Indian Ocean Rim and Far East Asia. The is one of the fastest-growing countries in

Maputo Development Corridor comprises South East Africa.

SOUTH AFRICA

Lydenburg

Sabie

MOZAMBIQUE

Komatipoort

Middelburg

Belfast

Mbombela

MAPUTO

JOHANNESBURG

Carolina

SWAZILAND
---
A journey to a prosperous and inclusive future

Mpumalanga Premier Refilwe Mtshweni-Tsipane invites

investors to share in the growth of Mpumalanga, together

with the residents of a province rich in resources and talent.

On behalf of the

Provincial Government

and the people of Mpumalanga I wish

to welcome this opportunity for our

province to present its policies and

programmes, business opportunities,

and private sector success stories.

Despite what many consider an uncertain

global economic outlook, our province

has embraced a post-Covid ascendance

with bountiful opportunities that can be

tapped into through entrepreneurship

and collaboration.

Mpumalanga is the home

of more than 4.68-million

residents (7.8% of the

national population), and is

the fifth-biggest regional

economy in South Africa.

It has a diverse and

resource-rich economy

that makes it one of the

most attractive trade and

investment destinations

in South-East Africa.

This publication is intended

to expose potential

investors and business communities to

market opportunities in Mpumalanga

relating to identified sectors such as

agriculture, manufacturing, mining,

tourism and renewable energy.

We wish to welcome all interested

parties to join us in an inclusive growth

and sustainable development journey

through innovative flagship projects

such as the Mpumalanga Economic

Reconstruction and Recovery Plan

Premier Refilwe

Mtshweni-Tsipane

(MERRP), the Nkomazi Special Economic

Zone (SEZ), the Mpumalanga International

Fresh Produce Market (MIFPM) and many

more outlined in the following pages.

Private-public partnerships are bearing

fruit in the tourism sector, as illustrated

by the exciting Skywalk Project at God's

Window an d a hotel and conference

centre under construction in Middelburg.

We are delighted to welcome direct

flights to our province from Eurowings

Discover, a division of Lufthansa.

A Just Energy Transition

and Climate Change

Working Group has been

established to guide policy

on these vital issues.

Our province is aggressively

pursuing the implementation

of strategies for economic

recovery from Covid-19 that

will also foster diversification

of its mineral-rich economy

and increase labour

absorption in its key sectors.

The provincial government,

together with districts, local

municipalities and state-owned enterprises,

has identified interventions that are aligned

with the national Economic Reconstruction

and Recovery Plan (ERRP). Mpumalanga has

adapted elements of the plan to ensure

relevance and effective implementation.

This will help our economy to grow

as we actively build back in a more

efficient manner. We invite investors

to join us on this journey to a more

prosperous and inclusive future.
---
A new era of investing in Mpumalanga

There are many varied and exciting opportunities for investment in

Mpumalanga. Department of Economic Development and Tourism MEC

Vusi Mkhatshwa outlines the dynamic investment climate in the province.

Mpumalanga Province is increasingly

being seen as an investment

destination of choice and we are

working hard to market it as such.

Quarterly investment roundtable

discussions in each of the province's

three districts have been held and

international visits are promoting

the province's qualities. The

Investment Summit is a culmination

of this process, but it will also

continue beyond the Summit.

The private sector has

announced huge investments

in the province, targeting

projects in solar energy, wind

energy, biomass, battery

storage, gas, wood-bonding

material, hybrid fuel rods,

waste gas from ferrochrome,

land rehabilitation,

reclamation of mine water

and sustainable agriculture.

We are proud to announce

that the Mpumalanga Green

Cluster has been granted

membership of the ICN

(International Cleantech Network). This

gives the province access to over 15 000

tech companies, providing opportunities

for information, knowledge, technology

and business exchange, further

boosting Mpumalanga's prospects for

job creation and investment attraction.

These sorts of structures and

partnerships are relatively new and are

a way to ensure that the best aspects

of government, business and academia

can be applied towards development

that unlocks jobs and investment.

We see the Green Cluster as a key

mechanism for the implementation

of enabling investment in the Green

Economy. Several energy projects have

been launched. For example, investment

commitments to the value of R75-billion

in wind energy have been secured,

which have the potential to create over

13 000 jobs. Municipalities are aware

of the work that must be done to grow

MEC Vusi

Mkhatshwa

the Green Economy.

In support of potential new

investments and working

with the Office of the

Premier, our department

has successfully

hosted an Energy

Summit at eMalahleni,

with the objective to

create pathways for

a "Just Transition".

Rebooting the economy

to accommodate the

Green Economy in a

just way will create

tremendous opportunities for

creative investors in Mpumalanga.

As an indication that we are on the right

track, the Nkomazi Special Economic

Zone already has an investment pipeline

worth over R10-billion in the agroprocessing,

green energy

and logistics sectors.

We invite other investors

to join the new wave of

investing in Mpumalanga!
---
THE PERFECT LAUNCH PAD FOR AFRICA

The African Continental Free Trade Area could revolutionise African trade:

Mpumalanga is the perfect launch pad for manufacturers and exporters.

The African Continental Free Trade Area (AfCFTA) has

been agreed on by almost all African nations and

holds the potential to change the nature and size of

trading on the continent in profound ways.

Mpumalanga Province, as a strategically-positioned

region with a dynamic manufacturing sector and

excellent logistics and infrastructure, provides the

perfect launch pad for investors looking to take

advantage opportunities that will be created by the

AfCFTA Agreement.

The burgeoning African middle-class is a global

trend that economists are carefully watching. As more

sophisticated infrastructure is rolled out across Africa,

having a base with good connections to ports and

with good air, road and rail connectivity will be vital.

Mpumalanga has all of that, and more.

An Extraordinary Summit of the AU Assembly on the

AfCFTA was held in December 2020. The Assembly

approved the start of trading under the AfCFTA

Agreement from the beginning of 2021. Further

meetings have been held to take the process forward

in terms of details and practical measures.

The nations covered by AfCFTA have an estimated

combined GDP of $2.5-trillion and a population of over

1.2-billion.

In terms of population, it will be the largest free trade

area in the world. The AfCFTA envisages the gradual

elimination of tariff and non-tariff barriers to trade on

the continent. In terms of export-driven manufacturing

and production Mpumalanga is well positioned to take

full advantage of the economic promise of the AfCFTA

and attract investment, thereby helping to increase

income levels and reduce poverty.

Mpumalanga is served by the Maputo Development

Corridor (MDC), which is South Africa's leading

Spatial Development Initiative (SDI), linking

Mpumalanga, Gauteng Province and the Nkomazi

Special Economic Zone with the deepwater Port of

Maputo in Mozambique. This strategic location gives

Mpumalanga a particular advantage with respect to

logistics and market access.

Improving and increasing intra-African trade will

change the way countries do business and include a

much broader range of countries and products into the

global market. Foreign direct investment is expected

to grow rapidly, as investment opportunities such as

those on offer in Mpumalanga attract the attention of

international companies and institutions. New sectors,

such as the Green Economy which Mpumalanga is

actively preparing for, will grow exponentially on the

back of a continental system of trade with fewer

barriers and more connections than ever before.
---
AfCFTA FAST FACTS

Africa's exports could increase by $560-billion and some

experts predict that continental business and consumer

spending could reach $6.7-trillion by 2030.

$450

BILLION

AfCFTA could

boost regional income

by 7% or $450-billion

(Source: the World Bank)

AfCFTA could lift

30

-million

people

out of poverty, according

to the World Bank

AfCFTA

could

boost

10%

wages

by up to

* World Bank estimate

ABOUT SADC

South Africa is a member of one of Africa's

oldest regional organisations, the 16-member

Southern African Development Community,

(SADC). This enables duty-free trade within

a growing market of more than 360-million

people. All goods shipped under SADC

Certificate of Origin receive duty-free status.

Duty-free trade

within a GROWING MARKET

of more than

360million

people
---
ABOUT MEGA

The Mpumalanga Economic Growth Agency (MEGA) is the official Economic

Development Agency for the Mpumalanga Provincial Government.

MEGA's primary mandate is to foster the sustainable growth and development of

Mpumalanga's economy through its operational activities of Trade and Investment Promotion,

Development Funding, Equity Investments, and Property and Infrastructure Development.

The Agency remains accountable to the Mpumalanga Department of Economic Development

and Tourism (DEDT).

MEGA is the foreign investor's or trader's first point of contact for doing successful business

in Mpumalanga Province. Through the Trade and Investment Promotion Division, the Agency

provides a variety of services to potential investors and trading partners.

MEGA services

MEGA staff will go out of their way to make the process

of investing in Mpumalanga or starting a business in the

province easy. MEGA is focussed on customer needs and

provides innovative solutions with a high level of service.

Services include:

• Foreign Trade Promotion

• Investment Promotion

• Funding

• Property Management and Infrastructure Development

Planning the way forward

National government has articulated a Nine-Point Plan which seeks to prioritise

projects that will tackle key economic issues. MEGA is aligned with the plan, which

include issues relevant to growing the provincial economy:

• revitalise agriculture and the agro-processing chain

• advancing mineral beneficiation

• implementing the Industrial Policy Action Plan (IPAP) effectively

• unlocking the potential of SMMEs, cooperatives and township and rural enterprises

• resolving the energy challenge

• stabilising the labour market

• upscaling private investment

• investment in science and technology, water and

sanitation, transport and broadband connectivity
---
MPUMALANGA'S ECONOMY

The provincial economy of Mpumalanga is exceptionally diverse. Established industries

in the province include Mining, Stainless Steel, Petrochemicals, Pulp and Paper, Ferro-

Alloys, Energy Generation, Tourism, Agriculture and Agro-Processing, among others.

Companies in these sectors include

global giants in their industries such as

Sasol (energy and chemicals), Sappi

(paper, packaging, pulp and forests),

Samancor Chrome (ferrochrome),

Sibanye-Stillwater and Glencore (mining).

The province's commercial farmers are

among the most efficient in the world,

exporting huge quantities of everything

from citrus to macadamia nuts. Columbus

Stainless is the only stainless-steel

manufacturer on the continent.

District GVA by district

38% 34%

Nkangala

Ehlanzeni

28%

Gert

Sibanda

AGRICULTURE 3%

COMMUNITY

SERVICE 19%

FINANCE

14%

MINING 20%

TRANSPORT 6%

MANUFACTURING

15%

ELECTRICITY 7%

TRADE 14%

CONSTRUCTION

2%

Governance

The province has three district municipalities

and 17 local municipalities. Several

agencies which promote the regional economy

report to the Mpumalanga Provincial

Government. Large parts of the province

comprises extensive rural villages that form

part of areas run by traditional authorities.

Transport

Two airports at Hoedspruit (Eastgate Airport) and Mbombela (Kruger Mpumalanga International

Airport, KMIA) plus many airfields. Extensive freight rail network, busiest in South Africa.

N4 highway (Maputo Corridor) is an east-west spine of highly-developed road system.

PRETORIA

N4

N12

JOHANNESBURG

Middelburg

N17

N11

Ermelo

N2

Lydenburg

Belfast

N4

Carolina

N17

R36

R37

Mbombela

Barberton

Sabie

R40

N4

SWAZILAND

MOZAMBIQUE

Komatipoort

MAPUTO
---
KEY SECTORS AGRICULTURE

Agriculture in Mpumalanga is responsible for 3% of the

province's gross value added by region (GVA-R) and can

be divided into the following categories (see map, right).

REGIONAL PRODUCE

Lowveld

Mpumalanga Province is one of South Africa's most productive

and important agricultural regions and plays a key role in the

export profile of South Africa, primarily in fruit and nuts. The

:1

province's economic diversity extends

into the agriculture sector where the

natural topography of the province

divides this sector between the

Highveld and Lowveld Regions.

Mpumalanga's ratio of

commercial farmers to

small-scale farmers

AGRICULTURE

SUMMER CEREALS &

LEGUMES

MAIZE Maize meal

SOYA Meal, Edible oil

CANOLA Edible oil

SUNFLOWER Edible oil

TROPICAL &

SUBTROPICAL FRUIT

CANE SUGAR Sugar /

confectionery

CITRUS Juice & concentrate

MANGOES Dried, frozen,

juice & concentrates

LITCHIS Dried, frozen,

juice & concentrates

AVOCADOES Avocado oil

GUAVA Dried, frozen,

juice & concentrates

MACADAMIA NUTS

Processed & confectionery

Highveld

Highveld Region: Summer cereals

and legumes: maize, soya, canola,

sunflower. Animal products: bovine

meat, swine, sheep and poultry.

Lowveld Region: Subtropical and

citrus fruits, nuts and cane sugar.

The Highveld Region in the west of the province is at an elevation

of between 4 000 and 6 000 feet above sea level. This allows for

the large-scale and commercial production of cereals and legumes

like maize, soya, canola and sunflower.

The subtropical region of the Mpumalanga Lowveld plays a key role

in the agricultural export profile of the province, primarily in fruit and nuts.

Mpumalanga Province is one of the world largest producers and exporters

of citrus fruit. Duty-free exports of South African citrus to the USA under the

African Growth and Opportunity Act (AGOA) reached

a peak of 91 000 tons in 2020 ($94.9-million) and

are expected to continue their strong annual growth

as the USA is still considered a premium market.

Mpumalanga Province is the world's largest producer

and exporter of macadamia nuts. The province

earned $207-million in exports in 2019, $76-million

of this to the US. There have been major new

investments in processing facilities in Mpumalanga.

Mpumalanga's rich agricultural produce is utilised

by companies such as McCain, Nestlé and PepsiCo.

$94.9-million

The value of the duty-free exports of South

African citrus to the USA under AGOA in 2020, a

record 91 000 tons

4 000ha

Of macadamia nut trees are newly planted in

South Africa every year, mostly in Mpumalanga

and neighbouring Limpopo

70

Seats on each of the six staff buses, together with

50 trucks and refrigerated trailers, run by banana

farmers Umbhaba Estates
---
KEY SECTORS FORESTRY

Forestry is a key driver for the development of

Mpumalanga's rural economy and a major provider

of job opportunities. About 40% of SA's sustainable

forests are located in Mpumalanga Province.

The industry comprises logging, saw-milling, wood

products, wood board, pulp and paper as well as

specialised cellulose.

Specialised cellulose is a sought-after

natural, renewable fibre with a wide range

of uses in the textile, consumer goods,

foodstuff and pharmaceutical industries

and is produced in large quantities at

Sappi Ngodwana.

PG Bison has recently invested

R560-million in a new front-end dryer for

its particleboard plant in Mkhondo (Piet

Retief). The company is also building a new medium-density fibreboard

(MDF) plant at its Mpumalanga plant.

SAFCOL/Komatiland is the state forestry

company with commercial and non-commercial

operations covering a land area of 187 320ha.

R9.5

billion

Amount invested in the foresty industry

40%

R560-million

Mpumalanga has

processing

39

out of 148 in South Africa

18

plants

MAIN EXPORTS

PULP

PAPER

SPECIALISED CELLULOSE

SAWN LUMBER

WOOD CHIPS

WATTLE EXTRACT

MAJOR COMPANIES

SAPPI

SAFCOL

SONAE ARAUCO

PG BISON

YORK TIMBERS

FX GROUP

Sonae Arauco is a Portuguese investment.

A new entrant, local BEE company the

FX Group, is commissioning a greenfield

particle board plant in Lothair in the Gert

Sibande District.

Of South Africa's sustainable forests are located

in Mpumalanga and it leads the nation in hectares

planted and export earnings

PG Bison's recent investment in a new front-end

dryer for its particleboard plant in Mkhondo

(Piet Retief)

Softwood saw-log plantations run in three

provinces by Komatiland Forests, a subsidiary of

state-owned enterprise SAFCOL
---
KEY SECTORS MINING, MINERALS AND ENERGY

Mining is the province's largest single sector providing employment to 5.2% of the

province's workforce and making up 20% of gross value added by region (GVA-R).

Coal: 83% of South Africa's coal production, 50% of national coal

reserves, third-largest coal-exporting region in the world. Coal

3%

is the lifeblood of provincial economy, fuelling 11 Eskom power

plants, which produce

80% of South Africa's

electricity. Coal is

of South Africa's

Mpumalanga's single

coal production

largest export product,

shipping mainly to India and Pakistan.

MINERALS

COAL Waste briquettes

GOLD JEWELLERY

CHROME

PLATINUM

IRON ORE

VANADIUM

MANGANESE

GRANITE Building cladding

& tombstone

CLAY Porcelain & ceramics

Electrical insulators

0%

of South

Africa's

national

coal

reserves

Other minerals: Gold mining takes place in Evander, Pilgrim's Rest and

Barberton. Gold is the second-largest export from the province.Platinum and

chrome ore mining is located in the Steelpoort and Burgersfort areas in the

north of the province and make up part of the Bushveld Igneous Complex.

The mining services and technology industry is an important subsector in

Mpumalanga. With over a century of commercial mining operations in the

province, homegrown technologies are now exported globally.

National utility Eskom will spend R3.3-billion on the revival of the Matla coal

mine. Exxaro Resources will manage the project and do the mining while major

companies such as DRA, Worley, Sandvik and WBHO will also be involved.

Other companies engaged in expansion of life-of-mine projects are Pan

African Resources and Evander (Elikhulu tailings), Exxaro Resources

(Leeuwpan) and South32, which is spending about R4.3-billion at Klipspruit.

Platinum is an important mineral for the modern economy. Two Rivers is a

joint venture between Implats (46%) and African Rainbow Minerals which is

located on the southern part of the eastern limb of the Bushveld Igneous

Complex, 35km south-west of Burgersfort in Mpumalanga.

Lydenburg is home to the Lion ferrochrome smelter that is a joint venture

between Glencore and Merafe Resources.

R3.8-billion

To be spent by Exxaro on its Belfast coal mine,

one of five assets in Mpumalanga

69 000

People were employed in the mining industry in

Mpumalanga in 2021 (StatsSA)

16

Platinum group metals (PGMs) projects are

underway in the province, home to part of the

eastern limb of the Bushveld Igneous Complex
---
KEY SECTORS GREEN ECONOMY AND JET

Mpumalanga has historically been at the heart of the

South African energy and industrial complex and is still

heavily reliant on the mining and burning of fossil fuels.

The Mpumalanga Provincial Government has been

proactive in exploring opportunities in the Green Economy

and pursuing a just transition to a low-carbon

economy which secures the future and

livelihoods of workers and their communities.

Achieving such a just transition would

require an integration of economic opportunities

in sectors outside of energy and mining.

Mpumalanga has

11

ESKOM POWER

plants

A Just Energy Transition (JET) to a

Green Economy presents the

following opportunities:

• Renewable energy: solar, biomass, natural

products

• Gas and associated industries

• Sustainable smart agriculture:

environmentally-friendly agriculture

and agricultural processing

• Circular Green Economy: waste recycling,

water reclamation, land rehabilitation

• Soft infrastructure: reskilling and

institutional capacity-building for a

carbon-neutral future

• Hard infrastructure: investment and

expertise are needed in urban planning,

water and waste management

• Building technologies: greener and more

energy-efficient

• Transport and logistics: greener and

more energy-efficient

Specific opportunities include:

Specific opportunities include:

•There are plans for the decommissioning

of 11 000MW of Eskom's coal-fired

capacity by 2030. Opportunities are

presented by repurposing land.

• The vast new fields of natural gas found

off the coast of Mozambique could

have a big impact on the Mpumalanga

economy.

• A Renewable Energy Development

Zone (REDZ) is planned for eMalahleni /

Witbank where coal jobs are at risk.

25MW

One

18

The biomass energy plant at Sappi's Ngodwana

Mill started producing in March 2022 and can get

through 35 tons per hour of biomass

Pilot site of Carbon Capture, Utilisation and Storage

(CCUS) project near power stations and chemicals

complex, run by Council for Geoscience

Winning bids from an auction among independent

power producers (IPPs) to use Eskom land to

generate 1 800MW of renewable energy
---
KEY SECTORS MANUFACTURING

Three primary pillars of the manufacturing sector in Mpumalanga account for

more than 60% of the output of the manufacturing sector, which overall makes up

15% of gross value added, regional (GVA-R).

Fuel, petroleum and chemical products are manufactured at the Sasol Secunda plant in

Secunda, Gert Sibande District. It is one of the world's largest synthetic fuels facilities,

producing 60-million litres of liquid fuel a day. Products produced include petroleum,

paraffin, jet fuel, creosote, bitumen and waxes.

The ferro-alloy and stainless-steel industries are based in the Nkangala

District. Columbus Stainless in Middelburg is Africa's only producer of

stainless-steel flat products. Samancor Chrome (Ferrometals), the world's

second-largest ferrochrome producer, has two plants in Mpumalanga.

MAIN EXPORTS

STAINLESS STEEL

Cutlery

Catering equipment

Surgical instruments

Automotive components

STEEL White & grey goods

Pipes & tubes

Wire

PETROCHEMICALS

Plastic products

Recycling plastics

Artificial rubber products

Paint & vanish

Inks & dyes

FOOD PROCESSING

Maize meal

Machinery

Frozen & dehydrated

VEGETABLES Preserves,

pickles & condiments

Nuts

PAPER Recycling

SUGAR Confectionery

MINING Machinery

and services

RENEWABLE ENERGY

Solar and biofuel

Biomass

Agro-processing is mainly based in the Lowveld Region and consists of

manufacturing forestry products (pulp, paper and cellulose), sugar at the

Selati RCL Foods plants in Nkomazi and processing subtropical fruit and nuts.

The province's flourishing macadamia nut industry has a number of

large processing facilities based around the provincial capital Mbombela.

Subtropical fruits like mango, banana, papaya and citrus are processed into

juice concentrate or dried for export.

There is a geographical divide in the manufacturing sector. Fuel, petroleum

and chemical production occurs in the southern Highveld Region clustered

around Sasol's plants.

The northern Highveld area, including Middelburg and eMalahleni (Witbank),

is home to ferro-alloy, steel and stainless-steel concerns. Creative thinking

kicked in when Highveld Steel's troubles reached a tipping point. The

1 000ha property in Emalahleni has been re-purposed as a multi-purpose

site for industry and commerce. Called the Highveld Industrial Park, the

project promotes a wide range of manufacturing enterprises.

In the Lowveld, agricultural and forestry products are processed while

Sappi's giant mill is close to the company's forests south-west of the

provincial capital, Mbombela.

1

90 000

200

Five

Square feet (8 361m²) of floor space at McCain's

food-processing plant in Delmas where French

fries are made

Textile machines work 24-hour days overseen by

500 employees at Standerton Mills making yarns

and fabrics

Small business incubators run by Seda in

Mpumalanga in renewable energy, furniture,

floriculture, agriculture and stainless steel
---
KEY SECTORS TOURISM

The importance of tourism to the economy of

Mpumalanga cannot be overstated. The effect of

the Covid-19 pandemic has been strongly felt.

Mpumalanga received only 340 000 international visitors

in 2020, down from 1.6-million international visitors

in 2019. The key source countries were Mozambique,

eSwatini, the USA, Germany, France and the UK.

.6

MILLION

Number of visitors

ANNUALLY pre-COVID-19

3.7km

500+

21billion

Rand value of tourist

spend in Mpumalanga…

before COVID-19

Domestic tourism has steadily increased. The total tourist

White crested hawk

foreign direct spend (TTFDS) in Mpumalanga for 2020 was

R7.5-billion, down from over R21-billion in 2019. The sector

accounts for 6% of gross value added, by region (GVA-R).

The announcement in 2022 by Eurowings Discover, a new

division of Lufthansa, that it would start flying three times a

week to Mbombela from Frankfurt, via Windhoek, will give a

certain boost to tourist numbers visiting Mpumalanga.

The Kruger National Park is Mpumalanga's most famous

tourist asset and safaris and hunting are major tourist

attractions. The Manyeleti Reserve, a 23 750-hectare

game reserve sharing a fenceless border with the Kruger

National Park, is operated and

managed by the Mpumalanga

Tourism and Parks Agency

(MTPA). God's Window and the Blyde River Canyon Reserve are

other provincial treasures attracting investment.

Business travel, including conferencing, adventure, heritage

and cultural tourism, all hold huge growth potential in

Mpumalanga, but require investment in infrastructure and

product development.

A hotel and conference centre project in Middelburg is

making progress and should be completed in 2023.

13

Length of one of Eastgate Airport's runways at

Hoedspruit, which doubles as an airforce base.

The other runway is 2.1km

Bird species recorded in the Kruger National Park,

including the Kori Bustard, Martial Eagle, Southern

Ground Hornbill and Lappetfaced Vulture

Nature reserves are run by the Mpumalanga

Tourism and Parks Agency and Kruger National

Park is run by SANParks
---
INVESTMENT OPPORTUNITIES TOURISM

Selected Strategic High Impact Projects:

BOURKE'S LUCK POTHOLES HOTEL

This natural water wonder is a major tourism attraction

in the Mpumalanga Lowveld. This project presents an

investment opportunity for a five-star hotel and a

top-quality restaurant.

Feasibility study: completed

Environmental Impact Assessment (EIA): commenced

Model: Joint Venture (JV), Build-Operate-Transfer (BOT)

Value: R100-million

BLYDE RIVER CANYON

CABLE CAR PROJECT

The Blyde River Canyon is the largest and deepest

green canyon in the world and offers a spectacular

opportunity to build a cable car transporting tourists

from the top of the canyon to the peninsula below.

Feasibility study: completed

EIA: commenced

Model: JV, BOT

Value: R500-million

GOD'S WINDOW SKY WALK

The project to build a "Sky Walk", an incomegenerating

tourism attraction off the edge of the 700m

God's Window cliffs, giving 360-degree panoramic

views out and down through a glass floor.

Feasibility study: completed

EIA: commenced

Investors secured

Model: JV, BOT

Value: R100-million
---
INVESTMENT OPPORTUNITIES PRODUCE MARKET

Selected Strategic High Impact Projects:

MPUMALANGA INTERNATIONAL FRESH PRODUCE MARKET

MEGA is establishing a R1.2-billion fresh

produce market facility located in Mbombela, the

Mpumalanga International Fresh Produce Market

(MIFPM). To date the province has invested an

estimated R540-million in the project.

Mpumalanga is one of South Africa's most

productive and important agriculture regions.

It is home to predominantly tropical and

subtropical crops and vegetables owing to its

conducive climate. The tropical and subtropical

crops consist of avocado, banana, citrus, ginger,

granadilla, guava, litchi, macadamia nut, mango,

papaya and pineapple.

The vegetables produced include potatoes,

tomatoes, pumpkins, sweet corn, onions,

sweet potatoes, beetroot, carrots, green peas,

cauliflower, cabbages and green beans.

The market will offer:

• Open trading halls for fruit and vegetables

• A meat, fish and flower market

• Complementary cold storage, ripening facilities

and pallet handling

• Processing facilities

• An export hall

• Bulk-breaking facilities for retail outlets

• Links with statutory organisations such as

customs, PPEBC and EuroGap

• Transport and logistics enterprises

• Shared collation and pack house facilities for

SMMEs

• Commercial services including banks and

restaurants

• A food bank for NGOs

Site: The site is in Mbombela on a 248ha

plot less than 10km from the Central

Business District. It is situated within the

Maputo Development Corridor (MDC), linking

Mpumalanga, Gauteng Province and the Nkomazi

Special Economic Zone with the deepwater Port

of Maputo in Mozambique.

The market: The market will give local farmers

access to local, regional and international fresh

produce markets and will aid in ensuring food

security for the region.

The infrastructure of the MIFPM will attract

international as well as the large domestic food

retailers as a key processing and distribution

point. It will also secure Mpumalanga's position

in the regional export market in fresh produce.

Feasibility study: completed

EIA: completed

Bulk infrastructure: completed

Top structures: underway

Model: JV, BOT

Value: R1-billion
---
MPUMALANGA – NKOMA

H

INVESTMENT OPPORTUNITIES NKOMAZI SEZ

Selected Strategic High Impact Projects:

H

NKOMAZI SPECIAL ECONOMIC ZONE

The Nkomazi Special Economic Zone has

Recreation

been officially designated and MEGA has

Centralised Facilities

been appointed to establish the entity.

SEZs are geographically designated

areas set aside for specifically targeted

Convenience Retail

economic activities that are supported

through special tax incentives. An SEZ

Accommodation

aims to be an economic development tool

to promote rapid economic growth by

using various support measures to attract targeted foreign and domestic investments

and technology. The main goal is to support the implementation of South Africa's industrial

development programme.

2022/03/23

Strategically positioned in the border town of Komatipoort, the SEZ offers a multi-sector

base of operations along the Maputo Development Corridor which provides exporters with

MPUMALANGA – FOREIGN T

Distance to:

► Johannesburg – 449km

► Mbombela – 103km

► Maputo – 99km

► Mbabane – 186km

good access through Maputo Port to the export markets of South East Africa, the Indian

MPUMALANGA – NKOMAZI SEZ

Ocean Rim and Far East Asia.

The Nkomazi SEZ will target investment from the agriculture, agro-processing,

nutraceuticals and fertiliser production sectors, as having a strong focus on logistics and

trade services.

The NSEZ offers the investor a unique and incentivised base of operations on the Maputo

Development Corridor running through the most highly industrialised and productive regions

of Southern Africa.

The Maputo Corridor is bound to develop even more as the Maputo harbour improves

its handling and scheduling capacity. In the event that a second rail line to Maputo to

complement the current rail link is developed, the shipment of mining products and

MPUMALANGA – FOREIGN TRADE

Distance to:

► Johannesburg – 449km

► Mbombela – 103km

► Maputo – 99km

► Mbabane – 186km

Manufacturing

agricultural produce to and from the Limpopo and

Mpumalanga provinces will increase.

The NSEZ is set to provide One-Stop-Shop

services, incentives, innovation platform, a

competitive and transparent market environment,

and timeous and efficient responses to investors'

market requirements.

Logistics
---
FOREIGN TRADE

Mpumalanga is proving to be a key player in the local

economy as well as internationally.

TOP EXPORTS 2021

Ferroy-alloys R33-billion ($2.2-billion)

Stainless steel R8.9-billion ($593.3-million)

Platinum R8.7-billion ($580-million)

Gold R7.3-billion ($486.7-million)

Macadamia nuts R4.2-billion ($280-million)

Coal R3.7-billion ($246.7-million)

Chrome ore R2.2-billion ($146.7-million)

Manganese R1.2-billion ($80-million)

Fuel wood R1-billion ($66.7-million)

Citrus fruit R604-million ($40.3-million)

TOP 10 EXPORT MARKETS 2021

UAE R9.9-billion ($664-million)

People's Republic of China R9.8-billion ($663.3-million)

USA R8-billion ($533.3-million)

Mozambique R7.4-billion ($493.3-million)

Japan R5.5-billion ($366.6-million)

Korea R3.8-billion ($253.3-million)

Netherlands R3.3-billion ($220-million)

eSwatini R3-billion ($200-million)

Indonesia R2.9-billion ($193.3-million)

United Kingdom R2.7-billion ($180-million)