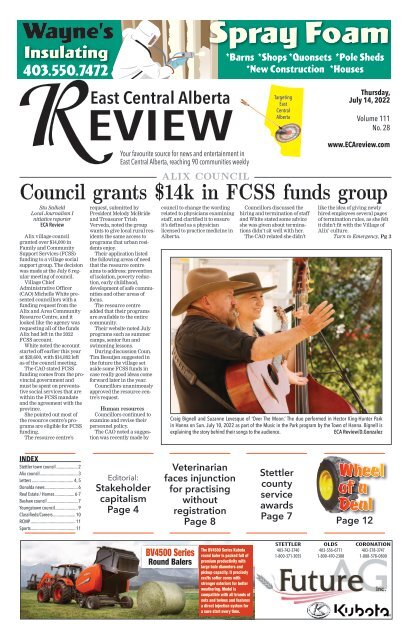 ECA Review 2022-07-14
ECA Review 2022-07-14
ECA Review 2022-07-14
SHOW MORE
SHOW LESS
You also want an ePaper? Increase the reach of your titles
YUMPU automatically turns print PDFs into web optimized ePapers that Google loves.
Wayne's

Insulating

403.550.7472

R

R

72 pt

East Central R Alberta

EVIEW

60 pt

R

48 pt

R

36 pt

Your favourite source for news and entertainment in

East R

30 pt

Central Alberta, reaching 90 communities weekly

R

24 ALIX pt COUNCIL

Spray Foam

*Barns *Shops *Quonsets *Pole Sheds

*New Construction *Houses

Thursday,

July 14, 2022

Volume 111

No. 28

www.ECAreview.com

Council grants $14k in FCSS funds group

R

18 pt

Targeting

East

Central

Alberta

Stu Salkeld

Local Journalism I

nitiative reporter

ECA Review

Alix village council

granted over $14,000 in

Family and Community

Support Services (FCSS)

funding to a village social

support group. The decision

was made at the July 6 regular

meeting of council.

Village Chief

Administrative Officer

(CAO) Michelle White presented

councillors with a

funding request from the

Alix and Area Community

Resource Centre, and it

looked like the agency was

requesting all of the funds

Alix had left in the 2022

FCSS account.

White noted the account

started off earlier this year

at $29,600, with $14,802 left

as of the council meeting.

The CAO stated FCSS

funding comes from the provincial

government and

must be spent on preventative

social services that are

within the FCSS mandate

and the agreement with the

province.

She pointed out most of

the resource centre's programs

are eligible for FCSS

funding.

The resource centre's

request, submitted by

President Melody McBride

and Treasurer Trish

Verveda, noted the group

wants to give local rural residents

the same access to

programs that urban residents

enjoy.

Their application listed

the following areas of need

that the resource centre

aims to address: prevention

of isolation, poverty reduction,

early childhood,

development of safe communities

and other areas of

focus.

The resource centre

added that their programs

are available to the entire

community.

Their website noted July

programs such as summer

camps, senior fun and

swimming lessons.

During discussion Coun.

Tim Besuijen suggested in

the future the village set

aside some FCSS funds in

case really good ideas come

forward later in the year.

Councillors unanimously

approved the resource centre's

request.

Human resources

Councillors continued to

examine and revise their

personnel policy.

The CAO noted a suggestion

was recently made by

council to change the wording

related to physicians examining

staff, and clarified it to ensure

it's defined as a physician

licensed to practice medicine in

Alberta.

Councillors discussed the

hiring and termination of staff

and White stated some advice

she was given about terminations

didn't sit well with her.

The CAO related she didn't

like the idea of giving newly

hired employees several pages

of termination rules, as she felt

it didn't fit with the Village of

Alix' culture.

Turn to Emergency, Pg 3

Craig Bignell and Suzanne Levesque of 'Over The Moon.' The duo performed in Hector King-Hunter Park

in Hanna on Sun. July 10, 2022 as part of the Music in the Park program by the Town of Hanna. Bignell is

explaining the story behind their songs to the audience.

ECA Review/D.Gonzalez

INDEX

Stettler town council ................... 2

Alix council.................................. 3

Letters ..................................... 4, 5

Donalda news ............................. 6

Real Estate / Homes ................. 6-7

Bashaw council ........................... 7

Youngstown council .................... 9

Classifieds/Careers .................... 10

RCMP ........................................ 11

Sports ........................................ 11

Editorial:

Stakeholder

capitalism

Page 4

Veterinarian

faces injunction

for practising

without

registration

Page 8

Stettler

county

service

awards

Page 7

Wheel

of a

Deal

Page 12

BV4500 Series

Round Balers

The BV4500 Series Kubota

round baler is packed full of

premium productivity with

large bale diameters and

pickup capacity. It precisely

crafts softer cores with

stronger exteriors for better

weathering. Model is

compatible with all brands of

nets and twines and features

a direct injection system for

a sure start every time.

STETTLER

403-742-3740

1-800-371-3055

OLDS

403-556-6711

1-800-470-2388

CORONATION

403-578-3747

1-888-578-0800
---
2 J uly 14'22 HANNA/CORONATION/STETTLER, AB. ECA REVIEW

STETTLER TOWN COUNCIL

Council hears ER closure won't happen again

Stu Salkeld

Local Journalism Initiative reporter

ECA Review

Stettler town council heard a report

at their July 5 regular council meeting

that the recent closure of the Stettler

Hospital emergency room (ER) was an

isolated incident and will never happen

again.

During the council committee

reports part of the agenda Mayor Sean

Nolls reported on a meeting he and

town Chief Administrative Officer

(CAO) Greg Switenky recently had

with central zone representatives of

Alberta Health Services (AHS)

regarding AHS' closure of the Stettler

Hospital ER on June 9 and an additional

day last May.

At a previous council meeting town

staff reported AHS notified them the

ER would be without a physician for a

24-hour period "due to staffing

challenges".

Mayor Nolls reported the meeting

with AHS was productive; the explanation

for the ER closure revolved

around locum rotation and physician

on-call schedules. Nolls stated that

AHS told him it boiled down to a

timing issue and AHS assured the

Town of Stettler the ER closure, "...was

never going to happen again."

Locums are out-of-town physicians

who cover hospitals for regular physicians

who are unavailable.

Switenky stated he was satisfied by

the explanation, but pointed out ER

closures typically happen in communities

that are coping with a physician

shortage, which is not the case in

Stettler. He noted the ER closure was

said to be just a bad timing issue.

Mayor Nolls stated that during the

meeting with AHS the health agency

officials explained the Stettler operating

room is well used which results

in some pressure taken off Red Deer

Regional Hospital, a hospital that suffers

from well-documented high

workloads.

Switenky stated the Town of Stettler

would like to resume regular meetings

with AHS central zone reps which

were held regularly at the Stettler

Hospital but which were cancelled due

to the COVID-19 pandemic.

He added that it's assumed the meetings

would also include Mayor Nolls,

himself, Stettler County Reeve Larry

Clarke and Stettler County CAO Yvette

Cassidy.

Coun. Gord Lawlor noted he

Taste

Taste

of

of

the

the

Be immersed in

HEARTLAND

Be immersed in the agricultural lifestyle

with delectable food the agricultural and rural hospitality lifestyle

with delectable right in the food Heart and of rural Alberta. hospitality

right in the Heart of Alberta.

HEARTLAND

FARM TO FORK

VIP FARM BUS TO TOURS FORK

VIP BUS TOURS

LONG TABLE

LONG DINNER TABLE

DINNER

HEARTLAND

HEARTLAND MARKET

MARKET

understood staffing pressures but at

the same time he was concerned about

the health services available to Stettler

residents and refused to take a back

seat to any other community such as

Sylvan Lake.

Councillors accepted the mayor's

report for information.

Housing authority

Mayor Nolls reported on the challenges

facing the Stettler Housing

Authority's three senior citizen care

facilities; he said the number of vacant

units in the three buildings is down to

61 and he was told that there are 12

applications from people interested in

moving in currently in the queue.

Nolls pointed out there are plans for

all pandemic restrictions to be lifted in

the future, and that will be a huge

relief to the housing authority as pandemic

restrictions were discouraging

people from moving into the facilities.

The mayor pointed out the restrictions,

which affect family visits,

shopping, recreation and virtually

every other activity, essentially cut the

senior residents off from the rest of the

world.

Coun. Scott Pfeiffer added that he

knew the senior citizens were very

Planning includes south dog park

Stu Salkeld

Local journalism

initiative reporter

ECA Review

Stettler town council

examined some plans for

the community's future,

including another dog park

proposed for the southern

part of town. The presentation

was made to council at

the July 5 regular meeting

of council.

Town of Stettler

Communications Officer

Lara Angus appeared

before council to update

them on the 2022 strategic

plan, specifically the top

five priorities that were previously

identified and how

those priorities are coming

along.

Angus confirmed that

priority number one, the

parks advisory committee,

was coming along nicely.

All of the goals and

required actions of the committee

are currently being

worked on, including establishing

the working group,

confirming the working

groups guiding principles,

reviewing existing plans,

identifying new features

including maintenance and

upgrades and identify

"quick wins," which

included a fountain for West

Stettler Park and pickleball

lines for the tennis courts.

She added that this part of

the strategic plan has

notched a number of accomplishments,

including

updating two playgrounds,

building one new playground,

a tree park, a green

space, several sports fields,

the two-phase skate park,

the Northeast Dog Park,

community gardens and

orchard and refurbishment

of the sports track.

Several areas remain to

be addressed, including two

new playgrounds, revitalization

of the playground

behind Fas Gas, refurbishment

of the sports track

bleachers, outdoor arena

refurbishment and work on

the sports field turf.

Priority number two is

the Stettler Rec Centre

(SRC) expansion, with

Angus noting all three goals

and required actions are

currently being worked on:

establishing a working

group, possibly revisiting

SRC expansion plan and

exploring funding options.

It was noted progress to

date on the SRC expansion

has included reviewing

work of the previous committee,

reviewing the

previous funding model and

looking at expansion and

funding options in the current

political environment.

It was noted in the report

the field house addition may

be detached or eliminated.

Priority number three

was new or renovated office

space. Angus noted two of

the five goals are being

worked on at this time, with

required actions listed as:

identify layout options, get

cost estimates, create proposed

budget, commence

structural components and

commence IT components.

Angus stated three different

areas of the current

town office were proposed

for renovation.

"After reviewing virtual

layouts designed by the

G.I.S coordinator, it was

agreed that dividing the

work room was the most

viable option, allowing our

organization room to grow,"

she stated in her report.

"An initial electrical

quote has been received.

The committee is awaiting a

construction quote from a

general contractor."

Priority number four,

Stettler as a Christmas destination,

isn't coming along

as quickly as the other priorities

noted Angus.

The goals and required

actions to establish working

group expectations, brainstorm

ideas/desired

outcomes, identify responsibilities

of town and board of

trade, create participatory

plan and facilitate private

cooperation, are not being

worked on at this time she

confirmed.

The same could be said for

priority number five, IT

upgrade and integration

advisory. This will require

research for budgeting and

require cost estimates and

timelines.

Councillors unanimously

accepted the update as

information.

AUGUST

AUGUST

13 13

2022

2022

Visit www.tasteoftheheartland.ca

hard hit by the restrictions.

The mayor stated lifting the restrictions

will likely encourage people to

move into the facilities.

The personal touch

Mayor Nolls reported that town officials

recently met with Minister of

Justice and Solicitor General Tyler

Shandro face-to-face, and the mayor

noted having direct access to the minister

to express several concerns over

policing was a refreshing change.

Both Nolls and Switenky referred to

a previous meeting with provincial

officials over policing that they stated

seemed to be scripted and offered little

way for Stettler to give input.

Nolls stated it was nice to speak

frankly and bluntly to the minister to

express concerns about escalating

police costs which seem very much like

downloading of provincial responsibility

onto municipal shoulders,

similar to the way previous infrastructure

decisions were made.

Nolls noted this has caused the level

of trust to deteriorate between Stettler

and the provincial government.

Coun. Lawlor asked if the provincial

government has given up their campaign

for a provincial police force.

Judging by the answers given by

both Nolls and Switenky, the provincial

government has not given up the

provincial police force campaign and it

appears Shandro or his peers suggested

the federal Liberal government

itself is pushing to encourage provincial

police forces in order to get the

RCMP out of "everyday policing."

Fire report

Mayor Nolls made a brief report on a

recent fire department committee

meeting where it was clear the wet

weather has had a positive effect on the

grass fire situation.

He reported wildfires are down in

number; the fire department also

reported medical calls are also down

in number over last year.

PICTURE CREDIT TO JOEL HALL

Visit www.tasteoftheheaStMaOd.ca

Visit www.tasteoftheheaStMaOd.ca
---
ECA REVIEW HANNA/CORONATION/STETTLER, AB July 14'22 3

ALIX COUNCIL

Odd boxes hung on Alix-area

power poles possibly 'bee boxes'

Stu Salkeld

"They pose no problem

Local journalism for the village or municipal

initiative reporter

infrastructure, but

ECA Review we have received several

calls of concern from residents

The Village of Alix

as they appear to

community was literally be somewhat haphazardly

buzzing the first week of

installed on

July as curious residents various power poles in

were busy as bees trying and around the

to ascertain the purpose community."

of some strange boxes The ECA Review forwarded

hanging on power poles

one of the photos

in and around the to Alberta Environment

community.

to see if the boxes were

As it turns out the part of a wildlife program,

boxes are likely related

but it turns out

to the beekeeping that's not the case.

industry.

"This is nothing

The issue first arose at Environment and Parks

the July 6 regular was involved with, but a

meeting of Alix village couple of our people

council, where Chief think it might be a bee

Administrative Officer box," stated Jason

(CAO) Michelle White Penner, communications

noted the village office advisor, Alberta

received inquiries from Environment & Parks.

several residents

Lacombe County was

regarding some strange also contacted to see if

boxes that appeared to be their agriculture department

hung on several power

was familiar with

poles in and around the the boxes or their owner,

village; the boxes but to no benefit.

appeared similar to a "Our best guess is that

bird house but with a these boxes are bee

spike protruding from a swarm traps," stated a

hole apparently to keep July 7 email from Mike

birds out of the box. Bates, manager of

White reported several Agriculture and

residents also submitted Environmental Services.

photos of the boxes. "I would encourage you

The CAO noted in an to reach out to the

interview the village Alberta Beekeepers

didn't know what the Commission to learn

boxes were or who more if you wish."

mounted them on the The photo and information

power poles.

was forwarded to

The purpose and owner of this odd box hanging on a "The boxes are not the Alberta Beekeepers

power pole near Alix, Alta. is up in the air.

Village of Alix property," Commission July 7.

stated White in a July 7 Alberta Bee

ECA Review/Submitted

email.

Commission Executive

Emergency re-entry plan

Director Connie Phillips

responded in an email, "It

does look like a

bee box, but I

don't see any bees

flying around…

Perhaps it is

being used as a

bird's nest."

Fortis Alberta,

which owns

power poles in

the Alix area,

investigated the

boxes and stated

nothing seemed

to be amiss.

"Our local

team has gone

and checked both

locations," stated

Tanya Croft,

manager,

Communications,

question could be a private

driveway and/or land."

Verdant Valley Chore Horse

Verdant Competition Valley

Chore Horse

Featuring 12 equine teams

Competition

Sat., July 23

Saturday, 1 pm @ Verdant July 23, Valley 2022

Community Centre

Verdant Valley Community Centre

15 15 kms km east E of of Drumheller on on Hwy 576 (paved)

in an email

FREE ADMISSION

July 8. Chore Concession. Horse Competition Bouncy castle begins and other at 1 p.m.

"Neither one activities for kids. No dogs please.

appears to be Concession INFO: on Austin site. Bouncy at 403 820-4892 castle and other

inhabited by anything.

The pole in Society and Agriculture Community.

activities Sponsored by: for Verdant kids. No Valley dogs Agricultural please.

FOR MORE INFORMATION CONTACT Austin at 403 820-4892

Sponsored by the Verdant Valley Agricultural Society

and Agriculture Community.

Celebration of Life

Wayne Douglas Muhlbeier, 67 of

Edmonton, Alberta passed away on

December 16, 2021. Wayne was born

in Castor, Alberta, to Frank and Lee

Muhlbeier, on July 24 th , 1954.

A Celebration of Wayne's life

will be held Saturday, July 23, 2022 at

1:00 pm at the Golden Circle in Castor, Ab.

Those wishing to pay their respects to the Muhlbeier family

may do so by visiting www.parkviewfuneralchapels.com

Parkview Funeral Chapels were entrusted with the care and

funeral arrangements. For further information

please call 403-882-3141.

Cont'd from Pg 1

Another issue discussed was

whether staff can be suspended

without pay; Coun. Ed Cole

stated he felt such a measure

was not legally permitted any

more.

Councillors also discussed the

issue of staff with medical needs,

particularly prescribed medication,

and the possibility some

staff may be operating

equipment.

Councillors

accepted the

report as

July 21

Issue

(Deadline Mon., July 18)

Judy cell 403-740-2492

marketing@ECAreview.com

Yvonne 403-575-9474

digital@ECAreview.com

Sheree 587-990-4818

contact@ECAreview.com

information and will continue to

review the policy at a future

meeting.

Re-entry plan

White submitted to councillors

the village's emergency

re-entry plan and councillors

were very happy with the plan.

"I liked it," said Mayor Rob

Fehr.

Coun. Tim Besuijen added,

EAST CENTRAL

GAS CO-OP LTD.

Annual

General

Meeting

Wed., July 27 @ 1:15PM

*All Members Welcome*

406-5 th Street East Hanna

"It's very thorough." He asked

the CAO if the village can perform

everything listed in the

plan and White answered, "Yes."

During discussion Fehr

pointed out there were details in

the plan he would never have

thought of, such as inspecting

trees to make sure they're safe

before citizens return.

Councillors unanimously

approved the plan.

Annual General

Meeting of

Suffern Lake

REGIONAL PARK

AUTHORITY

Saturday, July 16, 2022

@ 2 pm - at Suffern Lake Hall

Suffern Lake Park, Sask.

Please join the Board for the AGM, coffee & doughnuts!

WIN $250 Heart of Alberta Dollars

Make a purchase at a participating

Think Local, Shop Stettler business

Make

during

a purchase

the month

at a participating

of July and receive

Make Think a purchase Local, Shop at Stettler a participating business

Make during a purchase the

a Christmas

month at a of participating July

in

and

July

receive

postcard.

Think Local, Shop Stettler business

Think Local, a Complete Christmas Shop Stettler in the July business

postcard. by making a

during the month of July and receive

during the Complete month second the of July card purchase and by making receive at another a

a a Christmas Christmas second in July postcard.

participating in purchase July postcard. at another

business and submit

participating the business card by and

Complete the card making submit a

your by card making to a

your card to WIN! WIN!

second purchase at another at another

participating business Draw

and and to

submit

be submit

Draw

made

your your card card to WIN!

to to be WIN!

August 2

made

Draw

Draw

to

to

be

For full

be

made

August

contest

2made

details,

August 2

August visit shopstettler.ca 2

WIN $250 Heart of Alberta Dollars!

WIN $250 Heart of Alberta Dollars!

WIN $250 Heart of Alberta Dollars!

For full For contest full contest details,

visit shopstettler.ca

visit For full contest details,

visit shopstettler.ca
---
4 July 14'22 HANNA/CORONATION/STETTLER, AB. ECA REVIEW

OPINION

The opinions expressed are not necessarily

the opinions of this newspaper.

EDITORIAL

Stakeholder

capitalism

R

R

R

R

R

Published by

Coronation

Review

Limited

Brenda Schimke

ECA Review

The importance of our civil service

and government institutions has been

under relentless attack from libertarian

politicians and neo-liberal

think tanks for so long that it's been

baked into the psychic of most middleand

lower-class voters. Which

shouldn't come as a surprise given

individuals 60 years old and younger

weren't adults or even born when the

role of our government was to look

after and protect its citizens.

The vast majority of citizens only

know government's role as a facilitator

of market efficiency and economic

growth.

Yet, who really

Subscriptions:

$52.50 in Canada; $98.70 in US;

$183.75 Overseas.

" political era when

governments changed

their focus from serving

the needs of citizens to

serving the needs of the

market and economy.

thinks major airlines,

banks,

insurance companies,

oil companies,

investment companies,

big pharma

and telecoms, to

name a few, really

care about their

employees and customers?

Have we

really come to

believe that these

'giants' don't need

regulations or oversight and that they

work on our behalf? Have you never

felt 'taken' by one of these aforementioned

industry groups?

One of the government's most important

roles should be to protect its

citizens from fraud and unfair business

practices. Something that all

Canadian governments, regardless of

their political strip, have continually

abdicated in favour of commerce and

profits. But every once in a while, a

government steps up to stop predatory

practices.

Such was the case when the federal

government introduced new regulations

to protect banking customers. As

of June 30, banks are now legally

required to protect the interests of

their customers by selling products

and services that are appropriate for

each individual customer's financial

situation.

In other words, the size of commission

or 'orders from on top' can no

longer be the reason to push certain

products on customers. It is a first step

to stop the predatory nature of banks

that flourished after employee compensation

became more heavily

weighted to commissions rather than

salaries.

Another aspect of the new law is that

banks must be pro-active in telling the

customer the best deals on fees and

give automatic notices when fees kick

in because of, say, an overdraft.

The complaint's mechanism has

been improved as well with much

shorter timelines for resolution.

It is a piece of legislation that finally

has caught up to the 21st century. It

takes a bite out of the 'buyer-beware'

principle or Caveat Emptor that

became a precedent in law during a

1603 case in England. Putting the onus

on buyers may have made sense

during a time when individuals and

small vendors were buying and selling

physical items face-to-face.

Today, it's an outdated principle as

consumers purchase tangible and

intangible items—much of which is

beyond our technical understanding—

from invisible owners of

multi-national, billion-dollar corporations,

shielded by

the internet, a battery

of high-priced

That's precisely the

lawyers and multipage

legal

disclaimers.

These new

banking regulations

rightfully put

the onus on both

the buyer and the

seller.

Governments

and their institutions

once

protected their citizens from the

excesses of corporate 'shareholder capitalism'.

Yet all democratic

governments changed their focus after

the reign of Margaret Thatcher in the

U.K., Jean Chretien in Canada and

Ronald Reagan in the U.S. That's precisely

the political era when

governments changed their focus from

serving the needs of citizens to serving

the needs of the market and economy.

We are now suffering the long-term

consequences—extreme income inequity,

unaffordable housing, worker

shortages in critical, lowly-regardedservice

industries and societal

discontent.

The revised banking regulations is a

small step towards re-balancing power

within the markets. It's a small step

towards the concept of 'stakeholder

capitalism' which levels the playing

field ensuring more positive outcomes

for all stakeholders, not just

shareholders.

Our governmental institutions are

absolutely critical to maintaining

peace and order by protecting the little

guy—you and me—and small and

medium-sized businesses.

Those politicians who continually

'mouth off' about the evils of the civil

service and government institutions

aren't working for you, they are simply

the mouth piece for big Corp, foreign

shareholders and the millionaire/billionaire

club.

72 pt

East Central Alberta

EVIEW

60 pt

48 pt

36 pt

Website ECAreview.com

Office Hours Mon. - Fri. 9 am - 5 pm

R

30 pt

4921 - Victoria Avenue

Tel. (403) 578-4111

R

24 pt

Mail: Box 70, Coronation, AB Canada, T0C 1C0

"

LETTERS POLICY • Letters to the Editor are welcomed •

Must be signed and a phone number included so the writer's

identity can be verified. • ECA Review reserves the right to edit

letters for legal considerations, taste and brevity. Letters and

columns submitted are not necessarily the opinion of this

newspaper.

MEMBER OF:

Local Journalism Initiative is funded

by the Government of Canada.

MAIL BAG

Sneaking in private

health care

Dear Editor,

In my opinion, our provincial government

is trying to sneak in private

health, using public money and many

Albertans don't realize the consequences

that entail such a move.

First of all, private health care in

America is in shambles. It's costly,

twice as much as our universal health

care in Alberta.

It's plagued by delays to patients

unless the patients have adequate

health care insurances or who have

the money for immediate services; it's

plagued by medical scandals, and it's

plagued by high mortality rates, especially

to those who are poor and to

those who are non-white.

Bottom line: If private health care is

costlier and less efficient, why do some

of our politicians want to bring it in?

JOYCE WEBSTER

Publisher/Editor

publisher@ECAreview.com

YVONNE THULIEN

Marketing/Digital 403-575-9474

digital@ECAreview.com

Answer: MONEY ! Private health

care brings in a "ton of money" to private

doctors, private hospitals and

private clinics, pharmaceutical companies,

insurance companies, and for the

lawyers who defend them in the courts

(for malpractice, as one example).

How does our government sneak in

private health care? By underfunding

our public system and by claiming that

private health care is the solution to

our health care crisis (shortages of

doctors, nurses, facilities, shortages of

medicine, etc.).

Basically, the government uses the

same arguments for supporting private

schools, charter schools, private

pension plans, provincial police forces

and private corporations.

George Thatcher

Trochu, Alta.

If it's true, it is brilliant

Dear Editor,

I feel that The letter writer in

'Should terrify any thinking person',

dated June 16, 2022 the 22,000

Canadians of Japanese descent giving

up their firearms before they were

rounded up, interred in camps and all

of their property was stolen.

As a student of history for over 50

years and teaching experience, I know

that one reason the Japanese were

removed from the west coast is that

Prime Minister Mackenzie King

feared a repeat of Vancouver race riots

that could have consequences for

Canadian POWs captured in Hong

Kong, etc. according to The Canadian

Encyclopedia.

This type of mass riots had already

occurred from Sept. 7 to 9, 1907, first

against the Chinese and moving to

attack the Japanese. It's interesting

that they actually started in

Bellingham two days earlier and were

directed against East Indians –

another negative fallout from the USA,

according to Wikipedia.

To suggest they should have kept

their guns and possibly used them is

crazy. They would have been massacred

by mobs.

On another note, did the Brits really

collect and dump their firearms in the

ocean after WWII? I have never heard

this. If it's true, it is brilliant. Imagine

how many lives were saved by not

having guns fall into the wrong hands!

I think both Canada and the USA

could learn a lesson from this.

David Parrish

Trochu, Alta.

BRENDA SCHIMKE

Editorial Writer

JUDY WALGENBACH

Marketing 403-740-2492

marketing@ECAreview.com

STU SALKELD

LJI Reporter 403-741-2615

reporter@ECAreview.com

SHEREE BAILLIE

Marketing 587-990-4818

contact@ECAreview.com

DANIEL GONZALEZ

Reporter 403-700-9460

news1@ECAreview.com

LISA MYERS-SORTLAND

Graphic Artist

R

18 pt
---
ECA REVIEW HANNA/CORONATION/STETTLER, AB July 14'22 5

MAIL BAG

See great things happening in the next few years

Dear Editor,

"Part of being optimistic is

keeping one's head pointed

toward the sun and one's feet

moving forward." – Nelson

Mandela

This is a quote that speaks to

us at this time in our lives. We

have not always been able to see

the sun but we have always

known that it is there.

We are optimistic about the

next few years for our county.

We are excited to see industry

coming to our region in the form

of wind projects and a power

line. Not only will it help the

county with municipal taxation

but it helps all of us to recover

from the loss of revenue from

other industries such as the

power plant and the coal mine.

Being optimistic about new

ways to produce power does not

mean we are against other

industries like oil and gas. It

means we are looking forward

to new ideas that can compliment

what we have developed in

the past. To help find a balance

and to not put all of our eggs in

either basket.

We are looking forward to the

many benefits that I see possible

for wind projects in our area.

We are happy to see some of

our young adults pursuing new

careers in the renewable energy

sector.

We understand that our local

schools as well as the U of A and

Lakeland College, (to name a

few) have sent their post-secondary

classes here to tour the

Halkirk 1 Project to learn the

latest technology in new power

generation.

Our family has personally

hosted a young man from

southern Alberta who is

receiving training on newer

wind structures so he may stay

current with his career. We

have also hosted a university

student who wrote a paper on

the effects of wind projects on

communities for her university

degree.

We learned a lot from them

and continue to learn as we have

gone through the process of the

Halkirk 2 project.

We are hopeful to see the spin

offs in the supply chain revenue

as we are often asked "When is

the next project happening? It

was sure good for business"

Any business owner would

welcome a boost, as COVID is

still fresh in our minds.

Not just with our local businesses,

such as restaurants,

construction, grocery, gas outlets

but also for our neighbours

in Flagstaff and Stettler county

as well.

Any long- time industry

brings us new residents to our

communities and in the past

they have been great assets to

our fire departments, organizations

and schools. We would

welcome them and their families

with open arms in the years

to come as well.

Any wind project in our

county has had sufficient participating

land owners that are

willing to host structures. It is a

great source of income that can

bring peace of mind to a producer

during a tough drought or

crop year.

We know that someday a

young family will continue our

farming operation and we are

thrilled to know that our decisions

today, as participants, will

help a family to focus on

building their farm rather than

search for an off- farm income.

Past projects have helped our

county to improve and maintain

our road structure. Roads are

always a large budget item and

to have industry assist in that

infrastructure is a huge benefit

to everyone.

The new CETO line is necessary

to ensure that we keep up

with secure and reliable power

transmission to various parts of

our province. Something we

often take for granted until, of

course, the power goes out.

We have been very fortunate

in this area that many companies

have contributed thousands

and thousands of dollars to our

local communities. Great corporate

citizens who find value in

our people and our events and

want to contribute to it.

Having our county and urban

councils welcome one industry

opens the door to other companies

and people to explore what

all we have to offer.

In our experience, as a participant,

with Capital Power we

have found them to very conscientious

regarding our

community and our farmland.

Not every proposal for their

project has met with our

approval but we have been

able to work out compromises

that continue to take

place to this day. We've been

treated with respect and we

feel our input has been valuable

to the project.

The people we have dealt

with have taken the time to

listen and educate us and for

that we are grateful. Their

team of experts continue to

communicate with us as

needed by either party.

Many landowners have

come together to help make

this a successful project for

each other and for our

county.

Moving forward with our

faces towards the sun is

where we plan to be in many

aspects of our lives. We

select a path in life by our

everyday choices. We see

great things happening in

the next few years and we

are looking forward to it.

Shannon & Doreen

Blumhagen

Halkirk, Alta.

Stettler historian and volunteer Carson Ellis was one of many

volunteers and residents who attended the unveiling of

"community builders" monuments June 30 across from the

Stettler RCMP detachment. The Community Builders Committee

unveiled two new monuments honouring Judge William

Brigham Gray and the Poon Family (Jun Wah, Yick Fong 'Sam,'

Star, Yick, and Thing Gue 'Harry' Poon). ECA Review/S.Salkeld

10 % off

storewide

Bring your

family

and have

lunch on us!

Bouncy castle

on site Friday

Sale Days July 15-16

OPEN

NOW!

100–19453 Highway 12

STETTLER

403-740-1430

Monday - Friday

7:30 to 5:30

Saturday

9:00 to 4:00
---
REAL ESTATE/HOMES

6 J uly 14'22 HANNA/CORONATION/STETTLER, AB. ECA REVIEW

Shelly Creasy Ph. (780) 434-4700

Hm/Off. (403) 578-2255 • Cell. (403) 578-7000

Coronation

The Color Fun Run

was part of the

Donalda Canada Day

festivities, including

from the left, Zoe

DeCnodder, Bobbi

Isherwood, her son

Diesel, Davin Kirwin

and Jen Wells.

ECA Review/

Submitted

SLAP

Shots

• Columnist

Norman Chad, on

Twitter: "Deshaun

Watson supposedly

booked massage

appointments with

66 different women

over 17 months.

This sounds more

damning than it really

is. Heck, I have

ordered 66 different

items from

the Cheesecake

Factory menu over

17 months and no

one's blinked an

eye."

• Dwight Perry of

the Seattle Times:

"Major League

Baseball will allow

its teams to sell

sponsorships to

cannabis companies

that market

CBD products, the

Sports Business

Journal reported.

'Spahn and Sain

and Pray for Rain'

is about to be supplanted

by 'Cheech

and Chong and

Pass the Bong.'"

• Headline at

fark.com: "Trevor

Lawrence says

Jaguars building

'something special'

under Doug Pederson

—presumably a

gallows trap door."

Serving

the east

central

Alberta

region

CROP LAND

2700 acres -

south of Veteran

4500 acres -

Chinook area

6000 acres -

Cereal area

2400 acres -

south of Hanna

SOLD

Jeff & Alison Southworth,

bringing 20 years of experience

• Water well drilling & servicing

• Well pump installation and servicing

• Pressure systems

• Backhoe services for water lines

• Water well Chlorination

• Ritchie waters • Pasture Wells

Call Dallas Ellerby

Your Farm & Ranch Specialist

403.578.8105

Emergency services • 24 hr on call

Legacy

Drilling Ltd

403-854-0172 • Hanna, AB

legacydrillingltd@outlook.com

403-396-2254 • Delburne, AB

LAND FOR SALE

Hanna Lodge

Friday July 22, 2022

11:00 am – 4:00pm

Come and join us for:

Music, Vendors, Resident Rubber

Duck Races, Resident Beaver

Buggy Car Races, Tours of the

Lodge, And lots of visiting!

Phone: 403.577.7930 Fax: 403.577.2261

Email: amanda.wiltse@acadiafoundation.com

GRASS LAND

24 quarters - south of Veteran

16 quarters - south of Veteran

90 quarters - Youngstown area

117 quarters - south of

Youngstown

18 quarters - at Esther

SOLD

SOLD

SOLD

1/4 section of grass - south

of Veteran

www.greaterpropertygroup.com

GREATER PROPERTY GROUP

cancow@

xplornet.com

Lunch at Noon:

Hot dogs, Potato Salad,

Home Made Beans & a

Pop/Coffee/Tea/Water

Cost for Lunch: Donation

All Seniors 65+ who take a lodge

tour Amanda will have Wiltsetheir name entered

Manager, Consort Lodge

to win a DOOR PRIZE,

Bag 1001

Consort, AB

Register for a tour time

T0C 1B0

at the Reception Desk

the day of the Open House.

5206 Victoria Ave, Coronation

6 bedrooms, 3 bathrooms, wood or

gas fireplace, new carpet and paint,

A/C, double attached insulated and

heated garage. REDUCED $349,900

4710 Windsor Ave, Coronation

Move in ready inside unit of a 4 plex;

2 bedroom 1 1/2 bathrooms fenced

backyard partial covered deck back

parking 5 appliances $74,900

4801 Windsor Ave, Coronation 5

bedroom character home located on

a large 100'x115' lot. This home has a

metal roof & siding, single detached

garage a newer furnace and hot

water tank and includes 5 appliances

Listed @$85,000

4725 Alexander Ave, Coronation

4 bedroom 2 bath double wide on a

full basement across the street from

the school. Multiple renos including

the kitchen, flooring, shingles,

basement bathroom and numerous

other changes. Includes 5 appliances

and window coverings. Listed at

$69900!

Diana and Harry Lane acreages,

Coronation 7 fully serviced

acreage lots available west of the

Hospital in Coronation. 1.72-3.33

acres $22,360-$43,290

5125B Victoria Ave, Coronation

North unit of a spacious open 2

Amanda Wiltse

bedroom Manager, Consort duplex. Lodge White cabinets,

new

Phone:

laminate

403.577.7930

flooring Listed for

Fax: 403.577.2261

$114,900

Bag 1001

Consort, AB

T0C 1B0

Email: amanda.wiltse@acadiafoundation.com

5021 Imperial Ave, Coronation -

4 bedroom 1 1/2 storey home

located on a corner lot that is approx

85x115. There is a newer shed with a

loft, an older shed and 5 appliances

included in the sale. Listed for

$47,500!

for additional photos:

screasy.ca or

realtor.ca

4725 Windsor Ave, Coronation -

3 bedroom bungalow, main floor

laundry, new windows,furnace, hot

water tank, and shingles. This home

is close to school and uptown!

Listed @ $69,900

5101 Norfolk, Coronation

Beautiful 3 bedroom family home

located on a corner lot, the majority

of this home has been completely

renovated. Includes 5 appliances,

spacious 100'x115' yard double

detached garage that is 1/2 garage

and 1/2 revenue property, deck and

a covered seating area and

gardening space. There is a lot to this

property Listed @ $149,900!

4602 York Ave, Coronation

Beautiful 3 bedroom bungalow

located at the back of a cul de sac

fenced yard, covered patio double

attached insulated and heated

garage.

SOLD

5125A Victoria Ave, Coronation

Spacious 2 bedroom south facing

unit on a duplex. New kitchen

cabinets and upgraded bathroom,

bright and open! Listed @$124,900

OPEN HOUSE

Wednesday July 20

from 2-6 pm.

Cambridge House, Coronation -

Please join me and view the latest

rental options in Coronation we have

monthly, weekly and week end rates

available!

Commercial

4905 Royal Street, Coronation

Restaurant space for sale. This

property is to be sold as is. Approx

2600 sqft, 2 bathrooms and multiple

storage a prep spaces. Listed

@$40,000

5001 Railway Ave, Coronation

24'x30' insulated and heated

commercial building close to

downtown. Front office, washroom,

shop area and chainlink enclosed

yard. REDUCED $24,000

5117 Railway Ave, Coronation

200'x115' Commercial lot located

along secondary 872. Listed at

$46,000

4301 Victoria Ave, Coronation

200'x115' Commercial lot located

along secondary 872. Listed at

$46,000

4511 Tudor Ave, Coronation 1.76

acre commercial lot in a newer

commercial sub division towards the

east end of Railway Ave. Listed at

$40,000
---
ECA REVIEW HANNA/CORONATION/STETTLER, AB July 14'22 7

REAL ESTATE/HOMES

BASHAW COUNCIL

Council sets reserve bids for property auction

Stu Salkeld

Local Journalism initiative reporter

ECA Review

Bashaw town council set reserve

bids for two properties set for auction.

The decision was made at the July 11

regular meeting of council.

Town Chief Administrative officer

(CAO) Theresa Fuller presented councillors

with a report on plans to

auction two lots within the municipality,

tax roll number 001522 located

at 5035 49th Ave. which she reported

has been assessed at $13,560, and tax

roll number 001523 located at 5037 49th

Ave., which has also been assessed at

$76,200.

"The Municipal Government Act

(MGA) provides that council must

establish a reserve bid that is ' as close

as reasonably possible to the market

value of each parcel,'" stated Fuller in

her report.

"Market value is arrived at between

The Stettler County community gathered Thurs. June 16 for

the 44th annual community service awards ceremony. The

Community Angel Award was earned by Karyn Tateson and

presented by Doreen Nixon. ECA Review/Submitted

a willing, self-informed buyer and a

willing, well-informed seller.

Typically, the assessed values are used

as market value/reserve bids."

The CAO noted the town received a

recommendation that a reserve bid for

both lots combined should be $55,000.

Councillors unanimously passed

two resolutions: the first set a reserve

bid for the first property at $10,000, and

the second resolution set a reserve bid

for the second property at $50,000.

Telephone changes

Councillors discussed changes

coming to provincial 911 telephone service

and the fact it appeared to be more

of a notification than a request for

input.

Fuller stated in her report to councillors

Telus has notified the town that

the corporation is in the process of

upgrading 911 service across Alberta,

and these changes apparently required

a new agreement with Bashaw, which

Stettler County

service awards

Submitted by

Stettler County

The Stettler County community

gathered Thurs. June 16 for

the 44th annual community service

awards ceremony.

The Community Angel Award

was earned by Karyn Tateson.

The many Community Service

Awards were presented to: Betty

Campbell, Richard DaBell,

Cheryl Martin, Allen Jacobson,

Rocky and Christine Ross and

family and Brian Buck.

was included.

"This does not appear to be

optional," stated Fuller in her report.

Coun. Cindy Orum stated she'd been

approached by a local resident who

was concerned about these changes

and billing associated with them. She

asked if local businesses had been consulted

about the changes, and Fuller

answered it looks as though the

changes are mandatory and she was

not aware of any consultation; however,

there is another Telus related

project that may include consultation,

an "internet phone" program.

Fuller stated there have been some

stability concerns aired about internet

phones.

Councillors unanimously agreed to

sign the new 911 agreement with Telus.

Inspection issues

During her regular report to councillors

Fuller noted the town may face

an issue with Hwy. #12/21 Water

Arts, Culture and Heritage

Award - Jean MacDonald.

Youth Service Awards were

earned by Hayley Walgenbach

and Cash Buchwitz and a

Community Centre Lifetime

Achievement Award was earned

by Shaun Derr.

Mark Higgins earned a

Service Award for 18 years of

service on the County of Stettler

Regional Recreation Board and

Erskine Social Recreation

Society.

Commission certification.

Apparently water line check certification

is being altered and the Town of

Bashaw water operator would not be

eligible to conduct them.

The CAO stated Bashaw wouldn't be

the only community facing this issue.

She also stated that, upon investigation,

it doesn't appear in the agreement

between the town and water commission

that Bashaw is required to

conduct the checks anyway.

Personnel updates

Councillors agreed to update the

Town of Bashaw's personnel policy

that were described by Fuller in her

report as "outdated."

Among the outdated aspects to be

changed were the public works

foreman not qualifying for overtime

pay, the public works foreman being

paid $30 to attend council meetings,

the definition of a personnel committee

and a few others.

It appeared many of the changes

were connected to what could be considered

a conflict with the MGA's

section 201.(2) which notes, "A council

must not exercise a power or function

or perform a duty that is by this, or

another enactment or bylaw specifically

assigned to the CAO or a

designated officer."

Councillors unanimously approved

the proposed changes to the personnel

policy.

Public Works report

Public Works Foreman Patrick

Taylor reported to councillors that the

water fountain was dying; to address

this problem he used a sump pump

with some styrofoam and it appears to

be working.

July 11-31 st

15 % off!

Paint

Sundries

Some exclusions apply

Stettler Building Supplies Ltd.

ettler Building Supplies Ltd.

4201-49 th Ave. Stettler, AB

403-743-0684

www.stettlerbuildingsupplies.ca
---
8 J uly 14'22 HANNA/CORONATION/STETTLER, AB. ECA REVIEW

Veterinarian faces

injunction for practising

without registration

Daniel Gonzalez

ECA Review

Forestburg veterinarian Dr. Jeff

Serfas has been summoned to court for

an injunction by the Alberta

Veterinary Medical Association

(ABVMA).

Dr. Serfas is accused of continuing to

practise on animals despite having his

registration with the ABVMA cancelled

in 2020.

Dr. Sefras was a registered vet with

the ABVMA since 1997 and the sole

owner of the shutdown Forestburg

Veterinary Clinic.

After breaching an order that prevented

him from practising veterinary

medicine and attempting to deceive the

ABVMA, on Oct. 8, 2020, Dr. Serfas

had his registration cancelled for a

minimum of five years.

According to complaint reports by

the ABVMA, Dr. Serfas has a history

of misconduct and malpractice.

In 2014, an order was filed against

Dr. Serfas in regards to his conduct,

professionalism and treatment of a

feral cat. The order included $16,000 in

fines, a 30-day suspension, education

and anger management courses.

After the order was issued, three

Calgary-based vets; Dr. Kent Morley,

Dr. Lia Morley and Dr. Miguel

Moncayo, wrote to the ABVMA

regarding the punishments given to

Dr. Serfas.

* Rates are subject to immediate change

without notice, at the sole discretion of

connectFirst Credit Union.

"The punitive measures delivered

by the ABVMA are grossly inadequate

when considering the damage

Dr. Serfas has inflicted on his community

and our profession," they

wrote in the letter.

Once more in 2016, Dr. Serfas was

charged with inappropriately dispensing

amoxicillin, an antibiotic, for

his infant son in what was described

as an "unsafe manner, specifically

un-reconstituted."

This led to another 30-day suspension,

$14,000 in fines and required

him to attend more training.

In 2019, Dr. Serfas had his registration

suspended for one year and was

charged $50,000 after botched operations

on two dogs that resulted in

their deaths.

Finally in 2020, Dr. Serfas breached

the suspension order he received in

2019 alongside attempting to deceive

the ABVMA. Dr. Serfas lost his registration

with the ABVMA, was forced

to close the Forestburg Veterinary

Clinic and charged $100,000 in fines.

Although he is no longer registered

under the ABVMA, Dr. Serfas has

been accused of continuing to practise

on animals according to locals in

Forestburg and reports by the

Edmonton Journal.

Dr. Serfas will appear in court in

July.

MEAT, DELI, GROCERY EQUIP., COOLERS, FREEZERS

AUCTION

ONLINE TIMED AUCTION

BIG BEND MARKET

(BUSINESS REALIGNMENT)

SALE SITE: #157, 2004 – 50th AVE, RED DEER, ALBERTA

STARTS: JULY 18, 2022 @ 9AM CLOSING: JULY 21, 2022 @ 9AM

Selling Via www.bidspotter.com

FOOD EQUIP. - Hobart Stacking Dbl

Elec. Conv. Baking Oven - Alto-Shaam

Convotherm Super-Heated Steam Elec.

Conv. Oven - Garland Elec. Convection

Oven - Imperial 36" Elec. 6-Burner

Range w/ Single Oven & SS Overshelf -

Hollymatic GMG150 Meat Mixer/Grinder

5hp/3ph/200V - Butcher Boy 312F Meat

Bandsaw 1hp/220V/1ph - Hobart 403

Meat Tenderizer - Scharfen G330 12"

Commercial Meat Slicer - Berkel 919/1 12"

Commercial Meat Slicer - Henkelman

500 Dual Chamber Digital Vacuum

Packer - Tarrison TA-CDS315 SS 3-Comp.

50"x25" Prep Sink w/ Pre-rinse - SS

2-Compartment 51" Prep Sink - SS Wall

Mount Handwash Station w/ Foot Control

- SS Worktable 30"x72" w/ Edlin Manual

Can Opener - 3-SS Worktables 29"x72" -

Metal Worktable 30"x60" w/ meat cutting

poly top - Metal Worktable 24"x72" w/

meat cutting poly top - SS 3-Compartment

Sink Insert 21"x39" - Hamiliton Beach Food

Processor - Assorted Stockpots, Colander,

SS Inserts, Bread Pans, Roasters, Deli Tray,

Salad Spinner, Baking Pans, Cookie Trays,

Tongs, Ladles, Assorted Small wares - Idea

SS7 Dual Wet or Dry Warmer w/ Round

Insert - Newco NKP PAF Single Station

Coffee Brewing Machine w/ Fixed Water

Supply and Hot Water Discharge - Assorted

Vacuum Packaging Bags

COOLERS & FREEZERS - America

Showcase Company 96" Refrig. Open Face

Curved Front Merchandising Cooler R134a

- 3-True GDM 49F Double Glass Door 54"

Freezers - True GDM 69 Triple Glass Door

78" Cooler - True GDM 72 LO 78" 3-Sliding

Glass Door Cooler R134a - 2-True GDM

49F LD Double Glass Door 54" Freezer -

AUCTIONEERS NOTE: Big Bend Market is Strategically Realigning their business

so don't miss your chance to secure excellent deli & food prep equipment. You will

still be able to enjoy your favorite Big Bend Market meats from the North store.

VIEWING: July 18 & 20, 9am-4pm

General SVM-6P Reach-in 74" Produce

Merchandising Cooler - General SD6 75"

Refrig. Glass Showcase Cooler R134a

- General RSL 40 GCG 54" Dbl Sliding

Glass Door Cooler R134a - 3-Hussmann

ARLO400 Single Glass Door Cooler R404a

- Cornelius COR 49RFBMD SS Dbl Door

60" Freezer R404a - 2-Artica Showcase

Company 38" Curved Glass Refrigerated

Showcase w/ Remote Refrigeration R134a

- Arctica Showcase Company 48" Curved

Glass Hot Food Showcase c/w Hatco

Infrared Food Warmer - Arctica Showcase

Company 105" Curved Glass Refrigerated

Showcase w/ Remote Refrigeration R134a

- Arctica Showcase Company 96" Curved

Glass Refrigerated Showcase w/ Remote

Refrigeration R134a - 2-Domestic Chest

Freezers

WALK-IN COOLERS - 124"x116" Walkin

Cooler w/ Remote Refrig. & 4-Fan

Condensing Unit, 168"x210" Walk-in

Cooler/Freezer w/ Common Wall, Remote

Refrig., 112"x112" Walk-in Cooler w/

Remote Refrig. & Bohn 3-Fan Condensing

Unit, Etc.

CASHIER & POS EQUIP. - 4-Digi 5500

EVEL Digital Scale w/ Slip Printers,

2-PosX Cash Drawer & Register, Pioneer

Cyprus POS System c/w Cobalto Datalogic

Scanner & Epson Slip Printer, Vintage

Sanitary Produce Scale, 2-Chrome Shoulder

Bag Racks, Etc.

GROCERY & DELI EQUIP. - 4-30"X48"

Wood Restaurant Tables w/ 4-Chair Each,

Dbl Pedestal Chrome Bar Table 11ftx18",

5-Wooden Stools, Wood Display Trays, Qty of

Food Take Out Packaging, Wire Framed Hand

Truck, Shopping Carts, Hand Trucks, Etc.

MERCHANDISING & STORAGE - Millwork

Cashier Reception Counter Display Cabinet,

Millwork Lower Cabinet Unit 19ftx28" w/

P-Lam Countertop & Drop-in Domestic

2-comp SS Sink, Millwork Lower Cabinet

Unit 100"x39" w/ P-Lam Top, 20-Sections

of Metro Wire Shelving, 8ftx32" Glass Food

Prep Sneeze Guard, Assorted Millwork

Merchandising Cabinets, Handcrafted

Greeting Card Merchandising Rack,

3-HD Steel Shelf Units w/ Mesh Decking

75"x72"x24", Etc.

OFFICE EQUIP. & MISC. - Convex Wall

Hung Store Mirror, Electronic

Open Sign, Assorted

Artificial Plants, 2-SS Waste

Bins, 4-Drawer Lateral

Filing Cabinet, Sentry Safe

w/ Digital Combination,

Blinds, Retail Track

Lighting, Sandwich Boards,

Computers, Printers,

Monitors, Chairs, Desks, Etc.

REMOVAL: July 22, 23 & 25, 9am-5pm

PAYMENT: CASH/CREDIT CARD/E-TRANSFER/BANK TRANSFER

SUBJECT to ADDITIONS & DELETIONS, 15% BUYERS FEE

M ONTGOMER Y

AUCTION SERVICES LTD.

BLACKFALDS, AB 403-885-5149 1-800-371-6963

Lic #19517

www.montgomeryauctions.com
---
ECA REVIEW HANNA/CORONATION/STETTLER, AB July 14'22 9

Youngstown council freshen up 50+ club room

Daniel Gonzalez

ECA Review

Renovations for the 50+ Club room

located in the Village of Youngstown

Cade Christiansen gets an early jump on his bull ride at the Crooked Horn Canadian Junior

Rodeo held on June 25 at the Trochu rodeo grounds. ECA Review/D.Blake Rodeo Photos

Co-operators Rope,

Ride and Race rodeo

Advertorial

by Trochu & District Ag Society

Wow, what a whirlwind of a month

with so much happening at our rodeo

grounds.

I hope I don't miss anyone but please

know that we appreciate all the help.

On June 11 - 12 our grounds were

rented to the Canadian Girls Rodeo

Association (CGRA).

It was a fantastic weekend for them.

We really enjoyed having them here to

start the summer off right.

We brought to you Crooked Horn

Canadian Junior Rodeo Association

for our day event on June 25. The

weather was perfect for this event.

It is important to support the youth

in their rodeo future.

The evening of June 25 we brought

to Trochu, for the first time, Bull

Riders Canada Inc.

Terry Silbernagel for running the

Calcutta.

What an amazing event it was! The

day finished with Reed Salmon Music

performing right at the grounds.

Sounds like most of the town heard

them too. We enjoyed having him perform.

It was great music.

Thank you to Randi Hogg for being

onsite for the bulls as well as the

Trochu Fire Department for supplying

the equipment.

July 1 - 2 we had our annual fun

events at the grounds. Thank you to DJ

Steve Rose for making the annual Ball

Tournament dance hopping.

Thank you to Krista Grant

Armstrong and Rod Reimer for volunteering

to help with the dance.

Thank you to our food trucks, Krave

Food Truck and Diggers Diner.

Thank you to the Town of Trochu for

making sure the ice was out for the

dance.

The Trochu Arena is the best place

to hold our annual dance. Thank you

as well to the Town of Trochu and

Three Hills Cruise committee for

sharing the bleachers for our

Co-operators Rope, Ride and Race

event, June 25.

AGRICULTURE

YOUNGSTOWN COUNCIL

Office were discussed at the July 5 regular

council meeting.

The 50+ Club was a space where

local men would meet and partake in

recreational activities like playing

Thank you to Chris Reeds for

lending us your generator for our

Bouncy Castles. Thank you to Trochu

Golf & Country Club for providing ice

for our dance.

Thank you for everyone who came

out and supported our events. We love

being able to bring to our town and

surrounding area events for all people

to enjoy.

A huge thank you to our committee

and volunteers, Nicooly Bignold, Cody

Floyd, Lynnette Toews de Beaudrap,

Garrison Krabsen, Jean Guy Martel,

Lori Rust de Beaudrap, Jaime Martel

and Blair Thieman who put all the

work into making these events

successful,.

Event sponsorships

Our sponsors are a huge part in

making these events happen. Because

of their support we are able to provide

entertainment for the community and

surrounding area. They are:

Co-operators

Chute sponsorship: Trochu Motors,

Glover International Trucks Ltd.,

Trochu & District AG Society

Timed Events sponsorship: Brandt

Agriculture, Walbern Agri-Systems

Dance sponsorship: LTR Trucking

Ltd.

Panel Sponsorship: Town of Trochu,

NAPA Auto Parts Three Hills,

Maximum Hearing, Balkwill

Pharmacy, Smith Repair, Kneehill

County, Sandy's Dental, Grains

Connect Canada, OK Tire Linden,

Sunterra Meats, Ron Frere,

Drumheller Chrysler, BLB Grain

Group, UFA Petroleum, Linden Agri-

Centre, Ember Resources,

Support sponsorship:, Frank

Vanderkley, King's Seed Farm Ltd.,

Norman Tainsh Professional Corp,

Brad Bauer, Spiffy Biffys Septic

Services.

Service and Equipment support: Ed

Knievel, TRL Trucking Ltd., Hastie

Hauling, Three Hills Rental, 3D Patch

Works Ltd., UFA Farm Supply store.

shuffleboard, cards and pool. As the

name implied, members needed to be

over the age of 50 to join the club.

Although the original members of

the club have passed away, ladies in

the village often come to drink coffee

in the club room every Wednesday

morning.

Age no longer matters for the club,

but the name has stuck. The Village of

Youngstown is looking to freshen up

the space and repair water damage the

room has received from recent storms

in the area.

Bylaw 22-727

Amendments to Bylaw 22-727 or the

Designated Officer Bylaw have been

made by council.

According to the bylaw, it will;

"establish designated officer positions

and to establish a framework for delegation

of administrative functions."

The changes will re-appeal Bylaw

22-723 and include a section regarding

appeals for the bylaw officer in

regards to complaints.

This provides bylaw enforcement

officers the opportunity to appeal decisions

of the council in the event they

are accused of

breaching any of

the responsibilities,

conducts or

powers assigned

to the role.

Joint Use

Agreement

The Joint Use

Agreement

between the village

and school in

Youngstown was

signed for a

Call Mike

780-385-4664

Bin Anchors

Don't Let The Winds Bother You!

second time by council.

Although the agreement was made

on July 1, 2022, the first copy was lost

in the postal service after it was sent

to the Prairie Land Board.

Through the agreement, the

Community Services Department of

Youngstown can encourage and assist

residents in organizing and participating

in recreational activities.

This would allow residents to fully

use the services and facilities available

on the school grounds. Through

this, the village and board hope to see

the facilities used "for the maximum

benefit of the community."

Sidewalk replacements

Council discussed the repair and

replacement work that will be done to

sidewalks in Youngstown.

The sidewalks on 2nd Street East

between 3rd and 4th Ave. and 1st

Street East between 1st and 2nd Ave.

will be done by Mudrack concrete and

Bills Building.

Funding totalling $78.000 has been

allocated for the sidewalk projects.

Council awaits quotes for both

projects.
---
10 J uly 14'22 HANNA/CORONATION/STETTLER, AB. ECA REVIEW

Ph. 403-578-4111CLASSIFIEDS/CAREERSEmail: office@ECAreview.com

Classified Ad Rates

$13.85 + tax for 25

words or less + 20¢ a word

after 25 each week or 3

weeks for $38.55 + tax

(based on 25 words or less).

Reach 75,000 readers with

your classified. This

includes For Sale, For Rent,

Card of Thanks, Coming

Events, etc.

Payment Necessary

All Classified Ads are on a

Cash Only basis and must

be prepaid before running.

There will be a $5.00

service charge on every

classified not paid for prior

to publication.

We accept cash, cheque,

e-transfer, VISA or MC.

It is the responsibility of

the advertiser to check ad

the 1st week and call us if in

error. The Review is

responsible for their

mistakes the 1st week only.

Deadline For Ads

All classified ads must be

received by 5 pm on

Mondays preceding

publication. For Too Late To

Classifieds ad must be

received by 10 am Tuesday.

Ph. 578-4111. Mail to Box

70, Coronation, AB T0C

1C0.

LAND FOR SALE

BEST HUNTING In

Saskatchewan right

by Sask River.

Excellent fishing and

very high Deer population.

Thick pine &

poplar bluffs, close

to water coulee. Old

yard site with old

power and water.

Revenue on crop

and hayland. East of

Prince Albert.

$248,000. Call Doug

306-716-2671.

BUILDINGS

FOR SALE

INTEGRITY POST

Frame Buildings

since 2008 Built With

Concrete Posts.

Barns, Shops, Riding

Arenas, Machine

Sheds and more,

sales@integritybuilt.

com 1-866-974-7678

www.integritybuilt.

com.

WANTED

NUMISMATIST

PURCHASING Coin

Collections &

Accumulations!

Royal Canadian

Mint, Canada &

World Collections

Wanted. Also buying

9999 bullion, old

money, jewelry, nuggets,

sterling, gold,

silver, coins, bars,

monster

boxes+++Estates

Welcomed! Todd

250-864-3521.

WANTED: Old

advertising dealership

signs, gas

pumps, globes, pop

machines, light ups.

White Rose, Red

Indian, Buffalo, North

Star, Case Eagles,

etc. Collector paying

Top Prices. 306-221-

5908.

MISCELLANEOUS

IRONMAN Metal

Recovery servicing

Alberta since 1995 is

picking up vehicles,

railroad, industrial

and farm equipment

(combines, tractors).

We pay $$$ for

scrap. 403-318-

4346.

LIVESTOCK

BULLS for sale: Red

Angus, Black Angus,

Polled Herefords,

yearling & 2 Year

Old. Glenrose Polled

Herefords & Angus,

Ken Prichard 780-

608-6080.

FEED AND SEED

ALBERTA FEED

Grain: Buying Oats,

Barley, Wheat,

Canola, Peas,

Screenings, Mixed

Grains. Dry, Wet,

Heated, or Spring

Thresh. Prompt

Payment. In House

Trucks, In House

Excreta Cleaning.

Vac Rental. 1-888-

483-8789.

WE BUY Damaged

Grain - Heated,

Mixed, Tough, Light,

Bugs, Spring

Thrashed....Barley,

Wheat, Oats, Peas,

Flax, Canola. "On

Farm Pickup".

Westcan Feed &

Grain 1-877-250-

5252.

HELP WANTED

ROCKY MOUNTAIN

Equipment is Now

Hiring: Managers,

AG Equipment

Techs, Heavy

Equipment Techs -

Journeyman &

Apprentices, Parts

Techs. View Open

Roles & Apply: www.

rockymtn.com/

careers. Relocation

Offered.

COMING EVENTS

FIREARMS

WANTED For

August 2022 Live &

Online Auction:

Rifles, Shotguns,

Handguns, Militaria.

Auction or Purchase:

Collections, Estates,

Individual items.

Contact Paul,

Switzer's Auction:

Toll-Free 1-800-694-

2609, sales@switzersauction.com

or

www.switzersauction.com.

Funeral Home

Dentist

Dr.McIver

In Coronation (Located in Coronation Mall)

MONDAYS 9 a.m. - 5 p.m.

Call Anytime for Appointments

403-578-3811

AUCTIONS

ONLINE TIMED Auction -

Big Bend Market

(Business Realignment).

Starting July 18 @ 9AM;

Begins Closing July 21 @

9AM. Meat, Deli &

Grocery Equip., Walk-in

Coolers, Coolers,

Freezers, Merchandise

Showcases, Food,

Cashier & POS Systems,

Merchandising &

Storage, Office Equip., &

more. See www.montgomeryauctions.com;

1-800-371-6963.

Lawyer

E. Roger Spady

Professional Corporation

Barrister & Solicitor

Coronation Mall Coronation, AB

403-578-3131

Office Hours: Tuesday to Friday 9 a.m. to 5 p.m.

ACCOUNTING ASSISTANT

Accounts Payable/Accounts Receivable

The County of Paintearth is seeking a dynamic, knowledgeable

person to join our team as Accounting Assistant,

Accounts Payable/Accounts Receivable. This is a

temporary part-time position reporting to the Director of

Corporate Services. This position provides Accounts Payable

and Accounts Receivable support for the County and

its supported entities (East Central Ambulance Association,

Paintearth Regional Waste Management, Paintearth

Economic Partnership Society, Paintearth Adult Learning

Council), back-up assistance to other Central Office staff,

and performs related duties.

The ideal candidate would possess a High School Diploma,

Post-Secondary training in accounting supplemented with

3 or more years of financial accounting experience, or an

equivalent combination of education and experience; excellent

organizational, analytical and presentation skills;

strong verbal and written communication skills; well-developed

interpersonal skills and a demonstrated ability to deal

effectively with team members and the public; and a valid

Alberta Drivers license – Class 5. Additional knowledge in

application of Goods and Services Tax, knowledge and experience

of Microsoft Office applications Excel and Word as

well as Microsoft Dynamics Software.

Interested individuals are invited to forward resume with

references by 4:00pm, Friday, July 29, 2022 to:

Lana Roth, CPA CGA, Director of Corporate Services

County of Paintearth No. 18

Box 509 Castor, AB T0C 0X0

Phone: 403.882.3211 Fax: 403.882.3560

Email: lroth@countypaintearth.ca

Professional Directory

Chery Southoff

Proud to be part of Central Alberta

Family Funeral Services Ltd.

www.coronationfuneralhome.ca

403-578-2928

corofuneralhome@telus.net

HEALTH

HIP/KNEE

Replacement. Other

medical conditions

causing Trouble

Walking or Dressing?

The Disability Tax

Credit allows for

$3,000 yearly tax

credit and $30,000

lump sum refund.

Take advantage of

this offer. Apply

NOW; quickest

refund Nationwide:

Expert help. 1-844-

453-5372.

Optometrist

CORONATION VISION CLINIC

Dr. Ward ZoBell

Tues & Thurs 10 - 4

403-578-3221

HANNA VISION CENTRE

Eye Health, Glasses, Contacts

Dr. Dennis A. Heimdahl Dr. Ward ZoBell

Tues, Wed 9-4:30; Thurs, Fri 9-4

403-854-3003

Dentist

Our families serving yours!

Phone: 825-300-0049

Email: drballdental@gmail.com

SERVICES

CRIMINAL

RECORD? Why

suffer employment/licensing

loss? Travel/business

opportunities?

Be embarrassed?

Think:

Criminal Pardon.

US entry waiver.

Record purge. File

destruction. Free

consultation.

1-800-347-2540.

www.accesslegalmjf.com.

Location: 4913 50 St, Killam AB, T0B 2L0

Mail: Box 389, Killam AB, T0B 2L0

space available

for under $30

THE ACTIVATED

QUILL - when you

don't know how to

say it! Do you have

something important

to say but the words

won't come?

Perhaps an apology

is owed or forgiveness

is stuck in your

throat. Have you

drifted away from

someone you love?

Screwed things up?

Are unspoken

thoughts disrupting

your sleep? We offer

help to clarify personal

communication

in sensitive situations.

We are professional

writers

offering one-on-one

word smithing to

help you clear the air

and get your point

across. Visit us

online www.theactivequill.ca.

Contact

us by email at

TheActiveQ@gmail.

com or by text or

phone call to 877-

966-8766.

PRIVATE

MORTGAGE

Lender. All real

estate types considered.

No credit

checks done. Deal

direct with lender

and get quick

approval. Toll free

1-866-405-1228;

www.firstandsecondmortgages.ca.

GET YOUR

MESSAGE Seen

Across Alberta. The

Blanket Classifieds

or Value Ads reach

County of Stettler No. 6

6602 - 44 Ave., Box 1270

Phone: 403-742-4441 Fax: 403-742-1277

www.stettlercounty.ca

Public Notice

DISPERSAL SALE

for County of Stettler

USED EQUIPMENT

The following pieces of equipment will be available for sale

from the County of Stettler.

Unit C-108 - 2014 Kubota F3990 Mower

• 1,184 hrs

• Wholesale Market Value $10-15K

• $8,500 reserve

Unit 293 - 2006 Dodge Durango

• 291,000 km

• No reserve

Photos available at www.StettlerCounty.ca

over 600,000 Alberta

readers weekly. Two

options starting at

$269 or $995 to get

your message out!

Business changes,

hiring, items for sale,

cancellations, tenders,

etc. People are

increasingly staying

home and rely on

their local newspapers

for information.

Keep people in the

loop with our 90

Weekly Community

Newspapers. Call

THIS NEWSPAPER

403-578-4111 now

or email classifieds@awna.com

for

details. 1-800-282-

6903, 780-434-8746

X225. www.awna.

com.

WARRANTY

The Purchaser acknowledges and agrees that the County will not

make, does not make, and shall not be required to provide any

representation or warranty with respect to the state or condition of

the goods and as to whether the goods meet with any applicable

laws or regulations and that the County shall have no liability or

obligation with respect to the state or condition of the goods and

any deficiencies in law or otherwise with respect thereto, whether

or not within the knowledge of the County, its employees, agents, or

contractors, any and all of which shall be accepted and assumed by

the Purchaser upon the completion of a sale transaction.

BIDS

Bids will be accepted up to Tuesday, August 2, 2022 at 2:00pm local

time at the County Administrative Office at 6602-44 Avenue, Stettler,

AB T0C 2L0.

All bids must be in sealed envelopes along with 10% deposit payable

to the County of Stettler No. 6. On your submission, please indicate

whether you wish to have your cheque returned or shredded if your

bid is not successful.

Please mark your envelopes Attn: Rick Green, Director of Operations

and Unit # identified clearly on the envelope. GST will be added to all

bids. Late bids will not be considered.

PAYMENT & REMOVAL

The purchaser agrees to make any & all payment requested by the

County within 5 days of receiving notification of their successful bid.

Payment must be completed within the 5-day limit.

All sales are FINAL and good(s) are sold AS IS, WHERE IS: no refunds.

All sales are subject to approval from Council. The highest bid may

not necessarily be taken.

All payments must be made prior to removal of goods. All

disassembly (if required) will be the full responsibility of the

purchaser. The purchaser is required to supply all labor and

equipment required to remove the good(s). There will be no

equipment such as forklifts, etc or labor available from the site.

Pickups must be scheduled with Rick Green.

Further questions or appointments to view can be directed to:

Rick Green - Director of Operations

Quinton Beaumont - Assistant Director of Operations

Phone: 403-742-4441
---
ECA REVIEW HANNA/CORONATION/STETTLER, AB July 14'22 11

Three Hills RCMP lay charges in hit and run

SLAP

Shots

Submitted

Three Hills RCMP were dispatched

to a motor vehicle collision in Trochu,

Alta., involving a dirt bike and pedestrian

on July 1, 2022.

Police determined the dirt bike had

struck a pedestrian on Elevator Road

and the rider fled the scene.

RCMP

FROM THE BLEACHERS

The pedestrian suffered serious injuries

and was transported to the

hospital.

Police located the rider of the dirt

Henderson a Canadian hero 50 years ago

by Bruce Penton

It was all over Facebook and Twitter:

June, 2022, was exactly 50 years since

the break-in at the Democratic Party's

headquarters at the Watergate Hotel in

Washington, leading to the eventual

resignation of President Richard

Nixon.

Those of a certain age remember it

well, but did you

also know that in

June, 1972, Jack

Nicklaus won his

third U.S. Open at

Pebble Beach, and

the next day, Greg

Norman called him

to see if he would

accept $1,000 to play

on a tour in Saudi

Arabia?

OK, just joking

Penton

about that last bit, but it's interesting to

look back at the world of sports in 1972

— a half-century ago — and see what

observations we can make 50 years

later.

Hamilton Tiger-Cats beat

Saskatchewan Roughriders in the

Grey Cup game that year. And don't

think it couldn't happen again.

• Steve Simmons of SunMedia: "Canadian

Chase Claypool recently declared himself

to be a Top Three receiver in the NFL.

And maybe math is not his best subject,

considering he finished 53rd in catches last

season in Pittsburgh and 35th in receiving

yards. But it's good to have confidence."

Both teams are CFL contenders, and

it wouldn't be far-fetched to think

those two clubs could make it to this

year's big show in November.

Los Angeles Lakers ran off a record

33-game winning streak in the NBA in

1972. Fifty years later, LeBron James

of the Lakers averages 33 complaints

per game about the officiating.

In June of 1972, the NHL was constructing

a team to play the national

(amateur) team from Russia in what

would be known that September as the

Summit Series.

Paul Henderson, a late addition to

the roster after finishing a distant 34th

in the NHL scoring race in 1970-71,

went on to score the most famous goal

in Canadian hockey history. Fifty

years later, anyone born before 1960

probably still remembers where they

were when Henderson beat Vladislav

Tretiak on Sept. 28, 1972.

Fifty years later, fans are still

lamenting Henderson's exclusion from

the Hockey Hall of Fame.

Baseball has changed in 50 years.

Back then, there was no Designated

Hitter. No one had heard of performance-enhancing

drugs.

Roger Maris's 61 homers was still a

• Lou Stagner (Golf Stat Pro), on

Twitter: "I find it interesting they

make PGA Tour players play in

pro-ams. Imagine if LeBron had

to play a half-court pickup game

against Brad from accounting the

afternoon of every home game."

magical number. Hank Aaron was still

chasing Babe Ruth's career HR mark

of 714.

Vin Scully and Harry Caray were as

well known as that year's home-run

leader Johnny Bench (40) or strikeout

king Nolan Ryan (329).

Perhaps the most profound sporting

change from a Canadian viewpoint in

the past 50 years has occurred in

basketball.

Even though the game was invented

by a Canadian, James Naismith, there

were no Canadians of significance in

the league 50 years ago.

After the Toronto Raptors were born

in 1995, the sport flourished across the

land. Steve Nash of Victoria is a twotime

MVP. T

wo Canadians have been picked No.

1 overall in the NBA draft, Andrew

Wiggins and Anthony Bennett.

Wiggins played a major role in Golden

State's NBA title run this spring.

Twenty-five Canucks suited up with

NBA teams this past season.

How will the next 50 years play out?

Who knows? But maybe Henderson

will be in the Hockey Hall of Fame by

then.

• RJ Currie of sportsdeke.com:

"A British chef invented the

Glamburger, the world's most

expensive burger at over $2,000

Canadian. If you're wondering

about the most expensive hot

dog in history — Deion Sanders."

bike at a nearby residence, where he

was subsequently arrested.

Police obtained a search warrant for

the detached garage of the residence

and located and seized a 2015 KTM

XCW dirt bike, which had been

involved in the collision.

The RCMP Auto Theft Unit later

examined the dirt bike and determined

it was stolen from Calgary,

Alta.

Three Hills RCMP has charged

Christopher Ferguson (31) of Calgary,

Alta., with several offences, some of

which include: failure to stop after an

accident resulting in bodily harm,

operation while prohibited, possession

of property obtained by crime under

$5000, drive off-highway vehicle on

highway without authorization and

drive uninsured off-highway vehicle.

Drumheller hit and run

Drumheller RCMP were called to

the scene of a motor vehicle collision

on July 7, 2022 which occurred along

Centre St. in front of Maple Ridge

Manor.

Witnesses say a dark coloured SUV

crossed the centre line and collided

with three parked cars. This suspect

vehicle then fled the scene.

WANTED

DEAD OR ALIVE

Canadian Prairie Pickers

Paying Cash For Coin Collections,

Silver & Gold Coins,

Royal Can. Mint Sets.

Also Buying Gold Jewelry

$$ $

are once again touring the area!

We purchase rolls, bags

or boxes of silver coins

PAYING HIGHEST PRICES

To arrange a free, discreet in-home visit

call Kellie at 1-778-257-9019

Bonded since 1967

$$ $

Business Directory

Bill's Waterwell

Services Ltd.

Well Drilling

Pumps & Repairs

403-747-2120

drillerbill@xplornet.com

53' Ground Load Services

Benson Van Hienen

403-741-5735

bvhtrucking@gmail.com

Big Country Construction

& Building Supplies

2018 Ltd.

• Custom New Homes • All Farm Buildings

• Renovations • Windows and Doors

• Overhead Doors & Service • Retail Sales

Quality Customer Care

403-854-3585

UNLIMITED

HIGH‐SPEED INTERNET

Now Serving:

Coronation, Veteran, Talbot, Brownfield,

Alliance, Fleet, Castor, Halkirk, Botha, &

Stettler areas. More to come!

Plans starting at $50/mo.

Packages from 7 to 50Mbps

403-578-4214

Toll Free 866.57.VITAL

Specializing in Commercial Glazing,

Automatic Entrances & Overhead Doors

Installation and Repair

780-753-6888

space available

for under $30

Scott Lourance

403-916-4600 Cell

403-742-2551 Home

53' Cattle Liner

53' Ground Load

Hay Trailer

CAN'T SEE OUT?

Option #1

Replace

the Foggy

Unit

Option #2

Replace

the

window

Financing Available

Anchor Glass

403-854-4414 • 1-800-463-3148

www.anchorglass.ab.ca

tim@anchorglass.ab.ca

Ask us about available

discounts.

McSteel

SALVAGE &

CLEAN-UP

LTD.

Wainwright, AB

We Buy

Scrap Metal

Call

780-842-8622

www.mcsteel.ca

• Specializing in Repairs to

ALL Makes & Models of RVs & Trailers

• Full selection of RV Parts & Accessories

• RV Storage

403 742 5667 generationsrv@gmail.com
---
12 J uly 14'22 HANNA/CORONATION/STETTLER, AB. ECA REVIEW

12 J uly 14'22 HANNA/CORONATION/STETTLER, AB. WHEEL OF A DEAL ECA REVIEW

Long-time Three Hills resident and stone-artifact

collector Brian Plant at the Kneehill Historical Museum

in Three Hills July 9. ECA Review/D. Nadeau

Ancient artifacts take

on new life at museum

David Nadeau

ECA Review

It's was a hot summer day and

Brian Plant was on the prowl.

He had the landowner's permission

and slowly walked a field, using

patience and what he calls "my

trained eye" to find arrowheads, spear

points, or other stone-age artifacts

that still can be found in southern

Alberta.

Could have been near Linden,

Allingham, Keiver's Lake, or

Sunnyslope—anywhere in the general

Three Hills area the 75-year-old amateur

archaeologist suspects he can add

to his remarkable collection.

Plant was at the Kneehill

Historical Museum in Three Hills

July 9 for his annual artifacts presentation.

"I only bring some of my

collection," he said.

Museum Director Rosalie Lammle

helped set up four or five tables for his

artifact display cases. The collection

includes bone-cracking stone hammers

and stone pestles for making

pemmican.

As a youngster, Plant collected artifacts

and tips from his eagle-eyed

father in the Medicine Hat area, so it

was natural he'd continue the hobby

when he moved to

Three Hills

nearly 50 years

ago.

Having established

contacts

with the

University of

Calgary, Plant

can name items

and give approximate

places and

dates of origin,

some from thousands

of years

ago.

He is careful

not to reveal his

discovery locations

for pottery

shards, points,

hide scrapers,

skinning knives,

or tipi rings—to

stymie thoughtless

collectors.

While Plant

has heard criticism

that First

Nations artifacts

should be left on

site, his take is

that collecting is

preserving and

that preserving

enriches appreciation

and helps

teach Alberta's

pre-contact

history.

"I value the

skill and craftsmanship

that

went into creating these points," he

said. "All are hand made and many are

beautiful and functional, from small

arrowheads to spearheads for big game

hunting."

Duane's Trucking Ltd.

USED HEAVY

TRUCK & TRAILER

PARTS

We have what you need,

even those hard to find items!

• all makes and models

• transmissions, motors, wheels,

tires and much more

• acres of inventory, 500 plus units to be

dismantled

• check our

used trucks,

gravel and

winch

equipment

for sale.

Call us now

Mon. - Fri., 8:30 am - 5:00 p.m.

(403) 784-2501

www.duanestrucking.ca

Wainwright, AB

• Agriculture

• Automotive

• Industrial

• Safety

4706 Victoria Avenue, Coronation AB

403-578-4567

$28.69

20% OFF

$11.29/ea.

14.19

SEA FOAM

MOTOR

TREATMENT

SEA SF-16CA

20% OFF 20% OFF

$28.69/ea

36.19

PROFORMER

CONVENTIONAL OIL

PFO PF-10W30CO-5L/

PF-5W20CO-5L/

PF-5W30CO-5L

25% OFF

$37.99 50.99

FLEXZILLA AIR HOSE

3/8" X 25'

BTE 61-3894

10% OFF

10% OFF

$169.99

MILWAUKEE PACKOUT

ROLLING TOOL BOX

MIL 48-22-8426

NAPA Auto Parts Stettler

4902 - 43rd Avenue

Stettler, AB

403-742-NAPA (6272)

Three Hills Auto Sport Ltd.

510 Main St.

Three Hills, AB

403-443-2400

$2.59

TURBO POWER

BUGWASH

RCO 15-214

20% OFF

OFF

$11.99/ea. 15.69

LUCAS OIL SEMI-

SYNTHETIC SAE 10W-40

MOTORCYCLE OIL

NCB 20710

20% OFF20% OFF

$22.89

29.09

ARMOR ALL WIPES

ARM 17375

$109.99/ea. 124.39

CARLYLE BATTERY CHARGER CLO CPL2310

$9.89

GAS CAN

SCP 07079/

070781/07622

$149.99

up to 30% OFF

$14.99/ea.

21.59

MEGUIAR'S

HYBRID

CERAMIC

WAX

MEG G190526C

30% OFF

15% OFF

$38.99/ea. 47.69

EVERCRAFT 2T

JACK STANDS

ECF 776-2007

20% OFF

$7.19 /ea.

9.09

ARMOR ALL

SMOKE X

MIDNIGHT

AIR AIR

FRESHNER

ARM 19036

$149.99 155.99

EVERCRAFT

ELECTRIC

PRESSURE

WASHER

ECF EV1415EN

NAPA Auto Parts Oyen

102 Main Street

Oyen, AB

403-664-3515

Acme Napa Auto Parts

128 Main St.

Acme, AB

403-546-2425