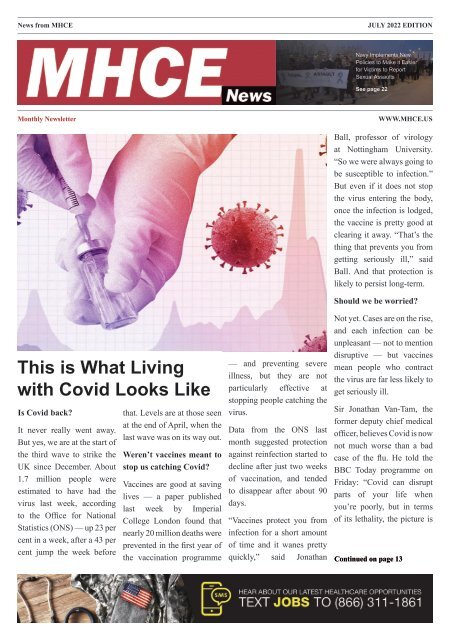 July 2022 — MHCE Newsletter
You also want an ePaper? Increase the reach of your titles
YUMPU automatically turns print PDFs into web optimized ePapers that Google loves.
News from MHCE

JULY 2022 EDITION

Navy Implements New

Policies to Make it Easier

for Victims to Report

Sexual Assaults

See page 22

Monthly Newsletter

WWW.MHCE.US

This is What Living

with Covid Looks Like

Is Covid back?

It never really went away.

But yes, we are at the start of

the third wave to strike the

UK since December. About

1.7 million people were

estimated to have had the

virus last week, according

to the Office for National

Statistics (ONS) — up 23 per

cent in a week, after a 43 per

cent jump the week before

that. Levels are at those seen

at the end of April, when the

last wave was on its way out.

Weren't vaccines meant to

stop us catching Covid?

Vaccines are good at saving

lives — a paper published

last week by Imperial

College London found that

nearly 20 million deaths were

prevented in the first year of

the vaccination programme

— and preventing severe

illness, but they are not

particularly effective at

stopping people catching the

virus.

Data from the ONS last

month suggested protection

against reinfection started to

decline after just two weeks

of vaccination, and tended

to disappear after about 90

days.

"Vaccines protect you from

infection for a short amount

of time and it wanes pretty

quickly," said Jonathan

Ball, professor of virology

at Nottingham University.

"So we were always going to

be susceptible to infection."

But even if it does not stop

the virus entering the body,

once the infection is lodged,

the vaccine is pretty good at

clearing it away. "That's the

thing that prevents you from

getting seriously ill," said

Ball. And that protection is

likely to persist long-term.

Should we be worried?

Not yet. Cases are on the rise,

and each infection can be

unpleasant — not to mention

disruptive — but vaccines

mean people who contract

the virus are far less likely to

get seriously ill.

Sir Jonathan Van-Tam, the

former deputy chief medical

officer, believes Covid is now

not much worse than a bad

case of the flu. He told the

BBC Today programme on

Friday: "Covid can disrupt

parts of your life when

you're poorly, but in terms

of its lethality, the picture is

Continued on page 13
---
2 | MHCE - News www.mhce.us JULY 2022 EDITION
---
WWW.MHCE.US Monthly Newsletter | 3
---
4 | MHCE - News www.mhce.us JULY 2022 EDITION
---
WWW.MHCE.US Monthly Newsletter | 5

Focus on Oversight a Key for Success at

CoreCivic

In the corrections industry, maintaining high standards of

operation is imperative to meeting the needs of the individuals

in our care. That's why CoreCivic adheres to a stringent set of

guidelines set forth by our own standards, as well as those of our

government partners and the American Correctional Association

(ACA).

Founded in 1870, the ACA is considered the national benchmark

for the effective operation of correctional systems throughout

the United States. To become accredited, a facility must achieve

compliance with ACA mandatory standards and a minimum of

90 percent non-mandatory standards. CoreCivic facilities adhere

to ACA standards, and in 2020, CoreCivic earned an average

ACA audit score of 99.6 percent across all facilities.

Key ACA audit areas include facility personnel, resident reentry

programs, resident safety, health care, and more.

holds our facilities and staff to a high standard. To be able to

represent our facility and receive reaccreditation in person is an

honor."

Adhering to ACA standards is only one part of CoreCivic's

commitment to robust oversight. When government partners

utilize CoreCivic's services, we are held not only to our own

high standards and those of the ACA, but we are often held to

the same or higher accountability of our public counterparts

through stringent government contracts, unfettered access to

our facilities for our partners, and hundreds of on-site quality

assurance monitors.

We provide access to our government partners, with most of

our facilities having government agency employees known as

contract monitors who are physically on-site to ensure we are

operating in line with partner guidelines.

Recently, the ACA held in Nashville, Tennessee, its 151st

Congress of Corrections, an annual convention that brings

together corrections professionals from across the country. In

addition to various workshops and events at the convention, the

ACA Commission on Accreditation also held panel hearings to

award accreditation to correctional facilities that meet the ACA's

rigorous requirements. Listed below are the seven CoreCivic

facilities that earned reaccreditation this year, with mandatory/

non-mandatory scores:

• Bent County Correctional Facility - 100/99.0

• Citrus County Detention Facility - 100/100

• Eloy Detention Center - 100/100

• Lake Erie Correctional Institution - 100/99.3

• Saguaro Correctional Center - 100/99.8

• Stewart Detention Center - 100/100

• Tallahatchie County Correctional Facility - 100/100

"The accreditation process is very important," said Warden

Fred Figueroa from Eloy Detention Center, one of the seven

CoreCivic facilities that was awarded reaccreditation. "ACA

To maintain our own high standards, annual on-site audits covering

all operational areas are administered to ensure compliance with

contractual and regulatory obligations and corporate-mandated

requirements. Each CoreCivic Safety facility is audited by our

internal quality assurance division, which is independent from

our operations division. Facilities are expected to be audit-ready

year-round, maintaining continuous compliance with numerous

applicable standards.

CoreCivic employs 75 staff members dedicated to quality

assurance, including several subject matter experts with extensive

experience from all major disciplines within our institutional

operations.

"A lot of hard work goes into preparing for these audits,"

Figueroa said. "Once they're complete, the staff can see their

accomplishments and feel proud."

Having multiple levels of oversight helps CoreCivic maintain

a safe environment for those in our care. By holding ourselves

accountable to our own high standards, along with our

government partners' and ACA's standards, CoreCivic continues

to be a trusted partner working to better the public good.
---
6 | MHCE - News www.mhce.us JULY 2022 EDITION
---
WWW.MHCE.US Monthly Newsletter | 7
---
8 | MHCE - News www.mhce.us JULY 2022 EDITION

US Bases in Europe Await Imminent Arrival of

COVID-19 Shots for Kids Under 5

NAPLES, Italy — U.S. military hospitals in Europe

are gearing up to vaccinate babies and young children

against COVID-19 as the number of infections caused

by subvariants continues to rise across Europe.

Doses of the vaccine for children under 5 will be shipped

to Air Force, Army and Navy installations in Europe

starting Friday, according to the Defense Logistics

Agency.

The order consists of 4,000 doses of the Pfizer shot and

4,600 doses of the Moderna vaccine. It will be shipped

by commercial air, meaning most locations will see the

arrival of the vaccines three or four days later, a DLA

spokeswoman told Stars and Stripes.

The federal Centers for Disease Control and Prevention

earlier this month cleared the way for vaccination for

those ages 6 months to 5 years old, and in the U.S.

inoculations for that age group are already underway.

The Defense Health Agency, which oversees military

medical facilities, couldn't provide a specific time frame

for administration of the shots for eligible children. But

it said all Defense Department sites had placed pre-
---
WWW.MHCE.US Monthly Newsletter | 9

orders for the Moderna or Pfizer pediatric vaccine or

both.

Navy bases in Italy and Spain all said in recent days

that they expected to receive the shots soon and would

post notifications on their Facebook pages when they

are available.

But Naval Support Activity Souda Bay in Crete, which

is dependent-restricted, said parents who want eligible

children to get the vaccine should call the base clinic by

July 6 so it can determine how much to order.

Elsewhere in Europe, the Army, which serves the largest

U.S. military population on the Continent, expects its

allotment to arrive in early July, said Gino Mattorano,

spokesman for Regional Health Command Europe.

Air Force families assigned to Ramstein Air Base in

Germany are being directed to the Army's Landstuhl

Regional Medical Center for the under-5 vaccine, a

base spokeswoman said last week.

Meanwhile, COVID-19 infection rates and, in some

cases, hospitalizations and intensive care admissions,

Join Our Team!

Embark on a new career

with Central New York

Psychiatric Center!

Our Team Promotes

Hope, Resilience and Recovery!

Central New York Psychiatric Center is seeking

candidates to fill the following positions;

Psychiatrists, Psychiatric Nurse Practitioners,

Psychologists, and Registered Nurses.

These positions are available at our Inpatient

Forensic Hospital in Marcy, New York, as

well as our Corrections Based Satellite Units

across the State.

Benefits Include:

• NYS Pension

• Competitive Salaries

• Comprehensive Health Insurance

• Flexible Spending Accounts for

Healthcare & Dependent Care

• Generous Paid Time Off

Contact Us:

315-765-3375 or by e-mail

CNpersonnel@omh.ny.gov

TO ADVERTISE

contact nathan.stiles@mhce.us
---
10 | MHCE - News www.mhce.us JULY 2022 EDITION
---
WWW.MHCE.US Monthly Newsletter | 11

are rising as health officials grapple with

the latest wave of the virus after much of

Europe relaxed restrictions in time for the

summer tourist season.

On Tuesday, the Italian Health Ministry

reported 69 deaths and 83,555 new

infections, the highest daily number of

new infections since April 20, according

to the ministry website.

The percentage of ICU beds filled with

COVID-19 patients in Italy also had risen

to 3%, up one percentage point in 24 hours

but well below the alert level of 10%,

the Italian news agency Ansa reported

Tuesday.

In the last week, hospital admissions

related to COVID-19 grew by 17.7%,

Ansa reported Wednesday, citing an

Italian Federation of Health and Hospital

Companies report. Admissions in pediatric

wards grew by 13.3%, especially in very

young children ages 0-4, according to the

report.

Earlier this month, Italy extended its mask

mandate for most public transportation

until Sept. 30. Airplane passengers are not

subject to the mandate.

Germany and Greece also are reporting

an increase in cases. Greek officials are

thinking about reinstating COVID-19

restrictions in the fall, the online news

agency The Greek Reporter said Tuesday.

European Union countries agreed Tuesday

to extend use of a COVID-19 certificate

designed to ease travel between member

nations until next year, as governments

rethink COVID-19 strategies, The

Associated Press reported Tuesday.

For example, France's health minister,

Brigitte Bourguignon, recommended

this week that people wear face masks

in crowded places and on public

transportation, according to the AP report.
---
12 | MHCE - News www.mhce.us JULY 2022 EDITION

TO ADVERTISE

contact kyle.stephens@mhce.us
---
WWW.MHCE.US Monthly Newsletter | 13

much, much, much closer to seasonal flu than it was when

it emerged."

Aren't hospital cases rising?

Yes, admissions are up 41 per cent in the last week. And

among the elderly and vulnerable, Covid can still be deadly,

particularly for the one in six people in this group who have

not taken up the offer of a spring booster.

VISIT OUR WEBSITE AT MHCE.US

There have also been a number of outbreaks in care homes.

But it is worth pointing out that of the 6,400 patients in

hospital with the virus, only 37 per cent were admitted for

Covid. The rest are "incidental" cases — those who arrived

in hospital for something else but then tested positive for

the virus.

There has been no significant increase in the number of

Covid patients in intensive care wards. And deaths are

down to between 40 and 50 a day, compared with 1,200 at

the January 2021 peak.

What is driving the wave?

Two new variants have emerged, each slightly different

mutations of the Omicron strain that has dominated in the

UK since December. The new variants — BA.4 and BA.5

— make up 61 per cent of cases. Eventually BA.5, which

is growing 35 per cent faster than the previously dominant

Omicron BA.2, is expected to make up all cases. The new

variants are more transmissible than previous strains, though

it is not clear whether that is because they are inherently

more infectious or because they are better at evading our

immunity.

When will we get the next jab?

The spring booster programme for vulnerable people and

over-75s is still running. The autumn booster programme

will start in September and is likely to include over-65s

and vulnerable people, although government advisers are

weighing up whether to extend this to over-50s. Younger

people are unlikely to be eligible.

By September Moderna's new vaccine — a "bivalent" jab

that contains the original vaccine as well as a new formula

tweaked to tackle the new variants — should be available.

Moderna said its new vaccine boosts protection against

BA.4 and BA.5 to far higher levels than existing vaccines

and should give a longer-lasting response.

Under the UK's contract with Moderna, we will automatically

receive the newest version of the vaccine. Last night Pfizer
---
14 | MHCE - News www.mhce.us JULY 2022 EDITION

announced impressive results for its tweaked vaccine —

although it is not clear whether it will be ready for September.

Companies are also working on joint flu-Covid vaccines,

the first of which are expected to be ready late next year.

Most of us have now had Covid. Does that increase our

protection?

After 2½ years of the pandemic, each of us has different

levels of immunity, depending on whether we have been

infected with the early Wuhan strain, Alpha, Beta, Gamma,

Delta or Omicron — or not at all. Some of us have had two

vaccines, some four, and we have received different mixes

of Moderna, Pfizer-BioNTech and Oxford-AstraZeneca.

Roughly speaking, though, infection seems to provide

stronger and more durable protection against further

infection than does vaccination. Last month's ONS report

found people who had been infected with Omicron (or the BA

sub-variants) had a 77 per cent reduced risk of reinfection.

Those infected by Delta had 57 per cent protection, Alpha

41 per cent and the early strain by 40.

Will we see more of these waves?

whether they were admitted for the virus or a broken leg

— any positive patient requires isolation, taking up further

resources. During the height of the Omicron waves in

January and April, a peak of 17,000 beds were taken up with

Covid patients. If the new wave reaches anything like that

number, it will put serious pressure on the health service.

Doctors point out that repeated waves could also increase

rates of long Covid.

Will that affect my chance of getting an ambulance if I

need one?

That is the fear. Emergency patients are waiting almost two

hours for ambulances to respond to suspected heart attacks

and strokes, while almost 600 people waited longer than ten

hours outside A&E in April. Adrian Boyle, from the Royal

College of Emergency Medicine, said: "We continue to be

very worried about the ability of ambulances to respond.

Losing a whole bunch of other beds due to Covid would just

be a really horrible situation [creating] pressure on elective

surgery and ambulance waits. There are some really difficult

trade-offs to be made there."

Almost definitely. Immunity will rise and fall as waves

of infection and vaccination campaigns come and go and

the virus evolves. "For the foreseeable future, it's not

unreasonable to assume that every few months we might

see waves of infection, which give you cold-like symptoms,

and sometimes they might be fairly unpleasant," said Ball.

"The amount of serious disease should still be kept in check

unless really significant variants emerge."

Eventually, he believes, these will become less and less

frequent, and within a few years will become annual waves,

striking in winter like the flu. Paul Hunter, professor of

health protection at the University of East Anglia, said a big

wave this summer could even be beneficial, topping up our

immunity and reducing the chances of a Covid surge over

the winter. "Then we won't have Covid and flu causing us

problems at the same time," he said. "Influenza this winter

worries me more than Covid, and the thing that worries me

more than that is Covid and influenza at the same time."

TO ADVERTISE

contact nathan.stiles@mhce.us

Will the NHS cope?

Doctors' biggest concern is that even a small rise in cases

will take up much-needed beds that hospitals can ill-afford

to lose while A&E departments are overcrowded and

ambulances are outside waiting to offload patients. With

so many Covid patients taking up beds, it does not matter
---
WWW.MHCE.US Monthly Newsletter | 15

VISIT OUR WEBSITE AT MHCE.US
---
16 | MHCE - News www.mhce.us JULY 2022 EDITION

Thousands of San Diego Military Children on Day

Care Waitlist as Navy Scrambles to Address Need

San Diego Navy officials are scrambling to alleviate the shortfall

of child care providers for the more than 4,000 military children

waiting for spots in its base day care centers, according to Navy

Region Southwest officials.

Staffing shortages brought on by the pandemic have impacted

a military child care system that was already strained before

COVID-19 hit, according to Janet Hooten, the child and youth

program manager at Navy Region Southwest in San Diego.

Before the pandemic, military families in San Diego could expect

to wait more than a year to have a child placed in a Navy Child

Development Center for care, Hooten told the Union-Tribune.

Hooten declined to say how long military families might wait

today for a spot. She said the tiered-priority system means not

everyone will wait in the same line. However, she said any

military member up for orders that could send them to San Diego

should get on the waiting list now.

"We encourage every family to put their child on the waitlist as

soon as you know you will be leaving (the current duty station),"

Hooten said. "You don't have to wait until you have orders in

hand."

In 2020, the Navy signed a deal with Coronado Unified School

District to lease an under-utilized preschool for Navy child care.

While that opened about 200 spots for kids, it only made a dent

in the waitlist.

Military child care is subsidized by the Defense Department.

There are day care facilities on military bases as well as in-home

day care providers. But with spots full, service members have to

seek costlier alternatives elsewhere — and the situation outside

the military system is also strained, according to a University of

San Diego study published in April.

The military offers a fee assistance program for these families,

but it does not cover the full cost, Hooten said.

Navy Region Southwest, which also manages the child care

centers on local Marine bases, is short about 400 providers —

including the staff needed for two new centers yet to open at

Marine Corps Air Station Miramar.

Another new center at Naval Base Point Loma is due to open in

2023, and increased pay for military child care workers is part of

next year's proposed Pentagon budget.

In San Diego, the Navy is offering financial incentives to address

its staffing shortfall. Accreditation fees for new hires are covered

by the Navy, as are sign-on, referral and retention bonuses.

The Navy is holding a hiring fair at the Scottish Rite Center

in Mission Valley on Friday, where it will screen, interview

and make offers to candidates for both its base child care and

recreation centers.

Military families needing assistance with child care, or to get on

the wait list, can do so at militarychildcare.com.

TO ADVERTISE

contact nathan.stiles@mhce.us
---
WWW.MHCE.US Monthly Newsletter | 17
---
18 | MHCE - News www.mhce.us JULY 2022 EDITION

Business Is Global. Your Education Can Be, Too.

Complete Business Minor in One

Summer across Two Countries

By taking the five courses offered in this 12-week program, you

can complete a Business Minor and enjoy the unique opportunity

to immerse yourself in a cultural experience. Our Complete

Business Minor Abroad program will take you to the beautiful

streets of Rome, Italy, and Madrid, Spain, this Summer 2022

semesters

Business Core Fast Track

By taking the five courses offered in this 12-week program, you

can complete a Business Minor and enjoy the unique opportunity

to immerse yourself in a cultural experience. Our Complete

Business Minor Abroad program will take you to the beautiful

streets of Rome, Italy, and Madrid, Spain, this Summer 2022

semesters

2022 Program Update

In these uncertain times, the Harbert College of Business is

taking extraordinary steps to ensure the health and welfare of its

students. As such, only two study abroad trips will be offered for

this summer.

Please be on the lookout for details on offerings of a range of

Study Abroad Programs in Summer 2023. We appreciate your

interest and will be global again as soon as possible.

Study Abroad

At the Harbert College of Business, we offer the opportunity to

experience different business cultures, practices and standards

around the world. Round out your undergraduate experience with

a study abroad trip to Italy and Spain and gain a global business

perspective.

Undergraduate study abroad opportunities will allow you to gain

experience with a variety of contexts.

Have Questions?

COVID-19 has made the idea of international travel seem far

away. Let us reassure you we will provide a safe study abroad

experience that will give you an edge in your future career

Dr. Daniel Butler

Assistant Dean, Harbert Global Programs

Thomas Walter Professor

334-844-2464

butledd@auburn.edu
---
WWW.MHCE.US Monthly Newsletter | 19

When the practice of medicine

becomes the business of medicine.

You spent years studying medicine.

But what about the business side of

your practice?

It's easy to get started.

Take the next step toward a

Physicians Executive MBA

and contact us:

auburn-military.mba

334-844-4060

Auburn MBA
---
20 | MHCE - News www.mhce.us JULY 2022 EDITION

Navajo Nation Authorized to File Benefit Claims

for Veterans

VA Secretary Denis McDonough

recognized the tribal government

program's status during a visit to Gallup

on June 28, t he Farmington Daily

Times reported.

"We've been negotiating this with

President Nez and his team. They are the

first tribe to take up this new authority,"

McDonough said. "I'm thrilled that

we can announce that today and as

importantly, put it into action."

He added that this is part of the VA's

work to make sure tribal nations have

a seat at the table. This includes having

veteran service officers on tribal lands

who can submit veterans' benefits

claims to the VA.

McDonough's visit came a day after

it was announced that a group of

bipartisan senators ended the review

process on recommendations by the

VA to close outpatient clinics in several

states, including those in Gallup,

Española, Las Vegas and Raton.

Navajo Nation President Jonathan Nez

noted that the accreditation achieved by

the tribal government's VA will greatly

help Navajo veterans, many who face

difficulties in traveling to VA centers

outside the tribal land.

"Today marks a milestone with our

partnership with the VA [and] also our

Navajo Nation VA," Nez said.

Last month, Nez's office announced that

the Navajo Nation VA met the criteria

and standards to be accredited through

the federal VA's Tribal Representation

Expansion Project.

There are now five Navajo Nation VA

staff members accredited under the

project and who can process federal

benefits claims for veterans, according

to a release from Nez's office.

Navajo Nation VA Director James

Zwierlein told the Daily Times that

the employees work in the tribe's VA

offices in Shiprock, Crownpoint, Tsé

Bonito, Chinle and Tuba City.

A sixth person is being trained to work

in the Fort Defiance office, he added.

The news release stated the staff

members have taken in and submitted

83 claims into the federal VA system

since May 2.

In remarks at the June 28 event,

Zwierlein said these claims were filed

on behalf of Navajo veterans but there

are more veterans, including non-

Navajo and non-Native American, in

line for claims assistance.

McDonough also participated in a

town hall with Nez, U.S. Sen. Martin

Heinrich, D-N.M., and U.S. Rep.

Teresa Leger Fernández, D-N.M. at the

University of New Mexico campus in

Gallup.

According to Nez's office, the group

heard from veterans, members of the

Navajo Nation Veterans Advisory

Council and state and tribal leaders

about health care, benefits claims

and the need for expansive care for

traditional healing and mental health

services.

TO ADVERTISE

contact nathan.stiles@mhce.us
---
WWW.MHCE.US Monthly Newsletter | 21

TO ADVERTISE

contact kyle.stephens@mhce.us
---
22 | MHCE - News www.mhce.us JULY 2022 EDITION

Navy Implements New Policies to Make it Easier for

Victims to Report Sexual Assaults

The first — dubbed the "Safe-to-Report

policy" — protects sailors, Marines

and U.S. Naval Academy midshipmen

reporting incidences of sexual assault

from being disciplined for minor

misconduct in which they might have

participated while they were victimized,

according to one of the new policies.

The idea is to encourage victims to report

their assaults without fear of punishment

for behavior that might be discovered

in an ensuing investigation, such as an

underage drinking, curfew violations or

having an "unprofessional relationship

with the accused," the Navy said in a

statement issued Friday.

"Choosing to report a sexual assault is

already a major decision for a survivor.

It is a first step to accessing the services

they need and the justice they deserve."

Navy Secretary Carlos Del Toro said in

the statement. "Removing this barrier

empowers victims and survivors — they
---
WWW.MHCE.US Monthly Newsletter | 23

should not have to choose whether to implicate

themselves by reporting a crime committed against

them."

Before the "Safe-to-Report" policy, which went

into effect Wednesday, victims "may have had

to choose whether to implicate themselves for

misconduct by reporting an assault," according to

the Navy.

"Collateral misconduct by the victim of a sexual

assault is one of the most significant barriers to

reporting because of the victim's fear of punishment,"

Navy Force Resiliency assistant director Andrea

Goldstein said in the statement. "We're committed

to removing barriers to reporting, restoring victim's

trust, and improving victim care."

While commanding officers can now spare

disciplinary action for victims in such cases, they

can still take nondisciplinary administrative actions

if warranted, such as referring a victim to substance

abuse treatment, according to the policy.

Also Wednesday, the Navy implemented a new "No

Wrong Door" policy aimed at ensuring victims of

sexual assault seeking help don't fall through the

cracks by attempting to seek care from an office

or agency that might not be the right fit for their

needs.

Before the policy, finding the right care could be

confusing because the Navy offers a host of victim

care services from multiple offices, including the

Sexual Assault Prevention and Response Program,

Family Advocacy Program, Military Equal

Opportunity Program, Victim Witness Assistance

Program, medical professionals, Victims' Legal

Counsel and chaplains, according to the service.

"Individuals who experience sexual assault, sexual

harassment, or domestic abuse should receive

the care and support they need -- without delay,"

said Ashish Vazirani, interim director of the Navy

Sexual Assault, Sexual Harassment and Suicide

Prevention and Response Office. "Regardless of

which supporting professional they contact, the

answer should be, 'I will help you'."

"This warm hand-off will include direct connection, introduction to the

responsible staff, and follow-through to ensure the needs of the person

seeking care are met," the Navy said in the statement.

VISIT OUR WEBSITE

AT MHCE.US

The policy now requires Navy personnel in care and

support offices to ensure victims get a "warm handoff

to the appropriate service provider," according

to the policy.
---
24 | MHCE - News www.mhce.us JULY 2022 EDITION

For Spring

Recruitment Specials

contact:

Kyle.Stephens@mhce.us or

Advertise with us today.
---
WWW.MHCE.US Monthly Newsletter | 25

Last Remaining WWII Medal of Honor

Recipient, Hershel 'Woody' Williams,

Dies at 98

WASHINGTON — The last

remaining Medal of Honor

recipient from World War II,

Hershel 'Woody' Williams,

died Wednesday at the age of

98, according to a statement by

the National Medal of Honor

Museum Foundation.

Williams was a 21-year-old

corporal during the Battle of Iwo

Jima when his "conspicuous

gallantry and intrepidity" on

Feb. 23, 1945, earned him the

nation's highest award for valor

in combat, according to his

Medal of Honor citation.

At the time, he was the last

demolition sergeant standing

from his unit. With four riflemen

covering him, he singlehandedly

used a flamethrower to destroy

seven enemy pillboxes from

which Japanese troops were

firing machine guns, according

to the Pentagon.

"I hope every American will

pause to reflect on his service

and that of an entire generation

that sacrificed so much to

defend the cause of freedom and

democracy," he said.

He also worked to honor the

families of the fallen through his

Woody Williams Foundation,

which hosts outreach programs,

awards scholarships and has

helped construct 103 monuments

honoring Gold Star families

across all 50 states, according to

the foundation website.

"An American treasure and an

extraordinary man both on and

off the fields of battle, he left an

enduring legacy of service to his

country with his many initiatives

on behalf of veterans and Gold

Star families," the museum

foundation said. "Woody was

truly one of the greatest of the

greats."

On March 7, 2020, the

Navy honored Williams by

commissioning the USS

Hershel Woody Williams, an

expeditionary sea base, in his

honor.

With his death, there are now

63 living Medal of Honor

recipients, according to the

museum foundation. However,

the number of recipients will

grow to 66 when President Joe

Biden awards Army Spc. 5

Dwight W. Birdwell, Army Spc.

5 Dennis M. Fujii and Army

Maj. John J. Duffy with Medals

of Honor on Tuesday.

Army Staff Sgt. Edward N.

Kaneshiro will also be awarded

a Medal of Honor posthumously

at the ceremony next week.

Creating a Culture

of Caring

Offering master's

and doctoral

degrees for

Registered Nurses

Specialties Offered:

Nurse-Midwife

Family Nurse Practitioner

Women's Health Care NP

Psychiatric-Mental Health NP

Williams was discharged in

1945 but stayed in the Marine

Corps Reserve until retiring with

20 years of service, according

to the Pentagon. He spent more

than three decades working as a

veterans' service representative

at the Department of Veterans

Affairs.

Learn more at frontier.edu/military
---
26 | MHCE - News www.mhce.us JULY 2022 EDITION

TO ADVERTISE

contact

Kyle.stephens@mhce.us
---
WWW.MHCE.US Monthly Newsletter | 27

TO ADVERTISE

contact Kyle.Stephens@mhce.us
---
28 | MHCE - News www.mhce.us JULY 2022 EDITION

6 Dead, 30 Hurt in

Shooting at Chicagoarea

July 4 Parade

HIGHLAND PARK, Ill. — A gunman on a rooftop opened fire on

an Independence Day parade in suburban Chicago on Monday,

killing at least six people, wounding at least 30 and sending

hundreds of marchers, parents with strollers and children on

bicycles fleeing in terror, police said.

Authorities said a 22-year-old man named as a person of interest

in the shooting was taken into police custody Monday evening

after an hourslong manhunt.

The July 4 shooting was just the latest to shatter the rituals of

American life. Schools, churches, grocery stores and now

community parades have all become killing grounds in recent

months. This time, the bloodshed came as the nation tried to find

cause to celebrate its founding and the bonds that still hold it

together.

"It is devastating that a celebration of America was ripped apart

by our uniquely American plague," Illinois Gov. J.B. Pritzker

said at a news conference.

"I'm furious because it does not have to be this way... while we

celebrate the Fourth of July just once a year, mass shootings have

become a weekly — yes, weekly — American tradition."

The shooting occurred at a spot on the parade route where many

residents had staked out prime viewing points early in the day

for the annual celebration. Dozens of fired bullets sent hundreds

of parade-goers — some visibly bloodied — fleeing. They left

a trail of abandoned items that showed everyday life suddenly,

violently disrupted: A half-eaten bag of potato chips; a box of

chocolate cookies spilled onto the grass; a child's Chicago Cubs

cap.

"There's no safe place," said Highland Park resident Barbara

Harte, 73, who had stayed away from the parade fearing a mass

shooting, but later ventured from her home.

Highland Park Police Chief Lou Jogmen said a police officer

pulled over 22-year-old Robert E. Crimo III about five miles

north of the shooting scene, several hours after police released

the man's photo and an image of his silver Honda Fit, and warned

the public that he was likely armed and dangerous.

Police declined to immediately identify Crimo as a suspect but

said identifying him as a person of interest, sharing his name and

other information publicly was a serious step.

Lake County Major Crime Task Force spokesman Christopher

Covelli said at a news conference "several of the deceased

victims" died at the scene and one was taken to a hospital and

died there. Police have not released details about the victims or

wounded.

Lake County Coroner Jennifer Banek said the five people killed

at the parade were adults, but didn't have information on the

sixth victim who was taken to a hospital and died there. One of
---
WWW.MHCE.US Monthly Newsletter | 29

those killed was a Mexican national, Roberto Velasco, Mexico's

director for North American affairs, said on Twitter Monday. He

said two other Mexicans were wounded.

NorthShore University Health Center received 26 patients after

the attack. All but one had gunshot wounds, said Dr. Brigham

Temple, medical director of emergency preparedness. Their

ages ranged from 8 to 85, and Temple estimated that four or five

patients were children.

Temple said 19 of them were treated and discharged. Others

were transferred to other hospitals, while two patients, in stable

condition, remained at the Highland Park hospital.

The shooter opened fire around 10:15 a.m., when the parade was

about three-quarters through, authorities said.

Highland Park Police Commander Chris O'Neill, the incident

commander on scene, said the gunman apparently used a "highpowered

rifle" to fire from a spot atop a commercial building

where he was "very difficult to see." He said the rifle was

recovered at the scene. Police also found a ladder attached to the

building.

"Very random, very intentional and a very sad day," Covelli said.

President Joe Biden on Monday said he and first lady Jill Biden

were "shocked by the senseless gun violence that has yet again

brought grief to an American community on this Independence

Day." He said he had "surged Federal law enforcement to assist

in the urgent search for the shooter, who remains at large at this

time."

Biden signed the widest-ranging gun violence bill passed by

Congress in decades, a compromise that showed at once both

progress on a long-intractable issue and the deep-seated partisan

divide that persists.

Police believe there was only one shooter but warned that he

should still be considered armed and dangerous. Several nearby

cities canceled events including parades and fireworks, some of

them noting that the Highland Park shooter was still at large.

Evanston, Deerfield, Skokie, Waukegan and Glencoe canceled

events. The Chicago White Sox also announced on Twitter that

a planned post-game fireworks show is canceled due to the

shooting.

More than 100 law enforcement officers were called to the

parade scene or dispatched to find the suspected shooter.

More than a dozen police officers on Monday evening surrounded

a home listed as an address for Crimo in Highland Park. Some

officers held rifles as they fixed their eyes on the home. A large

armored truck, marked "Police Rescue Vehicle," occupied the

middle of the road near the residence. Police blockaded roads

leading to the home in a tree-lined neighborhood near a golf

course, allowing only select law enforcement cars through a

tight outer perimeter.

Highland Park is a close-knit community of about 30,000 people

located on the shores of Lake Michigan just north of Chicago,

with mansions and sprawling lakeside estates that have long

drawn the rich and sometimes famous, including NBA legend

Michael Jordan, who lived in the city for years when he played

for the Chicago Bulls. John Hughes filmed parts of several

movies in the city, including "Ferris Bueller's Day Off," "Sixteen

Candles" and "Weird Science."

Pritzker, a Democrat, promised support for the community as

well as to bring gunman to justice.

"There are no words for the kind of evil that shows up at a public

celebration of freedom, hides on a roof and shoots innocent

people with an assault rifle," Pritzker said.

Ominous signs of a joyous event suddenly turned to horror

filled both sides of Central Avenue where the shooting occurred.

Dozens of baby strollers — some bearing American flags,

abandoned children's bikes and a helmet bedecked with images

of Cinderella were left behind. Blankets, lawn chairs, coffees

and water bottles were knocked over as people fled.

Gina Troiani and her son were lined up with his daycare class

ready to walk onto the parade route when she heard a loud

sound that she believed was fireworks — until she heard people

yell about a shooter. In a video that Troiani shot on her phone,

some of the kids are visibly startled at the loud noise, and they

scramble to the side of the road as a siren wails nearby.

"We just start running in the opposite direction," she told The

Associated Press.

Her 5-year-old son was riding his bike decorated with red and

blue curled ribbons. He and other children in the group held small

American flags. The city said on its website that the festivities

were to include a children's bike and pet parade.

Troiani said she pushed her son's bike, running through the

neighborhood to get back to their car.

"It was just sort of chaos," she said. "There were people that

got separated from their families, looking for them. Others just

dropped their wagons, grabbed their kids and started running."

Debbie Glickman, a Highland Park resident, said she was on a

parade float with coworkers and the group was preparing to turn

onto the main route when she saw people running from the area.

"People started saying: 'There's a shooter, there's a shooter,

there's a shooter,'" Glickman told the AP. "So we just ran. We

just ran. It's like mass chaos down there."

She didn't hear any noises or see anyone who appeared to be

injured.

"I'm so freaked out," she said. "It's just so sad."
---
30 | MHCE - News www.mhce.us JULY 2022 EDITION

Military Women Say DOD Reproductive Health Care

Far From 'Seamless' in Post-Roe Era

Bari Wald kept it simple when asked about her pregnancy: "We

lost the baby."

The full diagnosis involved severe fetal birth defects 19 weeks into

Wald's first pregnancy, a baby she and her husband desperately

wanted but couldn't imagine bringing into the world to suffer.

And because the military and its insurer, Tricare, will not perform

or cover abortions for fetal anomalies, even lethal conditions, it

involved a terrifying, failed abortion in a foreign country that

almost killed her.

The two-week wait for definitive test results was torture, said

Wald, an Air Force reserve officer and Marine's wife who at the

time was stationed in Okinawa, Japan.

"The department is examining this decision closely and evaluating

our policies to ensure we continue to provide seamless access to

reproductive health care as permitted by federal law," Defense

Secretary Lloyd Austin said June 22.

But Wald and other military women who told their stories to Stars

and Stripes said it's disingenuous to call Defense Department

reproductive health care "seamless."

They spoke of having to get their care without military support,

even in cases when intended, longed-for pregnancies went

terribly wrong.

And they said that far from feeling cared for, they felt abandoned

by the military at their most vulnerable moments.

"I remember feeling my son kick ... and I didn't know if I could

survive it," she said of the uncertainty during the wait for the test

results and the possibility that her fetus wasn't healthy.

By federal law, the military provides for abortions only in cases

of rape, incest and danger to the mother's life.

The Defense Department has paid for only 91 abortions since

2016, according to a Defense Health Agency spokesman.

Now, with abortion bans going into effect in many states following

the Supreme Court's reversal of Roe v. Wade, the Pentagon has

scrambled to respond.

"It is the most isolating feeling in the world," said Kali, an Army

officer's wife who asked that only her first name be used to protect

her privacy.

Her delight about carrying a child turned to horror and grief

during an ultrasound in April.

"Someone said the words 'not compatible with life,' " she said. "I

said, 'What do you mean? We just saw her moving!'"

Kali's 12-week-old fetus had anencephaly, meaning major parts

of the brain and skull were missing. The baby would most likely
---
WWW.MHCE.US Monthly Newsletter | 31

die in utero or if delivered would certainly die soon after being

born.

"She wasn't going to make it, and I thought the longer she stays

in, maybe the more she would develop, and I didn't want her to

suffer," Kali said.

"And I couldn't imagine walking around and people saying, 'Oh,

when are you due?' "

A week later, Kali stepped inside a clinic in Baltimore alongside

some 20 other women seeking abortions. Her husband, who had

written "the sweetest, saddest letter" to their lost daughter, waited

in the car because of coronavirus protocols.

Kali and her husband have since made several donations to the

clinic, whose $950 fee she paid with her credit card. "They were

so, so nice. They took such good care of me," she said of the

clinic staff.

Their grief still runs deep.

"No one expects it will ever happen to them. If it does, they

should have a choice," she said. "I've always been pro-choice.

But now I'm 12 times more pro-choice."

She said the Supreme Court's decision to overturn the landmark

abortion rights ruling made her angry, sad and scared.

"We live in a blue state now, but who knows where they'll send

us?" she said.

In 1976, three years after Roe v. Wade legalized abortion up to

fetal viability, the Hyde Amendment banned the use of federal

funds for most abortions in the United States.

For years, the only abortions the military would facilitate were

those for pregnancies that posed a threat to the mother's life.

Rape and incest exceptions were added in 2013.

Severe and fatal abnormalities of the fetus were never covered.

For Wald and her Marine husband, that led to a nightmarish

experience in Japan.

After amniocentesis tests came back positive for severe fetal

abnormalities, Wald was handed a pamphlet for a Japanese

hospital. When they got there, they were told the procedure

would take place overnight and cost $5,000 cash up front.

The doctor examined her roughly, she said, using a glove from

his pocket that reeked of cigarettes. As the procedure began, the

pain was unbearable and she started bleeding profusely.

She called her best friend, an ICU nurse in Arizona, to describe

what was happening. The friend conferred with an obstetrician

then told her, "You need to leave that place. It's not safe."

At home early the following morning, Wald awoke weak with

a 105-degree temperature. The Navy hospital emergency room

diagnosed her with a lacerated cervix and blood poisoning and

started her on intravenous antibiotics, she said.

Later that day, doctors decided to induce labor. Her newborn son

weighed less than 13 ounces, she said.

"I ended up having a compassionate birth after being in a situation

nobody wants to be in," she said, lauding the empathy the Navy

doctors and nurses showed her.

Seven years passed before Wald could talk about the ordeal with

anyone other than the thousands of women she found in a private

Facebook group who had undergone similar tragedies.

Now the mother of two, Wald said her trauma had broadened her

support for abortion rights.

"It definitely made me more empathetic to the whole spectrum of

why women get abortions," she said. "Now I'm loud and proud.

It's not about me. It's about my daughter."

Lauren Bryar said she and her husband, a Defense Department

civilian, were blindsided several years ago when they learned at

23 weeks' gestation that the fetus she was carrying had several

genetic abnormalities that would have rendered their child

profoundly disabled.

Bryar has multiple sclerosis; her husband has diabetes. Their son,

then 2 years old, is autistic. They agonized but they knew they

couldn't care for a child with needs so great.

"It was never a decision I thought I'd make or that I wanted to

make," she said. "I was at a point in my life where I'd say, 'Of

course I'm pro-choice, but I would never have an abortion.' Now

I cringe when I think of it."

Tricare wouldn't pay for the abortion, but her private insurance

did. The military's refusal to cover abortion for fatal fetal

abnormalities has been upheld in at least two federal court cases.

Federal judges ruled in separate cases in 2002 that the military

was required to pay for the abortion of anencephalic fetuses,

according to a 2013 Congressional Research Service report. Both

rulings were reversed on appeal.

According to the ruling of one of those appellate courts, the

Supreme Court had decided in a 5-4 ruling that the right to

abortion does not include "a constitutional entitlement to the

financial resources" necessary to exercise that right.

Continuing such high-risk pregnancies can endanger a woman's

health even more than an uncomplicated pregnancy in the U.S.,

which has a far higher maternal mortality rate than other highincome

nations, according to the Centers for Disease Control and

Prevention.

Carrying a dying fetus to term is potentially lethal and can also

severely harm a woman's mental health, doctors say.

Five states with abortion bans — South Carolina, Louisiana,

Utah, Mississippi and Georgia — allow some exceptions for

severe fetal defects, according to the Guttmacher Institute, a

research group that supports abortion rights.

Only two abortion-banning states, Utah and South Carolina,

make exceptions for rape or incest, cases in which the military

has vowed to provide access.
---
32 | MHCE - News www.mhce.us JULY 2022 EDITION

He was a prominent civil rights

attorney who represented Rosa

Parks, the NAACP and Martin

Luther King Jr.

— Steve Jobs. Jobs was the cofounder,

chief executive and chair

of Apple Inc. He died in 2011.

— Father Alexander Karloutsos.

Karloutsos is the assistant to

Archbishop Demetrios of America.

The White House said Karloutsos

has counseled several U.S.

presidents.

— Khizr Khan. An immigrant

from Pakistan, Khan's Army

officer son was killed in Iraq. Khan

gained national prominence, and

became a target of Donald Trump's

wrath, after speaking at the 2016

Democratic National Convention.

Biles, McCain, Giffords Among 17 to

Receive Medal of Freedom

WASHINGTON — President Joe

Biden will present the nation's

highest civilian honor, the

Presidential Medal of Freedom, to

17 people, including actor Denzel

Washington, gymnast Simone

Biles and the late John McCain,

the Arizona Republican with whom

Biden served in the U.S. Senate.

Biden will also recognize Sandra

Lindsay, the New York City nurse

who rolled up her sleeve on live

television in December 2020 to

receive the first COVID-19 vaccine

dose outside of clinical trials in the

United States, the White House

announced Friday.

Biden's honors list, which the

White House shared first with The

Associated Press, includes both

living and deceased honorees from

the worlds of Hollywood, sports,

politics, the military, academia,

and civil rights and social justice

advocacy.

The Democratic president will

present the medals at the White

House next week.

Biden himself is a medal recipient.

President Barack Obama honored

Biden's public service as a longtime

U.S. senator and vice president by

awarding him a Presidential Medal

of Freedom in January 2017, a week

before they left office.

The honorees who'll receive medals

from Biden "have overcome

significant obstacles to achieve

impressive accomplishments in the

arts and sciences, dedicated their

lives to advocating for the most

vulnerable among us, and acted

with bravery to drive change in their

communities, and across the world,

while blazing trails for generations

to come," the White House said.

The honor is reserved for people who

have made exemplary contributions

to the prosperity, values or security

of the United States, world peace or

other significant societal public or

private endeavors, the White House

said.

Biles is the most decorated U.S.

gymnast in history, winning 32

Olympic and World Championship

medals. She is an outspoken

advocate on issues that are very

personal to her, including athletes'

mental health, children in foster

care and sexual assault victims.

Lindsay became an advocate for

COVID-19 vaccinations after

receiving the first dose in the U.S.

outside of clinical trials.

McCain, who died of brain cancer

in 2018, spent more than five

years in captivity in Vietnam while

serving in the U.S. Navy. He later

represented Arizona in both houses

of Congress and was the Republican

presidential nominee in 2008. Biden

said McCain was a "dear friend"

and "a hero."

Washington is a double Oscarwinning

actor, director and

producer. He also has a Tony award,

two Golden Globes and the Cecil

B. DeMille Lifetime Achievement

Award. He is a longtime

spokesperson for the Boys & Girls

Clubs of America.

The other 13 medal recipients

— Sister Simone Campbell.

Campbell is a member of the Sister

of Social Service and a former

executive director of NETWRK, a

Catholic social justice organization.

She is an advocate for economic

justice, overhauling the U.S.

immigration system and health care

policy.

— Julieta Garcia. A former

president of the University of Texas

at Brownsville, Garcia was the

first Latina to become a college

president, the White House said.

She was named one of the nation's

best college presidents by Time

magazine.

— Gabrielle Giffords. A former

U.S. House member from Arizona,

the Democrat founded Giffords, an

organization dedicated to ending

gun violence. She was shot in the

head in January 2011 during a

constituent event in Tucson and was

gravely wounded.

— Fred Gray. Gray was one of the

first Black members of the Alabama

Legislature after Reconstruction.

— Diane Nash. A founding

member of the Student Nonviolent

Coordinating Committee, Nash

organized some of the most

important 20th century civil rights

campaigns and worked with King.

— Megan Rapinoe. The Olympic

gold medalist and two-time

Women's World Cup soccer

champion captains the OL Reign

in the National Women's Soccer

League. She is a prominent

advocate for gender pay equality,

racial justice and LGBTQI+ rights

who has appeared at Biden's White

House.

— Alan Simpson. The retired U.S.

senator from Wyoming served with

Biden and has been a prominent

advocate for campaign finance

reform, responsible governance and

marriage equality.

— Richard Trumka. Trumka had

been president of the 12.5 millionmember

AFL-CIO for more than

a decade at the time of his August

2021 death. He was a past president

of the United Mine Workers.

— Wilma Vaught. A brigadier

general, Vaught is one of the most

decorated women in U.S. military

history, breaking gender barriers

as she has risen through the ranks.

When Vaught retired in 1985,

she was one of only seven female

generals in the Armed Forces.

— Raúl Yzaguirre. A civil rights

advocate, Yzaguirre was president

and CEO of the National Council of

La Raza for 30 years. He served as

U.S. ambassador to the Dominican

Republic under Obama.