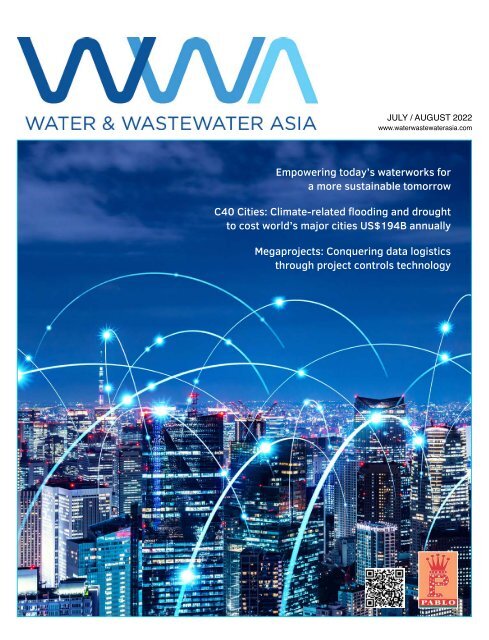 Water & Wastewater Asia July/August 2022
Water & Wastewater Asia is an expert source of industry information, cementing its position as an indispensable tool for trade professionals in the water and wastewater industry. As the most reliable publication in the region, industry experts turn this premium journal for credible journalism and exclusive insight provided by fellow industry professionals. Water & Wastewater Asia incorporates the official newsletter of the Singapore Water Association (SWA)
Water & Wastewater Asia is an expert source of industry information, cementing its position as an indispensable tool for trade professionals in the water and wastewater industry. As the most reliable publication in the region, industry experts turn this premium journal for credible journalism and exclusive insight provided by fellow industry professionals. Water & Wastewater Asia incorporates the official newsletter of the Singapore Water Association (SWA)
SHOW MORE
SHOW LESS
You also want an ePaper? Increase the reach of your titles
YUMPU automatically turns print PDFs into web optimized ePapers that Google loves.
JULY / AUGUST 2022

www.waterwastewaterasia.com

Empowering today's waterworks for

a more sustainable tomorrow

C40 Cities: Climate-related flooding and drought

to cost world's major cities US$194B annually

Megaprojects: Conquering data logistics

through project controls technology
---
CONTENTS

36 Digitalising water management: Idrica

expands GoAigua platform

38 An endless loop to securing tomorrow's

water

42

CONTENTS

04 Editor's Note

51 SWA Newsletter

63 What's Next?

64 Advertisers' Index

SINGAPORE FOCUS

10 Event-triggered pipeline leak detection

system

IN CONVERSATION WITH

14 Empowering today's waterworks for a more

sustainable tomorrow

16 Tsurumi Avant – "An eye for the future"

18 A cleaner waterway for generations to come

20 Building a sustainable smart city

ENVIRONMENTAL REPORT

22 C40 Cities: Climate-related flooding and

drought to cost world's major cities US$194B

annually

IN THE FIELD

24 Companhia Águas de Joinville keeps clean

water flowing for 600,000 residents in South

Brazil

27 New treatment plant allows sought-after

Southside to keep growing

FOCUS

30 Megaprojects: Conquering data logistics

through project controls technology

34 Don't underestimate the importance of leak

monitoring on trunk mains

40 Discover the 12 different types of

chemicals used in water treatment

42 Rethinking cities as giant water

collection facilities

HOTSEAT

44 Envirosuite sets sights on growth for

EVS Water

46 Tips when selecting an ideal chopper

pump

49 Looking for and finding process data

50 Aurecon acquires multi-disciplinary

environmental consultancies in

Hong Kong

ON OUR RADAR

54 NX Filtration supplies dNF membranes to

Envirogen for industrial water recycling

in the UK

55 De Nora unveils solutions for PFAS

treatment

56 BIO-UV Group introduces triogen O3Flex

for industrial applications

57 Ovarro pollution early-warning

technology chosen by Anglian Water

58 Grundfos inks MoU with Ngee Ann

Polytechnic to develop sustainable

solutions

59 Samotics reduces industrial costs

and CO2 emissions with new energy

efficiency solution

SNEAK PEEK & SHOW REVIEW

60 Taiwan International Water Week

returns this October

61 Energy efficiency takes spotlight at

Danfoss webinar

2 WATER & WASTEWATER ASIA | JULY/AUGUST 2022
---
FROM THE EDITOR

ALL ENDS WELL

Water and climate are intrinsically linked as found that these dire impacts will cost the

the rise in global temperature results in an world's major cities US$194 billion annually.

increase in the frequency and intensity of Supported by Grundfos Foundation, the

rainfall, causing more severe droughts and research further revealed that 7.4 million

floods. This will also have an effect on the people in the world's largest cities will be

availability of ground and surface water for exposed to severe river floodings within the

drinking purposes in some regions.

next three decades.

To avoid the endgame, the 1.5°C target Commenting on the study, Mark Watts,

set out in the Paris Agreement has been executive director of C40 Cities, suggested:

repeatedly brought up in almost every climate "Cities have a wealth of tools and

summit, prompting nations to take urgent knowledge at their disposal to ensure

climate actions to reduce their greenhouse that they are adequately preparing for the

gas emissions and ultimately limit global realities of the climate crisis, but effective

warming. The 2030 Agenda for Sustainable action starts with an understanding of the

Development has also drawn up 17 goals to scope and scale of the challenge." To find

mobilise efforts to end poverty and address out more, flip to page 22.

climate change.

Climate change is poised to be the most

In this issue, we spoke with Clément

widely-discussed topic of the decade. This

Pierart, COO for PWNT, part of Nijhuis Saur is a race that mankind can still win and it

Industries, who noted that the water industry requires bolder actions to be taken not just

has made "good progress" in meeting the on a national level in moving towards a lowcarbon

economy, but also down to each

SDGs but is unconvinced that it will manage

to achieve all the 17 goals.

individual to reduce our carbon footprint,

to eventually leave a sustainable planet for

On page 14, he said: "Whilst we are trying many generations to come.

to be greener and use less chemicals

and energy, the rate of progression in this

direction is not enough. And with the rise in

population and the overall increase of human

activities around the globe, it's a very difficult

race to win and we probably need to start

looking far more aggressively also on carbon

capture beyond carbon reduction."

PABLO SINGAPORE

William Pang • Publisher

williampang@pabloasia.com

Josephine Tan • Senior Editor

josephine@pabloasia.com

Pang YanJun • Business Development Manager

yanjun@pabloasia.com

let's connect!

Goh Meng Yong • Graphic Designer

mengyong@pabloasia.com

Shu Ai Ling • Circulation Manager

circulation@pabloasia.com

PABLO BEIJING

Ellen Gao • General Manager

pablobeijing@163.com

PABLO SHANGHAI

Daisy Wang • Editor

pabloshanghai@163.net

Published by

PABLO PUBLISHING & EXHIBITION PTE LTD

3 Ang Mo Kio Street 62,

#01-23 Link@AMK Singapore 569139

Tel: (65) 6266 5512

E-mail: info@pabloasia.com

Company Registration No: 200001473N

Singapore MICA (P) No: 102/12/2021

REGIONAL OFFICES (CHINA)

PABLO BEIJING

Tel: +86 10 6509 7728

Email: pablobeijing@163.com

PABLO SHANGHAI

Tel: +86 21 5238 9737

Email: pabloshanghai@163.net

@waterwastewaterasia

All rights reserved. Views of writers do not necessarily reflect the views

of the Publisher and the Singapore Water Association. No part of this

publication may be reproduced in any form or by any means, without prior

permission in writing from the Publisher and copyright owner. Whilst every

care is taken to ensure accuracy of the information in this publication, the

Publisher accepts no liability for damages caused by misinterpretation

of information, expressed or implied, within the pages of the magazine.

C40 Cities has similarly issued a study on

climate-related flooding and drought and

Josephine Tan

Senior Editor

All advertisements are accepted on the understanding that the Advertiser

is authorised to publish the contents of the advertisements, and in this

respect, the Advertiser shall indemnify the Publisher against all claims or

suits for libel, violation of right of privacy and copyright infringements.

Water & Wastewater Asia is a controlled-circulation bi-monthly magazine.

It is mailed free-of-charge to readers who meet a set of criteria. Paid

subscription is available to those who do not fit our terms of control. Please

refer to subscription form provided in the publication for more details.

Printed by Times Printers Pte Ltd

Water & Wastewater Asia

incorporates the official newsletter

of Singapore Water Association

4 WATER & WASTEWATER ASIA | JULY/AUGUST 2022
---
NEWS

GOH SI HOU JOINS PUB

AS CHIEF EXECUTIVE

Goh Si Hou has been appointed

chief executive of PUB, Singapore's

national water agency. He will

succeed Ng Joo Hee, who will be

retiring from the administrative

service, according to a statement

released by the Ministry of

Sustainability and the Environment of

Singapore.

Ng took the helm of PUB in 2015.

During his tenure, several water

infrastructure developments were

commissioned, including the Tuas

Desalination Plant in 2019, the

Marina East Desalination Plant

in 2020 and the Jurong Island

Desalination Plant in 2022. An

extensive upgrade of the Choa

Chu Kang Waterworks was also

concluded in 2019, making it the

largest ceramic membrane filtration

plant in the world.

Ng further led PUB in embarking on

its new role as the national coastal

protection authority to safeguard

against rising sea levels. He also

spearheaded sustainability efforts,

such as the development of PUB's

floating solar farms at reservoirs and

the co-location of PUB's reclamation

plant with NEA's waste management

facility, also known as Tuas Nexus,

to maximise energy and resource

recovery.

Incoming Goh has been a member

of the PUB board since April 2021.

He served most recently as the Chief

of Army in the Singapore Armed

Forces (SAF). Over his career, he had

held a range of command and staff

leadership appointments in the SAF as

well as policy roles in the Ministry of

Defence.

Goh will assume his role as chief

executive of PUB with effect from 22

Jul 2022.

Goh Si Hou will

join PUB as chief

executive this July

(Photo credit:

Lance Cpl. Sasha

Pierre-Louis)

MAJORITY OF INDEPENDENT SHAREHOLDERS CALL

ON ALPHABET TO ADDRESS GROWING WATER RISKS

About 64% of Alphabet's independent

shareholders voted in support of a

water risk reduction proposal by As

You Sow, a shareholder advocacy

non-profit.

The resolution asks Alphabet, the

parent company of Google, to address

the water risk associated with climate

change, especially at its water-thirsty

data centres. The proposal seeks

quantitative location-specific water use

information and the company's plans

to reduce water-related risk.

Alphabet has several data centres that

are fundamental to its business model.

Collectively, data centres are among

the top 10 water-consuming industries

in the US. A typical data centre uses

3-5 million gallons of water per day,

according to Venkatesh Uddameri,

professor and director of the Water

Resources Centre at Texas Tech

University.

Google operates in regions predicted

to have high or extremely high water

stress by 2030, including Storey

County, Nevada and Changhua

County, Taiwan. As water stress

becomes more prevalent, Alphabet

has faced greater competition for

water resources, legal disputes and

higher costs.

Danielle Fugere, president of As You

Sow, said: "Alphabet's need for water

resources is becoming increasingly

contentious and fraught with risk due

to drought, declining groundwater

levels and competing water demands.

Alphabet is the parent company of Google

With this proposal, shareholders seek

quantifiable information from Alphabet

about the water-related risks to the

company for the water-constrained

locations in which it operates."

WATER & WASTEWATER ASIA | JULY/AUGUST 2022 5
---
NEWS

ENERGY RECOVERY WINS OVER

US$8.2M IN SWRO CONTRACTS IN ASIA

Energy Recovery has been awarded

three contracts totalling over US$8.2

million to supply its PX Pressure

Exchanger energy recovery devices

to seawater reverse osmosis (SWRO)

desalination facilities in Asia. The

orders are expected to be fulfilled by

the end of Q3 2022.

When completed, Energy Recovery

estimates the plants will prevent

nearly 180,000 metric tons of carbon

dioxide emissions each year, the same

number of emissions produced by

over 39,000 passenger cars in the

same period. Once these contracts

are completed, Energy Recovery

will support the production of over

4 million cubic meters of water

per day in Asia.

Continued water scarcity,

industrialisation, rapid urbanisation

and population growth continue to

amplify the need for a stable and

energy-efficient supply of freshwater

in parts of Asia. All three facilities,

located in China and India, will supply

communities that are highly waterstressed.

Rodney Clemente, senior vicepresident

of water at Energy

Recovery, elaborated: "China and

India both fall well below the global

average of renewable freshwater

resources at 2,000 and 1,000 cubic

meters per capita, respectively – a

small fraction of the global average

of 5,600 cubic meters per capita.

Both countries are increasingly

Energy Recovery's

PX Pressure Exchanger

looking to SWRO desalination as part

of their strategies to build a more

resilient, robust and reliable water

supply, thanks to leading innovations

like the PX that have helped make the

economic and environmental impacts

of SWRO more sustainable."

Energy Recovery's PX is said to reduce

energy consumption in SWRO facilities

by as much as 60%. The PX provides

low lifecycle costs, providing savings to

plant operators and bringing down the

cost of clean water.

ITALIAN TEXTILE MANUFACTURER RENEWS COMMITMENT TO

DELIVER CLEAN WATER ACCESS TO COMMUNITIES IN VIETNAM

Planet Water Foundation, a non-profit

organisation that addresses global water

poverty by providing clean water access and

hygiene education programmes, and Hung

Yen Knitting and Dyeing, an Italian textile

manufacturer operating in Vietnam, have

completed the deployment of their latest

clean water project in Hung Yen province,

Vietnam.

The project took place in a school in Văn

Lâm, Hung Yen, with volunteers from the

textile company supporting the Planet Water

Foundation team in deploying an AquaTower

community water filtration system which

will provide the students and surrounding

community members with access to clean,

safe drinking water.

Since the partnership began in 2020, Hung

Yen Knitting and Dyeing has supported the

deployment of four AquaTower systems. Each

AquaTower system produces 1,000 litres of

clean, safe drinking water per hour, enough

to meet the drinking water requirements of up

to 1,800 people and includes an integrated

handwashing station with liquid soap

dispensers.

Each project is deployed together with Planet

Water's hygiene education programme

to help spread the knowledge on healthy

hygiene habits, and Planet Water's AquaSan

mobile surface disinfection system which

helps sanitise the school environment.

And by the end of this year, the two

organisations will be deploying two

additional AquaTower projects in Hung Yen

province, further extending the impact of

the partnership, as Mark Steele, founder

and CEO of the Planet Water Foundation,

concluded: "By the end of this year, through

our partnership, we will have brought access

to clean, safe drinking water to up to 10,800

people and provided hygiene education

to over 4,000 students and community

members."

By the end of the year, the partnership will have

provided safe water access to over 10,000 people

(Photo credit: Pixabay)

6 WATER & WASTEWATER ASIA | JULY/AUGUST 2022
---
NEWS

ECOLAB GLOBAL INTELLIGENCE CENTRE OPENS DOORS TO POWER

DATA-DRIVEN PERFORMANCE AND SUSTAINABILITY

Companies have been adopting digital

technologies to better manage performance

and advance their productivity and

sustainability goals. However, as businesses

modernise operations with the Internet

of Things (IoT)-connected devices, they

produced a large amount of data. The most

crucial data – that which provides insights

to help improve efficiency, profitability and

sustainability – is at risk of becoming lost in a

flood of information.

Ecolab has transformed its System

Assurance Centre, a single remote monitoring

location, into the Ecolab Global Intelligence

Centre (EGIC), an international network of

remote intelligence facilities that specialises

in analysing data from a variety of connected

chemistries and technologies. The EGIC

works with Ecolab's global network of 25,000

field sales-and-service associates to provide

customer-centric support so companies can

act on the information that matters most.

CUSTOMER-CENTRIC SERVICE AT

GLOBAL SERVICE

The EGIC operates globally through

six locations around the world, with its

global base in Pune, India, and additional

intelligence centres in Brazil, China, North

America, Saudi Arabia and the Netherlands.

Each location features multi-disciplinary

teams that support a variety of industries,

including power, energy, manufacturing, data

centres, food and beverage and more.

enable measurable outcomes, including

water and energy savings; asset protection,

efficiency and performance; regulatory

compliance; improved product quality;

lower total cost of operations; and increased

productivity and profitability.

Mike Cerilli, vice-president of Ecolab's digital

growth team, commented: "By combining

digital solutions powered by ECOLAB3D

with EGIC expertise, we deliver a connected

solution that leads to deeper insights, faster

action and greater value for customers

across Ecolab. We believe that data access

and visibility allow companies to advance

their business goals while taking concrete

steps towards safer and more sustainable

operations."

The EGIC has been making a significant

impact on its customers. In one example,

the team helped a chemical processing

plant mitigate a critical issue that would have

resulted in the loss of nearly 40,000 gallons

of treated water. The EGIC worked with local

Ecolab and plant personnel to identify a

valve that was overflowing at an estimated

rate of 55 gallons per minute. By addressing

the issue, the customer mitigated significant

water loss and related treatment costs.

INTELLIGENCE FOR IMPACT

The push for greater data access and

visibility is driven by the climate and water

crisis, which has escalated in the last decade.

In the 2020 report, Achieving Abundance:

Understanding the Cost of a Sustainable

Water Future, the World Resources Institute

predicted that freshwater demand may

outstrip supply by 56% in 2030.

Calvin Emanual, vice-president and general

manager of Ecolab's net zero solutions,

added: "Businesses face the pressures of

producing more using less water and energy,

and many organisations have responded

with ambitious climate and water targets.

At Ecolab, we believe that data access and

visibility enable companies to pursue their

sustainability and business goals in tandem."

By taking steps to digitise their operations,

companies can make water and energy use

more efficient. The EGIC is a part of Ecolab's

ambition to help companies make strides

towards their sustainability goals.

Associates provide multilingual service for a

range of digital technologies, including more

than 30,000 connected 3D TRASAR systems

across the globe. These systems connect to

solutions built on the ECOLAB3D analytics

platform, such as Water Flow Intelligence,

Water Quality Intelligence and OMNI, among

others. When combined with the presence

of Ecolab's onsite service personnel and

technical consultants, these insights help

The EGIC team analyses data from the IoT-connected systems to provide monitoring and measurable results

WATER & WASTEWATER ASIA | JULY/AUGUST 2022 7
---
NEWS

DUPONT WATER SOLUTIONS

EXPANDS ONLINE LEARNING

AND THOUGHT LEADERSHIP

PROGRAMME

Programmes used by over 30,000 water industry professionals support professional

development through discussion of emerging water challenges (Photo credit: Pixabay)

DuPont Water Solutions has revitalised its

programmes of webinars and specialist

classes for water professionals, enhancing

its library of more than 100 hours of learning

and thought leadership content. The live and

on-demand materials are designed for people

working in a range of industries that use water

technologies, including life sciences, food and

beverage, chemical processing and municipal

water supply and wastewater treatment.

More than 30,000 global water professionals

currently use DuPont's specialist online

learning programmes which provide

certified professional development hours

(PDH credits). Content includes a series of

technology deep-dives led by water industry

professionals discussing the fundamentals

of key water treatment system components,

including reverse osmosis and nanofiltration

membranes, ion exchange resins and

adsorbents, ultrafiltration membranes and

closed-circuit reverse osmosis systems.

Juan Carlos Pacheco Vera, business

development manager for Industrias Islas,

commented: "Industrias Islas has been

working together with DuPont for more

than 35 years, collaborating on many

successful projects, growing the advanced

membrane technology in Mexico and helping

organisations overcome complex water

challenges. The Water Academy sessions,

online webinars and the Blue Talk debate series

from DuPont Water Solutions ensure our team

is always up-to-date with the latest technology

and how it can be effectively and efficiently

used in a range of different applications."

In addition to providing opportunities for

continued professional development, DuPont

has gathered industry stakeholders from across

the globe to discuss the latest water industry

trends and the challenges facing communities

in a water-stressed world. The Blue Talk series

explores the steps necessary and healthy water

for the 7.8 billion people who call the planet

Earth home.

ACT NOW WITH

ENERGY-SAVING

TECHNOLOGIES:

RIVENTA

With electricity prices soaring, Riventa has

voiced its support to Dr Pier Clark's, chairman

of Isle, call for the water industry to make the

most innovative, energy-saving technology.

Speaking on the unavoidable climate crisis,

Dr Clark stated that the water sector has

significant potential to produce a positive

impact. However, he added the adoption of

new energy-saving technologies could be

accelerated.

Steve Barrett, managing director of Riventa,

said: "As a business that can demonstrate

the efficiencies and inefficiencies of assets

such as pumps, blowers and turbines,

we are very used to trials, to show, for

example, just how much energy can be

saved. However, Dr Clark is correct with his

analysis—there are technologies available

Riventa's Freeflow can

help the water industry

make energy savings

now that could make an immediate impact

on those fast-rising energy bills.

"In the extensive process treatment

undertaken by water companies that largely

gets taken for granted, we all know that

large amounts of power are required; so,

with world events causing such a crisis in

electricity costs, the water industry has a

timely opportunity to embrace technologies

that will drastically reduce energy bills, and at

the same time, protect assets as well as drive

down emissions and pollutions."

Riventa's data-driven technology is currently

in operation in 11 different countries

worldwide. This includes a project in Paris,

where at a key pumping station, the use of

its pump monitoring system and HydraNet

software demonstrated that the rescheduling

of pumps to meet optimum performance,

provides an immediate saving of 21%.

"We have to say though that our experience

with water companies has been very positive,

where there is the will to look after assets

on the journey to carbon net zero," Barrett

concluded. "Given the unprecedented rise

in energy costs, the industry may have no

choice other than to start rolling out key,

decisive technologies that have proven

deliverables."

8 WATER & WASTEWATER ASIA | JULY/AUGUST 2022
---
NEWS

TORAY TO SUPPLY RO MEMBRANE FOR

UAE SEAWATER DESALINATION PLANT

Toray Industries has received a reverse

osmosis (RO) membrane order for

the Taweelah desalination plant in

the United Arab Emirates (UAE).

Once the operation commissions in

H2 2022, it will be one of the largest

RO desalination facilities with a daily

capacity of 909,200m 3 of water.

Technical services will be provided

by Dammam-based Toray Membrane

Middle East (TMME). Toray will help

alleviate water shortages in the

Middle East through TMME, which

will ultimately lead to energy supply

throughout the world.

The district has been considering starting

construction of the RO desalination

facility for approximately 20 years. Key

factors in Toray obtaining this order were

that its RO membrane technology and

record in the Middle East over the past

15 years have delivered lower capital

investments and operating costs than the

conventional evaporation method. Gulf

countries have been investing extensively

in infrastructure to cater to the rising

population, so the Taweelah facility will

be vital to progress.

Toray has also installed RO membranes

for the Umm Al Quwain Desalination

Plant in the UAE, with a daily capacity of

681,000m 3 . The latest order will affirm the

company's position as an RO membrane

supplier to the world's major desalination

facilities. Toray will continue to contribute

to infrastructural development in the

country by providing RO membranes and

technical support for the planned RO

plant.

Over the years, Toray has expanded

RO membrane sales, production and

technical support to help address global

water issues. Applications extend from

desalination and wastewater reclamation

to industrial usage. The aggregate

water production capacity of Toray RO

membranes is 105 million cubic meters

per day, which is equivalent to the water

needs of 730 million people.

SMART WATER NETWORK MANAGEMENT

Optimize resOurces - ensure water quality - reduce cOsts

SOFREL DL4W

4G LTE-M/NB-IoT

Data logger

Flow and pressure monitoring

Night flow analysis

Flow rate alerts

Leak detection

CSO monitoring & detection

learn mOre:

SOFREL ChlorIN

Autonomous chlorine

level measurements

Real-time monitoring

Easy to install

Immediate notification in

case of threshhold breach

learn mOre:

www.lacroix-environment.com

WATER & WASTEWATER ASIA | JULY/AUGUST 2022 9
---
SINGAPORE FOCUS

EVENT-TRIGGERED PIPELINE

leak detection system

An R&D collaboration between Teredo Analytics and PUB's

water supply network department. By Wong Liang Jie and Dr Rajat Mishra

Teredo Analytics is a deep tech start-up

incorporated under the NUS Graduate

Research Innovation Programme (GRIP). Its

co-founders are former researchers from

NUS Acoustic Research Laboratory (ARL)

and draw on their expertise in acoustic signal

processing, big data analytics, the Internet

of Things (IoT) and artificial intelligence (AI)

to develop monitoring solutions for water

pipeline networks and water plant machinery.

The developed technology was able to

detect leaks along PUB's water pipeline

networks and has since been patented. This

technology has also been adapted to provide

continuous condition monitoring on water

plant machinery, enabling early detection of

potential machinery failure.

detection. As such, the delay in which

the authority will be alerted to a leak can

potentially exceed 20 hours and given the

leak size, the water loss and disruption to

the public can be substantial. In addition,

the authority is also faced with a high falsepositive

alarm rate from previously installed

systems where environmental acoustic

signatures are mistakenly interpreted as

pipe leaks.

The solution includes a two-fold check

based on the frequencies of the acoustic

signatures and a machine learning (ML)

framework which will reduce the number

of false-positive alerts arising from noisy

non-leak activities such as construction

work. This involves a leak-event triggered

mechanism with the ability to notify the leak

detection system and send the acoustic

signature of interest to the cloud platform

for further processing. The event-based

alert mechanism is based on a low-power

circuit that notifies the processor upon

detecting a persistent leaking acoustic

signature.

The R&D collaboration between PUB and

Teredo Analytics seeks to develop the next

generation of low-powered leak detection

system that is capable of detecting near

real-time leaks with a low false-positive

alarm rate. This is made possible with the

technological advancement in low-powered

microprocessors and an AI algorithm

residing in a cloud-based architecture that

analyses and processes a large number of

acoustic datasets collected.

System architecture of Teredo's event-based leak detecting Listener system

Existing battery-operated leak detection

systems that are installed on the water

pipeline network are pre-configured to

be alerted at a pre-defined time to record

leak-associated data parameters such as

acoustics and pressure. Such an approach

can only alert the authority upon detecting

a leak during its pre-configured time and

is thus unable to provide real-time leak

A schematic diagram of the event-triggered leak-detecting circuit

10 WATER & WASTEWATER ASIA | JULY/AUGUST 2022
---
SINGAPORE FOCUS

audio data are used as the model's

input to determine if it is a false-positive

signature. ANN is a computational

model of interconnected nodes loosely

based on the biological neural network

structure. It is a supervised ML method

known for its ability to learn mapping

functions of underlying features from

a given labelled training dataset. In

addition, a trained ANN model is

Potential falsepositive

alarm

acoustic data with

the Y- and X-axis

representing the

frequency and time

range respectively.

The intensity of the

audio signature is

represented by the

image colour

This low-power circuit can process

the stream of data coming from

the acoustic sensor in real-time

or periodically. Once an acoustic

signature with frequencies-of-interest

is detected, the circuit will notify the

microcontroller for further investigation

of the acoustic event.

These frequencies-of-interest

represent the band of frequencies

that are associated with pipeline

leaks. Therefore, the circuit will

use a bandpass filter to remove the

unwanted frequencies and a timer

circuit to check the consistency of the

acoustic signature. The charging will

alert the microcontroller if the acoustic

signature containing the frequenciesof-interest

persists over some time.

Otherwise, the timer circuit will reset

the charging circuit and monitor the

signal again for another fixed period.

determining if the acoustic signature

is an actual pipeline leak based on

previously collated data.

The ML algorithm is designed and

trained based on the data collected

during the project duration to weed

out potential acoustic data that can

potentially trigger false-positive alerts

such as the audio signature of a train

passing underneath a buried water

pipeline or the piling works from a

nearby construction site.

The ML algorithm used is an artificial

neural network (ANN) model, collected

capable of capturing unknown, complex

and non-linear relationships for a variety

of application areas, ranging from image

classification to speech recognition.

The ANN architecture selected in

this work has a topological network

with two hidden layers. For this

selected ANN architecture, the

number of neurons for hidden layers

1 and 2 is dependent on the size of

the training dataset. This particular

architecture is chosen for its ability

to learn underlying patterns from a

large number of distinct data samples

using a comparatively small number of

hidden neurons.

This acoustic signature is then

transmitted to the IoT cloud platform

where an ML algorithm is used to

determine if the acoustic signature

is an actual pipeline leak based on

previously collated data. Once the

microcontroller is alerted due to a

possible leak event, the system will

record the acoustic signature for a

fixed interval and send this data to the

cloud over a low-power IoT network for

further analysis. This additional layer

of analysis in the cloud will leverage a

customised ML algorithm to lower the

occurrence of false-positive alerts by

A two-hidden-layer ANN architecture where 'I' represents the number of features for each

training sample, 'S' represents the number of output neurons and 'N' represents the number of

training samples. The number of neurons used for hidden layers 1 and 2 respectively is denoted

as 'J' and 'K' respectively

WATER & WASTEWATER ASIA | JULY/AUGUST 2022 11
---
SINGAPORE FOCUS

XX =

1

⋮

1

xx !! ⋯ xx !"

⋮ ⋱ ⋮

xx #! ⋯ xx #"

, Y =

yy $! ⋯ yy $%

⋮ ⋱ ⋮

(1)

yy #! ⋯ YY #%

The ANN aims to minimise the error between

the given labelled dataset and the trained

model's predicted values by adjusting the

interconnecting weight parameters between

all layers iteratively. Ample labelled training

data samples are necessary for the ANN

to have a better insight into the underlying

patterns of the training dataset as this allows

the ANN to be sufficiently trained in making

meaningful predictions. If the number of

training data samples is too small, the ANN

will not have sufficient relevant information

to adequately learn these dependencies,

resulting in a trained model with relatively

lower accuracy performance.

The collected acoustic training dataset takes

the form of a 'N'בI+1' matrix 'X' as shown

in Equation 1. The first column of value '1's

denotes the bias, the notation 'N' denotes the

sample size of the training dataset, and the

notation 'I' denotes the number of features

in each data sample. The labelled output for

the training dataset is noted by a matrix 'Y',

where element 'yn1' equates to value '1' and

element 'yn2' equates to value '0' when the

nth training data is labelled as value '1' and

so forth.

model's predicted values. Cross-entropy is acoustic signature.

1 xx !! ⋯ xx !" yy $! ⋯ yy $%

XX = ⋮ ⋮ ⋱ ⋮ , Y = ⋮ ⋱ ⋮ used here (1) as it has a faster weight learning

1 xx #! ⋯ xx #" yy #! ⋯ YY #% !

rate when

!

ww '()*! ⋯ ww the resultant cross-entropy

% %

'()*+

ww '()*! ⋯ ww '()*+

ACKNOWLEDGEMENT

/

/

ww '()*! ⋯ ww '()*+

WW 11 ! !

ww

= !! error ⋯ ww is !+ large, , thus WWany 22 % %

= slowdown ww !! ⋯ in ww weight !- , WW 33 / /

Equation 1

This = research ww !! ⋯ is ww supported !% by (2) PUB,

⋮ ⋱ ⋮

⋮ ⋱ ⋮

⋮ ⋱ ⋮

! optimisation ! is avoided as ! the cross-entropy

Singapore's

ww "! ⋯ ww "+

ww +! ⋯ ww / national / water agency.

+-

ww -! ⋯ ww -%

!

*! ⋯

From

ww

Equation 2, element % ' %

'()*+

ww w1 ij' denotes the

'()*! ⋯ ww

/ error minimises / with each training Teredo Analytics would like to extend its

'()*+

ww '()*! ⋯ ww '()*+

!

! ⋯ interconnecting ww weight

!+ , WW 22 % %

=

ww

between

!! ⋯

the

ww

input iteration.

!- , WW 33 / /

appreciation to the team of James Koh,

= ww !! ⋯ ww !%

(2)

⋱ layer ⋮ and the hidden layer ⋮ '1', ⋱where ⋮notations

⋮ ⋱ ⋮

David Ng, Fong Xi Ning, Waseem Khan,

!

! !

! ⋯ ww "+

ww +! ⋯ ww

/ /

'i' and 'j' represent the 'ith' neuron in +- the

E = ! ∑ ww ∑[YY -! ⊙ ⋯ ln (OOOO ww

0

oooo) -% + (1 − YY) ⊙ ln (1 − OOOO oooo )] Harry (3) Low and Tan Jian Hao from PUB's

input layer and 'jth' neuron in hidden layer '1'

respectively. Likewise, element ' w2 jk k ' denotes

the

E = ! ∑ interconnecting ∑[YY ⊙ ln (OOOO weight between hidden Next, partial derivatives calculations are

0

oooo) + (1 − YY) ⊙ ln (1 − OOOO oooo )] (3)

layers '1' and '2', where notations 'j' and 'k' made throughout the ANN to determine

represent the 'jth' neuron in hidden layer '1',

and 'kth' node in hidden layer '2', respectively

and so forth. The collective weight between

neighbouring neuron layers is denoted by

matrix 'Wp', where notation 'p' denotes the

weight's starting layer. These weights are

randomly initialised close to zero to ensure

that the neurons do not perform the same

computation.

! !

ww '()*! ⋯ ww '()*+

WW 11 ! !

ww

= !! ⋯ ww !+ , WW 22 =

⋮ ⋱ ⋮

! !

ww "! ⋯ ww "+

Equation 2

% ww '()*! ⋯ % ww '()*+

% ww !! ⋯ % ww !-

⋮ ⋱ ⋮

! ww +! ⋯ ! ww +-

, WW 33 =

/

ww '()*!

⋯

/

ww '()*+

/ ww !! ⋯ / ww !%

⋮ ⋱ ⋮

/ ww -! ⋯ / ww -%

The ANN's training algorithm iterates

compared to the typical gradient descent

between the feed-forward E = ! ∑ ∑[YY ⊙ ln (OOOO 0 and the oooo) + (1 − YY) ⊙ ln method. (1 − OOOO oooo )] (3)

backpropagation process. In the feedforward

propagation process, the data

samples are propagated through the

model's weights and neurons' activation

function, generating a matrix of interim

predictions at the neuron outputs.

To effectively classify the non-linear

relationship between a detecting pipeline

leak and the collected acoustic training

dataset, a sigmoid activation function is

applied to the weighted input at every

neuron in hidden layers '1', '2' and the

output layer. In addition, the inputs to the

ANN are normalised to avoid saturating the

neurons' sigmoid activation function.

After the completion of each forward

propagation process, the backpropagation

process begins with a calculation of

where the model will be implemented, a

1 xx !! ⋯ xx !" yy $! ⋯ yy $%

the cross-entropy XX =

error, denoted by 'E',

⋮ ⋮ ⋱ ⋮ , Y = ⋮ ⋱ ⋮ user can (1) train and implement such a datadriven

model to readily detect between 1the xx #! given ⋯ dataset xx #" labelled yy #! ⋯and YY #% the

false-alarm

Equation 3

the cross-entropy error value concerning

each preceding weight in the ANN. All

calculated partial derivatives are used

by the conjugate gradient descent

algorithm to iteratively locate the next

path to the minimal of the cross-entropy

error function. This method is used as its

convergences the cross-entropy error

function using fewer iterations when

The feed-forward and backpropagation

processes are repeated, and with

each iteration, the ANN's weights are

automatically readjusted to further lower

the resultant cross-entropy error between

the given labelled answer and the predicted

output. This is continued till convergence

of the cross-entropy error function or a

maximum pre-set training iteration number

is met.

At the start of the R&D collaboration, it

is the first known work of a data-driven

approach in performing false-positive

leak detection using an acoustic dataset.

Given an adequate and accurately labelled

dataset collected from a peculiar valve

water supply network department for the

support in this project.

Disclaimer: Any opinions, findings and conclusions

or recommendations expressed in this material are

those of the authors and do not reflect the view of

PUB, Singapore's national water agency.

Wong Liang Jie and Dr Rajat Mishra are co-founders

of Teredo Analytics.

REFERENCES

Wong, Liang Jie, et al. "Acoustic assessment of polymetallic

nodule abundance using sidescan sonar and altimeter." IEEE

Journal of Oceanic Engineering 46.1 (2020): 132-142.

(2)

12 WATER & WASTEWATER ASIA | JULY/AUGUST 2022
---
IN CONVERSATION WITH

EMPOWERING

TODAY'S WATERWORKS

for a more sustainable

tomorrow

Water is at the core of sustainable development and utilities worldwide

have been innovating to ensure a sustainable water supply is still available

for future consumption. Clément Pierart, COO for PWNT, part of Nijhuis Saur

Industries, shares more with Water & Wastewater Asia.

Whilst we are trying to be

greener and use less chemicals

and energy, the rate of

progression in this direction is

not enough. And with the rise

in population and the overall

increase of human activities

around the globe, it's a very

difficult race to win and we will

probably need to start looking

far more aggressively also on

carbon capture beyond carbon

reduction.

Clément Pierart

COO for PWNT, part of Nijhuis Saur Industries

At the north of Plymouth in southwest England

lies South West Water's Mayflower Water

Treatment Works, a £60 million (US$74 million)

state-of-the-art that is now responsible to

supply drinking water to a quarter of a million

people in the Plymouth area. Mayflower

marks South West Water's biggest single

capital investment in its 2015-20 business

plan and has gone into service in the spring

of 2020, taking over the old treatment works

at Crownhill which has been serving the city

since the 1950s.

Mayflower is designed to treat up to 90 MLD

of water a day, from sources including

the Burrator reservoir, the River Tavy and

the River Tamar. Supporting the water

treatment processes behind Mayflower was

PWNT, which supplied three of its flagship

technologies – namely SIX, a suspended ion

exchange process with a resin regeneration

system; In-Line Coagulation and Adsorption

(ILCA) to minimise coagulation and flocculation

footprint while simplifying pre-treatment

upstream of CeraMac; and the CeraMac

ceramic membrane filtration system.

14 WATER & WASTEWATER ASIA | JULY/AUGUST 2022
---
IN CONVERSATION WITH

The three technologies are combined

together for the first time and

demonstrate how innovation can bring

higher quality drinking water to the

population, declared Clément Pierart,

COO for PWNT, part of Nijhuis Saur

Industries.

He told Water & Wastewater Asia:

"Mayflower receives feed from

various reservoirs and rivers, which is

blended in various proportions and is

then collected into an inlet reservoir

through the filters. The water then

goes through SIX for the removal of

dissolved organic carbon, followed by

an atmospheric ILCA for some light

coagulation before being brought onto

the CeraMac vessels.

"For this Mayflower project, we

supplied 10 CeraMac vessels in the

C-90 model configuration to meet the

total capacity of 90 MLD. It has been

in operation for two years now and

has been producing clean and safe

drinking water consistently without any

major issues."

Another user of PWNT's CeraMac

is PUB, Singapore's national water

agency. The ceramic membrane

technology was installed at the Choa

Chu Kang Waterworks (CCKWW) and

is the first waterworks in the republic

to employ such technology to increase

the plant's operating efficiency and

reliability.

Dubbed the largest ceramic membrane

filtration plant for drinking water

treatment in the world, CCKWW is

equipped with 12 CeraMac vessels

to manage the plant's capacity of 180

MLD. Particularly for CCKWW, the

plant treats a reservoir supply and uses

ozone oxidation on the membranes

as part of the treatment train. The

continuous dosing of ozone allows the

plant to reach a much higher flux.

Commenting on both projects, Pierart

highlighted the priorities of both

plants appear to be evaluating and

evolving in the same direction. The

carbon footprint for the overall impact

of the systems, performance and the

long-term cost, and the total cost

of ownership and operation of the

plant – these are some of the common

concerns among the plant operators

which he identified and elaborated:

"I think it's also related to the market

that we target because, inherently, the

ceramic solutions are more expensive

than the polymeric or the sand filters on

a Capex basis.

"Hence, most of the customers we

spoke to are utilities that are already

focusing on a more long-term vision

and they are already looking at more

than just the Capex but also the Totex

of their plant and their impact on their

community in the future. In places

which are still purely Capex driven, the

concept of sustainability is yet to be

fully embraced but for places where

sustainability is a driver, the total cost

of ownership – both the financial costs

for human and resources – will become

a driver."

WATER SECURITY

Climate change is a threat that has

direct consequences on achieving

water security. Not only will there be

more extreme weather events but

water, a necessity for life, will arguably

be more scarce and less available as

the changing weather patterns impact

the quantity and quality of water.

For PWNT's customers in the UK,

droughts have not been "too much of

an issue", according to Pierart, and

the abundance of surface water is

still available. That said, he cited the

increase in human activities as the

source of polluted water as people have

injected waste back into the streams.

"The management of both the ability to

treat more difficult drinking water but also

improve the cleanliness of the water that

we inject as waste is what will drive the

dynamics in some environments. For other

places that are more water-stressed and

where there is a scarcity, we see other

behaviours," he explained. "We have

some opportunities that we're discussing

in the US, for example, for aquifer

replenishment. Instead of producing water

similar to the level of high-quality drinking

water, we are stopping a few steps before

but re-injecting directly into the aquifers."

And with less than a decade left to

meet the 2030 Agenda for Sustainable

Development Goals set out by the United

Nations, Pierart noted that the water

industry has made "good progress" but

is unconvinced that they will manage

to achieve all the goals. Nonetheless,

the drive for improvements has been

reflected in some of the discussions and

papers that are being exchanged during

events and summits like the COP26 and

the Singapore International Water Week

(SIWW) 2022.

He concluded: "There is a concern

within the community that whilst we are

progressing towards those objectives, we

are not progressing fast enough. Those

words were echoed by Minister Grace Fu

during the inaugural speech at SIWW2022

when she said that Singapore has made

some progress but due to the pandemic

and other reasons, the progress has

not been as much as the government

expected.

"Whilst we are trying to be greener and

use less chemicals and energy, the rate of

progression in this direction is not enough.

And with the rise in population and the

overall increase of human activities around

the globe, it's a very difficult race to win

and we will probably need to start looking

far more aggressively also on carbon

capture beyond carbon reduction."

WATER & WASTEWATER ASIA | JULY/AUGUST 2022 15
---
IN CONVERSATION WITH

TSURUMI AVANT –

"An eye for the future"

Operating with a new brand name under the Tsurumi umbrella, Tsurumi Avant

offers a new portfolio consisting of submersible pumps and wastewater treatment

equipment. Bobby Ng, general manager for Tsurumi Avant Asia Pacific, tells more

to Water & Wastewater Asia on how the Osaka-headquartered company remains

committed to its water- and people-friendly values while creating advanced water

utilisation tools to support the water pump market demands.

Water pumps are considered one of the

oldest and most widespread machines that

supports a variety of applications. Can you

share with us an overview of today's water

pump market, and how will you describe

the transformative role water pumps play in

the water and wastewater industry?

Bobby Ng: Water pump has been integral in

contributing to the development of human

civilisation even in primitive forms since

ancient times. Take any sector, it is impossible

to imagine today's world without water pumps.

Be it mining, sewage, desalination, wastewater

or any other manufacturing plants, the

applications are numerous.

As with any other industry, the world's

pumping market is currently facing multifaceted

challenges; the world economy is

gradually trying to recover from the pandemic

and the global political climate along with

the resulting humanitarian crises has caused

major supply chain disruption and price

increases.

Having said that, the future of the industry

is bright. Investments and infrastructure are

growing around the world. Many projects are

in the pipeline in the Asia-Pacific region, which

were previously impacted by the pandemic

and other factors. Some research anticipates

the global pumping market to grow at 6%

CAGR and even higher for South East Asia.

At Tsurumi, we can count on our almost 100

years of experience in this sector. Particularly

for the sewage and wastewater market, we

are optimistic in our outlook for Avant pumps'

growth potential.

In the face of urbanisation and climate

change, how can the water pump market

meet the demand of water utilities to

ultimately make a successful business

case for them? And as the water sector,

like many other industries, is on the

ongoing transition to Industry 4.0, how is

Tsurumi helping water and wastewater

plants overcome the challenges they

might face amid this transition?

Ng: Firstly, the transition to Industry 4.0 is not

a challenge but an opportunity for Tsurumi as

well as all our partners and even competitors

to move towards a sustainable and better

world. The first step that we are taking

towards this transition is through higher

efficiency IE3 class motors. Our energyefficient

pumps provide lower operating

costs solution to the wastewater plants while

consuming low energy which reduces our

environmental footprint as well.

Furthermore, the MQ series from the latest

Tsurumi Avant brand of pumps are equipped

with various sensors. Supporting the

interconnectivity aspect of the Industry 4.0

revolution, it is now possible to remain in

control of the pumps' health in real-time. It can

be programmed on the control panel to create

a comprehensive Industrial Internet of Things

(IIoT) system. Also, the state-of-the-art pump

selection system, TASS, provides detailed

equipment information to the end-user within

taps of a computer screen.

We believe that through innovation, quality

and reliability, Tsurumi is in the right position

to take the lead in the water and wastewater

sector with our partners into the new world.

MQ-series of submersible sewage pumps

16 WATER & WASTEWATER ASIA | JULY/AUGUST 2022
---
IN CONVERSATION WITH

THE TSURUMI AVANT BRAND

Can you elaborate more on Tsurumi Avant –

what were the reasons behind the decision

to launch this new brand of submersible

pumps and wastewater treatment

equipment, and how does Tsurumi Avant

complement the wider Tsurumi portfolio of

pumps?

Ng: The existing portfolio of Tsurumi pumps

is designed and developed with decades

worth of experience and industry know-how.

They will continue to exist as economic and

reliable products, fulfilling the needs of many

longstanding partners of ours.

Avant is a premier brand, built with an

eye for the future. As Tsurumi has been

a pioneering company in the water and

wastewater pump industry around the world,

we must remain innovative in keeping to

our position as the leader in the industry.

Tsurumi has become the go-to manufacturer

for wastewater pumps in the construction

and mining industries. Avant is Tsurumi's

tool to gain similar inroads into the sewage

and wastewater sector. With Avant pumps,

Tsurumi has improved our capabilities to

provide pumping solutions with European

specifications in Japanese quality.

Avant is a premier brand, built with

an eye for the future. As Tsurumi has

been a pioneering company in the

water and wastewater pump industry

around the world, we must remain

innovative in keeping our position as

the leader in the industry.

Bobby Ng

General Manager for Tsurumi Avant Asia Pacific

How do you rate Tsurumi Avant's

performance in Asia-Pacific, and

what other trends do you see having a

sustained impact on the water pump

market?

Ng: The response from the region has

been overwhelming, to say the least. It

has been so positive that in most of our

subsidiaries in the Asia-Pacific region, we

had recruited new members dedicated to

Tsurumi Avant. It is also due to the revival

of various projects which were paused by

the pandemic. In a short couple of years,

we have created some loyal clientele whose

first preference of pumps has become

Tsurumi Avant.

I expect the macroeconomic factors to be

dominant in shaping the near future pump

market.

Even now, supply chain issues have yet to

fully recover from the pandemic and the

crisis in Europe has impacted the prices.

That said, Tsurumi is committed to keeping

our customer-first approach and hence,

we try to maintain the prices as much as

possible. But in recent months, we are

seeing that it is going beyond control.

In the long run, climate change and the

unpredictable weather pattern that is

prevalent these days are the factors that I

believe will impact the industry. Each year,

we see record high temperatures along

with unprecedented rainfalls, typhoons

and hurricanes. Although it improves pump

sales in the short term, it is not a sustainable

growth. Thus, the industry needs to work

as a whole and look toward energy-saving

options to reduce our environmental impact

wherever possible.

What other services does the Tsurumi

Singapore office provide, and what are

the strategies you have developed for

Tsurumi to drive growth in this region?

Ng: Tsurumi established the Singapore

subsidiary more than four decades ago

in the 1970s. We have been a fixture in

Singapore's growth and are ever present

in the market. Tsurumi Singapore boasts a

dedicated and experienced sales division

with strong technical support as well.

For Tsurumi Avant, we are creating

Singapore as the hub to support the

Asia-Pacific region's growth. There are

two warehouses in Singapore with stocks

including Tsurumi Avant pumps, and it

gives us unmatched response time to

cater for the region's growth. Tsurumi's

subsidiaries in each country step up to

support the sales activities. Our vast

regional network has a robust support

system and it will also be leveraged

to create a base for Tsurumi Avant in

partnership with our loyal partners and

consultants.

True to Tsurumi's culture and values,

emphasis on excellent customer service

and adding values to the customers are our

primary goals. The Tsurumi team is also

taking up various channels to increase our

brand awareness through the presence

in social and traditional media. For now,

these multi-pronged approaches are

our strategies to drive forward toward

Tsurumi's goals and objectives.

WATER & WASTEWATER ASIA | JULY/AUGUST 2022 17
---
IN CONVERSATION WITH

A CLEANER WATERWAY

for generations to come

Micropollutants exist in ground and surface water and have been a growing concern

as they impact the quality of water that we consume as well as the larger aquatic

habitat and environment. Marwan Nesicolaci, general manager, Asia, De Nora Water

Technologies, elaborates more to Water & Wastewater Asia on the challenges in

addressing micropollutants and the water quality.

In an attempt to support and transform the

world into a more sustainable one, De Nora

returned for its first physical trade exhibition

since the outbreak of the pandemic at

the Singapore International Water Week

(SIWW) 2022 last April. Water filtration and

disinfection solutions were the centres of

the company's product showcase during

the three-day event, and that include

the Advanced Oxidation Processes for

Contaminants of Emerging Concerns

(CECs) where De Nora leverages its Capital

Controls UV and Ozone advanced oxidation

process (AOP) solution to remove CECs and

micropollutants and encourage water reuse.

Speaking with Water & Wastewater Asia,

Marwan Nesicolaci, general manager, Asia,

De Nora Water Technologies, shared the

insights he picked up from the event and

elaborated: "There has been a lot of concerns

about new and emerging pollutants and

contaminants that are by-products from

technologies that are used in the past, or

disinfection by-products and new synthetic

materials. Although this might not be a critical

issue in Asia for now, we see many other parts

of the world have already been discussing this

for a long time.

"There were also discussions on water reuse

and sustainable water sources; these are all

big topics in Asia given the demographics in

this region. Urban growth population is

happening here in Asia as over half of the

world's population resides in this region.

However, freshwater resources are limited

so water is going to be a huge concern as

there is a large number of populations in

different parts of this region that still do

not have access to fresh, clean drinking

water."

PROJECTS IN ASIA

With limited freshwater resources, it is

now more critical than ever to safeguard

all aspects of water to meet the needs

of a growing population. In Nesicolaci's

perspective, water security can be

categorised into two aspects – the first is

to secure sustainable resources of water

and the other is to treat water securely.

He cited Singapore as an example and

described the country as being "very

proactive about securing alternative

resources of water". For instance, the

republic has been using desalination as

part of its efforts to provide drinking water

for its population and even mixing the

desalinated water with regular resources

of water. There are also two forms of water

reuse in Singapore – industrial water and

NEWater, which is high-grade reclaimed

water produced by PUB, Singapore's

national water agency.

Last November, De Nora clinched one of

Asia's largest water disinfection projects

at Singapore's Johor River Water Works.

The project will see the deployment

of a ClorTec 2250 on-site hypochlorite

generator from De Nora, replacing the

existing liquid chlorine and ammonia

systems at Johor River Water Works. In

total, De Nora will provide 11 ClorTec 2250

units across all three plants on-site. Each

unit will have an electrolyser capacity

of 1,020kg/day, exceeding the tender

requirements of 900kg/day.

De Nora ClorTec on-site hypochlorite

generation systems use three

consumables – water, salt and power – to

produce chlorine-based disinfectants

by passing a solution of sodium chloride

through an electrolytic cell and converting

the chloride ions into sodium hypochlorite.

The solution is designed for drinking water

treatment without creating or transporting

hazardous chemicals, thus ensuring the

safety of personnel and the surrounding

community.

"The case of water security for Singapore

is critical, and even national," Nesicolaci

said. "Singapore is at the forefront in

water management and is looked upon as

a benchmark for many other countries in

Asia and the Middle East."

18 WATER & WASTEWATER ASIA | JULY/AUGUST 2022
---
IN CONVERSATION WITH

There has been a lot of concerns about new and emerging pollutants and

contaminants that are by-products from technologies that are used in the past, or

disinfection by-products and new synthetic materials. Although this might not be

a critical issue in Asia for now, we see many other parts of the world have already

been discussing this for a long time.

Marwan Nesicolaci

General Manager, Asia, De Nora Water Technologies

He went on and identified another aspect

of water security which is the safety of

the technologies that were used. This

encompasses the use of chlorine, chlorine

gas or liquid chlorine in disinfecting water.

"Although it has been a concern, the use

of chlorine is very effective and is one of

the most adopted methods for disinfection

of potable water," he added.

In response to safety concerns around

the transport and storage of liquid

chlorine containers in the highly populated

waterworks in Hong Kong, De Nora

delivered 20 hybrid water disinfection

systems of CECHLO on-site chlorine

generation system and CAPITAL

CONTROLS gas feed systems to 10 of its

water treatment plants.

The 10 water treatment plants – seven with

contractor REC-Chevalier JV and three

with Torishima Hong Kong – include two

CECHLO on-site chlorine generation trains

at each of the potable water treatment

plants, one primary and one standby, and

will have a combined generation capacity of

8,460kg/day chlorine.

"The hybrid technology produces both

sodium hypochlorite and chlorine gas,"

he explained. "Commissioned this year,

the systems are installed on-site near the

municipalities and are also sustainable

because they are not dependent upon

issues with the supply of chlorine into the

municipalities."

At the heart of the CECHLO system is the

ion exchange membrane (IEM) electrolyser,

which has been continuously optimised

through upgrades powered by De Nora DSA

electrodes. The system can generate highstrength

sodium hypochlorite at 12.5% and

chlorine gas in a plug-and-play configuration

that produces chlorine on-site. It has a

digitalised control system which enables the

De Nora team to monitor the plant remotely

in 360-degree. De Nora's engineers are 24/7

online, connected through a platform for any

timely communication required from the plant

operators. The CECHLO systems will be soon

delivered to Brazil, Venezuela, Cote D'Ivoire,

Morocco, South Korea, Australia and Qatar.

Nesicolaci concluded: "Technologies are

available today to help water utilities and

plant operators reach the targets set out in

the 2030 Sustainable Development Goals.

However, the financial funding for these plans

might be a challenge. There is no doubt that

many of the countries, governments and

municipalities around Asia are well aware of

their needs – they do have plans for them and

they do want to embrace these technologies

but many of them are limited in funding these

projects and accelerating them.

"That said, De Nora will do its part by

bringing together both the technologies

and educating operators to apply these

advancements to their facility. We are looking

forward to partnering and helping them to

transform their facility into a sustainable one

for the future."

WATER & WASTEWATER ASIA | JULY/AUGUST 2022 19
---
IN CONVERSATION WITH

The Deep Tunnel Sewerage System Phase 2 (DTSS2) is

part of Singapore's nationwide programme to enhance

its water security and increase self-sufficiency. DTSS2

reclaims used water for NEWater production with

higher energy recovery at 50% less land use for water

infrastructure (Photo credit: PUB)

artificial intelligence (AI) and automation,

and funding vehicles are gearing themselves

towards environmental and social benefits.

BUILDING A

sustainable

smart city

In the face of the greatest

challenge of our time –

climate change – cities

of the future not only

have to be smart but also

sustainable, as Water &

Wastewater Asia finds out

more from Christopher

Steele, head of digital

products and services

at Binnies, an RSK Group

company; Danielle

King, head of climate

change strategy and

decarbonisation at RSK

Centre for Sustainability

Excellence; and Koh Sock-

Hoon, process specialist at

Binnies Singapore.

MAKING CITIES SMART

As more nations embrace the smart city

concept, what are the challenges involved

and how will they impact their water

infrastructures and management?

Christopher Steele: The concept of smart

cities has been around for some time with

a range of different approaches being

undertaken to make them a reality. These

range from holistic 'ground up' developments

like project Neom in Saudi Arabia, to

the adoption of more component-based

approaches, such as smart water metering or

intelligent drainage management control seen

more widely in North American and European

water utilities.

Either approach presents a similar set of

technical, human and financial challenges,

as when scaled and applied at the level of a

smart city, creates many 'firsts' to address

them. This is then compounded by the

difficulties in being able to demonstrate

tangible and quantifiable benefits because

there aren't exactly many true smart cities

that we can reference. These challenges,

however, are slowly being overcome as

technology evolves, society becomes more

accepting of living homogenously with

When it comes to addressing challenges

related to smart water infrastructure and

its management, RSK provides support

in the integration of the underlying data

and systems involved in the control of the

water cycle, as currently, this involves a

largely disconnected process managed by

different companies and functions. This

creates challenges around cybersecurity

and access to critical infrastructure control

systems. However, given the world's

financial data is held in cloud-based

environments, it's not insurmountable

to envisage the same within the utility

sector. Federating this type of data allows

water consumers to better understand the

impact of their day-to-day choices when it

comes to the use of water. For those who

manage the production of drinking water,

it facilitates the adoption of predictive

analytics for demand forecasting or

optimises costs by targeting water loss

within the distribution network.

Maintaining safe access to sustainable

drinking water is more than ensuring its

availability at the point of need – it's about

promoting a different attitude to how water is

produced and used.

What are the reasons behind the

decision to establish the RSK Centre for

Sustainability Excellence in Singapore,

and what opportunities do you see

Singapore and the wider Asia-Pacific

region have to offer?

Danielle King: Asia-Pacific is crucial

to our collective fight against climate

change. It is a region which has a huge

development trajectory, and with that comes

an opportunity to realise the true meaning

of sustainable economic development – a

development which serves to mitigate and

adapt to climate change in a manner aligned

with the United Nations (UN) Sustainable

Development Goals (SDGs).

20 WATER & WASTEWATER ASIA | JULY/AUGUST 2022
---
IN CONVERSATION WITH

The RSK Centre for Sustainability Excellence

was established to support the region in

delivering innovative solutions to the greatest

challenges of our time. We hope to achieve

this in partnership with governments,

businesses and educational institutions

across the region, with a specific focus

on the inter-related sectors of sustainable

agriculture, digital water, renewable energy

and climate strategy and decarbonisation.

Key opportunities include expediting the

use of emerging technologies in the water

sector and supporting the energy transition

through the design and implementation of

low-carbon solutions such as tidal and solar

power.

In addition to these opportunities, the centre

will support firms to measure and manage

their greenhouse gas emissions, assess and

adapt to the risks associated with climate

change and develop holistic sustainability

strategies, targets and key performance

indicators. It will do this with the support

of the RSK Research Institute for Climate

Strategy, which falls under the centre. The

institute will deliver research on pressing

issues such as climate risk disclosures,

scenario analysis and transition planning.

Together, the centre and institute will support

Singapore and Asia-Pacific in challenging

the status quo in pursuit of a just transition

towards a sustainable future.

How will you rate the region's

performance in this sustainability

journey, and how will you envision the

next milestone in embracing a greener

planet through advocacy for water?

Koh Sock-Hoon: While I think some

countries, such as Singapore, have been

performing well and are on their accelerated

path to achieving sustainability goals,

Asia-Pacific, as a whole, is still challenged

by multiple uncertainties for efficient and

effective implementation. To embrace a

greener planet through advocacy for water,

the next big milestone for the region as a

whole is to achieve 100% sewerage with

sanitation by leveraging ever-growing

sustainable energy sources, like solar, and

employing site-specific treatment schemes

which focus on resource recovery while

minimising environmental impacts.

"DRIVE A MORE SUSTAINABLE

FUTURE FOR WATER PRODUCTION

AND REUSE"

Further on sustainability and climate

change, which are both widely discussed

at COP26 and Singapore International

Water Week 2022, what are some of the

key takeaways you have picked up from

both summits?

King: The urgent need for further ambitionaligned

action was the undeniable takeaway

of both conferences. Both emphasised

the need for collaboration to strengthen

collective resilience, reduce emissions and

direct finance flows in support of both these

aims.

What I found most interesting was the

degree to which this is already happening

from the ground up. Individuals, businesses,

local authorities, academics and community

groups are working tirelessly in pursuit of

these outcomes. They are taking ownership

of climate change and sustainability more

broadly, with consensus around the need to

act faster together.

Of course, not all parties are on the same

page or at the same stage, and the best

action for one party may not be so for

another; but an understanding of the issues

and the need to work together and learn

from each other, is evident and enormously

inspiring.

Steele: For me, the key takeaway is that

we are effectively seeing 'crowd sourcing'

of localised initiatives and actions that are

gaining momentum and, in many cases,

organically merging across geographies and

industries. One thing that is a clear positive

is the increasing number of water companies

aligning their business plans to the UN SDGs

which help drive a more sustainable future

for water production and reuse.

(From right to left) Grace Fu, Singapore's Minister for

Sustainability and the Environment, and Dr Alan Ryder,

CEO and founder of RSK Group, at the official launch

of the RSK Centre for Sustainability Excellence on

18 Apr 2022

With less than a decade left on the 2030

SDGs deadline, do you think the water

industry is still on track to achieving

these goals? Even so, how is RSK

accelerating its efforts to ensure the

SDGs are met?

Steele: Thankfully, many of the regulated

water utilities have now incorporated the

SDGs into their strategic business plans,

which, in turn, have aligned performance

commitments that are scrutinised by

regulatory bodies. This has helped ensure

that the industry is tracking towards the 2030

deadline.

At RSK, we continue to help our clients to

form the 'line of sight' between day-to-day

business activities and the SDGs they are

committed to achieving. This ranges from

asset management support, optimising

asset reliability and reducing energy or

chemical consumption, to designing KPI

frameworks that utilise dynamic datasets to

continually track and predict performance

against goals. These, as well as the many

other water lifecycle services RSK provides,

help address the common challenge of

what practically needs to be different within

an organisation to positively impact these

global sustainability goals.

WATER & WASTEWATER ASIA | JULY/AUGUST 2022 21
---
ENVIRONMENTAL REPORT

C40 CITIES:

CLIMATE-RELATED

FLOODING AND DROUGHT

to cost world's major cities

US$194B annually

A C40 Cities study finds that without urgent action,

millions more people around the globe will face grave

risks from river flooding, along with more frequent and

severe drought by 2050.

C40 Cities has revealed new

research quantifying the dire

impacts of climate-driven

drought and flooding on the

world's largest cities and their

residents. Supported by the

Grundfos Foundation, C40's

analysis, entitled Water Safe Cities,

leverages data from the network's

nearly 100 member cities to

forecast the potential impacts of

global temperature rise on urban

economies and infrastructure.

The findings show that if global

warming continues unabated,

7.4 million people in the world's

largest cities will be exposed to

severe river flooding within the

next three decades, with damages

to urban areas expected to cost

US$64 billion per year by 2050,

even with current levels of global

flood protections in place.

Photo credit: Gyan Shahane @ Unsplash

C40's research suggested that

devastating river and coastal

flooding will unleash enormous

economic, health and social

consequences that will impact

millions across the globe. While

cities across both the Global North

and Global South are going to

be affected by rising sea levels,

populations in the Global South are

10 times more likely to be affected

22 WATER & WASTEWATER ASIA | JULY/AUGUST 2022
---
ENVIRONMENTAL REPORT

by flooding and drought than residents in

the Global North.

At the same time, residents of Global North

cities will face higher urban damage costs

than residents of cities in the Global South.

As many as 2,400 hospitals and healthcare

facilities in C40 cities could be underwater

by 2050, with nearly half of them in India.

The research underscores that the

world's most vulnerable populations will

increasingly find themselves on the front

line of the climate crisis and are forced to

endure its worst impacts.

Mark Watts, executive director of C40

Cities, commented: "Sea level rise,

flooding and drought are three of the

most significant climate-related risks that

cities face today. Cities have a wealth

of tools and knowledge at their disposal

to ensure that they are adequately

preparing for the realities of the climate

crisis, but effective action starts with an

understanding of the scope and scale of

the challenge."

C40's analysis also showed how urgent

action, such as using green solutions for

water permeability and flood protection,

improving water system efficiency and

incorporating climate risk into urban

planning can help cities to adapt to the

climate emergency and work towards a

climate-safe future for their residents.

Some key findings include:

• River flooding is expected to cost C40

cities $136 billion in GDP each year

over the next three decades.

• More frequent and severe droughts

will increase water losses in C40 cities

by 26% and will cost $111 billion in

damages per year over the next three

decades.

• Over 300 power stations across C40

cities are at risk of being flooded by

2050. More than half of the power

stations affected are located in US

cities. The potential loss of energy from

these stations would be sufficient to

power 8.4 million US homes for one

year.

Kim Nøhr Skibsted, executive director of

the Grundfos Foundation, continued: "We

have identified the challenges, and the

solutions and technologies to fix them are

already available. Now what is needed is to

take action together."

Following the study, C40 has also

announced that C40 mayors will

collaborate over the next several years

to make and deliver upon new, ambitious

commitments aimed at protecting urban

populations from flooding and drought.

Phase two of the Water Safe Cities project,

supported by the Grundfos Foundation, will

establish data-driven targets, indicators

and implementation pathways to track

cities' progress in mitigating these risks.

Sadiq Khan, chair of C40 Cities and Mayor

of London, concluded: "The climate

emergency is one of the biggest global

threats we face today. Here in London, we

are already experiencing first-hand the

devastating impact of the climate crisis,

with flash flooding last summer impacting

homes, businesses, train stations and

hospitals, bringing life in parts of the

capital to a halt.

"The crisis also exacerbates social and

racial injustices. The effects of the climate

crisis don't impact citizens equally – we

know that it's the most vulnerable –

particularly those in the Global South – that

face the worst consequences of climate

change. Poverty, deprivation and health

inequalities will also reduce people's ability

to prepare for, respond to and recover from

flooding incidents.

"To address the climate emergency,

mayors around the world need to create

resilient cities that are adapted to the

impacts of climate change including

flooding. As chair, I'm working closely

with C40 mayors to take urgent action so

that our cities are safer, greener and more

prosperous for all."

ABOUT C40

The C40 Cities Climate Leadership Group

is a network of nearly 100 mayors of the

world's leading cities who are working to

deliver the urgent action needed right now

to confront the climate crisis and create

a future where everyone, everywhere

can thrive. Mayors of C40 cities are

committed to using a science-based

and people-focused approach to help

the world limit global heating to 1.5°C

and build healthy, equitable and resilient

communities. Through a Global Green

New Deal, mayors will work alongside

a broad coalition of representatives

from labour, business, the youth climate

movement and civil society.

Climate change impacts

the water cycle, resulting

in more intense rainfall

and hence greater

risk of floods (Photo

credit: Kompas-

Hendra A Setyawan,

World Meteorological

Organization)

WATER & WASTEWATER ASIA | JULY/AUGUST 2022 23
---
IN THE FIELD

COMPANHIA ÁGUAS

DE JOINVILLE

keeps clean water

flowing for 600,000

residents in South Brazil

OpenFlow WaterGEMS saved R$4.5 million (US$934,250)

with Water Contingency Plan, reducing water production

during severe droughts. By Sandra DiMatteo

CAJ is responsible for supplying water to

600,000 residents in the city of Joinville,

facing seasonal drought conditions (Photo

credit: Companhia Águas de Joinville)

PROJECT SUMMARY

Organisation: Companhia Águas

de Joinville (CAJ)

Solution: Water, wastewater and

stormwater networks

Location: Joinville, Santa Cararina,

Brazil

Objectives:

• To evaluate drought scenarios

with hydraulic modelling to

improve the quality of life for

Joinville residents.

• To generate a network

digital twin to optimise water

distribution operations.

Project Playbook: OpenFlows

WaterGEMS

Facts:

• The City of Joinville experienced

its worst drought in 30 years.

• CAJ used OpenFlows

WaterGEMS to develop a digital

twin of the macro distribution

network, enabling them to

better understand and make

decisions to improve system

operations.

• The project provides a

benchmark for the water

industry to use available

technology to optimise

resources and ensure

the quality of life for their

customers.

ROI:

• Using OpenFlows WaterGEMS,

CAJ developed a new

contingency plan at near zero

cost of implementation, saving

R$4.5 million.

• The digital twin reduced water

production needs by 30%

during severe droughts.

• Using Bentley's advanced

hydraulic technology, CAJ

can keep clean water flowing

for 600,000 residents while

reducing their annual carbon

footprint by 169 tonnes.

24 WATER & WASTEWATER ASIA | JULY/AUGUST 2022
---
IN THE FIELD

Companhia Águas de Joinville (CAJ)

is a water company that supplies

water and sanitation services to

approximately 600,000 residents in the

city of Joinville, the largest municipality

in the state of Santa Catarina in South

Brazil. The water supply is split across

two production systems – the Cubatão

system in the northern zone accounts

for 75% of the water production,

serving 450,000 residents; while the

Piraí system in the southern zone

makes up 25% of production, serving

150,000 residents.

Amid constant demands to optimise

company resources and maintain

quality service and clean water supply

to the population, CAJ initiated a

strategic hydraulic modelling project

in 2020. The project would optimise

investment and operations based on

better knowledge of how the supply

system works and how to proactively

address network issues.

In the same year, the city faced its

worst water crisis in 30 years. With

regular three-month drought periods

plaguing Joinville over the years, 2020

brought worsening conditions, with a

six-month drop in the Piraí River water

source. This situation directly affected

production at the Piraí water treatment

plant and the water supply to the

area's inhabitants.

"Any problems we have within

our production process create an

enormous impact on people's quality of

life," declared Lucas Emanuel Martins,

an engineer at CAJ. Committed to

bringing clean water and well-being

to their consumers, CAJ capitalised

on its original digital network analysis

initiative, looking to develop a water

contingency plan for these dry periods

to reduce water production on the

fragile source without affecting the

people in the area.

ADDRESSING DROUGHT

CONDITIONS

To address the drought conditions,

CAJ conducted a preliminary study,

evaluating three potential alternatives

for a contingency plan. They first

determined that rerouting water from

the Cubatão system to Piraí was the

most cost-effective option. Using

the hydraulic model, they analysed

and tested their R$4.5 million

(US$934,250) proposal to implement

a 1.7km interconnecting pipeline

between the two systems during the

drought periods. However, CAJ soon

realised that its initial solution yielded

insufficient flow transfer, requiring

the implementation of a 140hp

booster that resulted in additional

operating expenditures of $25,000

per month.

The plan also would result in a series

of water shortages at the weakest

points in the Cubatão supply

system and reduce water transport

efficiency, impacting 45,000 people,

as Martins added: "To our surprise,

in these studies, we identified that

our solution would not work as well

as imagined. It was clear we needed

a new solution."

Faced with resolving the problems of

the weak points in the Cubatão north

system and ultimately achieving

more water supply to the south

zone during drought, CAJ needed to

implement a more comprehensive

analysis of the municipality's entire

distribution network. They needed an

advanced modelling and simulation

application to ensure that their

digital analysis accurately reflected

the physical network operation. By

generating a successful contingency

plan, they would mitigate the effects

of drought and minimise the risk of

impact to Joinville residents and

businesses.

Using OpenFlows WaterGEMS to create a digital twin of their entire

water distribution system, CAJ saved R$4.5 million developing

a new solution to ensure consistent, reliable water supply

(Photo credit: Companhia Águas de Joinville)

The project exemplifies how technology drives optimal

decision making, revolutionising the water industry

(Photo credit: Companhia Águas de Joinville)

WATER & WASTEWATER ASIA | JULY/AUGUST 2022 25
---
IN THE FIELD

HYDRAULIC MODELLING KEEPS

WATER FLOWING

Given Bentley software's user-friendly

interface and interoperability with

multiple data sources, CAJ selected

OpenFlows WaterGEMS to create a

digital twin of the municipality's macro

water distribution and supply system,

modelling 285km of network. The

digital twin and hydraulic modelling

simulations supported the flow and

pressure data that was observed in the

field, validating model accuracy and

reliability. Working with an accurate

digital model, the team assessed their

initial proposed solution.

"We used [OpenFlows] WaterGEMS

to develop a digital twin of the

municipality's mains water system to

evaluate how the system would behave

with the proposed changes," Martins

elaborated. Based on their findings,

they determined that their original

contingency plan was ineffective.

"With Bentley, we were able to identify

these problems in advance and work

on new alternatives for the contingency

plan," he added.

Having established a reliable digital

twin, CAJ performed additional

analysis, creating drought scenarios

without impacting residents, to

develop a new contingency solution.

They initiated a complete study of the

municipality's main water and macro

distribution system, evaluating new

interconnection points between the

Cubatão and Piraí networks. Using

OpenFlows WaterGEMS to calibrate the

model, CAJ evaluated various operating

network stresses to better understand

the systems' behaviours and

interaction with one another, as well as

identified opportunities for operational

improvements in both the northern

and southern zones. Through digital

optioneering and conceptioneering,

they designed a new contingency

plan that used the existing network

to redistribute the water between

Cubatão and Piraí, guaranteeing water

supply during severe drought, as well

as improving overall water distribution

to the entire city.

He continued: "In addition to being

operationally adequate, the [new]

proposed solution requires less

investment for implementation since

the study optimised flow dynamics

between the sectors, utilising the

existing structures [and] making new

mains or boosters – as was initially

planned – redundant."

DIGITAL TWINS REVOLUTIONISE

THE WATER INDUSTRY

Using Bentley's hydraulic modelling

technology, CAJ identified problems

with their initial proposed plan

prior to implementation, avoiding

unnecessary and costly construction.

They transformed a project that was

not providing the expected results

into a solution that not only provided

adequate water supply during drought

season but also optimised Joinville's

water distribution operations at near

zero cost of implementation, saving

$4.5 million.

The established contingency

solution reduced production by 30%,

equivalent to 170 litres per second

in the fragile Piraí water source,

mitigating the effects of drought and

benefitting 150,000 area residents.

It also simultaneously resolved

the issue of the Cubatão system's

weak points, reducing water loss

in the critical district metered area

by 40,000m 3 per month, and water

shortage complaints by 90% in the

critical sector. Based on the digital

twin, CAJ saved $360,000 in annual

pumping costs and 574MW of power,

lowering its carbon footprint by

169 tonnes per year.

The [OpenFlows] WaterGEMS

software allowed us to do

more with less, seek solutions

within the city's existing

hydraulic structure, identify

opportunities for operational

improvements and achieve

the expected results with

significant savings.

Lucas Emanuel Martins

Engineer at Companhia Águas de Joinville

"This project is a positive example of

how technology can help us optimise

our resources," said Martins.

Using Bentley's open modelling

application provided a feedback

loop between the operations and

engineering teams. The operations

team brings reality and field problems

that engineering teams can dynamically

assess through digital models. Both

teams can collaborate to decide

on applicable solutions, bringing a

quick response with minimal impact

on customers. Using the digital twin

provided CAJ with a broad view of their

water operations, allowing them to

cost-effectively improve their system by

making wiser decisions and establishing

interventions only where needed.

Digital twins are already a reality and

bring a huge evolution to the water

industry. By accurately modelling their

water infrastructure with Bentley's

advanced hydraulic technology, CAJ can

now ensure sustainable water supply to

Joinville, improving the environment and

quality of life for the city's residents.

He concluded: "We, as engineers,

have an ethical obligation to use these

technologies to optimise our resources,

whether financial or environmental and

to improve the quality of life of

mankind."

Sandra DiMatteo is industry marketing director

of water infrastructure at Bentley Systems

26 WATER & WASTEWATER ASIA | JULY/AUGUST 2022
---
IN THE FIELD

NEW TREATMENT

PLANT ALLOWS

sought-after Southside

to keep growing

Installation of a sequencing batch reactor (SBR) from

Lakeside Equipment Corporation for a wastewater

treatment plant in Southside, Alabama, the US.

growth, progress and prosperity –

but a potential halt on building more

homes and attracting more business

to the area – without a new wastewater

treatment system.

David Fry, assistant superintendent

for Southside Water Works and Sewer

Board, explained: "Everything was

perfectly in order with our treatment

levels but we'd reached the point

where there was a moratorium on

the lagoon, so to keep Southside

on track, the city knew it had to

invest in a treatment system that

would futureproof the well-being and

continued success of Southside."

Engineering company CDG was

brought in to work with the City of

Southside to find the best solution.

Bordered by the Coosa River in the

foothills of the southern Appalachian

Mountains, the area is blessed with

wildlife as well as high-quality boating

and fishing, so not surprisingly,

it is well monitored by Alabama's

Department of Environmental

Management.

Scott Trott, CSO at CDG, commented:

"As always, we wanted to do much

more than just collaborate; we wanted

to build a unified team with trust, so we

brainstormed long and hard with the

team at the Water Works and Sewer

Board to explore all the options.

"This included seeing how or if the

lagoons could be improved, but they

Engineering firm CDG

provided the forwardthinking

design for

Southside

Growth, progress, prosperity – there's

no shortage of it in North Alabama

which has seen its population grow by

30,000 over the last five years and is

projected to rise by a further 24,500

by 2027. In Etowah County, Alabama's

smallest yet most densely populated

county, vibrant Southside is its fastest

growing city but this position held by

the place described as the "loveliest

village on the River Coosa" has been

faced with the recent possibility of

being overtaken by other fast-rising

locations in the state.

With growth, naturally, comes the need

for new infrastructure. Southside's

old sewage lagoon system, despite

decades of good management, had

finally reached its capacity. All that

just can't economically and reliably

meet today's environmental needs.

Some poorly maintained lagoons

have well-documented issues of

unwanted odours, bacterial spread

and nitrogen and phosphorous

overload, but the Southside Board

and its predecessors had always

managed the lagoon system very

professionally and successfully."

WATER & WASTEWATER ASIA | JULY/AUGUST 2022 27
---
IN THE FIELD

1 2

1 Lakeside's SBR

was selected for

Southside

2 The Eshelman

Company is

responsible

for sourcing

most of the

equipment

3 The new facility

is scalable for

the future

Ultimately, a sequencing batch

reactor (SBR) was chosen; one that

was robust and could be easily

scaled up for future needs. A site was

identified, and after the equipment

opportunities went out to bid, an

SBR from Lakeside Equipment

Corporation was chosen from its

agent in Alabama, The Eshelman

Company.

aeration with mixers to provide

optimum mixing and aeration for

high oxygen transfer. An innovative

decanter minimises decanting

intervals while extending the

biological process time. The resultant

clear water discharges without foam

or floating scum.

LONG-LASTING AND EFFECTIVE

tanks. Initially, it would only be running

at around 150,000-175,000 gallons

per day on average, or up to 300,000

gallons per day, depending on the time

of year.

The site required a fair degree of earth

moving for it to be raised – with ample

groundwater to contend with – but

according to Schmidt Environmental

Ed Moore, president of The Eshelman

Corporation's Schmidt, this proved

"Bringing the team together,

company, said: "For me, the choice

a straightforward challenge as the

including Aaron Schmidt at Schmidt

of CDG and such a long-lasting and

team quickly gelled together, as he

Environmental Corporation, we

effective Lakeside SBR underlines

elaborated: "Most of the equipment

started mapping out the project with

the City of Southside's desire to

was sourced by The Eshelman

a detailed analysis so that we all

do things properly. The old lagoon

Company so being able to call upon

knew where we were; understood

system was hampering the growth

Ed Moore's knowledge and his

what our success would look like and

and prosperity of the city, so it was

experience was a big help. Lakeside

how every move we made was in that

exciting to see Scott Trott's forward-

were also always quick to respond to

right direction," Trott added.

thinking design for what was going to

any questions during the 10-months of

be a very well thought out, scalable

construction."

Designed as a cost-effective

new plant that would keep Southside

biological treatment process,

one step ahead of the rest for many

Southside constructed its first

Lakeside's SBR benefits from a fully

years to come."

water system when the city was

automated system that treats raw

incorporated in 1957. Now, more than

wastewater flow in a single basin

The new site was laid out so that

six decades on from its first dedicated

using time-based phases to fill, mix,

capacity, which might hit a peak flow

wastewater treatment plant, CDG

aerate, settle, decant and waste

of one million gallons per day, could

through Trott's design, took care not

sludge. It incorporates diffused

easily be doubled by building new

to overbuild the new facility, putting

28 WATER & WASTEWATER ASIA | JULY/AUGUST 2022
---
IN THE FIELD

removed from the surface by the

decanter. Near the end of decanting

cycle, a set amount of settled sludge

is wasted from the system.

Brandon Sewell, superintendent for

Southside Water Works and Sewer

Board, continued: "From managing

chlorine levels at the lagoon, there is far

more to a full treatment plant, but that

said, the SBR is very easy to operate,

with the back-up of the SCADA system

and the team always ready to help if

required. The Lakeside SBR was the

right solution for us."

a constant review process into place

with certified personnel to see the

layout from the customer's viewpoint;

carefully considering heights, spaces

and repeat activities – all to improve

workflows for the treatment plant

operator.

"TOTAL SUPPORT THROUGHOUT"

CDG's Trott continued: "With designs

that are not overly complicated

for the sake of it, Lakeside clearly

understand the needs of operators,

so this, together with being excellent

communicators, made everything

much easier and enjoyable to work

on.

"Some companies only work well when

the sun is shining, so to speak, but

as always, you soon find out who you

are working with when you hit a few

stumbling blocks – and I can safely say

that Jim Aitkenhead and his colleagues

at Lakeside were with us from start

to finish – total support throughout,

taking huge pride in the job. There

have been no problems with the SBR.

It is very reliable and effective."

3

Based on a 35-year cost analysis, with

key component assets forecast for a

minimum of 25 years, the Lakeside

SBR comprises five key stages in its

process:

1. MIX-FILL: Raw wastewater is

introduced into the basin where

it is mixed with the mixed liquor

suspended solids (MLSS).

This phase is anoxic and can

be adjusted to anaerobic for

phosphorus release.

2. REACT-FILL: Aeration is added

as the basin is fed with raw

wastewater to create aerobic

conditions for biological oxygen

demand (BOD) and ammonia

removal. This phase can alternate

between aerobic and anoxic

conditions for nutrient removal.

3. REACT: Raw wastewater flow is

stopped from entering the basin.

Aeration and mixing are controlled

to provide final treatment.

4. SETTLE: Aeration and mixing are

stopped to allow the separation of

liquid and solids.

5. DECANT AND SLUDGE

WASTING: Clear effluent is

The Eshelman Company's Moore

added: "Southside now has a delightful

plant to walk around. Considering it

has such a high level of design and

such rugged equipment, the final cost

of US$4.3 million is an outstanding

achievement for all concerned,

especially because the new facility

is so easily scalable for the future.

This is a great example of a longlasting

investment for the wastewater

industry."

"CRUCIAL TO THE CONTINUING

SUCCESS AND GROWTH OF THE

CITY"

Southside Water Works and Sewer

Board's Fry concluded: "The final

effluent from the SBR looks just

like drinking water, which is pretty

remarkable when you see where it has

come from. Overall, the plant is very

maintenance-friendly.

"Maybe it sounds strange to some

people, but the new plant is a great

environment to work in and Southside is

a great place to live. This new treatment

plant is crucial to the continuing

success and growth of the city. Now

that there is all this new capacity,

Southside can welcome the building of

more new homes and investment from

new businesses."

WATER & WASTEWATER ASIA | JULY/AUGUST 2022 29
---
FOCUS

MEGAPROJECTS:

CONQUERING

DATA LOGISTICS

through project

controls technology

Bridging stakeholders and businesses with data-driven

insights to meet future demands. By Paula Perrin

Infrastructure projects continue

to gain in importance. They are

also gaining in size, thus the term

megaproject. This is a result of

both project requirements and the

ambition to build assets that will

serve communities for many decades

to come. Yet the construction

industry's investment in the

appropriate technology tools and

systems to keep up with this demand

has lagged.

For Sydney Water, however, new

connections and insights are being

realised every day. Owned by the

New South Wales government, the

company looks after freshwater,

water treatment, plus wastewater

and stormwater needs serving its

five million customers throughout

the city of Sydney as well as the

Blue Mountains and Illawarra. By

2031, Sydney Water expects another

1.3 million people will move into its

operational area, translating into half

a million new homes and jobs and a

20% increase in workload.

How is it meeting these new

demands?

Crews at Sydney Water have

been conquering data logistics

by developing fresh delivery

methodologies based on sound

project control technology provided

by InEight. According to Mark

Simister, head of programme delivery

or Sydney Water, the team has been

looking forward to hitting new highs

in safety improvement, environmental

sustainability and customer

satisfaction, and here are how they

have been doing it.

CREATING SUCCESSFUL

PARTNERSHIPS

To meet the needs of its soon-to-be

6.3 million customers as well as its

30 WATER & WASTEWATER ASIA | JULY/AUGUST 2022
---
FOCUS

three regional delivery consortia

(RDCs), the company will invest

at least US$4 billion over the next

decade and has established a

collaboration with its RDCs through

its innovative project delivery

model, Partnership for Success

(P4S). Under this model, Sydney

Water partners with the RDCs

to deliver design, construction,

maintenance and facilities

management services.

"To build a model that simplifies

Sydney Water's supply chain,

we need to work better with our

partners and suppliers to plan and

deliver infrastructure that reduces

costs, makes procurement easier

and gives better outcomes for our

customer," Simister explained. "P4S

creates security for both Sydney

Water and our industry partners."

Through P4S, Sydney Water works

closely with 12 organisations that

make up the RDCs – Confluence

Water, Delivering for Customers

and the West Region Delivery Team

– to further its vision of creating a

better life with high-quality water

services for customers. The P4S

integrated project controls system

based on the InEight platform will

be instrumental in reducing costs,

increasing confidence and driving

transparency and collaboration with

the RDCs.

Each of the organisations will rely

on the InEight platform for tracking

and managing their NEC4-based

P4S framework contracts. P4S sees

Sydney Water as the first major

infrastructure company in Australia

to use the NEC4 contract approach

to deliver new works.

"P4S is a significant project to

get up and running, so we need a

solid project controls environment

that can work with both master

and transactional data," Simister

continued. "Everything for us

is fundamentally built upon a

schedule. So, getting something

that could tie in with the schedule,

fill data and talk to our business

systems as well as our partners'

business systems was a crucial

element for us. This is why we

chose InEight."

THE CASE FOR INTEGRATED

PROJECT CONTROLS

Whether it's the planning, design,

construction, maintenance or actual

operations phase, transparency is

key to Sydney Water's success, as

Simister elaborated: "Our leaders

need to be able to make timely

decisions, and we need clarity and

that single source of truth. It allows

us to understand our commitments

and understand where we can be

looking forward to if we need more

funding. It's a source of real-time

project control data that we can

give stakeholders to provide better

outcomes across the business."

When managing megaprojects,

teams need to be able to respond to

stakeholders throughout the project

lifecycle. This is one reason why

the P4S programme is more than

just designing a building but goes

all the way through to the operation

and maintenance of those assets

as well. Therefore, for Sydney

Water, it was essential that any tech

solution they adopted would provide

a collaborative environment their

RDCs could use since each came

to the project with their working

methodologies and systems.

"This isn't just a technological

challenge, but an enormous people

challenge as well," he added. "It's

WATER & WASTEWATER ASIA | JULY/AUGUST 2022 31
---
FOCUS

a shared environment that must

allow for consistent data collection,

a consistent data format, and of

course, reporting that provides a

common framework understood by

all the stakeholders in the project

through its entire lifecycle – all on a

mega scale."

For example, though everyone wants

data transparency, everyone also

respects and understands that there

is a degree of intellectual property

concern and times when RDCs

want to operate with an element of

discretion in an environment that is

theirs. Enabling them to do that and,

at the same time, share information

and draw from common sets of

data for reporting is sometimes a

challenge.

"InEight has helped us address this

need in the way we've been able

to map the requirements of not just

Sydney Water, but also the RDCs,

which ultimately provides a record

of project data that can be shared

at the handover in the start-up and

operational phases of the project," he

said.

BUILDING A FOUNDATION FOR

THE FUTURE

The need for implementing delivery

models such as P4S and platforms like

InEight's project controls system is not

unique to Sydney Water. Any company

associated with or involved in

megaprojects will have similar needs,

challenges and hurdles to conquer.

Simister said: "I've been involved in

programme delivery for almost 25

years across various organisations

and industries and I've seen many

megaprojects globally that run late

and over budget. By practising

collaborative contracting with effective

tools and systems, we can help stop

this scenario from becoming the new

normal for megaprojects and move into

a more positive, productive direction."

With megaprojects owners like Sydney

Water setting new standards for

how data can be leveraged, project

controls prove to be a predictable way

to accomplish these goals. Today,

there is an opportunity to see just

how far megaprojects and their data

can go to create legacies of success

for communities and businesses

alike. InEight recognises that pushing

these goals is part of its duty and

commitment to the industries the

company serves, as they seek to build

its legacies well into the future.

Paula Perrin is senior marketing content

producer and manager for industry solutions

at InEight.

32 WATER & WASTEWATER ASIA | JULY/AUGUST 2022
---
LET US DEVELOP,

MARKET AND

MANAGE YOUR

NEXT WEBINAR

Webinar Series Development

• Content development

• Pre and post webinar email marketing

• Be supported by WWA print and digital

advertising

• Graphics and video support

• Hosting

• Hardware & software provision

• Professional moderation

• Turnkey management

• Speaker support

• Documentation support

• Audience interaction

• Feedback gathering & analysis

• Monitoring and reportage

Additional Support

Video content development

• Concept

• Scripting

• Story boarding

• Motion graphics

• Voice overs

• Editing and export into relevant formats

• News and Product video bites

• Product & service videos

• Video ads

• "Live" reportage

• Monitoring and reportage

For more informaon, contact us at

sales@pabloasia.com

Pablo Publishing & Exhibition Pte Ltd | www.waterwastewaterasia.com
---
FOCUS

DON'T

UNDERESTIMATE

THE IMPORTANCE

of leak monitoring

on trunk mains

An active leak monitoring programme can help

reduce non-revenue water loss, thus improving the

performance of water utilities.

EchoShore-M

acoustic leak detector

by Echologics,

a Mueller brand

As distribution mains and service

connections comprise a large part of

a water distribution network, it makes

sense that more leaks occur in these

parts of the network. This often leads

to a misconception that trunk mains

are not a significant contributor to the

overall non-revenue water (NRW) of a

network, leading to these assets being

excluded from a large number of NRW

programmes. However, it has been

proven many times that these assets do

leak and that they can be a significant

contributor to the leakage levels on a

water network.

So why do trunk mains so often

get ignored when developing and

implementing an NRW loss programme?

Perception is likely the biggest reason

that trunk mains get overlooked, both

in terms of whether these assets are

leaking, and the challenges associated

with locating and fixing them. Trunk

mains are often buried deeper than

smaller distribution mains, so leaks

are less likely to surface. For this

reason, leaks on trunk mains often go

undetected for several years, and in

some cases decades. Undetected leaks

can accumulate over time without any

evidence of their presence or evolution

over time, eventually leading to a

catastrophic failure. With fewer leaks

seen at the surface, it can appear these

assets have fewer leaks and are not a

significant contributor to leakage levels,

but this is not the case.

As the main artery of the water

distribution system, trunk mains

transport huge volumes of water and

are often under higher pressure to

meet demand over long distances

consequently, when a leak does occur,

the volume of water loss is often greater

than on smaller pipes.

Another reason trunk mains get

ignored, beyond the out of sight out

34 WATER & WASTEWATER ASIA | JULY/AUGUST 2022
---
FOCUS

EchoShore-TX transmission main monitoring

When a leak occurs on a trunk main, the volume of water loss is often

greater than on smaller pipes

of mind factor, is that leaks on these mains

can be costly to find and fix. Technology

enhancements in recent years enable leaks

to be detected far more efficiently and with

greater accuracy than in the past, enabling

them to be repaired in a controlled, planned

manner. By fixing leaks early, the risk of

collateral damage from a catastrophic pipe

burst can be avoided.

LEVERAGING CLOUD-BASED ANALYSIS

Advanced acoustic leak detection

technologies like the Echologics

EchoShore-M system by Mueller take

the guesswork out of locating leaks. This

technology is based on the acoustic-based

technique of cross-correlation used on

distribution mains, which records leak

noise signals and determines the time delay

between signals reaching an array of sensors.

Sound recordings are wirelessly uploaded

to a secure cloud server via existing cellular

networks where automated analysis is run to

remove unwanted interference and pinpoint

leaks. The sensors can be easily moved to

multiple sites along the trunk main network

and can be applied to a variety of pipe

materials ranging in diameter from 400-

2,200mm.

By wirelessly transmitting data to a secure

cloud-based server, data can be analysed,

archived and shared with stakeholders. Points

of interest are automatically created on GIS

maps so water operators can visually assess

the situation with a better understanding of

the surrounding assets and obstacles. Data

can also be exported into utility GIS software

or work management systems using an API.

NON-INVASIVE LEAK DETECTION IS

"RELIABLE AND ACCURATE"

By using hydrophones, the distance between

sensors is not limited by radio range or

interference, and several sensors can be used

concurrently. This improves productivity for

long-distance surveys and gives confidence

in long-range leak detection. Having all

this data uploaded to the cloud makes

leak detection today much more efficient,

accessible and valuable by automatically

generating actionable insights.

There is much data to support that proactive

leak detection on trunk mains is reliable and

valuable in reducing NRW. Air Selangor, a

Malaysian water operator, is a good example

of this. Over the past five years, Air Selangor

field staff have surveyed over 10,000km of

trunk mains and identified more than 540

leaks. This amounts to a saving of 41.26

MLD. Air Selangor teams survey on average

10km a day, five days a week. As many of Air

Selangor's trunk mains have limited access

points, the ability to cover longer distances

using the highly sensitive hydrophones

combined with the automated analysis

using algorithms in a cloud-based platform

has made this a successful leak detection

programme for Air Selangor.

PERMANENT LEAK DETECTION GIVES

PEACE OF MIND

For water utilities that want continual

monitoring of trunk mains without placing

personnel in the field to gather data,

technologies like the Echologics EchoShore-

TX by Mueller are an option. This permanent,

non-invasive and non-disruptive leak

detection and monitoring system can be

installed at existing access points on any

type of water trunk main. Through daily

monitoring and notification, it delivers critical

information promptly for operators, mitigating

issues before they escalate and reducing

response times to lessen infrastructure

damage and water loss.

Continual monitoring also helps improve

decision making for pipe replacement by

enabling utilities to identify problem sections

and prioritise replacement accordingly. The

more data a utility can gather over time, the

better its analytics will be, and ultimately

lead to the best decision making for asset

management.

CONCLUSION

Trunk mains leaks can accumulate and go

undetected for years. As such, it is vital to

recognise that trunk mains must be included

in leak detection programmes. They also

make up some of the oldest infrastructures

in water systems and as such many have

passed their design of life.

As trunk mains are costly to replace,

monitoring leakage can help water operators

detect and repair leaks early, potentially

deferring the need to replace the pipeline.

With today's advanced leak detection

technology, it is easy for any sized utility to

operate its leak detection programme. By

including trunk mains in this programme,

utilities are bound to realise greater

reductions in NRW.

This article is provided by Mueller Water Products.

WATER & WASTEWATER ASIA | JULY/AUGUST 2022 35
---
FOCUS

DIGITALISING WATER

MANAGEMENT:

Idrica expands

GoAigua platform

Catering to the other areas of the water cycle.

sector, as evidenced by the plans

launched by governments in many

countries, such as the Spanish PERTE

for the digital transformation of the

water cycle, the European recovery and

resilience programmes, the US water

infrastructure investment plan, and the

projects promoted within the framework

of Saudi Arabia's Vision 2030.

Idrica has developed new software

solutions for the optimisation of

the entire water cycle, increasing

its outreach to new areas. These

solutions are part of its GoAigua

platform and broaden its portfolio to

sustainably address the main global

challenges in the management of this

precious resource.

Chema Nebot, business development

director for Idrica, commented:

"These technological developments

are part of the strategy to position

the GoAigua platform as a key

digital tool to cover the entire water

cycle, providing solutions in all areas

– drinking water, sanitation, urban

irrigation, agriculture, water resources

and reuse.

"Over the coming years, the digital

transformation of water management

will be essential to ensure access to

good supply and sanitation services,

optimise urban and agricultural

irrigation and implement early warning

systems in river basin management."

Currently, there have been major

moves being made to promote the

use of new digital solutions in the

NEW SOLUTIONS FOR URBAN

IRRIGATION, AGRICULTURE AND

RIVER BASINS

In addition to providing new tools for the

digital transformation of the sector, the

multinational specialising in smart water

has expanded its software solutions

to include three new areas, based on

big data and artificial intelligence (AI)

techniques, water efficiency algorithms

and advanced data analytics.

The new solutions can help define

optimal irrigation plans and automate

the watering process in landscaped

spaces, an area in which water reuse

and energy efficiency are key. With the

GoAigua Smart Green solution, cities

can centrally control irrigation in their

parks and gardens, adapting it to the

needs of each green area and its terrain.

In the agricultural sector, GoAigua

AgroTwin centralises control over

infrastructure, billing, collection and

36 WATER & WASTEWATER ASIA | JULY/AUGUST 2022
---
FOCUS

fieldwork monitoring. The solution

helps irrigation associations to view

the key indicators of their activities

from a centralised, single management

point and to detect possible leaks,

fraud and consumption over set

allocations from an early stage.

Finally, Idrica has added the

GoAigua EWS early warning system

to its portfolio to improve the

management of extreme events in

river basins. The solution integrates

hydrometeorological sensor networks

and the results of hydrological

and weather models for the basin,

including the simulation of reservoir

inflows, to trigger warnings and

alarms.

UPGRADES FOR DRINKING

WATER AND WASTEWATER

TREATMENT SOLUTIONS

Idrica has also developed new

solutions to upgrade its portfolio of

GoAigua water supply and sanitation

solutions aimed at improving different

aspects such as operational efficiency

and controlling non-revenue water to

name a few.

Specifically, in addition to centralising

the operational management of

drinking water distribution companies

to reduce costs, maximise efficiency

and enhance service, the different

solutions facilitate decision-making

and optimise operational processes,

from collection and treatment to

distribution and management of

the billing cycle. The new GoAigua

Water solutions include GoAigua

Work Orders for the management

and planning of fieldwork; GoAigua

Billing for management of the billing

cycle, including reading, invoicing and

collection; GoAigua Customer Portal

for digitally transforming customer

relations; and GoAigua Water Twin

Ace, a digital twin for simulation and

intelligent operations.

GoAigua also centralises operational

management and monitoring of

sewage network and treatment plants

in a single platform and optimises

operations, from predicting and

monitoring events and discharges to

detecting overflows due to blockages

or viruses such as SARS-CoV-2. The

new solutions added to the GoAigua

Wastewater area include GoAigua

BioRisk for monitoring viruses and

substances; GoAigua Sentinel for

controlling the quality of wastewater

and industrial discharges; the GoAigua

Clog Spot solution which optimises

network cleaning processes to prevent

overflows; GoAigua Sewer Protect

for detecting seepage; and the early

warning system GoAigua Sewer Twin

Ace.

INTERNATIONAL EXPANSION

The expansion of its range of solutions

for the entire water cycle will enable

Idrica to break into new markets as

part of its international expansion plan.

Idrica opened five new subsidiaries in

Hong Kong, Chile, Canada, Brazil and

Saudi Arabia last year, adding to those

in the US, Mexico, Colombia, Ecuador,

Peru, Qatar and Romania that became

operational in 2020. In just two years,

the Spanish-based multinational has

established operations in 14 countries in

Europe, North America, the Middle East,

Asia, Africa and Latin America.

WATER & WASTEWATER ASIA | JULY/AUGUST 2022 37
---
FOCUS

AN ENDLESS LOOP TO

securing tomorrow's water

Water is vital for all life and the environment. Speaking with

Water & Wastewater Asia, Vincent Caillaud, CEO of Veolia Water

Technologies, shares more about closing the water recycling loop and the

challenges the water and wastewater industry is faced with today.

The Barrel is an

integrated plug-andplay

RO technology

developed by Veolia

Water Technologies

Water quality and water scarcity are

two of the biggest threats facing

today's water and wastewater

industry and these challenges have

now been intensified by climate

change, Vincent Caillaud, CEO

of Veolia Water Technologies,

declared.

Indeed, both water quality and

water scarcity are interrelated as

poor water quality causes water

to be unfit for different uses and

purposes, thus impacting the

availability of water resources. In

Caillaud's perspective, the former

involves the treatment of raw water

more efficiently and the latter is

generally associated with better

management of water resources.

"Water scarcity is an area which we

are focusing on strongly right now

because, at Veolia, we understand that

water is such a precious resource that

it should be used more than once,"

Caillaud told Water & Wastewater Asia.

To close the loop in water recycling,

technologies are available to

make water reusable for different

applications. The agricultural and

semiconductor sectors, for example,

are among the industries that have

incorporated some form of water

reuse. However, Caillaud pointed out

that using reused or reclaimed water

for potable use might not necessarily

appear as appealing due to social

acceptance despite, from a quality

point of view, today's filtration and

desalination technologies having the

ability to make reuse water safe for

consumption.

Particularly on desalination, it is

an alternative solution to increase

available water resources as it allows

the conversion of seawater into a

life-sustaining and usable resource.

As such, Veolia Water Technologies

developed the Barrel, a containerized

system that is designed for desalination,

water reuse and low-pressure reverse

osmosis (LPRO) applications. The Barrel

is a multi reverse osmosis (RO) element

vessel which allows the RO process

implementation to be strictly identical

to that of current RO pressure vessels,

ensuring the freshwater produced meets

all desalinated water quality standards.

38 WATER & WASTEWATER ASIA | JULY/AUGUST 2022
---
FOCUS

Made of painted high-strength

carbon steel, the Barrel can

withstand the pressure required by

the RO process. The shell is a regular

ASME vessel while the inside is

coated with high-grade epoxy paint

specifically developed for seawater

applications.

Inside, the hexagonal resin modules

form a honeycomb structure that

houses any type of conventional

eight-inch membrane. Each module

is a seven-tube bundle that can

produce 800m 3 /day of desalinated

water, and each tube houses seven

to eight RO elements in series. The

membranes can be inserted via

dedicated maintenance manholes at

both ends of the shell. Low-pressure

permeate is collected outside the

shell and sent to the next step of the

process.

Speaking about water quality,

Caillaud highlighted that the rejected

wastewater into the environment

has resulted in an increase in

micropollutants in the water systems,

and continued: "This is of particular

concern in the US due to per- and

polyfluoroalkyl substances (PFAS)

but we are also seeing more attention

brought to it in Europe, driven by

countries like Switzerland and

Germany."

In Germany, for example, it was found

that children and adolescents between

the ages of three and 17 have too

many persistent chemicals from PFAS

in their blood, according to a study by

the German Environmental Survey for

Children and Adolescents. The report

further revealed that in one-fifth of the

samples examined, the concentration

for perfluorooctanoic acid (PFOA) was

above the HBM-I assessment value

defined by the Human Biomonitoring

Commission.

To successfully remove PFAS

contaminants and other

micropollutants, Veolia Water

Technologies relies on its strong

know-how to choose the best

process, or combination of processes,

according to the characteristics

of the water to treat. For instance,

adsorption on activated carbon,

membrane technologies or biological

processes such as Veolia's eXeno can

be used and combined to reach the

desired treatment objectives.

Caillaud continued: "There is an

increasing focus and concern

surrounding water quality as well as

reducing water footprint, not just as

an individual but also as a collective

and as an industry. For instance, many

companies are concerned about their

environmental footprint when it comes

to managing the disposal of reject

water and handling raw water which

might potentially increase pollution.

"However, we have observed that

companies are also looking to

integrate water management into their

core activities. This drive is reinforced

by the global environmental crisis,

climate change and biodiversity

crisis."

"ASIA-PACIFIC WILL COPE

FASTER WITH ITS CHALLENGES"

Asia-Pacific is dubbed to be one of

the regions most affected by climate

change due to deforestation and land

degradation as well as rising sea

levels. Acknowledging the urgency of

the climate crisis, Caillaud stressed

that Asia-Pacific is faced with water

quality issues and believed that the

region has a substantial amount of

work to be done. For instance, dealing

with seasonal water and water scarcity

and managing extreme weather events

like flooding – these are critical topics

which he identified surrounding the

Asia-Pacific region.

He concluded: "Asia-Pacific is

unfortunately exposed more to

climate change than other regions in

the world and, in particular,

to extreme weather events

exacerbated by climate

change. The region also has

its set of challenges in terms

of infrastructures, especially

wastewater infrastructure.

However, I am

convinced that

Asia-Pacific will

cope faster with

its challenges

because, in

situations

like extreme

flooding, the

region will be

willing, or even

forced to some

extent, to

adapt."

Water scarcity is an area which we

are focusing on strongly right now

because, at Veolia, we understand that

water is such a precious resource that

it should be used more than once.

Vincent Caillaud

CEO of Veolia Water Technologies

WATER & WASTEWATER ASIA | JULY/AUGUST 2022 39
---
FOCUS

DISCOVER THE

12 different types of chemicals

used in water treatment

Wastewater treatment is a highly complex process that necessitates the

use of several chemicals to adjust the water's pH and stop the release of

different pollutants into the environment like volatile and semi-volatile

organic compounds, heavy metals and pesticides. Here, Pradip Shitole,

team lead at Market Research Future, discusses the primary chemicals

utilised in wastewater treatment and their common applications.

40 WATER & WASTEWATER ASIA | JULY/AUGUST 2022
---
FOCUS

Numerous wastewater chemical solutions

have been developed to meet industry

standards and governmental regulations

alike for chemical effluents and pollutants. As

per the application, one or above chemical

treatments may be required to generate

code-compliant wastewater.

1. COAGULANTS

Coagulants are iron or aluminium-based

chemicals which alter the magnetic charge

of water particles, causing them to attract

instead to repel one another. The waste

forms larger bodies which can be filtered

out or skimmed. Coagulants are commonly

used to remove pathogens, fluoride, arsenic,

organic matter and chemical phosphorus

from wastewater.

2. ODOUR CONTROL

Though odour control happens to be a

secondary concern in comparison to the

detection and removal of extremely toxic

chemicals, a variety of effective methods for

reducing unwanted odours and effusions

are available, including solids scavenging,

carbon absorption, bio-filtration, oxidation,

iron salts and liquid phase technology.

The highly toxic contaminants in the

industrial waste often have an innocuous

odour; however, these dangerous

contaminants necessitate chemical

treatment prior to biological water treatment

is considered. For example, hexavalent

chromium can leach into the groundwater

undetected, eventually causing cancer,

birth defects and other chronic and terminal

illness. The concept of highly toxic wastes

that are colourless, odourless and otherwise

invisible was popularised in the early 2000s

by the film Erin Brockovich, and industry

standards since have been adjusted

accordingly.

3. FLOCCULANTS

Chemical, natural and grafted flocculants

are the three types of flocculants. Through

electrostatic patching, charge bridging

and magnetic neutralisation, flocculants

encourage the waste particles in adhering

to each other in flocs or clumps, when

combined with water agitation processes.

4. DEFOAMERS

As the name implies, defoamers are

used to control and reduce the amount

of trapped foam and air produced during

the wastewater treatment processes. This

helps to reduce the possibility of dangerous

overflow.

5. REDUCING AGENTS

Sodium bisulfite, ferrous sulphate and

sodium hydrosulfite are examples of

reducing agents, also called oxidising

agents. They are typically used to remove

harmful substances from wastewater, such

as hydrogen peroxide, ozone, chlorine and

biological contaminants.

These chemicals, when combined

with aeration, bond to the suspended

compounds, reducing the same to parts

which can settle out of the water as well as

be flocculated and filtered.

6. ORGANIC POLYMERS

These polymers are the natural flocculants

which attract particles into the flocs for

easy filtration by using ionised polymer.

They are frequently utilised together with

coagulants based on aluminium or ironbased

coagulants.

7. SLUDGE CONDITIONERS

Waste biomass and chemical sediment can

be challenging to filter and may necessitate

additional conditioning via chemical or heat

treatments to reduce odour, thicken the

material and reduce sludge volume. This

procedure makes it easier to remove and

dispose of the sludge.

8. CLEANERS AND DEGREASERS

Alkaline drain openers and clog busters,

for example, are designed to dissolve

grease and oil. They break down the grease

with solvent chemicals to make it easy to

remove.

9. ANTISCALANTS AND MEMBRANE

CLEANERS

Antiscalant and membrane cleaners

are injected into the wastewater before

the treatment to keep dissolved mineral

salts from congregating on filtration

membranes and ensure suitable fluid flow.

Antiscalant and membrane cleaners that

are commonly utilised in water treatment

applications comprise sodium bicarbonate,

chlorine, algicide, soda ash, muriatic acid

and chlorine dioxide.

10. BIO-DISPERSANTS AND

BIOCIDES

Bio-dispersants and biocides reduce

the number of microorganisms in

wastewater, thus increasing operational

efficiency during wastewater treatment.

Cleaners, dispersants, scale removers,

disinfectants and penetrants are

examples of biocides.

11. PH CONTROL

The pH control involves the addition of

basic or acidic chemicals to wastewater,

allowing hydroxide ions in bonding with

heavy metals and precipitating out of the

solution. Furthermore, increased acidity

kills organic compounds and bacteria by

breaking these down at the cellular level.

12. HEAVY METAL PRECIPITANTS

The heavy metals in the wastewater

frequently are ionically bonded with

the chelating agents and other bonding

chemicals, making them insoluble. Heavy

metal precipitants break down those

bonds, enabling dangerous heavy metals

in precipitating out of wastewater.

CONCLUSION

The water treatment industry plays a

vital role in offering clean water around

the world and preventing water-related

diseases. Water from polluted rivers, the

sea and wastewater effluents can now be

made safer for human consumption using

innovative boiler water treatment chemicals

and other related chemicals.

WATER & WASTEWATER ASIA | JULY/AUGUST 2022 41
---
FOCUS

RETHINKING CITIES AS

giant water collection facilities

Like pandemics of the past, the COVID-19 pandemic has taught us many

lessons on how we can improve urban life. Among other takeaways, it has

reinforced how connected our world has become and how critical it is to

consider our interdependence when making all kinds of decisions, from

public health to the environment.

By Geertjo van Dijk

The COVID-19 pandemic has

underlined the value of oftenoverlooked

concepts like resilience

and circularity as supply chains

have been disrupted and scarcity

has overtaken abundance as the

prevailing condition in several

aspects of urban life. Our current

urban paradigm is highly dependent

on fragile large-scale systems prone

to destabilisation from unpredictable

events like pandemics. COVID-19

makes it clear that we need to

reorganise cities around a more local

and circular way of life with resilience

and sustainability at the core. This is

most important when it comes to the

most essential aspect of civilisation –

water.

The way we treat water today is

unsustainable and inefficient. As soon

as it enters our cities, whether that

is as surface water, groundwater or

42 WATER & WASTEWATER ASIA | JULY/AUGUST 2022
---
FOCUS

rainwater, we try to get rid of it. We treat water

linearly – source to use to disposal – instead

of circularly, presenting a great opportunity

to future-proof cities and making them more

liveable for centuries to come.

is reused and nothing is wasted. A zero

mentality would go a long way towards

alleviating the global water crisis and many of

the other major 21st century environmental

challenges.

Despite long- and short-term shortages,

the conventional approach of designing

centralised urban utility systems has been

driven by 19th-century technological

principles, applied during a time of abundant

resource supply and relatively smaller

demand. When water is plentiful, this trade-off

is feasible. In a more densely populated world

ravaged by climate change, this trade-off has

flipped.

Linear water management was barely viable

in a world of excess supply. Today, as

urban populations and economies grow, it

is highly impractical. Cities face five major

environmental obstacles in particular as they

look to reliably provide clean drinking water

to residents – flooding, drought, groundwater

depletion, surface level pollution, and heat

stress. Due to these challenges and others,

the global urban population facing water

scarcity is expected to rise from just under

one billion people in 2016 to about two billion

people in 2050.

Water scarcity affects the health and

well-being of city residents along with

environmental quality and socio-economic

development among other key factors that

cities must balance in a warming world. As

such, we must think differently about urban

water management, keeping the present and

the future in mind. Instead of seeing each

system involved in the urban water cycle as

separate and independent, we can connect

those systems and manage them locally.

From wastewater to rainwater and tap water,

we can create circular and controlled water

cycles around buildings, neighbourhoods and

even cities.

Circularity means water is reused rather

than used once and never more. At its core,

circularity mimics nature, where everything

In this vein, we must see our cities as giant

water collection facilities. As precipitation

falls more erratically, cities must be prepared

to capture water when and where it falls –

for instance, on roofs and streets to avoid

expensive transportation of clean water from

elsewhere.

Managing water locally – and making

every drop count – will only become more

important as climate change destabilises

water supplies. Urban development requires

more water per capita as melting glaciers and

changing agricultural patterns make water

scarcer. We need novel ways to future-proof

water management, and an emphasis on

decentralised water management – which

disperses water closer to its source and

minimises surface discharges – allows for

more flexibility and less waste. It reduces

infrastructure costs, enhances resilience and

helps both humans and the environment.

With decentralisation, water can be cleaned

or filtered if needed and stored for the rainy

days that are becoming both rarer and more

intense. Stored water can be reused to water

local vegetation – which cools and cleans

the air among other notable benefits – or

cool cities during hot and dry periods. Heavy

rainfalls can be slowly infiltrated back into the

ground to replenish groundwater rather than

cause flooding on prevalent concrete and

asphalt surfaces without being used even

once.

Innovative technologies allow for smart urban

water management that is both proactive

and reactive, predicting how much rain is

forecast to fall and then directing water to its

most optimal use once it has fallen. Collected

water can be reused – for instance, to irrigate

community gardens or for residential or

commercial building sanitation – or returned

to the soil depending on what is needed and

how much water is forecasted to be available.

Furthermore, innovation and forward-thinking

can fully unlock the immense potential of

circular local water management. Various

water management solutions reliant on more

dynamic and flexible water networks can both

cut waste and enhance self-sufficiency. Warm

wastewater from commercial or industrial

activities like data centres can be used for

heating and energy needs. Wastewater

treatment plants can make biogas and

thereby generate electricity. Wastewater can

also be leveraged to generate fertiliser or

organic matter that can support farming. And

cities can foster market-based solutions that

allow for wastewater to be bought, sold or

shared.

Copenhagen, for instance, has implemented

local water management largely in response

to heavier rainfalls and rising sea levels.

The city is building Cloudbursts, green and

biodiverse sites sprinkled throughout the

area that serve as vibrant recreational spaces

in dry weather and water collectors in wet

weather. Rainwater gathered from storms can

then be stored elsewhere or siphoned out

of the city. Copenhagen envisions hundreds

of Cloudbursts to prepare for a warner

future. The Danish capital is just one of many

global cities at the vanguard of local water

management.

Geertjo van Dijk is global product manager – storm

water management at Wavin Group.

WATER & WASTEWATER ASIA | JULY/AUGUST 2022 43
---
HOTSEAT

mathematical modelling tool that helps

utilities proactively manage and respond to

safety, corrosion and odour risks in sewer

networks.

ENVIROSUITE

SETS SIGHTS

on growth for

EVS Water

EVS Water goes global with new customers

in Australia, Asia, Europe and the US.

EVS Water is expected to reach its initial

commercial objective of achieving US$1

million in total sales, Envirosuite announced.

The Australian software company further

identified a $2.8 billion annual global market

opportunity for EVS Water, following recent

wins in Europe, the US, Australia and

Singapore which thus affirms that EVS Water

has a market offering with its IP, supported by

Envirosuite's operational reach and existing

customer base across more than 40 countries.

Launched in 2021, EVS Water is a process

simulation software for water treatment plant

modelling, concept design or predictive

compliance. One solution it comprises is

the EVS Water Plant Optimiser software.

Through the outputs of its machinelearning

and deterministic modelling, the

cloud-based solution helps its industry

customers reduce the two highest costs in

water treatment and delivery – electricity

and chemicals. In doing so, Plant Optimiser

can decrease the collateral environmental

footprints of its users' operations.

Another solution offered under EVS Water is

the SeweX software, which is an advanced

The commercial proposition of EVS Water,

according to Envirosuite, is that the user's

cost of deployment is more than offset

financially by productivity gains as well as

substantially extending the life of water

assets through reduced chemical strain

that delays the capital cost of upgrade and

replacement. Users of EVS Water have

also pointed out that climate impact and

reporting is a major driver for deploying the

software to reduce electricity consumption

and the associated emissions.

RECENT WINS FOR EVS WATER

Australia

In an initial pilot project for Water

Corporation, the principal supplier of water,

wastewater and drainage services to over

2 million Western Australians, EVS Water

successfully delivered value creation for all

project stakeholders. A further three sites

have been approved for discussion which

could potentially take the total to seven with

further sites anticipated.

Asia

PUB, Singapore's national water agency

operating under the Ministry of Sustainability

and the Environment, manages the

republic's water supply, water catchment

and used water in an integrated way. The

city-state uses 430 million gallons of water

daily, and PUB has been ensuring that

this water is captured, safe to use and

adequately supplied.

EVS Water Optimiser will be used to help

PUB determine the required coagulant

dosage in water treatment processes

that will make the process faster, more

connected and automated.

Europe

The Santa Maria Dam in Spain is contracted

by the Catalan Water Agency for the

44 WATER & WASTEWATER ASIA | JULY/AUGUST 2022
---
HOTSEAT

services of conservation, maintenance

and supply of the Torredembarra

sanitation system and the Pla De Santa

Maria.

One of the requirements is to eliminate

the presence of hydrogen sulfide

throughout the systems – pipes, pumps

and treatment plant – and the proposal for

this must include continuous monitoring

through the Internet of Things (IoT) which

allows real-time actions in addition to

continuous monitoring.

Santa Maria Dam will use a combination

of EVS Omnis to monitor overground

odours and use the SeweX to model

hydrogen sulphide build-up underground

to proactively mitigate odour events from

the sewage network.

USA

The City of Kalamazoo in Michigan has

been a user of Envirosuite's solutions,

utilising the EVS Omnis solution to

manage odour complaints around the

city-owned wastewater treatment plants.

Based on the success of that solution,

Kalamazoo engaged with Envirosuite

to assist in managing odour complaints

coming from the sewer network.

In the current state, investigations into

the root cause of the sewer odour issues

are time-consuming and difficult to

completely cover the large area of the

network. The city authorities are also

concerned about undetected issues

that may lead to future operational

disruption which is a critical concern for

infrastructure operators.

Subject to the success of the initial

implementation of the SeweX in addressing

these concerns, the solution will be

considered for a wider area of the sewer

network.

PARTNERS

Envirosuite continues to work with

engineering and water consulting group GHD

in progressing opportunities in the industrial

and desalination industries with consultingled

incorporation of the EVS Water technology

platform.

EVS Water has also received industry

exposure and interest from recent customerled

inclusion in water industry events

including the Singapore International Water

Week, Global Water Summit in Spain, and

Ozwater in Australia.

Excellence in flow & level measurement.

FLOW, LEVEL, PUMP CONTROL,

VOLUME, & SLUDGE LEVEL

• Contacting and non-contacting measurement options

• Full, partially filled pipes, and open channel flow

measurement

• Ultrasonic and radar technology

• Process measurement made simple

• Customer-centric

For sales & technical support in Asia, contact

our local team or use our virtual Partner

Locator to find the nearest Pulsar Authorized

Distribution Partner

ASIAPACIFIC@PULSARMEASUREMENT.COM +60 102 591 332

PULSARMEASUREMENT.COM

WATER & WASTEWATER ASIA | JULY/AUGUST 2022 45
---
HOTSEAT

TIPS WHEN SELECTING

an ideal chopper pump

When it is time for a new pump change, operators need to determine exactly

which chopper pump model and specifications will best fit their needs. From

operating conditions to lifetime cost analysis, they need to research before

placing that order. Arne Swenson, chief engineer for Vaughan Company,

highlights some of the key focus areas for operators to keep in mind.

a chopper pump supplier with a

history of success in a particular

type of pumped media gives

operators a better chance of

success.

PROPERLY DEFINE OPERATING

CONDITIONS

Lead oxide slurry with chunks of

plastic in a battery plant may have

a specific gravity of 2.0 to 2.5 while

raw sewage from a municipal lift

station may have a specific gravity

of essentially 1.0. Pump power

needed is directly proportional to

fluid specific gravity; specific gravity

of 2.0 means operators will need a

motor twice as large compared to a

specific gravity of 1.0.

The HE-Series

horizontal chopper

pumps from

Vaughan

KNOW YOUR FLUID

Modern pumping challenges include

pumping fluids mixed with various

solids or debris. Chopper pumps

excel at pumping fluids which

contain unpredictable solids that

would cause pump blockage in

traditional non-clog pumps.

Pumping coke slurry at a steel mill

with random rags or the occasional

glove, various food wastes, plastics,

raw sewage in a lift station with

the presence of wipes and various

plastics, scum and sludge in a

wastewater treatment plant are a few

examples and may all require the use

of a chopper pump.

Understanding the pumped media

helps operators pick the desired

chopper pump model and motor to

assure that the solids can reliably

enter the pump. Also, choosing

Having a good estimate of head

loss when pumping a specific

slurry through a particular size

pipeline over some distance at

a particular flow can make the

difference between success and

failure. Head loss can generally

be reduced by using larger piping

and fittings to reduce velocity but

at an increased cost. High percent

solids slurries may have very high

head loss compared to water, so

having realistic estimates of head

loss prior to installation matters

46 WATER & WASTEWATER ASIA | JULY/AUGUST 2022
---
HOTSEAT

greatly. Pumping coal slurry at

30-40% solids concentration may

be possible but pumping a fibrous

slurry such as dairy manure at

8-10% solids is often the upper

limit, and municipal sludges often

have an upper limit of 6.7% solids.

Regardless of what operators are

pumping, they generally need a

fair amount of water to suspend

and transport the solids. The

slurry must be a liquid that flows.

Head loss for pumping slurries

can be two to 10 times higher than

pumping clean water, so tapping

into the chopper pump supplier's

expertise is critical. Choosing the

proper flow rate can ultimately

avoid contamination of local

waterways or plant flooding, save

on electrical costs and incorporate

reliability into the equipment

design.

ENSURE THE CHOPPER PUMP

AND SYSTEM ARE OPTIMISED

FOR SOLID HANDLING

While choosing the correct pump to

address solid handling challenges

is a good start, operators will also

need to optimise their system for

handling solids reliably. To do this,

they need to ensure the head flow

characteristics of their pump are

properly matched to their system

so that both operate reliably.

Pipeline velocities

Reliable solids pumping should

be accomplished at turbulent

velocities. This approach keeps

solids stirred up as they move

through the pipeline to avoid

settling and blockage issues.

Typically, turbulent flow is assured

at 3-5ft/sec. This velocity is a good

guideline for pumping through

horizontal piping and fittings.

When pumping through vertical

sections of piping, however,

we found that 8-10ft/sec is

recommended to avoid settling

heavier materials like sand or grit in

the vertical run of piping. Settling

of heavier materials over time can

and has caused pipeline blockage

in some slurries and may cause the

pump to pump the same sand and

grit over and over. Velocities over

8-10ft/sec may result in high flow

noise and wear.

Suction piping recommendations

As a general rule, the minimum

suction piping diameter should

be equal to or one size larger pipe

size than that used at the suction

entrance to the pump. For example,

if an 8-inch discharge horizontal

pump has a 10-inch suction flange,

then we recommend that at least

10-inch piping be used, and in

many cases, 12-inch piping will be

needed to achieve our recommended

3-5ft/sec of velocity in the suction

piping.

To reduce piping down to match the

pump suction flange size, an eccentric

reducer is needed. The eccentric

reducer should be oriented so that the

flat side of the reducer is on the top

side of the piping so that air or gas is

not trapped in this fitting. Do not make

suction changes greater than 4-inch in

pipe size with only one reducer. A rapid

change in size causes the non-uniform

flow to enter the pump and causes

rapid wear and vibration, excess noise,

vibration and wear.

Avoid the use of tees or short radius

elbows near the pump on the suction

side of piping. Tees induce swirling

flow in the piping downstream of the

tee, causing reweaving of hair and fibre

into rags, which can then plug pumps.

Plugging on rewoven rags is less of

a problem with chopper pumps, but

the swirling flow also impacts pump

performance. Y-type fittings provide

considerably better flow.

For the lowest noise and vibration

in the pump and longest parts life,

provide uniform, straight-line flow to

the pump and ensure all leaks are

sealed. Air leaks in the suction piping

of self-priming pumps make them very

noisy and could prevent them from

WATER & WASTEWATER ASIA | JULY/AUGUST 2022 47
---
HOTSEAT

makes for much higher reliability.

Mixing can be accomplished with

a recirculation nozzle built into

the pump or discharge piping and

located below liquid level to avoid

aeration.

priming. Keep suction piping as

short and as straight as possible

using large piping to minimise

friction losses and to maximise

suction pressure available to the

pump.

Air pockets just before the

entrance to the pump must be

avoided. Suction piping should

be designed with no high points

that can trap air or gas. When this

is not possible, adequate vent

lines must be installed to allow

manual or automatic removal of

air or gas. Eight pipe diameters of

straight piping before the pump

are recommended after a short

radius elbow; three pipe diameters

are recommended after a long

radius elbow. Placing an elbow

immediately in front of a pump

should be avoided, if possible.

If larger piping is used compared

to the pump's suction connection

size, then the suction valves

should be larger. A suction-side

valve must never be used to

control system flow. Suction

isolation valves must be fully

open during pump operation. If a

valve must be throttled to control

system flow, it should always be

accomplished with a dischargeside

valve. A check valve should

never be used on the suction side

of a pump. Butterfly valves must

never be used when pumping

liquids containing solids, as the

solids can collect on the butterfly

disk and block flow. Automatic air

release valves should be installed

between the pump and check

valve if air or gas entrained liquid

is expected.

Mixing fluid and solids in a pit

Mixing pits with water and

floating debris—for example,

scum, bark or plastic debris

in pits—has proven to be very

effective at keeping the system

functioning properly as the pit is

pumped down. Homogenising

the pit contents before pumping

PUMP CONFIGURATION THAT

BEST FITS THE JOB

Some pumping applications call for

self-priming chopper pumps, some

call for submersible or vertical wetwell

chopper pumps, and some call

for pedestal or horizontal chopper

pumps. And when a user is faced

with issues with one type of pump

configuration, it is, perhaps, time to

consider a change to an alternative

that may work more reliably.

Hence, operators need to ensure

that their chopper pump supplier

can provide a full range of pump

configurations.

INITIAL PURCHASE COSTS VS.

LIFETIME COSTS

Power costs, history of wear

and parts replacement and the

reliability of the chopper pump

to do the pumping job without

plugging or overloading the motor

during cutting all contribute to

the lifetime costs of ownership.

The maintenance costs of

unplugging pumps regularly can

be overwhelming. Get plenty of

references and speak with more

than one chopper pump company

and their customers.

SUPPORT OF A GOOD

TECHNICAL PARTNER

Some chopper pump companies

might provide significant help

in understanding the pitfalls of

approaching the specific type of

application. Look for the underlying

expertise inside the chopper pump

company to help you address all

your issues.

48 WATER & WASTEWATER ASIA | JULY/AUGUST 2022
---
HOTSEAT

LOOKING FOR

and finding

process data

Together with the Digital Data Chain Consortium,

VEGA aims to further advance the digital twin

of its instruments.

Transparent data exchange between

manufacturers and users is an almost

limitless topic, also in the process industry.

To make progress in this area, many individual

solutions, including some proprietary ones,

have to be brought together under one roof.

The Digital Data Chain Consortium (DDCC),

with VEGA as a founding member, aims to

make documents and data accessible to all

by means of a digital type label.

What looks like a complete system out

on the factory floor rarely turns out to be

a unified whole when viewed up close.

In every production system there are

mechanical, electrical, electronic and

software components from many different

manufacturers. A complex multiplicity that

makes itself felt particularly when things are

not running smoothly.

For example, when a sensor needs to be

re-parameterised, a valve sealed or a fuse

replaced. How efficiently a machine or even

an entire system can be repaired or serviced

depends largely on how quickly the necessary

data is available. Do the relevant documents

first have to be laboriously searched for in

a folder buried under stacks of papers, is

the manual locked away in a dusty cabinet

somewhere, or is there a PC database where

information on the component in question is

stored – hopefully up-to-date – and readily

retrievable?

UNAMBIGUOUS AND IMMEDIATE

According to the DDCC, a data solution

that promises greater productivity looks

quite different. The consortium's goal is to

make all system components identifiable.

"It's all about having secure and

accessible data in the cloud instead of

in individual databases," said Florian

Burgent, product manager at VEGA,

summing up the urgent task. In his

opinion, significant savings are possible if

this is realised. "The situation today is that

companies often have to integrate legacy

data into existing applications. Searching

for and collecting data can be timeconsuming,

as it may be scattered around

the country or event around the world,

or stored on the computers of different

manufacturers."

ONE GOAL, ALL COMPANIES

As a manufacturer of level and pressure

instrumentation and the founding member

of the DDCC, VEGA developed the new

DIN SPEC 91406 standard together

with process automation companies.

The proposed standards aim to make

equipment management easier by using

"distinct and unambiguous" digital type

labels.

Users can benefit just as much as

manufacturers, who can thus perform

faster updates with less printed

material. The new labelling, which is

only recognisable as a QR code on the

housing of the device, has everything

needed – namely all manufacturer

information relating to the product.

When required, the data can be called

up with any mobile device at any time. In

practical terms, traceability thus extends

from production to ordering and delivery,

and from installation to the end of the

service life of the device.

The traditional barriers between

manufacturers – such as time, place,

format and the type of device used to

retrieve the data – are thus overcome. All

data can flow freely between the partners

involved in the supply chain.

If the consortium has its way, the

traditional nameplate will soon be done

away with. After the changeover, every

employee in a company will have the

same up-to-date information at their

disposal at all times and thus be able to

make correct, well-founded decisions.

This method of data access includes

other options. For instance, order

management can be optimised, and the

stocking of spare parts better planned.

And last but not least, the required

compliance document would always be

available in good time.

WATER & WASTEWATER ASIA | JULY/AUGUST 2022 49
---
HOTSEAT

companies, valued at approximately

US$4 trillion. It has also been forecast to

grow to 7% by 2030. On a CAGR basis, Asia's

environmental market is growing faster than

other regions; it is expected to expand at

around 3.7% per year, compared to 2.5% per

year for the rest of the world.

Alton Chow (middle), managing director of Aurecon Greater China, signed the contract to welcome

the three companies to become members of the Aurecon Group

AURECON ACQUIRES

MULTI-DISCIPLINARY

environmental

consultancies in

Hong Kong

Strengthens and broadens Aurecon's

environmental and sustainability capabilities to

create a better future for people and the planet.

International design, engineering and

advisory company Aurecon has acquired

Acuity Sustainability Consulting, Acumen

Environmental Engineering and Technologies,

and Acumen Laboratory and Testing (Acuity

and Acumen). All three companies will

operate under ECL Capital as members of the

Aurecon Group.

This acquisition follows the strategic

investment Aurecon made last August with

ERE Consulting Group, a multi-disciplinary

environmental consultancy based in Malaysia.

It further strengthens and broadens Aurecon's

environmental, water and sustainability

capabilities in Greater China and Asia.

William Cox, CEO at Aurecon, said: "Asia is a

strategic growth market for Aurecon and this

acquisition is a testament to our commitment

to growing our business in this region. As

one of ENR's Top 200 Environmental Firms

worldwide, we play a vital role in helping

communities and economies in which we

operate, transition to a more sustainable and

liveable future.

"With the addition of Acuity and Acumen,

Aurecon can further strengthen our offering

to clients in Greater China and beyond by

harnessing the capabilities and expertise

of a wider team of environmental and

sustainability specialists."

ASIA, THE ENGINE OF GREEN GROWTH

According to a 2020 FTSE Russell report,

the green economy represents over 5% of

the market capitalisation of global listed

Alongside that trend, Hong Kong aims to

reduce its carbon emissions by 50% before

2035 and achieve carbon neutrality before

2050. The Hong Kong government will commit

HK$240 billion (US$31 billion) in the next 15-20

years to drive various measures on climate

change mitigation and transition. In addition,

Mainland China has pledged to become carbon

neutral by 2060 and is expected to spend

approximately $163 billion on renewable energy

and other decarbonisation technologies to meet

that target.

As Asia charts its path towards a greener future,

there will be increased demand for sustainable

and resilient infrastructure developments, with

significant investments to follow suit.

Stephane Asselin, chief executive of Aurecon

Asia, commented: "We are excited to welcome

Acuity and Acumen as members of the Aurecon

Group. Their team and expertise complement

ERE, a multi-disciplinary environmental

consultancy that Aurecon invested in last

year. With our strengthened capabilities, we

are better positioned to deliver a full suite of

environmental and sustainability services to

our clients in Asia, enabling them to be better

prepared to transition to a green future."

Jacky Leung, founder of Acuity Sustainability

Consulting, agreed that an exciting chapter

beckons, and concluded: "Aurecon, Acuity

and Acumen share a common vision to design

solutions that will shape a sustainable and

resilient future. I see great synergy between

ourselves and Aurecon's business, growth

strategy and brand values. We look forward to

leveraging our respective strengths and driving

innovation in the environment, sustainability

and climate change sectors to leave a lasting,

positive impact on the community."

50 WATER & WASTEWATER ASIA | JULY/AUGUST 2022
---
NEWSLETTER

OF THE

SINGAPORE

WATER

ASSOCIATION

BRINGING

A NEW VIBRANCY

TO SINGAPORE'S

GROWING

WATER INDUSTRY

[Webinar] SWA YWP Fireside Chat –

Sharing by Founder of Waterbender Sg,

a crowdfunding humanitarian relief

for Ukraine

Jointly organised with SWA

Young Water Professionals

8 Apr 2022, Webex. Exclusive for

Young Water Professionals

Guest speaker Ismail Weiliang,

founder of Waterbender Sg,

shared his motivation and story

as a young water professional,

running this non-profit organisation

in Singapore. As a non-profit

organisation, Waterbender Sg

crowdfunds to deliver humanitarian

relief for those in need.

[Webinar] SIWW2022:

The global platform to share and

co-create innovative water solutions

17-21 Apr 2022

It was a fruitful event

where the Singapore

Water Association (SWA)

and Singapore Business

Federation co-hosted

the Singapore Business

Forum on 18 Apr 2022

which comprises three main segments – MoU signing ceremonies, panel

discussion and introduction of 12 Singapore companies.

SWA was honoured to have established the MoU signing ceremonies

with British Water, International Water Association, Nanjing International

Water Hub and IES Academy, the training arm of The Institution of

Engineers, Singapore.

The panel discussion was moderated by Sean Ong, deputy director of

urban solutions and infrastructure services for Enterprise Singapore, with

panellists Chew Men Leong from ST Engineering, Tan Cheng Guan from

Sembcorp Industries, Tan Boon Leng and Tay Peng Cheng of Water-Waste

Subcommittee, who provided the audience with a new perspective in

fostering partnerships with technology and innovations.
---
[Hybrid] Canadian Water Tech Forum 2022

Jointly organised with The High Commission of Canada in Singapore

22 Apr 2022, SWA members

Venue: Arena @ Co-space Park

In conjunction with Singapore International

Water Week, The High Commission of

Canada in Singapore, in collaboration with

SWA, organised a Water Technology Forum

for Canadian water technology companies

in conjunction with the conference and

trade show. This is the second edition of

the Canadian Water Tech Forum co-hosted

with SWA since 2018.

A total of 70 SWA members and Canadian

delegates attended the event. Jean-

Dominique Ieraci, High Commissioner

of Canada to Singapore, delivered

his welcome address followed by

presentations by the Canadian delegates

as well as PUB, Singapore's national water

agency, Enterprise Singapore, Sembcorp

Industries and Asian Development Bank

(ADB) in the morning, and was followed by

30 business matchmaking sessions in the

afternoon.

43rd Singapore Water

Industry Nite (SWIN)

12 May 2022, SWA members and invited guests only

Venue: PUB Waterhub Auditorium

Organised by the SWA, the Singapore

Water Industry Nite (SWIN) returned

for its 43rd edition and was attended by

150 SWA members and invited guests.

Programme highlights include sharing

sessions by China Habour Singapore

Engineering Company (CHEC), UES

Holdings, updates on SWA activities and

presentations by PUB and H2O Asia. The

event was then followed by a sit-down

dinner with wine, Newbrew Beer and a

buffet.

The 43rd SWIN was sponsored by CHEC

and UES Holdings.

SWA Technology Mission to IFAT 2022

Munich, Germany

30 May-3 Jun 2022

In conjunction with IFAT 2022 Munich, a trade fair for water,

sewage, waste and raw materials, and as part of SWA's continuous

effort to enhance its members' competitiveness through exploring

new markets and business opportunities, SWA organised a

Technology Mission from 30 May-3 Jun 2022.

A Singapore delegation of 20, which comprised of seven water

companies, representatives from PUB and Enterprise Singapore

attended the mission. The delegates also met with Dr Amy Khor,

Senior Minister of State for Transport, and Sustainability and the

Environment.

The main highlight of the four-day programme was the B2B

matching session with GWP, DWA and NWP pavilion exhibitors and

the Singapore Business Forum. A total of 98 pre-arranged meetings

of which 10 MoUs were signed. Delegates were satisfied with the

overall mission planning and programme as they gained new

business contacts, market insights and the latest technologies,

and developed cross-border business collaborations. In addition,

delegates also visited the Oberschleissheim wastewater treatment

plant for an in-depth understanding of the operations with smart

remote monitoring systems and the latest equipment.
---
UPCOMING SWA

ACTIVITIES

SWA Water Utilities Series: Indonesia –

Challenges and Opportunities

July 2022

SWA Industrial Water Series: IPOS

(AI and Intellectual Property)

July 2022

[Webinar] De Nora Water Technologies

July 2022

liveable and sustainable city challenges, share integrated

urban solutions and forge new partnerships. Jointly organised

by Singapore's Centre for Liveable Cities (CLC) and the Urban

Redevelopment Authority (URA), key highlights of the summit

include the WCS Mayors Forum, the Lee Kuan Yew World City

Prize and the WCS Young Leaders Symposium.

Thai Water Expo 2022

14-16 Sep 2022

World Cities Summit

31 Jul-3 Aug 2022

Venue: Sands Expo & Convention Centre, Marina Bay Sands,

Singapore

The biennial World Cities Summit (WCS) is a platform for

government leaders and industry stakeholders to address

SWA WELCOMES NEW

MEMBERS

(joined from May to June 2022)

ORDINARY

1. Bentley Systems (Singapore) Pte. Ltd.

2. Itron Metering Systems Singapore Pte. Ltd.

3. H2MO Pte. Ltd.

4. Lian Shing Construction Pte. Ltd.

5. ASK M&E Pte. Ltd.

ASSOCIATE

1. Teamsolve Pte. Ltd.

2. Sata Kogyo (S) Pte. Ltd.

3. Obayashi Corporation

2022 EVENTS CALENDAR

2022 will be bustlingly filled with water shows, technology and business

missions, networking events and webinars. SWA has an exciting and

interesting line-up of water series with PUB, Singapore's national water

agency.

Download the SWA Event Calendar at https://www.swa.org.sg/wp-content/

uploads/2019/11/Events-Calendar-2022.V8.pdf

To stay connected to the latest updates on SWA, visit https://www.swa.org.sg,

or follow us on LinkedIn or Telegram.

INTERESTED TO JOIN SWA?

SWA welcomes all organisations who are actively involved and interested

in the water and wastewater industry to join the agency as either Ordinary,

Associate or Institutional members.

Sign up at https://www.swa.org.sg/membership/sign-up-online.
---
ON OUR RADAR

NX FILTRATION

SUPPLIES DNF

MEMBRANES

TO ENVIROGEN

for industrial water

recycling in the UK

clarification, sand filtration, ultrafiltration

and reverse osmosis. The system has a

low chemical requirement and delivers

significant energy savings, making it an

ideal choice for surface water treatment,

waste stream recycling and providing

rejection of dissolved solids."

The current set-up has a capacity of

45m 3 /h and has been designed in a

modular way, facilitating efficient future

extensions to enlarge the capacity.

Envirogen and NX Filtration previously

worked together on projects related

to microfiltration for a beet filtration

application and ultrafiltration for an

industrial water treatment project in the

UK.

Envirogen, a provider of industrial

water treatment solutions and process

filtration, has selected NX Filtration for

the delivery of its direct nanofiltration

(dNF) membranes for an industrial water

recycling project for a manufacturer of

advanced materials and components in

the North of England. This project follows

previous deliveries of microfiltration and

ultrafiltration membranes from

NX Filtration to Envirogen.

The manufacturer was looking for

an optimal and sustainable solution

enabling them to recycle more than 75%

of their wastewater stream. Envirogen

piloted various technologies on-site

and selected NX Filtration's hollow fibre

dNF membranes as the "most effective

and sustainable solution" to remove

or reduce key contaminants from the

wastewater and enable the reuse at the

manufacturer's facilities.

Billy Denyer, European CEO at Envirogen,

commented: "We are pleased to expand

our cooperation with NX Filtration

from previous engagements based on

micro- and ultrafiltration to their dNF

membranes.

"This dNF membrane is used as a

single-step replacement for multiple

process stages, including coagulation,

Gerard Ruiter, sales manager of

NX Filtration, concluded: "We are pleased

to continue and further intensify our

relation with Envirogen. Having started our

cooperation in 2020 based on our microand

ultrafiltration membranes, we are

proud to now also supply our innovative

membranes based on dNF technology.

"As such, we can contribute to an

efficient and sustainable water recycling

process for this important project in the

UK. Water recycling is a very powerful

tool in managing companies' water

footprint. Globally, we experience growing

acceptance for this sustainable circular

economy principle. Our dNF technology

is perfectly suited for both municipal and

industrial water recycling."

54 WATER & WASTEWATER ASIA | JULY/AUGUST 2022
---
ON OUR RADAR

DE NORA

UNVEILS

SOLUTIONS

for PFAS treatment

Providing simplified solutions for complex

issues, De Nora unveiled standard designed

systems to target per- and poly-fluoroalkyl

substances (PFAS) in water treatment. The

preconfigured SORB systems employ a

contaminant removal approach to reduce

PFAS in water sources to a non-detectable

level, including ion exchange (IX) and granular

activated carbon (GAC).

De Nora has also planned a pilot testing

for its regenerable, multi-use IX in the

coming months, which can be paired

with electrochemical advanced oxidation

processes (EAOP) to prolong resin use and

reduce the need for media disposal.

Nick Armstrong, global product manager

at De Nora Water Technologies,

explained: "Drinking water is believed to

be the primary source of human PFAS

exposure, with some data estimating

upwards of 100 million Americans

impacted. Access to clean and safe

drinking water is a basic human right,

and we want to ensure that our partners

can effectively and efficiently provide a

solution that meets that.

"The SORB product line has been a trusted

name for 20 years and is known for making

things easy, start to finish. We look forward

to supporting providers on this new journey,

easing any uncertainty associated with

upcoming PFAS regulations and identifying the

most effective solutions for their community."

The updated product line for PFAS treatment

includes the SORB FX for IX resin and SORB

CX for GAC. Systems are pre-engineered

and optimised on a local level, depending

on variables such as flow, seasonality and

targeted contaminants. In-house engineers

also can take budgetary concerns into

consideration during the design phase,

providing solutions that cater to operating or

capital expense goals or availability. EAOP and

ClorTec onsite sodium hypochlorite generation

(OSHG) are forthcoming as an add-on for

final disinfection of resin media, available as

a recurring aftermarket service or permanent

installation.

"Though GAC and IX are highly efficient, they

are also criticised due to the environmental

impact associated with disposal, which is

typically incineration," Armstrong added. "Our

regeneration package will set the standard

for the future of water treatment, allowing

utilities to promise safety in water and the

environment, simultaneously."

De Nora stressed that SORB contaminant

removal systems are 99.9% effective, with

modernised features designed to improve

processes from installation to operation. Each

vessel is designed with efficiency, including

advancements such as the SORB OTTO Drain

for easy maintenance and access, as well as a

symmetrical design for flexible installation.

Each unit is configured with features that

allow for all maintenance to be executed

externally from the tank, reducing the need

for permits, added personnel or the removal

of the media. IX resin requires minimal

contact time and is formulated specifically for

combatting both short- and long-chain PFAS

compounds.

WATER & WASTEWATER ASIA | JULY/AUGUST 2022 55
---
ON OUR RADAR

BIO-UV GROUP

INTRODUCES

triogen O3Flex

for industrial

applications

French water treatment specialist BIO-UV

Group has launched triogen O3Flex for

water disinfection and oxidation. Designed

for industrial applications, triogen O3Flex

supports water pre-treatment processes,

clean-in-place (CIP) and process water.

A 3-IN-1 SYSTEM

Ozone features a strong oxidising

ability and is known for its clean nature,

leaving no by-products only oxygen

after the treatment. As such, it is being

used in the field of water treatment to

eliminate bacteria, viruses and organic

contaminants for pure and clean water.

The triogen O3Flex solution comprises

oxygen concentrator, ozone generator,

and an injection system, therefore

meeting the needs of various applications

in the industry. In operation, the ambient

air is drawn to the oxygen concentrator

where the oxygen molecules are

converted into ozone molecules. The

generated ozone is then injected into the

water through the injector. The ozone

is thus diluted in the water for a fully

disinfected water, free of bacteria or

viruses, ready for use.

MULTIPLE USES OF OZONE

Besides water treatment and pretreatment,

triogen O3Flex can be

deployed in the water polishing phase

where ozonated water acts as an

oxidant and allows for high disinfection

and oxidation of organic and inorganic

components. It can also be used to

securely process, non-drinkable water for

use in a variety of manufacturing processes

and production facilities.

For CIP applications, triogen O3Flex can

be employed to disinfect interior surfaces

of pipes, tanks, equipment or filters that

require high levels of hygiene.

As the gas has a relatively short lifespan,

once released into the water, it will decay

rapidly. As such, it does not generate

by-products and will not leave any ozone

residue in the water, BIO-UV Group

claimed.

MEETING QUALITY STANDARDS

Due to its flexibility, triogen O3Flex can be

installed and operated in many industrial

environments. Its compact design makes

it ideal for small spaces and retrofit

applications.

The triogen O3Flex system is conceived

with a fan-assisted air-cooling system. All

materials are made of corrosion-resistant

stainless steel, including all electrodes of

the ozone module.

BIO-UV Group's

triogen O3Flex

system

56 WATER & WASTEWATER ASIA | JULY/AUGUST 2022
---
ON OUR RADAR

OVARRO POLLUTION EARLY-

WARNING TECHNOLOGY

chosen by Anglian Water

The system accepts data at a range of

monitoring frequencies with algorithms being

applied to understand and characterise

'normal' pumping station behaviour. This

training and testing approach to machine

learning is becoming increasingly important to

water companies, giving them more actionable

insight and utilising data that may not have

been fully harnessed otherwise.

A screenshot of the BurstDetect dashboard

Anglian Water has adopted a new cloudbased

technology to detect rising main sewer

bursts. The UK utility has implemented an

early-warning system BurstDetect from

Ovarro, as part of its drive to eliminate serious

pollution events in its region by 2025.

Through a dashboard, BurstDetect provides

an overview of system status together with

current and historical burst alerts. If data

suggests a potential burst, an alert is sent to

control rooms for early response.

Such early action can prevent the escape of

sewage and resulting environmental damage,

ensuring companies fulfil their environmental

obligations and avoid fines, regulatory

penalties and prosecutions and long-term

reputational damage.

George Heywood, analytics innovation

lead for Ovarro, said: "We are proud that

Anglian Water has become the first utility to

implement BurstDetect as part of its pollution

prevention strategy. The technology was

developed in collaboration with UK water

companies, in direct response to the sector's

challenge to cut pollution sustainably and

cost-effectively.

"Rising main sewers pose a challenge to

water companies. The pumped wastewater

they convey can have a catastrophic

ecological impact in the event of a burst,

causing major disruption to customers,

resulting in expensive tankering and clean-up

operations and serious reputational damage

– such events are just not acceptable in the

eyes of customers and regulators."

BurstDetect uses algorithms to detect bursts

using existing data from wastewater pumping

stations. The technology can be applied

to pumping stations and requires minimal

hardware with the aim of achieving 100%

coverage in networks being monitored.

Claire Moore, head of water recycling

networks at Anglian Water, explained: "With

'zero sewage pollution' as one of our 12

ambitious business goals, we have committed

to eliminating serious pollution by 2025,

and reducing the number of less significant

incidents by at least 45%.

"Working with the supply chain to develop

innovation and adopt new solutions will

revolutionise our ability to meet these goals.

Implementing BurstDetect will enable us to

respond rapidly should a rising main burst

occur, and take proactive action to prevent

pollution and protect the environment."

While this is Anglian Water's first purchase

of a wastewater management solution from

Ovarro, the two organisations have worked

in partnership to reduce leakage for many

years, with the utility installing Ovarro acoustic

loggers across its networks of water mains.

This collaboration led to the development of

the game-changing remote leak detection

device Enigma3hyQ and cloud-based analytics

platform LeakVision, which saw Anglian Water

and Ovarro clinch the award for Alliancing and

Partnership Initiative of the Year at the Water

Industry Achievement Awards 2021.

WATER & WASTEWATER ASIA | JULY/AUGUST 2022 57
---
ON OUR RADAR

GRUNDFOS INKS MOU

WITH NGEE ANN POLYTECHNIC

to develop sustainable solutions

Grundfos has signed a memorandum

of understanding (MoU) with Ngee Ann

Polytechnic (NP) to co-develop energy

and water efficient smart solutions that will

contribute to a more resilient and sustainable

built environment across South East Asia,

through collaboration, talent development

and sustainability education.

To support sustainable urbanisation in South

East Asia, Grundfos and NP will jointly explore

and develop smart sustainable solutions for

the region's built environment, as well as

drive initiatives focused on the United Nations

Sustainable Development Goals (SDGs) such

as SDG 6 for Clean Water and Sanitation and

SDG 13 for Sustainable Consumption and

Production Patterns for climate action.

The partnership will see both parties

contributing complementary expertise,

knowledge and talent that will advance

sustainability efforts for the commercial

building industry. NP will facilitate the various

touchpoints between academia and industry

while Grundfos will tap into its extensive

network and industry knowledge to provide

staff and students with the necessary

resources and industry opportunities to

co-develop innovative sustainable solutions.

These solutions will be subsequently

implemented across the NP campus as well

as Grundfos' facilities.

Lim Kok Kiang, principal and CEO of Ngee

Ann Polytechnic, commented: "We believe

the built environment presents important

opportunities for students to use designthinking

approach and smart technologies

to better create and manage living and

working spaces sustainably. Working with

Grundfos will empower both students and

staff with the necessary resources and

opportunities to innovate in the area of urban

sustainability."

To achieve this, the three-year partnership

will focus on sustainability education and

talent development. Grundfos and NP will

look to roll out a range of solution packages,

projects, events, courses and trainings to

proactively promote smart sustainability to

the industry, which includes webinar sharing

sessions, seminars and conferences.

To build talent pipelines and foster talent

development, Grundfos will also be working

with NP across various programmes such

as mentorship programmes, book prizes,

student projects and internships.

Jason Tang Chih Wei (third from left), director

of Environmental & Water Technology Centre of

Innovation at Ngee Ann Polytechnic; and

Kenth Hvid Nielsen (second from right), regional

managing director, Asia-Pacific, commercial

buildings, Grundfos

Kenth Hvid Nielsen, regional managing

director, Asia-Pacific, commercial buildings,

Grundfos, continued: "With sustainability

being a key part of Grundfos' DNA,

today's partnership demonstrates our

commitment to introducing cleaner, more

energy-efficient technologies that can help

the built environment sector reduce its

energy consumption and overall carbon

footprint. We look forward to working with

NP to achieve that, by spurring innovative

thinking among our younger generations

that can help advance the entire region's

sustainability trajectory."

As part of NP's green campus initiatives,

Grundfos has worked closely with NP's

Environmental & Water Technology

Centre of Innovation to revisit the heating,

ventilation and air conditioning system

design for one of the campus buildings and

subsequently retrofitted the system with

its Distributed Pumping solution. The new

solution provided sustainable cooling for the

building, pushing the existing Green Mark

Platinum building to achieve greater energy

efficiencies while still maintaining a cool,

comfortable environment throughout the

building. The project also saw a 54% pump

system kWh energy savings.

58 WATER & WASTEWATER ASIA | JULY/AUGUST 2022
---
ON OUR RADAR

SAMOTICS REDUCES

INDUSTRIAL COSTS

AND CO2 EMISSIONS

with new energy

efficiency solution

Armed with these insights into electrical

consumption and performance, SAM4 Energy

provides industrial companies access to a

24/7 energy audit. It generates advice on

how to reduce electrical inefficiencies and,

once advice is implemented, SAM4 Energy

tracks subsequent energy savings and carbon

offset to demonstrate return on investment.

The energy efficiency platform also provides

users with a visually interactive reporting

tool, enabling insight into the performance

of assets across a variety of performance

metrics.

Hoogeweegen continued: "Heavy industries

are producing hundreds of millions of data

points every day across critical assets. For

years, manually harnessing the potential of

this data has been too costly and complex to

achieve. With the launch of SAM4 Energy, we

are delivering an accessible solution to the

market which provides greater insights and

actual solutions to electrical inefficiencies.

This promises to significantly reduce global

emissions."

Samotics' SAM4 Energy is a continuous monitoring system for industrial equipment efficiency

Samotics has launched SAM4 Energy, the "With sustainability high on the agenda for

company's latest energy-efficient product, organisations across the industrial sector,

to the market. By providing detailed

improving electrical efficiency should be

performance and efficiency insights across a key pillar in all sustainability strategies

industrial assets, Samotics' users can now worldwide."

realise energy savings of 10-15% and reduce

CO2 emissions.

SAM4 Energy is the latest innovation within

the SAM4 product suite which also includes

Jasper Hoogeweegen, CEO at Samotics, SAM4 Health, Samotics' artificial intelligence

commented: "Heavy industry is the world's (AI)-based asset health monitoring system

largest energy consumer, with most of this for AC motors and rotating equipment.

energy usage associated with equipment

driven by electric motors. Yet, between 20- This end-to-end solution goes beyond

40% of the electricity used by these motors traditional power logging and energy

is wasted due to operational inefficiencies, reporting to acquire data, identify energy

process-machine mismatches and developing waste, provide concrete recommendations

damage.

and demonstrate return on investment.

Samotics has launched SAM4 Energy

to market following successful industrial

customer trials. One trial deployment identified

a foul pump at a sewage pump station that was

operating at a very low efficiency caused by

low flow operation. Following automaticallygenerated

advice to open a partially-closed

discharge valve, yearly electricity savings of

40-55% were achieved for the single pump

which equated to €15,000 (US$15,028) and

30 tonnes of CO2.

The SAM4 Energy solution strengthens

Samotics' existing suite of tools for

addressing industrial issues related to

energy efficiency and asset health. SAM4

Energy is ready to be deployed at scale in

the field, providing a cost-effective means for

companies to achieve greater sustainability

and have a positive impact on reducing

energy consumption and costs. The ease and

speed of implementation provide companies

with a clear means to start addressing these

large challenges today.

WATER & WASTEWATER ASIA | JULY/AUGUST 2022 59
---
SNEAK PEEK

users consuming more than 1,000 tonnes of

water per month in July and incentivising large

industrial water users to use reclaimed and

desalinated water to improve the overall water

environment in Taiwan.

TAIWAN

INTERNATIONAL

WATER WEEK

returns this October

Building the future of water sustainability

with smart water solutions.

The Taiwan International Water Week (TIWW)

will be returning this October with a focus

on achieving water sustainability with smart

technologies and providing a gateway for

global enterprises to enter the Taiwan and

Asia markets.

It has become a global consensus to

cherish our natural resources and pursue

environmental sustainability and with the

theme of this year's Earth Day "Invest in

our planet", governments and enterprises

around the world are encouraged to promote

and implement environment, social and

governance (ESG) to realise the sustainable

future of a green economy.

Among all natural resources, water is both

vital for people's lives and the foundation of

economic development. However, according

to a United Nations report, Taiwan is listed

as the 18th country at risk of water scarcity

in the world due to its narrow topography,

crowded population, uneven distribution

of rainfall and ever-increasing demands for

industrial water.

The Taiwan government has then drawn

up a nearly US$5 billion budget for water

infrastructure, including desalination

plants and water-recycling plants (WRPs).

Furthermore, the government has planned

to impose water conservation charges on

As such, TIWW 2022 will demonstrate a

comprehensive range of water solutions and

discuss global industry trends. In addition,

the event will host six exhibition areas –

spanning the themes of Reclaimed Water

and Treatment; Transport and Storage;

Smart Water Technology; Water Purification

Equipment and Drinking Water; Process

Control Technology and Automation; and

Green Infrastructure, Public Sector and

Related Services – to highlight the complete

industry chain of water.

The Water Resources Agency (WRA), a division

of the Ministry of Economic Affairs in Taiwan

(MOEA), will host events like international

forums. Visitors to TIWW 2022 may also

attend one-on-one procurement meetings,

new product launches, technical seminars

and workshops and press conferences. For

exhibitors, these events are poised to help

maximise their global exposure and foster

collaboration with visitors and industry

professionals worldwide.

Thus far, the TIWW team has received

applications from players in both

government authority and industry,

including WRA of MOEA, the Public Works

Department, Taipei City Government, the

Industrial Technology Research Institute

(ITRI), Chuan Yi Electric Machinery Works,

EnvironLink Corporation and Gungdai

Technology. Furthermore, the Functional

Water Association of Taiwan and the Taiwan

Environmental Manufacturers Association

(TEMA) will also participate in TIWW 2022 by

organising pavilions.

Organised by the Taipei World Trade Centre

(TWTC) and co-organised by the Taiwan

External Trade Development Council (TAITRA),

TIWW 2022 is scheduled to take place from

13-15 Oct 2022 at the TWTC.

60 WATER & WASTEWATER ASIA | JULY/AUGUST 2022
---
SHOW REVIEW

Vijaykumar Subramaniam, regional sales manager – ASEAN region, Danfoss, elaborated on using high-pressure pumps for small- and medium-sized SWRO applications

ENERGY EFFICIENCY

takes spotlight at Danfoss webinar

Supporting desalination in a sustainable and energy-efficient manner.

The world is faced with greater water

shortages due to overexploitation,

water pollution and more extreme

weather patterns as a result of climate

change. In search of efficient and

climate-friendly solutions to address

the shortage of freshwater resources,

Danfoss, in collaboration with Water

& Wastewater Asia, hosted a webinar

titled Achieving Energy Efficiency in

Desalination, Water and Wastewater

Treatment Plant earlier in May.

The webinar shed light on two Danfoss

solutions – the APP high-pressure

pumps and iSave energy recovery

devices (ERDs) – that are designed

to enhance energy efficiency in the

desalination process while enabling

water utilities and wastewater treatment

plants to produce fresh water in a more

sustainable and energy-efficient way.

Speaking at the webinar was

Vijaykumar Subramaniam, regional

sales manager – ASEAN region,

Danfoss, who highlighted that the APP

pumps offer energy efficiency of up

to 92%, making them one of the most

energy-efficient high-pressure pumps

available in today's market. Designed

for reverse osmosis, the APP range

of axial piston pumps is available in

various sizes from 0.6-86m 3 /h for use

in small- and medium-sized seawater

reverse osmosis (SWRO) facilities.

He explained: "The energy efficiency

rate of a centrifugal pump is around

60-65%, and operators using reverse

osmosis for brackish water will require

lower pressure at about 10-13 bar. As

for seawater desalination, the average

is about 50-55 bar. Energy usage

is equivalent to operating pressure.

Hence, every single kilowatt does

matter as the energy cost accounts

for almost 60% of the operating cost,

which is why having an efficient highpressure

pump is important for Opex."

As for iSave, it is a compact 3-in-1

ERD optimised for SWRO applications.

Available in sizes from 21-70m 3 /h,

Danfoss iSave can capture wasted

pressure from the membrane reject

flow and transfer it directly to the

membrane feed flow. And when

paired with Danfoss APP pumps, the

combination can deliver constant flow

throughout long service life.

The compact iSave can be installed

both horizontally and vertically,

providing system designers with

greater design flexibility with less

pipework while offering a wide range

WATER & WASTEWATER ASIA | JULY/AUGUST 2022 61
---
SHOW REVIEW

of flow options which can be extended

to cover even larger flows by running

two or more iSave devices in parallel.

The device is designed for automatic

operation and is equipped with a rotorspin

that is controlled by the electric

motor, thus eliminating the risk of

overflow and overspin during start-up

and operation.

Subramaniam further shared a case

study which saw the deployment of

both the iSave ERDs and APP pumps

at a multi-island resort complex in

the Maldives. For this project, the

contractors designed four SWRO

trains that supply potable water to all

three islands. Each train is equipped

with a capacity of 500m 3 /day and is

built around an APP 22 and iSave 40.

Due to the compact design and

configuration, the APP pumps and

iSave ERDs were also adopted by

Fluence, which fitted the solutions

in multiple of its containerised units

for an SWRO plant in South Africa.

Furthermore, the pumps can be

employed for wastewater recovery

that requires high pressure, as he

elaborated: "Especially in China,

there is a requirement of zero

liquid discharge or minimum liquid

discharge. This involves concentrated

waste being pushed through the

systems at a very high rate.

"Danfoss' pumps are equipped with

an operating pressure at about 70-80

bar. We also offer certain models that

operate at 120 bar, if required."

Another speaker at the webinar

was Glenn Lemoncito, business

development manager – water and

wastewater – Asia-Pacific region,

Danfoss, who shared more on the

Danfoss VLT AQUA Drive FC 202

variable frequency drive (VFD). He

said: "VFD is a system that varies the

speed of the motor which is connected

to the pump. How is this related to

energy efficiency? It means using

less energy to complete the same job

but, in the process, reducing energy

bills and minimising pollution. Hence,

energy efficiency is geared more

towards Opex rather than Capex."

As such, Lemoncito encouraged

plant operators to take harmonic

mitigation and heat management into

their consideration when selecting

their ideal VFD, as VFD creates heat

or energy loss of approximately 2%

of power rating. The general rule of

thumb he recommended was that

every 1kW of heat will require 0.4kW of

cooling or air-conditioning.

He cited an example of a project

in which Danfoss worked with the

Kuching Water Board in Malaysia,

where the latter had six drives

running at 710kW. The installation

of Danfoss Back Channel Cooling

solutions, which had a 90% backchannel

cooling effect, has enabled

the Kuching Water Board to achieve

energy savings in air-conditioning of

about 89%, or US$26,630 per year,

he said.

"Danfoss' drives have the smallest

footprint in the market," he concluded.

"By having a compact drive allows

operators to house a smaller panel

space and electrical room, hence

offering savings on electrical

room cost. This also translates to

fewer air-conditioning installations

because up to 90% of the drive's

heat loss is removed directly outside

the installation room, therefore

achieving even greater energy savings

throughout the facility."

Glenn Lemoncito,

business

development

manager – water

and wastewater –

Asia-Pacific region,

Danfoss, explaining

the Danfoss Back

Channel Cooling

solutions, which

offer up to 90%

reduction in airconditioning

system

and energy use for

air conditioning

62 WATER & WASTEWATER ASIA | JULY/AUGUST 2022
---
WHAT'S NEXT

EVENT CALENDAR

2022 AND 2023

2022

AUGUST

4 – 6 Aug

LankaWater

Colombo, Sri Lanka

31 Aug – 2 Sep

Water Korea

Seoul, South Korea

SEPTEMBER

8 – 10 Sep

DanangWater

Da Nang, Vietnam

11 – 15 Sep

IWA World Water Congress &

Exhibition

Copenhagen, Denmark

14 – 16 Sep

ThaiWater

Bangkok, Thailand

14 – 16 Sep

Pumps & Valves Asia

Bangkok, Thailand

20 – 22 Sep

Enlit Asia

Bangkok, Thailand

OCTOBER

5 – 7 Oct

IndoWater

Jakarta, Indonesia

19 – 21 Oct

Pump & Valves Indonesia

Jakarta, Indonesia

20 – 22 Oct

LaoWater

Vientiane, Laos

NOVEMBER

3 – 5 Nov

MyanWater 2022

Yangon, Myanmar

3 – 5 Nov

Pump+Valve Myanmar

Yangon, Myanmar

8 – 10 Nov

Water Loss Asia

Virtual

16 – 18 Nov

CamWater 2022

Phnom Penh, Cambodia

9 – 11 Nov

VietWater

Ho Chi Minh, Vietnam

29 Nov – 2 Dec

Digital Water Summit

Bilbao, Spain

DECEMBER

7 – 9 Dec

Asia Water 2022

Kuala Lumpur, Malaysia

2023

JANUARY

15 – 19 Jan

13th IWA International Conference

on Water Reclamation and Reuse

Chennai, India

16 – 18 Jan

World Future Energy Summit

Abu Dhabi, United Arab Emirates

FEBRUARY

1 - 3 Feb

Interaqua 2023

Tokyo, Japan

21 – 22 Feb

World Water-Tech

Innovation Summit

London, United Kingdom

MARCH

22 – 24 Mar

Water Philippines

Manila, Philippines

*Due to the COVID-19 pandemic which has resulted in

closed borders and travel restrictions, please check the

events' websites for the latest updates and changes.

WATER & WASTEWATER ASIA | JULY/AUGUST 2022 63
---
ADVERTISERS' INDEX

INDEX OF ADVERTISERS

ADVERTISER

PAGE

DUPONT

OBC

GUANGDONG LIANSU TECHNOLOGY INDUSTRIAL CO., LTD 1

HARBIN FIRSTLINE ENVIRONMENT TECHNOLOGY CO., LTD 37

LACROIX SOFREL 9

PULSAR MEASUREMENT 45

PUMP & VALVES INDONESIA 3

TSURUMI MANUFACTURING CO., LTD

IFC

VEGA INSTRUMENTS (SEA) PTE LTD

IBC

WATER LOSS ASIA 13

WWA HOUSE AD 33, 64

FOLLOW US

@waterwastewaterasia

64 WATER & WASTEWATER ASIA | JULY/AUGUST 2022
---
Water Solutions

Solving global challenges

for purification, separation, conservation & reuse

We offer a broad portfolio of globally recognized,

industry-leading solutions to help you produce, purify and extract

some of the world's most commercially important products.

Industrial Water & Desalination

We help manufacturers produce

the water that advances their

operations, while helping reduce

waste and improve energy

efficiency.

Municipal Water

We offer expertise and advanced

technologies that enable municipal

water-treatment solutions such as

wastewater treatment, drinking-water

production, and trace contaminate

removal.

Life Sciences & Specialty Processing

From complicated separations for

drug development and crop-to-table

processing solutions to enabling

protein-rich diets and innovative

healthcare solutions, our broad range

of Life Science products improve the

quality of life for humans, plants, and

animals in our world.

Residential & Commercial

We offer a range of proven residential

water-treatment options

for clean and safe drinking water,

leading to a better quality of life

and peace-of-mind.

Emerging Innovations

Our novelty solutions include functionalized nanofibers for high capacity

purification in bio and microelectronic industries, as well as lithium-selective

membranes and resins. The smart element integrated within our WAVE

software provides unique solutions for consumers in every industry.

Possibility Flows With Us.

dupontwatersolutions.com

email: dws-enquiry.apac@dupont.com

Copyright © 2021 DuPont. All rights reserved. The DuPont Oval Logo and DuPont are trade marks of E.I. du Pont de Nemours and Company or its affiliates.