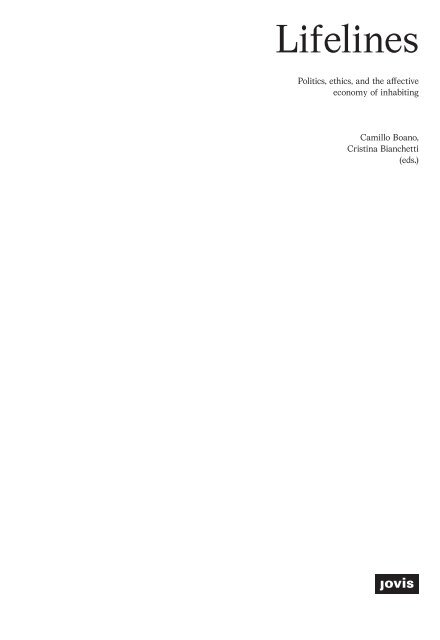 Lifelines
ISBN 978-3-86859-753-0
ISBN 978-3-86859-753-0
SHOW MORE
SHOW LESS
Create successful ePaper yourself
Turn your PDF publications into a flip-book with our unique Google optimized e-Paper software.
Lifelines

Politics, ethics, and the affective

economy of inhabiting

Camillo Boano,

Cristina Bianchetti

(eds.)
---
Acknowledgments 6

Lifelines: the stakes of life in the project, Camillo Boano 8

Cartographies of protection, Cristina Bianchetti 20

Part 1

Promise and failure of infrastructures

Broken distribution logistics inspire a shorter ecological

supply chain, Nina Rappaport 30

Coca, cattle, and cities: fluid lifelines in the frontier of

Caquetá, Colombia, Isabel Peñaranda Currie 42

Ecological lifelines, Giulia Ravera, Lorenzo Rabagliati,

Andrea Sanguedolce 56

Production lifelines: Suzhou's resistive lifelines and

mutual support, Luis Martin Sanchez 74

Beyond the transport infrastructure: the paradigm of

accessibility, Federico Cavallaro, Alberto Dianin 88

Public Works' Housing Monitor: digital lifelines for

urban advocacy in Lebanon, Nadine Bekdache,

Abir Saksouk, Camillo Boano 106

Culture and heritage infrastructure as 'lifelines'

in east London, Clare Melhuish 118

Part 2

Spaces of lifelines and lifelines of spaces

Bodily knowledges and spatial production practices

in the Ecuadorian Amazon: a decolonial analysis,

Fernanda Luzuriaga Torres 134

Misappropriation and occupation: lifelines and artistic

practices for the city of Beirut, Federica Doglio, Camillo Boano 152

Autonomous spaces in Berlin: cynical resistance tactics

in the neoliberal city, Lorenza Manfredi 166
---
Taranto: a system of necrotized spaces protecting life,

Cristina Bianchetti, Alessandra Cusanno, Agim Kërçuku 182

Fracture and resistance lines of modern designed spatial

infrastructures, Elisabetta M. Bello, Maria Teresa Gabardi 196

Contradictions in housing: lifelines in Santiago de Chile,

Valentina Saavedra Meléndez, Emanuel Giannotti 208

Part 3

The dark side of protection

Borgo Mezzanone: vicious circles that keep informality together,

Cristina Bianchetti, Antonio di Campli, Camilla Rondot 220

The ambivalent nature of productive lifelines: values without

waste and landscape without inhabitation, Ianira Vassallo,

Luis Martin Sanchez 238

The Beik infrastructure of loyalists: Sawfar's fragmented

lifelines, Hanadi Samhan, Hoda Mekkaoui 254

Viral politics: protection lifelines granting differentiated

conditions of vulnerability during the Covid-19 outbreak

in Brescia, Italy, Marco Alioni 266

Inhabiting Tell Serhoun: holding places operated to

confront the uninhabitable, Joana Dabaj, Camillo Boano,

Ramona Abdallah 280

Part 4

Towards a permanent seminar

The afterlife of Lifelines 298

Editors' and authors' biographies 302
---
Lifelines: the

stakes of life in

the project

Camillo Boano

8
---
Lifelines are many things. A research project whose results you are

about to read in the following pages and whose ambitions include trajectories

that are here only imagined.

Lifelines is a research project that has involved researchers from various

disciplines, with different experiences, geographies, and interests

related to that system of spaces, dispositifs, and relationships that

is centered around life, the latter being the focus of space, policies, and

projects. It is a research project that revolves around urban and architectural

spaces confronted with crises constituted by protection and immunity

and that clashes with a new era that many have defined as computational

and pandemic, in which spatial tensions between life and

death, finiteness and futurity, difference and contingency are recoded

and through which it tries to define other trajectories suggesting "kinship

of an unexpected nature," as Haraway would say. 1

Lifelines is a research project born in confinement: shared and conceived

during those months of lockdown in the spring of 2020 that

made visible and accelerated the awareness of crises – multiple, overlapping,

historically determined – whose stake is life itself. But – like

all thoughts in confinement – it is in debt of lucidity, it is undisciplined,

it is still incapable of tracing the perimeters, the thicknesses. It sees a

broader project, but not clearly enough, because it is clouded by unease,

despair, the aftermath of the health emergency, the frustration of living

on a planet that is irreversibly damaged and in troubled times.

Lifelines is a research carried out using a language that was negotiated

in the interstices of the possible. It follows up on previous research, reformulating

the centrality of life that was underlying but invisible; it recodes

experiences in territories that are no longer accessible due to the

pandemic, connecting relationships without defining them too much,

leaving space for invention and interweaving. It misses the target, allows

shifts and approximations by dressing up with different attributes; it is

modelled in the holding capacities of alliances; it is oriented towards reformulating

the calculating spectrum of academic impact and frames

co-productions, co-writings, and dialogues at the center.

Lifelines is inextricably linked to the contemporary socio-ecological crisis.

It mobilizes thoughts and reflections on that present which Achille

Mbembe has called "brutalism" in a perpetual struggle against life; a

planetary condition, "a time without guarantees or promises, a time obsessed

with its own end" and a process of 'exhaustion' that produces

"frontier bodies" 2 and "chocking subjects" 3 in a constant dialectic between

control and abandonment, entanglement and separation, immunity

and exposure.

Lifelines is a way to change the agenda and the way we look for answers

in the biopolitical present of architecture. Lifelines refocuses the

relationship between life, its protection, and its exposure to death, destruction,

and finiteness. In other words, since life is at the center of the

making and becoming of cities, space, and collective existence, the current

conditions force us to think about what the biopolitical project behind

the pandemic imaginary might be. Life at the crossroads of the

political and economic practices of space, to paraphrase Esposito, in the

9
---
Cartographies of

protection

Cristina Bianchetti

20
---
The sixteen cases of Lifelines that constitute the empirical work of this

research have little in common. Except for two characteristics: they reveal

some form of protection, and they are situated in physical and social

territories that are interstitial, lateral, negligible. The second condition

can be easily recognized: even when it comes to Berlin or Milan,

the processes unfold in the cracks in the lines of transformation. On the

contrary, the link with protection is controversial.

What is meant by the term lifelines is explained by Camillo Boano in

the introduction. Here we can add that lifelines is also a space of protection

with an active and productive character of social ties. A complicated,

extended space, difficult to handle.

Extension of the concept: protection of life

We are living in a moment marked by the convergence of a double crisis,

health and climate, both of a radical nature that we could hardly

have imagined living through. We have talked about this for a long time

and will continue to do so. In a time like this, any idea of the future

(any plan, policy, action, project, hope, image or projection of the future,

any lifelines) cannot but have the protection of life at its heart. And

since life (like death) is kept within the confines of the body, it is the

body that protection is concerned with, an encumbrance body, active in

space. Not an abstract, smooth, polished body, or an incorporeal body.

But a body that is individuated, sexualized, marked by race, age, ungrammaticalities,

capacity, incapacity, misunderstandings, scars, grafts,

technical manipulation, complicity with technological regimes. An encumbrance

body in space: with its weight, posture, intonation. Putting

the body under protection reveals the deception of universalism, the deception

of any forced recomposition of a humanity united in vulnerability

and fear.

Therefore, the protection of life is first and foremost the protection of

bodies. Bodies of individuals, animals, plants, air, water, and soil. Protection

is a broad concept, extended to the multitude of bodies that enable

our bodies to sustain themselves. This is not a statement taken from

one of the many texts that can be traced back to posthuman studies, it

is almost a new successful literary genre. It refers to a well-known passage

in The Ethics, where Spinoza writes that "to preserve itself the body

needs a great many other bodies." 1 Any idea of the future, therefore,

calls for an extended dimension of protection which, in wanting to protect

life, is above all protection of bodies.

It could be argued that in dealing with cities, landscapes, villages, and

rural areas, urban and architectural design (which is the specific field in

which this research is positioned) has always dealt with bodies: healthy,

sick, dead bodies; bodies to be removed, hidden, rescued; bodies fragile

due to deprivation, suffering, exile, remoteness, solitude, abandonment,

and dependence. Or emancipated, liberated bodies, hedonistic bodies,

bodies of pleasure, of enjoyment. It has dealt with bodies but on the rebound,

so to speak, without placing the body at the center of its critical

21
---
A scenario of a production downtime / scarcity

About two years before the coronavirus pandemic was even predictable,

when the world was abundantly overflowing but also filled with labor

abuse in hidden factories and unsustainable production, I was trying to

imagine a scenario of the impact of putting production on hiatus in the

United States for a year. Could we survive on what already existed in

the world? So much food wasted, so many clothes sent to landfills, so

many electronics built for obsolescence; could a pause in manufacturing

activities make the world ecologically sustainable? We would use fewer

resources; we would recycle, repair, reuse. Thrift shops would boom;

fashion designers would fail. We would burn less fuel and coal, resulting

in a cleaner environment and a more sustainable ecosystem, breaking

down the continuous circulation of goods of the neoliberal capitalist

rollercoaster.

And then the answer struck me: of course it would devastate the economy,

employment, wages, and well-being! However, as an economic

modelling exercise, it could lead to growth being measured not as GDP

but in the Gross National Happiness index. 4 But … then it happened like

a futuristic dystopia – Covid-19. Around mid-March 2020, many factories

and businesses, especially in China, where the pandemic originated,

closed their doors due to a lockdown. People lost jobs or were furloughed;

supply chains halted because there were not enough goods to

fill the cargo ships, so shipping fleets shrunk. 5 Governments initiated

economic stimulus packages, such as the Paycheck Protection Program

(PPP) in the US in April. Supermarket shelves emptied, people scavenged,

hoarding basics such as toilet paper and pasta, and raw material

production stalled. The workers, often people of color, who were deemed

as 'essential,' including supermarket staff, nurses, caregivers, public

transit, sanitation, and delivery workers, were on the frontlines even as

the infection rates of Covid-19 increased. Their lifeline was, to say the

least, precarious.

Emergency supplies like personal protective equipment (PPE), normally

used to protect against workplace hazards, quickly became identified

as essential protective gear against Covid-19 – hospital gowns, gloves,

masks, cleaning products, and hand sanitizer – and then disappeared.

This foregrounded the knowledge gap and lack of foresight regarding

the disturbances in the supply chain unimagined by the industrialized

West with its production stoppages; 6 trade regulations and shipping controls

falsely appeared to be seamlessly continuous, and everyone struggled.

Basic parts such as computer chips and semiconductors, produced

in just few factories in Taiwan and China to feed other assembly

lines, including automotive production, became precious goods. By relying

on few producer countries – China, Vietnam, and India – the capitalist

world was in a shaky situation. We have known for decades that

China's cheap labor and freer economic policies have influenced manufacturers'

migration away from their own shores, all for the sake of capital

growth. 7 Raw materials such as lumber, steel, cooper, and aluminum

became scarce or inflated in price. 8 Just as during the 2003 SARS crisis

Part 1

Promise and failure of infrastructures 32
---
Fig.1

Empty supermarket food

shelves. Photograph by

Nina Rappaport, March

2020.

and other natural disasters such as floods and fires, companies that

had adopted just-in-time and lean manufacturing methods to eliminate

warehousing had to increase their supplies, which requires capital. Scarcity

brought to light the fragility of the industrial commons, which was

no longer a common.

Returning to local production

On the other side of the production ecosystem, it is now evident that

slowness – slow food, slow fashion, local production, additive manufacturing,

and artisanal craft – is beneficial not just in times of crisis but

at all times. Localized production, of course, has its own productive history.

During the second industrial revolution when trade was opening

borders, French sociologist Le Play and Russian sociologist Peter Kropotkin

considered that decentralized industries benefited from regional

competition. The idea that villages should produce the goods they need

themselves created a self-sufficiency model with a local supply chain. 9

Following this concept, if today we produce things locally, on site, and

self-sufficiently, whether in the city, village, or territory, there could also

be a positive impact on the global economy, as every place would be

synchronized. In a new sustainable production paradigm, it would create

33
---
workers he had furloughed. They produced a large order of fabric masks

for nurses to wear over the mass-produced N95 masks.

Wing and Weft, the last glove manufacturer in New York, had their

staff complete some work from home because they couldn't fully start

up in their workshop until Phase 2 of the reopening. As part of the then

newly formed Costume Industry Coalition, they made masks to protect

people from Covid-19, including everyday masks, that were more elegant

than the standard surgical ones. Then they switched to fashionable

masks they call Face Gloves to maintain their cash flow. However,

for efficient production, the team must work face-to-face, as Katie Sue

Nicklos, the company's owner, points out. "The process is holistic with

constant communication and feedback," plus, she emphasizes, "working

alone from home takes away the fun of making things together." 12 At

Timberlake Studios, a costume company, they switched production to

masks, purchasing wholesale bolts of fabric, which they divided, washed,

and cut into ten-yard pieces that were sent to staff at home. They made

over 2,000 masks that they donated to groups like Doctors Without

Borders and the Navajo Nation Health Center in Arizona. Nevertheless,

Zoe stressed that producing at home was a "great stop gap, but not

a long-term solution […]. The whole reason to work in this business is

the camaraderie; in our workshop, we place our machines in a pinwheel

shape so everyone can talk to each other." 13

The community was also essential to Tidal, a flip-flop producer owned

by Tim and Tommy Gibbs in New Rochelle, who halted production at

their first knowledge of Covid-19. They couldn't convert to making PPE

products because their machines are product specific. Instead, through

the New York State, a subcontractor contacted Tidal to make straps

and foam padding for face shields. In their 10,000-square-foot premises

with machines generously spaced out and PPP funds to pay their workers,

the Gibbs used their production line downtime to research ways to

retool the company for future crises. The automated large-scale machinery

meant that workers could not produce from home, but they

gained a stronger realization that their factory, located in a residential

neighborhood, was a community. Tim Gibbs recognized that the workers

and the employers need each other. Working together towards common

goals created a support system since "the factory builds and stabilizes

community," 14 relying on consistent alliances between workers and

employers.

Adaptability and flexibility during this time prompted the Boyce Electronics

company to shift from subway electronic safety machines to

producing tens of thousands plastic face shields, and to invest in the design

and construction of a fully automated five-robot mask-making machine.

When the critical ventilator shortage occurred in New York, they

teamed up with investors, the city, entrepreneurs, and technology specialists

from MIT. They created a new design for ventilators by bringing

in Partsimony, a supply chain sourcing company, to identify local suppliers

and develop the product based on the materials available. As Rich

Mokulou said, "one of the key things we saw was that we could identify

local capacity to manufacture the ventilators. We had to look at

Part 1

Promise and failure of infrastructures 36
---
Fig.3

Container ship Evergreen

stuck in the Suez

Canal, Egypt, March 24th,

2021. Source: Wikimedia

Commons.

critical engineering decisions in the product and the supply chain, including

redesigning and changing the specifications to adapt. With new

technologies like additive manufacturing, products can be made locally,

or the design of circuit board can be customized to leverage the ability

of available electronic components." 15 This way, the product design cycle

can be tighter based on local material supply and sustainable through

local sourcing, resulting in a smaller carbon footprint. The FDA approved

the ventilators quickly, showing how a company can be nimble

for emergency response and produce locally in a more efficient and resilient

way.

Breakdown of the global supply chain

However, a product's distribution either by the public postal service or

a private global shipping company broke down during Covid-19. Many

post offices reduced staffing of their "essential" workers; some countries

didn't even accept packages during the first six months of 2020. 16 Shopping

in person became a dramatic experience. However, with consumers

already accustomed to fast delivery times, their expectations shrunk

at both a global and a local level. Private delivery companies, normally

the lifelines when governmental services fragment, had their own infrastructure

entangled in bottlenecks because of the reduction of air and

shipping cargo at a global scale.

As has been recounted, consumer spending on household products increased

in 2021, but the goods could not get to the homes and piled

up as the price of shipping a container increased tenfold, and the ports

37
---
credit becomes one of the only ways to weather the constant shocks for

a colono family trying to live in the frontier. This fact was observed by

scholars of the frontier, who noted that intermediaries who could provide

credit to colonos to buy necessary supplies exercised an almost unchecked

control over them. In the words of Molano, 15 "the instrument

of the crisis [of colonization] is generally credit. We are not talking here

about the habitual usury of institutional credit. The colono seeks credit

because he knows that it is the only exit of the vicious cycle and because

he has made improvements on his land and possesses pastures

or permanent crops, which constitutes a kind of saving or, if you will,

the only possible form of accumulation." 16 These frontier social systems

have been interconnected by lifelines – often in highly asymmetrical

contexts – of market relations and debt on the threshold of subsistence.

In this context, coca and cattle navigate these challenges, and suggest

why the line between these two economies is porous. One of the most

defining features is that both coca and cattle can subsist despite the

acidic and nutrient-poor soil of the Amazonian region. Their production

is decentralized, given that their inputs are few and do not rely on a

stable chain of supply. Just as important is that these are not perishable

items; once processed, coca can keep for long periods of time, and cattle

has no 'harvest' time; so in both cases it is possible to withstand fluctuations

in market demand. Relatedly, coca and cattle – as well as salted

cheese blocks, produced from the 'double-purpose' (dairy and meat)

cows – have relatively high values compared to their weight and can be

transported even when road infrastructure is poor or absent.

The deeper one lives in the frontier, the more vital a secure access to liquidity

is, even if this is not the most lucrative form of livelihood. The

most important aspects of coca were that it had a reliable buyer, a

steady price, a point of sale in the territory itself, and could provide a

steady – even as it diminished over the years – source of monetary income.

This dynamic is repeated almost exactly with cattle ranching and

milk sales: Revelo in his analysis of the success of Nestlé noted that "the

company quickly became the first large-scale buyer in the region because

it offered regular payments, consistent prices, and stable milk

collection. Small and mid-size cattle farmers were offered an efficient

and predictable way to sell their product at local collection points, thus

avoiding the trouble of transporting heavy containers of perishable milk

to urban centers, where prices were uncertain and demand limited." 17

The conditions of the coca and cattle ranching economies enabled

both of them to constitute the primary economic lifelines of the region.

These similarities all point to a shared resilience to risk and a fluid

adaptability.

It was for this same reason that the FARC themselves, when sensing a

decline in the coca market as it shifted towards the Pacific coast, helped

finance the transition to cattle ranching. The coca tax paid on every

gram of coca paste sold was in part used to launch the Fondo Económico

Social (Social Economic Fund), which was used to create a micro-credit

scheme for raising cattle, run by the local community action boards.

Furthermore, according to a former FARC intelligence commander, the

Part 1

Promise and failure of infrastructures 46
---
Fig.2

Puerto Camelias is a hamlet

on the Caguán river founded

during the peak of the coca

economy in the 1980s as

one of the markets where

coca was bought and sold

in this period. Now, its main

"export" is cattle and salty

cheese, pictured above.

Photograph by Isabel Peñaranda

Currie

FARC also invested in cattle ranching themselves as a form of storing

their "savings" and as a form of controlling strategic territory, and controlled

cattle sales with similar taxes as they had with coca. 18 In later

years, the FARC were reported to also have entered into the milk and

cheese market. 19

The centrality of liquidity and the access to markets on this (il)legal

commodity frontier necessarily implicated the urban sphere. As

Hough 20 noted, the commodity chains of this frontier are difficult to

analyze to the degree that the crops or cattle raised in the Caguán basin

are embedded in global commodity chains and domestic markets alike,

which often bypass local geographies (and urban nodes like Florencia)

as well as conventional actors. However, the local urban-rural connections

continued to be vital. The supplies to produce coca paste – which

included petrol, sulfuric acid, and ammonia – required supply chains

along the rivers and roads. According to a local merchant, the provision

of consumer supplies – everything ranging from beer, dried goods,

and rubber boots – were the result of commercial chains between Florencia,

municipal heads, and the small villages, chains which often required

high levels of trust and debt as a result of the fluctuations in the

coca market. 21

Under cattle ranching, urban nodes assumed new roles. Specialized labor

comprised veterinaries; special supplies focused on medicine, salt,

47
---
59
---
Suzhou. YRD workshop

In 1985, the Yangtze River Delta – a territory on the Yangtze River

where some of China's most important cities such as Shanghai and

Suzhou are located – was designated by the Chinese central government

as a Special Economic Zone (SEZs), 7 with the intention of attracting

foreign investment. This move was part of the wider process of economic

reform of the People's Republic of China ( 改 革 开 放 , literally

'Reform and Opening-up') initiated in 1978 by Deng Xiaoping, which

envisaged the progressive opening up of Chinese economy to the free

market. 8

After years of isolation, Suzhou opened up once again to the 'world

economy,' 9 and from that moment on experienced robust economic and

demographic growth that radically changed local society and the territory.

The city's economic, demographic, and urban growth accelerated

again in 1992, when the Pudong New Area 10 – an area with special economic

powers – was established in nearby Shanghai (just 80km away),

China's economic engine and financial center. In these years, a substantial

spatial division of labor emerged between Shanghai – the financial

center – and Suzhou – the manufacturing workshop 11 – in the Yangtze

River Delta.

Suzhou, a very ancient city and capital of the State of Wu, has always

been central to Chinese national imaginary. The territory of Suzhou, located

between Lake Tai (Tai Hu, literally 'Great Lake') and the Yangtze

River Delta, is characterized by the pervasive presence of water. Its history

is marked by the presence of the Grand Canal, a very important

trade route, which connects Beijing to Hangzhou, covering some 1,800

km. The historical structure of the city and its territory remained practically

unchanged until the 1990s, during which the territory experienced

rapid economic 12 and demographic growth, 13 due above all to the

arrival of new technologies, mainly linked to foreign investment (FDI), 14

which also led to profound changes in the spatial structure. In those

years, two industrial parks were established to the east and west of the

historic center, in continuity with the master plan drawn up a few years

earlier and known as 'One body, two wings.' The reference is to the historic

center ('the body') and the two areas of future expansion of the

city ('the two wings'), which reinforced the east-west axis of the city in

conjunction with the Shanghai-Nanjing railway, to the detriment of the

traditional north-south axis of the Grand Canal.

The most important of these industrial parks, known as SIP (Suzhou Industrial

Park, formerly Singapore-Suzhou Industrial Park), is located to

the east of the old city center and was established in 1994 by a cooperation

agreement between the Chinese and Singaporean governments. 15

On the other hand, to the west of the city, the SND (Suzhou New District

or Suzhou New & Hi-Tech Industry Development Zone) expansion

area was established in 1990 by the local government with the aim of

nurturing the hi-tech sector. From the outset, the two industrial parks

were imagined as integral urban areas, albeit with a marked manufac-

Fig.1

Suzhou waterscape. Source:

Luis Martin Sanchez.

Part 1

Promise and failure of infrastructures 76
---
lifelines. The urban/rural settlement difference often translates into an

accessibility difference 17 caused by strong disparity of job opportunities

and services, along with distances and supply of transport.

Potentially, ICT may represent a key factor for changing those urban/

rural relationships and reducing their disparities. However, the urban/

rural settlement difference largely coincides with the availability of digital

infrastructures. The more urbanized areas of the Po Valley and the

Ligurian coast are those where the VHCN is most available – areas

shown in red in Figure 2. In confirmation of this, all 14 urban areas with

over 100,000 inhabitants are served by this type of infrastructure. In

addition, the VHCN also reaches the more urban areas along the Brenner

axis between Trento and Bolzano, the Friulian pre-Alpine area, the

Piedmont urban centers of Cuneo and Alessandria and their immediate

surroundings, and the main centers of the Valle d'Aosta. Overall,

the VHCN covers 26% of the municipalities of the Italian Alpine regions

and 70% of the population, a value higher than the European goal

(50% by 2020). The NGN coverage – areas shown in black in Figure 2

– which is considered the minimum network standard for those aiming

to carry out teleworking, is not as widespread. 54% of municipalities,

accommodating 89% of the population, are served by an NGN. The

remaining 11% of the population not yet reached by this infrastructure

– areas shown in gray in Figure 2 – represents a gap compared to the

European goal of 100% coverage. This gap mostly involves rural areas

classified as white areas in the Ultra-Wide Band Strategic Plan, 18 namely

areas where private operators were unwilling to invest but which, for

accessibility reasons, should be equipped with an adequate internet connection.

In that regard, approximately 74% of the municipalities with

fewer than 2,000 inhabitants and 52% of those with 2,000–10,000 inhabitants

are not served adequately by an NGN. Alto Adige is emblematic,

as 92% of the municipalities with fewer than 2,000 inhabitants suffer

from this deficiency.

The improved availability of digital infrastructures in urban areas and

their simultaneous absence in rural areas partly reflects the geographical

distribution of transport infrastructures. Figure 3 shows the average

road and rail infrastructure density in the municipalities of the Italian

Alpine regions. Similarly to what is seen in Figure 2, the most urbanized

areas also record the highest level of infrastructure density (>0.80

km/km 2 ). Conversely, the mountain areas close to the border, along with

the Ligurian and Piedmont Apennine areas, record the lowest values. In

this case, the percentage of municipalities with fewer than 2,000 inhabitants

and a transport infrastructure density of less than 0.40 km/km 2

– shown in gray in Figure 3 – is equal to 52%. This highlights that the

digital infrastructure currently tends to widen rather than bridge the

gap between urban and rural areas.

As for the digitalization of work, it is worth comparing the 2020 data

with those prior to the pandemic (2015–2019). Between 2015 and 2019,

Italy saw a slight increase, despite still remaining below the European

values. The percentage of employees working occasionally or daily from

home increased, respectively, by 0.1% and 0.2% (against a European

Fig.2

Digital infrastructure and

digitalization of work in

the Italian Alpine regions,

pp. 94–95. Source: map

elaborated by Federico

Cavallaro, Alberto Dianin,

and Luis Martin Sanchez.

Borders and administrative

data: ISTAT; Digital infrastructure

data: AGCOM,

2020; Infratel Italia, 2020;

Digitization of work data:

ISTAT, 2020a, 2020b.

Fig.3

Transport (road and rail)

infrastructure in the Italian

Alpine regions, pp. 96–97.

Source: Map elaborated by

Federico Cavallaro, Alberto

Dianin, and Luis Martin

Sanchez. Borders and

administrative data: ISTAT;

Transport infrastructure

(road and rail): EuroGlobal-

Maps 2019, road and rail.

Part 1

Promise and failure of infrastructures 98
---
average of 0.6% 19 ), reaching approximately 3.6% (daily) and 1.1% (occasionally)

of Italian employees. In 2020, the situation drastically changed:

between March and June 2020, approximately 7% of Italian employees

worked from home, with a peak of 8.8% in March and April 2020. 20

The more urbanized regions recorded higher values. In particular, Piedmont,

Lombardy, and Liguria reached values of 9.4%, 8.8%, and 7.5%.

Conversely, in the more rural regions, this practice was less widespread,

as in the case of Valle d'Aosta and Trentino-Alto Adige (3.1% and 4.9%,

respectively). These figures are linked to the number of enterprises that

allowed their workers to work remotely, which is, in turn, influenced

by the size of the enterprises and the most widespread work sectors.

For example, in Piedmont, Lombardy, and Liguria, approximately 27%

of enterprises have promoted digital work, while in Valle d'Aosta and

Trentino-Alto Adige the percentage dropped to 15%. This suggests that

there are a series of factors which affect the spread of digital work in a

certain location, also depending upon the labor vocation of some areas

(for example, tourism or manufacturing).

ICT in Piedmont

Among the Italian regions of the Alpine macro-region, Piedmont presents

a strong heterogeneity of urban and rural areas, thus being useful

for gaining a better understanding of the role of ICT as mobility lifelines.

On one side, the Metropolitan City of Turin is the fourth largest

Italian province by number of inhabitants (over 2,200,000) and records

a population density of 324 inhabitants/km 2 . On the other side,

the provinces of Vercelli and Verbania-Cusio-Ossola (with 167,000 and

155,000 inhabitants and a density of 80 and 69 inhabitants/km 2 ) occupy

89th and 101st place, respectively, among the 107 Italian provinces.

In reference to the development of digital infrastructures, Piedmont

(Figure 4-A1-2) is the Italian Alpine region with the highest percentage

of municipalities involved in the Ultra-Wide Band Strategic Plan

(BUL) (94%). Despite this, currently, only 57% of Piedmont households

are reached by an NGN, mostly concentrated in 10% of the most urbanized

municipalities. 21 Conversely, 75% of municipalities are entirely

without NGN infrastructures. In terms of geographical distribution,

the greatest infrastructural availability is focused in the eight provincial

capitals, where over 80% of households are served by an NGN (Figure

4-A2). This condition also involves the peri-urban areas of Turin

and the more populous municipalities on the Turin–Cuneo axis. The

less populous municipalities have very little coverage: among those with

fewer than 5,000 inhabitants, only 6.8% of households are reached by

an NGN; a percentage that drops when considering only the municipalities

with fewer than 2,000 inhabitants (0.5% of households). Currently,

the NGN is not an evenly spread standard in Piedmont, particularly

in the rural areas. Many Piedmont households (92%) rely upon

infrastructures with speeds of between 2 and 30 Mbit/s (Figure 4-A1),

which do not, however, provide optimal performances. Furthermore, 187

99
---
Public Works' Housing

Monitor: digital

lifelines for urban

advocacy in Lebanon

Nadine Bekdache,

Abir Saksouk,

Camillo Boano

Part 1

Promise and failure of infrastructures 106
---
Public Works' Housing Monitor is a community housing tool to protect

and advance housing rights in Lebanon. The tool is used by residents

from various marginalized social groups to report on housing vulnerabilities

and eviction threats. Public Works Studio (PWS) provides individualized

legal and social support, mobilizes tenants around shared

grievances, and identifies any trends in housing injustices to then advocate

reform. In doing so, it employs evidence-based research to support

city dwellers in claiming their housing rights, while recognizing that

housing is more than a shelter, as it is deeply rooted in social, economic,

and neighborhood-based networks. Accordingly, the Housing Monitor

raises attention over detrimental housing and urban policies in

Lebanon that have led to inadequate housing, gentrification, displacement,

and evictions. It is a project that tackles social inequity in Lebanese

cities by shifting power into the hands of tenants (and dwellers

in general), by defying illegal eviction practices by some landlords, and

fighting existing laws and urban policies that overlook, marginalize, and

abuse city dwellers. It serves all social groups, with an effort to represent

refugees and migrants who are systematically abused by the country's

existing laws and decisions. By entitling previously marginalized

groups to housing support services, the project helps build social equity

around the right to housing.

By reflecting on the monitor's practices considering the complex urban

tensions of Beirut, the chapter addresses the experience of the platform

as an infrastructure of knowledge where data gathering, community engagement,

mapping, visual narratives, and academic research can reframe

the space of publicness in a permanent set of crises.

The extensivity of violence in Beirut, (the 1975-1990 war, the 2006 Israeli

bombing, the 2019 uprising and the financial crisis, the port explosion

on August 4, 2020, and, of course, the pandemic) cannot be simply

framed with the notion of crisis, even if incremental, connected, overlapping,

and structural. What is emerging there is an exhausted territory,

predated by the absence of the public, brutalized by the fragility of

the common, and vandalized by the preclusion of a thinkable and imaginable

future. Lebanon is living in a catastrophic present. Catastrophe

is not a violent event that happens once and for all, that then goes away

after having accomplished its gruesome work of leaving a world of ruins,

to be fixed, restored, and recomposed with the limited resources of

its people. Catastrophe in Lebanon has been a cumulative process, that

erodes the vitalist and progressive message of those who are working to

advocate reclaiming publicness, justice, and equity. Violence is not a linear

production of events but a manifold and longitudinal overlapping

force of dispossessions, explosions, removal, separation, excavation, and

evictions that produce complex and contradictory spatial implications.

Public Works Studio's involvement in housing research started with a

multi-disciplinary participatory project focused on the impacts of market-driven

developments and policies on residential rights in Beirut and

the creation of spatial injustices. Seven residential neighborhoods in

Beirut were taken as case studies, 1 where we tried to understand how its

history, its social fabric, economic relations, and the presence of political

107
---
Part 1

Promise and failure of infrastructures 122
---
Fig.2

Aerial view of Queen Elizabeth

Olympic Park looking

north-west. Courtesy of

UCL East.

on earlier visions outlined in the 1990s. Today, these offers are embodied

in the huge Westfield shopping center opened in advance of the Olympic

Games; the Stratford International business quarter linked to HS1

and the Eurostar link; East Village, the conversion of the Olympic Athletes

Village into the first of the new residential neighborhoods with its

new postcode, E20; and the development plans for East Bank cultural

and education quarter.

The LLDC's planning jurisdiction covers the park and its environs at the

intersection of the four 'Olympic' boroughs, although it is due to be replaced

by a new authority in 2025. The LLDC's five-year strategy or

Local Plan declared a commitment to "a dazzling new arts and culture

cluster" 19 representing a radical transformation of the historic and existing

cultural and heritage infrastructure of east London to drive economic

change. This vision was strongly supported politically, by Boris

Johnson, then Mayor of London and leader of the Greater London Authority.

The LLDC's plan set out a series of 'place-based policies' describing

how its four key sub-areas were expected to change over time

through the introduction of new forms of social, cultural, and economic

activity. Each side of the park has historically been marked by a distinctive

topography, demographic and socio-cultural landscape, and these

areas have now changed radically through the development leading up

to and following the 2012 Summer Olympics.

Stratford on the east of the park is the main shopping center for the

surrounding area, with large swathes of small-scale residential streets

extending east and south-east towards the old docklands from the old

and new retail clusters. A significant number of new large-scale housing

developments have been constructed around the Olympic site. It is also

the home of the original University of East London campus, and a number

of colleges established to provide further and higher education with

a vocational focus for the local community. In addition, the famous Theatre

Royal, established by Joan Littlewood, and the neighboring cinema

have provided a focus for established local cultural life over many years,

now designated Stratford Cultural Quarter. Stratford has been the focus

of intensive redevelopment promoted by Newham Council since

2012, and the new high-rise housing developments along the edge of the

Olympic Park form an effective physical, visual, and cultural barrier between

old and new communities.

Hackney Wick and Fish Island now host the largest concentration of

artists' studios and affordable workspace in Europe in canal-side warehouses

that once accommodated extensive small-scale industry, but

which are rapidly being gentrified and redeveloped as new housing. In

2018, the area was designated a Creative Enterprise Zone (CEZ) by the

Mayor of London – the first in what was described by the GLA as "a

bold new initiative for London to secure our future as a cultural capital

and ensure artists and creatives continue to call this place their home" 20

and part of the cultural infrastructure policy initiative which Khan has

developed during his Mayoralty since 2016. South of the park, a 26-acre

residential and workspace development will transform the historic industrial

network of canals and rivers carving up a landscape formerly

123
---
Throughout the Alto Napo valley, there are around 150 families involved

in the production, processing, and marketing of cocoa produced

in the chakras. 29

The number of chakras that the Chakramamas can take care of varies

and can be up to three. 30 In some cases, the chakras are found on both

sides of the Napo River, sometimes on the islands formed by the river.

Actions of care for these spaces are scheduled every week. Generally,

there are chakras that are more distant from the others, thus making it

necessary to build houses within these spaces, which is another particularity

of the chakra. 31 We could define this situation as a second spatial

strategy, a multi-situated dwelling that responds to a process of 'colonial

difference,' to a friction between the present Western and ancestral

imaginaries.

The movements between these situations define short-term forms of inhabiting.

These movements, mainly linked to economic and subsistence

reasons, make it possible to understand housing not as a domestic space

in the Western sense (as a place for the family) but as an infrastructure

to support the economies of the community. For this reason, the Kichwa

lodgings are spatially highly articulated to accommodate a diversity

of users. In recent years, the Ministry of Urban Development and Housing

(MIDUVI) has intervened in the Kichwa territory, mainly in the populated

centers, with the construction of houses of 4 × 5 meters. Unlike

the houses on stilts built in the chakras, which are ecologically comfortable

buildings, the houses built by the MIDUVI are in many aspects uninhabitable.

Although they do not allow modifications to make them

more comfortable to inhabit, these houses are in some cases suitable as

places of work (repair of fishing nets, artisan activities), thus adding one

more space in their movements.

It should be noted that although multi-site dwelling is characterized

by short-term movements, it can also sometimes be long-term. This

Fig.4

Tena Canton. Multi-sited

dwelling (Esthela Cerda):

dwelling in the farthest

chakra and dwelling in the

chakra at an intermediate

distance. Photographs by

Fernanda Luzuriaga Torres.

Part 2

Spaces of lifelines and lifelines of spaces 142
---
movement is triggered when it is necessary to go to homes located in

the capital or in the main Andean cities for a few months. These movements

are essentially also linked to economic and subsistence reasons.

Spatial membranes. The second lifeline

The territorial restructuring or colonization of the Amazon was marked

by frictions between colonists and native populations. Kichwa communities

are primarily agricultural in their spatial and economic activities,

whereas the Waorani communities have different lifestyles. Their

settlements, small hamlets with approximately 30 to 100 inhabitants,

are located deep within the forest. 32 Waorani territories are autonomous,

access to their spaces is not free. 33 The Waorani are basically a

semi-nomadic people; for work reasons, they move for short periods between

various peoples of their ethnic group living in the Ecuadorian and

Peruvian Amazon jungle or in the Andean cities. Compared to those of

the Kichwa, the economies of the Waorani are more fragile, based on

hunting, handicrafts, and tourism. The parts of the Amazon rainforest

managed by the Waorani, although presented as forests in their original

state, correspond to controlled ecologies on a large scale, in which

an attempt is made to encourage the growth of species useful for the

community's food and production needs. Compared to the Kichwa-controlled

forest, the Waorani forest is vegetatively denser and climatically

cooler. 34

In the course of time, the territories of these communities have caused

a series of frictions and tensions that have been able to unleash episodes

of violence. However, the two groups are in intense social exchange with

each other, thanks to mixed marriages and tightly intertwined economies.

What spatially regulates these exchanges is a particular device,

a membrane or contact zone between these territories of different logics.

35 One of these spatial membranes can be identified in the space between

the centers of Ahuano and Gareno, in Alto Napo. Ahuano has

about 3,000 inhabitants and is one of the main rural parishes of the

Kichwa territory; with a total area of 41,776 hectares, it comprises about

42 smaller communities. 36 This territory is in contact with the Waorani

community of Gareno, made up of about 200 inhabitants, which manages

its own territory of about 23,000 hectares.

However, between these two environments, it is possible to identify a

particular spatial device, which is the expression, again, of processes

of "colonial difference." It is a large swath of territory that functions

both as a space for distancing between the two communities and as a

place for social exchange. This band is articulated according to a sequence

of five lines that follow almost exactly the traces of the agrarian

colonization promoted by IERAC. Proceeding from the Kichwa settlement

towards the Waorani settlement, the first strip of territory, about

1 kilometer wide, corresponds to a stretch of forest within which tourist

reception infrastructures, the so-called eco-lodges, managed directly

by the community, are located. The second strip, about 2 kilometers

143
---
Furthermore, the ruin, sometimes repeatedly portrayed (not only in

Beirut – but there are also other contemporary cases such as Detroit,

Chernobyl, Fukushima, or Nassiriya), becomes an almost obsessive image

(there has been talk of 'Ruin Porn'), which stops at the skin of the

city, with the risk of forgetting what lives inside, what still inhabits the

substratum of the city, in a layer brutalized by conflicts.

The ruin, precisely because it is – at once – life and death, memory and

future, full and empty, is a very broad territory that finds in different

art forms the possibility of resistance, which, in some way, is resistance

to neglect, to decadence, precisely because ruins are – at once – spaces

of imagination and action, that concurrently maintain an expression of

loss, of mourning, and of melancholy, as will be seen in some narrations

offered below. In the unfinished, in the voids, in the spaces of possibility,

free from completeness and finiteness, different forms of art creep

in, giving new meanings. Here, lifelines have spatial repercussions. They

spatialize precisely. They are created in the fissures of those complexes

lacerated by the historical time of destructions, liberalism, and conflicts.

The theme of the ruin in these terms is linked to the theme of lifelines.

The perspective investigated here is the one already highlighted by

Kaelen Wilson-Goldie in 2009, who claims that sometimes the (temporary)

absence of spaces of different nature for artistic production (institutions,

non-profit organizations, collectives, artistic residences, etc.) has

Fig.1

Artist Yaza Halwani's mural

of the Lebanese singer and

actress Sabah.

Photograph by Amhad

Samhan.

Part 2

Spaces of lifelines and lifelines of spaces 154
---
encouraged artists to work even more closely with the city itself. 6

In a precarious assemblage, predatory and functional, colonial and security-focused,

but also fertile European and American institutions coexist

in Beirut, fragments of a negligent and corrupt State, activists

who mainly perform actions that start from the folds, from the conflict

zones, from the ruins of the city. This is the point of view that is favored

in this essay and, at the same time, its narrative choice, in a tale

made up of minute episodes originating from non-artistic institutions,

from significant actions positioned in some places, chosen because they

are spatial representations of our lifelines. The non that precedes the

words artistic institutions is not intended as a negation but reprises the

use made of it by Fluxus artists (fathers of the practice of performance)

from the 1960s, as described by Jon Hendricks, "[Fluxus] challenged preconceived

notions about art, the function of art, and the role of the artist

in society, promoting a non-art." 7

In the belief, therefore, that lifelines have a performing nature, that they

are actions, that they are infrastructures, sometimes tangible and sometimes

intangible, we attempt here to select some pieces of a broader

story: minute phenomena, cultural resistances that emerge in Beirut to

object to neglect, to the complete ruin of the city. It is possible, therefore,

to interpret a system of urban ecologies, through which the inhabitants

constitute an industrious community (able to build, maintain, and

repair its spaces), 8 which, through performing occasions, trigger processes

and aim to ensure a higher level of livability of a complex, intricate,

changing reality such as that of Beirut, continually negotiating

crises and vulnerabilities.

The tale proposed here is therefore made up of moments, spots, fragments,

precisely because, faithful to the identity of the city, in a very

small (about 20 km 2 ) and fragmented (there is no unicum in Beirut) territory,

it is the legacy of a not just contemporary history made up of

conflicts, separations, divisions, different ethnic interests, districts, religions,

cultures, sovereignties.

Artists in the Lebanese capital have often contributed to molding an

image – to building a future – and to establishing a connection with

memory – the past –, building intangible bonds and lines.

This chapter upholds that in the context of Beirut some artistic practices

cannot be distinguished from a clear root of activism and that

they are a citizenship movement, in which the right to the city (and, as

a consequence, the right to the sea, as we will see) becomes an indistinguishable

cause for appropriation (or re-appropriation) of spaces of

the city previously misappropriated by different powers. These spaces

are subsequently occupied precisely by artistic productions organized

in different practices, whether they are actions for the symbolic Martyr's

Square or actions to reclaim access to the water, denied by a colossal

privatization operation of the seafront and the sea itself that began

in 2010.

From the multiple possible fragments, three have been chosen, proposed

here as an attempt to visualize lifelines. These cases are precisely

minute, not the best available, but they represent an initial attempt to

155
---
Autonomous spaces

in Berlin: cynical

resistance tactics in

the neoliberal city

Lorenza Manfredi

Part 2

Spaces of lifelines and lifelines of spaces 166
---
In the thirty years since the fall of the Berlin Wall in 1989, the financialization

of urban land has triggered a sharp acceleration in densification

and gentrification processes, leading, amongst other things, to

the expulsion of many autonomous projects from the internal areas of

the city. Facing these processes with disenchantment, some projects developed

resistance tactics, managing to grasp the new possibilities with

great timing and to identify the most suitable way of maintaining the

autonomous use of some central spaces despite the growing competition

in a now saturated city. These projects help to reach a difficult balance

between autonomy of appropriation tactics and the inescapable rationality

of economic processes which regulate the neoliberal city.

Autonomy, originally deriving from the physical, normative, and ideological

isolation of temporary activities that were able to appropriate

the numerous urban Brachen, 1 is now limited to self-determination and

self-management of the use of spaces which, in order to continue to exist,

are strongly dependent on hegemonic political and economic dynamics

in the surrounding city. In an attempt to resist the hyper-development

of urban land, autonomous projects thus define new lifelines:

despite reacting to the surrounding context, they are able to guarantee

intrusions in market logics. While capitalism means creating profit,

the resulting spaces are, on the other hand, oriented towards non-profit:

their raison d'être is the direct expression of the needs and desires of

minorities.

In the contemporary city, these lifelines thus guarantee the survival of

spaces for the coexistence – conflicting but dynamic – of different entities.

The deliberate cynicism of the tactics developed to maintain the

autonomous use of the spaces derives from an acceptance of the neoliberal

city's structures and provokes a loss of revolutionary and ideological

values of these projects, which thereby provoke ambiguous dynamics.

The reflection on ambiguities and vulnerabilities of lifelines being

experimented in Berlin emerges and is in dialog with the PhD research

that the author is developing at the TU Berlin and IUAV Venice 2 universities,

investigating the emergence of new meanings of autonomous

spaces in the contemporary city.

The luxury of voids: the Berlin urban transformation of the

last thirty years

Fig.1

Development dynamics in

the Spreeraum Ost area

from 1990 to 2021,

pp. 168–169. Autonomous,

temporary and subcultural

projects confront

unregulated densification of

buildings. Source: Lorenza

Manfredi and Luis Martin

Sanchez.

The reunification of Germany and the decision to return the German

capital to Berlin meant for this city the start of a period of extreme interest

in urban planning: the urgency of re-establishing and restructuring

joint urban development between East and West Berlin led to

the assignment of new duties and complex roles both in the planning

and in the management area. 3 The urban issues that emerged during

the post-reunification years, just like the issues that were, on the other

hand, not addressed or were intentionally ignored, defined today's city

and are still at the center of an urban discourse in Berlin which finally

167
---
The Berlin Wall The Berlin Strip Spreeraum Area Industrial Area

Green Area

Buildings blocks

Buildings built

between 2000 and
---
2020

Squats 1990 - 2021/

evicted/legalized

Temporary uses 2007/

still there 2020

Nightclubs 2013-2020/

closed 2021

1 Holzmarkt 2 RAW Gelände 3 Teepeeland
---
which is a necessity due to their tiny dimensions. These extensions

do not follow institutionally regularized mechanisms or processes but

rather are informal efforts that each family made on their own.

One of the women interviewed in El Labrador points out the cramped

space and believes that the reasons are to be found in the State's lack of

confidence in their ability to improve their social and economic conditions,

for example, by being able to expand the house without giving up

the yard or being able to have a parking space for a private car.

The extensions have similar shapes: they are built towards the front

garden, the backyard, or the second floor. The slab-shaped buildings

present a different situation, as it is more difficult to realize extensions

there. The only extended flats are on the ground floor, facing the street.

It is in any case striking that most of these extensions observe limits,

such as respecting the official property boundary.

The lack of space is a fact, since the houses were designed for families

of four, whereas in most cases the number of inhabitants is higher. In

one case we studied, there were twelve people living in the same dwelling,

where a mother has housed her daughters with their children. The

lack of space generates overcrowding and a greater urge to leave in order

to improve one's living conditions. This was the motivation of our

interviewee, who some years ago went to live with her ex-partner, because

she thought that her daughter would be better off than in an

overcrowded house. However, after becoming a victim of domestic violence,

she returned to her mother's house.

Lack of space definitely affects women's lives when, for instance, they

carry out various small-scale economic activities, such as confectionery

or embroidery, but have no space to do so. One of the interviewees was

planning to make an extension in order to have a workshop in which

to work without disturbing family life. However, this extension implies

giving up the side yard where they also do domestic activities such as

hanging laundry.

Individual actions to transform the space sometimes take place outside

the dwellings. An example of this is front gardens of houses or flats,

which can be found in El Refugio and are a sign of appropriation and

care for the public space of the neighborhood. In El Labrador, on the

contrary, we only find graffiti that normally delimit an area for specific

groups of people.

Final remarks

The two cases analyzed show the processes that began after the provision

of social housing in two different complexes. When the assignees

moved in, the dwellings and the neighborhoods were deficient in many

respects. They caused difficulties for the residents, exacerbated the

asymmetries present in families and communities, and reproduced inequalities,

including gender ones. The housing programs paid little attention

to the care work provided in the neighborhoods, assuming

that it is the women within each family who take care of them. This is

Part 2

Spaces of lifelines and lifelines of spaces 214
---
eflected in the lack of public programs for care services or the reduced

space available for them in the homes.

This means a daily effort of resistance and adaptation on the part of

women to comply with the care for the family, the home and the neighborhood;

hence women often postpone their interests and possibilities

of autonomy. In addition, the collective and private processes of adapting

and improving the domestic and community environment are often

led by women, which is explained by the fact that they are the ones who

assume responsibility for domestic life and are therefore the first to detect

its shortcomings.

A greater degree of organization in the neighborhoods has shown that

the use of community space can lessen this burden and improve living

conditions, mitigating the 'oppressive' aspects of housing policies. In

El Refugio, a strong organization allowed to build facilities that helped

daily life, especially taking care of children and dependent persons. In

this way, the load of women was alleviated. In El Labrador, where the

community was not very cohesive, the decisions made were less effective:

the public spaces that were realized did not help to build a sense of

community and safety.

Regardless of the results, the capacity to organize and act shows the

agency of the inhabitants, who developed a good knowledge of the

mechanisms for applying for and taking advantage of the public and

private resources available, depending on the degree of community articulation.

A similar agency can be found in the processes of improvements

of the dwellings, although these ones are individual and often

informal.

In either case, the inhabitants have opted to improve their neighborhoods

through the available institutional tools. This could be surprising

if we consider that the same institutions are the ones that generate

housing policies. Between the State and the residents there is a contradictory

relation, or, to use Caldeira expression, there are transversal logics.

12 Residents don't refuse the institutional programs and often resort

to them, but, at the same time, they are aware of their limits and critical

of them. The State does not encourage the participation of the inhabitants

in the housing programs very much, 13 but, at the same time, if

compared to other Latin American countries, we should recognize the

number of resources allocated in programs for social housing and for

the improvement of peripheral neighborhoods.

These transversal relations between institutional programs and inhabitants

provide support for life, but, at the same time, reproduce inequalities

and create difficulties to that same life. They can be understood as

lifelines, but as contradictory ones.

215
---
the recognition by authoritative bodies (primarily UNESCO but also the

presence of the Slow Food brand and the various local consortia), it is

undeniable that, at the same time, this labelling leads to an "iconic reduction"

26 of the territory and therefore its homologation by virtue of

the standardization of the services in the name of greater tourist accessibility.

27 On the other side, the management of the protocols eliminates

any possible practice of collective construction of the territory as a

common good for the production of social wellbeing, subjecting it to the

malfunctioning of the global economy and the conditioning of neoliberalist

policies. In the last thirty years, therefore, the capitalization system

of Langhe is the main political, economic, and spatial lifeline that innervates

the production and living processes of these locations.

It therefore seems clear that, in order to sustain the continuous growth

demands of the capital factory in recent decades, Langhe, like the whole

of Cuneo Province, has experienced a phenomenon of immigration,

both seasonal and permanent, of workers willing to follow the rhythms

and requirements dictated by agricultural production and international

tourism. Thus, in a short space of time, a relationship of synergy and

symbiosis between the land, capital, and labor has been defined, so clear

as to dictate forms and new norms to its society. It can therefore be said

that the economy of enrichment has generated a rigid system of Fordist

matrix, in which the capitalization infrastructure has generated an efficient

consumption and "territorial branding" machine. 28 As had already

happened in les Trente Glorieuses of the previous century, 29 the workforce

had to be increased to guarantee the operation of the territorial

machine; therefore, in the agricultural epicenter of Piedmont – which

alone accommodates 40% of primary sector enterprises and about 48%

of laborers active at regional level – the number of workers grew in line

with the regional average over the decade 2009–2018, whereas the increase

in non-EU workers was decidedly more marked (+84%).

The phenomenon is confirmed by the data on new employment of foreign

citizens in the agricultural sector: in 2017, Cuneo Province absorbed

64% of recruitments in Piedmont, with even higher levels for

non-EU citizens (69.2%). The nationalities of most workers are Albanian

(2,981 recruitments), Malian (1,559), Macedonian (1,341), Indian

(1,288), Ivorian (1,168), Senegalese (1,132), and Chinese (1,011). With respect

to the ways and times of this important growth in labor demand,

at a historically negative time for the national labor market, it can be

said that in 2018 the vast majority of non-EU agricultural workers employed

in Cuneo Province (95%) were recruited on temporary contracts.

Those who worked for periods shorter than fifty days during the year

make up about 46%, with the implications cited above. Women represent

22.5% of the labor force: these are mainly Chinese women employed

in harvesting small fruits and/or Eastern European women involved

in the harvest. These figures highlight a complex and dynamic

social picture, far from the simplification and stereotyping outlined in

wine culture, built around the image of the historical family-run company

but, at the same time, able to restore the fragmented contours of

a continuously changing economic system. While on the one hand, the

Part 3

The dark side of protection 246
---
scenario presented important opportunities for social and economic integration

of the most fragile populations, generally excluded from urban

processes of intensification of the economy of knowledge, it denies,

on the other hand, the capacity to accommodate migration flows of seasonal

workers as an opportunity to build for them the prospect of a better

life (in the typically Fordist utopian idea of the factory as an instrument

of regulation and redistribution of economic and cultural capital).

When observing this territory by putting capitalization lifelines to work,

what emerges is a rigid picture of senseless exploitation of environmental

and human resources in contrast with the manifesto of quality, landscape,

and environmental authenticity outlined by the tourism industry

and by the economy based upon local excellence.

Lifelines: the return to mutualism

In this context, the Municipality of Canelli 30 is an interesting place of

observation to precisely and tangibly identify the relationship of dependence

and dissonance between a virtuous and intangible economic

system and a fragmented and fragile social structure, which connotes

the ambivalence of productive lifelines: spaces of ready-to-eat dishes,

apparently waste-free, which can, however, be glimpsed in the Canelli

hills.

Albeit sporadically, this municipality, more than others, has been the

epicenter of various resistance actions and conflicts between these two

dimensions in the past decade: in fact, in the face of a production system

centered on increasing the value of territorial resources, it has become

very evident that the social capital that allows it to function is

devoid of any form of protection, attention, and form of living. The situation

shows an ideal model of 'producing without living.'

The problem of accommodating seasonal workers to support the frenetic

period of the Muscat (and others) harvest is actually a phenomenon

that has existed for some time, highlighted by the local press, associating

it mostly with political issues concerning spatial safety, urban

decorum, and the emerging need to contain the spread of Covid-19.

Between 2010 and 2016, some local newspapers (La Nuova Provincia, La

Stampa locale, La Gazzetta di Alba) 31 reported on numerous occasions

on the illegal camps scattered around the area, prompting the Municipal

Administration of Canelli to respond to the demand to accommodate

the seasonal workers. Faced with the public condemnation of this phenomenon,

the Municipality therefore implemented a project with Caritas

to welcome and support these populations (a temporary residence for

twenty-five workers in Piazza Gioberti), and an 'official space' was then

prepared for tents, mostly improvised, to respond to the emergency.

Furthermore, in 2018, on the initiative of the seasonal workers for the

harvest (about forty people) in collaboration with operators of the social

cooperative Crescere Insieme, in the absence of any other arrangement,

a cleaning action was started on the former railway station to convert it

into a bivouac and socializing area.

247
---
esponsible for paying the equipment and salaries of the 40 women participating

in the project. Samira, a founding member and the official

representative of the association, enthusiastically revealed that the association

"applied for a project funding from the FAO, won the project

and got the fund." She explained that "the submitted project was convincing

and proved to be a necessity for the Bedghan community in

general and for women in particular."

Although Samira is living in very harsh social and economic conditions,

she believes that social and charitable work is the duty of every human

being to ensure solidarity and cohesion within the community. To secure

her personal and family income, she relies on preparing and selling

various mounet products. Her big asset is a berry tree in her backyard.

Her husband was seriously ill and has not fully recovered to this day;

she also lost her elder son five years ago. However, she continues serving

her people, whether as a member and representative of the charitable

association or with her charity work in the dispensary: "we must

stand strong for our people, because when the government is not supporting

the families, then it is our responsibility. We have many elderly

people in the village who cannot be transferred to Beirut for treatment

and medication." She recalls [crying] a cold winter day when she had no

money for fuel to operate the heaters at her house and slept in despair,

when the next morning a stranger knocked on her door and bought

Fig.3

Winter food provision:

'Mounet items' (left) and

prepared at Samira's house

in Bedghan (right), June

2021. Photograph by Hoda

Mekkaoui.

Part 3

The dark side of protection 260
---
some items of the mounet she prepares. She felt that she is being rewarded

for the good work she does for her community.

Entrepreneurs in the countryside – "Sewing/Khiyata"

Sewing is a skill that most women in Sawfar learned during their childhood.

The skill is thought to empower young women and can be developed

further. In collaboration with the UNDP, the Entrepreneurs in the

countryside initiative was established in a municipal building to develop

women's sewing skills. Out of 700 candidates, only 10% were selected

following very specific criteria: social status, economic status, and age.

Not only do these women learn khiyata, but they also receive a monthly

allowance to help them sustain themselves until they are able to work

and be self-sufficient. After the Covid-19 outbreak, they began to produce

facemasks and sell them in the local markets at competitive prices.

Nagham, who completed her training, confirmed that the initiative was

so successful that it started to expand to neighboring villages in the

Chouf area.

Framing the Beik lifelines

The Beik's call for Druze to mobilize, network, and launch initiatives to

support their community is a form of lifeline, a social infrastructure to

provide support for a community in time of crisis and in the absence of

state services. It establishes a progressive understanding of urban infrastructures

that moves away from the common conceptualization of infrastructures

as transmission and supply machines and towards one intended

as a support for living, even though in Sawfar it is restricted to a

community with a specific religio-political affiliation in a limited geography.

Lifelines became a sectarian societal support with strong political

connotations, designed and implemented by small circles of trust and

loyalty, shared and articulated among individuals in a community to ensure

mutual sustainment and to emphasize the pride in the Druze society.

The continuity of the life process is therefore not individual, not social,

but rather politico-religious and buttressed by loyalists of the Beik

party. It responds to limited internal community rights and is restricted

to local, sectarian support designed for a specific community.

Knowing the specificity of the Druze in the region as a minority and

their closed confessional nature, their survival lifelines tactics become

understandable, coupled with the struggle of their leaders (the Junblat

family) to preserve their elite family position and thus their power in

Lebanese society. "But the younger Junblat's main concern was to secure

the semi-autonomous position of the Druze and to develop their

communal institutions." 11 For the weakening of the Druze community

will naturally also diminish the power of the Junblat family as the leaders

of the community. Lifelines thus became a tool to support, preserve,

and maintain the power of the leader, rather than only serving as a vital

261
---
Colophon

© 2022 by jovis Verlag GmbH

Texts by kind permission of the authors.

Pictures by kind permission of the photographers/holders

of the picture rights.

All rights reserved.

Cover image: © Camilla Rondot, 2021

Copyediting: Bianca Murphy

Design: Susanne Rösler, jovis Verlag

Typesetting: Luis Martin Sanchez

Lithography: Luis Martin Sanchez

Printed in the European Union.

Bibliographic information published by the Deutsche

Nationalbibliothek:

The Deutsche Nationalbibliothek lists this publication in

the Deutsche Nationalbibliografie; detailed bibliographic

data are available on the Internet at http://dnb.d-nb.de

jovis Verlag GmbH

Lützowstraße 33

10785 Berlin

www.jovis.de

jovis books are available worldwide in select book stores.

Please contact your nearest bookseller or visit www.jovis.de

for information concerning your local distribution.

ISBN 978-3-86859-753-0 (softcover)

ISBN 978-3-86859-800-1 (PDF)