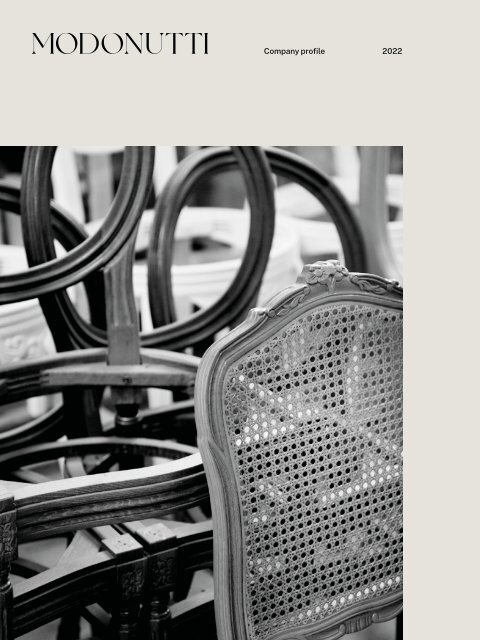 220719_Modonutti_Company Profile
Create successful ePaper yourself
Turn your PDF publications into a flip-book with our unique Google optimized e-Paper software.
Company profile 2022
---
Company profile

L'azienda

01

Company

pag. 7

I servizi

02

Services

pag. 27

Tailor made

03

Tailor made

pag. 35

3

Sostenibilità

04

Sustainability

pag. 43

Referenze

05

References

pag. 47
---
Pochi oggetti raccontano la storia del design così

eloquentemente come una sedia. Un elemento

apparentemente comune ma pervaso da intensi e

complessi significati: l'estetica, l'ergonomia, l'emergere

di nuove tecnologie, contenuti culturali e sociali si

riversano nell'evoluzione di questo prodotto.

5

Very few items really tel1 the story

of design as eloquently as a chair.

What seems like an every day

item is actually the key to intense

and complex meanings: design,

ergonomics, new technology, cultural

and even social aspects are all caught

up in one product.
---
Company profile

L'azienda

01

7

Company
---
Company profile

Dal legno, la passione

From wood comes passion

9

Modonutti nasce nel 1967 dalla passione, dall'ingegno e dalla creatività di Giordano

Modonutti. Un'azienda che ha fatto dell'artigianalità prima e dell'innovazione poi, i propri

punti di forza per realizzare sedute in legno raffinate e creative, ma anche funzionali

ed affidabili. Una storia tramandata dal padre al figlio, Alex Modonutti, oggi alla guida

di quella che è diventata una moderna azienda e un brand capace di distinguersi: una

tradizione sempre legata all'artigianalità del Made in Italy, un'innumerevole offerta

di prodotti, una personalizzazione capillare nello stile, nei tessuti e nelle gradazioni

cromatiche.

Modonutti was created in 1967 fuelled by the passion, skill and creativity of Giordano

Modonutti. A company based first and foremost on artisan skill and then firmly on

innovation, those are the strengths behind the elegant and creative wooden chairs it

produces, along with practicality and reliability. A story involving father and son, Alex

Modonutti, who today drives what has become a modern company and a brand capable

of standing out: a tradition increasingly linked to the force of Made in Italy, innumerable

offers of products, bespoke style including in terms of materials and colours.
---
Company profile

11

Senza dimenticare il valore dell'artigianalità, legato alla sua tradizione e a ciò che l'ha

fatta grande, Modonutti ha saputo crescere negli anni ed innovarsi grazie al continuo

aggiornamento delle tecnologie, alla sperimentazione e all'ingegno, seguendo l'evoluzione

del mercato per offrire oggi, la massima personalizzazione dei suoi prodotti. Il classico

rivisitato in chiave moderna, il gusto di alcune forme intramontabili, ma anche la

stravaganza, l'eccentricità, l'estro.

Without ever forgetting the value of artisan skill, which is linked to its history and the

backbone of its success, Modonutti has managed to grow over the years thanks to

updating its technologies, knowing how to experiment and increasing its know-how,

and by following market trends so that it can offer its customers bespoke, personalised

pieces. A unique interpretation of classic pieces with a modern touch, the demand for

timeless shapes with an added flair for extravagance, eccentricity and creativity.
---
Company profile

Made in Italy

Non solo un'etichetta o un'espressione effimera, ma un vero stile di gestione aziendale,

quello di Modonutti: dall'approvvigionamento di tutti i materiali alla produzione della sedia,

il Made in Italy si trasforma in maestria artigianale unita alle più moderne tecnologie,

per il massimo livello qualitativo.

This is more than just a label or a fleeting statement; it is a real method of corporate

management, which is what characterises Modonutti: from sourcing materials right

through to manufacturing processes, Made in Italy combines artisan skill with modern

technologies to ensure the highest possible quality.

13
---
Company profile

Classico e contemporaneo

Classic and contemporary

La storia della azienda Modonutti nasce con la produzione di sedute in stile classico.

L'azienda, negli anni, si è specializzata nella realizzazione di stampi, decori e fresature

del legno che l'hanno resa protagonista nel mercato internazionale. L'uso di finiture

particolari, eseguite a mano, per ottenere effetti anticati e/o consumati, non riproducibili

meccanicamente, hanno reso ancora più unici i decori tipici dello stile classico di Modonutti.

Da qualche tempo l'azienda ha sentito il bisogno di avvicinarsi al mondo contemporaneo

e grazie alla collaborazione con designer di fama internazionale sta reinterpretando nelle

nuove collezione i decori tipici dello stile classico in chiave contemporanea.

15

The history of the Modonutti company began with the production of classic style chairs.

Over the years, the company has specialized in the production of molds, decorations and

wood millings that have made it a leading player in the international market. The use

of special finishes, performed by hand, to obtain antiqued and/or worn effects, which

cannot be reproduced mechanically, have made the decorations typical of the classic

style of Modonutti even more unique.

Lately, the company has felt the need to get closer to the contemporary world and

thanks to the collaboration with internationally renowned designers it is reinterpreting

the typical decorations of the classic style in a contemporary key in the new collections.
---
Company profile

S Elegance

S Chiavari

17
---
Company profile

D2 206 Amélie

P 250 Fanny

19

D2 Greta
---
Company profile

S 221 Désirée

S 196 Aline

S Aidos

21
---
Company profile

P 210 Caroline

SG 245 Gisèlle

P 209 Blanche

23
---
Company profile

Pouf 209 Blanche

P 221 Désirée

S 243/I Georgette

25
---
Company profile

I servizi

02

27

Services
---
Company profile

I numeri di Modonutti

Modonutti's figures

29

150.000 sedie di legno in stile prodotte ogni anno destinate ad un mercato mondiale, 500

unità realizzate al giorno, 200 macchine tecnologicamente all'avanguardia, uno staff

interno di 40 persone tra artigiani e operai specializzati ed oltre 90 terzisti dislocati sul

territorio locale. La cura nei dettagli, l'unione tra artigianalità e innovazione, un know- how

a 360° dedicato alla sedia pensata secondo un nuovo concetto dell'abitare.

150,000 wooden chairs are created every year for a world wide market, 500 pieces a day,

200 machines using cutting edge technology, a team of 40 members including artisans and

specialists, and more than 90 additional staff locateci throughout the country: Modonutti

boasts a line of products that are entirely Made in Italy and offers record delivery times.

A focus on detail, a union between artisan skill and innovation, 360° know-how dedicated

to chairs designed on the basis of a new concept of living.
---
Company profile

Modonutti racchiude in sé una complessa struttura industriale che dà vita

a un prodotto dalle articolate fasi di lavorazione. Dal progetto creativo alla

scelta della materia prima, dalla stagionatura del legno a tutte le fasi di

lavorazione, fino alla scelta di pregiate finiture e alla esecuzione di una

tappezzeria artigianale di qualità.

Modonutti encompasses a complex industrial structure that gives rise

to a product with complex processing stages. From the creative project

to the choice of raw material, from the seasoning of the wood to all the

processing stages, right up to the choice of fine finishes and the execution

of a quality handmade upholstery.

01 Progettazione interna

02 Scelta della materia prima

03 Lavorazione degli elementi

04 Assemblaggio

01 In-house design

02 Raw material selection

03 Workmanship

04 Assembly

05 Verniciatura

06 Tappezzeria

07 Imballaggio

08 Spedizione

05 Staining

06 Upholstery

07 Packing

08 Shipping

31
---
Company profile

La nostra forza

Our strenght

L'azienda realizza sedute in legno interamente nel proprio stabile. Questo consente di avere

un controllo totale su tutte le fasi di lavorazione del prodotto, ad iniziare dal materiale

grezzo. L'azienda infatti è composta da personale qualificato, che secondo rigidi termini,

seleziona solo il materiale grezzo di prima scelta che si deve prestare alle lavorazioni

dell'azienda. Un reparto di levigatura, verniciatura e tappezzeria seguirà poi le intere

fasi di lavorazione fino all'imballaggio. L'abilità e l'esperienza dei nostri verniciatori ci

consente di offrire al cliente la scelta tra oltre 80 finiture disponibili, oltre che a realizzare

finiture personalizzate. L'azienda Modonutti offre inoltre la possibilità di sviluppare nuovi

prodotti grazie alla stretta collaborazione tra il cliente e l'ufficio tecnico, e alle macchine

a controllo numerico che consentono qualsiasi tipo di lavorazione e complessità

33

The company manufactures wooden seats entirely in its own building. This allows it to

have total control over all stages of the product processing, starting with the raw material.

In fact, the company has qualified personnel who, according to strict terms, select only

the raw material of first choice selected for specific purposes. A staining, painting and

upholstery department will then follow the entire processing stages up to packaging.

The skill and experience of our painters allows us to offer customers the choice of over

80 available finishes, as well as create customized finishes. The Modonutti company

also offers the possibility of developing new products thanks to the close collaboration

between the customer and the technical office, and thanks to the numerical control

machines that allow any type of processing and complexity.
---
Company profile

Tailor made

03

35

Tailor made
---
Company profile

Tra tecnologia e sartorialità

Technology and tailoring

La capacità di estrema personalizzazione del prodotto di Modonutti, spinge l'azienda

ogni giorno ad una continua ricerca sui trend e gli stili più in voga. Dai tessuti, alle pelli,

alle rifiniture e lavorazioni: il valore progettuale della sedia, si arricchisce attraverso la

massima adattabilità alle esigenze e ai gusti del cliente. "Idea" e "necessità" si fondono

e prendono vita infatti, nei materiali più sofisticati: dalle texture ai colori più vibranti,

fino a soluzioni e motivi più formali e canonici. Sartorialità ed accuratezza nella scelta

della qualità, accompagnano ogni fase della produzione e della confezione del "vestito",

tocco finale al prodotto di design.

37

The ability to customize its products, pushes Modonutti to seek out every day the most

sought-after trends and styles in fashion. From materials, leathers, right through to

finishings and workmanship: the design value behind the chairs is enriched by adapting

to meet clients' needs and tastes. "Ideas" and "needs" are based and thrived on the

most sophisticated materials: from vibrant textures and colours through to more formal

and standard solutions and designs. Sartorial skill and precision in choosing quality are

always there throughout all the production stages as well as "upholstering", the final

touch of the design product
---
Company profile

39
---
Company profile

41

L'enorme varietà di tessuti e pelli, a disposizione dei clienti per la personalizzazione di

tutti i modelli, è plus irrinunciabile per Modonutti. Le nostre Collezioni sono frutto di

attente ricerche sui trend che anticipano scenari futuri e cavalcano gli stili più in voga. La

personalizzazione nei rivestimenti, inoltre, trova la sua massima espressione nell'utilizzo

di materiali forniti direttamente dal cliente. All'interno degli stabilimenti Modonutti,

il reparto tappezzeria garantisce elevata sartorialità, accuratezza ed estremo rigore:

capitonnè, borchie, passamanerie, swarowsky e ricami personalizzati.

The enormously vast variety of materials and leathers, all at the clients' fingertips for

them to personalise all models is a must for Modonutti. Our collections are the result of

focussed research on future trends that we envisage will overtake the latest fashions.

Bespoke items then become truly unique pieces using materials supplied directly by

customers. lnside Modonutti premises, the upholstery department guarantees the very

best levels of tailoring skill, precision and the utmost accuracy: from padding, studs,

trimmings, Swarovski and personalìsed embroidery.
---
Company profile

Sostenibilità

04

43

Sustainability
---
Company profile

Come rispettiamo l'ambiente

Respect for the environment

Modonutti è sempre attenta al rispetto dell'ambiente. L'azienda utilizza

energie rinnovabili per provvedere a uno sviluppo permanente e

sostenibile dell'azienda stessa, come il fotovoltaico. Inoltre, l'azienda

utilizza la biomassa, cioè i propri scarti di produzione, per essere

utilizzati direttamente come combustibili per riscaldare il proprio stabile.

Modonutti is always mindful of the environment. The company uses

renewable energies to provide for the permanent and sustainable

development of the company itself, such as photovoltaics. In addition,

the company uses biomass, i.e. its own production waste, to be used

directly as fuel for heating its premises.

45
---
Company profile

Referenze

05

47

References
---
Company profile

Eccellenza senza confini

Boundless excellence

Interlocutrice diretta di interior designer, architetti e albergatori,

Modonutti si rivolge prevalentemente al settore contract, ma parla con

stile anche al retail. Modonutti gira il mondo. Lo fa col suo prodotto,

scelto per arredare i più prestigiosi ambienti pubblici e privati. Lo fa

con la sua immagine, presentata nelle maggiori fiere internazionali

del settore. Lo fa attraverso la testimonianza di chi ogni giorno sceglie

Modonutti per rendere uno spazio esclusivo, originale ed elegante.

49

A spokesperson for interior designers, architects and hoteliers,

Modonutti is mainly aimed at the contract sector but also assists

retail designers. Modonutti is present worldwide. It does it thanks to

its products, chosen to furnish some of the most prestigious public

and private locations in the world. It does it thanks to its reputation, on

view at the major international sector exhibitions. It does it thanks to

who every day chooses Modonutti to make their locations exclusive,

original and elegant.
---
Company profile

51
---
Company profile

Nome Prodotto

Nome Prodotto

53

I prodotti firmati Modonutti si trovano splendidamente inseriti in ambienti come il St

Petersburg Governing Palace, la sede delle Nazioni Unite a New York e prestigiosi hotel

come il Bellagio di Las Vegas, il Four Seasons di Milano, il Rome Marriott Park Hotel di

Roma o il Gran Hotel Villa d'Este di Cernobbio sul Lago di Como.

Modonutti's products can be found in splendid settings such as the St Petersburg

Governing Palace, the United Nations headquarters in New York, prestigious hotels such

as the Bellagio in Las Vegas, the Four Seasons in Milan, the Rome Marriott Park Hotel

and the Gran Hotel Villa Este in Cernobbio on Lake Como.
---
Company profile

55
---
MODONUTTI S.r.l

Strada di Planez, 84 Loc. Casali Romanutti

Cividale del Friuli 33043

Udine - Italy

PI 00183100304

Tel. +390432731993

Fax +39 0432731981

info@modonutti.it

www.modonutti.it