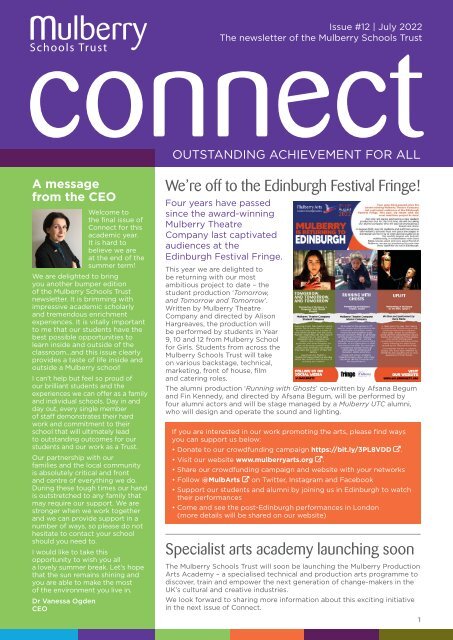 Connect Issue 12 . July 2022
News from Mulberry Schools Trust
News from Mulberry Schools Trust
SHOW MORE
SHOW LESS
Create successful ePaper yourself
Turn your PDF publications into a flip-book with our unique Google optimized e-Paper software.
Issue #12 | July 2022

The newsletter of the Mulberry Schools Trust

connect

OUTSTANDING ACHIEVEMENT FOR ALL

A message

from the CEO

Welcome to

the final issue of

Connect for this

academic year.

It is hard to

believe we are

at the end of the

summer term!

We are delighted to bring

you another bumper edition

of the Mulberry Schools Trust

newsletter. It is brimming with

impressive academic scholarly

and tremendous enrichment

experiences. It is vitally important

to me that our students have the

best possible opportunities to

learn inside and outside of the

classroom...and this issue clearly

provides a taste of life inside and

outside a Mulberry school!

I can't help but feel so proud of

our brilliant students and the

experiences we can offer as a family

and individual schools. Day in and

day out, every single member

of staff demonstrates their hard

work and commitment to their

school that will ultimately lead

to outstanding outcomes for our

students and our work as a Trust.

Our partnership with our

families and the local community

is absolutely critical and front

and centre of everything we do.

During these tough times our hand

is outstretched to any family that

may require our support. We are

stronger when we work together

and we can provide support in a

number of ways, so please do not

hesitate to contact your school

should you need to.

I would like to take this

opportunity to wish you all

a lovely summer break. Let's hope

that the sun remains shining and

you are able to make the most

of the environment you live in.

Dr Vanessa Ogden

CEO

We're off to the Edinburgh Festival Fringe!

Four years have passed

since the award-winning

Mulberry Theatre

Company last captivated

audiences at the

Edinburgh Festival Fringe.

This year we are delighted to

be returning with our most

ambitious project to date – the

student production 'Tomorrow,

and Tomorrow and Tomorrow'.

Written by Mulberry Theatre

Company and directed by Alison

Hargreaves, the production will

be performed by students in Year

9, 10 and 12 from Mulberry School

for Girls. Students from across the

Mulberry Schools Trust will take

on various backstage, technical,

marketing, front of house, film

and catering roles.

The alumni production 'Running with Ghosts' co-written by Afsana Begum

and Fin Kennedy, and directed by Afsana Begum, will be performed by

four alumni actors and will be stage managed by a Mulberry UTC alumni,

who will design and operate the sound and lighting.

If you are interested in our work promoting the arts, please find ways

you can support us below:

• Donate to our crowdfunding campaign https://bit.ly/3PL8VDD .

• Visit our website www.mulberryarts.org .

• Share our crowdfunding campaign and website with your networks

• Follow @MulbArts on Twitter, Instagram and Facebook

• Support our students and alumni by joining us in Edinburgh to watch

their performances

• Come and see the post-Edinburgh performances in London

(more details will be shared on our website)

Specialist arts academy launching soon

The Mulberry Schools Trust will soon be launching the Mulberry Production

Arts Academy – a specialised technical and production arts programme to

discover, train and empower the next generation of change-makers in the

UK's cultural and creative industries.

We look forward to sharing more information about this exciting initiative

in the next issue of Connect.

1
---
Richard Street, Commercial Road, London E1 2JP

A 020 7790 6327 m stemacademy@mulberryschoolstrust.org

www.mulberryschoolstrust.org/stemacademy @MulberryTH

Greenpower

race produces

winners second

time around!

On Sunday 18th June, our

Year 12 Mulberry STEM

Academy students raced

in the Greenpower F24+ at

Hethel in Norfolk.

For Mulberry Academy Shoreditch

this was the second race of the season

having taken first and second place at

Goodwood last month.

This time around, the teams were

joined by Mulberry Stepney Green

and Mulberry School for Girls. Over

30 students and staff made their way

to the race track at 5.00am in the

morning. It was an amazing day, and

the Shoreditch teams won first and

second place once again of all teams,

driving at a cool 26mph. The Mulberry

Stepney Green team also did really

well participating for the first time

– achieving 4th place at a speed of

25.6mph.

The Greenpower project is being

delivered in each of our schools.

Mulberry UTC join the teams in

September. The project involves

designing, building and racing a battery

powered car on a Grand Prix track.

Students learn engineering skills such

as aerodynamics, gears, mechanics,

battery efficiency, sustainability and

design; as well as essential team work.

We are privileged to be able to run

the project and to have the support

of Mercedes-Benz Grand Prix Ltd and

Peter Hodgkinson, Head of Employee

Engagement who has been incredibly

helpful in advising and supporting all

the teams.

Goblins come to local

primary schools

We are delighted to have been running the Goblin

car project with Year 5 students from Canon

Barnett Primary School and Virginia Primary School.

The children designed and built an electric powered car, working

in teams. Our Mulberry STEM Academy have also continued to run

events in many different primary

schools including CREST awards,

robotics and the amazing F1 in

schools competition.

F1 in schools involves children

designing and making miniature

F1 racing cars and these are

powered down a 100m track,

creating a thrilling experience

designed to encourage younger

children's interest in STEM.

Summer work experience with

Mercedes-Benz Grand Prix Ltd

In July, we were so excited that 12 Mulberry

STEM Academy Sixth Form students embarked on

a week long residential work experience placement

at Mercedes-Benz Grand Prix Ltd (MGP).

Students from across the Trust schools experienced a programme that

consisted of a question and answer session with Toto Wolff, a Microsoft

Teams meet with Sir Lewis Hamilton, meetings with the Technical

Director and the Chief Operating Officer at MGP, alongside spending

most of the week working in their retrospective departments.

The students were

placed in departments

that included car

build, IT, design and

composites. The work

experience placement

was phenomenal.

During the evenings, the

Mulberry STEM Academy

team went out for

dinner. It was also great

welcoming the second

group that attended in

the final week of term.

Successful careers conference

It was brilliant to have hosted another highly successful careers

conference on Saturday 11th June with Mercedes-Benz Grand Prix

Ltd graduate employees. Over 100 Year 10 and 12 students joined

the conference to hear from Jordan Woodhouse, Fuels, Oils and

Logistics Coordinator, Carrie Donaghy, Motorsport Legal Director

and Ryan Vella, Graduate Aerodynamics Design Engineer.

Students were enthused to hear about their personal journeys,

achievements and the barriers they overcame along the way.

2
---
Richard Street, Commercial Road, London E1 2JP

A 020 7790 6327 m mstnews@mulberryschoolstrust.org

www.mulberryschoolstrust.org @MulberryTH

CEO: Dr Vanessa Ogden

New primary school developments

We are excited to be sharing developments for the

opening of our first primary school, Mulberry Wood

Wharf Primary, in September

2022. The school will open

with one Reception class

and grow each year. Twentyeight

children and several

members of staff will join

our Mulberry family.

The school is based on the Isle of Dogs

and our new building will be ready in

February 2023. In the meantime, the

school will open in a nearby location

with brand new fixtures and fittings.

It was a super busy summer term,

with admissions interviews, uniform,

registration inspections, curriculum

planning, appointing staff and

arranging a taster day. The team at

the Mulberry Schools Trust thoroughly

enjoyed planning and delivering the

Reception class taster day which

involved warm up games, play based

learning – both inside and outside

– jigsaw puzzles, role play, arts and

crafts, ball games and a reading

corner. The new Reception teacher

delivered the story time at the end of

the morning, captivating our young

children. Children left with their

own branded bag, water bottle and

colouring book!

We have to thank Canon Barnett

Primary for their support in helping

to develop our primary provision.

East London Teaching School Hub's

Induction Tutor Forum: a morning of

celebration and collaboration

On Friday 17th June, East London Teaching School

Hub hosted an Induction Tutor Forum for schools

working with us on the Early Career Framework (ECF).

Representatives from over 45

schools attended and engaged in a

morning of celebration, professional

development and collaborative

preparation for the second year

of the ECF programme of learning.

Feedback has been incredibly positive

with all delegates strongly agreeing

they felt more motivated to lead the

ECF in their schools and were pleased

to be part of the East London TSH

ECF network.

Reconnect London

conference and

report launch

On Friday 24th June, the

second annual Reconnect

London was held at the

offices of Allen & Overy

in east London.

The

conference

brought

LONDON LEARNERS

together

LONDON LIVES

school and

Trust leaders,

young

people and

THE IMPACT OF DISADVANTAGE

ON YOUNG LONDONERS AND THE

partners to

ROLE OF SCHOOLS IN OVERCOMING

BARRIERS TO SUCCESS

discuss the

key question:

'What do

young

Londoners

need from schools now?'. Keynote

speakers included Joanne

McCartney, Deputy Mayor of London,

Claire Burton, Regional Schools

Commissioner, and Zulum Elumogo,

Trustee of the Fair Education

Alliance. The conference also saw the

launch of Reconnect London's new

report, 'London Learners, London

Lives', which gives a comprehensive

analysis of disadvantage in

education and how it affects children

and young people in London.

Young women

attend prestigious

networking

reception

In May, young women from

across the Mulberry Schools

Trust attended the Women of

the Future Ambassadors Reception

in collaboration with Aviva and

TSB bank.

Mulberry students had the unique

opportunity to network with women

in banking, law, finance, music and

Minister Baroness Goldie DL. We are

extremely grateful to Pinky Lilani

for providing our Trust schools with

opportunities such as this.

3
---
NEWS FROM OUR SCHOOLS

Diplomatic skills lead to success

Our Model United Nations teams are

developing outstanding skills in negotiation

and diplomacy and have had great

recent successes.

It was a real privilege to watch these future leaders

in action at the West London Model United Nations.

The conference was run by the American School in

London where delegates won awards in six out of eight

committees. Again at the St Marylebone School MUN,

Mulberry students won awards in all eight committees.

We also welcomed 22 UK and International Schools to our

Summer Global Classrooms MUN on the 14th and 15th July.

More in the next issue!

Mulberry

host creative

dance show

In May, Mulberry School

for Girls hosted the

annual Tower Hamlets

Step Around Town event,

organised alongside

the Royal Academy

of Dance's Step into

Dance programme.

Year 10 GCSE Dance students

have been completing the

programme since September

2021 and the show was an

excellent opportunity for them

to share their creative work.

The school became host to four

other local schools who had also

participated in the programme;

the evening performance was

a spectacle of all the students'

dedication and hard work

over the past academic year.

Performances ranged from

contemporary to hip-hop and

afrobeats styles and students

were thrilled to be able to mix

together again after the last

show was cancelled. Mulberry

students said the show was

"a really great chance to show

off all our work and see what

everyone else has done".

We hope to take the performance

to the Step LIVE Festival in July

2022 at Cadogen Hall and look

forward to continuing to host

Step Around Town in the future.

Debate Mate success

In April, students from

Mulberry School for Girls

participated in the Debate

Mate Cup 2022, at Goldsmiths,

University of London.

There were three motions to debate.

The first motion was: 'This House would

use Artificial Intelligence to make political

decisions'. The second motion was:

'This House would ban the glorification

of violence in music' and the third

motion was: 'This House believes that

sports personalities should declare their

opinions on key social issue'. Our students

won two out of three of their debates.

Congratulations to our brilliant team.

An evening at the Sheldonian Theatre

Students across the Mulberry Schools Trust were

invited to an incredible concert over the weekend

at the Sheldonian Theatre in Oxford.

Former High commissioner of Bangladesh, Anwar Choudhury and British

biologist, Professor Denis Noble of Oxford University, celebrated their love

for folk music with a joint concert between the Oxford Trobadours and the

Bengali Baul musicians. The students enjoyed a tour of Oxford University

and a Q&A with Professor Noble, before settling into the Sheldonian

theatre and enjoying the

performance. They were

also given the opportunity

to join in with two of

the songs, Se canto, an

occataine folk song and

Agge' ki shundor dheen,

a Bengali folk song. It

was an incredible day for

the Trust and a beautiful

celebration of culture

through music.

4
---
Richard Street, Commercial Road, London E1 2JP

A 020 7790 6327 m admin@mulberryschoolforgirls.org

www.mulberryschoolforgirls.org @MulberryTH

Acting Headteacher: Ms Alice Ward

Multilingual poetry

competition

The Mother Tongue

Other Tongue multilingual

poetry competition

formed an integral part

of our International

Mother Language Day

2022 programme.

On that day, we celebrated the

linguistic and cultural diversity

across our school community.

Through creative writing, the

poetry competition showcased

the many languages spoken

and learned by students – both

in school and at home. Here are

two of the winning entries.

A Quinceanera celebration

Our students were honoured to attend a Quinceanera

event at the Mexican Embassy residence with Her

Excellency, Josefa González-Blanco.

The day consisted of an intimate

sharing exercise where students

were able to speak about items of

importance to them and the women

they looked up to in their life. They

then went on to make bracelets

with symbolic meanings of strength

and good fortune. Lastly, they

enjoyed a wonderful lunch with

delicious Mexican food and lots of

networking with Her Excellency and

the Embassy dog, Tiny. Students

were inspired by the Ambassadors

warm and courageous personality,

Her Excellency stressed the

importance of saying 'no' and

ensuring that students understood

the importance of women being

able to say no as a complete

sentence: "You don't need to

explain your 'no' to anyone!".

We are extremely grateful for such

an incredible opportunity to learn

from such an amazing role model.

NEWS FROM OUR SCHOOLS

Super curriculum

The Key Stage 5 Supercurriculum

enables students

to develop specialist

knowledge in areas that

seize their interest.

Year 12 students hugely enjoyed

joining in at a fiery Intelligence

Squared debate examining whether

or not "We were right to Brexit".

They enjoyed hearing from Former

Conservative MEP, Daniel Hannan,

Cambridge University Historian,

Robert Tombs, Former MP for

Beaconsfield and Attorney-General,

Dominic Grieve. Students brimmed

with questions during the debate

and relished the opportunity to quiz

Labour MP for Walthamstow, Stella

Creasy, afterwards!

Five days in Italy

A group of Year 12

students had the fantastic

opportunity to take part

in a cultural immersion

trip to central Italy.

Participants were selected on

the basis of their outstanding

achievement and their positive

contribution to the Sixth Form.

They had the opportunity to visit

outstanding landmarks of national

beauty including Sassotetto

Mountain, waterfalls, Roman

amphitheatres, the historic town

of Ascoli and more! They loved

speaking Italian through the week.

Learning the traditional art of pastamaking

with 82 year-old Annuzuata

was a particular highlight. We are

looking forward to repeating the

trip in September and again in May

with next year's new Year 12 cohort.

5
---
NEWS FROM OUR SCHOOLS

Over 600 students

apply to join

Mulberry UTC!

With over 600 applications to

join us in September, we are all

really excited to welcome our new cohort

of Year 10 and Year 12 students in September.

Mulberry UTC staff and the student leadership team have been busy

hosting fantastic events such as our Offer Holders Welcome event

attended by around 100 new students in March and we also planned

taster sessions in person and online over the summer term.

It was great to see members of our new Year 9 cohort visiting the school

during May half term to meet their classmates and confirm their careerrelated

options for next year. We also hosted Year 9 students from St

Paul's Steiner School that month.

We have also launched an exciting series of progression events in

conjunction with Goldsmiths, University of London, which will support

students. We are really grateful to our partners for all the support they

provide for our students. We can't wait to see them all in the building!

ITV Media Workshop

On Tuesday 21st and Wednesday 22nd June, students

completed a brilliant two-day media workshop run by

ITV and the Ideas Foundation.

After learning about how to develop a TV format from initial idea to

final concept, students worked in groups to create a pitch for an original

TV which could be aired on ITV. Over the two days, they honed their

presentation skills and worked on developing their show concept to

make it both watchable and feasible.

They then delivered their persuasive

pitches to industry professionals from

ITV who chose a winner. Two of the

groups were chosen to go to the final

round in July where they will fine-tune

their pitches and compete against

other schools.

Students enjoy

a taste of science

and music at

Oxford University

On Sunday 5th June,

students from Mulberry UTC

were invited to the Oxford

Sheldonian Theatre by

Anwar Choudhury (former

British High Commissioner

to Bangladesh) for a day

filled with a taste of science

and music.

The event consisted of a tour

and a celebration of the Soul of

Music "Bengali and European folk

in Fusion" and a meeting with

Professor Denis Noble the British

biologist. This was organised by

CoBBC and Oxford Trobadors.

It was an honour for our students

to meet such distinguished

professionals. They were left feeling

motivated and that they could still

have their hobbies and interests, as

well as their professional careers.

Barts NHS

Simulation Hub

On Monday 20th June,

a group of Level 3

Health and Social Care

students were invited to

Barts Health NHS Trust

simulation hub located in

Newham College.

Students were able to gain a real

insight into how to support patients

within a hospital ward with the

support of experienced Health

6

and Social Care professionals. The

students are reaching the end of

their Level 2 Care Certificate and

this was a great opportunity to

apply the care standards they have

learnt during their theory lessons.

We also received some wonderful

feedback from our students:

"We were able to get an

insight to what our future careers

may look like and putting our

knowledge into practice. It was

an amazing opportunity."

Fahmeda Begum

"This experience gave us an

opportunity to develop and enhance

fundamental skills that we will need

in a healthcare environment."

Nuha Rahman

"It allowed me to demonstrate new

skills that I can take further and

use in my chosen career pathway."

Nooha Begum
---
64 Parnell Rd, London E3 2RU

A 020 3137 7024 m info@mulberryutc.org

www.mulberryutc.org @MulberryUTC

Acting Principal: Ms Sally Brian

Year 11 End of Year Celebration

On Friday 24th June, Mulberry UTC celebrated the end of

exams and their GCSE journey with our Year 11 students.

After what has been a challenging

two years it was amazing to see the

students really able to relax and have

some fun now that all of the hard work

and revision was finally behind them.

After welcome drinks, students took

their seats to watch a video montage

of some of the highlights from the

past two years, before the school's

Acting Principal, Director of Pastoral

Provision and Heads of House shared

their thoughts and students received

a range of awards for their efforts and

achievements in Year 11.

Performing Arts Masterclass

with Goldsmiths

On Thursday 16th June, our Year 11, 12

and 13 Media and Performing Arts students

took part in an exciting masterclass with

Goldsmiths, University of London.

Danny Braverman, Lecturer in Theatre and Performance,

and Millie Cooper, who graduated from Goldsmiths

with a degree in Performance, Politics and Society, ran

practical workshops for our students. Millie previously

worked on Channel 4's 'Ackley Bridge' and now works in

the VFX department at Warner Brothers studios. These

activities included opportunities for our students to

collaborate creatively and develop their improvisation

skills. In addition,

our visitors gave

the opportunity

to our students to

discuss their own

future creative

career pathways,

including roles

within performing

and production arts

and script writing.

A highlight of the event was the

speeches delivered by the Vice

Captains of Ash, Elm and Oak Houses –

Year 11 students who have represented

their Houses admirably over the past

two years. Their speeches were really

touching and demonstrated the close

bonds that the Year 11s have forged.

Staff and students then enjoyed a meal

together, dancing and lots of wacky

photos in the photo booth to take

home as memories of a great event.

We look forward to seeing our Year 11s

celebrating on results day!

Robert Halfon MP visit

In May, Mulberry UTC was

delighted to receive a visit from

Robert Halfon MP.

Robert Halfon is also the Chair of the Education

Select Committee and a huge advocate of UTCs

and the benefits of technical education.

Our students spent time demonstrating their

technical skills in our health suite and their acting

skills in our theatre and then talking at length

about their work experience opportunities with

the National Theatre and Barts Health NHS Trust.

Students were also given a special opportunity to

share their views on how social media companies

could better protect young people from harmful

materials on

their platforms.

Robert Halfon

committed to

taking their

thoughts and

experiences back

to Parliament for

discussion in his

Committee.

Employability session and apprenticeship launch

In May, Ipsos MORI delivered

a really useful employability

session and apprenticeship

launch for our Year 13

Business students.

As a partner school, Ipsos MORI

offers our students an expedited

recruitment process and a

guaranteed interview for their

Market Research Apprentices roles.

Our students were given top advice

on getting an apprenticeship from

Vivian Lo (Talent Partner) and

Alice Kenny (Talent Assistant). Our

students also met Holly Dibble and

Abbie Bradley who are current

apprentices at the organisation and

shared their journey working at

Ipsos MORI. The Year 13 Business

students critiqued a range of

example CVs and then brainstormed

their own CV ideas. The workshop

ended with a question and answer

session with Holly and Abbie.

NEWS FROM OUR SCHOOLS

7
---
NEWS FROM OUR SCHOOLS

Newsround turns 50

On Thursday 31st March, a group of

Year 7 students were invited to attend

the 50th Birthday of BBC Newsround

where they tried their hand at presenting,

interviewing and filming! Here's what

some of them had to say about the

exciting experience...

Newsround's 50th

anniversary was so

much fun! We took

part in activities such

as interviews, a Q&A

and presenting the

news whilst reading

an autocue. I was

also lucky enough to

receive autographs

and have photos

taken with my favourite presenters. I particularly

enjoyed being interviewed by De'Graft! We had a great

conversation and he even told me his secret. At the

end, we went down to watch a special anniversary

film and met the whole cast. This included former

presenters and producers. We were then allowed to ask

questions. We each received a Newsround goody bag

before making our way back to school. Overall, this has

been the best opportunity for me in years and I could

not be more grateful. Happy Birthday Newsround!

Sabrina Fergous, 7E

Yesterday was the most exciting day of my life.

I managed to get five people's autographs. Firstly,

we were introduced to the Newsround team and ate

dinner. After that we took part in various activities.

We had a go at presenting on TV. I was able to

interview a Newsround presenter – he told me that

he had been a newsreader for three years. After the

interviews, we went to a theatre and watched a special

film about the history of Newsround.

During our time in the theatre, I met the Newsround

creator. He told us that Newsround started in 1972,

50 years ago! Thank you to Ms McRill and Mr Hibbs

for picking me. I feel very lucky to have been chosen

to take part.

Abdulrahman Gamal, 7F

Newsround was a brilliant place and it was a great

experience for me. All the people were very kind

and nice to talk to. I'm glad I got to go because not

everyone gets the opportunity and my favourite

part was working the camera and using professional

headphones. There were amazing people there like

Shaniqua and De'

Graft, who both

present Newsround.

I want to say a

huge thank you to

Newsround and my

teachers for letting me

experience this. Happy

Birthday Newsround!

Kiarna Clark, 7E

Proud to Be at the Jubilee

On Sunday 5th June, the following

Mulberry Academy Shoreditch "Proud

to Be" poets were invited to Kensington

Palace to perform as part of the Royal

Jubilee Celebrations: Greta Kilgariff 8D,

Harry Duah 8F, Mahdi Islam 8F, Tonniann

Daley 9F, Ethan Tison 8D, Isra Farhan 7B

and Khadijat Olowolagba 7D.

The day was a fantastic testament to the students'

hard work and dedication to the project, as they each

performed an outstanding piece of original poetry on

the theme of unity, community and friendship. The

students blew the audience away as they performed

their pieces confidently off-script, with members of

the public approaching us to exclaim how talented the

students were. Furthermore, the community spirit and

comradery of the students as they supported each

other was a lovely sight to see.

As the day progressed, students performed alongside

established spoken word artists, and there were many

activities to entertain

performers and the

public alike with ice

cream aplenty to

keep energy levels

high at the Palace all

afternoon. A huge

congratulations to all

students involved.

Tower of London

Superbloom project

To mark the Queen's Platinum Jubilee,

over 20 million seeds have been sown

in the moat at the Tower of London.

The flowers will develop and morph over the

course of the summer, culminating in the creation

of a beautiful, new landscape. The project, called

'Superbloom', is designed to attract pollinators

and will bring a wonderful natural beauty to this

urban space and introduce a new biodiverse

habitat for wildlife.

Recently, a group of Year 7 Tower House students

took part in an art workshop to design and make

colourful flowers and creatures that will live in the

MAS Superbloom garden which they have already

planted in the

school grounds.

The group also

visited the Tower

of London in

June to see the

spectacular

floral moat for

themselves.

8