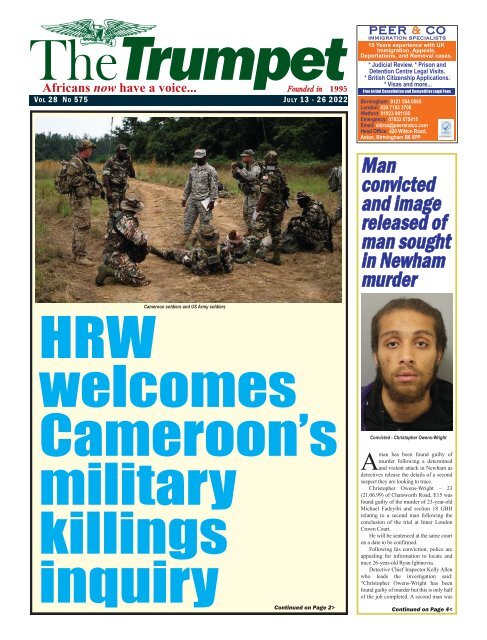 The Trumpet Newspaper Issue 575 (July 13 - 26 2022)
Human Rights Watch welcomes Cameroon's military killings inquiry
Human Rights Watch welcomes Cameroon's military killings inquiry
SHOW MORE
SHOW LESS
You also want an ePaper? Increase the reach of your titles
YUMPU automatically turns print PDFs into web optimized ePapers that Google loves.
TheTrumpet

Africans now have a voice... Founded in 1995

V O L 28 N O 575 J U LY 13 - 26 2022

PEER & CO

IMMIGRATION SPECIALISTS

15 Years experience with UK

Immigration, Appeals,

Deportations, and Removal cases.

* Judicial Review. * Prison and

Detention Centre Legal Visits.

* British Citizenship Applications.

* Visas and more...

Free Initial Consultation and Competitive Legal Fees

Birmingham: 0121 554 0565

London: 020 7183 3706

Watford: 01923 901150

Emergency: 07833 675415

Email: shiraz@peerandco.com

Head Office: 420 Witton Road,

Aston, Birmingham B6 6PP

Man

convicted

and image

released of

man sought

in Newham

murder

Cameroon soldiers and US Army soldiers

HRW

welcomes

Cameroon's

military

killings

inquiry

Continued on Page 2>

Convicted - Christopher Owens-Wright

Aman has been found guilty of

murder following a determined

and violent attack in Newham as

detectives release the details of a second

suspect they are looking to trace.

Christopher Owens-Wright – 23

(21.06.99) of Chatsworth Road, E15 was

found guilty of the murder of 23-year-old

Michael Fadeyibi and section 18 GBH

relating to a second man following the

conclusion of the trial at Inner London

Crown Court.

He will be sentenced at the same court

on a date to be confirmed.

Following his conviction, police are

appealing for information to locate and

trace 26-year-old Ryan Igbinovia.

Detective Chief Inspector Kelly Allen

who leads the investigation said:

"Christopher Owens-Wright has been

found guilty of murder but this is only half

of the job completed. A second man was

Continued on Page 4
---
Page2 TheTrumpet JULY 13 - 26 2022

News

HRW welcomes Cameroon's military

killings inquiry

Continued from Page 1<

"serious and unfortunate incident." He

said that four soldiers have been arrested

and an investigation has been opened. He

also offered his condolences to the

victims' families.

"The admission of responsibility by

the army and the announcement of an

investigation are crucial steps toward

justice for these serious crimes," said

Ilaria Allegrozzi, senior Central Africa

researcher at Human Rights Watch. "The

authorities now need to ensure that the

investigation is thorough, impartial and

independent, and capable of establishing a

clear timeline of events and the

identification of all those responsible,

including in the chain of command, with

an aim toward prosecution."

Between June 2 and July 5, Human

Rights Watch interviewed six people from

Missong by telephone, including five

residents who witnessed the killings and

a traditional authority, known as "the

Fon." Human Rights Watch also reviewed

three photographs and four videos, shared

directly with its researchers, which

showed the bodies of some of the victims

and their burial. Human Rights Watch

shared the findings with Atonfack in a

June 27 email. Atonfack did not reply.

In the June 7 news release, Atonfack said

a group of "defiant villagers" confronted

soldiers from the 53rd Bataillon

d'infanterie motorisée (Motorized

Infantry Battalion, or BIM) searching for

a missing soldier and that in a "manifestly

disproportionate" and "hasty" response,

the soldiers opened fire, killing nine

civilians, including four women and an

18-month-old girl. Human Rights Watch

found no evidence of a confrontation

between the soldiers and the villagers or

that the villagers provoked the soldiers to

resort to lethal force.

"They [soldiers] started shooting

randomly," said a woman who lives in

Missong and who was there. "There was

no violent villager, there was no

confrontation whatsoever. They came and

killed our people. It was a savage act

without any justification. As soon as we

saw what was going on, we ran into the

bush, and we stayed there until the

following morning."

The witnesses and the Fon said that in

mid-May, national soldiers established

their base in Abar, less than 1 kilometer

Continued on Page 3<

Cameroon soldiers run through room clearing exercises (U.S Army photo by Spc. Miguel Pena)

Cameroon's announcement of the

opening of an investigation into

the killing of nine people in

Missong village, North-West region, on

June 1, 2022 is an important first step in

ensuring accountability around the

alleged murder of civilians by

government forces, Human Rights Watch

has said.

Cameroon's army spokesperson -

Colonel Cyrille Serge Atonfack Guemo

formally acknowledged military

responsibility for the killings in Missong

in a June 7 news release, calling them a

LAND FOR SALE

at Isoko

Estates

Nigeria

1) ONE (1) Acre of Land (6 Plots) at OKUSHU in OKO-AFO close to AGBARA

and ATAN to ADO-ODO, off BADAGRY Express way. This is an upcoming

residential developing area.

The electricity supply from the national grid, is through Agbara. Very dry soil,

Not flood plain (NO FLOOD PROBLEMS) PRICE: N1.5 MILLION.

2) 2 Plots of Land for Sale at ERUKU - OKO-AFO; AGBARA AREA, also, ATAN,

and ADO-ODO, through Badagry Express way, and it also benefits from good

transport systems and national grid is through Agbara and ATAN area.

PRICE: N900,000. Nine Hundred Thousand Naira.

All the above properties are recommended for early grab as we are inaundated

with enquiries, therefore, first come, first served.

PLEASE CALL :- +44 (0)7802 575486 - JOE

PEER & CO

IMMIGRATION SPECIALISTS

15 Years experience with UK

Immigration, Appeals,

Deportations, and Removal cases.

* Judicial Review. * Prison and

Detention Centre Legal Visits.

* British Citizenship Applications.

* Visas and more...

Free Initial Consultation and Competitive Legal Fees

Birmingham: 0121 554 0565

London: 020 7183 3706

Watford: 01923 901150

Emergency: 07833 675415

Email: shiraz@peerandco.com

Head Office: 420 Witton Road,

Aston, Birmingham B6 6PP
---
News

JULY 13 - 26 2022

TheTrumpet

HRW welcomes Cameroon's military

killings inquiry

Page3

Continued from Page 2<

from Missong. From there, they regularly

came to Missong to get supplies and were

welcomed by the local population. On

June 1, they said, soldiers gathered with

villagers in the morning at the Fon's

residence to eat and get food. After the

gathering, all but two of the soldiers

returned to their barracks, and the two

who remained went to drink and allegedly

smoke drugs at the home of a resident in

Missong. When the commander realized

the two were missing, he dispatched

another two soldiers to search for them in

Missong.

Missong residents told Human Rights

Watch that the dispatched soldiers did not

immediately find the two soldiers who

were in the village, and thought that

separatist fighters operating in the area

had killed or kidnapped them. In apparent

retaliation, they killed nine people

suspected of harboring separatist fighters.

A 31-year-old businessman whose 28-

year-old wife was killed and their 14-

month-old child was injured in the attack

said: "The military were shooting, and we

ran into the house to seek shelter. I hid

under the bed. Three soldiers broke in,

dragged my wife outside, and shot her.

She was shot in the right arm and in the

neck. One of the bullets hit the baby she

was carrying in her arms. The baby was

injured in his left leg. I heard the soldiers

saying in Pidgin English: 'This animal has

survived,' referring to my child."

A 22-year-old Missong resident said:

"We saw the soldiers shooting at 'njangi

house,' the place where they [the missing

soldiers] had gone. They shot furiously

and we ran toward the nearby bush as fast

as we could. When we came back, we

found five bodies there and four more in

the village, including the one of a child

and the Fon's son."

Residents said they buried the bodies

on June 2 of the nine who were killed.

The attack in Missong is not an

isolated case, but part of a pattern of

systematic human rights violations by the

Cameroonian security forces in the

Anglophone regions since 2016.

Government statements acknowledging

military wrongdoing are rarely provided.

Previously, the authorities denied

reports that their troops had committed

serious human rights violations in the

English-speaking regions, and accused

those who uncovered them, including

Human Rights Watch, of separatist

propaganda and destabilization of

Cameroon.

In one case, the authorities initially

denied military responsibility for

the killings of 21 civilians, including 13

children, in Ngarbuh village, North-West

region, on February 14, 2020.

Later, following sustained national and

international pressure, they admitted that

soldiers were implicated in the massacre.

Separatist fighters seeking

independence for Cameroon's two

English-speaking regions have also

committed serious human rights abuses,

including killings, kidnappings,

and widespread attacks against education.

"The government's decision to go

public about the killings, to open an

investigation and arrest four soldiers

hopefully indicates an end to denying and

hiding the truth around serious human

rights abuses," Allegrozzi said. "The

authorities should report on the progress

of the investigation and make the findings

public."

Ilaria Allegrozzi
---
Page4

TheTrumpet

TheTrumpet Group

Field: 07956 385 604

E-mail:

info@the-trumpet.com

TheTrumpetTeam

PUBLISHER / EDITOR-IN-CHIEF:

'Femi Okutubo

CONTRIBUTORS:

Moji Idowu, Ayo Odumade,

Steve Mulindwa

SPECIAL PROJECTS:

Odafe Atogun

John-Brown Adegunsoye (Abuja)

DESIGN:

Xandydesigns@gmail.com

ATLANTA BUREAU CHIEF:

Uko-Bendi Udo

3695 F Cascade Road #2140 Atlanta,

GA 30331 USA

Tel: +1 404 889 3613

E-mail: uudo1@hotmail.com

BOARD OF CONSULTANTS

CHAIRMAN:

Pastor Kolade Adebayo-Oke

MEMBERS:

Tunde Ajasa-Alashe

Allison Shoyombo, Peter Osuhon

TheTrumpet (ISSN: 1477-3392)

is published in London fortnightly

THINKING

OF

WRITING

A BUSINESS

PLAN?

JULY 13 - 26 2022

We can help you develop a

professional business plan

from only £250.

For more information, contact us

at 07402792146 or email us at:

tolu.oyewole@consultant.com

News

Man convicted and image

released of man sought in

Newham murder

Continued from Page 1<

involved in the pursuit and attack on Michael

and his friend and we are appealing for the

public's assistance to locate Ryan Igbinovia.

"If you have seen him, or know where he

is, then please get in touch. Michael's family

have been devastated by his death and they

deserve to see both those responsible brought

to justice."

The fatal assault happened in the early

hours of 6 August 2021 in Henniker Road, E15.

Michael, and a second man, had been pursued

through the streets by Owens-Wright and

second man, named in court as Ryan Igbinovia

– both of whom were armed with machetes.

After catching up with Michael in Henniker

Road, both suspects attacked him, stabbing him

multiple times before leaving him dying in the

streets. The man Michael was with was also

stabbed but luckily survived his injuries.

Emergency services were called to the

scene but nothing could be done to save

Michael.

Homicide detectives were called and

immediately began to piece together the events

of that evening.

Intelligence was received that Owens-

Wright was one of those involved.

Through thorough analysis of CCTV

Bubble In Christ Music Band

For your Music band with

classic rendition for all

occasions, with traditional,

contemporary African

international and Gospel filled

with professional decent

Presentation.

More Musicians, Singers,

Instrumentalists, handy men,

Music directors band coordinators,

Audio and/or video

technicians, Drivers,

Marketing Personnel are

welcome.

Contact: Olugbenga on

07438 264613

working back from the scene of the crime,

detectives pieced together the foot pursuit

through the streets of Newham, showing

Michael and his friend being chased by Owens-

Wright and the second suspect, who were

armed with machetes.

An initial search of the scene by the officers

who first responded to the call to Henniker

Road recovered a small knife which was

believed to have been in Michael's possession.

However, Owens-Wright's DNA was also

found on the blade, proving he had been in

contact with this weapon, most likely have been

injured by it.

Owens-Wright was arrested two days after

the attack, having fled London to Nottingham.

On his arrest he was found to be suffering

several small injuries to his left hand.

Officers seized his mobile phone and

following forensic analysis of its contents,

could match the movements of those seen in the

CCTV pursuing Michael to this device.

Following a search of his address in

Newham, a box containing an invoice for three

machetes was discovered. Although the name

on the invoice was different to Owens-Wright,

his fingerprints were found on both sides of the

documentation, proving he had been in receipt

of this.

Despite offering no comment in his police

interview, the weight of evidence was

overwhelming and Owens-Wright was charged

with murder and attempted murder.

A statement from Michael's family said:

"Today, Justice has been served. We want to say

a big thank you for the excellent work that the

Metropolitan Police have done over the past

few months, in making sure that Christopher

Owens-Wright will pay for what he did to

Michael. Our thanks are extended to those

family members, friends and the wider

community who have been so supportive

throughout this difficult period."

DCI Allen added: "Christopher Owens-

Wright undertook a sustained and dogged

pursuit of Michael Fadeyibi and his friend

through the streets of Newham with the express

purpose of catching them and inflicting serious

harm on them.

"The prosecution likened this pursuit to a

hunter tracking their prey and that is a

disturbing image but one I cannot disagree

with.

"Michael – who was known to Owens-

Wright – had fallen out with each other in the

days prior to the attack. What this falling out

was over has not been established, but it was

sufficient for Owens-Wright to arm himself

with a machete and set out across the streets to

hunt Michael and his friend down and attack

them.

"While I hope this conviction brings a

degree of closure to Michael's friends and

family, I am acutely aware that the second

suspect in this attack remains outstanding. I

would urge anyone who knows who this person

is to come forward and speak to police in

confidence. If you don't want to speak to police,

you can provide information anonymously to

the independent charity CrimeStoppers."

Anyone with information about Ryan

Igbinovia's whereabouts is asked to call the

police incident room on 020 8345 1570.

Alternatively, you can speak to the independent

charity Crimestoppers anonymously on 0800

555 111.

CHERUBIM & SERAPHIM MOVEMENT CHURCH

Amazing Grace District -London Branch 2

God's Promises

never fail:

* Before they call I

will answer; while

they are still

speaking I will hear

(Isaiah 65: 24)

Wanted - Ryan Igbinovia

WEEKLY DELIVERANCE SERVICE

Deliverance: Every Wednesday

Time: 6.30pm – 7pm (Individual Prayer & Counselling)

Midweek Church Service: 7pm – 9pm

Venue: Orange Room, Albany Theatre, Douglas Way,

London SE8 4AG

Other Service: Sunday Thanks giving 11am – 1.30pm

Murdered - Michael Fadeyibi

* He will call upon me and I

will answer him: I will be

with him in trouble, I will

deliver him and honour him

(Psalm 91: 15)

For further information, contact - Church Secretary: S/M/I/I (Dr) I Oni-Owoyemi 07788 745231 Or

Church Elders: S/A T Owoyemi 07956 996689 or / M/S/A W Ojomo 07939 836499 or / Apostle T Gbolasere 07484 243990

Email: amazinggracebranch2@gmail.com
---
JULY 13 - 26 2022 TheTrumpet

Page5
---
Page6 TheTrumpet JULY 13 - 26 2022

News

PR guru appointed Goodwill

Ambassador of UN Association

Mavis Amankwah

Public Relations and

Marketing guru and

entrepreneur - Mavis

Amankwah has been appointed as a

Goodwill Ambassador for the

United Nations Association.

The Swearing-In ceremony took

place last week in Accra, Ghana,

and online.

Amankwah said "It is a true

honour to be appointed as a

Goodwill Ambassador for the

United Nations Association. Since I

started my business 22 years ago, it

has always been a goal of mine to

assist in making a difference. I am

excited to address the needs of the

various Sustainable Development

Goals the United Nations have

stated in their mandate."

She will use her vast network of

international contacts to raise the

profile of the UNACWCA.

To celebrate her appointment,

Mavis will be hosting an All-White

Post-Inauguration Ceremony &

Business Networking Boat Party for

100 guests on Thursday 18 August!

If you would like to know more

about Mavis' appointment with the

UN Association, please email

business@mavisamankwah.com or

call 07949 441284.

Opinion

Why African languages matter

By Victor Oladokun

Public advocacy and campaigns should be developed to encourage family

members and local communities to pass on the treasure of language to the

younger generation

Recently, the Union African

Union adopted Swahili as one of

the official languages alongside

French, Spanish, Portuguese, and

Arabic. I could not have been more

glad.

For decades, it has always struck me

as odd that not a single African

language is spoken in the hallowed halls

of Africa's main political institution.

The decision by the AU in February

2022 was long overdue and should be

applauded by all and sundry regardless

of nationality.

Why is this important? Simply

because Africa has a language crisis.

As a 10-year-old newly arrived in

Lagos from England, I recall listening

intently to how the Yoruba language -

my father's language - was spoken. I

would constantly repeat in my head or

verbally repeat what I thought I had

heard. I was not always successful.

Many times, what would come out of

my mouth would throw my friends into

fits of laughter.

Yoruba is a tonal language. Some

three-letter words pronounced wrongly

or with the accent on the wrong syllable

can get you into a whole lot of trouble.

I am indebted to the Canadian

Catholic boarding School I attended in

Ondo - St. Joseph's College. At the

time, the high school was well known

for academic rigor and discipline. But

one thing I've come to appreciate over

the years was the mandatory learning of

the Yoruba language in the first two

years of a five-year study. In addition,

while Mass was in Latin and English,

the music also had a generous

sprinkling of uplifting Yoruba hymns

backed by traditional drums.

As I look back, I owe my love of the

Yoruba language to this linguistic and

cultural exposure.

Which is one of the reasons why I

never cease to be amazed by the

linguistic snobbery of many upwardly

mobile and not-too-upwardly mobile

Nigerian and African elite, when it

comes to transferring knowledge of

indigenous languages to their children.

In the case of my fellow Yoruba, it

Victor Oladokun

is not unusual to be regaled with pride

about how their children only speak

English.

With an affected Yoruba-English

accent denoting social class, this is how

the commentary tends to goes - "Ehhh

... so mo pe awon omo aiye isiyin, won

o gbo Yoruba mo. Oyinbo nikan ni won

gbo." Meaning "You must realise that

today's generation no longer speaks or

comprehend Yoruba. They only speak

Continued on Page 15
---
JULY 13 - 26 2022

TheTrumpet

Page7

"It's an

MICHAEL LAWAL

FOUNDER, SENDIT.MONEY

Meet the founders

defying the odds and

shaping the future.

Watch Black Futures on Barclays UK YouTube
---
Page8 TheTrumpet JULY 13 - 26 2022
---
JULY 13 - 26 2022 TheTrumpet

Page9
---
Page10 TheTrumpet JULY 13 - 26 2022

Travel

How to increase

your chances

of being

upgraded

on a flight

Champagne onboard - (Shutterstock - David

Wingate) supplied by Forbes Travel

Arecent survey found that 65% of people

plan to 'go big' with their travel plans

this year, with many wanting to make

up for lost time after the pandemic.

Alongside this, 40% of travelers are

willing to spend more on trips, splurging on

treats for their getaway.

However, for many, the price of a first

class plane ticket is still out of reach with

airlines such as Emirates charging upwards

of $10,000 for a one-way ticket.

Therefore, Travel Experts at Forbes

Advisor have put together their advice on how

to increase your chances of being upgraded

on a flight, from knowing when to check in,

to how to ask for an upgrade.

1. Check in early.

When heading to the airport, most people

simply try to arrive with enough time to

check in bags, clear security and relax

before taking off. However, many people

don't realize the time you check in can

influence your chances of an upgrade.

If you want to improve your chances of a

free first class seat, try checking in either very

early – or last minute. If you arrive several

hours early for your flight, you're most likely

to beat off any competition for first class or

business tickets – and avoid missing out to

someone who got there before you. Chances

are if the economy cabin has been

overbooked, airlines will want to rectify this

sooner rather than later to avoid causing

delays.

2. Be flexible

Ensuring you're a helpful and flexible

customer can often lead to rewards. It's

not uncommon for some airlines to

overbook flights leading to them needing

to 'bump' passengers to another flight. If

the airline is looking for volunteers to take

a later flight, take the opportunity as it

could lead to a free upgrade for your

troubles.

If a first class ticket isn't offered and you

have been bumped (voluntarily or not), it's

always worth asking if they can upgrade your

ticket due to the inconvenience.

Another common occurrence on flights is

to be asked to move to a new seat by the cabin

crew. While this can be inconvenient, if

you're flexible it could be to your advantage.

Say yes to being moved and you could land

yourself with a first class seat – if not, again

it's always worth asking for an upgrade for

your troubles.

3. Fly solo

Due to the premium price of first class

seats, you have much better chances of

getting an upgrade if you're flying alone.

It's unlikely airlines will want to lose out

on money to upgrade a large group, so are

more likely to offer a free first class ticket

to individuals.

Alongside this, seating in first class is

often limited, meaning there is less chance of

a group of seats becoming available.

4. Pick your flight time wisely

There are certain conditions where first

class seats are less likely to be fully

booked up. For example, if economy class

is overbooked you're much more likely to

be offered a free upgrade.

Consider occasions when this might be

the case – for example, flying during peak

times for families such as school holidays –

most families won't shell out to sit in first

class and routes will be busy, increasing the

likelihood of an overbooked economy cabin.

Alongside this, there is a higher likelihood

you may be asked to move seats to

accommodate a family with young children –

again providing opportunity to be given or ask

for an upgrade.

5. Dress smart

While dressing in your finest clothes is no

guarantee for an upgrade, a smart outfit

will certainly enhance your chances of

being chosen.

Top paying customers will often be

dressed sharper, and airlines will want to

STALLIONS AIR

Ipanema Travel Ltd

AFRICA FLIGHTS

SPECIALISTS

LAGOS fr £477

(2 Bags)

020 7580 5999

07979 861 455

Call AMIT / ALEX

ensure anyone they bump to first class looks

the part.

Don't feel the need to dress in anything

extravagant. However, just make sure you

avoid items that are too casual like flip flops

and cargo shorts.

6. Ask politely

Last but not least, one of the best tactics is

simply to ask airlines if there is a chance

for an upgrade. As long as you are polite,

there is no reason why this can't land you

a free first class ticket.

This is especially worth trying if you've

been inconvenienced in any way by the

airline; have been delayed, lost your baggage

or missed a connection. Politely mention that

an upgrade would be appreciated, if possible,

and stress your loyalty to the airline.

Alternatively, if your flight is for a special

occasion, why not try your luck by

mentioning it? Many airline staff will help to

upgrade you if they can to make occasions

such as honeymoons, anniversaries and

birthdays more special.

A spokesperson at Forbes Advisor shares

their advice on avoiding flight upgrade scams:

"Many people would love the chance to

experience a first class flight, many of us have

often dreamed of champagne on tap, ultimate

leg room and complimentary toiletries. But

with demand, often comes opportunities for

scammers, and first class flight tickets are no

exception.

When looking to book a first class flight,

make sure to only book direct with your

airline or through a reputable website. One

common way to spot a scam is: if a deal

seems too good to be true, it probably is.

Alongside this, another common ticket

scam is buying frequent flyer points or miles

from someone else. While it may seem

tempting to buy airline points, this is strictly

against the rules of many carriers."

Sources:

https://thepointsguy.com/reviews/emirat

es-first-class-vs-economy/

https://newsroom.expedia.com/2021-11-

30-The-GOAT-mindset-Expedia-reveals-

2022s-biggest-travel-trend

73 WELLS ST, W1T 3QG

All Fares Seasonal

ATOL 9179
---
TheArts

JULY 13 - 26 2022

TheTrumpet

Muyiwa James launches new album

featuring Adeyinka Alaseyori

Page11

United-Kingdom-based and

Nigerian-born Gospel Singer –

Muyiwa James (a.k.a Mr

Firigbogbon) holds an Album Launch

and Concert in London on Friday 29

July 2022.

Muyiwa James' latest album from

the stable of Jambo Music is tagged

'V.I.P' and it also features inspiring

Gospel Singer - Adeyinka Alaseyori.

It follows on from his previous

album: Firigbongbon (Humongous) -

the gospel medley composed in

English, Yoruba and Ghanaian

languages.

Starting at 7pm, the launch and

concert takes place at Jo Richardson

Community School Hall (Castle

Green), Gale Street, Dagenham RM9

4UN.

The event will feature a number of

Nigeria and UK based Gospel Artistes.

Entry to the event is free and tickets

are available at: Jambo Music

Productions on Eventbrite.
---
Page12 TheTrumpet JULY 13 - 26 2022

Earn money as a Trumpet Ambassador

campaign.

Sale of Banner Adverts, 'Highlights' and

Mail-shots our in Email Newsletters.

With rates ranging from £100 to £500 per

insertion, we pay Ambassadors a 15%

Commission.

Sale of Advertising on our Social Media

channels.

With rates ranging between £100 to £200

per channel per post, we pay a 15%

Commission.

Sale of Sponsorship, Advertising,

Exhibition spaces and Tickets for GAB

Awards and Trumpet Connect.

With most products and services ranging

between £100 and £20,000, we pay a 15%

Commission.

Engagement Status

Our freelance Ambassadors run their own

business, work from their own home or

office, and choose the amount of time

they devote to the programme. They work

towards the amount they want to earn.

They choose their legal status in terms of

whether they operate as a Self-Employed

individual or a Limited Company or any

other appropriate status depending on the

country they operate, but we suggest you

take professional advice on this.

Ambassadors are fully responsible for

ensuring their tax affairs and other related

issues fulfil the legal requirements of their

country of operation.

Incentives

From time to time, to incentivise our

Ambassadors, we may run special

promotions, or reward achievements,

milestones and introduction of other

Ambassadors to the programme through

cash or advert credits.

About Us

Trumpet Media Group is an

international media organisation with

various media products, services and

events targeting Africa, Africans and Friends

of Africa in the Diaspora and on the

Continent.

Its first media venture - Trumpet Newspaper

started 23 years ago - in 1995, closely

followed by the founding of the prestigious

Gathering of Africa's Best (GAB) Awards in

1999. There are a number of other niche

products, services and events - with plans to

grow our portfolio over the coming months

and years.

Sales Ambassadors

Our planned future growth has given rise to

the need to take on talented and ambitious

Sales Ambassadors who share our vision of:

promoting the positive image of Africa and

Africans, and are able to sell some (or all) of

our growing number of products and services

on a freelance basis.

Products and Services

We are introducing our portfolio of products,

services, and events below on to the Trumpet

Ambassadors Programme (TAP) in phases.

Print Newspapers: The Trumpet Newspaper

and Trumpet Ghana Newspaper.

Website: www.TrumpetMediaGroup.com

Email Newsletters: Trumpet Newsbreaker,

Trumpet Kenya, Trumpet Nigeria, Trumpet

Sierra Leone, Trumpet Gambia, Trumpet

Ghana

Social Media: Facebook, Twitter, Instagram,

Pinterest, LinkedIn, Google+ and WhatsApp.

Events: GAB Awards and Trumpet Connect.

The Opportunities

Opportunities to earn revenue through

Commissions are currently available by

way of:

Sale of Subscriptions to any (or both) of

our Print Newspapers.

With Annual Subscriptions starting from

£60, we pay a 10% Commission.

Distribution and Sales of bulk copies our

Newspapers.

We pay a 35% Commission - split between

the Ambassador and the Sales Outlet.

(Outlets will usually take between 15%

and 25% depending on its type and your

negotiating skills.)

Ambassadors may choose to sell directly

to their clientele or at events and keep the

entire 35% Commission.

Sale of Advertising Spaces in our Print

Newspapers.

With most Advert Spaces ranging from

£80 to £4500 per edition, we pay a 15%

Commission. You receive a Commission

on all editions in the campaign in line

with the Client's payment - for example, if

an advertiser books and pays for six

editions, you get a Commission on all six

editions.

Sale of Banner Adverts on Website

With Banner Adverts ranging between

£50 and £200 per week, we pay a 15%

Commission for the length of the

Payments

Commission Payments to Ambassadors

are made by the 15th day of the month

following payment of Clients - For

example, Commission on Clients'

payments in January will be paid by 15th

February.

Distribution and Sales of bulk copies of

Newspapers (4.3) are excluded from the

payment arrangement above (7.1).

An Ambassador buys and pays for bulk

copies in advance at a discounted rate

with the TAP Commission deducted upfront.

For example, if an Ambassador

orders bulk copies worth £100 in advance,

the Ambassador only pays us £65

(deducting the 35% Commission upfront).

We operate a No-Returns policy on

Newspaper Sales.

Joining the Programme

It currently costs £100 per annum to join

the Trumpet Ambassadors Programme

(TAP).

Introductory Offer - Join the programme

by 31 August 2018 and accumulate sales

of at least £1000 across any or all of our

products by 30 September 2018; and we

will reward you with 100 TAP Points

worth £100 - which you can spend on any

of our opportunities (4.2) - (4.8).

To join the programme, please request the

Trumpet Ambassadors Programme Form

and via email: info@the-trumpet.com
---
Ghana

JULY 13 - 26 2022 TheTrumpet Page13

IMF visits Ghana to assess economy

Ofori-Atta, and Governor Addison of

the Bank of Ghana. The team also met

with the Parliament's Finance

Committee, civil society organizations,

and development partners, including

UNICEF and the World Bank to engage

on social spending.

At the conclusion of the mission,

Mr. Sdralevich issued the following

statement:

"Ghana is facing a challenging

economic and social situation amid an

increasingly difficult global

environment. The fiscal and debt

situation has severely worsened

following the COVID-19 pandemic. At

the same time, investors' concerns have

triggered credit rating downgrades,

capital outflows, loss of external market

access, and rising domestic borrowing

costs.

"In addition, the global economic

shock caused by the war in Ukraine is

hitting Ghana at a time when the

country is still recovering from the

Covid-19 pandemic shock and with

limited room for maneuver. These

adverse developments have contributed

to slowing economic growth,

accumulation of unpaid bills, a large

exchange rate depreciation, and a surge

in inflation.

"The IMF team held initial

discussions on a comprehensive reform

package to restore macroeconomic

stability and anchor debt sustainability.

The team made progress in assessing

the economic situation and identifying

policy priorities in the near term. The

discussions focused on improving fiscal

balances in a sustainable way while

protecting the vulnerable and poor;

ensuring credibility of the monetary

policy and exchange rate regimes;

preserving financial sector stability;

and designing reforms to enhance

growth, create jobs, and strengthen

governance.

"IMF staff will continue to monitor

the economic and social situation

closely and engage in the coming

weeks with the authorities on the

formulation of their Enhanced

Domestic Program that could be

supported by an IMF arrangement and

with broad stakeholders' consultation

"We reaffirm our commitment to

support Ghana at this difficult time,

consistent with the IMF's policies.

"Staff express their gratitude to the

authorities, civil society, and

development partners for their

constructive engagement and support

during the mission."

An International Monetary Fund

(IMF) staff team led by Carlo

Sdralevich has visited Accra, to

assess the current economic situation

and discuss the broad lines of the

government's Enhanced Domestic

Program that could be supported by an

IMF lending arrangement.

The IMF team met with H.E. Vice

President Bawumia, Finance Minister

We are recruiting:

Independent Sales Consultants

Trumpet Media Group - an

international media

organisation targeting Africa,

Africans and Friends of Africa

in the Diaspora and on the

Continent was founded 24

years ago - in 1995.

Our growth has given rise to the need to engage the services

of self-employed Independent Sales Consultants and

organisations to sell some (or all) of our growing number of

products and services on a Commission-only basis.

The Opportunities

Opportunities to earn revenue through Commissions are

currently available by way of:

· Sale of Subscriptions to our Print Newspapers.

· Distribution and Sales of bulk copies our Newspapers.

· Sale of Advertising Spaces in our Print Newspapers.

· Sale of Banner Adverts on Website.

· Sale of Banner Adverts, 'Highlights' and Mail-shots in Email

Newsletters.

· Sale of Advertising posts on our Social Media channels.

· Sale of Sponsorship, Advertising, Exhibition spaces and

Tickets for GAB Awards and other events.

To apply, please email: info@the-trumpet.com
---
Page14 TheTrumpet JULY 13 - 26 2022
---
Opinion

JULY 13 - 26 2022 TheTrumpet Page15

Why African languages matter

Continued from Page 6<

English."

The comment by the way is

supposed to be a badge of honor.

Languages become endangered

for many reasons.

While focusing on Nigeria, the same

applies to almost all African countries.

1. Unprecedented urban mobility

and migration, in which children grow

up in places where the language of their

parents is either not generally spoken or

where it is no longer taught in the

community.

2. Inter-ethnic marriages and

relationships and recourse to the official

language of English or the more widely

spoken Pidgin English.

3. A tech-driven world that is

dominated by less than a dozen global

languages. Consequently, social media,

TV and digital content, children's

programs, computer games, mobile

apps, and news content, do not favor

indigenous African languages.

4. Dislocation of populations due to

terrorism and ethnic conflicts.

5. Economic migration that ends up

leaving the older and elderly speakers

of a language behind in rural

Tel: +44 (0) 7956 385 604

communities. Languages cannot live

without children speakers. As such, as

elderly rural speakers die out, the

survival of some languages is simply

impossible.

This is the dilemma that has befallen

the Yoruba language and countless other

indigenous Nigerian and African

languages.

Language is all-encompassing. It

is not just a means of communicating.

It is also a repository of values,

customs, culture, and history. In

short, language is the embodiment of

who a people are.

Therefore, the loss or extinction of a

language is simply not an inability to

speak in a way and manner that is

generally understood. It is the loss of

identity - linguistically, culturally,

psychologically, and historically.

I'm delighted to see indigenous

Nigerian languages woven into the

fabric of many recent Nollywood

blockbuster movies. It's a step in the

right direction.

According to the Atlas of Languages

in Danger of Disappearing published by

the United Nations Educational,

Scientific and Cultural Organization,

and (UNESCO), today, there are an

estimated 7,000 languages spoken

worldwide. Half of the world's total

population speaks only eight of the

most common. Also, more than 3,000

languages are said to be spoken by

fewer than 10,000 people each.

So what can we do about linguistic

genocide?

Fold our arms? Bemoan our fate?

Accept the seemingly unstoppable

collision of languages with the forces of

'modernization' and globalization? Or

do we take stock, recognize what is at

stake, turn adversity into opportunity,

and innovatively add value to the

tremendous linguistic resources that we

own?

We have no choice.

Following are 7 suggestions:

1. Policymakers should go back to

the drawing boards and once again

make the teaching and learning of

indigenous languages compulsory from

kindergarten through high school.

2. Public advocacy and campaigns

should be developed to encourage

family members and local communities

to pass on the treasure of language to

the younger generation. One of Africa's

dilemmas today is that many young and

older adults are linguistically

challenged. As such, they need tutoring

and learning themselves. This is an

entrepreneurial opportunity for

developers of language apps or creative

radio and TV programs.

3. Debates in indigenous languages:

Growing up in Lagos, one of my

favorite TV programs was the live

broadcast of the National High School

Debates. I can still hear the opening

music ringing in my ears. Here lies

another opportunity for Nigeria and

African countries for whom either

English, French, Portuguese or Spanish,

is the official language. Policymakers,

content producers, advertisers, and the

private and public sector, could team up

to create regionally televised

elementary and high school debates in

indigenous languages.

To motivate the younger generation,

generous and not token awards could

include academic scholarships, regional

and national media mentions, and

opportunities to meet with and be

honored by leading public and private

sector leaders.

4. Business Incubation Hubs: Techsavvy

entrepreneurs have an

unprecedented opportunity to create

innovative indigenous language

content, apps, and platforms.

Opportunities abound for policymakers

and the private sector to support and

give out annual awards for the best

digital content in indigenous languages

including children's animation

programs, computer games, TV

programs, vlogs, or podcasts.

5. Language Schools: France, the

UK, Switzerland, and Germany have an

abundance of schools that offer short or

long-term language programs. The

French language school Alliance

Française has a presence in almost

every African country. African nations

must do the same especially in the

Diaspora. Or at least, digitally or

virtually online. This is an

entrepreneurial opportunity to provide

Africans at home and in the Diaspora

with learning platforms and tools to

enhance indigenous langauge

capacities.

6. Policymakers can help create

environments that promote learning and

drive demand for content and

information in indigenous languages.

We certainly can learn from countries

such as Ethiopia, Somalia, that use

indigenous languages in their respective

parliaments and other official business.

Why should proficiency in multiple

indigenous or other African languages

not be a desirable employment skill set?

Why should important national

messages not be simulcast in their

entirety in key languages, to reach the

largest possible audience? Why in so

many African countries is there a

complete reliance on English, French,

Spanish or Portuguese in public

communication? It's a question to

ponder and a challenge to overcome.

7. Becoming Linguistic

Ambassadors: Finally, each one of us

can brush up on our language skills and

do so with exceptional pride. For too

long, we have bought into the false

narrative that 'local' is bad and

'Western' is sexy. We diminish our

languages and refer to them derisively

as 'vernacular.'

Instead, collectively, we have a

legacy responsibility to speak our

languages with pride and transfer the

same to the next generation.

If you are not as proficient as you

would like to be, listen intently to how

your language is spoken. Each week, set

a goal of learning new vocabulary

words. Over time, you'll be amazed at

the progress you would have made.

Every African language is a

repository of history, culture, and

values. When a language dies, so too

does history, culture, values, and the

intuitive sense of who a people are,

where they are from and where they

are going.

There is still time to save our

languages and prevent cultural

genocide.

It starts with each one of us!
---
Page16 TheTrumpet JULY 13 - 26 2022

When you think you need A&E,

contact NHS 111 online first

The NHS is encouraging the public to use NHS

111 online to get urgent medical advice

quickly – in addition to existing services –

ahead of what England's top doctor has said will

be a 'winter like no other.'

With more people predicted to suffer from flu

this year and hospitals already treating an

increased number of COVID-19 patients, NHS 111

online offers an alternative way to get immediate

medical advice.

Data from September showed that the NHS

was already experiencing record demand for

emergency services, with ambulances responding

to 76,000 life-threatening incidents and call

handlers taking more than one million 999 calls.

The NHS 111 phone service also saw record

demand, with a call being taken every seven seconds.

It's recommended that if you have an urgent

but not life-threatening medical need, you should

visit NHS 111 online first rather than going

straight to A&E. You can access the service by

visiting the website 111.nhs.uk.

People use the online 111 service for a range

of reasons, including to check their symptoms and

if an injury or illness requires further investigation,

to get information on mental health support

services available, or to seek advice on how to take

a medication.

The service is also able to arrange for you to

be seen at an Urgent Treatment Centre, GP

surgery, pharmacy, emergency dental services

or A&E should you need it.

If you or your loved one have a life-threatening

illness or injury then you should always use 999.

Just think 111 first.

When you think you need A&E,

go to NHS 111 online 111.nhs.uk

or call 111.

TheTrumpet is published in London fortnightly by Trumpet

Field: 07956 385 604 E-mail: info@the-trumpet.com (ISSN: 1477-3392)