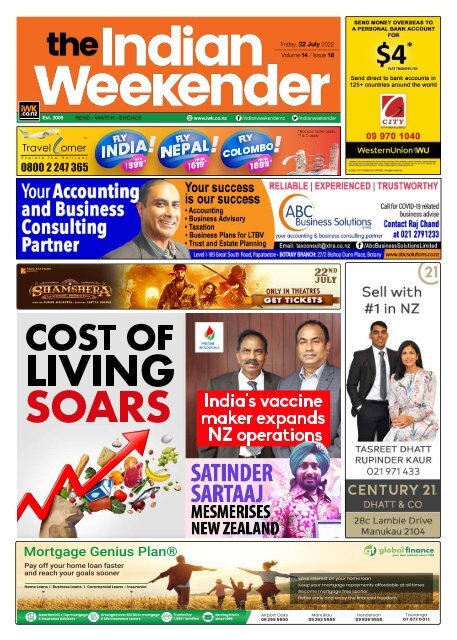 The Indian Weekender, 22 July 2022
Create successful ePaper yourself
Turn your PDF publications into a flip-book with our unique Google optimized e-Paper software.
Friday, 22 July 2022

Volume 14 / Issue 18

www.iwk.co.nz /indianweekendernz /indianweekender

COST OF

LIVING

SOARS

$

India's vaccine

maker expands

NZ operations

SATINDER

SARTAAJ

MESMERISES

NEW ZEALAND
---
Make winter

a little better

WITH COMPREHENSIVE HEALTH COVER AND A FREE nib BETTER HEALTH BOX

Private health insurance helps protect you

and your family from the unexpected. It can

give you more control over who treats you

and when. Without it, private treatment could

be unaffordable or make a significant impact

on your hard-earned savings and lifestyle.

Our purpose is your better health, when you

sign up to any new nib policy through your

adviser, you'll receive a FREE nib better

health box worth over $100. So wrap up

and get covered this winter.

With the better health box, you'll receive a

curated mix of wellness products, first aid kit,

rapid antigen tests and even more to help you

get through this winter.

Working with:

not

Examples

CMYK & RGB – JPEG, PNG, EPS, PDF

SO TALK TO YOUR ADVISER TODAY FOR ALL THE DETAILS.

One box per policy, terms and conditions apply. Offer only for new applications submitted between 2 May

and 29 July 2022, with a policy commencement date no later than 14 August 2022.
---
Read online www.iwk.co.nz Friday, July 22, 2022

NEW ZEALAND 3

India's leading vaccine maker, Indian

Immunologicals Ltd, expands NZ operations

SANDEEP SINGH

A

leading Indian vaccine maker

has inaugurated a new sterile

filtered serum manufacturing

facility in Dargaville, a Northland town

south of Whangarei.

Indian Immunologicals Limited is

a subsidiary of the National Dairy

Development Board (NDDB) – a

government of India enterprise solely

responsible for transforming India's

milk production capabilities and

elevating its position to the world's

largest milk producer.

The Dargaville facility was inaugurated

on July 12 by Meenesh C. Shah,

Chairman, Indian Immunologicals Ltd

and National Dairy Development Board,

in the presence of Dr Jason Smith,

the Mayor of Dargaville, Dr K. Anand

Kumar, Managing Director, IIL, Dr

Vijay Dasari, GM and Director, Pristine

Biologicals (NZ) Limited and several

assembled dignitaries.

In an exclusive interview with Indian

Weekender, Dr K Anand Kumar and Dr

Vijay Dasari talked about the history

of IIL's New Zealand subsidiary Pristine

Biologicals (NZ) and the reasons and

advantages of the former's foray into

the New Zealand market.

Pristine Biologicals has

been in NZ since 2015

Pristine was established in Dargaville,

Kaipara District, in 2015 for the

production and supply of pharmaceuticalgrade

bovine serum used to produce

many vaccines.

The compulsion for the Indian vaccine

maker's foray into the New Zealand

market was the premium value of

bovine serum from New Zealand in world

vaccine markets.

New Zealand (and Australia) are

considered free from many cattle/bio

diseases that raises the premium value

of the Bovine Serum produced in this

region and explains Indian Immunological

Ltd.'s decision to establish an

NZ-based subsidiary.

Expressing satisfaction with the

performance of Pristine Biologicals

(NZ), Dr K Anand Kumar said, "Pristine

Biologicals is a success story, and

we are absolutely delighted with the

performance of the company."

"The affordable vaccines made in India

The affordable vaccines

made in India required

a sustainable supply of

quality ingredients made

by Pristine. Plans are under

way to double the capacity

as soon as demand goes up

significantly."

required a sustainable supply of quality

ingredients made by Pristine."

"Plans are under way to double

the capacity as soon as demand

goes up significantly," Dr Anand said

on future plans to further expand

New Zealand operations.

Demand for bovine serum from

NZ has gone up in world market

Dr Anand Kumar said the demand

for bovine serum from New Zealand

for use in biologics manufacture has

gone up manifold and to meet this

increased demand, it is important

to augment the capacities of its

New Zealand-based operations.

Notably, due to the COVID-19

pandemic, the global Bovine Serum

Albumin market size is estimated to be

worth US$ 207.9 million in 2022 and

is forecast to a readjusted size of US$

245.4 million by 2028 with a CAGR of

2.8% during the review period.

In the wake of the Covid-19 pandemic,

India's vaccine manufacturers have

started to feel the heat of ensuring the

supply of quality serum, and it is here

that Indian Immunologicals Ltd has been

helping them through the supply from

their NZ-based operations.

"On a recent visit to IIL, Hyderabad,

Government of India's Secretary

Department of Animal Husbandry,

Dairying & Fisheries (DADF) requested

IIL to ramp up serum production capacity

at Pristine NZ and also make it available

to Indian companies on a priority basis,"

Dr Anand said.
---
4

NEW ZEALAND

Rotary Papatoetoe

Central Club elects

new office bearers

SANDEEP SINGH

The Rotary Papatoetoe

Central Club – one of the

youngest chapters of

the Rotary club in New Zealand

– elected Manu Singh as the

new president, Deepak Sharma

as the secretary and Gurjinder

Ghuman as the treasurer.

This was announced at a

dinner event held at Papatoetoe

Diversity Centre in South

Auckland on July 1.

The new executive team will

helm the club for a year.

Manu Singh is a seasoned

real estate professional

with long experience in

marketing, promotion and

business leadership and is a

dedicated Rotarian.

Deepak Sharma runs

travel businesses and is a

longstanding Rotarian.

Sharing his excitement and

vision for the role in the coming

year, Manu said, "I am feeling

honoured to be president of a

Vibrant club has been involved

in community activities and

changing people's life by

doing service projects and

fundraising, donations to

various organisations in NZ.

"My immediate plan is to

organise few service projects

which includes organising a

mental health seminar (Covid

has taken a toll on people's

health and its very common in

community), Tree Plantation,

organising food pantry for

Rawiri community centre

Manukau and Indian Diaspora

fundraising event," Singh said.

"…Long term Plans to form

Rotaract (youth and leadership

club), Helping local schools

and community organisations

, Promoting awareness among

community to join Rotary Club,"

Singh further added.

Notably, the Rotary club

is a service organisation

which strives to bring

together business and

professional leaders to provide

humanitarian services while

networking and socialising in a

fun-filled environment.

Rotary Club Papatoetoe

central came into existence in

2015 with a broad members

drawn from the broader

Kiwi-Indian community,

particularly from the South

Auckland region.

However, the club is open to

all ethnicities and cultures.

The new executive team of

Rotary Club Central Papatoetoe

includes key members as

Directors - Ashima Singh

(Membership and growth),

Gurpreet Kaur (Youth

development and leadership),

Nidhi Bhasin (Community

Projects and Membership), Kuljit

Kaur (Community Projects),

Naleen Chand (Fundraising

and Co-Director membership),

Dr Ajit Singh (Fellowship), Raj

Chand (Mentoring, Fellowship,

and growth) P J Dhatt (Director

Foundation) and Raj Pradeep

Singh Director Public relations

and Media.

Friday, July 22, 2022

SANDEEP SINGH

As New Zealand gears up

to re-open its borders

and reconnect with

the rest of the world fully

as part of the government's

immigration rebalance plan and

more international students

and temporary migrants are set

to return to the country and

hopefully address the issue of

staff shortage, there is growing

confusion if non-accredited

employers would be able to

hire temporary migrant workers

coming into the country.

Notably, from July 4, the

Accredited Employer Work Visa

System has come into place

that requires employers seeking

to hire temporary migrant

workers to get accredited

by Immigration New Zealand,

which will only allow accredited

employers to hire migrant

workers on a special AEW visa.

However, many employers

and businesses, who are

delaying a decision to get

accredited, largely due to

financial constraints and still

reeling under Covid-19 impact,

are worried, if they would lose

the ability to even hire casual

staff from the new incoming

pool of international students.

Following this prevailing

confusion, the Indian

Weekender approached the

Immigration New Zealand to

get more clarification, which

has confirmed that the nonaccredited

employers will still

be able to hire casual staffs

from the pool of international

students.

Immigration New Zealand's

Nicola Hogg, General Manager

Border and Visa Operations

told the Indian Weekender,

"Non-accredited employers

are currently able to hire any

migrant whose visa allows them

to work for any employer.

This includes student visa

holders who have been granted

Read online www.iwk.co.nz

Immigration Rebalance:

Can non accredited

employers hire temporary

migrants for work?

work conditions on their

student visa."

However, the Government

has announced that it will be

introducing a requirement that

employers will need to become

accredited to hire any migrant

worker in 2023.

No specific date for this

change has been set yet.

"Last year the Government

signalled its plan to rebalance

our immigration system to

ensure it contributes to a

future economy that is highly

skilled, highly paid and highly

productive."

"To achieve this, the

Government wanted to make it

easier for employers to attract

and retain more highly skilled

migrant workers, improve

employment opportunities

for New Zealanders, reduce

exploitation risks for migrant

workers, and remove

opportunity for people to

misuse the immigration system

to remain in New Zealand for

long periods of time where they

wouldn't otherwise meet the

requirements to do so."

"The Accredited Employer

Work Visa is a key part of the

Rebalance and is designed to

ensure New Zealanders are

first in line for jobs and where

genuine skill or labour shortages

exist, accredited employers can

hire skilled migrants,"

"Accredited Employer Work

Visa holders can only work for

the Accredited Employer who

supported their visa application.

They can transfer to another

Accredited Employer with an

approved job by requesting a

variation of conditions to their

visa," Nicola Hogg said.

Cost of living soars: Inflation hits 7.3% - highest in 32 years

RNZ

Inflation has hit a 32-

year high on the back of

higher housing, food and fuel

costs. Stats NZ said consumer

prices increased by 1.7 percent

for the three months ended

June, pushing the annual rate to

7.3 percent from 6.9 percent.

That was above expectations

and the biggest annual rise

since June 1990. The costs of

building and running a house

were the single biggest increase

for the quarter and the year.

"Supply-chain issues, labour

costs, and higher demand

have continued to push up the

cost of building a new house,"

general manager Jason Attewell

said.

Food prices rose 1.3 percent

in the quarter, on the back of

more expensive groceries and

takeaway meals, while transport

costs rose 2.3 percent, the

same level of increase as

household costs.

On an annual basis, household

costs and fuel were the major

influences. The numbers

showed a solid core of domestic

inflation, known as nontradables

inflation, which rose

a record 6.3 percent for the

year, while tradable inflation, a

measure of imported inflation,

rose 8.7 percent for the year.

Stats NZ said New Zealand's

inflation rate compared with a

9.6 percent average rate for

developed nations, 9.1 percent

in the US and UK, and 5.1

percent in Australia.

Economists were forecasting

the annual rate would exceed 7

percent. ANZ's chief economist

Sharon Zollner told Morning

Report there was a risk prices

could go even higher, after a

surprise with inflation figures in

the US last week.

She said where price rises

were happening was making it

hard going for consumers right

now - but they were continuing

to spend.

Zollner said the question was

how high interest rates would

need to go to cool down that

spending.

Transport Minister Michael

Wood said the government

could take some of the pressure

off prices - but not change the

international factors that he

said were driving inflation.

The government had already

extended measures on fuel tax

and public transport until next

January. Wood said everyone

was feeling the pressure of fuel

costs and the government was

carefully monitoring to see that

supplier profit margins were not

widening.

National Party deputy leader

Nicola Willis said allowing in

more immigrants would help

stem rising inflation.

She also told Morning

Report the government should

be doing more to tackle the

domestic drivers of inflation,

including limiting its own

spending.
---
Read online www.iwk.co.nz Friday, July 22, 2022

NEW ZEALAND 5

First Multicultural Youth Music

Festival held in Christchurch

MAHESH KUMAR

The first ever New Zealand ''Golden

Ribbon'' Multicultural Youth Music

Festival took place in Christchurch

from 11 July to 16 July.

The event brought together

accomplished musicians from different

communities and allowed young

participants to experience world music

and enabled cultural exchange.

Conducted over six days, the festival

saw various workshops conducted

to introduce world music to young

participants, culminating in a gala

concert at the Christchurch Town Hall

James Hay Theatre on July 16, when

young musicians shared the stage with

music maestros.

Featuring Eastern and Western

fusion performances, the concert

was a feast of music and culture.

Students and professional musicians

from New Zealand and other countries

performed world class music to

enthrall an audience with different

musical tastes.

Students were grouped into

Piano, Vocal, Percussion, Winds,

Strings, Ethnic minority musical

instrument and Contemporary/

singer-songwriter sections.

Musicians who participated in the

festival included UC professor of Music

and internationally acclaimed violinist

and violist, Dr Mark Menzies, UC Head of

Piano, renowned pianist Tim Emerson,

UC's head of voice studies, celebrated

performer and teacher Zara Ballara, Erhu

master, Principal Advisor on Chinese folk

Music and Creative Music for UC School

of Music, Jeffrey Zhao; Uma Varma, an

Indian classical musician on Carnatic

music, specialising in vocals and the

string instrument Veena and many more.

Organised by Christchurch Multicultural

Council, Christchurch Chinese Society

and CN International Cultural and Art

Exchange Association, the festival was

hosted by University of Canterbury

School of Music.

Surinder Tandon, president of the

Christchurch Multicultural Council(CMC),

away in India on a personal

visit, sent his message.

Tandon expressed his gratitude

and congratulated Jeffrey Zhao,

the convenor of the festival and

his team of musicians.

He also shared his pleasure to see

young musicians and professional

musicians coming together to promote

the rich diversity in music.

He said music, like art, culture,

languages, food and costumes, fosters

unity in diversity and social cohesion.

The two Indian groups who participated

in the festival were Revathi Performing

arts' teacher Uma Varma, performing

Carnatic music and Tabla teacher Joshua,

accompanied by his three students.

Joshua Devanbu, who teaches Tabla,

performed along with Varma and three

of his students, Deep Das, Adarsh Roy

and Hemot Khanal.

"It was a beautiful experience to be

a part of this musical exchange and

showcase the rich musical heritage of

our country. I was proud of my students

who performed for the first time in a live

setting," Devanbu told the Weekender.
---
6

NEW ZEALAND

Friday, July 22, 2022

Read online www.iwk.co.nz

Perianayaki - A short film showcasing

an ethnic migrant's life in NZ

IWK BUREAU

Perianayaki is a short film about a

recent Sri Lankan immigrant who

begins her day as she always

does - at her job stacking shelves at the

supermarket. With her limited grasp of

English, she struggles to fit in and build

meaningful relationships. And today on

her wedding anniversary, she is forced to

reconcile with the bittersweet realities

of her life.

The film has been recently shortlisted

as one of the top films in non-English

category of New Zealand's premiere Film

festival (NZIFF). The Indian Weekender

spoke with Shreya Gejji – the screenplay

writer and producer of the film about the

film and the challenges of casting and

film production. Here are the excerpts.

Tell us about your film. How

long did it take to create a

story, production, cast?

Bala (the director) and I began

working on this film back in 2019, when

we applied to the New Zealand Film

Commission, and after a competitive

process, were selected for funding.

Since then, it has been a rollercoaster

ride, punctuated by a pandemic and

disrupted by multiple lockdowns.

The journey of making a film is long

and arduous (and expensive!) but now

three years later, we are so honoured

that we get to have our world at the

New Zealand International Film Festival.

Being selected as one of five films in

the "New Zealand's Best" programme

is particularly special. Our film is about

a non-English speaking, South Asian

woman in her 50s.

A decade ago this film may not have

been considered "New Zealand enough",

New Zealand Qualifications Authority

Approved Category 1 Education Provider

but it is really affirming that today

it is. As South Asians, we still have

a long way to go in terms of seeing

ourselves represented equitably on

and behind New Zealand screens, but

I hope this film collectively inches us

forward. We are thrilled to finally be

able to bring our film to the audiences

and to our community.

How did you conceptualize this

idea? Introduce your team, please.

Perianayaki's story is inspired by a

close friend of my family who moved

here from Sri Lanka after her NZ based

husband ended up in a coma following

a car accident. One afternoon, nearly

fifteen years ago, I saw a short, stout

South Asian woman in a bright red sari

marching down the road in Glendowie;

a rare sight in the otherwise gentrified

suburb. That image of Perianayaki

stayed with me, and was the place

where the idea for this film began. When

I approached Bala, he was immediately

taken by the idea, and together we

knew we had to make this film. Bala and

I are both new filmmakers, so making

this film is only possible because of

the incredible support we had by the

rest of our team. Filmmaking is truly

a collaborative process – having the

right people is everything. And we

really got lucky.

Our executive producer Shuchi Kothari

has been a guiding force from the time

this film was just a seed of an idea. Tim

Flower (our cinematographer) brought

Bala's vision to life beautifully. Shailesh

Prajapati (an actor and director in his

own right) was gracious enough to

come onboard as our editor because he

believed in this film, and it is his magic

that gives the film its emotional impact.

I really want to acknowledge the

incredible work of our lead actor

Jeyagowri Sivakumaran. We cast this

film from the community, and Jeyagowri

aunty hasn't acted before – but you

wouldn't believe it! You have to see

the film to believe just how she lights

up the screen. She gave so much of

herself to this film and the process and

we are utterly grateful. She is a star in

the making!

Did you get much support from the

community?

We're so humbled by how much our

community has rallied around us - from

donating to our crowdfunding campaign,

to offering us filming locations at no

cost, to catering our film set, to sharing

casting calls amongst their networks

– they've really been with us on this

journey.

The truth is that films by Indian

filmmakers in NZ are still few and far

between...so we are now on a mission to

get our communities into the theatres.

We know Indians love movies, so we

want them to support locally made

movies by Indians because this signals

to funders that we are here and our

stories matter! This is crucial because it

is the only way we can hope to get more

Indian and South Asian stories funded in

the future.

We premiere in Auckland on August

6, at 6pm and we will be playing in

cinemas nationwide, so we really want to

encourage Indians all over the country

to buy a ticket and come support us.

Tickets can be purchased at: https://

www.nziff.co.nz/nziff-2022/auckland/

new-zealands-best-2022/. We really

hope audiences receive this film with the

same love that we made it with.

In your words, what is the NZ film

festival? and how does one send their

films to participate in it.

NZIFF is New Zealand's premiere film

festival. I've been attending for many

years, so it is really a dream to have

two films in the festival this year. We

submitted Perianayaki earlier in the

year. There were 60+ applications and

we were first shortlisted into the top

ten before finally being selected into the

programme as one of the top five films.

It is so encouraging.

What else do you have in pipeline or

your next project you are working on?

I'm so thrilled to have another film

in the festival this year. Kāinga is the

third film in the Waru and Vai trilogy

that navigates the thorny terrain of

home in Aotearoa New Zealand from

the perspectives of 11 Pan-Asian

women. It features writers and directors

from Māori-Chinese Aotearoa, China,

Philippines, India, Iran, Japan, Korea,

Malaysia, Myanmar and Tamil Eelam.

I have written the Indian story, that is

set during a Ganpati pooja at a house in

Auckland. It is also the first NZ made film

that is entirely in Marathi, which is so

special. This segment really celebrates

the warmth and joy of the Indian

community.

Audiences will be moved by the film.

Sitting in a theatre in New Zealand

and listening to characters speaking

in Tagalog, Mandarin, Farsi, Korean,

Marathi…is just something you would

never have experienced before. The

film is a giant leap forward in terms of

representation for Asians in this country.

If you have ever been an immigrant in

this country, this film will resonate with

you. We really need audience support

now, so please come and watch the film

in the theatres and tell your family and

friends about it too!

Tickets for Kāinga: https://www.nziff.

co.nz/nziff-2022/film/kainga/
---
Read online www.iwk.co.nz Friday, July 22, 2022

NEW ZEALAND 7

Wellington City

Council focused on

'vanity projects'

VENU MENON IN

WELLINGTON

Ray Chung is running

for council as an

independent candidate

from the Onslow-Western ward

in Wellington for the upcoming

local body election in October.

He was born in Wellington,

while his father came from

China. He represents the voice

of the migrant community.

Chung spoke to Indian

Weekender on what ails

the Wellington City Council.

Extracts:

Q. You say your business

brain is what you will bring to

the role of Mayor / Councillor.

Surely there are others with

similar acumen already on

the Council. How will you be

any different?

A. No, in fact, there are not!

Most of the councillors are not

from business backgrounds but

from the unions, government

departments and even

students. I've managed multimillion

dollar projects globally

and will ensure best business

practices to justify any project

or expenditure of ratepayer's

money.

Q. Wasteful spending

by Council appears to be

the main theme of your

campaign. Do you have

any specific solutions to

specific wasteful spending by

the Council?

A. There are so many and I'm

being regularly told of these.

An example is of the Civic

Office and Municipal Office

Buildings in Civic Square, both

of these buildings were fitted

out with new furniture and

furnishings costing over $1

million only four months before

moving to their new premises

on The Terrace.

Instead of moving this fourmonth

old furniture to their

new premises, the council

"disposed of it" and bought

brand new furniture for their

Terrace offices at the cost of

over another $1 million.

Another is the $3 million

that the council undercharged

businesses for their water

usage.

Instead of re-billing the

correct amount, the WCC CFO

stated, "This was unfortunate

but don't worry, we'll just

borrow an additional $3 million

to make up this shortfall!"

The roundabout in Waitoa

Road in Hataitai cost $570,000

but only lasted two days when

buses drove over it breaking

the ceramic tiles.

Another further example

of this wastage is the council

spending $77,000 taking a

case to the Environment Court

to stop a building owner from

taking down his dilapidated

veranda!

Q. The new Local

Government New Zealand

(LGNZ) survey points to the

prevalence of racism in local

government. Does this deter

you and what would be your

strategy to combat racism, if

elected?

A. Yes, I read about this

survey and in all my meetings

with council staff, no one has

brought this up. I was born

in Wellington but my father

came from China, so this is

something that I would address

immediately.

It does not deter me and I

would ensure that all races are

treated equally and all of them

given equal opportunity to

succeed.

There is no place in local

government for racism or racebased

laws or policies affording

special treatment to any select

group.

Q. You refer to unfilled

potholes and faulty sewage,

which would indicate

fundamental and systemic

failure by council. What lies

behind this inertia?

A. Repairing sewage and

water pipes are not a priority

for the current council!

They want to be remembered

for their vanity projects.

Individual councillors have their

own ideology and political party

affiliations that push them

towards their own projects that

only benefit a small section of

the community.

I believe the prime objective

of any council is to maintain

the infrastructure, both above

and below ground and part of

the problem is also the way

I believe the

prime objective

of any council is

to maintain the

infrastructure, both

above and below

ground and part of

the problem is also

the way council

officers have

allowed developers

to build projects

without satisfactory

and effective

infrastructure.

council officers have allowed

developers to build projects

without satisfactory and

effective infrastructure.

It's reprehensible that in

Karori, which is reputedly the

largest suburb in New Zealand,

there are holding tanks for

water and sewage.

The proposed plans for the

Ryman Retirement Village

should not use water holding

tanks but the infrastructure

pipes should be upgraded

by Ryman to cope with the

increase in population resulting

from this huge development.

Q. As a migrant, will your

voice be heard on the

Council?

A. That is my intention

and objective. For example:

Urmila Bhana from the

Grocers in Newtown wasn't

Ray Chung

genuinely "consulted" on the

cycle lanes past her family's

store that necessitated the

removal of their car parks

causing a major detrimental

impact to their business.

There are also other

businesses that resorted to

legal action to get the council

to cease this and the court's

judgement vindicated them.

But this expensive legal

action wouldn't have been

necessary, both for those

businesses and ratepayers,

if the council had engaged in

genuine consultation.

A group of Thorndon

businesses have lodged a

judicial review against the

council for the same arrogant

attitude from the council

in removing car parks from

Thorndon Quay, resulting in a

40% reduction in business for

some companies.

Q. How have you been

engaging with residents in

your community on issues

affecting them?

A. Five years ago, together

with three other residents

in our area, I established the

Onslow Resident Community

Association

(ORCA)

encompassing the suburbs of

Broadmeadows, Khandallah and

Kaiwharawhara.

We coordinate with other

Residents and Community

Associations directly and

through WRAN, the Wellington

Residents Association Network.

Q. How is this current council

performing?

A. You don't need to even

follow the daily stories about

how inept our council is, just

look at the latest WCC survey

poll results: only 12% of

Wellingtonians consider the

council has performed well and

listen to ratepayers, this is

down from 30% last year and is

the lowest satisfaction rate in

New Zealand!
---
8

NEW ZEALAND

Friday, July 22, 2022

Candidate buys bus to

Read online www.iwk.co.nz

back claim on lower fares

VENU MENON

background a help or a hindrance in his the area. "There was a lot of negativity

mission?

against the aboriginal people," Peters

John Peters says the bus fare from "Basically, I'm an Indian. India has seen recalls.

Tawa to Wellington station should many great Anglo Indians like Leslie "I tried to build a bridge between the

be $2, and from Johnsonville to Claudius (hockey player) and singers aboriginal and mainstream communities."

Wellington station $1.

The fares are currently higher.

The candidate running for council from

Takapu ward in Tawa, a North Wellington

suburb, is ready to back his demand,

and lead by example, by actually buying

a new bus to prove it can be done.

Peters has placed an order for a new

Rosa 2 WD 24-seater school bus costing

around $150,000.

As the former owner of a fleet of

mini buses, Peters knows a thing or two

about buses. He believes that, given the

government subsidy enjoyed by the big

bus companies, the fares are too high.

Cliff Richard and Engelbart Humperdinck,

and many more. Three generations of my

family members have served in the British

and Indian armies, which makes me more

Indian," Peters notes.

Peters says he comes across many

Kiwis who "are interested to know how I

got this English or biblical name."

"Then I have to explain to them the

history of India."

Peters goes back to the beginnings of

Christianity in India.

"In 52 AD, the apostle St. Thomas

landed in Kerala. My mother's ancestors,

who were Namboothiri's (Brahmins),

Peters engaged actively with the

aboriginal community and even got the

elders to agree to a ban on alcohol within

the community. The same drive and

insights gained while interfacing with

the aboriginal communities in Western

Australia stood Peters in good stead

while dealing with the Māori community

in NZ.

"If you see the gang culture here, we

must understand they are our homegrown

boys and girls. They are not from

Mexico or Columbia.

"So, we need to introspect and see

why this is happening. We must take

Reducing the cost of public converted to Christianity. Then we had responsibility as elders of the community.

transportation is one of his key campaign

themes. As a migrant from the Anglo-

Indian community who arrived in New

Zealand from India in 2000, Peters looks

back to a time when traffic congestion

was not so severe.

"When I came to this country 22 years

the Portuguese and British coming to

India. So, India has seen over 500 years

of Portuguese and British rule."

Peters owns a 20-acre lifestyle block

in Tawa. Before he gave up his transport

business, Peters owned 12 buses and

employed 30 drivers. His buses plied

We must bring these problems to the

attention of the government," Peters

notes.

Peters recalls he employed many Māori

and Samoans as drivers when he ran his

transport business. "They are the best

of people. I never had any issues with

John Peters

inexperience. The council sees rate

ago, I was held up in traffic on the way to

work. But now, it has just compounded."

across the greater Wellington region.

Peters looks back with pride at the

them," he declares.

For the past three years, the Wellington

payers as cash cows, he says.

Peters' poser to the councillors who

He says the northern suburb time he spent as the CEO of an aboriginal City Council has consistently enforced represent the northern suburbs is: "Why

contributes more than $ 60 million in corporation in Western Australia. higher rates than the Christchurch or are you not raising these questions in

rates to the Wellington City Council. Yet, He was tasked with managing a Auckland councils. On top of that, there the Wellington City Council?"

there is no solution in sight.

"I look around and wonder why there

is no migrant voice on the council. So,

I decided that I must put up my hand,"

Peters explains his motivation as a

candidate.

community of indigenous people located

1400 km from Perth.

This role was preceded by a stint as

a housing officer under the department

of housing in Western Australia, which

opened his eyes to the harsh living

are the ongoing project cost overruns,

such as the Town Hall project which

went from an estimated cost of $ 43

million in 2013 and now stands at a

whopping $ 400 million.

Peters attributes this to financial

Does Peters find his Anglo-Indian conditions of the indigenous people in mismanagement stemming from

Stay well this winter: Local GP shares latest health advice

DR VANSH TANGRI

With winter well and

truly here and winter

illnesses circulating,

south Auckland-based general

practitioner Dr Vansh Tangri

warns this is not the time to

give up on important public

health measures.

Our health sector is facing

increased pressure at the

moment, as we all tackle winter

illnesses and ongoing cases

of COVID-19. Keeping up with

public health measures helps

to reduce the spread of all

viruses. Stay home and rest if

you're feeling unwell. Continue

wearing a mask in public places

and keep up with good hand

hygiene.Getting the flu vaccine

is the best way to prevent

getting very sick and ending

up in hospital if you do get the

flu. It can also help prevent you

passing it onto others.

The flu vaccine is free for

those aged 65 and over or

who have underlying health

conditions, like heart and lung

disease, asthma and diabetes.

Children aged 3-12 years old

and people with serious mental

health or addiction needs are

now also eligible for free flu

vaccinations.

If you're not sure whether

you qualify for a free flu

vaccine, speak to your GP or

local pharmacist," he advised.

COVID-19 is also still

circulating in our communities,

Dr Tangri reminds us, with a

number of variants in New

Zealand. If symptoms last more

than a month, or new symptoms

develop, there is a chance you

may have been reinfected by

COVID-19.To stay safe and

keep those around you safe,

it's best to do a test to see if

you have been reinfected.

In most cases, the current

strains of COVID are resulting

in mild symptoms and most

people will be perfectly able

to manage these symptoms

at home. A booster dose is an

important top-up dose to the

first two vaccinations that most

people had last year. It provides

an extra layer of protection

from the COVID-19 virus.

If you had COVID-19 three

months ago and did not have a

booster beforehand, then you

can now get that important

extra protection.

The booster can be given at

the same time or immediately

after the flu vaccine. If given at

the same time, you will receive

the vaccines at separate places

on your arms.

A second booster is now

recommended for those at

increased risk of severe illness

from COVID-19. If you are not

considered at risk of severe

illness from COVID-19, a twodose

primary course and a

booster dose provides very

good protection against severe

illness. The second booster

should be taken a minimum

of six months after your first

booster dose. Those eligible

for a priority second booster

include:

• people aged 65 years and

over

• residents of aged care and

disability care facilities

• s e v e r e l y

immunocompromised people

who received a three-dose

primary course and a fourth

dose as a first booster

(noting this would be a fifth

dose for these people)

• people aged 16 years and

over who have a medical

condition that increases the

risk of severe breakthrough

COVID-19 illness and

• people aged 16 years and

over who live with disability

with significant or complex

health needs or multiple

comorbidities

People with heart conditions

or diabetes can be especially

at-risk of having a worse health

outcome if they get COVID-19

and or winter illnesses like the

flu. They should take extra

care to ensure they're wellprotected.

If you aren't sure whether

you are due a booster, you can

check your 'My Covid Record'

online or speak to your GP.

You can book an appointment

for a booster dose online

through Book My Vaccine or by

calling the COVID Vaccination

Healthline on 0800 28 29 26

(8am to 8pm, 7 days a week).

All community vaccination

centres across Auckland also

accept walk-ins.

There are lots of places to

get help managing your health

over winter, particularly while

health services are busy.

Those who are looking for

initial health advice, including

looking after family members,

can call Healthline for free.

They have medical

professionals who can provide

you with health advice and also

let you know if you need to see

a GP or need urgent care.

They are available 24/7,

and have interpreters, so you

can get health advice without

leaving your home or needing

to book an appointment.

People can call Healthline on

0800 611 116, or the COVID

Healthline on 0800 358 5453.

Both are free.

Pharmacies are also a great

source of free advice for

how to manage any cold and

flu symptoms and advice on

medications. They can also

advise if they think you need to

see a GP. If it's an emergency,

you should call 111 straight

away, he said.

It's important to reach out

if your condition worsens.

Our healthcare services and

emergency departments are

here for you. If you need an

ambulance when you have

COVID-19, it's free.
---
Read online www.iwk.co.nz Friday, July 22, 2022

NEW ZEALAND 9

Brothers survive Covid lockdown

impact as restaurant thrives

MAHESH KUMAR

The hospitality industry has

always been a tough sector.

It's a dynamic industry that is

constantly changing, and it's never been

harder to succeed in it.

Hospitality was among the worst

impacted by the pandemic. But that did

not stop three brothers from taking the

plunge into the restaurant business.

Saurabh, Vikas and Vikram Singh

moved to Christchurch from Auckland

after buying a gastro pub about eight

months ago.

They have had a rough journey

but, with their commitment

and passion, they are now

reaping the rewards.

Their popular gastro pub, The Pedal

Pusher Addington, is located at Lincoln

Road and can accommodate around 120

guests. It is a nod to the city's cycling

culture and has an affluent clientele.

Vikas was a project manager

in Auckland, while 29-year-old

Saurabh was a store manager in a

reputed retail company.

They had been in Auckland since

moving to New Zealand and were looking

out for an opportunity to be their own

bosses.

"When they came across the listing in

Christchurch, they knew this was what

they wanted to do.

Getting into an industry where they

had no experience was a hard decision.

Relocating to a completely new city

made that decision even harder. But

after careful consideration, the brothers

chose to go ahead.

"The rising cost of living in Auckland

and the over-heated housing market

were some of the factors that made

us think seriously about Christchurch.

I had spent few months in Dunedin and

Saurabh had been to Christchurch earlier.

We liked the vibes of South Island and

decided to go for it," Vikas recalls.

While they expected to face

challenges on their journey, nothing

prepared them for what lay ahead as the

Covid19-forced lockdown paralysed the

hospitality industry.

First up, they had to do most of the

grunt work themselves, such as spending

nights cleaning up the kitchen. Initially,

Things are improving

now. Our patrons are

coming back on a

regular basis, which is

quite encouraging. We

made a few changes to

the menu which have

been appreciated by

customers. We are now

finally seeing the fruit of

our hard work."

they had plans to put a team in place to

run the operation while they went back

to their jobs.

But acute staff shortage brought on

by the border closure compelled the

brothers to clock almost 80 hours of

work each per week.

Having pooled almost all of their

savings and invested in the new venture,

there were times when they doubted

their decision.

"When things got really tough, and one

of us felt like quitting, the others would

encourage and motivate each other to

keep going," Vikram recalls.

But the hands–on approach worked

only up to a point.

"We had problems in hiring a chef.

While we could take on various other

roles, we could not replace a chef. Now

we have a full-time chef but we are still

looking to hire another chef so that we

are prepared for the season ahead,"

Sourabh explains.

"The recent changes to immigration

have hit the industry hard and made it

extremely difficult to find casual workers.

Hopefully, in the next few months, the

situation will improve," Vikas says.

With no industry background, the

brothers had to learn the trade on the

go. When the business took a hit, they

quickly had to grasp how to control

costs without compromising quality.

They also gave up their jobs and spent

most of their time in the restaurant.

"Things are improving now. Our

patrons are coming back on a regular

basis, which is quite encouraging. We

made a few changes to the menu which

have been appreciated by customers.

We are now finally seeing the fruit of our

hard work," Vikram says optimistically.

The brothers score high on customer

relations. They come across as friendly

and welcoming.

The restaurant has a warm and relaxed

atmosphere.

The busy brothers are yet to explore

South Island along with their families.

"We are really glad we took the

decision and moved to Christchurch. It

is a beautiful city with lovely people. It

has been a roller coaster ride for us. We

have learned a lot.

"What a business person would

probably learn in two years, we have

picked up in six months. But we are

happy and optimistic for the future."
---
10

NEW ZEALAND

Aotearoa a beacon

of hope for refugees

VENU MENON

Nedal Ebrahim and his

family fled the war in

Syria in 2013.

"We only had time to take

our papers and we left with the

clothes we were wearing that

day. We left everything else

behind," Ebrahim said.

The family flew to Lebanon

and boarded a connecting

flight to Thailand, the

point of disembarkation for

thousands of refugees fleeing

conflict zones.

Ebrahim was arrested by the

Thai authorities and put in jail

before he got in touch with

Immigration New Zealand, which

had offered the Ebrahim family

resettlement in Aotearoa.

The resettlement process

was fast tracked and the family

finally made it to New Zealand.

The family arrived in

Auckland in 2018 and

entered the Mangere Refugee

Resettlement Centre.

After going through an

orientation course on New

Zealand, which included

learning about Kiwi culture and

how to access the services and

support available to refugees,

the recent arrivals were

shifted to one of the refugee

resettlement locations around

New Zealand .

The Ebrahim family ended

up in Dunedin. Thanks to the

efforts of the New Zealand Red

Cross, Ebrahim found work as a

kitchen hand in 2019.

Trust Saffron Finance for

expert Mortgage/ Insurance

advice backed by years

of experience

Mortgages:

• Home loans

• Commercial Property loans

• Business Loans

• Top up & Debt consolidation

• Re-Finance and Refixing

• Investment Property loans

• Restructuring of loan

• Construction & Renovation

Nimish Parikh

Registered Financial Adviser

M. 021 236 7070

nimish@saffronfinance.co.nz

Red Cross Volunteer at work

This is one of several success

stories that play out each year

in the lives of refugees arriving

in Aotearoa after fleeing wartorn

areas around the globe.

The New Zealand Red Cross

plays a pivotal role in this

rehabilitation process.

With its headquarters in

Thorndon, Wellington, the Red

Cross offers the "Pathway to

Employment Programme" to

refugees entering the country.

This focuses on creating a

plan for employment based on

tapping the existing skill sets

the refugees bring with them.

Pathways to Employment

teams also use their local

connections to identify

roles that match the

profiles of former refugees

looking for work.

"Red Cross isn't going to

recommend somebody they

didn't think will be able to

manage…. There's a pool of

wonderful people out there.

We get so much back," notes

Jane, who owns ELCO Apparel

in Dunedin.

Risk Insurances:

• Life & Trauma

• Key Person Cover

• Medical / Health

• TPD and Income Protection

• Mortgage Repayment cover

• New to Business &

• Business Continuity Cover

• Redundancy Cover

Contact for

free assessment

18B Kirby Street, Glendene,

Auckland 0602

P O Box - 69263 , Glendene,

Auckland 0645

www.saffronfinance.co.nz

The New Zealand Red

Cross also offers a Refugee

Trauma Recovery service,

which provides "clinical and

therapeutic support to former

refugees who have experienced

torture and/or trauma."

This service is available to

children, youth and adults.

Refugees who have

suffered trauma talk in

confidence to professionals,

who include psychologists,

psychotherapists, counsellors,

social workers and psychiatrists.

These services are offered to

former refugees free of charge

by the Red Cross.

Interpreters are provided,

whenever necessary.

The entire process is

voluntary, according to the

Red Cross.

"I feel a great burden has

fallen off my shoulders and

that feeling of depression has

gone. The Refugee Trauma

Recovery service has helped

me make that positive step

toward the future and given

me a sense of hope," said a

SANDEEP SINGH

A

Kiwi-Indian filmmaker

based in Auckland - Kam

Sharma and his team

at Wow Now Productions -

have bagged six awards at an

international online film festival.

Five Continents International

Film Festival is an online

festival (monthly), with a live

screening of the winning films,

which includes feature films,

short films, videoclips and

web series from all over the

world who come together to

compete for the various prizes

of the festival.

Kam Sharma and his crew

won the Best Short Thriller

Film award for their short

film Froggie Whoosh in six

different categories, including

best direction, lead actor,

editing, cinematography, and

sound design.

The key members whose

work was honoured at the

festival included kam Sharma

(Direction), Mukhtiyar Singh

(Lead actor), Shreyas and Martin

Friday, July 22, 2022

former refugee, who wished to

remain anonymous.

The Red Cross trains

volunteers to help former

refugees feel "safe again, get

used to new systems, new

cultures, learn "Kiwi" English

and build networks."

Refugee support volunteers

very often become the first

Kiwi friends of refugee families

arriving in NZ.

Touching each others'

lives can be a life-changing

experience for all parties

involved in the refugee

rehabilitation process.

Refugees are defined under

the 1951 Refugee Convention

as someone who, "owing to

a well-founded fear of being

persecuted for reasons of

race, religion, nationality,

membership of a particular

social group or political opinion,

is outside the country of his

nationality, and is unable

to or owing to such fear, is

unwilling to avail himself of the

protection of that country."

Refugees fleeing Syria,

Afghanistan and Somalia make

up 54 per cent of displaced

people worldwide.

Last year, New Zealand

welcomed refugees from 21

different countries.

( Editing, cinematography,

and sound design), along with

special mention to Harry Hundal

(lead actress) and Uday Singh

(Child artist).

Sharing his excitement, a

buoyed Kam Sharma said, "It is

a proud moment for my team at

Wow Now production and me."

"Wow Now productions have

been involved in filming a lot of

short films, and music videos

and have been part of many local

events and pageants.

"Cinema is not only our

profession but our passion. Our

endeavour is to promote local

talent and film industry and

make it as competent as the

Global film industry."

Read online www.iwk.co.nz

Greens call

for overhaul

of 'double

standards'

in investor

category visa

IWK BUREAU

The Government is

allowing wealthy

individuals to 'purchase'

residency while entrenching a

system that keeps low-waged

workers on a precarious and

temporary status, the Green

Party says.

"The Government is

essentially maintaining its

open door policy for the super

wealthy, even as it makes it

harder and harder for essential

workers on low wages to

come to New Zealand to put

down roots," says Ricardo

Menéndez March, Green Party

spokesperson for immigration.

"Many people who we

deemed essential during the

pandemic face uncertain

pathways to residency while

the Government continues to

prioritise investors.

"We urge Labour to put

energy into reviewing the

residency settings for

underpaid professions such as

nurses, decouple work visas

from single employers and

to create genuine pathways

to residency for lower waged

workers to create a more

equitable immigration system.

"The double standards

present in the current approach

do not reflect the values of

most New Zealanders and

speak to a growing divide in our

immigration system.

Kiwi-Indian filmmaker bags six awards

in an international short film festival

"Filming in New Zealand

has been a very tough and a

very costly job. We have been

persistent to survive for the

last five years and have so

far weathered all tough times,

including lockdowns," Sharma

reflected upon his journey of

filmmaking in New Zealand.

"We plan to make a full

feature film this year and

release it worldwide," Sharma

added about the future plans of

his production house.
---
Read online www.iwk.co.nz Friday, July 22, 2022

NEW ZEALAND 11

Satinder Sartaj

show mesmerises

concert goers

MAHESH KUMAR

Auckland's Sufi music

lovers had their wish

come true after a huge

gap due to the pandemic,

Satinder Sartaaj- one of the

most decorated and popular

singer, songwriter, actor, and

poet of Punjabi language films

and songs, came for a muchawaited

concert in Auckland on

16b July 2022.

Sartaaj is one

of the most

prolific Punjabi

artist and has

travelled to

and performed

in New Zealand

multiple times.

He has a dedicated

fan following in

almost every part of

this country.

This year, he was in

New Zealand on his ongoing

Rejuvenation World Tour.

On his current New Zealand

tour, he performed in Hasting

and Christchurch before coming

to Auckland.

Auckland's Vodafone Events

Centre was full of fans,

community leaders with Hon

Consul of India in Auckland

Bhav Dhillon as the chief guest.

Sartaaj is one of the few

Punjabi artists who not just

make you tap your feet but also

move your soul with his Sufi

lyrics and take you to a whole

new world of spirituality with

his music.

Satinder Sartaaj was born in

the village of Bajrawar, Distt

Hoshiarpur (Punjab eastern)

and completed his graduation in

Music with Honours from Govt

College Hoshiarpur.

Talking to The Indian

Weekender in an interview, he

said, "New Zealand is the first

country which sees sun and also

the first country that comes

to mind when one talks about

natural beauty and serenity.

This is my absolute favourite

country."

Sartaaj did not disappoint

any fan and mesmerised the

audience to some of his popular

hits including Hazaarey Wala

Munda, Oss Punjabon, and Sai.

The event went on for almost

three hours, during which

Sartaaj combined his soulstirring

renditions with sparkles

of Punjabi culture, especially

appealing to the Punjabi

diaspora.
---
QUOTE OF THE WEEK

There will come a time when you believe everything

is finished. That will be the beginning."

- Louis L'Amour

Editorial

The week in

politics: Rising

crime, inflation

continues to make

govt look bad

Unabated crime and spiralling inflation are taking their toll on the government's

image and making it look bad.

On the rising crime front, there is little perceived impact of the

government's recent announcement on tacking the gangs by granting

limited expansion to police powers and bringing a new offence of

discharging a firearm with intent to intimidate.

The news of a man and woman being found dead in a house in West

Auckland last Friday, which many believed were linked to gangs, continues

to perpetuate the sense of pessimism around the rise in crime.

Undoubtedly, it's too early following the last week's announcement on

tackling gangs by the Minister of Police and Justice, and a lot more work

is required to rein in the guns and the gangs currently rampant on New

Zealand's roads.

Yet, it is the continuous pouring of news of rampant ram raids, with

the latest being Noel Leeming store in the Eastern suburb of Auckland

– a seemingly adventurous enterprise but considered low in the level of

seriousness and overall threat for operational purposes – which deepens

the level of fear and pessimism around the general crime situation the

most.

Clearly, the government needs to do more than just being seen tinkering

at the top to bring effectively and expedite change in the overall situation

of rising crime in the community.

The focal point, however, remains on the record rise in inflation to a

32-year high of 7.3 per cent, which is further worsening the cost-ofliving

crisis. This rise in inflation was steeper than earlier forecasted, with

households having to bear the burden of a sharp increase in food, petrol

and other day-to-day living costs.

The government remains adamant in putting the blame on external

factors of the Russian invasion of Ukraine and the accompanying rise in

global oil prices, along with the ongoing impact of the Covid-19 pandemic,

yet that does not tell the complete story.

Many New Zealanders are seeing the current inflationary spike as

a combined consequence of the government's perceived ideological

persistence in keeping the borders closed for longer than needed, turning

the tap on the supply of migrant workers in an economy with record

unemployment and reeling with significant staff shortage and disruption

in local supply chains.

Many amongst the government's most boisterous supporters are

struggling to understand how helpful - its spending of $1 billion in granting

a $350 Cost of living payment hand out to lower-income families – will be

in taking away the pain of the runaway inflation?

It certainly perpetuates the perception – largely projected by the

opposition - that the government's overdrive in public spending has some

role to play in deepening the inflationary trend.

With elections still a while away, public perception can still swing in

unexpected ways.

However, for now, it can surely be concluded that it makes the

government look bad.

IN FOCUS : Picture of the week

Flooding from the Heathcote River in the Christchurch

suburb of Cashmere.

This week in New Zealand's history

26 July 1863

Floods kill 25 miners in Central Otago

Approximately 25 gold miners died on the Arrow diggings, north-east of

Queenstown, in a series of flash floods and slips caused by 24 hours of heavy

rain. It was the worst day of a brutal winter during which an estimated 100 miners

were drowned, buried by mudslides or died of exposure.

26 July 1865

Parliament moves to Wellington

The capital moved from Auckland to more centrally located Wellington on the

recommendation of a specially appointed Australian commission. The former

Wellington Provincial Council chamber became the new home for Parliament.

26 July 1928

Kiwi boxer fights for world heavyweight title

In the midst of boxing's golden age, Gisborne-born Tom Heeney took on Gene

Tunney for the world heavyweight title in front of 46,000 spectators at Yankee

Stadium, New York. Although he was defeated, his title bid had aroused tremendous

interest in both New Zealand and the USA.

26 July 1984

Ann Hercus becomes first Minister of Women's Affairs

Ann Hercus became New Zealand's first Minister of Women's Affairs following the

election of the fourth Labour government. She was also appointed Minister of Social

Welfare and Minister of Police, becoming the first woman to hold the latter portfolio.

28 July 1893

Massive women's suffrage petition presented to Parliament

The monster suffrage petition contained the signatures of more than 25,000

women. A dozen other, smaller petitions were also submitted around the same time.

When pro-suffrage MP Sir John Hall presented them to the House of Representatives

on 11 August, he noted that together they contained the signatures of nearly

32,000 women − almost a quarter of the adult European female population of New

Zealand.

Indian Weekender : Volume 14 Issue18

Publisher: Kiwi Media Publishing Limited

Editor: Dev Nadkarni | dev@indianweekender.co.nz

Graphic Designer: Yashmin Chand | design@indianweekender.co.nz

Multimedia Specialist: Karan Bhasin | 022 0772 156 | karan@indianweekender.co.nz

Accounts and Admin.: 09-2173623 | accounts@indianweekender.co.nz

Auckland Reporter: Navdeep Kaur Marwah: | 021 952 246 | navdeep@indianweekender.co.nz

Waikato Reporter: Sandeep Singh | 021 952 245 | sandeep@indianweekender.co.nz

Wellington Reporter: Venu Menon | 021 538 356 | venu@indianweekender.co.nz

Christchurch Reporter: Mahesh Kumar | 021 952 218 | mahesh@indianweekender.co.nz

Views expressed in the publication are not necessarily of the publisher and the publisher

is not responsible for advertisers' claims as appearing in the publication

Views expressed in the articles are solely of the authors and do not in any way represent

the views of the team at the Indian Weekender

Kiwi Media Publishing Limited - 133A, Level 1, Onehunga Mall, Onehunga, Auckland.

Printed at Horton Media, Auckland

Copyright ® 2022. Kiwi Media Publishing Limited. All Rights Reserved.

Send your suggestions and feedback to editor@indianweekender.co.nz
---
Read online www.iwk.co.nz Friday, July 22, 2022

FIJI 13

Fiji Immigration

Department to procure

e-passport booklets

The Immigration Department has been

allocated an additional budget of $2.9

million, of which $1.3 million will be used

to procure electronic passport booklets.

Economy Minister Aiyaz Sayed-

Khaiyum, says the plan is to improve the

security of Fiji's passports.

A total of $2m of their budget will be spent on

disaster recovery for the e-passport project.

The Economy Minister says the disaster

recovery project for the e-passport project will

reduce the damage or disruption to the system

and allow quick recovery in the event of a disaster

that leads to system failure.

He says the department expects to issue 300

passport booklets per day to meet demand and

expects to exhaust its supply of 42,000 booklets

in the next six months.

Ardern:

Regional

development

boils down to

principles

Any development partner

seeking to engage

with any Pacific nation

must ensure the engagement

is free from coercion, offers

high quality investment and

infrastructure, and should

not lead to the militarisation

of our region.

New Zealand Prime Minister

Jacinda Ardern said this during

an interview with The Fiji Times

when asked about China's

persistent push to engage with

Pacific island nations.

When asked about the

challenges many Pacific nations

faced in balancing regionalism

against the promise of

development assistance from

Beijing, Ms Ardern said it all

boiled down to principles.

"Of course we will have Pacific

island nations who will have

relations with other nations

that support their economic

development aspirations, and

that's been the case for a

number of years," she said.

"Of course those relationships

may wax and wane.

"I think what's important for

us is that first and foremost,

New Zealand continues its

relationship engagements and

I'd like to think that we've

increased them, but at the

same time – fall back on those

Sayed-Khaiyum says the e-passport system is

up and running to ensure its effectiveness and

continuity without any disruption.

The Immigration Department falls under the

Office of the Prime Minister.

The PM's office has been allocated $16.9m.

principles as a region.

"We will have relationships

with other nations but

those relationships should

always be focused on our

priorities as a region.

"Your

engagement,

economically or through aid

and development funding or

grant funding, should not come

at the cost of any nation's

sovereignty."

Ms Ardern was in the country

to attend the 51st Pacific

Islands Forum which was held

in Suva last week.

India Gifts Four

Vehicles To FEO

The Fijian Elections Office

(FEO) received some

timely assistance in

the form of four SUV vehicles

being gifted from the Indian

government.

They were handed over by

the Indian High Commissioner,

P. S. Karthigeyan, yesterday.

Electoral Commission

chairperson Mukesh Nand said

"This is an important year, not

only for the nation but, also for

the commission and the FEO in

preparing for the 2022 General

Election"

"The election process could

be the largest logistic exercise

that any country conducts,

and such a massive operation

is being supported by the

presence of logistic equipment

such as vehicles for transport."

"Considering the effort

required to conduct an

election in a day, as well as the

requirements for the logistics

required from the FEO."

"Such an important gesture

by the Indian Government will

go a long way in facilitating the

election."

The commission and the FEO

have also been assisted with

vehicles in the past two general

elections

The Indian High Commissioner

said Fiji and India's relationship

went back a long way where

the destiny of both nations got

intertwined in 1879.

"We have been through some

challenging times, but we are

still there for each other," he

said.

"Whether in key economic

sectors like agriculture,

capacity building or standing

together with our Fijian friends

in organising this challenging

election."

Mr Karthigeyan said India

had always been there and

reassured that India would be

there for Fiji in the future.

He said the FEO had done a

great job in preparing for this

upcoming election like they had

done in previous years.

NZ Health Chief invited to Fiji

Tourism Fiji has created

a video inviting New

Zealand's Director-

General of Health, Doctor

Ashley Bloomfield, to visit the

country.

Dr. Bloomfield will end his

term as New Zealand Director

General of Health later this

month, and Tourism Fiji invites

him and family to holiday in Fiji.

The one-minute video, called

"Ashley's Holiday," showcases

Fiji's palm-fringed white sand

beaches, crystal-clear waters,

and, above all, Fijians' inviting

Dr. Bloomfield.

The outgoing Director General

of Health has responded to

the invitation, saying it is a

wonderful and irresistible offer.

He told NZ media that having

been to Fiji, he knows just how

much it has to offer.

He says the last two years

have definitely been busy and

he's looking forward to having

a bit of time to reacquaint with

his Pacific 'whānau'.

Dr. Bloomfield adds Fiji is

definitely on my short list

and I need no encouragement

to get back.

Health ministry urges all Fijians to strengthen covid safety

The Ministry of Health and Medical

Services has urged the general

public to strengthen its COVID

safe measures and protocols in light of a

slight surge in cases recently.

During an address to the media,

Permanent Secretary for Health and

Medical Services Dr James Fong urged

community leaders to see to it that

masking up and sanitising was observed

where necessary. Between June 23

and June 30, news cases saw a sudden

surge. June 23 had 104 new cases,

June 27 had 95 new cases and June 30

recorded 158.

Dr Fong said while Fiji was in the

endemic phase and there was no need

to panic, it was best to act on the side

of caution than be complacent.

"We must be able to engage in the

proper behaviour that will keep us COVID

safe when we need it," he said.

"There is no need to panic, the whole

purpose of living with COVID-19 is to be

able to do the right thing at the right

time even when you are told to do it.

That is our major objective.

"So that means it's within our own

hands, to be able to include COVID

safe behaviour as part of our natural

behaviour, ensure that we are vaccinated

and if we do feel sick get yourselves to a

hospital to be seen early, take isolation

processes seriously and if you are sick

don't pass it to someone else.

Hospitals, Health Centres

In light of this caution, strict COVID-safe

measures will once be reintroduced at

hospitals and health centres nationwide.

At the CWM Hospital for instance,

visitation will be limited.

"We are not closing the hospital,"

he said. "What we are doing is we are

restricting the number of visitors who

can go in.

"We are bringing back some of our

safety measures for screening people

who come into the hospital. We are also

endeavouring this in every single hospital

that when a staff interacts with a patient

we need to take the appropriate COVID

safe measures.

"A lot of people are testing positive in

hospitals and they are not admitted for

COVID, they are admitted for something

else but they are testing positive."

International Border

As far as the international border was

concerned, Dr Fong said: "It doesn't

make sense for us to target the borders."

Vaccine Paediatric Doses

The COVID-19 paediatric doses for ages

11 to five children will begin rollout from

tomorrow.

Dr Fong said there was a specific

consenting process that was available

online but the ministry was also

deploying the consenting process to

various stations across Fiji.

Measles

Dr Fong also confirmed that the six

cases of measles that were tested

positive by health officials were all

stable. He said the ministry was still

conducting tests on close contacts

of cases to identify if they had been

transmitted as well.
---
14

INDIA

India and Nepal should

address differences on

issues such as the border

and the 1950 treaty of peace

and friendship diplomatically

to achieve the full potential

of bilateral cooperation,

according to Nepal's former

prime minister Pushpa Kamal

Dahal, or Prachanda.

The head of the Communist

Party of Nepal was on a threeday

visit to India from July

15 at the invitation of BJP

president JP Nadda.

"There are some issues left

by history that need to be

addressed in good faith."

"The matters related to the

1950 Treaty, boundary and

EPG report need to be resolved

through diplomatic efforts and

dialogue..."

During a visit to the BJP

headquarters on Sunday, Dahal

discussed bilateral issues such

as poverty alleviation and the

purchase of hydropower from

Nepal with Nadda and Union

external affairs minister S

Jaishankar.

Vijay Chauthaiwale, the

head of the BJP's foreign cell,

said: "Prachanda said that

though the BJP and his party

follow different ideologies,

the common goal of both is

upliftment of the poor..."

Friday, July 22, 2022

163k Indians gave up

citizenship last year: Govt

Over 163,000 Indians

gave up their citizenship

last year, the highest

since 2015, with almost half

of them choosing to become

US citizens, according to

data shared by the Union

government in Parliament.

In 2021, 163,370 Indians

gave up their Indian passports.

This number was 144,017 and

85,256 in 2019 and 2020,

respectively.

The data is available only

from 2015 onwards. Previously,

the highest number of people,

144,942, had given up Indian

citizenship in 2016, according

to home ministry data.

The reasons for these

Indians renouncing their home

country citizenship, which also

means they have to surrender

their Indian passports,

was "personal", the home

ministry said.

The Indian Constitution

and citizenship laws don't

allow dual citizenship.

The data, shared by junior

home minister Nityanand Rai

while responding to a query

by Bahujan Samaj Party

parliamentarian Haji Fazlur

Rehman, revealed that after

the US (78,284), Indians

preferred to acquire citizenship

of Australia (23,533), Canada

(21,597), the UK (14,637),

Italy (5,986), New Zealand

(2,643) and Singapore

(2,516). While 78,284 Indians

took up US citizenship last

year, 30,828 got it in 2020 and

61,683 in 2019.

Forty-one Indian nationals

based in Pakistan gave up their

Indian citizenship last year,

compared to only seven in

2020, the data showed.

Around 326 Indians renounced

their citizenship while being in

the United Arab Emirates last

year and applied for citizenship

in countries such as Albania,

France, Malta, Pakistan, the

Philippines, Portugal, Antigua

and Barbuda, Bahrain, Belgium,

Cyprus, Ireland, Grenada,

Jordan, Mauritius, Norway,

Singapore, Spain, Sri Lanka

and Vanuatu, among others.

Overall, 932,276 Indians

renounced their citizenships

in favour of other countries

between 2015 and 2021,

according to data shared with

Parliament in February last year

and on Tuesday.

Data shared by the home

Nepal, India should settle issues

diplomatically, says ex-PM Prachanda

ministry in November 2021

stated 10,645 foreign

nationals applied for Indian

citizenship between 2016

and 2020, with the maximum

(7,782) from Pakistan and 795

from Afghanistan. Of these,

4,177 persons were granted

Indian citizenship.

A total of 452 "stateless"

persons also applied for Indian

citizenship between 2016 and

2020, but it was not known how

many were given citizenship

and which territory they applied

the citizenship from.

Stateless persons are

categorised as those who are

not identified by any country,

even their home country.

The home ministry said

last year that 13,383,718

(13 million) Indian nationals

are currently living in

foreign countries. Rules are

yet to be formulated for a new

citizenship law introduced in

2019 to grant Indian citizenship

to six persecuted minorities –

Hindu, Sikh, Jain, Buddhist, Parsi

and Christian – from Pakistan,

Bangladesh and Afghanistan

who entered India on or before

December 31, 2014.

Read online www.iwk.co.nz

Bill Gates

congratulates

PM Modi for India

crossing 2bn

Covid vaccinations

Microsoft co-founder Bill

Gates on Wednesday

congratulated Prime

Minister Narendra Modi for

India's cumulative vaccination

count against Covid crossing

the 200 crore mark (2 billion).

Taking to Twitter, Gates

shared a media report and

said, "Congratulations @

narendramodi for yet another

milestone of administering

200 crore vaccinations. We

are grateful for our continued

partnership with Indian vaccine

manufacturers and the Indian

government for mitigating the

impact of Covid-19."

Previously, the Microsoft

co-founder had lauded the

country's vaccination drive

when he met Union health

minister Mansukh Mandaviya

at the World Economic Forum

(WEF) in Switzerland's Davos in

May.

"It was great to meet Dr

Mansukh Mandaviya and

exchange perspectives on

global health. India's success

with the vaccination drive and

the use of technology to drive

health outcomes at scale offers

many lessons for the world,"

Gates said on May 29.

India worried about Lanka crisis spillover, there's misinformed comparison: Govt

External affairs minister

S Jaishankar said the

crisis in Sri Lanka is a

very serious one and there is

an unprecedented situation in

many ways.

Jaishankar made the

initial remarks as part of the

government's briefing at

an all-party meeting on the

unfolding situation in the

island nation that is facing its

worst economic crisis in seven

decades. He said he has seen

misinformed comparisons in

In 2019, 1,44,017 Indians renounced their citizenship. (Representation purpose)

"The matters related

to the 1950 Treaty,

boundary and EPG

report need to be

resolved through

diplomatic efforts and

dialogue..."

External affairs minister S. Jaishankar with Union ministers Pralhad Joshi and

Parshottam Rupala during a meeting with on Sri Lanka

Lankan context. "People asked

if such a situation can occur in

India," he added.

The minister further said

that as the matter pertains

to a very close neighbour, the

government is naturally worried

about its consequences and the

India will play its due role in

advancing global food security

India will play its due role

in advancing global food

security, upholding equity,

displaying compassion and

promoting social justice, said

First Secretary Sneha Dubey at

the UN Security Council highlevel

special event on global

food security crisis.

Dubey said that New Delhi is

running the world's largest foodbased

safety net programme,

which has seen a paradigm shift

from welfare to a rights-based

approach.

"To achieve targeted

delivery during COVID-19, food

assistance to 800 million people

and cash transfers to 400

million people were provided by

the Government," she added.

India's mid-day meal

programme continues to

tackle undernourishment in

school children by ensuring the

spillover it can have for India.

"The reason we took the

initiative to request you all

to join an all-party meeting

was...this is a very serious

crisis and what we are seeing

in Sri Lanka is in many ways

an unprecedented situation,"

Jaishankar said.

Parliamentary affairs minister

Pralhad Joshi and Union minister

Parshottam Rupala were among

the other senior members of

the government present at the

briefing, besides P Chidambaram

provision of healthy meals.

"A nutrition drive has also

been launched, especially for

vulnerable groups including

women and children. Our Farmto-Table

digital initiatives include

Farmer's Portals, farm-advisory

services, online network of

agricultural commodities,

price prediction and use of

blockchain technology for

quality certification," She said.

In view of the deteriorating

humanitarian situation in

Afghanistan, India is donating

50,000 Metric tonnes of wheat

to the people of Afghanistan.

"India has continued its

humanitarian support for

Myanmar, including a grant of

10,000 tons of rice and wheat.

We are also assisting Sri Lanka

including with food assistance,

during these difficult times,"

Dubey noted.

and Manickam Tagore of the

Congress, Nationalist Congress

Party's (NCP) Sharad Pawar and

TR Baalu and MM Abdulla of the

Dravida Munnetra Kazhagam.

M Thambidurai, Saugata

Ray, Farooq Abdullah (National

Conference), Sanjay Singh (Aam

Aadmi Party), Keshava Rao

(Telangana Rashtra Samithi),

Ritesh Pandey (Bahujan Samaj

Party), Vijayasai Reddy (YSR

Congress) and Vaiko (MDMK)

were the other MPs who

attended the meeting.
---
Read online www.iwk.co.nz Friday, July 22, 2022

WORLD 15

Rishi Sunak, Liz Truss, Kemi Badenoch, and Penny Mordaunt. (Left to Right)(AFP)

Rishi tops as increasingly bitter

race for UK PM narrows to four

Britain's former finance

minister Rishi Sunak held

onto his lead in the race to

become Britain's next prime minister

as another hopeful was knocked

out, leaving four candidates in

an increasingly bitter contest to

replace Boris Johnson.

Sunak got 115 votes in the third

ballot of Conservative lawmakers on

Monday, ahead of former defence

minister Penny Mordaunt on 82 and

Foreign Secretary Liz Truss on 71.

Since Johnson said he would

resign earlier this month after his

scandal-ridden administration lost

the support of many in his ruling

Conservative Party, the race to

replace him has taken an ugly turn

with several contenders turning their

fire on the frontrunner Sunak.

He has faced criticism on everything

from his record in government to the

wealth of his wife by those vying to

make it to a run-off between the

final two candidates, with foreign

secretary Truss and Mordaunt,

currently a junior trade minister, his

most likely opponents.

The chair of the Foreign Affairs

Committee Tom Tugendhat, a former

soldier and Johnson critic who has

never had a role in government,

was eliminated from the leadership

contest on Monday, after securing

the fewest votes with 31. Former

equalities minister Kemi Badenoch

came fourth in the ballot with 58

votes. The governing Conservative

Party's 358 lawmakers will whittle

the field down to the final two this

week, eliminating the candidate with

the fewest votes each time.

A new prime minister will then

be announced on Sept. 5, after

the Conservative Party's 200,000

members cast postal ballots over

the summer.

Vigorous Debate

The race has become focused

on pledges, or non-pledges, to

cut taxes, at a time when Britain's

economy is beset with spiralling

inflation, high debt and low growth

that have left people with the

tightest squeeze on their finances in

decades. Truss has also come under

fire for saying she would change the

Bank of England's mandate.

Sri Lanka: Ranil Wickremesinghe

elected president by MPs

Sri Lankan MPs have

elected prime minister

Ranil Wickremesinghe as

the country's new president,

despite his unpopularity with

the public.

Mr Wickremesinghe faces the

task of leading the country out

of its economic collapse and

restoring order after months of

mass protests.

He roundly defeated his

main rival for the job, Dullus

Alahapperuma, with 134 votes

to 82 in a parliamentary vote.

Sri Lanka's ex-president

Gotabaya Rajapaksa fled the

country last week.

He bolted to the Maldives and

then Singapore after thousands

of protesters stormed his

presidential residences and

other government buildings,

calling for his resignation.

They had also called

for the resignation of Mr

Wickremesinghe, a close ally of

the Rajapaksa political family

who was appointed prime

minister in May.

Protesters last week burnt

down his private home and

also stormed his prime

ministerial office in Colombo

in demonstrations against his

leadership.

On Wednesday, many

expressed despair and

disappointment over his win.

"I am absolutely disgusted

at the result… I cannot believe

that 134 people - MPs that

are supposed to represent

the people- have completely

disregarded the wants of the

people," one activist Jeana De

Zoysa told the BBC.

Mr Wickremesinghe is viewed

by many as a shrewd political

operator who's managed to

cling on in parliament despite

his party being wiped out in

the 2020 election. It failed to

win a single constituency, and

its only seat - for which Mr

Wickremesinghe nominated

himself - was awarded under

the party list system reflecting

overall votes polled.

At a televised debate on Sunday,

candidates attacked each other over

their records, and Truss and Sunak

pulled out of a planned third debate,

amid concern among Conservatives

about candidates attacking their

party colleagues.

"The nature of the Conservative

Party is to have vigorous debate and

then coalesce once a new leader is

selected. I have no doubt that the

same will happen on this occasion,"

Conservative former minister David

Jones said.

Sunak extended his lead over

Mordaunt, who lost support and

registered one fewer vote than

she had in round two. Bookmaker

Ladbrokes said on Monday Truss,

who got seven more votes in round

three than she had in round two, was

now the second favourite, ahead of

Mordaunt but behind Sunak.

Truss's campaign tried to buttress

their argument for lower taxes by

citing a report by The Centre for

Economic and Business Research, a

private sector think tank, showing

there was more room for manoeuvre

from higher tax receipts.

More than nine years

after South Africa's

first black President

Nelson Mandela died, he

remains to be "a giant of our

time" and "moral compass" for

the whole world, United Nations

Secretary-General Antonio

Guterres said on Sunday. The UN

chief described Mandela as "a

leader of unparalleled courage

and towering achievement; and

a man of quiet dignity and deep

humanity." He urged the world

to take inspiration from the

former South African president

in the quest to rid the world of

many vices.

"Our world today is marred

by war; overwhelmed by

emergencies; blighted by

racism, discrimination, poverty,

and inequalities; and threatened

by climate disaster. Let us

find hope in Nelson Mandela's

example and inspiration in his

vision," said Guterres.

The world commemorates

Nelson Mandela International

Day on July 18 every year

to honour the former South

African President's commitment

to international peace and

freedom. Mandela was the first

Australians urged to

work from home as

winter Omicron wave

swamps hospitals

Australians admitted to hospitals from

COVID-19 neared record levels on

Wednesday as authorities urged businesses

to let staff work from home and recommended

people wear masks indoors and get booster shots

urgently amid a major outbreak.

Australia is in the grip of a third Omicron wave

driven by the highly transmissible new subvariants,

BA.4 and BA.5, with more than 300,000 cases

recorded over the past seven days, even as

authorities flagged the actual numbers could be

double. Tuesday's 50,000 cases was the highest

in two months.

"We need to do some things differently at least

for a short period of time," Australia's Chief Medical

Officer Paul Kelly told ABC Radio on Wednesday, as

he predicted the number of people ending up in

hospitals will soon hit an all-time high.

"We know that working from home is a very

key component of stopping what we call macro

spreading."

About 5,300 Australians are currently in hospital

with COVID-19, not far off the record 5,390

recorded in January during the BA.1 outbreak,

official data showed.

Numbers in the states of Queensland, Tasmania

and Western Australia are already at their highest

since the pandemic began.

But Kelly said he had not recommended

the reintroduction of mask mandates or

any other restrictions.

Last week, Australia reinstated support payments

for casual workers who have to quarantine due to

COVID-19 after more workers began calling in sick.

Several frontline health workers are also sick or in

isolation, further straining the health system.

Authorities have also warned of a lag

in people taking their booster shots

worsening the health crisis.

So far, 95% of people above 16 have had two

doses, helping keep Australia's total COVID-19

cases just under 9 million and deaths at 10,845,

far lower than many countries. But only about 71%

have received three or more doses.

Nelson Mandela International Day: UN

chief says he was world's 'moral compass'

multi-ethnic administration in

South Africa and spearheaded

the battle against the country's

apartheid regime.

In 2009, the United Nations

declared Nelson Mandela

International Day to honour

the revolutionary and his

accomplishments. The day is a

celebration of the 67-year long

fight of the South African leader

against racial discrimination and

human rights abuses.

Some facts about Nelson

Mandela:

• Mandela was born into the

Xhosa royal family in the

village of Qunu, Transkei,

South Africa on July 18,

1918, Nelson Rolihlahla

Mandela is remembered

for his commitment to

peace, negotiation, and

reconciliation.

• He spent 27 years of his life

in prison for his assiduous

efforts in politics and

activism to fulfil his lifelong

dream of a free and fair

society. He became the first

Black President of South

Africa four years after

leaving prison and was sworn

in on May 10 1994.

• Mandela's life was dedicated

to the fulfilment of this ideal;

to achieve for the African

people, a society that was

not bound by the shackles of

racism and discrimination.

• On his 90th birthday,

Mandela said, "It is time

for new hands to lift the

burdens. It is in your hands

now." However, there were

some groups that started

celebrating this day from

July 18, 2009.

• On this day, people are

expected to pay attention to

the serious issues happening

around the world and warn

those who affect the peace,

security and well-being of

nations.
---
16

FEATURES

Friday, July 22, 2022

Healthy cooking every day

Lighter Takes

& Easy Tips

Quick and easy dinner ideas

Chicken and sweetcorn

noodle soup

Kids and adults alike will love this simple but

delicious chicken and sweetcorn noodle

soup, ready to devour in under 25 minutes!

Ingredients

• 2tsp sesame oil

• ½ brown onion, finely diced

• 1tsp minced ginger

• 410g tin cream style corn

• 410g tin corn kernels, drained

• 1.5L chicken or vegetable stock

• 2 Tbsp soy sauce

• 400g udon or hokkien noodles

• 2 cups shredded cooked chicken

• Sliced spring onion to garnish, if desired

Method

• Place a saucepan over a low to medium

heat with the sesame oil, onion and ginger.

Saute for 2-3 minutes or until the onion has

softened.

• Once the onion has softened, add the creamed

corn and corn kernels, then stir to combine.

Add the stock and soy sauce, then stir and

gently simmer for 5 minutes.

Chicken Caesar pasta salad

Pasta salad reaches new delicious heights with this

twist on a classic Caesar salad. On the table in 30

minutes, this pasta salad not only makes for a great

dinner but for next-day leftovers too!

Ingredients

• 150g dried pasta

• 3 cups roughly chopped

lettuce (cos, romaine or

iceberg)

• ¼ cup diced red onion

• 1 cooked chicken breast,

diced

• telegraph cucumber, diced

• Olive oil

• ½ tsp dried mixed herbs

• 2 slices thick sliced bread

• ½ cup Caesar dressing

• Juice of ½ lemon

• ¼ cup shaved parmesan

cheese

• Lemon wedges, to serve

Method

• Cook the dried pasta as

per pack instruction, then

run under cold water and

drain.

• Place the cooled pasta in

a large mixing bowl. Add

the lettuce, red onion,

chicken and cucumber to

the pasta, and toss well to

combine.

• To make the croutons,

slice the bread into small

cubes.

• Bring a small frying pan

to a medium high heat

with a drizzle of olive oil,

then add the dried herbs

and cubed bread. Stir

to combine, then toast

for 2-3 minutes or until

golden brown.

• Drain on a paper towel,

then add to the pasta

mixture.

• Pour the dressing into

the salad, then add the

parmesan and toss to

combine. Season with salt

and pepper to taste, then

serve with fresh lemon.

• While the soup is simmering, add the noodles

along with the shredded chicken. Cook while

stirring for a further 1 - 2 minutes until the

noodles have softened and the chicken has

heated through, then season to taste with

salt and pepper.

• Serve the soup while hot, then garnish with

sliced spring onion if desired and enjoy.

• TOP TIP: If your kids love their green

vegetables, add broccoli florets or frozen

peas (at step two) to this soup for an extra

nutritional boost!

Cheesy chicken

quesadillas

Ingredients

• 2 chicken breasts, diced

• 1 pack Pams Burrito Mexican

Spice Mix

• 1 red capsicum, sliced

• ½ onion, sliced

• 2 cloves garlic, crushed

• 2 cups Pams Tex Mex Cheese

• 1 jar Pams Mild Salsa

• 6 Pams Flour Tortillas

Method

• Add the diced chicken to a

mixing bowl with the spice mix

and toss to combine.

• Add a splash of oil to a large

frying pan over medium-high

heat. A

• dd the chicken, onion and

capsicum and cook until the

veges are soft and the chicken

is cooked through.

• Add the garlic, season with

salt and pepper and continue

cooking for a further minute.

Transfer to a mixing bowl and

leave to cool slightly.

• Add the cheese and ½ cup salsa

to the chicken mixture and toss

to combine.

• Spoon the chicken mixture onto

one half of each tortilla and fold

over to sandwich together.

• In a large frying pan over

medium heat, cook the

quesadillas on each side until

they are crisp, golden and the

cheese has melted. Repeat with

remaining tortillas

• Cut into wedges and serve with

remaining salsa.

Ingredients

• Pams 100% Pure Olive Oil

• 1 leek, thinly sliced

• 2 garlic cloves, minced

• 2 Tbsp curry powder

• 1 Tbsp mustard seeds

• 3 cups cooked rice

• 1 cup Pams frozen garden

peas

• 200g smoked fish, flaked

• Juice of 1 lemon

• ¼ cup fresh parsley or

coriander, roughly chopped

• 4 boiled eggs

• Lemon wedges, to serve

Method

• In a large pot or pan, bring

a drizzle of olive oil to a

medium heat. Add the leek

and garlic, and cook while

stirring for 3-4 minutes or

until the leek has softened.

• Once the leek has softened,

add the curry powder and

mustard seeds and cook

while stirring for a minute

before adding the rice and

frozen peas. Stir and cook

Read online www.iwk.co.nz

One pot smoked

fish and leek rice

until the rice has heated

through and the peas are

tender, around 4-5 minutes.

• Carefully add the flaked fish

and lemon juice, then fold

through until just combined.

Sprinkle the chopped

coriander over the rice, then

halve the boiled eggs and

nestle them into the rice.

• Garnish with fresh lemon

wedges, and serve

immediately.

Peanut chicken rice bowls

Simple and delicious, these peanut chicken rice bowls

combine flavoursome satay chicken with punchy pickled

vegetables for a truly divine weeknight meal.

Ingredients

• ¼ cup Pams white vinegar

• 1 Tbsp caster sugar

• 1tsp salt

• ½ Telegraph cucumber,

thinly sliced

• 1 carrot, peeled and thinly

sliced

• 6 boneless skinless chicken

thighs

• ½ cup Pams smooth peanut

butter

• 2 Tbsp Pams soy sauce

• 1 Tbsp Pams sesame oil

• Steamed Pams jasmine rice,

to serve

Method

• Preheat your oven to 200

degrees celsius. In a bowl,

combine the vinegar, caster

sugar and salt with ½ cup of

warm water. Stir until the

sugar and salt has dissolved,

then add the cucumber and

carrot and set aside to

pickle.

• In a mixing bowl, whisk

together the peanut butter,

soy sauce and sesame oil

until smooth, with a dash of

boiling water if needed.

• Place half of the peanut

sauce into a jug or bowl

for serving and set aside,

then place the chicken

into the remaining peanut

sauce. Rub the sauce over

the chicken thighs, then

lay onto a baking tray and

season with pepper.

• Grill the chicken thighs for

15-20 minutes or until the

chicken is cooked through,

turning after 10 minutes.

Once cooked, slice into

large strips.

• Serve the cooked chicken

on top of steamed jasmine

rice, alongside the pickled

cucumber and carrot. Spoon

the remaining peanut sauce

over the chicken and serve.
---
Read online www.iwk.co.nz Friday, July 22, 2022

FEATURES 17

Technology

Avid gamer or the Most Valued Player? Look

no other way than the new OnePlus 10R 5G!

Never Settle is the primary motto

of the global technology brand

OnePlus, and so should be yours!

Packed with a powerhouse of features

that not only make your smartphone

experience better but also take things

a notch higher, the OnePlus 10R 5G is

undoubtedly one of the smartest devices

recently launched by the company!

Loaded with an array of powerful

features like the Endurance Edition

and MediaTek chipset, the smartphone

is paving way for a superior user

experience.

And while there are several new

specifications that have made this

phone a highly efficient gadget among

consumers like you and me, there is a

specific surprise that will take the avid

gamers by surprise! Let's find out.

Designed to give you nothing but

a splendid gaming performance, the

OnePlus 10R opens a whole new world of

advanced developments that are beyond

a dozen of specifications and stats.

It has brought some revolutionary

features, from battery life enhancement

to excellent gaming experiences,

better visuals, and others that allow

you to play games without any hassle.

Be it an adventure, arcade, action, or

casual game, the OnePlus 10R is capable

of running whatever you throw at it

with ease. So how has that been made

possible?

In the latest gaming features of the

OnePlus 10R 5G, the performance

has been boosted by a powerful

and customized 5G-ready MediaTek

Up your gaming experience with the OnePlus 10R

5G that promises a power-packed performance!

Dimensity octa-core chipset that

speeds up the CPU and improves multicore

performance as compared to the

previous generation.

And then the HyperBoost Gaming

Engine of the OnePlus 10R is specifically

integrated to offer a more stable and

responsive gaming experience such as

reduced frame rate and fluctuations

while gaming.

The OnePlus 10R 5G has also resolved

previous battery issues by introducing

the 150W SUPERVOOC Endurance

Edition.

This exclusive upgrade on its Battery

Health Engine extends the phone's

lifespan by retaining almost 80% of

its original capacity even after 1,600

charge cycles, letting you enjoy an ultrasmooth

gaming experience without any

interruptions.

Along with these key features, the

OnePlus 10R also boats a faster refresh

rate with every gaming session, a 3D

passive cooling system that protects

the phone from overheating issues, a

6.7-inch FHD+ Fluid AMOLED display

for improved clarity and better visuals,

a flicker-free 120 Hz display that can

adjust anywhere between 120 Hz and

60 Hz to save battery life, and the

150W fast charging which helps you

play games without any disturbance.

If you have been struggling with

battery issues or high fluctuation rates

or poor clarity, the OnePlus 10R will put

an end to your problems.

With an array of improved features

that only strengthen the flagship's

performance from the core, the OnePlus

10R is undoubtedly one of the finest

gaming phones out there. So why wait

anymore? Go ahead and get your game

started with the OnePlus 10R 5G!
---
18

ENTERTAINMENT

Friday, July 22, 2022

When Rekha denied any rift with

Jaya, confessed her love for Amitabh:

'Yet to come across a woman who is...'

Long before Bollywood

association before the so-called

celebs took to sipping

rumours and the media messed

Koffee, Rendezvous With

up the whole image. We were

Simi Garewal was the onestop

destination for film buffs

to get personal confessions

of the actors. One of the rare

episodes of the show had Rekha

opening her heart as she talked

about Amitabh Bachchan and

wife Jaya, and the cloud of

gossip that has swerved around

living in the same building and

we had a relationship.She was

my Didibhai, she still is – no

matter what happens nobody

can take that away. Thank God

she realises that too. Whenever

we meet she's very sweet –

she's not just civil, she's just

herself," she had said.

the trio.

Amitabh Bachchan, Jaya

While she confessed her

Bachchan and Rekha worked

love for Amitabh – "I have yet

to come across a single man,

Rekha ruled out that they ever

had a personal relationship.

more together," Rekha had

said about Jaya. "I've yet to

together in Silsila, made by

Yash Chopra. The filmmaker

woman, child who can help but Rekha also dismissed come across a woman who had revealed in a chat with

fall completely, passionately, speculation that there was is so together. She's got so Shah Rukh Khan that he had

insanely,

desperately, a rift with Jaya Bachchan much dignity, so much class. originally cast Smita Patil and

hopelessly in love with him. So

why should I be singled out?" –

despite all the gossip. "Didibhai

is much more mature, much

She's got a lot of strength. I

admire that woman. We had an

Parveen Babi as female leads

but changed the casting later.

Lipstick Under My Burkha director on Ratna

Pathak's Bua ji: 'Elderly people believe they

don't have any sense of sexuality'

Al a n k r i t a

Shrivastava directorial

Lipstick Under My

Burkha (2016) created quite

the stir when it came out. A lot

of things were happening in and

around the movie. The film was

denied a theatrical release

by the censor board

because of certain

'graphic and

objectionable'

c o n t e n t .

However, when

it finally saw

the light of the

day, there were

widely contrasting

responses to it. I

remember watching it

in a nearby theatre and being

aghast at the initial reception

the film received. At a multiplex

in the country's capital, while

most women were taken in

by the portrayal of its female

leads, a great number of

male audience were busy

cracking lame, sexist jokes,

especially during Ratna Pathak

Read online www.iwk.co.nz

Kangana on Emergency: 'My instinct as a filmmaker will pay off big time'

Kangana Ranaut believes

the "terms" from her

quotes have become

part of the pop culture.

The actor, who commenced

the shooting of her next project

Emergency recently, is known

for her unabashed statements

and opinions.

Kangana

Ranaut's

controversial appearance on

Koffee with Karan Season 5

in 2017 triggered a social

media debate around terms

like 'nepotism' and 'movie

mafia' which she used for

host Karan Johar and the

star-kids in Bollywood.

Shah's 'Bua ji'

sequences.

But as time

has gone by,

we have come

to accept it as

the definitive

female-driven

movie it is, told from

an intelligent and aware

female perspective. This

doesn't happen often in Hindi

cinema, unfortunately. And

the irony is, that the bits men

found lurid and ridiculous in the

theatre, are the parts of the

movie that I have held on to

for so long. Ratna's Usha/Rosy

is something to be cherished.

Kangana told ANI, "I do believe

that I know the pulse of the

audience from my interviews,

my quotes and the terms that I

have coined are now part of pop

culture (laughs). I do believe

that the audience is looking for

something which will stimulate

their intellectual side and not

just their sensual side."

Kangana plays former

prime minister Indira Gandhi

in Emergency. The makers

released a teaser recently,

and announced that the film

has gone on floors. Kangana

plays the lead role, along with

donning the director's hat. It is

As aforecited, it is uncommon

for women to be vulnerable

and show desire on screen, let

alone elderly Indian women.

Ratna Pathak Shah, the

excellent performer she is,

not only made Bua ji real, she

also made you root for Usha's

happy ending. Wwhether she

got that or not is another

question, but we were with her

on the journey, cheering her on

from the bleachers.

Speaking about filming those

scenes, director and writer

Alankrita Shrivastava said it

was a stressful shoot.

"We had to finish the

swimming pool scenes in two

"They want to

involve themselves

much more with the

narrative and the

narrative should also

be focused on them.

The Emergency is an

undeniable part of

recent history and I

feel that this will click

with the audience."

produced by her home banner

Manikarnika Films.

Speaking about the changing

days. So the good thing was

we were done with the phone

bit with Ratna (Pathak Shah)

and the coach artiste. We were

quite prepped, so at the time

of shoot, you know what you're

going for.

I remember it being a bit

stressful because we had the

access to the pool for only

so long, but yeah it was fun

too. It was like a romantic

scene without actually being

romantic. In a way it was a very

'rom-commy' scene. At least

that was the kind of vibe I was

going for," Alankrita said.

The part where Usha and

Jaspal first lay eyes on each

other plays out like some kind of

a meet-cute from a traditional,

predictable romantic-comedy.

Asked if Ratna's character

was in any way shaped by real

women, Alankrita said, "Bua ji

was not inspired by anyone. But

you do see these old people

believing that they don't have

any sense of sexuality, and

holding on to that stereotype."

audience sentiments, Kangana

added, "They want to involve

themselves much more with

the narrative and the narrative

should also be focused on them.

The Emergency is an undeniable

part of recent history and I

feel that this will click with the

audience."

Kangana credited the viewers

for supporting projects with

fresh content. She said, "It's

not that people don't want

content, they want to see

young filmmakers, new thought

process, and refreshing ideas

and not the stale typical

formula films. I do believe that

Bhupinder

Singh, who sang

Do Deewane

Shahar Mein

and more,

dies at 82

Veteran singer Bhupinder

Singh died on Monday

at a Mumbai hospital.

Bhupinder's wife Mitali Singh

confirmed to news agency PTI

about his death. The singer was

82 years old.

Over a decades-long career,

Bhupinder sang many hit classics

such as Do Deewane Shaher

Mein, Hoke Majboor Mujhe Usne

Bulaya Hoga, Aane Se Uske

Aaye Bahar, Kisi Nazar Ko Tera

Intezar Aaj Bhi Hai, Beeti Na

Beetai Raina, Dil Dhoondta Hai,

Naam Gum Jayega, Ek Akela Is

Shaher Mein, Huzoor Is Kadar

bhi na Itra ke Chaliye.

Speaking to media,

Bhupinder's wife Mitali said,

"He passed away on Monday

and the funeral will be held

mostly on Tuesday. He had

a colon ailment.'' The report

also quoted the director of

Criticare Asia hospital Dr

Deepak Namjoshi as saying,

"Bhupinderji was admitted ten

days back to our hospital. He

had an infection. We had strong

suspicion that he had Colon

ailment and we were doing

investigations. In the same

time, he got Covid-19. His

condition worsened on Monday

morning and we had to put him

on a ventilator.'' Bhupinder

was born in Punjab's Amritsar

and learnt guitar and violin. He

sang several duets with Kishore

Kumar and Mohammed Rafi.

Speaking with Hindustan Times

in 2016, Bhupinder spoke about

growing up in a house filled with

music.

my instinct as a filmmaker will

pay off big time."
---
Inviting nominations for

The Kiwi Indian Hall of Fame 2022

The guidelines, which need to be adhered to, for

nominations, are as follows:

1. The nominee needs to have an undisputable

2. Should be nominated by a person of repute. Further,

the nominee.

3. The nominator has to provide their full contact

details. No anonymous applications will

be accepted.

4.

business, sports, art, culture, or any other

profession).

5.

'The Indian Weekender Honours' recognises individuals who have built a road to

glory for themselves and left a path for the coming generations to tread on; who

have touched the lives of thousands and enriched the society with their being;

who have brought fame and respect to New Zealand and the Kiwi-Indian community.

The Indian Weekender invites nominations for such personalities from the

community for getting inducted into the Kiwi Indian Hall of Fame 2022.

We also invite nominations for Kiwi Indian Young Achiever of the Year

and Kiwi Indian Community Service Exellence Award 2022.

Nominate Online: visit www.halloffame.co.nz

Post your nominations: Fill this form and post it to the address given below.

Indian origin, from any part of the world, who has

settled here in New Zealand. To be of Indian origin,

at least one of the parents of the nominee have to

be Indian, by blood, thereby making the nominee

of Indian lineage.

6. The nominee must have either a Permanent

Residency (PR), or Citizenship of New Zealand to

be eligible for consideration.

7. The nominee should have no prior convictions.

8. For minors, under the age of 18, parental consent

will be required.

9. The successful candidate will be required to attend

the ceremony in person. In case a person is not able

to attend, due to any unforeseen circumstances, the

jury will use its discretion.

10.

cannot be challenged.

ENTRY FORM: Nomination form for The Indian Weekender Honour s 2022 | Pleas e fill and pos t it to the addres s below

Nominator Details

Nominee Details

About the Nominee

Name of the nominator

Name of the nominee

For how long have you known the nominee?

Professional details of the nominator

Age of nominee

Please state your reasons for nominating the above person. You may mention the

achievements of the nominee in his/her profession.

Gender M F

Address & Contact number of nominator

Address & Contact number of nominee

Category

Kiwi Indian Hall of Fame

Kiwi Indian Young Achiever of the year (16 to 35 years only)

Kiwi Indian Community Service Excellence Award

How according to you has the Nominee brought fame and respect to the Kiwi-Indian

community? (Add extra sheets to this form, if required)

Declaration by Nominator

the nominee for this application.

Yes

No

Nominee has accepted to appear in person

for the ceremony, if he/she gets chosen

for the nominated category for Kiwi Indian

Honours 2022.

Yes

No

I hereby declare that the above information is true to the best of my knowledge. I also

allow The Indian Weekender and the Jury to use the information provided for background

checks and to contact either me or the nominee for the purpose of getting any

more information.

Signed:

Date:

What to do next?

Please take a print out of this form, sign

and send / or email at:

Jury Panel, Kiwi Indian Honours 2019

Level1,133A Onehunga Mall,

Auckland 1061

(Add extra pages to this form if required.)

For details contact Indian Weekender on

09-217 3623 or go to:

www.indianweekender.co.nz

halloffame@indianweekender.co.nz
---
Michael Huang

021 101 8069

Property Manager

Vishal Agarwal

027 355 0833

Property Manager

Harcourts Crystal Realty

Licensed Agent REAA 2008