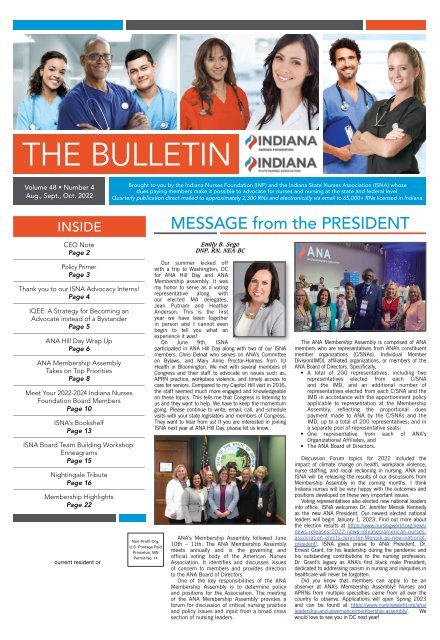 Indiana Bulletin - August 2022
You also want an ePaper? Increase the reach of your titles
YUMPU automatically turns print PDFs into web optimized ePapers that Google loves.
THE BULLETIN

Volume 48 • Number 4

Aug., Sept., Oct. 2022

INSIDE

Brought to you by the Indiana Nurses Foundation (INF) and the Indiana State Nurses Association (ISNA) whose

dues paying members make it possible to advocate for nurses and nursing at the state and federal level.

Quarterly publication direct mailed to approximately 2,300 RNs and electronically via email to 65,000+ RNs licensed in Indiana.

MESSAGE from the PRESIDENT

CEO Note

Page 2

Policy Primer

Page 3

Thank you to our ISNA Advocacy Interns!

Page 4

IQEE: A Strategy for Becoming an

Advocate instead of a Bystander

Page 5

ANA Hill Day Wrap Up

Page 6

ANA Membership Assembly

Takes on Top Priorities

Page 8

Meet Your 2022-2024 Indiana Nurses

Foundation Board Members

Page 10

ISNA's Bookshelf

Page 13

ISNA Board Team Building Workshop:

Enneagrams

Page 15

Nightingale Tribute

Page 16

Membership Highlights

Page 22

current resident or

Non-Profit Org.

U.S. Postage Paid

Princeton, MN

Permit No. 14

Emily B. Sego

DNP, RN, NEA-BC

Our summer kicked off

with a trip to Washington, DC

for ANA Hill Day and ANA

Membership assembly. It was

my honor to serve as a voting

representative along with

our elected MA delegates,

Jean Putnam and Heather

Anderson. This is the first

year we have been together

in person and I cannot even

begin to tell you what an

experience it was!

On June 9th, ISNA

participated in ANA Hill Day along with two of our ISNA

members, Chris Delnat who serves on ANA's Committee

on Bylaws, and Mary Anne Proctor-Holmes from IU

Health in Bloomington. We met with several members of

Congress and their staff to advocate on issues such as,

APRN practice, workplace violence, and timely access to

care for seniors. Compared to my Capitol Hill visit in 2016,

the staff seemed much more engaged and knowledgeable

on these topics. This tells me that Congress is listening to

us and they want to help. We have to keep the momentum

going. Please continue to write, email, call, and schedule

visits with your state legislators and members of Congress.

They want to hear from us! If you are interested in joining

ISNA next year at ANA Hill Day, please let us know.

ANA's Membership Assembly followed June

10th – 11th. The ANA Membership Assembly

meets annually and is the governing and

official voting body of the American Nurses

Association. It identifies and discusses issues

of concern to members and provides direction

to the ANA Board of Directors.

One of the key responsibilities of the ANA

Membership Assembly is to determine policy

and positions for the Association. The meeting

of the ANA Membership Assembly provides a

forum for discussion of critical nursing practice

and policy issues and input from a broad cross

section of nursing leaders.

The ANA Membership Assembly is comprised of ANA

members who are representatives from ANA's constituent

member organizations (C/SNAs), Individual Member

Division(IMD), affiliated organizations, or members of the

ANA Board of Directors. Specifically,

• A total of 200 representatives, including two

representatives elected from each C/SNA

and the IMD, and an additional number of

representatives elected from each C/SNA and the

IMD in accordance with the apportionment policy

applicable to representation at the Membership

Assembly, reflecting the proportional dues

payment made to ANA by the C/SNAs and the

IMD, up to a total of 200 representatives; and in

a separate pool of representative seats:

• One representative from each of ANA's

Organizational Affiliates, and

• The ANA Board of Directors.

Discussion Forum topics for 2022 included the

impact of climate change on health, workplace violence,

nurse staffing, and racial reckoning in nursing. ANA and

ISNA will be releasing the results of our discussions from

Membership Assembly in the coming months. I think

Indiana nurses will be very happy with the outcomes and

positions developed on these very important issues.

Voting representatives also elected new national leaders

into office. ISNA welcomes Dr. Jennifer Mensik Kennedy

as the new ANA President. Our newest elected national

leaders will begin January 1, 2023. Find out more about

the election results at https://www.nursingworld.org/news/

news-releases/2022-news-releases/american-nursesassociation-elects-Jennifer-Mensik-as-new-nationalpresident/.

ISNA gives praise to ANA President, Dr.

Ernest Grant, for his leadership during the pandemic and

his outstanding contributions to the nursing profession.

Dr. Grant's legacy as ANA's first black male President,

dedicated to addressing racism in nursing and inequities in

healthcare will never be forgotten.

Did you know that members can apply to be an

observer at ANA's Membership Assembly? Nurses and

APRNs from multiple specialties came from all over the

country to observe. Applications will open Spring 2023

and can be found at https://www.nursingworld.org/ana/

leadership-and-governance/membership-assembly/. We

would love to see you in DC next year!
---
2

The Bulletin August, September, October 2022

Katie Feley, DNP, RN, NE-BC

ISNA Chief Executive Officer

I've been waiting for it for

a long time, and I was not

disappointed. I moved into this

role, serving Indiana Nurses as

the CEO of ISNA, almost three

years ago. Time has flown and

I have been waiting ever so

patiently to finally meet many

of my ANA colleagues and

other state nursing association

friends in person. Most of my

time is spent in the virtual

world. The 2022 Membership

Assembly (MA), in real life (IRL), was a blast! I thoroughly

enjoyed the experience from start to …well let's be

honest there's always room for improvement in our

nursing profession and our work as advocates is never

finished.

I knew it was going to be a great assembly after the

Discussion Forum topics were posted:

• Impact of Climate Change on Health

• Advancing Solutions to Address Verbal Abuse

Workplace Violence Across the Continuum of Care,

including Community Settings

• Nurse Staffing

• ANA's Racial Reckoning Statement

From my seat, I have conversations on the MA

Discussion topics on a regular basis as I meet with

members, non-members, friends of ISNA, and Rhonda,

our ISNA lobbyist. I continuously fill my schedule with

webinars and meetings on crucial nursing topics, mostly

by phone, and to have these conversations in person,

and with colleagues across the nation advocating for a

brighter nursing future, sparked my flame even stronger.

I look forward to sharing more information on these

topics soon. Safely, and following recommended

guidelines, can we please continue to have these in-

CEO NOTE

I finally made it to the real MA, IRL.

An extroverts dream come true.

person conversations? As an extrovert, I highly value inperson

connections. Schedule some time to meet with

me, please! And that's ok if you can't do in-person.

Call me! I'm a virtual meeting superuser. Let's keep

this conversation going. Tell me what changes you want

to see. Tell me about your experiences. ISNA's voice is

growing, and we need your expertise.

An experience that I recommend for all nurses is

spending the day on Capitol Hill. I was and continue to

be proud to serve my nursing friends and colleagues. I

loved the smooth experience that ANA Hill Day offered

so that I could meet face to face with my members of

Congress. I am grateful to the dedicated, elected MA

Delegates: Emily Sego, Heather Anderson, and Jean

Putnam, ANA serving, ISNA representative Chris Delnat,

and first-time observer Mary Ann Proctor-Holmes. This

team's bedside and personal experiences brought a much

needed realistic perspective on the hot topics discussed

on the Hill:

• Valuing the Nursing Workforce (Burnout Prevention)

• Advanced Practice Registered Nurses

• Improving Seniors' Timely Access to Care Act of

2021

If you do not have Hill Day on your professional (or

personal) bucket list, I highly recommend it. And if you're

planning to visit Washington, D.C., I'll save you a seat at

our table representing Indiana Nurses at the 2023 ANA

Membership Assembly.

In this Bulletin issue, we will dig deeper into the

details of Hill Day and share the perspectives of our

attendees. Please connect with us to share your

comments or suggestions, and especially if you have any

questions on the topics at hand.

In the meantime, as you plan for your future DC

visit, I hope you will join us locally for our upcoming fall

conference. The Event Committee planning is underway

and it's going to be a good one. The Annual Meeting of

ISNA Members and Fall Conference is open to all Indiana

Nurses. Save the Date – Friday, September 16th. I look

forward to seeing you there!

THE BULLETIN

An official publication of the Indiana Nurses Foundation and

the Indiana State Nurses Association, 2915 North High School

Road, Indianapolis, IN 46224-2969. Tel: 317/299-4575. Fax:

317/297-3525. E-mail: info@indiananurses.org. Web site:

www.indiananurses.org

Materials may not be reproduced without written permission

from the Editor. Views stated may not necessarily represent

those of the Indiana Nurses Foundation or the Indiana State

Nurses Association.

ISNA Staff

Katherine Feley, DNP, RN, NE-BC, CEO

Blayne Miley, JD, Director of Policy and Advocacy

Brittney Barnum, Administrative Assistant

ISNA Board of Directors

Emily Sego, President; Brian Arwood, President-Elect; Pam Hunt,

Treasurer; Leah Scalf, Secretary; Directors: Shalini Alim,

Deb Lyons, Rachel Spalding, Steven Koons, Recent Graduate

Bami Adeniyi

ISNA is a multi-purpose professional association serving

registered nurses since 1903. ISNA is a constituent member

of the American Nurses Association.

ISNA Mission Statement

ISNA works through its members to promote and influence

quality nursing and health care.

ISNA Pillars

ISNA accomplishes its mission through unity, advocacy,

professionalism, and leadership.

Address Change

The INF Bulletin obtains its mailing list from the Indiana Board

of Nursing. Send your address changes to the Indiana Board of

Nursing at Professional Licensing Agency, 402 W. Washington

Street, Rm W072, Indianapolis, IN 46204 or call 317-234-

2043.

Bulletin Copy Deadline Dates

All ISNA members are encouraged to submit material for

publication that is of interest to nurses. The material will be

reviewed and may be edited for publication. To submit an

article mail to The Bulletin, 2250 W. 86th Street, Ste 110,

Indianapolis, IN. 46260 or E-mail to info@indiananurses.org.

ISNA Allyship

ISNA Diversity Equity & Inclusion Committee | April 2022

As an ally, the Indiana State Nurses Association (ISNA) will work to strategically build awareness and

educate the nursing community about economic, racial, gendered, marginalized, or stigmatized injustices.

As allies, with humility and a learner mindset, we will:

✓ Use our ISNA community and network to promote social justice;

✓ Reflect on personal prejudices, as a vehicle to learn more about issues of target groups;

✓ Believe what people of targeted groups are saying about their experiences;

✓ Allow the focus of the discussion to remain on the issue at hand without looking for ways to

connect, compare, or contrast it to other forms of oppression;

✓ Resist the temptation to "rank oppressions" and do not allow others to do so;

✓ Commit to learning from our mistakes;

✓ Champion initiatives, including but not limited to, educational activities and materials supporting

professional development related to diversity, equity, inclusion and belonging.

As nurses, we have the responsibility to influence change within our communities.

Through ISNA allyship, we strive to drive systemic improvements to workplace policies, practices,

and culture within the nursing profession.

The Bulletin is published quarterly every February, May,

August and November. Copy deadline is December 15 for

publication in the February/March/April The Bulletin; March 15

for May/June/July publication; June 15 for August/September/

October, and September 15 for November/December/January.

If you wish additional information or have questions, please

contact ISNA headquarters.

For advertising rates and information, please contact Arthur

L. Davis Publishing Agency, Inc., PO Box 216, Cedar Falls,

Iowa 50613, (800) 626-4081, sales@aldpub.com. ISNA

and the Arthur L. Davis Publishing Agency, Inc. reserve the

right to reject any advertisement. Responsibility for errors in

advertising is limited to corrections in the next issue or refund

of price of advertisement.

Acceptance of advertising does not imply endorsement or

approval by the Indiana Nurses Foundation of products

advertised, the advertisers, or the claims made. Rejection of an

advertisement does not imply a product offered for advertising

is without merit, or that the manufacturer lacks integrity, or

that this association disapproves of the product or its use.

ISNA and the Arthur L. Davis Publishing Agency, Inc. shall not

be held liable for any consequences resulting from purchase

or use of an advertiser's product. Articles appearing in this

publication express the opinions of the authors; they do not

necessarily reflect views of the staff, board, or membership of

ISNA or those of the national or local associations.
---
August, September, October 2022 The Bulletin 3

POLICY PRIMER

Indiana Board of Nursing Misinterprets New Law on

Foreign Nurses, then Corrects Course

Blayne Miley, JD | Director of Policy & Advocacy

bmiley@indiananurses.org

One of the components of HB 1003, passed into law

by the Indiana General Assembly earlier this year, is

to expand the pathways to Indiana nurse licensure for

foreign-educated nurses. Prior to this bill, the only

pathway was the CGFNS examination. In simplified

terms, HB 1003 provides that a foreign educated nurse

may provide in their application for an Indiana nursing

license:

A) documentation they have:

i) taken CGFNS exam; and

ii) passed CGFNS exam;

B) Credentials Evaluation Service (CES) Professional

Report; or

C) VisaScreen Credentials Assessment.

After the effective date of HB 1003, some foreign educated nurses applied

to the Indiana Board of Nursing for a license and were told the CGFNS exam

was still required. The Philippine Nurses Association of Indiana requested

clarification from the Board and received a response indicating the Board

was interpreting HB 1003 as requiring the CGFNS exam and either CES or

VisaScreen. This interpretation makes it harder, not easier, for foreign educated

nurses to get licensed in Indiana, because it adds to the requirements rather

than expanding the options.

Upon learning of this interpretation, ISNA and the Indiana Hospital

Association sprang into advocacy mode, with the encouragement of the bill's

author, Representative Ethan Manning. For ISNA's contribution, I sent a

lengthy message to the Board of Nursing explaining that the Board's initial

interpretation was inconsistent with the Legislative Services Agency's Bill

Drafting Manual, a robust resource on bill formatting I was directed to by ISNA

lobbyist Rhonda Cook, with LegisGroup Public Affairs. A thorough analysis of

conjunctions and subheading designations was coupled with three similarly

structured examples from the Indiana Code governing nurses that are not

implemented in the manner the Board of Nursing was interpreting HB 1003.

Shortly thereafter, the Board released a memo on foreign educated nurses that

changed their interpretation, and allows foreign educated nurse endorsement

applicants to submit any one of the CGFNS exam, CES, or VisaScreen.

Unfortunately, while the Board's mistaken interpretation was active, at least

two foreign educated nurses from the Philippines traveled to Indiana based on

the passage of HB 1003, then had to return to the Philippines when informed

that the Board was still requiring the CGNFS exam. The initial interpretation

was also circulated among agencies that recruit foreign nurses to come to

various U.S. states and on a social media page for Filipino Nurses interested

in coming to the U.S, possibly steering nurses away from Indiana. These

negative consequences of the Board's mistaken interpretation never should

have happened. Anyone paying attention to the legislative process for HB

1003 would know the intention of the foreign nurse provisions was to make it

easier, not harder, for them to obtain an Indiana nursing license. The Board's

avoidable error was in direct conflict with available resources and examples for

how to interpret the new law. We should expect better from the Indiana Board

of Nursing.

Interim Study Committees

The Indiana General Assembly has announced the interim study committees

and assigned topics for 2022. Each assigned topic will receive a public hearing

in late summer or early-to-mid fall. The interim committee meetings can

also include a review and discussion of draft legislation for the 2023 Indiana

General Assembly session. The committee has the option of endorsing any

such draft legislation. The committees and assigned topics most relevant to

healthcare policy include:

• Joint study by Public Health Committee & Financial Institutions and

Insurance Committee

o Study of market concentration of the health insurance industry,

hospital industry, health care practitioners, retail pharmaceutical

industry, pharmacy benefit manager industry, and pharmacy services

administration organization industry (including its relationship to

pharmaceutical wholesalers).

• Financial Institutions and Insurance Committee

o Whether a health insurer or a health maintenance organization should

be required to exempt a participating health care provider from needing

to receive prior authorization on a particular health care service if the

participating health care provider has continuously received approval for

the health care service for a determined number of months.

• Public Health Committee

o Logansport State Hospital: (i) operations and hospital's statistics,

including staffing and patient care; (ii) review the required training

for employees of the hospital and evaluate similar systems in other

states and the department of correction; and (iii) determine any

changes necessary to improve the hospital's current system, including

appropriate training for staff.

o Maternal mortality.

o Delta 8, Delta 9, and other THC products regarding potential health

benefits, potential decriminalization, and other potential consequences.

• Corrections and Criminal Code Committee

o Logistics of ensuring release-ready patients and offenders from Indiana

psychiatric hospitals and the Department of Correction are connected

with appropriate care upon release, identification of programs currently

in operation to provide care, and funding needed to support care.

• Government

o Review all interstate compacts Indiana is a party to and consider

whether Indiana should remain or withdraw from each one.

Governor's Public Health Commission prepares final recommendations

After eleven monthly meetings, the Governor's Public Health Commission has

completed its work of developing policy recommendations to improve Indiana's

public health. The Commission, whose membership did not include a nurse,

developed their recommendations through invited presenters, public comment

submissions, and a listening tour. These could portend components of legislation

Policy Primer continued on page 4
---
4

The Bulletin August, September, October 2022

Policy Primer continued from page 3

in the 2023 Indiana General Assembly, especially

when it comes to the state budget. The Commission's

recommendations include:

• Increase access to school nurses through dedicated

funding and credentialing incentives

• Increase local health department funding and

regional coordination

• Enhance health workforce data collection and

analysis

• Expand health workforce incentive programs

• Allow APRNs and PAs with public health training to

serve as local health officers

Further details on the Commission and their

recommendations are available at www.in.gov/gphc.

Indiana General Assembly holding special session on

abortion and tax refund

Between our print deadline and when you are reading

this, the Indiana General Assembly is going to begin a

special session on July 25th. Legislators are expected to

undertake two topics during the special session. First, is

an inflation relief payment to Indiana taxpayers from the

state's reserves. Second, is a new abortion restriction in

the wake of the Supreme Court overruling Roe v. Wade,

ending federal protections for abortion. The special

session could last multiple weeks. You can find out

more details at iga.in.gov. Additionally, members of ISNA

receive weekly updates on policy matters like this through

our email newsletter, the ISNAbler.

Healing Begins With Hope

Indiana Drug and Alcohol Treatment Center

NOW HIRING!

Now hiring 1 Part Time LPN for weekend days, and

2 PRN Nurses for our inpatient location in Anderson.

Contact us today! Kyle Iacona, Director of

Human Resources - kyle@bhoperehab.com

https://bhoperehab.com

2200 North Madison Avenue | Anderson, IN 46011

American Nurses Association Elects Jennifer

Mensik Kennedy As New National President

Jun 11th 2022

MEDIA CONTACTS:

Shannon McClendon, shannon.mcclendon@ana.org

Keziah Proctor, keziah.proctor@ana.org

SILVER SPRING, MD - Today, the American Nurses

Association (ANA) Membership Assembly elected

Jennifer Mensik Kennedy, PhD, MBA, RN, NEA-

BC, FAAN, of the Oregon Nurses Association as the

association's next president to represent the interests

of the nation's more than 4.3 million registered nurses.

Mensik has more than 25 years of nursing experience

in a variety of settings ranging from rural critical access

ISNA Advocacy

Council begins work

Last year, the ISNA Board of Directors voted to

disband the ISNA Political Action Committee (PAC).

Having a PAC required involved members to focus their

time and efforts on fundraising, in competition with

the Indiana Nurses Foundation and other philanthropic

endeavors. Without the PAC, ISNA can maintain its

participation in campaign contributions, while allowing

members that want to be more involved in policy

advocacy to focus on the policy and advocacy. To that

end, the ISNA Advocacy Council has begun its work.

The ISNA Advocacy Council had its first meeting

in May. The mission of the Advocacy Council is to

consult on emerging policy issues, and to create policy

deliverables such as education packets, ISNA Policy

Platform resolutions, and draft legislation. Volunteers for

the Advocacy Council were asked to submit topics ideas

and then sign up to work on policy development for any

submitted topics of interest. As we go to press, we have

33 volunteers working on 16 different topics. ISNA staff

provides support for the group-driven progress of the

projects.

Any ISNA member can volunteer to participate

in the ISNA Advocacy Council at any time. If

you are interested and/or have questions, email

ISNA Director of Policy & Advocacy Blayne Miley,

bmiley@indiananurses.org.

hospitals and home health to hospital administration,

and academia. She has served as President of the

Arizona Nurses Association and 2nd Vice President and

Treasurer of ANA. The term of service for Dr. Mensik

and all other newly elected leaders will begin January 1,

2023.

ANA's Membership Assembly also elected four

members to serve as officers of the 9-member board of

directors. The newly elected board members are: Secretary

Amanda Oliver, BSN, RN, CCRN, of ANA – Illinois;

Director-at-Large, Edward Briggs, DNP, MS, APRN, of the

Florida Nurses Association; Director-at-Large, Jennifer Gil,

MSN, RN, of the New Jersey State Nurses Association;

and Director-at-Large, Staff Nurse, David Garcia, MSN,

BSN, RN, PCCN, of the Washington State Nurses

Association.

The following ANA board members will continue their

terms: Susan Swart, EdD, MS, RN, CAE, of ANA-Illinois

as Vice President; Joan Widmer, MS, MSBA, RN, CEN, of

the New Hampshire Nurses Association as Treasurer; Amy

McCarthy, MSN, RNC-MNN, NE-BC, of the Texas Nurses

Association as Director-at-Large; and Marcus Henderson,

MSN, RN, of the Pennsylvania State Nurses Association as

Director-at-Large, Recent Graduate.

Elected to serve on the Nominations and Elections

Committee are: MaryLee Pakieser, MSN, RN, FNP-BC, of

ANA Michigan; Jennifer Tucker, MA, RN, of the Minnesota

Organization of Registered Nurses; and Kimberly Velez,

MSN, RN, of ANA - New York.

###

About the American Nurses Association

The American Nurses Association (ANA) is the premier

organization representing the interests of the nation's

4.3 million registered nurses. ANA advances the nursing

profession by fostering high standards of nursing practice,

promoting a safe and ethical work environment, bolstering

the health and wellness of nurses, and advocating on

health care issues that affect nurses and the public. ANA

is at the forefront of improving the quality of health care for

all. For more information, visit www.nursingworld.org.

Thank you to our ISNA

Advocacy Interns!

Currently hiring faculty in Kentucky for

all specialty areas.

We change the life of one to care for the

lives of many

Student Success, Institutional Excellence, Relationships, Stewardship

Galen College is currently hiring expert educators and committed

professionals in all areas of expertise whose guidance and experience

contribute to the success of thousands of students entering the

nursing field every year.

Must have MSN, DNP or PhD degree

Louisville Campus

https://rb.gy/ztpdpi

In the last issue of the Bulletin,

Brian Arwood, MSN, RN, CNE,

PMH-BC, MEDSURG-BC, and

Anna Shultz, RN, BSN, provided

their midpoint perspectives on

serving as ISNA Advocacy

Interns, in coordination with their

Doctorate of Nursing Practice

coursework at Purdue University.

With the spring semester and

their internship concluded, ISNA

would like to extend our

gratitude and appreciation to

Brian and Anna. They

participated in weekly

videoconferences with ISNA CEO

Katie Feley and ISNA Director of

Policy & Advocacy Blayne Miley

to discuss advocacy matters.

This included their own advocacy

projects, as well as providing

input on legislation relevant to

nurses in the 2022 Indiana

General Assembly session. Brian

and Anna provided valuable

contributions and asked insightful questions on ISNA's

policy work. They both met with state legislators on topics

of interest to them and initiated a project that hopefully

will help inform 2023 legislation on mental health and

corrections health services. It was very rewarding to see

them both embrace the role of health policy advocates.

If you are interested in an internship with ISNA as part

of your graduate nursing coursework, please email Katie

Feley (katie@indiananurses.org) and include your program

of study and any course requirements for the experience.

Primarily, we are looking for students to intern for the

spring 2023 semester, however other timeframes can be

discussed as possibilities.
---
August, September, October 2022 The Bulletin 5

IQEE: A Strategy for Becoming an Advocate instead of a Bystander

Dr Jolynn Kuehr

ISNA Member | DEI Co-Chair

As nurses, we often

find ourselves witnesses to

situations where racism may

be evident in the remarks

or behaviors of others. As a

bystander, we may question

whether our response (or

lack of one) was appropriate,

especially when the racist

statement was made by a

patient, colleague or superior.

The Code of Ethics for Nurses

calls us to strive for social

justice in our nursing practice by advocating for others

in our care (American Nurses Association, 2015).

However, that action of advocacy may be challenging,

especially when it may require us to question the

behavior of a colleague with whom we must continue

to work. One tactic that may help to move a bystander

to the role of an advocate is the use of IQEE.

IQEE is an acronym representing the tactical steps

one may use to advocate in situations where racist

remarks or behaviors are made. (Learning for Justice,

2021). The steps include:

1. Interrupt

2. Question

3. Educate

4. Echo

Interrupt: The first step of the strategy is to

interrupt when a racist remark or behavior is

witnessed. It is important to interrupt at the time

the event occurs. Unlike disciplinary situations which

may be better addressed in private, it is important

to address the situation in front of others to show

that such remarks or behaviors are not appropriate

nor tolerated. However, the situation needs to be

addressed in a respectful and caring manner with

open and honest communication to avoid defensive

responses where others close themselves off instead

of remaining open to learning. (Learning for Justice,

2021). It may be helpful to use statements asking

for clarification, repetition, or review to initiate the

interruption and avoid statements of attack. For

instance, "Excuse me, can I clarify what I think I just

heard?" or "Excuse me, I'd like to address a term you

just used" politely stop the flow of conversation and

enable you to address the statement or behavior in

question.

Question: The second step of the strategy is to

ask a question that will enable exploration of why

a statement was made or behavior occurred. It is

important to avoid aggressive, accusatory questions

that may raise feelings of anger in the person making

the statement. (Learning for Justice, 2021) One of

the best ways to learn more about the statement

or behavior is to ask the person making it to tell you

what they meant by the statement or behavior. By

simply saying "Tell me what you mean by ________,"

the door to further conversation is opened. Another

approach is to ask why someone behaved in a

certain way. Through further explanation, the person

making the statement can often come to realize

their own areas of bias and how their statement was

inappropriate, allowing them the ability to self-correct

and making further education unnecessary.

Educate: The third step of the strategy is to explain

why the statement or behavior is offensive, especially

if the person making the statement or behavior

has not yet come to realize its offensiveness. It is

important to begin the education process with an

assumption that the incident occurred because of

a lack of knowledge and not from a point of hate or

harm. (Learning for Justice, 2021). Since education

is the goal of this conversation, it is important to be

open to any questions asked and attempt to provide

honest responses. It is very important to keep a calm,

even tone to the conversation with an emphasis on

facts and personal experiences. It may be helpful to

start this portion of the conversation with phrases such

as "I'd like to share my experience with you" or "Here

is what I know about the historical context of that

phrase". The aim for this conversation should focus on

increasing awareness with kindness, avoiding an attack

on the person.

Echo: The fourth step of the strategy is to echo

others when you witness them advocating against

racist statements or behaviors. There is a power in

numbers. This echo may be a simple expression

of thanks or appreciation for someone speaking

up against a racist action. It may include a shared

expression of your own personal experiences that are

similar to the situation at hand. It's important that

the echo occur in front of the others involved in the

initial conversation, however, to show that there is an

acknowledgement of the offensiveness of the action,

and that the action is not acceptable. This final step

of the strategy may be a good place to start for those

who are struggling to move from quiet bystander to

advocate.

While the use of IQEE cannot guarantee that

confronting a racist situation will be free from

angst and negativity, the strategy provides a logical

outcomes-focused approach that addresses the

offensive action instead of the person. It may be

the necessary tool to help you move from a quiet

bystander to an active advocate.

References

American Nurses Association. (2015). Code of Ethics

for Nurses with Interpretive Statements. American

Nurses Association.

Learning for Justice. (2021). Basic Strategies. Learning for

Justice. https://www.learningforjustice.org/magazine/

publications/speak-up-at-school/in-the-moment/basicstrategies

Make a Career

at Meridian

POSITIONS IN LAFAYETTE, RICHMOND, MUNCIE, & INDIANAPOLIS

Now Hiring – RNs and LPNs

Flexible shifts – 8, 12 and part-time | M-F hours

Inpatient, Outpatient & Residential positions available

Paid Holidays | Generous PTO | Great Benefits

Apply online at: www.meridianhs.org/careers
---
6

The Bulletin August, September, October 2022

ANA Hill Day Wrap Up

Katie Feley | ISNA CEO

The American Nurses Association 2022 Hill Day

occurred on June 10th with over 500 participants

and representatives from 50 states. My first in-person

Hill Day experience went smoothly and rather swiftly.

It was a very busy and long day, but the hustle was

worth every second, and it was an experience I'll never

forget.

This year ANA Membership Assembly attendees

had first access to Hill Day as a part of the event

registration process. ANA Hill Day is free and open

to all Indiana Nurses. Membership in ISNA is not

required to attend; however, we like to know who plans

to attend so we can coordinate advocacy efforts and

plan for the best use of our time together.

Our day started bright and early with a breakfast,

welcoming remarks from Dr Ernest Grant, and

personal words of encouragement from Representative

Lucille Roybal-Allard, a US representative of

California. Rep. Roybal-Allard is the first Latina to

serve on the Appropriations Committee in the House

of Representatives, the first woman to chair the

Congressional Hispanic Caucus, and the first woman

to chair the California Democratic Congressional

Delegation. She may be best known in the nursing world

due to her service at the forefront of the fight to improve

the quality and affordability of health services. Roybal-

Allard's Newborn Screening Saves Lives Act, which tests

newborns for treatable genetic disorders, has helped to

save the lives of thousands of babies. And her Sober

Truth on Preventing Underage Drinking (STOP) Act has

been instrumental in reducing underage drinking and its

consequences. A move in depth biography can be found

at https://roybal-allard.house.gov/

In preparation for the busy day ahead of us,

Samuel Hewitt and Kristina Wagers, Principals of

ANA Federal Government Affairs gave us a thorough,

real time federal legislative overview. Each of the

Hill Day attendees received a folder with fact sheets/

speaking prompts, schedule of events specific

to each attendee based on districts, maps, state

numbers fact sheet, and a Metro card for our travels

to and from the U.S. Capitol.

Next step, ISNA rallied our team to determine and

plan for speaking with each congressman, as we only

have a short window to advocate. We shared personal

experiences and took notes of pertinent details

about our representatives so that we could build our

connections and use our time to the best of our ability.

Our first two of five meetings were scheduled

together with Indiana Senator Mike Braun and then

a meeting with Senator Todd Young just after. This

was a great way to get us started as we were able to

meet with our full group to get the feel of the dance

that occurs on Hill Day. After this, our group split

into two groups of three in which we meet with our

district Representatives. This set up was appreciated

in that none of us had to go alone. One group met

with the offices of Rep Victoria Spartz, Rep Greg

Pence, and Rep Jim Banks. The other group met

with the offices of Rep Larry Buschon, Rep Trey

Hollingsworth, and Rep Jim Baird. Some of meetings

were planned virtually based on COVID-19 guidelines,

but the majority were in person. ANA directed us to

plan accordingly, as we knew this may be a reality

beforehand.

Another reality which comes up often in virtual and

in-person experiences, is that there is the likelihood

that you will be meeting with office staff and not your

actual representative. While we would all hope to get

that face-to-face with the actual person, meeting

with the staff is just as important. Many times, the

staff is who prompts further review and owns follow

up action items in response to constituent concerns

and stories. As shared by ANA, and throughout my

experiences with Hill Day in the past, an attendee or

constituent should never verbalize their disappointment

when meeting with office staff rather than the

representative. After regrouping with my colleagues,

some of us got to meet the real deal and we all had

great experiences both meeting the actual Senators

and congressman and with their staff. In the end,

connections were made, and our voices were heard.

That's what matters.

How did we use our voices? There are several topics

related to health care delivery and our profession in

draft state and being introduced on a regular basis. The

three topics chosen by ANA were determined to be the

most pressing at the time of our visits. ANA monitors

multiple nursing priorities. You can learn more about the

issues impacting nurses and patients they care for, as

well as ANA proposed solutions, at https://nursesvote.

org/issues/. You can also sign up for the Capitol Beat

Blog of ANA at https://anacapitolbeat.org

Back to ISNA Advocacy Efforts During Hill Day:

1) Valuing the Nursing Workforce (Burnout

Prevention)

Our complex profession relies on nurses' ability

to use critical thinking skills, react to rapidly

changing situations, and be physically and

mentally strong to provide care to patients.

When nurse are overworked and fatigued, it is

difficult to meeting the many demands on the

job. Solutions Proposed:

1. Cosponsoring and Passing the Workplace

Violence Prevention for Health Care and

Social Service Workers Act (S 4182/HR 1195)

(a) Senator Mike Braun serves as a member

of the Senate Health, Educator, Labor

and Pensions Committee. Please

encourage Sen Braun to take a stance

and cosponsor this bill. This legislation,

passed the US Ho use of Representatives

twice with bipartisan support, requires

the Department of Labor (DOL) to use

an interim, and later final, occupational

safety and health standard that requires

employers to take actions to protect

workers and other personnel from

workplace violence within one year.

For more than a decade, the DOL has

stated a standard is in the works but to

date has failed to take action. Indiana

Representatives Andre Carson and Frank
---
August, September, October 2022 The Bulletin 7

Mrvan cosponsored this bill in 2021.

(b) Separate from ANA's talking points

– Representative Larry Bucshon

cosponsored HR 7961 Safety From

Violence for Healthcare Employees

(SAVE) Act (HR 7961)

2. Prohibit the Use of Mandatory Overtime

(a) A staffing strategy and cost saving

too to protect patients from medical

errors and reduce nurses' occupational

distress. Also shared as a detail of the

ANA Membership Assembly's Discussion

Forum: ANA staff have been working

closely with Sen Jeff Merkley (D-OR)

on the Nurse Overtime and Patient

Safety Act. This legislation would

limit mandatory overtime by restricting

nurses from working (1) more than

previously scheduled shift, 48 hours in

a workweek, or 12 consecutive hours in

a 24-hour period; or (2) during the 10

hours immediately following the 12th

hour worked in a shift during a 24 hour

period. ANA staff is working on finding

House Sponsors to make the legislation

bicameral.

2) Advanced Practice Registered Nurses (HR

6087)

1. In the fast-changing world of health care,

it is vital for nurses to practice to the full

extent of their education and training

so that all patients have access to highquality

and cost effective care. ANA and

ISNA is committed to removing barriers

to full practice authority. One of the many

ways APRNs have risen to the occasion

during COVID-19 has been through the use

of flexibilities granted by Federal and state

governments relieves APRNs of unnecessary

practice restrictions allowing them to utilize

their knowledge, skills, and judgements.

As of today, zero Indiana Representatives

have signed on to this bill. We ask that you

encourage your Representaties to sign on

today!

3) Improving Seniors' Timely Access to Care Act

of 2021 (S 3018/HR 3173)

1. ANA urged lawmakers to co-sponsor and

pass this bipartisan bill to help protect

patients from unnecessary delays in

care by streamlining and standardizing

prior authorization under the Medicare

Advantage (MA) program. Specifically, MA

plans must (1) establish an electronic prior

authorization program that meets specified

standards, including the ability to provide

real-time decisions in response to requests

for items and services that are routinely

approved; (2) annually publish specified

prior authorization information, including

the percentage of requests approved and

the average response time; and (3) meet

other standards, as set by the Centers for

Medicare & Medicaid Services, relating

to the quality and timeliness of prior

authorization determinations. Six Indiana

Representatives and Senator Mike Braun

have co-sponsored this bill.

As nurses, we have a professional and ethical duty

to drive healthcare policy. While ANA is one of the

nursing profession's strongest advocates, we support

nurses advocating through various means. While in DC,

we met up with our Indiana colleagues representing

the Indiana chapter of the American Organization

of Nursing Leadership (AONL). We not only passed

through the halls on Capitol Hill, we spoke to the same

legislators and representatives about the key issues

our profession and patients are facing. AONL priorities,

like ANA, focus on workforce development, elevating

nursing research, and promoting the value of nursing

among others. We are in this together!

Stay up to date on policy issues impacting

nursing, learn how to get involved, and confirm your

registered to vote at https://rnaction.org/ I encourage

you to bookmark the Action Center and to sign up

for the latest updates and advocacy campaigns by

text. RNAction uses the same messaging number

as Healthy Nurse, Healthy Nation Challenges so

all of your ANA texted resources are in one spot.

Approximately 2 messages are sent per month with an

option to opt out at any time.

Join us for...

WALK-IN

WEDNESDAYS

RN recruitment event

9AM - 1PM

1260 CITY CENTER DRIVE

CARMEL, IN 46032

FOR MORE INFORMATION:

Amie Burress | 463.333.9107

ABurress@indianapolis-rehab.com

indianapolis-rehabhospital.com/careers
---
8

The Bulletin August, September, October 2022

ANA Membership Assembly Takes on Top Priorities

"Empowering. Mobilizing. Enlightening."

The impact of climate change on health, solutions

to address verbal abuse and workplace violence, and

the nurse staffing crisis were topics of discussion

during Dialogue Forums at the 2022 ANA Membership

Assembly, the governing and official voting body of

the American Nurses Association (ANA). Nurses and

others gathered for the governance meeting which

commenced on June 10 in Washington, DC. Eligible

representatives will elect association leaders.

Assembly representatives acted on the following:

ANA Racial Reckoning Statement

In 2021, ANA began an intense effort to

understand its own history in relation to racism

in nursing. The outcome of this examination is a

reckoning statement that serves as an apology to

nurses of color who have been harmed by decisions

and omissions made by ANA that contributed to

racism in the profession. With this statement, ANA

is launching a sustained effort dedicated to ongoing

reckoning and reconciliation.

The voting representatives of the Assembly

unanimously voted "yes" for the association to embark

on a racial reckoning journey and adopted ANA's

Racial Reckoning Statement. The multi-phase journey

will begin with release of the statement and supporting

communications later this summer.

Nurse staffing

Recognizing that the COVID-19 pandemic has

exacerbated long-standing nurse staffing issues, the

Assembly considered changes to existing ANA policy

related to nurse-to-patient ratios. Participants stressed

the need for enforceable staffing standards and shared

their successes and challenges in implementing

various models.

Assembly representatives approved a

recommendation that ANA supports safe patient

standards including ratios that are acuity and settingspecific

as per nursing assessment and enforceable,

and that ANA will engage with the constituent and

state nurse associations (C/SNAs) to develop further

details regarding standards, implementation, and

enforcement. Assembly representatives also called on

ANA to collaborate with organizational affiliates and

C/SNAs to begin to develop evidence-based staffing

standards for all nursing disciplines for publication.

Addressing verbal abuse and workplace violence

Often, healthcare stakeholders' approach to WPV in

health care focuses on responses to, and prevention

of, physical assaults in hospitals. Discussions often

overlook verbal abuse, which can be a risk factor for

physical violence. In addition, practice and policy

recommendations developed for inpatient settings

may not be appropriate for or helpful in community

settings, such as schools, community health centers,

public health facilities, and similar places where WPV

can occur.

Assembly representatives called on ANA to engage

key stakeholders to identify, develop and advance

strategies resulting in a comprehensive culture of

safety and zero-tolerance approach to verbal abuse

and violence in all care settings, advance workplace

violence prevention priorities in nursing practice and

public policy, and advocate for better data collection to

inform policy development.

Impact of climate change on health

Citing statements from ICN, the World Health

Organization, and the American Academy of Nursing,

along with editorials from several health care journals

on the danger of climate change on global health,

representatives proposed that ANA, as the leading

nursing organization, should take a strong leadership

position in addressing the impacts of climate change

on human and population health and help prepare

nurses to engage patients in conversations about

climate change and its health impacts; impacts

which disproportionately affect the most vulnerable

populations.

To help address the public health crisis caused by

climate change, Assembly representatives approved

the recommendation that ANA, C/SNAs and individual

member division (IMD) include climate crisis and its

consequential impact on human and population health

as an essential component of their policy platform.

Voting representatives also endorsed that ANA revise

and establish as an official position the 2008 House

of Delegates Statement on Global Climate Change

and Human Health. Finally, the representatives called

on ANA, C/SNAs and the IMD to promote nursing

knowledge on the relationship between climate change

and human and population health.

In the final Membership Assembly address of his

term, ANA President Ernest J. Grant, PhD, RN, FAAN,

acknowledged the momentous challenges that nurses

have faced since the last in-person event in 2019.

"The past three years have been rough on all of us,

but particularly for our frontline colleagues who have

had to stare down the worst of COVID-19," he said.

"As an organization we are going to have to continue

to address this challenge, to lead on the response, to

fight for millions of nurses across the country, and –

always, always – put the patients first."

Grant noted how the COVID-19 pandemic put a

spotlight on priorities he set when he took office

in 2019 to address diversity in nursing, increase

nurses' engagement with consumers, and grow ANA's

membership.

"As part of its COVID-19 survey series, the

American Nurses Foundation discovered that Black

and Latino nurses were more likely than their White

colleagues to be in roles providing direct care to

infected patients – and they themselves were more

than twice as likely to have been infected with

the virus," he said. "That was disappointing…and

horrifying. But it also indicated that we are right

to make ending racism in nursing a key priority of

ANA."

Grant expressed his gratitude to Membership

Assembly representatives for their support during his

term. "From the bottom of my heart, thank you for

enabling me to serve ANA and the nursing profession.

It has been the opportunity of a lifetime."

Advocacy and optimism

In her report, Debbie Hatmaker, PhD, RN,

FAAN, chief nursing officer of the ANA Enterprise,

encouraged attendees to continue the advocacy

work that has been vital to ANA's efforts to advance

nursing's priorities.

"You, the activists of this organization, are the

ones to make this happen," said Hatmaker. "That

was certainly evident in the success of this year's

Hill Day."

Hatmaker reported on progress made on last

year's dialogue forum recommendations and looked

to the future.

"We plan to leave this Membership Assembly with

renewed optimism and direction, remaining focused

on this body's priorities and our Boards' strategic

direction. We remain grateful for your input and

guidance. I especially want to say thank you for the

outreach and support you provided this past year.

We could not have done this critical work without

the commitment of our members."

Earlier on Friday, Membership Assembly

representatives participated in a hearing on a

draft Racial Reckoning Statement in which ANA

acknowledged, apologized, and asked forgiveness

for the association's actions that have negatively

impacted nurses of color, caused harm and

perpetuated systemic racism, as part of a journey of

racial healing within nursing.

On Thursday evening, ANA recognized 21

extraordinary nurses during the President's and

National Awards ceremony for their contributions

to the profession and healthcare, including two

inductees into the prestigious Hall of Fame.

Stay up to date and join the conversation

For news on ANA Membership Assembly and

related activities, follow us on ANA's Facebook and

Twitter channels.

H. Anderson, E. Sego, K. Feley, E. Grant, C. Delnat, M. Holmes
---
August, September, October 2022 The Bulletin 9

Here's what ISNA membership delegates and

Indiana representatives shared about their experience:

Jean Putnam, DNP, MS, RN,

CPHQ, NEA-BC

Membership Assembly –

ISNA Elected Delegate

Executive Vice President and Chief

Nursing Officer, Community Health

Network

• Blessed and honored to be a part of nursing policy

and practice changes for our profession. Nurses

have a voice, but we don't always use it. Legislators

and staff were open to hearing our opinions. I

enjoyed when they asked us for more information or

opinions!

• I really enjoy being on the Hill. I testified before a

House Committee many years ago when I was living

and working in the DC area. I was a Congressional

intern on two separate occasions, so I get a chill

every time I have a chance to advocate for nursing!

• My favorite part of the events was the opinions

being offered during the MA. Some were informed

and some were not. We really need to educate

ourselves and understand both sides of an issue

and different perspectives before we form opinions

on all policy matters impact nursing. Some of

the folks representing nursing may not be actively

practicing in the field and we have a responsibility

to educate ourselves.

• Next steps: Attend Mike Braun's Legislative Days

in Jasper on specified Fridays to have deeper

discussions on issues impacting Nursing (we were

invited). Suggestions for improvement: Need

Bill numbers when talking to legislators, as well

as current state of bills. One of the bills we were

asking them to support had already been voted on.

• Words of encouragement: DO IT! The best thing

is to jump in, join someone who has been on the

Hill, and think in bullet points. Legislators need

quick info, but also personal stories. As for MA, it

is imperative that we participate and use our voice.

There is a lot of information that was provided

ahead of time, and it is important to study it and be

ready to participate!

• Appreciated the topic of workplace violence on the

Hill. Mandatory staffing ratios need further studied

– the two states that have regulated it have not

been successful in improving safety necessarily.

The issue is a hot topic and continues to divide our

profession. I will be sharing my experience with

my 300 nursing leaders and cascading the ANA

priorities to all of my 5,000+ nurses!

• GET INVOLVED!! STAY INVOLVED! By nurses, for

nurses is imperative!

Heather Anderson MSN, RN

Membership Assembly Elected

Alternate Delegate

Senior Instructor, Indiana State

University School of Nursing

My experience with the 2022 ANA Assembly was

a wonderful learning experience in public policy. I feel

lucky to have this experience advocating for nurses

in Indiana by being a delegate. I truly enjoyed the

experience of educating the legislators and their aides

about the issues that are important to nurses on the

front lines, as well as in higher education. My favorite

part of the week was listening to the opinions of nurses

in other states. We are all fighting for the same issues

even though we may be miles apart from one another. I

enjoyed taking what I learned in my previous public

policy graduate courses and collaborating with other

ANA members from all 50 states. I feel this opportunity

broadened my knowledge about the inner workings of

the legislative process. I also learned that ANA has many

online resources available to support us. I learned that

policymakers want to hear our personal stories about

how a bill will impact our profession. Workplace violence

among the nursing profession is at the forefront of

policymakers right now and we need to keep the topic

moving toward!! We need to be one voice!!!

My future plans are to keep advocating for nurses

by attending the cracker barrels in my local area.

The best way to learn about public policy is to be

mentored and ask lots of questions about how we

can make a change. It's easy to get involved and

often times only takes writing a letter to your local

legislators on your opinions about a specific bill. If you

don't have time to get involved, joining professional

organizations like ISNA & ANA helps to pay for

lobbyists to do that for us. Seek out legislators that

support the same issues as you do.

Heather Anderson and Dr. Grant

Mary Ann Proctor Holmes, MSN,

RN, PCCN

Membership Assembly First Time

Observer

Clinical Nurse Specialist, Indiana

University Health Bloomington

Empowering. Mobilizing. Enlightening.

How was your Hill Day experience? It was my first time

in Washington D.C. and on Capitol Hill. The experience

taught me the enormous amount of voices and viewpoints

that our lawmakers listen to on a daily and weekly basis. It

taught me that nurses must unite as one voice to be heard

above the others. If we all came together as the largest

workforce in health care then how powerful we could be.

In general, what was your favorite part of the events?

The democratic process was alive and well at the ANA

Membership Assembly.

For members that would be thinking of attending in

the future, what words of encouragement would you like

to share? It was worth every moment of planning and

sacrifice to be a part of something very powerful for the

profession of nursing.

As nurses, we are always thinking ahead. Any next

steps planned while in DC? I will encourage membership

in the ISNA. I will share the knowledge that our Indiana

voting power at the assembly is directly related to our

membership numbers at the state level.

What topics/discussion did you appreciate the most

or relate to? APRN full practice authority. How will you

use the information in your practice? Apply for a provider

number.

Even though I attended as a non-voting delegate

alternate, I felt appreciated and guided and welcomed by

the ISNA representatives.

Don't miss ISNA President Emily Sego's experience on

the first page and ISNA CEO Katie Feley's on page 2 of

this issue. Interested in representing ISNA and Indiana at

a future ANA Membership Assembly? Let us know!

Mary Proctor-Holmes discussing the nursing

provider number with Rebecca Graystone and

Sean DeGarmo of ANCC

Continuing Education for

the Healthcare Team

Emily Sego

Various RN positions and work schedules

- $7,500 sign-on bonus

Respiratory Techs/Sleep Lab Tech -

$7,500 sign-on bonus

Paramedics - $3,500 sign-on bonus

Each year our Center for Health Professions

Lifelong Learning offers over 60 educational

activities with in-person or virtual conferences/

workshops, online independent study,

online interactive and hybrid programs.

Education in Your Own Time and Place

http://www.usi.edu/health/center-for-health-professionslifelong-learning/certificate-programs/

| 877-874-4584

Conferences and Workshops

https://www.usi.edu/health/center-for-health-professionslifelong-learning/conferences-and-workshops

Chris Delnat

Transforming healthcare by driving

interprofessional collaborative practice
---
10

The Bulletin August, September, October 2022

Meet Your 2022-2024 Indiana Nurses Foundation

Board Members

The Indiana Nurses Foundation is excited to announce

our new board! We wouldn't be celebrating our continued

success without the recognition and acknowledgement of

our 2020-2022 Board. A sincere thank you to:

Jo May, President

Barb Kelly, Treasurer

Libby Harris, Secretary

Deanna Abel, Director

Kristin Bassett, Director

Audrey Hopper, Director

Leah Scalf, Director

We look forward to ongoing developments including

new fundraising, networking and recognition opportunities,

and most importantly continuing to make an impact

for Indiana Nurses through our foundation programs;

Nurses in Need, Professional Development, Research

and Quality Improvement Grants, and General Funding.

Congratulations to the following continued and new board

members:

INF President

and Delivery Nurse, and now Research Nurse,

with a focus on helping those with an addiction or

a use disorder. Each nursing role has provided me

opportunities to learn and grow from the patients

and team members I have worked with. This coveted

career has shaped who I am as a person and a

professional.

Board: Last year I served as secretary on the

board for INF, and while this is my second term

serving on the board, I'm hoping to broaden our

reach and serve Indiana nurses in new and different

ways. The demands placed upon our profession

have changed over the years and I want every nurse

in Indiana to know about the support and programs

Indiana Nurses Foundation can offer to them. My

wish is to expand our fundraising efforts so we can

give back to those who work so hard in the nursing

profession.

Fun fact: I love the beach! I have a husband and

three children and a large Tibetan Mastiff. My oldest

son plays baseball and football at Mt. Vernon High

School in Fortville, Indiana. I have a set of twins in

first grade.

better patient outcomes. Nurses are a driving force of

science, creativity and kindness in healthcare. As a

nurse, we can do and be almost anything. My favorite

part of the Nursing profession is that it's never boring!

What you are looking forward to as an INF Board

member.

As with any board or organization that

intentionally become a part of, I am looking forward

to building relationships, and learning new things.

I enjoy being collaborative and engaging with

others to generate new and wonderful ideas. This

board, in particular is so exciting to me because

this is a nursing board. Nursing minds are like no

other minds in any other profession because we're

creative, scientific, compassionate and are driven

to have an end game of good/better outcome

regardless of any situation!

A fun fact: I have a Daughter named Zoey who

is 14, husband who owns a marketing firm and a

miniature schnauzer named Rami.

INF Treasurer

Elizabeth (Libby) Harris, MSN, RN

Research Nurse IU Health Physicians

Favorite Aspect: I went into

nursing because I wanted to help

people and I realized that nursing,

while helping people at its core

still rings true, the nursing

profession has given me a better

understanding of how that "care"

can truly transform lives. My career has provided

many different roles, as an Emergency Department

Nurse, Nurse Manager, ERCP Wire Nurse, Labor

INF Vice President

Transform Lives

Monica Kryder, BSN, RN

Urgent Care Service Line RN

Manger of MedCheck Fishers

What is your favorite aspect of

nursing as a profession

My favorite aspect of the nursing

profession is having the ability

drive change, innovation, and

ingenuity in our industry to provide

Pamela (Pam) Hunt, MSN, RN,

FAAN

Executive Advisor, Healthcare

Consultant and Associate Faculty

for the Kelley School of Business at

Indiana University

What is your favorite aspect of

nursing as a profession. It sounds cliché but nurses

have an opportunity to make a difference in another

human being's life every day. What an awesome job

we have!

What you are looking forward to as an INF Board

member. INF board membership is about raising

funds to enable the board to fulfill its mission. I am

looking forward to inspiring our members and the

community to contribute to the foundation therefore

enabling us to fulfill that mission!

Fun Fact: I'm working through traveling to all

50 states, 6 to go! What is there to see in North

Dakota????

INF Secretary

Kaitlyn Dulhanty BSN, RN

TB Nurse Case Manager, Marion

County Public Health Department

Master's Student at IUPUI

While advancing your Career

Doctor of Nursing Practice

The Hybrid-Online DNP program at Saint Mary's College can help you take your patient

care to the next level. Our award-winning curriculum teaches

you how to use communication as a tool to help improve the

health of your community on a schedule that works for you.

Visit our website: https://grad.saintmarys.edu

or email us at graduateadmission@saintmarys.edu

for more information about how to get started!

My favorite part about nursing is

how incredibly versatile it can be. I

truly feel my nursing degree and skills

will serve me in all aspects of life,

even in areas outside of healthcare.

As a new board member, I am most excited about

meeting and getting to know my fellow board members

and understanding how we can help to grow the

foundation.

Fun Fact: My husband and I are dog lovers! We have

two - named Judge and Winston!

INF Board of Directors

April Self, DNP, MBA-HCA, RN,

PCCN

Transition to Practice NPD

Practitioner for the Mixed Acuity

service line at University of

Louisville Hospital

What is your favorite aspect

of nursing as a profession-My

favorite aspect of nursing as a

profession is that we work diligently to constantly be

improving our practice to ensure the best outcomes

for our patients. Our profession allows so much

autonomy and ability to own our practice.

What you are looking forward to as an INF Board

member-As an INF Board member, I am most

looking forward to being able to give back to this

profession that has allowed me so much personal

and professional growth.
---
August, September, October 2022 The Bulletin 11

And a fun fact or something non work related- I

have five rescued animals and used to foster and

rescue dogs (until I started adopting them all ☺)

happiest outside, especially if it involves water or the

mountains. I have been a scuba diver for over 20

years!

One fun fact about me is that I just recently started

taking sailing lessons.

Jennifer Evans, DNP, RN, NC-BC

Interim Assistant Dean of Nursing

and Associate Professor, Nursing

at University of Southern Indiana.

I am also a Certified Nurse

Coach and have an independent

practice.

I have taught at USI for

17 years, I taught Radiologic

Technology before transitioning to nursing. My

first healthcare degree was as a rad tech and then

continued my education in nursing to pursue a role in

invasive peripheral and cardiovascular procedures in

the cardiac cath lab.

What is your favorite aspect of nursing as a

profession: The ability to find a role that matches your

passion while serving others. Nursing is such a diverse

profession and there are so many opportunities for

growth.

What you are looking forward to as an INF Board

member: I am looking forward to giving back to the

profession that has provided me so many opportunities

to grow professionally and personally. Being a nurse

has allowed me to build a career that has provided

financial independence along with personal growth.

I want other nurses to find their own path in nursing

and help open up opportunities for them to grow in the

same way that I have over the past 20+ years.

Fun Fact: I love to explore new places and find

fabulous food. I enjoy cooking, reading, and am the

Leslie Leffler, MSN, APRN,

FNP-BC

Full Time Nursing Faculty,

Bellarmine University

Practicing Family Nurse

Practitioner

What is your favorite aspect

of nursing as a profession – My

favorite aspect of the nursing

profession is the versatility of nursing, not only in

potential population focus but also in avenues for

leadership and development.

What you are looking forward to as an INF Board

member- I look most forward to being on the INF

board to contribute to the advancement of nurses

and nurse practitioners in the state of Indiana. It is

time to pay it forward!

Fun fact: I love the outdoors and going fishing.

Crystal Spaeth, MSN, RN, NP

Cardiac Anesthesia Nurse

Practitioner, Lurie Children's

Hospital

My favorite aspect of nursing as

a profession is Prevention

I am looking forward to being

a part of an influential group of

nurses and being able to utilize my

experience and knowledge of nursing towards a cause.

Certification Celebration

through the Foundation

Certified Nurses Day is an annual day of

recognition for and by healthcare leaders dedicated

to nursing professionalism, excellence, recognition,

and service. Every March 19, employers, certification

boards, education facilities, and healthcare providers

celebrate and publicly acknowledge nurses who earn

and maintain the highest credentials in their specialty.

Certified Nurses Day honors nurses worldwide who

contribute to better patient outcomes through national

board certification in their specialty.

March 19 is the birthday of Dr. Margretta "Gretta"

Madden Styles, RN, EdD, FAAN, one of the greatest

leaders in the field of nursing certification. She

recognized the critical importance of credentialing

before broad awareness of its value and her work

created global impact on the nursing profession. Dr.

Styles architected the first comprehensive study of

nurse credentialing in the 1970s. She then pioneered

the development and implementation of standards and

credentials for nurses. In the 1980s, she spearheaded

the definitive work of the International Council

of Nurses (ICN) on nursing regulation. A driving

force behind the creation of the American Nurses

Credentialing Center (ANCC), Dr. Styles advanced

nurse certification services and programs across the

US and abroad.

The Indiana Nurses Foundation (INF) supports

Certified Nurses Day as the perfect opportunity to

invite all nurses to advance their career by choosing

certification. This year the INF awarded 9 certification

scholarships to Indiana Nurses and ISNA Members, over

$2500 will be reimbursed for certification study material,

initial certification exams, and renewal costs. Please help

us celebrate and wish our 2022 recipients the best of

luck as they reach their next career milestones:

Learn more about Success Pays, an ISNA Member

Benefit at https://indiananurses.nursingnetwork.com

under "Resources/ANCC Certification & Success Pays".

The INF looks forward to supporting more certifications

again in 2023. Give back to Indiana Nurses supporting

future certifications and professional development

through the INF https://indiananurses.nursingnetwork.com

"Donate" and don't forget to choose your designation!

Returning 2020-2022 Members

Deanna Abel, RN, DNP, RNC-OB,

NE-BC, C-ONQS

Nurse Manager of Birthing Center/

NICU/Lactation/Pediatric Units at

Columbus Regional Health Hospital

Favorite Aspect of Nursing

Profession: Connecting with

patients on a personal level.

Forever being a part of their

"story." Knowing that I can make a difference in the

lives of others. Nursing Leadership allows me to

influence the next generation of nurses and ensure

they have the tools necessary to succeed in their

profession.

What I am looking forward to as an INF member:

Collaboration and team work with other nursing leaders

across the state. Working together to improve the

nursing profession in Indiana.

Fun Fact: I enjoy running 5ks.

Kristin Bassett, DNP, RN, CNE

Clinical Assistant Professor, Indiana

University Fort Wayne

What is your favorite aspect of

nursing as a profession – Advocacy,

supporting and nurturing future

nurses, ability to be there for

others in need when they are most

vulnerable

What you are looking forward

to as an INF Board member – seeking out new

opportunities to support our nurses and progress we

are making!

NEW INF Role - Student Director

Megan Rach

BSN Student, Purdue University

My current role on the board is

to represent the Indiana Association

of Nursing students and to

form connections between my

organization and ISNA.

My favorite aspect of the nursing

profession is the patient interaction

and the ability to directly see the lives you touch. I am

looking forward to getting to know inspirational nurses

within the ISNA board.

One fun fact about me is that I am a marathon

runner!

Returning Ex- Officio Members

Emily Sego, ISNA President

Katie Feley, ISNA CEO and INF Executive

Director

Rebecca Bustin

Keyair Denton

Sarah Earles

Verna Guevarra

Freda Johnson

Traci Lorch

Kimberly Mock

Allison Shaw

Alisa Shine

We encourage ISNA Members and fellow Indiana

Nurses to share their certification success stories!

Starting with Verna Guevarra… Congrats to Verna for

passing her Family Nurse Practitioner Certification!
---
12

The Bulletin August, September, October 2022

Giving back. Paying it forward. Making a difference.

Pamela Hunt MSN, RN, NEA-BC, FAAN

Indiana State Nurses Association and Foundation Treasurer.

Having a commitment to giving back is a personal

choice. Financial giving is probably what come to mind

immediately when we hear the term, "giving back". There

are many ways to give back, pay it forward and make

a difference. In addition to our treasures, we can give

our time by volunteering and our talents in sharing the

knowledge and the skills that we've been blessed with.

Whether we are sharing our time, talent, or treasures, many

of us agree that we desire our giving to support a cause

that is meaningful to us and that aligns with our beliefs

and values. We want to make a difference and share with

purpose.

Opportunities to give

There are many opportunities to give in our community and our world. No one

must look far to see a need for additional funds and volunteers. How do you choose

where to place your giving? If you don't know where to start, a good question to ask

yourself might be, "Have I been impacted by someone else's giving in the past during

a time when I needed assistance?" Many in the nursing profession have received

scholarships for tuition, books, conference attendance and certifications. Where

did that money come from? It came from donors who were willing to give to an

organization that aligned with their beliefs and values and had a desire to help others.

As nurses it is important to serve our communities, improving the health of

the population we serve and elevating our profession. Assisting in a food pantry,

helping to plant a community garden, teaching CPR classes, speaking at schools,

civic organizations and volunteering for vaccine clinics in underserved populations

are all examples of giving to our communities.

Board representation by nurses is a great example of sharing your talents.

Whether it's a non for profit board, a health related board, a school board or an

industry board, having a seat at this table, allows for a nurses knowledge and

caring to be part of the conversation and decision making.

How much to give

This is personal! No amount is too big, or too small; seriously many organizations are

supported on several small donors who make a difference. For most of us, our levels of

giving will vary throughout our lifetime. When we are younger, our income is usually low

therefore financial giving may be of a lesser amount, but we may have time and talents

that can be shared. In our middle age we are buying houses, raising children and

saving for college. In this phase of our life we may have very little to share financially

or time and talents! Hopefully when our 50's arrive we are reaching empty nest status,

and are financially stable and perhaps have more time to share our talents.

Whatever your income level, consider trying to set aside some level of giving to

a purpose that is important to you. Supporting a cause that will reach beyond the

walls of your own household not only helps that organization but will also benefit

your sense of well-being.

A question often considered in giving is, "Do I share my name?" There's two schools

of thought to answer this question and again, it's a personal decision. Some might want

to remain anonymous so that the gift is totally centered on the recipient, not the giver.

However let's consider another thought. What about sharing your name as an example

and an inspiration to others? In 2011 when the it was announced that the new Wishard

would carry the Eskenazi name, Sidney Eskenazi stated, "We've been very lucky. Now it's

time to give back." What an example of giving! (Herald Times June 25, 2011)

Ways to give

While very few of us have the ability to give a 40 million dollar gift, many of us

have an opportunity to contribute and together make a difference.

Planned giving starts by choosing your cause, aligned with your purpose and give

a percentage that feels right to you. Gradually you can see the effects of sharing

your time, talent and treasures with the organization you choose.

You may want to discuss other ways to give with your financial advisor. There are

ways to set up funds, distributed either now, or after your death and avoid taxes

or capital gains for the organization you're your family. One of those methods is

a donor-advised fund. A DAF is a charitable-giving tool that allows you to make

an irrevocable contribution to the fund, for which you gain an immediate tax

deduction. Over time, you can request distributions be made to IRS-approved,

public charities of your choosing.

You can also designate a fixed amount, to be paid to an organization upon your

death put into a certificate that will not go through your estate, therefore ensuring that

money is directed as you have chosen, and saving taxes for your beneficiaries. This

method allows you full access to the funds, should you need them, until your death.

Leaving a legacy

In closing I'd like to share a real-life story that

demonstrates the difference you can make.

A nurse of 50 years, Elizabeth Louis Mattingly

recently passed away at the age of 93. After her death

the family contacted Katie Feley, CEO of Indiana

Nurses Association. In lieu of flowers they wanted to

honor their mother and her many years dedicated to

the profession she loved, by requesting donations be

made to the Indiana Nurses Association. Katie assisted

the family with the necessary information and because

of this family's kind gesture the newly launched Nurses

in Need program, previously limited to members,

is now open to all Indiana nurses. Thank you to

Louis and the Mattingly family for leaving a legacy of

education that will result in improved patient care.

Giving back, paying it forward, making a difference.

Note: If you are considering an organization to support, we'd love to be a part of

your planned giving. To learn more about the ISNA Foundation, what we support

and how are funds are used please visit: https://indiananurses.nursingnetwork.com/

"About Us: The Foundation"
---
August, September, October 2022 The Bulletin 13

ISNA's Bookshelf

A Free On-Demand ANA Webinar

Preventing and Managing Secondary Stress in the Time of COVID-19

Jennifer Evans DNP, RN, NC-BC

INF Board Member & ISNA Member

Interim Assistant Dean & Associate Professor

of Nursing, University of Southern Indiana

Secondary stress is

that extra level of stress

specifically related to the

demands of nursing care

provided to patients and

families in today's health

care system. Nurses are no

strangers to the threat and

reality of secondary stress

as a condition of caring for

others. The current pandemic,

however, has exacerbated and

intensified this stress and the burnout that follows.

This on-demand 90-minute webinar is FREE for both

ANA members and non-members.

Additional free, webinars can be found at https://

www.nursingworld.org/education-events/

What drew you to this ANA webinar?

I was drawn to this ANA presentation to find out

if there were any strategies discussed that could be

used to help reduce stress and build resiliency in

nursing students.

What have you learned from presenter?

This author provided several examples of times

when she herself was stressed and faced challenges

along with what she did to move through those

Bringing Together All Nurses

About Safe Staffing in Indiana

Across Indiana, nurses walk into their places of work

with an understanding how successful they will be at

their job that day. When nurses succeed, patients achieve

optimal outcomes, transitions between places of care

are seamless, and nurse administrators, academics, and

researchers meet their goals. No job in healthcare is

easy, but there is a critical urgency around the nursing

profession given the March 2022 findings of the

American Nurses Foundation's Pulse on the Nation's

Nurses Survey Series: COVID-19 Two-Year Impact

Assessment. From over 12,600 nurse responses, the

survey found:

• 52% of nurses are considering leaving their position

• 89% of nurses say their organization is currently

experiencing a staffing shortage

• 66% of nurses under age 35 reported feeling

anxious

• Inability to deliver quality care consistently is now a

top reason for nurses' intent to leave

What is ISNA doing about nurse staffing?

ISNA recognizes there will not be one policy that will

address nurse staffing. Members have shared employers

are using wage increases, bonuses, mental health

support, and appreciation for curtailing the exodus of

nurses. However, these solutions feel like Band-Aids

on a bursting damn when the demands on nurses will

continue to push for improved outcomes with reduced

resources. This is why ISNA played an active role this

past legislative session on House Bill 1003: Nursing

programs and licensing matters. This bill simplified

licensing restrictions, reevaluated graduates from foreign

nursing schools, and increased enrollment at nursing

schools. House Bill 1003 is the beginning of needed

change.

ISNA also sent two members, Denise Kerley MSN,

RN, CNRN, AG-CNS and Jean Ross MHA, BSN, RN, to

the 2021 American Nurse Advocacy Institute (ANAI),

who focused on nurse staffing. Their project is to assist

ISNA on how best to collect and share the perception

of nurse staffing in Indiana. Results of the survey will

identify current personal and work environment gaps

impacting Indiana nurse staffing that are amenable to

intervention, and serve as a data resource to advocate

for policy change. Indiana nurses who would like to

participate in this future research study, notify ISNA via

https://form.jotform.com/212514604688054.

What is ANA's position on nursing staffing?

At this summer's American Nurse Association (ANA)

Membership Assembly in DC, members discussed

the future of nurse staffing. The Professional Policy

Committee recognized nurse staffing as complex and

controversial. Members expressed the current approach

of ANA is not meeting the needs of nurses in today's

environment. Member discussion primarily focused on

ANA's position around staffing ratios. However, many felt

those opposed to staffing ratios were not represented.

Members understood the need for multiple approaches

to impact staffing in each state, given differing political

environments. The hope is for ANA to revise their

statement for a stronger stance on nurse staffing by

December 2022.

What do interventions for nurse staffing look like?

From participating in the regular meetings of ANAI,

Denise and Jean learned of the advocacy efforts of

nurses across the country. Ideas they were able to bring

back to discuss with ISNA:

• The benefits and challenges of staffing committees

• Increasing community awareness of staffing

and safety at healthcare facilities through public

reporting

• Increasing enrollment for schools of nursing and

increasing educators

• Safe harbor laws to identify unsafe assignments or

lack of resources to meet optimal patient outcomes

• Specifying minimum nurse-to-patient ratios by unit

type or acuity profile of patients using electronic

health records

What can we do today to address nurse staffing?

ISNA knows there is not one solution that will fix nurse

staffing across the spectrum of care. More importantly,

in being the professional organization of all nurses in

Indiana, ISNA is uniquely positioned to bring together

nurses from a variety of roles and places in healthcare,

who hold very different perspectives of the problem and

solutions. More than ever nurses need to belong to ISNA

and engage with surveys and discussions to arrive at the

best plan of action.

Your next steps to influence nurse staffing in Indiana:

1. Join ISNA!

2. Reach out to board members or CEO, Katie Feley,

to express your interest and ideas.

3. Avoid personal attacks with nurse colleagues

in various roles. Find the common ground you

both want to arrive at before having a crucial

conversation.

4. Innovate and share ideas within ISNA Community -

https://myisna.tradewing.com/.

5. Look up your state and federal representatives,

then learn how to call or email to share your nurse

staffing stories.

Source:

American Nurses Foundation. Pulse on the Nation's Nurses

Survey Series: COVID-19 Two-Year Impact Assessment Survey.

March 2022. https://www.nursingworld.org/~492857/conte

ntassets/872ebb13c63f44f6b11a1bd0c74907c9/covid-19-

two-year-impact-assessment-written-report-final.pdf

times. She also provided some strategies based

on advice she has used in the past when others

have come to her for advice on how to manage

stress. I connected with her one particular

strategy of "writing down what you were thinking,"

which promotes self-reflection. I believe that

this is something that nurses often overlook as a

simple way to ground themselves before making

a decision. This is not as easy as it sounds and

often having someone ask probing questions helps

to stimulate self-reflection. In addition, having

someone to hold space for you while you reflect

and help ask more questions that challenge your

thinking is a great method for discovery. This

discovery often opens up solutions that were there

the whole time, but you just could not see them.

What is the reading, listening, or viewing material

in your queue?

The next book in my queue includes The

Leader's Greatest Return by John Maxwell. The

basis is to attract, develop, and multiply leaders,

which I believe is key to address all of the

challenges we face as a profession.

Tell us about your nursing career and interests.

My interest include specifically surround

methods for developing succession planning for

organizations. Nursing education is in dire need

of qualified faculty and developing leaders in the

numerous nursing programs across the country

is critical with the number of current vacancies

and those anticipated openings due to pending

retirements. In addition, as a nurse faculty my

focus right now is on recruiting, retaining, and

supporting nursing students.

I am a certified Nurse Coach and believe

strongly that we need to be deliberate with our

efforts at developing methods to support our

current nursing workforce while implementing

strategies in nursing education that students can

use throughout their academic programs and as

they enter practice.

ISNA would like to know what your reading,

listening to, and learning from. Please share

pertinent books, podcasts, whitepapers, and

webinars to bbarnum@indiananurses.org. Fiction

and non-fiction accepted.
---
14

The Bulletin August, September, October 2022

How nurses can counter health misinformation

By Georgia Reiner, MS, CPHRM, Risk Analyst, Nurses

Service Organization (NSO)

The wealth of health information available online

can be beneficial for patients, but only if that

information is accurate. Although recent issues

on misinformation have centered on the COVID-19

pandemic, misinformation has been a problem in

many other areas related to wellness and healthcare,

such as dieting, exercise, and vitamins and

supplements. Although misinformation isn't new,

the internet and social media have supercharged the

ability for it to spread.

Nurses and nurse practitioners have the power

to counteract misinformation, but first, they need

to understand the nature of the problem and why

people may be inclined to believe information that is

not grounded in science.

Misinformation overview

Two definitions help better understand this issue.

Misinformation refers to claims that conflict with the

best available scientific evidence. Disinformation

refers to a coordinated or deliberate effort to

spread misinformation for personal benefit, such

as to gain money, power, or influence. An example

of misinformation is the false claim that sugar

causes hyperactivity in children. An example of

disinformation is a company that makes false

scientific claims about the efficacy of their product to

boost sales. This article focuses on misinformation.

People increasingly seek health information

online through sources such as search engines,

health-related websites, YouTube videos, and apps.

Unfortunately, misinformation can occur at all these

points, as well as via blogs, social media platforms,

and user comments on articles or posts. Even when

not actively seeking health information, people can

be exposed to it through media outlets such as print,

TV, and streaming networks.

Why do people believe misinformation?

Several factors can lead to people accepting

misinformation:

Health literacy. Health literacy refers not only

to the ability to read and understand health

information, but the appraisal and application

of knowledge. People with lower levels of health

literacy may be less able to critically assess the

quality of online information, leading to flawed

decision-making. One particular problem is that

content is frequently written at a level that is too

high for most consumers.

Distrust in institutions. Past experiences with

the healthcare system can influence a person's

willingness to trust the information provided. This

includes not only experiences as an individual

but also experiences of those in groups people

affiliate with. Many people of color and those with

disabilities, for example, have had experiences with

healthcare providers where they did not feel heard

or received substandard care, eroding trust. In

some cases, healthcare providers have lied, as was

the case with the Tuskegee syphilis study of Black

men; the men were not told they had the disease

or offered treatment. In addition, some people have

an inherent distrust of government, leading them to

turn to alternative sources of information that state

government-provided facts are not correct.

Emotions. Emotions can play a role in both the

spread and acceptance of misinformation. For

example, false information tends to spread faster than

true information, possibly because of the emotions

it elicits. And Chou and colleagues note that during

a crisis when emotions are high, people feel more

secure and in control when they have information—

even when that information is incorrect.

Cognitive bias. This refers to the tendency to seek

out evidence that supports a person's own point

of view while ignoring evidence that does not. If

the misinformation supports their view, they might

accept it even when it's incorrect.

How to combat misinformation

Recommending resources, teaching consumers

how to evaluate resources, and communicating

effectively can help reduce the negative effects of

misinformation.

Recommendations. In many cases, patients and

families feel they have a trusting relationship with

their healthcare providers. Nurses can leverage that

trust by recommending credible sources of health

information. Villarruel and James note that before

making a recommendation, nurses should consider

the appropriateness of the source. For example, a

source may be credible, but the vocabulary used may

be at too high a level for the patient to understand.

And someone who prefers visual learning will not

appreciate a website that is dense with text. Kington

and colleagues suggest using these foundational

principles when evaluating sources:

• Science-based: The source provides information

consistent with the best scientific evidence

available and meets standards for creation,

review, and presentation of scientific content.

• Objective: The source takes steps to reduce

the influence of financial and other forms

of conflict of interest or bias that could

compromise or be perceived to compromise the

quality of the information provided.

• Transparent and accountable: The source

discloses limitations of the provided

information, conflicts of interest, content

errors, or procedural missteps.

• Each principle has specific attributes, which

are listed in the article available for download

at https://www.ncbi.nlm.nih.gov/pmc/articles/

PMC8486420/.

Another tool for evaluating sources of health

information is the CRAAP test (Currency, Relevance,

Authority, Accuracy, and Purpose), which focuses

on evaluating the accuracy of research. It consists

of multiple questions in each category (see https://

researchguides.ben.edu/source-evaluation). For a

more concise tool, nurses can turn to the algorithm,

developed by Kington and colleagues, for assessing

the credibility of online health information.

Although the tendency is to recommend government

sources such as the Centers for Disease Control and

Prevention and National Institutes of Health, as noted

earlier, some people do not trust the government.

In this case, sources such as MedlinePlus, World

Health Organization, and condition-specific nonprofit

organizations (e.g., the American Heart Association,

American Cancer Society, Alzheimer's Association)

might be preferred.

Education. The sheer scope of the information

found online can make it difficult for even the most

astute consumer to determine what is accurate.

Nurses can help patients by providing tools they

can use to evaluate what they read. The website

Stronger suggests a four-step process for checking

for misinformation (https://stronger.org/resources/

how-to-spot-misinformation).

• Check the source. Is the website or person

known for conflating facts and opinions?

• Check the date. Is it implied that the

information is recent even though it's not?

Is there more current information available

elsewhere?

• Check the data and motive. What is the original

source of the information? Are they just looking

for anything that supports their own worldview?

• If still unsure, use a reputable, fact-checking

site such as Snopes.com or FactCheck.org.

UCSF Health (https://www.ucsfhealth.org/education/

evaluating-health-information) provides a useful short

overview for patients on how to evaluate the credibility

(e.g., authors' credentials) and accuracy (e.g., whether

other sources support the information) of health

information and red flags to watch for (e.g., outdated

information, no evidence cites, poor grammar).

Communication. Communication is the best way

to correct misinformation and stop its spread. This

starts with the nurse clearly explaining the evidence

for recommended interventions. From the start,

the nurse should establish the principle of shared

decision-making, which encourages open discussion.

A toolkit from the U.S. Surgeon General on

misinformation (https://www.hhs.gov/sites/default/

files/health-misinformation-toolkit-english.pdf)

recommends that nurses take time to understand

each person's knowledge, beliefs, and values

and to listen with empathy. It's best to take a

proactive approach and create an environment that

encourages patients and families to share their

thoughts and concerns (see "A proactive approach").

Nurses should remain calm, unemotional, and

nonjudgmental.

Nurses also can prepare for conversations

where they know misinformation may occur such

as vaccination. For example, the CDC has a page

A proactive approach

Villarruel and James provide the following

suggestions for talking with patients about

misinformation:

• Acknowledge the barrage of health information

that is available online and through other

sources and the difficulty of "knowing who and

what to trust." ("I know there's a great deal of

information about COVID-19 and not all of it is

the same. Sometimes, it's hard to sort it out

and know what to trust.")

• Assess where patients and families obtain

their health information and what sources

they trust. Keep in mind that even when a

source is credible, a person may not trust

it, and a person may trust a site that is not

credible. ("Where do you get most of your

information about COVID-19? What makes

that a trusted source for you?")

• Provide alternative and accurate sources

of information. ("I'm not familiar with that

website, but I'll look at it and let you know

what I think. In the meantime, here's where

I get information and why I trust it.")

• When correcting misinformation be

nonjudgmental. ("I've heard similar

information about not getting vaccinated.

Here's what I've learned from the science

and why I believe getting vaccinated is

important and safe.")

Source: Villarruel AM, James R. Preventing the

spread of misinformation. Am Nurs J. 2022;17(2):22-

26. https://www.myamericannurse.com/preventingthe-spread-of-misinformation/

on its website that addresses infant vaccination

(https://www.cdc.gov/vaccines/hcp/conversations/

conv-materials.html). It includes resources such as

responses to possible questions.

Listening and providing information may not be

enough. In some cases, a patient may not want

to hear what the nurse is saying. When patients

become angry or frustrated, the nurse should

remain calm. It can be helpful to acknowledge

the frustration ("I can see that you are upset.")

Depending on the situation, it may be possible to

briefly summarize key points before reinforcing the

desire to provide information to support the patient

and then move on to another topic. The goal is to

maintain a positive nurse-patient relationship, which

leaves the door open to further conversation.

Documentation

As with any patient education, it's important to

document discussions related to misinformation in

the patient's health record. Nurses should objectively

record what occurred and include any education

material they provided. Should the patient experience

harm as a result of following misinformation

instead of the recommended treatment plan, this

documentation would demonstrate the nurse's efforts

and could help avoid legal action.

A positive connection

Nurses can serve as a counterbalance to the

misinformation that is widely available online.

Providing useful resources, educating consumers,

and engaging in open dialogue will promote the

ability of patients to receive accurate information so

they can make informed decisions about their care.

References

CDC. How to address COVID-19 vaccine misinformation.

2021. https://www.cdc.gov/vaccines/covid-19/healthdepartments/addressing-vaccine-misinformation.html

CDC. Talking with parents about vaccines for infants.

2021. https://www.cdc.gov/vaccines/hcp/conversations/

conv-materials.html

CDC. The U.S. public health service syphilis study at

Tuskegee. 2021. https://www.cdc.gov/tuskegee/index.

html

Chou W-YS, Gaysynsky A, Vanderpool RC. The COVID-19

misinfodemic: Moving beyond fact-checking. Health

Educ Behav. 2020;1090198120980675:1-5.
---
August, September, October 2022 The Bulletin 15

ISNA Board Team Building Workshop: Enneagrams

With each new board term, ISNA

supports team building experiences

that promote self-discovery and to

learn more about each other. This

year we worked with Rachel Pritz,

Certified Enneagram Coach and

Leadership Consultant to discover

our Enneagrams. The purpose of

the Enneagram is to build selfawareness,

self-wisdom, and to

improve interpersonal relationships. Many

personality typing systems focus in on behaviors

because they are measurable. Enneagrams help us

understand the why behind our behaviors. Being

able to change behavior is central to any personal

growth journey.

Rachel's personal mission statement is to help people

reach their full potential, starting with myself. I offer

individual Enneagram or Executive Coaching, Sober-ish

Coaching, and Team workshops. www.rachelpritz.com

We enjoyed learning about each other and had a

few lightbulb moments of personal reflection. Here's a

snapshot of our discoveries:

Emily Sego, President

Enneagram: 9

"My mission as an enneagram 9

is to help nurses grow and develop

so they can achieve their full

potential."

Brian Arwood, President Elect

Enneagram: 5, 9, 3

"I enjoyed learning about how I

can work with others based on their

type. I think this will really help the

Board mesh and work together."

Pamela Hunt, Treasurer

Enneagram: 8

"I am Type 8, The Challenger. This

was no surprise to me, or probably

anyone who knows me. Type 8's

are strong, assertive, resourceful,

independent, determined, actionoriented,

pragmatic, competitive,

straight-talking, shrewd and insistent.

Yes, I can see all of that in myself.

Give me a goal or a challenge and I'm after it.

What Type 8's struggle with is being blunt, willful,

domineering, forceful, defiant, confrontational, badtempered,

rageful, cynical and vengeful. I am sorry to

say, I feel and fight to contain many of these feelings

most days. The value of understanding your strengths,

"sweet spot moments" and your "crucibles" enables

you to identify when you are moving to the extreme

of what is natural to your personality and bringing it

back to a middle ground where collaboration and

understanding can occur."

Leah Scalf, Secretary

Enneagram: 9

Type Nines are very receptive

to their environment and downplay

their own presence. They can be

loving, down-to earth, modest and

trusting, or stubborn, lazy, and

asleep to themselves.

Shalini Alim, Director at Large

Enneagram: 6, 1

"The overall experience with

Rachel was great to learn about

everyone on the board. It really

helps to understand how others

may comprehend and process

things based on their results. This

was fun!!"

Steven Koons, Director at Large

Enneagram: 7, 5

At their best, Fives have the

ability to have great vision for the

future, they are pioneers, innovative,

objective, playful, compassionate,

and unattached. Sevens are fun,

excitable, spontaneous, optimistic,

sociable, outgoing, talkative,

planners and anticipate future

events, and the life of the party.

Deb Lyons, Director at Large

Enneagram: 5, 9

Type Fives pull back from the

world and others and prefer to live

in their mind. They may be wise,

visionary, and knowledgeable, or

abstract. Nines get along with most

people because they desire harmony,

union, and connection with others.

Rachel Spalding, Director at Large

Enneagram: 2, 7

"The workshop gave me an

opportunity to reflect on my

enneagram characteristics. It also

helped me understand differences

in how all Types respond to different

situations and in turn will make me a

more conscious leader."

Bami Adeniyi, New Graduate Director

at Large

Enneagram: 3

"A 3 is defined by their

desire to be significant and to

distinguish themselves through their

achievements. During my transition

from a nursing student to a new

nurse I found myself feeling down at

times or being too hard on myself. As

a new nurse there is this huge learning curve from being

a student who learns in lecture or through check offs and

is given a grade to a nurse who now is learning through

experience and can't gage how they're doing with a letter

grade. I found that because I didn't know everything and

didn't have grades to gauge how well I was doing I felt

down. But by understanding I'm a 3 and place a lot of

emphasis on my ability to perform well it has helped me

to remember to take a step back and recognize that I'm

a new nurse and going through huge life adjustments and

that I should not be so hard on myself because I'm new

and doing just what I need to be doing."
---
16

The Bulletin August, September, October 2022

Nightingale Tribute

The nursing honor guard exists to honor the lives

of nurses after they pass. There are around 20 nurse

honor guards throughout the state of Indiana. Service

particulars vary between the different honor guards

but there are some standards we have all agreed to.

The first is we wear nurse white uniforms as a "dress

uniform" to represent nurses professionally. Another

is if one of the honor guard members dies, we notify

all the honor guards in the state so they may join

together for the service. Earlier this year one of our

members passed away and we had many members

travel from around the state to recognize their fellow

nurse. It was very powerful to have all these nurses

in white uniforms enter the service in procession and

place a white carnation in a vase at the front of the

room. The family was deeply moved as we all were. At

right is a picture of the nurse honor guard members

from around the state that participated in this service.

If you would like more information about serving in a

nurse honor guard in your area please contact us at

317-355-2138.

Indiana Nursing Honor Guard
---
August, September, October 2022 The Bulletin 17

Nightingale Tribute

In memory of our family, friends and colleagues that have passed in 2021 & 2022:

This is not an all-inclusive list of nurses that have passed, but of those that have received a Nightingale Tribute.

Barbara McElroy Kunkler

Eleanor Miller

Fostella Swanson

Julianne Stenger

Susan St. Amand

Carolyn Wible

Suellen Webster

Virginia Corbin

Sherri Brasker

Dorothy Indiano

Melissa Fulbright

Valinda Burt

William Biddle, JR

Marian Hartman

Margaret Jowitt

Mary Louise Klein

Barbara Ann Russell

Cynthia Miller-Holliday

Sande Phillips

Mary Wilman

Selai "Sera" Ripley Ainu'u Wesley

Luella Elliott

Bonnie Charlene Stewart

Constance Meredith

Sharon Anita Jordan

Janet Irene Housel

Clarabelle "Nickie" Martin

Doris Burton

David Edward Dyar

Armilda "Armi" Williams

Ann Bly

Samantha Seward

R. David Smekens

Dena Rosebrock

Karol Shelley

Patricia Ann Higgins

Camilla Jefferson Adams

Marguerite Scanlon

Yolanda Carmen Turner

Joan Porten

Donna Ione Kuppler

Judith Lantz

Myrna Marie Hobbs

Catherine Hazelett

Faye Hayes

Shirley Dobbins

Betty Hylton

Rosemary Coffeen

Anna Rita Springer

Dr. Brenda Lyon

Lisa Roberts

Allene Childs

Mary Louise Van Allen

Katherine Reider

Lisa Dawn Fite

Veronica Ashcraft

Rita Jolley

Pamela Liford

Noreen Shelton

Miriam Daniella Bibbs

Judy Debone

Shirley Herzberg

Stephanie West

Patricia Gentry

Harriet Marie Young

Shirley Finley

Lindsey Lewis

Patty Goffner

Mary Milburn Lewis

Norma Wright

Maribeth Presnal

Sharon Pike

Sandra Ernst

Julia Rita Moldthan

https://www.USI.edu/health

Are you ready to advance

your nursing degree?

USI offers programs to help

you reach your career goals

· Bachelor of Science in Nursing

· RN to BSN

· Master of Science in Nursing

· Post MSN Certificate

· Doctor of Nursing Practice

· BSN to DNP

Pamela Suzanne Hall Gaither

Dr. Janis Gerkensmeyer

Shirley Stanley Melton

Debra Weirick

Winifred "Freddie" Couch

Emma Lou Bocook

Virgina Lee Hannon

Donna Ball-Whitcomb

Vicki Vaught

Bonnie Sue Kinsey

Diana Kay Martin

Lois Marie Miller

Teresa Hicks

June Ladd

Ruth Ifer

Sandra Smith

Liz Campbell

Julie Richardson

Theresa Karwowski

Barbara Collins RN, JD

Robert Abbinett

Courses involve application of evidence-based practice

related to current healthcare system trends

Distance education programs allow busy healthcare

professionals to complete courses online

Applicable clinical practice experiences

augment student learning
---
18

The Bulletin August, September, October 2022

Celebrating Certification Success

Dr Marilyn Riley, DNP, PhD,

MSN, RN, APRN-BC, FNP, NE-

BC, CPXP

National Director, Patient and

Family Experience, Acute Care

Coaching and Evidence based

Practice at Ascension

ISNA Member

ANA Membership Assembly

Alternate Delegate

ISNA and the INF celebrates

nursing certification. Being a certified nurse gives us

the opportunity to advance our nursing career and prove

our ability to provide the best patient care. Certification

demonstrates our commitment to the profession, and to

our patients. Recently we connected with Marilyn Riley,

ISNA Member, to learn more about her growing list of

certifications.

ISNA: What was your first certification?

MR: I first became certified as a Family Nurse

Practitioner in 1997. This certification is issued from

the American Nurses Credentialing Center (ANCC) and

renewed every 5 years. At the time, this certification

was not a requirement for employment, however, I

knew that it represented a formal recognition and

achievement of my specialty as a Nurse Practitioner.

Since that time, I have achieved several additional

certifications, including: Certified Nurse Educator

(2000), Certified Nurse Executive (2018) and Certified

Patient Experience Professional (2022).

ISNA: What is the certification you use the most?

MR: I actually use all of my certifications. In my

current and previous roles as a nurse leader, all the

certifications are applicable to my work. The only

certification I no longer have is Certified Nurse Educator.

Once I left the world of academia, I no longer met the

requirements to hold that certification.

ISNA: What are your plans for additional certifications?

MR: At this time, I do not have any plans for additional

certifications. In my current role, I obtained my CPXP

certification as an outward indication of my additional

knowledge and expertise in the area of Patient and

Consumer Experience. My other certifications are also

applicable to my role as a National Director and Nurse

Leader.

ISNA: How do you feel certifications have supported your

nursing journey? Do you have any tips or tricks on how

you keep up with the continuing education hours for your

certifications?

MR: Certifications are a voluntary recognition

of specialized knowledge, skills and expertise in a

particular specialty in nursing. There are several

issuing bodies based on the area of specialty. For

example, the Emergency Nurses Association supports

and provides certification for Emergency Nurses.

The ANCC has many nursing specialty certifications.

Holding these certifications has allowed me to have an

outward demonstration of my skills and knowledge.

Holding a specialty certification has demonstrated

to my colleagues, and others that I have a high level

of knowledge and competency in my field. It also

distinguishes me from others in my field. Holding a

certification is also an asset, to me and my employer.

For me, it has allowed me additional job opportunities.

Many employers now require certifications for various

roles. So holding the certification gives me a competitive

edge. Continuing education is crucial for all nurses, not

just those certified. Healthcare is always changing, and

we have to stay abreast of the evidence based practices,

new medications and treatments, etc in healthcare. Take

advantage of any continuing education you can. Whether

that is offered by your employer, online, conferences, etc.

Learn all you can learn. We are called to lifelong learning

and being a certified nurse requires continuing education

to maintain the certification and demonstrate excellence.

Who wouldn't want that?.

ISNA: Do you have any words of wisdom for someone who

has not been certified, and may be nervous?

MR: Being or becoming a certified nurse has many

benefits. Nurses who are certified have more job

opportunities, are highly regarded as experts in their

field and are more confident and credible among their

peers. Employers recognize that certification is crucial

to patient care and many employers use certification as

a way to recruit top talent. As a Magnet organization,

certified nurses are critical to the success. The Joint

Commission also looks favorably at organizations

that have a high percentage of certified nurses. Many

research studies support improved patient care and

outcomes when more nurses are certified. My words

of wisdom are this, do it! You have the knowledge and

expertise in your specialty area. Do your homework and

research which certification you are eligible for and then

study for the exam. Why not have recognition for your

hard work, knowledge and skills. Demonstrate those

through becoming certified.

ISNA: Beyond certifications, please tell us about your

educational background. What degree(s) do you hold?

MR: I hold a Baccalaureate in Nursing (BSN), a

Masters in Nursing (MSN), a Masters in Business (MBA),

a PhD in Natural Health and a Doctor of Nursing Practice

(DNP)

ISNA: What is your vision for your professional future?

MR: Nursing is my passion and I could not imagine any

other career path than the one I have chosen. Being an

expert clinician and nurse leader are so fulfilling for me

to lead change in nursing practice and improve patient

outcomes.

ISNA: What is your favorite part about being involved in

our ISNA community?

MR: The ISNA community is a tremendous support

for nurses in Indiana. We are fortunate to have amazing

leaders at the helm, such as Katie Feley, Blayne Miley,

Emily Sego, and all the Board of Directors. The ISNA offers

so many opportunities, benefits and ways to be involved as

a professional nurse. Being involved in the ISNA and the

ANA are ways we as nurses can expand our careers, unite

with other nurses, and professionally develop.

Thank you, Dr Riley!
---
August, September, October 2022 The Bulletin 19

Please join us in honoring these ISNA members and their amazing achievements!

Congratulations to Dr. Ann Loomis

Ann Loomis, PhD, RN

Clinical Assistant Professor

Purdue University School of Nursing

ISNA Member

Congratulations to Dr. Ann Loomis who is Co-PI of

a research team awarded a $1.35 M grant from The

American Nurses Foundation's Reimagining Nursing

(RN) Initiative that aims to elevate the nursing

profession's capability to match the future demands of

health by investing in opportunities for transformative

change that lie at the intersection of education,

regulation, and practice. This highly competitive initiative stated it would

fund bold thinkers to pilot and evaluate new ideas and undertake their work so

that others could replicate their pilot project's success.

The three-year project titled, "The Big 10 Practice-Ready Nursing Initiative"

seeks to improve readiness for practice using immersive virtual reality simulation

and debriefing for learning and assessment in tandem with precepted clinical

experiences to teach safe, quality care of multiple, complex, and diverse

patients. The University of Minnesota will serve as PI with Purdue University and

the University of Michigan as Co-PIs the first two years of the project with two

additional Big 10 sites recruited in year three to demonstrate successful transfer of

the program into new academic and clinical environments with similar outcomes.

Dr. Loomis in conjunction with Purdue University School of Nursing

will be on the forefront of the development and implementation of a new

nursing innovation. This research will help to make Purdue nursing graduates

practice ready to meet the needs of our ever-evolving healthcare system. With

successful outcomes of the study, Purdue University School of Nursing will help

lead a Big-10 initiative to incorporate this new pedagogy among the other Big-

10 nursing programs and beyond.

Dr. Loomis is a Clinical Assistant Professor at Purdue University School of

Nursing and a certified clinical nurse educator with 15 years' experience as

a neurosurgical nurse and 14 years as a nurse educator. Her research has

focused on training faculty to use an evidence-based debriefing method,

Debriefing for Meaningful Learning, and the impact on student knowledge

outcomes. Dr. Loomis' role in the project is to 1) lead all research activities at

Purdue, 2) development of scenarios, specifically social determinants of health

and 3) develop student and faculty training resources.

"I am elated at the opportunity we have before us. Immersive VR is an emerging

innovation that we plan to infuse with five scenarios that increase in complexity of

care as well as multiple patients, to reflect the required caseload of a practicing

nurse…. this has not yet been introduced or tested in nursing education."

Explore all of the Reimagining Nursing Pilot Projects at https://nursingworld.

org/foundation/rninitiative

Congratulations to ISNA Member

Dr. Julian Gallegos!

Julian Gallegos, PhD, MBA, FNP-BC, CNL, FAUNA is a

board-certified Family Nurse Practitioner (FNP) and Clinical

Nurse Leader (CNL) who has served in different nursing

capacities over the past 19 years. He has clinical experience

in medical-surgical nursing, labor and delivery, stroke care,

diabetes management, nursing leadership/management,

family practice, general urology, and men's health. He is a

fellow of the Academy of Urologic Nurses and Associates.

Dr. Gallegos has a BS in Nursing with a minor in

psychology from Purdue University – West Lafayette,

MS in Nursing from Indiana State University with Family

Nurse Practitioner concentration, Ph.D. in Nursing from

the University of Arizona with a substantive area in Understanding the Mechanisms

for the Prevention and Treatment of Biological Injury and an MBA with a focus in

Physicians and Healthcare Executives from Touro University Worldwide.

Dr. Gallegos served eight years on active duty as a United States Air Force (USAF)

Nurse and Officer. He served in several stateside and overseas assignments with

one deployment in support of Operation Iraqi Freedom. He received an honorable

discharge from the USAF in 2010, having earned several service ribbons and medals.

Governor Holcomb has appointed Dr. Gallegos as the newest board member of the

State Board of Nursing to represent Advanced Practice Nurses. Dr Gallegos serves

as a clinical associate professor and director of the doctoral program at Purdue

University. He will serve as the first Hispanic on the Indiana State Board of Nursing.

In his free time he is also serving as an ISNA DEI Committee member. Thank you, Dr

Gallegos for your service and support of the nursing profession.

We would be remiss if we did not mention his recent honoree nomination as a

2022 Al DIA Top Nurse!

https://aldianews.com/about-al-dia-live/al-dia-live/2022-al-dia-top-nurses

have thousands

We

nursing jobs!

of

Find your dream job now.
---
20

The Bulletin August, September, October 2022

2022 "State of the Air" Report

The Lung Association's annual air quality "report

card," called the "State of the Air" report, tracks

and grades Americans' exposure to unhealthy levels

of ground-level ozone air pollution (also known as

smog), annual particle pollution (also known as soot),

and short-term spikes in particle pollution, over a

three-year period. The 2022 "State of the Air" report

reveals that nearly nine million more people were

impacted by deadly particle pollution than reported

last year. This year's report showed more days with

"very unhealthy" and "hazardous" air quality than

ever before in the two-decade history of this report.

The report finds that more than 137 million

Americans – more than four in 10 – are still exposed

to unhealthy air. This includes families here in

Indiana. Check your counties grade for particle and

ozone pollution at https://www.lung.org/research/

sota/city-rankings/states/indiana.

Both ozone pollution and particle pollution can

cause premature death and other serious health

effects such as asthma attacks, cardiovascular

damage, and developmental and reproductive harm.

Particle pollution can also cause lung cancer.

While breathing ozone pollution and particle

pollution is unhealthy for anyone, our most

vulnerable neighbors, including children, older

adults, pregnant people and those with lung disease,

are at greater risk from the impacts of air pollution.

Communities of color are disproportionately exposed

to unhealthy air, and people of color are also more likely

to be living with one or more chronic conditions that

make them more vulnerable to the health impact of air

pollution, including asthma, diabetes and heart disease.

The report found that people of color were 61%

more likely than white people to live in a county with a

failing grade for at least one pollutant, and 3.6 times as

likely to live in a county with a failing grade for all three

pollutants.

Furthermore, as we've seen this past year, climate

change and extreme weather have made cleaning up our

air even more challenging. This report shows that many

Americans are already experiencing worsened groundlevel

ozone pollution and particle pollution due to warmer

temperatures and increased wildfires, both of which are

exacerbated by climate change. Action taken now can

and will help prevent the worst impacts of climate change

and help protect the health of Indiana families.

Organizations such as the American Lung Association

and the Alliance of Nurses for Healthy Environments

are calling on the Biden administration to strengthen

the national limits on both short-term and year-round

particulate matter air pollution. Stronger standards will

educate the public about air pollution levels that threaten

their health and drive the cleanup of polluting sources

in communities across the country. See the full report

results and sign the petition at Lung.org/SOTA.

Uncover the Full

Impact Migraine Has

on Your Patients

Migraine is the second leading cause of years

lived with disability globally. 1 Unfortunately, migraine

often goes undiagnosed 2 , forcing adults with migraine

to push through severe pain and symptoms such as

nausea and vomiting.

Primary care clinicians are the predominant source

of care for patients with migraine. 2 One key question to

ask your patients is how many days a month headache

impacts their daily activities. Your patients may not

be sharing the full impact of the condition, which may

include reduced energy and tiredness, difficulties

concentrating and performing at work, and interference

with relationships. 3,4

It is crucial to understand the severity and impact

of migraine to provide a proper preventive and/or acute

treatment plan for your patients. A simple algorithm

can help guide these conversations about the impact

of migraine:

• THINK: Ask patients whether their headaches

have limited their activities and if they experience

any additional symptoms like nausea and/or

sensitivity to light. If the answer is "yes" to at

least two of these additional signs and symptoms,

it is highly likely they have migraine. 5

• TALK: Understand the frequency and impact of

migraine during and between attacks on daily

activities to help inform treatment decisions.

• TREAT: Following a diagnosis of migraine, it is

important to treat it early and effectively for best

results. 5-7

Initiating a broader conversation about the impact

of migraine, both during and between attacks, can

provide essential information to help determine the

best treatment plan.

For more information and resources to support

meaningful migraine conversations, please visit

thinkmigraine.com/hcp.

VV-OTHR-US-DEL-0996 5/2022 ©Lilly USA, LLC

2022. All rights reserved.

Ask about our sign-on bonus!

Contact Mary Coulter today!

mcoulter1@teamcenturion.com

317.912.1235

NOW HIRING!

RNs • LPNs • Paramedics

Earn $28-$42/hr

Call 317-352-9157 for

more information

References:

1. Steiner TJ, Stovner LJ, Jensen R, Uluduz D, Katsarava

Z. Migraine remains second among the world's causes

of disability, and first among young women. Findings

from GBD2019. J Headache Pain. 2020;21:137.

2. Lipton RB, et al. Diagnosis, consultation, treatment,

and impact of migraine in the US: Results of the

OVERCOME (US) study. Headache. 2022;00:1-19.

3. Lipton RB, Bigal ME, Kolodner K, Stewart WF,

Liberman JN, Steiner TJ. The family impact of

migraine: population-based studies in the USA and

UK. Cephalalgia. 2003; 236):429-440.

4. Lipton RB, Bigal ME, Diamond M, Freitag F, Reed

ML, Stewart WF; AMPP Advisory Group. Migraine

prevalence, disease burden, and the need for

preventive therapy. Neurology. 2007;68(5):343-349.

5. Lipton RB, Dodick D, Sadovsky R, et al. A selfadministered

screener for migraine in primary care:

The ID Migraine validation study. Neurology.

2003;61;375-382.

6. American Headache Society. The American Headache

Society position statement on integrating new

migraine treatments into clinical practice. Headache.

2019;59:1-18.

7. Buse DC, Greisman JD, Baigi K, Lipton RB. Migraine

progression: a systematic review. Headache.

2019;59:306-338.

5550 E. Washington St.

Indianapolis, IN 46219

APPLY ONLINE AT CSLPLASMA.COM
---
August, September, October 2022 The Bulletin 21

Nurse License Protection Case Study:

Administering medication without an order

Nurses and License Protection Case Study with Risk Management Strategies,

Presented by NSO

A State Board of Nursing (SBON) complaint may be filed against a nurse

by a patient, colleague, employer, and/or other regulatory agency, such as the

Department of Health. Complaints are subsequently investigated by the SBON

in order to ensure that licensed nurses are practicing safely, professionally, and

ethically. SBON investigations can lead to outcomes ranging from no action

against the nurse to revocation of the nurse's license to practice. This case

study involves a registered nurse (RN) who was working as the clinical director

of a small, rural emergency care center.

Summary

The insured RN was employed as the clinical director of a small, rural

emergency care center when they responded to a Code Blue, arriving just as

the patient was being intubated. The patient was fighting the intubation,

so a physician gave a verbal order for propofol. The RN asked the pharmacy

technician to withdraw a 100-cc bottle of propofol from the medication

dispensing machine and asked another nurse to administer the medication to

the patient. Shortly after the other nurse began administering the propofol, the

patient's blood pressure dropped, so the nurse was ordered to stop the propofol

infusion.

The patient continued to decompensate and suffered respiratory collapse/

arrest. Following some delay, the patient was eventually intubated, then

emergently transferred to a higher acuity hospital for further treatment. The

patient ultimately suffered anoxic encephalopathy while he was in respiratory

arrest.

A recorder was present documenting the Code, and, afterwards, another

nurse transcribed the recorder's notes into the patient's healthcare information

record. The recorder noted that it was the insured RN who advised the

pharmacy technician to remove propofol from the medication dispensing

machine and instructed a nurse to administer the medication. However, the

recorder failed to note that the physician gave a verbal order for the propofol.

The insured RN failed to review the notes that the recorder and nurse entered

into the patient's healthcare information record and failed to note this error.

The physician who was present during the Code also failed to catch this error in

the record.

Approximately six months later, the patient's family filed a lawsuit against

the emergency care center. During a review of the Code record in response to

the lawsuit, it was noted that, during the Code, the RN instructed another nurse

to administer propofol. However, there wasn't any indication in the record that

a physician had ordered the medication. The emergency care center dismissed

the RN from employment and reported the incident to the SBON. The SBON

opened its own investigation into the RN's conduct.

Resolution

While the insured RN denied ordering another nurse to administer propofol

without a verbal order from the physician, the RN could not deny failing to

ensure that the propofol administration was documented in the patient's

healthcare information record.

The RN entered into a stipulation agreement with the SBON, under which:

• the RN's multi-state licensure privileges were revoked;

• the RN was required to complete coursework on nursing jurisprudence

and ethics, medication administration, documentation, and professional

accountability; and

• the RN was required to work under direct supervision for one year and

submit quarterly nursing performance evaluations to the SBON.

management directive from CNA. No organization or individual should act upon this

information without appropriate professional advice, including advice of legal counsel,

given after a thorough examination of the individual situation, encompassing a

review of relevant facts, laws and regulations. CNA assumes no responsibility for the

consequences of the use or nonuse of this information.

This publication is intended to inform Affinity Insurance Services, Inc., customers of

potential liability in their practice. This information is provided for general informational

purposes only and is not intended to provide individualized guidance. All descriptions,

summaries or highlights of coverage are for general informational purposes only and

do not amend, alter or modify the actual terms or conditions of any insurance policy.

Coverage is governed only by the terms and conditions of the relevant policy. Any

references to non-Aon, AIS, NSO, NSO websites are provided solely for convenience,

and Aon, AIS, NSO and NSO disclaims any responsibility with respect to such websites.

This information is not intended to offer legal advice or to establish appropriate or

acceptable standards of professional conduct. Readers should consult with a lawyer if

they have specific concerns. Neither Affinity Insurance Services, Inc., NSO, nor CNA

assumes any liability for how this information is applied in practice or for the accuracy

of this information.

Nurses Service Organization is a registered trade name of Affinity Insurance Services,

Inc., a licensed producer in all states (TX 13695); (AR 100106022); in CA, MN, AIS

Affinity Insurance Agency, Inc. (CA 0795465); in OK, AIS Affinity Insurance Services,

Inc.; in CA, Aon Affinity Insurance Services, Inc., (CA 0G94493), Aon Direct Insurance

Administrators and Berkely Insurance Agency and in NY, AIS Affinity Insurance Agency.

The total incurred expenses to defend the insured RN in this case exceeded

$16,600.

Risk Control Recommendations

• Know the parameters of your state's nursing scope of practice act,

and your facility's policies and procedures, related to medication

administration.

• Only accept verbal drug orders from practitioners during emergencies or

sterile procedures. Before carrying out a verbal order, repeat it back to the

prescriber. During a Code Blue, be sure to communicate all procedures,

medications, treatments to the recorder.

• Review Code Blue records for completeness and process of care after

each Code. Report any concerns and provide feedback through proper

channels to ensure that any errors in the record or areas of improvement

are identified and addressed.

• Document simultaneously with medication administration, whenever

possible, in order to prevent critical gaps or oversights.

Disclaimers

These are illustrations of actual claims that were managed by the CNA insurance

companies. However, every claim arises out of its own unique set of facts which

must be considered within the context of applicable state and federal laws and

regulations, as well as the specific terms, conditions and exclusions of each insurance

policy, their forms, and optional coverages. The information contained herein is not

intended to establish any standard of care, serve as professional advice or address

the circumstances of any specific entity. These statements do not constitute a risk

Pinnacle is a unique collaboration of multi-specialty physicians and

medical practitioners that brings together excellent medical and surgical

care with an unrivaled dedication to personal service and respect for

each person. Pinnacle is truly passionate about patients.

PINNACLE IS CURRENTLY HIRING:

+ Family Nurse Practitioner – Internal Medicine (Mishawaka, IN) –

$25,000 Sign-On Bonus

+ Family Nurse Practitioner (Northwest IN) $20,000 Sign-On Bonus

+ Registered Nurses – Operating Room and Pre/Post-Surgical

Services (Crown Point, IN)

To learn more and to apply, visit:

PINNACLEHEALTHCARE.NET
---
22

The Bulletin August, September, October 2022

MEMBERSHIP

ISNA New Member Highlight –

Laura Koke

"I am already so appreciative of the knowledge I have

learned and feel so grateful for the connections I made so

far."

Meet ISNA member, Laura! Laura is a Certified Pediatric

Nurse and Certified Pediatric Hematology Oncology Nurse

at IU Health Physicians at Riley Hospital for Children. Her

specialties include Pediatric Oncology, Lymphoma Nurse

Navigator, and Ambulatory Care. On what nursing means to

her, Laura says, "nursing to me is a passion. Nurses have

the privilege of caring for patients at their highest and lowest

points of their lives. It has been such an honor to touch the

lives of those I have cared for and feel so grateful to be among

other amazing nurses and team members in my career so far."

As a personal highlight and hope for inspiration to others, Laura's interest in

advocacy led her to apply and receive a scholarship to attend Nurses in Washington

Internship (NIWI) this past March. She says, "The experience was life changing and

I definitely recommend other nurses take the opportunity to attend NIWI or a similar

event in the future. I feel more knowledgeable about my role in advocacy and feel

confident in using my voice to pave a brighter future."

Laura joined ISNA this past January to learn more about advocacy at the local,

state, and federal levels. This is a topic that she has always been interested in, but with

her young family, did not have the time to do on her own. Laura says, "I knew ISNA

would be a valuable resource and decided to "take the plunge." In my few months as

a member, I have been blown away by the community and support and am honestly

regretful it took me as long as it did to join." As an ISNA member, Laura says she is

most looking forward to connecting, networking, learning, and growing.

Welcome to ISNA, Laura! We're so happy to have you here, and hope to hear more

about your ongoing advocacy role.

ISNA Membership

Out and About

Denise Kerley, ISNA Member, sharing the benefits of professional membership

with colleagues during IU Health Nurses Week.

You've

GOT

Libby Harris, INF President, and Pam Hun, ISNA & INF Treasurer at

The Giving Gig, a Community Health Network Event

THIS!

MEMBERSHIP IS VITAL TO BOTH

YOUR PROFESSION & YOUR CAREER

When you join, you make nursing stronger

by adding your voice to ours.

JOIN FOR

ONLY $15

PER MONTH

FREE Subscriptions

ANA Journals,

Newsletters,

COVID-19 Webinars

& Quick-Videos

FREE Webinars

Navigate Nursing

Webinars

with FREE CE

Exclusive Savings

On Certification Through

the American Nurses

Credentialing Center

Advocacy

Protect Your Practice

and Improve the

Quality of Care

Discounts On

Continuing

Education

Modules

JOINANA.ORG

Shelly Alim (pictured second from left), ISNA Board Member, Fundraising for

Lawrence Central Performing Arts at Ruoff Music Center

ISNA wants to see and share what you have been up to.

Email your photos to bbarnum@indiananurses.org.
---
August, September, October 2022 The Bulletin 23

ISNA WELCOMES our NEW and REINSTATED MEMBERS

NEW MEMBERS

Renee M Goodrich

Shiquita Paden

Pamela O'Haver Day

Caleb Imes

Jessica Torres

Maria Northcutt

Lanelle Nicole Daniels-

Stringer

Melanie Dacquisto

Autumn Benamon

Camille Walton

Olusade O. Fakolade

Stacie Klingler

Dolapo Alao

Christina R Biro

Tamie R Tucker

Victoria Sturbaum

Ashley Adair

Malvie Scarlett

MEMBERSHIP

Angela Allen

Penny Lindeman

Austin Kimmel

Heather Kegerreis

Sherri Whaley

Morgan Goshorn

Kelli Kornafel

Christy Duke

Crystal Faye Arthur

Carolyn Yoder

Sonja Notestine

Jill Yarosz

Brian Russell Phillips

Jelena Sljivar

Kylie Spencer Beutler

April Dawn Fehlinger

Barbara Jean Sears

Laura Lee McCutcheon

Mellissa Dowdy

Jennifer R Turpin

Michelle Lefevra

Samantha Faye Wagner

Morgan L Reynolds

Deborah Jean Kimes

Marianne E. Duke

Morgan Foster

Marsha M Cummins

Dineke Francis

Eunice Jordan

Brett Morris

Cheryl Faith Griffith

Christina Suzanne

Hawkins

Susan A Ehrlich

Gregory R Buckingham

Kelsey Kellems

Michelle Lane Ore

Nicole Dazey Sickle

Jennifer Lynn Schrader

Hayley Pence

GET YOUR PROFESSIONAL TOOLKIT

ü LICENSE – BOARD OF NURSING

ü MEMBERSHIP – INDIANA STATE NURSES ASSOCIATION (ISNA)

ISNA IS CARING

FOR YOU WHILE YOU PRACTICE

www.indiananurses.org

Dana Marie Berger

Katherine Meyer

Caitlin Rumer

Janine Conrad

Shannon Beth Warren

Suzanne Hedrick

Tiffany Underwood

Shivaughn Petkus

Samantha Daily

Julia Kennedy

Shila Ham

Kristine Larson

Traci Miller

Crystal Williams

Cynthia Wilkinson

Sharayah Glisson

Kaylee Retseck

Casey Saulman

Jessi D Todd

Kelli Skram

Diana Elizabeth Garlen

Ashley Mitchell

Victoria Anne Felty

Elizabeth P Wadleigh

Eudon Perkins

Julie Myers

Alexandria Bousamra

Diane Hirtzel

Jill Terhune-Andrews

VANGILENE Shore

Emily C McCollum

Jennifer Schafbuch

Briana Marie Gard

Jennifer Wesley

Dawn McGrade

Karen Kreutzinger

Julie Whiteside

Casey Jacobs-Campbell

Megan Ann Browning

Anita Doctor

Samantha Ann Vacek

Gabriel Redford Cochard

Chrissy Dixon

Amy Favre

Mary Altman Wirth

Alicia Coomer

Krista Sandlin

Erin Suzann Young

Amy Lynn Dematties

Malena Crowe

Haley Boyd

Mallory Koos

Brittany Palmer

Cecilia B Gichaba

Jessica Reynolds

Sharon Wright

Zach Weniger

Sarah A Smith

Dana Zega

Treasure Nicole Hurst

Denise Rider

Rachel Ann Riley

Christina Huff

Jodi Gelane Herche

Amber Virginia Gray

Michele Horvath

Angela Speers

Casandra Marie Neukam

Beth Ann Lockwood

Juanita Chattin

Andrew James Horton

Brianna Kesterson

Kendra Honeycutt

Jeanne Marie Buta

Emilie Jean Marie

Whitney Grider

Kalissa Lighty-Smith

Emily Voelker

Carley Cooprider

Abbey Spice

Emily Patterson-Ballinger

Margaux Hunter

Stephen Keith Bruce

Natalie Weaver

Natalie Jo Johnson

Ashley Brown

Jamie Gonzalez

Laura Simpson

Janet Baker

Jamey Walker

Amber Hudson

Andrea Williams

Kirbie Young

Zach Mogle

Kim Woodard

Kimberly Armstrong

Akira Tsunawaki

Bethany Cole

Lauren Taylor

Lori Michelle Fulk

Michelle R Suetkamp

Megan C Hall

Bailey Ogle

Kayode Henry Oladimeji

Sandra Stenger

Alisha Campbell

Karen M Whitman

Monica L Allen

Martha L Cangany

Melissa Ann Griffin

Shannon L VonDielingen

Christina Fleck

Angie Louise Howald

Sandra RENEE Gates

Manna

Krista Scott

Lylian J Hermann

Brittany Cae Brannan

Laura Jane Kannaian

Mark Richard Lentz

Laura Christine Wilkerson

Jill Suzanne Moore

Candace Ruble

Tiffany A Conover

REINSTATED MEMBERS

Angela D Heckman

Amanda Gordon

Kendra Rottet

Sunshine Bell

Jennifer A Merkley

Tamie R Tucker

Michele Hughes

Kristin Anne Bassett

Rebecca Ann Gonzales

Joy M Lepant-Worman

Janette Richardson

Annette Marie Marette

Michele Spargur

Shannon Beth Warren

Nichole Frohberg

Stephanie Unger

Angela Marie Scott

Crista Lanning

Marianne Beck

Beth A Taylor

Cheryl London

Cheryl Faith Griffith

Sara Christine Rueschhoff