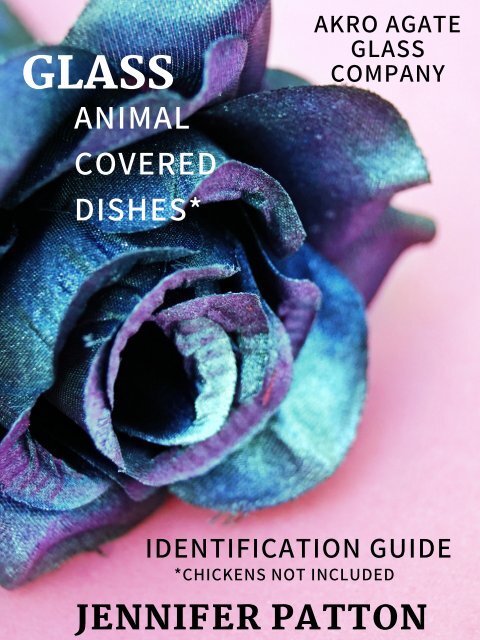 You also want an ePaper? Increase the reach of your titles
YUMPU automatically turns print PDFs into web optimized ePapers that Google loves.
GLASS

ANIMAL

COVERED

DISHES*

AKRO AGATE

GLASS

COMPANY

IDENTIFICATION GUIDE

*CHICKENS NOT INCLUDED

JENNIFER PATTON
---
ABOUT ME

Hi! My name is Jen and this is a little bit about myself. First, I must say this project was a lot of fun.

Like a book from my gradeschool years lol. I don't know if children today still do book reports, but when

I was in school, they were required and boy did I dread reading the assigned books then having to

summarize them! I loved reading books that interested me and hopefully this will interest you. I created

it for anyone that needs help with identification. For the novice glass collectors that buy animal covered

dishes because they fall in love with the way they look or the type of animals they are, or simply for

their colors. For the avid collectors who enjoy buying a few of each animal regardless of the maker. For

the veteran collectors who may have hundreds of glass dishes who never cease to amaze me with their

beautiful collections. For the people that have inherited or purchased someone's entire collection or

part of a collection and need help to identify things. For the people like me that are meticulous about

every detail needing to label things and just absolutely need to know the whats, whens, whos, hows and

whys of the animal dishes they own. For me, what started with one Asian yellow stained glass bunny on

a nest, has flourished into a full blown collection of hundreds of mixed and matched animal covered

"candy" dishes of all glass types and colors. No particular glass maker, just everything I can't live

without. LOL. Anyone that knows me would tell you that I stop at nothing, studying book after book

searching for answers about my own glass animals until I find them. I have never been satisfied with a

mystery….unless it involves me watching Columbo, my lifelong favorite television program! I am a

mystery solver... a true detective. I get this from my Mother, Cindy -Sultana- Wheatley. I need to get to

the bottom of a piece of unidentified glass. It drives me bananas not to know everything I can about

each piece that I own. Next, I will tell you that the monetary value of my glassware means nothing to

me. I collect it because I love it. However, unique and rare is always a find! Sure, like every collector, I

love a bargain and have had to pass up many pieces that I could not afford. Ooooh the ones that got

away. They haunt me. I can assure you that when I get a new addition to my collection, it has found its

forever home. Someone before me and usually possibly before them owned these animal covered

dishes making a kind of history that I can only imagine in my mind, its importance to each person. There

is a reason behind every single glassware in every single dwelling. Glass symbolizes many things. It is

proudly displayed. It is important to the person who owns it. I enjoy seeing the happiness glassware

brings to people, especially these animal covered dishes. Who doesn't love animals? I also enjoy seeing

my collection knowing these pieces of history live on and hope that when I am long gone, they will be in

other homes. My glass brings me peace; most peaceful in the evenings when the cabinet lights are on

and the glass does its natural thing; what it was intended to do since the day it was made...look pretty!

To me, it is reminiscent of having a year round Christmas Tree. Glass is AMAZING! I am a country girl

through and through. I love all things nature. I am an avid bird watcher and an all around animal lover. I

live in the beautiful state of Kentucky with my husband and our two dogs, Monkey and Johnnie, who by

the way, is named after my all time favorite singer, Johnny Cash.
---
Glass Animal Covered Dishes © Jennifer Patton

glass animal covered dishes

by Jennifer Patton:

Akro agate glass Company

copyright © 2022 by Jennifer Patton

All rights reserved. No parts of this work may be reproduced without

written permission from the copyright holder.

No parts of this work may be reproduced for financial gain by anyone

other than the copyright holder.
---
© Glass Animal Covered Dishes by Jennifer Patton

Page 1

akro agate Glass company

Akro Agate Glass Company was formed in 1911 in Akron, Ohio but

relocated to Clarksburg, WV in 1914. Their first 21 years in business, they

produced marbles. By 1932, they stopped making marbles and began to

make vases, ashtrays and other small items in many beautiful slag

colors. They produced Colonial Lady and Scotty Puff Boxes between the

1930's-'40's. Struggling with competition against foreign imports, Akro

Agate closed in 1951.

Akro= A crow, the bird which symbolizes transformation and change.

The Akro Agate logo is a Crow in flight, carrying marbles in its beak and

feet. (See photo) Akro Agate is pronounced: a-crow agget

Agate stones symbolize harmony and balance and are said to be linked

to bright ideas and positive thinking.
---
© Glass Animal Covered Dishes by Jennifer Patton

Page 2

Akro Agate Scotty puff box

Akro Agate Scotty Puff Box was produced between 1939-1942. Colors were Amber,

Crystal, Ice Blue, White Milk Glass, Pink Milk Glass, Green Milk Glass and Lime

Green Milk Glass. There were many shades of Blue Milk Glass; Baby Blue, Light

Blue, Cobalt Blue, Aqua Blue, Blue Slag, etc. Amber, Crystal, Ice Blue and Milk

Glass in shades of Green are less commonly found. Base marked MADE IN U.S. OF

AMERICA along with the Akro crow logo. 6 1/2" high x 3 1/2" wide.

Photos

by

Marian

Lanchman

Pink Milk Glass Scotty / White Milk Glass Colonial Lady / White Milk Glass Scotty

4 Base photos by:

www.eBay.com/str/tidewatermall

Blue Milk Glass

Marian Lanchman
---
© Glass Animal Covered Dishes by Jennifer Patton

Page 3

Akro Agate Scotty puff box

Pink Milk Glass by Lianne McNeil

Blue Milk Glass

www.eBay.com/str/

tidewatermall

Amber by Melissa Pace Twilley

Photo shared from:

https://www.wvencyclopedia.

org/articles/180

Article written by Dean Six:

"Akro Agate Company." e-WV: The

West Virginia Encyclopedia. 07

December 2010. Web. 21 July 2022.
---
Akro Agate Scotty puff box

***RARE*** Cobalt Blue

Green

Ice Blue

Crystal

All photos courtesy of Jim and Vonnie Cotton

© Glass Animal Covered Dishes by Jennifer Patton

Page 3.5
---
© Glass Animal Covered Dishes by Jennifer Patton

Page 4

akro agate Glass company

BIBLIOGRAPHY: Akro Agate Glass Company:

Book: Bedroom & Bathroom Glassware of The Depression Years by

Margaret & Kenn Whitmyer, published by Collector Books, copyright

1990 by Margaret & Kenn Whitmyer Pages 22-23-SCOTTY COLORS

Book: the Milk Glass Book By Frank Chiarenza & James Slater,

published by Schiffer Publishing Ltd, copyright 1998 by Frank

Chiarenza and James Slater Page 69-RABBIT

Thank you for your permissions!

Margaret Whitmyer

Family of Frank Chiarenza

ALL photo contributors