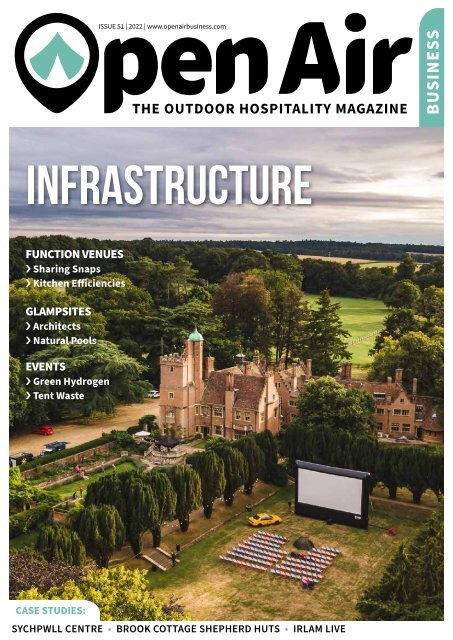 Issue 51
The UK's outdoor hospitality business magazine for function venues, glamping, festivals and outdoor events
The UK's outdoor hospitality business magazine for function venues, glamping, festivals and outdoor events
SHOW MORE
SHOW LESS
You also want an ePaper? Increase the reach of your titles
YUMPU automatically turns print PDFs into web optimized ePapers that Google loves.
ISSUE 51 | 2022 | www.openairbusiness.com

BUSINESS

INFRASTRUCTURE

FUNCTION VENUES

› Sharing Snaps

› Kitchen Efficiencies

GLAMPSITES

› Architects

› Natural Pools

EVENTS

› Green Hydrogen

› Tent Waste

CASE STUDIES:

SYCHPWLL CENTRE • BROOK COTTAGE SHEPHERD HUTS • IRLAM LIVE
---
ISSUE 38 | October/November 2020 | www.openairbusiness.com

ISSUE 35 | March 2020 | www.openairbusiness.com

BUSINESS

BUSINESS

ISSUE 39 | January 2021 | www.openairbusiness.com

ISSUE 33 | January 2020 | www.openairbusiness.com

FUNCTION VENUES

BUSINESS

/ /

GLAMPSITES

EVENTS

> Legalities

> Biophilic Design

> Seasonal USPs

> Bespoke Structures

> Wedding Insights

> Professional Services

CASE STUDIES: HEATON HOUSE FARM • BROOK MEADOW • DOGFEST

FUNCTION VENUES

OAB Gathering 2020 – Don't miss our very own conference this March!

Alfresco Dining

› Promoting Events

› Market Research › Testing Times

› Contingency Plans › Booking Channels › Necessary Change

CASE STUDIES:

SKIPBRIDGE COUNTRY WEDDINGS • TRECOMBE LAKES • WEEKEND AT THE ASYLUM

> Events Report

> Changing Diets

> Marquees

/ /

GLAMPSITES

CASE STUDIES:

FUNCTION VENUES

› Venue Searches

› Customer Excellence

EVENTS

STAYCATION

INVESTMENT

GLAMPSITES

› Tree Advice

/ /

› Glamping Show

CASE STUDIES:

FUNCTION VENUES

› Changing Habits

› Industry Taskforce

CHILLI BARN • MAD DOGS & VINTAGE VANS • HEVER CRAFT AND DESIGN FAIR

EVENTS

› Event Glamping

› Coping with Covid

/ /

GLAMPSITES

› Casual Excellence

› Planning Exemptions

EVENTS

THE ORCHARD AT MUNSLEY • HOLLY WATER HOLIDAYS • LANTERNS AT CHESTER ZOO

Customer

First

› 2021 Predictions

› Marketing Post-Covid

FUNCTION VENUES

› Delegation

› Instagram 1

› Start-up Venues › Small Space Design

CASE STUDIES:

HOUCHINS • THE PADDOCK RAMSBOTTOM • FRINGE BY THE SEA

/ /

GLAMPSITES

BUSINESS

EVENTS

› Placemaking

› Covid Insurance

ISSUE 40 | February 2021 | www.openairbusiness.com

SUPPLIER

SHOWCASE

BUSINESS

Spread the Word

Open Air Business is now £20 per year

If you know someone who would benefit

from a print subscription, please let them know!

With big thanks,

The Open Air Business Team

www.openairbusiness.com/subscribe
---
ISSUE 51 | 2022 | www.openairbusiness.com

WELCOME

ONE OF the favourite parts of my job is getting to

know the wonderful people who drive our industry.

Marney, Steve and I are fortunate to run into so many

of you in our daily work producing the magazine and

we share editorially many of those running venues,

glampsites and events. But it got me thinking; how

many opportunities are there for the average reader to

understand the people behind the businesses behind

the ads? They are a great bunch, many of whom have

become friends so I thought it was high time for you to

get to know them better too.

It started in the last issue but that 'page 3 intro' was all taken up with

blowing our own trumpet at 50 issues! So, belatedly, here is a formal pointer

to the second part of our Get to Know segment. Find out what makes our

featured suppliers special and a few fun facts about them. It's been an

interesting exercise – we now know what you drink, what you watch and what

you like to get up to. Can I take this opportunity to publicly thank Andy Huett

from Coir Store who was the only one to think to order me a drink while at the

bar!

Finally, on what is our 51st issue, may I also draw your attention to

something that clearly heralds us as having 'made it' in trade mag publishing

– a quote from none other than Tom Cruise! (page 24).

Tally Rix

Editor / Publisher

PUBLISHERS

Steve Rix - steve@openairbusiness.com

Tally Rix - tally@openairbusiness.com

EDITOR

Tally Rix - tally@openairbusiness.com

ADVERTISING SALES

Marney Whyte - 01892 677743

marney@openairbusiness.com

David Hobden - 01892 677741

david@openairbusiness.com

ADMINISTRATOR

Kirsty Farrow – 01892 677740

kirsty@openairbusiness.com

DESIGN

James English -

www.jamesenglishdesign.co.uk

PUBLISHED BY

Coffee Shop Media Ltd

www.coffeeshopmedia.com

Milroy House, Sayers Lane,

Tenterden, TN30 6BW

01580 848555

Contents ISSUE 51 – 2022

OPEN AIR BUSINESS IS

NO LONGER FREE

To start a paid subscription, please visit

www.openairbusiness.com/subscribe

UP FRONT

4 News

7 Product News

10 Entrepreneur's Chat

– Emily Wilsdon,

Creeksea Place Barns

FUNCTION VENUES

14 Sychpwll Centre – a

unique, eco-friendly

venue

18 Sharing Snaps –

harnessing usergenerated

content

24 Venue

Infrastructure –

products in action

GLAMPSITES

29 Brook Cottage

Shepherd Huts – a

luxury hut retreat in

Wales

34 Natural Pools –

create swim spaces

without chemicals

37 Architects –

selecting and

working with design

professionals

EVENTS

48 Irlam Live – a family

friendly festival in

Manchester

52 Green Hydrogen for

Events – innovation

in portable power

54 Tent Waste – a

circular solution

57 Get to Know… the

people behind the

products

58 Event Infrastructure

– products in action

Find more expert advice online:

www.openairbusiness.com

SUBSCRIBE

ONLINE

INFRASTRUCTURE

FUNCTION VENUES

› Sharing Snaps

› Kitchen Efficiencies

GLAMPSITES

› Architects

› Natural Pools

EVENTS

› Green Hydrogen

› Tent Waste

BUSINESS

20 Kitchen Efficiencies

– save water and

energy when

specifying

23 Get to Know… the

people behind the

products

41 Get to Know – the

people behind the

products

45 Glamping Tents –

products in action

62 Spotlight

63 Classifieds

65 Behind the Scenes –

Christian Kremer, The

AIRSCREEN Company

CASE STUDIES:

SYCHPWLL CENTRE • BROOK COTTAGE SHEPHERD HUTS • IRLAM LIVE

COVER PHOTO

The Star and Mouse Picture Show (www.starandmouse.com)

open air cinema at Lanwades Hall, Newmarket, featuring an

AIRSCREEN classic 30x17ft (9.15x5.15m) screen.

+49 251 60 90 250, info@airscreen.com, www.airscreen.com

WWW.OPENAIRBUSINESS.COM 3
---
PITCHUP.COM

Another

Staycation

Summer Ahead

DATA FROM Pitchup.com shows that

we are in for another bumper staycation

summer. Bookings for UK sites are up

by 72% compared to the same period

pre-pandemic. Forward bookings are also

looking strong, with a 104% growth in

those made by mid-April compared to the

same point in 2019.

Dan Yates, founder of Pitchup.com, said:

"Over the last two years our site owners

have told us about many customers that

have swapped holidays abroad for stays

closer to home and have enjoyed it so

much that they plan to continue, and the

figures would certainly seem to bear that

out."

There's more choice than ever this year

too, with 360 new UK sites listed on the

platform compared to the same time last

year.

Pop-up Campsite

Welcomes 8,000

WHITTLEBURY PARK Hotel and Spa Resort welcomed more than 8,000 campers for the

2022 Formula 1 British Grand Prix hosted a 10 minute walk away at Silverstone Circuit

on 1-3 July.

With over 5,000 plots available and all tickets sold, the Northamptonshire resort

opened its doors to 50% more campers than in 2019 and offered entertainment, live

music, a pamper tent, on-site food and drink and a big screen playing Grand Prix action.

Charles Sargeant, managing director, said: "This was our biggest ever camping event

and are thrilled to have provided so many people with such an unforgettable weekend.

We work tirelessly to make sure that a stay at Whittlebury Park's campsite is an

experience, not just a place to sleep, and this is reflected in the number of visitors who

return year on year for the fun, energy and high-quality service we provide."

Glamping tents and wood cabins were also available featuring Queen-sized double

beds, tables, fairy lights and a complimentary bottle of sparkling wine.

Sustainable Events

Summit at The

Showman's Show

VISION: 2025 will be presenting a new action-focused conference

format for the outdoor events industry when the Sustainable

Events Summit 2022 heads to The Showman's Show, Newbury

Showground, on Wednesday 19 October.

With a programme centred around the latest research tools

and knowledge, it will bring event organisers, academics, local

authorities and experts together to drive debate, resource

development, collaborative industry standards, best practice and

innovation in shaping the industry's response to climate change.

Event director Jeremy Lance said: "Driving forward innovation

in sustainability is important to us as event organisers and to our

visitors and exhibitors. Vision:2025's conference has become a key

component in the industry's response to climate change and we're

thrilled that The Showman's Show has become its regular home

and plays its part in facilitating the conversation."

4 WWW.OPENAIRBUSINESS.COM
---
Awards for Excellence

Secret Meadows

VISITENGLAND HAS announced the winners of its annual

Awards for Excellence 2022, celebrating the best of the

country's tourism industry.

The 19 Gold Award winners were announced at an

evening ceremony on 8 June hosted by Clare Balding at

the Library of Birmingham. Winners were selected from

hundreds of tourism businesses across England – special

congratulations to those from the glamping and boutique retreat industry!

The Camping, Glamping and Holiday Park of the Year top three were Secret Meadows

(Suffolk) who took Gold, with Brook Meadow (Leicestershire) and Landal Sandybrook

(Derbyshire) in Silver and Bronze position.

​Treeopia (Worcestershire) also wowed judges, taking Gold in the ​Self-Catering

Accommodation of the Year category.

Connecting Festivals to the Grid

FESTIVAL REPUBLIC has announced funding to drive a new research project within Music

Declares Emergency. The project aims to drive grid connections to UK festivals and begin

the transition of the UK outdoor live sector to grid power. Such a transition will ultimately

reduce carbon emissions for the sector in relation to temporary power generation.

Festival Republic will support the project closely with the aim of presenting fully

renewably powered, grid connected stages at three Festival Republic events for the 2023

season, and to help create a pathway for other promoters and event organisers to follow.

The project is part of the ongoing work within Festival Republic to create sustainable

and environmentally friendly outdoor events. For the first time, Reading and Leeds will be

powered by 100% HVO biofuel. Across its outdoor portfolio for summer 2022, there will

also be a continuation of sustainability initiatives including £1 from every Reading parking

pass being donated to Trees For Cities, a priority car park for Reading car sharers with Go

Car Share, a paper cup and rPET bottle deposit return scheme, no virgin single use plastic

sold, campsite recycling rewards and Take Your Tent Home campaign.

IN SHORT

› GLAMPING IN

PRINCE WILLIAM'S

HELICOPTER

Prince William's

RAF Sea King

helicopter has

found a new home at

Pinewood Holiday Park in

Scarborough. It is one of three rescued

from the scrap heap by site owner

Ben Stonehouse and given a £250,000

restoration. Two of the three helicopters

rent out at £159 a night while a third has

been converted to a seafront café.

› FESTIVAL POWERED BY GREEN

HYDROGEN

The 25th HebCelt festival achieved a

Scottish first by having one of its main

performance areas powered by green

hydrogen. The Islands Stage in the main

arena used the zero-emissions energy

for three days and nights, powering 12

acts.

HebCelt is the first major event in

2022 for Harris-based PlusZero which

uses clean power sourced from its

green hydrogen production facility

in Stornoway. It is decarbonising

the events sector by replacing diesel

generators with portable, zero-carbon

alternatives. The project has funding

from EventScotland's National Events

Programme. Turn to pages 52-53 for

more.

FESTIVAL REPUBLIC

MAC CABINS LIMITED

Modular • Artisan • Contemporary

Glamping Sites, Leisure Parks, Holiday Rentals,

Bed & Breakfasts (B&B), Hotels & Resorts, Golf Clubs,

Camp Sites, Holiday Retreats, AirBnB and Land/

Garden Owners.

Whether you are looking to start,

expand or diversify your own

existing holiday rental business,

MAC Cabins brings you the

perfect selection of the best

Timber Log Cabins, Glamping

Pods, Timber Lodges and Small

Homes Tiny Houses, collectively,

for you to choose from.

MAC Cabins actively supports and promotes the sustainable tourist industry.

0800 999 1564

maccabins.co.uk

WWW.OPENAIRBUSINESS.COM 5
---
Discover the latest products and services

for the Outdoor Event Industry

19th & 20th October | Newbury Showground

Marquess • Structures • Tipis • Toilets • Mobile Bars •

Sustainability • Generators • Power Distribution • Furniture •

Audio Visual Equipment • Pop-up Tents • Lighting • Stages •

Catering • Security

The Outdoor Event Services Exhibition

www.showmans-directory.co.uk

Tel: 01747 854099 Email: info@showmans-directory.co.uk
---
PRODUCT

MHM Expands Ultra-silent Generator Range

PLANT EQUIPMENT provider MHM

has expanded its range of Event Ready

generators, which now covers models from

10kva to 500kva. The units, painted in a

distinctive pink livery, all feature MHM's

ultra-silenced technology, reducing noise

emissions to as low as 50dBa at seven

metres.

Brad Ireland, group sales director, said:

"We've extended the Event Ready range due

to increased demand for these products

from the event and film industries. They are

quiet, reliable and robust machines that are

specifically designed for outdoor events or

for use on movie and TV sets, providing the

same power as our standard MHM generators

with the benefit of reduced noise levels."

The generators all have Stage V compliant

Kubota, Yanmar, Kohler or Iveco diesel

engines and are compatible with HVO fuel,

enabling the user to reduce their emissions.

They also feature MHM's unique automatic

engine protection system. This shuts down

the engine to prevent damage caused by

issues such as low oil pressure, low fuel,

battery charge failure, and high engine

temperature.

Other standard features include deepsea

panel, a three-way fuel valve, 12V battery

isolator switch to minimise the risk of a flat

battery, and a fully bunded base to prevent

fuel leaks or spillages. Transport around site

is made easy with an integrated lifting eye

and forklift pockets. Designed with the UK

and Ireland hire markets in mind, the Event

Ready generators also feature an engine oil

drain pump to reduce service time.

Incorporated in 2010, MHM has rapidly

grown into a leading supplier of equipment

to the UK and Irish rental markets. It

specialises in power generation, fluid

storage, site lighting, and solar-hybrid

generators.

0808 168 9099, sales@mhm-group.co.uk,

www.mhm-group.co.uk

Lease

Huts

Available

Now

GREENDOWN SHEPHERD Huts

is launching a lease hut for the

hotel and holiday let market that

starts from just £184pw with

an option to own at the end of

the term. A limited number are

available to business users only.

Huts to purchase are also in stock

from £29,000 to £120,000.

To find out more, or if you

would like to visit the company's

new workshop and display area,

please get in touch.

0117 986 9685, info@

greendownshepherdhuts.co.uk,

www.greendownshepherdhuts.

co.uk

WWW.OPENAIRBUSINESS.COM 7
---
PRODUCT

Voyager Houses

in the UK

VOYAGER HOUSES is new to the UK but in a short time has managed

to catch the attention of hospitality businesses. As a result of

participating at two expo shows in Cornwall, it has sold its first house

to a wedding venue in south Cornwall and took many other orders.

Voyager Houses UK serves clients with tiny homes built on trailers,

static cabins and off-grid energy systems. Check out its three

innovative tiny models – Voyager 1, Hubble and Viking 1 (pictured).

07470 004191, info@voyagerhousesuk.com,

www.voyagerhousesuk.com

Solar Heating for

Hot Tubs

SOLARISKIT HAS developed an attractive, easy to

install solar heating solution for hot tub owners.

The kit includes everything you need to install the

system, including SolarisKit's unique prismatic

solar collectors, a low power (10W) pump and solar

controller, and the additional accessories needed to

carry out the connections.

To help make installation as easy as possible,

SolarisKit has published a step-by-step video to

talk users through the installation – no professional

installers are needed thus saving even more in costs.

The HT100 hot tub heating kit is the ideal solution

for any owner of a hot tub looking to reduce

heating costs and improve sustainability. Kits can

be purchased online from www.solariskit.com and

quickly shipped within the UK.

SolarisKit is proudly made in the UK and is a

Certified B Corp company.

07470 493134, hello@solariskit.com,

www.solariskit.com

Introducing the

Petrichor

PATHFINDER HOMES has introduced a new model

featuring recycled and reclaimed materials. Designed

with meticulous attention to detail and with a relentless

'that'll do, won't do' approach, The Petrichor is built

to BS3632 residential standards and includes all the

modern conveniences while offering a deep-rooted

story, with every piece of cladding having a background

and history of its own.

A perfect fit for the holiday home market, the

Petrichor's layout and style suits boutique getaway

accommodation with a stripped back aesthetic

combined with a clever layout and plenty of luxury.

01626 833799, sales@pathfinderhomes.co.uk,

www.pathfinderhomes.co.uk

8 WWW.OPENAIRBUSINESS.COM
---
No matter how busy your day has been, there's

always time to relax in one of our bespoke hot tubs.

E-MAIL

info@woodpeckertubs.co.uk

PHONE

+44 7435 8669 29

WEB

www.woodpeckertubs.co.uk

Huts available for delivery

Summer2022

T: 0117 986 9685

www.greendownshepherdhuts.co.uk

Hotels • B&B • Your Garden

WWW.OPENAIRBUSINESS.COM 9
---
PEOPLE

LEX FLEMING PHOTOGRAPHY

ENTREPRENEUR'S CHAT

EMILY WILSDON

How husband and wife team Emily and Harry Wilsdon

channelled their love of art and theatre to create

experience-centred hospitality
---
PEOPLE

riginally from the States, Emily moved to the UK

at 21 where she met her husband Harry. Both

studied fine art and took ownership of a derelict

farm in 2008.

"Harry is from a farming family and we

originally bought the site for its land, but there

were some agricultural buildings prime for

conversion including a 15th century timber barn.

Harry is a builder and we had developed a couple

of properties so we decided to create some

holiday lets. This was the start of Creeksea Place

Barns.

"Things took off in 2010. I had been teaching

at a primary school and was on maternity leave.

I remember my son William at a day old and me working on the

website. I remember that first call from a potential guest – Harry took

it and he was so excited he wrote down the dates they wanted to stay

but no other details! That was when we decided I would handle the

bookings…"

The couple soon had six holiday lets and two hotel style rooms

and were busier than ever. Needless to say, Emily didn't return to

teaching.

When demand called for it, the couple converted another building

into a café, originally intended to serve guests. "The café was meant

to be quite low key, serving coffee and cake to guests but the locals

love it and it has become a community hub and drives the rest of the

business.

"When the café opened we ran loads of events to get noticed,

including evening pop-up restaurants, dog festivals and themed days.

This helped build a local following. We have held our mid-summer

festival for about seven years – a two night event featuring local

bands, a craft tent, food vendors etc. and attracting about 500 people.

I absolutely love doing it!"

DIVERSIFICATION

Creeksea Place Barns has grown organically, reinvesting at every

stage as the business matures. It is still an arable farm run by Harry's

father who has also just installed 30 acres of vines. By 2016, it had an

onsite gym and spa and, last year, added a barn venue for weddings

and events – the Canary Shed.

"We'd had a few couples hire the whole site for accommodation

for nearby weddings so we thought why not offer weddings here?

We looked around the area and tried to find a point of difference for

ourselves. We are right next door to Creeksea Place, a Tudor mansion,

which offers a traditional wedding experience but not everyone

wants that so we have gone after the 'alternative' market. We created

a colourful, fun, bright space – a farm feel with a modern, artistic

twist. We both love art so have had a lot of fun with original artworks,

and eclectic, homely furnishings.

"We stayed sympathetic to the original features such as the elm

beams in the barn, and even the cool corrugated iron roof on the old

industrial building that became the café. In fact we took it off, put up

a new, insulated roof then re-erected the original roof inside".

It's inside the new Canary Shed where Emily and Harry's creativity

was really let loose. "We knew we wanted a chevron wall at one end

and approached a local farmer who had a lot of waste potato crates.

It was a real lockdown project, breaking up the boxes and cutting

the shapes. Harry would be in there every night piecing it together.

The offcuts were used on the other walls as randomly as possible to

create an intricate puzzle".

STAFF

Creeksea now has a team of around 40, a long way from the days

when Emily and Harry were managing the site and working in the

café. "We had a part time cleaner but we were so busy that when one

LEX FLEMING PHOTOGRAPHY

"WHEN THE

CAFÉ OPENED

WE RAN LOADS

OF EVENTS TO

GET NOTICED,

INCLUDING

EVENING POP-

UP RESTAU-

RANTS, DOG

FESTIVALS AND

THEMED DAYS"

LEX FLEMING PHOTOGRAPHY

LEX FLEMING PHOTOGRAPHY

WWW.OPENAIRBUSINESS.COM 11
---
PEOPLE

LEX FLEMING PHOTOGRAPHY

LEX FLEMING PHOTOGRAPHY

"WE'VE GOT TO A POINT WHERE WE DON'T

OUTSOURCE ANYTHING NOW. WE HAVE FIVE

PEOPLE IN THE OFFICE FULL TIME AS WE

HAVE RECENTLY TAKEN ON A MARINA AND

HOTEL! THE MARINA IS SORT OF INHERITED

BUT THE HOTEL IS A REALLY EXCITING NEW

STRING TO OUR BOW"

lady turned up for an interview we said we urgently needed help that

day and she never left! She's still with us now.

"Our staff are 100% the most important part of our business," says

Emily. "We've learned a lot over the years in terms of hiring people

and putting them in the right places for their skill sets. We made

mistakes too… I had a brilliant girl who was front of house in the

café and when our manager left she was very keen to try the role.

Unfortunately she crashed and burned – it just wasn't the right fit for

her.

"As we have grown we have hired people from other larger

businesses. Our general manager Julie came from management at

Sainsburys. She has brought a lot of learning to us in terms of policies

and procedures. We are really open to changing our systems and

adapting when people suggest more efficient working practices.

"We've got to a point where we don't outsource anything now. We

have five people in the office full time as we have recently taken on

a marina and hotel! The marina is sort of inherited but the hotel is a

really exciting new string to our bow".

ESCAPE ROOM IN REVERSE

The Clockwork Hotel in nearby Burnham on Crouch is an experiential

attraction that turns escape rooms on their heads. "We bought

the building – a rundown old pub – at an auction. We both love

immersive theatre and the original plan was to have an experience

where guests could stay and we'd have actors employed to interact

with them but the business model didn't add up as the staff costs

would be enormous.

"So we went for an escape room where instead of having to solve

puzzles to get out of a room, guests have to work out how to get

in for their night's stay! It's been so much fun but it was certainly a

challenge and I don't want to ever design an escape room again! We

had to map out how groups of people would move around a relatively

small space so they cross over smoothly and create a mix of games

from physical to mental and enough alternative puzzles to keep

repeat guests interested. Thinking about all the eventualities and

how people might be able to cheat etc. was so mentally exhausting

that we had to limit our brainstorming sessions to one hour a day.

12 WWW.OPENAIRBUSINESS.COM
---
PEOPLE

"The business model works well too. We can offer a high level

experience at a minimum cost by making the fabric of the hotel

work for us. We have 11 rooms that sleep 22 people and charge £160

per person per night. We hire the hotel out as exclusive use to one

group at a time and it is fantastic for hen and stag dos, corporate get

togethers etc. Occupancy is brilliant with every weekend booked

until 2023 and a few mid-weeks. The great thing about it is that if we

have no one in we just lock up and leave. Staff wise, we have a bar

attendant and a high energy host that guides groups through the

games".

Emily had looked at offering more quirky accommodation at the

farm but the planners were not keen. "We had a vision for a carbon

neutral glampsite, the idea being that guests could only travel to us

using public transport. We are walking distance from the town and

the railway station but the pre-app suggested it would be a no go so

we haven't gone ahead.

Rather than being put off, Emily and Harry have already identified

their next creative offering… "We have an old WWII Nissen hut on

site and the plan is to turn it in to a mini cinema where guests can

make their own film and then have a private viewing".

It's just as well that the business is thriving, jokes Emily, "I

don't think we could ever get other jobs as I am pretty much

unemployable now; I know I wouldn't hire me!"

LEX FLEMING PHOTOGRAPHY

LEX FLEMING PHOTOGRAPHY

LEX FLEMING PHOTOGRAPHY

DETAILS

Creeksea Place Barns, Creeksea Place Farm, Ferry Road

Burnham-on-Crouch, Essex CM0 8PJ

www.creekseaplacebarns.co.uk

www.clockworkhotel.co.uk

LEX FLEMING PHOTOGRAPHY

Composting

Toilet Solutions

Including our new disability/accessible toilet solution

• Customisable

• Quick delivery

• Ready for use

• Made in the UK

www.sheepshed.co.uk • hello@sheepshed.co.uk

WWW.OPENAIRBUSINESS.COM 13
---
FUNCTION VENUES

CASE STUDY

Sychpwll Centre

A 10 acre eco-friendly venue on the Powys/Shropshire border

which is "far from commercial"

We talk to Sebastian

Hendry about how a family

home and smallholding

has evolved into a venue

based on eco and organic

principles. Sychpwll offers

a blank canvas for a small

amount of weddings and

events along with camping

and glamping.

When did you start your venue

business and what is its history?

It started organically really, I

can't pinpoint an exact date. In

1982 my parents saved Sychpwll

from dereliction and the site

became an organic smallholding

with various outbuildings. In the

mid to late 1990s the open hay

barn and old tractor shed were

turned into straw-bale buildings

and used to house various arts

and environmental activities/

charity work. It became a venue

by virtue of the fact that there

were requests for residential

activities, and the place evolved to

accommodate these events safely

and responsibly.

Tell us about your location

and site

The Sychpwll Centre is a 10 acre

eco-friendly smallholding situated

on the banks of the River Vyrnwy,

right on the Powys/Shropshire

border. We are a bit hidden really,

we are only a few miles from a 'main

road' but often guests remark that

the peace and tranquillity feels like

a world away from life's everyday

stresses.

"IT BECAME A VENUE BY VIRTUE OF

THE FACT THAT THERE WERE

REQUESTS FOR RESIDENTIAL ACTIVI-

TIES, AND THE PLACE EVOLVED TO

ACCOMMODATE THESE EVENTS

SAFELY AND RESPONSIBLY"

14 WWW.OPENAIRBUSINESS.COM
---
FUNCTION VENUES

NESTA LLOYD WWW.NESTALLOYD.CO.UK

"WE THINK THAT CAMPING RIGHT NEXT TO

OTHER PEOPLE OR IN DESIGNATED BAYS

SHOULD BE FOR GLASTONBURY AND NOT A

HOLIDAY!"

We have seven acres of

wildflower meadow that is divided

by a wildlife corridor, a unique

walkway where the trees create

an arched corridor, providing a

protective habitat to a variety

of birds and other wildlife. The

wildflower meadows both have

their own distinctive character;

the grass in the five acre space

is allowed to grow tall allowing

various paths to be mowed whereas

the two acre meadow is nice and

enclosed offering a great view of

Rodney's Pillar. A third field adjoins

a wooded area leading to the river.

There are several established

unique straw-bale and lime plaster

structures and studios, ranging from

a kitchen to a performance space,

as well as other accommodations,

each with their own individual

charm.

What facilities for outdoor

functions do you offer?

When it comes to outdoor functions

we are more of a blank canvas.

We have seen pretty much every

temporary structure here over

time and are generally very flexible

in allowing people to choose the

perfect structure for them.

We have a number of

accommodation options located

on site. We have two self-contained

spaces, firstly 'The Cabin' which sits

on stilts at the edge of the five acre

meadow and secondly 'The Hobbit

House' which is a unique straw-bale

building with two bedrooms. We

also tend to have a glamping bell

tent set up in the summer months

and a few other unique spaces for

people to stay when the site is hired

for exclusive use.

Camping is also an option and

we self-cap numbers on the site

to a max of 100 people so there is

always a huge amount of space for

everyone. We think that camping

right next to other people or in

designated bays should be for

Glastonbury and not a holiday!

How do you work with your

customers to make their event

unique?

Every event at Sychpwll is unique.

To us the site is very special, it's also

our home after all. When a potential

customer reaches out about a

NESTA LLOYD WWW.NESTALLOYD.CO.UK

NESTA LLOYD WWW.NESTALLOYD.CO.UK
---
FUNCTION VENUES

wedding or event we generally

encourage a visit as it's the only way

to really appreciate what the site

has to offer.

We only allow a handful of

weddings/events each year so we

can help make sure everyone who

has a celebration here will be able

to make it a completely memorable

experience. We can of course offer

advice as to what works best, but if

people want to create a glamping

village for their 40th birthday, use

the wildlife corridor as an extended

walk to the 'alter' or set up a cinema

for the kids in the straw bale barn,

we can help create it.

NESTA LLOYD WWW.NESTALLOYD.CO.UK

How do you publicise yourself?

Until very recently we were purely

through word of mouth. When my

wife and I moved back from living

in Asia a few years ago we started

to use our dormant Instagram and

Facebook accounts a little more and

now try to post pictures of the site

throughout the year.

We advertise some of our

accommodation options on Airbnb

and, camping wise, we are listed

on PitchUp but I would say about

70% of the people who visit us are

returning guests. Many of our event

bookings are actually made through

people who have stayed before

and fell in love with the site. For

example, a lovely couple who came

to camp last year, recently returned

to stay in the glamping bell tent

and got engaged on site! They are

now planning their wedding here

for 2024.

"MANY OF

OUR EVENT

BOOKINGS

ARE

ACTUALLY

MADE

THROUGH

PEOPLE

WHO HAVE

STAYED

BEFORE AND

FELL IN LOVE

WITH THE

SITE"

How would you describe your

style or unique selling point?

I think you have to visit to really

understand the USP. We are

definitely far from 'commercial',

we hold on to the eco and organic

principles that the site was built on

and really only try to attract guests

to the site who can respect it for

what it has become.

We are particularly popular with

families with children as the site

allows the children to explore,

play in the play area and really

switch off from the screen. I think

being tucked away on a private

road allows our guests to escape

everyday life. Like I mentioned

earlier, this is our home and it

makes us happy to see people enjoy

the space just as much as we do.

What challenges have you faced

historically?

We are situated between the

confluence of two rivers and

flooding has been an issue from

time to time. These days the

buildings are all protected from

any flood water by a raised bank

but that does not mean that in

the midst of winter some of the

low lying local roads become

unpassable from time to time. This

is one of the main reasons we are a

summer site!

Trying to get people to recycle

what they can is also a bit of a

challenge! We make it as easy as

we can with a designated recycling

area, but I must admit I still find

myself going through black bin bags

when I hear a clink of glass.

How did the pandemic impact

you?

Like the whole industry we

obviously suffered with guests not

being able to visit. Thankfully our

daughter, Lena, was born during the

16 WWW.OPENAIRBUSINESS.COM
---
FUNCTION VENUES

NESTA LLOYD WWW.NESTALLOYD.CO.UK

NESTA LLOYD WWW.NESTALLOYD.CO.UK

NESTA LLOYD WWW.NESTALLOYD.CO.UK

first lockdown so we used the many

lockdowns and restrictions to bond

as a family and spend quality time

together.

We also used the time to fix up

some of the buildings, clean out the

reedbed ponds and do a little tree

trimming.

How large is your team – any

special people you'd like to

mention?

We are a very small family team

comprising myself, my wife Debbie

and my father Peter. We do most of

the work ourselves and appreciate

and respect what we each

contribute to the running of the site.

We all live onsite and the

business is very much intertwined

into our daily lives. Our two year old

and collie dog will often join us in

welcoming people and giving tours

of the site.

We have a few special friends

who come and stay with us from

time to time over the season to help

lighten the load and get on top of

the polytunnel!

"WE HAVE A

FEW SPECIAL

FRIENDS WHO

COME AND

STAY WITH

US FROM

TIME TO TIME

OVER THE

SEASON TO

HELP LIGHTEN

THE LOAD

AND GET ON

TOP OF THE

POLYTUNNEL!"

What are your plans for next

season?

Next season, we very much hope to

continue as we are. We look forward

to welcoming back our returning

groups and hopefully meeting a few

new ones.

We are looking into possibly

building a few solar eco showers,

maybe even one near the river for

those who choose to get wet feet.

Describe your average day

mid-season

Every day is different and this

is an element we love. It could

be anything from hosting lots of

families camping, to setting up for a

weekend wedding or welcoming a

yoga/taekwondo group onto site. At

times, it can definitely be difficult to

juggle managing the site along with

our other jobs and a toddler in the

mix, but we love where we live and

we enjoy being able to share this

magical place with others.

What are you most proud of?

This year we were named as one of

the top 20 campsites in the whole of

Wales as chosen by holidaymakers

themselves. We didn't know about

it but was nice to read the article on

Wales Online.

ADDRESS BOOK

YURT

Yurt Maker www.yurtmaker.co.uk

FURNITURE & STYLING

TMS www.tmsevents.co.uk

GENERATOR

Phils Tool Hire (Welshpool)

www.philstoolhire.co.uk

EVENT TOILETS

Powys Luxury Loos

www.powysluxuryloos.co.uk

INSURANCE

The Tourist Trial (Compass)

www.tttinsurance.co.uk

DETAILS

Sychpwll Centre

Llandrinio

Powys SY22 6SH

www.sychpwllcentre.co.uk

WWW.OPENAIRBUSINESS.COM 17
---
FUNCTION VENUES

Sharing

AYNHOE PARK

Snaps

Charlotte Winship on

how to harness user

generated content for

your venue on Instagram

LOVE IT or hate it, social media

is king when it comes to reaching

your ideal audience and will

play a significant role in your

venue marketing plan. Instagram

continues to be the most popular

platform for venues to reach their

target audience and making your

spaces Insta-ready should be a

priority. Here's why…

How much time you spend

posting new content, sharing

stories or designing reels will

depend on the resources you

have available. We all know the

algorithms love consistency but

when you have a small team

available and are juggling multiple

roles (sales, wedding planner,

estate manager, HR, gardener, H&S

officer, administrator, accountant,

farmer etc) this is often simply

not achievable. This is where you

need to look to user generated

content (UGC). This simply means

encouraging visitors, guests and

suppliers to post content on their

own Instagram feeds about your

venue, developing your reach.

Anyone can be an influencer and

millions of us are documenting

our lives every single day, sharing

exciting experiences, places we

love and unusual sights. With the

summer wedding and event season

back in full swing, and guest lists

at full capacity, now is prime time

for you to encourage your visitors

to share their love of your venue

on the 'gram. So how do you get

everyone snapping and sharing?

1

Curate a selfie

Most people love a selfie and if you can curate

a 'venue signature' worth photographing then

you are on to a winner. Find something that

will leave a lasting memory and encourage

visitors and guests to share the moment they

were with you on Instagram. Here are some

ideas to provide them with an authentic

talking point that is sympathetic to your

venue style, values and ethos.

Do you have a view over land or sea unique

to your venue which you can't help but share?

Think about where your visitors can see it

best? Visitors and guests to Adventure Park

Snowdonia can expect stunning landscape

photography amongst their wedding album

of views over the distinctive peaks and valleys

of North Wales, and who can forget the bride

zip-lining in her wedding dress!

It doesn't have to be visual. How about

an unusual audio experience? Voices in the

corridors? Atmospheric music from the flower

beds? Poetry in the loos? The Hive at Kew

Gardens is a biophilic outdoor installation

incorporating the sound of a honeybee chorus

which is streamed live from a real beehive to

speakers. The live stream is also linked to LED

lights which flash according to the intensity

of the bees' activity. The more distinctive

and immersive the experience is, the more

memorable it will be and likely to be talked

about over social media.

If technology is not your thing, how about

tactile props? Everyone loves a dressing up

box or a themed photobooth. Or perhaps an

interesting or unusual artefact that guests

KAT FORSYTH (WWW.KATFORSYTH.COM)

would love to be snapped next to? Think

along the lines of the fantastical taxidermy

that caught the imaginations of past guests

and visitors to Aynhoe Park.

Do you have unusual pets or wildlife

grazing in your grounds? How about a soak in

an outdoor bath overlooking a lion enclosure

à la Port Lympne in Kent?

A natural feature is highly prized. The

bridge over the moat at Ditton Manor in

Berkshire is a perfect picture spot. Guests also

film themselves trying to find their way out of

the maze.

Talk about your special features on your

own Instagram account to build awareness

and help visitors find them by drawing

attention to them during events. Pave a path

or use some branded signage to help direct

people.

Don't make guests wait until later to post

their pics. Make sure they have free access

to a good Wi-Fi connection so that they

can share their photos then and there. It's

'Insta'gram after all.

The Hive at Kew Gardens

Fantastical

taxidermy at

Aynhoe Park

JEFF EDEN, RBG KEW

18 WWW.OPENAIRBUSINESS.COM
---
FUNCTION VENUES

2

Hashtag this

There are millions of hashtags, some useful for growing your organic reach, others with fewer

followers but a niche and targeted audience to help you make those all-important sales. Niche

your own audience with a personal and unique hashtag. Choose something catchy, memorable

and distinctive to your venue and brand. Do some research to make sure no one else is using it.

Use it on your own social media channels, publicise it and encourage your existing followers

to use it. Share it with your wedding couples when they book and invite them to tag you during

their wedding planning. Promote it to guests and visitors to your venue especially near your

talking points; "Like this? #..."

AYNHOE PARK

4

#4 Incentivise your

followers

Run a competition. Everyone who

follows your venue, shares your post

and tags you in their (positive) posts

can be entered into a prize draw at

the end of the month/season/year.

Make sure you offer a significant

prize that's worth winning to

encourage people to make the effort.

The more people who enter and tag

you, the more value to you.

3

The carousel at

Preston Court

PRESTON COURT

Share the love

Your event and wedding suppliers will also be trying to feature as much as

possible on social media. Show your suppliers a bit of love and appreciation

and no doubt they will show you a bit in return. Make sure you follow all your

favourites on Instagram. Support and promote the suppliers who you want to

see again, the ones that made your life easier and who share the same style,

ethos and values. Share your collaborative successes.

Post pictures of the memorable events you have worked on together.

Suppliers can then re-share and spread the love. Build good relationships with

your wedding photographers and ask them to share their wedding albums.

Ask their permission to post their images on your Instagram and website. You

will also need to ask permission from your wedding couples. Make sure you

tag the photographer whenever you share their work.

The bridge at Ditton Manor

DITTON MANOR

Outdoor bath at

Port Lympne

5

PORT LYMPNE

Be thankful

Finally, please don't forget to respond to people who do tag you. If you

have time, write a thank you but at the very least 'like' their post. It

is a courtesy and will encourage more of their engagement and their

followers' engagement. Once they have tagged you, you can then re-share

their post to your other followers to gain even more value.

User generated content doesn't just help your marketing activity, it can

also help to develop that important 'know, like, trust' factor. People are

more likely to trust their friends' recommendations. Outsiders chatting

positively about your venue is as good as a direct review. If a crowd is

consistently sharing positive stories about your venue then even better.

Visitors regularly sharing content about you will have a huge impact on

helping to build the familiarity of your venue. People like to follow trends

so, chances are, if their friends 'like' you then they will 'like' you too. See

you on the 'gram!

WWW.OPENAIRBUSINESS.COM 19
---
FUNCTION VENUES

Kitchen

Efficiencies

Specifying a new catering facility? Read on for how to

achieve maximum water and energy efficiencies

IF YOU offer any kind of catering you know

that success includes the menu you offer,

the customer experience, and the feeling

customers get from eating at your venue.

But every passing year is an opportunity

to improve other aspects. Renovating your

kitchen could be the occasion to make

your establishment more sustainable and

make savings on your bills.

Renovating your kitchen is different

from the many changes you can introduce

gradually, such as adding sustainable local

products to your menu or progressively

changing your providers to those that

have better environmental policies. Those

changes are 'easy' because they are not

definitive – you can change your decision

and re-introduce some of your previously

popular dishes if the alternatives don't

work out.

Renovating your kitchen, however,

should be done in one go (you don't want

to find yourself closing and dismantling

your kitchen every six months to change

just one thing!) and ideally once and for

all. Here, going back on your decision is

much more difficult and costly – this is

why you need to prepare thoroughly.

SERIOUS CHANGE – SERIOUS GAIN

When you plan to renovate your kitchen, it

is essential to benefit from the renovation

as a great opportunity to limit your

consumption of energy and water.

There is a wide variety of appliances

on the market and the choice can be

daunting. This article presents six that

generate the most water and energy

savings. Choosing the most efficient

models will save your venue considerable

money on annual energy and water bills.

When choosing a new PRSV, opt for a model

with low-flow nozzles using less than 6

litres/minute.

WATER CONSUMPTION

Pre-Rinse Spray Valves (PRSVs)

The use of high pressure rinsing nozzles

to prewash dishes before putting them in

dishwashers is a very common practice.

However, pre-rinse spray valves can account

for 30% of all water used in the kitchen!

When choosing a new PRSV, opt for a model

with low-flow nozzles using less than 6

litres/minute. It will be a huge gain in water

consumption as regular nozzles use even

three times more (15 litres/minute). Also,

look for sensor-activated models assuring the

water is sprayed only when needed.

Dishwashers

Dishwashers are responsible for another

30% of the water use in a typical restaurant's

kitchen. Efficient dishwashers can even

halve your current water consumption! For

an average restaurant, choosing an efficient

dishwasher can result in savings of 150m3

of water per year. It is, however, not only

the question of water saving – as water

consumption is very much linked to energy

and detergent consumption.

A lot of energy is used to heat up water, and

reducing the amount by a few litres at every

cycle or reducing the temperature at which

the water is heated will have a direct effect

on your electricity bill. Additionally, with

dishwashing chemicals that have a constant

dilution rate per litre of water, the less water

you use, the less detergents are needed in the

machine.

GETTY IMAGES

20 WWW.OPENAIRBUSINESS.COM
---
FUNCTION VENUES

Dishwashers are available in many sizes

and types, and are usually classified in three

groups:

› Under-counter or over-counter stationary

front-loaders

› Stationary and pass-through hood-types

› Rack conveyor machines and large flight

type machines.

Unless you have a very large kitchen,

hood-type dishwashers are likely to be

the most appropriate for you (while

tunnel dishwashers are used in larger

establishments needing the capacity to wash

dishes for over 500 meals per hour). The

ideal model should:

› Use less than 3 litres of water per rack

in case of stationary (under-counter or

hood type) dishwashers and less than 2

litres of water per rack in case of conveyor

dishwashers. It is important to check

because average commercial dishwashers

use considerably more (3.8 litres per rack)

› Limit heat losses thanks to good insulation

(at least 20mm)

› Include a drying air heat recovery system

› Have appropriate programmes and

options so that you can optimise settings

in relation to how dirty the serving ware is

› Enable you to connect it to the kitchen

hot water supply, which is likely to heat up

the water much more efficiently than the

dishwasher itself.

STEAMERS FOR COOKING

If you use a steamer to cook, you should

know that an efficient steamer can use

over 10 times less water than the old boiler

steam cooker you may have. So-called

'connectionless' or 'boiler-less' steamers

use 8 litres an hour (instead of the 100 litres

per hour by recycling steam in heated water

reservoirs.

For an average restaurant, the installation

of an efficient steamer could save 200m3 of

water per year.

ENERGY CONSUMPTION

Besides savings in water consumption,

selecting the most efficient appliances can

bring even more considerable savings in

terms of energy. Here are three appliances

that will further help optimise the energy

consumption in your kitchens.

Efficient cookers

Typical hobs will serve you 20 years so it

is crucial to choose the right one. Gas and

induction hobs are the most efficient. Which

one to choose? It depends on the source of

the electricity – if it is renewable, then opt

for induction cookers, and if not (meaning

sourced from fossil fuels), choose gas hobs.

Refrigeration systems

When looking at fridges, freezers or cold

GETTY IMAGES

"CONSIDER REUSING THE WASTE HEAT FROM YOUR KITCHEN

TOO. BY USING A HEAT EXCHANGER YOU CAN DIRECT

THE HEAT GENERATED IN THE KITCHEN TO OTHER PARTS

OF A BUILDING THAT NEED HEATING, SAVING ENERGY

CONSUMPTION"

room installations, you should check

two parameters: the specific energy

consumption (measured in kWh of electricity

per litre of volume per year) and the

refrigerant leakage rate. For large solid

door upright cabinets, you should look for

fridges with a specific energy consumption

of less than 1.14 kWh/l/year and freezers

consuming less than 3.6 kWh/l/year.

Ideally, if you redesign the fridges in your

kitchen, you should also design them so

that they are well insulated and you don't

have to open and close large doors all the

time. Finally, your equipment should be

well maintained to minimise leaks, and also

use refrigerants with low global warming

potential, such as hydrocarbons, ammonia

or CO2 to limit the environmental impact of

any refrigerant leakage.

Ventilation and heating

Kitchens usually generate a lot of heat,

and there are ways in which you could

save money by managing your ventilation

more efficiently. Check the speed of your

ventilation or extractor fan. Huge energy

gains could be made if it runs too fast by

slowing it down – you could consume up to

87% less if the fan turns at half the speed!

You can also think of installing processorcontrolled

fans, which could cut your energy

consumption by more than half. Such an

investment can have a return of about a

year (depending of course on the size of the

kitchen and other parameters). Ask your

HVAC expert when you are considering the

maintenance or replacement of your fan.

Consider reusing the waste heat from

your kitchen too. By using a heat exchanger

you can direct the heat generated in the

kitchen to other parts of a building that need

heating, saving energy consumption.

ASK THE STAFF

For each of the devices described in this

article, it is crucial to choose the most

appropriate size and make sure that your

team uses it in the correct way and to its

full capacity (your efforts to consume less

water and energy will go down the drain

if, for example, your dishwasher operates

half-empty). For this reason, check what

the needs of your kitchen staff are before

making a considerable investment. It is

a future-oriented step, both in terms of

protecting the environment and cutting

costs – and we all know that the prices of

both water and energy are going up!

ABOUT THE AUTHOR

Take A Green Step is brought to you by

the European Commission's directorate

general for the environment, supported by

the European Commission's Joint Research

Centre. For more advice, best practise

and case studies, visit www.ec.europa.eu/

environment/emas/takeagreenstep

WWW.OPENAIRBUSINESS.COM 21
---
R

CWC Advert (Open Air Magazine).pdf 1 23/02/2021 12:04:51

Expert

advice to help you

achieve the most

from your venue

business.

C

M

Y

CM

MY

CY

CMY

K

• Increase

profitability

• Reach your ideal

customers

• Maximise sales

opportunities

• Streamline your

processes

www.charlottewinship.com

07493 350303 / charlotte@charlottewinship.com

Stunning tents for

stunning events!

Since 1889 OPAS have

been keeping things

looped, clipped, stuck,

pinned, strapped, sewn,

riveted, hooked, zipped

or popped together.

WE LOVE STRETCH TENTS!

Years of experience, passion and enthusiasm

to get what you want from your event.

Sales, full installation and custom

design services.

Our comprehensive range of top value quality

textile and marine fasteners, marquee and

exhibition stand materials are backed up with old

fashioned service and free technical support.

OPAS are also certified to ISO 9001/2015

underscoring our commitment to achieving and

maintaining excellence.

AUTHORISED DISTRIBUTOR

t: 01920 830256 e: info@alternative-stretch.co.uk

w: www.alternative-stretch-tents.co.uk

@alternative_stretch_tents

Call, email or go online for advice and wholesale quotations.

01903 239 955 | sales@opas.co.uk

www.opas.co.uk

22 WWW.OPENAIRBUSINESS.COM
---
FUNCTION VENUES

MEET THE SUPPLIER

Get to Know…

Time to make some professional friendships – get to know the people behind the products!

Bradley Ireland

Group sales director,

MHM Group

08081 689099,

sales@mhm-group.co.uk,

www.mhm-group.co.uk

What does your company do?

Manufacture, sales and rehire of power

generation, fluid storage and site

lighting equipment.

What makes your company's services

special?

We are focused on eco innovation and

sustainability. We listen closely to our

customers and refine our products and

service to suit the industry.

Describe yourself in 10 words

Driven, supportive, family orientated

and always willing to help others.

How would your co-workers describe

you?

Willing to support, confident, good

listener, strong leader, respectful,

motivated.

Craziest thing you have done?

Travelled through Europe with a group

of friends in a car that had no sat nav or

fuel gauge.

We're in a bar – what do you order?

Lager or rum and coke, or a mojito if I'm

feeling fancy.

Favourite animal and why?

Lion because they're strong powerful

and majestic.

Favourite film?

Hustle – I liked the grittiness and

element of truth throughout the film.

Christian Kremer

Founder and owner,

The AIRSCREEN Company

GmbH & Co. KG

+49 251 60 90 250,

info@airscreen.com,

www.airscreen.com

What does your company do?

We sell AIRSCREEN inflatable screens,

projectors and sound systems

worldwide.

What makes your company's services

special?

We sell our products in more than

130 countries and have produced the

largest inflatable screen in the world.

Describe yourself

Always seeking fairness and

understanding, trying to make the

world a bit nicer and more colourful.

How would your co-workers describe

you?

I hope they'd say something like fair,

humorous, professional.

Craziest thing you have done

Crossed the Alps twice by bicycle in 14

days.

We're in a bar – what do you order?

Whiskey Sour or a beer, depending on

how thirsty I am.

Favourite animal and why?

Dog – most have a good and relaxed

approach to life.

Favourite recent film and why?

Spencer – loved the atmosphere and

Kristen Stewart.

Roxana

Frasineanu

Director,

Voyager Houses UK

07470 004191,

www.voyagerhousesuk.com

What does your company do?

We design and create eco tiny houses

on wheels.

What makes your company's services

special?

We offer smart living solutions with very

high specifications.

Describe yourself in 10 words

Very ambitious person with big dreams

– I never give up.

How would your co-workers describe

you?

Crazy but also a very dedicated and

open person.

Craziest thing you have done

Meeting my partner on a dating site

and moving in together after only two

months.

We're in a bar – what do you order?

I don't really drink much but I will never

refuse a good cocktail.

Favourite animal and why?

Horses… awesome creatures!

Favourite current telly?

Lie to Me... just fascinated with body

language.

WWW.OPENAIRBUSINESS.COM 23
---
FUNCTION VENUES

PRODUCT IN FOCUS

Infrastructure

The Pulpit Rock, Norway

Product: AIRSCREEN classic 12m x 6m

(40ft x 20ft)

Supplier: The AIRSCREEN Company GmbH

& Co. KG, +49 2516 090250,

info@airscreen.com, www.airscreen.com

Details: Preikestolen, or "The Pulpit Rock",

is a tourist attraction in Norway. The steep

cliff rises 604m (1,982ft) above Lysefjorden.

At the top of the cliff is an almost flat area

of approximately 25x25m (82×82ft) where

the movie premiere of Mission: Impossible –

Fallou took place.

Cinema wherever you can imagine,

AIRSCREEN makes it easy to set up giant

movie screens in extreme or delicate

locations. Here, 2,000 spectators had to walk

for four hours to reach this extreme point

close to the sky and high above the water.

AIRSCREEN is an inflatable frame with an

attached projection screen. It uses a system

of tensioning tethers and ratchets to secure

against wind and typically only takes 30-60

minutes to install. Being lightweight and

easily transported, AIRSCREEN is suitable for

all locations: heritage sites, the middle of a

desert or, like here, high on a mountain top.

Customer feedback: Actor Tom Cruise

said: "2,000 feet, 2,000 people, four hours

of hiking. The most impossible screening of

Mission: Impossible – Fallout. Thank you all

for coming!"

24 WWW.OPENAIRBUSINESS.COM
---
FUNCTION VENUES

East Mersea Hall, Essex

Product: Fire Cage 1800

Supplier: Savage BBQ, 01158 990323, rachel@savagebbq.co.uk,

www.savagebbq.co.uk

Details: East Mersea Hall in Colchester, Essex, is an award winning

wedding and special events venue owned by Chris and Kirsty Lowry.

The couple wanted something for their outdoor space

that would make them stand out from the crowd and

offer guests a 'live fire cooking' experience.

They chose Savage BBQ's Fire Cage 1800, the

largest in the range, and their chef has never

been happier. He is creating some incredible

food cooked and served outside and which

looks amazing in photos!

Customer feedback: Venue owner Kirsty

Lowry said: "Our fire cage is absolutely

incredible. It undoubtedly gives the 'wow'

factor to all of our events. We are all about

the theatre when it comes to our food and

this certainly plays the ultimate part. Every

guest is always amazed."

Stradey Castle, Llanelli

Product: PERFO-AK Anchor Tiles - Ground

Reinforcement System

Supplier: PERFO - S2T Group, 01992

522797, info@perfo.co.uk,

www.perfo.co.uk

Details: The family owners of the Grade 1

listed Stradey Castle had a requirement to

significantly increase parking provision at

the property in order to facilitate expansion

of its use as a venue for weddings and

functions, as well as a filming location.

Access to a grassed area used for

marquees and as an outside space also

needed to be reinforced to prevent damage

being caused by the vehicles of caterers

and other suppliers.

Due to the sensitive nature of the

location, tarmac or concrete was not

desired. For both applications, S2T

Group's PERFO-AK Anchor Tile ground

reinforcement system of interlocking,

self-anchoring tiles was selected. The car

park was created on an area of scrubland

which was cleared and levelled, a sub-base

prepared at the PERFO-AK tiles embedded

into a layer of fine crushed stone. Seeded

soil was added to the parking bays so that

they would green over to differentiate

them from the manoeuvring areas. The

resulting self-draining, durable car park

blends in with the natural surroundings

while providing parking for approximately

50 cars.

Access to a grass tennis court, which is

used as an open space and for the siting

of marquees, was also reinforced with

PERFO-AK Anchor Tiles to prevent rutting

of the ground during events. In this case

the tiles were compacted directly into the

existing grass surface. A few months after

installation the grass had grown back

through the tiles so that they were not

visible, restoring the natural appearance.

Customer feedback: The Mansel-Lewis

Family said: "Five years after installation

both the car park and access track

continue to perform excellently, enabling

us to provide guests and suppliers with

dry, stable, self-draining parking and

access while maintaining the attractive

appearance of this beautiful location".

WWW.OPENAIRBUSINESS.COM 25
---
FUNCTION VENUES

PRODUCT SNAPSHOT

Adjustable Casual Dining Set

Gardenman

03332 008333

sales@gardenman.co.uk

www.gardenman.co.uk

Perfect for outdoor drinks in a more relaxed manner, the

Chapelfield Adjustable Casual Dining Set is constructed

using a full aluminium structure wrapped with handwoven

flat and round grey weave. The rising table comes

with a glass top and is easy to use. Plenty of room to fit

family and friends, the chairs are complemented with

comfortable showerproof cushions.

This complete range is backed with a five year structural

and UV guarantee ensuring peace of mind and years of

relaxation. Visit Gardenman for more details and other

products in the range.

Semi Permanent Marquees

HTS TENTIQ

01276 462600

salesuk@hts-tentiq.com

www.hts-tentiq.com

HTS TENTIQ supplies one of the most diverse ranges

of commercial tents and structures globally, from

small, economical pagodas and party tents to striking

large event marquees and multi-storey temporary

structures.

Our semi-permanent structures come with a

wide range of design options, enabling you to fully

customise and enhance the appearance, comfort and

functionality of the structure.

Enhance the visual appeal of your venue while

increasing its capacity for events, weddings, parties,

and corporate functions. A semi-permanent marquee

is a great investment for your venue.

Off-grid Compost Toilets

Sheep Shed Creations

07980 802149

hello@sheepshed.co.uk

www.sheepshed.co.uk

Complement your off-grid accommodation with these stylish and

customisable composting toilets. The waterless toilets arrive preassembled

and ready for action. Choose from a range of colours

and options and even add your own branding. Delivery is quick and

easy via the UK pallet network. Sheep Shed Creations also makes a

larger accessible composting toilet for users with disabilities.

26 WWW.OPENAIRBUSINESS.COM
---
Free next working day delivery* on

beds & mattresses. No minimum order.

We've made sure our trade mattress range caters to

all budgets, and types of accommodation. Check out our

Landlord, Leisure, and Hotel Pocket ranges, exclusively

available through Mattressman and then, whether you

need one mattress or one hundred, get in touch with

our Trade team for the very best deals!

Call: 0800 5677625

Visit: mattressman.co.uk/contract

Source 5 fire regulation products available. Standard and special sizes. Fast, free national delivery, installations, assembly and disposal services available.

* Thousands of domestic mattresses and frames in stock. Terms and conditions apply.
---
Quality Glamping

Cabins and BBQ Huts

HOME OF THE FIRE CAGE

Live Fire

Cooking

Home • Catering

Restaurants

Festival

Glamping

Achieve all year round bookings, with our

unique luxury glamping cabins

EN-SUITE AVAILABLE • OFF-GRID OR ECO OPTIONS

BESPOKE SOLUTIONS • FULLY INSULATED AND HEATING OPTIONS

01389 734572 info@logspan.com www.logspan.com

Savage BBQ savage_bbq Savage BBQ @savage_bbq

0115 8990323 sAvAGEbbq.CO.uk

28 WWW.OPENAIRBUSINESS.COM
---
GLAMPSITES

CASE STUDY

Brook Cottage

Shepherd Huts

A

start-up five hut retreat

on the border of the

Snowdonia National Park

With backgrounds in fine art,

Mark Barrow and Jonathan

Gooders moved to the

countryside and renovated a

cottage before turning their

attentions to hand-building

shepherd, poachers and gypsy

huts. Their adults-only site

launched in late 2021 and sprang

to fame after being featured on

BBC's Interior Design Masters.

We talk to Mark.

What's your back story – your life before

glamping?

Both Jonathan and I have fine art

backgrounds – Jonathan is a painter and

sculptor and I specialise in modern British

art and original vintage movie posters (www.

picturepalacemovieposters.co.uk). We also

ran a bespoke conservation picture framing

business in Wimbledon for over 15 years,

dealing with top West End galleries and

museums.

What made you decide to start offering

glamping accommodation?

We had decided on a lifestyle change and

knew we wanted to move to the country (I

grew up in Gloucestershire). After buying and

renovating a cottage, we started the build of

the huts, which in total took just under two

years. We opened in November 2021.

How did you research the business before

entering it?

We spent around six months researching

the market; what was already available and

how we could use our skill sets to create

something unique.

Tell us about your location and site

We're based just outside Pwllheli on the

glorious Lynn Peninsula in North Wales, near

the border of Snowdonia National Park, with

the famous Italianesque village of Portmeirion

on the doorstep, in an Area of Outstanding

Natural Beauty. Each of our five hand-built

huts overlooks our own private lake, which is

host to an array of wildlife, with uninterrupted

far-reaching views to Yr Eifl (The Rivals)

mountains in the distance.

How did you tackle getting planning?

We initially put in a pre-application document,

which received a favourable response, then

after purchasing the house applied for full

planning with a 20 page supporting document.

There was a slight issue after planning had

been provisionally granted about a floodplain

nearby (which had never in reality flooded), so

we had to adjust the placing of the huts, but

in fact this worked out better anyway as each

hut now has a view of the mountain range and

the lake.

How did you finance the project?

Mainly with our own funds from the sale

of our previous house and a loan via the

Development Bank of Wales.

What glamping accommodation do you

offer and why did you choose it?

We have five hand-built (by us) huts; one

WWW.OPENAIRBUSINESS.COM 29
---
GLAMPSITES

shepherds hut (which is the largest),

two poachers huts and two gypsy

huts.

We are open all year and our

choice of the three styles of huts and

the way we designed the interiors

was with this in mind (each has a

wood burning stove for example).

What occupancy levels and price

per night do you achieve?

Our prices range from £115-£145

per night, depending on the hut.

Two of our huts are dog friendly and

those have an extra £10 per night

charge. We opened in November

2021 and were full over Christmas

and New Year and have been

steady ever since. Our main target

is long weekend stays and as we're

adults only we very much appeal

to couples looking for a rest and

recharge.

How did you work out your

brand and how do you publicise

yourself?

Because we both have backgrounds

in fine art we had a very clear idea

of the look and feel we wanted

to project, based on the target

audience we wanted to reach, so

that defined the brand, look of the

website etc.

We are registered with a few of

the more specialist portals, but

most of our bookings come via

our own website. We've also been

featured in numerous magazine

30 WWW.OPENAIRBUSINESS.COM
---
GLAMPSITES

"WE TREAT EACH GUEST AS THOUGH

THEY WERE THE FIRST AND TRY TO

MAKE THEM FEEL SPECIAL"

articles and included in The Times

Top 25 Best Glamping Stays in the

UK, The Guardian Top 10 Best New

Glamping Sites and The Sunday

Telegraph Top 10 Wild New Stays in

Britain. We were also used by the

BBC for episode 5 of the last series

of Interior Design Masters.

How would you describe your

ethos and unique selling point?

We try to be as sustainable as

possible and offer a high end

experience. We treat each guest

as though they were the first and

try to make them feel special. The

most obvious unique selling point

is our location and the surrounding

area, so we very much encourage

people to explore and experience

that during their stay, though some

guests just want to chill and spend

their whole break in the hut.

How did you choose your interior

decoration?

Mainly as a result of being featured

on Interior Design Masters. We'd

already done the initial fit out,

installed the hand-built kitchens

etc. ready for the TV team to come

in and do their thing. It was a great

experience, but we then spent three

and a half months after filming

going back over each hut to bring

them up to the standard we were

happy to present.

The designers did a fantastic job,

but they only get two days, so the

finish wasn't to our level. We have

also completely redesigned two of

the huts from scratch ourselves.

What challenges have you faced?

Where would you like to start! The

pandemic of course has effected

everyone to a greater or lesser

• Super hygienic LDPE interior lining for quick handovers.

• Durable and classic Thermowood

exterior complements the glamping setting.

• Choice of Internal or External wood fired heaters.

• Two sizes available 4 person / 8 person.

Snowford Hill, Southam CV47 9QE t 01926 504067

e sales@glamptubs.com

www.glamptubs.com

WWW.OPENAIRBUSINESS.COM 31
---
GLAMPSITES

degree and was something none

of us had predicted, but having

relocated lock stock and barrel,

there was no plan B, so we had to

make it work.

Initially we had planned to build

two huts and get the business

started, but when the opportunity

of being featured on Interior Design

Masters came up, we had to plough

on and complete all five huts. There

were long 15-16 hour days, seven

days a week!

What are your plans for next

season?

To continue to build our reputation

and to introduce some unique

experience based breaks working

with other small businesses here in

North Wales.

Describe your average day midseason

Fairly relaxed. We work with a

specialist cleaning company who

do the clean between changeovers,

though we always do the dress

ourselves as we feel it is very

important to include the personal

touch and guests do notice and

appreciate it.

Do you enjoy the business?

We love it! As Churchill said: "If you

find a job you really love, you'll

never work again". Well that's not

entirely true of course, but the

sentiment certainly is. It is great

to be able to share this wonderful

part of the world and know that our

guests leave us feeling uplifted and

recharged.

What are you most proud of?

Just how much we have managed

to achieve in a relatively short

"TO

CONTINUE

TO BUILD

OUR

REPUTATION

AND TO

INTRODUCE

SOME

UNIQUE

EXPERIENCE

BASED

BREAKS

WORKING

WITH OTHER

SMALL

BUSINESSES

HERE IN

NORTH

WALES"

timeframe, given that we have done

it all pretty much single handed.

What other outdoor hospitality

sectors do you operate in?

We focus our attention on giving

people the very best experience

possible, but as mentioned, we

will be developing specific bolt-on

offerings later in the year – watch

this space!

What advice could you give

to someone coming into the

industry?

Research, research, research. Since

we started our journey nearly six

years ago, we have noticed an

enormous explosion in glamping,

especially during the past two

years. It seems like everyone and

their granny thinks it's easy money

and all they have to do is stick a pod

or yurt in a field.

There seems to be a bit of a

saturation of a lot of the same stuff

at the moment, all chasing the

same market. I expect a number

of the newer sites to drop off over

the next two or three years as many

have gone in with the wrong idea

or not properly researched just

what it takes to establish and run a

successful glamping retreat.

DETAILS

Brook Cottage Shepherd Huts

Yr Erw, Y Ffôr,

Pwllheli,

Gwynedd LL53 6RR

01758 701551

www.luxuryglampingwales.co.uk

32 WWW.OPENAIRBUSINESS.COM
---
GLAMPSITES

Natural

Pools

Create the ultimate in immersive, back to nature

experiences while increasing your sustainability

credentials

GETTY IMAGES

NATURAL POOLS are designed to be

hygienically operated without the need for

continuous chemical disinfection, and with

minimum energy and water requirements.

Inspired by natural lake systems, natural

pools are often constructed to look

like a pond or a lake and incorporate a

natural filtration system in the form of a

regeneration zone. In this zone specially

selected plants and an aggregate substrate

filter nutrients, algae and micro-organisms

out of the water.

Natural swimming pools – which can

be as small as 15m2 – come in two main

forms:

› the traditional natural pool (or pond);

› and the living pool, which visually looks

more like a traditional filtered pool.

In the case of natural pools, a dividing

wall reaching to approximately 100mm

below the water surface separates the

regeneration zone from the swimming

zone to prevent contamination of

swimming water with soil and aggregate

material. Water may also be passed

through a mesh screen and phosphate

sink, and additional aquatic plants added

to the swimming area, to provide further

"NATURAL POOLS REQUIRE

MORE SPACE THAN

CONVENTIONAL POOLS

OF THE SAME SWIMMING

AREA. HOWEVER, THEY CAN

BE INTEGRATED INTO THE

SURROUNDING LANDSCAPE,

AND CAN SUPPORT LOCAL

BIODIVERSITY BY PROVIDING

A HABITAT FOR AQUATIC

SPECIES"

water purification if required.

Living pools, on the other hand, can be

designed to look conventional, with clear

separation of the main swimming area

from the planted regeneration area. They

may even be heated and located indoors,

as demonstrated on the Artehof Aparthotel

and Campsite in Germany.

Typically, glampers spend their holidays

closer to nature and are receptive to the

concept of natural pools. These pools

avoid the use of chlorine and other

disinfection agents or treatment systems

such as ozonation, thereby almost

eliminating the resource depletion

and ecotoxicity impacts of swimming

pools, and significantly reducing energy

consumption.

Natural pools require more space than

conventional pools of the same swimming

area. However, they can be integrated

into the surrounding landscape, and can

support local biodiversity by providing a

habitat for aquatic species. So, in addition

to reduced ecotoxicity effects, natural

pools are likely to result in a significant

positive effect on biodiversity compared

with conventional pools.

CONSTRUCTION DESIGN

As with conventional pools, it is

important that the pool and filter system

(regeneration area) are sized to cope with

expected peak demand. Natural pools are

not able to hygienically cope with high

peak usage rates.

The edge of the pool should be raised,

and/or a drainage ditch constructed

completely around the pool to ensure

that no run-off water enters the pool.

Construction of the main body of the

pool is as per conventional pools. A

rubber membrane or similar flexible

34 WWW.OPENAIRBUSINESS.COM
---
GLAMPSITES

Basic schematic water circulation and

filtration in a natural pool system

INSPIRATION GREEN

impermeable barrier may be used

depending on the desired finish.

The main distinguishing feature of a

natural pool is the regeneration zone

separated from the main body of the pool

by a submerged diving wall. There are a few

options to consider:

Concrete or cinderblock walls

› Precise geometric shapes

› Vertical walls from top to bottom in the

swimming area

› Higher input in materials and costs

› Self-construction is possible.

Corner element construction

› Pre-fabricated components

› Quick and easy construction

› Attractive design

› Swimming area can be shaped as desired

› Wooden slats provide seating.

Earthwall construction

› Gently sloping shape of the swimming

area

› Economically priced

› Larger surface area needed due to

greater width of earth wall.

REGENERATION ZONES

Regeneration zones are comprised of an

inert coarse substrate such as gravel or

loamy sand. Topsoil is avoided, as the idea

is to provide a substrate for plant roots

to absorb nutrients from the percolating

water, and not to introduce additional

nutrient sources. Additional components

of the regeneration zone may include lime

and elements to bind nutrients and fine

particles.

A range of aquatic plants can be used,

both in the regeneration zone and the

main pool body. These can include

submerged oxygenators, floating plants,

shallow marginals, deep marginals, bog/

marsh and waterside species. Wherever

possible, indigenous plants should be

used as they should be adapted to the

local environment and will maximise the

biodiversity benefits arising from a natural

pool.

In order to provide effective water

treatment, the mix must contain marsh

plants that are able to decompose

compounds to their constituent elements

within the root zone.

ADDITIONAL FILTRATION SYSTEMS

Following filtration in the regeneration

zone, water may be pumped through a selfcleaning

mesh screen of 0.3mm to remove

any remaining algae and micro-particles.

Although usually not necessary when the

regeneration zone is operating correctly,

a phosphorus filter may be installed to

prevent algae growth (phosphorus is a

limiting nutrient in freshwater). Closed

pressure filters are available that can be

installed separately within the pool and

cycle water through a filter substrate

containing elements that bind phosphate.

MAINTENANCE

Aquatic plants grow quickly and may

require periodic thinning and pruning.

Removing the plant mass each autumn acts

as a sink for impurities and nutrients from

the system. A surface leaf skimmer should

be used to remove floating debris from the

water, while silt (a combination of decaying

vegetation, dust and other detritus) can

be removed by either a vacuum or bottom

purge system. Where present, phosphorus

filter systems need to be periodically

rinsed, and the filter substrate changed

every few years.

ECONOMICS

The cost of construction for a natural

pool is in the region of £300-£600 per

m2 and decreases as the pool area

increases. However, maintenance costs are

significantly lower, as chemical purchasing

is avoided and electricity consumption is

typically lower than for conventional pools

as the shallow water in the regeneration

zone heats up quickly.

Advantages

Natural pools offer considerable

advantages over conventional

swimming pools. These include:

› No harmful chemicals

› An attractive and natural-looking

feature

› Water warms up more quickly in the

sun owing to shallow depth in the

regeneration zone

› Less maintenance

› Biodiversity gain

› The creation of a unique back to

nature experience for guests.

ABOUT THE AUTHOR

Take A Green Step is brought to you by

the European Commission's directorate

general for the environment, supported

by the European Commission's Joint

Research Centre. For more advice, best

practise and case studies, visit www.

ec.europa.eu/environment/emas/

takeagreenstep

WWW.OPENAIRBUSINESS.COM 35
---
glamping pods

perfect for even

the most remote locations

free design plans

bespoke build

off-grid solutions

low maintenance

fast return on investment

contact us for a free no-obligation quote

premium quality amazing value

www.podzrus.com

07767733044

Part of the

Group

£30 OFF

any Bell Tent

with OAB code

Ends 15th August 2022

Beautiful bell tents, Touareg tents and

Emperor tents available in 320gsm and

360gsm 100% cotton canvas.

Accessories and "Fire Pig" wood

burning stoves in stock now!

Visit us at www.thebelltentshop.co.uk

or call 07834768348

Bespoke Hand Built Shepherds

Huts, A-Frames and Pods

Available in various sizes to suit your own requirements

•The Perfect Business Opportunity • Additional Living Space

• Catering/Bar Huts • Office/Studio

CONTACT US FOR FURTHER DETAILS

01524 792633, logcabinworld@btinternet.com,

www.logcabinworld.co.uk

36 WWW.OPENAIRBUSINESS.COM
---
GLAMPSITES

The Treehouse by

Wee Studio (China)

Architects

Barbara Griffin-Wright on selecting and working with an architect

WEE STUDIO

WITH THE events of the last few years, there

has been an increasing desire for us all to

be able to escape, travel and explore new

places. The fantastic thing about glamping

is that small or temporary structures can

be located on interesting sites providing

potentially unique experiences.

I imagine we all have a vision of the

Danish obsession 'hygge'. Although we

don't have an exact translation, the general

concept relates to comfort, coziness and

contentment along with cherishing the

little things. Time spent with friends or

family does not need to be big and showy.

It can be calm and quiet. These kinds of

experiences can be created using temporary

lightweight structures, movable pods or

more permanent builds, and the importance

of understanding context and taking

advantage of landscape, orientation and

natural features is essential to creating the

right atmosphere.

With a recent boom in glamping, and

many new entrants to the market, it is more

important than ever to differentiate your

glamping offering. While some businesses

will thrive offering standardised glamping

pods and bell tents (perhaps given a superb,

high demand location or on-site/nearby

activity) others will need to work harder to

create the experience today's holidaymakers

expect.

"WITH A RECENT BOOM IN

GLAMPING, AND MANY NEW

ENTRANTS TO THE MARKET,

IT IS MORE IMPORTANT THAN

EVER TO DIFFERENTIATE

YOUR GLAMPING OFFERING"

Unleashing your imagination can be a

hugely rewarding experience and working

with an expert who can help you realise a

vision for creating something unique to you

and your site can be a fantastic business

opportunity.

THE PROCESS

For any project where you might think that

glamping accommodation might be a great

idea, do your research first! Very often the

planning application process needs to be

undertaken, or at the very least an initial

feasibility study with an architect. It is a

step-by-step process and although it is

easy to find many beautiful rural sites or

quirky urban forgotten corners, the viability

of a project will be strongly linked to local

tourism policy and context. So the first step

is very definitely research and feasibility.

If you have a site in mind, and you think

it might be viable, initial sketch concepts

based on site constraints is often really

useful when having consultations with

planners, locals or investors. I would

always recommend that if you are having

conversations with the local planning

authority to have some sketches to get them

engaged and excited about the concept.

Sometimes this will be done informally but

increasingly you will need to go down the

route of a pre-planning application to get

some formal feedback.

Developing a brief with an architect and

exploring potential ideas, identifying the

strengths and weaknesses of a location

and considering what your budget is and

the potential of phasing are all aspects

of starting a project. Something else that

our clients have been asked for during the

planning process is a business plan. This will

help you consider the budget, growth and

phasing of a project.

SELECTING AN ARCHITECT

As an architect I would say that you should

look for someone with a good imagination!

There are architects that specialise in

different kinds of buildings or projects and

generally our design ability will mean that

most architects will be able to fulfil the brief.

However, I think that you will know when

WWW.OPENAIRBUSINESS.COM 37
---
GLAMPSITES

SEBASTIAN COX

Sylvascope treehouse by

Sebastian Cox (England)

Immerso Glamping by Fabio Vignolo

and Francesca Turnaturi (Italy)

FABIO VIGNOLO AND FRANCESCA TURNATURI

Outlandia by

Malcolm Fraser

Architects (Scotland)

MALCOLM FRASER ARCHITECTS

Mr Plocq's Caballon by Aurélie Poirrier (France)

CORENTIN SCHIEB, AURÉLIE POIRRIER

route through to achieving your goals.

In terms of an architect's fees, this will

depend on how an architect charges.

Sometimes this is based on a percentage

of the overall budget for a project.

However, from experience, where projects

may not have exact parameters at early

stages, fees are generally based on time

expected to be spent at each stage. Hourly

rates can vary but any architect will be

able to give guidance on this.

you meet a potential architect if they are the

right fit for you.

Remember these kinds of projects are

not generally straight forward, otherwise

everyone would do them. Firstly and most

importantly does the architect seem to be

excited by the project? Do they ask lots of

questions and give you the impression that

they are up for a challenge? If so put them on

the short list!

I would always advise that if you are

speaking to a number of architects try to

arrange an on-site meeting with each so

that you can talk face to face and that the

architect can fully appreciate the location.

Shop around. Speak to architects locally and

nationally if you see someone's work that

you like or feel that they might be a good fit

for your project!

Make sure to check that any architects

you are speaking to are registered member

of ARB (The Architects Registration Board).

Only qualified architects can be members.

Some people think that RIBA is the

professional body but associate members

who are not architects can still be members.

You can check if someone is a registered

architect on the ARB Register at www.

architects-register.org.uk. Another useful

website is the RIBA Find an Architect

website. This is a free to use website

where you can input a set of criteria and

your information will be sent to chartered

architects that might be the right fit for you

(www.find-an-architect.architecture.com).

FEES

The other thing to think about is the fee

and what services an architect is offering

at each stage. Ask for a breakdown – the

feasibility study stage, then onto planning,

then onto technical design and project

management. Fees will vary depending on

the complexity of the project, the location,

scale and the amount of written reports

the architect may need to do in addition to

the drawing and design work.

In many cases planners want to see

visualisations and a Design and Access

Statement (a report that supports a

planning application, illustrating the

process that has led to the development

proposal and explains the design) in

addition to the standard drawings. These

things can increase the architect's fees.

From my experience sometimes an initial

fee for a feasibility study to help establish

the scope of the project and some initial

concept sketches and fact finding is hugely

valuable to establish the next steps and

EXTRA PLANNING COSTS

It is worth remembering that there will

most likely be additional fees given

the nature of a potential site. Ecology,

tree and topographical surveys may be

required. Again, establishing this at an

early stage is very important.

Another issue that has been raised

on projects we have worked on is

accessibility to and around the site. Is

there a public transport route to the

site, is there vehicular access and, if so,

is there good visibility from the access?

Believe it or not these sorts of things

can be real stumbling blocks in making

your dream of glamping a reality with

planners.

Another very important tip is to consult

with the neighbours if you have them.

They will have concerns and if a planning

application is sprung on them without

notice they may be less likely to be

cooperative.

ABOUT THE AUTHOR

ADSDF are architects who both design and build. We love working on diverse

kinds of projects that are a challenge! We specialise in working in rural contexts,

converting old buildings and working closely with our clients to develop a project

from initial fuzzy thoughts through to a clear strategy.

We love to work holistically helping our clients to join the dots between planning, business,

budget and design. We are a family business – a husband and wife team, with both sons involved

in the business. We are designing for clients as well as building our own dream, converting an

old RAF military base into our future home. Follow ADSDF on Youtube at Home_from_a_ruin

38 WWW.OPENAIRBUSINESS.COM
---
Redefine

with our tiny

houses!

VOYAGER HOUSES UK Little Silver Quarry, Muddiford, EX31 4HQ

07470 004191 | info@voyagerhousesuk.com | www.voyagerhousesuk.com

FOR EVERY

SOIL TYPE

W

Specialists in sustainable foundations

for luxury accommodations

Galvanized in accordance

with DIN EN ISO 1461

High load-bearing capacity

Suitable for all ground conditions

Cost efficient installation

in minutes

Reusable foundation

Minimal disruption of

the soil environment

Contact us today: +44 154 885 9879 • info@firstbasegroundscrews.co.uk

WWW.OPENAIRBUSINESS.COM 39
---
2 - 3 NOV 2022

NEC BIRMINGHAM

THE DIVERSIFICATION & INNOVATION EVENT FOR FARMERS & LANDOWNERS

1000s

of idEAS TO MAKE

YOUR LAND MORE

PROFITABLE

500

SEMINARS

1000

EXHIBITORS

500

SEMINARS FROM

INDUSTRY EXPERTS

PLANNING

ADVICE

PRODUCT

LAUNCHES

OVER 1,000

INNOVATIVE SUPPLIERS

1-2-1

ADVICE FROM EXPERTS

TRY, TEST & SEE

THE LATEST PRODUCTS

MARKETING

TUTORIALS

LIVE

DEMOS

For EXHIBITING...

or sponsorship opportunities

please contact Reece Morris:

REECE.MORRIS@FORTEM-INTERNATIONAL.COM

+44 203 026 3765

REGISTER FOR

FREE TICKETS

FARMBUSINESSSHOW.CO.UK

RUNNING ALONGSIDE:

LEISURE F&B

EXPO 2022

2022

LEISURE

TRANSPORT SHOW

#FARMBIZ

COUNTRY HOUSE

BUSINESS INNOVATION
---
GLAMPSITES

MEET THE SUPPLIER

Get to Know…

Time to make some professional friendships – get to know the people behind the products!

Andy Huett

Director, Coir Store

07884 303082,

andy@coirstore.co.uk,

www.coirstore.co.uk

What does your company do?

Importer and supplier of coir matting

for glamping and events.

What makes your company's services

special?

All products are 100% natural and

chemical free. We aim to deliver as

fast as possible.

Describe yourself in 10 words

An ageing stoner who likes to travel.

How would your co-workers describe

you?

Fairly easy going, but can get wound

up at times.

Craziest thing you have done?

Rode 60,000km on a motorbike

around India.

We're in a bar – what do you order?

A pint of bitter and a daiquiri for the

lady.

Favourite animal and why?

Elephant. Large, impressive animal,

intelligent and placid.

Favourite current telly?

Sky Arts. Intriguing programmes

about bands and the making of classic

albums.

Teresa Jones

Teresa Jones

Director, Scandinavian Homes

0845 299 6337,

www.scandinavianhomes.com

What does your company do?

Highly insulated log holiday homes

ideal for all year use.

What makes your company's services

special?

Complete flexibility in design,

specification and construction.

Describe yourself in 10 words

Loves helping customers choose

what's right for them.

How would your co-workers describe

you?

Thoughtful, helpful and willing to ask

awkward questions.

Something nobody would know

about you?

Not many people know that I play

double bass with local orchestras.

We're in a bar – what do you order?

A pint of the best local real ale. If that's

not an option then a nice glass of

white wine.

Favourite animal and why?

Unfortunately no longer with us, our

cat, Ginger Biscuit, aka the company

Chief Morale Officer, as he would

always say hello to visitors.

Favourite telly?

I'm addicted to home makeover

programs!

Julie Friar

Director, Friar Best

Insurance Services

01394 383868,

www.friarbest.co.uk

What does your company do?

Specialists in advising on and

arranging insurance for glamping

holiday sites.

What makes your company's

services special?

Understanding the glamping industry

and associated risks for arranging

insurance.

Describe yourself in 10 words

Dedicated to providing the right

insurance for glamping site owners.

How would your co-workers

describe you?

Leaves no stone unturned when

something needs sorting.

Craziest thing you have done?

Any craziness has been with an

audience.

We're in a bar – what do you order?

Mojito or Bacardi with ginger ale

Favourite animal and why?

I love all animals and birds, but love

watching the cows and sheep in field

next to where I live.

Favourite TV show?

Vera – down to earth, clever and often

with a good moral message.

WWW.OPENAIRBUSINESS.COM 41
---
GLAMPSITES

MEET THE SUPPLIER

Get to Know…

Time to make some professional friendships – get to know the people behind the products!

Audrius

Novogreckis

Partner, Woodpecker Tubs

www.woodpeckertubs.co.uk,

07435 866929

What does your company do?

We offer a range of hot tubs and sauna

products.

What makes your company's services

special?

We are able to meet and exceed the

needs of our customers by ensuring

that we put their health and wellbeing

at the forefront of everything we do.

Describe yourself in 10 words

A family man wanting to treat people

like family.

How would your co-workers describe

you?

Energetic, enthusiastic with a real

attention to detail.

Craziest thing you have done?

Well now that would be telling – I just

love having fun! I love nature and

being out in the fresh air, I also like to

spend time with my family.

We're in a bar – what do you order?

I love beer and cocktails, so maybe a

blonde beer or a Cosmopolitan.

Favourite animal and why?

Elephant, because they are strong

and fearless but incredibly family

orientated.

Favourite TV show?

For me it has to be Stranger Things.

It is incredible viewing and a great

programme to get into. It's my type of

series.

Dirk McFarlane-

Aitken

Director, MAC Cabins

01837 357014,

www.maccabins.co.uk

What does your company do?

Largest supplier of glamping pods,

timber lodges, cabins and buildings.

What makes your company's services

special?

We can vouch that with every building

our customers will receive a structure

that has a higher standard spec than

most other comparable products.

Describe yourself in 10 words

Ambitious, hard-working, considerate,

an eye for detail and creative flair.

How would your co-workers describe

you?

Dirk is passionate about his customercare

and believes in his products.

Craziest thing you have done

Scuba dived in Egypt and convinced

the instructor I was a qualified diver

and three stone heavier than I actually

am, amazingly I am still here.

We're in a bar – what do you order?

A pint of ale.

Favourite animal and why?

Giraffe – as a child I had a very vivid

dream about a young giraffe that lived

in the woods behind our cottage in

Cornwall, called Liberty.

Favourite current telly

Gold Rush – because it shows that

sometimes life is a struggle but good

people prevail.

Alicia Whymark

Market development

manager, Portable Power

Technology

01474 761051,

alicia@portablepowertech.com,

www.portablepowertech.com

What does your company do?

We offer a wide range of off-grid

power options.

What makes your company's service

special?

We have a really personal and handson

approach with all our customers.

Describe yourself in 10 words

I'm a loud, friendly, passionate person

and I'm always late.

How would your co-workers describe

you?

I'm too scared to ask after six years

here! They'd definitely say I'm late.

Craziest thing you've done

I last minute booked to go to a music

festival with zero camping equipment

and no time to get any… Interesting

weekend.

We're in a bar – what do you order?

You can't beat a good gin and tonic.

Favourite animal and why

Tricky one! I have a cat and a dog so

my allegiances are very split there... I

always think narwhals look so cool.

Favourite current telly?

Succession. No question –

incredible TV.

42 WWW.OPENAIRBUSINESS.COM
---
S2T GRASS

REINFORCEMENT

PERFO

interlocking tiles - effective

protection for soft ground

Ideal for the reinforcement of

parking areas, access tracks,

pitches etc. at:

- camping & glamping sites

- open air event venues

- country & leisure parks

Tel. 01992 522797

www.perfo.co.uk

01453 767171

www.bondfabrications.co.uk

enquiries@bondfabrications.co.uk

British Design & Manufacture of Unique Bespoke Canvas Structures & Safari Tents

From our Gloucestershire factory Bond have served the British outdoor hospitality industry for over 30 years. With an emphasis on

client-led design, high performance technical fabrics alongside traditional British workmanship, Bond offer an unrivalled custom design

process to create unique, beautiful structures. From high luxury glamping locations to exclusive outdoor event experiences, we can offer

full CAD design support, exceptional quality and a personal service to create the image and identity your venue requires.

Call us to discuss your own project.

WWW.OPENAIRBUSINESS.COM 43
---
2022

BIGGER

THAN

EVER

Thurs 15 th - Sat 17 th

September 2022

NAEC, STONELEIGH PARK

Register now: www.theglampingshow.com
---
GLAMPSITES

PRODUCT IN FOCUS

Tents

The Sea Forts, Cornwall

Product: 20 bell tents

Supplier: Autentic, +32 55 50 17 64,

info@autentic.world, www.autentic.world

Details: Sea Forts is a wild coastal campsite

and wildlife sanctuary with breathtaking views of the Cornish

coast. Autentic supplied 20 bell tents, in a combination of

Moss, Roasted Pumpkin, Turmeric and Blue Lagoon in 5.2m

and 3.6m sizes.

Standing proud in the camping field, the tent colours

complement the landscape – the yellows of the gorse,

the reds of the local earth, the greens of the wild

grasses. A combination of aesthetic charm and

low visual impact within the site of historical significance

on a national level.

The tents are beautifully made with strong sturdy

canvas and attract a lot of positive comments and

attention from passers-by. Guests love their

spaciousness, feeling of warmth, safety and

luxury.

PRODUCT SNAPSHOT

Massive 8m Ultimate Pro

The Bell Tent Shop

07834 768348

thebelltentshop@gmail.com

www.thebelltentshop.co.uk

Our amazing 8m Ultimate Pro double

door bell tent is a huge 100% cotton

canvas tent with two A-frame doors.

The extra door gives you the option

of joining another 8m bell tent using

an awning to provide a second room.

The canvas is made of our 360gsm

heavy, breathable, waterproof

canvas and includes a bathtub style

floor and zipped in groundsheet,

allowing the side walls to be

rolled up to allow air-flow through

the tent. This tent is perfect for

camping in style, for large families

and gatherings. Perfect for the

serious camper and professional,

this tent comes with a 12 month

manufacturer's warranty.

WWW.OPENAIRBUSINESS.COM 45
---
GLAMPSITES

Meadow Field Luxury Glamping,

Warwickshire

Product: Two luxury safari tents (5.4m x 12.5m)

Supplier: Bond Fabrications, 01453 767171, enquiries@

bondfabrications.co.uk, www.bondfabrications.co.uk

Details: Based on a working farm in the peaceful Warwickshire

countryside, Meadow Field is immersed in nature with the

backdrop of a family run farm. Bond Fabrications has installed

two of its largest safari tents on the site to offer guests the best

combination of rural peace and exceptional luxury.

Owners Julianne and David Mold wanted to create a highluxury

finish for their guests. It was important to maximise the

beautiful views and give each tent room to breathe too. The tents

ordered were a custom size at 5.4m wide and 12.5m long – huge

structures that offer guests maximum space and luxury.

Bond worked closely with the couple to get the interior layout

just right, including a unique internal bathroom. Bond's team of

carpenters also constructed a custom deck and internal walls.

Bond is proud to be a true British manufacturer and takes great

pleasure in working closely with its clients.

Customer feedback: Site owner Julianne Mold said: "Having

researched the various safari tent options out there, we chose

Bond for their unique structures and the ability to bespoke

design each tent layout to suit our ideas. Michelle and Mike have

been very helpful with lots of valuable advice readily supplied.

"The carpenter they recommended was a real asset to

the project and his knowledge and experience in the tent

construction itself was invaluable. Our safari tents are still very

new, but we know that should we ever need any further support

in the future that the team at Bond will be there to support us.

"The wonderful feedback we have

received from our guests has

proved that we made the

right choice. We would

highly recommend Bond's

British manufactured

canvas safari tents,

especially if you are

looking for a truly

unique end product".

PRODUCT

SNAPSHOT

The Nova Air Dome

Boutique Camping

0203 319 1315

info@boutiquecamping.com

www.boutiquecamping.com

Boutique Camping's pole free Nova Air Dome simply

plugs in and pumps up in just 10 minutes.

Novas include large windows with external flaps for

redirecting rain pour and guy-rope free webbing straps.

Starting at 3m, it is the only tent of its size to comfortably

accommodate a double mattress due to the obstructionfree

internal living space. The range also includes a 4m

and 5m model with a sleeping capacity of eight.

Airy in both name and nature, the Nova Air Dome

is made from a lightweight polycotton canvas, which

at 200gsm has a lighter load and quicker drying time,

without compromising on the breathable and insulating

qualities. Boutique Camping's range of canvas tents is

treated with a water, UV and rot repelling agent so you

can achieve longevity no matter where you set up camp.

Authentic Mongolian Yurts

Mongolian Yurts UK

07974 139 078

info@mongolianyurts.co.uk

www.mongolianyurts.co.uk

These spectacular yurts

comprise handcrafted

Mongolian frames with

bespoke UK-made FWR Regentex canvas covers.

Available from 5m to a spectacular 19m diameter, the range

caters for all scenarios, from a cosy couple's retreat to a family

or group space sleeping up to eight people, or seating 35 for

dining. Also perfect as chill out spaces, for yoga classes and

more.

With beautiful detailing, these authentic yurts create

a unique, memorable accommodation for guests that

matures with age. With full height walls, lockable doors and

woodburning stoves, they create spacious civilised living

spaces.

46 WWW.OPENAIRBUSINESS.COM
---
NorthStar Leisure

The Wood Fired Hot Tub Specialists

Covers arranged

on all types of

accommodation

structures, site

facilities, and loss of

income in the event

of an insured

property damage

claim.

We offer great prices and exceptional customer service

All Inclusive pricing includes express delivery & set-up

northstarleisure.com

Solar Solutions to Lower Carbon and Energy Costs

Summer Special!

Save £25

THE SOLAR HOT TUB

HEATING SOLUTION

Let our award-winning solar collectors heat

your hot tub without breaking the bank

Why choose the SolarisKit HT100 Hot Tub Heating Kit:

• Easy DIY installation

• Lower your energy costs

• Low maintenance

• Easy-to-follow instructions

• Visually attractive and discreet

• 2-year Guarantee

• ISO 9806 EU Certified

• Eco friendly, lower your carbon emissions

Buy online at www.solariskit.com & save £25

on your order using code INTGLAMPING22.

Offer ends 31st July 2022.

As featured on

WWW.OPENAIRBUSINESS.COM 47
---
EVENTS

CASE STUDY

Irlam Live

Bringing the community together in Manchester over

four days in June

Irlam Live 2022 took place

over the four day Platinum

Jubilee Weekend from 2-5

June. Headline acts included

Marti Pellow, Bananarama, The

Feeling and N-Trance. We talk

to Darren Goulden.

Describe your event and how

many people it attracts?

We are a boutique family festival

with a unique atmosphere. We are

in our sixth year and attract 5,000

people per day over a four day

event.

Explain a bit about your venue

Our venue is a purpose built

amphitheatre (2011) in the heart of

Prince's Park in Irlam, Manchester.

The park has been an integral

part of the Irlam and Cadishead

community since the 1930s.

What is the event's history and

what made you decide to run it?

We have been running our event

since 2016, originally it was going

to be a food and drink festival

with tribute bands but the event

was adopted and supported

by the community and local

businesses which enabled us to

set our sights higher. The idea

came about as there was so little

going on in the area and the

annual summer fair had got to be

embarrassingly small and out of

date!

48 WWW.OPENAIRBUSINESS.COM
---
EVENTS

How did you research and source

your infrastructure?

We do research online and also

visit numerous events looking

for new suppliers and contacts.

We also network and attend the

Showman's Show. We have our

own bars and bar staff.

How does the relationship work

with the venue?

The venue is owned by Salford City

Council (SCC) and we have had our

differences regarding the amount

charged, but we are on a better

understanding after this year's

event.

How is your relationship

with the local authority and

community?

The local authority is SCC and our

relationship has been rocky but we

are OK now. Our relationship with

the local community however has

never been better. People have

taken our event into their hearts

and adopted it as their own. To

this end the local community is

very protective of the event.

How have you planned the

layout?

As the event has grown

massively the layout is done

"PEOPLE HAVE

TAKEN OUR

EVENT INTO

THEIR HEARTS

AND ADOPTED

IT AS THEIR

OWN. TO

THIS END

THE LOCAL

COMMUNITY

IS VERY

PROTECTIVE

OF THE

EVENT"

on a CAD drawing program to

scale. This forms part of our

event management plan. A large

stage, marquees, toilets, power

generators, seating and fencing

make up the infrastructure. We

use track matting for ground

protection.

How do you work with creatives

to make these spaces work?

We have a great creative team

and we have done our homework

to make sure we make the most

of the spaces provided. We use

Buddah Group for décor and

lighting.

What entertainment do you offer

and how did you choose and

source it?

We offer a myriad of

entertainment, from world

class artists to opportunities for

grassroot bands. In between we

have a silent disco, princesses,

dinosaurs, table tennis, football

goals and a funfair.

This year we kicked off on the

Thursday with 'Cool Britannia'

– the Queen's Platinum Jubilee

day – and some awesome tribute

bands including Real Magic Queen,

Revival Abba, Aladinsane (Bowie),

Take Off That, LMX (Little Mix) and

Tony Lewis as Robbie Williams.

We had lots of things happening

off stage too, including a fantastic

model-making workshop from

the Oscar-winning Aardman

Animations.

Friday generally has an indie feel

and we had leading Oasis tribute

band NOASIS headlining the

main stage for the second time.

Runaway Killers, Ultimate Stone

Roses, Bob Marley Experience,

Small Weller and Amy Winehouse

Alive also played. Off stage, we

had Chomp, the UK's largest T.Rex,

making a terrifying walkabout.

On Saturday we had Banarama

WWW.OPENAIRBUSINESS.COM 49
---
EVENTS

headlining the main stage along

with N-Trance, Brutus Gold's Love

Train, Abz Love from 5ive and Ben

from Phats & Small. The Feeling,

Heather Small, Nadine Coyle from

Girls Aloud, Hue & Cry and Doctor

and the Medics played on the

Sunday.

What provisions do you make for

power, lights and sound?

We bring in all our own power,

lights and sound each year – the

ban on red diesel has certainly

increased costs of the power for

the weekend.

How do you manage admissions

and visitor safety?

We have a dedicated security

team from Exclusec who manage

admissions and keep visitor safety

as the priority.

"WE HAD TO

MOVE OUR

EVENT FOUR

TIMES BUT

MANAGED

TO GET IT

AWAY IN

SEPTEMBER

2021"

How did you cope during 2020

and 2021?

We had to move our event four

times but managed to get it away

in September 2021. We received

no help at all, especially from the

likes of the Arts Council or, in fact,

anything from the government.

How do you publicise the event?

Through our social media and PR

channels. We have around 8,000

followers on Facebook.

What additional challenges have

you faced?

All the new criteria post Covid.

How have you financed the

event and how profitable is it?

We have had very little in the

form of grants over the six years.

Sponsorship, ticket sales and

running our own bars have helped

to finance the event. Profitability

improved after years 3 and 4.

What are your plans for next

year?

We are doing Irlam Live and two

new events in 2023.

What advice could you give

to someone coming into the

outdoor event industry?

Come and have a coffee and a

sit down and I could save you a

considerable amount of time and

money if you're thinking of getting

into events!

50 WWW.OPENAIRBUSINESS.COM
---
EVENTS

ADDRESS BOOK

MARQUEES

Big Tops www.bigtops.co.uk

North West Marquees

www.northwestmarqueehireuk.co.uk

STAGES

Showtec www.showtec.co.uk

DÉCOR & LIGHTING

Budda Group www.buddhagroup.

co.uk

HEAT & POWER

Euro Generators

www.eurogenerators.co.uk

BARS & CATERING

Joseph Holt www.joseph-holt.com

TOILETS

Nixon Hire www.nixonhire.co.uk

TICKETING

Universe www.universe.com

WI-FI & CARD MACHINES

Breath Payments Epos

www.breathepay.co.uk/smart-posand-epos

SECURITY

Exclusec www.exclusec.co.uk

INSURANCE

Event Insurance

www.events-insurance.co.uk

DETAILS

2-4 June 2023

Prince's Park

Liverpool Road

Irlam

Manchester M44 6BR

www.irlamlive.co.uk

WWW.OPENAIRBUSINESS.COM 51
---
EVENTS

Green Hydrogen

for Events

Vision: 2025 asks PlusZero's director of story, Mark Irving, about the

growing market for its green hydrogen portable power offer at events

In 2021, PlusZero ran series of trials for

its green hydrogen-fuelled generators to

power high-profile events as diverse as

COP26, the Edinburgh Festival and the

international Extreme E sports car rally

in Dorset. Fast forward to June 2022 and

the company hit the headlines with plans

to power Scotland's HebCelt Festival

at Stornoway using green hydrogen

produced locally on the Scottish Western

Isles.

Here Mark Irving updates us on the

learning from the trial events, what

makes green hydrogen green, the

results of PlusZero's research into public

perceptions, and why it is committed to

education on the efficacy of hydrogen as a

combustion fuel.

"Hydrogen's

potential as a

renewable energy

source across diverse

energy applications is

creating huge interest

worldwide. Green hydrogen

is forecast to meet up to

22% of total global energy

demand by 2050 with an

annual sales value of up to

$600 billion".

(INTERNATIONAL

RENEWABLE ENERGY

AGENCY IRENA,

JAN 2022).

WHY DO we need carbon-free power? Well,

$14bn is spent annually on diesel generators

worldwide, in sectors as diverse as outdoor

events, film location powering, construction

and back-up power, in fact anywhere where

portable (off-grid) power is needed. These

diesel generators burn 95bn litres of diesel

at a cost of $126bn and emit 250m tonnes

CO2e per annum.

In order to meet global net-zero targets we

need a carbon-free alternative. To achieve

this, PlusZero provides a fully integrated,

end-to-end green hydrogen solution:

production, distribution, operation.

WHAT IS GREEN HYDROGEN?

Green hydrogen is defined as hydrogen

produced by splitting water into hydrogen

and oxygen using renewable electricity.

PlusZero Energy is our green hydrogen

production and distribution business that's

already producing green hydrogen at our

Western Isles site. Using electricity produced

by locally sourced wind power, we convert

water into green hydrogen and oxygen

through a process of electrolysis. It's 'green'

because the wind power is fully renewable.

One of Scotland's great natural gifts is the

ready availability of wind, with the Western

Isles offering rapid scalability (between

1GW to 2GW) to become one of the biggest

production centres for green hydrogen in

Europe.

PlusZero Power is our clean power

business, bringing a modular range of

hydrogen-fuelled generators to the market

that replace polluting diesel versions (which

are often unregulated). The UK market

alone for portable diesel generators is

worth £0.5bn. Think of the CO2 and other

emissions we could prevent (and the air

quality we'd improve) if even a large fraction

of these were converted to work on green

hydrogen!

INTERNAL COMBUSTION ENGINE

FAMILIARITY

Our research has discovered that most

crews using portable power (whether

they're making the next Netflix series,

creating a major outdoor event or building

a new hospital) like to work with what

they know best; an internal combustion

engine (ICE). That's why our approach is to

produce generators using hydrogen-fuelled

combustion engines that work in almost the

same way as diesel ones, but without the

CO2 and NOX. Easy to learn, easy to use.

There's significant proven demand in the

UK, EU and GCC (Gulf) for the clean portable

power offer that green hydrogen provides.

The main limiting factor to scaling up the

business to enable us to respond fully to our

customer pipeline demand is the current

shortage of green hydrogen. That's why

we're also seeking investment to scale up

The 2022 HebCelt Festival uses green

hydrogen powered generators

HEBCELT FESTIVAL

52 WWW.OPENAIRBUSINESS.COM
---
EVENTS

our PlusZero Energy business to 50MW (first

phase).

PUBLIC UNDERSTANDING

A big issue is public recognition: while

investors are thronging around hydrogen,

people generally don't know much about it.

Therefore, we commissioned a report into

public perceptions of hydrogen in Scotland,

with some surprising results (younger

people are the least knowledgeable about

it, even though they are more likely to be

interested in environmental issues).

While lots of businesses in the renewables

space talk about hydrogen, very few of them

have delivered. We spent 2021 undertaking

a series of demonstrator trials of our green

hydrogen-fuelled generators to power

high-profile events as diverse as COP26,

the Edinburgh Festival, the international

Extreme E sports car rally in Dorset, and a

major Scottish government hosted event

at Edinburgh Castle. All were world firsts

in terms of using green hydrogen. That's

why our brand strapline is 'We're Making

Hydrogen Happen'.

A FESTIVAL FIRST

We learned a lot from doing these

events: understanding the challenges

of pioneering clean portable

power – from getting generators

ready to transporting them

and the green hydrogen to

site, to educating clients

and potentially sceptical partners about

the beautiful circularity and sheer efficacy

of hydrogen as a combustion fuel – formed

from water, its waste product is water.

And now we're powering the wonderful

2022 HebCelt Festival at Stornoway. We'll

be using our combustion-engine based

generators to provide clean power for the

event's Islands Stage for three days and

nights, powering 12 different acts. It will be

the first festival in Scotland to run a full stage

consecutively for the duration of a whole

event on green hydrogen.

HebCelt is right on our doorstep, so we're

really thrilled to be bringing clean portable

power to our neighbours – green hydrogen

power that's been produced on the Western

Isles. It's an important example of how

clean energy, when produced with the

consent of local community organisations,

can return its social and

environmental

benefits directly to local people. It's a

community-based solution with a global

footprint. What we're doing here can be

replicated across the world, and that's why

our ambitions are truly international.

WHAT ABOUT THE CARBON?

Let's not forget the core mission. Here's

one example. Based on figures provided

for diesel use at the last HebCelt Festival

in 2019, the use of our green hydrogenfuelled

generators will save over 1,000

litres of diesel use and over three tonnes

of CO2 emissions. This is approximately

the equivalent of 27 car journeys from

Edinburgh to Stornoway and back, based on

average mpg figures.

Imagine this replicated for every

outdoor event in the UK. And then at every

construction site, film location – anywhere

using portable power.

ABOUT THE AUTHOR

Mark Irving is director

of story for PlusZero, a

leading green hydrogen

clean power solutions

provider supporting the rapid

decarbonisation of sectors reliant

on diesel generators.

For more information, see www.

pluszero.energy and join PlusZero

in making hydrogen happen.

*This article originally appeared in the June 2022 Vision: 2025 newsletter.

WWW.OPENAIRBUSINESS.COM 53
---
EVENTS

Tent Waste

We talk to Dean Betts from Circular Camping about solutions to tent waste at events

GETTY IMAGES

TELL US ABOUT THE TENT WASTE

PROBLEM AT EVENTS AS IT STANDS

TODAY

Waste is inevitable at any event, and tent

waste is only part of the wider picture. The

reason for some camping equipment to

be abandoned is simply that it is broken

beyond repair, or it has reached the end of

its natural lifespan.

This does not explain the reason behind

the scale of the problem though, which

lies mainly in the fact that much of the

equipment being marketed to festivalgoers

is simply not fit for purpose.

Substandard products are

offered at seemingly bargain

prices, but the user experience is

so disappointing that many of these

low end items are eventually left

behind when the buyer realises that

they are of no further use.

THE CAUSES OF THE PROBLEM

There has been a race to the bottom

in terms of price and quality in the

camping sector in previous years, with a

wide range of discount retailers offering

discounted seasonal products. Camping

equipment needs to keep you warm, dry

and comfortable. With such low quality

production, the lifespan of these products

is very short.

We have been running campsite salvage

operations for over a decade now, and very

rarely find equipment in good condition

with a shelf price of over £100. Whilst

nobody has ever had a wonderful night's

sleep in a single skin pop up tent, every

year we have thousands of people going

to their first festival, and learning these

lessons the hard way.

Another aspect which influences the

amount of waste abandoned at events, are

practical considerations such as the size of

the event and the distance from the car to

the campsite. In simple terms, the further

you have to walk, the more likely you are

to abandon your equipment, especially in

bad weather.

Add to this the fact that you are

hungover, potentially wet and muddy,

with people around you also abandoning

their equipment, and you can see how the

problem begins to spiral.

CHANGING ATTITUDES

Some events, like Shambala, have an

incredible waste policy which rewards

customers for keeping the site tidy. There

is a culture of 'clean' there. The key is to

incentivise customers – free tickets and

drinks always help.

Other events are approaching this

retrospectively after years of negligence

and have an uphill battle on their hands.

Education is great, but it usually comes

54 WWW.OPENAIRBUSINESS.COM
---
EVENTS

in the form of posters and tweets. More

active, practical solutions are needed.

PRACTICAL SOLUTIONS

At Circular Camping we offer a full wrap-around

service to help events drive down campsite

waste, comprised of three main elements:

1. We provide pre-pitched tent hire, using

salvaged and reconditioned equipment. Every

tent that we hire out is potentially one less

going to landfill

2. We run a sustainable camping shop which is

focused on selling mainly salvaged equipment

at affordable prices

3. We then stay on site to run the campsite

salvage after the event, and accept donations

from people who have no further use for their

camping equipment.

Setting up donation/upcycling points and

incentivising customers to use these areas

is an easy win for events. It takes very little

investment, but helps to segregate the waste so

that it can easily be reused. Properly marketing

and then incentivising customers to use these

services is paramount.

In time, I believe that festivals will move

towards a model which sees a much higher

percentage of their audience staying in prepitched

accommodation as a way of limiting

the potential for abandoned tents. It is of

course another valued revenue steam for event

organisers.

TELL US ABOUT SOME OF THE EVENTS

YOU HAVE HELPED

Download Festival this year was the cleanest

that I have seen it in almost 10 years working

at the event. The sustainability team are doing

a great job of spreading the message and

supporting our operation.

Our shop there was stocked with all of the

"IN TIME, I BELIEVE THAT FESTIVALS WILL MOVE TOWARDS

A MODEL WHICH SEES A MUCH HIGHER PERCENTAGE

OF THEIR AUDIENCE STAYING IN PRE-PITCHED

ACCOMMODATION AS A WAY OF LIMITING THE POTENTIAL

FOR ABANDONED TENTS"

equipment which we salvaged from Creamfields

South, a festival which took place just a few days

before. It is the perfect example of creating a

circular economy within the festival industry,

which is what we are here to do.

When we left Download Festival, two days

after the event, I can confidently say that there

was not a single piece of good quality/reusable

camping equipment left behind, such was the

success of our salvage operation.

Download is a huge festival, and that is a

landmark achievement for us. With the support

of the organisers we can do much more to

further improve sustainability at that event and

assist them in their net zero vision.

To offer another example, we were called

in to operate the first ever campsite salvage at

Lost Village festival in 2020. On the back of a

successful first year, we pitched our tent-hire

service to them, and after two years this has

grown exponentially. The team that runs the

event has been great in terms of supporting

and helping to grow and advertise the service,

and they are seeing some great results in terms

of recycling figures and a reduction in carbon

emissions. Everything salvaged from Download

will be sold in our shop there.

ABOUT THE AUTHOR

Dean Betts formed Circular

Camping in 2013, looking for

a niche within the camping

industry. He is motivated to find

practical, professional solutions

to drive down camping waste. As the

business continues to expand, he is looking

forward to working with more like-minded

people within the industry who want to

take sustainability at their events to the

next level. www.circularcamping.com

FESTIVAL REPUBLIC

WWW.OPENAIRBUSINESS.COM 55
---
C RE®

EVENT-STRUCTURES

UNIQUE OUTDOOR

MULTI-LEVEL STRUCTURES

CALL NOW FOR A FREE QUOTE

T: 0845 299 6499 - E: sales@core-eventstructures.com

www.core-eventstructures.com

ADVERT-EVENT-STRUCTURES.indd 1 27/01/2022 12:07:22

TOPCAT

BIGTOPS

T E N TS & MA R Q U E E S

TOP CAT BIG TOPS manufacture & hire

out colourful Big Big Top Top style style Marquees.

Staffed by a crew of highly experienced

personnel with many years of in experience the

festival, in the festival, local authority, local authority, educational educational &

corporate & corporate fields. fields. We We can can supply supply small small

to

to

large

large

colourful structures built

built

by

by

our

own craftsmen, that can withstand

our own craftsmen, that can withstand

extreme UK weather conditions.

extreme UK weather conditions.

01654 700030/07599 882654 Email: info@topcatbigtops.co.uk Web: www.topcatbigtops.co.uk

t: 01654 700030

07956 878157

e: info@topcatbigtops.co.uk

w: www.topcatbigtops.co.uk

56 WWW.OPENAIRBUSINESS.COM
---
EVENTS

MEET THE SUPPLIER

Get to Know…

Time to make some professional friendships – get to know the people behind the products!

Josh Heyburn

Managing director,

Festivall Services

01144 055044, www.festivall.services

What does your company do?

Quality temporary event staffing to

festivals, festive events and more.

What makes your company's services

special?

We connect people but, more

importantly, we care about our people.

We provide high welfare standards, are

eco-conscious and pay the living wage.

Describe yourself in 10 words

Brave, fearless, tough, trustworthy,

daring, faithful, understanding, wellmannered

and positive (I just did a quiz

to generate this).

How would your co-workers

describe you?

Great on a good day, avoid on a bad day.

Something nobody would know

about you?

I have such a big LEGO collection that

I've had to start storing it in a secure

container as the house was getting

too full.

We're in a bar – what do you order?

Is it happy hour? If so, Long Island Iced

Tea x 2! If not, what ales or ciders are

on tap?

Favourite animal and why?

Pandas are my spirit animal; they

symbolise underlying strength. They

also sleep a lot and can be very clumsy

– I can relate!

Favourite current telly?

I'm so far behind on TV, but that's what

happens when you form a company

I suppose. I'm dying to catch up on

Stranger Things (no spoilers!).

Ryan Taylor

Marketing and sales

coordinator,

All Weather Access

01371 700510,

info@all-weatheraccess.co.uk,

www.all-weatheraccess.co.uk

What does your company do?

Provide temporary access and ground

protection.

What makes your company's services

special?

We provide an efficient and tailored

service to businesses and individuals

across the UK.

Describe yourself in 10 words

Enthusiastic and motivated with a drive

to succeed.

How would your co-workers describe

you?

Excited, passionate and has a friendly

nature.

Something nobody would know

about you?

I have travelled all over Europe and

lived in Germany for five years.

We're in a bar – what do you order?

Double vodka Red Bull.

Favourite animal and why?

Dogs due to their loyal and loving

nature.

Favourite TV show?

Money Heist, I was hooked from the first

episode.

Tom Wilkes

Director, Alternative

Stretch Tents

01920 830256,

info@alternative-stretch.co.uk,

www.alternative-stretch-tents.co.uk

What does your Company do?

Hires, installs and sells gorgeous,

premium grade stretch tents.

What makes your company's services

special?

Meticulous attention to detail with a

'can do attitude' and a friendly bunch

of riggers!

Describe yourself in 10 words

Currently hot, it's 40 degrees!

Hardworking boss = hard working team!

How would your co-workers

describe you?

Driven, ambitious with an annoying eye

for detail!

Craziest thing you have done?

Most probably classified.

We're in a bar – what do you order?

Demi panache (French shandy!)

Favourite animal and why?

Other than our black lab it's got to

be chickens! amazing adaptors,

surprisingly clever and my first business

at nine years old.

Favourite current telly?

Not too much time for that but probably

Gold Rush or Rolling Stones Rock n

Roll Circus.

WWW.OPENAIRBUSINESS.COM 57
---
EVENTS

PRODUCT IN FOCUS

Infrastructure

Jubilee Celebrations, London

Product: Projections and searchlights

Supplier: EMF Technology, 020 8003 3344, info@

emftechnology.co.uk, www.emftechnology.co.uk

Details: EMF was proud to be involved supplying

video projection mapping services for the Queens

70th Jubilee weekend. The company was contracted

to supply large scale technical video projections and

searchlights across the façade of Royal Horse Guards

Parade, London

Using three, 30,000 lumens Christie projectors, EMF

created blended video mapped projections across

the façade of Royal Horse Guard Parade. Nine high

powered searchlights were also used to complement

the Jubilee events at Horse Guard Parade and

Buckingham Palace.

The artwork was created in-house by EMF's

content producers to the clients requirements.

Due to the sensitive nature of the locations, all equipment

had to be placed within a high security area, which created a

few challenges, but luckily the team is experienced at

challenging and innovative events.

58 WWW.OPENAIRBUSINESS.COM
---
Goodwood Estate,

West Sussex

Product: iCONIC 100 mobile

LED screen

Supplier: ADI, 0800 592 346,

info@adi.tv, www.adi.tv

Details: For the world-famous

Goodwood Festival of Speed, ADI

supplied a site-wide mobile LED

solution to help engage, entertain

and inform the thousands of visitors

that attended. For the 2019 event this

included a large, high resolution 100m

mobile screen for Sky's outdoor cinema,

with ADI specifying the ideal display for the

audience size and viewing distance, along

with audio and technical support.

The venue is set in 12,000 acres of West

Sussex countryside and plays host to some

of the UK's most prestigious live outdoor

events including Goodwood Revival and

Qatar Goodwood Festival.

ADI's iCONIC range of mobile LED

screens feature at outdoor cinemas and

live events across the UK, providing costeffective,

yet high impact solutions that

boast swift set-up times and unrivalled

stability. ADI has worked on outdoor

cinema projects at a variety of venues

including Castle Howard, Loch Lomond,

Lytham Beach, Alnwick Castle and

Trafalgar Square.

Feedback: ADI has worked with

Goodwood for over five years to supply

large LED screens to suit particular event

concepts and activations across the site.

By working with ADI, Goodwood has

access to the world's largest, highest

resolution fleet of mobile LED screens,

in addition to ancillary services like

video distribution, production, outside

broadcast and branding that help deliver a

seamless event.

Coombe Abbey,

Warwickshire

Product: IMA 150 indirect

oil fired heater for the main

marquee and an IMA 61

heater for the marquee

extension

Supplier: Thermobile,

02476 357960,

andy@thermobile.co.uk,

www.thermobile.co.uk

heating this area. The structure is in use 52 weeks of the year

so it is important guests are comfortable throughout the

colder months. The heaters have been reliable with

excellent digital information to monitor output

air temperature, and technical advice is readily

available and much appreciated."

Details: Coombe Abbey's

large semi permanent

marquee from Umbravilia

Marquees has a seating

capacity of 500 and, at 45x15m

(plus extension), requires some

thought as to how to heat. Following

a consultation with the venue owners,

Thermobile recommended overhead heat blown in through a clear

PVC duct, which prevented hot spots and provided the circulation

of warm air. Exit holes were positioned in the duct to direct the hot

air evenly around the large structure.

The indirect oil fired heaters selected for both the main marquee

and the extension offered efficient use of fuel with consumption of

14.8 litres per hour and 6.5 litres per hour respectively.

Customer feedback: : "We have worked with Thermobile for

15 years so were very confident in taking advice from them for

WWW.OPENAIRBUSINESS.COM 59
---
EVENTS

Drive-through Cinema, Beaconsfield

Product: 1,208 Euromats

Supplier: All Weather Access, 01371 700510,

info@all-weatheraccess.co.uk,

www.all-weatheraccess.co.uk

Details: The popularity for drive-through cinema

has soared in recent months, with products from All

Weather Access proving popular among organisers. All Weather Access's

temporary roadway is part of the basic infrastructure required for such

events, enabling cars to traverse the grass fields such events are invariably

located in.

All Weather Access was contacted by an events company regarding a

specific site in Beaconsfield – a grass field by a motorway. Operations

manager, Dudley, attended the site and assisted with the creation of a

workable layout and plan for the enormous cinema ensuring safe vehicle

flow in and out and avoiding anyone getting stuck.

The client decided on medium duty Euromats. This gave a cost saving

over the alternative Tufftrak roadway and was more than adequate for

the traffic which would be cars rather than heavier vehicles. Euromats can

also be moved by hand if required, allowing for last minute alterations if

necessary.

The 1,208 Euromats were installed over two days and were left down

for just over four weeks. This enabled the events company to squeeze in

a staggering amount of evening film viewings, which really did help the

financial viability of the project.

Feedback: The company were extremely pleased with the products All

Weather Access supplied and the team's work ethic and professionalism.

They hope to use its services again in the future.

PRODUCT SNAPSHOT

Self-powered Solar Lighting

Tower

MHM Group

08081 689099

sales@mhm-group.co.uk

www.mhm-group.co.uk

MHM Group's innovative Street-

Lite is a standalone, self-powered

solar lighting tower, that is

completely diesel and engine

free. Developed to reduce

carbon emissions and energy

consumption at events across the

UK, the Street-Lite is very simple

to use and easy to set up.

The lighting tower features

an integrated AGM (absorbed glass mat) sealed-led battery and has

no complicated wiring or fixings. The battery is charged via its highefficiency

solar panel which will operate in most weather conditions.

Uniquely, the Street-Lite is fitted with an automatic movement sensor

that dims the light when it detects no movement and increases light

coverage when motion reappears, for safety and improved surveillance.

The Street-Lite's batteries are charged via a 175kW solar panel and can

run up to 13 hours in a single charge. The lighting tower has many of the

attributes of a standard diesel-powered set, with the exception that it

runs entirely from a combination of solar/battery power.

Zero Waste Flexible Event Structures

CORE Bar and Event Hire

0845 299 6499

sales@core-barandeventhire.com

www.core-barandeventhire.com

The MESR-Technic structure from CORE Bar and Event

Hire takes advantage of the extensive benefits of

carbon fibre and carbon fibre composite materials.

Create structures for almost any outdoor or even

indoor event, with multiple levels and numerous

shapes and configurations.

Infinite flexibility means endless possibilities.

These structures are modular and adaptable, light

enough to be transported and assembled by a small

team, yet strong enough to provide a festival stand or

community space for those events that need it most.

Fully assembled within a few hours, MESR-Technic

provides quick and safe solutions with a zero waste

philosophy.

60 WWW.OPENAIRBUSINESS.COM
---
SUPPLYING THE EVENT INDUSTRY

CROWD CONTROL & POLICE MET BARRIERS,

TEMPORARY FENCE & HOARDING PANELS

Working in connection with

LPH Concerts & Events | Leicester City Council | VW Music

MSV Donington Park | LOROS | Leicester City Football Club

We can also provide a full service of delivery, install,

de-rig and collection. Nationwide service available.

NO JOB TOO SMALL

www.redherringeventservices.co.uk

charles@redherringeventservices.co.uk

01652 640 426 07860 950 894

5 Woodpecker Way, Kirton in Lindsey, Gainsborough, Lincs. DN21 4FD

Registered in England and Wales No 6033966 VAT 897 8620 52
---
Spot light

A roundup of products for the outdoor hospitality industry

ALL NATURAL HALF-MOON MATS

Coir Store

07884 303082

andy@coirstore.co.uk

www.coirstore.co.uk

Coir Store is an importer and

purveyor of premium quality

coir matting for the glamping

and marquee hire sectors. Coir

flooring products have been used

for centuries due its durability,

longevity and for being naturally

flame resistant. All products have

been flammability tested and

certified by UKAS to BS 5287:1998/

BS 4790:1987.

Constructed from 100%

unbleached and natural Vycome

yarns in a Panama weave, each

half moon is hemmed on the

circumference edge and double

machine stitched.

Available in nine sizes, from 3.6m

to 7m diameter, Coir Store provides

free delivery on all orders within

the UK mainland.

LOG HOMES FOR EVERY

OCCASION

Scandinavian Homes

0845 299 6337

homes@scandinavianhomes.com

www.scandinavianhomes.com

A Scandinavian Homes log

cabin gives you top quality

accommodation for your guests,

suitable for use year round –

whatever the weather! Cool in

summer and warm in winter, a log

holiday home brings the beauty of

nature inside. Easily customised,

our wide range of models can be

designed specifically to suit your

target market.

Log buildings are great for other

uses too, such as cafes and event

spaces. Contact us today to discuss

your holiday lodge, mobile home or

other log building plans.

CONCRETE ALTERNATIVE

FIRST BASE Ground Screws UK

01548 859879

info@firstbasegroundscrews.co.uk

www.firstbasegroundscrews.co.uk

Sustainability is in many people's

minds and, in the context of

foundations, minimising the use

of concrete is a priority. Ground

screws are a high-quality alternative

to concrete and are perfect for

structures such as pods, cabins

and lodges, even in poor ground

conditions and on slopes. Add

in their re-usability, speed of

installation, long lifespan and low

impact on the soil environment you

have a very effective, stable solution

for your foundations.

FIRST BASE Ground Screws UK

provides a friendly, professional,

wraparound service, from initial

advice and ground testing to

package tailoring, project support

and installation using a national

network of installation partners.

BUILT TO IMPRESS

Rural Accommodations

01524 792633

logcabinworld@btinternet.com

www.logcabinworld.co.uk

Rural Accommodations is one of

the UK's leading suppliers of log

cabins and chalets for domestic

or commercial use, all with a

distinctive style.

The company is now delighted

to introduce bespoke hand

built shepherds huts, A-frames

and pods to its ever increasing

portfolio, all to the very highest

standard. The perfect business

opportunity, additional living space

or for catering, our structures are

available in various sizes, painted

and decorated throughout in a

colour of your choice and ready to

furnish.

All structures are fully insulated

with 240V electrics, double sockets,

lighting, double glazed windows

and laminated flooring.

62 WWW.OPENAIRBUSINESS.COM
---
PERFO GROUND REINFORCEMENT

SYSTEM

S2T Group

01992 522797

www.perfo.co.uk

S2T Group's PERFO range of

ground protection products

comprises a system of interlocking,

self-anchoring permeable plastic

tiles which are embedded into an

existing surface, eg. a mature grass

area or prepared base consisting of

a layer of crushed stone chippings,

depending on the application.

A number of light to heavy duty

solutions are available to suit

varied ground conditions, traffic

profiles and loading requirements.

Unlike other geogrid systems,

PERFO tiles are usually installed

without the need for excavation,

being compacted directly into

the existing surface using rollers

or compactor plates. Installation

is therefore rapid and planning

issues less problematic.

HOT TUBS WITH CUSTOM OPTIONS

Woodpecker Tubs

07435 866929

info@woodpeckertubs.co.uk

www.woodpeckertubs.co.uk

Whether you are in the wilderness,

at a holiday retreat or at home

relaxing, Woodpecker Tubs can

reach the furthest outposts to give

you the ultimate experience in

relaxation, health and wellbeing.

Offering high quality hot tubs

from the Ofuro model through

to the Elite (with many new add

ons), Woodpecker Tubs meets the

needs of our customer base, which

are both wide and varied in their

nature!

In addition to the hot tub range, we

also offer saunas. To view our full

range of products and options visit

www.woodpeckertubs.co.uk

Classified Directory

C RE®

BAR& EVENTHIRE

STYLISH CUSTOMISABLE BAR RENTAL

01453 767171

www.bondfabrications.co.uk

enquiries@bondfabrications.co.uk

DRY HIRE OR FULL SERVICE

T: 0845 299 6499 - E: sales@core-barandeventhire.com

www.core-barandeventhire.com

Advert - small.indd 1 16/04/2021 16:04:43

WWW.OPENAIRBUSINESS.COM 63
---
Classified Directory

TIMBER INTENT LTD

01297 444416 • mail@timberintent.co.uk • www.timberintent.co.uk

tensile fabric structures • standard and bespoke

architecture • design • planning

01654 700030

07956 878157

www.topcatbigtops.co.uk

Colourful

BIG TOP STYLE MARQUEES

MANUFACTURE

FOR SALE OR TO HIRE

Finman

Glamping

Cabins and

BBQ Huts

NorthStar Leisure

The Wood Fired Hot Tub Specialists

NORTHSTARLEISURE.COM

From

£4,992

UNIQUE • QUALITY • CUSTOMISABLE

01389 887205 www.logspan.com

64 WWW.OPENAIRBUSINESS.COM
---
PEOPLE

Behind the Scenes with…

Christian Kremer

Behind the scenes with the man behind the screens…

We talk to the founder and managing director of The

AIRSCREEN Company

Describe your role

Well, I run the company, so my

responsibilities pretty much cover

everything. But I do have great colleagues

that keep a lot of details away from me. Or

do you mean me as a dad? That's another

story. My kids might tell you something

about my role!

What is your background?

I was born in 1971 and grew up a small town

in northern Germany. Two of my uncles

were cinema owners. So, there is movie-

DNA in my blood I guess.

My life changed forever when my uncle

met Günter Ganzevoort, the inventor of the

world's first inflatable movie screen at a

cinema convention. With this world novelty,

we started organising open-air cinema

events all around northern Germany.

After I finished my university career

in Germany and Spain with a master's

in international business studies, we

professionalised the company, built around

the AIRSCREEN product.

Now AIRSCREEN is a world-renowned

brand for high quality inflatable movie

screens made in Germany. It helped that

movie premieres and film festivals used

(and use) our products. Will Smith, Robert

De Niro, Steven Spielberg, Harrison Ford –

so many actors and directors have stood in

front of an AIRSCREEN to present their films.

Give us an idea of your daily routine

I am pretty much like an electron whose

position in space is hard to describe.

Heisenberg might help. Sometimes in the

office building in Münster, working in our

warehouse, in the factories, at our clients'

events, with the family in Berlin… Thank

God I have a special rail pass that covers all

this!

Any upcoming exciting projects?

Many things! Right now, we are in our peak

season and again AIRSCREENS are the 'must

have' product for this summer. We will

employ more people by the end of this year.

Great events are coming up like an

open-air movie premier on the Montjuic

in Barcelona and a friend and AIRSCREEN

user in southern France will be setting up

a screen in a Roman amphitheatre. I love

when architecture and the event match! A

customer in Singapore wants to organise

the biggest crowd ever for an outdoor movie

event with multiple AIRSCREENS and Michael

Moore will be screening films on a gigantic

AIRSCREEN at the shores of Lake Michigan

by the end of July. There is amazing stuff

coming up in many parts of the world.

What are your main challenges?

To keep cool. Work theoretically never

ends, we work all around the Earth in over

130 countries. But of course we have many

partners who support us with AIRSCREEN

rental and sales. Personally, you have to find

a balance between work and the other things

in life that are valuable like family, time to

relax and holidays. If you don't step back

sometimes, I think your body will suffer in

the long run. For sure, your family would.

I sometimes try to take a longer break

to get new inspiration and a different

perspective. What always helps is a bicycle

WWW.OPENAIRBUSINESS.COM 65
---
PEOPLE

trip. I do this typically once a year where I

take let's say 14 days off and go (alone) with

my bike to a distant point in Europe. If there

are Alps in between me and my goal, even

better. These are memorable experiences

that help me to feel nature and life as such.

I love it! And of course in the slower season

(November to February) I typically take

some time off with the family. We enjoy

being by the sea. Looking at an ocean is the

best meditation.

Give us a stressful situation that you've

overcome

Well, some years ago we set-up a giant

screen (100ft or 30m wide) at the birthplace

of James Dean in Indiana, USA. It became

stressful because a hurricane came our way.

We had to quickly deflate the AIRSCREEN

and secure it on the ground with steel

ropes. Then we hid in a truck and it felt a

bit like when Judy Garland got sucked up

by the wind hose in "The Wizzard of Oz".

The truck was shaking, and I thought: "This

is the end!". But when the sky suddenly

turned from green to blue again, we found

ourselves still on the airfield where the event

took place. Thank God our improvised tie

for the AIRSCREEN did the job, so nothing

was destroyed or harmed. The next day, the

show went on.

How does your team work together?

My employees are like friends to me. Most

important in any kind of relationship is

mutual respect. If we reach a goal, we

celebrate together. I let them participate on

the company's success with bonuses, so we

all can feel proud and happy in what we are

doing.

"IF WE REACH

A GOAL, WE

CELEBRATE

TOGETHER.

I LET THEM

PARTICIPATE

ON THE

COMPANY'S

SUCCESS WITH

BONUSES, SO

WE ALL CAN

FEEL PROUD

AND HAPPY IN

WHAT WE ARE

DOING"

What are you most proud of?

We installed the world's largest AIRSCREEN

on St. Mark's Square in Venice for a movie

premier during the film festival. When (baby)

Maddox on Angelina Jolie's arm boxed

against the AIRSCREEN (and hopefully

felt the strength of the frame) that was a

situation I cannot forget and yes, it made me

proud.

Generally I feel pride that we inspire

people in many parts of the world to get

creative with cinema, showing great films

on giant screens under the stars. Inflate

an AIRSCREEN, put up some sound and a

projector and be the director of your own

cinema. To see those hundreds or even

thousands of guests coming to an open air

event makes me deeply happy.

Please tell us why you love your job

I can't think of much nicer work. We only

work with great people who live for the

arts, who love movies and outdoor cinema.

These folks are just amazing and keep

on developing new event ideas with our

products. It never gets boring, and I am

looking nearly 30 years back! Not a single

day!

ABOUT THE AIRSCREEN COMPANY

The AIRSCREEN Company has developed and

sold inflatable movie screens for much more

than a decade and offers a worldwide service

partner and rental network. The company

hit the world record for the largest inflatable

cinema screen on Earth (130ft width) and

continues to amaze customers in over 130

countries with its innovation.

The AIRSCREEN Company is situated in

Münster, Germany, in between Dortmund and

Bremen, and its screen are made in Germany.

DETAILS

The AIRSCREEN Company

GmbH & Co. KG

+49 170 77 55 969

kremer@airscreen.com

www.airscreen.com

66 WWW.OPENAIRBUSINESS.COM
---
Take advantage of the growth in staycations and construct a luxury log holiday home.

Spacious, warm, welcoming and beautiful, a genuine log holiday home will generate year round income.

You'll be able to provide holidays that your customers will remember, and book again and again.

0845 299 6337 / INFO@SCANDINAVIANHOMES.COM

WWW.SCANDINAVIANHOMES.COM/SELF-BUILD-HOLIDAY-HOMES