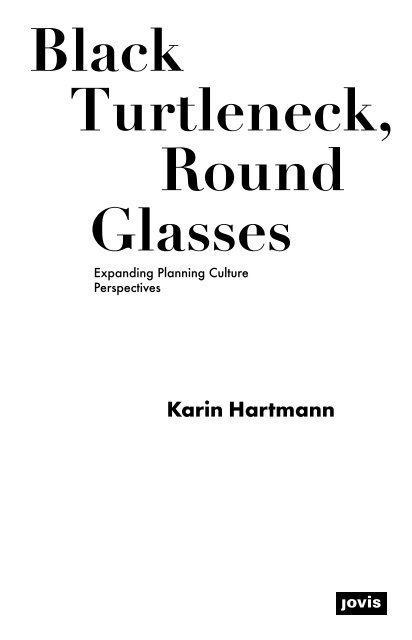 Black Turtleneck, Round Glasses
ISBN 978-3-86859-730-1
ISBN 978-3-86859-730-1
SHOW MORE
SHOW LESS
Create successful ePaper yourself
Turn your PDF publications into a flip-book with our unique Google optimized e-Paper software.
Black

Turtleneck,

Round

Glasses

Expanding Planning Culture

Perspectives

Karin Hartmann
---
4
---
5
---
Content

Foreword 9

Young Women and Young Women Architects 13

The Atmosphere in Architecture 15

Structural Disadvantages 15

Office Structures 19

The Self-Employment Alternative 20

Old and New Tasks 20

Becoming a Mother as a Watershed Moment 23

The Part-Time Box 24

The Limits of Childcare 25

Individual Decisions 26

The Perception of Female Architectural History 29

A Question of Relevance 30

The Legacy and Its Perception 33

Repression 34

Concern about One's Own Genre 37

Female Architects as Avantgarde 38

White Men as an Institution 41

Reappraisal 42

6
---
Black Turtleneck, Round Glasses 45

From Lone Genius to Star 45

Insignia and Privileges 48

Being a Woman Architect and Being a Woman 50

Individual Decisions 52

Cultural Change in Sight 53

Learning Architecture 57

Initiation Rituals 58

Learning through Imitation 59

Change in Teaching 60

Calling without Theory 62

Do Women Design Differently? 67

The Poelzig Family Home Office 68

Care 70

Designing without Context 73

Criticism of the City Now 73

Jane Jacobs and Robert Moses 74

New York 76

Barcelona 77

Vienna 78

Influences from Europe and around the World 78

Public and Private Spaces 89

The Space That Remains 90

Places for Girls and Young Women 91

Schooling Perception 93

A Self-Reflexive Professional Discourse 101

Media as Loudspeakers 102

Countermovements 104

Exhibitions 107

Ambivalent Competition Culture 107

Award Procedures 109

Women's Networks 110

Parallel Structures 111

In Conversation with Afaina de Jong 117

Perspective 127

Glossary 128

Endnotes 134

Bibliography 148

Acknowledgments 155

Image Credits 156

Colophon 160

7
---
Young Women and

Young Women Architects

13—27

"I wasn't a feminist. But after entering

the architecture profession, I became one." 1

Anna Heringer, Studio Anna Heringer

After graduation, architecture students can expect to encounter

excellent opportunities on the job market. The industry is booming,

and good people are in demand. It's very likely that they will be

able to pursue the profession in a fulfilling way, develop their skills,

and advance to a leadership position. The trend shows, however,

that after entering the profession, the careers of male architecture

graduates tend to follow a different path than that of their female

colleagues—despite having the same qualifications. Since 2006 more

women than men have been graduating from architecture programs.

Even so, they are less likely to pursue a career in the profession and

more often remain in non-leadership positions. They earn less and

are promoted less frequently. In many cases, they turn their backs on

architecture altogether in the course of their professional career. Or,

alternately, they opt for non-construction architecture-related areas

and take up positions in specialist media, foundations, associations,

or mid-level teaching. This development, and the prognosis concerning

female graduates, increases the professional opportunities that

are available for male graduates. Statistically speaking, their female

colleagues don't represent much competition. On the contrary, the

prospective dropout of women graduates only seems to improve

their career prospects.

13
---
Why is that? After all, gender equality legislation has been in place

for a long time. Although urban planning has been preoccupied

with the issue of women architects' invisibility since the 1970s, the

effects have remained the same: women architects are less likely to

gain a foothold in the architectural profession, often remaining stuck

in mid-level positions. While investment in diversifying the STEM

subjects (science, technology, engineering, mathematics) is intended

Registered

Women

Architects

Women

Graduates

100%

60%

50%

40%

%

21%

23%

35%

0%

1995

2000

2005

18

2010

2015

2020

Fig. 1: Women graduates in architecture versus registered women

architects 1995–2020

Source: Federal Chamber of German Architects/Federal Statistical Office of Germany H201/

Kaufmann/Ihsen/Villa Braslavsky 2018/Analysis: Karin Hartmann/Infographic: PAPINESKA

14
---
to motivate women to study in these fields, keeping them in the profession

seems to be an additional problem in architecture.

The Atmosphere in Architecture

According to the 2020 statistics published by the Federal Chamber

of German Architects, women make up 35 percent of the country's

employed or self-employed registered architects. 2 Only 28 percent

of the professorships in architecture are held by women. More than

half of women architects, but only one quarter of male architects,

work in a non-managerial position, be it in architecture or urban

planning offices, public service or business economics.

At the European level, the percentage of women architects has

increased in the last decade. According to the Sector Study by the

Architects' Council of Europe, the number of women architects in

Europe increased from 31 percent in 2010 to 42 percent in 2020.

This is an astonishing development, which is chiefly a result of the

very high proportion of women architects in Serbia, Croatia, Sweden,

and Poland. 3 One percent of respondents described themselves

as non-binary or preferred not to comment on their gender. 4

Structural Disadvantages

According to the study Frauen in der Architektur (Women in architecture)

by the Technical University of Munich, both sexes are very

satisfied with their choice of study and engrossed in their subject. 5

What happens then with the well-educated women university graduates

afterward? Time and again, they are hit by a kind of "practice

shock" after starting their jobs. It's likely that, like many disadvantaged

people in other fields, they experience structural discrimination

when they enter the labor market. Very little data is available for

Germany and Europe on the extent and systemic nature of structural

discrimination against women and marginalized groups in the

architecture sector. In North America, there is a great deal more

information available. Whereas in Germany the degree of discrimination

in the mainstream has been, at best, only partially recognized,

in the United States differentiated data on gender- or race/

15
---
entirely to his vocation, and the assumption that architecture can

only be done full-time, may lead young women to anticipate that it

will be difficult to reconcile family and career in the profession.

Currently, women can live better on a widow's pension than on the

pension accrued for paid work they perform during their lifetime—

assuming their marriage has lasted. 18 This trend will come to an end

in a few years since women's employment has increased significantly,

as Jutta Allmendinger, president of the WZB Berlin Social Science

Center, shows in her book Es geht nur gemeinsam! (It can only work

together!): whereas the employment rate for women in the German

Empire since 1882, and in West Germany until German reunification,

was between 35 and 50 percent, it rose to 72.8 percent after

1989. The proportion of employed women has thus almost doubled

in a good thirty years. In 2018 it differed only 8 percent from the

employment rate for men, at 80.5 percent. Allmendinger sums up:

"While little has changed for men in terms of gainful employment

in mid-life over the last hundred years, women have massively

transformed their lives. They have taken up gainful employment,

supported their family financially, and considerably strengthened the

economy." 19

Parallel to this development, however, the distribution of care work

has hardly changed. The gender care gap is on average 52.4 percent.

If children are living in the household, women perform 83.3 percent

more unpaid care work than their partner—which is equivalent to

a daily time expenditure of 2.5 hours. 20 The desire for professional

self-fulfillment is becoming increasingly important to young women—but

often leads them directly into the so-called second shift. 21 If

they become mothers, they very likely also take on mental responsibility

for all the family's processes, the mental load, 22 a de facto

second job that in many cases induces exhaustion.

The German government's family policy incentives have certainly

supported the institution of marriage for decades, but not spouses

themselves in equal measure. In its 2016 study Mitten im Leben

(In the midst of life), Germany's Federal Ministry for Family Affairs,

Senior Citizens, Women and Youth described spousal tax splitting,

22
---
noncontributory co-insurance coverage, and mini jobs as an "existential

threat" for families and as "promoting dependency" for

women. 23 After all, and despite all good will, roughly a third of marriages

in Germany end in divorce. Or, as the divorce attorney Helene

Klaar puts it: "for men, divorce is a financial problem, for women it's

an existential one." 24 In this sense, any couple planning to start a

family would have to deliberately ignore the family policy incentives,

and that for each life decision, in order to make the "right" choice

for both spouses in the long run, and to avoid false incentives that

may have an effect later down the line. 25

Becoming a Mother as a Watershed Moment

Against the backdrop described above, be it socialization, professional

culture, or family policy, there is much to suggest that planning

for motherhood or the birth of one's first child becomes a make-orbreak

point in the professional biography of women architects. On

the one hand, architecture is rather inhospitable for parents with

care tasks because of its narratives; on the other hand, they and

especially single parents simply no longer have the time for the

time-consuming professional hobby of architecture. This realization

comes as no surprise in the course of their working lives; instead,

it seems to be an implicit part of the professional culture from the

outset. According to a 2014 study by Architects Journal, 88 percent

of women think that being a mother has a negative impact on their

career, the same goes for 63 percent of men. 26 In its investigation of

the maternal wall bias, the 2022 AIA study mentioned above concludes

that, contrary to expectations, mothers don't leave architecture

because of actual incompatibility. Discrimination toward motherhood

plays a major role. Participants in the study were presented

with two identical CVs from women, one of which included details

of her membership in a parent-teacher organization—revealing, of

course, that she was a mother. "The study found very strong levels

of bias: the mother was 79 [percent] less likely to be hired, half as

likely to be promoted, offered an average of $11,000 less in starting

salary, and held to higher performance and punctuality standards."

23
---
Fig. 5: Statement made by Susanne Gross on

the occasion of the exhibition "Frau Architekt"

in North Rhine-Westphalia in November 2020

Source: Claudia Dreyße

a course of study, had altogether denied the female sex any sense

of space whatsoever, so did it appear that one sought to hinder the

expansion of their professional activity following the first solid evidence

to the contrary." 60

This dates back one hundred years, and is an important piece of

contemporary history. Yet the underlying systematics of institutional

discrimination did not disappear. At the end of the 1990s, private

universities in the United States even began lowering the admission

requirements for young men in order to maintain a gender balance. 61

Because "too many" women wanted to access a course of study, the

36
---
institutions apparently saw the danger of losing their reputation.

Professions and entire sectors are lesser valued and lesser paid as

soon as they are pursued predominantly by women. It will be interesting

to keep an eye on what this fear of femininization means for

the professional profile of the architect, which will have to fundamentally

shift in order to deal with climate change: a number of

female-coded attributes are required to "look after" and "tend to"

the existing building stock.

Concern about One's Own Genre

In the field of architecture, fear of femininization and an associated

devaluation is deeply internalized. Hence, women architects liked

and like to simply refer themselves as "architects", often avoiding

the female label. After winning the Pritzker Architecture Prize in

2004, Zaha Hadid said: "I used to not like being called a woman

architect: I'm an architect, not just a woman architect." 62 When the

exhibition "Frau Architekt" by the Deutsches Architekturmuseum

opened in North Rhine-Westphalia in 2020, female architects from the

region were sought out to complement historical role models by presenting

their own work on a panel. Instead of a work, Susanne Gross

submitted the comment: "My aim—in this case!—is to disregard my

femaleness and entirely devote myself to the task of building."

The concern that female architectural history behaves in a manner

similar to other forms of art is justified: when women appear on

the scene, a new genre can develop. The journalist Mareice Kaiser

describes this phenomenon with reference to literature: "There are

so-called women's books. But there are no men's books. Women's

books are for women, men's books are for people." 63 There were

many voices in the literature sector that demanded a change—and

successfully: today, the literature market, including awards, reviews,

and published titles, is far more balanced than it was just a few

years ago. The current trend toward feminism contributes to a greater

self-confidence and self-image, but concerns about an independent

genre based on one's gender continue to exist. At the same time,

history shows us that the "norm" has always had one gender: male.

37
---
Female Architects as Avantgarde

Before the job title "architect" was protected, the lack of access to

training led to numerous self-taught women, some of whom successfully

practiced their profession. 64 However, not having received a degree

became an argument for taking them less seriously professionally.

With the publication of her 2019 biography Sibyl Moholy-Nagy:

Kritikerin der Moderne, Hilde Heynen brought back to light the work

of female architecture critics in German-speaking countries. As the

widow of László Moholy-Nagy, she began her career as an architectural

historian in the 1950s alongside her activities at the Institute of

Design in Chicago. A "travelling observer," she was one of the first to

research the quality of North America's regional architecture. 65 Sibyl

Moholy-Nagy repeatedly opposed the development of modernity:

"In her criticism of the 'stars' of modern architecture—Mies, Gropius,

Le Corbusier—she very early on pointed out the untenability of

their axioms and the threat of urban vitality ensuing from them." 66

Lining up with her colleagues Jane Jacobs and Ada Louise Huxtable,

she criticized the trend toward increasingly functionalistic urban

planning as being too little oriented toward human beings. Despite

Fig. 6: Le Corbusier had himself photographed in the nude

while painting the murals in E.1027

Source: Fondation Le Corbusier, VG Bild-Kunst Bonn

38
---
all her success, as an autodidact she was frequently denied professionality.

67 Although she had published a great deal, had an excellent

network, and held a chair at the Pratt Institute, she faded into

obscurity after her death. Most of her books are now out of print.

Especially in the case of Moholy-Nagy, an examination of the reasons

for her reception is interesting from a gender perspective. That she

led a free life and chipped away at the image of the "masters" may

be why she was particularly sanctioned by the establishment. Sibyl

Moholy-Nagy does not yet occupy the place in history that befits her

as a multifaceted voice of architectural criticism.

A further injustice in women's architectural history was that collaborative

works were often attributed to male colleagues—especially

if they were good. Le Corbusier's handling of E.1027, the home

built by Eileen Gray in 1929 on the French Atlantic coast, went far

beyond that. After she moved out in 1939, Le Corbusier added five

large murals to E.1027, published them, and conducted guided tours

through Gray's house—in marked contrast to his credo that painting

ruined the wall. As a result, he is repeatedly misnamed as the designer

of E.1027. Eileen Gray herself was not officially acknowledged

as the home's architect until 2000. 68 From today's perspective, this

incident can be viewed as a jealous attempt at appropriation that deliberately

aimed to erase Gray's authorship. Le Corbusier acted with

extreme aggression. Writing in 1939, he claimed he had a "raging

desire to sully these walls." "Ten compositions are finished, enough

to soil everything." 69 He had himself photographed while painting in

the nude, and the paintings contained numerous sexual innuendos. 70

Would his behavior have been conceivable if a male colleague of his

had built the house? Eileen Gray is regarded as one of the few

women architects of the twentieth century who worked autonomously

from the very beginning. She was lesbian, and led a remarkably

unconventional and largely self-determined life for her time. Admittedly,

she built E.1027 according to Le Corbusier's Five Points of the

New Architecture but reinterpreted these in her own terms.

Her home wasn't meant to be a machine for living, but an extension

of herself.

39
---
eserved clothing and a preference for gray and black, for uniformity

rather than diversity, encourages a situation in which personal features

and other idiosyncratic markers of one's identity literally fade

into homogeneity. The black turtleneck and round glasses are not

just markers but also a mask.

Being a Woman Architect and Being a Woman

Even when they have no connection to architecture, many women

prefer a simple, pared-down style that emphasizes their personality.

This muted aesthetic often represents an incredible reduction of the

options that are available to women in terms of clothing, hairstyle,

and accessories, as well as an associated "toning-down" of their individual

expressions of joie de vivre and feminine identity—reductions

that women potentially have to contend with for the rest of their

lives. Nevertheless, the dress code holds sway. Photos of women

architects in the 1980s and 1990s can look like pictures of sisters or

cousins. Many perceive the habitus with its dress code as a personal

style and not as an abandonment of style's expressive possibilities.

In her book Down Girl, the social philosopher Kate Manne explores

the reciprocal relationship between misogyny and sexism. She explains

how misogyny describes the system, defined by stereotypes,

in which women are allowed to move in society, while sexism serves

to sanction women's behavior when they go beyond that system. 95

Related to the habitus of the architect, this means that the code offered

to women often leads them into a role conflict that is difficult

to resolve. If they wish to belong, they must abandon those expressive

forms ascribed to female persons—and consequently run the

risk of being less respected, both as women and within the wider

social order. If, on the other hand, they reject the coding offered in

favor of their own, uncharted paths, they must forgo certain features

of the profession's success and thus its privileges. In terms of the

professional culture, Schumacher comes to a similar conclusion:

"Many perceive the need to assert themselves in a pointedly masculine

world as hardly compatible with their female gender identity. In

contrast to their male colleagues, female architects are faced with

50
---
the task of having to strike a balance between professional and gender

identity." 96 This subtle dilemma, which is difficult to grasp, suggests

the conflict in which women find themselves in architecture.

Another important point is the perspective awaiting women once

they become successful. There are indications in the research that

competent women are less popular and, in that respect, also pay a

high personal price for their career. 97 Dagmar Richter, a professor at

Pratt Institute in Brooklyn, outlines in Tanja Kullack's book Architecture:

A Woman's Profession the impact that a successful career can

have on the life of an woman architect: "[W]omen who are respected

as authors within the architectural discipline do not have any sort

of perspective of personal and psychological benefit. A famous male

architect can well work towards a future with several younger wives,

lovers, adoring assistants, a well-looked after family in which the

woman brings up the children in his interest—without taking up too

much of his time—and towards an active, satisfying social, sexual,

and love life. ... However, the higher a female architect rises, the

more she has to deal with loneliness, social exclusion, childlessness,

and hostility and she needs to be aware that personal reward will

not materialize. ... Society has not been willing to reward women who

have engaged in the profession. Even fewer women have been rewarded

for breaking the rules or questioning the status quo. Women

are still entirely isolated and socially eliminated if they were willing

to take that risk." 98 Not a particularly uplifting prospect. Here, too,

positive role models are missing on a broad scale.

A prevalent aspect of the professional culture is also the tendency of

women and men architects to seek a partner within the profession.

As Christina Schumacher has observed: "Most of the respondents are

in a relationship with a partner in the same profession. According to

a statistical investigation, this is not a coincidence but in fact a trend

in the professional culture." 99 Inés Toscano examined this ongoing

dynamic in a survey of 400 architect couples. She notes a pattern of

shared biographies: meeting while university students, getting married,

sharing an office and family name, participating in competitions,

becoming parents, owning a house with an architecture office.

51
---
Do Women Design

Differently?

67—87

"There is nobody against this [plan]—

NOBODY, NOBODY, NOBODY,

but a bunch of, a bunch of MOTHERS!" 131

Robert Moses, cited by Jane Jacobs

The question most frequently asked at panel discussions on equal

opportunity in architecture is: do women actually design differently

than men? Is there such a thing as feminine architecture? Whatever

the answer, further questions are certain to follow.

If the answer is in the negative, the question of justifying the effort

arises. If the work is of a high quality anyway, what does it matter

who designs and builds it? Is it worth changing the structures of a

traditional industry to that end?

If the question is answered in the affirmative, there is a concern

about reinforcing gender stereotypes. Won't the knowledge that women

design better kindergartens possibly lead to their being limited

to these and similar tasks?

Questions and answers imply that a "norm" exists, a status quo that

might be infringed upon by new, different content or forms of designing.

After all, what does it mean to design differently? Different

from whom or what?

Achieving equal opportunity in architecture means providing equal

accessibility to the labor market and leadership positions for all,

given equal qualifications. Both hypothetical answers omit the fact

67
---
that the causes for a lack of equality lie in the discrimination that

is common in the industry and completely ignore the perspective

of those subject to discrimination. Particularly the recourse to the

quality debate falls short; after all, what is meant by quality? And

for whom?

A smart woman at the Women in Architecture festival in Berlin in

2021 responded to the question by saying: people design differently,

because people live differently, and each contributes their particular

outlook on life to the design. People who work the whole year

at home incorporate this perspective when designing residential

buildings. People who have to do things in several places in the city

develop different mobility concepts than commuters. The assumption

that planners can think their way into every possible situation

of life is an overestimation and, at the same time, an overload. This

is why mixed teams from all areas of experience also achieve the

best performance in architecture.

The Poelzig Family Home Office

How the realities of one's own life can be given expression in design

is visible in the floor plan of the house designed by Marlene Poelzig

in Berlin. In 1930 the architect designed a spacious residential house

with architecture office in Berlin's Westend district, near Grunewald,

for herself and her family, which comprised three children and several

servants. The garden was largely designed in collaboration with

the garden architect Herta Hammerbacher. 132

The concept of the house has several special features. With a large,

glazed surface, the Großes Atelier (large studio) faces the front

garden, garage, and street. The outdoor spaces bordering the Grunewald

are zoned according to various recreational uses, including

a Rasenspielplatz (lawn play area), a Kinderspielplatz (children's

playground), and Wasserbecken (small swimming pool). Adjacent

to the kitchen and dining room is the Kinderspielzimmer (children's

playroom), which opens toward the garden with a swimming area

for children. All of the private spaces are oriented toward the Grunewald,

except for one: the Kleines Atelier (small studio), Marlene

68
---
Fig. 8: Floor plan of the house designed by

Marlene Poelzig, Berlin-Westend

Source: Scan from Bauwelt 1930, no. 34

69
---
Vienna

Vienna is known for its high quality of life. At the same time, it is

Europe's model city in terms of gender planning. 166 This is largely

due to the commitment of the city planner and feminist urban planning

expert Eva Kail. Since the 1990s she has overseen the implementation

of gender-sensitive planning in the City of Vienna. Kail's

aim is to ensure that an equity policy is also reflected in the urban

landscape. 167 Not only have many gender-inclusive spaces been

realized during her long tenure. But, perhaps most significantly,

strategies were developed and solidified for making gender planning

an integral part of all municipal planning processes, based around

the principle of the Stadt der kurzen Wege (City of short distances).

Since projects, once realized, are tracked according to their intended

use, over thirty years of practical experience have created a deep

base of knowledge. 168 This can be seen in the city itself: open spaces

like the Reumannplatz—also called Reumädchenplatz (Mädchen =

girl) by the city's residents because of its spaces designed by, and for,

girls—and the Bruno-Kreisky-Park make it possible to experience

how quality gender-inclusivity looks and functions in practice. The

Seestadt Aspern, a new place to live and work in the east of Vienna,

was built taking a gendered perspective into account from the

outset. The streets were primarily named after women, which was

rarely the case earlier in the city's history. The founder of Vienna's

Frauen*Spaziergänge (Women's Walks), Petra Unger, refers to the

impact this has: "Every street that is named after a woman is an

investment in the city's collective memory." 169 Moreover, a network

of different actors has emerged in Vienna, devoted to exploring the

subject of gender and space in the broadest sense.

Influences from Europe and around the World

At the European level, gender mainstreaming was formalized as a

binding political strategy for every form of public governance in 1999

as a result of the Treaty of Amsterdam. The concept refers to the

integration of gender equality in an interdisciplinary manner across

all fields of policy, strategy, research projects, and action plans.

78
---
Fig. 9: The Caring City—La Ciudad Cuidadora

Source: María del Mar Muriel

79
---
84
---
85
---
86
---
87
---
Public and Private

Spaces

89—98

"Outside of the movies, the needs

and wants of girls and young women

are almost completely ignored in

architecture and planning." 175

Leslie Kern, Feminist City

In 2021, a wave of public protests erupted across London following

the kidnap and murder of marketing executive Sarah Everard. Initiatives

such as Reclaim These Streets 176 and Everyone's Invited demanded

safe spaces for women, immediately gaining enormous

popularity. Thousands of women described their experiences of

sexualized violence and spoke up about the rape culture 177 that

characterizes urban public space. The media addressed the issue

and launched their own campaigns. 178 ZEIT Magazin even collected

fifty quotes from female joggers: "I believe that I'm entitled to as

much space in public as a man. I likewise belong everywhere," states

50-year-old Anna from Hamburg. An anonymous Berliner notes that

she has to repeatedly fight for a place in public space, and that there

is almost no awareness of it: "No one pays attention to how the

world can be made safer for us." 179 What is striking about the global

movement following Everard's murder and the resulting surge of

publicity is that women describe not only their experience as victims

of sexualized violence, but also increasingly express their rage over

89
---
the fact that they can't move freely in public space—on the contrary,

they feel as if they are being treated like fair game.

The Space That Remains

The app "Safe & the City", developed by the London-based Jillian

Kowalchuk, is intended to help women plan a safer route through

the city. 180 In fact, the award-winning app generates the safest route

by enabling users to document and define the locations of their

negative experiences. It ultimately suggests the path with the least

probable amount of harassment. Like a negative map, it makes the

androcentric city visible: it blackens the spaces that women should

avoid. Hence, the day-to-day negative experiences of numerous

women engender a cartographic image. The app's slogan—"Get to

Your Destination Safely"—not only promises a secure pathway, but it

helps others by making one's own experiences public. However, user

reviews—such as "This is such a brilliant idea and it makes navigating

London feel safe"—raise the question of who is responsible for

ensuring that a city's inhabitants are able to use it safely. Whereas

discussions in numerous internet forums revolve around whether

catcalling is disrespectful, this app makes a business out of the

concrete fear of being harassed and violence in public space. For the

most part, users are simply relieved that the app "solves" the daily

problem with little effort, and that they can finally have a better

share in public space. But these reviews also reveal the distressing

plight of its female users: "After an attack last year with no help

from the police, I feel like I can at least make the journey home safer

for people in the area. Brilliant piece of technology!" 181

In the wake of the protests across London, Boris Johnson pledged

to double the funds for surveillance cameras and lighting. However,

this promise was apparently made without acknowledging research

findings which show that London is already one of most heavily

monitored cities in the world. The cameras may lead to the conviction

of perpetrators, but they do not prevent crimes. In this respect,

cameras are in no way conducive to a woman's sense of security,

as revealed in a study by United Nations Women UK. 182 From the

90
---
perspective of those affected, the promise to make the city safer

through increased surveillance is like the prospect of an antenatal

class on the subject of contraception. As Leslie Kern points out, women

only feel more secure through urban planning measures if other

disadvantages are lessened on a social, cultural, and economic level:

"... Fear can never simply be 'designed out.' " 183

During the Covid-19 pandemic, one was able to see in the marketplace

how women holding their childrens' hands zig-zagged across

the square to dodge the path of others. They wanted to bump into

other people even less than usual. The dominant behavior of many

men in public spaces reminds women every day that they belong

less in certain places: with every walk they take, they experience the

dichotomy between public and private space—whereas men, historically

seen as "free citizens," are aligned with public space, women

tend to be assigned the private. Kern points out how women's fear

serves as a form of social control: "It limits our use of public spaces,

shapes our choices … and keeps us … dependent on men as protectors."

184 The economic impact of the detours women must take due

to this fear is largely disregarded. Even for women themselves: in

everyday life, the inhospitable city keeps them from using the shortest

routes for taking care of their errands.

Women's anger over the restricted use of common ground is growing,

and it is becoming visible in many more places. Because they

are increasingly being heard, the new visibility of women and other

marginalized groups will change society's balance of power. This

shift in perspective could also be reflected in terms of space.

Places for Girls and Young Women

The first public space designed for and designated to young women

is still in frequent use today: the shopping mall. Economic interests

recognized early on that the mall was a site where they could meet

women at their own safety level. Unfortunately, the mall continues

to be where women feel safest today. 185

It is no accident that these commercial interests are aimed at monopolizing

the attention of young girls and women: as potential future

91
---
114
---
The new actors use their voices politically. The WAI Think Tank and

Architecture Lobby make demands and have clear ideas of how the

sector has to be transformed. 220

In this respect, the self-efficacy of the work of women architects and

other marginalized groups within and outside of the professional

discourse in architecture has substantially changed. They are not

asking for participation but are forming their own networks and

creating their own discourses. In the medium term, it remains to be

seen whether both discourses merge to become one, or whether they

become parallel structures.

115
---
KARIN HARTMANN: Afaina, in your work as an architect and

as a teacher you address the issue of a lack of diversity and its

effects. Why do you think the profession of architecture is so male

dominated? Why do women—whether Black or of color, white or

Indigenous—leave architecture, or why are they underrepresented

in the profession?

AFAINA DE JONG: It's a general issue that plays out in many professions

in society—that first and foremost. But then, what is weird

in architecture is that in the schools we start with 50:50. And when

you look again, ten years after graduation, only 10 to 20 percent of

the women remain in the profession. So, there is something particular

going on in architecture. I've talked to so many women about

it. I think it's a mixture of things in a way. On the one hand, there's

always a lot of talk about women being able to pursue motherhood

and combine it with a career in architecture. That part is sometimes

hard, because of the work culture. At the same time, you also want

to practice in a field where your opinion is valued and where you

have a certain degree of agency. Those things are maybe lacking.

Often, your expertise is questioned, for instance, by colleagues or

contractors or building managers. And that can be quite demotivating.

What we're talking about in general is a sense of agency,

finding a place where you belong, where you can thrive. And if the

culture within the practice is not one in which women can thrive,

then, of course, they're going to leave. Which is a shame, because I

think architecture—ideally speaking—is a perfect profession to take

in many different directions.

What do you mean by that?

You can become a writer, a designer, you can become an analyst or

a researcher, you can choose to go in so many ways career-wise. So,

I'd also like to urge everyone active in our field to see that a lot of

talent is getting lost because of women and marginalized groups

dropping out, which I think is really a big issue.

118
---
What is your vision for changing the situation in the architectural

field and culture? How can we overcome the current system?

Well, it should happen on multiple levels. First of all, it has to start

within education. We develop this culture of working really long,

late hours, which is gruesome. Studio work, late nights, deadlines—

we cultivate that already when we're in school. That's being perpetuated

by people who graduate and then set up their own practices,

but it's also adopted by the offices.

We should start reinventing how best to work on architectural projects

together efficiently, or maybe not even efficiently. Maybe from

a perspective of caring for each other. What would that look like?

How would we then structure our week, and how would that translate

into the offices? Secondly, in education, too, it's weird. When

I was studying, there were no female professors that ever taught

me. Sometimes I hear even women architects say, "Yeah, I don't

know. I don't know where to find them." The women. Or the others.

But they are there. They are in the schools. But maybe they're not

right there there, so you don't know how to reach them, and maybe

they're not interested in your working environment, right? Because

your environment doesn't invite them in or doesn't attract them—

because it is so "singular," so one-dimensional in its perspective.

So, I also think studios and offices should re-evaluate how they can

draw any of the new talent in, because those people are there. It's

not that they are not there. We have to be active.

In your article in the magazine ARCH+, 221 you write a letter to

the American feminist, poet, and civil rights activist Audre Lorde

(1934–1992) in which you quote her famous essay: "The master's

tools will never dismantle the master's house." 222 But if we can't

use our old tools for building a new system—which new instruments

do we need for initiating change? What do you think is the

next urgent step we need to take?

That's a very big question. There are probably a thousand different

things to do. Of course, that's a very famous idea of hers. What stands

out for me, is that often we're talking about diversity or inclusivity

119
---
Glossary

Bias

A study by the American Institute of Architects/The

Center for WorkLife Law,

"The Elephant in the (Well-Designed)

Room," examined bias in the architecture

profession and defines the term as

follows: "A simple definition of bias is

when two otherwise identical people

are treated differently because of their

membership in a social group; indeed,

bias is often measured by giving people

identical resumes and documenting

how people from different social groups

are treated differently."

Dimensions

of discrimination

The researcher and founder of the

Center for Intersectional Justice in

Berlin, Dr. Emilia Roig, refers to four dimensions

of discrimination, which are

mutually dependent and reinforce one

another: individual, structural, institutional,

and historical discrimination.

According to Roig, individual discrimination

occurs in personal interactions

between people, for example overtly

sexist or racist insults. By contrast,

structural discrimination constitutes the

skeleton of our society, for example by

means of laws and funding structures

that uphold discrimination. Institutional

discrimination denotes the sum

of individual decisions and actions of

128—133

128
---
Care

The term care as used in this book is

oriented toward the definition formulated

by Joan C. Tronto and Berenice

Fisher in 1990: "In the most general

sense, care [is] a species activity that

people in powerful positions, for in-

includes everything that we do to maintain,

continue, and repair our 'world' so

that we can live in it as well as possible.

That world includes our bodies, our

selves, and our environment, all of

which we seek to interweave in a

complex, life-sustaining web." 224

stance in public institutions. Historical

discrimination, on the other hand,

reveals how past systems continue to

influence the present. 225 By definition,

the discrimination of privileged groups

does not go beyond individual discrimination,

since it has no systemic basis

and hence cannot have any corresponding

impact.

Gender Planning

Gender Planning implements the concept

of Gender Mainstreaming at all

spatial levels.

129
---
Colophon

160

© 2022 by jovis Verlag GmbH

Texts by kind permission of the author.

Pictures by kind permission of the photographers/holders of the picture rights.

All rights reserved.

Design and Typesetting: PAPINESKA, Monika Grobel-Jaroschewski

Lithography: Bild1Druck

Translation: Joann Skrypzak-Davidsmeyer, Rebecca van Dyck

Copyediting: Cecilia Tricker

Printed in the European Union on Munken Print Cream 300 g/m²

and Munken Print White 115 g/m²

Bibliographic information published by the Deutsche Nationalbibliothek

The Deutsche Nationalbibliothek lists this publication in the Deutsche Nationalbibliographie;

detailed bibliographic data are available on the Internet at http://dnb.d-nb.de

jovis Verlag GmbH

Lützowstraße 33

10785 Berlin

www.jovis.de

jovis books are available worldwide in selected bookstores.

Please contact your nearest bookseller or visit www.jovis.de

for information concerning your local distribution.

ISBN 978-3-86859-730-1 (softcover)

ISBN 978-3-86859-989-3 (PDF)

Supported by:

160