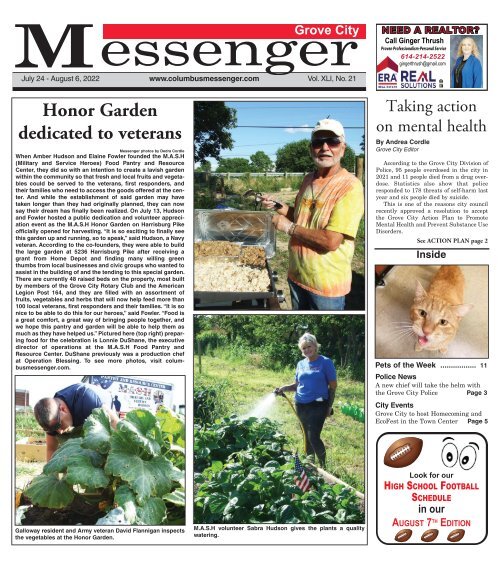 Grove City Messenger - July 24th, 2022
Create successful ePaper yourself
Turn your PDF publications into a flip-book with our unique Google optimized e-Paper software.
Messenger

Grove City

July 24 - August 6, 2022 www.columbusmessenger.com Vol. XLI, No. 21

NEED A REALTOR?

Call REALTOR? Ginger Thrush

Proven Professionalism-Personal Service

Call Ginger Thrush

614-214-2522

614-214-2522

gingerthrush@gmail.com

Honor Garden

dedicated to veterans

Messenger photos by Dedra Cordle

When Amber Hudson and Elaine Fowler founded the M.A.S.H

(Military and Service Heroes) Food Pantry and Resource

Center, they did so with an intention to create a lavish garden

within the community so that fresh and local fruits and vegetables

could be served to the veterans, first responders, and

their families who need to access the goods offered at the center.

And while the establishment of said garden may have

taken longer than they had originally planned, they can now

say their dream has finally been realized. On July 13, Hudson

and Fowler hosted a public dedication and volunteer appreciation

event as the M.A.S.H Honor Garden on Harrisburg Pike

officially opened for harvesting. "It is so exciting to finally see

this garden up and running, so to speak," said Hudson, a Navy

veteran. According to the co-founders, they were able to build

the large garden at 5236 Harrisburg Pike after receiving a

grant from Home Depot and finding many willing green

thumbs from local businesses and civic groups who wanted to

assist in the building of and the tending to this special garden.

There are currently 48 raised beds on the property, most built

by members of the Grove City Rotary Club and the American

Legion Post 164, and they are filled with an assortment of

fruits, vegetables and herbs that will now help feed more than

100 local veterans, first responders and their families. "It is so

nice to be able to do this for our heroes," said Fowler. "Food is

a great comfort, a great way of bringing people together, and

we hope this pantry and garden will be able to help them as

much as they have helped us." Pictured here (top right) preparing

food for the celebration is Lonnie DuShane, the executive

director of operations at the M.A.S.H Food Pantry and

Resource Center. DuShane previously was a production chef

at Operation Blessing. To see more photos, visit columbusmessenger.com.

Taking action

on mental health

By Andrea Cordle

Grove City Editor

According to the Grove City Division of

Police, 95 people overdosed in the city in

2021 and 11 people died from a drug overdose.

Statistics also show that police

responded to 178 threats of self-harm last

year and six people died by suicide.

This is one of the reasons city council

recently approved a resolution to accept

the Grove City Action Plan to Promote

Mental Health and Prevent Substance Use

Disorders.

See ACTION PLAN page 2

Inside

Pets of the Week ................. 11

Police News

A new chief will take the helm with

the Grove City Police Page 3

City Events

Grove City to host Homecoming and

EcoFest in the Town Center Page 5

Galloway resident and Army veteran David Flannigan inspects

the vegetables at the Honor Garden.

M.A.S.H volunteer Sabra Hudson gives the plants a quality

watering.

Look for our

HIGH SCHOOL FOOTBALL

SCHEDULE

in our

AUGUST 7 TH EDITION
---
PAGE 2 - GROVE CITY MESSENGER - July 24, 2022

www.columbusmessenger.com

Grove City to honor Purple Heart recipients

National Purple Heart Day is Aug. 7, providing an

opportunity for the nation to remember and honor the

brave women and men who were wounded or killed by

an instrument of war in the hands of the enemy.

Grove City will observe National Purple Heart Day

with a ceremony honoring Purple Heart recipients and

their families at 10 a.m., Friday, Aug. 5 at the Purple

Heart Memorial Walk in Henceroth Park, 2075

Mallow Lane.

"The Purple Heart Medal, originally known as the

Badge of Military Merit, is the oldest military honor

still presented to American service members," said

Mayor Richard "Ike" Stage. "National Purple Heart

Day provides us an opportunity to pay tribute to the

medal recipients across the country and specifically

from Grove City."

Located next to several memorial military monuments,

the Purple Heart Memorial Walk, is a heartshaped

pathway lined with trees dedicated to Grove

City soldiers or friends of Grove City who lost their

lives in battle, in service or as a result of injuries sustained

through their service to our country. The ceremony

includes elements customarily incorporated into

military observances, including raising the Purple

Heart flag and a reading of the names of those honored

in the Purple Heart Memorial Walk. The ceremony

will close with a moment of silence and playing of

"Taps."

This year's Purple Heart Day ceremony will include

Blood drives in Grove City

The American Red Cross will host blood drives in

Grove City at the following locations:

•Bethel Lutheran Church, July 26, 9 a.m. to 2 p.m.

•Grove City Kingston Center, Aug. 5, 12 to 6 p.m.

•OhioHealth Grove City United Methodist

Hospital, Aug. 6, 10 a.m. to 4 p.m.

To schedule an appointment, call 1-800-448-3543 or

visit www.redcrossblood.org.

ACTION PLAN

Continued from page 1

community events

memorial recognition of Hershel "Woody" Williams,

recipient of the Medal of Honor and Purple Heart

medal recipient for his service during World War II,

who died in June at the age of 98. As a friend of Grove

City, Woody was instrumental in the installation of

the Gold Star Families Memorial Monument and Park

located in the Town Center, and in more than 100

other communities across 50 states and one U.S. territory.

"Woody exemplified service to his country, long

after his active military status," said John Darnell,

who worked with the Woody Williams Foundation to

bring the monument to Grove City. "It's fitting that his

sacrifices in battle are recognized alongside the Grove

City service members. Woody would often say, 'The

cause is greater than I.'"

The public is encouraged to visit the Purple Heart

Memorial Walk, view its memorials and pay homage to

our community's wounded and fallen heroes. The Walk

will be framed with full-size American flags and illuminated

for after-dark, and will offer reflective strolls

from Friday, Aug. 5 through the morning of Tuesday,

Aug. 9.

All are invited to honor and show appreciation to

Purple Heart recipients and their families. For additional

information, visit GroveCityOhio.gov or contact

the Grove City Community Relations office at 614-277-

3040.

S.A.L.T. at Evans Center

The Grove City Division of Police host Seniors and

Law Enforcement Together (S.A.L.T.) meetings at 1

p.m. the second Tuesday of each month at the Evans

Center, 4330 Dudley Ave. Adults of all ages are welcome

to attend. If you would like additional information

on other crime prevention programs visit

police.grovecityohio.gov or call 614-277-1765.

TO OUR READERS:

Due to a delivery process

error, some of our Grove

City Messenger readers received

an incorrect edition

of the Messenger in the

mail last week. We at the

Messenger sincerely apologize

to those readers for the error. We value

your readership and we will do everything we

can to ensure proper delivery in the future.

Doug Henry, sales manager

Columbus Messenger Newspapers

In 2020, council adopted a resolution to form a substance

abuse and mental health action plan committee.

That committee was formed last year and has met

regularly to create this action plan.

The idea of the plan is to "promote a healthy community

and provide support to foster the highest quality

care and enhance the well-being of all."

"This is both the finish line and the starting gate,"

said councilwoman Christine Houk, who co-chairs the

action plan committee. "It's time to roll up our sleeves

and get to work."

The action plan is broken up into four priorities —

collaboration; education; prevention; and treatment,

harm reduction, and support.

The collaboration aspect focuses on improving communication

among local providers, first responders,

the criminal justice system, the school district, the

faith community, and city administration. This could

include sharing updates and emergency information,

expanding legal options to include recovery resources,

and work with first responders to provide support for

those experiencing mental health and overdose crises.

The education priority focuses on promoting community-wide

mental health awareness and prevention,

as well as promoting awareness and intervention

regarding substance use. The prevention priority aims

to increase resources for prevention efforts. This could

include improving early detection of potential mental

health disorders, identifying areas of high risk in the

city, and supporting drug take-back programs.

The treatment, harm reduction and support aspect

aims to engage the community in harm reduction

efforts and improve access to and awareness of treatment

options. One level of this includes public awareness

and access to Naloxone or Narcan. According to

the Grove City Division of Police, officers administered

31 doses of Narcan, the opioid overdose treatment, in

2021. The Jackson Township Fire Department administered

125 doses last year.

Sheri Dunagan, an action plan committee member,

thanked city leaders for supporting the plan.

"This is meaningful to me and the community," she

said.

Dr. Marie Schiff, with a local eye care facility, said

she sees theft in the community and at her place of

business. She believes the theft stems from addiction.

"It's great to see collaborative efforts to get people

the help they need," said Schiff.

Data will be collected on the focus areas to monitor

the effectiveness of the action plan. The committee will

continue to meet on a regular basis to review data and

reassess the greatest areas of need. An annual report

will be available to the public.
---
www.columbusmessenger.com

Grove City to welcome

a new chief of police

Mayor Richard "Ike" Stage announced

the appointment of Richard Fambro as the

chief of the Grove City Division of Police,

effective Sept. 12.

Fambro brings significant experience

and success as a 32-year veteran of the

Ohio State Highway Patrol, retiring this

year as colonel and superintendent of the

organization's more than 2,200 public safety

associates.

"We are truly fortunate and pleased to

welcome Colonel Fambro as he joins our

extremely dedicated and organized team of

law enforcement professionals," said Stage.

Fambro has a history of successes in the

areas of strategic operational planning,

policies and development procedures, crisis

management operations and diversity and

inclusion initiatives.

"I am truly grateful and appreciative of

Mayor Stage's confidence in me to lead the

dedicated women and men of the Grove

City Division of Police," said Fambro. "My

first objective is to learn from the police

division's sworn and professional staff, as

well as interacting with and working on

behalf of the community."

"Colonel Fambro is a highly respected

leader who has positively influenced law

enforcement policies and practices across

Pick-Up &

Delivery

Richard Fambro

the state," said Safety Director and Interim

Chief Kevin Teaford. "His experience and

character make him an outstanding choice

to serve as our next chief of police. The

police division and our community are fortunate

to have such a leader at the head of

our internationally accredited police team."

Fambro replaces former Chief Richard

Butsko, Jr., who retired in March.

C.M.T

MOWER REPAIRS

Authorized Dealers for BOBCAT Mowers

6446 HARRISBURG PIKE, ORIENT, OH 43146

614-875-5830

www.cmtmowerrepairs.com

"We have the lowest price in town!"

GENERAL MAINTENANCE SERVICES

Riding Tractors $169.95 • Zero Turn Mowers $169.95

Parts are additional on all units

PICK-UP & DELIVERY AVAILABLE $60.00

CHECK OUT THESE GREAT DEALS!!

• ZT 2000-42... $ 4,800.00

• ZT 2000-48... $ 4,900.00

• ZT 2000-52... $ 5,100.00

• ZT 3000-61... $ 7,000.00

• ZT 3500-52... $ 8,150.00

ZT 3500-61......... $ 8,450.00

ZT 6000-61....... $ 10,500.00

ZT 7000-72....... $ 13,500.00

0% Interest

Financing up to

48 months (if qualified)

*Prices may vary due to changing times.

On June 29, 2022, Grove City Police

were dispatched to a business in the

1600 block of Stringtown Road on a

report of a theft of a catalytic converter.

A male suspect cut the catalytic

converter from a parked

vehicle. The incident remains under

investigation.

In other police news:

On July 2, 2022, Grove City Police

spoke to an individual who wanted

to report a theft from their motor vehicle

at a business in the 3500 black

of Broadway. The individual stated

their cell phone was taken from

their vehicle. The businesses video

footage shows an unknown male

enter the vehicle and flea from the

area. The suspect remains unknown.

We would like to use this as a reminder

to never leave valuable

items in your vehicle visible for anyone

to see.

On July 4, 2022, Grove City Police

were dispatched to the 3900 block of

Jackpot Road on a report of a theft

from a vehicle. A male suspect arrived

in a dark blue SUV and

July 24, 2022 - GROVE CITY MESSENGER - PAGE 3

Grove City Police News

walked through the parking lot. The

suspect appeared to be a white male

wearing brown boots, blue jeans,

neon yellow shirt with a black coat.

The suspect makes several trips

back to his SUV with stolen merchandise.

The total value taken was

around $5,600.

On July 4, 2022, Grove City Police

were dispatched to the 1700 block of

Buckeye Place on a report of criminal

damaging. The victim told police

that overnight an unknown person

broke the window out to the door of

his trailer. The contents were gone

through, but nothing was taken.

On July 5, 2022, Grove City Police

were dispatched to a home in the

1700 block of Tuscarora Drive on a

report of a stolen vehicle. The victim

stated an unknown individual stole

their vehicle overnight. The victim

advised they may have forgotten

their keys in their vehicle when they

were moving vehicles around their

driveway the day before. The incident

remains under investigation.
---
PAGE 4 - GROVE CITY MESSENGER - July 24, 2022

www.columbusmessenger.com

Grove City residents share thoughts on DORA and diversity

By Andrea Cordle

Grove City Editor

Grove City citizens attended a recent

meeting to question one piece of legislation

approved by council and praise other

efforts by city leaders.

Those in attendance addressed concerns

regarding the expansion of the Designated

Outdoor Refreshment Area (DORA) and

offered support for the city's recent efforts

to become a more inclusive community by

passing legislation to form a diversity task

force and crack down on harassment and

discrimination within the city.

In June, council voted to expand the

DORA to include Sunday. It had operated

from Monday through Saturday.

The outdoor refreshment area was

adopted by city council in 2019. It includes

areas in the Town Center north of

Cleveland Avenue, east of Arbutus Avenue,

south of Civic Place, and west behind City

Hall. In 2021, council voted to expand its

boundaries to the city-owned lot next to the

old library site on Park Street and to the

southeast corner of Civic Place and

Broadway.

The DORA is essentially a waiver of

Grove City's open container law for a designated

area. It allows patrons of legal age to

buy an alcoholic beverage, from an established

permit holder, and take that drink

outside in marked areas. The drinks are

poured into an identifiable plastic cup.

Participants can sit outside and drink or

they can browse in the designated areas.

Grove City resident Sandra Francis said

she was concerned about the potential for

increased impaired driving in the city.

"The reality is, people drink and drive,"

said Francis.

Francis shared a story about a friend of

hers who lost a loved one in a traffic accident

caused by an impaired driver. She

asked council members if they have ever

lost a loved one to an impaired driver. She

asked them to consider that when making

decisions regarding the consumption of

alcohol.

Local resident Chris Moore said she was

not in favor of the DORA operating any day

of the week. She believes there is an

increase in violence with an increase in

drinking.

"We want to live in a safe community,"

she said.

John Sluss, a resident of Blacklick, even

attended the meeting to speak out against

council's decision to expand the outdoor

refreshment area, saying there was no

accountability and should not be allowed.

Grove City Mayor Richard "Ike" Stage

said police officers have reported very little

adverse activity related to the DORA. He

said city leaders are not seeing over-drinking.

"In the time we've had DORA, we have

not had any significant increases in alcohol-related

incidences," Stage said.

Proponents of the DORA argue that it

brings more people into the city's Town

Center and gives the area an economic

boost.

Several residents also spoke about

inclusivity efforts in Grove City.

In February, council approved a resolution

to form the Grove City Community

Diversity Advisory Task Force. The goal of

the task force is to encourage a community

dialogue regarding all aspects of diversity,

including but not limited to race, religion,

sex, national origin, age, disability, status

as a veteran or disabled veteran, sexual

orientation, gender identity, or gender

expression.

There are 12 members on the task force

who will explore opportunities to drive

community conversations related to understanding

different viewpoints and experiences;

evaluate city policies, procedures,

and practices relative to the city's support

of commitment to diversity and inclusion;

suggest educational and informational programming;

and address long-term community

goals.

"This task force is a step in the right

direction, not just for LGBTQ, but also for

people of color, people with disabilities, and

so many more groups," said Raven Tadlock

who is a transgender student at Grove City

High School.

Tadlock shared a personal account of

bullying within the community.

"I have experienced people laughing at

me or yelling at me from their vehicles.

Just one Pride flag in downtown Grove City

makes me feel safe," said Tadlock.

Pam Gatewood, who is the vice president

of Pride in Grove City, thanked city

leaders for being proactive.

"All we want is a safe community for our

kids," she said.

James Waugh, a retired pastor, thanked

council members for making the city a

friendlier place and addressed comments

made in previous council meetings from

residents who questioned the goals of the

diversity task force. Some speakers cited

their faith as their reason for doubting the

intent of the task force.

"Those people did not represent everyone

in the faith community," said Waugh.

"From my faith, God welcomes all of God's

children, including lesbian, gay, bisexual,

transgender, and queer persons. There is a

place for each of us at the table."

The Grove City Diversity Task Force

meets monthly. The next meeting will be

held from 6 to 7 p.m. Aug. 8 in City Hall.

Task force members will provide council

with an update on its progress semiannually.

Now in Grove City

At

Zangmeister Cancer Center

we collaborate with our

colleagues in radiation therapy, surgery, genetics, pathology and

clinical research to ensure each patient has a comprehensive ,

multidisciplinary plan of care. Support from our pharmacists,

social workers, nurse navigators, dietitians and financial

counselors minimize the impact of cancer on daily life.

A DIVISION OF AMERICAN ONCOLOGY PAR TNERS, P.A.

W

e deliver the most advanced and innovative treatments focused on each patient for

the best possible experience — because each patient's cancer journey is unique.

5500 North Meadows Dr., Suite 230, Grove City

, OH 43123 | ZangCenter.

com
---
www.columbusmessenger.com

Explore fun ways to create a healthy

lifestyle while making a positive impact on

the environment at the Grove City EcoFest

from 9 a.m. to 1 p.m., Saturday, Aug. 6.

Gather with friends and neighbors in the

Town Center Park, 3359 Park St., for this

waste-less event.

Visit the Art & Kids Zone featuring

hands-on, recycling activities, live animals,

crafts and games. Discover eco-practices

and learn to reuse and reduce household

and work products in the Sustainability

Zone. The Health and Wellness Zone highlights

local businesses demonstrating ecofriendly

products, services and wellness

programs. Pick up a Keep Grove City

July 24, 2022 - GROVE CITY MESSENGER - PAGE 5

Community Focus

Grove City Ecofest event encourages citizens to waste-less

Homecoming is back in

the Town Center streets

The Grove City Town Center comes

alive with shared memories and live entertainment

from 6 to 10:30 p.m., Friday, July

29, as generations of Grove City High

School alumni, community members,

friends and neighbors come together for

the city's annual Homecoming Celebration,

coinciding with the Grove City Alumni

Softball Tournament.

The grand stage in front of City Hall

gets pumping with the lively, danceable

and highly entertaining music of the NKG

band from 7 to 9:45 p.m. featuring music

loved by all generations.

"We've enjoyed a celebration of our community

on this weekend every year since

1990 (with recent exceptions)," said Mayor

Richard "Ike" Stage. "And we're excited to

welcome everyone home again to Town

Center, where we can share good times and

reminisce with friends."

The following streets close at noon

Friday, July 29 and reopen by 11 p.m.:

Broadway from Grant Avenue to Grove

City Road, and Park Street from the City

Hall driveway to First Street.

Register to receive important text notifications

regarding the Homecoming

Celebration event, safety, traffic and

weather information. Text GCALERT to

888-777 to get started (standard messaging

rates apply).

Weather-related cancellation information,

Friday and throughout the weekend

for tournaments, will be available at the

Grove City website or 614-277-3060 the

day of the event. For additional information,

contact the Grove City Parks and

Recreation office at 614-277-3050 or visit

GroveCityOhio.gov.

Beautiful event passport and collect

stamps at the various activities for a prize.

Drive or ride in an electric vehicle, hosted

by Drive Electric Columbus, all drivers

must provide a valid driver's license.

"Grove City provides a wide range of

opportunities for growing together as a

sustainable community," said Mayor

Richard "Ike" Stage. "The Keep Grove City

Beautiful committee and Grove City Tree

Commission continue to add sustainability

programs including community composting,

expanded recycling and more."

The family-friendly bicycle ride, Bike

with Mayor Ike, begins at 9 a.m. Register

online or at the event. After the ride and

during the event, bicycle parking is available

at the Heritage Bicycles secure bike

corral.

For more information or to register for

an event, visit the EcoFest website at

ecofest.grovecityohio.gov or call 614-277-

3058.

Website:Expert-hvac.com

Phone:614-946-8461

Experthvacllc@gmail.com

FREE ESTIMATES

on system installs

$100 Preventative Maintenance (tune up)

Expert service - affordable prices - Locally owned from Groveport

Mention this ad and get $20 off a $110 service call.

Pictorial Past

Pictured here on the corner of Broadway and Grove City Road is the Texaco Service

Station. Today, a gazebo occupies the space across from City Hall. How many people

remember going to this full-service station to have the attendant fill up your gas tank

and check your oil? There was a time when all service stations pumped the gas for

us as we sat comfortably in our cars. The photos and information in the Pictorial Past

are provided by the Grove City Welcome Center and Museum.
---
PAGE 6 - GROVE CITY MESSENGER - July 24, 2022

Township Focus

Trustees deal with nuisance noise

By Dedra Cordle

Staff Writer

Local law enforcement agencies have

been given a new tool to address public nuisance

complaints within Jackson

Township.

At its meeting in early July, the board of

trustees unanimously approved a resolution

that aims to regulate unnecessary

noise within its boundary areas.

This action will give law enforcement

agencies the authority to cite violators if

they determine certain sounds or noises

have gone "beyond that which is essential

to everyday living."

Township Administrator Shane

Farnsworth said the trustees do not field

too many complaints related to unnecessary

levels of noise, but he added the officials

needed to take action to address complaints

that have been deemed to be a nuisance

by the neighboring public.

"We did not have anything in place for

our deputies to refer to when they had to

come out on a noise complaint to a business

or residence," he said. "The resolution that

was passed will provide them with a solid

blueprint to make a determination of what

is an acceptable level of noise within the

township."

The resolution provides examples of

noises which may be considered a violation

if the pitch is too high or the frequency too

long. It includes horns, radios, televisions,

musical instruments, internal combustion

engines and yelling and shouting.

The resolution also includes other noises

from motor vehicles; if one is found to be

"jake-breaking," the human offender could

be fined a maximum of $100.

Officials noted engine-breaking offenses

have significantly gone down due to more

technologically advanced vehicles on the

road today.

While the latter noise restriction applies

throughout the township, the former list

does not. According to Farnsworth, the

noise resolution will only apply to certain

areas within its boundaries.

"It is geared toward the areas that have

a Class D liquor permit or are otherwise in

a residential setting," he said. "This resolution

does not apply to agricultural equipment

and it does not apply to the industrial

areas of Jackson Township."

The resolution to regulate unnecessary

noise within the township went into effect

immediately after it was signed by the

trustees.

www.columbusmessenger.com

MEDICARE QUESTIONS?

Learn more about your

medicare options that you

may qualify for.

Too busy enjoying summer to think about Medicare?

As a local neighborhood agent, help finding the right plan is

closer than you THINK! Call or Text today 614-460-0601

Call me Today $0 Consultation $0 Fee

Terri Curcio 614-460-0601

"Who do you call about Medicare when all the commercials are gone?

A Local Licensed Agent!"

I'm here all year long providing Medicare members with the plan options that fit their needs. Also, we could review if

you qualify for extra help on your prescription copays, along with insulin coverage. Reviewing the plan information over

the phone or in person, you need to be confident in your decision. Guiding you on the right path to Medicare.
---
www.columbusmessenger.com

July 24, 2022 - GROVE CITY MESSENGER - PAGE 7

DestinationOutlets.com

800-213-9083

8000 Factory Shops Blvd.

Jeffersonville, OH 43128

DOWNLOAD OUR

MEMBERSHIP APP

Summer, Sunshine & Savings!

Local kids compete

at the county fair

Messenger photos by Dedra Cordle

The 133rd annual Madison County

Junior and Senior Fair took place in the

city of London from July 9-16. Among

the hundreds of young children and

young adults who participated in the

assortment of animal and sporting

events were several from the city of

Grove City. On July 13, Jessa Ba, a

sophomore at Central Crossing High

School, participated in several equine

events like this obstacle course lead

where she had to help her donkey,

DeeDee, navigate tricky floor jumps and

combinations. Ba and DeeDee took third

place in this event.

On July 10, 6-year-old Ryan Elswick

(right) took part in the junior Honda division

of the quarter-midget race presented

by the Central Ohio Quarter Midget

Racing Association. Elswick is seen getting

help from his father, Nick Elswick,

as he gears up for the heat.

Certificcate of Dep

5

APY *

%

12 Month CD

Minimum opening balance of $5,000

1.25

eposit Special

1.75 %

HURRY!

Limited time offer!

Apply online at Heartland.Bank/SummerCDspecial

or in person by visiting any of our 18 locations!

APY **

%

24 Month CD

Minimum opening balance of $500

*Annual Percentage Yield (APY). Minimum balance to open and maintain the advertised 12 month APY of 1.25% is $5,000. APY is accurate as of May 12, 2022. Maximum

deposit is $250,000. Please see your local branch office for disclosure informa

ormation regarding terms and conditions. Penalty may be imposed for early withdrawal. Rates

are subject to change at any time. No brokers please. Limited time offer. Limited to one per household. Not valid with money currently on deposit at Heartland Bank.

Personal accounts only.

**Annual Percentage Yield (APY). Minimum balance to open and maintain the advertised 24 month APY of 1.75% is $500. APY is accurate as of May 12, 2022. Maximum

deposit is $250,000. Please see your local branch office for disclosure informa

ormation regarding terms and conditions. Penalty may be imposed for early withdrawal. Rates

are subject to change at any time. No brokers please. Limited time offer. Limited to one per household. Not valid with money currently on deposit at Heartland Bank.

Personal accounts only.
---
PAGE 8 - GROVE CITY MESSENGER - July 24, 2022

www.columbusmessenger.com

GOING ABOVE AND BEYOND TO FIND YOUR NEXT HOME!

SOLD

LISTING AGENT

SOLD

LISTING AGENT

SOLD

BUYER'S AGENT

Newman Cardington

SOLD

BUYER'S AGENT

SOLD

Early Court

BUYER'S AGENT

Stratford Lane

SRES BUYER'S AGENT

SOLD

SOLD

Haughn Rd.

LISTING AGENT

Templar St.

Stonington Ave.

SRES LISTING AGENT

IN CONRACT

Stargrass Ave.

Robinwood Ave.

SRES = Seniors Real Estate Specialist

Contact

me

today!

EVALYN IRWIN, SRES, REALTOR ®

614-353-1136 614-451-0808 Office

Evalyn.Irwin@CBrealty.com

3160 Kingsdale Center, Columbus OH 43221

Owned by a subsidiary of Realtor Brokerage Group LLC
---
www.columbusmessenger.com

July 24, 2022 - GROVE CITY MESSENGER - PAGE 9

Back - to - School

How to gets students motivated to learn

Musical instrument drive

As it transitions to a school for arts, the

Central Point Preparatory Academy will

host a musical instrument drive so each

student will have an instrument. Those

interested are asked to drop off any gently

used musical instrument at 680

Harrisburg Pike in Columbus from July 15

through Aug. 30. For more information,

call 614-669-6305.

Looking for a safe, loving, learning environment

for your preschooler? ABC Christian

Preschool is a great choice.

Our small class sizes and dedicated staff

allows us to provide quality instruction and personalized

activities for your child.

We believe all children are created in God's

image with unique interests and approaches to

learning. ABC Preschool utilizes a "play-based"

curriculum, that allows children to develop at

their own levels while building strong language

news and notes

Students may need some time to adjust

at the beginning of a new school year.

Summer vacations typically lack the structure

of the school year, and it might be

unfair to expect kids to seamlessly slip

back into their more regimented lives as

students.

While some early school year sluggishness

might be normal, that should wear off

pretty quickly. If not, and students appear

to be struggling to get motivated for their

schoolwork, parents can try various strategies

that should help reignite youngsters'

passions for learning.

•Make your home more school-friendly.

Summer is a relaxing time of year when

parents have a tendency to relax rules

around the house. But come the school

year, parents must make sure their homes

are as conducive to studying as possible.

Resist the urge to turn the television on

each night so students are not distracted

from their studies. Keep the home quiet so

students are motivated to focus on their

studies.

•Encourage participation in extracurricular

activities. Various studies have

examined the relationship between

extracurricular activities and academic

performance. A 2002 study published in

the journal Sociology of Education found

that participation in extracurricular activities

is associated with improved grade

point average, increased college attendance

and reduced absenteeism. The link

between participation in extracurricular

activities and improved academic performance

is still in need of study, but such

participation may help children acclimate

to the structure of the school year more

quickly than they might if they do not participate

in such activities.

•Encourage curious youngsters. Kids

are curious, and fostering that curiosity

can be a great way for parents to get their

kids excited about learning. Whether its

during the school year and part of their

curriculum or on summer break, encourage

kids to engage in subjects that interest

them. As kids learn more about the topics

and subjects that interest them, they may

develop a passion for learning that they

can then take with them to the classroom.

•Express an interest in the subjects

children are studying. Another way to

motivate students at the dawn of a new

school year is to express an interest in the

subjects they're studying. Ask questions

about their studies and encourage them to

share their thoughts and opinions.

Engaging students about the subjects

they're studying can motivate them to

explore those subjects more deeply than

they otherwise might.

Century Village open house

The Southwest Franklin County

Historical Society welcomes groups and

individuals to Century Village, 4185

Orders Road. Tour the historic log house

and school from 2 to 4 p.m. the fourth

Saturday of each month, May through

September. For more information or to

schedule a visit to Century Village, contact

Steve Jackson at 614-871-0081.

PAID ADVERTISING

ABC Christian Preschool

now registering

and literacy skills.

Our ministry vision is the sharing of God's

love by supporting families through providing

reliable, affordable, quality childcare. ABC

Preschool partners with families through; frequent

progress communication, providing home

activities and various open house programs.

Registration is now open for the 2022-2023

school year. Limited class sizes to maintain safe

social distancing. Contact us today!

Motivating kids to be excited about their

schoolwork at the dawn of a new school

year can sometimes be difficult. But parents

can employ various strategies that can

help their children readjust to life in the

classroom and motivate them to perform to

the best of their abilities.

ENROLLING NOW!

3 – 5 Years

Our ministry mission: The support of Strong Families through Quality Childcare

PFCC vouchers accepted!

Ask us about the Ohio Scholarship Program.

¡ Bienvenidos Niño en edad preescola que hablan español ¡

3231 Briggs Road – Columbus, OH

www.facebook.com/ABCChristianPreschool

abcpreschool@briggsroadbaptist.org

614-578-3785

RDC Dance Center

3048 Southwest Blvd., Grove City | (614) 875-1044

OPEN HOUSE

Sunday, August 21st 3-5pm

Monday, August 22nd 5-7:30pm

We would like to meet and dance

with you this season!

Let's Dance!

Boys and Girls AGES 3 and up

TAP * JAZZ * BALLET

LYRICAL * TUMBLING

(For all ages)

COMBO CLASS (for ages 3-4)

OPENING DAY IS MONDAY, AUGUST 29th

(614) 875-1044

email > wendi@rdcdance.com website > www.rdcdance.com

(registration forms are on the site)
---
PAGE 10 - GROVE CITY MESSENGER - July 24, 2022

Opinion Page

Accepting responsibility has become a lost virtue

Looking for a small,

friendly church experience? Try

First Presbyterian Church

of Grove City

4227 Broadway, Grove City

Worship Service 10:00 a.m.

In-Person and live Facebook

www.fpcgc.org

Back in the late 1950s, in a small and

sleepy town in Upstate New York, one of

the biggest heists of all time was pulled off

by a mastermind. It was the scene of the

Great Cookie Caper Robbery, as skillfully

executed and daring as anything Jesse

James, John Dillinger, Butch Cassidy or

Bonnie and Clyde ever pulled off. Until

now, some 50 plus years later, it's been an

unsolved mystery and the subject of much

speculation. Could it really have been only

a little boy that pulled off such a skillful

robbery? Just who was the original Cookie

Monster before Sesame Street brought

fame to the character? I know who it was.

It's time to finally fess up and close the

case.

The robbery took place when mom went

to the corner store. That left me alone for a

few precious moments. That's all I needed.

I'd staked out the kitchen and knew the

freshly baked cookie jar stash (not coincidentally

chocolate chip, my favorite) was

up on the top shelf of the kitchen cupboard.

With mom gone I moved swiftly. Slide a

chair over, climb up onto the counter, a little

stretch with the arms and within seconds

the cookies were all mine. No muss,

no fuss, no blood, just crumbs, i.e., the evidence.

I headed back to my room chomping

away and planning where to hide the

excess goodies for future delight.

I heard the door and knew mom was

back. Time to act cute and innocent. Before

long, a knock on the door. "David, have you

been in the cookies, they're all gone?"

"Cookies, what cookies? No mom, I didn't

even know we had any." "Can you explain

the trail of cookie crumbs on the counter

and all along the floor leading to your

door?" "I haven't any idea, mom. Do you

suppose we might have a mouse in the

house?" "Maybe a two-legged one." Steve

Urkel hadn't come to be yet so I couldn't do

my looking sheepishly imitation of him,

"did I do that?" Instead I blurted out,

"Mom, I didn't do it, that's just circumstantial

evidence (a term I'd heard when she

was watching Perry Mason)." "Wash your

face, you've got chocolate on your growing

nose." "Mom, I didn't do it!" Mom had a

smirk on her face as she dropped the subject

and walked away. As I look back, it

was sadly funny, me actually thinking I'd

been able to fool mom.

But deep down I knew she knew, and

that's hounded me my entire life. So, all

these years later I'm ready to confess. I

Please visit the

Southwest Church

of your choice.

List your Worship

Services here.

For info. call 614-272-5422

Be a Part of Our Local Worship Guide

Our Worship Guide is geared toward celebrating faith and helping reader connect with religious

resources in our community. Make sure these readers know how you can help with a presence in

this very special section distributed to more than 22,000 households in the Southwest area.

Contact us today to secure your spot in our Worship Guide.

614.272.5422 • kathy@columbusmessenger.com

can't take the feeling of guilt any longer.

"Mom, if you can hear me up there, I did it.

You were right, just as always. Forgive me

for I knew not what I did. I'm ready to

repent and accept full responsibility for my

actions."

That story was based on a true event, at

least as how I remember it after so many

years. During my lifetime I've been guilty

of not accepting responsibility for my

actions when I should have. But to my

credit, the trend has steadily decreased

with every passing year. When things go

wrong, as they do and always will through

no fault of my own, I still get ticked off and

resist taking responsibility and blame. But

I've learned to be more open-minded to the

possibility that maybe it was me who

messed up and just maybe I should accept

the blame and responsibility for the conscious

decisions I make. A novel concept in

the trying current times we now live in.

I've made many good decisions in my

lifetime, often the result of well thought

out effort and planning, sometimes learning

from past failed experiences, many

times just by lucking out. I've also made

just as many or more bad decisions and

found myself having to regroup more often

than I should have. They've left me questioning

why I hadn't put more time and

effort into the original decision making

process. But I've finally learned that when

I've dealt myself a failure, to just suck it up

and not make excuses, just accept the consequences,

and take responsibility for my

unwise decisions, try to rectify, and learn

from them.

Unfortunately, we're seeing just the

opposite happening in today's society. Even

more troubling is it's too often being condoned

by those who should be questioning

this disturbing trend. Accepting responsibility

where due for one's actions, or lack of

actions, has become a lost virtue. The name

of the game now seems to be to pass the

buck along to someone else, it's never your

fault.

It's one thing to look for excuses and

pass blame along when you're a kid, it's

usually not judged too harshly and accepted

as part of the learning process on the

road of experience. Teenagers too are still

learning and notorious for not accepting

blame, much as I was. But it's quite another

thing when it's done once you've entered

the realm of a theoretical maturing adult.

We're seeing more and more of the pass

that blame and expect a bailout attitude at

that adult level every day.

One only need look at the leadership of

this country at most every level, starting at

the very top, to see who's setting the example

for us and driving the disturbing trend

to new heights as an accepted practice.

When was the last time you saw a politician

accept the responsibility for anything

that wasn't seen as positive to one's political

career? You'll see them quickly taking

www.columbusmessenger.com

Guest Column

Dave Burton

credit without batting an eyelash for anything

that goes right, even if they had nothing

to do with it, but anything negative?

Let the blame game begin. It's always

someone else's fault. It becomes so childish

and phony to see as they play the pin the

tail on the donkey political game instead of

showing some maturity and fessing up and

accepting blame. If only they'd put an

equal amount of time and effort into dealing

with our endless list of serious needs

instead of so much time trying to deflect

accepting responsibility for their bad decisions

and anything that doesn't go right.

To make the point, consider the hotly

debated college loan forgiveness efforts

that keep making the news. A conscious

decision, perhaps a poor one, is made by a

student to secure a federal loan for college

costs along with signing a commitment

that promises to repay the loan. Now many

are defaulting on their agreement and

want their remaining balances to be forgiven

by the government. They don't feel they

should have to accept the responsibility of

their decision. No, now the government

should be held accountable and bail them

out.

But wait a minute, the government is

funded by taxpayers. That means when

students default, or their loans are forgiven

and their debt reduced or wiped clean, the

taxpayer must pick up the tab? So, someone

who's living check to check, maybe

must have a few jobs to barely make ends

meet for the family and perhaps couldn't

afford to go to college but pays taxes, must

bail out the college student's debt? And

maybe the family of that college student is

better off financially than the taxpayer

who's bailing the student out? What about

student's who already paid off their loans

and had to work their way through college?

Is it fair to them? What about students who

decided not to go to college because they

couldn't afford it or didn't want to assume

the responsibility of a loan? Everyone

agrees college costs are totally unrealistic

and out-of-control. But they knew that

when they decided to commit to a loan to

pay for them.

It used to be a firm handshake was as

good as one's word. That's all that was

needed. Then the legal world stepped in

with the binding contract approach insuring

one would be held accountable for

accepting responsibility for one's decisions.

The current trend is troubling with one's

implied and formal acceptance of the

promises and responsibility for those decisions

becoming worthless.

Dave Burton is a guest columnist for the

Columbus Messenger Newspapers. He

lives in Grove City.
---
www.columbusmessenger.com

Pet Corner

Messenger photo by Dedra Cordle

Meeting a feathered friend

After two years of cancellations caused by the COVID-19 pandemic,

the art and music festival known as Summer Jam West

has finally returned. On July 9, hundreds of people throughout

the region came out to Westgate Park to shop at the dozens of

artisan booths on hand, enjoy live performances, and generally

have a great time. "It is so wonderful to have this festival back,"

said Danny Peterson, board president of the Hilltop Arts

Collective, the local non-profit which hosts the festival and

other arts-related programs around the westside. Here, Grove

City resident Thomas Harper has a positive interaction with

Mickey, a 26-year-old Hyacinth macaw at the festival. He said the

last time he had a close encounter with a large bird at a pet

store, it came close to attacking his face. "This was a much

nicer experience," he said. The well-behaved bird and his

friends were at the festival courtesy of owners Jan and Will.

community events

Free community meal

Bethel Lutheran Church, 4501 Hoover Road in Grove City, will

host a free community meal every third Saturday of each month.

The food will be served from noon to 1 p.m. For more information,

call the church office at 614-875-0510.

Wellness services for seniors

LifeCare Alliance provides a nurse at Grove City Church of the

Nazarene in Grove City weekly to provide free foot care and other

wellness services for seniors. To schedule an appointment or for

more information, call the wellness office at 614-437-2878.

Pets of the Week

Gerald is a friendly

guy who likes to

supervise. This 3-

year-old boy loves

treats and getting

affection. Because

he likes to be in

charge, he would

do best in a home

without other cats,

but dogs are just

fine. Once he gets

to know you, Gerald will be your best friend,

as long as you are willing to listen to his

beautiful singing voice. Gerald is up for

adoption through Friends for Life Animal

Haven.

FYI: fflah.org

Nikky is a sweet

and loving 6-yearold

calico who

loves people. She

will follow a person

until they sit down

and then she'll curl

up on their lap and

purr. Nikky was a

porch cat and when

her owners moved,

she was left behind.

She was very friendly when a Colony Cats

volunteer came to feed her and was quite

happy when the volunteer brought her to

the adoption center. Nikky knows the center

is better than a porch but she also

knows that the best life would be a home

and a lap of her very own. Contact Colony

Cats to adopt her.

FYI: colonycats.org

Briggs is a handsome

white cat and

if you look closely

one eye is blue and

one is green. Briggs

was a friendly guy

hanging out in a

colony on Central

Avenue. He is a

quiet and contemplating

kind of guy.

If you are interested

in meeting Briggs, contact Colony Cats.

FYI: colonycats.org

King Rico is just as

smart as he is

handsome. He

quickly bonds with

his people, loves to

play, and is eagerly

looking for a place

to call home. He

has previously

done well with other

dogs of equal size, and will do best without

any small animals in the home. King Rico is

available for adoption at the Franklin

County Dog Shelter.

FYI: franklincountydogs.com

July 24, 2022 - GROVE CITY MESSENGER - PAGE 11

Grove City

Messenger

We are the

BEST COMMUNITY NEWSPAPER

in Grove City

Pick-Up At

These Locations:

Village Municipal Building

3492 1st Ave. Urbancrest

Sheetz Gas Station - Broadway & Centerpoint

Turkey Hill - Broadway & Centerpoint

Speedway Gas Stateion - Boardway & I-270

Shell Gas Station - Broadway & I-270

United Dairy Farmers - Broadway & Southwest

CVS Pharmacy - Broadway & Southwest

Speedway Gas Station - Broadway & Southwest

Grove City Library - 3959 Broadway

Planks on Broadway - Broadway & Park St.

Mobile Gas Station - Broadway & Paul St.

Ernies Carry-Out - Broadway & Paul St.

BP Gas Station - Stringtown & Hoover

Krogers - Stringtown & Hoover

Walgreen's - Stringtown & McDowell

CVS Pharmacy - Stringtown & McDowell

Drug Mart - Stringtown & McDowell

Speedway Gas Station - Stringtown & I-71

Dollar General - 3065 Broadway

Southwest Community Center

4500 1st Ave. Urbancrest

Kroger - Hoover & Route 665

Meijer - 665 & Hoover

Circle K - 665 & I-71

CVS Pharmacy - 665 & Hoover

Dollar General - 665 & Hoover

READ US ONLINE: www.columbusmessenger.com
---
PAGE 12 - GROVE CITY MESSENGER - July 24, 2022

Adapting a popular novel for another medium can

be a difficult undertaking, to say the least. Not only do

the directorial and writing teams have to determine

which material could be modified or cut altogether to

make the written word more viable on the screen or

stage, they also have to balance the demands and

expectation of the fervent fanbase. If they manage to

get it right, all who worked on the adaptation will be

hailed as heroes and their names will be etched onto

the walls of the halls of greatness forever. But if they

manage to get it wrong, however, all who worked on

the adaptation will be vocally eviscerated and their

names cast down into the pits of social media hell and

the depths of personal grievance grudges for all of eternity.

In the case of the newly released adaptation of

wildlife scientist Delia Owens' best-selling fictional

novel "Where the Crawdads Sing," there is a very good

chance director Olivia Newman, screenwriter Lucy

Alibar and the primary cast of actors will find themselves

in the former category, although their reception

into the hall may be a bit more tepid. While the cast

and crew have managed to make an incredibly faithful

adaptation of the 2018 atmospheric murder-mystery,

it does often stumble in its transition from page to

screen, making it feel more inert and static than viscerally

eerie or threatening.

Like the novel on which it is based, the film starts

with the discovery of a body. The year is 1969 and two

boys riding along the wooded pathways of a North

Carolina marsh find the partially submerged remains

of an adult male. It is later determined to be the body

of the town's Golden Boy Chase Andrews (Harris

Dickinson), a former high school football hero with an

apparent sterling reputation. Local law enforcement

officials initially surmise he fell to his death from the

rickety fire tower after a night of heavy drinking, but

a trip to the local bar and grill soon has them changing

their tune.

Since the Clark family moved to the semi-affluent

area decades prior, the townies have largely treated

them as pariahs. Deeply poor and living in isolation,

they are jeered at and mocked, especially the youngest

child Kya (played by Jojo Regina and then Daisy

Edgar-Jones) who becomes something of a myth when

word spreads she was abandoned by her family.

Derisively referred to as "The Marsh Girl," this "halfwoman,

half-wolf missing link" becomes the town's

prime suspect in Chase's untimely demise.

"She probably put a spell on him, lured him out

there, and killed him," says one bar patron as they talk

about the rumored and illicit relationship between the

two. Despite having just innuendoes and age-old biases

to go on — no fingerprints, footprints, or other materials

were found at the death scene — the police officers

decided to arrest Kya and charge her with his murder.

www.columbusmessenger.com

In Entertainment

Film version of novel gives a stripped down story

Mid-Ohio Indie Author Book Expo

From romance to horror to adventures for young

adults, the Mid-Ohio Indie Author Book Expo will feature

works from local and regional authors to satisfy

every literary appetite. This event will take place from

3 to 7 p.m. Aug. 13 at the Elks Lodge, 2140 Sonora

Drive in Grove City. Book lovers can get up close and

personal, discovering new authors, and purchasing

signed copies of their books.

Started in 2017 by local author Alicia Wiggins, the

Mid-Ohio Indie Author Book Expo is intended to showcase

the works of self-published authors who often

community events

The Reel Deal

Dedra Cordle

Like the book, the film

switches between the past and

the present, flashing between

Kya's lonely upbringing as she

tries to raise herself in the wild

marshes, her first blush of

teenage love with the wellmeaning

neighbor Tate Walker

(Taylor John Smith), her contemptuous relationship

with the two-faced Chase, and her time on trial for his

murder. But what works on the page doesn't also work

on the screen, and this set up is a primary example of

it not working the way it was intended.

While I was not the biggest fan of Owens' "Where

the Crawdads Sing," I thoroughly enjoyed the atmosphere

of her creation and her use of ambiguity as it

pertains to the murder-mystery portion of the plot. In

the novel, there are multiple suspects in Chase's death

and enough conflicting witness statements to muddy

the waters of who was seen where and when. In the

film, the finger is pointed directly at Kya and only Kya,

striping all sense of ambiguity and presenting a much

less complicated case during the integral courtroom

scenes.

And therein lies the main issue I had with the theatrical

adaptation of "Where the Crawdads Sing", the

stripping down of the hidden grittiness of the book.

Though lushly capturing the weird majesty of marshes

and swamps and the creatures that call it home, the

film douses everything with a sense of beauty, including

the childhood home of Kya. In my mind, this cabin

was a holler shack, the kind I saw while traveling to a

Kentucky town to see my paternal family's own holler

shack (a truly great vacation). In the film, which was

produced by Reese Witherspoon's Hello Sunshine

media company, it looks barely weathered and magical,

like you would find fairy lights strung up throughout

— it was genuinely a surprise when they never

showed up.

With the ambiguity of the murder and grittiness of

the people and the environment paired back, "Where

the Crawdads Sing" often feels like a fancy Hallmark

or Lifetime movie, designed to be pleasant to look at

and unoffensive and unchallenging. Though efficiently

acted, filmed, and written, there is something missing

within the spirit of this adaptation but not enough I

would say to turn away or turn off dedicated fans of the

book or newbies to the world of Kya Clark and Delia

Owens. Grade: C+

Dedra Cordle is a Messenger staff writer and columnist.

aren't included in larger book fairs. Some authors have

published works through traditional publishing houses

but at some point in their career decided to self-publish.

Readers will find a refreshing and exciting collection

of works from writers who are passionate, talented,

and eager to share their uniquely crafted stories.

This event will feature over 40 authors. Book giveaways

and special events for children make this a family-friendly,

fun, and memorable event. Admission and

parking are free.

For more information, contact Alicia Wiggins, event

organizer at info@midohioindies.com.
---
www.columbusmessenger.com

July 24, 2022 - - GROVE CITY MESSENGER - PAGE 13

Zoning, trash, and drainage issues discussed in Pleasant Township

By Hannah Poling

Staff Writer

Residents are concerned about safety in

Pleasant Township.

Linda Pena attended the July 12 meeting

of the Pleasant Township Trustees to

address some concerns she had on and near

her property. Pena lives on Bellview Drive.

She said her home is near a school and

small children walk in front of and play

nearby her home often.

"There is a giant hole in the sidewalk,"

said Pena. "It's dangerous for kids."

She also mentioned that there is a dead

tree on the corner, which has branches

which keep falling off.

"A few weeks ago a giant piece fell and

we had to drag it through my yard," Pena

said.

Road Superintendent Robert Bausch

said he believes this maintenance is the

responsibility of Darby Dale, but that he

would look into it further.

Additionally, Pena is concerned about

her business. She runs a food truck and

had opened it up on her property. However,

the Franklin County Zoning Department

was called out.

"I want to do business here in the community,"

said Pena.

Pena said that she has talked to officials

with the zoning department about operating

her food truck on her property, but said

the process to do so is long. She also

attempted to park the truck at a local gas

station and was shut down by zoning.

"I can't even park my food truck on my

property and it's getting very expensive

and time consuming. I had to move my food

truck out of Darby Dale and go back to

Columbus," she said.

According to board chairwoman Nancy

Hunter, there is an appeal process that

Pena can look into regarding operating her

food truck in Pleasant Township.

Lorin Smith also attended the meeting

to discuss problems in his neighborhood.

According to Smith, he has been having

poor trash service as of late.

"They have a lack of respect and peoples

trash cans are getting broke," he said.

Smith said that he has had to purchase

three trash cans to replace ones damaged

by the trash service.

Hunter instructed Smith that if he continues

to have these issues, to contact her

the same day so she can inform the company

and have them pull the cameras off of

the trucks to use for training purposes.

Smith also informed the trustees of an

eight-inch bubble in the alley between

Rush Street and Railroad Street, as well as

the pot holes and damaged roads on

Railroad Street toward Rivers Street.

Bausch said he was aware of these

issues and will be looking into what the

necessary repairs would be.

Smith also shared his concerns related

to a drainage problem on Railroad Street

where there is a damaged drainage tile.

When there is heavy rain, the water comes

close to entering his neighbor's house.

Bausch said he would look into the

issue.

CLASSIFIED ADS

Deadlines: Groveport and West editions, Wednesdays at 5 p.m., • South/Canal Winchester, Grove City, Madison editions, Tuesdays at 5 p.m.

All editions by phone, Tuesdays at 5 p.m. • Service Directory, Tuesdays at 5 p.m.

INFORMATION

ASSOCIATION ADS

ASSOCIATION ADS

Aloe Care Health, medical

alert system. The most

advanced medical alert

product on the market.

Voice-activated! No wi-fi

needed! Special offer-call

and mention offer code

CARE20 to get $20 off

Mobile Companion. Call

today-1-877-728-4065

Become a Published

Author. We want to Read

Your Book! Dorrance

Publishing Trusted Since

1920 Consultation,

Production, Promotion &

Distribution. Call for Free

Author's Guide 1-877-729-

4998 or visit

dorranceinfo.com/ads

SUMMER'S HERE!

GET A NEW

COOL HAIRSTYLE!

Come See Me At

My New Location!

Call Marilyn Weaver

For An Appt.

For a New Haircut/Color

614-348-6670

Relax Wellness

3663 Broadway,

Grove City

Have Something

To Sell?

Need To Rent

That Property?

Try The

Messenger!

For Info On Placing

An Ad Call

614-272-5422

ASSOCIATION ADS

Donate Your Car To

Veterans Today! Help and

Support our Veterans.

Fast - FREE pick up.

100% tax deductible. Call

1-800-245-0398

Replace your roof with the

best lookng and longest

lasting material -- Steel

from Erie Metal Roofs!

Three styles and multiple

colors available.

Guaranteed to last a

lifetime! Limited Time

Offer - $500 Discount +

Additional 10% off install

(for military, health

workers & 1st responders)

Call Erie Metal Roofs: 1-

855-338-4807

Don't let the stairs limit

your mobility! Discover

the ideal solution for

anyone who struggles on

the stairs, is concerned

about a fall or wants to

regain access to their

entire home. Call

AmeriGlide today! 1-844-

317-5246

Directv Stream - Carries

the Most Local MLB

Games! CHOICE

Package, $89.99/mo for

12 months. Stream on 20

devices in your home at

once. HBOMax included

for 3 mos (w/CHOICE

Package or higher.) No

annual contract, no hidden

fees! Some restrictions

apply. Call IVS 1-866-629-

6086

LONG DISTANCE MOVING:

Call Today for a FREE

QUOTE from America's Most

Trusted Interstate Movers.

Let us take the stress out of

moving! Call now to speak to

one of our Quality Relocation

Specialists: 877-541-6320

Safe Step. North

America's #1 Walk-in Tub.

Compreshensive lifetime

warranty. Top-of-the-line

installation and service.

Now featuring our FREE

shower package & $1600

off for a limited time!

Financing available. Call

Safe Step 1-833-356-1954

The bathroom of your

dreams for as little as

$149/month! BCI Bath &

Shower. Many options

available. Quality

materials & professional

installation. Senior &

Military Discounts

Available. Limited Time

Offer - FREE virtual inhome

consultation now

and SAVE 15%! Call

Today! 1-877-540-2780

ASSOCIATION ADS

Wesley Financial Group,

LLC Timeshare Cancellation

Experts Over

$50,000,000 in timeshare

debt & fees cancelled in

2019. Get free

informational package &

learn how to get rid of

your timeshare! Free

consultations. Over 450

positive reviews. 888-965-

0363

!!OLD GUITARS WANT-

ED!! GIBSON, FENDER,

MARTIN, Etc. 1930's to

1980's. TOP DOLLAR

PAID. CALL TOLL FREE

1-866-433-8277

Update your home with

beautiful new blinds &

shades. Free in-home

estimates make it

convenient to shop from

home. Professional

installation. Top quality -

Made in the USA. Free

consultation: 877-212-

7578. Ask about our

specials!

Put on your TVEars &

hear TV w/unmatched

clarity. TVEars Originaloriginally

$129.95 - now

w/this special offer only

$59.95 w/code MCB59! 1-

888-805-0840

Discount air travel! Call

Flight Services for best

pricing on domestic &

international flights inside

& from the US. Serving

United, Delta, American &

Southwest &many more.

Free quote! Have travel

dates ready! 844-951-

2014

DENTAL INSURANCE

from Physicians Mutual

Insurance Company.

Coverage for 350 plus

procedures. Real dental

insurance - NOT just a

discount plan. Do not wait!

Call now! Get your FREE

Dental Information Kit with

all the details! 1-877-553-

1891

www.dental50plus.com/

macnet#6258

Become a Published

Author. We want to Read

Your Book! Dorrance

Publishing - Trusted by

Authors Since 1920

Book manuscript submissions

currently being reviewed.

Comprehensive Services:

Consultation, Production,

Promotion and Distribution. Call

for Your Free Author's Guide 1-

866-482-1576 or visit

http://dorranceinfo.com/macnet

Safe Step. North

America's #1 Walk-in Tub.

Compreshensive lifetime

warranty. Top-of-the-line

installation and service.

Now featuring our FREE

shower package & $1600

off for a limited time!

Financing available. Call

Safe Step 1-855-417-1306

ASSOCIATION ADS

Stroke & Cardiovascular

disease are leading

causes of death according

the American Heart

Association. Screenings

can provide peace of mind

or early detection! Call

Life Line Screening to

schedule your screening.

Special offer - 5

screenings for $149. 1-

866-518-8391

Looking for assisted living,

memory care, or

independent living? A

Place for Mom simplifies

the process of finding

senior living at no cost to

your family. Call 1-844-

428-0445 today!

Protect your home from

pests safely and

affordablly. Pest, rodent,

termite and

mosquito

control. Call for a quote or

inspection today 844-394-

9278

BUYING CLASSIC CARS,

TRUCKS, SUVs

**American and Foreign**

Any Condition. Buying

entire car collections.

$$PAYING CA$H$$

Please call 717-577-8206

KRMiller1965@yahoo.com

DISH Network. $59.99 for

190 channels! Blazing fast

internet. $19.99/mo. (where

available) Switch & get a

$100 Visa gift card. Free

voice remote. Free HD

DVR. Free streaming on all

devices. 1-866-979-4029

HughesNet - Finally, superfast

internet no matter

where you live. 25 Mbps

just $59.99/mo! Unlimited

Data is Here. Stream

Video. Bundle TV &

Internet. Free Installation.

Call 866-499-0141

xCome & Get It!

COME AND GET IT!

Need to Get Rid of Something Fast - Advertise It Here For FREE!

Deadlines are Mondays by 5 pm.

Call For Publication Schedule 614-272-5422

FREE Garden Straw for gardens or bedding. Call for appointment for pickup.

Circle S Farms, 9015 London-Groveport Road, Grove City, 43123

Grove City - 614-878-7980

.FREE - Downed Tree, needs cut into sections. Free for anyone that wants it.

CC - Obetz - 614-632-1013

FREE - Children's Wooden Play Set - Good Condition w/Sand Box under it, Step Ladder up

Slide to go down & a rope swing. Also separate Swing Set w/4 swings.

190 Inah Ave., Cols, 43228 near the Fire Dept.

West Columbus - 614-878-1930, ask for Linda

. Come and Get It! is a bi-weekly column that offers readers an opportunity to pass

along surplus building materials, furniture, electronic equipment, crafts, supplies,

appliances, plants or household goods to anybody who will come and get them - as

long as they're FREE. NO PETS! Just send us a brief note describing what you want to

get rid of, along with your name, address and phone number. Nonprofit organizations

are welcome to submit requests for donations of items.

Send information to The Columbus Messenger, Attention: Come and Get It, 3500

Sullivant Ave., Columbus, OH43204. Deadline is Tuesdays by 5 pm for following

Mondays publication. Messenger Newspapers is not responsible for any

complications that may occur. Please contact us when items are gone. 272-5422

ASSOCIATION ADS

WANTED!

MOTORCYCLES!

ANTIQUE AND CLASSIC.

Honda, Kawasaki, Suzuki,

Yamaha, Triumph, BSA

and other foreign models.

$$PAYING CA$H$$

717-577-8206

KRMiller1965@yahoo.com

Come & Get it!

ASSOCIATION ADS

Looking for assisted living,

memory care, or

independent living? A

Place for Mom simplifies

the process of finding

senior living at no cost to

your family. Call 1-833-

910-1576 today!

Attention oxygen therapy

users! Inogen One G4 is

capable of full 24/7 oxygen

delivery. Only 2.8

pounds. Free info kit.

Call 877-929-9587

ASSOCIATION ADS

Vivint Smart Security.

Professionally installed.

One connected system for

total peace of mind. FREE

professional installation!

Four FREE months of

monitoring! Call to

customize your system. 1-

855-870-2073
---
PAGE 14 - GROVE CITY MESSENGER - July 24, 2022

www.columbusmessenger.com

CLASSIFIED ADS

Deadlines: Groveport and West editions, Wednesdays at 5 p.m., • South/Canal Winchester, Grove City, Madison editions, Tuesdays at 5 p.m.

All editions by phone, Tuesdays at 5 p.m. • Service Directory, Tuesdays at 5 p.m.

xEmployment

xPreschool/Daycare

HIRING WAREHOUSE

UP TO

$19/HR +

UP TO

$3K SIGN-ON

NO WEEKENDS • NO MANDATORY OT

OPEN INTERVIEWS

WEDNESDAY 10AM-1PM

1568 Georgesville Rd. Columbus, OH 43228

JOBS.MSCDIRECT.COM

Applicants must sucessfully pass a background check and drug screen.

Equal Opportunity Employer: Minority, female, veteran, individuals with disabilities, sexual orientation/gender identity.

ASSOCIATION ADS

Aloe Care Health medical

alert system. The most

advanced medical alert

product on the market.

Voice-activated! No wi-fi

needed! Special offer

w/code CARE20 for $20

off Mobile Companion. 1-

855-341-5862

Dental Insurance -

Physicians Mutual Insurance

Comopany. Covers 350

procedures/ Real insurance -

not a discount plan. Get your

free dental info kit! 1-855-

.526-1060 www/dental50

plus.com/ads #6258

Vivint Smart Security.

Professionally installed.

One connected system for

total peace of mind. Free

professional installation!

Four free months of

monitoring! Call to

customize your system. 1-

833-841-0737

ASSOCIATION ADS

AT&T Internet. Starting at

$40/month w/12-mo agmt.

1 TB of data/mo. Ask how

to bundle & SAVE! Geo &

svc restrictions apply. 1-

855-364-3948

Paying top cash for men's

sportwatches!

Rolex,

Breitling, Omega, Patek

Pillippe, Heuer, Daytona,

GMT, Submariner and

Speedmaster. Call 833-

603-3236

!!OLD GUITARS WANT-

ED!! GIBSON, FENDER,

MARTIN, Etc. 1930's to

1980's. TOP DOLLAR

PAID. CALL TOLL FREE

1-866-433-8277

ASSOCIATION ADS

Want Faster & Affordable

Internet? Get internet

service today with

Earthlink. Best internet &

WiFi Plans. Call us Today

to Get Started. Ask

about our specials! 866-

396-0515

Directv Now. No Satellite.

$40/mo 65 Channels.

Stream news, live

events, sports & on demand

titles. No contract/

commitment. 1-866-825-

6523

The Generac PWRcell, a

solar plus battery storage

system. SAVE money,

reduce your reliance on

the grid, prepare for power

outages and power

your home. Full installation

services available. $0

Down Financing Option.

Request a FREE, no obligation,

quote today. Call

1-866-783-0292

Employment

"HELP WANTED"

SIGN

NOT WORKING?

TO ADVER

VERTISE

Call Kathy at

The Columbus Messenger

272-5422

For More Info

ASSOCIATION ADS

Thinking about installing

a new shower? American

Standard makes it

easy. FREE design consulation.

Enjoy your

shower again! Call 1-

833-769-0995 today to

see how you can save

$1,000 on installation, or

visit www.newshowerdeal.com/mac

The Generac PWRcell

solar plus battery storage

system. Save money,

reduce reliance on

grid, prepare for outages

& power your home. Full

installation services. $0

down financing option.

Request free no obligation

quote. Call 1-877-

539-0299

Eliminate gutter cleaning

forever! LeafFilter, the

most advanced debrisblocking

gutter protection.

Schedule a FREE LeafFilter

estimate today. 15% off

Entire Purchase. 10% Senior

& Military Discounts.

Call 1-855-791-1626

SELL YOUR ANTIQUE

OR CLASSIC CAR.

Advertise with us. You

choose where you want

to advertise. 800-450-

6631 visit macnetonline.

com for details.

ASSOCIATION ADS

BATH & SHOWER UP-

DATES in as little as

ONE DAY! Affordable

prices - No payments for

18 months! Lifetime warranty

& professional installs.

Senior & Military

Discounts available. Call

855-761-1725

NEED IRS RELIEF

$10K-$125K+ Get Fresh

Start or Forgiveness.

Call 1-844-431-4716

Monday through Friday

7am-5pm PST

DISH TV $64.99 FOR 190

Channels + $14.95 High

Speed Internet. Free Installation,

Smart HD DVR

Included, Free Voice Remote.

Some restrictions

apply. Promo expires

1/21/23. 1-866-479-1516

Prepare for power

outages today with a

GENERAC home standby

generator. $0 Down + Low

Monthly Pmt. Request a

free Quote. Call before the

next power outage: 1-855-

948-6176

VIAGRA and CIALIS

USERS! 50 Generic pills

SPECIAL $99.00. 100%

guaranteed. 24/7 CALL

NOW! 888-445-5928

Hablamos Espanol

Looking for auto insurance?

Find great deals

on the right auto insurance

to suit your needs.

Call today for a free

quote! 866-924-2397

Get A Head Start

on Fall Enrollment!

ADVERTISE Your

Preschool/Daycare

in the Messenger

Call KATHY at

The Columbus Messenger

614-272-5422

Preschool/Daycare

ASSOCIATION ADS

Elminate gutter cleaning

forever! LeafFilter, the most

advanced debris-blocking

gutter protection. Schedule

Free LeafFilter Estimate

today. 15% off Entire

Purchase. 10% Senior &

Military Discounts. Call 1-

833-610-1936

IMPORTANT

NOTICE

The following states: CA,

CT, FL, IA, IL, IN, KY,

LA, MD, ME, MI, MN,

NE, NC, NH, OH, OK,

SC, SD, TX, VT and WA

requires seller of certain

business opportunities to

register with each state

before selling. Call to

verify lawful registration

before you buy.

Internet &WIFI Starts at

$49 Call us Today to Get

Started. Find High-Speed

Internet with Fiber Optic

Technology No Credit

Check, No SSN Required.

Call us Today 866-396-

0515

Attention: If you or aloved

one worked around the

pesticide Roundup

(glyphosate) for at least 2

years and has been diagnosed

with non-Hodgkin's

lymphoma, you may be

entitled to compensation.

855-341-5793

Attention Viagra users:

Generic 100 mg blue pills

or generic 20 mg yellow

pills. Get 45 plus 5 free

$99 + S/H. Call Today 1-

877-707-5518

ASSOCIATION ADS

READER

ADVISORY

The National Trade Association

we belong to has

purchased the following

classifieds. Determining

the value of their service

or product is advised by

this publication. In order

to avoid misunderstandings,

some advertisers do

not offer "employment"

but rather supply the

readers with manuals, directories

and other materials

designed to help

their clients establish mail

order selling and other

businesses at home. Under

NO circumstance

should you send any

money in advance or give

the client your checking,

license ID or credit card

numbers. Also beware of

ads that claim to guarantee

loans regardless of

credit and note that if a

credit repair company

does business only over

the phone it's illegal to request

any money before

delivering its service. All

funds are based in US

dollars. Toll Free numbers

may or may not

reach Canada. Please

check with the Better

Business Bureau 614-

486-6336 or the Ohio Attorney

General's Consumer

Protection Section

614-466-4986 for more

information on the company

you are seeking to

do business with.

ASSOCIATION ADS

READY TO BUY, SELL

OR RENT YOUR

VACATION HOME OR

HUNTING CAMP?

Advertise it here and in

neighboring publications.

We can help you. Contact

MACnet MEDIA @

800-450-6631 or visit our

site at MACnetOnline.

com

Donate your car to kids!

Fast free pickup running

or not - 24 hour response.

Maximum tax

donation. Help find missing

kids! 877-831-1448

Protect your home w/home

security monitored by

ADT. Starting at $27.99/

mo. Get free equipment

bundle including keypad,

motion sensor, wireless

door & windows sensors.

833-719-1073

Prepare for power outages

today with a GENERAC

home standby generator.

$0 Money Down + Low

Monthly Payment Options.

Request a FREEQuote--

Call now before the next

power outage. 1-855-465-

7624

New authors wanted!

Page Publishing will help

self-publish your book.

Free author submission

kit! Limited offer! 866-

951-7214

DISH TV $64.99 for 190

Channels + $14.95 high

speed internet. FREE installation,

Smart HD DVR

included. Free Voice Remote.

Some Restrictions

apply. Promo Expires

1/21/23. 1-866-590-5561
---
www.columbusmessenger.com

xFocus on Rentals

HILLTOP SENIOR VILLAGE

APARTMENTS

ONE & TWO BEDROOM APT. HOMES

Call or Visit Us Today! 1.614.276-3017

www.nationalchurchresidences.org

email: 0805@nationalchurchresidences.org

Affordable living for seniors ages 55+ & up

Mon. thru Fri. 9 am - 5 pm

Independent Senior Living

Spacious floor plans • Controlled access

24 Hr. Emergency Maintenance • Dishwasher

Emergency call system • Picnic area

Community/game room • Library

Meal program affiliate

Private party room • Elevator

Beauty Salon • On-Site Laundry

Air Conditioning • Cottage-Style Apartments

WEDGEWOOD

VILLAGE

1, 2 and 3 BR Apts.

Rent Based on Income.

Call 614-272-2800 or visit us

at 777 Wedgewood Dr.

TTY/TDD 711

EQUAL HOUSING OPPORTUNITIES

CHILD CARE

OFFERED

Depend. Quality Child care

in loving hm. Exp. Mom, n-

smkr, hot meals, sncks,

playroom, fncd yd. Reas.

rates. Laurie at 853-2472

HELP WANTED

Kings Kids Daycare in

Grove City is hiring fun,

loving teachers for PT&

FT shifts. Pleaes email

sarragc@outlook.com or

call 614-539-0349

Trailer Mechanics needed

for 2nd & 3rd shift. $20-

30/hr. Health & Dental

Insurance, 401K, Paid

Holidays & Vacation. Must

have tools & toolbox. Must

be able to pass a

backgtound check. Please

call 614-477-2035

DATED SALES

GARAGE SALE

July 29 & 30, 9am-?

1272 Hathersage Pl, Galloway

Elec. stove, womens clothes,

size 18-24 mostly, all sizes

womens vintage clothes,

Fiestaware, hshld items &

misc.. some furniture

Rentals

WANT TO BUY

We Buy Junk Cars &

Trucks. Highest Prices

Paid. 614-395-8775

ANTIQUES

WANTED

Victrolas, Watches,

Clocks, Bookcases

Antiques, Furn.

Jeff 614-262-0676

or 614-783-2629

We Buy Cars & Trucks

$300-$3000.614-308-2626

WE BUY JUNK CARS

Call anytime 614-774-6797

BUYING VINYL RECORDS.

LPs and 45s - 1950-80s

Rock, Pop, Jazz, Soul.

614-831-0383

MISCELLANEOUS

FOR SALE

Electric Wheelchair - If

interested, call 614-928-2352

MISC. FOR SALE

GE Microwave, like new,

works great - $150.00

614-465-7763

RENTALS

1BR Apartment

1965 Vaughn St. w/d incl.

$525//mo, dep. req.

740-400-4077

July 24, 2022 - GROVE CITY MESSENGER - PAGE 15

xClassified Services

AIR CONDITIONING

AIR CONDITIONING

Complete System

Clean & Check

$49.95

BLACKTOP

AGM OHIO

ROOFING &

SEALCOATING

Free Estimates

Cell 614-512-1699

7/31 A

Free Electronic Leak Testing

All Makes • All Models

46 Yrs. Exp. • Senior Discount

614-351-9025

SANTIAGO'S

Sealcoating & Services LLC

Quality Materials Used

SUMMER IS HERE!

Driveway Seal & Repair!

Top Seal Cracks!

Residential & Commercial

Mulching, Edging & Clean-ups

"Ask for whatever you need."

BBB Accredited-Fully Insured

Call or text for Free Est.

614-649-1200

8/14

A/M

BLACKTOP SEALING

Driveways & Parking Lots

614-875-7588

CARPET CLEANING

CARPET CLEANING

Any 5 areas ONLY $75

Home Powerwash $99-$300

614-805-1084

Specializing in Pet Odors

INFORMATION

FOR ONLY

$74.00

You Can Reach

Over 42,000 Homes

In Our

West & Grove City

Areas

For Info Call

272-5422

INFORMATION

CONCRETE

GALLION

CUSTOM CONCRETE LLC

Specializing in Custom Colors &

Custom Designs of Concrete.

Including Remove & Replace

44 yrs exp & Free Est.

Licensed & Insured

Reputation Built

On Quality

Ronnie

614-875-8364

See Us On Facebook

www.gallioncustom

concrete.com

EDDIE MOORE

CONSTRUCTION

Quality Concrete Work

Lt. Hauling & Room Add.,

Block Work & Excavation

Stamp Patios,

Bsmt. Wall Restoration

35 Yrs Exp - Lic & Ins.

Free Ests. 614-871-3834

AJ's Concrete,

Masonry

Good Work - Fair Prices

Block Foundations

Driveways • Sidewalks

Epoxy/Overlay Floors

Bonded-Ins. • Free Ests.

614-419-9932

ALL-CITY CUSTOM

CONCRETE

All Types Concrete Work

New or Tear Out-Replace

40 Yrs. Exp.

(614) 207-5430

Owner is On The Job!

www.hastingsnsons.com

Driveways & Extensions

Patio & Walkways,

Porches & Steps,

Garage/Basement Floors

Hot Tub/Shed Pads,

Stamped/colored concrete

Sealing of new &

existing concrete.

FREE ESTIMATES

Contact Adam

614-756-1754

hastingsandsons.

columbus@gmail.com

INFORMATION

LOOK TO

THE PROFESSIONALS

IN OUR

SERVICE DIRECTORY

For Service

"That Is Out Of This World"

7/31 W/SW

7/31 A

FENCING

EAZY FENCE

Chain Link - Wood

No Job Too Big or Small

All Repairs ~ Free Est.

Insured. 614-670-2292

GUTTERS

Bates & Sons

GUTTER CLEANING

5 ★ Google Reviews

614-586-3417

HAULING

DEAN'S HAULING

614-276-1958

DUMPSTER RENTAL

4 Days - $275 & Up

No Hazardous Materials

Tires - $10.00 each

Call 614-254-1131

HOME

IMPROVEMENTS

KLAUSMAN HOME

IMPROVEMENT

Siding-Windows-

Doors-Roofing-Soffit-

Fascia-Gutters-Trim

Earn FREE Seamless

Gutters with Siding Over

1000 Sq. Ft.

FREE Shutters with

Soffit & Trim

EPA Certified

Member of BBB

Financing Available

Over 20 yrs exp. • Free Est.

Licensed-Bonded-Insured

Owner & Operator

James 614-419-7500

SLAGLE

HOME REMODELING

Baths, Kitchen,

Plumbing and Electrical.

All your Handyman needs

No Job too Big or Small

Over 30 Yrs. Exp. Lic.-Bond-Ins.

Jerry

614-332-3320

8/14 A

7/31

SW/W

C&JHandyman

Services LLC

Minor Plumbing

& Electric

Install Hot Water Tanks,

Dishwashers & Disposals

Also Fencing &

Interior/Exterior Painting

Free Est. ~ 18 Yrs. Exp.

CDC/EPA Approved Guidelines

614-284-2100

SINCE 1973

Phil Bolon Contr.

Windows & Siding

Decks, Kitchens, Baths

Room Additions,

Flooring, Roofing

Bsmt Waterproofing

Deal With Small Non-Pressure Co.

47 Yrs. Exp. - Refs. Avail.

Lic.-Bond-Ins.

7/31

A/M

Free Est. - Financing Avail.

Member BBB Of Cent. OH

O.C.I.E.B. ID #24273

614-419-3977

or 614-863-9912

7/17 A

HOME

REMODELING

MultiCraft Const.

& Handyman Services

All Types Handyman Services:

Decks, Fences

Kitchen/Baths

Window/doors installed

Interior Painting

Drywall Repairs

All Types of Flooring

Call/Text 614-774-2923

multicraftconstruction@gmail.com

LANDSCAPING

A-1 QUALITY

TREE & LANDSCAPE

Family Owned

Serving Central Ohio

Since 2004

Bed & Yard Maint.

Weeding, Mulching, etc.

Hedge/Shrub Trimming

*Stump Removal

614-596-9504

Insured - Free Est.

ONYX

LANDSCAPING

614-407-5214

www.OnyxLandscapingllc.com

Full Service

Lawn Care

Start with Trust!!

LAWN CARE

LAWN REPAIR

Patchi - Refurbish

Total Redo's

Overseeding, Fertilization

Serving Central Ohio

since 2004

Free Estimates

614-596-9504

The Lawn Barber

Cut, Trim, Blow away

Hedge Trimming, Edging

614-935-1466

Christian's

Landscaping

Full Service Lawn Care

•Tree/Shrub Trimming

•Mulching •Tree Removal

7/31

•Powerwashing

w/gc/m

614-282-4443

LET US MAINTAIN

YOUR LAWN & GARDEN

FOR YOU

Summer, Spring,

Winter or Fall

WE DO IT ALL!!!!

Lawn Cuts, Edging,

Trees & Shrubs, Garden,

Mulching, Hauling,

Garden Pond &

Home Maint.

Free Ests. Low Rates

$20 & Up

Kevin - 614-905-3117

Classified Services

7/31A

8/14 W/GC/M

PEST

CONTROL

TERMITE &

PEST CONTROL

614-367-9000

TORCO®

TERMINATES

TERMITES

Locally Owned & Operated. Any Pest. Anytime.

$

50 00 OFF Service

Free Termite Inspection

MOWER REPAIR

LAWN MOWER DR.

"House Calls Only"

Overall Checkups

Oil Change & Filter,

Spark Plug &

Blades Sharpened

MINOR REPAIR

John

614-395-7909

johnellis0333@sbcglobal.net

PAINTING

Painter Over 30 Yrs. Exp.

Free Est. Reas. Rates

Daniel - 614-226-4221

A Job Well Done Again

A lic. General Contractor

Some Skilled Services

Incl: Painting • Stucco,

Repair•Carpentry•Exterior

Drainage & Home Maint.

Call Today! 614-235-1819

PLASTERING

DRYW

YWALL &

PLASTER

7/31

A&M

REPAIR

Textured Ceilings

614-551-6963

Residential/Commercial

BIA

PLUMBING

7/17 A

MYERS

PLUMBING

Exp. Expert Plumbing

New Const. & Fast Repairs

Lic. - Permit Available

Water • Sewer • Gas

614-633-9694

All About Drains & Plumb.

Will snake any small drain

$145. 614-778-2584

CHRIS'

PLUMBING

"Plumbing & Drain Professional

That You Can Count On"

24 Hrs., 7 Days/Week

No Overtime Charges

24 Yrs. Exp. in Plumbing &

Drain Cleaning Field

Call For A Free Phone Estimate

$100.00 For Any Small Drain

614-622-4482

30% OFF with AD

8/14 A&M

8/14 A

PEST

CONTROL

POWERWASHING

Bates & Sons

Soft Wash & Powerwash

5 ★ Google Reviews

614-586-3417

MRS. POWERWASH

Any house wash $149+tax

Single deck $69+tax

2 Tier deck $99+tax

Best Wash in Town

Over 45,000 washes

Ashley 614-771-3892

ROOFING

RETIRED

ROOFER

BBB "A+" Rating

All Types of Roof Repairs

• New Roof Installation

• Flashing

• Chimneys Rebuilt

• Flat Roof Specialist

• Roof Replacement

avail. upon request

All Work Guaranteed

614-352-7057

Free Estimates

SEWING MACHINE

REPAIR

REPAIR all makes 24 hr.

service. Clean, oil, adjust

in your home. $49.95 all

work gtd. 614-890-5296

TREE SERVICES

BURNS TREE SERVICE

Trimming, Removal &

Stump Grinding.

614-584-2164

Brewer & Sons Tree Service

• Tree Removal

• Tree Trimming 8/14

A&M

• Stump Grinding

• Bucket Truck Services

Best Prices • Same Day Service

614-878-2568

A-1 QUALITY

TREE & LANDSCAPE

Family Owned

Serving Central Ohio

Since 2004

614-596-9504

Insured - Free Est.

7/31 A&M

8/14 W/SW
---
PAGE 16 - GROVE CITY MESSENGER - July 24, 2022

www.columbusmessenger.com

Now Opens Opent Openn Opene

and we

lcoming

resid

Come and see e us!

Located in the premier Beulah Park neighborhood!

Danbury Senior Living is pleased to provide these

necessities for every stage of senior living. Regardless

of whether a senior is still very independent, cooking

for themselves and driving to appointments, needs

some care services s like medication management and

transportation, or if they are experiencing cognitive

decline due to dementia or Alzheimer's; a sense of

connection, comfort, and safety is a must for the senior

and for their family's peace of mind. Experience this

and more at Danbu

ry Senior Living.

Villas | Independent Living | Assisted Living | Memory Care

DanburySeniorLiving.com

o s!

Call and schedule your tour today!

614.957.0029

3615 Glacial Lane

Grove City, OH 43123