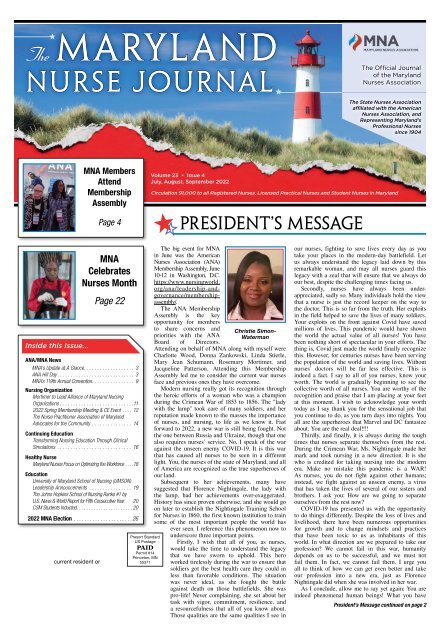 Maryland Nurse Journal - July 2022
You also want an ePaper? Increase the reach of your titles
YUMPU automatically turns print PDFs into web optimized ePapers that Google loves.
The

MARYLAND

Nurse Journal

The Official Journal

of the Maryland

Nurses Association

The State Nurses Association

affiliated with the American

Nurses Association, and

Representing Maryland's

Professional Nurses

since 1904

MNA Members

Attend

Membership

Assembly

Page 4

Volume 23 • Issue 4

July, August, September 2022

Circulation 91,000 to all Registered Nurses, Licensed Practical Nurses and Student Nurses in Maryland

President's Message

Inside this Issue...

current resident or

MNA

Celebrates

Nurses Month

Page 22

ANA/MNA News

MNA's Update at A Glance. . . . . . . . . . . . . . . . . . . 3

ANA Hill Day ............................. 3

MNA's 119th Annual Convention. . . . . . . . . . . . . . . . 9

Nursing Organization

Mortimer to Lead Alliance of Maryland Nursing

Organizations ............................11

2022 Spring Membership Meeting & CE Event ....12

The Nurse Practitioner Association of Maryland

Advocates for the Community ............... 14

Continuing Education

Transforming Nursing Education Through Clinical

Simulations ............................ 16

Healthy Nurse

Maryland Nurses Focus on Optimizing the Workforce ....18

Education

University of Maryland School of Nursing (UMSON)

Leadership Announcements ................ 19

The Johns Hopkins School of Nursing Ranks #1 by

U.S. News & World Report for Fifth Consecutive Year. 20

CSM Students Inducted. . . . . . . . . . . . . . . . . . . . . . . 20

2022 MNA Election ......................26

Presort Standard

US Postage

PAID

Permit #14

Princeton, MN

55371

The big event for MNA

in June was the American

Nurses Association (ANA)

Membership Assembly, June

10-12 in Washington, D.C.

https://www.nursingworld.

org/ana/leadership-andgovernance/membershipassembly/.

The ANA Membership

Assembly is the key

opportunity for members

to share concerns and

priorities with the ANA

Board of Directors.

Christie Simon-

Waterman

Attending on behalf of MNA along with myself were

Charlotte Wood, Donna Zankowski, Linda Stierle,

Mary Jean Schumann, Rosemary Mortimer, and

Jacqueline Patterson. Attending this Membership

Assembly led me to consider the current war nurses

face and previous ones they have overcome.

Modern nursing really got its recognition through

the heroic efforts of a woman who was a champion

during the Crimean War of 1853 to 1856. The "lady

with the lamp" took care of many soldiers, and her

reputation made known to the masses the importance

of nurses, and nursing, to life as we know it. Fast

forward to 2022, a new war is still being fought. Not

the one between Russia and Ukraine, though that one

also requires nurses' service. No, I speak of the war

against the unseen enemy COVID-19. It is this war

that has caused all nurses to be seen in a different

light. You, the nurses of the state of Maryland, and all

of America are recognized as the true superheroes of

our land.

Subsequent to her achievements, many have

suggested that Florence Nightingale, the lady with

the lamp, had her achievements over-exaggerated.

History has since proven otherwise, and she would go

on later to establish the Nightingale Training School

for Nurses in 1860, the first known institution to train

some of the most important people the world has

ever seen. I reference this phenomenon now to

underscore three important points.

Firstly, I wish that all of you, as nurses,

would take the time to understand the legacy

that we have sworn to uphold. This hero

worked tirelessly during the war to ensure that

soldiers got the best health care they could in

less than favorable conditions. The situation

was never ideal, as she fought the battle

against death on those battlefields. She was

pro-life! Never complaining, she set about her

task with vigor, commitment, resilience, and

a resourcefulness that all of you know about.

Those qualities are the same qualities I see in

our nurses, fighting to save lives every day as you

take your places in the modern-day battlefield. Let

us always understand the legacy laid down by this

remarkable woman, and may all nurses guard this

legacy with a zeal that will ensure that we always do

our best, despite the challenging times facing us.

Secondly, nurses have always been underappreciated,

sadly so. Many individuals hold the view

that a nurse is just the record keeper on the way to

the doctor. This is so far from the truth. Her exploits

in the field helped to save the lives of many soldiers.

Your exploits on the front against Covid have saved

millions of lives. This pandemic would have shown

the world the actual value of all nurses! You have

been nothing short of spectacular in your efforts. The

thing is, Covid just made the world finally recognize

this. However, for centuries nurses have been serving

the population of the world and saving lives. Without

nurses' doctors will be far less effective. This is

indeed a fact. I say to all of you nurses, know your

worth. The world is gradually beginning to see the

collective worth of all nurses. You are worthy of the

recognition and praise that I am placing at your feet

at this moment. I wish to acknowledge your worth

today as I say thank you for the sensational job that

you continue to do, as you turn days into nights. You

all are the superheroes that Marvel and DC fantasize

about. You are the real deal!!!!

Thirdly, and finally, it is always during the tough

times that nurses separate themselves from the rest.

During the Crimean War, Ms. Nightingale made her

mark and took nursing in a new direction. It is she

who is credited for taking nursing into the modern

era. Make no mistake this pandemic is a WAR!

As nurses, you do not fight against other humans;

instead, we fight against an unseen enemy, a virus

that has taken the lives of several of our sisters and

brothers. I ask you: How are we going to separate

ourselves from the rest now?

COVID-19 has presented us with the opportunity

to do things differently. Despite the loss of lives and

livelihood, there have been numerous opportunities

for growth and to change mindsets and practices

that have been toxic to us as inhabitants of this

world. In what direction are we prepared to take our

profession? We cannot fail in this war, humanity

depends on us to be successful, and we must not

fail them. In fact, we cannot fail them. I urge you

all to think of how we can get even better and take

our profession into a new era, just as Florence

Nightingale did when she was involved in her war.

As I conclude, allow me to say yet again: You are

indeed phenomenal human beings! What you have

President's Message continued on page 2
---
Page 2 • The Maryland Nurse Journal July, August, September 2022

PUBLICATION

The Maryland Nurse Journal Publication Schedule

Issue

Material Due to MNA

October 2022 September 13, 2022

The Maryland Nurse Journal, the official

publication of the Maryland Nurses Association, is

published quarterly with an annual subscription of

$20.00.

MISSION STATEMENT

The Maryland Nurses Association, the voice of

Nurses, advocates for excellence in nursing and the

highest quality healthcare for all.

Our core values:

Courage: Have moral and mental strength to do

what is right in the face of difficulty.

Respect: Treat all people with dignity and an

acknowledgement of their value as individuals.

Integrity: Be honest, fair and guided by

ethical principles.

Accountability: Be responsible for our words, our

actions, our results, and for the decisions made in

our professional practice.

Inclusiveness: Provide equal access to opportunities

and resources for people who might otherwise be

excluded or marginalized.

Compassion: Be responsive to the care needs

of others.

Approved by MNA BOD, May 2022

President's Message continued from page 1

done for this state, for your country, and for humanity

is nothing short of remarkable. It is with the greatest

humility and pride that I say thank you. You make me

feel proud to be a nurse, for, despite my title, I will

always be a nurse! I am happy to call you my brothers

and sisters in this profession. May God continue to

bless you and your loved ones as you continue to fight

to save lives on this battlefield.

La Plata, Maryland

We have Opportunities for

Registered Nurses & Nursing Leadership

Family-Oriented. Community Minded.

Start your next chapter with

UM Charles Regional.

UM Charles Regional offers competitive

salaries, paid time off, paid holidays, tuition

reimbursement, medical/dental/vision insurance,

pension plan, free parking, and much more.

Visit us online to apply.

www.umms.org/charles/jobs

EOE/AA including

Veterans & Disabled

ARTICLES AND SUBMISSIONS

FOR PEER REVIEW

The Maryland Nurse Journal is a refereed, peerreviewed

journal that welcomes original research

and other articles, opinions, and news items for

publication. The editorial board reviews all material

prior to acceptance. Once accepted, manuscripts

become the property of The Maryland Nurse

Journal. Articles may be used in print or online

by the Maryland Nurses Association and archived

online. It is standard practice for articles to be

published in only one publication. If the submission

has been previously distributed in any manner to

any audience, please include this information with

your submission. Once published, articles cannot be

reproduced elsewhere without permission from the

publisher.

Preparing the Manuscript:

1. All submissions must be submitted to

TheMarylandNurse@gmail.com in WORD

format with 12-point font and double spacing.

2. A separate title page should be included and

contain a suggested title and the name or names

of the author(s), credentials, professional title,

current position, e-mail, mailing address, and

telephone contact, if applicable.

3. Subheadings are encouraged throughout the

article to enhance readability.

4. Article length should not exceed five (5) 8 ½ X

11 pages (1500-2000 words).

5. All statements based on published findings

or data should be referenced appropriately.

References should be listed in the text and at

the end of the article following the American

Psychological Association (APA) 7th edition

format and style (www.apastyle.org/elecref.

html). A maximum of 15 references will be

printed with the article. All references should be

recent– published within the past 5 to 7 years–

unless using a seminal text on a given subject.

6. Articles should not mention product and service

providers.

7. Photos must be submitted as separate

attachments.

Editing:

All submissions are edited for clarity, style, and

conciseness. Scholarly submissions are double-blind

peer-reviewed by at least two reviewers. Reviewers

may return recommendations and comments to the

authors if reviewers request significant clarification,

verification, or amplification. Original publications

may be reprinted in The Maryland Nurse Journal

with written permission from the original author and/

or publishing company that owns the copyright. The

same consideration is requested for authors who may

have original articles published first in The Maryland

Nurse Journal.

Authors may review the article to be published

in its final form. Authors may be requested to sign

a release form prior to publication. The Maryland

Nurses Association retains copyrights on published

articles, subject to copyright laws and the signing of a

copyright transfer and warranty agreement, and may

transfer that right to a third party.

The Maryland Nurse Journal attempts to select

authors who are knowledgeable in their fields.

The views and opinions expressed by authors are

those of the authors and do not necessarily reflect

the opinions or recommendations of the MNA,

the Editors, the Editorial Board members, or the

Publisher. Submissions must be sent electronically to

TheMarylandNurse@gmail.com.

Submissions must be sent electronically to

TheMarylandNurse@gmail.com.

If you are interested in reviewing, reporting, or writing

for The Maryland Nurse, contact us.

443-334-5110

Contact us at TheMarylandNurse@gmail.com

THE EDITORIAL BOARD

OF THE MARYLAND NURSE JOURNAL

Kristen McVerry, MSN, RN-BC, Editor-in-Chief

Nayna Philipsen, PhD, MA, MSN, JD, RN, CFE, FACCE

Beverly Lang, MScN, RN, ANP-BC, FAANP

Linda Stierle, MSN, RN

Kathleen Ogle, PhD, RN, FNP-BC, CNE

MNA BOARD OF DIRECTORS

President

Immediate Past President

Vice President

Secretary

Treasurer

Treasurer-Elect

District 1

District 2

District 3

District 4

District 5

District 7

District 8

District 9

OFFICERS

Christie Simon-Waterman,

DNP, RN, CRNP, DWC, WCC

Charlotte Wood,

PhD, MSN, MBA, MSL, RN, CDA

Melani Bell, DNP, RN

Barbara Biedrzycki, PhD,

MSN, RN, CRNP, AOCNP®

Janice Agazio, PhD, RN,

CRNP, FAANP, FAAN

Nayna Philipsen, PhD, MA,

MSN, JD, RN, CFE, FACCE

DIRECTORS

Terrie Roth, MSN, MBA, APRN, FNP - BC

Darlene Hinds-Jackson, DNP, RN, CRNP, CNE, FNP-BC

Donna C. Downing-Corddry, BSN, RN

Kim Poole, MS, BSN, RN

Nwamaka Oparaoji, DNP, MS, RN

Sadie Parker, RN

Jennifer Cooper, DNP, RN, PHNA-BC, CNE

Kristen McVerry, MSN, RN-BC

MNA DISTRICT PRESIDENTS

District 1

District 2

District 3

District 4

District 5

District 7

District 8

District 9

Michelle Harvey, DNP, RN-BC

Nancy S. Goldstein, DNP, ANP-BC, RNC

Kimi Novak, DNP, MSN, MHA, RN

Kim Poole, RN

Lou Bartolo, DNP(c), MSN, RN

Amanda Mullins, BSN, RN

Debra Disbrow, DNP, RN, PCCN, ONC

Cathy Gibson, BSN, RNC-OB, C-EFM, CLC

ANA MEMBERSHIP ASSEMBLY

2022-2023

MNA Member-At-Large First

Donna Zankowsky,

Voting Representative

MPH, RN, FAACHN

MNA Member-At-Large Second Linda Stierle, MSN, RN

Voting Representative

MNA Member-At-Large

Rosemary Mortimer,

First Non-Voting Alternate

MS, MSEd, RN

2021-2022

MNA Officer First Voting

Charlotte Wood,

Representative

PhD, MSN, MBA, MSL, RN, CDA

MNA Officer Second Voting

Janice Agazio, PhD,

Representative

RN, CRNP, FAANP, FAAN

MNA Officer First

Mary Jean Schumann, DNP, MBA,

Non-voting Alternate

RN, CPNP-PC, FAAN

MNA Officer Second Barbara Biedrzycki, PhD, MSN, RN,

Non-voting Alternate:

CRNP, AOCNP®

For advertising rates and information, please contact

Arthur L. Davis Publishing Agency, Inc., PO Box 216,

Cedar Falls, Iowa 50613, (800) 626-4081, sales@aldpub.

com. MNA and the Arthur L. Davis Publishing Agency, Inc.

reserve the right to reject any advertisement. Responsibility

for errors in advertising is limited to corrections in the next

issue or refund of price of advertisement.

Acceptance of advertising does not imply endorsement

or approval by the Maryland Nurses Association of products

advertised, the advertisers, or the claims made. Rejection

of an advertisement does not imply a product offered for

advertising is without merit, or that the manufacturer lacks

integrity, or that this association disapproves of the product

or its use. MNA and the Arthur L. Davis Publishing Agency,

Inc. shall not be held liable for any consequences resulting

from purchase or use of an advertiser's product. Articles

appearing in this publication express the opinions of the

authors; they do not necessarily reflect views of the staff,

board, or membership of MNA or those of the national or

local associations.

The Maryland Nurse Journal is published quarterly

every January, April, July and October for the Maryland

Nurses Association, a constituent member of the American

Nurses Association, 6 Park Center Court, Suite 212, Owings

Mills, MD 21117.
---
July, August, September 2022 The Maryland Nurse Journal • Page 3

ANA/MNA News

ANA Hill Day

Charlotte M. Wood, PhD, MSN, MBA, MSL, RN, CDA

ANA Hill day started at 7:30 a.m. on Thursday, June 9, 2022, with breakfast

and registration, followed by a "Welcome" from ANA President Dr. Ernest Grant.

We enjoyed our keynote speaker, Rep. Lucille Roybal-Allard (D-CA-40), who

engaged in a conversation regarding current issues in nursing and healthcare,

and the importance of advocacy. This activity was followed by a federal

legislative overview from Samuel Hewitt and Kristina Weger, Principals, Federal

Government Affairs for ANA.

On Hill Day, the American Nurses Association (ANA) continued efforts

to amplify the voices of nurses through conversations with our Congressional

representatives and their legislative aides as they considered and debated public

policy that will affect the essential functions of registered nurses (RN) and

healthcare in America. The agenda proceeded with a "Nurses-Call-to-Action,"

the logistics for the Capitol Hill meetings, and was followed by various groups

speaking to their congressional representatives via Zoom while others headed out

to Capitol Hill.

National legislative priorities were as follows:

• Valuing the Nursing Workforce (dealing with a discussion of burn-out,

prevention of workplace violence, and prohibiting the use of mandatory

overtime).

• Advanced Practice Registered Nurses (removing barriers to full practice

authority and support or co-sponsor the "I Can Act" bill that will be coming

in July) and,

• Improving Senior's Timely Access to Care Act of 2021 (Providing care

that streamlines and prioritizes prior authorization under the Medicare

Advantage Program…S.3018/H.R. 3173) co-sponsored by 296 legislators.

Many national legislative priorities also aligned with the state of Maryland's

legislative initiatives. The ANA has been relentless in advocating on behalf

of the country's RNs who have been caring for our nation's most vulnerable

and those who lack access to healthcare. The ANA and the members of the

membership assembly spoke about the nursing staffing crisis, improving access

to healthcare, removing practice barriers, workforce development, and addressing

reimbursement for APRNs to have "same service, same pay."

As your "Membership Assembly" representatives, we were happy to serve

you on Capitol Hill ensuring that our national legislative representatives from

Maryland supported all nursing priorities and major initiatives. Thank you all for

allowing us to represent you.

MNA's Update at A Glance

Dr. Christie Simon-Waterman, MNA President

1. Office Space: The MNA Board and President

have appointed an Office Resiliency Workgroup

(WOR) to assess MNA's office space functionally

and identify cost-effective ways to optimize office

space. Special thank you to the WOR members:

Lou Bartolo (District 5 President), Nayna Philipsen

(MNA Treasurer-Elect), Alita-Geri Carter (District

5 Treasurer), Vann Joyner (District 2 Treasurer), and

Marshada Chapman (District 2 Finance Committee).

2. ANA: A big event for MNA in June was

the ANA Membership Assembly, June 10-12 in

Washington, D.C. https://www.nursingworld.org/ana/

Lou Bartolo

leadership-and-governance/membership-assembly/.

Attending the ANA Membership Assembly in June was a key opportunity

for members to share concerns and priorities with the ANA Board of Directors.

Attending on behalf of MNA were MNA President Christie Simon-Waterman,

Charlotte Wood, Donna Zankowski; Linda Stierle, Mary Jean Schumann,

Rosemary Mortimer, and Jacqueline Patterson.

3. MNA Advocacy in Annapolis: As the 2022 90-Day annual Legislative

Session ended in Annapolis, the MNA Legislative Committee and MNA's

Lobbyist, Public Policy Partners, are collating the enormous number of bills that

would impact nursing and patient care and on which MNA took a position. These

will be published by MNA and available to members upon request.

4. LMNO: MNA has long hosted an outstanding group of Maryland nursing

organizations to address common concerns. Formerly called the League of

Maryland Nursing Organizations (LMNO), this is now the League of Maryland

Nursing Associations (LMNA). Its post-Pandemic renewal is led by Rosemary

Mortimer, a former MNA President.

5. APRN Workgroup - MNA is working with other organizations, nurse

leaders, and APRNs to have robust discussions regarding the APRN compact.

MNA's past President Neysa Ernst will facilitate these discussions.

6. MNA Ethics Hotline: The MNA Center for Ethics and Human Rights has

activated an electronic "hotline." Nurses can now request guidance in addressing

ethical issues and be assured of a confidential and de-identified response. The

email address for the Hotline is MNA.Ethics@marylandrn.org.

7. MNA Convention: The 119th MNA Annual Convention will be on October

6 and 7, 2022, at the Maritime Institute in Linthicum. Go to the MNA website to

nominate an outstanding colleague for an MNA Award.

From (L) to (R): Dr. M. Bell, Dr. C. Simon-Waterman, Ms. M. Okwusogu,

Dr. P. Travis, Dr. C. Wood, & Ms. R. Mortimer.
---
Page 4 • The Maryland Nurse Journal July, August, September 2022

ANA/MNA News

Report on The ANA Membership Assembly

By Linda J. Stierle, MSN, RN

MNA Member-at-Large to ANA MA

For the first time since 2019, the American Nurses

Association's (ANA) highest governing body, the

2022 ANA Membership Assembly (MA), met in

person on June 9th thru 11th to conduct the business

of the association and elect ANA leaders. More

than 300 nurses and others gathered at the Grand

Hyatt in the District of Columbia. The Maryland

Nurses Association (MNA) was represented by its

four elected voting representatives to the ANA MA.

The two MNA Officer Representatives were current

MNA Past President, Dr. Charlotte Wood, and Past

Treasurer, Dr. Mary Jean Schumann; the two MNA

Member-at-Large Representatives were Ms. Donna

Zankowski and Ms. Linda Stierle, MNA Committee

on Bylaws & Policies Chair, as well as Chair of

the MNA Committee on Nominations and a past

ANA Chief Executive Officer. Also, in attendance

were MNA's nonvoting Alternate Representative

to the ANA MA: Past MNA President and ANA's

Immediate Past Consultant to the National Student

Nurses Association (NSNA) Ms. Rosemary

Mortimer. Also, in attendance were MNA's current

President, Dr. Christie Simon-Waterman, and MNA's

Chief Staff Officer (CSO), Ms. Jacqueline Patterson.

The Maryland Delegation were pleased to have Ms.

Gwen Johnson from District 5 at our table; she was

representing the ANA Organizational Affiliate, Chi

Eta Phi Sorority, Incorporated, and Dr. Pat Travis,

MNA Past President and current member of the ANA

Committee on Bylaws.

The 2022 ANA MA mirrored in every way the

pre-pandemic MA, the last one being in 2019 at the

Grand Hyatt. The various components of the ANA

MA are: Hill Day prior to the start of the ANA MA,

Dialogue Forums, Candidate Forum, Voting, Political

Action Events, American Nurses Foundation Donor

Luncheon, Networking & Discussion luncheons, and

business and discussion sessions of the ANA MA.

These activities were spread out between June 9th

and June 11th.

ANA Hill Day: See page 3 in this edition for more

information

Welcome Reception & Awards Ceremony: This

was held Thursday evening. It started with a halfhour

of heavy hor d'oeuvres in the Independence

Foyer; everyone then transitioned to the Constitution

Ballroom for the 2022 President's and National

Awards Ceremony, where the twenty-one awardees

were recognized. There were seven recipients of

the President's Award: Karen Daley, PhD, MPH,

RN, FAAN; Martha Dawson, DNP, RN, FACHE;

Adrianna Nava, PhD, MPA, MSN, RN; Debra Toney,

PhD, RN, FAAN; Daniella Vargas, MSN, MPH, MA-

Bioethics, RN, PHN; G. Rumay Alexander, EDD,

RN, FAAN; Beverly Malone, PhD, RN, FAAN. ANA

Hall of Fame Inductees: Anne P, Manton, PhD, RN,

FAEN, FAAN; Barbara Nichols, DL (H) Dec(H),

PEDD (H), MSN, RN, FAAN. National Award

Honorees: Advocacy Award: Denise Driscoll, MSN,

RN-BC, CARN, PMHCNS-BC, NPP; Sally Morgan,

MA, RN, AGPCNP-BC, ACNS-BC; Jessica Peck,

DNP, APRN, CPAP-BC, CNE, FAANP, FAAN.

Distinguished Direct Patient Care Award: Casey

Green, BSN, RN, CCRN, CRRN, CFRN, CEN,

TCRN, CPEN; MNA District 7 member; Duke

Harvey Lagtapon, BSN, RN, CCRN-CMC-CSC,

CHFN. Early Career Nurse Leader Award: Naomi

Hanoch, BSN, RN. Foundation of Nursing Practice

Award: Denise McNulty, DNP, MS-HAS, NPD-BC,

NE-BC. Leadership in Ethics Award: Vivienne

McDaniel, DNP, MSN, RN. Luther Christman

Award: Kevin Emmons, DRNP, RN, APN,

AGPCNP-BC, CWCN, CFCN. Mary Mahoney

Award: Jonnie Hamilton, DNP, PhD, RN. Public

Health Service Award: Lisa Patch, MSN, BS, RN,

NCSN; Anumol Thomas, DNP, FNP-C, CCRN.

HEARING - ANA's Racial Reckoning

Statement: It was submitted by the ANA Board of

Directors. In 2021, the ANA began an intense effort

to understand its own history regarding racism in

nursing. The result is an initial racial reckoning

statement that serves as an apology to nurses of

color who have been harmed by decisions and

omissions made by ANA that contributed to racism

in the profession. There was a one-hour hearing to

allow members to react to this draft statement prior

to asking for members to adopt it. Linda Stierle,

as a Maryland voting representative made a verbal

statement in support which was also submitted

in writing to the Professional Policy Committee.

On Saturday afternoon, ANA's racial reckoning

statement was adopted by the membership by

unanimous consent. With this statement, ANA is

launching a sustained effort dedicated to ongoing

reckoning and reconciliation, forgiveness, and

healing. It was and is a historic moment for our

professional association.

ANA Membership Assembly: The ANA MA

was scheduled for three sessions on Friday and

Saturday totaling 8 plus hours to conduct the

business of the association. ANA President, Dr.

Ernest Grant, chaired the ANA 2022 ANA MA and

called it to order after being informed a quorum was

present. A Nightingale Tribute was conducted by

ANA President Grant. He read the poem "She Was

There," authored by Duane Jaeger, RN, MSN from

the Kansas State Nurses Association, recognizing the

death of nurses this past year. Dr. Grant provided a

Presidential Address; other presentations included

an update by the ANA Chief Nursing Officer, the

Chief Executive Officer of the ANA Enterprise, the

ANA Treasurer, the President of the National Student

Nurses Association and the Presidents of ANA's three

subsidiaries: the American Nurses Foundation, the

American Academy of Nurses, and the American

Nurses Credentialing Center. There was also a

presentation from the President of the International

Council of Nurses (ICN), Dr. Pam Cipriano, the

Immediate past president of ANA. ANA was a

founding member of the ICN in 1899; ICN was the

very first international health care organization.

There were also two one-hour presentations and

discussions on Saturday. The first session addressed

the work of the APRN Taskforce: Enterprise Tools to

Dismantle APRN Practice Barrier. The second hour

was a discussion of COVID's impact and Implications

for nursing. At the end of the MA meeting,

Rosemary Mortimer, MNA Representative, went

to the microphone and asked for a point of personal

privilege to make a statement and proposal for the

ANA BOD and Political Action Committee (PAC)

to consider. Permission was granted and her proposal

read as follows: "I would respectfully request that

the ANA Board of Directors and the Political Action

Committee (PAC) add a criterion that candidates

for congressional office will be denied eligibility

for financial support if they have supported by their

verified action or inaction, any attempt to breach

the Constitution of the United States or the peaceful

transfer of power." It received a standing ovation from

the ANA MA in a show of support.

Dialogue Forums: There were three forums; all

three were each conducted for 50 minutes on Friday

afternoon. Dialogue Forum #1: It addressed Impact

of Climate Change on Health and was submitted

by the New Hampshire Nurses Association, ANA-

Michigan, ANA-Vermont, Minnesota Organization

of Registered Nurses, and the Alliance of Nurses

for Healthy Environments. Dialogue Forum #2

addressed Advancing Solutions to Address Verbal

Abuse and Workplace Violence Across the Continuum

of Care and was submitted by a member of the New

Jersey State Nurses Association and members from

the National Association of School Nurses. Donna

Zankowski as a Maryland voting representative,

made a statement in support of the Professional

Policy Committee (PPC)'s recommendation for zerotolerance

of verbal abuse and workplace violence.

Dialogue Forum #3 addressed Nurse Staffing and

was submitted by ANA's PPC. The final policy

recommendations from the three dialogue forums from

the ANA's PPC were made available to the registered

attendees late Saturday morning and were discussed

and voted on Saturday afternoon. The Nurse Staffing

recommendations generated the most discussion with

some revisions to the PPC recommendations prior to

adoption by the membership.

ESREC Meeting: On June 2nd, a Zoom

Meeting was hosted by the New Jersey State Nurses

Association (NJSNA) of the Eastern Seaboard

Regional Executive Conference (ESREC), one of

four informal geographic ANA regions. ESREC

is comprised of the following states: CT, DE,

MA, MD, ME, NH, NJ, NY, PA, RI, and VT. The

purpose of the meeting was to permit candidates

for ANA elected offices an opportunity to interact

with the ESREC voting representatives. All eleven

(11) candidates took advantage of this opportunity.

Each candidate had five minutes allotted for them

to provide a thumbnail sketch of themselves and

then answer a couple of questions from the voting

members. On Friday, June 10th, the ESREC members

met in person to decide the future leadership if

ESREC. NJSNA has been leading this group since

2020. Prior to 2019, the leadership of this group

rotated year by year between each of the eleven states

that comprise ESREC. The final decision was that

there would be two co-chairs to divide the workload.

Judy Schmidt, NJSNA, and Cammie Townsend,

ANA-MA, will co-chair ESREC. In 2019, the

ESREC decided that they wanted to submit proposed

amendments in 2021 to the 2019 ANA Bylaws. This

did not happen in 2021 due to the pandemic. ESREC

plans to submit proposed amendments to the ANA

Bylaws in 2023.

Meet the Candidates & Candidate Forum:

Each Candidate is assigned a table in a designated

section of the ANA meeting space. The candidates

were at their election table between Friday morning

prior to the start of the ANA MA. Voting members

are encouraged to visit the candidates for one-on-one

dialogue with the candidates. The Candidate Forum

was held on Friday afternoon for 1.5 hours, 5:00 –

6:30 PM.

There were two Officer and two Director positions

to be elected in 2022, each with a two-year term of

office; there were eight (8) candidates for these four

elected positions as members of the ANA BOD.

The three Secretary candidates, the two candidates

for Director-at-Large, and the one candidate for

the Staff Nurse Director-at-Large each had three

minutes to address the 200 Voting Representatives

from the ANA Constituent/State Nurses Associations

(C/SNA) and the Individual Membership Division

(IMD), the 39 ANA Organizational Affiliate voting

members, and the nine ANA BOD members. The two

candidates for President each had five minutes. There

were four (4) candidates for the ANA Nominating

and Elections Committee (NEC).

Voting: Voting occurred for two hours Saturday

morning. Officers require a majority to be elected

while Directors and members of the NEC only

require a plurality of votes to be elected. If an officer

does not get a majority vote, then a runoff-election

is held among the two candidates who received the

most votes during the initial voting period. A runoff

election was required for the Secretary position.

The ANA Membership Assembly elected Jennifer

Mensik Kennedy, PhD, MBA, RN, NEA-BC, FAAN,

of the Oregon Nurses Association as the association's

next president to represent the interests of the nation's

more than 4.3 million registered nurses. Mensik

has more than 25 years of nursing experience in a

variety of settings ranging from rural critical access

hospitals and home health to hospital administration,

and academia. She has served as President of the
---
July, August, September 2022 The Maryland Nurse Journal • Page 5

ANA/MNA News

Arizona Nurses Association and 2nd Vice President

and Treasurer of ANA. The term of service for Dr.

Mensik and all other newly elected leaders will begin

January 1, 2023.

ANA's MA also elected four members to serve

as officers of the nine-member board of directors.

The newly elected board members are: Secretary

Amanda Oliver, BSN, RN, CCRN, of ANA – Illinois;

Director-at-Large, Edward Briggs, DNP, MS, APRN,

of the Florida Nurses Association; Director-at-Large,

Jennifer Gil, MSN, RN, of the New Jersey State

Nurses Association; and Director-at-Large, Staff

Nurse, David Garcia, MSN, BSN, RN, PCCN, of

the Washington State Nurses Association. Elected to

serve on the Nominations and Elections Committee

are: MaryLee Pakieser, MSN, RN, FNP-BC, of

ANA – Michigan; Jennifer Tucker, MA, RN, of the

Minnesota Organization of Registered Nurses; and

Kimberly Velez, MSN, RN, of ANA – New York.

The following ANA board members will continue

their terms: Susan Swart, EdD, MS, RN, CAE, of

ANA – Illinois as Vice President; Joan Widmer, MS,

MSBA, RN, CEN, of the New Hampshire Nurses

Association as Treasurer; Amy McCarthy, MSN,

RNC-MNN, NE-BC, of the Texas Nurses Association

as Director-at-Large; and Marcus Henderson, MSN,

RN, of the Pennsylvania State Nurses Association as

Director-at-Large, Recent Graduate. The following

individuals will complete their terms on the ANA

BOD in 2022, President Ernest Grant, PhD, RN,

FAAN of North Carolina Nurses Association;

Secretary Jeff Doucette, DNP, RN, NEA-BC,

FACHE, FAAN of the Virginia Nurses Association;

and Director-at-Large Brienne Sandow, MSN, RN,

NEA-BC of the Idaho Nurses Association.

It was a privilege to be able to represent MNA

once again at ANA's in-person Membership

Assembly as together we positively impacted our

chosen profession, Nursing, and its future!

L to R Rosemary Mortimer, Christie Simon-Waterman, Linda Stierle, Charlotte Wood,

Mary Jean Schumann, Donna Zankowski

Dr. Melani Bell and Alita-Geri Carter

Dr. Patricia Travis, Dr. Christie Simon-Waterman,

Dr. Melani Bell

Mary Okwusugo, Rosemary Mortimer, Dr.

Charlotte Wood, Alita-Geri Carter

Additional Membership Assembly photos on page 10
---
Page 6 • The Maryland Nurse Journal July, August, September 2022

ANA/MNA News

MNA Launches

Virtual Ethics

Hotline

Nurses inevitably face ethical situations in practice

that can cause great moral distress, contributing to

poorer health or even "burnout" and a decision to

leave the profession. MNA has now created a Hotline

to help nurses address these issues: mna.ethics@

marylandrn.org.

Practice situations that involve ethical questions

typically have no easy answers. Some of these

include: patient's advance directive, how much

information to give a patient for fully informed

consent, what to tell a patient's family, a patient's

"right to die," end-of-life planning, Do-Not-

Resuscitate orders, respecting a patient's religion or

culture beliefs, access to care, management of pain

medication, when and whether to report a colleague,

when and why to advocate for a patient, and triaging

or even rationing care.

Instead of losing sleep over your situation, you

could send it to the MNA Hotline. The MNA Center

for Ethics and Human Rights will assure that each

nurse receives guidance to help with decisionmaking.

District 9's Annual Spring Dinner

District 9 of the Maryland Nurses Association

(MNA) met on May 10, 2022, for their Annual Spring

Dinner at the College of Southern Maryland (CSM)

LaPlata Campus. Eighteen nurses attended the event,

many sporting their unique District 9 t-shirts. District

9 President, Cathy Gibson, opened the evening with

a welcome, and participants watched a video from

MNA President Christie Simon-Waterman. The event

included dinner from Apple Spice Junction, raffles, a

District 9 meeting, and a presentation on A Culture of

Thanks and Recognition: The Power of Recognition

in the Workplace by Janice O. Kilby, MN, MAN,

RN, CNOR. The evening ended with the Nightingale

Tribute.

Nurses brought food donations for the Good

Shepherd Food Pantry in Charlotte Hall, Maryland.

District 9 would like to thank all those who

sponsored the event and support the nurses of

Charles, Calvert, and St. Mary's counties.

In the fall, District 9 will hold its annual awards

dinner and also have a speaker for continuing

education. Please consider nominating a fellow

nurse or nursing student for an award. Award

and scholarship information can be found on the

MNA District 9 website. https://mnadistrict9.

nursingnetwork.com/

District 9 will partner with District 3 and volunteer

at the Capital Food Bank on September 9th. For

more information, Cathy Gibson can be contacted at

cathy@michaelgibson.com

Janice O. Kilby

NOW HIRING

RN, LPN & GRADUATE NURSES

POSITIONS AVAILABLE IN SEVERAL DEPARTMENTS

$21,000 BONUS FOR NIGHTSHIFT

$15,000 BONUS FOR DAYSHIFT

$3,000 RELOCATION ASSISTANCE

Bonuses are awarded for a three-year service commitment

APPLY TODAY!

www.grmc-wvumedicine.org/apply-now

BENEFITS

INCLUDE:

Paid-Time Off

Competitive Pay

Shift Differential

Tuition Assistance

Health Insurance

& More

MARYLAND DEPARTMENT OF

JUVENILE SERVICES (DJS)

L to R: J. Acevedo, A. Jones, M. Bell, M. Capati, S. Battle, C. Gibson, K. Parsons, L. Gonzalez,

L. Goodman, D. Leukhart, L. Guy, S. Cano, J. Bierbaum, K. Miller, and S. M. Allen

DJS has exciting openings for:

RN Charge Medical (and Psychiatric):

various locations

Nurse Practitioner/Midwife II: Baltimore County

Excellent Benefits/Competitive Salary/

Safe Working Environment

Unencumbered active nursing license required.

For detailed requirements and application procedures,

go to djs.maryland.gov and

click on Career Opportunities. EOE

Veterans and Bilingual Applicants

are Encouraged to Apply
---
The Maryland Tobacco Quitline is here to help with free patches, gum,

and trained quit coaches for your patients who smoke or vape.

For FREE help to quit tobacco for good

The Maryland Department of Health thanks all of the healthcare workers

on the frontlines helping to keep Marylanders safe.
---
Page 8 • The Maryland Nurse Journal July, August, September 2022

ANA/MNA News

District 4 – Reignited!

Member Highlight:

Sara Cano, District 9

Sara Cano, PhD, MSN, BSN, RN, has been a

faculty member at the College of Southern Maryland

(CSM) since 2004 when she started as an adjunct

and from 2006 as a full-time faculty. Sara was

appointed Acting Chair of the Nursing Program in

2020. She has a BSN (1987) from the University of

Puerto Rico, a MSN Ed (2006) from the University

of Phoenix, and a PhD (2018) in Nursing Philosophy

from University of Phoenix. The foundation of Sara's

practice as a nurse and as an educator is based on

Jean Watson's Human Caring Theory and Madeleine

Leininger's Transcultural Caring theory. She believes

wholeheartedly in life-long learning and enjoys

philosophical conversations about any topic. She is an

avid reader and crafter that makes time for self-care

and growth. Sara currently serves as the District 9

Treasurer and is a member of the MNA Legislation

Committee.

Baltimore County Public Schools

Hiring for school nurse positions -

Elementary, Middle and High schools

Requires RN & Bachelors, with 2 years of

professional nursing experience

Benefits: Serving school communities;

10-month schedule; winter break,

spring break; OFF on federal holidays,

nights and weekends; Tuition

reimbursement; State pension.

Contact krussell2@bcps.org

with any questions.

www.bcps.org/jobs

Submitted by Kim Poole, MS, BSN, RN

MNA District 4 was officially reignited on March

14, 2022, during the special membership meeting

when the revised by-laws were adopted. Board

meetings are scheduled via Zoom on either the 3rd

or 4th Wednesday of the month. For Nurses Week

2022, District Nurses Association (DNA) 4 held a

virtual gathering, celebrating both Nurses Week and

the reactivation of DNA 4. The event was attended

by 13 participants, with introductions and a shared

discussion of questions chosen by each participant.

Comments included why nursing is a profession and

inspirational or memorable moments in nursing.

Participants either wore or held something that

represented their spirits in nursing, such as a hat,

T-shirt, or pin. Overall, we all had a wonderful time

as we toasted (with a beverage of choice!) while

building our DNA 4 community.

The DNA 4 Board of Directors would like to share

their bios and encourage joining us as we plan our

path forward. Let's continue the momentum and build

a strong and engaged DNA 4 membership!

Meet the members of District 4 below:

Kim Poole, MS, BSN, RN

A graduate of Salisbury University School of

Nursing, I recently graduated from the University of

Maryland School of Pharmacy with a master's degree

in Medical Cannabis Science and Therapeutics. I

currently work in a private family practice as a staff

nurse, providing education and consultations with

healthcare professionals and patients about medical

cannabis.

I am so excited to be a part of our dedicated DNA

4 Board of Directors as your President and look

forward to meeting members, growing our District,

and working towards the goals of MNA with all of

you. Please contact me with questions, concerns, or

inspiration at KPooleRN@gmail.com.

Lisa A. Seldomridge, PhD, RN, CNE

I am a Professor of Nursing at Salisbury

University, including positions as Department Chair,

Director of Graduate and Second-Degree Programs,

and Director of the Henson Medical Simulation

Center. I am currently the Principal Investigator

for four MHEC NSP-II grants – Faculty Academy

and Mentorship Initiative of Maryland, Toolkits

for Development of Nursing Leadership Skills,

Fast Track to Nursing: Expanded Opportunities

for 1st and 2nd degree BSN students, and www.

LeadNursingForward.org. My goals for DNA 4 are

to bring together colleagues from the eight counties

of the Shore and advocate for the needs of fellow

nursing professionals.

Christie Chmar, MSN, RN

I am a 2002 graduate of Salisbury University

School of Nursing and recently earned my MSN from

Wilmington University in 2021, with plans to pursue

my DNP. I currently work as a school nurse within

Worcester County. My service as Treasurer and

vision for DNA 4 is to ensure the provision of proper

channels that provide support and representation for

pertinent issues and serve my profession with the

utmost respect and integrity.

Rosalie Griffith, PhD, MA.Ed, MSN, RN, DN/

CM, ALM

I have been in nursing for nearly 30 years, and I

have spent more than half of my 30 years working in

allied health and nursing education and the last eight

years in various leadership roles. I am excited to see

District 4 up and running again. The nominations

committee and I will be looking for volunteers to fill

positions for both the District Board of Directors and

committee members. Please contact me if you have

any questions or are willing to serve at r.griffith@

yahoo.com.

Aaron Sebach, PhD, DNP, MBA, AGACNP-BC,

FNP-BC, NP-C, CP-C, CEN, CPEN, CLNC, CGNC,

CNE, CNEcl, SFHM

I am Dean of the College of Health Professions

and Natural Sciences at Wilmington University

and a Hospital Medicine Nurse Practitioner with

TidalHealth. I serve as a member of the nominating

committee for District 4 and look forward to

collaborating with other District 4 members as the

District is reactivated.

Kim Butler, MSN, MS, RN

I am Kim Butler, the wife of Wallace, mother of

Michon and Monae, and Kinsley's Gia. Nursing

has been a desire and a passion of mine since my

middle school years. My father passed away from

heart disease and diabetes, and I then committed to

educating myself about the body and helping others

learn about theirs. The last three decades of my life

has been spent in the medical profession. I am a

dually degreed master's prepared Registered Nurse

with a Master's of Science degree in Management.

I've had the honor of taking care of patients as a staff

nurse, nurse manager, assistant director of nursing,

and director of nursing. Additionally, I've taught at

the collegiate level and in a secondary school. Being

a nurse is not comprised of acts that I perform; it is

who I am through and through....to the core.

Sedonna Brown, MSN, RN

I am currently the secretary for District 4 and

am excited to lend my support to reactivate the

District. I am a full-time faculty member at Salisbury

University and teach in the Adult Health Clinical

Course and the Leadership and Management Courses.

I am pursuing my doctorate in education leadership

at the University of Maryland Eastern Shore. I also

work as a staff nurse at Anne Arundel Medical

Center Luminis Health in Annapolis, Maryland.

I reside in Talbot County with my two sons and am

passionate about community service, healthcare

disparities, learning, and self-care for nurses. I hope

my love for life and leadership development will

contribute to my success in my new role as secretary

and growing District 4!

DNA 4 Nurses Week Zoom Celebration May 2022
---
July, August, September 2022 The Maryland Nurse Journal • Page 9

ANA/MNA News

Registration is OPEN for MNA's 119th ANNUAL CONVENTION

Please join us for the Maryland Nurses

Association's 119th Annual Convention, returning to

an in-person event on October 6th-7th, 2022, at the

Maritime Conference Center in Linthicum Heights,

Maryland. Discounted early bird registration will

occur from July 1, 2022, through July 31, 2022.

CLICK HERE to register today! (https://events.

resultsathand.com/mna22/1685/page/1024-Home)

We are excited that this year's theme will be

"Maryland Nurses RISE: Revitalize, Inspire, Succeed,

Evolve." We look forward to presentations highlighting

the resilience of Maryland nurses, many of whom have

been at the frontlines during the pandemic.

Educational objectives for the convention are to:

1. Discuss current nursing education and

professional development practice

2. Apply leadership and clinical interventions for

various nursing practice areas

3. Compare and contrast innovative quality and

research improvements across the nursing

spectrum

We have three dynamic Keynote Speakers lined up:

Patricia McMullen,

Ph.D., JD, CRNP,

FAANP, FAAN

Dean Emerita & Ordinary

Professor, Conway School

of Nursing

The Catholic University of

America

Dr. McMullen practices

as an educator, women's

health nurse practitioner,

and as an attorney. She

holds BSN and MS degrees from the University

of Maryland School of Nursing and then went on

to complete a Juris Doctor at the University of

Baltimore School of Law and a Doctor of Philosophy

degree in nursing at The Catholic University of

America. Dr. McMullen has held faculty positions

at several universities and has worked clinically at

Johns Hopkins Hospital, the Baltimore City Health

Department, and most recently at Mercy Medical

Center's Rosenshein Institute for Gynecologic Care.

She has been selected as a Distinguished Practitioner

by the American Academies of Practice, a Fellow of

the American Association of Nurse Practitioners, and a

Fellow of the American Academy of Nursing. she has

presented numerous workshops on legal issues in nurse

practitioner practice. She is also the author of a number

of research and practice-based articles and texts.

Blake K. Smith, MSN, RN

President, American

Association for Men in

Nursing (AAMN)

Blake K. Smith, MSN,

RN, serves as a Clinical

Documentation Sr. Analyst

at Nebraska Medicine in

Omaha, NE. and leads

all projects on Patient

Education/Health Literacy,

Plan of Care, Downtime

Procedures, and Regulatory Reporting for five hospital

systems across the state of Nebraska. He is a Robert

Wood Johnson Foundation New Careers in Nursing

Scholar and served as the first Chair of the New

Careers in Nursing (NCIN) Scholars Network as a

founding member. He also serves locally as a member

of the Nebraska Action Coalition (NAC) Diversity

Task Force and Leadership Committee. Smith is a

leader in men's health and underrepresented workforce

inclusion issues in the nursing profession and currently

serves as the youngest President in American

Association for Men in Nursing (AAMN) history. He

advocates nationally for workforce inclusion serving on

the national Equity, Diversity, and Inclusion Steering

Committee for AARP/Center to Champion Nursing in

America as well as the American Nurses Association

(ANA) National Commission to Address Racism in

Nursing.

Smith has a Bachelor in Science degree in Exercise

Science Research from Nebraska Wesleyan University

in Lincoln, NE in 2008, BSN from Nebraska

Methodist College in Omaha, NE in 2012, and MSN

in Nursing Health Systems Administration from the

University of Alabama at Birmingham (UAB) in 2017.

Smith is a visionary thought leader for diversity

and inclusion volunteer advocacy work with two

prestigious recognitions receiving the Horizon Award

from Nebraska Methodist College and the UAB School

of Nursing Visionary Leader Award, given to only

130 other distinguished alumni in the school's 70-year

history.

Kevin W. Sowers, M.S.N.,

R.N., F.A.A.N.

President, Johns Hopkins

Health System

Executive Vice President,

Johns Hopkins Medicine

As the second person in

Johns Hopkins history to

hold these dual roles, Mr.

Sowers oversees the health

system's six hospitals

– The Johns Hopkins

Hospital, Johns Hopkins Bayview Medical Center,

Howard County General Hospital, Suburban Hospital,

Sibley Memorial Hospital and Johns Hopkins All

Children's Hospital – and sets strategies that advance

our mission to deliver outstanding care, train the

next generation of leaders and advance research and

discovery. He also serves as chair of Johns Hopkins

Community Physicians, which has more than 40

primary and specialty care outpatient sites throughout

Maryland and the Washington, D.C., area.

Mr. Sowers came to Johns Hopkins Medicine after

32 years with the Duke University Health System, the

last eight as president and CEO of Duke University

Hospital.

He joined Duke University Medical Center

Hospital in 1985 as a staff nurse in oncology and held

several faculty and nursing leadership positions. His

numerous senior leadership posts across the Duke

University Health System included chief operating

officer for Duke University Hospital and interim CEO

for Durham Regional Hospital. Among his senior

administrative roles, Mr. Sowers oversaw consolidation

of Duke's clinical lab services, emergency and trauma

services, and managed care and patient care services.

Active in many professional and community

organizations, Mr. Sowers is a member of the Vizient

board of directors and the AAMC Council of Teaching

Hospitals and Health Systems administrative board.

He served as chair of the AmSurg board and was a

member of the North Carolina Hospital Association

board of trustees and the North Carolina Institute of

Medicine board of directors. He also held leadership

roles with the American Heart Association, Susan G.

Komen and the Oncology Nursing Society.

Sowers earned his bachelor of science degree from

Capital University School of Nursing and a master of

science from Duke University School of Nursing. He

is an American Academy of Nursing fellow and has

collaborated on numerous research efforts as well as

consulted internationally. He has published extensively

and speaks nationally and abroad on issues such as

leadership, organizational change, mentorship and

cancer care.

Mr. Sowers will deliver a pre-recorded closing

keynote.

The 2022 convention will foster collaboration

and provide a forum for peer-to-peer interactions

among RNs and nursing students in Maryland. Panel

discussion topics will be:

• Licensure Compacts in Health Care:

How they Work

Panelists

- Karen Evans, Executive Director Maryland

Board of Nursing (MBON)

- Christine A. Farrelly, Executive Director,

Maryland Board of Physicians

• Exploring Solutions to the Registered Nurse

Workforce Shortage. Think Tank Session

Panelists

- Gina S. Brown, PhD, MSA, RN, Chief

Servant and Dean, Howard University College

of Nursing and Allied Health Sciences

- Peg Daw, DNP, MSN, RN-BC, CNE, Nurse

Support Program II Grant Administrator,

Maryland Higher Education Commission

- Karen Evans, MSN, RN-BC, Executive

Director, MBON

- Jane M. Kirschling, PhD, RN, FAAN, Dean,

University of Maryland School of Nursing

- Cynda Rushton, PhD, RN, FAAN, Professor

of Clinical Ethics, Johns Hopkins

- Rebecca Wiseman, PhD, RN Director,

Maryland Nursing Workforce Center

• The Role of Nursing in Disaster Preparation

and Response

Panelists

- Kathleen Long, Unit Administrator, Maryland

Responds

- Dr. Nayna Philipsen, JD, PhD, RN CFE,

FACCE, Coordinator of Disaster Health

Service, American Red Cross

• Handling the Upcoming Issues Relative to

the Endemic – How Can We Live With This,

What Do We Do if New Strains Pop Up, How

Do We Live With the Ongoing Issue?

Panelists

- Dr. Roberta DeBiasi, MD, Chief of Infectious

Disease, Children's National Hospital

- Additional panelist to be confirmed

Each year at MNA's Annual Convention, MNA

Awards and Nursing Foundation of Maryland (NFM)

presents scholarships. MNA Awards include The

Outstanding Nurse Practice Award, The Outstanding

Nurse Educator Award, The Outstanding Leadership

Award, The Outstanding Advanced Practice Clinical

Nurse Award, The Outstanding Dissemination of

Information Award, The Outstanding Pathfinder

Award, The Outstanding Mentoring Awards, The

Stierle Exemplary Service Award, and the Nurse

Superhero Award. The MNA Legislative Committee

Award is given to a legislator who has significantly

contributed or collaborated on nursing/health

legislative issues in Maryland. Nomination forms

for the MNA Awards and applications for the NFM

scholarships can be found by clicking HERE.

We are looking forward to seeing everyone in

person for an amazing event.

TAKE ADVANTAGE OF EARLY BIRD

PRICING UNTIL JULY 31ST!

CLICK HERE TO REGISTER TODAY!
---
Page 10 • The Maryland Nurse Journal July, August, September 2022

ANA/MNA News

A Slice of Nursing

History:

MNA in 1966

Nineteen elected delegates represented the

Maryland Nurses Association at the American Nurses

Association Convention, June 13-17, 1966, in San

Francisco, California.

They were: Alice M. Sundberg, Anne H. Cahoon,

June F. Addo, Rhea B. George, Miriam S. Robider,

J. Loretta Pilert, Marianna S. Quigley, Doris J.

Froebe, Irene M. Duffy, Genevieve M. Jordan,

Karen L Hocheder, Dorothy C. Adkins, Katherine

H. Buekelye, Flora E. Hickman, Sarah M. Palmer,

Marjorie B Maisak, Sylvia L. Makover, Lorraine G.

Wolf, and Sister M. Louise Lyons.

Report on The Membership Assembly cont.

Dr. Wood, Dr. Jennifer Mensik Kennedy,

Dr. Simon-Waterman, Dr. Melani Bell

Barbara Nichols, Past ANA President &

ANA HOF Inductee, Dr. Wood

Dr. Simon-Waterman, Casey Green,

ANA Award Recipient, Dr. Melani Bell

If you have any slices of MNA history you would

like to share, please send to themarylandnurse@

gmail.com

Dr. Ernest Grant, ANA President;

Dr. Simon-Waterman

Rosemary Mortimer, MNA Past President; Dr

Ann Manton, ANA HOF Inductee; Dr Rumay

Alexander, ANA Award Recipient
---
July, August, September 2022 The Maryland Nurse Journal • Page 11

Nursing Organization

Mortimer to Lead Alliance of Maryland Nursing Organizations

Maryland Nurses Association (MNA) President

Dr. Christie Simon-Waterman has announced that

Rosemary Mortimer, MS, MSEd, RN, CCBE, a Past

President of MNA and Johns Hopkins University

nursing faculty, is assuming leadership of the

Alliance of Maryland Nursing Organizations

(AMNO). Formerly known as the Liaison of

Maryland Nursing Organizations (LMNO), AMNO

met in 2019 under the leadership of then MNA

President Mary Kay DeMarco to raise the visibility

of nurses in promoting the betterment of healthcare.

Like many other plans of nurses, AMNO was

unexpectedly sidelined by the COVID 19 Pandemic.

The original LMNO was founded in 1986 and was

ably led for several years by the late Ruth Hans, RN.

Like LMNO, the AMNO is a voluntary coalition of

nursing associations and friends whose purpose is

to network, share information, discuss professional

issues, and communicate nursing needs to local and

state leaders.

AMNO participants realize that political activism

is key to the improvement of nursing's image, the

advancement of effective healthcare reform, the

protection of nursing practice, the recruitment and

retention of nurses, and the endorsement of expanded

nursing roles. To that end, AMNO will address

pertinent local, state, and federal legislative matters

that concern the health and welfare of nurses and the

community.

Early LMNO members included: Association

of Perioperative Nurses (AORN), Association

of Rehabilitation Nurses (ARN), Association of

Women's Health Obstetrics and Neonatal Nurses

(AWHONN), Center for Nursing Advocacy,

American Association of Critical-Care Nurses

(AACN-CBC), Chesapeake Bay Association of

Perianesthesia Nurses (CBSPAN), Chesapeake

Society of Gastroenterology Nurses and Associates

(CSGNA), Chesapeake Society of Ophthalmic

Registered Nurses (CSORN), Committee on Nursing

and Health (CNAH), Emergency Nurses Association

(ENA), Maryland Area Association of Occupational

Health Nurses (MAAOHN), Maryland Licensed

Practical Nurses Association (MLPNA), Maryland

Nurses Association (MNA), Maryland Washington

DC Chapter of Society of Otolaryngology Head-

Neck Nurses, Nurses Alumnae Association of Luther

Hospital of Maryland, Nurse Practitioner Association

of Maryland (NAPM), Psychiatric Advanced

Practice Nurses of Maryland (PAPNM), Seneca

Valley Maryland Association of Occupational Health

Nurses, and the Alumni Association of the Union

Memorial Hospital School of Nursing Villa Julie

College of Maryland.

Some of those early groups have grown, some have

different names today, and some have accomplished

their mission and closed.

Those participating in the first meeting with

Dr. DeMarco at which time the name of the

organization was changed to AMNO were: Black

Nurses Association of Baltimore, Chesapeake Bay

Chapter of the National Association of Clinical Nurse

Specialists, Deans and Directors of the Maryland

Nursing Colleges, Greater Baltimore Chapter of the

Oncology Nursing Society, Hospice and Palliative

Care Network of Maryland, Indian American

Nurses Association of Maryland (IANAM),

Maryland Academy of Advanced Practice Clinicians

(MAAPC), Maryland Higher Education Commission,

Maryland Nurses Association of Anesthetists,

Maryland Association of Nursing Students

(MANS), Maryland Association of School Health

Nurses (MASHN), Maryland Board of Nursing,

Chesapeake Chapter of the National Association of

Pediatric Nurse Practitioners (NAPNAP), Maryland

Emergency Nurses Association (MENA), Maryland

Nurses Association (MNA), Nurse Practitioner

Association of Maryland (NPAM), and the Philippine

Nurses Association Maryland Chapter (PNAMC).

The diversity and expertise represented in AMNO

creates an unparalleled resource in the state of

Maryland. These organizations recognize the value of

collaborative efforts to achieve shared goals.

Alita-Geri Carter, MSN, RN, CPNP-PC, of

The Commission for Health, has volunteered to

assist Mortimer. Others interested in participating

or learning more about AMNO can send

inquiries to csimonwaterman@marylandrn.org,

rosemarymortimer@gmail.com, or call the Maryland

Nurses Association at 443-334-5110.

PRRINNCCEEE GGEEEOORRGGEEE'S CCOOUNNTY

PU#-ICC SCC)OOOO-S

Progressive Leaders

Your Dream

Find

Job Now!

Nursing

Anne Arundel Community College (AACC) is seeking an exceptional faculty

member committed to the college's philosophy that education serves the

greater good by providing students access to a better life. The candidate

for a faculty position understands that community colleges are positioned

to fundamentally change people's lives, and as a result, society itself. AACC

believes that faculty are the heart of the institution.

The ideal candidate will be energized by the community college pathways, our

inclusivity/equity initiatives, and see it as their goal to support a diverse set of

learners inside and outside the classroom.

The four positions in nursing are in the following specialty areas:

Mental Health, Faculty/Practical Nursing Coordinator, Critical Care,

and Medical Surgical.

To apply and for more information,

please visit www.aacc.edu/employment.
---
Page 12 • The Maryland Nurse Journal July, August, September 2022

Nursing Organization

2022 Spring Membership Meeting & CE Event

NPAM Celebrates 30 Years of Advocacy for NPs in Maryland

Submitted by:

Beverly Lang MScN, RN, ANP-BC, FAANP,

Executive Director, NPAM,

NPAMExDir@npedu.com

Each year in the spring, the Nurse Practitioner

Association of Maryland (NPAM) schedules a

Membership Meeting to conduct business and to

announce the results of elections. On April 28th,

2022, NPAM hosted the annual Spring Membership

Meeting and CE event at the Cambria Hotel, located

at Arundel Mills.

This meeting and CE event was jam-packed with

special events, including student poster presentations,

visits with exhibitors, networking with colleagues,

speakers, learning, dinner, lots of catching up with

friends and colleagues, and a celebration of the 30th

Anniversary of NPAM.

Student Poster Presentations a Great Success

Twelve (12) Doctor of Nursing Practice (DNP)

students prepared and presented their research posters

while attendees enjoyed appetizers and drinks. Thank

you to all the DNP students who presented their

amazing work!

Speakers & CE Event

The Keynote address, "A Look Back and Into

the Future" was presented by Dr. Janet Selway, one

of the founding members of NPAM and NPAM

President from 1993 to 1996. Dr. Selway took

attendees on a walk down memory lane when

Nurse Practitioners (NPs) were represented by the

Nurse Practitioner Council, which was under the

Maryland Nurses Association (MNA). While this

was a satisfactory relationship for some time, NP

leaders in Maryland soon recognized that a separate,

dedicated professional association was needed to

focus on the profession and advocate solely for NPs in

Maryland. Thus, NPAM was born and incorporated

in 1992. Soon after, a lobbyist was hired to represent

NPs in Annapolis, and Bylaws were written. Dr.

Selway shared with those in attendance her lived

history of NPAM and those early NP pioneers who

had the foresight to acknowledge the need for this

professional association that is still going strong some

30 years later.

Dr. Clair Bode, NPAM Legislative Chair, reviewed

the 2022 Legislative Highlights, including the very

successful Lobby Night that was held virtually on

January 25th and the work that all members of the

Legislative Committee do along with the NPAM

Legislative Consultants Mr. Bill Pitcher and Ms.

Sarah Peters. The Legislative Committee reviewed

over 135 bills, wrote letters of support and opposition,

and testified at several hearings. The highlight of

the legislative session was seeing the passage of HB

49/SB 280 Public Health – Emergence and Allergy

Treatment – Nurse Practitioners, which allows NPs to

prescribe epi-pens to camps in Maryland. Governor

Hogan has since signed this legislation. We thank

Delegate Steve Johnson and Senator Addie Eckardt

for sponsoring this legislation.

NPAM President Ameera Chakravarthy and

Beverly Lang presented a State of the Association

address and highlighted some of the successes of

2021. In addition to the passage of the legislation

put forth by NPAM, several special projects were

cited, including the addition of a 10 District to the

geographical map that includes Harford and Cecil

Counties. This initiative was in response to the

growing number of NPs living and working in those

counties. Geneva Cason and Carmel McComiskey

are the District Co-Directors for the new Northeast

District and are planning events monthly. Growing

membership is a high priority, and we are anticipating

reaching many NPs in the future.

Thanks to Out-Going Board Members

This meeting is a time to acknowledge out-going

Board of Director members, and NPAM would like

to thank Kathleen Herberger, Past-President, Jean

Chung, Treasurer, Cherie O'Neil, Capital District

Director, Cathy Chapman, Mountain District

Director, Sharon Fisher, Northwest District Director,

Mary Ellen Connolly and Alyssa Dye, Membership/

PR Committee Co-Chairs, and Kristen Rose,

Conference Committee Chair. Thank you again

to all of our "retiring" leaders! Know that your

contributions are truly appreciated!

30th Anniversary Festivities

In celebration of the 30th Anniversary of NPAM, a

champagne toast was given by Ameera Chakravarthy,

NPAM President – "Cheers to NPAM – Celebrating

30 years of advocacy for NPs in Maryland and

beyond. We thank all those who have come before

us and look forward to many more years!" And, of

course, there was cake!

Emeritus Members Inducted

Congratulations to Maureen Kelley and Laurie

Scudder, who have been inducted as Emeritus

Members of NPAM for their outstanding

contributions to NPAM over many years.

New Board Members Announced

Finally, the results of the elections were

announced, and the Board of Directors for 2022/23

were introduced:

President – Naila Russell

President-Elect – Nicole Lollo

Baltimore District Director – Suzette Heptinstall

Capital District Director – Lucia Novak

Mountain District Director – Kelly Rock

Northwest District Co-directors – Angeline

Williams & Surya Chacko

Southern District Director – Tanshanicka Helem

Conference Committee Chair – Veronica Quattrini

Membership Committee Chair – Megan Brady

Congratulations to all of the newest Board of

Director members!

The 2022 Spring Membership Meeting and CE

event allowed members to renew friendships and

meet in person after so many months of isolation.

Celebrations such as this solidify the bond all NPs

share, and we hope that all who attended went away

with a feeling of great NP pride. I know I did!

If you were unable to attend this year, we look

forward to seeing you at the next event sponsored by

NPAM! If you are a NP in Maryland, we welcome

you to join us! More information about NPAM can

be obtained by visiting our home pages at www.

NPAMOnLine.org, or call us at 443-367-0277.

.

Come Join Our Team!

We are currently hiring:

• RN Triage

• Staff RN (All ages primary continuing care)

• MD PCP Nurse for Population Health, RN

• Quality Improvement Data Analyst, RN

Offering a $5,000 sign on bonus

Our full-time employee benefits include:

• Paid Holiday, Sick and Vacation Days

• Generous Paid Time Off

• Premium CareFirst Benefits for Medical, Dental and Vision

• Company paid: Short/Long Term disability and Life Insurance

• Tuition Reimbursement ($5,200 Annually)

• HRSA Student Loan Repayment- Program can offer up to $25K Annually

If you have a passion for community health, we invite you to join our team.

When you work for THC, you will be employed by a premier healthcare

organization that continually strives for high quality, professionalism and

service excellence.

For more information about nursing opportunities at THC,

please visit: www.totalhealthcare.org or

email Michelle at: mlane@totalhealthcare.org

Thank you

Maryland

Responders!

Thousands of Maryland Responds volunteers donated

tens of thousands of hours to the COVID-19 pandemic

response. Volunteers provided their skills and expertise

at testing sites, call centers, health care facilities,

warehouses, and vaccination clinics. Thank you to all

Maryland Responders.

To learn more, visit: mdr.health.maryland.gov.
---
July, August, September 2022 The Maryland Nurse Journal • Page 13

Nursing Organization

Shannon Cataldi, DNP Student presenting poster

Jean Chung, DNP Student poster presenter

chatting with NPAM member Marina Giogakis

Students present DNP Projects

We are

Dale Jafari, NPAM PAC Co-Chair, Kamala Via,

NPAM PAC Co-Chair & Dr. Janet Selway, Keynote

Speaker (L-R)

hiring

RN-LPN-GNA

Celebrating NPAM 30 years

Students present DNP Projects

The University of Maryland School of Nursing

offers two paths to achieving "doctor":

YOUR NEXT STEP IN

NURSING: DOCTOR.

Doctor of Nursing Practice (DNP)

Apply evolving best practices to make

dramatic improvements in patient care.

Choose from post-bachelor's, post-master's,

and post-doctoral pathways.

Earn your Doctor of Nursing Practice to

become an advanced practice registered

nurse with full practice authority in Maryland.

Doctor of Philosophy (PhD)

Conduct groundbreaking research to

enhance the field of nursing and influence

modern health care.

Apply now for fall 2023 admission.

We also offer these

nationally top-ranked

programs:

Bachelor of

Science in Nursing

(entry-into-nursing)

RN-to-BSN

Master of Science

in Nursing in

3 specialty areas

Clinical Nurse Leader

entry-into-nursing

master's option

Graduate Certificates

LEARN MORE: nursing.umaryland.edu/doctoral
---
Page 14 • The Maryland Nurse Journal July, August, September 2022

Nursing Organization

The Nurse Practitioner

Association of Maryland

Advocates for the Community

On May 12, 2022, Governor Larry Hogan signed into law HB49/SB0380

Public Health - Emergency and Allergy Treatment - Nurse Practitioners,

following passage in both the Senate and House. This bill, sponsored by Senator

Addie Eckardt and Delegate Steve Johnson, will allow Nurse Practitioners to

prescribe epinephrine in the form of an Epi-pen to camps. This barrier to practice

was identified and brought to the NPAM Legislative Committee by a Maryland

Nurse Practitioner, Mark Ubbens, who supervises several camp programs in

Maryland. Previously, only physicians and pharmacists could prescribe this

emergency, life-saving medication to camps. A local high school student testified

before both the House and Senate and related her compelling story of having a

severe reaction to a bee sting and having to receive epinephrine while working as

a camp counselor. Her story, along with evidence of the Nurse Practitioner's scope

of practice and current standards of care, ensured the quick passage of this bill.

Congratulations to NPAM and the NPAM Legislative Committee for great

work on behalf of all campers in Maryland who will now have easy access to this

life-saving treatment with the passage of this bill!

#AANP2022

AANP National Conference in

Orlando, Florida Draws Nurse

Practitioners from Maryland

Maryland was well represented at the 2022 American Association of Nurse

Practitioners (AANP) National Conference held on June 21 through June 26 at

the Orange County Convention Center in Orlando, Florida! Pictured here are

Maryland Nurse Practitioners (NPs) and members of the Nurse Practitioner

Association of Maryland (NPAM) who were free for the photo op, (pictured L

to R): Sanna Ali, newly appointed Maryland State Liaison to AANP, Roseann

Velez, NPAM Past President, now a resident of Delaware and President of the

Delaware Nurse Practitioner Coalition, Kamala Via, recipient of the 2022 AANP

Maryland State Excellence in Clinical Practice Award for her exceptional work

in psychiatric nursing, and Co-Chair of the NPAM PAC, Dale Jafari, Co-Chair

of the NPAM PAC, Beverly Lang, Executive Director of NPAM, Rita Ntosi,

President of the National Nigerian Nurse Practitioner Association, and Naila

Russell, President of NPAM. Also in attendance at the conference were Kathleen

Woodruff, Judy Greengold, who presented on telehealth, and Lucia Novak, who

presented on continuous glucose monitoring at a dinner meeting.

Pictured behind Governor Larry Hogan (L - R):

Naila Russell, NPAM President, Bill Pitcher, NPAM Lobbyist, Mark Ubbens,

NPAM Member, Zoe Weiss, presented personal testimony during the

hearings, Beverly Lang, NPAM Executive Director, Lindsay Ward, NPAM

member, representative from bill sponsor Del. Steve Johnsons's office,

Sarah Peters, NPAM Lobbyist.
---
July, August, September 2022 The Maryland Nurse Journal • Page 15

clinical

Reducing Inappropriate Emergency Department Utilization

Through the Salisbury Wicomico Integrated FirstCare Team

(SWIFT)

By: Aaron Sebach, PhD, DNP, MBA, AGACNP-BC, FNP-BC, NP-C, CP-C,

CEN, CPEN, CLNC, CGNC, CNE, CNEcl, SFHM, Dean, College of Health

Professions and Natural Sciences Wilmington University and Mobile

Integrated Health Nurse Practitioner TidalHealth Peninsula Regional

Emergency Department (ED) overcrowding and inappropriate utilization

remain a healthcare concern across the United States (U.S.). Despite increased

awareness of ED overcrowding and inappropriate utilization, the U.S. Department

of Health and Human Services (2021) reported that ED utilization has remained

unchanged over the last ten years. In addition, low acuity ED visits account for

an estimated 12.5% of national healthcare expenditures, many of which could be

more appropriately addressed by a primary care provider (PCP) or urgent care

facility (US DHHS, 2021). Accordingly, healthcare systems have been charged

with implementing innovative initiatives to promote the health and wellness of

individuals and communities while reducing inappropriate ED utilization.

To address inappropriate ED utilization in Wicomico County, Maryland,

the Salisbury Wicomico FirstCare Team (SWIFT) was established in 2017

through a partnership with TidalHealth Peninsula Regional, the Salisbury Fire

Department, and the Wicomico County Health Department. Initially funded by

a $75,000 grant from CareFirst, the program enabled Salisbury Fire Department

paramedics and TidalHealth nurse practitioners (NPs) to engage with high

utilizers of emergency medical services (EMS) in Wicomico County. Additional

program funding was received from Maryland Community Health Resources

Commission (CHRC) in 2018 for $150,000.

High utilizers of EMS are defined as individuals who call 9-1-1 five or more

times in six months. The team engages with these patients in their homes to

address social determinants of health, defined as economic and social conditions

that influence one's health. Examples of social determinants of health addressed

by SWIFT include housing and food insecurity, transportation, and health

services such as medication compliance and primary care (US DHHS, 2020). As

a result of the assessments, the team connects patients with community health

workers, social workers, primary care providers, durable medical equipment

specialists, specialty providers, and other community resources, as needed, to

address any identified gaps in care. Follow-up telephone calls and home visits

occur based on individual patient needs.

SWIFT paramedics receive specialized training in community paramedicine.

Community paramedicine is a relatively new discipline wherein paramedics

operate in expanded roles to improve care coordination and access to care by

engaging underserved populations. With the SWIFT program, paramedics and

NPs collaborate to provide chronic disease management and address social

determinants of health to enhance the patient experience, improve the health of

populations, and reduce the per capita cost of healthcare. During the 2020 to 2021

fiscal year, the team achieved a 22% reduction in ED visits and a 42% reduction

in 30-day hospital readmission rates among its 180 patients.

To further expand the SWIFT's reach in Wicomico County and reduce

inappropriate EMS transports for low acuity complaints, the team received

a $270,000 grant from Maryland's CHRC. Examples of low acuity ED visits

include prescription refill requests, upper respiratory infections, rashes, sprains,

strains, injuries, and toothaches. A subset of patients with these complaints

activate EMS, requiring dispatch of an ambulance staffed with EMS personnel.

9-1-1 calls for low acuity complaints occupy critical community resources with

the potential to delay EMS responses for high acuity medical emergencies.

SWIFT utilized the CHRC grant to implement a Minor Definitive Care

Now (MDCN) program in August 2021, following approval from the Maryland

Institute for Emergency Medical Services Systems (MIEMSS). MDCN was

first introduced in Maryland by the Baltimore City Fire Department in 2021 to

provide immediate on-scene treatment for low-acuity patients by a paramedic and

NP (MIEMSS, 2021).

An NP and paramedic respond to low acuity 9-1-1 calls as determined by

the Medical Priority Dispatch System, an evidence-based series of screening

questions to predict patient acuity and determine the level of EMS response

required. The team responds in a dedicated Salisbury Fire Department Suburban

in tandem with a Salisbury Fire Department ambulance. Upon arrival at a

patient's residence, the NP and paramedic describe the MDCN program and offer

MDCN treatment on the scene. Treatment can include medication administration,

wound care, and splinting, among others, depending upon the patient's

presenting complaint. If a patient consents to MDCN treatment, the Salisbury

Fire Department ambulance is released and available for additional 9-1-1 calls.

The MDCN team also performs home safety and social determinants of health

assessments. Based on these assessments, patients are referred to appropriate

community resources. Patients are also referred to their primary care provider

and specialists as needed for follow-up care. Since August 2021, the MDCN

program has engaged with 273 patients who activated EMS. Of these patients, 86

consented to MDCN treatment on-scene resulting in a $182,000 reduction in ED

visit expenditures and a $217 per hour savings of program operation.

In conclusion, the SWIFT program represents a unique and effective

partnership between TidalHealth Peninsula Regional and the Salisbury Fire

Department. The team has successfully increased access to care, reduced

healthcare spending, and improved the overall quality of care for Wicomico

County residents who engage with EMS. Health systems and NPs across the state

are poised to implement similar programs.

References

Maryland Institute for Emergency Medical Services Systems (MIEMSS). (2021). The Maryland

medical protocols for emergency medical services. Retrieved from https://www.miemss.org/

home/Portals/0/Docs/Guidelines_Protocols/MD-Medical-Protocols-2021-Print-20210601.

pdf?ver=2021-06-16-111500-000

U.S. Department of Health and Human Services (US DHHS). (2020). Healthy people 2030: Social

determinants of health. Retrieved from https://health.gov/healthypeople/objectives-and-data/

social-determinants-health

U.S. Department of Health and Human Services (US DHHS). (2021). Trends in the utilization of

emergency department services, 2009 to 2018. Retrieved from https://aspe.hhs.gov/sites/default/

files/private/pdf/265086/ED-report-to-Congress.pdf
---
Page 16 • The Maryland Nurse Journal July, August, September 2022

Continuing Education

Transforming Nursing Education Through

Clinical Simulations

By: Raquel Bertiz, PhD, RN, CNE, CHSE

Objectives:

• Describe the use of simulation in nursing

education

Background

In recent years, healthcare and the nursing

profession have been faced with multiple challenges,

such as the increasing complexity of the healthcare

environment and high patient acuity. Several

studies describe an education-practice gap, where

new graduate nurses have difficulty adjusting to

professional nursing practice and threats to patient

safety result (Kavanagh & Szweda, 2017). Kavanagh

and Szweda (2021) describe a continuing decline

in the initial preparedness of new nurses at a time

when preparation is most needed and there are calls

for long-overdue change in how nursing education is

conceptualized and delivered. This echoes an earlier

call by the Institute of Medicine (2011) to transform

nursing education.

Nurse educators consider traditional clinical

experiences as the gold standard of clinical

education. Several agencies wrote their position

statements on the need to include experiences that

will allow students in prelicensure nursing programs

to practice in actual patient clinical situations

(NCSBN, 2005). In traditional clinical education, a

group of students is brought to the clinical site under

the supervision of a clinical instructor. This model

is currently used in prelicensure nursing education,

but in recent years, nurse educators started to reflect

on and systematically study this practice, searching

for transformative ways to provide clinical education

that will close the nursing education practice gap. A

systematic review by Leighton et al. (2021) ended

in an empty search of studies on traditional clinical

education that utilized educational frameworks

and measurement of learning outcomes. This is an

alarming finding when the prevalent and regulated

model of clinical education did not have empirical

evidence documented in nine databases that were

used for this search. To further provide a picture

of the state of prelicensure nursing education,

Kavanagh and Szweda (2021) report that only 23%

of entry level nurses who passed licensure are

deemed safe and competent to practice nursing.

This highlights the education-practice gap noted by

employers of new graduate nurses.

More than ever, the pressure on nurse educators

to consider other ways to provide clinical education

that will close the education-practice gap is critical.

Meanwhile, barriers to implementing traditional

clinical education continue to rise, such as scarcity

of available clinical sites, the randomness of clinical

experiences, and the lack of autonomy of student

nurses to practice. There is also an acute awareness

of safety concerns when students are in actual

patient care settings. The use of simulations to

educate future nurses is presented as pedagogically

sound, empirically based, and an educational

practice guided by standards of best practice that

is hoped will be an answer to the call to transform

nursing education.

Simulations-Based Nursing Education: Shifting

the Paradigm of Clinical Education through

Evidence-Based Practice

Simulation-based education (SBE) is an

educational methodology viewed by many nursing

education experts as the "Trojan" horse that

will break the barriers to transforming nursing

education. In nursing education, "Simulation is a

technique, not a technology, to replace or amplify

real experiences with guided experiences that

evoke or replicate substantial aspects of the real

world in a fully interactive manner" (NCSBN

(2015) quoting Gaba (2004)). These are activities

or events replicating clinical practice using

scenarios, high-fidelity manikins, medium-fidelity

manikins, standardized patients, role-playing, skills

stations, and computer-based critical thinking

simulations. Clinical simulations can occur in

laboratory settings, virtually or screen-based, and

in the classroom. Learners are prebriefed before a

simulation experience to clarify learning objectives,

lessen cognitive load prior to the clinical scenario

experience and establish psychological safety.

After the clinical simulation experience, learners

are debriefed by a competent facilitator to guide

them in reflecting on the experience and walk

away with lessons that they will use in the future.

In actual patient care settings, students are strictly

supervised by clinical instructors and nurses,

and the room for errors and mistakes is reduced.

Students may not have the opportunity to implement

clinical decisions autonomously, a competency that

is necessary when they practice as professional

nurses. Clinical simulation scenarios are selected

to provide opportunities for students to safely learn

and autonomously practice valuable competencies.

SBE provides an opportunity for educators to

design clinical experiences toward the development

of essential nursing competencies for all learners.

This will greatly reduce the inconsistencies of

learning experiences and randomness of learning in

traditional clinical education.

Simulation-based education is supported by

sound educational theories of constructivism, adult

learning theories, experiential learning theories, and

reflective practice. Robust educational frameworks

are necessary for the pursuit of transformation

in nursing education. In a short period, SBE in

healthcare rapidly advanced as an empirically

supported educational pedagogy. Theobald et

al. (2021) performed a systematic review of the

effectiveness of using simulation in the development

of clinical reasoning in undergraduate nursing

students. They found limited but high-quality

evidence that simulation is an effective methodology

for clinical education. The landmark national

simulation study provides substantial evidence that

substituting high-quality simulation experiences

for up to half of traditional clinical hours produces

comparable end-of-program educational outcomes

and new graduates ready for clinical practice.

Alongside theoretical and empirical bases, there

are standards and guidelines for implementing

simulation-based education in nursing programs.

The Healthcare Simulation Standards of Best

Practice (INACSL, 2021) include all facets of

SBE: professional development, prebriefing,

simulation design, facilitation, the debriefing
---
July, August, September 2022 The Maryland Nurse Journal • Page 17

Continuing Education

process, operations, outcomes and objectives,

professional integrity and evaluation of learning

and performance. The National Council of State

Boards of Nursing simulation guidelines (NCSBN,

2015; Smiley, 2021) provide prelicensure programs

guidelines in the implementation of simulations.

Future Directions of Simulation Based Education

in Maryland

The Maryland Clinical Simulation Resource

Consortium's (MCSRC) goal is to increase the

quantity and quality of simulations in prelicensure

programs in Maryland. The use of simulations to

replace a significant amount of clinical education

for future nurses is a highly viable solution, not

only to the scarcity of clinical placement but

also to the education practice gap, where future

nurses learn to be reflective, critical thinkers who

can reason clinically and make sound judgments

amidst complex patient care situations. The

maximum benefits of simulations can only be

achieved when nursing programs are supported

to implement simulations following the standards

of healthcare simulations.. Educators need to

receive formalized education in simulation

pedagogy and acquire competencies in applying the

Healthcare Simulations Standards of Best Practice

(International Association for Clinical Simulation

and Learning, 2021). MCSRC has educated more

than 300 nurse educators in academia and practice

on simulation pedagogy through the MCSRC's

Simulation Education Leader's (SEL) program.

Simulation-based education is a powerful force in

transforming nursing education and prelicensure

nursing programs. MCSRC will continue to

strengthen faculty competencies in simulation

and support the development of various learning

resources. Together, as nurse educators in academia

and practice, alongside MCSRC, we aim to

transform nursing education through simulations.

References:

Gaba, D. (2004). The future vision of simulation in health care.

Quality & Safety in Health Care, 12(1). DOI 10.1136/qhc.13.

suppl_1.i2

Hayden, J. K., Smiley, R.A., Alexander, M., Kardong-Edgren,

S., & Jeffries, P.R. (2014).

The NCSBN National Simulation Study: A longitudinal,

randomized, controlled study replacing clinical hours with

simulation in prelicensure nursing education.

Journal of Nursing Regulation, 5(2),S3-S40,ISSN 2155-8256.

https://doi.org/10.1016/S2155-8256(15)30062-4.

International Association for Clinical Simulation and Learning.

( 2021). Healthcare simulation standards of best practice.

https://www.inacsl.org/healthcare-simulation-standards

Institute of Medicine. (2011). The future of nursing: Leading

change, advancing health. Washington (DC): National

Academies Press. https://www.ncbi.nlm.nih.gov/books/

NBK209881/

Kavanagh, J. M., & Sharpnack, P.A. (2021). Crisis in

competency: A defining moment in nursing education.

OJIN: The Online Journal of Issues in Nursing,26(1).

Kavanagh, J. M., & Szweda, C. (2017). A crisis in competency:

The strategic and ethical imperative to assessing new

graduate nurses' clinical reasoning. Nursing Education

Perspectives, 38(2), 57–62. https://doi.org/10.1097/01.

NEP.0000000000000112

National Council of State Boards of Nursing. (2005). Clinical

instruction in prelicensure programs. https://www.ncsbn.

org/Final_Clinical_Instr_Pre_Nsg_programs.pdf

National Council of State Boards of Nursing. (2015). NCSBN

simulation guidelines for prelicensure nursing programs.

https://www.ncsbn.org/16_Simulation_Guidelines.pdf

Smiley, R, A. (2021). National Council of State Boards of

Nursing: An update on simulation regulation. https://www.

ncsbn.org/2021SciSymp_rsmiley-simulation-regulation.pdf

NCSBN Simulation Guideursinducation

Theobald, K.A., Tutticci, N., Ramsbotham, J., & Johnston, S.

(2021). Effectiveness of using simulation in the development

of clinical reasoning in undergraduate nursing students: A

systematic review. Nurse Education in Practice, 57. https://

doi.org/10.1016/j.nepr.2021.103220.

Access the evaluation using the following

address: https://forms.gle/67kCadukTKiRYcKFA

This journal article has been awarded 0.5

continuing nursing professional development hours.

The authors and planning team have no conflicts

of interest to disclose regarding the content in this

article. There will be no discussion or promotion

of commercial interests, products, or services. To

receive continuing education credit (certificate) for

this activity, you must read the article and answer all

assessment and evaluation questions.

1. What statement defines simulation-based

education in nursing?

A. It is a clinical teaching modality where

learners are placed in clinical environments to

care for real patients.

B. It is a teaching-learning modality where

learners experience a carefully designed

clinical scenario in a laboratory or virtual

environment.

C. It is a teaching modality where students listen

to lectures in class.

D. All of the above.

2. Which element of simulation occurs after

learners go through facilitated clinical scenario?

A. Debriefing

B. Reflection

C. Written Examination

D. Prebriefing

3. According to Kavanagh and Szweda (2021),

who wrote on the Crisis of Competency of

Nurses, newly graduated nurses who have passed

licensure examination:

A. are mostly practice ready

B. are mostly not practice ready

C. Are never practice ready

D. None of the above

The Maryland Department of Health invites

all healthcare workers and environmental

The CDC-developed training materials are FREE and were

services staff to MD Project Firstline!

designed to meet your learning style.

Online Independent Study: Scan the QR code to visit the MD PROJECT

FIRSTLINE site and select any of the FREE infection control courses. Earn

a certificate for each course!

Group Training Sessions: Our instructors can lead FREE in-person or

virtual training sessions for your team members. Project Firstline can

also provide you with the presentation materials to lead your own group

sessions. Scan below to request a session or materials.

mdfirstline@hqi.solutions.

Scan to Visit

Project Firstline

Scan to Request

Group Training
---
Page 18 • The Maryland Nurse Journal July, August, September 2022

healthy nurse

Maryland Nurses Focus on Optimizing the Workforce

Mary Therese Phelan, Senior Media Relations

Specialist at the University of Maryland,

Baltimore, and Giordana Segneri, Assistant Dean

for Marketing and Communications at University

of Maryland School of Nursing

While nursing workforce issues nationwide,

especially in Maryland with its high density of

health care organizations, have existed since long

before 2020, the COVID-19 pandemic amplified

the challenges, and demand for nurses has reached

a fever pitch as the United States scrambles to fill

vacancies. The 2022 Maryland Action Coalition

(MDAC) Virtual Leadership Summit, hosted by the

University of Maryland School of Nursing (UMSON)

on May 23, 2022, took a deep dive into workforce

challenges and opportunities with its theme

"Optimizing Maryland's Nursing Workforce."

The content, offered through a full day of live virtual

programming to approximately 150 attendees, focused

on cultivating a diverse and skilled workforce, preparing

nursing students to meet future health care needs, and

exploring strategies for retention. Special emphasis

was placed on the importance of addressing the social

determinants of health, a key concept undergirding the

National Academy of Medicine's The Future of Nursing

2020-2030: Charting a Path to Achieve Health Equity.

This report outlines a goal of achieving health equity

in the United States over the next decade, based on

strengthened nursing capacity and expertise. It builds

on the foundation set by the 2010 report The Future of

Nursing: Leading Change, Advancing Health. MDAC

was formed in 2011 in response to that report and serves

as the driving force transforming health care through

nursing in the state. Recognizing the important work

already underway in Maryland and with a goal of longterm

sustainable change, the coalition leads the way to

improve the health of the population.

"Some of the key themes of the Future of Nursing

2020-2030 report include the need to address social

determinants of health, reduce health disparities,

and address inequities in our health system," said

Jane M. Kirschling, PhD, RN, FAAN, the Bill and

Joanne Conway Dean of the University of Maryland

School of Nursing, during her opening remarks.

Kirschling serves as co-chair of MDAC with Patricia

Travis, PhD, RN, CCRP, senior associate director of

clinical trials at Johns Hopkins Medicine. "These

are not new challenges but were certainly brought

into sharper focus as a result of the disparate impact

of the COVID-19 pandemic on selected populations.

Another outcome of the pandemic has been the

significant toll it's taken on nurses and other health

care providers throughout the country, particularly

the level of moral distress and burnout experienced

by nurses on the front lines of care delivery."

Kirschling also acknowledged Maryland's

"enormously successful" efforts to meet the goals of

the previous report, including increasing the number

of baccalaureate- and doctorally prepared nurses,

establishing the Maryland Nursing Workforce Center

to address the need for better workforce data, reducing

practice barriers for advanced practice nurses, and

increasing the diversity of the nursing workforce.

She then moderated a fireside chat, "Managing the

Present, Creating the Future," with the chief nursing

officers of the three largest health care systems in the

state:

• Deborah Baker, DNP, APRN, NEA-BC, FAAN,

senior vice president for nursing, Johns Hopkins

Health System, and vice president for nursing

and patient care services and chief nursing

officer, The Johns Hopkins Hospital

• Susan Eckert, MSN, RN, NEA-BC, senior vice

president and chief nursing officer, MedStar

Health

• Lisa Rowen, DNSc, RN, CENP, FAAN, chief

nurse executive, University of Maryland

Medical System.

The three responded to questions regarding

leadership lessons from the COVID-19 pandemic, the

dichotomy between autonomy and standardization,

and efforts to address nurses' moral distress and

Maryland's health inequities.

"I was struck when I read a Bureau of Labor

Statistics report in December that projected that

by 2030, we will be short in the United States 1.5

million nurses; that is a staggering number," Rowen

said. "In addition, last week, I learned from Vizient

that in their recent study about nurse turnover across

the country, they have noted a doubling of nurse

turnover since 2019. So, between the nursing shortage

and the rampant growth of turnover, we need to think

as a profession about what we can do about many

things, including the health and wellness of nurses,

and how we can embed that into our cultures."

Following the fireside chat, a set of keynote speeches

highlighted how nurses could play a role in advocacy

beyond the bedside and advancing health equity.

"Over the last 26-plus months since we have been

affected by COVID, never has it been more important

for nurses to be in leadership and advocacy roles

than now," said Ernest J. Grant, PhD, RN, FAAN,

president of the American Nurses Association

(ANA), delivering the morning keynote, The Future

of Nursing: Leadership, Advocacy, and Activism in

Action.

"We advocate for our patients and public health

when we're in the workplace and our communities,

but legislative and political advocacy is no less

important in advancing the profession and in patient

care as well," Grant said. "I think this pandemic has

proven to nurses the importance of using their voice,

to advocate for the resources that they need for their

fellow man, for their communities, in order to help us

get over this crisis that we are in."

Grant said the pandemic shined a light on something

nurses always knew existed but was exacerbated during

the health crisis: health care disparities, which result in

communities of color having higher rates of COVID-19

infection and related death.

"To remain silent is to be complacent," Grant

said. "We must bring health to health care." To that

end, the ANA has joined other national nursing

organizations to create the National Commission to

Address Racism in Nursing. "We decided we needed

to explore racism in nursing and to create a national

action plan to guide diversity, equity, and inclusion

efforts within the profession," he explained.

Grant also encouraged nurses to use their voices

and influence to educate others about systemic

injustice, health, inequity, and health disparities and

advocate for their own mental, physical, and spiritual

well-being.

In the afternoon keynote, "Poised for Impact:

Nurses Advancing Health Equity," Kupiri "Piri"

Ackerman-Barger, PhD, RN, CNE, ANER, FAAN,

associate dean of health equity, diversity, and inclusion

and clinical professor at the University of California

Davis Betty Irene Moore School of Nursing, praised

the Future of Nursing 2020-2030 report for focusing

on diversity, inclusion, and health equity, areas that

were lacking in the 2010 report, she said.

"What the new Future of Nursing report is saying

is that we have a moral and ethical obligation to

begin to break down the structures that continually

perpetuate the same outcomes year after year, decade

after decade," she said.

Health inequity manifests in many forms,

from an inability to pay for health care to a lack of

transportation to appointments, to a lack of health

care providers in particular communities. But don't

simply call these issues health disparities, Ackerman-

Barger cautioned.

"I'm going to say that the term health disparity is

really a euphemism," she said. "What we're looking

at is structural violence. By people not having access

to care that is available, we are allowing people to be

harmed and to die over and over and over."

Acknowledging there is no one solution,

Ackerman-Barger said increasing diversity in the

nursing workforce would be beneficial.

"We want to make sure that underheard voices are

heard," she said. "And so, we can use our voices to uplift

the voices of those that are not heard. But even better

than that is to use our voices to make sure that people

are at the table with us so that their actual voices can be

heard when those decisions are being made."
---
July, August, September 2022 The Maryland Nurse Journal • Page 19

Education

University of Maryland School of Nursing (UMSON)

Leadership Announcements

UMSON Names New Co-Directors of Research Centers

The University of Maryland School of Nursing (UMSON) has appointed Nicole

"Jennifer" J. Klinedinst, PhD, MPH, RN, FAHA, associate professor, as the codirector

of the Biology and Behavior Across the Lifespan (BBAL) Organized

Research Center and Michael Lepore, PhD, professor, as co-director of the Center

for Health Equity and Outcomes Research (CHEOR). Both BBAL and CHEOR are

among UMSON's research Centers of Excellence.

The centers' extramurally funded investigators study a variety of critical health

problems, including chronic pain, impulsivity and drug abuse, neuromuscular

disorders, sleep, web-based interventions, health care organizational issues, and

bone health. The centers provide critical grounds for developing synergies between

researchers and facilitate collaboration and transfer of expertise between more

seasoned researchers and those with less experience. They also offer researchrelated

training opportunities, inform members about each other's research, and

provide resources to support researchers with frequent updates about research

best practices, grant opportunities, and changes in policies and procedures for

grant applications. Membership in the centers is open to faculty, staff, postdoctoral

fellows, and students. The center co-directors provide critical and frequent input

that determines strategic goals, priorities in hiring research-intensive faculty, focus

of internal funding opportunities, evaluation of grant proposals, and collaboration

with the University of Maryland Medical System, among others.

"The new directors are experienced researchers who will foster collaboration

and inspire fledgling researchers," said Erika Friedmann, PhD, professor and

associate dean for research "Their expertise complements that of their respective

co-directors. Klinedinst and Lepore have a history of collaborating with other

disciplines. I expect they will bring their positive energy and drive to enhance

opportunities for UMSON researchers."

Nahm Named University of Maryland School of Nursing's Associate Dean For

PhD Program

The University of Maryland School of

Nursing (UMSON) has named Eun-Shim

Nahm, PhD, RN, FAAN, FGSA, professor,

as associate dean for the Doctor of

Philosophy (PhD) program. UMSON's PhD

program prepares students as researchers

and scholars to generate new knowledge

and tackle some of the greatest issues facing

health care, such as aging populations, pain

and symptom management, and women's

health and birth outcomes.

Nahm will be responsible for ensuring

that graduates of the PhD program are

well prepared to engage in research and

scholarship that enhance and influence

health care and spark new approaches

to scientific questions. She will oversee

the recruitment, retention, and advancement of doctoral students; develop and

implement new initiatives to advance their research capacity; and facilitate

interprofessional interactions and learning.

Nahm joined UMSON in 2003 as an assistant professor and was subsequently

promoted to associate professor and then professor. Beginning in 2010, she served

as the director of the Nursing Informatics master's specialty, and from 2012 until

April of this year, she served as co-director of the Biology and Behavior Across the

Lifespan Organized Research Center.

"I am extremely pleased that Dr. Nahm has accepted the appointment to the

position of associate dean for the PhD Program," said Jane Kirschling, PhD, RN,

FAAN, the Bill and Joanne Conway Dean of the University of Maryland School

of Nursing. "She brings a distinguished record of service to the School and to the

University of Maryland, Baltimore and is highly regarded as a researcher, teacher,

and mentor. The School has a rich legacy of developing nurse researchers, and our

doctoral program was one of very few nursing PhD programs when it launched in

1970. It has continually evolved and today is the most diverse R1 or R1-equivalent

nursing PhD program in the United States. I am confident that given Dr. Nahm's

deep commitment to doctoral education and to nursing research and scholarship

that she will ably guide the future development of our program."

UMSON Names New Director of Clinical Simulation Labs at the Universities

at Shady Grove

The University of Maryland School of

Nursing (UMSON) has appointed Patricia

"Pat" Schaefer, DNP, RN, CNE-cl, CHSE,

CNE, clinical instructor, as the new director

of the Clinical Simulation Labs at the

Universities at Shady Grove (USG).

As director, Schaefer is responsible for the

oversight of simulation strategic planning,

facilitation, and evaluation and management

of simulation resources in the USG Clinical

Simulation Labs. Schaefer provides leadership

to expand the use of simulation pedagogy

in the preparation of future nurses for

clinical practice. She also serves on planning

workgroups for the current USG building

renovation, which will provide a significant

expansion of the existing eight lab and

simulation spaces. The renovations will result in a dedicated nursing building

at the USG location to support the growth of the entry Bachelor of Science in

Nursing program and Doctor of Nursing Practice (DNP) Family Nurse Practitioner

specialty.

"Simulation is integral to nursing education," said Jana Goodwin, PhD, RN,

assistant professor and chair, UMSON program at USG. "We are pleased to have

Dr. Schaefer in this role, leading simulation at UMSON at USG as we continue to

be innovative and transition to the next era of simulation education."

Maryland Department of Health

Office of Health Care Quality

7120 Samuel Morse Drive, Columbia

Be the catalyst that improves health care

Use your nursing expertise to positively impact the lives of all Marylanders.

Join the Maryland Department of Health's Office of Health Care Quality

as a nurse surveyor and enforce regulatory requirements

in health care facilities and community-based programs

OHCQ oversees the quality of care in 45 industries, including nursing homes,

hospitals, home health, hospice, dialysis, ambulatory surgery centers,

assisted living, adult medical day care, residential treatment centers, and

programs serving individuals with developmental disabilities

• Work-life balance • Choice of health plans with low deductibles

• Prescription plan with low copays • Dental insurance

• Flex spending account • State pension

• State-of-the-art office design • Free gym access in office park

• Hybrid telework schedule

Search for keyword "surveyor nurse" at https://jobapscloud.com/MD/

Learn more about OHCQ at http://health.maryland.gov/ohcq/
---
Page 20 • The Maryland Nurse Journal July, August, September 2022

Education

The Johns Hopkins School

of Nursing Ranks #1 by U.S.

News & World Report for Fifth

Consecutive Year

For the fifth consecutive year, the Johns Hopkins School of Nursing (JHSON)

is ranked the No. 1 accredited master's nursing program in the country, according

to U.S. News & World Report 2023 rankings. The school's Doctor of Nursing

Practice (DNP) also ranked No. 1, moving up one spot from its previous No. 2

ranking.

"This is an extraordinary accomplishment," says JHSON Dean Sarah L.

Szanton, PhD, RN, FAAN. "Not only do these rankings speak to our unyielding

commitment to inclusive excellence, but also our leadership in both education and

the evolving landscape of health."

In specialty areas, the school ranked:

• No. 1 in Nurse Practitioner: Adult Gerontology Primary Care—DNP

• No. 1 in Nurse Practitioner: Adult Gerontology Acute Care—DNP (tied)

• No. 2 in Nurse Practitioner: Pediatric Primary Care—DNP (tied)

• No. 3 in Leadership–DNP

• No. 3 in Nurse Practitioner: Family—DNP

• No. 4 in Nurse Practitioner: Pediatric Acute Care—DNP

Throughout the past year, JHSON has continued to make significant

investments in digital and immersive learning opportunities for students

including virtual reality simulations, online classes, and the creation of the

Center for Immersive Learning and Digital Innovation. The school also launched

a psychiatric mental health nurse practitioner track in the DNP program set to

begin in fall 2022.

As a leader across the world, JHSON is ranked No. 3 by QS Global World

University 2021 rankings.

FIND YOUR PERFECT SPOT

CENTURION HEALTH

TRANSFORMING THE HEALTH OF THE COMMUNITY, ONE PERSON AT A TIME.

• Director of Nursing

• Registered Nurse

• Licensed Practical Nurse

• Assistant Director of Nursing

• Charge RN

• New Grads Welcomed!

• Full-time – part-time – per diem

• 8 hour shifts –days – evenings – nights

• Monday through Friday work schedules available

OPPORTUNITIES AVAILABLE IN THE FOLLOWING LOCATIONS:

Baltimore, Cumberland, Hagerstown, Jessup, & Westover

We offer excellent compensation and comprehensive

benefits for our full-time team members including:

• Health, dental, vision, disability and life insurance

• 401(k) with company match

• Generous paid time off including paid holidays

• Flexible Spending Accounts

• Continuing Education benefits

• Much more...

Eight CSM Students Inducted

into Alpha Omega Chapter

of the Alpha Delta Nu Honor

Society

Reprinted with permission from the College of Southern Maryland

Students, faculty, and staff of the College of Southern Maryland celebrated

the first in-person induction ceremony for the Alpha Delta Nu honor society

in two years April 8. The ceremony celebrated eight nursing students who

have maintained a high GPA and completed a scholarly project related to the

advancement of their profession.

Faculty and students relished the opportunity to celebrate in person, decorating

a table with symbols of nursing, including a copy of Florence Nightingale's

"Notes on Nursing" to represent the foundations of the profession; a lamp and

lit candle to symbolize the light of knowledge, caring and compassion; and a

stethoscope to represent the tools used by nurses in their career.

After Acting Chair of Nursing Sara Cano welcomed the inductees, their

families, and distinguished college guests, Jeanne Hill, associate professor of

nursing, continued the program by giving the history of the Organization for

Associate Degree Nursing (OADN) and the Alpha Delta Nu Honors Society.

"OADN is dedicated to enhancing the quality of Associate Degree Nursing

education, strengthening the professional role of the Associate Degree Nurse,

and promoting the future of Associate Degree Nursing as an entry point into

registered nursing in the midst of healthcare changes," she explained. "To

promote scholarship and academic excellence in the profession of nursing, OADN

established the Alpha Delta Nu Honor Society and made provisions for the

establishment of Institutional Honor Society Chapters. The College of Southern

Maryland chapter Alpha Omega was established in fall 2012 and has been an

active chapter since then.

"Your dedication to the profession of nursing and your future patients is

reflected in the hard work you have done to achieve this honor," Hill continued.

"Your commitment to lifelong learning will contribute to nursing as a profession

with every single patient you encounter."

Student speaker Kami Hardin took to the podium to congratulate her fellow

inductees. She emphasized that she and her fellow inductees all came from

different backgrounds and dealt with their own struggles during nursing school,

but that they were united by a commitment to excellence in nursing.

"For our group, meeting the requirements for induction means that we have

excelled in navigating an abundance of constantly changing, moving objectives.

In addition, we did not accomplish those things in the absence of personal

struggle," said Hardin. "The past two years had an effect on everyone, and the

nursing student is no exception. However, being accepted into the Alpha Omegas

means not only did we not give up, but that we had a fundamental belief that

overcoming uncertainty and struggle could make us better nurses."

A rose, pin, cord, and certificate were presented to each inductee by CSM

nursing professors Deborah Rutledge, Rose Miller, and Lynn Kennedy. Both the

pin and cords can be worn by the student with their graduation regalia at CSM's

63rd Spring Commencement to be held May 13, 2022.

Lauren Guy, assistant professor of nursing, closed the program with words of

wisdom for the students as they complete their nursing education and move into

the profession.

"As you complete the second year of the program, I encourage you to have

patience with yourselves, determination to reach your goals, and contagious

excitement as you see the shining light at the end of your nursing school journey.

These attributes will allow you to continue with the momentum that you have

already begun," she said.

The students inducted into Alpha Delta Nu were:

Theresa Benton

Alyssa Dawn Dorsey

Kami M. Hardin

Alexis R. Klumpyan

Chandler Erin Maldonado

Andrew Sien

Kiara K. West

Myka Angelica A. Wilkins

Contact Debbie Ortega: debbie@teamcenturion.com | 505.333.0203

www.CeunturionJobs.com | Equal Opportunity Employer
---
July, August, September 2022 The Maryland Nurse Journal • Page 21

Education

Congressman Steny Hoyer Tours New Center for Health

Sciences Construction Site at CSM's Regional Hughesville

Campus; Secures $500,000 for Programming

From left, CSM Vice President of Operations

and Planning Dr. Bill Comey, CSM President Dr.

Maureen Murphy, Congressman Steny Hoyer and

CSM School of Science and Health

Dr. Laura Polk

Congressman Steny Hoyer met with College of

Southern Maryland (CSM) leadership and staff to

tour the construction of the new Center for Health

Sciences at the college's Regional Hughesville

Campus April 19. During a pre-tour briefing, the

group discussed how the $500,000 in critical funding

Hoyer secured in FY2022 omnibus is being used

to upgrade equipment for the new facility's health

education programs.

"I am excited to be at the College of Southern

Maryland to visit the Health Sciences Center and

observe the progress underway," said Hoyer.

"The construction site will one day become

an extraordinary building that helps expand

opportunities for students pursuing an education

in the sciences, and I look forward to coming back

in the future when it is finished," he continued.

"Knowing how critical this new facility will be for

the College of Southern Maryland, I was proud to

work alongside advocates to secure $500,000 in

federal funding in the Fiscal Year 2022 omnibus to

support the ongoing educational programs at the

center and ensure that it has the equipment and

resources it needs to offer the best experience to our

students."

"We are so grateful for your support," CSM

President Dr. Maureen Murphy told the congressman

during the briefing. "I can't overstate the importance

of this center and what it will mean to our students,

our community, and our region's workforce. It will

serve as a central learning location for our health and

nursing programs and it will be the college's flagship

building."

Hoyer described the state-of-the art technology

that will be offered at the center "the wave of the

future," and "science on display" before thanking

CSM leadership and staff for demonstrating how

federal investments are "being put to work in service

to Southern Maryland students and our communities."

Joining Hoyer, his staff, and Murphy were Dean

of CSM School of Science and Health Dr. Laura Polk

and CSM Vice President of Operations and Planning

Dr. Bill Comey.

The Center for Health Sciences is the second

building on CSM's Regional Hughesville Campus

and will serve as a central, convenient location for

the college's health programs and instruction. It will

be approximately 50,000 square feet, designed to

LEED standards and will feature specialized health

sciences laboratories for CSM's programs in nursing,

emergency medical services, rehabilitation, wellness

and fitness, pharmacy technician, medical assisting,

health information management and medical coding,

and medical laboratory technology. The center will

also include a clinical simulation center, collaborative

learning spaces, classrooms, a computer lab, faculty

and staff offices, a student success suite, and a large

multipurpose meeting room. Construction is currently

on track for completion in late fall 2022.

The College of Southern Maryland (CSM) celebrated its 63rd Spring Commencement ceremony held Friday, May 13, 2022, at the La Plata Campus.
---
Page 22 • The Maryland Nurse Journal July, August, September 2022

MNA provided many activities and resources for Maryland nurses during

Nurses Month in May 2022. The month opened with a Zoom cooking course

with Chef Natalie, where participants could cook along with the talented chef

in preparing a vegan meal. Members were also able to attend a presentation on

Navigating and Nurturing Yourself and Your Team Through Burnout by Rachel

Sherman, DNP, CRNP, FNP-BC. Dr. Sherman provided valuable resources and

tools to assist nurses experiencing burnout in their profession and lives.

MNA is grateful for the efforts of Maryland nurses, especially these past few

years of the pandemic, and hopes that all had a wonderful Nurses Month.

MNA Celebrates Nurses Month

Chef Natalie

Dr. Sherman
---
July, August, September 2022 The Maryland Nurse Journal • Page 23

awards

Dr. Bell Receives the first

Distinguished Career in

Nursing Award

Each year, the Chamberlain Care Awards recognize and honor outstanding,

notable, and accomplished Chamberlain University alumni who are making

a difference in the profession of nursing and their communities. Chamberlain

recognized Dr. Melani Bell as the first annual Chamberlain Care Awards

2022 Distinguished Career in Nursing Award recipient. The Distinguished

Career in Nursing Award recognizes a nurse alumnus with more than 10

years of professional experience, whose clinical practice is exemplary, whose

contributions beyond expectations, and who has generously offered their time

and talents to meet other nurses. Dr. Bell was presented with a certificate and

gift card. Dr. Bell was awarded this honor during a video shoot with her nursing

school mentee, a daughter of a lifelong friend. Dr. Bell stated "The Lord knows

the desires of my heart and has gifted me with the passion to mentor others

placed in my life passing the stethoscope, so they'll have the tools, love, and

compassion necessary to achieve their goals in becoming a Registered Nurse. I

couldn't have achieved this prestigious award and milestone without the parents

who've placed their children in my lives and my nursing village of friends who've

walked this 21-year journey with me sharing their knowledge and expertise!

Much love to you all this is for US!" Congratulations Dr. Bell!

Amy Bailey Receives

the DAISY Award

Amy Bailey, RN, home hemodialysis and peritoneal dialysis nurse for Davita,

received the DAISY Award during Nurses Month.

Nominated by her regional operational director, Susan Howard, Amy is

witnessed caring for multiple patients with a high level of detail and follow-up.

Amy will call the patients at home and follow up with them when they may be

admitted to the hospital.

Amy exemplifies the characteristics of nurses who strive to deliver highquality

care.

Dr. Melani Bell and Ashley Green

Pictured left to right: Markie Habros, home manager; Shaina White,

facility administrator; Amy Bailey; Bobby Shannon King, Group Facility

Administrator.

Are you a nursing professional looking for an exciting assignment

that will impact the lives of children for years to come?

Do you want to be off duty when your children are out of school?

We have an opportunity for you to do just that.

We are seeking: Community Health Nurses (School Nurses);

Licensed Practical Nurses and Nurse Practitioners (10-month positions)

to provide care in Baltimore City Public Schools.

Excellent Benefits/Competitive Salary

Licensure in Maryland or in a

Multi-State Compact participant state

is required at time of appointment.

OUR KIDS NEED YOU!

APPLY TODAY.

For detailed job requirements and procedures to apply online, go to

governmentjobs.com/careers/baltimorecity

and search for "Nurse"
---
Page 24 • The Maryland Nurse Journal July, August, September 2022

awards

Parsons Receives the Shining

Star for Patient Safety Award

Lori Parsons, Emergency Department Case Manager at the University of

Maryland Charles Regional Medical Center, was awarded the Shining Star for

Patient Safety. Lori went above and beyond to ensure a confused patient's safe

return home when they could not identify family members of their own accord.

Lori went out into the community and photographed houses and streets to help

the patient remember and piece together enough information to find their family.

Once reunited, she educated caregivers on how they can ensure patients have this

critical identification information on their person in case of emergencies.

Hansen named

2022 Nurse of the Year at

MedStar St. Mary's Hospital

ABOUT CHASE BREXTON HEALTH CARE: Founded in 1978 as a volunteer-run LGBTQ health clinic, today

Chase Brexton Health Care is a Joint Commission accredited, Federally Qualified Health Center providing

compassionate, quality health care that honors diversity, inspires wellness, and improves our communities.

A collaborative, patient-centered team approach to healthcare enables us to provide life-changing care to

more than 40,000 patients across seven locations in Maryland. Through our pediatrics, primary care, gender

diverse care, behavioral health, dental, social work, and pharmacy, among many other services, Chase

Brexton honors the founders of our organization by providing a welcoming and affirming space for all.

WHAT IT'S LIKE TO WORK HERE: Have you ever gotten to march in a parade? At Chase Brexton Health Care,

you can (except during pandemics)! From participating annually in Baltimore's Pride to our outreach and

nationally recognized efforts to end HIV to our daily work of being everyday average life-changers, our team

is a diverse group of mission-focused individuals passionately dedicated to providing remarkable community

health care. We believe healthier and happier people make our communities stronger – and we believe

that's true for patients and our team alike. So, while we help lift up others to live their healthiest possible

lives, we help our team with the tools they need to live their happiest lives.

Chase Brexton is seeking MD Licensed Nurses, Population Health

Care Coordinator, and Population Health Nurse Care Manager for our

organization. We offer a Competitive Salary with a $5,000 Sign On Bonus

with a two year commitment and a Comprehensive Benefit package.

Apply on line by visiting our website – go to www.chasebrexton.org and

can also email Janie Allen - Corporate Recruiter - jallen@chasebrexton.org.

We look forward to assisting you with your next career move.

Congratulations to Polly Hansen, BSN, RNC-OB, C-EFM, recently named the

2022 Nurse of the Year at MedStar St. Mary's Hospital! Polly was surprised with

the news during her shift in the Women's Health & Family Birthing Center on the

first day of Nurses Week.

Polly is known for her compassionate, calm, and supportive approach to labor

and nursing, embracing the patient and their loved ones as if they were her own

family. "Polly very easily puts herself into the patient's position—therefore, she

is never quick to judge and provides empathetic care," one of her nominations

reads. "When we pose the question, 'Where is Polly?', the answer is always, 'In

her patient's room.'"

A team player and innovator, Polly's advocacy has been instrumental in

bringing a new pain pump to the unit to assist patients who have undergone

cesarean sections. She is also known for "joyfully floating" to other departments

when needed, particularly during COVID-19. She makes a positive impact

throughout the entire hospital and is a beloved member of the MedStar St. Mary's

family.

have thousands

We

nursing jobs!

of

Find your dream job now.
---
July, August, September 2022 The Maryland Nurse Journal • Page 25

awards

Three Faculty Members

Receive Academic Nurse

Educator Certification Awards

Faculty awarded funds for completing or renewing their

Certified Nurse Educator credential

Three University of Maryland School of Nursing faculty members have

received Academic Nurse Educator Certification (ANEC) Awards from the

Maryland Higher Education Commission (MHEC) through the Nurse Support

Program (NSP) II.

The faculty were each awarded the maximum amount of $5,000 for

demonstrating excellence as an academic nurse educator through achieving the

National League for Nursing's Certified Nurse Educator (CNE) credential either

through initial certification or recertification. The faculty are:

• Ron J. Piscotty Jr., PhD, RN-BC, CNE, FAMIA, assistant professor

• Pam L. Shumate, DNP '09, RN, CCRN, CNE, CHSE, assistant professor

• Nicole E. Smith, PhD, MS '14, RN, CNE, CHSE, CNE-cl, assistant

professor

"We are truly grateful for the generous support provided to nurse faculty

through the Academic Nurse Educator Certification Awards and for the efforts

of the Maryland Higher Education Commission to make this available to faculty,"

said Jane Kirschling, PhD, RN, FAAN, the Bill and Joanne Conway Dean of the

University of Maryland School of Nursing. "The CNE credential is an important

indicator of the commitment of these three faculty members to excellence in

teaching, and I congratulate each of them on their accomplishment. Through their

efforts, they are ensuring that our students, the next generation of nurses, will be

well prepared to meet the needs of Maryland's residents."

The CNE credential establishes nursing education as a specialty area of

practice and creates a means for faculty to demonstrate their expertise in this

role. It communicates to students, peers, and the academic and health care

communities that the highest standards of excellence are being met. By becoming

credentialed as a CNE, faculty serve as leaders and role models.

Developed under the NSP II program, which is funded by the Maryland

Health Services Cost Review Commission and administered by MHEC, the

ANEC award program recognizes professionalism in support of ongoing faculty

development requirements necessary to maintain the CNE credential. The award

is intended to reinforce the use of the CNE as one measurement of excellence in

nursing programs and to support retention of outstanding academic educators.

The award funds may be used to supplement the awardee's salary; to pay for

activities for professional development, including conference fees, travel, and

expenses for speaking engagements; to pay professional dues, CNE examination

fees, and continuing education expenses; or to assist with graduate education

expenses, such as loan repayment.

Barbara Jacobs Receives the

DAISY Lifetime Achievement

Award

The DAISY Lifetime Achievement Award recognizes those nurses who have

devoted their life's work to the compassionate care of others. Recipients of

this award have demonstrated dedication to nursing through active mentoring,

role modeling, advocating for their patients and promoting the positive image

of nursing. These special nurses serve as a beacon of inspiration to those at all

stages of their career and in the various and important roles of nursing.

Barbara Jacobs, Chief Nursing Officer at Anne Arundel Medical Center,

received the award as she celebrates her retirement.

Barbara Jacobs, MSN, RN-BC, NEA-BC
---
Page 26 • The Maryland Nurse Journal July, August, September 2022

2022 MNA & District Elections Will be Closing Soon

Nominations for the upcoming MNA and District

elections will be closing on August 15, 2022.

According to MNA Bylaws, the annual election

must start No Later Than (NLT) 60 days before the

annual membership meeting, which will be convened

virtually on November 17, 2022. The MNA election

must end NLT 30 days before the annual membership

meeting. The 2022 MNA & District elections will

start on September 15, 2022, and end on October

15, 2022.

There will be two MNA leadership opportunities

for qualified members in 2022, which are:

MNA President-Elect: Serve one year as

President-Elect in 2023, then transition to President

for two years (2024 –2025), and a final year as the

Past President in 2026 for a total term of office of

four years. The President shall:

1) Serve as chairperson of the MNA Board of

Directors (BOD) and the Executive Committee.

2) Be the principle representative of the

Association and serve as its spokesperson on

policy and position established by the MNA

BOD.

3) Preside at all meetings of the Association.

4) Serve as an ex-officio member of all

committees except the CON.

5) Delegate appropriate duties to the Chief Staff

Officer (CSO).

6) Annually appoint committee chairpersons with

the approval of the MNA BOD.

7) Represent MNA at the ANA Leadership

Council.

Secretary: Serve a two-year term starting in late

2022 and ending in late 2024.The secretary shall:

1) Record the proceedings of all MNA BOD,

Executive Committee, annual membership, and

special meetings to include the number of MNA

members present at membership meetings and

what percentage of the membership that number

currently reflects.

2) Provide each member of the MNA BOD

and Executive Committee with a copy of the

minutes.

All candidates for MNA Offices must be a

member in good standing of MNA & ANA and

actively involved with District and/or State activities

(committees and/or BOD) for the past three years.

Please contact your District member of the MNA

CON or the MNA CSO for details on responsibilities

for each elected position and what must be included

in the candidate package, which must be received by

MNA NLT August 15, 2022.

There will also be elections for two Officer

Representatives to the ANA Membership Assembly

for a 2-year term, (2023 – 2024). Each of the six

current MNA Officers (President, Past President,

Vice-President, Secretary, Treasurer, and Treasurer-

Elect) will be asked if they want to be a candidate for

these two elected positions.

The MNA CON has an elected representative from

each of the eight MNA Districts: District #1 – Terri

Roth, District #2 – Linda Stierle, District #3 – Ellen

Asbury, District #4 – Rosalie Griffith, District #5 –

Carol Holness, District #7 – Bijoy Mahanti, District

#8 – Mary Beachley, and District #9 – Tomeka Ray.

Each of the Districts will also have leadership

opportunities which will vary from one district to

another according to their District Bylaws. They are

as follows:

DISTRICT ONE:

President – Elect

2 Directors

Treasurer

2 District Committee on Nominations Members

DISTRICT TWO:

President-Elect

Vice-President

Treasurer

2 Directors

2 District Committee on Nominations Members

DISTRICT THREE:

Secretary

Treasurer

2 Directors

2 District Committee on Nominations Members

DISTRICT FOUR:

President – Elect

2 Directors

MNA Committee on Nominations Member

3 District Committee on Nominations Members

DISTRICT FIVE:

President – Elect

2 Directors

Treasurer - Elect

2 District Committee on Nominations Members

DISTRICT SEVEN:

President – Elect

2 Directors

3 District Committee on Nominations Members

DISTRICT EIGHT:

2 Directors

MNA Committee on Nominations Member

3 District Committee on Nominations Members

DISTRICT NINE:

President – Elect

2 Directors

2 District Committee on Nominations Members
---
July, August, September 2022 The Maryland Nurse Journal • Page 27

BRIEF DESCRIPTION OF DISTRICT

ELECTED POSITIONS:

President – Elect shall (4-year total commitment:

1 year as President-Elect):

1) Assume all President's duties in the absence of

the President.

2) Become President for the remainder of the

President's unexpired term in the event that a

vacancy occurs in the office of the President

President shall (2-years as President):

1) Serve as chairperson of the BOD and the

Executive Committee.

2) Be the principal representative of the District

and serve as its spokesperson on policy and

position established by the BOD.

3) Preside at all meetings of the District.

4) Serve as an ex-officio member of all

committees except the Committee on

Nominations.

5) Annually appoint committee chairpersons with

the approval of the BOD.

6) Attend meetings of the District Presidents of the

MNA.

7) Prepare the Annual District Report for the

MNA.

Immediate Past President shall (1-year as Past

President):

1) Serve as a consultant to the President during the

first year of the President's term.

2) Assume all duties of the President in the

absence of the President.

3) Become President for the remainder of the

President's first year in office in the event a

vacancy occurs in the office of the President.

Vice-president (when one is elected) shall:

1) Assume duties of the President-Elect or

immediate Past President in their absence.

Secretary shall:

1) Keep minutes of all meetings of the District and

the BOD.

2) Conduct general correspondence of the District

and the BOD.

3) Provide for the maintenance of all District

meeting minutes and related documents in

a place/manner accessible to District Board

members.

Treasurer shall:

1) Be accountable for the District's fiscal

affairs and shall provide written reports and

interpretation of such reports to the District

BOD and members.

2) Develop a District budget annually for BOD

approval.

3) Serve as a member of the MNA Committee on

Finance.

Each Director shall:

1) In conjunction with their District President,

provide written District Reports for the MNA

BOD meetings.

2) Provide feedback to the District BOD Meetings

and members from MNA BOD and other

meetings.

Electing your association leaders at both the

District and State levels of the organization is

one of your fundamental rights in a membership

organization. Since 2019, MNA and District elections

have been electronic for members with a valid email

address on file with ANA. This makes it much

easier for members to exercise this basic right.

Unfortunately, most members are not engaged in the

election of their District and MNA leaders. In last

year's election, there were 4,546 eligible voters and

only 309 cast a ballot in the 2021 MNA Elections,

which is seven (7) percent of the eligible voters. This

is consistent with past MNA elections, which have

had less than 10 percent of members voting for many

years. District election participation varied from

a high of almost 20 percent to slightly less than six

percent of the District's membership. Smaller districts

had higher voter participation percentages of their

membership than the larger districts. MNA CON and

District CON members will recruit candidates for

District and state elected positions in 2022. Please

exercise your right to elect the Association leadership

in 2022 and consider being a candidate for a district

or state leadership opportunity.

DEPARTMENT OF HEALTH AND HUMAN SERVICES

NATIONAL INSTITUTES OF HEALTH | CENTER FOR CANCER RESEARCH

NATIONAL CANCER INSTITUTE

RESEARCH NURSE

The Center for Cancer Research is seeking research nurses to join our clinical program

to help us manage the care of patients participating in clinical trials. We are the National

Cancer Institute's internal, federally-funded cancer center where world leading physicianscientists

working on the cutting edge of medicine developing clinical trials of new

sometimes "first-in-human" drugs at the world's largest dedicated research hospital on

the NIH campus in Bethesda, Maryland.

Full time, 10-month position

Strong adult health and patho/pharmacology expertise

Full time, 10-month position

Speciality experience in maternal health, mental health, or pediatrics along with overall

ability to teach core nursing courses.

Duties include, but are not limited to, ensuring adherence to ethical practice in the conduct

of clinical trials, research protocol compliance and good clinical practice, ensuring patient

comprehension of informed consent, management of care for patients participating in

clinical trials, and maintenance of essential documentation and collection of data.

Applicants must possess a degree from an accredited nursing program and a minimum of

one year oncology nursing and/or related clinical research experience. The ideal candidate will

have experience in an oncology research setting, be highly organized, pleasant and energetic.

Selection for this position will be based solely on merit, with no discrimination for non-merit

reasons such as race, color, religion, gender, sexual orientation, national origin, political

affiliation, marital status, disability, age, or membership or non-membership in an employee

organization. NIH encourages the application and nomination of qualified women, minorities

and individuals with disabilities. NIH provides reasonable accommodations to applicants with

disabilities. If you require reasonable accommodation during any part of the application and

hiring process, please notify us. The decision on granting reasonable accommodation will be

made on a case-by-case basis. This position is subject to a background investigation.

To apply, please send your CV and a cover letter to Corrine Keen, Director,

Office of Research Nursing at NCIClinOncJobOpp@mail.nih.gov.

HHS, NIH, and NCI are Equal Opportunity Employers