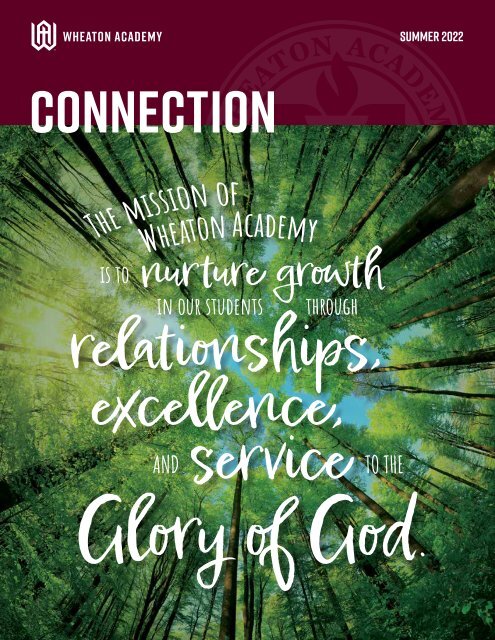 Summer 2022 Connection Magazine
You also want an ePaper? Increase the reach of your titles
YUMPU automatically turns print PDFs into web optimized ePapers that Google loves.
summer 2022

Connection

is to

nurture growth

in our students

through

relationships,

excellence,

AND

service

TO THE

Glory of God.
---
FeatureS

5homecoming 2022:

september 22-25

Making Memories: Then & Now!

Review the Homecoming details

and the weekend schedule.

10

homecoming 2022:

honoring alumni

Recognizing Alumni for

their Kingdom Work

Read about the 2022 alumni

award recipients.

Contents

2 WA News

4 Alumni News

13 Development:

Legacy Impact

14 AlumNotes

Cover

The cover artwork featuring

the Wheaton Academy mission

statement was created by

Melodee Dill Stephens.

© 2022 Wheaton Academy. All rights reserved.

6service to the glory of god

Raising up Servant Leaders

The Wheaton Academy mission

statement is the foundation for

WA's student leadership program.
---
Following two years of a pandemic,

we have emerged a healthier school,

thanks to the resilience of so many

in the Wheaton Academy community.

We now find ourselves in a sturdy financial

position as a result of reduced spending,

the receipt of PPP funds, and generous

giving to the mission of the Academy.

Record enrollment of 685 students in the

past year was an additional blessing, and

the school year culminated in June with

an incredible commencement ceremony at

Wheaton College, celebrating the largest

graduating class in Academy history—

179 students!

Thus, the mission of Wheaton Academy

is alive and well. Although we face

challenging times in our nation and world,

we are blessed to continue in our mission

of nurturing growth in our students

through relationships, excellence, and

service to the glory of God. Our desire

is for relationships to be the cornerstone

of student learning, for excellence to be

the standard, and ultimately for lives

of service to be the end product of a

Wheaton Academy education. While we

"Instead, whoever wants to

become great among you must

be your servant, and whoever

wants to be first must be

servant of all. For even the

Son of Man did not come to be

served, but to serve."

Mark 10:43-45

FROM THE HEAD OF SCHOOL

mission focus

are bombarded with the idea that comfort

and pleasure are the ultimate goals, we

know that true fulfillment is found when we

glorify God by using our gifts and talents to

serve those around us.

Please take the opportunity to read more

about the Academy's development of

student leaders in this edition's cover story,

"Service to the Glory of God: Raising

Up Servant Leaders." Through the years,

the Academy's focus on this important

component of our mission statement

has resulted in students who are actively

engaged in serving others. As we prepare

for the upcoming school year, we remain

committed to providing a Christ-centered

education focused on the discipleship of

each of our students. May God be glorified

as we strive to accomplish this everimportant

work.

Soli Deo Gloria,

Steve Bult

Head of School

SUMMER 2022

Volume 18, Issue 2

Joy Crowe

Director of

Development

Dawn Earl

Director of

Alumni Relations

Barb Frost

Administrative

Assistant

Brittany Klenke

Vice Principal for

Enrollment

Trish Main

English Teacher &

Department Head

Cathy Musto

Development

Database Assistant

Melodee Dill

Stephens

Graphic Designer

Angela Webster

Marketing

Coordinator

Steve Bult

Head of School

Steve Karlson

COO/CFO

Kori Hockett

Principal

Wheaton Academy

900 Prince

Crossing Road

West Chicago, IL

60185

phone

630.562.7500

wheatonacademy.org

1
---
WA News

Boys Lacrosse Celebrates

Record-Breaking Season

The Wheaton Academy

Boys Varsity Lacrosse Team

recently wrapped up its

record-breaking regular

season with a 19-5 finish.

The team went on to earn IHSA

sectional and super-sectional titles

before securing their highest state finish

in program history at the IHSA State

Tournament, scoring seven goals in

the first half and earning third place

in a 12-1 rout over Neuqua Valley.

Congratulations, Warriors, on your

tremendous season!

National Merit Scholarship Finalists

The National Merit Scholarship Program recognizes and

rewards academically exceptional students who are judged

to have the strongest combination of accomplishments,

skills, and potential for success in rigorous college studies.

Over 1.5 million juniors entered the competition last fall when taking

the PSAT exam. Approximately fifteen thousand of these students—

less than one percent of U.S. high school seniors—met the standards

required to advance to the finalist level of the competition. At the

conclusion of the 2022 program, approximately 7,500 finalists earned

the title of Merit Scholar. Congratulations to Wheaton Academy's 2022

National Merit Scholars Jeremy Kang '22 and Daniel Olson '22 on their

prestigious achievement!

2
---
WA News

DECA Students Celebrate

High Achievement

Warrior

lacrosse

2022

19-5

season

record

151

number of

goals WA

outscored

over

opponents

Seven Wheaton Academy students

were selected to compete with over 1,200

business students from Illinois at the

State DECA competition this spring.

Students selected included Abigail Rathbun '24,

Finn Williams '24, Ethan Harkrider '24, Jack

Schroeder '24, Carter Cumbey '22, Samantha

de Castro '24, and Mateo Montoya '24. Special

congratulations to Carter, Jack, and Mateo who were

chosen to compete at DECA's International Career

Development Conference in Atlanta, Georgia, in

April. DECA (formerly Distributive Education Clubs

of America) prepares emerging high school leaders

and entrepreneurs for careers in marketing, finance,

and management through classroom instruction

as well as competitive events.

lacrosse PhotoS credit:

NATHAN HONG '20

24

games

played

3rd

in state

2nd

consecutive

State

Final Four

appearance

Pictured here from left: Abigail Rathbun '24,

Finn Williams '24, Ethan Harkrider '24,

Jack Shroeder '24, Carter Cumbey '22, Samantha

de Castro '24, and Mateo Montoya '24.

3
---
ALUMNI News

Mark your calendar for

september 22-25, 2022

and plan to attend Wheaton Academy's

HOMECOMING 2022

Homecoming 2022 is the reunion celebration

year for classes ending in 2 and 7!

Homecoming weekend at WA is filled with great activities

that you will not want to miss. The Homecoming football

game is on Thursday, September 22, under the lights.

Homecoming 2022 is the reunion year for these classes:

1952 1972 50TH 1992 2012

1957 1977 1997 25TH 2017

1962 1982 2002

1967 1987 2007

Visit WA.360alumni.com to activate or update your profile,

to register for Homecoming and reunion events, to find

classmates, and to access hotel information. Follow the

Wheaton Academy Alumni Facebook page for Homecoming

and reunion updates! Make sure that WA has your

current mailing address and email so that you do not miss

Homecoming and reunion communication.

If you are willing to serve on your class reunion committee,

please contact Dawn Earl, Director of Alumni Relations,

at dearl@wheatonacademy.org or 630.562.7510.

Reimaging the Alumni Board

Do you have an interest in serving

your alma mater?

We are looking for WCHS/WA alumni of all ages to

prayerfully considering helping with alumni activities

at the Academy. The existing Alumni Board has spent

the last year reimaging its purpose. The newly created

mission of the Alumni Board is to tell the Academy

story through alumni stories, to mobilize all organic

WA relationships for the greater good of the school

and alumni community, and to welcome alumni home

to campus. We are excited about the new direction of

the Alumni Board and would love to hear from you!

As we prepare to launch the reimagined Board, we are

looking for volunteers to help plan and coordinate

alumni activities for Thursday and Friday, September

22-23, during Homecoming this year.

Willing to volunteer?

please contact Dawn Earl, Director of Alumni Relations, at

dearl@wheatonacademy.org or 630.562.7510 by august 15

Heritage Breakfast

The Heritage Breakfast, added in

2016 to the Homecoming weekend,

is designed to honor those whose

leadership and contributions have

impacted the past, present, and future of

Wheaton Academy. Among the groups

recognized are past and present Board

and administrative leadership, Legacy

Circle members, past and present

Alumni of the Year, Legacy Teaching

Award recipients, and reunion classes.

register for this complimentary

event at WA.360alumni.com/events

Memorial Bricks Dedication

With the creation of the Emmy Gaffey '10

Memorial Garden in 2015, there is now a

place on campus where precious members

of the WA community can be remembered.

We will be dedicating memorial bricks to the

following beloved WA alumni and friends

at Homecoming 2022: Sarah (Sandahl '72)

Aram, Nancy Hawley, Dan Thorne '61, Craig

Torrenga '72, and Ed Van Der Molen '63. If you and/or your family or class would

like to have a memorial brick dedicated for a member of the WA community who

has passed away, please contact Dawn Earl, Director of Alumni Relations. The

deadline for Homecoming 2023 Memorial Brick donations is June 15, 2023.

Learn more at Wheatonacademy.org/support-wa/memorial-garden

4
---
alumni events Making Memories: Then & Now

homecoming 2022

Thursday, september 22

Join us for the pre-game Project LEAD

fundraiser tailgate! Visit The Shack,

WA's food truck, for a cinnamon roll!

7:30 p.m. Varsity Football Game

Come for the Homecoming kick-off!

7:30 p.m. Alumni Tent Opens Class of 2022 grads

who ordered and paid for a yearbook –

pick up your yearbooks here!

Alumni Registration Begins

Friday, september 23

5 p.m. Catered Alumni Dinner Sign-in Begins

(Atrium)

5:30 p.m. Catered Alumni Dinner* (Atrium)

$25 per person charge

Register and pay at WA.360alumni.com

* Recommended for Classes of 1952 - 1987

6 p.m. JV Soccer Game

7 p.m. Alumni Tent Opens Class of 2022 grads

who ordered and paid for a yearbook –

pick up your yearbooks here!

Alumni Registration Begins

Alumni Family Picnic** (Parking Lot

adjacent to WA Performance Trust Field)

Bring your family and enjoy The Shack's

BBQ pulled pork sliders, brats, Shack n'

cheese, smoothies, and more!

** Recommended for Classes of 1992 - 2022

7 p.m. Homecoming Program for All Alumni

and Current Families (FAC)

Recognition of 2022 Alumna of the Year,

Nancy (Bushhouse '72) DeBoer;

2022 Distinguished Young Alumna,

Crystal (Thomas '12) Spivey; and the

2022 Richard Holt Science Award

recipient, Richard Aram '72.

8 p.m. Rally Around the Reunion Flags

Find your class flag! Meet up with

your classmates at your flag.

8 p.m. Varsity Soccer Game

8 p.m. Alumni Dessert Reception

(Atrium & Commons) – Complimentary

Saturday, september 24

9 a.m. Heritage Breakfast (Atrium) –

Complimentary

All alumni and former faculty/staff

are invited to this special breakfast.

Registration requested at

WA.360alumni.com.

10:30 a.m. Memorial Brick Dedication

in the Emmy Gaffey '10 Memorial

Garden followed by Campus Tour

with Dr. Frost

PM

The following beloved members of the

WA community will be remembered

with a memorial brick: Sarah

(Sandahl '72) Aram, Nancy Hawley,

Dan Thorne '61, Craig Torrenga '72,

and Ed Van Der Molen '63

Individual Class Reunions

For class reunion information,

including registration, please visit

WA.360alumni.com.

SUNDAY, september 25

9 a.m. Alumni Choir Practice

(Alumni Chapel)

Sing on Sunday! The Alumni Choir is

open to all alumni. Meet on Sunday

morning for a brief practice before the

Homecoming Worship.

9:30 a.m. Coffee Fellowship

(Alumni Chapel) – Complimentary

10 a.m. Homecoming Worship Service

(Alumni Chapel) – Special music

by the Alumni Choir

2022

ALUMNA

OF THE YEAR

Nancy (Bushhouse

'72) DeBoer

2022

DISTINGUISHED

YOUNG ALUMNUS

Crystal (Thomas '12)

Spivey

RICHARD HOLT

SCIENCE AWARD

RECIPIENT

Richard Aram '72

register for homecoming & REUNION events at WA.360alumni.com

5
---
service to

the glory

of god:

raising up

servant

leaders

The Academy stays

focused on its mission

6
---
In 1989, the Wheaton Christian High School (WCHS)

Board of Trustees hired David Roth as headmaster.

Initially not interested in the position, Roth came to

believe, after much prayer, that God was calling him

to accept the job. Even though Roth was convinced

God had plans for WCHS, he was keenly aware of the

challenges the school was facing. The struggling school

faced cash flow problems, facilities in desperate need of

repair, and declining enrollment.

Early in his tenure, Roth took the initiative to transform Wheaton College's "For

Christ and His Kingdom" to "Soli Deo Gloria" or "For the Glory of God Alone."

The thinking was that the new motto honored the legacy of the College's historic

one while reinterpreting it to underscore a new era for WCHS. Roth noted that

Johann Sebastian Bach had commonly signed his compositions upon completion

with SDG (Soli Deo Gloria) to credit God for his talent and inspiration. For Roth,

Soli Deo Gloria indicated that "everything that is done is for God's glory to the

exclusion of humankind's self-glorification and pride."

Roth also recognized the need for a clearly articulated belief statement that would

capture the essence of the school's educational philosophy, namely that the school

was a partner with parents and the church in "training up a child in the way he

should go." This awareness precipitated the creation of a mission statement which

is still in place today: The mission of WCHS/WA is to nurture growth in our students

through relationships, excellence, and service to the glory of God. Former Head of

School Gene Frost '71, a board member at the time, confirms that the school

"was probably lacking a central focus. Once it lost the connection with the

College [in 1970], the school floundered absent a clearly defined purpose, other

than being a generic Christian school."

DAVID ROTH,

headmaster EMERITUS

"As each has

received a

gift, use it

to serve one

another, as

good stewards

of God's

varied grace."

1 Peter 4:10

7 7
---
"Through Bible classes,

chapels, and friendships,

I have learned more

about God's Truth and

everything He embodies.

As I leave WA, I am more

confident in myself, my

passions, and my morals

because of my faith

in Jesus Christ that

grew exponentially at

Wheaton Academy."

olivia smith '22

olivia smith '22

The focus on relationships, excellence,

and service has driven decisions across

an array of student activities, Winterim

distinctives, and curricular offerings.

In fact, student leadership opportunities

at the Academy are based on the

service component of the mission

statement. According to Eric Bowling,

WA's director of student leadership

and service, the Academy "actively

engages students to help them develop

a life of serving others." The focus is

on applying Mark 10:43-45: "Not so

with you. Instead, whoever wants to

become great among you must be your

servant, and whoever wants to be first

must be servant of all. For even the Son

of Man did not come to be served, but

to serve, and to give his life as a ransom

for many."

The current student leadership program

is Project LEAD, a network of six

interconnected teams that provide

Academy seniors the opportunity

to develop and engage in authentic

experiences serving the WA campus,

surrounding communities, and the

world. The six teams are Project IX,

Chapel, Discipleship, Local, Fellowship

of Christian Athletes, and Global.

Academy teacher Eric Bowling

The goal of the Project IX team is for

seniors to build relationships with

the freshman class. The Chapel team

leads large group spiritual formation

while the Discipleship team focuses on

providing opportunities for small group

spiritual formation. The Local team

serves as needed in nearby communities,

including in the city of Chicago. Project

LEAD Global partners with Kids Alive

to provide care for under-resourced

students in Haiti and the Dominican

Republic and to educate the WA student

body about global issues.

Project LEAD has grown from twelve

students at its inception under Chip

Huber to more than 100 seniors serving

on the six teams in the 2021-22 school

year. A vision of even greater student

engagement has been imagined by

one of these students, Olivia Smith

'22. Olivia approached Bowling about

starting a service project club, an idea

that had been on Bowling's heart for

some time. She was an answer to Eric

Bowling's prayers for God to send

students to him with servant hearts.

Olivia's vision for creating a club

dedicated to service projects was

prompted by an Academy student book

drive conducted during the spring '20

COVID-19 quarantine. WA students,

chomping at the bit to do something,

to make a difference somewhere,

organized and collected 2000 books

which they donated to a local book

rescue. This experience started Olivia's

thinking. What else could the students

do to help others?

The Academy resumed in-person classes

in August of 2020, and Olivia pursued

her dream. She acknowledges the startup

of the Service Project Club (SPC)

that first year was rocky. Only a small

group of students became involved, but

Olivia and Eric Bowling did not give

up. At the onset of Olivia's senior year

8
---
The Academy's new Service Project Club

visited Windsor Park Retirement Community

during the waning days of the pandemic.

"Our desire is for relationships to be the

cornerstone of student learning, for

excellence to be the standard, and ultimately

for lives of service to be the end product

of a Wheaton Academy education."

steve bult, head of school

in 2021, Bowling messaged the entire

student body with an SPC marketing

blitz. The club swelled to 80 members,

allowing Olivia the ability to make

bold plans. Members visited Windsor

Park Retirement Community, wrote

cards of encouragement to hospitalized

kids, and raked the leaves of local

elderly residents.

Even though she graduated from the

Academy in June, Olivia has worked to

establish a new leadership team of four

students for the upcoming school year.

She and the new SPC leaders are hoping

the club will grow to 150 members in

the upcoming school year and continue

to flourish in the years ahead.

An emphasis on service has been foundational

at the Academy for decades,

even before the mission statement

was formalized. Several alumni have

been recognized for dedicating their

lives to serving others. One of these

alumni is the late Richard Bosgraf

'67. During his years as an Academy

student, Rich began working at the

Chicago Rescue Mission and the

Chicago Gospel Mission with inner-city

children, alcoholics, and the homeless.

After high school, he continued his

work—preaching, counseling, teaching,

driving a bus, and serving on the board

of directors. Rich died in the fall of

1980 after succumbing to a debilitating

lifelong illness. Even up to two months

prior to his death, Rich traveled to

Chicago two or three times a week to

serve at the Chicago Gospel Mission.

The Wheaton Academy Alumni

Association honors the qualities of

faithfulness, diligence, and Christian

service through the Richard A. Bosgraf

Christian Service Award, presented

annually to a graduating senior who,

during his or her high school years, has

shown a desire and commitment to

serve the Lord through serving others.

Olivia Smith '22 was this year's recipient

of the Richard A. Bosgraf Christian

Service Award, one of the highest

honors a graduating senior can receive.

As Olivia and her classmates begin

their next chapter in life, the Academy

is preparing for the upcoming school

year by focusing on its mission –

nurturing growth through relationships,

excellence, and service to the Glory

of God.

9
---
ALUMNI AWARDS

2022

2022 Alumna of the Year

Distinguished Service Award

Nancy (Bushhouse '72) DeBoer

Nancy DeBoer has called

Holland, Michigan, home

for over four decades. Her

extensive community and

Kingdom service has spanned

a variety of backdrops from

the classroom to the airwaves

to city hall.

After graduating from Calvin

College (MI), Nancy taught

middle and high school

English. An active member

in her church, she has served

for many years on the worship team. She was also a member

of the Holland Community Chorale. Not surprisingly, choir

and ensemble classes with the late Hughes Huffman, the

Academy's former choir director, are among her favorite

memories of her WA days. In fact, music has played a key

role in the life of Nancy and her husband, Jim, a former

public school music teacher and currently a professor of

music at Hope College in Holland (MI).

In 2002, Nancy co-founded the West Michigan Character

Council (WMCC) and served as its executive director for

17 years. The WMCC sought to promote and encourage

the development of character qualities in the community.

Her commitment to the residents of Holland took on new

significance when Nancy was elected to the Holland City

Council in the at-large position in 2005, a position she

held for ten years. As a council member, Nancy gave a

TED talk to promote the Pay-it Forward Holland initiative,

a program aimed at encouraging acts of kindness.

Nancy launched a new career in 2013 as a morning talk

show co-host on a local Holland Christian radio affiliate,

1260 The Pledge. However, she relinquished this role in

2015 when she was elected Holland's mayor, the first woman

to hold that position in the city's history. Nancy served two

terms as mayor.

Nancy currently serves as assistant director for She Leads

Michigan, an organization of accomplished women from

across the state that offers faith-based solutions to modernday

challenges. In this role, she co-hosts the She Speaks

weekly webinars and hosts the Heart and Soul segments of

the WLNS ABC-TV program, Expert Connexions.

The former Holland mayor has recently launched a 2022

bid for state representative in Michigan's 86th district

representing greater Holland.

"My time at Wheaton Academy

prepared and inspired me

to pursue passions God had

ignited and to do justice, love

mercy, and walk humbly with

my Lord and Savior forever."

nancy (BUSHHOUSE '72) deboer

10
---
2022 Distinguished

Young Alumna Award

Crystal (Thomas '12) Spivey

As a freshman, Crystal Thomas '12

helped the Wheaton Academy girls soccer

team claim a state title in 2009. Over the

course of her high school career, the WA

girls team earned three Class 2A supersectional

and sectional titles (2009-2011)

and four regional titles (2009-2012).

During her senior year, Crystal had 17 assists and tied the

school record of 36 goals.

She now has her own Wikipedia page following her stellar

collegiate accomplishments and the launch of a professional

soccer career. More importantly, however, are Crystal's

steadfast faith and trust in God through the challenges

of the secular sports world.

Crystal is grateful to her parents for making it possible for

her to attend the Academy. She was surrounded by gospelcentered

teaching, encouraging peers, and excellent staff.

Wheaton Academy prepared her academically for college and

set a spiritual foundation that would prove to be essential in

the years to come.

The Academy soccer program had a significant impact on her

faith, friendships, and soccer career. After leaving Wheaton

Academy, Crystal attended the University of Notre Dame,

where she enjoyed the collegiate football experience and

played soccer for two years while developing deep friendships

and understanding of other faith traditions. After her

sophomore year, she transferred to Georgetown University

in Washington, D.C., where she was blessed by a vibrant

Protestant campus ministry and faithful church teaching that

grew her faith immensely. During this time, Crystal's faith

was tested, and she more clearly understood the reality of her

sin and God's great power and love to forgive us our sins via

the death and resurrection of Jesus Christ. As a result, she

was baptized during her senior year.

Following graduation, Crystal played a fifth year of collegiate

soccer while starting her master's degree. The Georgetown

women's soccer team made history that year by winning

the Big East Conference Championship for the first time in

school history and advancing to the NCAA final four college

cup. Crystal scored the game-winning goal against Santa

Clara to put the team into the finals. Shortly after that, she

Crystal played for the Washington Spirit of the

National Women's Soccer League in 2019 and 2020.

was invited to the United States Under-23 Women's National

team (the pre-Olympic team) and was tested against the best

in the country in her age group.

After much effort, support, personal belief, and perseverance,

she signed her first professional soccer contract in the

spring of 2017. Since then, she has seen God work in her

life and the lives of others through soccer. He has provided

in unexpected ways, allowing her to experience His joy while

playing, accomplishing her goals, and being challenged

through difficult experiences. God has allowed Crystal

to play professional soccer seasons in Iceland, Australia,

Norway, D.C., and Orlando. He opened doors to join

and be encouraged by amazing churches and saints all over

the world, tangibly showing that He is always with her.

Crystal even met her husband, Sam Spivey '10, through

the game of soccer.

On May 4, 2022, Crystal signed with the Scottish Women's

Premier League team Hibernian ahead of the 2022–23

season. Sam and Crystal will be headed to Scotland this

summer. She is mindful that God's hand has been on her

through the highs and the lows, including tough times when

Christianity was considered less than popular on her teams.

After all this, Crystal is reminded that she is saved not by any

good she has done but by the grace and mercy of God.

11
---
2022 Richard Holt Science Award

Richard Aram '72

The Richard Holt Science

Award, inaugurated in 2017

in conjunction with the

completion of the Academy's

Science & Technology

Center, is given to WA

alumni for their exemplary

accomplishments in the field

of science. The intent is to

recognize and honor the

scientists of the past in order

to encourage and inspire the

scientists of the future.

The 2022 recipient of this award is Richard Aram '72, a

geologist who worked for over three decades for Phillips

Petroleum/ConocoPhillips. Rich's career at Phillips involved

exploration and technology support/development. He

also coordinated geoscience recruiting for the U.S. offices.

Rich spent the last sixteen years at Phillips as the director

of geoscience training which involved training all the

new geologists and geophysicists hired worldwide by the

company. In addition, Rich served on the advisory councils

for two international training companies and on a committee

for the National Science Foundation.

Over the course of his years at Phillips, Rich has traveled

the globe. His work has taken him from Texas and North

Dakota to Norway and Greenland. His assignments have

involved exotic places like the Western Desert of Egypt, the

coasts of Brazil, and Bohai Bay, China.

Rich has also dedicated himself to science education.

From 1990-1993, he directed Phillips Petroleum's Green

Country Science Teachers Workshops, a free training

program coordinated by Phillips with the help of local

"we can do science for jesus

just like any other vocation."

richard aram '72

Some members of the Class of 1972 attended Homecoming 2021

in support of their friends in the classes of 1970 and 1971.

Pictured here from left: Scott Filine '72, Gary Knosp '72,

RICH Aram '72 and wife Brenda, and Mike Morgan '70

science teachers. Hundreds of elementary and secondary

science teachers and thousands of students benefited from

the workshops which garnered national acclaim. Rich and

a friend also built and directed Phillips Norway Science

Teachers Workshop from 1996 to 1998.

Over the last 19 years, Rich has presented at 11 International

Christian Educators Conferences hosted by the Association

of Christian Schools International. These conferences have

been held in Hungary, Kenya, Thailand, Ecuador, Korea,

Germany, and the Czech Republic. His workshops have

intriguing titles: Talking Rocks, Fossils as Teachers, Waltzing

Continents, Learning Better Science with Dinosaurs, and

Seeking a Balanced Approach to Teaching Origins in the

Science Classroom. He is working on a new workshop that

combines geology and the Bible called The Land: The Fifth

Gospel. This course will feature the role the landscape of

Israel played in its culture and the events of the Bible.

In addition to his many accomplishments, Rich is the

author of numerous publications on geology and science

education. However, he is quick to point out that while he

always hoped his work in the field of science would make the

world a better place, he took his role as a Christian husband,

father, and now grandfather as a top priority. To that end, he

devoted himself to spending time with his family—reading

with his kids, memorizing Scripture, praying with them,

driving them to their sports events, coaching them, fishing

with them, and so much more. Now, he is continuing the

old traditions and making new ones with extended family

and ten grand-dears.

Rich's exhortation to Wheaton Academy students is as

follows: "I want this award to focus students on science as

a possible career and ministry. Remember the stated goal of

this award is 'to encourage and inspire the scientists of the

future.' It's not about what I have done; it's about you and

what you can do. Our world has many needs. Good science

and good ethics can help [meet these]."

12
---
DEVELOPMENT

Impacting

Generations

to Come

One meaningful way for

Wheaton Academy supporters

to express their commitment

and honor the Academy's role

in their personal story is to

include WA in their estate plan

through a bequest or other

planned gift.

Planned estate gifts provide not only

for the Academy's goal of transforming

every student entrusted to us now, but

also for future generations. Over time,

a strategically planned estate gift will

benefit the giver, the giver's heirs, and

the Academy.

In an effort to formally recognize those

giving to Wheaton Academy in this

important way, the Eunice Wilson

Legacy Circle was formed in 2007 and

named in honor of the 1948 alumna

and benefactress who left the Academy

its largest planned gift to date that

same year. The Legacy Circle recognizes

those who have remembered Wheaton

Academy in their estate plan and now

claims over 65 members.

If you have made plans to include the

Academy in your estate, we would

love to hear from you. If you have

not, but would like information on

how to do so, we can help. Please

contact Dr. Gene Frost, Executive

Director of the Wheaton Academy

Foundation, at 630.562.7516 or gfrost@

wheatonacademy.org.

For over 168 years Wheaton Academy has been

training the next generation to serve our

Savior. You can be a part of that future by

supporting the Academy's ministry for the

next 168 years and beyond.

generation

after

generation

stands in awe

of your work

each one

tells stories

of your

mighty acts.

Psalm 145:4

Gene '71 and Barb Frost are pictured here with their four children

and their spouses, and the Frosts' twelve grandchildren.

Wheaton Academy's Legacy Circle

Anonymous (6)

Mr. and Mrs. Donald C. Adams

Mr. and Mrs. Harold M. Airhart

Mr. G. Mark Blycker

Mr. and Mrs. Steven P. Bult

Mr. and Mrs. Keith Coleman

Mr. and Mrs. Byron Crowe

Mrs. Carol Cummings

Mr. and Mrs. R. Gregory Earl III

Mr. and Mrs. David N. Everswick

Mr. Gerald L. Ford

Mr. and Mrs. Douglas A. Franklin

Dr. and Mrs. Eugene A. Frost, Jr.

Dr. and Mrs. David K. Gieser

Dr. Richard G. Gieser and

Mrs. Kaye Filkin

Mr. and Mrs. Mark D. Glassman

Mr. and Mrs. Christopher J. Grant

Mr. and Mrs. William L. Hall

Mr. and Mrs. Keenan G. Hamm

Mr. and Mrs. Gregory T. Hanna

Dr. and Mrs. G. Walter Hansen

Mrs. Carolynn Hass

Mr. and Mrs. Howard A. Heidlauf

Ms. Betsy Hiller

Mr. and Mrs. William B. Hollberg

Mr. and Mrs. Dan Hunt

Mrs. Alyce Jabaay

Mrs. Ginger Johnson

Dr. and Mrs. Jeffrey T. Johnson

Rev. and Mrs. Wendell P. Karsen

Mr. and Mrs. Robert F. Keith

Mr. and Mrs. Chip P. Krueger

Mr. and Mrs. Brian Lang

Mr. and Mrs. Eugene V. LeMaire

Mr. and Mrs. Christopher W. Lesner

Mr. and Mrs. Jeffrey Martin

Mr. and Mrs. Robert McDonell

Mr. and Mrs. John W. McNally

Mr. and Mrs. David S. Moore

Mrs. Christine Nicolette-Gonzalez

Mr. C. John Nill

Mrs. Joanne C. Page

Mr. and Mrs. Steven D. Pearson

Mr. and Mrs. Bradley Pihl

Mr. and Mrs. Craig S. Prichard

Mrs. Wilma Riddell

Ms. Carolyn L. Rust

Mr. and Mrs. F. Randall Seager

Mr. and Mrs. F. Ronald Seager

Ms. Valerie M. Siml

Mr. and Mrs. Ronald G. Sipp

Mr. and Mrs. Robert H. Stewart

Mr. and Mrs. Delbert D. Stoner

Mr. and Mrs. P. Jerry Strom

Mr. and Mrs. Kevin J. Todd

Mr. and Mrs. David Vick

Ms. Sheila Wakely

Mr. and Mrs. Calvin N. Walstra

Ms. Marsha White

Dr. and Mrs. Douglas K. Whittaker

Mr. and Mrs. Damon B. Winters

Dr. E. Milton Witthoff, Jr.

13
---
ALUMNOTES

1966

Congratulations to Tom Paulsen '66

and his bride, the former Lonnie

Blumenthal. Tom and Lonnie were

wed on May 19, 2022, in Greensboro,

North Carolina, and honeymooned

on Hilton Head Island. Tom plans to

move to Greensboro this summer.

Many of you know that Tom lost his

first wife, Carole, to cancer several

years ago. Their home was always

open for WA reunions and the many

friends they had made over the years.

Carole's passing left a large hole.

While Tom's departure from Illinois

also leaves a void in the local WA

community, our hearts are filled with

happiness for Tom and Lonnie. And

Tom has assured us that he intends

to stay engaged with the Academy,

grateful for its formative influence on

his life and that of his daughter Katie

Paulsen '06.

1969

Dorothy Forsberg '69 is a missionary

with SIM, a missions group originally

founded in 1893. Now retired, she

lives in the SIM retirement village in

Sebring, Florida. Her life's work has

been translating the Bible into the

Yom language of Benin, a Frenchspeaking

West African country

considered among one of the poorest

in the world. Dodi, as she is fondly

known, boarded a plane to Benin

in 1977 at the tender age of 26. A

French major from Wheaton College,

she discovered a love and gift for

linguistics and realized her calling

was Bible translation. The Yom New

Testament translation took six years

and became available in 1986. Since

she was born without a left hand,

Dodi literally singlehandedly typed

half of the New Testament text. And

then the project to translate the

Old Testament was undertaken—an

effort that took 31 years. Dodi saw the

fruit of her labors realized when the

Yom Bible was published in August

2020 after almost 70 years of faithful

dedication to its translation. At the

Class of 1969's 50-year reunion in 2019,

classmate and friend Joyce (Hansen

'69) Spurlock honored Dodi on behalf

of the class, "We celebrate you and

thank God for your work produced

by faith, your labor prompted by love,

and your endurance inspired by hope

in our Lord Jesus Christ."

2006

Brooks David Russo was born on

November 3, 2021, to Erik and Taryne

(Lee '06) Russo. He was welcomed home

by big sister Emery (6 1/2 years old)

and big brother Jensen (4 1/2 years

old). The Russos live in Glen Ellyn

and attend Wheaton Bible Church.

They love spending time with their

community of family and friends!

2008

Johnathan Clancy '08 attended Gordon

College in Boston (MA) and graduated

with a degree in accounting in 2012.

After working as a CPA at Deloitte

and LSC Communications, John felt

called to make a career change. He

obtained his real estate license and

joined Keller Williams where he helps

people buy, sell, and invest in real

estate in the Chicago area. In July of

2017, John married Katelyn Stoner,

"the most amazing girl in the world."

Katelyn has her own WA connections

as the granddaughter of Del and

Orinne Stoner, longtime Academy

supporters. John and Katelyn

welcomed daughters Adelaide

in August of 2020 and Ivy Kay on

June 17, 2022.

14
---
ALUMNOTES

2010 | 2012

Crystal Thomas '12 and Sam Spivey '10

overlapped at the Academy but

did not know each other. After

graduating from college and playing

two seasons of professional soccer in

Europe, Crystal came home to Illinois

for the off-season. It was during this

time that Sam and Crystal crossed

paths…at Wheaton Academy! The

pair were part of a pick-up game at

WA with the Chicago Eagles, a nonprofit

that uses soccer to spread the

gospel. Sam, a coach for the Eagles,

played against Crystal that night

but later told her that he knew he

needed to get her on his team. Three

years and many adventures, travels,

soccer teams, Eagles events, and

long-distance Zoom calls later, Crystal

and Sam tied the knot. On January

2, 2022, the couple exchanged vows.

The newlyweds head to Edinburgh,

Scotland, when Crystal resumes

her professional soccer career this

summer. They are looking forward to

what God has in store for them there.

2013

James Gibson III '13 works as a client

service associate for Chicago Wealth

Management Group. In his free time,

he helps his mom on her farm in

Winfield, tending to the chickens,

horses, and dogs. He also enjoys

fishing, hunting, and watching soccer

and the Cubs. A weakened immune

system has kept Jay socially isolated

during the pandemic. Jay is pictured

here with his labradoodle, Mack. He

recently bought a house in Wheaton

and is looking forward to moving this

summer. 2015

2013

Anna Marquardt '13 is an assistant

district attorney in North Carolina.

Marquardt received her bachelor's

in religious studies from Trinity

International University (Deerfield,

IL) and graduated with her juris

doctor from Elon University School

of Law (Elon, NC) in December 2021.

Marquardt has published multiple

articles on federal legislative issues

and legal topics and has received

pro bono recognition from the North

Carolina Bar Association. Marquardt

also serves on the Leadership Counsel

Team of Safe Families for Children-

Charlotte. She currently prosecutes

in western North Carolina and

specializes in criminal district court

and juvenile matters.

Luke Lanham '15's wedding on May

28, 2022, in Holland, Michigan,

was also an Academy class of 2015

mini-reunion. A unique aspect of a

Wheaton Academy education is the

special bond that often develops

among alumni from relationships

that were started during high school

days. Luke and his friends exemplify

this community. The photo above was

taken during the boys' senior year.

The photo below is the same group

(plus two) seven years later at Luke's

wedding.

Back row from left: Brett Albaugh, Sam

Robbins, Adam Ghosh, Kipper Wagner,

Grant Copple, Hunter Finnegan, T. J.

Tyrrell, Anthony Lombardo. Front row

from left: Philip Ziesemer, Luke Kram,

Chris Johnson, Luke Lanham, Jake Hirsch,

Matt DiNaso, Nate Bult.

15
---
ALUMNOTES

2015

Drew Sezonov '15 and Bella Purcell

met at Taylor University (IN) in 2016.

Drew played for the Taylor soccer

team, and a mutual friend on the

team introduced them. After many

Taylor pick-a-dates, soccer games,

and subsequently working together

at Wheaton Academy, Drew

proposed to Bella in 2021 at one of

their favorite places in the world—

Disney's Magic Kingdom. They were

married on the beach in Florida in

the summer of 2021. Drew wears

many hats at Wheaton Academy,

including assistant athletic director,

soccer coach, and summer sports

camp director. Bella teaches

Spanish and Latin American history.

She had heard about Drew's

experience as a student at WA—

the life-changing Winterim trips,

coaches, teachers, and classes.

She feels blessed to experience

WA firsthand, working with people

who are experts in their field and

have Christ as the cornerstone of

their lives.

2017

Lindsey Anderson '17 and Bennett Feyerer

'17 see how the Lord has orchestrated

their steps to bring them to the place

they are today. Their story started as

a friendship, but this changed when

they started dating during their junior

year. Five years later, the pair were

wed on June 19, 2021, in Door County,

Wisconsin. They have been blessed

to be surrounded by godly people.

As they celebrated their one-year

anniversary, their hearts were filled

with gratitude for these friends who

continue to be a big part of their

lives today. They are also grateful

for the Lord's leading and placing

them in their current jobs. Bennett

works at Innovator ETFs in Wheaton,

and Lindsey is a teacher at Wheaton

Christian Grammar School. As they

continue to pursue the will of God

through their marriage, they pray that

He continues to work in and through

them to do His Kingdom work.

Pictured here (first row from left): David

Thrasher '16, Christian Ziesemer '16, Kiersten

Oslund, Claire Dibble, Anna Joy Setran '17,

Callum Burtelson '17, Emily Ambler '17. Middle

row from left: Emme (Lindquist) Nichols,

Maddy (Burdett '17) Williams, Caroline

Feyerer '20, Lindsey and Bennett, Mariah Helm,

Jonathan Anderson '14, Emily Renn '17. Back row

from left: Daniel Giles, Jake Youngberg '17,

Jameson Teuscher '17, Sam Anderson '22.

2017

Tyler Sesvold '17 was selected as the

University of Alabama's male finalist

for the SEC's Scholar Athlete of the

Year. Sesvold, a business major, has

had a stellar collegiate athletic career.

Tyler is a two-year All-American,

earning nine honors. He is ranked

second all-time at Alabama in the

100-meter butterfly and in the all-time

top 10 in the 50-meter and 100-meter

freestyle. He also qualified as a USA

Olympic team trials finalist in the

100-meter butterfly. Sesvold's years

at Alabama also include impressive

academic accomplishments. He was

recognized as a CSCAA Scholar All-

American in 2018, 2019, and 2020. He

was also named to the President's List

(4.0 GPA) and Dean's List (3.5 GPA)

throughout his UA career.

16
---
1953

Norman Edman '53

died at home in

Williamstown, NJ, on

October 25, 2020. He

was the fourth of the

four sons of Wheaton

College President

Victor Raymond Edman

and his wife Edith.

Norm served as a chaplain's assistant

in the U.S. Army in Fort Chaffee,

Arkansas, earning both his bachelor's

and master's degrees at the

University of Arkansas in Fayetteville.

He spent most of his career in the

American Red Cross, leading rescue

efforts and eventually becoming

executive director of the Lehigh

County Chapter in Allentown, PA.

He and his beloved wife Rosalind

enjoyed nearly 25 years of marriage.

They retired to Williamstown in 2007.

In addition to Roz, he is survived

by his five children and his brother

Reverend David Edman '48 and sister-inlaw

Rita. He was preceded in death

by his brothers Charles '43 and Roland

'44. Norm designed a funeral liturgy

to thank and praise God for the

many blessings of his life.

1955

Patricia (Wells '55)

Liefeld went to be

with Jesus on May 11,

2022, from respiratory

failure. Her unwavering

faith was of

utmost importance

to her and defined her life. A year

after graduating from the Academy,

she left for an adventure with her

parents to start Central Baptist

Church in Anaheim, California.

She met her husband Paul, a 1955

Wheaton College graduate, and the

couple married in 1959. They served

together in ministry for over 25 years.

Patty served as an administrative

in memoriam

assistant at various businesses.

After retiring, she devoted herself to

her grandchildren, going on many

outings and a yearly trip to Oak Glen.

She was an avid scrapbooker, leaving

a pictorial legacy for her family. She is

survived by her daughter Cheri; son

Rob (Joy), and their three children;

and her sisters, Virginia (Wells '54)

Ruggles and Donna Thompson.

1961

Updates!

keep in touch

Keeping our records up-to-date and

maintaining contact with you are

priorities for us. If you are moving,

getting married, or changing your

contact information, let us know.

Young alumni, if your newsletters

and reunion information are still

being mailed to your parents' house,

please update your current contact

information with us so that you can

receive these items at your own home.

Share your updates by sending us a

Gary VanderMolen '61

photo of your new baby, wedding,

went to be with the

family, etc.

Lord on May 13, 2022,

after suffering a long

battle with Primary

THREE WAYS TO SUBMIT

Biliary Sclerosis (PBS),

YOUR ALUMNOTE

a chronic liver disease.

Gary was born in the occupied

Netherlands and immigrated to the

1. Email your photo(s) to Dawn Earl at

dearl@wheatonacademy.org.

United States in 1955. Gary attended

Wheaton Academy for four years,

earning a full academic scholarship

2. Mail them to Dawn at

900 Prince Crossing Road

West Chicago, IL 60185.

to Northwestern University (IL),

3. Submit an online Alumni Update

where he graduated with a degree in

at wheatonacademy.org/

electrical engineering. After serving

alumni/update-us.

a tour in Vietnam, Gary and his late

wife Rebecca moved to California. He

Photos for the next issue of the

spent the next 26-plus years working

Wheaton Academy Connection

on decommissioned submarines as

must be received by September 15,

a supervisory electronics engineer

2022. Please include a complete

at Mare Island Naval Shipyard in San

description of the photo.

Francisco Bay, CA. Gary attended

First Christian Church of Napa,

Correction to Spring '22

where he and his second wife Lani

We switched the names on two photos in

sang in the church choir. In his final

the Spring '22 issue of Connection.

weeks and days on earth, he enjoyed

To make matters worse, we also

listening to—and when able—

singing the old hymns he loved. He misspelled one of the names. We strive

was preceded in death by his father for excellence but when we mess up, we

Harry, sister Ann Shelhamer, and own it. Our sincere apologies to Scott

wife Rebecca. Gary is survived by Noble '72 and Tony Acuna '72.

his wife, Lani, and children: John,

Melissa Murphy, and Gary, Jr. Gary's

surviving siblings are Dorothy (Vander

Molen '62) Keller, John "Jerry" Vander

Molen '64, Ena, Janny Nolan, Berny,

and Caroline Toomey. Gary is also

survived by his mother, Joan Vander

Molen of West Chicago (IL), who is

101 years young. Scott Noble '72 tony acuna '72
---
NON PROFIT ORG

US POSTAGE

PAID

PERMIT #1096

CAROL STREAM, IL

900 Prince Crossing Road

West Chicago, IL 60185

Homecoming 2022!

Making Memories: Then & Now

september 22-25

Homecoming 2022

is the celebration

year for classes

ending in 2 and 7!

Alumni Platform

Your Online Connection to Wheaton academy

Visit Wheaton Academy's alumni online community at

WA.360alumni.com. The platform includes an online directory and map

locator, jobs board, and more. Please check the alumni platform for

Homecoming and reunion updates. Registration for all Homecoming

events will be available. Explore the directory and find former

classmates. Activate and update your profile so friends can find you.

WA.360alumni.com

Photo credit: kristi tolman

UPCOMING EVENTS

september 12, 2022

Todd Beamer Benefit

Golf Outing (TBGO)

Stonebridge Country Club

Register your foursome

or as a single golfer online

at wheatonacademy.org/

give/tbgo/

september 22, 2022

Homecoming Football

Game @ WA

september 23-25, 2022

Homecoming Weekend

Alumni, register for

Homecoming and

Reunion events at

WA.360alumni.com

OCTOBER 13, 2022

Admissions Event –

Get to Know

Wheaton Academy

november 8, 2022

Admissions Event –

Get to Know

Wheaton Academy