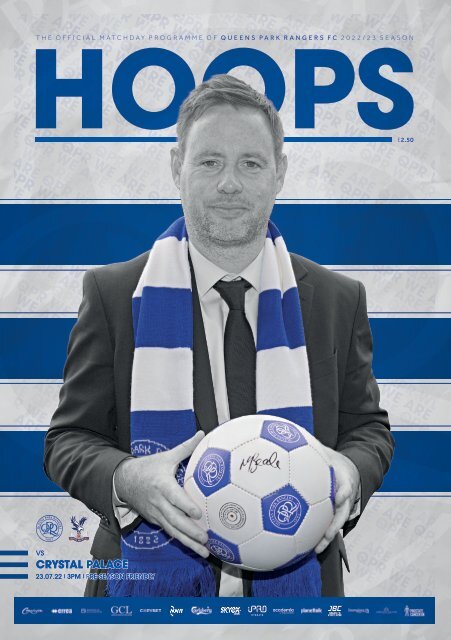 Queens Park Rangers vs Crystal Palace
Hoops | Official matchday programme for Queens Park Rangers QPR vs Crystal Palace | Pre Season Friendly Saturday 23rd July, 2022 | Kick off 3pm | Kiyan Prince Foundation Stadium
Hoops | Official matchday programme for Queens Park Rangers
QPR vs Crystal Palace | Pre Season Friendly
Saturday 23rd July, 2022 | Kick off 3pm | Kiyan Prince Foundation Stadium
SHOW MORE
SHOW LESS
Create successful ePaper yourself
Turn your PDF publications into a flip-book with our unique Google optimized e-Paper software.
THE OFFICIAL MATCHDAY PROGRAMME OF QUEENS PARK RANGERS FC 2022/23 SEASON

£2.50

vs

CRYSTAL PALACE

23.07.22 | 3PM | PRE-SEASON FRIENDLY
---
hoops

2 WWW.QPR.CO.UK // @QPR // @OFFICIALQPR // OFFICIALQPRFC
---
#QPR

@QPR on Twitter

Contents

hoops

CLUB DIRECTORY

Queens Park Rangers FC

QPR Holdings Ltd, Kiyan Prince

Foundation Stadium, South Africa

Road, London, W12 7PJ

Main Switchboard: 020 8743 0262

Commercial Sales: 020 8740 2560

Superstore: 020 8749 6862

Direct Mail Order Line: 0870 240 4547

Community Trust: 020 8740 2509

Official Website: www.qpr.co.uk

STAFF

QPR FC/QPR Holdings Ltd Chairman:

Amit Bhatia

QPR Holdings Ltd Vice-Chairmen:

Tony Fernandes, Ruben Gnanalingam

Board members:

Tony Fernandes, Ruben

Gnanalingam, Amit Bhatia,

CEO: Lee Hoos

Financial Director: Ruban Ghandi

Director of Football: Les Ferdinand

Head Coach: Michael Beale

Club Ambassador: Andy Sinton

Club Historian: Chris Guy

OFFICIAL TWITTER

Queens Park Rangers @QPR

QPR+ Pass @QPRPlusPass

QPR in the Community Trust

@QPRtrust

QPR Women @QPRWFC

PROGRAMME

Editor:

Ben Kosky

Contributors:

Tony Incenzo, Simon Cheshire,

Lennie Harvey

Designed by:

Thomas Ridge

This programme was produced on

behalf of Queens Park Rangers by

Ignition Sports Media.

www.ignitionsportsmedia.com

Printed by: Stephens & George Print Group

The views of this publication are not necessarily the

views of Queens Park Rangers Football Club. Material

in this publication is copyrighted and may only be

reproduced with written permission of Queens Park

Rangers Football Club. All information correct at

time of print.

04 08

13 20

04 THE GAFFER

Words from Michael Beale

07 NEWS + MESSAGES

All the latest from W12

08 THE BIG READ

Interview with Osman Kakay

13 VISITING W12

A look at our opposition

16 MAGIC MOMENT

A 6-0 victory for the R's

19 NEW FACES

Welcome our summer arrivals

20 BLAST FROM THE PAST

Tony Scully on his R's days

24 JUNIOR HOOPS

Test your knowledge

26 ANDY SINTON

Our ex-winger pens his column

28 FIXTURES & RESULTS

Stay updated this season

OFFICIALQPRFC // @OFFICIALQPR // @QPR // WWW.QPR.CO.UK

3
---
hoops

The Boss

OUR HEAD COACH SETS THE SCENE FOR TODAY'S GAME...

This afternoon is my first

game in charge of QPR at

Loftus Road. It's a hugely

proud moment for me and my

family and I'm really looking

forward to it.

One of the main reasons I

wanted to join the club was that

I know how big a difference the

atmosphere and support you

give the team can make. Given

that it's certainly not cheap to

travel around Europe at the

moment and we were playing at

two stadiums that weren't the

easiest to get to, it was fantastic

to see the fans travelling to

Germany last week. To have

our fans supporting us made

the games we played feel more

real, in a way, for the players

and staff. It just underlined the

pride and passion you have

in your team, that will never

be underestimated and we're

hugely thankful for it.

We had a really positive camp

out there, we trained extremely

hard and didn't give the boys

much breathing space. It wasn't

just about training, though –

there were a lot of meetings

off the pitch as well because it's

important for everyone to get

to know each other and if you're

all away together, nobody's

rushing to get home. We've had

some new staff coming in, with

myself and Damian Matthew, as

well as Ross Bennett stepping

up from the academy as head

of sports science. The camp

really helped our new signings to

integrate with their team-mates

and around that are new ideas

as well.

Part of my job is to allow people

to be the best versions of

themselves. This pre-season

has been a clean slate for

anyone that's been out on loan,

as well as the academy players

and Under-23s who joined us –

it's a chance for those guys to

step up and take the opportunity

to show what they can do.

We have key players that are

established in the first team but

we've also lost 12 or 13, which

represents a lot of experience.

I'm in a position now where I can

give accurate feedback to all

the players on their roles in the

squad – and that clarity is really

important. I think the players

respond to clarity, it enables you

to have peace of mind and that

will enable you to perform.

It was a big boost to have Chris

Willock back in limited training,

he's a key player in the team and

really well liked in the changingroom.

His level of training will

increase with a view to him

being involved in some part at

Blackburn, that's our aim at this

stage. Luke Amos had a minor

setback, so he wasn't involved

in the games in Germany and

the same goes for Tyler Roberts.

It's just a matter of building their

fitness – the days they've missed

in pre-season, we need to put

those back in their legs.

I'd like to welcome the Crystal

Palace staff and players to

Loftus Road, it's great to have

them here for our only home

pre-season friendly and we

wish them well for the coming

season. A special mention to

our former player Ebere Eze

– it's fantastic to see how well

he's done since moving to the

Premier League.

I look forward to meeting you

all during the season and thank

you in advance for your support,

which is incredibly important to

all the players and staff.

Come on you R's!

4 WWW.QPR.CO.UK // @QPR // @OFFICIALQPR // OFFICIALQPRFC
---
hoops

OFFICIALQPRFC // @OFFICIALQPR // @QPR // WWW.QPR.CO.UK

5
---
hoops

errea.com

We stand for Clean sport.

Even for your skin.

Sport is the most beautiful thing in the world, and nothing must be allowed to pollute that beauty. That is why, besides developing

increasingly high-performance materials that have a low impact on the environment, we at Erreà are the first teamwear company in

Europe to have been awarded STANDARD 100 by OEKO-TEX ® certification. This certification sets extremely strict limits for

substances harmful to health, which is why our fabrics are highly safe in all conditions. With Erreà, sport and health run side by side.

6 WWW.QPR.CO.UK // @QPR // @OFFICIALQPR // OFFICIALQPRFC
---
hoops

EVIE RAE

To Evie, our Rae of sunshine.

We know that you're with

us, supporting both of your

teams today. We love and

miss you always. Your family

xxx

WATCH THE

BOYS TRAIN AT

LOFTUS ROAD

QPR supporters can

see the players train at

Loftus Road under the

watchful gaze of new

head coach Michael Beale

on Tuesday 2nd August,

just four days before our

first home game against

Middlesbrough.

The open training

session gets under way

at 11am and continues

for approximately 90

minutes, after which the

players will be available to

sign autographs and pose

for selfies.

The Paddocks open at

10am and fans are asked

to make a small donation

on entry, which will be split

equally between QPR in

the Community Trust and

Prostate Cancer UK.

Meanwhile, there will

also be an opportunity

to check out the new

2022/23 range in the QPR

Superstore, which is open

from 9.30am to 4.30pm.

MEDICAL TEAM

SHAKE-UP

Ross Bennett has been

appointed head of sports

science as part of a wider

restructuring of the club's

medical department over

the close season.

Bennett, who previously

worked with Rangers' new

head coach Michael Beale

at Chelsea, steps up after

nine years with the club's

academy and is assisted

by Matt Horton.

Aaron Harris remains as

head physiotherapist,

while he and Bennett both

report to Dr Imtiaz Ahmad,

the newly-appointed

head of medicine and

performance.

OBITUARY

PAUL COUGHLAN

Lifelong Rangers fan Paul

Coughlan sadly passed

away during the close

season. Despite living in

south London and Kent for

many years – surrounded

by Crystal Palace family

and friends – Paul never

forgot his west London

roots and would get back

to Shepherd's Bush as

often as he could. He liked

nothing better than having

a pre-match pint in the

Queen Adelaide and talking

about all things Rangers.

MITCHELL

Our wonderful

grandson Mitchell Bath

turned 18 on Friday 15th July.

Mitchell has been coming

to watch the R's since he

was seven with his Nan and

Grandad. He's a season ticket

holder in MU in the Upper Loft

and definitely loves an away

day too (as many as possible!)

Hoping for a great season,

with lots of love as always

from Nan and Grandad xx

OFFICIALQPRFC // @OFFICIALQPR // @QPR // WWW.QPR.CO.UK

7
---
hoops

8 WWW.QPR.CO.UK // @QPR // @OFFICIALQPR // OFFICIALQPRFC
---
hoops

INTERVIEW: BEN KOSKY

MAKING AN

IMPRESSION

LONG-SERVING DEFENDER OSMAN KAKAY

DISCUSSES HIS AIMS FOR THE NEW SEASON,

DIFFERENT FORMATIONS AND THE RETURN OF A

FAMILIAR FACE TO LOFTUS ROAD THIS AFTERNOON…

Pre-season's come around very

quickly, Ossie. Given you had

AFCON qualifiers with Sierra Leone

in June, I'm wondering whether you

managed to fit in a break at all…

Yes, I had a holiday with my family before

I went away with Sierra Leone. We had

two games against Nigeria and Guinea-

Bissau, which were a good test for us.

Then fortunately the gaffer gave the

players who were away on international

duty an extra three weeks off, so I was

able to spend some more time with my

family before we got started.

It's only six months since you played at

the last AFCON finals – what was that

experience like for you?

It was an unbelievable experience, one

of the best of my career – to represent

my country at the tournament was a

great honour and I'm itching for more

of that in the future. As a nation we did

well, drawing against two big teams –

Algeria and Ivory Coast – but we could

have done better. It's all a learning curve

though and hopefully we'll qualify for the

next one. Going up against players like

Riyad Mahrez and Wilfried Zaha was a

good test for me, a good challenge and

what I want to be doing more of.

Back at QPR, you're now playing under

your fifth manager/head coach since you

joined the first-team squad. How are you

enjoying working with Mick Beale?

He's a really good coach, his philosophy

and style of play is very clear and all the

players have taken it on board well. I

OFFICIALQPRFC // @OFFICIALQPR // @QPR // WWW.QPR.CO.UK

9
---
hoops

think the style will suit us as a team and

hopefully I can be part of it. He's been

very open and given everyone a clean

slate. As pre-season's been so short,

we've had to adapt very quickly and get

on with it and training has been really

competitive.

In terms of formation, the new boss has

been fairly fluid so far. Is it fair to say,

though, that you feel more comfortable

in a back four?

Originally I am a right-back, but I feel I can

play in a wing-back system as well. As a

full-back in the modern game, first of all

you have to be a solid defender but you

also have to add assists and crosses to

your game and I have to be contributing

those too. I think in the Championship

there are teams with many different

formations and styles, so you have to be

able to adapt.

With Moses Odubajo moving on in the

summer, do you see an opportunity to

establish yourself as first choice on the

right-hand side of defence?

Most definitely, that's been my goal ever

since I signed for QPR as a seven-yearold,

to be the number one right-back at

the club. That's obviously the aim for this

year and I need to work hard every day

in training, on and off the pitch to make

sure I put myself in a position to achieve

that.

Although some of Crystal Palace's

squad are away in Australia, we can

expect to see the likes of Zaha in action

and they've got a promising lad called

Ebere Eze… not sure if you know much

about him! How are you looking forward

to taking them on?

I think it'll be an exciting game and playing

against those kind of opponents will be

10 WWW.QPR.CO.UK // @QPR // @OFFICIALQPR // OFFICIALQPRFC
---
hoops

good for us. Hopefully we can do well for

the fans and get a good start going into

the new season.

Joking aside, you witnessed Eze's

impressive rise when you were teammates

here at QPR. Was there ever

any doubt he would make it at Premier

League level?

He's an unbelievable talent – a great

person and a great player. Before he

even joined QPR he scored a hat-trick

against us in the Under-23s with Millwall

and I knew from that day he was going to

make it. Hopefully he doesn't remind us

of what he can do today.

Everyone who saw it will fondly remember

your clinical finish across the Stoke

goalkeeper the season before last…

would one of your targets for the new

season be to score a goal at Loftus Road?

Most definitely! I'm due a home

goal, that'd be one of my all-time

accomplishments – and hopefully I can

make sure it happens this season.

OFFICIALQPRFC // @OFFICIALQPR // @QPR // WWW.QPR.CO.UK

11
---
GCL

hoops

GROUND CONSTRUCTION LIMITED

Proud to be

official construction

sponsors of

QPR FC

Groundworks

Concrete Frames

Remediation

Tower Cranes

Demolition

Keep your projects

moving with GCL

Our storage network enables us to simplify logistics

and support sites within our area of operation, ensuring

progress on site is always maintained.

020 8238 7000

info@groundconstruction.com

www.groundconstruction.com

GROUND FOR CONFIDENCE.

12 INTEGRATED WWW.QPR.CO.UK CONSTRUCTION // @QPR EXCELLENCE // @OFFICIALQPR SINCE // 1997. OFFICIALQPRFC

GCL IS AN EMPLOYEE OWNERSHIP TRUST
---
hoops

Visiting W12:

CRYSTAL PALACE

Stadium: Selhurst Park - Opened: 1924 - Current Capacity: 25,456 - Club Colours: Red & Blue

IN THE CABINET:

CHAMPIONSHIP:

Champions: 1978/79, 93-94 - Runners Up: 1968/69

Play-off winners: 1988/89, 96/97, 03/04, 12,13

LEAGUE ONE:

Champions: 1920/21 -

Runners Up: 1928/29 (South), 30/31 (South), 63/64

LEAGUE TWO:

Runners Up: 1960/61

FULL MEMBERS CUP:

Winners: 1990/91

CLUB RECORDS:

RECORD GOALSCORER:

Peter Simpson - 165

RECORD APPEARANCES:

Jim Cannon - 660 (1973-74)

RECORD TRANSFER FEE:

Christian Benteke - £32,000,000

RECORD TRANSFER

FEE RECEIVED:

Aaron Wan-Bissaka - £50,000,000

BIGGEST WIN:

9-0 v Barrow 1959

BIGGEST DEFEAT:

9-0 v Liverpool 1989

OFFICIALQPRFC // @OFFICIALQPR // @QPR // WWW.QPR.CO.UK 13
---
hoops

Crystal Palace

OPPOSITION

OVERVIEW

Having embodied an

unwelcome yo-yo tag

during the early years

of the Premier League,

Crystal Palace now appear

to be an established item of

top-flight furniture.

Palace are about to begin

their 10th consecutive

season at the highest

level, well in excess of any

of their previous stints –

and have spent the bulk

of that decade wedged

comfortably in mid-table.

The Eagles made a slow

start last season under the

guidance of former Arsenal

midfield maestro Patrick

Vieira, the Frenchman

returning to London to

take over the reins after

Roy Hodgson stood down.

They won just once in

their first nine games,

but a shock 2-0 victory

at eventual champions

Manchester City sparked

Palace into life and they

did enough to maintain

a position well clear of

danger, without ever

threatening a tilt at the

European places.

Other highlights of the

campaign included a 3-0

thumping of Vieira's old

team at Selhurst Park in

April, along with a run to the

semi-finals of the FA Cup,

where they succumbed 2-0

to Chelsea.

Palace were unable to

field one of the leading

lights of their season in

that Wembley clash –

influential midfielder Conor

Gallagher, who was on

loan from their opponents

and has now returned to

Stamford Bridge.

However, the Eagles have

so far retained their other

star names, most notably

talismanic forward and top

scorer Wilfried Zaha, while

Eberechi Eze – formerly of

this parish – showed signs

of recapturing his best form

after returning from injury.

Their main additions to

the squad so far during

the summer have been

England goalkeeper Sam

Johnstone, who joined

on a free transfer after

his contract at West

Brom expired, and Cheick

Doucoure, with Palace

forking out an initial

£18m to the sign the Mali

international midfielder

from Lens.

14 WWW.QPR.CO.UK // @QPR // @OFFICIALQPR // OFFICIALQPRFC
---
hoops

YEAR ON YEAR

1921:

Palace become the first

team to win Division Three

after its formation the

previous summer – which

was also their debut

season as a Football

League club.

1962:

The all-conquering

Real Madrid side of the

era, including Alfredo di

Stefano, play in London for

the first time when they

defeat an Eagles side 4-3

at Selhurst Park.

1979:

Terry Venables leads

Palace to the Division

Two championship, their

second promotion in three

years, edging out rivals

Brighton for the title.

1990:

Palace reach their first

FA Cup final by stunning

holders Liverpool in a 4-3

semi-final thriller. They

draw 3-3 with Manchester

United in an entertaining

Wembley clash before

losing the replay 1-0.

1993:

Despite accumulating

49 points in the Premier

League's inaugural season,

the Eagles are relegated on

the last day after Oldham

win their last three games

to secure survival.

2010:

Palace, in administration

for the second time in just

over a decade, escape

relegation to the third tier

as a 2-2 draw at Sheffield

Wednesday sends their

opponents down instead.

COMINGS

AND GOINGS

COMING IN

Sam Johnstone (GK)

From: West Brom

Killian Phillips (M)

From: Drogheda Utd

Cheick Doucoure (M)

From: Lens

Malcolm Ebiowei (F)

From: Derby

GOING OUT

Martin Kelly (D)

released

Jaroslaw Jach (M)

To: Zaglebie Lubin

DID YOU KNOW?

Palace have won

promotion to the top

flight via the play-offs

four times – each of

them at a different

stadium: Selhurst

Park (1989), the old

Wembley Stadium

(1997), Millennium

Stadium (2004) and

the new Wembley

Stadium (2013).

KIT'S A KNOCKOUT

Alan Pardew (1990)

OFFICIALQPRFC // @OFFICIALQPR // @QPR // WWW.QPR.CO.UK 15
---
hoops

QUEENS PARK RANGERS 6

CRYSTAL PALACE 0

SUNDAY 9TH MAY 1999

NATIONWIDE LEAGUE DIVISION ONE

A MEMORABLE hat-trick by Chris Kiwomya

helped QPR avoid relegation on the final day of

the 1998/99 season. Our other scorers were

George Kulcsar, Tony Scully and Tim Breacker.

There was intense pressure on Rangers, but we

mastered the nerve-jangling occasion in some

style by romping to a 6-0 victory.

Kiwomya recalled: "(Manager) Gerry Francis tried

to keep everyone calm in the dressing room

beforehand. His team talk got us fired up and gave

us a lot of confidence.

"Gerry said to make sure we didn't concede a

goal early on as that would make the supporters

edgy. He stressed that the most important thing

was to keep a clean sheet and then our strikers

could do the rest.

"When we ran out on to the pitch, the atmosphere

was absolutely electric, like an FA Cup final. The

R's fans were really brilliant – they had turned out

in their thousands and were like a 12th man for us

with a capacity crowd present.

"Fortunately we got an early goal by George

Kulcsar. He had never scored before so we knew it

had to be our day. We went on to hit Palace for six

and I was really pleased with my hat-trick.

"It was great to see all those happy faces of our

supporters when the final whistle sounded and we

had stayed up!"

RANGERS: Miklosko, Breacker, Baraclough,

Kulcsar, Linighan, Maddix, Scully, Peacock,

Rowland (Gallen 86), Slade, Kiwomya (Murray 86).

Sub not used: Plummer.

Attendance: 18,498

16 WWW.QPR.CO.UK // @QPR // @OFFICIALQPR // OFFICIALQPRFC
---
hoops

OFFICIALQPRFC // @OFFICIALQPR // @QPR // WWW.QPR.CO.UK

17
---
hoops

PUTTING THE SPARK

INTO MATCHDAY

PROGRAMMES...

PROUD PROGRAMME

PARTNERS OF

QUEENS PARK

RANGERS

www.ignitionsportsmedia.com

18 WWW.QPR.CO.UK // @QPR // @OFFICIALQPR // OFFICIALQPRFC
---
hoops

to

THE NEW BOYS…

Jake

CLARKE-SALTER

First through the door at

QPR this summer was former

England Under-21 central

defender Jake Clarke-Salter,

who made the short move

from Chelsea.

Three times an FA Youth Cup

winner, Jake has amassed

plenty of Championship

experience during loan spells

with Sunderland, Birmingham

and Coventry.

The 24-year-old also spent

the 2018/19 campaign in the

Dutch Eredivisie, on loan to

Vitesse Arnhem.

Kenneth

PAAL

Another new arrival with

Eredivisie experience is leftback

Kenneth Paal, who signed

a three-year contract with

Rangers after leaving

PEC Zwolle.

The 25-year-old began his

career in the second tier of Dutch

football with PSV Eindhoven's

reserve side, eventually making

six appearances for the first team

before joining Zwolle, initially on

loan in 2018.

Paal, who previously

represented the Netherlands

at Under-17 level, went on to

feature in more than 100 games

for Zwolle, scoring three goals.

Tyler

ROBERTS

Wales international forward

Tyler Roberts signed for QPR on

a season-long loan deal from

Leeds United, where he won the

Championship title in 2020.

Roberts started out with West

Brom and was loaned to Oxford,

Shrewsbury and Walsall before

joining the Yorkshire club in a

£2.5m switch in January 2018.

The 23-year-old has made

50 Premier League

appearances since Leeds'

promotion to the top flight, as

well as accumulating 19 caps for

his country.

HEADING FOR

PASTURES NEW

Several members of last season's squad

have donned new colours since their

departures from Loftus Road in the summer.

Striker Charlie Austin is now lining up

for A-League side Brisbane Roar, while

midfielder Dom Ball has signed for Ipswich

and goalkeeper David Marshall returned to

Scotland with Hibernian.

Defender Jordy de Wijs converted his loan

deal with Fortuna Dusseldorf into a permanent

move, while wide man Moses Odubajo has

joined Aris Thessaloniki – linking up at the Greek

club with former QPR loanee Andre Gray.

OFFICIALQPRFC // @OFFICIALQPR // @QPR // WWW.QPR.CO.UK

19
---
hoops

20 WWW.QPR.CO.UK // @QPR // @OFFICIALQPR // OFFICIALQPRFC
---
hoops

A Blast From the Past

TONY

SCULLY

SPEEDY WINGER TONY SCULLY SCORED IN THE 6-0 WIN OVER

CRYSTAL PALACE THAT ENSURED QPR AVOIDED RELEGATION

TO THE THIRD TIER OF ENGLISH FOOTBALL ON THE FINAL DAY

OF THE 1998/99 SEASON. HE SHARES HIS MEMORIES OF THAT

REMARKABLE GAME WITH TONY INCENZO…

Tony, you had a three-year spell at

Rangers between 1998 and 2001

but the biggest game you played

in for us was the 6-0 home victory over

Crystal Palace. What do you remember

of the build-up to that fixture?

It was quite intense as it was such a

vital game for Queens Park Rangers.

The pressure was on to get the win

that would keep us in the division.

Gerry Francis, the R's manager, tried

to take that stress off the players and

build confidence in us. He let us know

throughout the week how important it

was to win the match for the whole club

– all the players, the staff and the fans.

Obviously none of us wanted to be in

that kind of scenario, but it was there and

we had to deal with it.

There was a real nervous feel around

the stadium when the game kicked off…

I remember hundreds of balloons being

on the pitch at the start as they had been

released by Crystal Palace fans. Then the

match itself, on an extremely hot Sunday,

was a really keenly-contested battle to

begin with. There was very little between

the sides in those opening exchanges

with no quarter given. It was so tight but,

once George Kulcsar scored the opening

goal for us, the whole crowd were able

to settle a bit more. George hardly ever

scored so we felt it could be a good

omen! His game was all about breaking

things up as a holding midfielder but he

found himself on the edge of the box

against Palace and hit a good volley.

OFFICIALQPRFC // @OFFICIALQPR // @QPR // WWW.QPR.CO.UK

21
---
hoops

Scully's

strike

against

Crystal

Palace was

one of the

two goals

he netted

during his

QPR career

Chris Kiwomya went on to notch a hattrick.

He was on fire that day…

Yes, Chris had an outstanding game and

the second goal came just before halftime.

There was a long clearance by our

keeper Ludek Miklosko all the way down

the centre of the pitch and Chris raced

through to score. Then he grabbed two

more from close range and Tim Breacker

got one by following in on a penalty save.

The boys stood up to be counted and we

got the result that was needed.

Our best goal arrived in the second half

when you sent a stunning half-volley

into the top corner at the Loft End to

make it 4-0. Do you recall that one?

I think George knocked the ball over to

me. Things seemed to happen in slow

motion and it was taking forever to

bounce, but eventually it sat up nicely in

front of me and I just remember thinking

it was there to be hit. So I did hit it and

the roar of the crowd was unbelievable!

I took my shirt off and waved it in the air,

although I didn't know what I was doing

by that stage! I don't think I even got

booked for it. But I would have taken a

yellow card if I had to because the goal

more or less sealed the result for us.

Gerry Francis used to play a video of

each fixture back to the players at the

training ground on a Monday during his

post-match debrief. When your goal

was shown and your naked torso

appeared on the big screen, all

the other players in the room

started cheering!

Yeah I know. Good times!

The atmosphere against Palace

was totally electric, wasn't it?

Oh, incredible – it meant so much

to everyone and the fans really

drove us over the line. It was the

best atmosphere I experienced

22 WWW.QPR.CO.UK // @QPR // @OFFICIALQPR // OFFICIALQPRFC
---
hoops

Scully

started his

career with

today's

opponents

Crystal

Palace

before

moving

on to

Manchester

City and

signing

for QPR in

1998

at Rangers and like a carnival occasion

in many ways. Loftus Road was always a

great place to play at when it was full and

rocking. There were lovely scenes on the

final whistle with everyone celebrating

together. Then I remember Gerry saying

that, if he had known we were going to

comfortably win 6-0, he would have had

a much better sleep on the night before

the game!

You had three years in a blue and

white hooped shirt. Was that victory

over Palace the highlight of your time

at QPR?

Yes, I suppose so because it was a

massively crucial fixture and the way it

panned out. I scored and set up three or

four of the goals. I also won our penalty,

from which Tim fired in the rebound. So it

was a memorable day all round and I had

a good game, but the most important

thing was the result. We gave the fans

plenty to cheer about as they went away

for the summer with something positive

ahead of the next season.

Did you enjoy your time at QPR overall?

Yes, definitely. We had some really good

players and I still speak to some of the

lads now. Obviously I would have liked to

play more games, but it is a great club

with great fans.

What are you up to nowadays?

I work as a postman and I enjoy being out

and about delivering the mail. Then I spend

the weekends watching my son Anthony

playing for Lincoln City in League One. I

am very proud because he has been doing

really well and long may that continue.

Have you shown your son that video of

you taking your shirt off against Palace

back in 1999?

He's seen it, yeah. But he said he would

never take his shirt off like that after

scoring a goal!

OFFICIALQPRFC // @OFFICIALQPR // @QPR // WWW.QPR.CO.UK

23
---
hoops

JUNIOR

HOOPS

FUN, GAMES, TRIVIA & MORE!

Hello everyone!

Hey guys, it's your

favourite feline friend

here! Over the next

couple of pages you'll

get the chance to

test your footballing

knowledge! Challenge

your family and friends

to see who comes out

on top!

Jude

SPOT THE BALL

Can you spot the real ball location below?

Follow me on Twitter

@QPRJudeTheCat

24 WWW.QPR.CO.UK // @QPR // @OFFICIALQPR // OFFICIALQPRFC
---
BIRTHDAYS!

Big birthday wishes to

all Junior Hoops

celebrating in July…

Jake Beason – 1st

Jayden Cooper – 1st

Joseph Hollis – 1st

Isla Holloway – 1st

Megan McGuire – 1st

Charlie Ashwood – 2nd

George Brunt – 2nd

Lachlan Carroll – 2nd

Liam Cole – 2nd

Freddie Spencer – 2nd

Frankie Bircham – 3rd

Connor Elderfield – 3rd

Freddie Mooney – 3rd

Harry Probert – 3rd

Alice Smith – 3rd

Joseph Daniel Strutton-

Conlan – 3rd

Grace Wijeratna – 3rd

Charles Cane – 4th

Luke Fallon – 4th

Charlie Gargan – 4th

Alfie Giles – 4th

Benjamin Halsey – 4th

John Paul Knell – 4th

Maison Taylor – 4th

Aaron Condon – 5th

Romeo Cox – 5th

Lucie Kirby – 5th

Seb Lawson – 5th

Dylan Burnside – 6th

Joshua Cavanagh-Kentish – 6th

Ciaran McDonagh – 6th

Siobhan-Lily Morgan – 6th

Rory Ollard – 6th

Xavier Shaw – 6th

May Burford – 7th

Ellis Foster – 7th

Harrison Shepherd – 7th

Isis Unger-Hamilton – 7th

Bobby Bell – 8th

Kyle Booth – 8th

Charlie Jagger – 8th

Celeste Madden – 8th

Louis Marth – 8th

Alex Maycock – 8th

Frankie O'Meara – 8th

Blake Toulson – 8th

Ralph Woodford – 8th

Theodore Ethan Golledge – 9th

Zoe Manning – 9th

Daniel McDonald – 9th

Joe Murphy – 9th

Hannah O'Sullivan – 9th

Dillon Beattie – 10th

Jamie King – 10th

Charlie Lovell – 10th

Harry Frolich – 11th

Joe Henson – 11th

Alfie Jacob-Green – 11th

Nicholas Kerswell – 11th

Brian Vaughan – 11th

Alex Clark Luther – 12th

Rhys Curnick – 12th

Harrison Harwood-Pike – 12th

Lewis Butcher – 13th

Jack Calver – 13th

George Chapman – 13th

Harry Dowding – 13th

Shey Fowler – 13th

Ethan Knight – 13th

Tyler Maccraith – 13th

Henry Mayhew – 13th

Rico Bebeagua – 14th

Georgie Digby Burford – 14th

Roman Galli – 14th

Harry Lamerton – 14th

Mani Martini – 14th

Alastair McInnes – 14th

Mckenna Sheehy – 14th

Daisy Stephens – 14th

Charlie Warren – 14th

Alexander Abrahart – 15th

Mitchell Bath – 15th

Mackenzie Blue – 15th

Michael Gabriel – 15th

Emily-Rose Godfrey-Oliver – 15th

Imogen Jackson – 15th

Jacob Paull-Pelletier – 15th

Eden Elias Yates – 15th

Luke Coleman – 16th

James Coleman – 16th

Joshua Goy – 16th

Harry Kerr – 16th

Freddie Whisker – 16th

Sophia Bates – 17th

Samuel Chu – 17th

Reece Collins – 17th

Benjamin King – 17th

Ryan O'Shea – 17th

Madeline Platt – 17th

Joshua Bankole – 18th

Eddie Clarke-Irons – 18th

Micheal Coen – 18th

Hayden Conway – 18th

Charlie Coyle – 18th

Millie Drewitt – 18th

Caden Philpott – 18th

Matilda Stevens – 18th

Saul Turgel – 18th

Monty Wheals – 18th

Harrison Arter – 19th

Samuel Dell – 19th

Sam Hall – 19th

Aaron-James Lockwood – 19th

Teddy O'Driscoll – 19th

Ciara O'Neil – 19th

Harry Zacs – 19th

Nicholas Carter – 20th

Ruby Ford – 20th

Louis Freidman – 20th

Mason Greasby – 20th

Ellie Iasonos – 20th

Luke Odd – 20th

Marnie Toulson – 20th

James Travers – 20th

Ebony Akins – 21st

Max Clark Luther – 21st

Oliver Colbourne – 21st

Theo Jones – 21st

Sienna Taylor – 21st

Catewyn Tellem – 21st

Emily Cupples – 22nd

Gabriel Davis – 22nd

Max Horscroft – 22nd

Teddy Robson – 22nd

Katie Webb – 22nd

Ted Bennett – 23rd

Callum Benson – 23rd

Harry Deakin – 23rd

Elspeth Euden – 23rd

Junior Fowler – 23rd

Riley Hayes – 23rd

Mac Henry – 23rd

Tom Rudall – 23rd

Enrique Smyth – 23rd

Connor Williams – 23rd

Stuart Gashi – 24th

Corey Gordon – 24th

Harrison Graham – 24th

Ralph Guainiere – 24th

Joe McElligott – 24th

Miles Clifford – 25th

Ilyas Damani – 25th

Alex Keen – 25th

Archie Mackintosh – 26th

Leo Maddix – 26th

Lewis Ruff – 26th

Kian Campbell – 27th

Tommy De Pear – 27th

Vincent Eden – 27th

Jake Felstead – 27th

Will Felstead – 27th

Maggie Jones – 27th

Dylan Kelly – 27th

Dylan Porter – 27th

Quinn Ryan – 27th

George Wigglesworth – 27th

Matthew Wood – 27th

Ed Allen – 28th

Josh Minchin – 28th

Aidan Morrissey – 28th

Massimo Naylor – 28th

Ted Parker – 28th

Freddy Pithers – 28th

Mason Putman – 28th

Mason Barber – 29th

Max Cheers – 29th

Maddison Ramsey – 29th

Milen Richards – 29th

Imogen Stedman – 29th

Charlie Gostelow – 30th

Renee Hutton – 30th

Henry Shanahan – 30th

Elijah Ali – 31st

Oliver Humphreys – 31st

Daniel Irvine – 31st

Sullivan Supple – 31st

Ishaan Topan – 31st

OFFICIALQPRFC // @OFFICIALQPR // @QPR // WWW.QPR.CO.UK

BACK IN

THE DAY

hoops

Which current Premier League manager

is pictured during his playing days?

TEST YOUR

KNOWLEDGE

Q: Seven men have managed both

QPR and Crystal Palace. How many

can you name?

NAME THE

PLAYER

• I was born in 1998 in

Stourbridge, West Midlands

• I made my Premier League

debut at the age of 18

against Liverpool

• I made eight appearances

for England Under-19s,

scoring one goal

• I scored on my QPR debut

against Brentford in 2021

25

Answers: Spot the Ball: A, Back in the day: Antonio Conte (Tottenham), Test your Knowledge: Terry Venables,

Alan Mullery, Trevor Francis, Ian Holloway, Iain Dowie, Paul Hart, Neil Warnock, Name the Player: Sam Field
---
hoops

ANDY

SINTON

OUR CLUB AMBASSADOR'S

VIEWS ON ALL THINGS QPR…

Good afternoon everyone and

welcome back to Loftus Road for this

afternoon's pre-season friendly against

Crystal Palace, who will no doubt provide

quality opposition.

First of all I would like to welcome Mick Beale,

our new head coach, and everyone at the club

wishes him well as he takes charge of the team

for the campaign ahead. Following a lengthy

process in appointing a new head coach at the

end of last season, the club decided Mick was

the best man to take us forward. I am sure he is

really looking forward to the challenge and for

the league season to get started next week,

when we travel to Blackburn Rovers – who

themselves have a new head coach in charge.

Mick has a fantastic reputation as a coach

and has worked with some high-class players

in recent years at his previous clubs, helping

those players to improve and progress within

the team set-up they were part of. I am a great

believer that you never stop developing and

improving as a player, whether you are an up

and coming youngster trying to make your way

in the game or an experienced professional

who has hundreds of games under his belt.

That ability and desire to learn, develop and

improve should always be there in you as a

player and I am sure Mick and his staff will bring

this type of approach on the training ground

every day as we look to push on.

Personally I find it quite refreshing to see

a coach such as Mick given an opportunity in

charge of a team for the first time and I am

sure he will get all the support he needs when

he wants it from those close to him at the

club. I know I speak for everyone at the club in

wishing Mick, his staff and all the squad the very

best of luck as we head into a new campaign. I

also welcome our new signings to the club and

wish them every success in their careers as

QPR players.

Today is our last pre-season game before the

real business starts next week and it will be a

good test against Palace who, under Patrick

Vieira, enjoyed a good campaign. They have a

squad full of Premier League quality and it will

be a big challenge for us this afternoon. It will

be great to see Ebere Eze back here, if he is

involved for Palace. Ebere is a wonderful talent

and has an exciting future ahead of him.

The pre-season schedule is all about getting

ready for the opening league fixture – such an

important time for any player and any team.

26 WWW.QPR.CO.UK // @QPR // @OFFICIALQPR // OFFICIALQPRFC
---
hoops

I know our lads have been working really hard

over the past few weeks since they returned

and will be pushing hard to impress and get

themselves in the team for the start of the

season. With a new head coach and coaching

team come new ways of doing things and new

ideas to take on board. I am told the week or so

away in Germany was great, with lots of work

done on the training ground as well as the work

off it, which is also very important. Being away

together gives the group a real chance to bond

and get to know each other, not only as players

but also as people.

As a player I used to enjoy pre-season! I

enjoyed the hard work, knowing I was getting

ready to start the campaign with new aims

and goals to work towards individually and as a

OFFICIALQPRFC // @OFFICIALQPR // @QPR // WWW.QPR.CO.UK

squad. Pre-season is about minutes in the legs

through games and on the training pitch, as

well as really nailing down the way you want to

play, in and out of possession and making sure

everyone involved understands their own role

within the framework of the team set-up.

It was always an exciting time, especially as the

games started to come and the new season

approached and I am sure all the squad will be

keen to start the season well.

I hope everyone has enjoyed their summer and

is looking forward to the season ahead.

Thanks as always for your incredible support

and enjoy today's game.

Come on you R's!

27
---
hoops

2022/23

FIXTURES & RESULTS

DATE KO OPPOSITION SCORE POS. STARTING XI

JULY

Sat 30 15:00 Blackburn Rovers

AUGUST

Sat 6 15:00 Middlesbrough

Tue 9 19:45 Charlton Athletic CC

Sat 13 15:00 Sunderland

Tue 16 20:00 Blackpool

Sat 20 15:00 Rotherham United

Sat 27 15:00 Watford

Tue 30 19:45 Hull City

SEPTEMBER

Sat 3 15:00 Swansea City

Sat 10 19:45 Huddersfield Town

Wed 14 15:00 Millwall

Sat 17 15:00 Stoke City

OCTOBER

Sat 1 15:00 Bristol City

Tue 4 19:45 Sheffield United

Sat 8 15:00 Reading

Sat 15 12:30 Luton Town

Wed 19 19:45 Cardiff City

Sat 22 15:00 Wigan Athletic

Sat 29 15:00 Birmingham City

NOVEMBER

Wed 2 19:45 Norwich City

Sat 5 15:00 West Bromwich Albion

Sat 12 15:00 Coventry City

DECEMBER

Sat 10 15:00 Burnley

Sat 17 15:00 Preston North End

Mon 26 15:00 Cardiff City

Thurs 29 19:45 Luton Town

JANUARY

Mon 2 15:00 Sheffield United

Sat 14 15:00 Reading

Sat 21 15:00 Swansea City

Sat 28 15:00 Hull City

FEBRUARY

Sat 4 15:00 Huddersfield Town

Sat 11 15:00 Millwall

Tue 14 19:45 Sunderland

Sat 18 15:00 Middlesbrough

Sat 25 19:45 Blackburn Rovers

MARCH

Sat 4 15:00 Rotherham United

Sat 11 15:00 Watford

Tue 14 19:45 Blackpool

Sat 18 15:00 Birmingham City

APRIL

Sat 1 15:00 Wigan Athletic

Fri 7 15:00 Preston North End

Mon 10 15:00 West Bromwich Albion

Sat 15 15:00 Coventry City

Wed 19 19:45 Norwich City

Sat 22 15:00 Burnley

Sat 29 15:00 Stoke City

MAY

Sat 6 15:00 Bristol City

All fixtures subject to change. *Won 5-3 on penalties

28 WWW.QPR.CO.UK // @QPR // @OFFICIALQPR // OFFICIALQPRFC
---
hoops

KEY: GOALSCORER 1 - FIRST SUB - SECOND SUB - THIRD SUB - FOURTH SUB - FIFTH SUB - † OWN GOAL - YELLOW CARD - RED CARD

SUBSTITUTES

REFEREEE

OFFICIALQPRFC // @OFFICIALQPR // @QPR // WWW.QPR.CO.UK

29
---
hoops

Columnist

BEN SUMMER

'R' GENERATION WRITER BEN SUMMER

SHARES HIS LATEST COLUMN

The new season's getting closer, and as

we welcome Crystal Palace to Loftus

Road, I thought it would be interesting

to look back on where we were a year ago –

almost to the day – when Manchester United

rolled into town.

A couple of goals from Lyndon Dykes,

including a lovely low finish past Tom Heaton,

an outrageous strike from Moses Odubajo

and a goal by Charlie Austin that took full

advantage of a lovely, wide-open space where

a United full-back ought to have been…

Yes, it's "small club mentality" to be so

chuffed with the result in a friendly. No, it

wasn't a full-strength United team, but that

was one of the initial sparks of that odd

feeling: 'Maybe, this could be our year.'

The momentum kept going. A strong

performance against Leicester (in which the

crowd had their fun chanting at Jamie Vardy),

a satisfactory result viewed through the

opera binoculars in the Abbey Stadium away

end and we were good to go.

The opening moments of our first league

game against Millwall felt like a crash back

down to earth – the memory of watching Jed

Wallace opening the scoring and sprinting

towards the mass of fans in the away end still

makes me feel a bit queasy – and despite the

incredible, soaring oh-my-god-we're-finallyhome

feeling when Rob Dickie scored an

equaliser, the game served as a reminder that

not every team would be as easy to beat as

Man United.

But then, it kept going. Not winning every week,

but winning enough to be sniffing around the

top end of the division. Dominance up at Hull,

spirit against Barnsley and Reading with two late

equalisers, *that* Preston game…

Listen, we all know how it ended up. It didn't

go the way anyone – fans, club, players –

would have wanted. I kind of struggled to

write this column towards the end of the

season because trying to find a positive spin

on what was, ultimately, a fall from grace

was hard to write without being patronising.

I still love following the club on a bad day,

but nobody needs to be told to be happy on

those bad days.

But the reason I'm casting my mind back to

a year ago is because of that pre-season

feeling. It's like taking the plastic film off a

new toy. It's all the familiar faces but with

a summer holiday and a week in Germany

under their belt. Johansen, Chair, and co

maybe 10 per cent more nippy, 10 per cent

sharper in the tackle, 10 per cent shorter hair

than when we last saw them.

The sting of the end of last season still

in the memory, but the crushing weight

of expectation lifted. Chuck in some new

faces, a few weeks of coaching in the art

of BealeBall, and who knows? I for one am

looking forward to seeing how it goes.

30 WWW.QPR.CO.UK // @QPR // @OFFICIALQPR // OFFICIALQPRFC
---
Ashville is rooted in construction and our history has morphed

from boots on the ground to in house development and government

infrastructure projects. Ashville encompasses every element in

construction and is a fundamental part of all supply chains.

We're proud to have over 15 years' experience within the industry, which in

turn allows us to provide a responsive and reliable service for each of our

customers. Our team and process are completely in-house which allows us

to have control from initial concept to completion.

ashvilleaggregates.com
---
THE SQUADS

QUEENS PARK

RANGERS

HEAD COACH: MICHAEL BEALE

CRYSTAL

PALACE

MANAGER: PATRICK VIEIRA

ALBERT ADOMAH

●

●

OMOTAYO ADARAMOLA

LUKE AMOS

●

●

JOACHIM ANDERSEN

JORDAN ARCHER GK

●

●

JORDAN AYEW

FAYSAL BETTACHE

●

●

SCOTT BANKS

MACAULEY BONNE

●

●

CHRISTIAN BENTEKE

ILIAS CHAIR

●

●

JACK BUTLAND GK

JAKE CLARKE-SALTER

●

●

NATHANIEL CLYNE

ROB DICKIE

●

●

CHEICK DOUCOURE

SENY DIENG GK

●

●

ODSONNE EDOUARD

ANDRE DOZZELL

●

●

EBERECHI EZE

JIMMY DUNNE

●

●

NATHAN FERGUSON

LYNDON DYKES

●

●

VICENTE GUAITA GK

SAM FIELD

●

●

MARC GUEHI

STEFAN JOHANSEN

●

●

REECE HANNAM

NIKO HAMALAINEN

●

●

WILL HUGHES

OSMAN KAKAY

●

●

SAM JOHNSTONE GK

CHARLIE KELMAN

●

●

CHEIKHOU KOUYATE

CONOR MASTERSON

●

●

JAMES MCARTHUR

CHARLIE OWENS

●

●

JEAN-PHILIPPE MATETA

KENNETH PAAL

●

●

REMI MATTHEWS GK

TYLER ROBERTS

●

●

LUKA MILIVOJEVIC

OLAMIDE SHODIPO

●

●

TYRICK MITCHELL

GEORGE THOMAS

●

●

JACOB MONTES

JOE WALSH GK

●

●

MICHAEL OLISE

CHRIS WILLOCK

●

●

LUKE PLANGE

●

JESURUN RAK-SAKYI

●

JAIRO RIEDEWALD

●

JEFFREY SCHLUPP

●

ROBERT STREET

●

JAMES TOMKINS

●

JOEL WARD

●

JACK WELLS-MORRISON

●

WILFRIED ZAHA

Referee:

James Linington

Assistant Referee:

Ian Cooper

Assistant Referee:

Leigh Crowhurst

Fourth official:

Sean Phillips