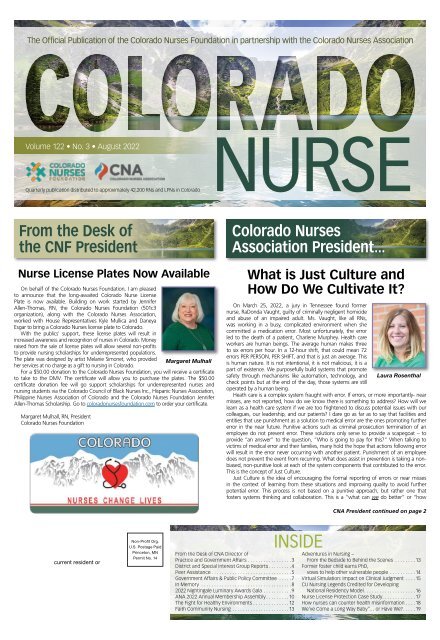 Colorado Nurse - August 2022
You also want an ePaper? Increase the reach of your titles
YUMPU automatically turns print PDFs into web optimized ePapers that Google loves.
The Official Publication of the Colorado Nurses Foundation in partnership with the Colorado Nurses Association

Volume 122 • No. 3 • August 2022

Quarterly publication distributed to approximately 42,200 RNs and LPNs in Colorado

NURSE

From the Desk of

the CNF President

Colorado Nurses

Association President...

Nurse License Plates Now Available

On behalf of the Colorado Nurses Foundation, I am pleased

to announce that the long-awaited Colorado Nurse License

Plate is now available. Building on work started by Jennifer

Allen-Thomas, RN, the Colorado Nurses Foundation (501c3

organization), along with the Colorado Nurses Association,

worked with House Representatives Kyle Mullica and Daneya

Esgar to bring a Colorado Nurses license plate to Colorado.

With the publics' support, these license plates will result in

increased awareness and recognition of nurses in Colorado. Money

raised from the sale of license plates will allow several non-profits

to provide nursing scholarships for underrepresented populations.

The plate was designed by artist Melanie Simonet, who provided Margaret Mulhall

her services at no charge as a gift to nursing in Colorado.

For a $50.00 donation to the Colorado Nurses Foundation, you will receive a certificate

to take to the DMV. The certificate will allow you to purchase the plates. The $50.00

certificate donation fee will go support scholarships for underrepresented nurses and

nursing students via the Colorado Council of Black Nurses Inc., Hispanic Nurses Association,

Philippine Nurses Association of Colorado and the Colorado Nurses Foundation Jennifer

Allen-Thomas Scholarship. Go to coloradonursesfoundation.com to order your certificate.

Margaret Mulhall, RN, President

Colorado Nurses Foundation

What is Just Culture and

How Do We Cultivate It?

On March 25, 2022, a jury in Tennessee found former

nurse, RaDonda Vaught, guilty of criminally negligent homicide

and abuse of an impaired adult. Ms. Vaught, like all RNs,

was working in a busy, complicated environment when she

committed a medication error. Most unfortunately, the error

led to the death of a patient, Charlene Murphey. Health care

workers are human beings. The average human makes three

to six errors per hour. In a 12-hour shift, that could mean 72

errors PER PERSON, PER SHIFT, and that is just an average. This

is human nature. It is not intentional, it is not malicious, it is a

part of existence. We purposefully build systems that promote

safety through mechanisms like automation, technology, and Laura Rosenthal

check points but at the end of the day, those systems are still

operated by a human being.

Heath care is a complex system fraught with error. If errors, or more importantly- near

misses, are not reported, how do we know there is something to address? How will we

learn as a health care system if we are too frightened to discuss potential issues with our

colleagues, our leadership, and our patients? I dare go as far as to say that facilities and

entities that use punishment as a solution to medical error are the ones promoting further

error in the near future. Punitive actions such as criminal prosecution termination of an

employee do not prevent error. These solutions only serve to provide a scapegoat – to

provide "an answer" to the question, "Who is going to pay for this?" When talking to

victims of medical error and their families, many hold the hope that actions following error

will result in the error never occurring with another patient. Punishment of an employee

does not prevent the event from recurring. What does assist in prevention is taking a nonbiased,

non-punitive look at each of the system components that contributed to the error.

This is the concept of Just Culture.

Just Culture is the idea of encouraging the formal reporting of errors or near misses

in the context of learning from these situations and improving quality to avoid further

potential error. This process is not based on a punitive approach, but rather one that

fosters systems thinking and collaboration. This is a "what can we do better" or "how

CNA President continued on page 2

current resident or

Non-Profit Org.

U.S. Postage Paid

Princeton, MN

Permit No. 14

From the Desk of CNA Director of

Practice and Government Affairs .................3

District and Special Interest Group Reports .........4

Peer Assistance ...............................5

Government Affairs & Public Policy Committee .....7

In Memory ...................................8

2022 Nightingale Luminary Awards Gala ...........9

ANA 2022 Annual Membership Assembly .........10

The Fight for Healthy Environments ..............12

Faith Community Nursing ......................13

INSIDE

Adventures in Nursing –

From the Bedside to Behind the Scenes ........13

Former foster child earns PhD,

vows to help other vulnerable people ..........14

Virtual Simulation: Impact on Clinical Judgment ....15

CU Nursing Legends Credited for Developing

National Residency Model ....................16

Nurse License Protection Case Study .............17

How nurses can counter health misinformation ....18

We've Come a Long Way Baby"… or Have We? .....19
---
2 • Colorado Nurse | August 2022

The Official Publication of the Colorado Nurses Foundation in partnership with the Colorado Nurses Association

COLORADO NURSE (ISSN-8750-846X) is published 4 times annually, February,

May, August, and November, by the Arthur L. Davis Publishing Agency, Inc. for the

Colorado Nurses Foundation, 2851 South Parker Rd, Ste 1210, Aurora, CO 80014;

Mailing: P.O. Box 3406, Englewood, CO 80155-3406.

For advertising rates and information, please contact Arthur L. Davis Publishing

Agency, Inc., PO Box 216, Cedar Falls, Iowa 50613, (800) 626-4081, sales@

aldpub.com. CNF and the Arthur L. Davis Publishing Agency, Inc. reserve the

right to reject any advertisement. Responsibility for errors in advertising is

limited to corrections in the next issue or refund of price of advertisement.

Acceptance of advertising does not imply endorsement or approval by the

Colorado Nurses Foundation of products advertised, the advertisers, or the

claims made. Rejection of an advertisement does not imply a product offered

for advertising is without merit, or that the manufacturer lacks integrity, or

that this association disapproves of the product or its use. CNF and the Arthur

L. Davis Publishing Agency, Inc. shall not be held liable for any consequences

resulting from purchase or use of an advertiser's product. Articles appearing

in this publication express the opinions of the authors; they do not necessarily

reflect views of the staff, board, or membership of CNF or those of the

national or local associations.

Colorado Nurses Foundation wants to hear from you and welcomes letter to

the editors. Correspondence may be sent to Colorado Nurses Foundation,

2851 South Parker Rd, Ste 1210, Aurora, CO 80014; Mailing: P.O. Box 3406,

Englewood, CO 80155-3406; email, info@coloradonursesfoundation.com.

Colorado Nurse Publication Article Submission

CNA President continued from page 1

can we prevent this from happening in the future?" culture.

This is NOT a "who is responsible for this problem?"

culture. This is a culture that promotes patient safety. A

culture where the person/people that committed the error

are supported and educated.

How do we get there? The first step is acknowledging

that human error, although undesired, is inevitable

and an unavoidable part of health care. Second, once

this fact is accepted, leaders from all professions must

model behaviors consistent with Just Culture including

implementation of policies that support this work (or

de-implementation of policies contrary to this concept),

differentiating between human error, at-risk, and reckless

• September 13 for November Issue

Colorado Nurses Association in partnership with the Colorado Nurses Foundation seeks your

regular reports and any content you feel would be informative for Colorado Nurses.

Submit to: https://civicamanagement.wufoo.com/forms/m10eei4p1ds8okp/

behavior, and solidifying to commit to a culture of safety.

After promoting a culture of support and safety, engaging

every member to systematize the process of reporting and

reviewing from a stance of appreciative inquiry with the

ultimate goal of learning and improvement.

Nurses have the knowledge, understanding, and

experience to navigate these complex systems every day.

Nurses have the voice to improve patient safety through

changes in culture. If you are afraid to report an error or

near miss, please consider advancing patient safety through

advocating for a Just Culture environment. CNA is here to

support you in your efforts. For more information on Just

Culture, please refer to these resources.

– ANA Position Statement on Just Culture. https://

www.nursingworld.org/practice-policy/nursingexcellence/official-position-statements/id/just-culture/

– AHRQ Patient Safety Network. https://www.

nursingworld.org/practice-policy/nursing-excellence/

official-position-statements/id/just-culture/

– IHI. http://www.ihi.org/resources/Pages/Tools/

PrinciplesofaFairandJustCulture.aspx

Correction:

The May, 2022 issue of the Colorado Nurse

incorrectly identified Robin Bruce, President

of the Colorado Black Nurses Association , as

Robin Cook in the article "CNA Presents State

Level Awards." Our apologies to Robin Bruce.

AMAZING

REMARKABLE

AWESOME

American Renal Associates

Our Staff Make the Difference!

Opportunities for dialysis nurses in the

Denver Metro Area in Colorado.

Please apply at americanrenal.com.

To submit an article for publication, consider the following guidelines.

1. Topic is current and relevant to RN practice.

2. 500 word limit

3. Individuals may submit articles for consideration by emailing

carolomeara@aol.com.

Material is copyrighted by the Colorado Nurses Foundation and may not be

reprinted without written permission from CNF.

Co-Editors: M. Colleen Casper, RN, MS, DNP (16)

Eve Hoygaard, MS, RN, WHNP (30)

Carol O'Meara, MS, RN, WHNP (20/30)

Sonja Hix

COLORADO NURSES FOUNDATION

EXECUTIVE COMMITTEE

President: Margaret Mulhall

Vice President: Sara Jarrett

Secretary: Carol O'Meara

Treasurer: Eve Hoygaard

BOARD MEMBERS

Jeanne Burnkrant, Colleen Casper, Lola Fehr,

Laura Rosenthal, Betsy Woolf, Lisa Zenoni

COLORADO NURSES ASSOCIATION

Region 1 Director:

Mavis Mesi

Region 2 Director

(DNA 3, 12, 16, 20, 23):

Amanda Cobb

Region 3 Director (DNA 4):

Mary Satre

Region 4 Director (DNA 6):

Glenda Jackson

EXECUTIVE COMMITTEE

President: Laura Rosenthal

Past President: Linda Stroup

Vice President: Angela Petkoff

Secretary: Nan Morgan

Treasurer: Carol OMeara

BOARD OF DIRECTORS

DNA PRESIDENTS

DNA #3: Anne Zobec DNA #12: Amanda Chappell

Colorado Springs

DNA #16: Vacant

DNA #4: Kathryn Carpenter

Model, CO

DNA #20: Jean Schroeder

DNA #5:

DNA #23: Colleen Casper

DNA #6: Charlotte LeDonne

Alamosa, CO

DNA #7: Nora Flucke

DNA #9: Brenda Tousley

Director of Practice

and Government Affairs: Colleen Casper, RN, MS, DNP

Chief Administrative Officer:

Region 5 Director (DNA 7):

Nora Flucke

Region 6 Director (DNA 5):

Deb Bailey

Director At Large (SIGs):

Patricia Abbott

Director At Large (SIGs):

V. Sean Mitchell (SIG 30)

Director at Large (Recent Graduate)

Jeanna Brewer

SIG #30: Meghan Abrams,

DNP, NP-C

SIG #31: Ruby Martinez,

PhD, RXN, CNS, PMHCNS-BC

Sonja Hix

To contact any person listed above, please use the

CNA/CNF office numbers/address/email address.

CNA Contact Information:

Ph: 720-457-1194 • Fax: 303-200-7099

Email: info@coloradonurses.org

CNF Contact Information: Ph: 720-457-1004

Email: info@coloradonursesfoundation.com

www.coloradonurses.org
---
The Official Publication of the Colorado Nurses Foundation in partnership with the Colorado Nurses Association August 2022 | Colorado Nurse • 3

From the Desk of CNA Director of

Practice and Government Affairs

Colorado Nurses Make Progress on Safe Nurse Staffing

Colleen Casper, DNP, MS, RN

Director of Practice & Government Affairs

Colorado Nurses Association

(CNA) Government Affairs and

Public Policy Committee (GAPP)

worked with many other nurses,

members and non-members,

Legislative leaders, and Governor

Polis's staff to address the single,

most important health care crisis

that we continue to face, safe

nurse staffing.

Safe nurse staffing impacts

the safety and quality of care Colleen Casper

delivered in any clinical setting,

thereby reducing complications such as infections, bed

sores, patient falls, and many other outcomes, including

death, that lead to increased costs of care. Safe nurse

staffing impacts nurse safety and retention, thereby

reducing the costs of nurse turnover. Safe nurse staffing

seems common sense, but based on current payment

methodologies for patient care, nursing is seen as a "labor

cost to manage" rather than an investment to assure safe

and quality patient care.

I share this for individuals who may not understand

why CNA invested so much time and energy into

achieving successful passage of HB22-1401. We learned

many lessons through this work. Most significantly, we

learned that many Colorado legislators have very little, if

any, understanding of the importance of why nurses care

about staffing, the importance of nurses being able to

participate in nurse staffing decisions, and why regulation

of employers of health delivery systems must be done to

assure every person in Colorado access to safe and quality

nursing care.

HB22-1401 Concerning the Preparedness of Health to

Meet Patient Need, and in Connection Therewith, Making

an Appropriation was signed by Governor Polis, May 18th

at 12:42pm on the lawns at North Suburban Hospital.

HB22-1401 as signed is available at https://leg.colorado.

gov/bills/hb22-1401).

The bill builds on work done in 2019 to strengthen

rules and regulations via hospital licensure through the

Colorado Department of Public Health & Environment

(CDPHE). The bill strengthens the explicit requirements

for safe staffing and staff nurse's participation in the

development and monitoring of staffing plans, the

metrics for tracking and reporting of safe staffing, and

addresses the accountability of employers to assure to

the people of Colorado that health care delivered in their

facilities meets minimum, acceptable standards.

I would be remiss to not address the overwhelming

requests from clinical nurses, (RNs, LPNs, & CNAs) for

mandated ratios rather than staffing committee process

requirements. After significant time and negotiations,

CNA agreed to trial the methods described in HB22-

1401. We are hopeful that safer staffing standards will

demonstrate that nurses will return to work amidst the

narrative of overall nurse staffing shortages. If HB22-

1401 is not effective for patients and nurses in health

delivery systems in Colorado, we will be back to pursue

more aggressive regulations.

Key components of HB22-1401 include:

• On or before, September 1, 2022 each hospital shall

establish a nurse staffing committee with at least 60%

or greater participation by clinical staff;

• The committee must include a designated leader of

workplace violence prevention and reduction efforts;

• The committee shall annually develop and oversee a

master nurse staffing plan for each inpatient unit and

emergency department that are aligned with national

standards;

• Must include guidance for adjusting nurse to patient

assignments based on acuity;

• Staffing plan will be submitted to senior nurse

and governing body for approval. If not approved

as submitted, senior nurse must provide staffing

committee with explanation for changes.

• If staffing committee does not believe the plan

from senior nurse does not meet safe nurse staffing

standards, the staffing committee may request CDPHE

review the plan for compliance with rules; and,

• Committee will establish, in writing, the process for

receiving, tracking and resolving complaints and/or

feedback on staffing plans from clinical staff and make

available to all staff.

• Language specific to hospital requirements include:

o Submit the final, approved nurse staffing plan to

CDPHE annually;

o Quarterly evaluate the staffing plan & prepare a

report to staffing committee;

o Provide the unit-based staffing plans to each

employee; Applicants and patients shall receive

staffing plans upon request; and,

o Shall not assign a clinical staff nurse, nurse aide or

EMS provider to a hospital unit unless personnel

records include documentation of training and

competency.

• CDPHE will establish a Colorado hospital report card for

the public via website to include:

NURSING

Peer Health Assistance Program

RNs and LPNs

Peer Assistance Services, Inc.

Encourage nurses to SEEK HELP EARLY

o Baseline number of beds staffed to provide patient

care;

o Nursing-sensitive quality measures include at a

minimum:

- Skill mix;

- Nursing hours per patient day;

- Voluntary turnover;

- Patient falls prevalence rate; and falls with injury;

and,

- Incidences of violence against staff and contract

staff;

Additional statutory requirements include that CDPHE

may enter, survey and investigate as necessary to ensure

compliance, which actually broadens the ability to survey

with or without complaint, and that hospitals with fewer

than 100 beds are exempt from these requirements at this

time.

Clearly, there is work ahead to align these statutory

changes with rules and regulations for health care

facility licensure through CDPHE. CNA is interested in

efforts to educate and empower clinical nurses as to the

opportunities these changes make in terms of workplace

decision making. Colorado Nurses Association is preparing

to assist in both areas of work.

Please watch our website for opportunities to contribute

to this work.

SAVE LIVES… both practitioners and patients

Help us to EDUCATE the profession

Bringing Love back to

healthcare using Watson's

Caring Science Theory.

Events Calendar:

www.watsoncaringscience.org/home/events-calendar/

Connect with WCSI:

www.watsoncaringscience.org/contact-wcsi/

Become a Caritas Coach ®

accepting applications for November 2022

www.watsoncaringscience.org/ccep

"

I am a better nurse because of the program; my

employer has been very supportive; I couldn't have

stayed clean and sober without the program.

START BELIEVING.

303.369.0039

For confidential information: info@peerassist.org

www.PeerAssistanceServices.org
---
4 • Colorado Nurse | August 2022

The Official Publication of the Colorado Nurses Foundation in partnership with the Colorado Nurses Association

District and Special

Interest Group Reports

DNA 20 – West Metro Area

Colorado Rockies Health

Care Appreciation

Nights Raise Funds for

Nursing Scholarships

Nan Morgan, CNA Secretary

Norma Tubman MScN, RN

In lieu of a speaker at our May meeting, members

joined the May 18 five-hour ANA Live Virtual Nurses

Event "You Make A Difference" which celebrated

nurses. In the evening, we held our virtual business

meeting at which the DNA 20 election results for the

Board for 2022-23 were announced. Positions remain

unchanged thanks to members in open positions

rerunning. The Board is made up of Jean Schroeder,

President; Betsy Woolf, Vice-President; Irene Drabek,

Secretary; Allison Windes, Treasurer; and Annette

Cannon, Kathy Crisler, Susan Moyer and Norma

Tubman, Board Members at Large. The Nominating

Committee is Rita Beam, Irene Drabek, and Barbara

Pedersen. The Board will meet August 17 to plan for

2022-23.

Throughout the spring and summer members

remained active. Several members donated medical

supplies, back packs, clothing, personal items and

money to the "We Stand with Ukraine". Collections

were taken to the Arvada West Family Medical Clinic

where Ellie Titarenko, APN, and staff sorted and boxed

donations and delivered three truck loads to Project

Cure for shipment to Ukraine. We hope to have Ellie,

who has family in Ukraine, at our September meeting

as a speaker.

Annette Cannon PhD, MA, RN, MSN, D-ABMDI,

participated in two videos that address Overdose

Prevention/Education and Fentanyl Overdose Prevention.

The videos are geared toward teens but have useful

Bent County Correctional and

Crowley County Correctional.

Now Hiring RNs and LPNs!

- FT, PT, and PRN

Apply today at jobs.corecivic.com

information for adults and parents. The videos can

be viewed at www.jeffcoteens.org/ODPreventon and

https://www.twelvetalks.com/overdose. Help Annette in

her efforts to prevent overdoses and overdose deaths by

sharing the links with everyone you know.

Susan Moyer MS, RN, CNSPH, presented "Building

Bench Strength by Increasing the Number and Scope of

RNs Working in Primary Care" at the National Forum of

State Nursing Workforce Centers Annual Conference at

the Bellagio Hotel in Las Vegas, NV on June 21. She also

presented "Future of Nursing: Charting the Path for the

Next Decade" at the 2022 Nurse Educator's Conference

in the Rockies in Breckenridge, CO on July 20.

Jean Schroeder has been busy reaching out to

schools of nursing to share with them the benefits of

joining ANA/CNA/DNAs. Some of the schools she

talked to included Arapahoe Community College and

Platt College. Other schools were able to learn about

joining through a Zoom video Jean created and sent to

the schools.

Since all work and no play is not healthy, on May 13

DNA 20 members Annette Cannon and Susan Moyer

joined DNA 16 members to participate in Health Care

Appreciation Night at Coors Field to watch a Colorado

Rockies game. A good time was had by all as the photo

shows.

For information on DNA 20 meetings see the

CNA website or contact President Jean Schroeder at

nursingstrategies@gmail.com.

May 13th through the 18th were exciting days for

Nurses and Healthcare Professionals with fund raising

for the Colorado Nurses Foundation through ticket sales

to six Rockies home games. The Rockies expanded the

option for purchasing special nursing support tickets

as the Rockies took on both Kansas City and the

Giants. Each ticket sold through the Healthcare link

contributed $2.00 to the Colorado Nurses Foundation

for scholarships to be awarded in January 2023.

For twenty-five years, Mary Kershner, DNA 16,

has been connecting Colorado Nurses Association to a

Rockies game close to National Nurses Day (now National

Nurses Month). What was once one game under the

banner Nurses Night at the Rockies has expanded to

include all Healthcare Professionals. If you were one of

the lucky 1000 to purchase with the special rate to the

Kansas City game May 13th, you received a lovely pair

of winter socks with the Rockies emblem and the words

"Healthcare Rocks" with your ticket. There was also "On

Field" recognition with Mary Kershner, Judith Burke,

Christine Schmidt, Annette Cannon and Susan Moyer

as shown in the photo. Even though the Rockies only

came away with two wins through this home stand,

Colorado Nurses Foundation scored over $9,000.00 for

scholarships. Applications for scholarships will begin Sept

1, 2022. Thank you to all that attended and cheered for

nurses. Hope to see you again next year.
---
Your Dream

Find

Job Now!

Nursing

The Official Publication of the Colorado Nurses Foundation in partnership with the Colorado Nurses Association August 2022 | Colorado Nurse • 5

Re-Growing Our Own

Ingrid Johnson DNP, MPP, RN,FAAN

President and CEO – Colorado Center for Nursing Excellence

I am regularly receiving calls and emails from organizations and individuals

concerned with the "great resignation" and how that is creating an added

shortage of nurses. It is not unusual for the conversation to lean toward

questions such as, "Why aren't the schools graduating more nurses?" and

"Should we lower educational requirements to educate RNs faster?" The

answer to the first question is not singular. First, we don't have enough faculty

because, to be very direct, nursing faculty is poorly paid in relation to the rest

of our profession. Additionally, even if we did have more faculty available,

there would not be enough clinical placement opportunities to move everyone

through the clinical education process. The answer to the second question is:

"No." Why? Because patients are getting sicker and living longer. Nursing is

a complex professional position and reports from employers is that the new

nurses come in with gaps in their knowledge. There is too much to learn to

create experts in every area of healthcare, and even a four-year BSN degree

seems to be too short to fill in all the gaps as new nurses enter the profession.

We are trying to transition nurses into practice successfully with post-licensure

nurse residencies and evidence indicates that this is a great way to mitigate

that need for experience and successfully onboard newly licensed nurses.

There is one population of nurses that we haven't talked a lot about, and

I think we need to do so. What about those experienced nurses who have let

their license lapse for personal reasons and are out of the workforce? How

many nurses out there would be interested in jumping back into the workforce

but have been out for awhile and may need to update their skill set or reactivate

their license? Data isn't strong enough to give us a good view of the

numbers of nurses in this group, but we suspect that there are many. It is not

easy for experienced nurses to figure out how to best update their knowledge

and skill set and over the years, as the state's nursing workforce center, we

have repeatedly been contacted to help identify how a nurse can reactive his

or her license or refresh a clinical skillset.

There are only limited RN and LPN Refresher Courses. State courses that

we are aware of are Red Rocks Community College, UCCS, and THEARI

(formerly Colorado Central Area Health Education Center). Recently, THEARI

contacted The Center to request that we take over the RN and LPN Refresher

Courses. Kris Wenzel was the author of that original course at Colorado

Central AHEC and was also a founder of The Center. The transition of these

programs, therefore, feel natural. We have agreed and the THEARI RN and LPN

Refresher Courses are now under The Colorado Center for Nursing Excellence

programming.

We are hopeful that among the refresher courses in the state, we will

together be able to recruit and regrow our nursing profession from the

experienced workforce that is out there in Colorado. Combining the work of

our schools and opening the door for easy access to refresher programs for

Colorado nurses could serve to build our workforce more quickly while utilizing

all our nursing expertise that is not being used in the state. I encourage any

nurse considering returning to direct care nursing and hoping to re-enter

the workforce to do it. You can access The Center's course at https://www.

cahec.org/rn-and-lpn-refresher-course. This is a 100% online course. If you

prefer an in-person option, please look at the programs at UCCS or Red Rocks

Community College. Our goal is to make education accessible, and we hope

that this is an opportunity to re-grow our nursing workforce.

Peer Assistance

Investing in Prevention Makes

Good Financial Sense

Dr. Nora Volkow, Director of the National Institute on Drug Abuse (NIDA)

at the National Institutes of Health

You can't put a dollar value on the losses American families have suffered due

to the addiction and overdose crisis. A life lost to overdose is irreplaceable, and

the costs to happiness, success, and well-being of those living with addiction are

similarly overwhelming and incalculable. Yet, funds are finite, and public health

decisions do carry cost implications. When policymakers and community leaders can

translate the human benefits of effective treatment and prevention measures into

some quantifiable return on that investment, it can be a lever to shift public health

policies.

Recently in the journal Prevention Science, a group of researchers funded by

the National Institute on Drug Abuse (NIDA) published an analysis of the costs

to North Carolina healthcare payers for hospital charges potentially relating to

higher-risk behaviors in patients aged 9-18 (i.e., pre-adolescents and adolescents)

in 2012. Charges included care for injuries from violence, accidents, or poisoning;

care relating to sexual activity, substance use, or psychiatric disorders; and charges

related to suicide or self-inflicted injury.

The researchers found that these charges totaled more than $327 million,

accounting for more than 10 percent of all hospital-related charges. The higherrisk

behaviors associated with these costs are preventable with psychosocial

interventions, including family-based prevention programs. Pediatricians and family

therapists surveyed in the study supported screening and referral to prevention,

but cited possible challenges to reimbursement for these services as well as lack of

training and lack of referral networks to/from each other. Pediatricians also cited

concerns over patients not following through with referrals, suggesting that having

family therapists working in pediatric clinics could help.

Peer Assistance continued on page 6

ANNOUNCING ....

RN & LPN

Refresher Training

The Colorado Center for Nursing

Excellence is now offering RN & LPN

Refresher courses to help you get

back in the game.

RN RN LPN Virtually

Refresher Refresher Refresher Simulated

Lite

Clinicals

These courses are designed to provide

previously licensed Nurses with the opportunity

to update and enhance their nursing skills &

knowledge and build confidence to renew their

license and re-enter the workforce.

COLORADO CENTER FOR NURSING EXCELLENCE

pTransforming H

:;:; :

ug orkforce Innovation

refresher@coloradonursingcenter.org
---
6 • Colorado Nurse | August 2022

The Official Publication of the Colorado Nurses Foundation in partnership with the Colorado Nurses Association

Peer Assistance

Peer Assistance continued from page 5

Primary prevention—including screening and

intervention before negative health outcomes occur—

is relatively inexpensive, and the higher-risk behaviors

it is designed to reduce are so costly to the healthcare

system that it is staggeringly wasteful not to make

sure that screening and treatment referral are readily

implemented and faithfully reimbursed by insurers and

that interventions are convenient for parents and their

children.

Reducing higher-risk behaviors would lessen burden

across many sectors of society, not just healthcare,

which was the sole focus of the newly published

analysis. Greater investment in preventing such

behaviors in youth would yield savings across public

safety and the criminal justice system, behavioral

health, education, and so on.

This is a common theme in the research on the

benefits and costs of prevention. Some programs

designed to prevent teen substance use and other

behavioral problems have been found or estimated to

be stunningly good investments. For example, an early

childhood intervention called Nurse Family Partnership,

in which specially trained nurses periodically visit firsttime

mothers during their pregnancy and first two

years of their child's life, was shown in an analysis by

the Washington State Institute for Public Policy to save

taxpayers $2.88 for each dollar invested; the same

analysis found that a component of an elementaryschool-based

intervention called the Good Behavior

Game saved taxpayers $25.92 for each dollar.

Another example is the Communities That Care

prevention system, developed three decades ago

and the subject of many randomized trials that follow

participants well into adulthood. Communities That

Care is not a single prevention intervention but a

structured approach that helps communities utilize

their resources most effectively to address identified

risk factors for substance use, aggression, and other

problems in youth. One recent analysis showed that an

approximately $602 investment in each child (adjusted

to 2017 dollars) had yielded an estimated $7754 in

savings by the time participants were age 23—a

$12.88 return for each dollar invested. The researchers

estimated that those savings were distributed among

individuals/families themselves, taxpayers, and other

stakeholders. The return was well over twice as

great when the downstream economic benefits of

completing college—more likely among those receiving

interventions—was factored in.

Prevention is needed now more than ever. Fentanyl

is permeating the illicit drug supply and causing evergreater

numbers of overdose deaths. It is increasingly

found in counterfeit prescription pills, which are

liable to be taken by youth and other people with no

previous exposure to opioids. In 2020, for the first

time, fentanyl overdose deaths in teens spiked to nearly

double the rate it had been in previous years.

Communities, schools, and healthcare systems

already have scientifically well-supported tools at

their disposal to help prevent substance use and

other related mental illnesses and risk behaviors in

adolescence, but sadly they are seldom implemented.

Even if an intervention can be shown in a trial to

produce benefits, it cannot be expected to make a

positive impact if it is not easily scaled up in a variety of

real-world settings adaptable to the needs of different

communities. For this reason, developing and testing

interventions that can be adopted and sustained is an

important part of NIDA's prevention research portfolio.

While investment in prevention doesn't show

immediate returns, playing the long game and investing

in prevention interventions can save lives and dollars.

This article was written by Dr. Nora Volkow, Director

of the National Institute on Drug Abuse (NIDA) at the

National Institutes of Health.

1. NIDA. 2022, April 28. Investing in Prevention Makes Good

Financial Sense. Retrieved from https://nida.nih.gov/

about-nida/noras-blog/2022/04/investing-in-preventionmakes-good-financial-sense

on 2022, June 17

Peer Assistance Services Inc. provides statewide SBIRT

training and technical assistance through its program,

SBIRT in Colorado. All SBIRT services are available remotely

through an interactive web-based video platform.

Peer Assistance Services, Inc. provides the statewide

Nurses Peer Health Assistance Program through a

contract with the Colorado State Board of Nursing.

Due to COVID-19, all Peer Health Assistance Program

services are offered remotely using a HIPAA compliant

video-based platform.

For more information about these programs please

contact:

Annie Klein, CPS II, Manager

Communications and Program Outreach

aklein@peerassistanceservices.org

www.peerassistanceservices.org

Office locations:

2170 South Parker Road, Suite 229

Denver, CO 80231

303-369-0039

200 Grand Avenue, Suite 270

Grand Junction, CO 81501

970-986-4360
---
The Official Publication of the Colorado Nurses Foundation in partnership with the Colorado Nurses Association August 2022 | Colorado Nurse • 7

Government Affairs & Public Policy Committee

Mary Satre, MSN, MBA, RN

CNA Board Member Region 3, District 4,

and Co-Chair of GAPP Committee

The Regular Session of the Seventy-third General

Assembly of the Colorado State Legislature concluded

on May 11th with the interests of nursing represented

to the end of the last day by CNA's Director of Practice

and Government Affairs, Colleen Casper, and Contract

Lobbyist Gil Romero and his team. The regularly

scheduled GAPP meeting held on May 25th included a

review of the legislative session followed by discussion

led by Dr. Casper under the agenda heading: "What

Did We Learn?" The primary answer to this question

is that it is important to educate our legislators as to

what it is that nurses actually do. Regular and proactive

communication with our legislators is more important

than ever as we begin to make progress in the

protection of nurses in the workplace.

Throughout the 2022 session, GAPP maintained

a Hot List containing 49 bills, 13 of which were

NOW HIRING

RN Case Manager's for

Home Health and Hospice

Colorado Springs and

Denver offices

www.bridgescommunitycare.com

supported by GAPP. With the representation of our

lobbyist team and testimony provided by expert

witnesses from the membership of CNA and

GAPP, twelve of these bills passed, including those

supporting modifications to civil commitment, health

facility visitation during the pandemic, a prescription

drug monitoring program, and measures to support

the Colorado Rural Healthcare Workforce.

Of particular import to Colorado nurses is

HB22-1401 – Hospital Safe Staffing & Hospital

Preparedness, which was introduced by

Representative Kyle Mullica and co-sponsored by

Senator Dominick Moreno. GAPP will continue

to follow the implementation of the bill with the

development of tool kits to educate nurses to the

protections it offers as well as how to most effectively

benefit from it.

A list of priority bills, along with CNA's position

on them, can be reached through the "Bill Tracker"

link found under the Advocacy/Policy tab on the CNA

homepage (www.coloradonurses.org).

NOW HIRING

Associate Director & Nurse Practitioner

Lead our on-campus Student Health Services clinic

which cares for the needs of our diverse community.

Regis University offers a generous tuition benefit for

employees, spouses, and dependents.

Go to our careers page to learn more and to apply at

regis.wd5.myworkdayjobs.com/RegisUniversity

GAPP's meetings continue via Zoom on a

monthly basis during the legislative off-season,

meeting on the fourth Wednesday of the month

from 6:15 to 8:00 pm. Members and other

attendees will receive a look ahead at the priorities

to be addressed in the 2023 legislative season

as well as an analysis of the potential effects of

the redistricting of the electoral map in Colorado.

GAPP meetings are open to all CNA members

and students are encouraged to visit the website

(https://www.coloradonurses.org/gov-t-affairspublic-policy-gapp-)

to register to attend as guests.

CNA members interested in joining GAPP are

invited to submit their names and contact details to

info@coloradonurses.org.

Nursing opportunities in

hospital and clinic settings,

surgery, rehab, long term

care, homecare, hospice

and dialysis.

To view our openings and apply please

visit our website at www.ubh.org

435.722.6188 | Roosevelt, Utah

Find your future at Banner Health

Better than ever for nurses. We've invested in the holistic

health and happiness of our nurses—through better

pay, better benefits, better opportunities and a better

community. With 30 hospitals in six western states, Banner

Health offers a plethora of nursing opportunities in a variety

of clinical settings, from large urban medical centers to

small community hospitals.

We Offer:

- Up to $15K in sign-on bonus

- Excellent compensation & benefits

- Learning & development opportunities

- Wellness program

- Night/weekend shift differentials

Scan to complete an interest form and

connect with a Recruiter.

To apply, visit bannerhealth.com/careers.
---
8 • Colorado Nurse | August 2022

The Official Publication of the Colorado Nurses Foundation in partnership with the Colorado Nurses Association

In Memory

Eve Cook Hoygaard, MS,RN, WHNP

If you are a nurse who has read previous issues

of the Colorado Nurse, you have probably read this

column about nurses who have passed away that

you have worked with or otherwise known at some

time in your career. Did you wonder how we knew

about these losses? We depend upon receiving

from families and friends of these departed nurses.

We depend on other people... like you!

Our criteria for information to be included

requires it being about a RN or an LPN who has been

educated in, lived in and/or worked in Colorado plus

the date and, if available, of where they lived at the

time they passed away. We appreciate provision of

additional information as to where and when they

received their nursing education, degree(s), age,

where they were employed, special awards (such

as being a Nightingale Award or nominee) are

examples we consider including.

We Remember

Amey, Lynne, RN (73) passed away in

Lakewood CO on March 31, 2022. She moved

from Wisconsin to Colorado. She was a 1998

graduate of Front Range Community College

School of Nursing and worked at Hospice of St

John's in Lakewood for nine years.

Gallagher, Constance Christianson, RN

passed away in 2022. Born in Budapest, Hungary

in 1935, she survived WWII (NAZI occupation and

a Soviet work camp.) She moved to Colorado in

1957 where she worked at the University Hospital

in Denver, Boulder Community Hospital and for

the American Diabetic Association.

Green, Barbara Brailsford, RN passed away

on May 28,2022. She was a graduate of Mercy

Medical Center SON in Philadelphia. Her 50 years

of Nursing practice included a variety of areas in

New York and Colorado.

Gross, Janet Barker, RN (69) passed away

in Lone Tree, CO on June 4, 2022. A graduate

of Youngstown State University with a degree in

Teaching and a Nursing degree from Kent State

University. She was an RN for 30 years.

Kruse, Helen RN (96) passed away in April 2022

in Aurora. She was a graduate of St Joseph's Nursing

School in Concordia, KS. She worked as a nurse in

Kansas, Arizona, New Mexico, Alaska and Colorado.

She lived in Aurora, CO for many years.

Negri, Jennie Stella, RN, (96) passed away

in April 2022 in Wheat Ridge, CO. She was born in

1926 and graduated from the Nursing Program at

St Anthony's Hospital, Denver in 1947. She later

attended a post-graduate program at Margaret

Hague Maternity Hospital in New Jersey. She was a

Head Nurse in Obstetrics at St Anthony's.

Neid, Darlene Helen, RN (78), a graduate of

Abbott Hospital School of Nursing in Minneapolis

in 1964. She received a B.S. in Education from the

University of Nebraska in 1988. Her career included

both Nursing (Abbott, Lincoln General, St. Elizabeth's

and Nebraska Methodist Hospitals) in addition, she

did teach (part-time) in Lincoln Public Schools.

Shaw, Karen Newberry RN (79) passed away

in April 2022. She was a 1965 graduate of Johns

Hopkins Hospital School of Nursing and in 1979

received a Bachelor of Arts in Biology at the University

of Colorado. She worked in Pediatrics at Vanderbilt

University Hospital. She moved to Switzerland in

1971 and in 1981 she moved to Colorado where she

worked at Porter Adventist Hospital in Denver until

her retirement in 2002.

Smith, Ann Noordenbos, PhD, RN (81) passed

away in Boulder, CO, April 29, 2022. She was born

in New Jersey where she received her early nursing

education. After moving to Colorado she earned her

BSN in 1964, MSN in 1965 and PhD at the University

of Colorado. She was one of the first graduates in

the Pediatric Nurse Practitioner program created

at the University of Colorado in 1966. Her career at

the University of Colorado included faculty member

in that program, and Director of the Continuing

Education Program at CU School of Nursing. There,

she was involved in a number of innovative programs.

In 2015, she was awarded the CU College of Nursing

Alumni Distinguished Service Award. She was active

in nursing charitable organizations and was a Lifetime

member of the Friends of Nursing.

Young, Mary Jo Leonard Young RN (86)

passed away in June 2022. She received a Diploma

Program at St. Rita's SON in Lima, OH. In 1958 she

joined the Navy Nurse Corps. While in the Navy

Nurse Corps, she completed a BSN at the University

of Colorado School of Nursing and a Masters Degree

in Higher Education at George Washington University.

When she retired from the USN in 1984, she was

the Director of Nursing at the Charleston Navy

Hospital. She was a member of the Navy Nurse Corps

Association and many volunteer organizations.

We reserve the right to edit material submitted

and endeavor to verify all information included in this

column. If you notice an error, please advise us and a

correction will be published in the next available issue.

We always appreciate our readers assistance with

providing information for this column. Please submit

the information to Eve Hoygaard at hoygaard@msn.

com or CNF@civicamanagement.zendesk.com. If

you would like to donate to the Colorado Nurses

Foundation Scholarship Fund in honor of a departed

nurse or to honor a nurse friend or colleague, there are

several options. To donate by check, send to Colorado

Nurses Foundation, P.O. Box 3406, Englewood, CO

80155. For credit card donations, please visit the

ColoradoNursesFoundation.com/donate Questions:

CNF@civicamanagement.zendesk.com

INFINITE

COMPASSION

ACCEPT YOUR CHALLENGE. ANSWER

YOUR CALL. BUILD YOUR CHARACTER.

#1 BEST COLLEGE FOR NURSING IN COLORADO*

*NICHE.COM 2022

VISIT EXPLORE.REGIS.EDU/NURSING
---
The Official Publication of the Colorado Nurses Foundation in partnership with the Colorado Nurses Association August 2022 | Colorado Nurse • 9

2022 Nightingale Luminary Awards Gala

Join us on this special evening to honor the following 47 nurses from across the state who will

be presented a Luminary Award for excellence in their profession. 12 of these 47 Luminaries

will receive the Nightingale Award which will be announced during the evening's celebration.

Hannah Antista

Renee Demontreux

Andrea Himmelberger

Marissa Maxwell-Kaime

Sean Reed

Melanie Schwindt

Marsha Bagby

Michelle Deuto

Sonya Hirsch

Emily McGarvey

Megan Rentel

Brooke Sixta

Diane Banta

Katrina Einhellig

Meredith Jones

Kathleen McInnis

Lindsey Rettke

Beverly Strnad

Kristin Bentley

Susan Fisk

Dana Justus

Maria Milagros

Jesus Rivera

Jennifer Thistle

Allison Boerner

Bryan Garcia

Lindsay Kidd

Kneusel

Jennifer Roth

Lori Trego

Arlene Bravo

Debra Gardiner

Cassie Lang

Jennifer Miller

Jill Rozynski

Joelle Valdez

Khrystynn Cano

Shannon Goldsberry

Figaro Loresto

Andrea Mondragon

Denise Rush

Mark Vickers

Deborah Clarke

Lucy Graham

Dana Martin

Angela Pal

Rachel Sabolish

Jordan Widmer

Saturday, Aug. 13, 2022, at 6:00 p.m.

Hilton Denver Inverness | 200 Inverness Drive West | Englewood, CO, 80112

Master of Ceremonies

The Colorado Nurses

Foundation is excited to

announce that Kim Christiansen

of 9NEWS is returning as

master of ceremonies. Kim

has emceed the event in

previous years and has been

a big supporter of nurses and

the Foundation. She has won

seven Heartland regional Emmy

awards for spot news, news

writing and news reporting. Kim is also devoted to the fight

against breast cancer and she serves as the spokesperson

for the Buddy Check9 program and speaks to dozens of

community groups about the importance of self-exam and

mammography. Kim's sister Keri was diagnosed with breast

cancer in 2005 and has taken an active role in efforts to

raise awareness about the importance of early detection.

Kim grew up in Colorado and graduated with a degree in

journalism from the University of Colorado at Boulder.

The Nightingale Luminary theme of "Excellence

in Nursing Professional Engagement & Citizenship"

reflects the CNF Strategic Initiative to reframe the

profession of nursing and the professional engagement

of nurses.

The dress code will be a more formal "black-tie

preferred" this year to emphasize the celebration's

prestige.

Evening schedule:

6:00 PM

- Reception, Cash Bar

7:00 PM

- Welcome, Luminaries Presentation & Dinner Served

8:15 PM

- Nightingales Presentation

Table Sponsorships

Tables of 10 can be purchased for $1,800. Table

sponsorships include your organization recognized

via signage at your table and recognition as a Table

Sponsor in the Event Program.

Additional Sponsor & Advertising Opportunities

You or your organization can support this event

through many other sponsor opportunities. Please

review these on the CNF website.

Join us on August 13, 2022

for this exciting event!
---
10 • Colorado Nurse | August 2022

The Official Publication of the Colorado Nurses Foundation in partnership with the Colorado Nurses Association

ANA 2022 Annual Membership Assembly

June 10-11, 2022, Washington DC

Synopsis of Dialogue Forum on Nurse Staffing

Submitted Mary Satre, MSN, MBA, RN

CNA Board Member Region 3, District 4, and

Co-Chair of GAPP Committee

I was privileged to attend the 2022 Membership

Assembly of the ANA in June as an observer on behalf

of CNA. The program included a discussion forum on

three issues, the most robust of which was that focusing

on nurse staffing, including ANA's current policy and

approach to nurse staffing along with several other state

and specialty-level strategies. Introductory video statements

were provided ahead of the Assembly by four panelists,

who attended the session and provided additional

comments following the general debate.

Members called for ANA to take a strong stance

on this issue and provide leadership and guidance to

the state organizations. Concerns were raised about

insufficient supply of nurses in certain areas and the

ensuing difficulty of implementing and/or enforcing

staffing recommendations. It was recognized that multiple

approaches may be effective, but that action is necessary

to mitigate the current state of burnout and moral distress

WRAY COMMUNITY DISTRICT HOSPITAL

HELP WANTED

REGISTERED NURSE

NIGHT SHIFT

RN, FT, Hospital, Requires CO license, BLS certified. Night

Shift, 36 hours/wk, 12-hour shifts. $5000 sign on bonus

with 1-year commitment. Must be physically able to

assist lifting patients, medical equipment etc. Frequent

standing, lifting, stooping, reaching, stretching. Requires

good verifiable work history with references and team

player attitude. Competitive benefit package including

healthcare and retirement benefits, paid time off, health

and daycare flexible spending, and education/tuition

reimbursement assistance. Hourly compensation wage

is $42.00 - $50.00 (includes shift differential), base wage

dependent on experience. You may pick up an application

from the Hospital front desk or obtain one from our

website at www.wrayhospital.org.

Contact Dawn Valko, WCDH, 1017 W. 7th St.,

Wray, CO 80758, (970)332-2205.

Applications accepted until position is filled.

Equal opportunity provider and employer.

1017 W 7th Street,

Wray, CO 80758

(970) 332-4811

www.wrayhospital.org

experienced by many nurses. Above all, the membership

recognized that emphasis must be on patient safety.

An overview of the comments of individuals

representing their home states, in the order of the

discussion, yields the following highlights:

Ohio – Eliminate mandatory overtime – leads to fatigue.

Oregon – Staffing Law (2001) subject to misinterpretation

or is ignored. Be careful of the word "Minimum."

Arizona (ASU) – clinical site shutdown has affected

nursing education; can students partner with RNs as "extra

hands?"

California – "Staffing works!" Helps with mental health.

But nurses have to fight every day to make sure ratios stay

in place.

Association of Men in Nursing – Pay disparity exists

with travelers. Consider tenure versus new staff to address

staffing shortage. Adopt VA public pay scales – they start

with a reasonable rate and never top off.

California – COVID overflow happened despite staffing

ratios. An example included 102 patients in a facility, 99 of

which tested positive for COVID and were cared by one RN

with only three CNAs. Hospital acuity metrics are tied to

EPIC (charting) system and care needs indicators.

Tennessee – Interest in policy making with consideration

of feasibility with regard to politics, implementation, and

monitoring over time.

Washington (NP in Urgent Care) – Staff nurses need to

be the leading voice (with ANA). "Ratios" could be called

"Standards." Rural and urban deserve same standards of

care.

New Jersey – Continuum of care should be considered,

not just acute care. Include School nursing and home care.

Peak Gastroenterology is actively hiring RN's, APP's and

CRNA's to join our dynamic, growing outpatient ASC team!

FT, PT and PRN positions are available. No call, no nights,

and no weekends! Click here to apply:

PE A KG ASTRO.COM/A BOUT/C A R EERS/

Pennsylvania – Dr. Linda Aiken (U of Penn) has provided

a rich body of research and statistics that support staffing

and outcomes. Use that research.

Pediatric Oncology Nurses – Language matters. The

acuity tool should be the nursing needs. Consider growth

and development.

Montana – ICU has maintained a 2:1 cap. Some places

have got it right.

Minnesota – School secretary with no training gives

insulin to students at school because there is no school

nurse.

Virginia – Would like adequate auxiliary staff (unit clerks,

et al.) to save nurses from doing all the jobs. Hospitals are

focused on profit.

Georgia– Emphasized the toll on new graduates and

provided examples of shifting patients around helping to

accommodate short staffing.

Vermont – "Speak even if your voice shakes." We need

to help other nurses realize this.

Dialogue Forum Panelist Comments:

• Look to the literature and research to make these

decisions.

• One-sided collaboration doesn't work. Language

should be: "safe staffing standards."

"We need national guidance and a clear voice from

ANA." But every state will be in a different place.

• Literature Review of more than 1000 articles has

been done – reference made to executive summary.

• Illinois has built a "line in the sand" with the

hospital association. They will negotiate once

more and then will head for ratios if the current

committee approach doesn't work.

ANA's Professional Policy Committee recognizes the

ongoing controversy and complexity surrounding this

issue but also recognizes that the current ANA position

does not meet the needs of the current environment. To

that end, the Committee recommends that ANA:

• Engage with state organization (C/SNA) leaders to

revise ANA's current position on nurse-to-patient

ratios/standards.

• Consider the outcome of the engagement with

these leaders at the Leadership Council in December

2022.

Please refer to GAPP information in this issue of

the Colorado Nurse regarding the steps underway in

Colorado to address the issue of nurse staffing.

Become a Quality and Safety Champion Nurse!

EOE/M/F/D/V

LIFE-CHANGING CAREERS

Now Hiring Nurse Instructors in Denver!

Full-time and part-time opportunities available!

For over 60 years, Concorde Career Colleges has prepared thousands of people for rewarding

careers in the healthcare industry. Nursing instructors will be responsible for delivering

academic instruction for clinical and/or theory components of the Practical Nursing program.

Qualifications: Current Colorado RN license (or willingness

to obtain), BSN (required), MSN (preferred), 3 years of recent clinical experience, self-starter,

excellent communication skills, sense of urgency and results oriented.

Apply today! https://careers.concorde.edu

Benefits for full-time and part-time associates: 401k +match, 10 paid holidays, community

service and cultural celebration PTO, education reimbursement, tuition reduction, and more.

Apply with Concorde today! Train our future skilled Nurses.

Online

RN-BSN

30 Nursing credit hours

Highly Affordable

Contact us at online@msudenver.edu

www.msudenver.edu/online/rn-to-bs/
---
The Official Publication of the Colorado Nurses Foundation in partnership with the Colorado Nurses Association August 2022 | Colorado Nurse • 11

News from American

Association Nurse

Practitioners® (AANP)

Constance McMenamin. AANP State

Representative

The 2022 AANP National Conference was held in

Orlando Florida, June 21-26. It was a great week filled with

continuing education, exclusive keynote speakers, legislative

and policy updates, and workshops and exhibitors. It was

also a great time to connect with colleagues across the US

and beyond. AANP celebrated the 2022 State Award for

excellence winners with a reception honoring our Colorado

award winners. Again, congratulations to Sarah Schaefer,

NP-BC, CNRN, MSCN, who was selected as Colorado's

AANP NP State Award for Excellence recipient and Colleen

Casper, RN, MS, DNP, who was selected as Colorado's

AANP Advocate State Award for Excellence recipient.

This is a reminder for nominations for the 2023 AANP

State Awards for Excellence, with two awards per state

recognizing clinical excellence or advocacy, which will

launched in late July. Nominations must be submitted

online by early September. Please start thinking about

worthy colleagues now; we should have a flood of worthy

candidates. (Nominators need to be AANP members, but

nominees do not).

In addition, AANP Colorado State Representative selfnominations

are due in October 2022 to be considered

for the election slate and assume the role of state

representative in July 2023. This is a great opportunity

to participate in the largest professional membership

organization for nurse practitioners (NPs), acting as a liaison

between state and national leaders on behalf of NPs.

For more information on AANP activities in Colorado

or how you can get involved with the association, please

reach out to constance.mcmenamin.np@gmail.com.

ANA Membership Assembly Addresses

Verbal Abuse and Workplace Violence

Carol OMeara, ANA Membership

Assembly Representative

At the 20022 ANA Membership Assembly, a report

on Advancing Solutions to Address Verbal Abuse and

Workplace Violence Across the Continuum of Care

was discussed. As pointed out in the report, healthcare

stakeholders' approach to workplace violence in health

care often focuses on responses to, and prevention of,

ANA Adopts

Racial Reckoning

Statement

Carol OMeara, CNA Voting Representative to

the ANA Membership Assembly

On June 11, 2022 the voting representatives of the

American Nurses Association's (ANA) Membership

Assembly voted by unanimous consent to adopt a Racial

Reckoning statement which will be the starting point for

the association to embark on a racial reckoning journey

to acknowledge its past actions that have caused

irreparable harm to nurses of color as well as ethnicminority

nursing organizations, and that persist today,

ANA intends to take full accountability for its actions.

The statement as well as the plans for the journey will

be released later this summer and will be reported in the

November Issue of Colorado Nurse.

physical assaults in hospitals. These approaches overlook

verbal abuse, which can be a risk factor for physical

violence. In addition, recommendations developed for

inpatient settings may not be appropriate for or helpful in

community settings, such as schools, community health

centers, public health facilities, and similar places where

workplace violence can occur.

Assembly representatives called on ANA to engage key

stakeholders to identify, develop and advance strategies

resulting in a comprehensive culture of safety and zerotolerance

approach to verbal abuse and violence in all care

settings, advance workplace violence prevention priorities

in nursing practice and public policy, and advocate for

better data collection to inform policy development.

OTERO COLLEGE IN LA JUNTA, CO IS NOW HIRING

FULL-TIME NURSING FACULTY – 4 POSITIONS OPEN

210 Day Contract – 11-month academic year position.

Salary $67,725- $75,248 with excellent benefit package

including PERA retirement, health, vision, dental and

life insurance. Paid sick and personal leave.

For job duties, minimum and preferred qualifications

and application instructions please to go:

HTTPS://WWW.OTERO.EDU/ABOUT/EMPLOYMENT/

otero.edu

Contact: Kelsey Barbee,

Director of Human Resources,

Kelsey.barbee@otero.edu

or 719-384-6824
---
12 • Colorado Nurse | August 2022

The Official Publication of the Colorado Nurses Foundation in partnership with the Colorado Nurses Association

The Fight for Healthy Environments:

Nurses Drawdown empowers nurses

to make a difference

Katheren Koehn, MA, RN, FAAN

Executive Director, Minnesota Organization

of Registered Nurses

This article originally appeared in

Texas Nursing 2021, Issue 3

Reprinted from New Mexico Nurse, August, 2021

While the political debate continues about climate

change, its impact, and what governments can do,

nurses do not have to wait to take action. The Nurses

Drawdown initiative helps individual nurses and nurse

organizations to collectively work to decrease the

impact of climate change.

Nurses must act now to make a difference into

the future. While each action may seem small within

the scope of the enormity of the challenge, everyone

will make a difference. As Florence Nightingale

famously said, "So never lose an opportunity of

urging a practical beginning, however small, for it is

wonderful how often in such matters the mustard-seed

germinates and roots itself."

Nurses Drawdown is just this—a practical beginning.

Origins and Goals

In atmospheric terms, drawdown is that point in time

at which greenhouse gases peak and begin to decline

on a year-to-year basis. The goal of Project Drawdown

would be to identify, measure, and model one hundred

substantive solutions to determine how much we could

accomplish within three decades to towards that end.

Nurses Drawdown is based Drawdown, the work

of Paul Hawkins, over 70 Drawdown Fellows from 22

countries, and a 120-member advisory board of scientists,

engineers, climatologists, botanists, economists, and

others. Their resulting book, Drawdown: The Most

Comprehensive Plan Ever Proposed to Reverse Global

Warming organizes a growing list of practical solutions for

energy; food; women and girls; buildings and cities; land

use; transport; and materials. 1

To access electronic copies

of the Colorado Nurse,

please visit

http://www.NursingALD.com/

publications

Nurses Drawdown selected five key Drawdown

areas to focus on:

• ENERGY: Supporting a clean energy future by

promoting energy efficiency and advocating for a

transition to renewable energy

• FOOD: Commit to a plant-based diet, use of clean

cook stoves, and reduced food waste

• MOBILITY: Bike infrastructure, walkable cities,

and mass transit

• GENDER EQUITY: Educating girls and family

planning

• NATURE-BASED SOLUTIONS: Planting trees,

protecting tropical forests and forest protection

These goals relate closely to the UN Sustainable

Development Goals and the Social Determinants of

Health. 2,3

Expertise and Trust

Why nurses? As nurses, we know the impact of the

environment on health. We know that health depends

on good nutrition, clean air, the ability to get exercise

safely. As nurses, we are called to take action to

protect the environment.

The Code of Ethics for Nurses says, in part,

"Nursing must also advocate for policies, programs,

and practices within the health care environment that

maintain, sustain, and repair the natural world. As

nursing seeks to promote and restore health, prevent

illness and injury, and alleviate pain and suffering,

it does so within the holistic context of healing the

world." 4

The power of nurses to implement change is based

on three essential assets: 5

• Nurses comprise about 60% of worldwide health

care professionals, working in clinical and public

health sectors.

• Nurses are trusted, as evidenced year-after-year in

Gallop Poll findings.

• Nurses are close to the people most vulnerable

to climate change, including people who are

underserved, marginalized, or both.

Action and Change

Nurses Drawdown believes that nurses are

in the right place and at the right time to make

a significant contribution to drawing down

greenhouse gases. A project of the Alliance of

Nurses for Healthy Environments and Project

Drawdown, Nurse Drawdown involves nurses from

around the globe. The website, Nurses Drawdown,

has a list of current organizational partners,

including the ICN, the Irish Nurses and Midwives

and several state nurses' associations of the

American Nurses Association.

A first step for individual nurses is to join Nurses

Drawdown. Nursing organizations can also become

Nurses Drawdown Partners. There is no charge for

individuals or organizations to become involved. On

the website, nurses can learn about several actions they

can take and access media, including YouTube videos,

of how other nurses have gotten involved. Learn more

at nursesdrawdown.org.

1.Hawken, Paul. Drawdown: the Most Comprehensive Plan

Ever Proposed to Reverse Global Warming. Penguin

Books, 2017. 2 Department of Economic and Social

Affairs. (2015).

2. Sustainable Development: The 17 Goals. United

Nations. https://sdgs.un.org/goals

3. Healthy People 2030. (n.d.). Social Determinants of

Health. U.S. Department of Health and Human

Services.

https://health.gov/healthypeople/

objectivesand-data/social-determinants-health

4. American Nurses Association. (2015) Code of Ethics for

Nurses with Interpretative Statements.

5. Butterfield, P., Leffers, J., Vásquez, M.D.. (2021).

Nursing's pivotal role in global climate action. BMJ

373: n 1049

CJ Cullinan, RN

DNA 16, NPAC Secretary

NPAC, Nurses for Political Action in

Colorado, is an active advocacy group that

collects money from nurses, friends and

family of nurses to make a difference in our

work in Colorado.

We, as nurses, know that our

organizations, agencies, clients and their

families and friends respect us for what we

do. The reality is that our work is affected

by the rules and regulations created at our

State Capitol. We need to stay vigilant. We

need Legislators who understand that our

work is not just in the hospital, community,

or home, but also in the State. We need

leaders that understand that our ability to

care for each person in Colorado must be

a priority. We need all voters to join us in

support of leaders that know the true value

and contribution of nurses.

With re-districting in 2021, the

2022 elections include all our State

Representatives, half of our State Senators,

State Governor and Lieutenant Governor,

Attorney General, Secretary of State, and

State Treasurer; State Board of Education,

University of Colorado Regent, RTD

(Regional Transportation District), County

based elected, including Coroner, Sheriff,

County Clerk & Recorder, Surveyor,

Treasurer, Coroners, and Commissioners, as

well as various City Councils across the state.

We have five Nurses running for office

and all are CNA members: Rosanna Reyes

CD 8 CU Regent, Kyle Mullica SD 24 Adams

County, Ruby Martinez HD 45 Castle Rock;

Alice Marie Slaven-Emond HD 54 Delta, and

Annette Cannon Jefferson County Coroner.

Your voluntary contributions (not taxdeductible)

work to elect leaders who will be

steadfast in their support of Nurses and their

patients. Your NPAC (Colorado) contribution

is maxed out at $625 every election cycle

(two years). For this year, our goal is $10,000

to have the funds to financially support

Nurse- informed candidates. You may

make your donation online at https://www.

coloradonurses.org/nurses-for-politicalaction-in-colorado-npac-.

As a NPAC donor of any amount, you

may join us in the discussions and vote for

candidates we choose to endorse and fund.

We're supplemented by the experiences and

information by our Lobbyist Gil Romero and

CNA's own Colleen Casper active at the

Capitol throughout the session. We meet

on the 2nd Wednesday's of the month at

615p and you may register on the Colorado

Nurses Association website (coloradonures.

org).

As our healthcare environment becomes

increasingly politically and economically

driven, we want to elect leaders who are

capable of understanding the importance

of nurse led care. We want to invest our

endorsements, time and money to highlight

those candidates who have spoken and

supported Nurses in their care of everyone in

Colorado.

As an addendum, our national

representatives for Congress and the

Senate are endorsed and funded by the

American Nurses Association Political Action

Committee (ANA-PAC). Your ANA-PAC

(National) donation is maxed out at $5000

for the two-year election cycle and can

be completed through the ANA website

(nursingworld.org).
---
The Official Publication of the Colorado Nurses Foundation in partnership with the Colorado Nurses Association August 2022 | Colorado Nurse • 13

Adventures in Nursing – From the Bedside to Behind the Scenes

MS in informatics graduate loves helping nurses provide

the best patient care in the most efficient way

Dana Brandorff

Emily Reyes has been working in nursing

informatics for several years but knew she needed to

earn her master's degree if she wanted to advance

in her career. "Even though I was already doing the

work, I needed more theory and evidence behind

what I was doing to take on higher leadership roles,"

says Reyes.

For 20 years, she has worked at Children's Hospital

Colorado. First as a bedside nurse, then a Clinical Nurse

IV focusing on documentation. Because of that role, she

became a superuser within the hospital's electronic record

system. "I was the go-to person for the other nurses

when they would have problems inputting or using the

system. I like troubleshooting and problem-solving."

Opportunity to Analyze and Improve Systems

Appeals to Her

In 2005, the hospital was looking for a nurse to

help implement Epic EHR (Electronic Health Record)

software. "The opportunity was really a 'no brainer'

as the analyst role fit my brain. I love applying the

clinical side to technology. And helping our nurses

provide the best patient care in the most efficient

way is right up my alley." The job was anticipated

to last for two years, then she would return to her

superuser position. Because of her innate abilities,

Reyes has continued in the technology role at the

hospital and officially received the title of analyst in

2006. In 2019 after years in clinical applications as

an analyst and manager, Reyes became the Director

of Clinical Informatics/CNIO, which required a

master's degree.

Why CU Nursing for her Master's Degree?

So, when Reyes was looking for a master's program

specializing in informatics, she knew she wanted

something innovative and one that had a long history

of embracing change. "There are a ton of online

schools. But none like CU Nursing. What drew me to

the program was Dr. Diane Skiba. She is so well-known

in the field and is considered the mother of healthcare

informatics. She was what sold me," says Reyes. It also

didn't hurt that Children's Hospital Colorado is located

on the Anschutz Medical Campus – the same campus as

CU Nursing – providing greater access to resources.

"Doing it all online was a challenge to get used to.

It was very different than my undergraduate years at

the University of Pennsylvania. Because of the excellent

curriculum and access to legends in the profession, I

couldn't think of a better place to earn my degree. It was

the only place I considered."

She started in the program in 2019 and graduated in

December 2021.

Why Informatics?

"Informatics isn't for everyone. I miss the bedside.

There are so many paths nurses can follow. I know

that I contribute to the profession and this specialty in

different ways. I'm making different kinds of changes for

more patients –."

One of the advantages of the informaticist role is the

hours. She doesn't work weekends and, "I'm around for

my kids and can attend their extracurricular programs."

For Reyes, informatics is where she can make the

most impact on the most people – from nurses to

patients, and she loves it. "It's what I was born to do. I

love it!"

Faith Community Nursing

Melanie Huibregtse, MS,BSN, RN, Faith

Community Nurse

Plymouth United Church of Christ Fort Collins,

Colorado

What is a Faith Community Nurse?

Faith community nursing is a growing nursing practice

specialty recognized by the American Nurses Association

and according to their scope and standards, Faith

Community Nursing focuses on the intentional care of the

spirit, the promotion of an integrative model of health,

and the prevention and minimization of illness within the

context of a faith community.

The Faith Community Nurse (FCN) is a licensed,

registered nurse with two to five years of experience,

who has received special training through the

Foundations of Faith Community Nursing Course

(36.5 contact hours) and uses his or her professional

skills to assist those who are underserved or need

help to negotiate the health care maze. They serve

congregants from cradle to old age and provide

confidential counseling, advocacy, referral, spiritual

support, and education.

FCN's also assist with referral to clergy and

organization of faith community volunteers to support

those in need. They may help by interpreting medical

"jargon", finding healthcare resources, and walking

alongside someone who has a life-threatening diagnosis.

They might help those coping with injury, illness, or

chronic disease, and can also promote health through

immunization clinics, screenings, support groups, and

education programs.

Wait, how is this different from Home Health

Services?

FCNS are not a home health service and cannot

provide physician directed care such as dispensing

medications, changing dressings, or giving injections, etc.,

but do serve as a knowledgeable health care professional

in advising and supporting congregants who may have

questions, or are having difficulty navigating the health

care system.

Sometimes a story helps people understand…

Supporting the Homeless

One of the major health issues for homeless persons

is problems with their feet. Recognizing this, one FCN

in Boulder helped with an event that invited homeless

persons off the streets for foot washing and foot care by

registered nurses. The Health Ministry (with coordination

by the FCN) provided blood pressure screening and

health and nutrition counseling for people without access

to a kitchen. Hair stylists volunteered to give haircuts

and others gave manicures. Clean socks and samples

of shampoo, soap, lotion, and dental products were

available. Other volunteers came with coffee, donuts and

conversation as a way to welcome the homeless.

Babies! Babies!

One FCN in Fort Collins does well baby visits as

part of her ministry. It is a joy to bring a small gift

from the church to the parents and to meet the

newest member of a family. The visit is designed to

offer the new parents a resource in case of questions

or concerns, and to link them to services in the

community.

Juniper Village at the Spearly Center

Come join our amazing team!

We are hiring

RNs • LPNs • CNAs

For more information, contact the regional non-profit,

non-denominational group Faith Community Nursing

in the Rockies which supports and educates FCNs. The

website has information on upcoming Foundations

of Faith Community Nursing classes and educational

events at www.fcnrockies.org. You can also find more

information on this topic at the national Faith Community

Nursing site www.westberginstitute.org.

Citations

1. American Nurses Association. (2017). Faith Community Nursing

: scope and standards of practice. Co-published with the

American Nurses Association and the Health Ministries

Association

If you are excited to make an impact on the lives of

those around you, we want to hear from you!

We offer Great Benefits!

We are certified as

A Great Place To Work from Forbes.

Please visit us and apply at

junipercommunities.com/find-juniper-communities-jobs/

2205 W. 29th Ave. Denver, CO 80211 • 303-458-1112
---
14 • Colorado Nurse | August 2022

The Official Publication of the Colorado Nurses Foundation in partnership with the Colorado Nurses Association

COVID-19 sparks professors to create virtual medical

emergencies for students

Restricted from clinics, CU College of Nursing grad

students treated patients in virtual simulations

The emergency room was overflowing with sick

patients. The graduate nursing student had 15 minutes to

figure out what was wrong with the deathly ill woman,

consult with his colleagues, and get her help. With the

clock ticking, he asked questions about her medical history

and examined her. Was she suffering from sepsis, bacterial

meningitis, gastrointestinal bleeding, or a number of other

life-threatening conditions? Minutes later, everything froze.

Time was up. The patient and emergency room dissipated

as the program shut down.

Advanced practice registered nurse students at the

University of Colorado College of Nursing immersed

themselves into virtual medical emergencies to simulate

what they could not initially get in the spring of 2020–

real world clinical training and experience. The pandemic

restricted many of them from practicing in actual clinics

with real patients because of limited physical clinical

workspace, and less preceptor availability. Yet, the students

were still required to earn clinical hours for indirect patient

care to graduate. That prompted the faculty to get creative.

As an alternative to traditional clinical experiences, CU

Nursing faculty Angela D. Pal, PhD, ACNP-BC, CHSE; Fara

Bowler, DNP, APRN, CHSE; Mary Beth Flynn Makic, PHD,

CCNS; and Krista R. Estes, DNP, FNP-C introduced an

established, computer-based virtual simulation for grad

students. In an article just released, the faculty says the

virtual simulation training kept the students engaged and

taught them how to handle emergency situations almost as

well as the real thing.

According to the faculty, while research is limited, a

systematic review found this mode of education improved

nursing student skill-base, cognitive and affective

knowledge. It provides an opportunity to improve

patient safety, work effectively as an interprofessional

team, develop communication skills, and critically think.

Simulation facilitates autonomous learning because the

student can repeat the scenario for a more deliberate,

focused experience.

Faculty used the Oxford Medical Simulation (OMS)

platform, which follows best practices in simulations.

Students had 15 minutes to assess, diagnose, offer

empathy, collaborate with other providers, analyze the

FURTHER YOUR EDUCATION

FROM WHEREVER YOU ARE

• Health Science & Administration, BAS

• Doctor of Nursing Practice, DNP

• Nurse Manager & Leader, MS

• Nurse Educator, MS

• RN-BSN

GET STARTED TODAY

719.549.2200

WWW.CSUPUEBLO.ONLINE

results and the patients' medical records, and treat the

patient.

OMS uses artificial intelligence to adapt to the virtual

patients' conversations, behavior and physiologic responses

to the students' interventions and questions. After the

simulation, students completed a worksheet about the

scenario and received feedback about their encounter.

During the year-long program evaluation, 144

graduate students volunteered to participate in the

virtual clinical education. According to a survey, 86%

Former foster child earns PhD,

vows to help other vulnerable people

Deborah Sherman

From foster child to doctor

of philosophy. Dawn Taylor

is about to earn the highest

academic degree despite the

lowest possible start in life. Even

as she graduated this past May

from the University of Colorado

College of Nursing with a

PhD in Caring Science, she's

remembering where she began

and how far she still wants to go.

"The likes of me and my Dawn Taylor

family were not encouraged to

go to the university. For me to be the first in my family to

graduate college, let alone with a doctorate degree, speaks

volume,s, says Taylor, PhD class of 2022, RN, BSN, MSN.

"Also, I have been a nurse for 30 years. It blows my mind as

to where I'm at now."

Rocky Start to Life

Taylor was born in Cambridge, England. Her dad could

barely read. Her mom was a gamekeeper's daughter. By

the time Taylor was 11, they were both dead. Without

parents, she landed in foster care. First, with some relatives

who made it clear she wasn't wanted. Then, she went

to a second foster home where she learned life skills like

laundry, cooking, and budgeting. It was hard and lonely.

"I didn't have a TV. I would literally come home from

school and stare at four blank walls. There was no noise

which was overwhelming. I felt like even being around bad

crowds was better than sitting and being alone. The silence

was deafening," says Taylor.

Giving Voice to Others Who Feel Invisible

The solitude of her childhood led Taylor as an adult to

give a voice to others who feel invisible: victims of physical,

mental and emotional abuse, alcoholics, drug addicts, and

gender diverse women and men. She calls herself an ally.

Taylor worked in the United Kingdom as a nurse for

several years, then moved to the United States in 1998 and

had to retake the licensing exam to establish competence

of the students said it accurately reflected clinical

practice.

"I found this to be of value to our program… This

simulation includes all the components to complete a

full history and physical, order labs, diagnostics and treat

the patient effectively in a given time," said one student

participant.

With the successful simulation, faculty plan to continue

using virtual reality to enhance student learning and clinical

experience.

to practice as a registered nurse in the U.S. She worked as a

nephrology nurse specializing in diseases of the kidney, and

was certified in nephrology in 2001-2017. Then in 2008,

Taylor earned a bachelor's degree in nursing and in 2010,

completed a Master of Science in Nursing degree.

She has been living in Las Vegas, Nevada teaching

undergraduate students health assessment, fundamentals

of nursing and community/public health nursing – all the

while going to school at CU Nursing in Denver for her PhD.

Tough Teacher who Espouses Work Smarter

Philosophy

Taylor says she's a tough teacher and expects her

students to work hard.

"The only person who helped me back then is me. I've

had to push to get where I am, and that translates to my

students. As long as they're giving me everything they

have, then I respect that. But I get frustrated if someone

does barely enough to get by and I know they have more

in them," says Taylor. "I tell them 'You don't have to work

harder to get there, you have to work smarter and not

be afraid. The professors will help. If you make yourself

vulnerable and trust them to help you, they will help you.'"

The focus of Taylor's PhD is Caring Science, a type

of nursing theory for students to integrate caring and

healing into their lives and to provide deeper meaning,

purpose and dignity to patients. Her dissertation is based

on exposing healing after violence among LGBTQ partners.

Taylor has also volunteered for several years as a yoga and

meditation instructor for victims of domestic violence and

gender diverse people.

Never Give Up

After Taylor earns her doctorate, she plans to continue

teaching at the graduate level and obtain a tenure position

at Nevada State College. She also wants to continue her

research working in public health with invisibility and healing

journeys with vulnerable populations. Above all, she wants

foster kids and other people who feel alone to never give up.

"Things are not going to go as you expect, ever. The

best-laid plans are going to go awry. So, seek help early,

and don't shut down. If you find yourself struggling, never

give up. You can change your life."
---
The Official Publication of the Colorado Nurses Foundation in partnership with the Colorado Nurses Association August 2022 | Colorado Nurse • 15

Virtual Simulation: Impact on Clinical Judgment

Amber Kool, MSN, RN

Reprinted from Oklahoma Nurse May June July 2022

The need for newly licensed nurses to safely manage

multiple complex patients requires strong clinical

judgment skills to appropriately prioritize and delegate

(Bittner & Gravlin, 2009). Direct patient care experiences

in acute care settings are the typical way nursing

students learn clinical judgment. However, these clinical

experiences do not always provide an opportunity to

collaborate, critical think, or make independent decisions

that will improve patient outcomes (Lippincott Nursing

Education, 2018). The most recent data from the

American Association of Colleges of Nursing suggests

that 80,407 qualified applicants were not admitted

to baccalaureate and graduate nursing programs with

insufficient clinical sites a contributing factor (2020).

The COVID-19 pandemic has significantly limited direct

patient care clinical experiences for nursing students

throughout the U.S. (Logue et al., 2021). There is an

urgent need to develop teaching-learning practices that

will support the development of clinical judgment as

both an augment and substitution for direct care clinicals

(Thobaity & Alshammari, 2020).

This study investigated the impact of a virtual

simulation (VS) (Sentinel U's Patient Management

and Delegation and Prioritization of Care) on clinical

judgment in a sample of pre-licensure BSN students.

VS utilizes experiential learning as identified by Kolb's

Experiential Learning Theory (1984) to expose the

learner to a new experience and requires the student

to reflect, thereby integrating the learning into their

knowledge bank (McLeod, 2017). As learners reflect

on their decisions and reasoning, they integrate their

previous experiences and the new knowledge gained

through the VS.

Design

Using a one-group, repeated measures design,

a paired-samples t-test was used to measure the

change in perceived clinical judgment pre- to post-

VS intervention. The Skalsky Clinical Judgment Scale

measures the construct using a four-point Likert

Scale, with ten questions, which include assessing

perceived abilities in prioritization, delegation, and

communication.

Major Findings

There was a statistically significant increase in perceived

clinical judgment scores from pre- intervention (VS) (M =

32.17, SD = 4.178) to post- intervention (VS) (M = 34.10,

SD = 4.992), t (41) = 2.832, p < .007 (two-tailed). The

mean increased in perceived clinical judgment scores was

1.929 with a 95%.

Discussion

The positive results suggest that VS may be useful

to support teaching-learning practices related to

clinical judgment development. Perceived increases in

clinical judgment may make students more confident

and encourage them to practice skills further. Further

research is needed to objectively measure clinical

reasoning and resultant patient outcomes that result

from the use of VS as a teaching-learning strategy.

Implications for Nursing the Nursing Profession

Recent evidence suggests that only 10% of newly

licensed nurses score within an acceptable competency

range using a performance-based (Kavanagh & Sharpnack,

2021). The most recent practice analyses by the National

Council of States Boards of Nursing suggest that newly

licensed RNs are increasingly required to make more

complex clinical decisions (2015, 2018). COVID-19

exacerbated existing pre-licensure nursing education

challenges by further limiting already scarce clinical

practicum sites (Dewart et al., 2020). VS may be a useful

addition to direct patient care and high-fidelity human

patient simulation to learn clinical reasoning skills. VS may

be helpful as an additional strategy in addressing the critical

nationwide shortage of clinical practicum sites. Also, VS

may bridge the gap in clinical learning experiences during

times when other opportunities may not exist, such as

experienced during the COVID-19 pandemic and in times

of emergencies and natural disasters.

VS may likewise prove beneficial for skill

development or assessment within clinical agency

orientation and continuing competency efforts. Similar

to its use in the academic environment, VS within

practice and continuing education provides a safe

environment to make decisions without potential harm

to patients (Verkuyl et al., 2019). In conclusion, given

the evolving technology that underpins VS and its

increasing fidelity, the interest in and application of

VS in academic and practice environments will likely

increase. Nurse leaders will be challenged to implement

VS in evidence-based ways and monitor and measure

outcomes to assure its value.

References

American Association of Colleges of Nursing. (2019). Nursing

shortage. Retrieved from https://www.aacnnursing.org/

news-information/fact-sheets/ nursing-shortage

Bittner, N. P., & Gravlin, G. (2009). Critical thinking,

delegation, and missed care in nursing practice. JONA:

The Journal of Nursing Administration, 39(3), 142-146.

doi:10.1097/ nna.0b013e31819894b7

Dewart, G., Corcoran, L., Thirsk, L., & Petrovic, K. (2020).

Nursing education in a pandemic: Academic challenges

in response to COVID-19. Nurse education today, 92,

104471. https://doi. org/10.1016/j.nedt.2020.104471

Kavanagh, J.M., Sharpnack, P.A., (January 31, 2021) "Crisis in

Competency: A Defining Moment in Nursing Education"

OJIN: The Online Journal of Issues in Nursing Vol. 26, No.

1, Manuscript 2. DOI: 10.3912/OJIN.Vol26No01Man02

Lippincott Nursing Education. (2018, June 7). Turning new

nurses into critical thinkers. Combining Domain Expertise

With Advanced Technology

| Wolters Kluwer. https://www.wolterskluwer. com/en/expertinsights/turning-new-nurses-

into critical-thinkers

Logue, M., Olson, C., Mercado, M., McCormies, C.J., (January

31, 2021) "Innovative Solutions for Clinical Education

during a Global Health Crisis" OJIN: The Online Journal

of Issues in Nursing Vol. 26, No. 1, Manuscript 6. DOI:

10.3912/OJIN.Vol26No01Man06

National Council of States Boards of Nursing. (2015). 2014 RN

Practice Analysis: Linking the NCLEX-RN Examination

to Practice - U.S. and Canada. 62. https://www.ncsbn.

org/15_RN_ Practice_Analysis_Vol62_web.pdf

National Council of States Boards of Nursing. (2018). 2017 RN

Practice Analysis: Linking the NCLEX-RN Examination to

Practice - US & Canada 72. https://www.ncsbn.org/17_

RN_ US_Canada_Practice_Analysis.pdf

McLeod, S. (2017, February 5). Kolb's learning styles and

experiential learning cycle. Retrieved from https://www.

simplypsychology.org/learning- kolb.html

Sentinel U. (2020, November 30). Nursing prioritization

exercises. https://www.sentinelu.com/solutions/

prioritization-and-delegation/

Skalsky, K. (n.d.). Skalsky Clinical Judgment Scale validity.

American Sentinel University

Thobaity, A., & Alshammari, F. (2020). Nurses on the Frontline

against the COVID-19 Pandemic: An Integrative Review.

Dubai Medical, 1-6. https:// doi.org/10.1159/000509361

Verkuyl, M., Hughes, M., Tsui, J., Betts, L., St-Amant, O., &

Lapum, J. L. (2017). Virtual gaming simulation in nursing

education: A focus group study. Journal of Nursing

Education, 56(5), 274-280. doi:10.3928/01484834-

20170421-04

Join a committed team caring for the Pikes Peak

Region and surrounding areas

Peak Vista Community Health Centers

is hiring Care Team Nurses

Join a network of 28 health centers providing nationally recognized,

high quality care for more than 94,000 patients

Collaborates with a diverse, talented, compassionate team in a

mission-driven environment where your career matters

Enjoy amazing benefits, coupled with a great work

life balance (no nights, no call)

More info:

Careers at Peak Vista - Colorado Springs, CO

peakvista.org/resources/careers

Nurse Practitioner Programs

FNP • Adult/Gero • PMHNP

Students admitted twice per year

have thousands

We

nursing jobs!

of

Find your dream job now.

• 100% online, no campus visits required

• MSN and Post Master's Certificate

For more information visit www.uccs.edu/bethel

NURSING EDUCATION

Bridging Your Practice for the Future

Sara.Robuck@vivage.com

Citlalli.corona@vivage.com
---
16 • Colorado Nurse | August 2022

The Official Publication of the Colorado Nurses Foundation in partnership with the Colorado Nurses Association

CU Nursing Legends Credited for Developing

National Residency Model

How Dr. Colleen Goode and Dr. Mary Krugman built a program that helps nurses succeed nationwide

Bob Mook

Two highly regarded nursing leaders with ties

to the University of Colorado College of Nursing

are credited with pioneering the widespread

adoption of nurse residency programs (NRPs). An

article in the Journal of Continuing Education in

Nursing paid tribute to the groundbreaking work

of Colleen Goode, PhD, RN, FAAN, NEA-BC, and

Mary Krugman, PhD, FAAN, NEA-BC, for building

what has become a national model that has helped

nursing graduates segue to their chosen profession.

More than 500 clinical sites nationwide are

now using the residency program's evidencebased

curriculum. UCHealth University of Colorado

Hospital was among six institutions that tested the

initial program.

The article highlighted how NRPs reduced

attrition in nursing over the years by providing

retention strategies that are just as effective now as

when they were first introduced.

Careers crossed paths

Drs. Goode and Krugman began their nursing

careers in the 1960s before relocating to Colorado

in the 1990s. Goode received a nursing degree

from the University of Iowa in 1961 and held

numerous leadership positions throughout the

Midwest before moving to Colorado to become

the chief nursing officer of what is now UCHealth

University of Colorado Hospital. She also served as

associate dean for CU Nursing.

As someone who spent abundant time

interacting with health care professionals in myriad

settings, Goode noticed high levels of stress and

high turnover rates among the newly recruited

nurses. She questioned why nursing did not require

a residency program like other health care practices.

"If you are in medicine, pharmacy, physical

therapy or a hospital chaplain, you were required to

obtain a residency before entering 'the real world,'"

Goode said. "It didn't make sense to me that nurses

– who are so critical in the delivery of health care

– weren't getting the level of professional and

emotional support they needed to prepare for their

careers."

Krugman gained valuable insights about patients'

needs as a nurse at the psychiatric unit of a New

York hospital in the mid-1960s and while earning a

master of psychiatric mental health nursing degree

from New York University.

"Faculty were very involved and they provided

support and empathy as we gained confidence in

ourselves as part of a team," Krugman said. "Those

experiences were so formative and important in my

career – as they are for every nurse."

For 23 years, Krugman was director of

professional resources and development at

University of Colorado Hospital, where she oversaw

clinical employee orientation and education,

nursing and continuing education. In 1997, over an

introductory "business lunch," Krugman and Goode

quickly bonded over their similar philosophy and

collaborative work style.

"It was the beginning of a great partnership,"

Krugman recalled. "We were lucky that we both were

part of a system that allowed us to explore our vision."

NRP timeline

Reaching out to colleagues nationally, Goode and

Krugman began to collaborate on an idea to form

an alliance of academic hospitals and deans to build

a pilot NRP with specific objectives and measures.

This group prepared a graduate nurse residency

curriculum and discussed how nurse data would be

collected and analyzed. They also drafted multiple

manuscripts and presentations making the case for

the adoption of the program.

In March 2000, nursing officers and deans

from several hospitals and universities in the U.S.

convened a task force to identify ways to increase

participation in post-baccalaureate graduate

nursing programs. After demonstrating there was

little to no uniformity in orientation programs and

curriculum offered by hospitals, the partnership

developed what is now called the Vizient/AACN

Nurse Residency Program, credited by the American

Association of Colleges of Nursing (AACN).

Your Next Move Before Starting Your Career?

Nurse residency programs provide a bridge

between school and 'the real world'

Let's face it: These are scary times and nursing

can be a scary profession. The thought of leaving

the safe nest of academia can be quite daunting –

especially now.

"The recent pandemic restricted many students

from practicing in actual clinics," said Allison Boyrer,

MS, MA, BSN, RN, a CU Nursing alumna and manager

of the Post-Baccalaureate Registered Nurse Program

(PBRNR), in a recent news item. "So, a residency

program that provides more protected, mentored time

with real-life experiences is extremely valuable."

Fortunately, new or soon-to-be graduates have

plenty of options that provide the practical experience

of a real job (and a paycheck) along with support,

training and additional curriculum to help them

succeed. UCHealth offers several residency programs

with trained preceptors and other clinical experts who

share your commitment to learn and grow.

Protect yourself against burnout

Though burnout among clinicians has garnered

recent headlines amid a global pandemic, it is

nothing new. Indeed, the very concept of nurse

Bob Mook | June 9, 2022

residency programs (NRPs) has its genesis at CU

Nursing. Two trailblazers of nurse residencies (Drs.

Colleen Goode and Mary Krugman) developed a

pilot program that was implemented at UCHealth

University of Colorado Hospital nearly 20 years ago

-- in part, to address early burnout among recent

nursing grads.

As a young nurse at the start of what would

become long and successful career, Krugman

participated in a similar program firsthand. As an

associate dean for CU Nursing and a chief nursing

officer, Goode maintained that residencies gave

nurses a safe haven to learn and grow. Findings and

analyses over the years have strongly supported that

thesis. Nurse Residency programs are considered an

investment in your long-term success in a field that

you were called to serve.

The benefit of a residency is that "you're not

just stuck in one unit," said Alexis Ricamonte, a

2021 graduate of CU Nursing, who entered the

PBRNR program at VA Eastern Colorado Health

Care System. "I'm getting a new perspective and I

appreciate it in a way I didn't expect."

By 2003, six hospital-college partnerships

joined the pilot program. Findings overwhelmingly

supported the benefits of a 12-month NPR,

with nurses having more confidence to work

independently while collaborating with those in

other disciplines. The data show the program also

improved retention rates among newly graduated

nurses.

In 2010, the National Academy of Medicine

called for the implementation of nurse residencies

for all new graduates. While this endorsement

was a big step forward, Goode pushed for wider

adoption of the NRP curriculum. That persistence

paid off. In 2013, the Commission on Collegiate

Nursing Education (CCNE) approved accreditation

standards for post-baccalaureate NRPs. UCHealth

University of Colorado Hospital was the first

accredited NRP.

Today, NRPs are considered essential by many

nursing professionals. As the article authors noted,

"the momentum and successes associated with these

programs are becoming more widely accepted."

However, dedicated funding continues to be a

challenge to implementing NRPs. Both Goode and

Krugman still hold out hope that the Centers for

Medicare & Medicaid Services (CMS) would provide

more financial support for the programs just as they

do with similar professionals in health care.

A lasting legacy

Over the years, Goode and Krugman earned

respect within their employment settings and

nationally with numerous published articles and

awards.

Goode was recognized for her leadership by

receiving the Edge Runner Award in 2010. She is

also a recipient of the distinguishedNightingale

Award in Colorado as well as the Lifetime

Achievement Award from the American

Organization of Nurse Executives in 2011. She is

the namesake of the Dr. Colleen Goode Fund for

Nursing Research and Evidence-Based Practice

Projects and has served as a professor for CU

Nursing since 2009 and characterizes herself as

"happily retired" on her Facebook page.

Krugman also received the Nightingale Award for

leadership in Administrator, Educator, Researcher

and Other Nontraditional Roles. In 2020, she

received a University Medal from the University of

Colorado Board of Regents. "Her contributions

have a positive impact on professional entry into

practice and nurse retention at UHC and across the

country," according to remarks citing the honor.

Like Goode, she remains involved with CU Nursing

during retirement.

Published earlier this month in the Journal of

Continuing Education in Nursing, the oral history

was written by four CU Nursing professors who

worked closely with Goode and Krugman: Dr.

Mary Beth Flynn Makic, PhD, RN, CCNS, FAAN,

FNAP, FCNS; Dr. Kathy Casey, PhD, RN, NPD-BC; Dr.

Kathleen S. Oman, PhD, RN, FAAN; and Dr. Regina

M. Fink, PhD, APRN, AOCN, CHPN, FAAN. All four

are accomplished leaders in nursing and strong

advocates of post-graduate residencies.

"Dr. Goode and Dr. Krugman deserve significant

credit for their vision and work developing a

national model for NRPs," the article said in

closing. "Their leadership, remarkable contributions

and coloration with other hospitals early in the

development of NRPs paved the way for the current

presence and ongoing development of NRPs to

help nurses transition to professional practice more

successfully."

The Vizient/AACN Nurse Residency Program at

UCHealth serves 12 hospitals throughout the Front

Range. The program includes specialty courses

designed for your specific unit throughout the

year and monthly residency seminars providing

additional curriculum and residency support.

Applications are accepted year-round.
---
The Official Publication of the Colorado Nurses Foundation in partnership with the Colorado Nurses Association August 2022 | Colorado Nurse • 17

Nurse License Protection Case Study:

Administering medication without an order

Nurses and License Protection Case Study with Risk

Management Strategies, Presented by NSO

A State Board of Nursing (SBON) complaint may be filed against a nurse by a patient,

colleague, employer, and/or other regulatory agency, such as the Department of Health.

Complaints are subsequently investigated by the SBON in order to ensure that licensed

nurses are practicing safely, professionally, and ethically. SBON investigations can lead to

outcomes ranging from no action against the nurse to revocation of the nurse's license to

practice. This case study involves a registered nurse (RN) who was working as the clinical

director of a small, rural emergency care center.

Summary

The insured RN was employed as the clinical director of a small, rural emergency

care center when they responded to a Code Blue, arriving just as the patient was

being intubated. The patient was fighting the intubation, so a physician gave a

verbal order for propofol. The RN asked the pharmacy technician to withdraw a

100-cc bottle of propofol from the medication dispensing machine and asked

another nurse to administer the medication to the patient. Shortly after the other

nurse began administering the propofol, the patient's blood pressure dropped, so

the nurse was ordered to stop the propofol infusion.

The patient continued to decompensate and suffered respiratory collapse/

arrest. Following some delay, the patient was eventually intubated, then emergently

transferred to a higher acuity hospital for further treatment. The patient ultimately

suffered anoxic encephalopathy while he was in respiratory arrest.

A recorder was present documenting the Code, and, afterwards, another nurse

transcribed the recorder's notes into the patient's healthcare information record. The

recorder noted that it was the insured RN who advised the pharmacy technician to remove

propofol from the medication dispensing machine and instructed a nurse to administer

the medication. However, the recorder failed to note that the physician gave a verbal order

for the propofol. The insured RN failed to review the notes that the recorder and nurse

entered into the patient's healthcare information record and failed to note this error. The

physician who was present during the Code also failed to catch this error in the record.

Approximately six months later, the patient's family filed a lawsuit against the

emergency care center. During a review of the Code record in response to the lawsuit,

it was noted that, during the Code, the RN instructed another nurse to administer

propofol. However, there wasn't any indication in the record that a physician

had ordered the medication. The emergency care center dismissed the RN from

employment and reported the incident to the SBON. The SBON opened its own

investigation into the RN's conduct.

highlights of coverage are for general informational purposes only and do not amend, alter

or modify the actual terms or conditions of any insurance policy. Coverage is governed only

by the terms and conditions of the relevant policy. Any references to non-Aon, AIS, NSO,

NSO websites are provided solely for convenience, and Aon, AIS, NSO and NSO disclaims any

responsibility with respect to such websites. This information is not intended to offer legal

advice or to establish appropriate or acceptable standards of professional conduct. Readers

should consult with a lawyer if they have specific concerns. Neither Affinity Insurance

Services, Inc., NSO, nor CNA assumes any liability for how this information is applied in

practice or for the accuracy of this information.

Nurses Service Organization is a registered trade name of Affinity Insurance Services,

Inc., a licensed producer in all states (TX 13695); (AR 100106022); in CA, MN, AIS

Affinity Insurance Agency, Inc. (CA 0795465); in OK, AIS Affinity Insurance Services,

Inc.; in CA, Aon Affinity Insurance Services, Inc., (CA 0G94493), Aon Direct Insurance

Administrators and Berkely Insurance Agency and in NY, AIS Affinity Insurance Agency.

Resolution

While the insured RN denied ordering another nurse to administer propofol

without a verbal order from the physician, the RN could not deny failing to

ensure that the propofol administration was documented in the patient's

healthcare information record.

The RN entered into a stipulation agreement with the SBON, under which:

• the RN's multi-state licensure privileges were revoked;

• the RN was required to complete coursework on nursing jurisprudence

and ethics, medication administration, documentation, and professional

accountability; and

• the RN was required to work under direct supervision for one year and

submit quarterly nursing performance evaluations to the SBON.

The total incurred expenses to defend the insured RN in this case exceeded

$16,600.

Risk Control Recommendations

• Know the parameters of your state's nursing scope of practice

act, and your facility's policies and procedures, related to medication

administration.

• Only accept verbal drug orders from practitioners during

emergencies or sterile procedures. Before carrying out a verbal

order, repeat it back to the prescriber. During a Code Blue, be sure to

communicate all procedures, medications, treatments to the recorder.

• Review Code Blue records for completeness and process of care

after each Code. Report any concerns and provide feedback through

proper channels to ensure that any errors in the record or areas of

improvement are identified and addressed.

• Document simultaneously with medication administration, whenever

possible, in order to prevent critical gaps or oversights.

Disclaimers: These are illustrations of actual claims that were managed by the CNA

insurance companies. However, every claim arises out of its own unique set of facts

which must be considered within the context of applicable state and federal laws and

regulations, as well as the specific terms, conditions and exclusions of each insurance

policy, their forms, and optional coverages. The information contained herein is not

intended to establish any standard of care, serve as professional advice or address

the circumstances of any specific entity. These statements do not constitute a risk

management directive from CNA. No organization or individual should act upon this

information without appropriate professional advice, including advice of legal counsel,

given after a thorough examination of the individual situation, encompassing a

review of relevant facts, laws and regulations. CNA assumes no responsibility for the

consequences of the use or nonuse of this information.

This publication is intended to inform Affinity Insurance Services, Inc., customers of potential

liability in their practice. This information is provided for general informational purposes

only and is not intended to provide individualized guidance. All descriptions, summaries or
---
18 • Colorado Nurse | August 2022

The Official Publication of the Colorado Nurses Foundation in partnership with the Colorado Nurses Association

How nurses can counter health misinformation

By Georgia Reiner, MS, CPHRM, Risk Analyst,

Nurses Service Organization (NSO)

The wealth of health information available online can be beneficial for patients,

but only if that information is accurate. Although recent issues on misinformation

have centered on the COVID-19 pandemic, misinformation has been a problem in

many other areas related to wellness and healthcare, such as dieting, exercise, and

vitamins and supplements. Although misinformation isn't new, the internet and

social media have supercharged the ability for it to spread.

Nurses and nurse practitioners have the power to counteract misinformation, but

first, they need to understand why people may be inclined to believe information

that is not grounded in science.

Why do people believe misinformation?

Several factors can lead to people accepting misinformation:

Health literacy. Health literacy refers not only to the ability to read and

understand health information, but the appraisal and application of knowledge.

People with lower levels of health literacy may be less able to critically assess the

quality of online information, leading to flawed decision-making. One particular

problem is that content is frequently written at a level that is too high for most

consumers.

Distrust in institutions. Past experiences with the healthcare system can

influence a person's willingness to trust the information provided. This includes not

only experiences as an individual but also experiences of those in groups people

affiliate with. Many people of color and those with disabilities, for example, have

had experiences with healthcare providers where they did not feel heard or received

substandard care, eroding trust. In addition, some people have an inherent distrust

of government, leading them to turn to alternative sources of information that state

government-provided facts are not correct.

Emotions. Emotions can play a role in both the spread and acceptance of

misinformation. For example, false information tends to spread faster than true

information, possibly because of the emotions it elicits. And Chou and colleagues

note that during a crisis when emotions are high, people feel more secure and in

control when they have information—even when that information is incorrect.

Cognitive bias. This refers to the tendency to seek out evidence that supports

a person's own point of view while ignoring evidence that does not. If the

misinformation supports their view, they might accept it even when it's incorrect.

MAKE YOUR CAREER

making a difference

BECOME A SCHOOL NURSE

IN DENVER PUBLIC SCHOOLS (DPS)!

Make a difference in the lives of children while

enjoying your nursing career with DPS.

186 day calendar - Summers, holidays & weekends off!

DPS has over 200 schools, 90,000 students,

and over 140 languages spoken.

School Nurses promote optimal physical, social and emotional wellness

of our school community and improve student academic success.

Questions: Contact Teresa Ross 720-423-1412

or Jody Dickerson 720-423-2305

APPLY NOW:

How to combat misinformation

Recommending resources, teaching consumers how to evaluate resources, and

communicating effectively can help reduce the negative effects of misinformation.

Recommendations. In many cases, patients and families feel they have a

trusting relationship with their healthcare providers. Nurses can leverage that trust by

recommending credible sources of health information. Villarruel and James (https://

www.myamericannurse.com/preventing-the-spread-of-misinformation/) note that

before making a recommendation, nurses should consider the appropriateness of

the source. For example, a source may be credible, but the vocabulary used may be

at too high a level for the patient to understand. Before making a recommendation,

nurses should consider the appropriateness of the source for the patient's health

literacy level. Kington and colleagues (https://www.ncbi.nlm.nih.gov/pmc/articles/

PMC8486420/) explain the importance of evaluating sources to ensure the

information provided is science-based, objective, transparent, and accountable.

Although the tendency is to recommend government sources such as the Centers

for Disease Control and Prevention and National Institutes of Health, as noted earlier,

some people do not trust the government. In this case, sources such as MedlinePlus,

World Health Organization, and condition-specific nonprofit organizations (e.g., the

American Heart Association, American Cancer Society, Alzheimer's Association) might

be preferred.

Education. The sheer scope of the information found online can make it difficult

for even the most astute consumer to determine what is accurate. Nurses can help

patients by providing tools they can use to evaluate what they read. The website

Stronger suggests a four-step process for checking for misinformation (https://stronger.

org/resources/how-to-spot-misinformation), and MedlinePlus offers additional resources

for evaluating health information (https://medlineplus.gov/evaluatinghealthinformation.

html). UCSF Health (https://www.ucsfhealth.org/education/evaluating-healthinformation)

provides a useful short overview for patients on how to evaluate the

credibility and accuracy of health information and red flags to watch for.

Communication. From the start, the nurse should establish the principle of

shared decision-making, which encourages open discussion. A toolkit from the U.S.

Surgeon General on misinformation (https://www.hhs.gov/sites/default/files/healthmisinformation-toolkit-english.pdf)

recommends that nurses take time to understand

each person's knowledge, beliefs, and values and to listen with empathy. It's best to

take a proactive approach and create an environment that encourages patients and

families to share their thoughts and concerns (see "A proactive approach"). Nurses

should remain calm, unemotional, and nonjudgmental.

Documentation

As with any patient education, it's important to document discussions related to

misinformation in the patient's health record. Nurses should objectively record what

occurred and include any education material they provided. Should the patient

experience harm because of following misinformation instead of the recommended

treatment plan, this documentation would demonstrate the nurse's efforts and could

help avoid legal action.

A positive connection

Nurses can serve as a counterbalance to the misinformation that is widely available

online. Providing useful resources, educating consumers, and engaging in open

dialogue will promote the ability of patients to receive accurate information so they

can make informed decisions about their care.

References

CDC. How to address COVID-19 vaccine misinformation. 2021. https://www.cdc.gov/vaccines/

covid-19/health-departments/addressing-vaccine-misinformation.html

Chou W-YS, Gaysynsky A, Vanderpool RC The COVID-19 misinfodemic: Moving beyond factchecking.

Health Educ Behav. 2020;1090198120980675:1-5.

Kington RS, Arnesen S, Chou W-YS, Curry SJ, Lazer D, and Villarruel AM. Identifying credible

sources of health information in social media: Principles and attributes. NAM Perspect.

2021:10.31478/202107a. https://www.ncbi.nlm.nih.gov/pmc/articles/PMC8486420/

MedlinePlus. Evaluating Health Information. National Library of Medicine. 2022. https://

medlineplus.gov/evaluatinghealthinformation.html

Office of the Surgeon General. A Community Toolkit for Addressing Health Misinformation.

US Department of Health and Human Services. 2021. https://www.hhs.gov/sites/default/

files/health-misinformation-toolkit-english.pdf

Stronger. How to spot misinformation. n.d. https://stronger.org/resources/how-to-spotmisinformation

Schulz PJ, Nakamoto K. The perils of misinformation: When health literacy goes awry. Nat Rev

Nephrol. 2022. https://www.nature.com/articles/s41581-021-00534-z

Swire-Thompson B, Lazer D. Public health and online misinformation: Challenges and

recommendations. Annu Rev Public Health. 2020;41:433-451.

UCSF Health. Evaluating health information. n.d. https://www.ucsfhealth.org/education/

evaluating-health-information

Villarruel AM, James R. Preventing the spread of misinformation. Am Nurs J. 2022;17(2):22-26.

https://www.myamericannurse.com/preventing-the-spread-of-misinformation/

Disclaimer: The information offered within this article reflects general principles only and does

not constitute legal advice by Nurses Service Organization (NSO) or establish appropriate or

acceptable standards of professional conduct. Readers should consult with an attorney if they

have specific concerns. Neither Affinity Insurance Services, Inc. nor NSO assumes any liability

for how this information is applied in practice or for the accuracy of this information. Please

note that Internet hyperlinks cited herein are active as of the date of publication but may be

subject to change or discontinuation.

This risk management information was provided by Nurses Service Organization (NSO), the

nation's largest provider of nurses' professional liability insurance coverage for over 550,000

nurses since 1976. The individual professional liability insurance policy administered through

NSO is underwritten by American Casualty Company of Reading, Pennsylvania, a CNA

company. Reproduction without permission of the publisher is prohibited. For questions, send

an e-mail to service@nso.com or call 1-800-247-1500. www.nso.com.
---
The Official Publication of the Colorado Nurses Foundation in partnership with the Colorado Nurses Association August 2022 | Colorado Nurse • 19

We've Come a Long Way Baby"… or Have We?

A Brief Review of Recent Nursing Literature Comparing the Lessons

Learned from the 1918 Pandemic and the COVID-19 Pandemic

Reprinted from ANA-New York Nurse, April 2022

Kennedee Blanchard, BA, Communications

Manager, Center for Nursing at the Foundation

of NYS Nurses, Inc.

Susan Birkhead, DNS, MPH, RN, CNE, Nursing

Education Consultant

Martin Dornbaum, MS, FAAN, Director Health

Professions Education Center, Hunter-Bellevue

School of Nursing

Deborah Elliott, MBA, BSN, Executive Director,

Center for Nursing at the Foundation of NYS

Nurses, Inc.

Joan Madden Wilson, MS, BS, RN, President,

Center for Nursing at the Foundation of NYS

Nurses, Inc. and President, Bellevue School of

Nursing Alumnae Association

Nurses often look to the past to inform our

present and future. We learn from our history

and from those who went before us. We value

nurse theorists, research, and evidence to guide

our practice. Many of the original principles of the

American Nurses Association (ANA), back when it

was first founded as the Nurses Associated Alumnae

of the United States and Canada in 1896, still hold

true today. However, when it comes to preparing for

and providing care during a pandemic, how much

have we learned and how much has improved?

A few nurse leaders and researchers have

pondered this question in light of the challenges

and issues revealed during the current COVID-19

pandemic. The authors of this article reviewed recent

articles that highlight some of the similarities and

differences between the 1918 influenza pandemic

and the ongoing COVID-19 pandemic.

Pandemic Preparation and Taking Precautions

In attempt to minimize fear and panic among

the public, as well as to maintain a positive morale

during wartime, little acknowledgement of the

severity of the disease behind the 1918 pandemic

or details about its impact were openly shared. This

led to misunderstandings and delayed responses

when attempting to prevent the spread of infection

(Gordon et al., 2020). Robinson (2021) noted that

little has changed since then; despite the known

results of the devastating 1918 pandemic and

outbreaks of various other pathogens, nurses

today are still not being provided the necessary

preparation and resources to protect themselves

and their patients during a pandemic. Reports from

nurses indicate of lack of information, or inaccurate

information, during the recent pandemic—just as it

was in the early 1900's.

"Effective preparation and planning must occur

with public health, healthcare, and emergency

management partners working together to

develop new approaches to provide protection,

both nationally and globally against the next

influenza pandemic." (Robinson, 2021, p.354)

Nursing Care

Most patients during the 1918 pandemic received

care in their homes, whereas most patients during

the earliest phase of the COVID-19 pandemic were

hospitalized. However, despite the difference

in settings, nurses demonstrated their power in

both pandemics to provide excellent care despite

challenges (Robinson, 2021). According to Gordon et

al. (2020), priority nursing care of infected patients in

both 1918 and 2020 required constant attention to

"breathing, positioning, nutritional and hydrational

status, and mental and emotional morale" (p. 29),

even though today's nurses are aided by advanced

technologies.

In both pandemics, those with preexisting

conditions have been more vulnerable. In 1918,

nothing beyond expert nursing care could be offered

to the sick, and this was generally true at the onset

of the current pandemic. In the absence of curative

treatments, quality care has remained crucial to

the survival and recovery of acutely ill patients. In

the case of the COVID-19 pandemic, nurses are

administering novel treatments to patients in need,

even as "nursing care has become increasingly more

complex and significantly more technical in nature"

(Talbot et al., p. 29).

Supplies and equipment

Johnson (2021) shares the accounts of her

grandmother, Kathryn (Katie) Ann Darmody, RN, who

worked at St. Lawrence Hospital in Ogdensburg, New

York during the 1918 pandemic. Katie recounted

how "fellow nurses were overwhelmed by the influx

of patients and experienced a severe shortage of

protective equipment. As the pandemic progressed,

supplies such as gauze, sheets, and towels were

repurposed and turned into masks, protective

coverings for nurses, and compresses for patients" (p.

63). Similarly, during COVID-19, a nationwide survey

of nurses reported that the lack of personal protective

equipment (PPE) was a concern of nine out of ten

frontline nurses, and many admitted they created

their own masks at times (Robinson, 2021). While

there were reports of limited supply of masks and

other protective equipment during the early phases of

the COVID-19 pandemic, it didn't deter nurses from

providing care. In troubling times, they found ways to

improvise or reuse items as safely as possible. This is

indicative of the spirit of the nursing profession, which

remains as true today as it was a century ago.

Nursing shortages , staffing, and training

Talbot et al. (2021) comment on the similarities

in circumstances of the two pandemics: a shortage

of nurses; overcrowded hospitals; a new and lethal

respiratory virus; few treatment options; and limited

approaches to infection prevention and control.

They also point out one significant difference

in the two pandemics: in the 1918 pandemic, a

high number of severe cases occurred in healthy,

younger adults. These patients faced a crisis when

presented with a pressing nursing shortage, as not

enough nurses were available to treat them. During

the 1918 pandemic, many nurses were deployed

overseas supporting the armed forces in World

War I, resulting in a shortage in the United States.

While that was not the case in 2020, communities

nationwide were impacted due to nurses traveling

to the cities to treat patients living in COVID-19

epicenters, such as New York City. The fact that

many nurses fell ill and had to quarantine themselves

also contributed to shortages; many have died as

a result of frontline exposure. However, in both

pandemics 100 years apart, nurses came out of

retirement, or delayed retirement, to answer the

call (Robinson, 2021). Others learned new skills

in order to work temporarily in different areas of

specialization, such as critical care areas. In both

pandemics, student nurses were put to work. While

there are limited reports of on-the-job training of

nurses during WWI, the use of just-in-time training

for military nurses in war or pandemic situations has

been described. Throughout the current pandemic,

many civilian nurses have also received just-in-time

training, assuming their responsibilities after getting

redeployed to unfamiliar work settings.

"While the number of [nurses] available was

altogether inadequate to meet the needs

of this unprecedented situation, the response

of the rank and file of the great nursing body

was so splendid that we now have an enlarged

vision of the courage [and] the self-sacrificing

spirit…of nurses." (Palmer, 1919, p. 83-84)

Nurse Wellbeing

In both pandemics, nurses endured working

long, arduous hours with significant physical and

emotional stress. This results from the nature of the

work, uncertainty, fear of becoming ill or carrying

the illness to loved ones, unremitting exposure to

death, and lingering grief in those who survive.

Isolation is also a stress factor impacting nurses'

health. The use of PPE in and of itself can be an

isolating experience. Gordon et al. (2020) state that

donning PPE "can be traumatising [sic]. It is an act

that preludes the day's hard work and its attendant

emotional and physical stresses. PPE highlights risk

and is symbolically akin to battledress of a soldier or

a medic" (p. 30). Isolation also occurs when nurses

who work in a COVID unit are separated from

colleagues and may be shunned by them. Nurses

may continue isolation even outside of work hours,

in order to protect their family and friends from

infection through self-imposed separation.

Talbot et al. point out that "crises … remove

barriers [and generate] rapid innovation to meet

the nation's needs" (p. 27). This has always been

a hallmark of military nursing. They state that

the military nurses in WWI "advanced nursing

science and practice in practical ways through the

management of the ill and the wounded" (p. 29).

They suggest that the current pandemic has revealed

areas where additional research is needed: exploring

the effects of the psychological and physical distress

experienced by nurses who care for COVID patients.

They further postulate that enough staffing, access

to adequate PPE, and education on the spread of

disease could help mitigate nurses' suffering.

"My grandmother was one nurse among

thousands who responded to the 1918

pandemic. But her story helps connect the

nurses of a century ago to those of today,

displaying the continuous courage and selfsacrificing

spirit of nurses throughout time."

(Johnson, 2021, p. 65)

How the Past Informs the Future

The lessons of the 1918 influenza pandemic

are particularly pertinent today, as the COVID-19

pandemic rages on and nursing care is forever

altered in response. Examining both pandemics in

tandem provides an opportunity to examine current

crises from a different perspective, allowing us to

draw conclusions to better inform clinical care and

provide a solid foundation for nurses today. Through

studying the history of pandemics and incorporating

necessary changes, front line nurses can become

better prepared to deal with similar situations in the

future.

"Now, as we move forward, it is worth

noting that by documenting and preserving

nurses' experiences in the COVID-19 pandemic,

we can provide valuable lessons for future

nurses dealing with future pandemics."

(Keeling, 2021, p.5)

References:

Gordon, O., Gwinnop, A., & Hallet, C. (2020). Learning

from the past? Spanish influenza and the lessons for

Covid-19. Nursing Times [online] (116)10, 27 – 31.

Keeling, A.W. (2021). Nurses on the front line: The 1918

influenza and COVID-19 pandemics. Nursing2021

(51)8, 32-37.

Johnson, D. (2021). The flu pandemic of 1918: A nurse's

story.

AJN (121)11, 61-65.

Palmer, S.F. (1918). The epidemic of influenza. American

Journal of Nursing (19)2, p. 83.

Robinson, K.R. (2021). Comparing the Spanish flu and

COVID-19 pandemics: Lessons to carry forward.

Nursing Forum 2021(56), 350-357.

Sage, M.W. (1995). Pittsburgh plague – 1918. Home

Healthcare Nurse (13)1, 49-54.

Talbot, L.A., Metter, E. J., & King, H. (2021). History of

the military nurse corps and the 1918 influenza

pandemic: Lessons for the 2019 coronavirus

pandemic. Military Medicine (186)1/2, 27-32.

Post note: The Center for Nursing History

at the Foundation of NYS Nurses is interested

in collecting oral histories from nurses on the

front lines, in management, or academia during

the COVID-19 pandemic in order to document

and preserve nurse experiences to inform

future generations. If interested, please contact

Kennedee Blanchard at kblanchard@cfnny.org
---
Burnout Isn't a Badge of Honor;

Balance Is.

Join Us at WellPower where we

believe you deserve more:

Weekends off

Competitive benefits

Scheduling Flexibility

Continuing Education

Relocation bonuses*

Focus on your well-being

We are currently hiring:

Registered Nurses

(RNs & RSNs)

Licensed Practical Nurses (LPNs)

Psychiatric Nurse Practitioners

Certified Medical Assistants

Full-time, part-time and PRN opportunities

are available

TEXT

WELLPOWER

TO 89743 TO

APPLY!

*Relocation bonuses available for Nurses and Nurse Practitioners

About WellPower: We know the pursuit to live, feel and be

well looks different for each person. At WellPower, we

power the pursuit of well-being by supporting and

promoting the vital connection between a person's

mental health and overall well-being. Our nationallyrecognized

services help children, families and adults in

the Denver community create a path to living happier

and healthier lives.