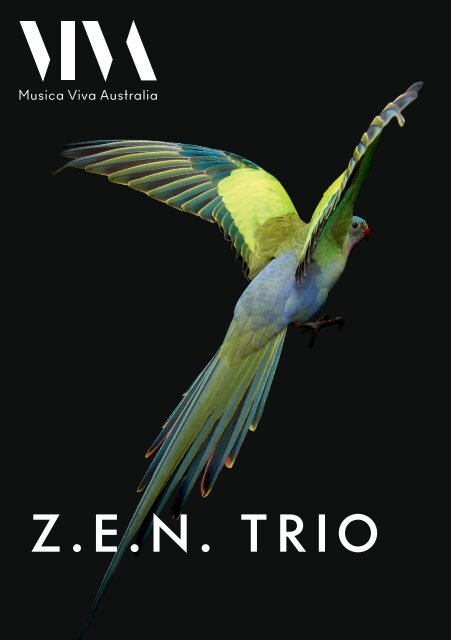 2207-5_JM_ZEN_ProgramGuide_v4_YUMPU
You also want an ePaper? Increase the reach of your titles
YUMPU automatically turns print PDFs into web optimized ePapers that Google loves.
Z.E.N. TRIO
---
2
---
Musica Viva Australia acknowledges the Traditional Custodians of the many lands on which we

meet, work and live. We pay our respects to their Elders past and present – people who have

sung their songs, danced their dances and told their stories on these lands

for thousands of generations, and who continue to do so.

Z.E.N. TRIO

ESTHER YOO

Violin

NAREK HAKHNAZARYAN

Cello

ZHANG ZUO

Piano

ADELAIDE

Adelaide Town Hall

Thursday 25 August, 7.30pm

• Pre-concert talk: 6:45pm,

Prince Alfred Room

• Meet the Artists after the concert

CANBERRA

Llewellyn Hall,

ANU School of Music

Thursday 18 August, 7pm

• Pre-concert talk: 6:15pm,

Larry Sitsky Room

NEWCASTLE

Newcastle City Hall

Saturday 27 August, 7.30pm

• Pre-concert talk: 6:45pm,

Mulubinba Room

• Meet the Artists after the concert

PERTH

Perth Concert Hall

Recorded for broadcast by ABC Classic

Monday 15 August, 7.30pm

• Pre-concert talk: 6:45pm,

Corner Stage Riverside, Terrace Level

|

1

|

MELBOURNE

Elisabeth Murdoch Hall,

Melbourne Recital Centre

Saturday 13 August, 7pm

• Pre-concert talk: 6:15pm,

Salzer Suite, Level 2

• Meet the Artists after the concert

Tuesday 23 August, 7pm

This concert will be livestreamed

• Pre-concert talk: 6:15pm,

Salzer Suite, Level 2

SYDNEY

City Recital Hall

Saturday 20 August, 2pm

• Pre-concert talk, 1:15pm,

Function Room

• Meet the Artists after the concert

Monday 22 August, 7pm

Charles Berg Tribute Concert

• Pre-concert talk, 6:15pm,

Function Room

• CD Signing after the concert

With special thanks to the Australian Music Foundation for their support of this tour,

and to the Producers' Circle and Amadeus Society for their support of the 2022 Concert Season.

Cover photo: Copyright Gary Heery
---
PROGRAM 1

Canberra

Sydney

Melbourne

Adelaide

Thu 18 August, 7pm

Sat 20 August, 2pm

Tue 23 August, 7pm

Thu 25 August, 7:30pm

Johannes BRAHMS (1833–1897)

Piano Trio No. 1 in B Major, Op. 8 (Revised version, 1889)

I Allegro con brio (Fast and spirited) – Tranquillo (Calmly) –

In tempo ma sempre sostenuto (In time but always sustained)

II Scherzo: Allegro molto (Very fast) – Meno allegro (Less fast) –

Tempo primo (At the original tempo)

III Adagio (Slow)

IV Finale: Allegro (Fast)

35 min

INTERVAL

|

2

|

Matthew LAING (b 1988)

Little Cataclysms (2022)

Commissioned for Musica Viva Australia by Graham Lovelock and Steven Singer

World premiere performances

Arno BABAJANIAN (1921–1983)

Trio for Piano, Violin and Cello in F-Sharp Minor (1952)

I

II

III

Largo (Slow and broad) – Allegro espressivo (Fast and expressive)

Andante (Moving along at an easy walking pace)

Allegro vivace (Fast and lively)

12 min

24 min

REGIONAL TOURING

The Z.E.N. Trio will perform at the

Macquarie Conservatorium in Dubbo,

NSW on Wednesday 10 August and in

Hobart Town Hall, Tasmania on

Friday 12 August as part of Musica Viva

Australia's Regional Touring Program.

For further details visit:

musicaviva.com.au/regional
---
PROGRAM 2

Melbourne

Perth

Sydney

Newcastle

Sat 13 August, 7pm

Mon 15 August, 7:30pm

Mon 22 August, 7pm

Sat 27 August, 7:30pm

Arno BABAJANIAN (1921–1983)

Trio for Piano, Violin and Cello in F-Sharp Minor (1952)

I

II

III

Largo (Slow and broad) – Allegro espressivo (Fast and expressive)

Andante (Moving along at an easy walking pace)

Allegro vivace (Fast and lively)

Matthew LAING (b 1988)

Little Cataclysms (2022)

Commissioned for Musica Viva Australia by Graham Lovelock and Steven Singer

World premiere performances

24 min

12 min

INTERVAL

Antonín DVOŘÁK (1841–1904)

Piano Trio No. 4 in E Minor, Op. 90 'Dumky' (1891)

I

II

III

IV

V

VI

Lento maestoso (Slow and majestic) – Allegro vivace (Fast and lively)

Poco adagio (A little slow)

Andante (Moving along at an easy walking pace)

Andante moderato (Moving along at a moderate pace)

Allegro (Fast)

Lento maestoso (Slow and majestic) – Vivace (Lively)

32 min

|

3

|

MASTERCLASSES

The Z.E.N. Trio will present the following

masterclasses as part of this tour:

• Dubbo: Tue 9 August (Zee Zee)

Macquarie Conservatorium

• Perth: Wed 17 August (Narek)

University of Western Australia, Callaway Auditorium

• Sydney: Mon 22 August (Narek)

Conservatorium of Music

Musica Viva Australia's Masterclass

program is supported by:

Nicholas Callinan AO & Elizabeth Callinan

Caroline & Robert Clemente

Ian & Caroline Frazer

The Patricia H Reid Endowment Fund

Andrew Sisson AO & Tracey Sisson

Mick & Margaret Toller

Anonymous (1)

For further details visit: musicaviva.com.au/masterclasses
---
FROM THE ARTISTIC DIRECTOR

One of the most inspiring aspects of working with

young musicians is watching them shift from learning

their instruments and craft, to them realising that

they have an implicit responsibility to repertory from

the last 400 years or more. (Of course, Indigenous

musical traditions in this country go back many

more thousands of years.) Thus it was with the

members of the Z.E.N. Trio, who met as soloists

on the BBC's prestigious New Generation scheme

before recognising that their compatibility and love

of the piano trio repertory made them such natural

collaborators.

|

4

|

© Keith Saunders

Solo repertory requires a different performance

psychology, whether in concerto or in recital; the

economy of the former allows so little time for

meaningful collaboration, while the latter frequently

places the spotlight on the soloist alone, despite

the distinguished associate artist up there on stage.

Chamber repertory demands an entirely equal

partnership, a different way of rehearsing, and often

different performance venues too. My favourite

musicians are those who can do all three with equal

assuredness, which is what makes these three artists

– Zee Zee, Esther and Narek – so compelling in this

great trio repertory.

There is a fourth. Matthew Laing – a lovely violist

in his own right – is fast emerging as one of the

most thoughtful and vibrant compositional voices

in Australia today. Haydn wrote piano trios, though

it took Mozart to balance the voices and establish

a template for the genre into the 19th century and

beyond. Asked to add to this genre, Matthew

has responded with a work of great complexity,

colour and virtuosity, which receives its premiere

on this tour thanks, in part, to the generosity of the

commissioners, Graham Lovelock and Steven Singer.

Paul Kildea

Artistic Director

Musica Viva Australia
---
MEET THE ARTISTS

ESTHER YOO

In an era when technical perfection is a

given, the spotlight inevitably shifts to

interpretation, and Esther Yoo's playing has

been described as 'mesmerising', 'soulful',

'spellbinding', 'intensely lyrical', and 'taking

her audience into an enchanted garden'. She

performs with leading conductors – including

Vladimir Ashkenazy (with whom she and the

Philharmonia Orchestra recorded the Sibelius,

Glazunov and Tchaikovsky concertos for

Deutsche Grammophon), Gustavo Dudamel,

Esa-Pekka Salonen, Thierry Fischer, Karina

Canellakis and Andrew Davis – and orchestras

such as the Los Angeles Philharmonic, BBC

Symphony Orchestra, Seoul Philharmonic,

Deutsche Radio Philharmonie and the

Royal Liverpool Philharmonic. The Royal

Philharmonic Orchestra appointed her as their

inaugural Artist-in-Residence in 2018.

Esther has appeared in recital at the Lincoln

Center and Wigmore Hall, and in 2018

featured prominently on the soundtrack and

accompanying Decca soundtrack recording

of the feature film On Chesil Beach. She has

also performed at a range of prominent

festivals including the BBC Proms and Aspen

Music Festival. The piano trio Z.E.N. (which

she co-founded with fellow former BBC Radio 3

New Generation Artists Zhang Zuo and Narek

Hakhnazaryan) tours widely in North America,

Europe, Asia and Australia.

Esther may be unique among classical soloists

in being fully tri-cultural. She was born and

spent her earliest years in the US, before

receiving her education in Belgium and

Germany, but she always retained her family's

proud Korean heritage. Having authentic roots

in three continents may have contributed to

her versatility and exceptionally broad range

of expression, and was unquestionably a

factor in making her one of the most articulate

and gifted communicators in the field of

classical music.

She began playing the violin at four, and

made her concerto debut aged eight. At 16

she became the youngest prize-winner of the

International Sibelius Violin Competition and

two years later, in 2012, she was one of the

youngest ever priz-ewinners of the Queen

Elisabeth Competition. In 2014 she became a

BBC Radio 3 New Generation Artist and in 2018

Classic FM featured her in their Top 30 Artists

under 30.

NAREK HAKHNAZARYAN

Since winning the Cello First Prize and Gold

Medal at the XIV International Tchaikovsky

Competition in 2011 at the age of 22, Narek

Hakhnazaryan has performed with most

major orchestras and in recital and chamber

music across the globe. He has been praised

as 'dazzlingly brilliant' (The Strad) and

'nothing short of magnificent' (San Francisco

Chronicle); of his Los Angeles Philharmonic

Orchestra debut, the LA Times described his

command of the instrument as 'extraordinary.'

He has appeared with orchestras such as

the London, Chicago, Pittsburgh and Sydney

Symphony Orchestras, the London, Rotterdam,

Czech, Seoul, LA and Royal Stockholm

Philharmonic Orchestras, Tokyo's NHK

Symphony, the Frankfurt Radio Symphony

Orchestra, Berlin Konzerthaus Orchestra,

Estonian National Symphony Orchestra

and Orchestre de Paris. A former BBC New

Generation Artist, he has performed with all

the BBC orchestras and at the BBC Proms. In

2017 the Vienna Konzerthaus invited Narek

|

5

|
---
|

6

|

onto their Great Talent program; during the

two seasons that followed he performed

there regularly in recital, chamber music

and with orchestra, most notably with the

Vienna Symphony. He was the 2020/21 Artist

in Residence at the Finnish Radio Symphony

Orchestra.

Recent recital highlights include performances

with Daniil Trifonov at the Verbier and

Rheingau Festivals, concerts at Carnegie

Hall and Boston's Jordan Hall, a four-concert

residency at London's Wigmore Hall, and a

tour of SE Asia performing the complete Bach

solo cello suites.

Mentored by the late Rostropovich, in 2011

Narek received an Artist Diploma from the

New England Conservatory of Music, where

he studied with Lawrence Lesser. Prior to this

he studied at the Moscow Conservatory and

at the Sayat-Nova School of Music in Yerevan,

Armenia. He was the First Prize winner in

the 2006 Aram Khachaturian International

Competition and the 2008 Young Concert

Artists International Auditions.

Born in Yerevan into a family of musicians,

Narek performs regularly with his brother,

the conductor Tigran Akhnazarian. In 2017 he

was awarded the title of 'Honoured Artist of

Armenia'. He plays the 1707 Joseph Guarneri

cello with bows by François Xavier Tourte and

Benoît Rolland.

ZHANG ZUO

An imaginative and electrifying performer,

Zhang 'Zee Zee' Zuo is unique among

the young generation of pianists. Her

interpretations have been praised as 'taking

us to another reality... bright, expressive

and moving to the extreme' (Belgian

Broadcasting), while her creative maturity has

been hailed as 'a powerful, passionate and

compelling representation of pure artistry'

(Los Angeles Times).

Recent highlights include concerts with the

Estonian National Symphony Orchestra,

the China and Hong Kong Philharmonic

Orchestras and the Philharmonia Orchestra,

as well as the complete piano concertos of

Beethoven and Saint-Saëns with the Shanghai

Symphony Orchestra. She has also appeared

with the BBC Symphony and BBC Philharmonic

Orchestras, the London, Warsaw, Los Angeles

and Royal Liverpool Philharmonic Orchestras,

the San Francisco, Minnesota, Cincinnati

and Seattle Symphony Orchestras, Belgian

National Orchestra, Tonhalle Orchestra

Zurich and Tokyo's NHK Symphony Orchestra,

among others.

She has given recitals at Wigmore Hall and the

Kennedy and Lincoln Centers, and appeared

at Italy's MiTo Festival, the Lucerne Festival, the

Aspen Music Festival and the BBC Proms.

Zee Zee was a BBC New Generation Artist

from 2013 to 2015.

Zee Zee began her musical training in

Germany at the age of five. Upon returning

to her native China, she became one of the
---
most sought-after young artists in the nation,

collaborating with the leading Chinese

orchestras, with whom she retains a close link.

Having completed her piano studies at the

Shenzhen Arts School, Zee Zee was invited

to continue her artistic development at the

Eastman School of Music and the Juilliard

School, where she won the coveted Petschek

Piano Award. She has studied at the Peabody

Institute and continues to receive guidance

from Alfred Brendel.

Zee Zee was the winner of China's first

International Piano Concerto Competition,

the Gina Bachauer International Piano

Competition and the Krainev International

Piano Competition, and a prize-winner at the

2013 Queen Elisabeth Competition. Her first

album, Ravel's Piano Concerto in G and Liszt's

Piano Concerto No. 2 with Paavo Järvi and the

Philharmonia Orchestra, was released in 2019;

a solo album, Journey, featuring works by

Wagner, Schoenberg and Liszt, was released

in May this year.

MATTHEW LAING

Matthew Laing is a freelance composer and

viola player currently based in Melbourne,

Australia. His music, described as 'thought

provoking and unusually beautiful', is

fundamentally driven by an interest in storytelling

through sound, typically around themes

of social connection and environment.

Matthew has been writing music since he

started university, sketching ideas whilst

training to be a viola player, and completing

a Bachelor of Music/Bachelor of Commerce

at the University of Melbourne. Following

a successful participation in the Flinders

Quartet's 2017 composer workshop, his first

big commission, Out of Hibernation, was

premiered by the Quartet in 2019; this led to

an Ian Potter Cultural Trust grant to work on

the quartet with mentoring from Brett Dean in

London and Berlin.

Having participated in the Melbourne

Symphony Orchestra's 2020 Young Composer

program, he was selected as the orchestra's

Young Composer in Residence for 2021,

culminating in the premiere of his bassoon

concerto Of Paradise Lost in July 2022.

Matthew was a recipient of a 2021 Prelude

Residency through the Peggy Glanville-Hicks

Composer House Trust, and is a Musica Viva

Australia FutureMaker for 2021–23.

His work Portrait of Blood, for string quartet

and mezzo-soprano, was performed in

London on a tour by Affinity Quartet and

Lotte Betts-Dean in February 2020. Other

compositional engagements have included

works for the Australian String Quartet, the

Melbourne Chamber Orchestra, Melbourne

Symphony Orchestra, Melbourne Chamber

Players, Wattleseed Ensemble and ANAM.

FURTHER EXPLORATION

The Z.E.N. Trio has released two albums

on the Deutsche Grammophon label.

The first, Brahms & Dvořák Piano Trios,

released in 2017, features sparkling

recordings of Brahms' Piano Trio No. 1

and Dvořák's 'Dumky' Piano Trio, Op. 90.

Burning Through the Cold, released

in 2020, features piano trios by

Babajanian and Shostakovich as well as

arrangements by the Trio of works

by Khachaturian and Rachmaninoff.

The Z.E.N. Trio's discography can be

found on their website: zen-trio.com

Matthew Laing's music has been

performed by artists including the

Melbourne Symphony Orchestra, Flinders

Quartet, Katie Yap and Lily Bryant.

Videos and audio recordings can be

found on his website: mattlaing.com

|

7

|
---
|

8

|

ABOUT THE MUSIC

Brahms's B Major Piano Trio is, paradoxically,

a product of both his youth and his maturity.

He first sketched it out in 1853, and it was

among the draft works which the 20-year-old

composer showed to Schumann when the two

met in September that year. It was published

as Brahms's Opus 8 in 1854. However, over 30

years later in 1889, with the prospect of another

edition of the work going to press, Brahms

thoroughly revised and altered it. Among the

many changes were drastic cuts to all but the

principal thematic material in the first and last

movements; the re-working of entire sections

in the central part of the slow movement;

and further cuts to the development section

and the omission of a fugal episode in the

first movement. If something of the work's

rambling, youthful Romanticism was lost in

the process, along with over a third of its

considerable length, the new version (which

is the one generally in use today) certainly

gained a clearer formal logic. In its new guise,

it loses nothing in comparison with the Clarinet

Trio which Brahms wrote only two years after

the revision, in 1891.

Despite the shortened treatment of subsequent

themes, some 40 bars are spent over the

statement of the first movement's broad

principal theme. Like Schubert in his later

instrumental works, the young Brahms often

chose to open his works with spacious, lyrical

themes. These, though beautiful in themselves,

do not always contain the pithy motifs needed

for tight, concentrated musical argument, and

thus applied to sonata forms inevitably gave

rise to long, leisurely movements. In this case,

however, potential longueurs are cast out by

the sheer verve and enthusiasm of the music,

by a combination of soaring melodies and

ebullient pianism, plainly tailored to Brahms's

own arresting pianistic style. Time after time,

the trio conjures up visions of the burly young

virtuoso, his arms flung wide to the extremes

of the keyboard, revelling in the increasingly

powerful sonorities of the still-evolving

pianoforte.

Even in this early work, many other hallmarks

of the mature Brahmsian style are present:

the energetic Gypsy (Romá)-like rhythms; the

sonorous effect of melodies doubled in thirds

and sixths; a fascination with falling thirds; and

a unique attraction to the lowest registers of

the keyboard. Brahms also reveals a tendency

to darken the mood towards the end of a work.

As early as the Scherzo, the work leaves

B major for B minor, alternating with B major

for the movement's trio section and then for

the slow movement, but finding itself caught up

inextricably in the tonic minor for the finale.

Returning to the second movement, we find

Brahms's first thoughts virtually unchanged by

the 1889 revision, and the young composer's

nationalistic fascination with German folk

culture is still sung to the full in the opening

hunting horn motif. This scrap of rustic melody

is curiously reminiscent, albeit through the

filter of a minor key, of the scherzo theme

from Schubert's Octet; but (written in 1853) it

also points forward, inevitably, to the finale of

Brahms's Horn Trio of 1868.

Another 'ghost', that of Beethoven, is conjured

up in the hymn-like piano writing at the

opening of the Adagio, with full chords

simultaneously high and low in the piano's

register. Moving further into the movement,

the polished surface of the middle sections

gives no hint of the extensive revisions
---
performed upon them, although the finely

wrought chromaticism does perhaps reveal the

defter touch of the older Brahms. In contrast,

the opening of the B minor Finale sounds

very much like the young Brahms's attempt,

in its impetuous, lightly accompanied cello

melody, to pay homage to the much-admired

Schumann (remember, it was drafted just

before the two first met). But here too, it doesn't

take long for the younger composer's vigour

to assert itself, and the final pages are entirely

Brahmsian.

a bit dark, but also because I don't want the

piece to be too prescriptive. Little Cataclysms is

about intimate, personal disasters in miniature

form – like a deep-seeded memory awoken,

reimagined changed or unchanged, then

gone, where the reimagining informs the

memory in the silence that follows.

© MATTHEW LAING 2022

Little Cataclysms was commissioned for Musica Viva

Australia by Graham Lovelock and Steven Singer.

© MUSICA VIVA AUSTRALIA

Arno Babajanian began his musical studies

at seven in a special program for talented

children at the Komitas State Conservatory

in Yerevan. His playing soon caught the

ear of his more famous compatriot, Aram

Khachaturian, who recommended he go to

Moscow to study piano and composition. His

study was interrupted by five years of war, but

in 1946 he returned to Moscow, and in 1950 he

won a prestigious Stalin Prize for his Heroic

Ballad for Piano and Orchestra. This was it, the

official stamp of approval, prompting Dmitri

Shostakovich to write, 'Arno Babajanian is

a great musician gifted with compositional

talent.'

|

9

|

Matthew Laing writes:

Little Cataclysms plays on the idea of scale and

proportion, and a little bit on the melodrama

typical of Romantic-era works, when the piano

trio probably had its greatest era. Piano trios

naturally lend themselves to large-scale works,

so I wanted to try and recreate that, just in

small timeframes, hence the paradox 'Little

Cataclysms'.

Each of these five pieces was initially inspired

by a line from a song or poem, but I've left

these out of the piece, in part because they're

You can hear a heady mixture of musical

influences in his Piano Trio: the emotional rush

and spectacular pianism of Rachmaninoff,

the timbral colours of Glazunov and Rimsky-

Korsakov, and the directness of Shostakovich.

But in spite of his immersion in the Soviet

school of composition, Babajanian's Armenian

identity is at the heart of his music. His long,

yearning melodies, which, to an ear used

to Western harmony, sound like they are

wandering far from home, and his use of crossrhythms

and rapidly changing time signatures

are all part of a rich tradition.

Bartók and Kodály are often cited as the first

ethnomusicologists, collecting and transcribing

traditional Bulgarian and Romani songs at the

start of the 20th century. But a decade before
---
|

10

|

ABOUT THE MUSIC

Bartók there was Komitas, an Armenian priest

and musicologist, collecting and transcribing

Armenian folk songs and Kurdish melodies.

His work was cut short by the genocide inflicted

on Armenia by the Ottoman Empire in 1915, but

his legacy as founder of the Armenian national

school of music lives on.

The Piano Trio in F-Sharp Minor, written in

1952, is shot through with melodies derived

from the traditional folk songs at the heart

of Babajanian's musical upbringing. Sacred

chants, love songs, dances and ballads find

their way into every corner of the trio, from the

opening melody, to the horovel, the song of the

ploughman, the antuni, song of the migrant, to

the kochari dance.

The first movement opens with violin and cello

playing a sombre melody reminiscent of the

sharakan, the liturgical chant of Armenian

Apostolic Church. It has also been identified

as the Armenian folk song Garuna, or

'Springtime'. The theme reappears at key

moments throughout the work in different

guises. Here the hushed, introspective mood

gives way to the theme becoming a Romantic

song, building to a passionate outpouring of

emotion.

The second movement opens with an exquisite,

searching melody, an antuni or migrant's

song, played in the top register of the violin,

accompanied by gentle, rocking chords in

the piano. The floating calm is disrupted by a

more chromatic middle section, interrupted

by an emphatic restatement of our old friend,

'Springtime', before the antuni returns, in all its

fragile beauty.

The third movement leaps into a spirited

kochari, a men's stomping dance full of tricksy

cross-rhythms and changes in meter, ready

to trip up the unwary. The central section

introduces a more sensual mood, although no

let up in the headlong pace, before returning

to the opening kochari, appearing this time

as a foot-tangling fugue. It all comes to a

juddering halt as Babajanian clears the deck

to revisit his opening theme, 'Springtime',

rescored in rich harmony, before a final dance

to the end.

© HARRIET CUNNINGHAM 2022

In 1891 Antonín Dvořák was riding a wave

of international acclaim. He toured to Britain

and Russia for performances of his Eighth

Symphony and Requiem. He was awarded

an honorary doctorate from Cambridge

University, and invited to take up the

directorship of the newly established American

Conservatory of Music in New York.

On 11 April of that same year, on the occasion

of his accepting another honorary doctorate,

this time from Prague's Charles University, he

gave the premiere of his Fourth Piano Trio, the

'Dumky', alongside violinist Ferdinand Lachner

and cellist Hanuš Wihan.

In a letter to his friend Alois Göbl, Dvořák

described the work as 'a little piece for violin,

cello and piano. It will be both happy and sad.

In some places it will be like a melancholic

song, elsewhere like a merry dance; but, all

told, the style will be lighter or, if I might put it

another way, more popular, in short, so that it

will appeal to both higher and lower echelons.'

It was, as he hoped, an instant hit. The

composer went on to perform the work more

than forty times on his farewell tour of Moravia
---
and Bohemia, before leaving to take up his

new post in America. But whatever Dvořák's

stated intentions, the 'Dumky' Trio is far from

'little'. From the high drama of the opening,

to the frantic skitter of the finale, it is an

unconventional and expansive patchwork of

melodies: a substantial farewell gift from an

artist allowing himself a moment's break from

the never-ending pressure to prove himself.

So what is a dumky? Or, rather, a dumka,

the singular version of the word? Dumka

comes from the Ukrainian word for 'thought'

or 'notion'. It also refers to the dumy, an epic

ballad, often the lament of exiles or oppressed

peoples, sung by wandering troubadours

and Slavic story-tellers. The term turns up in

works by Tchaikovsky, Janáček, Chopin, Liszt

and many others, and has, in the process of

classical appropriation, come to mean a work

with quick mood changes, from happy to sad,

fast to slow, major to minor.

Six dumky make up Dvořák's Fourth Piano

Trio, the first three played attacca, without

a break, and the last three played with no

more than a quick pause between them. The

work overflows with invention, but without

formal thematic developments or composerly

techniques. Each theme sits neatly, usually in

an eight-bar phrase, and no matter how florid

or exuberant the accompaniment becomes,

you can almost always hear the tune, intact, in

one of the voices. It's particularly clear in the

first movement where, after a tempestuous

opening flourish, Dvořák's first dumka, his

first idea, is played by the violin alone, before

being picked up by the cello, then, without

warning, transformed into an upbeat dance,

then back to the drama of the opening. Four

seasons in a day.

The second dumka, marked Poco adagio, is

an elegiac melody which slips from minor to

major, and from nostalgia to agitation. The

third, marked Andante, is sung by the piano,

alone, before being passed to the cello, a little

faster, and then the violin, in a new key.

It's not so much a series of variations as a

series of experiments: what would this idea

sound like if we went faster? Slower? In a

higher register? It's like a playground for

sound, but all clearly relating back to the

initial, humble idea.

Dumka no. 4 is a rangy melody overlaid by

an uneasy perpetuo moto (perpetual motion)

while the fifth dumka has a scherzo-esque

mood. The sixth has all the emotions of an

opera in miniature, from its torrid opening,

to a tender love song, to the triumphant close.

© HARRIET CUNNINGHAM 2022

|

11

|
---
INTERVIEW

BY STEPHANIE ESLAKE

|

12

|

Z.E.N. Trio is an international ensemble in

the truest sense of the term: its pianist Zhang

Zuo (Zee Zee) lives in Germany and Hong

Kong, violinist Esther Yoo in South Korea and

the USA, and cellist Narek Hakhnazaryan

in Armenia. Rare is the opportunity for these

players to meet and rehearse in the same

country. Yet when asked what holds them

together despite the distances, their answer is

surprisingly simple: 'Love.'

Zee Zee's statement speaks not only to their

passion for chamber music, but the way

their work is bound by friendship. In coming

together for their Musica Viva Australia tour,

Z.E.N. defies the boundaries of time and

location – navigating online communication,

infrequent rehearsals, and pandemic

restrictions – to honour the role of music in their

professional and personal lives.

'Regardless of how little or how much time

has elapsed in between our meetings, we are

always able to pick up right where we left off,'

Esther shares. 'It is quite easy for us to talk

for hours, so we have to keep track of time –

especially in rehearsals!'

While the musicians can catch up in the

digital world, they restrict their rehearsals to

the physical – and this means that when they

finally come together, they make the most

of it. But Zee Zee confesses the trio will carve

out time to visit restaurants, go shopping,

and watch movies together. They also make

a special effort to attend each other's solo

concerts; each member of Z.E.N. is a virtuosic

soloist in their own right.

Their way of life – supporting individual

success while valuing togetherness – is

reflected in the trio's name. Z.E.N. is an

acronym formed with an initial from each

artist, and a philosophical statement about

their performance style.

'In all aspects, chamber music is a time for

us to put our own egos aside, listen to each

other, and always put the music first,' Esther

says. 'This idea is essential in chamber music –

both in the manner of approaching chamber

music but also in the more practical ways of

communication and teamwork.'

Such sincerity may be one reason behind

the trio's popularity. It's a global success

story that's woven into their MVA program:

the players will perform music by Brahms,

Babajanian, and Dvořák, much of which they

have recorded with Deutsche Grammophon.

'Each piece holds a special place in our hearts,

and brings back memories of touring and

recording,' Esther says.

The Brahms trio (Program 1) was the first

piece they performed when they met through

the BBC New Generation Artist scheme. The

Babajanian trio (Program 2) is an Armenian

work that Narek brought to the ensemble.

'We were immediately blown away by the

brilliance and beauty of this work, and we

are always happy to introduce this piece to

audiences around the world,' Esther says of the

Babajanian.

The tour also paves the way for another big

achievement: it will be the first time Z.E.N. has

premiered a piece of contemporary chamber

music.

Little Cataclysms was composed by Musica

Viva Australia FutureMaker Matt Laing (made

possible through a commission by Graham

Lovelock and Steven Singer). Zee Zee says

the new music delivers high-impact 'drama,

intimacy, and emotions'.
---
'I'm grateful to have this opportunity to explore

new ways of learning and expressing music. It

has been challenging but rewarding!' Zee Zee

says.

It might be cheeky to suggest the challenge

was intentional – but the composer does

acknowledge one thing: he didn't go easy on

the players. And that's because he knew what

they would be capable of.

'I felt I had great freedom to write whatever

came to mind. It's made the piece quite

demanding – but I know they'll do a great job

of it!' Matt says. The result is a collection of five

small pieces that capture the grand scale of

traditional piano trio repertoire.

'I like to think the piece plays to that Romantic

aesthetic the Z.E.N.s do so well, but with a

more contemporary harmonic language,' the

composer explains.

Matt develops his musical voice through the

prestigious FutureMaker initiative, which has

nurtured outstanding early career artists,

from pianist Aura Go to chamber ensemble

Arcadia Winds among others. Matt – who also

performs as a freelance viola with Australia's

top ensembles and orchestras – says the

commissioning of local music is 'absolutely

critical to the continuation of our art form'.

'It acts as a reflection of our time, and

contextualises more traditional repertoire,'

he says. 'Trusting in composers and creatives

with new ideas and concepts opens us up to

new possibilities around what a work might

be, which I think is really exciting… That

Musica Viva Australia is so mobile and has a

uniquely national profile makes it the perfect

organisation to lead in this space.'

Esther too finds an 'exhilarating sense of

freedom' in working with music we are all yet

to hear.

'Matt has been very supportive and open

to discussions with us,' she says of the

collaboration. 'We have all been enthusiastic

about working with each other since the idea

of incorporating a new commission piece into

the tour was first brought up.'

Esther, Zee Zee, and Narek have crossed

many borders to perform this music on

Australian stages – and it will be the first time

the friends have come together since 2019,

when the pandemic began to take hold.

'It will be a very significant moment for us,'

Esther says. 'We are so excited to be a part

of Musica Viva's season, and grateful for the

opportunity to tour all across Australia.'

|

13

|
---
Amadeus

Society

Musica Viva Australia's Amadeus Society is

a small philanthropic circle of passionate music

lovers who help us to realise our bold artistic vision

and bring acclaimed international and local artists

to our stages throughout the country.

Since 2007, the Amadeus Society has enabled

Musica Viva Australia to further extraordinary

artistic initiatives and in 2022 will continue to do

so by celebrating the wealth and diversity of

Australian musical talent.

Annual membership of the Society includes

intimate private house concerts with our

mainstage artists, currently held in

Melbourne and Sydney.

If you are interested in joining the Amadeus Society or would like more information please contact:

SYDNEY

Caroline Davis, Individual Giving Manager

02 8394 6636 | cdavis@musicaviva.com.au

MELBOURNE

Susan Eldridge, Senior Development Manager

03 9645 5092 | seldridge@musicaviva.com.au
---
AVI AVITAL &

GIOVANNI SOLLIMA

Take an intriguing musical journey around the Mediterranean,

with a brilliant mandolinist and a spectacular cellist as your guides.

musicaviva.com.au/avital-sollima

1800 688 482

NATIONAL TOUR

19 SEP–10 OCT

This tour is generously supported by Eleanore Goodridge OAM
---
Experience Wonder. Full.

Ovolo Nishi

ovolohotels.com

CELEBRATING MORE THAN

35 YEARS OF PIANO EXCELLENCE

PROUD PARTNER

&

PIANO TECHNICIANS

OF CHOICE

themeandvariations.com.au

SALES | TUNING | REPAIRS | RESTORATIONS | HIRE | TUITION
---
PATRONS

CUSTODIANS

ACT Geoffrey & Margaret Brennan, Clive & Lynlea Rodger,

Ruth Weaver, Anonymous (4)

NSW Jennifer Bott AO, Catherine Brown-Watt PSM & Derek

Watt, Lloyd & Mary Jo Capps AM, Andrew & Felicity Corkill,

Peter Cudlipp, Liz Gee, Suzanne Gleeson, David & Christine

Hartgill, Annie Hawker, Elaine Lindsay, Trevor Noffke,

Dr David Schwartz, Ruth Spence-Stone, Mary Vallentine AO,

Deirdre Nagle Whitford, Richard Wilkins, Kim Williams AM,

Megan & Bill Williamson, Ray Wilson OAM, Anonymous (12)

QLD Anonymous (2)

SA Monica Hanusiak-Klavins & Martin Klavins,

Anonymous (5)

TAS

Kim Paterson QC, Anonymous

VIC Elizabeth & Anthony Brookes, Julian Burnside AO QC,

Ms Helen Dick, Robert Gibbs & Tony Wildman,

Helen Vorrath, Anonymous (8)

WA Graham Lovelock, Anonymous (4)

LEGACY DONORS

NSW The late Charles Berg, The late Janette Hamilton,

The late Dr Ralph Hockin in memory of Mabel Hockin,

The late Kenneth W Tribe AC, Anonymous

QLD

The late Steven Kinston, Anonymous

SA The late Edith Dubsky, The late John Lane Koch,

The late Lesley Lynn

VIC The late Raymond Brooks, In memory of Anita

Morawetz, The family of the late Paul Morawetz,

The late Dr G D Watson

ENSEMBLE PATRONS

Our artistic vision for 2022 is made possible thanks to the

extraordinary generosity of our Ensemble Patrons, each of

whom supports the presentation of an entire national tour

for our 2022 Season.

Ian Dickson AM & Reg Holloway (Van Diemen's Band)

Anonymous (Paul Grabowsky & Andrea Lam)

Peter Griffin AM & Terry Swann, Susie Dickson,

and Ms Felicity Rourke & Justice François Kunc

as part of The Travellers – Giving Circle

(A Winter's Journey)

Australian Music Foundation (Z.E.N. Trio)

Eleanore Goodridge OAM

(Avi Avital & Giovanni Sollima)

CONCERT CHAMPIONS

Adelaide Helen Bennetts & Tim Lloyd, Joan & Ivan

Blanchard, Helen Fulcher, The late Lesley Lynn,

Dr Susan Marsden & Michael Szwarcbord, Leonie Schmidt

& Michael Davis, Anonymous (2)

Brisbane Ian & Cass George, Andrew & Kate Lister, Barry

& Diana Moore, The Hon Justice A Philippides, Anonymous

Canberra The Musica Viva Australia ACT Committee

& Ruth Weaver, Andrew Blanckensee Music Lover,

Humphries Family Trust, Malcolm Gillies & David Pear in

memory of Stewart Gillies, Dr Sue Packer, Sue Terry

& Len Whyte, Anonymous

Melbourne Alexandra Clemens, Continuo Collective,

Peter Griffin AM & Terry Swann, Monica Lim & Konfir Kabo,

Peter Lovell, Rosemary & John MacLeod, The Morawetz

Family in memory of Paul Morawetz, Allan Myers QC AC in

honour of the 90th birthday of Barry Jones AC, Greg Shalit

& Miriam Faine (2), Dr Michael Troy, The Musica Viva

Australia Victorian Committee, Anonymous

Newcastle Megan & Bill Williamson, Gay Bookallil and

the Musica Viva Australia Newcastle Committee

Perth Dr Robert Larbalestier AO, Deborah Lehmann AO

& Michael Alpers AO, In memory of Stephanie Quinlan

(2), David Wallace & Jamelia Gubgub, Valerie & Michael

Wishart

Sydney Patricia Crummer, Pam Cudlipp, Dr Jennifer

Donald & Mr Stephen Burford, Charles Graham – in

acknowledgement of his piano teacher, Sana Chia,

Katherine & Reg Grinberg, Anthony Strachan, Kay Vernon,

Kim Williams AM & Catherine Dovey (2), Ray Wilson OAM

PRODUCERS' CIRCLE

Darin Cooper Foundation, Stephen & Michele Johns

AMADEUS SOCIETY

Tony Berg AM & Carol Berg, Marc Besen AC & Eva Besen

AO dec., Ms Jan Bowen AM, Tom Breen & Rachael Kohn AO,

Dr Di Bresciani OAM, Julian Burnside AO QC (President,

Melbourne) & Kate Durham, Dr Helen Ferguson,

Ms Annabella Fletcher, Dr Annette Gero, Peter Griffin AM &

Terry Swann, Katherine & Reg Grinberg, Jennifer Hershon

& Russell Black, Penelope Hughes, Dr Alastair Jackson AM,

Michael & Frederique Katz, Ruth Magid & Bob Magid OAM,

Prof. John Rickard, Andrew Rosenberg, Ray Wilson OAM

|

17

|
---
|

18

|

MASTERCLASSES

GIVING CIRCLE

The Masterclasses Giving Circle is a group of generous

donors whose collective support will enable the artistic

development of the next generation of Australian

chamber musicians.

Nicholas Callinan AO & Elizabeth Callinan, Caroline &

Robert Clemente, Ian & Caroline Frazer, Patricia H. Reid

Endowment Fund, Andrew Sisson AO & Tracey Sisson,

Mick & Margaret Toller, Anonymous (1)

COMMISSIONS

Musica Viva Australia is proud to support the creation

of new Australian works through The Ken Tribe Fund

for Australian Composition and The Hildegard Project.

We are grateful to the following individuals and

collectives for their generous support of this work:

In loving memory of Jennifer Bates, Julian Burnside AO QC

& Kate Durham, The Barry Jones Birthday Commission,

Michael & Fréderique Katz in honour of Cecily Katz,

Graham Lovelock & Steve Singer, D R & K M Magarey,

Vicki Olsson, The Silo Collective, Tribe family in honour of

Doug Tribe's 75th birthday

The Barry Jones Birthday Commission ($500+)

Steve Bracks AC & Terry Bracks AM, Dr George Deutsch

OAM & Kathy Deutsch, Carrillo Gantner AC & Ziyin Gantner,

Professor Margaret Gardner AC & Professor Glyn Davis AC,

Naomi & George Golvan QC, Hon David Harper AM, Ellen

Koshland & James McCaughey, Miles Lewis, Barry McGaw,

Jeannette McHugh, Fiona McLeod AO SC, Peter & Ruth

McMullin, Julie & Ian Macphee, peckvonhartel architects,

Anne & Robert Richter QC, Gianna Rosica, Joy Selby Smith,

Maureen & Tony Wheeler, Lyn Williams, Dr Robyn Williams

AO, Bob, Robyn, Annie & Nick, Anonymous (3)

We thank all our audience members

who donated the value of their

cancelled tickets towards the Artist Fund

and sincerely appreciate the generous

support we receive from our incredible

community.

We encourage you to scan the QR code

to see a full list of donors over $500 to

Musica Viva Australia.

MAJOR GIFTS

$100,000+

NSW The Berg Family Foundation,

Patricia H. Reid Endowment Fund

$50,000–$99,999

ACT Marion & Michael Newman

NSW J A Donald Family, Katherine Grinberg,

Tom & Elisabeth Karplus

$20,000–$49,999

NSW Tom Breen & Rachael Kohn AO, Ian Dickson AM

& Reg Holloway, Michael & Fréderique Katz, Vicki Olsson

QLD

Ian & Caroline Frazer, Andrea & Malcolm Hall-Brown

VIC The Morawetz Family in memory of Paul Morawetz,

Anonymous

WA

Anonymous

$10,000–$19,999

ACT R & V Hillman, Anonymous

NSW Anne & Terrey Arcus AM, Gardos Family,

Gresham Partners, Hilmer Family Endowment,

Nigel & Carol Price, Anthony Strachan

QLD

SA

Anonymous

Jennifer & John Henshall, Anonymous

VIC Roger Druce & Jane Bentley, Peter Griffin AM

& Terry Swan, Mercer Family Foundation, Monica Lim &

Konfir Kabo, Marjorie Nicholas AM, Anonymous

WA Team Legacy, Deborah Lehmann AO

& Michael Alpers AO

$5,000–$9,999

ACT Goodwin Crace Concertgoers, Craig Reynolds,

Sue Terry & Len Whyte

NSW Christine Bishop, Patricia Crummer,

Jo & Barry Daffron, Sarah & Tony Falzarano, Liz Gee,

Iphygenia Kallinikos, Mrs W G Keighley,

D R & K M Magarey, Hywel Sims, David & Carole Singer,

Diane Sturrock, Kim Williams AM & Catherine Dovey

QLD

Andrew & Kate Lister, The Hon Justice A Philippides

SA Aldridge Family Endowment, Galina Podgoretsky in

memory of Rodney Crewther, Anonymous

VIC In memory of Kate Boyce, Dr Di Bresciani OAM

& Lino Bresciani, Alastair & Sue Campbell, Alexandra

Clemens, Robert Gibbs & Tony Wildman, Doug Hooley,

Andrew Johnston, Greg Shalit & Miriam Faine,

Stephen Shanasy, Anonymous

WA Anonymous (2)
---
ANNUAL GIVING

$2,500–$4,999

ACT Kristin van Brunschot & John Holliday,

Dr Andrew Singer, Ruth Weaver, Anonymous

NSW Penny Beran, Susan Burns, ADFAS Newcastle,

Andrew Rosenberg, Jo Strutt

QLD

Greyhound Australia

SA DJ & EM Bleby, Peter Clifton, Ms Judy Potter

& Dr George Potter

VIC Jan Begg, Anne Frankenberg & Adrian McEniery,

Lyndsey & Peter Hawkins, Ralph & Ruth Renard, Maria Sola,

Helen Vorrath, Lyn Williams, Igor Zambelli

WA David Cooke, Ros Kesteven, Zoe Lenard &

Hamish Milne, Mrs Morrell, Anonymous

$1,000–$2,499

ACT The Breen/Dullo Family, Dudley & Helen Creagh,

Martin Dolan, Liz & Alex Furman, Olivia Gesini, Malcolm

Gillies AM, Kingsley Herbert, Margaret & Peter Janssens,

Garth Mansfield, Teresa Neeman, Margaret Oates,

S Packer, Clive & Lynlea Rodger, Hannah Semler,

Anonymous (3)

NSW Judith Allen, David & Rae Allen, Maia Ambegaokar

& Joshua Bishop, Dr Warwick Anderson, Stephen Booth,

Vicki Brooke, Neil Burns, Hugh & Hilary Cairns, Hon J C

Campbell QC & Mrs Campbell, Lloyd & Mary Jo Capps AM,

Robin & Wendy Cumming, Thomas Dent, Nancy Fox AM &

Bruce Arnold, John & Irene Garran, H2 Cairns Foundation,

Annie Hawker, Robert & Lindy Henderson, Margaret Hicks,

Lybus Hillman, Dr Ailsa Hocking & Dr Bernard Williams,

Dorothy Hoddinott AO, Catharine & Robert Kench, Kevin

& Deidre McCann, Arthur & Elfreda Marshall, Dr Dennis

Mather & John Studdert, Michael & Janet Neustein, Paul

O'Donnell, In memory of Katherine Robertson, Peter &

Heather Roland, Ms Vivienne Sharpe, Dr Robyn Smiles,

Tom & Dalia Stanley, Geoff Stearn, Richard & Beverley

Taperell, Graham & Judy Tribe, Mary Vallentine AO,

Dr Elizabeth Watson, John & Flora Weickhardt, Richard

Wilkins, Megan & Bill Williamson, Anonymous (8)

QLD George Booker & Denise Bond, Prof. Paul & Ann

Crook, John & Denise Elkins, Robin Harvey, Lynn & John

Kelly, Dr Helen Kerr & Dr John Ratcliffe, Jocelyn Luck, Barry

& Diana Moore, Keith Moore, Debra & Patrick Mullins,

Barbara Williams & Jankees van der Have, Anonymous

SA The late Peter Bailie & Ann-Maree O'Connor,

Ivan & Joan Blanchard, Richard Blomfield, Max & Ionie

Brennan, John & Libby Clapp, The Hon. Christopher Legoe

AO QC & Mrs Jenny Legoe, Joan Lyons, Fiona MacLachlan

OAM, Dr Leo Mahar, Ann & David Matison, Diane Myers,

H & I Pollard, Trish & Richard Ryan AO, Anne Sutcliffe,

Anonymous

VIC Joanna Baevski, Russ & Jacqui Bate, Marlyn Bancroft,

Peter Burch AM BM, Alison & John Cameron, Alex &

Elizabeth Chernov, Lord Ebury, Virginia Henry, Dr Anthea

Hyslop, Helen Imber, John V Kaufman QC, Angela Kayser,

Angela & Richard Kirsner, Ann Lahore, Janet McDonald,

Ruth McNair AM & Rhonda Brown in memory of Patricia

Begg & David McNair, June K Marks, Christopher Menz &

Peter Rose, Traudl Moon OAM, Mr Baillieu Myer AC, The

Myer Foundation, Sir Gustav Nossal, Barry Robbins, Murray

Sandland, Darren Taylor & Kent Stringer, Wendy R. Taylor,

Ray Turner & Jennifer Seabrook, Dr Victor Wayne &

Dr Karen Wayne OAM, Mark & Anna Yates, Anonymous

WA David & Minnette Ambrose, Dr S Cherian, Michael &

Wendy Davis, In memory of Raymond Dudley, Helen Dwyer,

Dr Penny Herbert in memory of Dunstan Herbert, Anne Last

& Steve Scudamore, Zoe Lenard & Hamish Milne, Hugh

& Margaret Lydon, Olivier David & Dr Bennie Ng Mandy

Loton OAM, Marian Magee & David Castillo, John Overton,

Margaret & Roger Seares, Vivienne Stewart, Elizabeth

Syme, Robyn Tamke, Anonymous (3)

$500–$999

ACT Geoffrey & Margaret Brennan, Christopher Clarke,

Peter Cumines, Jill Fleming, Robert Hefner, Mary Elspeth

Humphries, Claudia Hyles OAM, Margaret Lovell & Grant

Webeck, Margaret Millard, Dr Louise Moran, Robert Orr,

Helen Rankin, Dr Douglas Sturkey CVO AM, Joan ten

Brummelaar, Dr Paul & Dr Lel Whitbread, Anonymous (1)

NSW Jock Baird in memoriam Annette McClure, Barbara

Brady, K Becker, Denise Braggett, Alexandra Bune AM,

Christopher & Margaret Burrell, Robert Cahill & Anne Cahill

OAM, Lucia Cascone, Michael & Colleen Chesterman,

Zoë Cobden-Jewitt & Peter Jewitt, Rhonwen Cuningham,

Trish & John Curotta, Professor Zoltan Endre, Dr Arno Enno

& Dr Anna Enno, Bronwyn Evans, Anthony Gregg, Roland

& Margaret Hicks, David & Sarah Howell, Alicia Howlett,

David & Jennifer Jacobs, Megan Jones, In honour of Michael

Katz, Cynthia Kaye, K P Kemp, Mathilde Kearny-Kibble,

Bruce Lane, Graham & Sue Lane, Olive Lawson,

Dr Colin MacArthur, Ian & Pam McGaw, Laura McDonald,

Dr V Jean McPherson, Robert McDougall, Alan & Rosemary

Moore, Margot Morgan, Donald Nairn, Professors Robin &

Tina Offler, Kim & Margie Ostinga, Christina Pender,

Dr John Rogers, Penny Rogers, Peter & Heather Roland,

Dr Lynette Schaverien, Professor Lynne Selwood,

Andrew Wells AM, Anonymous (13)

QLD Geoffrey Beames, Janet Franklin, Prof Robert

G Gilbert, Marie Isackson, M F Lejeune, Diana Lungren,

Timothy Matthies & Chris Bonnily, Anthony Simmonds,

Jianxin Zhao & Faye Liu, Anonymous (3)

SA Lesley Haas-Baker, Terence & Caroline Donald,

Daniel & Susan Hains, Elizabeth Ho OAM in honour of the

late Tom Steel, Dr Iwan Jensen, Helga Linnert & Douglas

Ransom, Ruth Marshall & Tim Muecke, Linda Sampson, Tony

Seymour, Anonymous (5)

TAS

Anonymous

VIC David Bernshaw & Caroline Isakow, Helen Brack,

Pam Caldwell, Elise Callander, John & Chris Collingwood,

John & Mandy Collins, Ted & Alison Davies, Beverley

Douglas, Professor Denise Grocke AO, Mary-Jane Gething,

Alan Gunther, John & Margaret Harrison, Irene Kearsey &

Michael Ridley, Jane Lazarevic, Greg J Reinhardt AM,

Eda Ritchie AM, Maureen Turner, Pera Wells, Anonymous (8)

WA Fiona Campbell, Joan Carney, Fred & Angela

Chaney, Rachel & Bruce Craven, Helen Dwyer, Jennifer

L Jones, Paula Nathan AO & Yvonne Patterson, Lindsay

& Suzanne Silbert, Ruth Stratton, Christopher Tyler,

Anonymous (7)

|

19

|
---
CONCERT PARTNERS

Perth Concert Series Sydney Morning Masters Series Commissioning Partner

Legal

Chartered Accountants

Piano & Tuning

Media Partner

Wine Partners

Hotel Partners

|

20

|

ARTIST DEVELOPMENT PARTNERS

Strike A Chord

Principal Partner

Strike A Chord

Strategic Partners

Strike A Chord

University Partner

Strike A Chord

Key Philanthropic Partner

Strike A Chord

FutureMakers

Lead Partner

FutureMakers

Residency Partner

FutureMakers

Key Philanthropic Partner

GOVERNMENT PARTNERS

Musica Viva Australia is assisted by the

Commonwealth Government through the

Australia Council, its arts funding and advisory body.

Musica Viva Australia

is supported by the

NSW Government

through Create NSW.

Musica Viva Australia is a

Not-for-profit Organisation endorsed

by the Australian Taxation Office

as a Deductible Gift Recipient and

registered with the Australian

Charities and Not-for-profits

Commission (ACNC).
---
EDUCATION PARTNERS

National

Marion & Mike Newman

WA

• Legacy Unit Trust

NSW

• Mary Henderson Music Trust

VIC

• Godfrey Turner Memorial Music Trust

Western Sydney & Melbourne

|

21

|

• The Benjamin Fund • The Marion & E.H. Flack Trust

• In memory of Anita Morawetz • Keith McKenzie Will Trust

SA

• Aldridge Family Endowment • Carthew Foundation • Day Family Foundation

• FWH Foundation • Jennifer & John Henshall • Lang Foundation • Marsden Szwarcbord Foundation

ACT

NT

QLD

Perpetual Foundation –

Alan (AGL) Shaw

Endowment

Perpetual Foundation –

Alan (AGL) Shaw

Endowment
---
SIGNUM

SAXOPHONE QUARTET

& KRISTIAN WINTHER

Europe's favourite saxophone quartet join violinist Kristian Winther for a ripper program

including a brand-new arrangement of Kurt Weill's daredevil violin concerto.

musicaviva.com.au/signum-winther

1800 688 482

NATIONAL TOUR

6–24 NOVEMBER
---
STORIES TO INSPIRE

BY REMI HARVEY

KEVIN'S JOURNEY TO APY LANDS

Kevin Tuck is a Musica Viva Australia artist,

part of the ensemble Rhythm Works, a dynamic

percussion duo who perform as part of our

Musica Viva Australia In Schools program.

Kevin speaks fondly about his career as a

musician and what it's like playing for children:

'Playing for kids gives me such great joy,

they give great, instant feedback.

When you play for adults, they can sort

of be very reserved in their feedback.

Kids, you know straight away.'

Last year, Kevin was excited to be travelling

to Amata in the Anangu Pitjantjatjara

Yankunytjatjara (APY) Lands in northern South

Australia, to share music with the children of

Amata Anangu School, thanks to the financial

support of our donors, the Gardos Family.

Amata is a small town with a population of

around 455 people, situated 40km south of the

Northern Territory border and 110km south of

Uluru. With a goal of fostering connection and

involving the children in creating new music,

Kevin wanted to learn and incorporate the

percussive rhythms of Pitjantjatjara words to

create fun musical exercises for the children to

play on drums, buckets and other percussion.

Workshops were held throughout the day with

students of all ages, from pre-school to senior

year.

The children were nervous but curious when

attending the workshops. Kevin worked to

build trust through games and fun activities

such as body percussion. After working to

build the confidence of the participants in

the second workshop group of the day, the

group taught Kevin his first Pitjantjatjara

word – Uwa! meaning 'Yes!' Other words

were then suggested by the now excited group

of children, and the group decided upon

Ngintaka, meaning 'goanna'. Drumming

rhythms were then composed by the group to

represent these words.

After working with four different age groups,

the school community came together for a

small concert to celebrate the work they had

achieved with Kevin throughout the day.

The shy but smiling and laughing students

performed the rhythms they created together,

as well as a few drum solos thrown in for good

measure. It was clear that through this new

experience, confidence was built over their

time with Kevin, who felt moved by the final

performance at the end of the day.

'I thought if I can show that being

involved with something, doing something

and playing some music is a lot of fun,

then they're going to come along with me.

So that's what I tried to do.'

Thanks to the work of our wonderful Musica

Viva Australia In Schools artists like Kevin,

and communities like Amata, we can bring

experiences to children in many different

communities all over Australia such as APY

Lands.

Access to these great education programs

can be difficult in some parts of Australia,

particularly in remote or low socio-economic

areas. With the help of those generous donors

who give to our Equal Music Fund, children

are given subsidised access to these programs

and exposure to music at a young age,

helping to foster not only a life-long love and

engagement with music but also promoting

their creativity, self-worth, confidence and joy.

This journey to APY Lands was supported by

The Gardos Family and our Equal Music program.

If you would like to be part of this generous

group of donors, please get in contact with

Caroline Davis, our Individual Giving Manager:

cdavis@musicaviva.com.au

|

23

|
---
Tribute

The concert in Sydney on Monday 22 August commemorates

Charles J Berg's contribution to the development of Musica Viva Australia.

CHARLES BERG AM OBE (1917–1988)

In loving memory

|

24

|

No history of Musica Viva Australia could

be written without paying tribute to a man

whose enthusiasm for chamber music was

unbounded, and who worked tenaciously to

see it grow and flourish in Australia – the late

Charles J Berg AM OBE.

Charles Berg was born in Berlin in 1917, son of

an orchestral conductor who was a champion

of the works of Richard Strauss and Alban

Berg. Charles studied violin, piano and

composition, developing a deep love of music

from an early age. A growing tide of antisemitism,

however, became an overwhelming

influence in his teenage years, and he was

forced to leave his studies at the age of 16 to

undertake an accountancy apprenticeship

in Berlin with a heavy industry firm owned

by a Jewish family. It was this that took him

to London in 1937, where he became fluent in

English.

In September 1937, Charles Berg came to

Australia with £200: £50 of his own and £150

borrowed. After a short period in Melbourne

he went to Sydney where he decided to stay,

selling his beloved violin for £30 to help

finance his new life. While working full time

he studied accountancy at night, and he

established his own accountancy practice

in 1945.

On 8 December 1945, Charles attended the

first Musica Viva Australia concert at the NSW

Conservatorium, never dreaming (he admitted

later) that he would be involved with the

organisation for so much of his life. Two years

later he joined the Committee of the fledgling

organisation.

Difficult economic circumstances forced the

organisation into recess from 1951 to 1954, in

which year Charles and a number of his local

colleagues (including Musica Viva Australia's

former Patron, the late Kenneth Tribe) each

gave £100 as a guarantee against loss to

reinstate chamber music presentations by

visiting overseas artists. Charles acted as

Committee Secretary, keeping a watchful

eye on finances as the organisation began to

thrive again.

Musica Viva Australia branches were quickly

established by enthusiastic volunteers

in Melbourne and Adelaide, and the

organisation's impressive national network

began to grow. It did so under Charles Berg's

watchful, often conservative (but never timid)

direction. He was President of the Musica Viva

Society from 1962.

In 1973, Charles stepped down from his

Musica Viva Austalia office to take up another

arts challenge – the Chairmanship of The

Australian Opera (now Opera Australia),

which he took up in 1974. He served with

great personal commitment in that voluntary

capacity for a record 12 years, weathering with

grace the often tumultuous upheavals inherent

in any artistic organisation's growth to depth

and maturity.

Throughout his years at the Opera, and after

his retirement as Chairman, Charles continued

to exhibit a keen interest in, and concern for,

Musica Viva Australia. His death in 1988 was

a loss not only to Musica Viva Australia, but to

the Australian arts community as a whole.

Charles Berg's son, Tony Berg AM, was

Chairman of Musica Viva Australia from 1986

to 1999 and is now the organisation's Patron.
---
GRAND FINAL: 27 AUGUST 2022

AT MELBOURNE RECITAL CENTRE

musicaviva.com.au/strikeachord

Principal Partner Strategic Partners

Philanthropic Partner University Partner
---
As Australia's flagship music education and non-profit

touring company, we continuously strive to provide more

for all music lovers – more music education and teacher

professional development opportunities to help feed

young imaginations everywhere; more exceptional artists

on stage performing on metropolitan and regional stages

and online to bring audiences together across the country;

and more creative projects to promote a continuously

evolving and vibrant music sector.

Help us to continue to keep doing more so that everyone,

regardless of age, location or circumstance, can access

and share the very best live music.

musicaviva.com.au/donate

For more information contact our Individual Giving Manager:

Caroline Davis, cdavis@musicaviva.com.au