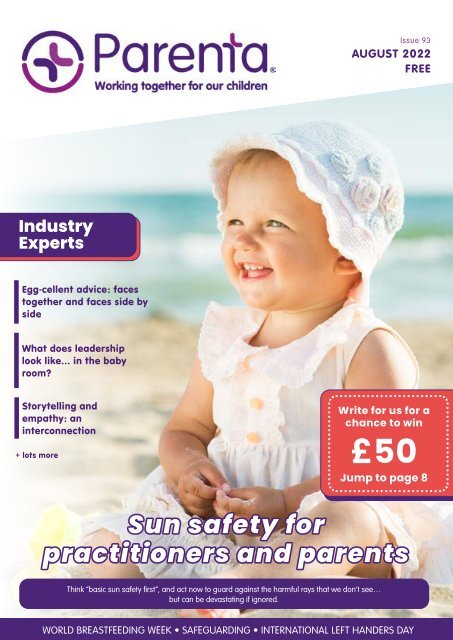 August 2022 Parenta magazine
You also want an ePaper? Increase the reach of your titles
YUMPU automatically turns print PDFs into web optimized ePapers that Google loves.
Issue 93

AUGUST 2022

FREE

Industry

Experts

Egg-cellent advice: faces

together and faces side by

side

COVER

What does leadership

look like... in the baby

room?

Storytelling and

empathy: an

interconnection

+ lots more

Write for us for a

chance to win

£50

Jump to page 8

Sun safety for

practitioners and parents

Think "basic sun safety first", and act now to guard against the harmful rays that we don't see…

but can be devastating if ignored.

WORLD BREASTFEEDING WEEK • SAFEGUARDING • INTERNATIONAL LEFT HANDERS DAY
---
hello

welcome to our family

Hello and welcome to the July edition of the Parenta magazine!

As we look ahead to another few weeks of (unusually!) good weather before the new Autumn term, we are

continuing our summer-themed advice this month with more sun safety tips for practitioners and parents,

including what to do in the event of sun stroke and heat exhaustion, both of which we have seen happen this

year in these exceptional temperatures. We have more no-cost holiday activities which you can also share with

parents, and Frances Turnbull continues her outdoor early years music ideas which will have the children (and

staff alike) singing at the top of their voices!

A topic that we cover regularly in Parenta magazine is safeguarding and this month, we focus on the sensitive topic of supporting our

colleagues should they need to disclose a form of abuse. This can be a difficult time for all those involved, so we have set out a number of

steps which you can do to help support those colleagues.

We have a packed edition for you this month, with so many articles from our industry experts: Joanna Grace concludes her series of 10

'Egg-cellent Advice' articles and explores neurodivergent communication using our faces, Sandra Duncan shows us how we can improve

the children's view, through effective wayfinding in the setting, and in a similar vein, Gina Bale gives us some great insight into children's

spatial awareness. Mona Sakr continues her series – looking at how baby room leaders can use their leadership skills best, Helen

Lumgair explores the interconnection between storytelling and empathy and continuing with that theme, Kathryn Peckham looks at how

we can help children connect with and manage their emotions.

Everything you read in the magazine is written to help with the efficient running of your setting, and to promote the health, happiness and

well-being of the children in your care.

Please feel free to share the magazine with friends, parents and colleagues – they can sign up to receive their own copy here.

Allan

AUGUST 2022 ISSUE 93

IN THIS EDITION

Regulars

8 Write for us for the chance to win £50!

34 Paper plate masks

40 Mini bagel pizzas

News

4 Childcare news and views

6 Small stories

39 Congratulations to our Parenta

learners!

Advice

10 World Breastfeeding Week

20 International Left-Handers Day

22 Safeguarding: supporting staff

disclosures

30 Summer holiday activities that don't cost

anything

32 Sun safety for practitioners and parents

36 Look out!

World Breastfeeding Week 10

International Left-Handers Day 20

12

Egg-cellent

advice: faces

together and

faces side by side

The face can be an essential

part of the early years

communication...

View beneath

their feet

14

The view beneath children's

feet sends important

wayfinding messages about

how to move about the

classroom environment...

What does leadership

look like when...

18

While research on leadership in early

years education has grown recently, there

is still little that focuses on understanding

leadership in the baby room of nurseries...

Industry Experts

12 Egg-cellent advice: faces together and

faces side by side

14 View beneath their feet

18 What does leadership look like...

in the baby room?

24 Story telling and empathy: an

interconnection

26 Feeling our emotions

28 Singing in the sunshine: taking early

years music outdoors

Summer holiday activities that don't cost anything 30

Look out! 36
---
New Children's and Families

Minister appointed

Brendan Clarke-Smith, the MP for

Bassetlaw in Nottinghamshire, has

been appointed the new Children and

Families Minister, with a remit which

includes early years and childcare.

He was appointed to the Department

for Education (DfE), alongside Andrea

Jenkyns, MP for Morley and Outwood,

and will be working with James

Cleverly who was appointed Education

Secretary on Thursday, following

Michelle Donelan's resignation.

Mr Clarke-Smith posted on Twitter

that he was excited to join the DfE as

Children and Families Minister.

He said: "Together we'll take forward

ambitious plans to tackle the cost of

childcare, support social workers, and

protect children across the country."

Both the Early Years Alliance and the

National Day Nurseries Association

(NDNA) have welcomed Mr Clarke-

Smith into his new role and have

publicly said that they hope that

his priorities will focus on the early

years "funding crisis" and "sustained

recruitment and retention" rather than

"pursuing plans" to relax ratios for twoyear-olds.

Neil Leitch, chief executive of the

Early Years Alliance, said: "There's no

doubt that he joins at an extremely

challenging time for the sector, as

we continue to battle with the impact

of the early years funding crisis,

sustained recruitment and retention

challenges and the ongoing debate

over the proposed relaxation of ratios.

Childcare news

and views

"Amid ongoing uncertainty regarding

the future shape of the government,

we hope that whatever the outcome

of current political debates, over the

coming weeks and months we will

see a much greater focus on the early

years and on ensuring that the sector

gets the support and the respect that it

both needs and deserves."

Purnima Tanuku, chief executive of

National Day Nurseries Association

(NDNA), said: "We welcome the

new Children and Families Minister,

Brendan Clarke-Smith, to what his

predecessor referred to as 'the best job

in government'.

"This is so true – it's also one of the

most important jobs because it holds a

huge responsibility for the future of our

children. We hope that he recognises

that a child's first five years count

and look forward to sharing our new

campaign to raise awareness of this.

"This is a critical time for early years

with providers working so hard to

support children who are behind in

their development following two years

of restrictions and lockdowns. Their

overstretched staff are stressed as

nurseries find it ever more difficult to

recruit.

"Childcare businesses who are paying

rising costs and business rates are

grappling with shortfalls in government

funding, with increasing numbers

having to close their doors for good.

"It's important for the new Minister to

focus on these challenges and support

the sector rather than pursuing plans

to relax ratios for two-year-olds. We

look forward to our first meeting and to

working with him going forward."

The article, published by Daynurseries,

can be read here.

Plans to lower nursery staff-to-child

ratio in England angers parents

and providers alike

Plans to ease childcare staffing ratios

in nurseries in England have drawn an

angry response from providers and

parents alike, who say their previous

concerns have been ignored.

The government has announced it

is launching a consultation on ways

to reduce childcare costs for parents,

most notably by changing staff-to-child

ratios so that each adult can look after

five two-year-olds instead of four, as

currently permitted.

It says the move could reduce costs by

up to 15% or £40 a week for a family

paying £265 a week for care for a

two-year-old, providing the childcare

provider adopts the changes and

passes on all the savings.

Purnima Tanuku, the chief executive of

the National Day Nurseries Association

(NDNA), said: "From when this was

first mooted, the sector has been

saying that altering ratios for two-yearolds

from 1:4 to 1:5 won't make any

meaningful difference to the cost of

childcare for providers or parents. That

can only come from the government

paying the full rate for funded childcare

places for children under five.

"Many children are coming into

early years settings with additional

needs having been impacted by

COVID restrictions. More children are

struggling with language acquisition

and with their personal, social and

emotional development as a result. This

is why now is not the time to be giving

young children less support."

The proposed new ratio would bring

England in line with Scotland, but

Tanuku said the early years framework

in Scotland was "very different in terms

of qualification levels, staff training and

support from their regulators".

A study in 2013 – commissioned by the

government when it was considering

the policy – concluded that allowing

staff members to look after more

children would lead to a reduction

in quality, and that there was little

evidence that high fees were a result

of regulatory requirements. However,

the government is now re-looking at

the policy, as part of efforts to tackle the

cost of living crisis.

Neil Leitch, the CEO of the Early Years

Alliance, said: "It is beyond frustrating

that the government is wasting its time

consulting on relaxing ratios, rather

than just admitting that if we want to

have affordable, quality, sustainable

care and early education in this country,

we need to invest substantially more

into the sector than we are doing at the

moment.

"If the government wants to take

lessons from other countries, maybe it

should look at how much they invest

in early years providers and how they

respect and value the workforce.

Watering down early years standards

at a time when children need more

support than ever is not, and never will

be, the answer."

The full story, as reported in The

Guardian, can be read here.

Ofsted releases EIF updates

Ofsted has published a new post on its

blog called "The education inspection

framework (EIF) – looking ahead to

September 2022" It contains some

updates to the Education Inspection

Framework (EIF) including changes to

the Early Years Inspection Handbook (in

use from 1st September) and also on its

'myth-busting' page on gov.uk.

A summary of the changes taken from

the post is below:

Updates throughout to reflect

paragraph references in the early years

handbook published on 11 July 2022.

Text amended in the following:

• What impact have the EYFS reforms

had on Ofsted inspections?

• Will Ofsted negatively judge

settings for having 'stripped-back,

COVID-safe provision', for example

provision with no soft furnishings,

dressing-up clothes, pillows or cosy

spaces, and no sand or water?

• Are there flexibilities in place

for providers that are facing

recruitment and retention issues or

experiencing high numbers of staff

off sick? Will Ofsted take this into

consideration when inspecting?'

• Can Ofsted carry out inspections

without any notice?

New questions:

• What's happened to the COVID-19

section which was in the previous

edition of the early years inspection

handbook?

• Can before- and after-school clubs

and holiday provision use Ofsted

logos?

Purnima Tanuku OBE, Chief Executive

of National Day Nurseries Association

(NDNA) said: "Since inspections

restarted, we have been raising

concerns from the sector about how

some inspectors have responded to

challenges linked to Covid-recovery

and workforce pressures. While

the handbook update and revised

guidance addresses some of these

challenges, it will be important to see

that reflected in providers' experiences

on the ground.

"Nurseries and early years settings

recognise the important role of

inspections but we want to see

effective, supportive and proportionate

regulation. This is especially important

as providers work to give the extra

support children need following the

impact of Covid-19 restrictions and an

ongoing workforce crisis.

"Where early years settings have

concerns about how inspections are

carried out, there needs to be a fair

and equitable process for everyone.

That means urgent reforms to overhaul

Ofsted's complaints process and

restore trust across the sector."

The blog, on the government's official

website can be found here.

4 August 2022 | parenta.com

parenta.com | August 2022 5
---
A round-up of some news stories that

have caught our eye over the month

Source and image credits to:

Day Nurseries, Nursery World, Mirror,

Inside Croydon, Craven Herald, Families Online

Care provider to open

integrated nursery in care

village

Dementia specialist provider, Belong, is

opening its first care village with a fully

integrated children's day nursery on-site

in Chester.

Children's behaviour is

exemplary' at 'outstanding'

Peterborough nursery

Ofsted inspectors say the children are

"kind and considerate" to each other

and actively look after & include special

educational needs/disabled children.

Nursery installs defibrillator in

memory of former student who

tragically died, aged 18

Busy Bees Rugby Nursery, where Jamie

"had some of his happiest memories"

installs defibrillator to save others.

Early childhood education system

"not fit for purpose", says charity

There has been a 50 percent rise in the

proportion of households cutting back

on food or missing meals altogether in

just three months.

Appeal to raise funds for single

parents affected by cost of living

A charity that supports single parents

across Scotland has launched an appeal

in response to the cost-of-living crisis.

Mum wins battle to run crèche

from shed in garden after

neighbours complain

27-year-old mum has finally won a

heated dispute over her keeping her

£20,000 backyard cabin crèche running.

Click here to send in

your stories to

hello@parenta.com

Purley day nursery opening in

September to create 30 jobs

A new Bright Horizons nursery in Purley

will create more than 30 jobs and will

offer 101 places for children aged 3

months to five years.

Funding needed to keep preschool

open

A long-established pre-school and

playgroup, formed over 50 years ago,

is now at risk of closure due to low

attendance numbers.

Girl born with her spine outside

her body uses 'Scotland's

smallest wheelchair'

A toddler paralysed from the waist down

can now chase after her siblings in a

specially adapted wheelchair thought to

be the smallest in Scotland.

6 August 2022 | parenta.com

parenta.com | August 2022 7
---
TM

TM

Write for us!

We're always on the lookout

for new authors to contribute

insightful articles for our

monthly magazine.

If you've got a topic you'd like to write about,

why not send an article to us and be in with a

chance of winning? Each month, we'll be giving

away Amazon vouchers to our "Guest Author of

the Month". You can find all the details here:

https://www.parenta.com/sponsored-content/

Exclusively available from

hope-education.co.uk

Education

Congratulations

to our guest author competition winner, Sandra Duncan!

Congratulations to Sandra Duncan, our guest

author of the month! Her article 'View from the

door – designing learning environments from

children's viewpoints' explores how children have

a unique viewpoint of their worlds, which is greatly

determined by their height. Well done Sandra!

A massive thank you to all of our guest authors for

writing for us. You can find all of the past articles

from our guest authors on our website:

www.parenta.com/parentablog/guest-authors

Pssst... Get your FREE

LittlemagictrainTM

adventure today!

"

"Littlemagictrain has helped children to develop

their confidence and desire to communicate,

describe, understand, and use new vocabulary.

By week 6, I observed clear improvement in

attention, memory and narrative skills."

Liz Shoreman, Senior Speech and Language

Therapist and Manager, The Speech Bubble

"The staff always join in and I can honestly

say it's one of the best products we've

ever invested in!"

Scan Me!

Nicky Sanford, Early Years Teacher,

Marcham Pre-school

"

FREE

DOWNLOAD!

www.littlemagictrain.com

Or email: Hello@littlemagictrain.com

Encourage creativity, build agency

and foster positive communication

in children's lives.

"A

powerful

tool."

"Stimulating,

poignant and

inspiring."

Available at www.jkp.com and book retailers

8 August 2022 | parenta.com

parenta.com | August 2022 9
---
World Breastfeeding

This month sees the start of World

Breastfeeding Week (WBW), which runs

from the 1st – 7th August each year. It

is the annual campaign coordinated

by the World Alliance for Breastfeeding

Action (WABA) that aims to "inform,

anchor, engage and galvanise action on

breastfeeding and related issues." The

week was started in 1992 to generate

public awareness and support for

breastfeeding, and since 2016, the WBW

campaign has been aligned to the United

Nation's Sustainable Development Goals

which aim to "end poverty, protect the

planet and ensure prosperity for everyone

by 2030.

Humans have been breastfeeding their

babies for thousands of years and is a

natural and instinctive behaviour for both

mother and child. We would not have

survived as a species had we not been

able to provide our youngest infants

with nutrition in their early months from

breastfeeding. So why is there a need to

promote breastfeeding, you may ask?

The WHO have recognised that

breastfeeding is essential for children to

achieve optimal growth, development

and health and they recommend that

children start breastfeeding within the

first hour of life and breastfeed exclusively

for the first 6 months. Thereafter, the

WHO recommend they "receive adequate

and safe complementary foods while

breastfeeding continues up to the age of 2

years or beyond".

Whilst many in the UK do not breastfeed

as long as that, breastfeeding is described

by the UK Government as "an important

public health priority" and they go on to

say that:

…"increasing the number of

babies who are breastfed offers the

best possible start in life. Breastfeeding

improves infant and maternal health and

well-being in both the short and longer

term."

Week

Research about

breastfeeding

In many low- and middle-income

countries, breastfeeding is more prevalent

than in high-income countries and is

inversely associated with the national

gross domestic product (GDP), so the

higher the country's income, the lower the

rates of breastfeeding, and the lower a

country's income, the higher the rates of

breastfeeding. Lower income families also

tend to breastfeed for longer.

This could be due to a number of factors

including:
---
Egg-cellent advice:

faces together and

faces side by side

I do not know how he came to acquire the nickname Egg but ever since he came along that's what my youngest son has been called.

I run The Sensory Projects www.TheSensoryProjects.co.uk (which should now really be called The Sensory Projects and Sons!) My work

focuses on people with profound disabilities and sensory differences, but my son's advice will apply to your work too.

In this series of articles we are going to share his insights with you, if you are keen for more there is an ever growing collection on my

Facebook profile: come and make friends. www.Facebook.com/JoannaGraceTSP

This is article 10 out of a series of 10! To view the others click here.

Joanna Grace

Joanna Grace is an international

Sensory Engagement and Inclusion

Specialist, trainer, author, TEDx speaker

and founder of The Sensory Projects.

We communicate in a variety of ways, our

body language conveys a message, our

words, even the smells that we give off!

A lot of communication is to do with the

face, so it is understandable that someone

learning about communication would want

to explore this incredible communicative

tool. You, like me, may find children want

to touch your face, explore its movements.

Mirror work is great for looking at

faces. Creating messy play activities

on a mirrored surface is a great way of

discovering faces, like a game of peek-aboo

with yourself, and of course there are

films and cameras as a way of capturing

and relooking at faces.

Some aspects of our communication are

essential and some are social conventions

or traditions; considering these as we

explore communication can help open up

the communicative landscape to include

people with different types of brains.

For example, having ears that work and

a brain that understands the messages

received from those ears is essential to

hearing someone speak. Looking at the

speaker is not.

When we speak we want children to look

and to listen, this is the tradition. But what

if for some children looking means they

cannot listen? Many autistic people can

look and hear, but when they do this, the

effort taken to maintain the looking uses

up their capacity to take on board what is

being said, whereas: if they do not look,

then they can listen.

We live in a world full of neuronormative

assumptions about communication, but

your room in your setting is your world

to create, and by watching the children

closely and noticing their different

communication styles, you can create

a little world in which neurodivergent

communication is respected alongside

neurotypical communication.

To learn more about some of these

differences please read my first son's

book (written when he was 5 years old)

My Mummy is Autistic (here's a glimpse

inside) published by Routledge and with

a beautiful foreword written by Chris

Packham. And if you are curious about

adult experiences of autism then my book

The Subtle Spectrum, also published by

Routledge and this time with a foreword

by Steve Silberman (author of the award

winning "NeuroTribes") is for you!

Our bodies communicate in millions of little

ways and a lot of them are on our face. So

your face is really interesting to me.

You just look at my face but I want to

explore your communication with all of my

senses.

I want to touch your communication, I

even want to taste and smell it. Getting

close to me can enable me to do this.

We are sitting opposite each other which

is good for direct exploration but actually

only half of the information is there. When

we sit side by side and look in a mirror I

can see what your face is doing, AND what

my face is doing. Watching you and me in

the mirror helps me to understand that the

shapes your face makes are to do with the

shapes my face makes.

Some of my friends prefer face-to-face

conversations, some of my friends prefer

side-by-side conversations.

(These words first appeared on Jo's

Facebook profile you are welcome to

send her a friend request to watch out

for more insight www.Facebook.com/

JoannaGraceTSP)

Joanna provides online and in person

training relating to sensory engagement

and sensory differences, look up www.

TheSensoryProjects.co.uk/online-college

for more information.

To view a list of her books visit www.

TheSensoryProjects.co.uk/books.

Follow Jo on social media to pick

up new sensory insights, you'll find

her at: Twitter, www.Facebook.com/

JoannaGraceTSP and www.Linkedin/In/

JoannaGraceTheSensoryProjects.

Consistently rated as "outstanding" by

Ofsted, Joanna has taught in

mainstream and special school settings,

connecting with pupils of all ages and

abilities. To inform her work, Joanna

draws on her own experience from her

private and professional life as well as

taking in all the information she can

from the research archives. Joanna's

private life includes family members

with disabilities and neurodiverse

conditions and time spent as a

registered foster carer for children with

profound disabilities.

Joanna has published four practitioner

books: "Multiple Multisensory Rooms:

Myth Busting the Magic", "Sensory

Stories for Children and Teens",

"Sensory-Being for Sensory Beings"

and "Sharing Sensory Stories and

Conversations with People with

Dementia". and three inclusive sensory

story children's books: "Spike and

Mole", "Voyage to Arghan" and "Ernest

and I". There is new book coming out

soon called "The Subtle Spectrum" and

her son has recently become the UK's

youngest published author with his

book, "My Mummy is Autistic" which

was foreworded by Chris Packham.

Joanna followed with her own book

"The Subtle Spectrum" which explores

the landscape of post diagnosis adult

identified autism.

Joanna is a big fan of social media and

is always happy to connect with people

via Facebook, Twitter and LinkedIn.

12 August 2022 | parenta.com

parenta.com | August 2022 13
---
View beneath their feet

Using wayfinding as a

classroom design strategy

There are times when it is important to

watch the view beneath your feet such

as when walking on a muddy trail, rocky

pathway, uneven sidewalk, or bumpy

walkway. We are careful when traversing

down steep stairs, climbing up and down

a tall step ladder, or getting in and out of

a wobbly canoe. When unfamiliar with the

landscape or unsure of our footing, we

watch our step because we don't want to

trip, stumble, or-worst case scenario-fall.

What's below our feet tells us how to act

and move. An uneven walking surface

sends a message to slow down and

mind our step. Or, when coming down

a steep hill, our brains send a message

to our bodies to walk with care and our

eyes help us to find the best way down.

The view beneath our feet informs us how

to navigate and move about the space.

Likewise, the view beneath children's feet

sends important wayfinding messages

about how to move about the classroom

environment.

Improving children's views

through effective wayfinding

Wayfinding is the act of finding

an intended destination within an

environment. A good example of

wayfinding is how airport architects have

created visual and physical cues to help

travellers navigate an unfamiliar airport.

Finding one's way through an unfamiliar

airport can be extremely challenging.

Experiencing numerous problems such

as taking a lot of wrong turns while

trying to find one's way eventually leads

to frustration, exasperation, stress,

impatience, and even anger. The same is

true for young children, especially those

who are younger and just learning how to

effectively navigate their bodies through

space. When little ones cannot find their

way through the classroom, they become

frustrated because their bodies are

confined and their minds are confused.

Frustration takes over and results in

pushing, shoving, crying, screaming,

and of course biting. To avoid these

problematic situations, just as with airport

environments, children's environments

need wayfinding elements of design.

Wayfinding can be an effective design strategy for organizing the classroom environment

around a universal language of visual and physical cues. Clear messages send

suggestions to children about how to navigate the room. Effective wayfinding strategies

should include ways for children to move through unobstructed pathways (or crawl ways)

but also include simple challenges for young bodies. So, here are a few effective design

elements for classroom wayfinding.

Wayfinding Design Elements

Archways invite children into an area

by giving a visual and physical message

that they are welcome into a magical

kind of place, which has a very special

entrance all its own. It's like stepping over

a threshold to another completely different

place to play.

Cardboard Boxes with ends opened

and duct-taped together make a perfect

pathway for adventuresome wayfinding.

Even though the end destination doesn't

change, they rarely get tired of crawling

through again and again.

Stepping Stones create a visual and

physical message for children to follow

their path. Tree cookies are perfect for

giving children the opportunity to create

endless pathways around the indoor

space as well as outdoors.

Large Tunnels make wonderful pathways

between and within areas. Either

purchased from a catalo gue, made from

a corrugated drainage pipe* or an empty

carpet tube, making one's way through

tunnels is beyond fun for little ones.

*Corrugated drainage pipe can be found at home improvement stores. Its officially called

HDPE (High Density Polyethylene) and used for water drainage systems. The pipe comes

in 4" up to 60" in diameter. Because the HDPE pipe comes in 20' lengths, it is pretty

expensive. However, it can be cut into many small pieces with a tool called a Saw Zaw

(found on Amazon). The HDPE pipe is completely waterproof so it can also be used outside

on the playground.

There are many wayfinding messages in this two-year-old environment such as

stepping paths, tunnels, arches, and clear pathways.

Area rugs as a wayfinding

design strategy

Very young children have a tendency to

wander about the classroom because

their young brains are just learning how

to conceptualise space or make mental

representations needed to make their

way through an environment. Educators

can help young children navigate by

designing a space that guides and draws

their attention toward certain areas or

destinations. For example, take a look

at this intentionally designed two-yearold

classroom. The area rugs have been

strategically placed to create pathways

throughout the space. These pathways

are sending messages to children about

which way to walk and how to move about

the space. Also, notice the wayfinding

strategies such as the tunnel in the back of

the room, the archway in the middle of the

room, and the stepping squares to the left

of the large rug.

Gracious circulation

Everything (including furniture, furnishings,

and materials) influence how and what

children experience in the early childhood

classroom. Everything either promotes—or

doesn't promote—children's opportunities

for effectively navigating the environment.

Too often, however, educators become

overzealous in their desire to provide the

very best classroom environment resulting

in overcrowded and cluttered spaces.

Classrooms filled with too much furniture,

too much equipment, and too many

materials make for a rocky wayfinding

journey especially for very young children.

When designing early childhood

classrooms, remember that less is more.

Create classrooms with what is known

as "gracious circulation" or the ability for

children to navigate the classroom without

touching others. For children with trauma

issues or sensory processing issues, this

is especially important. Some children

who have experienced adverse childhood

experiences feel threatened by closeness

so having enough physical space (or

gracious circulation) gives them comfort.

And, because these children are always

monitoring for their safety and looking for

places of refuge, classrooms overloaded

with furniture causes congestion, which

can be physically and emotionally

demanding for them. Consider improving

children's wayfinding by reducing the

amount of stuff (i.e., furniture, equipment,

shelving units) for achieving gracious

circulation.

Conclusion

Children are constantly moving. Improve

children's navigation about the classroom

by using wayfinding design strategies and

being sure there is enough room to move

with gracious circulation.

Sandra Duncan

Sandra works to assure the miracle

and magic of childhood through indoor

and outdoor play space environments

that are intentionally designed to

connect young children to their early

learning environments, communities,

and neighbourhoods. Dr. Duncan is an

international consultant, author of seven

books focused on the environmental

design of early childhood places,

designer of two furniture collections

called Sense of Place and Sense of

Place for Wee Ones, and Adjunct

Professor at Nova Southeastern

University. Sandra has designed and

taught university courses on built early

learning environments, collaborating

with architects, interior designers,

and educators to create extraordinary

places and possibilities for children and

students of all ages. Books and articles

include:

1. Inspiring Spaces for Young Children

2. Rating Observation Scale for

Inspiring Spaces

3. Rethinking the Classroom

Landscape: Creating Environments

that Connect Young Children,

Families, and Communities

4. Through A Child's Eyes: How

Classroom Design Inspires Learning

and Wonder

5. Bringing the Outside In: Ideas for

Creating Nature-Based Classroom

Experiences for Young Children

6. The Honeycomb Hypothesis: How

Infants, Toddlers, and Two Year Olds

Learn Through Nature Play (Available

Spring, 2022)

7. Designing Inspiring Environments

for Infants, Toddlers, and Two Year

Olds: Lessons from Nature (Available

2023)

14 August 2022 | parenta.com

parenta.com | August 2022 15
---
Supercharge Your Childcare Business

With A Powerful Website

The online daily diary

Attract new parents with a

great communication tool!

Share a child's day with

their main carers - straight

into their inbox.

Delight parents with

photos of activities

Easy to use for all staff,

whilst on-the go

Transform your childcare business, reach your local community and increase

your occupancy with our Ofsted targeted websites.

A Parenta childcare website is:

Responsive on all platforms

Guaranteed to engage

parents

Fully secure &

GDPR compliant

Search engine optimised

Built to Ofsted guidelines

Your Perfect Website Partner…

Social Media!

We can set up your social media accounts

and get you started with your first posts.

Get Our FREE Social Media guides with

every package

"

Wow I am so impressed with

how quick that has been

updated! I was worried when

sending a 24 page document

but I am thrilled with the result!

Thank you so much. Great

customer service and results!

"

- Little Angels Schoolhouse

Ready to get started?

Build me a website

0800 002 9242 hello@parenta.com

Let us create a website and social media set-up you and your parents will love!

Call our friendly team on 0800 002 9242 or drop us a line at hello@parenta.com
---
What does

leadership look

like… in the

baby room?

Mona Sakr

While research on leadership in early

years education has been growing

recently, there is still very little that focuses

on understanding leadership in the baby

room of nurseries. This is part of a bigger

problem: too much of our attention in

research and teaching focuses on threeto

five-year-olds, with too little attention

given to the 0- to 2-year-olds. With that in

mind, it is time to look again at leadership

in the baby room and to zoom in on the

role and specific contributions of the 'baby

room leader'. I am lucky enough to have

founded Baby Rooms – Inspiring Leaders,

an early years collective in the UK focused

on baby room leadership. Right now,

we are developing open access training

specifically aimed at baby room leaders.

All our discussions point towards three

essential characteristics of effective baby

room leadership and it is those that I will

share in this article. They are:

• Sharing a passion for the baby room

• Coaching and mentoring others

• Self-leadership

Sharing a passion for the

baby room

Baby room leaders might not start their

early years journey knowing that they

want to be in the baby room, but once

they get there, they are passionate and

readily share their enthusiasm with others.

Nadine, a baby room leader in a Scottish

seaside nursery, commented on just how

privileged she feels to be working in the

baby room:

"I just love the babies. I don't have children

myself, so when I first got put in the baby

room I thought, 'What do I do with a

baby?' I had no idea. But I just love seeing

their little personalities grow. I love them

coming in and just being that baby and

just how they develop into a little human

that they're going to be. I love being part of

their firsts. First words, first steps, just the

little things. Like they drank from an opentop

cup themselves as a toddler, or they've

just drunk all their bottle with us and it's

the first day they've met us. How amazing

is that?"

Gillian, Nadine's manager, explained

that maintaining and sharing this kind of

passion is so essential in the baby room,

where there can be a lack of attention,

recognition and professional development

for those working in the baby room.

Sharing a passion for work with babies

becomes one of the main ways to ensure

that the atmosphere in the room is positive

and dynamic despite these challenges:

"I think the lack of training opportunities

within the baby room can be quite a

challenge. That age group is actually the

most important - if you don't get it right at

that age, it's going to impact the rest of the

children's life and the nursery experience.

So, I think, for the leaders, it's very much

about having that sense of purpose in the

baby room, the recognition that they are

doing a good job, and an awareness for

the skills that staff in the baby room have

that other staff across the nursery won't

necessarily bring. You have to highlight the

particular joys of working with babies to

everyone in your room so that you all have

that passion."

It is essential that baby room leaders keep

on returning to their love of the baby room

and working with babies. They need to talk

about this passion regularly and use it to

keep the room feeling fresh and hopeful.

Coaching and mentoring

others

The lack of professional development

mentioned by Gillian above has a big

impact on the baby room and the leader's

struggle to improve day to day quality of

practice in the baby room. It may be unfair,

but with the lack of external professional

development available specifically

targeting the baby room, it falls on the

shoulders of the baby room leader to fill

some of these gaps for their team. This

means that coaching and mentoring skills

among baby room leaders are absolutely

vital, and need to be developed even more

so than for other room leaders throughout

the nursery.

Emma, a baby room leader in a nursery in

the south of England, explained how she

builds on the strengths of all her staff in

order to support them to feel comfortable

and excited about working in the baby

room:

"I always try and find out what people

like to do and what their strengths are.

If they're really arty, I'll try and get them

doing something like that. I play to their

strengths and use that as the starting point

for helping them to develop.

This is essentially strengths-based

leadership and coaching and it offers a

practical way in for baby room leaders,

who might not have ever received formal

training in coaching. Recognising what

staff members do well, highlighting this

and finding ways for them to do more

of it – these are tools that can create not

only a good atmosphere, but become the

foundation for improving practice."

Self-leadership

Baby room leaders find themselves in

the middle of many needs. They have to

cope with meeting the intense needs of

babies, the needs of baby room staff who

lack external professional development,

the needs of other professionals,

including their manager, who might not

fully understand what the baby room is

all about. Balancing all of these needs

requires well-developed emotional selfregulation,

as well as practical methods for

juggling the responsibilities. This is known

as 'self-leadership'.

In moments where it all gets too much,

baby room leaders need to rely on their

self-compassion and resilience. Practical

systems, routines and habits can also

help to cope with these intense emotional

demands. For example, baby room

leaders might support a culture in the

baby room of 'checking in' with each other

in a proactive way. This means that rather

than waiting for a staff member to ask

for the help that they need in a difficult

moment, staff make it their job to check

in with each other and see who would

appreciate a bit more help. This might

mean planning to take turns with a new

baby when they are struggling to settle,

rather than waiting for the key person to

urgently need a break. This is a simple

way for baby room leaders to support

emotional regulation and self-leadership

across the baby room.

Dr Mona Sakr is a Senior Lecturer in

Education and Early Childhood. As a

researcher in Early Years (EY) provision,

she has published extensively on

creative, digital and playful pedagogies

including the books "Digital Play in

Early Childhood: What's the Problem?"

(Sage) and "Creativity and Making in

Early Childhood: Challenging Practitioner

Perspectives" (Bloomsbury).

Mona's current research is an

exploration of pedagogical,

organisational and community

leadership in EY and how leadership can

be more effectively developed across

EY. Current funded research includes a

Nuffield Foundation project looking at

online leadership development across

the EY sector, a BELMAS project looking

at leadership in the baby room of

nurseries and a BERA project examining

ethnicity in the early years workforce.

Forthcoming books (include an

introduction to social leadership in early

childhood education and care (written

with June O'Sullivan, CEO of London Early

Years Foundation), and an edited volume

on EY pedagogical leadership around

the globe.

Email: m.sakr@mdx.ac.uk

Twitter: @DrMonaSakr

18 August 2022 | parenta.com

parenta.com | August 2022 19
---
International Left

What do Brad Pitt, Martina Navratilova,

Barack Obama and Matt Groening, the

creator of The Simpsons, have in common?

Yes, you've guessed it, they are all lefthanded,

and on August 13th this and every

year, they have the chance to join with

other left-handed people in the UK and

around the world to celebrate International

Left Handers Day. It's a day to celebrate

the differences and distinctiveness of

left-handed individuals and was first

celebrated by the founder of Lefthanders

International, Inc., Dean. R. Campbell, in

1976. That year, the 13th August fell on

a Friday, and was chosen deliberately

to counter the superstitions and myths

surrounding left-handed people.

We've come a long way since the 1600s

when many left-handed people were

thought to be in league with the devil

and were sometimes tried for witchcraft.

However, whilst our superstitions may

have changed, the way we set up our

world in terms of hand preference, has

not. If you are right-handed, then the world

will seem pretty 'normal' to you. But if you

are left-handed, the chances are that you

will be reminded on a daily basis how the

world is set up for everyone other than

you!

Think about some of the ways that we

have set up our world for right-handed

people:
---
Safeguarding:

supporting staff

disclosures

Safeguarding training is mandatory for

everyone who works with children so

when it comes to disclosures, you and your

staff should already know the basics of

how to react, respond, what to record and

the duty of care about not keeping things

secret.

as an international athlete, he still found

it difficult to talk about his past and led

a double life for years. Whether through

feeling guilty, fear, or a decision of not

wanting to relive past traumas, it's clear

that many people who are affected by

abuse choose to keep silent.

However, most cases of abuse are not

uncovered because children or teenagers

make disclosures, and statistics show that

many victims of abuse never tell anyone

about their experiences. According to data

from the National Association for People

Abused in Childhood's (NAPAC's) helpline,

one in seven adults had not told anyone

about their abuse before contacting them.

According to their website, "One in five

adults aged 18 to 74 years experienced

at least one form of child abuse, whether

emotional abuse, physical abuse, sexual

abuse, or witnessing domestic violence or

abuse, before the age of 16 years" which

translates to approximately 8.5 million

people according to the Crime Survey for

England and Wales (CSEW).

Other data suggests that one in three

children who were sexually abused by

an adult did not tell anyone and only

1 in 8 cases of abuse are known to

the authorities, so there are millions of

people who are not disclosing what has

happened to them and trying to deal with

the traumatic effects on their own.

What is particularly distressing about

this data is that it is relatively recent and

despite very high profile cases in which

people have spoken out about child abuse

or sexual abuse as adults, we are still

living in a society in which most people

do not feel comfortable talking about their

experiences for whatever reason.

Last month, the world was shocked to

learn that Sir Mo Farah was trafficked to

the UK as a child and despite finding fame

If you are, or have been a

victim of abuse

If you have suffered from abuse or

maltreatment as a child or an adult, you

should understand that help is available

from a number or agencies where you

can talk anonymously at first to get advice

about what to do and where to go next.

Many people know about ChildLine's

website and helpline number (0800 1111)

for example, but there are also places to

call if you have been abused as a child

and are now an adult. NAPAC also have

a website and a helpline for adults to call

(0808 801 0331) which is open from 10am

to 9pm Mondays to Thursday, and from

10am to 6pm on Fridays. They also have

an email support address at support@

napac.org.uk.

You are not alone

One of the most important things to

remember is that you are not alone and

there are people out there who can help

you, who will listen to you and who will

treat your case seriously. Reaching out to

one of the websites listed above or at the

bottom of this article can be the first step

to realising that abuse is NOT the normal

state or affairs and that once disclosed,

people will be able to support you.

You are not to blame

Another important thing to remember

is that abuse is not the fault of the

victim. Recent reports into high profile

cases of systematic abuse in England

have highlighted inadequacies in some

authorities responses to claims of abuse

that are now leading to whole-scale rethinking

of policing, company policies and

the population's attitude to these cases.

Victims are being encouraged to come

forward and even cases of historical abuse

are being successfully won. Victims are

being given a more powerful voice and

realising that what they went through was

not their fault.

What can settings do to

support victims?

For change to happen, some things need

to be done at a government or national

level such as changes in the law, changes

to policing etc. Policy makers are calling for

more support for help lines and charities

such as the NSPCC or Childline so that they

can answer more calls themselves. These

are mostly things that are outside of the

control of an early years setting.

However, to make it easier for people to

disclose their experiences, not only to help

them as victims, but also to protect others

from similar situations, there are a number

of things that settings can do such as:
---
Storytelling and empathy:

an interconnection

Empathy is generally defined by emotion

researchers as "the ability to sense other

people's emotions, coupled with the ability

to imagine what someone else might

be thinking or feeling" (Greater Good

Magazine, 2022).

It consists of two parts, the affective which

is the emotional response to emotions and

emotional situations, and the cognitive

which is what enables a person to

understand different perspectives.

Stories facilitate the development of both

elements of empathy by providing us

with opportunities to grapple with the

emotions of characters, and to make

sense of their thoughts, choices and

actions as a plot unfolds. Research

exploring people's responses to stories

carried out by Paul J. Zak, the Director of

the Center for Neuroeconomics Studies

at Claremont Graduate University and

his team found that "effective stories

transport the story receivers into the

worlds of the characters…and once a

person's attention has been focused

long enough, they begin to emotionally

resonate with the characters in the story

and, according to narratologists, are

'transported': that is they begin to feel

what the characters in the story feel. This

'transportation', as Zak describes it, causes

people to imagine the lives of others,

helps to develop compassion for them and

leads to changes in perspective. It is this

transportation that promotes empathy"

(2013 in Lumgair 2021, page 27).

The psychologist, Peter Gray, says that

a "series of studies showed that people

who have read a great deal of fiction –

especially fiction of the type that deals

with interpersonal relationships – score

higher on various measures of empathy

than do otherwise similar people whose

reading centres more on non-fiction... In

an experiment conducted in a low-income

area of Toronto, the capacity of 4-year-olds

to take another person's perspective and

reason from that perspective increased

greatly as a result of an intervention in

which they heard many stories read to

them by parents, teachers, and research

assistants." (2014 in Lumgair 2021, page

28).

Susan Engel (2016) says that "story

performs both inner psychological

functions as well as social functions' and

Michelle Borba in her book UnSelfie – Why

Empathetic Kids Succeed in Our All-

About-Me World (2016) says that reading

makes us 'kinder' as well as 'smarter'

and notes that it "is literary fiction that

nurtures empathy and perspective taking.

She also explains that "picture books are

richer in emotion-charged content than

chapter books are, and it's this emotionally

charged content (particularly in the first

several years of life) that's crucial to

empathy development" (2016, page 77 in

Lumgair, 2021, page 28).

Borba describes practical exercises

around empathy, one in which a high

school English teacher in Oregon, United

States helps her ninth-grade students to

understand the perspective of different

characters by using paper shoe cut-outs:

a test for Shakespeare's Romeo and

Juliet consisting of students taking turns

stepping onto each cut-out and describing

that character's views and feeling. The

teacher says that "the exercise not only

enhances her students' perspective for

each character, but...also is their favourite

test". Another example is "a mother

in Liverpool who carries out a similar,

powerful exercise but using real shoes.

Borba explains, 'When her family finished

reading Charlotte's Web, she printed each

character's name...on a sticky note and

stuck them on her husband's shoes. Her

kids were delighted to jump into each big

shoe and pretend to be the character'"

(Borba 2016, pages 82 & 83 in Lumgair

2021, page 153).

Stories provide opportunities to further

develop empathetic skills by allowing

participants to:
---
Feeling our emotions

From birth, children are experiencing

and expressing their emotions. Showing

anger and outrage at being allowed to

feel hunger and yet moments later, joy

and happiness as they nuzzle into your

warmth, gazing up into your smiling face.

However, despite being remarkably good

at feeling their emotions from a very young

age, children are far less equipped to

manage them.

The development of emotional intelligence

begins as a toddler when a child develops

a more stable sense of themselves,

as separate to the other people - and

emotions - around them. As this happens,

children seek to find their own place in

the world and along with this comes

some strong ideas about what it is that

they want. As they see some of the most

pronounced periods of development

and growth, emotional outbursts are not

uncommon. In ways that will not be seen

again until the teenage years when some

of the behaviour traits of our overwhelmed

toddlers are often revisited.

By the time children are around four or five

years old, their emotions are becoming

more developed. They are now moving

on from relying on adults to manage

their emotions and instead, look to solve

their own problems. They will now be

experiencing mixed emotions, such as

being angry and sad at the same time and

will begin to use emotions as unconscious

defence mechanisms. Along with this

maturity comes the ability to have simple

conversations about their feelings and

with guidance, they can learn alternative

coping methods when a situation causes

their emotions to rise.

By the time they are ready for school,

children can think about and discuss their

emotions in increasingly sophisticated

ways. This allows them to use cognitive

coping strategies, such as distraction or

self-talk as they think about how they feel

and learn to calm themselves. But this also

means they are becoming better at hiding

their feelings. Whilst this can be a good

thing within a social interaction, it also

means that you may need to look more

closely at their behaviours to see the

emotions that they might be masking.

To support our children as they

learn to understand and respond

to these growing feelings,

requires strategies of emotion

regulation. And this certainly

needs to be in place

before they can respond effectively to the

emotions of others.

It is very tempting to shy away from

dealing with difficult, emotional situations

but it is our job to teach our children how

to handle their emotions in healthy ways.

No one ever said a furious four-yearold

is easy but that is exactly when they

are ready to learn about how to calm

themselves down from anger and how to

manage it. Children are deeply passionate

about things and emotional outbursts can

become all too familiar before they have

learnt how to regulate the strong emotions

that are a part of growing up. If a favoured

toy breaks, a three- or four-year-old may

be distraught with grief. If another child

broke the toy, even by accident, they may

be furious and an emotional outburst be a

hasty and regular response.

A child's depth of skill at handling these

situations depends on their ability to

monitor both their own and other people's

emotions, to understand and label the

different emotions being shown and to

use emotional information to guide their

thinking and behaviours towards them.

But this requires permission to experience

their emotions in the first place, even the

negative ones. They need to learn how

to identify, understand and manage their

feelings, even when these may be causing

difficulties. They need to learn how to

regain control over their emotional state,

rethinking a situation and focusing on

reasons to feel happy or calm. All within

immature minds and bodies that might yet

be unable to relate to a time when they

did not feel this bad.

We all feel powerful emotions throughout

our lives and negative thoughts are a

necessary and natural part of this process.

However, if a tendency to react negatively

goes unchecked, a self-perpetuating

cycle can establish, impacting the way we

perceive our environment and interpret the

events of our day. Starting the day feeling

anxious can soon feel like everything is

going against you, with knock-on effects

until bedtime. The emotions we feel will

naturally translate to those around us,

especially our children. If you are feeling

frustrated when a child needs you, you

may model being short tempered and

dismissive, informing not only the child's

behaviours and emotions but also their

developing methods of managing them.

Every time a child experiences the same

thoughts and emotional reactions, they

become conditioned to that emotion,

with less and less conscious control over

the emotional reactions they slip into. If

negative thinking repeatedly cycles into

negative feelings, these destructive cycles

will impact how a child thinks about and

perceives future experiences, affecting the

actions they then take and the person they

are becoming as they simply become a

part of who they are.

There are times when we all feel

angry. Trying to eliminate anger is

neither possible nor desirable. It can

be destructive, but it can also motivate

us to change our circumstances for the

better. Equally, happiness, joy and love

are emotions every parent would want

for their child. But to experience these

emotions unquestioned and unchecked

within some relationships could see them

staying in a situation that they would be

better off getting out of. But if we can focus

on the positives around us, feelings of

happiness can be constructively reinforced.

And with your children looking to you to

offer a sense of emotional direction and a

calming rudder to their less mature, often

fraught emotions, embracing a happy

emotional disposition is worth actively

considering.

This is the second of five articles from "The

Secure Child". Next time we will look at

helping children to manage their emotions.

But in the meantime, bring focus back

to nurturing all of children's growth and

development with a Nurturing Childhoods

Accreditation. A new approach to CPD

that is tailored to the needs of your setting

and the children and families you work

with. With its complete set of materials

and guidance, it is complemented by

resources available for your parents and

underpinned by professional standards

and industry leading research, as together

we surround children with a unified

understanding of who they are and what

they need, and really begin developing the

potential of all children in their early years.

Kathryn Peckham

As Founder of Nurturing Childhoods,

Dr Kathryn Peckham is a passionate

advocate for children's access to rich and

meaningful experiences throughout their

foundational early years. Delivering online

courses, training and seminars she

works with families and settings to identify

and celebrate the impact of effective

childhood experiences as preparation for

all of life's learning. An active campaigner

for children she consults on projects,

conducts research for government bodies

and contributes to papers launched in

parliament. Through her consultancy

and research she guides local councils,

practitioners, teachers and parents all

over the world in enhancing children's

experiences through the experiences

they offer. A highly acclaimed author and

member of parliamentary groups, Kathryn

also teaches a Masters at the Centre for

Research in Early Years.

For more information and practical

guidance on developing the features of

lifelong learning, Kathryn has published

a book: "Developing School Readiness,

Creating Lifelong Learners".

Get in contact at www.kathrynpeckham.

co.uk or email info@kathrynpeckham.

co.uk.

26 August 2022 | parenta.com

parenta.com | August 2022 27
---
Singing in the sunshine:

taking early years

music outdoors

Outdoor weather can be hit and miss

at the best of times in the UK, but when

the weather is good, it seems a pity to

keep sessions indoors. Singing outdoors

needs a music leader with a strong

voice because sound travels differently

in open spaces. And the temptation for

children to run to favourite equipment

takes some pre-thought: can it be moved

aside or cordoned away temporarily?

Other considerations include allergies

awareness, suitable sitting surfaces, and

sunblock.

Successful early years music sessions,

whether in or outdoors, need 3 key

characteristics (Barrett et al., 2021),

which come with different benefits and

challenges:

• Singing: Repetition is key – singing

over and over again helps children

to reproduce all parts of the song

successfully. First they learn the words,

then the rhythms (beats), and finally

the pitches (tune), which takes time.

High pitches are heard more clearly

outside, so you may find that you

sing songs a little higher outside than

indoors

• Instruments: Body percussion costs

nothing and is something we all

have with us at all times (like our

voices!). This is a great introduction to

instruments that we tap, shake and

scrape (percussion). Instruments can

also get lost or broken outside, so

body percussion is a great choice

• Movement: This is great way to teach

opposite music dynamics, like fastslow

and high-low, teaching us how

to move within space and time. There

is usually more space outdoors, so

this aspect to music should be used to

the full when you can

We have introduced a few useful outdoor

songs with games below. We all learn

much better and quicker through play,

so these songs can help children to

learn to manage their own movement

independently. Pointing at body parts can

lead to developing body percussion. Circle

songs help to contain children in a safe

space, yet still allow for exploration and

making the most of being outside, as do

imaginative play songs, like, "What Shall

We Do? Let's have fun in the sun!"

Stop on a spot

I'm gonna walk, walk, walk, walk

Walk, walk, walk

I'm gonna walk, walk, walk and

Stop on a spot

I'm gonna jump, jump, jump, jump

Jump, jump, jump

I'm gonna jump, jump, jump and

Stop on a spot

I'm gonna hop, hop, hop, hop

Hop, hop, hop

I'm gonna hop, hop, hop and

Stop on a spot

This lovely little song is a little like musical

statues or traffic lights, as children listen

for musical cues to stop. It develops selfcontrol

and gives a sense of freedom,

as children are not contained in a space

or a shape, but still need to respond

appropriately (walk, jump, hop, skip etc.),

and then stop.

Head, shoulders, knees and toes

Head, shoulders, knees and toes, knees

and toes

Head, shoulders, knees and toes, knees

and toes

And eyes and ears and mouth and nose

Head, shoulders, knees and toes, knees

and toes

This old favourite is great introduction to

body percussion. Usually we sing the song

by pointing to body parts – this time, try

tapping to the beat: 2 taps for head and

then 1 tap each for shoulders, knees and

toes – keeps the beat perfectly. Eyes and

ears and mouth and nose get two taps

each – have a try now!

Riding in the buggy

Riding in the buggy Miss Mary Jane

Miss Mary Jane, Miss Mary Jane

Riding in the buggy Miss Mary Jane

It's a long way to go

This is a great song for (gently) pulling

children around "on a ride"! Using bottomheavy

containers like washing baskets,

buckets, crates or strong blankets, the

adult (or responsible child) gently pulls the

child for the duration of the song.

All around the buttercup

All around the buttercup

One, two, three

If you want an awesome friend

Just choose me

Another song involving children sitting in

a circle and taking turns to walk around

(plan time carefully so that every child who

wants a turn can play)! One child starts by

weaving in and out between the children

sitting in a circle. The child stops after the

line, "one, two, three," and holds hands

with the child in front of them, who stands

up, and they jump up and down together.

The new child then continues to weave

around the children, stopping as before,

until all have had a turn.

What shall we do?

What shall we do when we all go out?

All go out, all go out

What shall we do when we all go out?

When we all go out to play

Let's go and play on the climbing frame

Climbing frame, climbing frame

Let's go and play on the climbing frame

When we all go out to play

Let's go and play on the see-saw

The see-saw, the see-saw

Let's go and play on the see saw

When we all go out to play

This little song is full of imaginative play

on the different types of playground

equipment, and trying to act out what it

feels like without it being there. Examples

given are climbing frame and see-saw,

while other options could be the swing,

slide and roundabout. Children will have

even more ideas on how to move!

Like many things, planning every single

detail may not mean it all goes to 'plan',

but having a plan makes it less likely that

things will go out of control. Planning to

introduce children to open space safely

is always something to be thought

out, taking into account how much

experience they have in coming back

when called. Musical cues are great tools

for instructions, too. By either playing a

sound on an instrument (e.g. drum beat)

or repeating a line to a tune, musical

cues can be used to reinforce messages

like "can you make a circle?", "time to go

inside", "come and line up" or even "gently

put the toys away". We'd love to know the

creative ways that your setting uses music,

especially outside!

Frances Turnbull

Musician, researcher and author,

Frances Turnbull, is a self-taught guitarist

who has played contemporary and

community music from the age of 12. She

delivers music sessions to the early years

and KS1. Trained in the music education

techniques of Kodály (specialist singing),

Dalcroze (specialist movement) and Orff

(specialist percussion instruments), she

has a Bachelor's degree in Psychology

(Open University) and a Master's degree

in Education (University of Cambridge).

She runs a local community choir, the

Bolton Warblers, and delivers the Sound

Sense initiative "A choir in every care

home" within local care and residential

homes, supporting health and wellbeing

through her community interest

company.

She has represented the early years

music community at the House of

Commons, advocating for recognition

for early years music educators, and her

table of progressive music skills for under

7s features in her curriculum books.

Frances is the author of "Learning with

Music: Games and activities for the early

years", published by Routledge, August

2017.

www.musicaliti.co.uk

Barrett, J. S., Schachter, R. E., Gilbert, D.,

& Fuerst, M. (2021). Best Practices for

Pre- school Music Education: Supporting

Music-Making Throughout the Day. Early

Childhood Education Journal. https://doi.

org/10.1007/s10643-021-01155-8

28 August 2022 | parenta.com

parenta.com | August 2022 29
---
Summer holiday

activities that don't

cost anything

Get out and about

In the summer, there are a lot of free

events that are run for children, but

you just have to find them. Many

companies run taster or free sessions

of activities to advertise their services

so look out for these.

Pop into your local library – a lot of

companies leave advertising leaflets

there and there are often free book

readings or storytelling events run

over the summer

Contact your local town's website to

see what's on in your local area. Most

towns, and even some villages now

have a local website and there are

often summer fayres to visit

extend this into a learning task too by

asking them to draw the objects and

describe them

Get learning

The world is full of wonderful things to

learn and explore so why not see what

new things you can learn this summer?

Here are a few ideas to get you started.
---
Sun safety for

practitioners and

So far this summer we can't complain

about our 'traditional British summer'

which is usually a colloquialism for 'lots

of cloud and rain, especially on bank

holidays!'

None of that this year though as

temperatures have already broken records

and large parts of the country have seen

over 30 degrees Celsius for a few days in a

row as the heatwave hit.

But as tempting as it is to dash out to do

a spot of sun-bathing to catch up on the

last two years of lost summer holidays,

make sure you think about some basic sun

safety first, and act to guard against the

harmful rays that we don't see, but can be

devastating if ignored.

The benefits of the sun

There is no doubt that most of us feel

better when the sun is out. Sunlight is

essential for the planet and for our human

health and well-being. There are many

health benefits of sunlight on our skin

including:

• The production of vitamin D which is

not available through diet alone and

the sun is the body's main source of

producing vitamin D

• Support for bone health

• Lowering blood pressure

• Preventing disease

• Reducing the risk of seasonal affected

disorder (SAD) which is a form of

depression

• Promoting good mental health

through the release of serotonin

So the sun's rays are beneficial – BUT only

when precautions have been observed

as there are many harmful effects that the

sun can have on us humans.

parents

Harmful effects of

the sun

Too much sun can have negative effects

on the body and can even be deadly.

Unprotected exposure to the sun's

ultraviolet (UV) rays can cause damage to

the eyes, the skin and the body's immune

system. Over time, it can cause damage to

skin cells that can lead to painful sunburn

or even skin cancer. Other harmful effects

can be dehydration, sun/heat stroke and

premature aging.

The sun's rays are made of ultraviolet

radiation, with short wavelengths

categorised as:

• UVA - wavelengths 320 to 400 nm

(nanometres)

• UVB - wavelengths are 280 to 320 nm

• UVC - wavelengths are 100 to 280 nm

The earth's atmosphere absorbs UVC rays

so only UVA and UVB rays get to earth.

UVB rays are more damaging than UVA

rays and are a higher risk of causing skin

cancer. But UVA rays are still damaging

causing aging, wrinkling and a loss of skin

elasticity, and the combination of the two

can be very detrimental.

When these rays hit the skin, they

penetrate the upper layers of the

epidermis and trigger cells called

melanocytes to produce melanin. Melanin

is the brown pigment that causes the skin

to tan and is the body's way of protecting

skin from burning. If the UV damage

exceeds the response that the body can

offer, then a sunburn develops. If this

bombardment continues, then skin cancer

can develop.

Skin cancer is the most common form or

cancer in the UK with rates continuing

to rise. There are at least 100,000 new

cases diagnosed every year and sadly,

over 2,500 people die each year, many of

which are preventable deaths.

Staying safe in the sun

Obviously, we need to keep the children

we look after safe in the sun, and there

is a lot of information out there to help us

do this. If children suffer severe sunburn

as children, then they have a greater risk

of developing skin cancer in later life. But

it is also important that practitioners and

parents also look after themselves in the

sun too.

Shade, clothing and hats!

Keeping your skin out of the sun is the first

line of defence against sun damage, so

seeking shady areas is a good start. Avoid

the sun when the rays are strongest which

tends to be between 11am and 3pm when

the sun is more directly overhead. If you

can't find shade, then covering up is the

next best thing. Cover as much of your skin

as possible, especially the shoulders which

burn easily. Wide-brimmed hats cover the

head and offer protection for the face, ears

and neck. Obviously, we also want to be

able to enjoy the sun and get the benefits

on our skin too at times, and in very hot

weather, most of us shed clothing, so

shade becomes more important. If you are

swimming, consider wearing a T-shirt and

wetsuits are good for adults and children

alike as they cover most of the body.

Sunscreen

Sunscreen is essential in the sun as

some skin types can burn in as little as

10 minutes. Use at least a sun protection

factor (SPF) of 30 or higher and children

should use a SPF50. The higher the star

rating, the more protection the sunscreen

offers and remember to use a lip protection

sunscreen as well. Sunscreen should

be applied liberally and on all exposed

areas and it should be reapplied often, at

least every 2 hours and especially after

swimming. Waterproof sunscreens will

offer more protection whilst swimming and

also tend to stay on better in the heat as

people sweat. Remember that sunscreens

have an expiry date, so it's best to buy new

sunscreen each year.

Sunglasses

Eyes should be protected from the glare

of the sun too and no one should ever

look directly at the sun. There are a lot of

different sunglasses on the market but 'all

sunglasses are not created equal' so shop

around for ones that filter our UV radiation

or have an EU quality kitemark. Some

sunglasses are styled to wrap-around

the side of the head offering even more

protection.

Stay hydrated

In hot weather it is important to stay

hydrated. People tend to sweat more

so need to replenish lost water. It's

recommended to drink at least 2 litres of

fluids each day and more in hot weather.

Seek advice and

treatment

If you are concerned about a mole or other

marks that appear on the skin, then it is

best to seek advice from your doctor early.

Most skin cancers are curable if they are

found and treated in good time. After all,

it's better to be safe than sorry. There are a

number of apps that track skin and moles

which are commercially available too.

Sunstroke and heat

exhaustion

f someone is suffering from sunstroke or

heat exhaustion, try to move them to a

cool place and cool them down. If they

become short of breath or unconscious, call

999. See https://www.nhs.uk/conditions/

heat-exhaustion-heatstroke/ for more

information.

See the NHS website on sun safety at:

https://www.nhs.uk/live-well/seasonalhealth/sunscreen-and-sun-safety/

and

how to cope with heatwaves here.

For more specific advice on keeping babies

and children safe in the sun, see:

https://www.nhs.uk/conditions/baby/firstaid-and-safety/safety/safety-in-the-sun/

https://www.nct.org.uk/baby-toddler/

getting-out-about-your-baby/summer-yourbaby/sun-safety-for-kids

References

https://www.medicalnewstoday.com/

articles/benefits-of-sunlight

https://www.netdoctor.co.uk/conditions/

skin-and-hair/a3629/sunbathing/

32 August 2022 | parenta.com

parenta.com | August 2022 33
---
Paper plate masks

PARENT

PORTAL

Interested? Visit

www.parenta.com

to find out how

we can help you!

Gives your parents:

A newsfeed of their child's day

including photos and videos

Their account balance and

invoice breakdown

The ability to download invoice

and payment receipts

What do you need?

Instructions

A calendar view of past,

present and future sessions

booked

+ much more

• Printable

template

• Paper plate

• Oil pastels

• Water colours

and brush

• Scissors and craft

knife

• Hole punch

• String

1. Print and cut out the paper

mask template.

2. Roughly line up the top of

the template to the curved

top of the paper plate and

trace around it.

3. Use scissors to cut the

mask shape out and craft

knife to cut out the eyes.

4. Take your oil pastels and

decorate your mask.

5. Use the watercolours to

paint over the mask and

colour in the white areas.

6. Punch a hole on either

side of the mask and

thread through some

string to fit your head.

Our

FREE

app works hand-inhand

with our

other software

solutions!

You can find craft

instructions on 'The Crafting

Chicks' here. 0800 002 9242 hello@parenta.com
---
Look out!

Do you know where your body is in space?

Do you have children that are always

bumping into each other, you, or things?

Spatial awareness is quite complicated,

and it takes time for children to develop

this, and some health conditions can have

an impact on its development.

All movement happens in space, and

children need to develop their inner and

outer spaces, and some may need a little

extra help along the way.

What is spatial

awareness?

Spatial awareness is knowing where you

are in relation to other objects and people.

Spatial awareness helps us to think in

two and three dimensions. This allows

you to visualise objects from different

perspectives and recognise them.

Good spatial awareness is when you can

respond and change position which is

actually a complex skill. Fortunately, this

is developed from an early age, but help

is needed to encourage and develop this

skill.

The skills we are developing include:

Interoception

Sensing one's inner physical state of being

(temperature, comfort level, arousal)

Proprioception

Sensing stimuli received from within the

body (movement, position, weight, gravity,

tension and effort)

Exteroception

Sensing stimuli received from outside the

body (seeing, hearing, and touching the

environment)

Franklin, Eric N. "Dance imagery for

technique and performance", pg 117.

Human Kinetics and

Movement

When you are looking at movement in

terms of human kinetics, you have space,

plane, and the shape of the movement.

This is where the body moves in space and

its relationship to others. Here is a super

quick breakdown of the movements we

make without even thinking about it.

Extension

The size of the movement: small - near to

the body, or large - far from the body.

Level

Where the movement travels. This could be

a high, medium or deep (low).

Direction

Where the movement is taking you. Certain

directions will be due to the movements for

example rising and sinking will take you

high and low.

Air pattern

• Straight line

• Angular

• Curved

• Twisted

Floor pattern

Does it take place in the space

immediately around the body or does it

extend in the room? This gives you the

floor pattern – is it straight, angular, curved

or twisted?

Relationship of body parts

Relationship of the parts of the body to

each other in the movement.

Relationship to each other

Are you near, apart, approaching, parting,

surrounding, besides, in front of or behind?

"All body movements occur in different

planes and around different axes. A

plane is an imaginary flat surface running

through the body. An axis is an imaginary

line at right angles to the plane, about

which the body rotates or spins."

BBC bitesize "Planes and axes of

movement – Movement analysis in sport".

So much to take in, and think about, when

you are just walking across the room trying

to avoid obstacles or each other.

The big question: how can we help our

little ones with such an important aspect of

development?

Don't worry, as the key to promoting

spatial awareness in children is to let them

explore their surroundings but remember

some may need some extra help.

As children start to crawl and then

walk, they will hopefully be gaining an

understanding of how many steps it takes

to get to a specific object or location and

how the object or location changes as they

move.

Helping your little

ones to develop

spatial awareness

• Discuss the locations of where objects

are for example where teddy is

sleeping today. Use the positional

language of where teddy is sleeping.

Teddy is sleeping on top of, under,

beside or inside the bed

• Measure distances together. Make a

game of how many steps it takes to

walk to the teddy or the width of the

garden

• Blowing bubbles together. This is

a wonderful way to talk about the

movement and direction the bubbles

are going in as they float and land

• For older children, create an obstacle

course as there are so many ways

for them to develop their spatial

awareness as they step on, over,

and balance on objects. Make sure

your obstacle course has different

levels and items to crawl under/over/

through/behind and in front of

• Use your setting to demonstrate the

concepts of spatial awareness to

children. Ask them to find items that

are under, on or in something. Point

out items that are above your head on

the floor or on the wall

• Sing action songs together for

example "Head, shoulders, knees and

toes" and the "Hokey Cokey"

• Why not role play being pirates with

a treasure map? Together follow the

instructions or images, depending

on the age, to find the treasure. For

some extra fun, walk the plank, or tip

toe across a tightrope between pirate

ships (masking tape works well for

this) to avoid the sharks and a grumpy

parrot. Get the children to walk on,

inside and beside the lines

• Musical statues game. When the

music stops, you direct which parts

of their body have to be on the floor

– bottoms are a great one to start

with. Then you can develop it so that

when the music stops, they could find

a friend and stand elbow to elbow

or tummy to tummy. You and the

children decide

• Be different animals. Walk sideways

like a crab, wiggle like a jellyfish, run

like a tiger or stomp like an elephant –

don't forget the sound effects

Why is it important?

Spatial awareness allows us to be

conscious of the things in our environment

as well as our position relative to them.

This ability is important for several reasons,

such as:

• Location. Spatial awareness gives

context to the location of an object. For

example, knowing that a cup is on a

table as opposed to under it

• Movement. Having spatial

awareness can inform you of how

people and objects move through

the environment. This can help you

navigate your surroundings

• Social. Spatial awareness can affect

social functions like maintenance of

personal space

• Reading and writing. A spatial

understanding is needed for

understanding sentence structure and

grammar

• Mathematics. Some mathematical

concepts also require spatial

awareness. Examples include

geometry and ordering or arranging

numbers

Source: https://www.healthline.com/

health/spatial-awareness

References:

Franklin, Eric N. Dance imagery for

technique and performance, Human

Kinetics, 2014

BBC Bitesize, Movement analysis in Sport,

Physical Education: Applied anatomy

and physiology. https://www.bbc.co.uk/

bitesize/subjects/znyb4wx

Healthline Media, What's important

about spatial awareness?, https://www.

healthline.com/health/spatial-awareness

Gina Bale

Gina's background was originally

ballet, but she has spent the last 27

years teaching movement and dance

in mainstream, early years and SEND

settings as well as dance schools.

Whilst teaching, Gina found the time to

has create the 'Hi-5' dance programme

to run alongside the Australian Children's

TV series and the Angelina Ballerina

Dance Academy for Hit Entertainment.

Her proudest achievement to date is her

baby Littlemagictrain. She created this

specifically to help children learn through

make-believe, music and movement.

One of the highlights has been seeing

Littlemagictrain delivered by Butlin's

famous Redcoats with the gorgeous

'Bonnie Bear' on the Skyline stage.

Gina has qualifications of teaching

movement and dance from the Royal

Ballet School, Trinity College and Royal

Academy of Dance.

36 August 2022 | parenta.com

parenta.com | August 2022 37
---
Testimonials

"I just wanted to write to you to let you know how honored and grateful I feel for

having Christopher Dale as my assessor. He hasn't only taught me and guided me in

every area of my NVQ L3, he has also given me great pieces of advice and has been

truly supportive in those 'low moments' in which I thought I would never reach the

100% of my course. Christopher has guided me and supported my efforts in a very

professional way."

Carolina Uscátegui

"I'm recently new to this position and have found some aspects of invoicing difficult,

but I know I can raise a ticket and get a response and the help needed quite quickly.

I'm happy with the outcomes and find the service to be very friendly, helpful and the

information effective in being able to solve my problems."

Lucy Deane

"Support as high quality and friendly as ever. Couldn't manage without it!"

Breakfastclub

"Very helpful and understanding. Offered training which is fantastic!"

Congratulations

to all our Parenta learners!

Congratulations to all our Parenta learners who completed their apprenticeship

and have now gained their qualifications.

These range from Childcare Level 2, Childcare Level 3 and Team Leading

to Level 3 and Level 5 Management – that's a huge achievement in the

current climate.

All that hard work has paid off – well done from all of us here at Parenta Training!

Did you know?... Parenta has trained over 20,000 apprentices within the early years sector!

Our Level 3 success rate overall is almost 10% higher than the national average.

That's down to great work from you, our lovely Parenta learners!

If you have a learner with us who has recently completed their apprenticeship, please send in

a picture to hello@parenta.com to be included in the magazine.

Oasis Nursery

"Charlotte was very helpful and accommodating with a couple of queries I had

today. Thank you."

Caroline Payne

38 August 2022 | parenta.com

parenta.com | August 2022 39
---
Mini bagel pizzas

You will need:

• 2 mini whole

grain bagels cut

in half

• 1/3 cup marinara

sauce

• 1/2 cup grated

mozzarella

cheese

• 1/4 cup chopped

peppers

Instructions

1. Heat oven to 200 degrees and place tin foil on a baking tray.

2. Top each half of the bagel with the marinara sauce, spreading to the edge.

3. Top with roughly 2 tablespoons of mozzarella.

4. Sprinkle on the peppers.

5. Place on the baking tray and cook for 8-10 minutes or until the cheese

is melted.

6. Let cool and then serve.

You can find the full recipe

on 'Baby Foode' here.