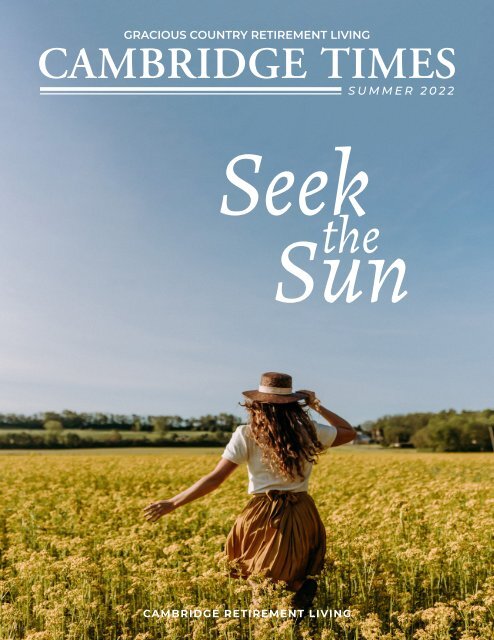 CAMBRIDGE TIMES SUMMER 2022
Seek The Sun with the Cambridge Times Summer Newsletter!
Seek The Sun with the Cambridge Times Summer Newsletter!
SHOW MORE
SHOW LESS
Create successful ePaper yourself
Turn your PDF publications into a flip-book with our unique Google optimized e-Paper software.
GRACIOUS COUNTRY RETIREMENT LIVING

CAMBRIDGE TIMES

SUMMER 2022

Seek

Sun

the

CAMBRIDGE RETIREMENT LIVING
---
contents

seek the sun 2022

4-CAMBRIDGE MANIFESTO

Our beliefs on home, health, and senior care.

6-MEET OUR STAFF!

Meet our maintenence man, and our new

Activities Directors!

8-LETTER FROM THE EDITOR

A reminder to seek the sun, no matter the situation!

10-MEET BRANDICE!

Learn a little more about our beloved activities

director of Cambridge Pointe!

12-SUMMER FUN

See our photos of spring and summer fun at our

Cambridge neighborhoods!

14-RESIDENT FEATURE

Meet Virginia Dowens, our brand-new resident at

Cambridge Creekside!

16-CAMBRIDGE CARES

Several of our Cambridge communities honored our

First Responders with a Grill-Out this Summer!

18-SUMMER SURVIVAL TIPS

Man, it's a HOT one! But here are several survival tips to

beat the heat this Summer!

20-FALL FLOWER GUIDE

Anxious to start the season off right? Then check out

these PA local flowers to make your fall garden POP!

22-UPCOMING EVENTS

Cambridge Retirement Living has a super Summer

planned with dances, car shows, fundraisers and MORE!

24

SUMMER WORD SEARCH

Try your hand at our Summer Word Search featured on

our back page!

Be sure to follow us on Facebook to

keep up to date with all the fun at your

favorite Cambridge Neighborhood!
---
our staff

CONTRIBUTORS

Michael Locurcio | Chief Operating Officer

Cheryl Carnes | Vice President of Operations and Compliance

Kathleen Frickanish | Director of Sales and Marketing

Lance Knickerbocker | Marketing Manager

Hanna Gaffney | Assistant Marketing Manager

OUR LEADERS

Connie Cretin | Cambridge Ebensburg Executive Director | (814) 718-2114 | ccretin@cambridgeliving.org

Michelene Gianacopoulos | Cambridge Riverview Executive Director | (570) 832-5619 | mgianacopoulos@cambridgeliving.org

Monica Popham | Cambridge Corry Executive Director | (814) 718-2144 | mpopham@cambridgeliving.org

Jason Dolby | Cambridge Hillside Executive Director | (724) 683-2829 | jdolby@cambridgeliving.org

Vickie DeZardo | Cambridge Creekside Assistant Executive Director | (724) 683-4185 | vdezardo@cambridgeliving.org

Mickie Monseau| Cambridge Falls Executive Director | (724) 683-4017 | mmonseau@cambridgeliving.org

STAFF

Karen Foster | Cambridge Corry Activities Director

Carol Dietscreek | Cambridge Ebensburg Activities Director

Brandice Schriver | Cambridge Pointe Activities Director

Cheyenne Collins | Cambridge Warren Activities Director

CAMBRIDGE CLINICAL LIAISONS:

Kathleen Frickanish | Cambridge Falls, Pointe, and New Castle

(724) 944-1088/kfrickanish@cambridgeliving.org

Laura Blanchetti | Cambridge Ebensburg, Creekside and Hillside

(814) 718-9354/ lblanchetti@cambridgeliving.org

Rachael Tasker | Cambridge Warren and Corry

(814) 718-9349/ rtasker@cambridgeliving.org

Cambridge Warren

706 Penn Ave W

Warren, PA 16365

(814) 723-8300

Cambridge Falls

599 Norwood Dr.

Wampum, PA 16157

(724) 359-5990

Cambridge Ebensburg

4848 Admiral Peary Hwy

Ebensburg, PA 15931

(814) 472-6868

our places

Cambridge Corry

771 East Columbus Ave

Corry, PA 16407

(814) 664-4691

Cambridge Hillside

400 4th St

North Charleroi, PA 15022

(724) 483-5818

Cambridge Creekside

1275 Lincoln Ave

Charleroi, PA 15022

(724) 489-1562

Cambridge Pointe

160 Chapel Rd

Beaver, PA 15009

(724) 728-6257

Cambridge Riverview

100 Narrows Rd

Larksville, PA 15931

(570) 719-0763

Cambridge New Castle

Dedicated Memory and

Dementia Care

COMING SOON!

03
---
our

beliefs

w e believe in home, that it should be a place of

comfort, rest, and security. We believe families are

sacred—the ones we inherit and the ones we create.

We believe in seeking balance between productivity

and rest and learning to find contentment in both. We

believe in human kindness and the power of working

together to accomplish big goals. We believe in courage,

in moving past comfort zones, and honestly seeking

knowledge from mistakes. We believe that each day is

a gift and miracles are visible if only we look for them.

04
---
COVID-19

UPDATE

SUMMER

2022

Cambridge Retirement Living continues to remain vigilant

in our pursuit of the health and safety of our staff and

our residents in the face of COVID-19 and its variants.

Our restrictions too, remain the same, under the

guidance of the PA Department of Human Services,

and the Centers for Medicare and Medicaid services.

Masks must be worn, hands must be washed, and social

distancing is to be maintained whenever possible.

But we continue to be thankful for the resilience and

kindness of our residents, their friends and families, and our

staff as we broach new ways to reunite everyone as safely

as possible. While we don't have any updates regarding

policy for our Summer COVID update, we can happily say

that each and every Cambridge neighborhood is COVID free!

We will continue to closely monitor the requirements and

restrictions to stay Covid Safe, but for now let's continue

to find ways to safely convene for Summer fun in 2022!

For more information on

our COVID-19 policy and

restrictions please scan the

QR code to visit our website!
---
Summer 2022

Cheyenne Collins grew up right in Warren, PA, making her

job as our new Activities Director at Cambridge Warren so

perfect! She is engaged to her wonderful fiance brad, and

has two daughters Emily (4) and Misti (6 months!). Her family

really enjoys being outdoors collecting rocks, fishing and

four-wheeling. Cheyenne started working with seniors when

she was just in her teens, and started volunteering at a local

nursing home where her mother was employed. And now

Cheyenne loves getting to know our seniors at Cambridge

Warren, listening to the stories they share, and getting to

know the multitude of fun personalities they have! Welcome

Cheyenne!

Karen Foster grew up in Clymer, NY and resides there to

this day with her family! Karen is married to her wonderful

husband Brandon, and together they have four boys. The

family runs a beef farm, so any free time Karen has away

from Cambridge Corry is at the farm and working hard with

her husband and children. Karen has spent the last several

years caring for children and running a daycare out of their

home. While this is Karen's first experience working with our

senior population, she shared how excited she is for this new

adventure. She loves to keep residents active, and to watch

them enjoy crafts as she learns more and more about them

and their individual interests. We're so grateful to have you!

MEET

Jimmy Davison is our friendly Falls maintenance man! He

was born and raised in Georgetown, PA (where he still resides

on his four acres of land)! He told us it "sure is a lot of grass

to mow." He has four farm tractors and really enjoys working

on them as a hobby. His wonderful daughter Kylie also works

at Cambridge Falls! Jimmy loves to be helpful to our seniors

and got his start working maintenance around seniors over

25 years ago. Interestingly enough our Fall's ED Mickie, had

an amazing mother, June and it was June who hired Jimmy!

If Jimmy isn't mowing at home, he may be taking care of his

5 cats or riding around his land on his quad! Jimmy worked

hard all through the pandemic to keep our communities

running, and we're so glad he's with us today!

OUR

STAFF

In our Summer 2022 issue, we wanted to highlight some

of the amazing new folks at Cambridge, and get to know a

little more about them!
---
07
---
Letter

rom

the

EDITOR

08
---
Ibought a camera during the pandemic.

I'd always been interested in photography

and, well, when they told us we'd be locked down for

an unknown amount of time, it seemed like a safe

purchase, a good way to spend the mountains of time

that we all suddenly had, and a hobby I thought could

be useful down the road.

I started taking pictures in my neighborhood.

Park benches. Signs that I liked. I focused on normal

things. Maybe as a way to cope with all the crazy stuff

that was going on in the news.

My photos weren't great. They were boring

or as often just plain bad. We all know a great photo

when we see one. I wasn't seeing one in the pile of

neighborhood snapshots I was stacking on my desk.

I worked harder. I studied. The first thing I

learned was how much I didn't know.

The science of photography was completely

new to me. I learned about the film pioneers, Jon

Eastman at Kodak, and how modern digital sensors

mimic the photosensitive properties of film.

I kept shooting. I watched lots of YouTube

videos. I learned about sunlight and how the best day

for photography is a cloudy day because the clouds

diffuse the light and eliminate shadows. I'd lived my

whole life not knowing I didn't have a shadow on a

cloudy day.

What else had I missed? Photography was

teaching me how to pay attention to the world around

me. We never realize it at the time, but hard work is

always leading us somewhere.

For me, the time I put into learning

photography – and I'm still learning – led to an

"When we seek

the sun...we are

inviting good

things into our

lives..."

important milestone just a few weeks ago.

My Dad is really proud of his family. He

and my mom sacrificed a lot to raise eight children.

Because of the pandemic and various other reasons,

it had been a minute since we' d all gotten together,

and the last family portrait was starting to look

pretty dated.

So, my Dad asked me to take the family

photo. I was nervous at first. But I focused on the

basics. I scouted locations and I got input from

family members.

We had a lot of great options for locations.

But I knew from my training that only one thing

really mattered – the position of the sun at the hour

we were assembling for the family photo.

I woke up early in the days before the shoot.

I walked around with my camera and did test shots.

I did my homework. I sketched out little diagrams.

One of life's great pleasures is being useful

to the people you love and care about. Shooting the

family portrait was a simple thing, but it came after

lots of hard work – and never giving up.

But the feeling I got when I handed over

the portrait to my Dad on Father's Day is one I'll

treasure for a long time.

We hope you enjoy this summer edition

of the Cambridge Times. When we seek the sun,

when we choose to serve others, when we work

hard, we are inviting good things into our lives --

and our spirits need the good things so that we all

may endure to the end.

Enjoy! And remember: Have a Great

Summer!

09
---
Meet

Brandice

If you're a fan of our Facebook pages, you've already

come to know just how wonderful our Cambridge Pointe

Activities Director, Brandice Schriver is. As a recent

recipient of the Heart of Hospice award, we thought our

Summer Issue was the perfect time to highlight such a

wonderful woman, and to learn more about how she came

to be such a resident favorite!

Brandice Schriver would describe

herself as positive, passionate, driven,

motivated, and inspired (and we agree!).

Brandice is a good midwestern girl from

Canal Fulton, Ohio. She and her brother

and sister grew up fishing with her parents,

and Brandice was always ready for fun!

She remembers her family "laughing

at her for always singing into the handle

of a vacuum"! Brandice has kept that fun

and bright spirit with her as she shares her

warmth and light to the residents around

her.

Growing up Brandice sadly did not

have any grandparents. She remembers

wishing she did! Her first interaction with

"She and her brother

grew up fishing with

her parents, and

Brandice was always

ready for fun!"

10
---
a senior was actually her friend's Grandma

and Grandpa (they were in their early

90's!). She spent time with 'Grandma Sue'

who taught her how to sew, crochet, and

even bake! Brandice still cherishes the

time they spent together. We can certainly

see how those baking skills are still being

utilized with tasty treats for our residents.

Though we're all thrilled to see

Brandice honored with the Heart of

Hospice award from Amedysis Hospice,

it wasn't her first time being recognized

for her amazing qualities. In High School

Brandice was voted "Most Creative" and

we can see why! Brandice likes to make

crafts with wood, she likes painting,

sewing, making wreaths and baking. We

can all attest to her amazing craft ability

at Cambridge Pointe!

The best part is, she not only makes

crafts, but she gives them away as gifts and

donates her time and talents to making

Cambridge Pointe an exciting place to be!

She truly is a jack of all trades.

How did she get to be so crafty and

creative? She told us she just "loves to learn

new things." She believes you can learn

new things every day, and you're never too

old to learn them. She has instilled this in

her children Ila and Marty as well.

When Brandice is home, her

husband Marty and their wonderful

children love to travel all over the US and

Canada! Marty has a lot of travel for his job

and sometimes his whole family gets to

come along. They love to go to museums,

national parks, forests and zoos.

While Brandice can often be found

at Cambridge Pointe devising outdoor

porch time, drawing gorgeous portraits

for our residents to paint, or building

decorative crafts late into the night, she

says her favorite thing about working at

Cambridge is how close the staff and the

residents are.

"We truly are like a family here."

Brandice believes that her work with

our seniors is extremely important and

rewarding. "This is the last chapter of their

lives and I want them to feel love and know

how special they are."

We've heard time and time

again how Brandice and her boundless

talents have made the lives of our

Cambridge Pointe residents brighter

and better and we're honored to have

such a special lady with us on staff.

Thank you for all you do Brandice!

11
---
Cambridge

Summer

Fun

Fun

This

spring held a host of parties, patriotism, and ponies! (Yes!

Even ponies!) We celebrated spring and summer holidays,

honored our resident fathers and mothers, and even had some

spectacular special events like live music a prom and a petting

zoo! We can't wait to see what fun the summer holds!

C

h

S

O

d

e

W

b

y

a

w

C

C

o

C

1. 2.

1. Mother's Day!

There's nothing more special than

spending time with our amazing

mothers. At many of our Cambridge

Facilities, we were able to host a

Mother's Day Tea, where friends and

family could visit with Mom and enjoy

sips and snacks and, of course, amazing

conversation! And Cambridge Falls did

just that! We love you, Mom's!

A

t

t

w

t

a

S

3.

4.

2. Memorial Day!

It's always important to remember those

who have given their lives to protect

our beautiful country, and we're so

grateful Cambridge Ebensburg always

has a photo booth opportunity to

commemorate any occasion! Thank you,

Carol, for being our amazing model!

3. Earth Day!

Our resident mothers aren't the only

Mom's that were celebrated this spring!

Cambridge Pointe also celebrated

(Mother) Earth Day! They planted

fresh flowers and learned about the best

way to garden and give back to mother

nature! Well done Cambridge Pointe!

G

E

p

A

s

B

Th

b

g

v

W

4. Live music!

Live music is a fan favorite at all of

our Cambridge communities, and

Cambridge Hillside answered the call!

Our residents got to sit down and relax

as Jeff from ViaQuest played the day

away on his Trombone! They clapped

and sang along to all of their favorites!

Thank you again Jeff for stopping by to

make them smile!

W

s

w

h

c

12
---
5. Senior Prom at Creekside!

Cambridge Creekside decided to

host the most glamorous event of the

Spring, with their gorgeous Golden

Oldies Senior Prom! There was dancing,

donated decorations and foods, and we

even crowned our King and Queen!

What a night to remember! And on

behalf of all of us at Cambridge, thank

you to those who donated their time

and talents to make our evening so

wonderful. Special thanks to Lisa and

Chris Kennedy from Lisa's Photo

Creations, Tom and Gretchen, owners

of Fields of Heather, Becky Fitzwater,

Chrissy Bashur, Suncrest Hospice and

our resident family members!

5.

6. Therapy Dogs!

At Cambridge we love to offer many

types of therapy for our residents, but

the one that gets the most smiles (and

wags!) is when our Therapy Pets come

to visit! Cambridge Pointe received

a special dose of doggy therapy this

Spring when these cuties came to visit!

How sweet!

6.

7.

7. Fourth of July!

God Bless the USA! Cambridge

Ebensburg knows just how to plan a

party for one of our favorite holidays!

All our Cambridge residents looked oh

so true in their red, white, and blue!

But what's even more special? Belle

celebrated her 101st birthday days later!

8. Father's Day!

This summer is for the boys! We had a

blast getting to celebrate all those special

guys in our life this year with special

visits from family, and for Cambridge

Warren, a "Donuts and Dad Jokes" party

just for them!

8.

9.

9. Petting Zoo!

We wouldn't have believed it if we didn't

see it, but Cambridge Corry was overrun

with adorable animals this Spring! We

had bunnies and chicks and even a pony

come to visit! You just never know what

fun is in store at Cambridge Corry!

13
---
esident feature

meet

Virgina Dowens

Every issue we aim to highlight one of our amazing residents and hear a little more about

their story. This issue we are honored to honor Miss Virginia Dowens at Cambridge

Creekside! Special thanks to Jason Dolby and Laura Blanchetti for securing this interview.

Virginia Dowens was

born in October of 1930, in her

childhood home in Crescent

Heights (just 20 minutes from

Cambridge Creekside!). Virginia

was blessed with both a brother

and a sister and the three had a

wonderful childhood growing up

in Western PA.

When we asked Virginia

if she had any favorite childhood

memories, she said her favorite

memories were going to Sunday

school with her best friend Peggy!

(Remember Peggy's name because

she's vital to our story later on.)

Virginia attended school nearby

and graduated in 1948.

After school she worked

at a mercantile store where she

sold clothing, footwear, bedding,

furniture, jewelry, beauty

14
---
"It was at a very special dance

that Virgina met her husband."

products, housewares and more!

She remembers enjoying going

to dances after school and meeting all

sorts of wonderful new people. She and

Peggy were still thick and thieves and

enjoyed going to the dances together.

It was at a very special dance

that Virginia met her husband. She was

double dating with…you guessed it…

her best friend Peggy, and she and her

husband hit it off right away!

Virginia and her husband have

been married 74 years. The two shared

a happy relationship and she bore 5

children! Two boys and three girls.

After she and her husband

retired, she has such happy memories

of taking trips to Myrtle Beach in their

family camper for months at a time!

This amazing lady joined us at

Cambridge Creekside just two months

ago, and our neighborhood has been

sunnier every day she's been with us.

Thank you for sharing your story with

us Virginia! We are so happy to have

you in our Cambridge Community!

15
---
Cambridge Cares:

First Responders

Grill-Out

Cambridge Retirement Living strives to give back to the community at large, sometimes through

donation stations, food drives, or fundraisers! We like to call this our "Cambridge Cares Initiative"

and this Spring and Summer we wanted to give back to the amazing First Responders in our lives! So, a

few of our Cambridge communities held a 'First Responders Grill-Out' to provide a delicious hot meal

for all of those amazing folks and it.was.a.hit! So many people swung by to take food to go, or to sit

and stay awhile and enjoy our outdoor spaces! We were so grateful to be able to celebrate you all and

look forward to more fun next year. Thank you, thank you, thank you!

Participating

Cambridge

Communitites:

Cambridge Warren

Cambridge Corry

Cambridge Falls

16
---
To stay involved in upcoming Cambridge Cares

Donation Stations, events, or opportunities, please

follow us on Facebook! Each of our Cambridge

communities has their own Page to Like and Follow!

So, follow your local Cambridge Today!

17
---
EDUCATION ARTICLE

SUMMER

TIPS

for seniors

According to the Centers for Disease Control and Prevention, seniors are

more susceptible to heat-related illnesses and injury. Protect yourself and

your loved ones this summer by following these helpful tips!

18
---
1. Stay hydrated

this summer!

h 2o is a go

Drink eight or more

glasses of water or juice

every day!

2.

Stay indoors

during

extreme heat

If you can, limit your

outdoor activity to

the morning and the

evening.

3.

Stay in an air

conditioned

place

Stay indoors, or take

in a movie, or visit a

place with lots of air

conditioning!

4. Protect

your skin

and eyes

Sunglasses are stylish

and functional! Be sure

to lather on that sun

screen.

5.

Know the

effects of

prescriptions.

Some medications

cause increased sun

sensitivity, so be aware.

6.

Maintain

Communication

with your people

Stay connected to

loved ones and medical

professionals, should you

need heat assistance.

EDUCATION ARTICLE

19
---
Fall Flower

Guide

"The glory of gardening: hands in the dirt,

head in the sun, heart with nature. To nurture

a garden is to feed not just the body, but the

soul." -Alfred Austin

At Cambridge, many of our residents

enjoy planting beautiful flowers

outdoors (and in!). We were so

inspired by their dedication, we

decided to create this handy guide for

5 flowers you can plant soon, to see

them sprout in Autumn! Each flower

fits well within the Pennsylvania

Planting Zones (which range from

5b to 7a) and are guaranteed to enjoy

our Western PA weather! So, if you're

already dreaming of fall fun, check

out our recommendations on the

next page!

M

M

fa

to

of

ve

ca

a

yo

sp

ch

w

in

fa

th

pl

w

Kenny at Cambridge Corry, proudly

posing with his plant!

Dot and residents of Cambridge Warren tending to their patio garden!

20
---
If you're inspired to bloom some of these beauties for fall, remember

that you can always drop off bouquets, seeds, bulbs, and house plants for

Mom or Dad at any of our Cambridge Communities!

MUMS

Mums are a clear fall

favorite, and what's not

to love? Their variety

of beautiful colors, and

versatility are a clear eye

catcher! If you're using

a Mum as a perennial,

you can plant in early

spring or in the fall. For

chrysanthemums, plant

when they're blooming

in later summer or early

fall and treat them as if

they're annuals! Give them

plenty of sun and a drink

whenever the soil is dry!

BALLOON FLOWERS

These flowers are so called

for their balloon-shape

flower buds! They'll bring

you a BURST of color in a

late-summer garden and

you'll thank them for their

easy care and for being deer

resistant! These gorgeous

flowers can pop up in dark

blue, pink, or white! And

they'll make a beautiful

bouquet for your table,

or to give to that special

someone at Cambridge!

PANSIES AND VIOLAS

These itty-bitty flowers

come in a wide variety of

eye-catching colors and

will actually thrive in cool

weather! Many of them will

stay in bloom well into fall

and even survive the winter

to bloom again starting in

the spring! They also pair

well too with our favorite

fall Mums and will grow

beautifully in pots! (We

love plants in pots because

they can be hand-delivered

to your favorite Cambridge

Resident!)

HELENIUM

If you're looking for your fix

of fall color, look no further

than helenium! This easycare

hearty native plant

produces bunches of sweet

daisy-like flowers in all

of your fall favorites, red,

orange, yellow, and even

bi-color! They love their

sun and still stand when

rainfall is scarce. Helenium

will also bring lots of

happy pollinators to your

garden, while being totally

unnoticed by deer!

ASTER

These sweet perennial

flowers are heartier than

they look! Although they'll

make you wait until late

summer or early fall to start

producing their gorgeous

purple, lavender, or pink

daisy-like flowers! They'd

do well as the backbone

of your fall border as they

form dense mounds of

flowers. Plus, they're a

sweet snack for Monarchs!

Make sure these babies get

full sun and well-drained

soil to thrive!

21
---
Summer 2022

upcoming events

SEEK THE SUN

Come one come all to the Carnival!

Cambridge Pointe already hosted their very own

Carnival Fair this summer!

But you can still stop by Cambridge Falls August

19th from 2pm-8pm for games, food, vendors,

prizes and more!

For more information:

Call Mickie @724-683-4017 at Cambridge Falls

Cambridge Corry's

Masquerade Ball

Come Join Cambridge Corry in the

event of the year! We'll be hosting

our masquerade ball August 12th,

so mark your calendars! More

information coming soon, so stay

in the know by following us on

Facebook!

Damien the

Magician Returns!

Cambridge Riverview is so thrilled

to once again host our crowd

favorite Damien the Magician, this

coming fall! Mark your calendars

for October 6th! We hope to see

you at our Alzheimer's walk, with

MAGIC to follow! Stay tuned!

Alzheimer's Event

Fundraiser at Pointe!

This September Cambridge Pointe

will be hosting an Alzheimer's

Community Event Fundraiser!

So, stop by September 17th from

11am-4pm and join us. More

info coming soon! Call Kathleen

@724-944-1088 for more info!

w w w . c a m b r i d g e l i v i n g . o r g
---
EBENSBURG MOVIE

AND GAME NIGHT!

What's better than a movie night with family?

Movie night AND a Chess Tournament on our

giant Ebensburg Chess Board! So, join us July 27th

from 6pm-8pm for fun and games this summer!

Keep an eye out for more details on Facebook!

For more information call Laura @ (814) 718-9354

End of Summer Bash!

It's a full-blown BASH at Cambridge Ebensburg!

We're already looking forward to all of the joys

summer will offer and can't wait to celebrate. So

come out to Cambridge Ebensburg September

23rd from 6pm-8:30pm for food and fun!

More details coming soon!

Family Picnic Fun!

Several of our Cambridge communities will

be hosting family picnics this summer!

Grab your lawn chairs and prepare for great

food and even better company!

For more information:

Call Kathleen Frickanish @724-944-1088

for Cambridge Pointe!

Rachael Tasker @814-718-9349 for

Cambridge Warren and Cambridge Corry!

RIVERVIEW GRILL OUT:

FIRST RESPONDERS

Missed our other

First Responder

events? Never fear!

Cambridge

Riverview will be

hosting their very

own First

Responders Grill-

Out! Stay tuned for

more details and come

hungry!

Cambridge Ebensburg:

4848 Admiral Peary Hwy

Ebensburg, PA 15931

Want to stay in the know about all things

Cambridge? Be sure to follow us on Facebook!

We've got separate pages for Pointe, Falls,

Ebensburg, Warren, Creekside, Hillside, and

Riverview. So be sure to like and follow each

page for the most up to date information.
---
Summer Word Search

Flowers

Camp

Flip-Flops

Hat

Sandcastles

Swimming

Ice Cream

Outdoors

Friends

Hot

Summer

Swimsuit

Holiday

Beach

Fun

Lotion

Sun

Warm

Heat

Cool

Fun in the sun

Ocean

Sunglasses

Water

Canoeing

Family

Happy

Sandals

Sunny

Waves

www.cambridgeliving.org