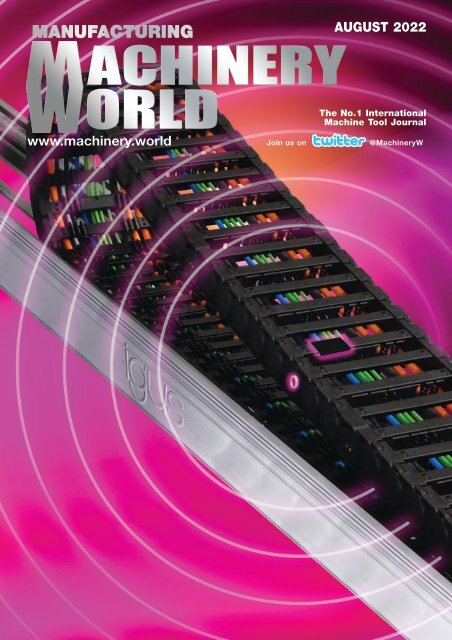 Manufacturing Machinery World - August 2022
Machinery World was launched in 1982 to serve the machinery & production engineering market. Editorially Machinery World is a news and information source that gives direct contact with the provider of innovative services and equipment. Editorial is available both online and as hard copy.
Machinery World was launched in 1982 to serve the machinery & production engineering market.

Editorially Machinery World is a news and information source that gives direct contact with the provider of innovative services and equipment. Editorial is available both online and as hard copy.
SHOW MORE
SHOW LESS
You also want an ePaper? Increase the reach of your titles
YUMPU automatically turns print PDFs into web optimized ePapers that Google loves.
AUGUST 2022

www.machinery.world

Join us on

The No.1 International

Machine Tool Journal

@MachineryW
---
MACHINE

MACHINE MACHINE

MACHINE

MACHINE MACHINE MACHINE MACHINE MACHINE MACHINE MACHINE MACHINE MACHINE MACHINE MACHINE MACHINE MACHINE MACHINE MACHINE MACHINE MACHINE T TOOL TO TOO TOOL TOOL TOOL TOOL TOOL TOOL TOOL TOOL TOOL TOOL TOOL TOOL TOOL TOOL A ACCESSORIES

AC ACC ACCE ACCES ACCESS ACCESSO

ACCESSOR

ACCESSORI

ACCESSORIE

ACCESSORIES

Fast and

accurate?

The answer's

YES

Darex

Drill sharpeners

From 1st MTA, the UK's leading machining

accessories supplier.

St

Email: enquiries@1mta.com Freephone: 0800 783 0510

Fax: 0800 783 0517 www.1mta.com

MTA
---
CONTENTS AUGUST 2022

AEROSPACE 10

Front Cover:

igus

MANAGING DIRECTOR:

Carole Titmuss

NEWS EDITOR:

Pat Fairfax

FEATURES EDITOR:

Danielle Titmuss MSc

SALES:

Lorraine Compton

PRODUCTION:

Ian Purves,

Jonathan Milburn

SUBSCRIPTIONS:

Leah Lennon

PUBLISHER

Carole Titmuss

This journal includes editorial

photographs provided and paid for

by suppliers.

Manufacturing Machinery World is

available on subscription annual rate

UK £44, Europe £66, Overseas £90

Single Copies £4 UK, £8 Overseas.

Published by:-

SHEEN PUBLISHING LTD

50 QUEENS ROAD

BUCKHURST HILL, ESSEX IG9 5DD

TELEPHONE: 020 8504 1661

International: +44 20 8504 1661

www.machinery.world

Email: info@machinery.world

Twitter: @MachineryW

AUCTIONS 40

AUTOMATION 22-23

CASE STUDY MILLS 28-28

CASE STUDY FRONIUS 30-31

CASE STUDY STARRAG 32

CASE STUDY ENG TECH 33

NEW PRODUCTS 16-20

VOLLMER INTERVIEW 25-27

NEXT MONTHS FEATURES

CAD/CAM, Chains & Bearings, Laser, Plasma, Waterjet Cutting.

MANUFACTURING MACHINERY

WORLD is published monthly and is

circulated to senior personnel who

influence the buying and selling of

new and used manufacturing

machinery worldwide.

©Sheen Publishing Ltd. All rights

reserved. No part of this publication

be reproduced or transmitted in any

form or by any means, including

photocopying and recording, without

the written permission of the

publishers. Such written permission

must also be obtained before any

part of this publication is stored in a

retrieval system of any nature.

Speed, power and precision are qualities

that are coveted by Justin and Maryann

Schaller, both in terms of the family-owned

Schaller Group and in their other shared

passion of hydroplane racing

Page 10.

A few years ago, T&R Precision Engineering

in Foulridge, East Lancashire, started

manufacturing parts from Inconel 625

castings for the hot air side of the GE-Safran

LEAP-1A turbofan that powers the Airbus

A320neo family of single-aisle jets.

Page 22.

w w w . m a c h i n e r y . w o r l d

Manufacturing Machinery World, August 2022 3
---
MACHINERY

We want to buy your used

& unwanted equipment

DO YOU HAVE ANY OF THESE TO SELL?

CNC Plasma Cutters

Welding Equipment

Positioners & Rotators

Orbital Welding Equipment

Seam Welders

I sold a weld head to Westermans from the USA.

The experience was absolutely delightful.

I was paid top dollar for my surplus equipment

in an extremely timely manner.

Ask for Bev and her team. They killed it.

Diesel Welders

Refer a friend with surplus

machinery to sell and

earn 10% commission.

Quote: FRIEND10

T&C apply

GET IN TOUCH

TODAY

Tell us what equipment you want to sell by simply

emailing our team at purchasing@westermans.com

You can also message us on WhatsApp +447719 320518

or get your personalised valuation at

westermans.com/sell
---
SUPPLIERS OF QUALITY USED MACHINE TOOLS

XYZ SMX 3500 CNC MILL

HAAS VF 2

JONES & SHIPMAN 1415 GRINDER

C/W MAGNET AND COOLANT

MAS VO 50 RADIAL ARM DRILL

HAAS VF 6

C/W 4TH AXIS

CINCINNATI LAMB V-CNC 500

HARRISON ALPHA 1400 XT CNC /

MANUAL LATHE

JONES & SHIPMAN 540 GRINDERS

( 5 )

VIXEN JET WASH

BATY R400 PROFILE

PROJECTOR

SCHIESS FRORIEP VBM 1800 CNC

BORER

WANTED SURPLUS MACHINES

COLCHESTER TRIUMPH 2000

REFURBISHED LATHE

SNOW HR400

RING GRINDER

COLCHESTER MASTIFF 80"

FULLY REFURBISHED

OKAMOTO 84 ST SURFACE

GRINDER

CLEVELAND LAP 40" PLATE C/W

RINGS & WEIGHTS
---
NEWS NEWS NEWS

EMKA LOCKING TECHNOLOGY

PARTNERSHIP WITH HVACR OEM

For 25 years HANSA Klimasysteme has

relied on EMKA for sophisticated locking

technology and secure closure solutions. In

fact, HANSA Klimasysteme and EMKA have

been working together to reliably lock

complex air conditioning and ventilation

units with fittings and gaskets for over two

decades. Their latest project focused on

replacing existing components: aluminium

parts are used as connecting elements at the

corners of the air-conditioning units to

stabilise the housing cube. In addition,

EMKA made the previous aluminium mould

part suitable for die-casting and used a

precisely fitting geometry.

HANSA develops and produces airconditioning

and ventilation systems for

schools, offices, sports halls, swimming

pools, hospitals, industry and IT rooms.

Except for a few standard units, HANSA

specialises in customised production. Within

limits allowed by the respective standards

and directives, the company manufactures

customised units according to the room

ventilation requirements.

Furthermore, HANSA adapts the units'

design to the size of the building or the size

of the ventilation centre. The aim is to

achieve a perfect room climate with

minimum energy consumption. The concept

is based on a frame constructed of

aluminium profiles and double-skin

cladding elements made of galvanised and

coated steel sheets with an intermediate

insulation layer.

All system components must maintain

either positive or negative pressure as

required to regulate the temperature and air

exchange in entire building complexes. The

proper locking technology is an integral part

of the enclosures to ensure the desired

compression and easy and safe operation

during maintenance. As a long-standing

system partner of the air-conditioning

industry, EMKA locks comply with the

special ventilation and air-conditioning

systems requirements and fulfil the

corresponding standards such as DIN EN

1886 or VDI 6022.

HANSA were able to switch to parts

made of die-cast aluminium with various

EMKA fittings, ranging from hinges to levers

on the operating doors. Hygienic sealing

gaskets made of EPDM and silicone are also

used in these units to seal them pressuretight

and to ensure the systems' durability.

The latest joint project was the changeover

from aluminium mould parts to die-cast

aluminium parts. These components are

used in the corners of air-conditioning units

above a specific size as connecting elements

between the aluminium profiles.

The difference in production is that

compared to gravity die casting, the metal is

injected into the mould cavity under pressure

in pressure die casting with consequent

increase in quality and reduction in piece

price for larger quantities.

"Since our instruments have had

continuously higher sales, the quantities of

these systems have increased accordingly,"

explains Arno Bunger, production manager

at HANSA. "From a certain number of units

onwards, it is worth switching to die-casting.

Even if the mould is more expensive, the

components are ultimately much cheaper."

Because every year, approx. 8,000 parts

are used the joint project started at the end of

2019, focusing on the question: "How can we

change the existing component to make it

suitable for aluminium die casting?" EMKA

then created compliant engineering

drawings and had the appropriate tools

manufactured. The key demand for the

aluminium die-cast parts was that above all,

they must be stable and have an exact

geometry. Moreover, the price had to be

fundamentally reduced compared to mould

production.

Bunger referred to future collaborations:

"For these systems, too, we have chosen

EMKA as our reliable supplier for decades.

EMKA is proven because of its high delivery

capacity. Moreover, the team around our

contact persons is very committed,

competent and makes short-notice enquiries

possible quickly", Bunger sums up that the

next project is already being planned to

convert hinges previously manufactured inhouse

to EMKA's new innovative 2D hinges

with raised hinge bracket.

www.emka.com

www.emkablog.co.uk

"Long term

partnership reaps

many rewards -

EMKA locking

technology

partnership with

HVACR OEM"

6 Manufacturing Machinery World, August 2022
---
GAUGES LTD

PENICO ROTARY

GRINDING TABLE

• Converts surface grinders

to rotary work

• Robust construction

For further details contact

Penico Gauges Ltd

Tel: 01274 511044

Fax: 01274 510770

Email:

penicogauges@yahoo.co.uk

Web: www.penico.com

The ideal solution for processing small batches

Set up times drastically reduced to boost up your productivity

The HRB-ATC introduces AMADA's unique Auto Tool Changer system to the mid-range sector and combines it with original AFH (AMADA Fixed Height)

tooling, as well as including automatic punch rotation and the possibility to manually load any compatible tools.

The HRB-ATC reduces setup time by up to 80% compared to a conventional press brake and brings high accuracy along the beam thanks to the new

auto-crowning device.

AMADA UK

Tel: +44 (0) 1562 749 500

Email: info@amada.co.uk

www.amada.co.uk
---
NEWS NEWS NEWS

GERMAN AUTOMOTIVE MANUFACTURER

IS ALSO A HELLER BETA TEST SITE

With the accelerating emergence of

electromobility and hybrid technology, the

components machined by German firm

Stöferle Automotive GmbH are becoming

more and more complex, while dimensional

accuracy and surface finish requirements are

steadily increasing. So the Laupheim-based

company started looking in 2019 for high

quality horizontal machining centres

(HMCs) on which to produce mild hybrid car

components in diameters ranging from 240 to

320 mm with fits between H6 and H7.

After evaluating numerous machines on

the market, Stöferle decided to invest in two

second-generation HF 5500 5-axis machining

centres from Heller, located in nearby

Nürtingen. The machines were installed well

in advance of their official launch date, as the

Laupheim firm is a long-time Heller user and

a beta test site for its machines. They were

integrated into a production line operating

three shifts, seven days a week, and produce

annually up to 350,000 components. In

addition, Stöferle has bought two H 2000 4-

axis models from Heller's fourth generation

H-series.

Joint managing director Erich Stöferle

said, "We perform real endurance tests on

Heller machines lasting years. We run them

to the maximum, operating at a small

percentage below the performance limits

specified by the manufacturer.

"If the maximum weight of a milling

cutter is specified as 16 kg, for example, we

go up to 15.5 kg. We use a 160 mm diameter

milling cutter at 15,000 rpm, which may not

be a problem in single part manufacture but

we produce continuously over three shifts.

"Another aspect of the tests is that the two

HF 5500s are part of a manufacturing line

comprising five or six machines. As annual

production quantity has been set at 350,000

pieces, a high level of reliability is crucial.

"Our tests show that Heller's aim of

delivering machines capable of high

productivity and precision day in day out

Katja and Erich Stöferle, joint managing directors of Stöferle Automotive GmbH.

has again been implemented in the newgeneration

HF-series."

The engineers in Laupheim believe that

Heller's new HSU inline spindles produced

in-house provide clear advantages over

earlier versions. The latest spindles are much

more rigid, lowering vibration, and the

design allows rapid, cost-effective

replacement. Stöferle opted for SC (speed

cutting) spindles rated at 18,000 rpm and 103

Nm torque.

Vibration is also reduced by the

construction of the HF-series, which features

a shorter distance from spindle nose to the

centre of the B-axis rotary table, allowing

shorter tools to be used and often avoiding

the need for extensions. The machining

centres provide impressive precision. Large

components are machined within 20 µm

parallelism and have a high quality surface

finish.

Stöferle also carried out field tests on the

fourth generation of Heller's H-series of 4-

axis HMCs. Starting in February 2020, a year

before their launch, a pair of H 2000

machines was used for large volume

production and continue to work around the

clock.

The other managing director Katja

Stöferle said, "This was a logical

consequence. We operate more than 20

machines in this series and have reliably

manufactured over a million components on

quite a few of them, without major repairs.

We had one H 2000 that ran for 15 years with

the same ballscrew drives.

"For producing transmission components

in batch sizes of 250,000 pieces per year,

machine stability, the quality of the drives

and chip disposal efficiency all have to be

right. In short, these are our best machines."

Electromobility increases requirements

not only in terms of component accuracy but

also batch size, so Stöferle is constantly

looking for ways to reduce cycle times. In this

regard, it is notable that Heller has improved

the dynamics of the latest H-series of HMCs,

measurably reducing the chip-to-chip time

for some components produced in

Laupheim.

https://uk.heller.biz

The production line at the Stöferle Automotive factory in Laupheim

into which two second-generation Heller 5-axis HF 5500 HMCs

have been integrated.

A drive motor housing for a hybrid vehicle being machined in one

of the Heller HF 5500s.

8 Manufacturing Machinery World, August 2022
---
2 & 3 November 2022 | NEC Birmingham

The UK's LEADING annual

gathering of OEMs and engineering

and manufacturing supply chain

professionals

2 days of networking

4 free to attend forums

1000s of innovative solutions

400+ leading suppliers

7000+ engineering professionals

A great event bringing

multiple sectors together

to show innovation in

engineering.

Matt Travis, Engineering

Manager, JCB

Scan here to

register to attend

Association partners

Composites

Trade

Association

REGISTER TO ATTEND WITH CODE 5256

aeuk@easyfairs.com | +44 (0)20 3196 4300

advancedengineeringuk.com

Co-located with
---
AEROSPACE

STARRAG FIVE-AXIS MACHINES PROVIDE DIVERSE

GROWTH OPPORTUNITIES FOR SCHALLER

Speed, power and precision are qualities that

are coveted by Justin and Maryann Schaller,

both in terms of the family-owned Schaller

Group and in their other shared passion of

hydroplane racing. And the speed, power

and precision of Starrag's STC 800 X five-axis

machining centres are playing a key role in

both their business and their racing.

The brother and sister duo are executives

of the Schaller Group, a third-generation

Michigan (North America) based precision

metal forming and assembly company that

manufactures parts for the aerospace,

military, automotive and medical industries.

For ten years, the siblings ran their own

CNC machining company but in 2018 opted

to bring their expertise back into the family

stamping business. The company expanded

one of its plants to 8,360 m2 and designated it

to CNC machining. It is one of six specialised

manufacturing plants operated by the group

in the Detroit area.

The Starrag STC 800 X was chosen not

only because it is ideally suited to machining

complex aluminium workpieces - as used by

the aerospace industry, for example – but

also because its precision capabilities, axis

configuration and ability to five-axis mill

with the use of a rotary table and a 30,00

revs/min, 120 kW tilting spindle will enable

Schaller to expand into other industry

sectors.

With an A axis range of -100/+60 degrees,

no angle heads are necessary for machining

complex parts. The rotary table allows

economical machining by using a tombstone

set-up or multiple parts and fixtures on the

same table. Additionally, with two STCs

integrated into a manufacturing system,

Schaller has high levels of flexibility in

production.

"These are the perfect machines for

growth," said Business Development

specialist Maryann Schaller. One example is

medical devices. In March 2020, parts were

manufactured and donated for a prototype

ventilator project in the hope of helping with

the Covid crisis. And while that project did

not take off as hoped, it showed Schaller

another market where the precision and

speed of the Starrag STC 800 X would be

greatly beneficial.

The STC 800 X is ideal for machining 1,400

mm or smaller precision parts, which is what

Schaller needs for the complex aerospace,

defense and speciality industries it is

expanding into. One such growth area is

high-performance racing including

watercraft such as hydroplanes and sleek

offshore boats, as well as auto racing like

stock, drag and rally. All rely on quality-built

aluminium parts and, according to Maryann

Schaller: "The STC 800 X is the perfect

machine for work in these sectors as our

racing experiences have introduced us to a

network of potential customers. The speed of

the Starrag machines along with the ability to

utilise tombstones on a multi-pallet system

will allow us to be competitive in the

manufacture of engine blocks, heads,

manifolds and other performance racing

products."

She concludes: "We started in the

aerospace industry in the 1980s. It's a great

growth market, but we also know the

importance of diversifying." Schaller selected

Starrag machines because they can be

utilised in any industry that requires high

precision, complex parts including racing

vehicles, satellites or electrical vehicles.

"Starrag's capabilities allows Schaller to meet

those diverse needs," she says.

www.starrag.com

10 Manufacturing Machinery World, August 2022
---
Tel: +44 (0) 161 330 4242

Fax: + 44 (0) 161 343 1347

Email: hq@newcentury.co.uk

www.newcentury.co.uk

Unit 2 Riverside Industrial

Estate,

Margaret Street,

Ashton-under-lyme.

Lancashire. OL7 0QQ

Mori Seiki ZT1500BY CNC lathe,

Mori MSX 501 control , very well

tooled, Iemca 3m barfeed, Y axis,

twin turret, twin spindle, 65mm bar

cap, live tools,190mm max

diameter.

£P.O.A

Hardinge Bridgeport INT 450 P3

vertical machining centre, Siemens

810D CNC, BT 40, spindle speeds

to 8000rpm, coolant, 600 x 320mm

table, X=450 Y=350 Z=380mm

capacity.

£P.O.A

Haas VF9/40 vertical machining

centre, Haas CNC, handwheel,

BT40, speeds to 10000rpm, 30

ATC, 2134 x 914mm table, X=2134

Y=1016 Z= 762mm capacity.

£P.O.A

Huron VX12 vertical machining

centre, as new condition, 4th axis

prep, New 2012, Siemens 828

CNC, handwheel, through spindle

coolant, 1400 x 630mm table, X=

1220 Y= 600 Z=610mm. £P.O.A

Mazak VTC 300C II Vertical

machining centre, PC Fusion 640M

CNC, BT40, speeds to 12000rpm,

swarf con, handwheel, 2000 x

760mm table, X=1760 Y=760

Z=660mm.

£P.O.A

DMG DMU 80P DuoBLOCK 5 Axis

machining centre, Heidenhain TNC

530i, 5 axis, speeds to 24000rpm,

785 x 630mm table, X=800 Y=800

Z=800 C=360 deg B= -25 deg/+

120 deg. £P.O.A

Biesse JFT 1531 CNC router, New

2019, Working area - X=3100

Y=1560 Z=200mm Biesse Solid

works control, 10 atc, 24000rpm

spindle, light guards.

£P.O.A

Doosan VC 500 twin pallet vertical

machining centre, Fanuc 18m, BT

40, speeds to 8000rpm, swarf

conveyor, 860 x 570mm table, 30

station tool changer, X=762 Y=510

Z=560mm.

£P.O.A

Amada HFT 100-3 CNC press

brake, CD 2002 4 axis CNC, light

guards, tooling, 200mm stroke

length, 470mm open height, 100

tons x 3000mm capacity.

£P.O.A

Amada Promecam ITP2 8025 CNC

press brake, Ema CNC 4 axis, full

length tooling, light guards, 100mm

stroke, 300mm daylight, 80tons x

2500mm capacity.

£P.O.A

Amada HFE 130-3 CNC press

brake, 6000 hrs, Operateur II 6 axis

CNC, tooling, light guards, 200mm

stroke, 470mm daylight, 130 tons x

3100mm capacity.

£P.O.A

Churchill plain cylindrical grinder,

30in swing, 60in max grinding

length, coolant paper filtratrion

system. Fully rebuilt 2017, 20in

diameter wheel.

£P.O.A

Mantech QC12 - 6 x 3200

Hydraulic guillotine, New 2018,

squaring arm, front supports, NC

Eastun programmable control, rear

light guards, 3100 x 6mm capacity.

£P.O.A

Sahinler MRMS 3050/200 initial

pinch bending rolls, New 2011,

special top roll segmented for

production of composite panels

and signs, 3000 x 4mm , conical

bending.

£P.O.A

Tauring SAF DS60 section rolls,

50mm shafts, 175mm roll dia, Vert

and horizontal bending, digital

readout, mechanical stop for

accurate bending.

£P.O.A

Alup Allegro 26 rotary screw

compressor, New 2017, Vertical air

receiver, normal working pressure -

7 bar, Max working pressure - 13

bar.

£P.O.A

Tel: +44 (0) 161 330 4242 Fax: +44 (0) 161 343 1347

Email: hq@newcentury .co.uk Website: www.newcentury.co.uk

TOP QUALITY MACHINERY

www.newcentury.co.uk

Manufacturing Machinery World, August 2022 11
---
For solid, reliable

down to earth advice,

contact Kerf today.

Oxy-fuel, Plasma,

UltraSharp and Waterjet

Cutting Technology

Machine sales, service,

support and consumables

Call us on: +44 (0)1706 757 670

www.kerfdevelopments.com | Email: sales@kerfdevelopments.com

Kerf Developments Ltd, Unit 1a Eagle Technology Park, Queensway, Rochdale, OL11 1TQ

SEC

ARTICULATED LED

LAMPS.

LONG OR SHORT

ARM TYPES. IP65

LED LIGHTING FOR INDUSTRIAL

MACHINERY AT

WWW.SECWORKLIGHTS.COM

FLEXIBLE NECK

LAMPS.

FIXED OR

MAGNETIC BASE

ARTICULATED LED LAMPS. LONG

OR SHORT ARM TYPES. IP65

AVAILABLE IN 12V AND 24V AC/DC AND 110-240VAC.

STRIP LAMPS TO DIRECTLY REPLACE TUBE LAMPS. VARIOUS

VOLTAGES, POWER AND LENGTHS. IP65

WWW.SECWORKLIGHTS.COM

TEL: 07793 285 994

EMAIL: steve@secservices.co.uk

SECWORKLIGHTS.COM

CHECK WEBSITE FOR MORE DETAILS FROM

£85.00 ex vat FREE UK DELIVERY.

Manufacturing Machinery World, August 2022 13
---
CAD-CAM

hyperMILL REVS UP PRODUCTIVITY FOR

MOTORSPORT MANUFACTURER

Founded in 2016, subcontract machine shop HSM Components in

Deeside has recently invested in CAD/CAM software from OPEN

MIND Technologies. Specialising in the manufacture of bespoke

components for customers across a multitude of industry sectors, the

North Wales company recently reached the capability limits of its

previous software – and that is where the hyperMILL CAM system

has stepped in.

"I had pretty much reached the limits of my old software, so I

needed to get something more advanced. hyperMILL was the perfect

choice for my business," says Steve Rigby, Managing Director at

HSM Components.

The previous CAM system was creating a level of frustration at

HSM, especially on more challenging components. Alluding to this,

Steve says: "In comparison to our previous system, it's like

comparing a Ferrari to a pushbike. The old software was more

geometry-based, so if you had a complex part - it really did become

an exercise in CAD skills. Now, with hyperMILL, it works off

surfaces and surface edges, so it is all model-based. There is also a lot

more functionality to the system. Initially, I found hyperMILL a

learning curve as it is more advanced, but the more time I invested in

the system, the more I got to grips with it. The possibilities for our

business are incredible."

The Flintshire manufacturer recently won an order to

manufacture big-bore billet engine blocks on Suzuki Hayabusa

motorcycle engines for a motorsport customer – a project the

company would not have been able to undertake without

hyperMILL. The challenging project also required specialist tooling

to machine the engine blocks from aluminium 6082 billets. Referring

to the motorsport project, Steve says: "I wouldn't have been able to

take this part on with the old software. hyperMILL has helped

immensely and made this project possible. One of the biggest

positives is the hyperCAD-S system from OPEN MIND. When you

come to doing off-line programming, not everything is

straightforward. Very often you have to do quite a bit of CAD work,

such as creating surfaces and containment boundaries. With the

hyperCAD-S system within hyperMILL - it's very easy to use and it

has excellent surfacing tools."

Recalling the implementation of hyperMILL and integrating it

into the business, Steve says: "As I don't have 5-axis capabilities,

OPEN MIND can give you the exact modules that you need. This

makes it more cost-effective for me as a small business owner.

Despite the high-quality reputation of the brand, the purchase price

was on par with other systems. The OPEN MIND team were

extremely helpful and said that they could strip out any particular

modules that we may not need. Having to learn a new CAM system

is a challenge, especially with a suite like hyperMILL that has so

much to it. Our initial strategy was to re-programme existing legacy

parts that we were already running with our old software."

"I noticed a huge reduction in cycle times straightaway and

surface finishes are much better with hyperMILL. Additionally, the

cycles are more efficient, and we are cutting less 'thin air' than we

were with the previous system – hyperMILL is just better all around,

which is something we would expect from a more advanced system.

It really has hit the mark and given us what we needed."

HSM Components encountered several challenges with the

motorcycle engine block, such as machining water jacket slots around

the cylinder bores as well as the machining of a pocket at the end of

the cylinder head for the cam chain. The water jacket slot is 6mm

wide and 50mm deep. The pocket for the cam chain goes all the way

through the engine block and has tapered walls. Both required

specialist tooling and creative machining strategies that were a

breeze with hyperMILL.

Commenting upon the project, HSM Components Managing

Director Steve Rigby says: "This customer is a specialist race engine

builder that we already manufacture several products for. They

brought a new project to us to manufacture small batches of 5-off

cylinder blocks to meet the requirements of its global customer base.

Previously the company had been using overseas manufacturers

with a minimum batch quantity of 10 off and a longer lead time. By

working with HSM Components, this customer can reduce their

order volume, inventory and lead times."

"With regard to the aluminium engine blocks, each block requires

10 hours of machining with four individual setups. To support this

project, we had to manufacture special fixtures, acquire bespoke

tooling from Quickgrind and adopt a leading CAM system from

OPEN MIND, but the benefits for the customer have been

significant."

Machined on a 3-axis Hurco VMX42, programmed with

hyperMILL and subsequently adding specialist cutting tools - this

combination has helped HSM Components to minimise the cycle

time for these challenging engine blocks. Concluding on the project,

Steve Rigby says: "We initially completed three engine blocks as a

trial for this new customer and by improving the quality and lead

time of these parts, we are now working on another batch of five

engine blocks. The tool paths with hyperMILL are also improving

our surface finishes. The opportunity for HSM Components is to now

manufacture additional components for this customer that sells spare

parts and builds bespoke motorsport engines for everything from

grass track racing and hill-climbing to performance vehicles that are

exported worldwide. By utilising the high-end hyperMILL CAM

system in conjunction with the specialist cutting tools from

Quickgrind, we have little doubt that we can facilitate all the needs of

this client."

www.openmind-tech.com

14 Manufacturing Machinery World, August 2022
---
SubconDrillingLtd

Gundrilling - Honing - CNC Machining - Superfinishing

Subcon Drilling Limited is a highly professional

company whose entire experience and

energy is focused solely on Gun Drilling, Deep

Hole Drilling, Honing, CNC Machining and

Superfinishing.

With the knowledge and extensive experience

of over 30 years, Subcon Drilling continually

provides a professional and personal

approach with total dedication to quality to a

list of long serving clients.

Our BS EN ISO9001:2015 Quality Management

System is an integral part of our business.

Focused on quality, Subcon Drilling is

recognised as the leading Gun drilling and

specialist machining provider in the U.K., continually

meeting and exceeding our

customer's demands.

Subcon Drilling Ltd

Unit 6, The Heron Business Park, Eastman Way, Hemel Hempstead, Hertfordshire HP2 7FW

Tel: 01442 205960 Fax: 01442 205961

www.subcondrilling.co.uk Email: dean@subcondrilling.co.uk

Manufacturing Machinery World, August 2022 15
---
NEW PRODUCTS – NEW PRODUCTS – NEW PRODUCTS

TUNGALOY INTRODUCES NEW PCD LINE

FOR HIGH-SPEED MILLING

With the global launch of the new

ADDFORCE brand from Tungaloy that now

introduces the very latest cutting tool

innovations, the cutting tool manufacturer

has introduced its new TungRec DX110

Series of PCD insert grades for unrivalled

performance when machining aluminium

alloy components.

The Tungaloy TungRec milling range has

long been an exceptional performer with its

innovative tool bodies and insert geometries,

but now, this line is set to take aluminium

machining to a new level with the new

DX110 PCD insert grade. Developed for the

finish machining of ISO N materials, the new

DX110 grade incorporates an ultrafine

micrograin structure that provides

outstanding surface finishes and component

quality whilst demonstrating exceptional

cutting edge integrity. This ability to

maintain edge sharpness over a prolonged

period ensures that end-users benefit from

impressive tool life and extended periods of

unmanned running with the economical

benefit of reduced insert consumption.

The new DX110 inserts are the first PCD

solution to be incorporated into the TungRec

line, offering existing TungRec users the

facility to enhance aluminium machining

capabilities with existing tool bodies. At

present, the PCD inserts are available for

TungRec 11 size toolholders, offering the

facility for improving small diameter milling

tools where vibration and excessive tool

overhang are commonplace. Furthermore,

As manufacturing continues to exploit the

benefits of using robotic systems across an

ever increasing range of applications one of

the largest manufacturers of industrial robots

continues to develop its range of systems.

With more than 540,000 robots installed

worldwide YASKAWA has unveiled its

Signature Edition 2022 a series of robots

which can be delivered within short lead

times, a low carbon footprint and tailored to

individual needs.

At its European factory in Slovenia,

Yaskawa develops mechatronics and robotic

solutions for companies throughout Europe,

the Middle East, Africa and the CIS states.

This substantial manufacturing capability,

combined with having subsidiaries in these

regions along with European production

sites, means they are located where their

customers need them to be.

The Signature range encompasses the GP

Series which means there is a model to suit a

wide range of applications and requirements

including the GP7, GP12, GP20, GP25, GP50,

the insert geometry and composition reduce

cutting forces to generate a particularly

smooth cutting action that rapidly removes

chips from the work area whilst further

reducing vibration and improving surface

finishes.

Perfect for the machining of aluminium

components in the aerospace, automotive

and general subcontract sectors, the DX110

insert grade and the TungRec toolholders for

insert size 11 provide manufacturers with an

indexable cutting tool solution from as small

as 12mm diameter. With tool diameter

bodies extending up to 100mm diameter, this

new arrival to the TungRec range perfectly

complements the existing TungSpeed-Mill

PCD Series where the smallest diameter tool

body is 50mm. For further details on how to

accelerate your small part milling of

aluminium alloy components, please contact

Tungaloy UK.

www.tungaloy.com/uk

YASKAWA UNVEILS ITS 'SIGNATURE' RANGE OF ROBOTS

GP88 and the GP180. This represents one of

the widest ranges of robots covering

payloads of just 7kg and a range of 927mm,

up to the performance of the GP180 which

has the ability to handle payloads as high as

180kg across a range of 2702mm.

The key benefits of the Signature range of

robots are; high accelerations, speed, energy

efficiency along with a compact footprint and

finished in a distinctive elegant black design.

Within the YRC1000 controller a very fast

multitasking CPU, an advanced operating

system along with the superior Yaskawa

Sigma7 high speed servo technology,

provide outstanding path performance and

advanced functional safety (FSU). With our

European factory, we can react to your

individual requirements. You get your robots

within short delivery times.

This comprehensive range of robots

available under the new Signature branding

confirms the status of Yaskawa as being a

leading provider of robotic systems covering

a broad range of applications including;

welding, palletising, handling, packaging,

assembly and pick & place.

www.yaskawa.eu.com

16 Manufacturing Machinery World, August 2022
---
THINK IN NEW DIMENSIONS

THINK

KASTO is the world's

leading manufacturer of

high productivity bandsaws,

Saws.

circular saws and hack saws,

from manual to fully automatic.

THINK LOWEST COST PER CUT

KASTOwin pro

KASTOmicut

KASTOvariospeed

We manufacture the widest

range of computer controlled

Storage.

storage and retrieval systems

for bar, tube, profile, sheet

and other materials.

THINK LOWEST COST PER PICK

KASTOecostore

KASTOuniline

KASTOunitop

And More.

KASTO Ltd 01908 571590 sales@uk.kasto.com www.kasto.com

Manufacturing Machinery World, August 2022 17
---
NEW PRODUCTS – NEW PRODUCTS – NEW PRODUCTS

PLENTY OF POWER FOR LITTLE SPACE

High-performer product series further

expanded – with lubrication-free iglidur

slewing ring bearing PRT-04-Micro for the

tightest installation spaces

Köln, 6. April 2022 – The requirements for

machine components are becoming

increasingly demanding: Enabling drives

and movements even in the smallest

installation space is a challenge that

companies face in many areas. Now igus has

further developed its PRT-04 slewing ring

bearing series exactly for these applications –

with an extremely compact slewing ring

bearing for even more space savings.

Save installation space and weight

without sacrificing reliable performance –

and all this even lubrication-free. igus now

makes this possible with the PRT-04-Micro.

The motion plastics specialist completes its

product range with a particularly small and

at the same time robust slewing ring bearing.

The PRT-04-Micro has an outer diameter of

60 mm, making it the smallest size among the

PRT slewing ring bearings from igus. It

consists of three aluminium rings and a new

development of the sliding elements made of

the proven high-performance plastic iglidur

J. This runs particularly well on aluminium

and therefore ensures good wear values and

a long service life. In addition, this material

has a low moisture absorption and convinces

with its chemical resistance. Depending on

individual customer requirements, other

materials can also be used. Like all igus

bearings, the PRT-04-Micro is 100 percent

lubrication-free and therefore insensitive to

dirt, dust and moisture.

For rapid, efficient production of cooling air

holes in gas turbine components such as

guide vanes, blades, buckets, combustors

and heat shields, DMG MORI has introduced

the new LASERTEC 160 PowerDrill and its

smaller counterpart, the LASERTEC 100

PowerDrill. Intended for manufacturers in

the aerospace, power generation and other

industries, the machines have a small

footprint yet offer a large working envelope,

making them ideal for companies that are

short of space on the shop floor.

To meet the increasingly high accuracy

requirements in the target industries, the

new 5-axis drilling machines are based on a

modular, moving-column design. The

column moves in the X and Y axes, providing

rigidity for high accuracy machining

throughout the entire working volume. It is

1,600 x 1,000 x 1,000 mm for the larger model

and 1,000 x 1,000 x 1,000 mm for the smaller,

respective footprints being 14.7 sq m and 12.7

sq m.

A swivel axis for the tool and a rotary axis

"The use of aluminium and plastic offers

two decisive advantages: a lightweight but at

the same time stable construction. Despite its

small size, the PRT-04-Micro can keep up

with comparable products on the market and

can accommodate high load ratings of up to

3500 N in the axial direction, but is much

more compact," explains Fabian Wieking,

Product Manager PRT slewing ring bearings

at igus. Smooth-running rotation and swivel

movements are thus made possible in even

smaller installation spaces, which in turn

creates a wide range of possible applications.

The low weight is also of great relevance in

all industries. Possible application examples

are small, movable light installations – socalled

moving heads applications – or swivel

tables in trains and airplanes, but also

applications in automotive engineering. A

low weight also pays off in terms of fuel

consumption. Because less weight means less

consumption – and thus another way to

implement the goal of more sustainability.

The elimination of lubricants also offers

additional added value: because maintaining

systems costs valuable time and money.

Thanks to the solid lubricants contained in

the iglidur material, the slewing ring bearing

is not only free of greases and oils, but also

maintenance-free – and particularly durable.

Another plus: The PRT-04-Micro is a readyto-install

part that can be integrated directly

into an application. This eliminates the costs

for the construction and self-construction of

the bearing points.

Ready for installation or individually

configured: Well advised with the PRT

expert.

Since 2019, igus has been offering users

the PRT-04 slewing ring bearing series, a

comprehensive and constantly growing

modular system that has been specially

developed for use in movements in confined

spaces. This consists of a variety of variants

that can be combined with each other. The

PRT expert helps with the selection of the

right bearing: By entering only a few

parameters on installation space, load, speed

and environment, the configurator finds the

right slewing ring bearing for the customer's

individual application and calculates the

expected service life in the same step. This is

put through its paces in the company's own

3,800 square meter test laboratory. The

collected data flows into the PRT

configurator and enables a reliable statement

on the service life of the slewing ring

bearings.

www.igus.de/presse

TWO NEW 5-AXIS LASER DRILLING MACHINES

for the workpiece, or alternatively a

swivelling rotary axis for the workpiece,

together with different table variants, offer

the right kinematics for every application,

especially in bucket and combustor

machining. Depending on the application,

the machines are available with different

space-saving fibre lasers rated at 9 kW to 23

kW, as well as in the PowerShape machine

version for shaped-hole machining. With

variable collimation, the laser's focus spot

size can be changed during processing

without manual intervention.

Linear drives in the X and Y axes, with

acceleration of 7 m/s² and rapid traverse up

to 90 m/min, ensure high dynamics. In

combination with a newly developed laser

control, up to 500 holes per second can be

produced.

The machines have other advanced

features such as shoot-through detection,

capacitive distance sensors, water-cooled

motors, linear guideways and ballscrews, an

optional tool changer for different processing

heads, automatic drill position detection and

a camera integrated into the laser optics.

Lasersoft PowerDrill software, which was

developed in-house and has proven itself

over many years, supports all jobs with a

high level of user-friendliness and ease of

programming. DMG MORI's proprietary,

app-based interface CELOS and the powerful

SIEMENS 840D solutionline control ensure

ease of use and high process reliability.

www.dmgmori.com

18 Manufacturing Machinery World, August 2022
---
USED RIVETING MACHINE FROM

THE MARKET LEADERS

❋ MOST TYPES AVAILABLE

❋ FULLY CHECKED

❋ TOOLING

❋ FIXTURING

❋ GENERAL ADVICE

k THOUSANDS OF MACHINES SOLD DURING

OUR TWENTY FIVE YEARS IN BUSINESS

CONTACT BILL CHALLENOR

54 Coventry Road, Pailton,

Rugby, Warwickshire CV23 0QB

Tel: (01788) 833301 Fax: (01788) 833481

Email: wgcrivet@gmail com

Web Site: www.wgchallenor.co.uk

PRECISION SPINDLE

REBUILDING

We offer a complete rebuild service of CNC

machining centre spindles, CNC lathe heads,

Grinding spindles (both belt driven & high

frequency types), Tailstocks, Fine boring spindles,

Milling spindles, Centre-less grinding spindles,

workheads, wheelheads etc.

TECHNOVA PRECISION LTD

Tel: 02476 366503 • Fax: 02476 361979

Web: technovaprecision.com • Email: will@technovaprecision.com

your

GATEWAY

to a

SMARTER

FUTURE

26 TH INTERNATIONAL SHEET METAL

WORKING TECHNOLOGY EXHIBITION

• CNC Grinding

• Surface Grinding

• Thread Grinding

• Centreless Grinding

• Honing

Tel: 0116 271 8188 Email: info@centralgrinding.co.uk

www.centralgrindingservices.co.uk

• Sheet metal, Tube, Sections • Handling •

Forming • Finished products, Parts, Assemblies •

Separation, Cutting • Joining, Welding • Flexible

sheet metal working • Tube / Section working

• Composites • Surface treatment • Tools, Dies

• CAD / CAM / CIM systems / Data processing

25 – 28 OCTOBER 2022

HANOVER , GERMANY

www.euroblech.com

Manufacturing Machinery World, August 2022 19
---
NEW PRODUCTS – NEW PRODUCTS – NEW PRODUCTS

NEW CUBIC BORON NITRIDE TOOLS FROM HORN

Horn announces an expansion of its product

portfolio to include tools tipped with cubic

boron nitride (CBN) for machining difficult

materials such as superalloys and hardened

steels. The ultra-hard material is capable of

smooth machining even during interrupted

cutting when hard turning and grooving. By

extending its existing standard ranges of

Supermini 105, Mini 11P, 229 and 315

systems, Horn is able to deliver the CBN

tools quickly from stock.

The Supermini system is available in left

and right hand versions with different corner

radii. The CBN-tipped variants are for

internal machining from a diameter of 2 mm.

Different lengths of solid carbide body are

available. Tools in the Mini family can be

used from an internal diameter of 6.8 mm

and are also available in left and right hand

versions.

The single-edged tool type 315 is for

external grooving from a width of 0.5 mm. In

the cutting insert system 229, the previous

CBN substrate CB 50 is replaced by the

higher performance substrate CB 35. Inserts

are available with two different corner radii

and cutting widths from 3 mm to 6 mm.

CBN is the second-hardest material after

diamond. Tools made from CBN wear much

more slowly than other cutting materials

when used appropriately. It is consequently

possible to achieve higher dimensional and

profile accuracy, even when machining hard

materials such as steel up to 70 HRC.

Enerpac announces two new series of

workshop presses—the XLP-Series H-Frame

Workshop Presses and VLP-Series Benchtop

Presses. Whether for differential assembly in

the automotive industry, gear components

assembly in the aerospace industry, or

bearing maintenance in the mining industry,

the new Enerpac VLP and XLP presses offer

superior performance.

There are no different grades of CBN.

Differentiation between tools is down to the

CBN volume fraction, the fillers, grain size

and the ceramic/metallic binder phase

(cobalt/nickel). This results in different CBN

substrates. Hard machining is usually carried

out without coolant, as these cutting

materials have high heat resistance and the

elevated temperature within the chip

formation zone has a positive effect.

Whereas carbide suffers a significant loss

of hardness at around 800°C, the hardness of

CBN remains almost unchanged at

temperatures up to 1,200°C. Another

significant advantage is good chemical

resistance, even at these high temperatures.

www.phorn.co.uk

ENERPAC VLP AND XLP WORKSHOP PRESSES

OFFER SUPERIOR PERFORMANCE

New XLP-Series Workshop Presses

Available in 25-, 50-, and 75-ton models, the

XLP-Series Workshop Presses feature

adjustable side-to-side cylinder movement, a

locking winch for easy height adjustment of

the press bed, and high-performance

manual, pneumatic or electric pump options

with remote valve operation. The 25-ton

press has a simple, welded design and the 50-

and 75-ton presses have an open frame and

bolted design. The 50-and 75-ton models

come standard as unassembled kits, and

include complete press frame, winch,

cylinder, pump with gauge, couplers and

hose.

New VLP-Series Benchtop Presses

Enerpac VLP-Series Benchtop Presses work

with manual or air pumps. They feature a

welded frame and are available in 10-ton

models.

www.enerpac.com

20 Manufacturing Machinery World, August 2022
---
AUTOMATION

SINGLE-HIT PRODUCTION OF AERO ENGINE PARTS

RESULTS IN BIG SAVINGS AND REDUCED LEAD-TIME

A few years ago, T&R Precision Engineering

in Foulridge, East Lancashire, started

manufacturing parts from Inconel 625

castings for the hot air side of the GE-Safran

LEAP-1A turbofan that powers the Airbus

A320neo family of single-aisle jets. The

problem was that the work involved a

labour-intensive sequence of three or four

operations on separate machines. Not only

was there a significant risk of introducing

human error, but it also necessitated the

production of a batch of eight components to

start each day but each batch would take one

week to complete.

A more efficient process route for the

drilling, milling, chamfering and turning

operations was therefore sought by the

aerospace components supplier, which

employs more than 70 people. The ideal

solution identified by Engineering Manager

Graham Gilbert involved the purchase from

NCMT (www.ncmt.co.uk) of a Japanese-built

Okuma MU5000V 5-axis vertical machining

centre (VMC) equipped with a Dutch-made

Cellro 30-station pallet storage and retrieval

system served by a 6-axis industrial robot.

Managing Director Tim Maddison

commented, "The improvement in

production performance has been enormous

across the four different LEAP-1A castings

that we machine. All parts are now produced

in one hit in a one-hour cycle, which means

that eight components are now ready the

same day rather than after a week.

"The substantial saving in lead-time is

accompanied by vastly less workpiece

handling and work-in-progress on the shop

floor, while at the same time fewer free-issue

Inconel castings need to be supplied by our

US customer at any given time, saving them

money as well."

A further benefit is a 50 percent reduction

in total processing time compared with when

the parts were produced in three or four

separate operations. An additional saving

that Mr Maddison describes as "massive"

comes from inspecting every completed part

in the VMC in a 10-minute routine at the end

of the cutting cycle. So instead of 100 percent

inspection on a coordinate measuring

machine, only one part per day now needs to

be checked off-line.

The production cell was installed in

November 2019, shortly before the start of

the pandemic. The aircraft build rate

promptly collapsed from 63 per month to

zero, but Mr Maddison advised that by the

start of 2022 it had recovered to 50 per

month, will return to pre-Covid levels by the

end of the year and is predicted to rise by a

further 20 percent during the course of 2023.

The contract machinist could not have

coped with these increased volumes without

investment in the Okuma / Cellro plant, but

is now in a position to take full advantage.

The layout of the equipment is such that, if

future volumes dictate, there is space for a

second Okuma MU5000V to be installed

adjacent to the first and to be served with

pallets of pre-fixtured components from the

same Cellro robotic store. It was this

potential that steered the manufacturer away

from sourcing a machining centre with its

own integrated pallet storage and retrieval

system.

A number of notable technical advances

have been incorporated into the latest

22 Manufacturing Machinery World, August 2022
---
AUTOMATION

production cell. One is the provision of

Okuma's turn-cut software in the proprietary

OSP machine control that allows, without the

need for special fixturing, turned features to

be produced that are not on the centreline of

a component. Three of the castings require

this technology to be used.

Features are machined by rotating a

turning tool in the VMC spindle, circular

interpolating the X and Y axes at the same

rotational speed and feeding the spindle

forward in Z. Had interpolation turning not

been available, it would not been possible to

produce all the parts in one hit. There is no

production efficiency penalty through the

use of relatively slow turn-cutting, as it is not

feasible to turn Inconel at high speed anyway

due to the material becoming difficult to

machine when hot.

To compensate for there being a lot of

variability in the shape of the castings,

another process improvement is the use of a

combination of Renishaw's Inspection Plus

and Productivity Plus probing software

packages running in the control coupled with

spindle probing of the workpiece. The

various elements of a casting can be

measured and manipulated by the

measurement cycles so that the workpiece

can be placed in a position where it can be

machined successfully; and if it cannot, the

part will be rejected.

Alternatively, if any given feature is

predicted to be out of tolerance, the customer

can be informed so a decision can be made as

to the feature's relevance and whether

machining should go ahead anyway. The

importance of harnessing all these

technologies can be gauged by the fact that

the raw castings are so expensive that

machining adds only 20 percent to the cost of

a finished component. For the same reason,

scrap is assiduously avoided, accounting for

only 0.015 percent of cell throughput.

Another feature of Okuma machines that

T&R Precision appreciates is the Thermo-

Friendly Concept design, involving both the

machine structure and the spindle. It allows

the aero engine parts to be machined to

within ± 25 microns, despite a significant

variation of temperature on the shop floor in

Foulridge.

Space for 30 machine pallets in the Cellro

store allows up to 30 hours' production

without operator attendance, so there is no

need for a manned night shift and full

advantage can be taken of lights-out

operation at the weekend. With an OEE

(overall equipment effectiveness) in excess of

80 percent, it adds up to a highly productive

facility in its present form, while the

flexibility to add a second VMC has the

potential to double output and extend

unattended running further.

The final word went to engineering

manager Graham Gilbert who said, "The

support provided by NCMT throughout the

project was fantastic. It was useful to be able

to visit Okuma's European headquarters in

Germany with them to prove out various

parts of the process.

"The engineer the agent deployed in our

factory for several weeks after installation

was knowledgeable and very patient with us

during the training period.

"This was important as, although we

operate a couple of dozen multi-axis CNC

machining platforms on a daily basis here in

Foulridge, the MU5000V was the first

machine we had bought from this source so

we were on a steep learning curve at the

outset."

www

Manufacturing Machinery World, August 2022 23
---
DIGITILIASTION FACILITATES ALL ROUND

PRODUCTION BENEFITS

An increasing number of subcontract

precision engineers are looking to digitalise

their business administration and production

processes by removing as much paperwork

from the shop floor as possible. PSL

Datatrack's dynamic Status Board screens

have already been adopted by numerous

companies to replace handwritten

instruction boards within manufacturing

cells. Recent enhancements to the technology

behind these powerful displays provides

even greater management and shop floor

information at a glance.

Essential information that can now be

highlighted on Status Boards includes a

complete summary of real time production

information for the management office.

Visual grouping of cost centres and details

such as whether the required materials and

correct gauges have been allocated to the

works order are now available, ensuring

everything is in place for on-time delivery to

the customer.

A new production cycle feature displays

and compares actual cycle times with preestimated

times defined in the associated

quotation. This information can be

highlighted in red if over time by a certain

percentage or in green when projected cycle

times are beaten/met.

To identify areas where there may be

manufacturing problems, the quantity of

components that are known to be scrap can

now be displayed as an overall percentage of

the total batch run. This information is

recorded by operators through the Shop

Floor Data Collection (SFDC) module and

colour-coded warnings are displayed if

scrappage runs above an unacceptable level.

Status Boards therefore remain an

essential production control software

resource and help to prevent production

delays whilst also eliminating information

inaccuracies. Status Board technology is the

subject of continuous PSL Datatrack

development to display live data exactly as

the customer wishes to see it.

They are not, however, the only digital

features that PSL Datatrack customers are

utilising. The facility to display

scanned/saved documentation, including

issue-controlled drawings for traceability

and audit purposes, is another hugely

popular feature. Process layouts can also be

called up on screen and read by barcode

scanners as part of a paperless shop floor.

A number of interactive home screens

provide further information and faster

navigation from the outset. The visual

Roadmap displays production flow and

takes the user through the process of how a

job runs from an initial quotation through

production planning, scheduling, quality

control and final invoice.

The Statistics screen can be set as default

to highlight business performance using data

held within each PSL Datatrack module. This

display can be refreshed automatically or on

demand, providing users with real time Key

Performance Indicators (KPIs) at the push of

a button.

KPI data is essential management

information and, combined with additional

new Status Board functionality, will further

improve shop floor feedback on production.

The current shop floor work-to-list, jobs

requiring work on a specific day and

customer deliveries due on that day are all

popular Status Board uses.

According to PSL Datatrack's Managing

Director, Geoff Gartland, the scope of a

Status Board has no real boundaries: "The

limiting factor is the customer's imagination.

Whatever production data is held in their

PSL Datatrack system can be shown on a

Status Board, which we will then design to

meet specific management and shop floor

needs. With this new functionality, it really is

like having an extra pair of hands in the busy

manufacturing environment."

For more information, visit www.psldatatrack.com or contact

PSL Datatrack, Lily Hill House, Lily Hill Road, Bracknell, Berkshire, RG12 2SJ,

Tel: +44 (0) 1344 827312, Email: sales@psldatatrack.com

24 Manufacturing Machinery World, August 2022
---
VOLLMER

INTERVIEW WITH VOLLMER PRODUCT MANAGER DISCUSSING

LAUNCH OF TWO NEW SAW BLADE GRINDING MACHINES

Working for VOLLMER for 24 years and

spending over 14 years in product

management, Thomas Wenger has incredible

industry experience in the circular saw

marketplace. With the new CSF860 side

grinding machine and the CS860 face and top

grinding machine both making their

worldwide exhibition premiere at the

GrindingHub exhibition in May, we speak to

Thomas about the arrival of the two new

machines.

Discussing the concept behind the two

new machines that will supersede the CHD

270 and CHF 270 saw blade processing

machines, Thomas says: "The CHD and CHF

machines were based on a completely

different construction to our new technology.

The CHF side grinding machine was

designed in 2000 and the CHD face and top

grinding machine was designed in 2004-05 –

we continually evolved these machines, but

we reached the limit of what could be

achieved with the existing construction and

this was reflected in the machines at the end.

Now, with new drives and software

technology on a new foundation – we can

add new features for our customers."

"We identified our development goals

and we started to design the CS and CSF

machines. So, the base, the housing and

many other elements are completely

different to before, but components that have

proven their stability and accuracy over

many years remain. We have designed both

new machines with the same kinematics,

housing, structure and polymer concrete

base, so we can have a modular foundation.

This makes it easier for us internally to

streamline production and reduce lead times.

It also makes the machine easier for the

operator to handle as there is greater synergy

between the CS and CSF machines. This

creates uniformity with regard to loading,

setting-up, the view and ergonomics and also

the programming."

"This uniformity of technology was our

target, adopting the same CNC, operating

philosophy and also the latest drive

technology. In the past, we used some servo

motors with standard synchronous motors.

Now, all motors, grinding spindles and axes

are servo driven. We have seven motors on

the CSF side grinder and eight on the CS face

and top grinder, this includes linear CNC

axes plus 3 CNC grinding spindles on the

face/topper and two CNC grinding spindles

on the side grinder. The servo-driven

grinding spindles provide a higher quality

saw blade and we can now conduct different

in-feed and cutting speed rates on each tooth.

This improves the surface quality of the

cutting edge and brings more flexibility into

the grinding process. Customers can now do

whatever they wish."

Expanding on the servo motors, Thomas

says: "Previously, standard motors had

power and encoder cables, by evolving to the

OCT (one cable technology) hyperface

technology there is just one cable. This means

there are fewer cables and switches, reduced

power consumption and it is easier to change

a single cable – something that reduces the

future service costs for the customer."

New features that fulfil the four

foundation blocks

With any new concept, the experts at

VOLLMER aim to achieve four key delivery

parameters for customers. These are

increased flexibility, productivity, reliability

and quality. Alluding to this, Thomas adds:

"We met the goals by creating more stable

processes in the new machines to provide

better grinding results at the cutting edge.

This was the fundamental reason for the new

CNC control, motors, new features for

oscillation, grinding and cutting speeds."

"Looking at flexibility, one important

thing is the integration of an additional axis,

the R2 axis. This cross-axis at the saw carrier

makes it possible to grind saws with a flange.

Flexibility was previously limited because

saws were manually set. Now, this is

completely flexible as you can mix saws with

different flange heights and even mix saws

with and without flanges."

"Flange saws are very prominent in the

wood industry and this will make it much

more flexible to accept different types of saw

blades. Previously, a customer would need

10-15 minutes to undertake this

reset/change-up. Of course, some customers

only undertake this saw type change once a

day, but others repeat this a few times a day.

It's now done immediately, saving the

customer time."

"We also have a new 'centre brake'

feature. In the past, we would put the saw

carrier on the machine and the saw blade

would rotate on the flange. When processing

coated or strobe saw blades, the carrier could

leave scratches on the blade - so we created a

carrier that rotates with the blade. In the end,

there is a centre brake and clamping plate on

the gullet that opens when we push the tooth

to the next grinding position. If it is left

closed, there will be scratches in the gullet

area, if you open the clamp and push the next

tooth - you need to hold the saw blade

somewhere. This is why we use the rotating

flange together with the centre brake, so we

can open the clamp and push the tooth to the

next position. This eliminates scratches at the

centre or around the gullet area at the end of

the process."

The Major Advantages of

Software

The four pillars of flexibility, productivity,

reliability and quality are often interwoven

in the very DNA of machines – overlapping

with each other. With the new CS and CSF

machines, VOLLMER has pushed the

boundaries of software technology on all

fronts. As Thomas states: "On the CHD

machine, the software automatically

recognised the end point of grinding, and

Manufacturing Machinery World, August 2022 25
---
that was it. We have evolved this to increase

output by up to 20%."

"The new optional software takes the

calculation work away from the operator. At

present, the operator measures the grinding

length on the face, top and chamfers. If the

customer has trapezoid geometries, the

straight part of the tip can be longer than the

chamfer, which means some faces may need

more grinding than others. The new software

calculates where the customer starts and

finishes the grinding pass - doing everything

automatically. The customer no longer has to

measure the difference between the flat

surface and chamfer. The in-process cycle

reduces non-cutting times. For example, a tip

with a 15mm surface area on the top face may

only require 12mm of grinding on the

chamfer. Our software automatically

calculates this, so 3mm of 'air-cutting' per

tooth is eliminated."

"This patented technology reduces

production times. As an example, if you

eliminate 3mm of air cutting on a 60 tooth

saw blade, that is 180mm of air cutting. If you

are grinding at 4mm/sec that is a saving of 45

seconds on a single blade."

Emphasising the software evolution with

the new CS machine, Thomas says: "In

addition, the customer now has less data to

input. There are just two main pages and this

has always been our strength, but we have

now simplified this furtherby integrating

more measurement functionality. One page

for the face and another for the top grinding

- and the customer can activate particular

features just by entering a one or a zero.

Previously, the operator would measure each

parameter and programming was a

combination of having the saw blade on the

VOLLMER

left-hand and the programming screen on the

right side. VOLLMER only used to measure

the hook angle, but now we also measure the

clearance and bevel angle. Once the operator

activates the feature, he no longer measures –

just inputs basic data like tooth shape,

number of teeth – and that is it. This

eliminates much of the 'pre-measuring

process' that can be 2 to 3 minutes per blade."

"Nowadays, we are increasingly

calculating production costs per square

metre, especially in saw service centres that

have limited space. To free up capacity

without building a new hall or facility, this

new technology will reduce the production

cost per square metre for customers, as the

machines can produce more blades per day."

Software for the Sawmill

"One cost reduction per square metre

contributor is the new pocket grinding

feature. The guys in the sawmill industry are

re-tipping saws and using the saw body 2, 3

or 4 times. These companies heat off the old

tips and before brazing-on new tips, they

manually regrind the pocket seat – a labour

intensive job. We've added this is a fully

automated process. So, if customers have

taken the teeth off the saw body, it can be

added to the stack and the pocket will be

reground. In the high-end metal industry,

pocket seat grinding has to be very precise.

They may be milling or laser cutting the saw

body to tolerances of +/-0.1 or 0.2mm, this is

too high for manufacturers producing metal

cutting saw blades – we can now automate to

much higher precision levels."

"From a flexibility perspective, we also

added a multi-surface program where the

customer can input up to 30 lines. This allows

the user to program three multi-surfaces, and

the multi-surfaces can be added to one facet

or 90. We have also extended the diameter

range to 860mm from 840mm."

Bridging the skills gap

The evolution of software is also helping

VOLLMER to bridge the skills gap for its

customers. As Thomas continues: "If you

look at our VPulse or Vgrind, we have a

different user interface that is more wellknown

in 5-axis CNC grinding, but operators

in that field are different to the sawmill

industry. Our software explains everything

with pictures, simplifying the process for

operators with no background knowledge of

saw blades. The two pages of content that an

operator has to complete, are the same as

before - but data input is significantly less.

We always aim to increase automation, as

our customers have a challenge with staff

skill levels. Once upon a time, a saw shop

would have many staff that could

programme machines. Now, companies with

30 to 40 staff may only have one or two

employees that can do this. This is a

challenge we are undertaking to support our

customers."

Integrating Software & Industry

4.0

Expanding upon customer support: "We

have also incorporated Industry 4.0

technology with our software. Now, if an

end-user has quality concerns with their

saws, our customer can undertake a final

inspection before dispatch. When a saw is

complete, a measuring sequence can be

applied to one tooth or all teeth on the blade.

Our customer can select their measurement

parameters. This process creates an XML file

for quality and traceability to ensure each

saw is 100% correct. Previously, saw

manufacturers and service shops used

manual measuring equipment and inspected

every fifth or tenth saw blade for conformity

- and then recorded the data. Now, a fully

automated sequence can be integrated to

save considerable time."

Precision & Quality

With Thomas already emphasising how

software is reducing data input

requirements, 'air-cutting' times and manual

measuring processes – the software cannot

undertake such tasks without the supporting

hardware. And here, Thomas acknowledges

the ingenuity of the new measuring

technology: "The stable production processes

are derived from three measuring devices.

First, we have the Renishaw MP250

measuring probe repeatable to 1µm. It has

high-end 3D precision unnecessary on

machine tools that only require single point

contact. We use the Renishaw MP250, as its

spherical system provides remarkable

accuracy regardless of contact point direction

26 Manufacturing Machinery World, August 2022
---
and we need this as our face and top

grinders, measure all around the tooth."

"The second system is the brand new

measuring cube for the grinding wheels. It

has an absolute fixed point and it gives

absolute knowledge of the grinding wheel

position. If there is a temperature fluctuation

in the machine or spindle, this fixed point

will compensate for all other parameters. It is

very stable and fast. We can measure the

grinding wheels whilst the machine changes

the saw blades. In the past, it was necessary

to compensate the grinding wheel by

measuring the tooth - this was unproductive

time. Integrating this process increases

grinding stability whilst reducing

unproductive time."

"This grinding wheel measurement is

pre-programmable, but the manufacturer

generally knows they need to recalibrate the

wheel every 5 or 10 saw blades. The customer

can define the measuring point, whether it be

by the number of teeth or saw blades

processed. Furthermore, the customer is not

losing production time – a concern in the

past. As an example, the wheel measuring

process takes 20 to 25 seconds and it can be

undertaken simultaneously with the saw

blade changeover takes 25 to 30 seconds

when using a double gripper system or

roughly 50 seconds with the single gripper

system. This effectively enables every saw

blade to be measured to a precision level of

roughly 2µm to guarantee process stability

without losing production time."

"We have now added our third

measurement device to the new side grinder

- our acoustic sensor that was on the CHD

machine. This promotes very fast setups by

combining technologies. With the Renishaw

probe, we probe the raw and finished tooth,

with the measuring cube we measure the

grinding wheel and with the acoustic sensor,

we are bringing everything together by

checking the tooth with the wheel. The wheel

senses the tooth and the acoustic sensor

knows if we have the right in-feed – making

all three measuring devices work together."

To achieve such precision demands a

robust foundation as Thomas says:

VOLLMER

"VOLLMER is the only manufacturer that

uses a concrete polymer base. Very few

competitors use a cast iron base; most build

machines by constructing steel machined

components. Our polymer concrete

foundation makes our machines different

from our competitors - it puts our quality and

precision on a completely different level."

Productivity

From a productivity perspective, the

automatic blade measuring calculation is

saving 5 to 20% of in-cycle 'air-cutting', the

new saw carrier and flange system eliminate

10-15 minute changeover times, manual

measuring of 2-3 minutes per blade is

eliminated and there is also the elimination

of 25 seconds of non-productive wheel

checking, new automated pocket grinding

and much more.

Despite all this, Thomas adds: "The new

machines are much faster than the older

machines. The new base models are 2-4%

faster than the old machines and this is credit

to the new drive technology. The new drive

technology enables us to locate and move the

axes more dynamically. This has also enabled

the automatic sensing of the grinding passes,

which is reducing the air cutting. The

machines are consuming upwards of 10%

less energy, as the drives are more efficient

than before. So, you have 10% less energy

consumption with a 20%+ productivity

improvement. By adding these factors

together, we are reducing the 'cost per saw'

for our customers and reducing their cost per

square metre of production."

Sustainability

Adding to the reduced energy consumption

comments, Thomas is keen to allude to

VOLLMER's sustainability credentials:

"VOLLMER always aims to drive down

energy consumption costs for our customers.

LED lighting has been used for some time,

but we also incorporate technologies like

automatic 'end of shift' switch off.

Furthermore, no VOLLMER machines use

hydraulic systems. This eliminates hydraulic

oil, the potential for spillage or

contamination of the coolant and the wider

workshop. This also removes the need for

filter changes."

"Whatsmore, with Industry 4.0, we can

undertake service from anywhere. We can

update the machine components and

software remotely. Our remote system can

also email the customer when a batch of saws

is complete, or if there is a disruption during

a production cycle - emailing the customer

their complete machine status. The active

dashboard can be accessed via a mobile

phone or tablet to provide a complete up-todate

status report."

Product development & the future

"I've been having weekly meetings with my

worldwide sales colleagues for over 14 years.

We collect all the sales engineers and

customer requests - the list is huge. The base

point for our development is the well-built

technology from before. We analyse the

technology and how we can improve the

machines, but on the other side, there is a

huge list of customer requests or needs. So,

we have to understand the customer requests

and integrate them with product

development - and from that point, we

identify what functions we need, and how

they can be incorporated into the hardware

and software."

"For example, in the past, we had the

electrical cabinet at the back of the machine -

but if you have three machines alongside

each other, there is only 900mm of space

between the machines. The customers have

fed this response back to us and on the new

machines, we have moved the electrical

cabinet to a side where customers would

have the gangway."

With regard to the changing requirements

of the market in the face of the pandemic and

rising energy costs, Thomas says: "The level

of automation is the biggest factor. Machines

need to make more and more by themselves.

This is what we see in the market and it is one

of the most important factors for us. Our

Industry 4.0 technology has provided

comprehensive remote support during

Covid and our energy efficiency and

productivity enhancements are reducing the

cost per square metre of production for our

customers – we will always drive this

forward."

From an internal perspective, Thomas

concludes: "We are now moving to a point

where 90% of our new machines will be built

upon a modular platform. In our 'frozen

zone' from order to delivery, this time can

now be much shorter because we can be

more flexible in building up the machine. We

can change from one machine to another and

add the optional units more flexibly – this

will reduce our lead times, costs and increase

our production flow."

www.vollmer-group.com

Manufacturing Machinery World, August 2022 27
---
CASE STUDY

LATEST MACHINE TOOL INVESTMENT – VINDICATED!

New horizontal machining centre investment

opens up new business opportunities, helps

boost productivity levels and improves

operational efficiencies for leading precision

subcontract specialist.

Mills CNC, the exclusive distributor of

DN Solutions' (formerly Doosan) machine

tools, has recently supplied leading precision

subcontract specialist - Endeavor

Engineering Ltd. - with a new horizontal

machining centre.

The machine, a Doosan NHP 5000, was

installed at the company's 9,000sq. ft. facility

in Didcot, Oxfordshire in November 2021

and joins nine other Doosan machines (three

Puma lathes and five DNM vertical

machining centres) previously acquired by

Endeavor.

As intended the NHP 5000 has

significantly increased the company's milling

capacity and, more importantly, its milling

capabilities too.

The new machine has already proved its

worth and has been central to the company

securing a number of new machining

contracts with both new and existing

customers.

Amongst these are new orders to machine

bespoke lightweight aluminium vacuum

chambers used for:

a) drying, degassing, sterilizing, cooling and

distilling medications for the biopharmaceutical

industry;

b) building and testing semi-conductors;

c) conducting controlled scientific

experiments.

These new contracts would have been

difficult, if not impossible, to win, and fulfill,

using the company's existing (vertical)

machining centre resource.

Endeavor's investment in the NHP 5000 is

significant for a number of reasons:

a) It was made during the pandemic at a

time when many manufacturing

companies had battened down the

hatches and had either cancelled or

postponed their CapEx investments;

b) It was the first horizontal machining

centre to be acquired by the company in

its 10-year history.

To understand the motivation and

rationale behind its latest investment, it is

important to know more about Endeavor -

what makes it tick and why it has become so

successful in such a relatively short space of

time.

About Endeavor Engineering

Endeavor Engineering was created in 2012 by

directors Andy Strong and Martin Bell. It

today employs 12 members of staff.

Rather than becoming a 'me too' precision

engineering company offering the same

services as many other 'similar'

subcontractors – both directors, at the very

outset, shared a vision about the new

enterprise and its future direction.

This vision, as relevant today as it was

back then, is clear, unequivocal and

powerful.

It is focused on growth and on achieving

differentiation by ensuring that the

company's resources are directed to ensure

the machining of high-precision,

competitively priced components – delivered

on time…every time to customers.

Explains director, Andy Strong:

"Our aim and ambition are to provide

customers with high-quality, best-in-class

manufacturing solutions accessed from a

single and reliable source."

Underpinning this vision was (and is)

Endeavor's commitment to continuous

improvement and its single-minded business

approach viz a vis:

1. Constantly and systematically reviewing

and evaluating the market in order to

identify emerging trends and capitalise on

new business opportunities

2. Investing in new, advanced machine tool

and manufacturing technologies

3. Creating technical leadership and

differentiation through acquiring general

and industry-specific business knowledge

and expertise

28 Manufacturing Machinery World, August 2022
---
4. Being flexible and willing to adjust to

changing market dynamics.

Continues Andy Strong:

"We are an ambitious company focused

on growth and are constantly looking at

ways to improve the services we provide to

customers as well as strengthening our

position within their supply chains.

"Our intention (always) is to become, and

be recognised as, a vital and indispensable

part of their business."

The Pandemic

The outbreak of Covid-19 in 2020 (and

subsequent lockdowns) had an impact on

Endeavor Engineering and helped further

crystallise the directors' thoughts about the

future direction of the company.

Remembers Martin Bell:

"The pandemic had an impact on the

business. Some customers postponed orders.

Others cancelled them altogether.

"It made us think about what else we

could do to improve and augment the

services we already provide to customers."

In truth this soul-searching, as part of its

continuous improvement programme, was

already underway.

Floorspace

The company was actively exploring ways to

increase its floorspace and was investigating

whether it could acquire an adjacent unit.

If this occurred it would double the

company's floorspace from 4,500sq. ft to

9,000sq. ft.*

Explains Martin Bell:

"The increase in floorspace would help us

increase our productivity levels and

operational efficiencies by enabling us to

improve the machine shop layout as well as

helping us create dedicated office space and

CASE STUDY

a separate assembly area.

"It would also enable us to, comfortably,

site and install any new machine tools and

new technologies we wanted or needed to

acquire in the future."

*(The company did acquire the adjacent

facility in Autumn 2021 and, as a

consequence, doubled its floorspace).

New Technology

Endeavor regularly invests in advanced

Doosan machine tools from Mills CNC and,

prior to the pandemic, was seriously looking

at expanding its already impressive milling

operations still further.

Continues Andy Strong:

"Rather than continuing to only invest in

3-axis vertical machining centres we began to

consider multi-tasking machining centres –

specifically 5-axis and horizontal machining

centres.

"We were confident that having access to

multi-tasking/multi-axis machines with

integrated automation would enable us to

pick up new and different work from

existing customers and win new machining

contracts from new customers."

The outbreak of the pandemic and its

impact on business reinforced and

accelerated Endeavor's determination to

augment its milling operations and resulted

in the investment in the NHP 5000.

The NHP 5000

The NHP 5000 is a linear guide horizontal

machining centre that minimises non-cutting

time.

The machine has a rigid design and build.

It is powerful, accurate and fast, and delivers

exceptional material removal rates. The

machine's integrated thermal compensation

and spindle and bearing cooling systems

enables it to maintain high accuracies over

long machining runs.

The twin-pallet NHP 5000 is equipped

with two 500mm x 500mm pallets with B-axis

indexing capability, a high-torque, BT 40

built-in spindle (30kW/15,000rpm), a 60-

position ATC and the 31i Fanuc control. It

also boasts 60m/min rapids.

The machine was delivered to Endeavor

with spindle and workpiece probing for inprocess

measurement and a high-efficiency

swarf management system for improved

process reliability.

Says Martin Bell:

"The NHP 5000 is a productivity

powerhouse.

"The twin-pallet configuration enables us

to set up jobs (on the free pallet) whilst

machining takes place on the other. And the

B-axis indexing capability enables 5-

face/side machining to occur in a single set

up.

"The fact that the machine is backed by

Mills CNC's after-sales service and support

was another determining factor."

Machining vacuum chambers

The aluminium vacuum chambers machined

on the NHP 5000 are characterised by their

precision and complexity.

Machined from solid they typically

involve numerous machining operations and

long machining runs (in excess of 25 hours),

and have a number of intricate design

features (i.e., ports, flanges, seals, pockets

etc.), that are machined to tight geometric

tolerances (10 microns or better) and exacting

surface finishes (down to Ra 0.4µm).

Roughing operations can be particularly

long and arduous, and the ability to ramp up

speeds and feeds and take more aggressive

depths of cut to optimise material removal

rates helps reduce cycle times and improve

process efficiencies.

Explains Andy Strong:

"We wouldn't and couldn't have

entertained the idea of machining vacuum

chambers and similar-type parts on our

existing vertical machines.

"The number of different set-ups, refixturing

operations and operator

interventions required to machine the parts

to completion on a vertical would have had a

negative impact on the cost-per-part, and

would have tied up our vertical machining

centre resource creating delays and

production bottlenecks.

"Instead, the NHP 5000, with its twinpallets,

large working envelope, powerful

spindle, thermal compensation, generous

sized ATC and efficient chip management

system make it ideal for this type of work.

"With more and more work coming in for

the NHP 5000, the decision to invest in our

first horizontal machining centre has been

vindicated."

www.millscnc.co.uk

Manufacturing Machinery World, August 2022 29
---
CASE STUDY

OUTDOOR INVERTER FOR WEATHERPROOF WELDING

Fronius Solar Energy in Austria has been a

pioneer of solar power from day one. The

business unit's history began in 1992 and it

was quick to gain momentum. Soon after it

was founded, the first Fronius Sunrise

inverter was introduced onto the market.

Since then, the company has been

continuously producing photovoltaic

solutions and further developments. The

solar enthusiast's vision is "24 hours of sun":

a world in which 100 percent of the energy is

harnessed from renewable energy carriers.

The latest inverter is the Tauro. With a

Handling-to-Welding robotic welding

system of the latest generation, tightly

welded all the way round and intended for

commercial use outdoors, it can withstand

any weather conditions.

Its double-walled, actively cooled

housing makes the Tauro ideal for use

outdoors. Whether in rain, heat or direct

sunlight, the inverter can withstand all

weather conditions and perform to 100

percent of its capabilities. Developed by

future-oriented solar experts, it satisfies

international degree of protection IP65. These

types of high-tech device are protected

against contact, water spray from any angle,

and the ingress of dust. "Due to the different

sheet thicknesses, the challenges when it

came to welding the aluminum housing were

huge", explains Jasmin Gross, Fronius Solar

Energy. "With Fronius Welding Automation,

we have the perfect partner in-house".

First the simulation

The inverter is produced at the Sattledt

location in Austria. The housing and swing

doors are welded in a state-of-the-art

"Handling-to-Welding" robotic welding cell

that has been developed specifically for this

job. "We program and simulate all robot

movements and welding sequences offline

with Fronius Pathfinder, i.e. away from the

system on a digital twin," explains Anton

Leithenmair, Head of Welding Automation.

"This enables us to detect any interference

contours in advance. The same applies to axis

limits and torch positions. Again here we can

intervene early, without having to wait until

the first welding samples. As soon as the

welding sequences have been programmed,

Pathfinder transfers the data to the postprocessor,

where it is translated into the

language of the Fanuc robot. This allows us

to save valuable time and costs. Offline

programming shortens the robot teaching

process in the welding cell by several hours!"

Workflow planning down to the

minute

Before production begins, the Tauro selling

orders are created in an Enterprise Resource

Planning (ERP) system. They form the basis

for material resource planning (MRP). This is

where all production orders for housings and

wing doors are generated. Next, a production

date is assigned to every order. The detailed

planning that follows is carried out by the

Manufacturing Execution System (MES).

Every order is planned down to the minute,

assigned to a free order corridor, and then

listed.

Perfectly coordinated: pretacking,

setup, welding

Due to the different sheet thicknesses, the

welding of the double-walled inverter

housing posed a particular challenge from

the outset. "Before we join the individual

sheet elements in the robotic welding cell in

line with standards, they are manually pretacked.

We use the MAG welding process for

this. Even at this stage, precise work is

required," says Christian Kraus, group

leader in sheet metal production.

Once tacking is complete and this has

Anton Leithenmair,

Head of Fronius Welding Automation.

been entered on the system terminal, the

central system controls release the next step:

robotic welding. The housing is now placed

on the set-up trolley, clamped and moved

into the lock. Once this has been

acknowledged, the system starts the next job

and the robot program responsible for

positioning and welding is selected on the

clamping device by means of an RFID (Radio

Frequency Identification) chip.

"Regardless of which component we

place in the lock, the RFID chip knows which

welding program to use," adds Kraus. "We

can even place an inverter housing in lock

one while welding a wing door in lock two

via the component feeder. And vice-versa.

The use of RFID technology enables us to

weld components completely independently

of their shape, size, and quantity. Whether

it's a batch size of 1 or series production – our

Handling-to-Welding robotic welding cell

can do it all."

Sophisticated robot and welding

technology

As soon as the welding process has been

started, the Fanuc R-2000iD/210FH handling

robot takes the component and guides it into

the welding cell. It requires virtually no effort

to lift the inverter housing. With a range of

2.6 meters, it has a load capacity of 210

kilograms, whereas the aluminum housing,

including the clamping device, weighs no

more than 140 kilograms. Once the Tauro

housing is inside the welding cell, a data

matrix code (DMC) is printed onto the base

of the housing using inkjet printing

technology. This contains the serial numbers

of the individual Tauro housings. It is linked

to the welding data recorded by the

WeldCube data management software

during the welding process. This means that

every individual weld is 100 percent

traceable.

30 Manufacturing Machinery World, August 2022
---
CASE STUDY

machine statuses, cycle times, faults, and the

values from the vacuum test that is

performed once all welding work is

complete. Maintenance intervals can also be

defined using the MES. If, for example, a

certain fault is found to occur every 100

operating hours on average, a specific

maintenance interval of 99 hours can be set.

Maintenance work that is systematically

planned in advance extends the service life of

welding systems and prevents unnecessary

downtimes.

Once the DMC has been applied, the

actual welding process begins. While the

Fanuc ARC Mate 100iD welding robot is

doing its work and joining 5.5 meters of

aluminum sheet with a total of 96 welds, the

handling robot moves the housing into

exactly the right position. Some of the welds

require perfect simultaneous movements of

both robots – the supreme art of robotic

welding.

"Pulse Multi Control Ripple Drive is the

preferred welding process," explains

Leithenmair. "PMC Ripple Drive permits the

precise adjustment of the heat input and is

perfect for joining sheets of different

thicknesses."

Beautifully rippled welds

If we look at it more closely, PMC Ripple

Drive is a special characteristic of the PMC

process. One of its main features is a cyclical

process switch between PMC and a reversing

wire movement via a so-called PushPull

drive unit. Perfectly suited to automated

welding, the PMC method is much faster

than TIG welding. This process still delivers

the same beautifully rippled, virtually

spatter-free welds.

A 1.2-millimeter-thick aluminum-silicon

wire is used as the filler material, which is

welded with argon shielding gas. The

welding processes, wire, and gas are all

included in the system information for the

welding order.

Once the 17.5-minute welding cycle has

ended, the handling robot places the

component in the lock and the welding cell

sends a completion signal to the MES system.

While the one lock is being emptied, the

other can start the next job.

Everything under control –

predictive maintenance

The Manufacturing Execution System (MES)

manages a wide variety of data. In addition

to order management, it also records

IP65 requires perfect weld seams

The very few housing details that cannot be

completed by the robot are re-welded

manually. A specially designed TIG process

is used for the aluminum welding in this

case. Once all welding work is complete, any

welding reinforcements are sanded down,

the welds are coated with dye penetrant test

fluid and checked for welding faults. Here

the test fluid penetrates any imperfections in

the material.

Once the weld testing is complete, every

approved housing enters the leak testing

system specially developed by Fronius for

the Tauro. This creates a vacuum of 60

millibar inside the inverter housing, which

must be maintained for a precisely defined

period of time. If the pressure drops by less

than 1.8 millibar during this time, the

housing is 100 percent leak-tight and satisfies

degree of protection IP65.

After the leak test has been passed, the

result is saved in WeldCube with the serial

number and full traceability is guaranteed.

The inverter housing is now ready for

powder coating. At the end of the production

chain, after assembly, an inverter has been

produced that is suitable for large systems

and can withstand all weather conditions.

https://www.fronius.com

Christian Kraus,

Sheet Metal Technology Group Leader.

Manufacturing Machinery World, August 2022 31
---
CASE STUDY

GALWAY COMPANY INVESTS IN STARRAG'S NEW

MULTI-AXIS BUMOTEC MACHINE AS CUTTING DEMOS

ENTHRAL EXHIBITION VISITORS

Starrag UK is celebrating a very successful

Manufacturing Solutions Ireland 2022

exhibition in Limerick where the cutting

demonstrations on its just-launched Bumotec

191neo multi-axis machining centre attracted

interested visitors non-stop throughout the

two-day exhibition.

Galway-based precision engineering

specialists Dawnlough Ltd are also very

pleased with the machine – having now

installed the Swiss-built, computer

numerically-controlled (CNC) unit at its

50,000ft2 site to enable the company to

"create a more stable and more efficient

process" for the manufacture of a variety of

components for robotic surgical applications.

The company is a leading provider of

precision engineered components,

assemblies and custom equipment, for

example, and in many cases it acts as an

effective and efficient one-stop

manufacturing service to a myriad of medical

device and aerospace companies throughout

Ireland and further afield.

Organised jointly by the UK

manufacturing supply chain trade

association, the Gauge and Tool Makers

Association, and the Technological

University of the Shannon and held at the

Moylish Campus, the exhibition attracted

more than 1,600 exhibitors, delegates,

manufacturers and visitors from across

Ireland and the UK.

"And it feels like most of that number

visited our stand!," says Starrag UK's

Director for Sales and Applications, Lee

Scott. "We were busy non-stop for both days

discussing potential applications for the

Bumotec and, as a result, we have a long list

of follow-up appointments with companies

of every size. It is no exaggeration to say that

we had successful conversations with a

tremendous number of medical device and

aerospace OEMs and sub-contractors."

Starrag UK's Lee Scott, Starrag (far left) explains the finer details of the new Bumotec to

visitors, including Professor Vincent Cunnane, President, TUS (far right) and Paul

Johnston, British Ambassador to Ireland (second right). Photo: Alan Place.

In addition to being a most cost-effective

route to the machining of small, complex

parts (also for the luxury goods and

micromechanics sectors), the popularity of

the Bumotec machine for medical device

manufacturing was undoubtedly bolstered

by the fact that it was powered up and

machining 'live' during the exhibition.

The machine - which combines a host of

different operations such as milling and

turning with grinding, polishing, skiving,

gear hobbing and diamond cutting – was

producing lumbar interbody fusion cages,

for spinal fixation, from 40 mm diameter

polyether ether ketone (PEEK) bar, utilising

up to 15 tools in a single set-up, including

finishing the component fully deburred.

The ability of the nine-axis Bumotec

191neo to manufacture complex parts in a

single set-up was, in fact, the determining

factor in Dawnlough Ltd becoming the first

company in Ireland to install the machine, as

Managing Director Brian McKeon, explains:

"Compared to our existing five-axis

machining route on particular processes –

components for robotic surgical applications

- we recognised how the Bumotec's multiaxis,

high-accuracy capabilities would enable

us to create a more stable and more efficient

process," he says.

"Dawnlough never hesitates to invest in

manufacturing technology that will benefit

our processes and therefore our customers,

too, and the Bumotec is the latest addition to

a comprehnensive portfolio of CNC

machinines that do exactly that."

www.starrag.com

The lumbar interbody fusion cage (above) that was machined at the exhibition on the new Bumotec (right).

32 Manufacturing Machinery World, August 2022
---
CASE STUDY

SUBCONTRACTOR IS A BUSY 'B'

WITH NEW QUASER

Founded in 2000 as a subcontract machine

shop, Little B Engineering manufactures

everything from prototypes and small batches

to production run for a diverse range of

industry sectors. When the company recently

needed to add capacity, the Banbury based

precision manufacturers opted for the Quaser

MV234 machining centre, the company's third

machine from the Engineering Technology

Group (ETG).

The nine employee business has a broad

range of machine tools for servicing customers

in sectors as diverse as F1, motorsport and

automotive to construction and luxury goods.

When the company won a new contract back in

2015 and it needed a new 3-axis VMC, the

company opted for the compact Quaser

MV154P machining centre – starting its

relationship with the ETG.

Commenting upon this first purchase from

ETG, Managing Director Mr Michael Banks

says: "I wanted a new machine with a

Heidenhain CNC, and all machines in our price

range at that time had Heidenhain CNC units

retrofitted - not factory fitted standard control

systems. Another point we found was that lots

of machine tool vendors offered machines at a

great entry price point, but every feature was an

optional extra at a significant cost. The base

model Quaser MV154P from ETG had

everything we needed at a standard cost – and

it has been a phenomenal machine."

A year later the company needed a turning

centre and with the service from ETG proving

far beyond that of alternate machine tool

vendors, Little B opted for a Nakamura AS200L

twin-spindle turning centre from ETG.

Referring to this, Michael adds: "The Nakamura

AS200L has a twin spindle, single tooling turret

with Y-axis and we use it for everything from

small quantities of complex parts through to

batches of 5,000 and beyond where it will run

unmanned all weekend. It is, without doubt, the

best and most flexible turning centre a

subcontract manufacturer could buy."

With the company progressing to large

aluminium extrusion components and steel

mould tool projects with new customers, the

Oxfordshire business needed a large bed

machine. When asked why the company chose

the Quaser MV234 machining centre from ETG,

Michael Banks from Little B Engineering says:

"The Quaser MV234 gives our business plenty

of flexibility, so if we want to machine

something particularly large we can, but if we

want to make smaller parts that is also feasible.

We have put up to 10 vices on the machine and

by using different fixtures, we have clamped up

to 40 parts on the bed and let the machine run

unmanned over the weekend. This gives us

complete flexibility and the facility for both

large parts and small part batch production.

This is something that we need as a

subcontractor."

Discussing how the Quaser MV234

machining centre has supported growth at the

company, Michael adds: "Firstly, buying this

machine has given us extra capacity which we

needed. Secondly, it has given us the facility to

machine large aluminium extrusion

components, which is a sector that is very

vibrant in the UK at the moment."

The Quaser MV234 machining centre was

the machine of choice with its 2.25m by 800mm

bed that can facilitate components beyond 2m

in length. With an X, Y and Z-axis travel of 2040

by 800 by 661mm, a table load capacity of

2000kg and a powerful BT40 spindle taper with

48 tool positions as standard – the MV234 is the

perfect 'all-rounder'.

As a company that has previously invested

in Quaser machines from ETG, Michael says:

"We have stuck with the Quaser brand because

the machines are perfect all-rounders. The

MV234 can do anything. It's not a super-highspeed

machine that can only cut aluminium, it's

a fast and powerful machine that can cut any

material and provide us with impressive cycle

times."

Looking at the daily workload on the

machine, Michael says: "We have it running

both days and lights-out unmanned. When we

have large complex 3D milling work, we leave

the machine to run through the night - it has a

really nice feature when it automatically shuts

down when it has completed the machining of a

part. The machine is generally running from

7am to 10pm every day. We have made

everything from small 19mm diameter button

components through to 2m parts beyond two

tonnes. For a subcontracting company that

machines a wide variety of parts in different

batch sizes, the Quaser brand is 'bang-on'. The

machines are fast enough to do the very quick,

fast turnaround and flexible work, but they are

also robust in their build quality to cater for the

heavier and more demanding components."

As standard, the robust Quaser MV234

package incorporates a host of high

specification features such as an oil chiller, 4th

axis preparation, BBT spindle attachment,

remote pulse generator, coolant system with

wash gun and 20bar through spindle coolant,

air blast, external chip conveyors, 20m/min

rapid feed rates and a positional and

repeatability accuracy of 0.008 and 0.004mm.

"All of these features are standard on the

Quaser and it also has some quirky unique

features like the internal swarf screw. This

rotates in the opposite direction to other

machines and this compresses the swarf and

drains the coolant before the chips exit the

machine – making it a much cleaner machine

than any other brand we have."

"From a performance perspective, the

MV234 allows us to run lights out, which is

what we need. For example, we recently ran a

batch of 10 parts on the machine in a single setup

and each part had a machining time of over

5 hours – this meant we could load the job to

run all weekend unmanned. Additionally, the

faster feeds and speeds and a more powerful

control has seen us take some jobs from a 6 hour

cycle time to just 30 minutes."

Now having three machines from ETG,

Michael discusses why ETG is the machine tool

partner of choice: "We find ETG a really nice

company to work with. As a business, they look

after us well and the support is great. No other

company has supported us like ETG - and that

ranges from the flexibility of delivery,

structuring finance packages and also

explaining the packages - it has just been

brilliant. When we bought our Nakamura-

Tome AS-200L turning centre from ETG, they

delivered and installed the machine within a

week of us placing the order. On the new

Quaser MV234, we wanted to wait 6 to 7

months before installation and ETG kept the

machine available for us, so we could bring it in

when it suited our business - and not their

timescale. As soon as we were ready to install

the machine, we gave ETG the 'go' on a Friday

and it was installed on Saturday and fully

commissioned in another 3-4 days."

www.engtechgroup.com

Manufacturing Machinery World, August 2022 33
---
S E R V I C E S D I R E C T O R Y

ASSOCIATIONS

THE MANUFACTURING TECHOLOGIES ASSOCIATION

62 Bayswater Road, London WS 3PS

Tel: 0207 7298 6400 Web: www.mta.org.uk

AUCTIONEERS

APEX AUCTIONS LIMITED - ONLINE MACHINE TOOL AUCTIONS.

PO Box 329, Brighton BN1 1TQ, United Kingdom.

Tel: UK Office: +44 (0) 1273 224466 US Office: +1 630 718 9804

Email: info@apexauctions.com Web: www.apexauctions.com

AMS (UK) LTD

Unit 5, Church Farm Business Centre, Church Road, Leckhampton,

Cheltenham, Glos GL53 0QJ

Tel: +44(0) 1242 241111 Fax: +44(0)1242 527777

Email: info@amsauctions.co.uk Web: www.amsauctions.co.uk

PEAKER PATTINSON AUCTIONEERS Ltd.

The Grange Offices, Aunby, Stamford, Lincs PE9 4EE, England

Tel: 01778 590111 Fax: 01778 590730

Email: info@ppauctions.com Web: www.ppauctions.com

London Office: Tel: 0208 944 1898 Fax: 0208 879 7269

Email: london@ppauctions.com

AUCTIONS & VALUATIONS

LAMBERT SMITH HAMPTON

AuctionSales.AssetAdvisory@lsh.co.uk

Valuations.AssetAdvisory@lsh.co.uk

BARRELLING/SUPER FINISHING

SHARMIC ENGINEERING LIMITED

Vibratory/shotblast finishing. New & Used vibratory machines, repairs

& consumables

Baldwin Road, Stourport-on-Severn, Worcs.

Tel: 01299 878123 Fax: 01299 879409

Email: info@sharmic.co.uk Website: www.sharmic.co.uk

BROACHING AND KEY WAY CUTTING

ALCESTER BROACH & TOOL CO. LTD.

Comprehensive sub-contracting broaching facilities, including own

tooling. Broach manufacturing and re-grind & repair services. The total

broaching service.

Pipers Road, Park Farm South, Redditch, Worcs B98 OHU

Tel: 01527 523107 Fax: 01527 526137

Email: sales@alcesterbroach.com www.alcesterbroach.com

BROACHING AND KEY WAY CUTTING

B & H GEARS LTD

Spur, helical, bevel. racks and pinions, sprockets, timing pulleys,

worms and wormwheels, gear crowning/barrelling/tapering, splining,

serration, broaching, internal and external gears.

Star Ironworks, Greenacres Road, Oldham, Lancs. OL4 2BT

Tel: 0161 627 4610

Fax: 0161 628 3141

Email: sales@bandhgears.co.uk Web: www.bandhgears.co.uk

CNC GRINDING

CENTRAL GRINDING SERVICES LTD

Precision Internal & External C.N.C. Grinding, 50 offs up to large qtys,

all materials including Exotics, Carbide & Coatings. ISO 9001-2000.

3A Pomery Drive, Oadby Industrial Estate, Oadby, Leicester LE2 5NE.

Tel: 0116 271 8188 Fax: 0116 271 8199

Email: info@centralgrinding.co.uk

Web: www.centralgrindingservices.co.uk

CNC MACHINE TOOLS SPARES AND

SERVICE, REPAIRS

CNC SYSTEMS LTD

Fanuc Systems & Fuji AC and DC drive repairs, supply of spares and

installation.

40 Redwoods, Addlestone, Surrey KT15 1JN Tel: 07740 187341 Tel: 01932

830492

Email: offices@cncsystemsltd.co.uk

Web: www.cncsystemsltd.co.uk

CNC PROGRAMMING & TRAINING

GARDNER CNC

For Training: Programming: CAD/CAM Systems: Technical Assistance

and more. Help is just a phone call away.

1 Green Hill Farm, Bishop Itchington, Warwickshire CV4 72SS

Tel: 01926 614882 Fax: 01926 614884

Email: info@gardner-cnc.co.uk

CNC RETROFITTING

MACHINERY PLANT SERVICES LTD

Specialists in Retrofitting all types of Press Brakes and Guillotines -

App. UK Agent for CYBELEC Controls

38a Doddington Road, Earls Barton, Northampton NN6 0NF

Tel: 01604 811634 Fax: 01604 811123

Web: www.cybelec.co.uk

Email: info@machinery-plant-servs.com

CNC TURNING / MILLING

B & H GEARS LTD

Spur, helical, bevel. racks and pinions, sprockets, timing pulleys,

worms and wormwheels, gear crowning/barrelling/tapering, splining,

serration, broaching, internal and external gears.

Star Ironworks, Greenacres Road, Oldham, Lancs. OL4 2BT

Tel: 0161 627 4610 Fax: 0161 628 3141

Email: sales@bandhgears.co.uk

Web: www.bandhgears.co.uk

N.A.B. PRECISION TOOLING LTD

Up to 2 metres Diameter CNC Turning 900 Diameter x 4 meter BC.

Knowl Piece, Wilbury Way, Hitchin, Herts SG4 0TY

Tel: 01462 456565 Fax: 01462 420039

Email: nab_sales@btconnect.com

Web: www.nabprecisiontooling.com

CNC VERTICAL BORING

N.A.B. PRECISION TOOLING LTD

Up to 2 metres Diameter CNC Turning 900 Diameter x 4 meter BC.

Knowl Piece, Wilbury Way, Hitchin, Herts SG4 0TY

Tel: 01462 456565 Fax: 01462 420039

Email: nab_sales@btconnect.com Web: www.nabprecisiontooling.com

COIL PROCESSING EQUIPMENT

BULLDOG INDUSTRIAL HOLDINGS

Rollforming machinery, Decoilers, Straighteners, Pressfeeds, CNC

folding, Shearing, Fully automated production lines, Cut to length,

Slitting and all coil process machinery.

SK9 7TN.

Tel: 0161 477 0775

Email: sales@bulldog-uk.com

Web: www.bulldog-uk.com

DEEP HOLE BORING

HONE-ALL PRECISION LTD

Capacity Available – Call us today!

AS9100D, ISO 9001:2015 & Rolls Royce approved supplier for: Deep

Hole Boring, Deep Hole Drilling, CNC Honing & CNC Turning, ø2.5mm

– 220mm internal diameter x over 3 metres long. Prototype to

production batch, aluminium to aermet, for the highest levels of quality

and service, contact us for a quote today!

Cherrycourt Way, Leighton Buzzard, Beds. LU7 4UH.

Tel: 01525 370666

Email: sales@hone-all.co.uk

Web: www.hone-all.co.uk

SUBCON DRILLING LTD

ISO 9001 : 2000 Quality Assured Company. The UK Leader in Ejector

Drilling, Gun Drilling & Honing, fast response and turnaround.

Subcon Drilling, Unit 6, The Heron Business Park, Eastman Way,

Hemel Hempstead HP2 7FW. Tel: 01442 205960 Fax: 01442 205961

Email: dean@subcondrilling.co.uk

Web: www.subcondrilling.co.uk

S E R V I C E P R O V I D E R S - I n c r e a s e y o u r c u s t o m e r b a s e f o r l e s s t h a n £ 2 a w e e k

Manufacturing Machinery World, August 2022 35
---
S E R V I C E S D I R E C T O R Y

DEEP HOLE DRILLING

HONE-ALL PRECISION LTD

Capacity Available – Call us today!

AS9100D, ISO 9001:2015 & Rolls Royce approved supplier for: Deep

Hole Boring, Deep Hole Drilling, CNC Honing & CNC Turning, ø2.5mm –

220mm internal diameter x over 3 metres long. Prototype to production

batch, aluminium to aermet, for the highest levels of quality and

service, contact us for a quote today!

Cherrycourt Way, Leighton Buzzard, Beds. LU7 4UH.

Tel: 01525 370666

Email: sales@hone-all.co.uk

Web: www.hone-all.co.uk

DIGITAL READOUT EQUIPMENT

machine dro

DRO supplier of all major brands including M-DRO, Newall, Acu-rite, Mitutoyo.

Linear and rotary encoders specialist. Install, repairs and spares.

Machine DRO Dept, Pindar Road, Hoddesdon, Hertfordshire, EN11 0BZ, UK.

Tel: +44 (0)1992 455921

Email: sales@machine-dro.co.uk

Web: www.machine-dro.co.uk

WARREN MEASUREMENT SYSTEMS

Independent DRO company offering sales & service

on all makes of DRO.

9 Woodford Road, Burton, Latimer, Northants, NN15 5UX

Tel: 01536 722712

Fax: 01536 609025

Email heather@warrenmeasurement.co.uk

FINANCE FOR MACHINERY

CITY AND EUROPEAN ASSET FINANCE LIMITED

Independent finance broker funding machinery of all types, new or

used on Hire Purchase or Lease.

Bay Tree House, Ricksons Lane, West Horsley, Surrey, KT24 6HU

Tel: 01483 280111 Mobile: 07866 266100

Email: dmcphillips@leasingfinance.com

Web: www.cityandeuropean.co.uk

Contact Name: Duncan McPhillips.City and European Asset Finance Ltd is

authorised and regulated by the Financial Conduct Authority.

FULLY AUTOMATED PRODUCTION

BULLDOG INDUSTRIAL HOLDINGS

Rollforming machinery, Decoilers, Straighteners, Pressfeeds, CNC

folding, Shearing, Fully automated production lines, Cut to length,

Slitting and all coil process machinery.

SK9 7TN.

Tel: 0161 477 0775

Email: sales@bulldog-uk.com

Web: www.bulldog-uk.com

GEAR CUTTING

B & H GEARS LTD

Spur, helical, bevel. racks and pinions, sprockets, timing pulleys,

worms and wormwheels, gear crowning/barrelling/tapering, splining,

serration, broaching, internal and external gears.

Star Ironworks, Greenacres Road, Oldham, Lancs. OL4 2BT

Tel: 0161 627 4610

Fax: 0161 628 3141

Email: sales@bandhgears.co.uk

Web: www.bandhgears.co.uk

GRINDING

CENTRAL GRINDING SERVICES LTD.

Precision grinding, 1 offs - batchwork, all materials, universal, surface,

centreless and thread grinding universal up to 2 metres long

3 Pomeroy Drive, Oadby Industrial Estate, Oadby, Leiceester, LE2 5NE

Tel: 0116 2718188

Fax: 0116 2718199

Email:info@centralgrinding.co.uk

Website: www.centralgrindingservices.co.uk

GUARDING

CRESCENT MACHINERY

PUWER Inspections, all types of machinery guarding. Mechanical

barriers or infra-red guarding, full perimeter interlock guarding.

Group Rhodes Limited, Unit 21, Calder Vale Road, Wakefield WF1 9RD.

Email: information@grouprhodes.co.uk

Tel: +44 (0) 1924 371161

GUILLOTINE BLADES

CRESCENT MACHINERY

Regrinding + Turning Service, same day regrinding if pre-booked.

New blades any size or make of machine.

To cut all materials. Onsite service all makes of Guillotines.

Group Rhodes Limited, Unit 21, Calder Vale Road, Wakefield WF1 9RD.

Email: information@grouprhodes.co.uk

Tel:+44 (0) 1924 371161

GUN DRILLING

HONE-ALL PRECISION LTD

Capacity Available – Call us today!

AS9100D, ISO 9001:2015 & Rolls Royce approved supplier for: Deep

Hole Boring, Deep Hole Drilling, CNC Honing & CNC Turning, ø2.5mm –

220mm internal diameter x over 3 metres long. Prototype to production

batch, aluminium to aermet, for the highest levels of quality and

service, contact us for a quote today!

Cherrycourt Way, Leighton Buzzard, Beds. LU7 4UH.

Tel: 01525 370666

Email: sales@hone-all.co.uk

Web: www.hone-all.co.uk

SUBCON DRILLING LTD

ISO 9001 : 2000 Quality Assured Company. The UK Leader in Ejector

Drilling, Gundrilling & Honing, fast response and turnaround.

Subcon Drilling, Unit 6, The Heron Business Park, Eastmman Way, Hemel

Hempstead.

Tel: 01442 205960 Fax: 01442 205960

Email: subcondrilling@aol.com Web: www.subcondrilling.co.uk

HONING

APPERLEY HONING LTD

Honing capacity available from 3.00mm to 750.00mm diameter and

lengths up to 15metres. ISO 9002

Contact: Michelle Sanders,

Malmesbury Road, Kingsditch Trading Estate, Cheltenham GL51 9PL

Tel: 01242 525868 Fax: 01242 224738

Email: michelle@apperleyhoning.co.uk

Web: www.apperleyhoning.co.uk

HONING

HONE-ALL PRECISION LTD

Capacity Available – Call us today!

AS9100D, ISO 9001:2015 & Rolls Royce approved supplier for: Deep

Hole Boring, Deep Hole Drilling, CNC Honing & CNC Turning, ø2.5mm –

220mm internal diameter x over 3 metres long. Prototype to production

batch, aluminium to aermet, for the highest levels of quality and

service, contact us for a quote today!

Cherrycourt Way, Leighton Buzzard, Beds. LU7 4UH.

Tel: 01525 370666

Email: sales@hone-all.co.uk

Web: www.hone-all.co.uk

SUBCON DRILLING LTD

ISO 9001 : 2000 Quality Assured Company. The UK Leader in Ejector

Drilling, Gun Drilling & Honing, fast response and turnaround.

Subcon Drilling, Unit 6, The Heron Business Park, Eastmman Way, Hemel

Hempstead.

Tel: 01442 205960 Fax: 01442 205960

Email:dean@subcondrilling.co.uk Web: www.subcondrilling.co.uk

S E R V I C E P R O V I D E R S - I n c r e a s e y o u r c u s t o m e r b a s e f o r l e s s t h a n £ 2 a w e e k

36 Manufacturing Machinery World, August 2022
---
INSPECTION EQUIPMENT

S E R V I C E S D I R E C T O R Y

MIDLAND METROLOGY LTD

Profile projectors, vision systems, hardness testers, granite plates/tables/squares –

used inspection equipment, calibration laboratory.

Unit G3, Little Heath Industrial Estate, Old Church Road, Coventry CV6 7ND

Tel: +44 (0) 2476 638280 Fax: +44 (0)2476 638772

Email: sales@midland-metrology.co.uk

LAPPING

KEMET INTERNATIONAL LTD

70 years experience in Lapping and Polishing Systems and

Consumables, fast and efficient contract Lapping service.

Cuxton Road, Maidstone, Kent ME15 9NJ

Tel: 01622 755287 Fax: 01622 670915

Email: sales@kemet.co.uk

Web: www.kemet-lapping.co.uk

PRECISION LAPPING LTD.

16 Marine Way, Hogwood Lane Industrial Estate, Finchampstead,

Berks RG40 4RF

Tel: 0118 973 5989 Fax: 0118 973 7241

Web: www.precision-lapping.co.uk

LASER CALIBRATION

C.D. MEASUREMENTS LTD

Specialists in laser calibration of machine tools & measuring

equipment. UKAS accredited. No. 0344 for on site calibration.

Chomlea House, Hadfield Road, Hadfield, Glossop, Derbys. SK13 2ER

Tel: 01457 852929 Fax: 01457 860619

Web: www.cdmeasurements.com

MACHINE TOOL REBUILD

BLUE DIAMOND MACHINE TOOLS LTD

Suppliers of new and used machine tools, rebuilding and repairs,

suppliers of new tooling and sub-contract slideway grinding, CNC

retrofitting.

Unit 6B, Hackworth Park Industrial Estate, Shildon,

County Durham DL4 1HG

Tel: 01388 776052 Fax: 01388 774770

Email: sales@bdmtools.co.uk

Web: www.bluediamondmachinetools.co.uk

METROL

CNC SYSTEMS LTD

High accuracy sensors. Used on CNC Lathes, Machining Centres and Grinders.

40 Redwoods, Addlestone, Surrey KT15 1JN

Tel: 01932 830492 Mob: 07740 187341

Email: offices@cncsystemsltd.co.uk Web: www.cncsystemsltd.co.uK

PRESS SERVICING MAINTENANCE

GROUP RHODES LTD

(Competitive OEM Mechanical and Electrical repairs to Rhodes, HME,

Bentley, Cowlishaw Walker and other makes. Full Spares service and

free advice on CE/PUWER legislation. ISO 9001, ISO 14001 and CE

(Lloyds) approved)

PO Box 740, Calder Vale Road, Wakefield, WF1 5PE.

Tel: +44 (0)1924 371161 Fax +44 (0)1924 370928

Email: sales@grouprhodes.co.uk

Website: www.grouprhodes.com

T.M.A. ENGINEERING LTD

Power Press Specialists, Service, Spares, Repairs, Insurance

Inspections, Maintenance, Guards.

95-111 Tyburn Road, Erdington, Birmingham B24 8NQ

Tel: 0121 328 1908 Fax: 0121 322 2017

Email: sales@TMAeng.co.uk

Web: www.TMAeng.co.uk

PRESSBRAKE TOOLING

PK TOOLING

New & Used Pressbrake Tooling supplier for most makes of machines

282 Newton Road, Rushden, Northants, NN10 0SY.

Tel: 01933 355726

Email: sales@pktooling.com

Web: www.pktooling.com

PRODUCTION CONTROL SOFTWARE

PSL DATATRACK

Production control software for sub-contractors and precision engineers.

Quotations, Sales & Works Orders, Process Layouts, Stock Control, Purchasing,

Scheduling, Shop Floor Data Collection, Quality & Tooling, Traceability, Financial,

CRM.

Lily Hill House, Lily Hill Road, Bracknell, Berkshire RG12 2SJ

Tel: 01344 827312 or 08456 345931

Email: machworld@psldatatrack.com Web: www.psldatatrack.com

ROLLFORMERS

FORMIT LIMITED

Design & supply of cold Rollform Equipment & Tooling, Press Feeding

& Coil Processing Equipment. New & Used Machinery For Sale

Unit 3, City Estate, Corngreaves Road, Cradley Heath, West Midlands B64

7EP.

Tel: 01384 895150 Fax: 01384 895303

Email: sales@formit.co.uk Web: www.formit.co.uk

ROLLING MILLS

DURSTON ROLLING MILLS

Rolling mills for all applications

Progress House, Hospital Hill, Waterside, Chesham, Bucks, HP5 1PJ

Tel: 01494 535388 Fax: 01494 792966

Email: sales@durston.co.uk Web: www.durston.com

ROTARY TABLES

1st MACHINE TOOL ACCESSORIES

4th & 5th Axis tables and custom-buillt solutions.

1 The Headlands, Downton, Salisbury, Wilts SP5 3JJ

Tel: 01725 514000 Email: enquiries@kitagawaeurope.com

SAWING

ADDISON SAWS LTD

(Sawing machine and consumables specialists. Est. 55 years)

Attwood Street, Lye, Stourbridge, West Midlands DY9 8RU

Tel: 01384 264950 Fax: 01384 264955

Email: sales@addisonsaws.co.uk Web: www.addisonsaws.co.uk

BEHRINGER LTD

(SAWING MACHINE SUPPLIER ESTABLISHED OVER 100 YEARS )

Subsidiary of the parent company Behringer GmbH, in Germany. Behringer,

Behringer Eisele and Vernet Behringer products

Complete range of billet cutting and mitre cutting, band saws and circular

cold saws and plate saws including Vernet Behringer structural fabrication

processing equipment.

Handling equipment to suit specific requirements

After sales and service and support across the UK with next day delivery.

Demonstrations available at our service centre

Tel 01296 668259. Web: www.behringerltd.co.uk

E mail info@behringerltd.co.uk

ADS PRECISION LTD

For all your metal cutting needs. Suppliers of new & used metal sawing

bandsaws & circular saws (from manual to automatic CNC), Bahco bimetal

& carbide bandsaw blades, spare parts for a wide range of saws,

breakdown, repairs & servicing, lubricants and in house subcontract

cutting/sawing, CNC milling, turning and machining.

Unit 1, Aspen Court, Centurion Business Park, Bessemer Way,

Rotherham S60 1FB. Tel: 0114 2347352 Fax: 0114 2347362

Email: sales@adsprecision.com Web: www.adsprecision.com

JHP MACHINE SALES LTD

UK agents for BEWO and RUSCH Sawing Machinery, Manual to

Automatic and CNC Bandsaws, Automatic Tube Saws, Circular Saws,

Blades, Breakdowns, Spares, Service and Repairs to a wide range of

machinery.

EchoENG: A wide range of Machine Tools i.e., Press Brakes,

Guillotines, Machining Centers. Lathes, Mills and much much more.

UK agents for DYNOBEND Bending and Tube end forming Machines.

Unit 2 Phoenix Park Ind Est, Chickenhall Lane, Eastleigh SO50 6PQ

Tel: 02381 942827 Email: sales@jhpengineeringservices.co.uk

SCRAP METAL RECYCLING

H. A. MASON (METALS) LTD

Buyers of all non-ferrous scrap metals

Two Woods Lane, off Mill Street, Brierley Hill, West Midlands DY5 1TA

Tel: 01384 79841 Fax: 01384 76414

Email: info@masonmetals.co.uk Web: www.masonmetals.co.uk

S E R V I C E P R O V I D E R S - I n c r e a s e y o u r c u s t o m e r b a s e f o r l e s s t h a n £ 2 a w e e k

Manufacturing Machinery World, August 2022 37
---
S E R V I C E S D I R E C T O R Y

SERVO MOTOR & DRIVE REPAIRS

EUROSERV LIMITED

Specialist Repairs to all Manufactures of Servomotors, Spindle Motors

and Drives + Associated Equipment.

Unit 16 & 17, Whitworth Road, Armstrong Industrial Estate, Washington,

Tyne & Wear

NE37 1PP. Tel: +44 (0)1915 193344 Fax: +44 (0)1915 368707

Email: enquiries@euroservltd.net Web: www.euroservltd.net

SERVICE & REPAIR

TPH MACHINE TOOLS

Offer Service & Repair on most Metalworking & Fab Machines,

both Electrical & Mechanical

Tel: +44 (0)1708 523916 Email: miket@tphmachinetools.co.uk

Web: www.tphmachinetools.co.uk. Established 1923

SHOT BLAST MACHINE ENGINEERS

DOUG BOOTH & SONS (SHOTBLAST) LTD.

The largest UK stocks of new and re-conditioned shotblast machines

of all types.

Olympia Works, Church Street, Ossett, Wakefield, West Yorks WF5 9DG

Tel: 01924 274887 Fax: 01924 262219

Email: paul@dougbooth.co.uk Web: www.dougbooth.co.uk

MNB PRECISION

MNB offer precison services including CNC Milling and Turning, Jig

Boring, Spark-Erosion, Wire-Erosion, Grinding and Shot Peening up 8M

long.

Units 3-5 Binns Close, Torrington Avenue, Coventry, CV4 9TB

Tel: +44 (0) 2476 695 959 Fax: 08721116698

Email: info@mnbprecision.com Web: www.mnbprecision.com

SLIDEWAY GRINDING

BLUE DIAMOND MACHINE TOOLS LTD

Suppliers of new and used machine tools, rebuilding and repairs,

suppliers of new tooling and sub-contract slideway grinding, CNC

retrofitting.

Unit 6, Hackworth Park Industrial Estate, Sheldon, County Durham.

Tel: 01388 776052 Fax: 01388 774770

Email: sales@bdmtools.co.uk Web: www.bluediamondmachinetools.co.uk

SPINDLE BUILD & REPAIR

ROTATECH

Specialising in all types of machine tool spindles, both mechanical &

electromechanical. Complete removal and re-installation service offered.

20 Cavans Way, Binley Industrial state, Binley, Coventry CN3 2SF

Tel: 02476 452600 Fax: 02476 452645

Email: sales@rotatech.com Web: www.rotatech.com

SUB-CONTRACTING - GRINDING

CENTRAL GRINDING SERVICES LTD

Precision Internal & External C.N.C. Grinding, 50 offs up to large qtys,

all materials including Exotics, Carbide & Coatings. ISO 9001-2000.

3A Pomery Drive, Oadby Industrial Estate, Oadby, Leicester LE2 5NE.

Tel: 0116 271 8188 Fax: 0116 271 8199

Email: carl@centralgrinding.co.uk Web: www.centralgrindingservices.co.uk

SUBCONTRACTING – HONING

deLaPena GroUP

Delapena subcontract honing facility provides fast, efficient and cost

effective superior honing service.

With our comprehensive suite of delapena honing machines we are

known for precise, controllable and repeatable honing.

Request a quotation today.

The Delapena GroupThe Runnings, Cheltenham, Gloucestershire. GL51 9NJ

Email: t.elliott@delapena.co.uk Tel: 01242 516341

SUB-CONTRACTING - SAWING, MACHINING,

MILLING, TURNING & LATHE SERVICES

ADS PRECISION LTD

For all your metal cutting needs. Suppliers of new & used metal sawing

bandsaws & circular saws (from manual to automatic CNC), Bahco bimetal

& carbide bandsaw blades, spare parts for a wide range of saws,

breakdown, repairs & servicing, lubricants and in house subcontract

cutting/sawing, CNC milling, turning and machining.

710a-716 Penistone Road, Hillsborough, Sheffield, South Yorkshire, S6 2DF

Tel: 0114 2347352 Fax: 0114 2347362

Email: sales@adsprecision.com Web: www.adsprecision.com

THREAD CUTTING

KINGSTON ENGINEERING Co (HULL) LTD

Specialist manufacturers and producers of bespoke Power Screws. We

offer a variety of specialised engineering services and based on using

materials and specifications to suit customer's exact needs, we

produce complimentary nuts and fittings.

Pennington Street, Hull, HU8 7LD

Tel: 01482 325676 Fax: 01482 216438 Mobile: 07901 857045

www.kingston-engineering.co.uk Email : paul@kingston-engineering.co.uk

TOOL MAKERS

JCP SERVICES LIMITED

Tooling For Tin Box & Bakeware Plus Precision Engineers. We

specialise in the manufacture of tin box, bakeware and progressive

tooling. Press work also undertaken. We also offer a large variety of

precision engineering CNC machinery.

Unit 50, Wakefield Commercial Park, Engine Lane, Bridge Road,

Horbury Junction, Wakefield, West Yorkshire WF4 5NW.

Tel: 01924 278585

Email: jcpservicesltd@gmail.com Web: www.jcpservicesltd.org.uk/

TUBE MANIPULATION

HLP TUBE FORMERS LTD

Specialists in CNC Bending, Cutting, Welding & Fabrication

Unit 17 Pant Glas Industrial Estate, Bedwas, Caerphilly, CF83 8DR

Tel: 029 2086 2122 Fax: 029 2086 0823

Email: info@hlptube.co.uk Web: www.hlptube.co.uk

VALUATION PLANT & MACHINERY

TPH MACHINE TOOLS

Offer Service & Repair on most Metalworking & Fab Machines,

both Electrical & Mechanical

Tel: +44 (0)1708 523916 Email: miket@tphmachinetools.co.uk

Web: www.tphmachinetools.co.uk. Established 1923

VERTICAL BORING

N.A.B. Precision tooling ltd

Up to 2 metres Diameter CNC Turning.

Knowl Piece, Wilbury Way, Hitchin, Herts SG4 0TY

Tel: 01462 456565 Fax: 01462 420039

Email: nab_sales@btconnect.com Web: www.nabprecisiontooling.com

WATERJET CUTTING

CROSS ENGINEERING SWANSEA LTD

Specialists in Waterjet cutting. 2 number twin head Flow machines

4mtr x 2mtr capacity, any material upto 200mm thickness also sub

contract machining and fabrication capacity

Garngoch Industrial Estate, Gorseinon, Swansea, SA4 9GE

Web: www.crosswaterservices.co.uk www.crossengineering.co.uk

Tel: 01792 893491

WORKHOLDING

1st MACHINE TOOL ACCESSORIES

High quality work holding, fixturing, clamping, chucks & collets

available from stock.

1 The Headlands, Downton, Salisbury, Wilts SP5 3JJ

Tel: 0800 783 0510 Email: enquiries@1stmta.com

S E R V I C E P R O V I D E R S - I n c r e a s e y o u r c u s t o m e r b a s e f o r l e s s t h a n £ 2 a w e e k

38 Manufacturing Machinery World, August 2022
---
DO YOU WANT TO APPEAR IN THE

SERVICES DIRECTORY?

If you would like to be included in our SERVICES DIRECTORY (in print, and online at www.machinery.world),

just enter your details below and return them together with payment of £75 for a full year's insertion to:

SHEEN PUBLISHING LTD, 50 Queens Road, Buckhurst Hill, Essex IG9 5DD, UK

CATEGORY/HEADING.....................................................................................................................................................................

COMPANY NAME.............................................................................................................................................................................

Short Description of service(s) offered..........................................................................................................................

............................................................................................................................................................................................................

............................................................................................................................................................................................................

ADDRESS............................................................................................................................................................................................

............................................................................................................................................................................................................

POSTCODE................................. TEL.................................................................

FAX................................................................

EMAIL.........................................................................................

WEBSITE....................................................................................

CONTACT NAME.....................................................................

We accept

e y

Card Number

EXPIRY DATE CVC (3 DIGITS) SIGNED..............................................

OR Please enclose a cheque for £75 made payable to Sheen Publishing Ltd.

FEATURES PROGRAMME

2022

SEPTEMBER

u CAD/CAM

u Chains & Bearings

u Laser, Plasma, Waterjet Cutting

OCTOBER

u Robotics & Automation

u AeroSpace Engineering

u Metrology inc Inspection & quality

control

NOVEMBER

u Grinding Deburring & Surface

Finishing,

u Medical engineering

u Drilling & Milling

DECEMBER

u Welding, Laser, Plasma & Waterjet

Cutting

u Lubricants & Coolants

u Autosport Engineering

Manufacturing Machinery World, August 2022 39
---
(3) Online Auction Sales

Cottrill and Co Machine Tool Auctioneers

& Asset Disposal Worldwide Upcoming Auctions...

Bidding Ends: 2nd, 3rd & 4th August 2022 at 3pm (UK Time)

·CNC Lathes, Machining Centre, Wire Eroders & Inspection Equipment

formerly used by Seiki Service Ltd

Bidding Ends: Tuesday 2nd August 2022 at 3pm (UK Time)

Daewoo Lynx 210 CNC Lathe, Colchester Combi 2000 Lathe,

Cincinnati Arrow 750 VMC, Fanuc Robodrill XT14iA Drill/Tap,

Sykes Fanuc Robocut Wire Eroder, Hydrovane 504 Compressor

Plus many others...

·Spanesi Automotive Accident Repair System & Garage Equipment

Bidding Ends: Wednesday 3rd August 2022 at 3pm (UK Time)

Spanesi Model 106 Straightening Bench, T.B. Tyre Changer

and Corghi CB950B Computer Wheel Balancer

·Collective Sale: Excellent Quality Inspection Equipment

no longer required by a Formula 1 Team & Others

Bidding Ends: Thursday 4th August 2022 at 3pm (UK Time)

Leica Geosystems AT901-LR Absolute Laser Tracker, Faro F04 Gauge

Plus Portable 3D CMM Measurement Arm, Faro Edge Measuring Arm,

Mitutoyo C-3000 and CV-3100 Contracer Contour

Measurement System, Plus Many Others...

For Full Information please visit our Website: www.cottandco.com

Please Contact Our Office for Further Information: Cottrill & Co, 401—407 Tyburn Road, Erdington, Birmingham, B24 8HJ

▪ Tel: + 44 (0) 121 328 2424 ▪ Email: info@cottandco.com ▪ Website: www.cottandco.com ▪

Cottrill & Co is a Trade Name of Cottrill & Associates Ltd

ADVERTISERS INDEX

1st Machine Tool Accesories . .Inside Front Cover

Advanced Engineering . . . . . . . . . . . . . . . . . . . . . . .9

Advanced Grinding Solutions . . . . . . . . . . . . . . .4-5

Amada (UK) Ltd . . . . . . . . . . . . . . . . . . . . . . . . . . . .7

Ashmores Press Brake Tools . . . . . . . . . . . . . . . . .15

Blue Diamond Machine Tools Ltd . . . . . . . . . . . . .5

CeMAT Asia . . . . . . . . . . . . . . . . . . . . . .Back Cover

Central Grindinmg . . . . . . . . . . . . . . . . . . . . . . . . .19

Cottrill & Co . . . . . . . . . . . . . . . . . . . . . . . . . . . . . . .40

Euroblech . . . . . . . . . . . . . . . . . . . . . . . . . . . . . . . . .19

igus (UK) Ltd . . . . . . . . . . . . . . . . . . . . .Front Cover

IMT . . . . . . . . . . . . . . . . . . . . . . . . . . . . . . . . . . . . . .21

ITC Widia . . . . . . . . . . . . . . . . . . . . . . . . . . . . . . . . .15

Kasto Ltd . . . . . . . . . . . . . . . . . . . . . . . . . . . . . . . . .17

Kerf Developments . . . . . . . . . . . . . . . . . . . . . . . . .13

MACH 2024 . . . . . . . . . . . . . . . . . . . . . . . . . . . . . . .34

MTA London . . . . . . . . . . . . . . . . . . . . . . . . . . . . . .41

New Century Machinery . . . . . . . . . . . . . . . . . . .11§

Penico Gauges . . . . . . . . . . . . . . . . . . . . . . . . . . . . . .7

PTC Asia . . . . . . . . . . . . . . . . . . . . . . . . . . . . . . . . . .12

Rocol . . . . . . . . . . . . . . . . . . . . . . . . . . . . . . . . . . . . .17

SEC Services . . . . . . . . . . . . . . . . . . . . . . . . . . . . . . .13

Subcon Drilling . . . . . . . . . . . . . . . . . . . . . . . . . . . .15

Techno Precision . . . . . . . . . . . . . . . . . . . . . . . . . . .19

Westermans International . . . . . . . . . . . . . . . . . . . .4

WG Challenor . . . . . . . . . . . . . . . . . . . . . . . . . . . . .19

40 Manufacturing Machinery World, August 2022