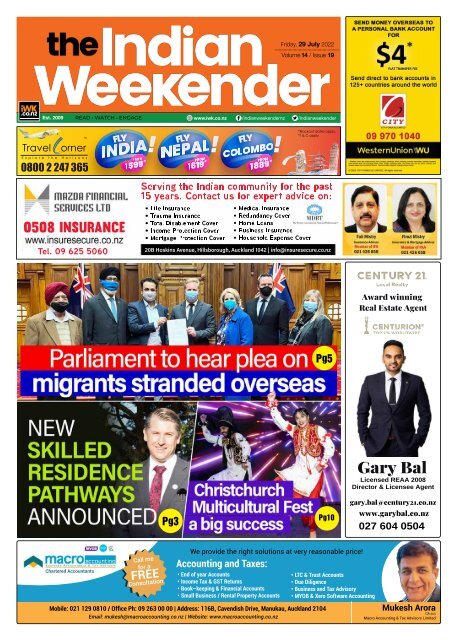 The Indian Weekender, 29 July 2022
You also want an ePaper? Increase the reach of your titles
YUMPU automatically turns print PDFs into web optimized ePapers that Google loves.
Friday, 29 July 2022

Volume 14 / Issue 19

www.iwk.co.nz /indianweekendernz /indianweekender

Tel. 09 625 5060

Serving the Indian community for the past

15 years. Contact us for expert advice on:

• Life Insurance

• Trauma Insurance

• Total Disablement Cover

• Income Protection Cover

• Mortgage Protection Cover

• Medical Insurance

• Redundancy Cover

• Home Loans

• Business Insurance

• Household Expense Cover

20B Hoskins Avenue, Hillsborough, Auckland 1042 | info@insuresecure.co.nz

Award winning

Real Estate Agent

Pg5

Pg3

Pg10

Gary Bal

Licensed REAA 2008

Director & Licensee Agent

gary.bal@century21.co.nz

www.garybal.co.nz

027 604 0504

Chartered Accountants

Call me

for a

FREE

Consultation

We provide the right solutions at very reasonable price!

Accounting and Taxes:

• End of year Accounts

• Income Tax & GST Returns

• Book–keeping & Financial Accounts

• Small Business / Rental Property Accounts

Mobile: 021 129 0810 / Office Ph: 09 263 00 00 | Address: 116B, Cavendish Drive, Manukau, Auckland 2104

Email: mukesh@macroaccounting.co.nz | Website: www.macroaccounting.co.nz

• LTC & Trust Accounts

• Due Diligence

• Business and Tax Advisory

• MYOB & Xero Software Accounting

Mukesh Arora

CA (NZ)

Macro Accounting & Tax Advisors Limited
---
Make winter

a little better

WITH COMPREHENSIVE HEALTH COVER AND A FREE nib BETTER HEALTH BOX

Private health insurance helps protect you

and your family from the unexpected. It can

give you more control over who treats you

and when. Without it, private treatment could

be unaffordable or make a significant impact

on your hard-earned savings and lifestyle.

Our purpose is your better health, when you

sign up to any new nib policy through your

adviser, you'll receive a FREE nib better

health box worth over $100. So wrap up

and get covered this winter.

With the better health box, you'll receive a

curated mix of wellness products, first aid kit,

rapid antigen tests and even more to help you

get through this winter.

Working with:

not

Examples

CMYK & RGB – JPEG, PNG, EPS, PDF

SO TALK TO YOUR ADVISER TODAY FOR ALL THE DETAILS.

One box per policy, terms and conditions apply. Offer only for new applications submitted between 2 May

and 29 July 2022, with a policy commencement date no later than 14 August 2022.
---
Read online www.iwk.co.nz Friday, July 29, 2022

NEW ZEALAND 3

Government announces three new skilled

SANDEEP SINGH

Minister of Immigration

Michael Wood has

announced three new

skilled residence pathways

for temporary migrants

after having completed two

years of acceptable work

in New Zealand.

The three pathways are

Straight to residence, Work to

residence, highly paid - 'twice

the median wage'.

The Straight to residence

pathway will be ready for people

to apply for from 5 September

2022, while work to Residence

and Highly Paid pathways will

be available for people to apply

in September 2023.

This was announced just now

by the Minister of Immigration

Michael Wood.

"From 5 September, skilled

workers in specified occupations

will be able to apply for the

Straight to Residence pathway.

Skilled migrants on the 'Work

to Residence' and 'Highly Paid'

resident pathways will be able

to apply from 29 September

2023, once they have obtained

24 months of acceptable

work in New Zealand,"

Minister Wood said.

All three categories are linked

residence pathways for temporary migrants

with the recently announced

Green List that fast tracks

temporary migrants' entry

into the country and eventual

gaining of residency rights.

Straight to Residence

and Work to Residence

Pathways

The main requirement for

both Green List pathways is

the need to have a job in, or

job offer for, one of the Green

List occupations and meet the

specified requirements on the

list for the said occupation.

• The employment or offer

of employment must also

be full-time (at least 30

hours per week), genuine,

and be permanent or for at

least a 12-month fixed term

contract.

• The Straight to Residence

visa provides a straight

to residence pathway.

Eligible migrants employed

in these occupations can

come to New Zealand on a

work visa from 4 July and

apply for residence from 5

September 2022. From 5

September 2022 residence

can also be applied for

directly from offshore.

• Contractors are eligible

for the Green List Straight

to Residence pathway,

provided applicants meet

some additional criteria.

• The Work to Residence

visa differs as the applicant

must also demonstrate they

have at least 24 months of

acceptable work in New

Zealand. Acceptable

work means having

worked in an

occupation on

the Green List

and meeting

the specified

requirements for

that occupation

for the duration

of the 24 month

period. This work in New

Zealand can only be claimed

on or after 29 September

2021. Work must be on an

AEWV unless the person had

commenced work on another

visa before 4 July 2022.

Highly Paid Resident

Pathways

• The Highly Paid resident

pathway was created

to provide a pathway to

residence for people who

were paid at least two times

the median wage (currently

$55.52 per hour) over

a 24-month period while

working in New Zealand.

• Similar to the Work to

Residence work experience

requirements, the principal

applicant must demonstrate

they have at least 24

months of acceptable work

in New Zealand. Acceptable

work means having earned

at or above two times the

median wage for at least 24

months.

• This work in New Zealand

can only be claimed on or

after 29 September 2021.

This aligns with the 2021

Resident Visa and ensures

that the small number of

people who do not qualify for

this can still have some work

in New Zealand recognised.

• The two times median wage

amount will be updated

annually in February based

on the June quarter median

hourly earnings from wages

and salaries as published by

Statistics New Zealand.

• The application fee and levy

will be between $4,020

and $4,890 depending on

whether the applicant is

applying from within New

Zealand or another part of

the world. This fee is aligned

with the fee for the Skilled

Migrant Category.

Everything your Spa needs

www.spastore.co.nz

PRESENT

RACHIT BHATIA

LIVE IN CONCERT

WITH

NZ's finest

Musicians led by

HEMANT THAKER

Proudly Supporting

DISHWASHER / CLEANER

Busy Kreem Café, Mt Roskill

$23 per hour

ARPITA CHANDA

RAUL CARDOZA

ANKITA GHATANI

We have three jobs:

• 2.30pm-5.30pm Monday to Thursday

• 9.00am-5.30pm Wednesday to Friday

• 9.00am-5.30pm Tuesday to Saturday

Catering Partner

Radio Partner

Dil Chahta Hai

Unforgettable Melodies to Modern Classics

SATURDAY 24 SEPTEMBER 2022, 6.30 pm

DOROTHY WINSTONE CENTRE, 16 HOWE ST, AUCKLAND

TICKETS | $30 | $35

Media Partners

Design & Printing

Please phone or text:

Marika 021-446-880

SILVER SPONSORS

For more info RAJESH 022 134 1234

GOLD SPONSORS

INC.

RENU SHARMA

021 128 4735
---
4

NEW ZEALAND

Friday, July 29, 2022

Read online www.iwk.co.nz

PLANTING TREES TO MARK 75

YEARS OF INDIAN NATIONHOOD

VENU MENON IN

WELLINGTON

The Wellington Indian

Association

is

collaborating with the

Indian High Commission in

planting trees to commemorate

75 years of Indian Independence.

The tree planting event is

scheduled to take place in

Newlands in Wellington on

August 6, according to Dipak

Bhana, association president.

This was corroborated

by Mr Durga Dass, Second

Secretary ( Press, Information

& Culture), Indian High

Commission, Wellington.

The association, formed 125

years ago, had a pre-Covid paid

membership of 1200, which

currently stands at 690.

Bhana attributed the decline in

membership to the adjustments

that had to be made in the new

Covid environment, such as

capping the number of people

attending an event and strict

adherence to protocols like

wearing face masks.

"A key and often invisible

component of our function is

advocacy," says the association

site. Bhana explains: "The

invisibleness is how we put

our heads down and get on

with doing the job we need

to do. We don't want to draw

attention to ourselves. That's

how we integrate with society."

The advocacy work

includes consulting the New

Zealand Police and conveying

the apprehensions of the

community on pressing issues

such as the ram raids on the

dairies. "We provide feedback

to the authorities as to what

our members are experiencing.

We provide advice to the police,

as well as to the immigration

officials when they ask for it."

Bhana said Indian dairy

owners have been ram-raided

in the Wellington area. "But

they tend to keep it private and

confidential. They don't want

to publicise it, because once

you put it in the news, other

people find out, your insurer

finds out, and that draws a lot

of negative attention which

they don't want."

Bhana said ram raids

were happening despite

increased police presence

and community patrols. He

cited socio-economic factors,

including high inflation, as key

drivers of crime.

According to Bhana, social

media played a key role among

youngsters looking to advertise

their criminal exploits to earn

recognition among their peers.

"There's a lot of content on

social media that helps wouldbe

criminals to do what they

need to do," Bhana said.

The authorities were

taking a pro-active approach

and pulling down the posts

as they came up on social

media, Bhana noted.

But not all the perpetrators

of ram raids came from

disadvantaged families.

"They're just doing it for fun,"

Bhana said.

Indian businesses sore at missing out on maximum

relief from City Council

VENU MENON

Retail outlets operating

close to Parliament,

owned by members

of the Indian and wider

subcontinental diaspora, said

their claims for relief were

either overlooked or not

adequately met after suffering

revenue losses following the

23-day blockade of the area by

protestors early this year.

A total of 91 businesses

applied for a one-off $30,000

payment from a $1.2 million

business relief fund set up

jointly by the Wellington City

Council and the government to

aid businesses impacted by the

occupation of the Parliament

grounds by protestors, before

they were cleared by the police

on March 2.

The City Council added $1

million to the government's

contribution of $ 200,000 to

establish the relief fund.

Businesses that experienced

a reduction in revenue of 50 per

cent or more from 6 February

2022 to 2 March 2022 were

eligible to apply.

The relief was capped at

a maximum of $ 30,000 as

a one-off payment to every

eligible business.

Thus far, a total of $974,600

has been disbursed from

the fund to 50 businesses

deemed eligible for relief by

the City Council.

Of these, 18 businesses

received the maximum one-off

payment of $30,000.

The rest of the

applicants received varying

amounts with the smallest

payment being $2000.

City Council appointed a

panel of senior staff, assisted

by an independent financial

consultant, to determine which

businesses qualified for relief.

Businesses had to provide

documentation to support their

claims of revenue loss for the

period of the protest, between

February and March.

City Council Economic

Wellbeing and CCOs manager

Anna Calver noted that

businesses "were either

forced to shut completely or

suffered massive downturns in

custom due to the disruption

and intimidation associated

with the protest."

Indian Weekender revisited

businesses operating at

the arcade on Molesworth

Street, across the

road from Parliament.

While foot traffic in the

business district appeared

to have gradually picked up

since the protest ended,

business is yet to return to

pre-protest levels.

The road closures and police

The invisibleness

is how we put our

heads down and

get on with doing

the job we need to

do. We don't want

to draw attention to

ourselves. That's how

we integrate with

society."

cordons around Parliament

during the protest choked the

customer flow to Sunil Gandhi's

convenience cum Lotto and NZ

Post outlet at the arcade.

Gandhi's customers came

from the government offices

located in the building,

including high-profile names

such as New Zealand Rugby.

With officegoers forced to work

from home during the protest,

Gandhi estimated his revenue

loss was upward of the 50 per

cent eligibility norm set by the

Council and resolved to "fill out

the forms" to apply for relief.

But Gandhi was left out of the

City Council's list of businesses

eligible for relief, according to

Asha, a member of the family.

The story was much the same

in the case of the Molesworth

Shoe and Bag Repairs Store, a

family-owned business started

in 1936. The business failed to

qualify for relief despite suffering

revenue loss on account of the

Parliament protests.

Across the hallway, the

Everest Chullo cafeteria, which

had a "closed" sign pasted

on its glass door in the early

days of the protest, has since

opened for business.

Ram Tamang, the café's

Nepali-origin owner, had

started the outlet in

December, just prior to the

occupation of the Parliament

grounds by protestors.

Tamang told Indian

Weekender he had applied for

the maximum relief of $30,000

but ended up getting $18,000.

This amount went some way in

meeting overheads such as rent

and staff salaries.

P&J Vallabh Partnership t/a

Freeman's Lotto and News

Agency, one of the listed

recipients of the maximum

grant of $30,000, declined to

take questions when contacted

by the Indian Weekender.

The City Council's precondition

of providing proof of

50 per cent revenue loss kept

In keeping with its stated

goal of promoting Hindu culture

and religion, the association

operates its own temple in

Kilbirnie, which is open to the

public. Hindu festivals such as

Navratri, Ganesh Chaturthi and

Karva Chauth are celebrated

for wider Wellington Hindus.

The association also runs

a soup kitchen on Tory

St to feed the homeless

across communities.

Are there members from

ethnic Indian communities

receiving food aid?

"The Indian diaspora that

needs help are very shy about

asking for help. Sometimes

we have to reach out to our

membership to say that there

is government help available

out there.

"But they (Indians) are very

shy about asking for help. If

we know somebody is having

a hard time, we go and visit

them," Bhana explained.

some business owners out of

the reckoning for relief.

Babu Chauhan, who owns the

Lesvos store at the Wellington

Rail Station, saw a revenue

loss of 30 per cent and was,

therefore, not eligible for

relief. However, Chauhan was

a recipient of the Council's

Covid relief fund, which

preceded the protest-related

relief payments.

City Council's Calver

acknowledged its panel

exercised "discretion regarding

the location of some businesses

that applied for payments."

Clearly, that left room for

debate around the criteria

adopted by City Council while

shortlisting businesses eligible

for relief.
---
Read online www.iwk.co.nz Friday, July 29, 2022

NEW ZEALAND 5

Parliament to hear plea on

migrants stranded overseas

VENU MENON

"If you talk to employers in New

Zealand at the moment, anybody

that is of good character and has

the skills, they will take them as a

worker. They don't mind where they

come from. They (employers) would be

very disappointed if the government's

policy is to bring people from elsewhere

and not India, because we have a strong

relationship with India. We have a very

large Indian community in New Zealand

that now calls New Zealand home," said

Todd McClay, National MP from Rotorua.

McClay was speaking to the Indian

Weekender in the Parliament precincts

shortly after receiving a petition

submitted on Wednesday on behalf of

the Migrant United Council, an umbrella

organisation representing 26 registered

migrant groups in New Zealand.

The petition, supported by around

5,000 signatures, requested Parliament

to "urge the government to automatically

reinstate the visas of migrants that

expired while our borders were closed

due to Covid-19 restrictions, and extend

those visas for a period starting from 19

March 2020 and ending at an appropriate

time after our borders reopen."

Rajeev Bajwa, founder and chairperson

of the Migrant United Council, explained

the compulsion behind his petition:

"We never reacted when the borders

were closed because we were facing a

global pandemic.

"When borders were reopened, Prime

Minister Jacinda Ardern announced on 3

February 2022 that all migrants under

all visa categories could re-enter the

country from 13 April 2022. Then she

brought in the condition that only those

holding current, valid visas could return."

This left scores of migrants stranded

around the world, unable to return

because their visas had expired, Bajwa

noted.

IWK BUREAU

The government is urging

people to ensure their

accurate bank details are

updated with Inland revenue

Department to start receiving

the Cost-of-Living support.

With the first of three monthly

Government Cost of Living

payments due to be made

on Monday, Revenue Minister

David Parker is urging people to

make sure Inland Revenue has

their bank account details.

From 1 August, Inland

Revenue will pay three monthly

instalments each of about

$116 into the bank accounts

of the 2.1 million eligible Kiwis

– but many thousands of bank

account details are still needed.

"Since taking office, our

Government has worked hard

to lift incomes and make life

more affordable for Kiwis and

their families. There is no easy

fix to the current global Cost of

Living pressures many people

Urge the government to

automatically reinstate

the visas of migrants that

expired while our borders

were closed due to Covid-19

restrictions, and extend

those visas for a period

starting from 19 March 2020

and ending at an appropriate

time after our borders

reopen."

In India, an estimated 900 migrants

were unable to re-enter New Zealand

because their visas had expired,

according to Bajwa.

Bajwa's petition aimed to press the

legal rights and "secure justice" for

stranded migrants worldwide, who have

been disadvantaged by the changes in

immigration rules.

Bajwa set out a three-step approach

to secure his goal. First, have the issue

raised in Parliament. Second, get the

petition discussed in the parliamentary

petitions committee. Third, exercise the

right to approach the Ombudsman.

are facing. The Government's

Cost of Living payments are

the latest step we are taking,"

David Parker said.

"This new Cost of Living

Payment sits alongside the

Government's Winter Energy

Payment, and, together, these

payments will support 81 per

cent of New Zealanders aged

18 and over with their bills this

year.

"The measures we're putting

in place will make a difference

for people across the country.

They build on actions we've

taken since 2017 to ensure

Kiwi families have more in their

pocket to get ahead – policies

like the family tax credit,

free school lunches, cheaper

doctors' visits, and the removal

of school donations. We're also

fixing the supermarket sector

and increasing competition, to

make sure that Kiwis pay a fair

price at the till," David Parker

said.

There is no need for anyone

to apply for the payment and

people will receive the payment

if Inland Revenue can confirm

they:

• earned $70,000 or less in

the period 1 April 2021 to

31 March 2022

If justice was still denied to the

stranded migrants, the Migrant United

Council intended to take the issue to

the streets by resorting to nonviolent

agitation, including relay hunger strikes.

"I have full faith in our parliamentary

process. I believe we will get justice if we

are patient," Bajwa added.

But National's McClay and Taupo

MP Louise Upston, who were backing

Bajwa's petition in Parliament, denied

the Labour government's changes to

immigration policy were discriminatory

or targeted at any particular ethnic

migrant community.

"If it's shown that the government

has put this policy in place for only

one country of this world, then I think

those people would be right to feel it's

discriminatory," McClay said.

'But I think this is for many countries.

They would be not only from India but

many parts of Asia and elsewhere in the

world, like South America, where people

had visas to come here, the border was

closed, their visas had run out and they

can't come to New Zealand," he added.

But McClay acknowledged he did not

know if there were similar cases from

other countries.

The Tauranga MP was of the view that

• are not entitled to receive

Winter Energy Payment by

receiving the NZ Super or

a qualifying benefit from

Ministry of Social

Development (MSD)

• are aged 18 or older

• are both a New Zealand tax

resident and present here

• are not in prison.

• David Parker said an

estimated 2.1 million

people will be eligible for

the payment but to receive

it they need to give Inland

Revenue up to date bank

details.

"Since the payment

was announced more

than 43,000 people have

given inland Revenue their

bank account numbers.

"But there are still more

than 164,000 people for

whom the department doesn't

have those details.

"Inland Revenue is working

with more than 600 community

groups, sports bodies and other

organisations – particularly

the immigration system was not working

as it should.

He wondered why the stranded

migrants could not be reinstated or a

pathway for them to come back to New

Zealand couldn't be found when those

people were able to enter the country

before Covid.

'If they are not able to come now, what

has changed in that period of time?"

Upston supplemented McClay, saying

those who worked in New Zealand

before and had returned home to other

countries were being disadvantaged

by the policy of the government.

They should be allowed to come back

and "continue to contribute to our

businesses, our communities and our

country," she added.

Kanwaljeet Bakshi, National's ex-List

MP, spoke of the stranded migrants he

had met on his last visit to India and

described them as being "traumatized".

"We need people who have NZ

experience. There is a shortage of

workers in every sector," Bakshi noted.

Gaurav Sharma, Labour MP from

Hamilton West, told Indian Weekender

there would be further policy

announcements in September and that

"the new minister is definitely looking at

broader immigration policies as well."

Paramjit Singh, a former office bearer

of the Wellington gurudwara, said New

Zealand needed "working hands to keep

the economy growing."

With the petition being raised by

a sitting MP during Question Hour,

the petition is now embedded in the

parliamentary process.

Govt urges people to update bank details with IRD to receive Cost of Living payment

groups for Māori and Pacific

peoples - to spread awareness

about who might be eligible for

the payment and the need to

provide bank account numbers.

"There are fact sheets in

6 languages and webinars in

English and te reo Māori to

help them share information

about the payment and what's

needed for people to receive it.

People can update bank

account details through myIR.

They can also use the selfservice

number 0800 257

777 to add or change a bank

account and other details. It is

a 24/7 number and there is no

wait time.

"Inland Revenue will check

to see who is eligible for the

payment before each monthly

payment is made. It is possible

to be eligible for one, two or all

three payments."

For most people the three

main payment dates are:

• 1 August 2022

• 1 September 2022

• 3 October 2022.
---
6

SANDEEP SINGH

NEW ZEALAND

Genuine and credible borrowers

are still struggling to get access

to credit from banks, despite the

government's slight dial back of the

controversial changes in the responsible

lending rules late last year.

The government first changed the

lending rules on December 1, 2021,

which placed additional responsibility

upon the banks to check the debt

servicing capabilities of potential

borrowers precipitating a dramatic

turndown of loan applications.

Following a sustained furore and

a petition being signed by 10,000

people requesting the government to

reconsider the law changes, Commerce

and Consumer Affairs Minister David

Clark announced changes to the Credit

Contracts and Consumer Finance Act in

early March - less than four months after

it was tightened.

However, four months after the dialback

by the government, potential

borrowers are still facing rejection from

banks even on their application for

a secured loan against their houses,

despite having enough equity.

Chander Aggrawal (name changed)

told the Indian Weekender that he was

frustrated after two banks declined to

provide a small loan of 20K, including a

top-up on his home mortgage.

"I have significant equity on my home,

my wife and I are full time working, plus

I drive uber on weekends to top up my

income, and my wife runs a small parttime

business which also brings cash in

the home."

"Yet banks questioned our debt

servicing capabilities in future in

declining the loan application," Chander

said frustratingly.

This frustration is even more palpable

among many small business operators,

who are struggling for access to cash for

IWK BUREAU

"Following on from the successful

group applications, the Prime

Minister's Scholarships for Asia

and Latin America are now open to

individual applications, and this is

the only opportunity for individuals

to apply in 2022," Grant McPherson,

Chief Executive, Education New Zealand

Manapou ki te Ao said.

These scholarships enable talented

New Zealanders who are passionate

maintaining cashflow in their businesses

owing to Covid and are relying on their

ability to top up their home loans.

Shalina Singh (name changed) an

Auckland-based restaurant owner, told

the Indian Weekender that she has

exhausted all possible avenues for a

business loan, after having borrowed

from the government's small business

cashflow scheme and was counting on

her ability to top up her mortgage to

keep her struggling business afloat –

only to be disappointed by the bank.

"It is really frustrating to know that

nothing has changed on the ground even

after the government had announced

in March that it was rolling back the

changes initially brought late last year,"

Singh said.

"Now I am forced to seriously

contemplate borrowing unsecured loans

from other private players, which would

be at a significantly higher cost and

restrictive terms and conditions."

"I am not sure if the government is

actually achieving its initial intention

about supporting local and global

communities to add an international

dimension to their learning and develop

their global citizenship competencies

and networks.

"We welcome diverse applicants from

all stages and walks of life - you don't

need to be a current student, and you

don't need top grades. We are looking

for applicants who can display qualities

like cultural awareness, initiative,

and confidence. Previous scholarship

recipients have come from a wide range

Friday, July 29, 2022

of safeguarding the interests of the

borrowers. Not in my case, at least," a

frustrated Singh asserted.

New Zealand bankers Association

– a consortium of leading banks in

New Zealand which is a non-profit

unincorporated organisation funded by

member banks through subscriptions

– is also of the view that the changes

brought by the government in early

March might not be enough to make a

difference for the genuine and credible

borrowers.

New Zealand Bankers' Association

chief executive Roger Beaumont told

the Indian Weekender that nothing

would have changed on the ground for

the borrowers.

"The government made changes to

the Credit Contracts and Consumer

Finance Act that came into force last

December. These new lending rules had

had a big impact on banks' ability to

of backgrounds and have studied in a

range of fields, including environmental

science, languages, law, the arts, and

business."

More than 2,400 Kiwis have benefited

from the programme since 2013,

contributing to New Zealand's ability to

engage with key partners in Asia and

Latin America.

The Prime Minister's Scholarship

is open to New Zealand citizens or

permanent residents who are at least

18 years old at the time of application

Read online www.iwk.co.nz

How effective has been govt's tweak

to 'responsible lending rules' for

genuine and credible borrowers?

Commerce and Consumer Affairs Minister David

Clark

It is really frustrating to

know that nothing has

changed on the ground

even after the government

had announced in March

that it was rolling back the

changes initially brought late

last year."

lend to customers who could afford to

borrow before the changes came in.

"The new rules are designed to help

vulnerable customers avoid unaffordable

debt. The issue is that they apply a

one-size-fits-all approach to credit

applications which has affected many

mainstream consumers and has resulted

in more applications being declined.

Banks no longer have the flexibility and

discretion they used to have to help

people get a loan. The new rules mean

that some people who could afford loans

before the December change are now

missing out.

"The government recently made

some tweaks to the new rules, which

haven't really made much difference

for most borrowers. That's because most

of the existing requirements remain in

place, meaning customers still have to

provide detailed information about their

spending, resulting in a more painstaking

process and more loan applications

being declined than before the

December rule change.

"The new rules apply to any new

consumer lending, big or small,

from a new home loan or top up to

increasing your credit card limit, or

getting a car loan, so they're having a

widespread effect.

"Some small businesses may be

affected by the new lending rules,

especially if they're securing a loan with

their residential property. Other business

lending applications will be assessed on

a case-by-case basis taking into account

the particular bank's lending policies and

risk appetite," Mr Beaumont said.

Individual applications for PM's Scholarships for Asia and Latin America now open

and have been a resident in New

Zealand for at least 12 of the previous

24 months. Scholarship funding can

be used to cover, for example, tuition

fees to undertake a course in Asia or

Latin America, flights to and from

Asia and Latin America, living and

accommodation costs, travel and

medical insurance and visa fees.

More information is available on the

Education New Zealand Manapou

ki te Ao scholarship website www.

https://scholarships.enz.govt.nz/.

Applications close on August 31, 2022.
---
Read online www.iwk.co.nz Friday, July 29, 2022

NEW ZEALAND 7

NZ Gujarati Sports and Cultural Association

awards continue to grow bigger

SANDEEP SINGH

Glitter, glamour, and euphoria

described the electrifying

environment at the NZ Gujarati

Sports and Cultural Association award

night last weekend.

Held at Mahatma Gandhi centre on

Saturday, July 23, the second edition

of the mega celebrations of the

awards witnessed a colourful range of

performances interspersed between

several award facilitation and speeches

from key dignitaries attending the event.

The event witnessed participation

from more than 600 guests, including

invited community leaders from other

community associations and Hon Consul

of India, Bhav Dhillon, as the chief guest.

Speaking on the occasion Mr Dhillon

acknowledged the role played by the

Gujarati diaspora within the wider Kiwi-

Indian diaspora and said, "Our Gujarati

communities are well-known for their

enterprising spirit and their strong desire

of remaining connected with their roots

and preserving cultural identity."

Sharing the excitement of the

successful organisation of the awards

Vice President of NZGSCA, Ritesh Raniga,

who was also the event director for the

night, said, "It was the culmination of

a lot of hard work and toil from Grand

Awards Night Sub Committee and the

executive members.

"It gives us immense pleasure that

our guests were able to sit back and

enjoy the wonderful event and celebrate

achievements within our sports," Mr

Raniga said.

Ten different awards recognising

individual and team excellence and

winners in Cricket, Soccer, Squash, Table

Tennis, Golf, Snooker and Netball were

presented.

Notably, NZGSCA has been organising

the sports tournaments and the award

ceremony for many years, but in the

last two years, the executive committee

have raised the scale and grandeur of

the event.

NZ Gujarati Sports and Cultural

Association was incorporated in 1995,

five years after being run and operated

informally as a society.

NZGSCA works towards bringing

together the Gujarati Indian diaspora

that moved to New Zealand from

"Our Gujarati communities

are well-known for their

enterprising spirit and their

strong desire of remaining

connected with their roots

and preserving cultural

identity."

India, Fiji, and other nations by hosting

different sports and cultural events to

keep them connected to their roots.

The 2022 office bearers of the

NZGSCA Executive Committee are

Paresh Parshotam (President), Ritesh

Raniga (Vice President), Rohit Patel (Vice

President), Sunil Bhikha (Secretary),

Ketan Patel (Assistant Secretary), Anish

Patel (Treasurer) and Ashok Kapadia

(Assistant Treasurer).

Inclusion of netball and women key

highlights over the last two years.

Paresh Parshotam, President of

NZGSCA told the Indian Weekender

that the inclusion of women's sports

(netball) over the last two years at the

awards ceremony was the key highlight

as it has expanded the scope of games

and participation to another level.

"There was an absolute unanimity

amongst our executive committee team

about bringing our women into the

fold of competitive sports, and we are

pleased to be able to do so"

"The enthusiasm from our women in

the community has been overwhelming

and we are confident that next year

we can look forward to even greater

participation," Mr Parshotam said.

There was an auction organised for the

formal part of the evening for supporting

St John ambulance, and 31,150 was

raised by generous donations from

members of the community.

This was better than last year's

collection of $21,150. A cheque will

subsequently be handed over to St John

ambulance at a separate event.

YOUR CITY, YOUR VOICE,

YOUR FUTURE.

STAND FOR

COUNCIL

NOMINATIONS

ARE NOW OPEN.

Could you lead our city?

yourcityelections.co.nz
---
8

NEW ZEALAND

Friday, July 29, 2022

Read online www.iwk.co.nz

Lord Ganesha finds permanent

abode in Christchurch

MAHESH KUMAR IN

CHRISTCHURCH

The first Ganesha temple in

the greater Christchurch

region is set to move to its

permanent location. The Sri Ganesha

temple, established in February 2018,

and managed by the Christchurchbased

Sri Ganesha Trust , will move

to its new location at 3 Bishopdale

Court, Bishopdale, Christchurch by

the end of August.

The Sri Ganesha-Trust is managed by

five trustees and a temple committee.

The temple conducted the first pooja

at Waimari Community Centre on 10

February 2018.

The Trust was established with a clear

vision to propagate and promote the

religious, spiritual, and cultural welfare

of the Hindu community.

Over the past four years, the Trust

has been instrumental in bringing the

community together to celebrate the

festival and other cultural activities and

foster a spirit of belonging.

Sathiya Muralidaran, one of the

trustees, told the Indian Weekender:

"There was a need to have a place to

not just worship but also to teach

ourselves and our children about our

religion, languages, cultural heritage and

come together to celebrate our festivals

as a big family."

The temples permanent location is

expected to draw devotees beyond

Christchurch region . Worshippers are

expected to pour in from Dunedin,

Ashburton, Oamaru, Timaru, Blenheim,

and other parts of South Island.

Currently, the temple has a core

following of more than 300 people.

In the past, poojas were conducted

in community centers with members

having to carry the paraphernalia for

every pooja.

That will not be the case anymore.

The temple premise will have all the idols

permanently installed, making it easier

for devotees just to come and join the

prayer ceremonies.

Having a permanent temple premise

will also help the Trust conduct and

facilitate Hindu marriages, fulfill vows

and host cultural festivals according to

There was a need to

have a place to not just

worship but also to

teach ourselves and our

children about our religion,

languages, cultural heritage

and come together to

celebrate our festivals as a

big family."

the Hindu scriptures and rites.

The Trust conducts regular Poojas

and has been organising various events

to benefit the community, including a

Covid19 Vaccination drive in 2021 in

collaboration with Christchurch District

Health Board (CDHB).

When the pandemic first hit the world,

the Trust was the first to announce

free Zoom Yoga classes, Thevaram and

Bhajan sessions for the devotees in April

2020 amidst the nationwide lockdown.

Around the same time, the Trust

also donated food vouchers and

offered legal advice to those who lost

their jobs due to Covid19, families

facing hardships and people with

underlying health conditions.

The community appreciated the

free classes offered to the children

aged 5-13 years, to inculcate Indian

values based on a cultural history

dating back 5000 years through

stories and activities.

They also conduct free meditation

sessions for adults. These classes are

to be re-scheduled at the permanent

premises at Bishopdale.

The Trust is currently raising funds for

the renovation of the new premise .

If devotees want to contribute to the

funds, donations can be made either

through the website www.sgtc.org.nz

For more details, visit their website or

email at admin@sgtc.org.nz

Bank of India (New Zealand) Ltd

Welcome to Bank of India (NZ) Ltd.

(Fully owned subsidiary of Bank of India. India's leading Nationlised Bank)

SERVICES WE OFFER:

Opening of Zero balance saving account

Free remittance to India with attractive exchange rate

Same day credit to any bank in India

CONTACT HERE:

Auckland: 09 9265797

Papatoetoe: 09 2781784

HEAD OFFICE:

10 Manukau Road,

Epsom, Auckland 1023

Website: www.bankofindia.co.nz

PAPATOETOE BRANCH:

31 East Tamaki Road,

Papatoetoe, Manukau 2025
---
Read online www.iwk.co.nz Friday, July 29, 2022

NEW ZEALAND 9

Under ACT everybody will save

money,' says Damien Smith

SANDEEP SINGH

"Everybody under ACT will save

money," says Damien Smith,

Associate Finance Spokesperson

The ACT Party released its Cost-of-

Living document last week that proposes

to scrap tariffs on many imported items,

including wines, clothes etc to ease the

cost of living for New Zealanders along

with tax cuts.

To discuss more on this, the

Indian Weekender interviewed

ACT Party MP Damien Smith,

Spokesperson, Associate Finance.

Here are the excerpts.

IWK: Please tell us about this cost-ofliving

document released last week

and what does it mainly proposes to

bring soaring inflation under control?

Damien Smith: Our cost-of-living

document runs alongside ACT Party's

fully costed alternative budget, which

means that we're trying to address as

a part of the cost-of-living crisis that

people are facing. And you mentioned

inflation. We'll touch on that in a

second. …everywhere you look, costs

are rising, we've got to help people

to, to get through that. And to get to

the other side.

So we've just got a very clear policy

document on how we do that. We

launched it last week, it was very well

received in the press, and each of our

MPs who've got portfolio responsibilities,

along with David and Brooke, inputted

to this document. I was involved with

was the Reserve Bank piece. You know,

we've got an issue now where it's going

to be very painful in terms of them

having to lift the OCR to fight inflation

because inflation needs to be tamed

to… The ultimate villain in this is the

government printing too much money,

too much money into the economy. And

it's chasing too few goats. And that's

the classic definition of inflation.

IWK: How do you think reducing tariffs

will address taming of inflation?

Smith: We want to abolish all tariffs.

And, you know, it affects everything

from school uniforms, an extra $20 a

week through to railway locomotives

that we want to bring into the country to

increase transport. So it also means that

our producers become more competitive

here, they can't rely on that.

DAMIEN SMITH

And it increases productivity. So you

know, the secondary to help people

is we want to reduce taxes to be the

leaders in the South Pacific region. We're

going to bring in two tax rates; one is 17

and a half per cent for people that earn

up to $70,000, which will save money

and then everything will be under a flat

28 per cent.

We will repeal the envy tax of 39 per

cent brought by the Labour government

and replace that with 28 per cent.

We believe bringing more money into

people's back pockets is the way to help

them.

IWK: Don't you think that tax cut may

not be a right solution in current economic

climate?

Smith: Everybody under the Act will be

better off. Even for people on lower to

middle incomes, there'll be a tax offset

for them. And every household under

our carbon tax refund will receive …

an extra $100 a week to help you buy

petrol. So, everybody is going to be

better off under this Act policy than the

labour policy

IWK: The government is already

extending fuel subsidy till January

to support New Zealanders with fuel

prices and paying the cost of living

payment from next week, so why ACT

is criticising it?

Smith: The cost-of-living payment is

too little too late. It's a political reaction.

That's why we prefer tax cuts

because it's instead of hundreds of

dollars, it's thousands of dollars. And

you know, this has been a reaction

where it's really expensive for the IRD to

administer this payment.

It helps people earning under $70,000.

But you know, a lot of people aren't

going to take it up because they can't

be tracked in the system, and even if

they do it's already been eaten up with

inflation anyway.

IWK: If Act reduces tax brackets, then

isn't there less money in coffers under

an ACT government which means that

they will have less money or at the

disposal for public spending on public

infrastructure. And other criticism is

that this policy is designed to make

rich people richer. What do you have

to say?

Smith: ACT's policy is to bring

in a smaller government. So every

frontline service, whether it be the

healthcare system, policing, or teaching,

is in our budget, so there'd be no

cuts in those areas.

What we're doing is attacking the

excessive spending on the government

programs that they're implementing. …

In terms of the overall budget, there's

a huge amount of effort needed to get

back to surplus in our first 100 days. We

really got to make some hard decisions

THE 2022 LOCAL ELECTIONS

Haven't got

your enrolment

update pack yet?

It's quick and easy to

enrol and update your

details online at vote.nz

or call 0800 36 76 56

that this can't go on. …Why shouldn't

the government tighten its belt, just

like everybody else has to in their high

schools.

IWK: ACT's cost of living document is

also talking about the supply of the

labour issue, basically allowing more

temporary migrant workers from

overseas. Can you tell us more about

this?

Smith: Dr. James McDonald, our

immigration expert, is writing a piece at

the moment on another policy document

which we will launch, but in essence,

there's just the migration settings by the

government and the administration of

immigration has been appalling over the

last two and a half years, and it's really

affected communities like yourselves.

We want to focus on bringing back …

parental visas, partner visas etc. Under

an ACT government, skilled workers like

nurses won't have to sit around and

worry about how they're going to get

residency when they come here.

Full interview is available here https://

fb.watch/exJdt97EMW/

Choose New Zealand's

most trusted paint brand!

Visit your local Resene ColorShop

or shop online at shop.resene.co.nz

resene.co.nz
---
10

NEW ZEALAND

Celebration

of Cultures

2022 a huge

success

Friday, July 29, 2022

Read online www.iwk.co.nz

MAHESH KUMAR

The IndianNZ Association

of Christchurch hosted

the Christchurch

Multicultural Festival -

Celebration of Cultures at the

La Vida Convention Centre on

July 23.

A 1,500-strong crowd

from different ethnicities

turned up to witness the 24

performances put together by

the Association.

The event was supported by

Ministry for Ethnic Communities

and Christchurch City Council.

Indian cuisine was available

for visitors to savour at La

Vida Convention Centre, which

was decorated in traditional

Indian style.

First hosted last year at

the request of Christchurch's

Multicultural Communities,

the Christchurch Multicultural

Festival - Celebration Of

Cultures has become incredibly

popular and is now a keenly

awaited annual event .

The highlight of the evening

was a scintillating show put

up by performers from around

20 different countries that

showcased their culture through

dance and music. The countries

included India, Fiji, Nepal,

Bangladesh, Sri Lanka, China,

Korea, Japan, Iran, Argentina,

Mexico, Chile, Philippines, Spain,

and Poland, among others.

The evening started with a

Bharatnatyam performance,

followed by traditional Chinese

and Korean dances.

The Japanese Drumming

Trust Saffron Finance for

expert Mortgage/ Insurance

advice backed by years

of experience

Mortgages:

• Home loans

• Commercial Property loans

• Business Loans

• Top up & Debt consolidation

• Re-Finance and Refixing

• Investment Property loans

• Restructuring of loan

• Construction & Renovation

Nimish Parikh

Registered Financial Adviser

M. 021 236 7070

nimish@saffronfinance.co.nz

Risk Insurances:

• Life & Trauma

• Key Person Cover

• Medical / Health

• TPD and Income Protection

• Mortgage Repayment cover

• New to Business &

• Business Continuity Cover

• Redundancy Cover

Contact for

free assessment

18B Kirby Street, Glendene,

Auckland 0602

P O Box - 69263 , Glendene,

Auckland 0645

www.saffronfinance.co.nz

group had some foot-thumping

beats while the Polish folk

dance group charmed the

audience with their gracious

moves. A traditional Chilean

dance performance also offered

the audience a rare opportunity

to enjoy their distinct culture.

The three-hour show ended

with an energetic performance

by the Punjabi group that had

the audience on its feet.

The performers were aged

from 10 to 60 years and wore

traditional costumes that

created a vibrant environment.

Each of the performing groups

also received a certificate from

the organisers.

Duncan Webb, Labour MP

for Christchurch Central,

was the chief guest for the

evening. "It was a great night

at Christchurch's Multicultural

Communities' Multicultural

Festival 2022. A fantastic

night of performances,

meeting old friends and great

food, he said "

Formed in 2017, IndianNZ

Association of Christchurch

organises free events for

the wider communities in the

region.

Parminder Kaur, who is

the chair of the association,

said: "We want to provide

the Kiwi-born children with

an opportunity to experience

and showcase the cultural

diversity of our community and

give them a platform to stay

connected with their roots."

Every year, the Association

hosts three annual events-

Christchurch Lohri Mela,

Christchurch Multicultural

Festival - Celebration Of

Cultures and Mela Punjabana Da

- Ladies Cultural Night.

The association regularly

provides help to the needy

or International students and

has helped many families

during the Covid19 pandemic

with their basic needs. The

association also organised

Learning Communities HUB

with the MInistry of Education

for awareness of New Zealand

Curriculum system to the new

migrant families.

The Association is now

planning and preparing to host

its next event Mela Punjabana

Da - Ladies Cultural Night, to be

held on October 8.

Thanking the sponsors,

Gurvinder Aulakh, president of

the association, said, "I want to

thank our presenting partner,

Loan Market Paramount

and Nathan Miglani, Arise

Financial Services, Harmandeep

Raywhite, Bombay Bazaar,

Glass Delivery Specialist

and LS Jewels & Outfit for

their support. Without their

motivation and cooperation, it

would not have been possible

to undertake the festival of this

magnitude."
---
Read online www.iwk.co.nz Friday, July 29, 2022

NEW ZEALAND 11

Kiwi flautist with

spiritual connection

to India

MAHESH KUMAR

The cross -flute is referred to in

Wikipedia as "the outstanding

wind instrument of ancient India."

Hindus revere the Bansuri, an Indian

bamboo cross-flute that served as Lord

Krishna's musical instrument.

The flute has gained popularity

throughout the years, becoming the

instrument of choice for international

artists, such as l Sir James Galway,

Ian Anderson, and the Rock

band Jethro Tull.

But when it comes to bamboo

flute, Indian influence has been very

prominent, with the 'Bansuri Guru' Pandit

Hariprasad Chaurasia being the most

recognised name.

For the Kiwi-born flautist Nelson

Myer-Daly, Pandit Chaurasia has been a

major influence and inspiration. Myers-

Daly is one of the most popular names

in the Christchurch music circuit who

specializes on the cross -flute.

In an interview with the Indian

Weekender, Myers-Daly said he always

felt drawn to Indian culture and music.

As a Sri Chinmoy disciple, taking up the

flute was a natural progression and way

to express his spirituality.

Excerpts:

How and when did you become interested

in playing the flute?

Music has been a large part of my life

for most of my life. I have played guitar,

percussion, drums and even Irish whistle

when I was a kid.

Having a musician

father who

listens to a

wide variety

of music, I

have always

grown up

hearing

music from

different

cultures such

a s

African, Middle Eastern, and Indian.

In my later teens, I really started

to take an interest in learning Indian

classical music as I was drawn to it on an

emotional level.

Do you remember when you started

learning to play the flute?

Eight years ago, when I had the chance

to see Rakesh Chaurasia perform at

Auckland Girls Grammar, I was so moved

by his music that I decided I wanted to

learn how to play the bamboo flute.

Soon I ordered the E bass classical

flute. I was learning how to hold it and

get a sound within a couple of weeks.

As opposed to Irish or western flutes,

the technique of this instrument is quite

different. Covering the holes requires a

As opposed to Irish or

western flutes, the technique

of this instrument is quite

different. Covering the

holes requires a lot of finger

stretching and takes time to

become comfortable with.

lot of finger stretching and takes time to

become comfortable with.

Who has been the inspiration in your

journey?

My family has followed Sri Chinmoy as

a spiritual teacher since I was three years

old, and he has been a major influence

and motivation to live a spiritual life,

practise meditation, and create music.

How did you learn to play the flute?

Did you have a teacher?

I've learned a lot about playing the

flute through listening to recordings

and viewing videos of masters. I have

also been lucky to have classes with

Debopriya Chatterjee, a disciple of

Hariprasad Chaurasia Senior.

Where have you performed so far?

I have performed and been part of

many projects and concerts over the

years which is always such a blessing

and learning experience.

Lots of my performances

have been with my

dad in Monk Party

but I have also

been involved with

Auckland-based

musicians such as

Tabla player Basant

Madhur, Father and

Daughter music duo

Yadvinder Singh & Amrita

Kaur. I have also performed

with overseas musicians such

as Sarangi player Kamal Sabri,

Kirtan singer Krishna Das, Bengali

Singer Rezwana Choudhury Bannya, and

Irish whistle player Brian Finnegan.

Have you visited India?

I have not had the chance yet to go

to India physically but I do feel very

connected to India in many ways. I do

plan on going and studying at Pandit

Hariprasad Chaurasia Gurukul. It will be a

dream come true to meet and learn from

him and some of his senior

disciples such as Debopriya

Chatterjee.

Which Indian flute player(s)

do you admire and follow?

I really admire and

keenly observe the work

of Pt Hariprasad Chaurasia,

Rakesh Chaurasia, Debopriya

Chatterjee, Suchismita

Chatterjee, Rupak Kulkarni.

Then there is the other

Gharana of flute players such

as Pt Rajendra Prasanna and

his son Rishab Prasanna which

I follow.

Apart from the flute, which

other instruments do you

play?

The flute is my main instrument. But I

also play the percussion and I sing too.

Tell us something about Monk Party.

My father and I collaborate as Monk

Party and we play the devotional

compositions of Guru Sri Chinmoy

blending our musical interests from

around the world to offer a meditative

experience to our audience.

Till now, we have recorded

For the Kiwi-born flautist Nelson Myer-Daly,

five albums and have toured

NZ, Australia, parts of the US

and Mongolia.
---
Editorial

NZ border reopening will

spark range of emotions

When New Zealand borders finally re-open fully with the rest of the world on

July 31, a range of emotions is going to be stirred.

For many, it would bring a sense of jubilation about the final removal of

restrictions on entry into New Zealand or possibly of euphoria for seeing the end of

one of the most severe and unprecedented travel restrictions experienced by the

current generation of New Zealanders.

However, for many people, the day will bring back the sombre and harrowing

experience of March 19, 2020, when Prime Minister Jacinda Ardern came out at a

media conference and announced the dramatic closure of borders from midnight.

Many then thought that it was probably the state's biggest intrusion into individual

rights as ever experienced by New Zealanders. It was only a few days later that New

Zealanders found out that the state was gearing up even further to encroach upon

individual freedoms by restricting the basic right of free movement - in the form of

a complete lockdown.

The entire country chose to rally behind the government, fully understanding the

grave danger that faced the world in the form of the novel Coronavirus, barring a

minuscule minority, whose initial opposition to those lockdowns was more delusional

than based on any reasonable or scientific grounds. This changed, though, with

successive lockdowns.

The border closure left an indelible mark on the lives of a large number of people,

separating families like never seen before, barring the periods of the first and second

world wars.

Although the government, wearing the mask of "kindness", made small concessions

in the early stages of the pandemic, allowing some New Zealanders to bring their

overseas-based partners and families, most, particularly ethnic migrant minorities,

remained outside the ambit of its "kindness" and experienced forced separation for

significant periods due to closed borders.

The subsequently closed border regime witnessed a massive retrenchment of

immigration bureaucracy for want of viable work, thus making them even more

emaciated and depleted with credible human resources who can see through

the pain and desperation in the applications for entry into the country on

compassionate grounds.

It is here that temporary migrant workers experienced the maximum impact of the

closed border regime, with not only losing the ability to bring their overseas-based

families but also losing the ability to travel overseas for family reunions or attending

important life events like birth and deaths in the family and return to the country.

The last and probably the most unfortunate segment amongst temporary migrant

workers were the ones who were caught almost unaware on the wrong side of the

borders and were locked out of the country and slowly witnessed their valid legitimate

visas not being honoured by NZ government's new border closure directive.

Their plight and the loss of tens of thousands of dollars invested in New Zealand

higher studies, work and paying taxes and years of efforts in building a New Zealand

life have moved many hearts and continue to raise many emotions of fellow Kiwi-

Indians and ethnic migrant communities.

Many key stakeholders in the community, including this publication, continue

to raise their voice with those in power and demand a genuine, compassionate

intervention and allow them back into the country and resurrect the Kiwi image of a

fair country with a sense of fair-go at life.

A petition has been presented to the New Zealand parliament as late as

Wednesday this week, led by a migrant advocacy group, Migrant United Council,

which complements the work of many other migrant advocacy groups within the

community, requesting a compassionate reconsideration and allowing temporary

migrants back into the country.

Probably, the opening of borders after July 31 will move the lawmakers and the

government to let bygones be bygones and let those temporary migrant workers

back into the country and have a fresh go at the dream of a Kiwi life.

Indeed, July 31 will trigger many emotions.

Although, it is less likely to have many emotional scenes of family reunion at

the airports on July 31 as previously seen when NZ first opened borders for the

vaccinated Australian travellers earlier this year after keeping borders closed for

four long months of Delta lockdown.

Since April 12 this year, the New Zealand borders have already been opened on

a staggered basis allowing a different set of travellers from different parts of the

world, particularly from visa waiver countries and those on work visas.

For the rest of the world, particularly the parents and new students who are keen

to travel to New Zealand, July 31 only means the opening of visa processing. It will

still take a couple of months, depending upon Immigration New Zealand's ability and

intent to process different types of visas, before New Zealand can expect a new set

of travellers into the country.

It will, though, for sure go some way in contesting, if not completely erasing, the

strong world-view that New Zealand has been closed to the rest of the world right

from the onset of the global pandemic.

QUOTE OF THE WEEK

I'm not going to continue knocking that old door

that doesn't open for me. I'm going to create my

own door and walk through that."

— Ava DuVernay

IN FOCUS : Picture of the week

Haridwar:Kanwariyas gather at Har Ki Pauri ghat to collect

Holy water from the Ganga river for their pilgrimage during

the month of Shravan in Haridwar.

This week in New Zealand's history

31 July 1843

Foundation stone laid for NZ's first purpose-built theatre

Laying the foundation stone for the Royal Victoria Theatre on Manners St,

Wellington, Alderman William Lyon welcomed the new amenity – 'a theatre [was]

a necessary concomitant of an advanced state of civilization.' It was a moraleboosting

event six weeks after the Wairau Affray (see 17 June) had shocked local

settlers.

4 August 1923

Rail tunnel pierces the Southern Alps

The opening of the 8.5-km Ōtira tunnel completed the long-planned transalpine

railway between Christchurch and Greymouth.

4 August 1965

Cook Islands achieves self-government

First included within the boundaries of New Zealand in 1901, the islands were

governed by a Resident Commissioner until 1946. When they achieved selfgovernment,

Cook Islanders remained New Zealand citizens.

5 August 1914

New Zealand enters the First World War

Following the assassination of Archduke Franz Ferdinand, the heir to the Austro-

Hungarian throne, and his wife Sophie in Sarajevo, the capital of Bosnia-

Herzegovina, on 28 June 1914, Germany gave its ally Austria-Hungary a 'blank

cheque' to take whatever action it deemed appropriate.

5 August 1988

Cartwright Report condemns cancer treatment

The report was triggered by the publication in Metro magazine of 'An Unfortunate

Experiment', an article by Sandra Coney and Phillida Bunkle which alleged that

cervical cancer patients at Auckland's National Women's Hospital were receiving

inadequate treatment.

Indian Weekender : Volume 14 Issue19

Publisher: Kiwi Media Publishing Limited

Editor: Dev Nadkarni | dev@indianweekender.co.nz

Graphic Designer: Yashmin Chand | design@indianweekender.co.nz

Multimedia Specialist: Karan Bhasin | 022 0772 156 | karan@indianweekender.co.nz

Accounts and Admin.: 09-2173623 | accounts@indianweekender.co.nz

Auckland Reporter: Navdeep Kaur Marwah: | 021 952 246 | navdeep@indianweekender.co.nz

Waikato Reporter: Sandeep Singh | 021 952 245 | sandeep@indianweekender.co.nz

Wellington Reporter: Venu Menon | 021 538 356 | venu@indianweekender.co.nz

Christchurch Reporter: Mahesh Kumar | 021 952 218 | mahesh@indianweekender.co.nz

Views expressed in the publication are not necessarily of the publisher and the publisher

is not responsible for advertisers' claims as appearing in the publication

Views expressed in the articles are solely of the authors and do not in any way represent

the views of the team at the Indian Weekender

Kiwi Media Publishing Limited - 133A, Level 1, Onehunga Mall, Onehunga, Auckland.

Printed at Horton Media, Auckland

Copyright ® 2022. Kiwi Media Publishing Limited. All Rights Reserved.

Send your suggestions and feedback to editor@indianweekender.co.nz
---
Read online www.iwk.co.nz Friday, July 29, 2022

FIJI 13

Fiji depends on Aust and NZ

BA.5 confirmed

in Fiji

for human capital: Narayan

Fiji has depended heavily

on Australia and New

Zealand for human capital

to form proper educational

infrastructure that could ensure

students were equipped for the

labour market.

Monash University academic

and Fiji Higher Education

Commission commissioner

Professor Paresh Narayan

said this was the reality

over the past 10 years for

Fiji and Pacific countries.

"Now 10 to 15 years ago,

we as a country, as Fijians

and as Pacific Islanders did not

quite have the human capital

to build this bridge between

a knowledge economy and

tertiary institutions," he said.

"We depended on Australia

and New Zealand.

"That dependency has to

go because now we have

got sufficient human capital,

located in different places of

course, but we need to depend

more on Pacific islanders to

shape and build this bridge."

He said the two countries also

had an important role to play in

equipping countries such as Fiji

to retain their people who move

away to work in Australia and

New Zealand.

Professor Paresh Narayan attends the Inaugural Higher Education Forum 2022 at the Sofitel Fiji Resort and Spa in Denarau Nadi.

Picture: REINAL CHAND

"This is an equally important

role for Australia and New

Zealand because they take

away our five per cent of the

cream. They obviously have

a responsibility to help us

shape and replace that five

per cent in some ways through

infrastructure and curriculum

development."

Professor Narayan added that

a group of local organisations

were taking steps to reduce

Fiji's loss of a skilled workforce.

"There is a very small sample

Now 10 to 15 years

ago, we as a country,

as Fijians and as

Pacific Islanders

did not quite have

the human capital

to build this bridge

between a knowledge

economy and tertiary

institutions."

of leaders in Fiji who want to

do research including the Fiji

Higher Education Commission.

"When you look at the

leadership in these institutions

in FCCC, Reserve Bank of Fiji,

the scholarship commission and

Investment Fiji, you actually

have young people who have

educated themselves and

who want to do research and

want to make greater use

of the data to make more

informed policy decisions

which is a very positive sign.

It is going to take us to this

knowledge economy."

We have the BA.5 strain

of Omicron in the

community.

Permanent Secretary for

Health, Doctor James Fong

says although BA.5 has the

ability to evade immune

protection against infection

induced by prior infection or

vaccination, there remains

significant protection against

severe disease. He says there

is no evidence that BA.4

and BA.5 cause more severe

disease than previous variants.

The Permanent Secretary says

this is demonstrated in our

persistently low hospitalization

data for severe diseases despite

the community-wide escalation

currently seen.

Dr. Fong is urging everyone

to stay up to date with their

Covid-19 vaccination, in

particular adults over the age of

50 and anyone with underlying

medical conditions should get

vaccinated and get their first

and second booster doses

when due. He says the elderly

and people with underlying

medical conditions are at

higher risk of severe Covid-19

disease so people in this group

with Covid-19 symptoms must

come forward to be tested,

put onto a monitored care

pathway by a medical provider,

and immediately brought

to the hospital if severe

symptoms are present.

BOOK ADS IN

NEWSPAPER

The most widely circulated WEEKLY

publication for Kiwi-Indians and the most

popular news platform with a strong

online, social media, and print. We deal

with all major advertising: Digital, Social

Media and Newspaper Print advertising.

PROPERTY

AUTOMOBILE

EDUCATION

IMMIGRATION

MORTGAGE

EVENTS

Call us for a customised advertising

solution with Indian Weekender

021 952 216

Email sales@indianweekender.co.nz /

chirayu@indianweekender.co.nz

www.indianweekender.co.nz
---
14

INDIA

Droupadi

Murmu takes

oath as 15th

President of

India

Droupadi Murmu was

sworn in as India's

15th President at an

impressive ceremony in the

packed and historic Central Hall

of Parliament

Droupadi Murmu took oath of

office as the 15th President of

India on Monday and created

history by being the first tribal

head of State and the second

woman to occupy the country's

highest constitutional post.

"That I attained the post of

President is not my personal

achievement, it is the

achievement of every poor

person in India. My election is a

proof of the fact that the poor

in India can have dreams and

fulfil them too."said Madam

President after being sworn in

by Chief Justice of India (CJI)

N V Ramana at Parliament's

Central Hall.

Ms Murmu, who succeeds

Ram Nath Kovind, is India's

youngest President at 64

and the first to be born after

Independence.

She took her oath of office in

Hindi and in the name of God to

"preserve, protect and defend

the Constitution and the law".

"It is a tribute to the power of

Prime Minister Narendra Modi on Monday

expressed concern over what he called an

"increasing tendency of political parties" to

put their ideology or interest above the country.

Addressing an event via videoconference in

Kanpur to mark the 10th death anniversary of

former Samajwadi Party Rajya Sabha member

Harmohan Singh Yadav, the PM said political

parties need to be mindful that opposing a party

or an individual should not go against the country.

"Ideologies have their own place, so do political

ambitions, but the fact remains the country is

first, society is first; Rashtra Pratham," he said.

A tendency of putting ideology and interest

before the country was gaining currency, he said.

"Many a time, the Opposition parties place

obstructions before the government because

they could not implement decisions when they

were in power. Now, when they are implemented,

they oppose. It is the duty of all political parties

that opposing a party or a person is not going

against the country," he said.

Most political parties, particularly the non-

Congress ones, have fulfilled this thought of

keeping the country first, he added.

"During the 1971 war, the Opposition parties

India's 15th President Droupadi Murmu signs a register after taking oath in the Central

Hall of Parliament, in New Delhi, Monday, July 25, 2022.

"That I attained the post of President is not my

personal achievement, it is the achievement

of every poor person in India. My election is a

proof of the fact that the poor in India can have

dreams and fulfil them too."

our democracy that a daughter

born in a poor house in a

remote tribal area can reach

the highest constitutional

position in India. That I attained

the post of President is not

my personal achievement, it is

the achievement of every poor

person in India," she said in her

address, marking her journey

from Odisha's Mayurbhanj – one

of the most underdeveloped

districts in India-- to the

Rashtrapati Bhavan.

Former President Ram Nath

Kovind, Rajya Sabha Chairman

M Venkaiah Naidu, Lok Sabha

Speaker Om Birla and CJI

Ramana were on the dais while

other dignitaries including

'Ideologies have their place, but the

country must come first,' says PM

supported the government of the day and

strongly sided with the government after the

(first) Pokhran nuclear test in 1974. Then, they

came together to save democracy and the

country when the Emergency was imposed," he

said. Paying tribute to Harmohan Singh Yadav,

the PM said the SP leader started as a gram

pradhan and reached a point where he used to

guide UP's politics from his village. He was a

champion of farmers' rights and fought against

the emergency, the PM added.

Friday, July 29, 2022

former President of India

Pratibha Patil, Prime Minister

Narendra Modi, Congress

president Sonia Gandhi and

Odisha Chief Minister Naveen

Patnaik seated in the front row

seat of the historic Central Hall.

Prime Minister Modi said

that Ms Murmu assuming

the Presidency is a

"watershed moment" for

the "poor,marginalised and

downtrodden".

"In her address after taking

oath, President Droupadi Murmu

Ji gave a message of hope and

compassion. She emphasised

on India's accomplishments and

presented a futuristic vision of

the path ahead at a time when

India is marking Azadi Ka Amrit

Mahotsav,"Mr Modi said.

The day began with outgoing

President Kovind and Ms Murmu

arriving in a majestic procession

from the Rashtrapati Bhavan

to the Parliament Building,

escorted by the horse-mounted

President's Bodyguards.

India's new president was

given a 21-gun salute after

which she signed the oath

register amid thunderous

applause and thumping of

desks.

Premier higher educational

institutions in the

country should look to

expand their campuses abroad,

a government-constituted

committee has recommended

and pitched for the Indian

Institutes of Technology (IITs)

to take the lead on this front,

officials familiar with the

development said. Tasked to

prepare a framework for Indian

universities to set up campuses

abroad, the 16-member

committee — headed by the

chairman of standing committee

of IIT council, K Radhakrishnan

— was constituted by the

Union education ministry after

IIT-Delhi submitted a proposal

last year for opening centres in

Saudi Arabia and Egypt.

According to ministry

officials, the committee has

recently submitted its draft

report on "structure for

opening campuses abroad by

higher education institutions".

Read online www.iwk.co.nz

Monkeypox:

India on alert

after reporting

fourth case

India's fourth case of

monkeypox has been

reported in a man in national

capital Delhi who has no history

of foreign travel. The federal

health ministry has asked the

Delhi government to trace the

34-year-old's contacts, local

media has reported.

States have been asked to

carry out "close surveillance"

for the virus.

The government has also

issued preventive guidelines on

the disease.

Delhi chief minister Arvind

Kejriwal said the patient in the

city is stable and recovering

from the infection.

"There is no need to panic,"

he added.

The man had travelled to

Himachal Pradesh state before

he fell ill - surveillance teams are

checking whether he could have

contracted the infection there,

or from a friend, The Indian

Express newspaper reported.

The first three cases in

India were reported from the

southern state of Kerala - all of

them had travelled to the state

recently from countries in the

Gulf region.

Last week, the World Health

Organization (WHO) declared

the monkeypox outbreak a

global health emergency.

More than 16,000 cases have

now been reported from 75

countries, said WHO director

general Dr Tedros Adhanom

Ghebreyesus.

"The WHO's assessment is

that the risk of monkeypox

is moderate globally and in all

regions, except in the European

region, where we assess the

risk as high," he said.

There had been five deaths so

far as a result of the outbreak,

he added.

Premier higher educational institutes

should expand campuses abroad: Panel

The committee has strongly

supported the idea that

country's top institutes

establish

"residential

campuses" abroad and the

ministry of external affairs and

the Indian envoys facilitate the

process, said a senior ministry

official, requesting anonymity.

"Discussions are underway

on the draft recommendations

submitted by the committee. It

is recommended either to allow

individual institutes to set up

their campuses abroad or to do

that in collaboration with other

institutes or universities in India

or in the host country," the

official said.

"There is discussion that the

top IITs may take the lead and

start the expansion process."
---
Read online www.iwk.co.nz Friday, July 29, 2022

WORLD 15

USAID chief says human rights, diversity part of India-US talks

USAID chief Samantha Power said

that issues such as human rights

and diversity form part of the

US administration's dialogue with the

Indian government, especially at a time

of "headwinds in the face of freedoms"

in many parts of the world.

Power, who was on a three-day visit to

India to advance the bilateral strategic

partnership and to discuss the global

food crisis, was responding to a question

at a news conference on the US not

raising such issues with India in view of

New Delhi's importance in countering

Europe and the Americas have

been affected the most by

the monkeypox outbreak,

Director General of the World Health

Organization (WHO) Tedros Adhanom

Ghebreyesus told journalists.

These two regions have

reported 95 per cent

of the diagnosed

cases, he said,

warning against

stigma and

discrimination

in monkeypox

messaging.

O v e r

1 8 , 0 0 0

monkeypox

cases have

been reported

to the WHO from

78 countries.

More than 70 per

cent of these came

from the European region

and 25 per cent from the

Americas, he said.

He said that 98 per cent of the

reported cases have been among men

who have sex with men, stressing that

stigma and discrimination can be "as

dangerous as any virus and can fuel the

outbreak."

"As we have seen with COVID-19

misinformation," it can spread rapidly

online, he said, "so we call on social

media platforms, tech companies

and news organizations to work with

us to prevent and counter harmful

information."

Last Saturday, the WHO officially

declared monkeypox a public health

emergency of international concern

(PHEIC). A PHEIC is the highest level

of alert that the United Nations (UN)

regional challenges such as China. There

are "headwinds in the face of freedoms

in many, many parts of the world", and

India's civil society, its free press, free

speech and free association are worthy

of emulation by other countries, she

said. "So, it is incredibly important in this

country and in the US for human rights

to be respected, for diversity to be

celebrated, and of course, that is part

of the dialogue that we have with the

Indian government. It is also something

we are struggling with back in the US,"

she said. Power described India as an

MONKEYPOX:

Europe, US worst

hit; account

for 95% of the

diagnosed

cases, says WHO

health body can give.

The WHO has been

urging countries to

take the monkeypox

outbreak seriously

by taking the steps

needed to stop

transmission and

protect vulnerable

groups. "The best

way to do that is

to reduce the risk of

exposure and make safe

choices," he said.

"For men who have sex

with men, this includes, for the

moment, reducing your number of

sexual partners, reconsidering sex with

new partners, and exchanging contact

details with any new partners to enable

follow-up if needed."

Meanwhile, Canada, the European

Union and the US have already approved

the vaccine called MVA-BN (Modified

Vaccinia Ankara - Bavarian Nordic)

for use against monkeypox, and two

other vaccines are also being assessed.

However, due to the lack of data on

the effectiveness and dosage of the

vaccines, the WHO currently does not

recommend mass vaccination against

monkeypox.

It also urges all countries that

are administering such vaccines to

collect and share critical data on their

effectiveness.

"absolutely critical actor" in the Indo-

Pacific and all over the world, and said

"India's leadership beyond its borders"

draws on the lessons and dynamism that

it shows at home.

"There's no question that a major

source of India's strength has been the

potency and vibrancy of its civil society,

the pluralism, the debates that have

occurred here over so many decades...

the rollicking media debates," she added.

In a speech on the theme "The world

is one family", which was delivered

before the news conference, Power said

India has been positioned as a future

development leader because of its

values, and not just its assets.

"It has been India's multiethnic,

multiparty democracy that has allowed

it to withstand the challenges it has

faced and come out ahead stronger and

more resilient," she said in her speech.

"It has been its support for free

expression over decades that has

allowed injustices to come to light. It

has been its tolerance for diversity and

dissent that has allowed reforms to take

hold, and institutions to progress.

Aust inflation hits 21-year high

Australia has recorded its highest

rate of inflation in more than 20

years, with consumers paying

more for everything.

According to data released by the

Australian Bureau of Statistics (ABS)

on Wednesday, the Consumer Price

Index rose by 1.8 per cent in the June

quarter and 6.1 per cent over the last

12 months. It is the highest figure since

2001 and the second-highest quarterly

increase since the Goods and Services

Tax (GST) was introduced in 2000.

Automotive fuel prices rose by 32.1

per cent in the 12 months to June and

the price of new houses by 20.3 per

cent. "Shortages of building supplies and

labour, high freight costs and ongoing

high levels of construction activity

continued to contribute to price rises

for newly built dwellings," said Michelle

Marquardt, head of Prices Statistics

at the ABS. "The CPI's automotive

fuel series reached a record level for

the fourth consecutive quarter. Fuel

prices rose strongly over May and June,

following a fall in April due to the fuel

excise cut."

The cost of vegetables rose by 7.3

per cent in the June quarter alone and

that of fruit by 3.7 per cent as a result

of catastrophic flooding across much of

the east coast earlier this year.

The ABS said the supply chain

disruptions due to flooding events,

labour shortages, and rising freight

costs contributed to higher prices.

Responding to the data, Treasurer Jim

Chalmers warned it would "get tougher"

for Australians "before it gets easier"

towards the end of 2022.

Chalmers will on Thursday deliver a

ministerial statement on the economy

to Parliament, which he said would be

"confronting."

"It is not news to millions of Australians

who feel its inflation challenge, every

time they go to the supermarket and

every time the bills arrive," he said.

"This inflation outcome today mirrors

the lived experience of Australians who

are doing it tough right now."
---
16

SPORTS

Friday, July 29, 2022

Read online www.iwk.co.nz

Boys are young, but played maturely: Shikhar

Dhawan after series win over West Indies

Following his side's 119-

Pooran was next up on crease. Pooran for 42 off 32 balls after

run win over West Indies

The 12th over was bowled by being caught by Dhawan at

in the third and final ODI,

pacer Prasidh Krishna and it mid-on.

Indian skipper Shikhar Dhawan

said that the young players

performed maturely.

turned out to be expensive,

with Pooran-King smashing four

boundaries in it collectively.

Thakur gave another jolt to

the hosts, sending back Akael

Hosein for just one run after

Top bowling spells from

It was spinner Axar Patel who skipper Dhawan took another

spinner Yuzvendra Chahal and

pacers Mohammed Siraj and

gave India their fourth wicket,

removing King, who was looking

great catch. There was not

much batting left with the

Shardul Thakur helped India

threatening. He had scored Windies except for Holder, who

crush West Indies by 119 runs

in the rain-hit third and final ODI

of the series here at Queen's

42 off 37 balls before he was

trapped leg before wicket by

the bowler.

needed to pull off something

really great to guide his team

to a consolation win.

Park Oval on Thursday.

Keacy Carty was next up Things continued to go

"I feel the boys are young, but

on the crease. Pooran's game downhill for Windies, with Paul

they played maturely. The way

became more attacking, dismissed for a duck by Chahal

India win ODI series against West Indies

they handled themselves on the

smashing Deepak Hooda for a after he was caught by Thakur

field, really proud of them. Very match presentation.

delivered timely blows to their four and a six and Axar for a at point while attempting to

good signs for us. I am quite India has completed a clean opponent.

four as well. The duo took the reverse sweep. Holder was

pleased with my form, I have sweep of 3-0 over the hosts. Chasing 257, West Indies hosts to the 100-run mark at running out of partners at this

been playing this format since India can walk away with a lot got off a nightmarish start, end of 18 overs, with Pooran point, now joined by Hayden

a long time. I was happy with of positives after this match losing opener Kyle Mayers and being the aggressor.

Walsh. Walsh was the ninth

the way I played that knock, in as their batting was great, Shamarh Brooks in the second Shardul Thakur broke the 29- wicket down at a score of 137

the first ODI. And even today, lead from the front by openers over to pacer Mohammed Siraj. run stand between the duo, after being caught by Dhawan

happy with my peformance. Shikhar Dhawan (58) and Following this, opener Shai bowling out Carty for just five at slips.

The way he scored those 98 Shubman Gill (98*). Setting Hope and Brandon King resumed runs off 17 balls. At this point, Jayden Seales was the last

runs, it was amazing to watch. a target of 257 in 35 overs the chase for the hosts. They half of Windies line up was back player dismissed, sent back

The way all the boys responded, after the match was hit by rain, both maintained solid running in the hut at 103.

to pavilion by Chahal. Windies

it was pretty amazing. We feel Windies batters never looked between the wickets. King Jason Holder was the next were bundled out for 137. They

lucky to come here, we are as if they were in the game was the aggressor during the batter to arrive on the crease. had lost the match by 119 runs

thankful to the crowd. They as Indian bowlers feasted on partnership. Hope-King added The all-rounder was making and India had completed a 3-0

make us more popular. I am them. The hosts fell prey to a 47 runs to their stand before his return to white-ball cricket clean sweep in the series.

proud of our bowling unit, they world-class bowling attack with the former was stumped by after a while and had a task Chahal finished as the leading

gave hundred percent. The way their careless shot selection. wicketkeeper-batter Sanju in hand to build a solid stand bowler for India with 4/17.

Siraj took those two wickets, Chahal (4/17), Siraj (2/14) and Samson for 22 off 33 balls on with his skipper. Prasidh finally Siraj and Thakur also took two

and the way Shardul and others Thakur (2/17) were extremely a delivery by spinner Yuzvendra got his first wicket of the day, wickets. Krishna and Axar got

bowled," said Dhawan at post-

economic with the ball and Chahal. Captain Nicholas dismissing the danger man one scalp each.
---
Read online www.iwk.co.nz Friday, July 29, 2022

FEATURES 17

Gujrati Recipes

Healthy cooking every day

Lighter Takes

& Easy Tips

A collection of recipes from Gujarati cuisine that are not just easy but also delicious to cook and

eat. If you are a lover of Gujarati food but don't know how to cook the cuisine, try out recipes

from this amazing list. Gujarati recipes are known for its hearty and flavourful breakfast recipes.

Saragva nu lot valu shaak

(Drumsticks cooked in curd curry)

INGREDIENTS

• 2 Drumstick, cut into pieces and

steamed

• 1 tablespoon oil

• 3 Curry leaves

• 1/2 teaspoon Sesame seeds/ Til

seeds

• 1/4 teaspoon Cumin seeds / jeera

• 1/4 teaspoon Mustard seeds / rai

• 1/2 teaspoon Red chilli powder

• 1/2 teaspoon Turmeric powder

• 1/4 teaspoon Asafoetida (hing)

• 1/2 cup Curd

• 1/2 cup besan / gram flour

• Salt to taste

Method

• Make yogurt paste by combining

yogurt with gram flour, turmeric,

asafoetida, red chili powder and salt.

Add 1.5 cup water and beat until

thick lumpfree batter is prepared.

• Heat little oil and roast yogurt

mixture. Stir till mixture thickens.

• Add steamed drumsticks to mixture.

Cover and cook for few minutes.

Adjust taste with salt.

• Stir. Add seasoning / tadka made

of hot oil and fried mustard seeds,

cumin seeds, sesame seeds and curry

leaves.

• Garnish with coriander leaves. Serve

Saragva (Shing) Nu Lotvalu Shaak

along with Phulka.

Khaman Dhokla

Dhokla is one of the specialities of Gujarati cuisine and is enjoyed as a snack.

This is an easy-to-make snack recipe that can be prepared anytime and is best

enjoyed with tempered or pan-fried green chillies.

Ingredients

• 1 cup gram flour

(besan)

• 1 teaspoon sugar

• 1 teaspoon salt

• 1 tablespoon refined oil

• 1 teaspoon mustard

seeds

• 11/2 cup water

• 1 3/4 teaspoon lemon

juice

• 3/4 teaspoon baking

soda

• 15 curry leaves

• 1 teaspoon coconut

powder

• For Garnishing

• 4 sliced green chilli

• 1 handful coriander

leaves

Method

• To prepare this

delicious Khaman

Dhokla recipe, take

a glass bowl and add

gram flour, salt, water,

lemon juice and baking

soda in it.

• Mix well all these

ingredients.

• Allow the batter to

ferment for 1-2 hours.

• In the meantime,

pour boiled water

in a steamer and

grease the utensil

with oil.

• Pour the dhokla batter

in the utensil and cook

on low flame for 15-20

minutes.

• Check with knife after

15 minutes by inserting

it inside the dhokla.

• If the knife comes out

clean, remove it from

the stove.

• Allow the dish to cool

and then cut into

pieces.

• For the tempering,

heat another pan with

oil in it over moderate

flame. Once the oil is

sufficiently hot, add

mustard seeds, curry

leaves and vertically

sliced green chilli. Add

1/2 cup of water in the

pan and allow it to boil.

• On 2-3 boils, squeeze

1/2 lemon, add sugar

and green coriander

leaves. If you are

someone who likes

it spicy you can add

some finely chopped

green chilies to the top

coating.

• You can also make

Dhokla sandwich by

layer Dhokla and adding

your favourite sauce to

it. Turn off the heat

and pour the tempering

on the dhokla.

• Transfer the dish to a

serving bowl and serve

it with green coriander

chutney.

• Khaman Dhokla is best

enjoyed when paired

with Faafda and Jalebi.

• Try this delicious snack

recipe at home with your

family and friends.

Methi Ka Thepla

How Flour kneaded with methi, ginger,

chilies, herbs and yogurt and made

into crisp paranthas.

Ingredients

• 2 Cups Atta

• 2 Tbsp Oil

• 1 Tbsp Dried Methi

• 2 tsp Salt

• 2 tsp Ginger and Green Chillies (make paste)

• 1 tsp Garlic

• 2 tsp Coriander Powder

Trevti Dal

Ingredients

• 1 cup chana dal

• 1 cup toor daal

• salt as required

• refined oil as required

• 1 cup finely chopped tomato

• 1/4 teaspoon garlic paste

• 1/2 teaspoon lime juice

• 1 1/2 dry red chili

• 1 cup moong dal

• 3 cup water

• 1/2 teaspoon powdered turmeric

• 1 teaspoon cumin seeds

• 1/4 teaspoon ginger paste

• 12 pinch asafoetida

• 1 teaspoon red chilli powder

• 1 tablespoon finely chopped coriander

leaves

Method

• To make this recipe, take a bowl and add

chana dal, moong dal, toor dal. Wash them

well and soak for one hour. Once done,

drain the water and transfer the lentils in a

pressure cooker.

• Add turmeric powder and required amount

of water.

• Pressure cook the dal for 5-7 whistles or

until they becomes tender. Then, mash the

Rice flour khichu

Craving for a lip-smacking recipe?

Try out Rice Flour Khichu, made with

boiled rice flour, green chilies, cumin

seeds and sesame seeds to give you

a brilliant combination of amazing

flavours.

Ingredients

• 2 tablespoon peanut oil

• 2 1/4 cup rice flour

• 1 teaspoon sesame seeds

• 2 teaspoon finely chopped green chillies

• 1 ounce finely chopped spring onions

• salt as required

• 1/7 teaspoon baking soda

• 1 teaspoon cumin seeds

• 3 1/3 cup water

How to make Rice Flour Khichu

• To prepare this recipe, take a pan and place

it on medium flame. Add enough water

along with sesame seeds, cumin seeds,

• 1 tsp Sugar

• To knead Yogurt

• As needed Water

Method

• Take all ingredients in a bowl. Mix well.

• Knead the ingredients well with yogurt and

some water.

• Make thin paranthas out of the dough.

• Cook the paranthas from both sides, over

high flame till greenish brown.

• Serve hot.

lentil. Now, take a pan over medium flame

and heat oil in it.

• Once heated, add cumin seeds, when it

starts crackling add dry red chilli, asafoetida

powder, ginger and garlic paste. Saute them

for few seconds.

• Next, add chopped tomatoes and stir the

mixture.

• Add red chili powder and saute again for

another 3-4 minutes or until the tomatoes

becomes soft. Once done, transfer the

cooked lentils in the mixture along with

water and salt. Mix them well and simmered

for 7 minutes.

• Add lime juice and chopped coriander

leaves. Stir for another few minutes and turn

off the flame.

• Your Trevti Dal is ready.

• Serve hot with pulao or chapati.

chopped green chilies, baking soda and salt

according to your taste and boil the mixture

for the next 10-12 minutes.

• Now, add the rice flour and stir, as to prevent

any lumps. Cover the mixture with a lid

and let cook for another two minutes. Add

peanut oil and keep stirring occasionally.

• Transfer Rice Flour Khichu in a serving dish

and enjoy. Normally, Khichu is prepared

with these simple ingredient mentioned

above but you can even add vegetables and

cashews as per your choice.
---
18

ENTERTAINMENT

Friday, July 29, 2022

Movie Review: Shamshera

Read online www.iwk.co.nz

U. PRASHANTH NAYAK

1 Star out of 5 (Poor)

Director: Karan Malhotra

Cast: Ranbir Kapoor, Vaani

Kapoor, Sanjay Dutt

Hindi (English subtitles

available), Release 22/7/22

K.G.F PART 3

Welcome to Kapoor

Gold Fields! Only this

feels like you've seen

two movies like this before, with

Part 3 adding to the torture.

Do you remember the time

when you watched a movie

in a fog of sheer boredom,

with tantalizing visions of

when you could walk out into

the sun or driving rain when

the show is over?

This is the umpteenth

such flick in the third year

of the pandemic, and you

thought mankind's suffering

was almost over.

There were a dozen people

in the entire theater for a

weekend afternoon show, and

it is a tribute to the everlasting

resilience of Aucklanders that

those brave dozen remained

till the end (somebody

It's his third nod as the

Best Actor at the National

Film Awards after Zakhm

(1998) and The Legend of

Bhagat Singh (2002).

And at this stage in his

career, Ajay Devgn isn't

consciously working for

awards, they happen to be a

by-product,

This time, it's for his period

drama Tanhaji - The Unsung

Warrior(2020), which costarred

his wife Kajol, Saif Ali

Khan, and Sharad Kelkar.

In an exclusive conversation

after the awards were

announced, he starts off by

thanking and congratulating

others, "I thank all of you for

your best wishes.

I have the highest regard for

the National Awards. And, I'm

humbled and happy to receive

my third mention as Best

Kashmera Shah has talked about

nepotism in her new interview.

She has said that she doesn't like

people talking about nepotism and that

'it doesn't matter' if someone is talented.

She also said that if her sons, Rayaan and

Krishaang will make their film debut then

that will be because it is in their blood

and not because of nepotism.

Also Read: Shah Rukh Khan's Yes Boss

co-star Kashmera Shah thanks him on 25

years at movies

Kashmera made her acting debut with

1996 film Yes Boss. The film starred Shah

Rukh Khan and Juhi Chawla. She later

appeared in several films such as Koi

Kisi Se Kam Nahin, Pyar To Hona Hi Tha,

Hindustan Ki Kasam, Kahin Pyaar Na Ho

should make a movie on

their impossible adventure).

Budgeted at Rs.150 crore,

news reports indicate roughly

the same attendance pattern

as above in 4000 theatres the

movie has released in, indicating

a box office bomb so big that

the great Shamshera himself

could not have detonated such

a thing.

'Shamshera's plot and set

design has a lot of similarities

to 'K.G.F', which unfortunately

forebodes blood-curdling

consequences for the audience.

Ranbir Kapoor portrays the

legendary 'Shamshera' – a born

again super-champion in Britishmisruled

India.

Actor. My congratulations to

Sooriya (who shared the Best

Actor award with Devgn) and

all the other winners of the

various categories," he says.

Do such big honours make

him feel an added sense

of responsibility , both as

an actor and filmmaker (he

There are no towns or cities

here, just open hinterland

and dungeon-like citadels.

Shamshera is the leader of

the 'Khameran' tribe who are

unwittingly thrown into a jaillike

fortress by the conniving

colonial invaders, and further

brutalized by a devious officer

Shuddh Singh who is keen on

being consistently Satanic

towards people of his own land.

You can't kill Shamshera – he

will rise from the dead and fly

through the alley-ways and hills

like Spider-man.

A lot of gold has been agreed

upon as ransom to free his

people, and that is enough

for the hero to embark on

co-produced

Tanhaji)?

"Awards

& box office

success don't

necessarily add

pressure or a

greater sense of

responsibility at this

stage of my career.

I've completed 30 years

in Indian cinema. Surely that

must stand for something.

After a point, responsibility

is there through & through.

Cinema is my lifeline," quips

the actor.

His first reaction, upon

Jaaye, Aur Pappu Pass Ho Gaya and many

more.

Kashmera said, "If someone talks

against Bollywood or talks about

nepotism, I take that personally because

I am a living proof of the fact that

nepotism never matters. I was good and

hence I got work, thereby helping me

shine in this industry. Hence, I don't like

people talking against it."

Kashmera, who directed and produced

2019 film Marne Bhi Do Yaaron, also

spilled beans on her next directorial

project Shriman Aishwarya Rai.

Talking about it, she said, "It's also

about friendship and the film industry.

I got tired of people talking against the

industry. I wanted to advocate that in

awesome adventures, where

he scrawls his name in red in

the Devanagari script wherever

he's laid siege, while his people

await their saviour.

The first one hour is the

worst – as though a ten-yearold

scribbled an action fantasy.

The story strokes are so

broad you could fit India, Britain,

Pakistan and Bangladesh within

those lines (not that the

film's ersatz geography will

give you any idea where you

are). Looking for the action

sequences to have originality

or flair?

Dream on. Except for a smart

hiding place in a marriage scene,

most other scenes are such

routine attack and escapade,

cat-'n'-mouse sequences

that 'Tom & Jerry' seems far

superior. Ranbir's romance with

Vaani Kapoor is cookie-cutter

drivel, with the only person

enjoying here being the hero

himself who gets to hug a nearly

nude heroine in a pool. You

love over-melodramatic crying

and rending and fake emotions

where the actual script leaves

Ajay Devgn on his third National Award for Best

Actor: I have the highest regard for these awards

"Awards

& box office

success don't

necessarily add

pressure or a greater

sense of responsibility

at this stage

of my career."

hearing the news, was this:

"I smiled, said a thank you to

someone up there and folded

my hands in a namaste.

"Then, I silently thanked

my parents."

In a business as unpredictable

as films, Tanhaji was one of

the rare examples of a film

which ran in theatres for

weeks, got a terrific word-ofmouth

and that translated into

box office collections.

Devgn has a reason for it,

"Tanhaji upheld the balance of

good writing, clear storytelling,

sincere performances, grand

VFX, good costumes, great

music and vision.

That's perhaps why the

film struck the right balance

and cut across barriers. I

congratulate my director Om

Raut, my creative team &

each of my co-actors."

Kashmera Shah calls herself 'living proof that nepotism never

matters': 'I was good and got a chance'

this industry friendship is very important

and people do care for each other.

People get work for being good artists,

and not for being somebody's sons or

daughters. The latter also happens. But

that doesn't matter. If my sons become

an actor tomorrow then will you guys

call it nepotism? Acting and dancing is in

their blood so they might do that.

you stone-cold ? You've come

to the right place.

Ranbir Kapoor continues

his superstar knack (Bombay

Velvet, Sanju) of periodically

selecting big budget pictures

that mock taste and shock

expectations. Sanjay Dutt pulls

role No.100 as another scruffy,

rasping, nefarious creep.

The songs are forgettable

while the cinematography, as is

director Karan Malhotra's yen,

is good with two sequences

standing out – a shot zooming

up a giant tree, and another in

a train attack sequence.

What Malhotra is yet to

show is the ability to find a

good script, to display more

directorial focus and a higher

level of directorial vision rather

than the same hare-brained

commerce-craving wreckage.

How can he when one of

India's biggest production

houses Yash Raj Films merrily

agrees to bankroll a sleepwalker

like this.?

For more movie reviews by

U Prashanth Nayak please

click: http://www.upnworld.

com//upn/movie_lists

Ratna Pathak Shah

says India's turning

conservative: 'Do you

want to be Saudi?'

Actor Ratna Pathak Shah has

spoken about India moving

towards becoming an

'extremely conservative society'

and asked if we want to become

like Saudi Arabia. In a new interview,

Ratna said that firstly a conservative

society clamps down on its women.

She also said that India could become

like Saudi Arabia as it's 'very very

convenient'.

Ratna spoke about how women in

the 21st century are still observing

age-old traditions like Karwa Chauth.

It is a Hindu ritual in which a woman

fasts and prays for her husband's long

life. She also said that she was asked

for the first time last year if she will

fast for her husband. Ratna has been

married to actor Naseeruddin Shah

for 40 years. They have two sons

Imaad Shah and Vivaan Shah.

Ratna said, "Nothing has changed

for women, or very little has changed

in very crucial areas...Our society is

becoming extremely conservative.

We're becoming superstitious, we're

being forced into accepting and

making religion a very important part

of one's life.

She also said, "We are moving

towards an extremely conservative

society. The first thing a

conservative society does is clamp

down on its women.

Look at all the conservative

societies in this world. Women are

the ones who are most affected.

What's the scope of women in Saudi

Arabia? Do we want to become like

Saudi Arabia?

And we will become because

it's very very convenient. Women

provide a lot of unpaid labour within

the home. If you have to pay for that

labour, who will do it? Women are

forced into that situation."
---
Inviting nominations for

The Kiwi Indian Hall of Fame 2022

The guidelines, which need to be adhered to, for

nominations, are as follows:

1. The nominee needs to have an undisputable

2. Should be nominated by a person of repute. Further,

the nominee.

3. The nominator has to provide their full contact

details. No anonymous applications will

be accepted.

4.

business, sports, art, culture, or any other

profession).

5.

'The Indian Weekender Honours' recognises individuals who have built a road to

glory for themselves and left a path for the coming generations to tread on; who

have touched the lives of thousands and enriched the society with their being;

who have brought fame and respect to New Zealand and the Kiwi-Indian community.

The Indian Weekender invites nominations for such personalities from the

community for getting inducted into the Kiwi Indian Hall of Fame 2022.

We also invite nominations for Kiwi Indian Young Achiever of the Year

and Kiwi Indian Community Service Exellence Award 2022.

Nominate Online: visit www.halloffame.co.nz

Post your nominations: Fill this form and post it to the address given below.

Indian origin, from any part of the world, who has

settled here in New Zealand. To be of Indian origin,

at least one of the parents of the nominee have to

be Indian, by blood, thereby making the nominee

of Indian lineage.

6. The nominee must have either a Permanent

Residency (PR), or Citizenship of New Zealand to

be eligible for consideration.

7. The nominee should have no prior convictions.

8. For minors, under the age of 18, parental consent

will be required.

9. The successful candidate will be required to attend

the ceremony in person. In case a person is not able

to attend, due to any unforeseen circumstances, the

jury will use its discretion.

10.

cannot be challenged.

ENTRY FORM: Nomination form for The Indian Weekender Honour s 2022 | Pleas e fill and pos t it to the addres s below

Nominator Details

Nominee Details

About the Nominee

Name of the nominator

Name of the nominee

For how long have you known the nominee?

Professional details of the nominator

Age of nominee

Please state your reasons for nominating the above person. You may mention the

achievements of the nominee in his/her profession.

Gender M F

Address & Contact number of nominator

Address & Contact number of nominee

Category

Kiwi Indian Hall of Fame

Kiwi Indian Young Achiever of the year (16 to 35 years only)

Kiwi Indian Community Service Excellence Award

How according to you has the Nominee brought fame and respect to the Kiwi-Indian

community? (Add extra sheets to this form, if required)

Declaration by Nominator

the nominee for this application.

Yes

No

Nominee has accepted to appear in person

for the ceremony, if he/she gets chosen

for the nominated category for Kiwi Indian

Honours 2022.

Yes

No

I hereby declare that the above information is true to the best of my knowledge. I also

allow The Indian Weekender and the Jury to use the information provided for background

checks and to contact either me or the nominee for the purpose of getting any

more information.

Signed:

Date:

What to do next?

Please take a print out of this form, sign

and send / or email at:

Jury Panel, Kiwi Indian Honours 2019

Level1,133A Onehunga Mall,

Auckland 1061

(Add extra pages to this form if required.)

For details contact Indian Weekender on

09-217 3623 or go to:

www.indianweekender.co.nz

halloffame@indianweekender.co.nz
---
Award winning

Travel Agency

EXPLORE THE

WORLD

Cheap Flights Deals

We are Hiring!

Travel Sales

Consultants

JOIN OUR TEAM!

223 Great South Road, Papatoetoe Auckland 2025

Send your CV to: info@manntravel.co.nz

manntravelnz

www.manntravel.co.nz 09 973 1940